When you read a positive inspirational quote, you stop for a second to reflect on its meaning and think about how you can apply it to your own life, right?
Yes, inspiring quotes and positive phrases have the power to change our perspective and help us live a more positive and fulfilling life.
So why don't you devote some of your time to reading my collection of positive thought of the day quotes that I handpicked from various online sources to inspire you to live your best life?!
I guarantee you won't regret it!
20 Ultimate Thought Of The Day Quotes
1. "Live as if you were to die tomorrow. Learn as if you were to live forever." — Mahatma Gandhi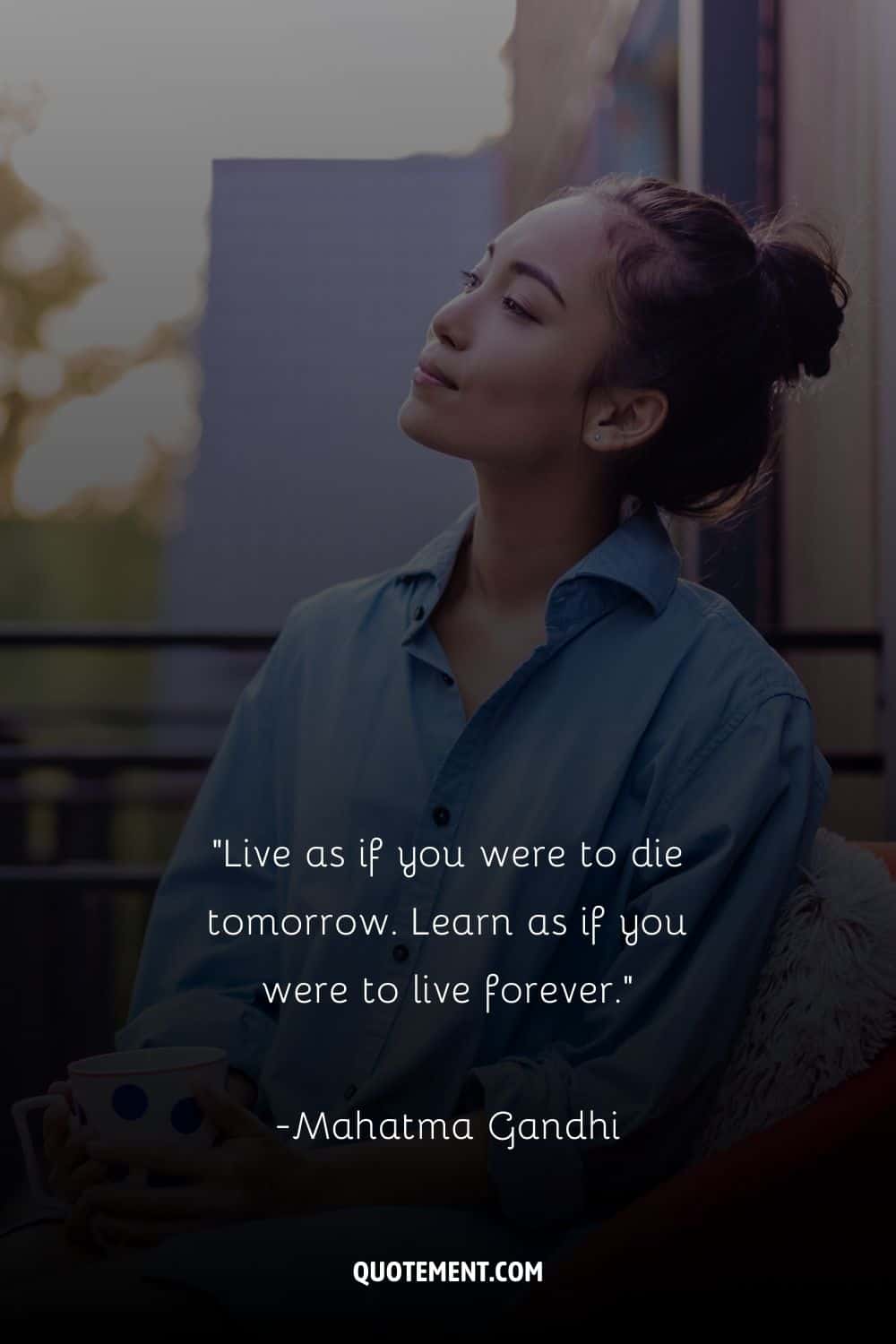 2. "Don't limit yourself. Many people limit themselves to what they think they can do. You can go as far as your mind lets you. What you believe, remember, you can achieve." — Mary Kay Ash
3. "You have to grow from the inside out. None can teach you; none can make you spiritual. There is no other teacher but your own soul." — Swami Vivekananda
4. "You will either step forward into growth, or you will step back into safety." — Abraham Maslow
5. "Magic is believing in yourself. If you can make that happen, you can make anything happen. " — Johann Wolfgang Von Goethe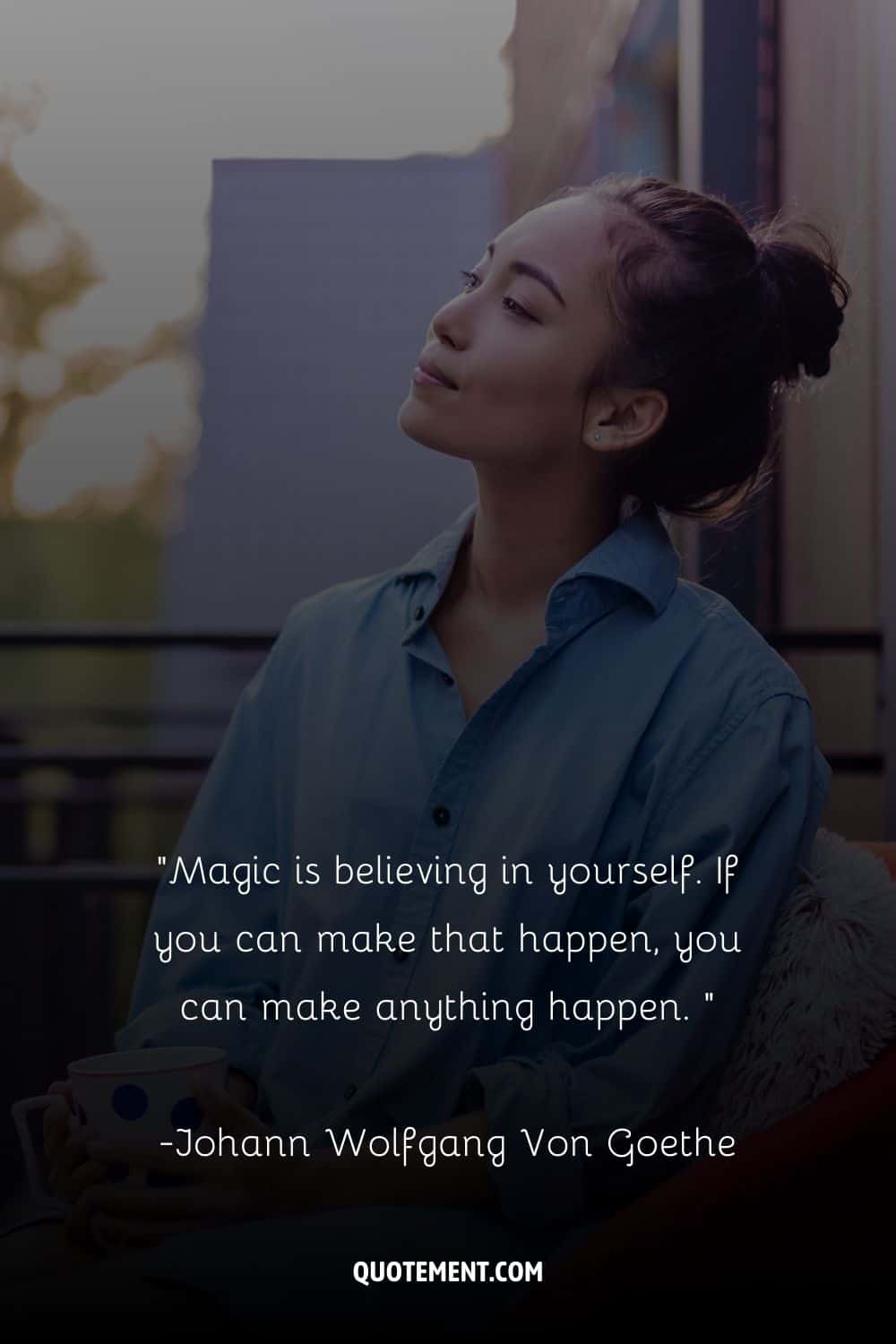 6. "Just don't give up trying to do what you really want to do. Where there is love and inspiration, I don't think you can go wrong." — Ella Fitzgerald
7. "Be the change that you wish to see in the world." — Mahatma Gandhi
8. "Follow your bliss and the universe will open doors where there were only walls." — Joseph Campbell
9. "I have always believed, and I still believe, that whatever good or bad fortune may come our way, we can always give it meaning and transform it into something of value." — Herman Hesse
10. "Good. Better. Best. Never let it rest. 'Til your good is better and your better is best. " — St. Jerome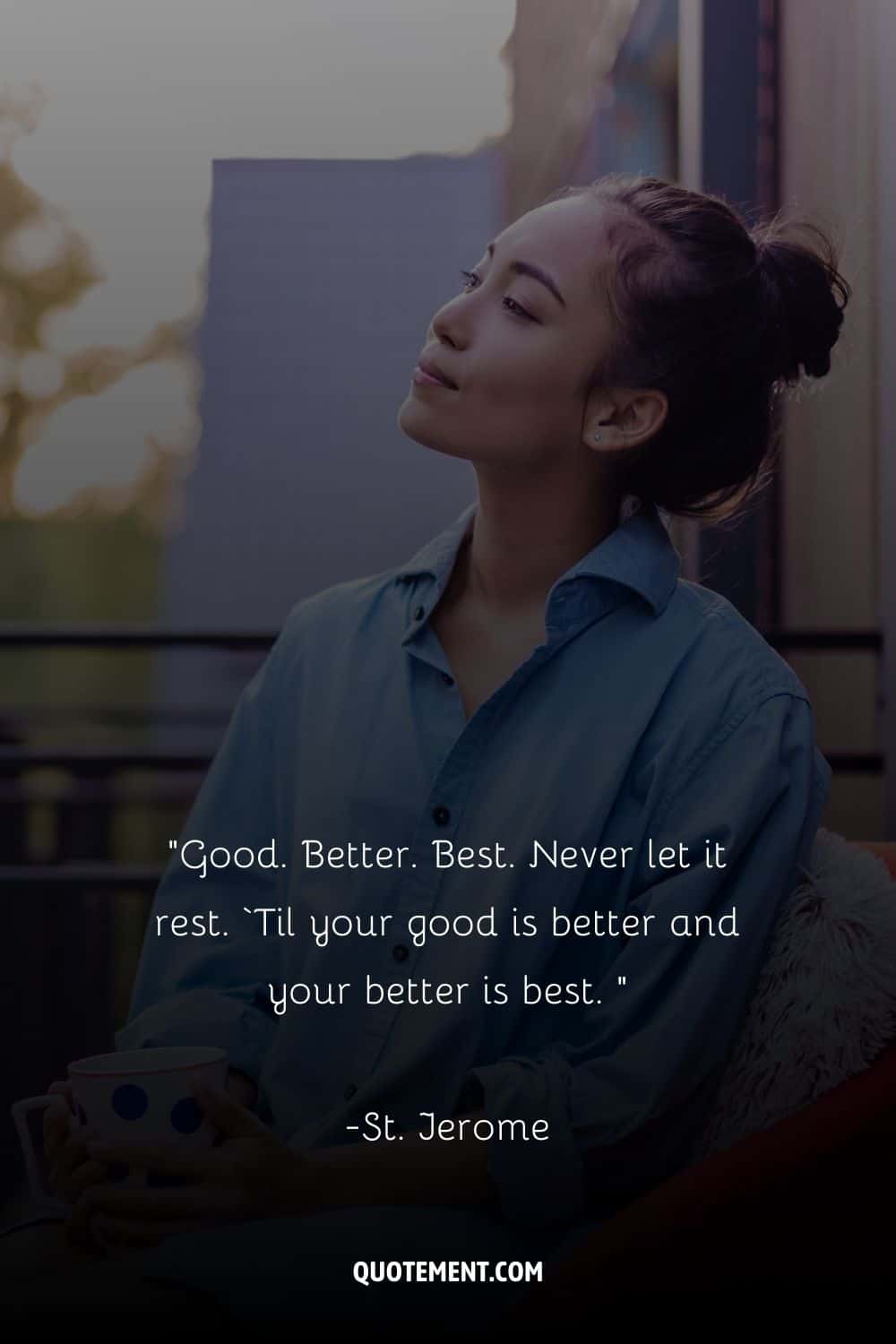 11. "It is never too late to be what you might have been." — George Eliot
12. "Be a first-rate version of yourself, not a second-rate version of someone else. " — Judy Garland
13. "It is only when we take chances, when our lives improve. The initial and the most difficult risk that we need to take is to become honest." — Walter Anderson
14. "Life is to be lived, not controlled; and humanity is won by continuing to play in face of certain defeat." — Ralph Ellison
15. "You're off to great places, today is your day. Your mountain is waiting, so get on your way." — Dr. Seuss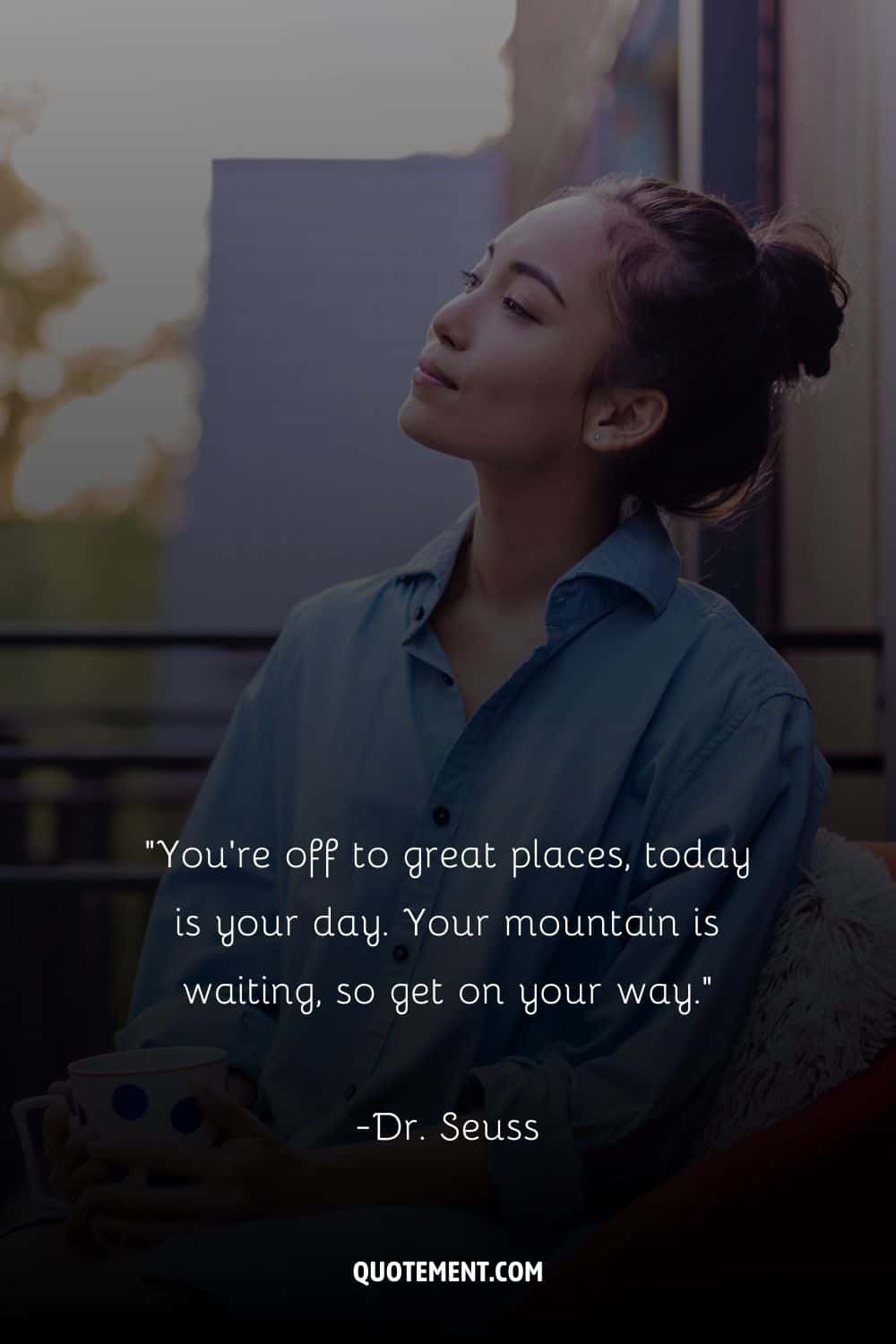 16. "We all have two lives. The second one starts when we realize we only have one." — Confucius
17. "The pessimist sees difficulty in every opportunity. The optimist sees opportunity in every difficulty." — Winston Churchill
18. "Nature has given us all the pieces required to achieve exceptional wellness and health, but has left it to us to put these pieces together." — Diane McLaren
19. "You can waste your lives drawing lines. Or you can live your life crossing them." — Shonda Rhimes
20. "How dare you settle for less when the world has made it so easy for you to be remarkable?" — Seth Godin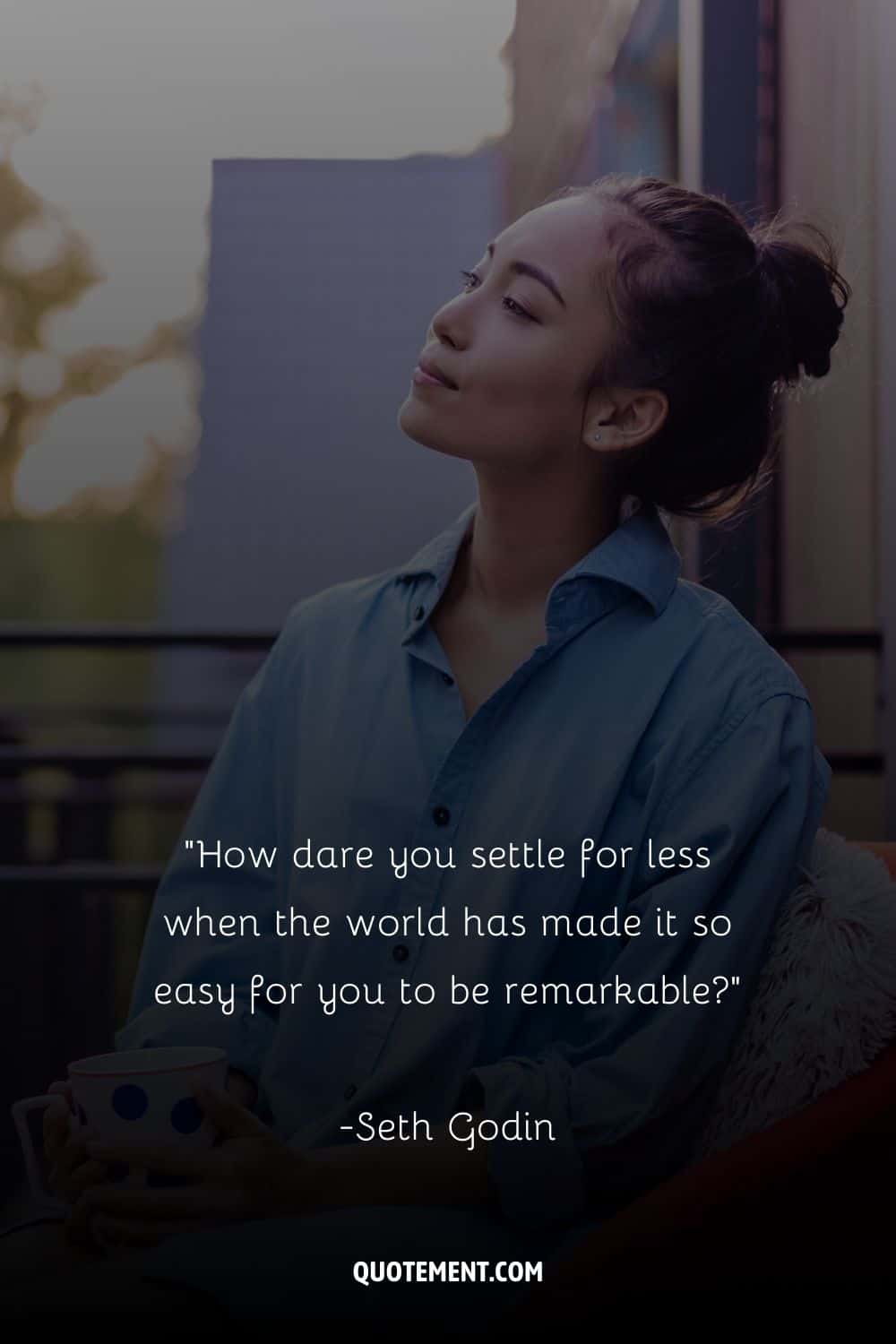 Inspirational Quotes Of The Day
1. "Always do right. This will gratify some people and astonish the rest." — Mark Twain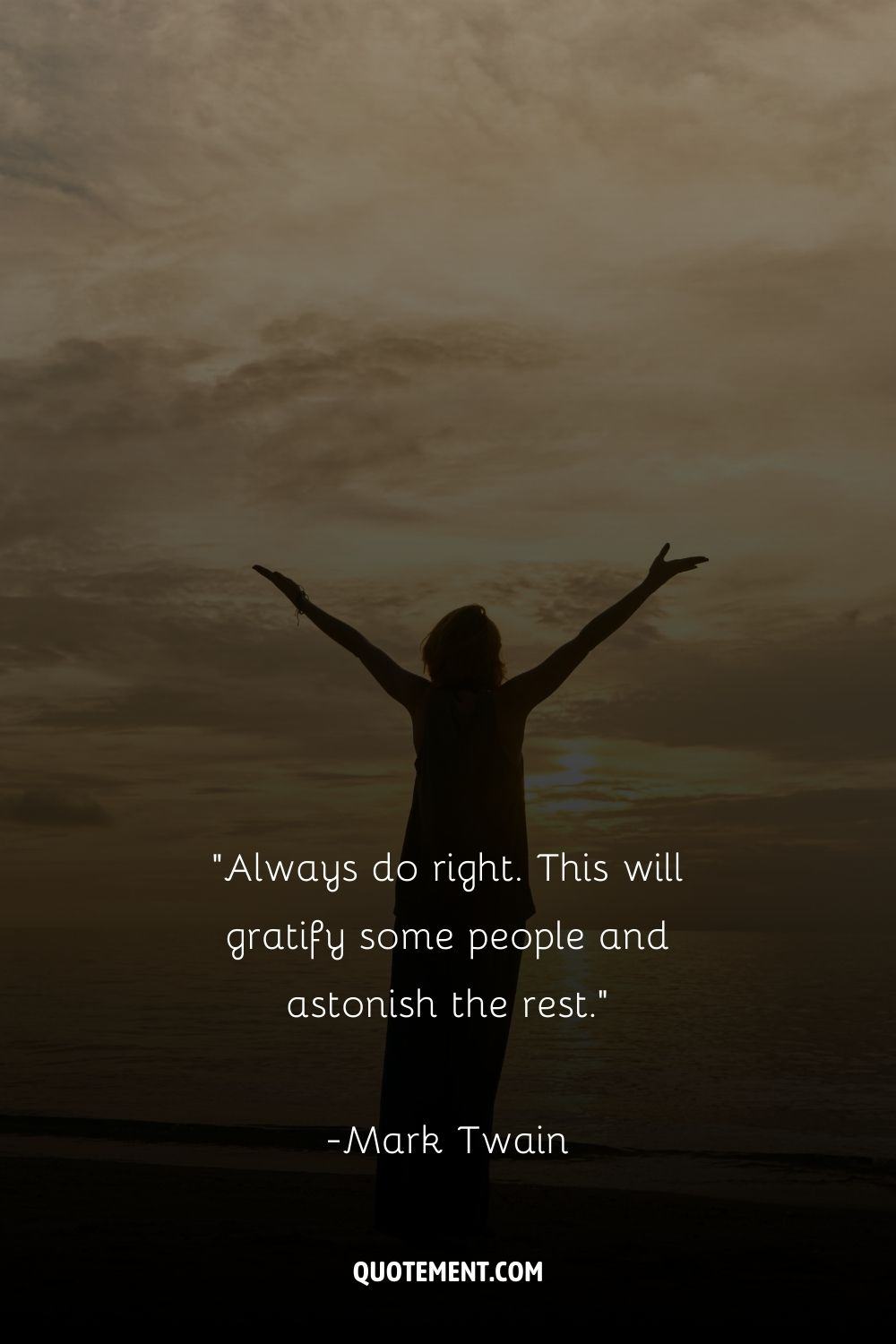 2. "It isn't the mountains ahead to climb that wear you out; it's the pebble in your shoe." — Muhammad Ali
3. "You have to dream before your dreams can come true." — A.P.J Abdul Kalam
4. "As you grow older, you will discover that you have two hands, one for helping yourself, the other for helping others." — Audrey Hepburn
5. "Do not follow where the path may lead. Go instead where there is no path and leave a trail." — Ralph Waldo Emerson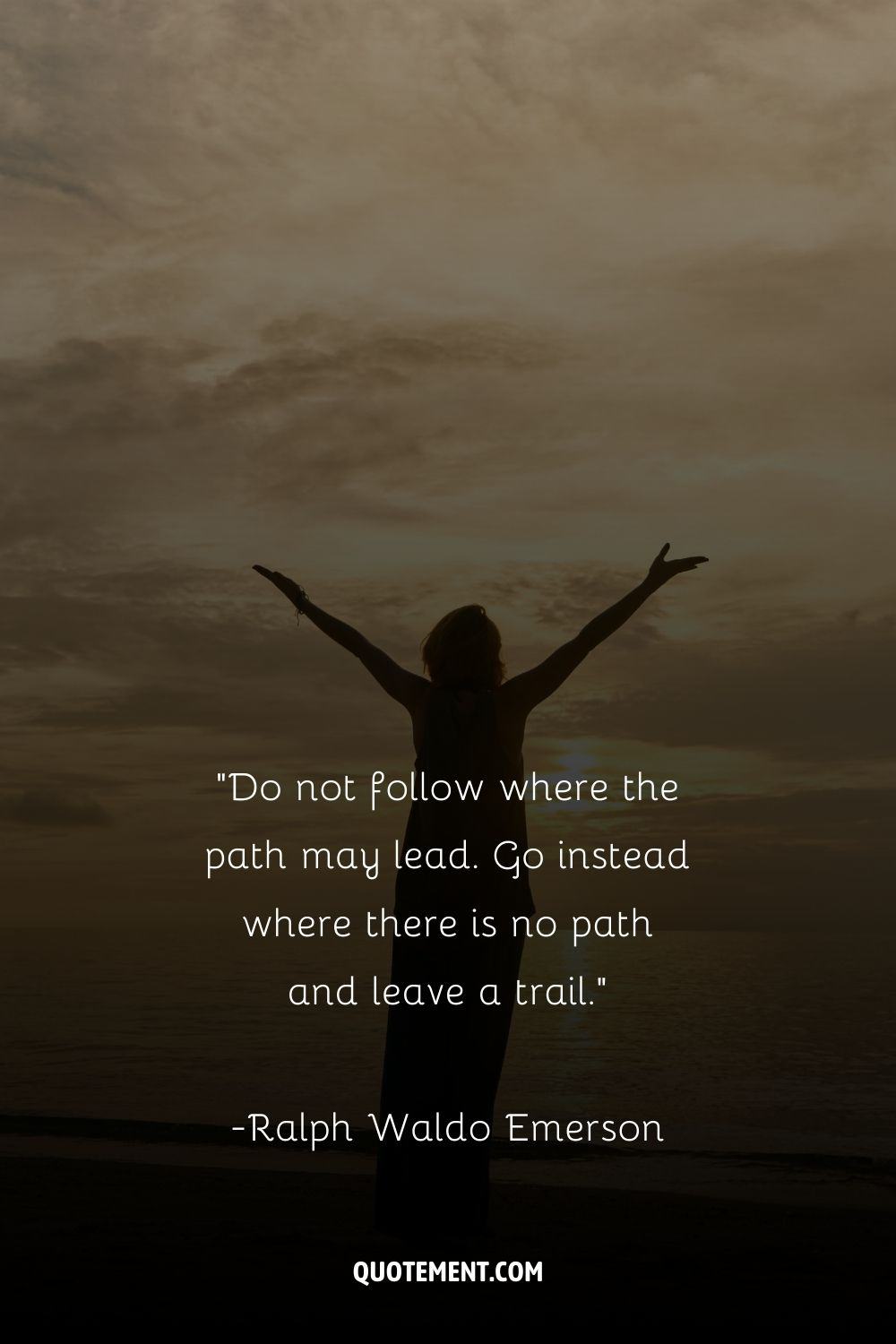 6. "Life's meaning is not in following someone else; it is in the unfolding of one's own self. It is not a process of becoming like someone else; it is to be oneself." — Osho
7. "If you can dream it, you can build it. If you can build it, you can live it." — Pam Moore
8. "Let go over a cliff, die completely, and then come back to life — after that, you cannot be deceived." — Zen Proverb
9. "Raise your words, not your voice. It is rain that grows flowers, not thunder." — Rumi
10. "If people are doubting how far you can go, go so far that you can't hear them anymore. " — Michele Ruiz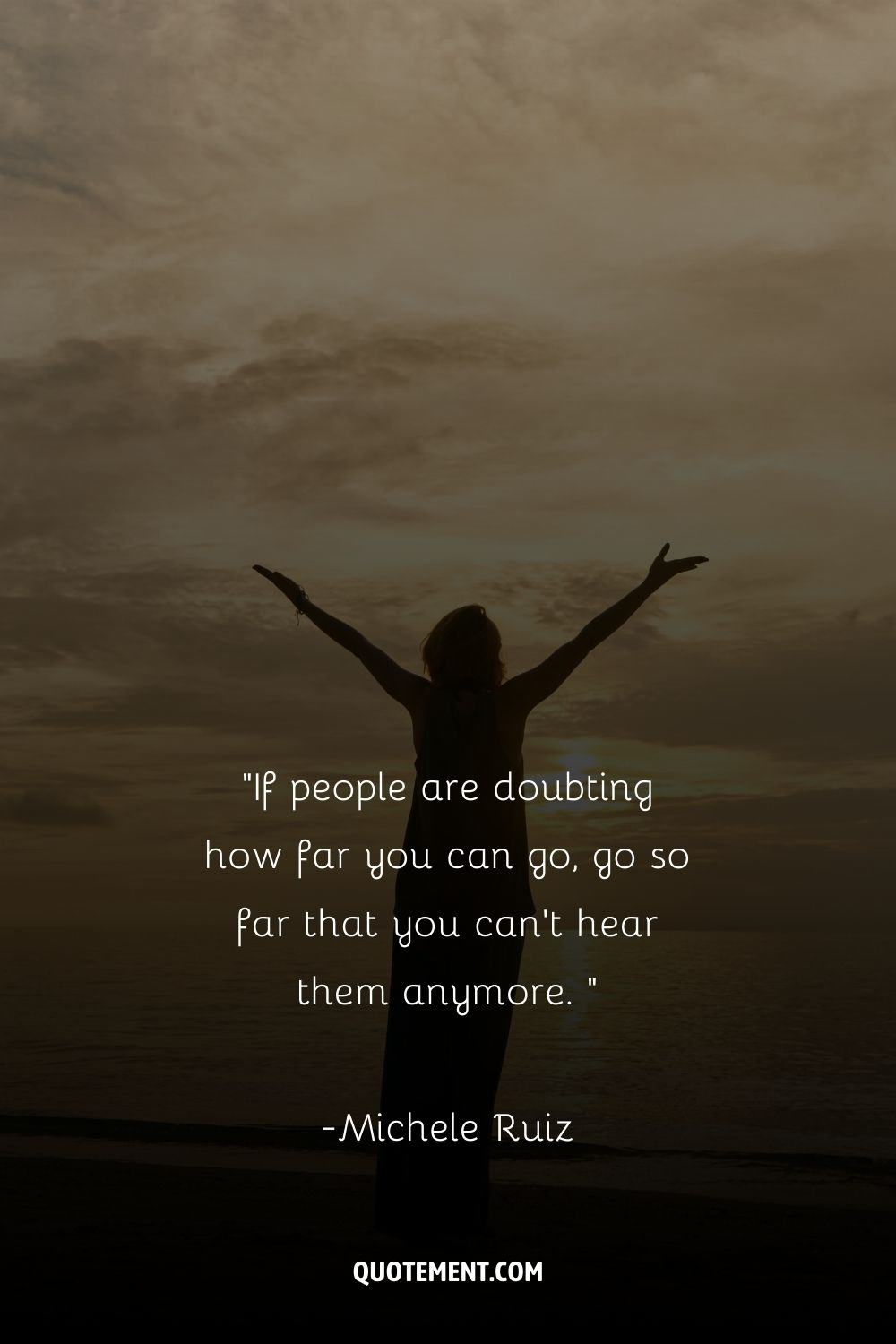 11. "The only way of discovering the limits of the possible is to venture a little way past them into the impossible." — Arthur C. Clarke
12. "If you want to cure the world, don't emanate fear — emanate love." — Ram Dass
13. "If opportunity doesn't knock, build a door." — Milton Berle
14. "Take your victories, whatever they may be, cherish them, use them, but don't settle for them." — Mia Hamm
15. "Our greatest glory is not in never falling, but in rising every time we fall." — Ancient Proverb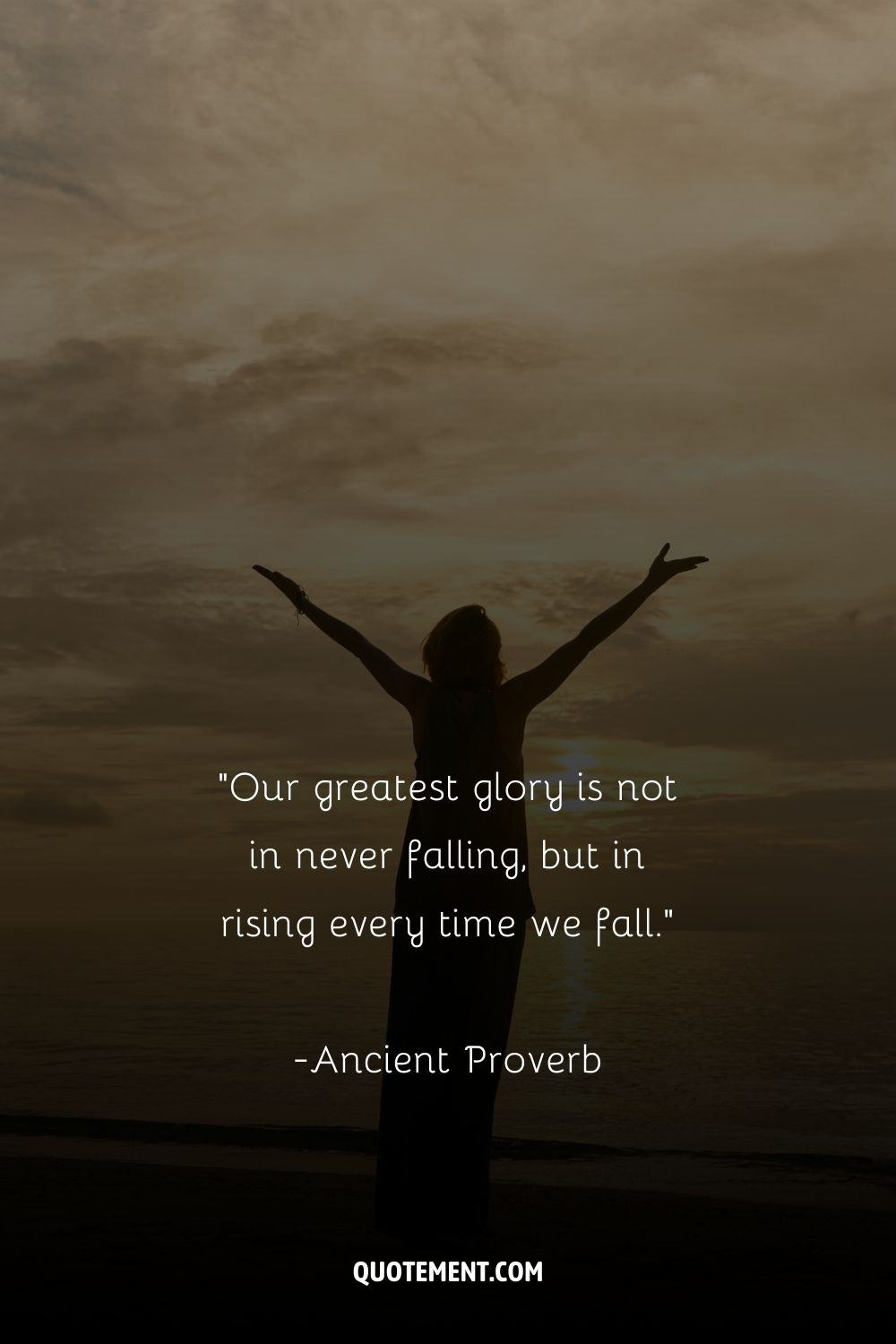 16. "Aim for the moon. If you miss, you may hit a star." — W. Clement Stone
17. "How wonderful it is that nobody need wait a single moment before starting to improve the world. " — Anne Frank
18. "Some people want it to happen; some wish it would happen, and others make it happen." — Michael Jordan
19. "You are never too old to set another goal or dream a new dream." — Les Brown
20. "The only one who can tell you "you can't win" is you, and you don't have to listen." — Jessica Ennis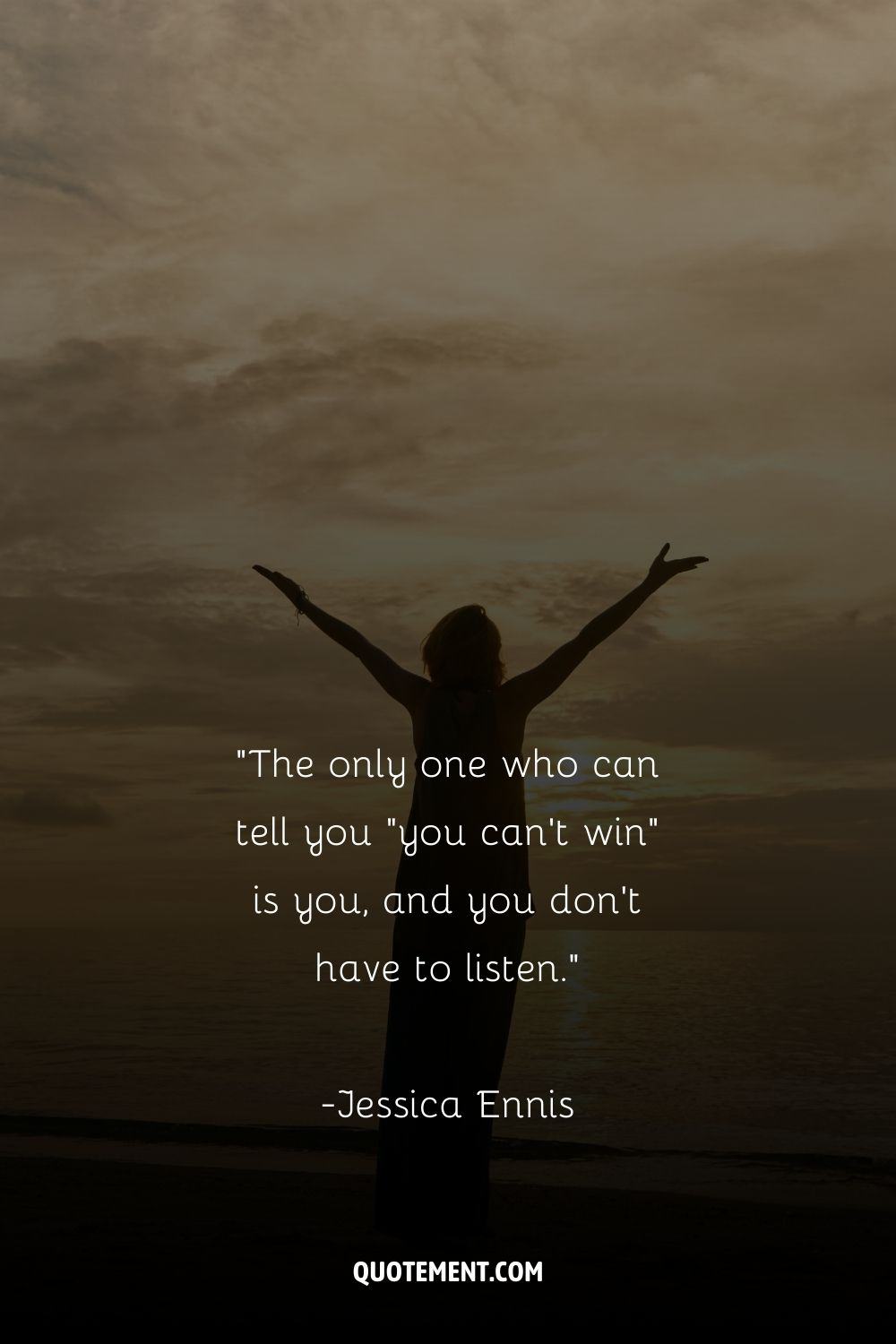 21. "Don't downgrade your dreams just to fit your reality. Upgrade your conviction to match your destiny." — Stuart W. Scott
22. "Beauty begins the moment you decide to be yourself." — Coco Chanel
23. "Failure isn't the end of the road. It's a big red flag saying to you 'Wrong way. Turn around.' " — Oprah Winfrey
24. "Never give up on a dream just because of the time it will take to accomplish it. The time will pass anyway." — Earl Nightingale
25. "All our dreams can come true, if we have the courage to pursue them." — Walt Disney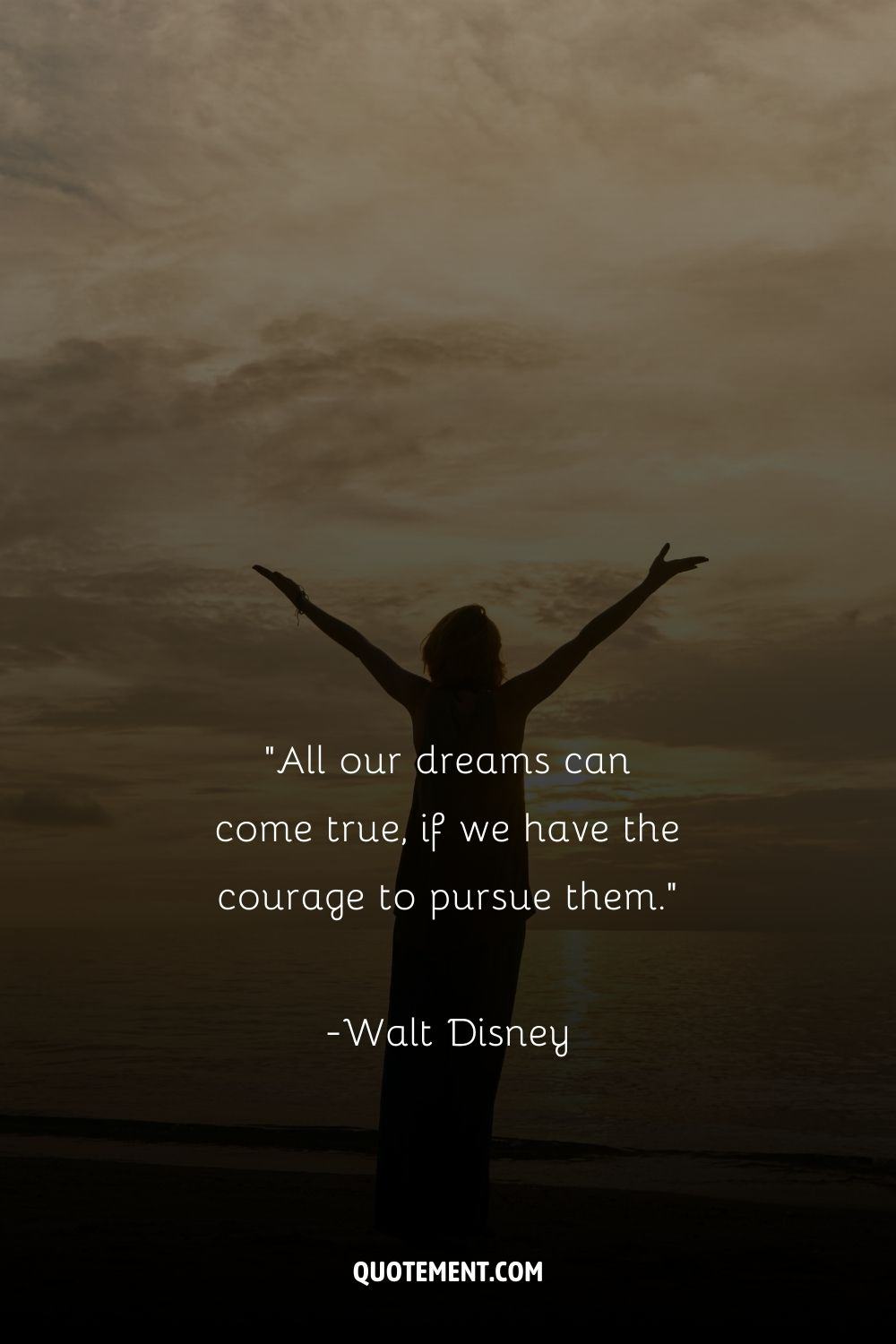 26. "Keep your face to the sunshine, and you cannot see a shadow." — Helen Keller
27. "You can only become truly accomplished at something you love. Don't make money your goal. Instead, pursue the things you love doing and then do them so well that people can't take their eyes off of you. " — Maya Angelou
28. "Set your goals high, and don't stop till you get there." — Bo Jackson
29. "Don't be afraid to fail. It's not the end of the world, and in many ways, it's the first step toward learning something and getting better at it." — Jon Hamm
30. "You were born to win, but to be a winner, you must plan to win, prepare to win, and expect to win. " — Zig Ziglar
31. "If you cannot do great things, do small things in a great way. " — Napoleon Hill
32. "Allow your dreams to lead you rather than allowing your problems to push you." — Okorote Emmanuel
33. "Act as if what you do makes a difference. It does. " — William James
34. "You can waste your lives drawing lines. Or you can live your life crossing them. " — Shonda Rhimes
35. "If you don't build your dream, someone else will hire you to help them build theirs. " — Dhirubhai Ambani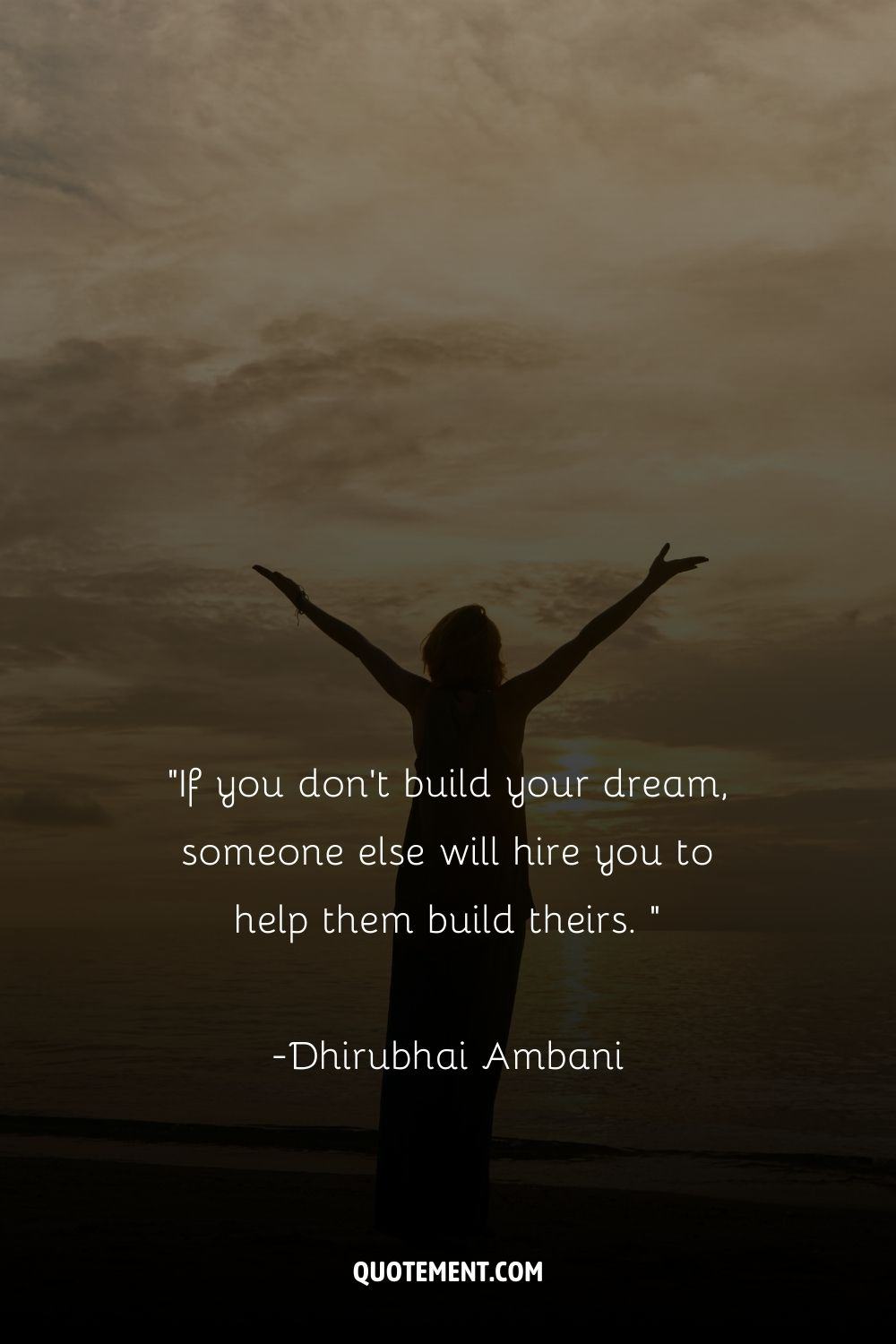 36. "You only live once, but if you do it right, once is enough." — Mae West
37. "When you make your dreams come true it may be only for yourself, but there are hundreds and maybe thousands who'll be inspired." — Thomas Meyer
38. "We are always more afraid than we wish to be, but we can always be braver than we expect." — Robert Jordan
39. "Hustle in silence and let your success make the noise." — Unknown
40. "You can't fall if you don't climb. But there's no joy in living your whole life on the ground." — Unknown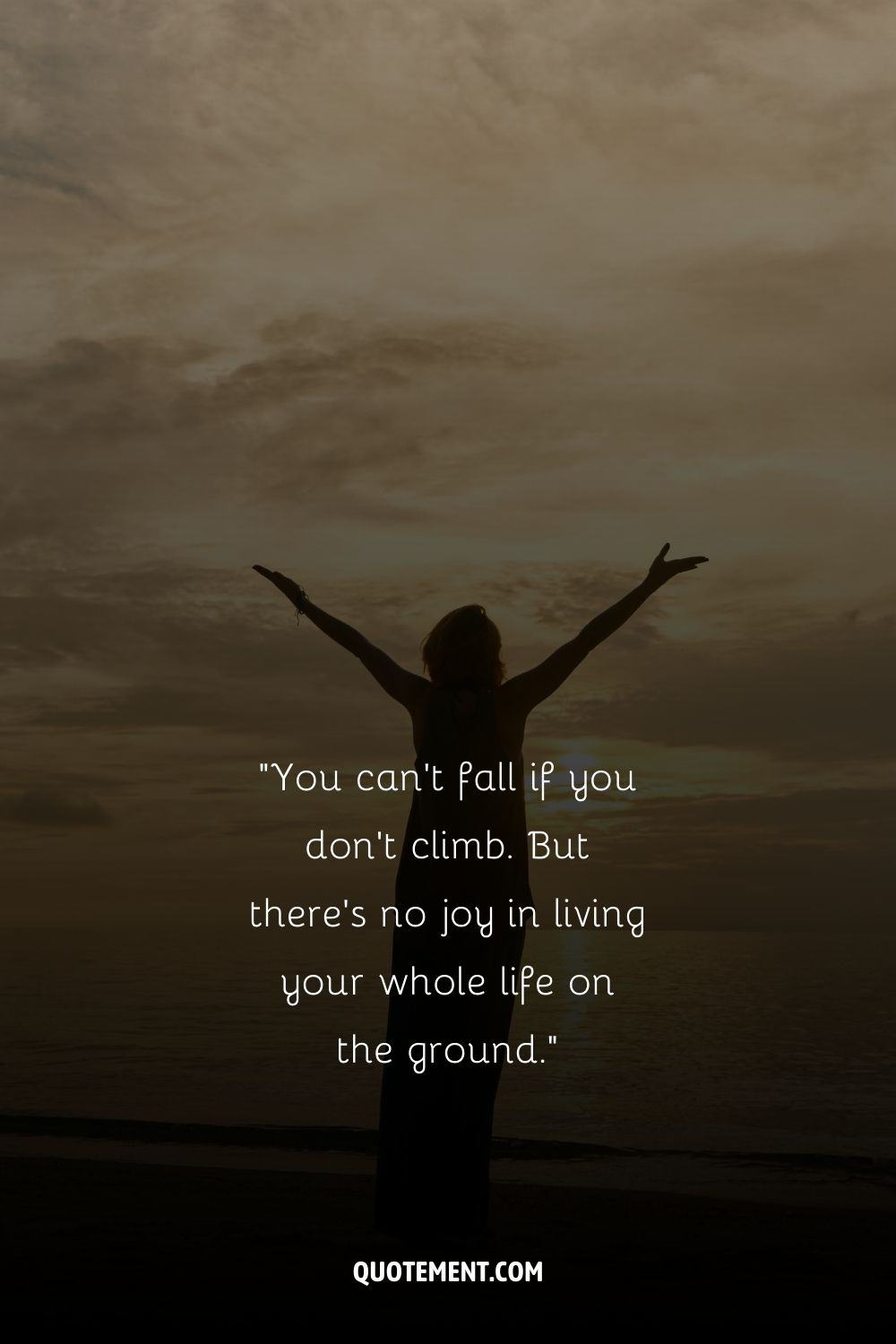 41. "It's not the will to win that matters — everyone has that. It's the will to prepare to win that matters." — Paul Bryant
42. "It is never too late to be what you might have been." — George Eliot
43. "At any given moment you have the power to say: this is not how the story is going to end. " — Unknown
44. "Never let success get to your head, and never let failure get to your heart." — Drake
45. "Develop success from failures. Discouragement and failure are two of the surest stepping stones to success." — Dale Carnegie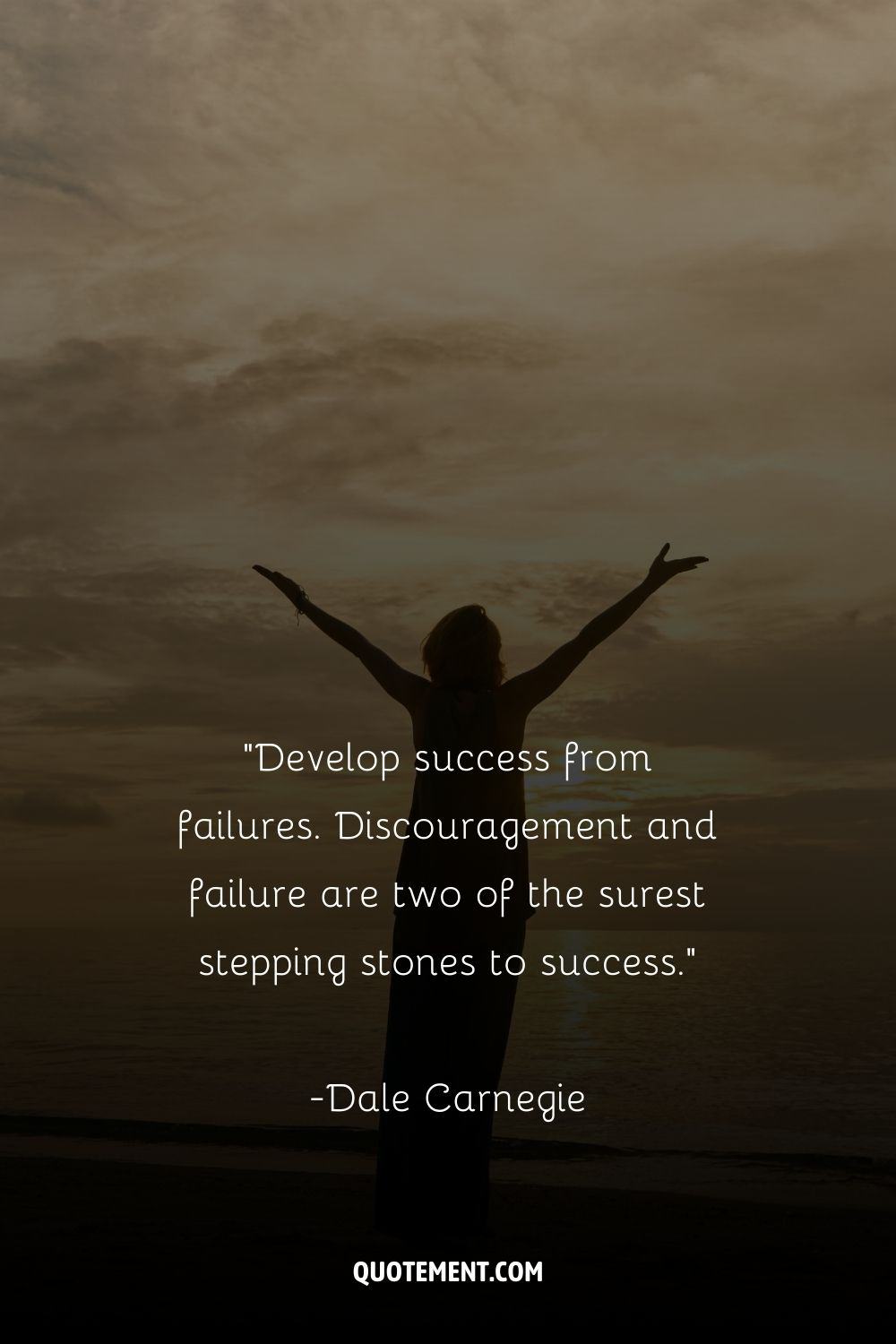 See also: 220 Best Proverbs About Success To Give You Inspiration
Positive Thought For Today Quotes
1. "Dwell on the beauty of life. Watch the stars, and see yourself running with them." — Marcus Aurelius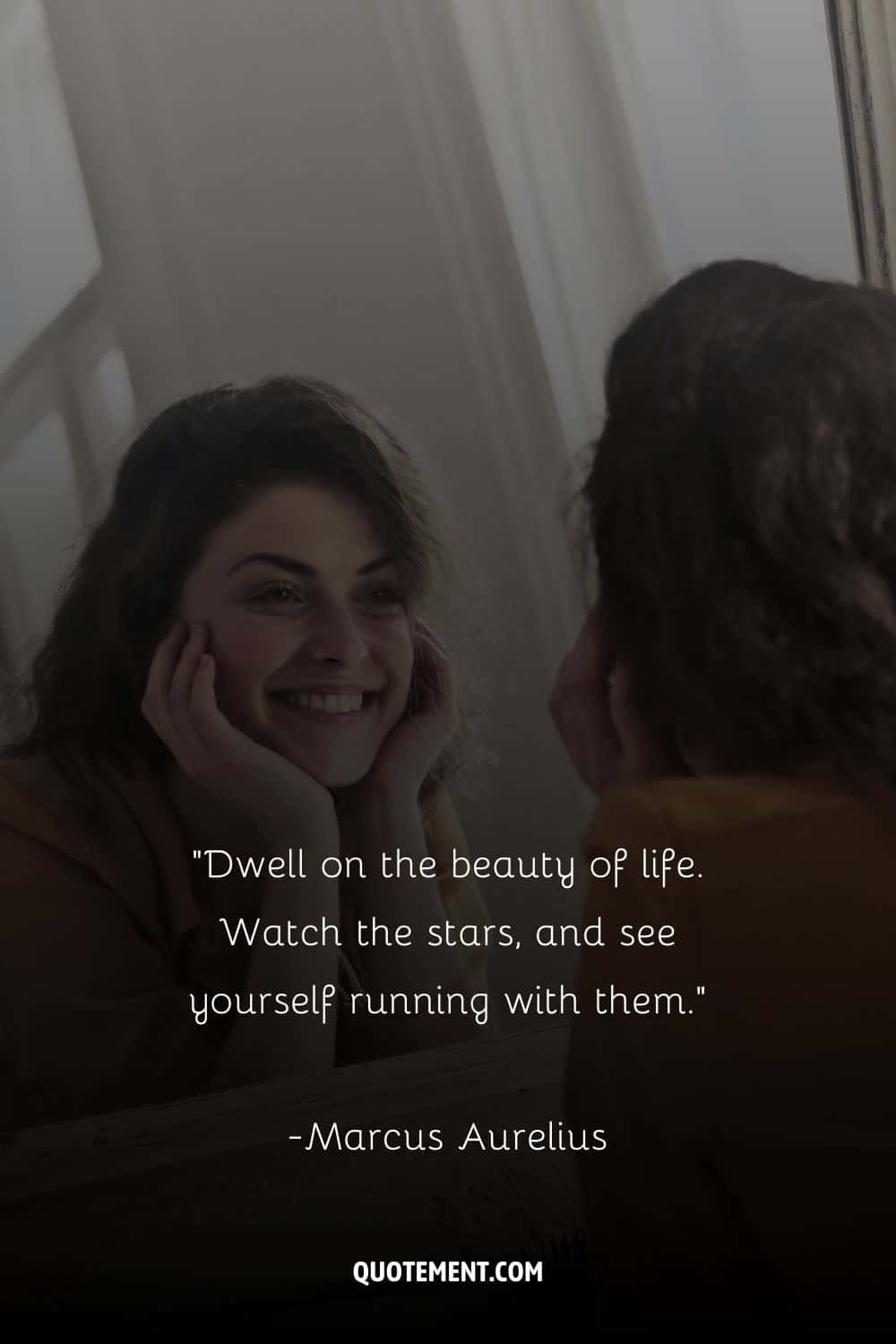 2. "Make a determination that you will live your purpose today." — Daniel Budzinski
3. "Once you replace negative thoughts with positive ones, you'll start having positive results." — Willie Nelson
4. "Either you run the day, or the day runs you. " — Jim Rohn
5. "We are shaped by our thoughts; we become what we think. When the mind is pure, joy follows like a shadow that never leaves." — Buddha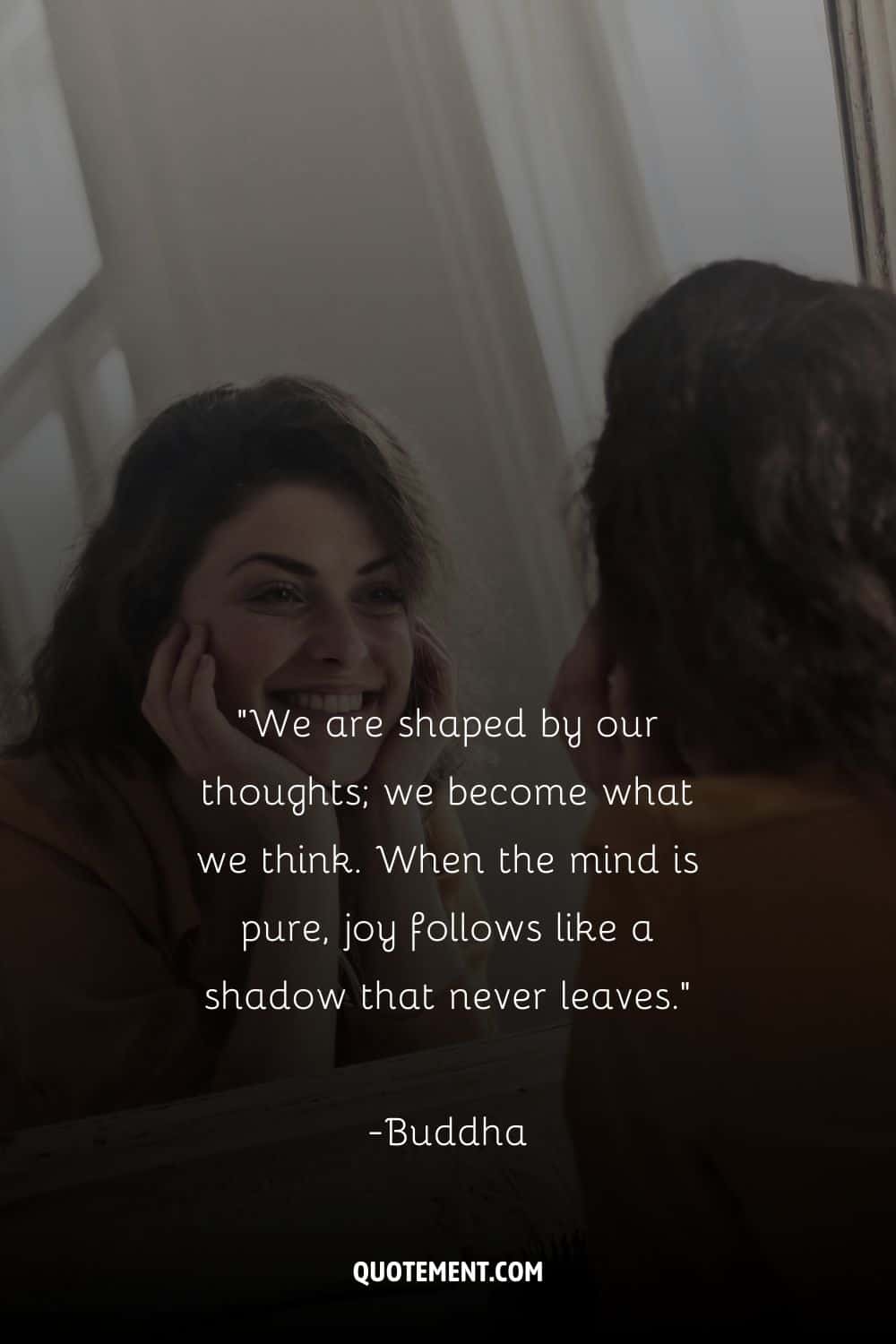 6. "Positive thinking will let you do everything better than negative thinking will." — Zig Ziglar
7. "Yesterday I was clever, so I wanted to change the world. Today I am wise, so I am changing myself. " — Rumi
8. "If you pay attention to the present, you can improve upon it." — Paulo Coelho
9. "A negative mind will never give you a positive life. " — Unknown
10. "Nobody can go back and start a new beginning, but anyone can start today and make a new ending." — Maria Robinson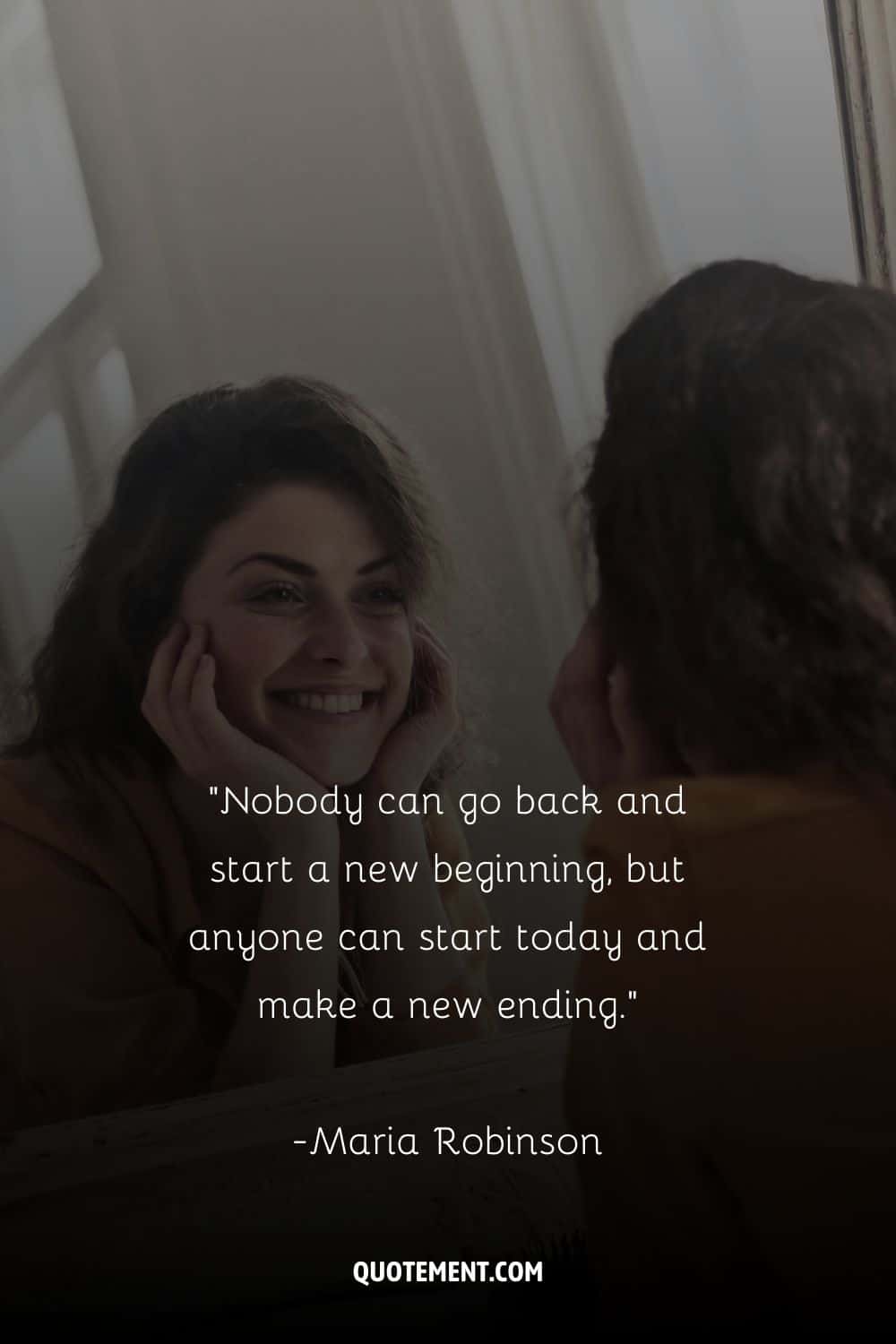 11. "When you are joyful, when you say yes to life and have fun and project positivity all around you, you become a sun in the center of every constellation, and people want to be near you." — Shannon L. Alder
12. "You attract the energy that you give off. Spread good vibes. Think positively. Enjoy life." — Unknown
13. "It makes a big difference in your life when you stay positive." — Ellen DeGeneres
14. "Make each day your masterpiece. " — John Wooden
15. "The more you praise and celebrate your life, the more there is in life to celebrate." — Oprah Winfrey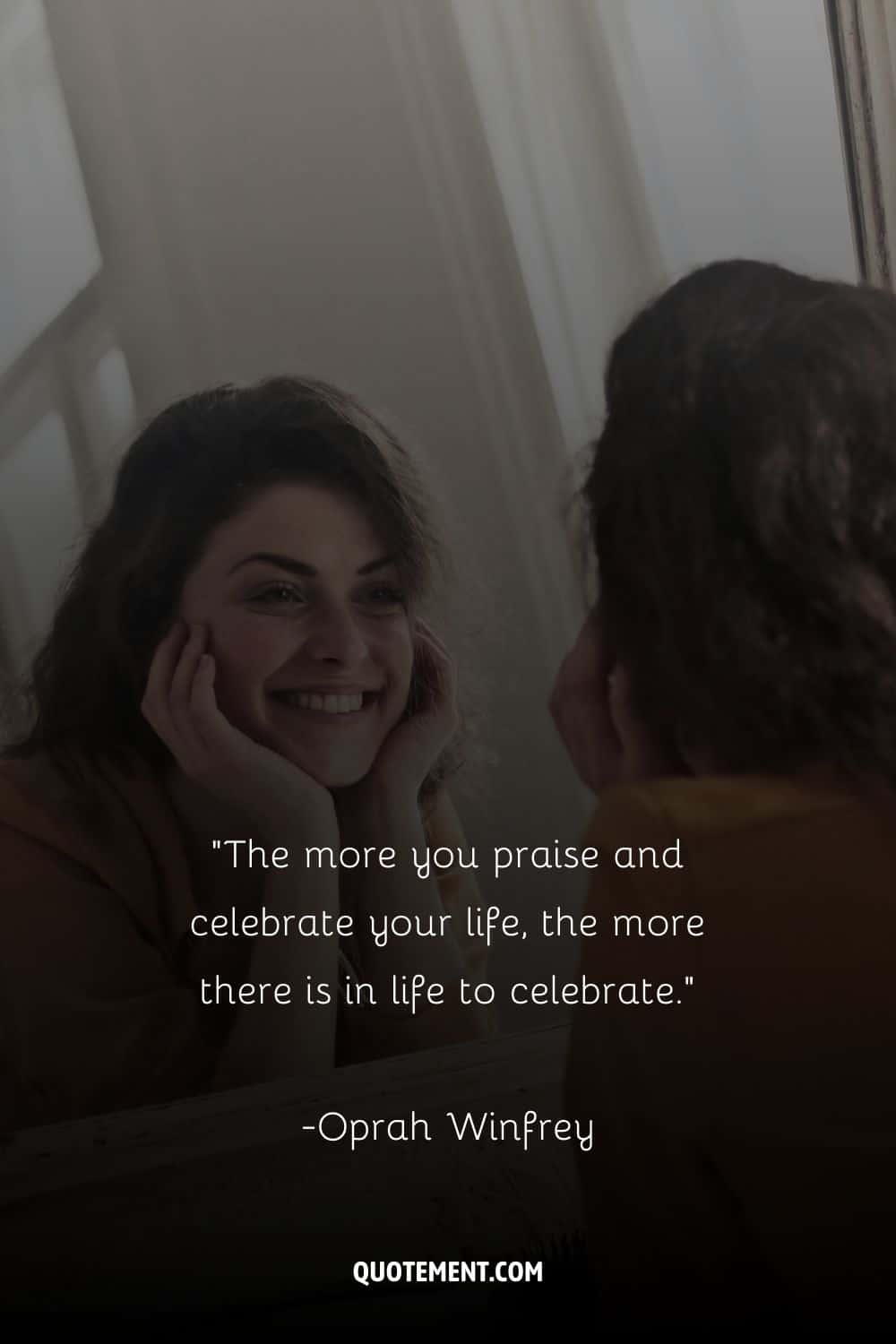 16. "Do the best you can. No one can do more than that. " — John Wooden
17. "The good life is a process, not a state of being. It is a direction, not a destination." — Carl Rogers
18. "If you want light to come into your life, you need to stand where it is shining." — Guy Finley
19. "What we think, we become." — Buddha
20. "Let today be the day you learn the grace of letting go and the power of moving on." — Steve Maraboli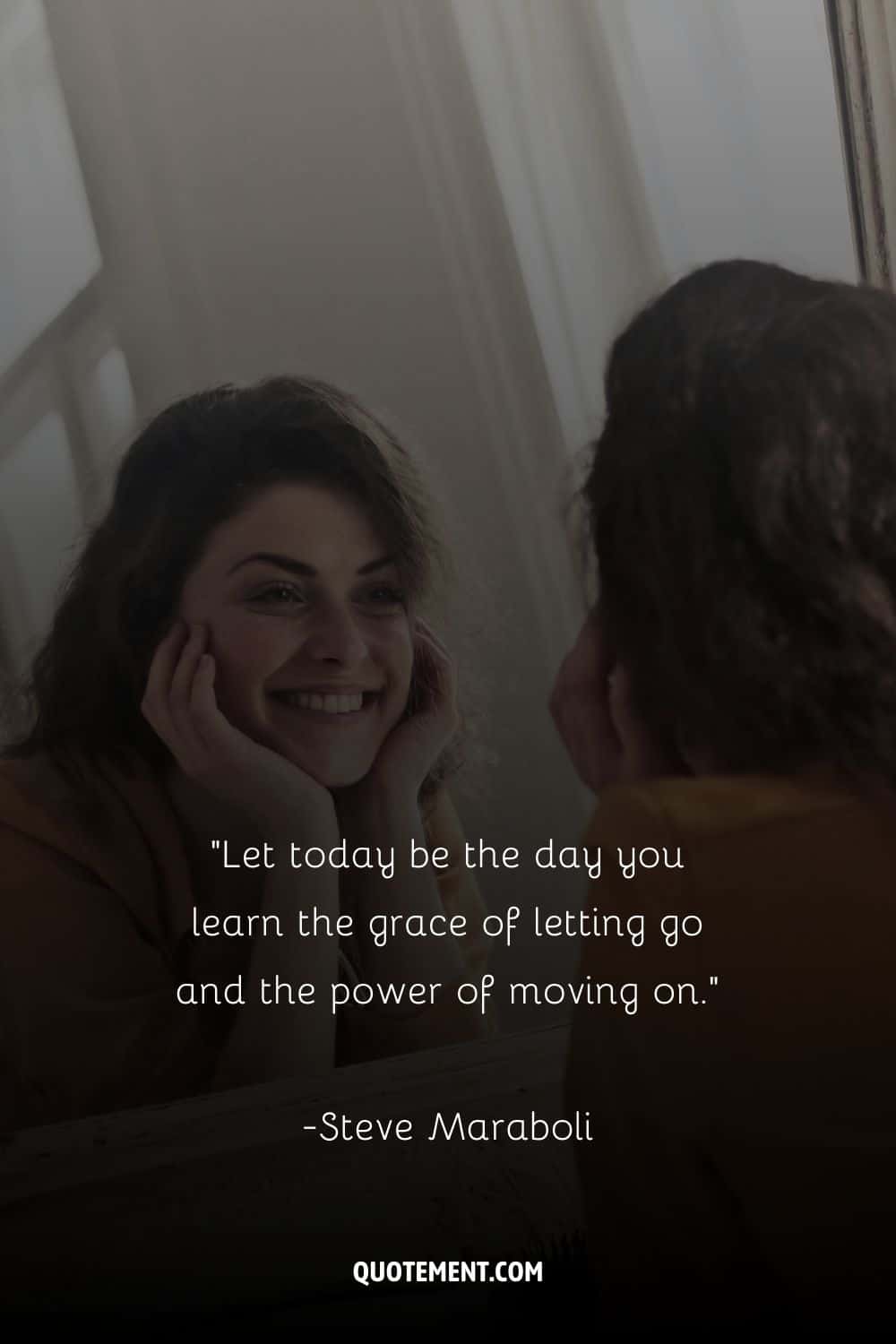 21. "Every day may not be good… but there's something good in every day." — Alice Morse Earle
22. "If we are facing in the right direction, all we have to do is keep on walking." — Buddhist proverb
23. "Do something today that your future self will thank you for. " — Unknown
24. "If today you are a little bit better than you were yesterday, then that's enough. " — David A. Bednar
25. "It's most important that you surround yourself with positivity always, and have it in your mind at all times." — Tyler Perry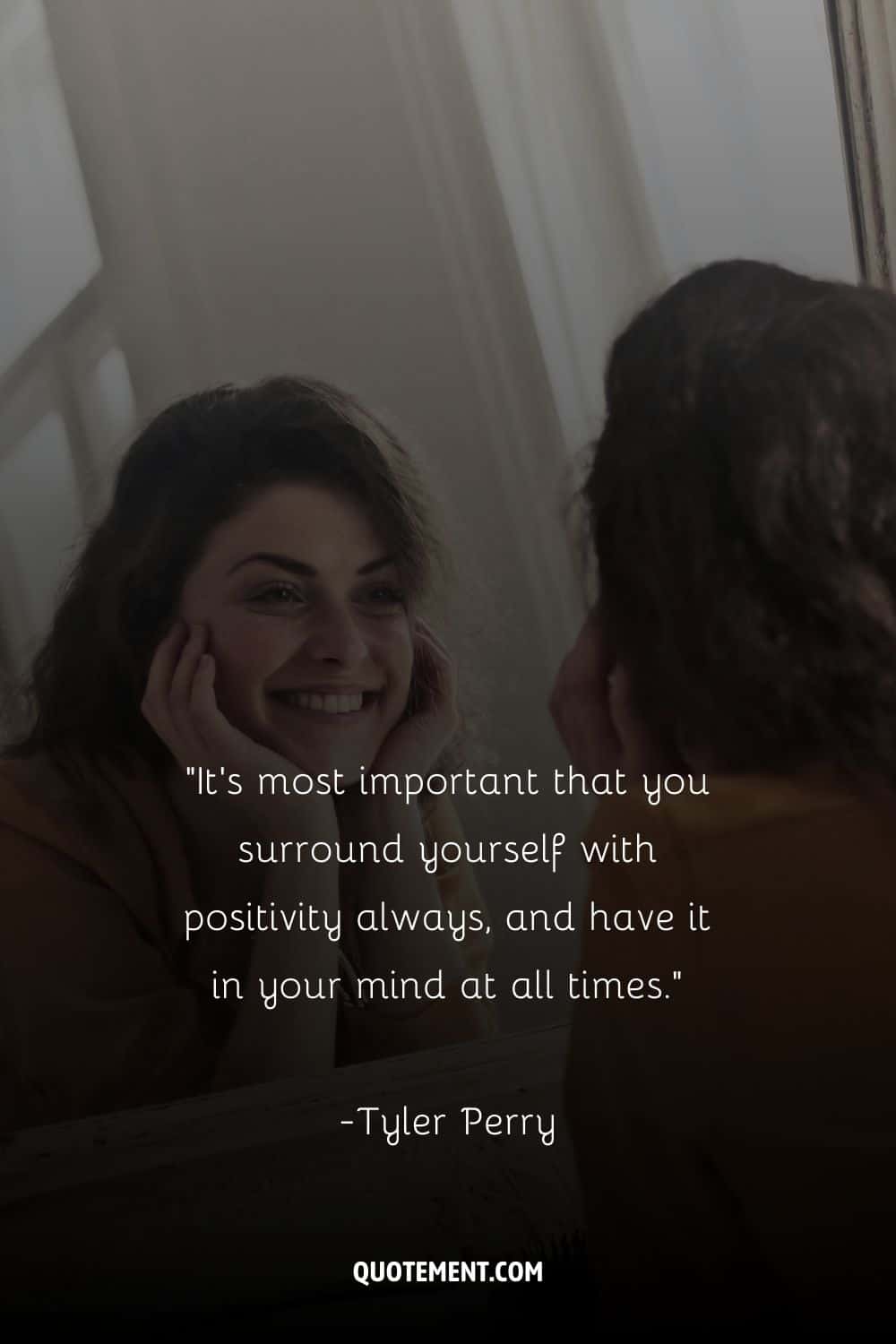 26. "If you can stay positive in a negative situation, you win." — Unknown
27. "What you have done is nothing compared to what you can do." — Grant Cardone
28. "Only put off until tomorrow what you are willing to die having left undone." — Pablo Picasso
29. "When life gives you Monday, dip it in glitter and sparkle all day. " — Ella Woodword
30. "Keep your face always toward the sunshine — and shadows will fall behind you." — Walt Whitman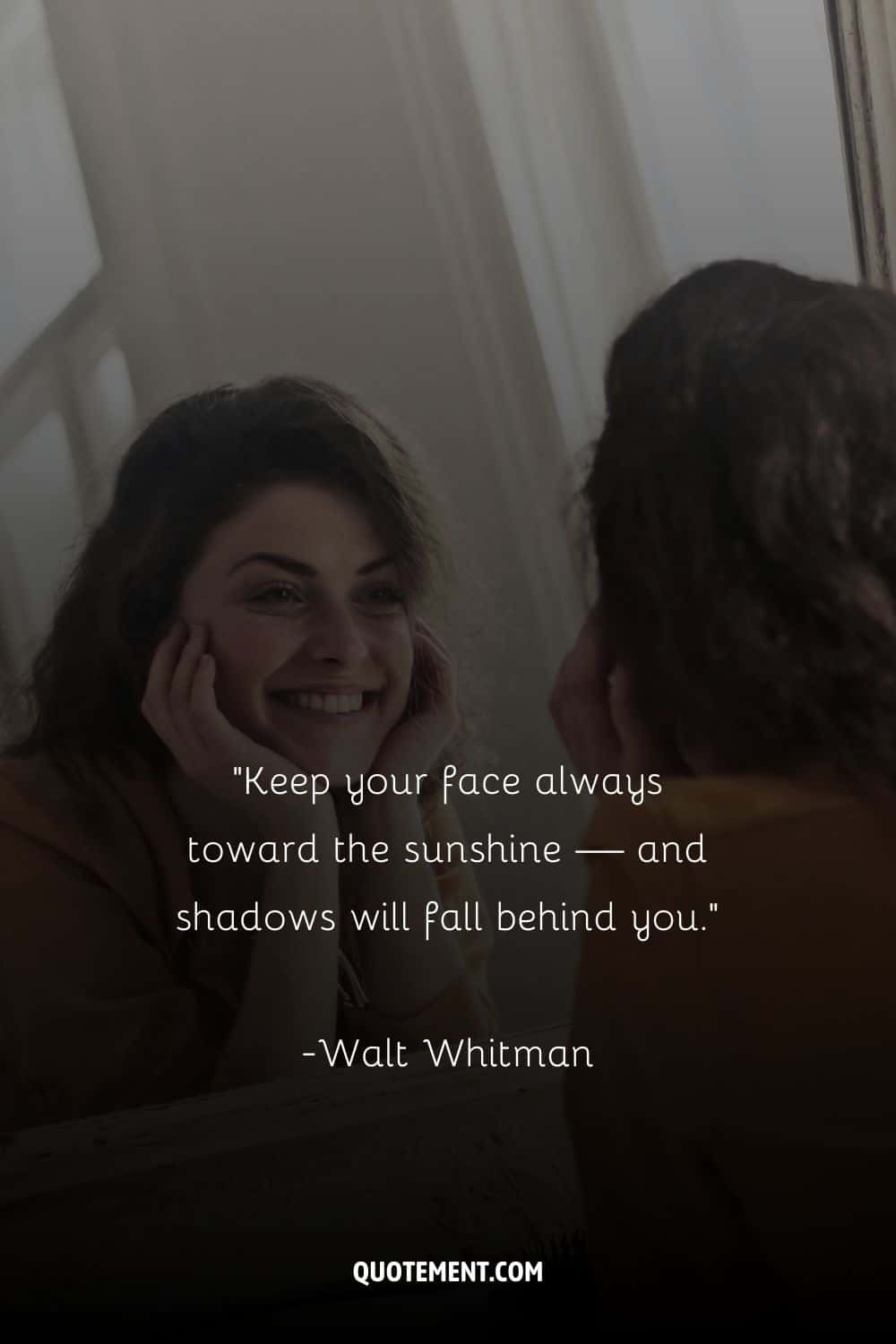 31. "You can do anything you set your mind to. " — Benjamin Franklin
32. "You'll have bad times, but it'll always wake you up to the good stuff you weren't paying attention to. " — Good Will Hunting
33. "Your positive action combined with positive thinking results in success. " — Shiv Khera
34. "Extraordinary things are always hiding in places people never think to look." — Jodi Picoul
35. "All you need is the plan, the road map, and the courage to press on to your destination." — Earl Nightingale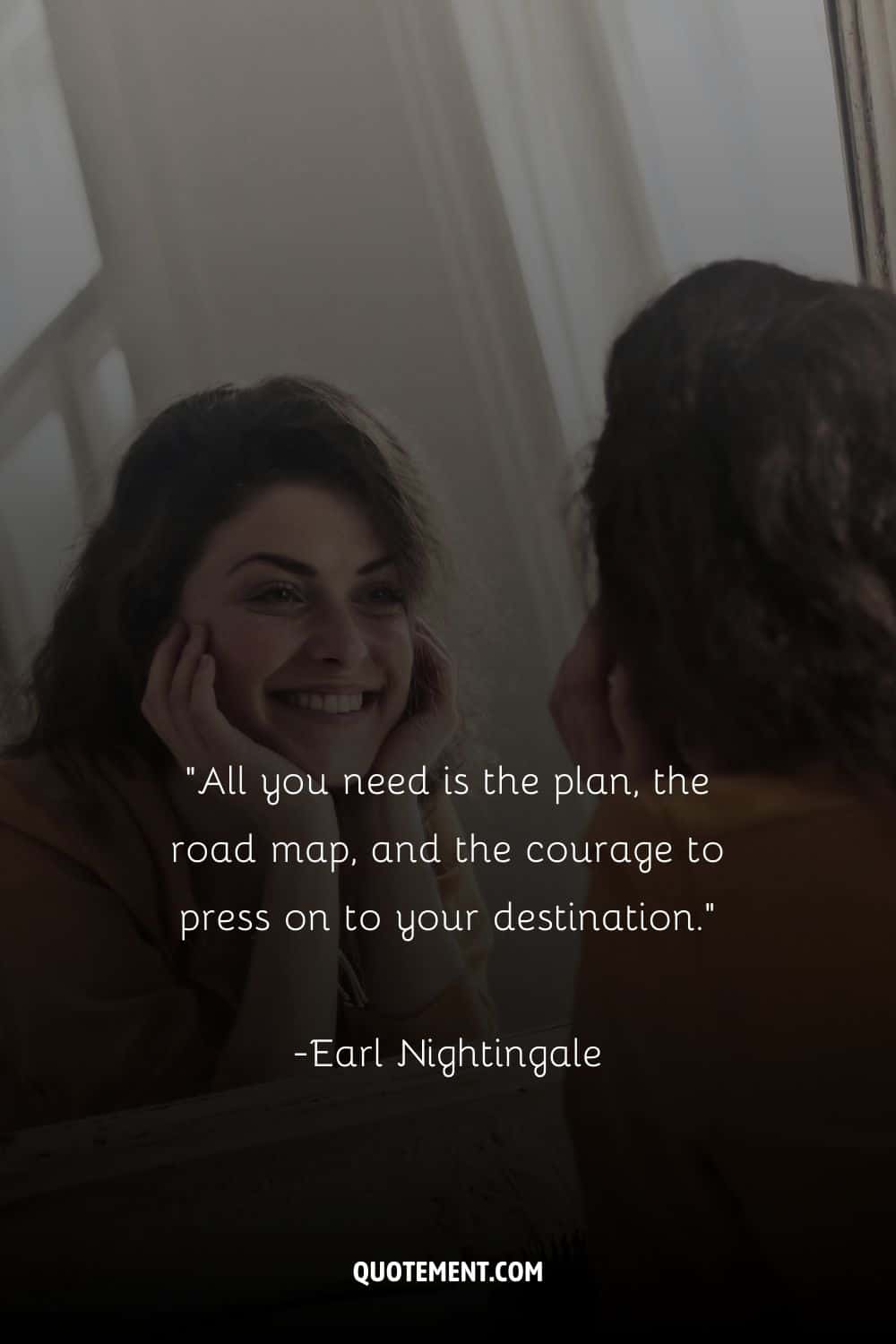 36. "Say something positive, and you'll see something positive." — Jim Thompson
37. "Setting goals is the first step in turning the invisible into the visible." — Tony Robbins
38. "You can have it all. Just not all at once." — Oprah Winfrey
39. "The most wasted of days is one without laughter." — E. E. Cummings
40. "Just for the record darling, not all positive change feels positive in the beginning." — S. C. Lourie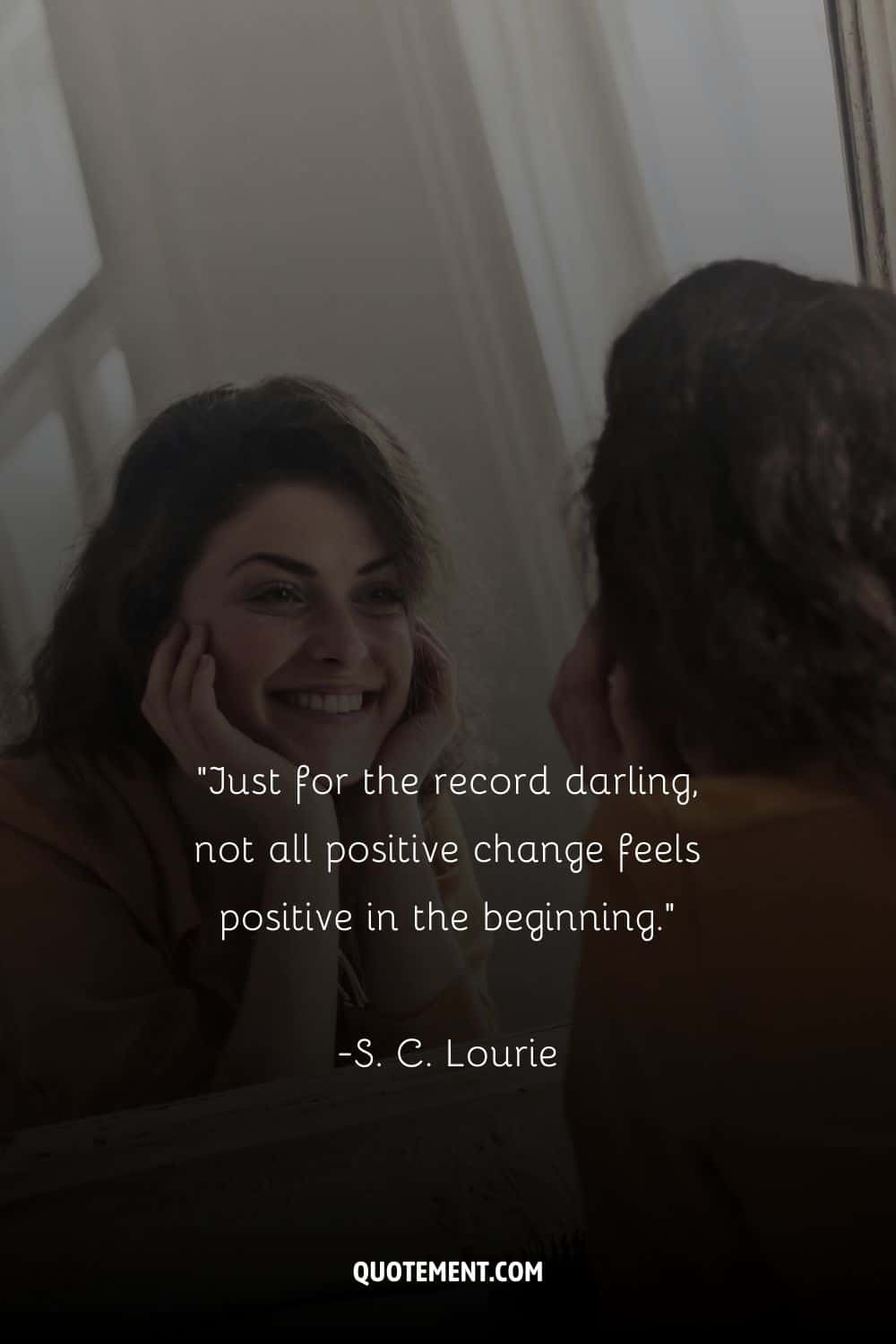 41. "To win big, you sometimes have to take big risks." — Bill Gates
42. "As we express our gratitude, we must never forget that the highest appreciation is not to utter words, but to live by them." — John F. Kennedy
43. "To live a fulfilled life, we need to keep creating the 'what is next', of our lives. Without dreams and goals, there is no living, only merely existing, and that is not why we are here." — Mark Twain
44. "Think and wonder. Wonder and think." — Dr. Suess
45. "Any day above ground is a good day. Before you complain about anything, be thankful for your life and the things that are still going well." ― Germany Kent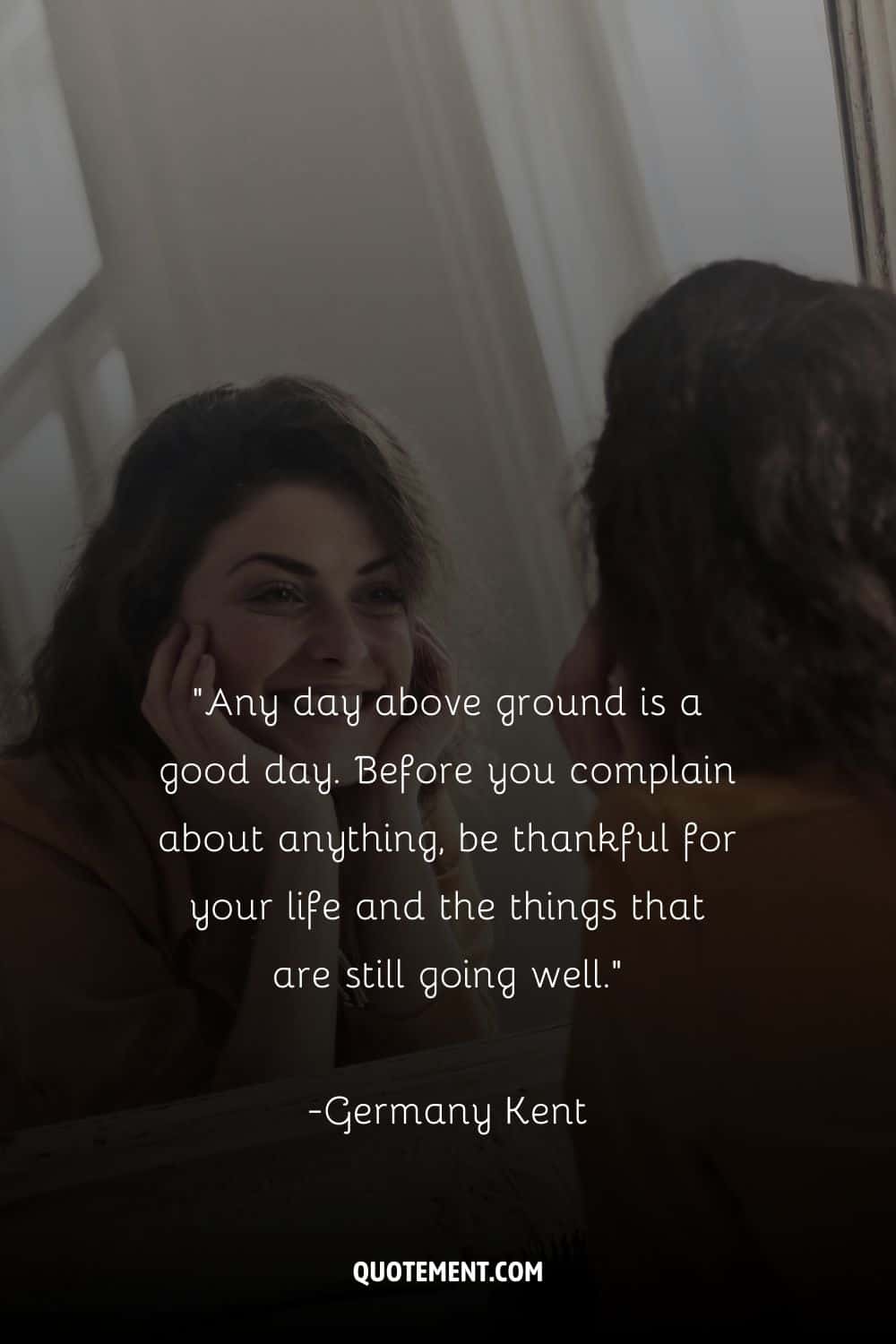 Happy Thoughts For The Day Quotes
1. "Optimism is a happiness magnet. If you stay positive good things and good people will be drawn to you." — Mary Lou Retton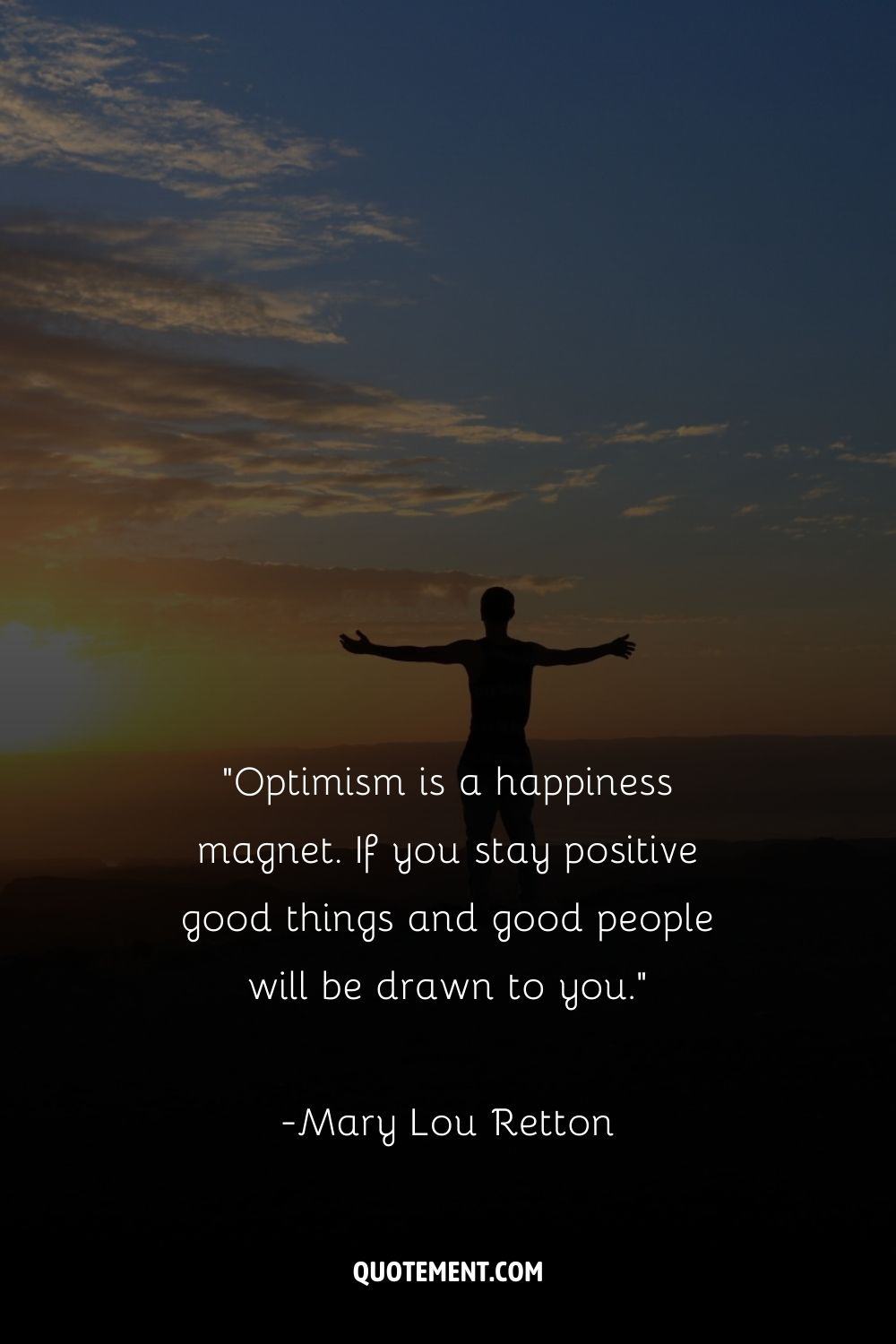 2. "Be happy with what you have while working for what you want. " — Helen Keller
3. "You carry the passport to your own happiness." — Diane von Furstenberg
4. "5 Rules of happiness: Don't hate, don't worry, give more, expect less, live simply." — Unknown
5. "Happiness is an attitude. We either make ourselves miserable or happy and strong. The amount of work is the same." — Francesca Reigler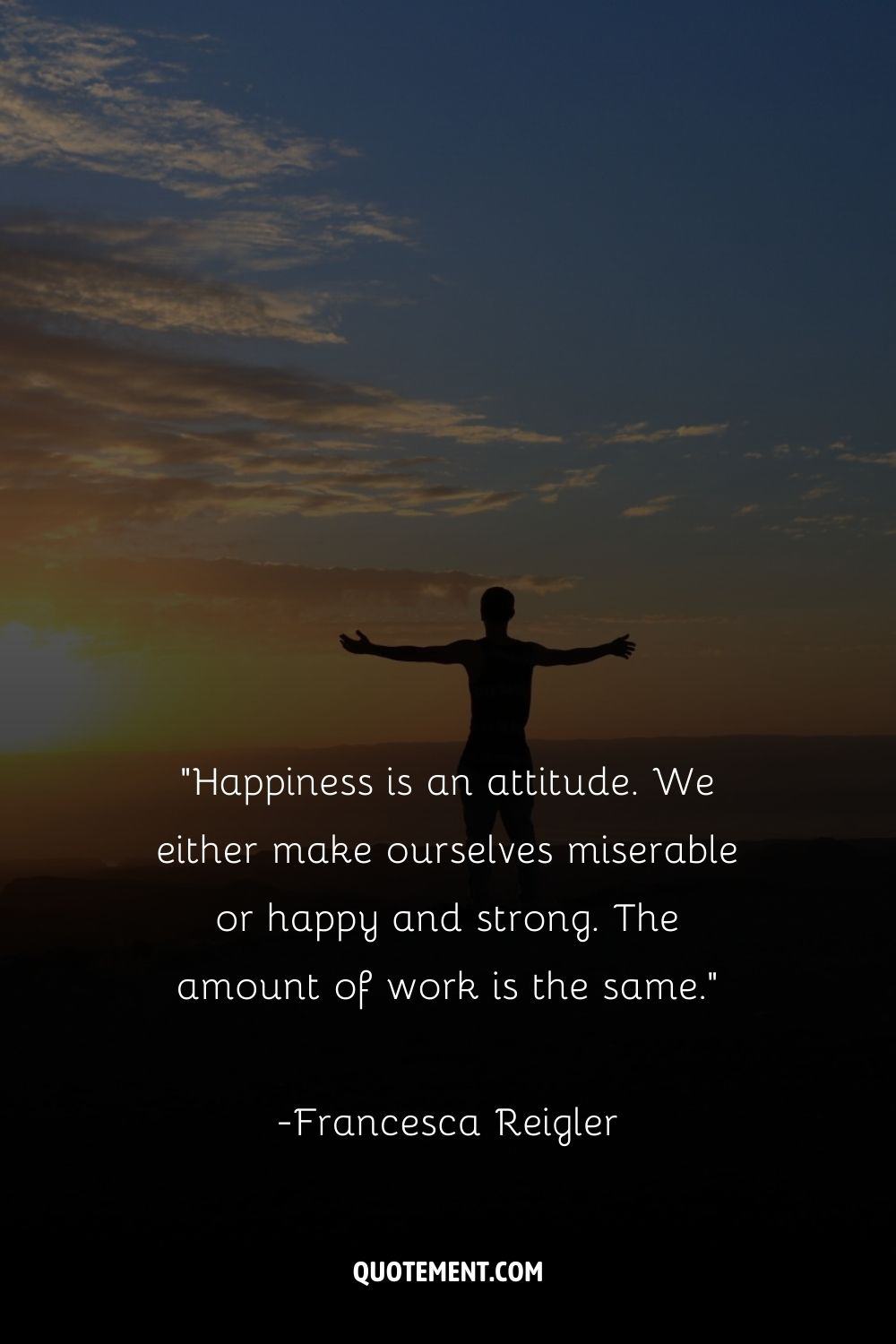 6. "Happiness is the only thing that multiplies when you share it." — Albert Schweitzer
7. "Happiness is a butterfly, which when pursued, is always just beyond your grasp, but which, if you will sit down quietly, may alight upon you." — Nathaniel Hawthorne
8. "Thousands of candles can be lighted from a single candle, and the life of the candle will not be shortened. Happiness never decreases by being shared." — Buddha
9. "You do not find the happy life. You make it." — Thomas S. Monson
10. "The moments of happiness we enjoy take us by surprise. It is not that we seize them but that they seize us." — Ashley Montagu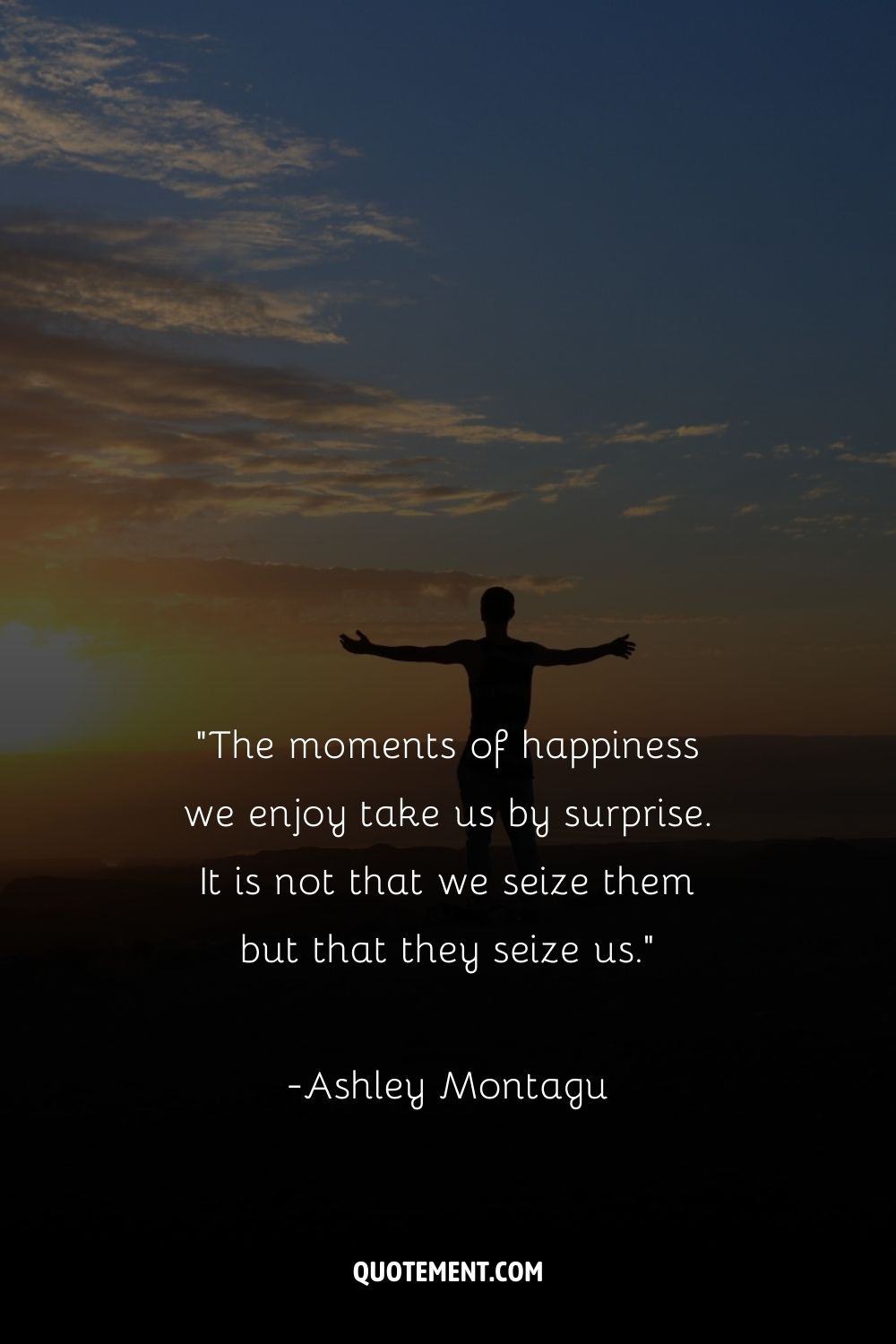 11. "Think of all the beauty still left around you and be happy." — Anne Frank
12. "Happiness is when what you think, what you say, and what you do are in harmony." — Mahatma Gandhi
13. "We don't make mistakes, just happy little accidents." — Bob Ross
14. "A truly happy person is one who can enjoy the scenery while on a detour." — Unknown
15. "Everyone wants happiness, no one wants pain, but you can't make a rainbow without a little rain." — Zion Lee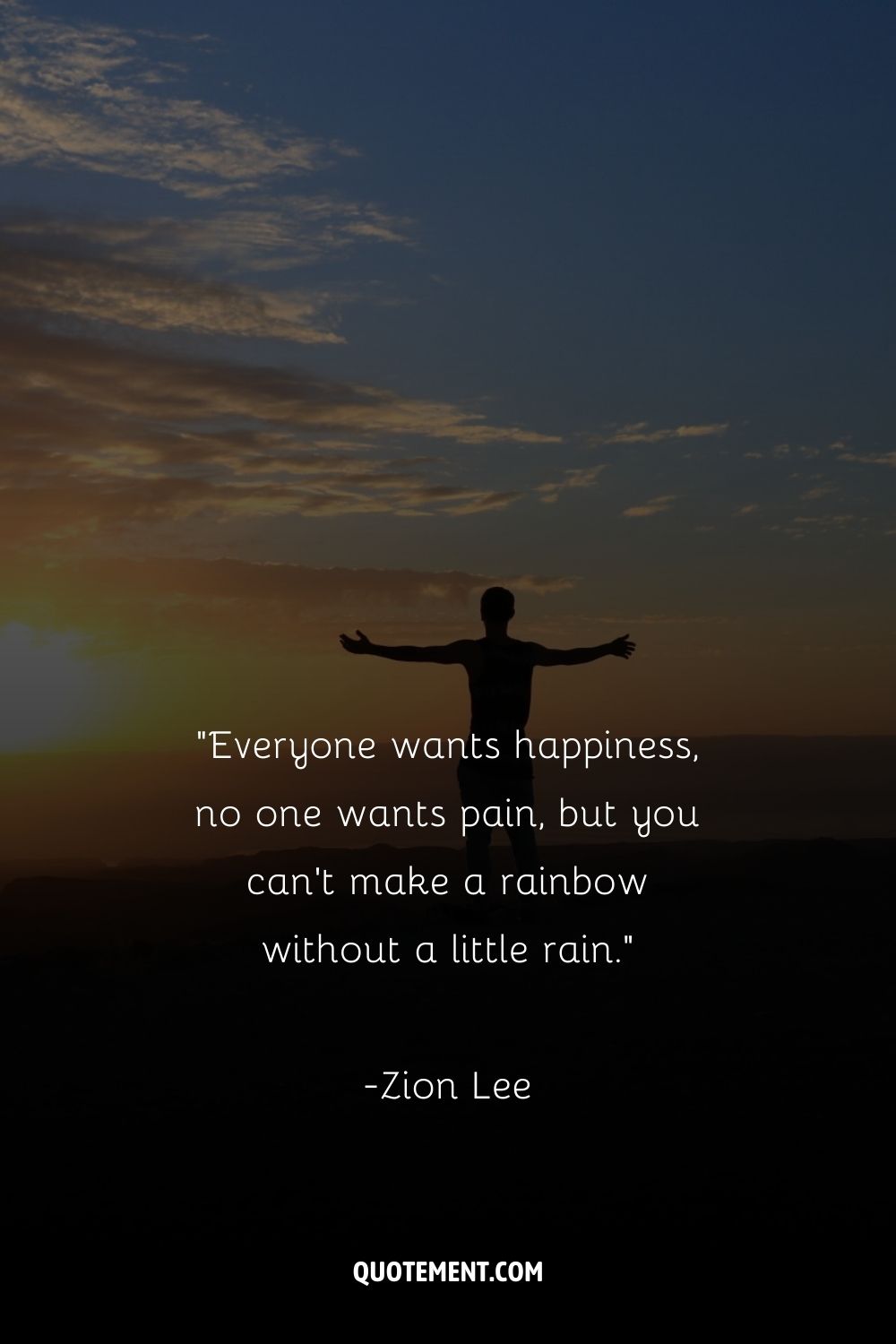 16. "Wherever you go, no matter what the weather, always bring your own sunshine." — Anthony J. D'Angelo
17. "Happy is the man who can make a living by his hobby." — George Bernard Shaw
18. "Happiness is making the most of what you have, and riches is making the most of what you've got." — Rosamunde Pilcher
19. "One of the secrets of a happy life is continuous small treats." — Iris Murdoch
20. "The most important thing is to enjoy your life — to be happy — it's all that matters." — Audrey Hepburn
21. "Happiness held is the seed; happiness shared is the flower." — John Harrigan
22. "It's not about being happy all the time or being sure of all your choices. It's about knowing that life is precious, even when it's tough." — Topher Kearby
23. "Happiness consists more in small conveniences or pleasures that occur every day, than in great pieces of good fortune that happen but seldom to a man in the course of his life." — Benjamin Franklin
24. "Happiness is not something readymade. It comes from your own actions." — Dalai Lama
25. "If you want to be happy, do not dwell in the past, do not worry about the future, focus on living fully in the present." — Roy T. Bennett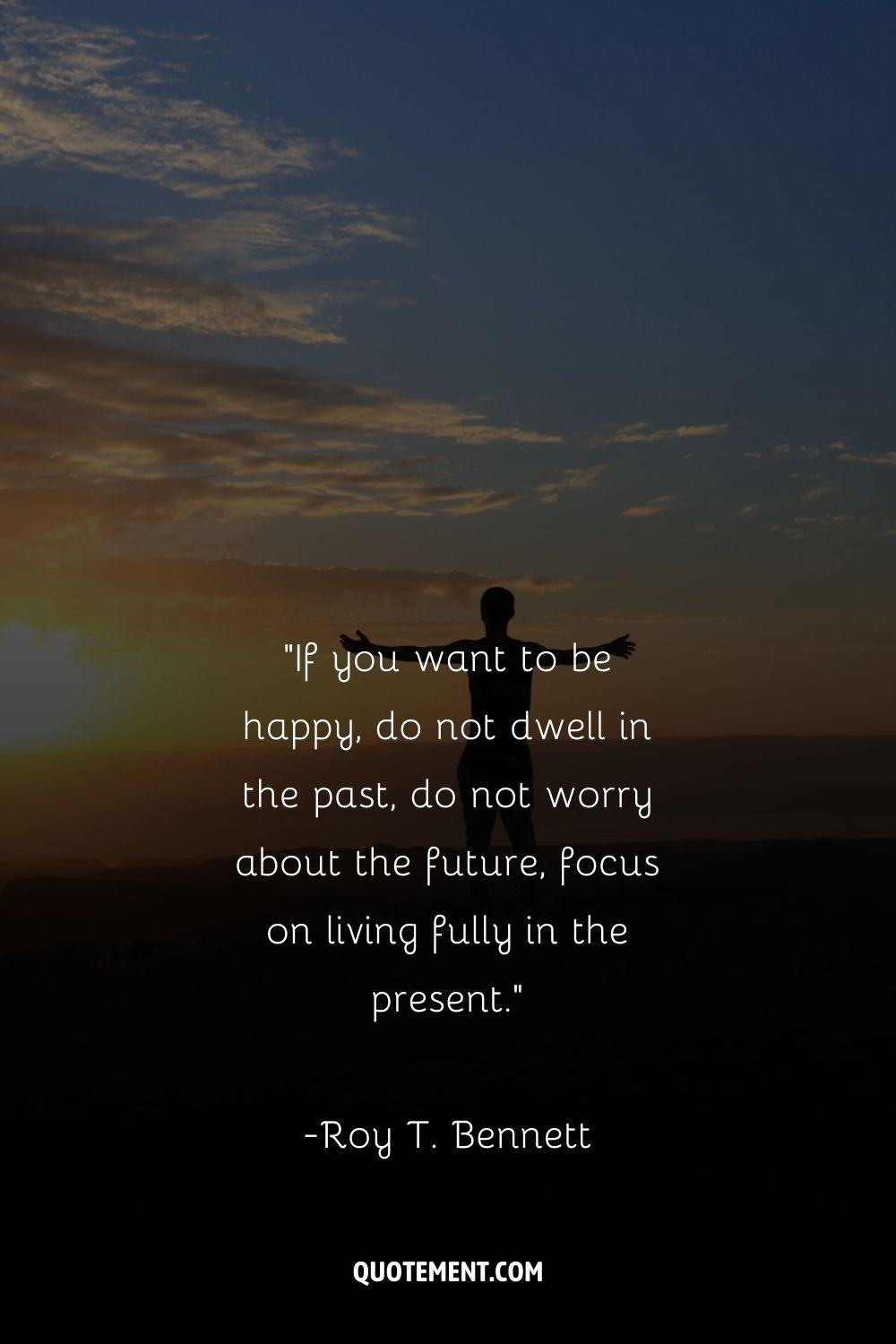 26. "There is no path to happiness; happiness is the path." — Buddha
27. "Happiness is not a goal… it's a by-product of a life well lived." — Eleanor Roosevelt
28. "Let us be grateful to the people who make us happy; they are the charming gardeners who make our souls blossom." — Marcel Proust
29. "I have chosen to be happy because it's good for my health." — Voltaire
30. "A calm and modest life brings more happiness than the pursuit of success combined with constant restlessness." — Albert Einstein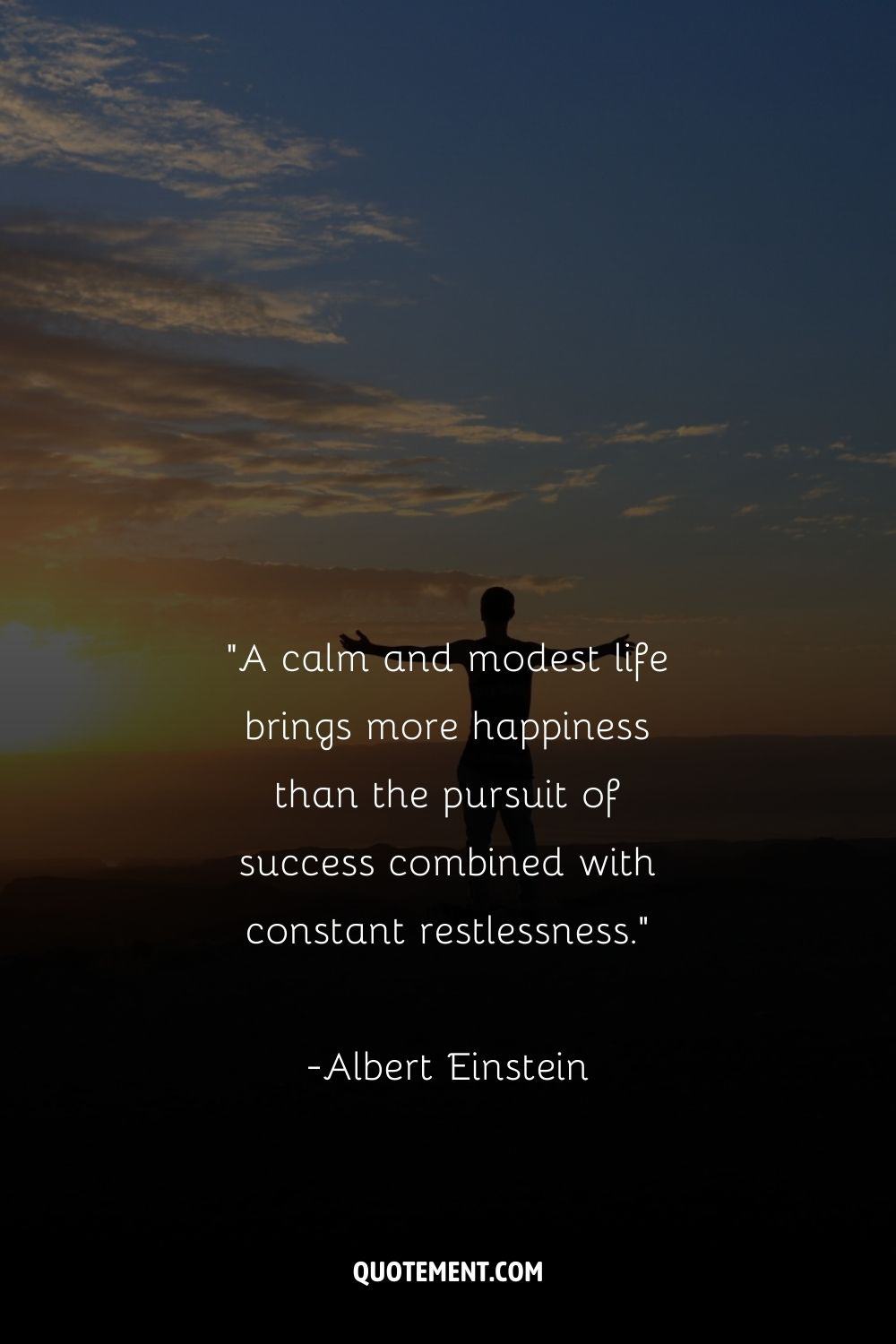 31. "Don't worry. Be happy." — Bobby McFerrin
32. "It isn't what you have or who you are or where you are or what you are doing that makes you happy or unhappy. It is what you think about it." — Dale Carnegie
33. "Happiness is the secret to all beauty. There is no beauty without happiness." — Christian Dior
34. "If you find serenity and happiness, some may be jealous. Be happy anyway." — Mother Teresa
35. "Do not set aside your happiness. Do not wait to be happy in the future. The best time to be happy is always now." — Roy T. Bennett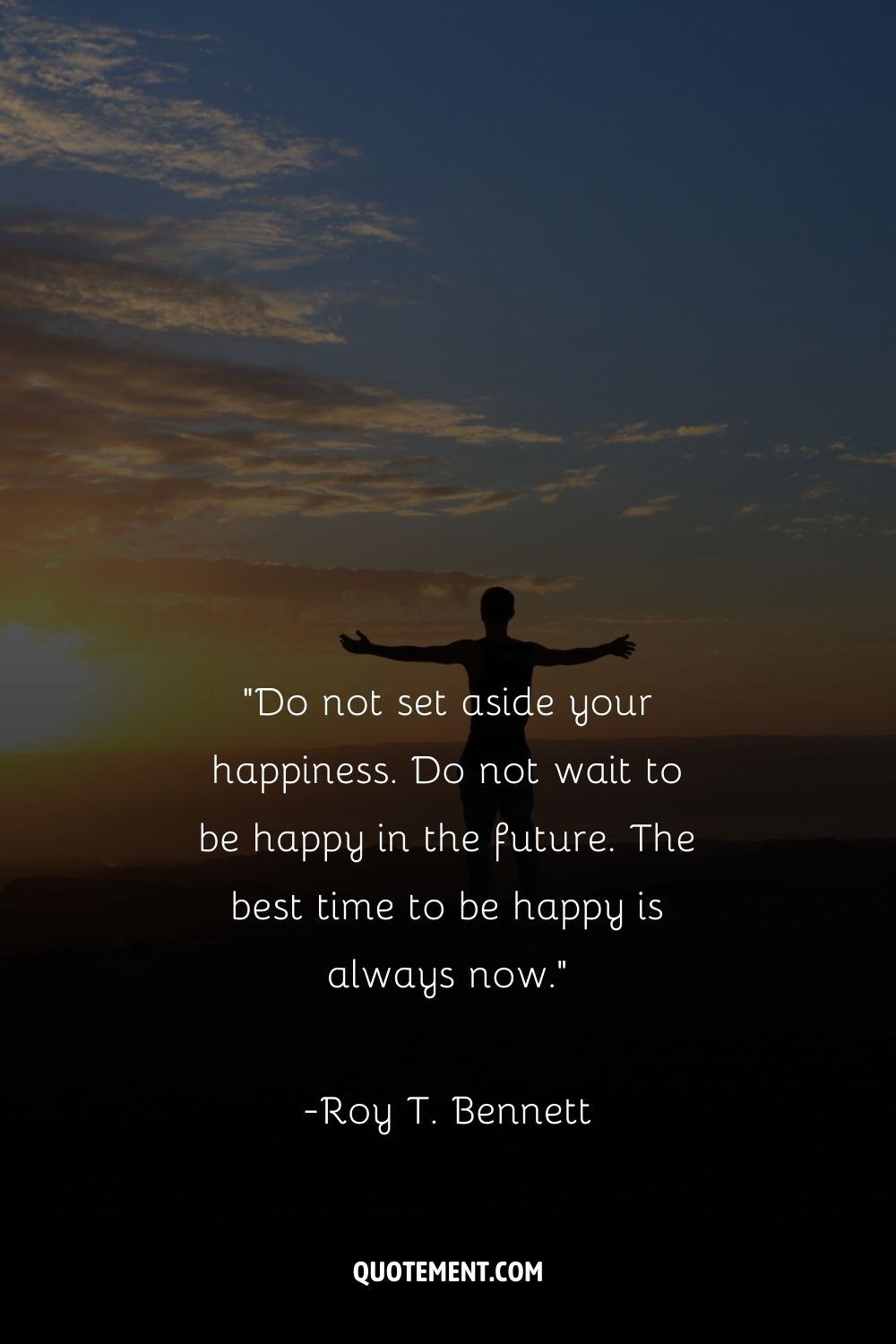 36. "No medicine cures what happiness cannot." — Gabriel García Márquez
37. "Happiness is a state of mind. It's just according to the way you look at things." — Walt Disney
38. "Every day is a new day, and you'll never be able to find happiness if you don't move on." — Carrie Underwood
39. "The best way to cheer yourself is to try to cheer someone else up." — Mark Twain
40. "The thing everyone should realize is that the key to happiness is being happy by yourself and for yourself." — Ellen DeGeneres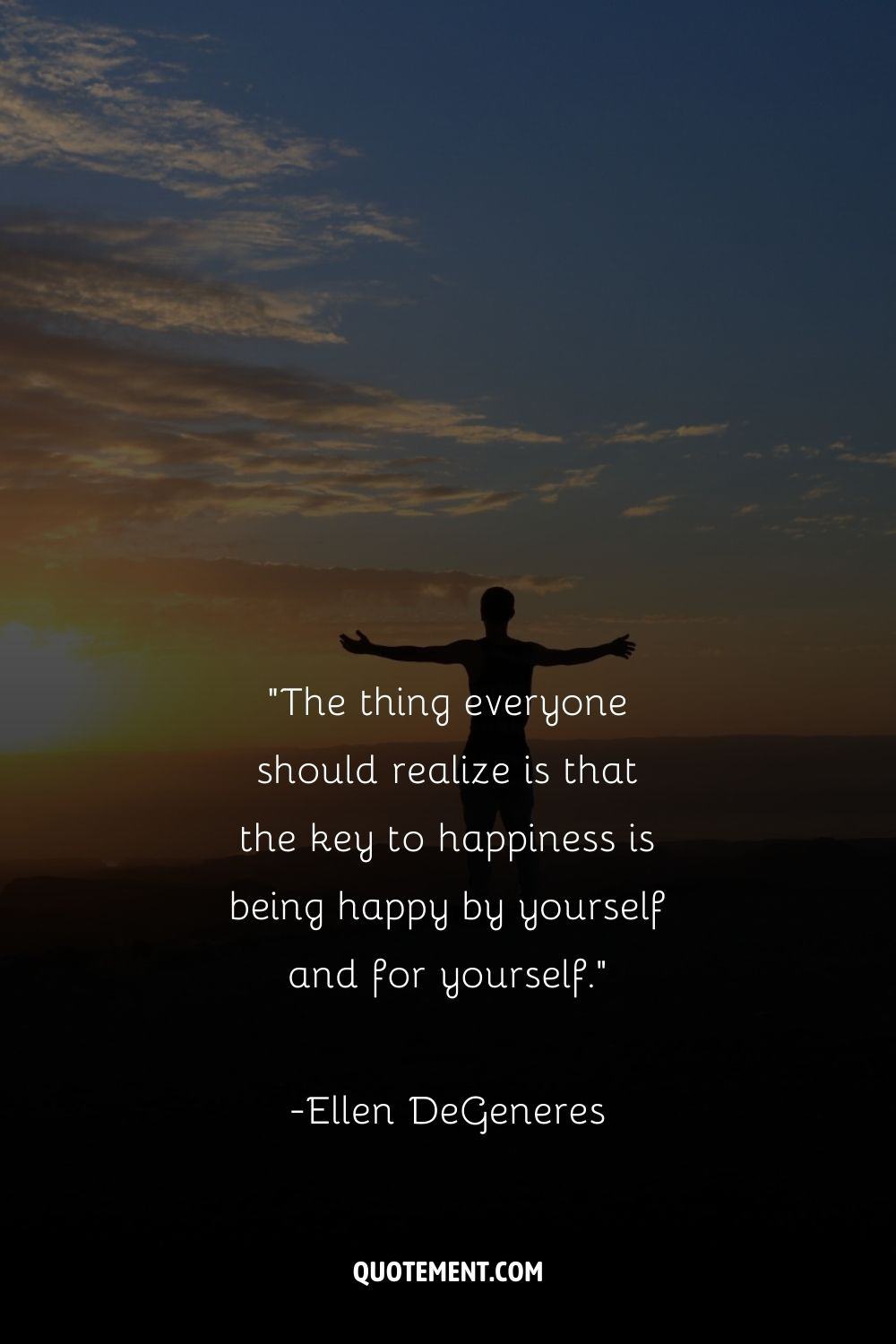 41. "For every minute you are angry you lose sixty seconds of happiness." — Ralph Waldo Emerson
42. "Count your age by friends, not years. Count your life by smiles, not tears." — John Lennon
43. "It is only possible to live happily ever after on a daily basis." — Margaret Bonanno
44. "Joy is not in things; it is in us." — Richard Wagner
45. "Misery might love company, but so does joy. And joy throws much better parties." — Billy Ivey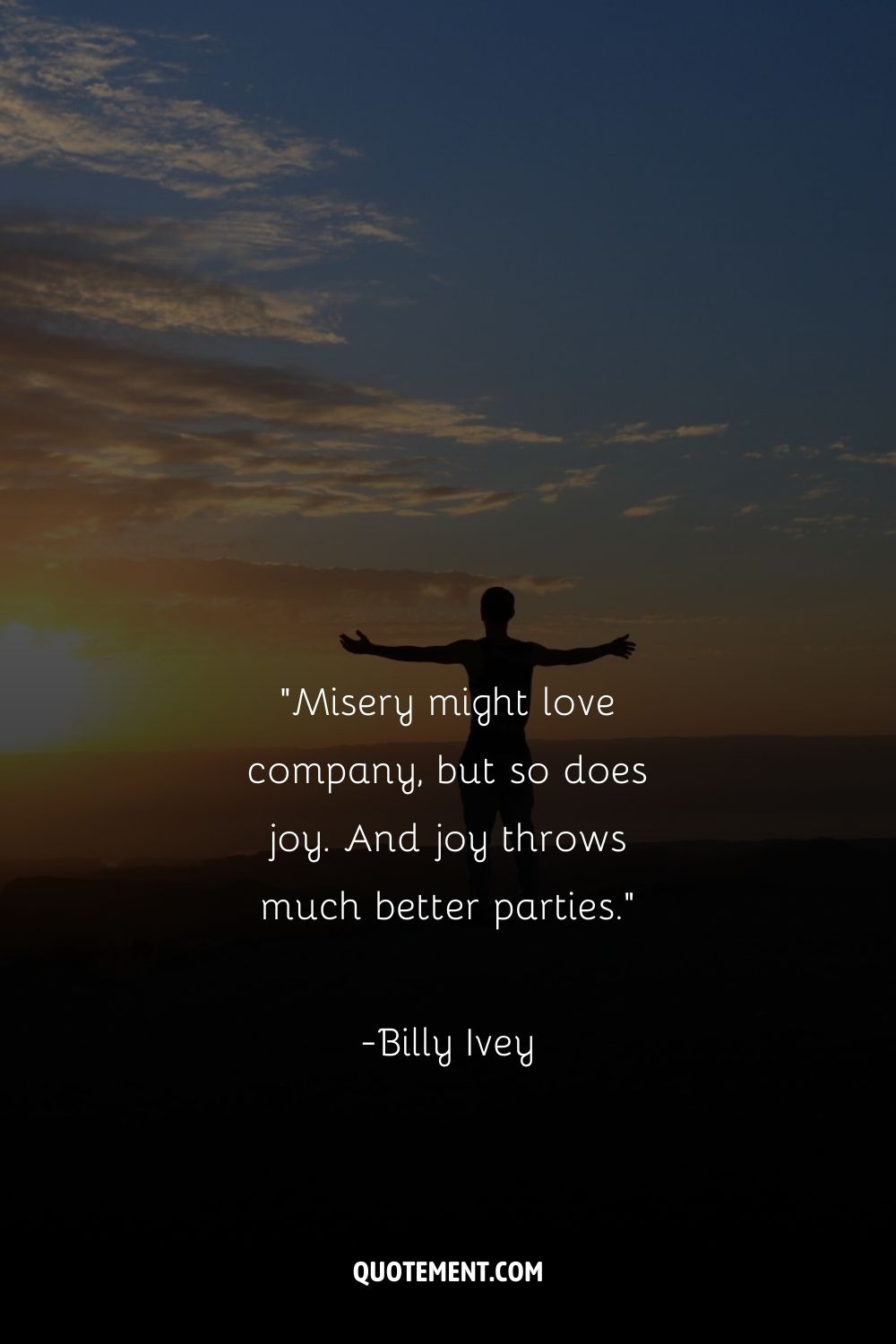 See also: 80 Inspiring Quotes On Joy To Turn Your Frown Upside Down
Thought Of The Day Quotes To Boost Self-Confidence
1. "You've got to take the initiative and play your game. In a decisive set, confidence is the difference." — Chris Evert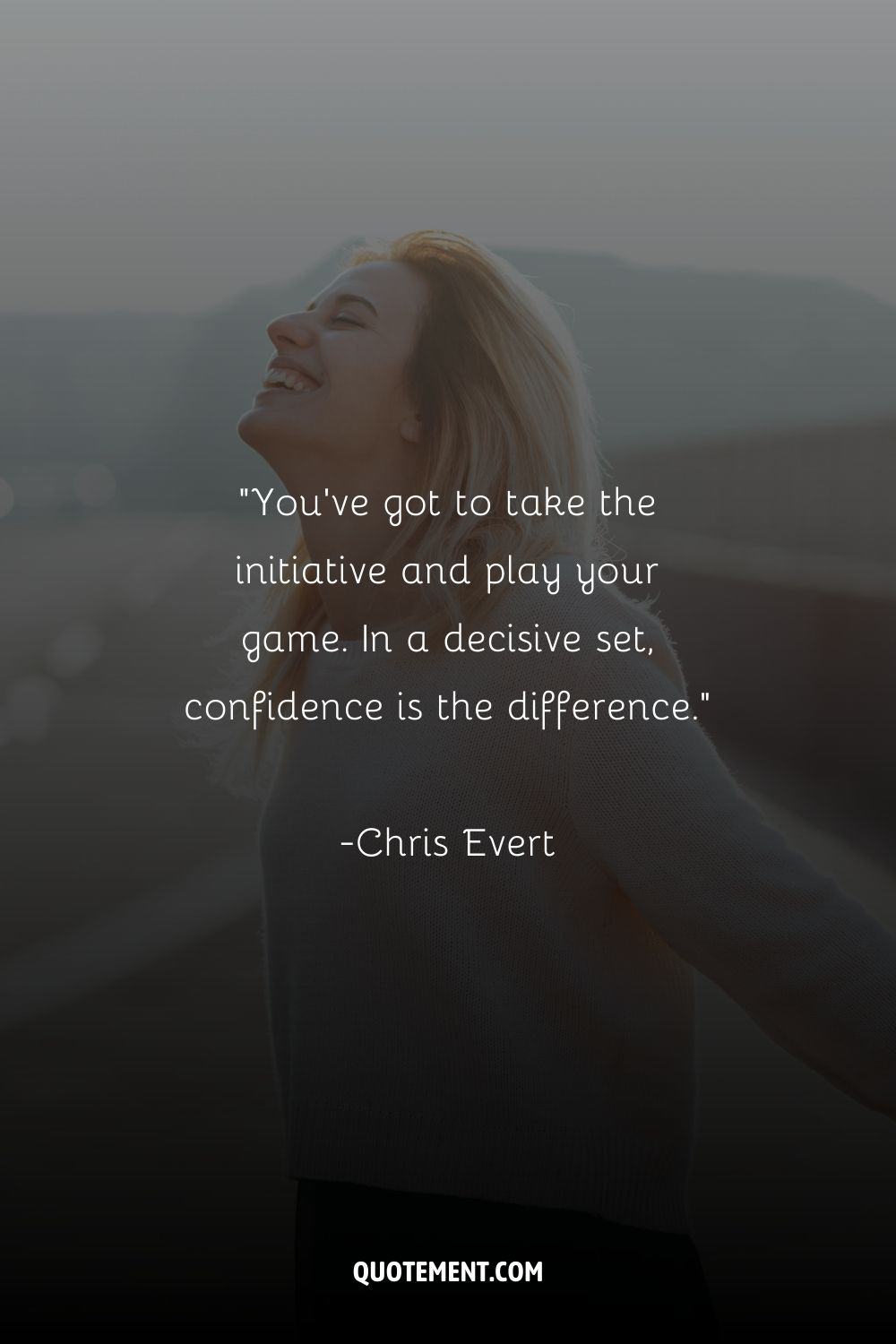 2. "Once we believe in ourselves, we can risk curiosity, wonder, spontaneous delight, or any experience that reveals the human spirit."― E. E. Cummings
3. "The best way out is always through." — Robert Frost
4. "The moment you doubt whether you can fly, you cease forever to be able to do it."― J. M. Barrie
5. "You're not defined by your past; you're prepared by it. You're stronger, more experienced, and you have greater confidence." — Joel Osteen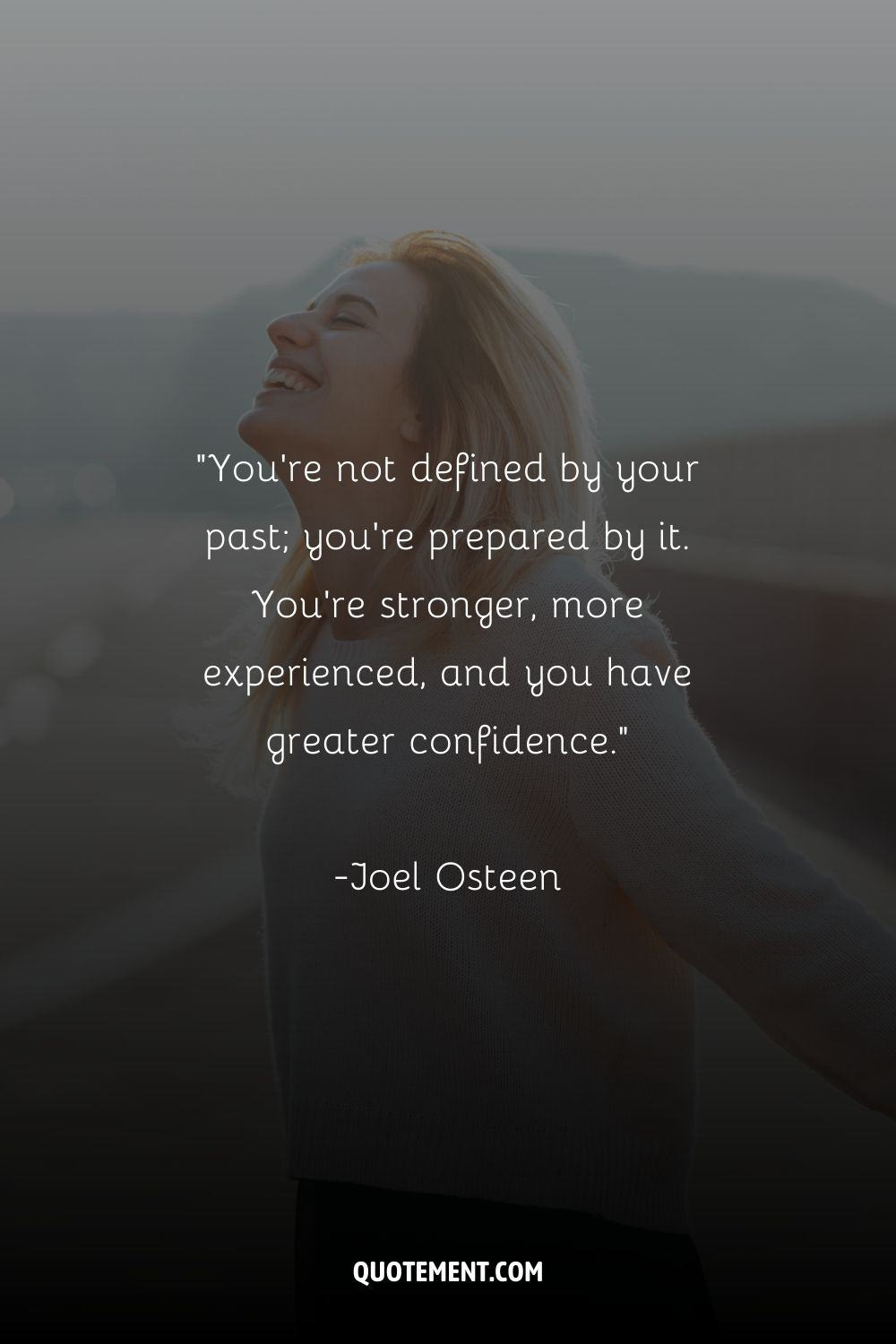 6. "Self-confidence can be learned, practiced, and mastered — just like any other skill. Once you master it, everything in your life will change for the better." — Barrie Davenport
7. "If my mind can conceive it, my heart can believe it, I know I can achieve it!" ― Jesse Jackson
8. "To overcome fear is the quickest way to gain your self-confidence." ― Roy T. Bennett
9. "Being comfortable with who you are is the ultimate threat." ― Sean Beaudoin
10. "What lies behind us and what lies before us are tiny matters compared to what lies within us." ― Henry Stanley Haskins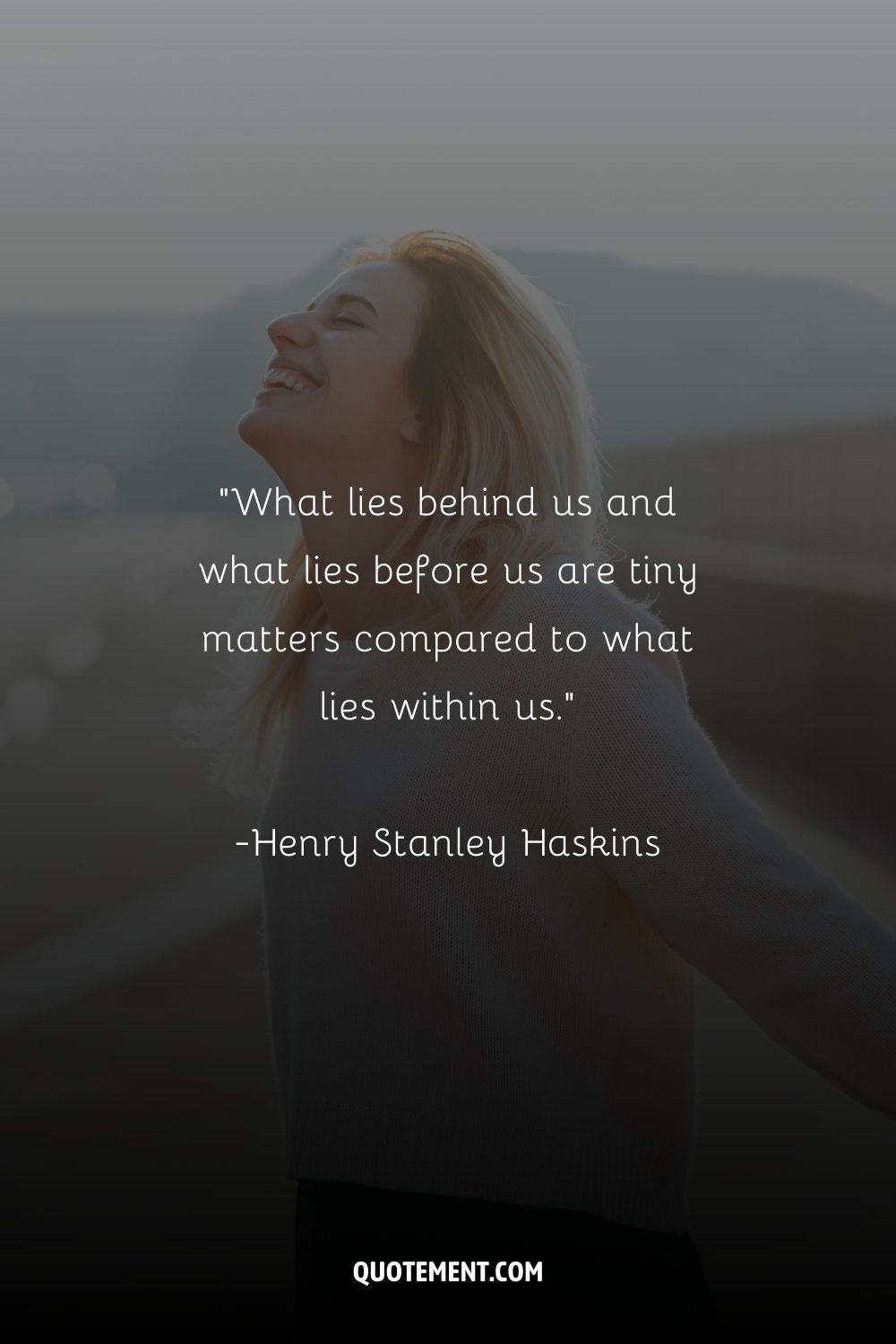 11. "A diamond doesn't start out polished and shining. It once was nothing special, but with enough pressure and time, becomes spectacular. I'm that diamond." ― Solange Nicole
12. "Life is like a ten-speed bike. Most of us have gears we never use." — Charles Schultz
13. "Be messy and complicated and afraid and show up anyways." — Glennon Doyle Melton
14. "Do one thing every day that scares you." — Eleanor Roosevelt
15. "If we all did the things we are capable of doing, we would literally astound ourselves." — Thomas Edison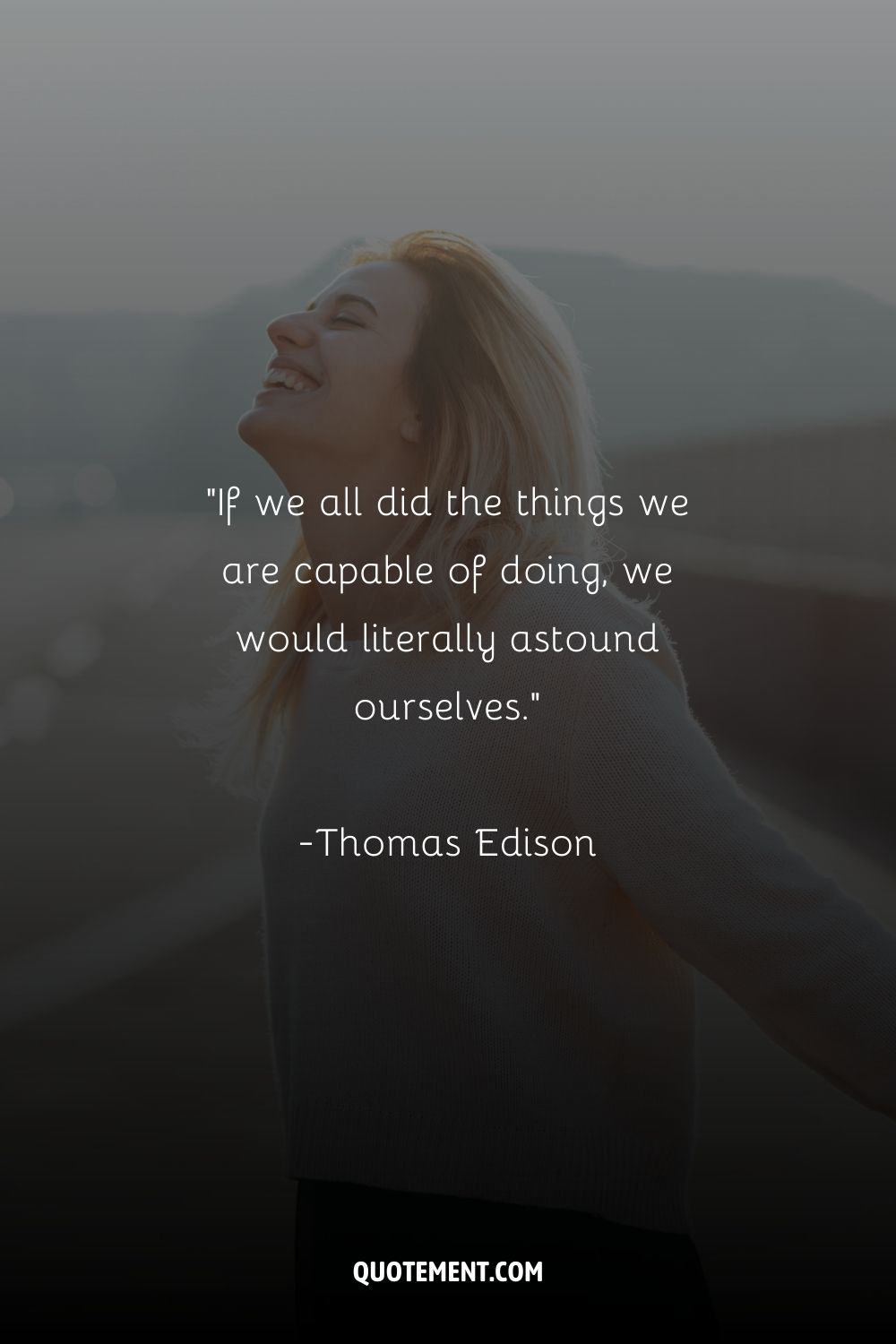 16. "Tear off the mask, your face is glorious." — Rumi
17. "I was always looking outside myself for strength and confidence but it comes from within. It is there all the time." — Anne Freud
18. "We are cups constantly and quietly being filled. The trick is knowing how to tip ourselves over and let the beautiful stuff out." — Ray Bradbury
19. "Don't waste your energy trying to change opinions … Do your thing, and don't care if they like it." ― Tina Fey
20. "If you have no confidence in self, you are twice defeated in the race of life. With confidence, you have won even before you have started." — Cicero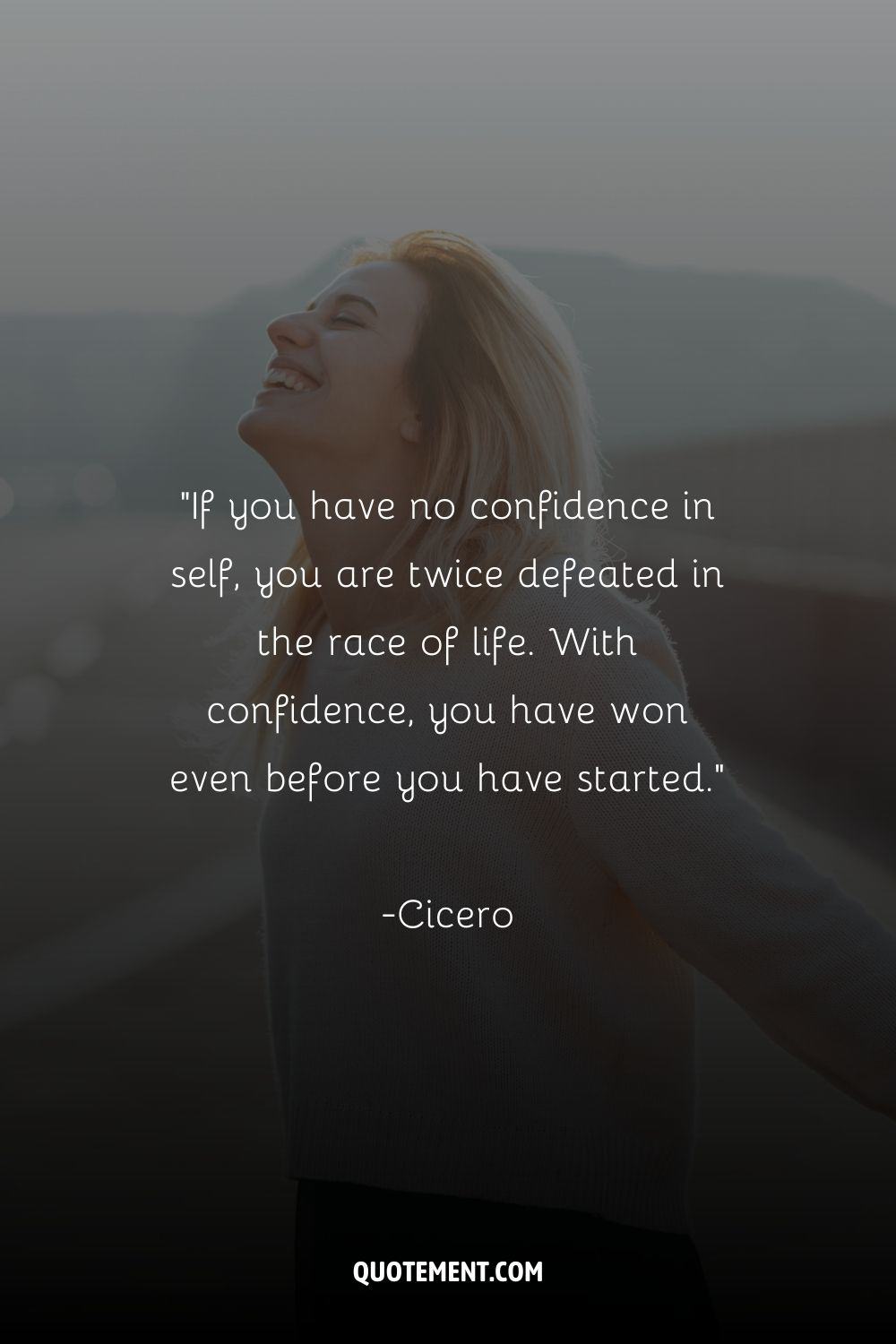 21. "It is best to act with confidence, no matter how little right you have to it." ­­— Lillian Hellman
22. "You wouldn't worry so much about what others think of you if you realized how seldom they do." — Eleanor Roosevelt
23. "Sooner or later, those who win are those who think they can." ­— Paul Tournier
24. "People are like stained-glass windows. They sparkle and shine when the sun is out, but when the darkness sets in their true beauty is revealed only if there is light from within." — Elisabeth Kubler-Ross
25. "Never bend your head. Always hold it high. Look the world straight in the eye." — Helen Keller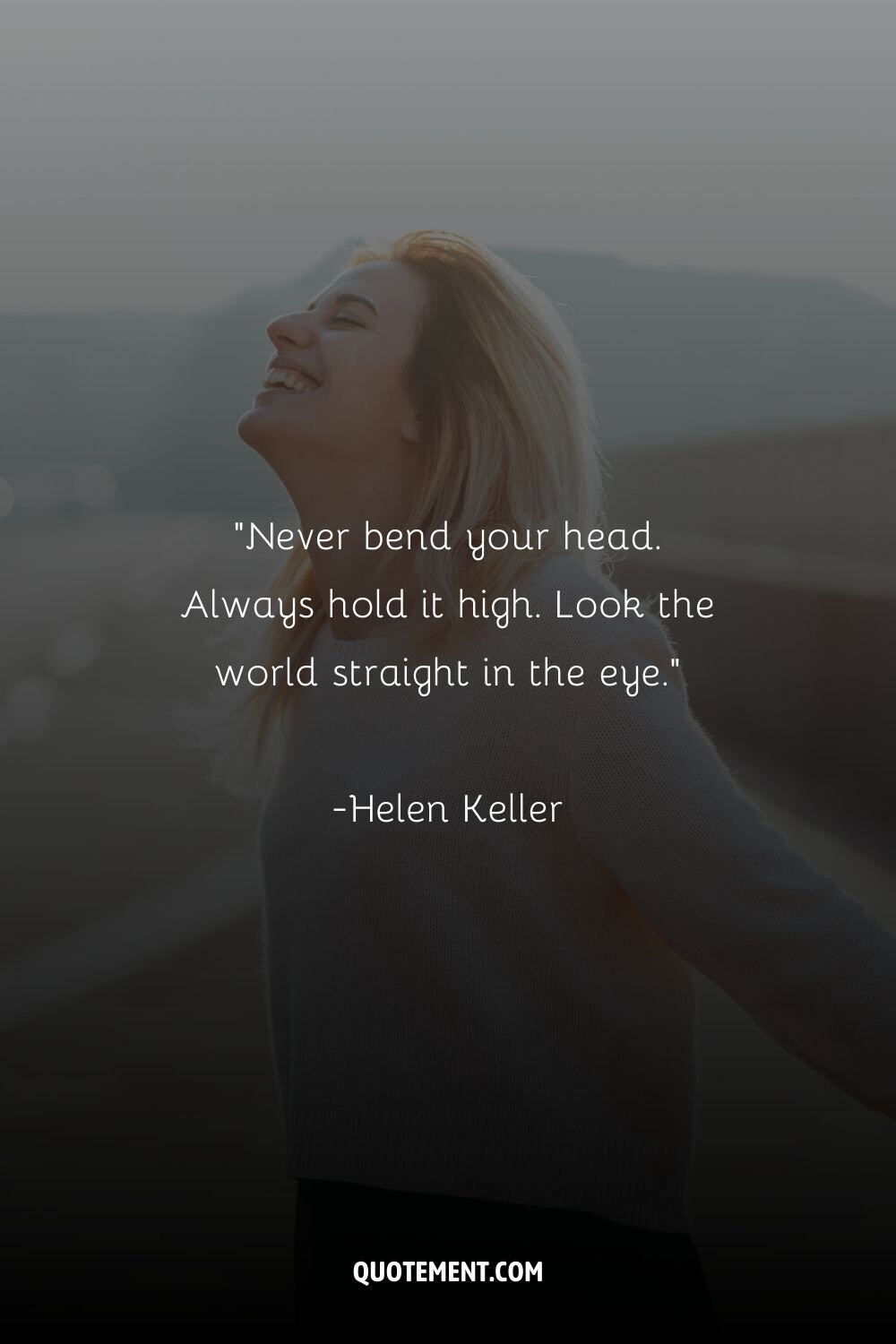 26. "Optimism is the faith that leads to achievement. Nothing can be done without hope and confidence." — Helen Keller
27. "I can be changed by what happens to me. But I refuse to be reduced by it." ­­—­ Maya Angelou
28. "Regardless of how you feel inside, always try to look like a winner. Even if you are behind, a sustained look of control and confidence can give you a mental edge that results in victory." — Diane Arbus
29. "Be kinder to yourself, and celebrate little wins." — Charlotte
30. "If you hear a voice within you say 'you cannot paint,' then by all means paint, and that voice will be silenced." — Vincent Van Gogh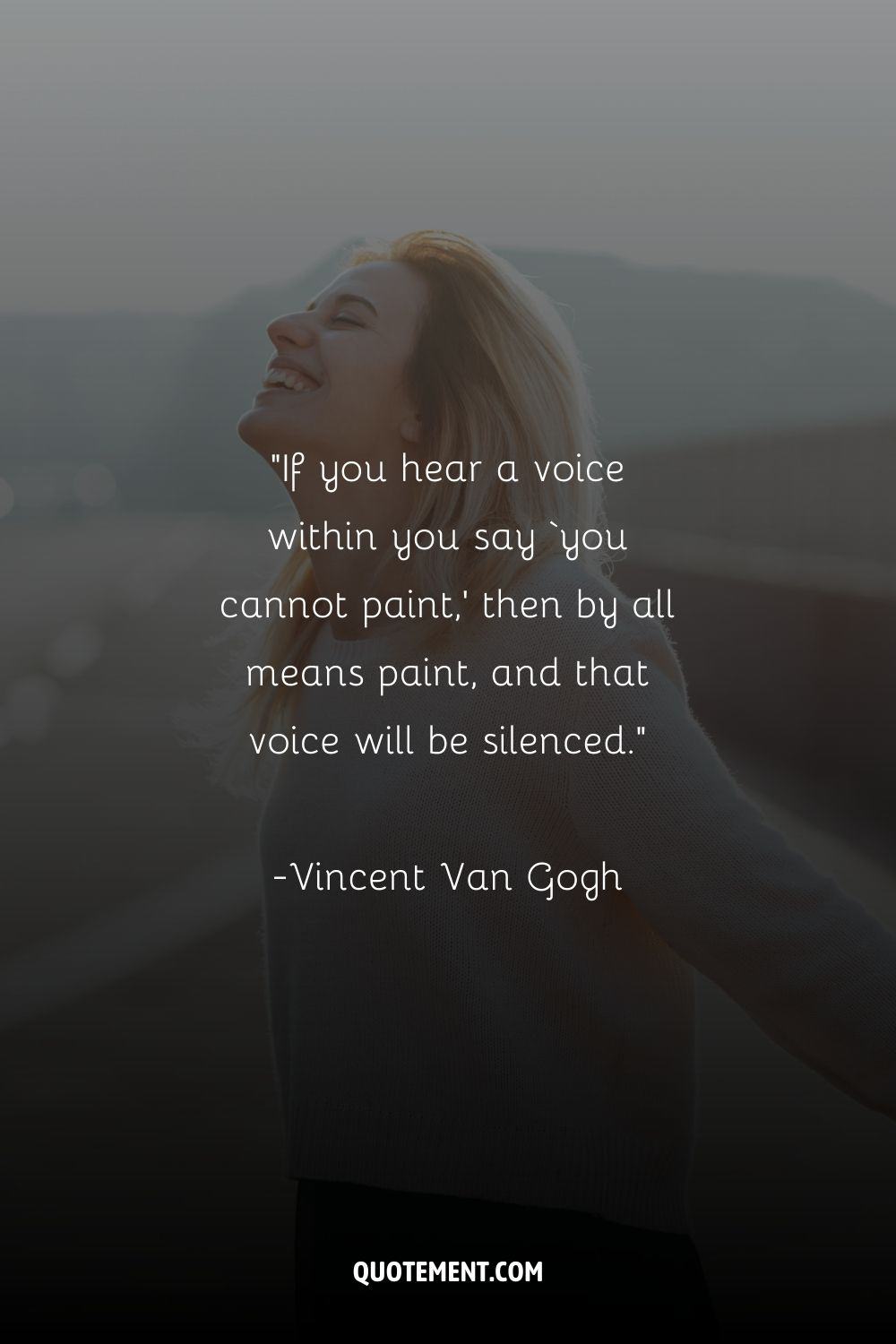 31. "Life is not easy for any of us. But what of that? We must have perseverance and above all confidence in ourselves. We must believe that we are gifted for something and that this thing must be attained." ­— Marie Curie
32. "Why should I care what other people think of me? I am who I am. And who I wanna be." ― Avril Lavigne
33. "Don't be distracted by criticism. Remember — the only taste of success some people have is when they take a bite out of you." — Zig Ziglar
34. "She remembered who she was and the game changed." ― Lalah Delia
35. "Be who you are and say what you feel, because those who mind don't matter, and those who matter don't mind." ­­— Bernard Baruch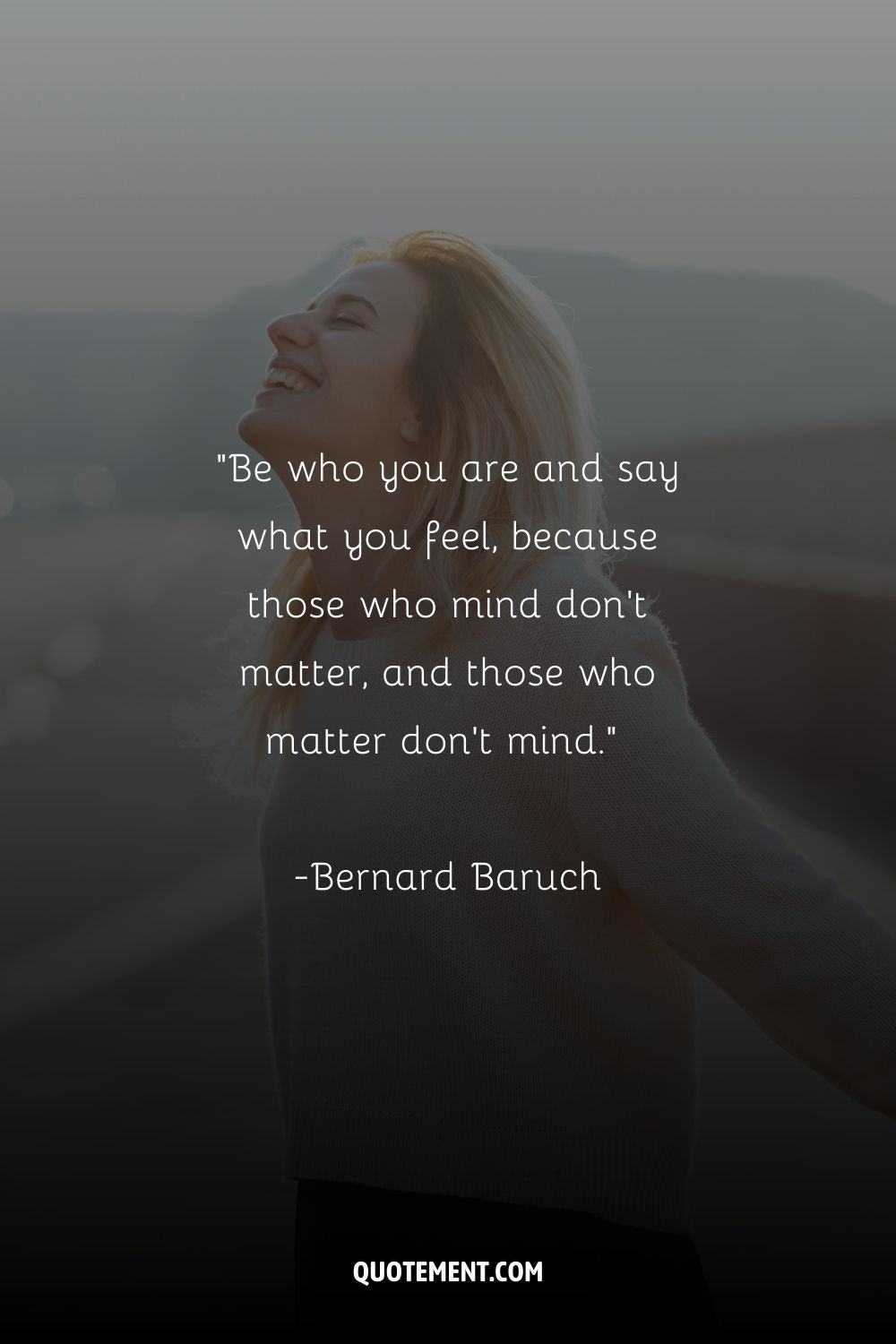 36. "Life is tough, but so are you." — Carmi Grau
37. "Inaction breeds doubt and fear. Action breeds confidence and courage. If you want to conquer fear, do not sit home and think about it. Go out and get busy." — Dale Carnegie
38. "Believe in yourself! Have faith in your abilities! Without a humble but reasonable confidence in your own powers you cannot be successful or happy." — Norman Vincent Peale
39. "Because one believes in oneself, one doesn't try to convince. Because one is content with oneself, one doesn't need others' approval. Because one accepts oneself, the whole world accepts him or her." — Laozi
40. "With realization of one's own potential and self-confidence in one's ability, one can build a better world." — Dalai Lama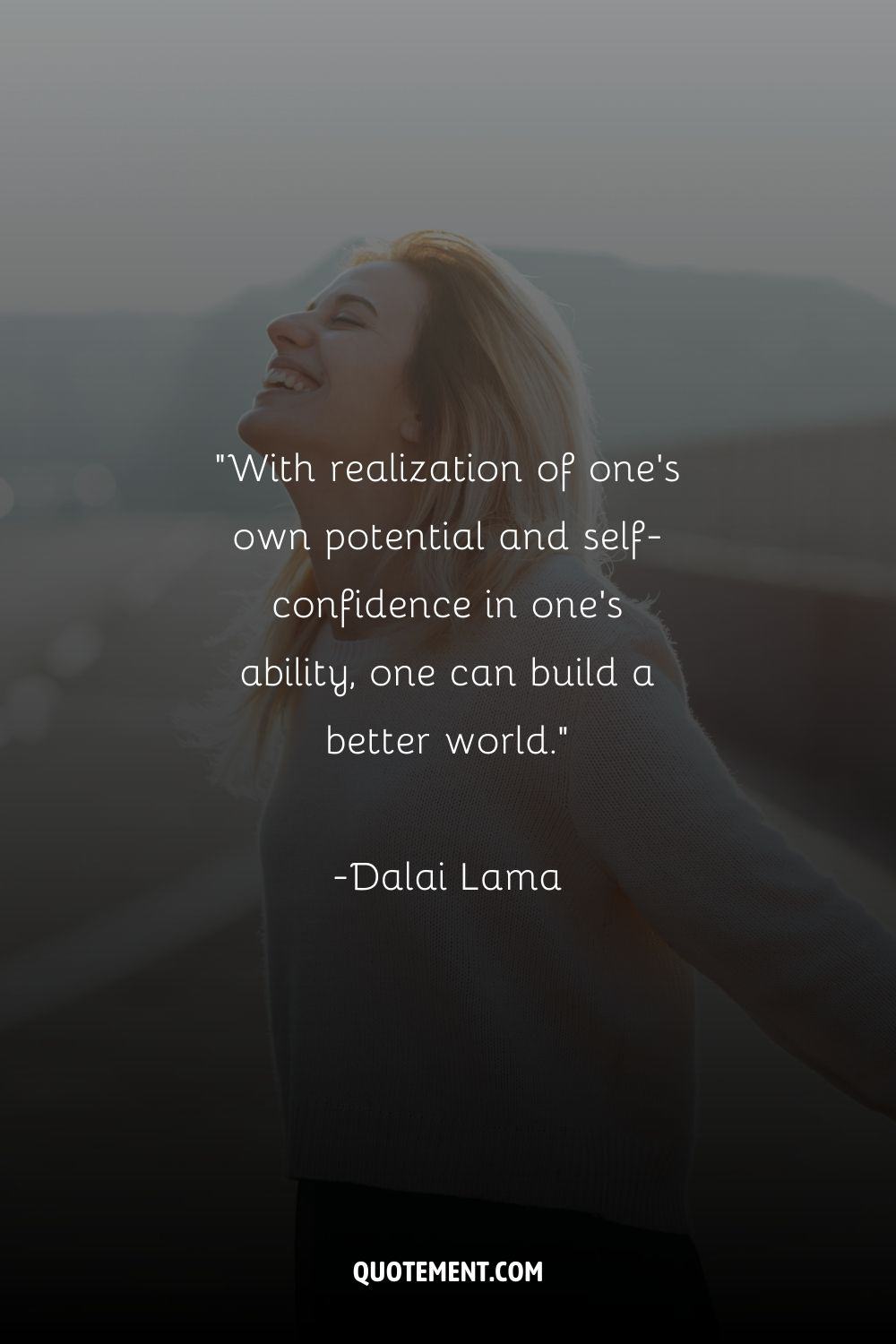 41. "My mission in life is not merely to survive, but to thrive and do so with some passion, some compassion, some humor, and some style." — Maya Angelou
42. "Your success will be determined by your own confidence and fortitude." — Michelle Obama
43. "Accept who you are; and revel in it." — Mitch Albom
44. "We gain strength, and courage, and confidence by each experience in which we really stop to look fear in the face … we must do that which we think we cannot." — Eleanor Roosevelt
45. "Always be yourself — express yourself, have faith in yourself. Do not go out and look for a successful personality and duplicate it." — Bruce Lee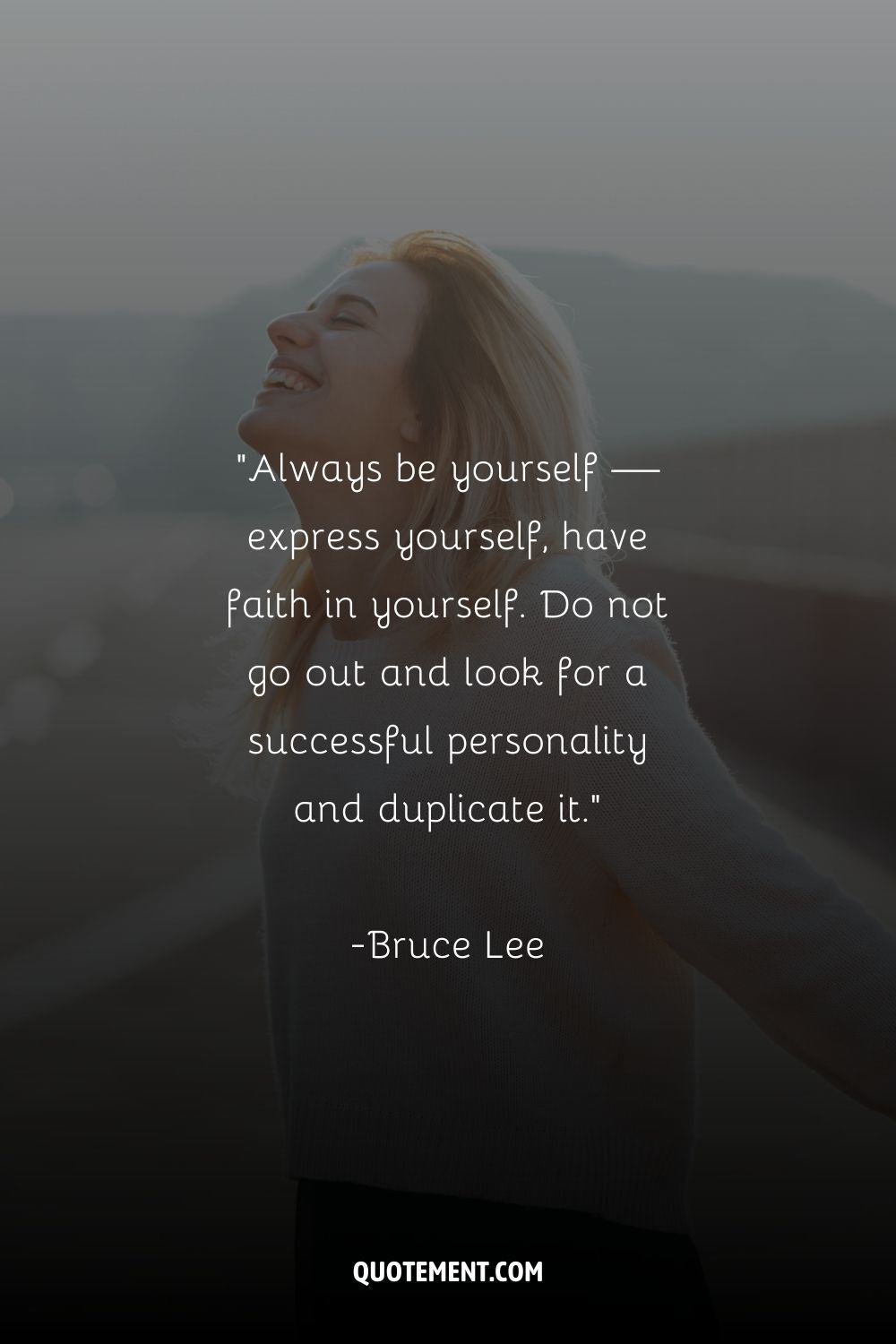 See also: 80 Inspirational Confidence Affirmations To Empower You
Good Thoughts To Start The Day Quotes
1. "Smile in the mirror. Do that every morning and you'll start to see a big difference in your life." — Yoko Ono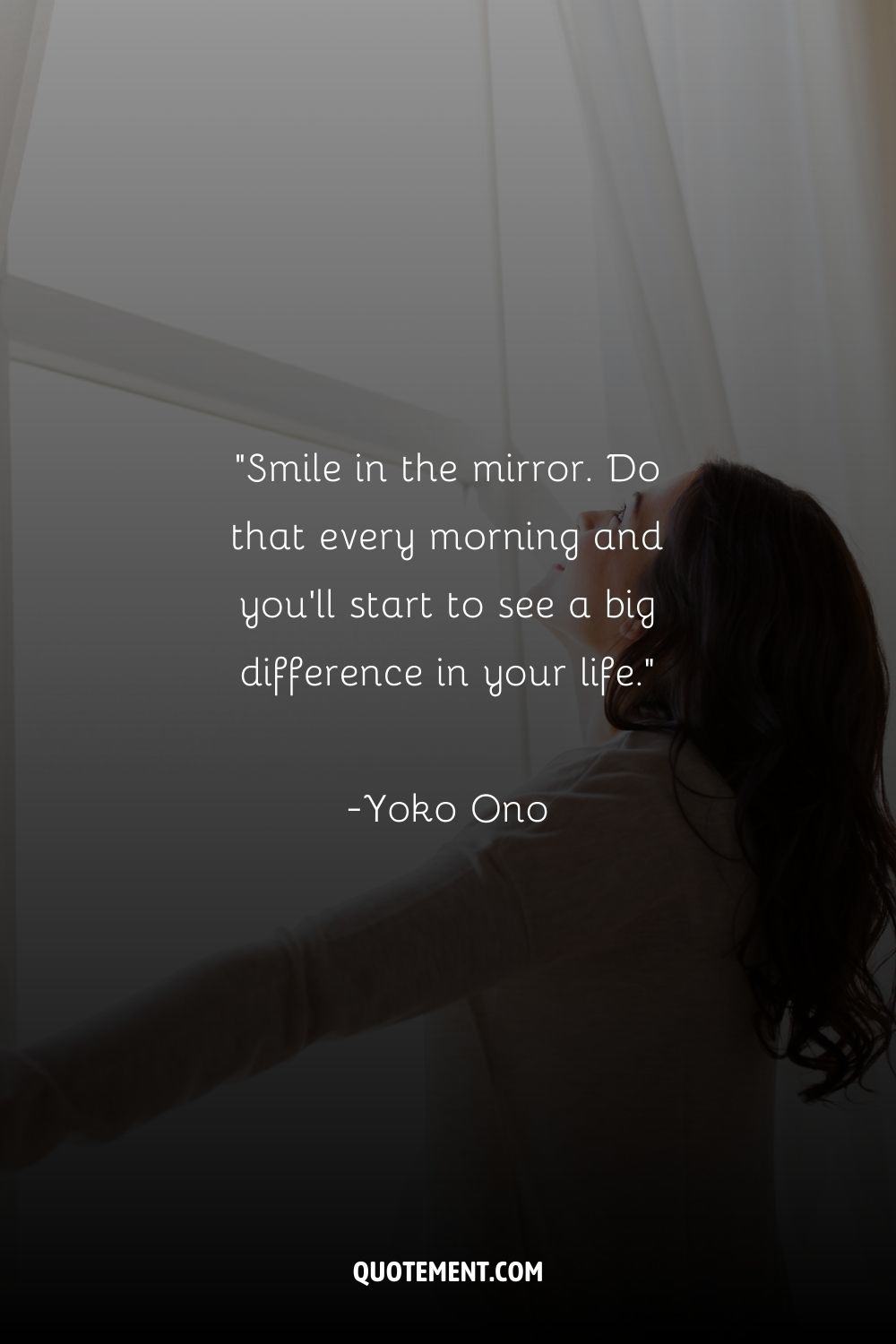 2. "Every morning you have two choices: continue to sleep with your dreams, or wake up and chase them." — Unknown
3. "You cannot plow a field by turning it over in your mind. To begin, begin." — Gordon B. Hinckley
4. "The more man meditates upon good thoughts; the better will be his world and the world at large." — Confucius
5. "If you get up in the morning and think the future is going to be better, it is a bright day. Otherwise, it's not." — Elon Musk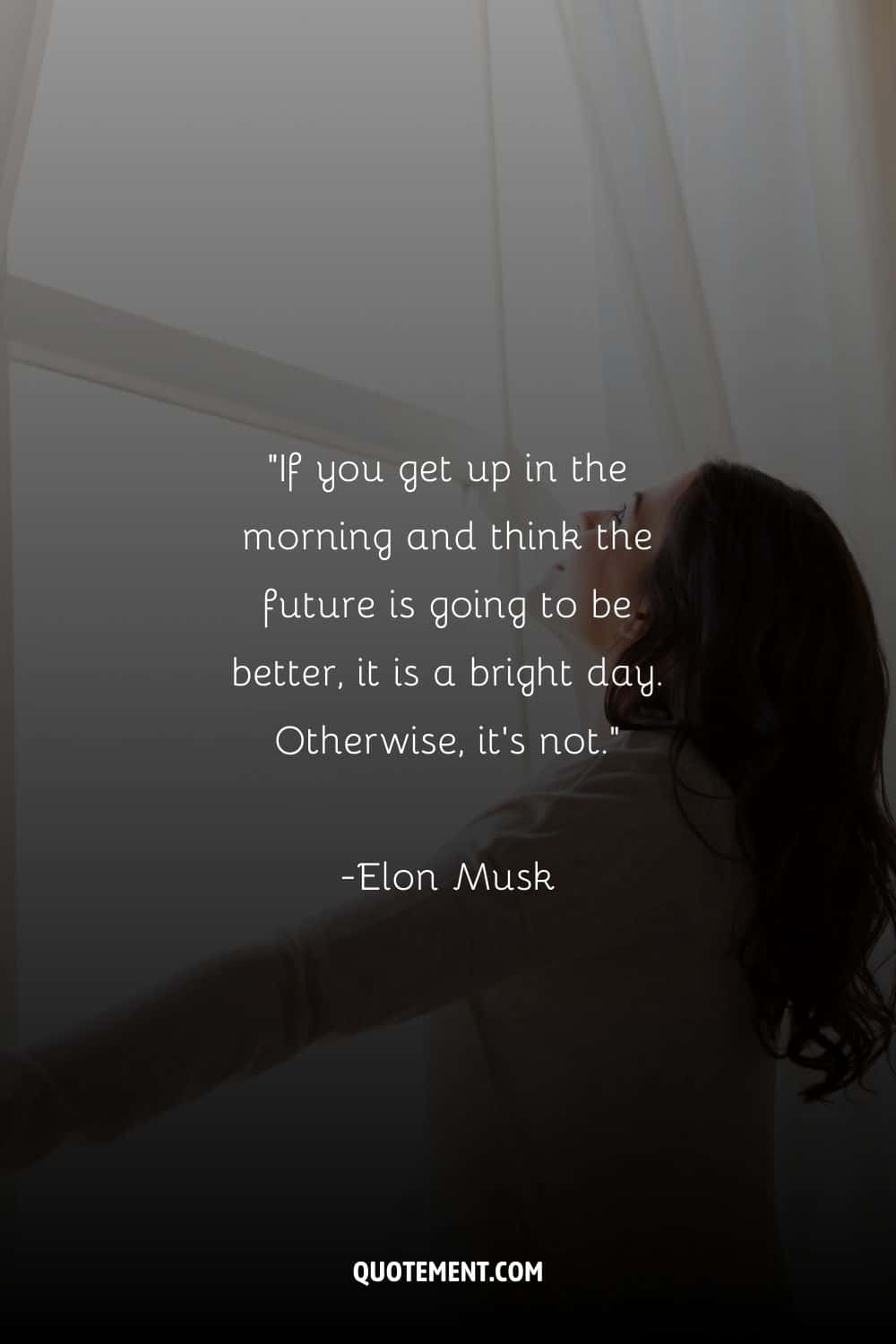 6. "Every day, wake up with the thought that something wonderful is about to happen." — Unknown
7. "Just because you can't see the end, doesn't mean you should never begin." — Annette White
8. "Do good and good will come to you." — Adam Lowy
9. "What you do today can improve all your tomorrows." — Ralph Marston
10. "Inspiration comes from within yourself. One has to be positive. When you're positive, good things happen." — Deep Roy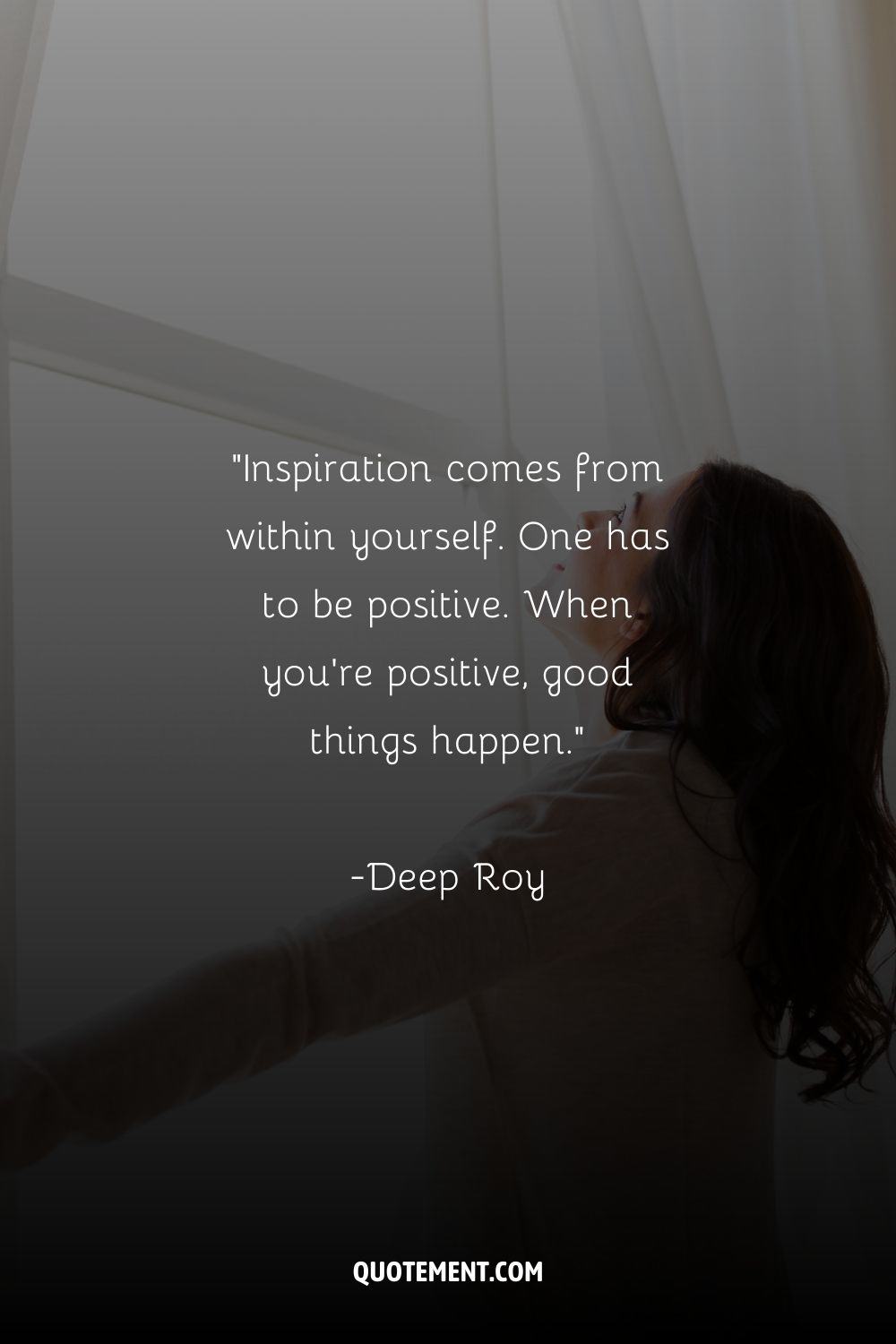 11. "Don't fall in trap of mediocrity and loose thinking. Surround yourself with intellectual people and thinkers. Be an awesome version of yourself day after day!!" ― Reshma Wable
12. "Each morning we are born again. What we do today is what matters most." — Buddha
13. "Think in the morning. Act in the noon. Eat in the evening. Sleep in the night." — William Blake
14. "Do and act on what you believe to be right, and you'll wake up the next morning feeling good about yourself." — Janet Reno
15. "A new day: Be open enough to see opportunities. Be wise enough to be grateful. Be courageous enough to be happy." ― Steve Maraboli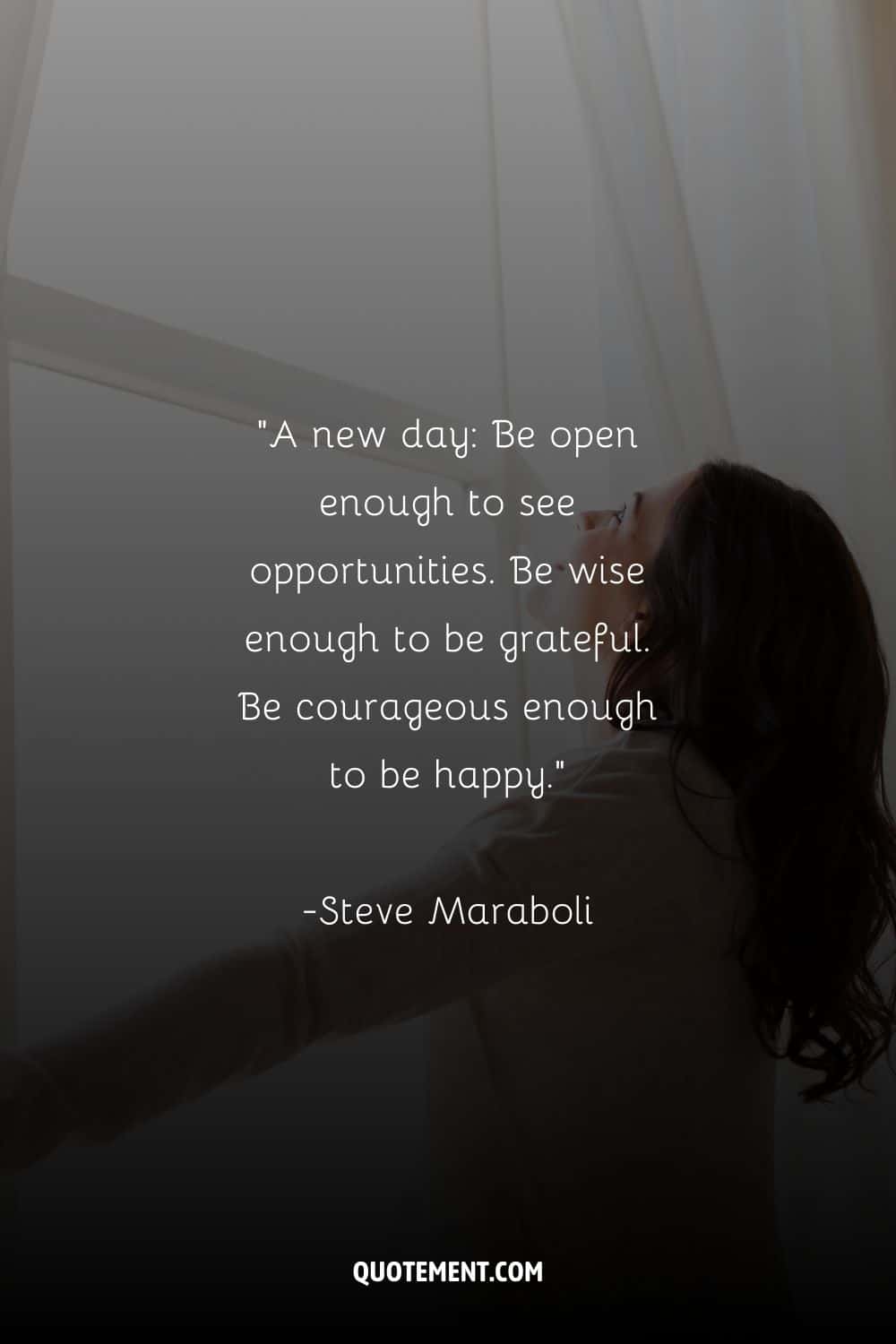 16. "Your imagination is your preview of life's coming attractions." — Albert Einstein
17. "With the new day comes new strength and new thoughts." — Eleanor Roosevelt
18. "The sun is a daily reminder that we too can rise again from the darkness, that we too can shine our own light." — S. Ajna
19. "First thing every morning before you arise, say out loud, 'I believe,' three times." — Ovid
20. "Some people dream of success, while other people get up every morning and make it happen." — Wayne Huizenga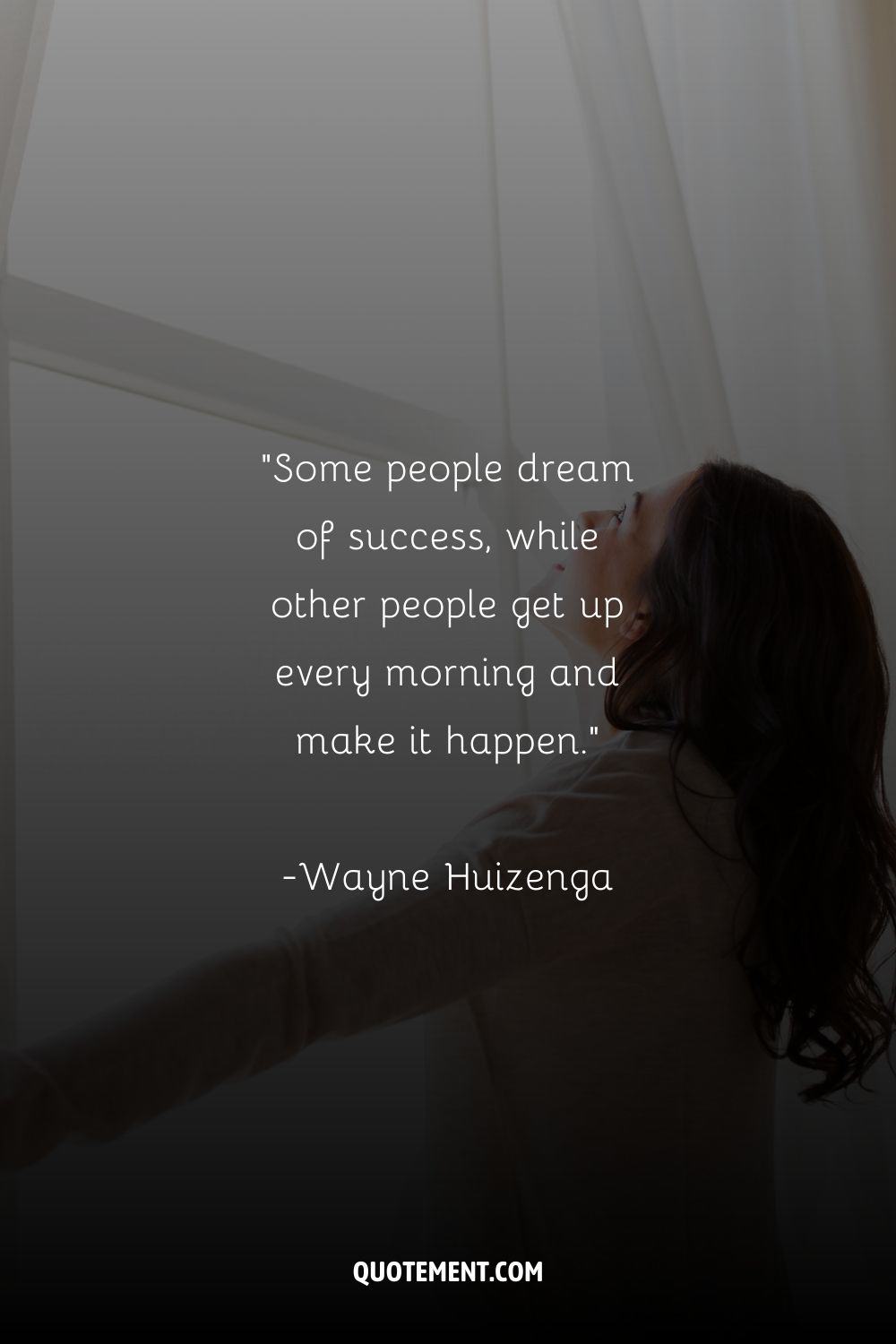 21. "It's time to start living the life you've imagined." — Henry James
22. "Write it on your heart that every day is the best day in the year." — Ralph Waldo Emerson
23. "In one minute, you can change your attitude, and in that minute, you can change your entire day." — Spencer Johnson
24. "A year from now you may wish you had started today." — Karen Lamb
25. "In the morning, instead of saying to yourself, 'I got to wake up' say 'I get to wake up!'" — Erykah Badu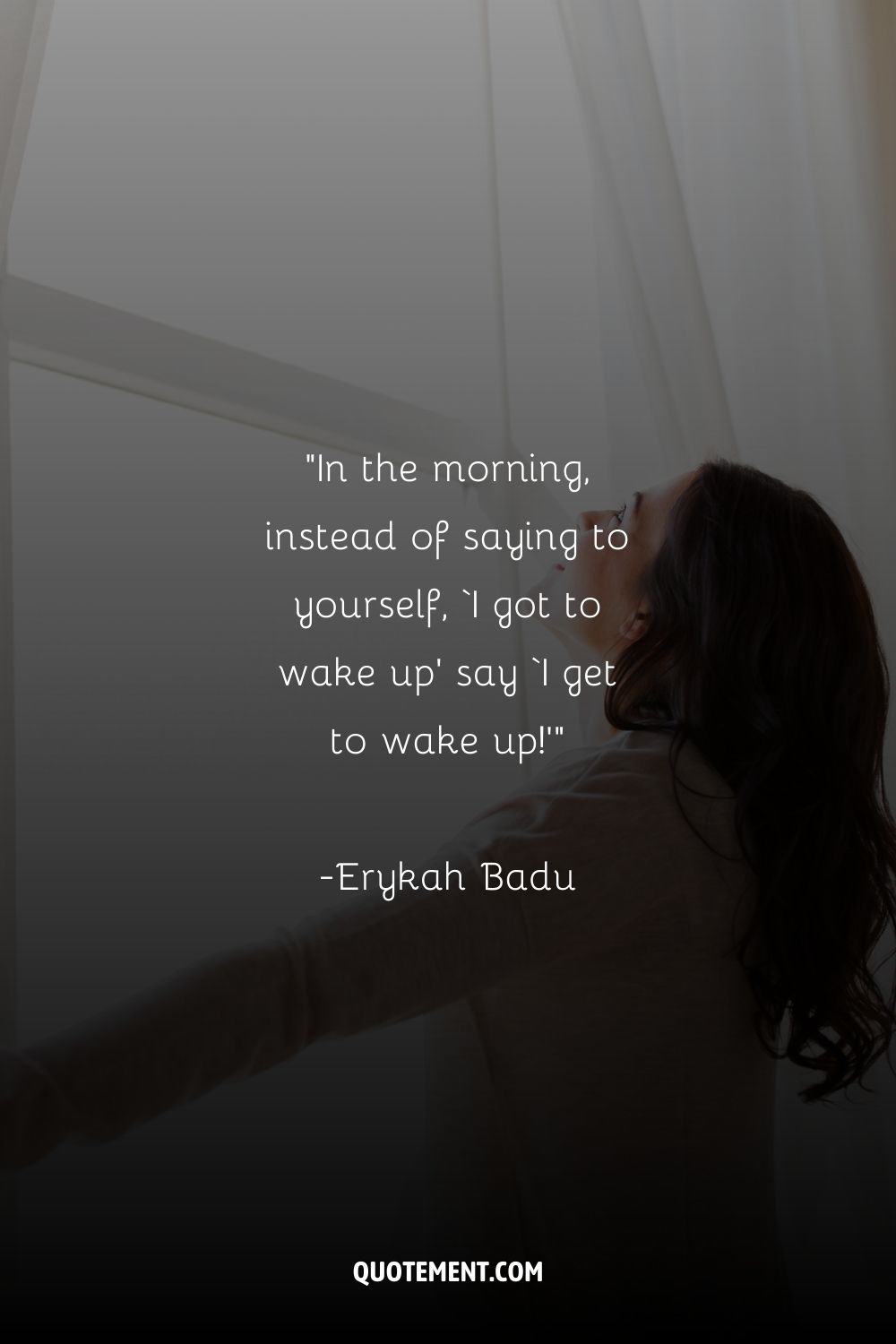 26. "I have always been delighted at the prospect of a new day, a fresh try, one more start, with perhaps a bit of magic waiting somewhere behind the morning." ― J. B. Priestley
27. "Every morning a new sun greets us, and our new life begins." — Marty Rubin
28. "Remember. Every day, some ordinary person does something extraordinary. Today, it's your turn." — Lou Holtz
29. "You don't have to be great to start, but you have to start to be great." — Zig Ziglar
30. "Every day I feel is a blessing from God. And I consider it a new beginning. Yeah, everything is beautiful." — Prince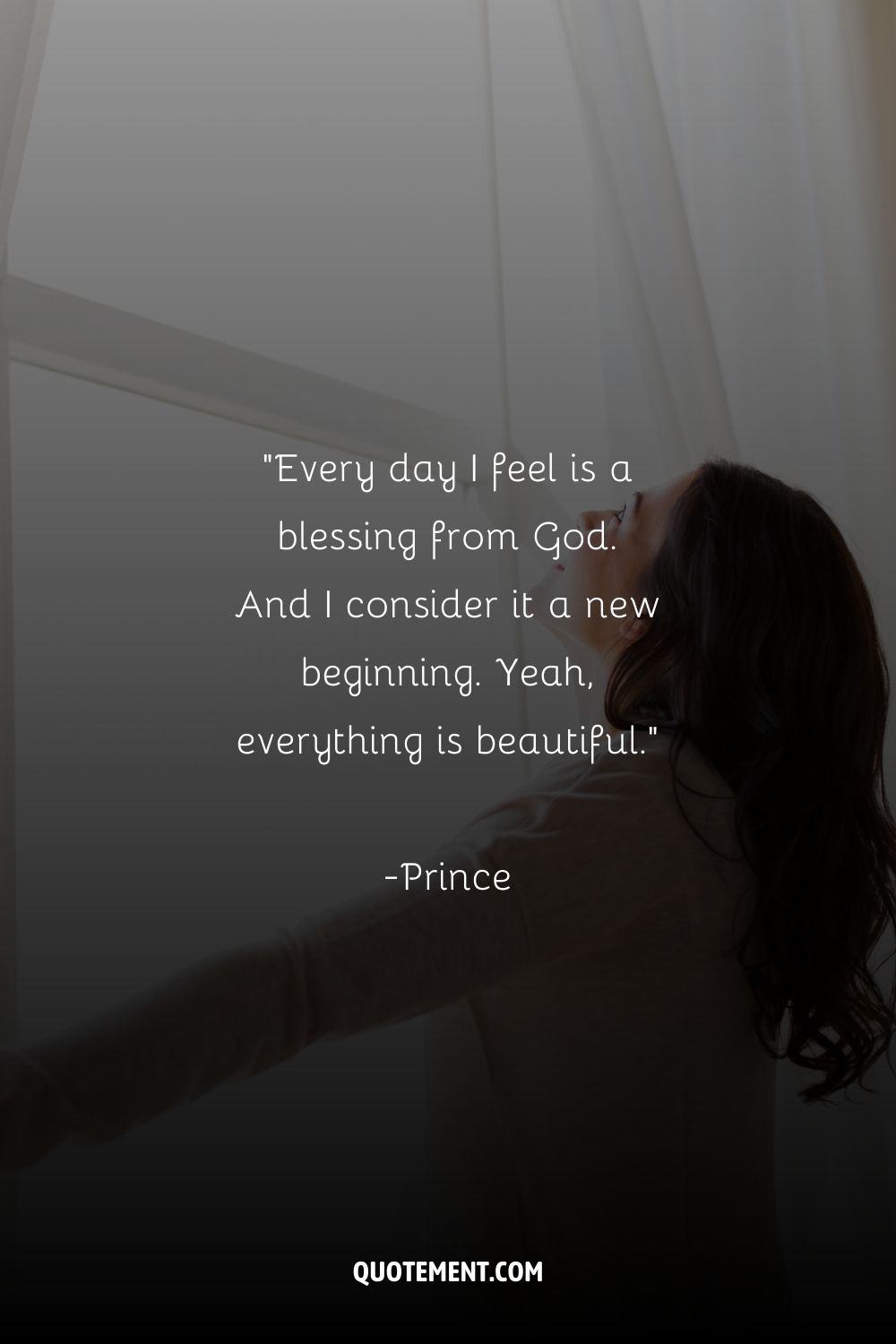 31. "Each new day is a blank page in the diary of your life. The secret of success is in turning that diary into the best story you possibly can." ― Douglas Pagels
32. "Your future is created by what you do today, not tomorrow." — Robert Kiyosaki
33. "When you arise in the morning, think of what a precious privilege it is to be alive — to breathe, to think, to enjoy, to love." — Marcus Aurelius
34. "Each day is an adventure in discovering the meaning of life." — Jack Canfield
35. "There is no tomorrow and there was no yesterday; if you truly want to accomplish your goals you must engulf yourself in today." ― Noel DeJesus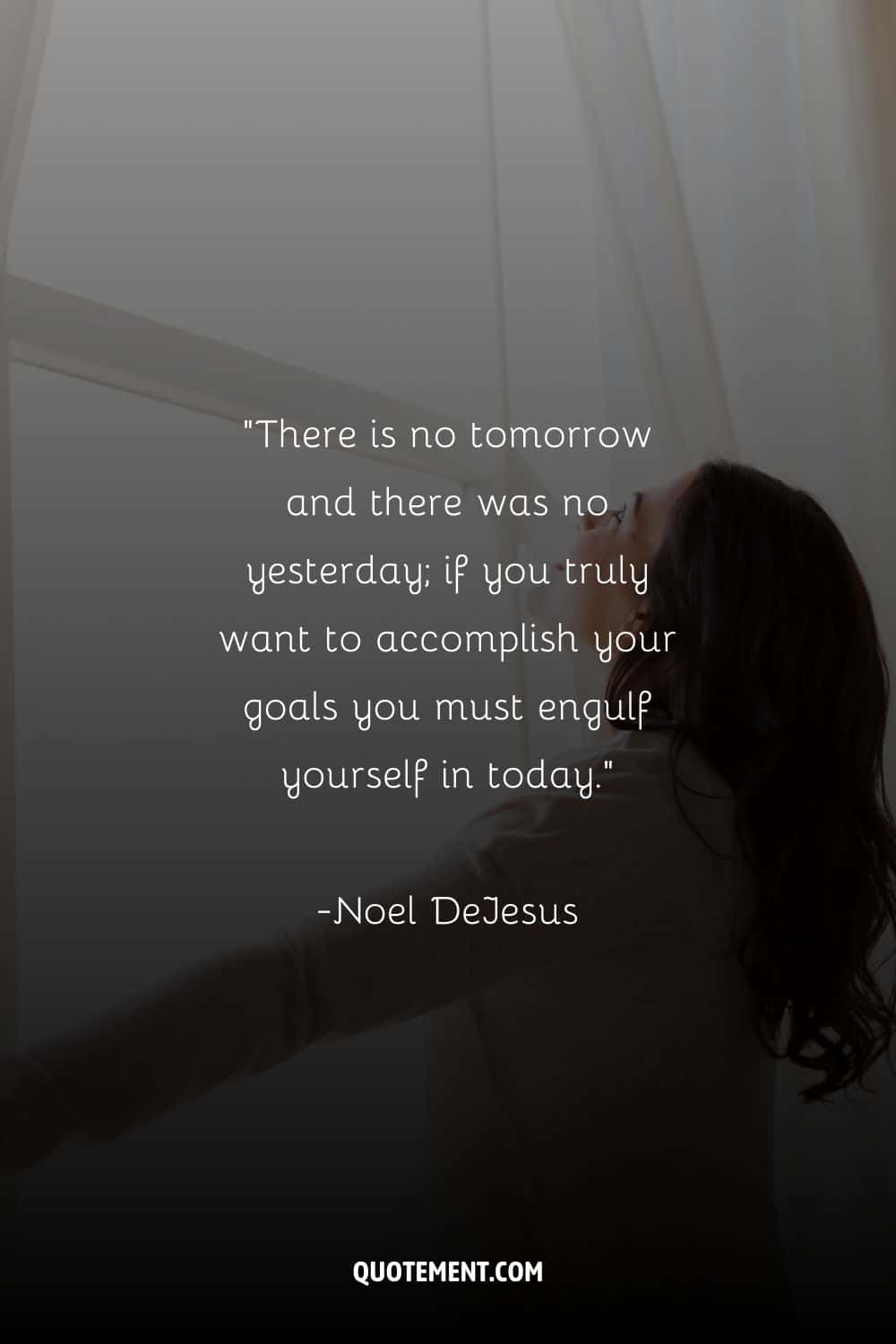 36. "Everyone has highs and lows that they have to learn from, but every morning I start off with a good head on my shoulders, saying to myself, 'It's going to be a good day!" — Lindsay Lohan
37. "The sun is new each day." — Heraclitus
38. "It's a new dawn, it's a new day, it's a new life for me. And I'm feeling good." ― Nina Simone
39. "Something special awaits you each day. All you need is to recognize it and make the most of it. Have a positive attitude throughout the day and then that today is going to be the best day of your life." — Unknown
40. "I hope you realize that every day is a fresh start for you. That every sunrise is a new chapter in your life waiting to be written." ― Juansen Dizon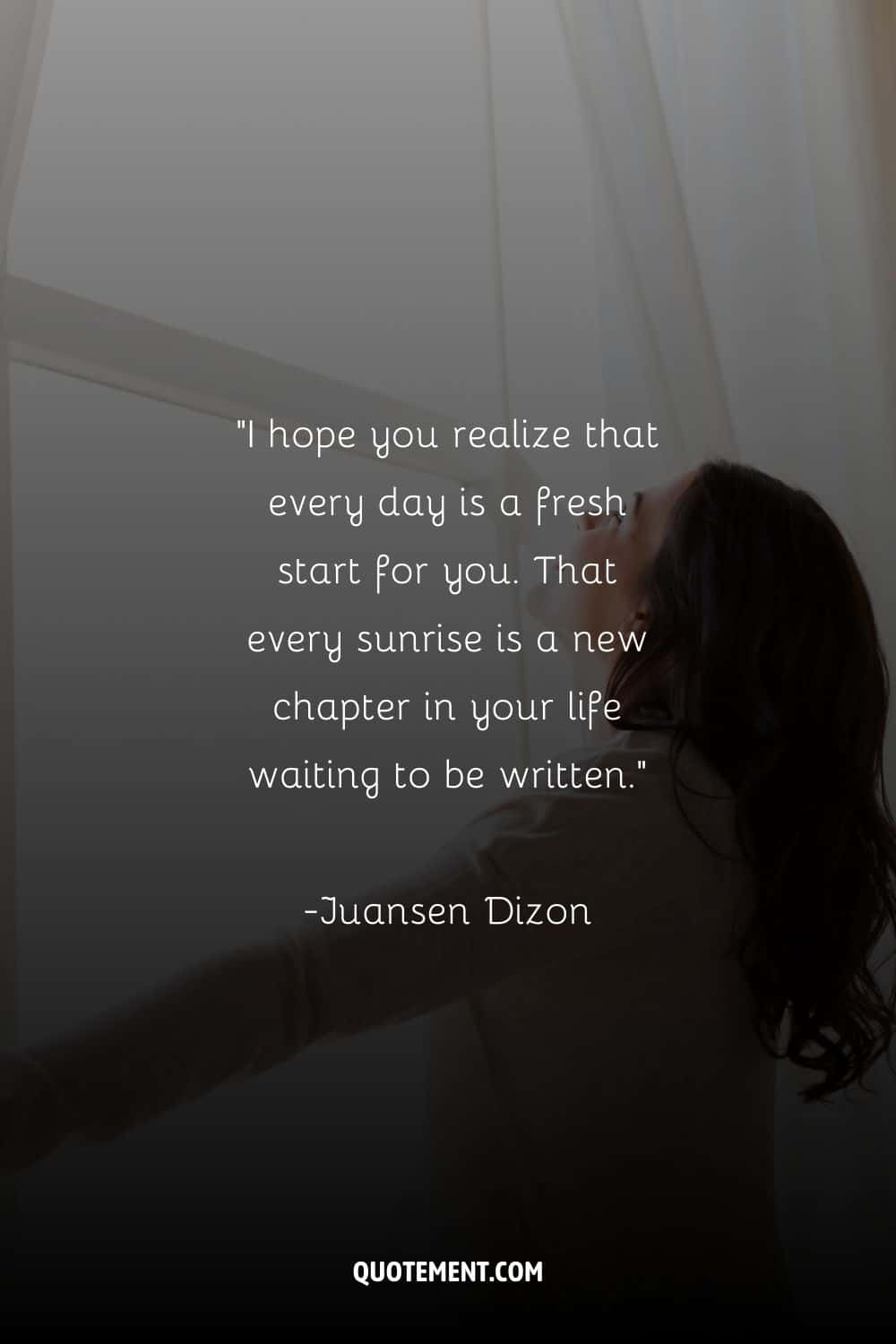 41. "This is a wonderful day. I've never seen this one before." — Maya Angelou
42. "Man starts over again every day, in spite of all he knows, against all he knows." ― Emil Cioran
43. "Today is the first day of the rest of your life." ― Abbie Hoffman
44. "This new day has greeted us with no rules; unconditional opportunity. Do not dilute the power of this new day with the hardship of yesterday. Greet this day the way it has greeted you; with open arms and endless possibility." ― Steve Maraboli
45. "Never mind those failures till yesterday. Each new day is a sequel of a wonderful life; gifted with hopes to succeed." ― Aniruddha Sastikar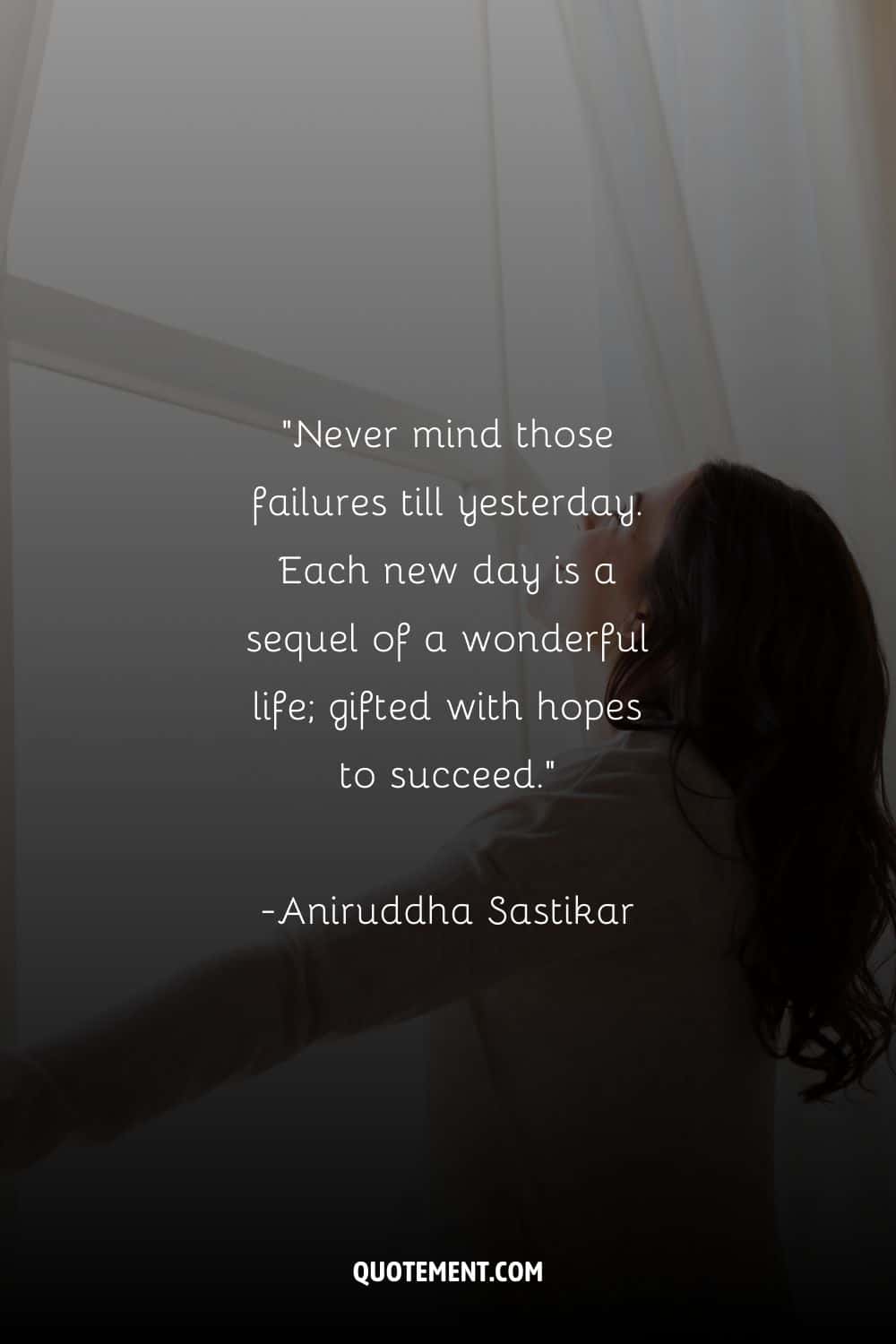 Positive Day Quotes For Strength
1. "If you can't fly then run, if you can't run then walk, if you can't walk then crawl, but whatever you do you have to keep moving forward." — Martin Luther King, Jr.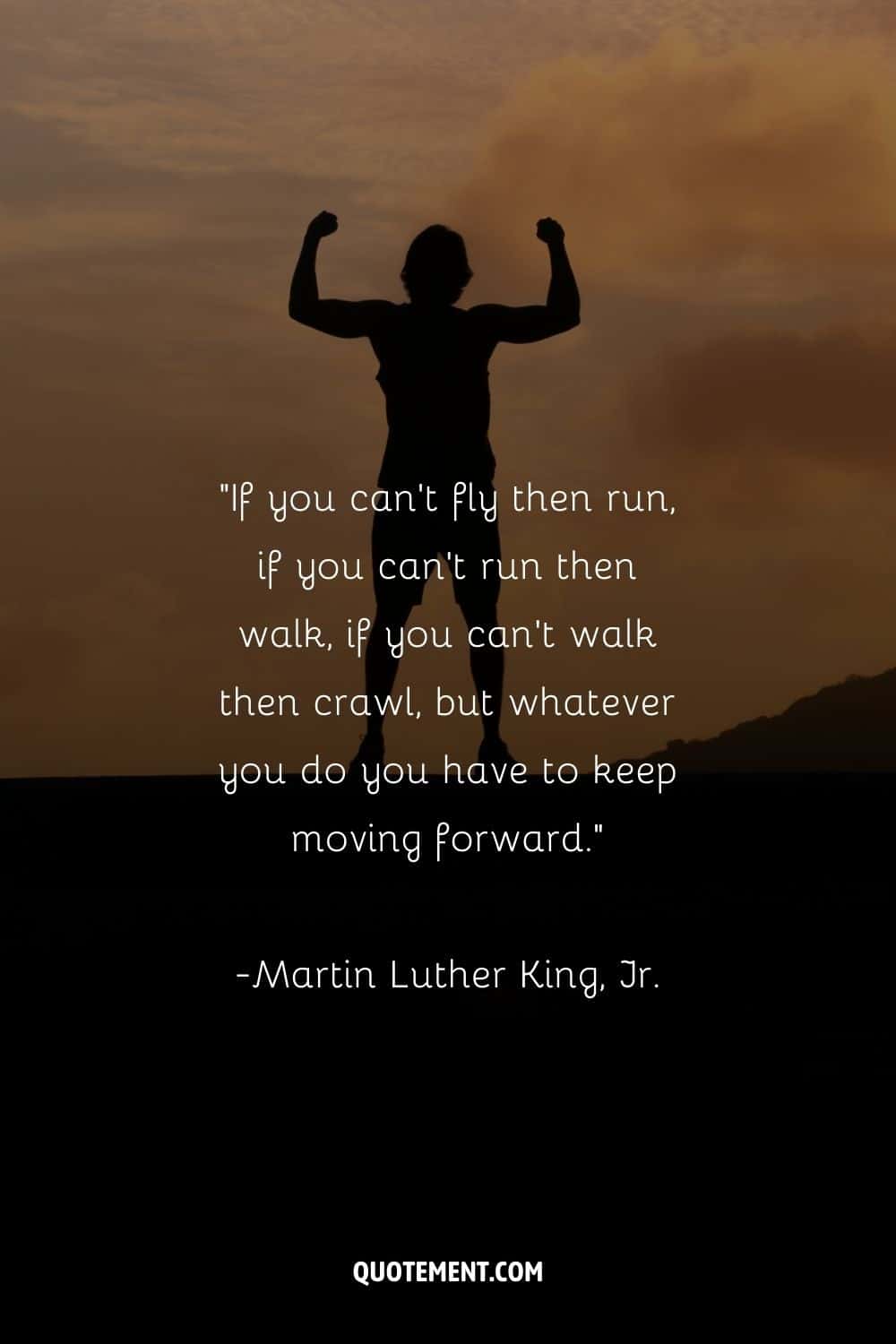 2. "Each time you try something for the first time you will grow — a little piece of the fear of the unknown is removed and replaced with a sense of empowerment." — Annette White
3. "You're braver than you believe and stronger than you seem, and smarter than you think." — A.A. Mine
4. "Courage is like a muscle. We strengthen it by use." — Ruth Gordo
5. "Life is very interesting… in the end, some of your greatest pains become your greatest strengths." — Drew Barrymore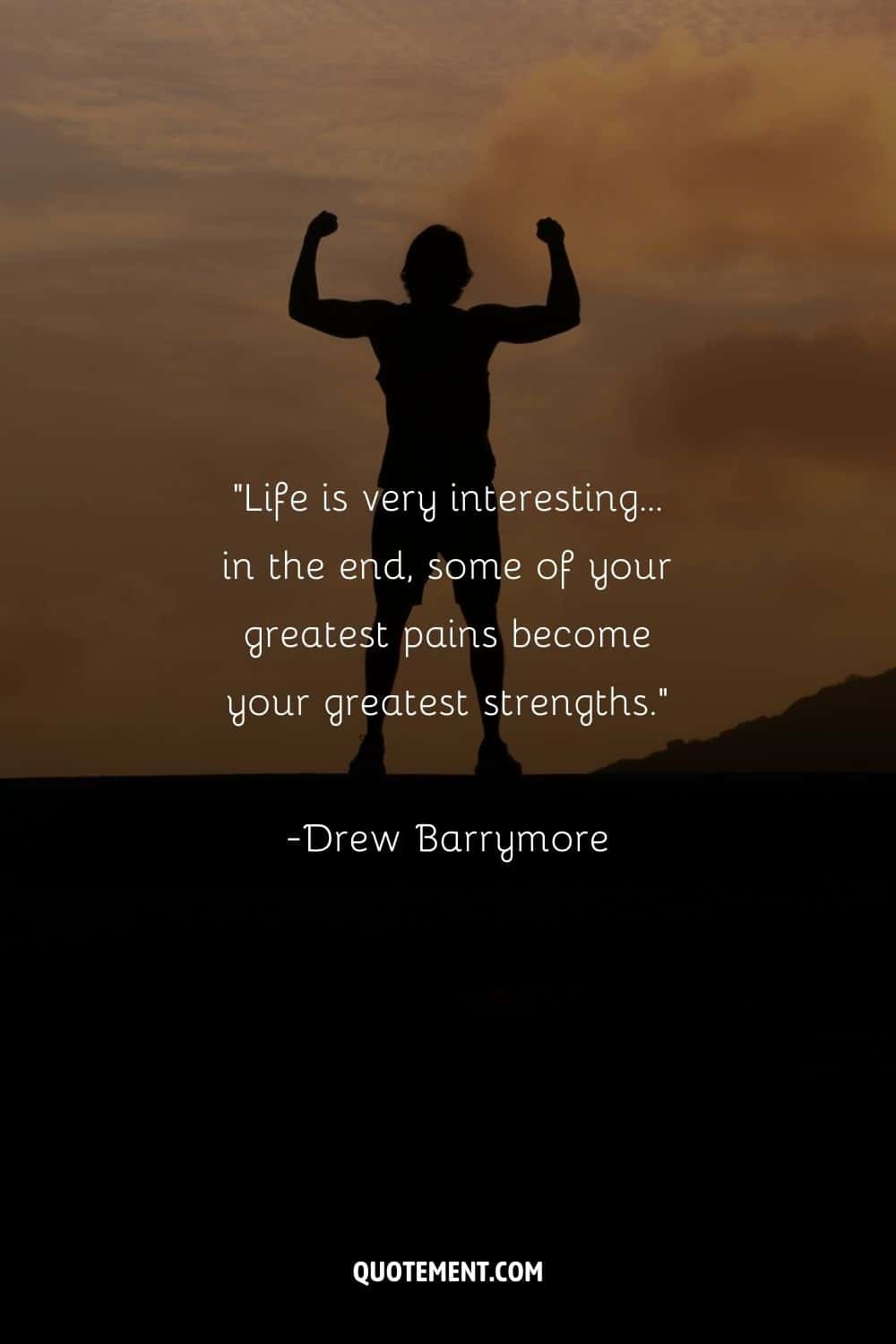 6. "Life doesn't get easier or more forgiving; we get stronger and more resilient." — Steve Maraboli
7. "The world breaks everyone, and afterward, some are strong at the broken places." — Ernest Hemingway
8. "The harder you fall, the heavier your heart; the heavier your heart, the stronger you climb; the stronger you climb, the higher your pedestal." — Criss Jami
9. "Out of suffering have emerged the strongest souls; the most massive characters are seared with scars." — Khalil Gibran
10. "You have power over your mind — not outside events. Realize this, and you will find strength." — Marcus Aurelius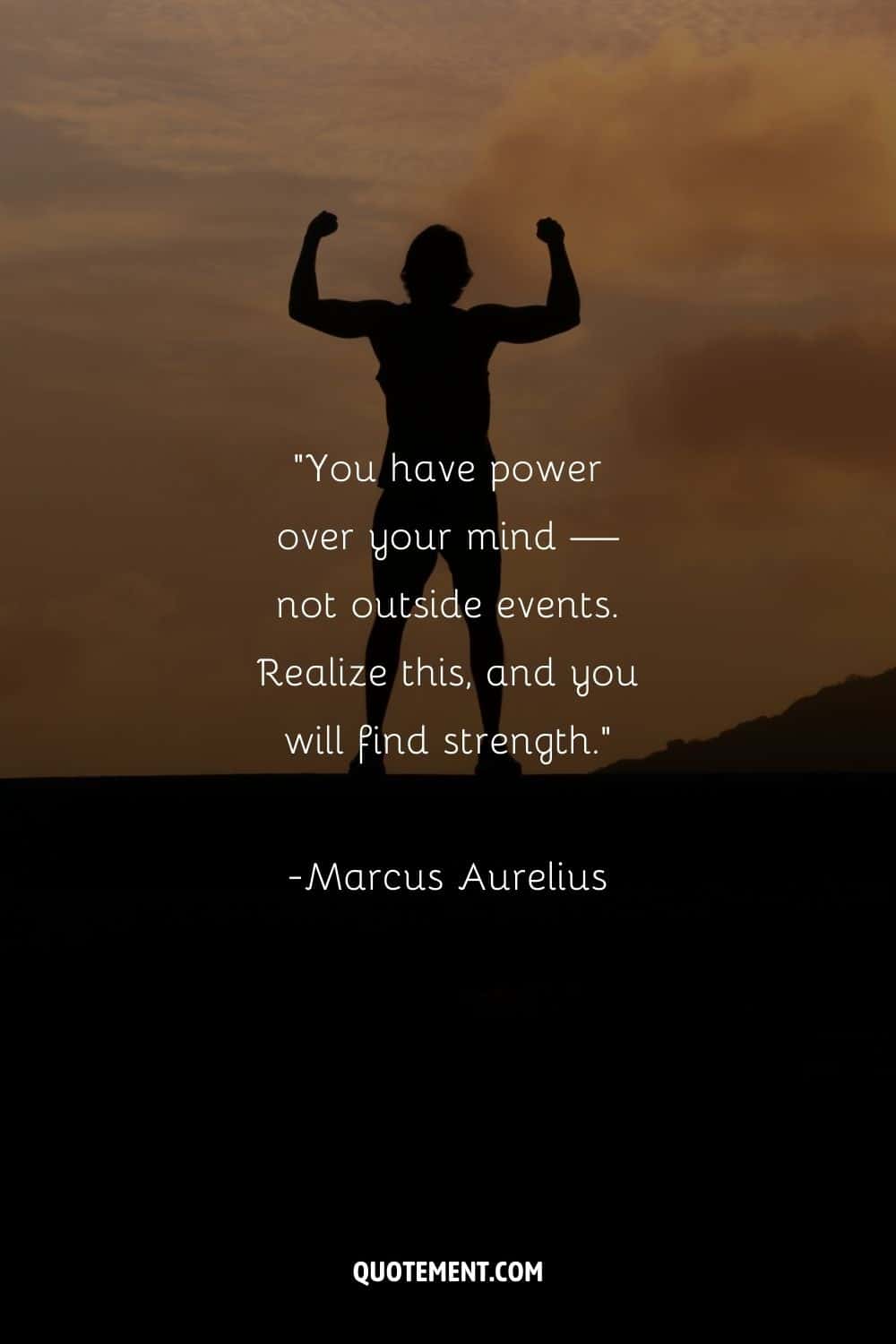 11. "The courage to continue is what distinguishes success from failure." — Winston Churchill
12. "Make up your mind that no matter what comes your way, no matter how difficult, no matter how unfair, you will do more than simply survive. You will thrive in spite of it." — Joel Osteen
13. "I believe in being strong when everything seems to be going wrong. I believe that happy girls are the prettiest girls. I believe that tomorrow is another day and I believe in miracles." — Audrey Hepburn
14. "At the end of the day we can endure much more than we think we can. " — Frida Kahlo
15. "And one has to understand that braveness is not the absence of fear but rather the strength to keep on going forward despite the fear." — Paulo Coelho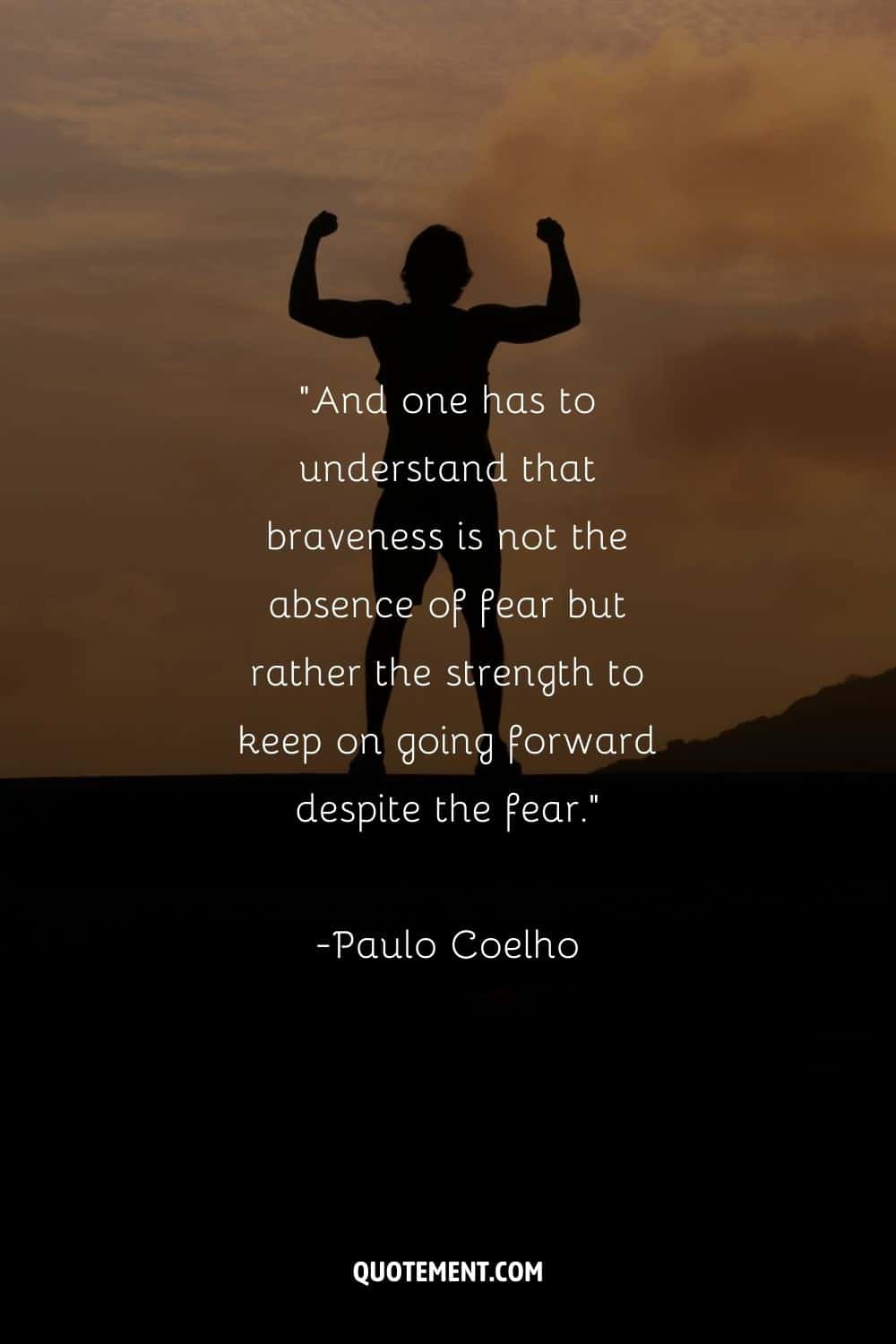 16. "A champion is afraid of losing. Everyone else is afraid of winning. " — Billie Jean King
17. "I have lots of things to prove to myself. One is that I can live my life fearlessly." — Oprah Winfrey
18. "No matter how much falls on us, we keep plowing ahead. That's the only way to keep the roads clear." — Greg Kincaid
19. "Where there is no struggle, there is no strength." — Oprah Winfrey
20. "This is no time for ease and comfort. It is time to dare and endure." — Winston Churchill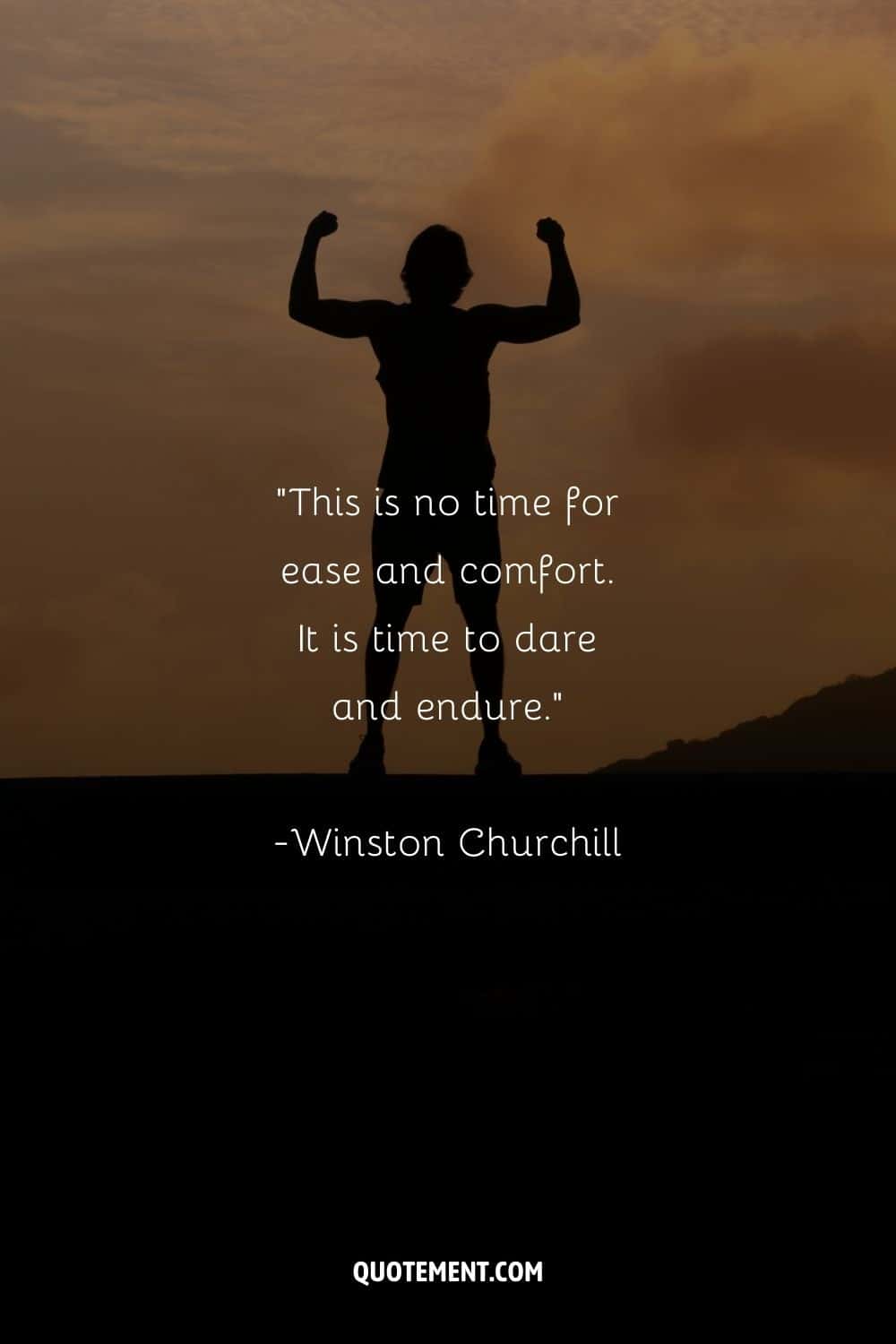 21. "A hero is an ordinary individual who finds the strength to persevere and endure in spite of overwhelming obstacles." — Christopher Reeve
22. "Difficulties are meant to rouse, not discourage. The human spirit is to grow strong by conflict." — William Ellery Channing
23. "It is good to love many things, for therein lies the true strength, and whosoever loves much performs much, and can accomplish much, and what is done in love is well done." — Vincent Van Gogh
24. "Jump in with both feet and be brave." — Sujit Choudhry
25. "The pleasure which we most rarely experience gives us greatest delight." — Epictetus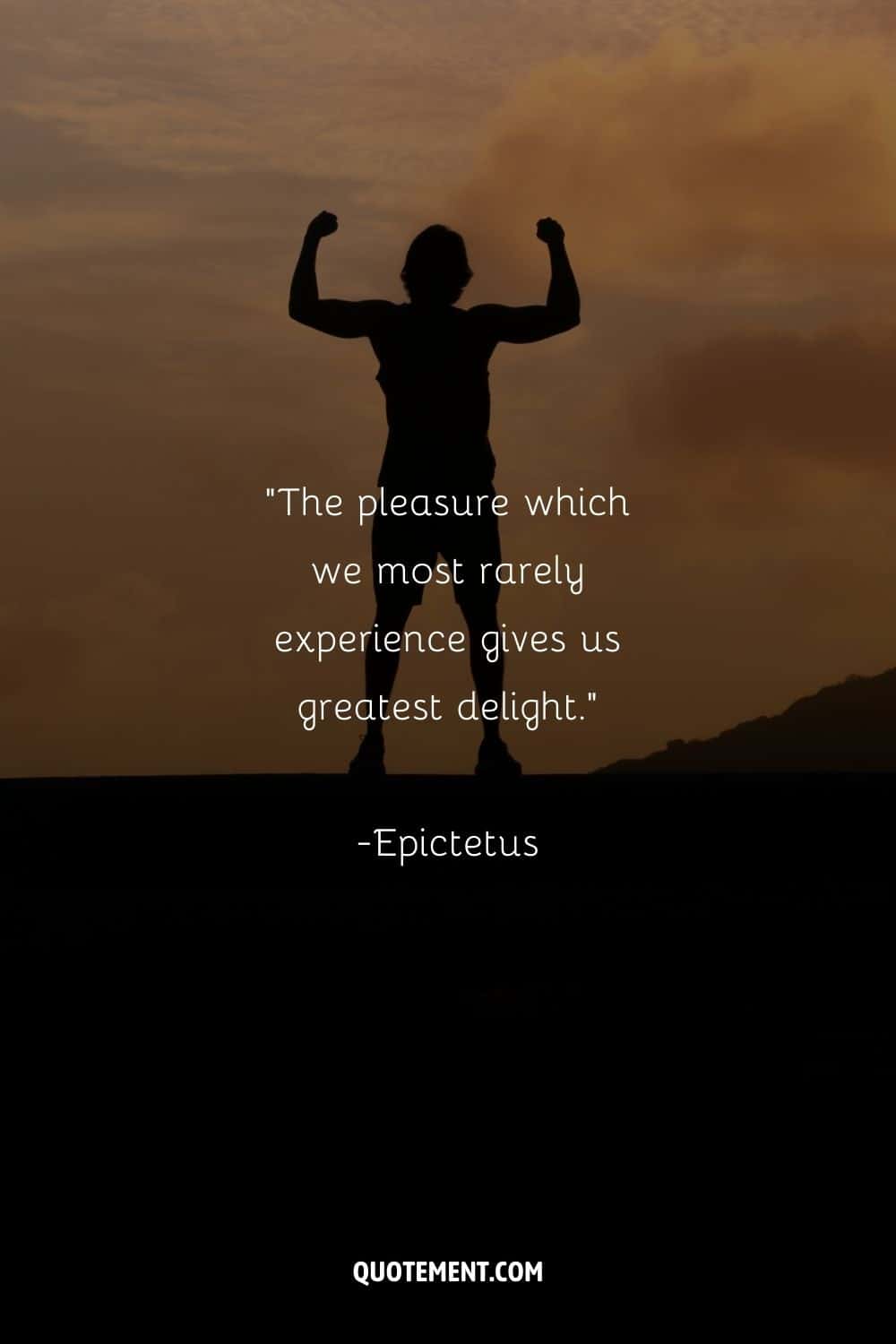 26. "We need women who are so strong they can be gentle, so educated they can be humble, so fierce they can be compassionate, so passionate they can be rational, and so disciplined they can be free." — Kavita Ramdas
27. "Character cannot be developed in ease and quiet. Only through experience of trial and suffering can the soul be strengthened, ambition inspired, and success achieved." — Hellen Keller
28. "Strength does not come from winning. Your struggles develop your strengths. When you go through hardships and decide not to surrender, that is strength." — Arnold Schwarzenegger
29. "The human capacity for burden is like bamboo — far more flexible than you'd ever believe at first glance." — Jodi Picoult
30. "We don't even know how strong we are until we are forced to bring that hidden strength forward." — Isabel Allende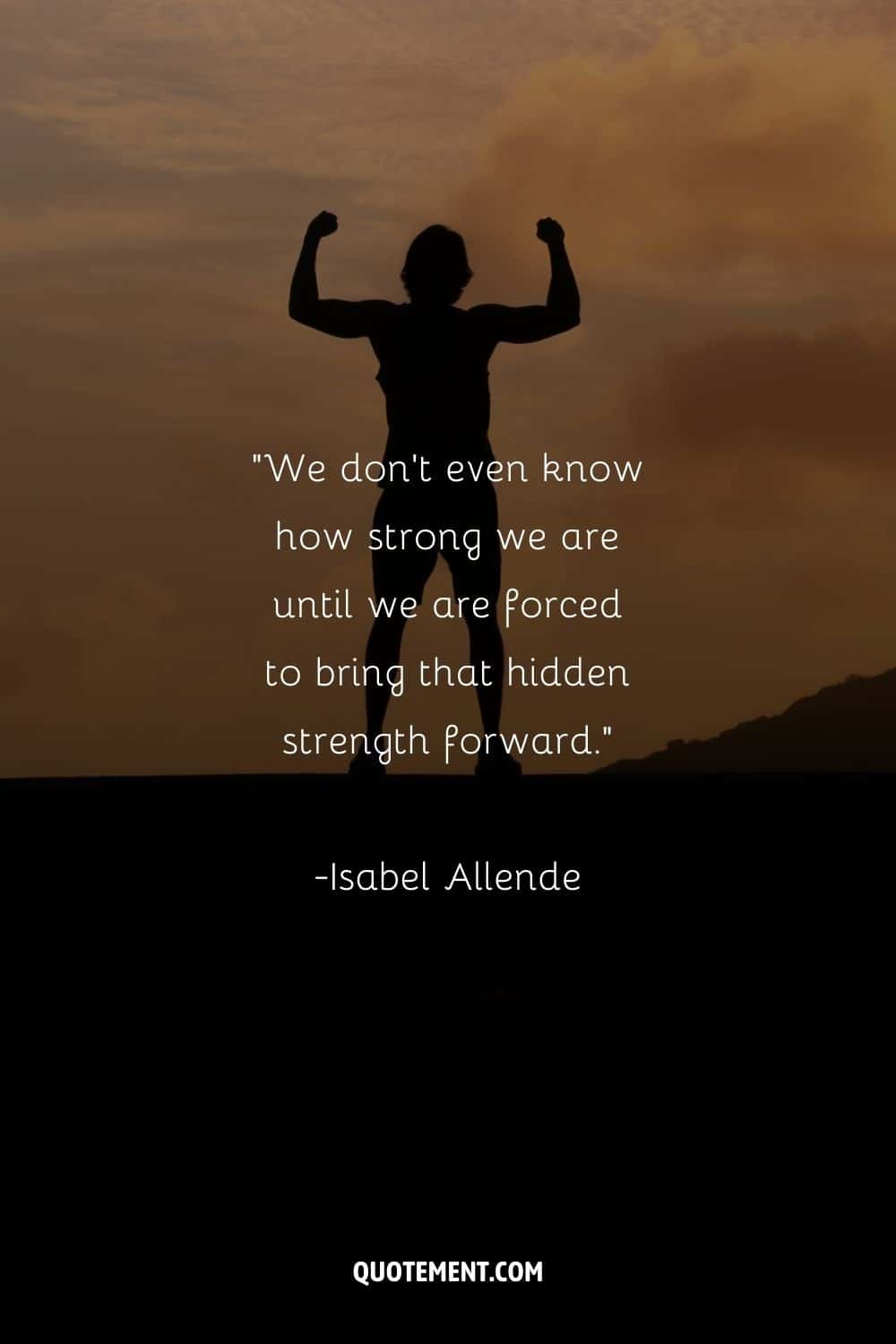 31. "Mastering others is strength, mastering yourself is true power." — Lao Tzu
32. "You gain strength, courage, and confidence by every experience in which you really stop to look fear in the face. You are able to say to yourself, 'I lived through this horror. I can take the next thing that comes along.'" — Eleanor Roosevelt
33. "You can choose courage or you can choose comfort. You cannot have both." — Brene Brown
34. "Make your fear of losing your greatest motivator. " — Unknown
35. "When we long for life without difficulties, remind us that oaks grow strong in contrary winds and diamonds are made under pressure." — Peter Marshall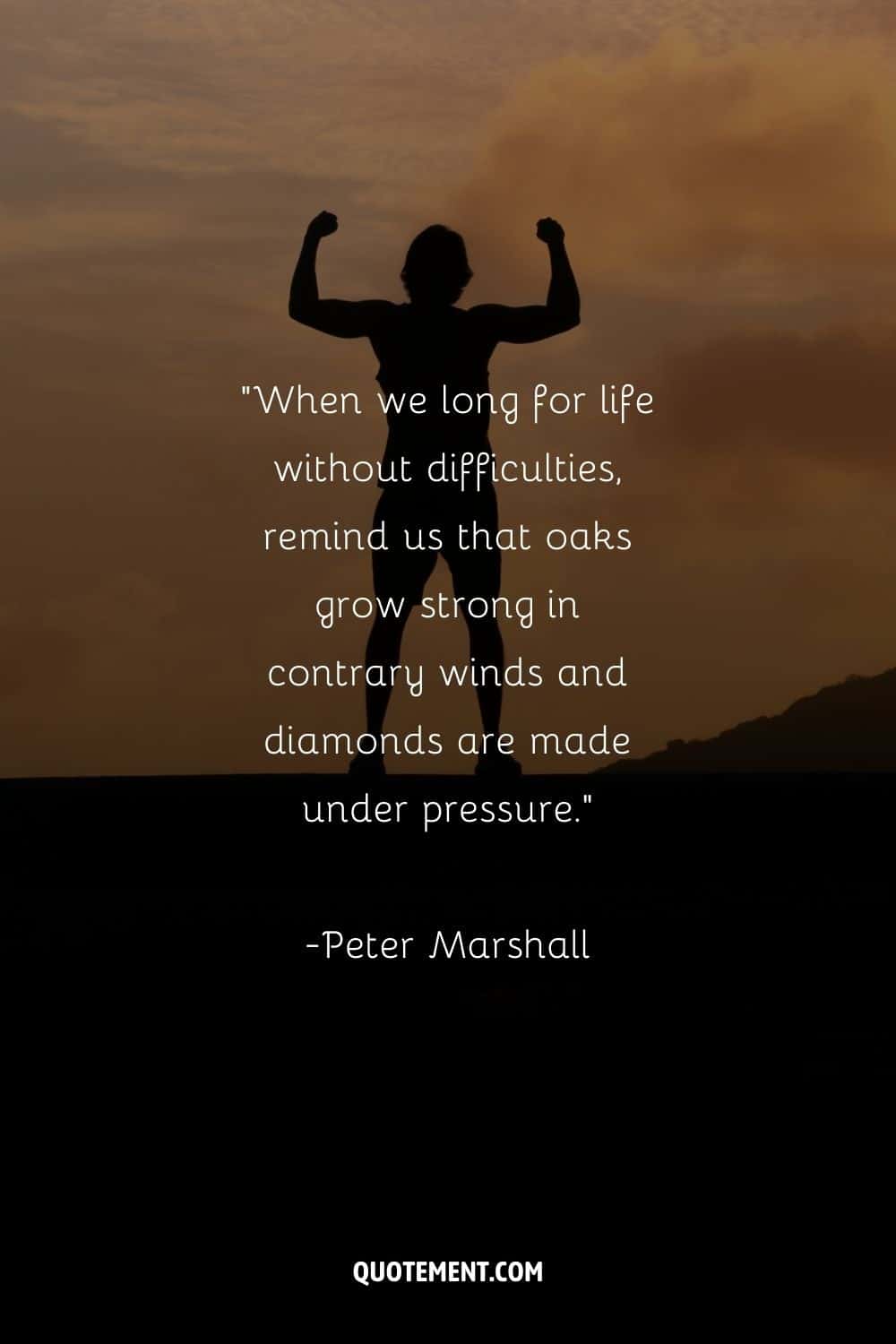 36. "You get in life what you have the courage to ask for." — Oprah Winfrey
37. "Fear? What has a man to do with fear? Chance rules our lives, and the future is all unknown. Best live as we may, from day to day." ― Sophocles
38. "Don't be afraid of your fears. They're not there to scare you. They're there to let you know that something is worth it." ― C. JoyBell C.
39. "It is really wonderful how much resilience there is in human nature. Let any obstructing cause, no matter what, be removed in any way, even by death, and we fly back to first principles of hope and enjoyment." — Bram Stoker
40. "When you have exhausted all possibilities, remember this: you haven't." — Thomas A. Edison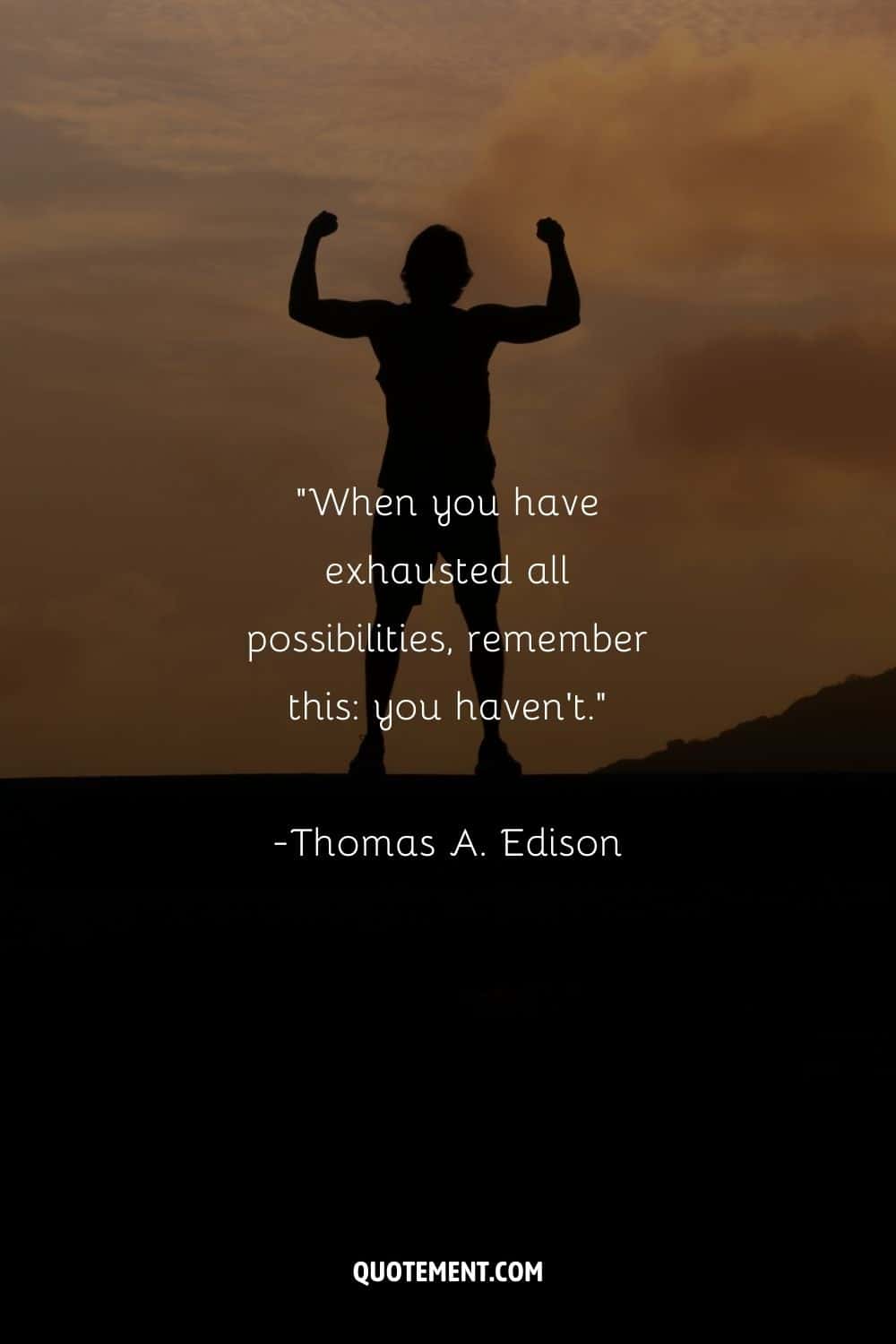 41. "Your passion is waiting for your courage to catch up. " — Isabelle Lafleche
42. "We do not have to become heroes overnight. Just a step at a time, meeting each thing that comes up, seeing it is not as dreadful as it appeared, discovering we have the strength to stare it down." — Eleanor Roosevelt
43. "The key to life is accepting challenges. Once someone stops doing this, he's dead." ― Bette Davis
44. "Courage isn't having the strength to go on, it is going on when you don't have the strength." — Napoleon Bonaparte
45. "Face the fear, even if it's only a tiptoe outside of your comfort zone instead of a leap. Progress is progress." — Annette White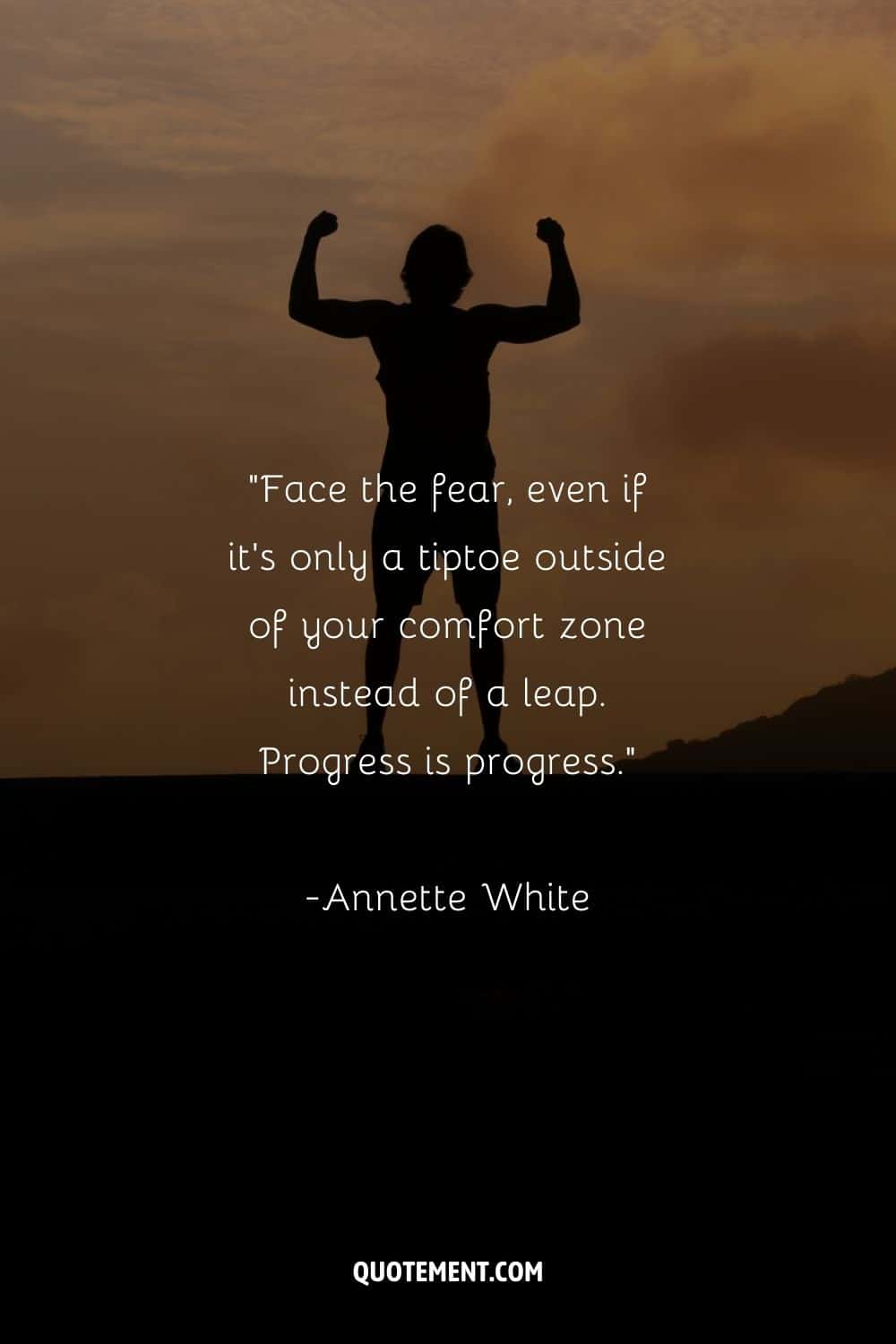 See also: 120 Ultimate Best Quotes About Progress To Fuel Your Growth
Cute Motivational Quotes Of The Day
1. "Ask yourself, 'How long am I going to work to make my dreams come true?' I suggest you answer, 'As long as it takes.'" — Jim Rohn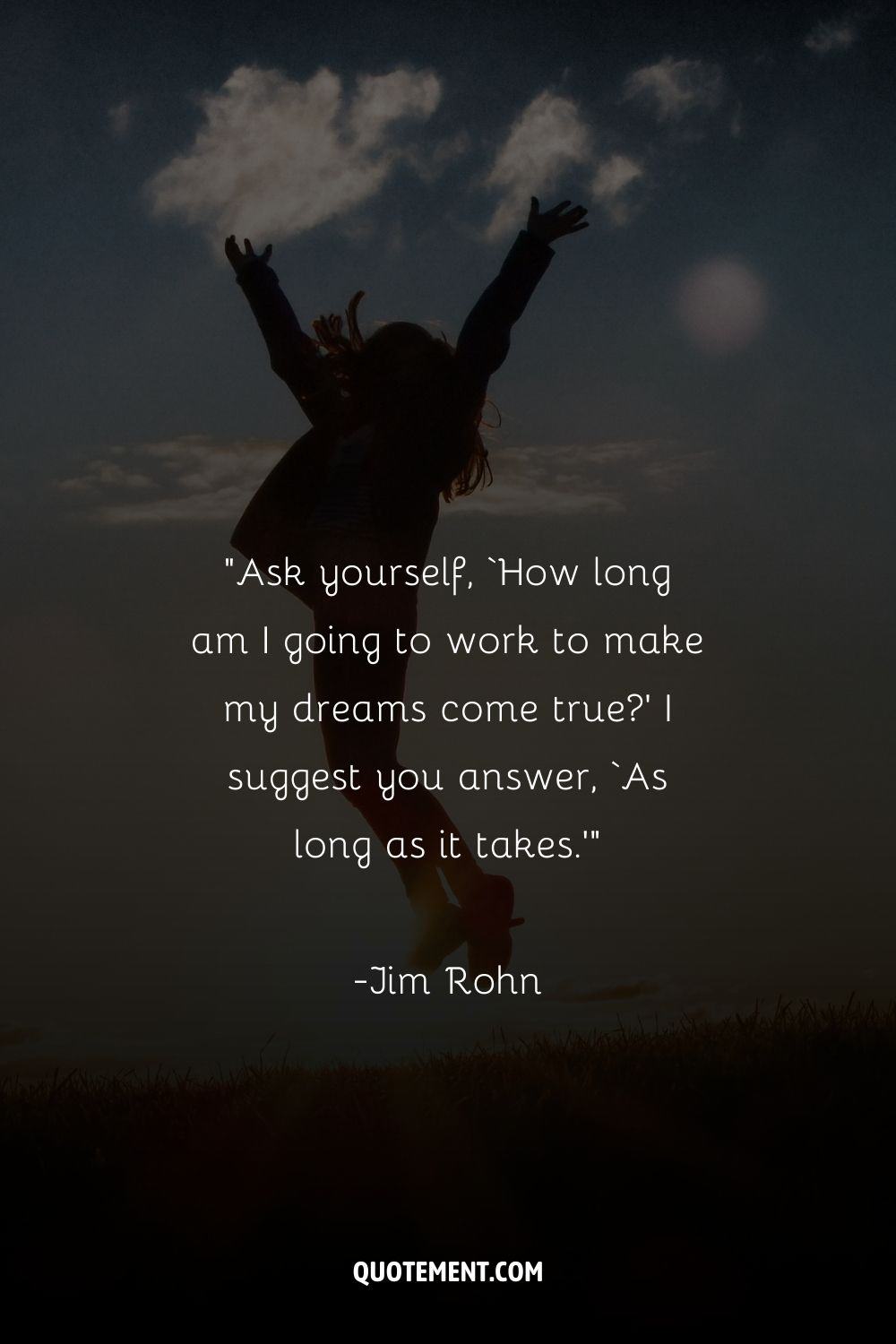 2. "Somewhere, something incredible is waiting to be known." — Carl Sagan
3. "A dream doesn't become reality through magic; it takes sweat, determination, and hard work." — Colin Powell
4. "A man is not finished when he is defeated. He is finished when he quits. " — Richard Nixon
5. "Before anything great is really achieved, your comfort zone must be disturbed." — Ray Lewis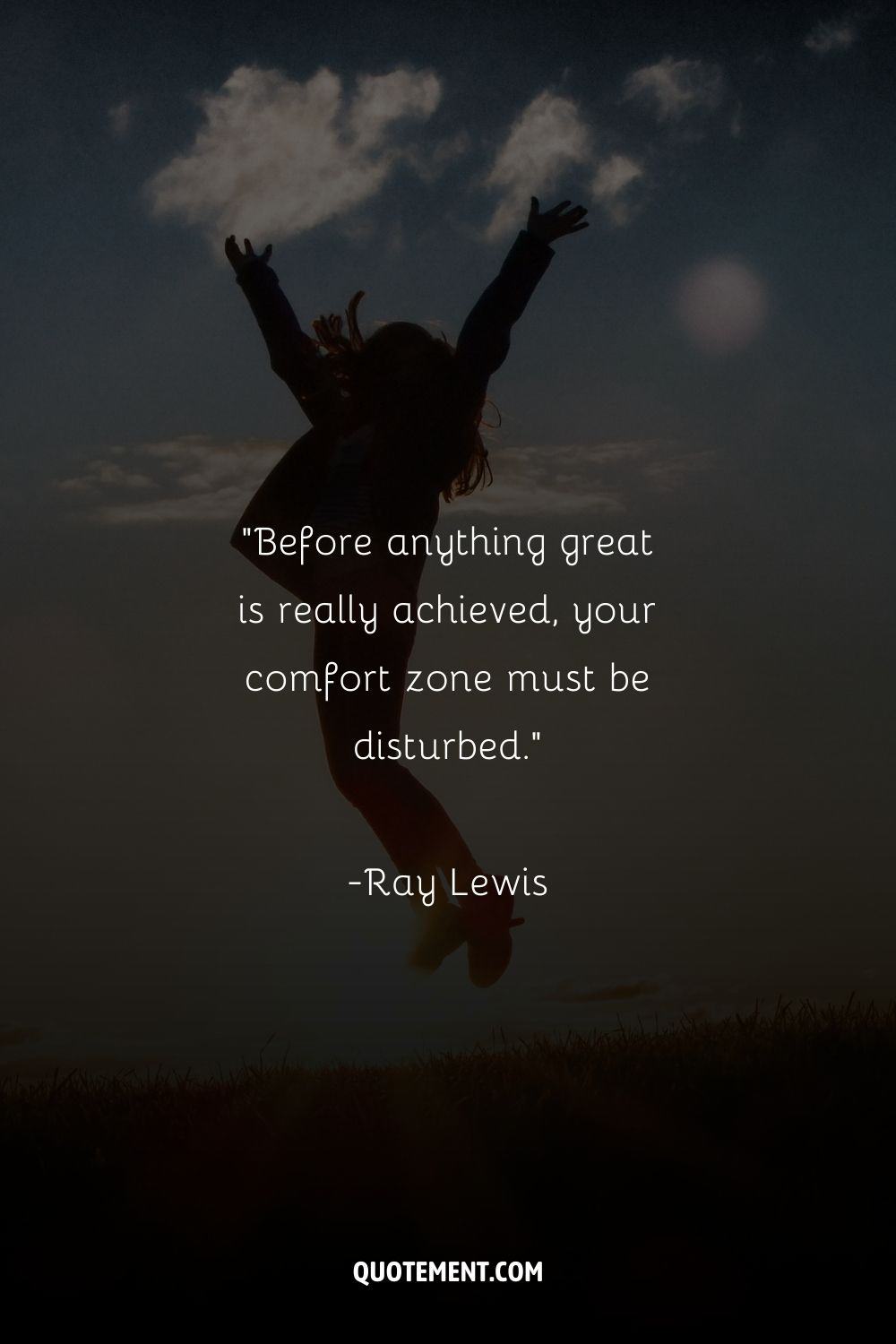 6. "Dare to dream, then decide to do." — Annette White
7. "Don't ever let someone tell you, you can't do something. Not even me. You got a dream, you got to protect it." — Steven Conrad
8. "Don't say you don't have enough time. You have exactly the same number of hours per day that were given to Helen Keller, Pasteur, Michelangelo, Mother Teresa, Leonardo Da Vinci, Thomas Jefferson, and Albert Einstein. " — H. Jackson Brown Jr.
9. "Don't tell me the sky's the limit when there are footprints on the moon." — Paul Brandt
10. "Every pro was once an amateur. Every expert was once a beginner. So dream big. And start now." — Unknown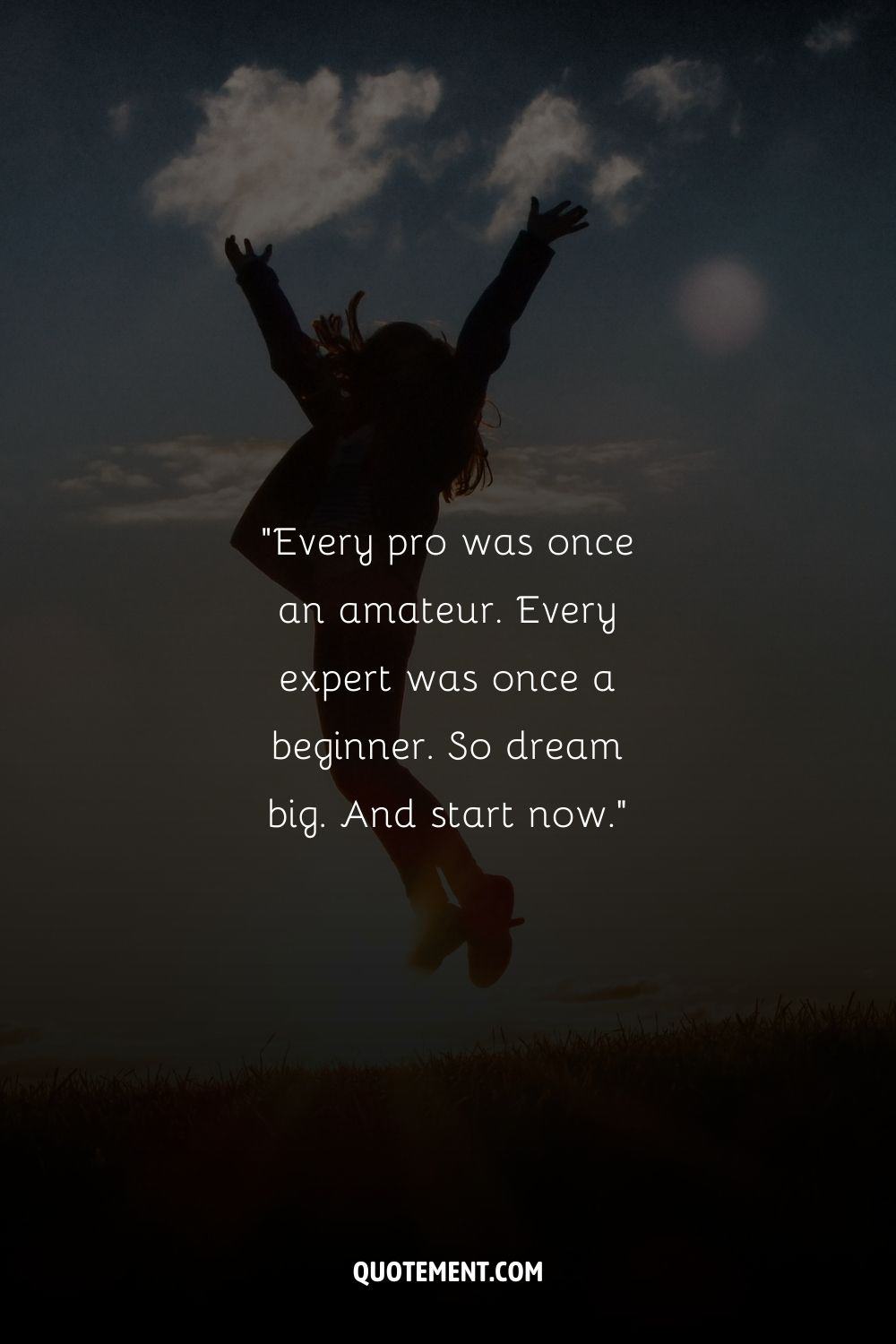 11. "Don't watch the clock; do what it does. Keep going. " — Sam Levenson
12. "Even if I don't reach all my goals, I've gone higher than I would have if I hadn't set any." — Danielle Fotopoulis
13. "Dreaming is the beginning of getting everything you want." — Annette White
14. "Every champion was once a contender that didn't give up. " — Gabby Douglas
15. "I am thankful for all of those who said NO to me. It's because of them I'm doing it myself. " — Wayne W. Dyer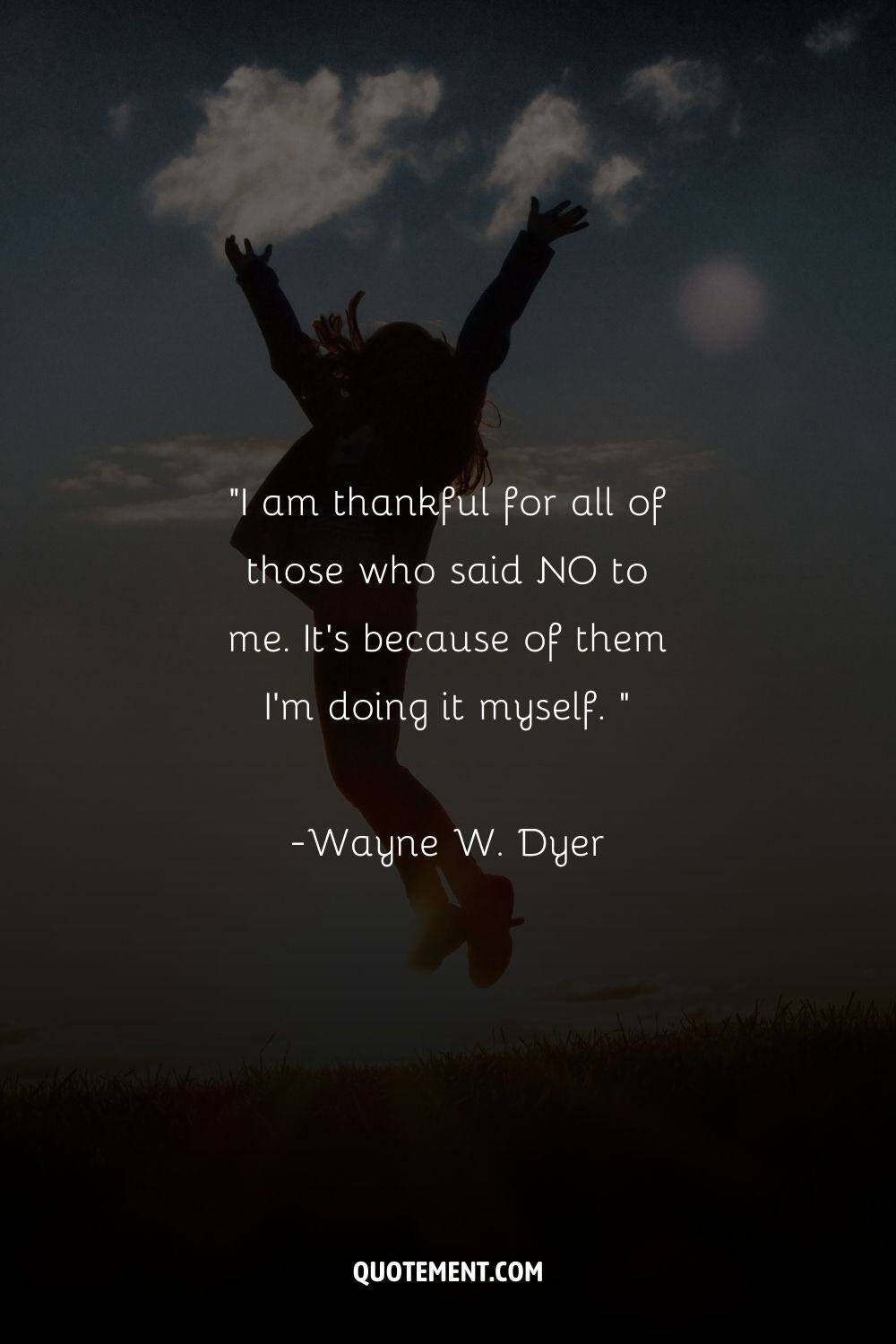 16. "Go the extra mile. It's never crowded there. " — Dr. Wayne D. Dyer
17. "I knew that if I failed, I wouldn't regret that, but I knew the one thing I might regret is not trying." — Jeff Bezos
18. "I attribute my success to this: I never gave or took an excuse. " — Florence Nightingale
19. "I would encourage you to set really high goals. Set goals that, when you set them, you think they're impossible. But then every day you can work towards them, and anything is possible, so keep working hard and follow your dreams." — Katie Ledecky
20. "Limitations live only in our minds. But if we use our imaginations, our possibilities become limitless." — Jamie Paolinetti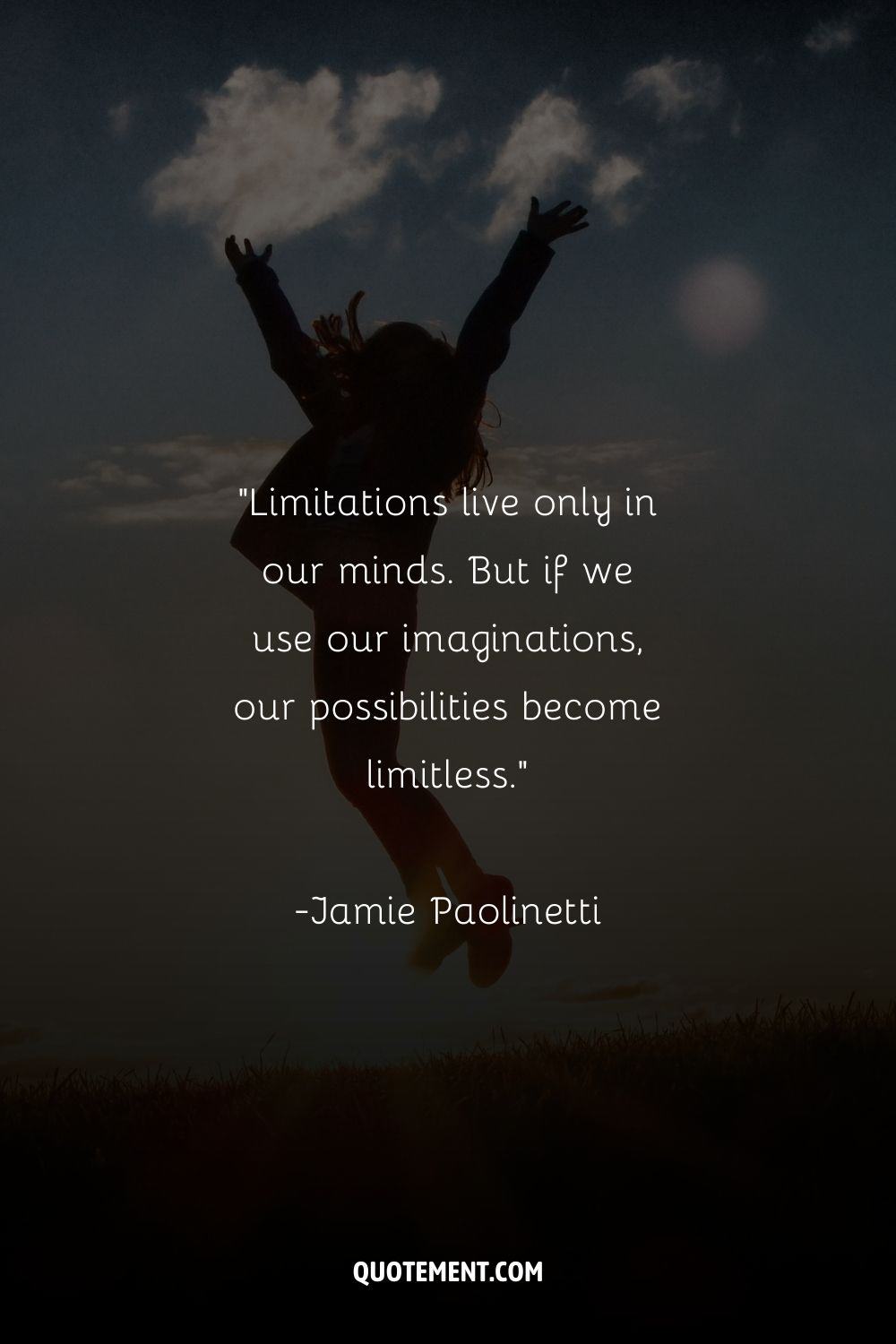 21. "I didn't get there by wishing for it, but by working for it. " — Estee Lauder
22. "It's not about having enough time, it's about making enough time. " — Rachael Bermingham
23. "Learn from the mistakes of others. You can't live long enough to make them all yourself. " — Eleanor Roosevelt
24. "It's not what happens to you but how you react to it that matters. " — Epictetus
25. "Whenever you find yourself doubting how far you can go, just remember how far you have come. " — Unknown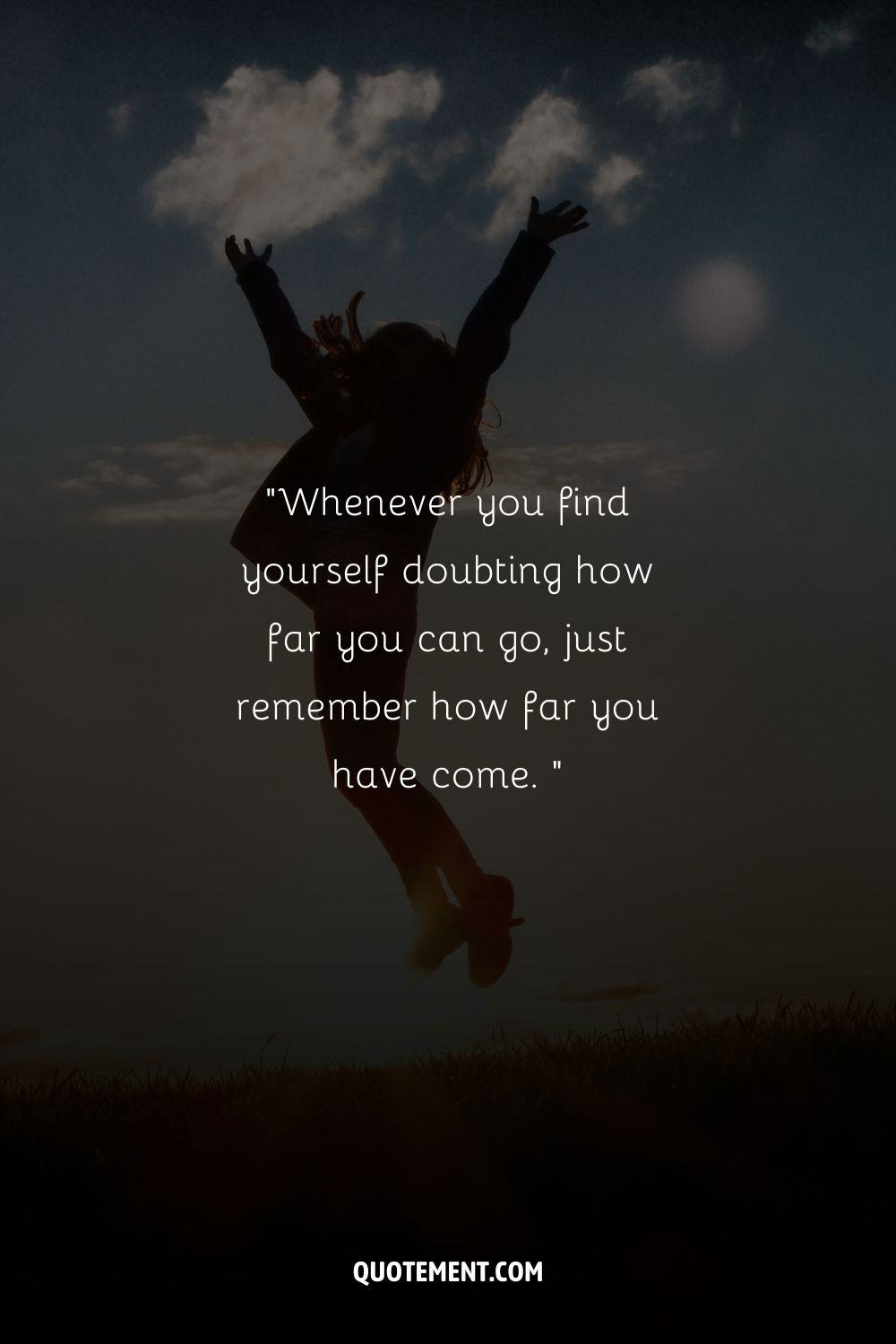 26. "Losers quit when they fail. Winners fail until they succeed." — Robert T. Kiyosaki
27. "Motivation may be what starts you off, but it's habit that keeps you going back for more. " — Miya Yamanouchi
28. "Never give up on what you really want to do. The person with big dreams is more powerful than the one with all the facts." — Albert Einstein
29. "Not fulfilling your dreams will be a loss to the world, because the world needs everyone's gift — yours and mine." — Barbara Sher
30. "Never stop doing your best just because someone doesn't give you credit. " — Kamari aka Lyrikal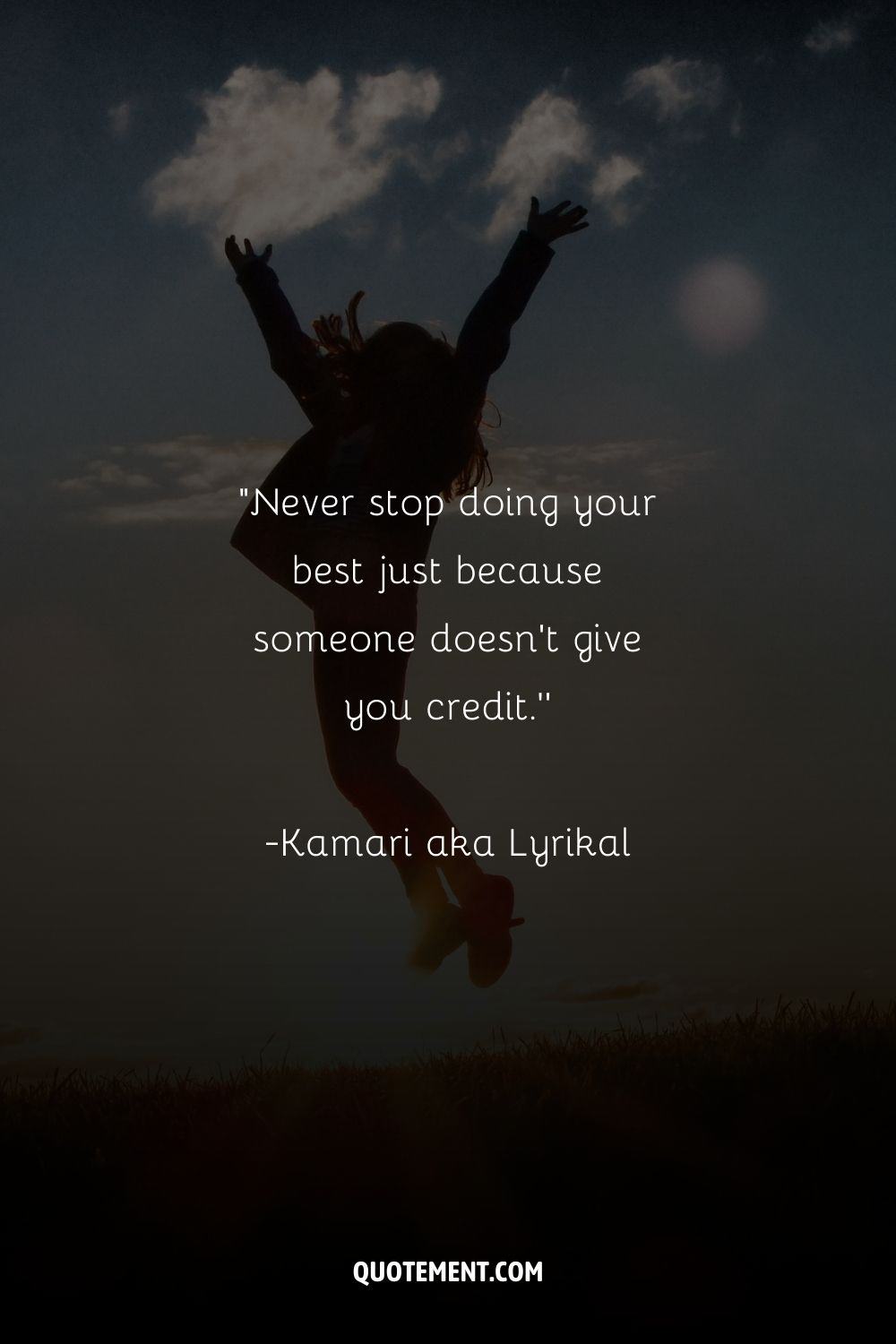 31. "One thing's for sure, if you don't play, you don't win. " — Kylie Francis
32. "Only those who risk going too far can possibly find out how far one can go." — T.S. Eliot
33. "Outside your comfort zone is the only place worth living." — Karina Bliss
34. "We can do anything we want to if we stick to it long enough." — Helen Keller
35. "Winning means you're willing to go longer, work harder, and give more than anyone else. " — Vince Lombardi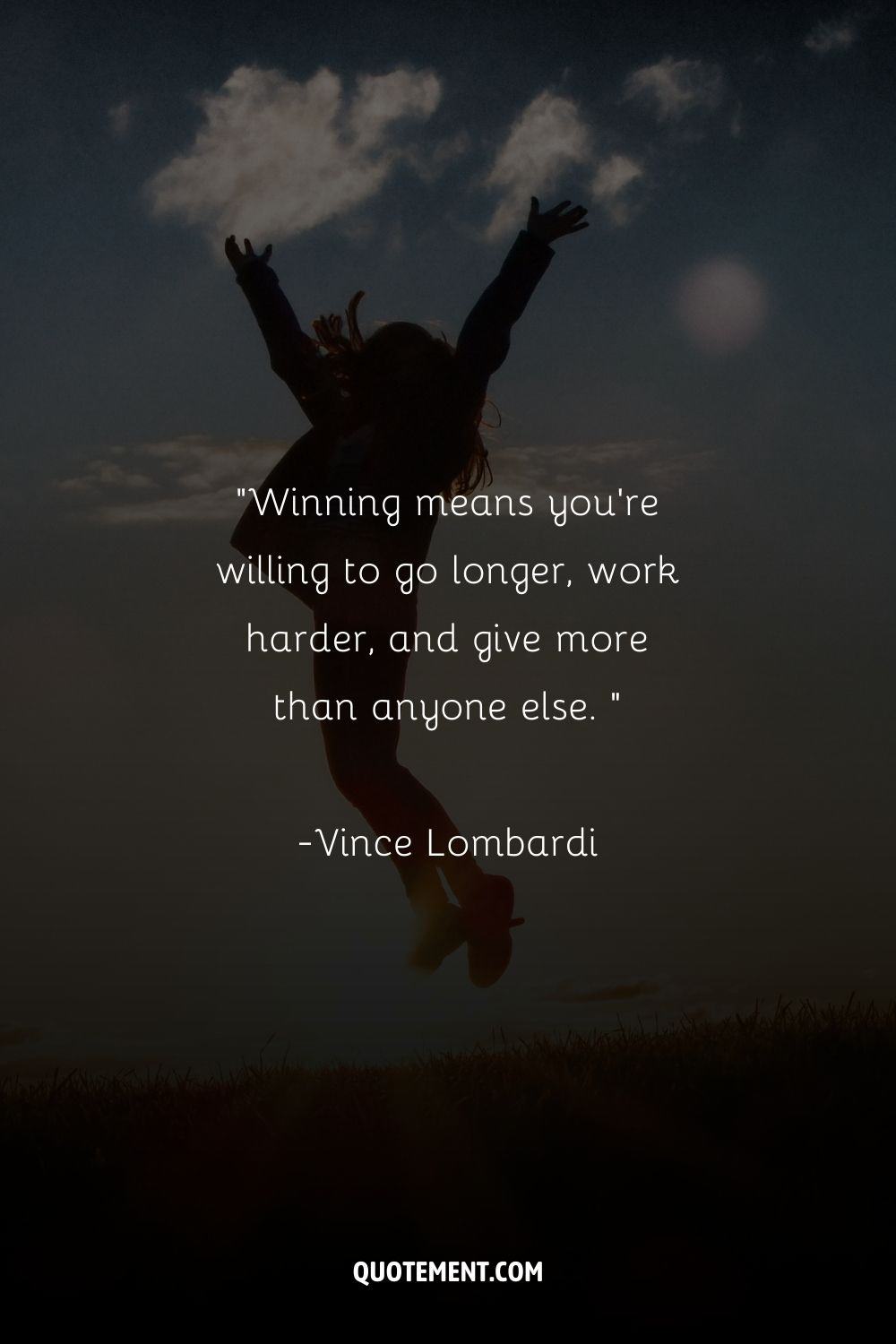 36. "People have, for centuries, turned their dreams into action, and those actions have turned into accomplishments of every kind." — Byron Pulsifer
37. "When you reach the end of your rope, tie a knot and hang out. " — Abraham Lincoln
38. "You miss 100% of the shots you don't take." — Wayne Gretzky
39. "When you stop chasing the wrong things, you give the right things a chance to catch you." — Unknown
40. "Whenever I feel like giving up, I remind myself that I have a lot of people to prove wrong today." — Annette White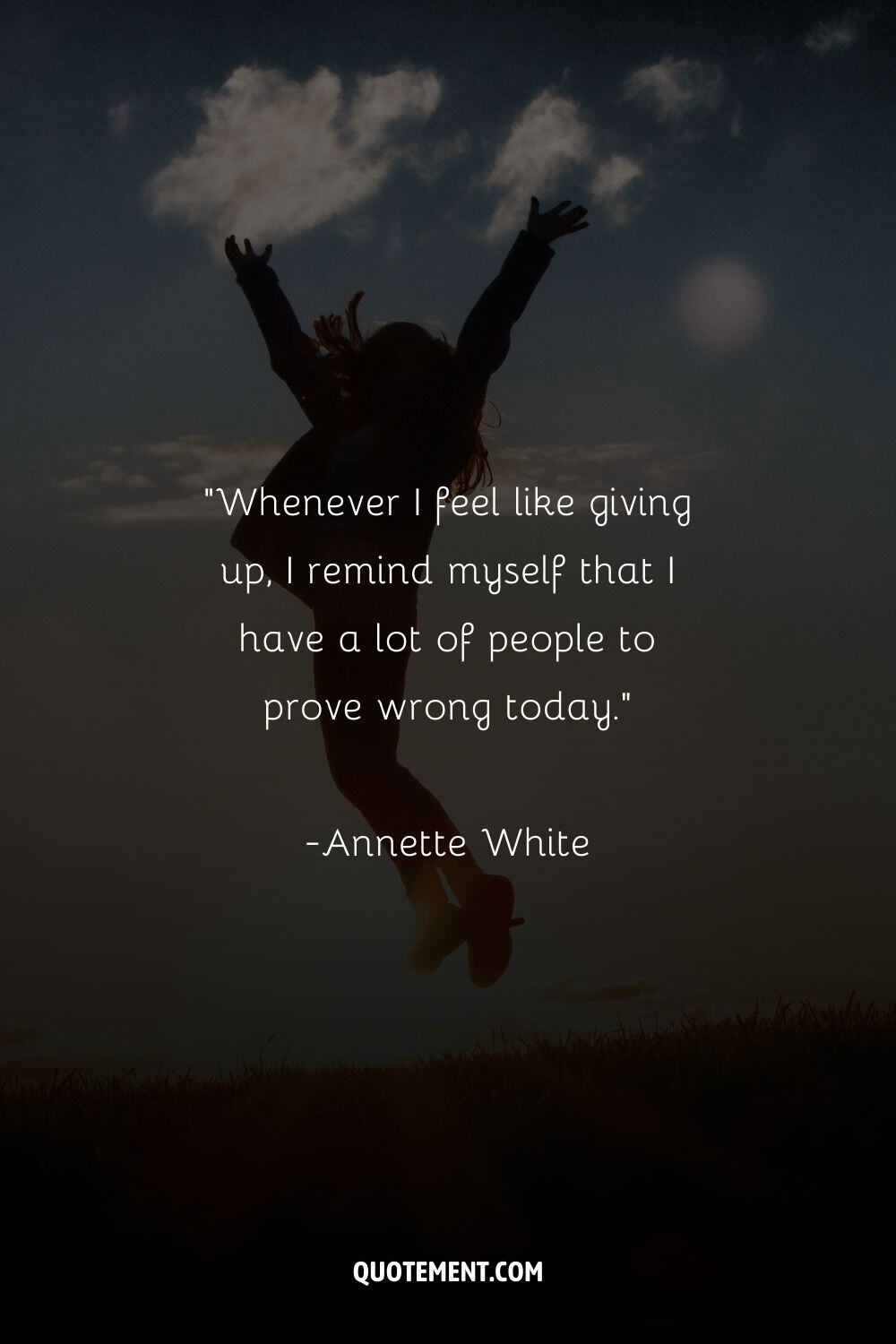 41. "Work hard in silence, let your success be the noise. " — Frank Ocean
42. "Without dreams, there can be no courage. And without courage, there can be no action." — Wim Wender
43. "You never know what you can do until you try. " — William Cobbett
44. "You get what you focus on, so focus on what you want." — Unknown
45. "Words can inspire, thoughts can provoke, but only action truly brings you closer to your dreams." — Brad Sugars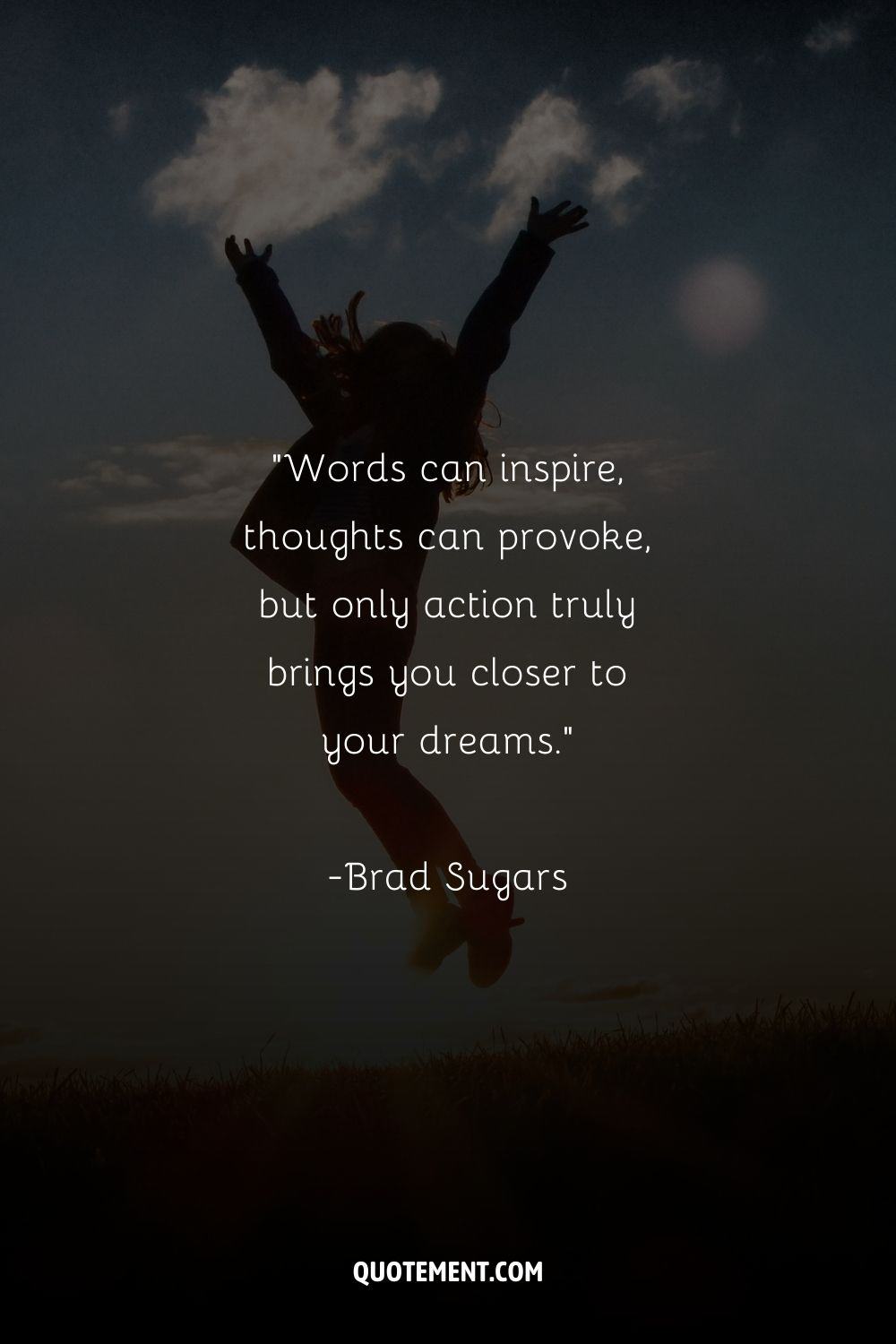 See also: 100 Actions Speak Louder Than Words Quotes To Live By
Be Positive Quotes For Today
1. "The more you feed your mind with positive thoughts, the more you can attract great things into your life." ― Roy T. Bennett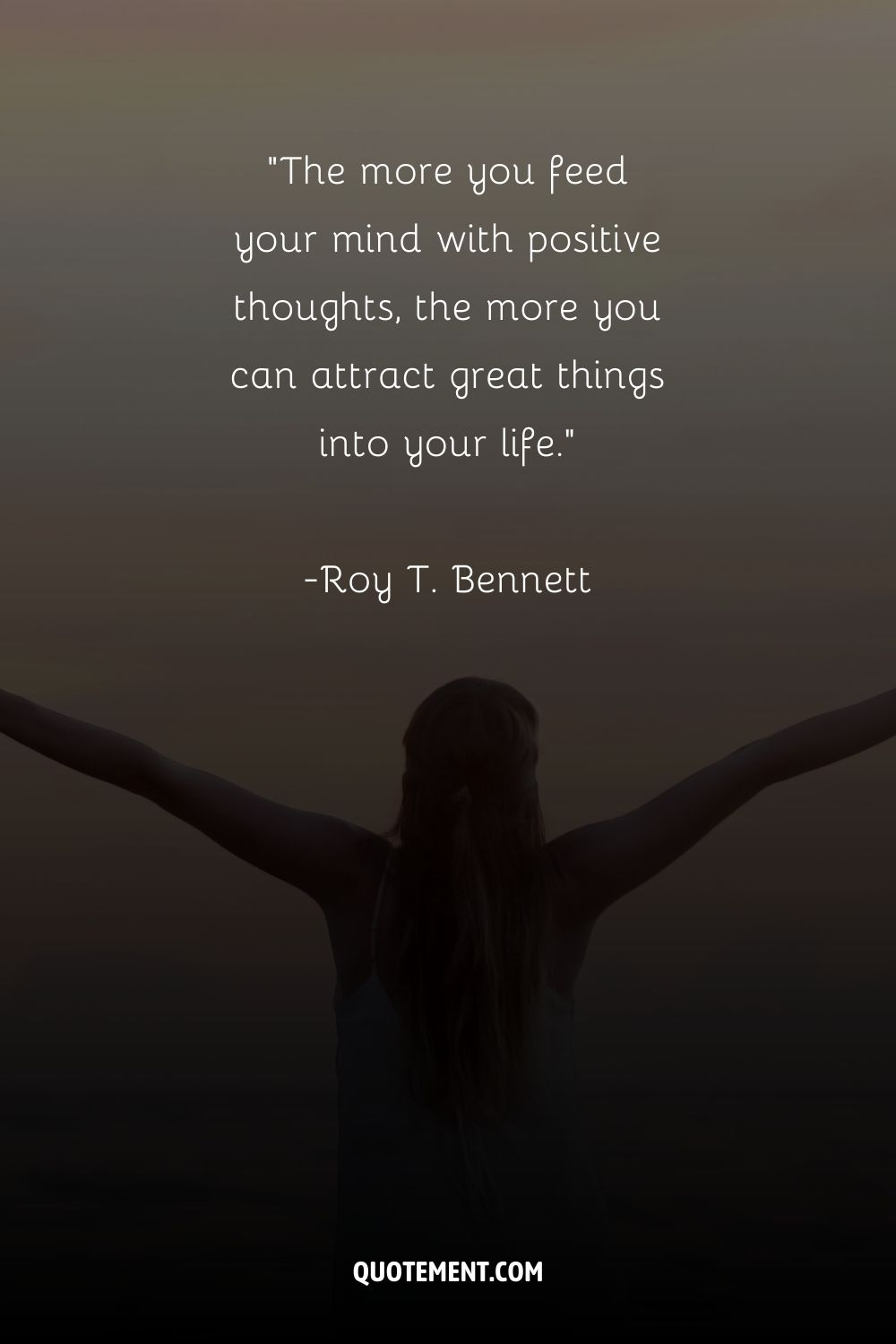 2. "Stay positive and happy. Work hard and don't give up. Be open to criticism and keep learning. Surround yourself with happy, warm, and genuine people." — Tena Desae
3. "Start each day with a positive thought and a grateful heart." ― Roy T. Bennett
4. "Don't focus on negative things; focus on the positive, and you will flourish." — Alek Wek
5. "Do your little bit of good where you are; it is those little bits of good put together that overwhelm the world." — Archbishop Desmond Tutu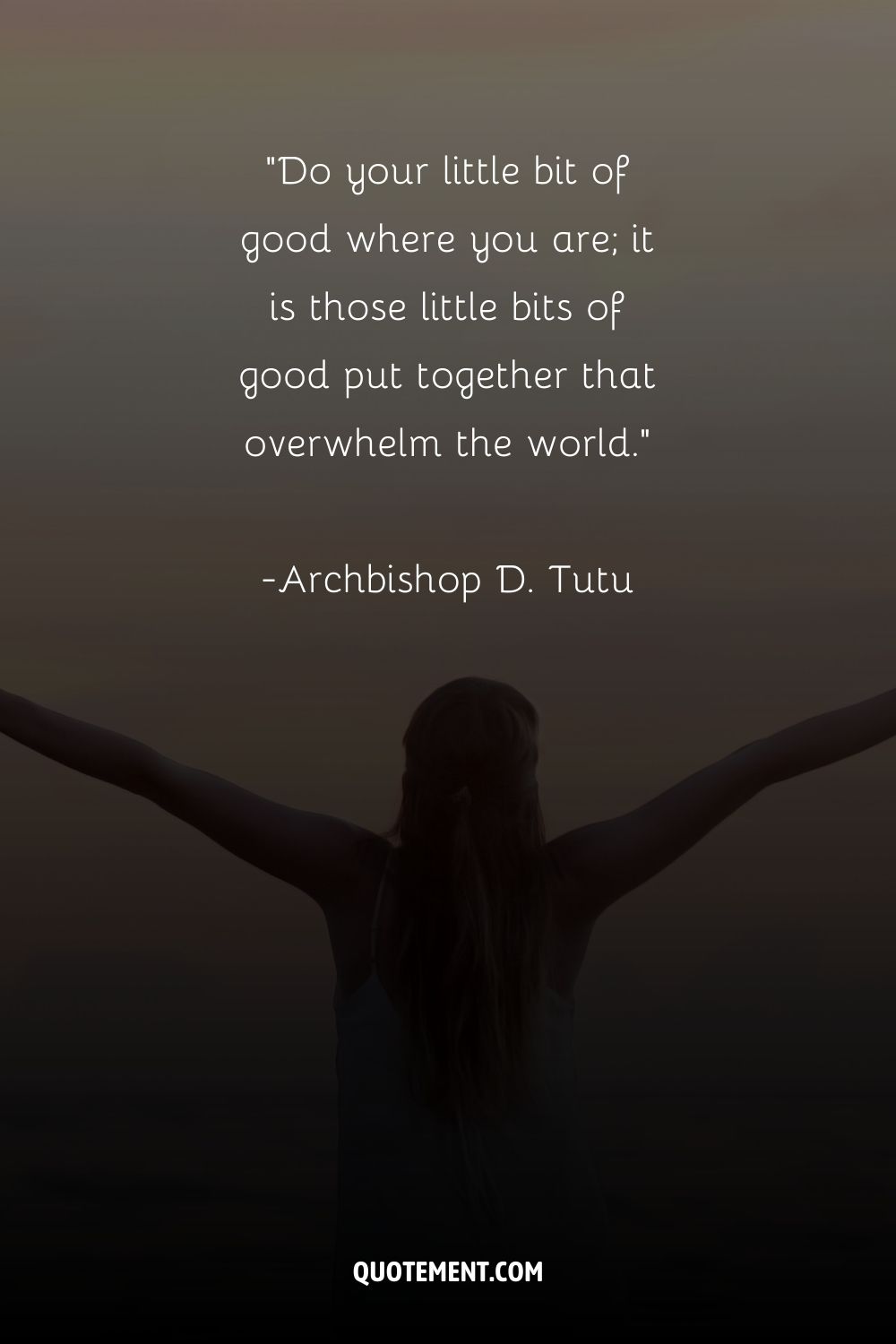 6. "Train your mind to see the good in every situation." — Unknown
7. "It's amazing. Life changes very quickly, in a very positive way, if you let it." — Lindsey Vonn
8. "If you can stay positive in a negative situation, you win." — Unknown
9. "Be fanatically positive and militantly optimistic. If something is not your liking, change your liking." — Rick Steves
10. "Be not afraid of life. Believe that life is worth living, and your belief will help create the fact." — William James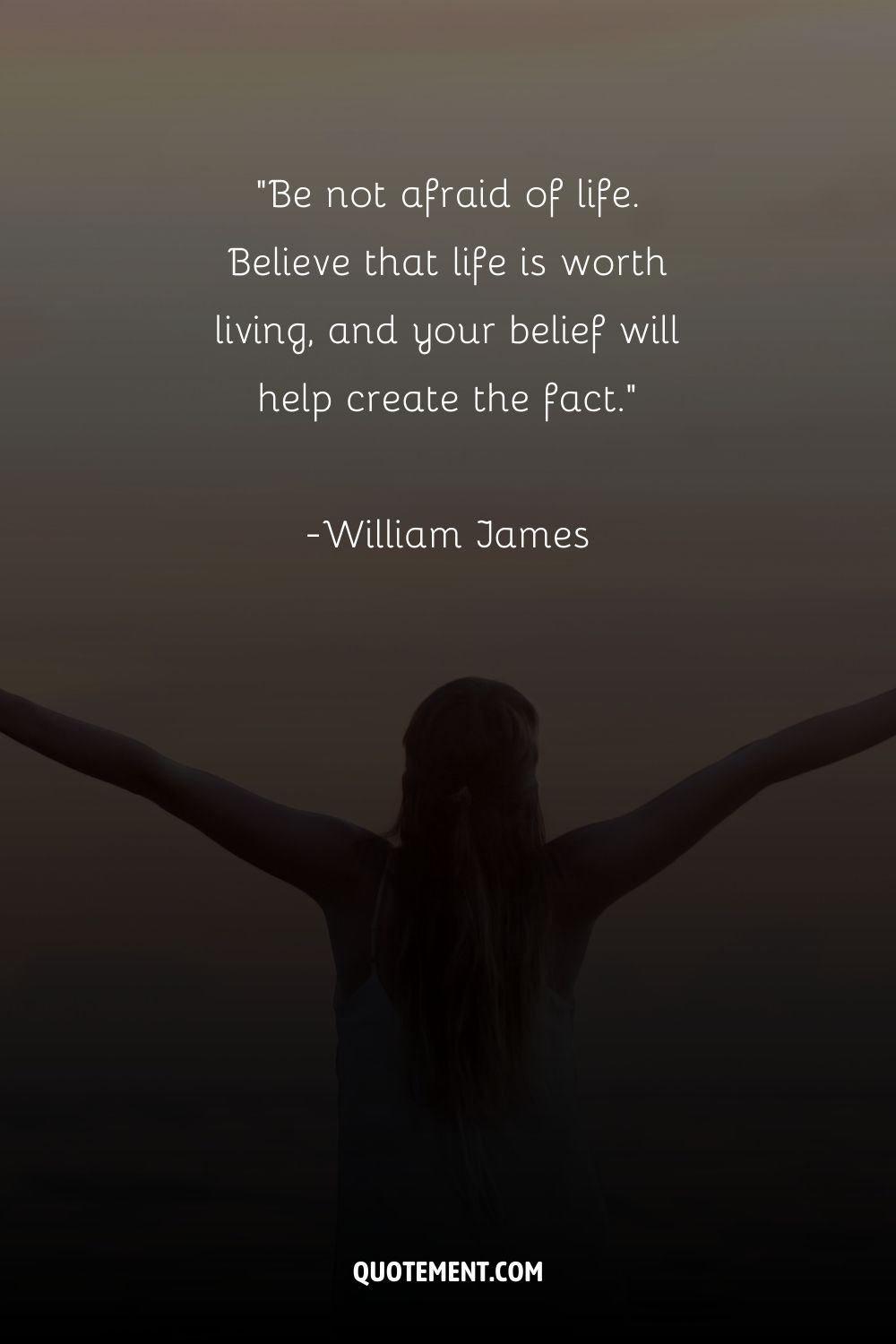 11. "Stay strong, stay positive, and never give up." ― Roy T. Bennett
12. "Do not get lost in a sea of despair. Be hopeful, be optimistic. Our struggle is not the struggle of a day, a week, a month, or a year, it is the struggle of a lifetime. Never, ever be afraid to make some noise and get in good trouble, necessary trouble." — John Lewis
13. "Stay positive. Better days are on their way." — Unknown
14. "If you see the world and yourself through a lens smudged by negativity, then you'll find much misery. If you look outwards and inwards through lens brightened by positivity you'll find much to be happy and appreciative about." — Henrik Edberg
15. "More smiling, less worrying. More compassion, less judgment. More blessed, less stressed. More love, less hate." ― Roy T. Bennett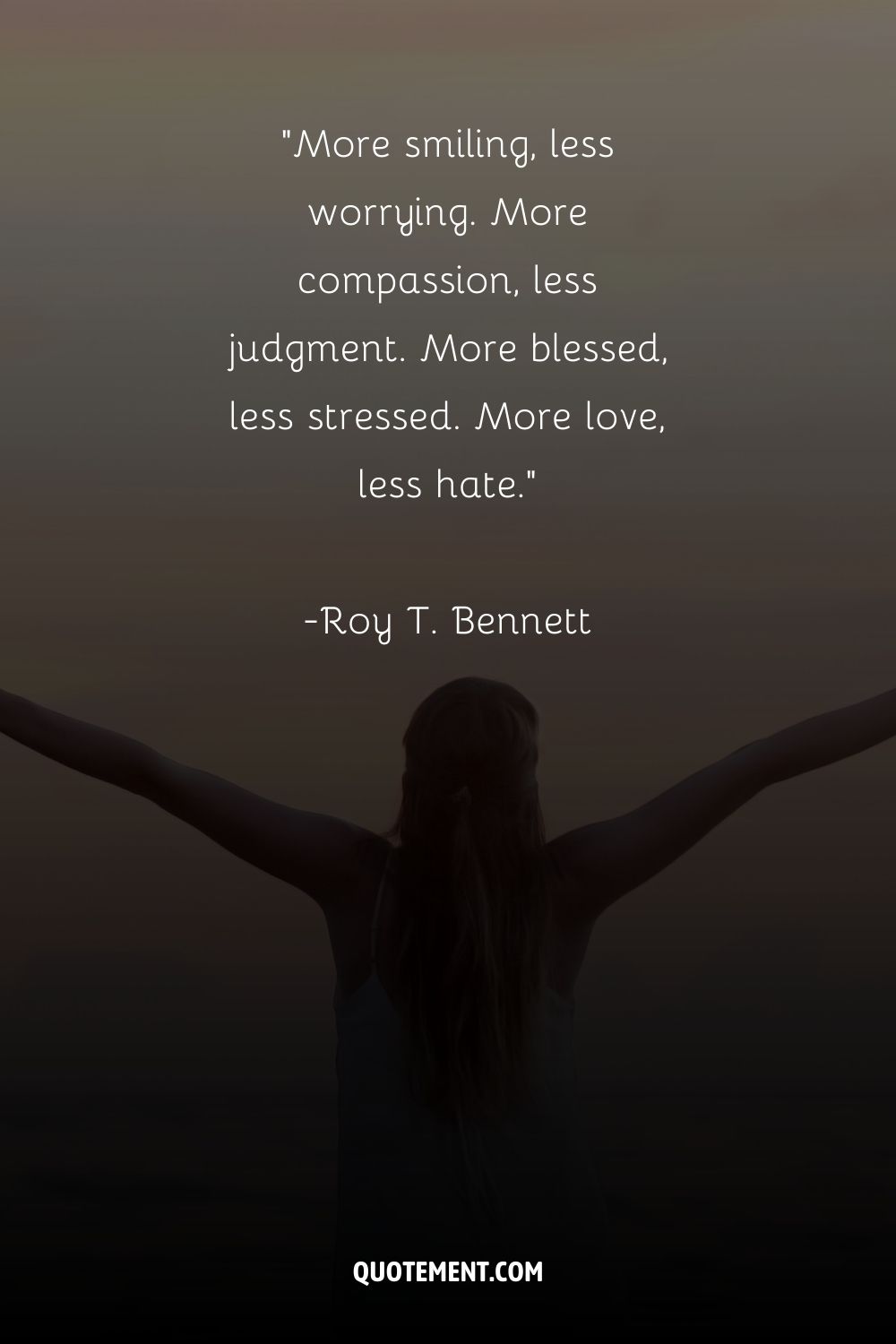 16. "If you see someone without a smile today, give 'em yours." — Dolly Parton
17. "Whenever you see darkness, there is extraordinary opportunity for the light to burn brighter." — Bono
18. ​​"If you see something beautiful in someone speak it." — Ruthie Lindsey
19. "The less you respond to negative people, the more positive your life will become." — Paulo Coelho
20. "In every day, there are 1,440 minutes. That means we have 1,440 daily opportunities to make a positive impact." — Les Brown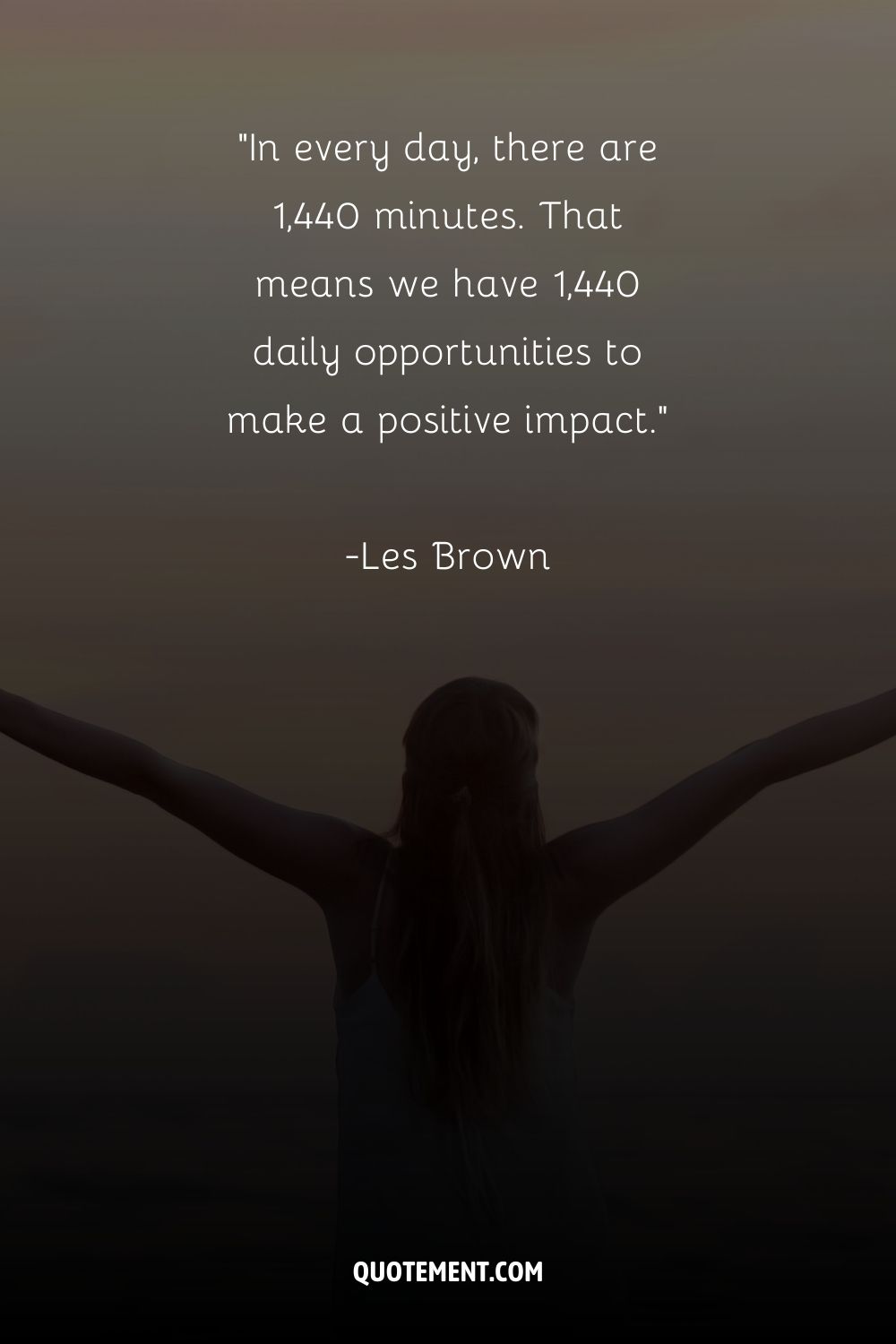 21. "When you think positive, good things happen." — Matt Kemp
22. "If you have a positive attitude and constantly strive to give your best effort, eventually you will overcome your immediate problems and find you are ready for greater challenges." — Pat Riley
23. "Your hardest times often lead to the greatest moments of your life. Keep going. Tough situations build strong people in the end." ― Roy T. Bennett
24. "A positive attitude causes a chain of reaction of positive thoughts, events, and outcomes. It is a catalyst and it sparks extraordinary results." — Wade Boggs
25. "Associate yourself with people who think positively. You cannot surround yourself with negative people and expect positive outcomes." ― Roy Bennett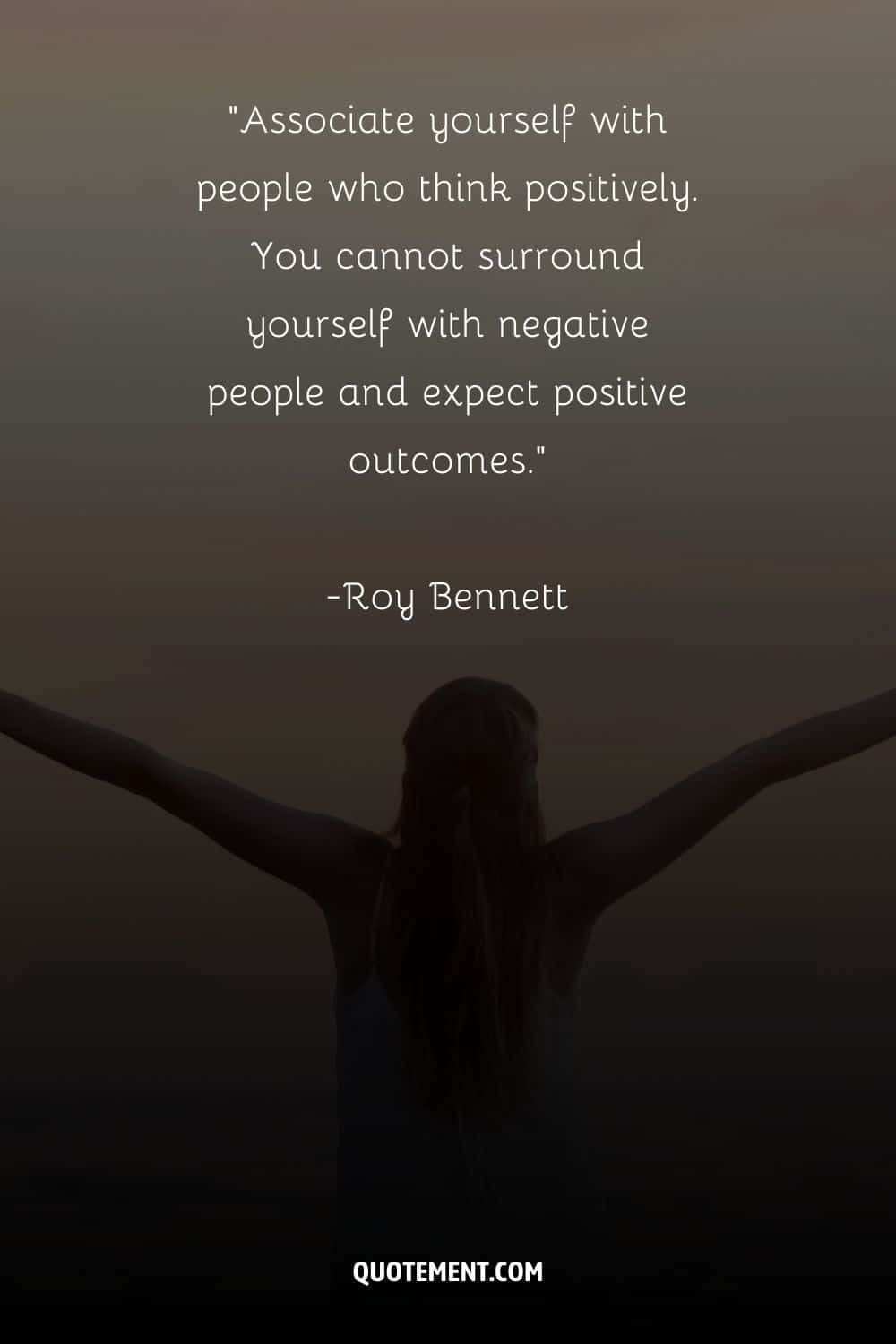 26. "It doesn't matter what cards you're dealt. It's what you do with those cards. Never complain. Just keep pushing forward. Find a positive in anything and just fight for it." — Baker Mayfield
27. "Always turn a negative situation into a positive situation." — Michael Jordan
28. "I truly believe in positive synergy, that your positive mindset gives you a more hopeful outlook, and belief that you can do something great means you will do something great." — Russell Wilson
29. "Believe deep down in your heart that you're destined to do great things." — Joe Paterno
30. "A strong, positive self-image is the best possible preparation for success." — Joyce Brothers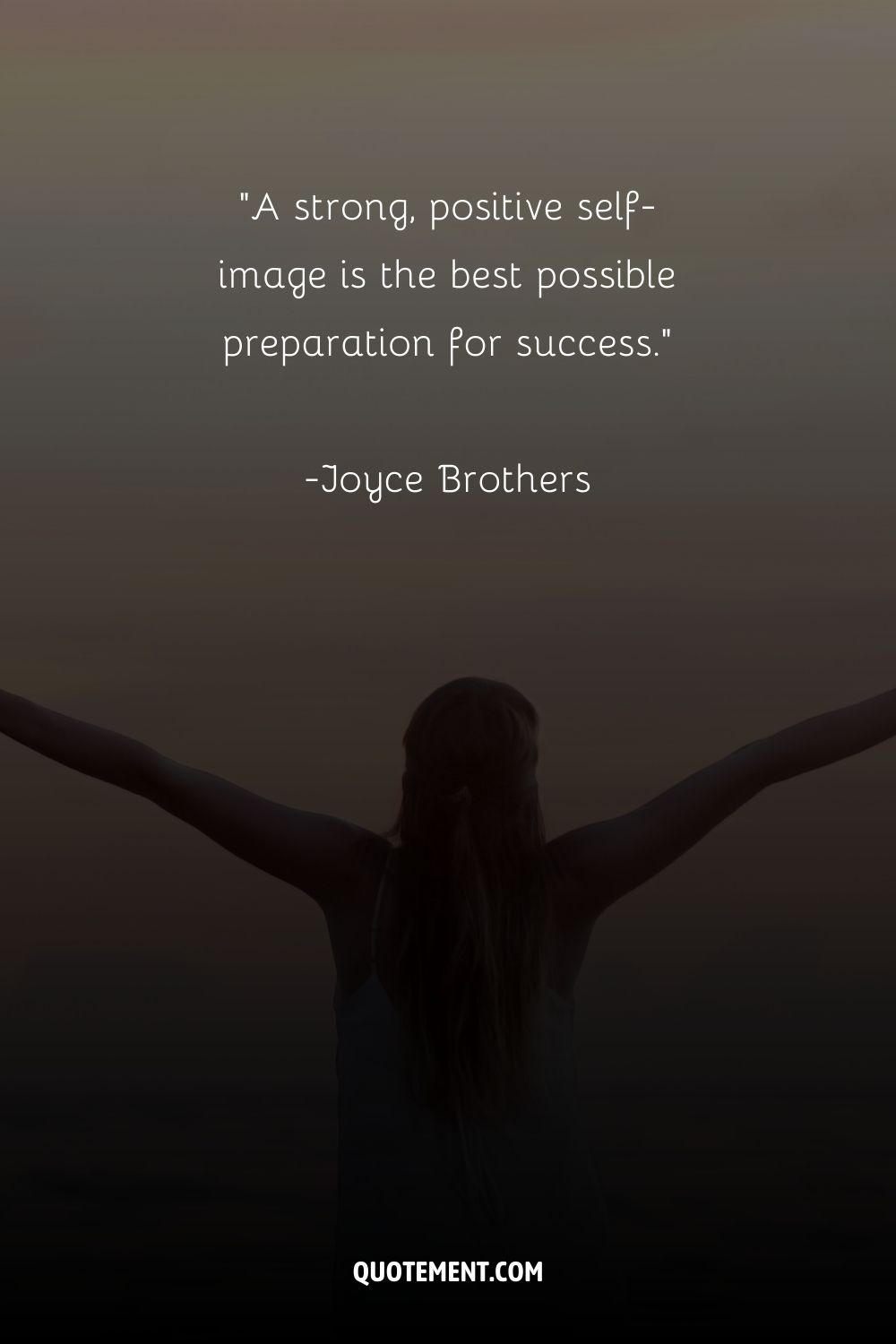 31. "A positive atmosphere nurtures a positive attitude, which is required to take positive action." — Richard M. DeVos
32. "The world you desire can be won. It exists… it is real… it is possible. It's yours." — Ayn Rand
33. "Be thankful for what you have; you'll end up having more. If you concentrate on what you don't have, you will never, ever have enough." ― Oprah Winfrey
34. "When you are enthusiastic about what you do, you feel this positive energy. It's very simple." — Paulo Coelho
35. "The happiness of your life depends upon the quality of your thoughts." — Marcus Aurelius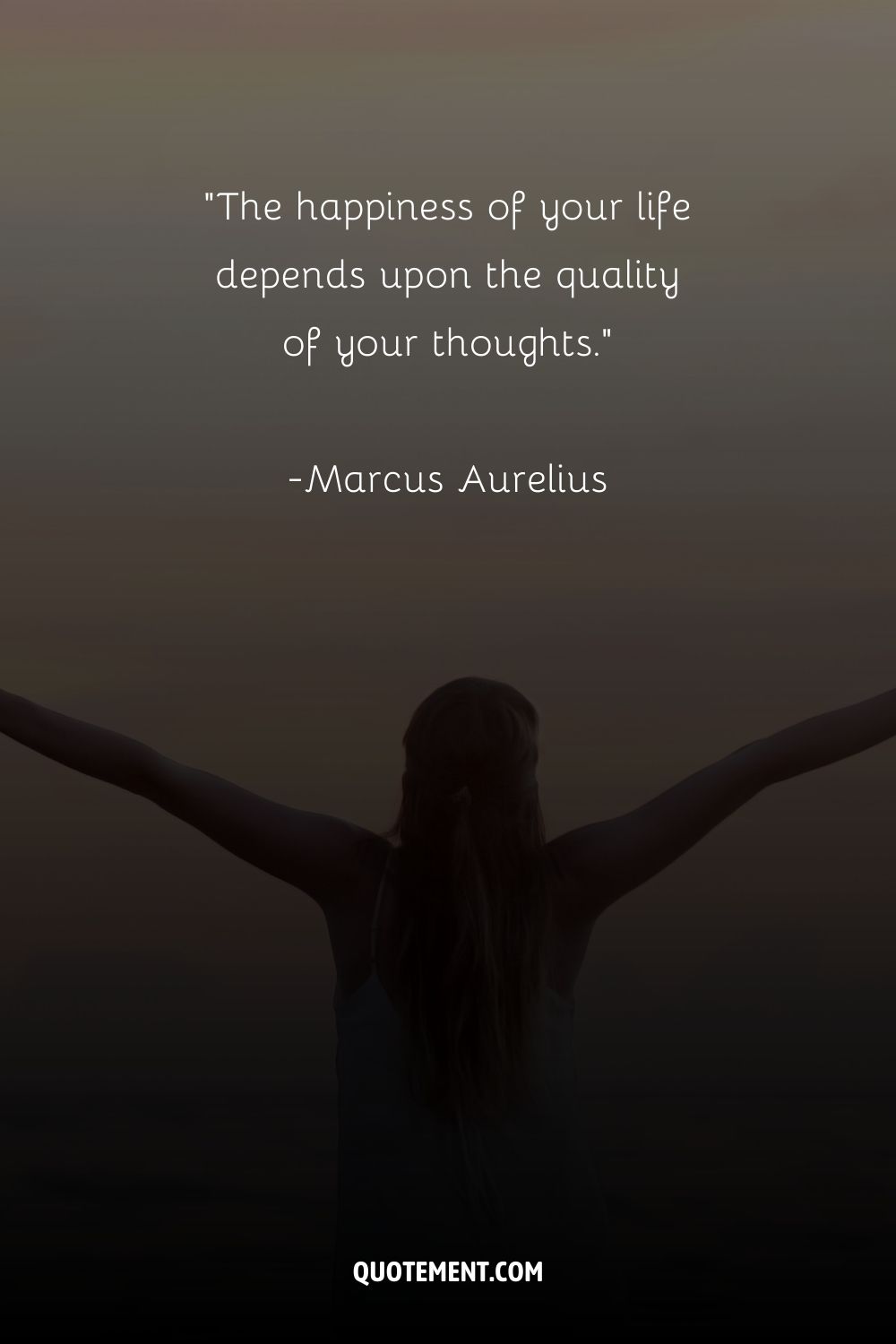 36. "Positive anything is better than negative nothing." — Elbert Hubbard
37. "I don't harp on the negative because if you do, then there's no progression. There's no forward movement. You got to always look on the bright side of things, and we are in control. Like, you have control over the choices you make." — Taraji P. Henson
38. "Be so happy that, when other people look at you, they become happy too." — Unknown
39. "If you are positive, you'll see opportunities instead of obstacles." — Widad Akrawi
40. "Look at the sparrows; they do not know what they will do in the next moment. Let us literally live from moment to moment." — Mahatma Gandhi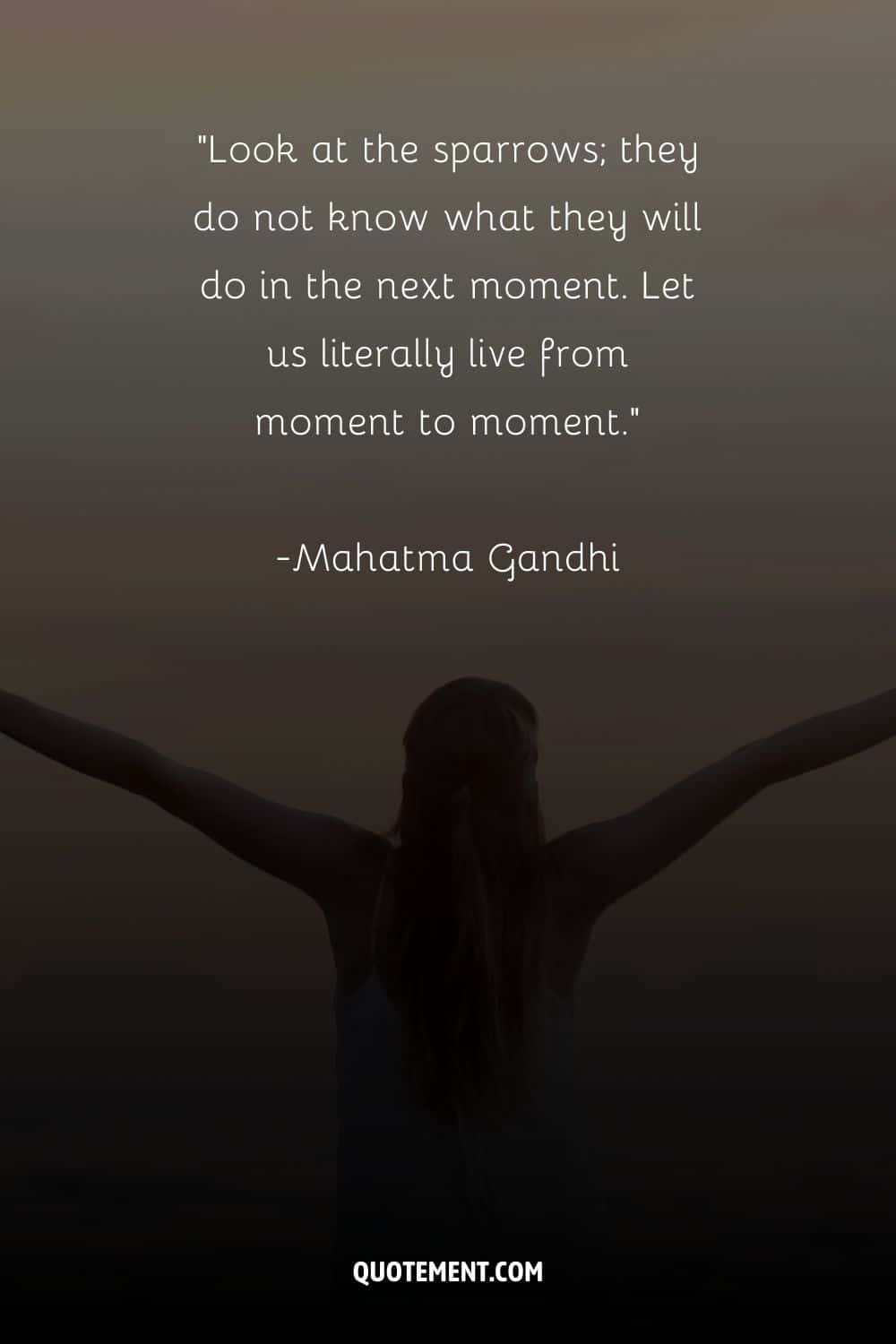 41. "Don't forget to tell yourself positive things daily! You must love yourself internally to grow externally." — Hannah Bronfman
42. "Choose to be optimistic, it feels better." — Dalai Lama
43. "Staying positive does not mean everything will turn out okay. Rather, it means you will be okay no matter how things turn out." — Unknown
44. "If you're not positive energy, you're negative energy." — Mark Cuban
45. "Virtually nothing is impossible in this world if you just put your mind to it and maintain a positive attitude." — Lou Holtz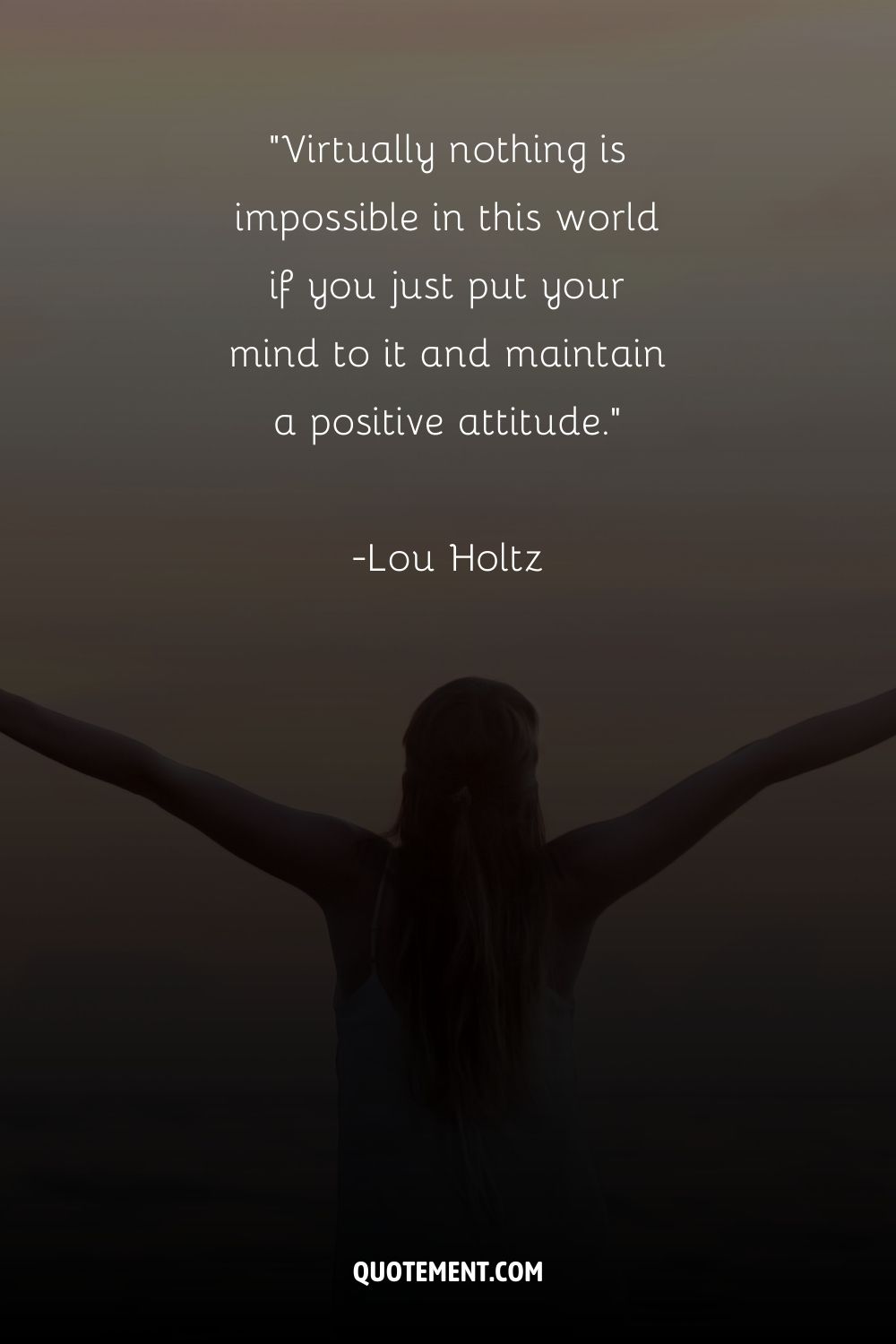 Wrapping It Up
Thought of the day quotes can be a powerful tool for self-improvement.
By taking the time to reflect on these quotes and their meaning, we can gain new insights into ourselves and our lives. This can lead to positive changes in our thoughts, feelings, and behaviors.
So, if you are looking for ways to improve your life, consider reading one such quote each day. It may just be the start of something great!