Ah, the Monday blues… They are so prevalent that it's fair to say that they have become an emotional trauma we have to face every week.
We all see Monday in a similar way — stress and anxiety, nerve-racking lists of to-dos, and that dreadful feeling of having to do so much of the unpleasant but unavoidable stuff.
However, I believe that with a little bit of a perspective shift, we can stave off the terrible case of Mondays.
Here are some great Monday motivation quotes to get your day off to a fresh start and laugh off the Monday blues.
These are encouraging words from some of the world's greatest minds, as well as anonymous-but-wise ones, which I collected from various sources on the web.
Jump in and see what wisdom you can get out of them to make your Monday a fabulous day!
10 Extraordinary Monday Motivation Quotes
Let's start with my favorite Monday inspirational quotes to start the day ready for taking on the world!
1. "There are many opportunities in every single day, and Monday is the perfect day to seize them all." — Isabella Koldras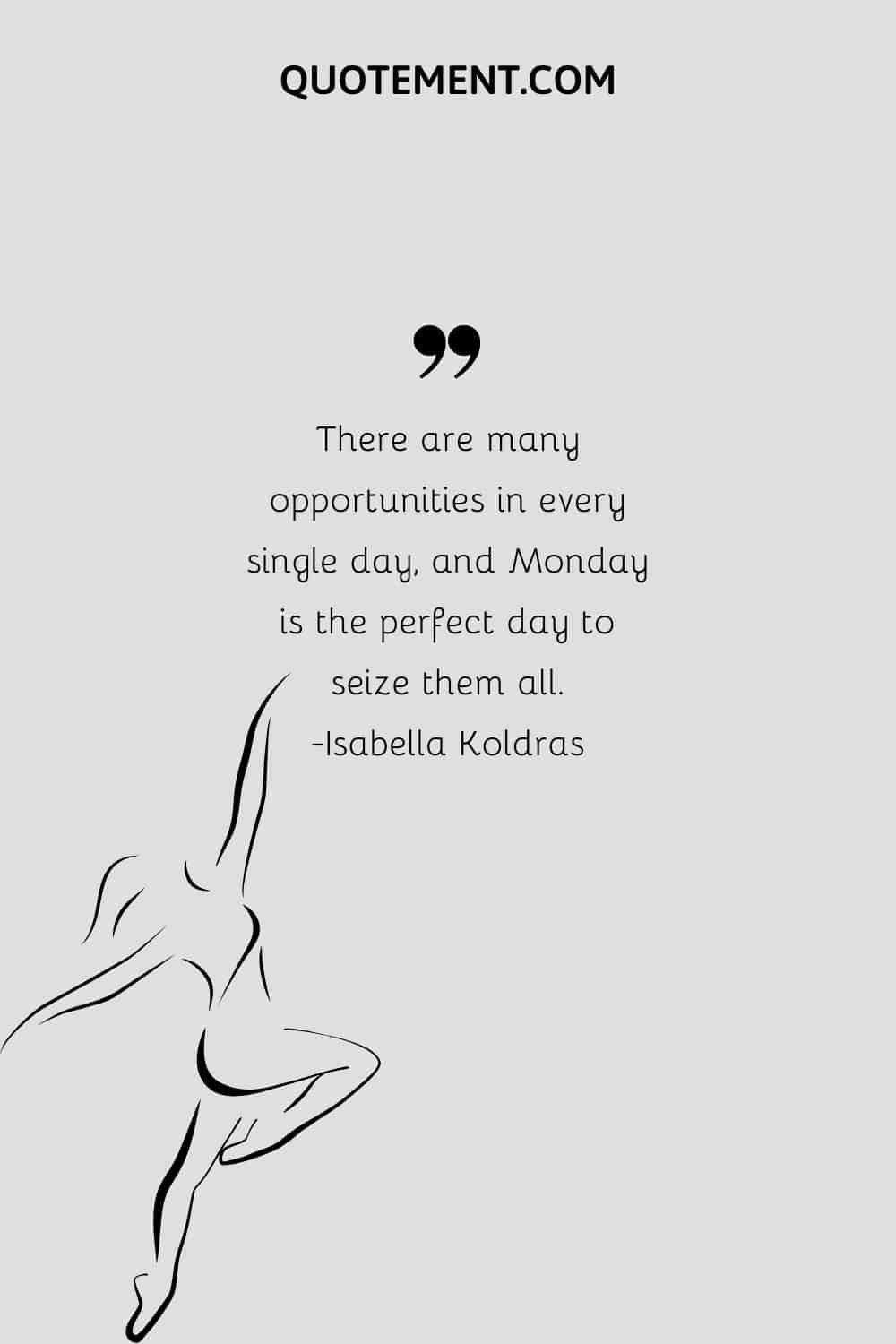 2. "The challenge of every Monday is to maintain the same vitality in each and every day of the week." — Byron Pulsifer
3. "Each new day is a blank page in the diary of your life. The secret of success is in turning that diary into the best story you possibly can." — Douglas Pagels
4. "Yesterday ended last night, today is a brand-new day. And it's yours." — Zig Ziglar
5. "Monday Morning Blues? Why not change the color of your Monday to yellow and brighten up the coming week?" — Kanika Saxena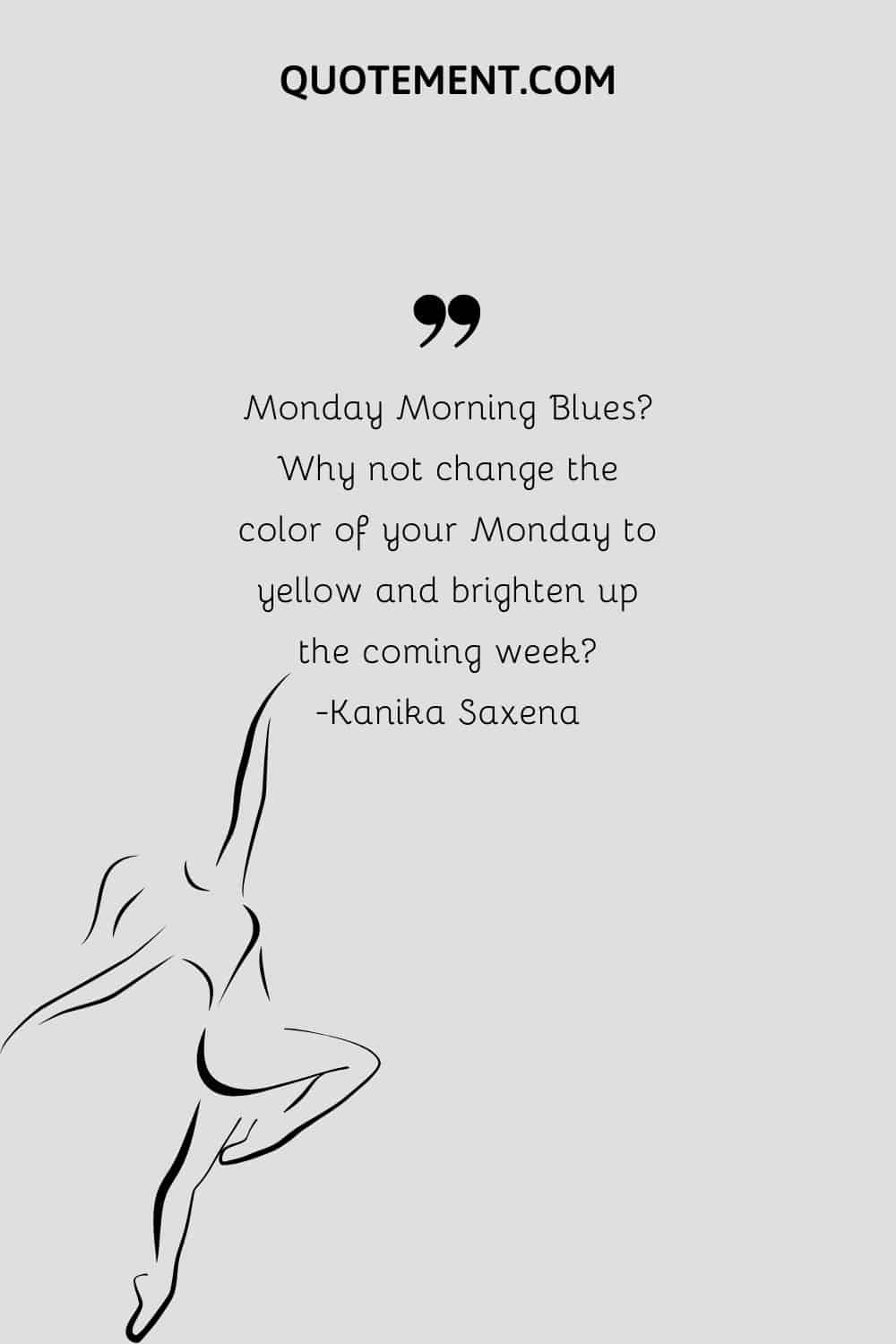 6. "When life gives you Monday, dip it in glitter and sparkle all day." — Ella Woodward
7. "If you have the right mindset, you can be just as happy on Monday as you are on Friday." — Joel Osteen
8. "Monday is a breakfast of ideas." ― Anthony T. Hincks
9. "This should be the spirit every Monday. Know that something good will always happen." — Gabriel García Márquez
10. "OK, it's Monday but who said Mondays have to suck? Be a rebel and have a great day anyway." — Kimberly Jiménez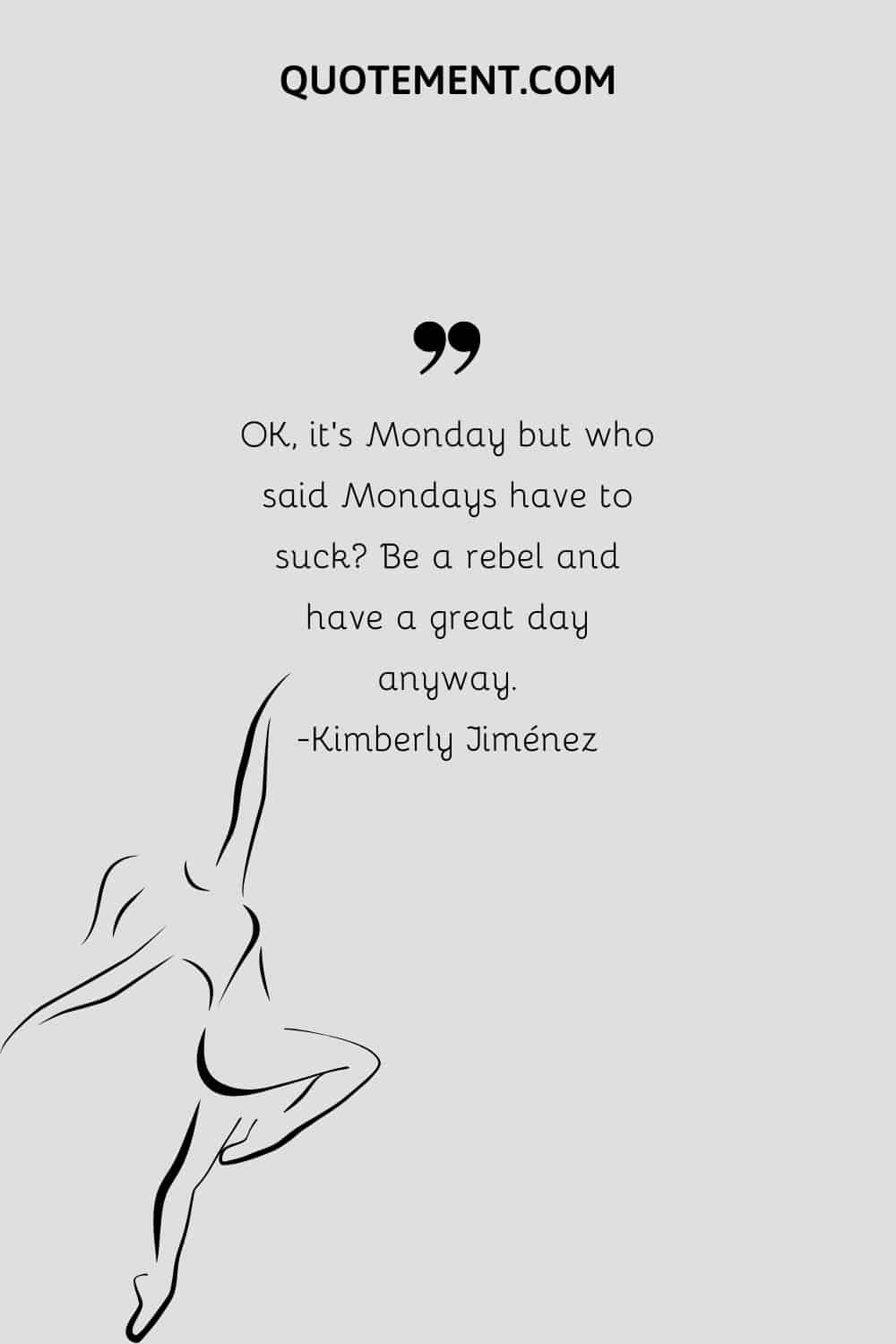 Powerful Monday Inspiration Quotes
Here are some powerful lines that are sure to spark a good dose of inspiration for Monday!
1. "You don't need a New Year to make a change. All you need is a Monday." — Unknown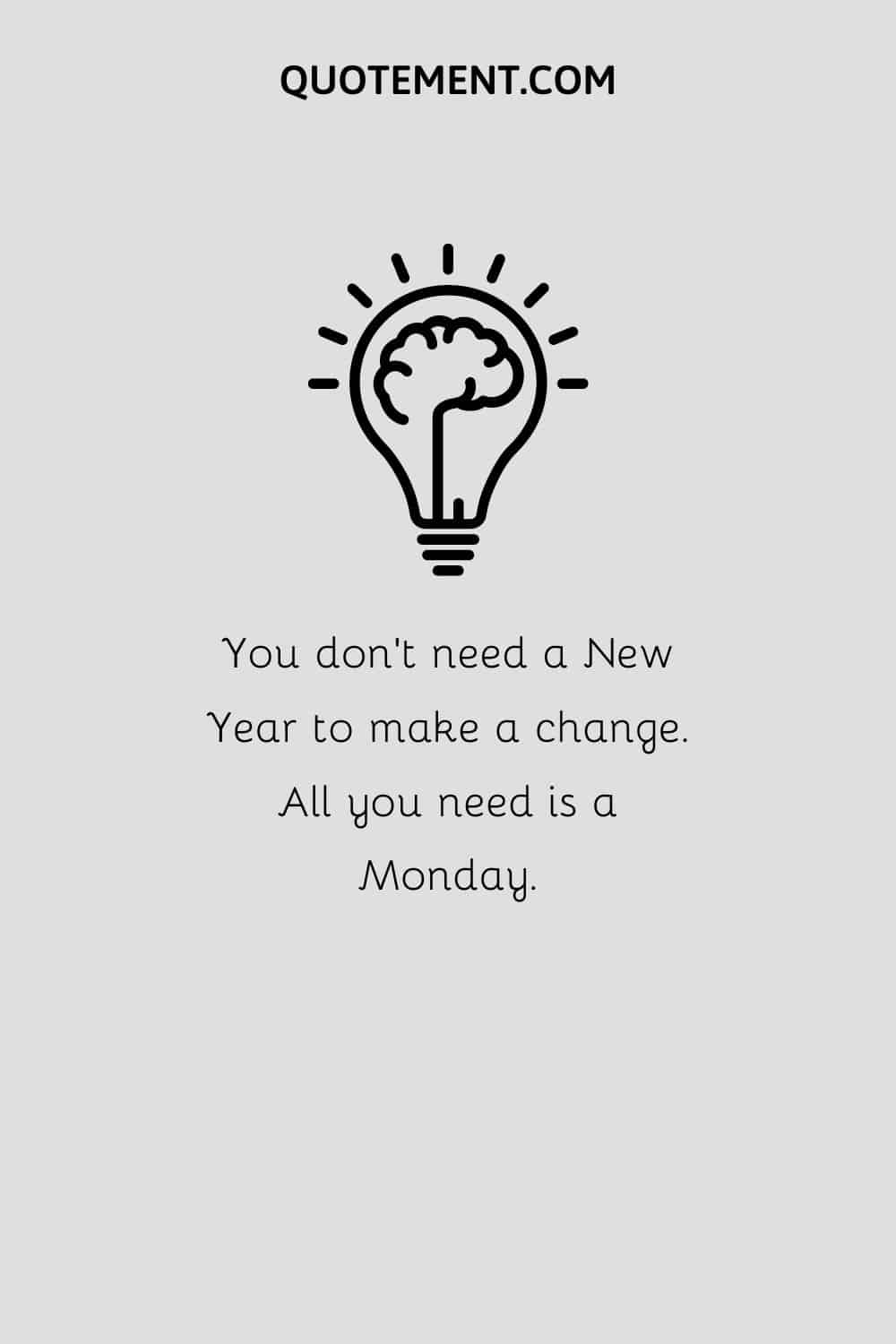 2. "Live today. Not yesterday. Not tomorrow. Just today. Inhabit your moments. Don't rent them out to tomorrow." — Jerry Spinelli
3. "Nobody can go back and start a new beginning, but anyone can start today and make a new ending." — Maria Robinson
4. "It's Monday. Get a new perspective. Whatever obstacle you're facing — it's not permanent." — Unknown
5. "What starts on Monday should carry through to Friday; that is, enthusiasm." — Byron Pulsifer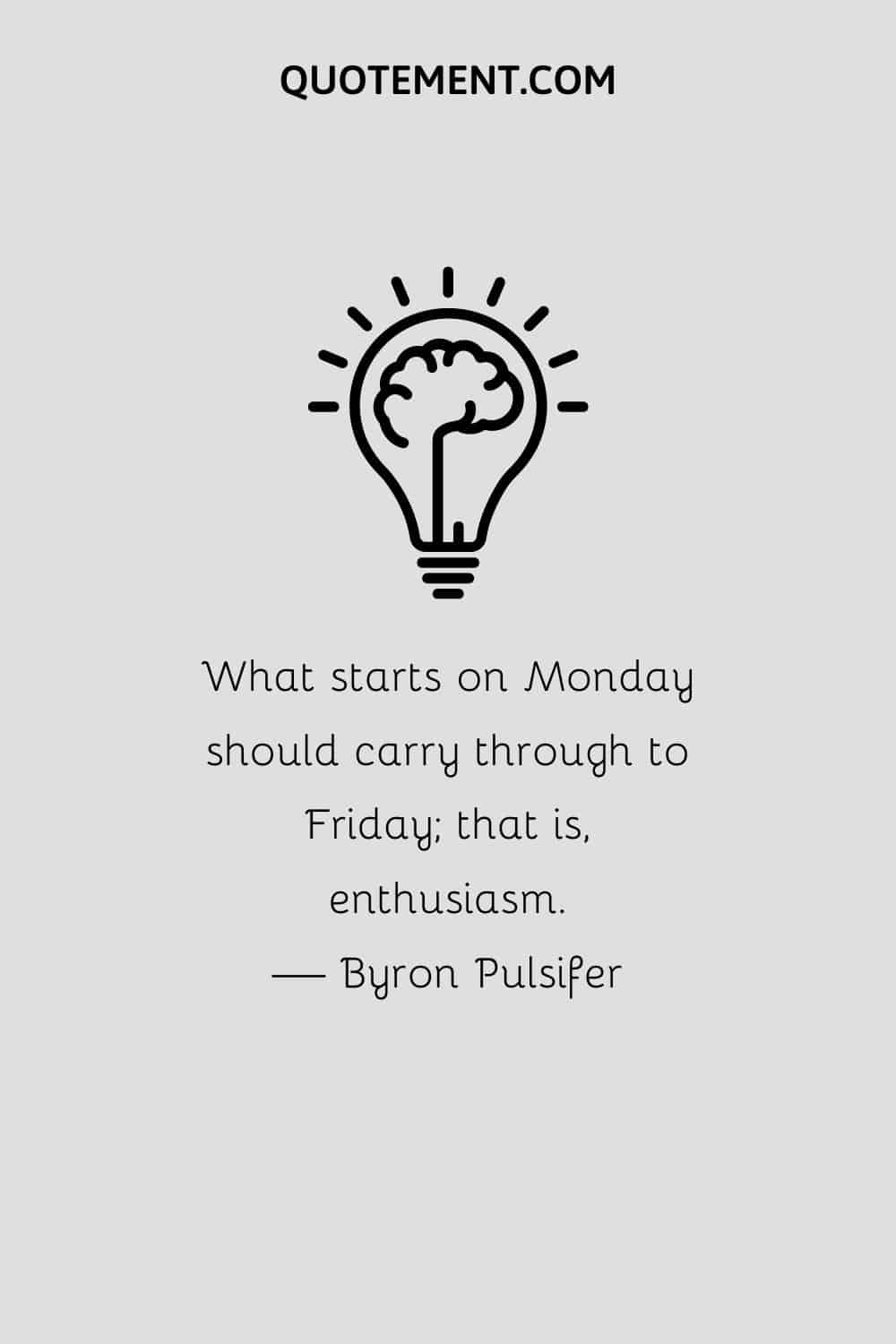 6. "You are in control. Never allow your Monday to be manic." — Andrea L'Artiste
7. "Every day brings new choices." — Martha Beck
8. "The worst Monday is the one that gets wasted for nothing." — Unknown
9. "Go confidently in the direction of your dreams. Live the life you have imagined." — Henry David Thoreau
10. "Inspiration comes from within yourself. One has to be positive. When you're positive, good things happen." — Deep Roy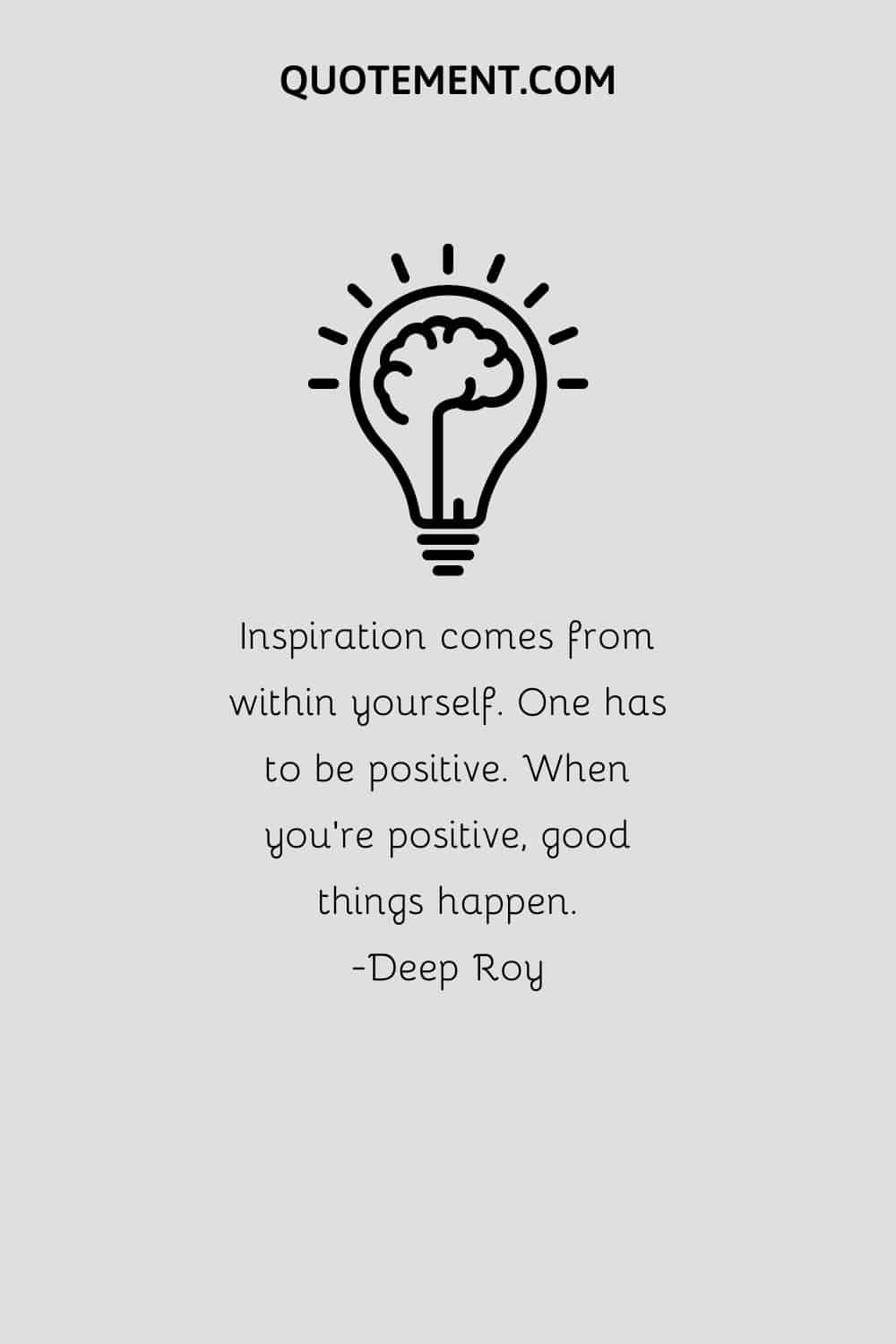 Good Monday Morning Quotes
Below you'll find great Monday morning motivational quotes that'll give you some morning inspo and energy boost to help you tackle your daily challenges.
1. "This is your Monday morning reminder that you can handle whatever this week throws at you." — Unknown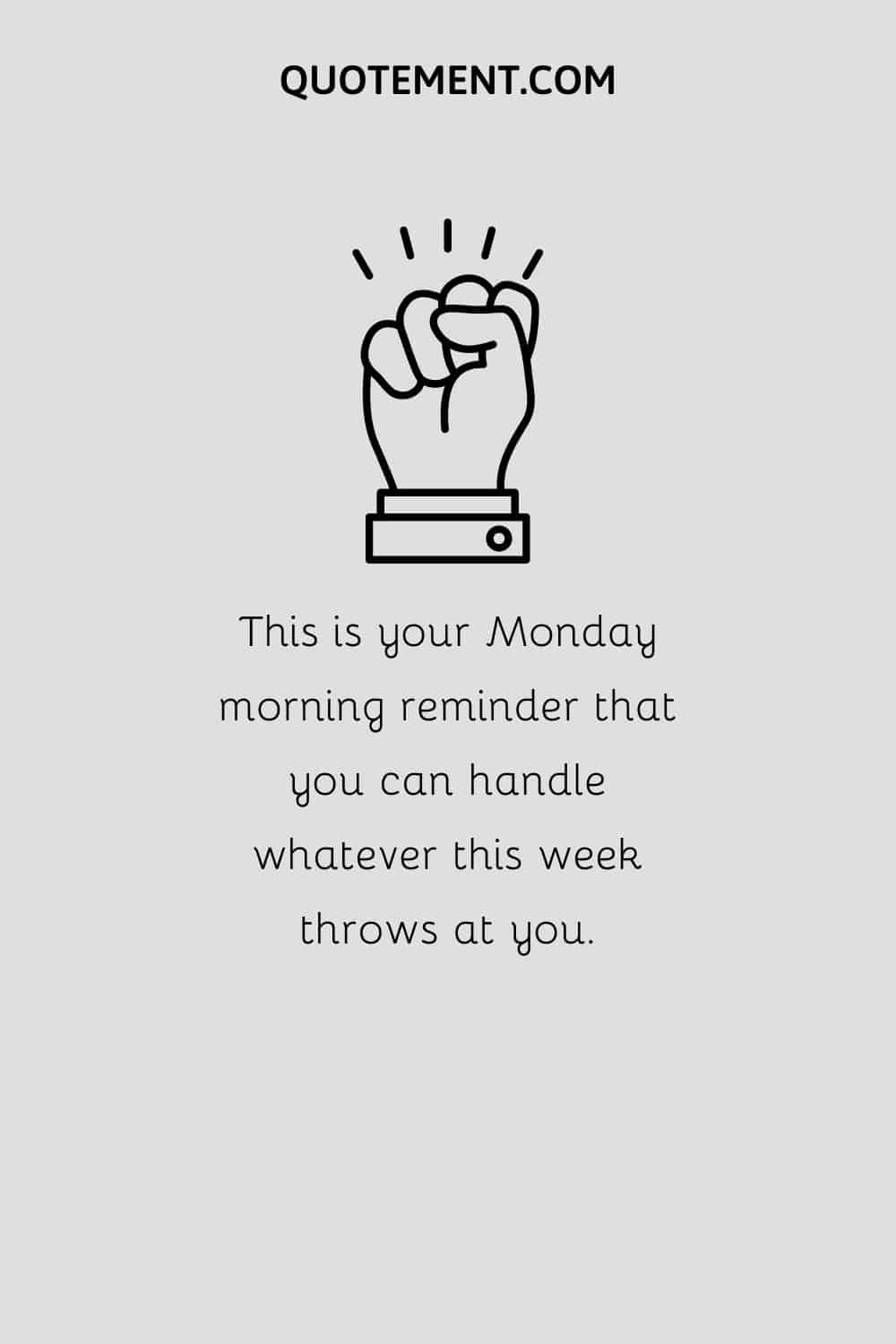 2. "It's a Monday morning; a new week, a new day, and a new morning to start fresh and achieve your goals." — Invajy
3. "Every morning you have two choices: continue to sleep with your dreams or wake up and chase them." — Kristin, Sophisticated Gal
4. "If Joan of Arc could turn the tide of an entire war before her 18th birthday, you can get out of bed." — E. Jean Carroll
5. Your Monday morning thoughts set the tone for your whole week. See yourself getting stronger, and living a fulfilling, happier, and healthier life." — Germany Kent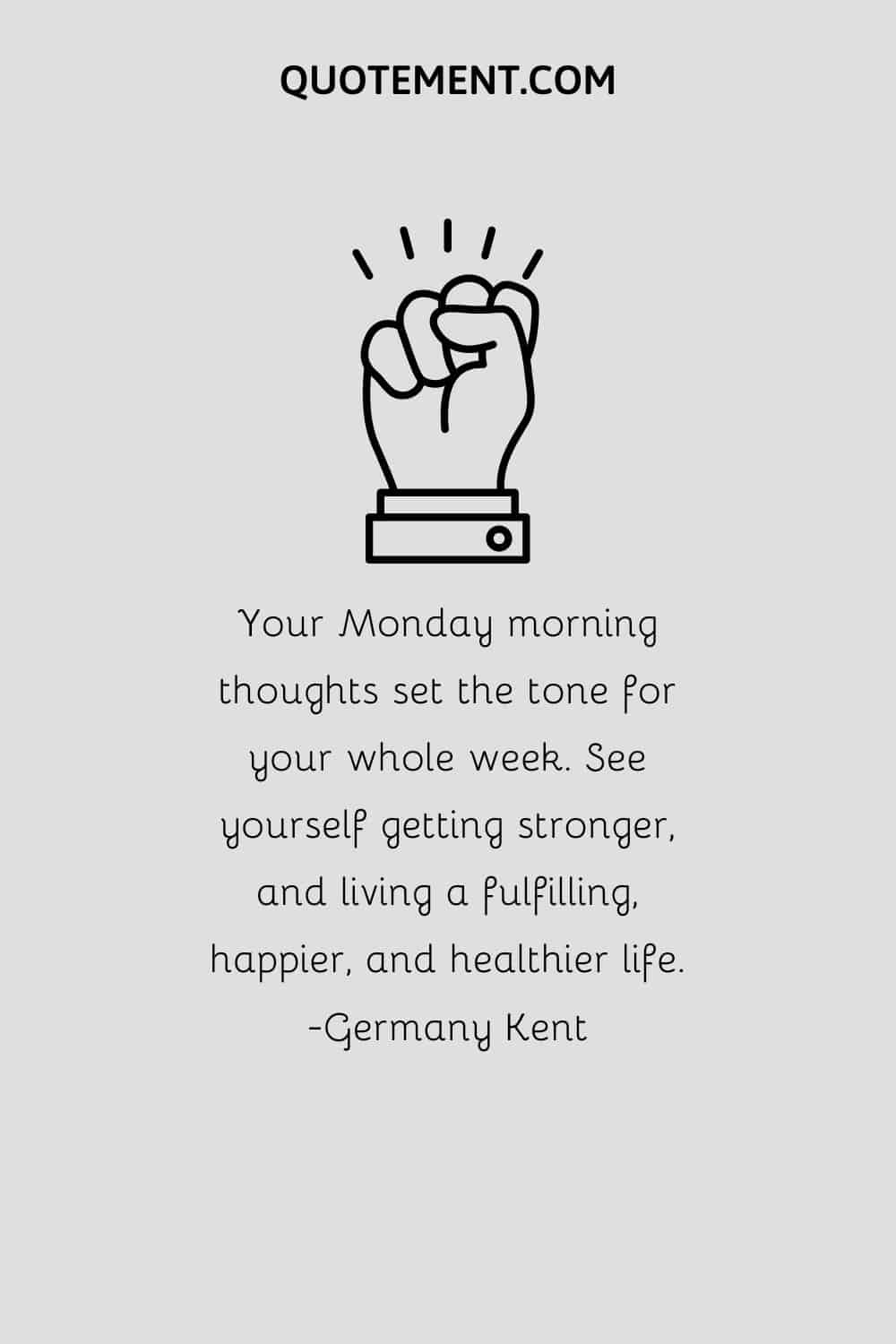 6. "Coming to you this Monday morning to remind you how awesome you are, and that you my darling… matter. After all, there's only one of you in the whole world. Don't waste one second trying to be like anyone else." — Sara Blakely
7. "If you get up in the morning and think the future is going to be better, it is a bright day. Otherwise, it's not." — Elon Musk
8. "Every day, think as you wake up: Today I am fortunate to be alive, I have a precious human life, I am not going to waste it." — Dalai Lama XIV
9. "You've got to get up every morning with determination if you're going to go to bed with satisfaction." — George Lorimer
10. "Success is to wake up each morning and consciously decide that today will be the best day of your life." — Ken Poirot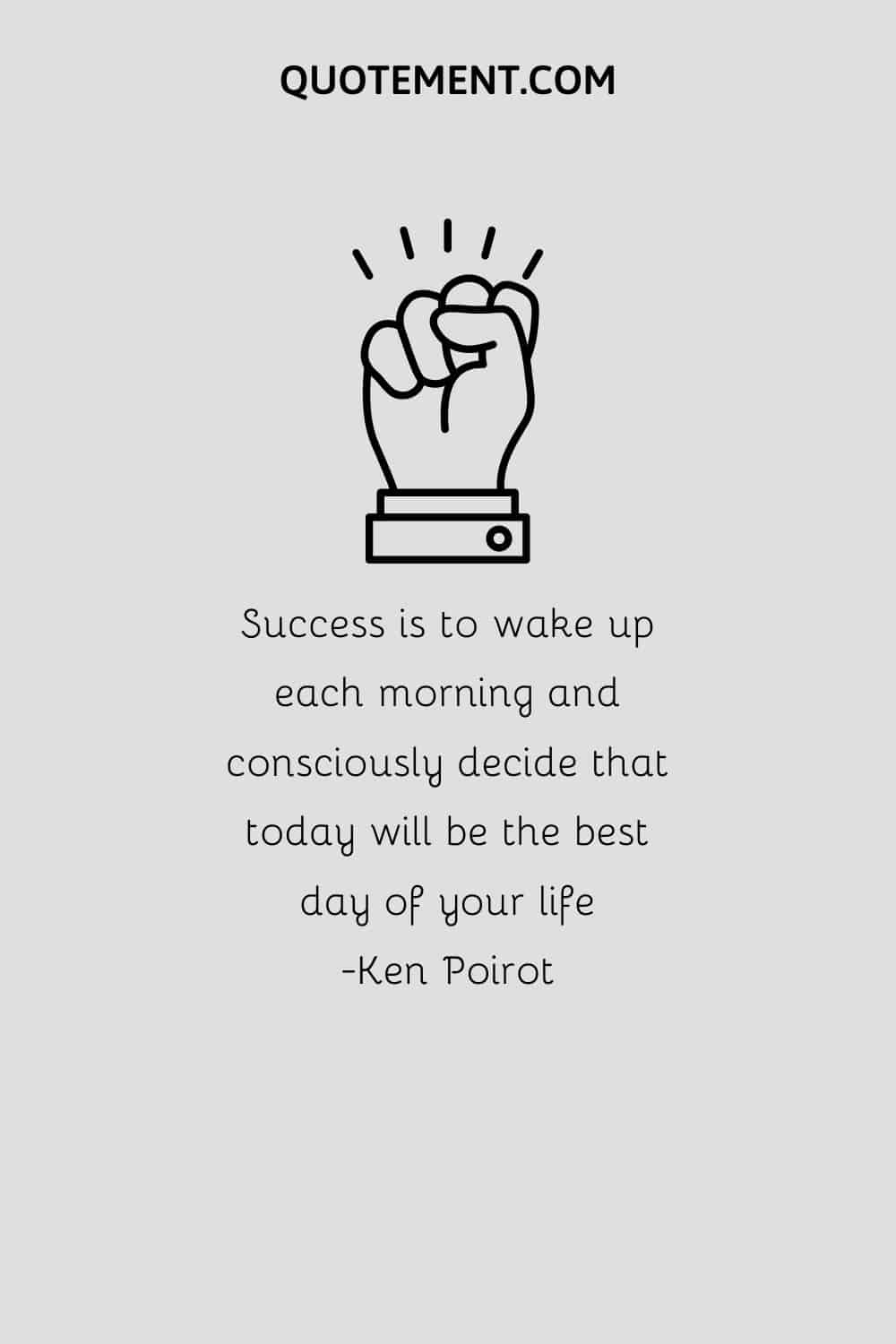 See also: 150 Best Positive Good Morning Blessings To Wake Up To
Positive New Week Quotes
Monday is the beginning of a brand-new day, but it's also the beginning of a brand-new week.
So, besides Monday inspiration, let's arm ourselves with some positivity for the whole week ahead with the following new week motivational quotes.
1. "Hey, I know it's Monday. But it's also a new day and a new week. And in that lies a new opportunity for something special to happen." — Michael Ely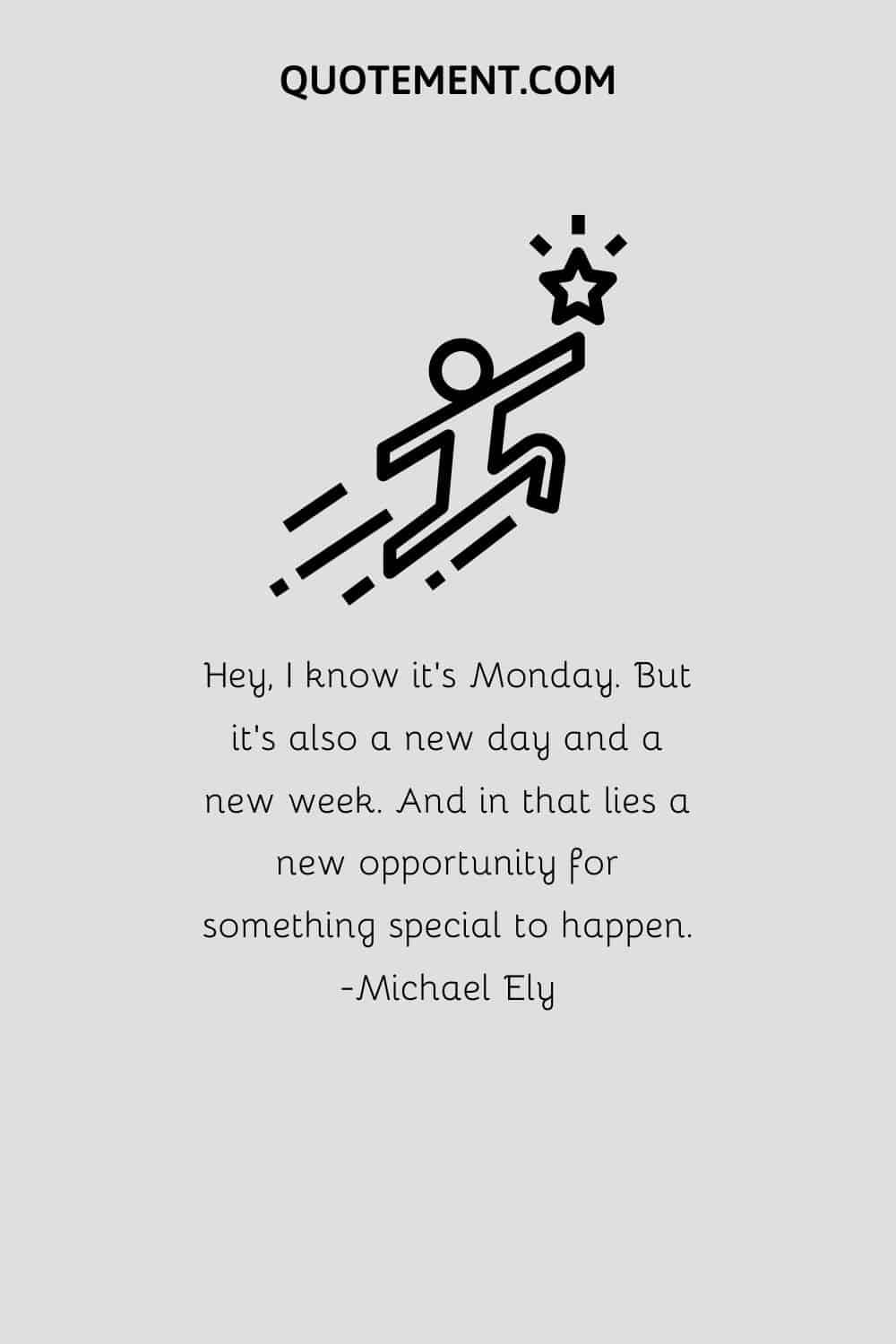 2. "Even the best weeks start with Monday." — Nice Peter
3. "Always take some of the play, fun, freedom, and wonder of the weekend into your week & your work." ― Rasheed Ogunlaru
4. "Monday is the day that opens up the week for many opportunities." — R.K. Narayan
5. "Do not be afraid to shine this week. When you shine, you invariably give others permission to do the same. Shine. Shine brightly." — Unknown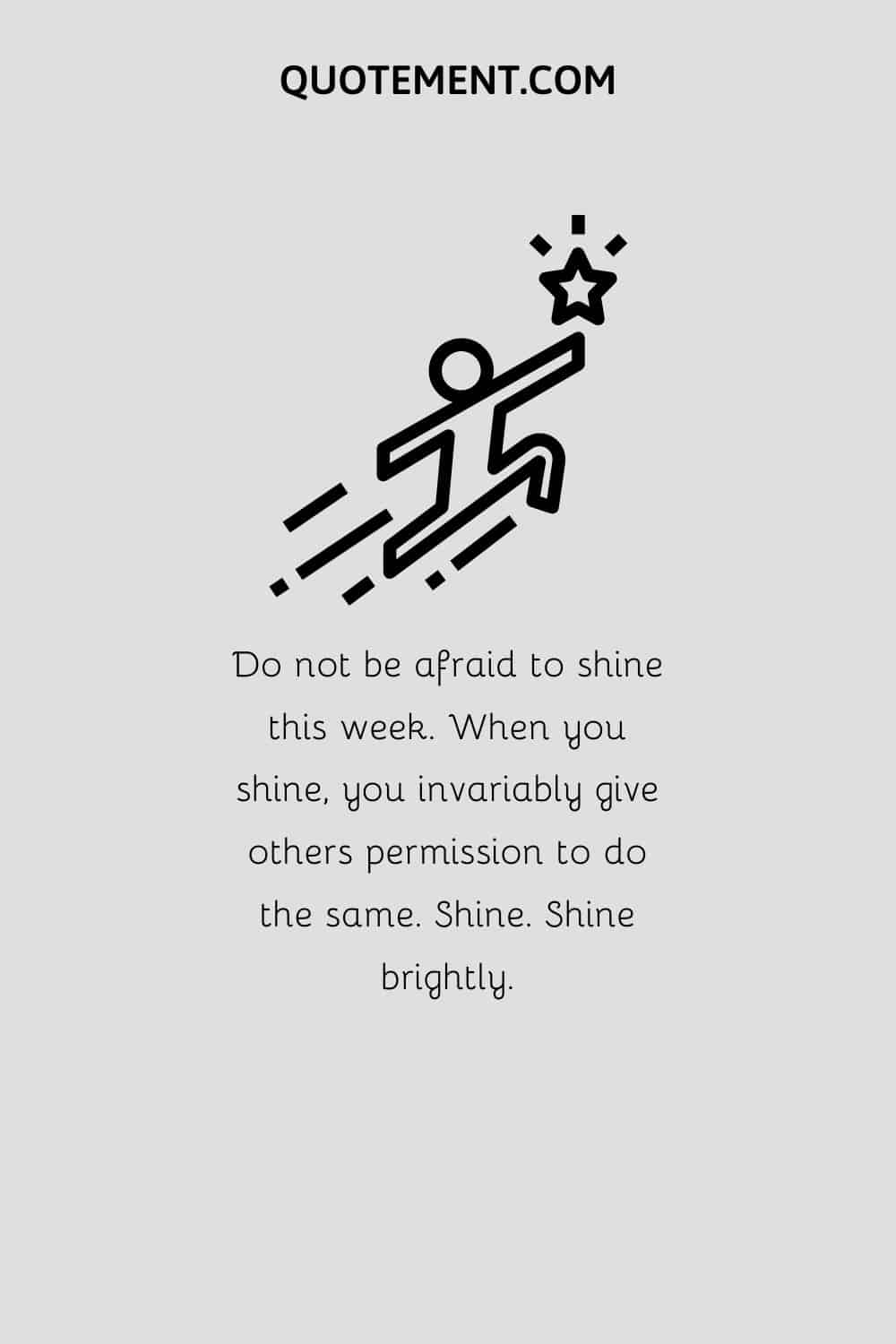 6. "When the week begins, try your best to let your best overcome your worst and that is the best. Do your best to have a good week and never be weak in the week." ― Ernest Agyemang Yeboah
7. "No one dares stand in the way of a moving train. This week, you will be unstoppable." — Unknown
8. "Don't let a day of the week have so much power over your happiness. Happy Monday!" — Andrea L'Artiste
9. "It's not the days in your life, but the life in your days that counts." — Brian White
10. "When the week begins, think of how you will end it. Start your week with joy." ― Ernest Agyemang Yeboah
See also: Top 140 Uplifting New Week Blessings To Inspire You
Monday Motivational Quotes For Work
Mondays are tough for working and non-working people. The latter are the ones who need some business Monday motivation to help them tackle their work tasks better.
If you lack Monday work motivation, scroll down to read my list of Monday quotes for work, they will surely lighten your load!
1. "Mondays are the start of the work week which offer new beginnings 52 times a year!" — David Dweck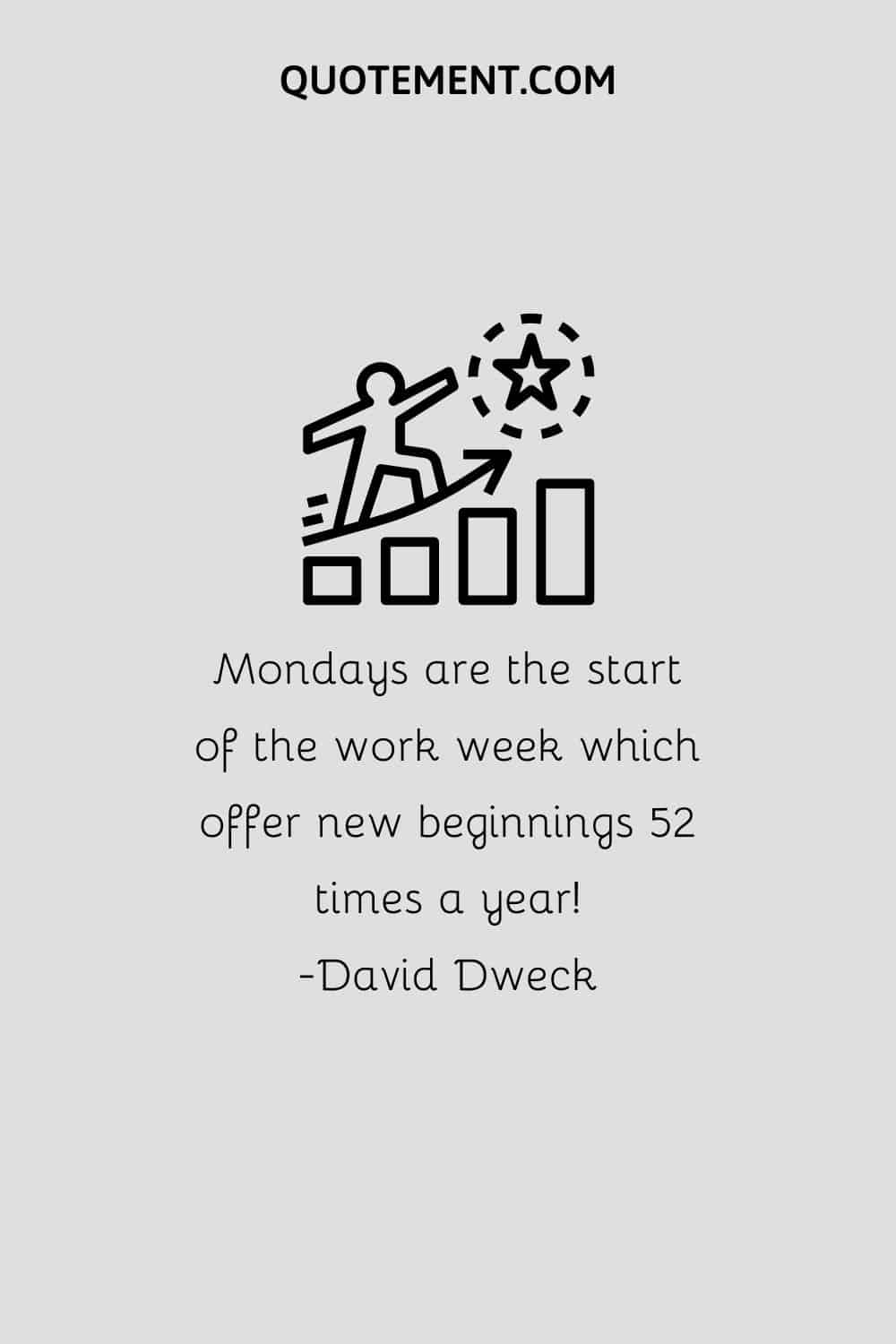 2. "I didn't get there by wishing for it or hoping for it, but by working for it." — Estée Lauder
3. "The best way to appreciate your job is to imagine yourself without one." — Oscar Wilde
4. "The only way to do great work is to love what you do. If you haven't found it yet, keep looking. Don't settle." — Steve Jobs
5. "Monday is for people with a mission. Those who favor vacations, not weekends." — Cristina Imre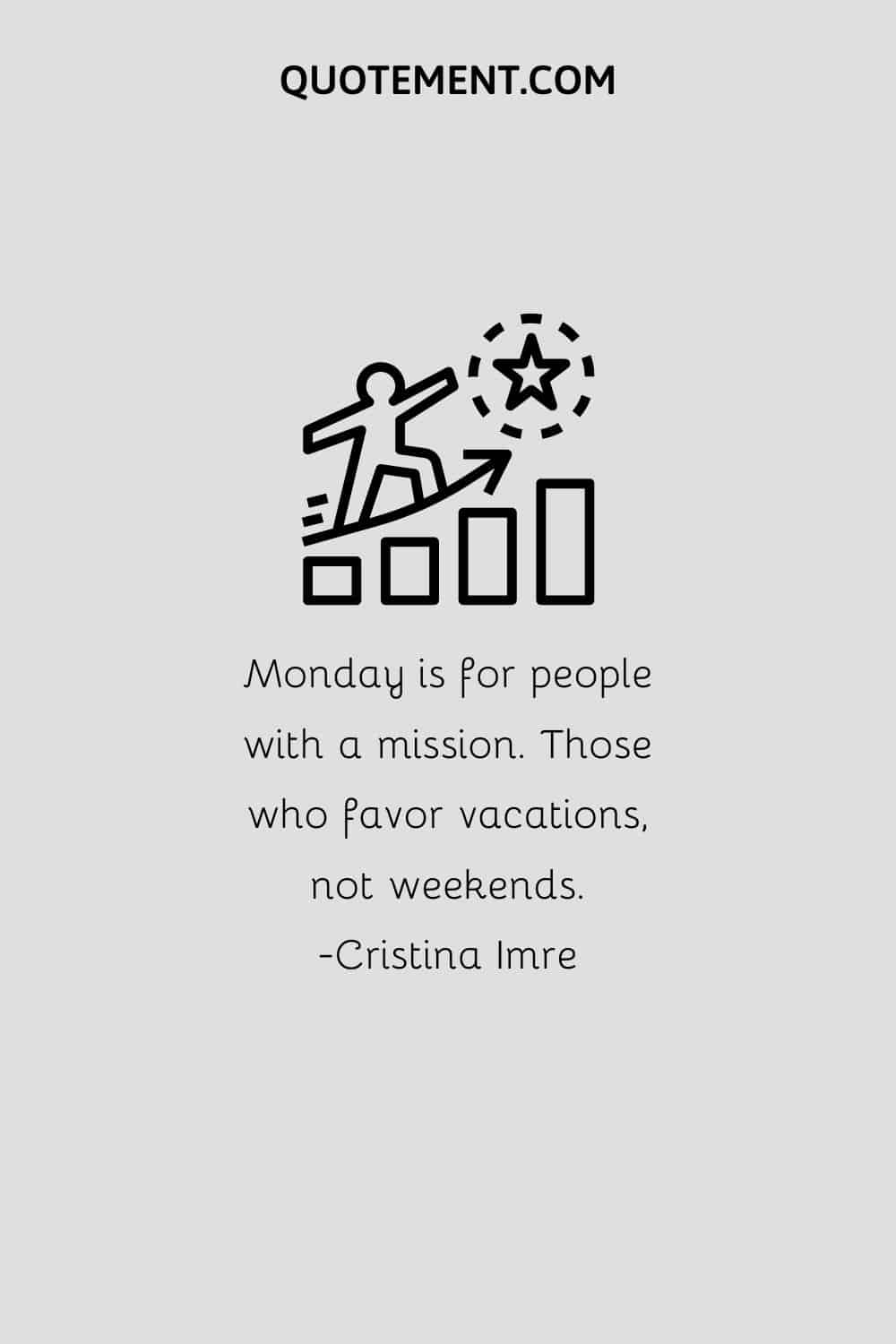 6. "Inspiration does exist, but it must find you working." — Pablo Picasso
7. "We are what we repeatedly do. Excellence, then, is not an act but a habit." — Aristotle
8. "On my own I will just create, and if it works, it works, and if it doesn't, I'll create something else. I don't have any limitations on what I think I could do or be." — Oprah Winfrey
9. "If you want to make an easy job seem mighty hard, just keep putting off doing it." — Olin Miller
10. "The biggest thrill wasn't in winning on Sunday but in meeting the payroll on Monday." — Art Rooney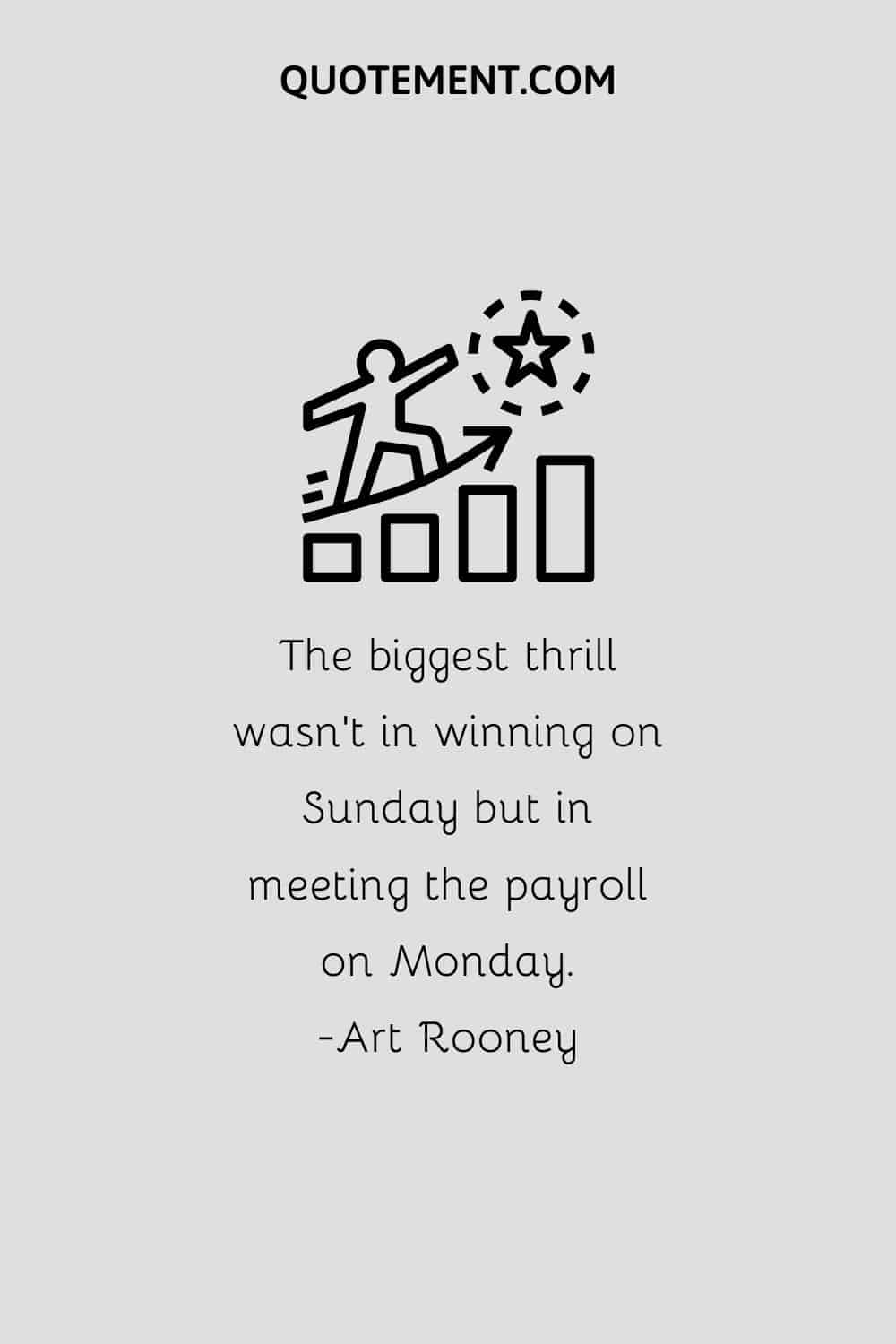 Encouraging Monday Quotes
Don't miss these Monday motivation quotes that will encourage you to face and focus on whatever lies ahead of you on the first day of a busy week!
1. "So. Monday. We meet again. We will never be friends — but maybe we can move past our mutual enmity toward a more-positive partnership." — Julio Alexi Genao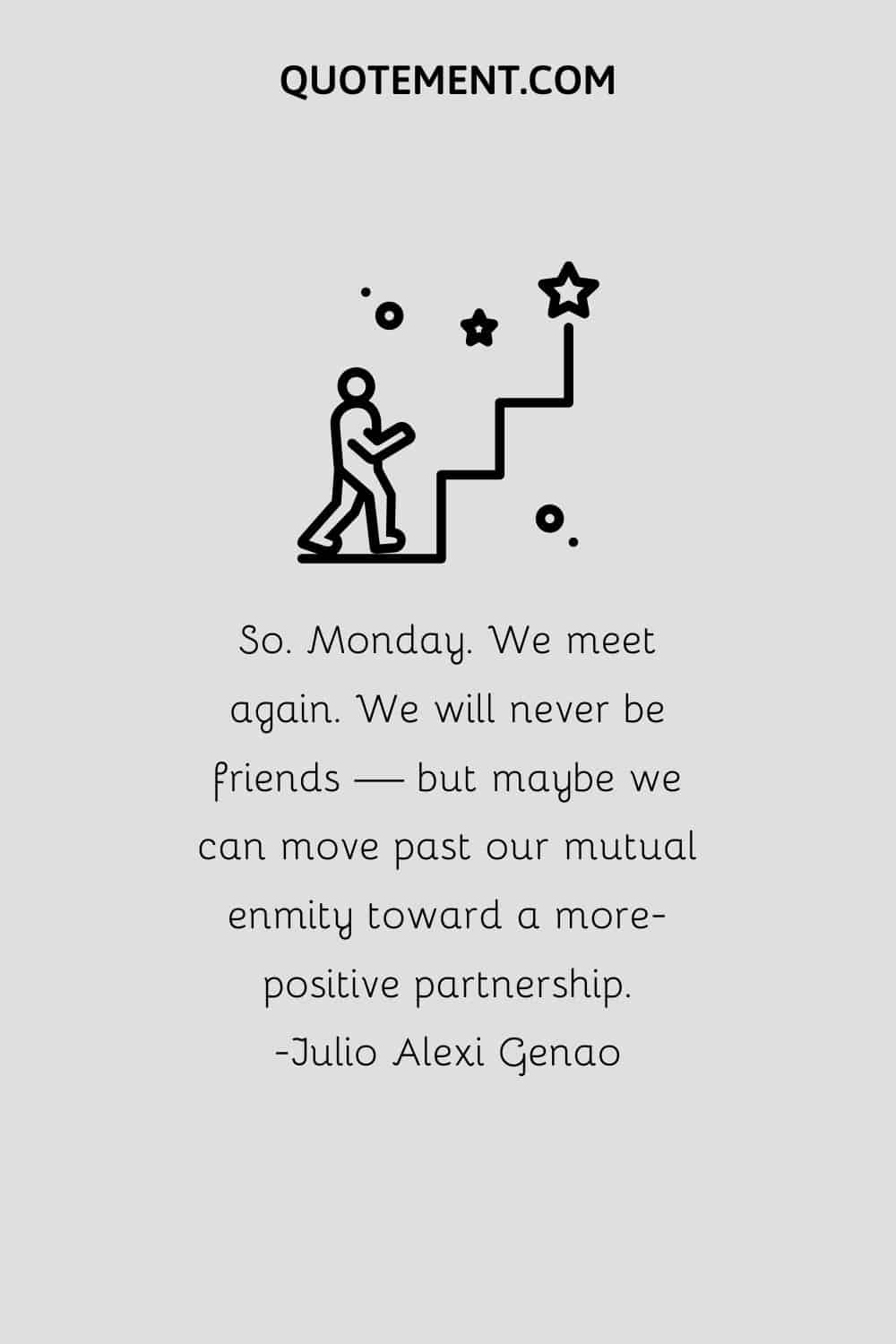 2. "Build your own dreams, or someone else will hire you to build theirs." — Farrah Gray
3. "Either you run the day, or the day runs you." — Jim Rohn
4. "I'm always thinking about creating. My future starts when I wake up every morning. Every day I find something creative to do with my life." — Miles Davis
5. "The best time to plant a tree was 20 years ago. The second best time is now." — Chinese Proverb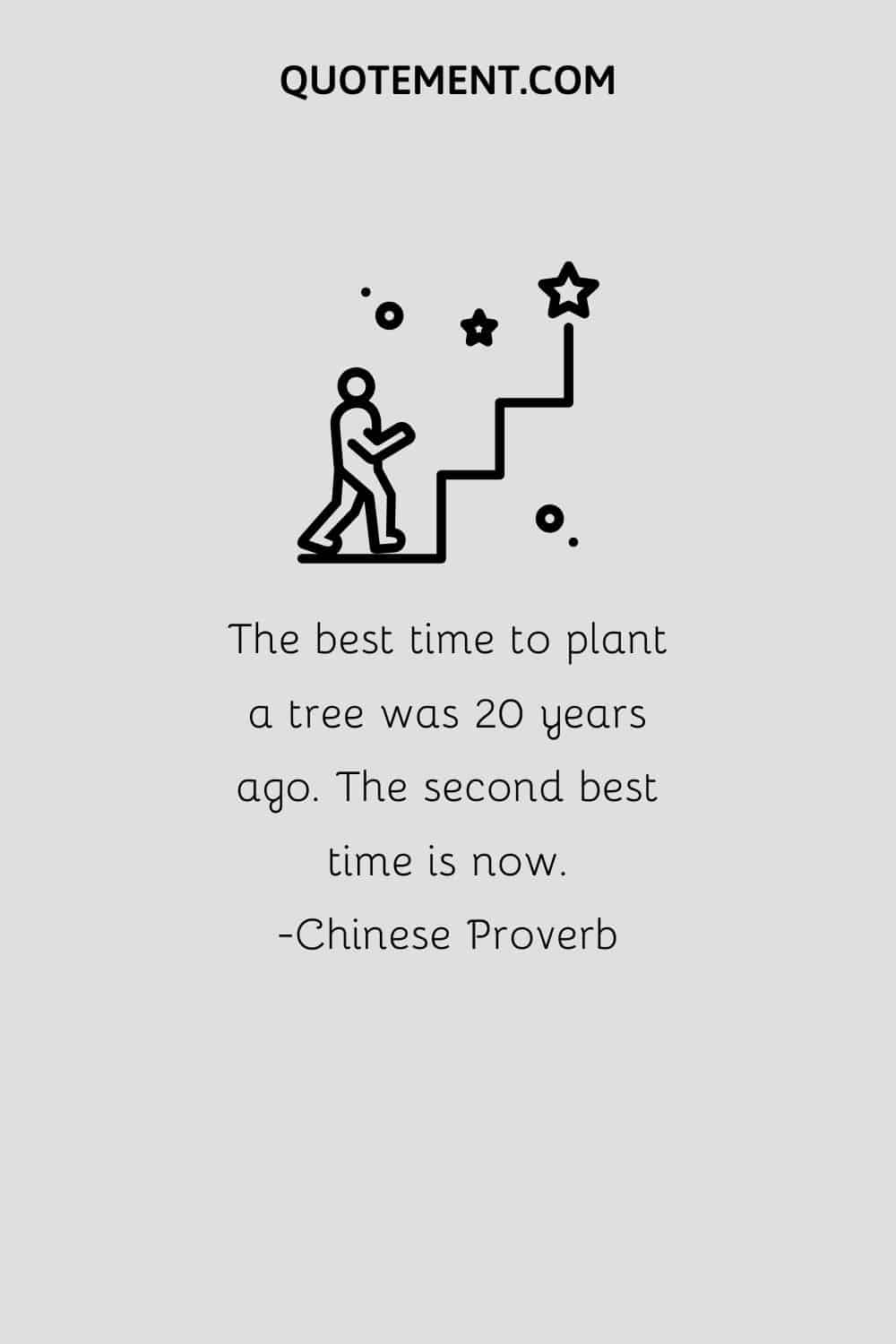 6. "I must break the routines and become a person who becomes productive every Monday. I must break the mindset of unhappiness and turn myself into a happy magnet for Mondays." — Leggy Saul
7. "Today is your opportunity to build the tomorrow you want." — Ken Poirot
8. "Believe on Monday the way you believe on Sunday." — Rita Schiano
9. "When you start to do the things that you truly love, it wouldn't matter whether it's Monday or Friday; you would be so excited to wake up each morning to work on your passions." — Edmond Mbiaka
10. "Yesterday is ashes, tomorrow wood. Only today does the fire burn brightly." — Old Eskimo Proverb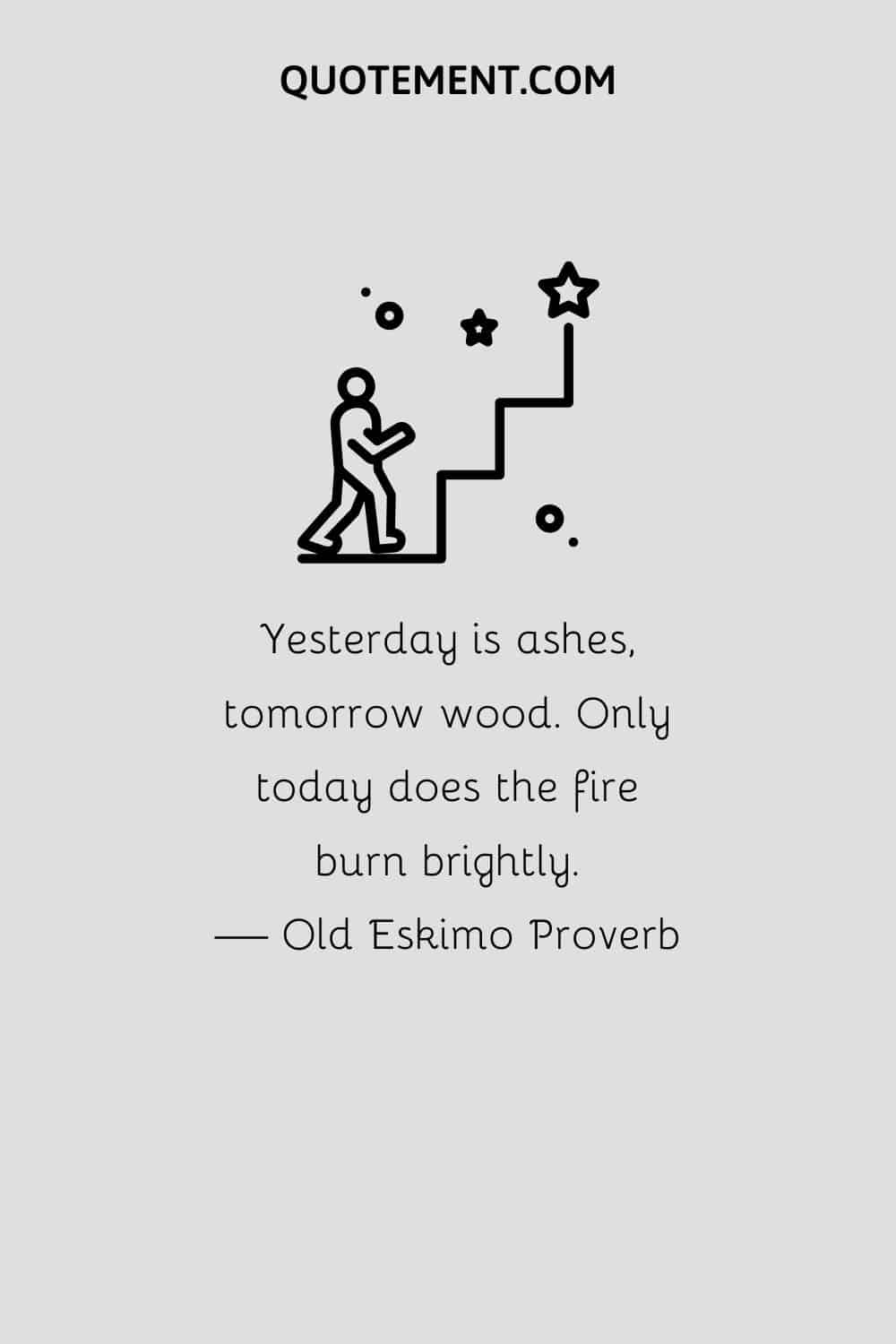 See also: 100 Tomorrow Is Not Promised Quotes To Seize The Day
Funny Monday Quotes
Besides motivational Monday quotes to start the day, there are some other kinds of quotes that can make your Mondays a little better.
They are not exactly the lines to make you fall in love with Monday, but they'll surely make you smile, and what's better than starting your day with some laughs?!
1. "Life is like Friday on a soap opera. It gives you the illusion that everything is going to wrap up, and then the same old sh#t starts up on Monday." ― Stephen King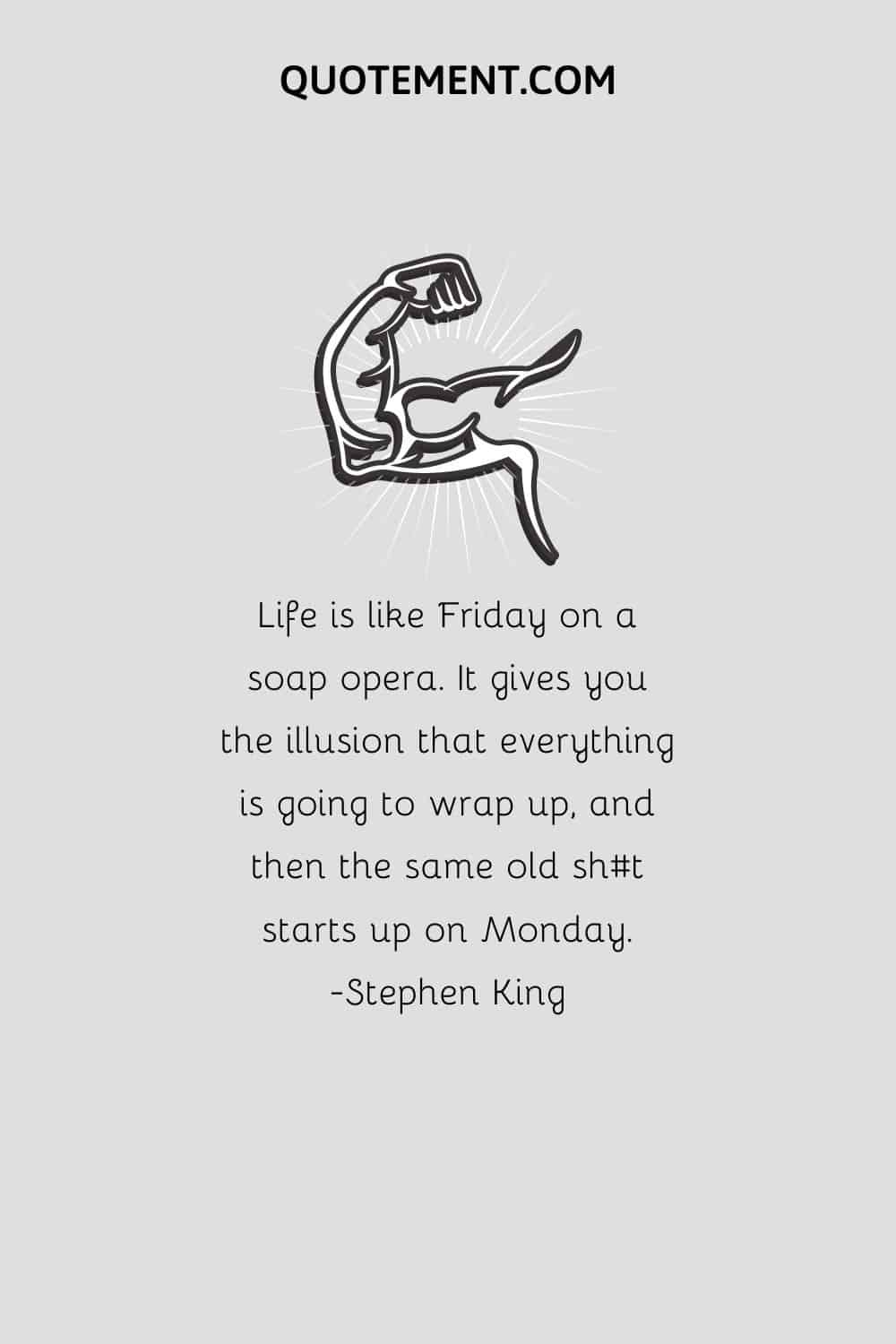 2. "Mondays: one of those days where even your coffee needs a coffee." — Unknown
See also: 280 Awesome Coffee Captions To Show Your Coffee Obsession
3. "Dear Monday, I want to break up. I'm seeing Tuesday and dreaming about Friday. Sincerely, It's Not Me — It's You." — Unknown
4. "Monday is great for becoming too busy to die." ― Roy Station
5. "Mondays are a lot like getting fat. They make you feel sad, sometimes angry and there is not much scope for liking either fat or Mondays for any reason." ― Garry Moll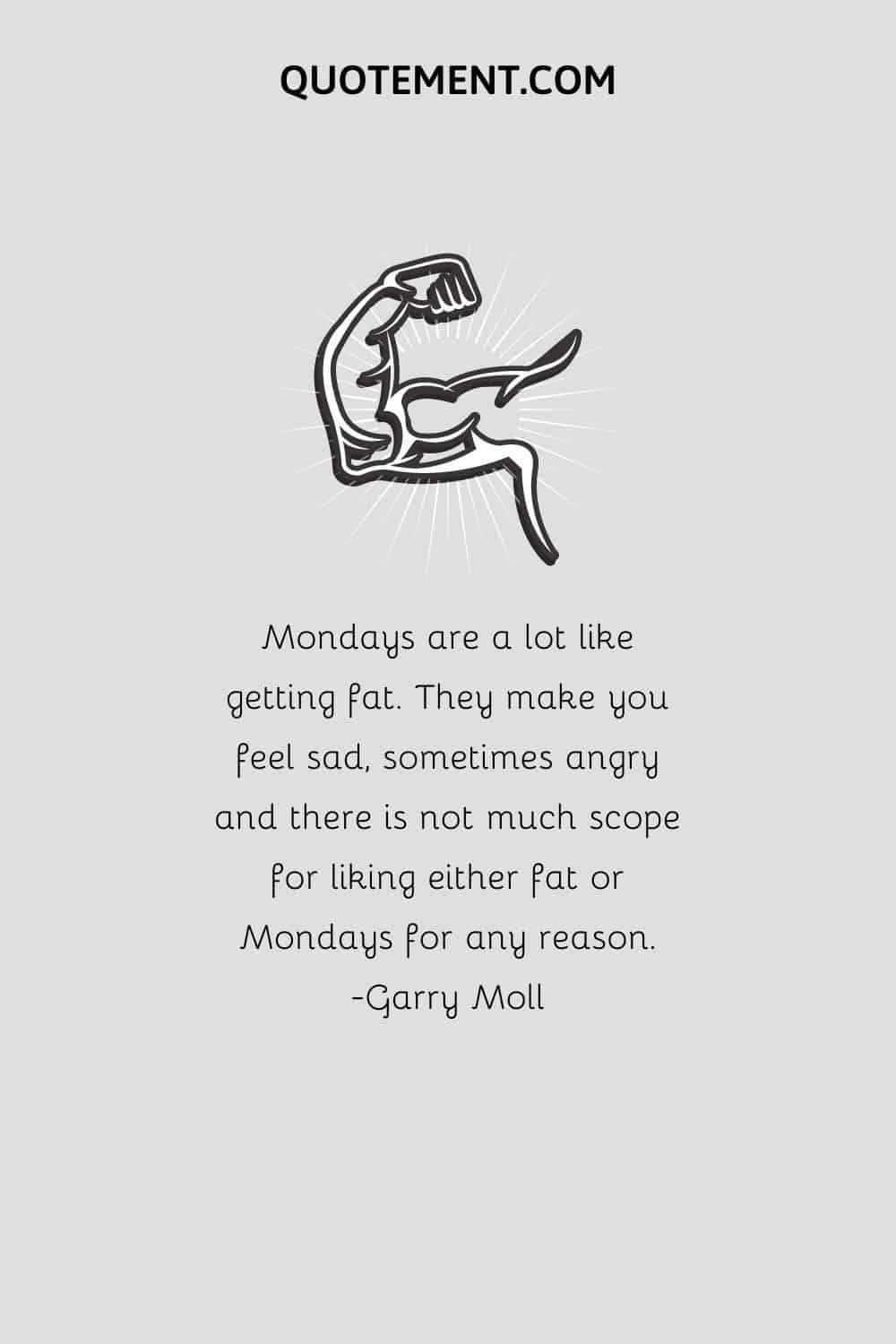 6. "Things I don't like: 1) Probably you. 2) Cold coffee. 3) Small talk. 4) Mondays. 5) Having a small talk with you on a Monday while my coffee is getting cold." — Unknown
7. "If each day is a gift, I'd like to know where to return Mondays!" ― John Wagner
8. "Monday is great if I can spend it in bed. I'm a man of simple pleasures." ― Arthur Darvill
9. "Warning! Going to sleep on Sunday will cause Monday. Please note that staying awake all night does not prevent Monday. There is no cure." — Unknown
10. "Dear radio stations, please do not play Katy Perry's "Last Friday Night" on a Monday morning at 8 AM during my drive to work." — Unknown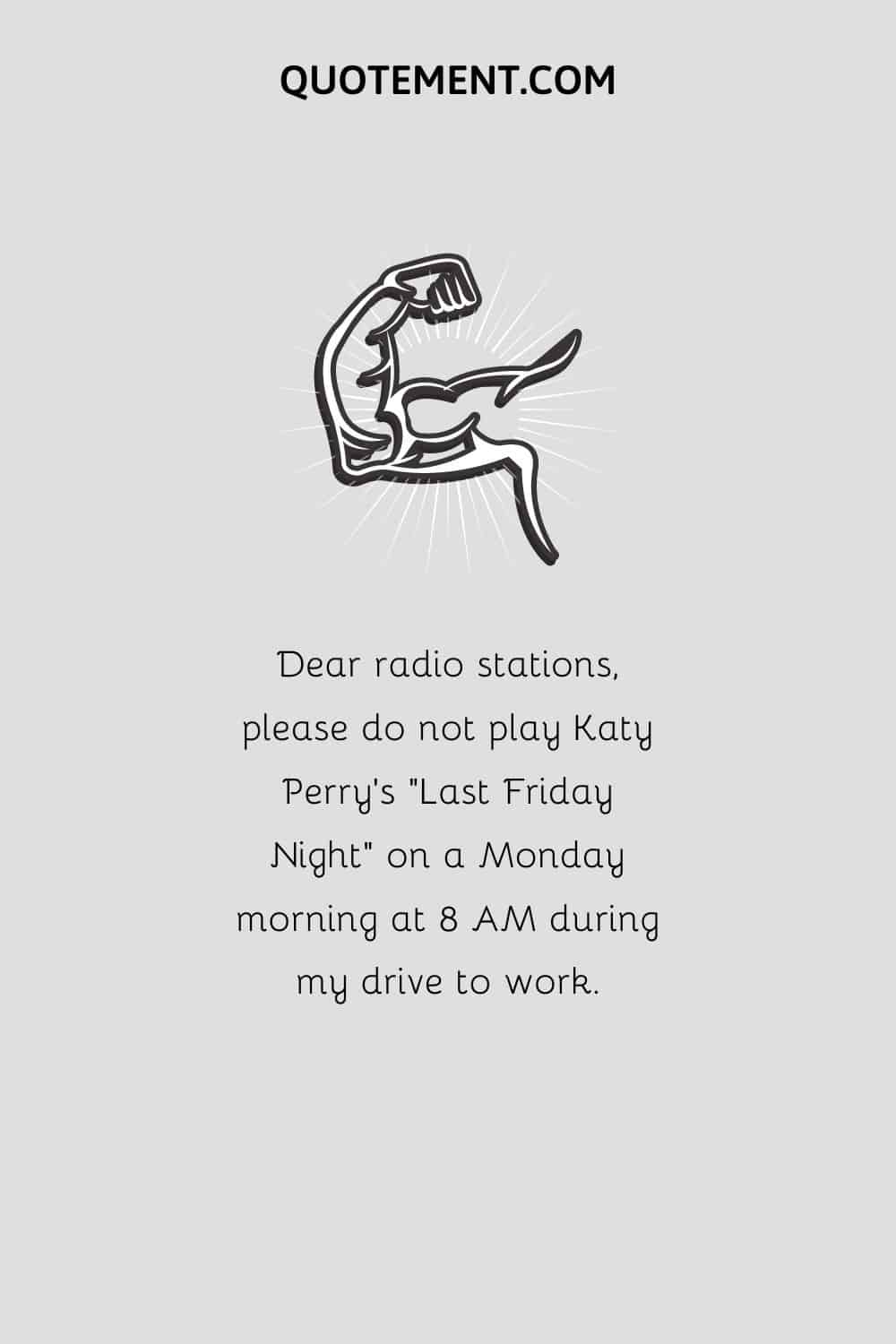 Summing Up
Relax. Mondays will be Mondays. It's up to you to make some changes in your mindset that'll push you to that 'get stuff done mode' on Monday.
And my collection of Monday motivation quotes will help you get there faster!
Read next: 170 Positive Monday Blessings Quotes To Embrace The Week