Have you been looking for a perfect mother and child quote to capture one of the most special bonds in the world? Well, your search is over because you have found my list of the best bond between mother and child quotes in the world!
I searched the internet far and wide to find the best mother and child quotes and gather them in one place.
So, if you're having trouble summing up the beauty of the mother-daughter relationship or mother and son bond, you now have everything you need and more!
This adorable list of bond between mother and child quotes will warm your heart and help you express your feelings about the unconditional love between mother and child.
Whether you want to send one of these love quotes on the mother and child relationship as a message or share it on social media, these are the loveliest words describing a mother's love.
These bond between mother and child quotes are perfect for sending to your beautiful mother on Mother's Day or on any other day when you want to touch her heart.
Check them out below!
20 Best Bond Between Mother And Child Quotes
Let's start off with my list of the best bond between mother and child quotes. They capture the beauty of the special bond a mother and child share.
Hearing some words of wisdom from famous minds often helps to put things in perspective, so check out what they have to say about the mother and child bond.
1. "Mothers and their children are in a category all their own. There's no bond so strong in the entire world. No love so instantaneous and forgiving." — Gail Tsukiyama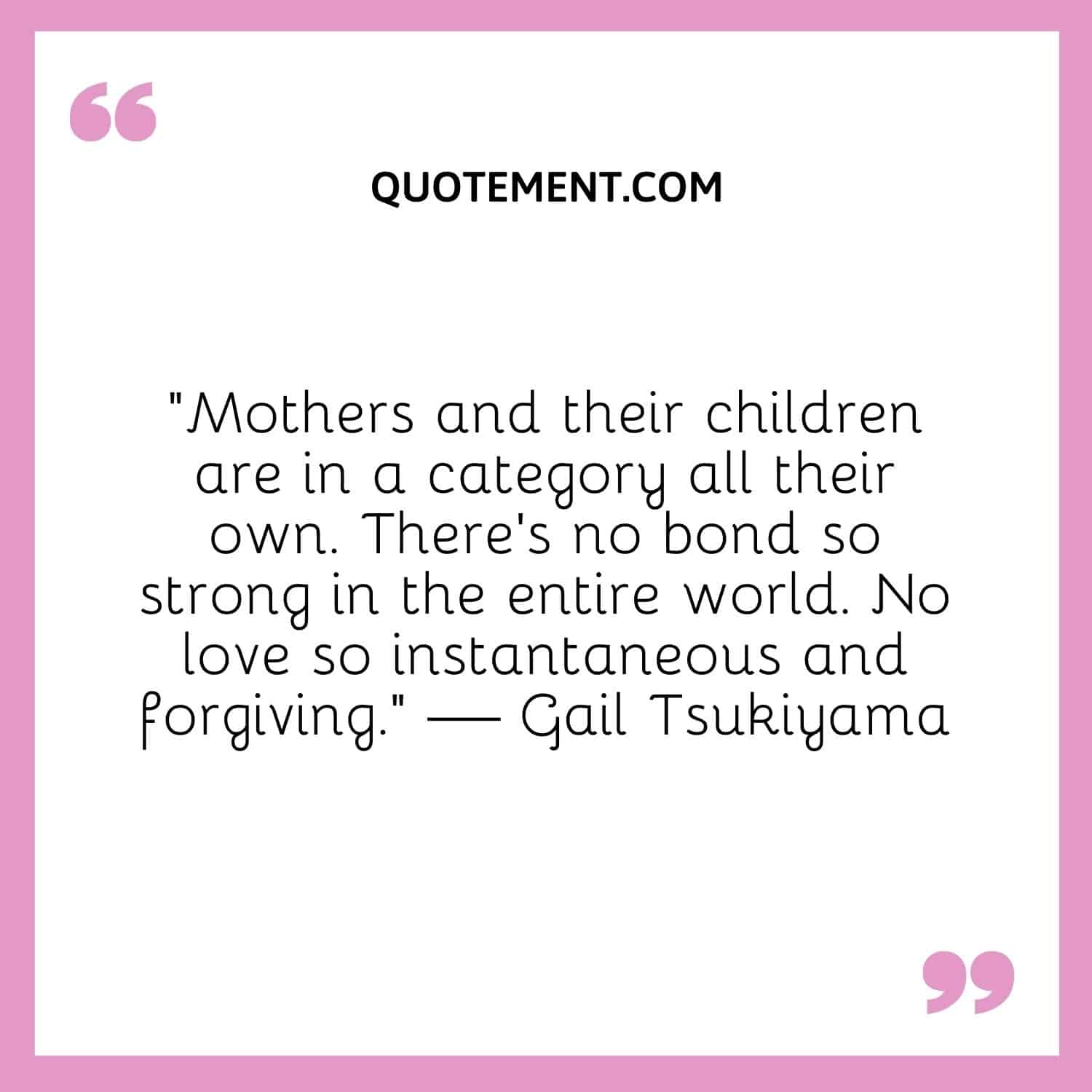 2. "Although the bond between a mother and her child is invisible, it's stronger than any man-made material in existence." — Ivana Davies
3. "I remember my mother's prayers and they have always followed me. They have clung to me all my life." ― Abraham Lincoln
4. "A child's first teacher is its mother." — Peng Liyuan
5. "A mother's love for her child is like nothing else in the world. It knows no law, no pity, it dates all things and crushes down remorselessly all that stands in its path." — Agatha Christie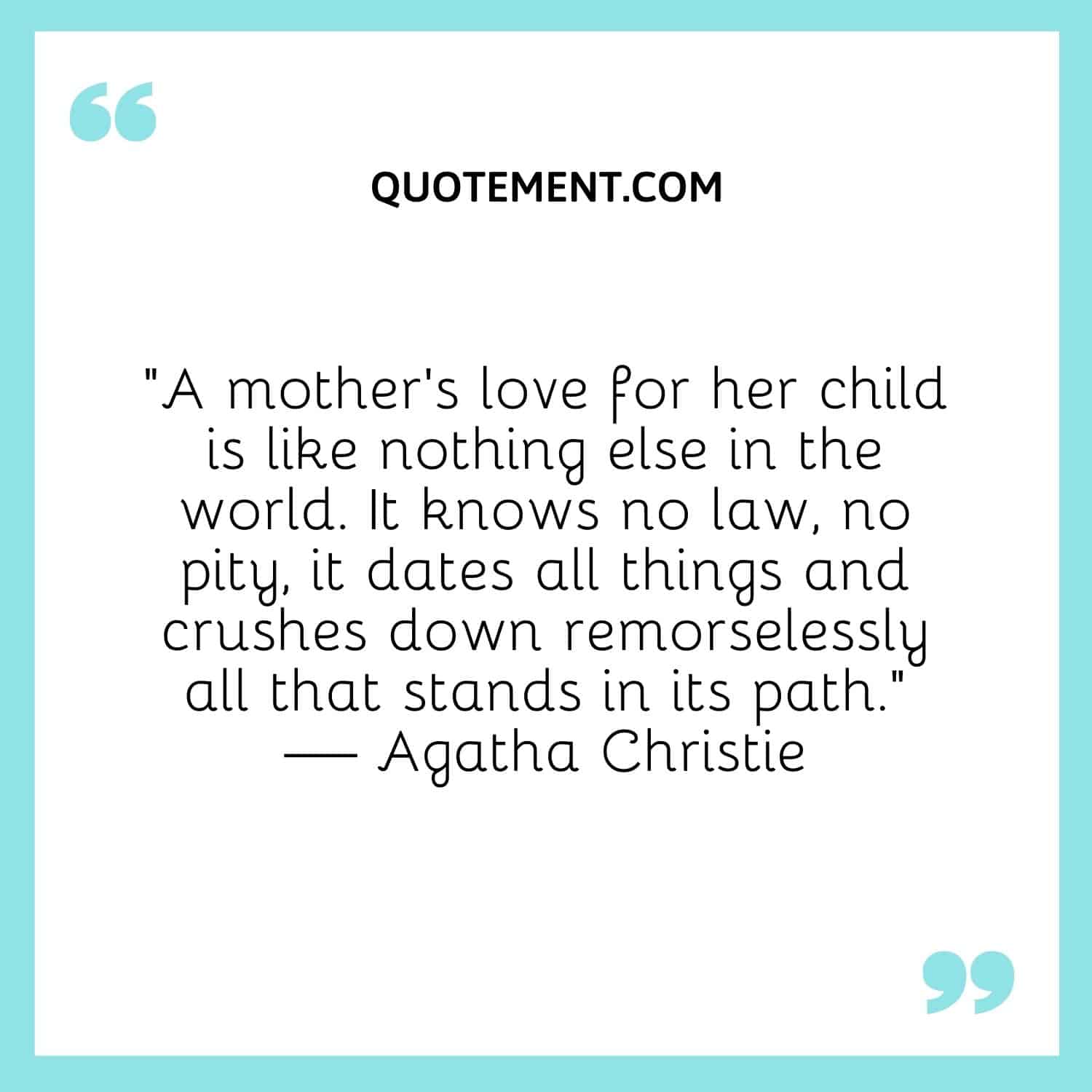 6. "We are born of love; love is our mother." — Rumi
7. "I never thought I would say this but raising a daughter is different than raising a son. But the one thing that is not different is my love for each of them." — Catherine Pulsifer
8. "When you look into your mother's eyes, you know that is the purest love you can find on this Earth." — Mitch Albom
9. "At first blush, everyone thinks the most important relationships in the family are the father-son and mother-daughter relationships. But they're wrong. The cross-gender relationships are most critical." — Dr. Kevin Leman
10. "There's no way to be a perfect mother and a million ways to be a good one." — Jill Churchill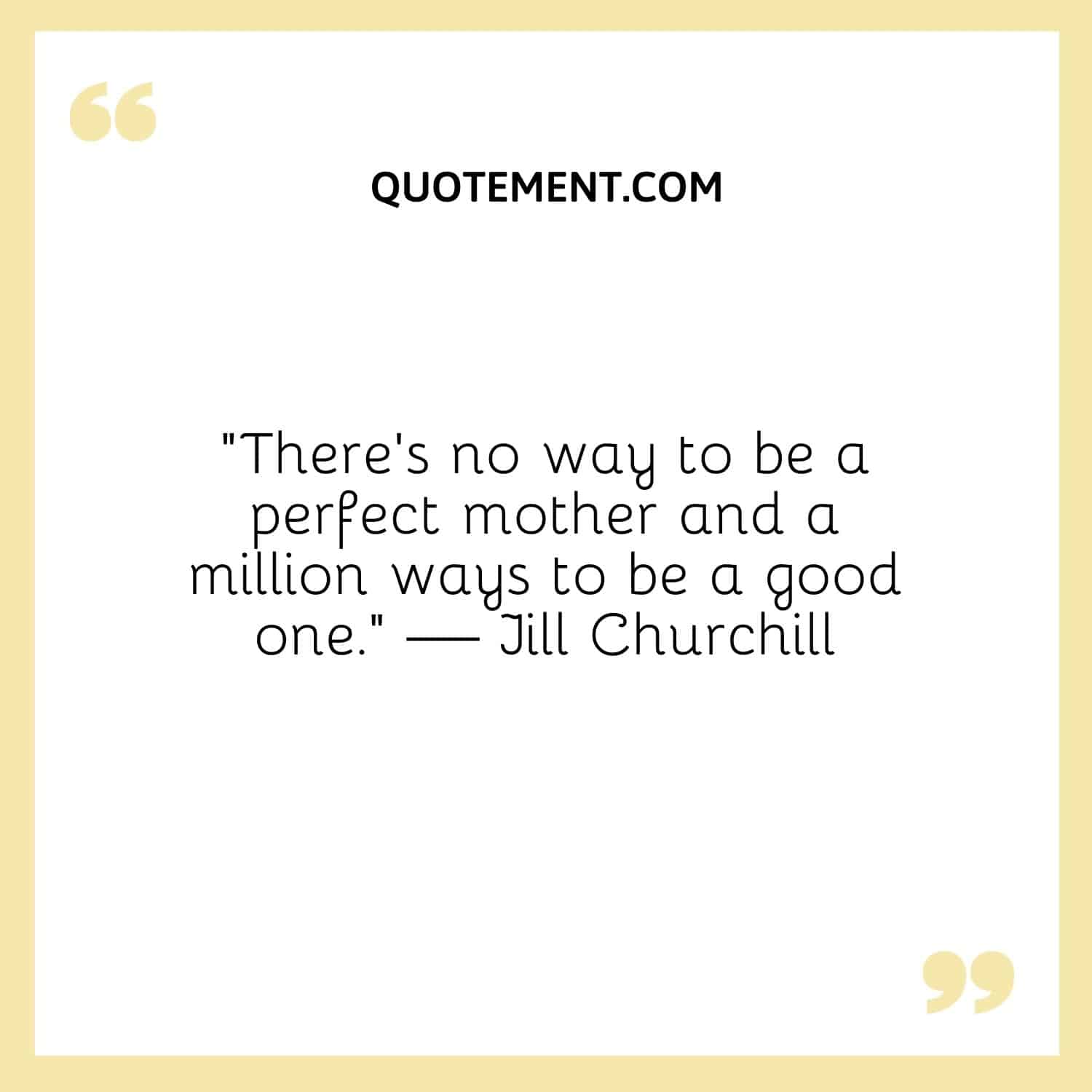 11. "All that I am, or hope to be, I owe to my angel mother." ― Abraham Lincoln
12. "All women become like their mothers. That is their tragedy. No man does. That's his." — Oscar Wilde
13. "All I know is that I carried you for nine months. I fed you, I clothed you, I paid for your college education. Friending me on Facebook seems like a small thing to ask in return." — Jodi Picoult
14. "The first lesson every child of Athena learned: Mom was the best at everything, and you should never, ever suggest otherwise." — Rick Riordan
15. "The mother's heart is the child's schoolroom." — Henry Ward Beecher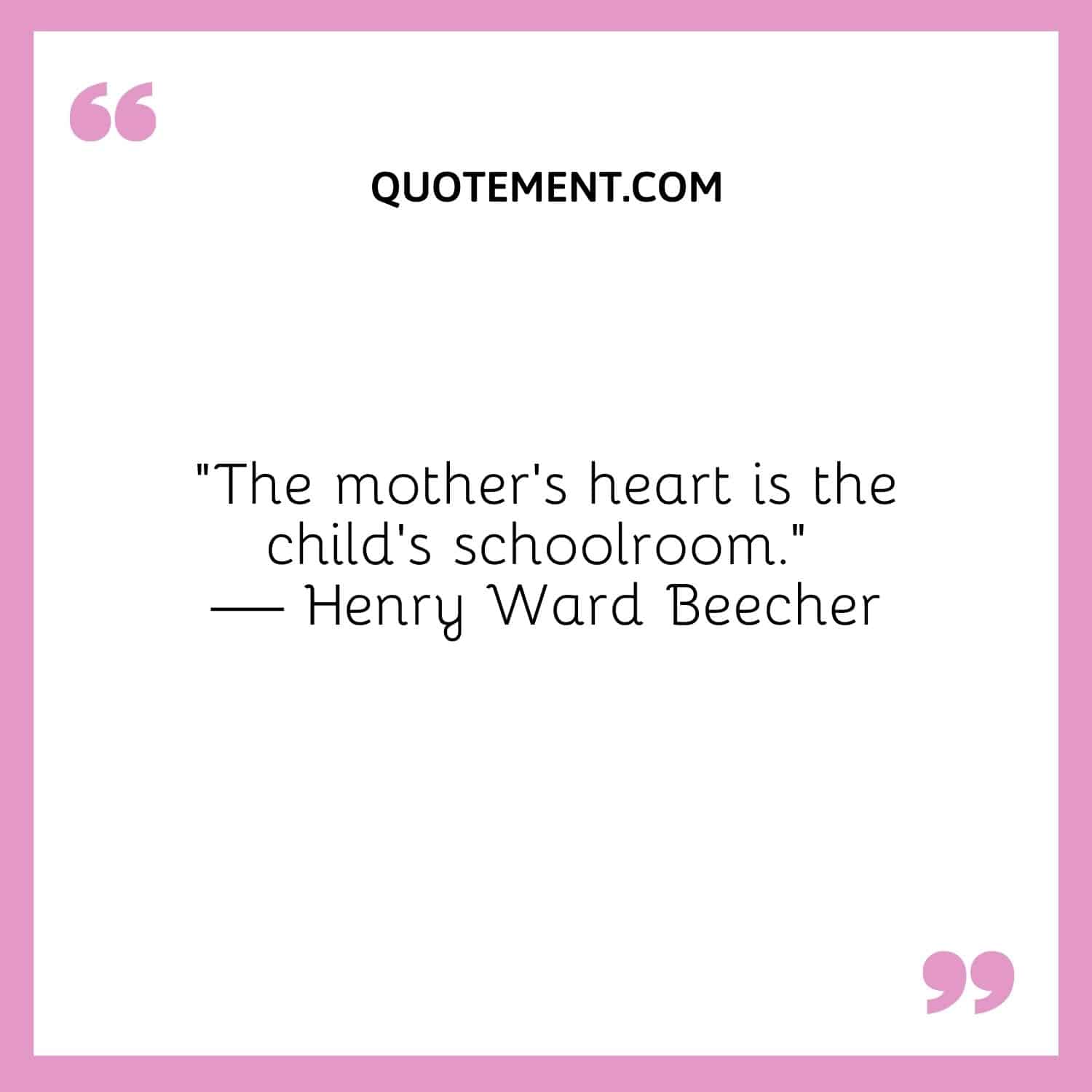 16. "A mother is the truest friend we have, when trials, heavy and sudden, fall upon us; when adversity takes the place of prosperity; when friends who rejoice with us in our sunshine, desert us when troubles thicken around us, still will she cling to us, and endeavor by her kind precepts and counsels to dissipate the clouds of darkness, and cause peace to return to our hearts." ― Washington Irving
17. "A mother's arms are made of tenderness and children sleep soundly in them." ― Victor Hugo
18. "In giving birth to our babies, we may find that we give birth to new possibilities within ourselves." — Myla and Jon Kabat-Zinn
19. "No language can express the power and beauty and heroism of a mother's love." — Edwin Chapin
20. "Mother — that was the bank where we deposited all our hurts and worries." — T. DeWitt Talmage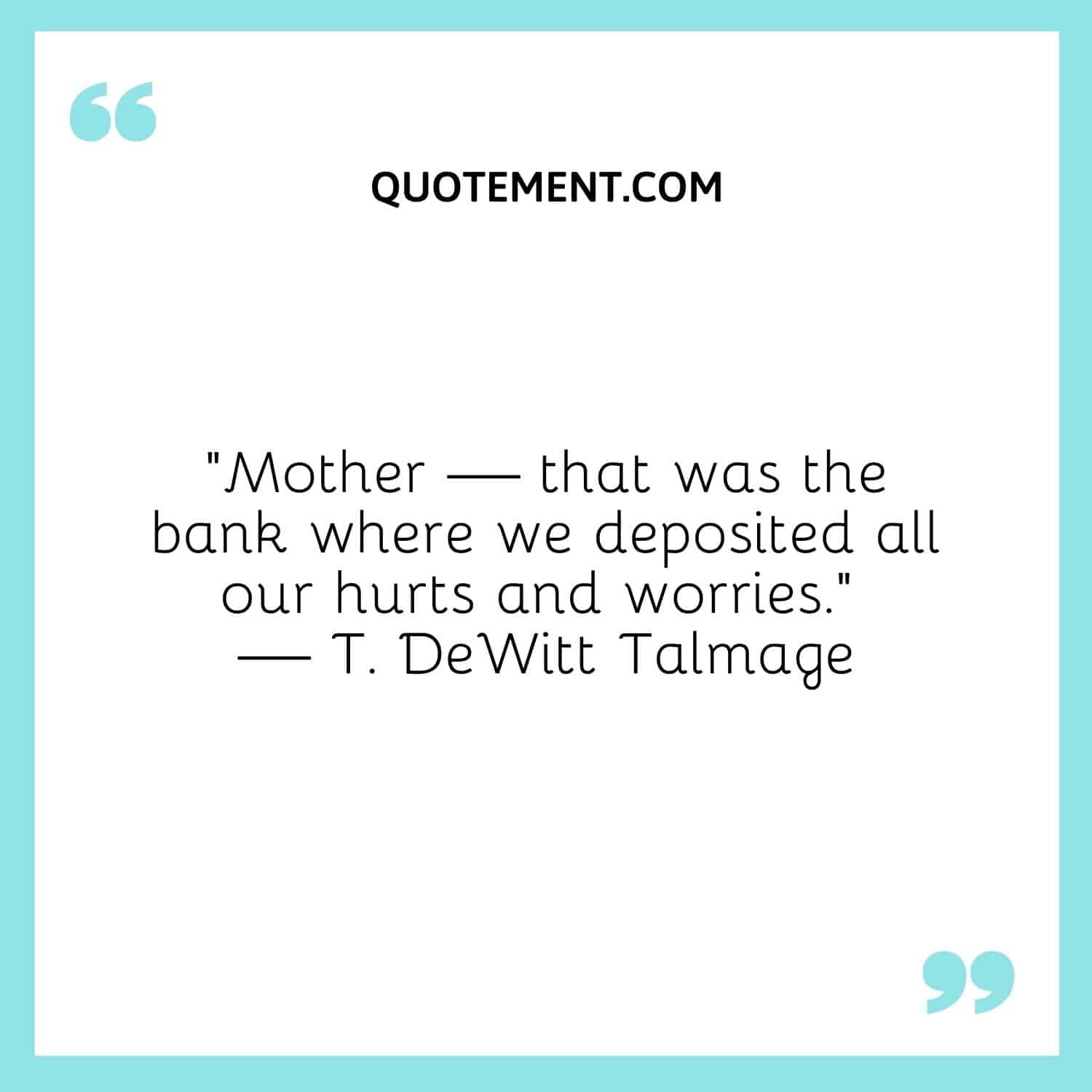 Beautiful Mother Daughter Quotes Praising Their Bond
To help you find the right words to describe the special bond between mom and daughter, here are some of the best mother-daughter quotes anywhere online.
1. "You celebrated all of my successes and wept with all of my heartbreak. Mom, thank you for being the best mother a daughter could want." — Unknown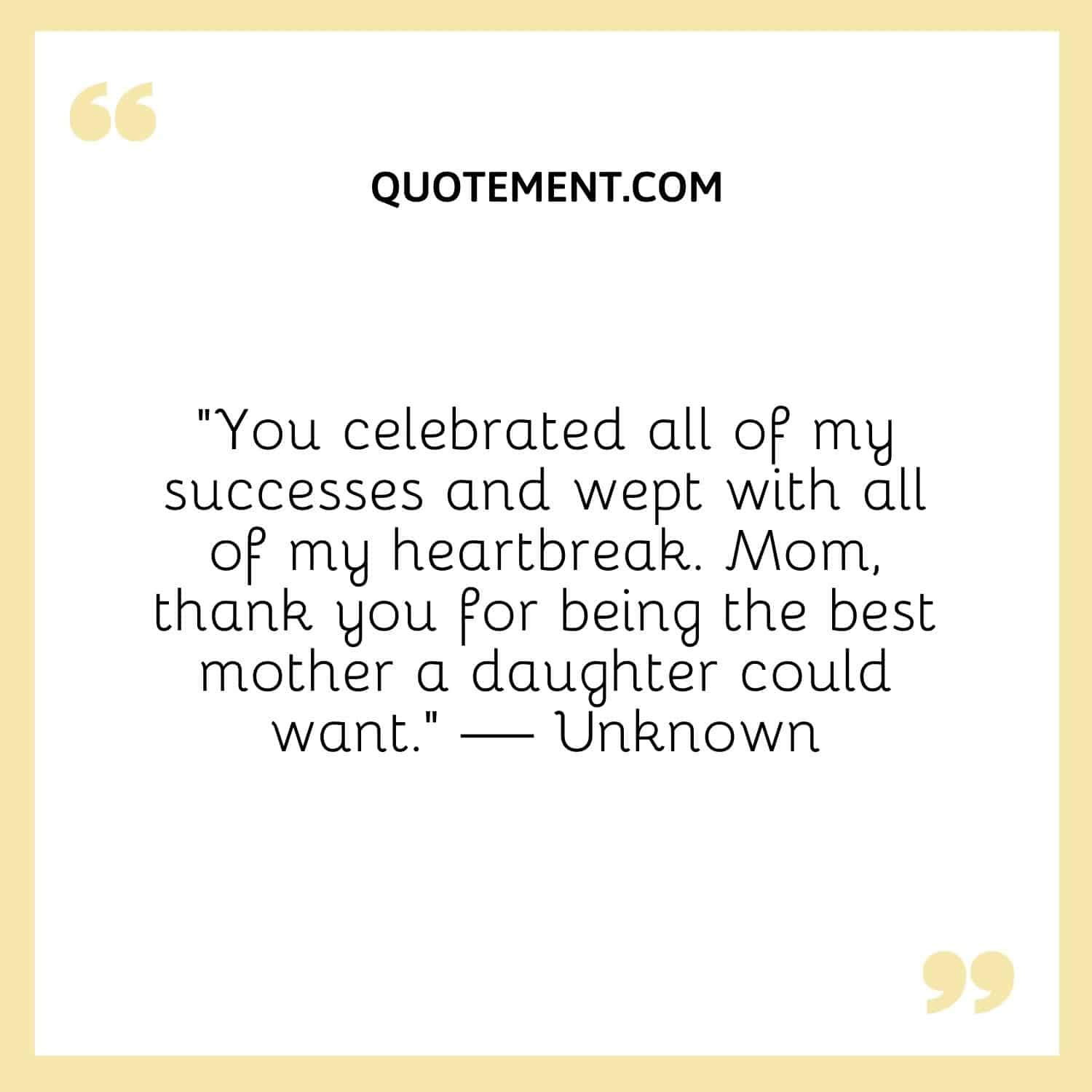 2. "The more a daughter knows the details of her mother's life the stronger the daughter." — Anita Diamant
3. "Words are not enough to express the unconditional love that exists between a mother and a daughter." — Caitlin Houston
4. "A mother's and daughter's love is never separated." — Viola Shipman
5. "To my daughter. Never forget that I love you. Life is filled with hard times and good times. Learn from everything you can. Be the woman I know you can be." — Unknown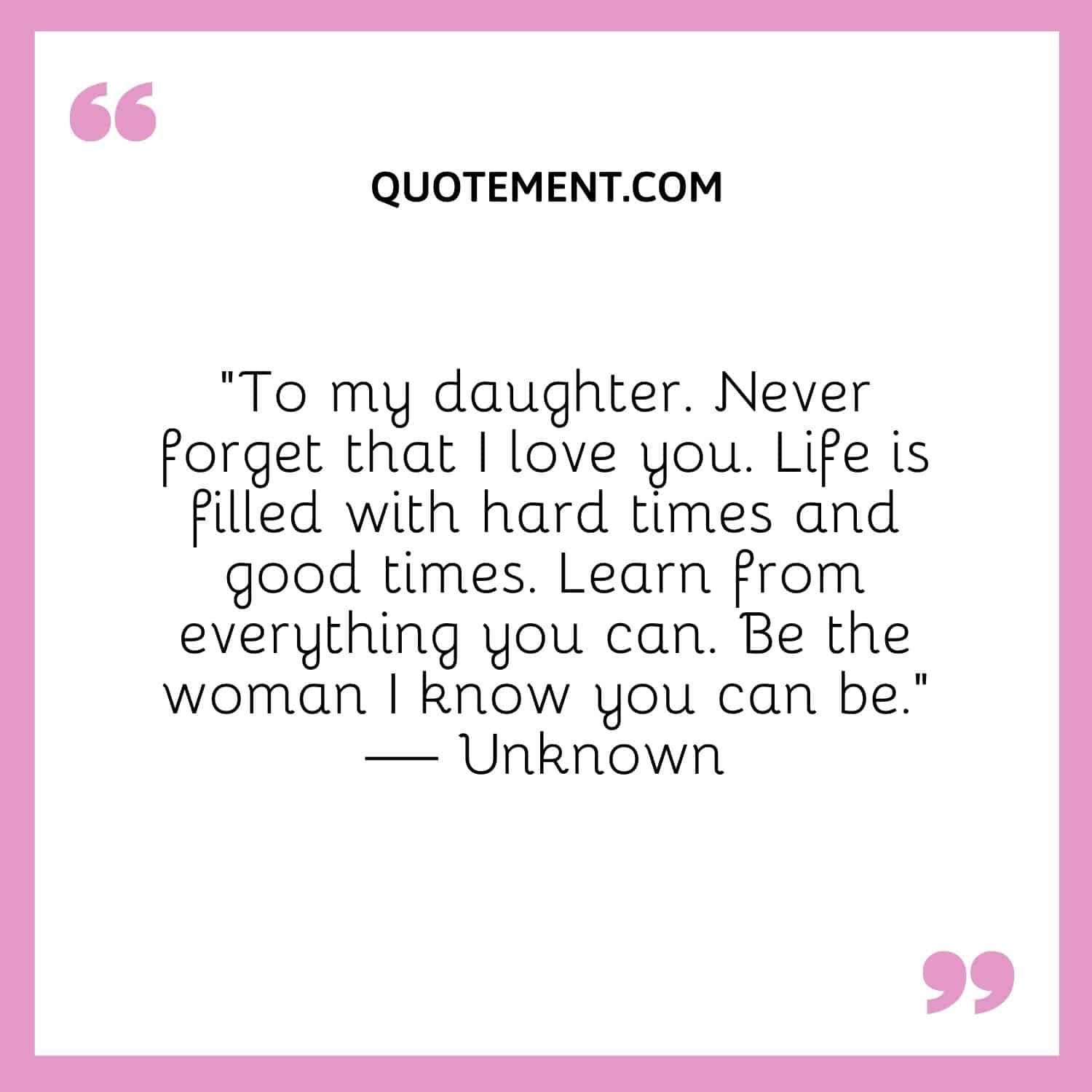 6. "A daughter is just a little girl who grows up to be your best friend." — Unknown
7. "Every day I become a little bit more like my mother… and I couldn't be prouder." ― Unknown
8. "Having a little girl has been like following an old treasure map with the important paths torn away." — Heather Gudenkauf
9. "A mother's treasure is her daughter." — Catherine Pulsifer
10. "No one in this world can love a girl more than her mother." — Unknown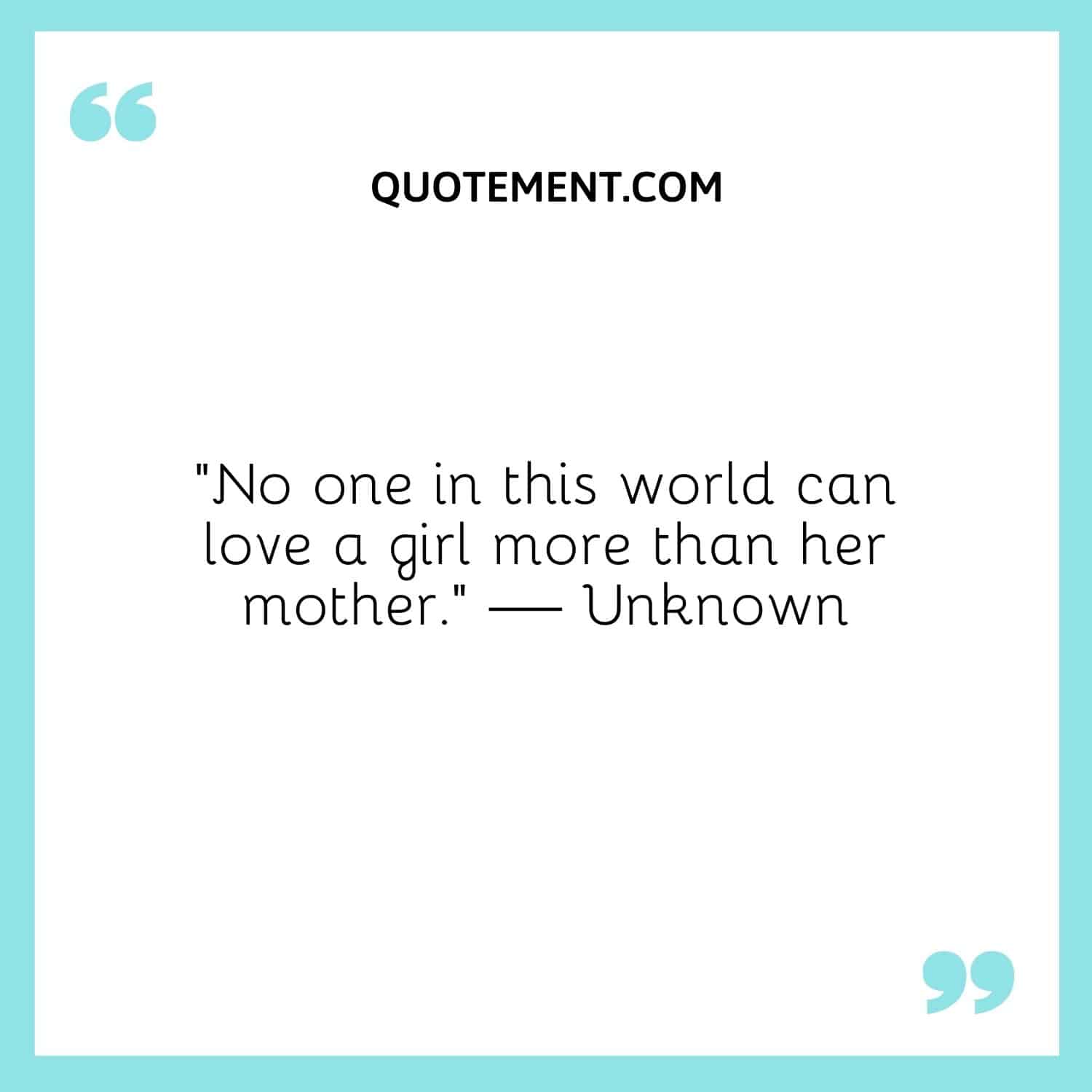 11. "No matter how old she may be, sometimes a girl just needs her mom." — Cardinal Mermillod
12. "The greatest gift every mother can have is a daughter. Someone who sings with her, who helps in cleaning the house, and someone she can be proud of."
See also: 120 Heartwarming Proud Daughter Quotes To Inspire You
13. "A daughter is a miracle that never ceases to be miraculous…full of beauty and forever beautiful…loving and caring and truly amazing." — Deanna Beisser
14. "A daughter is God's way of saying, 'thought you could use a lifelong friend.'" — Unknown
15. "Little girls are the nicest things that happen to people. They are born with a little bit of angelshine about them, and though it wears thin sometimes there is always enough left to lasso your heart." — Alan Beck
16. "A mother who radiates self-love and acceptance actually vaccinates her daughter against low self-esteem." — Naomi Wolf
17. "Mother and daughter from the start, best friends forever from the heart." — Unknown
18. "A mother and a daughter always share a special bond, which is engraved on their hearts." — Unknown
19. "My mom taught me a woman's mind should be the most beautiful part of her." — Sonya Teclai
20. "We mothers are learning to mark our mothering success by our daughters' lengthening flight." — Letty Cottin Pogrebin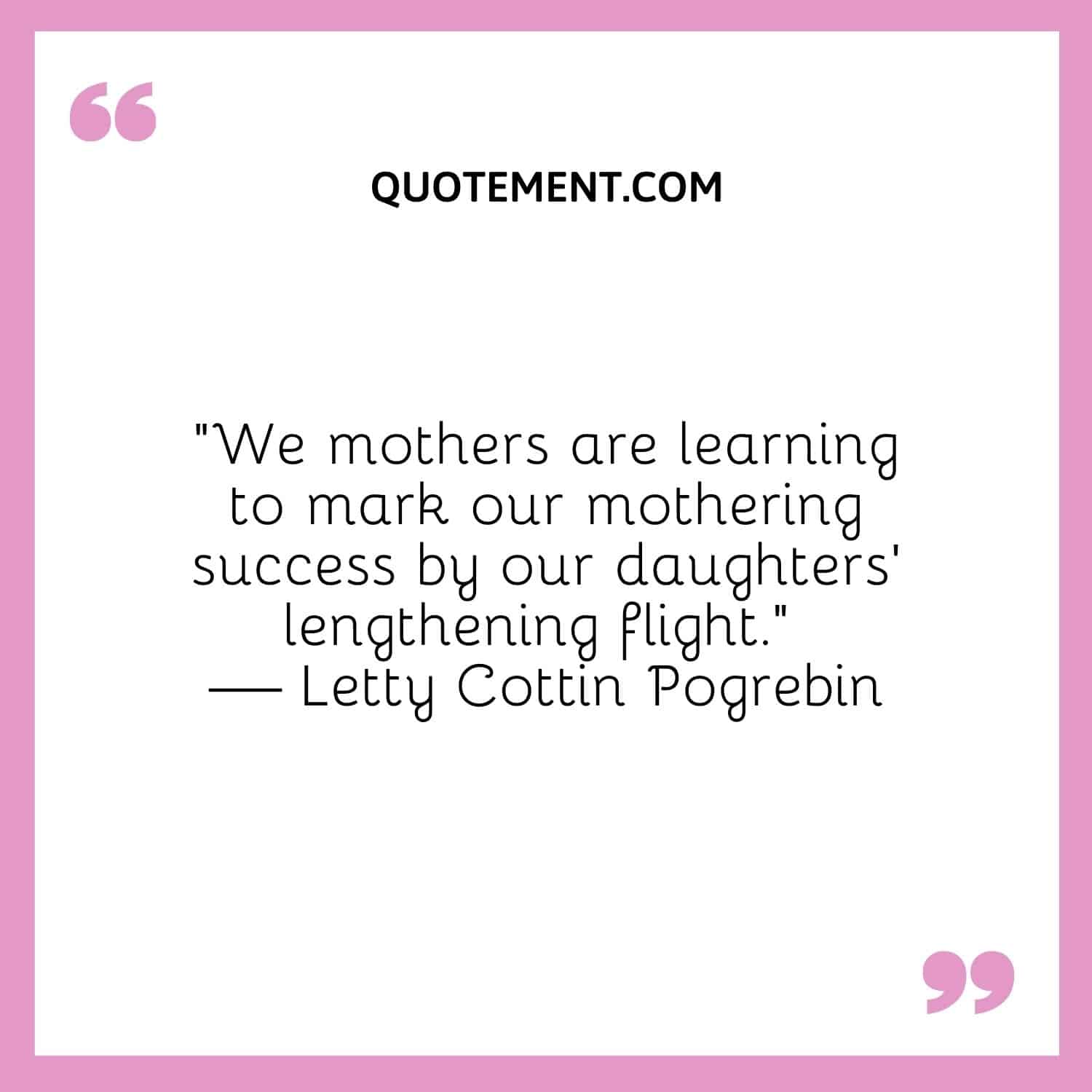 Sweet Mother And Son Love Quotes
Raising a son is a beautiful, but often quite difficult task. So if you want to portray your special mother and son bond, or you're just looking for a boy mom quote to pick you up for those hard days, these mother-son quotes are just what you need.
1. "Having a child makes you realize the importance of life, narcissism goes out the window. Heaven on earth is looking at my little boy. The minute he was born, I knew if I never did anything other than being a mom, I'd be fine." — Jenny McCarthy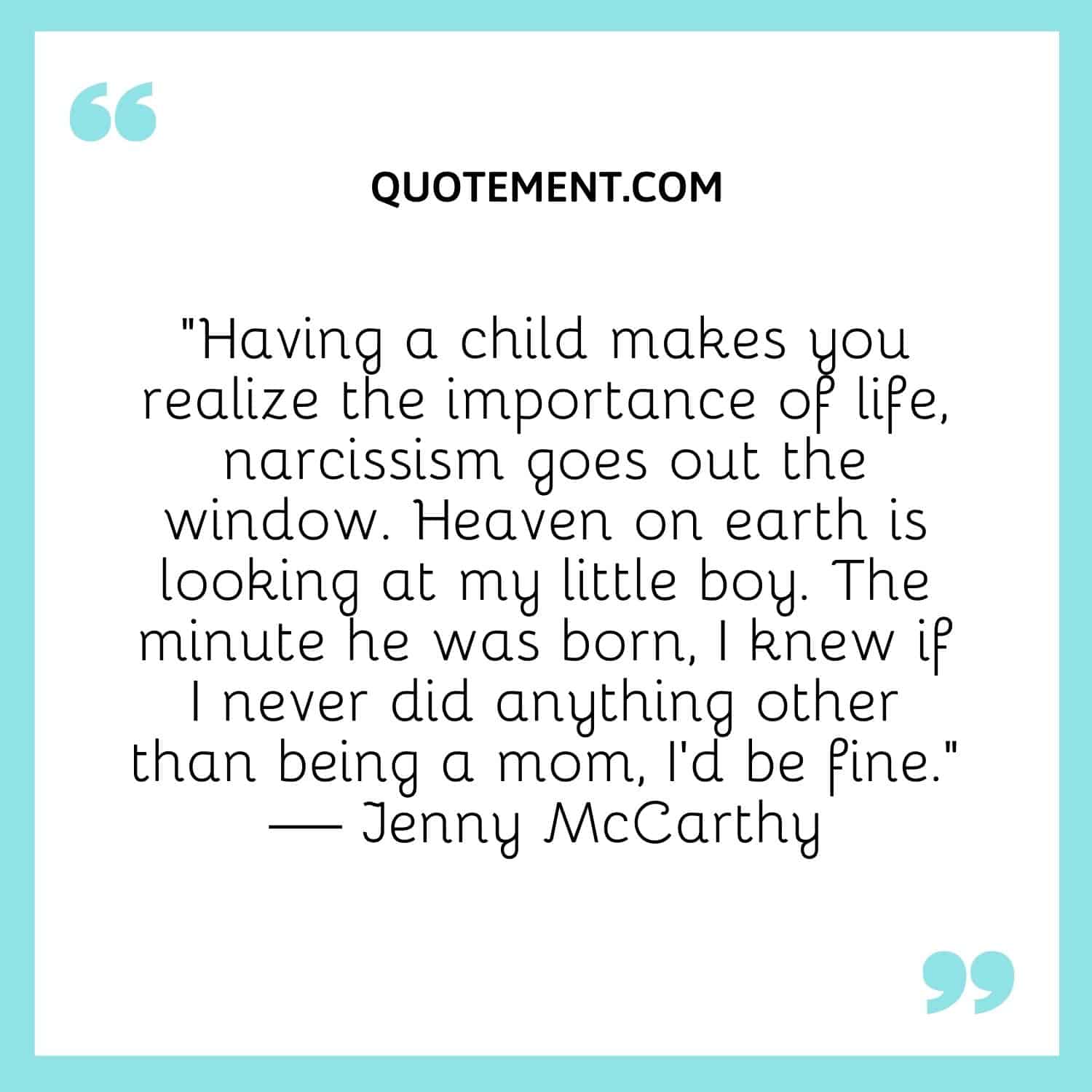 2. "A mother's love doesn't make her son more dependent and timid; it actually makes him stronger and more independent." — Cheri Fuller
3. "Mother is her son's first god. She must teach him the most important lesson of all – how to love." — T. F. Hodge
4. "Sons are the anchors of a mother's life." — Sophocles
5. "You will be his first his, his first love, his first friend. You're his momma and he is your whole world. He is your little boy." — Unknown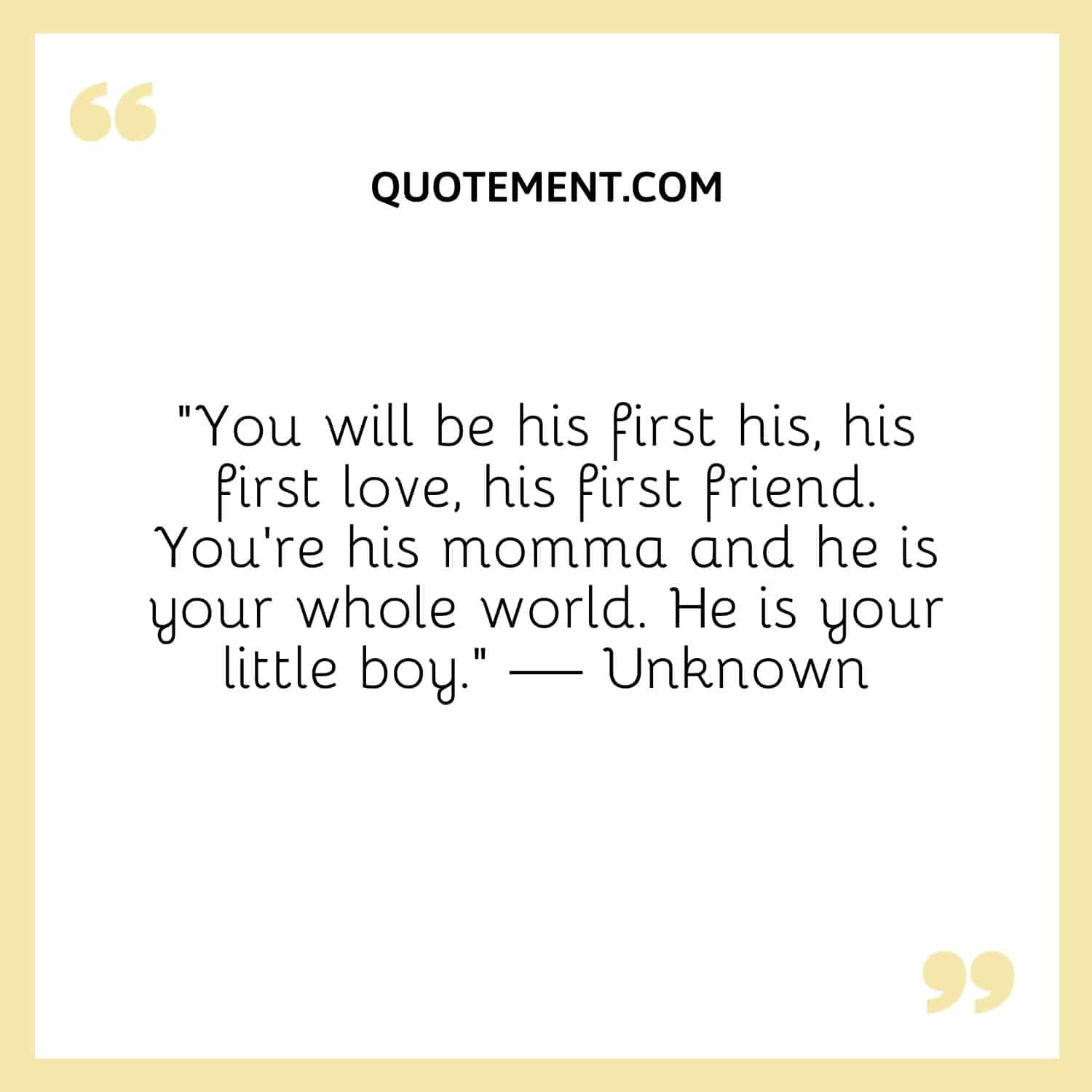 6. "My mother is the reason that I love you,' Bhim said simply. 'She is the reason I know what love is." ― Leah Franqui
7. "The best love in the world is the love of a man. The love of a man who came from your womb, the love of your son! I don't have a daughter, but maybe the love of a daughter is the best, too. I am first and foremost me, but right after that, I am a mother. The best thing that I can ever be, is me. But the best gift that I will ever have, is being a mother." — C. JoyBell C
8. "The bond between mother and son lasts a lifetime. The bond between mother and son is a special one. It remains unchanged by time or distance. It is the purest love, unconditional and true. It is understanding of any situation and forgiving of any mistake." — Unknown
9. "A woman is not able to re-educate any man. But she is able to bring up her son to be a real man." — Unknown
10. "I believe in you, my son. I believe that you'll be the luckiest person in this world because I have worked my whole life in bringing the best out of you. I love you with all my heart!" — Unknown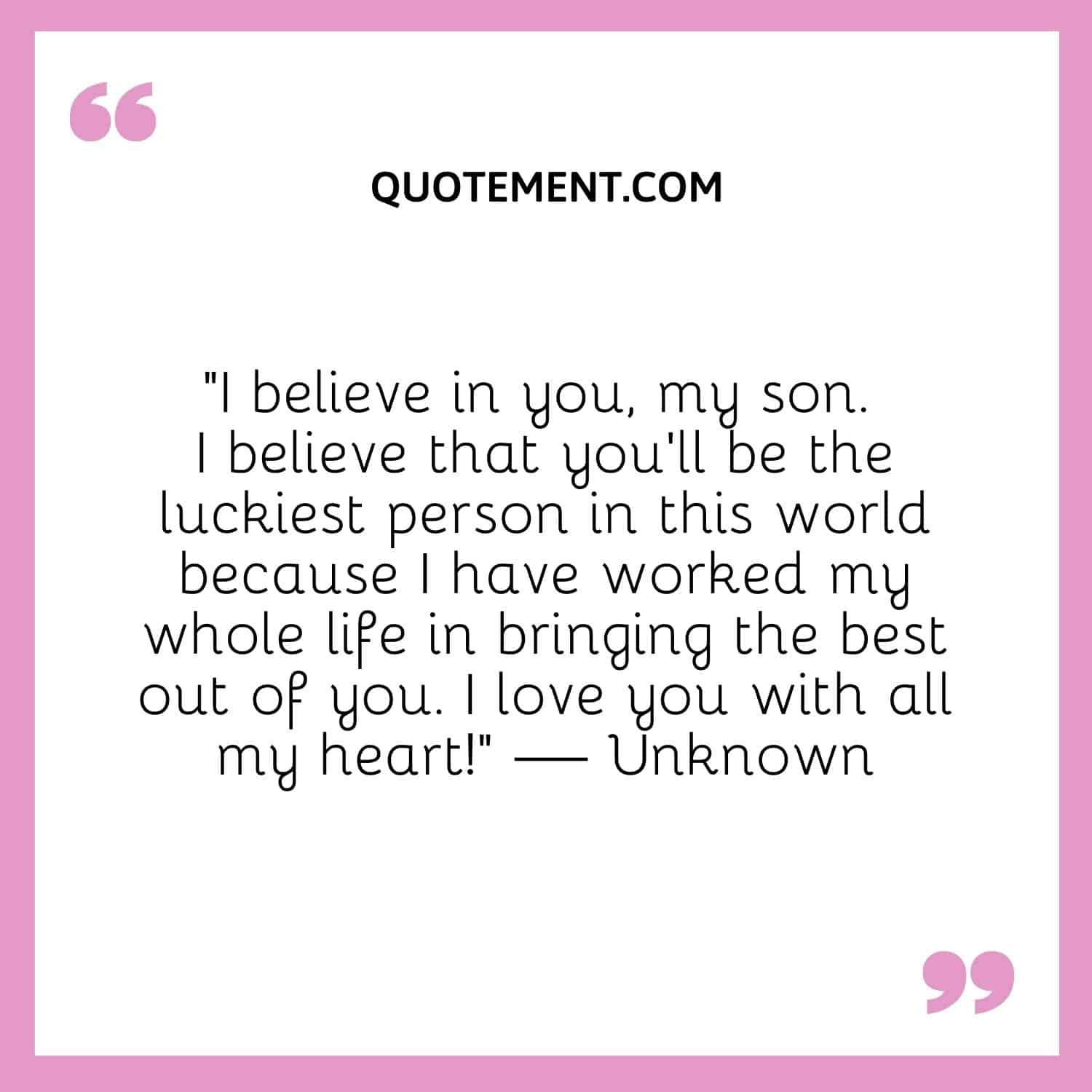 11. "A man loves his sweetheart the most, his wife the best, but his mother the longest." — Irish Proverb
12. "A mother is the first love of her son, and a son is a whole world for a mother." — Unknown
13. "I listen to my mother, and that keeps me out of trouble. I'm a good son." — Mr. T
14. "There has never been, nor will there ever be, anything quite so special as the love between the mother and a son." — Unknown
15. "And she loved a little boy very, very much, even more than she loved herself." — Shel Silverstein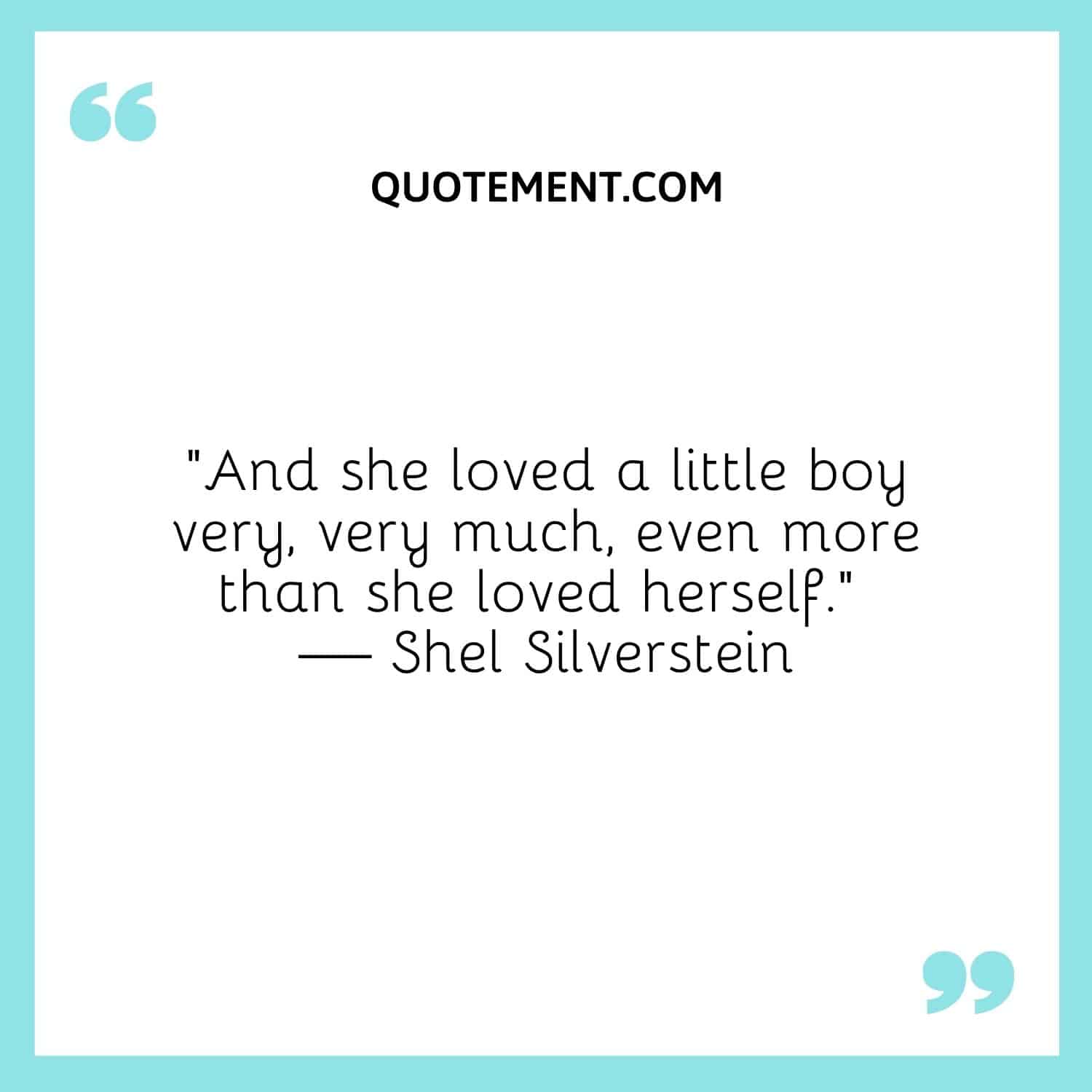 16. "Men are what their mothers made them." — Ralph Waldo Emerson
17. "I have a son, who is my heart. A wonderful young man, daring and loving and strong and kind." — Maya Angelou
18. "I live for my sons. I would be lost without them." — Princess Diana
19. "There is an enduring tenderness in the love of a mother to a son that transcends all other affections of the heart." — Washington Irving
20. "Even more than the time when she gave birth, a mother feels her greatest joy when she hears others refer to her son as a wise learned one." — Thiruvalluvar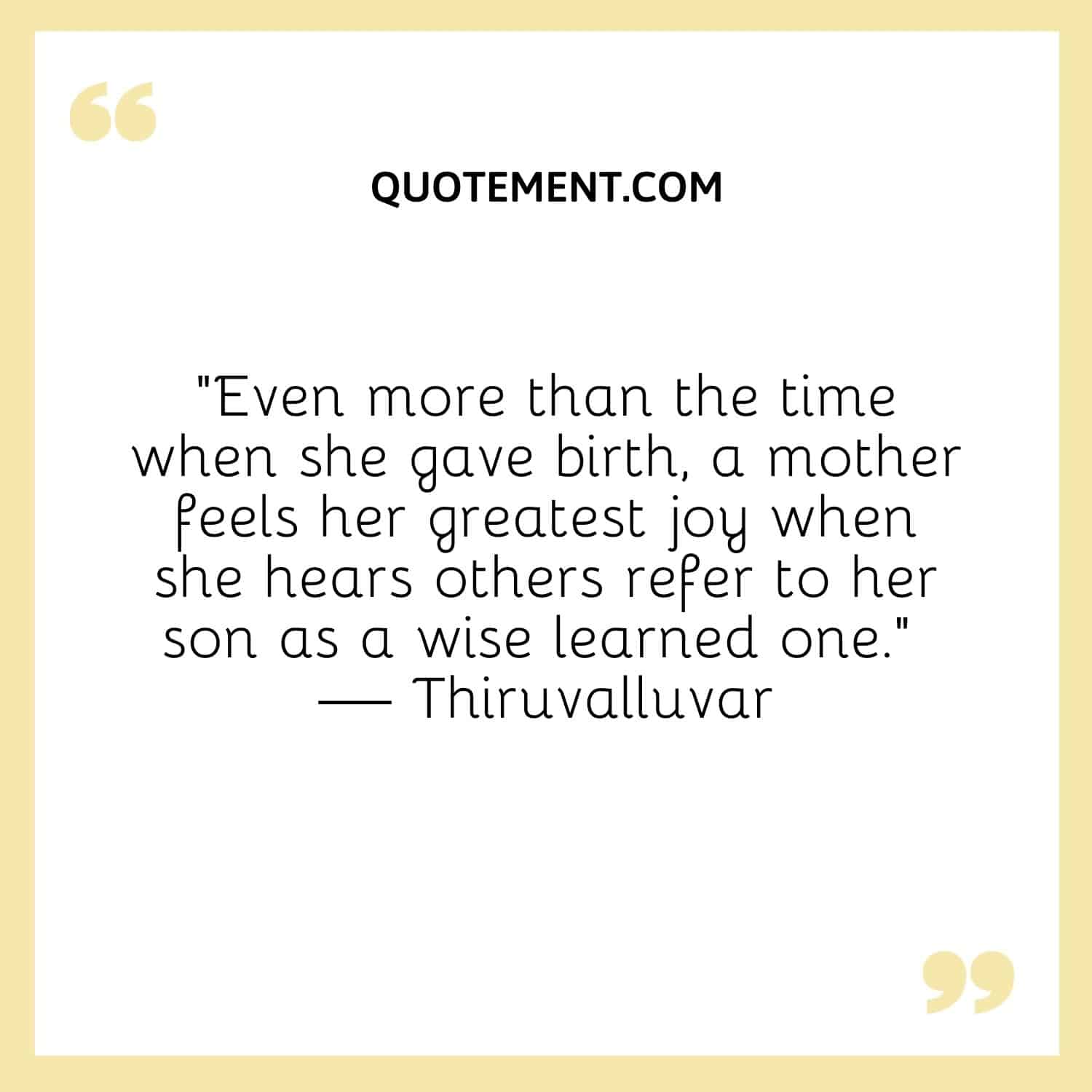 Inspirational Quotes About Mother's Love
Being a mom myself, I find mom quotes very inspiring, especially during those hard parenting times. Here's a list of my favorite bond between mother and child quotes to give you a dose of inspiration on your motherhood journey.
1. "Speak life into your children. Tell them all the incredible things they are and can do. So, when the time comes, they will have what it takes to follow their own path."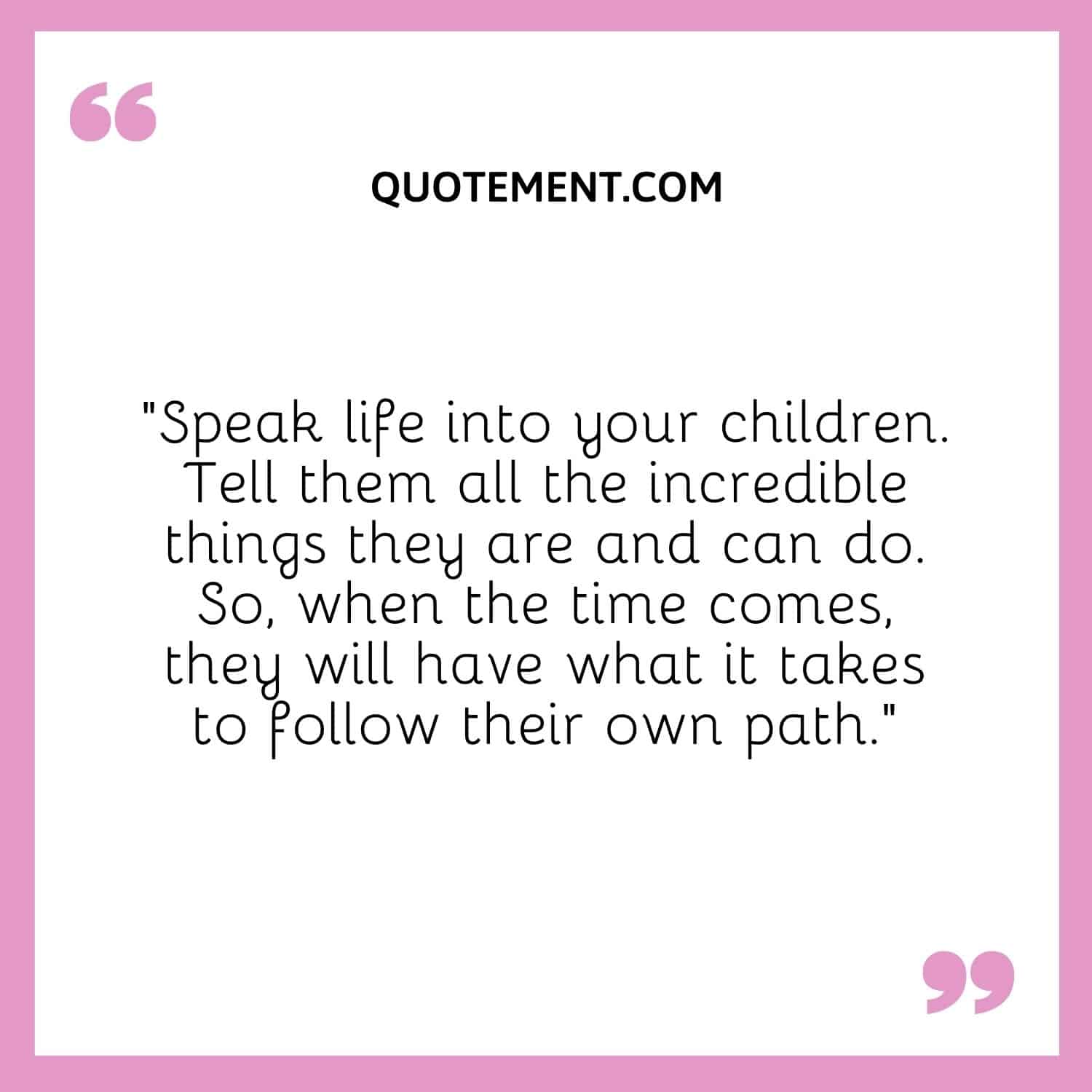 2. "When you are a mother, you are never really alone in your thoughts. A mother always has to think twice, once for herself and once for her child." — Sophia Loren
3. "Having a bond with your child is something money can't buy."
4. "Happiness is when your child comes and hugs you just because."
5. "My mother was my role model before I even knew what that word was."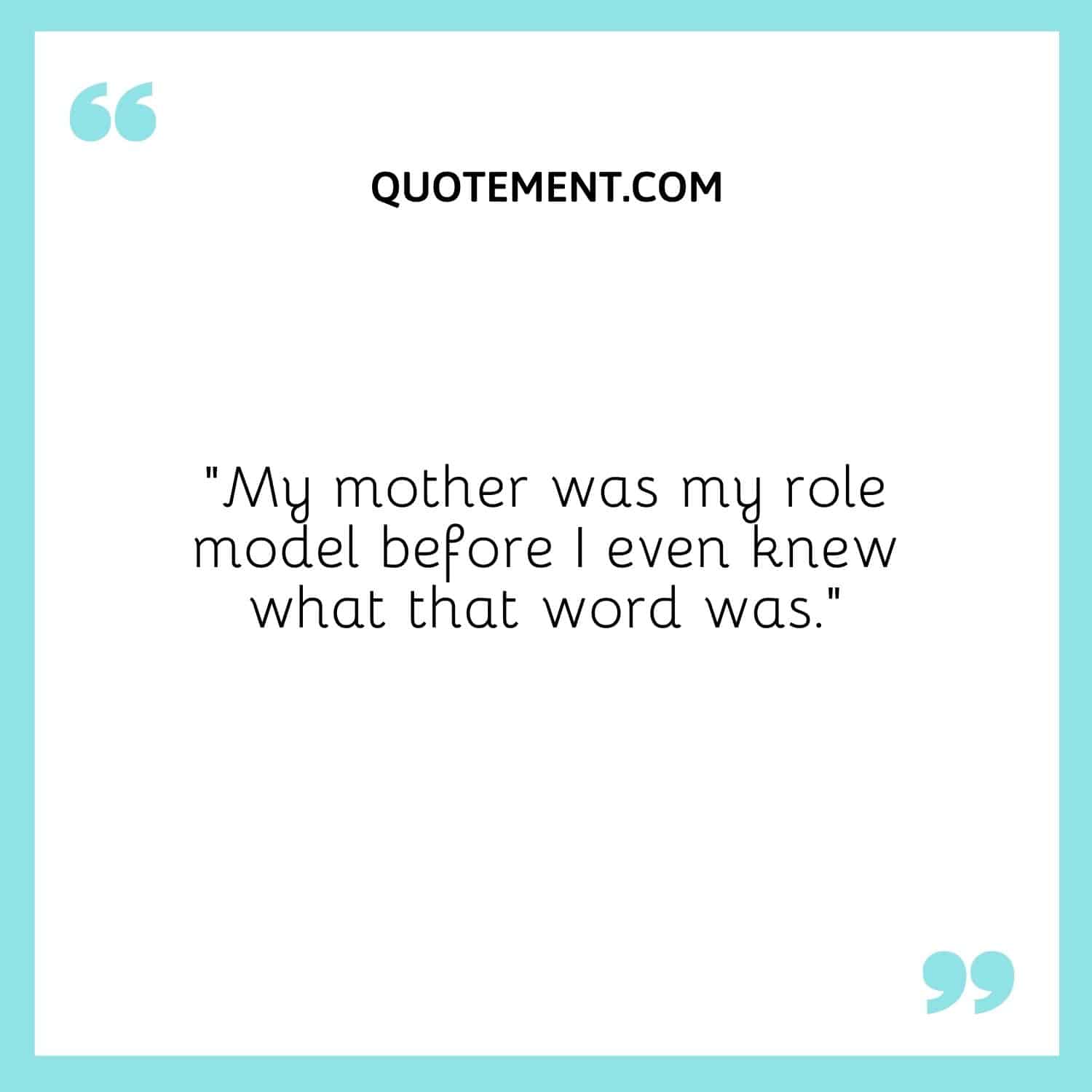 6. "I don't want my children to grow up and think the aim of life is to be rich, to be popular, to be highly educated, or to be perfect. I want them to know life is about being real, being humble, and being kind."
7. "I hold my child to sleep every night. Not because they are spoiled. Not because I'm wrapped around their little finger. Not because I'm being manipulated. I do it because I am their safe place. I do it because I am their mama and they need me to comfort them."
8. "The sweet smell of a baby must be one of the best smells in the whole world."
9. "Never forget when a child gives you a gift, even if it is a flower they have just picked, in their eyes, they are choosing to give you the most precious thing they had to give."
10. "Do you ever look at your child and start smiling? Not because your child did something amazing, just smiling because you realize how blessed you really are."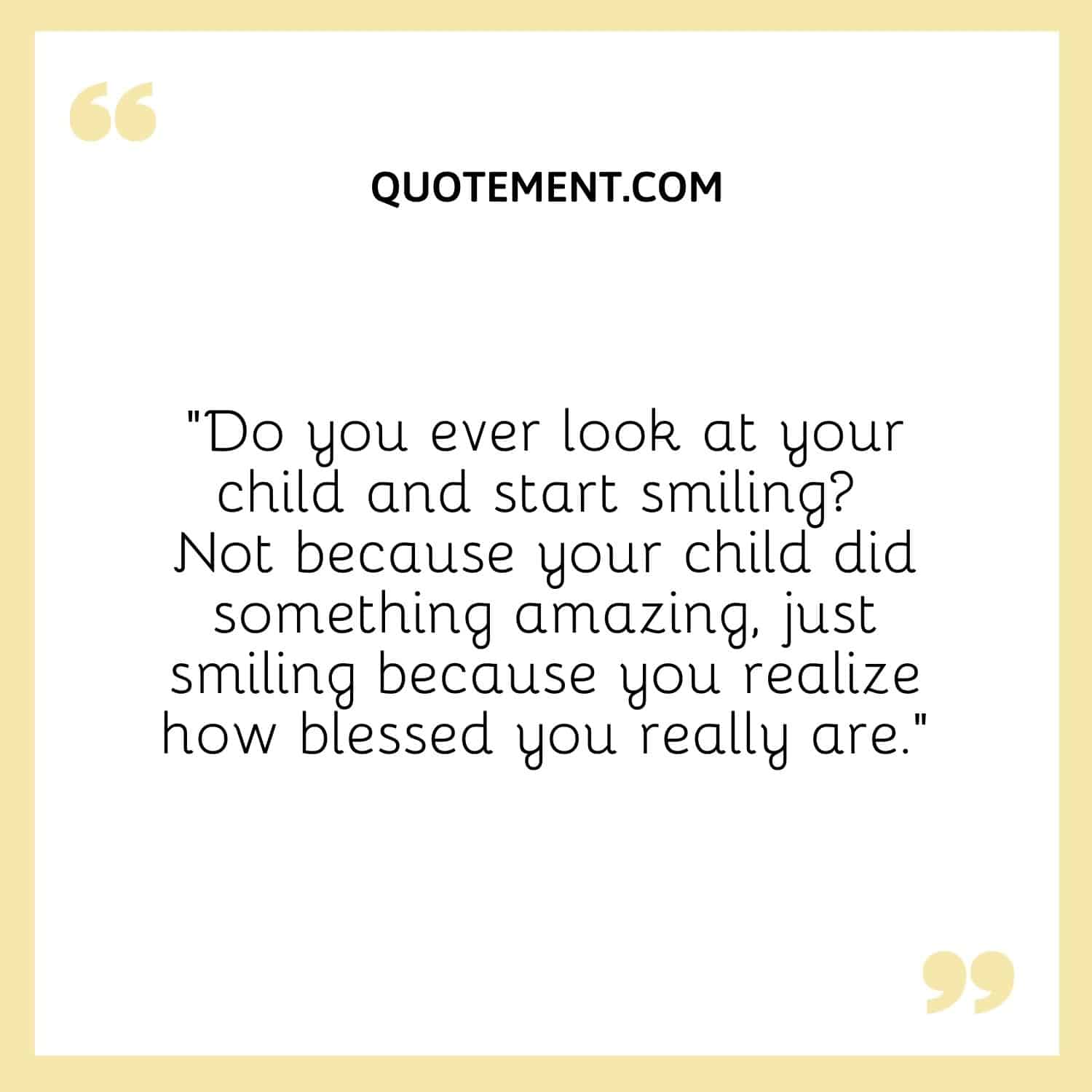 11. "When you feel that first little kick, and hear a heartbeat for the first time you suddenly understand what it means to love someone more than your own life."
12. "You don't have to wait till Mother's Day to celebrate motherhood. These joys of motherhood quotes are perfect little reminders of the ways we enjoy being a mom 365 days of the year."
13. "They won't remember that you were too tired to cook dinner, or that the laundry was always there, or even that you struggled to lose the baby weight (if at all). What they will remember is the laughter as you play together. Reading together in pillow forts. The warm mama hugs as they drift off to sleep. They will remember that you were there, no matter what. And that sweet mama is everything."
14. "Being a mama can be tough, but always remember in the eyes of your child, no one does it better than you."
15. "As a parent, we try our best to teach our children all about life, but really they are the ones teaching us what life is all about."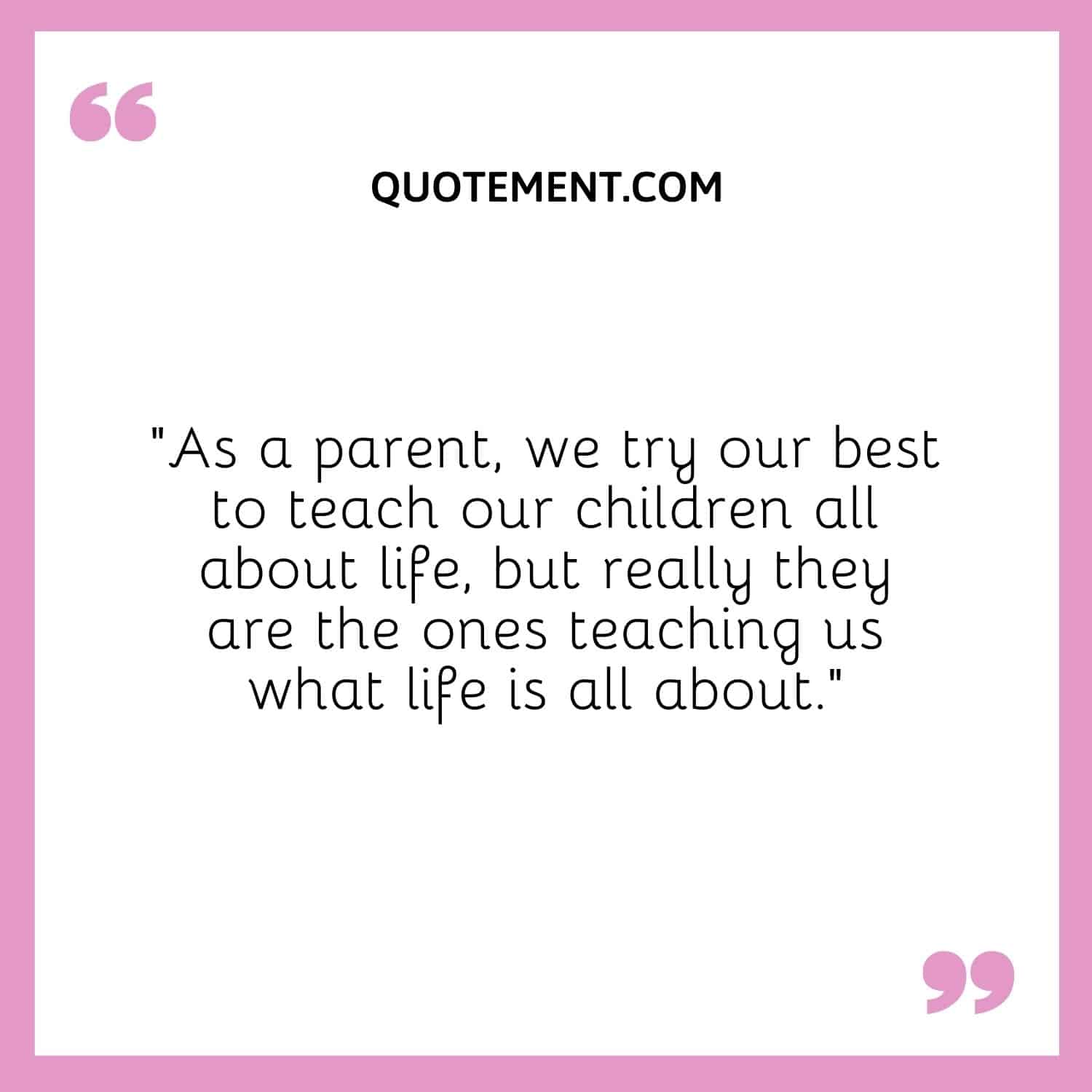 16. "I don't care if my child is academically gifted. I care if they are the one that plays with the lonely child sitting by themselves."
17. "Whenever you're feeling hopeless, hug your child. It's amazing how they remind us our life is always full of love."
18. "It makes me smile knowing that my sweet little baby is half me and half the person I love."
19. "My hope is to raise my children so that they love themselves so fiercely that they refuse to settle for anything less than they deserve."
20. "Teach your kids that being the smartest or the coolest or the something else 'est' will only take them so far. But being kind and generous and going out of their way to help others will matter literally in every aspect of their lives for as long as they live."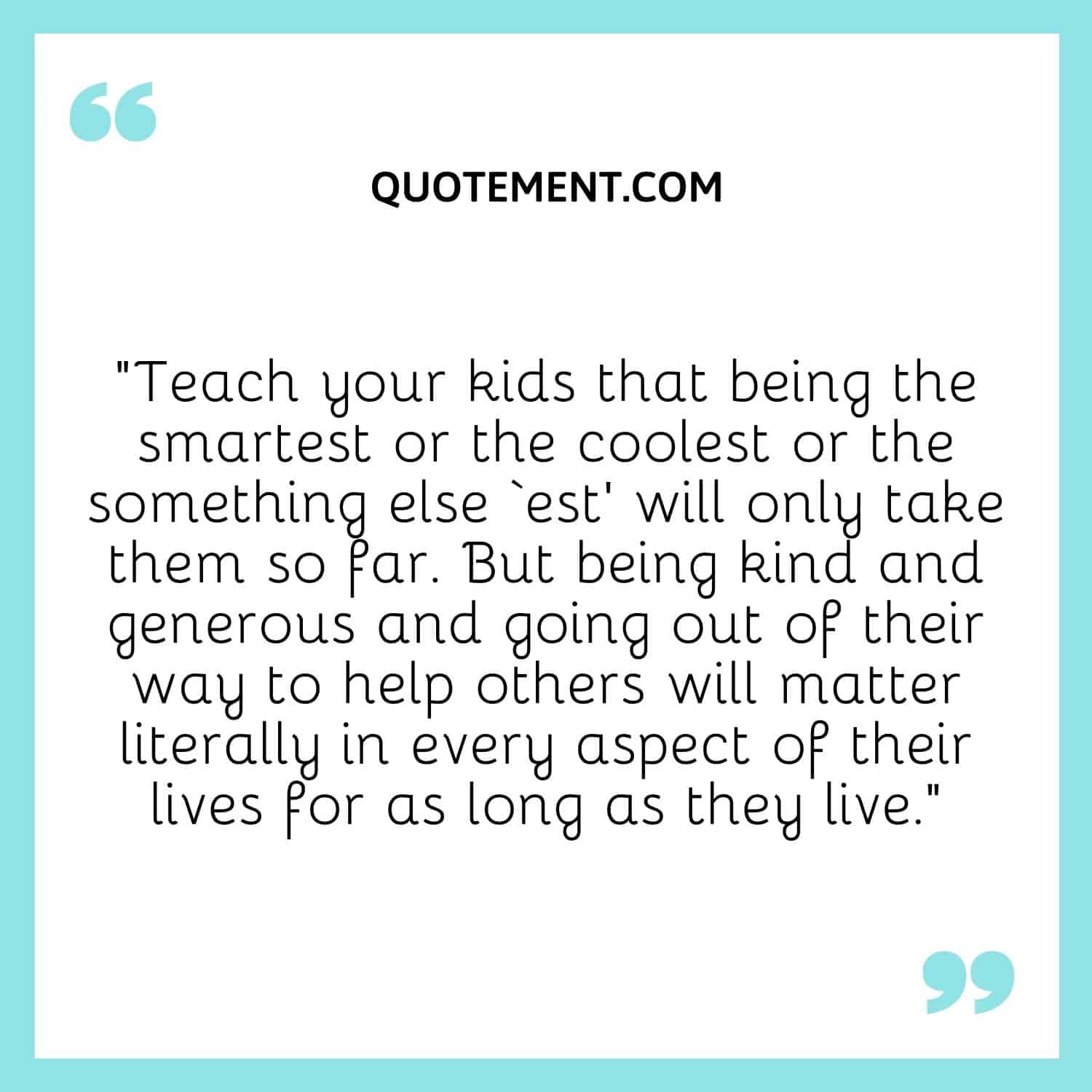 21. "A child is going to remember who was there, not what was spent on them. Kids outgrow toys and outfits, but they never outgrow time and love."
22. "No one prepared me for just how much love I would have for my child."
23. "No matter how old my child gets, I still check in on them while they are sleeping."
24. "Motherhood is so much simpler when you stop explaining yourself to others and just do what works for you and your family."
25. "Motherhood is a choice you make every day, to put someone else's happiness and well-being ahead of your own, to teach the hard lessons, to do the right thing even when you're not sure what the right thing is…and to forgive yourself, over and over again, for doing everything wrong." — Donna Ball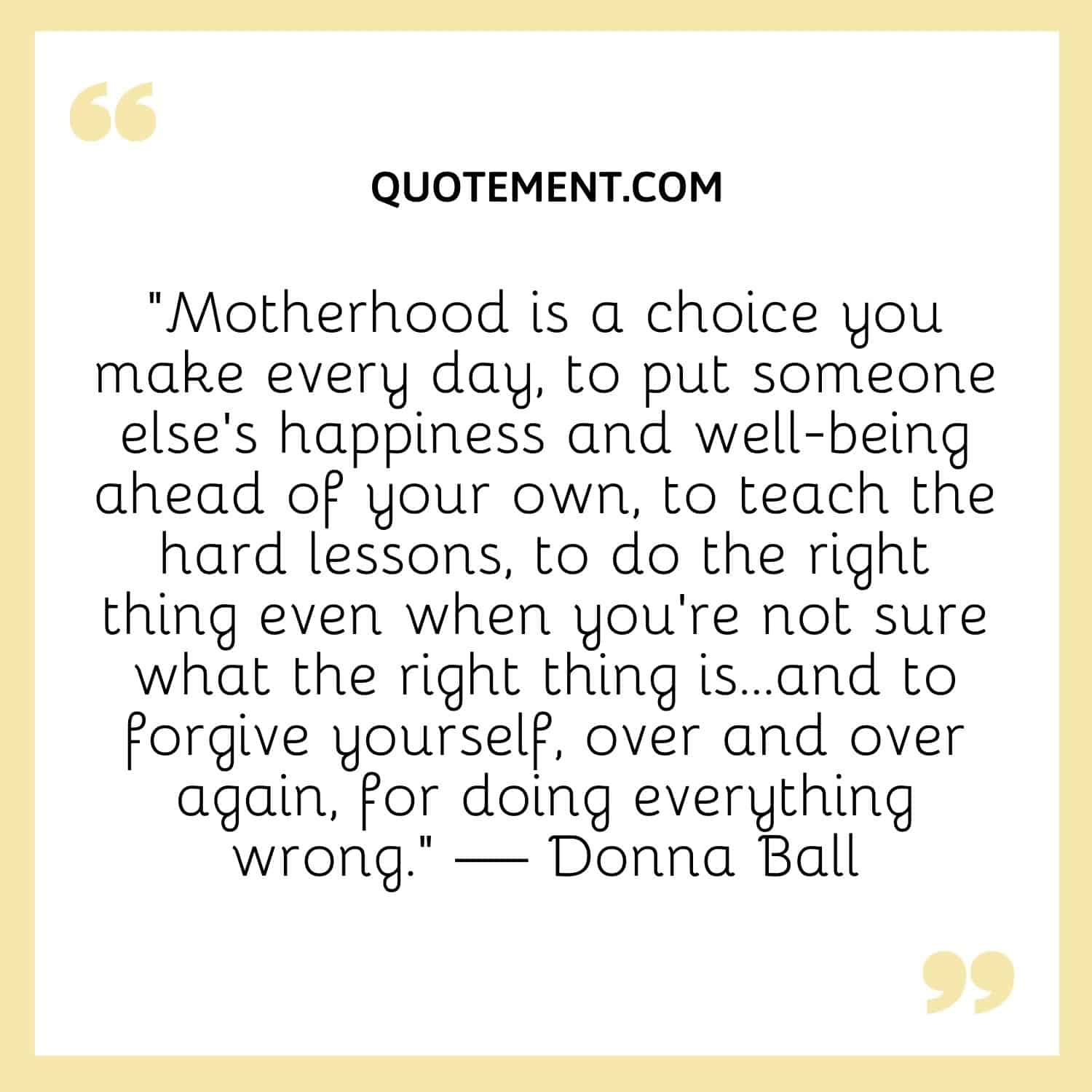 26. "When your child has a hard day, they don't ask, 'can we talk?' instead they ask, 'will you come play with me?'"
27. "Compassion is like mother giving love to her children. Mother's ways are higher than others, even when everyone rejects, mother accepts with her arms open and wide." — Amit Ray
28. "The most magical day of my life was the day I became a mother."
29. "Sometimes the only way to get over the sadness of your kids growing up is to rest in the beauty of the people they are becoming."
30. "One day, all your children will have is photos of you. So make sure you are in them. No matter what your hair, makeup, or body looks like…they won't care. They'll just want to see you and the love that you have for them."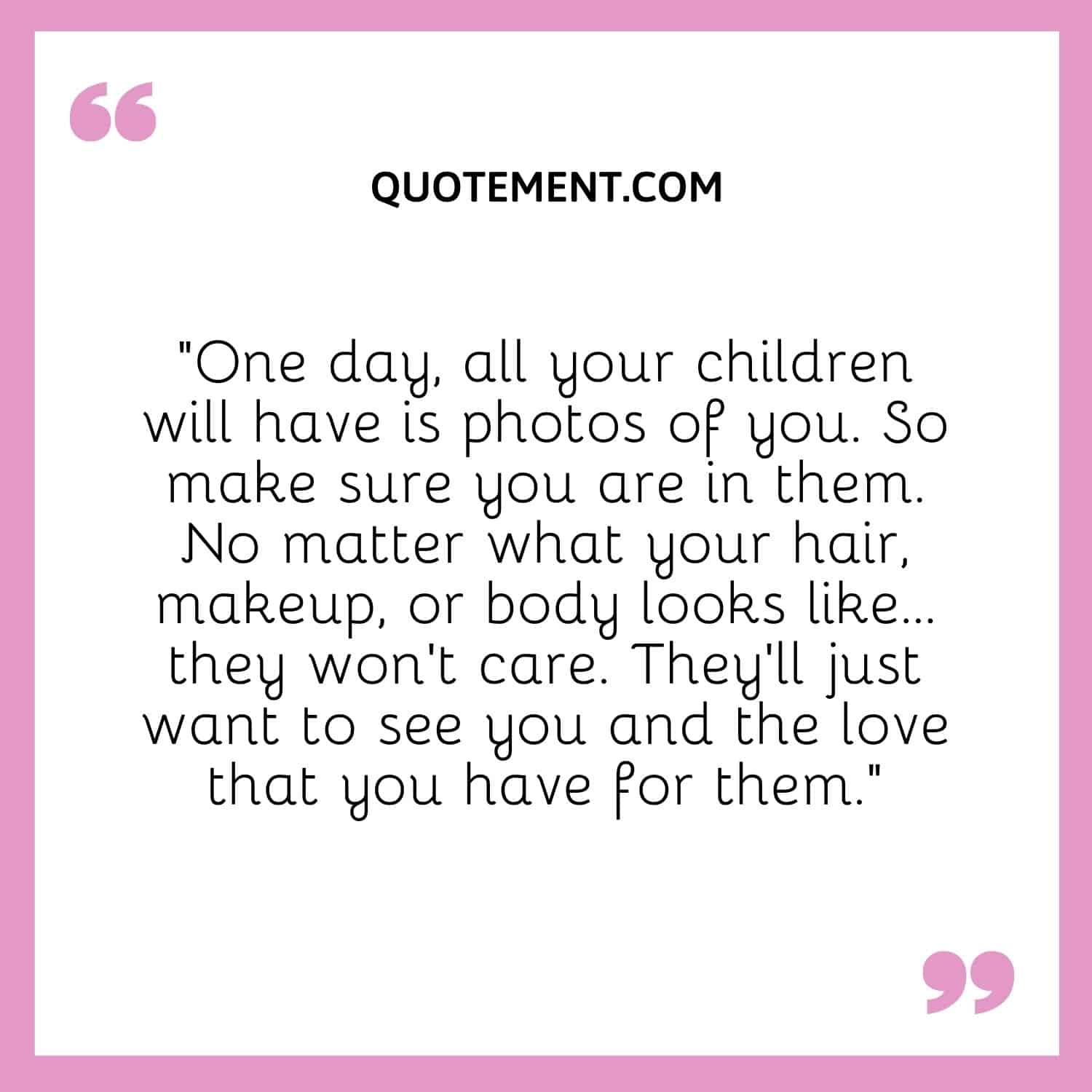 31. "My children don't even know that I need them more than they need me."
32. "Hold on to the tiny moments and cherish the little things. They grow up so fast."
33. "Having children just puts the whole world into perspective. Everything else just disappears." — Kate Winslet
34. "I will always delight in my children's existence. I will be the one who thinks the sun rises and sets on them and loves them unconditionally. Forever and always."
35. "Being a mama isn't easy, but it is definitely the best job anyone could ever have."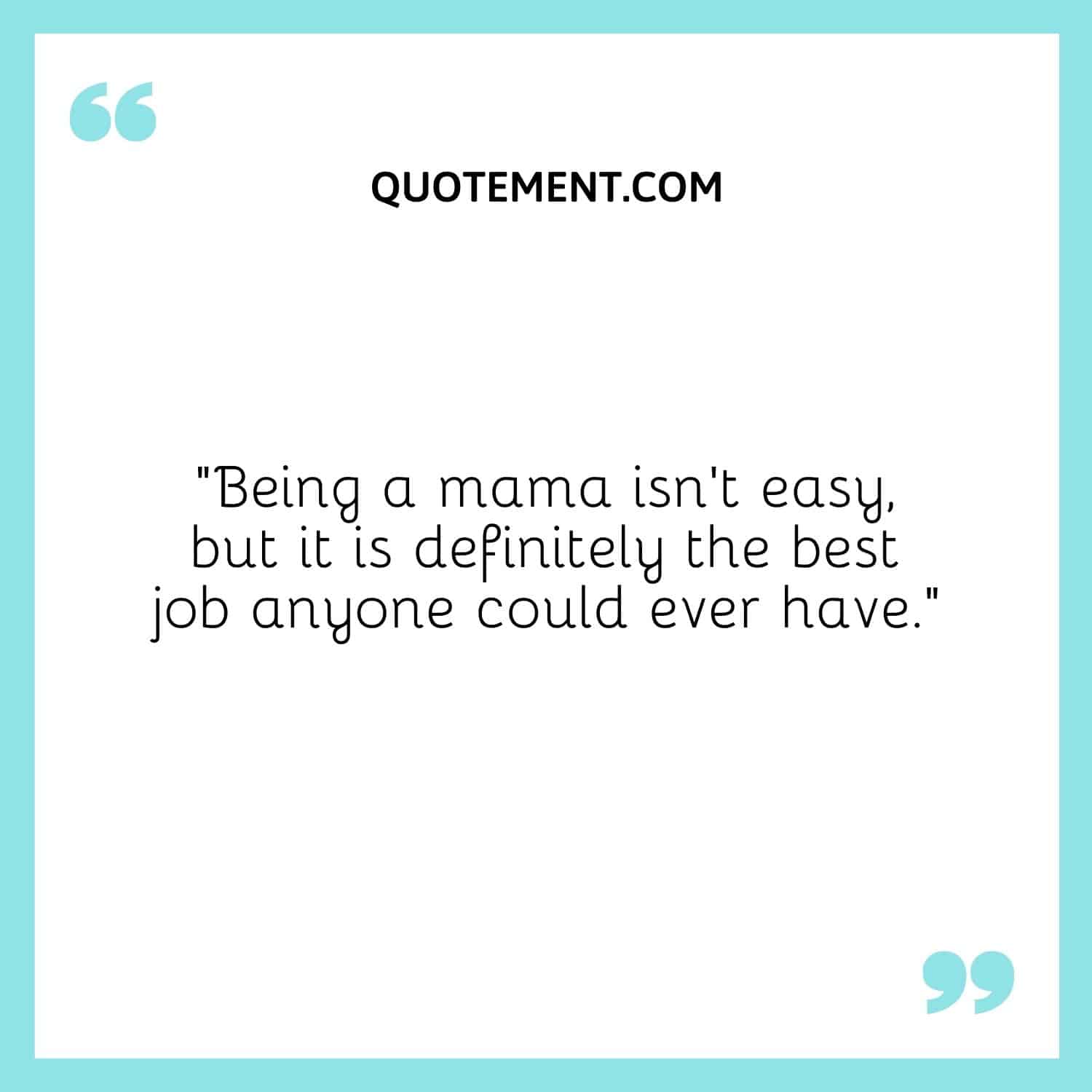 36. "Even when my soul is tired, I will always find strength for my children."
37. "The family you come from is important, but the family you start is your number one priority."
38. "I've carried a child within my body. I've slept with them on my chest. I've kissed toes and wiped away tears. I've been vomited on, peed on, and spent sleepless nights cradling my child. But I wouldn't have it any other way. My body isn't magazine perfect but when I look in the mirror, I see a mama. And there is no greater honor, love, or blessing."
39. "I just want to be the best mama I can be."
40. "One good mother is worth a hundred schoolmasters." — George Herbert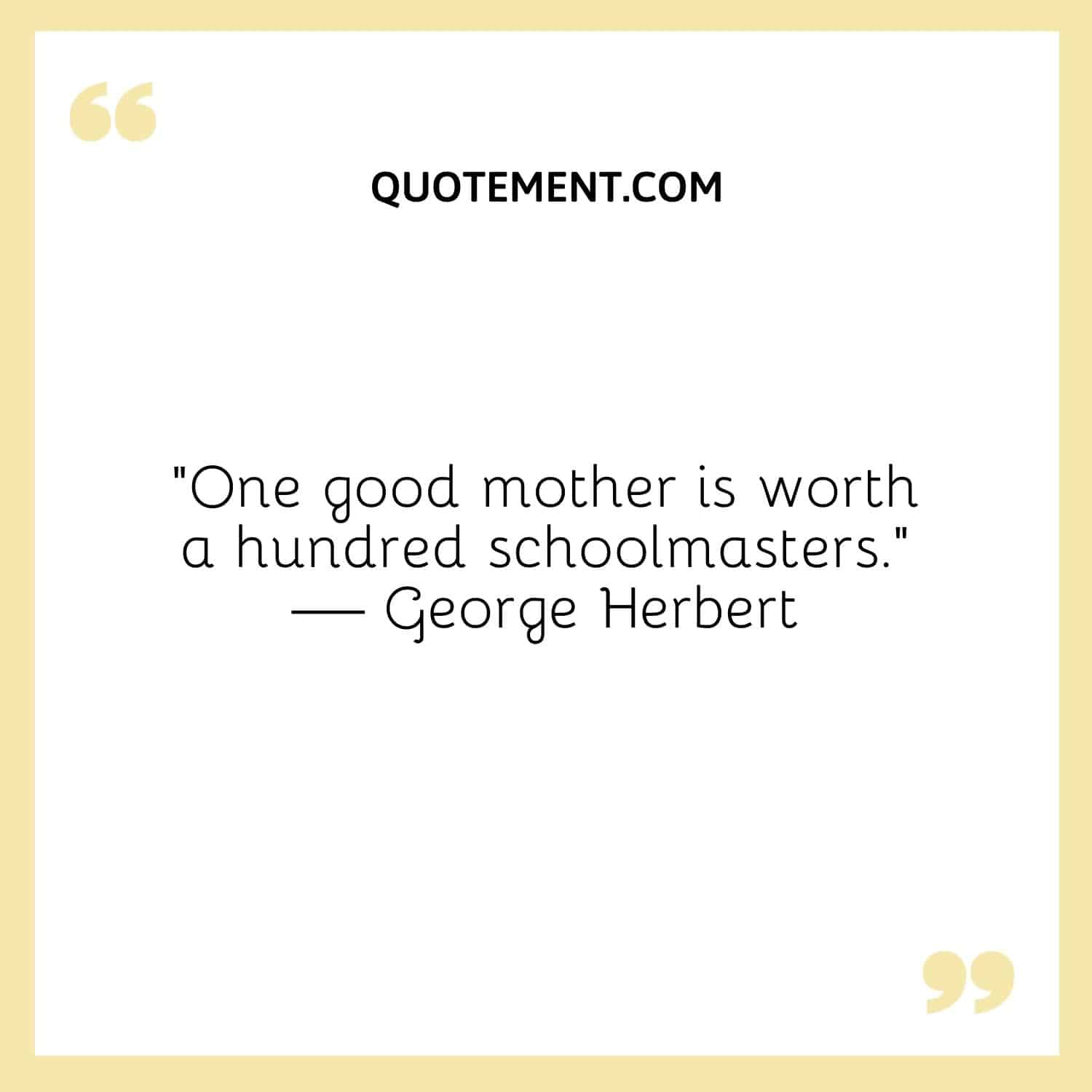 Mom Quotes To Encourage You
Here are some more inspirational quotes to help you paint the picture of mother and child love and lift you up along the way.
1. "Motherhood is amazing. And then it is really hard. And then it is incredible. And then it is everything in between. So, hold onto the good, breathe through the bad, and welcome the wildest and most wonderful ride of your life."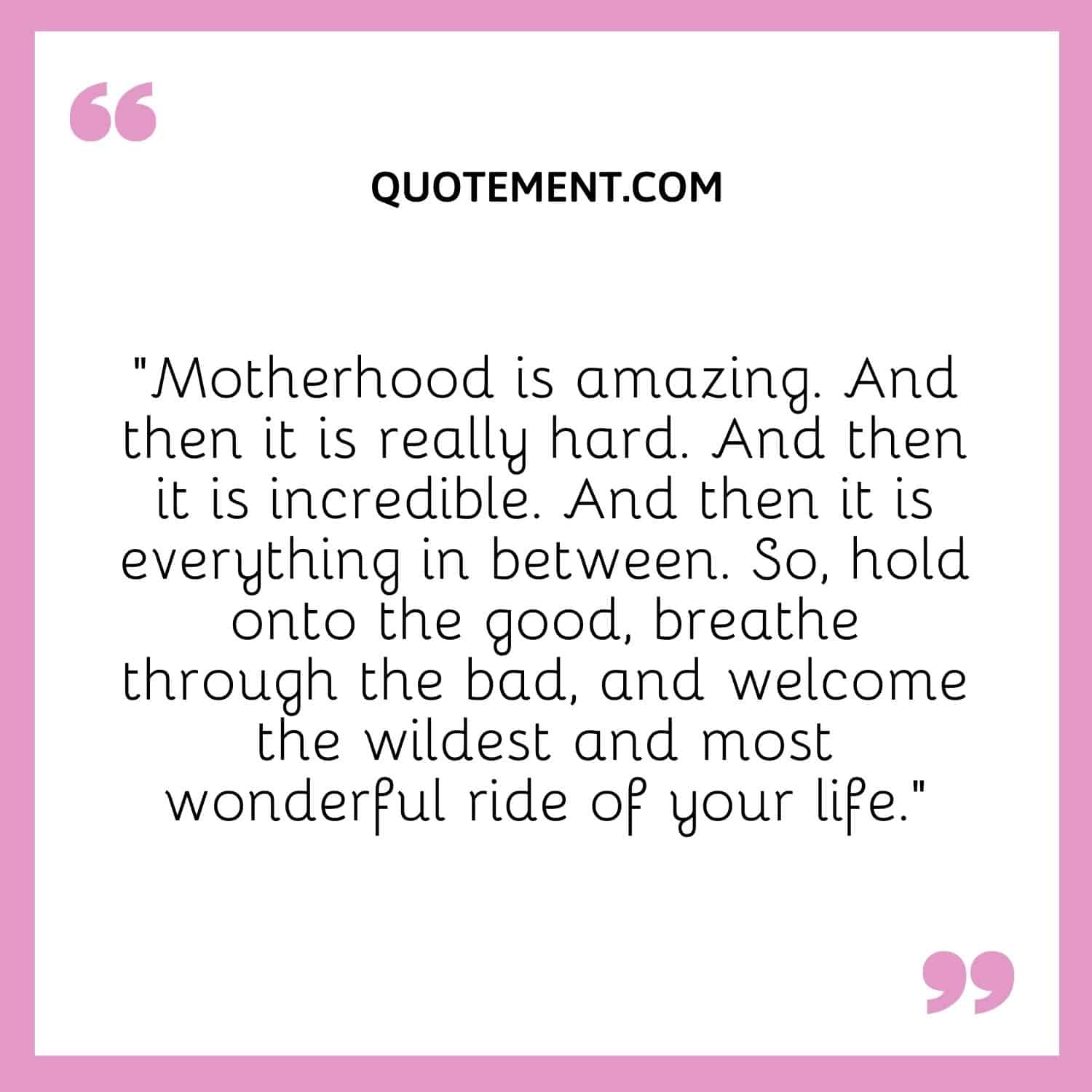 2. "From the moment I became a mother, my purpose has been to love and protect my children with everything I have."
3. "Nothing in life is more important to me than my family."
4. "I see you there mama, trying your best. I see you showing up each day, even though you feel exhausted. I see you making tough choices for your family even when you're not sure if they are right. I see you working tirelessly, even when it seems never-ending. I see you doing an amazing job, even though you doubt yourself. I see you mama, and you are more than enough."
5. "My house is filled with toys, has fingerprints on everything, and is never quiet. My hair is usually a mess and I am always tired, but there is always love and laughter. In 20 years, my kids won't remember the house or my hair, but they will remember the quality time we spent together and the love they felt."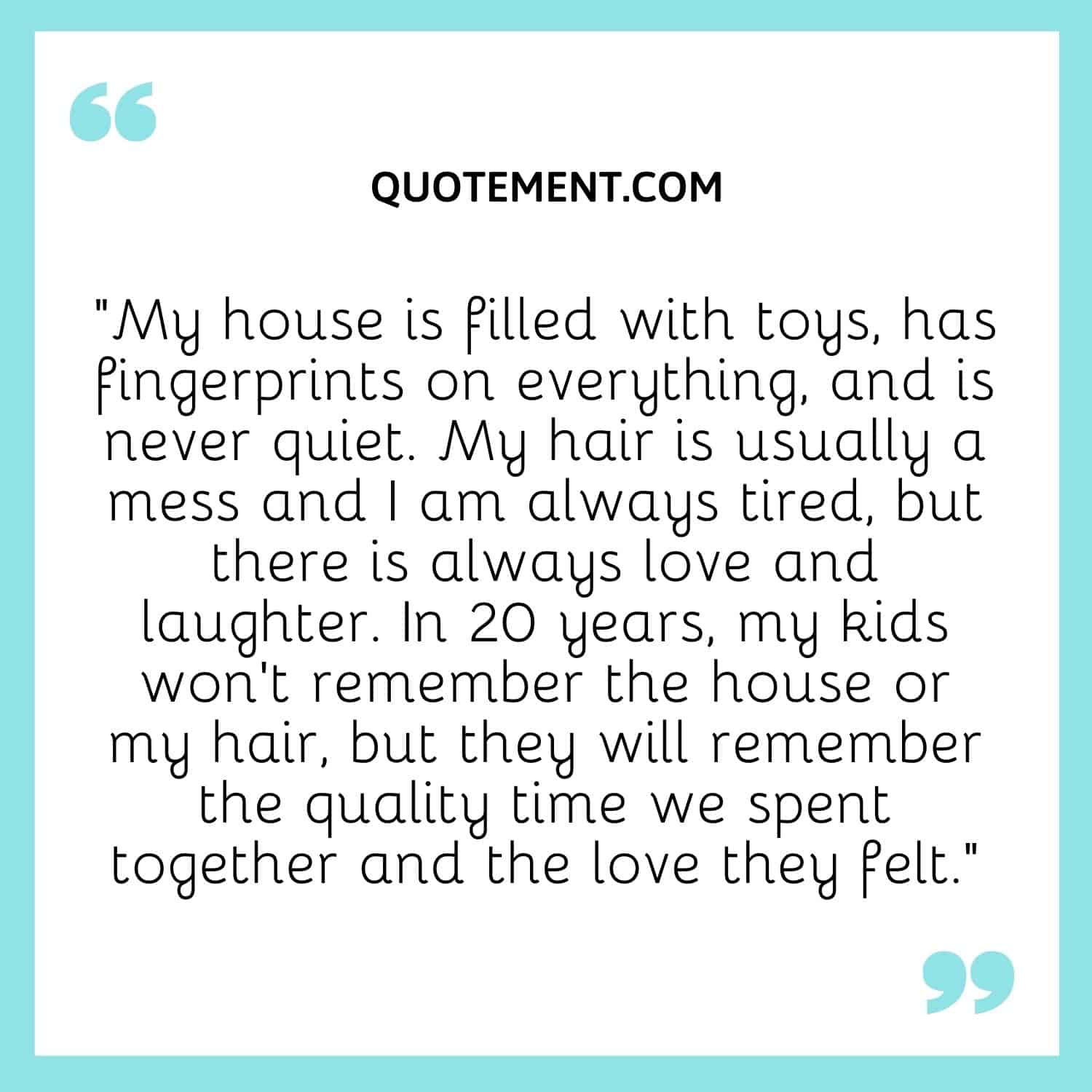 6. "What an honor it is to be a tiny somebody's everything."
7. "Call your mother. Tell her you love her. Remember, you're the only person who knows what her heart sounds like from the inside." — Rachel Wolchin
8. "Behind every young child who believes in themselves is a mama who believed first."
9. "I wouldn't change my children for the world, but I wish I could change the world for my children."
10. "Someday you will wake up and your house will be clean, but your babies will be all grown up and on their own. Enjoy the mess and your kids. They are only babies once."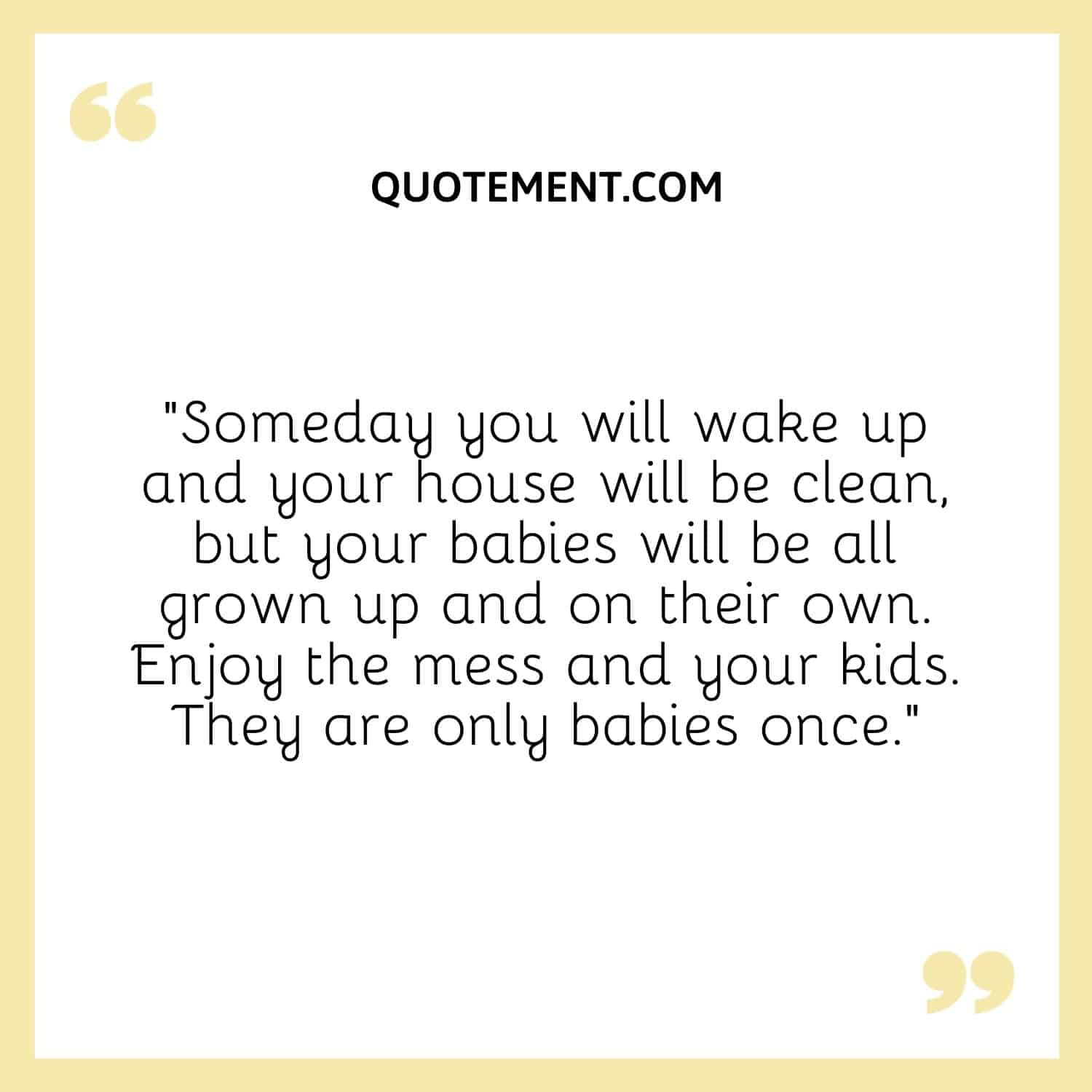 11. "Kids don't need a perfect mama. They need a happy one."
12. "Motherhood is magical. It grants you the power to fall in love with someone before ever meeting them. It gives you amazing instincts to look after your cubs. It fuels you in ways you can't explain to keep you going no matter how exhausted you are. And it expands your heart and fills it with more love than you have ever felt."
13. "If you're worried about being a good mother, it means you already are one."
14. "My child may not have everything they want in life, but they have a mama that loves them more than anything in the world."
15. "Having a child fall asleep in your arms is one of the sweetest and most peaceful feelings in the world."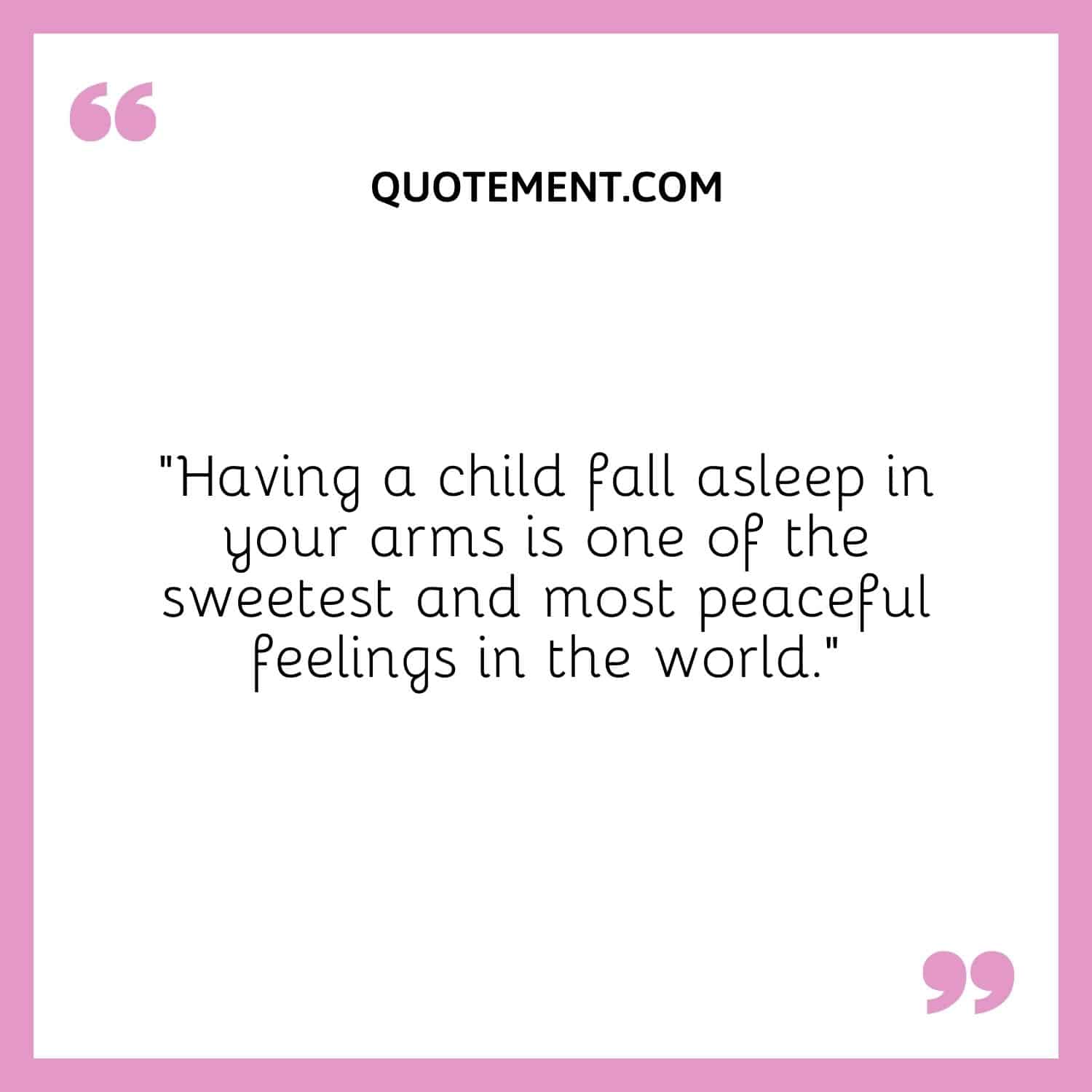 16. "I asked God for a life full of love and happiness. He sent it to my family."
17. "No one ever looks back at the end of their life and thinks 'I spent too much time with my kids."
18. "I think the best part of being a mom is when your little one looks up at you and just smiles and stares because they know you are their person. Like nobody else is as important as you. They know that you have them like nobody else ever will. The connection is indescribable."
19. "You don't need to win a Nobel prize to be changing the world, you just need to go home and love your family."
20. "Your time with your kids is so precious. Please don't take it for granted."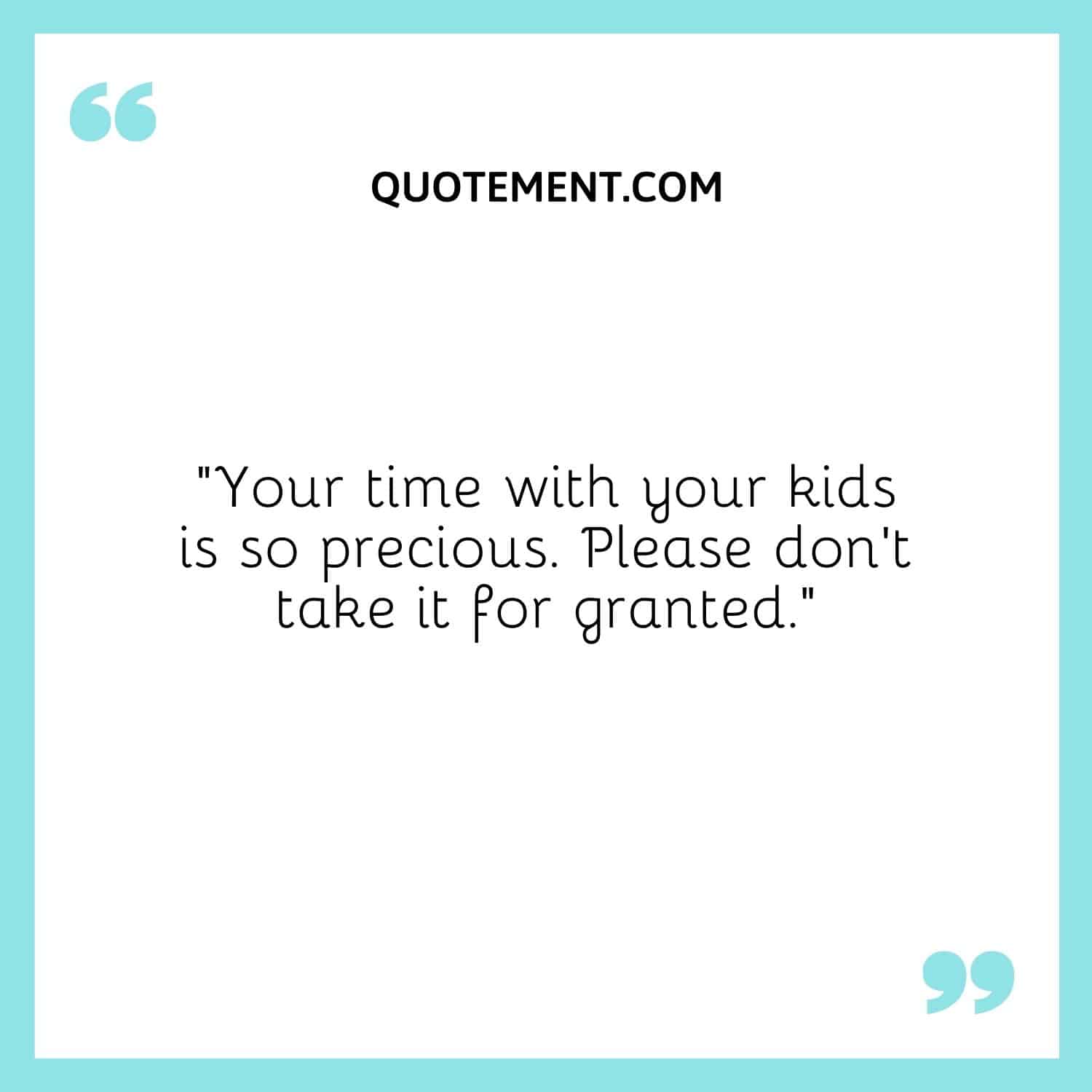 21. "As a mama, I'm only ever going to be in 1 of 3 places. In front of my kids cheering them on, behind them to have their back, or beside them so they never have to walk alone."
22. "I will be your biggest fan. I will be your protector. I will always defend you. I will be your teacher. I will be your friend. I will be your confidant. I will always be proud of you. I will love you unconditionally because forever and always I will be your mama."
23. "Your little family is the best team you could ever have."
24. "Do you ever just look at your child and literally feel your heart melting because you love them so much."
25. "I never want my kids to mess up and think 'mom is going to kill me.' I want their first thought to be 'I need to call my mom.'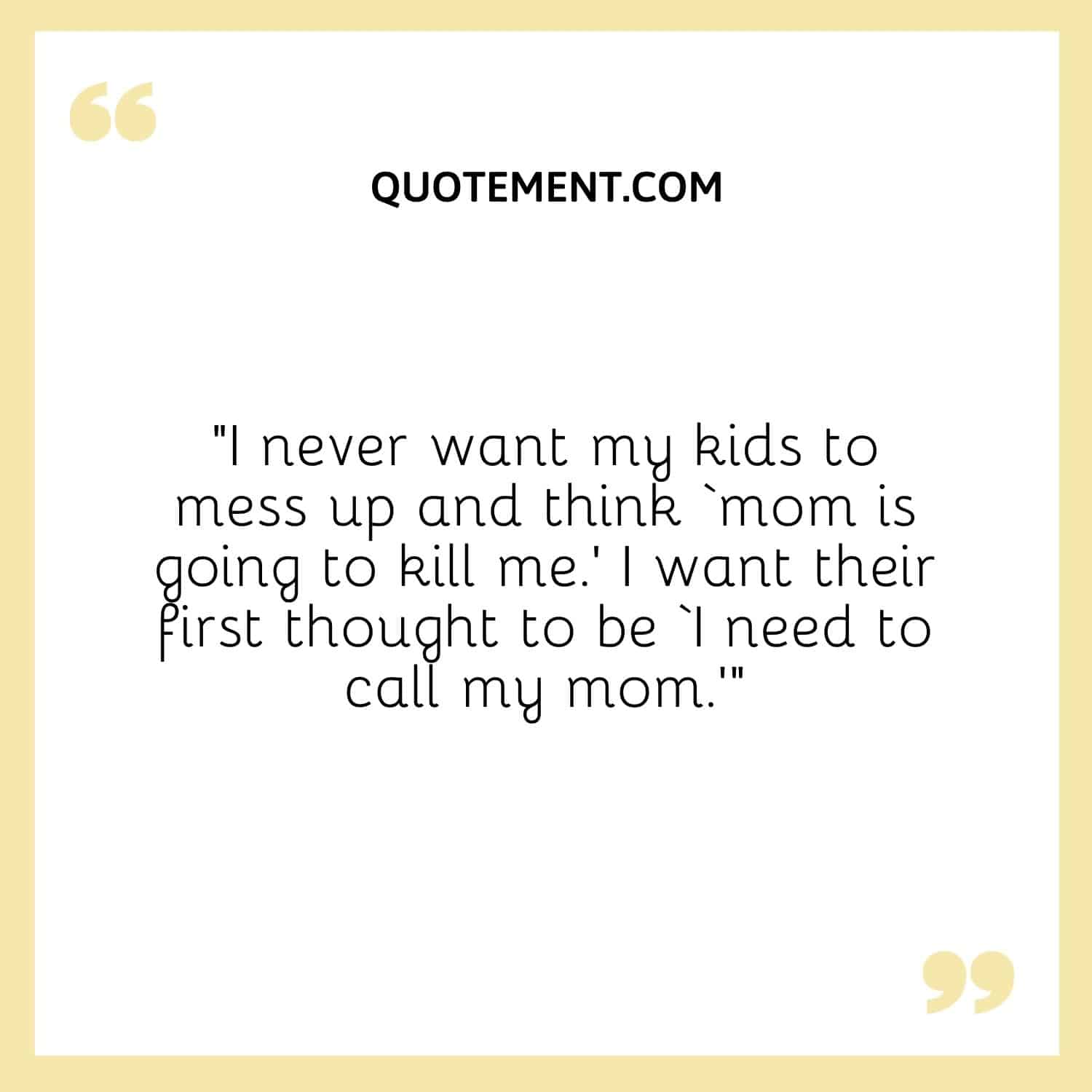 26. "As a mama, I'm not perfect. I make mistakes. I forget things. I lose my cool. And some days I go a little crazy. But, it's okay because, in the end, no one could ever love my child the way I do."
27. "A child is the most beautiful gift this world has to give."
28. "I go constantly between wanting you to stay my little baby forever, and being excited about all the amazing things you'll do in this life."
29. "To the mama who hasn't felt like herself lately, I know how difficult it is when you catch yourself not being you. Be patient, your sparkle will return again and you will shine again."
30. "I don't want my children to follow in my footsteps. I want them to take the path next to me and go further than I could have ever dreamt possible."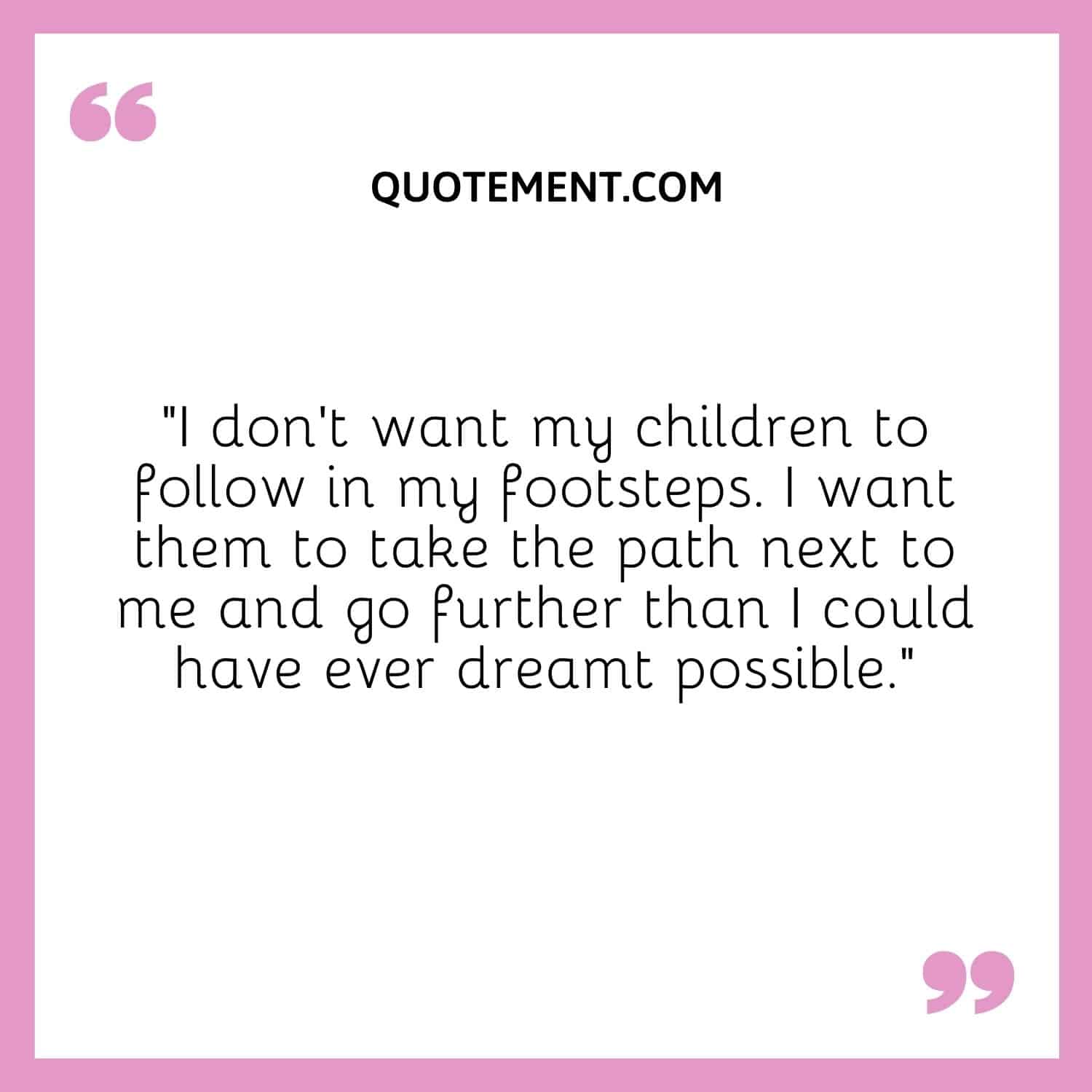 31. "Being a mama isn't always easy. The sleepless nights, the constant worry, the endless piles of washing. But no matter hard it feels, I will always show up for my children. I will always try my best. Because from the very first moment I held them in my arms, I knew my job was to protect and love them with all my might."
32. "My biggest accomplishment will never be money. It will be who I raised."
33. "It's ok to have strengths and weaknesses as a mama. Some mamas play games, others listen well, some cook with love, and others are great encouragers. We don't have to be everything, every day to our kids. We just need to show up and love them hard."
34. "My goal is to raise my children to have the courage to be whoever they want to be."
35. "Nothing in life will ever make you as happy, as sad, as exhausted, or as incredibly proud as motherhood."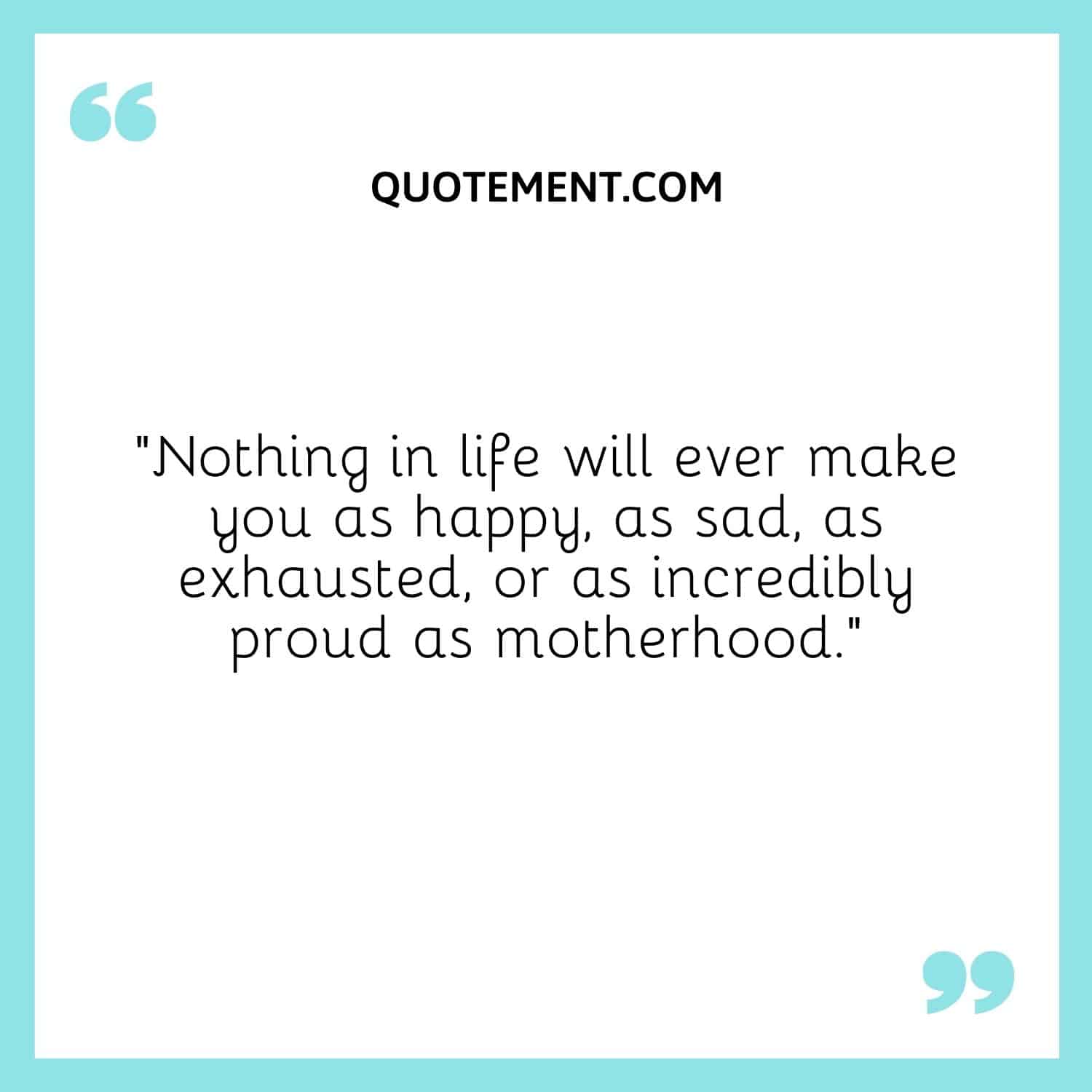 See also: 130 Inspiring Proud Momma Quotes That Will Impress You
36. "You'll never have this day with your children again. Tomorrow they'll be a little older than they were today. This day is a gift. Just breathe, notice, and study their faces. Pay attention. Relish the charms of the present. Enjoy today, it will be over before you know it."
37. "You won't know it's the last time until it doesn't happen again. The last time they ask to be picked up. The last time they need help pouring their drink. The last time they ask to hold your hand or snuggle on the couch. So try to treat each moment as if it's the last time because once it stops and you realize those moments are over, they will surely be missed."
38. "I'm going to teach my children to reach for the stars, but I'm going to make sure they know I will love them regardless of where they land."
39. "Grown don't mean nothing to a mother. A child is a child. They get bigger, older, but grown. In my heart it don't mean a thing." — Toni Morrison
40. "The influence of a mother in the lives of her children is beyond calculation." — James E. Faust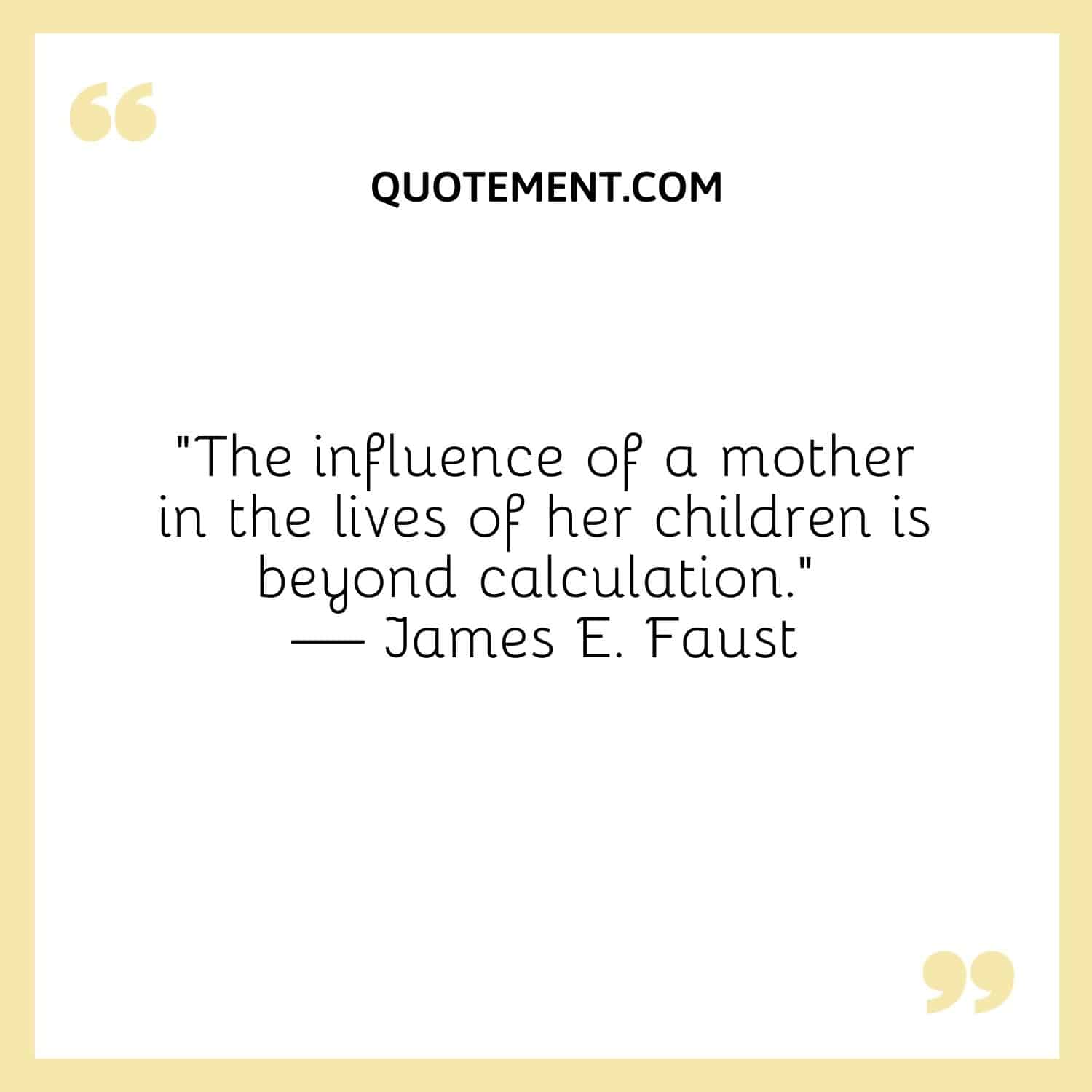 Final Words
Those were some really nice bond between mother and child quotes!
Hopefully, you liked them and found them relatable.
Which mother and child quote is your favorite? Let me know in the comments below.
Until next time!
Read next: 100 Most Emotional Missing Out On Your Child's Life Quotes