Stepping into the world of motherhood is an adventure like no other, and for those of us raising boys, it's a rollercoaster of joy, chaos, and endless love.
Yes, raising boys deserves a unique badge of honor, and here are some great boy mom quotes to prove that!
10 Most Beautiful Boy Mom Quotes
1. "Heaven on earth is looking at my little boy. The minute he was born, I knew if I never did anything other than being a mom, I'd be fine." — Jenny McCarthy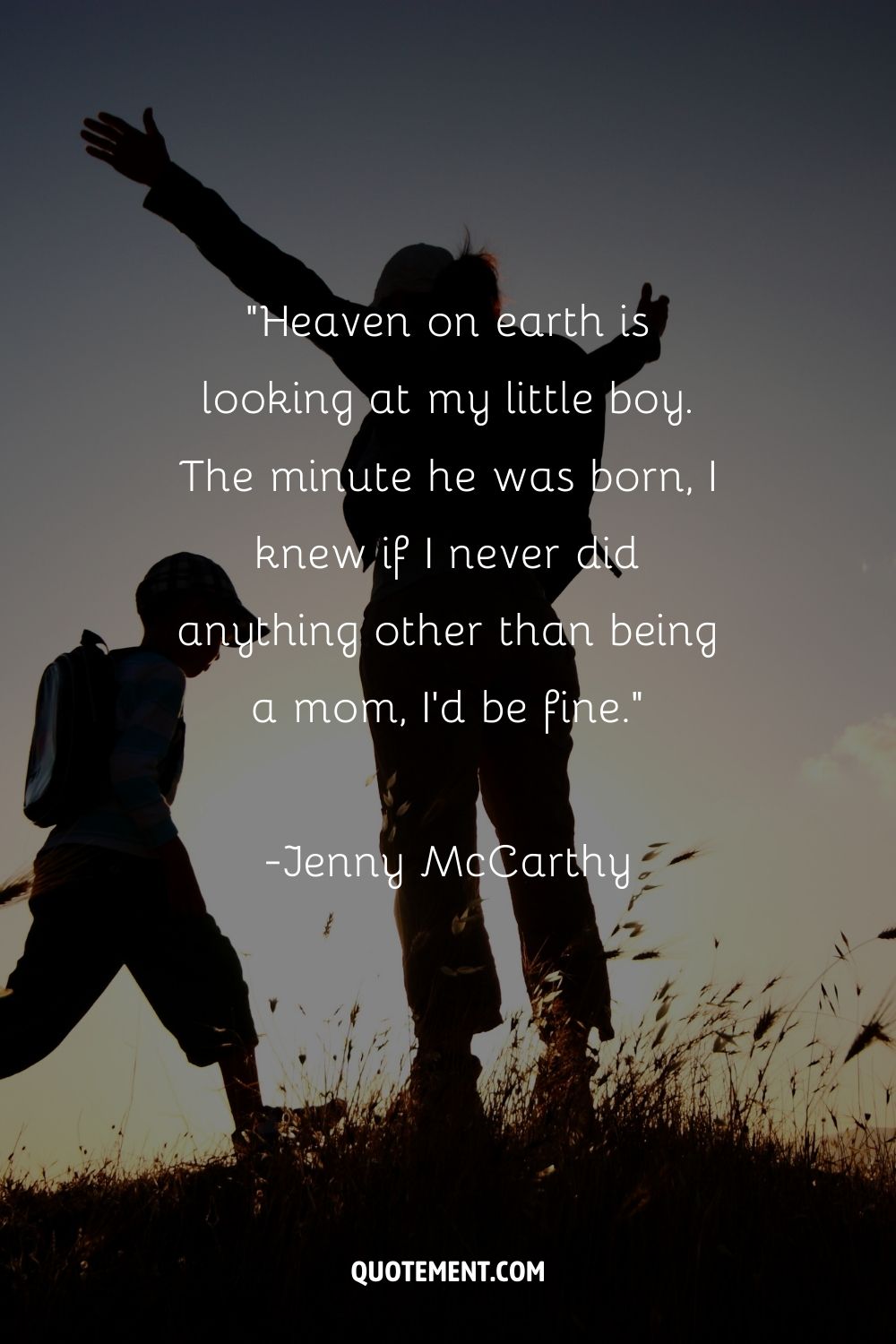 2. "I am a boy mom, and I keep my eyes on the goal: raising the boy I love into a man who will make this world a better place." — Monica Swanson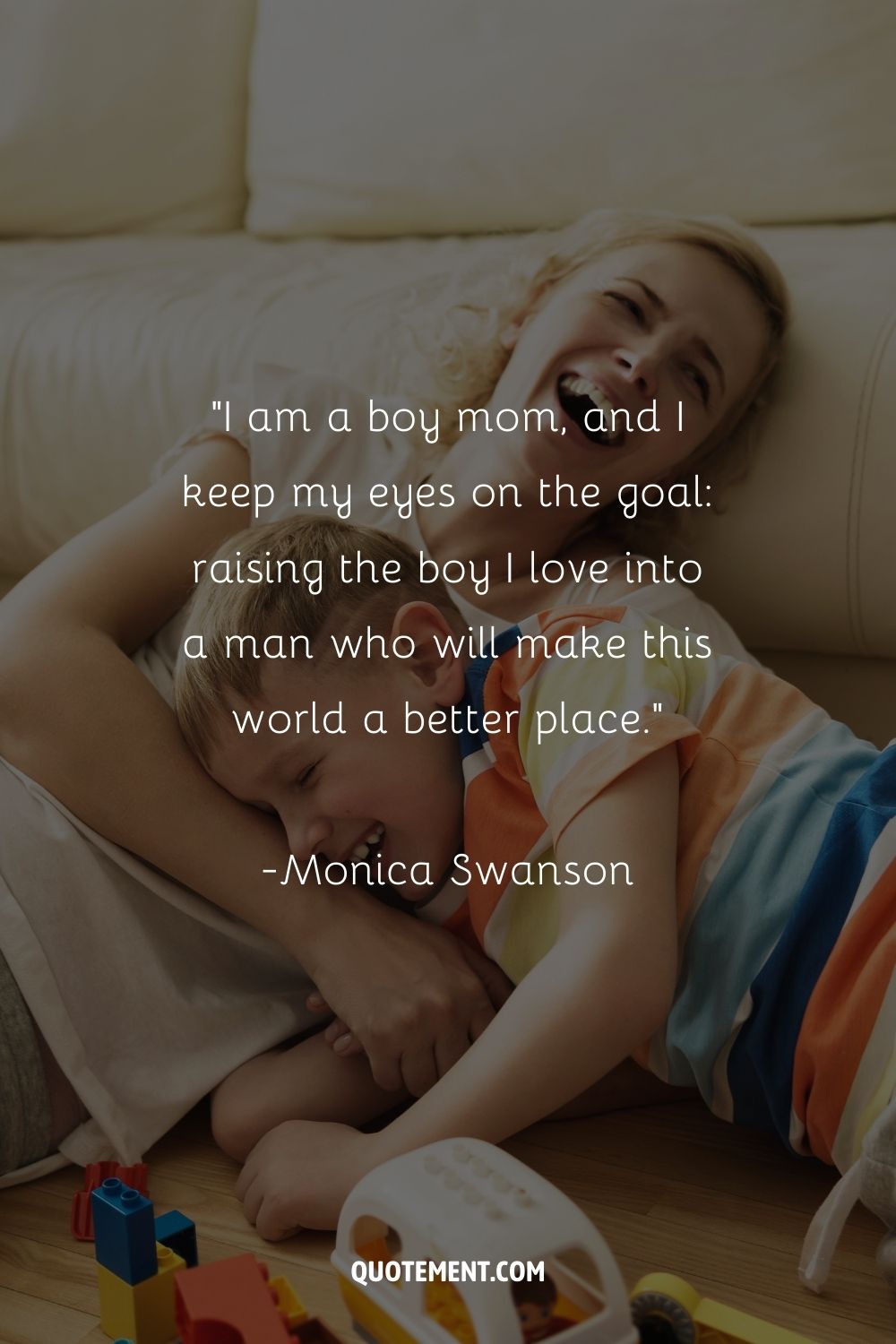 3. "Sons are the anchors of a mother's life." — Sophocles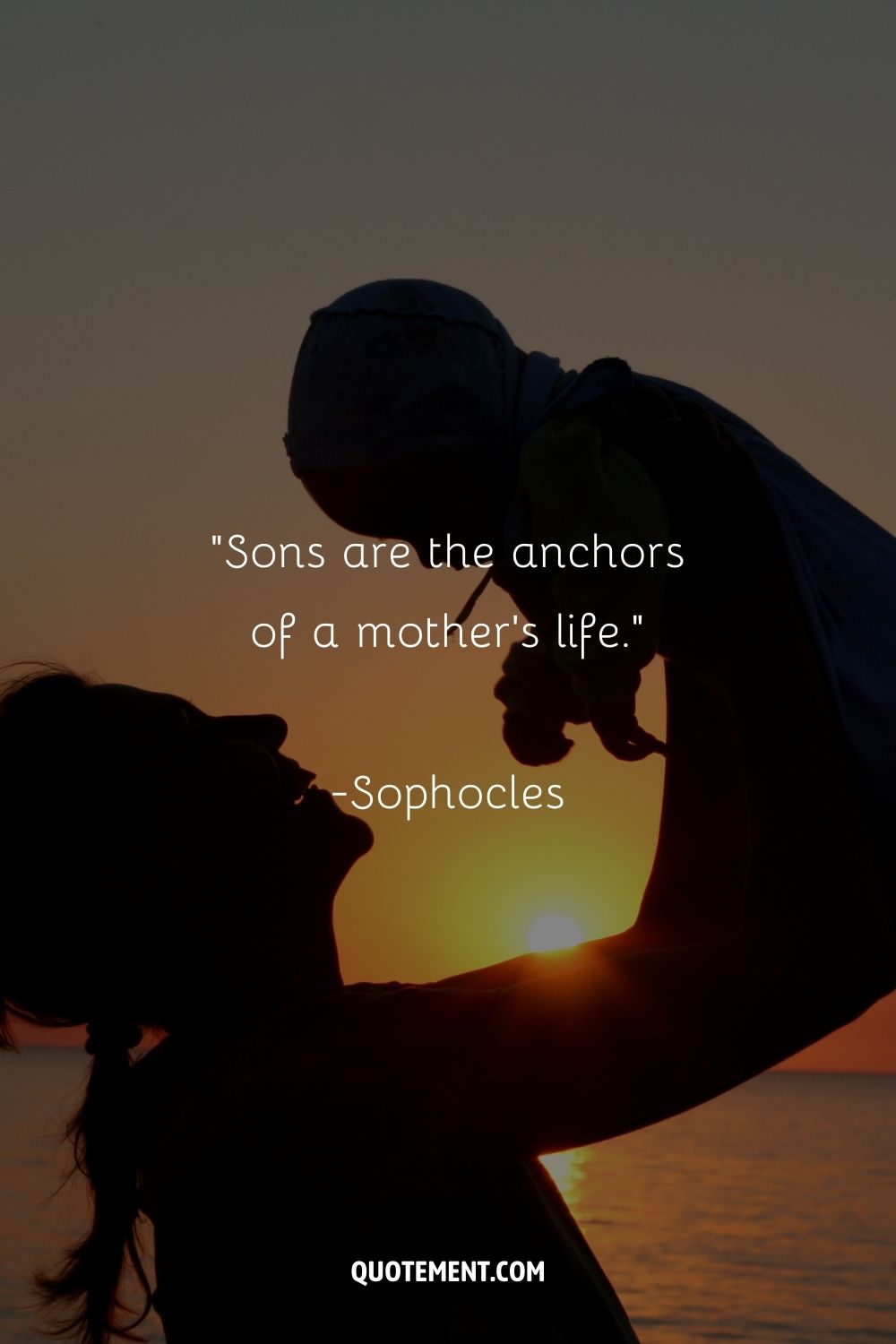 4. "Maternal love is perhaps the most powerful, positive influence on a son's development and life." — Cheri Fuller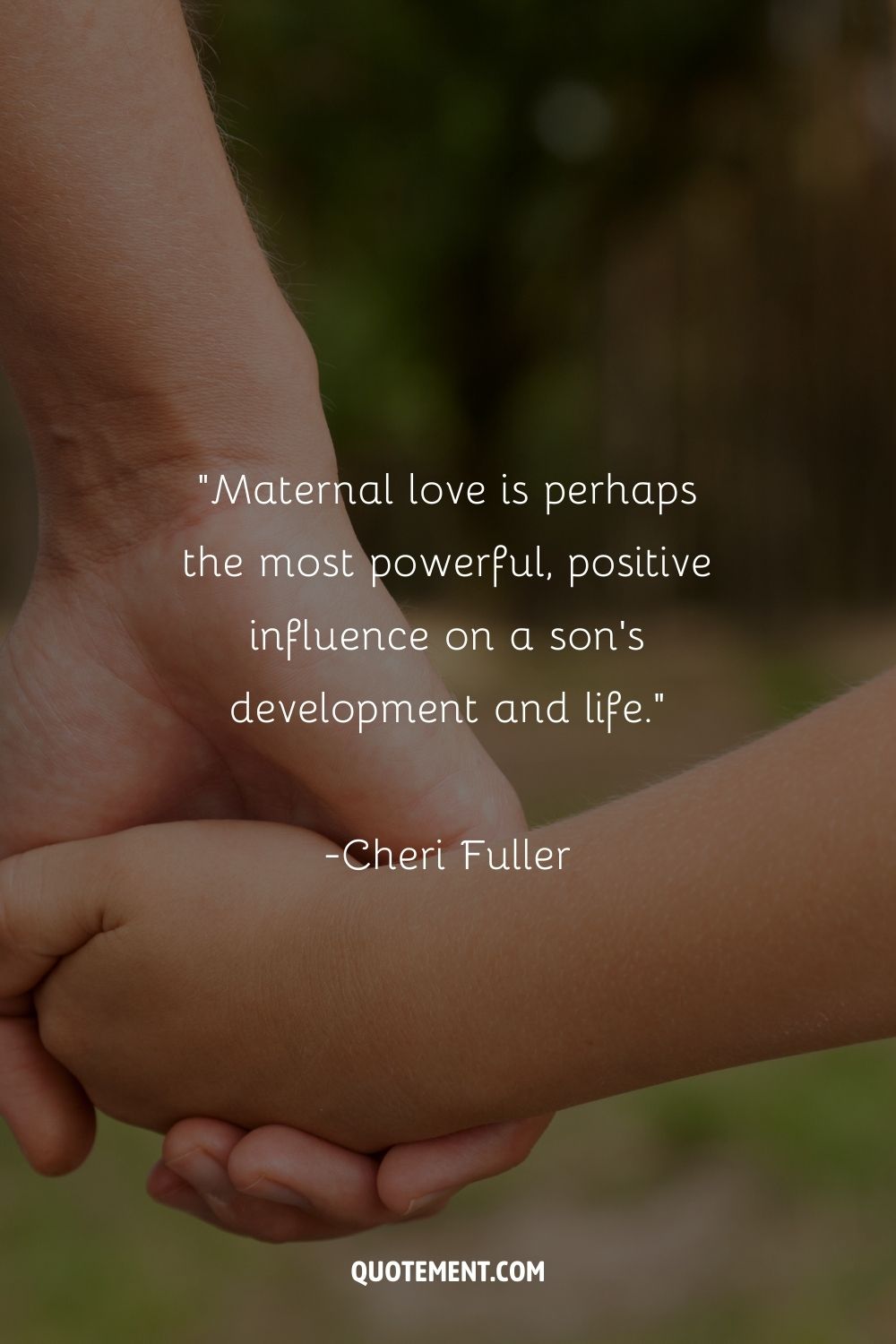 5. "Children love their mothers. Especially with a boy child and his mother, there's a bond that's unbreakable." — Tyler Perry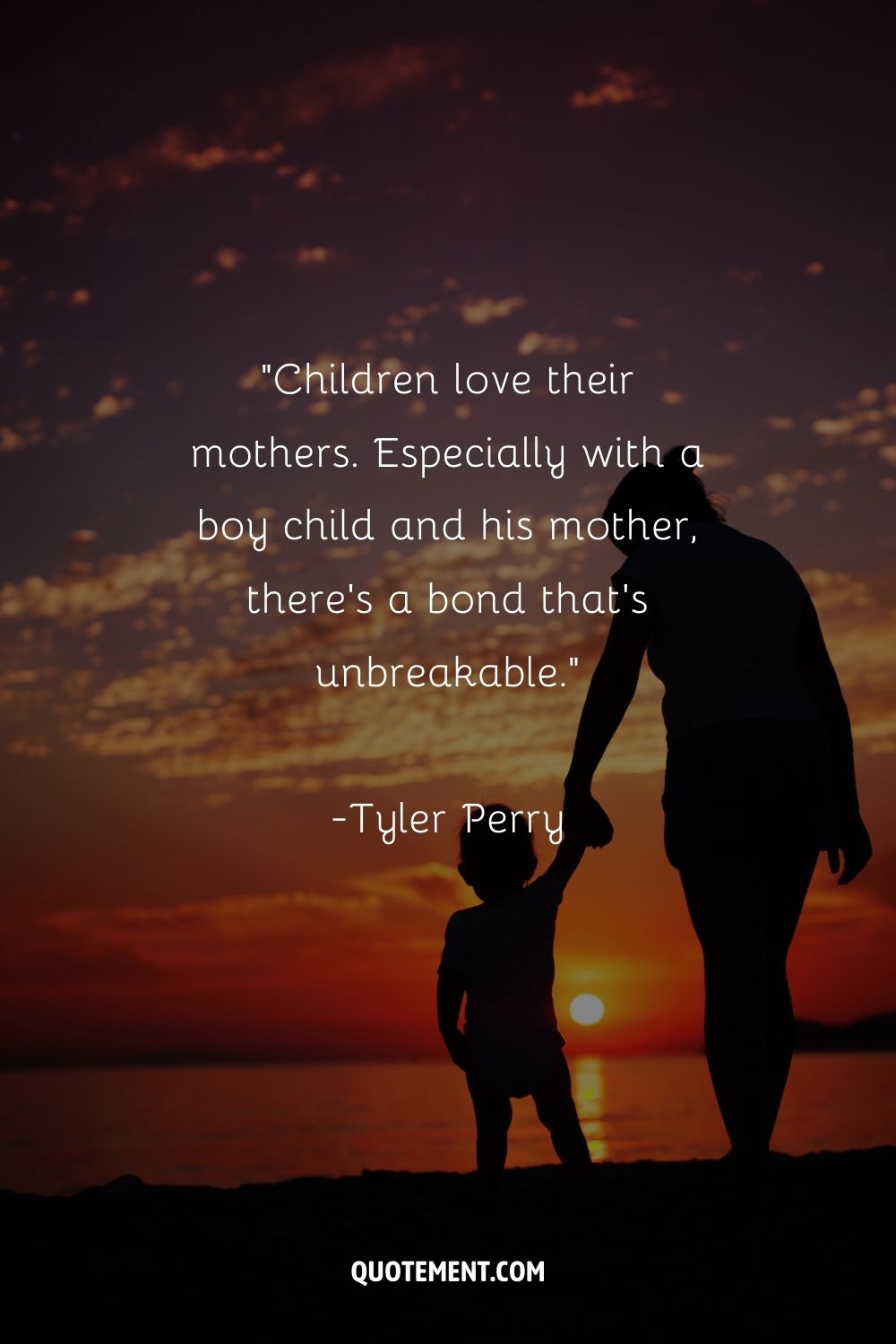 6. "A boy's best friend is his mother." — Joseph Stefano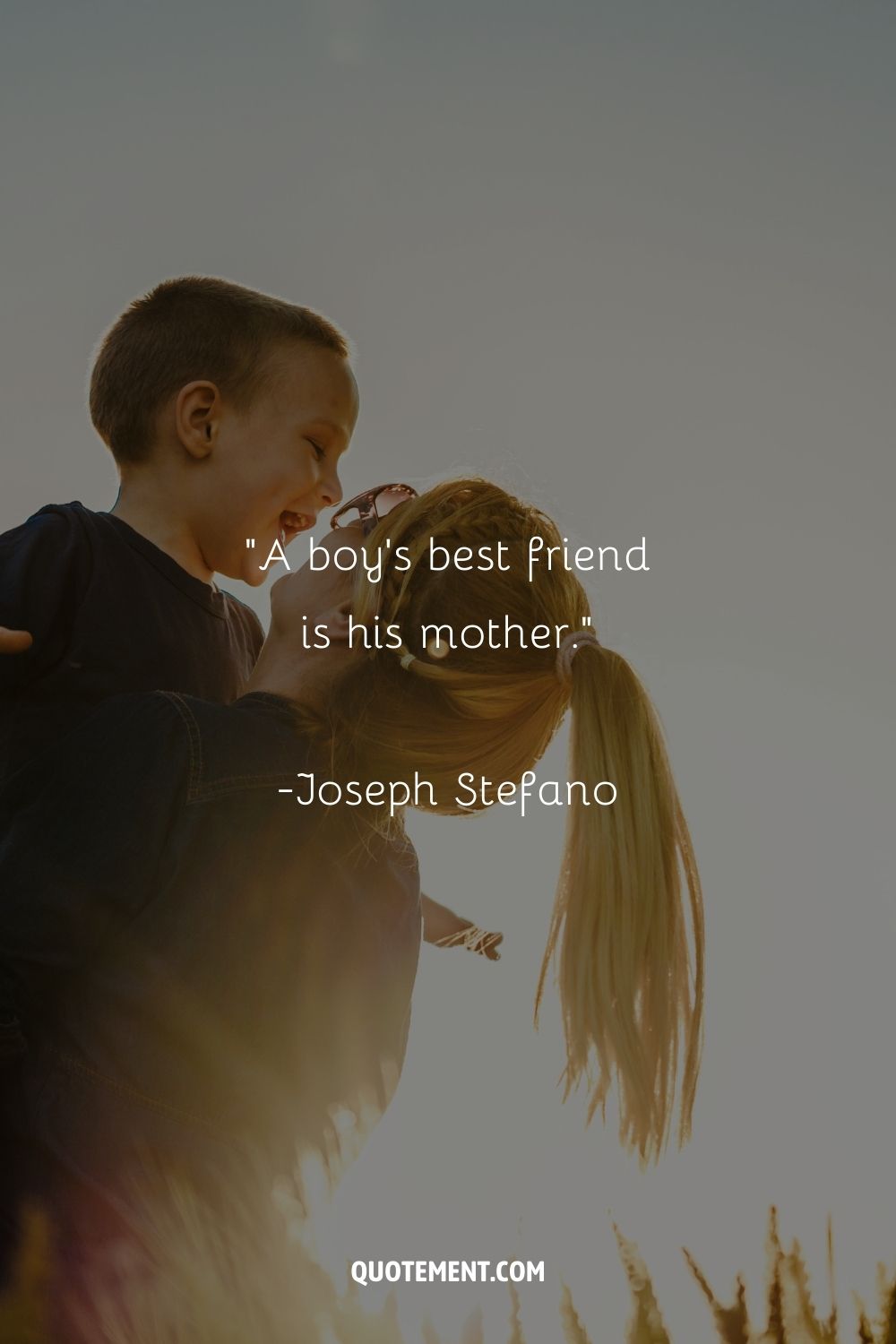 7. "As mothers raising sons, we have the power to change the trajectory of not only our own son's lives but also of the culture at large." — Melia Keeton Digby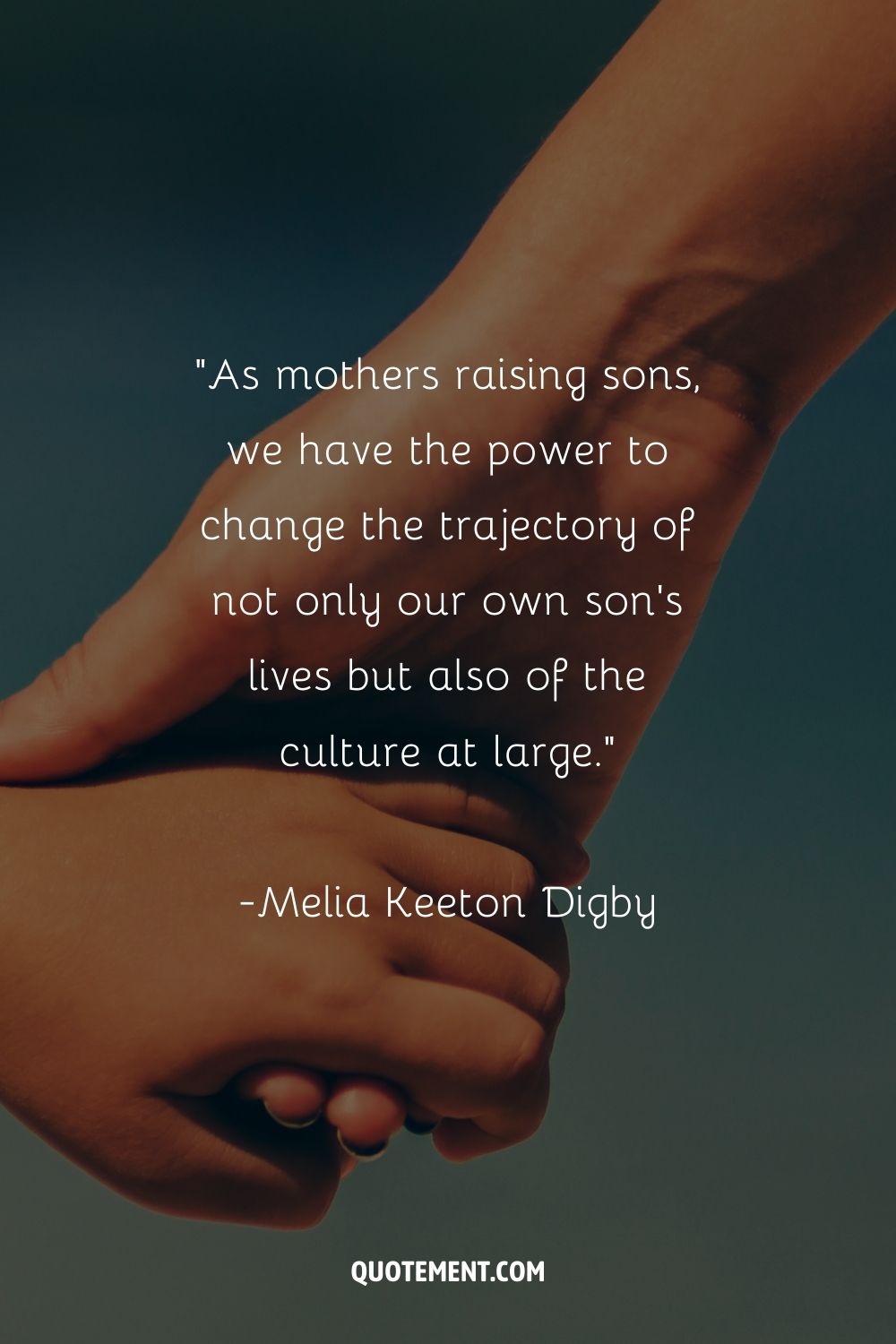 8. "The most important mark I will leave on this world is my son." — Sarah Shahi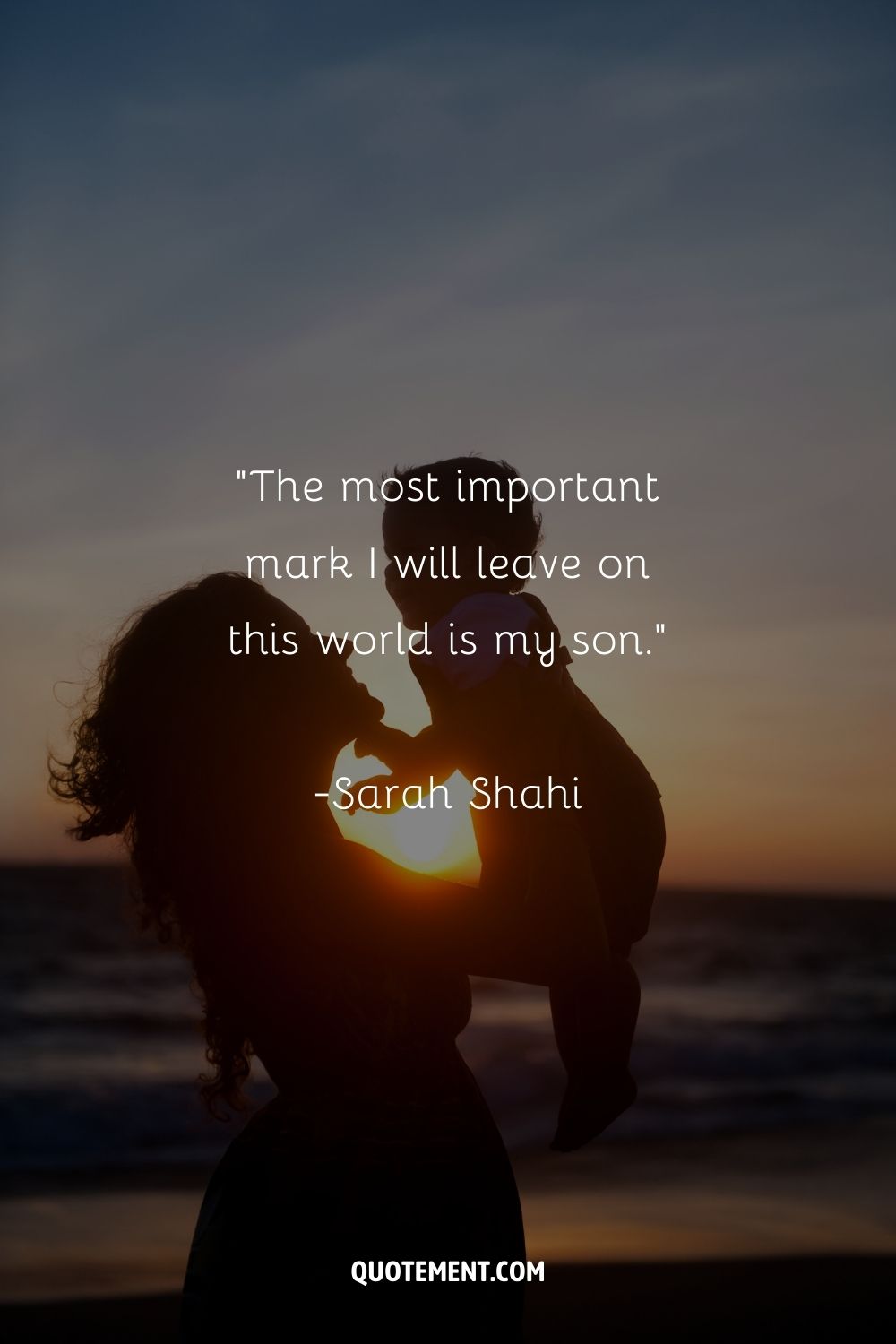 9. "Watching you grow into a remarkable young man fills me with immense pride." — Sarah Williams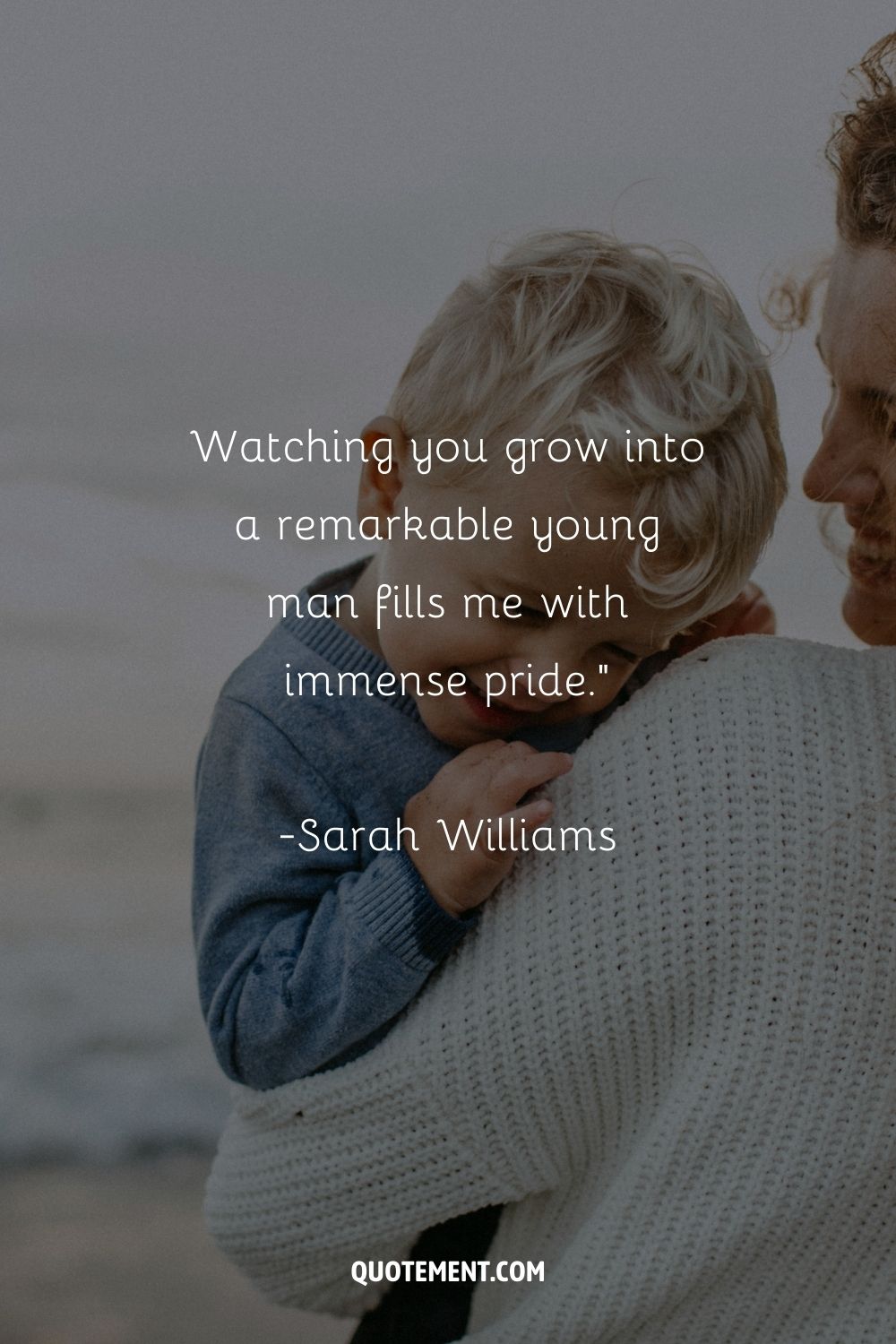 10. "There is an enduring tenderness in the love of a mother to a son that transcends all other affections of the heart." — Washington Irving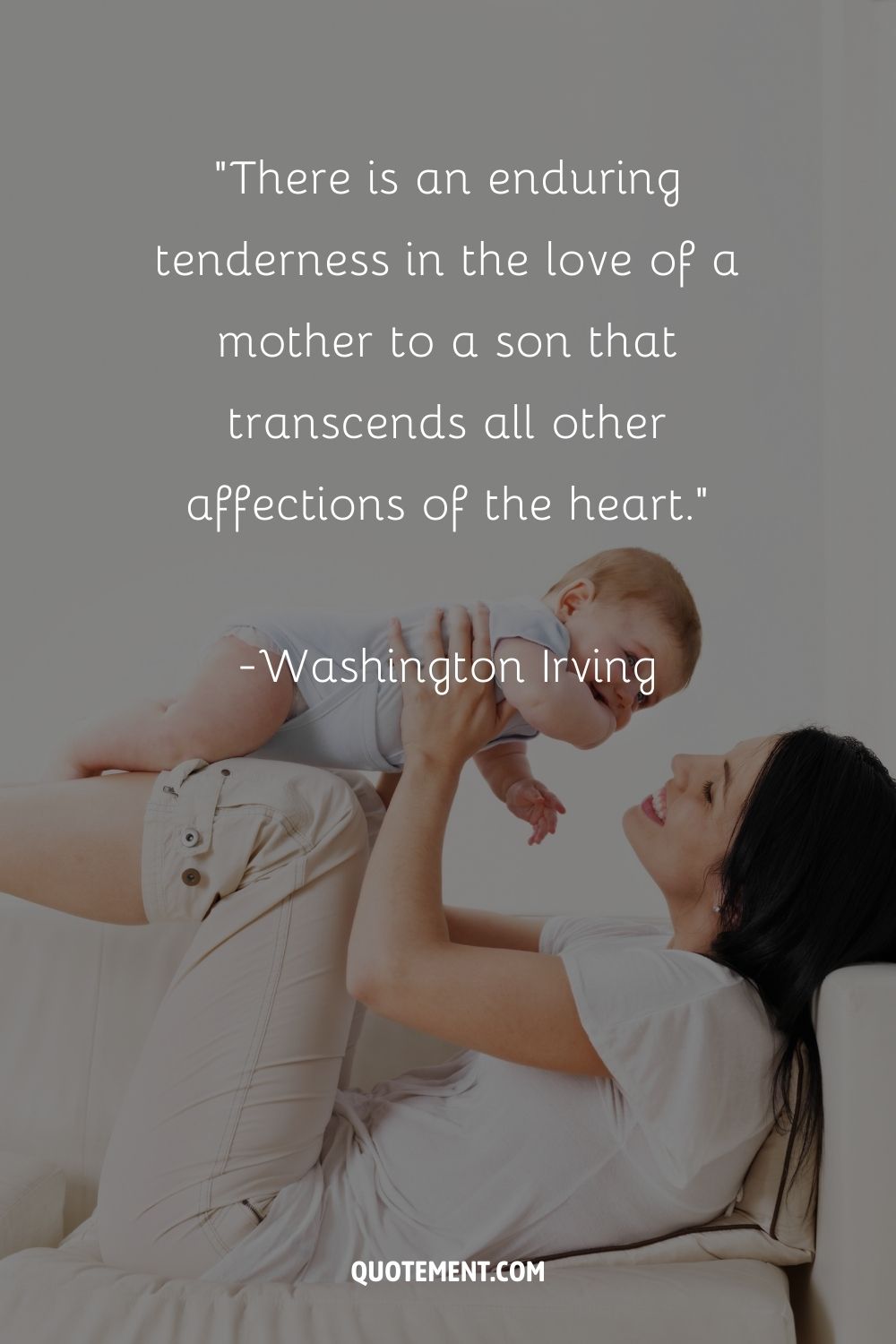 Inspirational Mother And Son Quotes
1. "You don't raise heroes, you raise sons. And if you raise them like sons, they'll turn out to be heroes, even if it is just in your eyes." — Walter M. Schirra, Sr.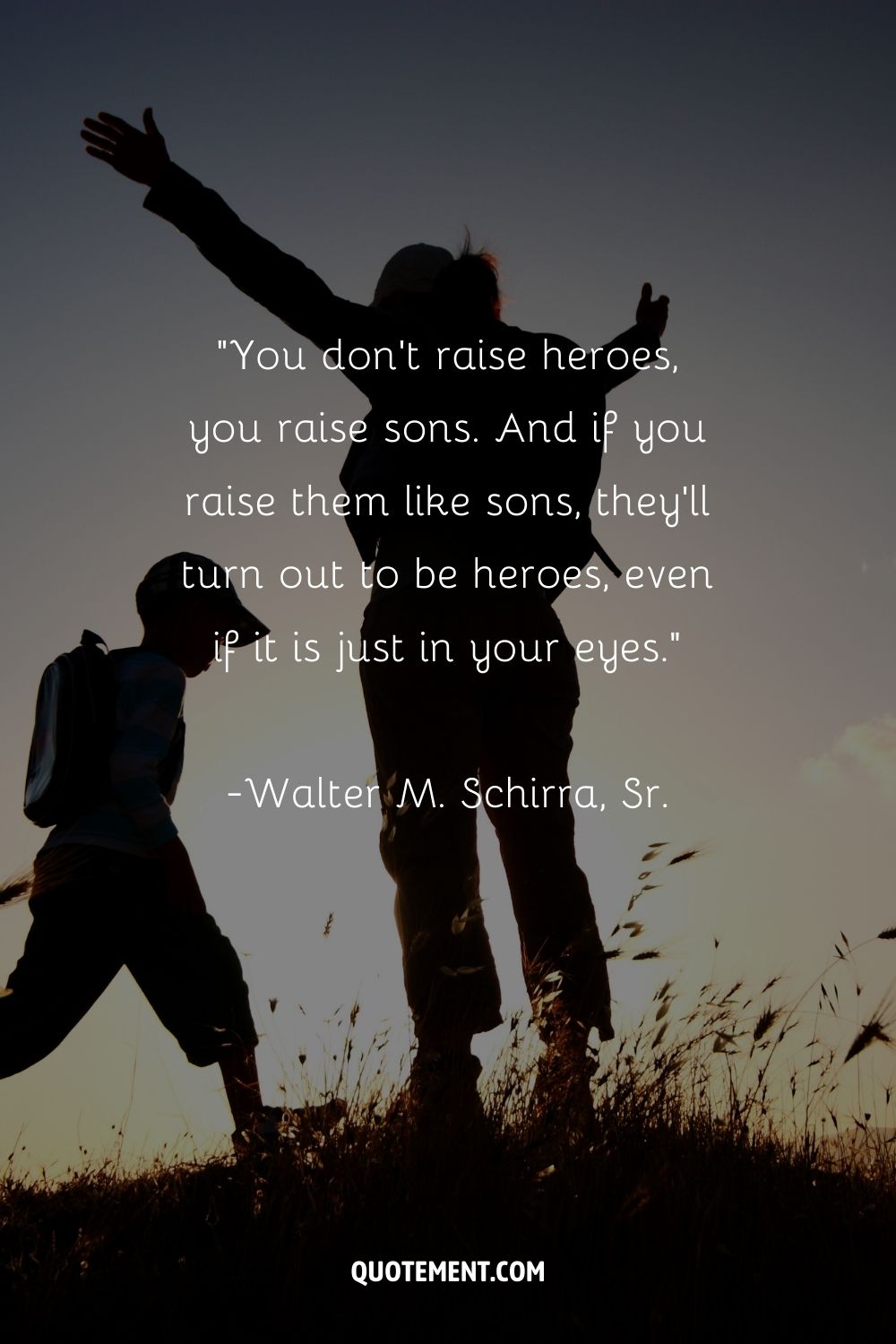 2. "To be a mother of a son is one of the most important things you can do to change the world. Raise them to respect women, raise them to stand up for others, and raise them to be kind." — Shannon L Alder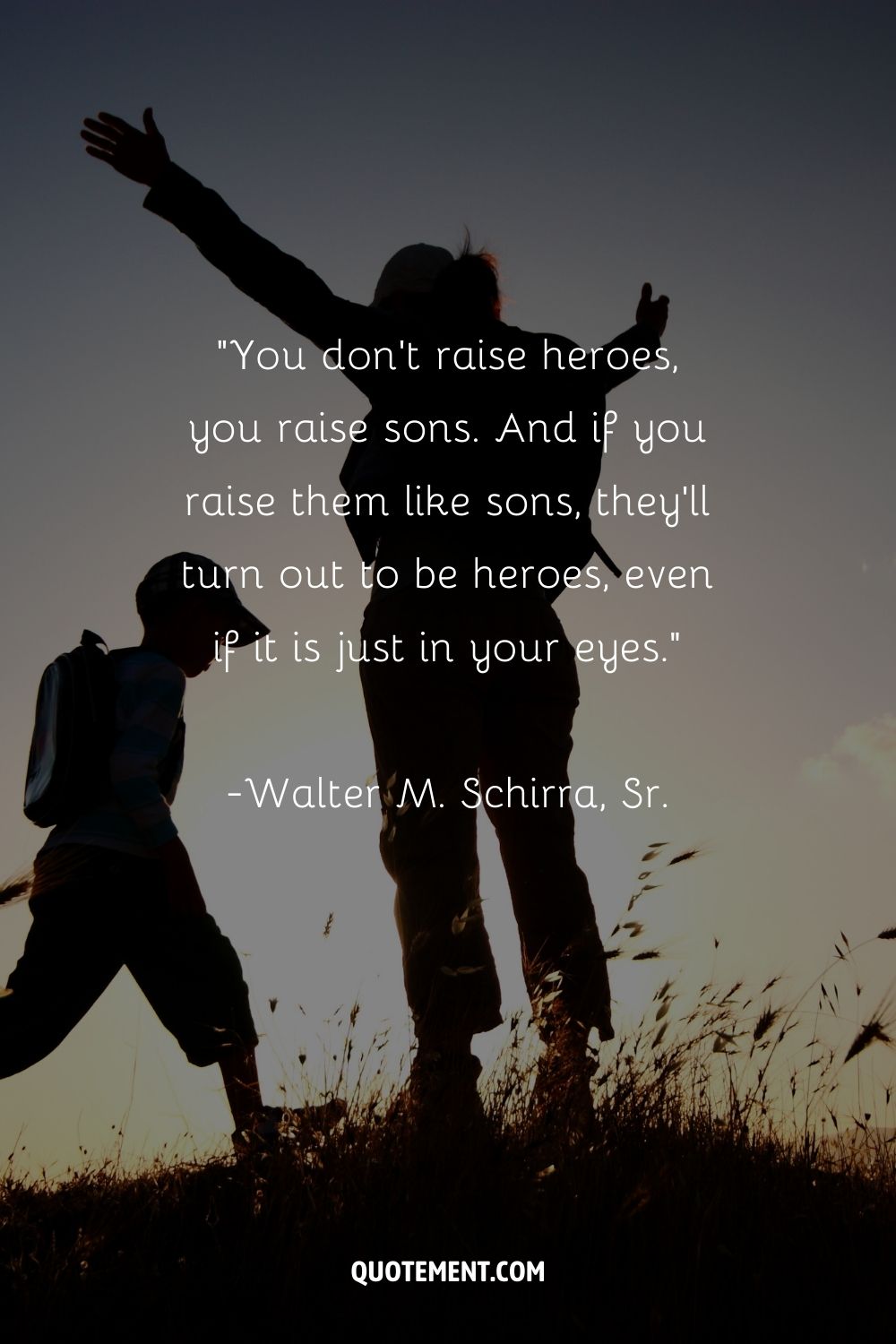 3. "As the mother of a son, I do not accept that alienation from me is necessary for his discovery of himself. As a woman, I will not cooperate in demeaning womanly things so that he can be proud to be a man. I like to think the women in my son's future are counting on me." — Letty Cottin Porgrebin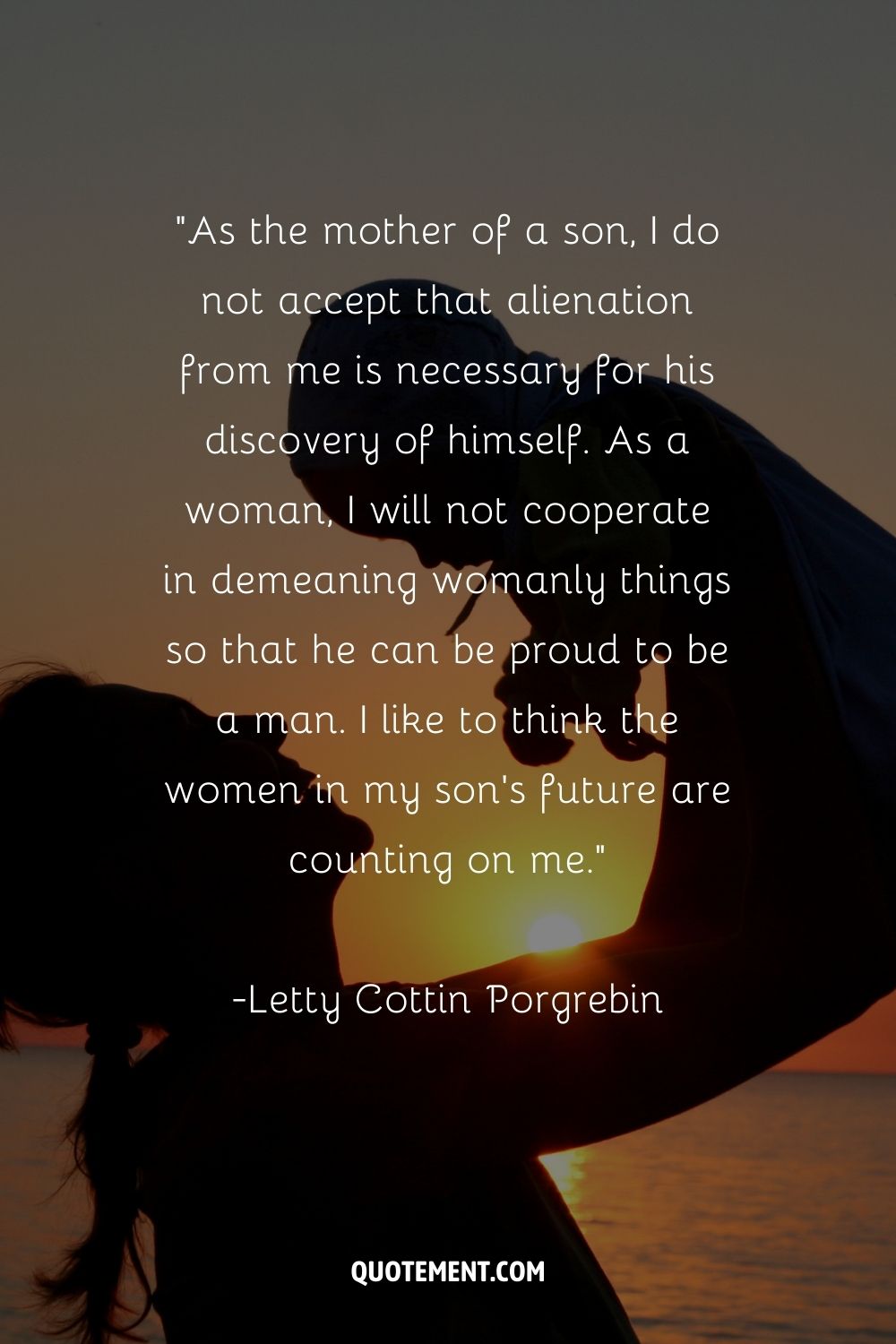 4. "A mother's love doesn't make her son more dependent and timid; it actually makes him stronger and more independent." — Cheri Fuller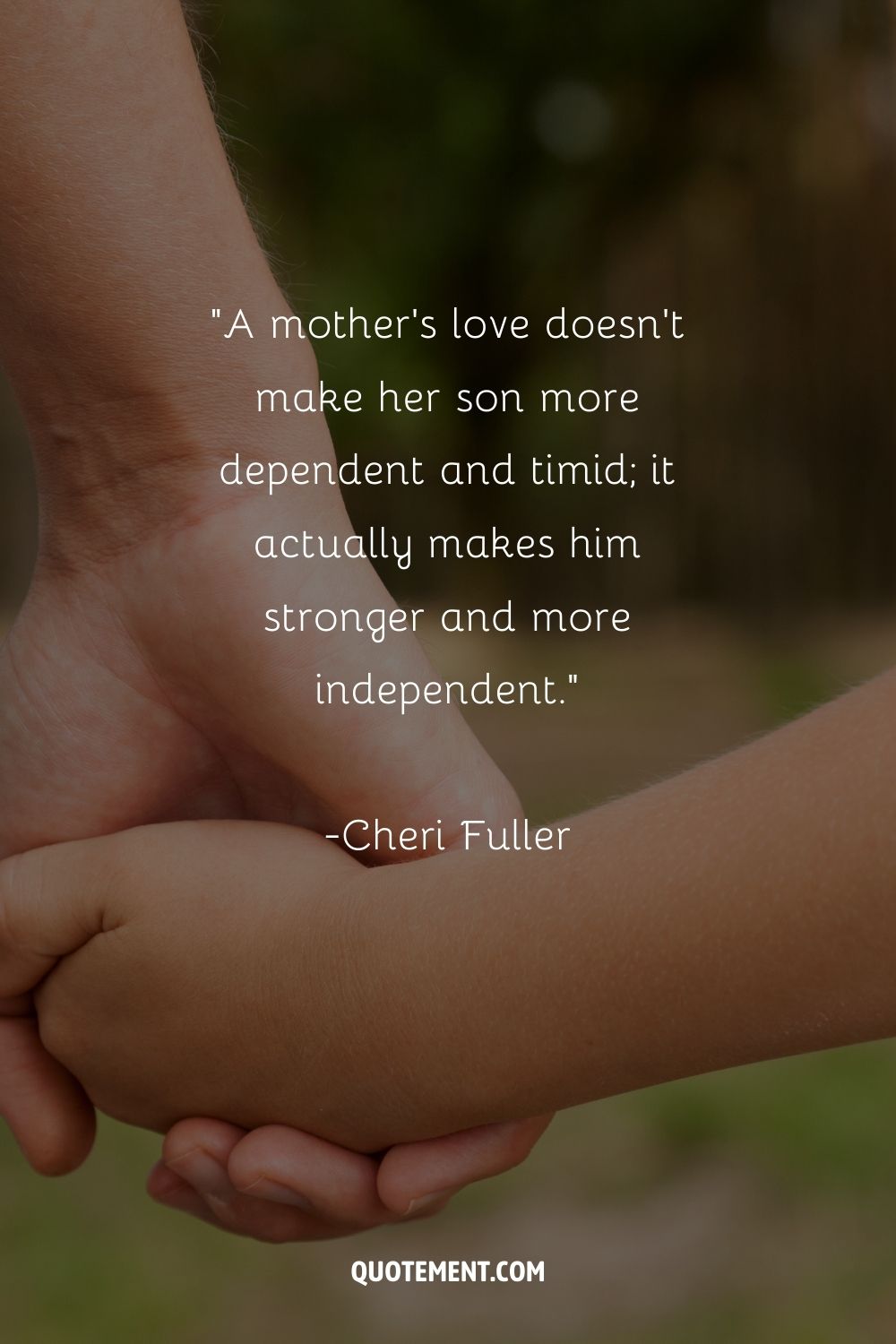 5. "I have a son who is my heart. A wonderful young man, daring and loving and strong and kind." — Maya Angelou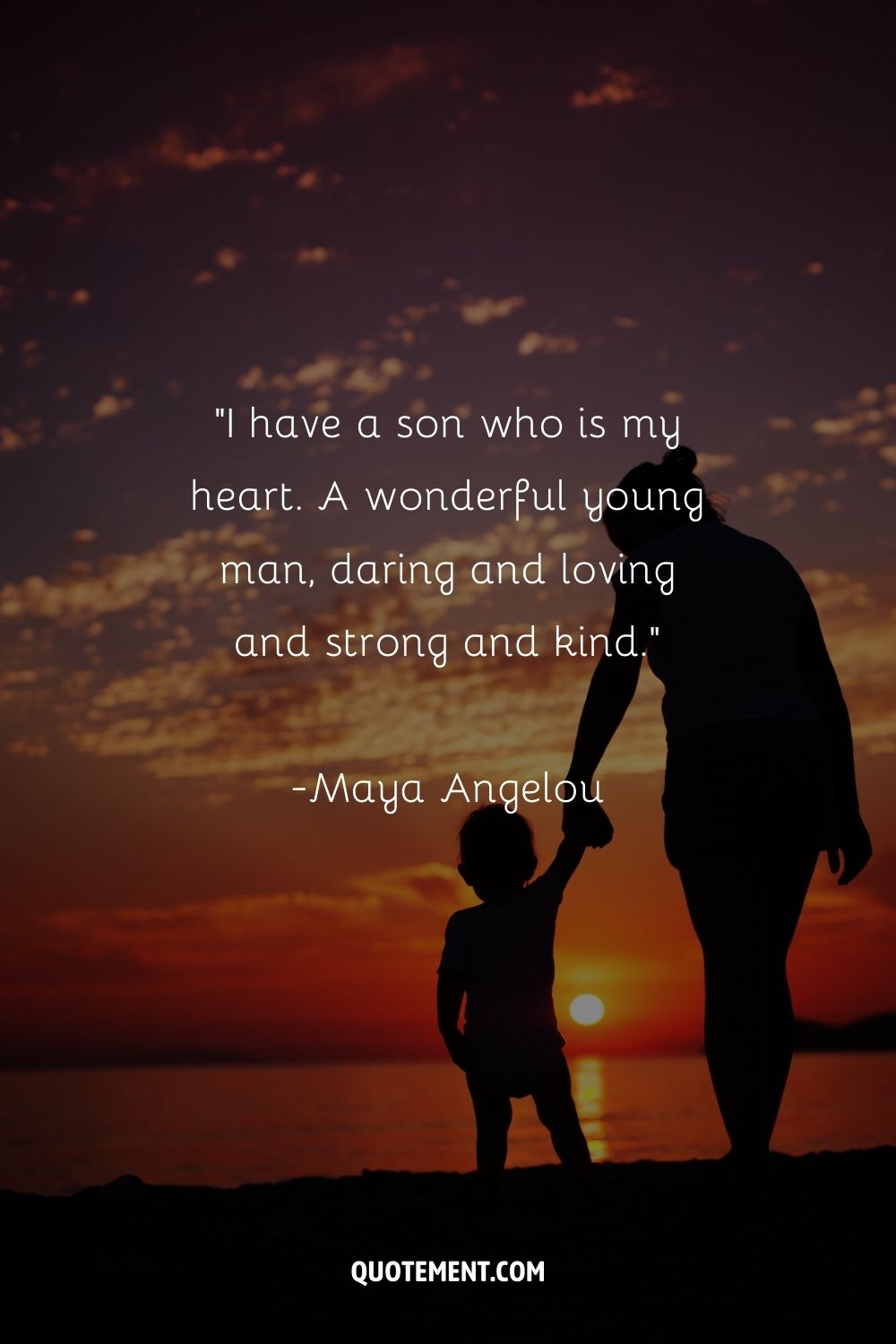 6. "Being a mother to a little boy and helping him discover the world is one of the greatest experiences in a woman's life, which makes objective goals dull in comparison. The connection between a mother and her son opens the gate to a new world of wonder and love." — Unknown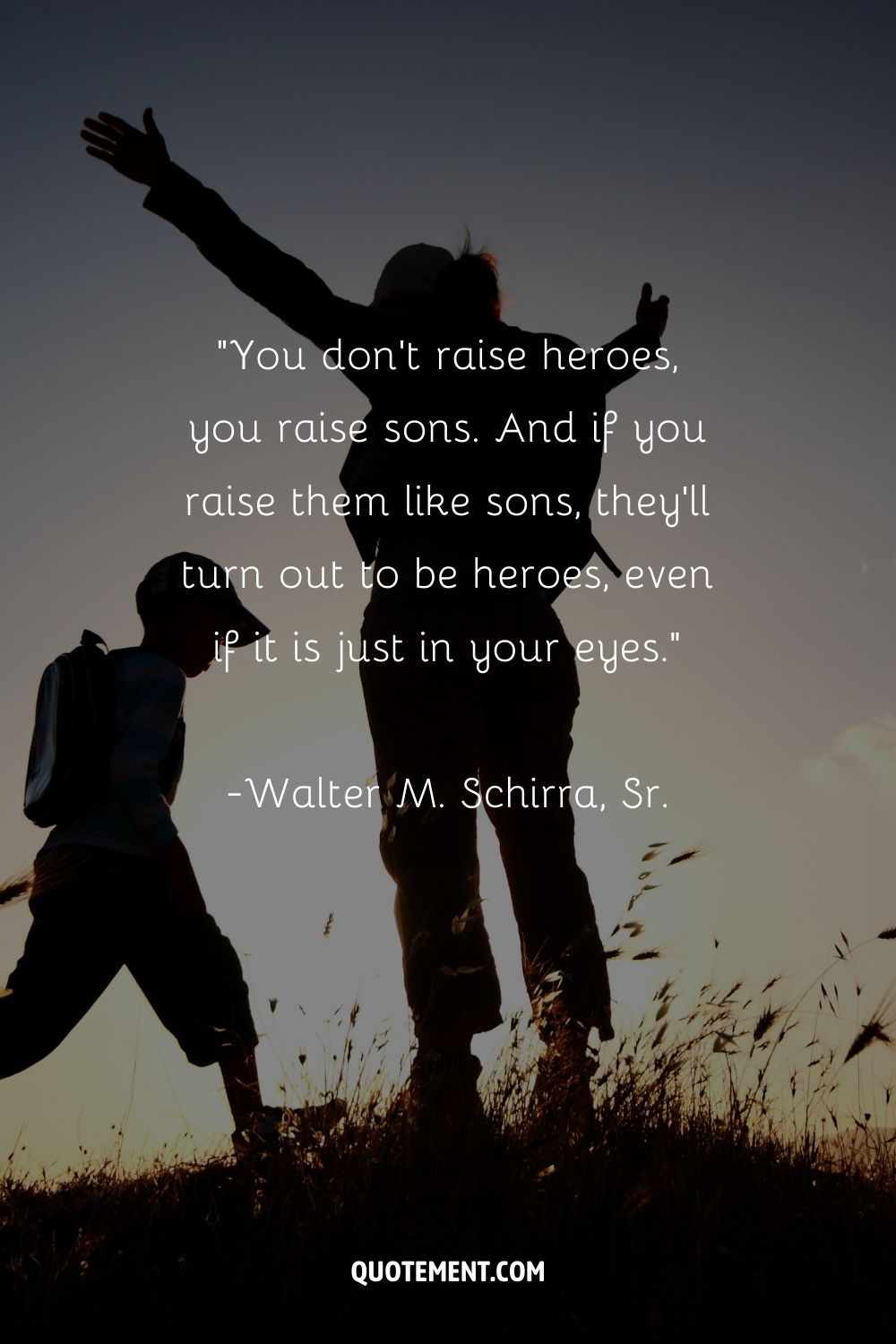 7. "Happy is the son whose faith in his mother remains unchallenged." — Louisa May Alcott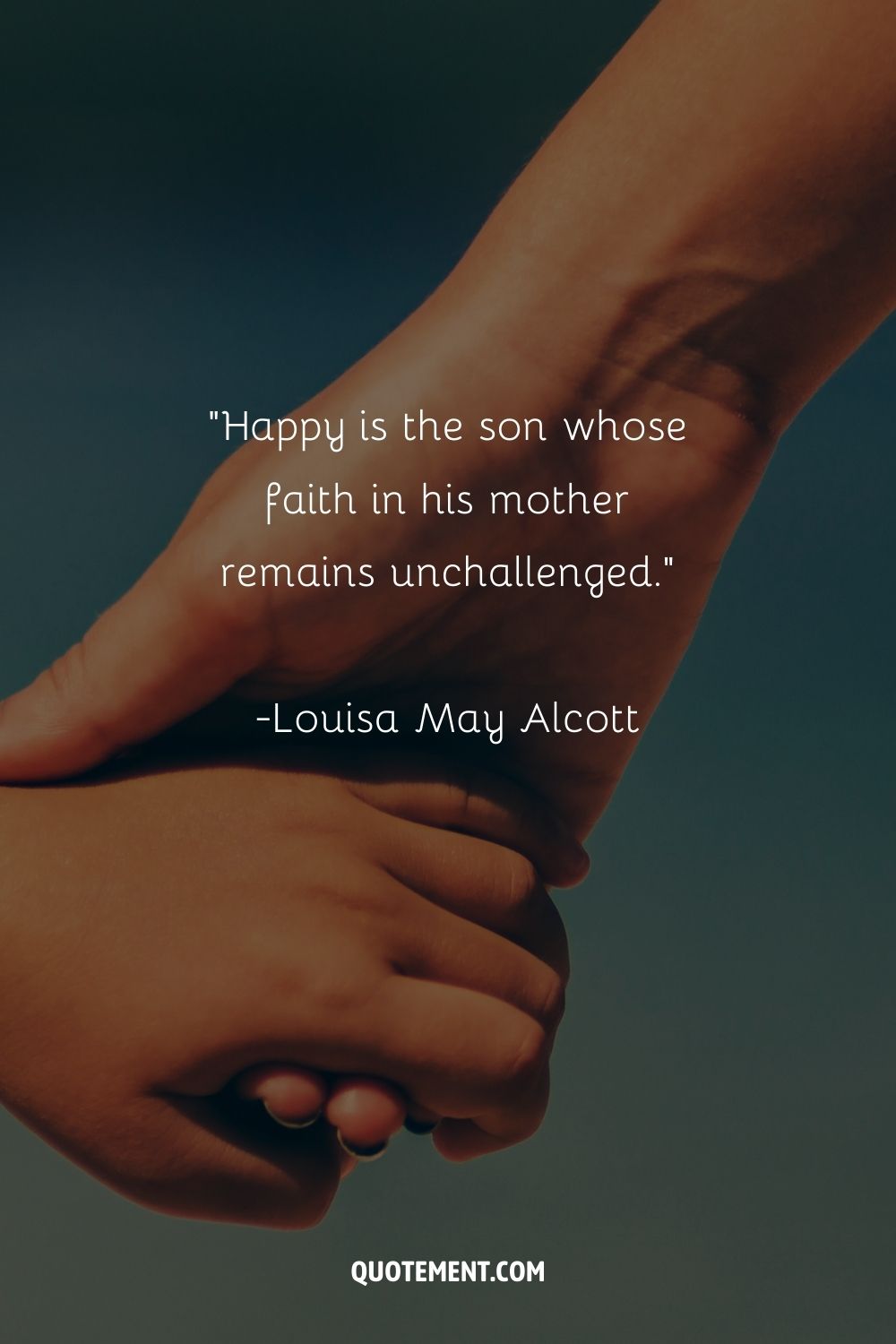 8. "In my practice, I've seen something extraordinary, almost spiritual, in the eyes of young mothers who hold their sons for the first time." — Meg Meeker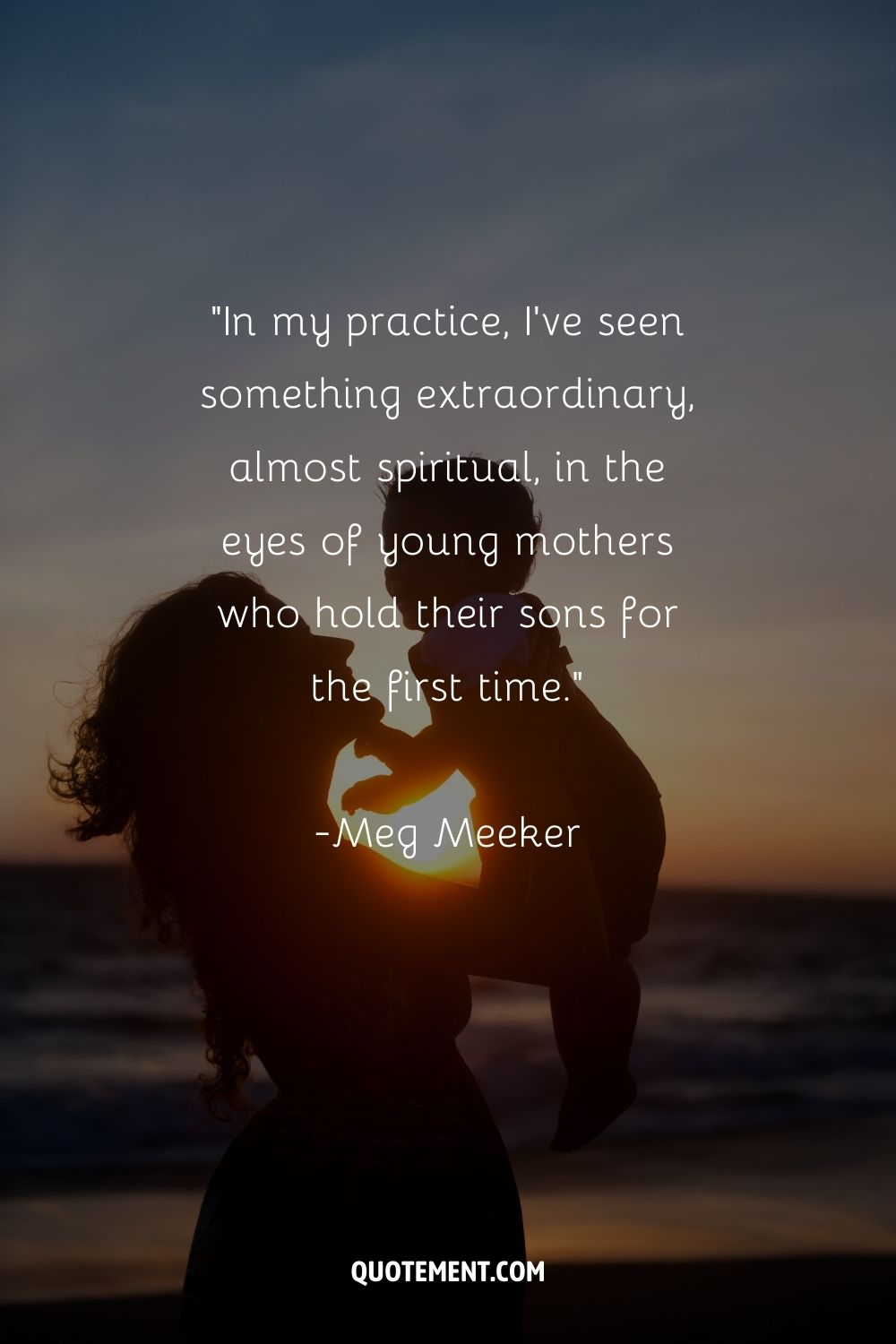 9. "There aren't many things boys won't do for their mama." — Lauren Levine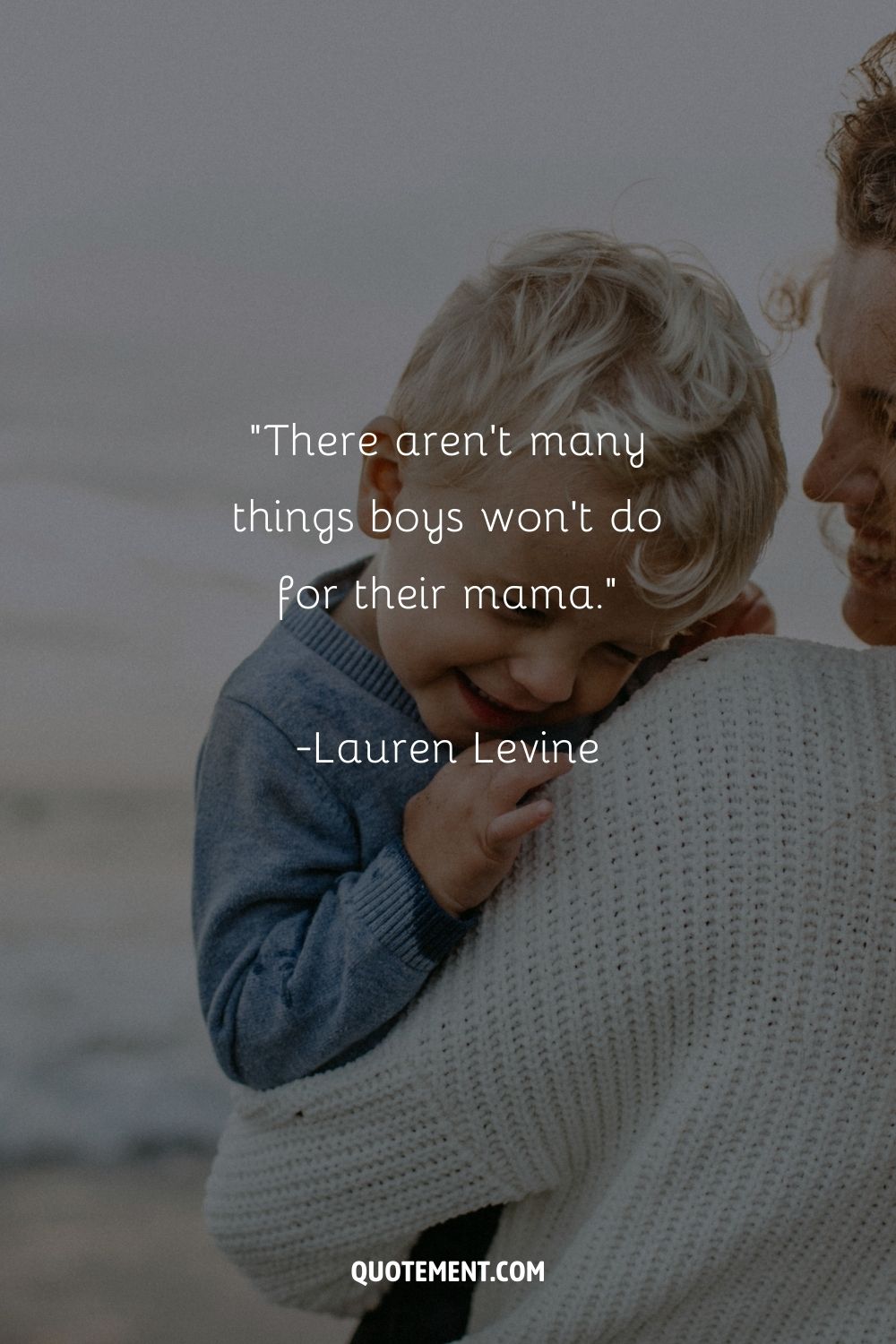 10. "A mother's hug has the magical power to heal a son's wounds, both seen and unseen." — Unknown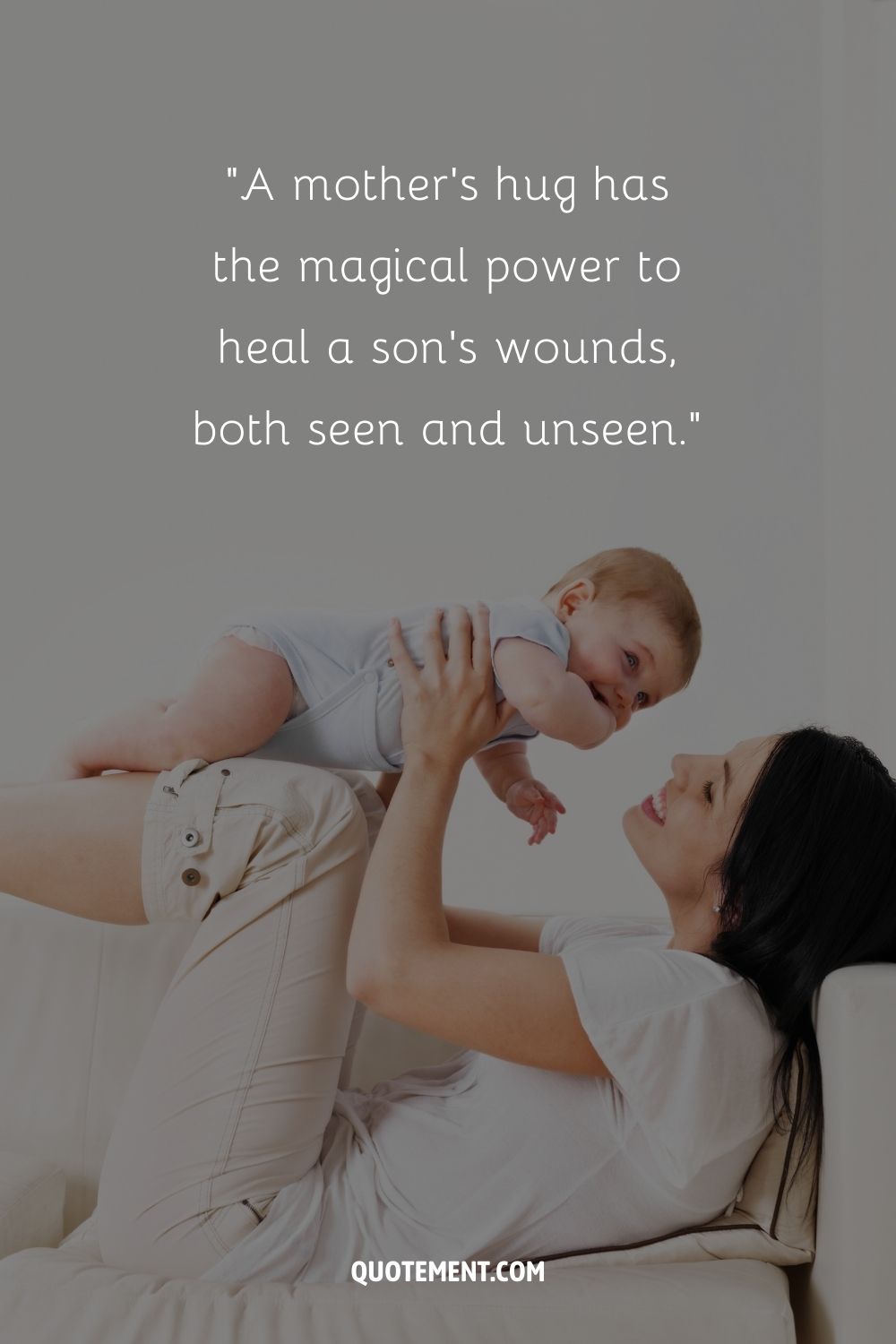 11. "Sons worship their mothers, seeing them as flawless, almighty beings who spread love and who are able to do anything. That is why the most important lesson that a mother can teach her son is to respect, love, and understand women." — Unknown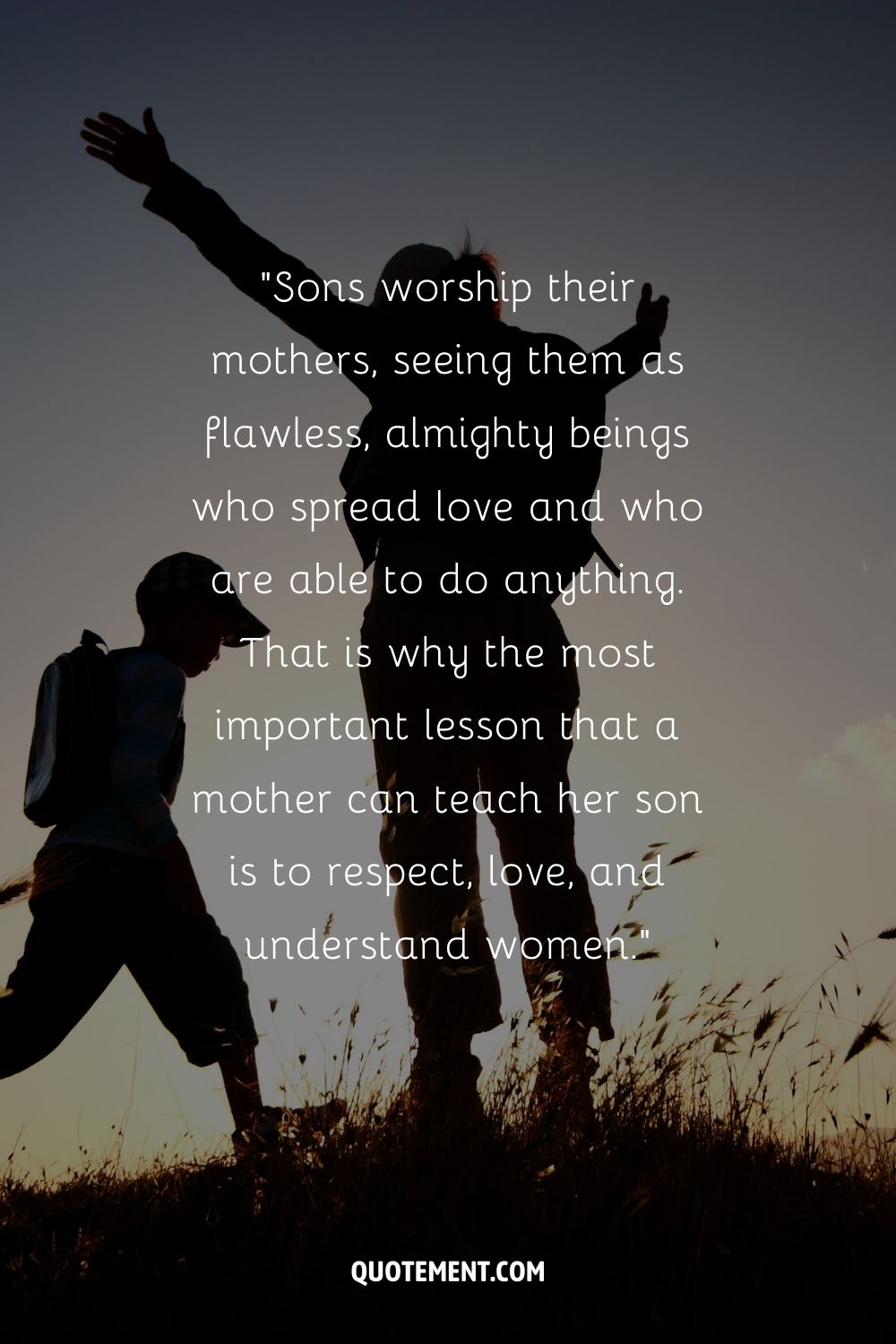 12. "My mother is my root, my foundation. She planted the seed that I base my life on, and that is the belief that the ability to achieve starts in your mind." — Michael Jordan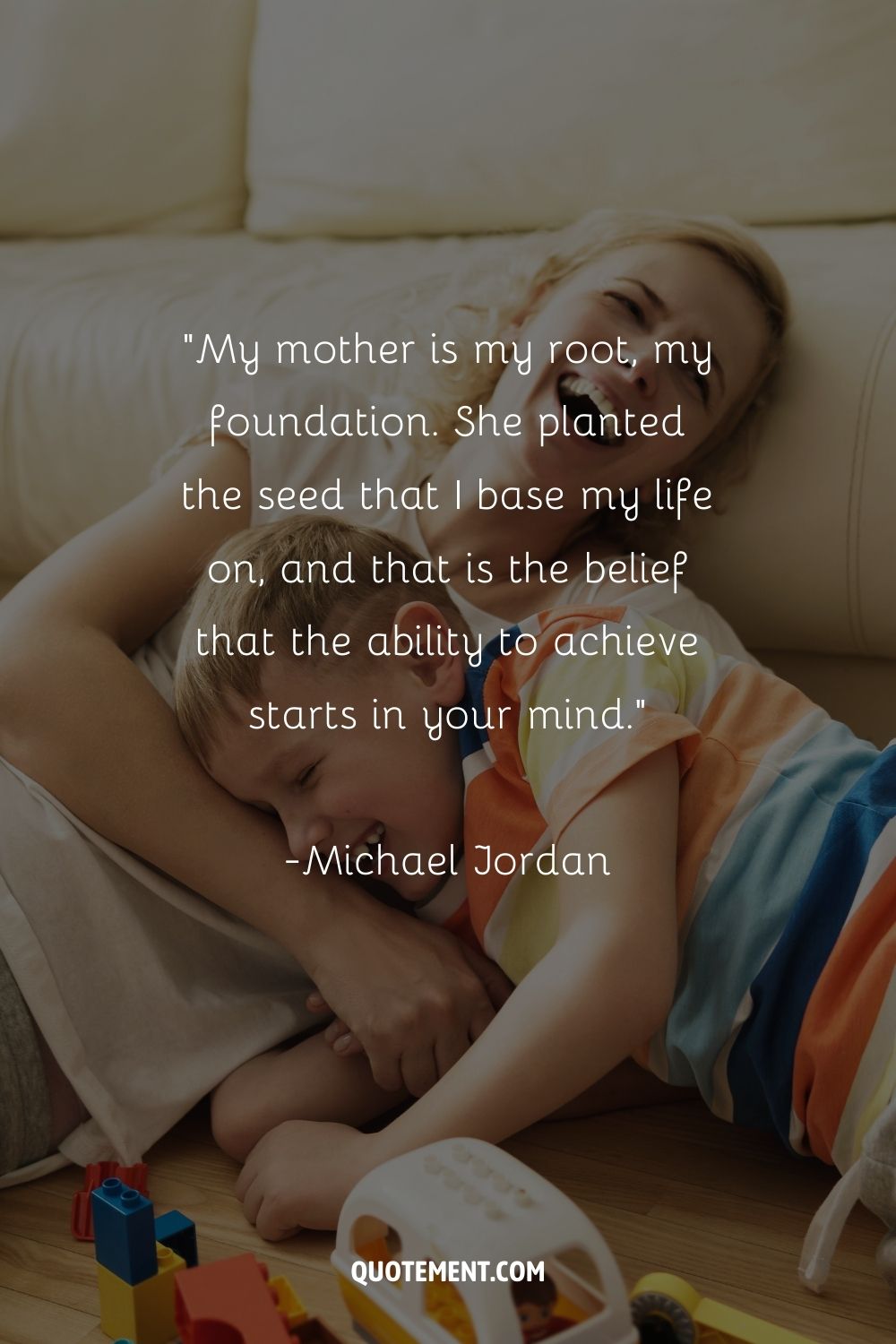 13. "A man loves his sweetheart the most, his wife the best, but his mother the longest." — Irish Proverb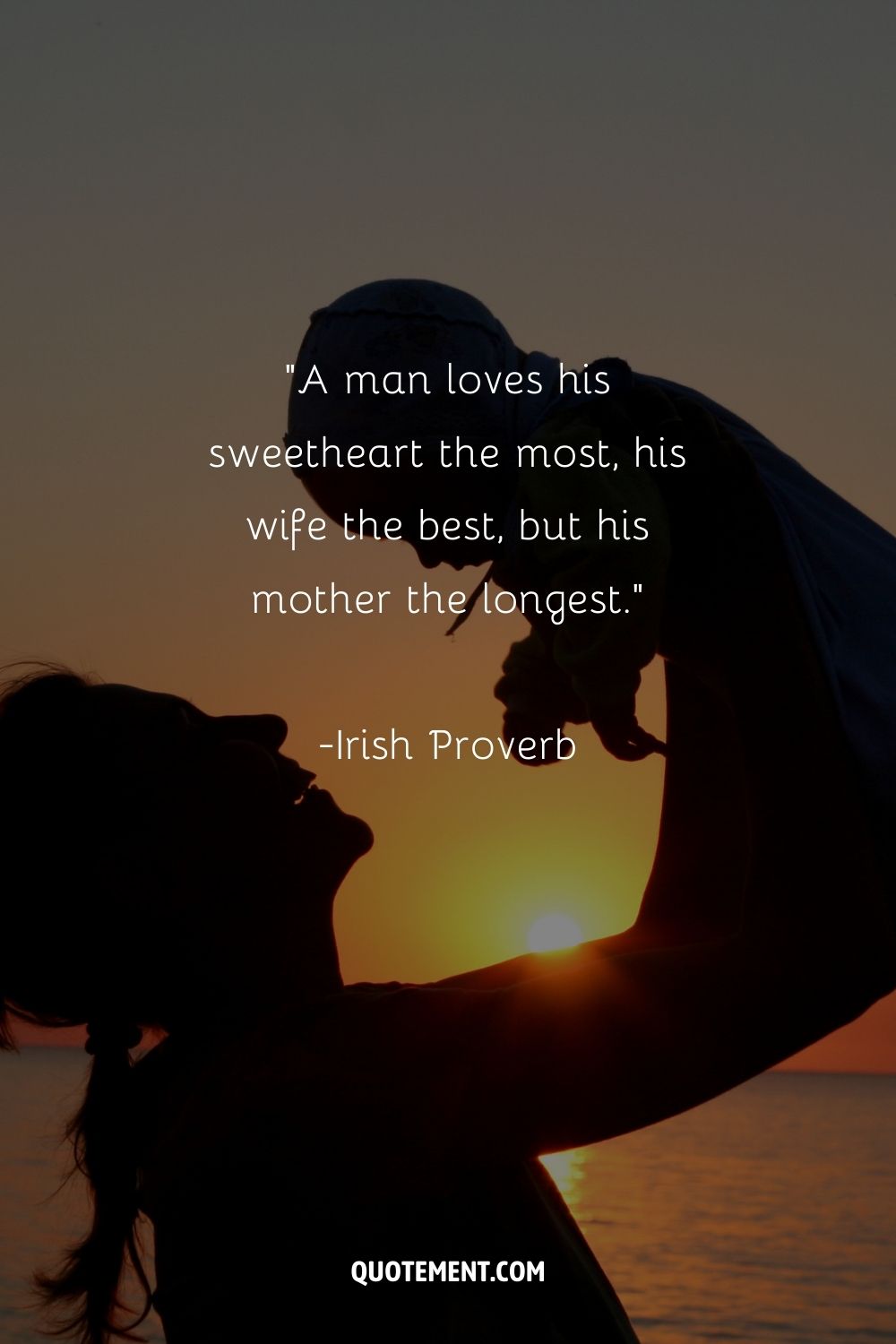 14. "That strong mother doesn't tell her cub, 'Son, stay weak so the wolves can get you.' She says, 'toughen up, this is reality we are living in.'" — Lauryn Hill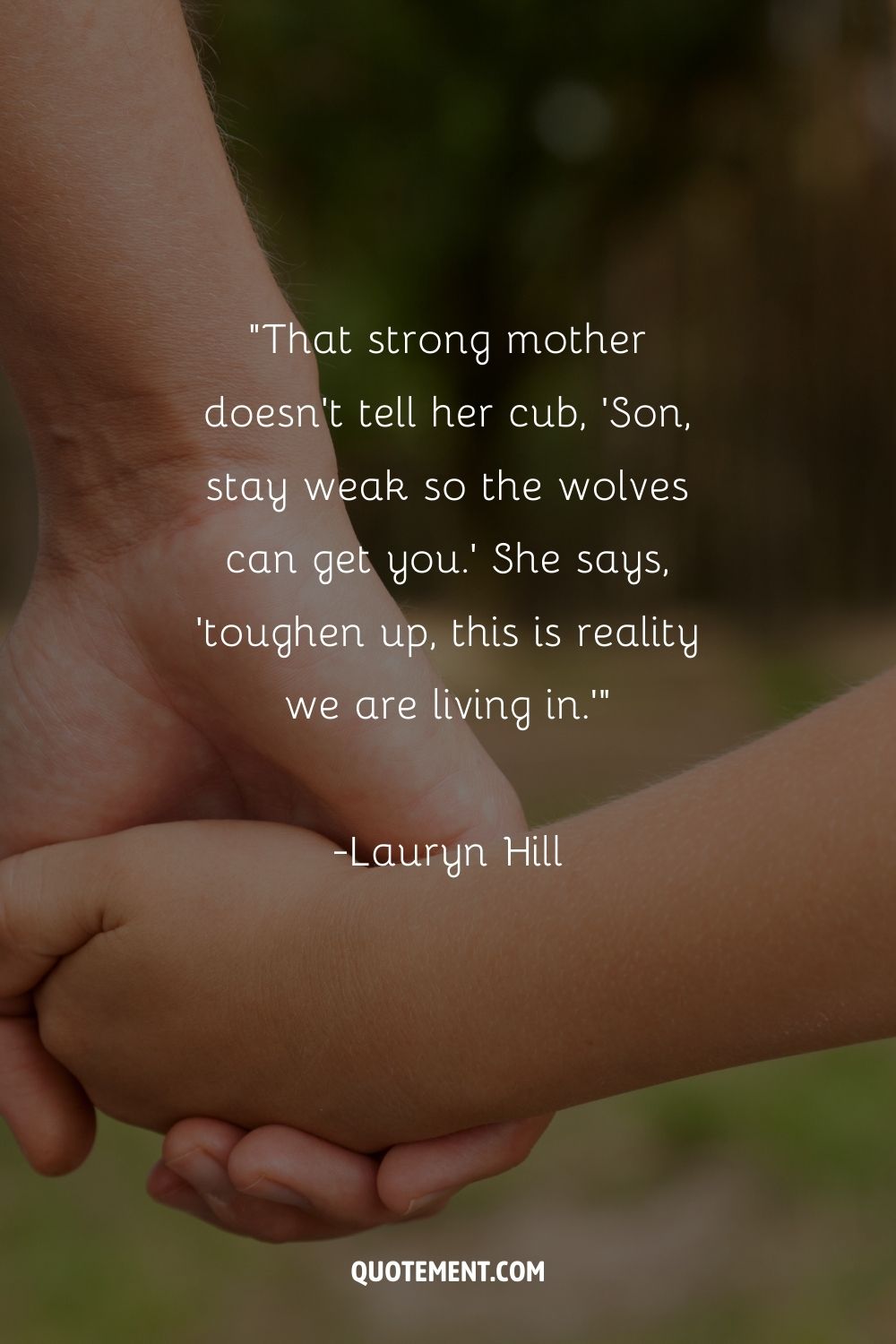 15. "Mother is her son's first god; she must teach him the most important lesson of all, how to love." — TF Hodge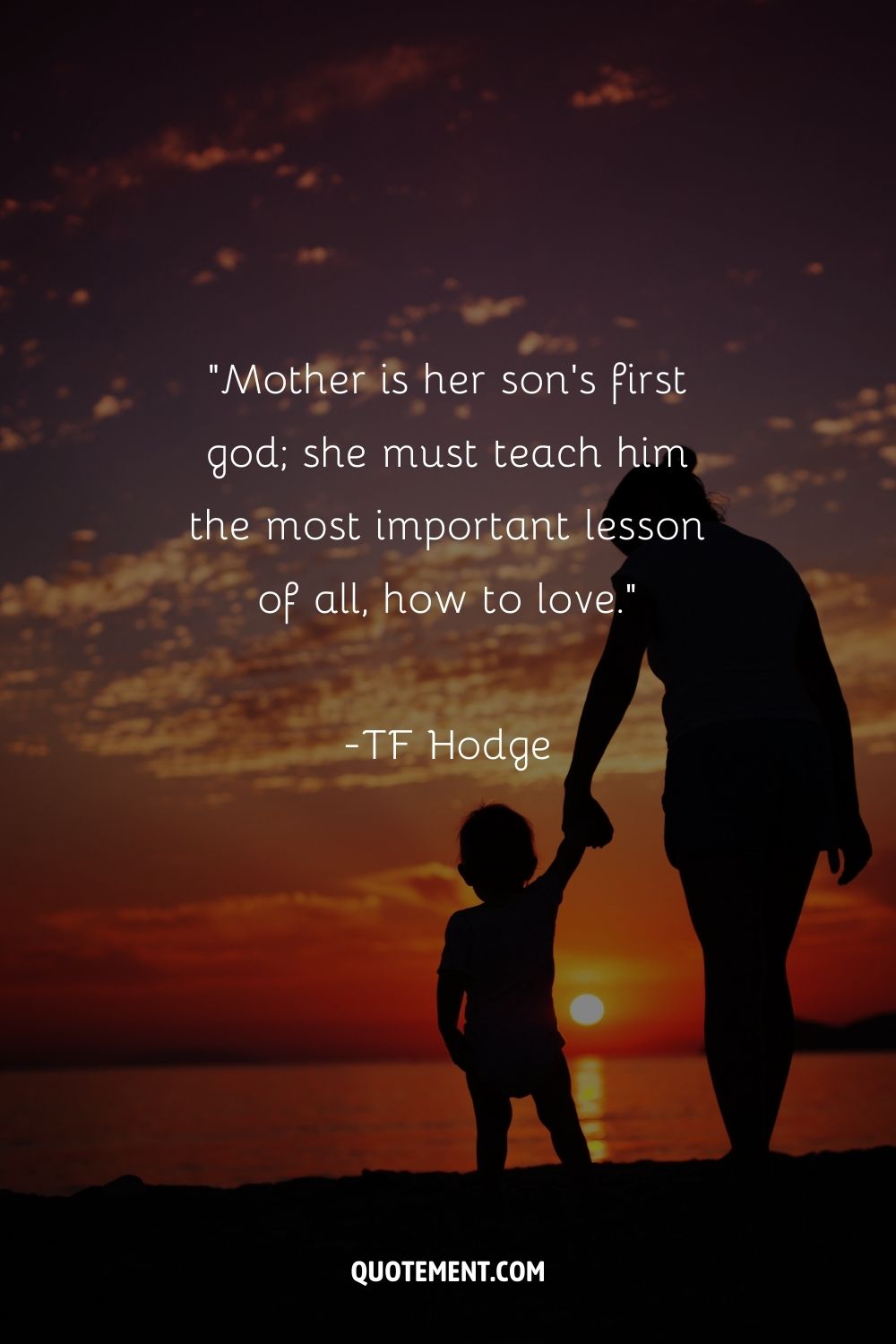 16. "I want my son to become aware that he is in charge of the choices he makes, and it's good to make thoughtful, good choices." — Karen Salmansohn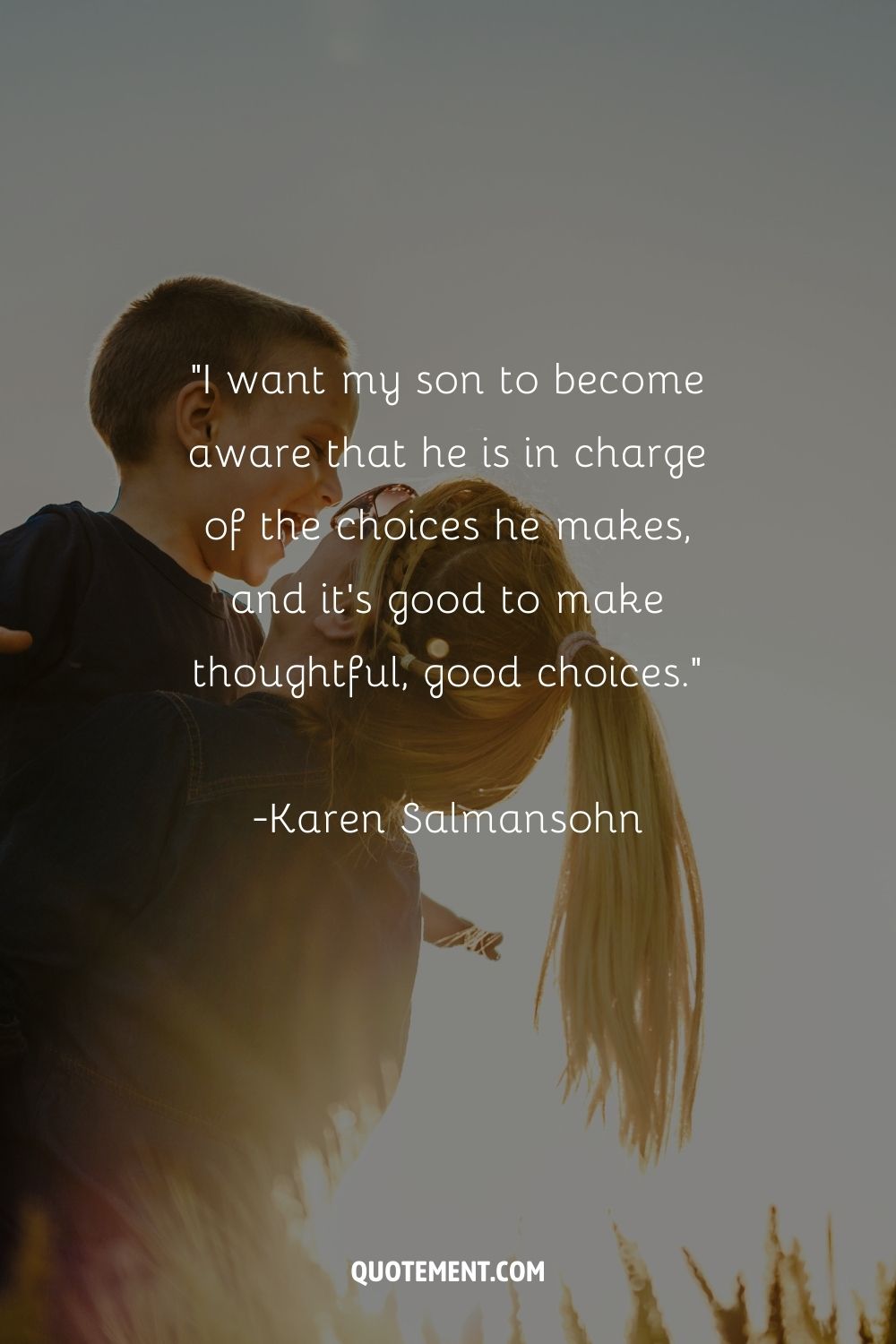 17. "If a man has been his mother's undisputed darling, he retains throughout life the triumphant feeling, the confidence in success, which not seldom brings actual success along with it." — Sigmund Freud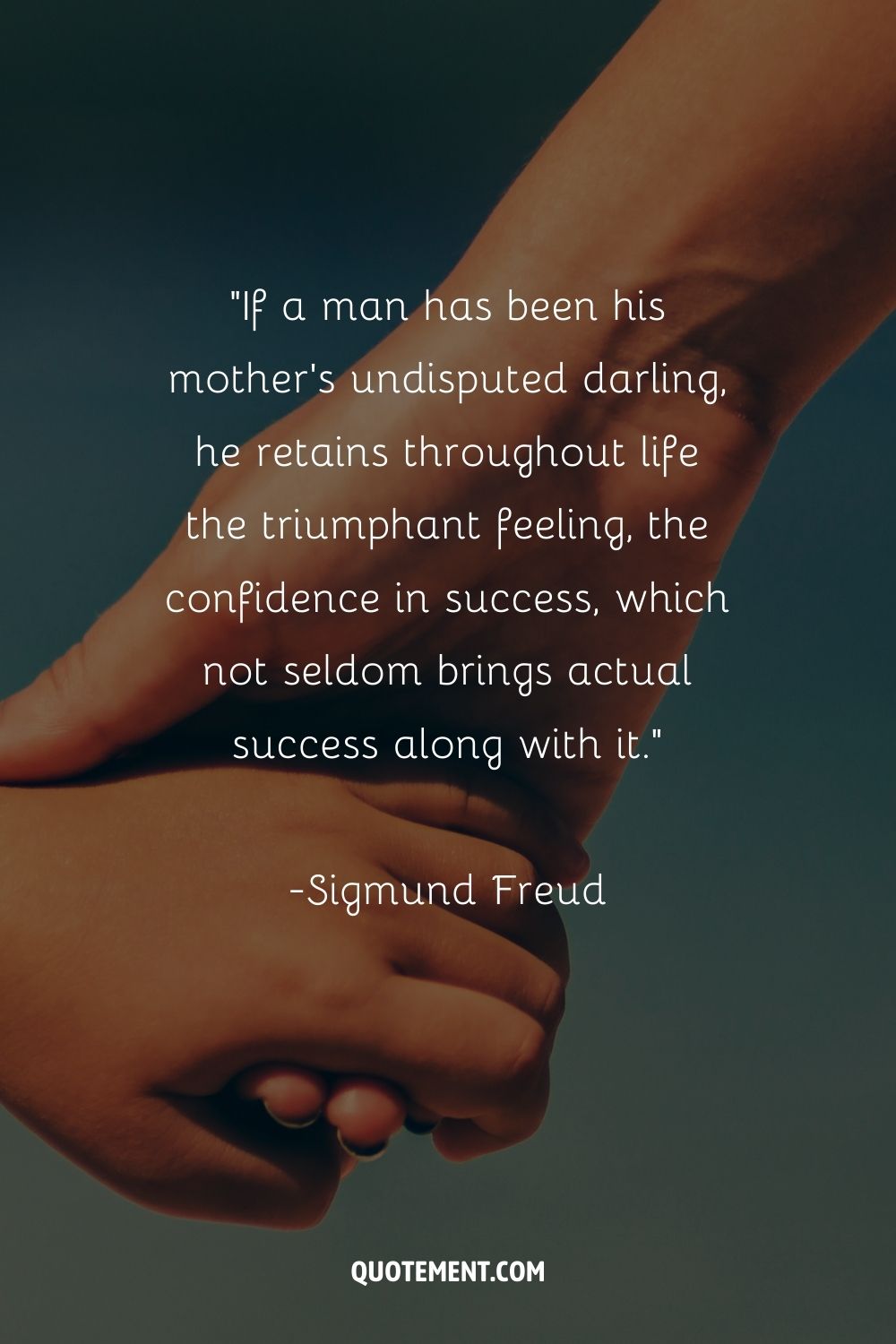 18. "Men are what their mothers made them." — Ralph Waldo Emerson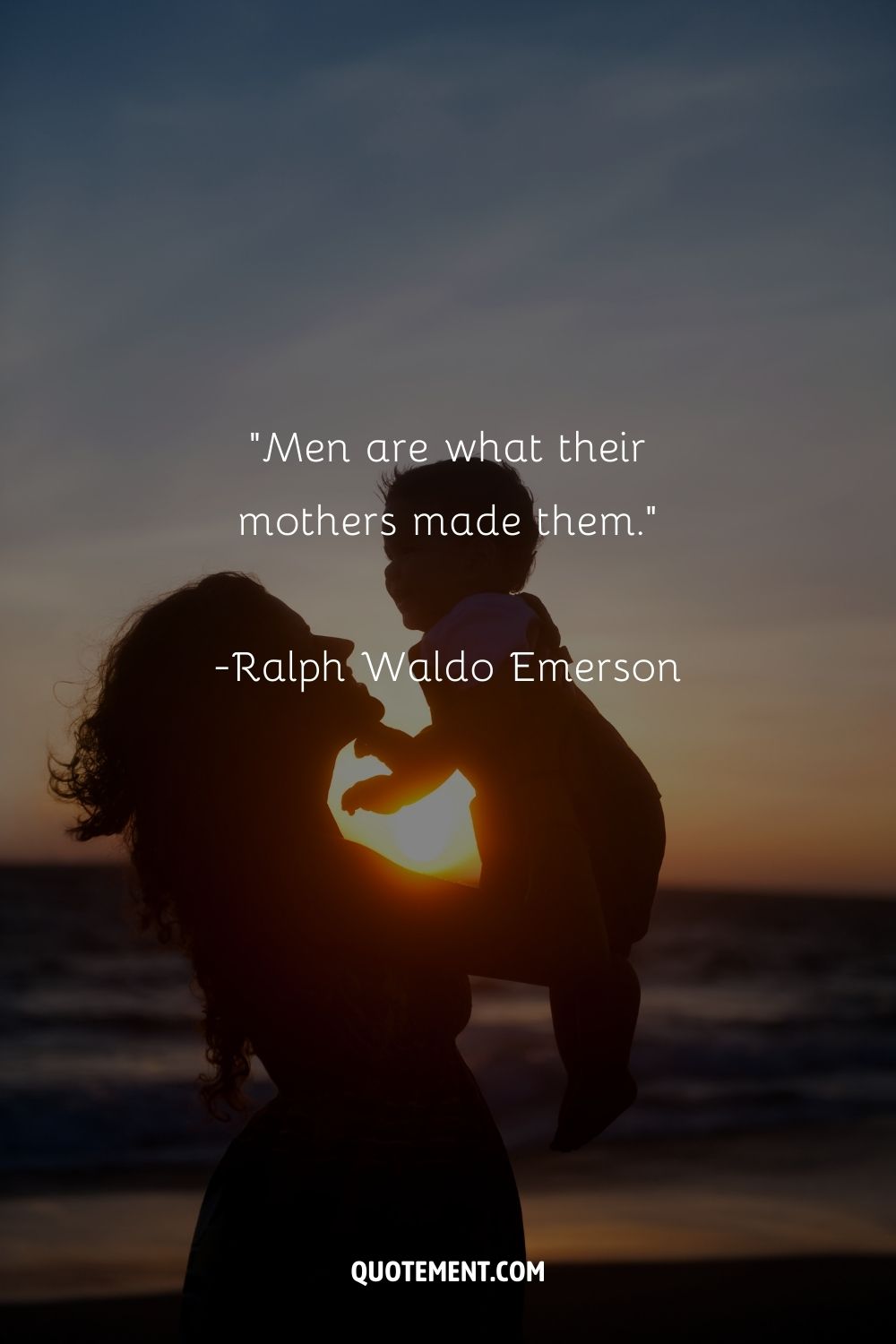 19. "If you would have your son walk honorably through the world, you must not attempt to clear the stones from his path, but teach him to walk firmly over them — not insist upon leading him by the hand, but let him learn to go alone." — Anne Bronte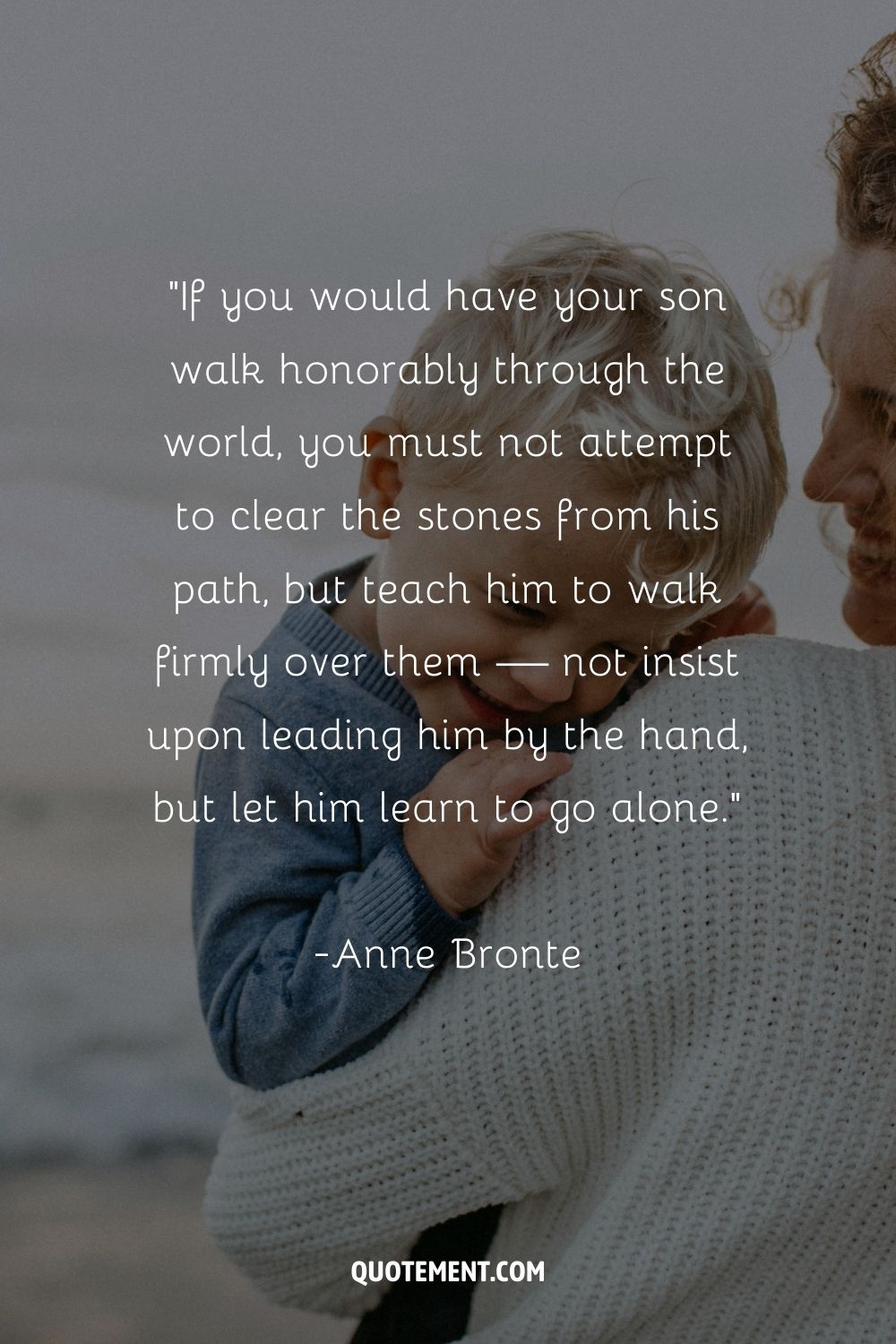 20. "Even more than the time when she gave birth, a mother feels her greatest joy when she hears others refer to her son as a wise, learned one." — Thiruvalluvar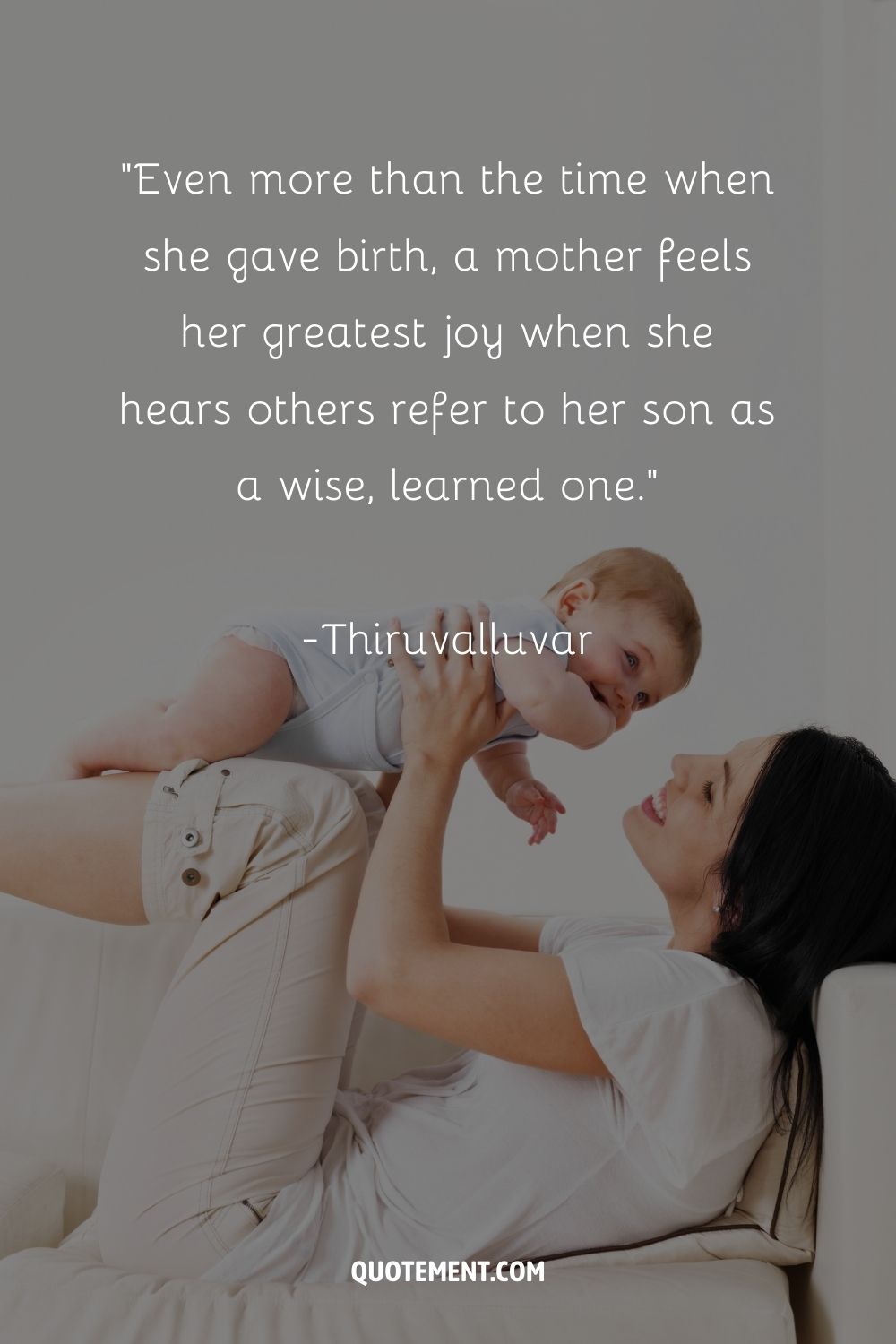 See also: 130 Inspiring Proud Momma Quotes That Will Impress You
Sweet Mom Of A Boy Quotes
1. "More than anything, it's my son's smile and love that makes me light up!" — Amber Valletta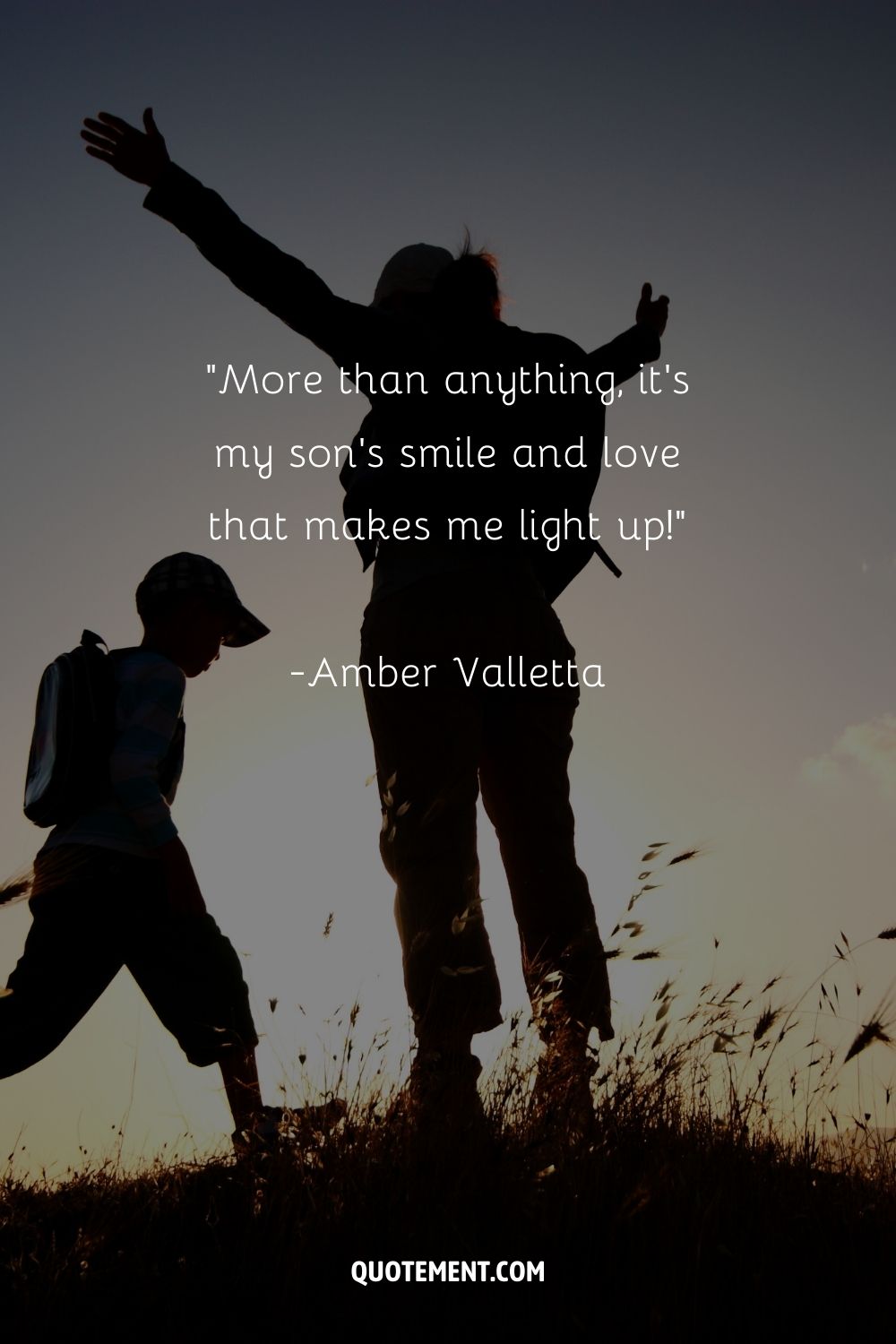 2. "Being a boy mom isn't an easy job, but it is definitely the best job anyone could ever have." — Unknown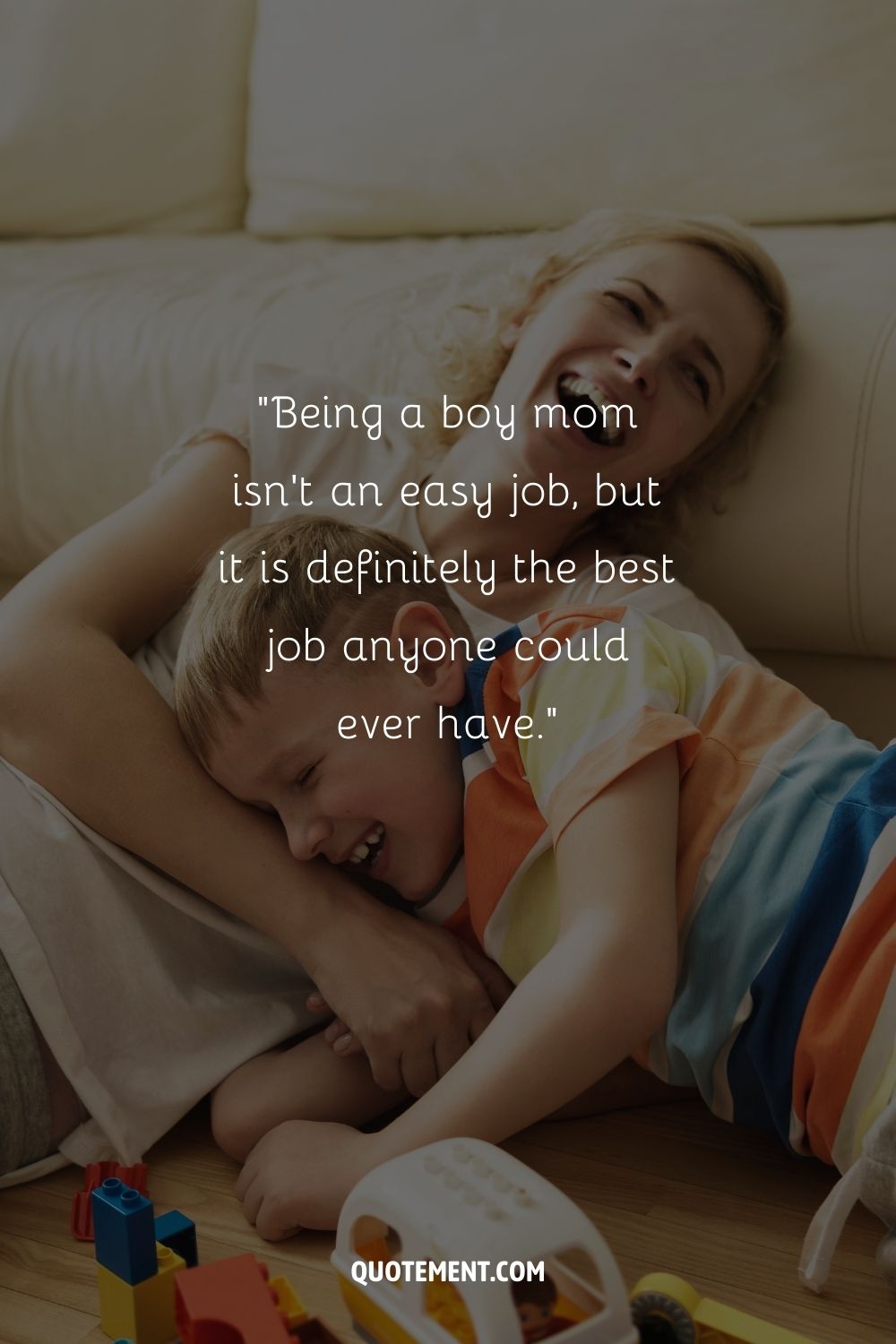 3. "A boy is truth with dirt on its face, beauty with a cut on its finger, wisdom with bubble gum in its hair, and the hope of the future with a frog in its pocket." — Alan Beck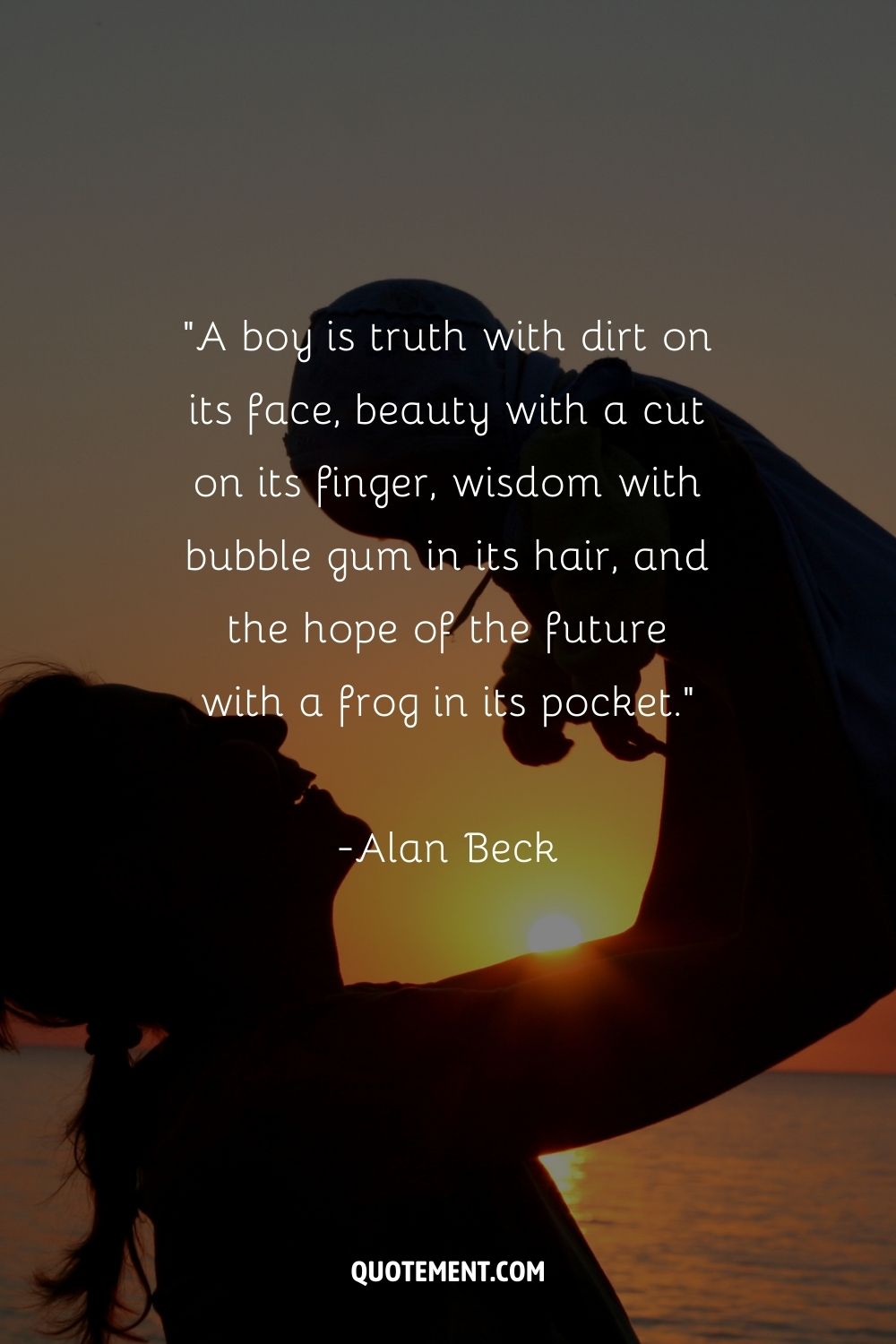 4. "And she loved a little boy very, very much — even more than she loved herself." — Shel Silverstein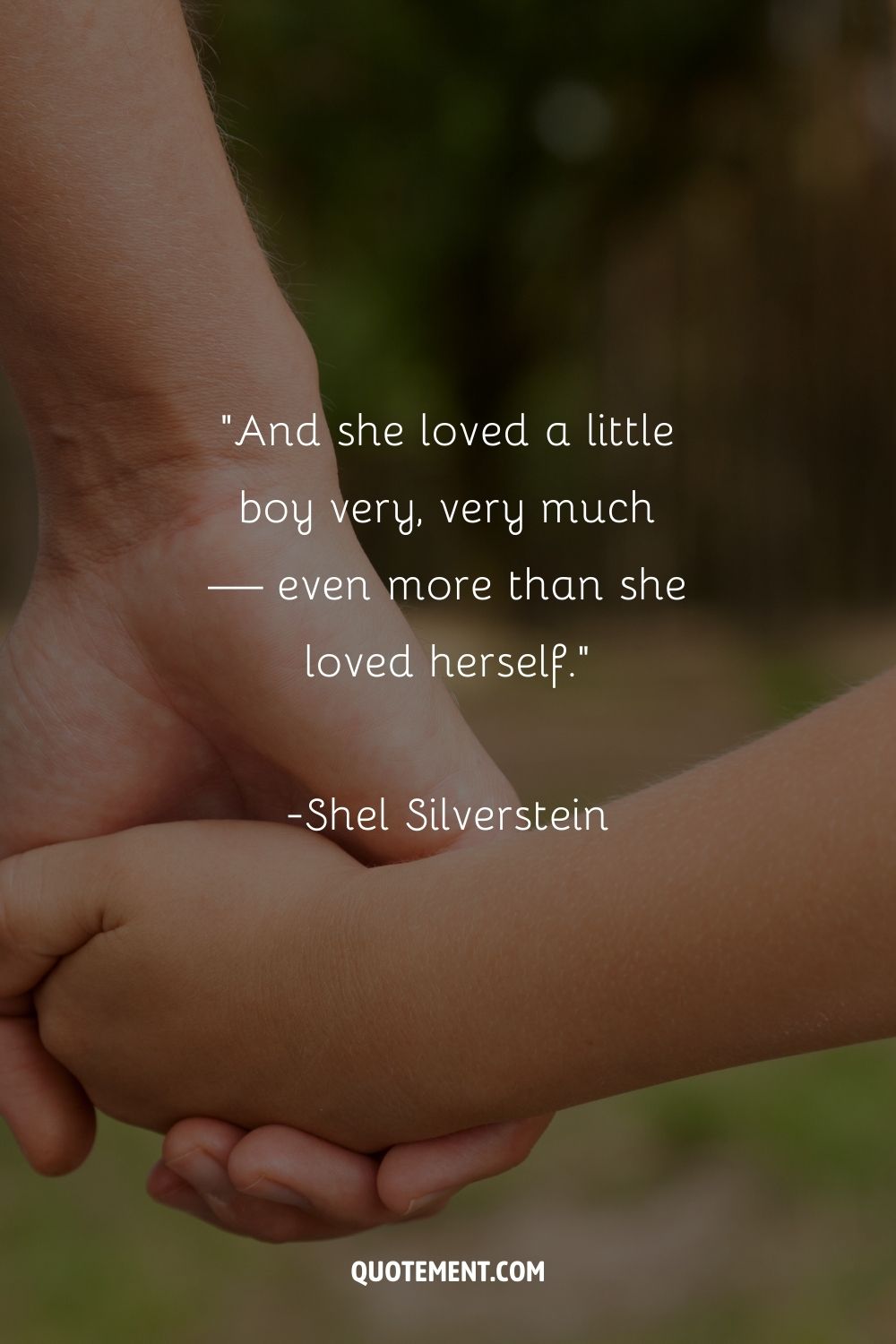 5. "The only man who has stolen my heart is my son." — Sandra Bullock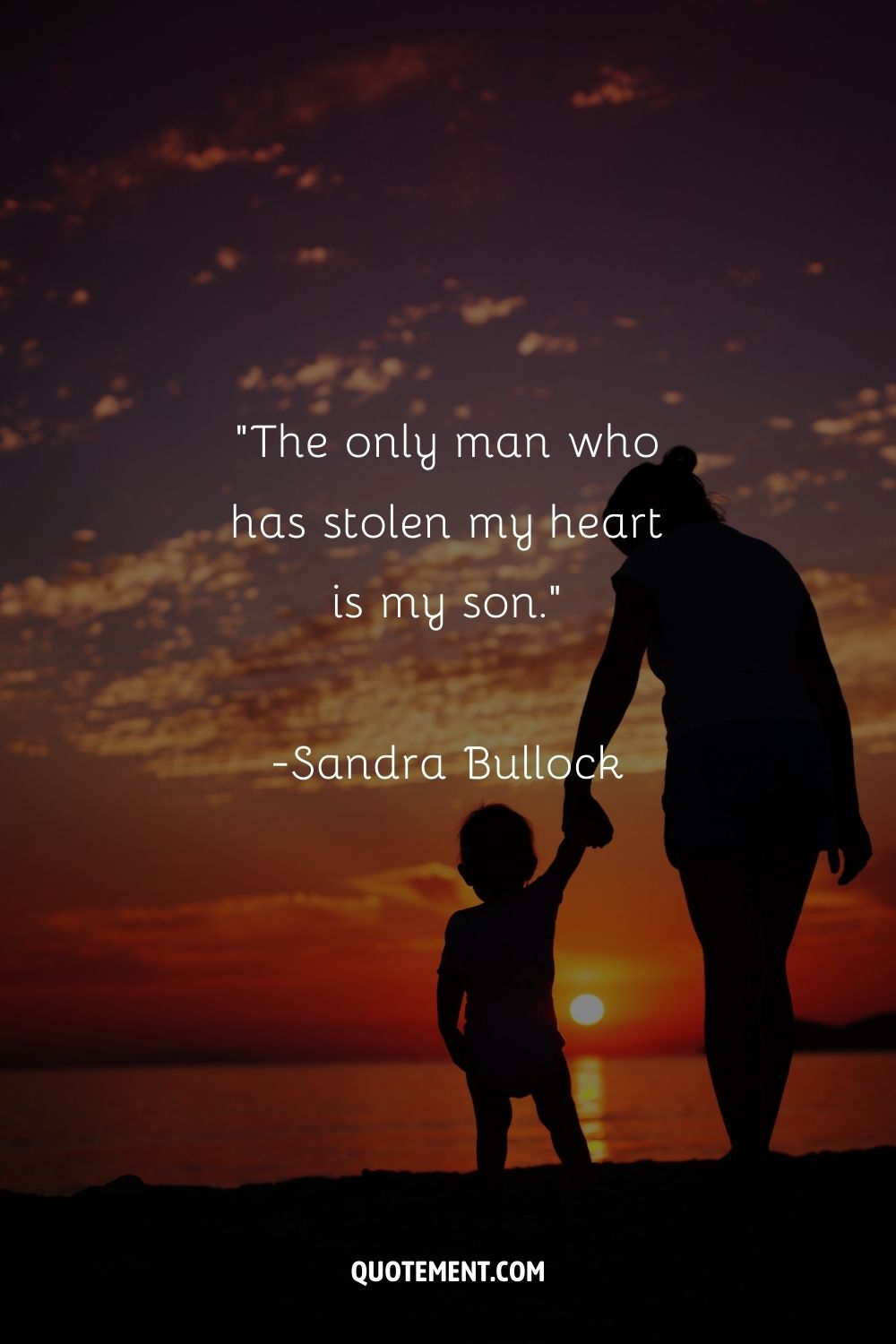 6. "The moment that little bundle of pink, squirming flesh slips into our arms, love touches us. We feel it, not just in our hearts but also on our skin. He is there. Our son." — Meg Meeker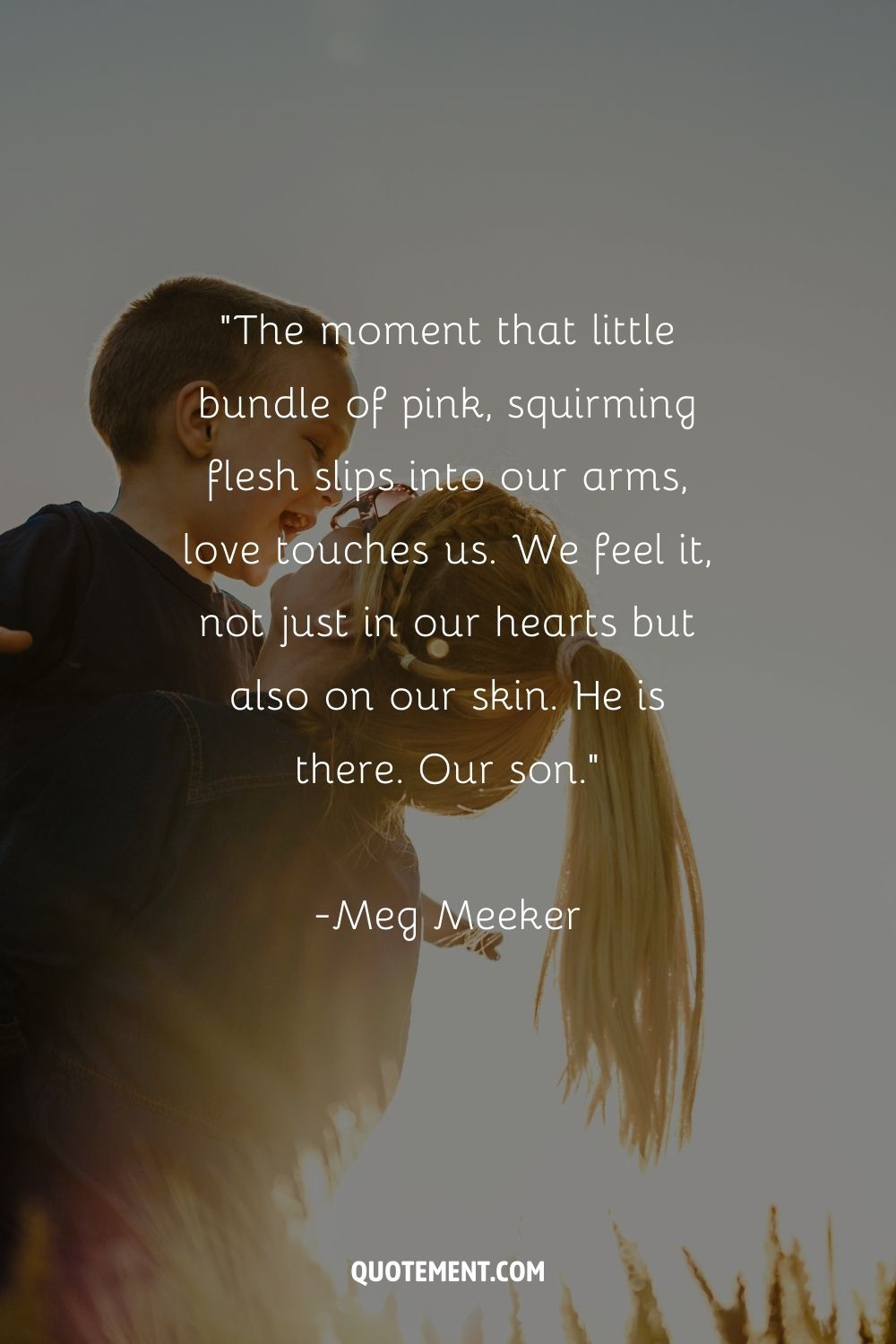 7. "Of course, my son has been the center of my life and will always be the center of my love. When he was young, I was the rock in his life. Now that I am old, he is the rock in my life." — Hyacinth Mottley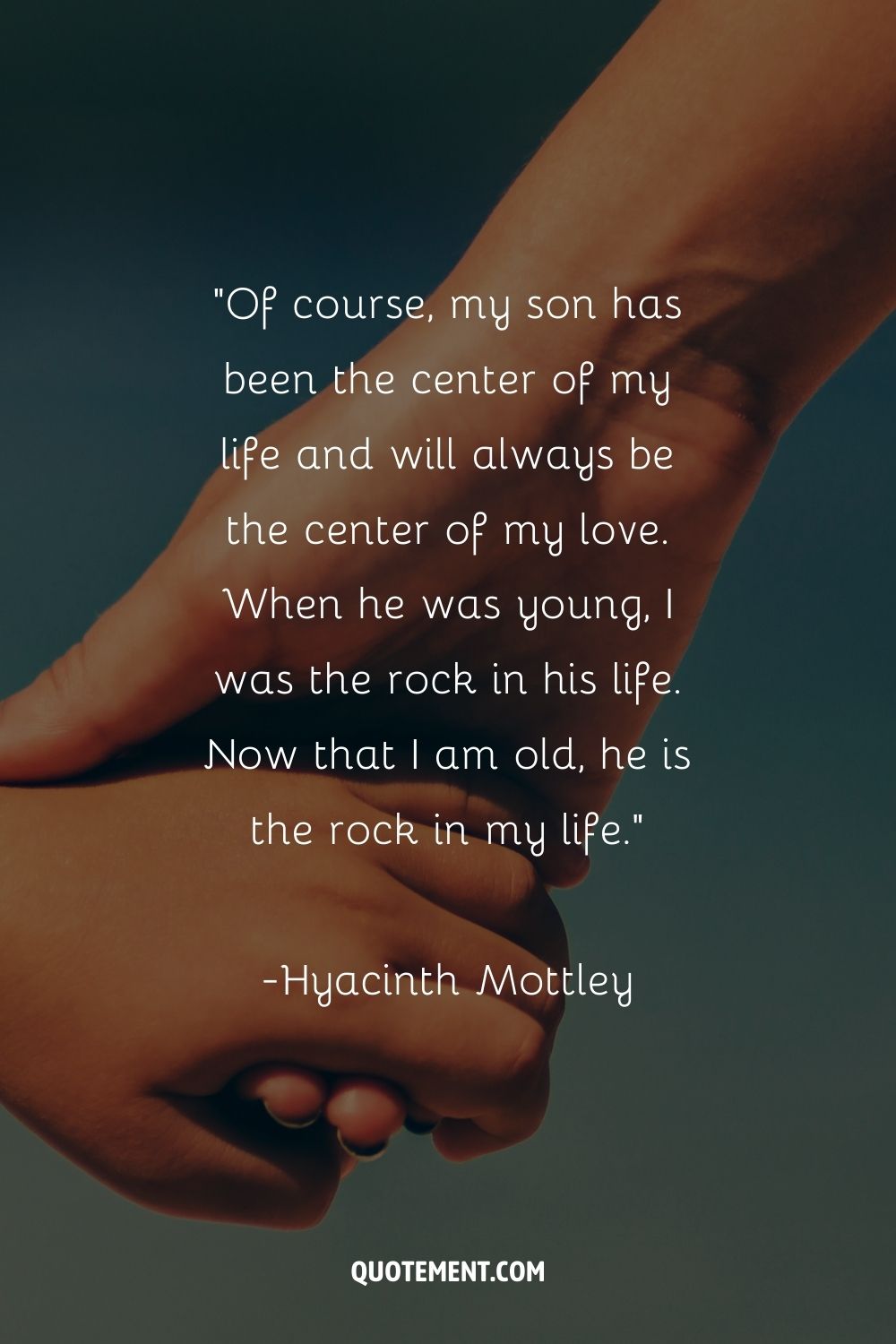 8. "To wake up to the sound of my son saying 'Mama, mama!' It's the best sound ever." — Miranda Kerr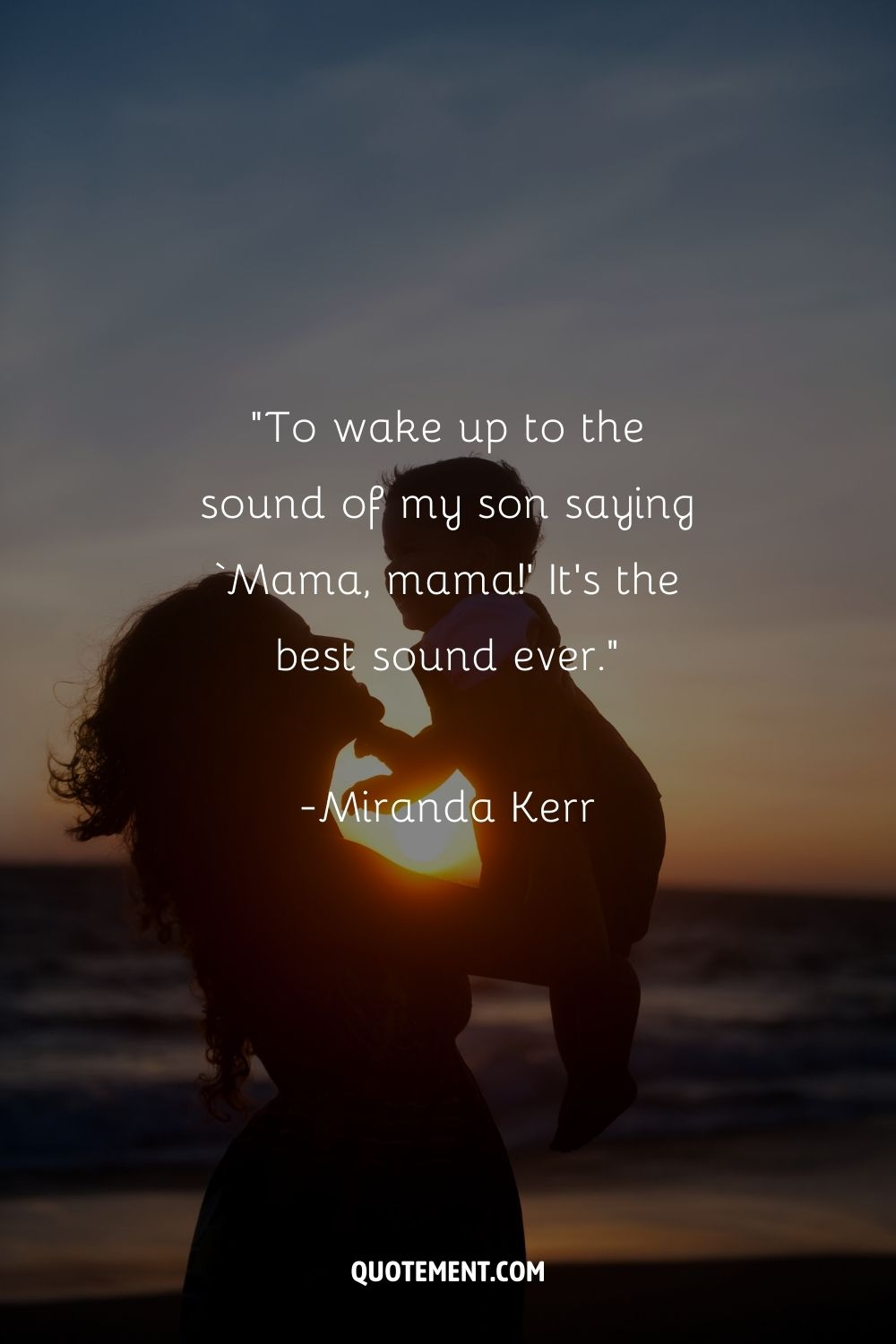 9. "As a mother of boys, your sons see you as the center of their universe, their comfort zone, their first love." — Unknown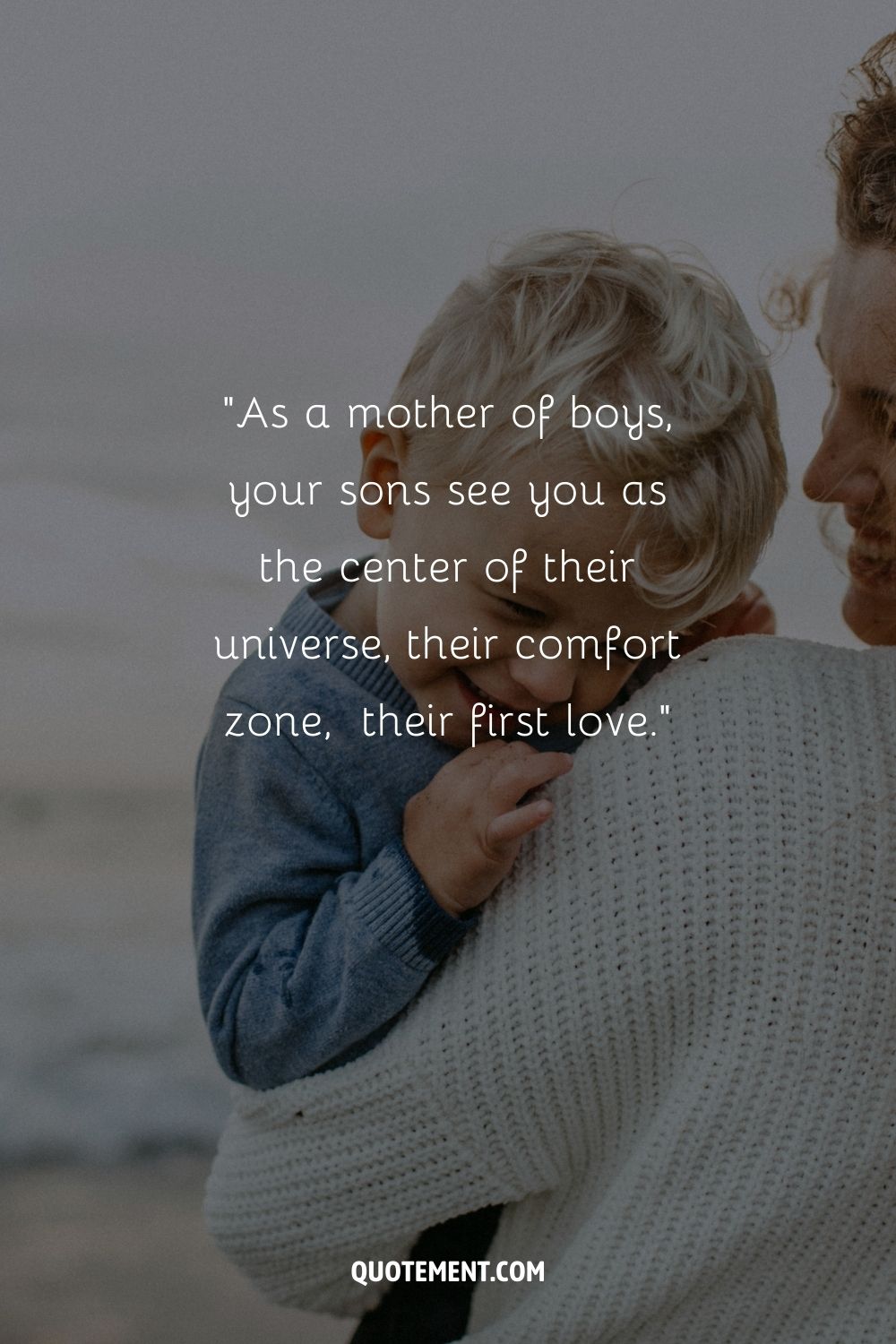 10. "Most young men are such bores. They haven't lived long enough to learn that they are not the wonders to the world they are to their mothers." — L.M. Montgomery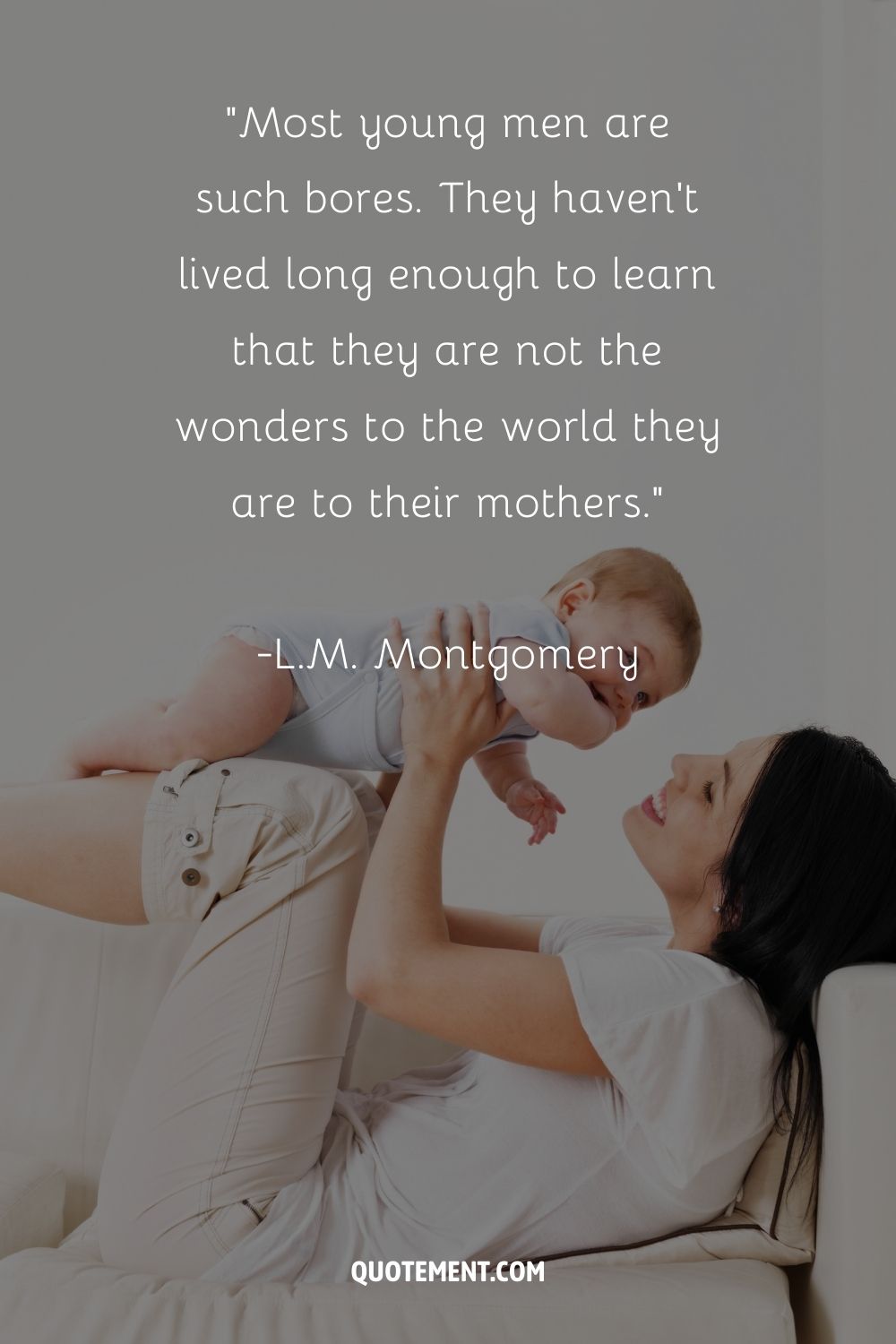 11. "Little boys can test your patience, run you ragged, and make you want to pull your hair out. But they will also melt your heart with just one look, and make you wonder how you ever existed before them." — Katie Bingham Smith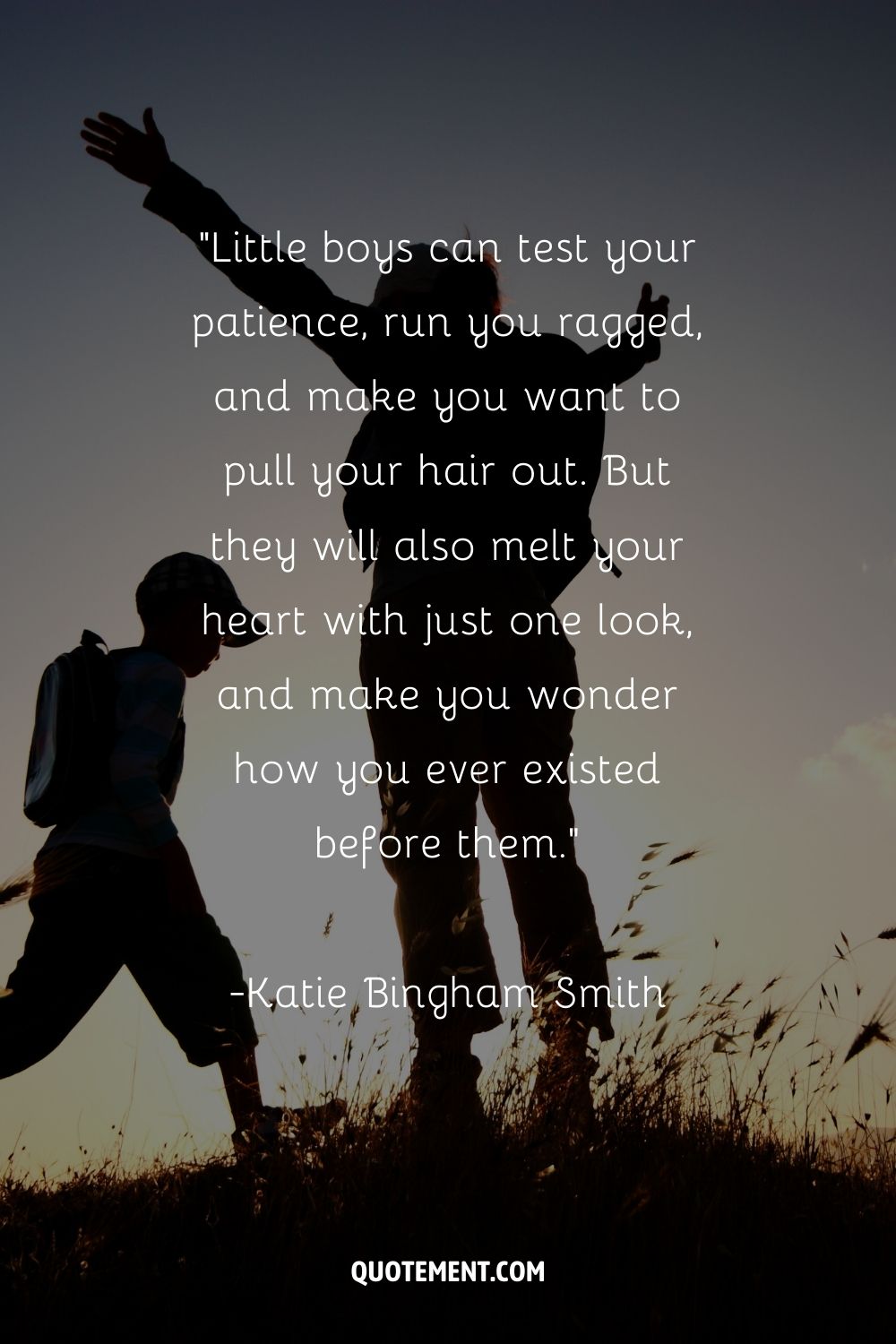 12. "You will be his first kiss, his first love, his first friend. You're his momma and he is your whole world. He is your little boy." — Unknown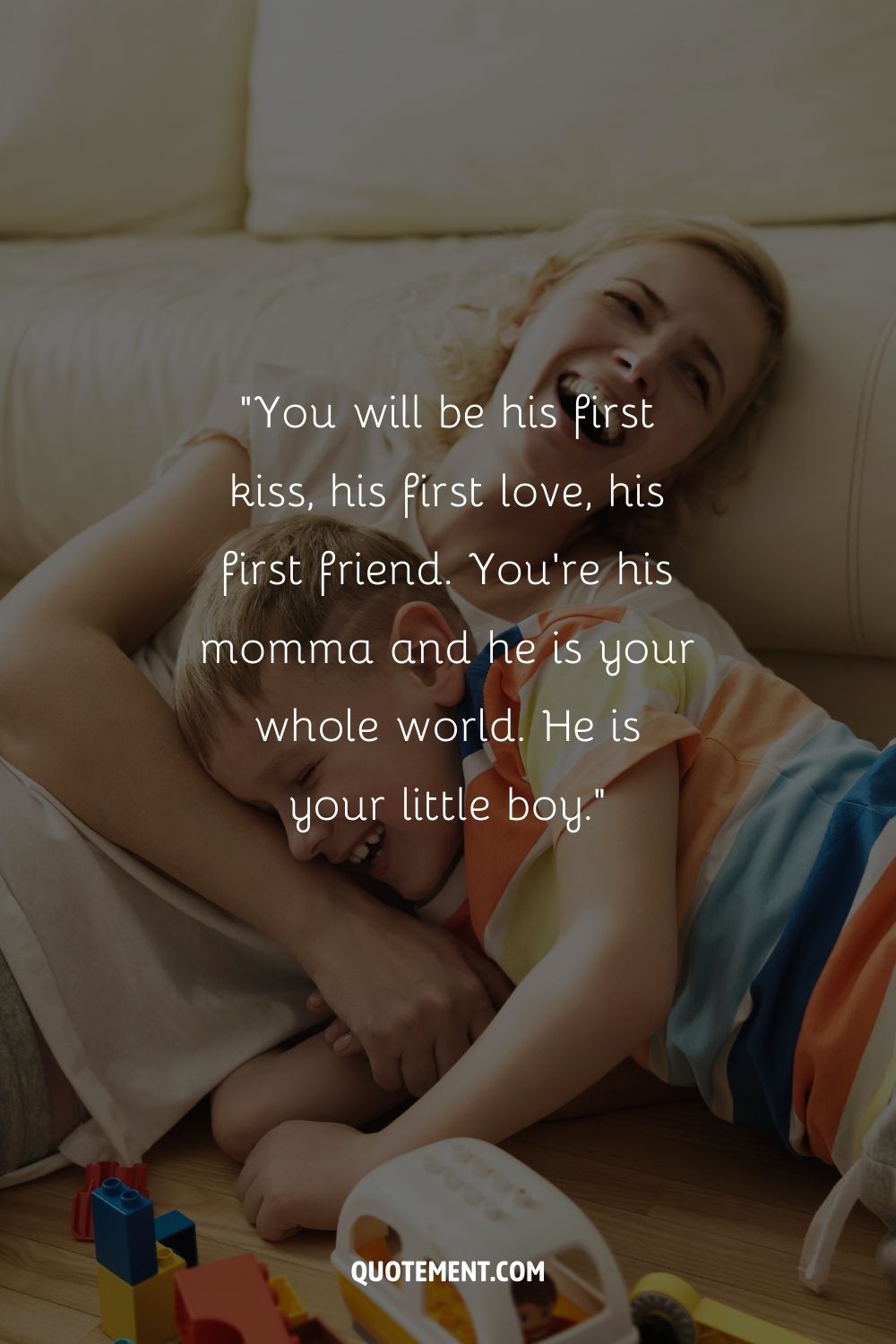 13. "Let your boys test their wings. They may not be eagles, but that doesn't mean they shouldn't soar free." — C.J. Milbrandt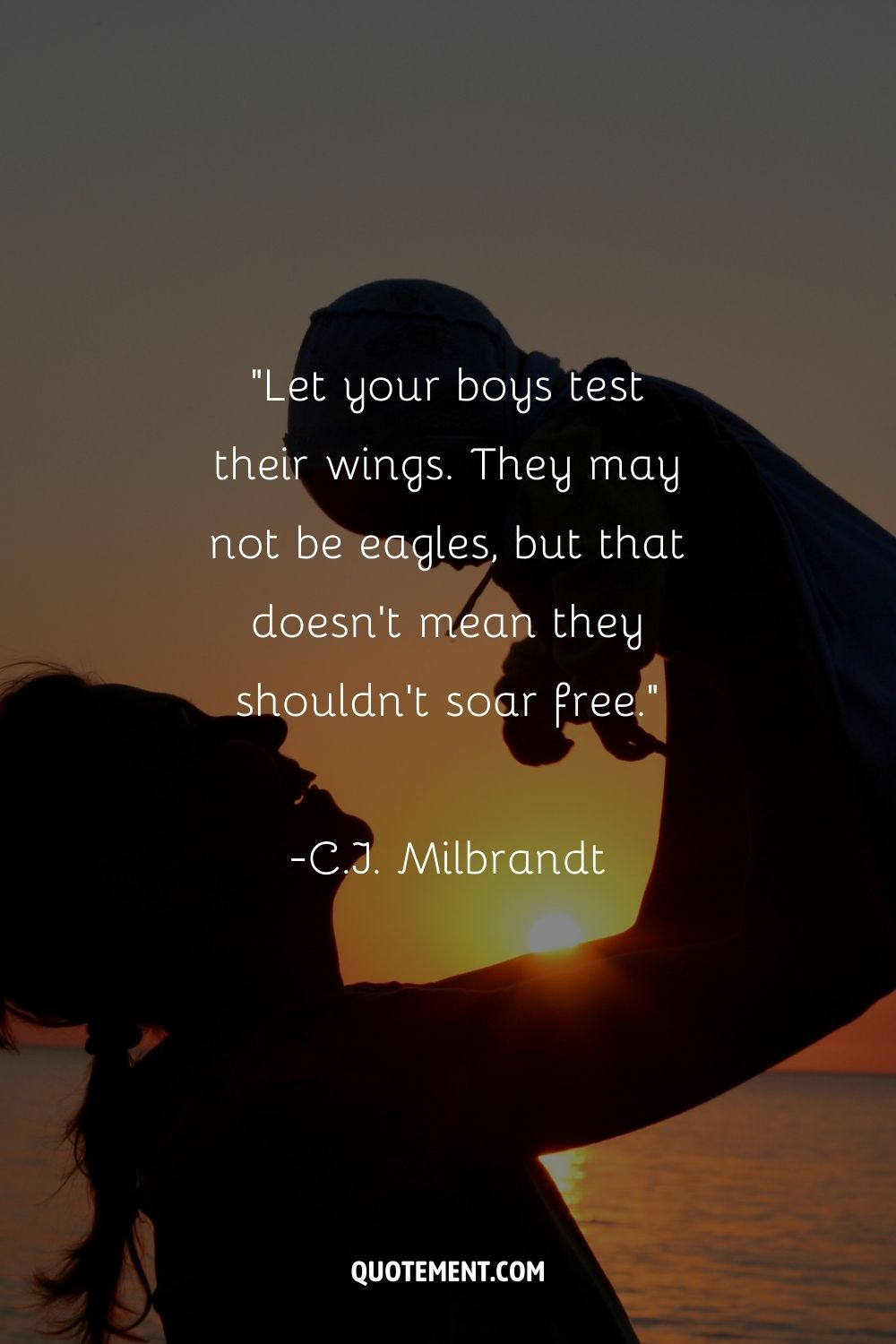 14. "I live for my sons. I would be lost without them." — Princess Diana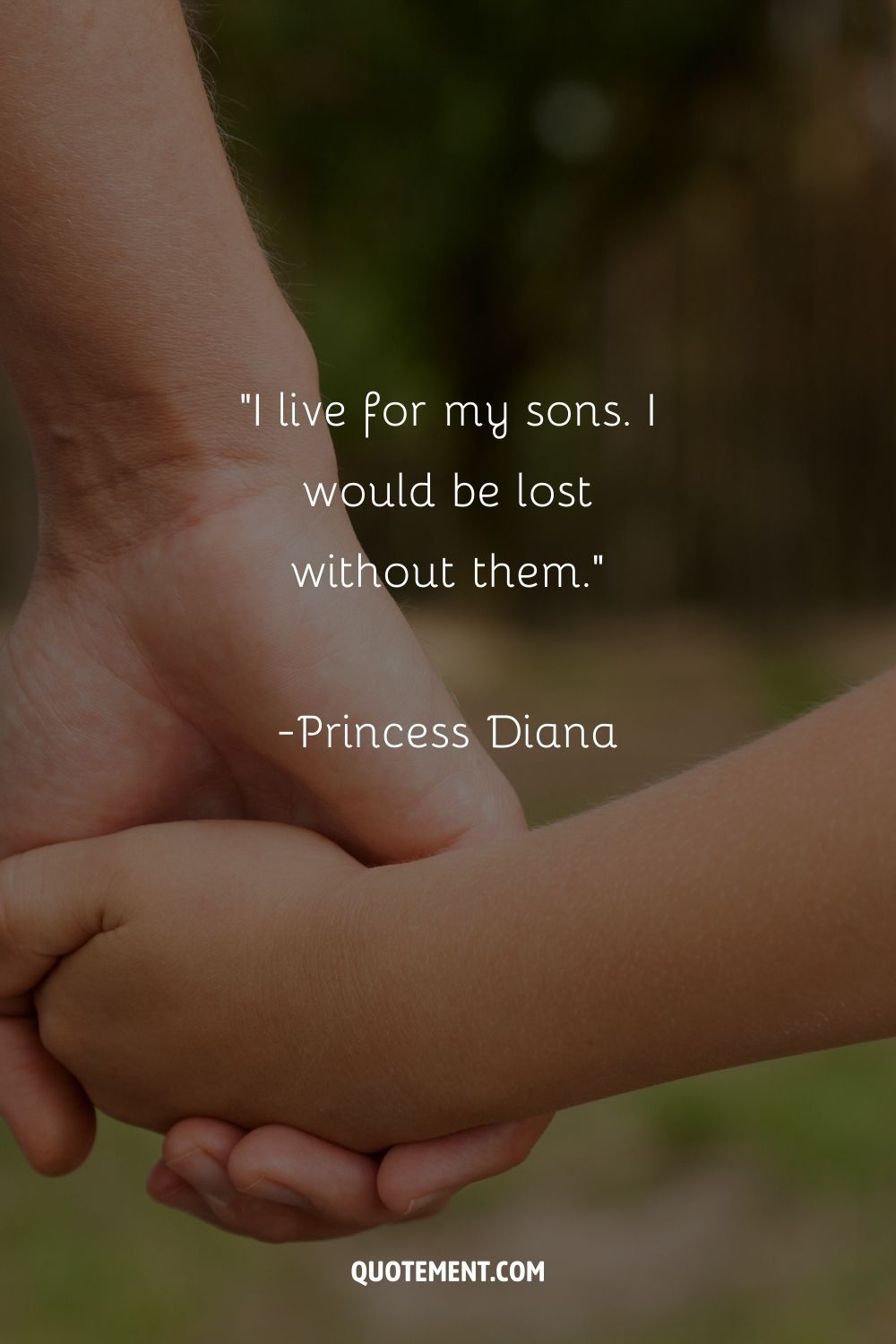 15. "Raising boys has made me a more generous woman than I really am. Undoubtedly, there are other routes to learning the wishes and dreams of the presumably opposite sex, but I know of none more direct, or more highly motivating, than being the mother of sons." — Mary Kay Blakely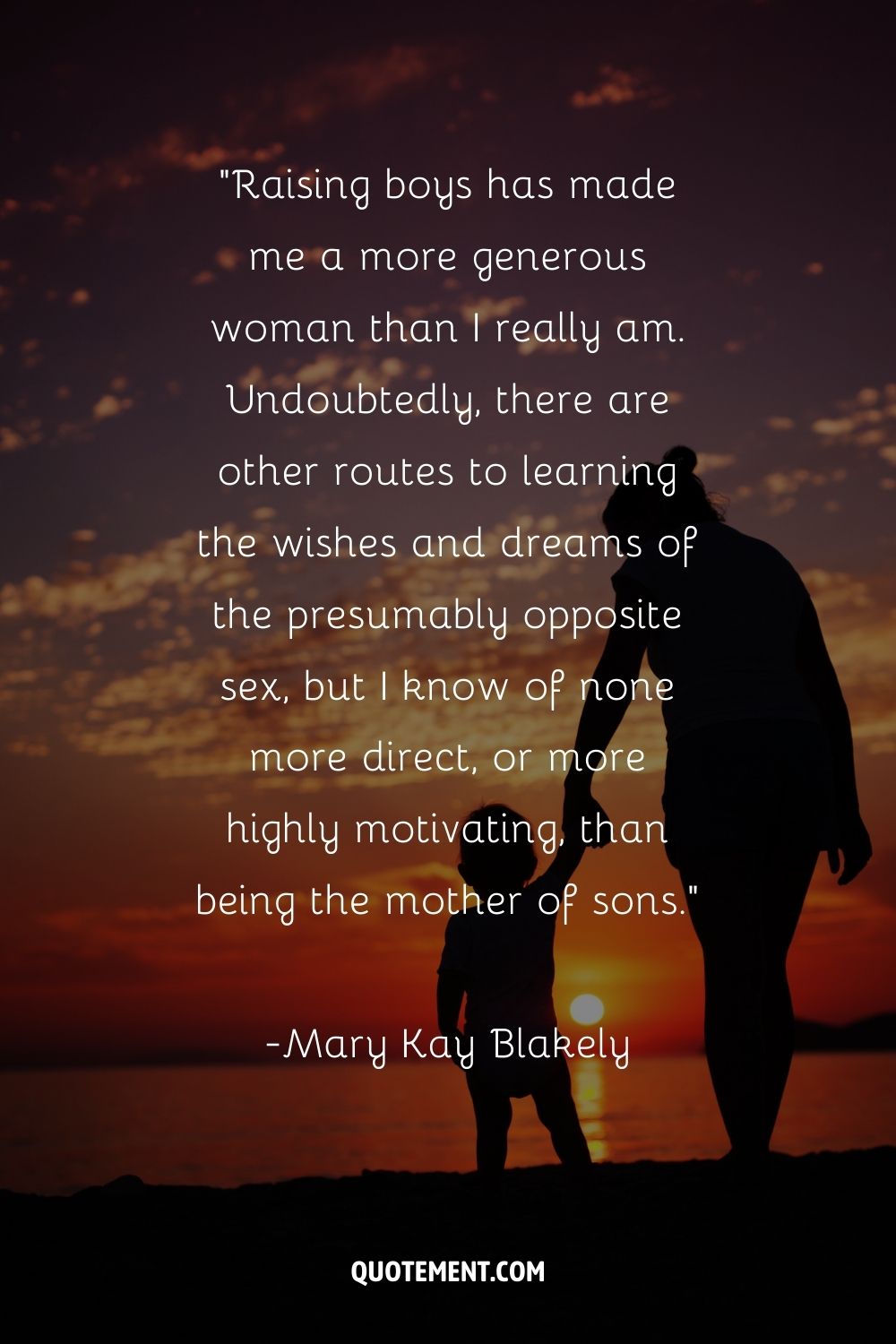 16. "You are loved for the baby boy you are, the man you will become, and the precious son you will always be." — Proud Happy Mama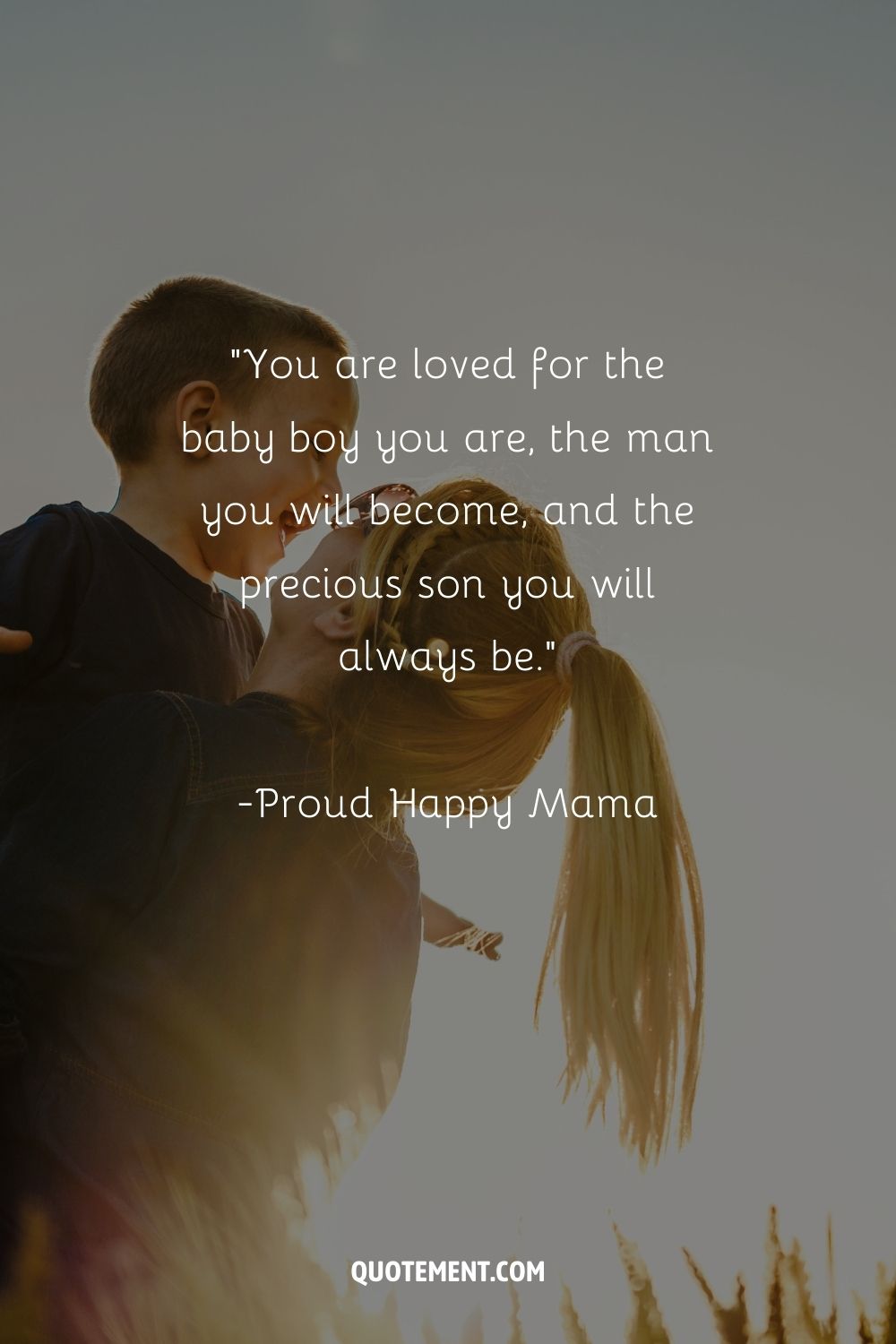 17. "Sometimes when I need a miracle, I look into my son's eyes and realize I already have one." — Unknown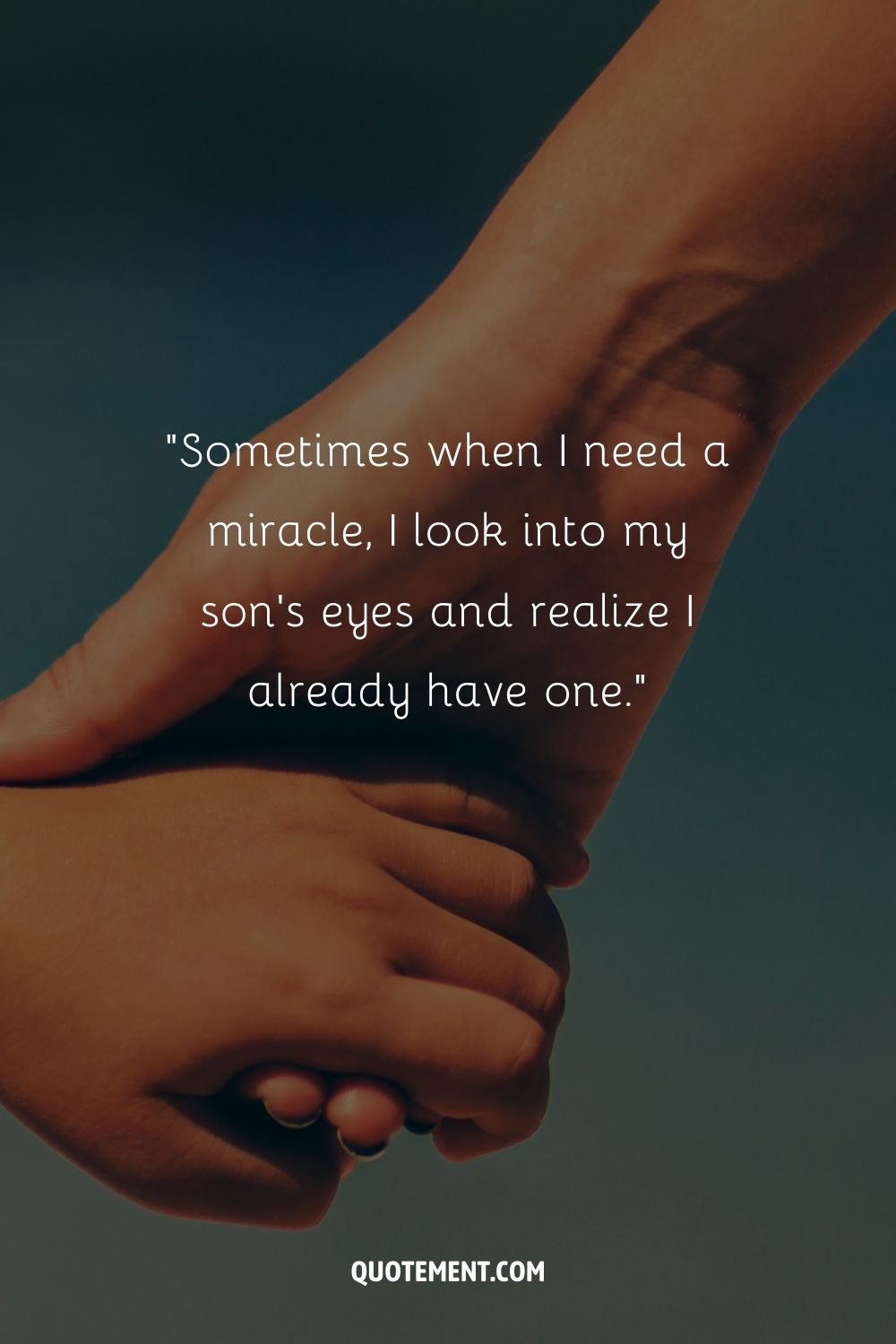 18. "When you were a toddler you made me smile. When you were a teenager you made me worry. But now you are a man and my son, I am so proud of you and all your accomplishments!" — Catherine Pulsifer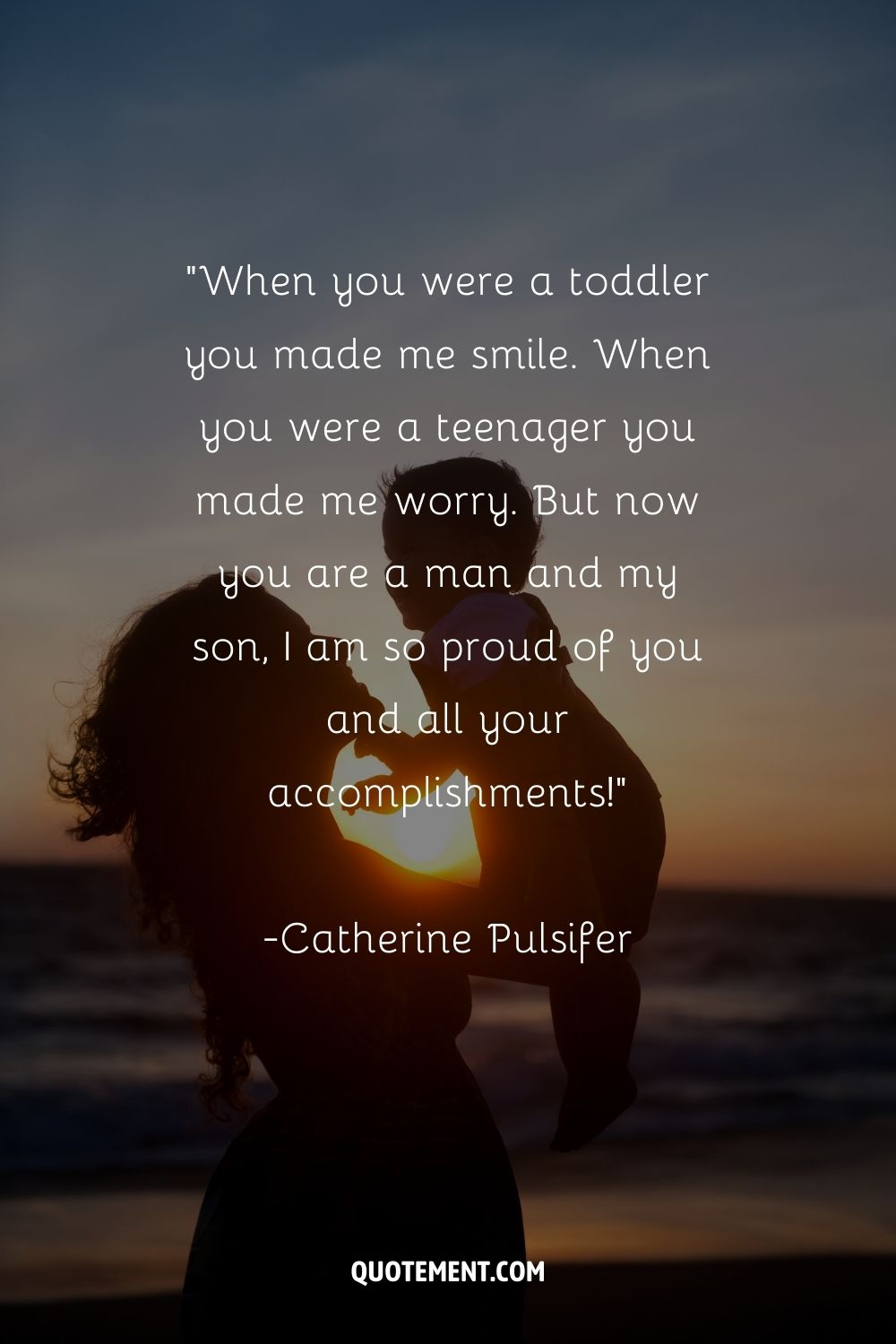 19. "One thing about having a baby is that each step of the way, you simply cannot imagine loving him any more than you already do . . . And then you do; you love him even more." — Anne Lamott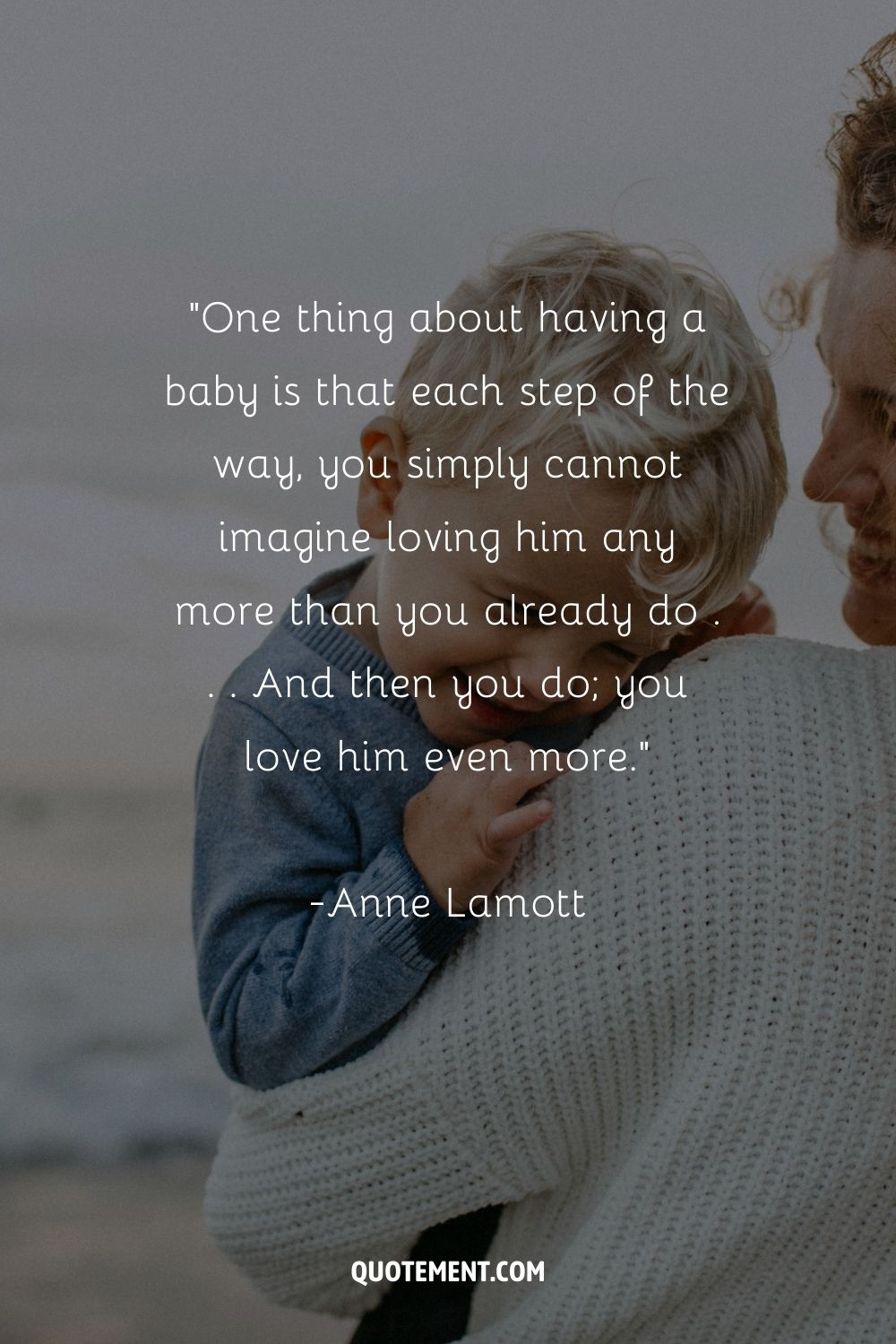 20. "Just when you think you know love, your precious little boys come along and remind you just how big it really is." — Proud Happy Mama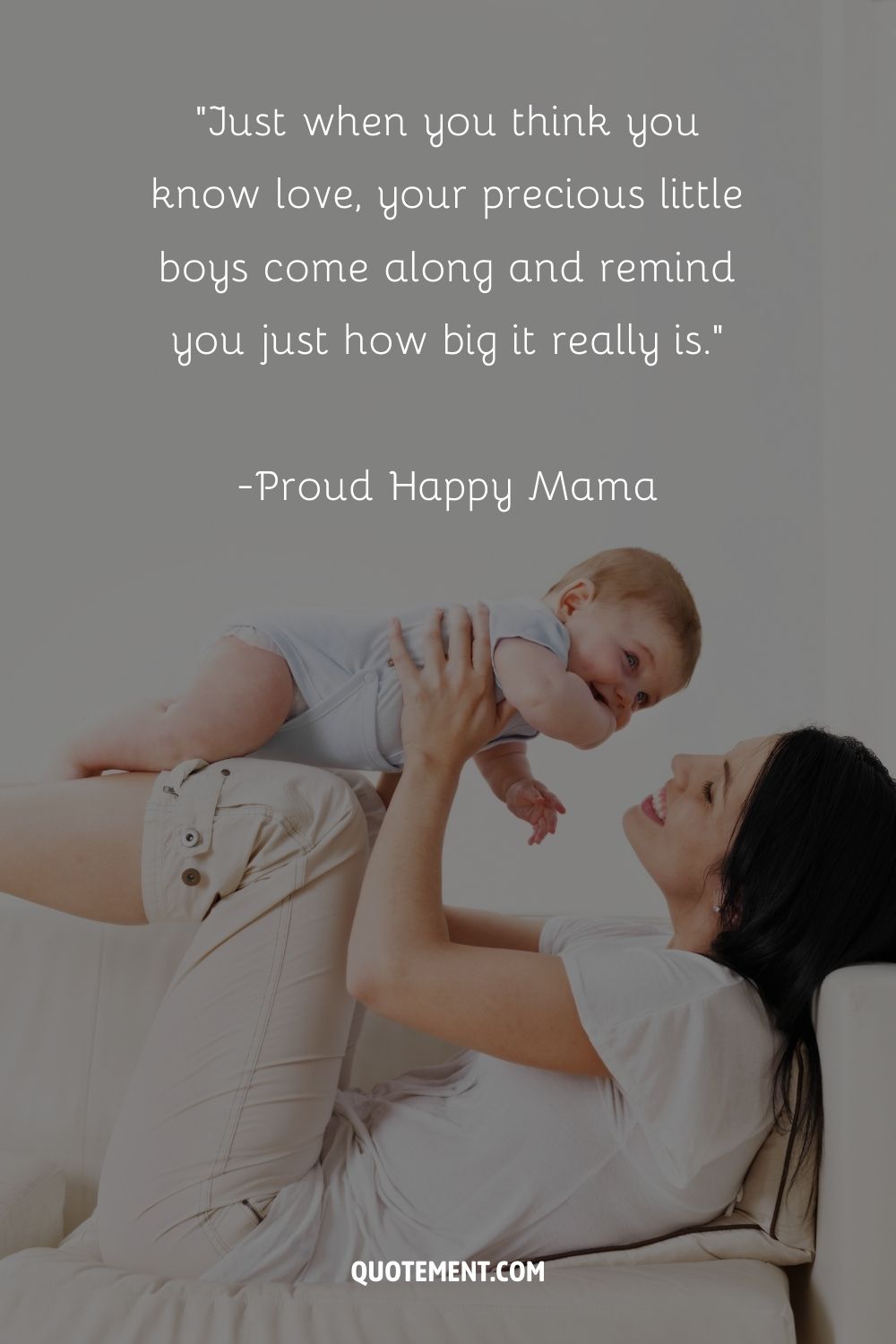 See also: 140 Bond Between Mother And Child Quotes To Warm Your Heart
Funny Boy Mom Quotes
1. "You never realize how many times you can say, 'Get your hands out of your pants!' in a day until you are a mom of boys." — Jen Florio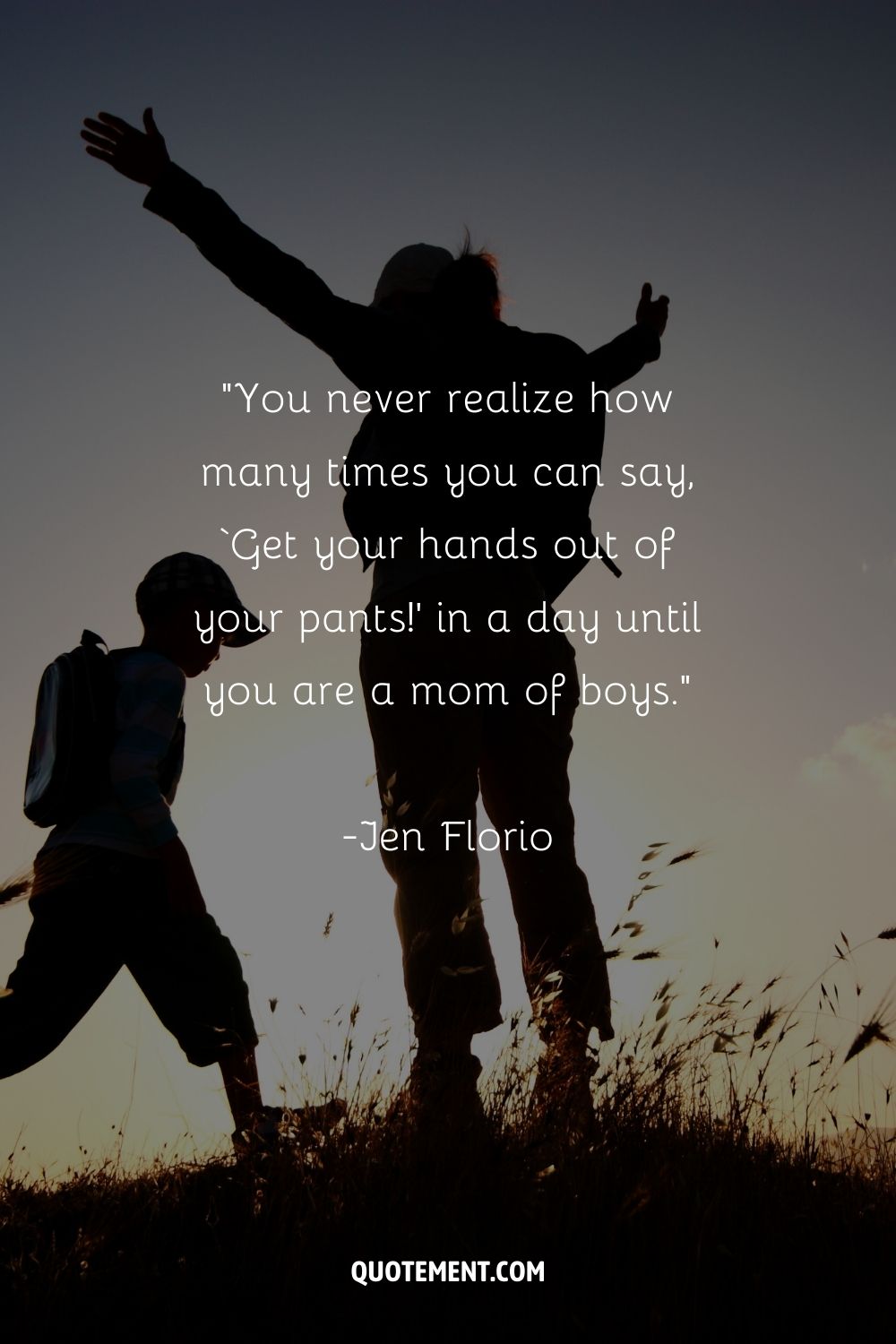 2. "Here's what I've learned about raising boys… if you keep 'em busy, they're fine. You let 'em get bored, they'll dismantle your house board by board." — Kenny Rogers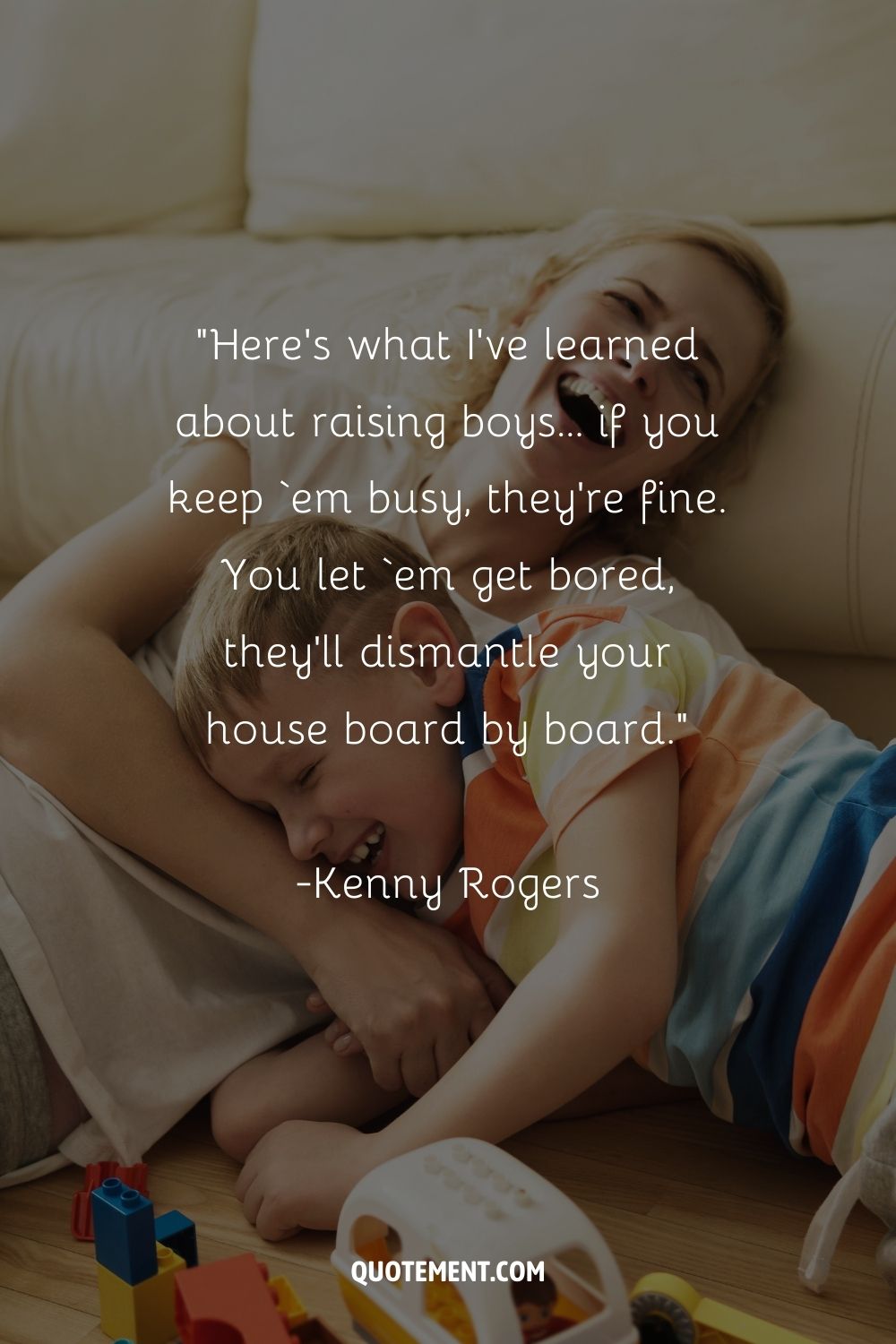 3. "When you have boys, it's impossible to have nice things. They are either mysteriously lost, turned into a weapon, broken, or dirty beyond recognition." — Unknown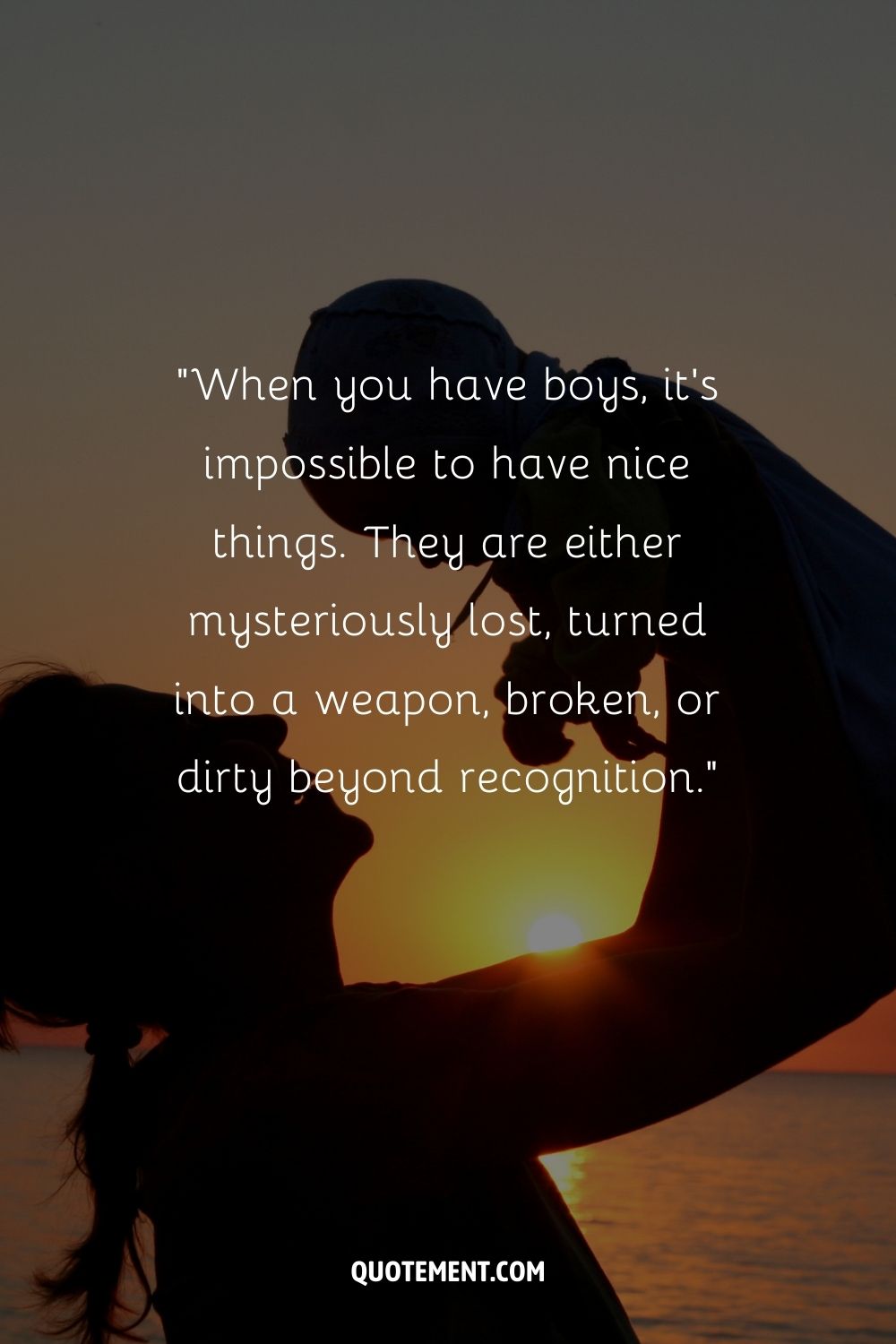 4. "Little boys bring you just to the brink of insanity before gently easing you off the edge with a sweet kiss and laughter from a perfectly timed fart." — Unknown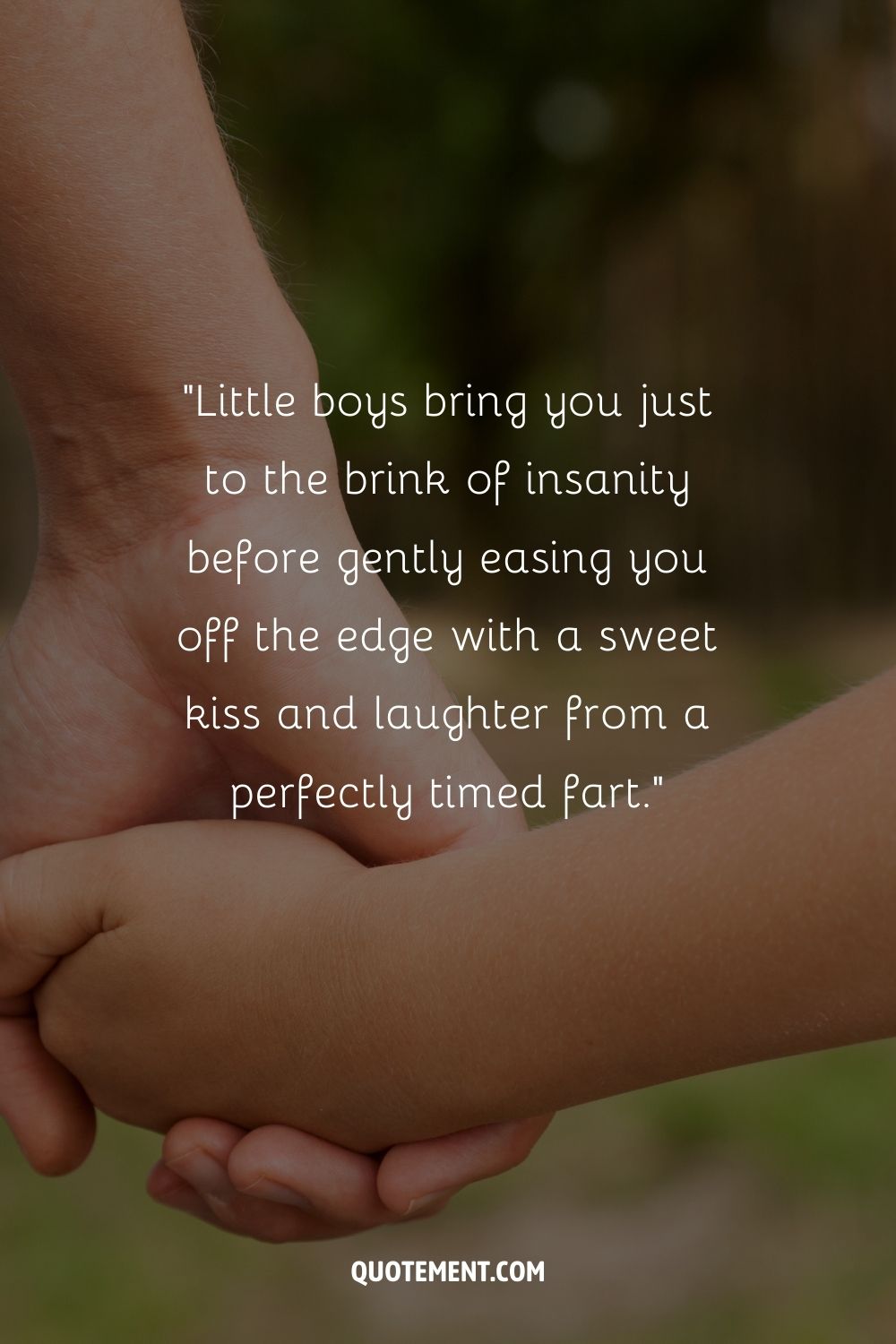 5. "You're going to miss this someday, I whisper to myself as I'm shot in the butt with a nerf gun while unclogging the toilet." — Unknown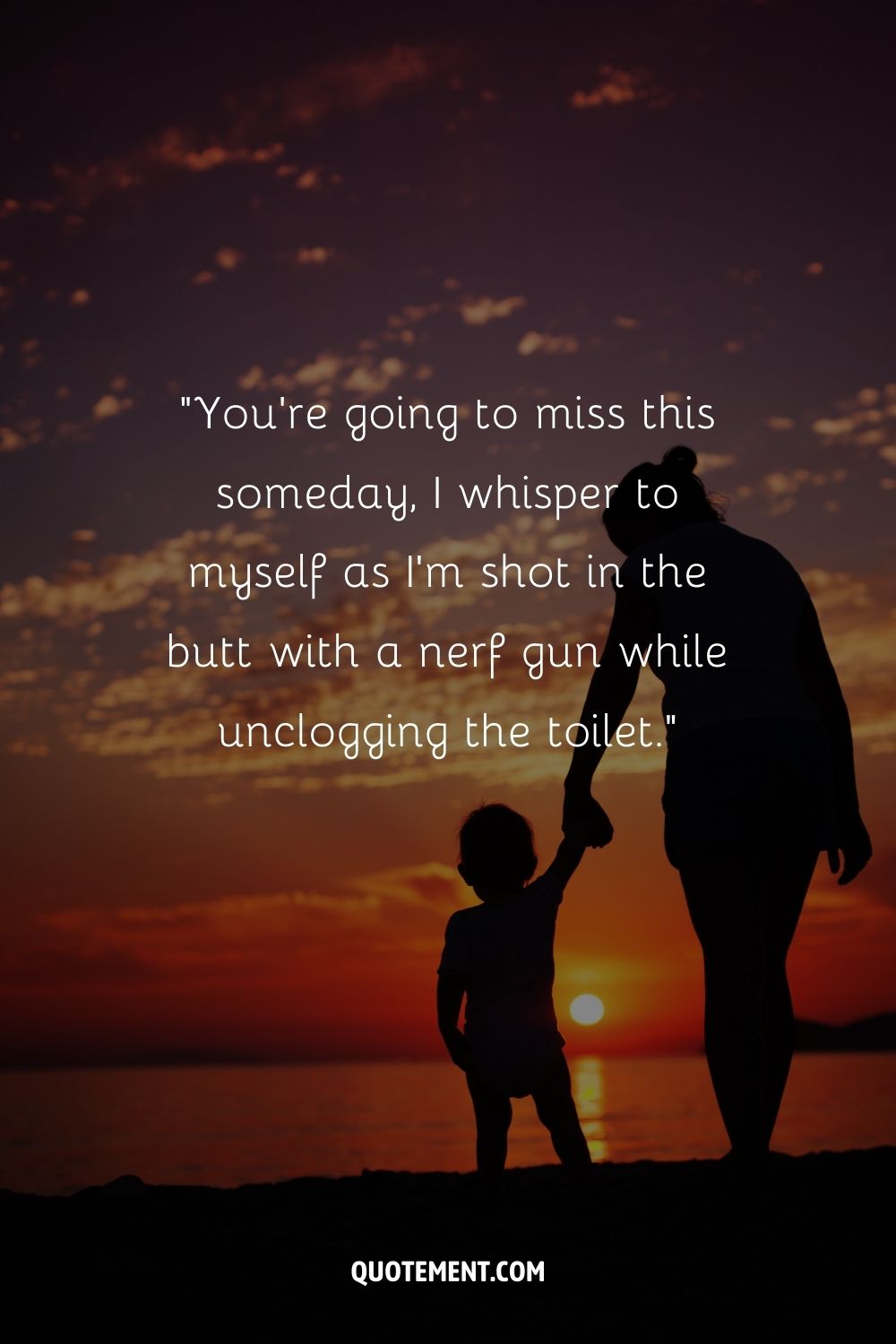 6. "When you're a boy mom you get to say things like, We can't have nice things because you will pee on them." — Unknown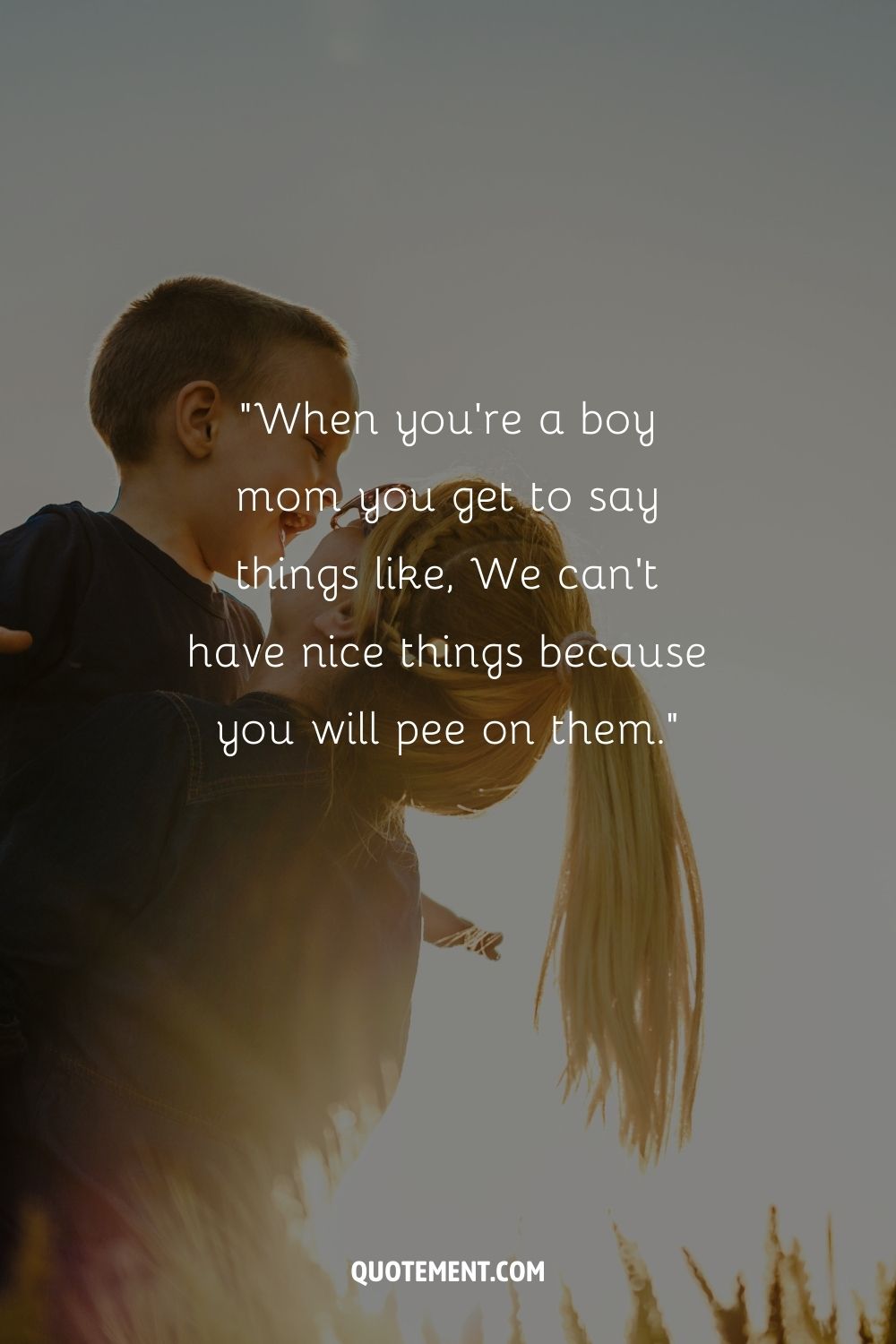 7. "Raising boys is equivalent to happy chaos. You always wonder why your toaster is in pieces, and you never know what the mystery stain is, but the hugs are infectious." — Unknown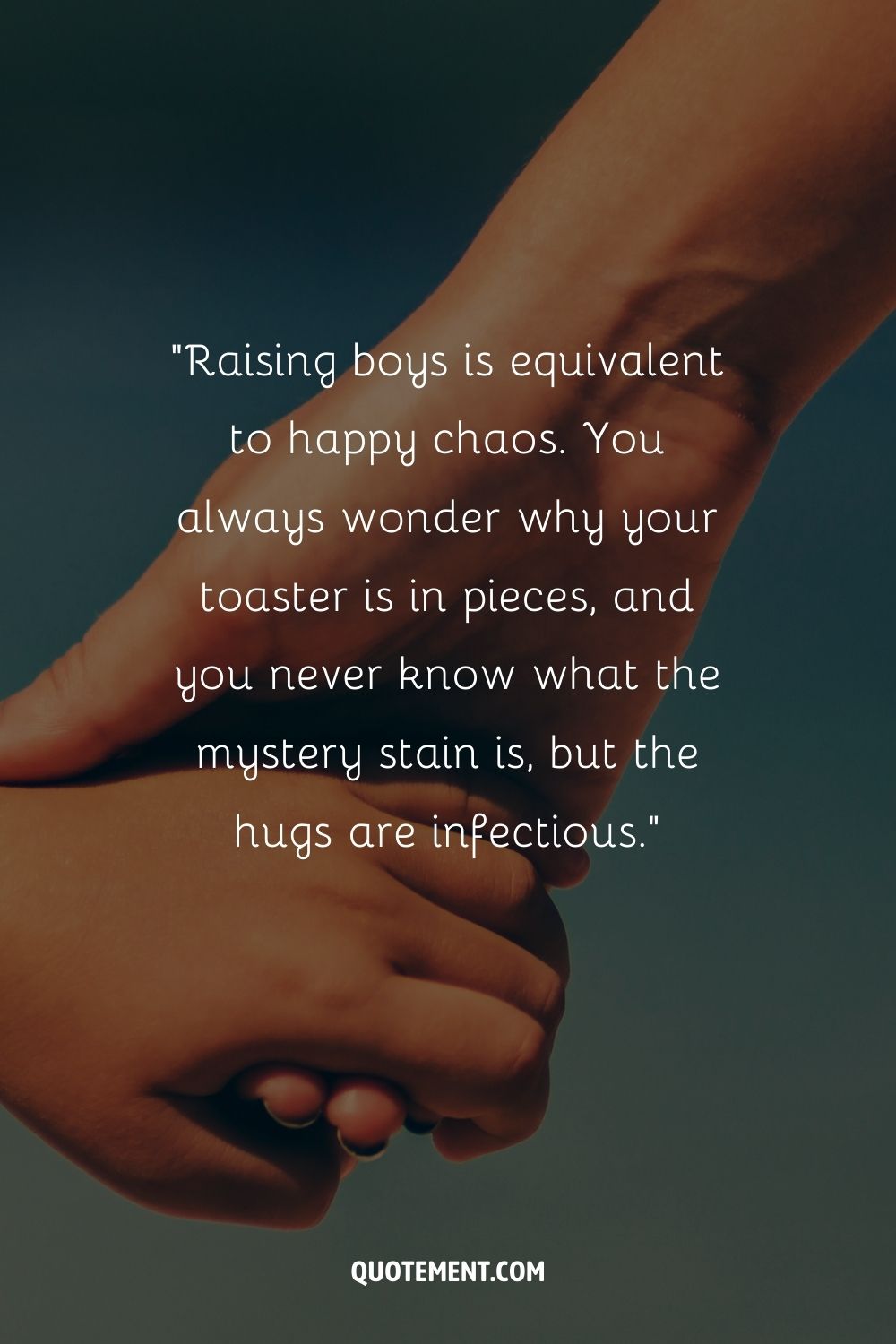 8. "Having an infant son alerts me to the fact that every man, at one point, has peed on his own face." — Olivia Wilde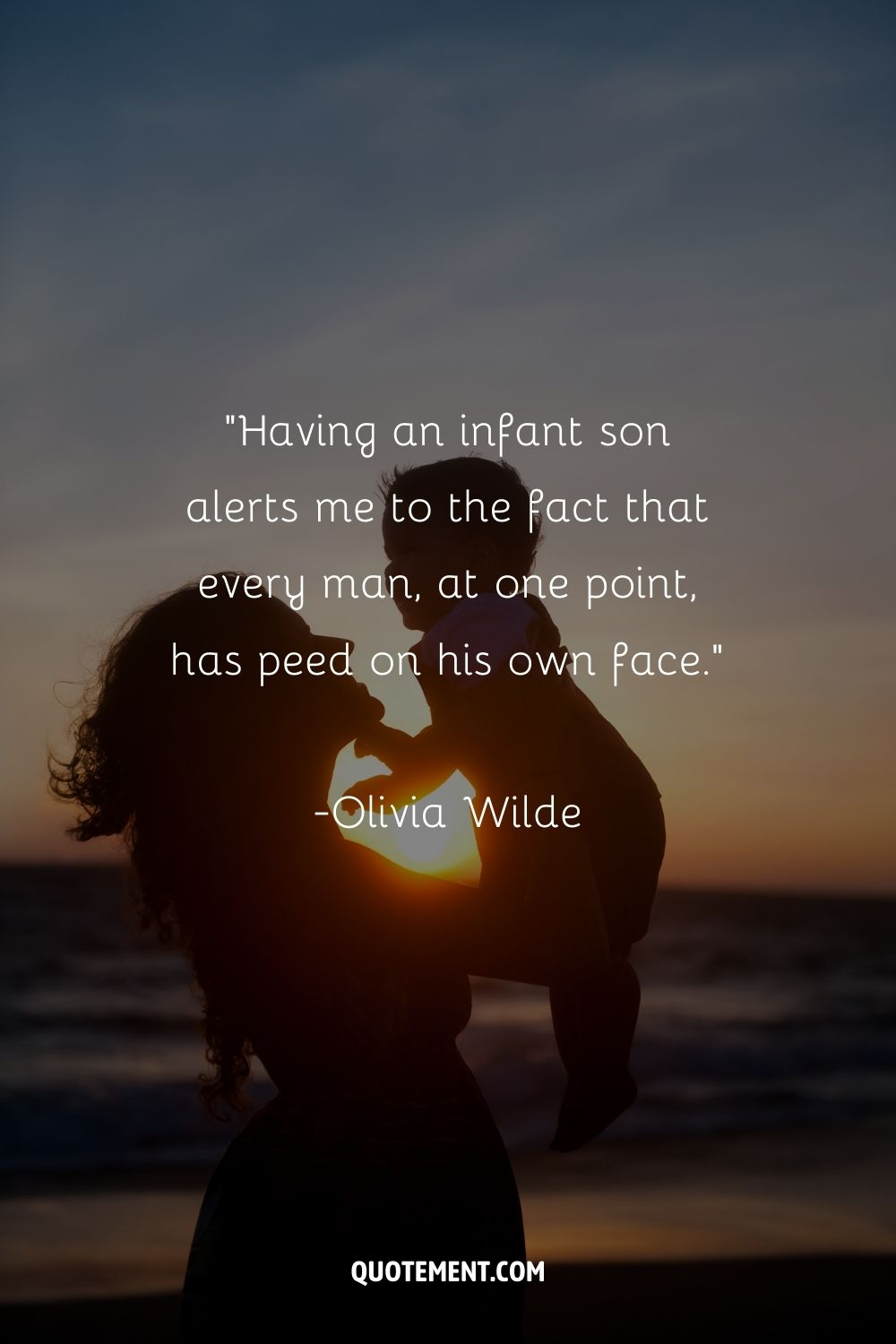 9. "Being a boy mom means discovering how they entertain themselves may sometimes cause you a tiny heart attack." — Lauren Levine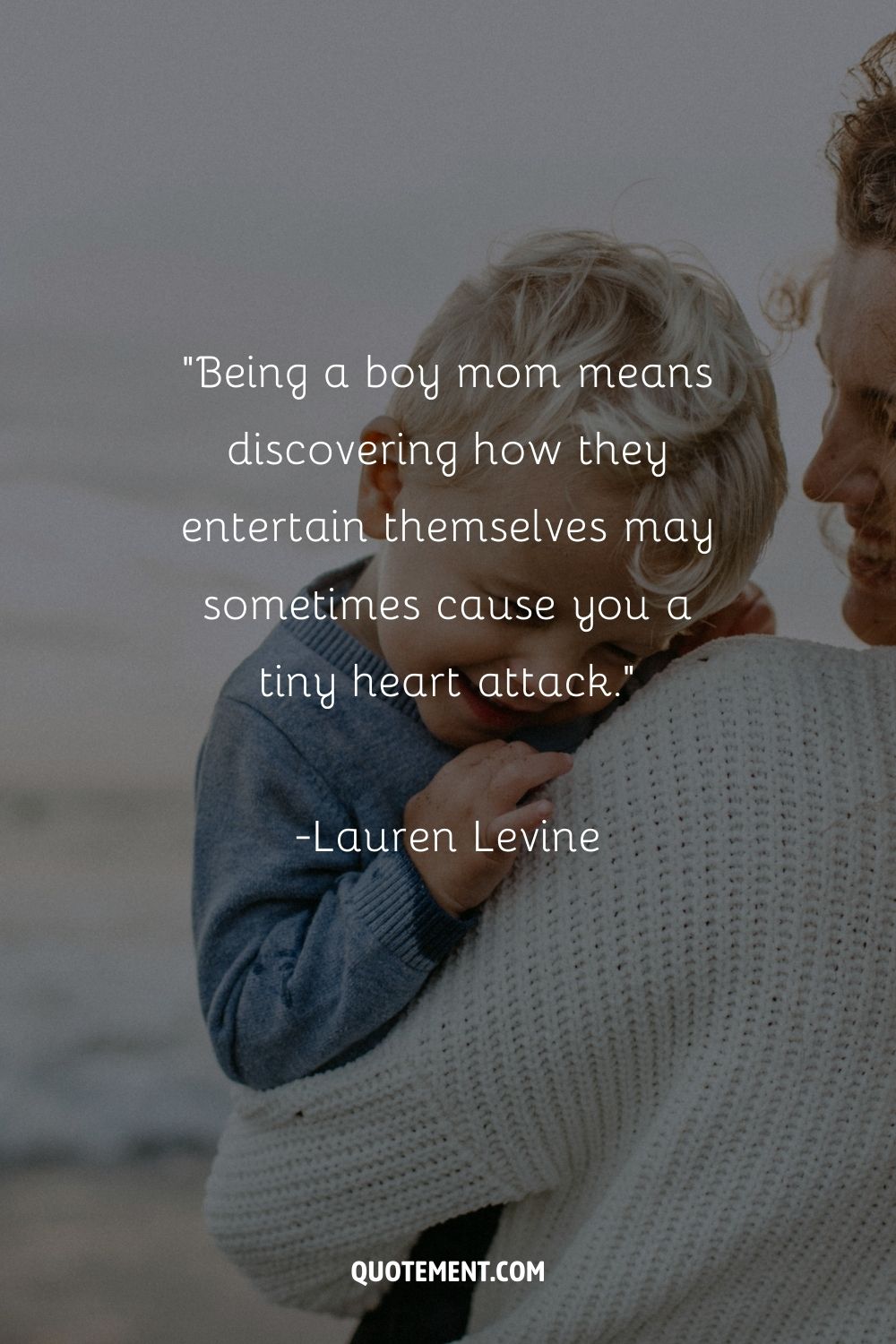 10. "You know you're a boy mom when you can't rationally count the number of times you've said, 'Don't pee on that.'" — Unknown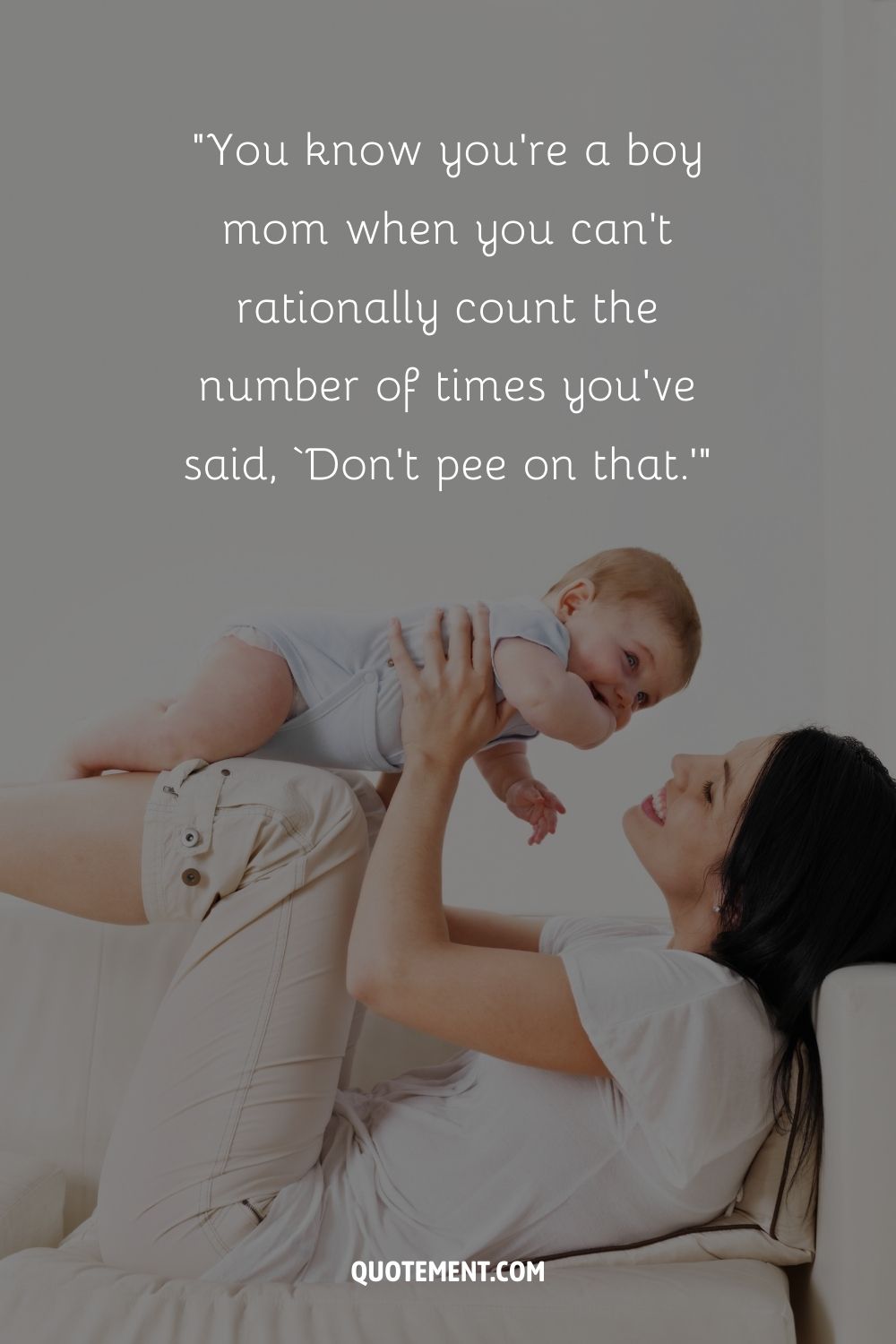 See also: 70 Great Being A Mom Isn't Easy Quotes To Encourage You
Wrapping It Up
I collected these boy mom quotes from various online sources to capture the charm, challenges, and candid moments that define the extraordinary experience of raising sons.
Hope you liked it!