Hey there momma! Are you interested in reading some inspirational quotes about how proud you are of your kids?
If so, keep scrolling because I collected lovely proud momma quotes, which are truly the best quotes about motherhood I could find online, to describe all the joy and pride of mom life.
Whether you need beautiful quotes on motherhood for your daily inspiration or you want to put your feelings into words, you'll definitely like the proud momma quotes I prepared for you!
These inspiring family quotes on what it means to be a mom and beautiful life quotes about parenting style are full of love, positivity, and pride.
And I'm sure all of you proud moms will relate to my collection of proud momma quotes.
Enjoy!
Top 10 Proud Momma Quotes
1. "Being a mother is the role I'm most proud of." — Arianna Huffington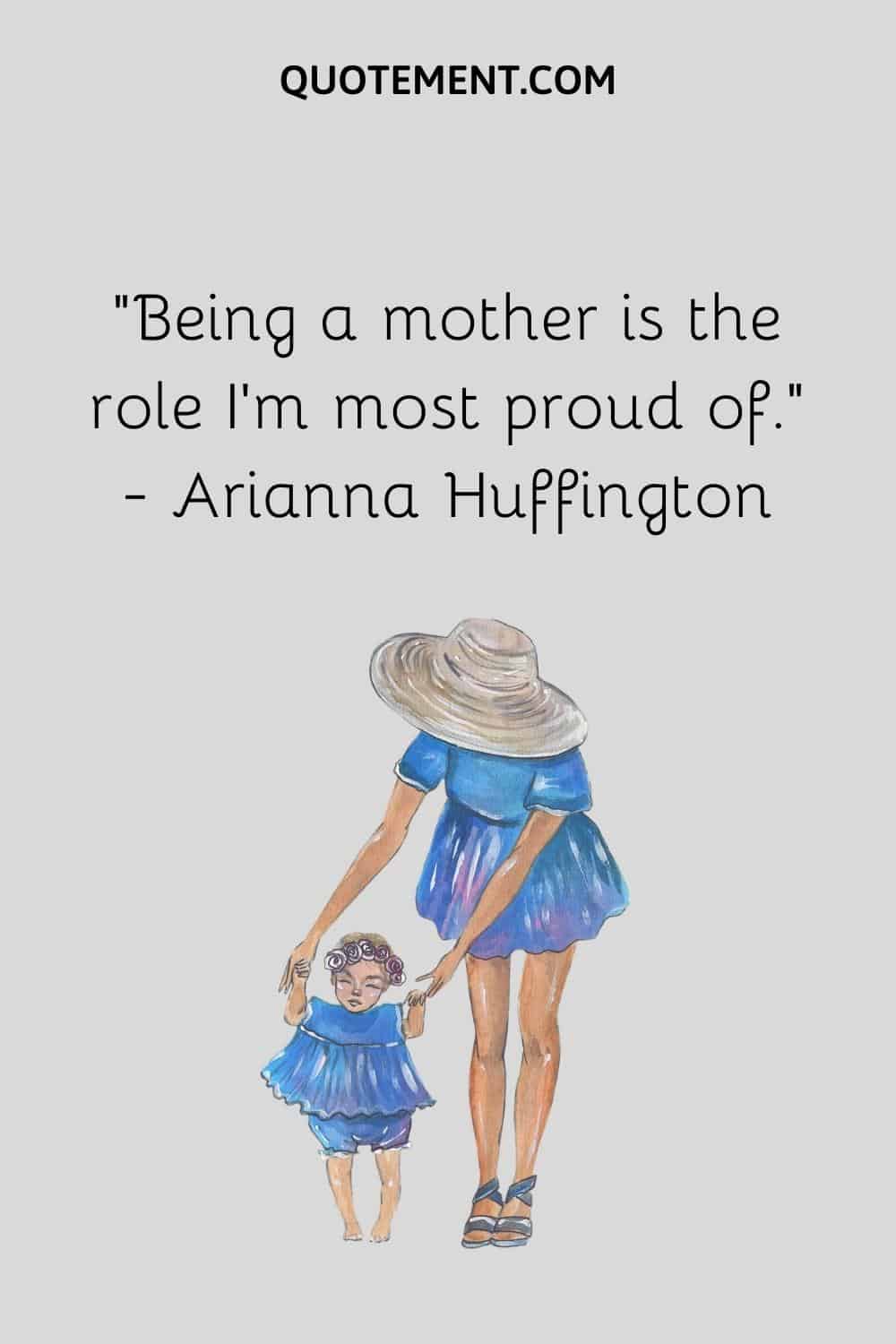 2. "I am proud of my kids, but I also want to make my mom proud of me. I'm still a momma's girl at the heart of the situation." — Tori Spelling
3. "My mom tells me every single day that she's proud of me." — Don Lemon
4. "Being a mom has been the greatest job of my life. I am so proud of the people my children are. I can't really say why they've turned out so well. I think there's an enormous amount of honesty and communication in our home. I always tell my kids they can tell me anything, and I will never judge them. Consequently, they do!" — Lois Robbins
5. "I'm really happy to be a mom, and I'm proud of the phase I'm in." — Liz Phair
6. "Mother's love is peace. It need not be acquired, it need not be deserved." ― Erich Fromm
7. "Proving I'm a good mother is the one achievement I'm most proud of. It's brought out the best in me." — Sheena Easton
8. "The joy of motherhood comes in moments. There will be hard times and frustrating times. But amid the challenges, there are shining moments of joy and satisfaction." — M. Russell Ballard
See also: 60 Best Parenting Quotes For Hard Times To Inspire You
9. "Children are the anchors that hold a mother to life." — Sophocles
10. "Being a full-time mother is one of the highest salaried jobs since the payment is pure love." — Mildred B. Vermont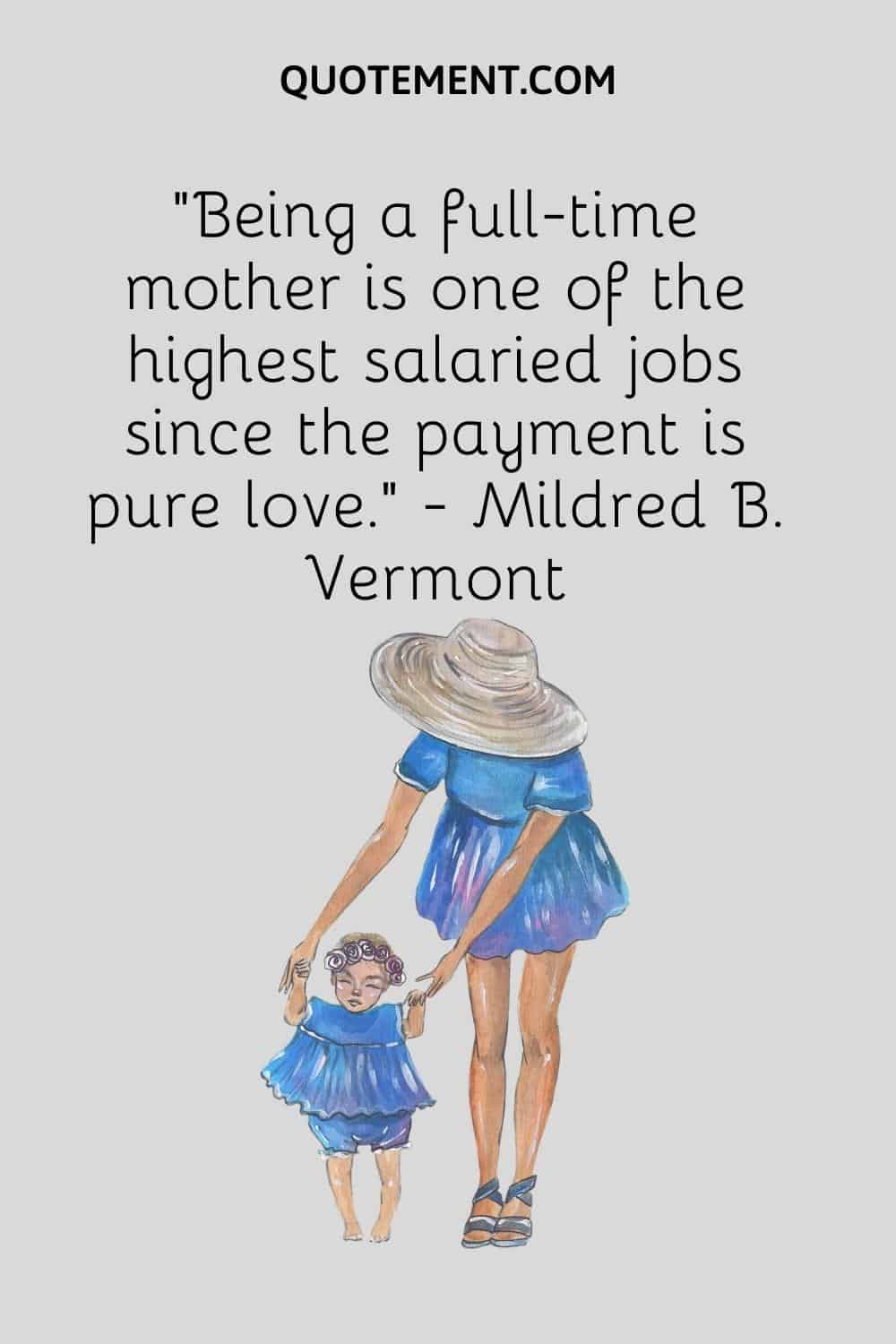 Inspirational Proud Mom Quotes
1. "Whenever you are feeling hopeless, hug your child. It's amazing how they remind us our life is always full of love."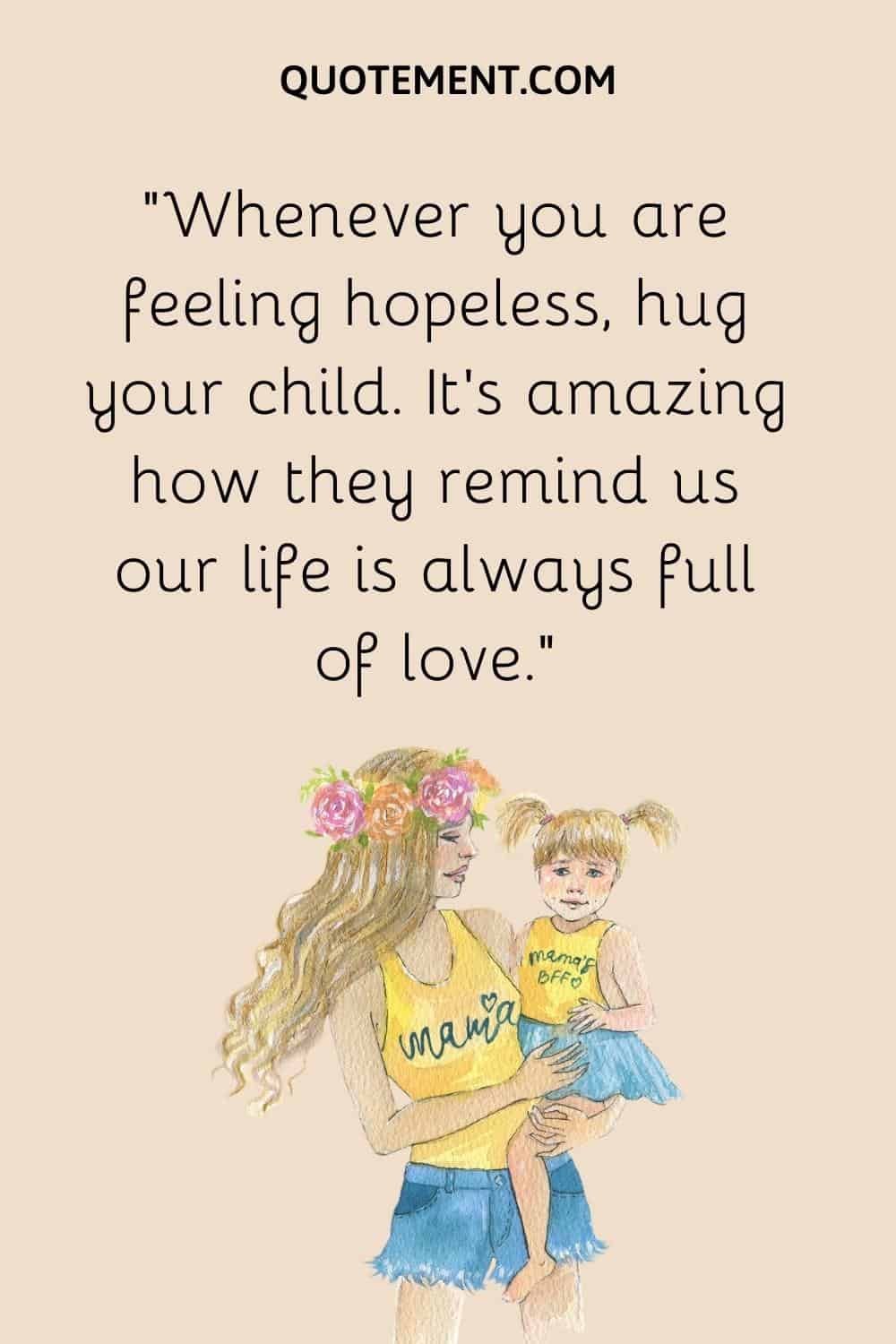 2. "Nothing in life will ever make you as happy, as sad, as exhausted, or as incredibly proud as motherhood."
3. "As a mama, I'm only ever going to be in one of three places. In front of my kids cheering them on, behind them to have their back, or beside them, so they never have to walk alone."
4. "I will always delight in my children's existence. I will be the one who thinks the sun rises and sets on them and loves them unconditionally. Forever and always."
5. "No one else will ever know the strength of my love for you. After all, you're the only one who knows what my heart sounds like from the inside."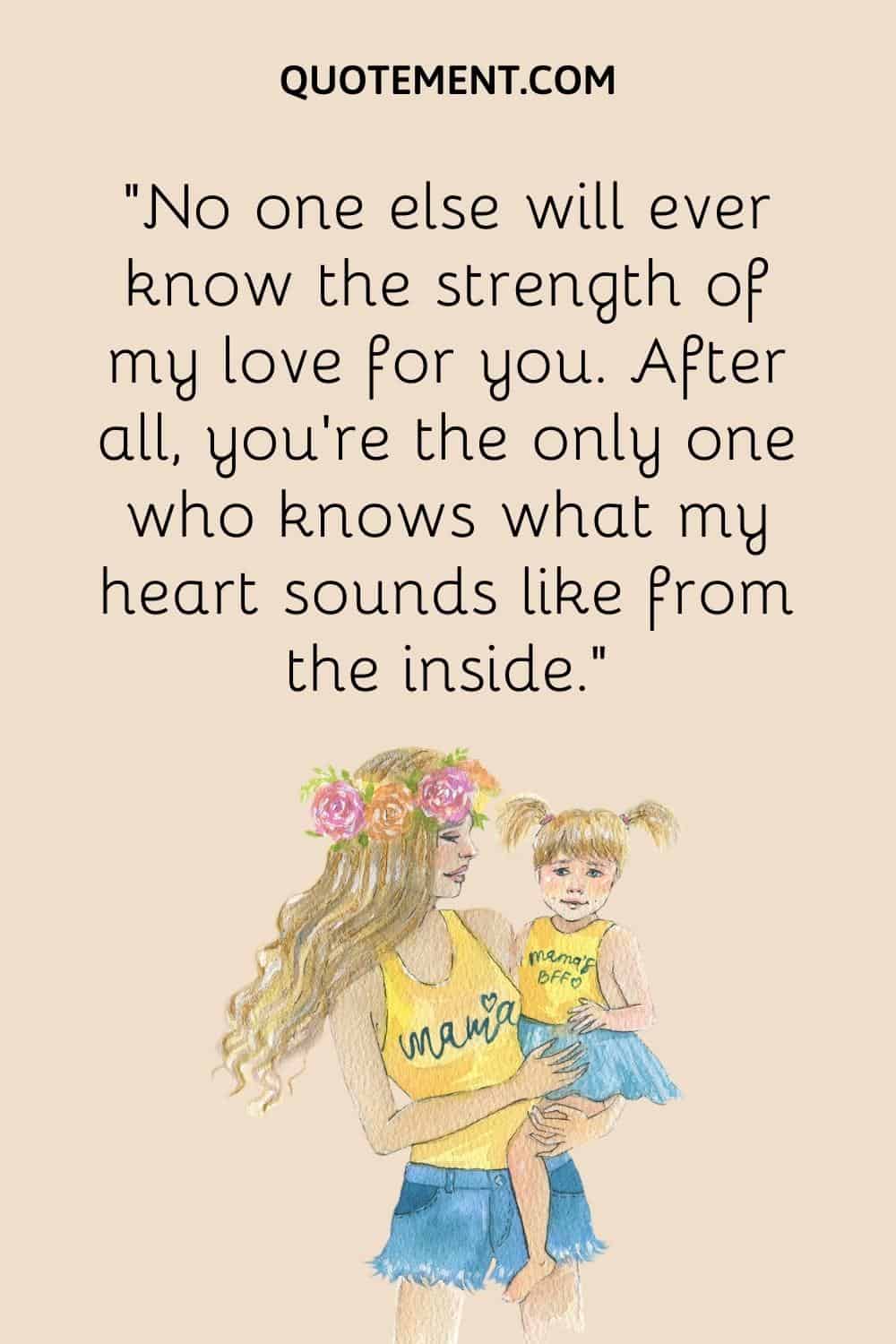 6. "I just want to be the best mama I can be."
7. "Behind every young child who believes in themselves is a mama who believed first."
8. "What an honor it is to be a tiny somebody's everything."
9. "I'm going to teach my children to reach for the stars, but I'm going to make sure they know I will love them regardless of where they land."
10. "Do you ever look at your child and start smiling? Not because your child did something amazing, just smiling because you realize how proud you really are."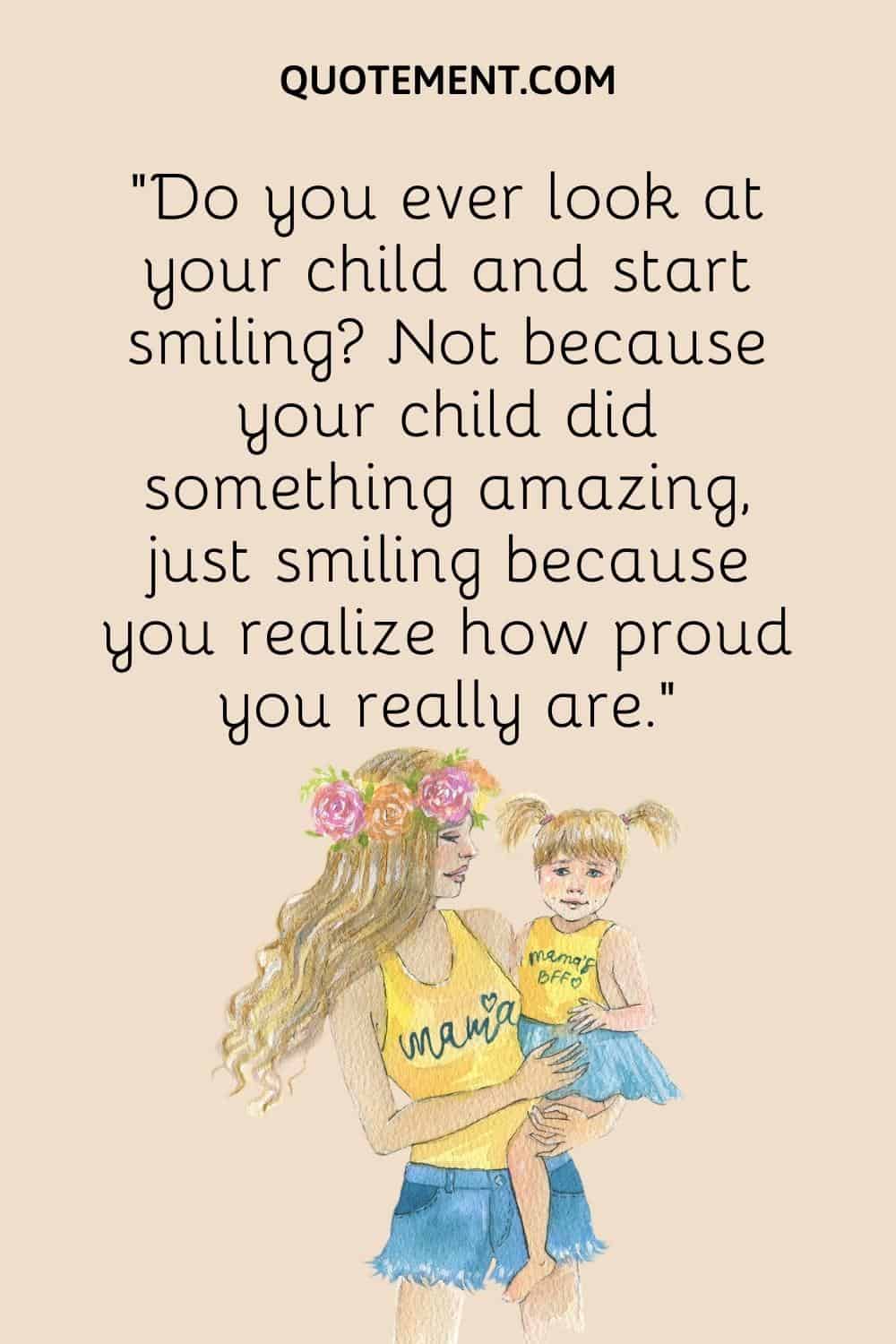 11. "I don't want my kids to follow in my footsteps, I want them to go further."
12. "I think the best part of being a mom is when your little one looks up at you and just smiles and stares because they know you are their person. Like nobody else is as important as you. They know that you have them like nobody else ever will. The connection is indescribable."
13. "A Mother can feel the greatest love and the strongest pain."
14. "In my life, you are the sun that never fades and the moon that never dims."
15. "My kids aren't just my children, they are my heart and soul."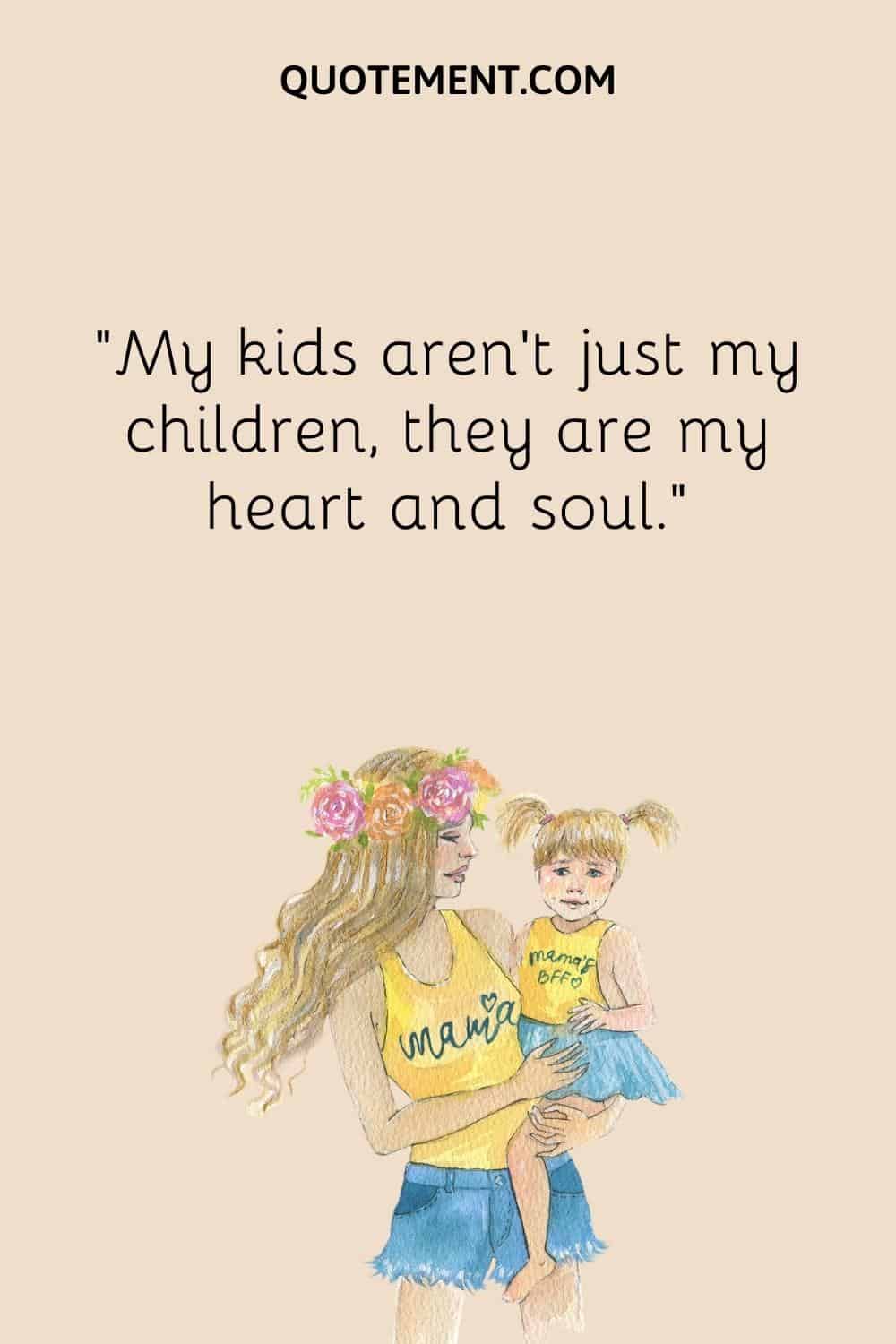 16. "I wouldn't change my children for the world, but I wish I could change the world for my children." –
17. "Your children will become who you are, so become who you want them to be."
18. "I'm a proud mother. I gave my children life, they gave me a reason to live."
19. "I've carried a child within my body. I've slept with them on my chest. I've kissed toes and wiped away tears. I've been vomited on, peed on, and spent sleepless nights cradling my child. But I wouldn't have it any other way. My body isn't magazine perfect, but when I look in the mirror, I see a mama. And there is no greater honor, love, or blessing."
20. "Whenever I look at you, I am reminded that I was able to produce something good in this world. You make me so proud of all that you achieved and will achieve."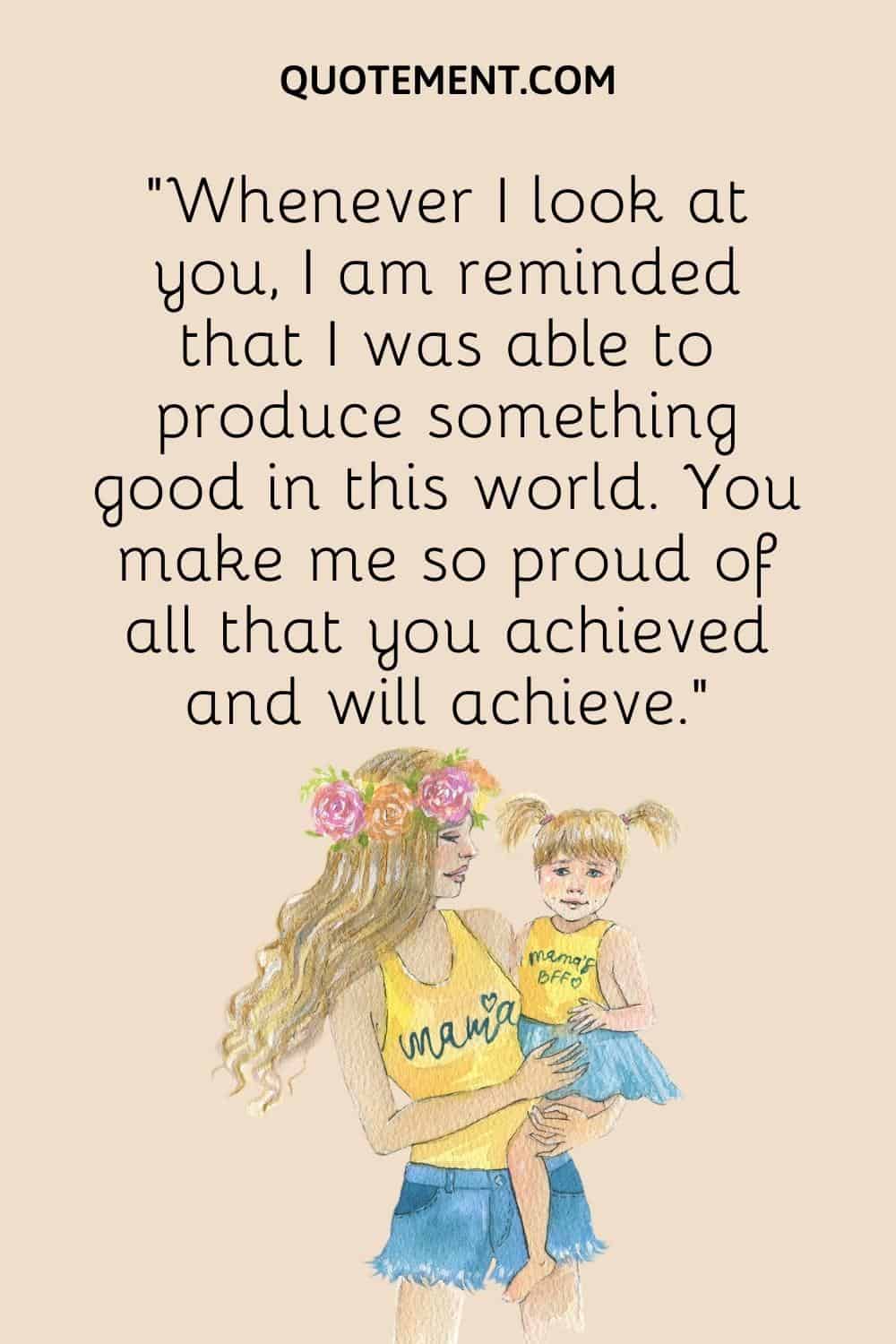 Proud Being A Mother Quotes
1. "I am strong, I am proud. I am a mom."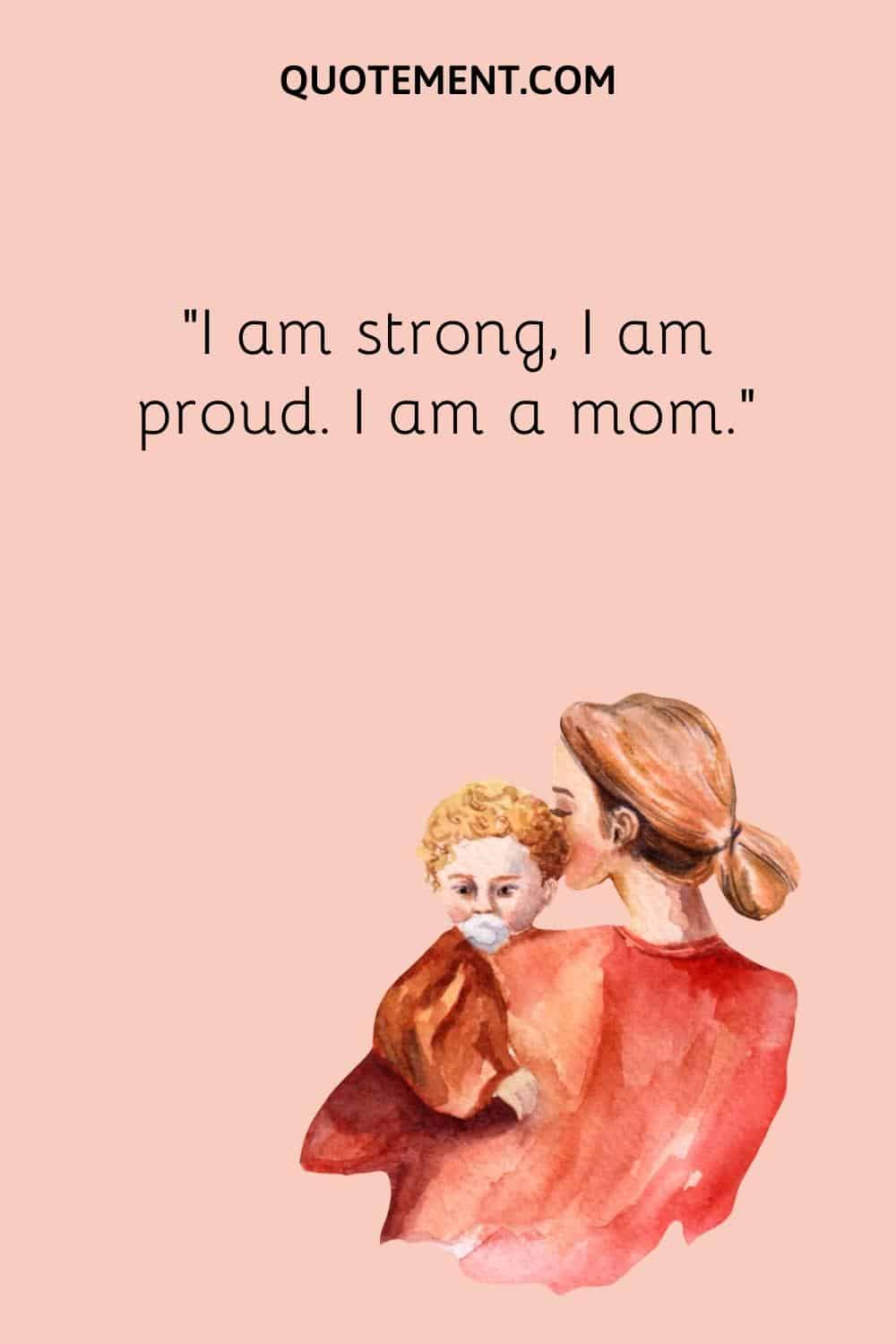 2. "Here's to the smiles, the giggles, the little laughs, and the endless hugs. To the precious moments when as parents, we realize we have everything we ever wished for."
3. "My goal is to raise children strong enough to be whoever they want to be."
4. "I will be your biggest fan. I will be your protector. I will always defend you. I will be your teacher. I will be your friend. I will be your confidant. I will always be proud of you. I will love you unconditionally because forever and always, I will be your mama."
5. "I'm proud of many things in life, but nothing beats being a mother."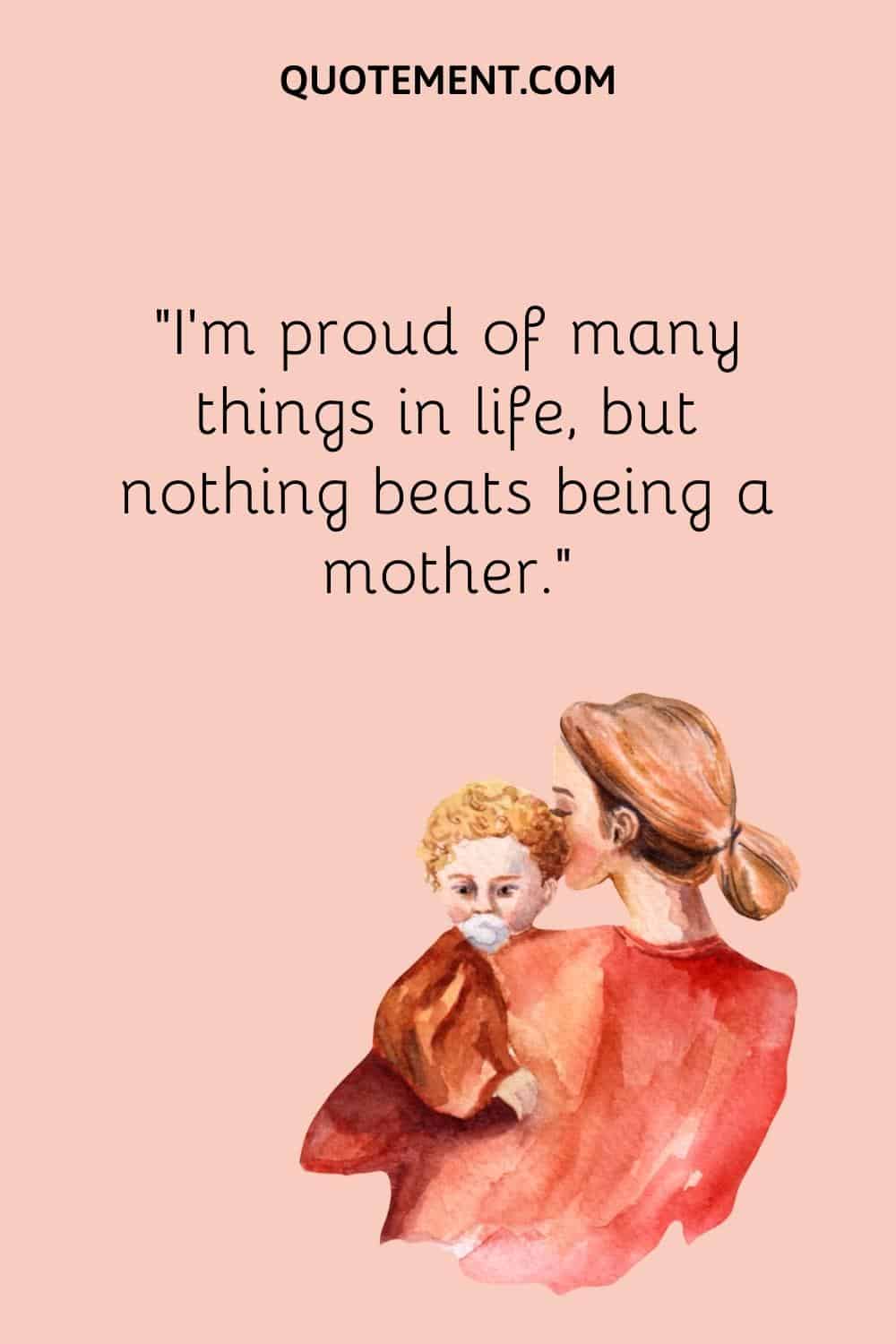 6. "There is no love purer than a mother's love."
7. "Even when I'm tired, I will always find strength for my children."
8. "There is nothing stronger than a mom's love."
9. "There is nothing you could do that would change my love for you."
10. "My biggest accomplishment will never be money. It will be who I raised."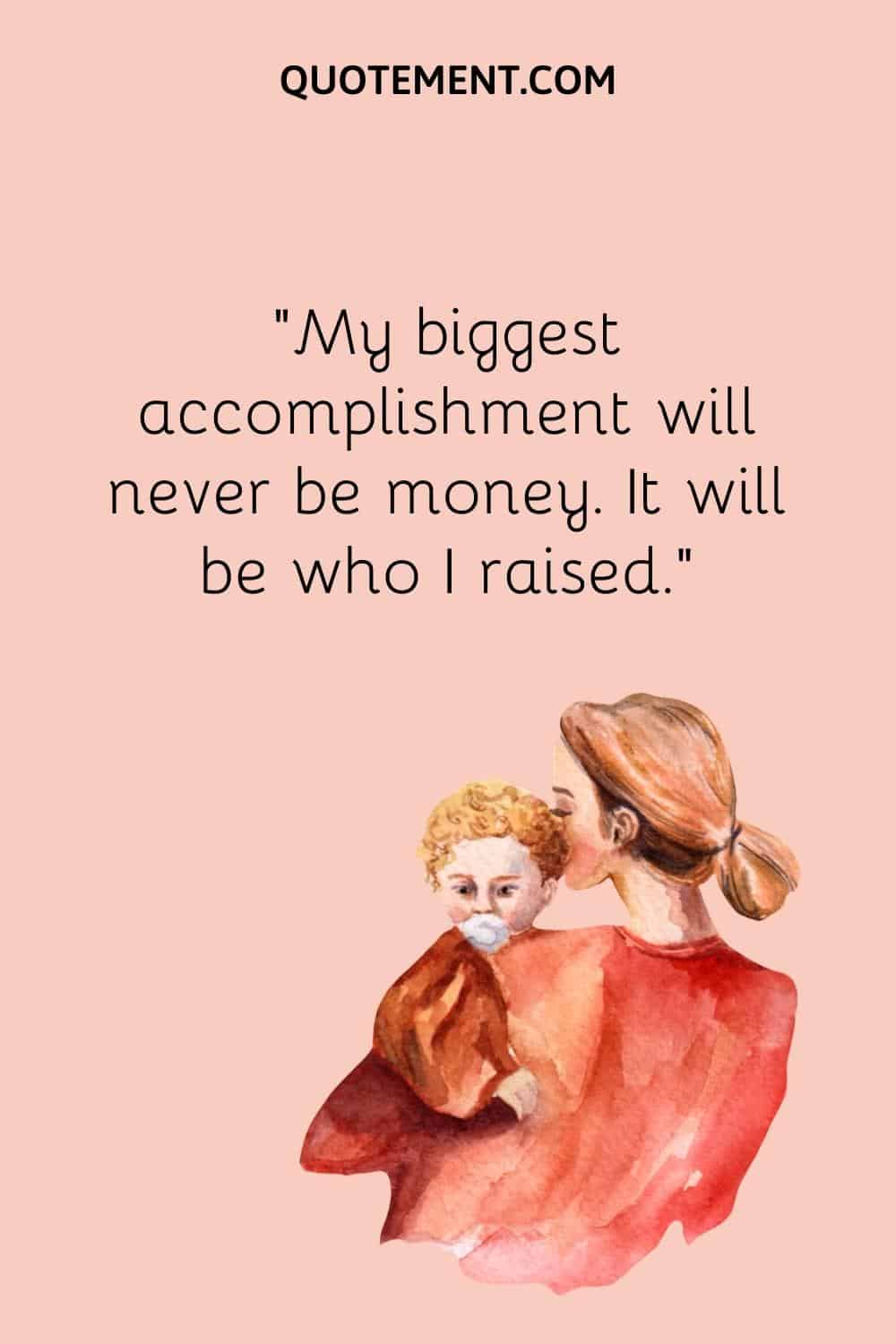 11. "I'm your biggest cheerleader and the loudest."
12. "Never feel guilty for doing what is best for you and your family."
13. "Sometimes, when I need a miracle, I look into my child's eyes and see I already have one."
14. "No matter what I do, I do it for you."
15. "When life feels too big to handle, hug your child. It's amazing how everything is put back into perspective when you are holding your whole world in your arms."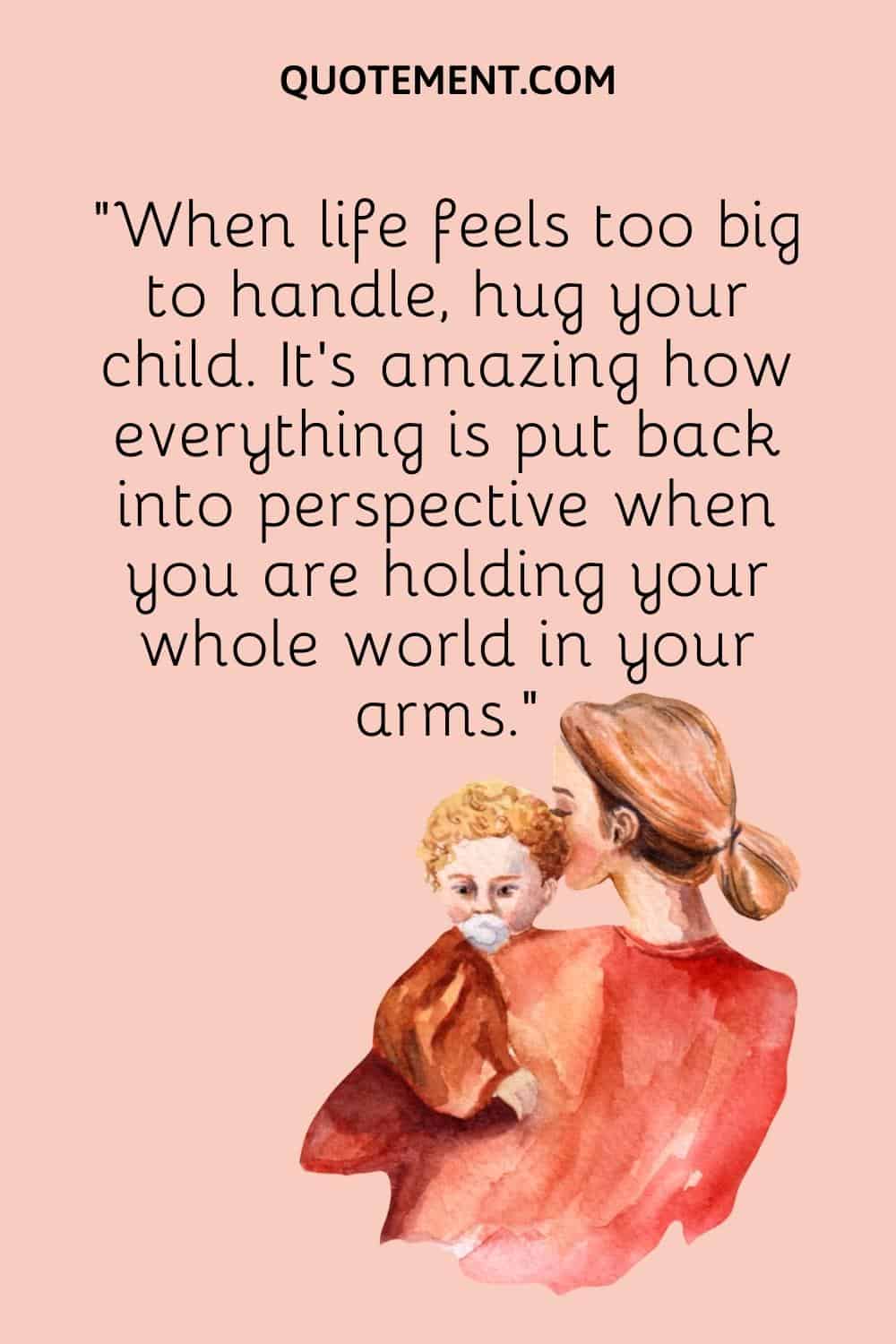 16. "I'll always be here cheering you on."
17. "For as long as I'm living, my baby you'll be."
18. "The day you came into my life, I knew what my purpose was. To love and protect you with everything I have."
19. "If I could give my child three things, it would always be to know their self-worth, the strength to chase their dreams, and the ability to know how truly, deeply loved they are."
20. "Sometimes I just look at my kids and smile because I know how blessed I truly am."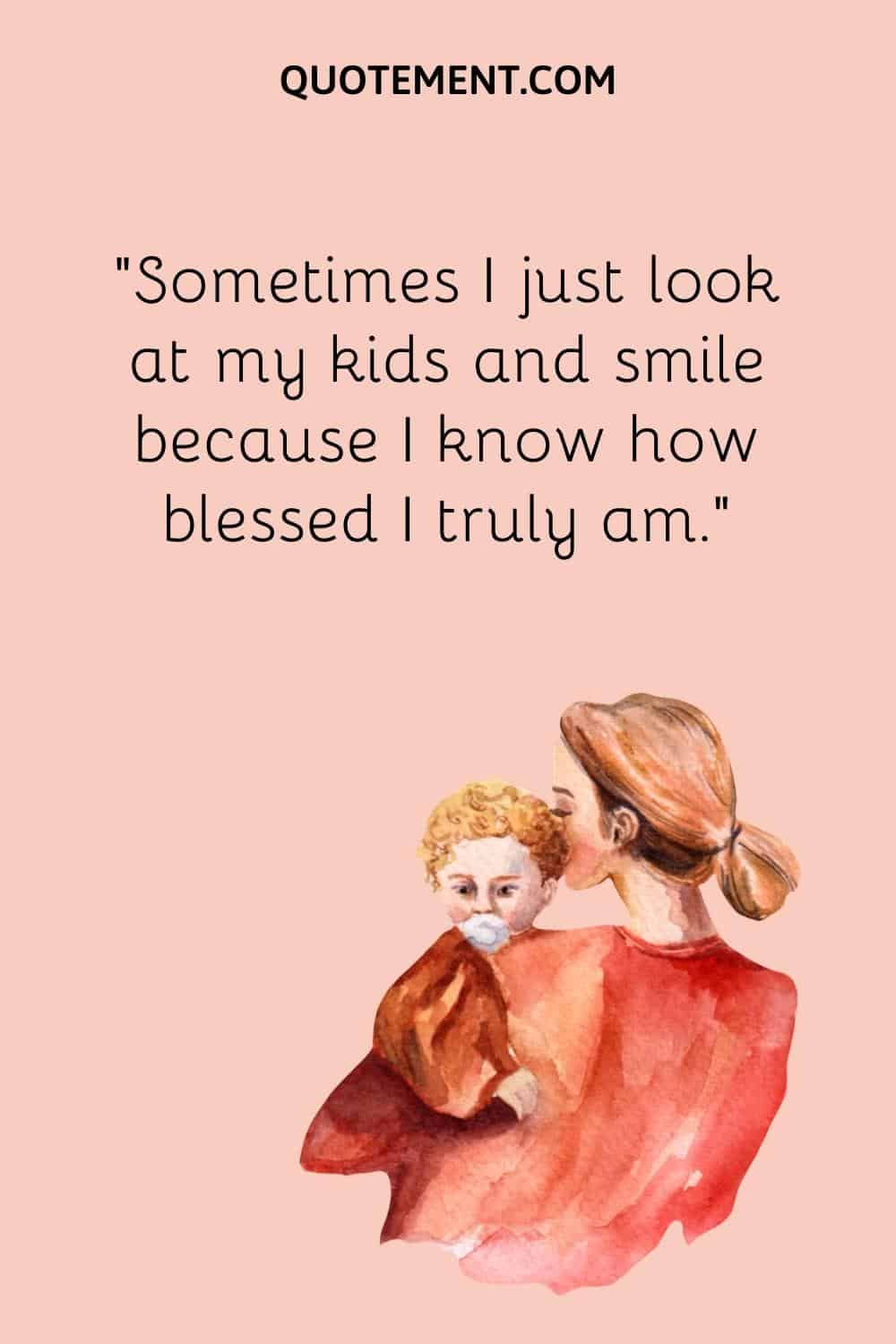 Proud Mom To Daughter Quotes
1. "If you ever feel like giving up, just remember there is a little girl watching who wants to be just like you don't disappoint her."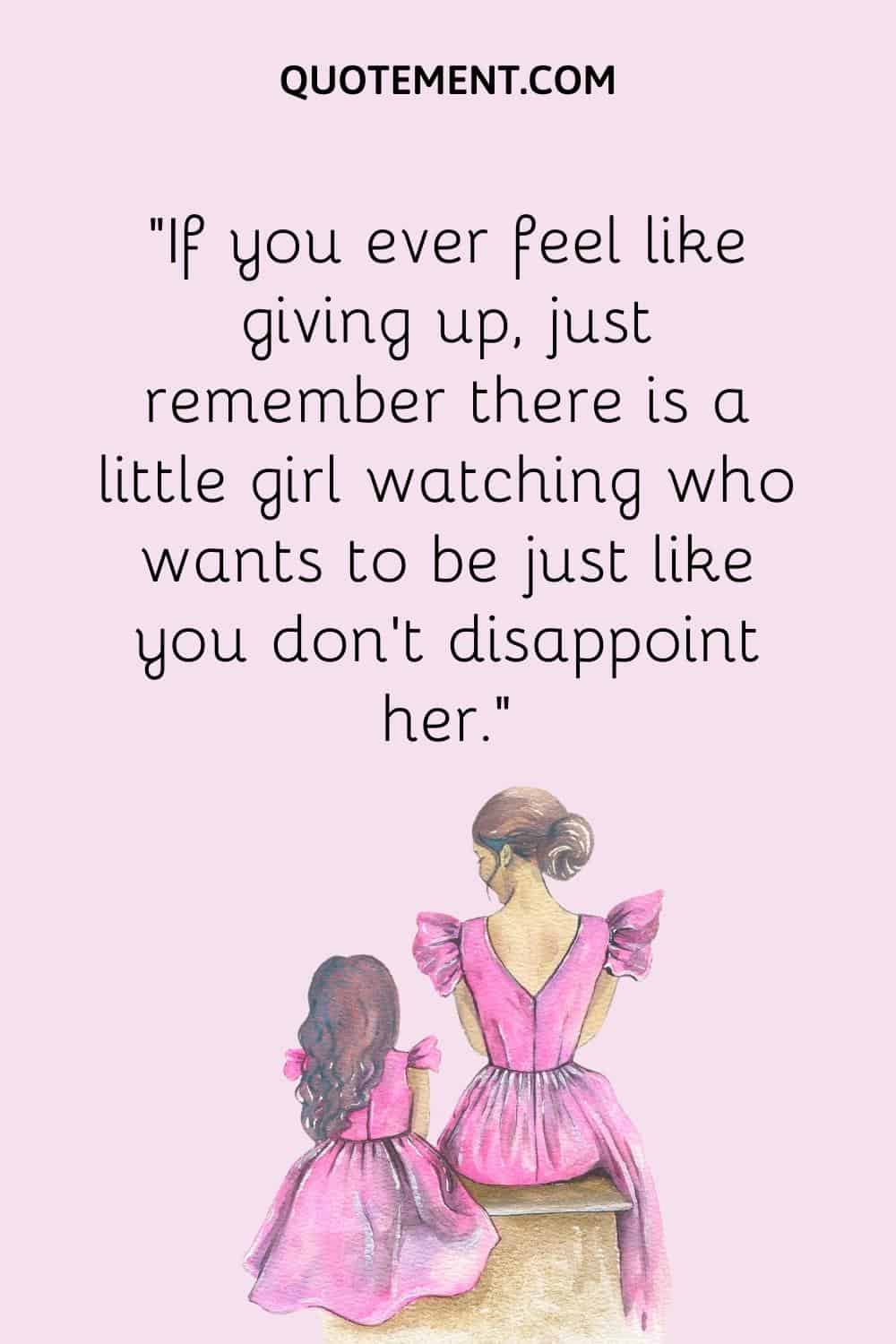 2. "Despite all the hardship, you persisted, you endured, you never quit, you persevered, you kept going, you never gave up, you prevailed. I'm so proud of you!"
3. "My daughter makes me laugh with her incredibly humorous take on the world. Everything makes her laugh, and I aspire to take in the world the same shoes she does."
4. "We mothers are learning to mark our mothering success by our daughters' lengthening flight." — Letty Cottin Pogrebin
5. "My beautiful daughter, don't fear venturing into your dreams. Go for the sky. I will always be proud of you, and I will always have your back."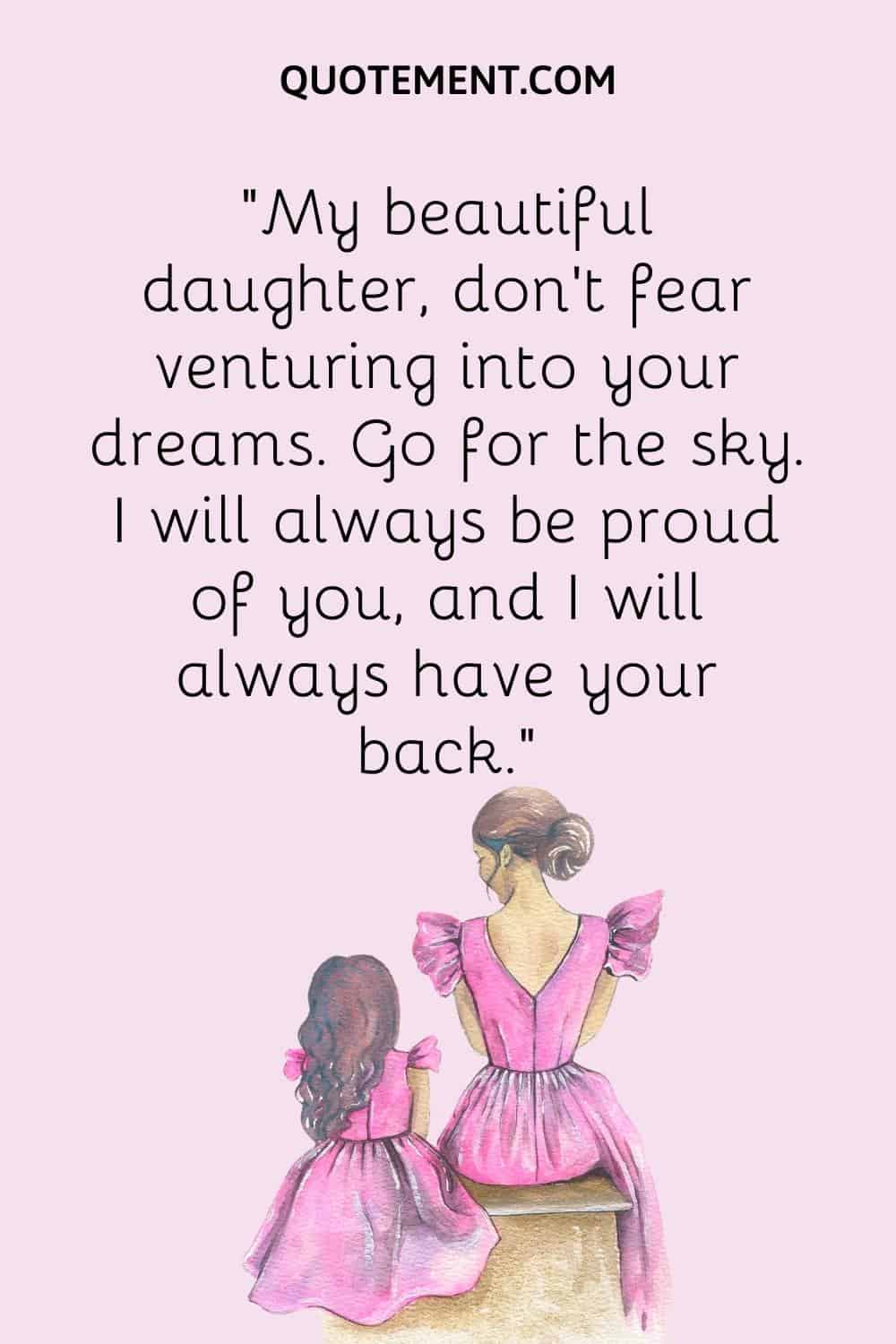 6. "Raising such a daughter has been an amazing experience. I am so proud of you, daughter."
7. "The moment you came into this world, you brought so much joy into our hearts. You are the best thing that has ever happened in our lives, and I am so proud of what you have become. I love you, my daughter."
8. "To my daughter! I love you, and I'm so proud of the strong, beautiful, and intelligent woman you've become."
9. "A mother influences her daughter's development through many stages of her life and, ideally, represents a suitable role model for her daughter to learn from." — Wendy Fry
10. "To my beloved daughter, I am happy and proud of the kind of young woman that you have grown into. You are so amazing and beautiful inside out."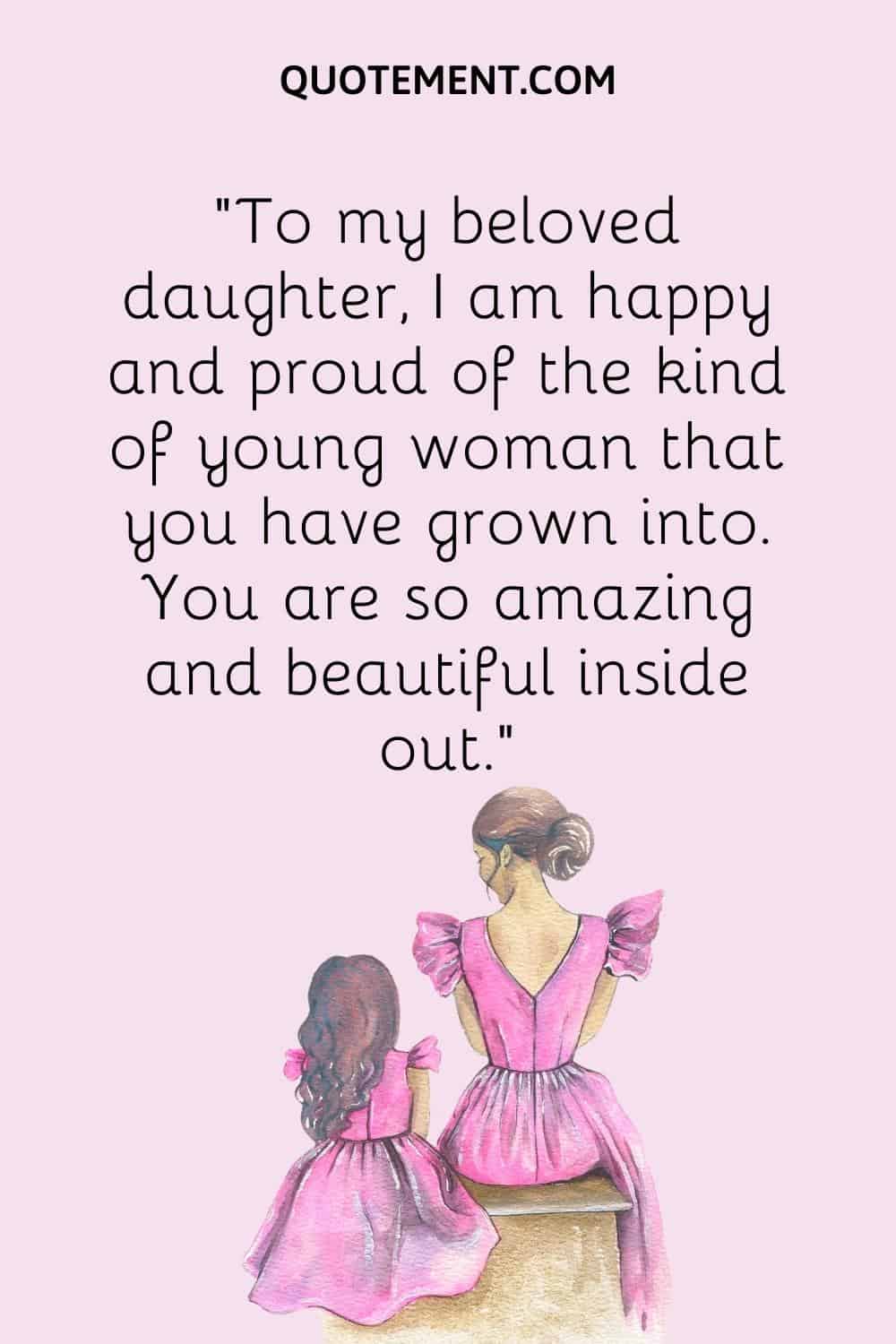 11. "My daughter is my biggest achievement. She is a little star, and my life has changed so much for the better since she came along." — Denise Van Outen
12. "You are such a beautiful girl, and I'm so proud of the incredible way that you are growing up. Even at such a young age, you are full of wisdom, kindness, compassion, and courage. I love you so much, honey. Never ever change."
13. "You are a blessing to our life. Not a single day have you ever disappointed us. We are proud of you, daughter."
14. "Having a daughter like you is such a lucky thing. You are the reason for my happiness, and I am always proud of you."
15. "A daughter is God's way of saying, 'thought you could use a lifelong friend."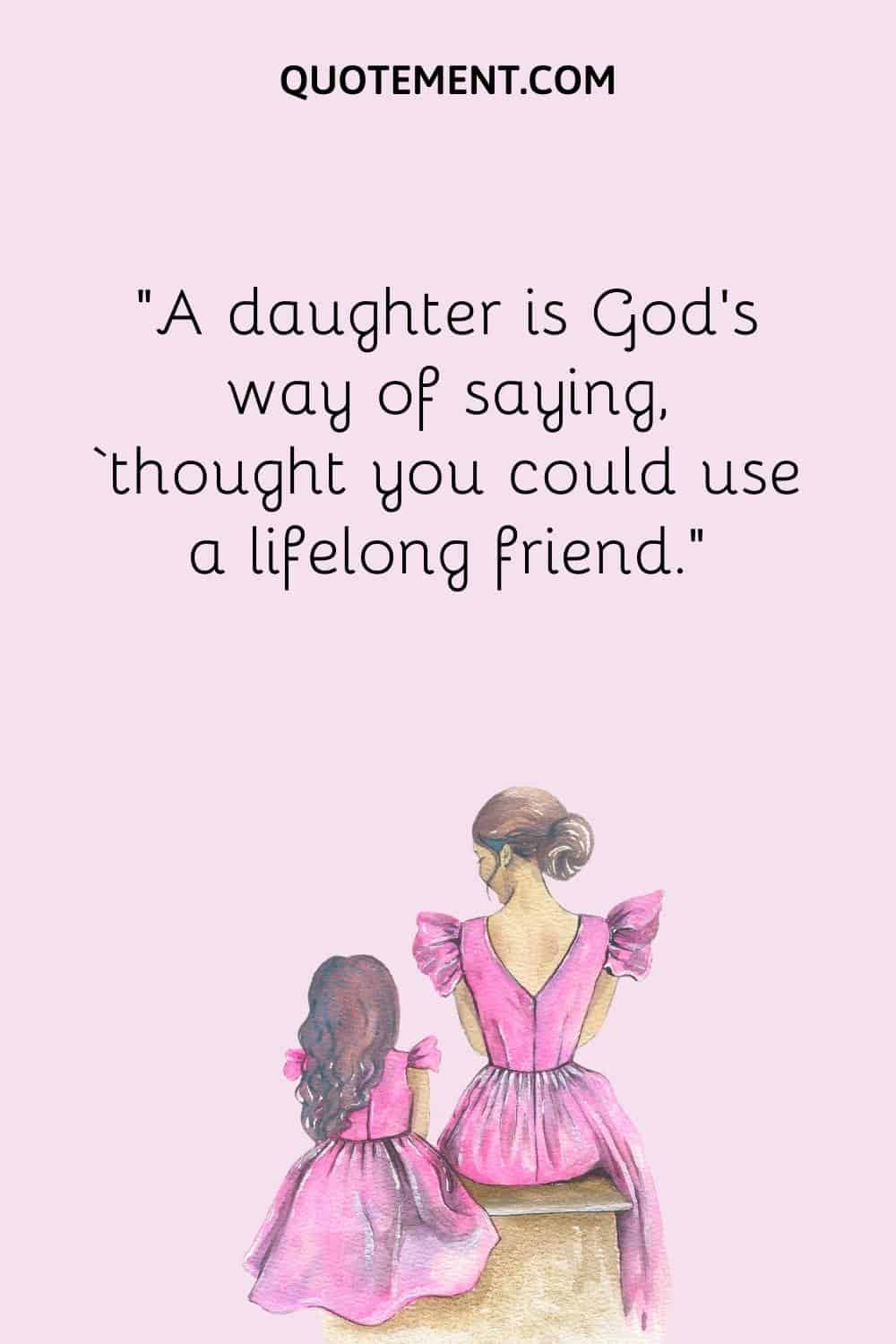 16. "You are braver than you believe, stronger than you may seem, smarter than you think, loved more than you know. I'm proud of you, daughter."
17. "Since you were a child, you have been a hardworking girl. I am so proud to have you as my daughter. I love you."
18. "I will spend every single day showing my kids how loved they really are."
19. "I don't have the words to express my happiness about your success. You make me feel so proud of my daughter. Go ahead, my blessings are with you."
20. "My dear daughter, never doubt yourself. You can do anything you put your mind to. I believe in you and am so proud of you!"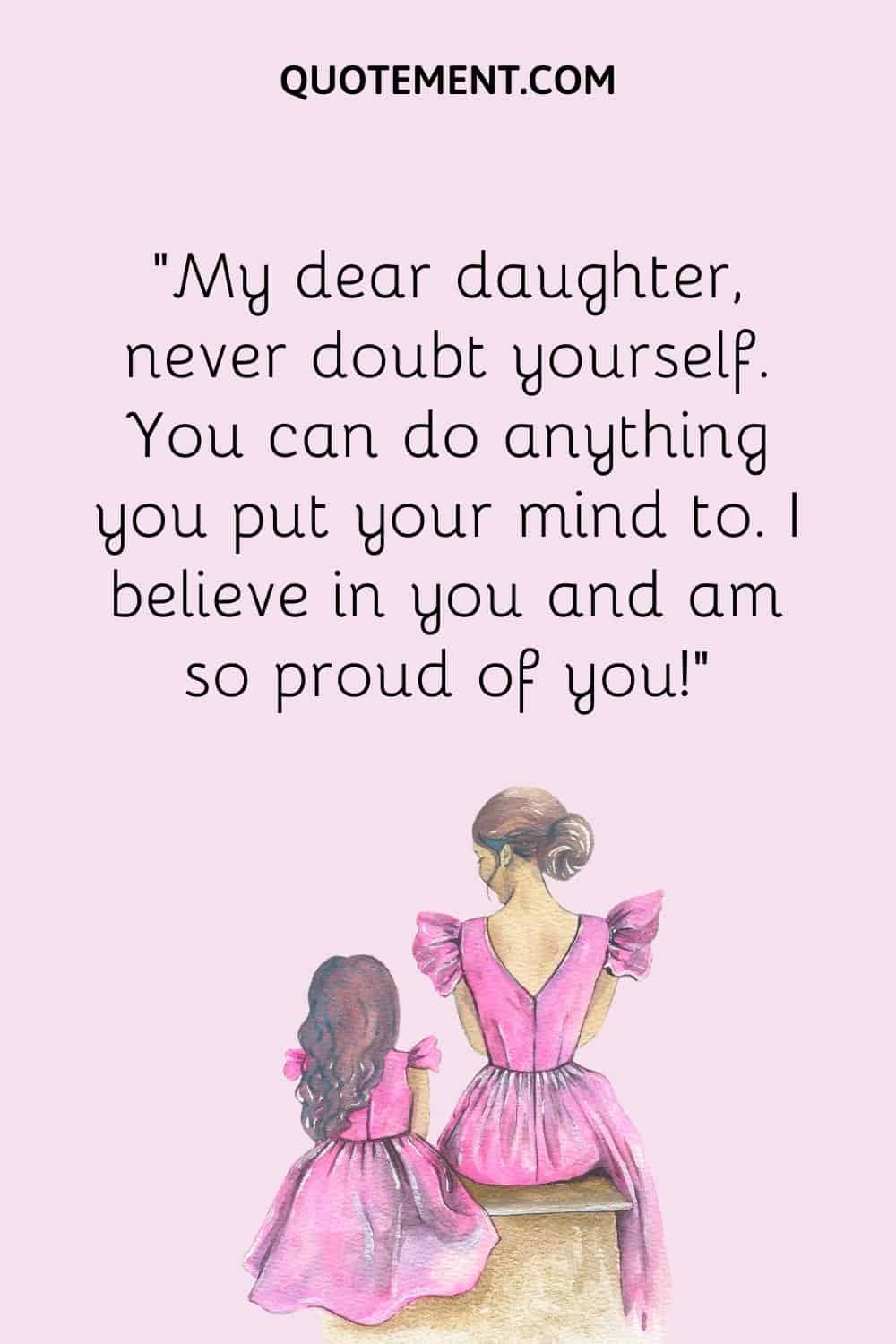 Proud Mom To Son Quotes
1. "Happy is the son whose faith in his mother remains unchallenged." — Louisa May Alcott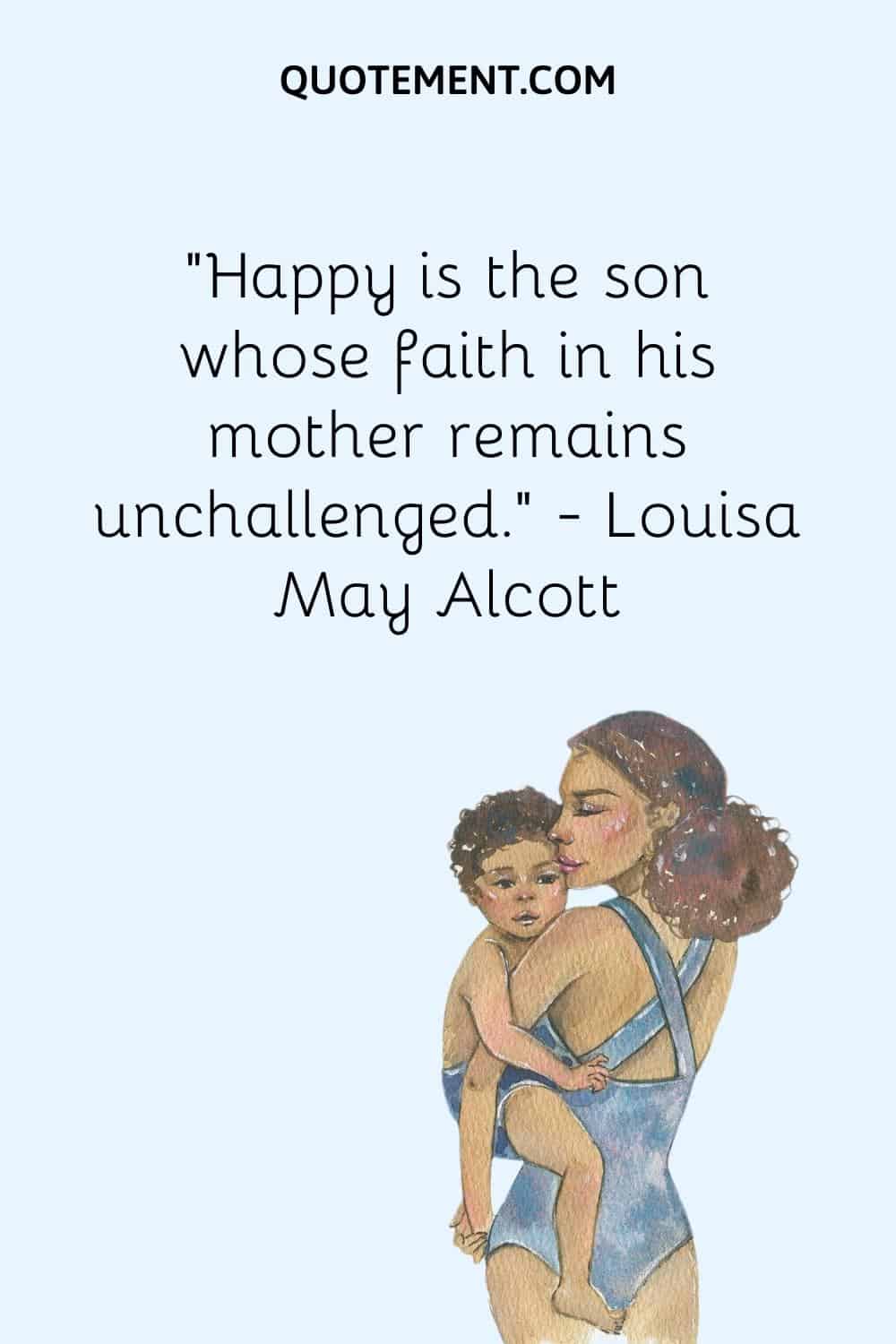 2. "You don't raise heroes, you raise sons. And if you treat them like sons, they'll turn out to be heroes, even if it's just in your own eyes." — Walter M. Schirra, Sr.
3. "A man loves his sweetheart the most, his wife the best, but his mother the longest." — Irish Proverb
4. "It feels like I just closed my eyes for a moment, and then here you are, all grown up already. Time flies by so quickly, and I just want time to slow down a bit. I love you, son, and I always will."
5. "There is an endearing tenderness in the love of a mother to a son that transcends all other affections of the heart." — Washington Irving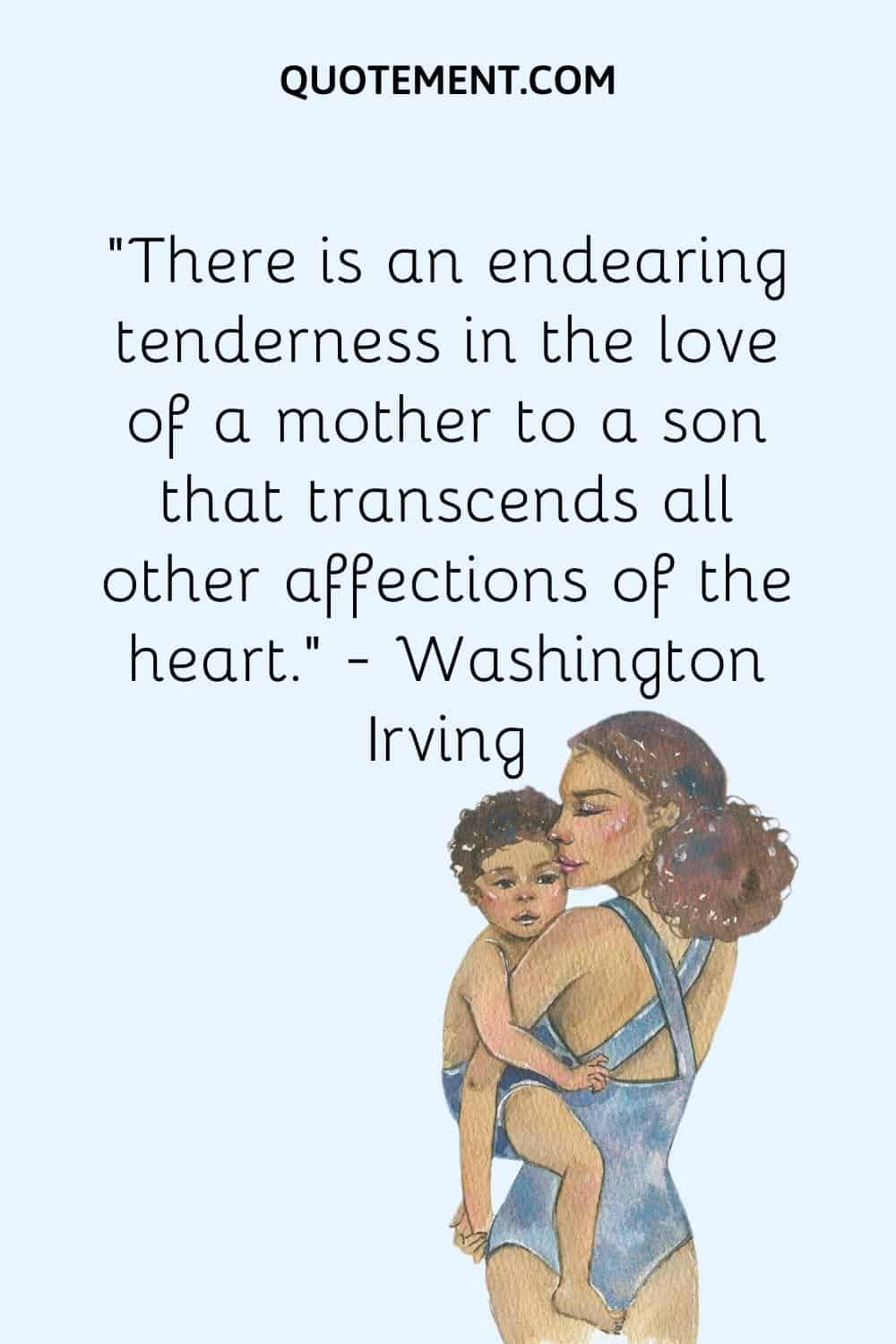 6. "The most important mark I'll leave on this earth is my son." — Sarah Shahi
7. "My son, I am so proud of the man you have become. Your kindness and integrity shine through no matter the challenge. What an honor it is to be your mom!"
8. "Son, you will outgrow my lap but never my heart."
9. "To be a mother of a son is one of the most important things you can do to change the world. Raise them to respect women, raise them to stand up for others, raise them to be kind." — Shannon L. Alder
10. "I may not be perfect, but when I look at my son, I know that I got something in my life perfectly right."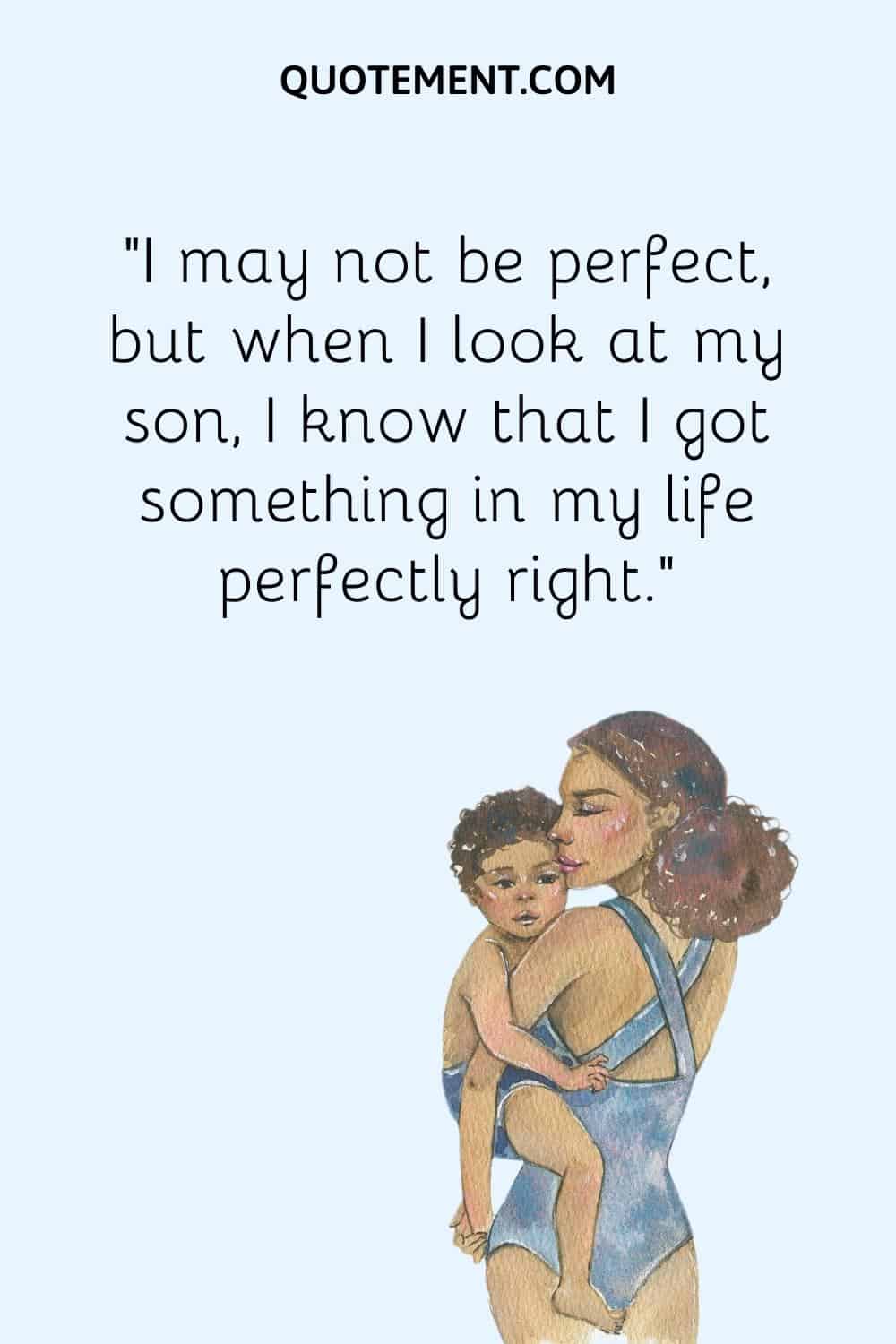 11. "Happy the boy whose mother is tired of talking nonsense to him before he is old enough to know the sense of it." — Augustus Hare
12. "Mother is her son's first god. She must teach him the most important lesson of all – how to love." — T. F. Hodge
13. "My son, live your life to the fullest. Spread your wings and fly high up in the air."
14. "My son, you are the reason that I am living today. You're my world. I have been struggling for a long in my life to provide you comfort, and I'll always be doing the same for you till my last. I love you!"
15. "A mother is always proud of her son not because he has achieved something, but because he has become her son."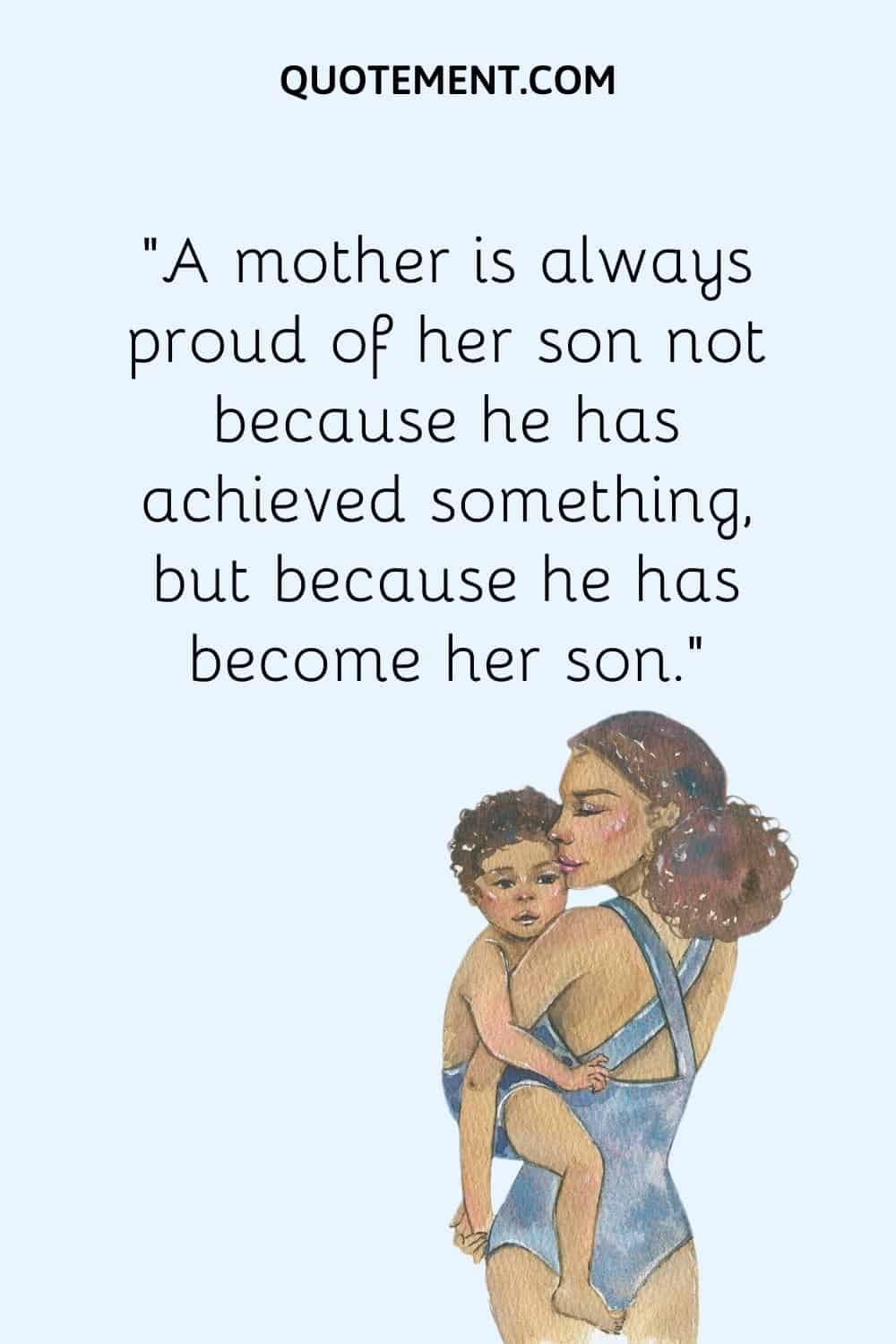 16. "To my son, I am so proud of you and all that you have achieved and are yet to achieve. I love you with all my heart. Forever and always."
17. "My son, I wish you the strength to face challenges with confidence—along with the wisdom to choose your battles carefully. I wish you adventure on your journey, and may you always stop to help someone along the way. Listen to your heart and take risks carefully. Remember how much you are loved. I am so proud of you."
18. "A boy's best friend is his mother." — Joseph Stefano
19. "Yet now, in my arms, I was holding a helpless baby boy who would grow into a man. I cannot imagine that soft little face one-day having whiskers." — Rhonda Stoppe
20. "You make me so proud to be your mother, and I hope that I make you proud to be my son, too. I love you!"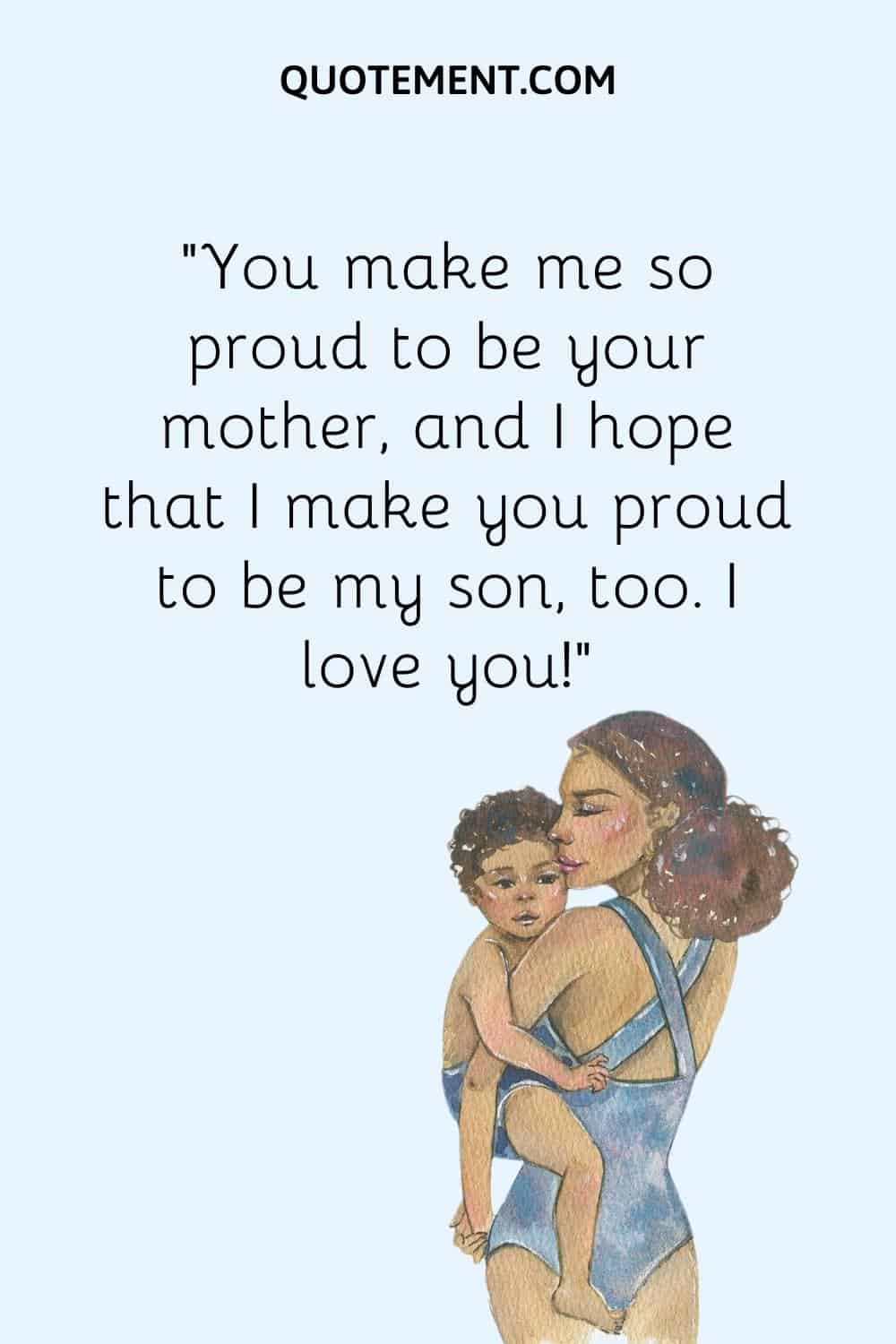 See also: 120 Cool Boy Mom Quotes For All The Proud Moms Raising Boys
Beautiful Motherhood Quotes
1. "The heart of a mother is a deep abyss at the bottom of which you will always find forgiveness." — Honore de Balzac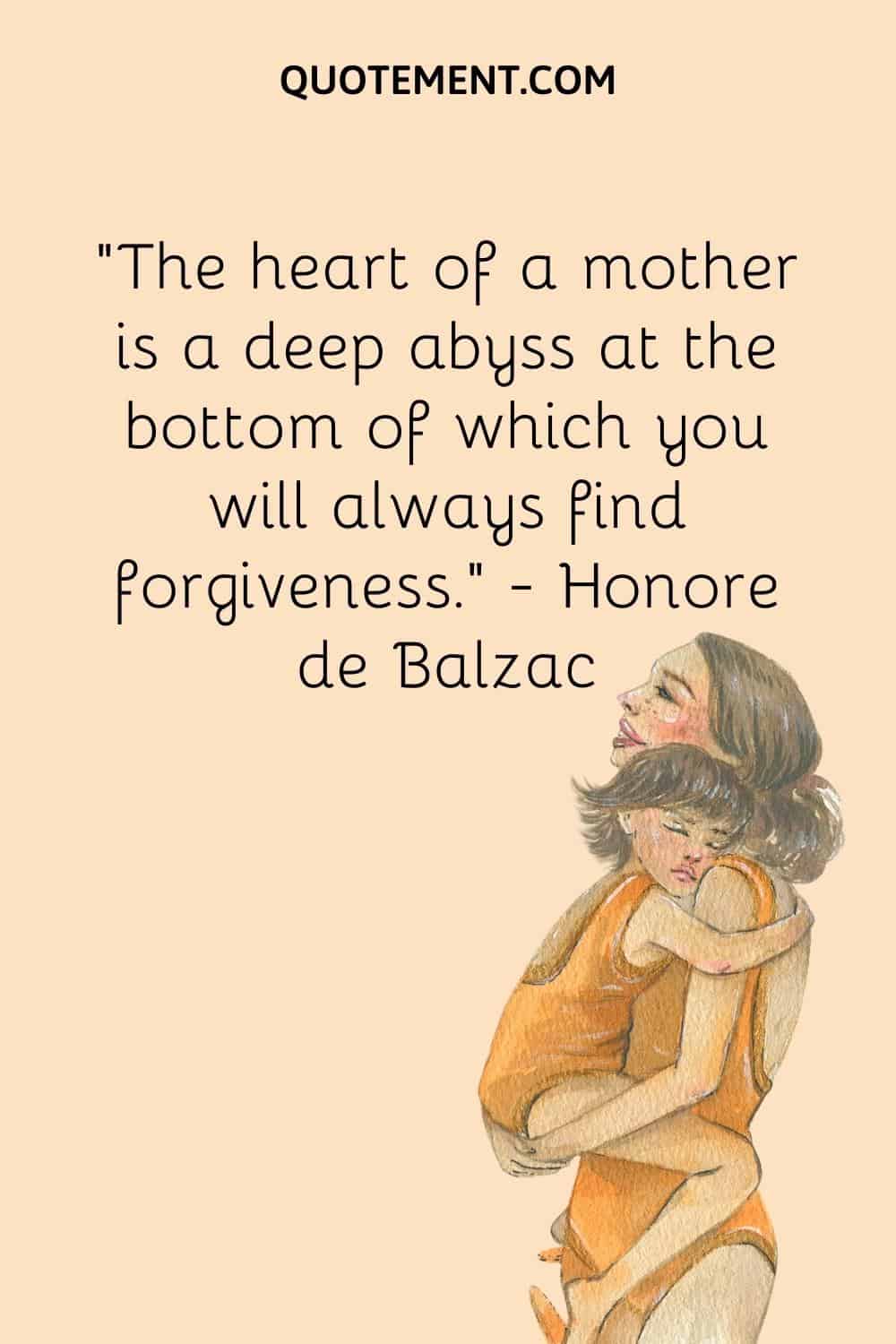 2. "There's no greater love than the love of a mother to their child."
3. "It doesn't matter how old you are, you will always need your mom."
4. "A mother is the truest friend we have, when trials heavy and sudden fall upon us; when adversity takes the place of prosperity; when friends desert us; when trouble thickens around us, still will she cling to us, and endeavor by her kind precepts and counsels to dissipate the clouds of darkness, and cause peace to return to our hearts." — Washington Irving
5. "A mother's arms are made of tenderness, and children sleep soundly in them." ― Victor Hugo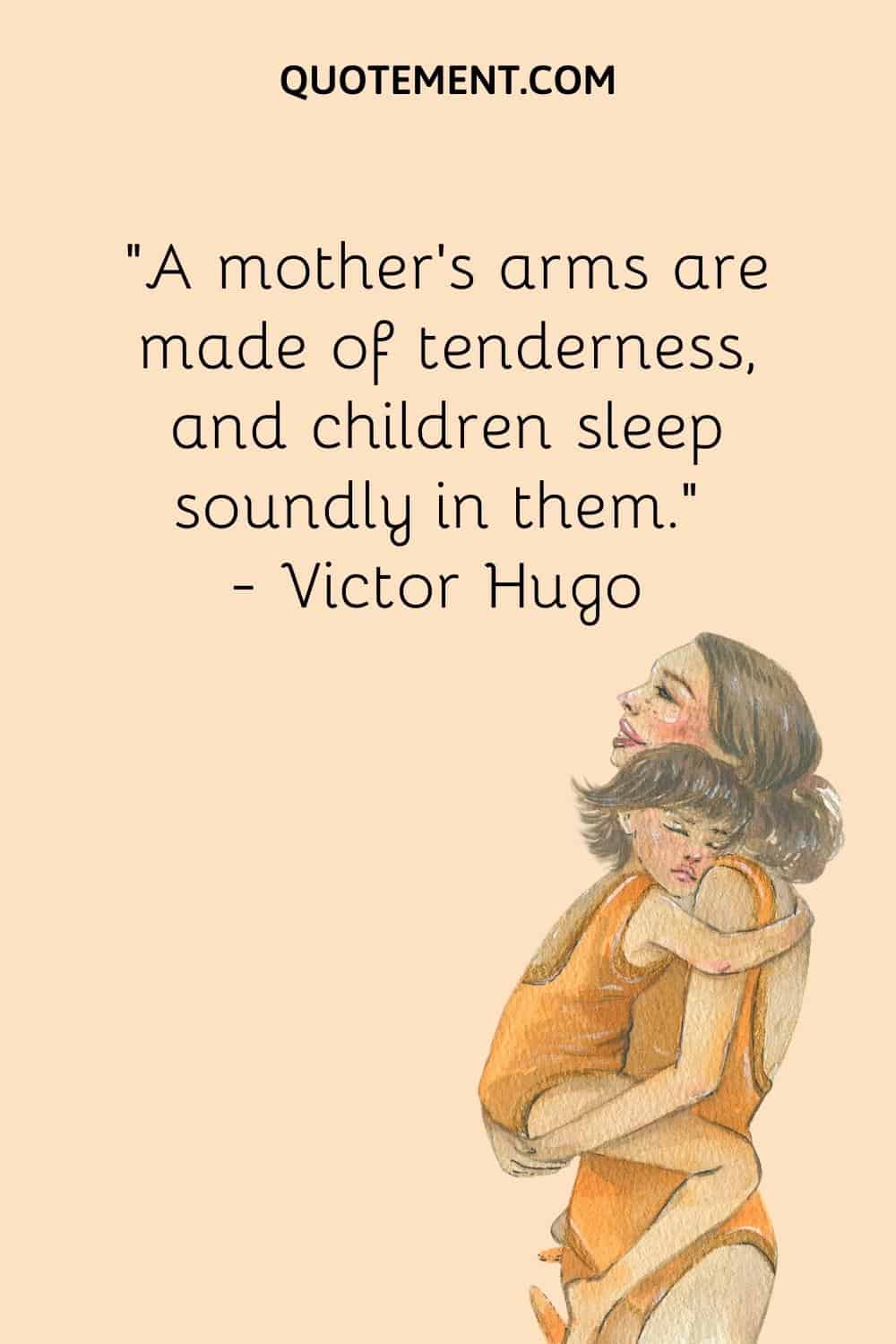 6. "My kids don't realize I need them more than they need me."
7. "The road home is paved with a mother's love. There is always a path back into her arms."
8. "When you are a mother, you are never really alone in your thoughts. A mother always has to think twice, once for herself and once for her child." — Sophia Loren
9. "Being a mom makes you realize how much your kids need you."
10. "All that I am, or hope to be, I owe to my angel mother." — Abraham Lincoln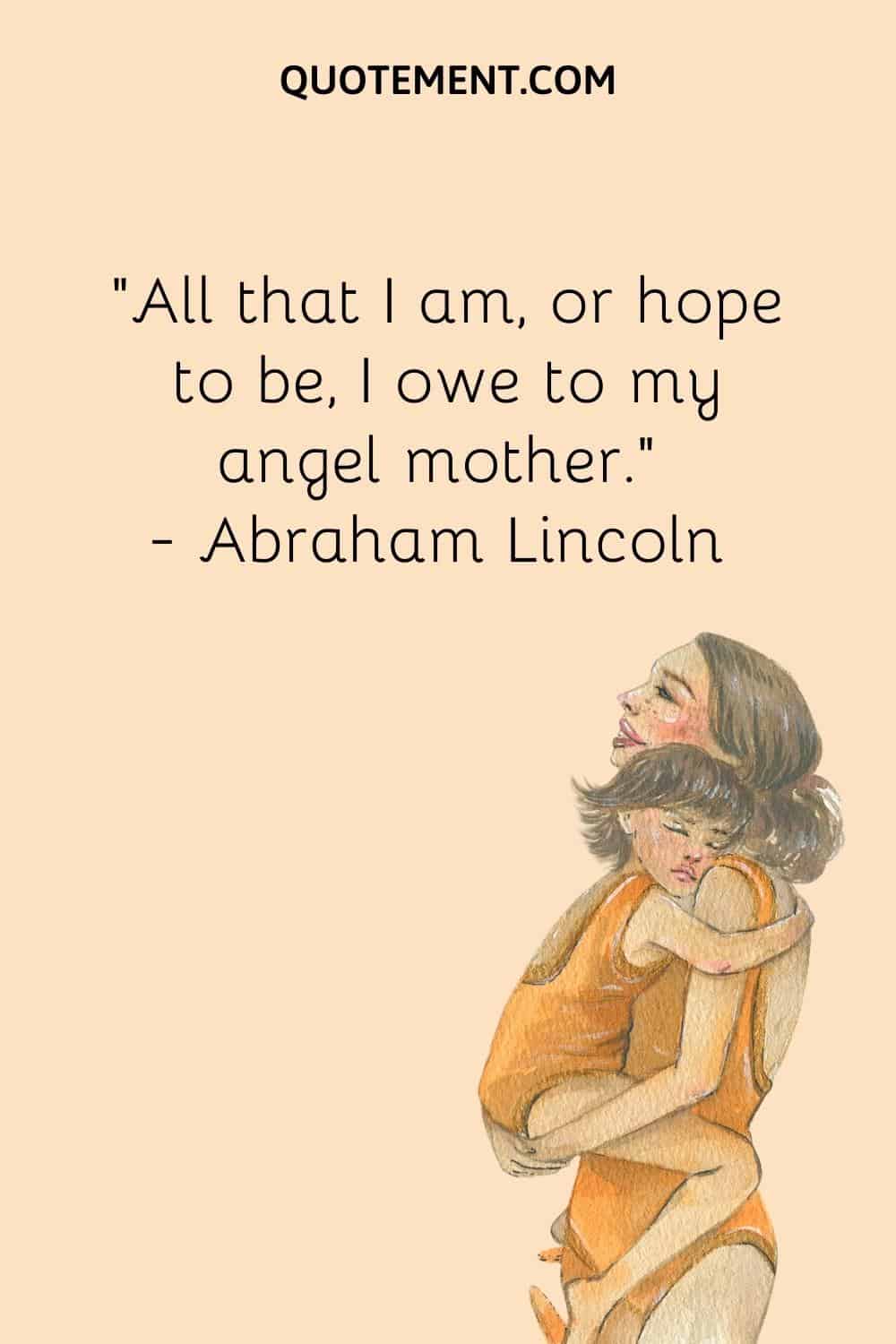 11. "Nothing is lost until Mom can't find it."
12. "Motherhood. All love begins and ends there."
13. "​​We are born of love; love is our mother."
14. "God couldn't be everywhere, so that is why he invented mothers." — Daphne Wilder
15. "Life doesn't come with a manual; it comes with a Mother."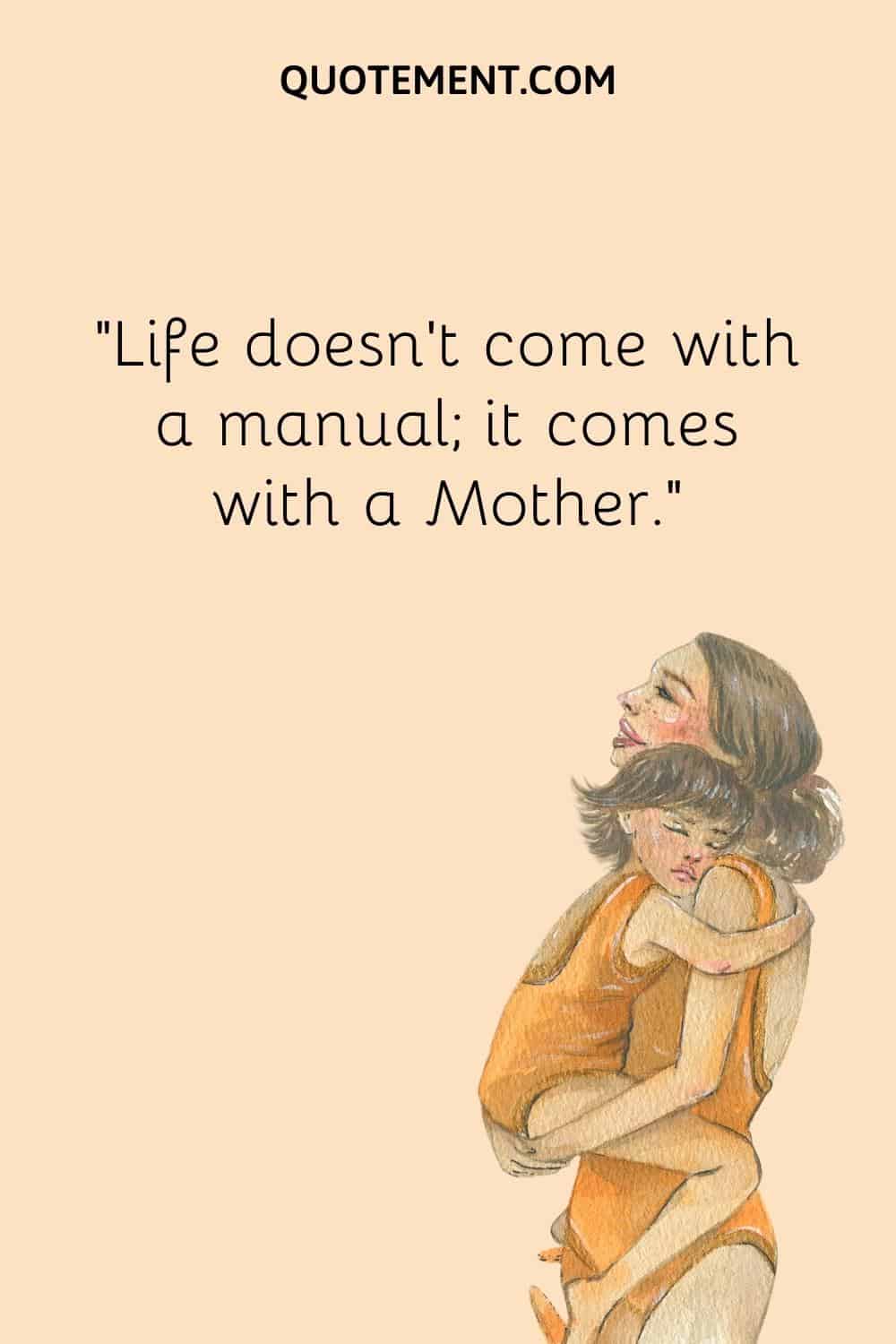 16. "Whenever my kids are in trouble, I want them to think. "I need my mom. Not "My mom's going to kill me."
17. "In a child's eyes, a mother is a goddess. She can be glorious or terrible, benevolent or filled with wrath, but she commands love either way. I am convinced that this is the greatest power in the universe." — N.K. Jemisin
18. "A mother will never give up on their children."
19. "Every mother hopes that her daughter will marry a better man than she did, and is convinced that her son will never find a wife as good as his father did." — Martin Andersen Nexo
20. "A mother's love does not set with the sun. It blankets you all through the night."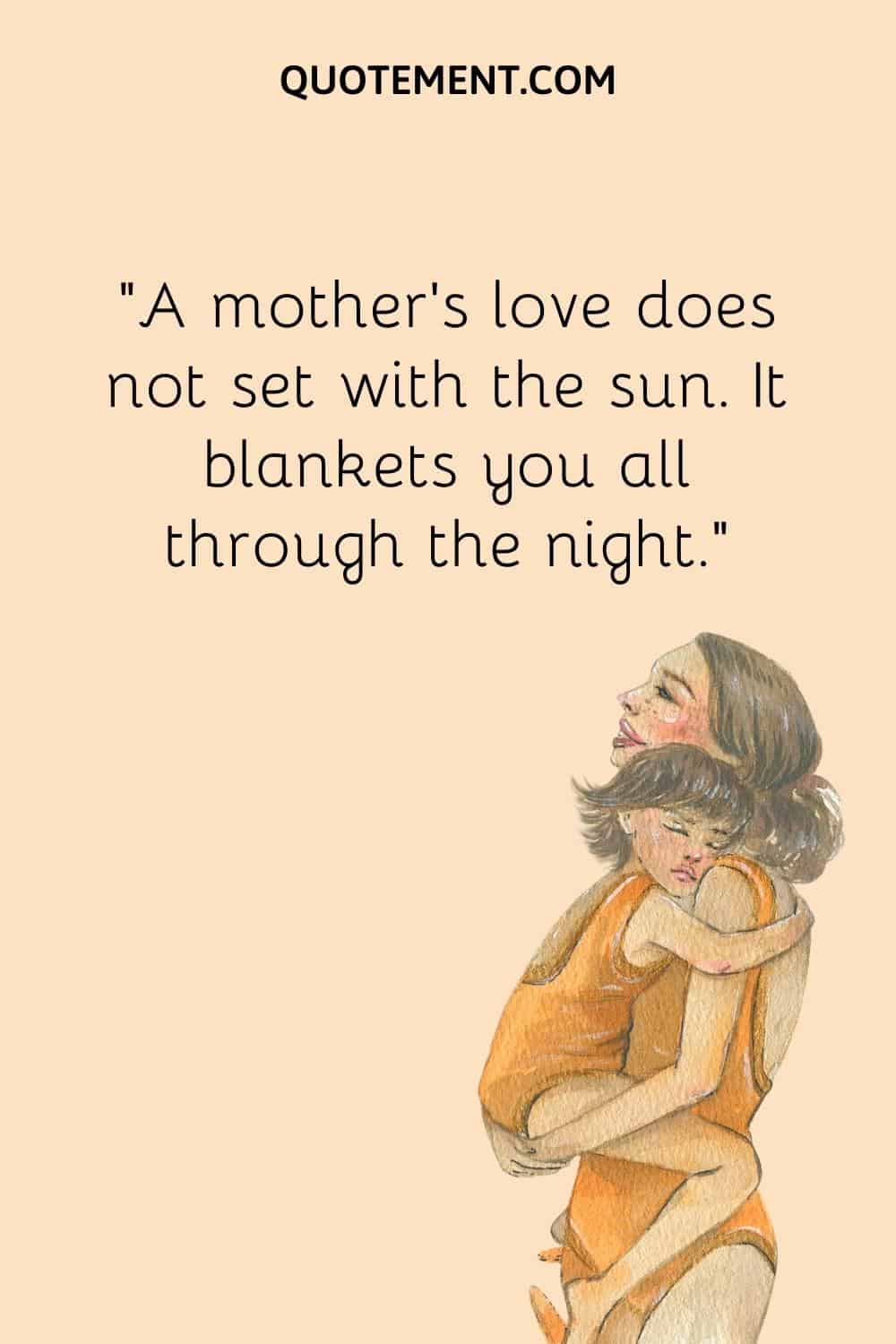 See also: 140 Bond Between Mother And Child Quotes To Warm Your Heart
Proud New Mom Quotes
1. "The moment a child is born, the mother is also born. She never existed before. The woman existed, but the mother never. A mother is something absolutely new."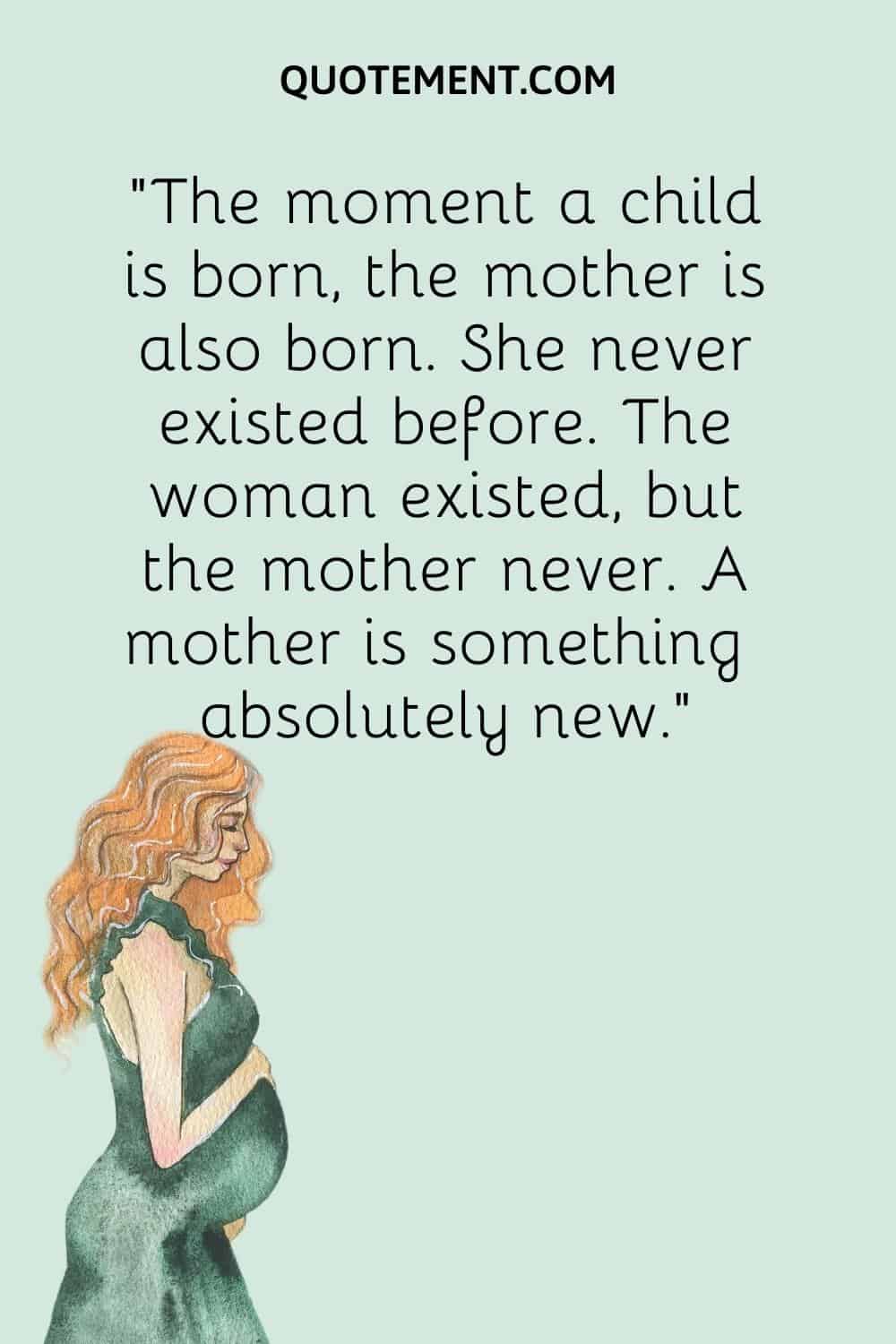 2. "There are places in your heart that exist that you didn't even know about until you become a mom."
3. "When you feel that first little kick and hear a heartbeat for the first time, you suddenly understand what it means to love someone more than your own life."
4. "The biggest surprise, which is also the best, is that I didn't know I would love motherhood as much as I do." — Deborah Norville
5. "You never understand life until it grows inside of you." ― Sandra Chami Kassis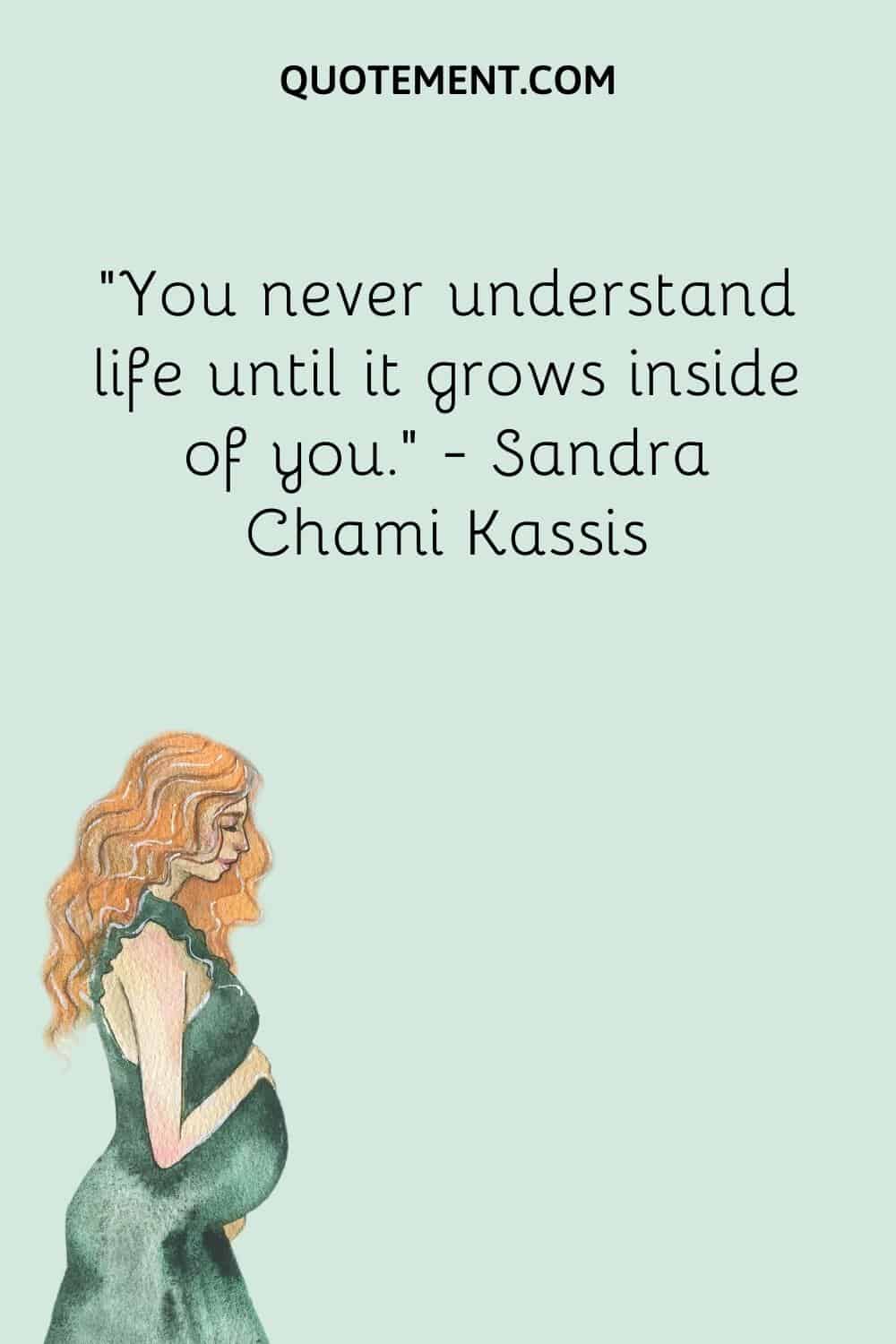 6. "Motherhood – It is a choice you make every day to put someone else's happiness and well-being ahead of your own, to teach the hard lessons, to do the right thing even when you're not sure what the right thing is, and to forgive yourself, over and over again for doing everything wrong."
7. "A mother's joy begins when new life is stirring inside; when a tiny heartbeat is heard for the first time, and a playful kick reminds her that she is never alone."
8. "Before you were conceived, I wanted you. Before you were born, I loved you. Before you were here, I would die for you. This is the miracle of mother's love." — Maureen Hawkins
9. "The natural state of motherhood is unselfishness. When you become a mother, you are no longer the center of your own universe." — Jessica Lange
10. "A baby will make love stronger, days shorter, nights longer, bankroll smaller, home happier, clothes shabbier, the past is forgotten and the future worth living for."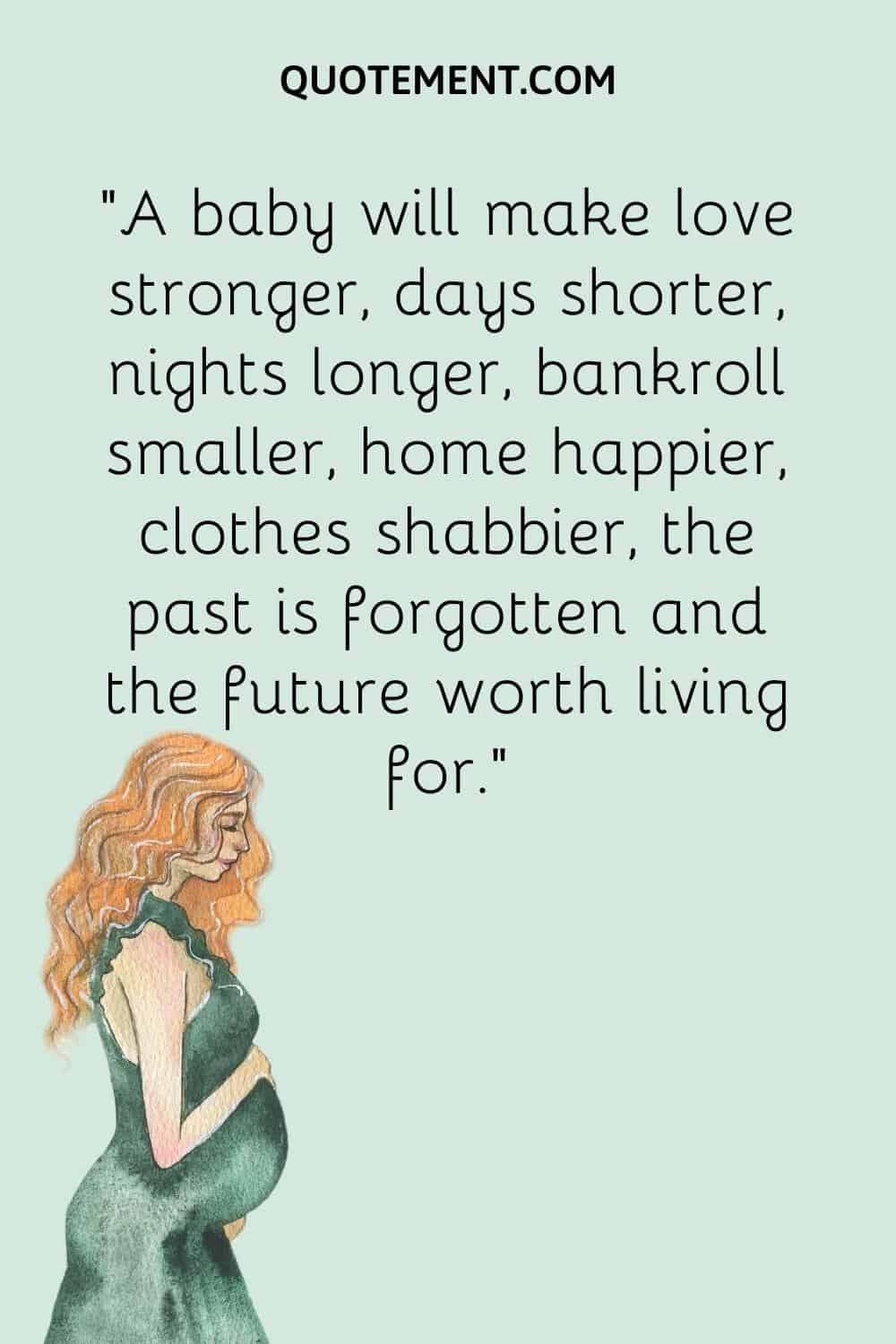 Proud Single Mom Quotes
1. "Being a single mum is twice the work, twice the stress, and twice the tears but also twice the hugs, twice the love, and twice the pride."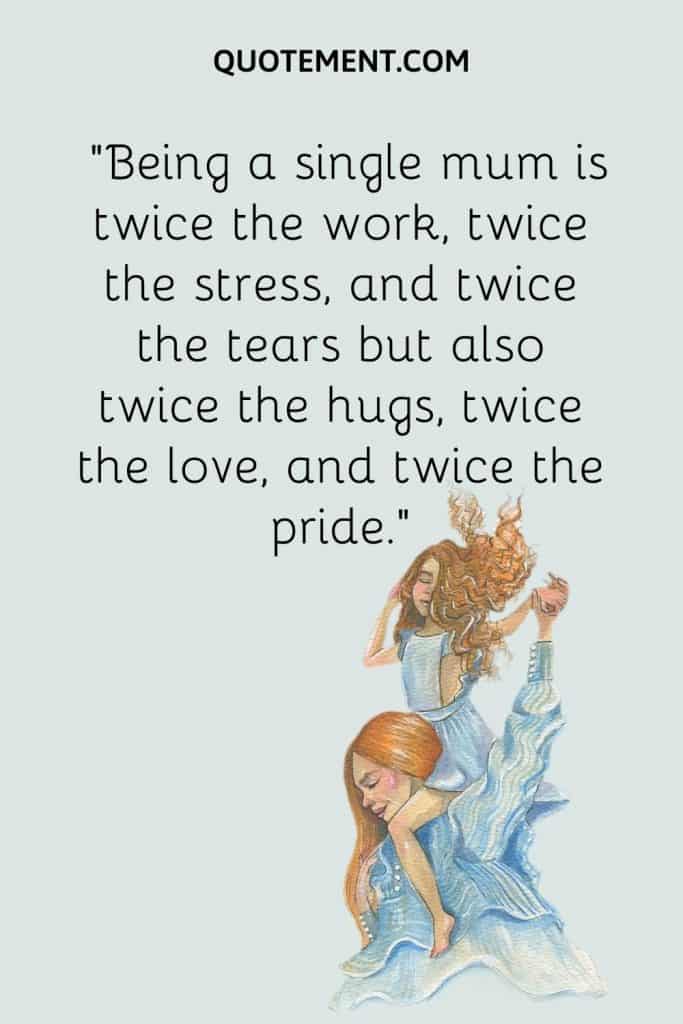 2. "Just because I am a single mother doesn't mean I cannot be a success." — Yvonne Kaloki
3. "Gone are the days when you would sit and wait for your knight in shining armor. Be brave, be independent, and believe that you can do it, and you can do a better job."
4. "As a single mum, you'll discover inner strengths and capabilities you never knew you had." — Emma-Louise Smith
5. "I am a proud single mom, and I wouldn't change anything."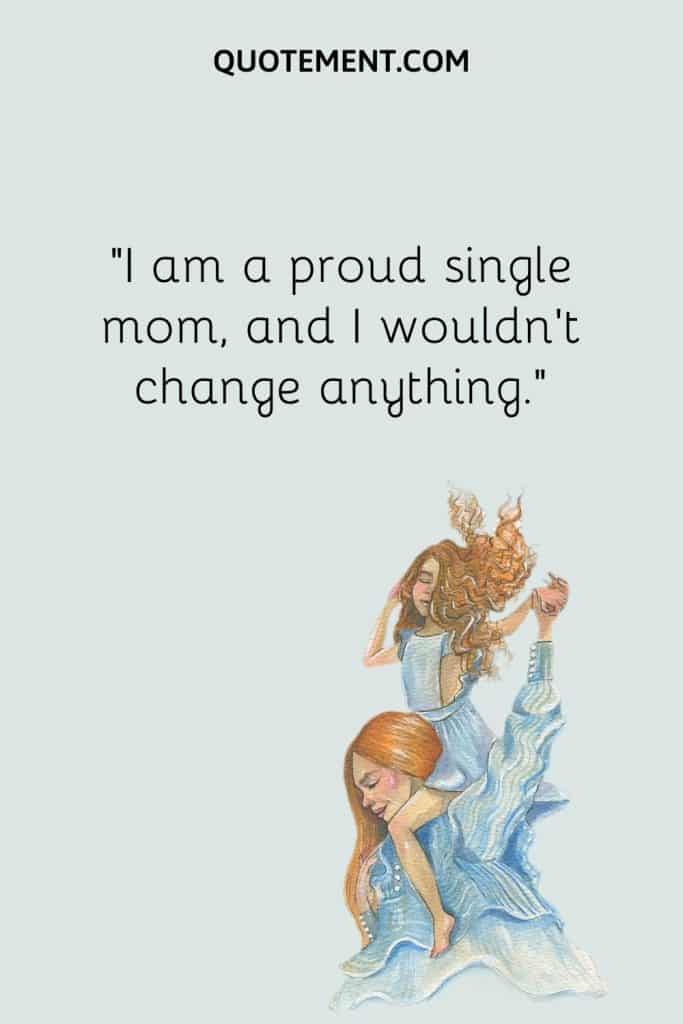 6. "Being a single parent is not a life full of struggles, but a journey for the strong." — Meg Lowrey
7. "I used to wish things were different, but I'm so proud of how well I am doing as a single mom."
8. "Being a mom is a full-time responsibility in itself, but it takes someone with grit and a much stronger attitude to be both the mom and the dad."
9. "Does being a single mom stress me out? Yes. Is it still my favorite thing to do? Absolutely Yes!"
10. "Some days are harder than usual, but I will always be a proud single mom."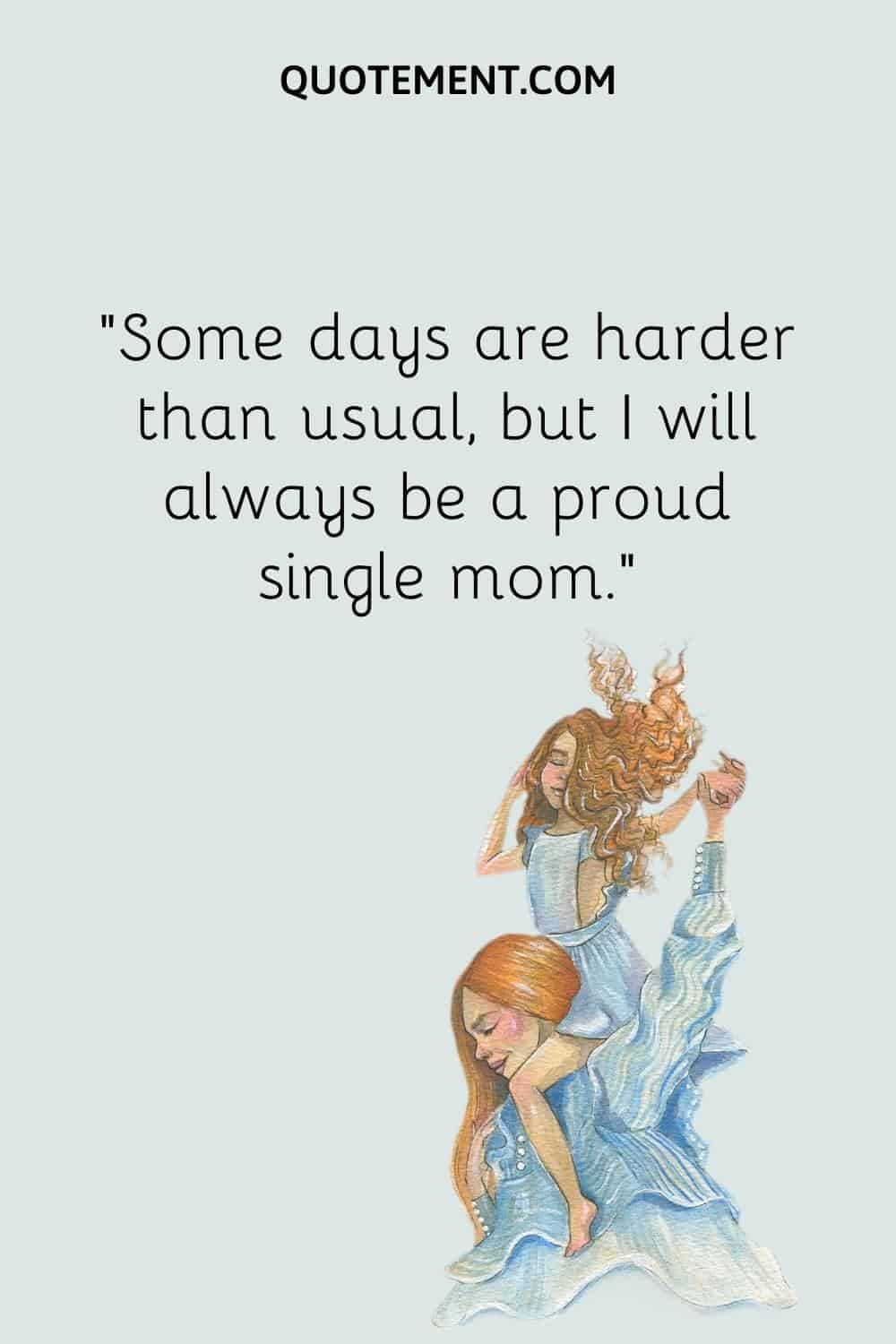 To Conclude
Being a mom isn't easy, but it's the most fulfilling job in the world.
I believe this collection of proud momma quotes reminded you of what a great feeling it is to have kids who make you happy, fulfilled, and proud!
You can use these proud mom quotes to express your love and pride toward your kids.
You can also post them on social media to let everyone know what a proud mom you are or share them as Mother's day messages for your friends to remind them of all the joys of motherhood.
Until next time!Read next: 60 Best Bad Mom Quotes To Make Sure You're A Good One!