If you're a mom going through a rough patch and could use a bit of motivation, then these bad mom quotes are perfect for you!
I've compiled a collection of the 60 very best bad mom quotes anywhere on the web, ideal for all the moms wondering if they're good moms to their kids.
Being a mom isn't easy. It's the most challenging job in the world, but I'm sure you're doing great. Just the fact that you're wondering if you're a bad mom means that you are a great one!
Moms are just human beings, they're allowed to make mistakes, and one mistake doesn't automatically mean they have failed their job. If you're a mom, please be gentle to yourself.
However, parents can still neglect or even hurt their kids and cause them pain and trauma, often unintentionally and without realizing.
In this article, you'll find the best bad mom quotes and inspiring parenting quotes for hard times to clear your mind and make sure you're doing the best job possible.
These quotes will also help all the single mothers out there, as well as the moms who are stuck in a toxic co-parenting situation – I understand how hard single mom life is!
I hope these inspirational quotes will strengthen you and help you realize that you're a great mom.
Let's take a look at all the bad mom quotes I've prepared!
Top 10 Bad Mom Quotes
Let's start off with the 10 absolute best bad mom quotes anywhere on the web!
1. "Making time for yourself and prioritizing your needs doesn't make you a bad mom. Happy mom, happy kids!" — Kirsten Hill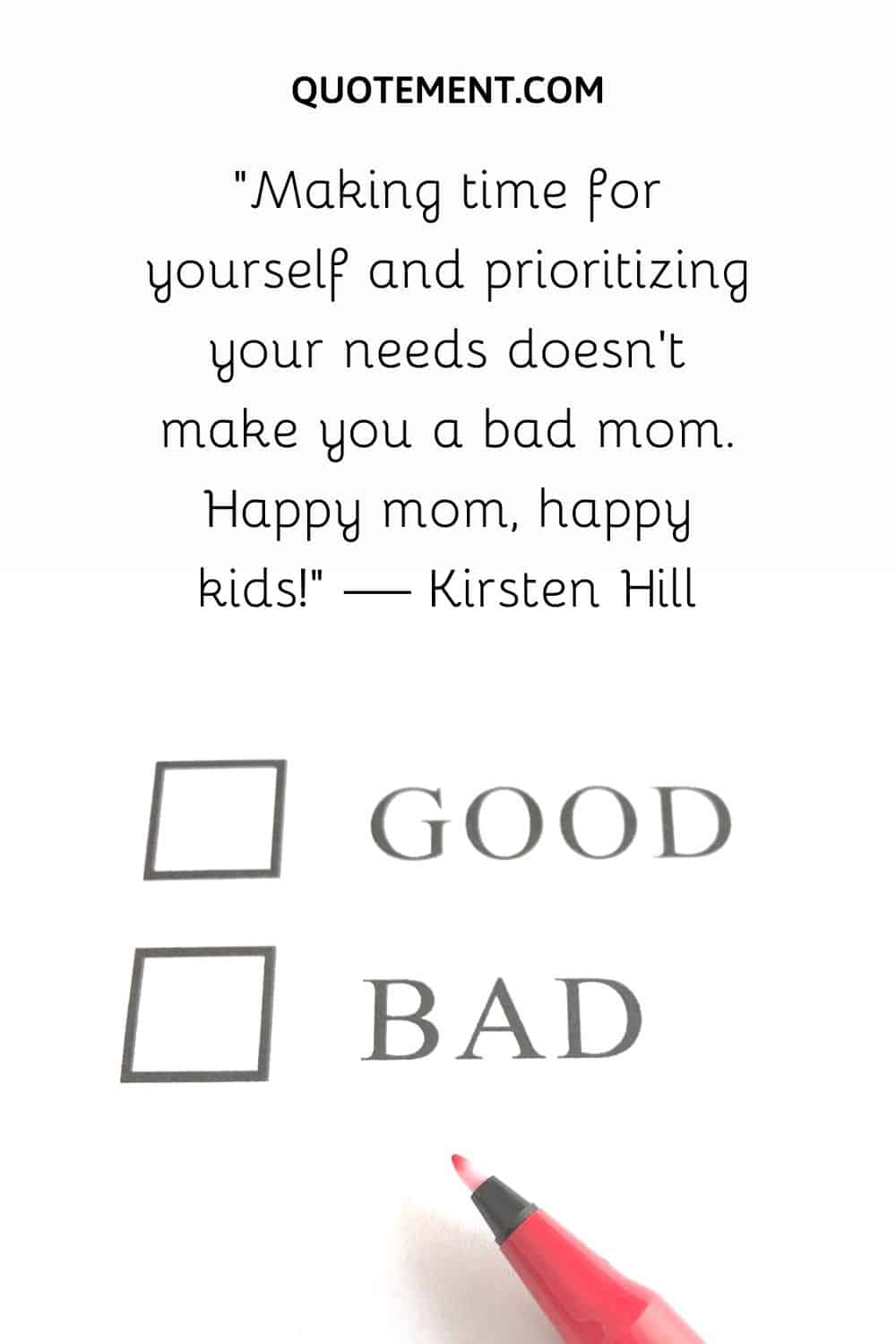 2. "There is no such thing as a perfect parent, so just be a real one." — Sue Atkins
3. "Bad moments don't make bad moms." — Lysa Terkeurst
4. "Good mothers make all kinds of choices. Making a decision that might sound selfish does not make a woman a bad mother." — Jada Pinkett Smith
5. "Biology is the least of what makes someone a mother." — Oprah Winfrey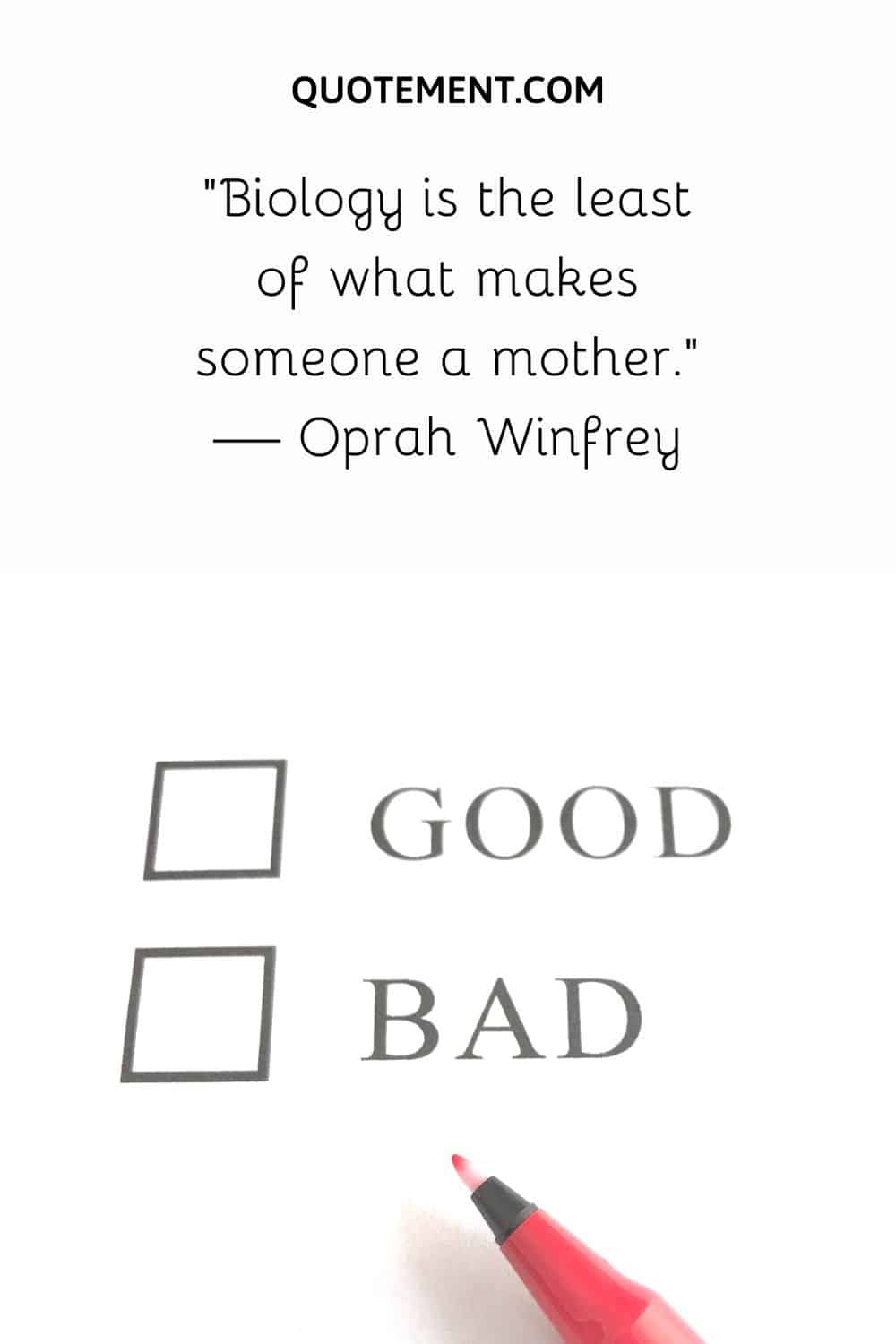 6. "I make a bad mom, but I can pull off a crazy aunt." — Ilona Andrews
7. "I'm not a good mom; I'm not a bad mom. I'm the mom I am, and I try very hard, and when I fail, that's okay." — Kristen Bell
8. "You're always going to wonder if you're doing things wrong, but that's what it means to be a mom. To care so much about someone else that you just want to be as perfect as possible." — Naya Rivera
9. "Toxic mothers are more dangerous than absent fathers due to their contagious toxic energy which poisons your soul." — Trialsandtest
10. "There is no way to be a perfect mother and a million ways to be a good one." — Jill Churchill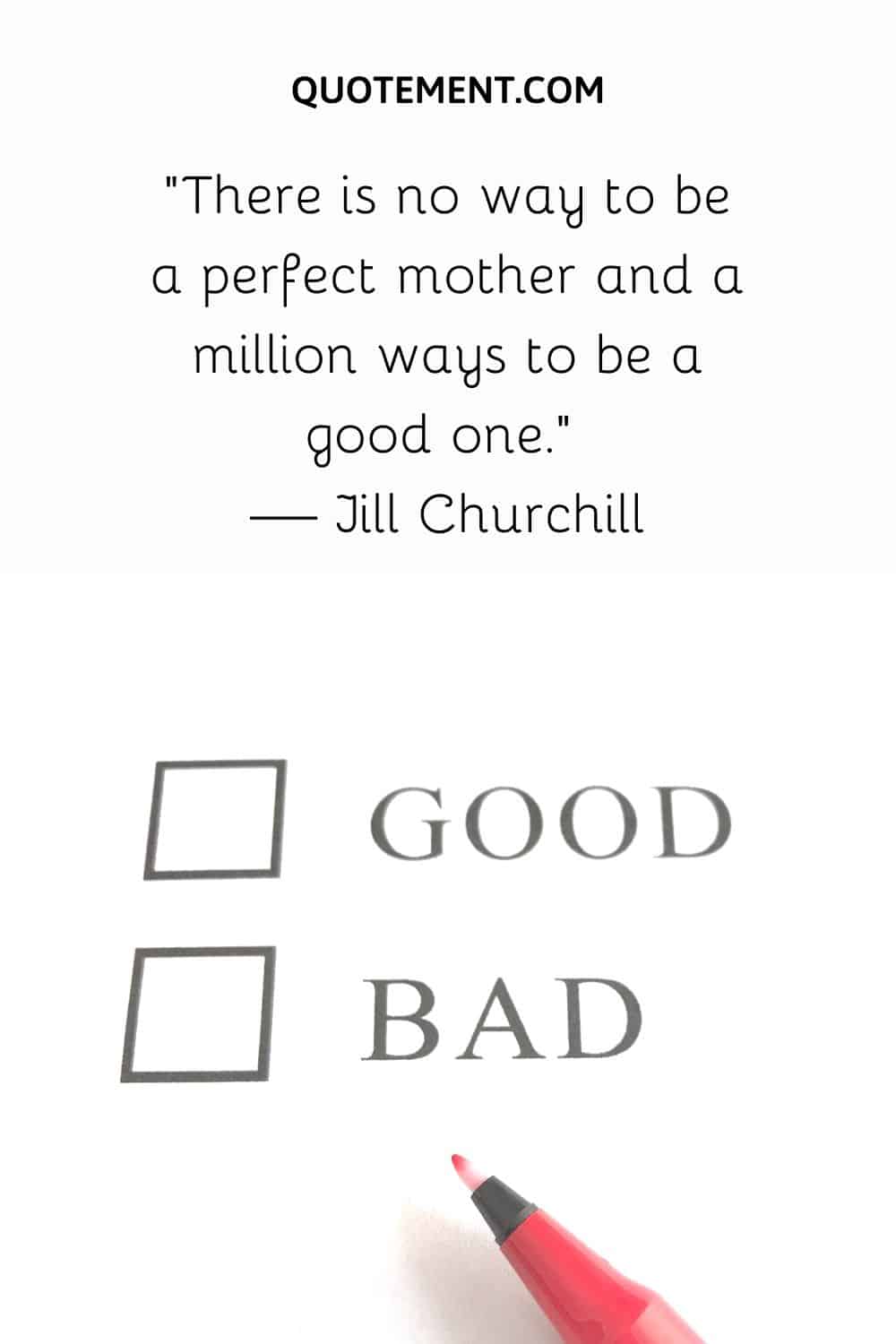 Inspirational Bad Mother Quotes
Check out these inspirational bad mom quotes to give you strength and confidence.
1. "Take a deep breath, it's just a bad day, not a bad life." – Paintedteacup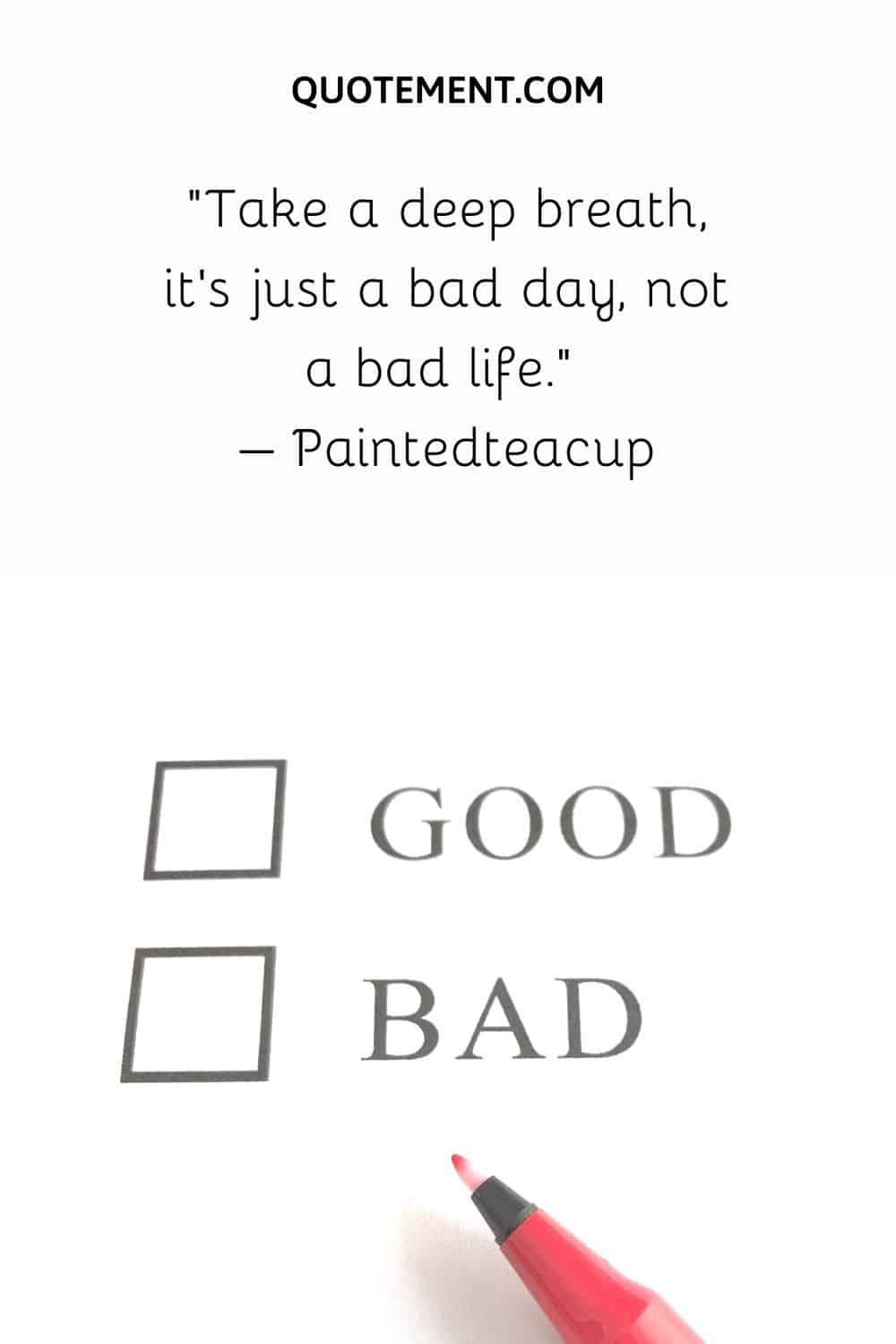 2. "Not only do you have to be a totally present mother, but then you have to bake homemade stuff [for school], and it was just too, too much." — Kathryn Hahn
3. "Every single second of every single day… I don't know if I feel like a bad mom, but at the end of the day, I'm always plagued with, 'Did I do enough? Should I go in a different direction?'" — Sandra Bullock
4. "Motherhood is messy. And challenging. And crazy. And sleepless. And giving. And still unbelievably beautiful." — Rachel Martin
5. "The guilt of feeling like you're a bad mom means you're a good mom." — unknown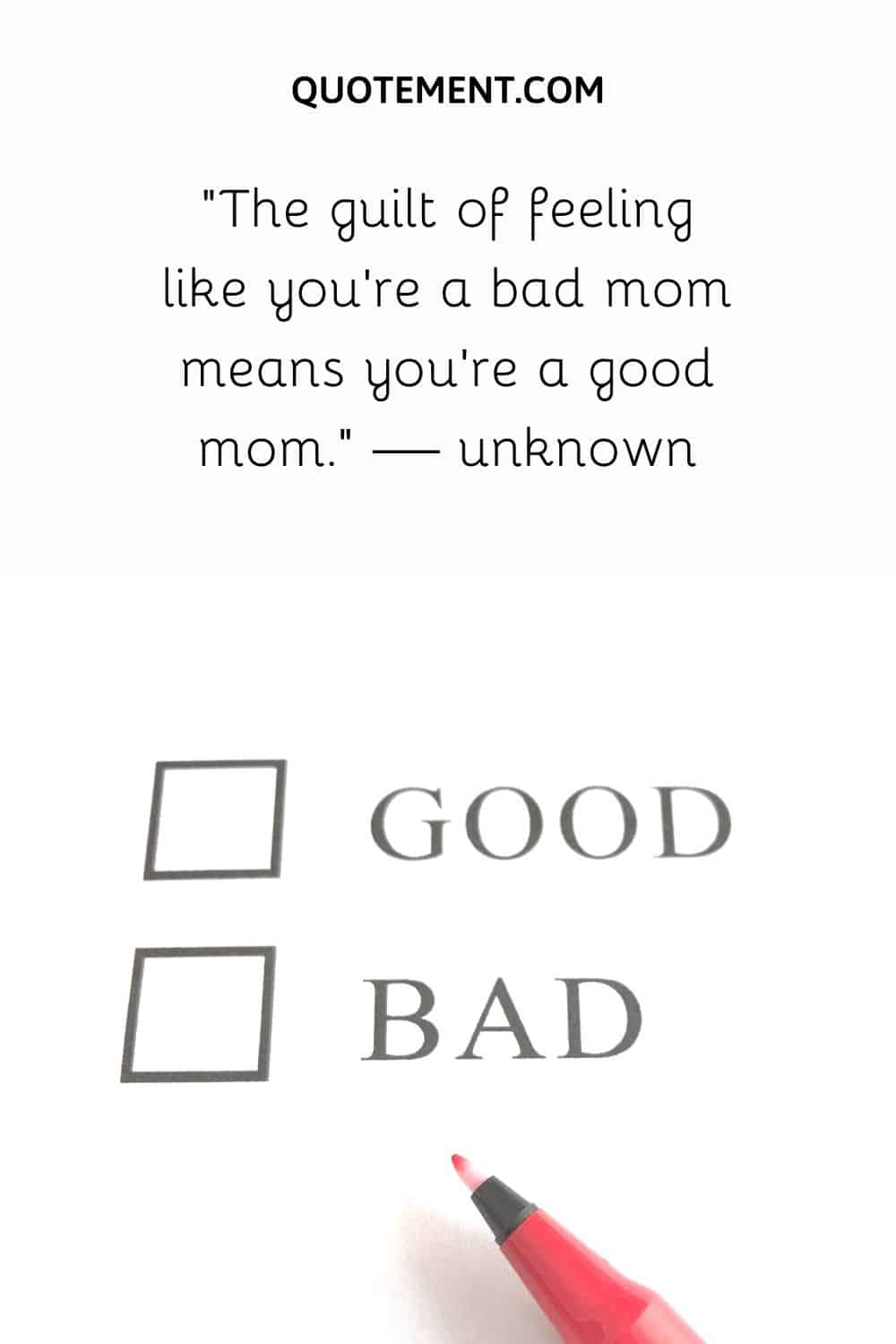 6. "Dear mom who feels like a failure, you are amazing. Bad things happen, but so do good things. Pick yourself up and remember, this is just a moment in a long journey." — unknown
7. "Social expectations about what constitutes a good or a bad mother haunt every decision, and the rise of the parental advice industry ensures that moms and dads feel inadequate at every turn." — Jessica Valenti
8. "I work too hard; I'd be a really bad mom, unfortunately. I can't even keep a plant!" — Maria Ressa
9. "If a good mother is one who loves her child more than anyone else in the world, I am not a good mother. I am, in fact, a bad mother. I love my husband more than I love my children." — Ayelet Waldman
10. "You can be a mess and still be a good mother. We are allowed to be both." — Katie Bighamsmith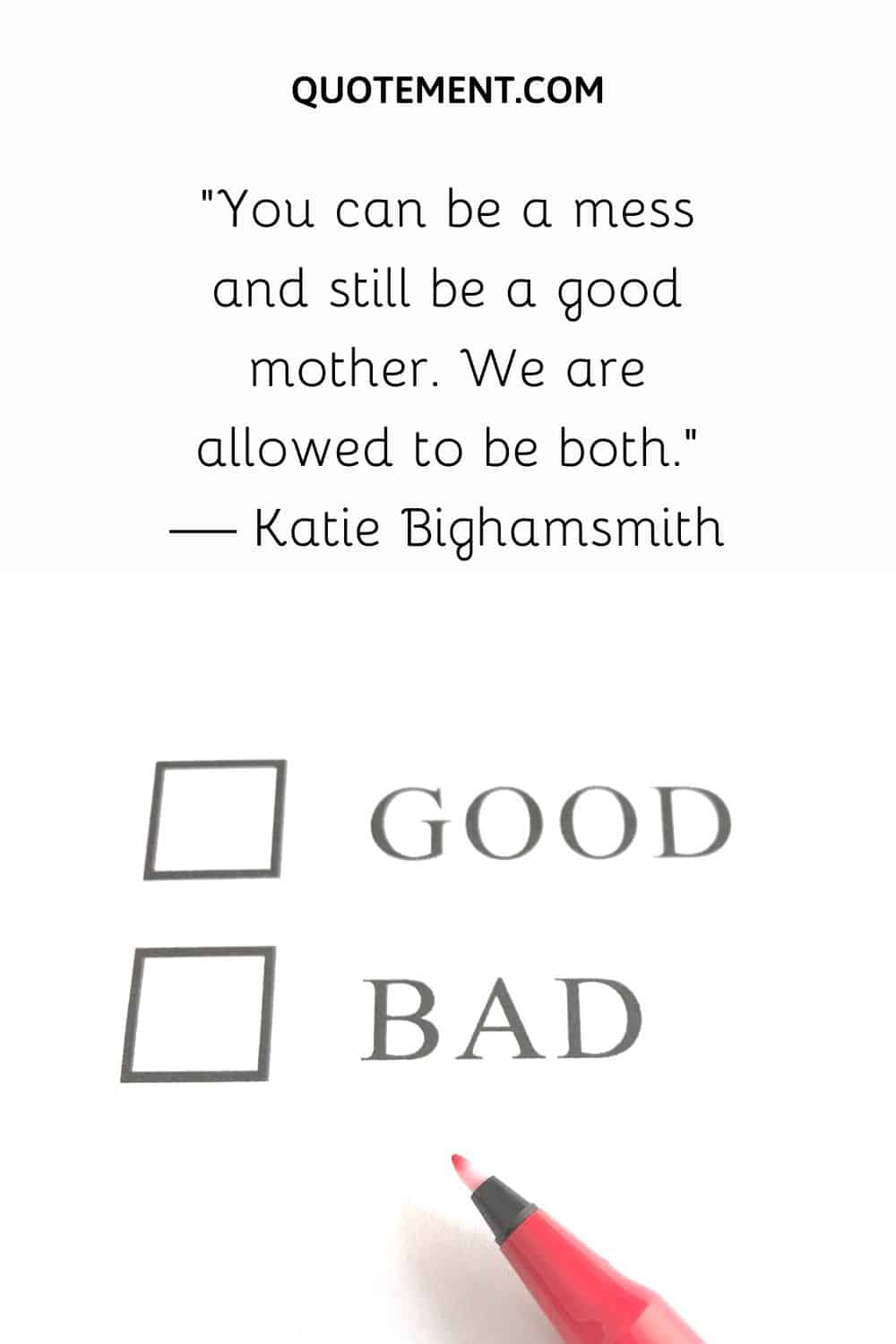 11. "And that's the insult of it – how always, it comes back to a woman being a 'good' mother in the world's eyes or a 'bad' mother, how everything in a woman's life is funneled through her body between her legs." — Joyce Carol Oates
12. "Your first obligation as a parent is not to bring chaos into your kids' lives." — unknown
13. "One of the darkest, deepest shames so many of us mothers feel nowadays is our fear that we are bad mothers, that we are failing our children and falling far short of our own ideals." — Ayelet Waldman
14. "Fear is at the root of so many of the barriers that women face. Fear of not being liked. Fear of making the wrong choice. Fear of drawing negative attention. Fear of overreaching. Fear of being judged. Fear of failure. And the holy trinity of fear: the fear of being a bad mother/wife/daughter." — Sheryl Sandberg
15. "Every mother I've ever met, pretty much without exception, is doing the best job she can ever do." — Jennifer Weiner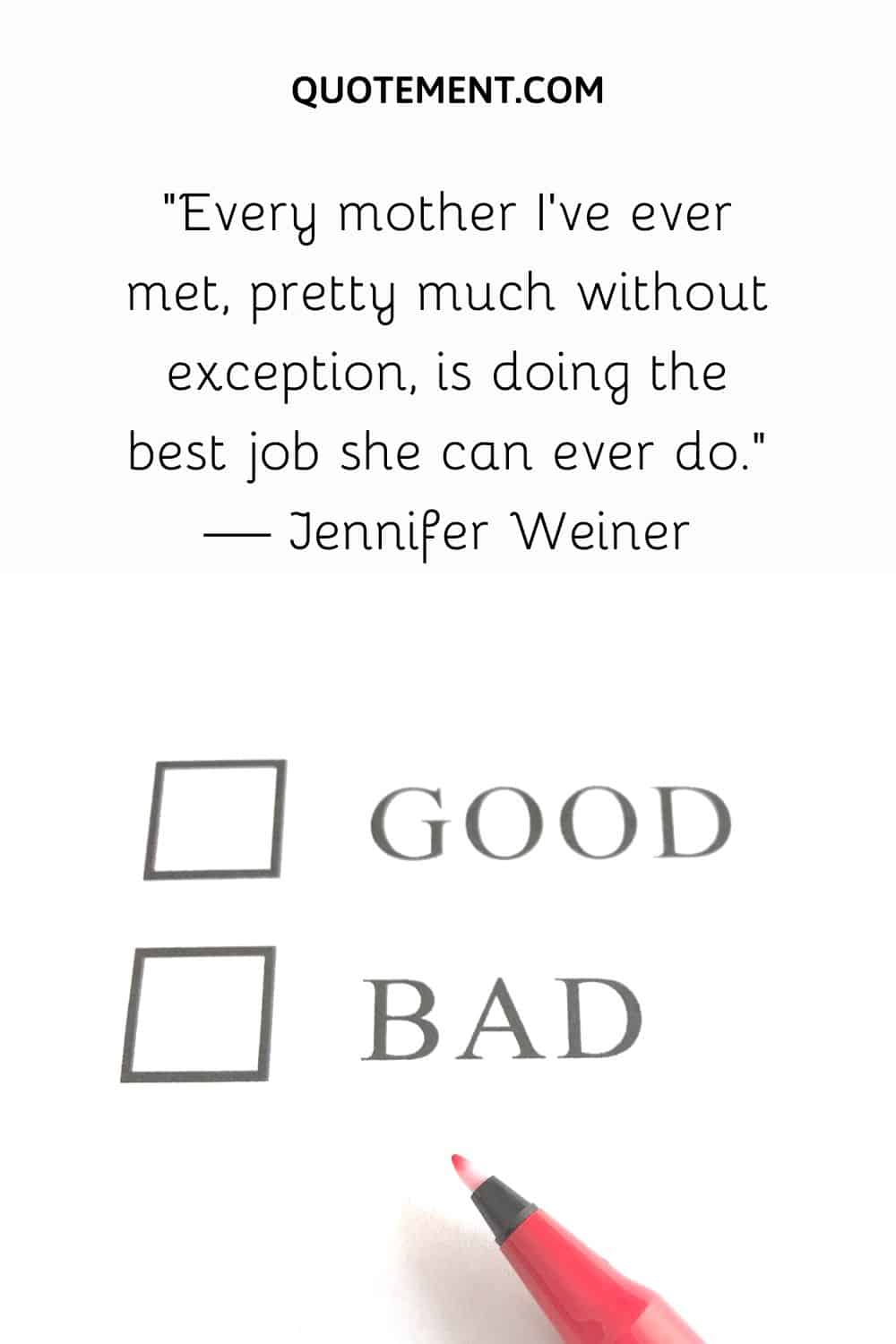 16. "I want to be a mother who has the original father there. There are a lot of sacrifices a mother makes when she's raising a child by herself. I saw it when I was growing up, watching all my mother did for me." — Christina Applegate
17. "She shrieked and shrieked for her mother, but her mother was already there. Her mother was the monster." — Holly Black
18. "Being a housewife and a mother is the biggest job in the world, but if it doesn't interest you, don't do it – I would have made a terrible mother." — Katherine Hepburn
19. "I have bad days, I make mistakes…It's a lot for one person. But after six years of having my two nuggets, there's not a day I wish I hadn't done this." — Charlize Theron
20. "I'm going to try to do everything by myself today. It should be fine as long as everyone does what they're supposed to do. Right?" — Amy, Bad Moms Movie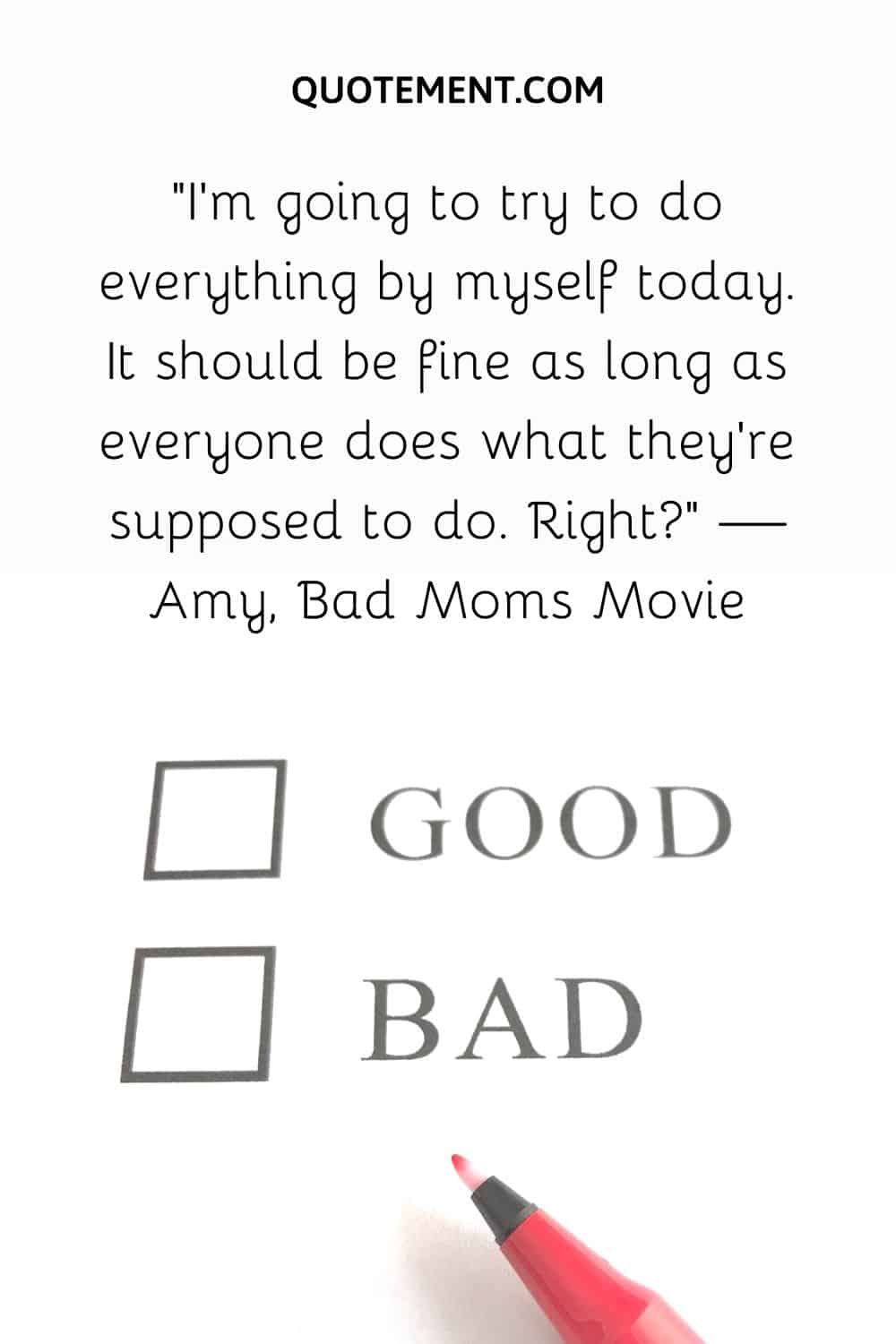 21. "Admitting that this job isn't always easy doesn't make somebody a bad mother. At least, it shouldn't. We're all on this ride together. We are not the first ones to ever accidentally tell our children to shut up or wonder — just for a moment — what it would be like if we'd never had children. We aren't the first mothers to feel overwhelmed and challenged and not entirely fulfilled by motherhood. And we certainly won't be the last. Nothing can be lost by admitting our weaknesses and imperfections to one another. In fact, quite the opposite is true. We will be better mothers, better wives, and better women if we are able to finally drop the act and get real. Who are we pretending for, anyway?" — Jill Smokler
22. "Being a mother is not about what you gave up to have a child, but what you've gained from having one." — unknown
23. "Children might or might not be a blessing, but to create them and then fail them was surely damnation." — Lois McMaster Bujold
24. "My mom was a terrible parent of young children. And thank God – I thank God every time I think of it – I was sent to my paternal grandmother. Ah, but my mother was a great parent of a young adult." — Maya Angelou
25. "You're not a bad mother. I know bad mothers. I came out of one." — Max Black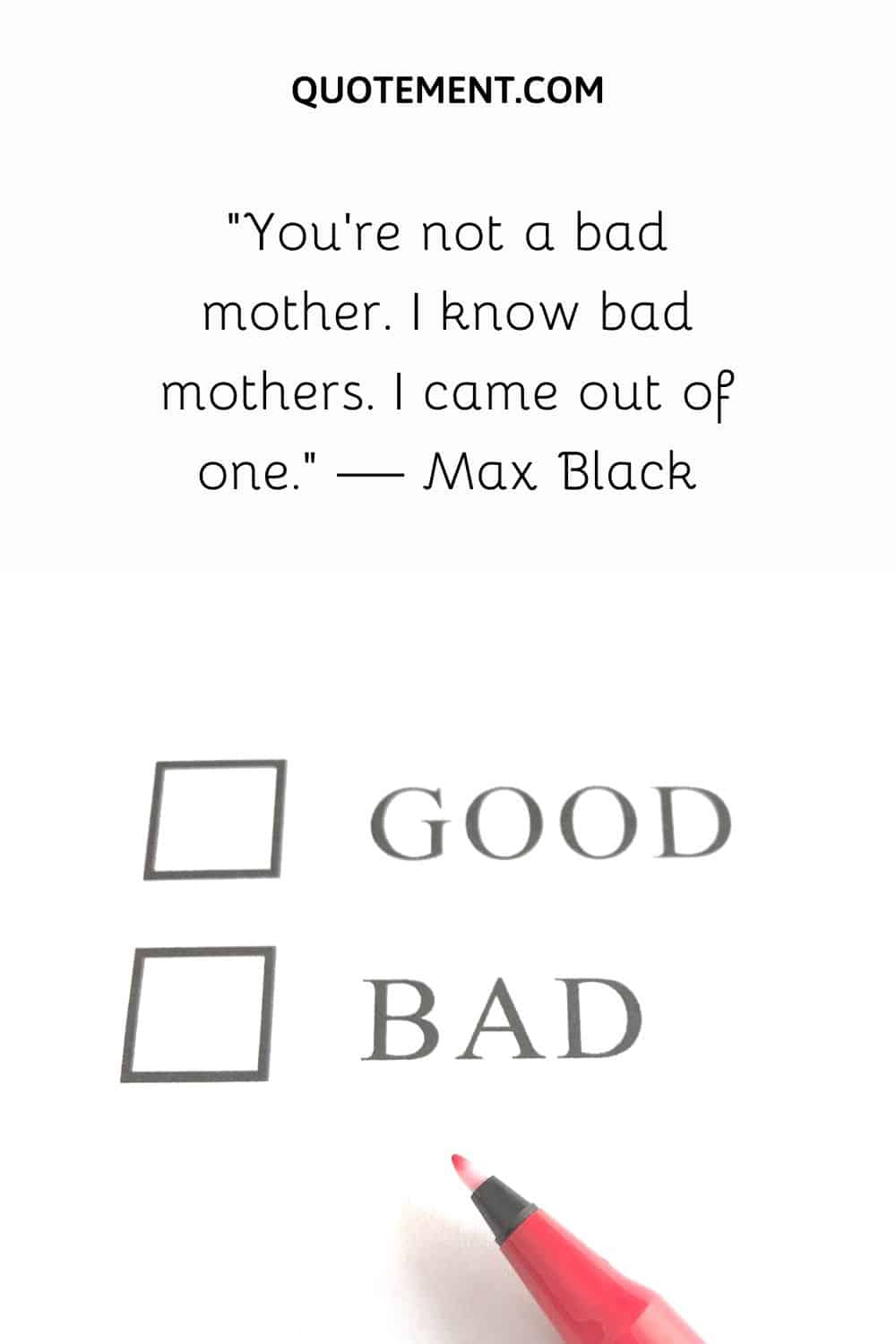 26. "I don't beat myself up anymore about going to work. It doesn't mean I'm being a bad mother just because I want to go and do my job sometimes." — Kate Winslet
See also: 80 Best Working Mom Quotes To Inspire And Strengthen You
Powerful Bad Parents Quotes
Anyone can be a parent, but being a good parent requires a lot of effort. Check out these powerful parenting quotes about good and bad parents.
1. "The toxic parent sees the child as a threat to their own ego and having the child overshadow the parent is not an option in their mind." — Shannon Thomas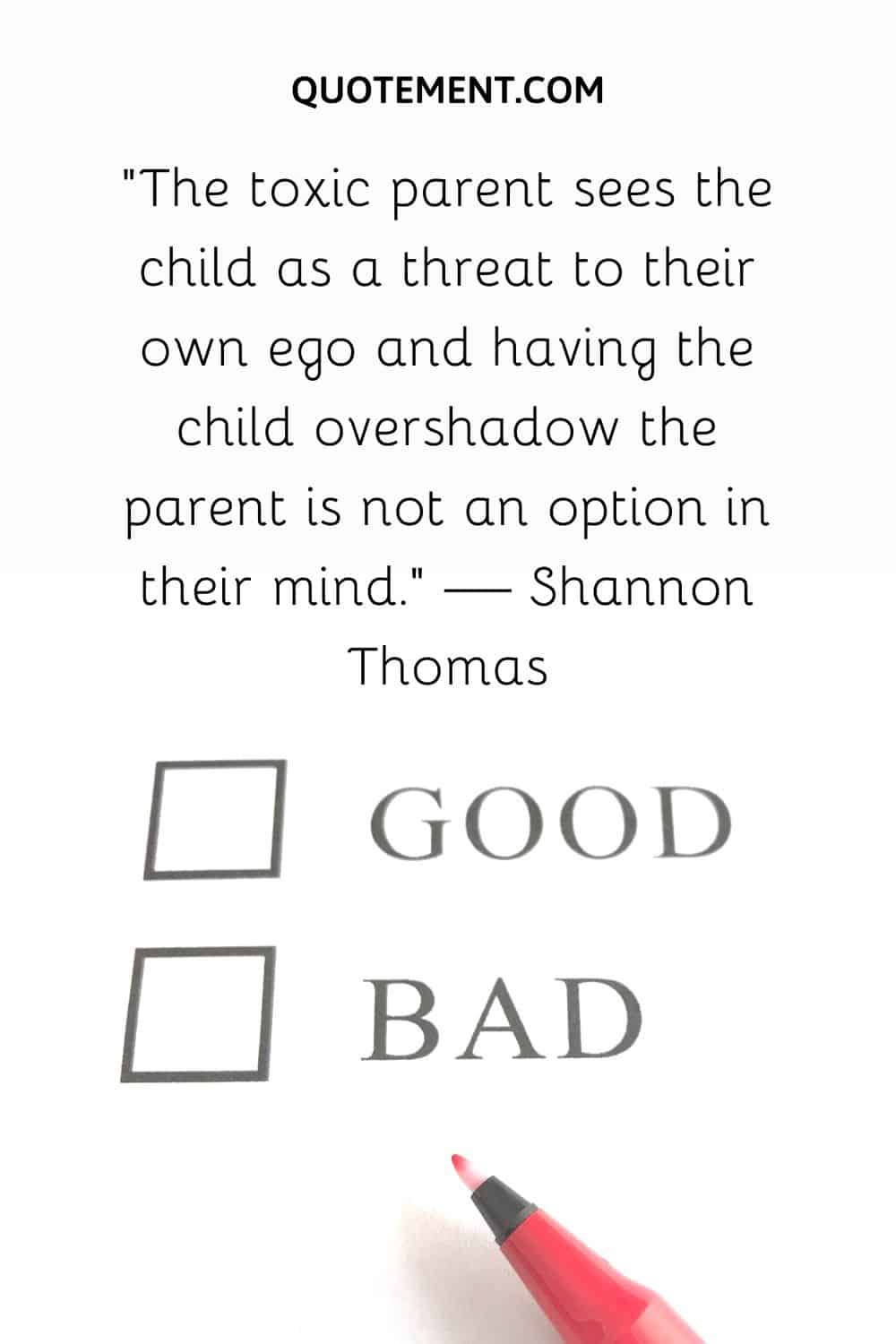 2. "I hope my work ethic and positive outlook can be a testimony to other working mothers who may doubt their ability to be a career woman and a great mom. You can accomplish both." — Gwen Darby
3. "In reality, the world is as full of bad mothers as it is of bad fathers, and it is not the motherless children who become delinquent but the fatherless ones." — Louis De Bernieres
4. "To create a strong bond between your child and you, you first have to give your child the freedom to be who they truly are." — Kirsten Hill
5. "It is a violation of trust to use your kids as caulking for the cracks in you." — Anne Lamott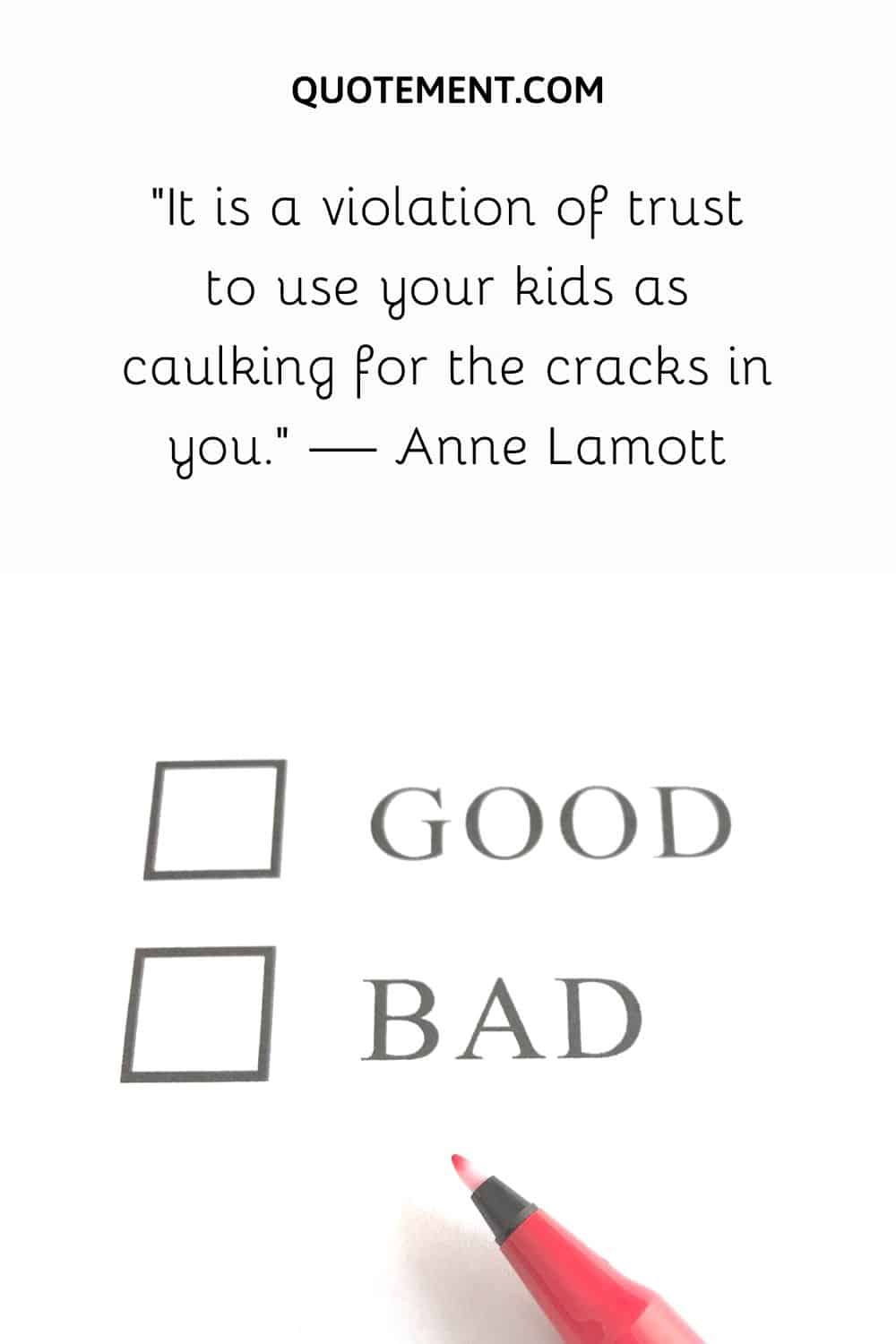 6. "Instead of treating your child like how you were treated. Treat them with the same love and attention you wanted from your parents while growing up." ― Jonathan Anthony
7. "She had known it was bad, call it a mother's instinct, but she'd known this was the knock that was going to scoop her insides out and leave her barely able to stand; merely a shell with nothing good inside anymore." — Andrew Barrett
8. "Dysfunctional parents let their children know how burdened they have been by their children and how many sacrifices they had to make in order to raise them." — Dr. Marita Sirota
9. "I remember the bad times as a succession of painful emotional snapshots: Me walking into the library at 24 Sussex, seeing my mother in tears, and hearing her talk about leaving while my father stood facing her, stern and ashen." — Justin Trudeau
10. "If you are with your kid and you are present, and you are there, and you're engaged, and you care, then you're a great mom." — Mila Kunis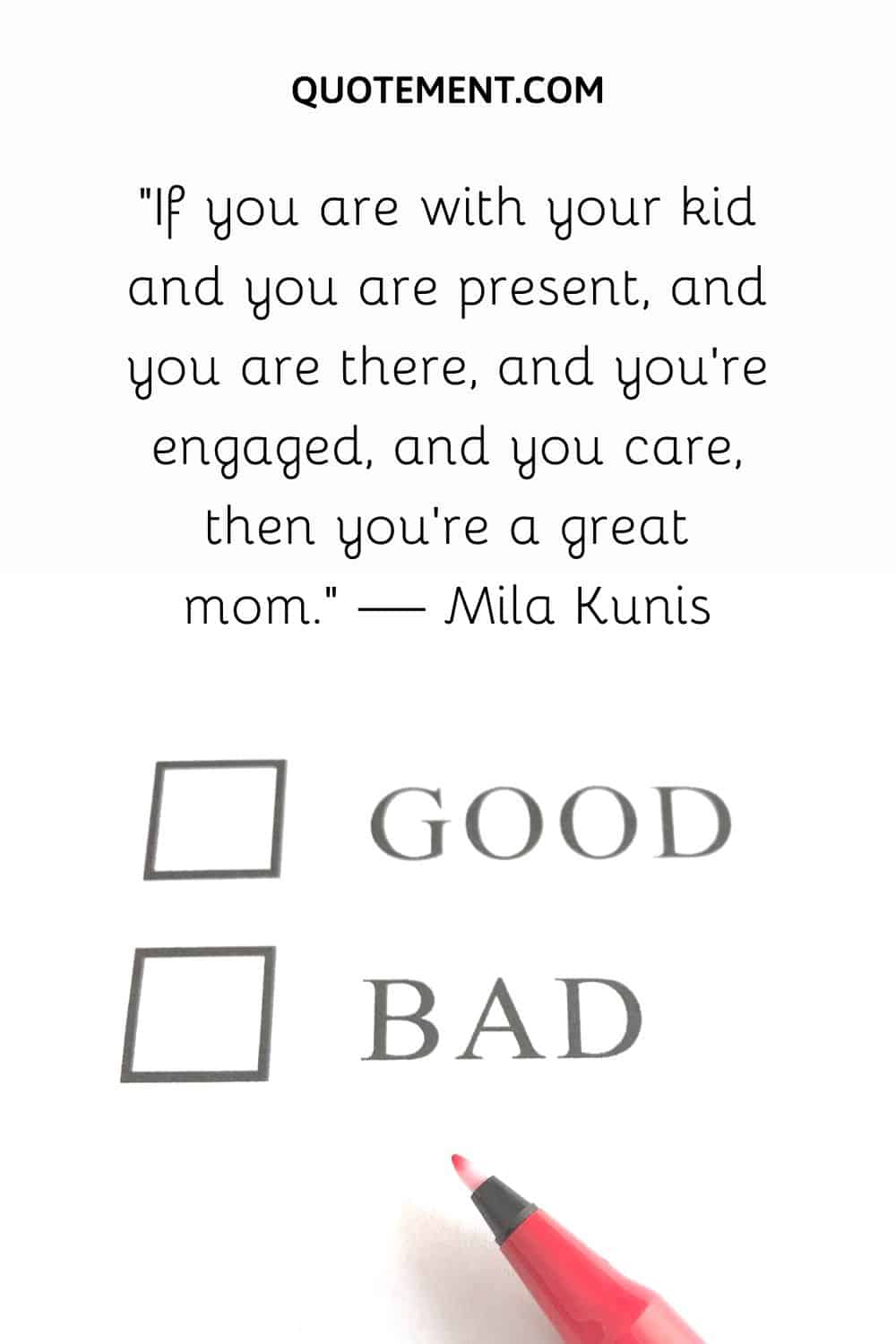 11. "More than any other personality trait, my mother seemed to be ruled by anger and sadness. She seemed to hate being a mother. Watching her unhappiness as I grew up made me conclude that the answer was to try and be as unemotional as I could, which many therapists have taught me is a bad idea. It also made me want to avoid marriage and having children." — Merrill Markoe
12. "Anyone can have a child and call themselves a parent. A real parent is someone who puts that child above their own selfish needs and wants." — unknown
13. "Gwendolyn: I called this emergency PTA meeting to address an issue that affects the safety of our children. Vicky: Terrorism! Gwendolyn: The bake sale: No BPA, no MSG, no BHA, no BHT, no sesame, no soy, and, of course, no nuts or eggs or milk or butter or salt or sugar or wheat. Amy: I'm so tired of trying to be this perfect mom. I'm done." — Bad Moms Movie
14. "I work too much to be an appropriate parent. I feel like a bad mom to my dog some days because I'm just not here enough. I just feel like I would do a bad job if I took the time to literally give birth to a kid right now and try and juggle everything I'm doing." — Rachael Ray
15. "In this day and age, it is impossible to be a good mom." — Kiki, Bad Moms Movie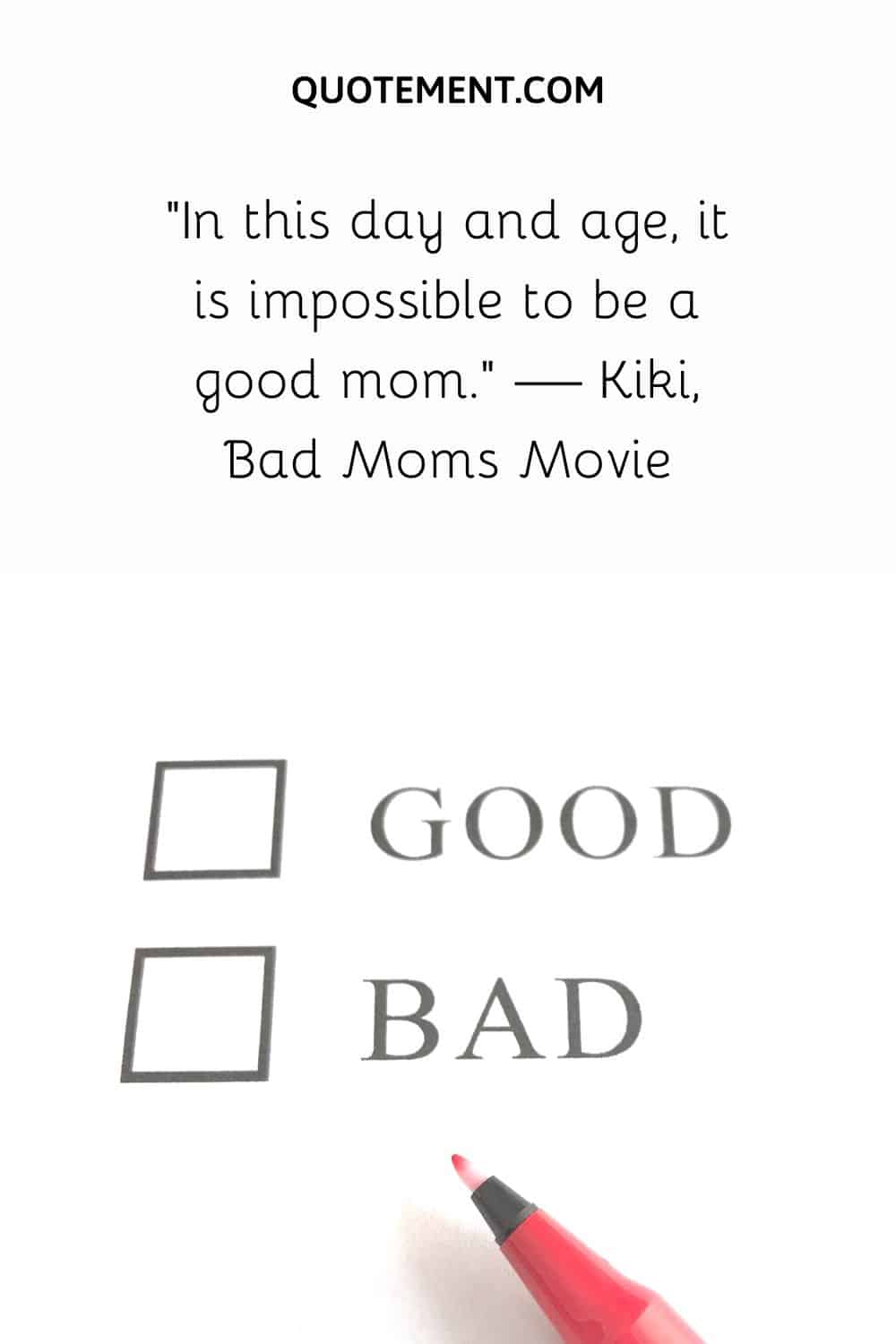 16. "It takes a strong person to be a single parent and take on two roles. You are amazing in your child's eyes, so never forget that." — unknown
17. "Having a fake family is worse than being alone." – unknown
18. "To the mama who hasn't felt like herself lately, I know how difficult it is when you catch yourself not being you. Be patient, your sparkle will return again, and you will shine again." — unknown
19. "Relationships are built on small, consistent deposits of time…If you want to connect with your kids, you've got to be available consistently, not randomly." — Andy Stanley
20. "A child should never feel as if they need to earn a mother's love." — Sherrie Campbell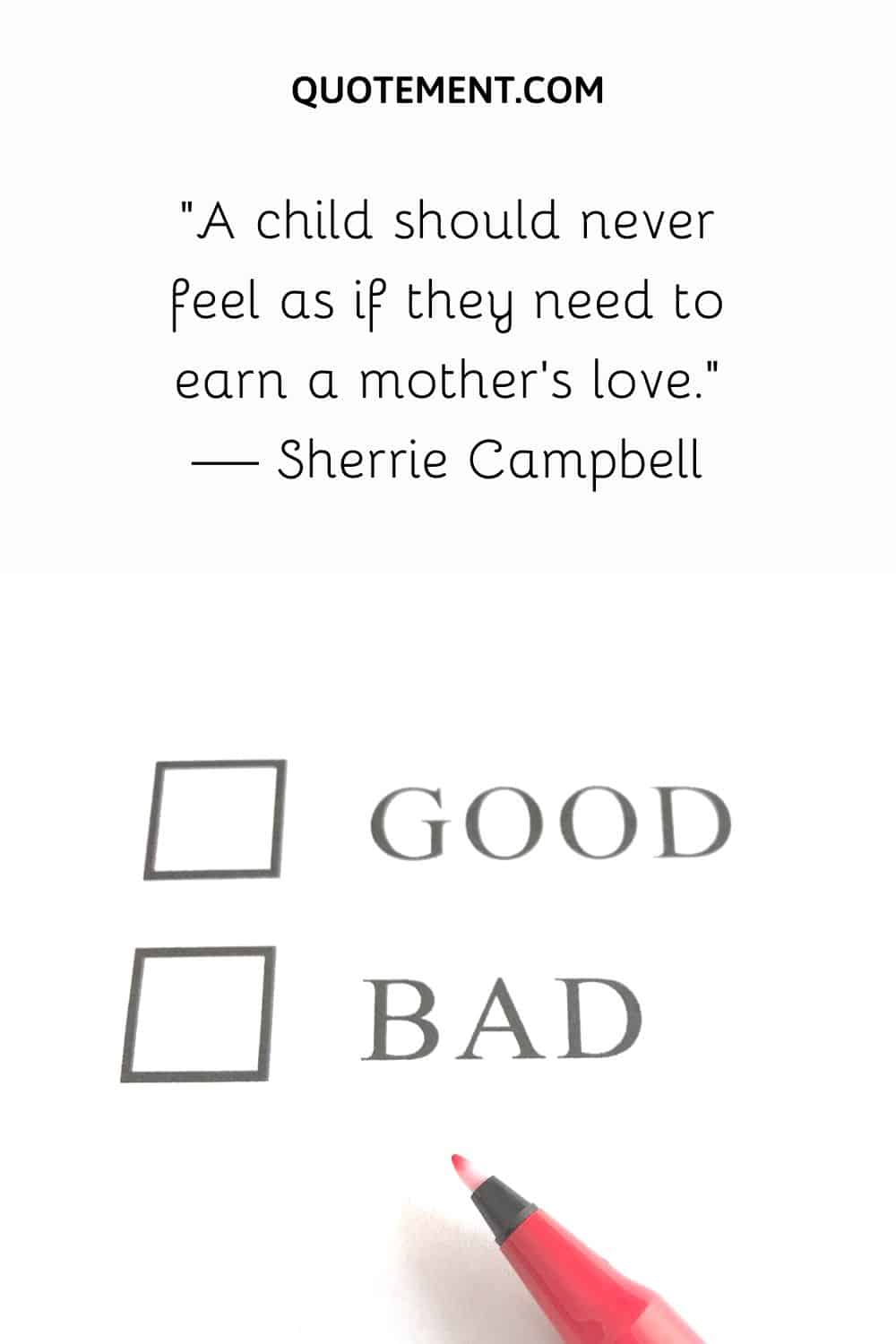 21. "Repeat after me: 'I am not a bad mom! I am a good mom having a bad day." — unknown
22. "I wish you would moderate that fondness you have for your children." — Mary Wortley Montagu
23. "Toxic parents care more about how you make them look than how you actually feel." — unknown
24. "Be actively present in the lives of your kids. The sad truth is that many parents, although physically present, miss out on their kids' lives." — Lauren Levine
See also: 120 Heartwarming Missing My Daughter Quotes To Comfort You
To Conclude
I hope you enjoyed the article and found it helpful. Those were some really powerful and inspiring bad mom quotes, and I hope you liked them.
Until next time!
Read next: 120 Bad Parents Quotes To Inspire You To Be The Best One