Here's something all The Godfather and Scarface fans will love. I've put together the 60 most iconic gangster quotes on life and love you simply must read.
While I would not suggest choosing the gangster life, I must admit true gangster can teach us a thing or two about life.
That's why I decided to put all the most famous gangster quotes in one place. They talk about life, loyalty, friends, enemies, and love.
I'm sure you already know some of them, but you'll also discover many more inspiring quotes you've never heard before.
Let's start exploring!
Top 10 Iconic Gangster Quotes
I'll start with the most famous gangster quotes you simply can't not know. These are the quotes to live by!
1. "I'm gonna make him an offer he can't refuse." — Don Corleone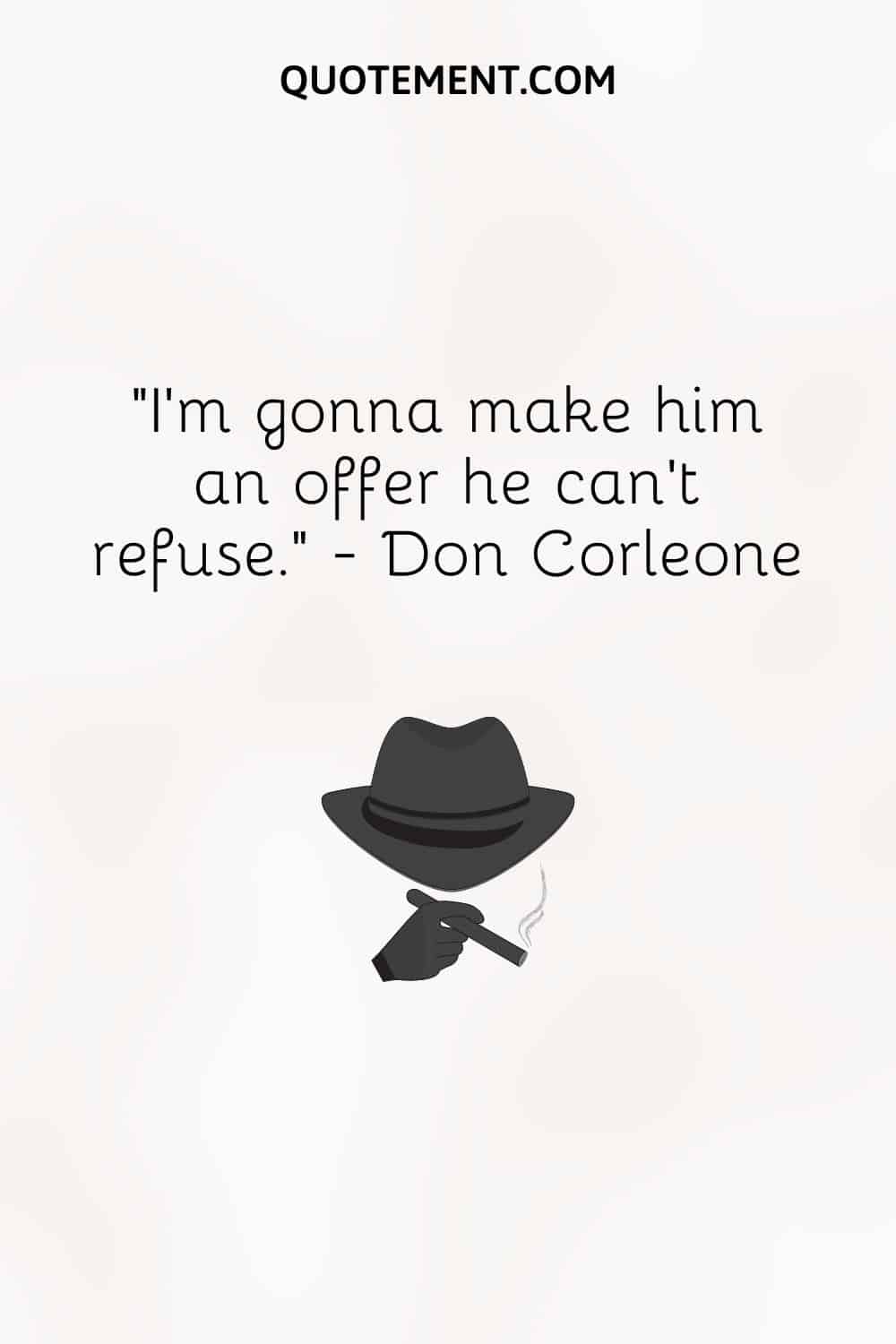 2. "Revenge is a dish best served cold." — Don Vito Corleone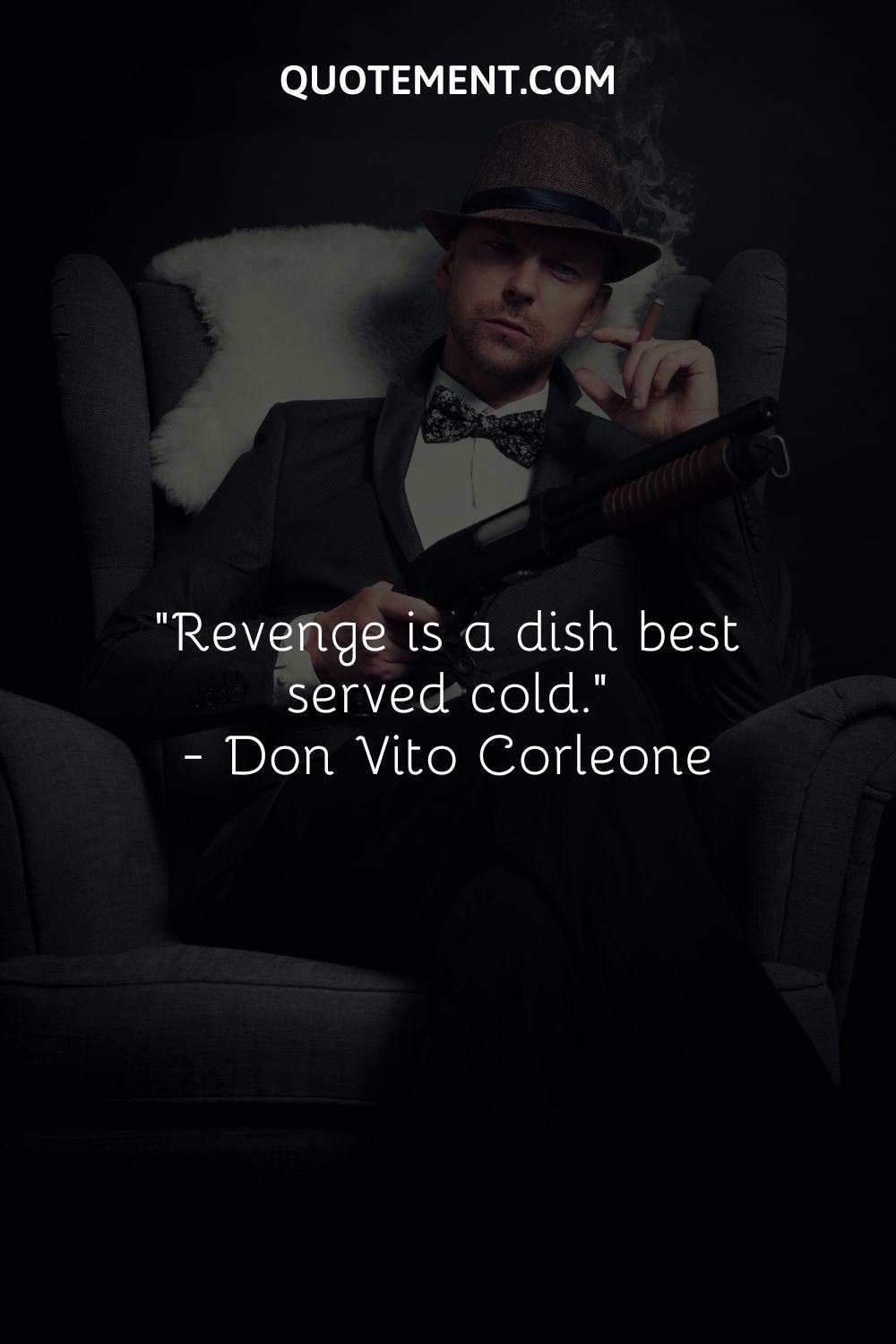 3. "Thug life hit me like the Holy ghost." — Tupac Shakur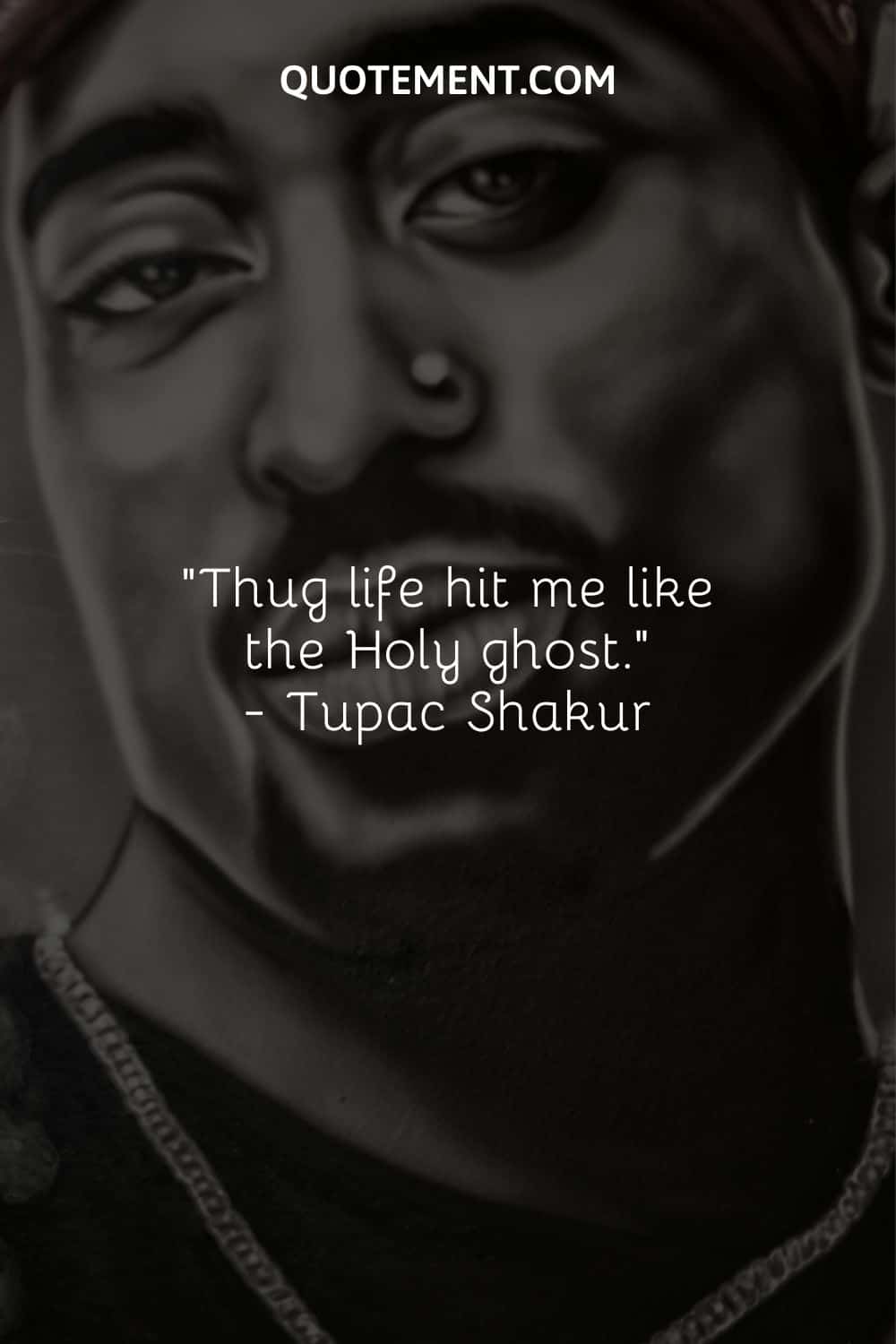 4. "They feared me because I feared nothing." — Lydia Lunch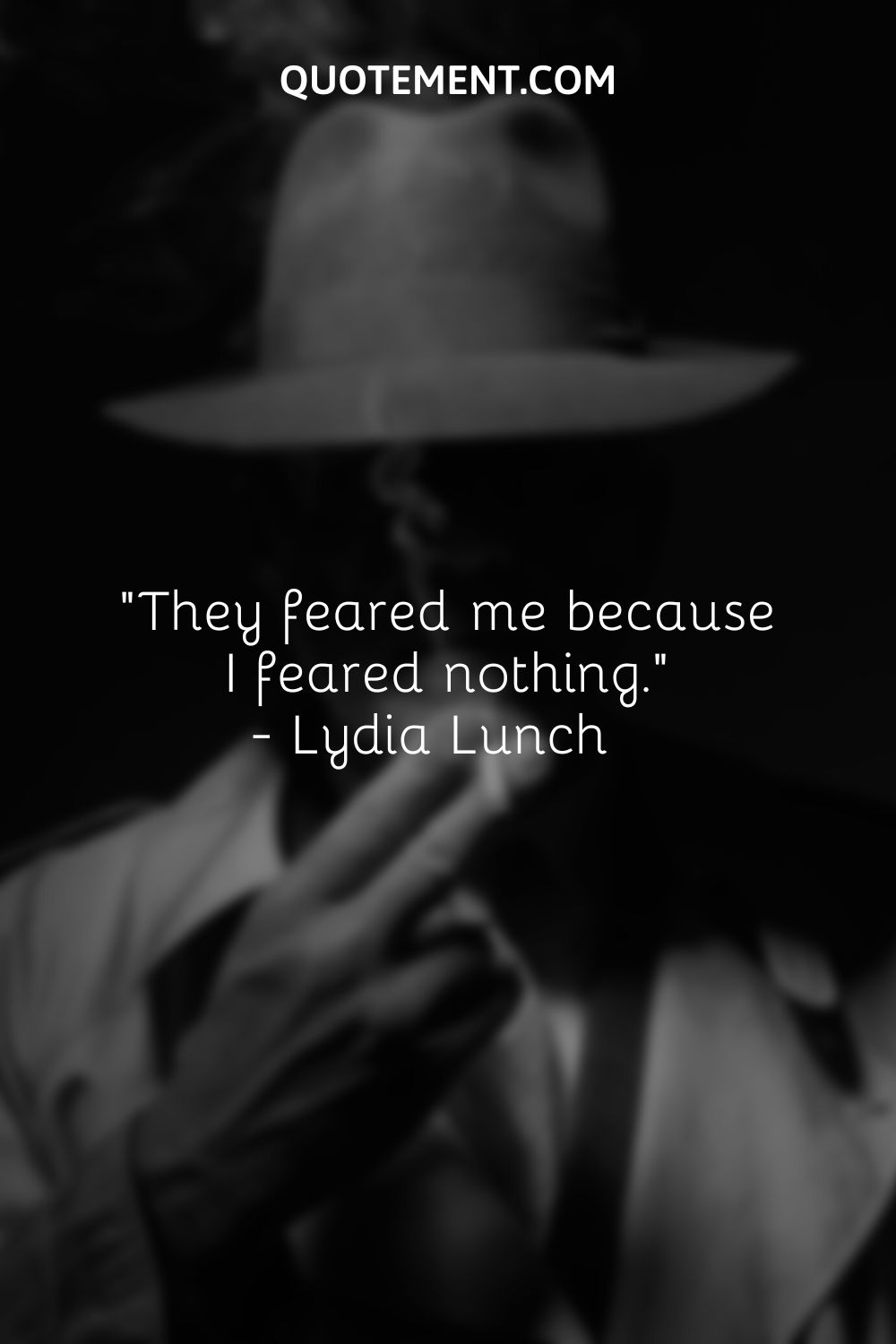 5. "The loudest one in the room is the weakest one in the room." — Frank Lucas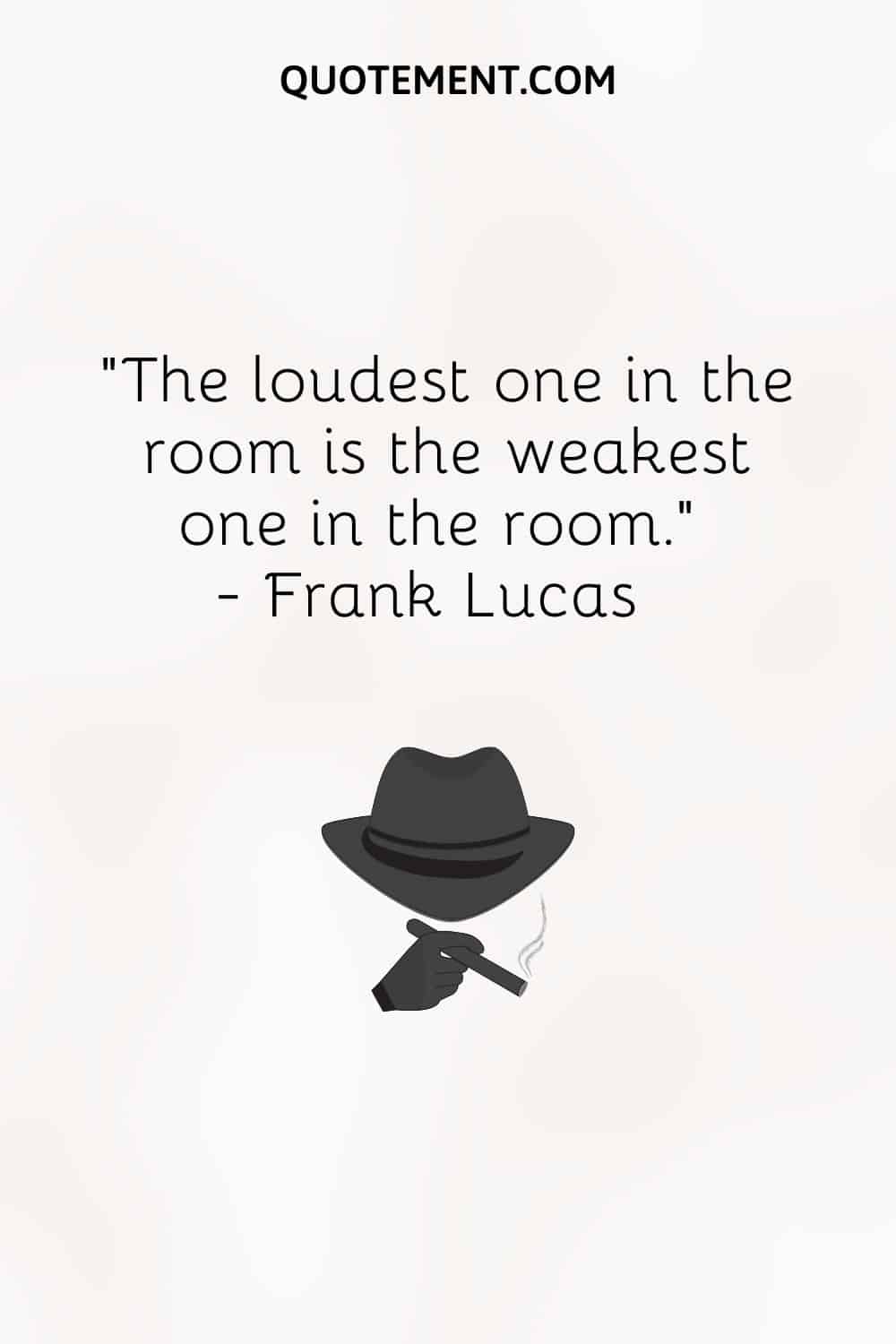 6. "The lawyer with the briefcase can steal more money than the man with the gun." — Mario Puzo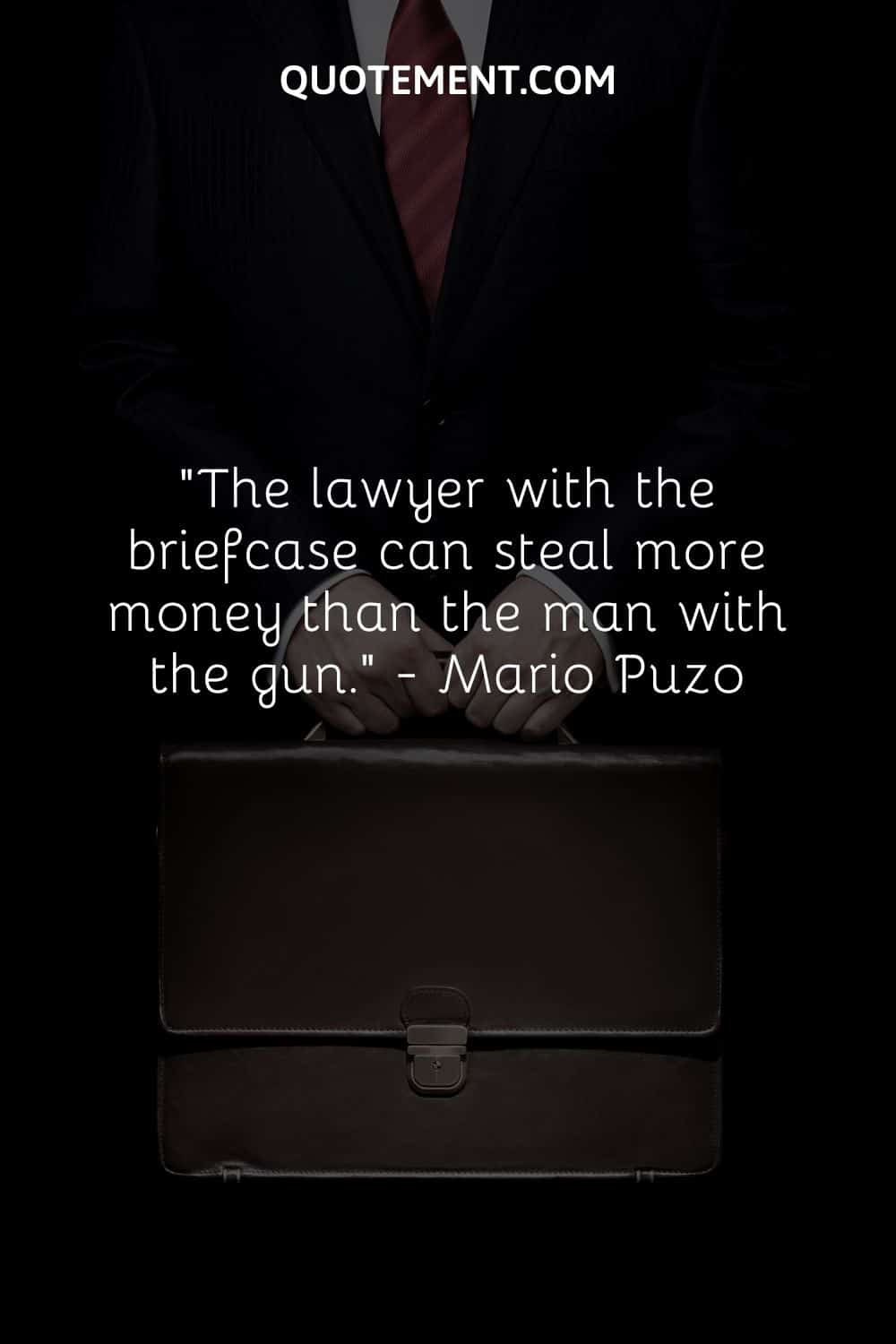 7. "I am an undisputed gangster. To me, that means playing by my own rules." — Katherine Ryan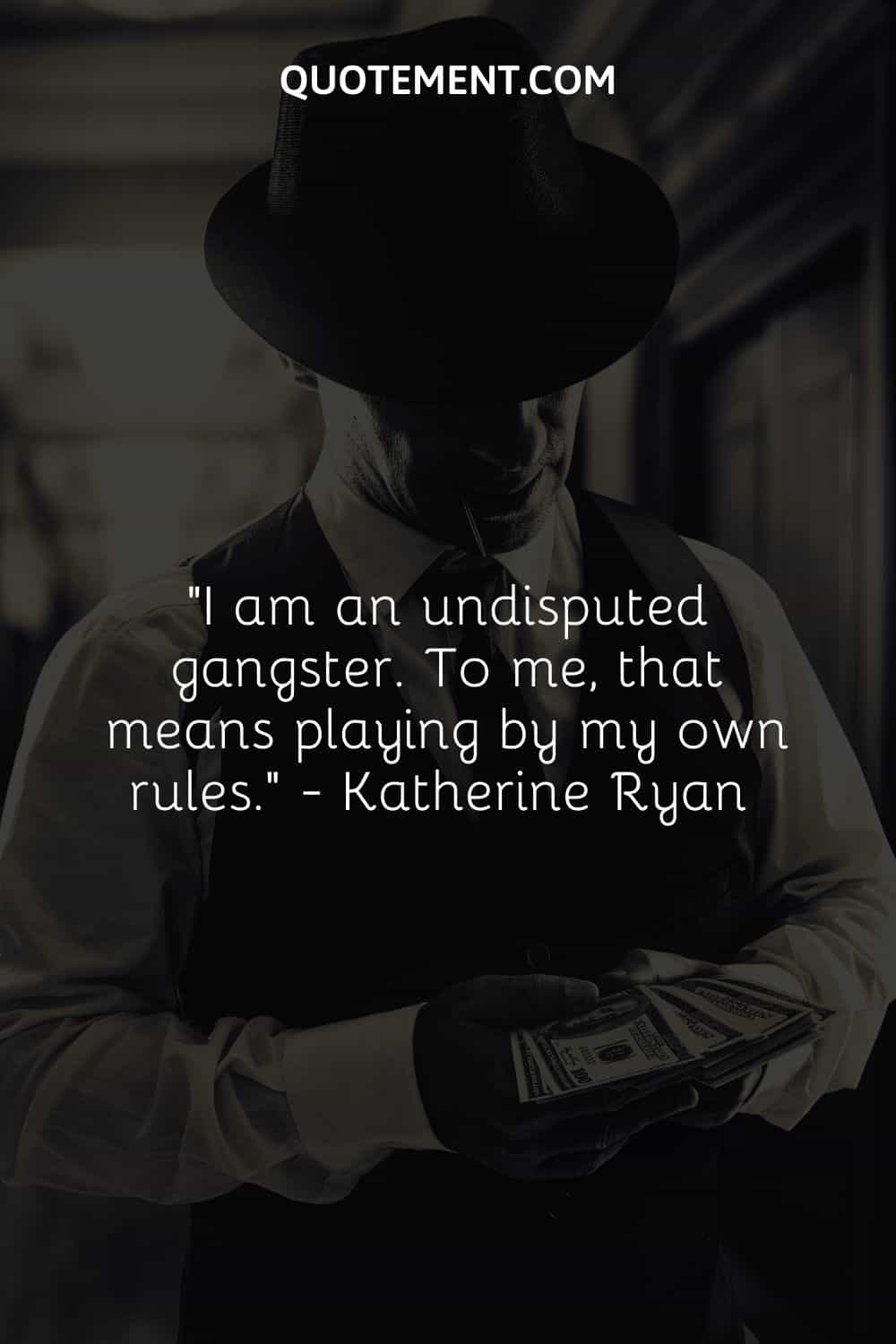 8. "I asked God for a bike, but I know God doesn't work that way. So, I stole a bike and asked him for forgiveness." — Michael Corleone (Al Pacino)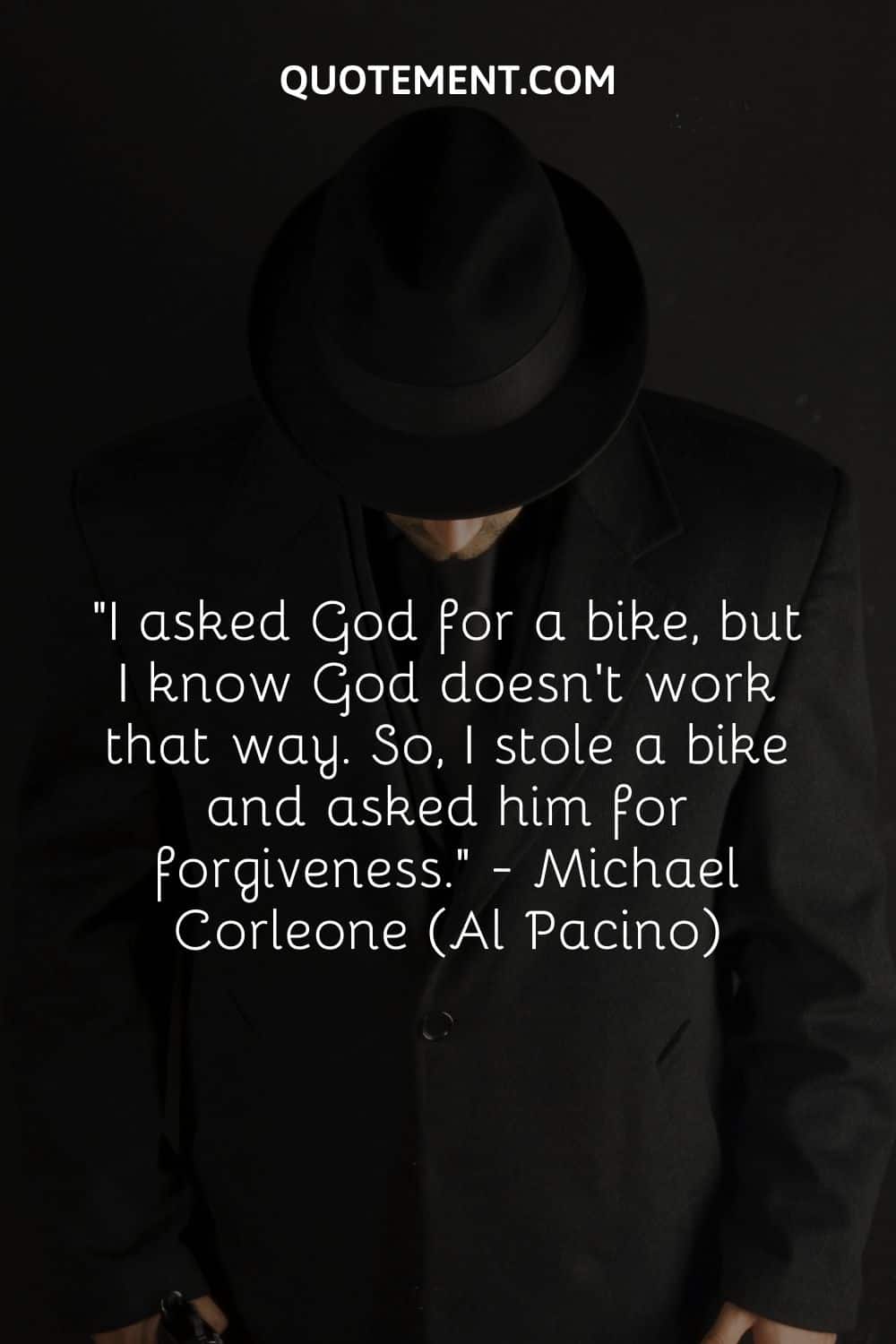 9. "I don't wanna be a product of my environment. I want my environment to be a product of me." — Frank Costello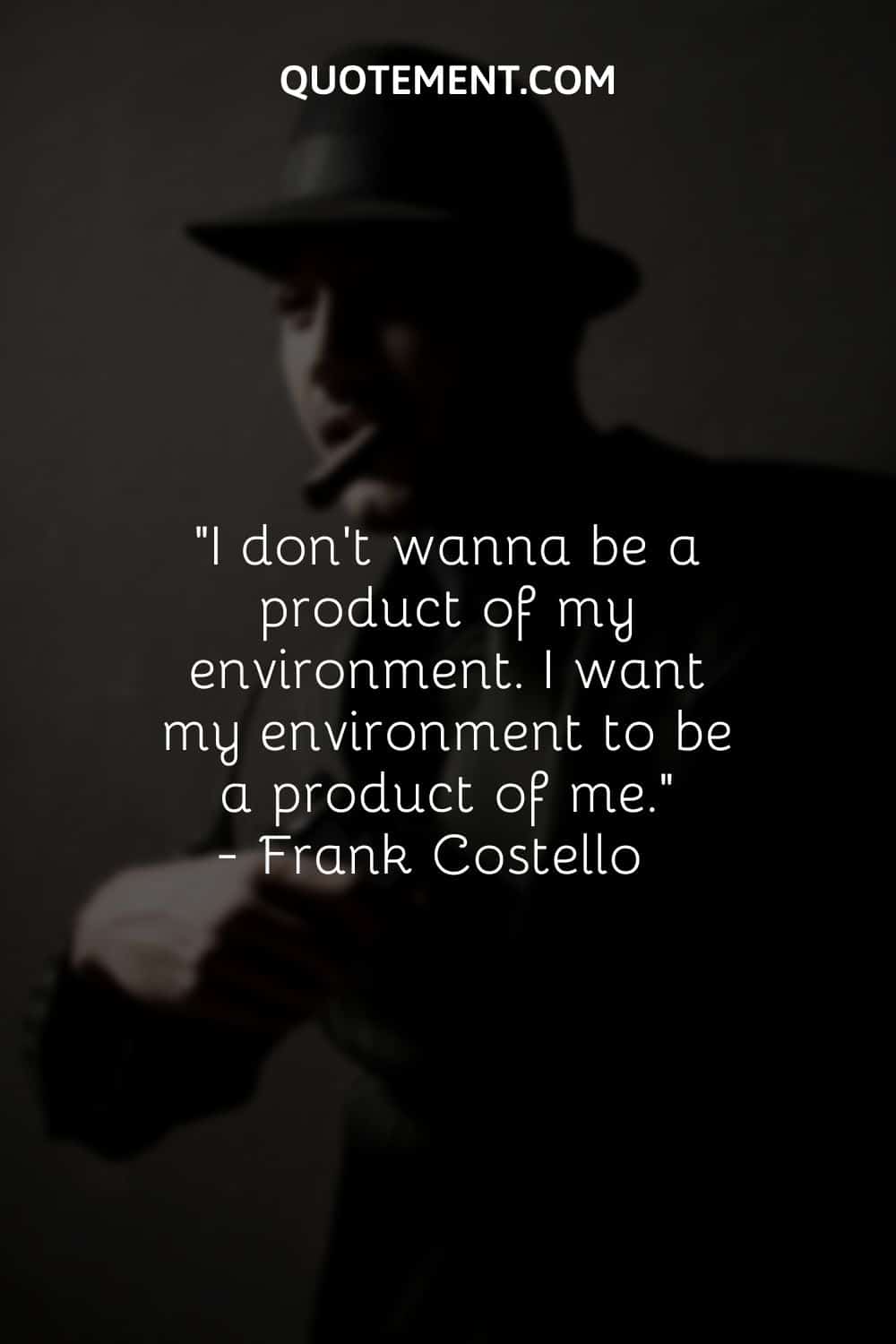 10. "Be careful who you call your friends. I'd rather have 4 quarters than 100 pennies." — Al Capone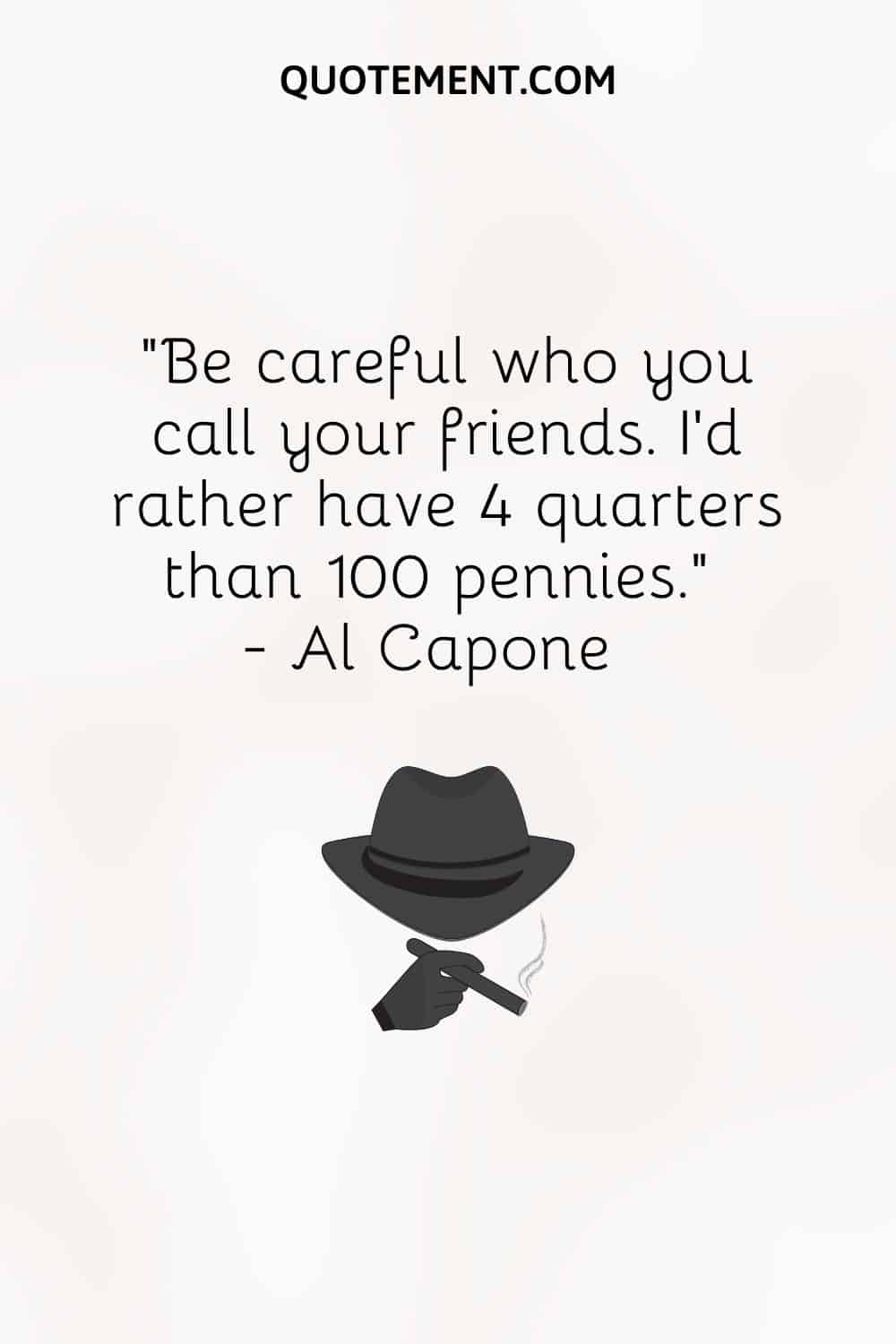 See also: 150 Brutal & Eye-Opening Fake & Selfish Friends Quotes
Deep Gangsta Quotes About Life
Check out these deep gangster quotes on life below.
1. "Every human being has a bit of gangster in him." — Binyavanga Wainaina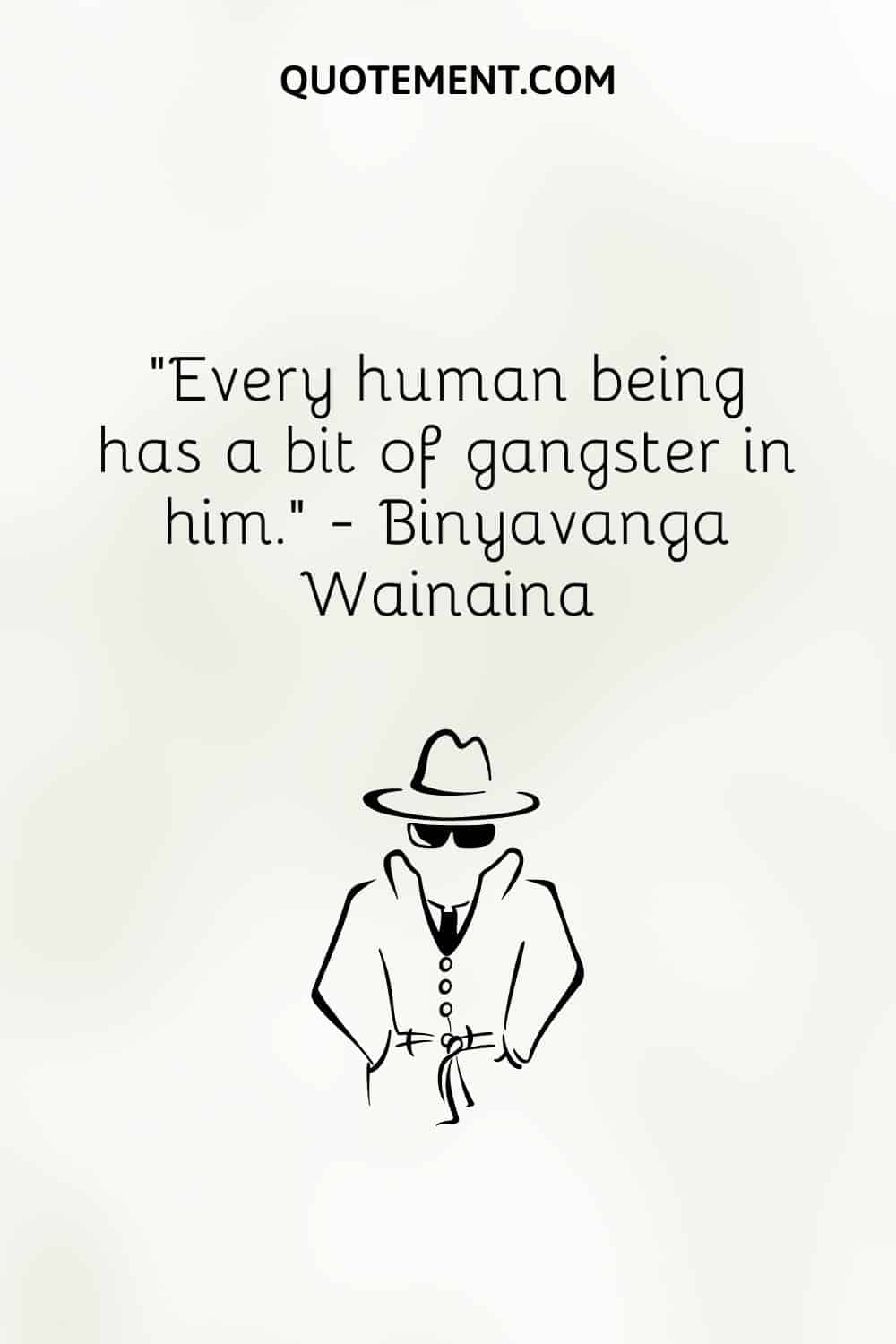 2. "A guy told me one time… don't let yourself get attached to anything you are not willing to walk out on in 30 seconds flat if you feel the heat around the corner." — Neil McCauley
3. "Mafia is the best example of capitalism we have." — Marlon Brando
4. "I never lie because I don't fear anyone. You only lie when you're afraid." — John Gotti
5. "There's no such thing as good money or bad money. There's just money." — Lucky Luciano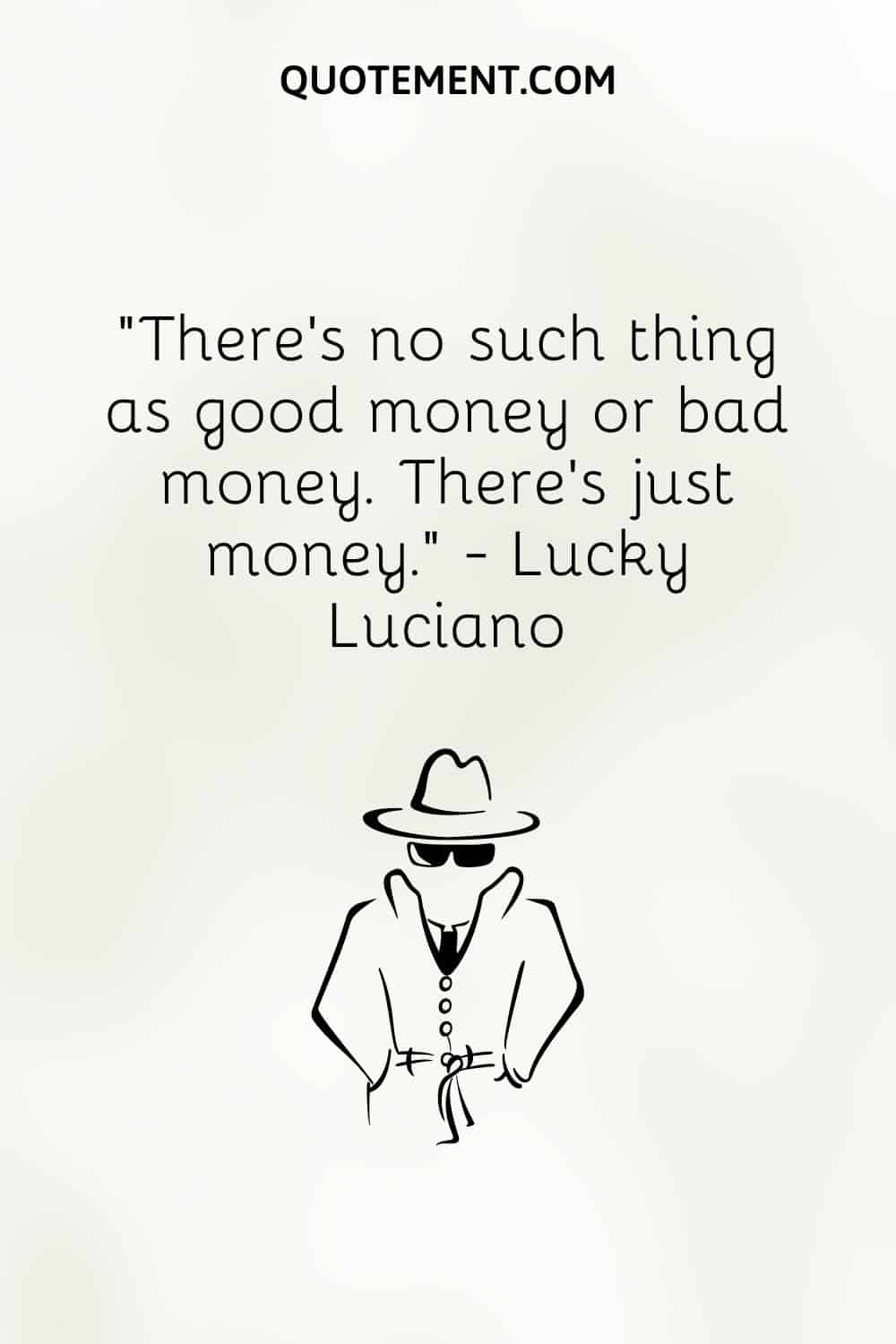 6. "Any distraction tends to get in the way of being an effective gangster." — Terence Winter
7. "Everybody who comes from the gangster life – they want what that man in the suburbs wants. Nice family. Nice house. Nice cars. Bills paid. Kids in school. Food on the table. Nothing more." — Ice Cube
8. "I don't wanna kill anybody. But if I gotta get out that door, and you're standing in my way, one way or the other, you're gettin' outta my way." — Mr. Pink (Steve Buscemi)
9. "When you understand the mechanics of stress and master the techniques to manipulate someone's fears and dreams, you will be powerful." — Gregory Hartley
10. "Keep your friends close but your enemies closer." — Michael Corleone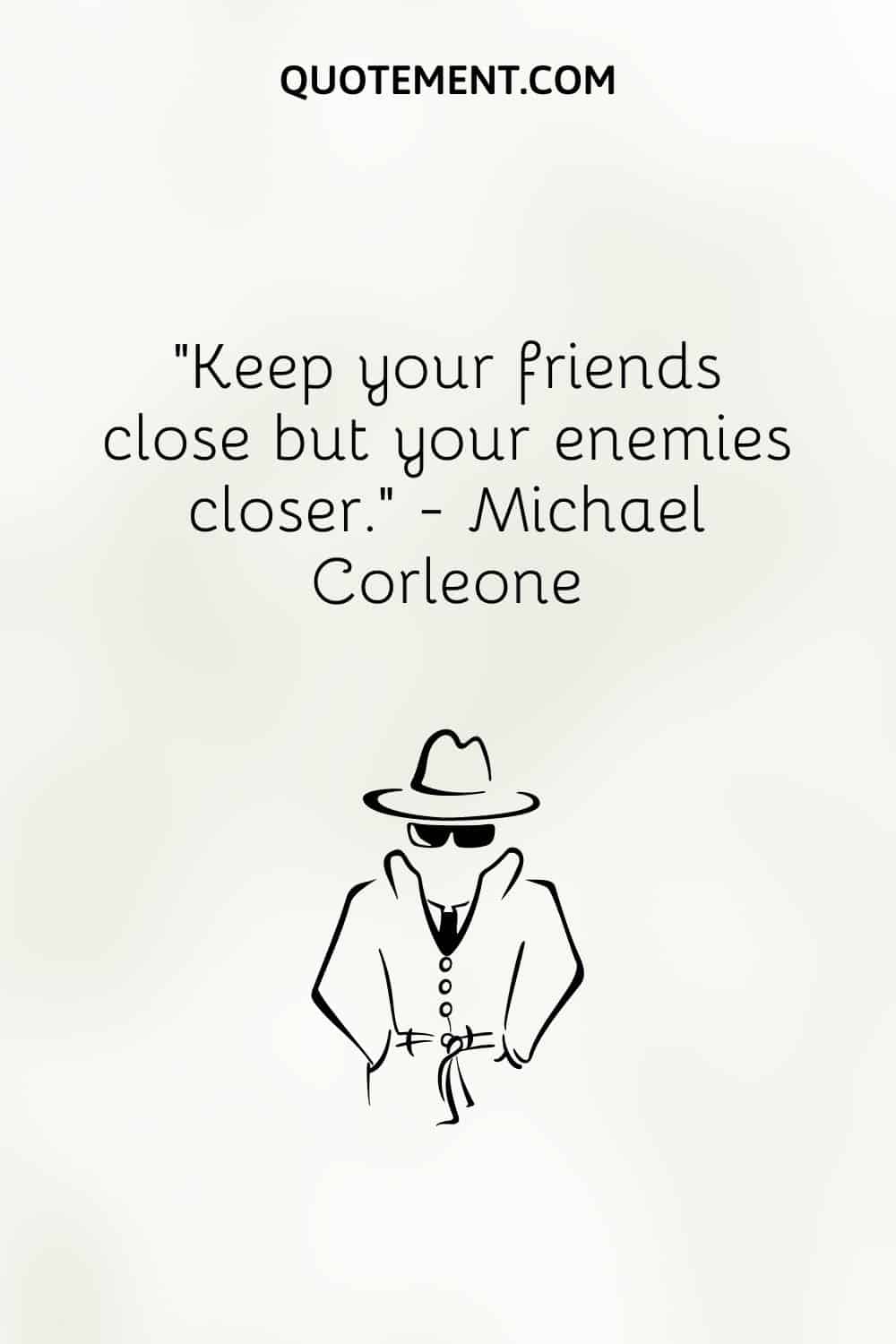 11. "There are only murderers in this room! Michael! Open your eyes! This is the life we choose, the life we lead. And there is only one guarantee: none of us will see heaven." — John Rooney
12. "Do not fear death. Death is just a reformation in something even more magnificent. Death is where it all starts, death; it's not the end." — unknown
13. "You, buddy, are stuck in a situation you created. So, if you wanna throw bad looks somewhere, throw 'em at a mirror!" — Mr. Pink (Steve Buscemi)
14. "The effect of a gangster film is to embody this dilemma in the person of the gangster and resolve it by his death…not ours." — Robert Warshaw
15. "You can be successful and have enemies, or you can be unsuccessful and have friends." — Dominic Cattano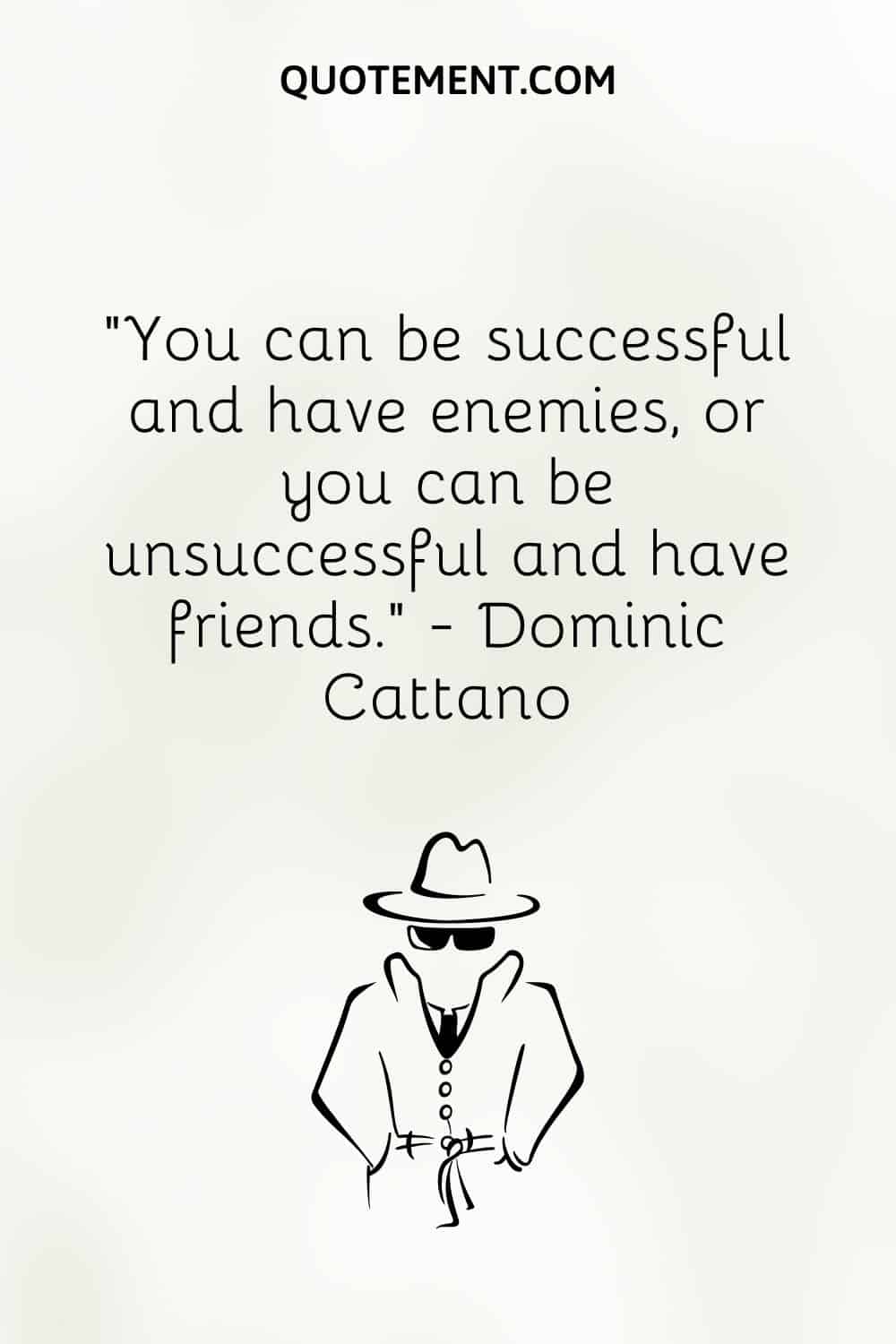 See also: 220 Best Proverbs About Success To Give You Inspiration
Savage Gangster Quotes
Next up is a collection of savage gangster quotes. Have a look!
1. "I don't like violence, Tom. I'm a businessman. Blood is a big expense." — Sollozzo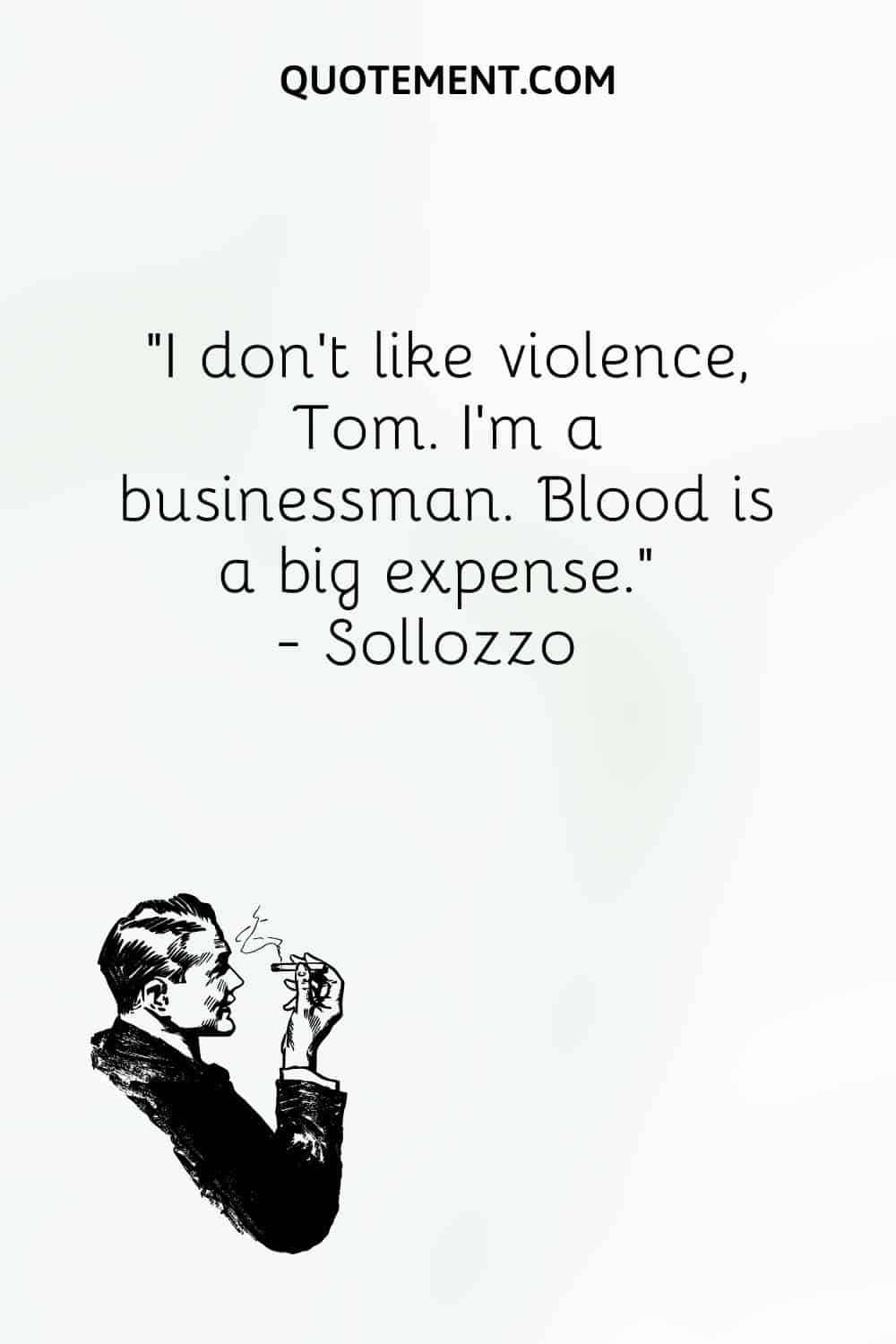 2. "Some of your worst gangsters are guys who were very low-key." — Mickey Rourke
3. "Gangsta rappers can't fight, so they rap about guns." — Sean Price
4. "To me, being a gangster was better than being president of the united states." — unknown
5. "In my world, of course, it don't matter. You could be a gangster with a dress, you could be a gangster with baggy pants." — Young Thug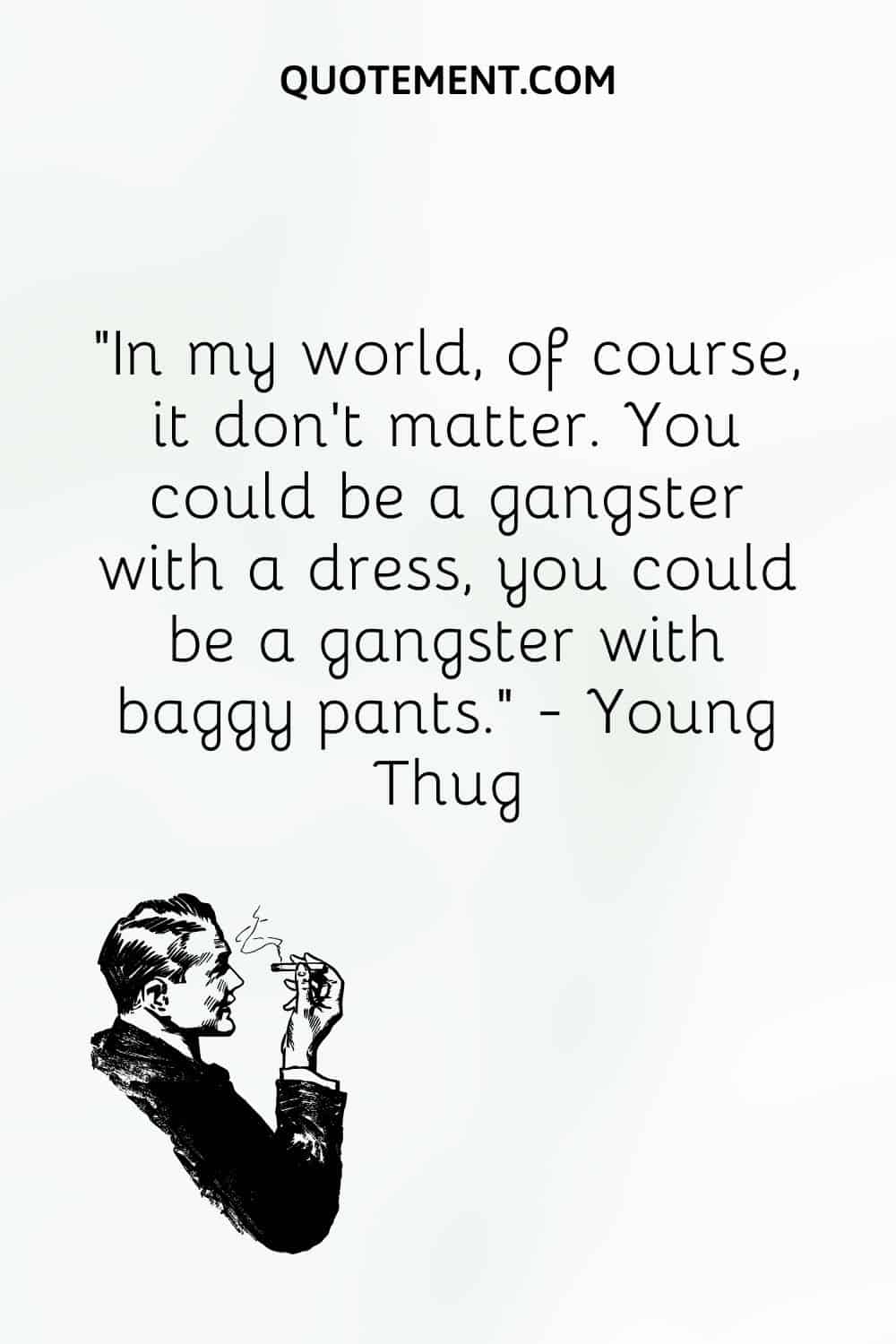 6. "A team is where a boy can prove his courage on his own. A gang is where a coward goes to hide." — Mickey Mantle
7. "The gangster is the man of the city, with the city's language and knowledge, with its queer and dishonest skills and its terrible daring, carrying his life in his hands like a placard, like a club." — Robert Warshow
8. "In a matter of minutes, real gangsters can smell out a person's strengths and weaknesses, but what they can smell the most, and what their bodies are most sensitive to, is the scent of fear." — unknown
9. "It's hard to tell whether there are more guns or flowers at a gangster's funeral. I would rather have the undertaker's privilege with some high-class gang than to have a seat on the Stock Exchange." — Will Rogers
10. "No matter how hard you kick, no matter how high you get, you can't go all the way around." ― John Green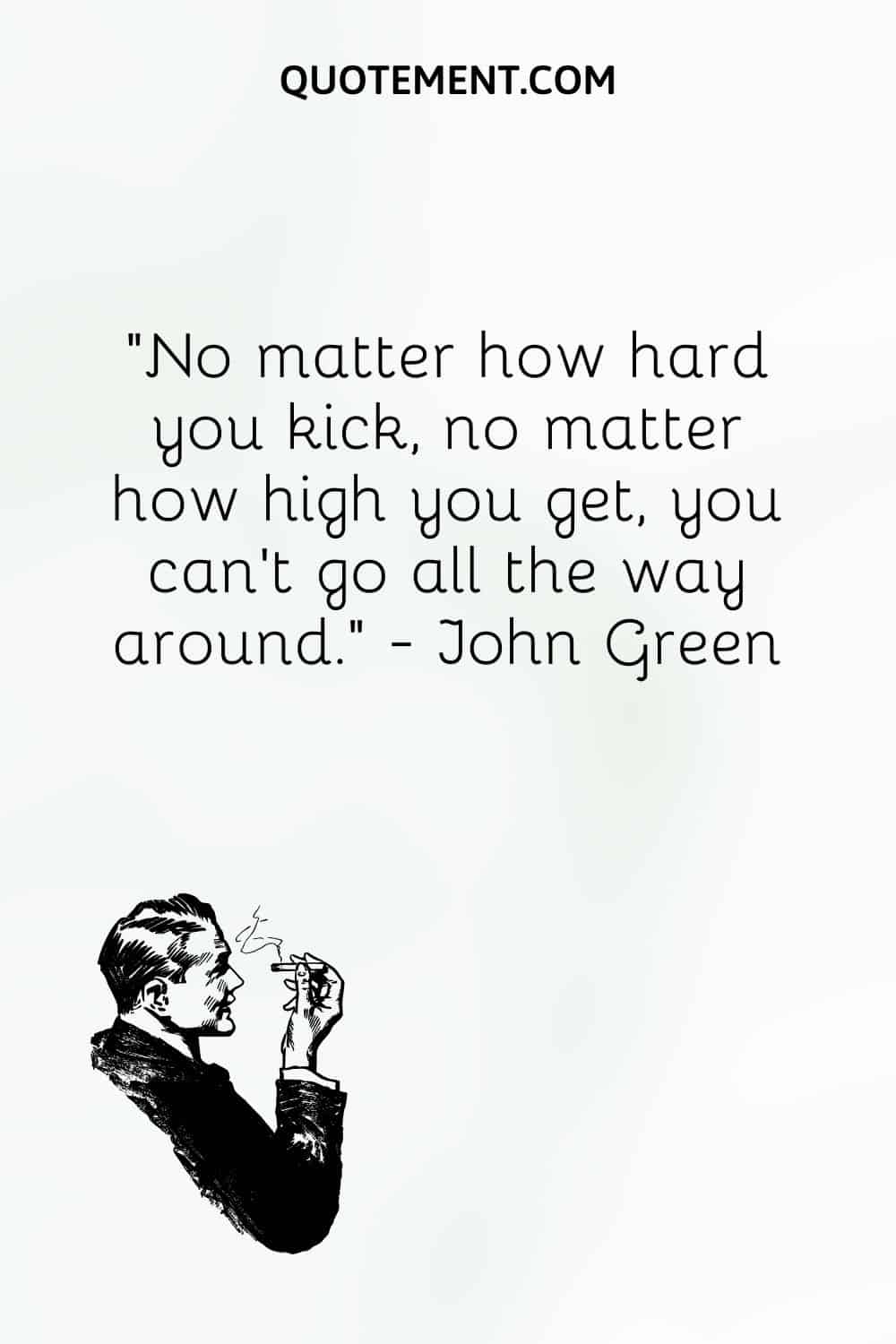 11. "Who cares about shit people say that they don't have the balls to say to your face?" — Tony Soprano
12. "Gangsters live for the action. The closer to death, the nearer to the heated coil of the instant, the more alive they feel." — unknown
13. "Don't mistake my kindness for weakness. I am kind to everyone, but when someone is unkind to me, weak is not what you are going to remember about me." ― Al Capone
14. "The only thing that comes to a sleeping man is dreams." — Tupac Shakur
15. "You can get much further with a kind word and a gun than you can with just a kind word." — Al Capone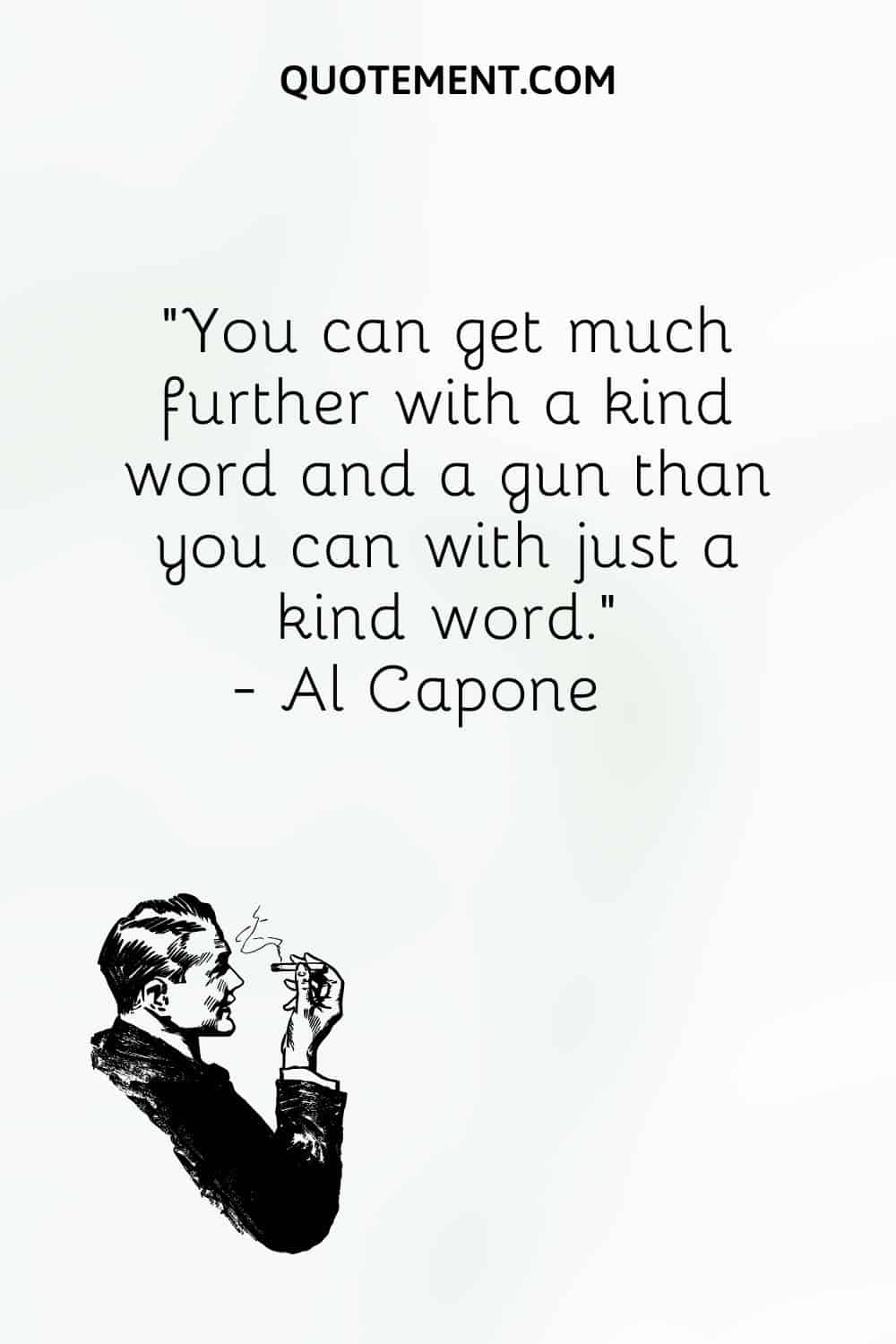 Classy Gangster Quotes
Below you'll find a list of classy gangster quotes. Enjoy!
1. "The classy gangster is a Hollywood invention." — Orson Welles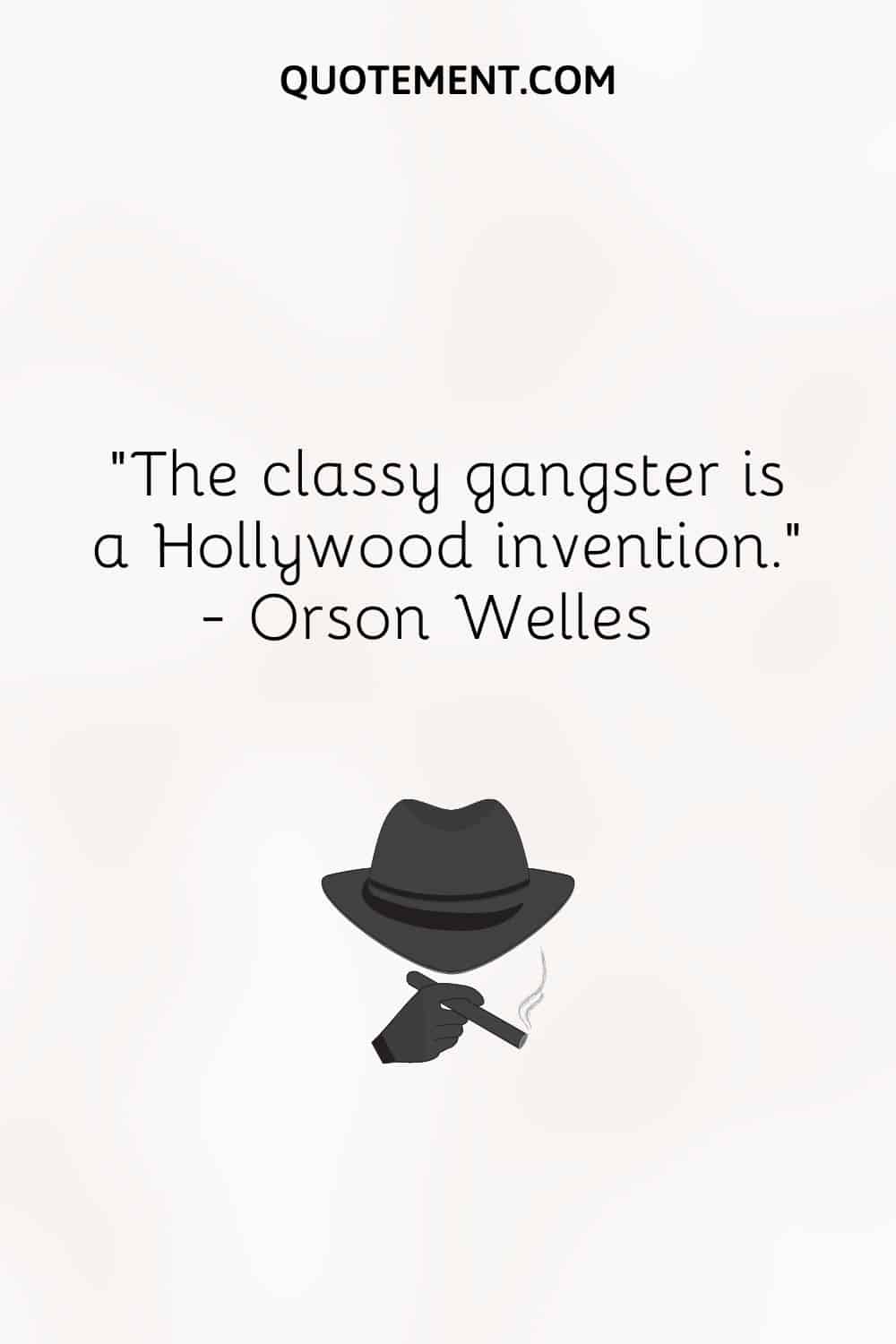 2. "No gangster is ever happy when he's at peace. The main reason he's in the business is to eliminate his enemies." — Lorenzo Carcaterra
3. "You can always tell the winners at the starting gate. You can always tell the winners, and you can tell the losers." — Noodles, Once upon a time in America
4. "You're the one who's guilty. I mean, c'mon, let's kick the ballistics here: Ain't no Uzi's made in Harlem. Not one of us in here owns a poppy field. This thing is bigger than Nino Brown. This is big business. This is the American way." — Nino Brown
5. "Listen to me very carefully. There are three ways of doing things around here: the right way, the wrong way, and the way that I do it. You understand?" — Ace Rothstein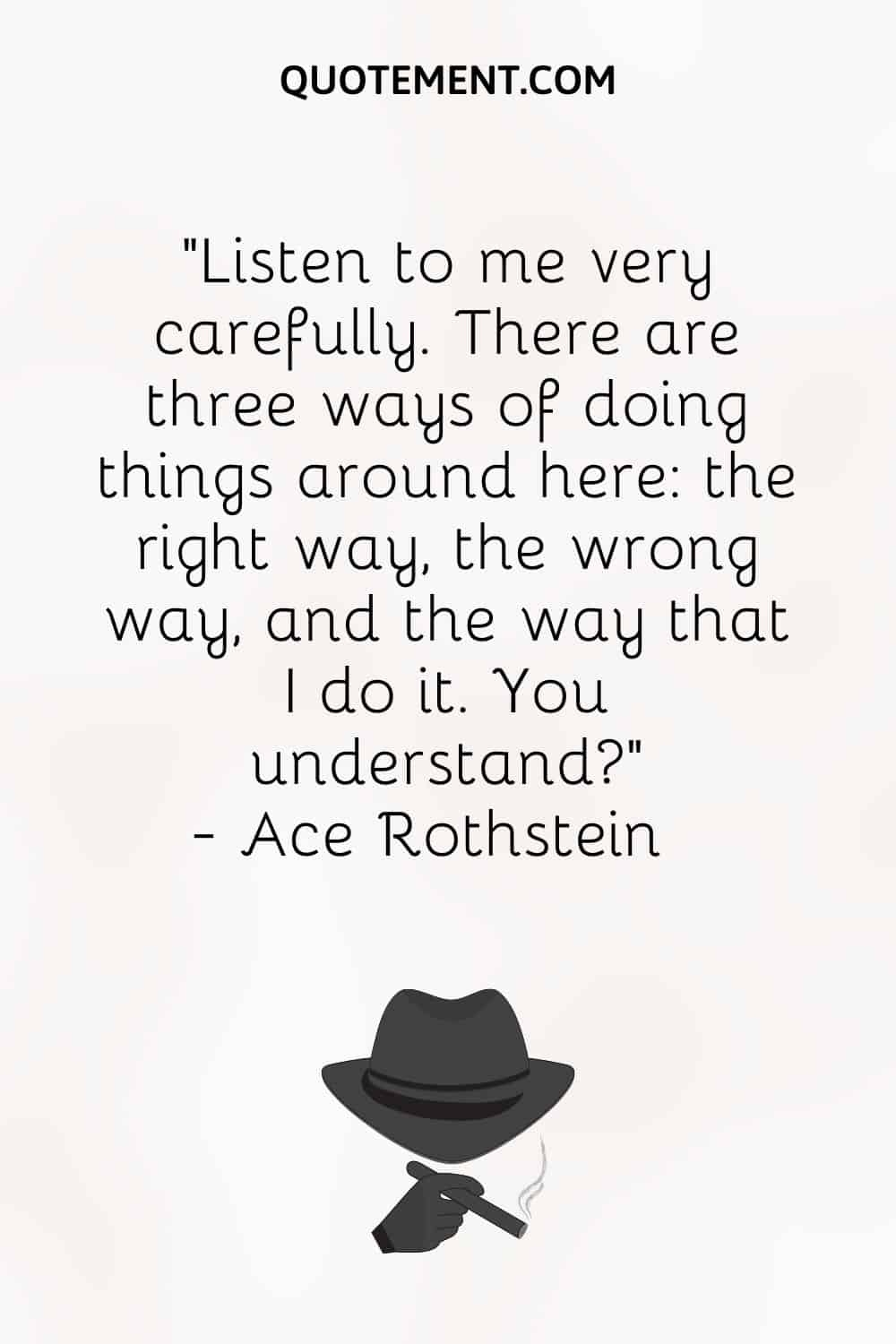 6. "There are many people who think I'm actually a gangster or a mafioso, largely because of 'Goodfella." — Paul Sorvino
7. "I'm not mad, I'm proud o' you. You took your first pinch like a man, and you learned the two greatest things in life… never rat on your friends and always keep your mouth shut." — Jimmy Conway (Robert De Niro)
8. "And remember, where you have a concentration of power in a few hands, all too frequently, men with the mentality of gangsters get control. History has proven that." — Lord Acton
9. "All I have in this world is my balls and my word, and I don't break them for no one." — Tony Montana
10. "You need more than guts to be a good gangster. You need ideas." — Rocket, City of God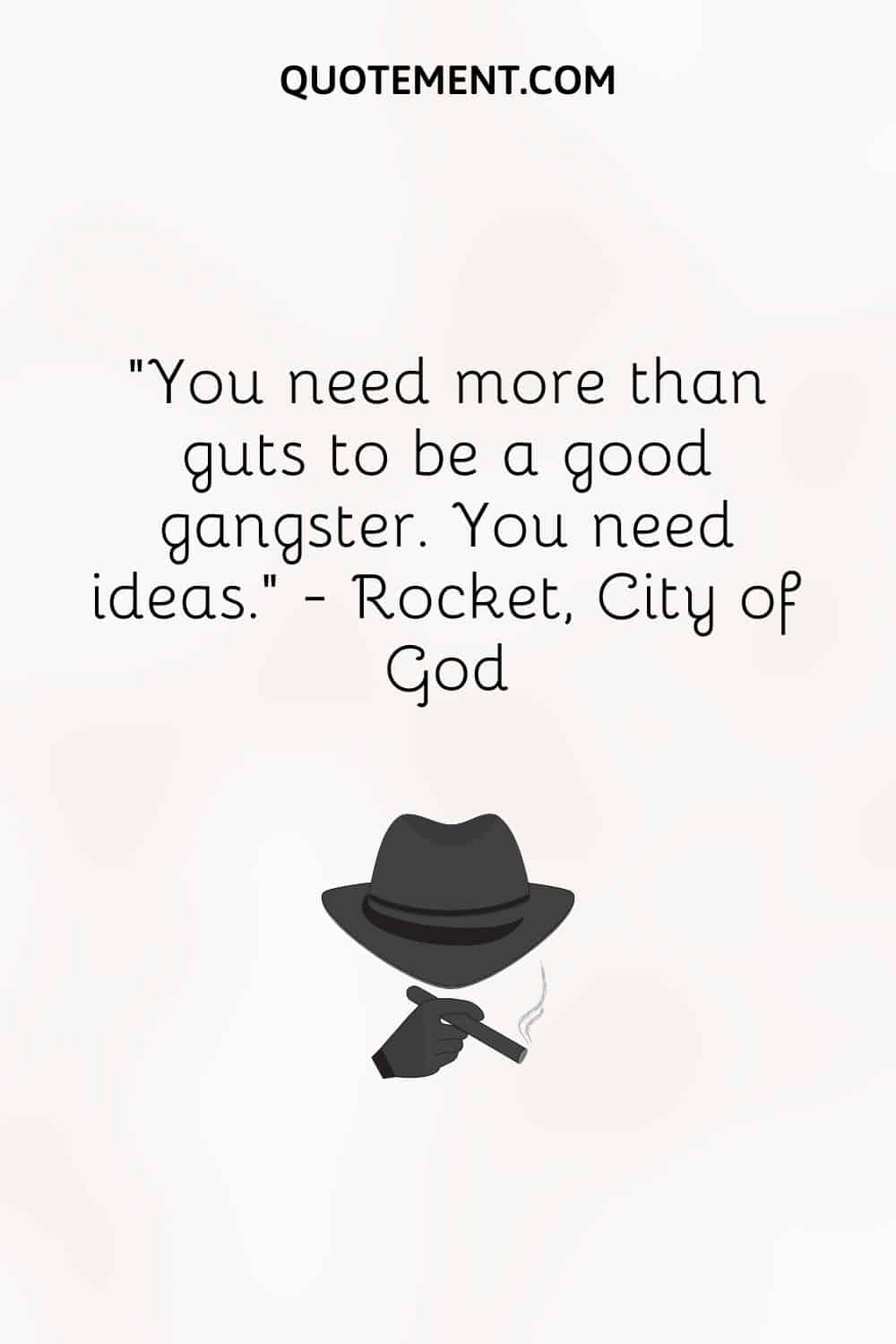 Powerful Gangster Quotes About Love
Gangsters live hard and love hard. These are some of the best gangster quotes on love.
1. "Some say life is a game that means love is a casino." — Kevin Gates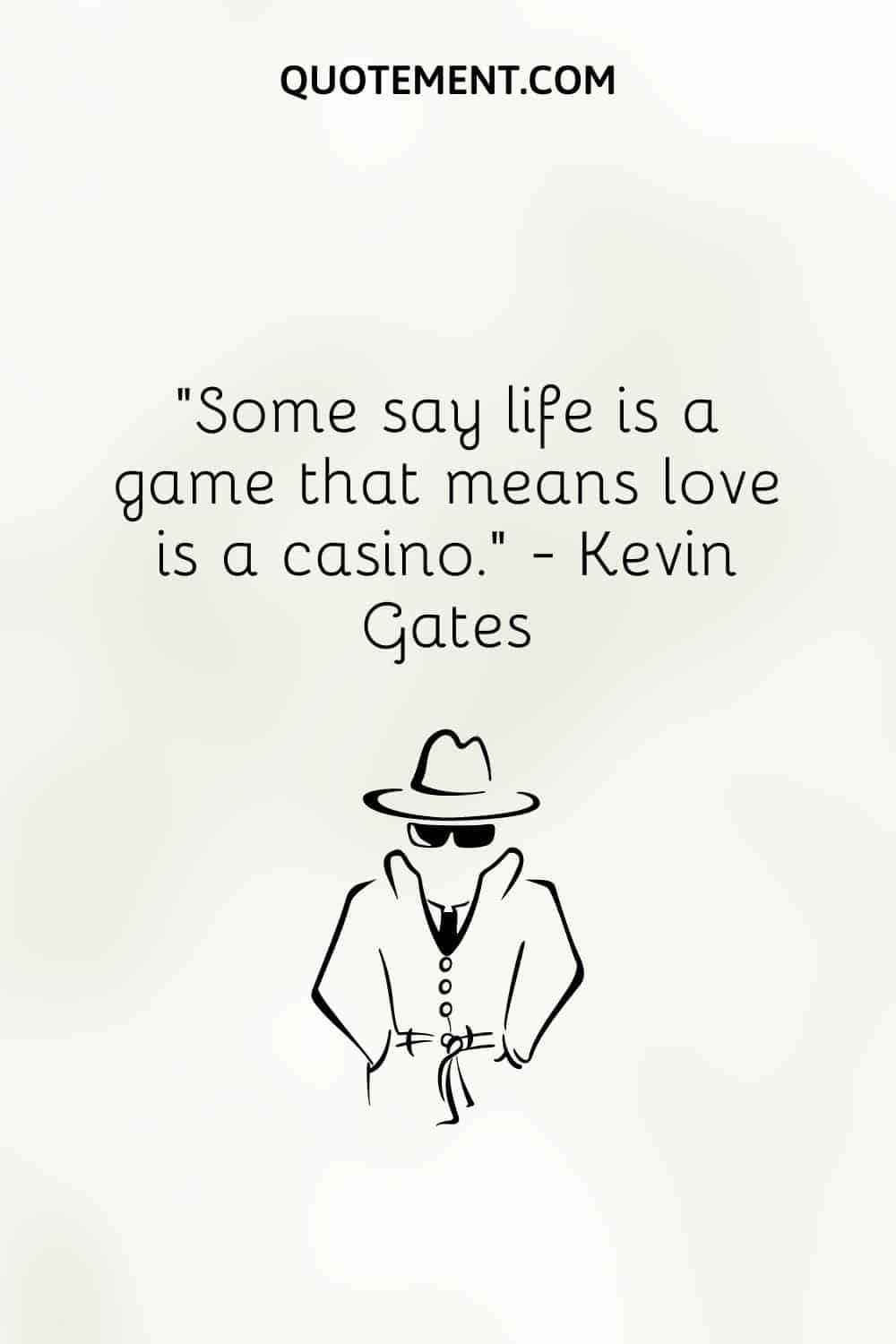 2. "I'll do whatever it takes to protect her. I'd take down the whole Chicago PD if I had to. I'd murder every man in this city, one by one." ― Sophie Lark, Savage Lover
3. "A gangster should be prepared to kill a lover. It is one of the many open secrets of the business since it's the most accurate test of his ability to rule and command the respect of his crew."
4. "Life is about making choices that you can live your life with. Love is about making choices that you can't live without."
5. "The best way to not get your heart broken is to pretend you don't have one."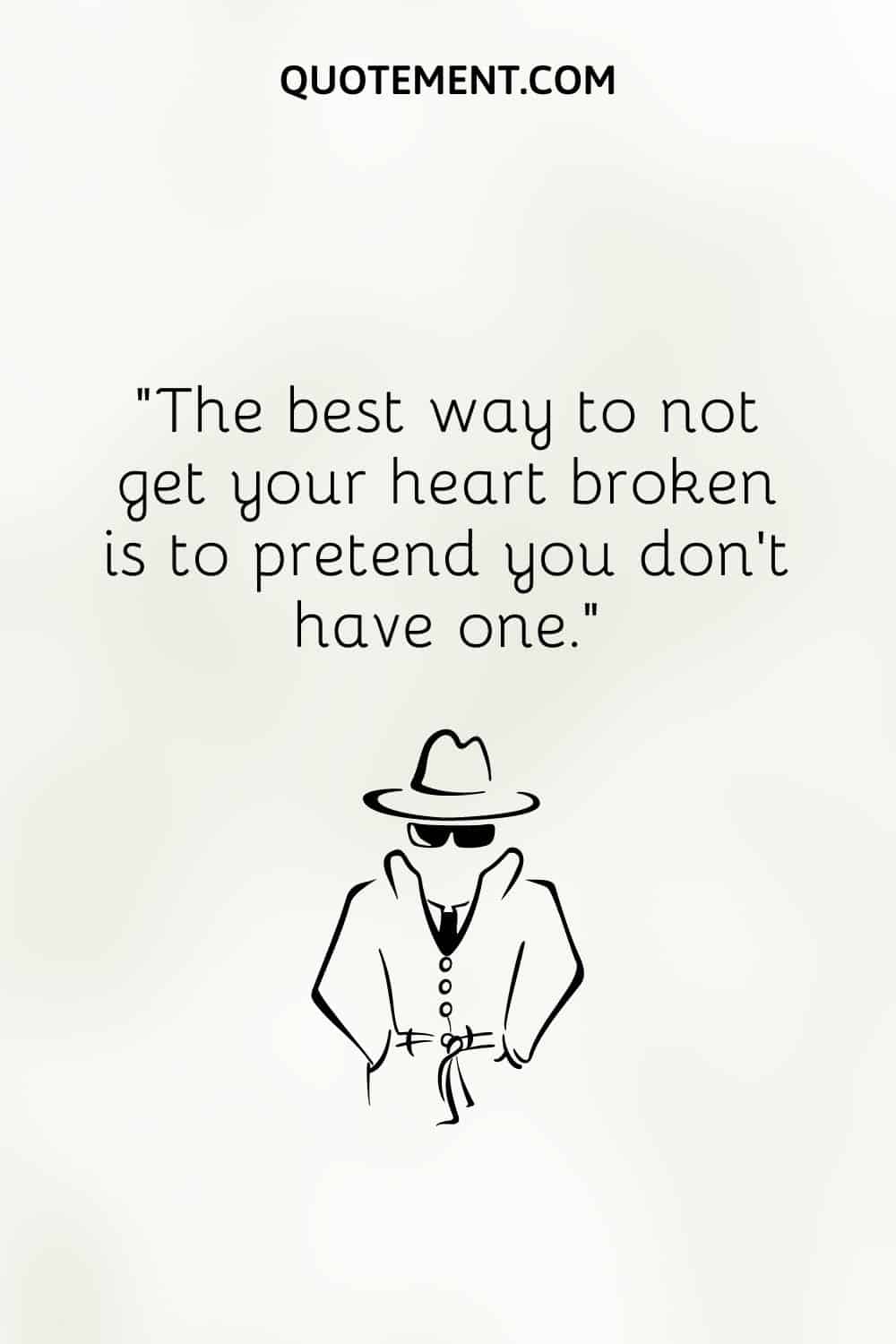 6. "When you love someone, you've gotta trust them. There's no other way. You've got to give them the key to everything that's yours. Otherwise, what's the point? And for a while, I believed that's the kind of love I had." — Ace Rothstein
7. "Blood makes you related, and loyalty makes you family." — unknown
8. "A gangster must always be prepared to kill a friend. It is one of the many open secrets of the business since it is the truest test of his ability to rule and command the respect of his crew." — Lorenzo Carcaterra
9. "No one is born hating another person because of the color of their skin, their background, or their religion. People must learn to hate. And if they can learn to hate, they can be taught to love. For love comes more naturally to the human heart than its opposite."
10. "Ride or Die: your always there for one another in the good times and the bad."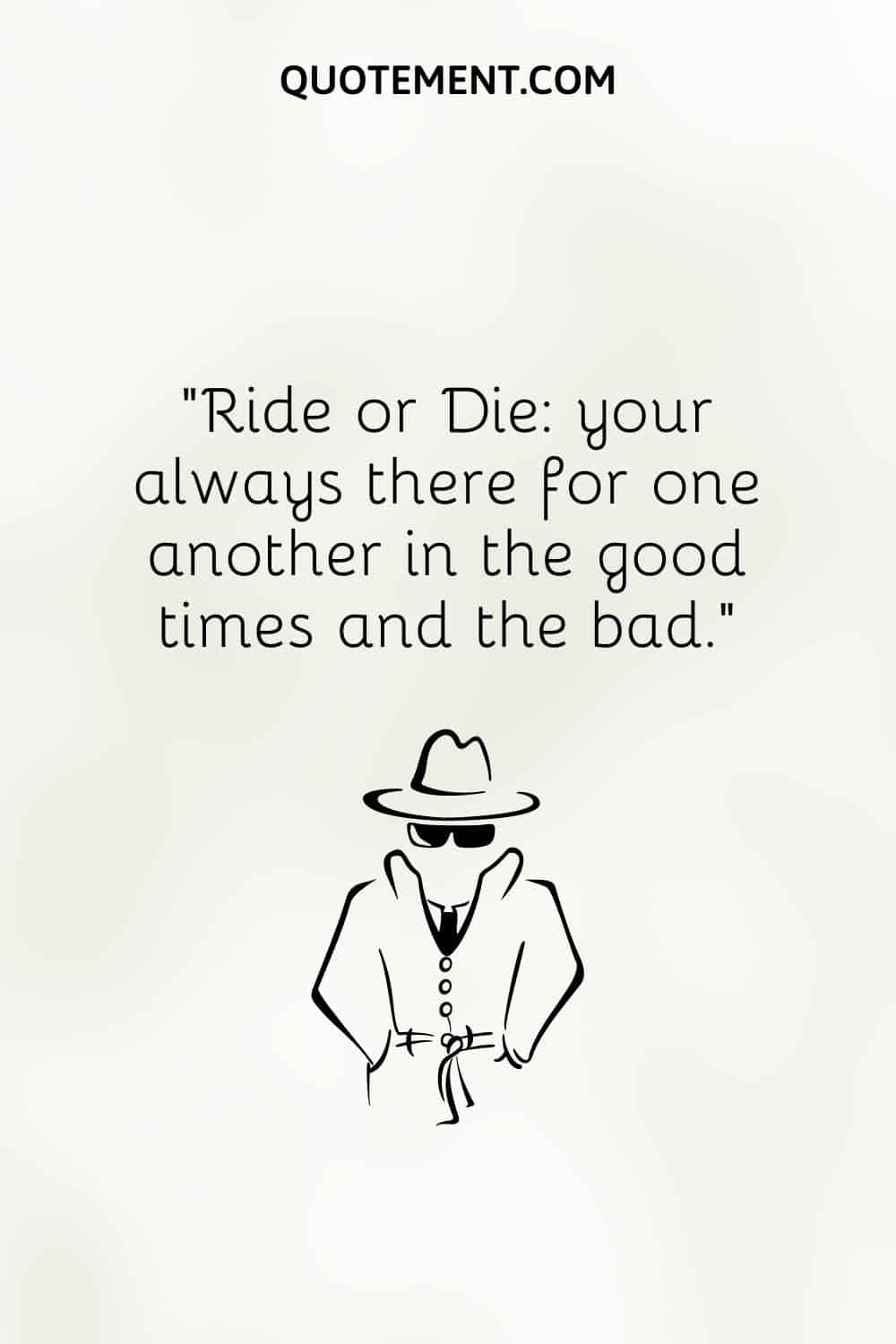 See also: 100 Ride Or Die Jail Love Quotes For Unconditional Love
Wrapping It Up
I hope you enjoyed today's article on gangster quotes. What are your favorite gangster movie and gangster quote?
Let's share ideas in the comments section below!
Until next time!