If you're visiting Disneyland, be prepared to take tons of super cute pics! To help you pick the perfect captions to match your awesome photos, I prepared a compilation of the best Disney captions anywhere on the web!
Choosing a perfect caption is important, and can be trickier than you might think, but it doesn't have to be like that.
In this article, you'll find 190 awesome Disney captions to post along with your cute Disney pics and make your Instagram pop!
You don't have to waste your time searching for the perfect words to put below your pics. Your job is to enjoy your Disney vacation, take pics, and have fun.
When you're ready to share some of the best Disney moments with your friends, check out these wonderful Disney captions and choose the one you like best.
Simple as that!
Now, let's dive in and check out all the amazing Disney captions I prepared.
Best 20 Disney Captions For Instagram
These are my top 20 Disney captions. It wasn't easy to narrow it down to just 20. Take a look!
1. I'm either at Disneyland, or I'm missing Disneyland.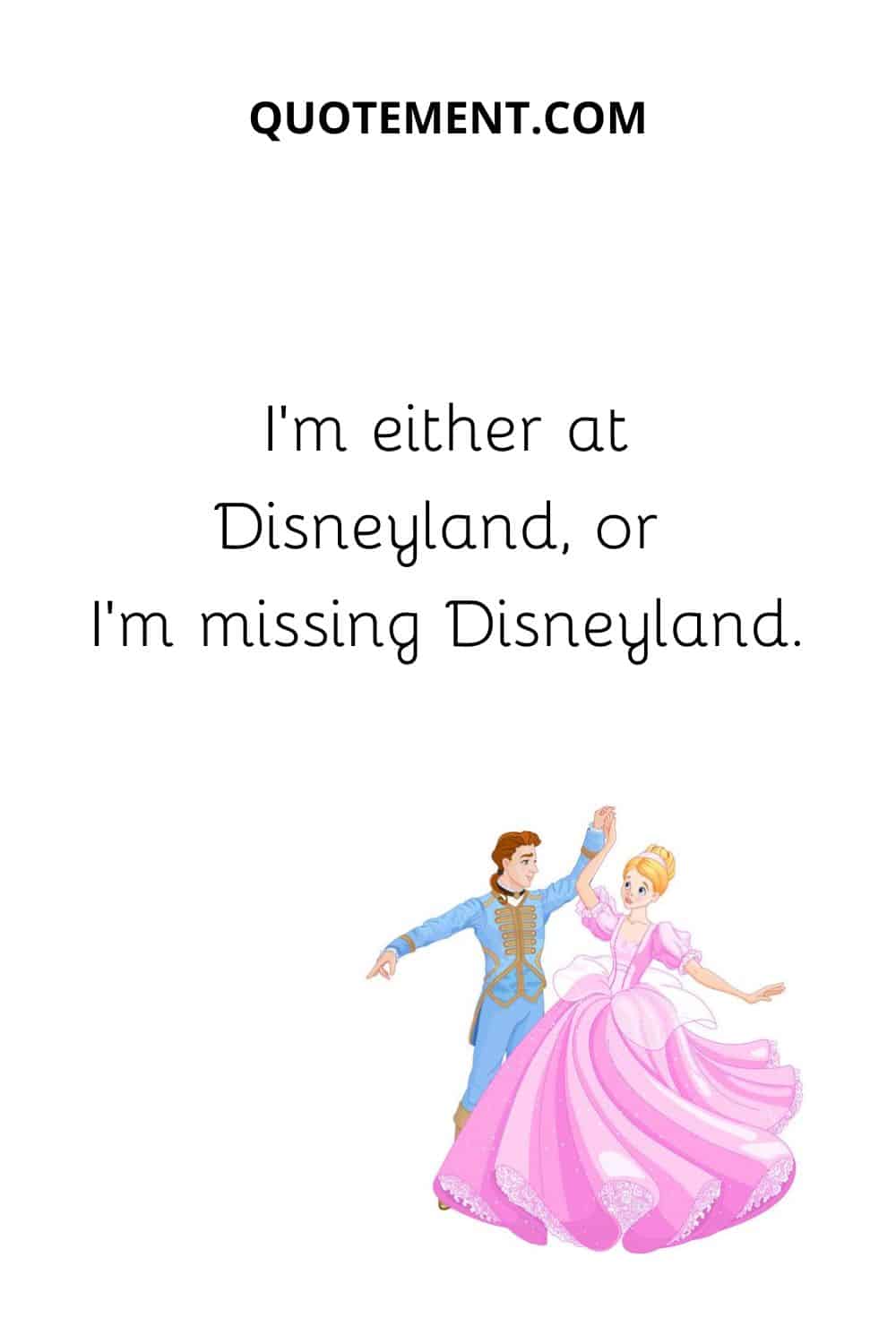 2. Be right back, just polishing my tiara.
3. There's nothing more magical than this.
4. Going to Disney World, be back never.
5. This is where the magic happens.
6. Take me to the castle.
7. I don't trust people who don't love Disneyland.
8. "Happiness is where you are." – Moana
9. No one is too old for fairytales.
10. I work to support my Disney addiction.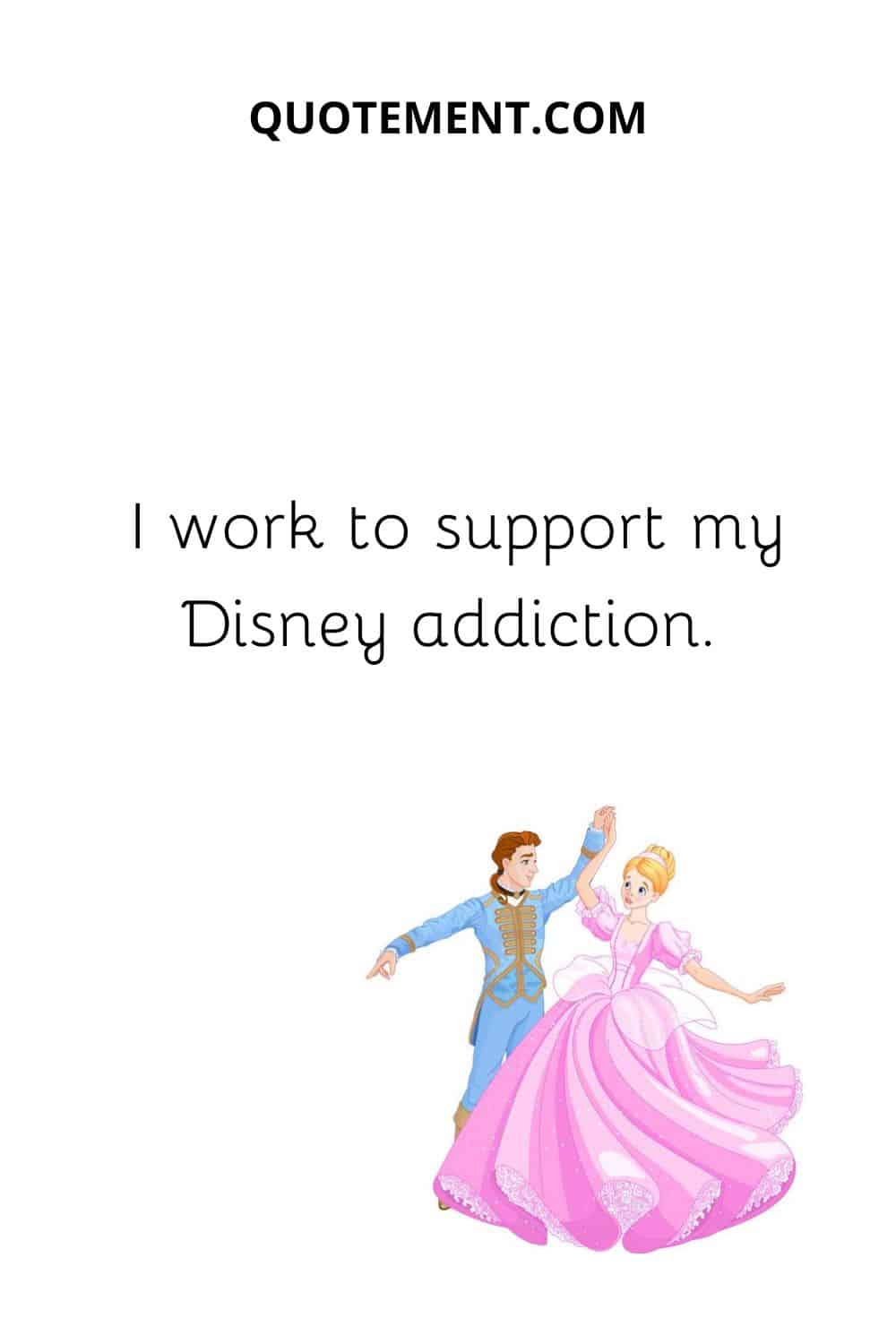 11. Meet me under the fireworks.
12. My heart belongs to Mickey.
13. Disney brings out the kid in all of us!
14. Living that Hakuna Matata life.
15. You're never too old to wish upon a star.
16. Cinderella is proof that a new pair of shoes can change your life.
17. Leave a little magic wherever you go.
18. All you need is faith, trust, and pixie dust.
19. I wish I may, I wish I might, find myself in Disney World tonight.
20. There's nothing a little Starbucks and Disney can't fix.
Cute Disney Instagram Captions
Below you'll find some of the cutest Disney captions anywhere on the web. Don't miss them!
1. There's nothing I'd rather bippity-boppity-do!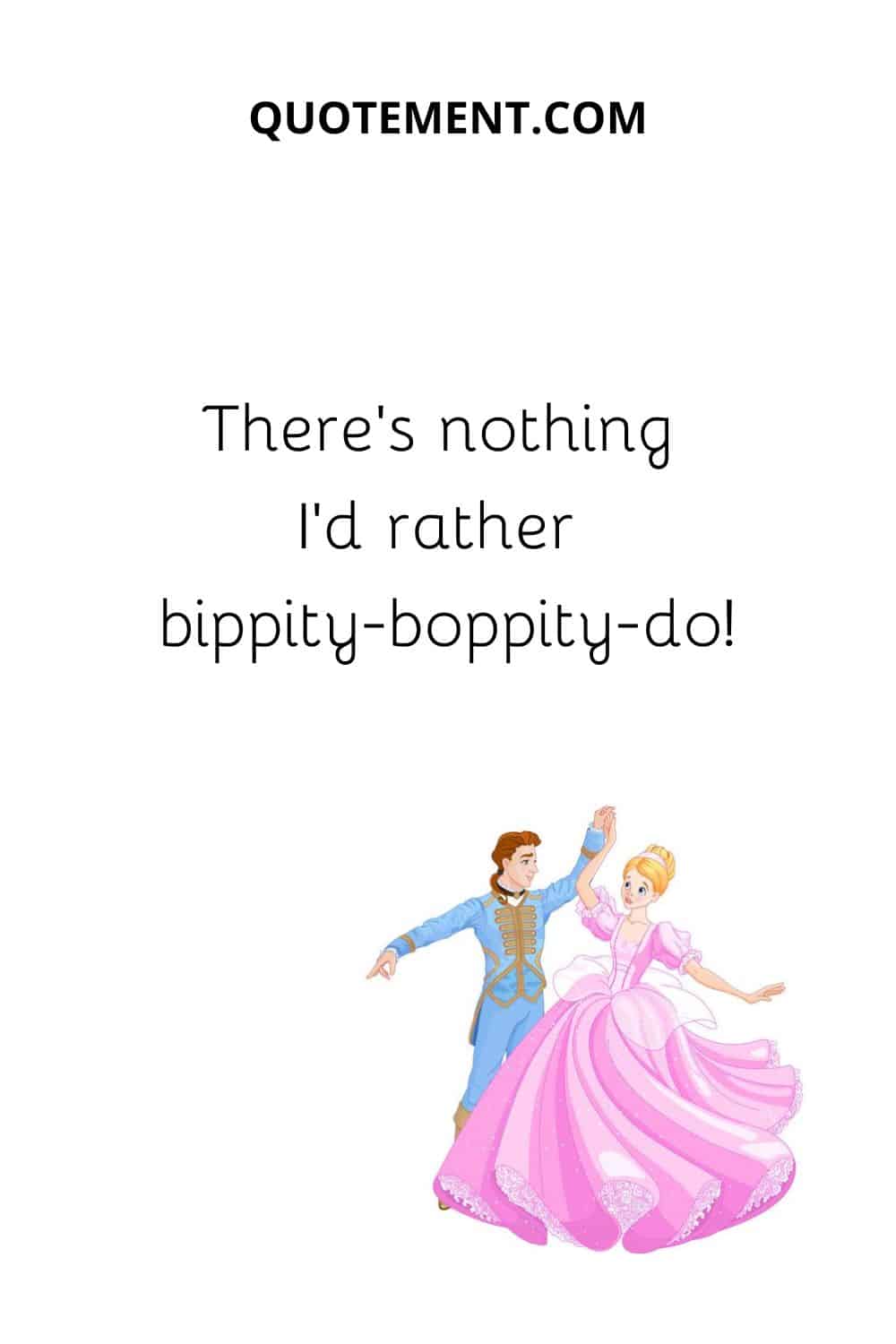 2. In a galaxy far, far away…
3. Everyday is a good day for Disney.
4. When you wish upon a star…. You go to Disney!
5. There is nothing more magical than this.
6. We've got ears, say cheers!
7. "Living proof that dinosaurs once roamed the earth." – The Emperor's New Groove
8. There's magic in the air tonight, and anything can happen.
9. Warning: May spontaneously burst into Disney songs at any moment.
10. Call me Daisy, but this is the most magical place on Earth!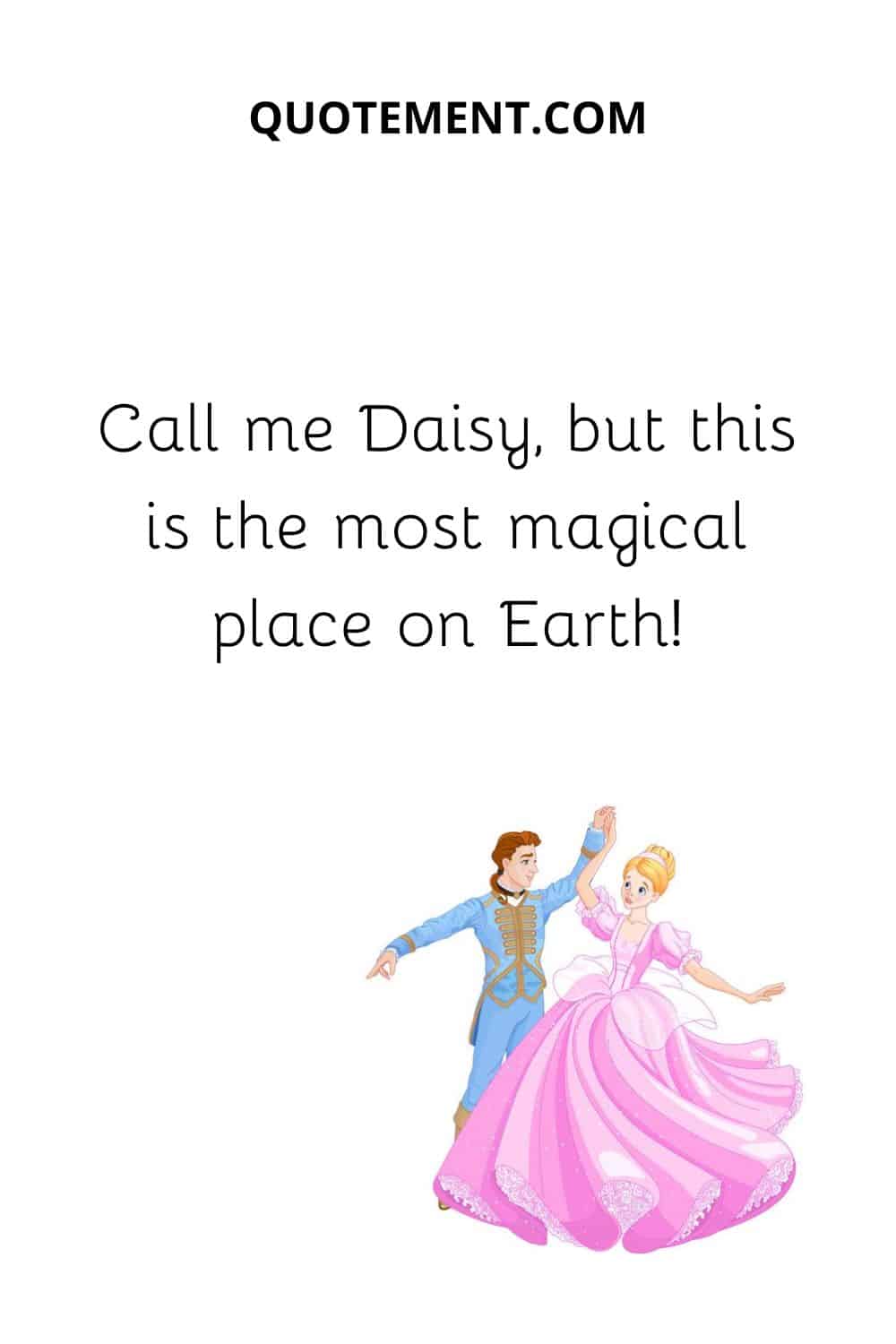 11. "Yo-ho! Yo-ho! A Disney life for me."
12. "When you wish upon a star your dreams come true." — Jiminy Cricket
13. We're all in this together.
14. "What could be more important than a little something to eat." – Winnie the Pooh
15. Just add pixie dust."
16. That's Cruella and unusual punishment.
17. A Disney life for me.
18. Disney movies: one of life's Simba pleasures
19. "'There probably aren't words to describe your emotions.' 'On the contrary, there's a very good word… It's supercalifragilisticexpialidocious!'" — Mary Poppins
20. Laughter is timeless, imagination has no age, and dreams are forever.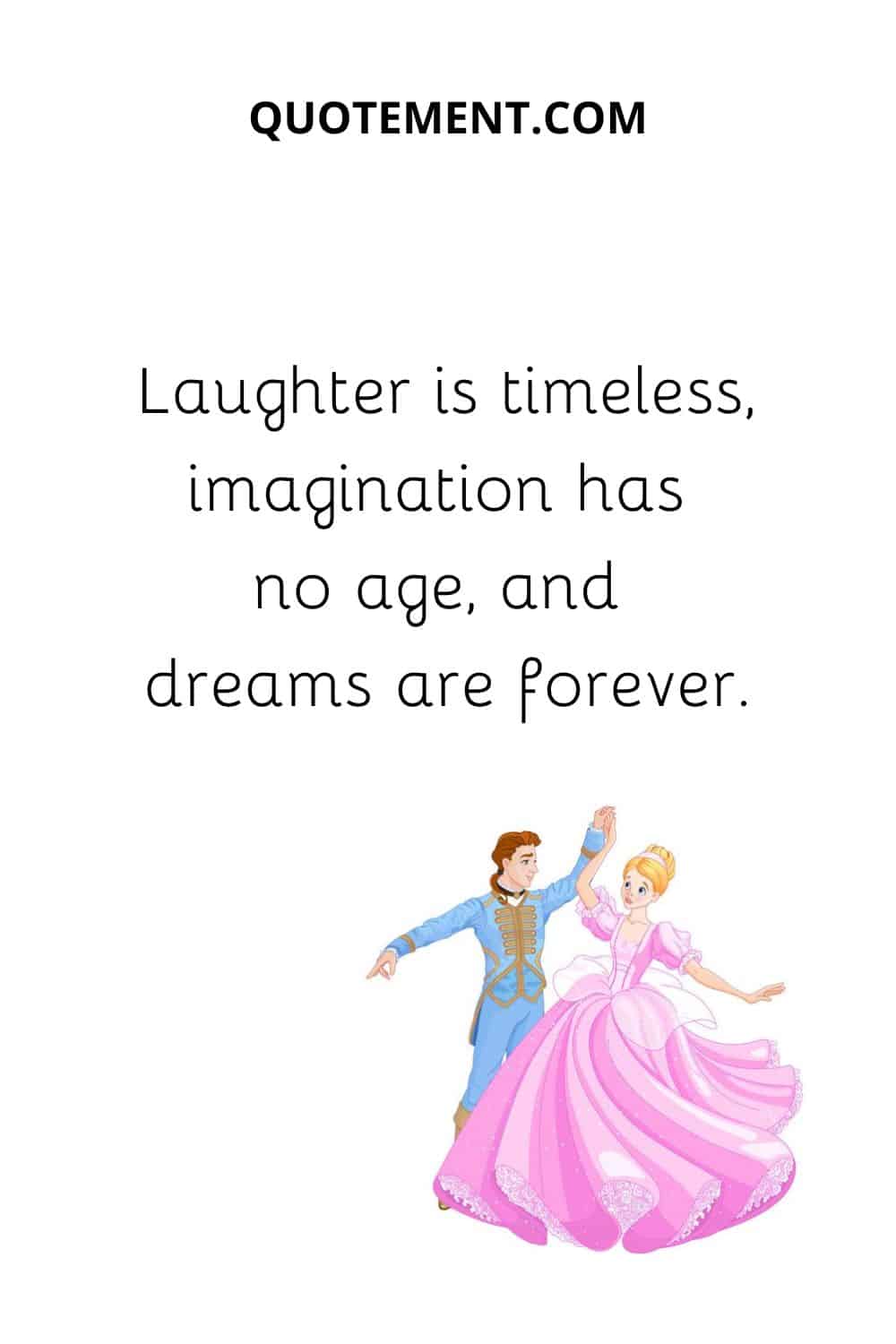 21. "Life is de bubbles with (insert name)." — Under The Sea, The Little Mermaid
22. See what a little wishing can do?
23. You're never too old to wish upon a star.
24. Hakuna Matata, what a wonderful phrase! It means no worries for the rest of your days.
25. "May the force be with you." — Obi-Wan Kenobi, Star Wars
See also: 120 Cute And Funny Marvel Pick-Up Lines For Marvel Fans
Magic Kingdom Disney Captions For Instagram
Here's a collection of exciting Disney captions to make your Instagram post perfect!
1. Disney World, a place where dreams come true!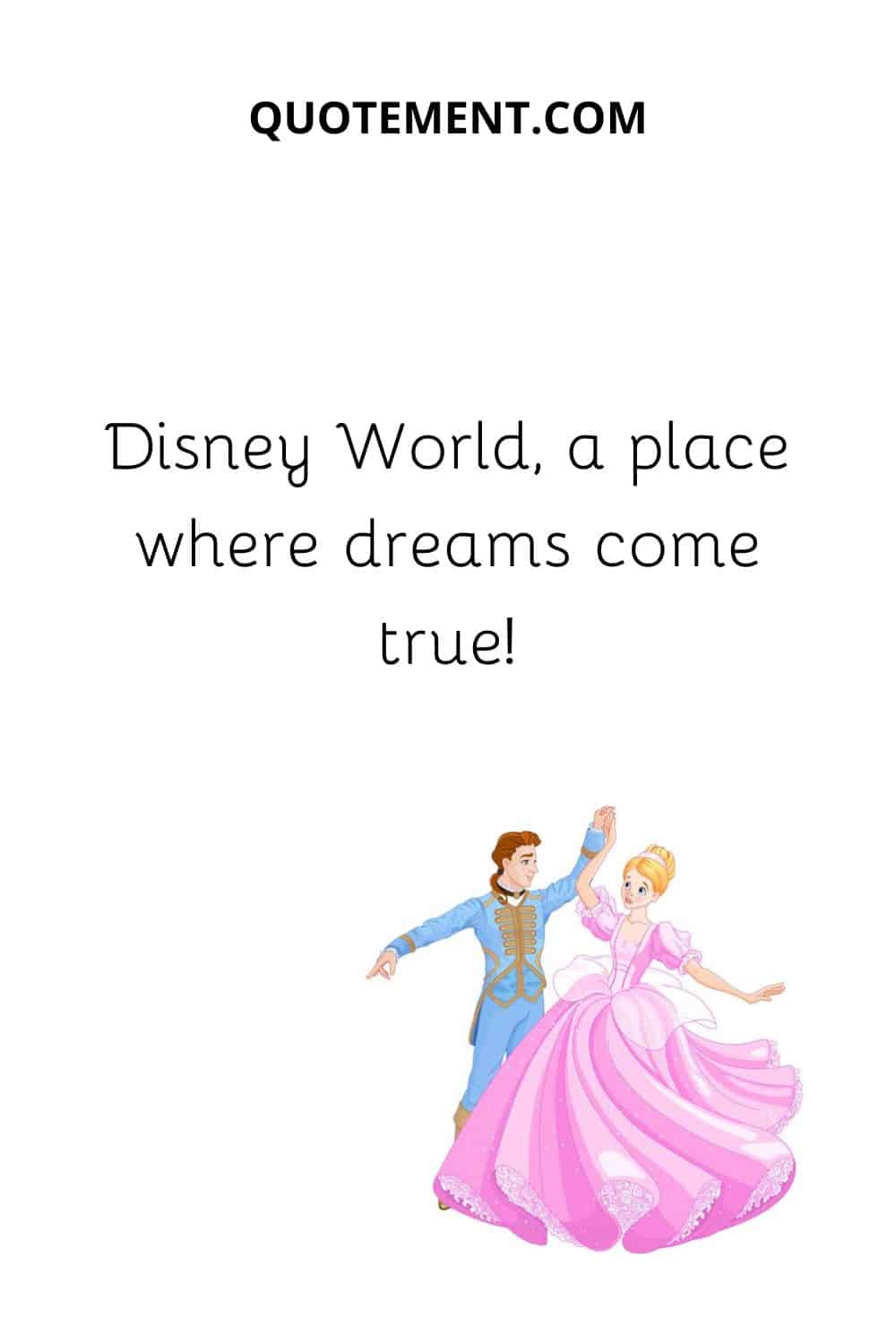 2. Once upon a time…
3. The most magical place on Earth. (Disney World's slogan)
4. The happiest place on Earth. (Disneyland's slogan)
5. Let's get Disney wasted.
6. Sorry charming, gotta run!
7. The only place where your dream becomes impossible is in your own thinking.
8. Run like Cinderella at midnight.
See also: Top 90 Extraordinary Cinderella Quotes For All Generations
9. I'm bringing down the mouse.
10. Who needs a tiara when you have mouse ears?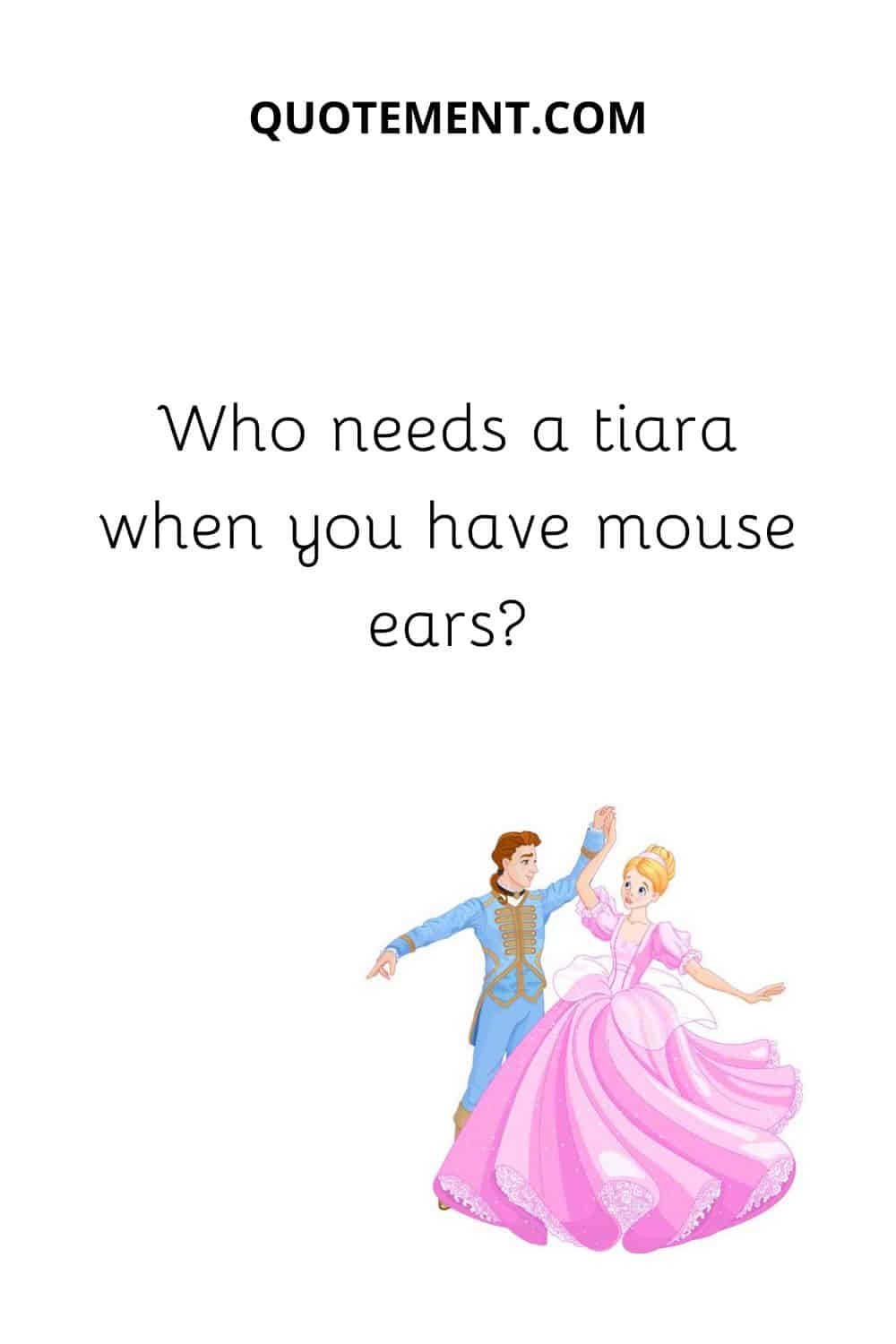 11. It's kind of fun to do the impossible.
12. "Aloha! Also cute and fluffy." – Lilo & Stitch
13. "BEST.DAY.EVER." – Rapunzel, Tangled
14. "The force [runs] strong with this one." – Yoda, Star Wars
15. "Life is full of tough choices, isn't it?" – The Little Mermaid
16. This really is the Most Magical Place on Earth.
17. The place where dreams come true.
18. "I ain't never had friend(s) like [these]!" – Genie, Aladdin
19. I'm always ready for a fairytale.
20. It's not easy being a princess…but hey, if the slipper fits!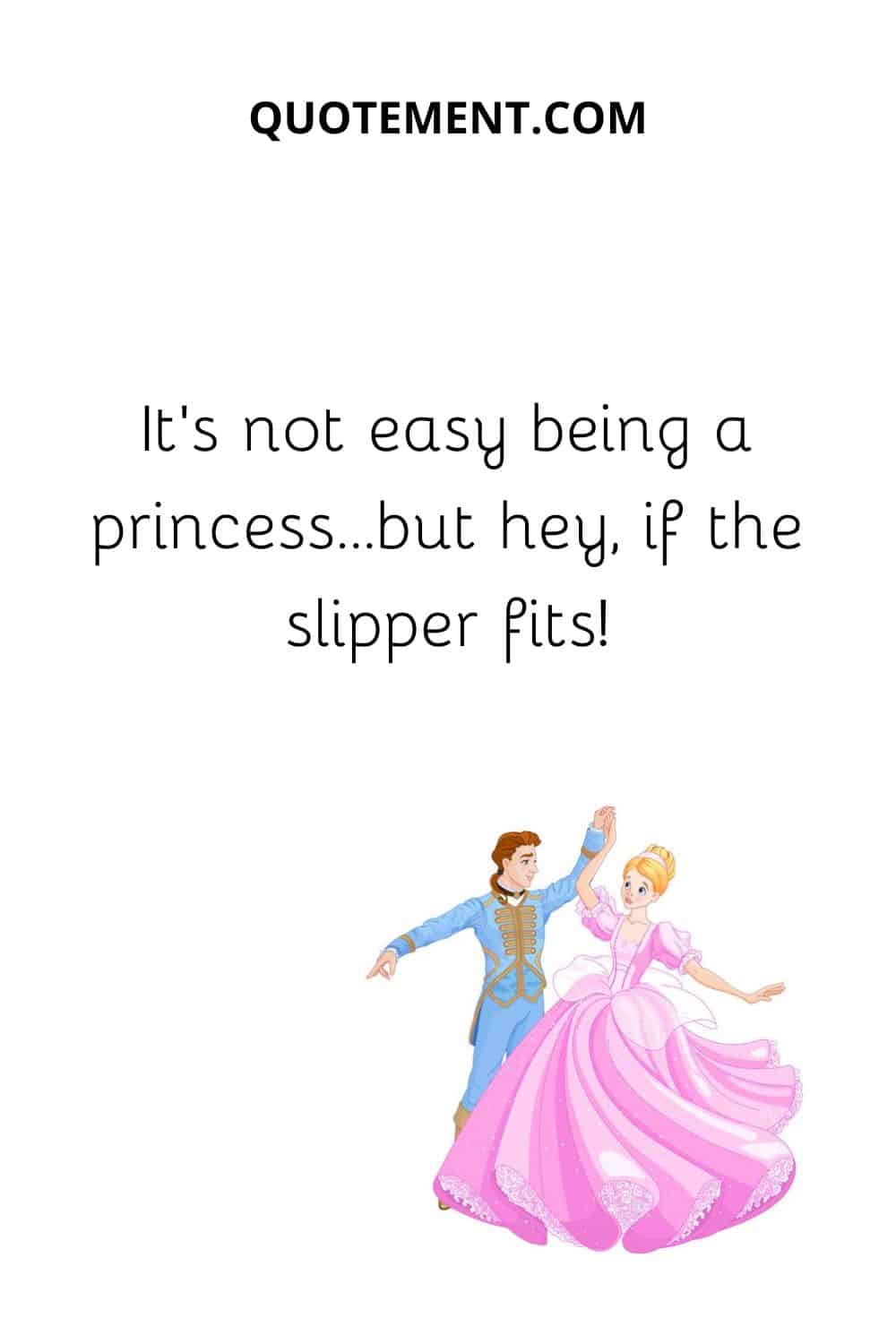 21. "The cold never bothered me anyway." – Elsa, Frozen
22. "Second star to the right and straight on 'til morning." — Peter Pan
23. All our dreams can come true, if we have the courage to pursue them.
24. "You know, I am so romantic. Sometimes I think I should just marry myself." – Monsters, Inc.
25. "I hate Disneyland. It primes our kids for Las Vegas." — Tom Waits
See also: 200 Fantastic Las Vegas Captions To Make Your Post Perfect
Simple Disney Captions
If you want to accentuate the magic of your Disney pic without saying too much, then these simple and short Disney captions are perfect for you.
1. I'm dreaming a little dream.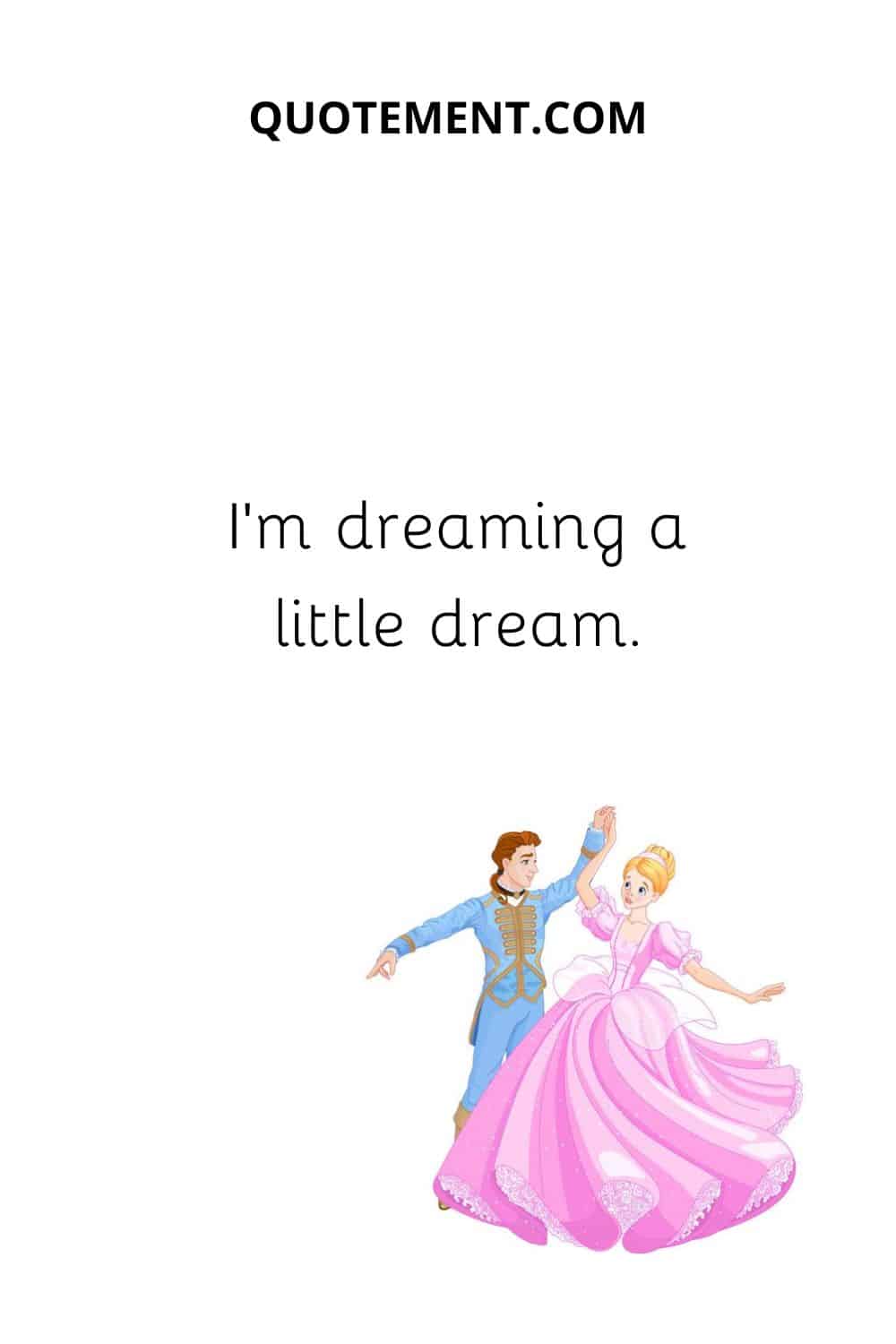 2. "Practically perfect in every way." — Mary Poppins
3. The force is strong with this one.
4. Meet me on Main Street.
5. "Don't Just Fly, Soar." — Dumbo
6. "Just keep swimming." — Finding Nemo
7. Ch-Ch-Ch-Chip & Dale, Rescue Rangers!
8. Peace. Love. Ohana.
9. I'm ready for some churros
10. Wanderlust and fairy dust.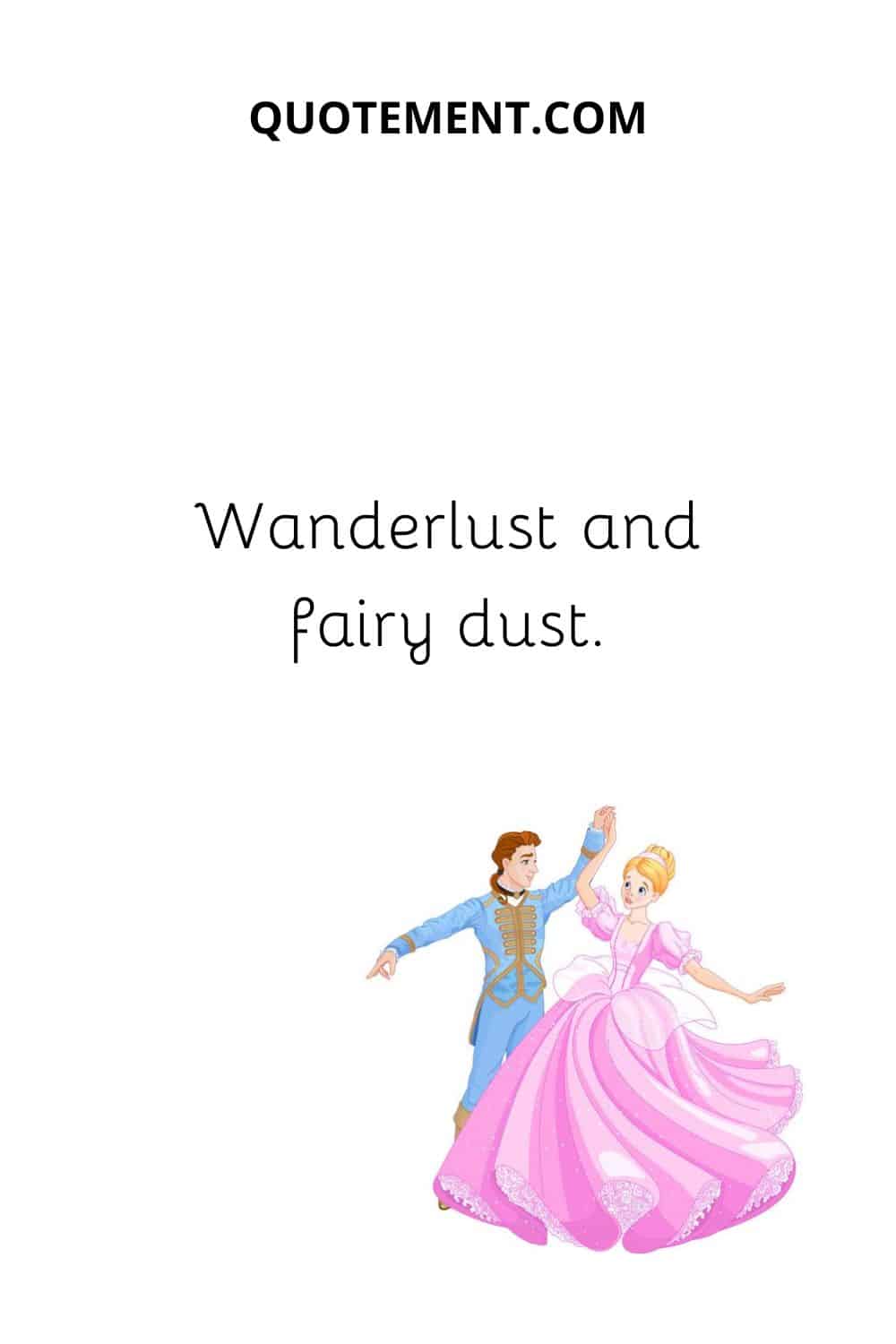 11. Chillin' like a (Disney) villain.
12. Disney is our greatest adventure,
13. Dinglehopper hair, don't care.
14. I'm never leaving.
15. Just a small-town girl, living in a Disney World.
16. It's a small world after all.
17. "You so totally rock, Squirt!" — Finding Nemo
18. Look at my ears…. I'm a mouse.
19. Mine, mine, mine, mine…
20. For the first time in forever.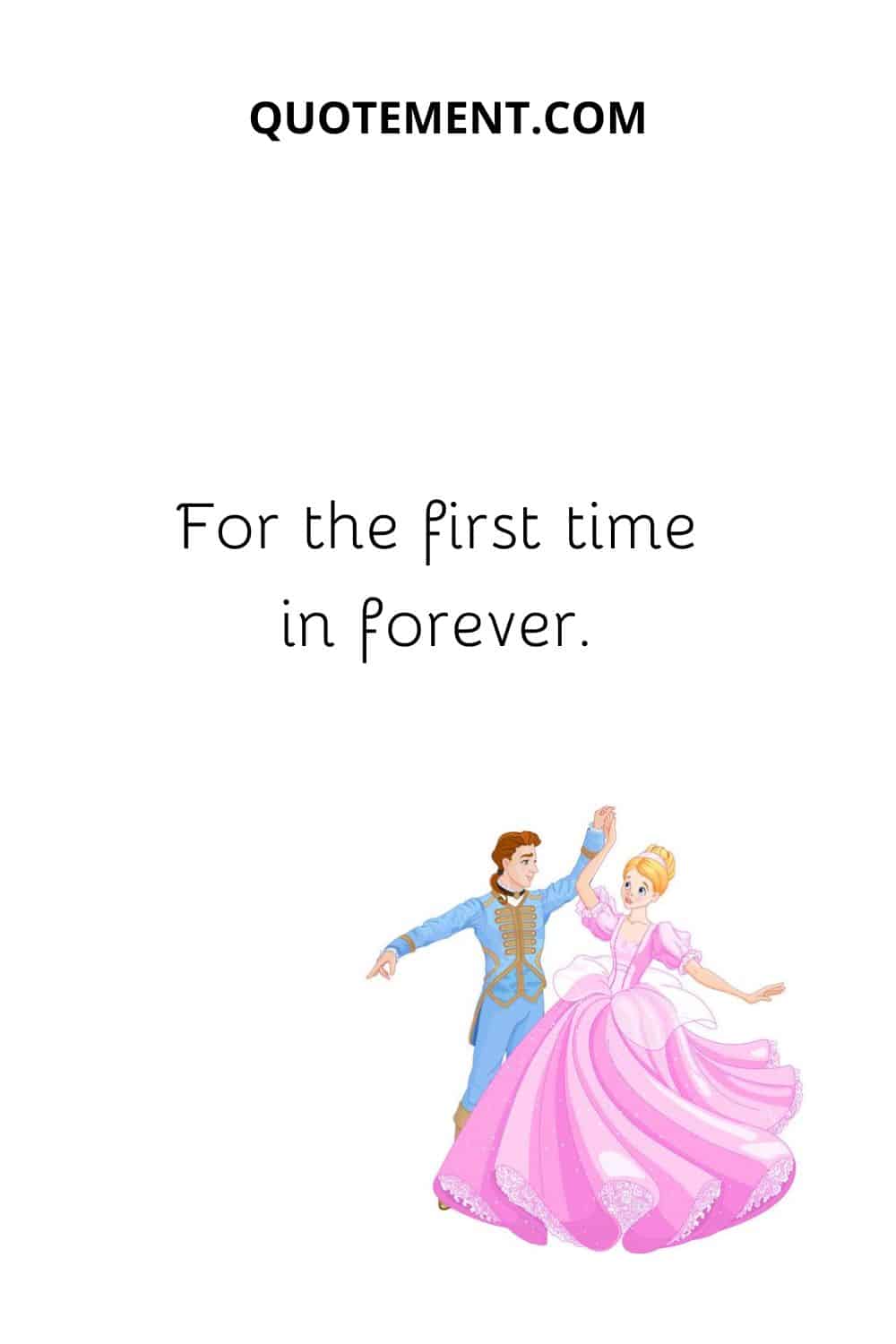 Funny Disney Captions
Here's a compilation of the funniest Disney captions for Instagram. Take a look!
1. You like my ears, gee thanks, just bought 'em!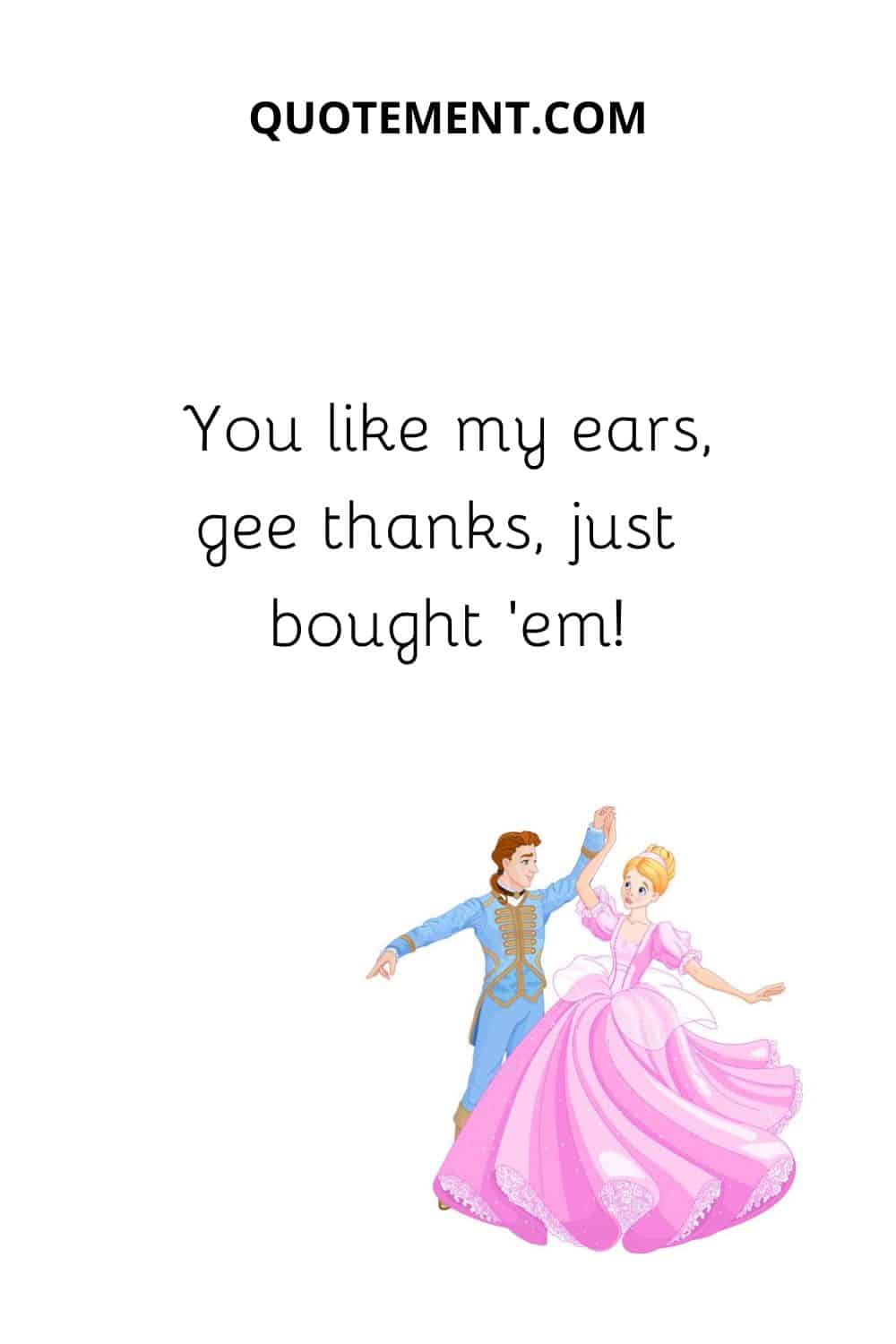 2. Is your name Ariel? Because I think mermaid for each other.
3. Traded my passport for a FASTPASS in Disneyland Paris.
4. Turn down for Walt.
5. "You look beautiful-er!" — Anna, Frozen
6. You mer-maid my day!
7. Never too old for a photo with Mickey.
8. "There seems to be no signs of intelligent life anywhere." — Buzz Lightyear
9. "Bows before bros." (for group photos in your Minnie ears)
10. Dear, Mickey. I hope our paths will croissant again.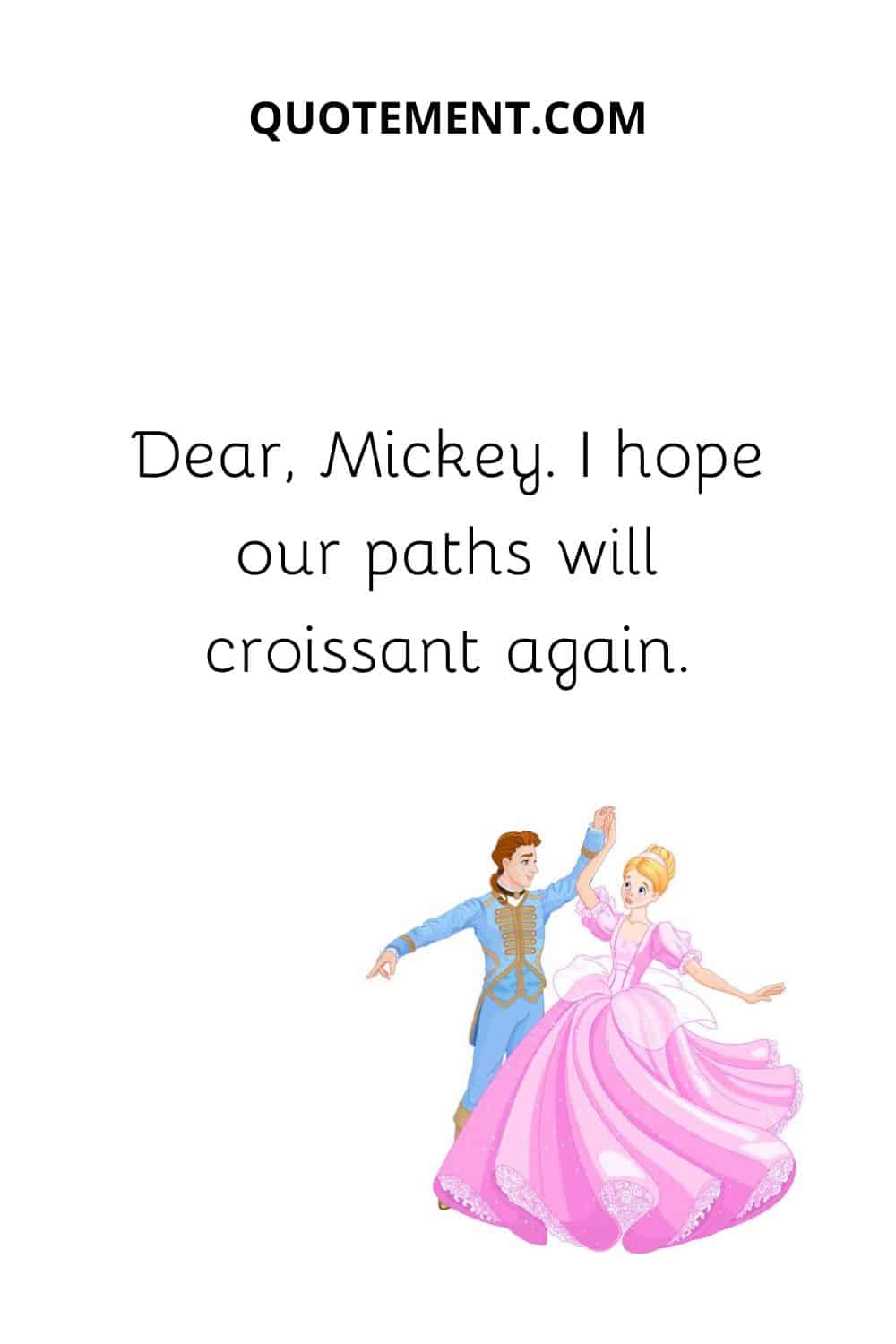 11. Get in the elephant, loser, we're going flying.
12. I might feel a little weird about eating Mickey's face, but it does taste good!
13. I didn't even have to trade my voice to Ursula for a ticket here!
14. Olaf said, "Love is putting someone else's needs before yours"…unless they want a bite of my Mickey waffles.
15. What do you call someone who loves food? An Epcot-cure.
See also: 350 Awesome Food Captions For Instagram + Food Quotes
Disney Captions For Couples
If you're visiting Disneyland with your beloved, you're gonna love this section! I've prepared a collection of sweet Disney captions perfect for your romantic couple pics.
1. "Piglet: how do you spell love? Pooh: You don't spell it, you feel it." — Winnie the Pooh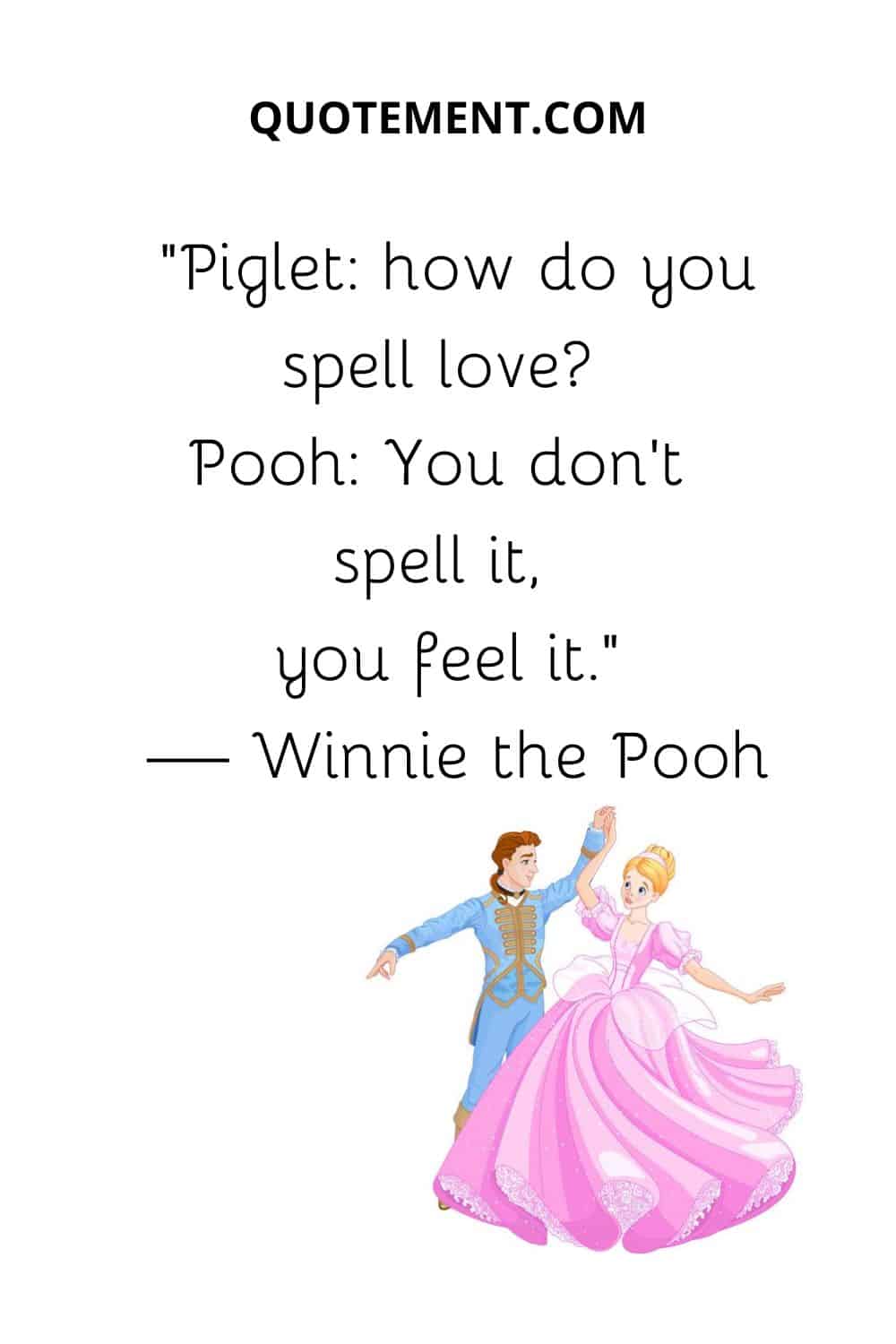 2. My favorite Disney Princess is my Wife.
3. Our happily ever after.
4. "But daddy, I love him!" – The Little Mermaid
5. "Some people are worth melting for." — Olaf, Frozen
6. "So this is love…" — Cinderella
7. Disney wife, happy life.
8. "I put a spell on you, and now you're mine!" — Hocus Pocus
9. "I love you, Jerkface." — Hocus Pocus
10. I'm not sure what's more magical, Disney World or being with you.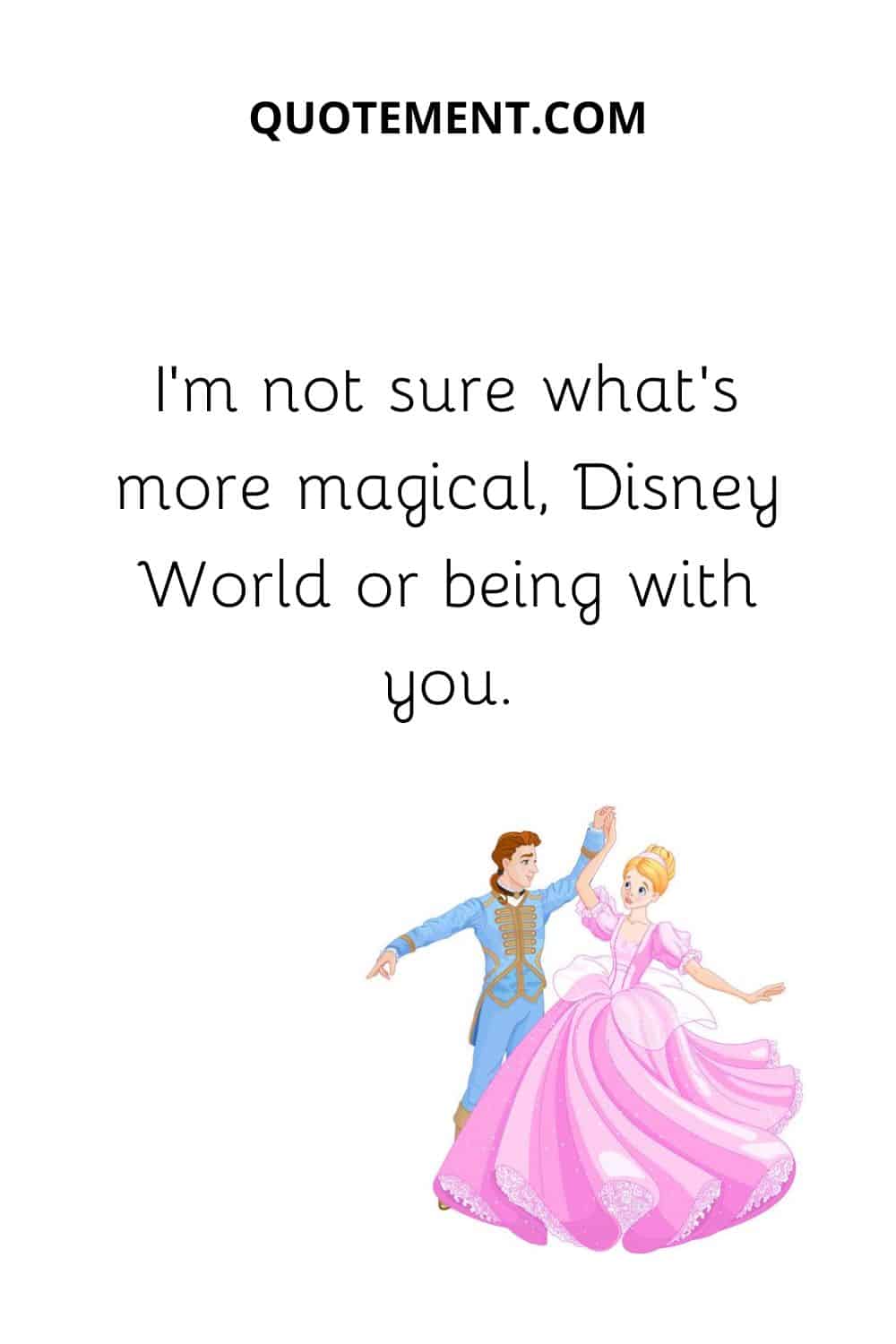 11. "I love you." – Princess Leia "I Know." — Han Solo
12. "Together there's no end to what our dream can start." – Pocahontas
13. And they lived happily ever after….
14. "Some people are worth melting for." — Frozen
15. "Every minute spent in your company becomes the new best moment of my life." — Bolt
16. "We finish each other's sandwiches." — Frozen
17. You are the Mickey to my Minnie.
18. "There's a great big beautiful tomorrow waiting at the end of every day." — Carousel of Progress
19. "No matter what anybody says, you'll always be a [prince/princess] to me." — Aladdin
20. Don't worry. If you kiss me, I won't turn into a frog.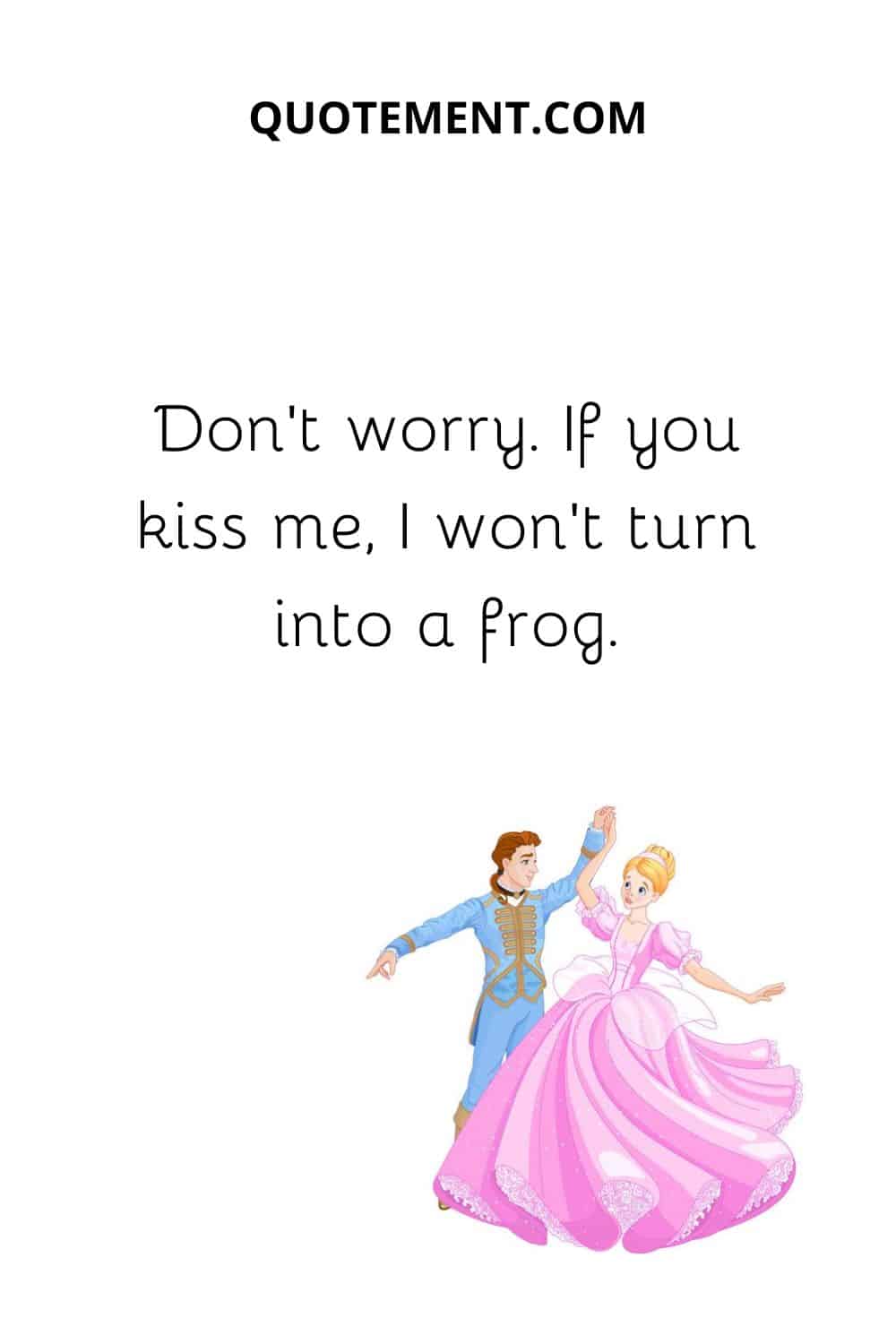 See also: 100 Kiss Pick Up Lines To Help You Get A Kiss
Disney Castle Captions For Instagram
Every girl has dreamt about being a princess and owning a castle at one point in her life. Visiting Disneyland makes that wish come true at last!
Here are some captivating Disney castle captions for your magical Instagram post.
1. You miss 100% of the castles you don't see.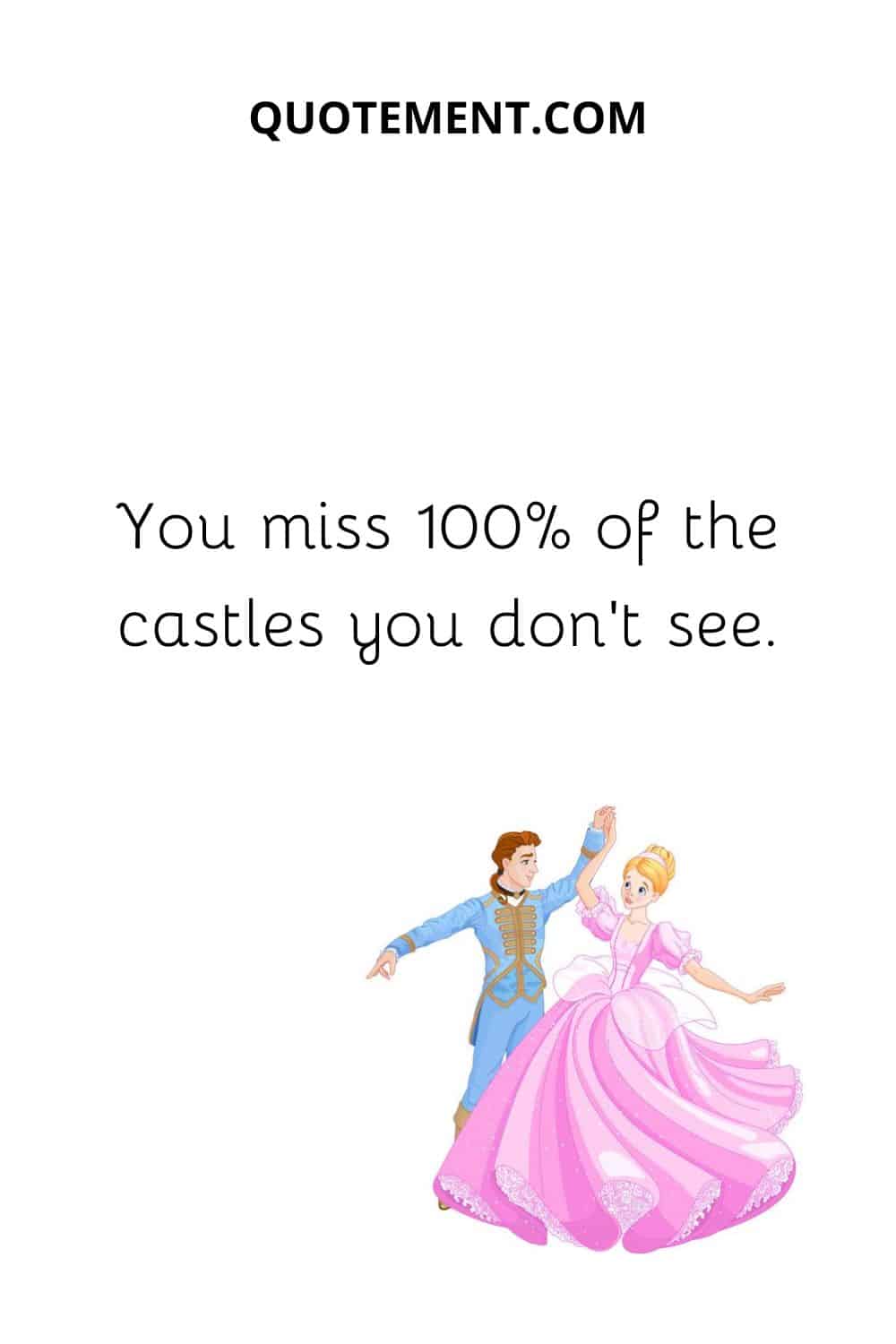 2. Every princess needs a castle.
3. When you see that castle and know your home…
4. Took a highway in the sky to my turreted castle home to ride an elephant, fly over London by pixie dust, and go mad inside a teacup.
5. "They say if you dream a thing more than once, it's sure to come true." – Sleeping Beauty
6. Meet me at Sleeping Beauty's castle and then the Eiffel Tower.
7. With my favorite people in the best place on earth.
8. No sleep until midnight.
9. Find me on Main Street.
10. "You don't meet a girl like that every dynasty." — Mulan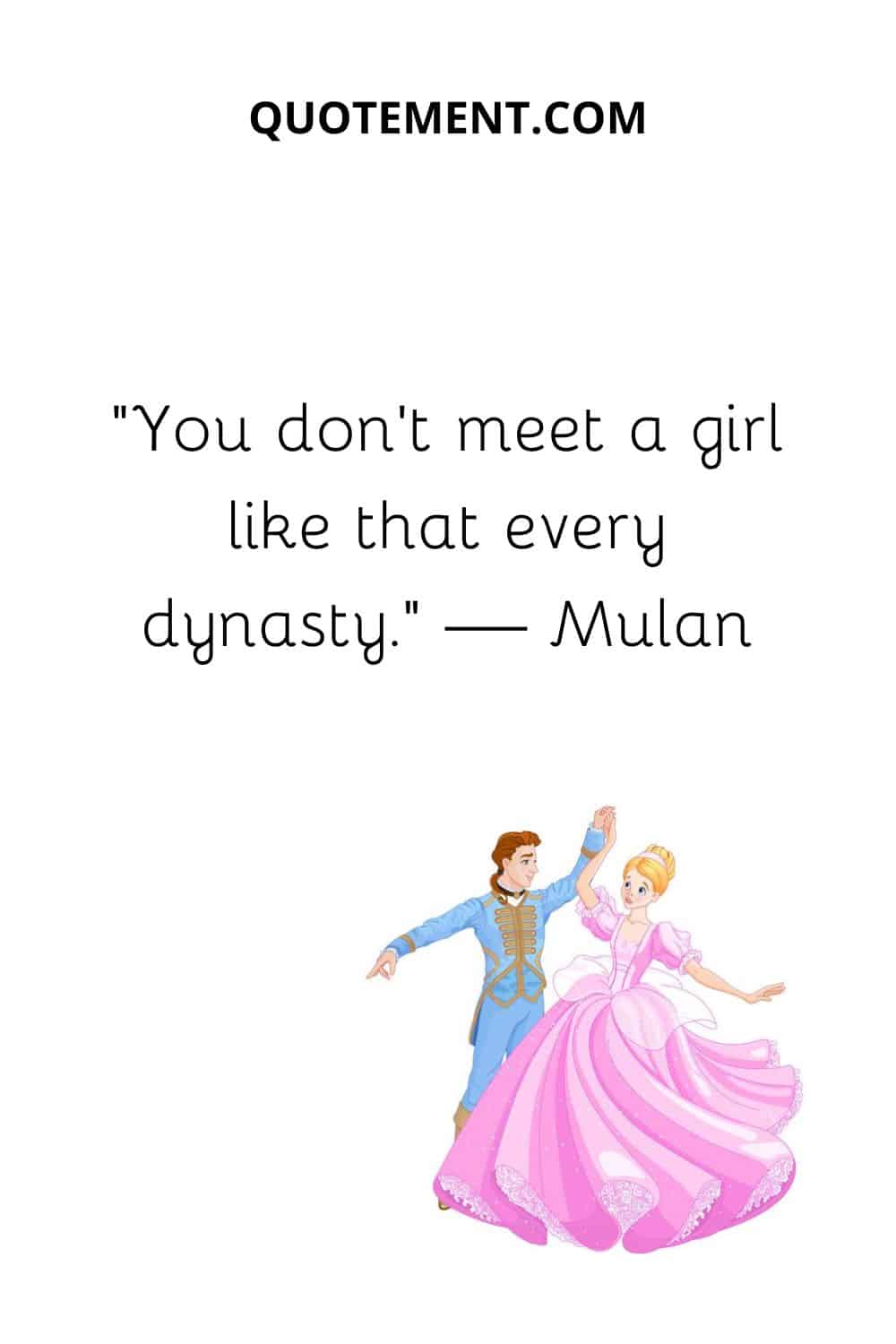 11. "Everything the light touches is our kingdom." — Mufasa, The Lion King
12. A day spent at Disneyland is my favorite day.
13. Can I just live here?
14. Oh Mickey, you so fine.
15. "Chewy, we're home." — Han Solo, Star Wars
16. There's nothing Minnie about my love for Disney.
17. Let me share this whole new world with you!
18. Ready to make some magic while we are here.
19. The future belongs to those who believe in the beauty of their dreams.
20. "Live every moment as not to regret what you are about to do." — Mickey Mouse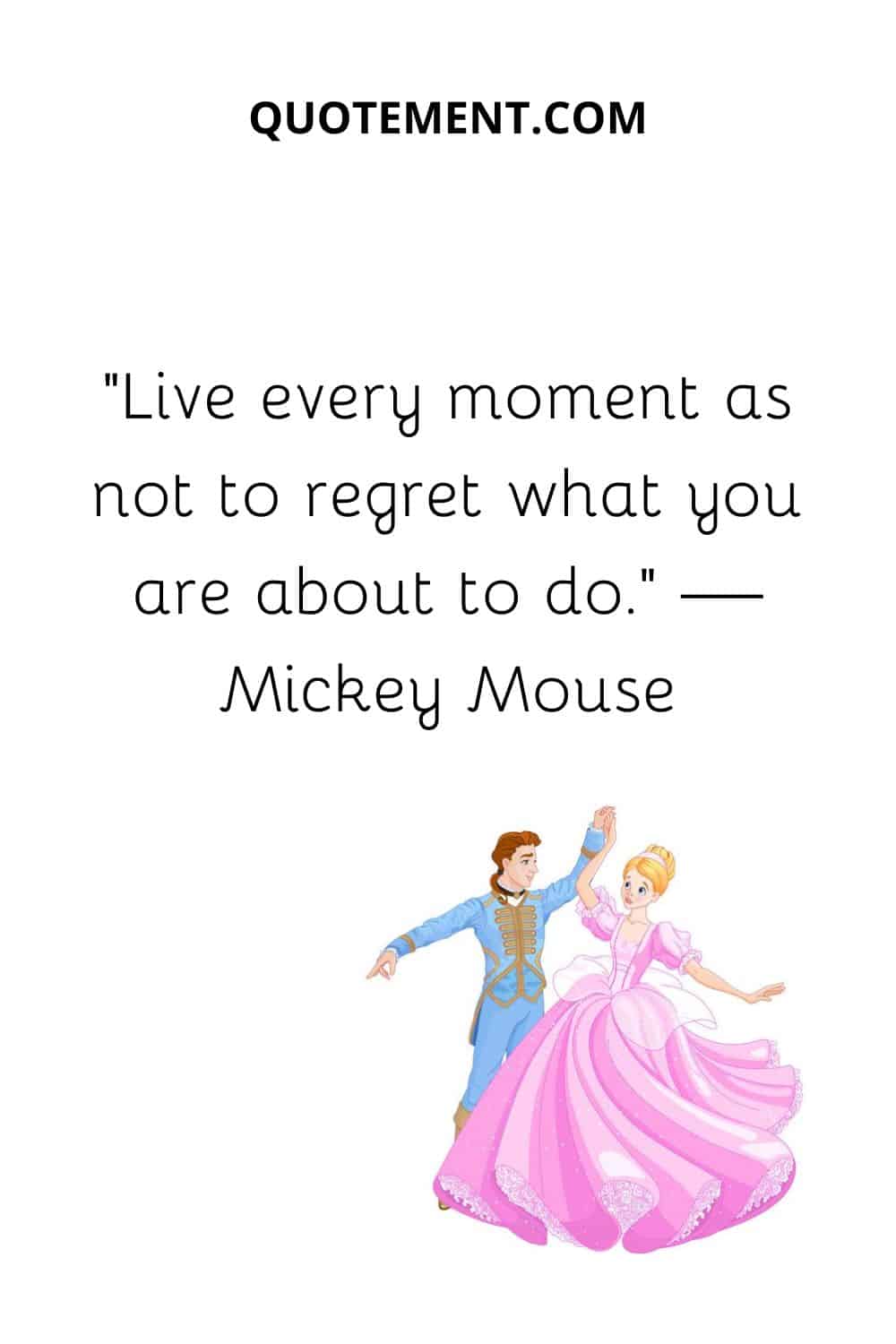 Lovely Disneyland Captions For Instagram
Here are some lovely Disney captions for you to check out. I'm sure you're gonna love them!
1. Does this ice cream go with my ears?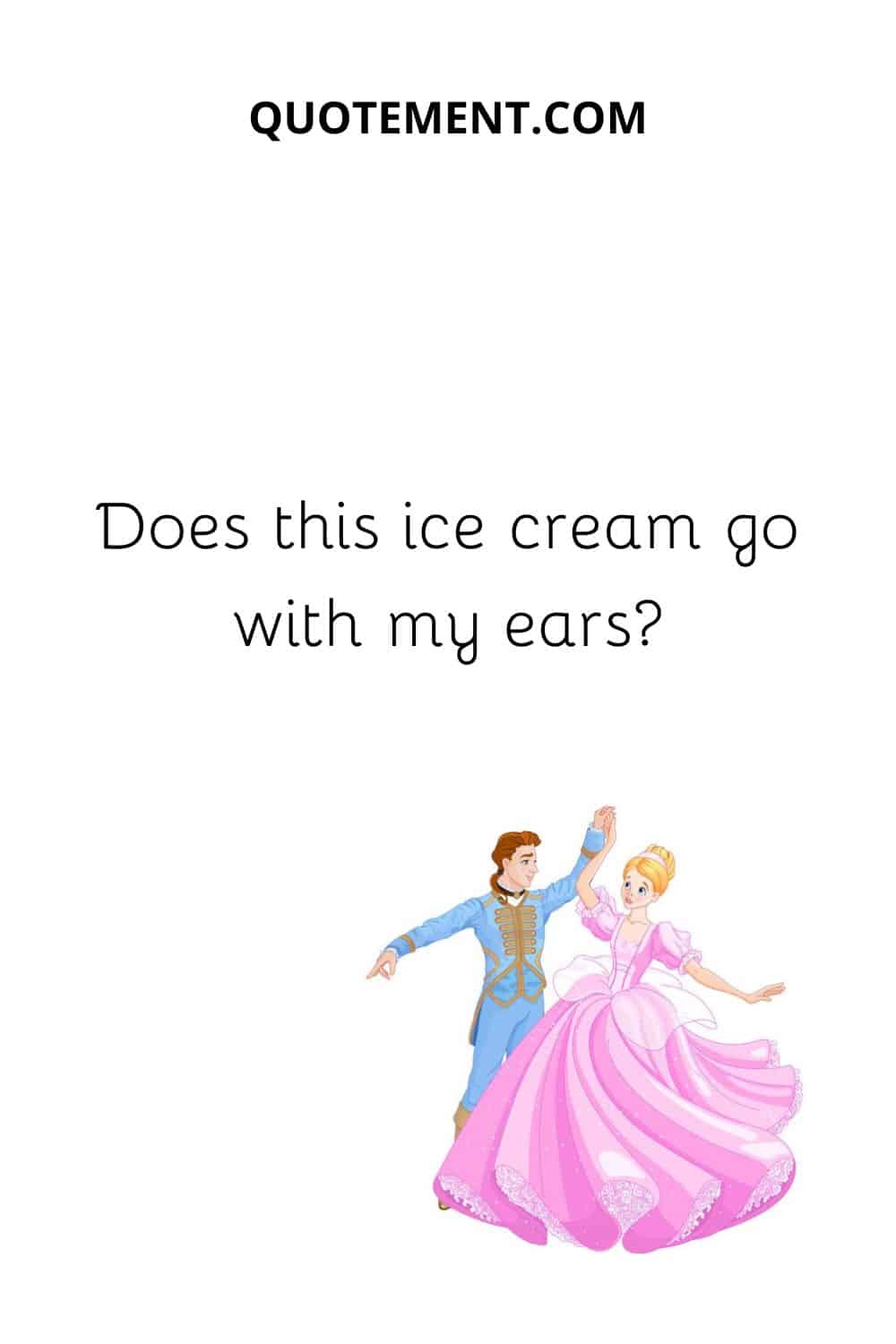 See also: 200 Sweetest Quotes About Gelato For Instagram + Captions
2. "Even miracles take a little time." — The Fairy Godmother, Cinderella
3. Disney is my greatest adventure.
4. "Darling, forever is a long, long time. And time has a way of changing things." — The Fox and the Hound
5. "The dreams that you wish will come true." – Cinderella
6. "You're not getting cold fins now, are you?" – The Little Mermaid
7. "The Ocean chose me." — Moana
8. "Rumbly in my tummy." — Winnie the Pooh
9. "It all started with a mouse." — Walt Disney
10. Feed me Mickey waffles and tell me I'm pretty.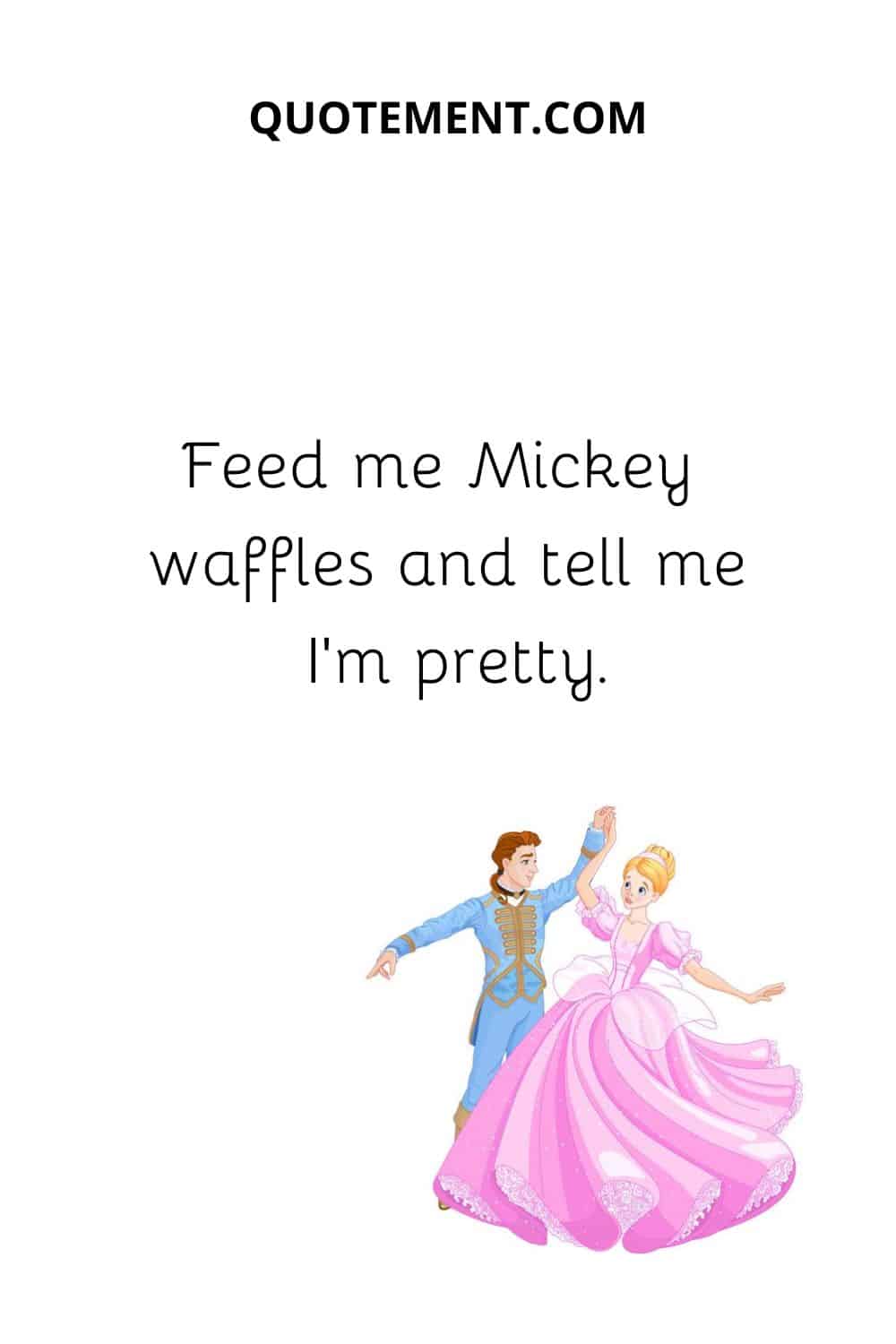 11. I am running away to Disney.
12. "You've got a friend in me." — Toy Story
13. Best day ever!
14. I am done adulting…. Let's go to Disney.
15. Once upon a dream…
16. "A dream is a wish your heart makes." — Cinderella
17. Let them eat [fill-in-a-snack].
18. "This is my family. I found it all on my own. It's little, and broken, but still good. Yeah, still good." – Lilo & Stitch
19. "There are many worlds, but they share the same sky —one sky, one destiny." — Kairi, Kingdom Hearts II
20. Gosh, being a princess is exhausting.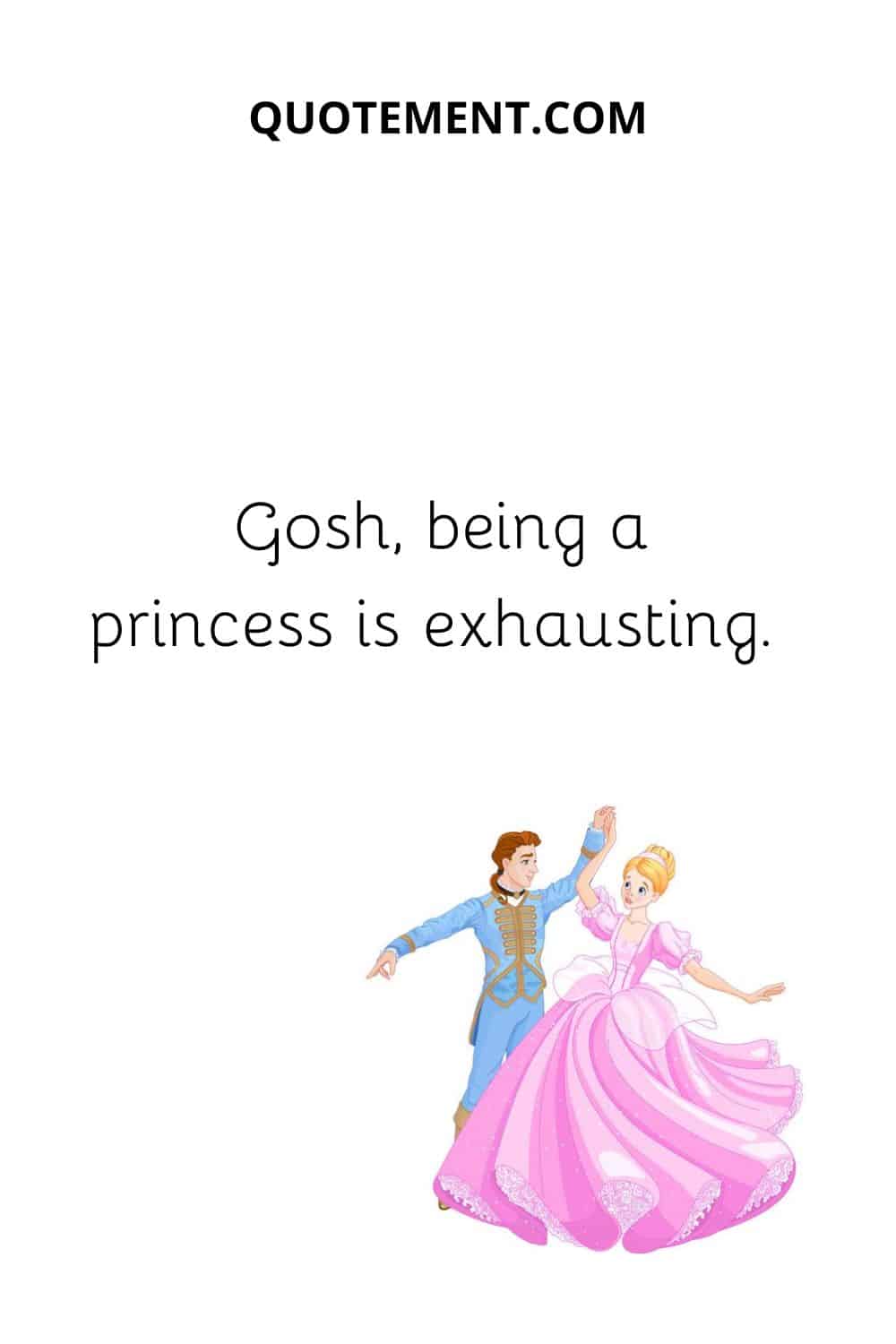 21. "I'm Practically Perfect in Every Way." — Mary Poppins
22. "Every adventure requires a first step." — Cheshire Cat, Alice in Wonderland
23. "I [found] adventure in the great wide somewhere." — Belle, Beauty and the Beast
24. The best thing about selfies is that you can be yourself.
25. "See the lines where the sky meets the sea, it calls me. And no one knows how are does it goes…" — Moana
See also: 270 Absolutely Beautiful Sky Captions For Instagram
Disney World Instagram Captions
And so we've reached the end. Take a look at these 20 Disney captions I saved for last!
1. Why travel the world when you can go to Disney World?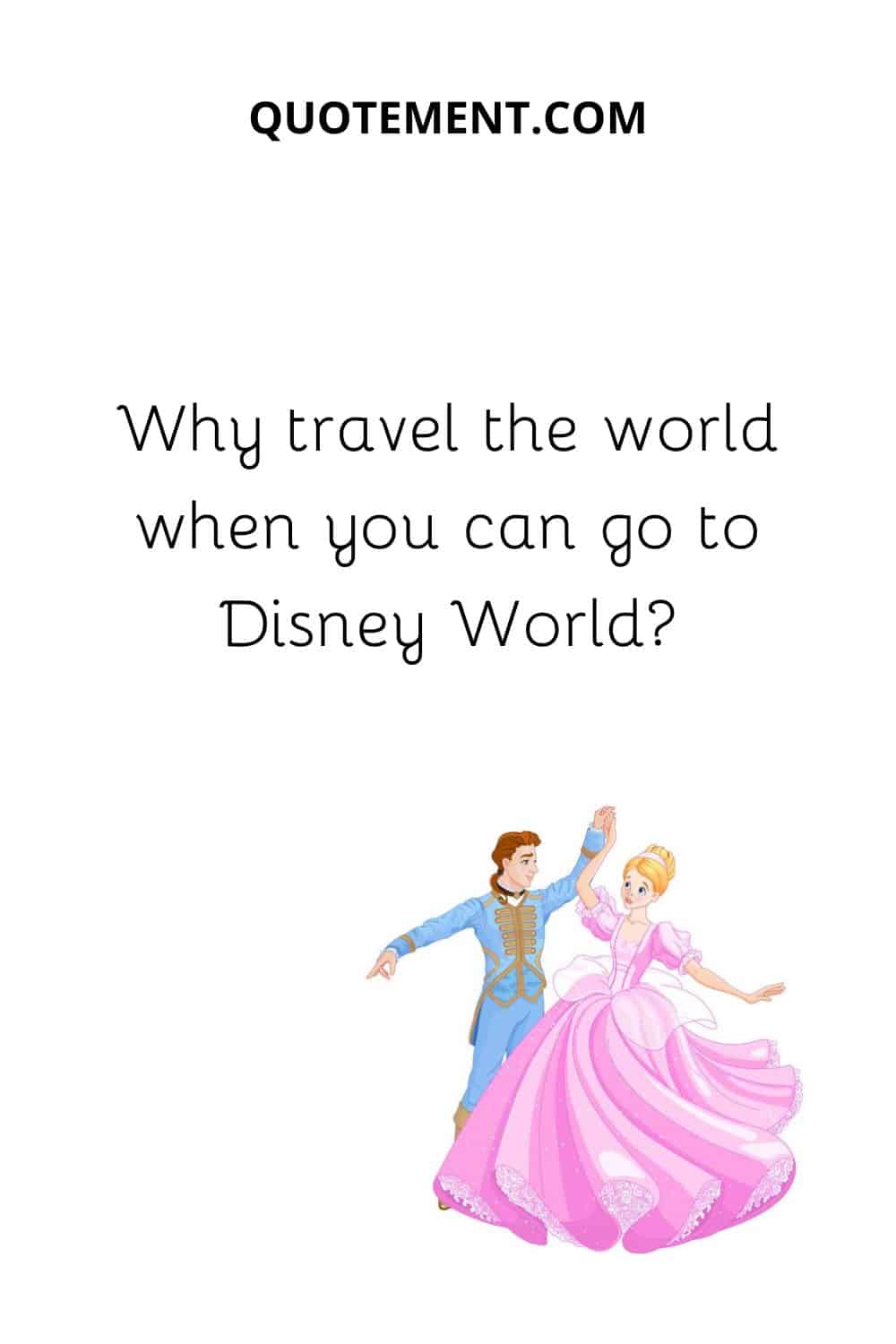 2. "To all who come to this happy place: Welcome." — Walt Disney
3. "I like warm hugs." – Frozen
4. "Look at this stuff, isn't it neat?" — Ariel, The Little Mermaid
5. "I look at you, and I'm home." — Dory, Finding Nemo
6. A visit to Disneyland is the perfect way to make childhood dreams come true.
7. Good Morning Disney
8. Are there fast passes to churros?
9. It all started with a mouse.
10. Feeling Supercalifragilisticexpialidocious!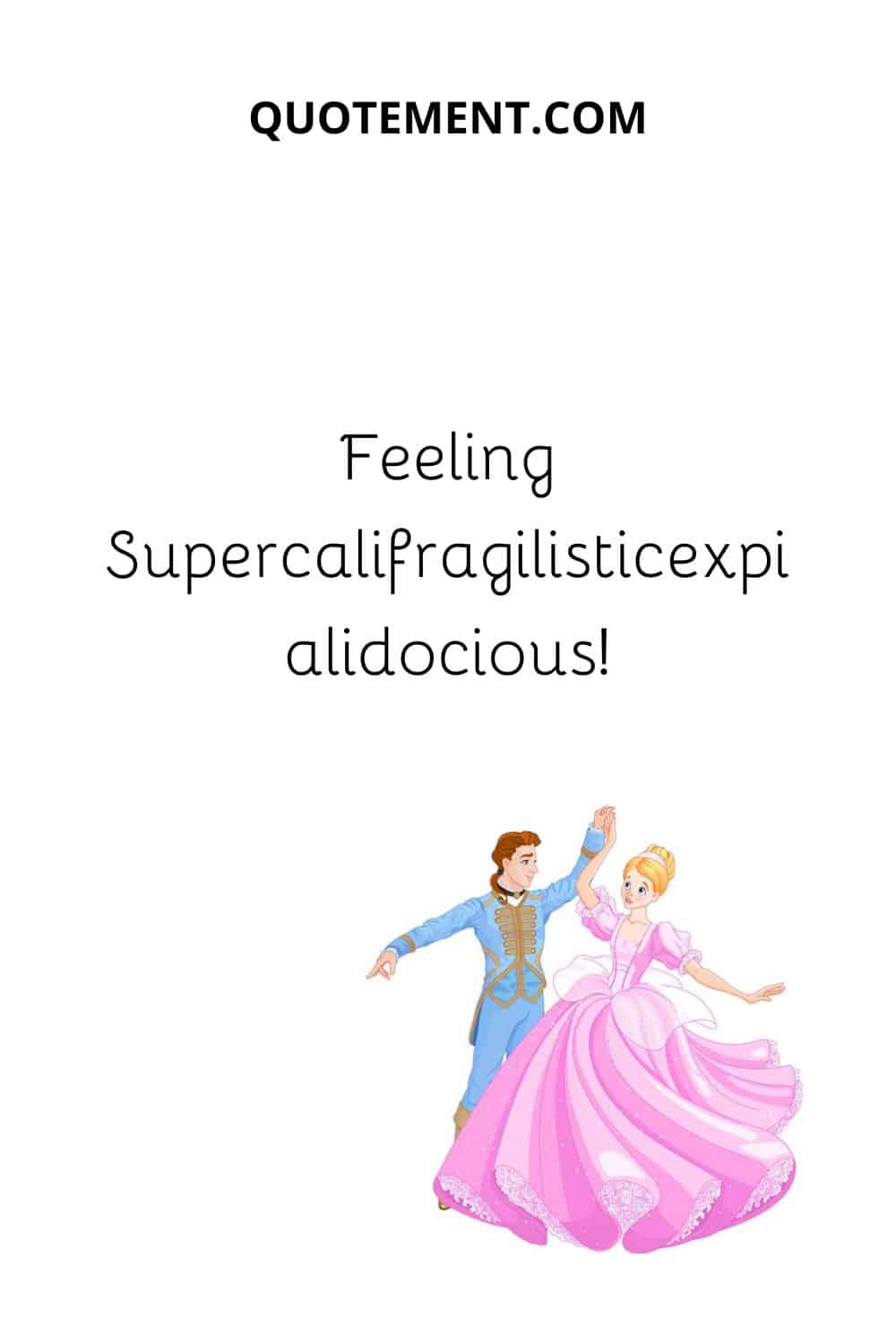 11. I am [insert your name] of Motunui. You will board my boat, sail across the ocean, and restore the heart of Te Fiti.
12. Polka dots never go out of style.
13. Race you down Main Street!
14. Has anyone seen my glass slipper?
15. I like my food Mickey-shaped
16. Hei Hei from Walt Disney World.
17. Some day my [prince/princess] will come.
18. It's a whole different Belle game.
19. "The dreams that you wish will come true." — Cinderella
20. Let's stuff chocolate in our faces!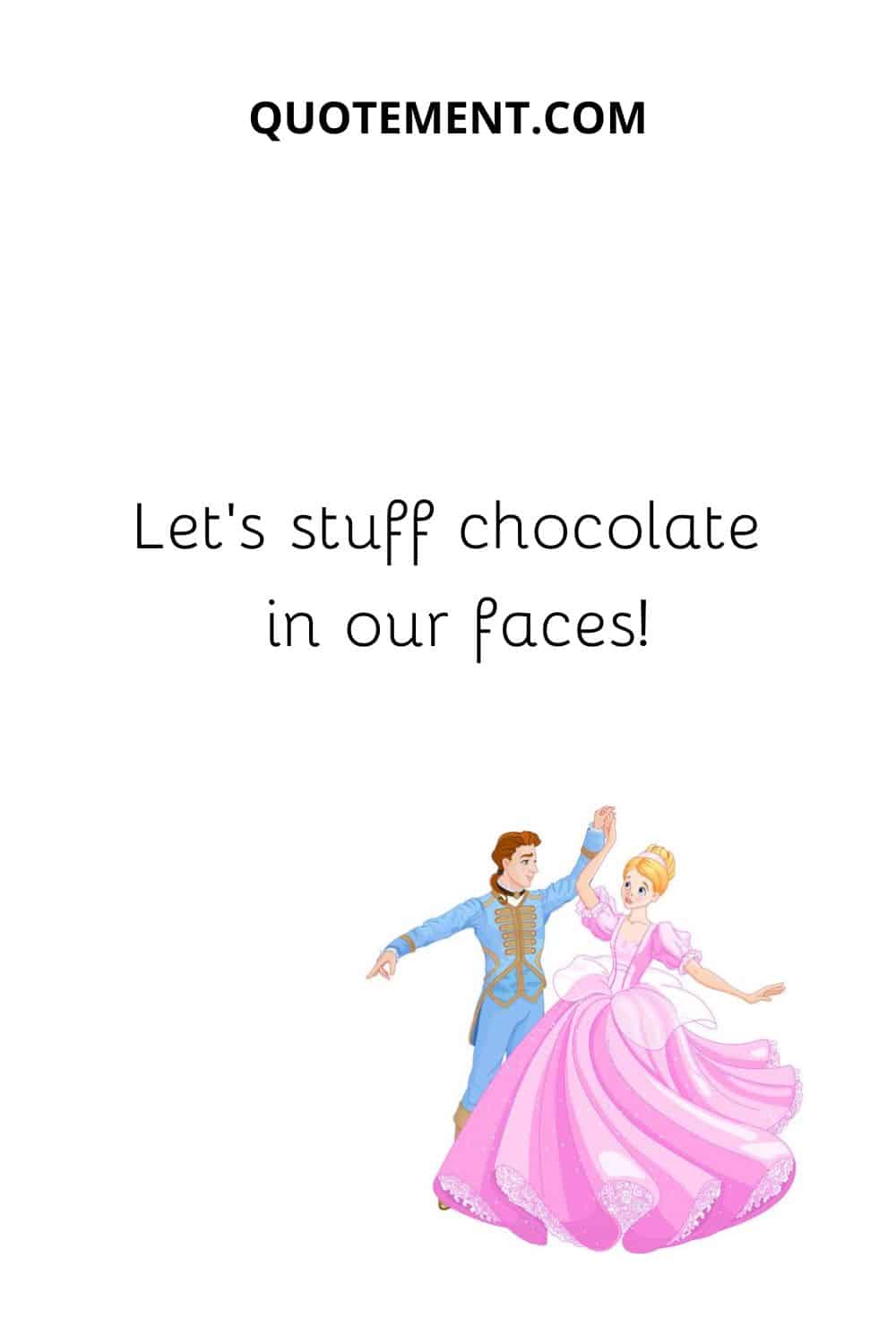 See also: 200 Sweet Chocolate Captions For Instagram You'll Love
Final Thoughts
That was all for today's article. I hope you enjoyed reading it and found it useful.
I'd like to know what your favorite Disney caption is, so feel free to share it with me in the comments section below.
Until next time!