Hey there, gelato lover! Are you looking for some quotes about gelato to post on your social media? If so, you don't want to miss this article!
A scoop (or two) of gelato on a hot sunny day can make you feel like you're in heaven.
Gelato tastes great and looks even better. So, before you take that first bite, snap a cute photo to share on your Insta story or feed. Share some sweet frozen love with the world!
But first, make sure you have the right caption to accompany your photo. Many great gelato photos go unnoticed because they're missing a proper caption.
Instagram rules are simple: first, grab their attention with visuals, then make them intrigued with the words. A double-tap is guaranteed!
I've collected the best quotes about gelato for Instagram, along with some exciting Instagram captions. Let's take a look!
Top 10 Quotes About Gelato
Let's start off with the 10 best quotes about gelato anywhere on the web.
1. "When I'm no longer rapping, I want to open up an ice cream parlor and call myself Scoop Dogg." — Snoop Dogg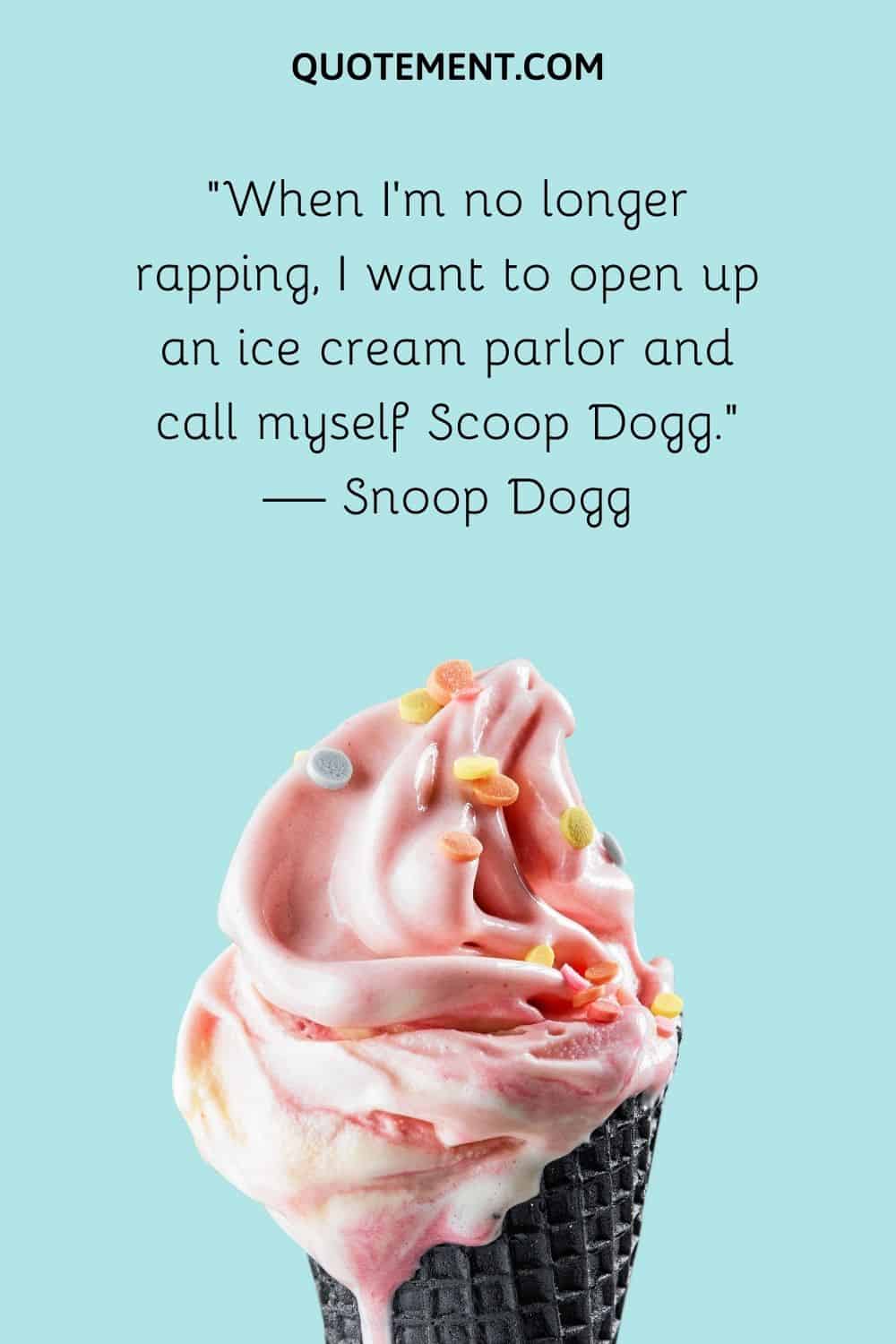 2. "When I have bad days, I just eat lots of chocolate ice cream and dance to the 'Lion King' soundtrack. It's really odd, but it's true." — Blake Lively
3. "My love for ice cream emerged at an early age — and has never left!" — Ginger Rogers
4. "Sometimes all you need is love… Oh, wait! And ice cream, and chocolate to go along with it, as nowadays love is anything but sweet." — Megha Khare
5. "The only thing better than a scoop of ice cream is two scoops of ice cream." — Charles Schulz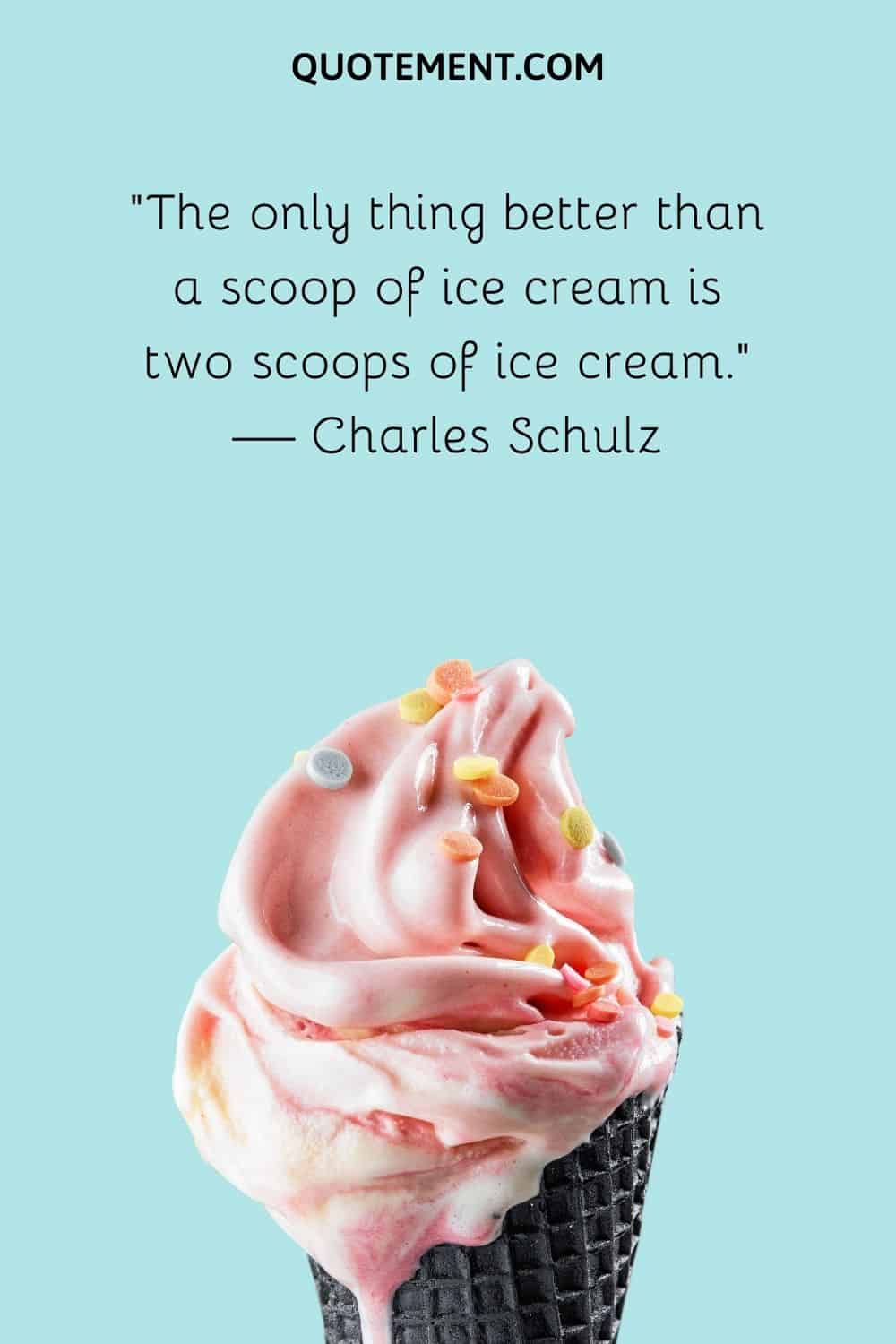 6. "When I was a kid, I used to think, 'Man, if I could ever afford all the ice cream I want to eat, that's as rich as I ever want to be.'" — Jimmy Dean
7. "One of the very nicest things about life is the way we must regularly stop whatever it is we are doing and devote our attention to eating." — Luciano Pavarotti
8. "Eat ice cream. Read books. Be happy." — Carew Papritz
9. "It's harder to hate someone when they like the same ice cream as you." — Shannon Wiersbitzky
10. "So… Italian gelato. Take the deliciousness of a regular ice-cream cone, times it by a million, then sprinkle it with crushed-up unicorn horns." ― Jenna Evans Welch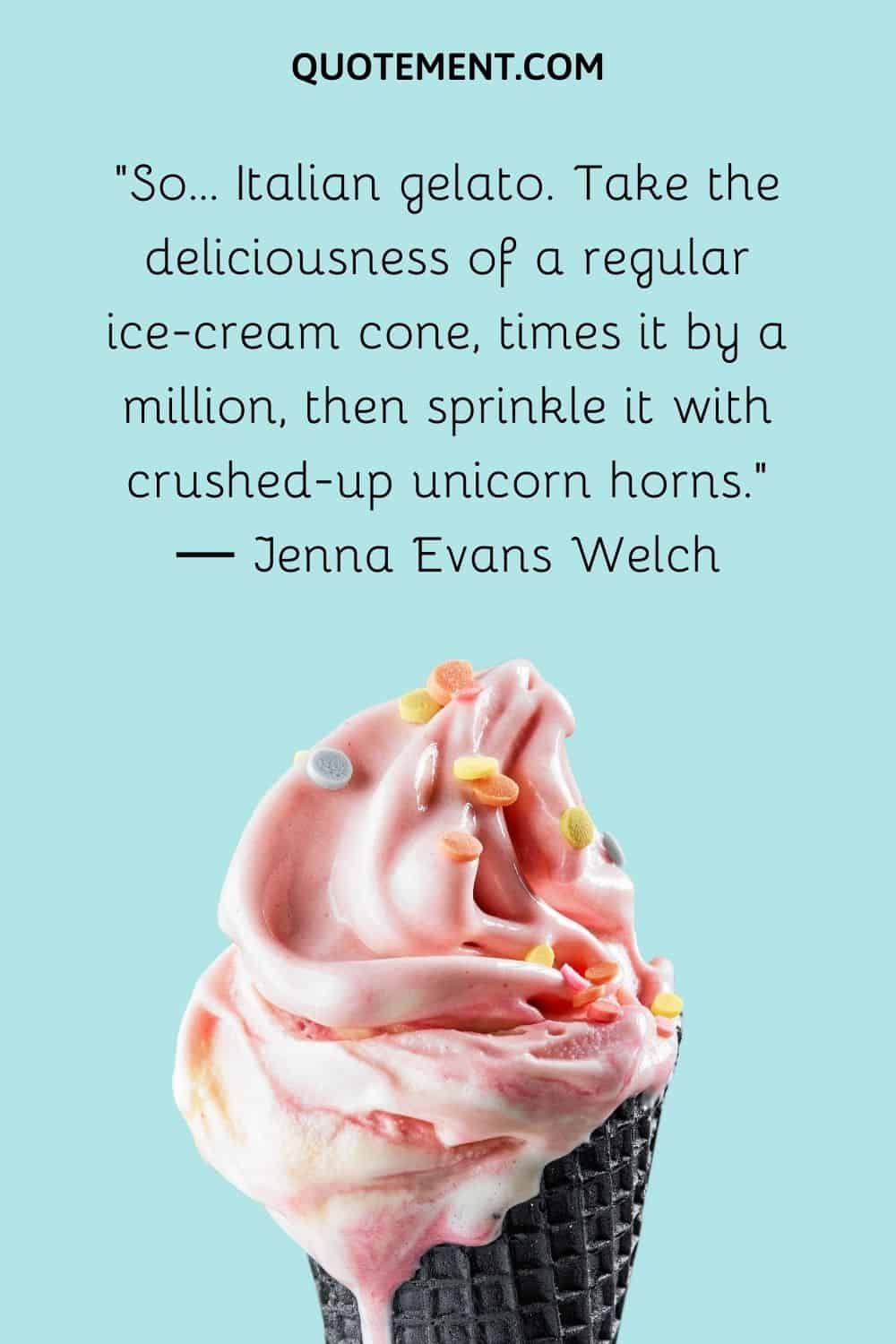 Funny Quotes About Gelato
You'll make no mistake if you choose one of these funny quotes about gelato as your ice cream photo caption. Don't take my word for it, try it for yourself!
1. "My brain said salad but my stomach auto-corrects it to ice cream."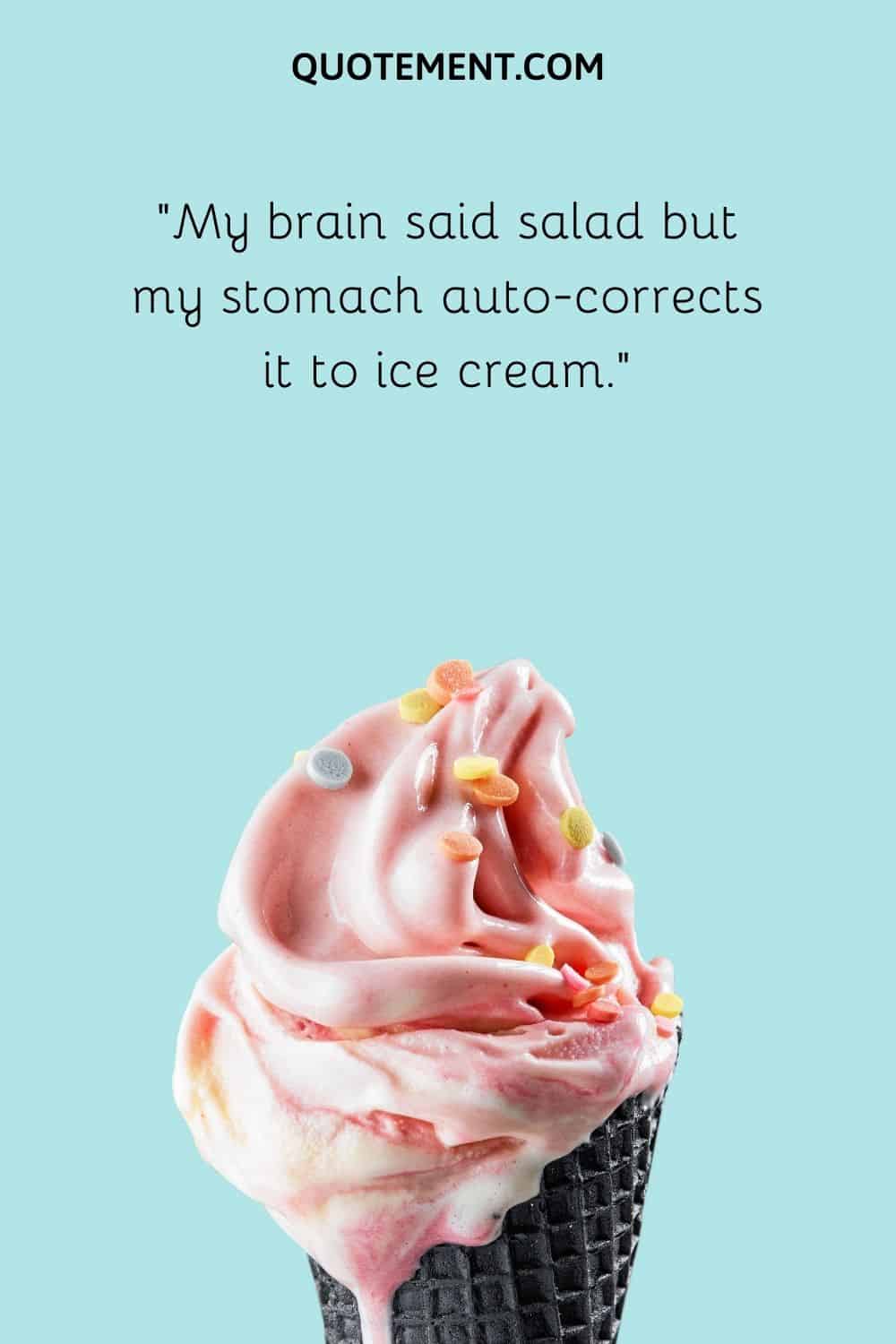 2. "Did you hear they passed a law banning ice cream? Don't worry, it's un-cone-stitutional!"
3. "The difference between I need and I want. I want abs, I need ice cream."
4. "If you were ice cream, you'd be my favorite flavor."
5. "Teach kids about taxes by eating approximately 30 percent of their ice cream."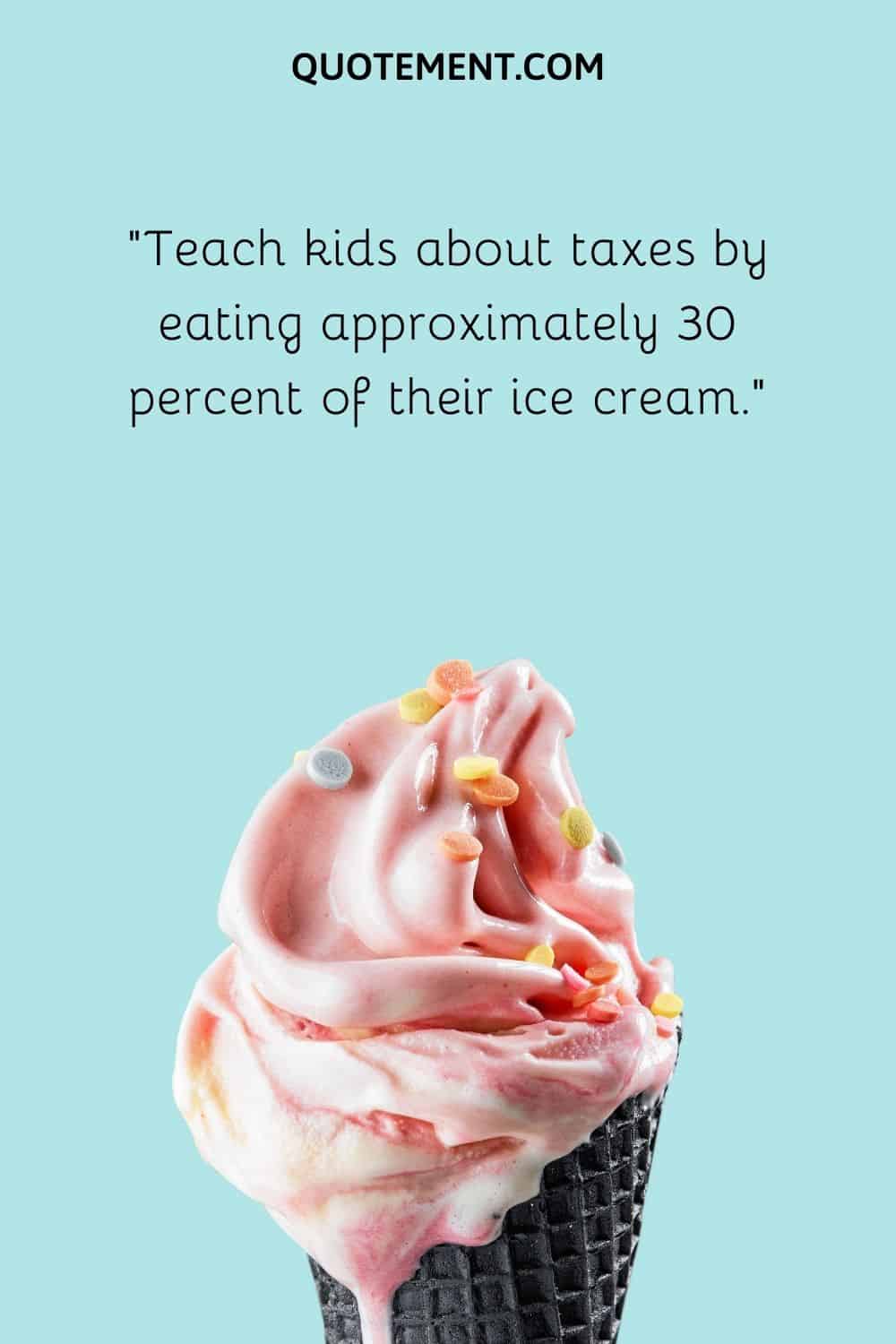 6. "If you want to make everyone happy, sell ice cream."
7. "You miss one hundred percent of the ice cream you don't scoop."
8. "If you like it, you lick it. Even children know that."
9. "You and me? We're mint to be!"
10. "My head says go to the gym, my heart says eat more ice cream."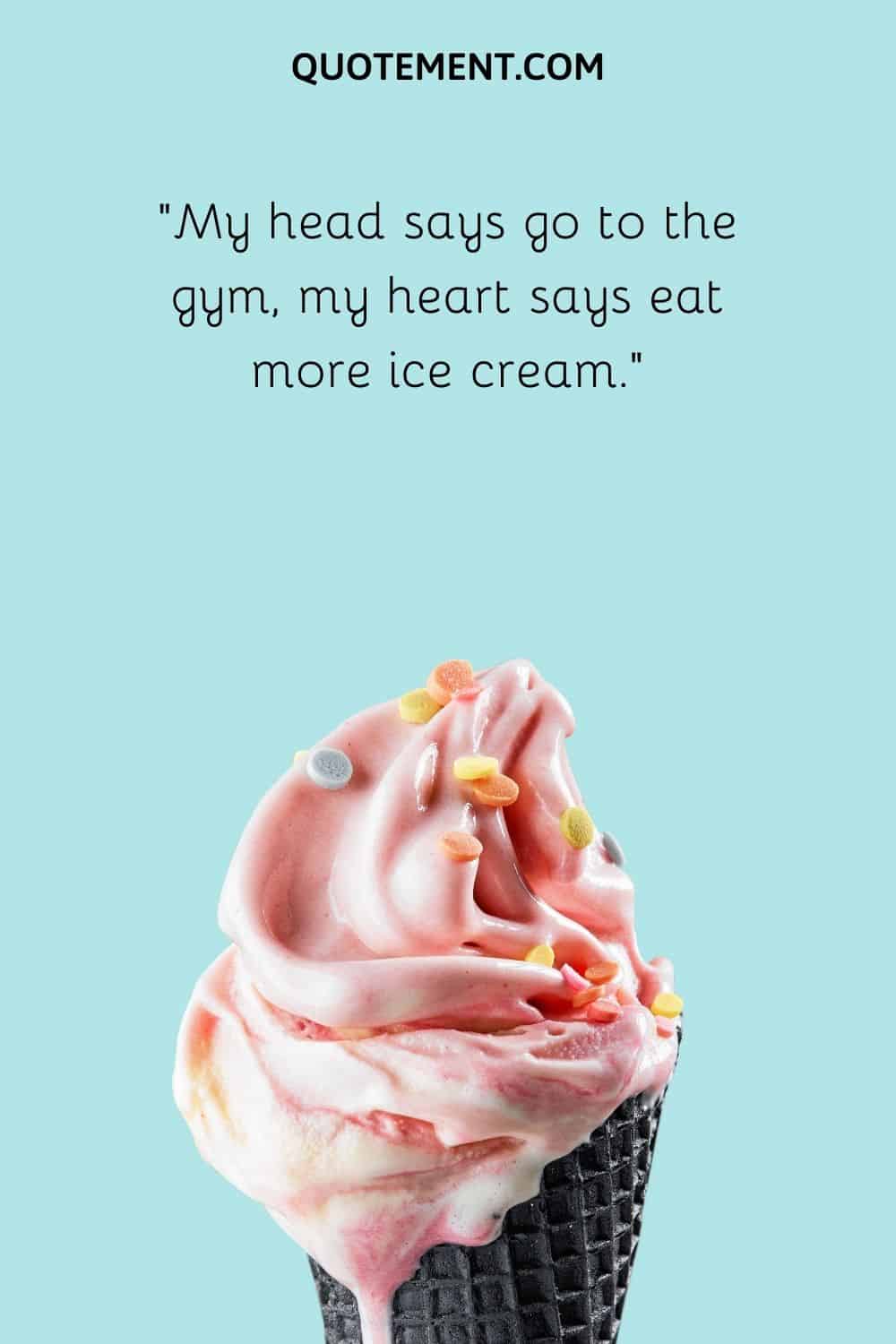 11. "I'm running out of ice cream puns…it's like my brain is frozen."
12. "Living independently means you can fart in bed and eat ice cream anytime you want."
13. "I'm into fitness. Fiteness this whole ice cream into my mouth."
14. "There's too much hot fudge on my sundae, said no one ever."
15. "I make gelato disappear, what's your superpower?"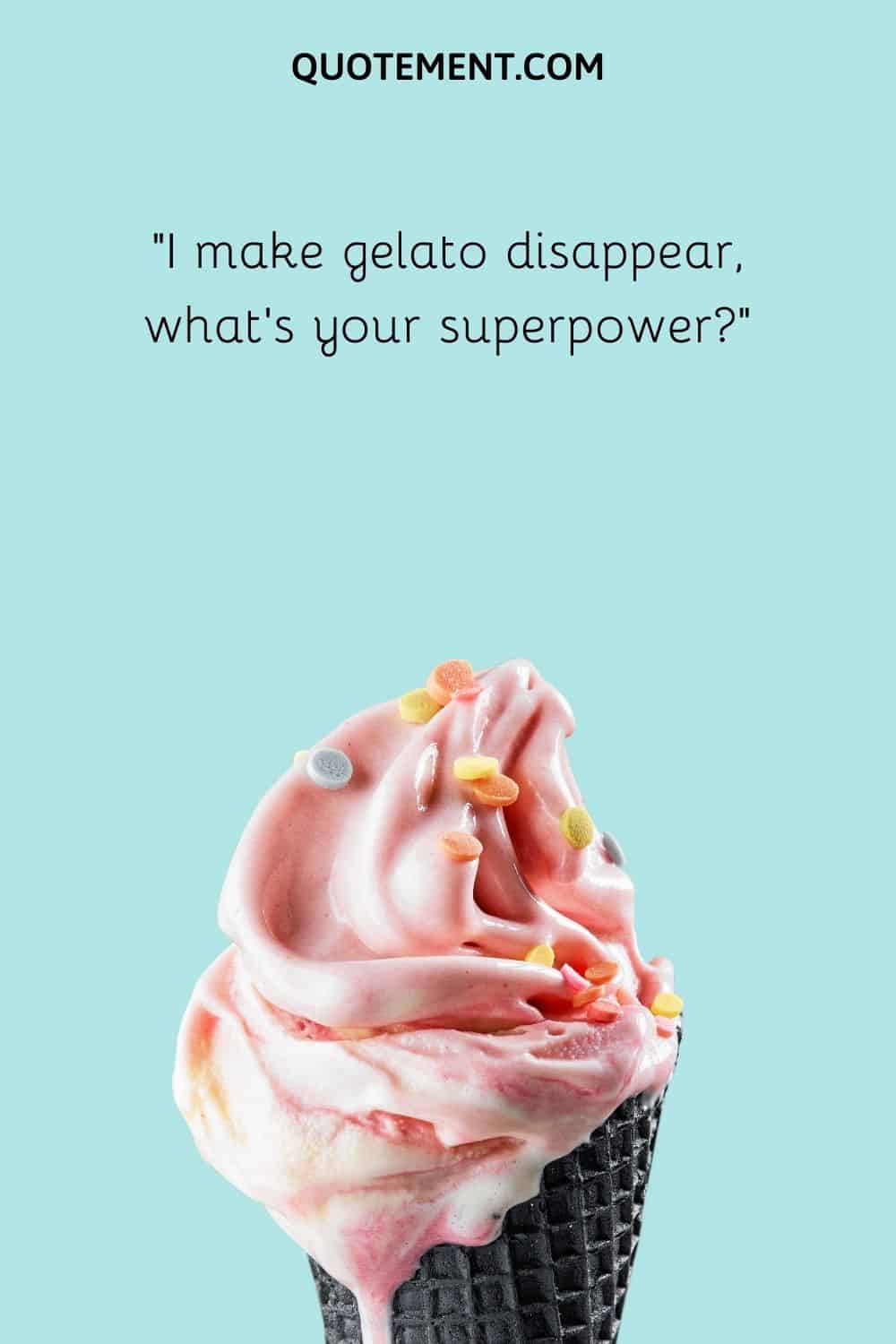 16. "If you can't remember my name, just say ice cream and I'll turn around."
17. "Isn't it fascinating how we devote so much attention to ice cream while we're eating it?"
18. "You cone do it!"
19. "If you like your ice cream soft and summery, your ice cream will love you back."
20. "A balanced diet is an ice cream in each hand."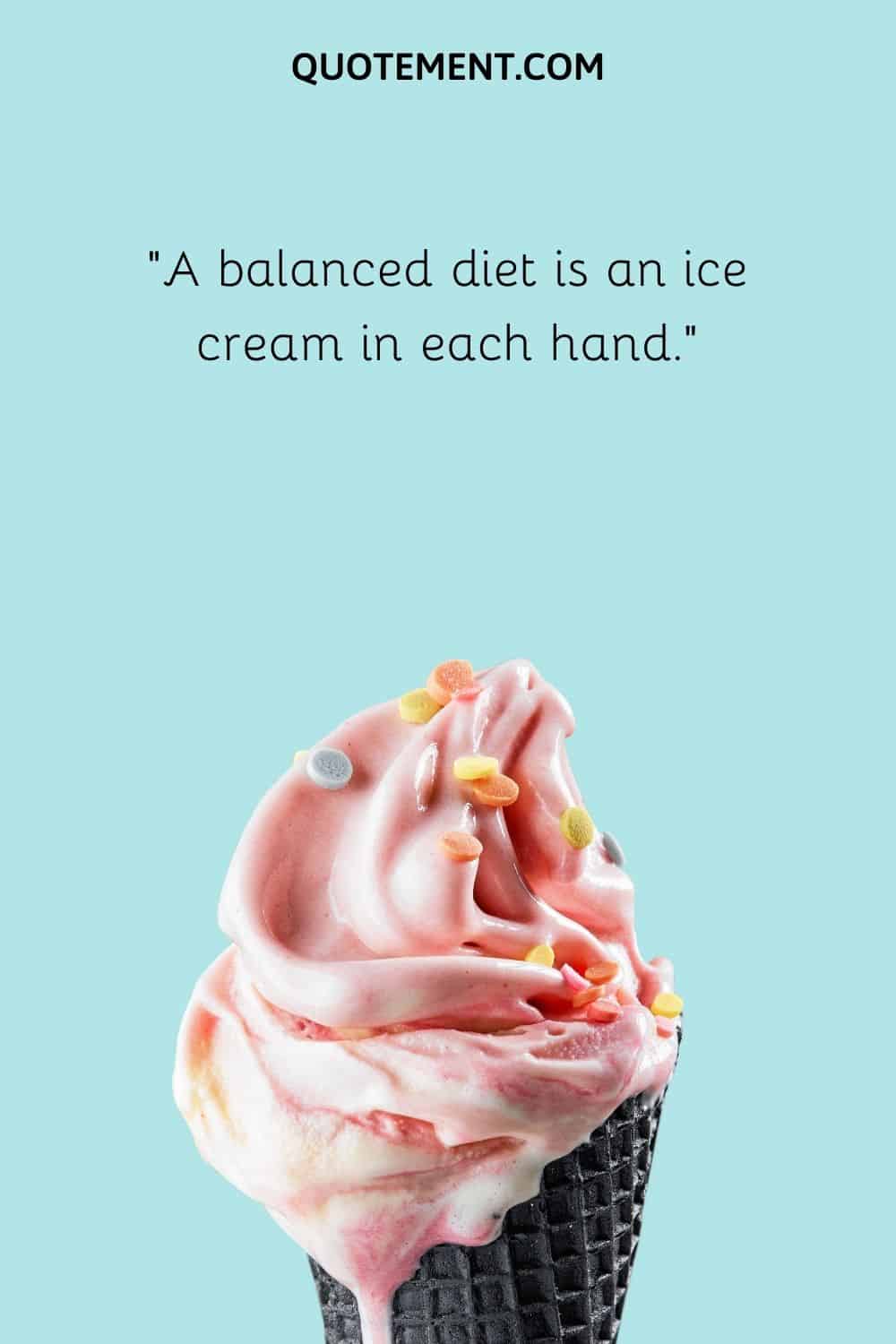 21. "If ice cream is the answer, then who cares what the question is!"
22. "My blood type is ice cream."
23. "My stomach has a separate ice cream compartment."
24. "Let's put my licking skills to the test."
25. "I'm just asking for salad to be ice cream."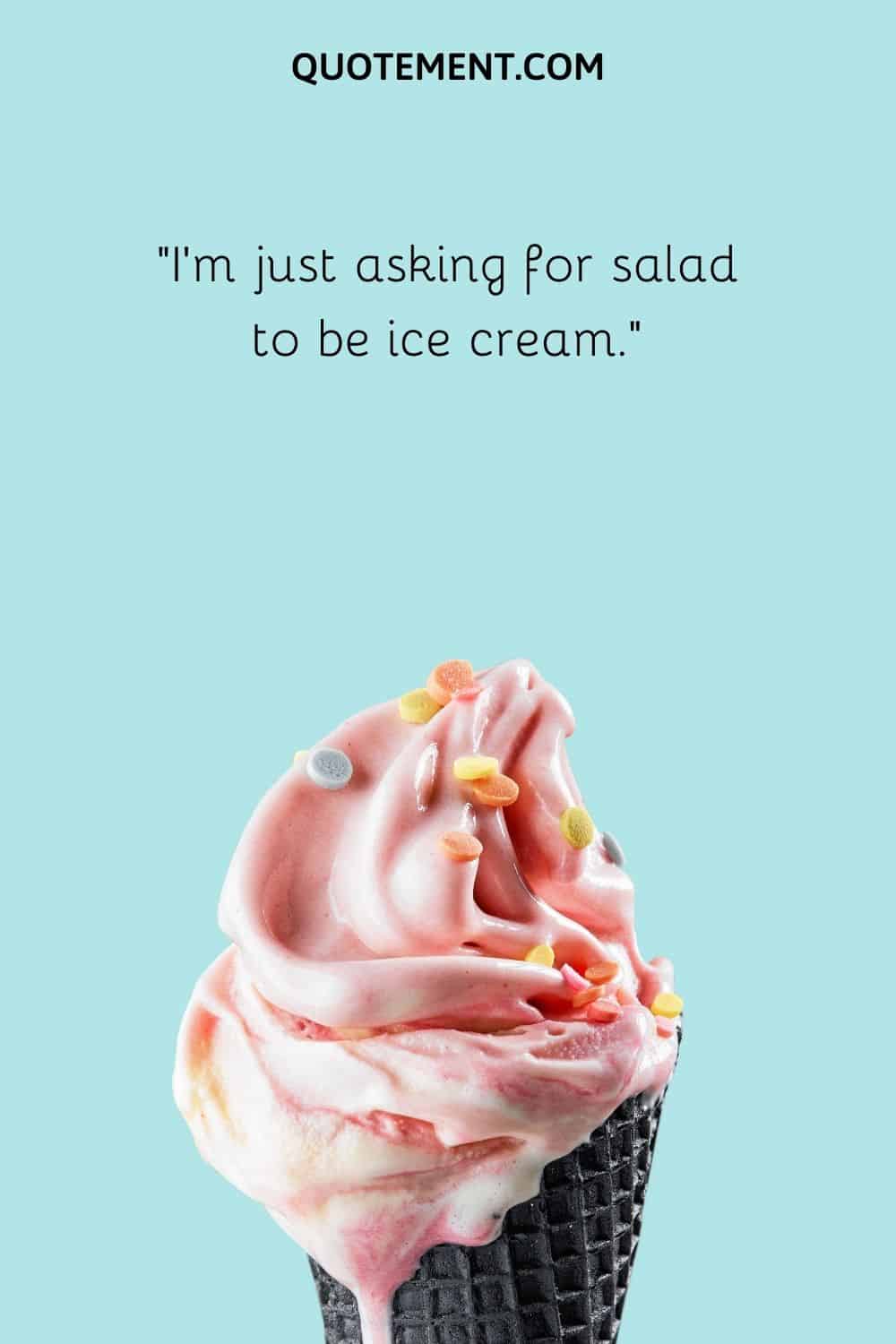 26. "Breakup: an excuse to eat ice cream no matter the weather."
27. "Hey ice cream, wanna spoon?"
28. "A little lick of frozen cream every now and then, goes a long, long way."
29. "If we are what we eat, well, I am awfully sweet."
30. "It's rude to say "no" to ice cream. Only say that to drugs."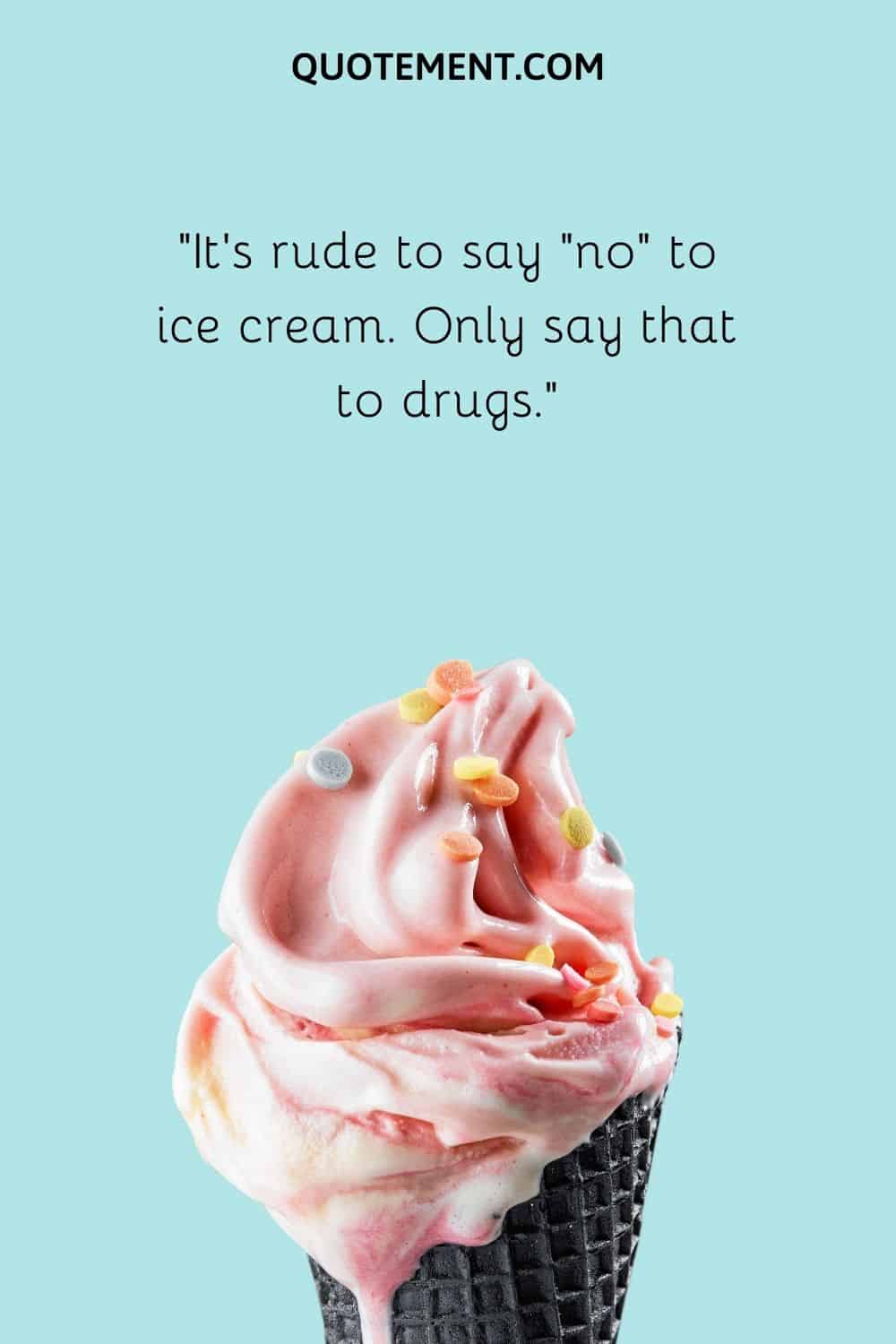 31. "I got out of the ice cream business. I just didn't like working on sundaes."
32. "A strong believer in ice cream for breakfast."
33. "Emotionally attached to ice cream."
34. "If somebody tells you that you're eating too much ice cream, stop talking to them. You don't need that kind of negativity in your life."
35. "Just because I decided to share my life with you doesn't mean I'll share my ice cream."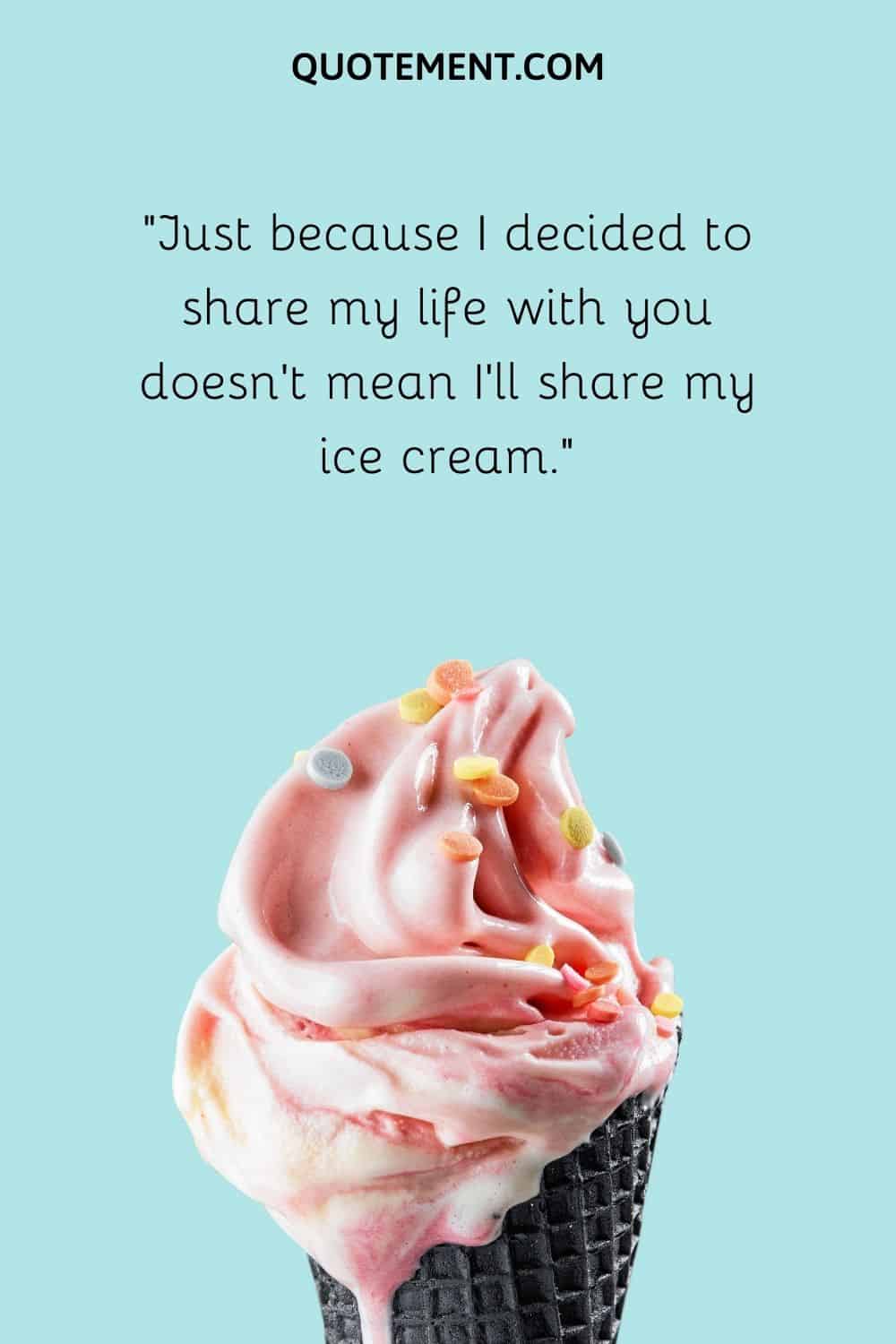 Gelato Quotes For Instagram
Here are some more amazing quotes about gelato you'll love.
1. "The language of love is gelato."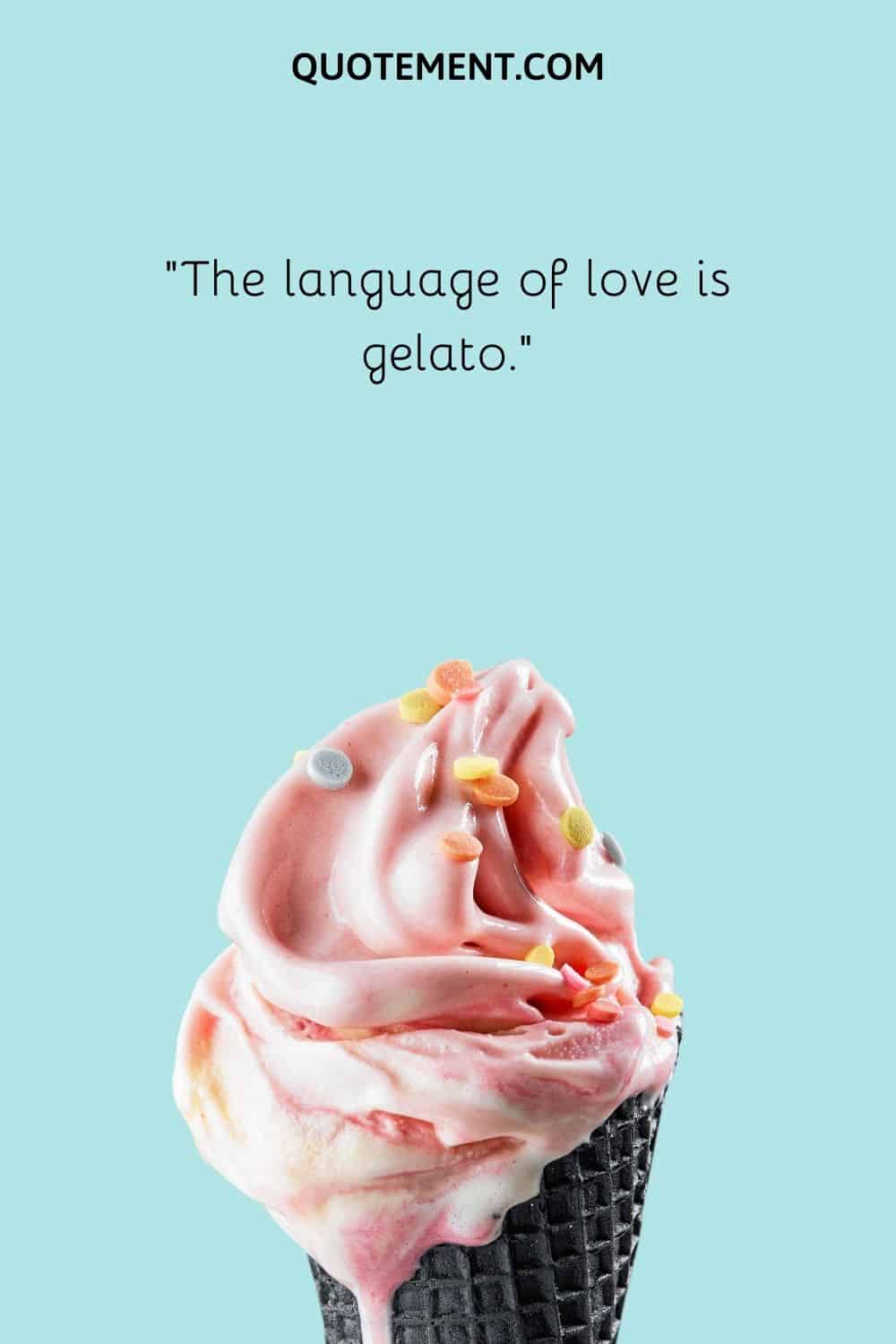 2. "Don't let your ice cream melt while you are counting someone else's sprinkles."
3. "A frozen treat is always delicious. Whether it's a spoonful of gelato, a scoop of ice cream, or a big bowl of ice cream, we know that all can enjoy it."
4. "Life is short. Eat dessert first." — Anja Linsell
5. "Don't bother counting other people's sprinkles. Focus on your own happiness before it melts away."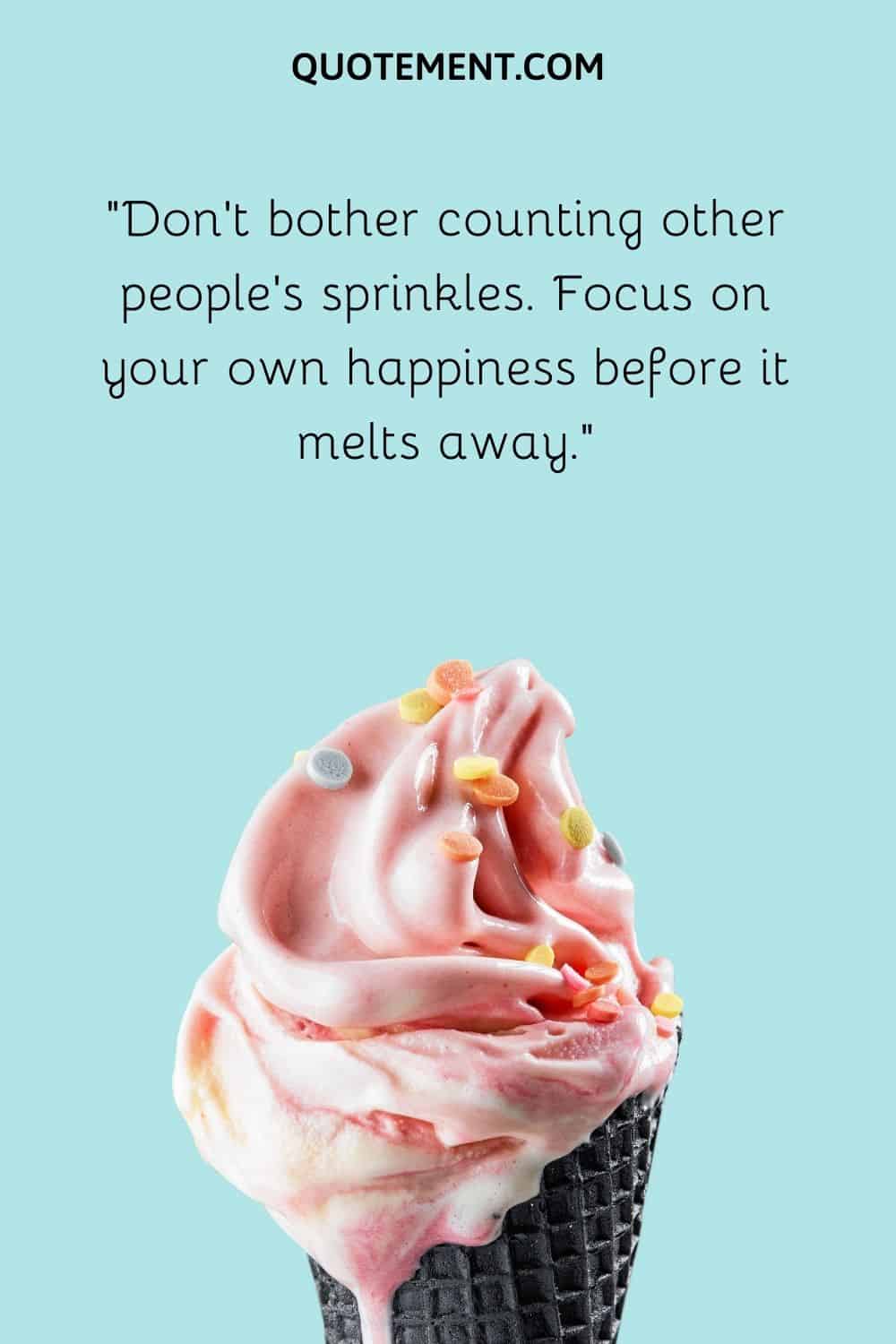 6. "First love is like gelato. They may come in many different flavors, but there's only one main classic and special."
7. "If pink is the new red lipstick, then gelato is the new ice cream cone. I was kidding! Gelato's still better than ice cream."
8. "If there is a moment in my life that I would like to experience all over again, it would be the very first time I tasted ice cream."
9. "If life is a bowl of dark ice cream, the small moments we enjoy are the colorful sprinkles all over it."
10. "Condense happiness and you get ice cream!"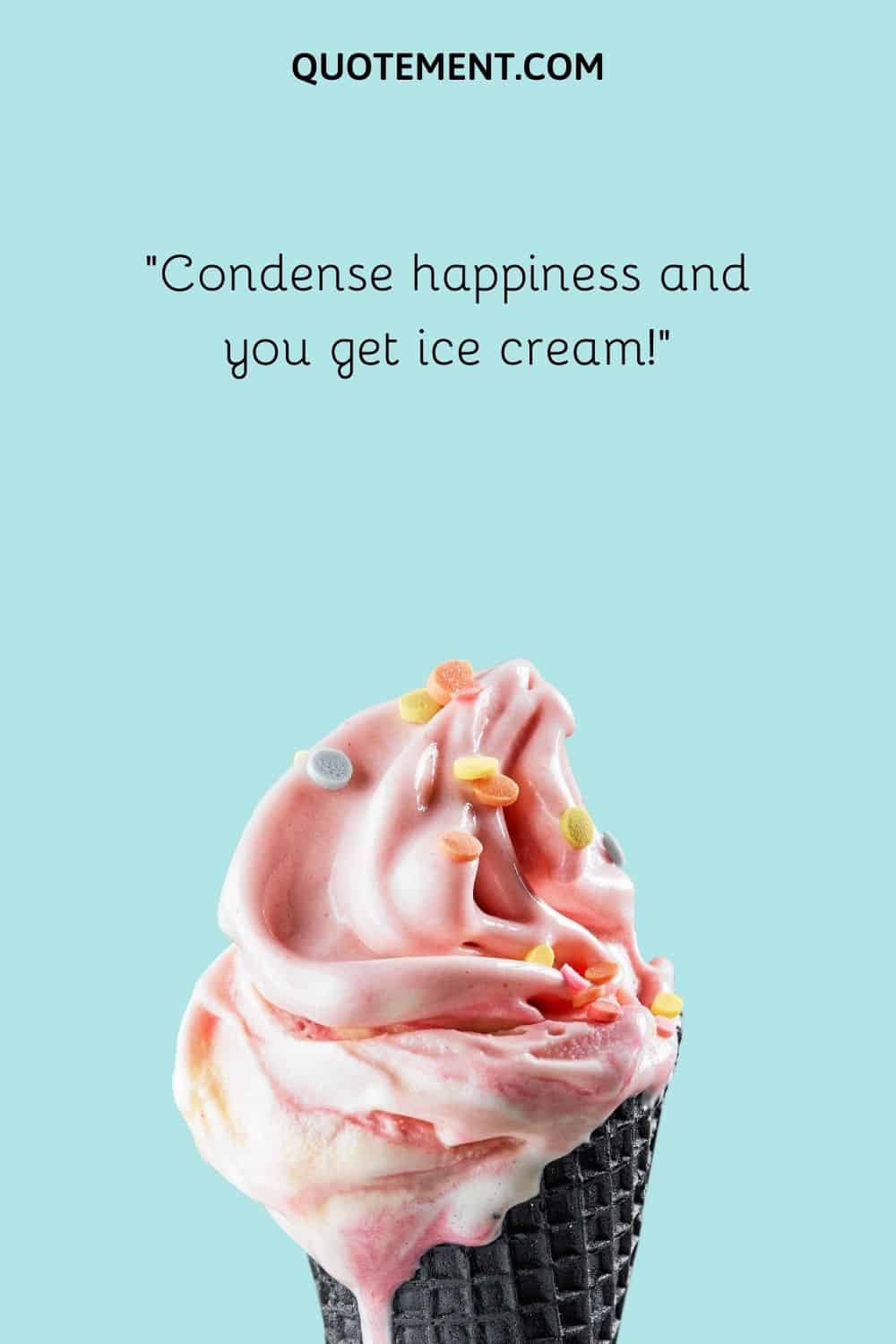 11. "Studies show that four out five people like ice cream. The fifth person never admits it."
12. "Friends, family, gelato. Life doesn't get better than this."
13. "You're not just making ice cream. You're crafting an experience."
14. "Be a rainbow flavor in a sea of vanilla ice cream."
15. "I'll stop the world and melt with you."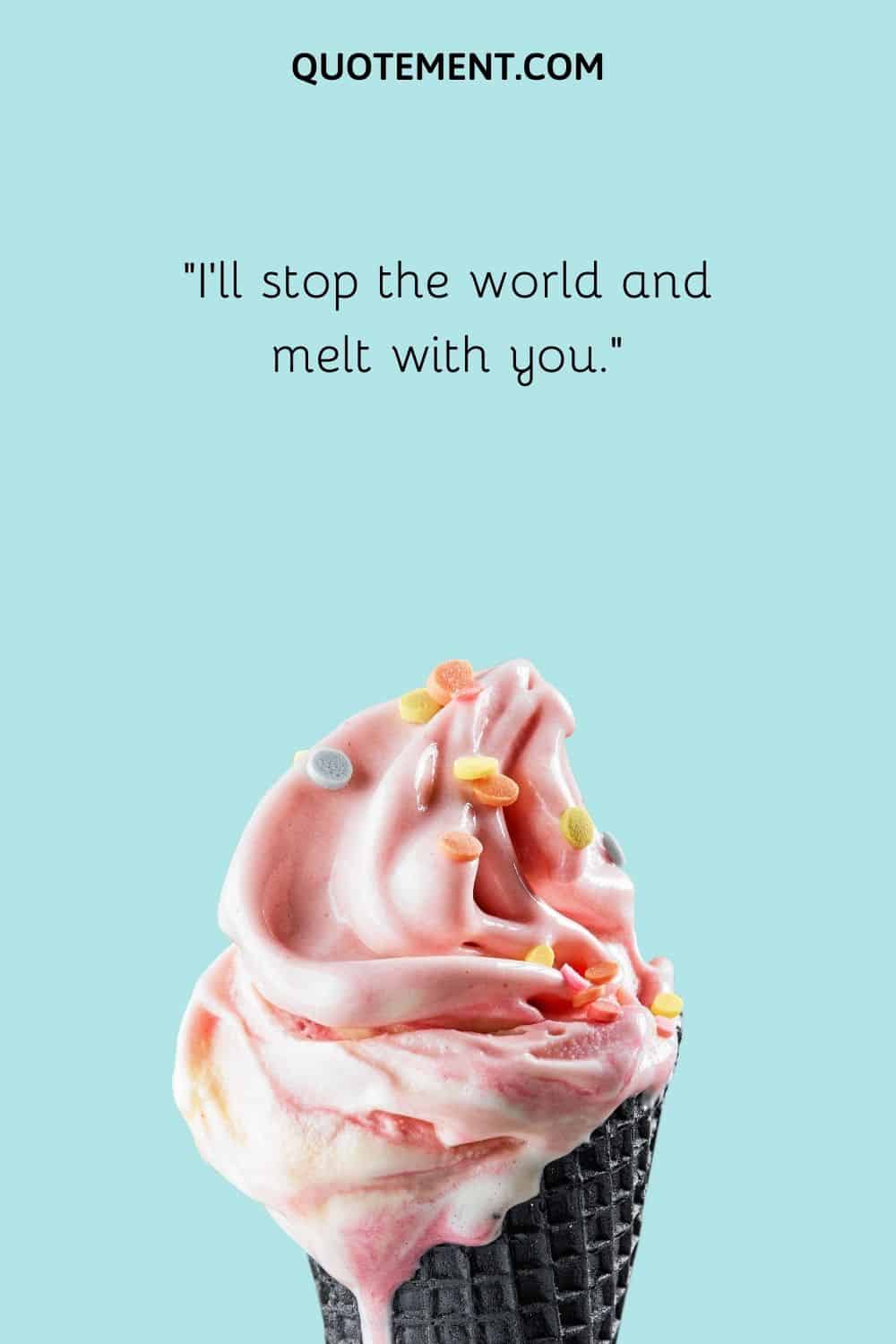 16. "Life is a lot like ice cream. You have to relish it before it melts."
17. "Life is like a big bowl of gelato: The more colors and flavors you taste, the more you want."
18. "No matter what age you are, the mere thought of having a scoop of ice cream fall to the ground causes extreme disappointment and despair."
19. "Scoop yourself some gelato and put your phone down for a moment. You deserve it!"
20. "Money can't buy happiness, but it can buy ice cream, and that's kind of the same thing."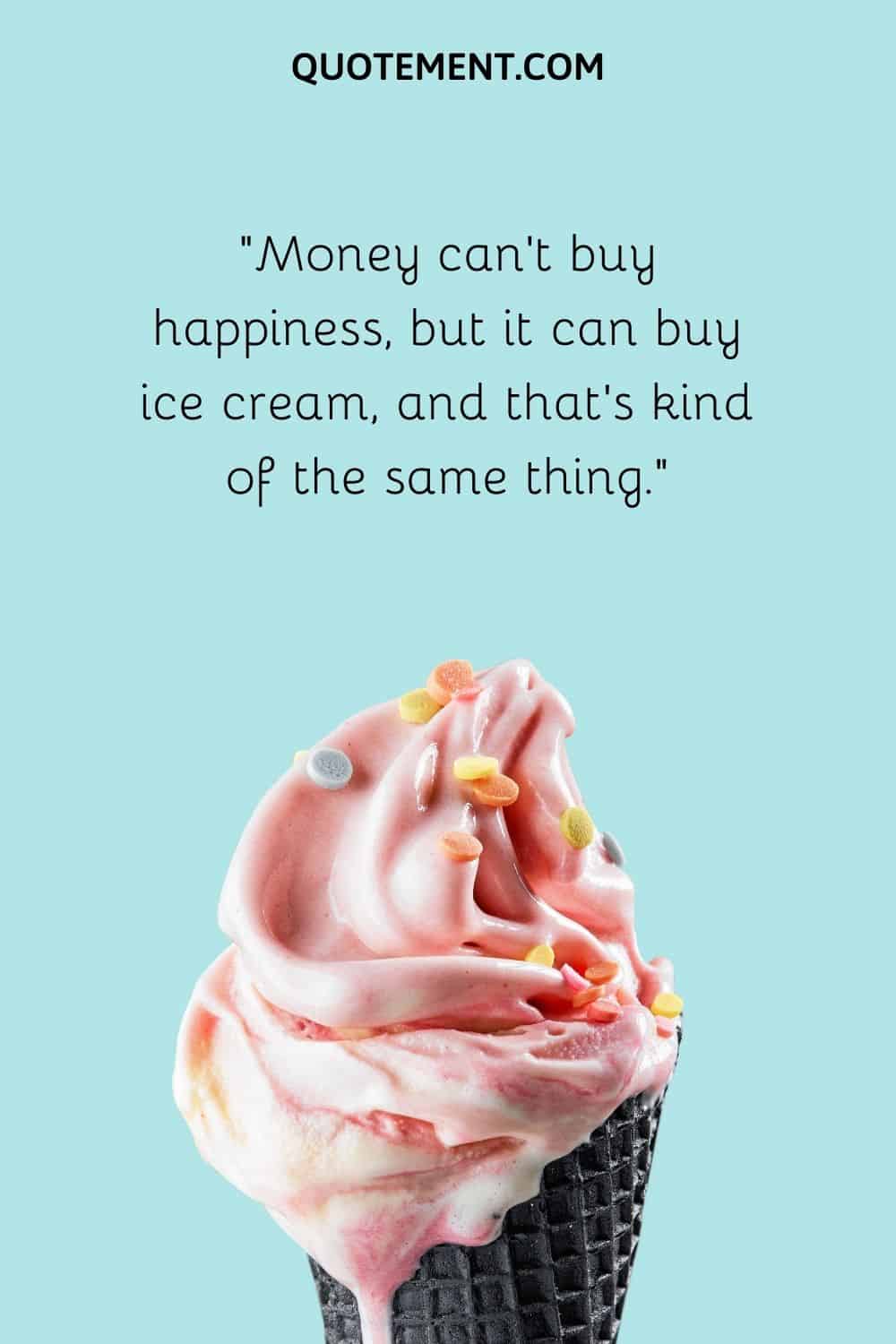 21. "Life is too short not to get the double scoop."
22. "The best things in life are simple. And if you're feeling indecisive right now, let me make things easy for you. Get real gelato; either the fior de latte (heaven) or the dark chocolate (pure bliss)."
23. "The only reason I don't want to go to hell is because there's probably no ice cream there."
24. "I live my life for the things I love, and love the things I live for." — Audrey Hepburn
25. "Shoes are like ice cream, there's always room for more."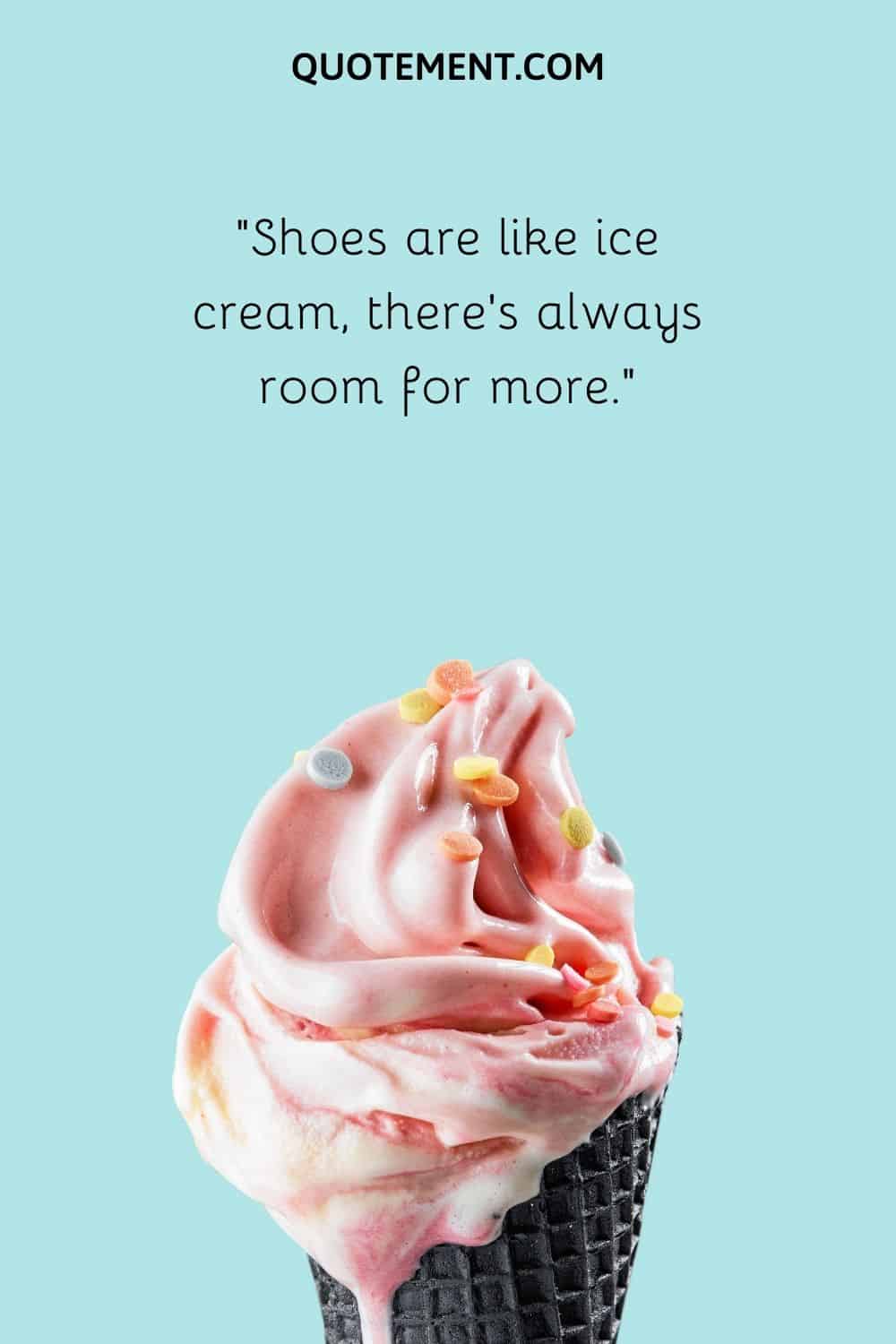 26. "Why pay for therapy when you can just have gelato for a tiny fraction of the cost?"
27. "An ice cream cone: a death ray for self-esteem and a double scoop of irrational optimism."
28. "A gelato you can't live without is like a sunrise on steroids. Will, it still be vanilla, chocolate, strawberry, pistachio, etc. Right now, I'm craving something sweet with a caramelized banana flavor."
29. "You'll know the serving size of your ice cream when you hear your spoon hit the bottom of the container."
30. "Ice cream is a currency of happiness and delight."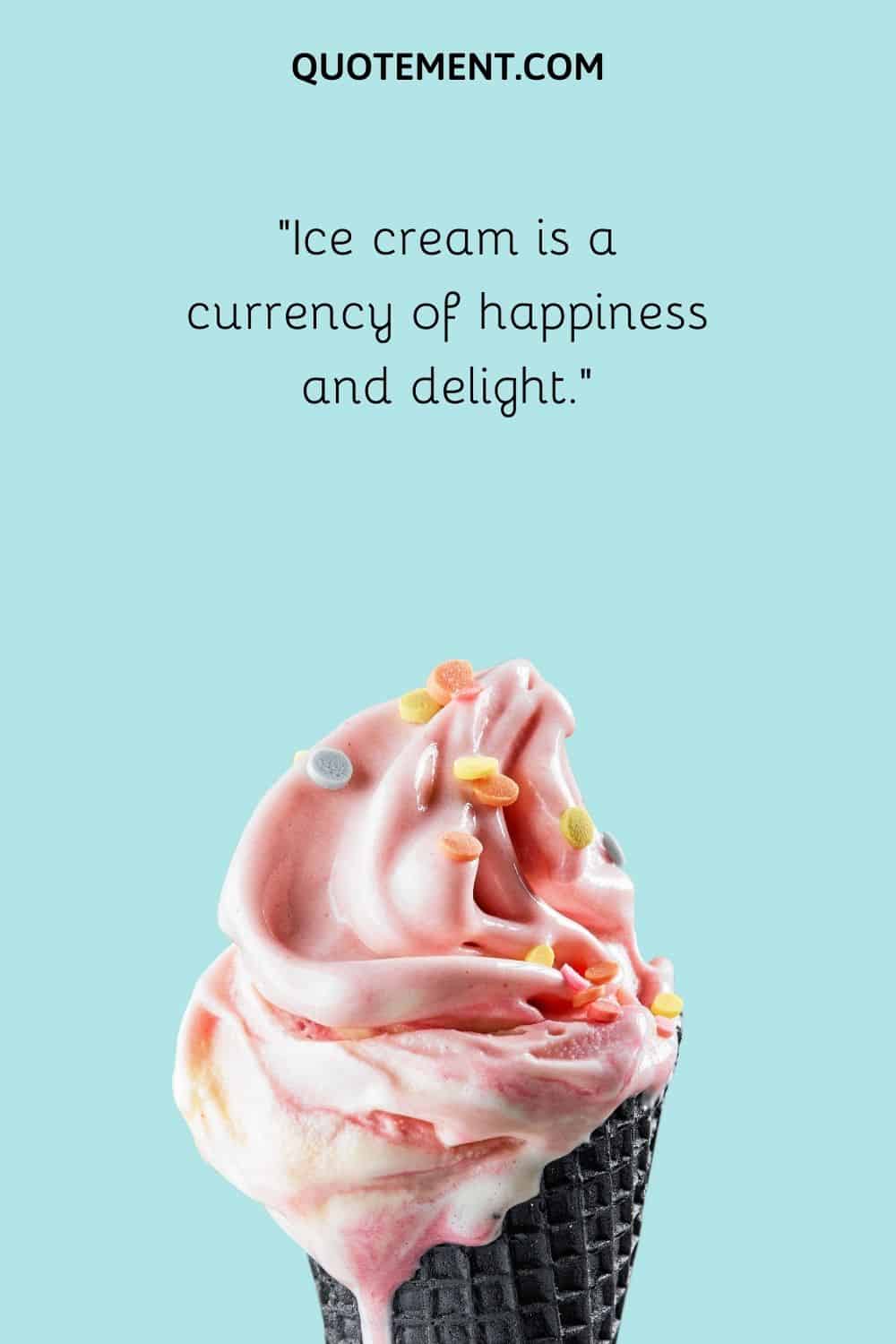 31. "Age does not diminish the extreme disappointment of having a scoop of ice cream fall from the cone."
32. "Eat dessert first. Spread joy through the world."
33. "You're not just getting great gelato, you're getting the experience of the Italian lifestyle. Gelato speaks to your senses. Its colors, its aroma, its taste bring people together."
34. "I doubt whether the world holds for anyone a more soul-stirring surprise than the first adventure with ice cream."
35. "Boredom is nature's way of telling you that it's time to do something fun like having a bowl of gelato."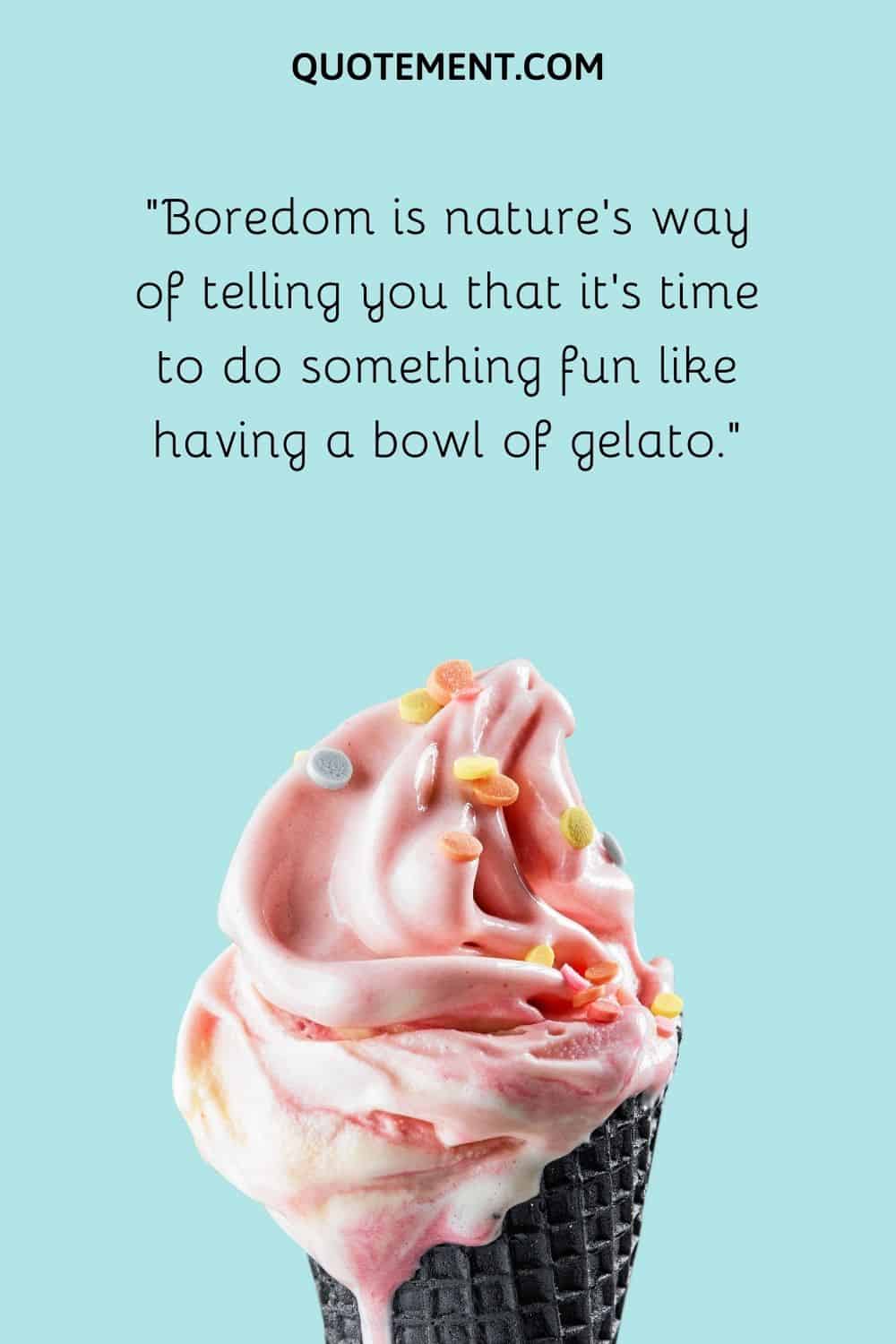 36. "Gelato's not just for dessert… Sometimes it's for breakfast!"
37. "Never ask a woman who is eating ice cream straight from the carton how she's doing."
38. "You know it's a cool day when you have some ice cream."
39. "Life isn't a bowl of cherries…it's a scoop of gelato."
40. "Ice cream is cheaper than therapy."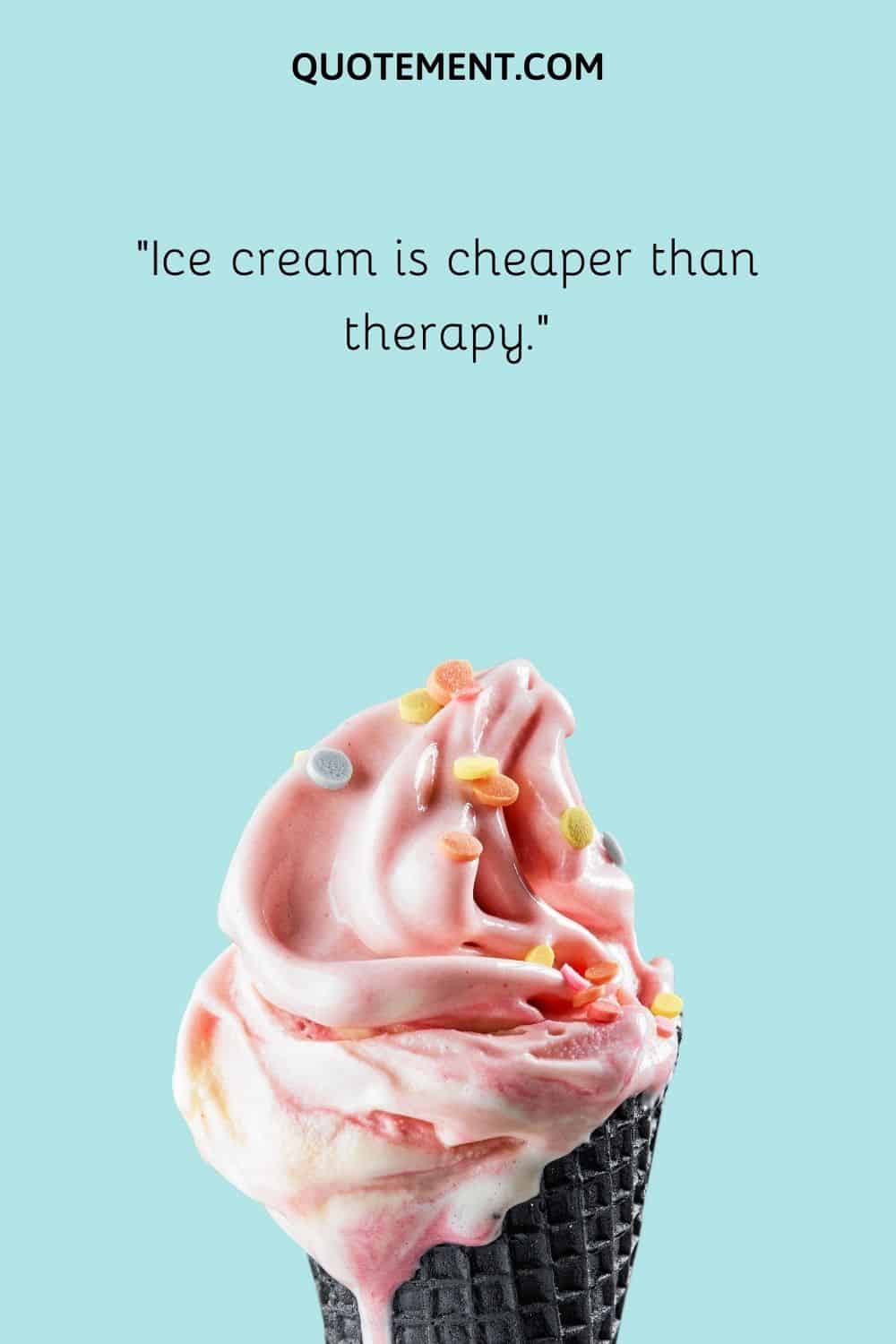 41. "The magic of gelato is that there are an infinite number of ways to be your favorite flavor."
42. "Any time is ice cream time."
43. "Life is short, so make it sweet."
44. "My advice to you is not to inquire why or why not, but to enjoy the ice cream on your plate while you can."
45. "I've got the inside scoop on the best ice cream flavors."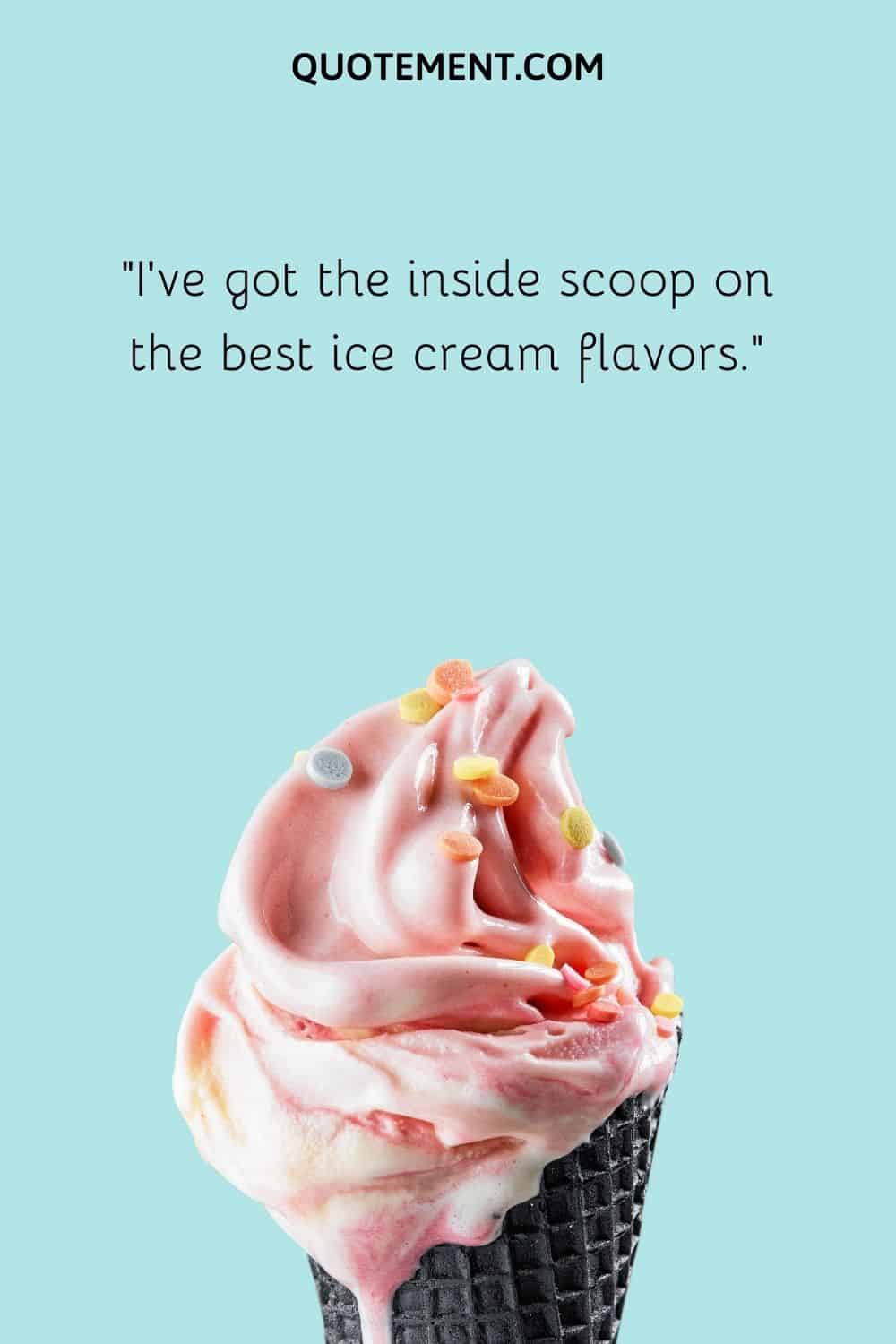 46. "Be bold. Eat ice cream in the winter."
47. "I believe in ice cream because it always seems like it also believes in me!"
48. "Everything was chocolate ice cream and kisses and wind." — Francesca Lia Block
49. "Ice cream solves everything."
50. "It's always ice cream weather."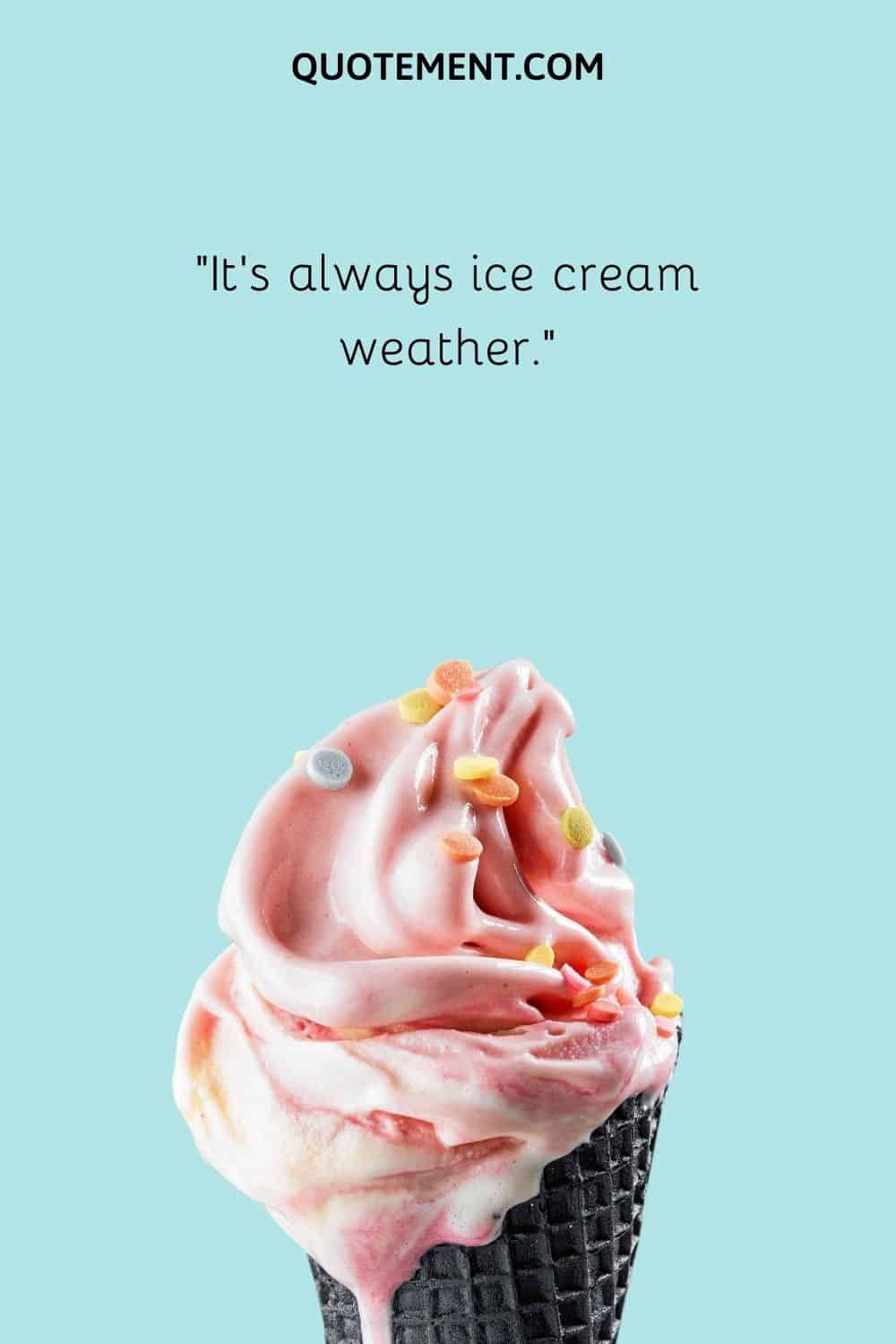 51. "Who needs wine, when you can have gelato?!"
52. "Size doesn't matter. It's all about the flavor."
53. "Nothing is sweeter than a pinch of pepperoni with a scoop of gelato."
54. "Even if ice cream is cold, it has the power to melt away a frozen heart."
55. "Gelato on its own is so classy and sweet, but with little twists of fruits, nuts or chocolate all paired together, it's even better."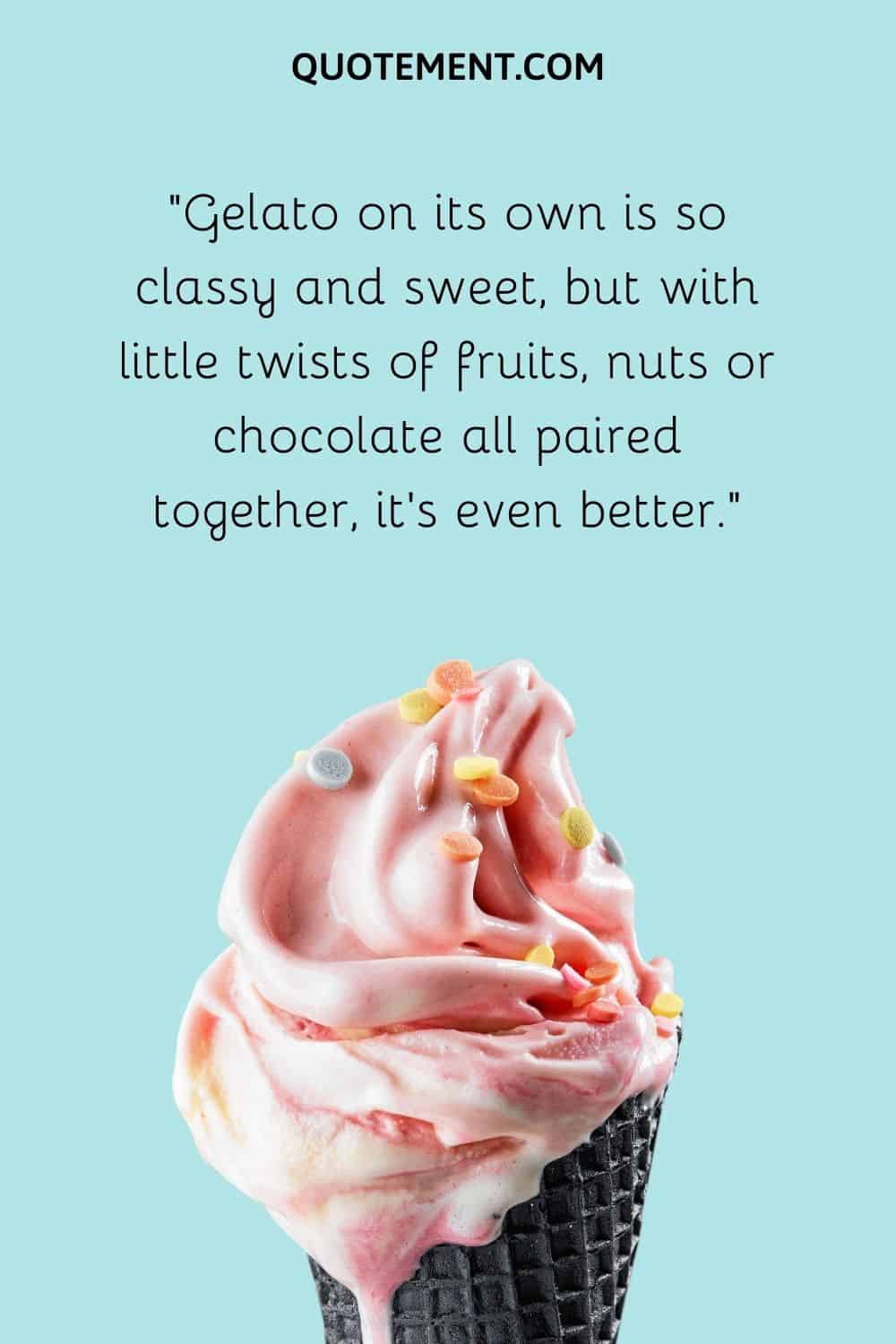 Ice Cream Quotes (Gelato Quotes)
1. "Gelato is a way of telling someone how much you care without using words."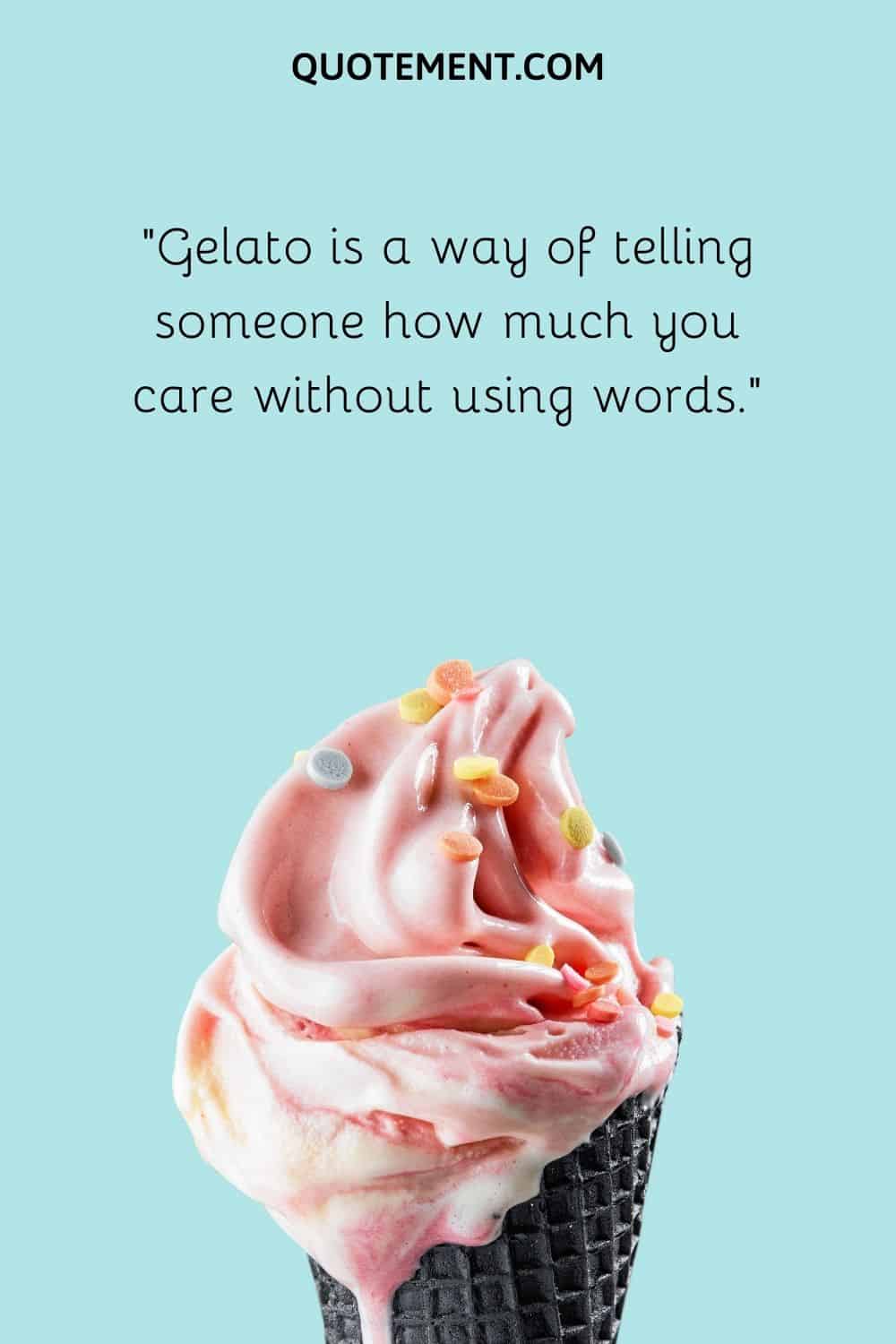 2. "When you feel as bright as a rainbow, as warm as a smile, as cool as a breeze, as sweet as the first bite of gelato on a hot summer day."
3. "Even if ice cream is cold, it has the power to melt away a frozen heart."
4. "You know life is good when there's plenty of gelato by your side."
5. "Made with the finest ingredients and a little love, this gelato will transport you to Italy."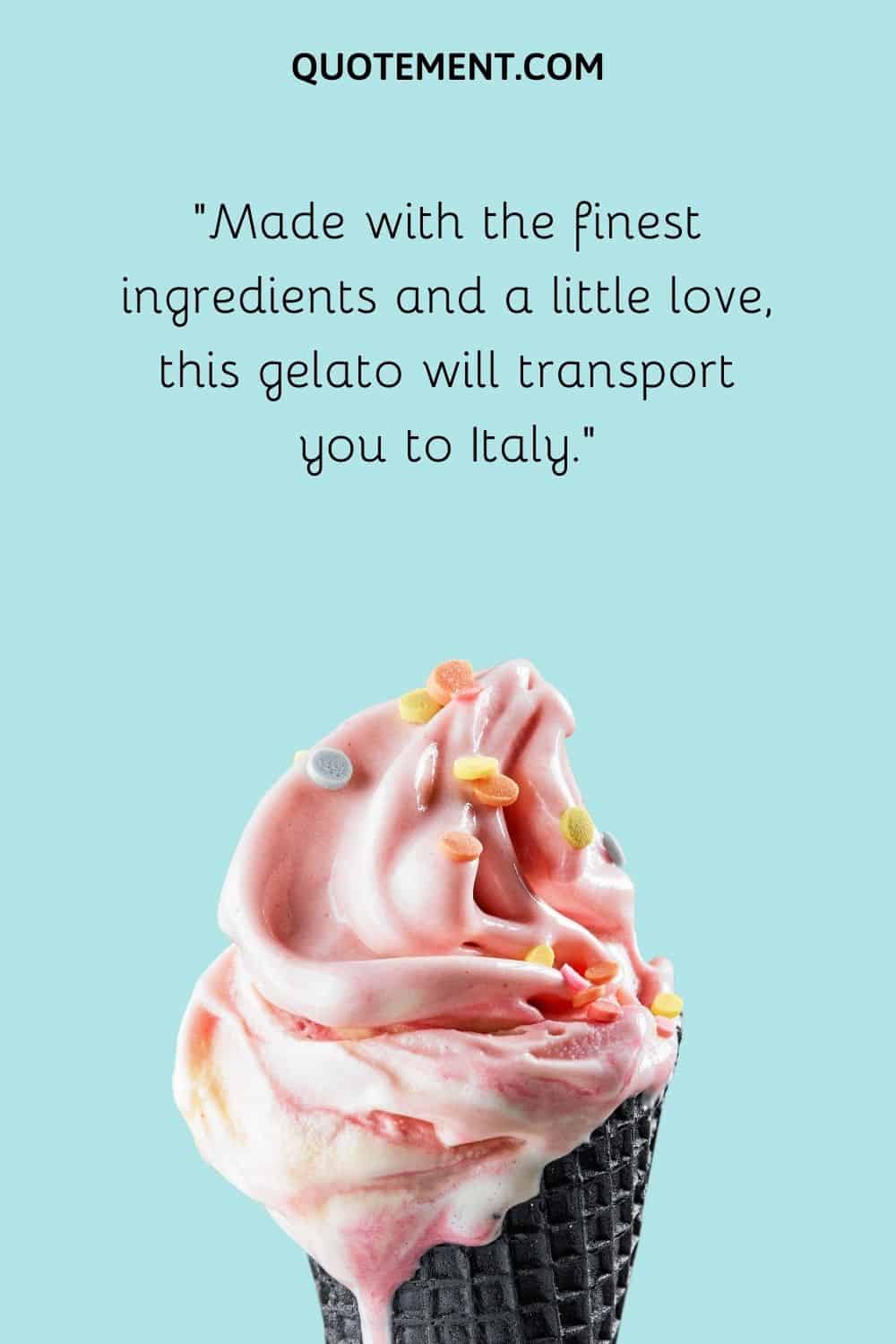 6. "Happiness is a tub of ice cream."
7. "Rain, Hail or Shine, It's always ice cream weather!"
8. "Life is like gelato. The more flavors you try, the better."
9. "Humanity's greatest blunder is thinking that ice cream consumption requires hot weather."
10. "I don't care what the problem is. Ice cream is the answer."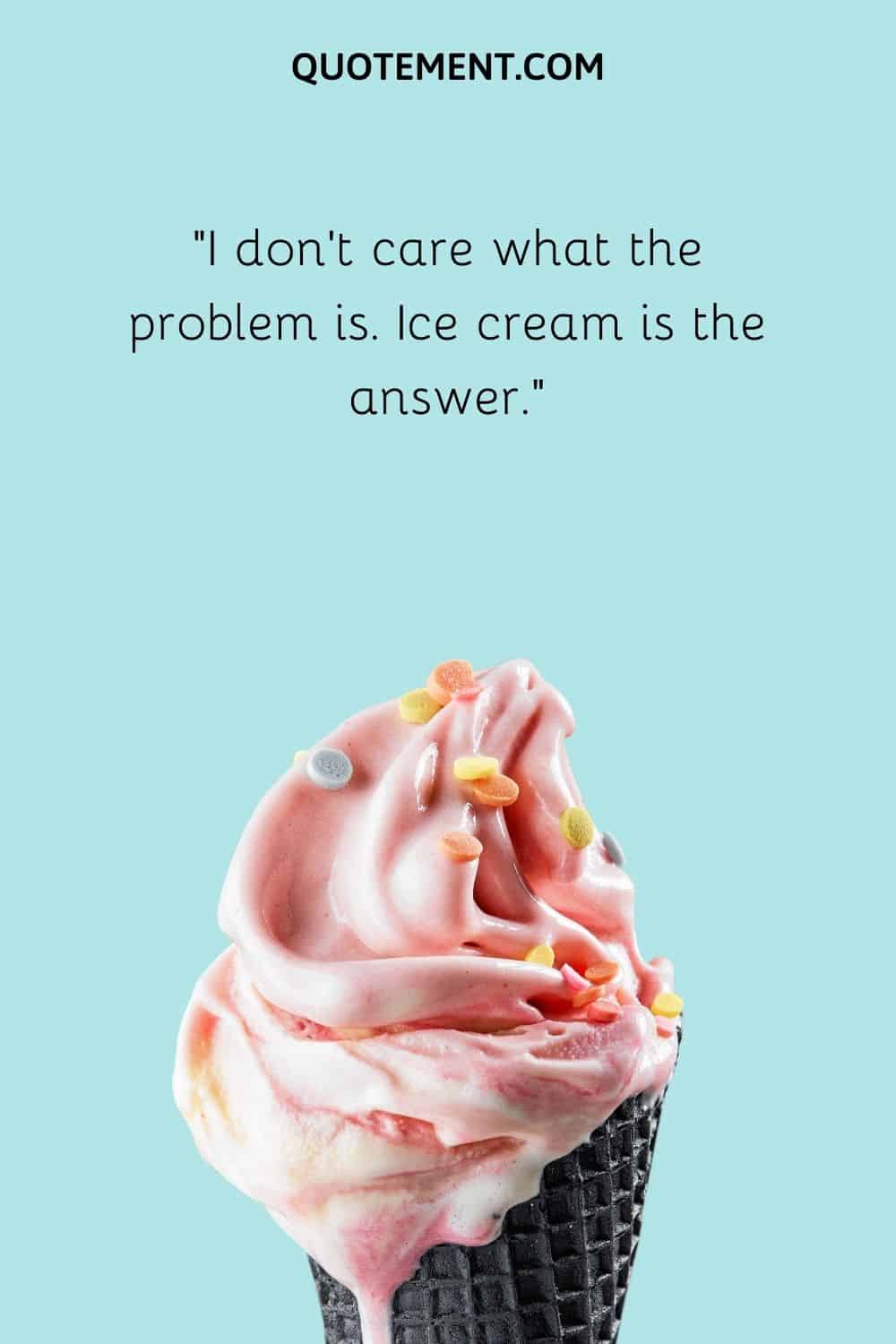 11. "Some mornings are made for getting lost in a gelato place."
12. "Tomorrow we can eat broccoli, but today is for ice cream."
13. "The truth is I've never met a chocolate I didn't like."
14. "My obsessive love for ice cream started at a very young age. Even now, the same holds true."
15. "There is no love more sincere than the love of food."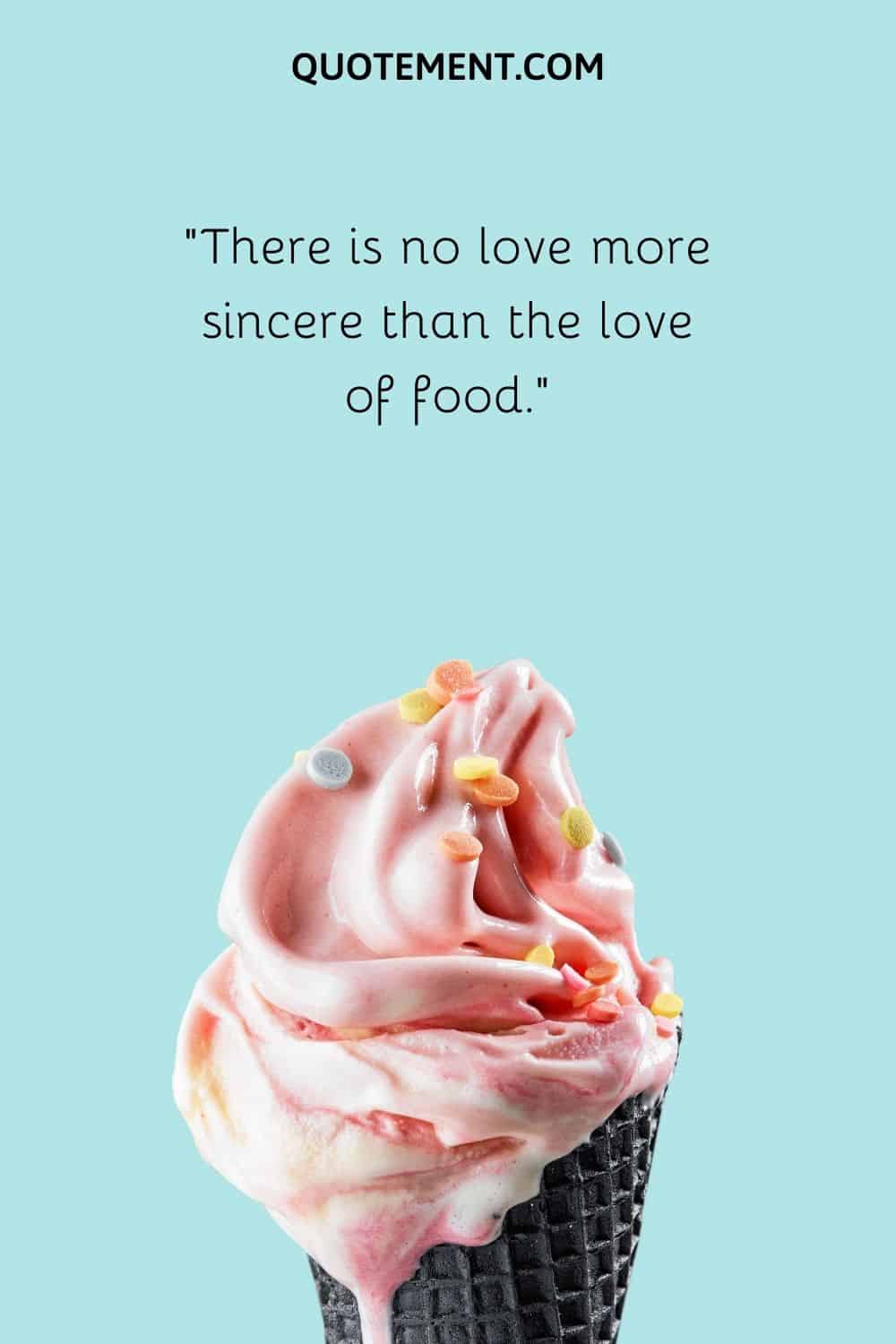 16. "Cold treats are my kind of comfort food."
17. "There is no such thing as a bad gelato flavor, just different degrees of deliciousness. And deliciousness has no degrees."
18. "All you need is love and maybe a little ice cream."
19. "There is satisfaction in seeing someone voraciously eating a bowl of ice cream."
20. "No words can truly capture how delicious this gelato is. But what you can do is try some for yourself."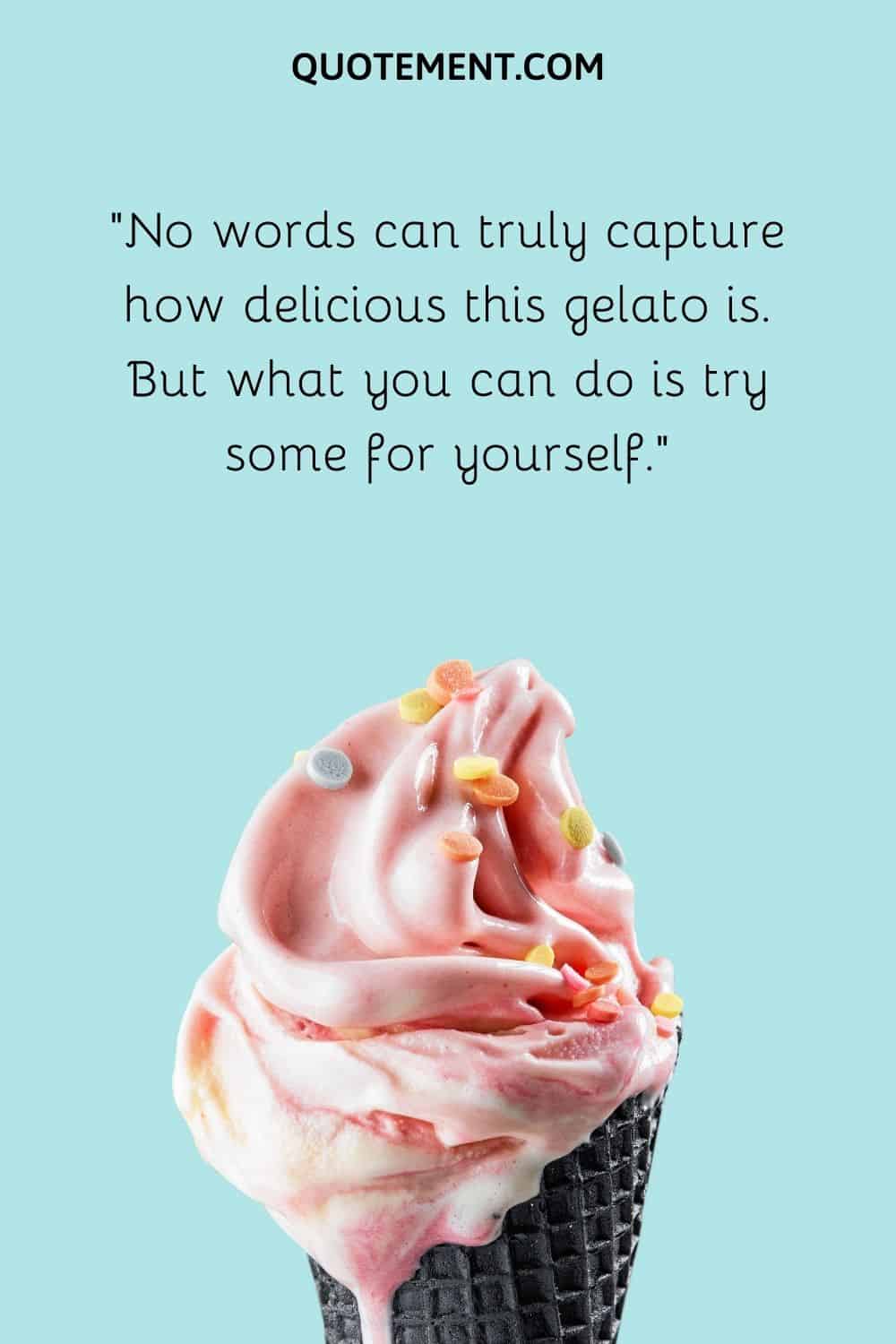 21. "Adulting happens. Gelato helps."
22. "Things like ice cream and happy hour can make even the most unbearable days a little more tolerable."
23. "Gelato cravings are not to be taken lightly."
24. "The best things in life are sweet, always keep it sweet."
25. "Find someone who loves you the way I love ice cream."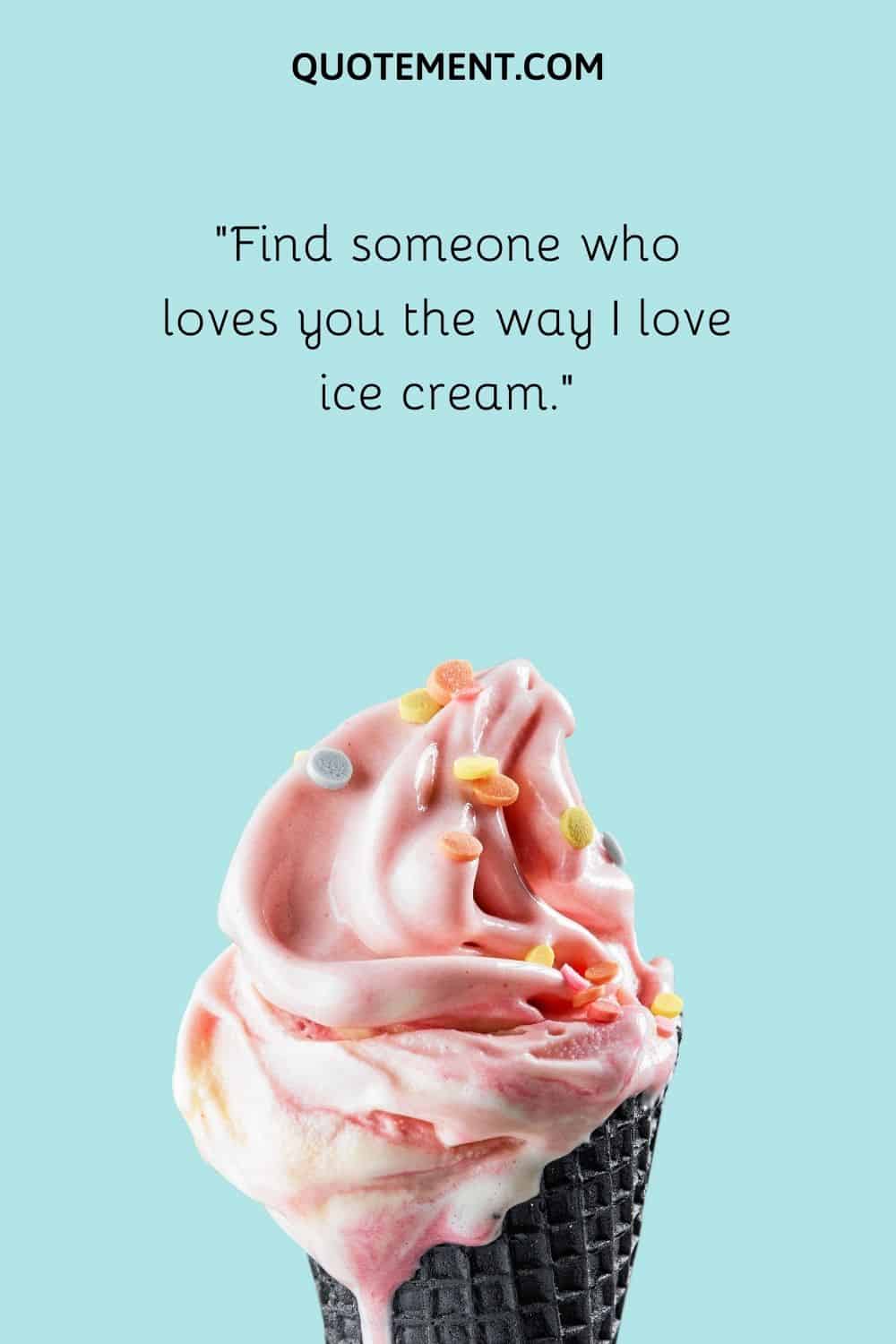 26. "There's always a reason to celebrate. Especially when it means gelato."
27. "It's fun. When people come in to buy Gelato, they're happy. It's a treat."
28. "I can remember when life was simple and all that mattered was what flavor of gelato I was going to eat."
29. "Life is like gelato. And sometimes, life tastes like chocolate."
30. "I scream, you scream, we all scream for ice cream!"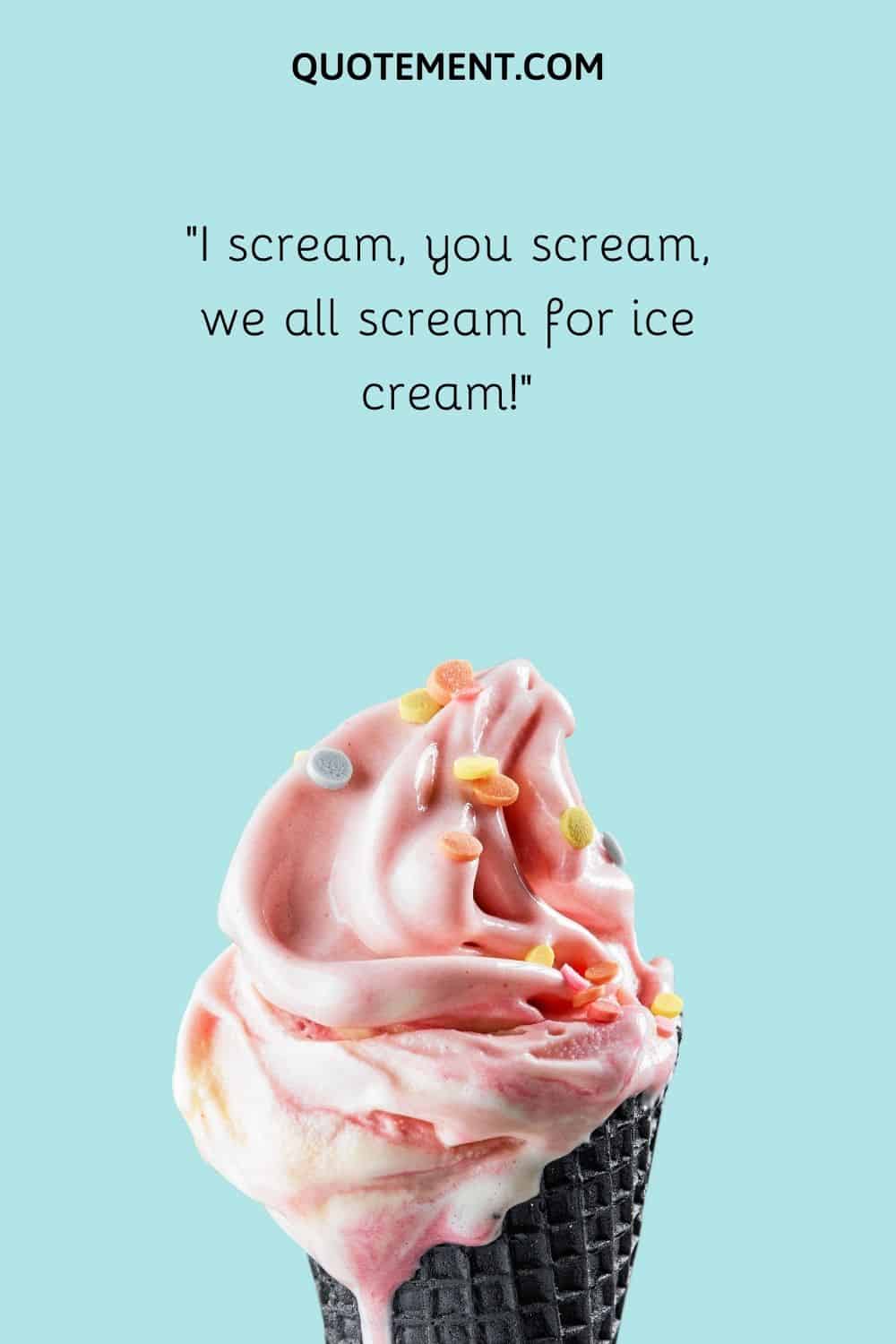 31. "Sadness is no ice cream in the freezer."
32. "Ice cream has the power to melt all the negative thoughts away."
33. "Good things are sweet, not bitter."
34. "If you bring me ice cream, I'll be your best friend forever."
35. "No weather or climate is too cold for ice cream."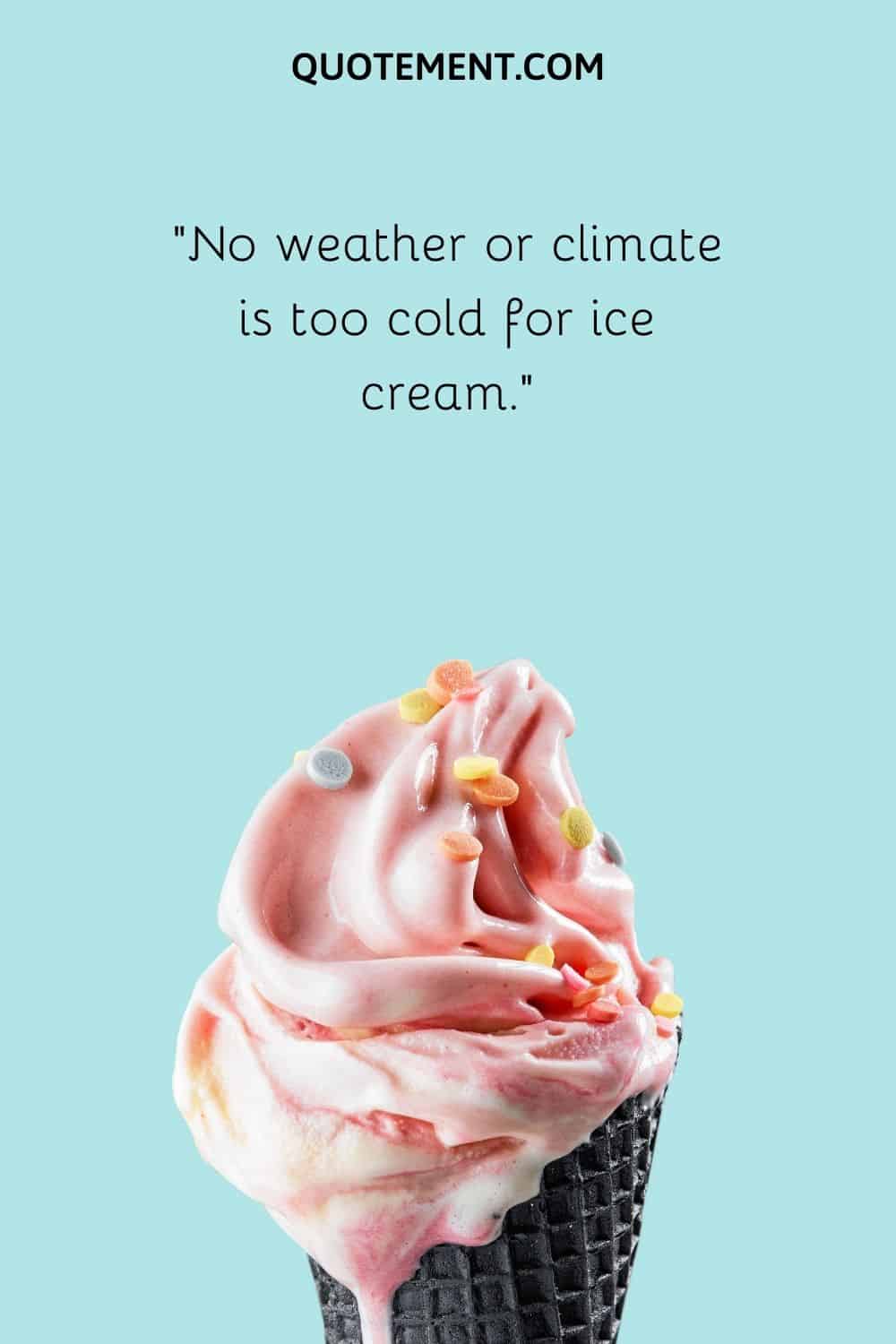 36. "If there's an obscene amount of ice cream involved, then I'm in!"
37. "I don't always eat ice cream, but when I do it's every day."
38. "When you play the game of cones, you win or you win. There is no losing scenario."
39. "I love you as much as I love ice cream, and I really love ice cream."
40. "Ice cream never judges. Neither does it discriminate nor disappoint. It always understands."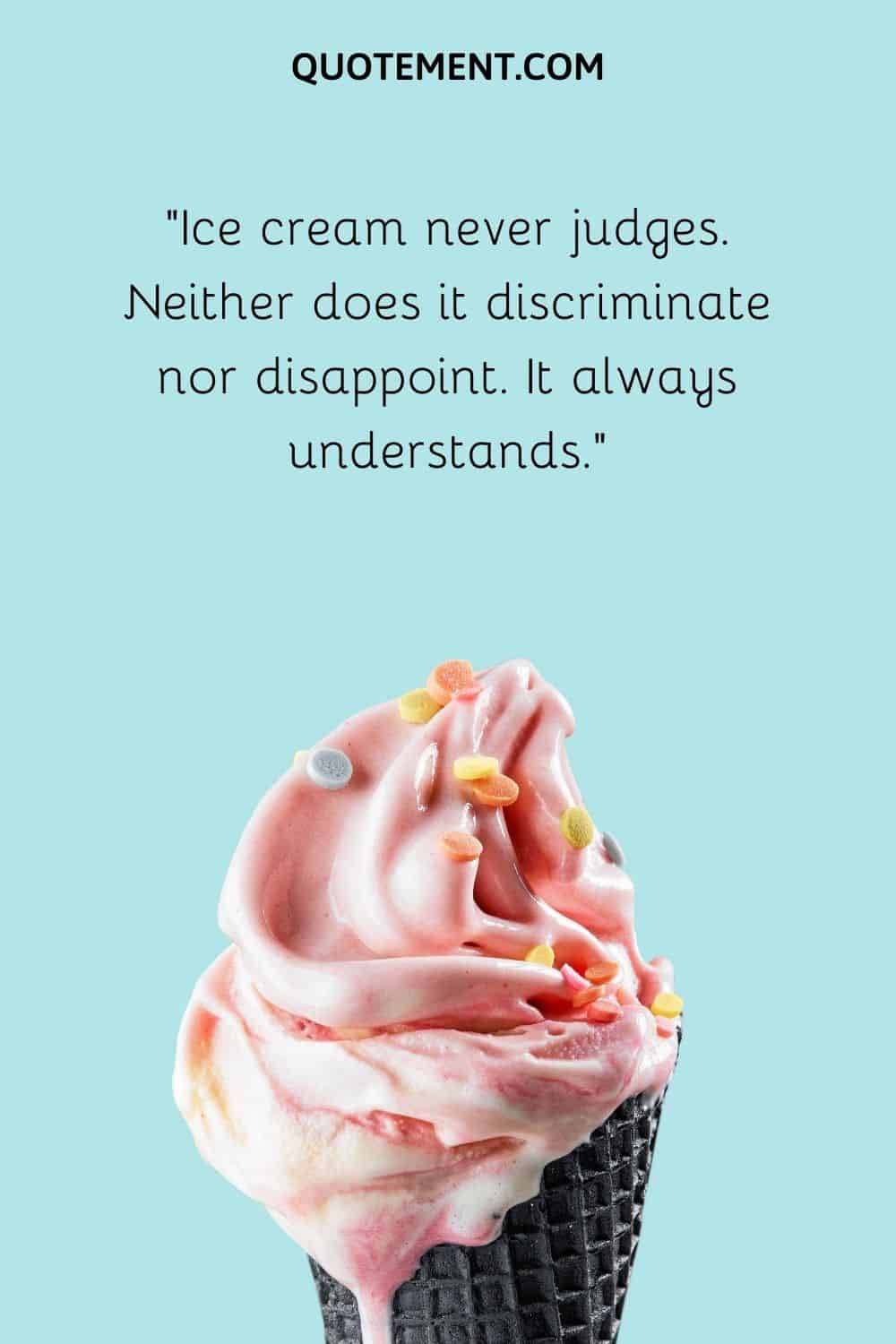 41. "We'll take two scoops of happiness on a hot summer day."
42. "Always in the mood for sprinkles and sugar cones."
43. "Imagine a world where ice cream is illegal. I would never dream of being part of such a barbaric world."
44. "No one eats ice cream with a sad face."
45. "Eat ice cream for daily happiness."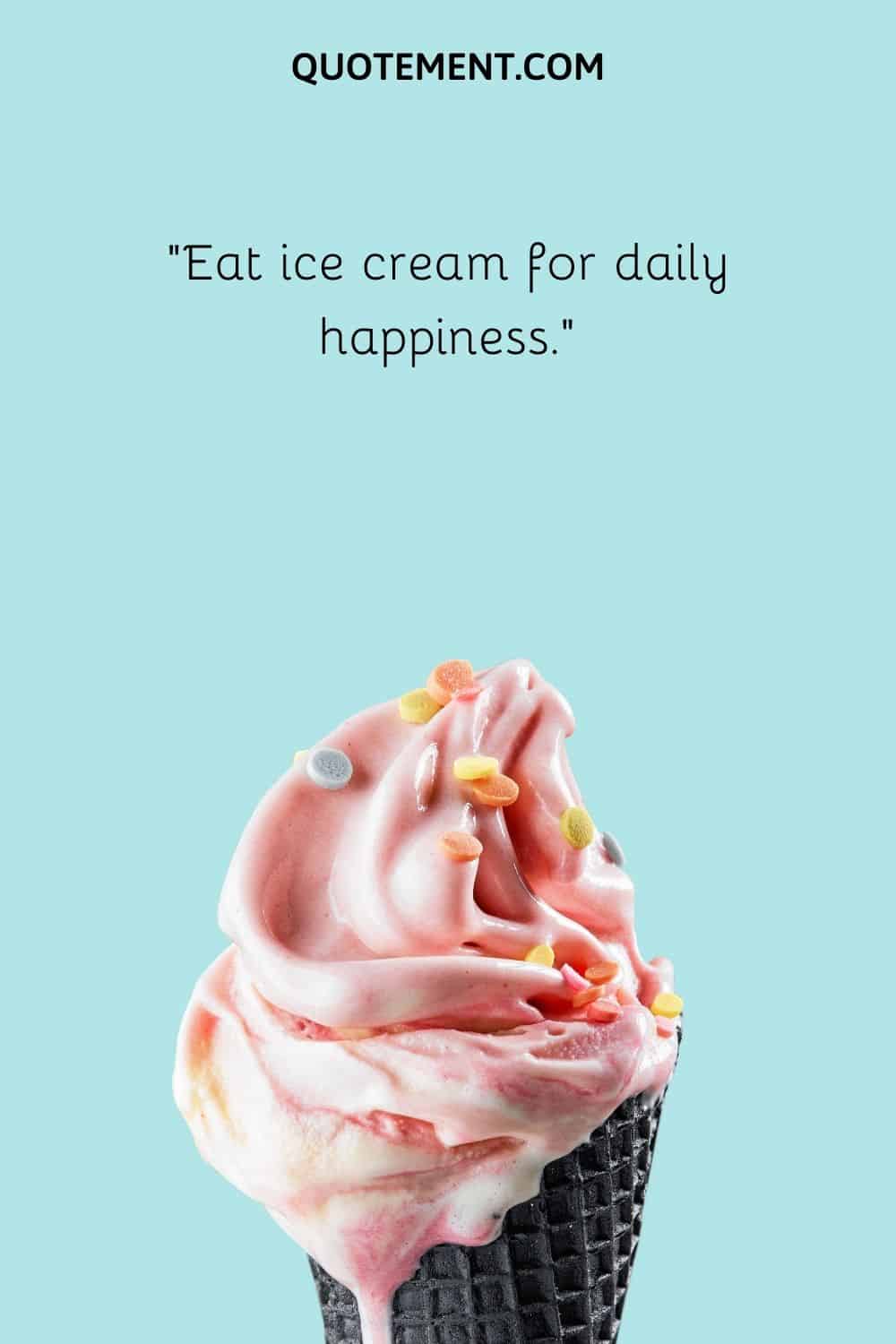 46. "It's always ice cream o'clock somewhere."
47. "I'm eating the entire pint now so that it won't be able to tempt me later."
48. "Love is the best flavor of all."
49. "Ice cream is duct tape for the heart."
50. "It's not just food – it's an experience."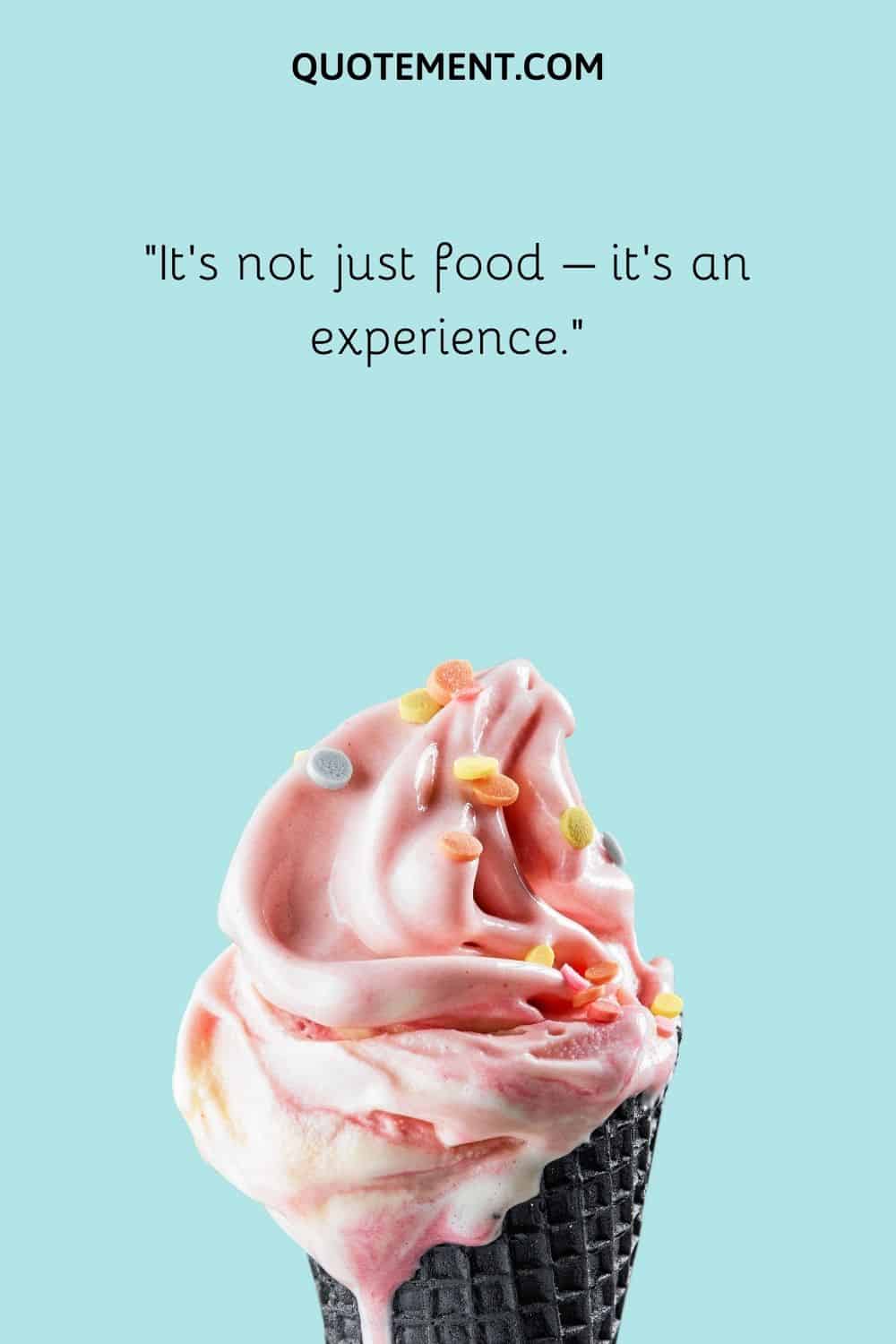 Gelato Instagram Captions
1. You are the chocolate at the end of my cornetto.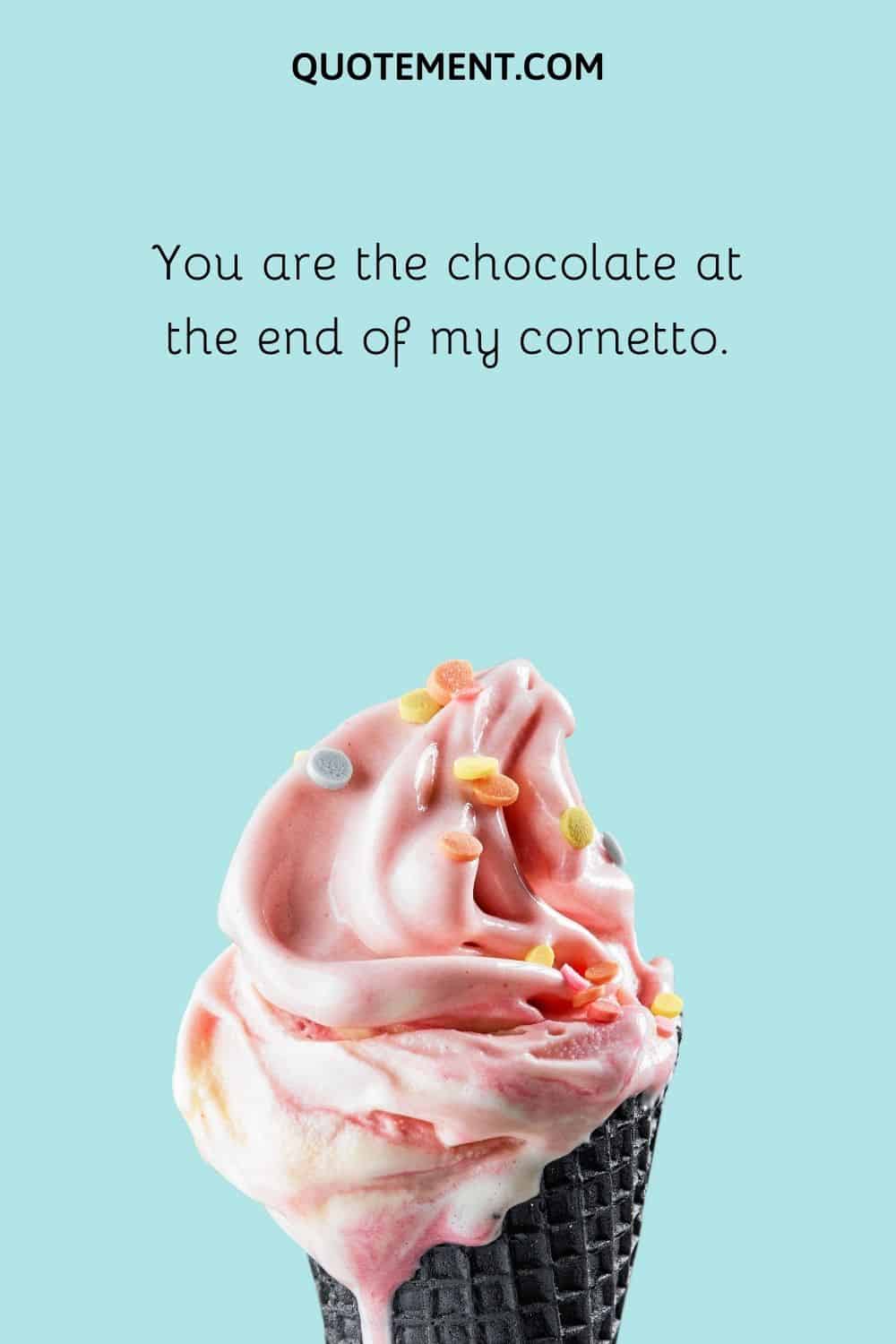 2. The cold never bothered me anyway.
3. Happy ice cream to you wherever you go!
4. Sprinkled with love.
5. You can't make everyone happy. You're not an ice-cream vendor.
6. Gelato is sweet, and so am I!
7. Fun in the sun.
8. Ice, ice baby!
9. Why stop at one scoop, right?
10. Life is short, buy ice cream.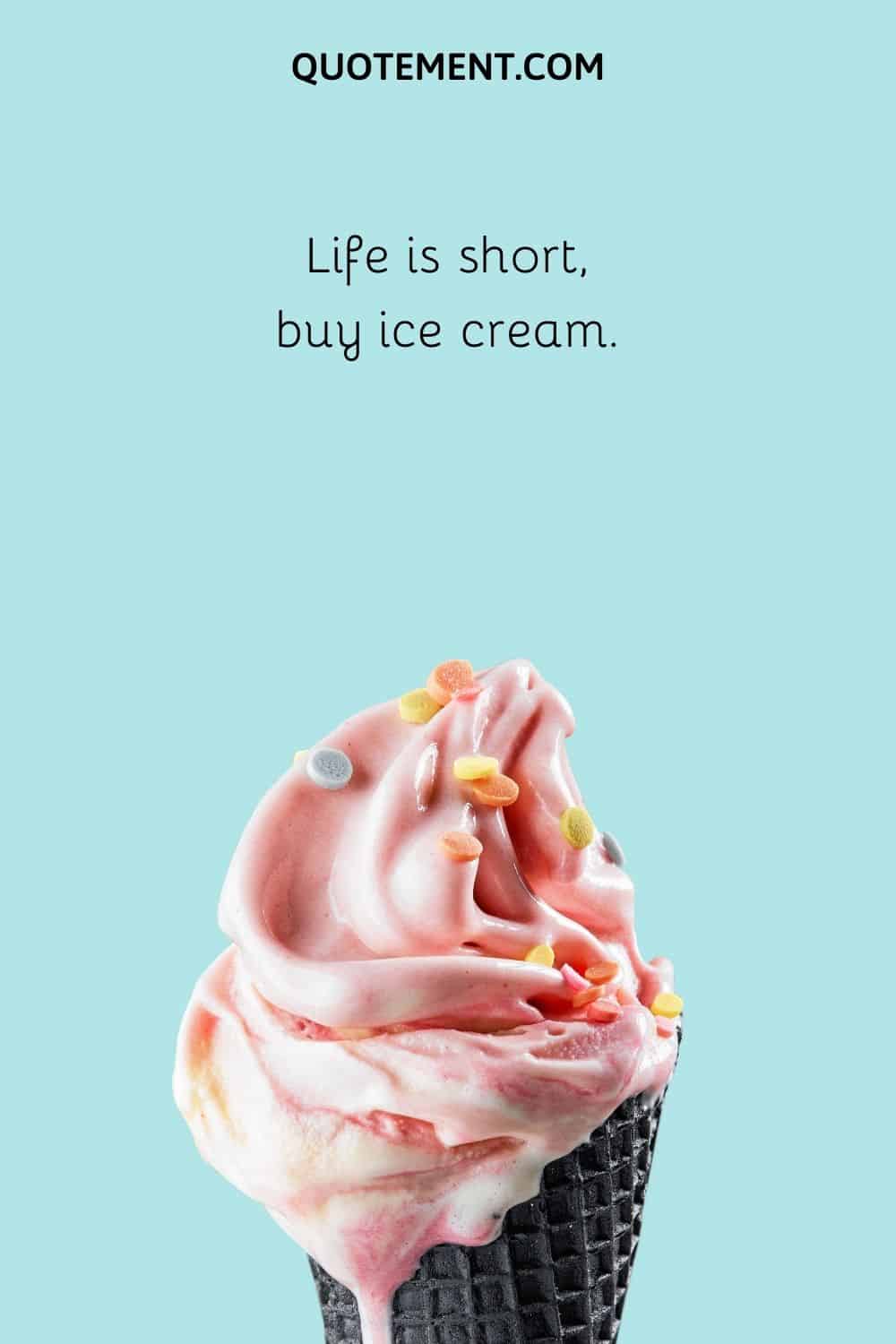 11. Cool and creamy by nature.
12. Nothing compares, except this triple-chocolate gelato meltdown.
13. Every season is ice cream season.
14. Every spoonful brings me closer to heaven.
15. Happily ever afters are made of ice cream.
16. What's better than a scoop of gelato in the summer?
17. Do you gelato me?
18. I'm such a softie for ice cream.
19. Sweet, cold, and creamy with a chance of sprinkles.
20. You can't be sad when you're eating ice cream, especially when it's with amazing people!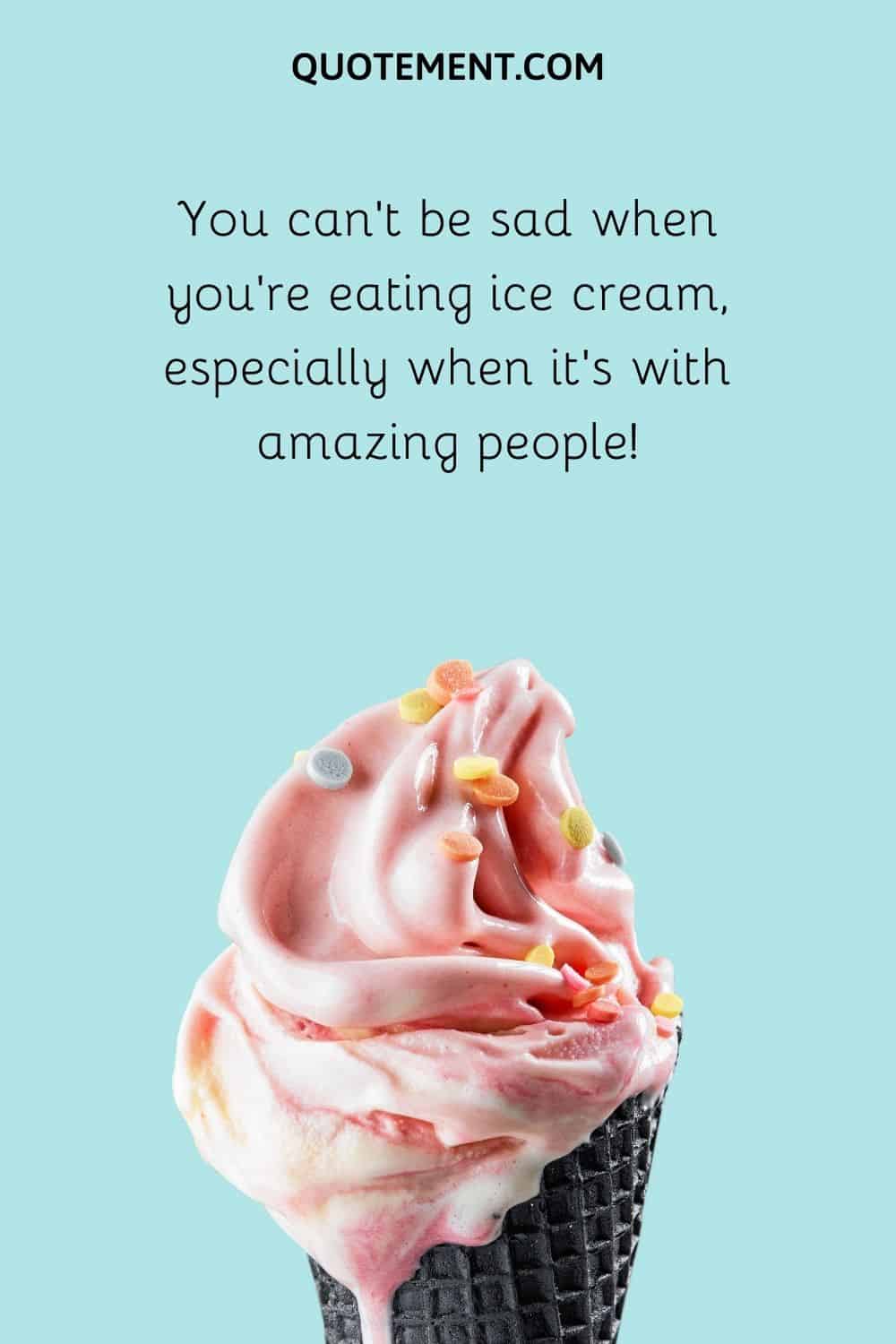 21. Treat yourself!
22. Life is just an ice cream cone away!
23. My relationship with ice cream is unhealthy because it's so cold.
24. True friends are the ones who make the best desserts. #gelato
25. This must be what heaven tastes like.
Cool Gelato Captions For Instagram
Searching for a nice Instagram caption can be time-consuming. Save yourself some time by using one of these ice cream Instagram captions. They work wonderfully!
1. Everything's better when it's sprinkled.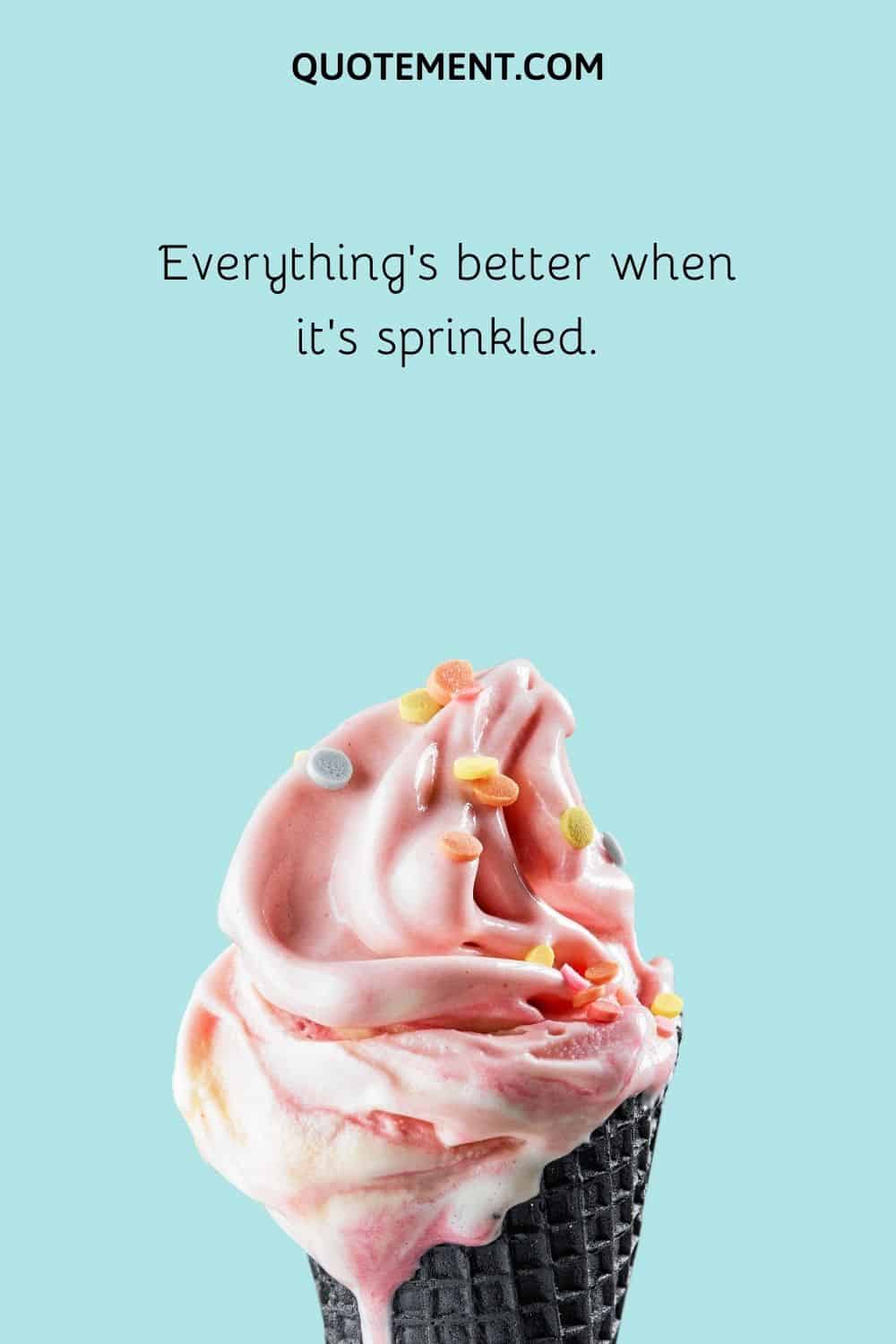 2. Money for life, gelato for the soul.
3. Savoring the creamy goodness one scoop at a time.
4. Life, like gelato, is imperfectly delicious.
5. My daydreams are made of ice cream.
6. Fit for a golden spoon.
7. Hey there, bae. Are you looking for pumpkin ice cream?
8. The only time I workout my body is when I'm chasing after the ice cream truck.
9. Go shawty, it's sherbet day.
10. Calories don't count if they're frozen.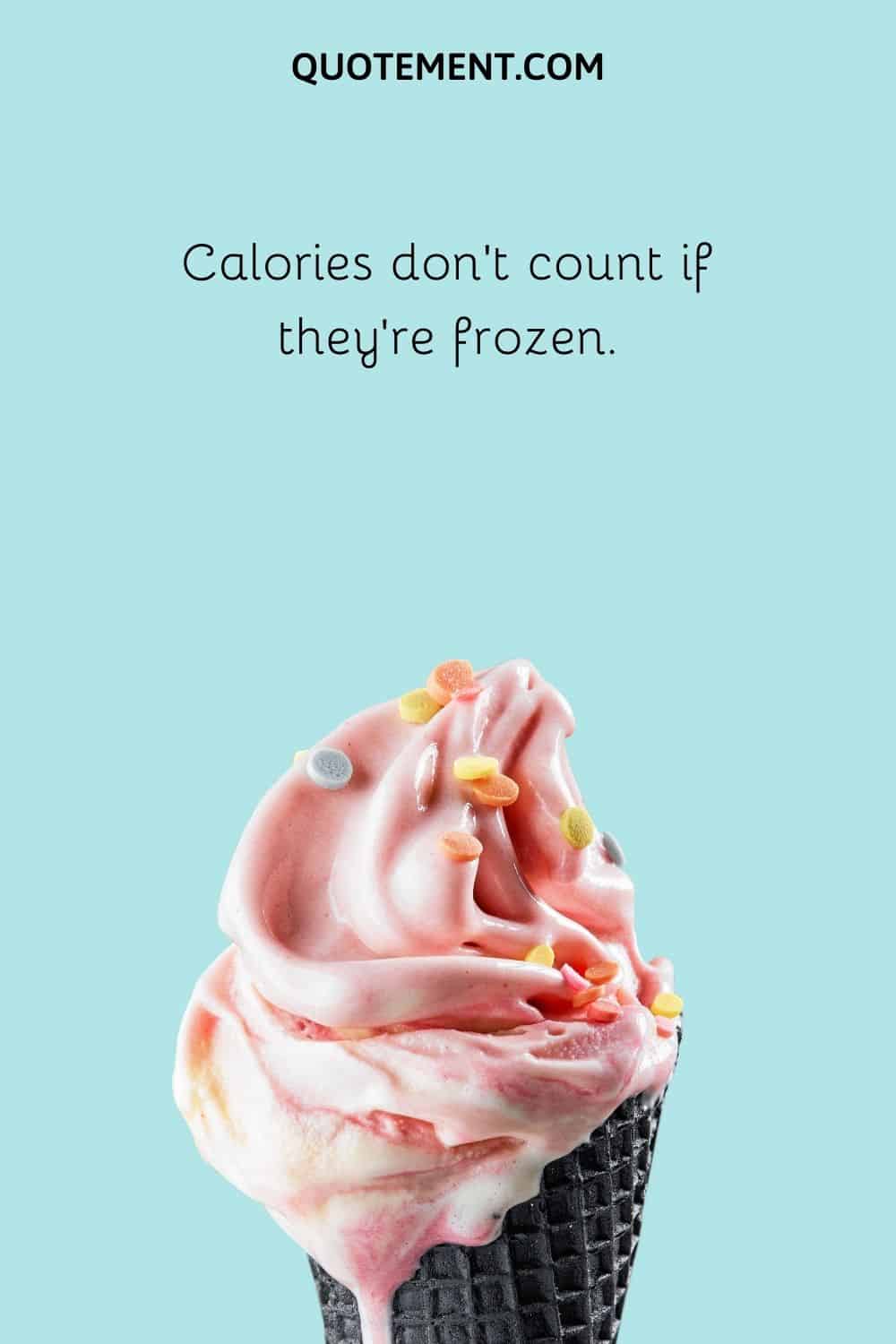 11. Nothing like a frozen treat to help you cool down.
12. I guess Gelato is one of those things that are beyond imagination.
13. When life gives you popsicles, eat them before they melt.
14. That moment when your first bite of gelato makes you feel all the warm fuzzy things.
15. I need ice cream like seven times a day.
16. Wanna see me make this ice cream vanish into my mouth?
17. Put all your trust in ice cream.
18. As the leaves turn golden and fall gently to the ground, our thoughts turn to simpler things. Delicious gelato frozen moments.
19. I don't understand why everyone avoids ice cream in the winter. Ice cream is a year-round food.
20. Sweet and cool! Okay, enough about me. Let's talk about ice cream.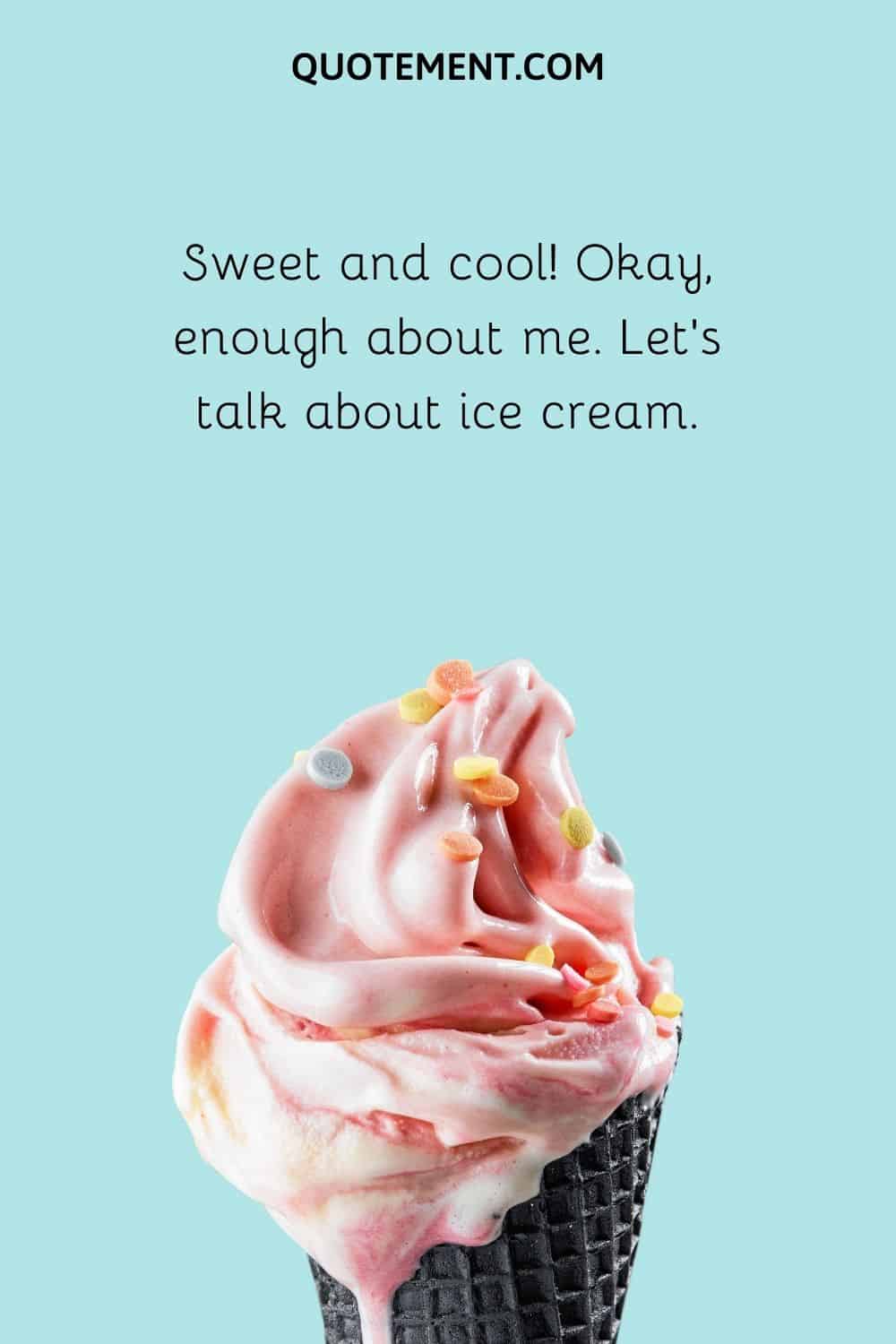 21. Gelato has always been the dessert I turned to when I needed a pick-me-up, so finding out that it's actually good for your skin… Well, all I can say is thank you, ice cream.
22. Life is too short to let good gelato go.
23. Nothing beats the first bite of #gelato out on a city street on a hot summer day.
24. Let yourself be surprised by new flavors.
25. I like my strawberries frozen.
See also: Top 200 Sweetest Strawberry Quotes To Brighten Your Day
Conclusion
Even as we get older, our love for gelato remains the same. Gelato brings joy to everyone, regardless of their age. It's a universal thing. Gelato is happiness.
I hope you liked this article and all the amazing quotes about gelato in it.
Now, give yourself a little dessert and don't forget to take a cute photo before you start eating!
Until next time!