It's time to bless your followers' feed with bomb selfies and killer outfits, but don't forget to throw some sass to spice things up.
Scroll down and discover a collection of 170 sassiest bad bitch captions to show 'em how it's done.
Be the baddest of them all!
Top 10 Bad Bitch Captions
1. Bad times are temporary, but bad bitches are eternal.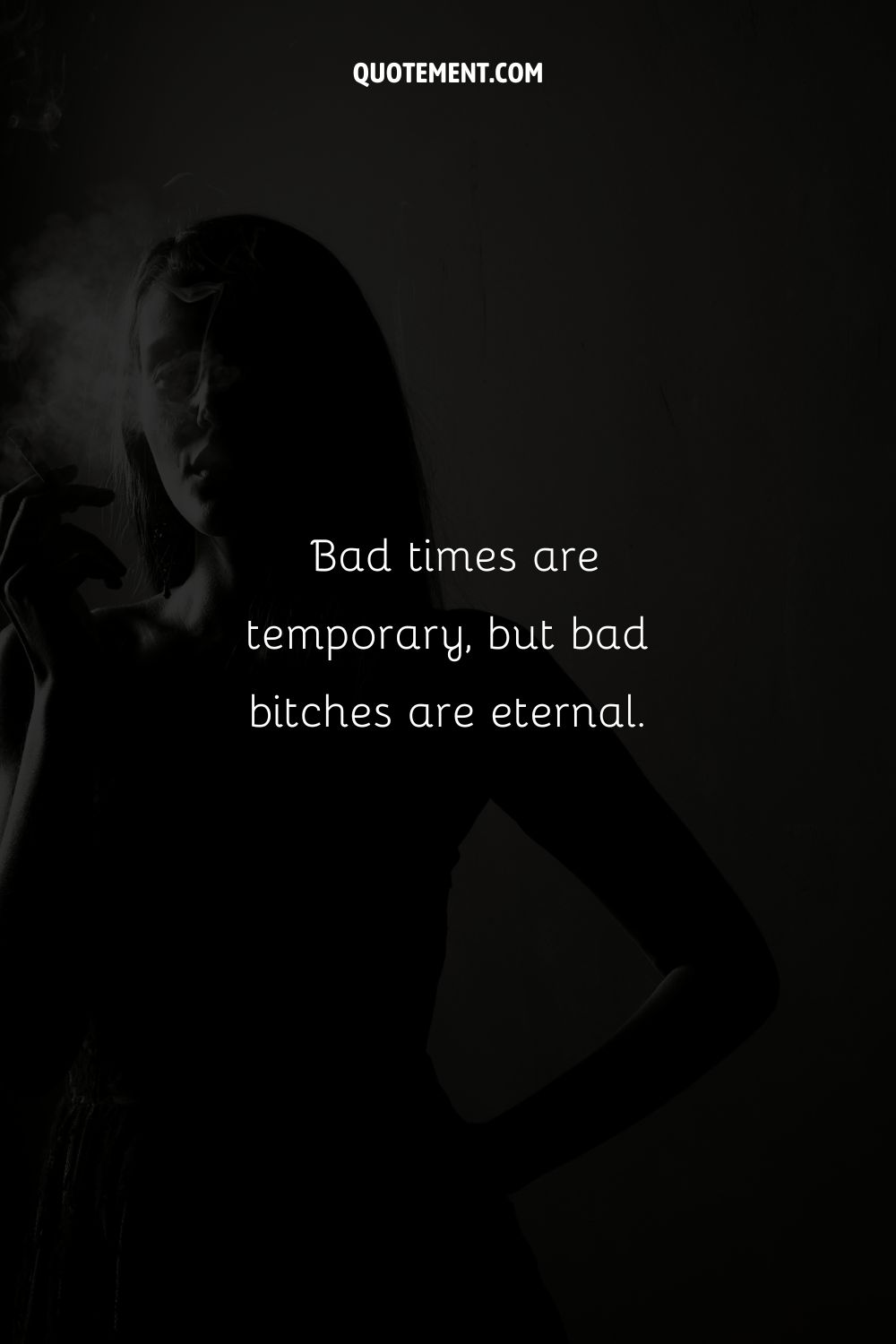 2. I'm not sugar and spice, I'm fire and ice.
3. I'm sorry, I don't take orders. I barely take suggestions.
4. You want to be on my level? Climb, bitch.
5. Angels protect me, demons protect me.
6. Real heavy on the access denied.
7. Underestimate me. That'll be fun.
8. Well-behaved women seldom make history.
9. Sweet as sugar, cold as ice, hurt me once, I'll break you twice.
10. Queen without a king? That's more badass historically.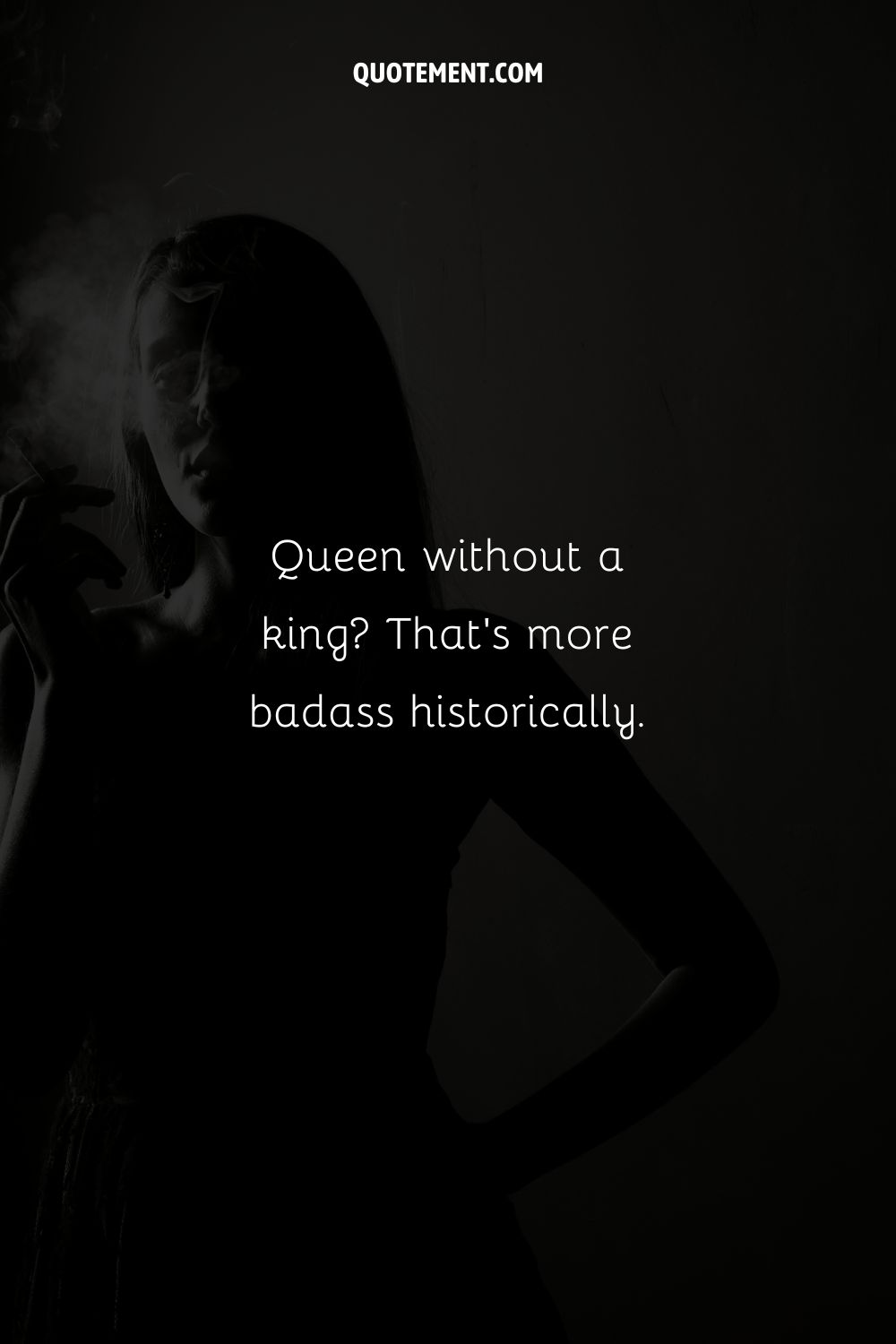 See also: 150 Empowering Badass Quotes To Take Life By The Horns
Savage Bad Bitch Captions
1. Go find someone else to feed your ego, I'm busy.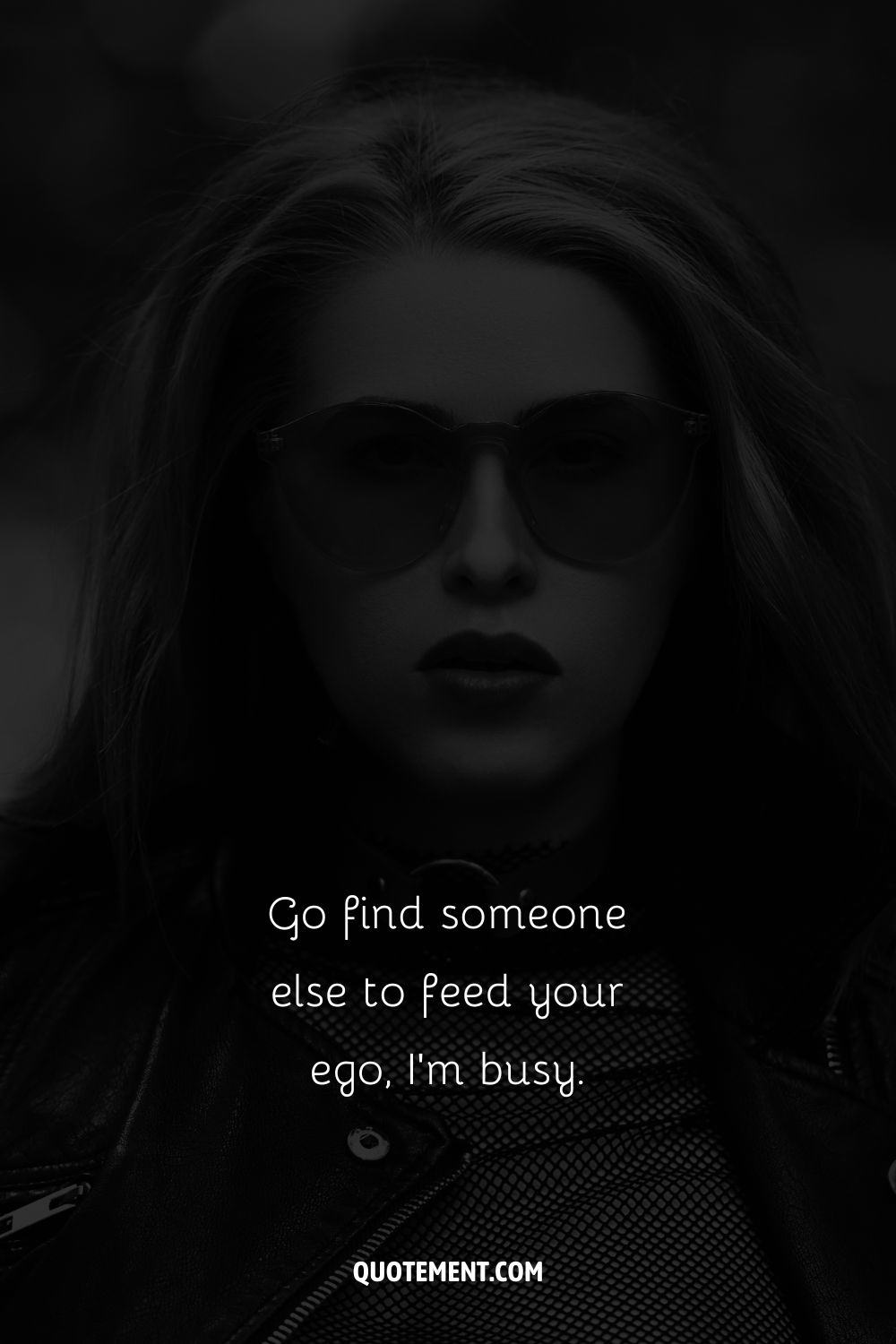 2. Lovely girl with a bad attitude.
3. I know looks aren't everything, but I have them just in case.
4. Be fearless, be kind, be you.
5. So blunt, you can smoke my truth.
6. Maybe you should eat some makeup so you can be pretty on the inside too.
7. My life is none of your business.
8. Catching flights, not feelings.
9. Part sweet, part savage.
10. A girl should be two things: who and what she wants.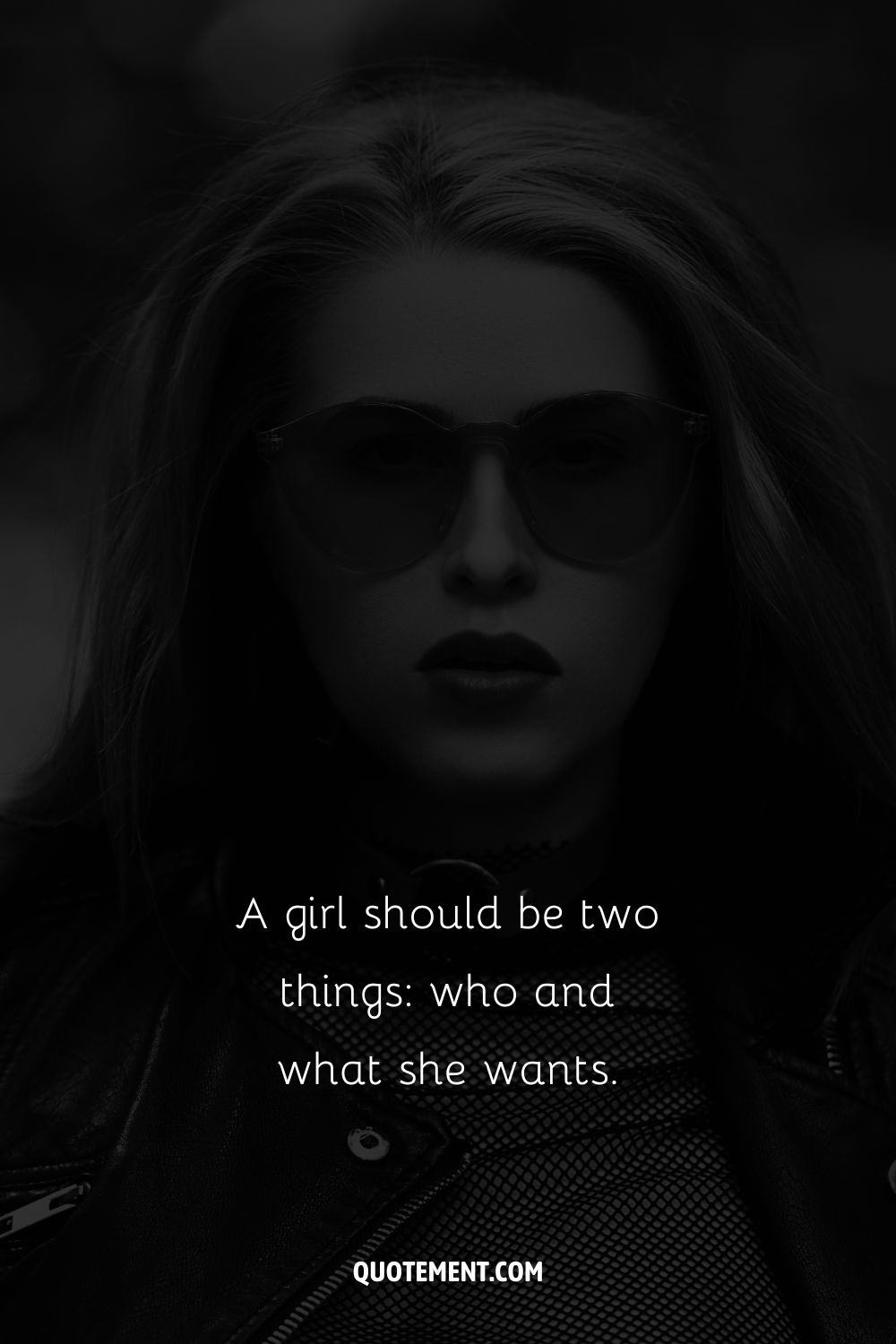 See also: 430 Ideal Instagram Captions For Girls Who Love Themselves
11. I'm not afraid to make enemies, so I keep things honest.
12. Judge me for being a bad bitch. I don't care.
13. Bad bitches can do things you can never imagine.
14. Trust no man, fear no bitch.
15. Know your worth. Then add tax.
16. If you believe that money cannot buy happiness, send it to my account.
17. The queen of the house.
18. I'm my own competition; I'm competing with myself.
19. Bad bitches are the most feared individual on the planet.
20. My name has touched rooms, I'll never walk into.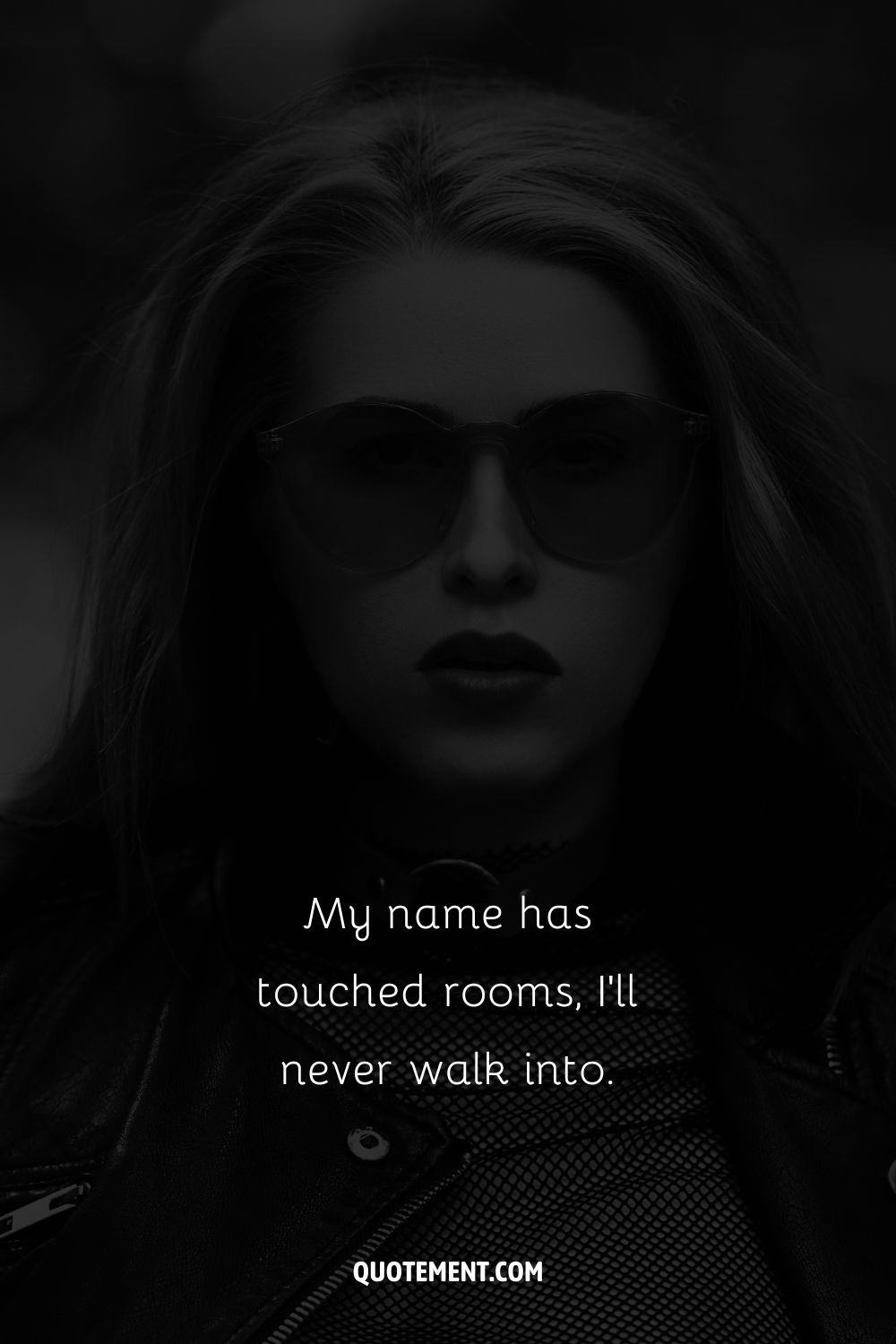 21. Oh, you thought I was feeling you?
22. Jealousy is a debilitating illness. Get well as quickly as possible.
23. I think my guardian angel is drunk more than me.
24. Not in the mood to date anyone. Apply later.
25. I laugh when people think they can hurt my feelings. Like I have one.
26. You're either on my side, by my side or in my way. Choose wisely.
27. If I was these bitches I'd be pressed to.
28. My back is not a Voicemail, so better say it to my face.
29. Babe, if you stand too close to the heater, then there is a chance of you getting melted because plastic melts quickly.
30. My bad bitch attitude spices everything up.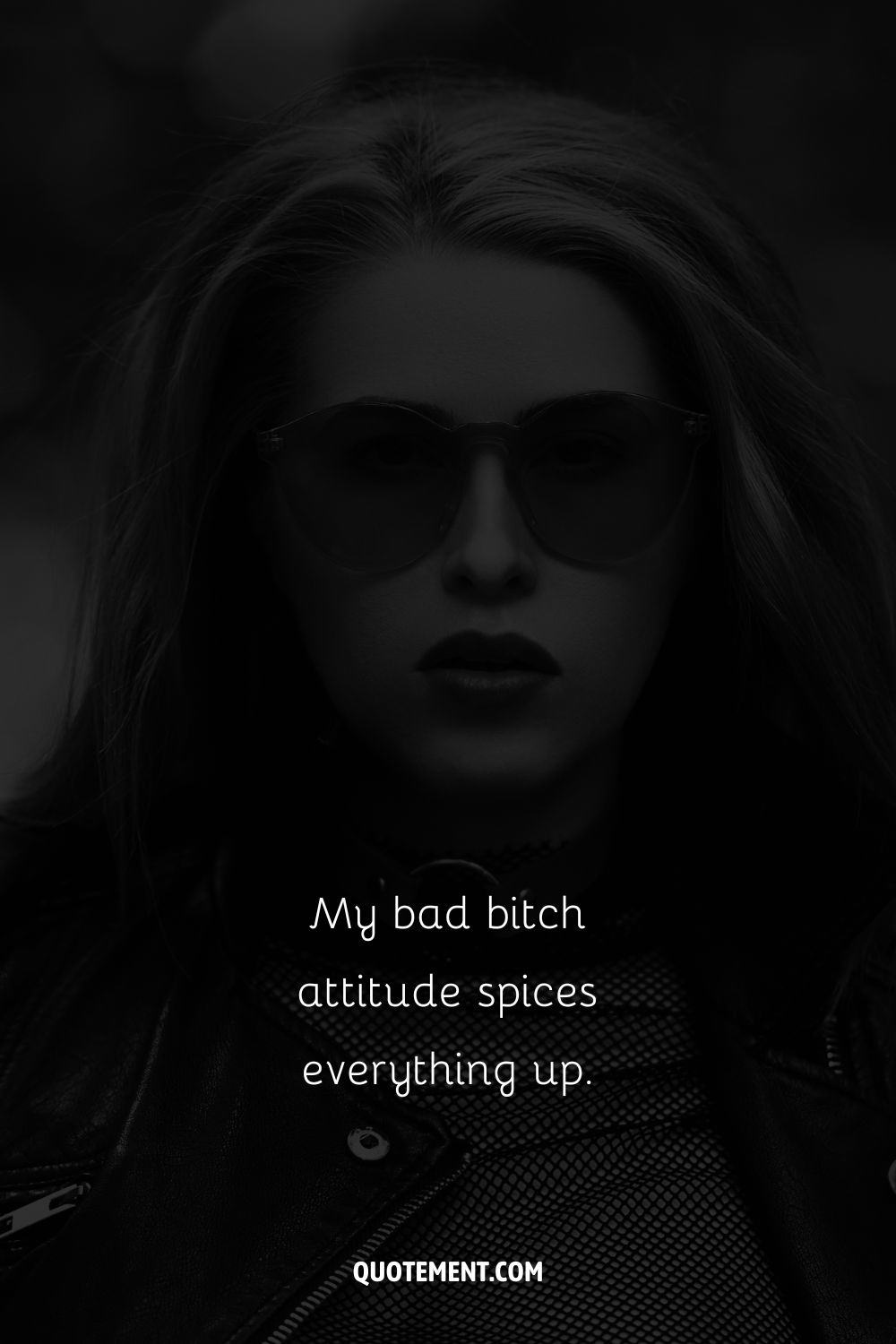 See also: 210 Unique Savage Quotes To Embrace Your Bold Attitude
Bad Bitch Captions To Show Who's The Boss
1. When life hits you hard, you need to hit it like a bad bitch.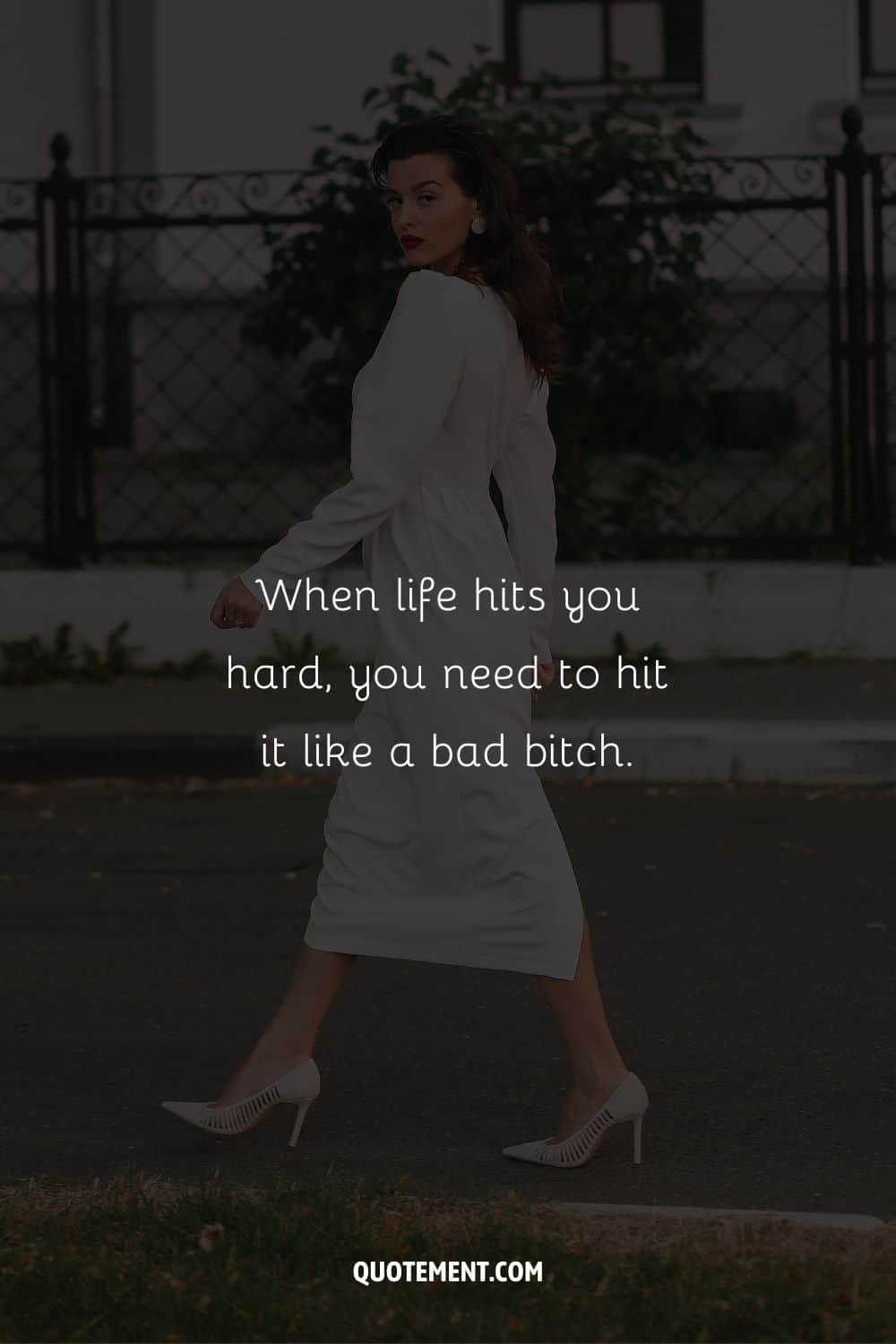 2. I don't make choices, I make moves.
3. Just like the alphabet, I come before U.
4. Don't study me. You won't graduate.
5. Judge me and I'll prove you wrong.
See also: 70 Wrongly Judged Quotes To Make You Stop Being Critical
6. You can try, but you'll never do it like me.
7. I'm not a backup plan, and definitely not a second choice.
8. Crank up that fall playlist and get ready to slay.
9. I'm in a boss bitch mood.
10. My kindness should not be mistaken for weakness.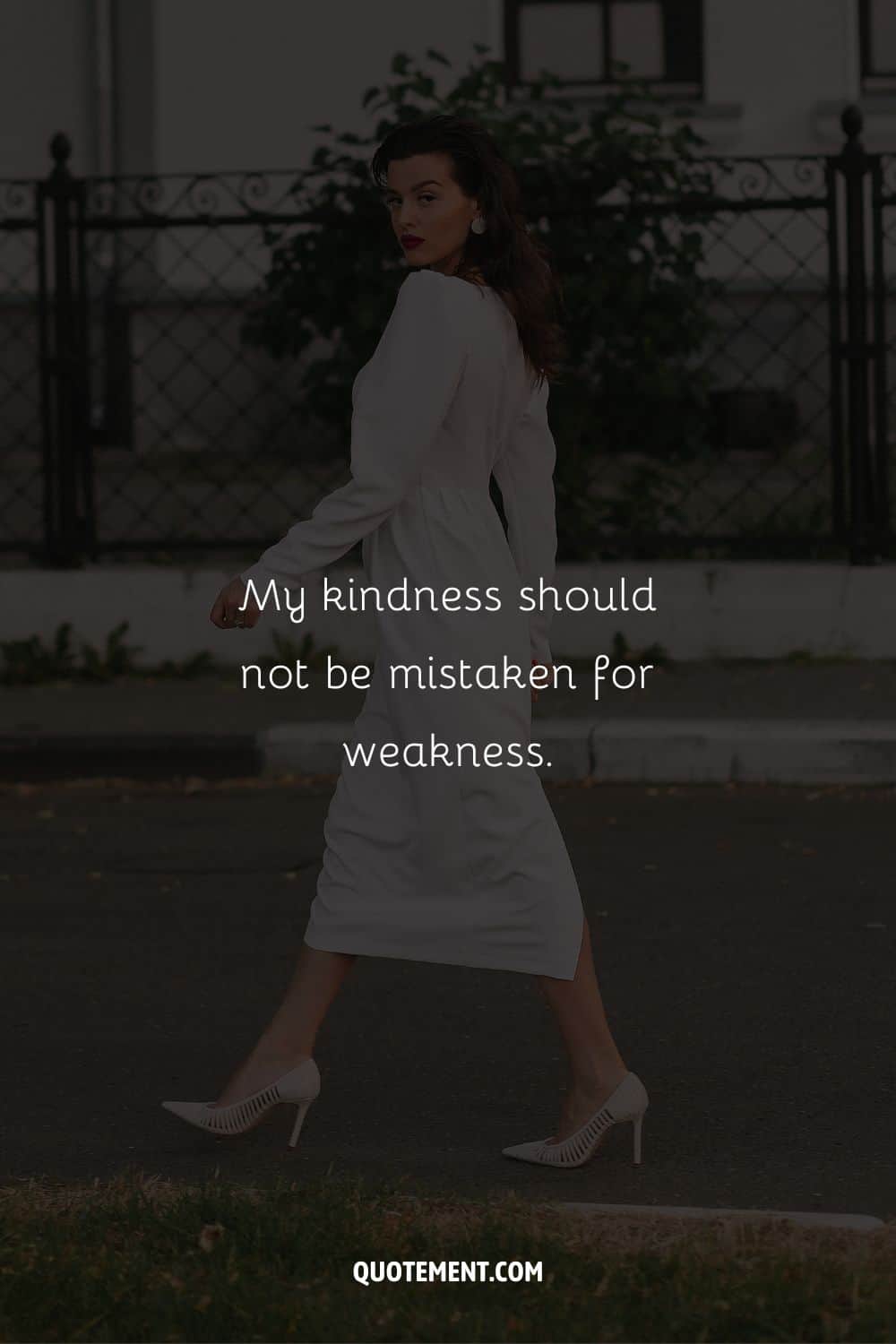 11. The naked truth is always better than a dressed lie.
12. Down to earth, but still above you.
13. You turn up, I toss up. You gossip, I boss up.
14. A bad bitch is a woman who does not require any validation from strangers.
15. You don't have to choose between being a #bosslady or a total babe. You can be both.
See also: 310 Best Boss Babe Quotes On Success For Strong Women
16. Once you realized your worth nothing can stop you.
17. People don't just come in my life and stay. They need to earn their spot.
18. Looking like a doll but you can't play.
19. You will find an odd combination of really sweet and don't mess with me in me.
20. I am not auguring. I'm actively explaining why I am right.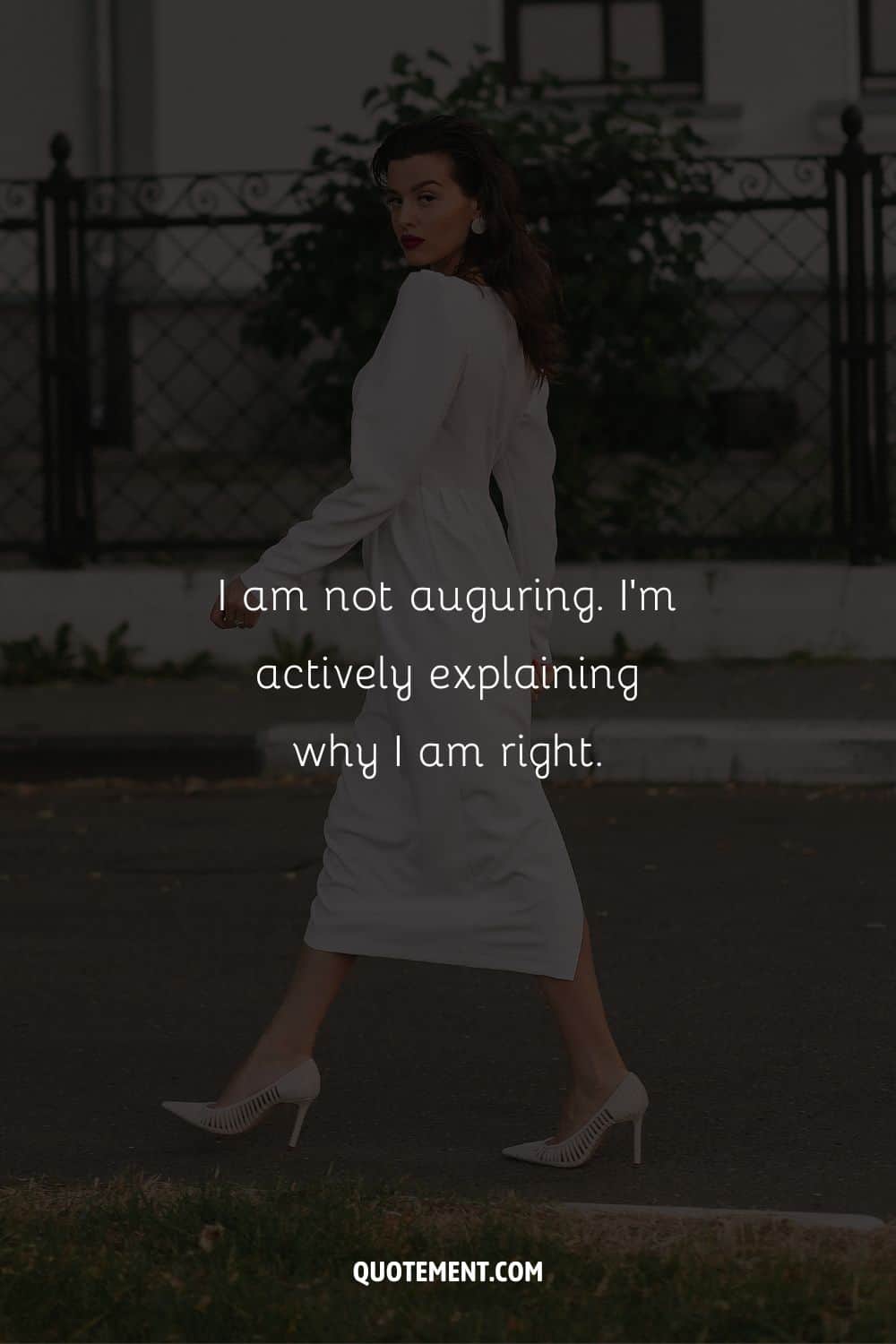 21. I don't worry about who will let me since no one can stop me.
22. May God have mercy on my enemies, cause I won't.
23. Already supreme, don't gotta gas me up.
24. Be careful how you talk to me, my head always stays high but my middle finger is higher.
25. Throw me to the wolves and I'll come back leading the pack.
26. I'm not a princess, I'm a queen.
27. People think that all the doors are open in front of me, but it was me who pushed them open.
28. You should see me in a crown.
29. I'm not mean, please. I'm only bluntly honest. It's not my making that the truth hurts.
30. Everybody's a gangster until a bad bitch walks into the room.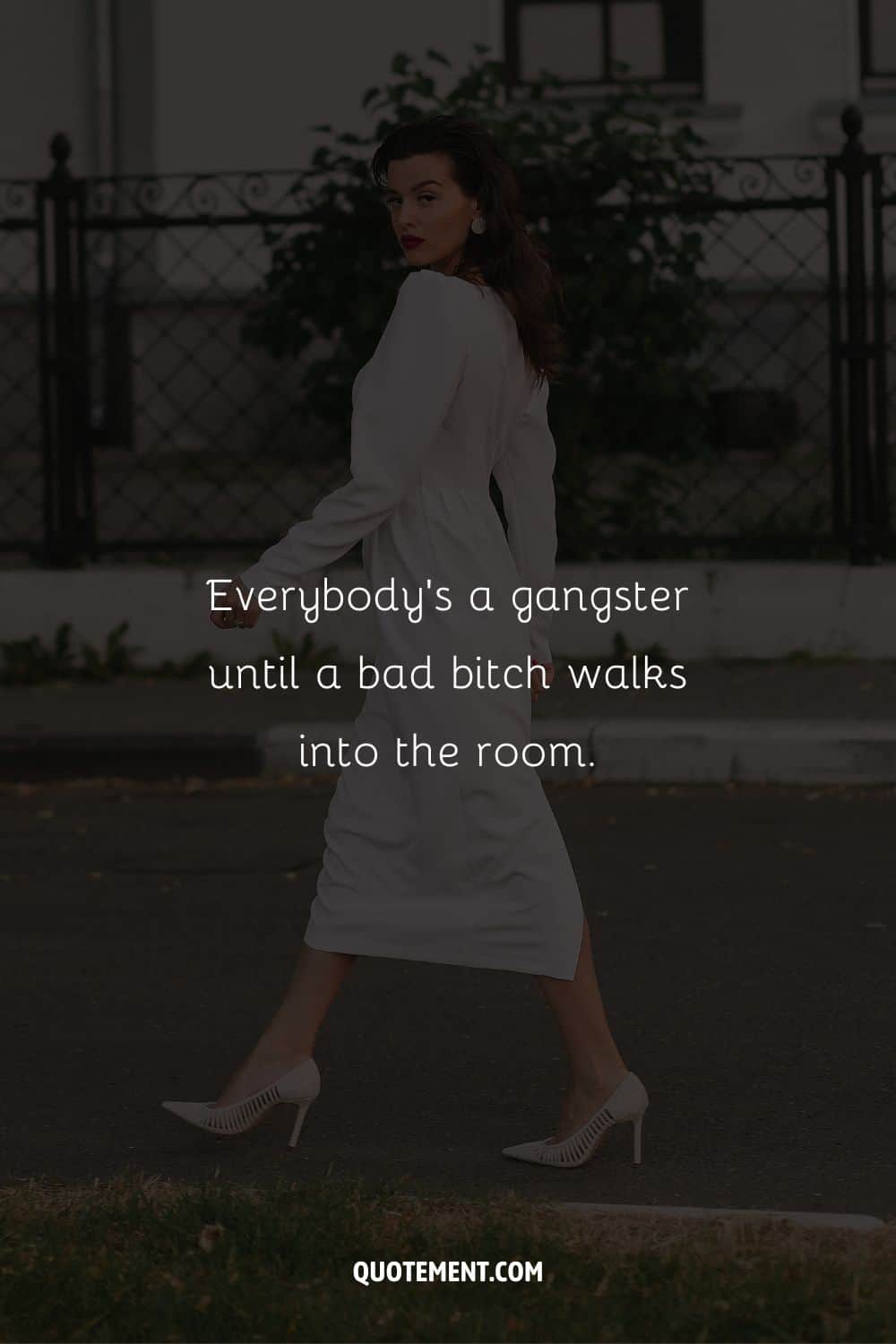 See also: 60 Best Gangster Quotes On Living Fiercely And Fearlessly
Baddest Of Them All Captions
1. Mirror, mirror on the wall, who's the baddest one of them all?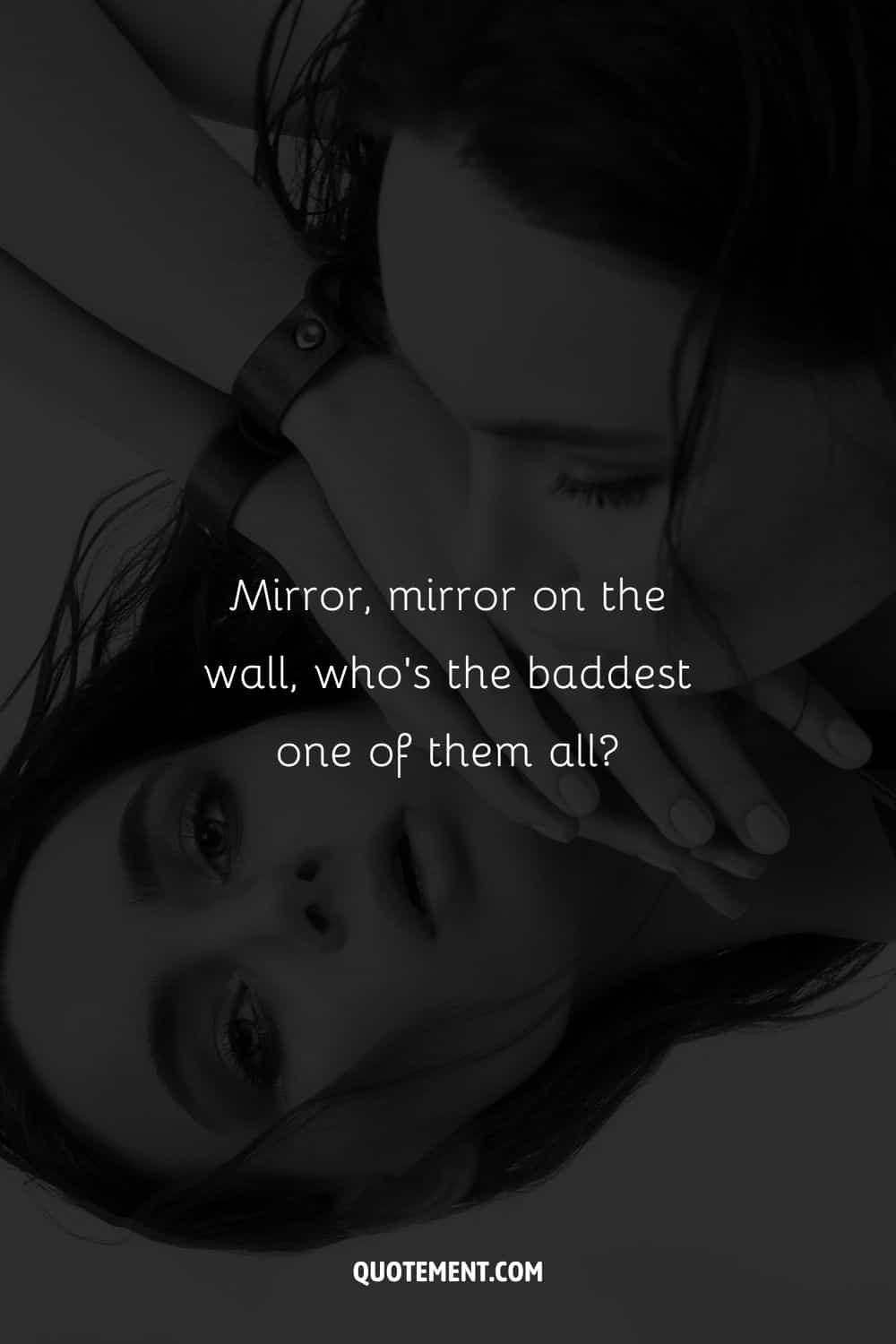 2. File This Under: Baddest Bitches Alive
3. Even my middle finger is more significant than your heart.
4. Mfs keep testin me like I'm mentally stable or sum.
5. I use the negativity to fuel the transformation into a better me.
6. You must realize that I am difficult to comprehend.
7. Don't flirt with me because If I flirt back you will fall in love alone.
8. Good girls go to heaven, bad girls go everywhere.
9. The one that irritates you controls you. That is what bad bitches do.
10. You'll go insane trying to figure out what I'm talking about.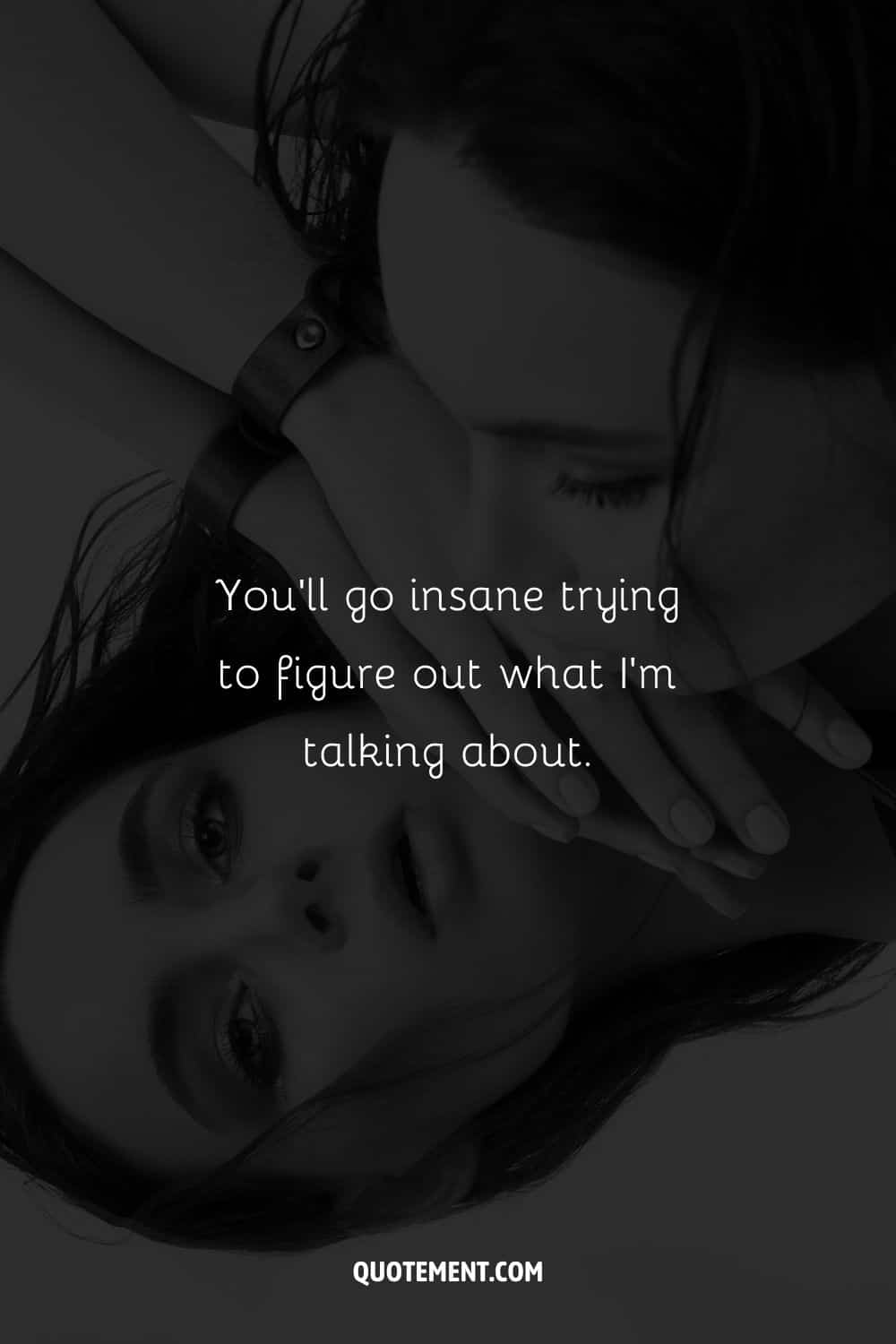 11. Only good girls keep diaries. Bad girls don't have time.
12. Only a bad bitch can do this.
13. You can't send a girl in to do what a lady can do.
14. I'm not a one-in-a-million kind of girl, I'm a once-in-a-lifetime kind of woman.
15. I'm getting my nails done so I can clap back.
See also: 150 Best Nail Quotes To Show Off Your Nail Art Design
16. Once I get a different vibe, you get a different me.
17. Be a lady, but also a bitch if necessary.
18. I'm everything you want but can't have.
19. Bolder, older, and wiser.
20. People are drawn to the good until they discover the greater.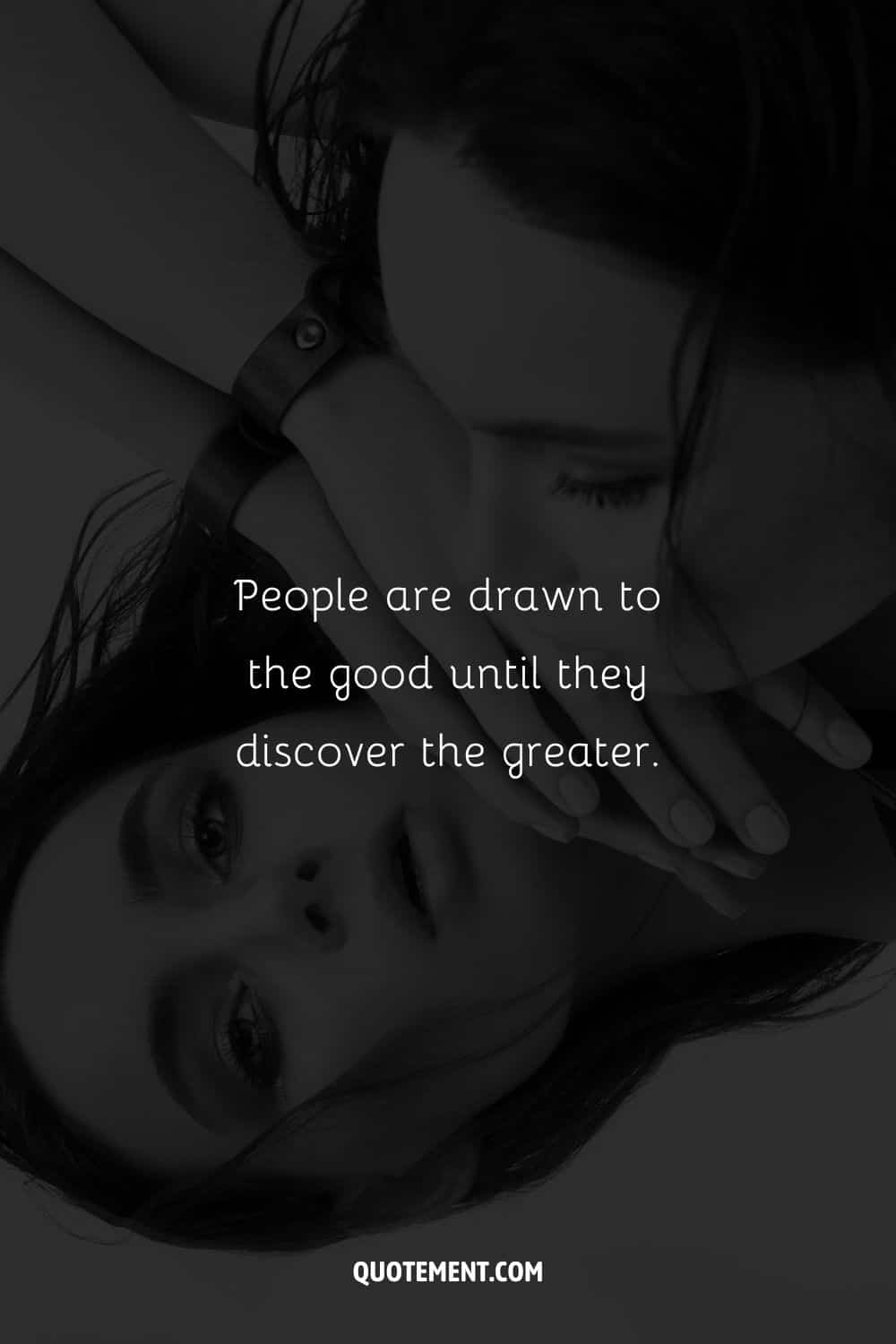 21. I got a decent heart yet this mouth…
22. No angel, but she got a halo.
23. I won't be remembered as a woman who keeps her mouth shut. I'm okay with that.
24. Braking norms, making history.
25. I am a princess and a baddie.
See also: The 120 Best Baddie Quotes For Instagram To Slay The Day
26. Being so bad got me feelin' so good.
27. Not a model but I know I been your idol.
28. You can't compete where you can't compare.
29. Just a 'lil reminder that I'm still that bitch.
30. I'm alone because alpha females don't run in packs.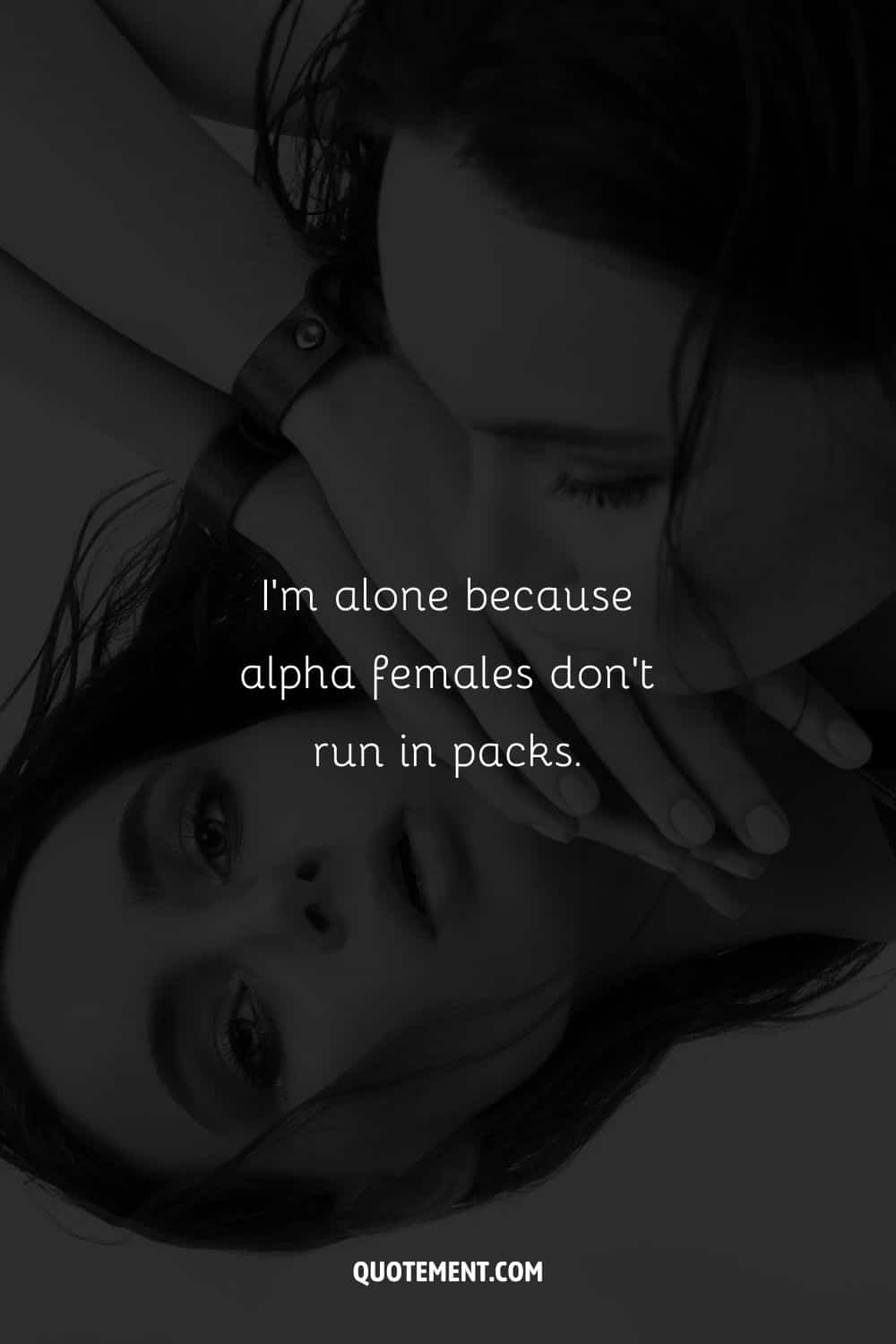 See also: The 130 Best Alpha Female Quotes For Women's Empowerment
Bad Bitch Captions For Your Hottest Selfies
1. There is always a wild side to an innocent face.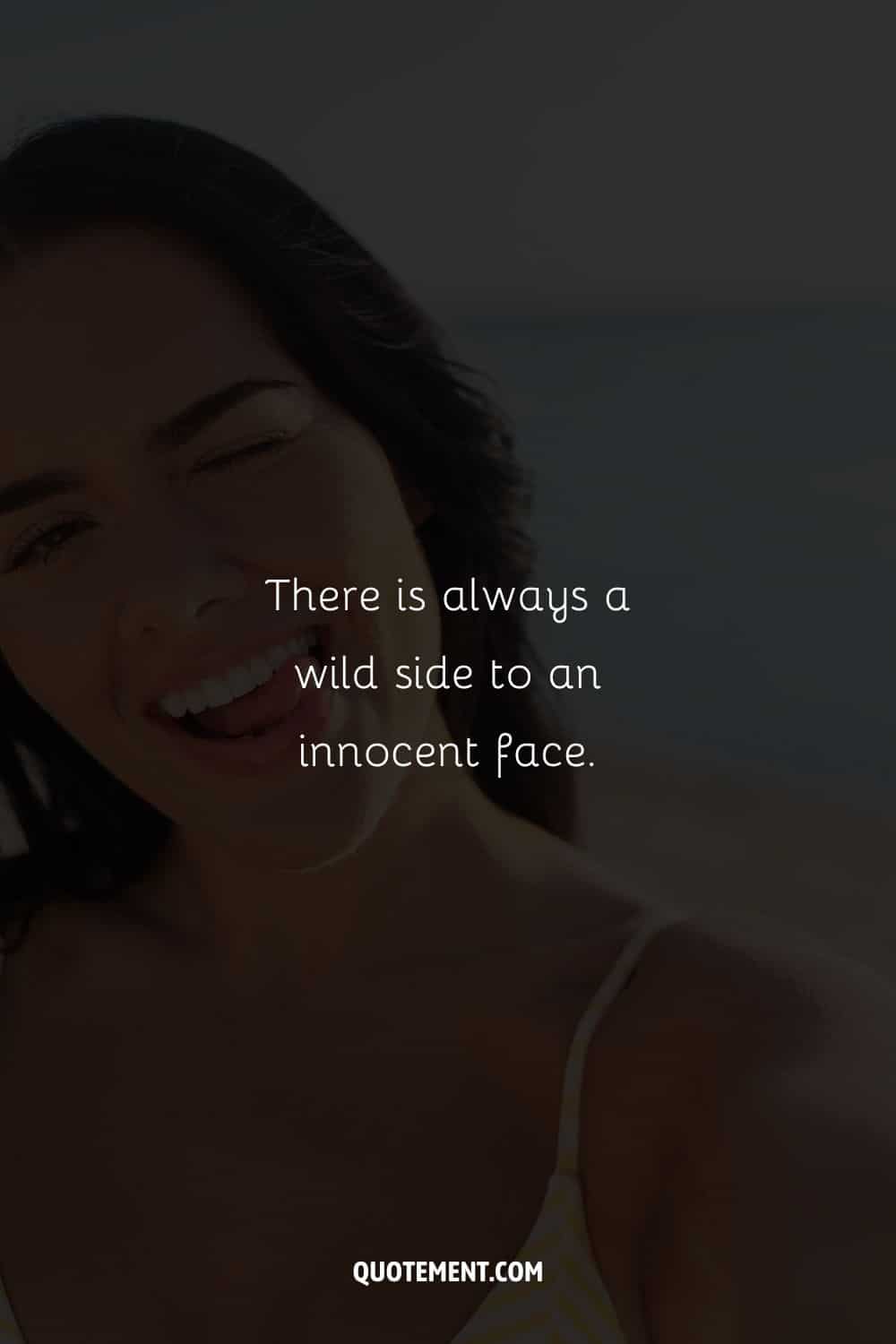 2. Trouble never looked so fine.
3. Better than you since '90.
4. Gonna just leave this here.
5. I may not be great, yet essentially I'm not you.
6. I'm sunshine mixed with a little hurricane.
7. Proof that I can do selfies better than you.
8. Confidence level: no filter.
9. Still your best.
10. Every time I look in the mirror, all I see is my only competitor.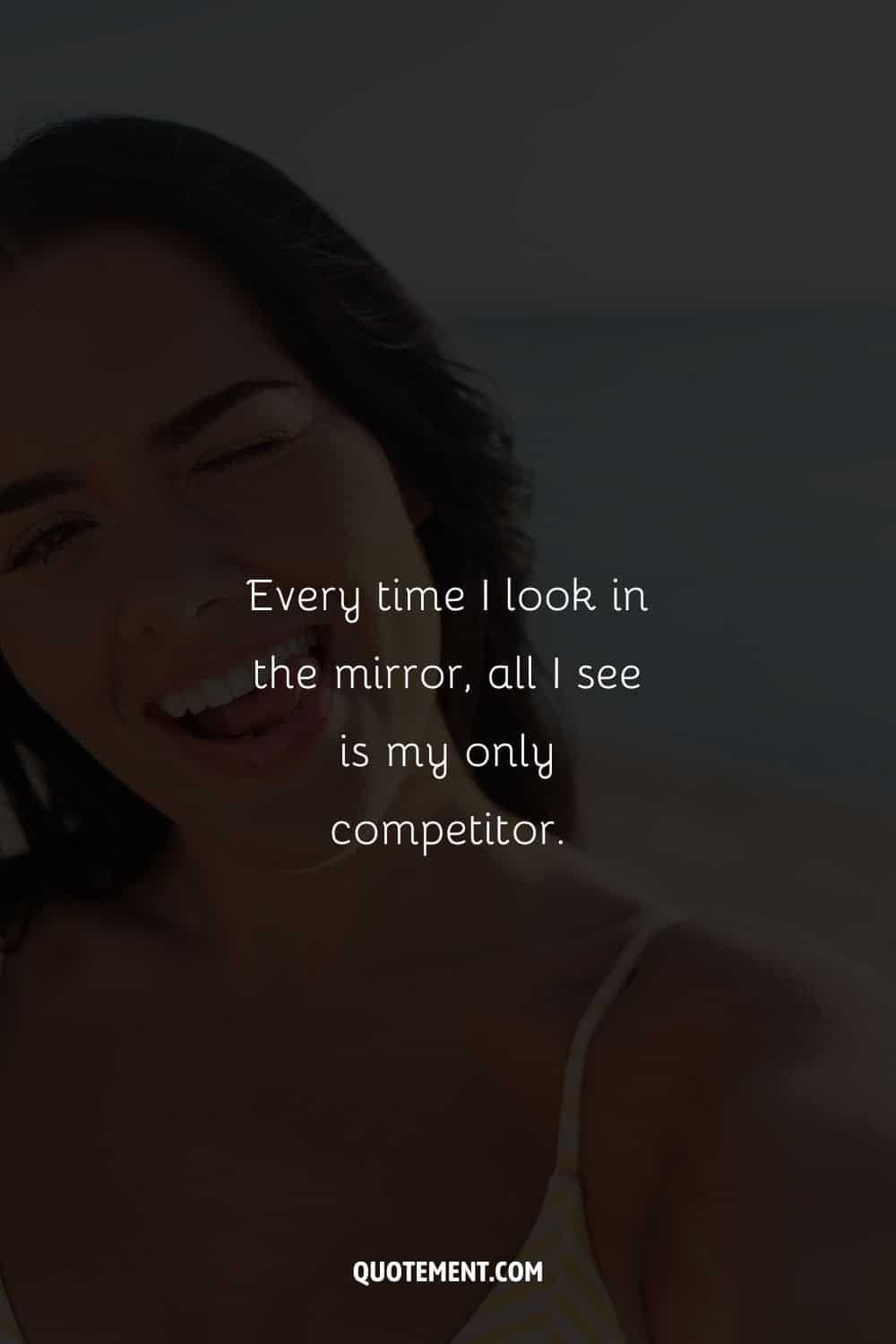 11. Let me update your status.
12. Skin on glow, money on grow.
13. More than just a pretty face.
14. Count blessings instead of wrinkles.
15. They say you can't buy happiness but you can buy lashes and that's pretty much the same thing.
See also: 130 Beautiful Lash Quotes To Add Some Magic To Your Day
16. My mascara is too expensive to cry over stupid boys like you.
17. You couldn't handle me even if I came with instructions.
18. Brain, beauty and badass determination.
19. It's not an occasion, I'm just hot.
20. The only thing you can take from me is notes.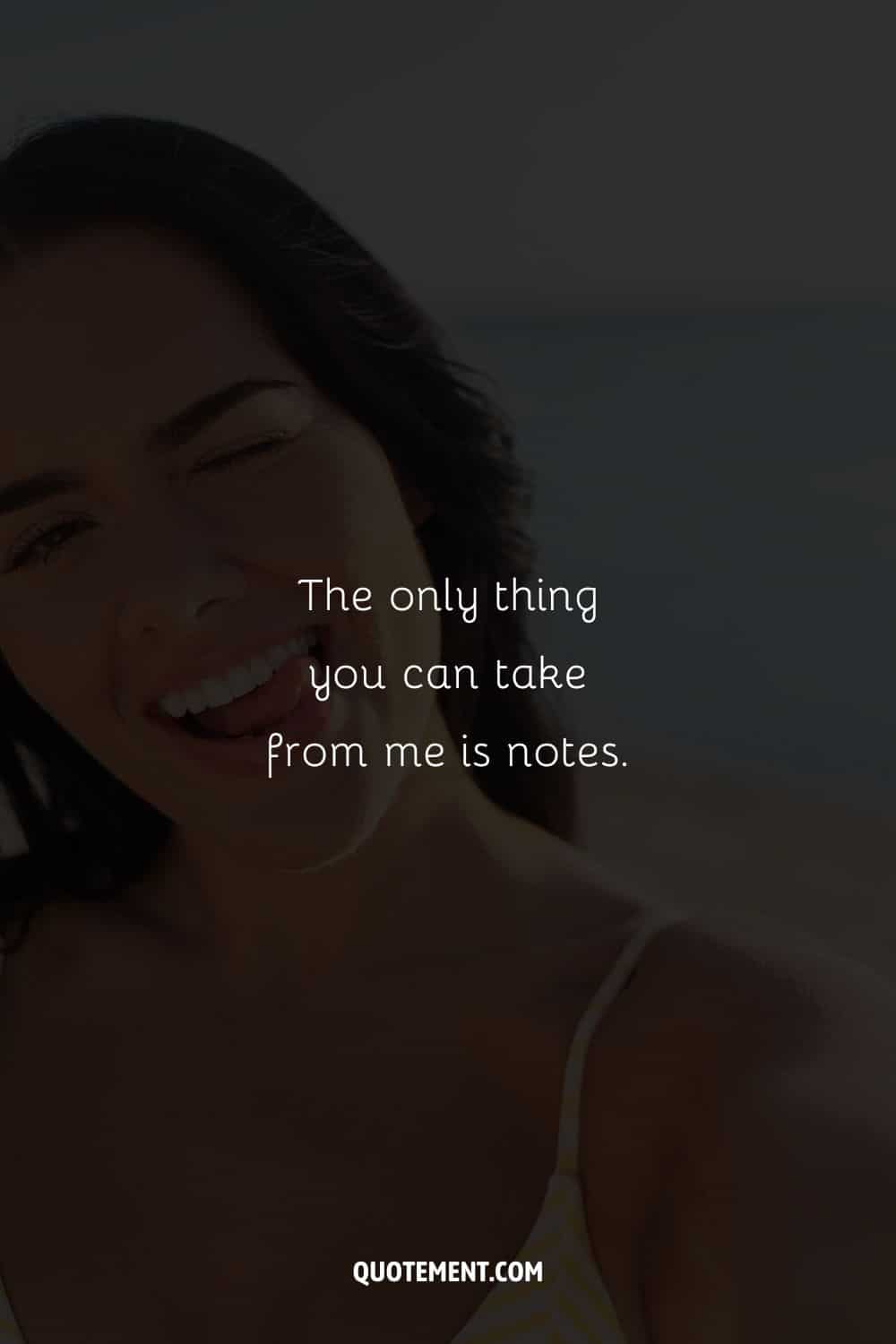 21. You can take me as I am or watch me as I go.
22. Not a waitress but still serving.
23. I like my coffee how I like myself: Dark, bitter, and too hot for you.
24. Pretty with no effort, so imagine when I apply pressure.
25. Clever as the devil and twice as pretty.
See also: 220 Awesome Devil Quotes For Instagram + Devil Captions
Bad Bitch Captions For Your Killer Outfits
1. Dress how you want to be addressed.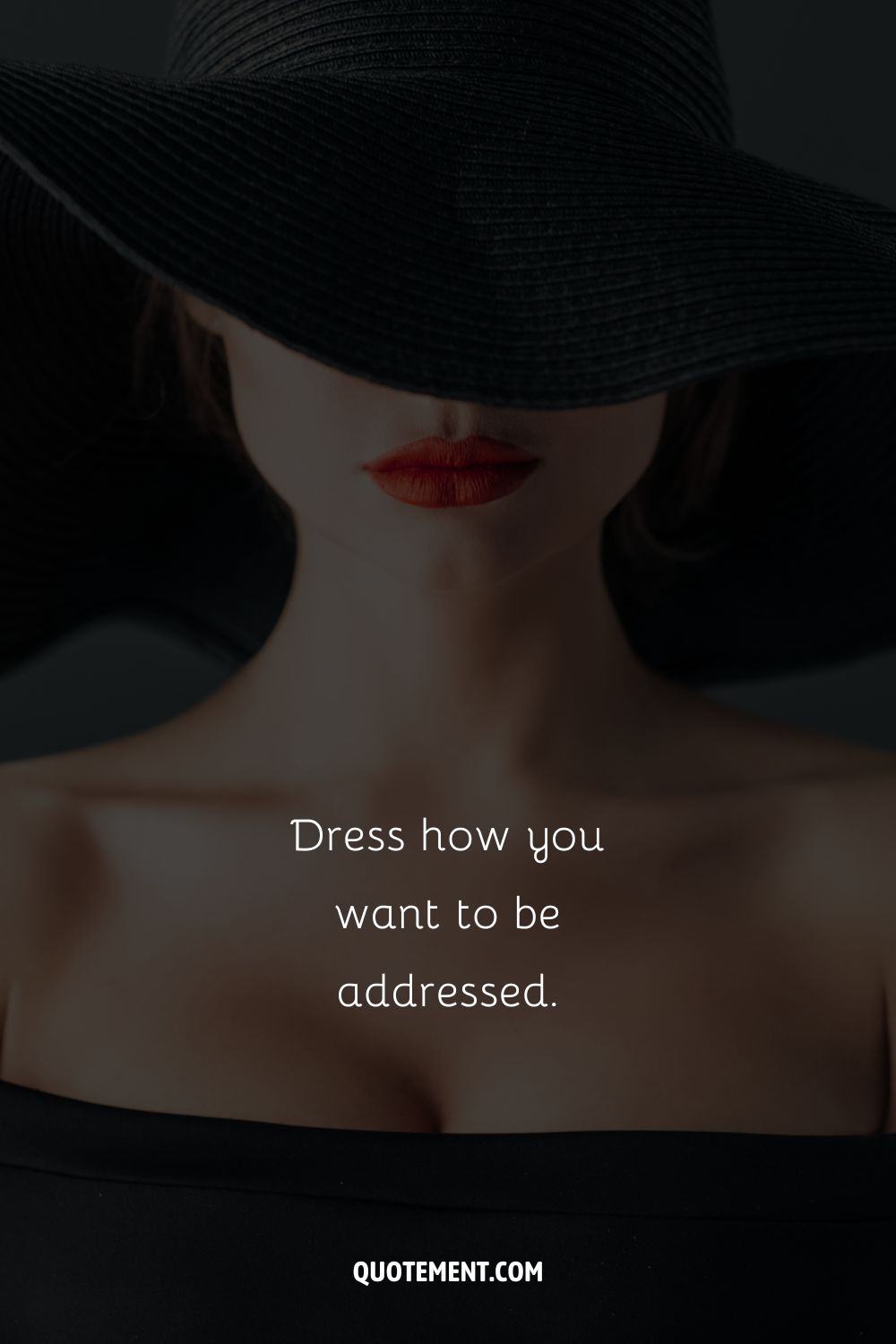 2. If looks could kill.
3. She is clothed in strength and dignity, and she laughs without fear of the future.
4. She's a nice girl with a bad-girl attitude.
5. Don't be like the rest of them, darling.
6. Bad vibes don't go with my outfit.
7. She is dressed in strength and respect, and she chuckles unafraid representing things to come.
8. I am a young lady dressed in bad bitch vibes.
9. Life isn't perfect, but your outfit can be.
10. I wear all black to remind you not to mess with me because I'm already dressed for your funeral.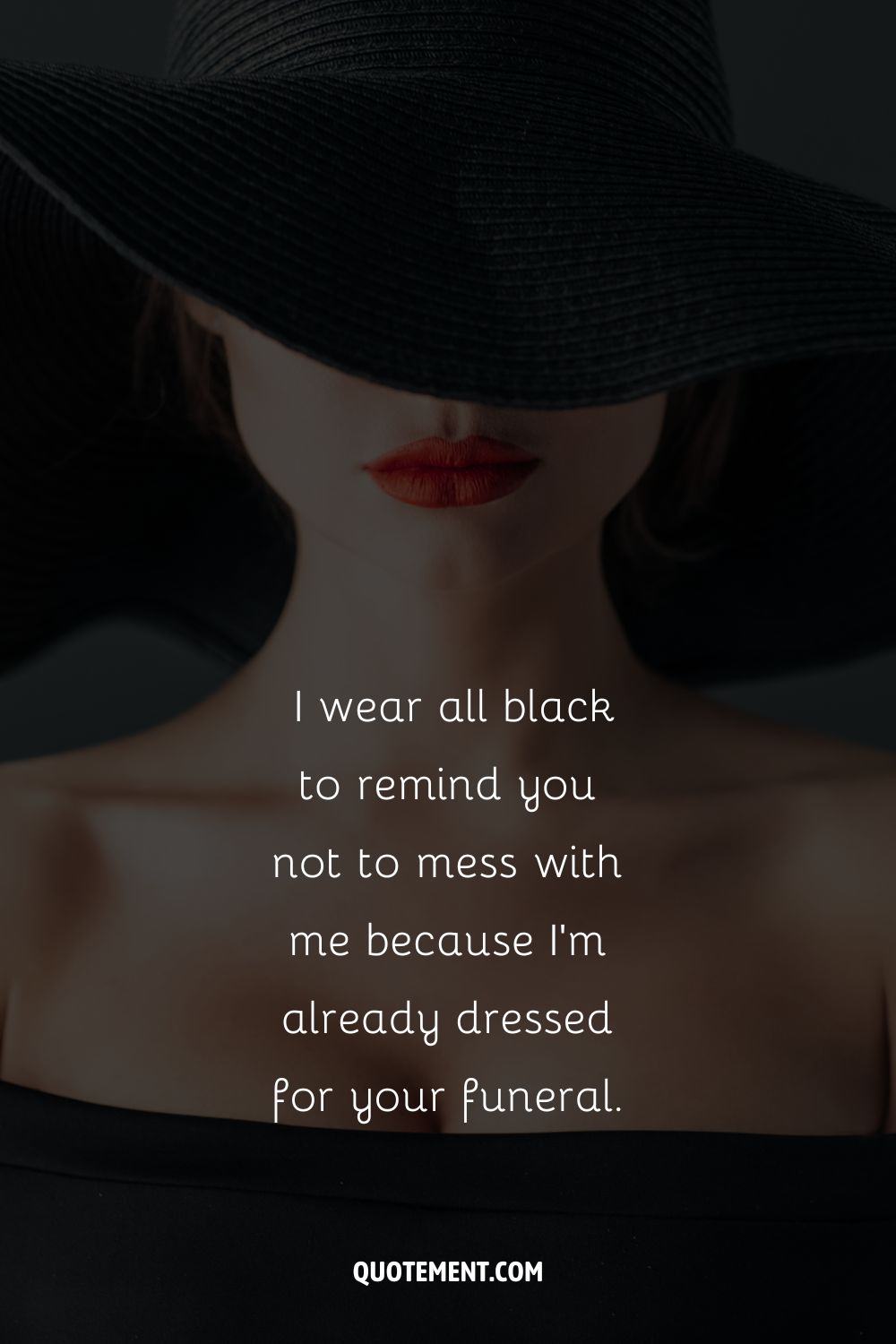 See also: 110 Wearing Black Quotes To Inspire You To Go All Black
11. Slayed so hard I might break the internet.
12. Never lower your worth to get somebody's attention.
13. 5'2 my height but my attitude is 6'1…
14. Too glam to give a damn.
15. I know I changed baby, that was the point.
16. If you were in my shoes, you'd fall the first step.
17. I'm nicer when I like my outfit.
18. People will stare. Make it worth their while.
19. You don't like me but still, watch everything I do? You are a fan bitch.
20. If I'm going to be a mess, I might as well be a hot one.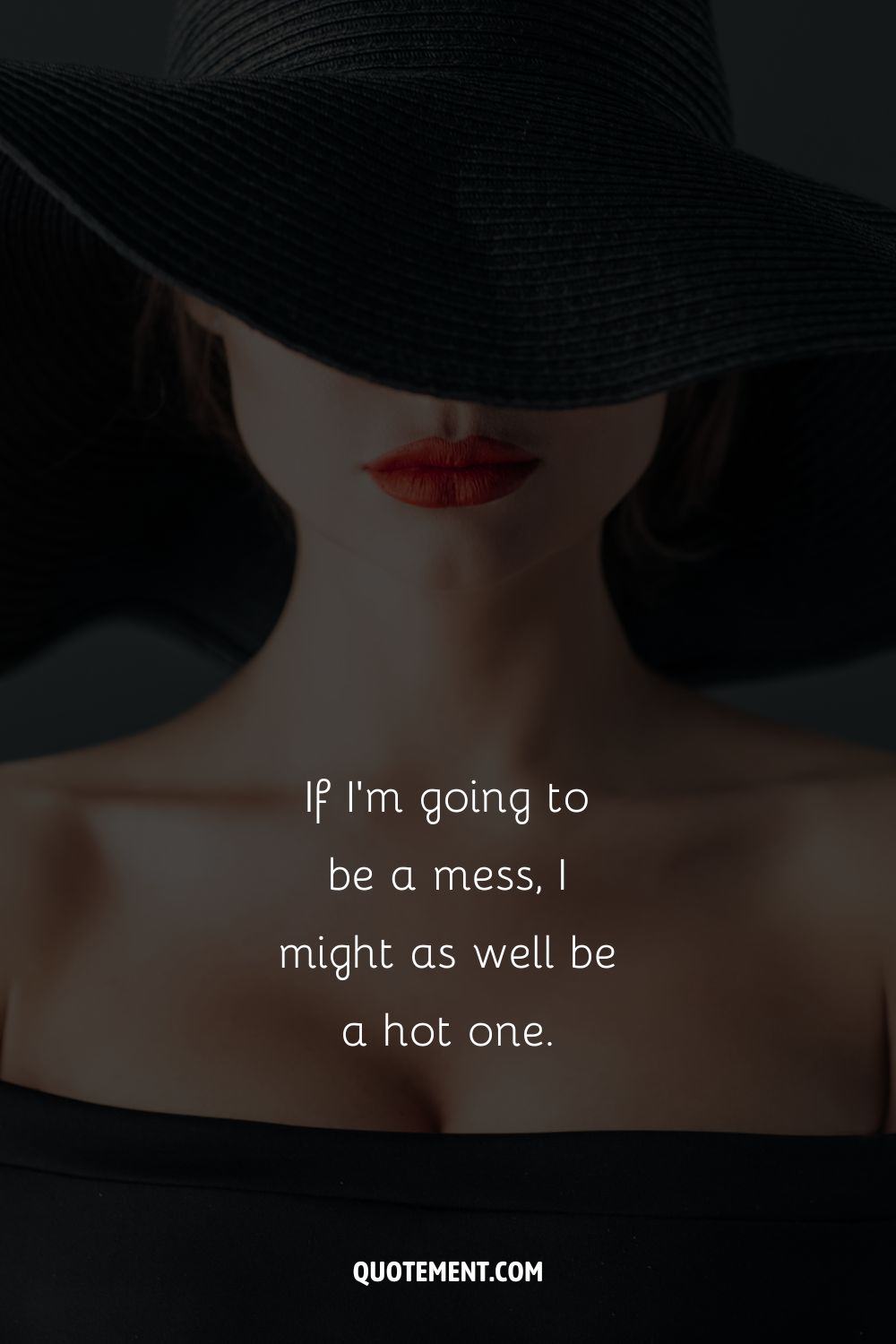 21. She's not being a bitch. She's just less likely to put up with your shit.
22. My ex doesn't go with my outfit.
23. I was like the good girl, the bad girl. There were no grey areas for me.
24. Shoutout to myself 'cuz I look great.
25. Classy is when a woman has everything but doesn't show off.
See also: 220 Classy Fashion Captions For Instagram You Can't Miss
Bad Bitch Quotes You Can Use As Captions
1. "I am the greatest, I said that even before I knew I was." — Muhammad Ali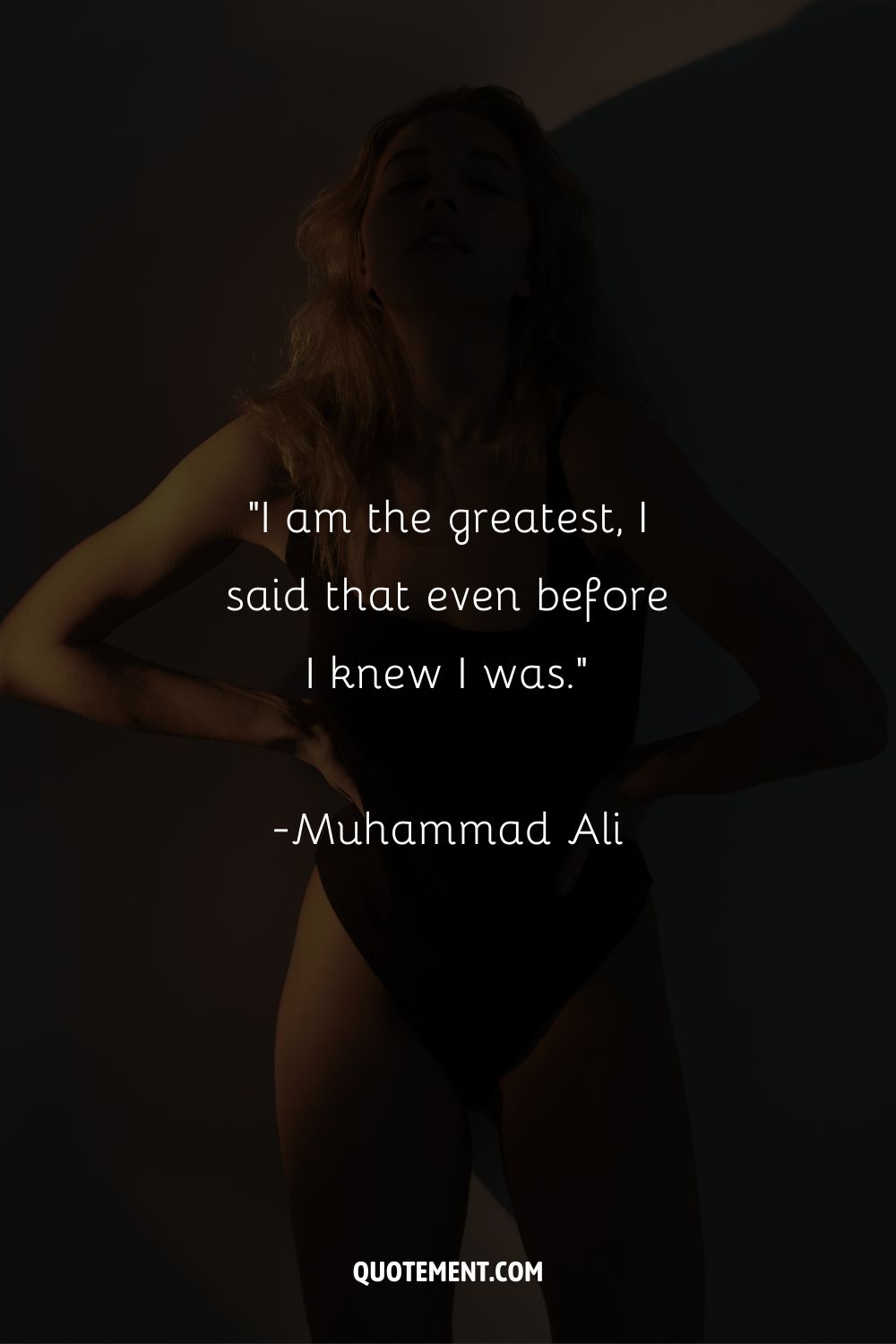 2. "Didn't they tell you I was a savage?" — Rihanna, Needed Me
3. "Lookin' in the mirror like, 'Damn, I don't brag enough.'" — Megan thee Stallion, Thot Shit
4. "You wanted fire? Sorry, my specialty is ice." — Veronica Lodge
5. "Forget safety. Live where you fear to Iive. Destroy your reputation. Be notorious." — Rumi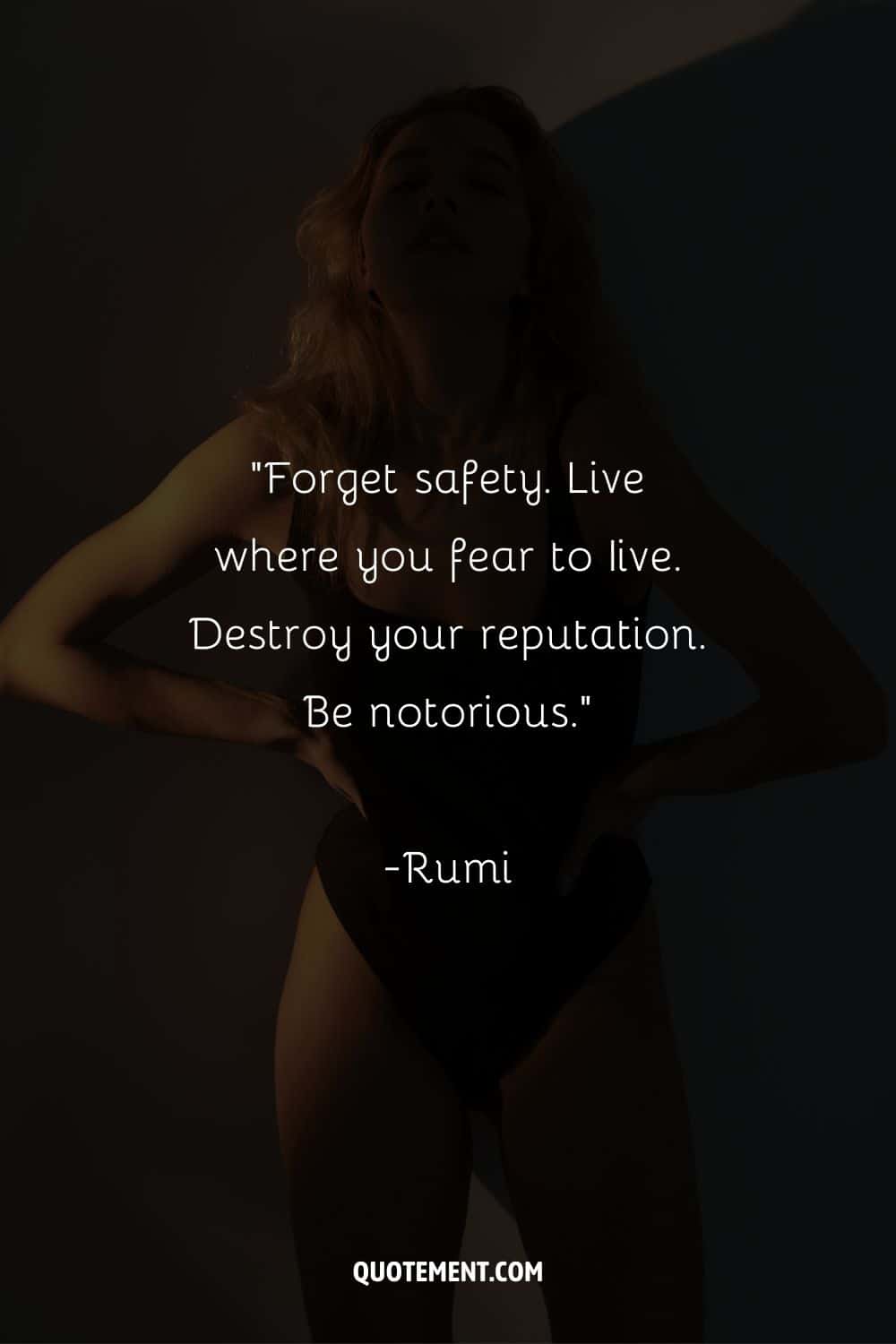 6. "Pour yourself a drink, put on some lipstick, and pull yourself together." — Elizabeth Taylor
7. "I'm single because I was born that way." — Mae West
8. "A man does what he can; a woman does what a man cannot." — Isabel Allende
9. "Sorry, I can't hear you over the sound of how awesome I am." — Harvey Specter
10. "Always forgive your enemies; nothing annoys them so much." — Oscar Wilde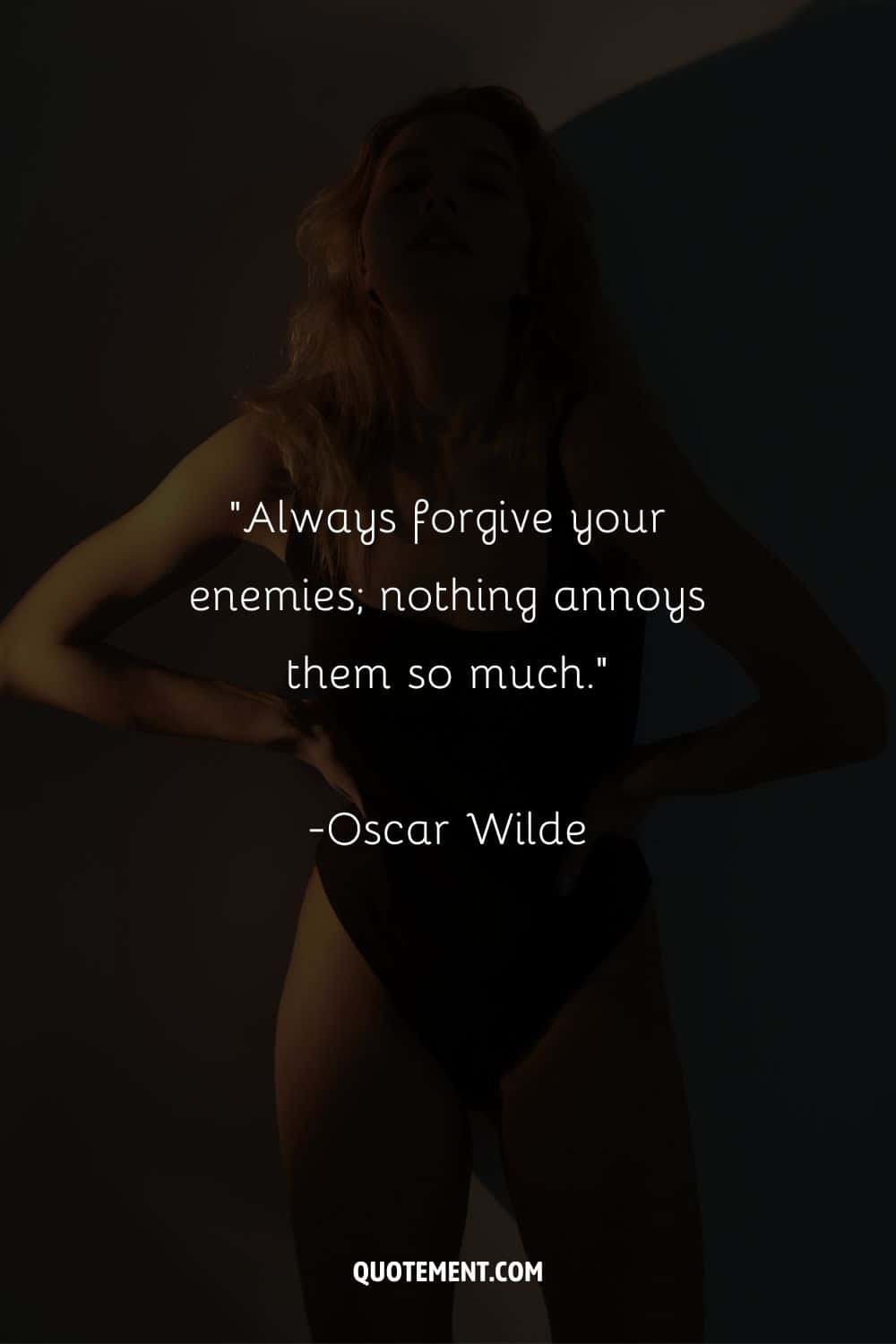 See also: 100 Oscar Wilde Quotes For Every Point Of Your Life
11. "I think a bad b*tch is a gift from God." — Cardi B ft. SZA, I Do
12. "Stop wearing your wishbone where your backbone ought to be." — Elizabeth Gilbert
13. "It is best to act with confidence, no matter how little right you have to it." — Lillian Hellman
14. "Get my pretty name outta your mouth." — Billie Eilish, Therefore I Am
15. "I'm not bad, I'm just drawn that way." — Jessica Rabbit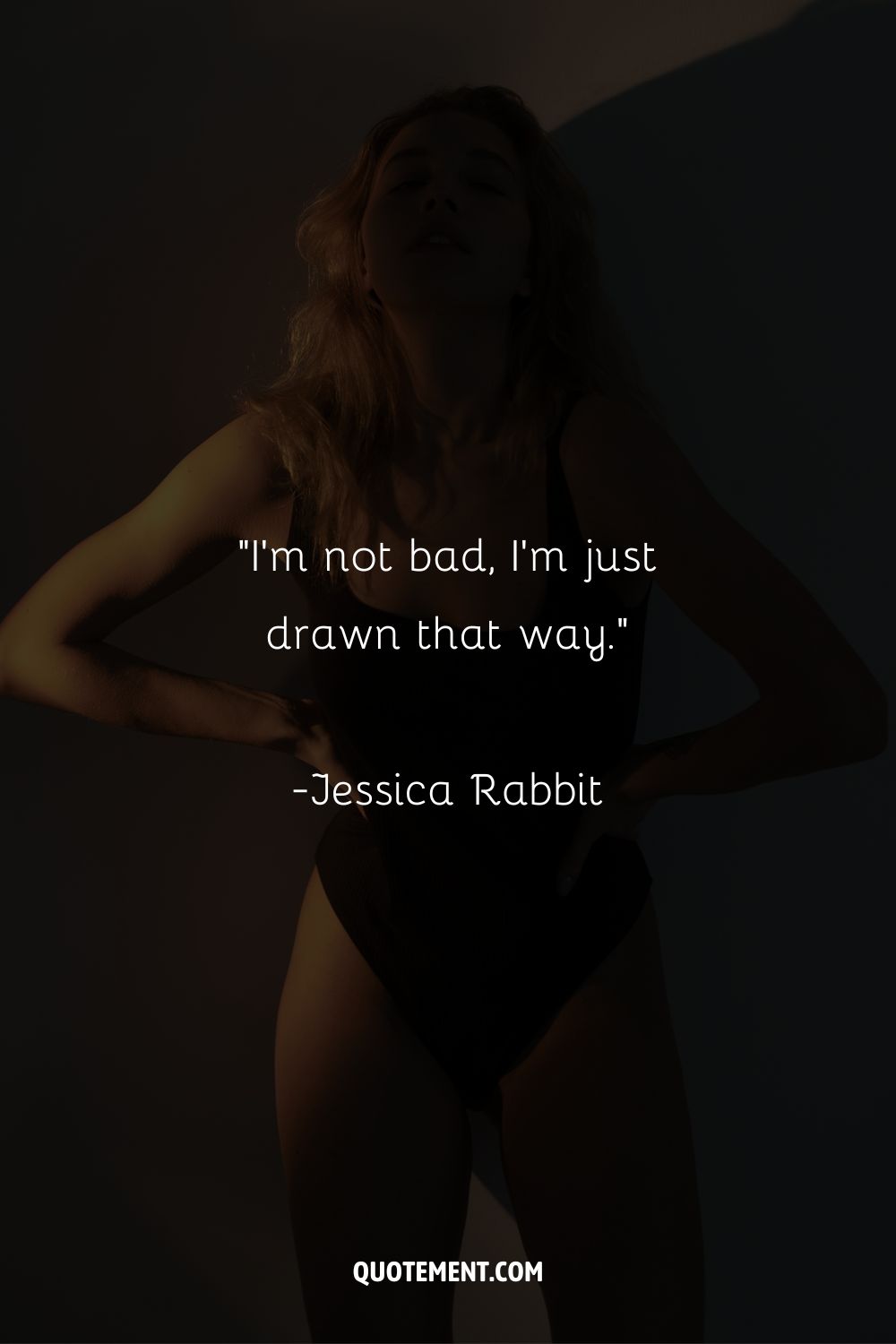 See also: 60 Best Jessica Rabbit Quotes From The Legendary Readhead
16. "If you don't like how the table is set, turn over the table." — House of Cards
17. "Good girls go to heaven, bad girls go everywhere." — Mae West
18. "If you want something said, ask a man: if you want something done, ask a woman." — Margaret Thatcher
19. "The thing women have yet to learn is nobody gives you power. You just take it." — Rosanne Barr
20. "You're not gonna tell me who I am. I'm gonna tell you who I am." — Nicki Minaj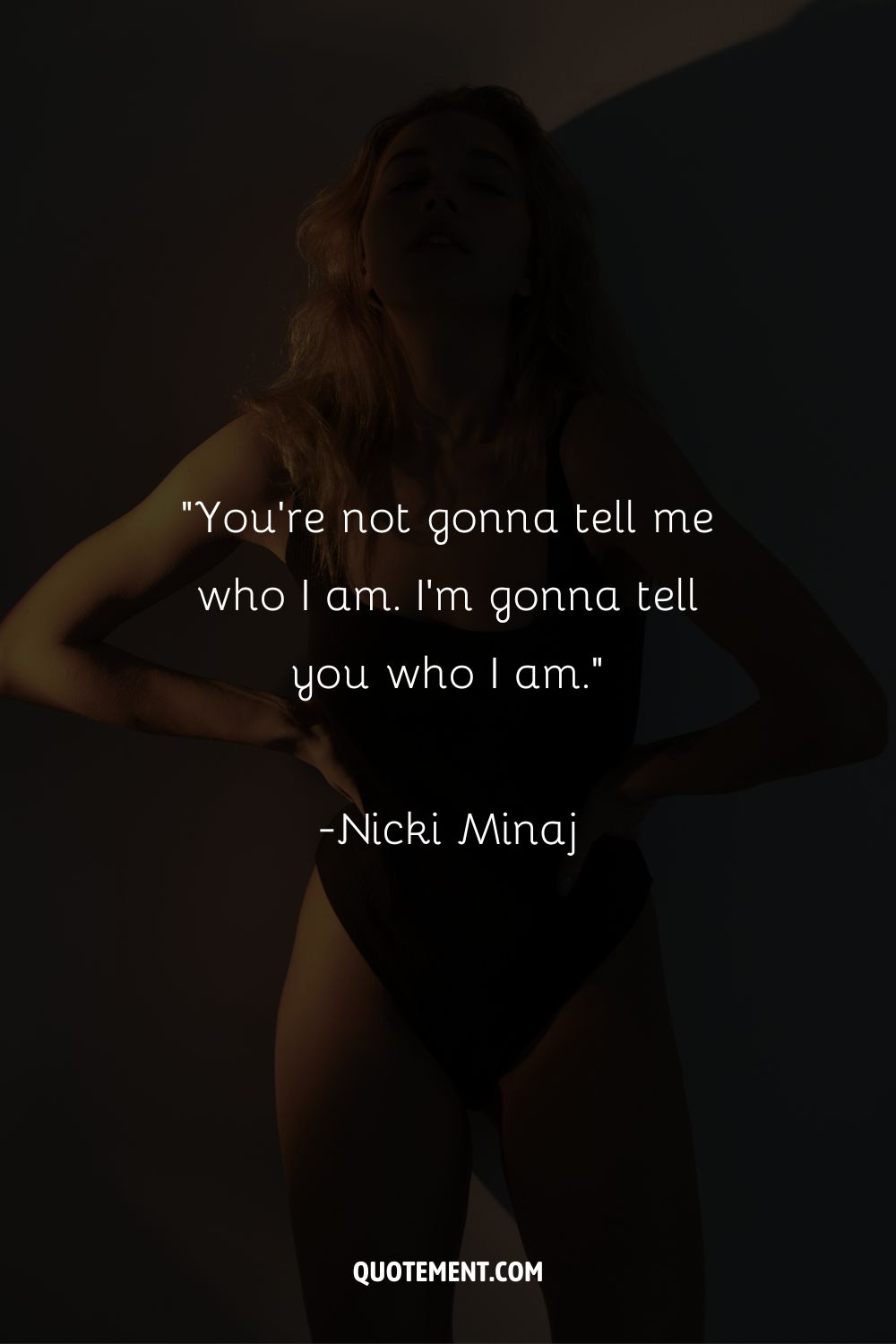 See also: 100 Nicki Minaj Quotes From The Baddest Queen Alive
In Conclusion
You've got killer pics and perfect bad bitch captions and now you're ready to slay and set Instagram on fire!