The arrival of grandkids brings special joy, happiness, and hope to the lives of their grandparents, and there is indeed something truly magical in this bond.
To that end, I've compiled an extensive list of grandchildren quotes, the best ones I could find on the web, capturing the essence of this lovely relationship.
Here we go!
10 Greatest Grandchildren Quotes
1. "Nobody can do for little children what grandparents do. Grandparents sort of sprinkle stardust over the lives of little children." — Alex Haley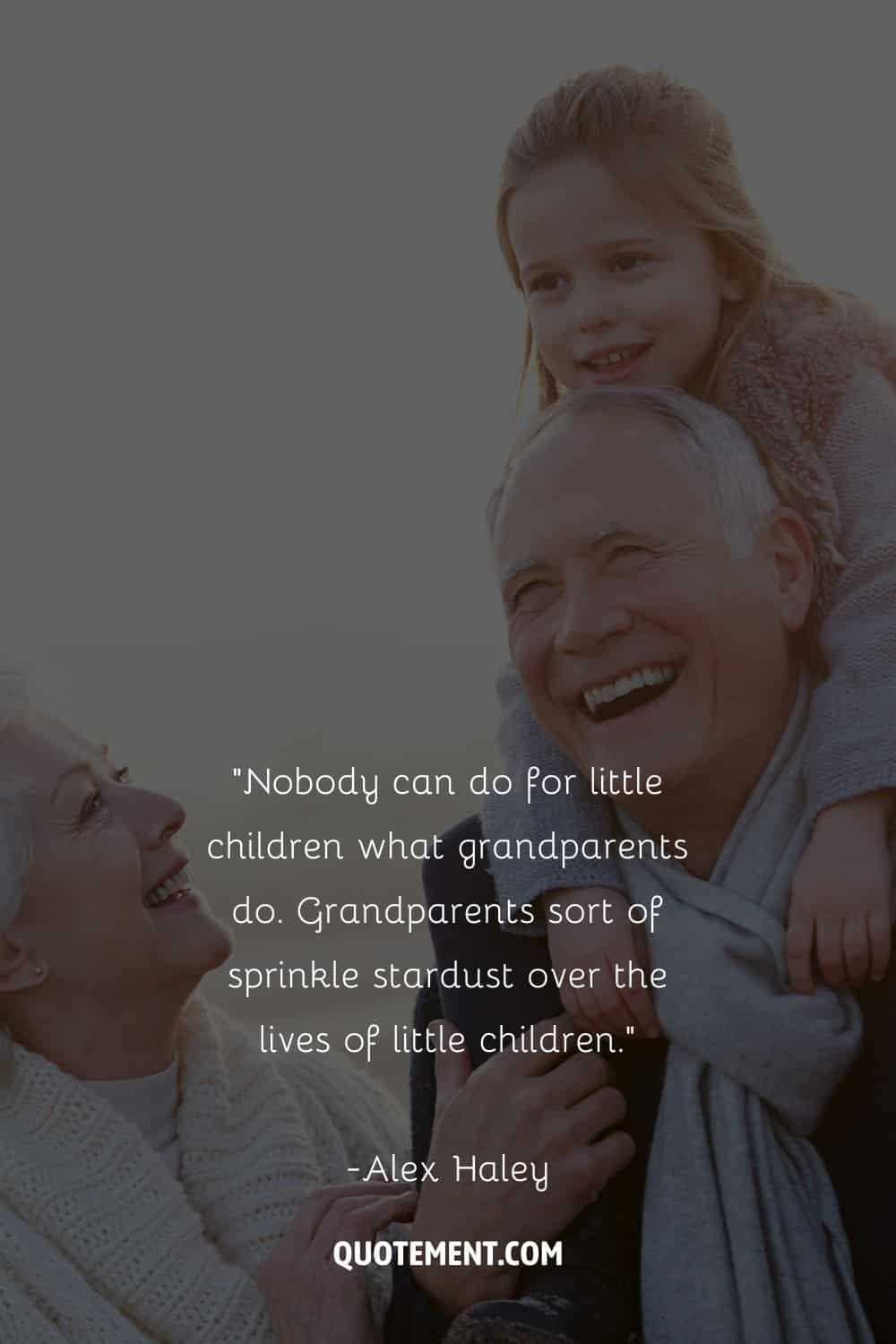 2. "The idea that no one is perfect is a view most commonly held by people with no grandchildren." — Doug Larson
3. "Grandchildren are loving reminders of what we're really here for." — Janet Lanese
4. "Children are the rainbow of life. Grandchildren are the pot of gold." ― Irish Blessing
5. "What a bargain grandchildren are! I give them my loose change, and they give me a million dollars worth of pleasure." — Gene Perret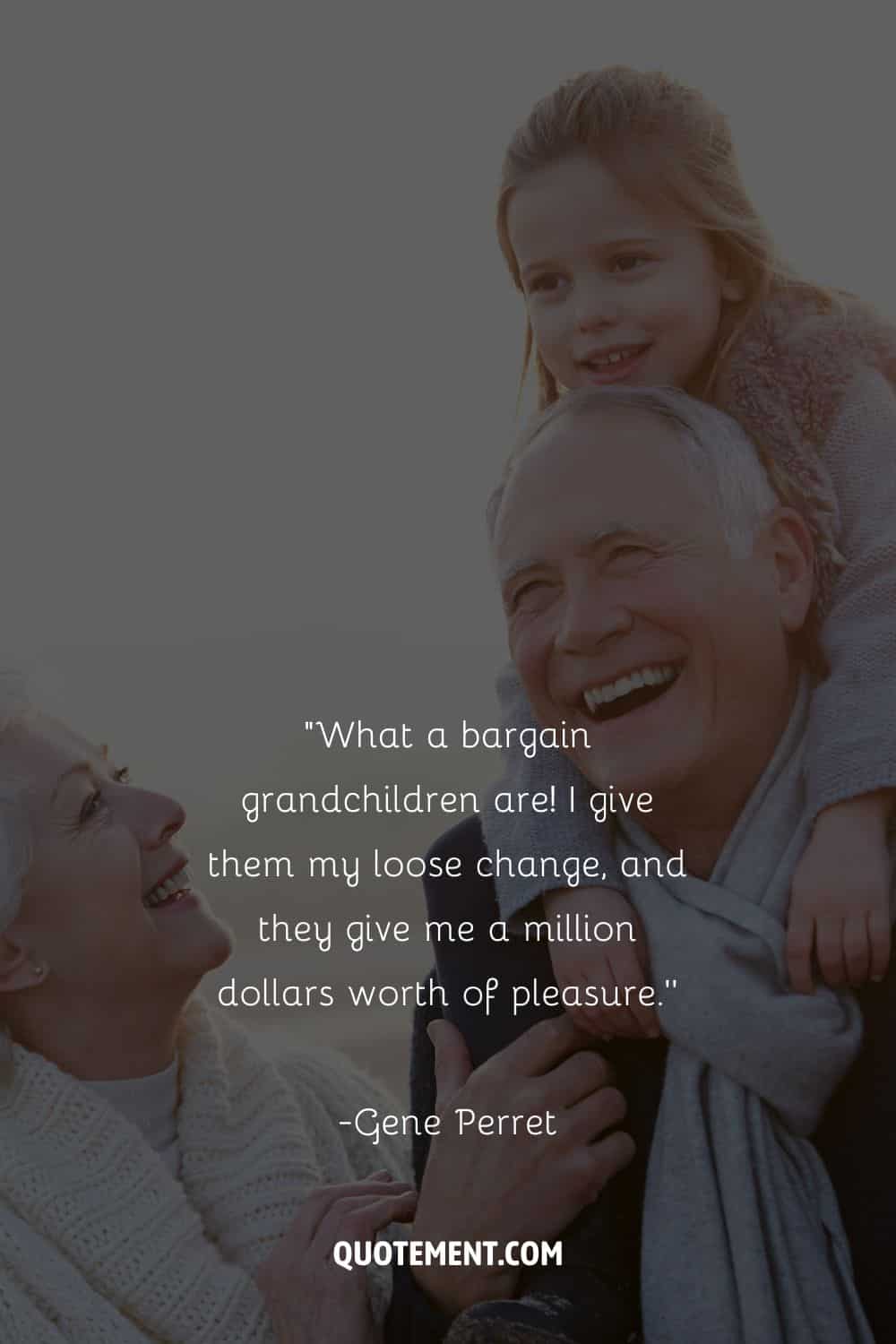 6. "As a subconscious attempt to add meaning or purpose to their life: The unemployed pray for a job; the retired pray for grandchildren." ― Mokokoma Mokhonoana
7. "Grandchildren are the dots that connect the lines from generation to generation." ― Lois Wyse
8. "Children's children are a crown to the aged" — Proverbs 17:6
9. "Elephants and grandchildren never forget." — Andy Rooney
10. "To become a grandparent is to enjoy one of the few pleasures in life for which the consequences have already been paid." — Robert Brault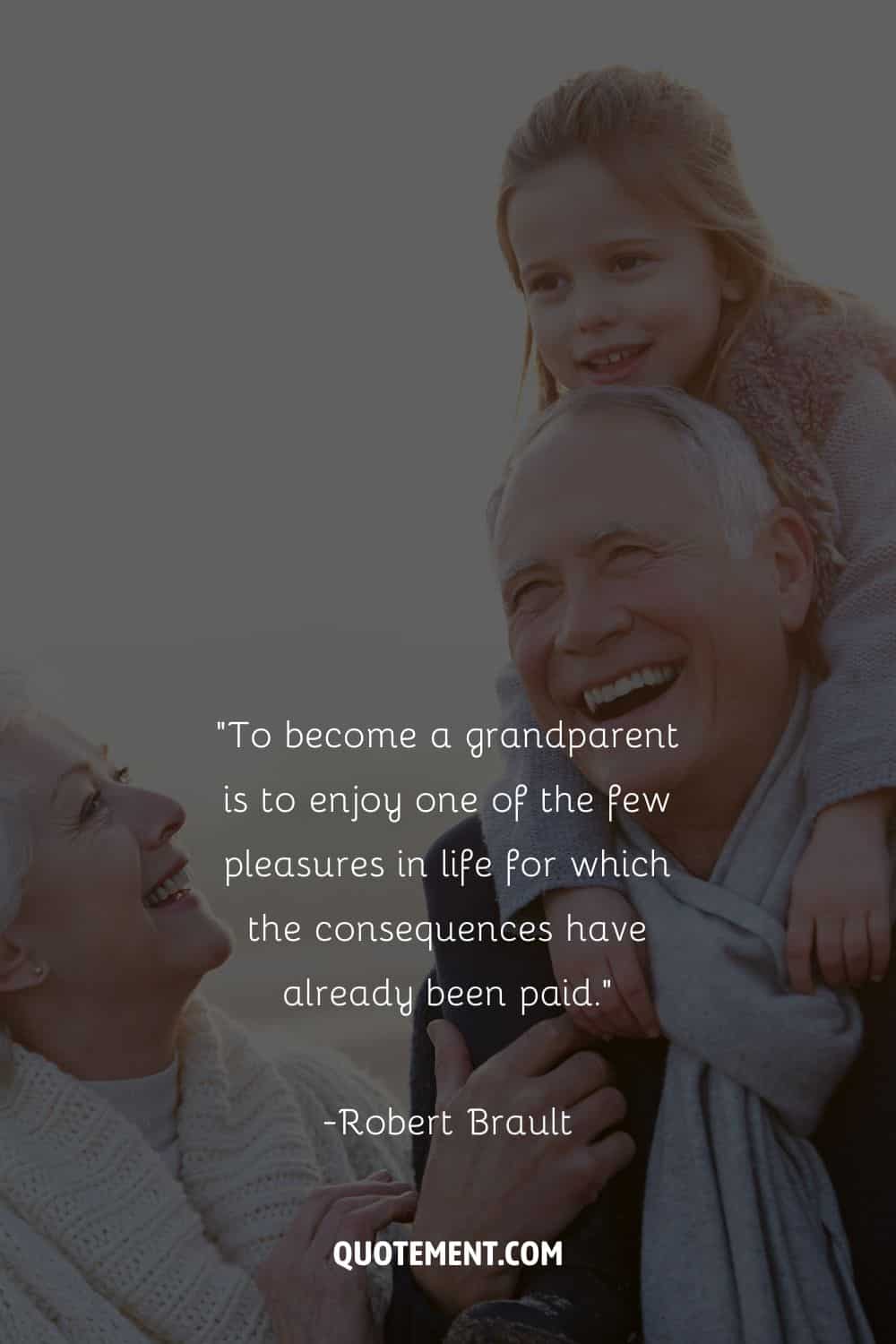 Inspirational Quotes About Grandkids
1. "Grandchildren give us a second chance to do things better because they bring out the best in us." — Unknown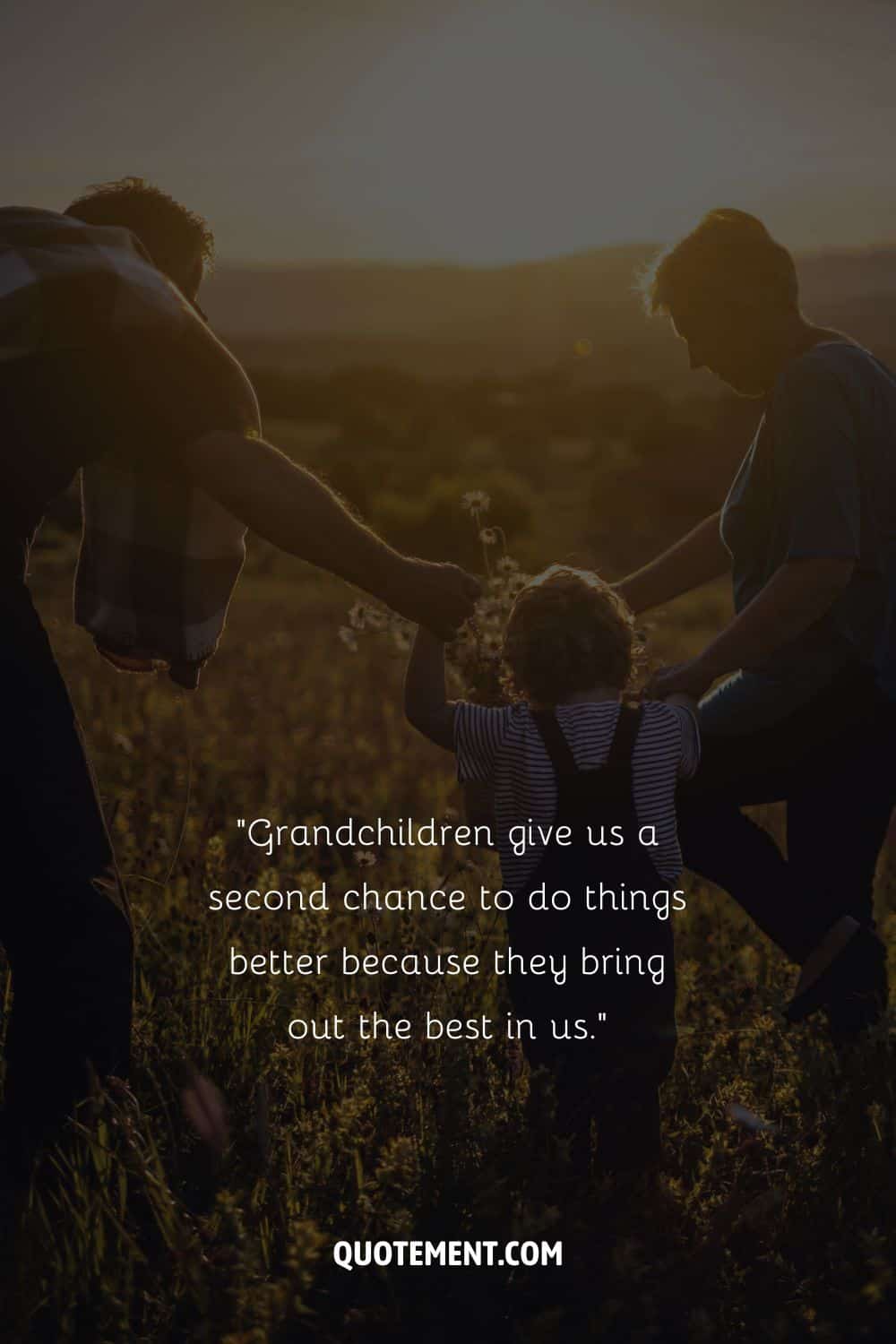 2. "Grandchildren are precious gifts given to parents from their children." — Lisa
3. "One of the most powerful handclasps is that of a new grandbaby around the finger of a grandfather." — Joy Hargrove
4. "A home filled with grandchildren is a home filled with love." — Unknown
5. "Perfect love sometimes does not come until grandchildren are born." ― Welsh Proverb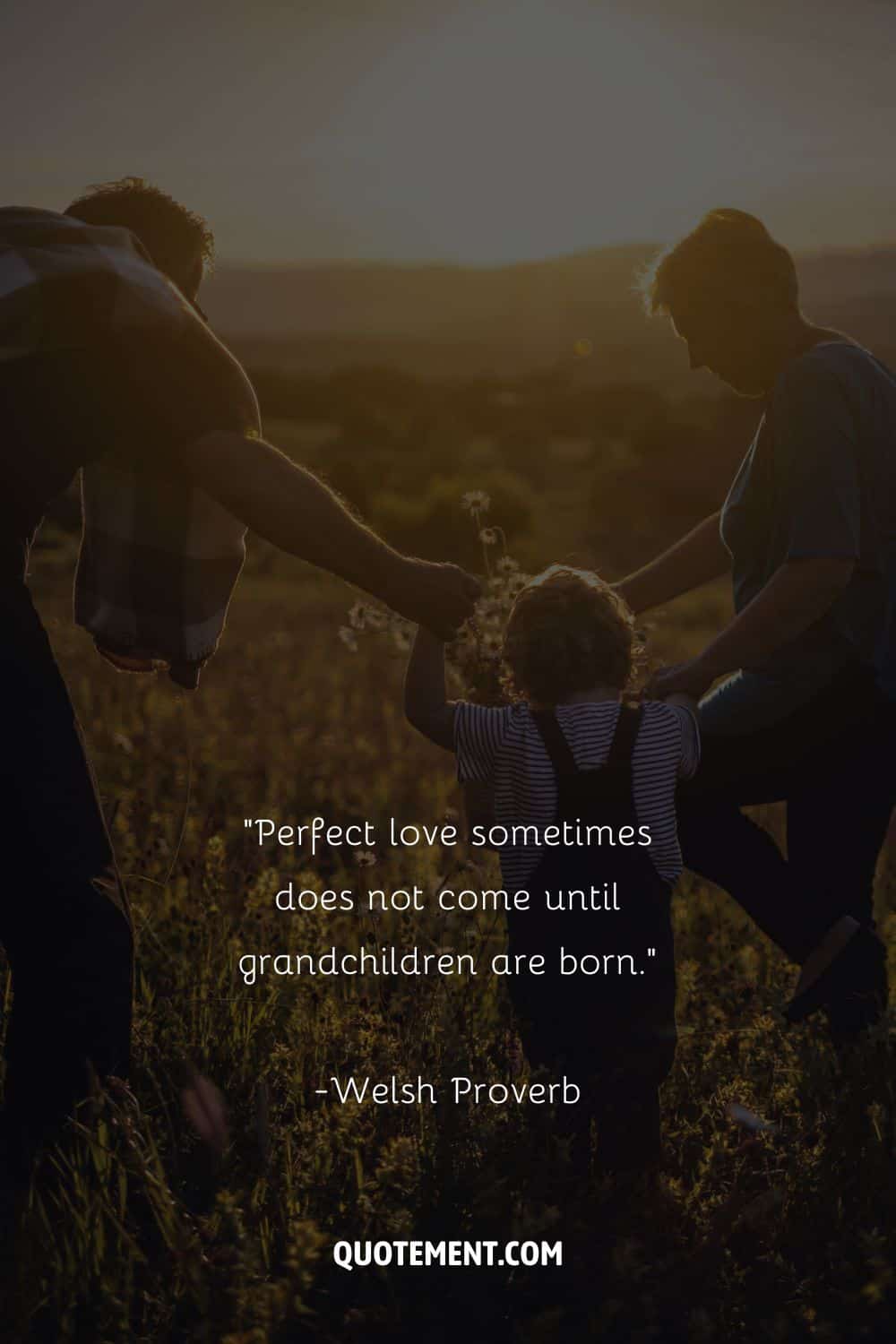 6. "A mother becomes a true grandmother the day she stops noticing the terrible things her children do because she is so enchanted with the wonderful things her grandchildren do." — Lois Wyse
7. "Our grandchildren accept us for ourselves, without rebuke or effort to change us, as no one in our entire lives has ever done, not our parents, siblings, spouses, friends — and hardly ever our own grown children." — Ruth Goode
8. "No matter what your family looks like, we all want the same thing for our families — happiness, health, prosperity, a bright future for our children and grandchildren." — Kay Hagan
9. "A grandchild is like a fine jewel set in an old ring." — Anne Lamott
10. "Few things are more delightful than grandchildren fighting over your lap." — Doug Larson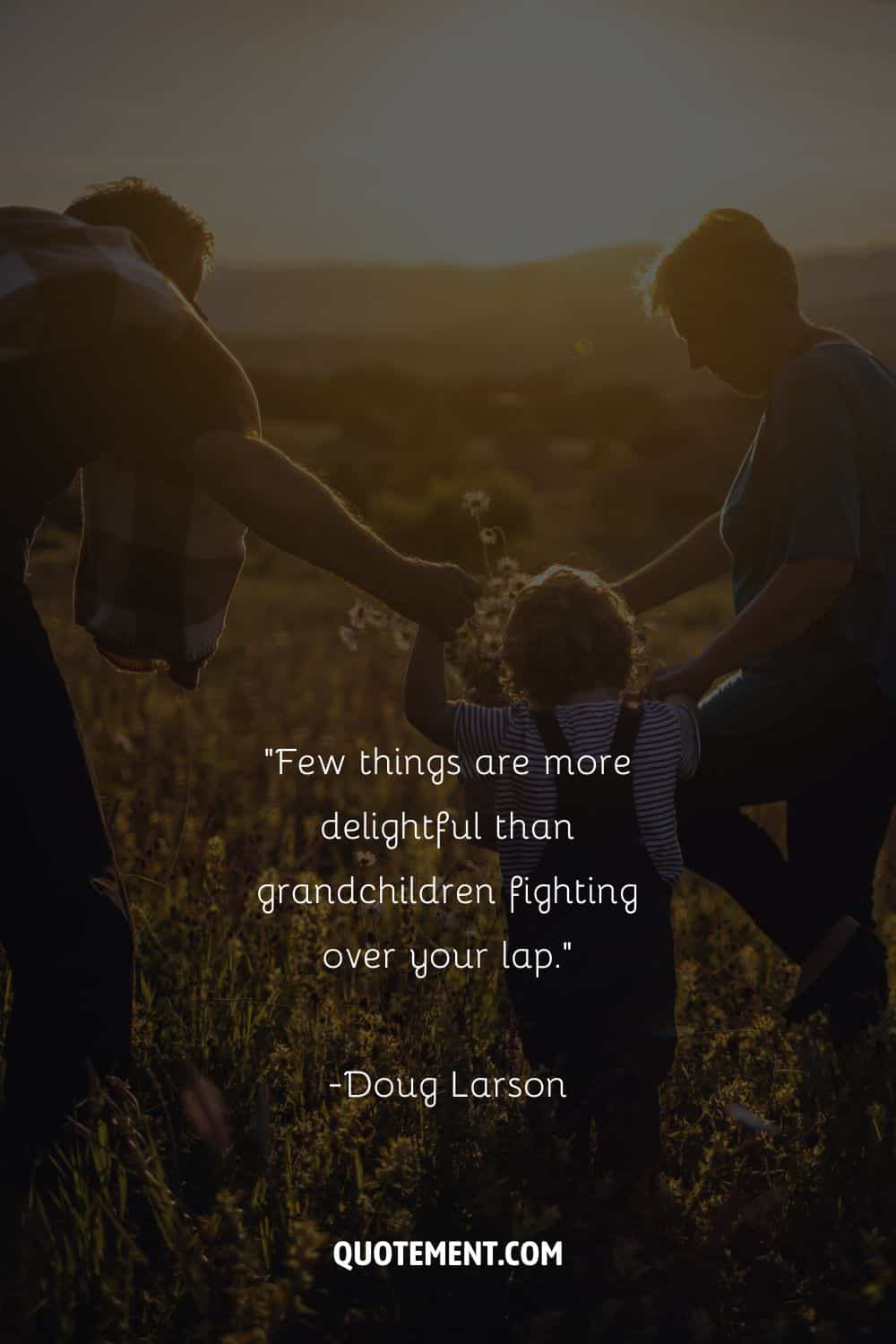 11. "The greatest legacy one can pass on to one's children and grandchildren is not money or other material things accumulated in one's life, but rather a legacy of character and faith." — Billy Graham
12. "Grandchildren restore our zest for life, and our faith in humanity." — Unknown
13. "Grandparents can be very special resources. Just being close to them reassures a child, without words, about change and continuity, about what went before and what will come after." — Fred Rogers
14. "Sometimes our grandmas and grandpas are like grand-angels." — Lexie Saige
15. "There is no greater achievement than being a grandfather who tells fairy tales to grandchildren." — Eraldo Banovac
16. "Young people need something stable to hang on to — a culture connection, a sense of their own past, a hope for their own future. Most of all, they need what grandparents can give them." — Jay Kesler
17. "Only through love will we find our way to create a world worthy of our children and our grandchildren." ― Laurence Overmire
18. "I have 22 grandchildren and great-grandchildren, and they keep me young." — Jimmy Carter
19. "Our faces will become works of art that our grandchildren will treasure." ― Adriana Trigiani
20. "I've always enjoyed seeing the world through the eyes of my grandchildren." — Neil Sedaka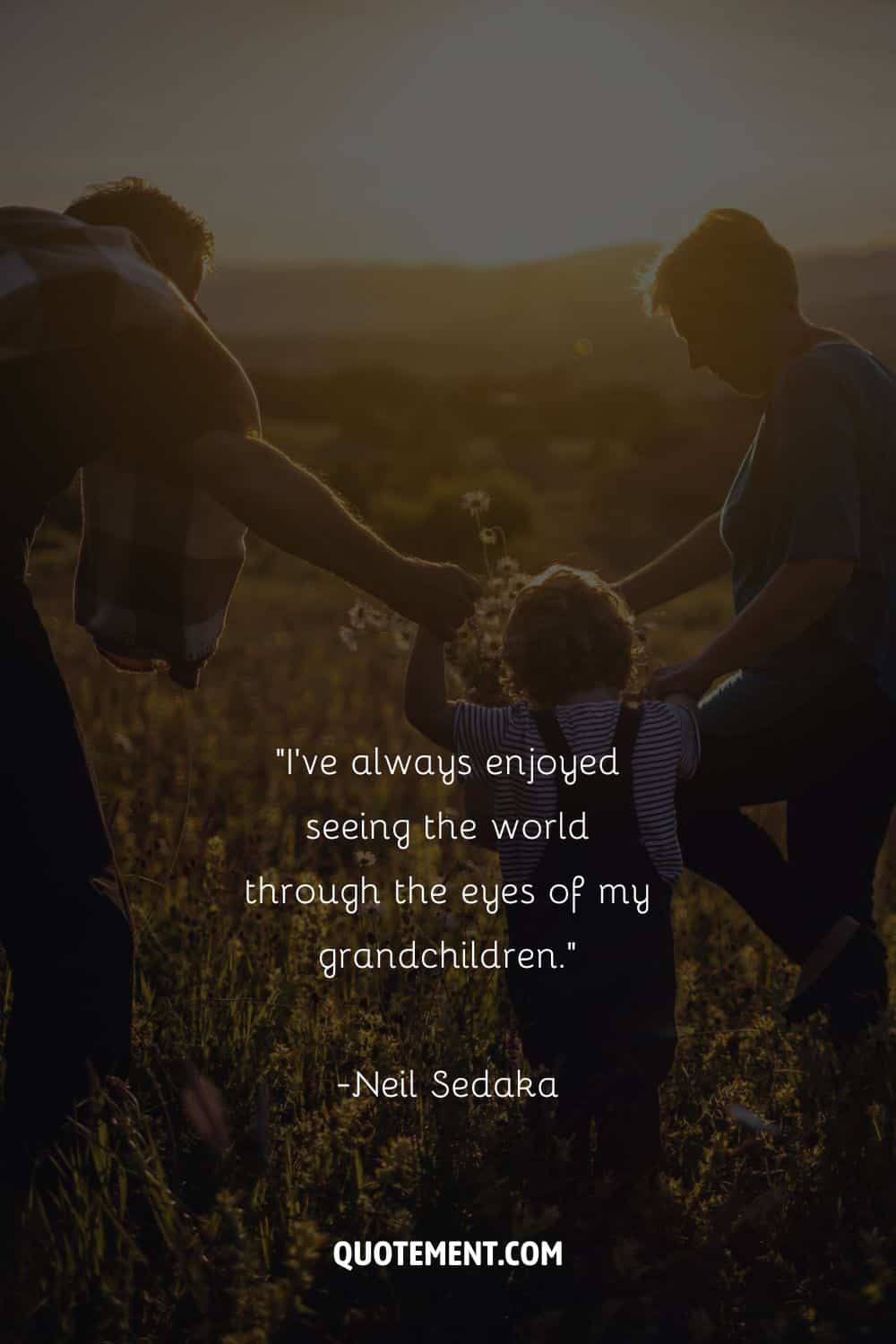 Insightful Grandchildren Quotes
1. "Have children while your parents are still young enough to take care of them." — Rita Rudner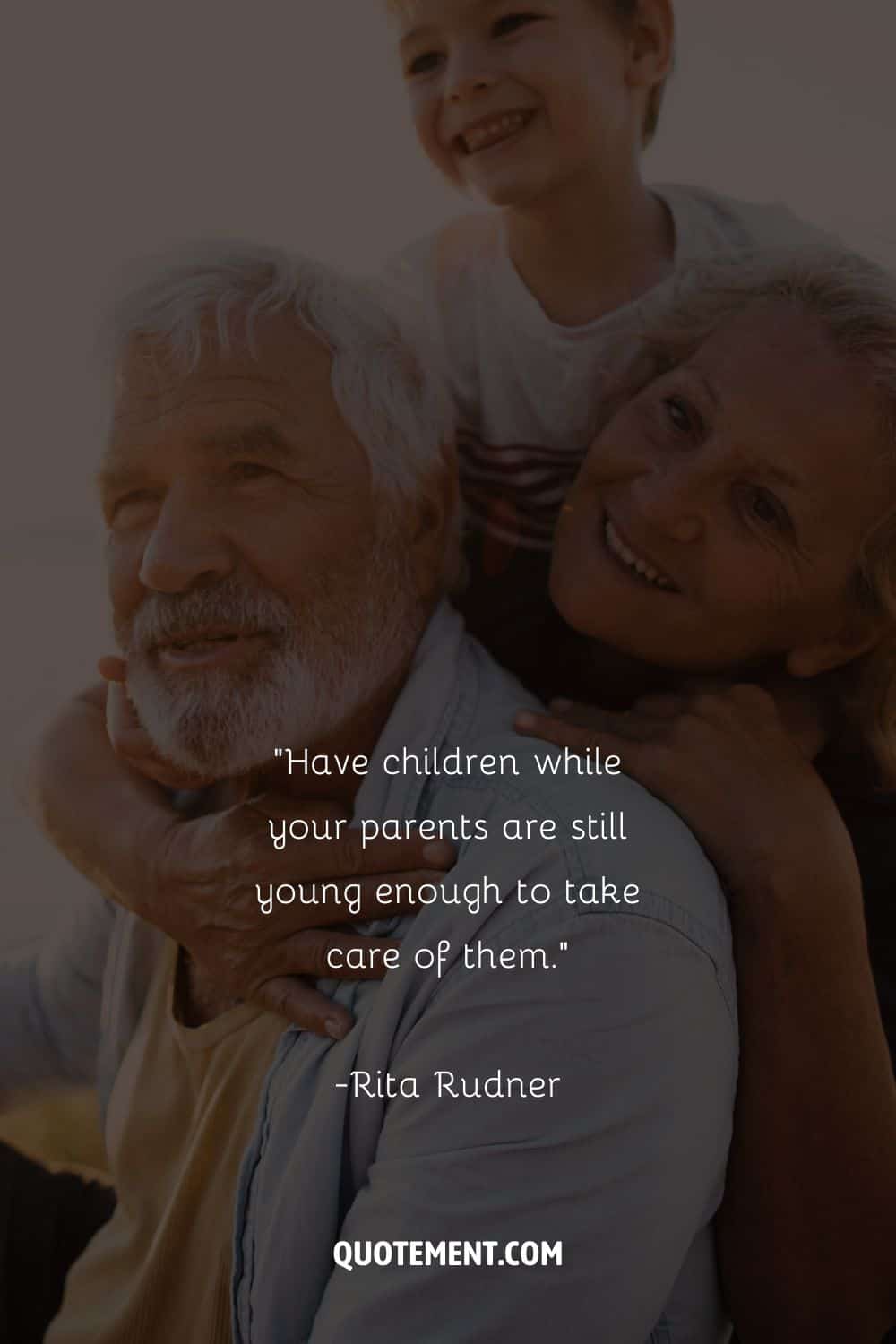 2. "For the sake of our health, our children and grandchildren, and even our economic well-being, we must make protecting the planet our top priority." — David Suzuki
3. "If we care about the children, the grandchildren, the future generations, we need to make sure that they do not become the cannon fodder of the future." — Helen Thomas
4. "You better arm yourselves to answer your children's and grandchildren's questions… no matter what the question is… without being judgmental." — Josh McDowell
5. "The question is, are we happy to suppose that our grandchildren may never be able to see an elephant except in a picture book?" — David Attenborough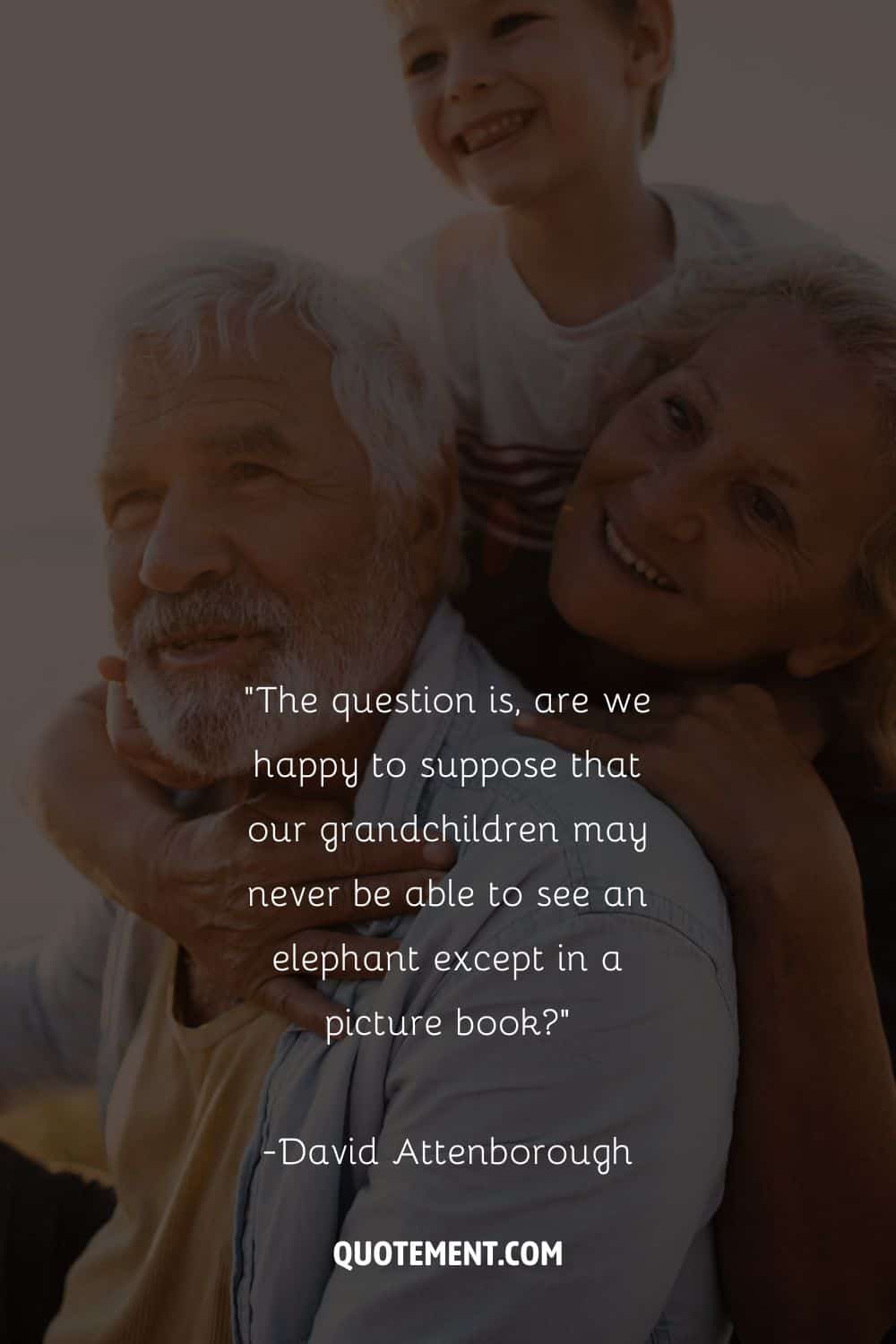 6. "I want my children and my grandchildren to live in a world with clean air, pure drinking water, and an abundance of wildlife, so I've chosen to dedicate my life to wildlife conservation so I can make the world just a little bit better." — Bindi Irwin
7. "The human overpopulation issue is the topic I see as the most vital to solve if our children and grandchildren are to have a good quality of life." — Alexandra Paul
8. "A grandchild fills a space in your heart that you never knew was empty." — Unknown
9. "Posterity is the patriotic name for grandchildren." — Art Linkletter
10. "We have to build the country that we want to see our future children and grandchildren live in." ― Zendaya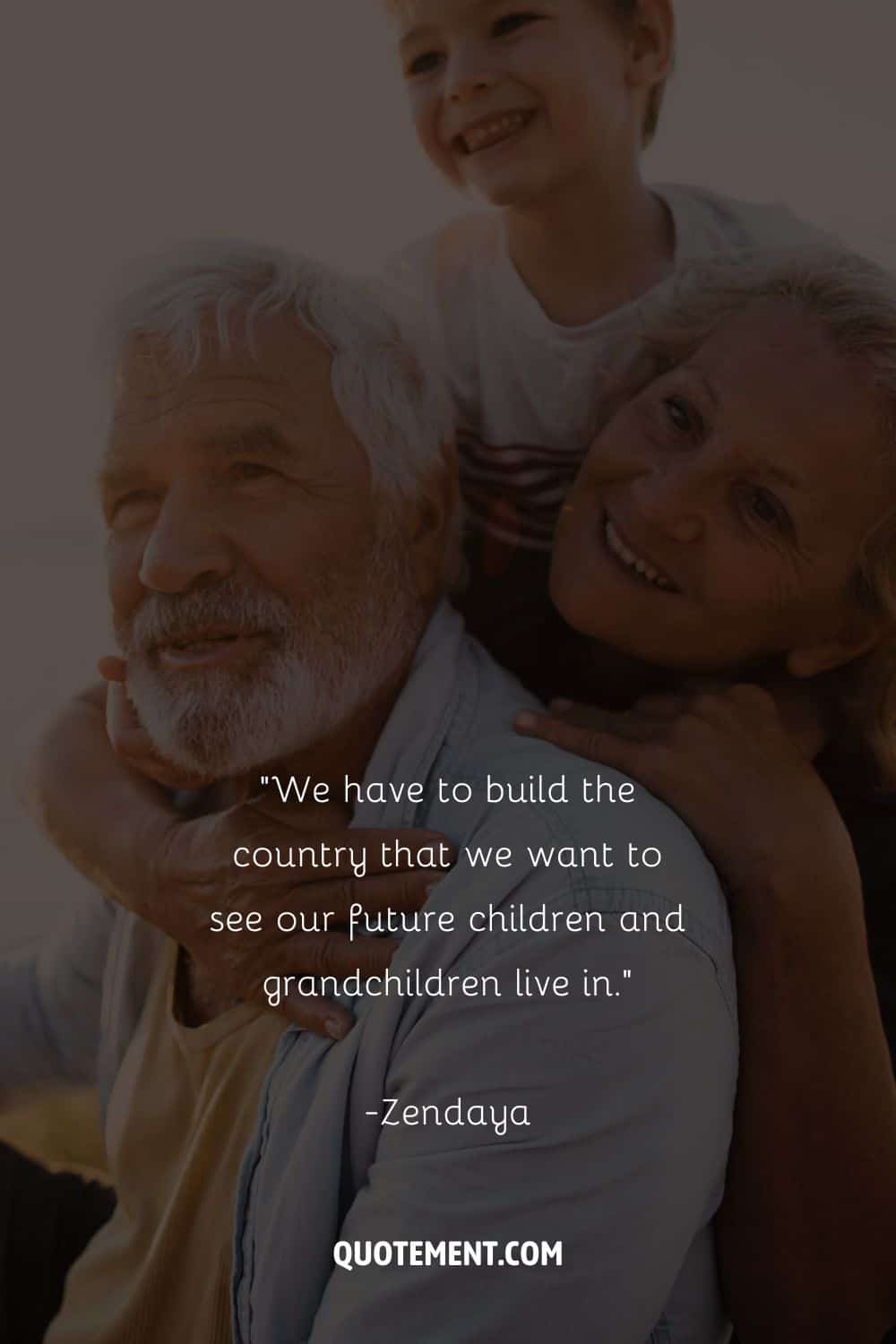 11. "We have a moral responsibility to protect the earth and ensure that our children and grandchildren have a healthy and sustainable environment in which to live." — Jim Clyburn
12. "A grandparent is a little bit parent, a little bit teacher, and a little bit best friend." — Unknown
13. "A child needs a grandparent, anybody's grandparent, to grow a little more securely into an unfamiliar world." — Charles and Ann Morse
14. "We owe it to each other — and to our children and grandchildren — to leave our planet in a better state than when we found it." — Christopher Dodd
15. "I have had enough experience in all my years, and have read enough of the past, to know that advice to grandchildren is usually wasted." ― Harry S. Truman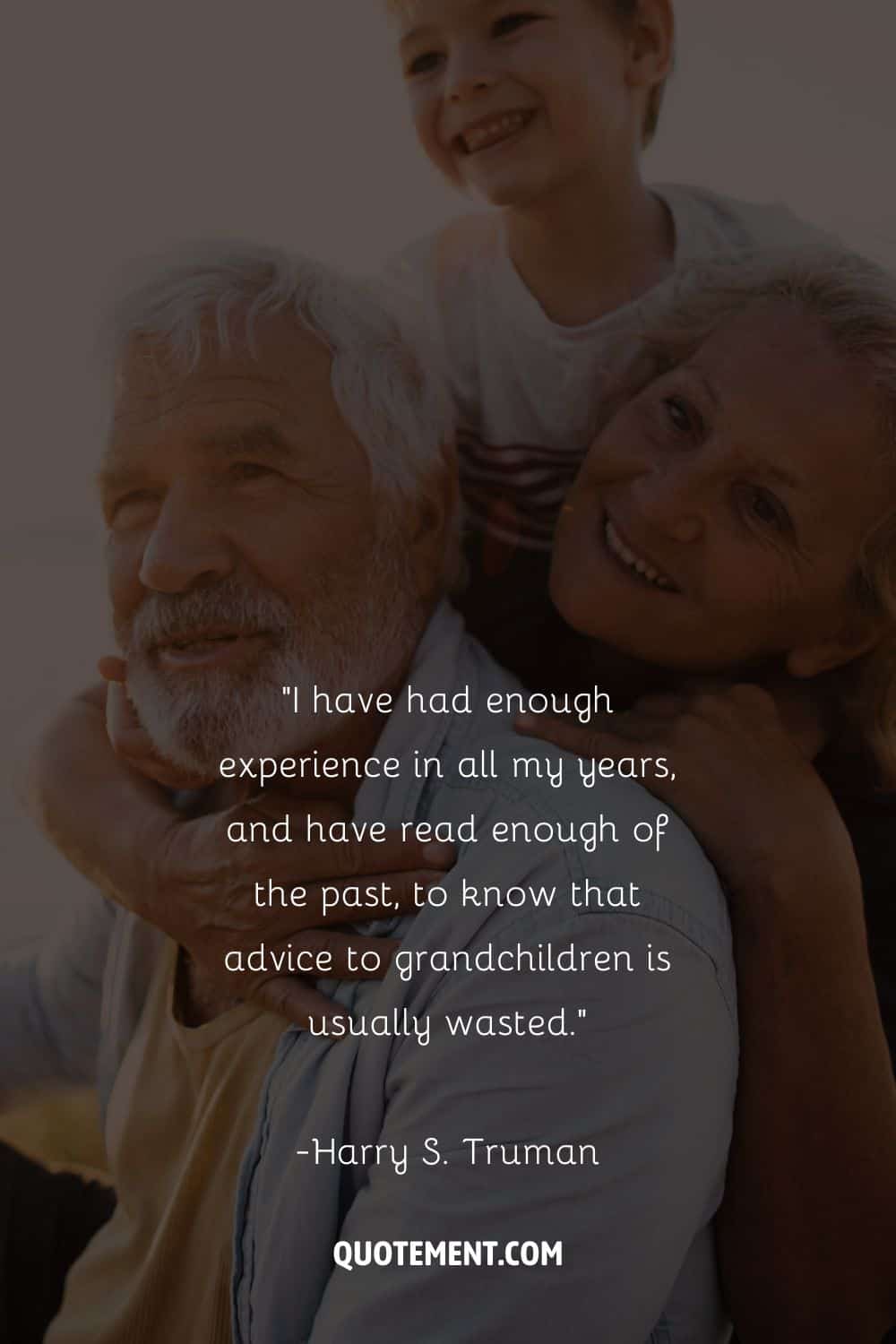 16. "Being grandparents sufficiently removes us from the responsibilities so that we can be friends." — Allan Frome
17. "I wouldn't change my grandchildren for the world. But I wish I could change the world for my grandchildren." — Unknown
18. "I'd like my grandchildren to be able to see that their grandmother stood up for something, a long time ago." — Claudette Colvin
19. "Grandparents are, without a doubt, some of the world's best educators." — Charles W. Shedd
20. "Grandparents are a treasure in the family. Please, take care of your grandparents: love them and let them talk to your children!" — Pope Francis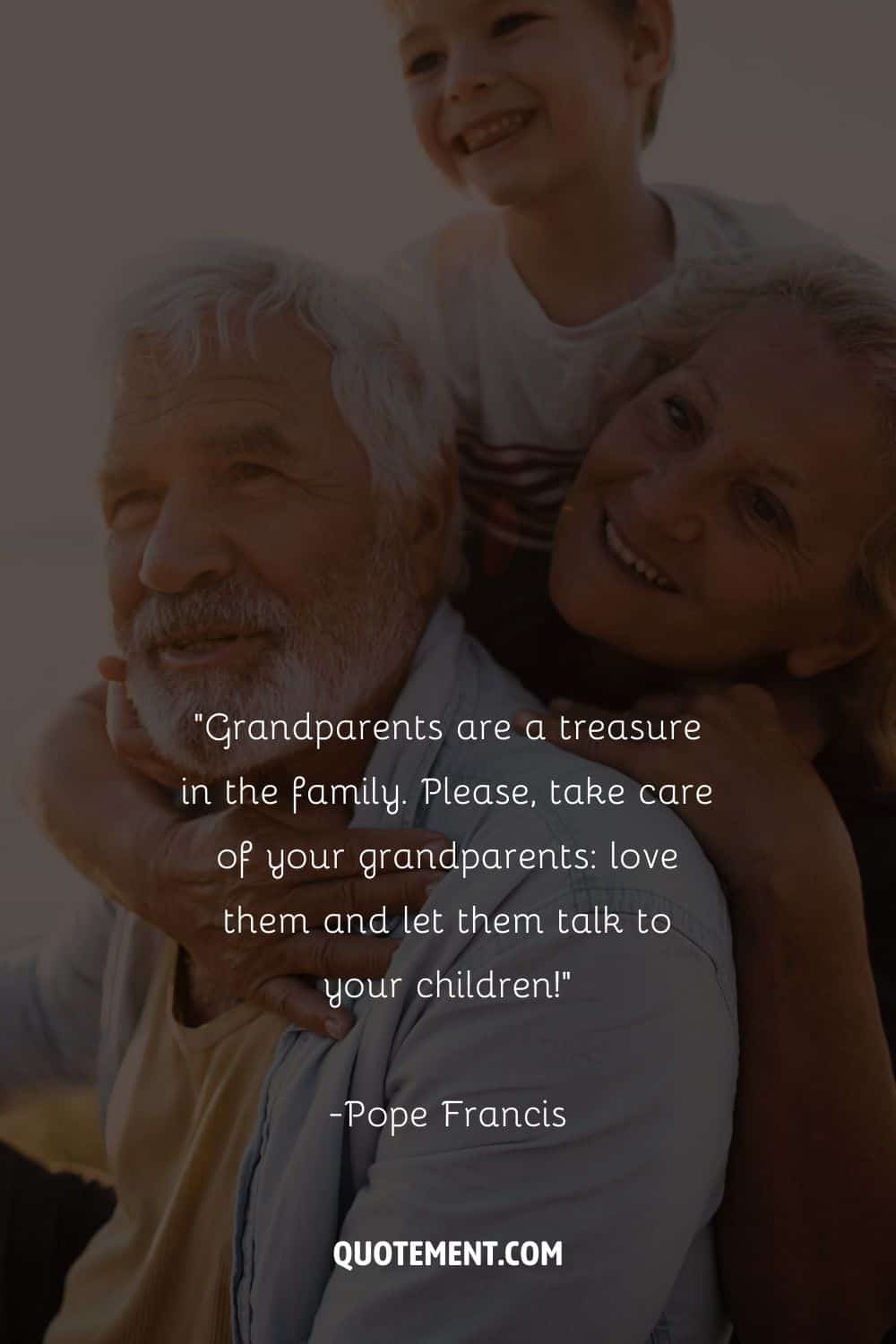 Quotes About Grandparents Love For Their Grandkids
1. "There is nothing more wonderful than the love and guidance a grandparent can give his or her grandchild." — Edward Fays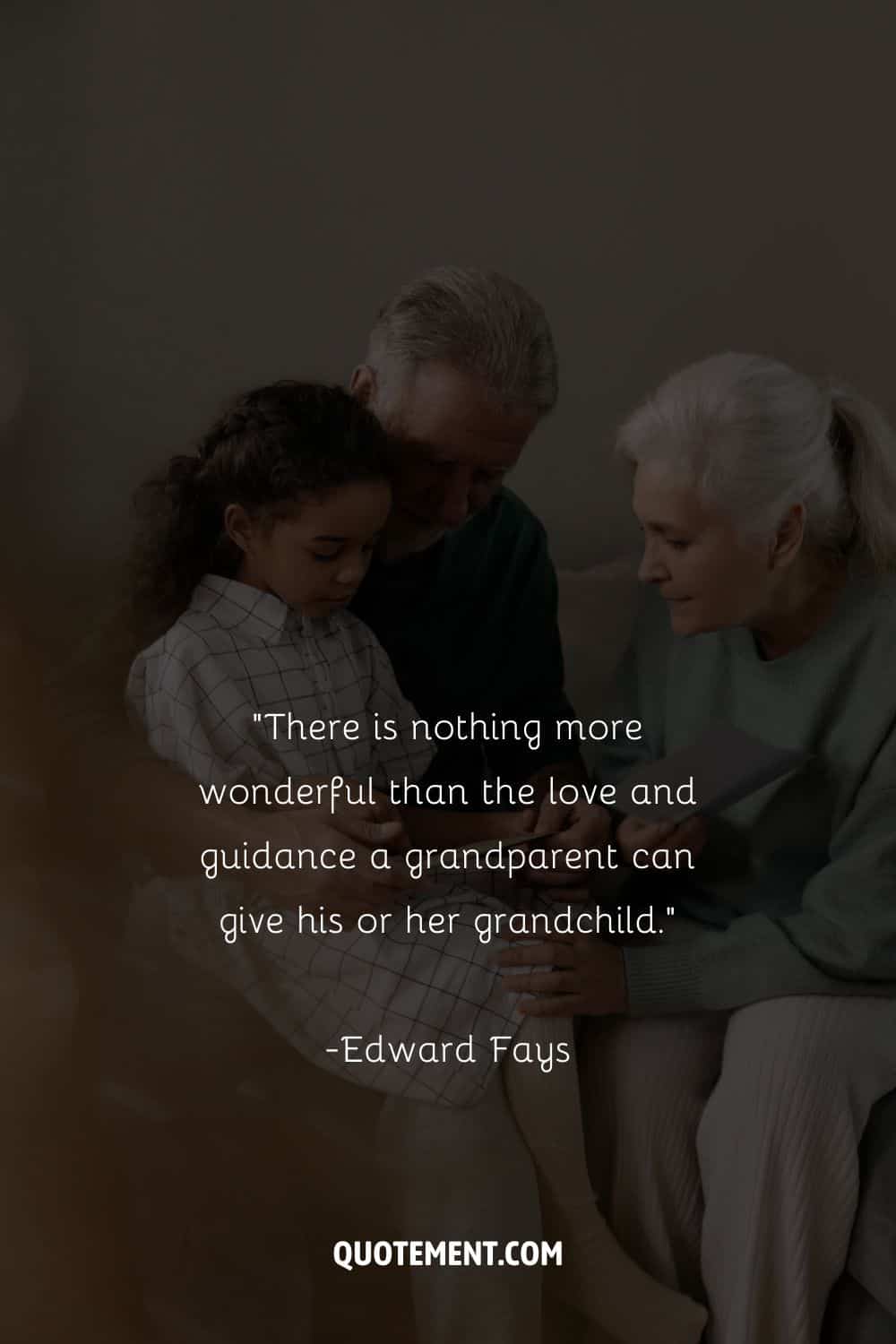 2. "Grandparents, like heroes, are as necessary to a child's growth as vitamins." — Joyce Allston
3. "The feeling of grandparents for their grandchildren can be expressed this way: "Our children are dear to us; but when we have grandchildren, they seem to be more dear than our children were." — Henry Old Coyote
4. "The simplest toy, one which even the youngest child can operate, is called a grandparent." — Sam Levenson
5. "With your own children, you love them immediately — and with grandchildren, it's exactly the same." — Kevin Whately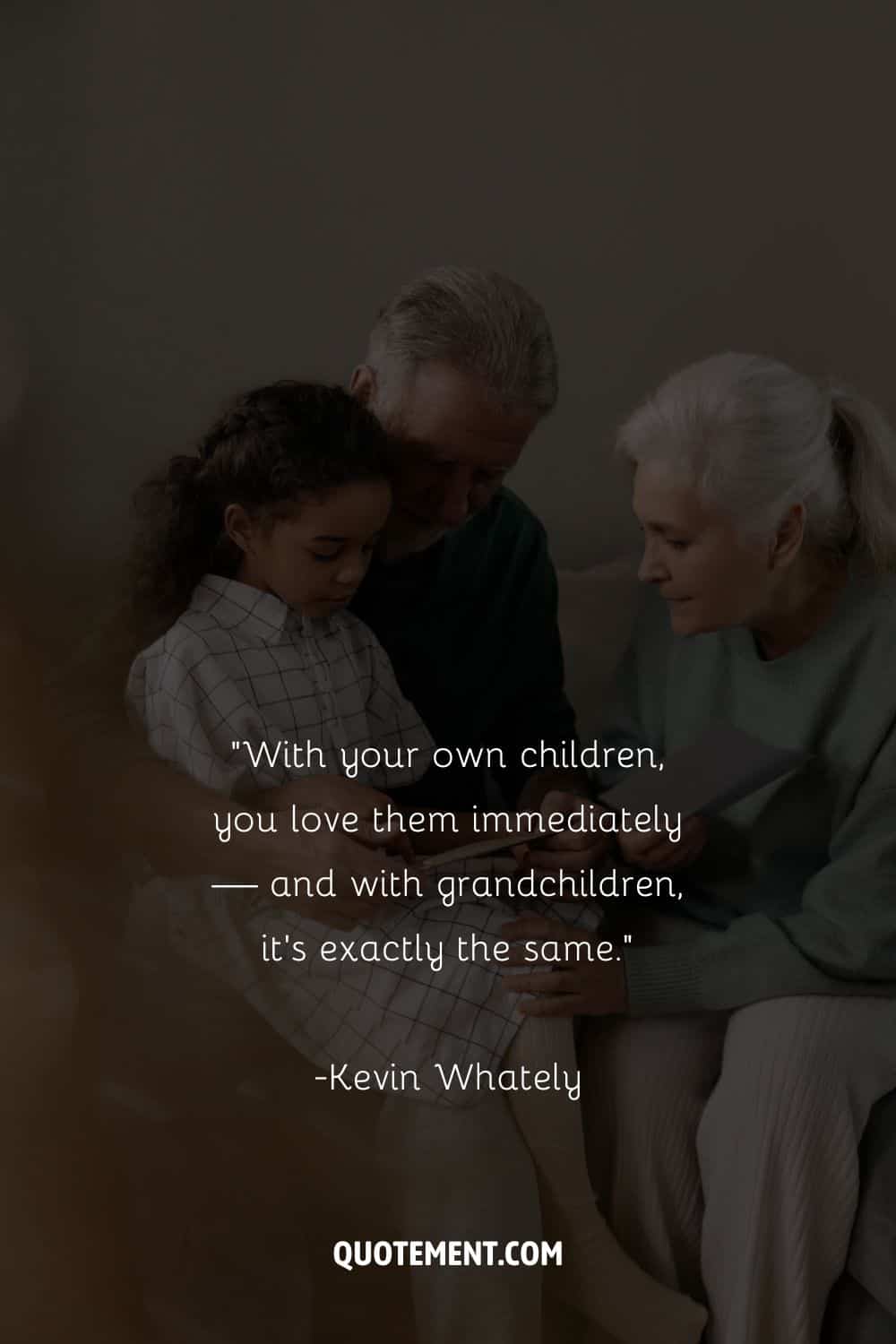 6. "Because (grandparents) are usually free to love and guide and befriend the young without having to take daily responsibility for them, they can often reach out past pride and fear of failure and close the space between generations." — Jimmy Carter
7. "If your baby is 'beautiful and perfect, never cries or fusses, sleeps on schedule and burps on demand, an angel all the time,' you're the grandma." — Teresa Bloomingdale
8. "I used to think I was too old to fall in love again, then I became a grandparent." — Unknown
9. "'You're more trouble than the children are' is the greatest compliment a grandparent can receive." — Gene Perret
10. "Something magical happens when parents turn into grandparents. Their attitude changes from "money-doesn't-grow-on-trees" to spending it like it does." — Paul Linden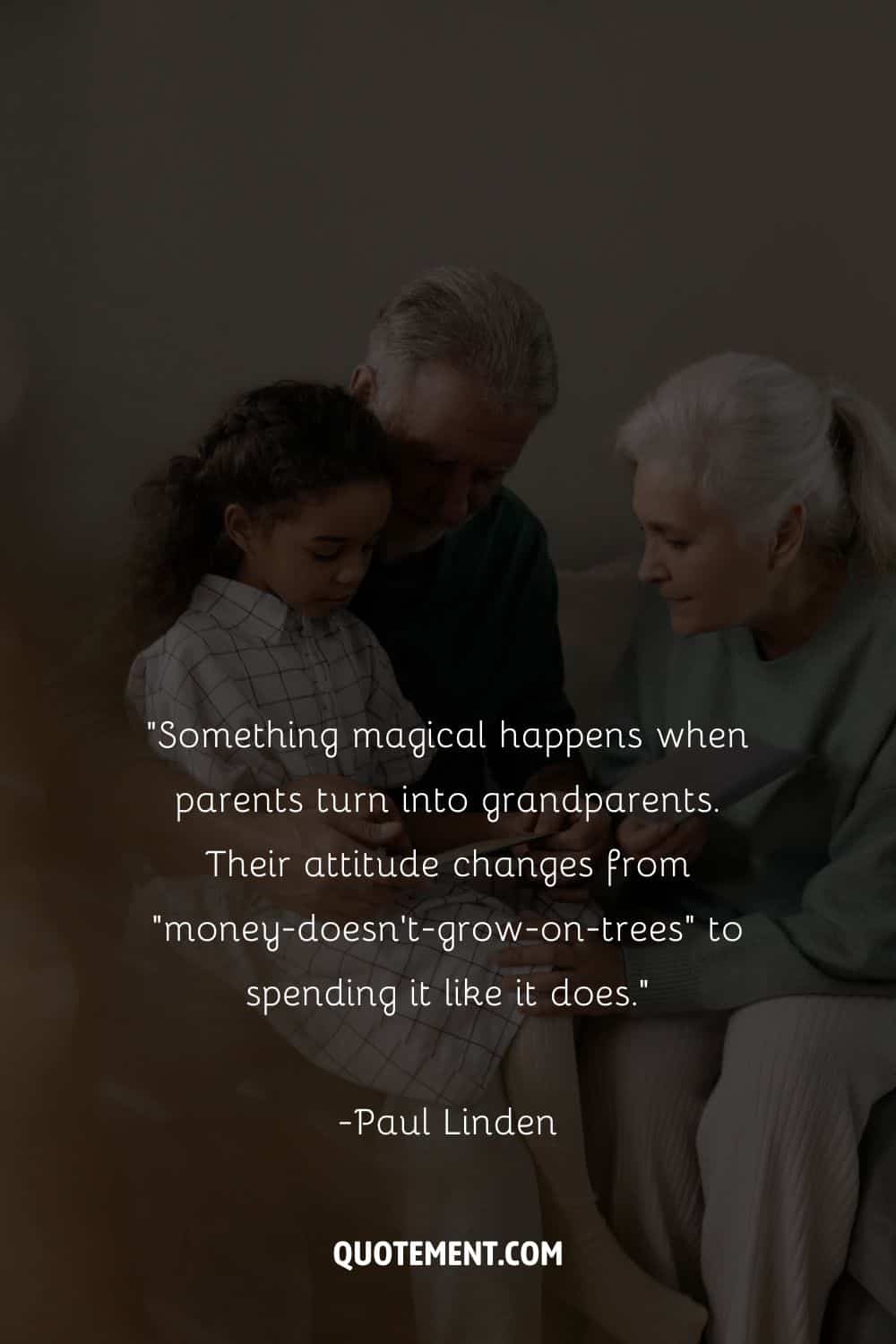 11. "I've got the most fabulous children and grandchildren." — Betty Catroux
12. "Grandma always made you feel she had been waiting to see just you all day and now the day was complete." — Marcy DeMaree
13. "You never know the love of a grandparent until you become one." — Unknown
14. "I don't put off any time with my grandchildren. I don't put off a thing." — Lynn Redgrave
15. "I have never once regretted missing a business opportunity so that I could be with my children and grandchildren." — Mitt Romney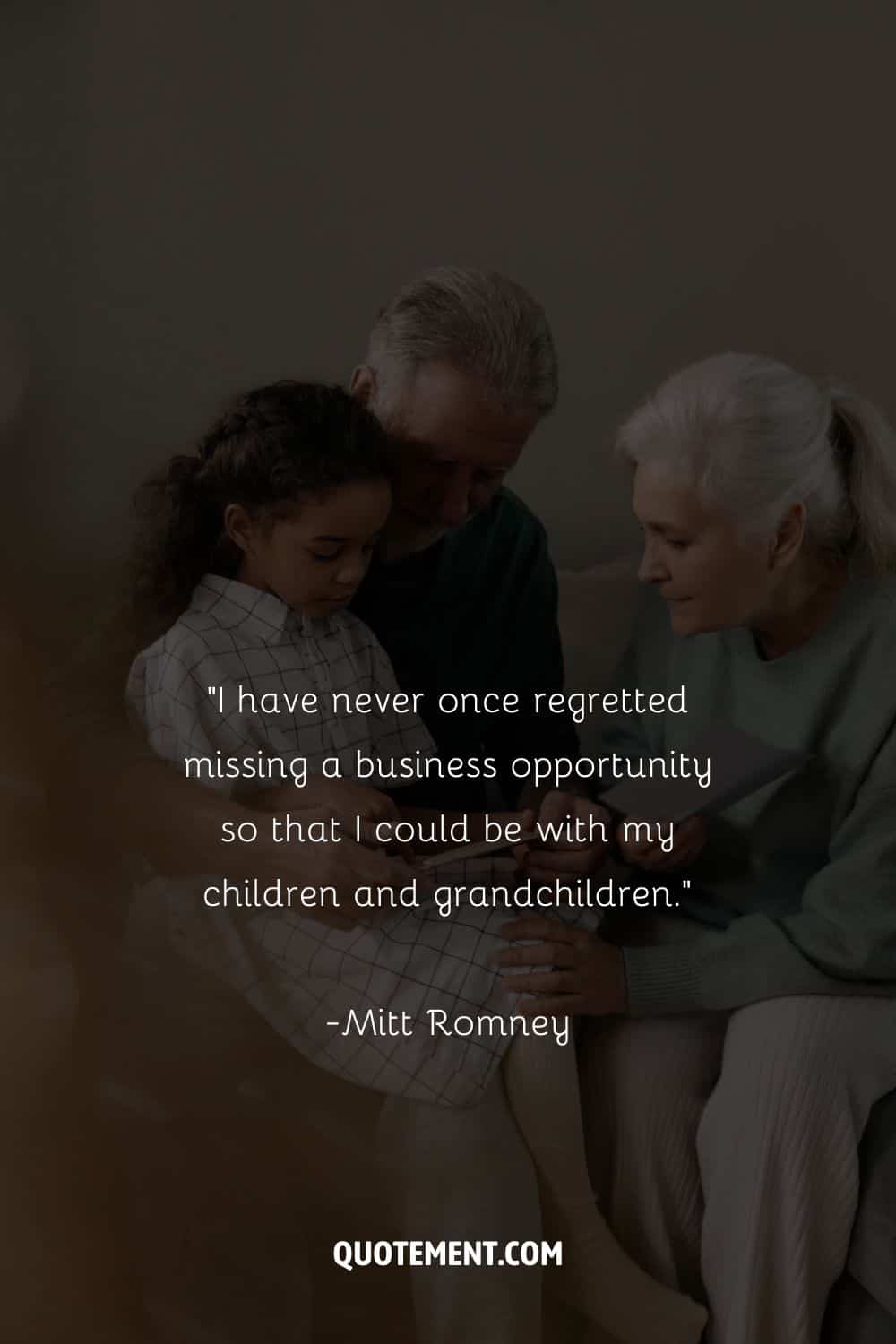 16. "Being a mother and grandmother is the best of the best in my life. My grandchildren multiply the joy my daughters bring me." — Alexandra Stoddard
17. "I'm going to be your grandpa! I have the biggest smile. I've been waiting to meet you for such a long, long while." — Billy Crystal
18. "A grandmother thinks of her grandchildren day and night, even when they are not with her. She will always love them more than anyone would understand." ― Karen Gibbs
19. "The only people interested in hearing about your grandchildren are other grandparents who want to tell you about theirs." — Bryna Nelson Paston
20. "My grandchild has taught me what true love means. It means watching Scooby-Doo cartoons while the basketball game is on another channel." — Gene Perret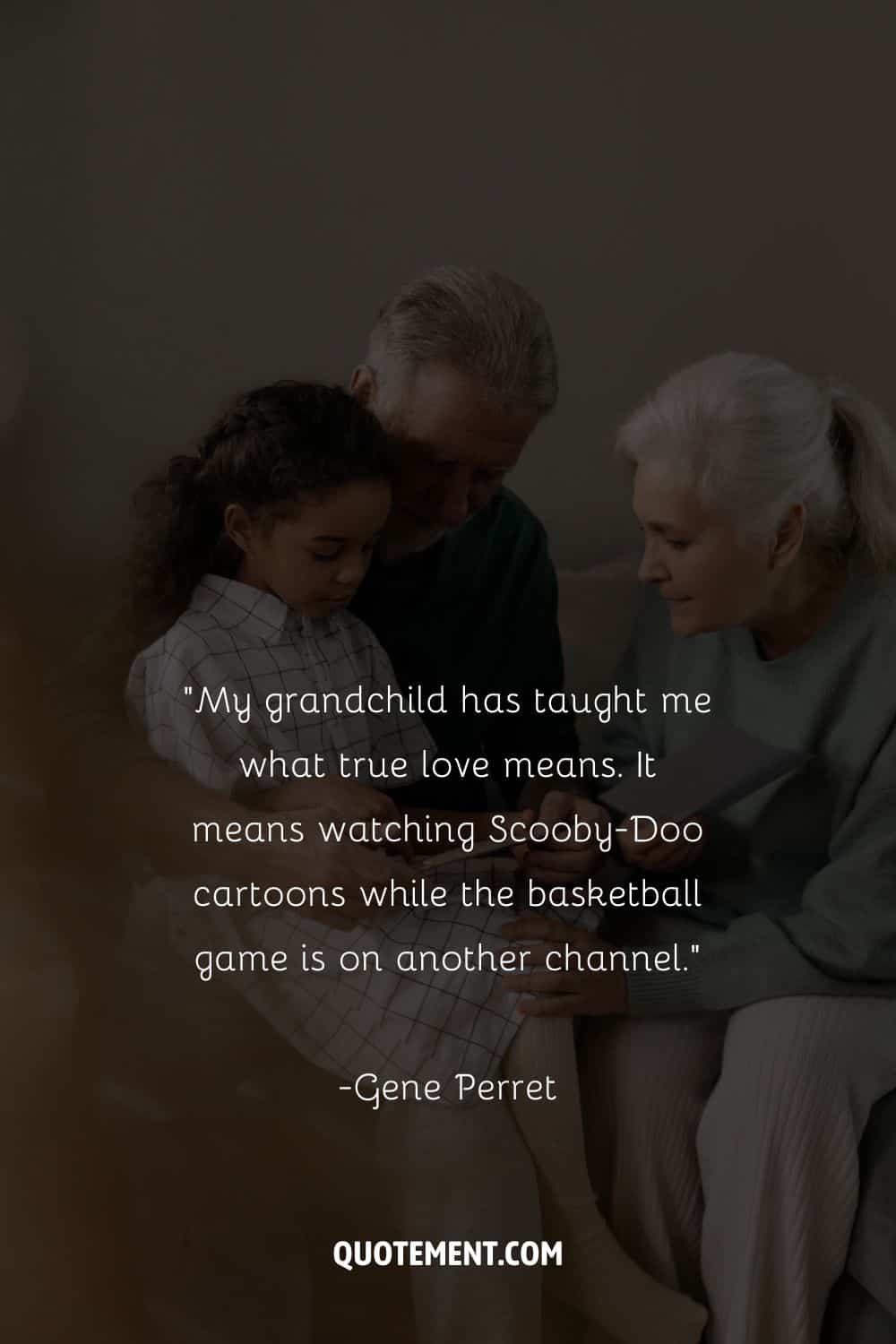 See also: 70 Greatest Scooby-Doo Quotes That Bring On The Nostalgia
Meaningful Quotes About Grandchildren
1. "In the presence of grandparent and grandchild, past and future merge in the present." — Margaret Mead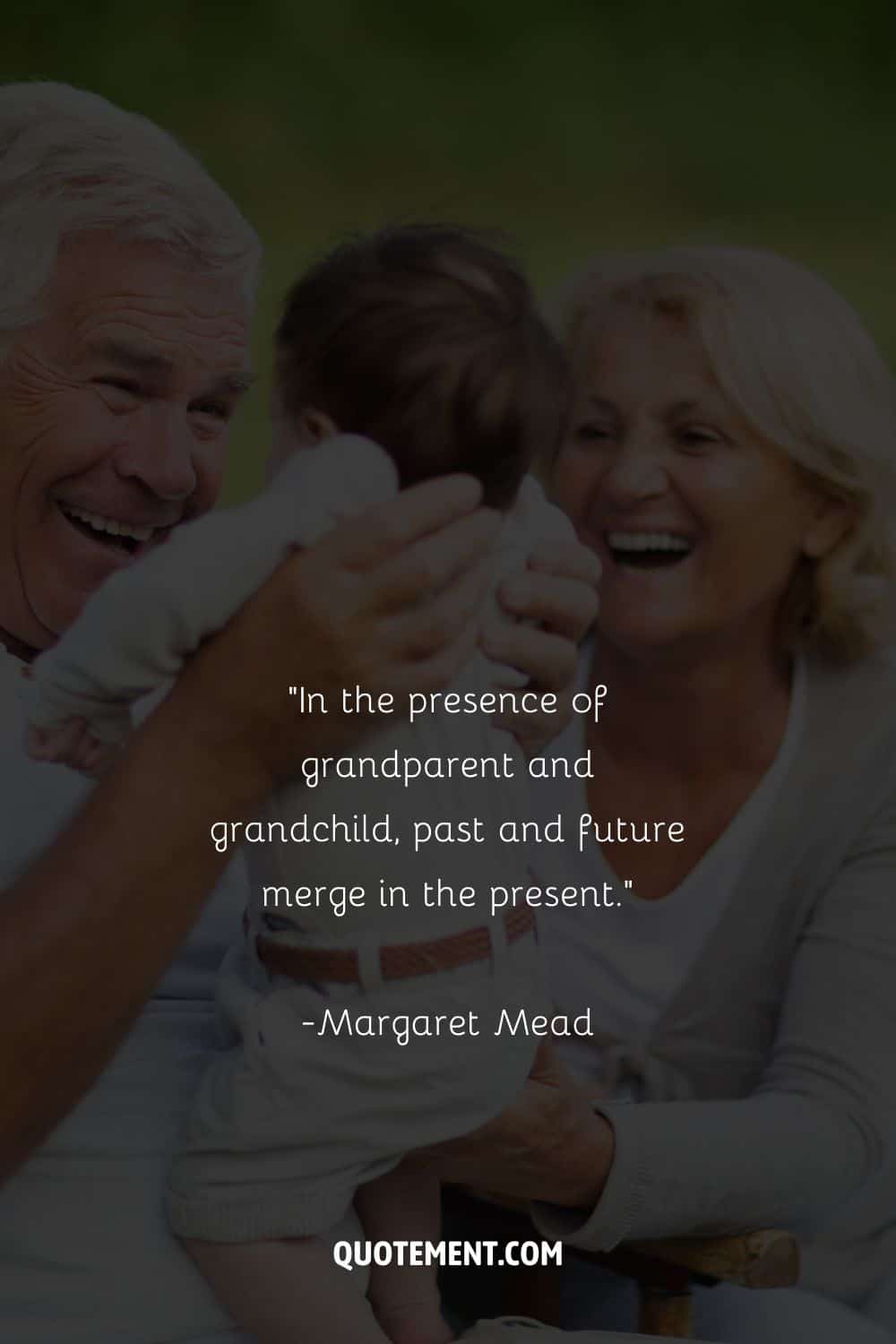 2. "The grandchildren should not bear the debts of the grandparents." — Nassim Nicholas Taleb
3. "To a small child, the perfect granddad is unafraid of big dogs and fierce storms but absolutely terrified of the word 'boo'." — Robert Brault
4. "Your sons weren't made to like you. That's what grandchildren are for." — Jane Smiley
5. "They say genes skip generations. Maybe that is why grandparents find their grandchildren so likeable." ― Joan McIntosh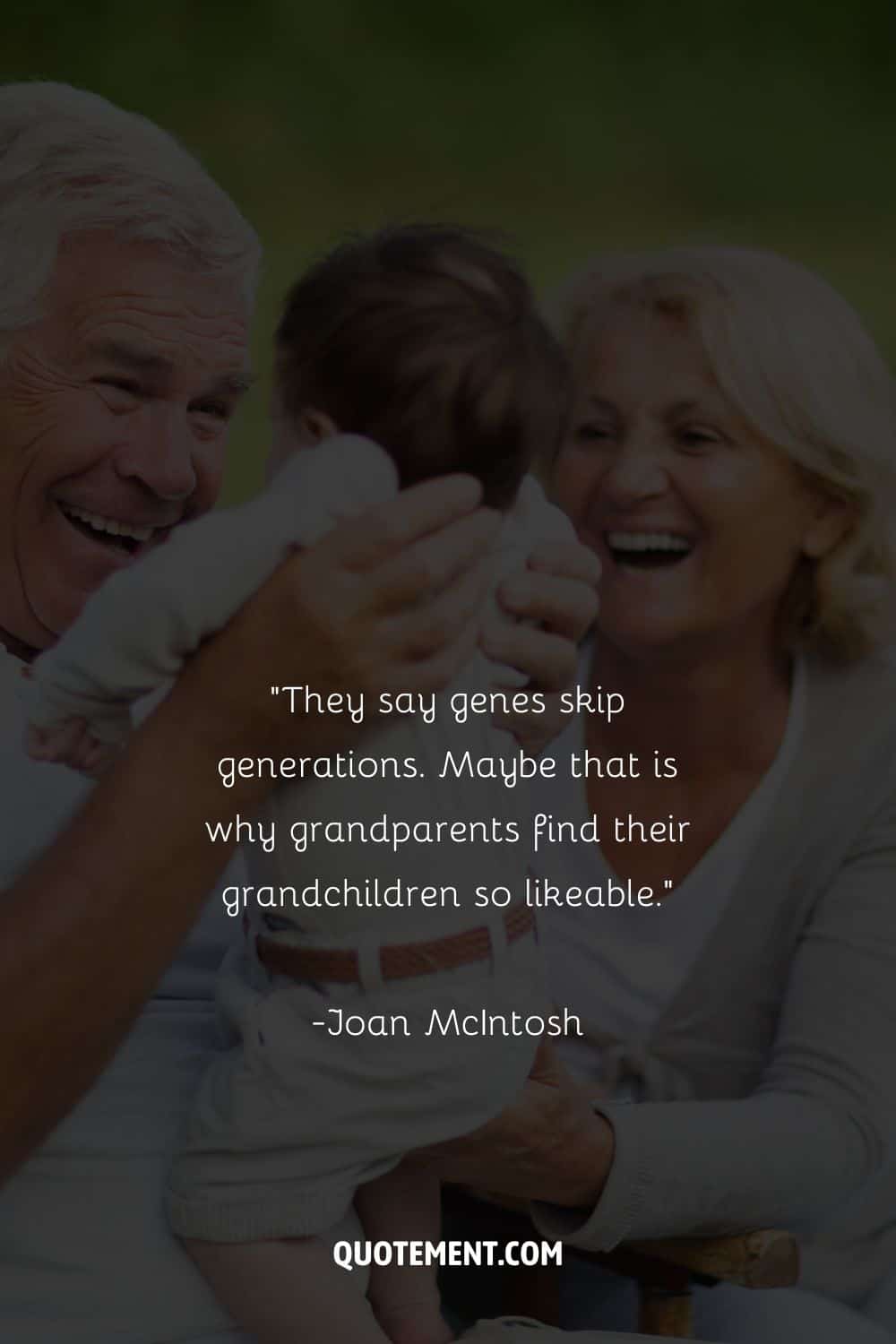 6. "Becoming a grandmother is wonderful. One moment you're just a mother. The next you are all-wise and prehistoric." — Pam Brown
7. "There are fathers who do not love their children; there is no grandfather who does not adore his grandson." — Victor Hugo
8. "Every house needs a grandmother in it." — Louisa May Alcott
9. "I like to do nice things for my grandchildren like buy them those toys I've always wanted to play with." — Gene Perret
10. "I have four daughters and eight grandchildren. My soul lives on in them. That's immortality. That's the only immortality I care about." ― Ray Bradbury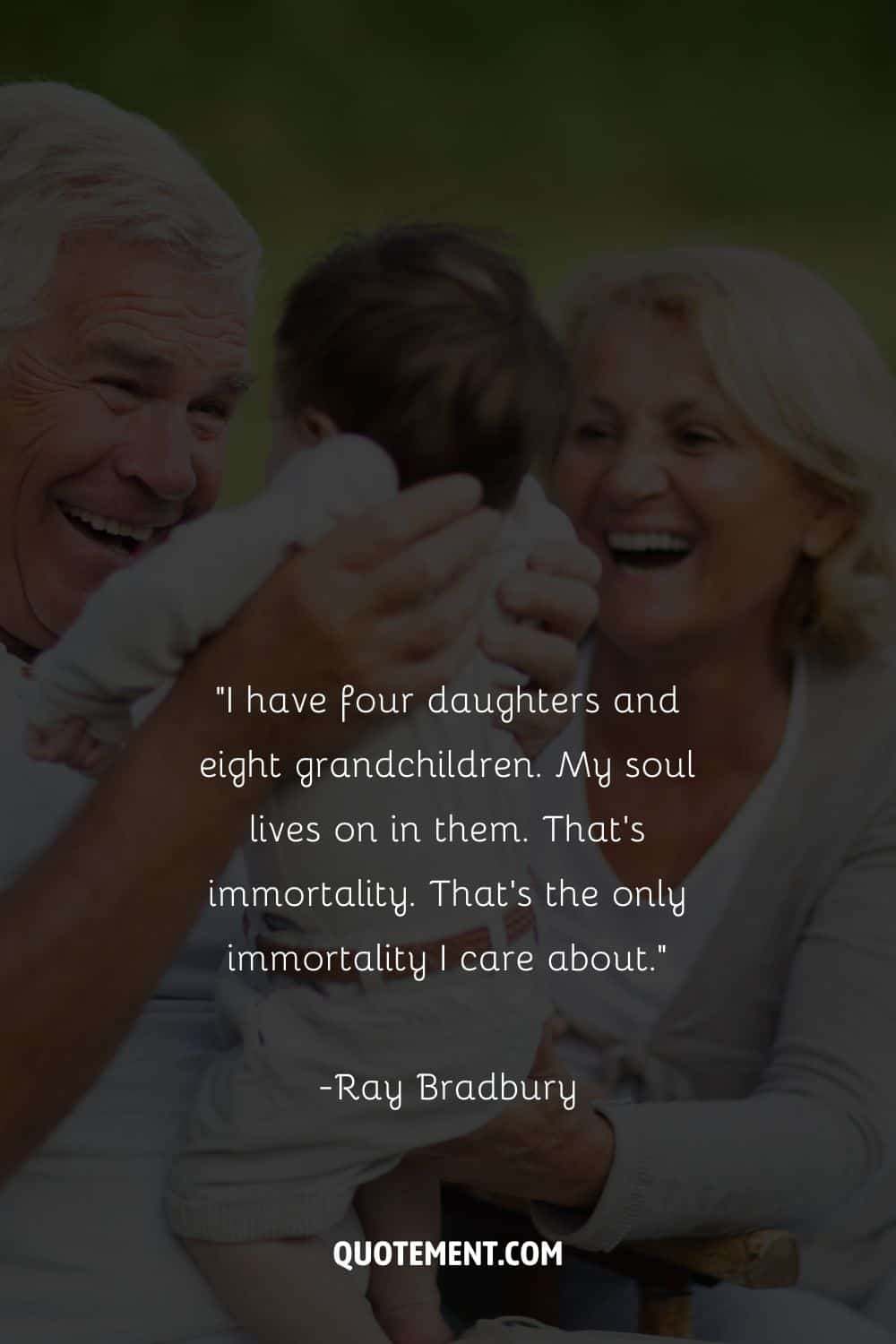 11. "I wish I had the energy that my grandchildren have — if only for self-defense." ― Gene Perret
12. "Grandparents enjoy the company of their grandchildren. For them, they experience the miracle of being 10 again." ― Meeta Ahluwalia
13. "Grandchildren are their grandparents' toys." ― Mokokoma Mokhonoana
14. "Everyone needs to have access both to grandparents and grandchildren in order to be a full human being." — Margaret Mead
15. "I love music of all kinds, but there's no greater music than the sound of my grandchildren laughing; my kids, too." — Sylvia Earle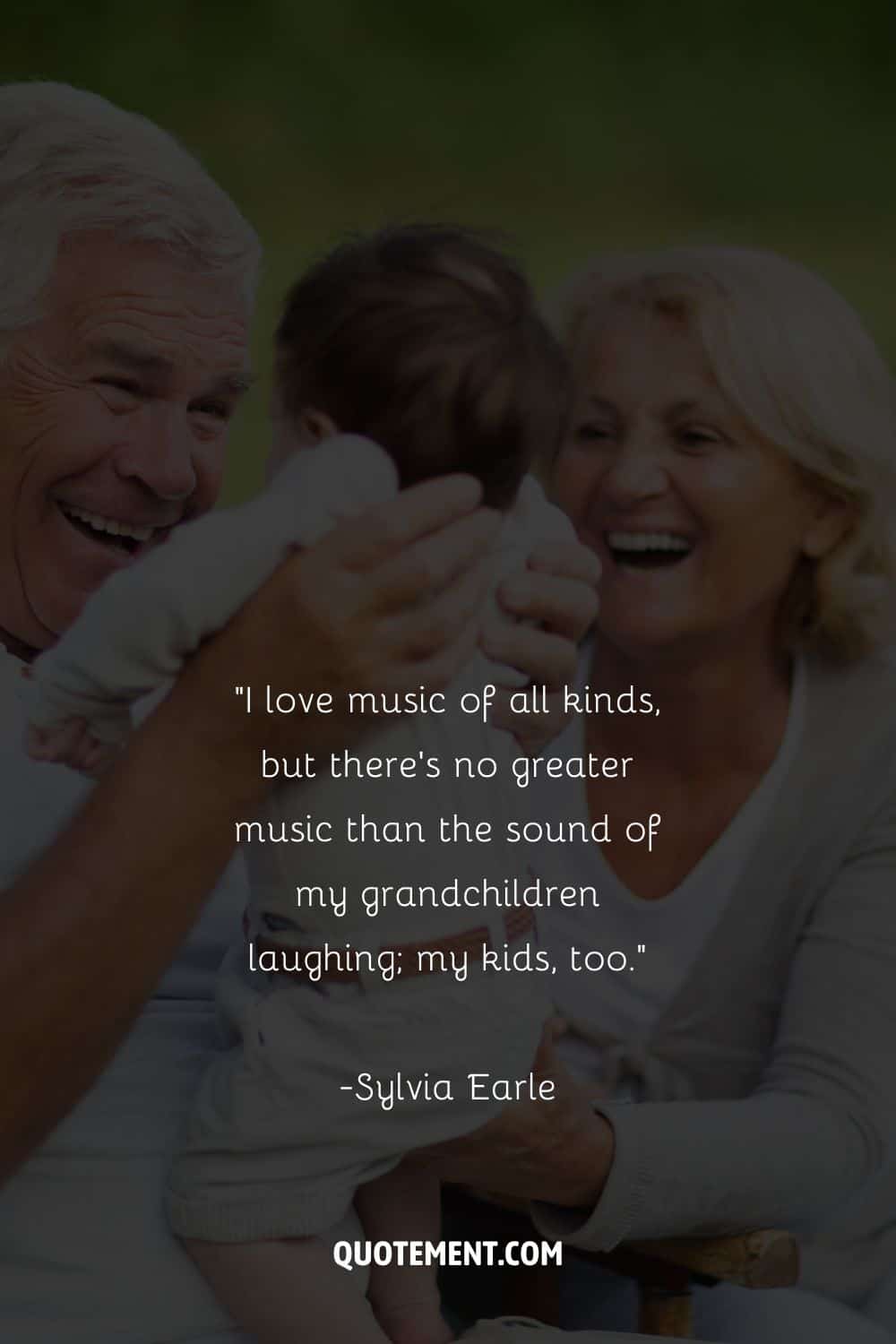 16. "Grandchildren are God's way of compensating us for growing old." — Mary H. Waldrip
17. "As a grandmother, I've learned that you can't buy love. But your grandchildren are disappointed when you don't try." — Mary Margaret McBride
18. "Truth be told, being a grandma is as close as we ever get to perfection. The ultimate warm sticky bun with plump raisins and nuts. Clouds nine, ten, and eleven." — Bryna Nelson Paston
19. "Grandchildren are the most glorious blessing you could ask for." — Jacqueline Douglas
20. "Surely, two of the most satisfying experiences in life must be those of being a grandchild or a grandparent." — Donald A. Norberg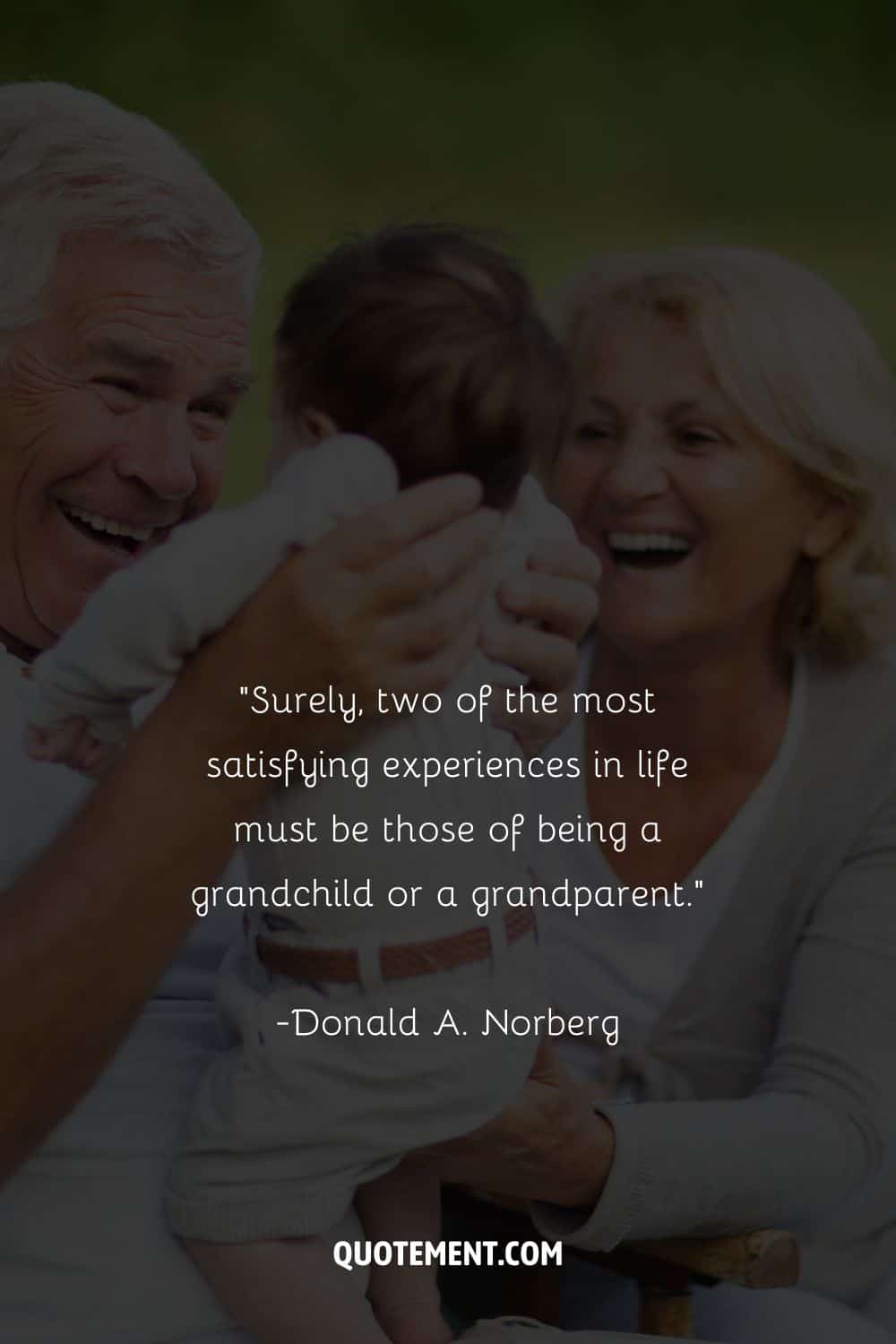 Funny Grandchildren Quotes
1. "Do you know why grandchildren are always so full of energy? They suck it out of their grandparents." — Gene Perret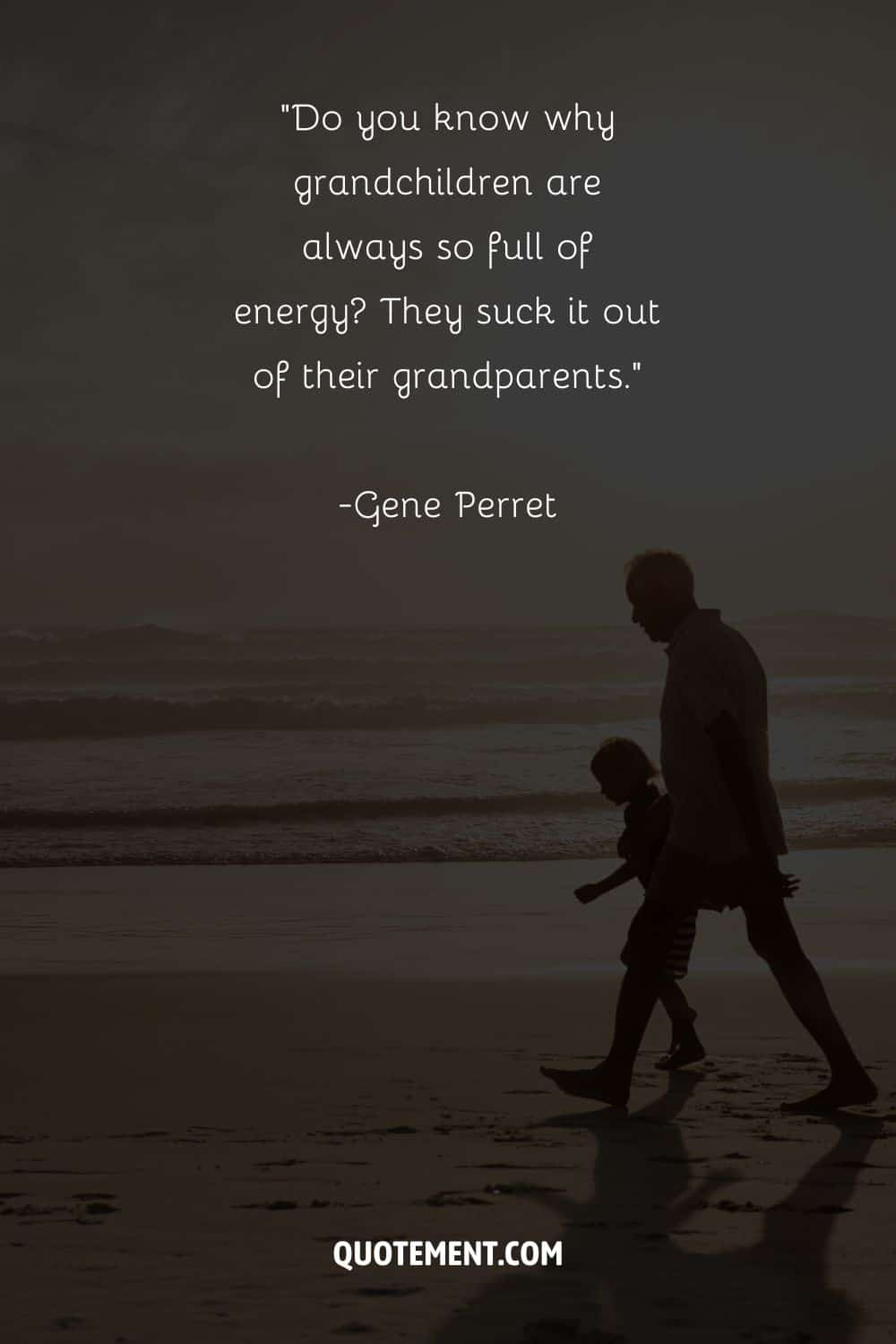 2. "Grandchildren now don't write a thank you for the Christmas presents. They are walking on their pants with their cap on backward, listening to the Enema Man and Snoopy, Snoopy Poop Dog." ― Alan Simpson
3. "Grandchildren are God's reward for not killing your kids." — Tony Campolo
4. "The best babysitters, of course, are the baby's grandparents. You feel completely comfortable entrusting your baby to them for long periods, which is why most grandparents flee to Florida." — Dave Barry
5. "On the seventh day, God rested. His grandchildren must have been out of town." — Gene Perret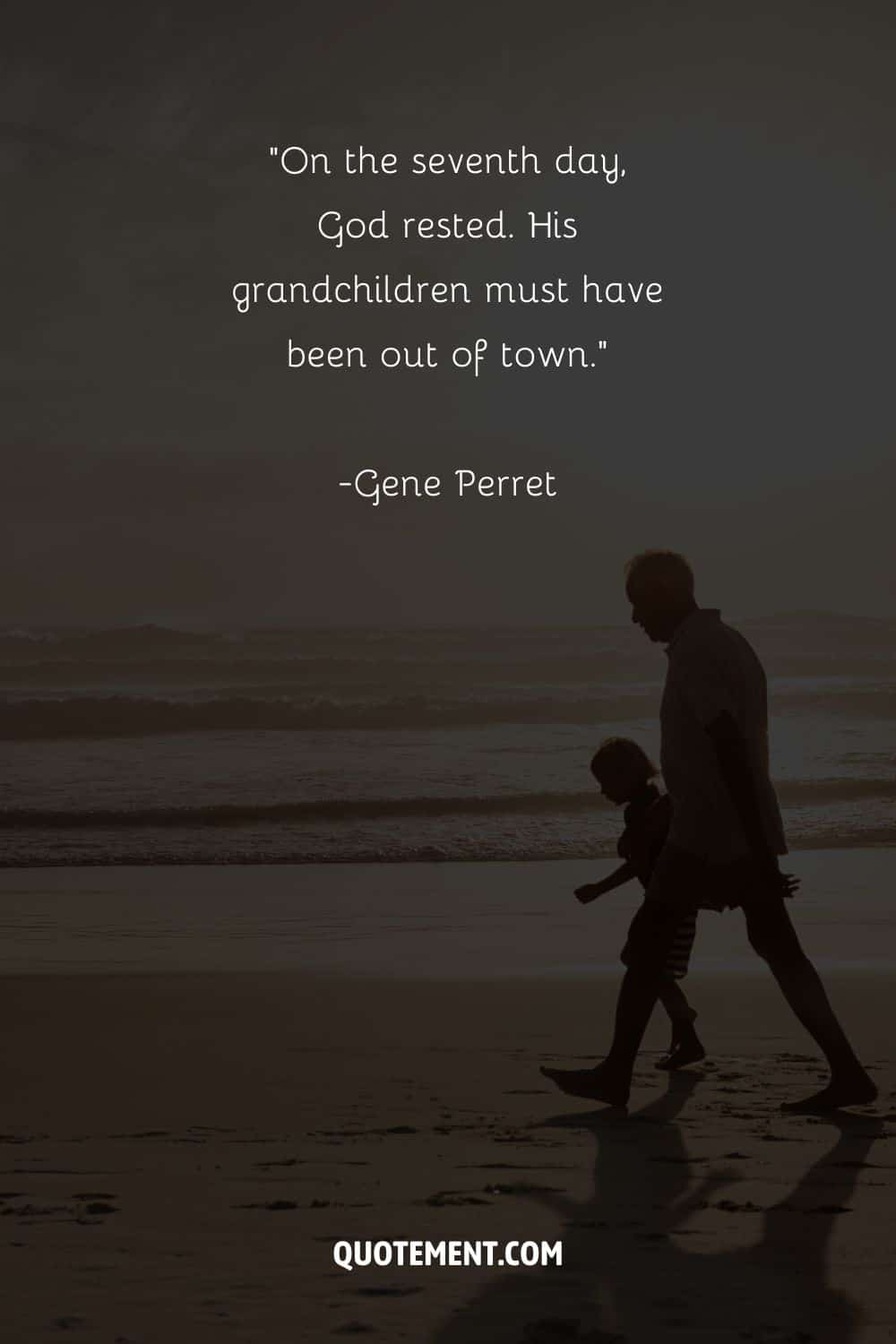 6. "My grandkids believe I'm the oldest thing in the world. And after two or three hours with them, I believe it, too." — Gene Perret
7. "Grandchildren don't make a man feel old; it's the knowledge that he's married to a grandmother." — G. Norman Collie
8. "Grandchildren: the only people who can get more out of you than the IRS." — Gene Perret
9. "Two things I dislike about my granddaughter — when she won't take her afternoon nap, and when she won't let me take mine." — Gene Perret
10. "The reason grandparents and grandchildren get along so well is that they have a common enemy." — Sam Levenson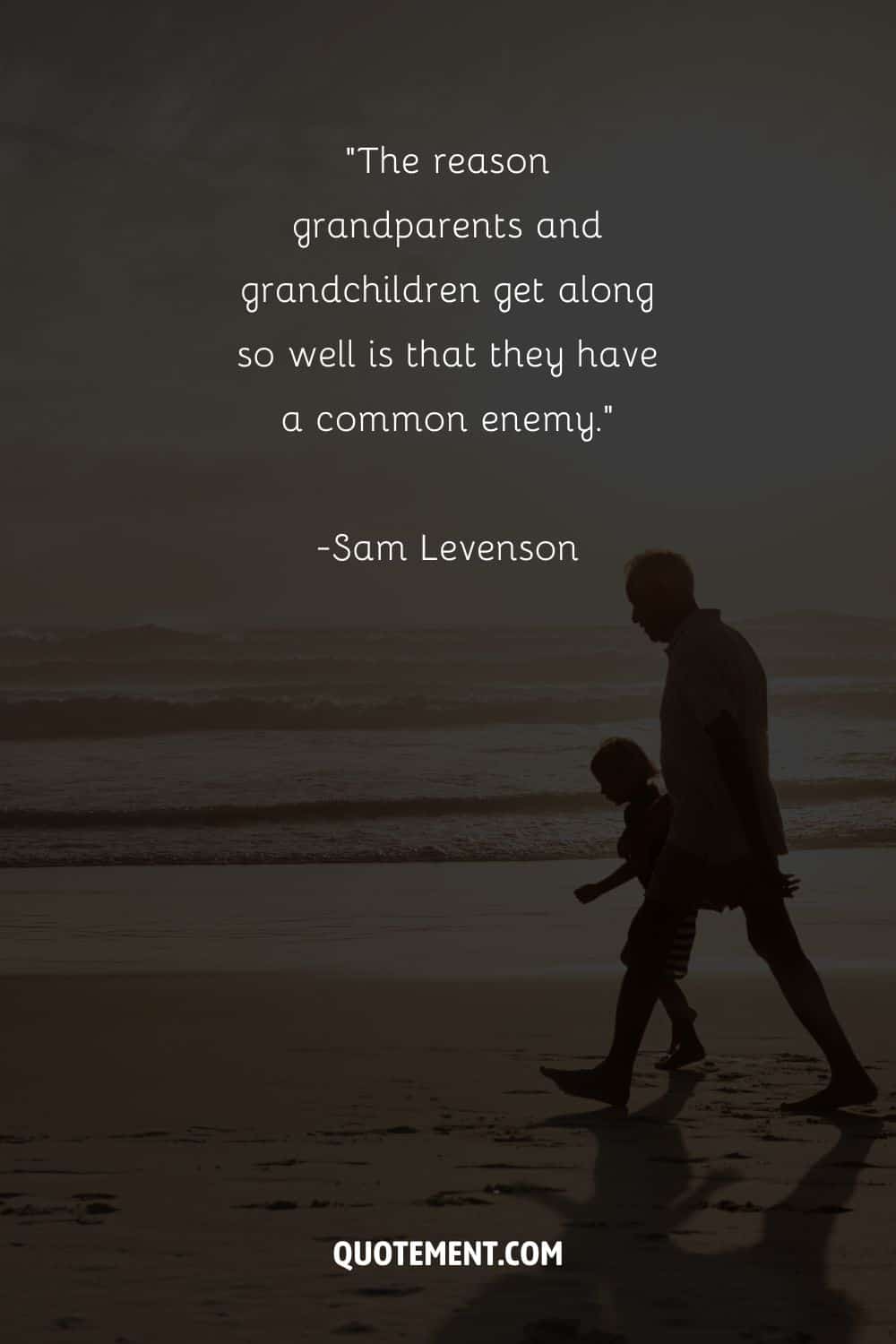 11. "An hour with your grandchildren can make you feel young again. Anything longer than that, and you start to age quickly." — Gene Perret
12. "There is no time so short as the time between when your kids stop wrecking your furniture and your grandchildren start." ― Mary Margaret McBride
13. "Never have children, only grandchildren." — Gore Vidal
14. "If I had known how wonderful it would be to have grandchildren, I'd have had them first." — Lois Wyse
15. "You know you're a grandparent when you laugh when your grandkids do the same things that made you so angry when your kids did them." — Unknown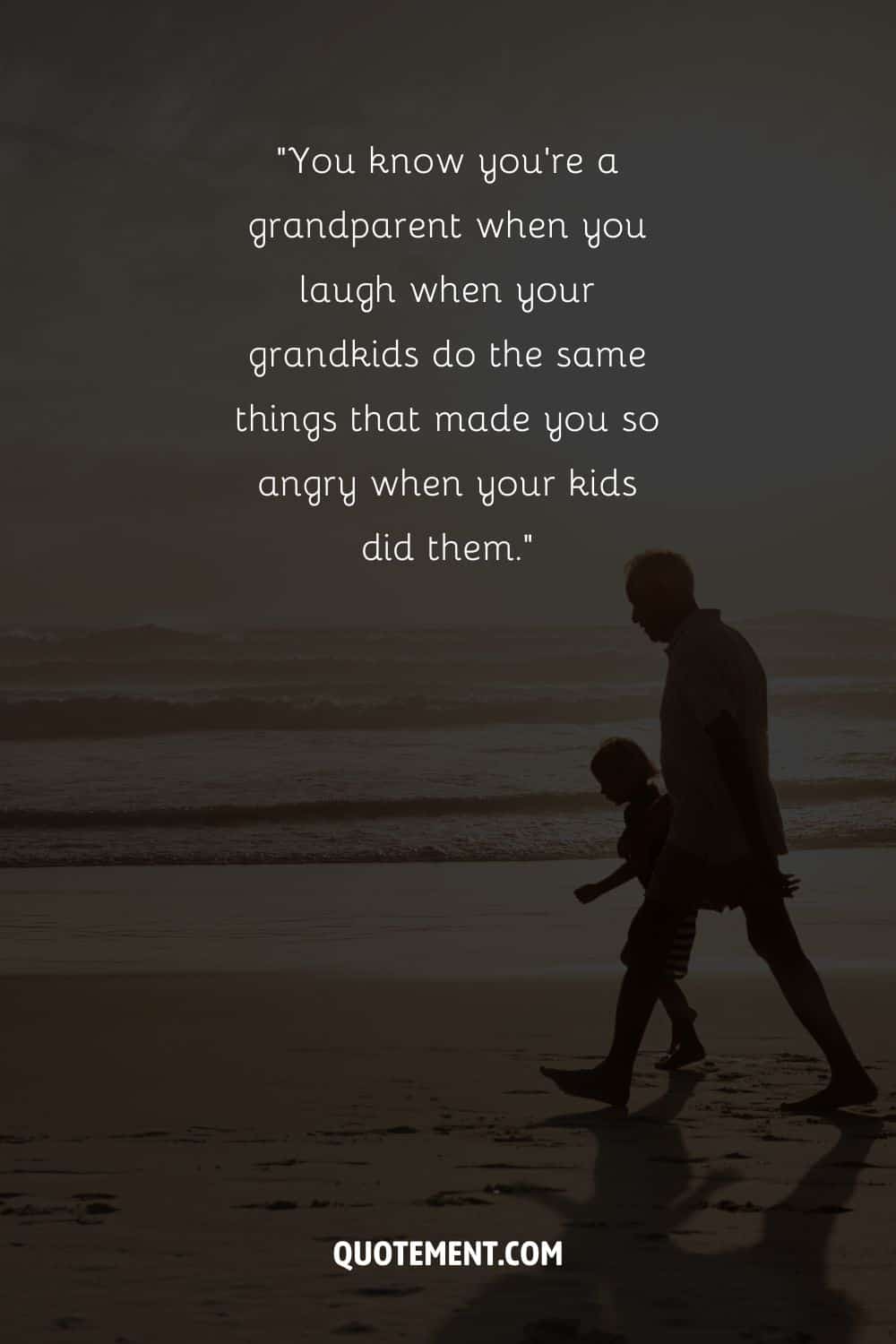 16. "You make all your mistakes with your own children so by the time your grandchildren arrive, you know how to get it right. Plus, once you turn 50, you kind of stop giving a s**t what others think." — Liz Fenton
17. "Setting a good example for your grandkids… takes all the fun out of old age." — Unknown
18. "It's funny what happens when you become a grandparent. You start to act all goofy and do things you never thought you'd do. It's terrific." — Mike Krzyzewski
19. "When grandparents enter the door, discipline flies out the window." — Ogden Nash
20. "Grandparents are there to help the child get into mischief they haven't thought of yet." — Gene Perret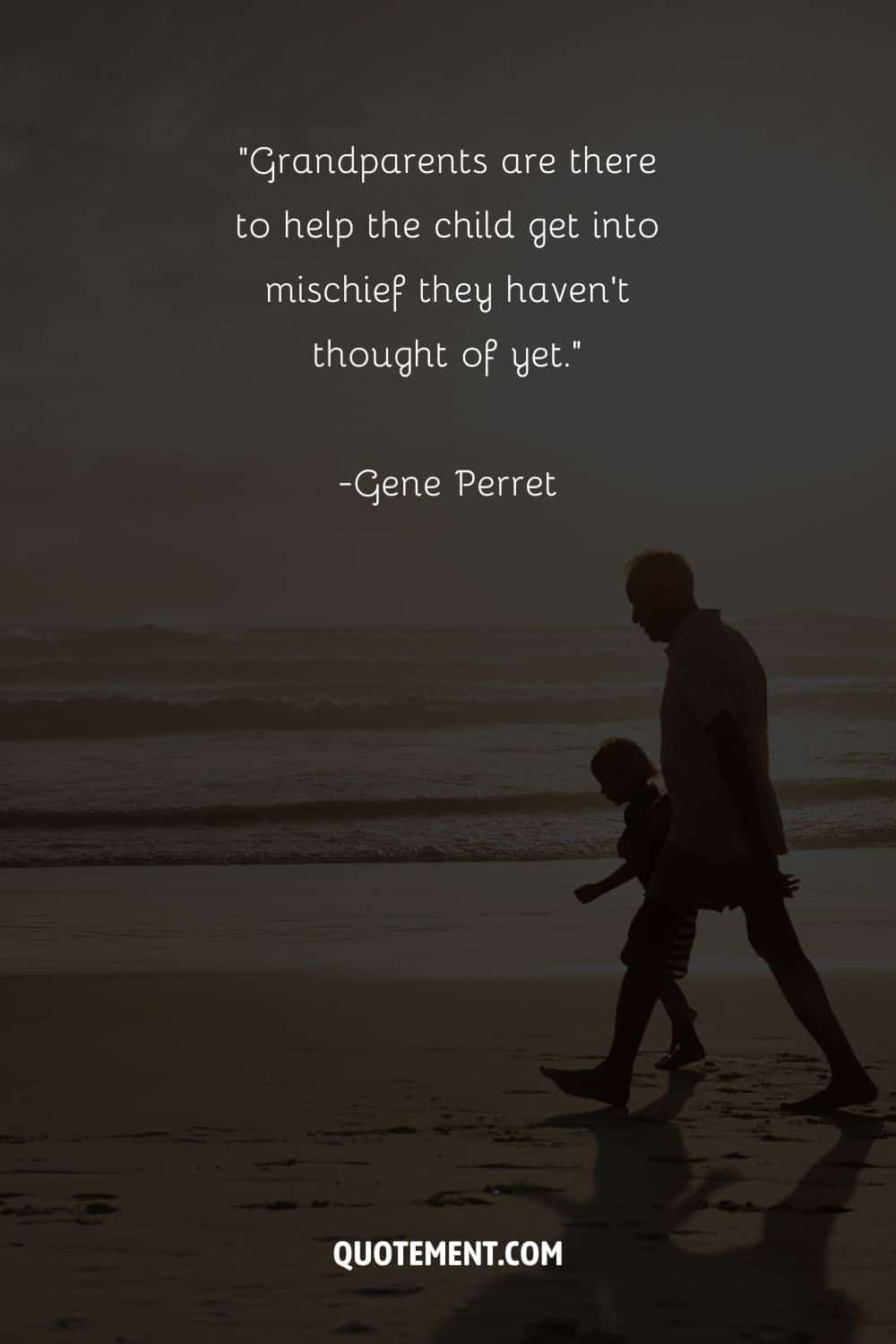 Final Thoughts
I hope you enjoyed reading my collection of the best grandchildren quotes.
If you're lucky enough to have grandkids, cherish them and celebrate them because they truly have an immeasurable impact on our lives.