Welcoming a new life is such an exciting occasion that needs to be captured with as many pics as possible. And what's a picture shared without a perfect caption to accompany it?
So, if you're an expectant mom, a proud family member, or a close friend, I've got the best baby shower captions to share your excitement for a new miracle arriving in this world!
Top 10 Baby Shower Captions For Instagram
1. Babies are a blessing, and showers are too!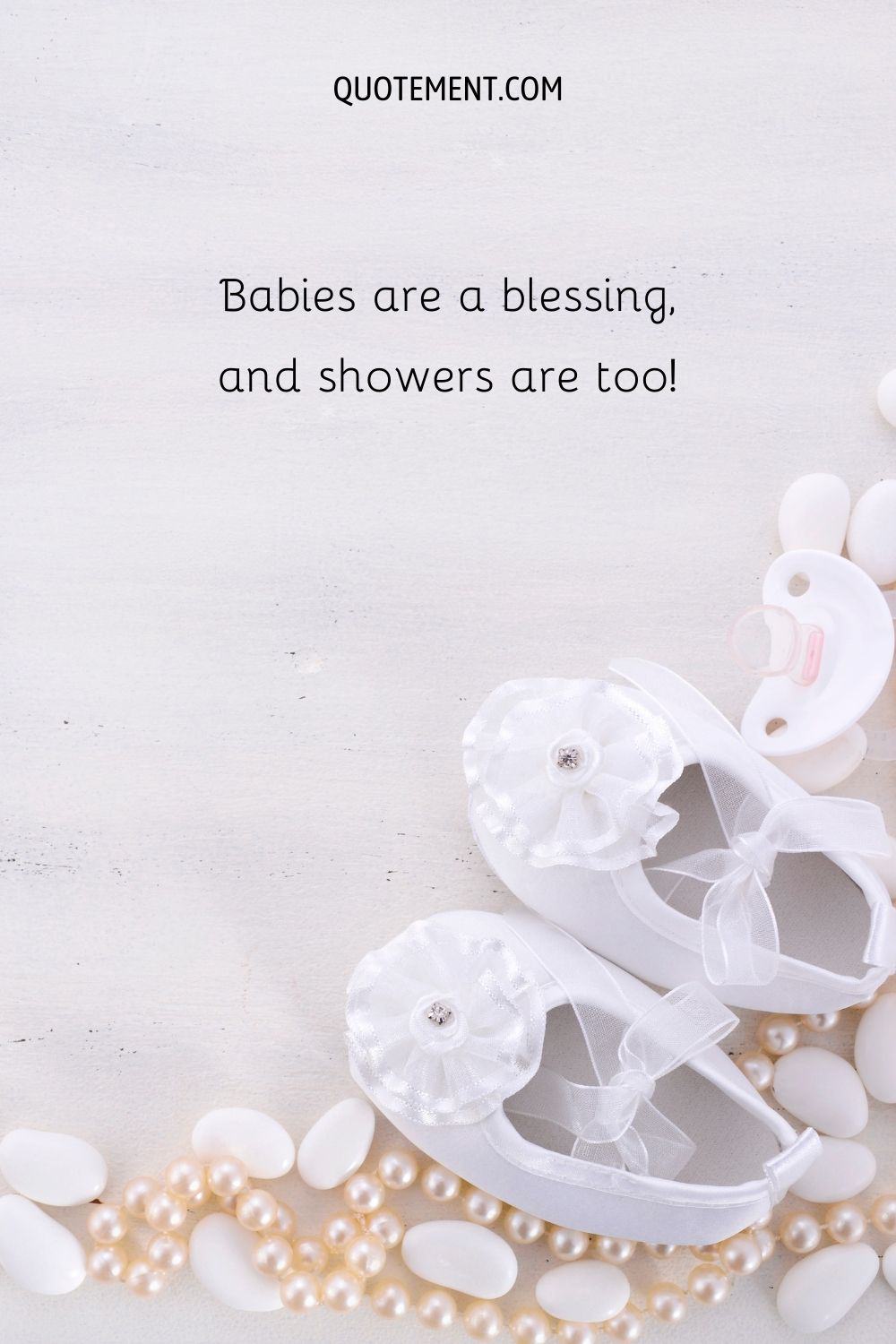 2. The smallest things make the biggest splash.
3. Can't wait to count those toes and kiss that little nose.
4. Food eaten, check. Gifts opened, check. Games played, check. Just missing the baby.
5. So much love for our little one on the way!
6. Guess who's almost here! Won't be long until we're outnumbered!
7. Having the happiest baby shower ever surrounded by my lovely friends and family.
8. It's a baby shower! Let's celebrate the newest little human who will be gracing us with their presence soon.
9. It's time to 'shower' the baby with love!
10. Love, laughter, and a new little one on the way — what more could we ask for?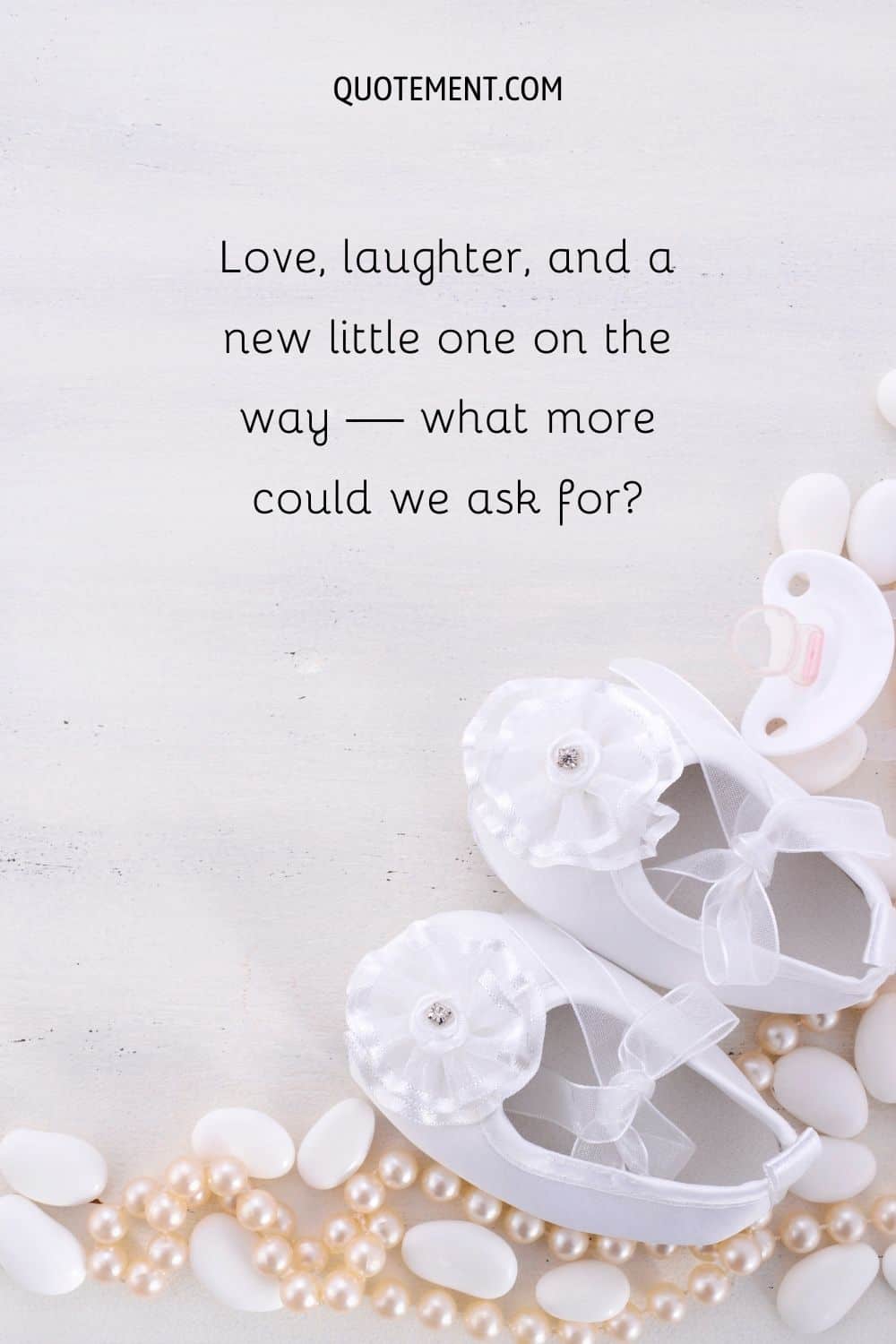 Cute Captions For Baby Shower
1. Surrounded by love and beauty on this magical day.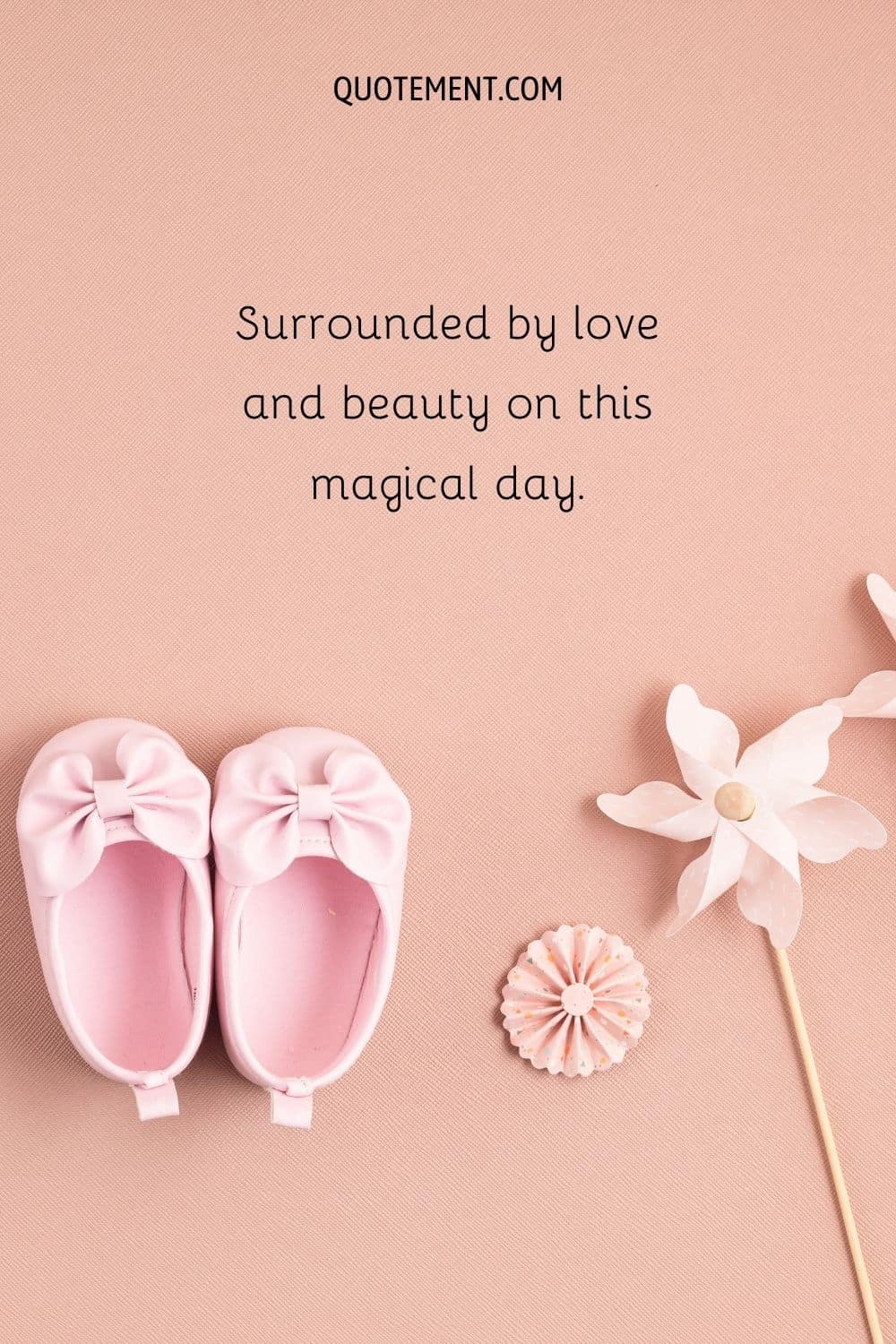 2. Wanting to savor this day as deeply as possible. So beautiful and so blessed.
3. Newborns: proof that love multiplies.
4. Don't mind me, just living in a dream world for the day.
5. A new adventure is about to begin!
6. Building a family, one tiny moment at a time.
7. Just waiting on the guest of honor. She/he will be here soon.
8. Have you ever seen a more beautiful baby shower?
9. Cherishing these precious moments of pregnancy.
10. The joy of a baby shower is all around us.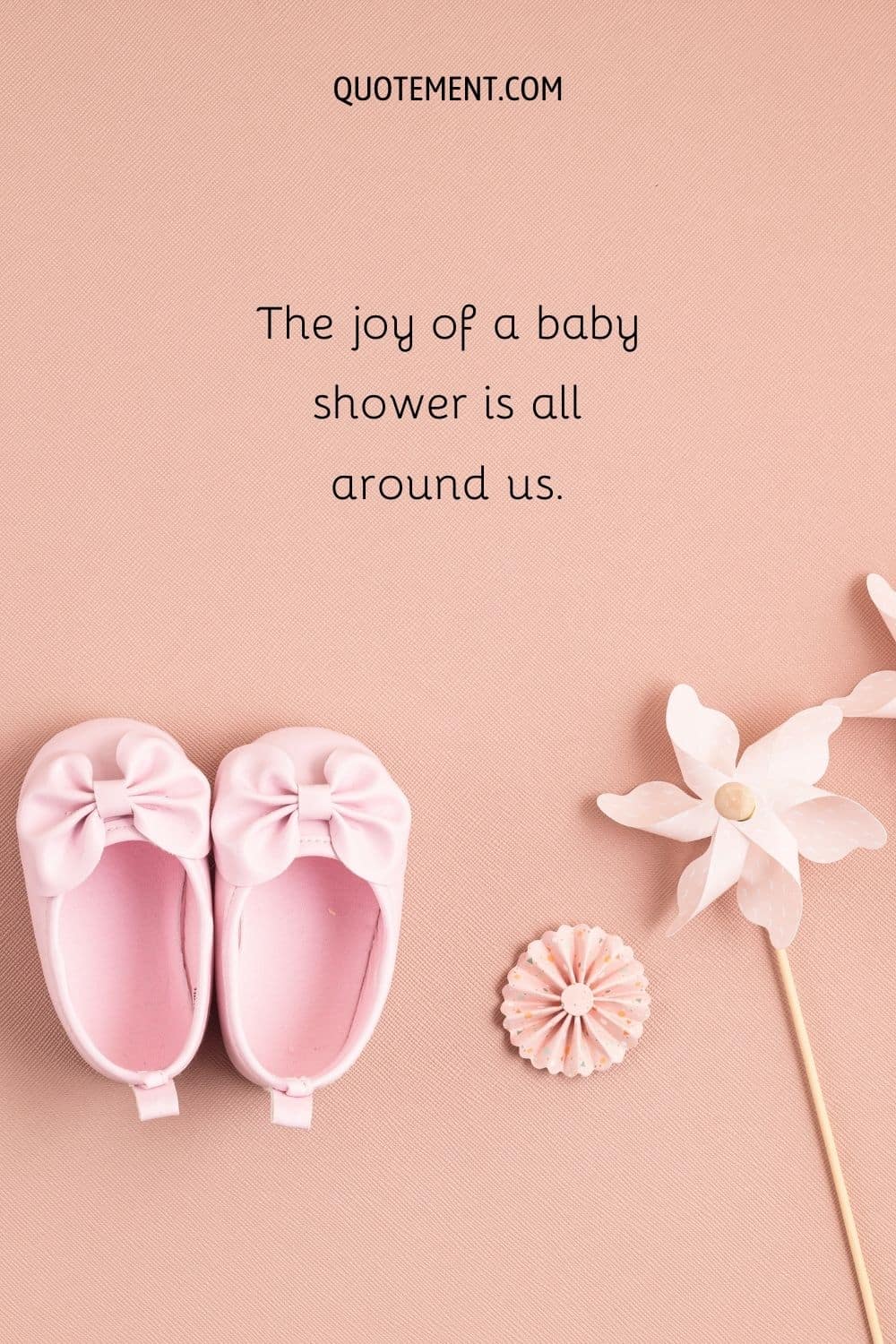 11. Making memories, baking baby.
12. Let love bloom.
13. My absolute favorite part of having a baby is getting to celebrate them before they even arrive!
14. Already so in love.
15. Celebrating new beginnings.
16. Time for some serious baby shower excitement!
17. Someone special, someone dear, someone new to love is here.
18. Having a baby is like getting a chance to win the lottery… without actually having to buy a ticket.
19. So excited about this new chapter!
20. Gear up for babyhood! It's time to celebrate the new mom-to-be.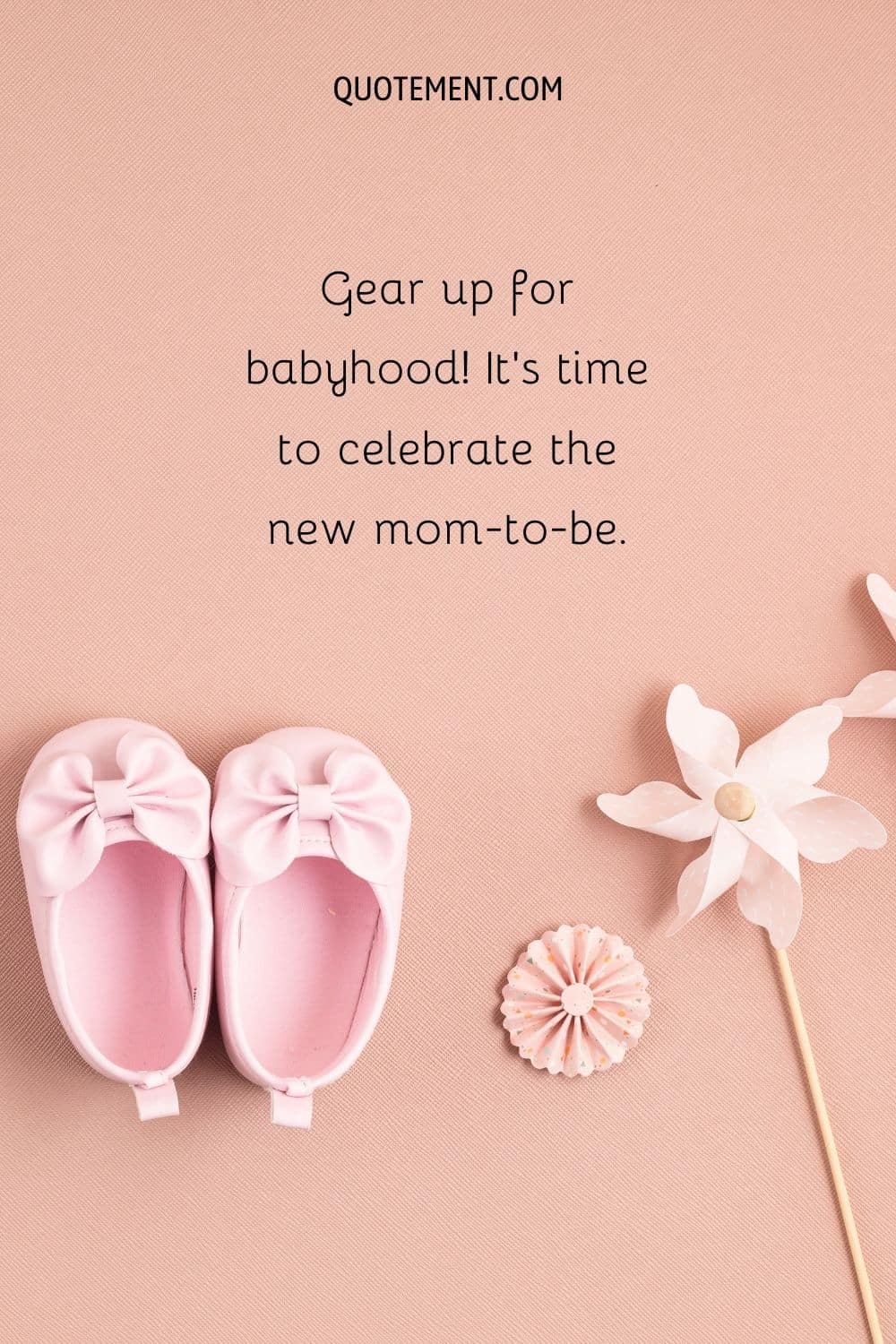 21. Official baby shower vibes.
22. New Addition coming soon!
23. Find me among the tribe of new mamas.
24. Welcome to sleepless nights and endless love.
25. A little bit of love goes a long way.
Cool Baby Shower Captions For Instagram
1. So much love and happiness in one room — a baby shower is truly a special occasion.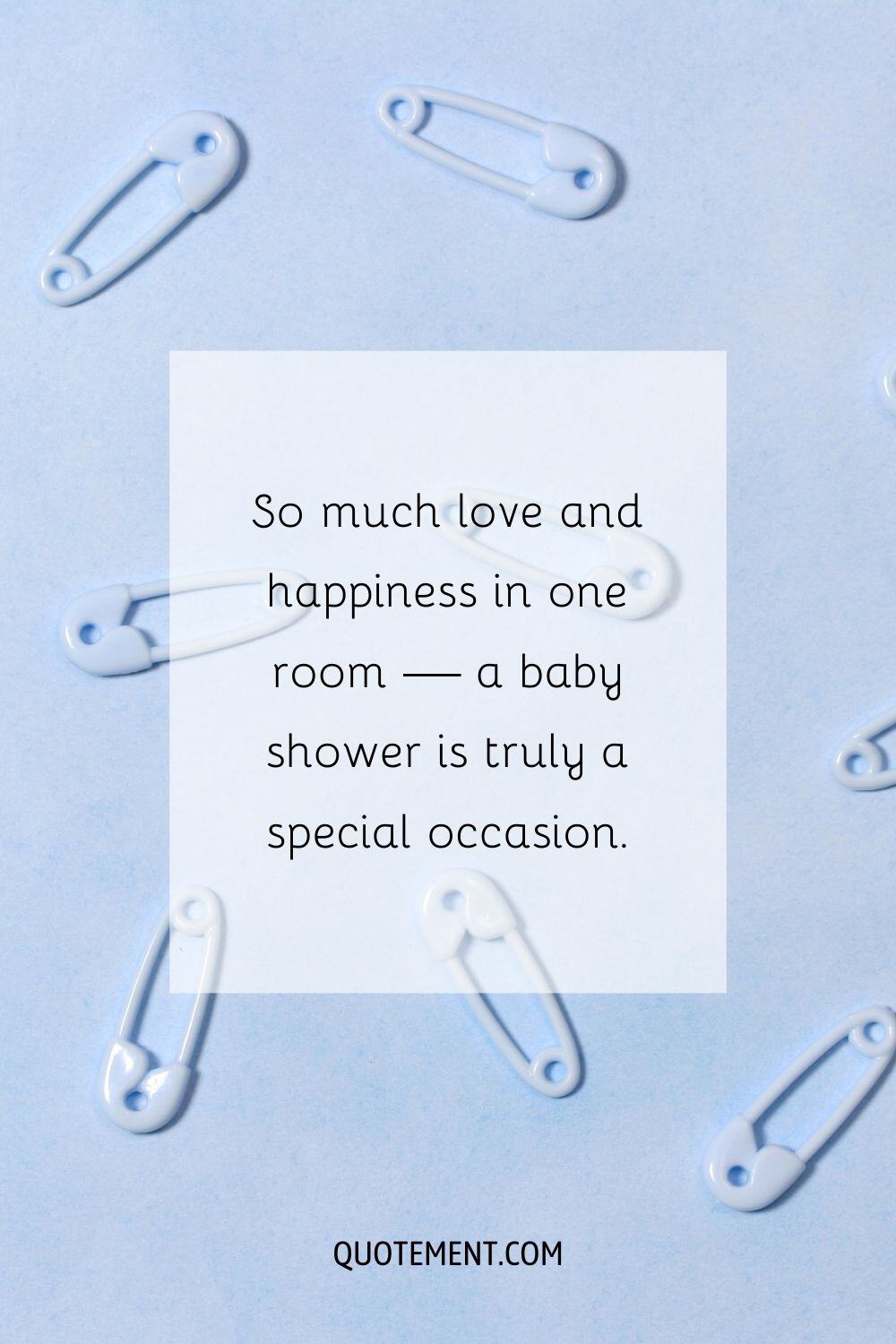 2. A little bit of heaven sent down to earth.
3. Tiny fingers, tiny toes, and a whole lot of love in one little soul.
4. Celebrating love, joy, and a precious new life.
5. The tiniest feet make the biggest footprints in our hearts.
6. There's nothing quite like the anticipation of a new arrival.
7. Love is in the air, and it smells like baby powder!
8. A baby is a blessing, a gift from heaven above, a precious little angel to cherish and to love.
9. Little hands, little feet, a lot of love, and a sprinkle of sweet.
10. A baby is a work of art, a masterpiece in progress.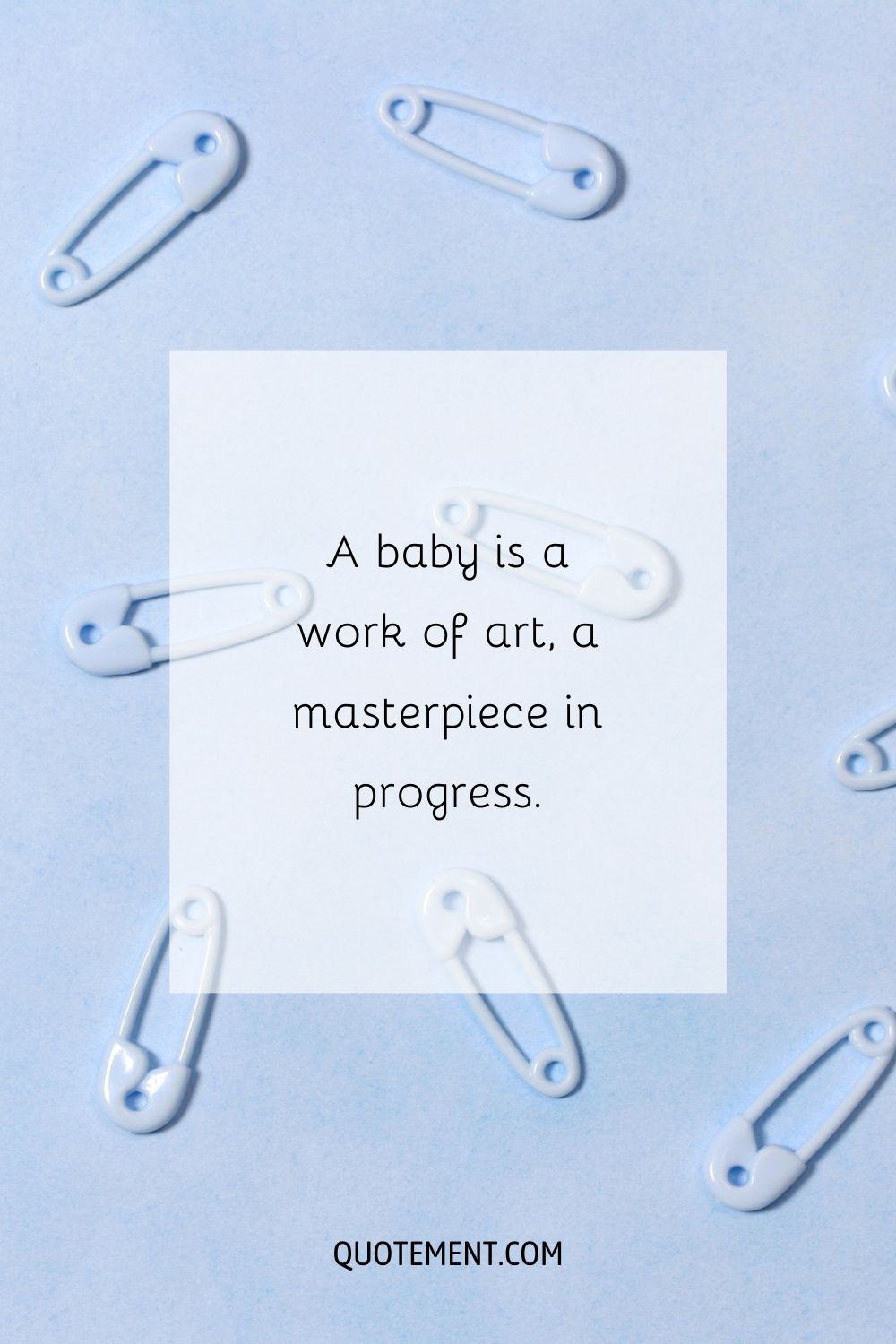 11. Babies are like little suns that bring warmth, happiness, and love into our lives.
12. Tiny humans, big love, and lots of diapers.
13. Behold! The baby is almost here.
14. Just when you thought you knew love, something little comes along to remind you just how big it is.
15. Feels like living in a dream for a day!
16. Life is a journey, and a baby is the sweetest addition to the adventure.
17. Diapers and bottles and pacifiers, oh my!
18. Whether you're a Girl or Boy, surely you'll bring much joy.
19. A shower of blessings, joy, and love.
20. A baby shower is a special time to celebrate the love that's about to grow.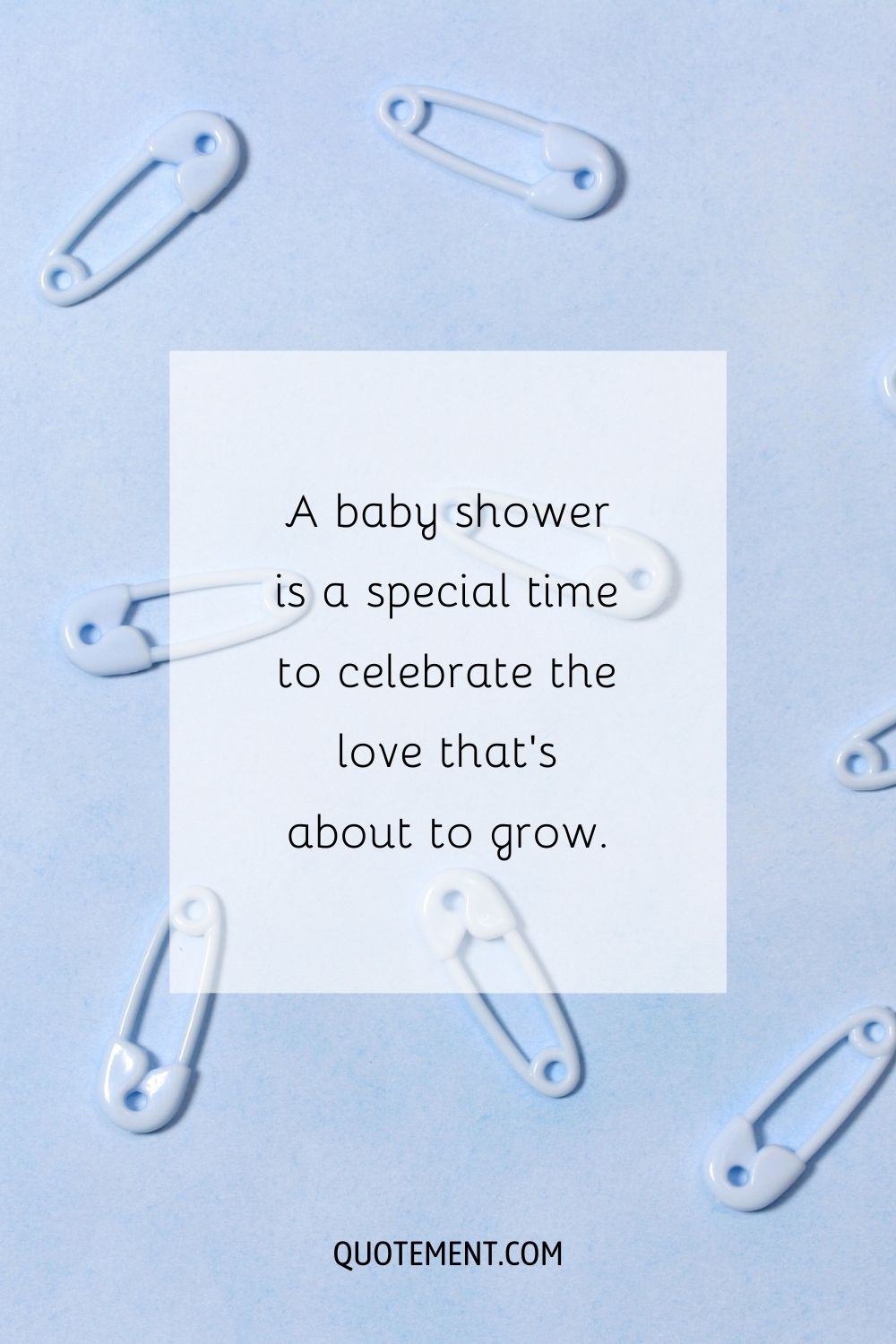 21. Miracle in the making.
22. A day to celebrate new life and love!
23. So many diapers, so little time.
24. There's nothing more beautiful than a growing family.
25. Twinkle, twinkle little star, we can't wait to see who you are!
26. There is no doubt this baby is blessed to be loved by so many amazing people.
It's A Girl!
1. Little girls bring such delight with hearts so warm and smiles so bright.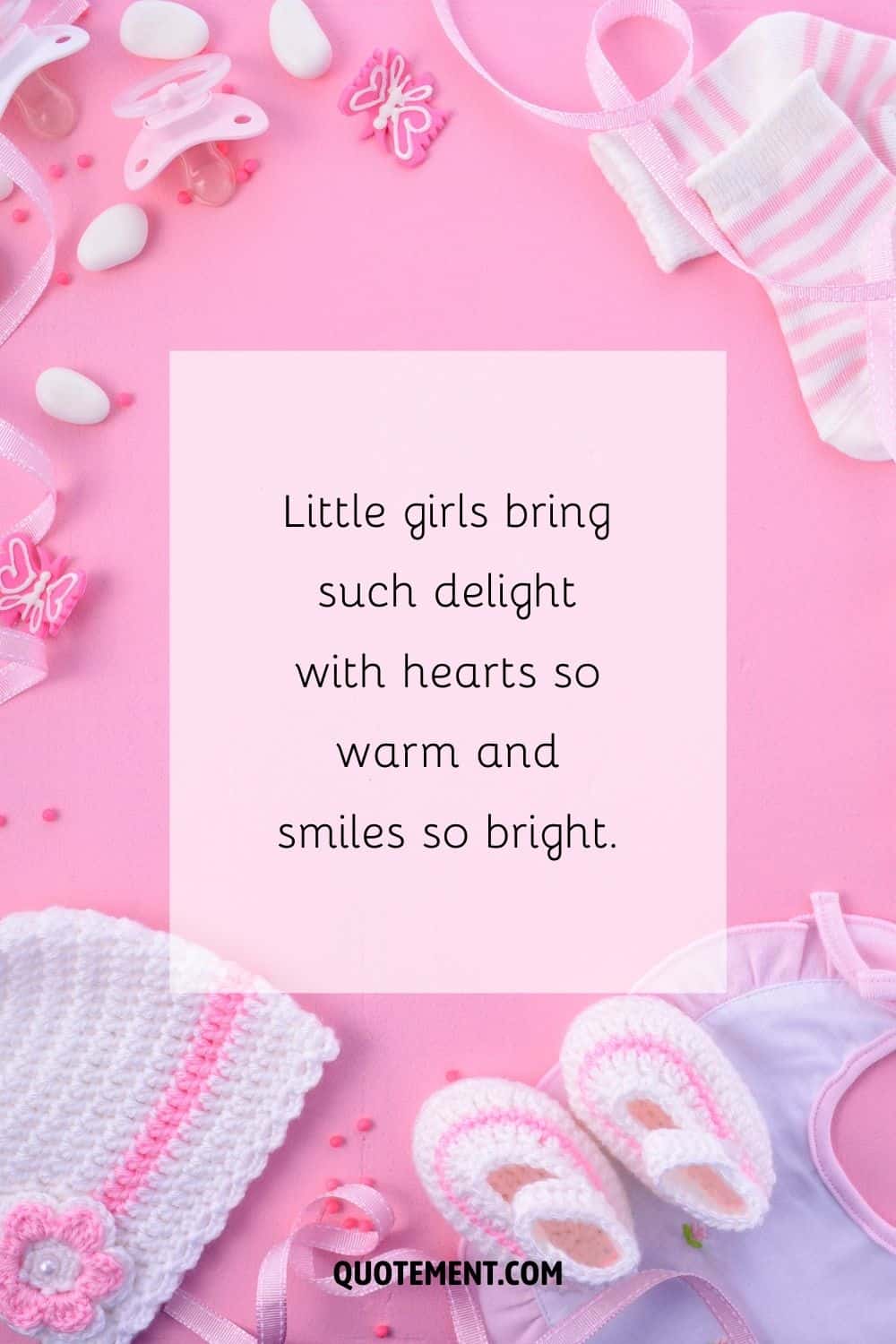 2. It's a girl! Surprise baby shower for the new parents-to-be!
3. So excited to meet our little princess.
4. IT'S A GIRL! We couldn't be happier to introduce the newest member of our family. I can't wait for you all to meet her later this summer.
5. Pretty dresses and little curls, oh thank heavens for the little girl.
6. We know she's going to fill your life with joy and love. Best wishes to your pink bundle of joy.
7. I am proud to say this baby girl will have the best parents in the world. Their love is second to none. Happy baby shower!
8. A beautiful little girl to play with and adore, to spoil a little and love a lot, who could ask for more!
9. Hope she will be like mother, like daughter.
10. A baby girl is on the way, so we are showering her mother with gifts for the big day.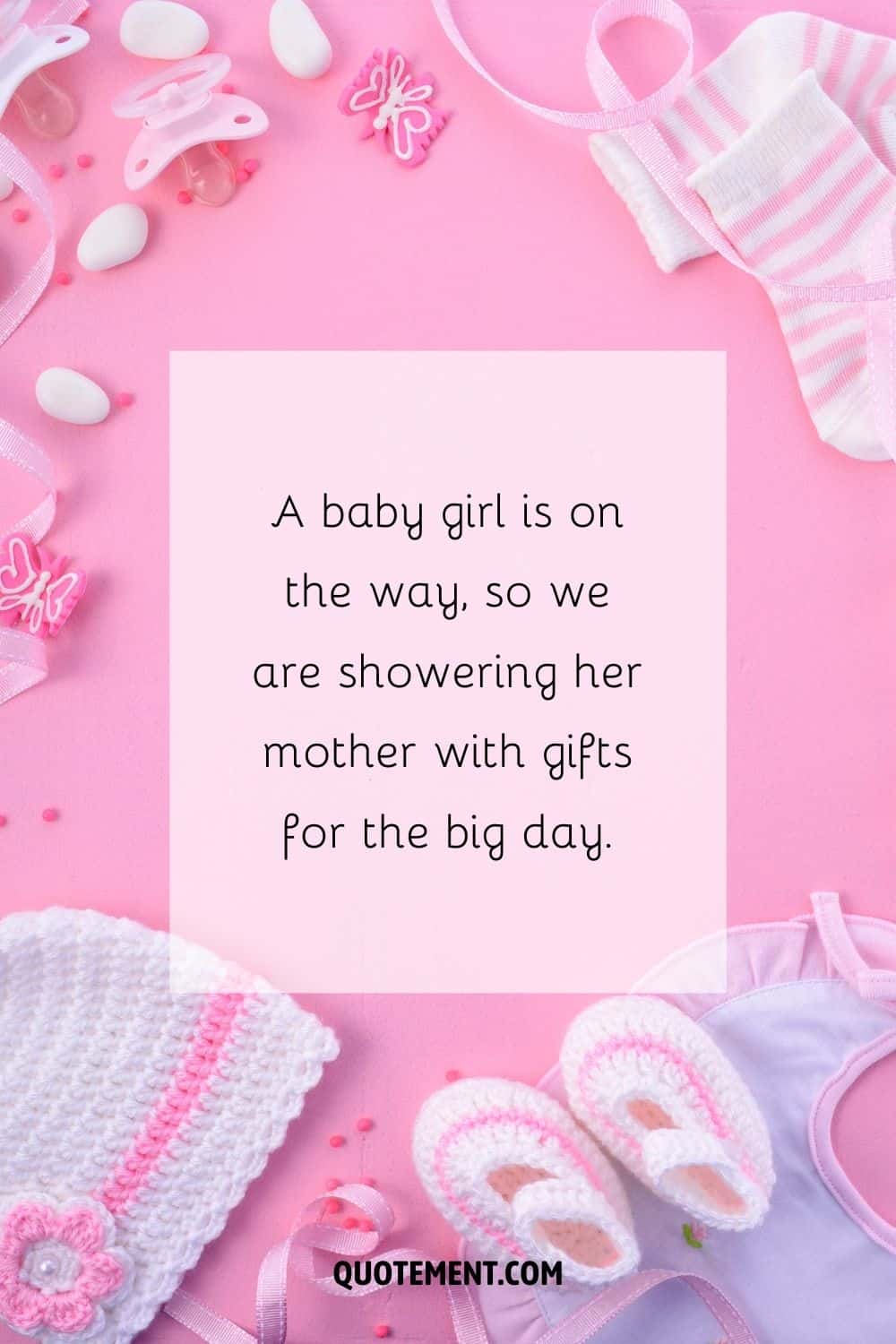 11. Soon the little angel will be here, and everyone's coming to cheer. She will be the perfect combination of princess and warrior.
12. Baby girls are a gift from heaven — precious angels to cherish and love.
13. Pinked out for a baby girl.
14. Welcoming a little princess into our lives. Coming soon to the world!
15. We can hardly wait to meet the little lady who steals mommy's heart!
16. May your bundle of joy grow up to be as sassy as her mom.
17. We're exceedingly excited to meet our delightful baby in pink!
18. We're tutu excited to meet this girl!
19. One minute you're dressing her in tutus, the next you're buttoning the back of her wedding gown. Cherish the little moments, they fly by!
20. Little bows, pink toys, little toys, a lifetime of joys. We're having a girl.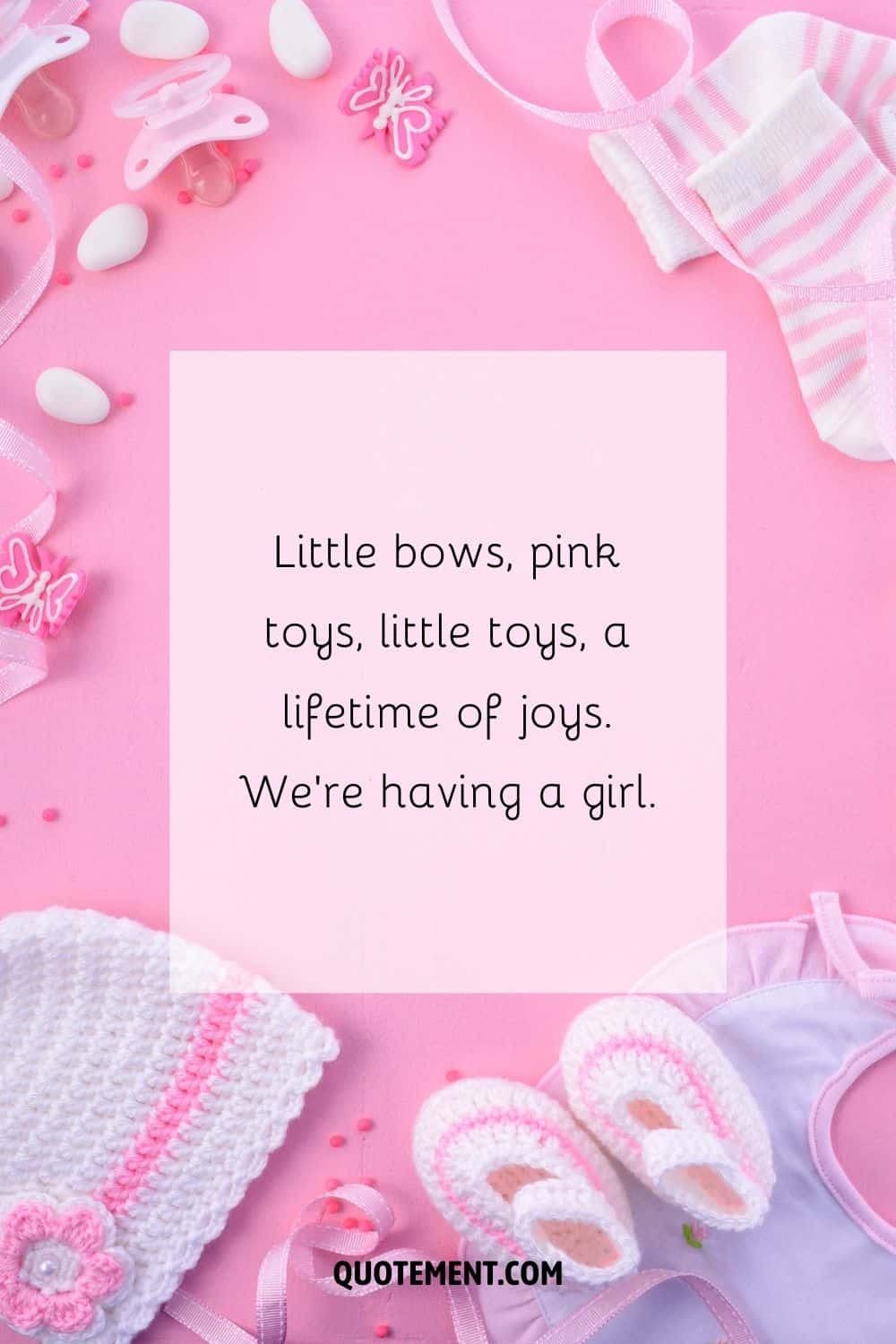 Boy Oh Boy!
1. A miracle sent from above, a baby boy to cuddle and love.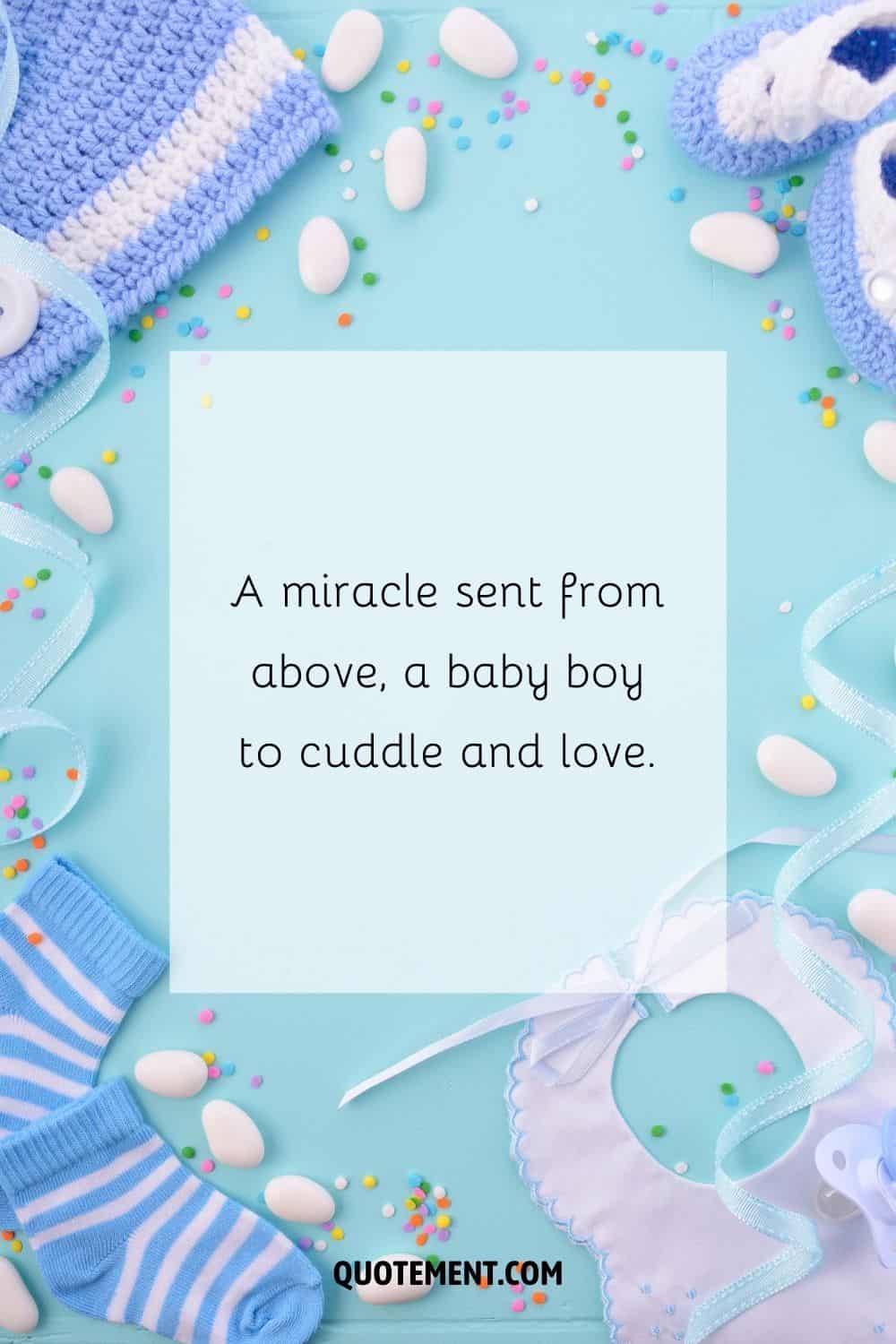 2. It's a shower! And a boy!
3. A brand baby boy is on the way, so let's celebrate with a special day.
4. About to give birth to the cutest baby boy in this universe!
5. A baby boy is a little miracle that you would like to share, an angel that you always handle with care.
6. This little prince has no idea how spoiled he's about to be. Can't wait for the big day!
7. A baby boy arrives, and just like that everything changes. The world gets bigger, the heart grows fuller!
8. A cute baby boy is on his way to fill our lives with endless love.
9. Get ready for baseball games, bike rides, and many more surprises!
10. Hickory, Dickory, Dock, there's about to be a new baby boy on the block.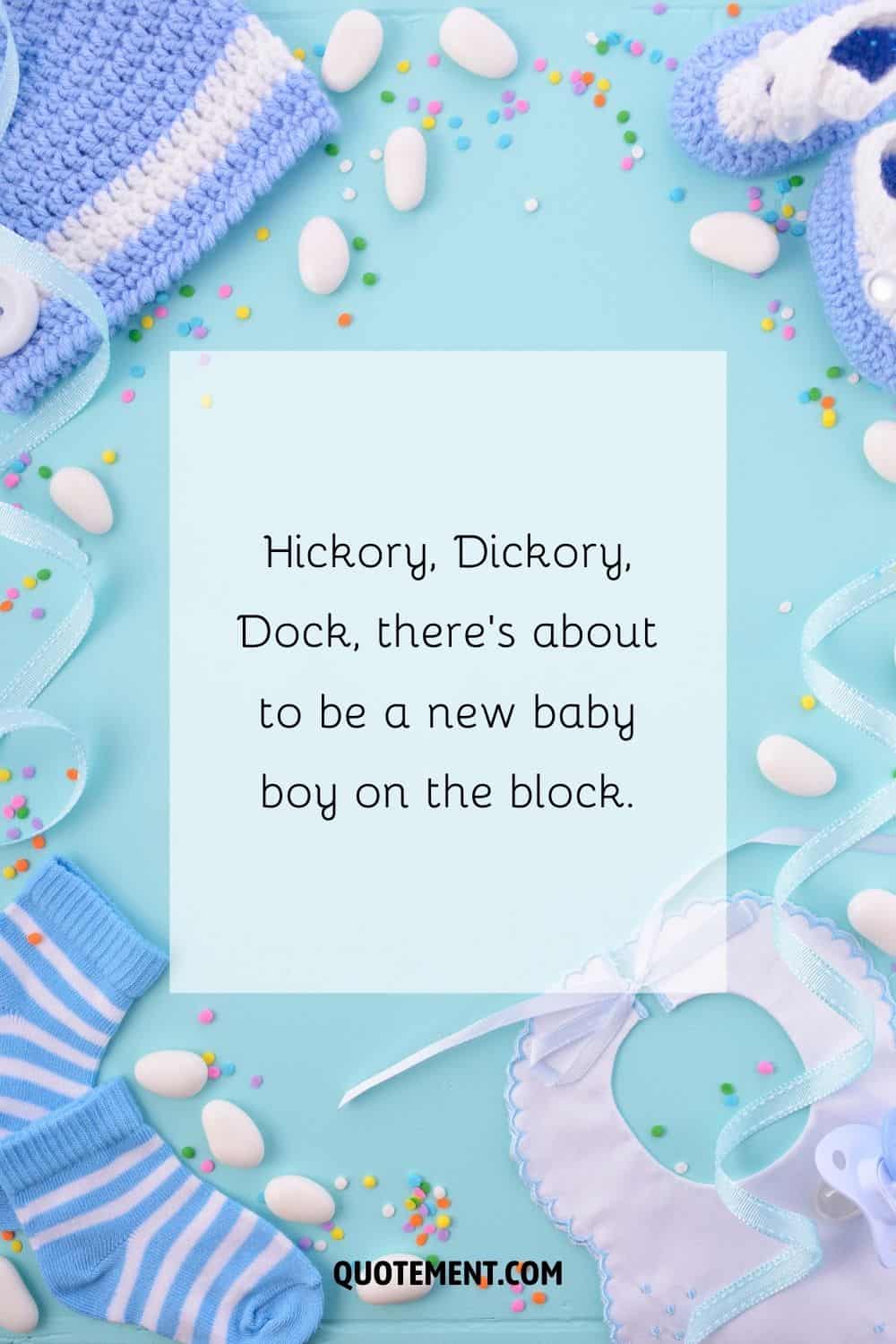 11. I can't wait to welcome this baby boy into the world, I hope he is forever safe and loved.
12. A giggle, a toy, a sweet baby boy.
13. What are little boys made of? Frogs and snails, and puppy dog tails, that's what little boys, are made of.
14. Let the adventure begin! Congrats on your little crusader!
15. And to the King and Queen, a new prince will be born and the kingdom rejoices.
16. Congrats! Now just four more and you'll have a basketball team.
17. A sweet baby boy is just the beginning of a beautiful story.
18. Little hands, little feet, and a little trouble are on the way.
19. One more angel to watch over you.
20. A basket full of sunshine, a house full of joy, what could be sweeter than a bouncing baby boy!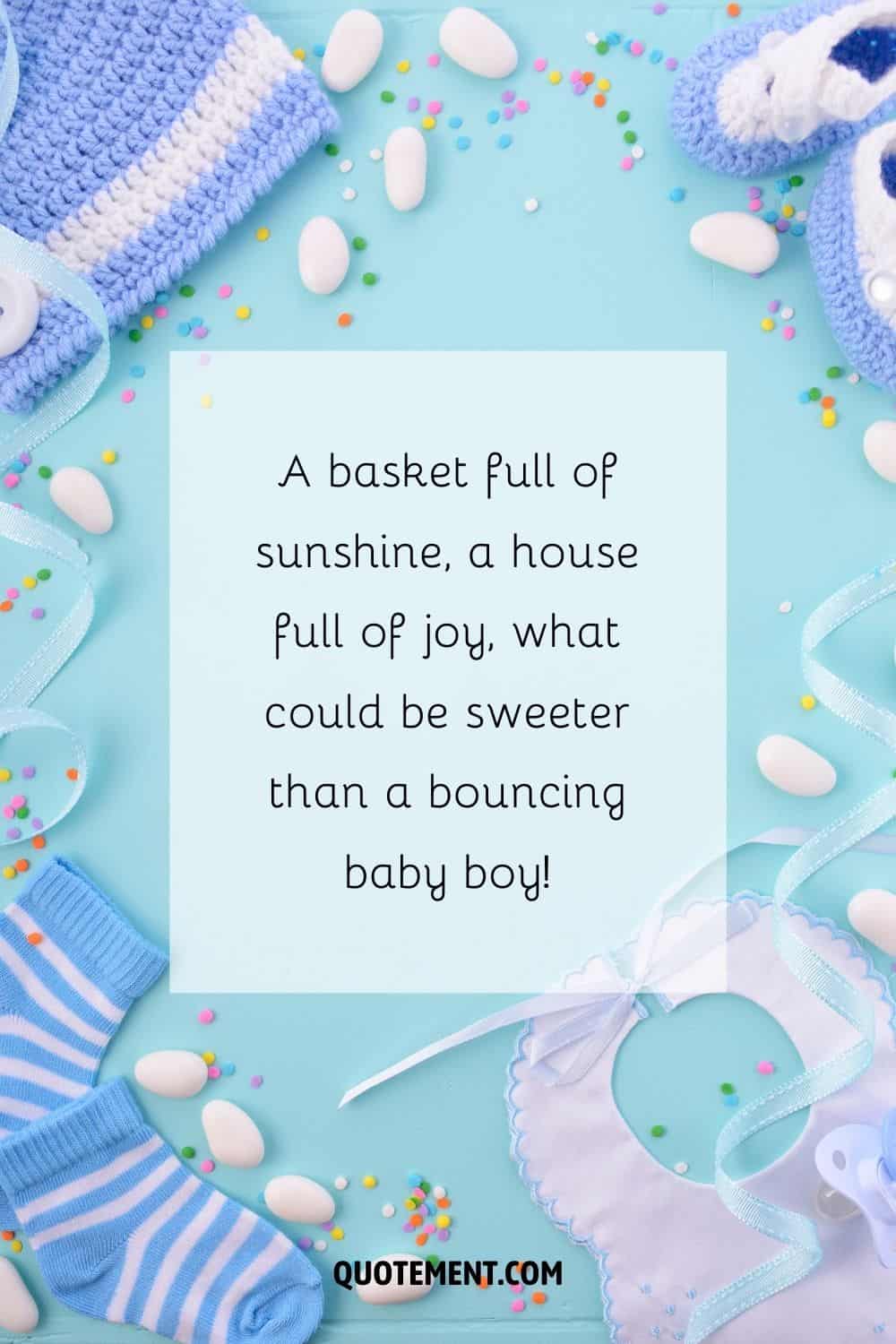 See also: 120 Cool Boy Mom Quotes For All The Proud Moms Raising Boys
Baby Shower Captions For Twins
1. Genes so nice, they made them twice!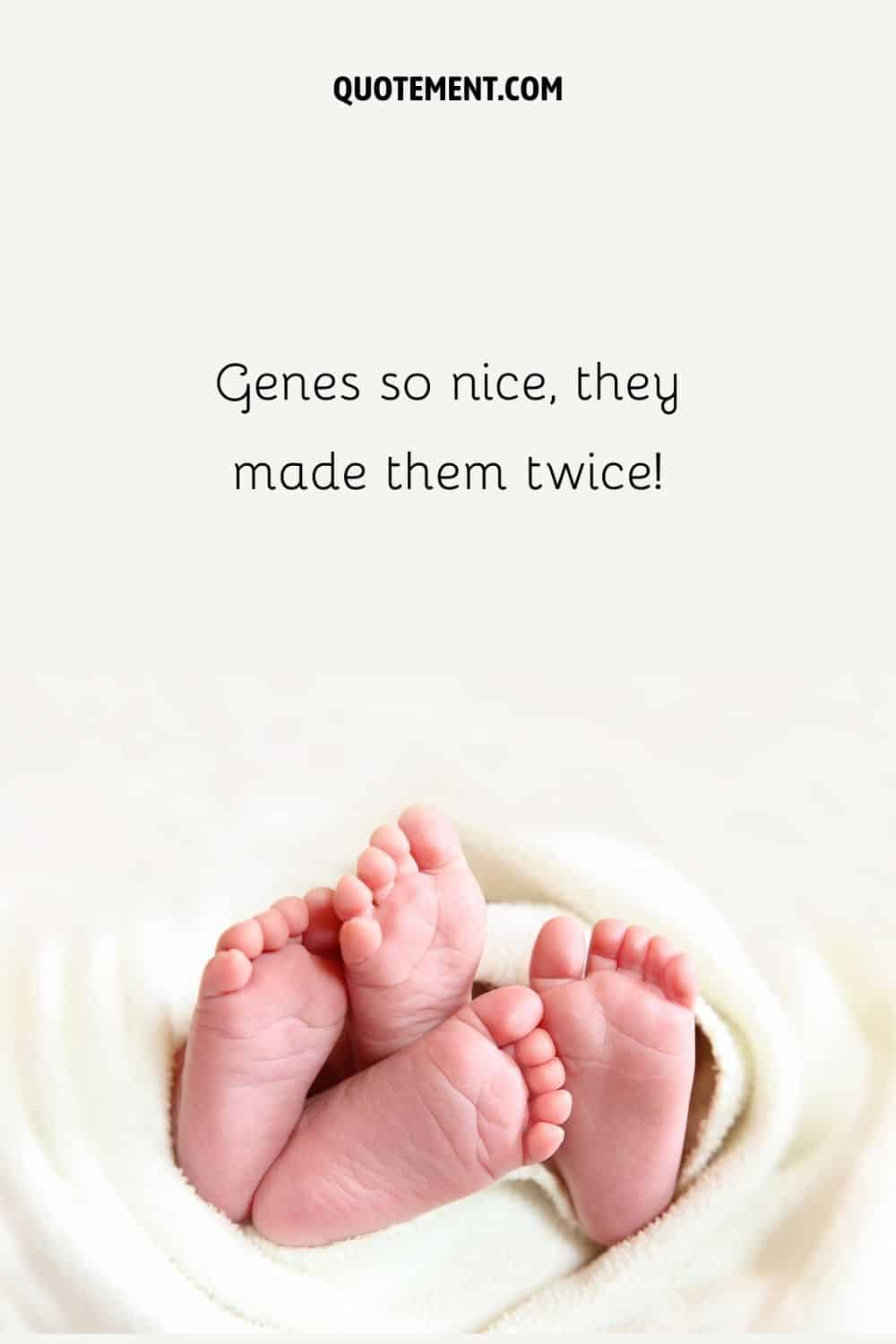 2. A mother of twins is a classic overachiever.
3. Who knew happiness could be delivered in so many tiny bundles? Congrats on the birth of your twins!
4. There are so many reasons to smile, and you just got two more!
5. Double the joy: It's a girl and a boy!
6. Twins are a blessing. And they will gang up against you and give you a mental breakdown!
7. Here comes double trouble!
8. With four arms hugging you instead of two, congratulations on having twins!
9. Twins! Sometimes miracles come in pairs.
10. If there's anything more special than a new baby on the way, it's two babies on the way!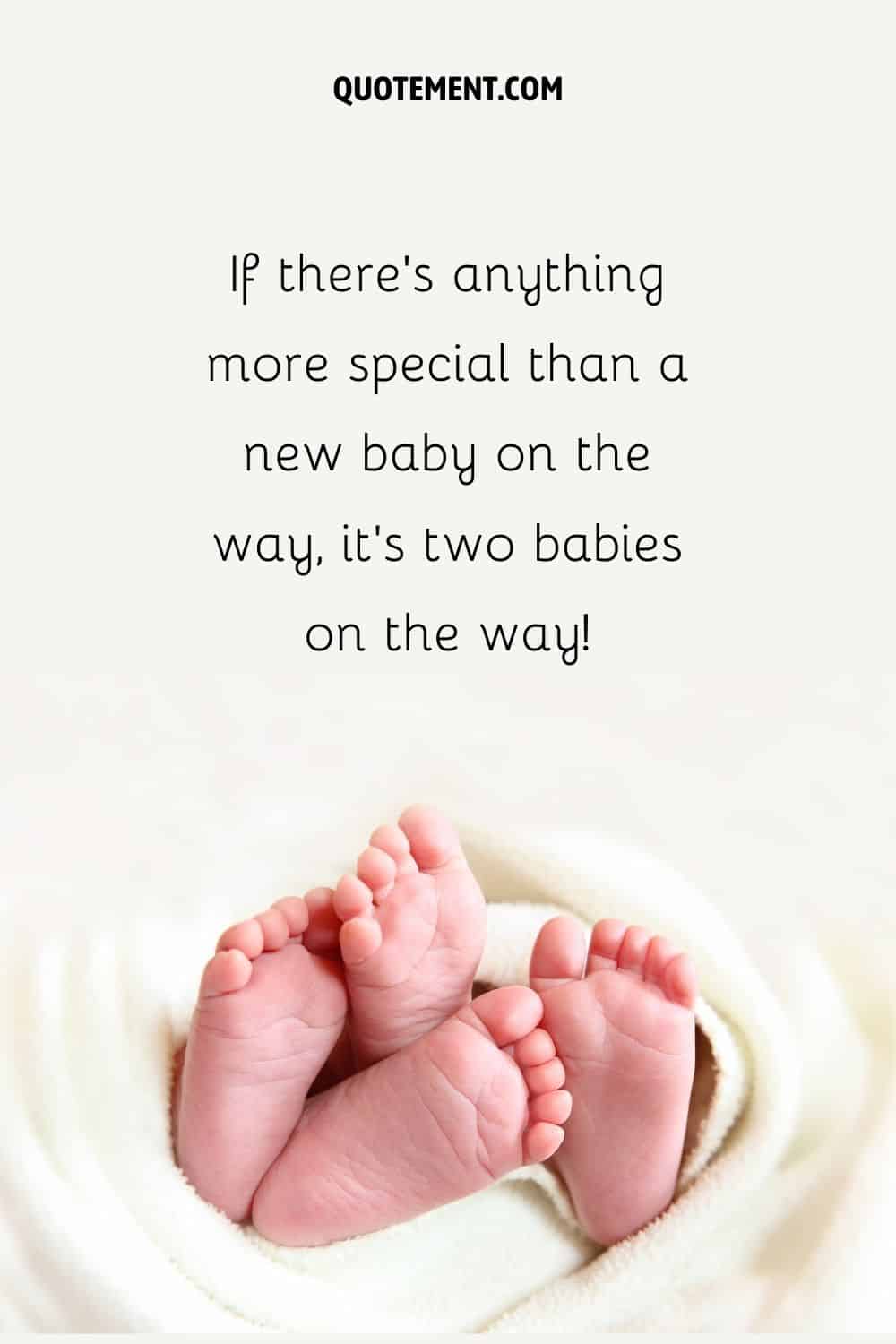 11. Congratulations on your twins! Now you'll have twice the love and half the sleep!
12. Twin mommies are like buttons. They hold everything together.
13. Two sets of hands and two sets of eyes, twins are such a delightful surprise!
14. You made one wish. And two came true. Congratulations on your double blessings!
15. It's twins! Congratulations! Twins mean double the kisses and double the fun. It's double the joy for everyone.
16. Good moms of twins have sticky floors, messy kitchens, laundry piles, dirty ovens, empty fridges, and — happy twins!
17. Double the giggles, double the grins, double the love when you have twins!
Baby Shower Captions For Mom To Be
1. Counting down the days until our greatest adventure begins.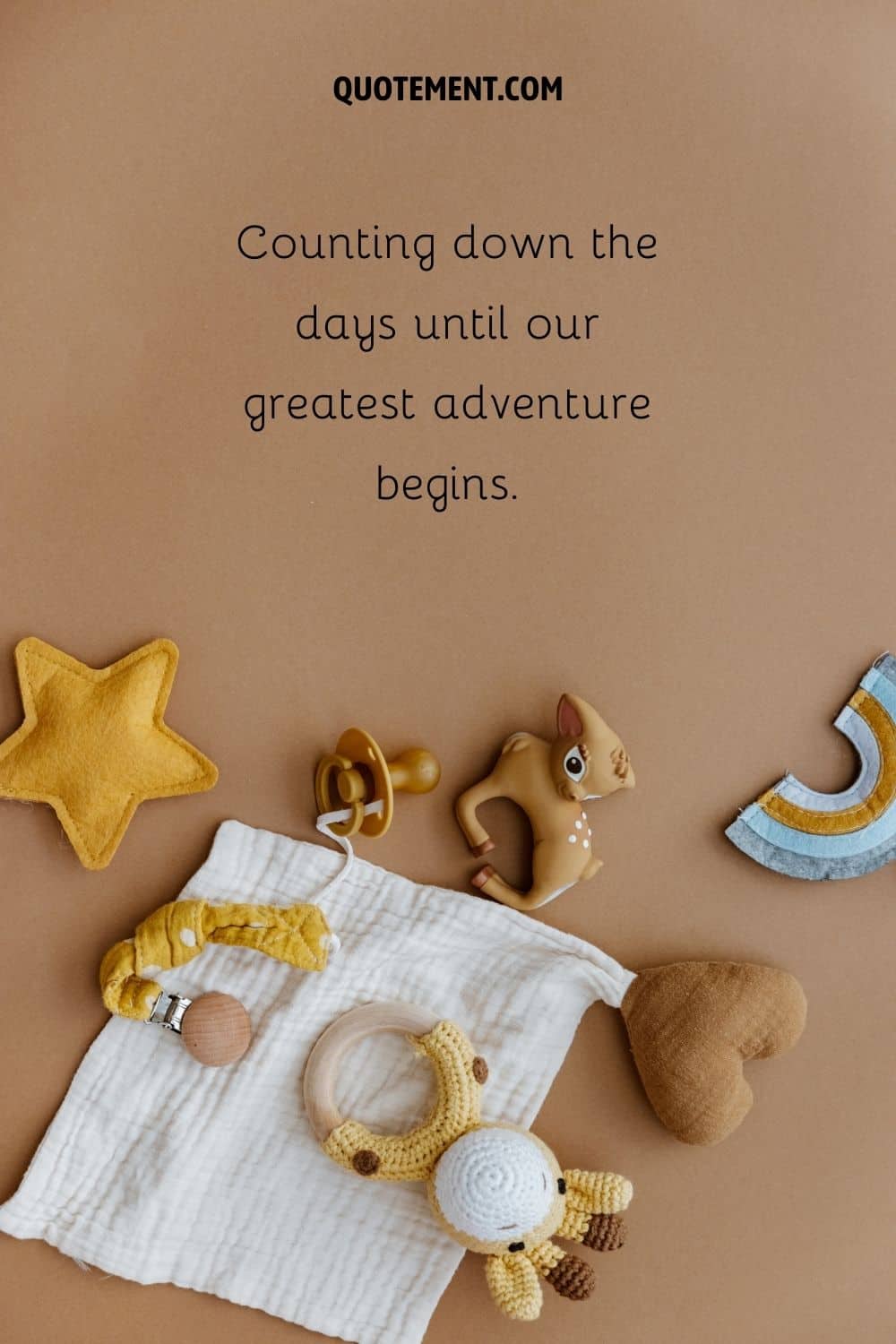 2. Building a bestie!
3. This isn't a shower. This is a straight-up torrential down-pouring of love. Baby and I are so lucky.
4. Watching our very own fairy tale unfold.
5. Ready to become a proud mom to the cutest baby ever.
6. Feeling so loved by my tribe.
7. Locked and loaded. Ready to meet this little one.
8. Feeling so very loved on my shower day.
9. Mama and Papa Bear…Waiting on Baby Bear.
10. Feeling like I've won the lottery of life today.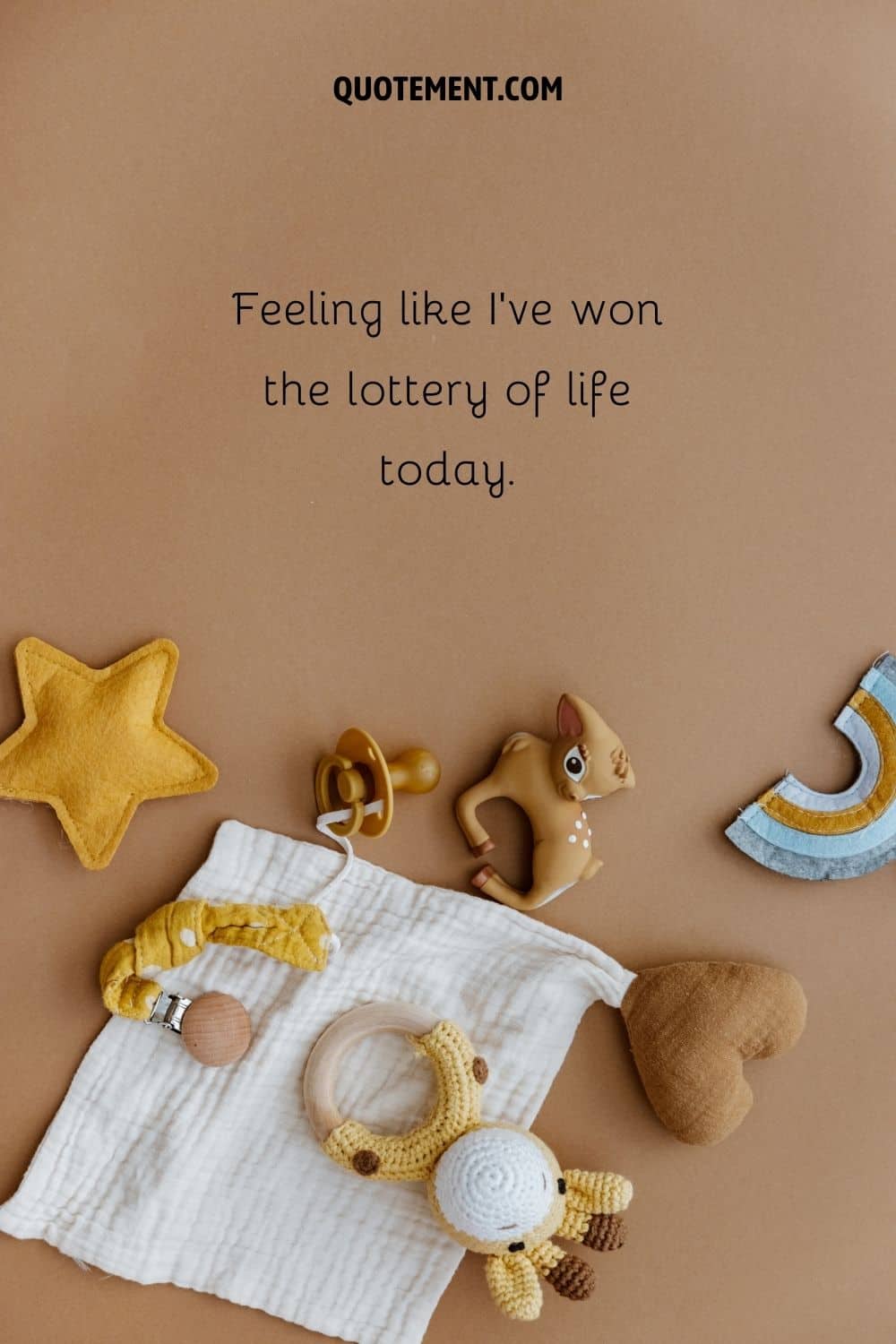 11. So grateful for all the lovely people in my life and this new little one on the way!
12. Feeling loved, supported, and ready for parenthood.
13. Every baby is a miracle, and I can't wait for mine.
14. New mom life is about to get crazy!
15. Love being surrounded by my girls as we get ready to welcome our newest member!
16. BabyShower ready! Can't wait to meet my little one.
17. Guess who's about to be a mama? ME!
18. Feeling blessed and baby obsessed.
19. Yes, I'm still pregnancy-glowing.
20. This is my first rodeo — any parenting tips?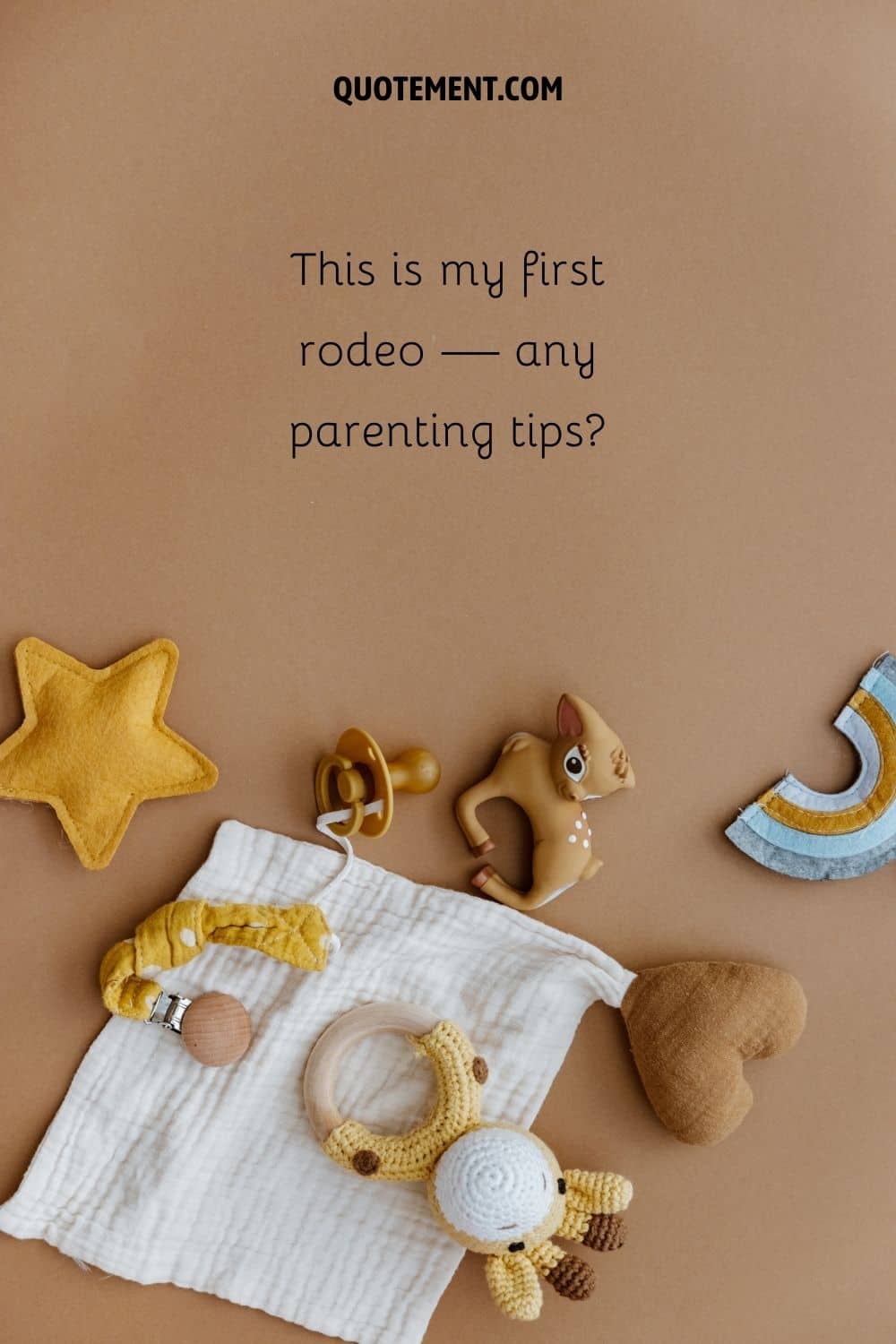 21. Momma's got a fresh batch of buns in the oven!
22. Feeling so blessed to have such amazing friends and family at my baby shower!
23. Can't wait to shower my little one with love.
24. Our hearts are ready, the nursery is set.
25. Celebrating life's greatest miracle with loved ones.
Baby Shower Captions For Future Grandma
1. About to bring the concept of spoiling to a whole other level!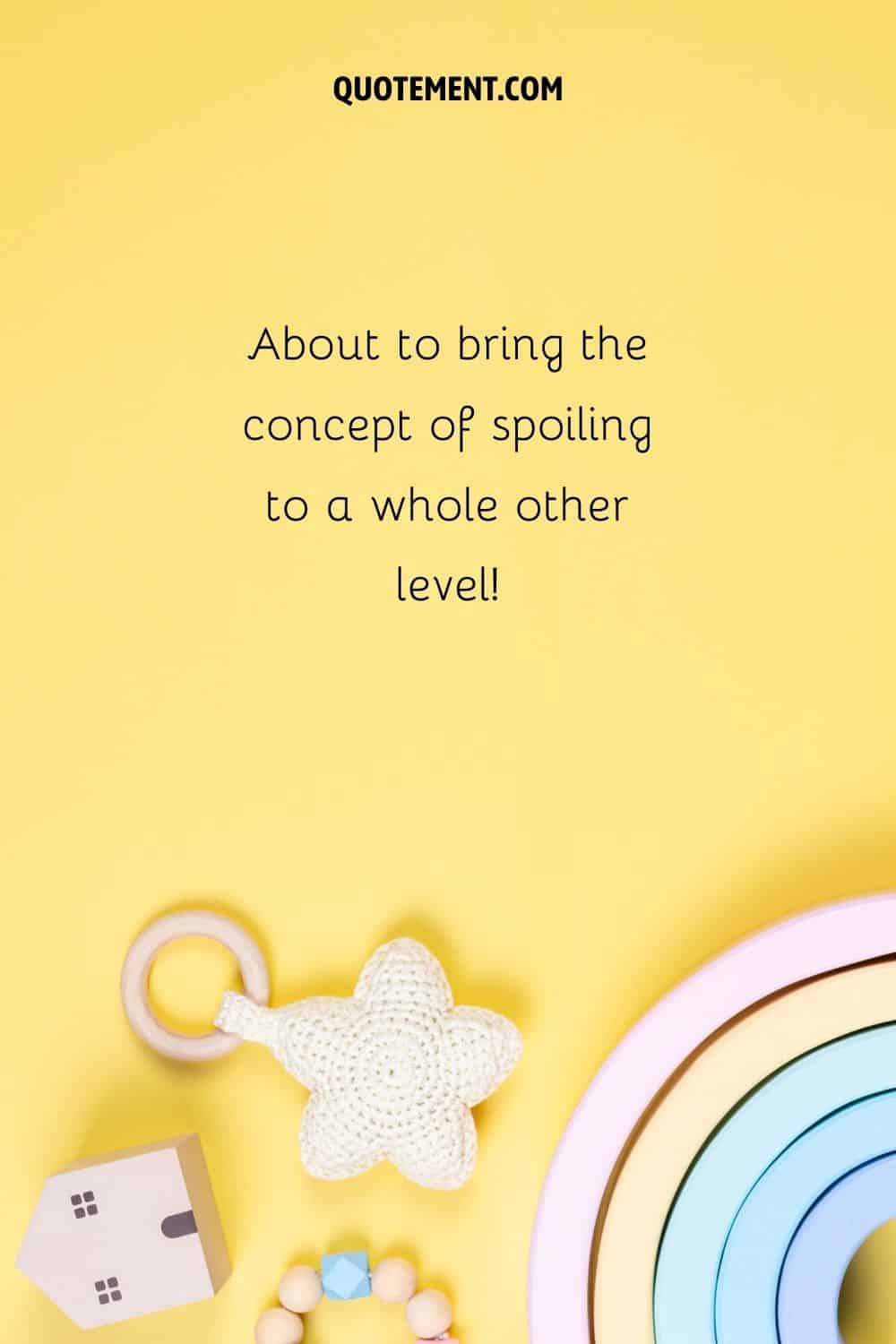 2. Grammy-in-training.
3. Being promoted to Grandma.
4. She has been waiting for this role for most of her life.
5. Oh baby! Can't wait to meet you.
6. Having the best time celebrating my little grandchild's arrival!
7. So much love for our little peanut.
8. A tiny miracle is about to make a big impact on our lives.
9. Can't wait to shower the little one with hugs, kisses, and plenty of attention. Better get ready.
10. She has the toys, the clothes, and the nursery. Grandma just needs this baby.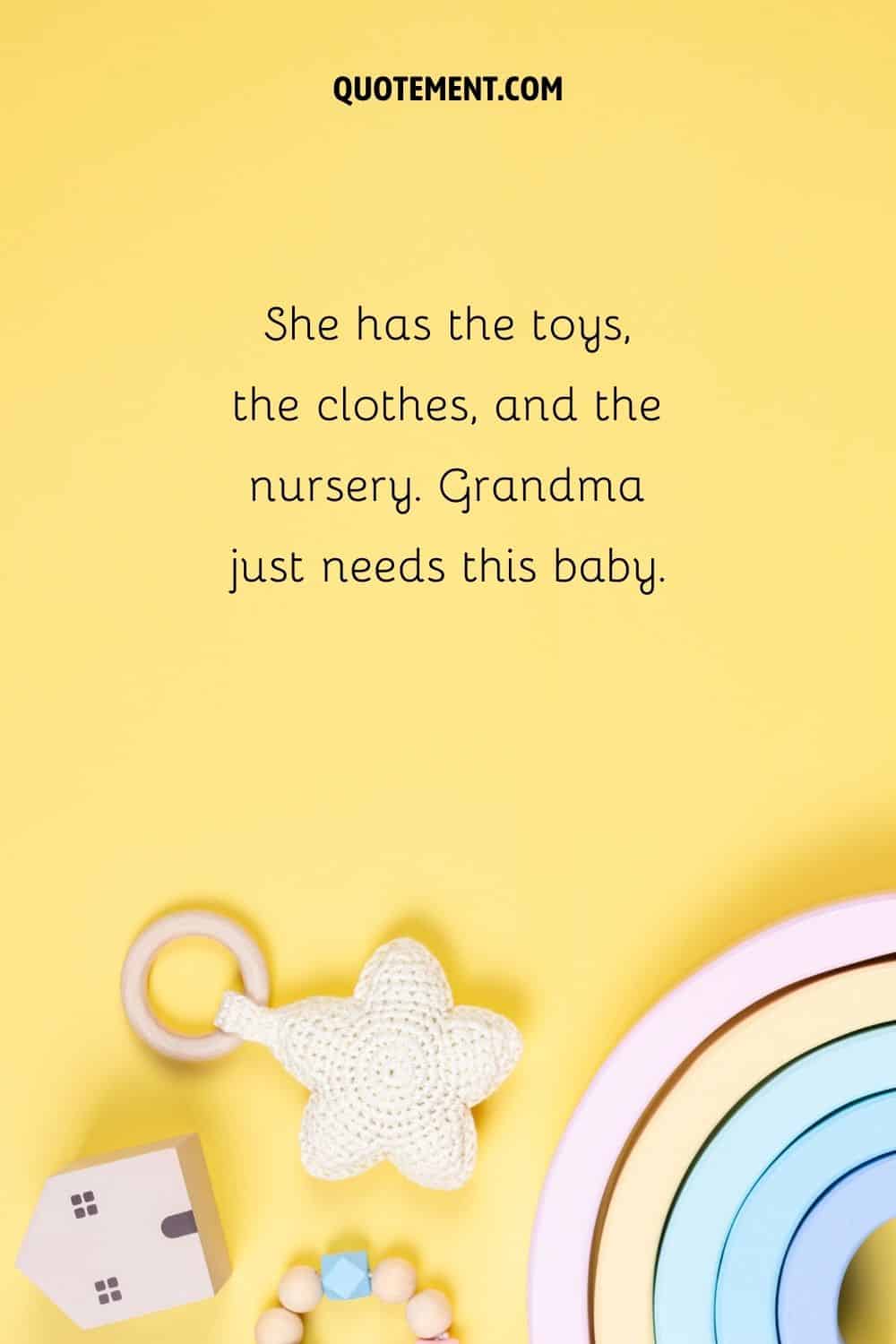 11. Baby powder, baby oil, soon you'll have someone to spoil.
12. A beautiful baby to play with and adore, to love a lot and spoil a little, who could ask for more?
13. About to spoil this secret stork delivery!
14. A grandma's love knows no distance.
Baby Shower Captions For Friend
1. We do everything together, except this. This one is all you, bestie.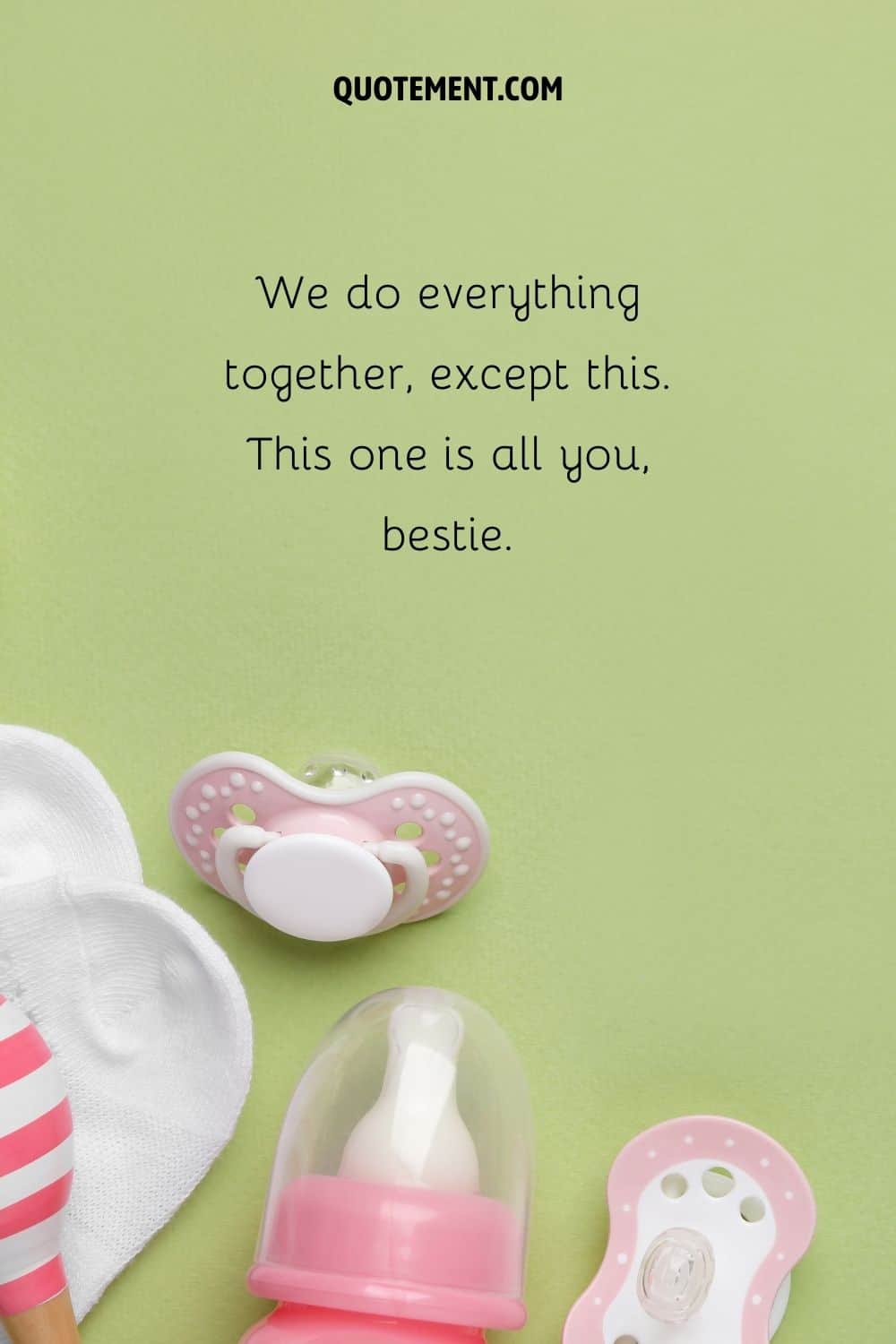 2. Can't wait to teach him/her everything his/her mama won't.
3. Loving on my BFF's baby.
4. High fives and love vibes to this beautiful mama-to-be and her baby.
5. Congrats, mama! So happy for you and your new arrival.
6. Loads of love for my friend's new arrival!
7. Congrats to my bestie on her new bundle of joy!
8. Decorating for my bestie's baby shower like…
9. Showering my bestie with love before she becomes a mama!
10. Watching my best friend's fairy tale unfold.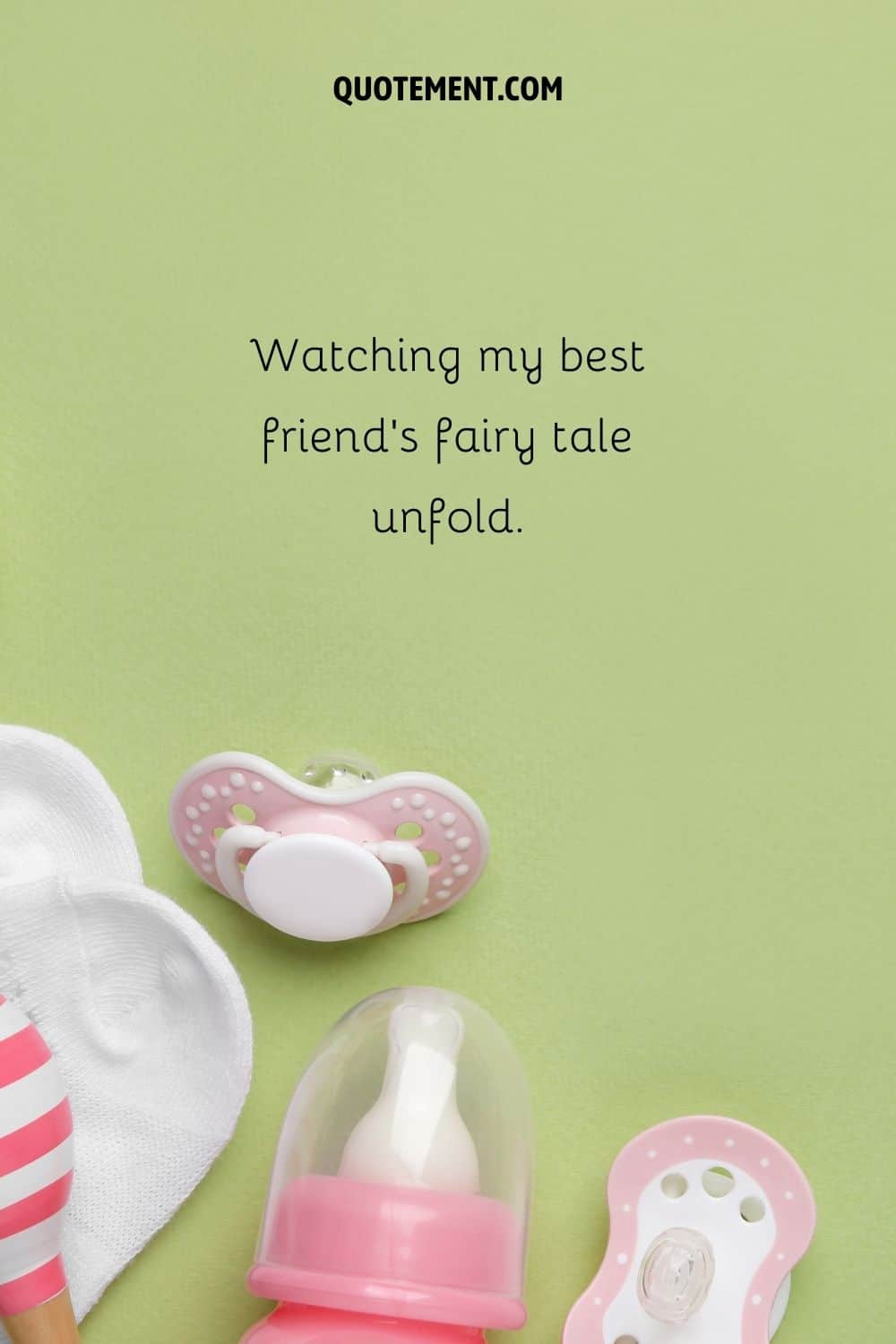 11. Best wishes to my dear friend on the arrival of her new baby! So much love for you all.
12. This mama-to-be is glowing, and we're so happy to share in her joy.
13. This little one is about to change the world in the most beautiful way.
14. We're just a bunch of grown-ups acting like kids, celebrating a baby like it's our own.
15. I am so ready to meet my bestie's little one.
16. Your baby shower is a celebration I wouldn't have missed for the world.
17. This baby is so lucky to have my best friend as a mother.
18. Happy baby shower my dearest! The heavens have sent you a one-of-a-kind gift, so go have the time of your life.
19. Love just got real. So excited for my bestie!
20. Ready to pop! Welcoming our friend's little one with a splash of love and happiness!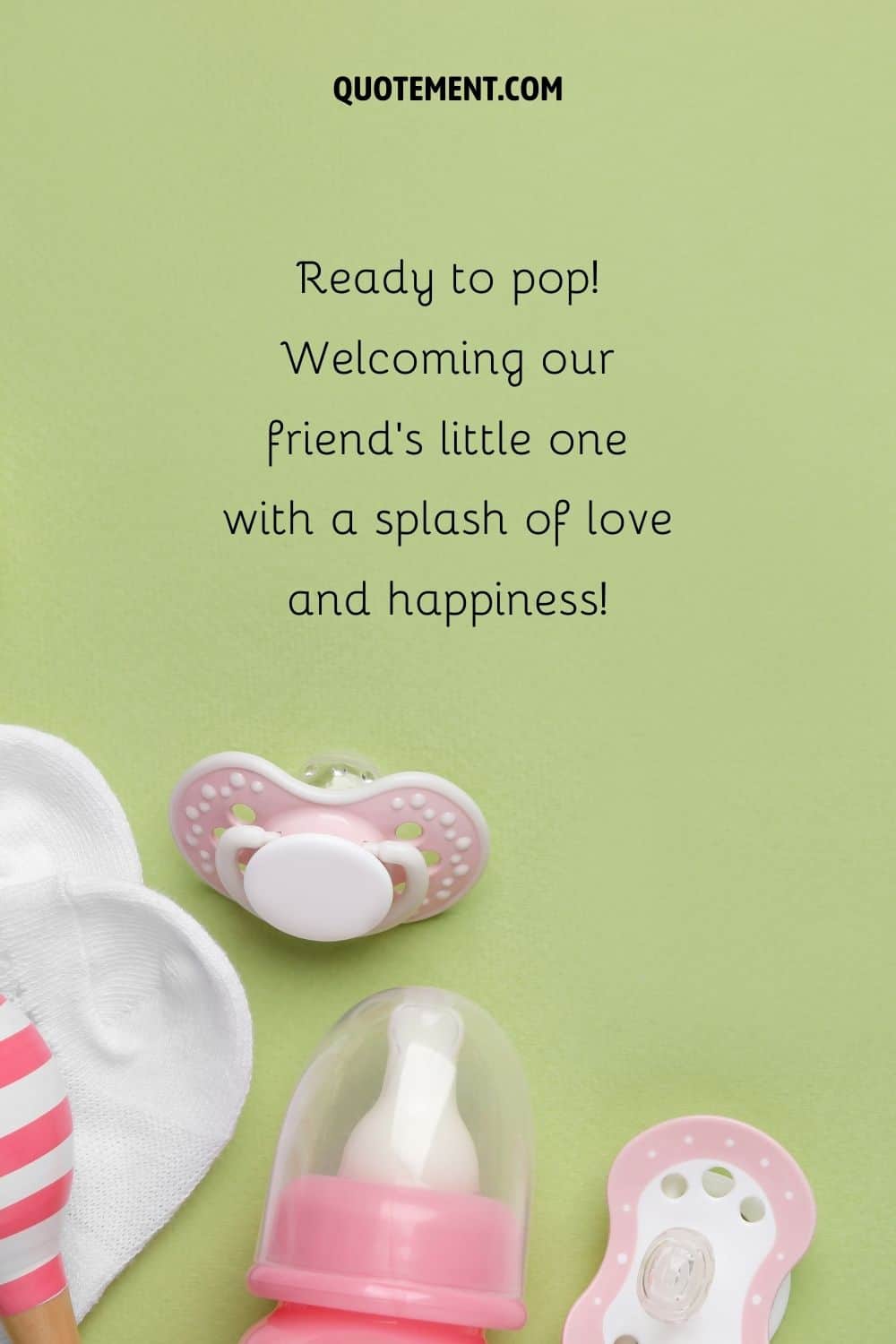 21. Celebrating baby bumps and best friends!
22. Pop the bubbly, she's got a baby in her tummy!
23. Our friend's baby shower: where good friends bring great gifts!
24. Sweet treats, tiny clothes, and a heart full of love for our friend's baby shower!
25. Diapers, bibs, booties, and bows — showering love on our bestie's baby from head to toe!
Captions For Siblings And Cousins
1. Adding another member to the gang.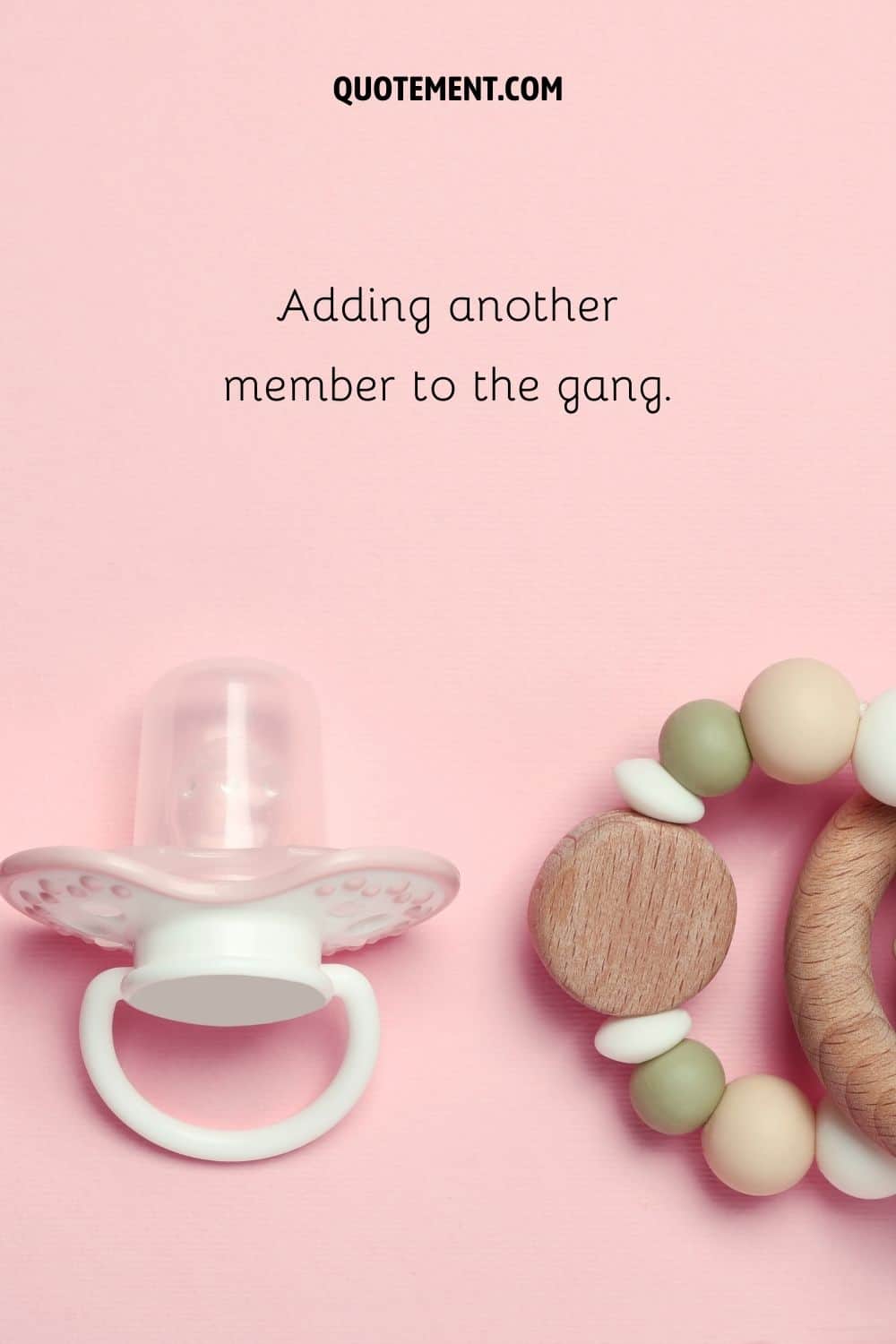 2. Think she'll/he'll look like us?
3. No one will have your back like we will, baby.
4. Another member of this madhouse is arriving soon.
5. Our hearts are bursting with love today. Such a special and beautiful baby shower.
6. New life goal: Be the coolest aunt on the planet.
7. A new baby is on the way and we couldn't be more excited!
8. Counting down the days until our little one arrives!
9. Welcome to the world, little one! We can't wait to meet you.
10. This little munchkin is almost here! Can't wait to meet my new niece/nephew.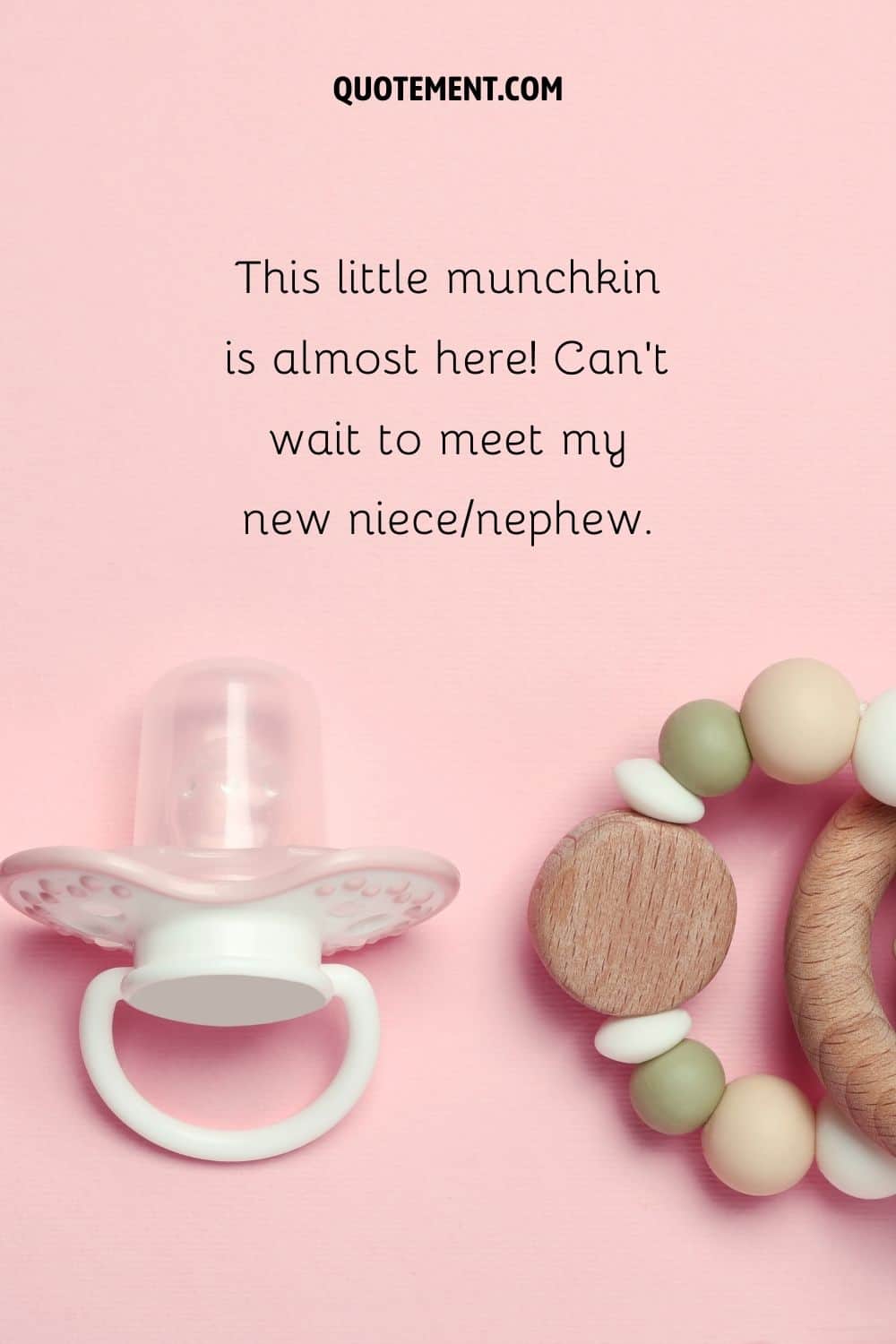 11. Celebrating the newest member of our family!
12. We're ready to welcome this little one with open arms and lots of love!
13. This baby is going to have a lot of aunts and uncles — like, a lot.
14. Waiting for the arrival of another member of this sweet abode.
15. Welcome to the crazy-cool people club, baby!
16. An occasion of the close ones for the close one.
17. A baby shower brings everyone together.
18. We love watching your family grow! Enjoy every step along the way!
19. Time to get the baby totally ready for their big world debut.
Baby Shower Cake Captions
1. The only thing sweeter than this cake is this baby-to-be.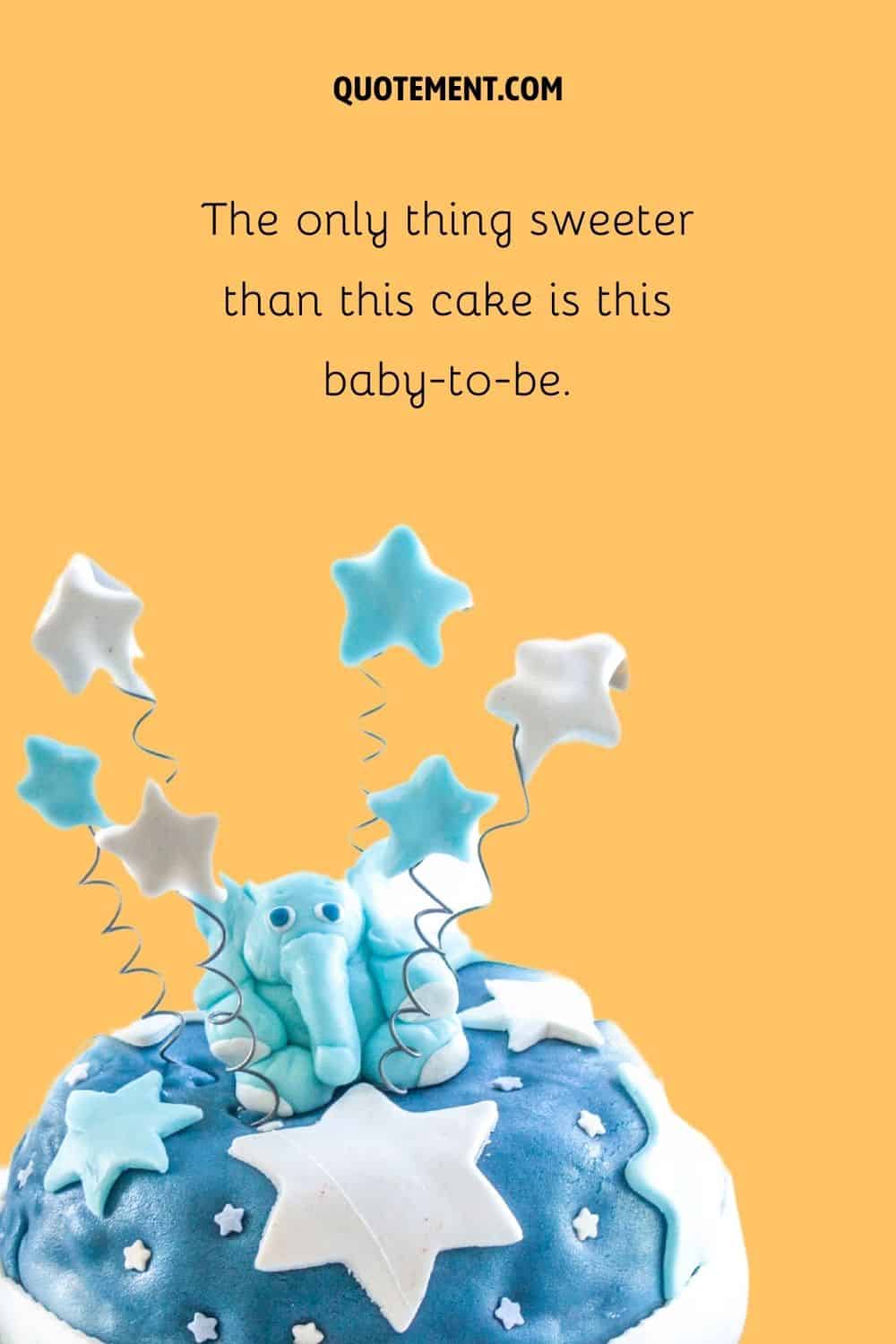 2. Someone is going to come out with a sweet tooth.
3. These treats are too pretty to eat.
4. Now, THIS is the way to a pregnant woman's heart.
5. If you need baby and me, you know where to find us.
6. I'm just here for the cake and the baby snuggles.
7. I don't know how I'll fit all of this delicious cake in my cramped belly, but I am sure going to try!
8. Sweetness overload for our sweet baby!
9. A little cake for a little blessing.
10. Baby showers are the perfect excuse to bake the cake and eat it.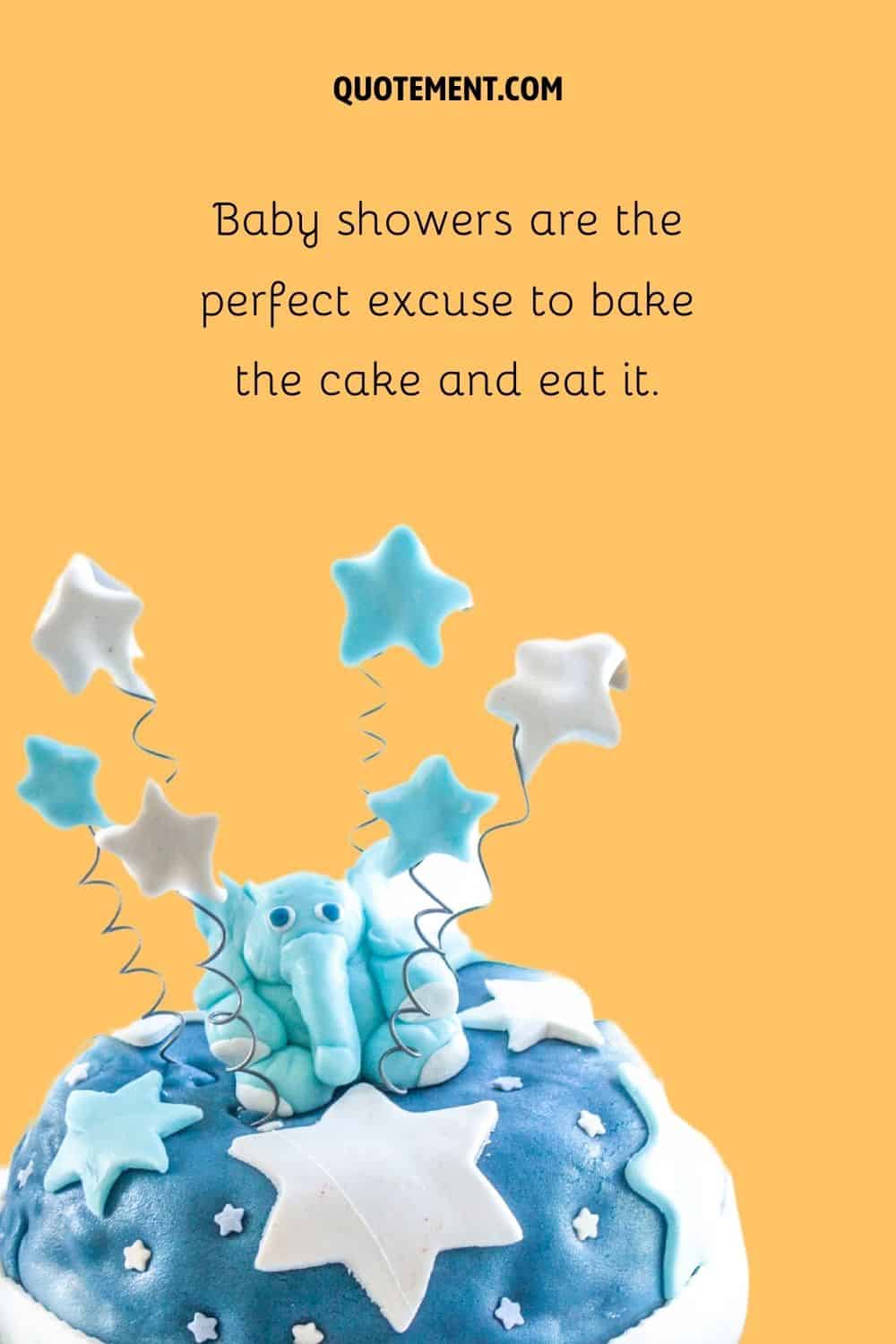 11. A cake as sweet as the new life we're about to welcome.
12. Cakes and cuddles for our soon-to-be bundle of joy!
13. From tiny feet to a sweet treat!
14. Sugar, spice, and everything nice — that's what this cake is made of!
15. A little cake for a little miracle.
16. A cake as precious as the new life we're celebrating.
17. A little cake for a big love about to come.
See also: 360 Best Cake Captions For Instagram To Add Extra Sweetness
Baby Shower Gift Captions
1. Getting a little jealous of my bump. Look at all of this incredible stuff!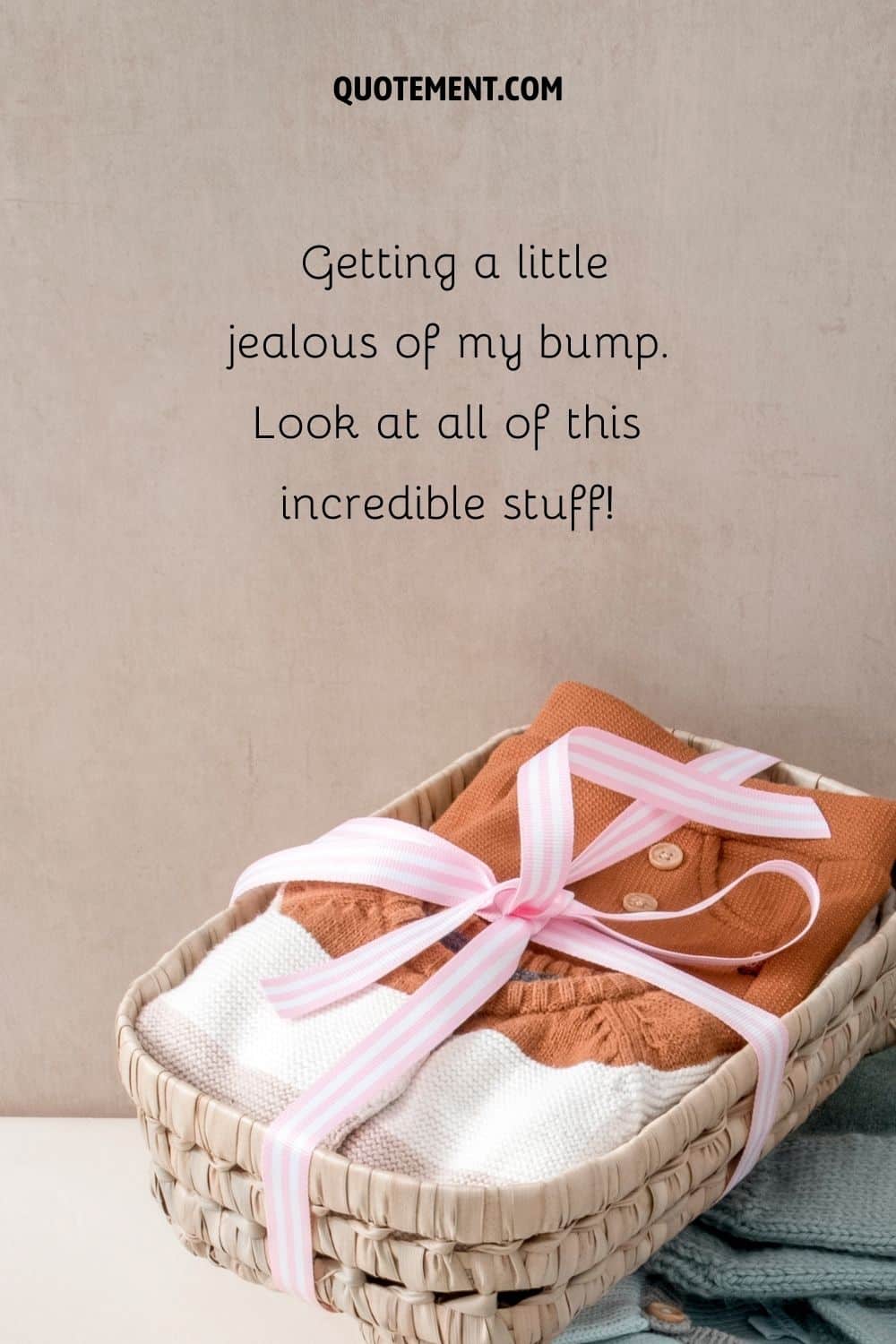 2. Feeling overwhelmed and blessed to be loved by so many amazing people.
3. About to birth the most spoiled baby in the universe.
4. There is no doubt this baby will want for nothing.
5. It's like they all went to the store and said, "Let's just buy all the things!"
6. Showered with love is an understatement. Feeling unbelievably loved and supported in this journey.
7. Don't know what all of this stuff is used for, but I'm so glad that all of these wonderful women are here to teach me.
8. Her/his closet is going to be better stacked than mine.
9. These tiny shoes and little clothes are just the beginning of a lifetime of memories.
10. From there to here from here to there, baby things are everywhere!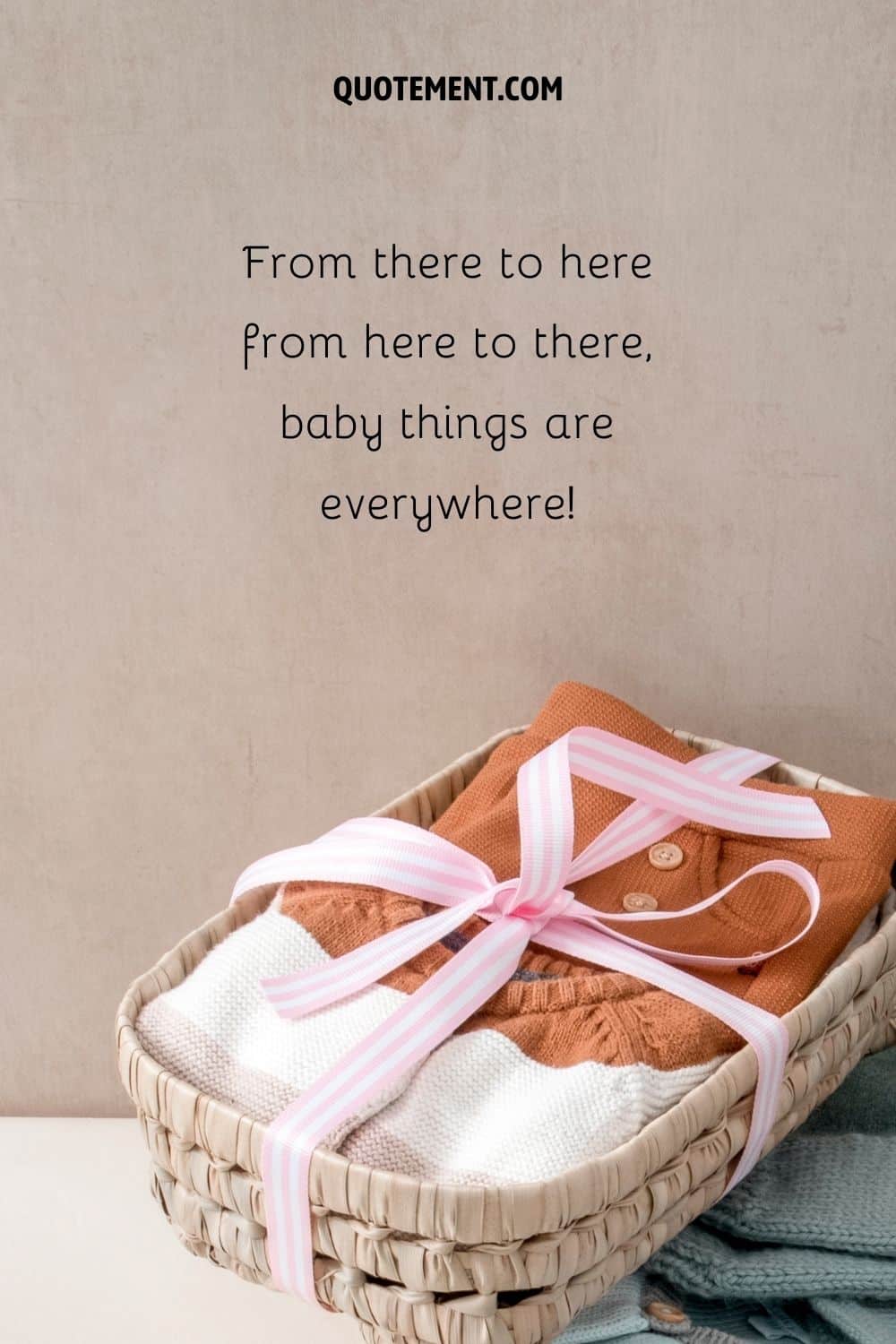 11. We are all ready with the toys, clothes, and nursery!
12. These incredible people didn't fail to win the mommy's heart.
13. Gifts and blessings all around the room.
14. Toys, cute baby clothes, and nursery rhymes add the extra touch.
15. A shower of gifts, a shower of blessings, a shower for you, and a shower for the baby.
16. Caught in an emotional storm, sailing on gifts and blessings.
17. My village has filled our baby's closets.
18. Here's to all the toys that dad can play with again!
19. Beautiful, tiny, and new. All baby things to be loved.
20. The best gift from a baby shower is the friendship and love of all who attend.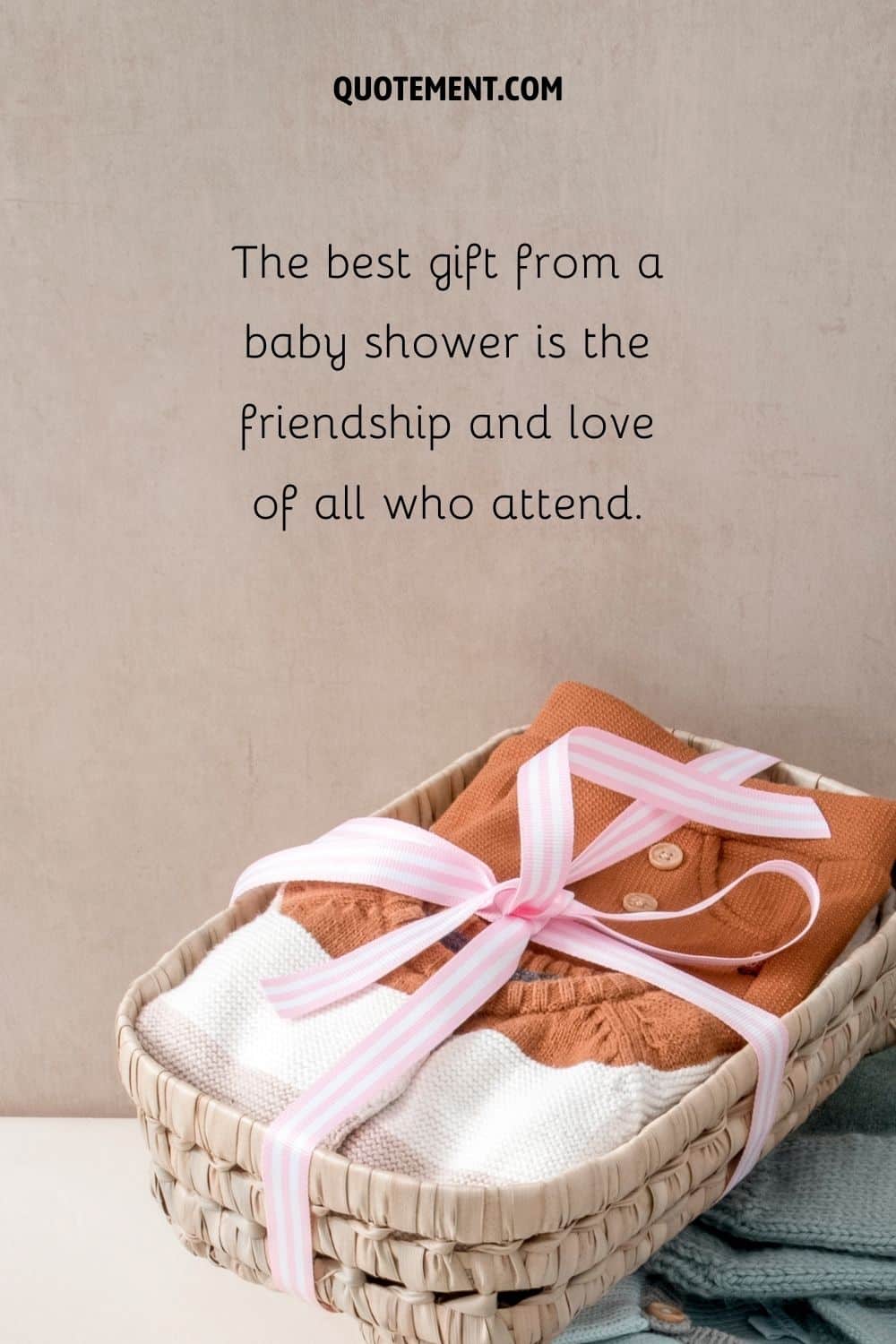 Baby Shower Party Captions
1. Babies and bubbly! Let the party begin.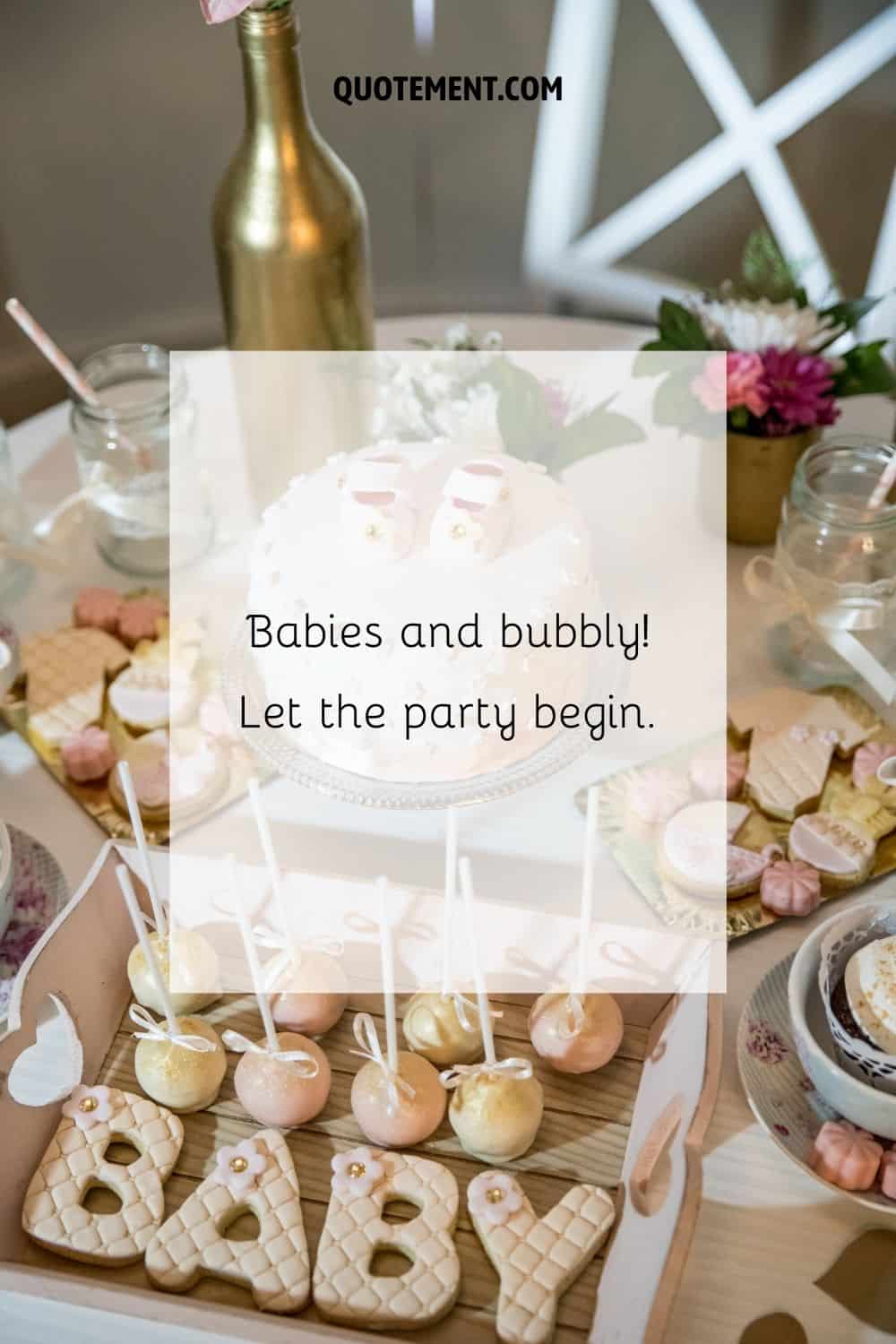 2. Cheers to the baby years!
3. Leaving no gift unopened, no guest unhugged, and no dish untasted.
4. Toasting the bun in the oven!
5. A party truly fit for a Queen!
6. Baby shower time!
7. It's time for a baby shower party, and we're ready to celebrate!
8. A toast to the bun in our oven.
9. This baby shower party is a celebration I wouldn't have missed for the world!
10. Let the shower games begin!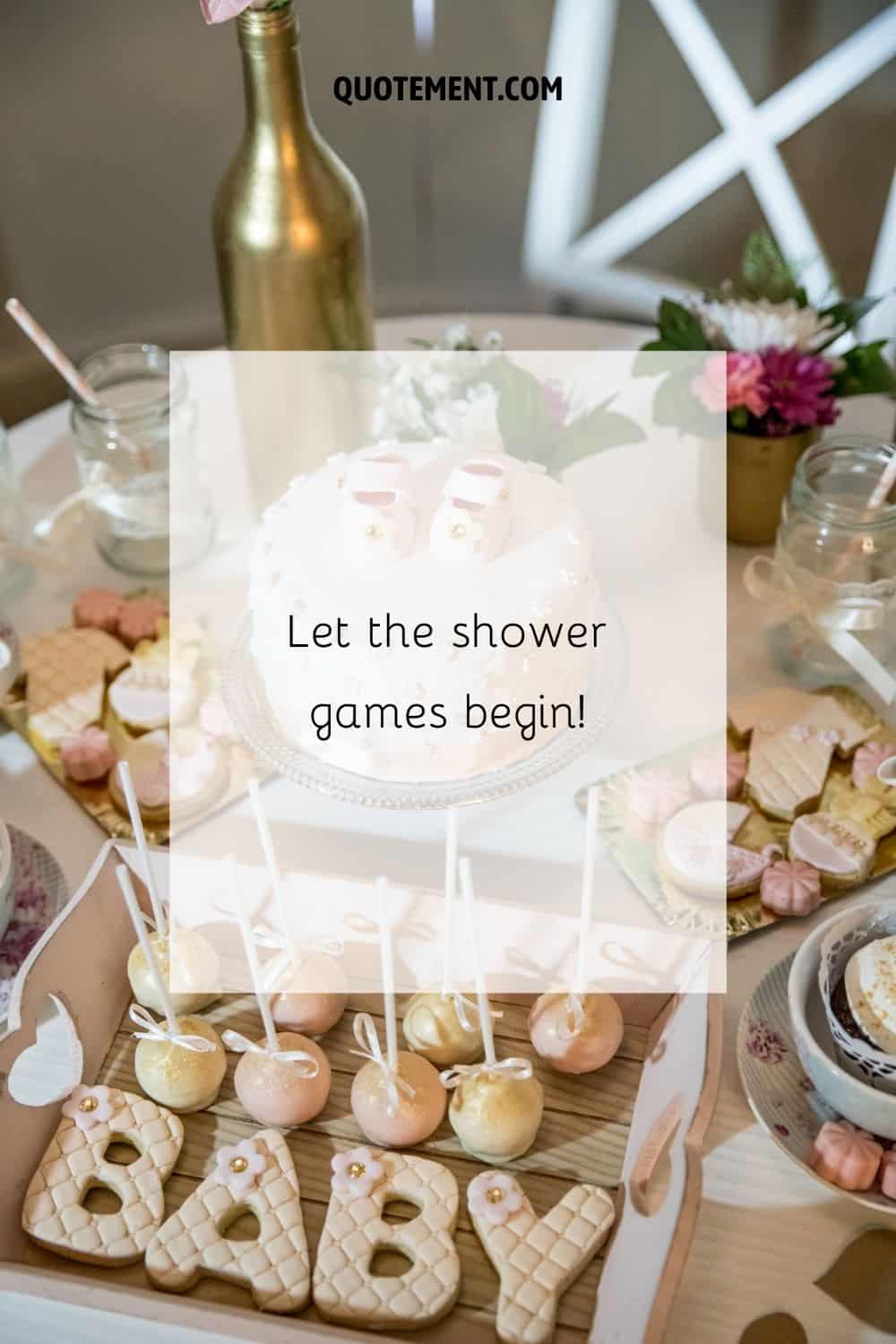 11. The perfect baby shower party is some cocktails, games, and lots of love.
See also: Top 270 Party Captions To Get The Party Started
Baby Shower Thank You Captions
1. Thanks for helping us celebrate this special time!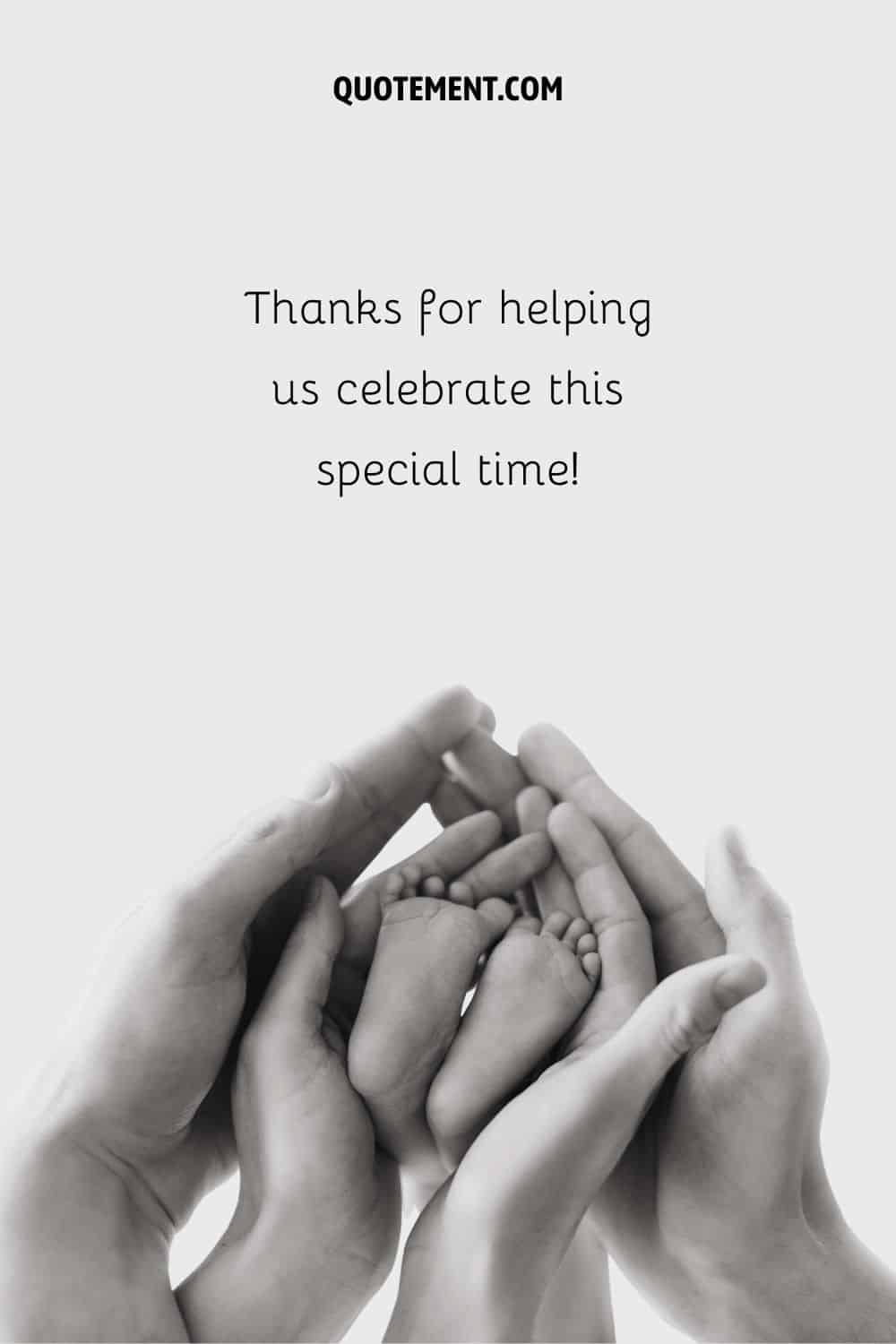 2. So much happened at my baby shower today! I'm so grateful to everyone who came and celebrated with me.
3. Huge thank you to everyone who came out for my baby shower! I feel so lucky and can't wait to meet my little one.
4. Overload with love & happiness today at my baby shower. Couldn't have asked for anything more.
5. A huge thank you to everyone who came to celebrate the impending arrival of our new baby! We feel so loved and supported.
6. Thank you for coming to my baby shower! It was so lovely to spend time with all of my friends and family.
7. A big thank you to everyone who attended my baby shower! It meant so much to have you there to celebrate with us.
8. So much love for our little bundle of joy! Thank you for showering us with gifts and well wishes!
9. So grateful for all the love shown to our little one today!
10. Thanks so much for coming to my baby shower! Your support means everything to me.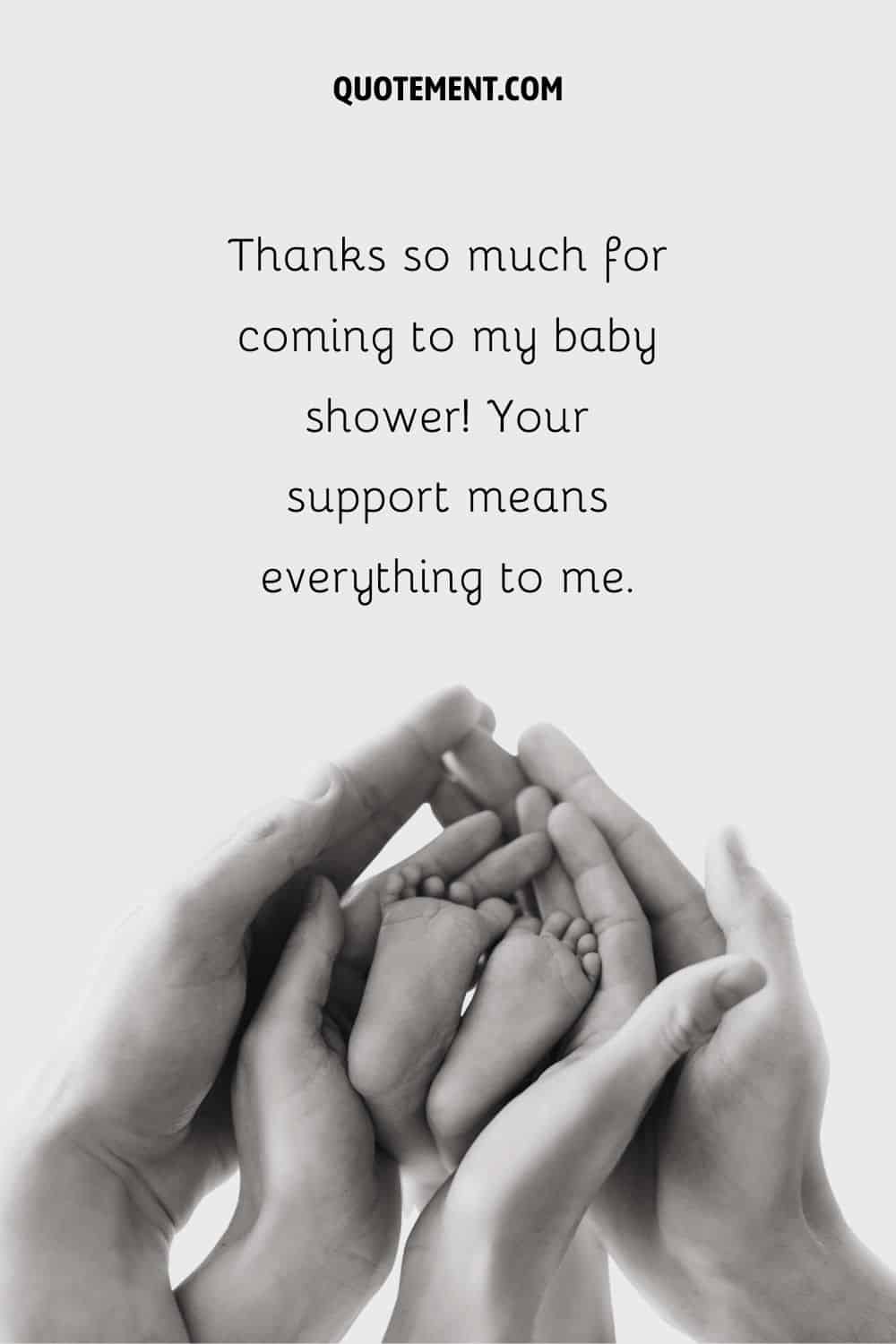 See also: Unmatched List Of 70 Ways To Say Thank You For Coming
Funny Baby Shower Captions
1. Enjoy this wonderful and exciting baby shower, because it's the last party you'll have for a long time.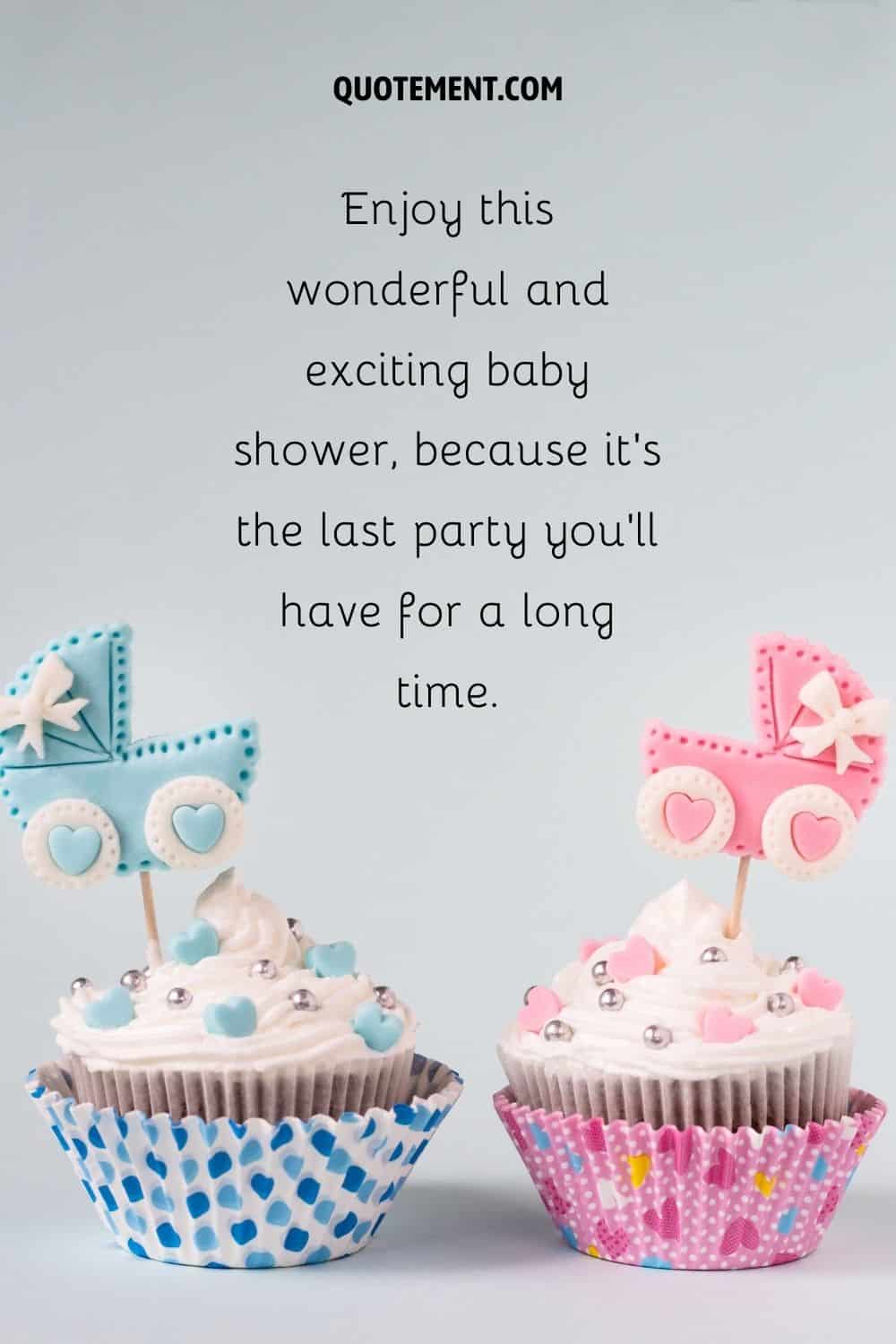 2. A bunch of half-naked ladies in a room full of baby clothes… must be a baby shower!
3. New human alert!
4. Can we all agree that babies are like tiny, adorable dictators?
5. Just when you thought you were in charge, along comes a baby to remind you who's boss.
6. Looks like we're trading in our party hats for baby hats!
7. We're about to enter the wonderful world of spit-up, poop, and never-ending laundry.
8. Ready or not, here comes the stork!
9. Peeing on a stick & then preserving that stick is just the start of the many disgusting things you'll do as a mother.
10. Cheers to the softest, sweetest little burn in the oven.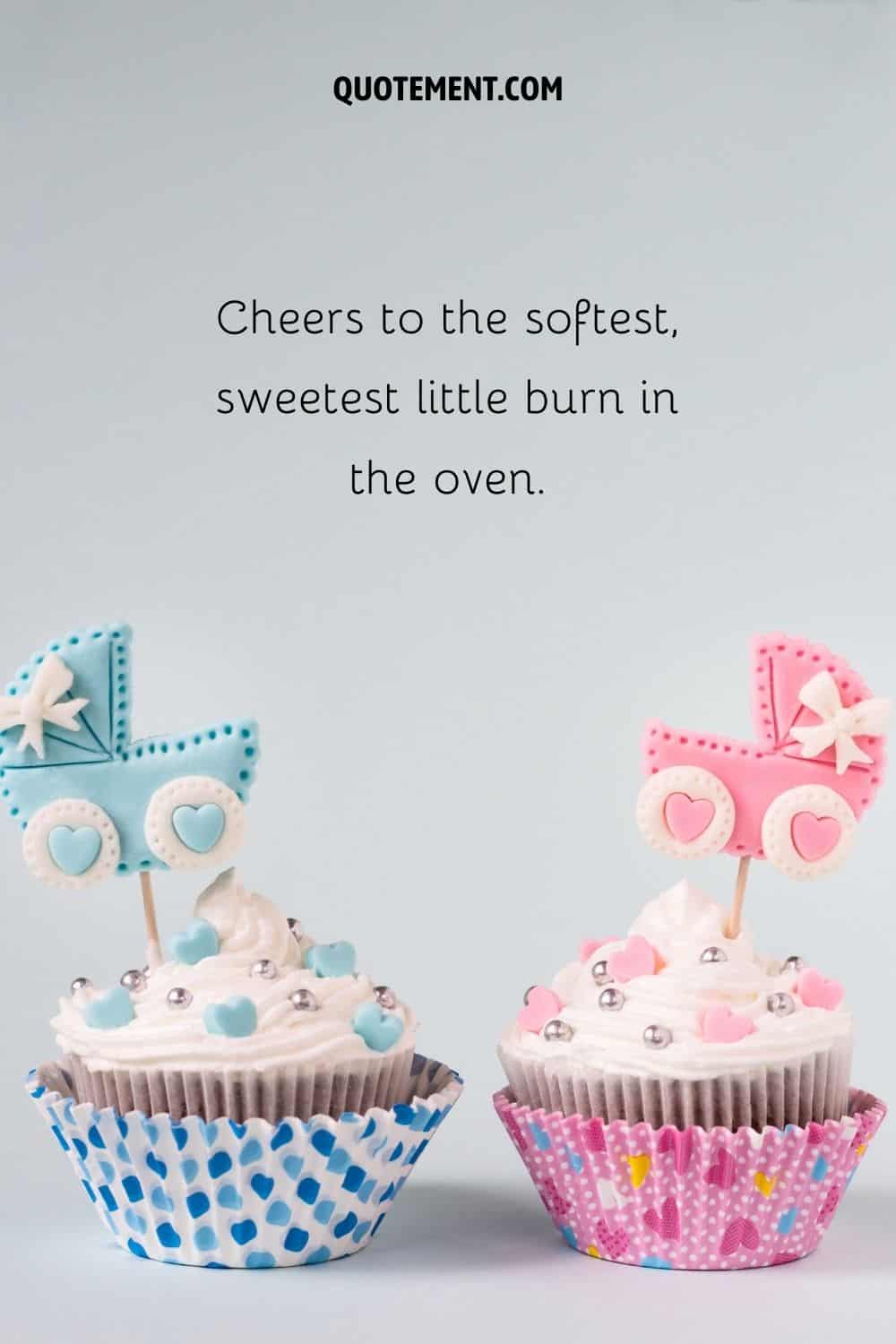 11. You know you're a parent when you get excited about baby wipes and burp cloths.
12. Congratulations! Hitting the bottle got a whole new meaning in your life!
13. Parenthood: the scariest hood you'll ever go through.
14. Here comes trouble!
15. I'm really looking forward to learning everything about your new baby on social media.
16. Party at the crib, literally speaking!
17. 9-month forecast: a 'shower' followed by a sunny baby.
18. Everyone becomes a baby when it comes to a baby shower.
19. Mama in the making… please stand clear.
20. A baby is a gift, a baby shower is a gift-wrapping ceremony.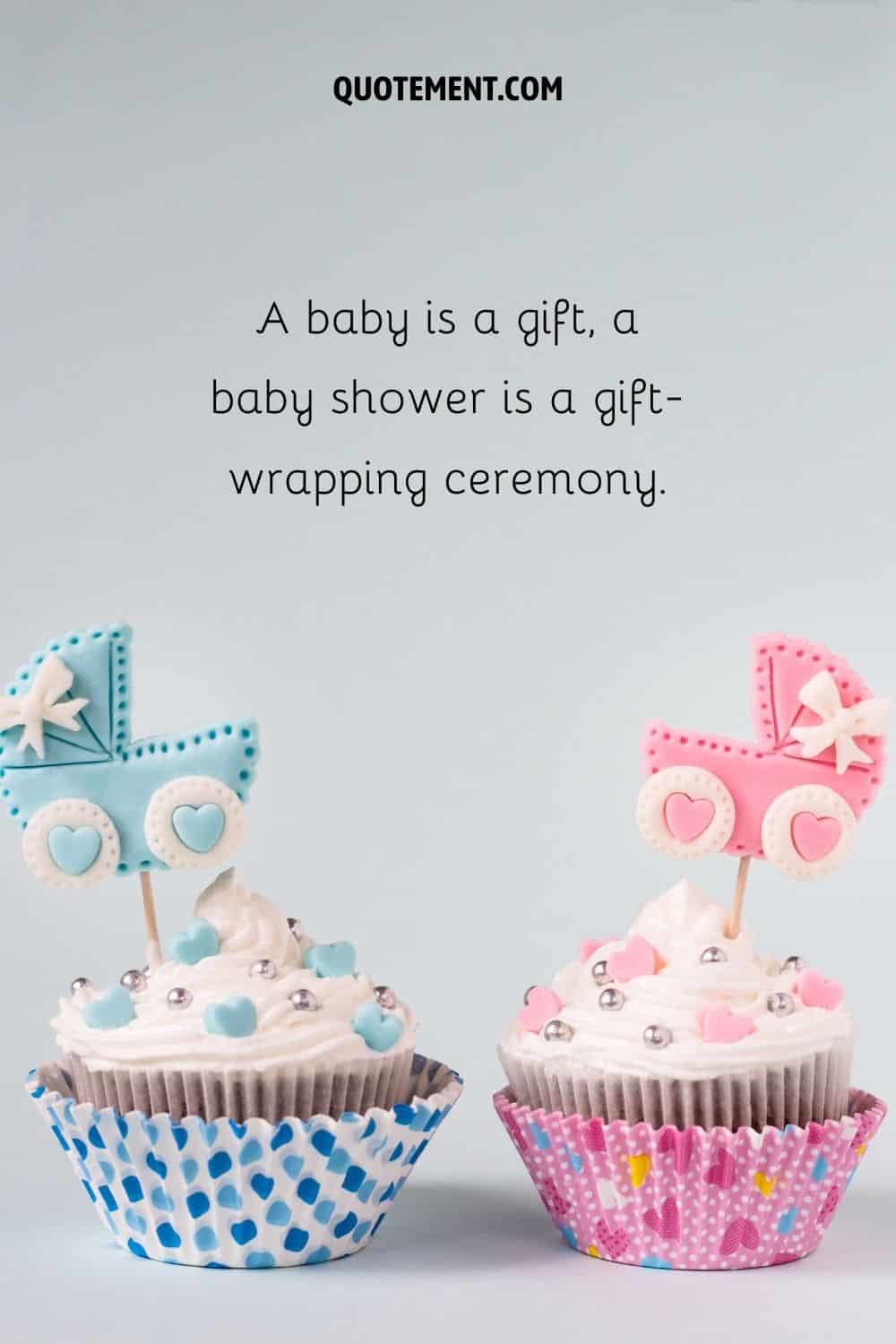 21. Here's to a future filled with sticky hands and dirty faces.
Summing Up
Now that you have all these cool baby shower captions, go ahead and infuse your pics with perfect words that celebrate the arrival of a precious new life!
Read next: 90 Super Cute Gender Reveal Quotes For Your New Baby