If you're a proud car owner looking for a perfect caption for social media that will accentuate your fabulous car photo, I've got something you'll like!
My extensive collection of the coolest car captions for Instagram will make your next Instagram post lit!
I know how excited you are to share your fabulous vehicle with the world.
I'm sure you've got tons of amazing car pictures, but you must make sure you're choosing a perfect caption too. That ain't a problem now that you have this article!
I've gathered the 390 best car captions for Instagram to go with your awesome car pics and crazy car selfies. I've included some of the best car quotes you can use as captions too.
You have plenty of great options for every car and every occasion.
Let's take a look!
Top 30 Car Captions For Instagram
Let's start this exciting journey with the top 30 car captions for Instagram. Check them out!
1. This car isn't my dream, it is the reality I've made!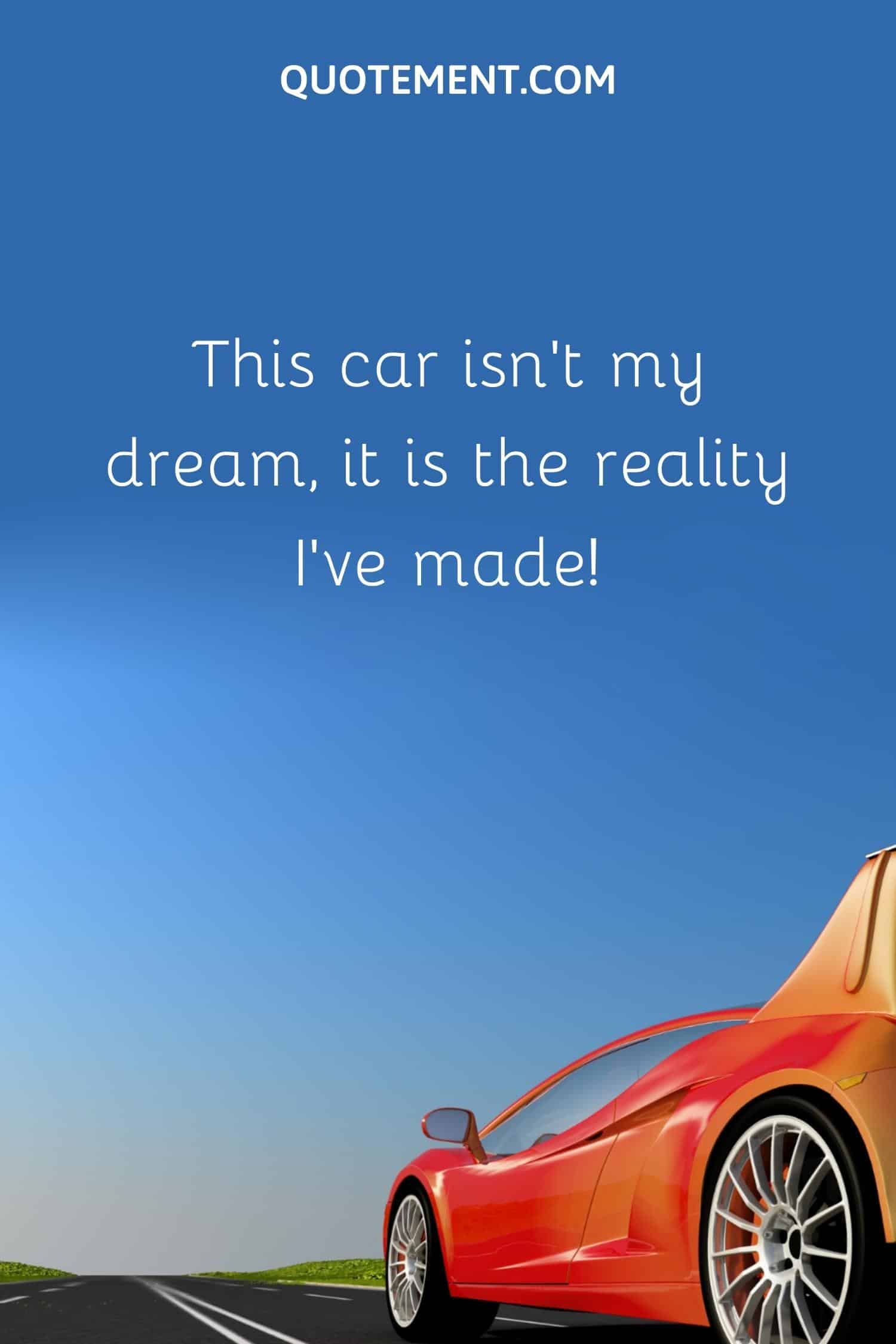 2. Straight roads are never made for real drivers.
3. I can't help but feel free when I'm behind the wheel.
4. To me, cars are more than just transportation – they're a way of life.
5. All of those cars were once just a dream in somebody's head.
6. It is not just four wheels and engines, it's home.
7. I couldn't find the sports car of my dreams, so I built it myself.
8. No one will buy for you, you have to earn it.
9. Beat the odds, do numbers, and remain humble.
10. It's good when you follow your dreams, It's better when you drive your dream.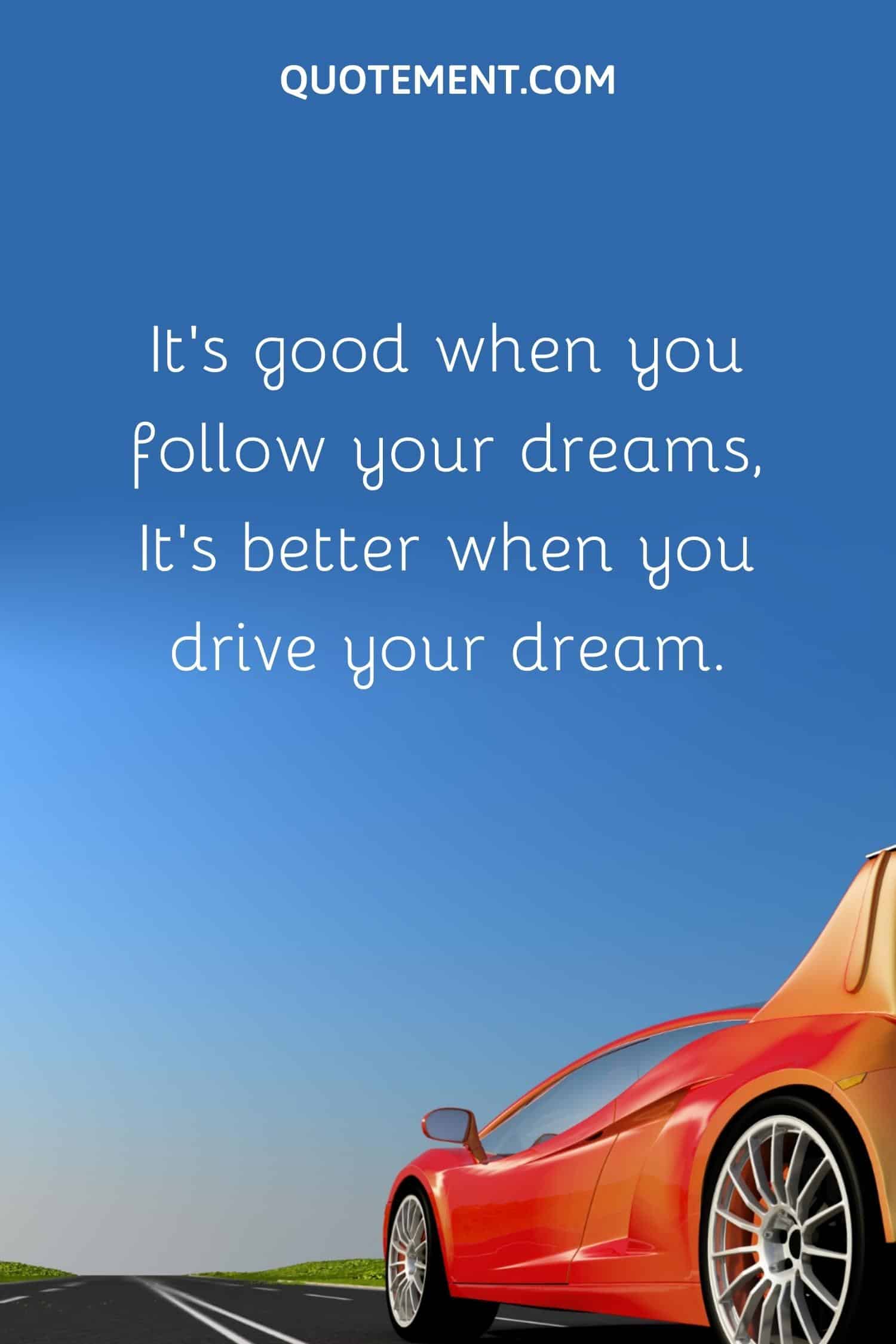 11. Germans make cars. We riders set them on fire.
12. I feel more myself when I'm driving than I do anywhere else.
13. Inside the car is truly my own personal space.
14. Do hard work in silence and let your new car make some noise.
15. Starve your distractions to feed your focus.
16. Don't tell people your plans, show them your results.
17. There's a lot of stress, but once you get in the car, all that goes out the window.
18. If you are not driving your dream car, go back to work.
19. Men love women, but even more than that, men love cars.
20. Cars are like art – each one is unique and has its own story to tell.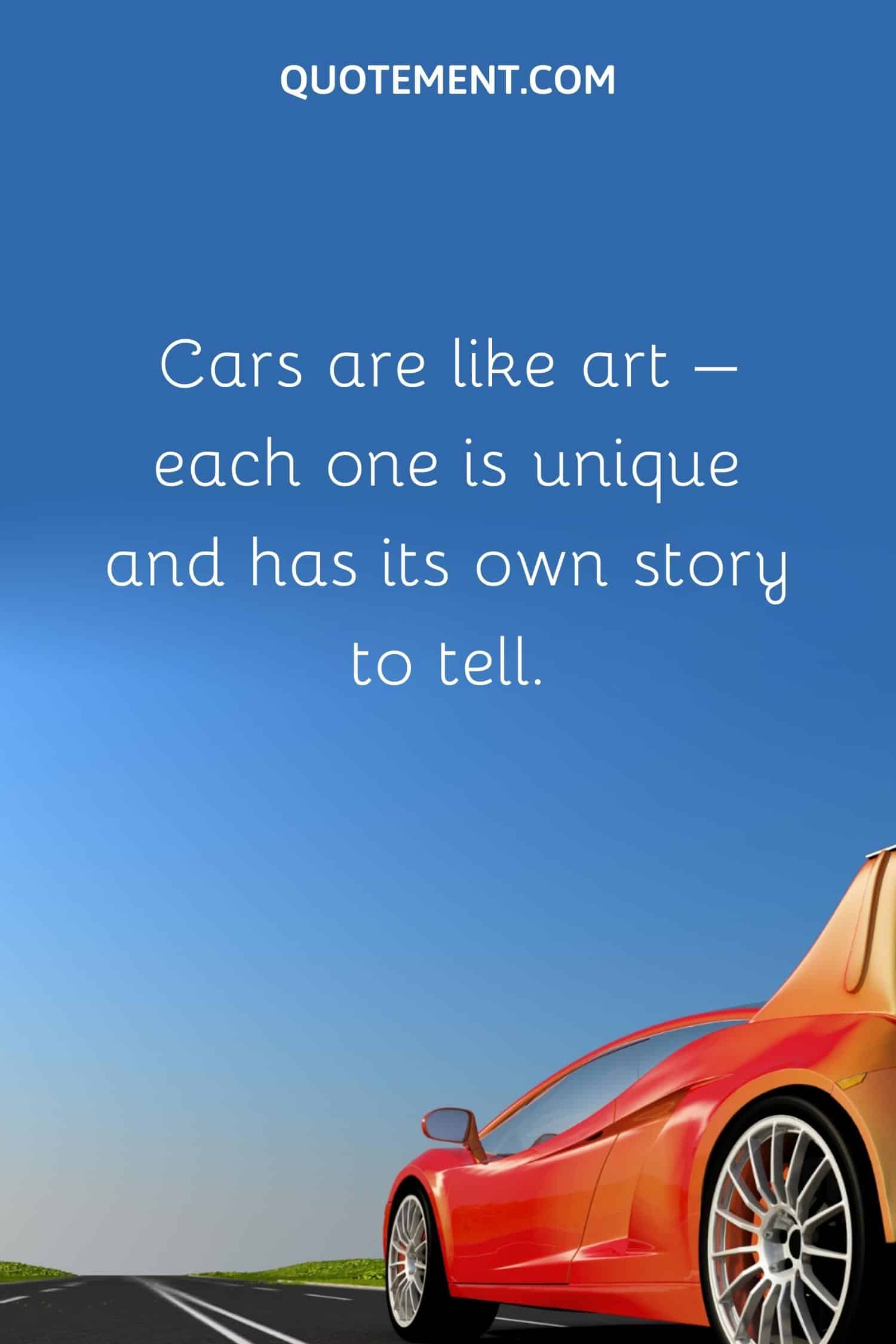 21. Feel the car, drive it and then show it.
22. Look at this beauty and the beast.
23. I don't pray for things, I work for that thing which I want.
24. To be an irreplaceable car must possess a quality that never goes out of style.
25. Designed the driving pleasure.
26. I don't work for money, I work for this beautiful car.
27. We don't pray for love, we just pray for cars.
28. It's not about the car you drive, It's about the way you drive it.
29. I am emotional about engines. If you hurt my car, you hurt my heart.
30. My success will be decided by the value of my future car.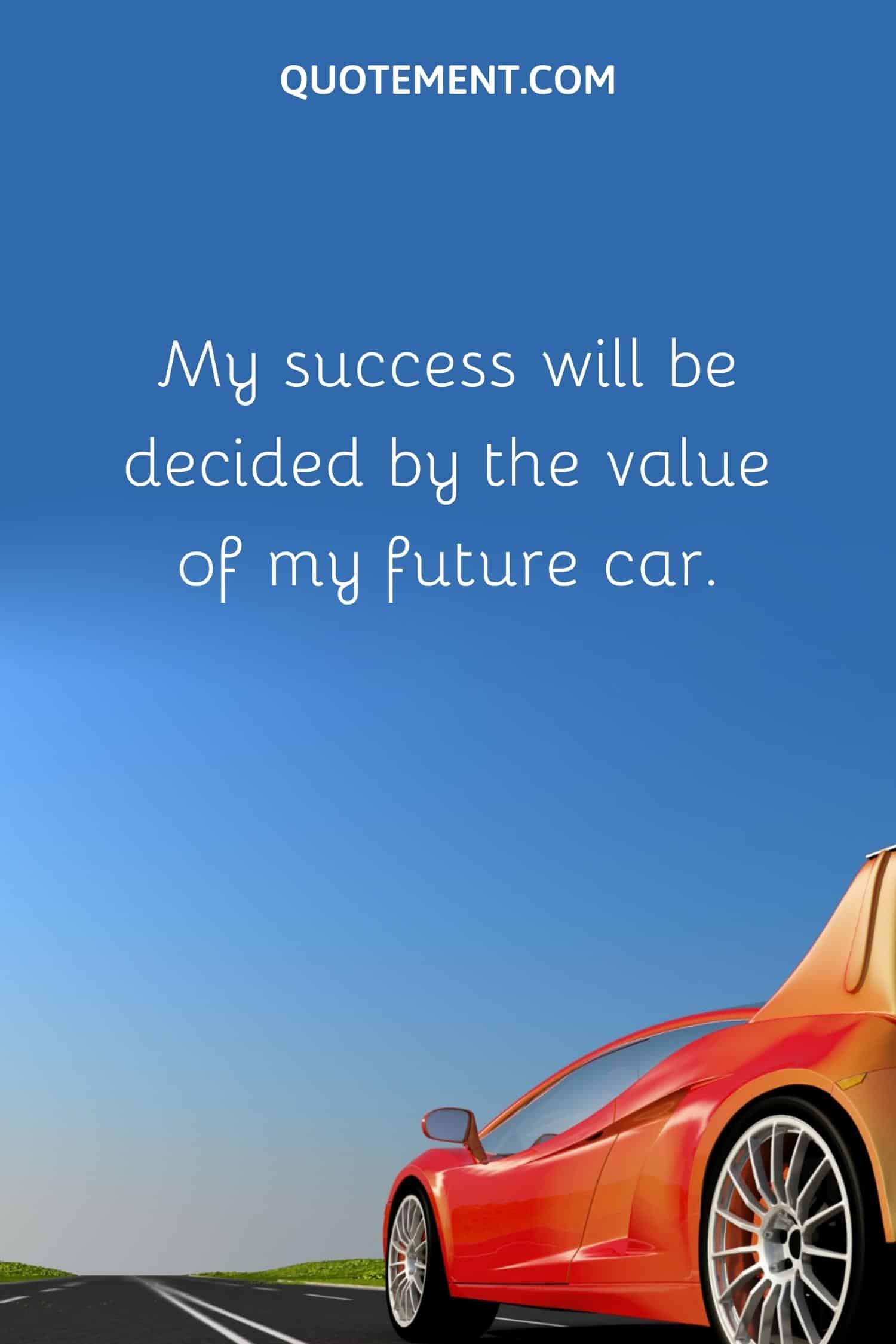 Best Car Instagram Captions
If you want to make sure you choose the best caption for your next Insta post, then you have to check out these car captions for Instagram.
1. It is okay to buy an old car, but it is not okay to drive that car for your whole life.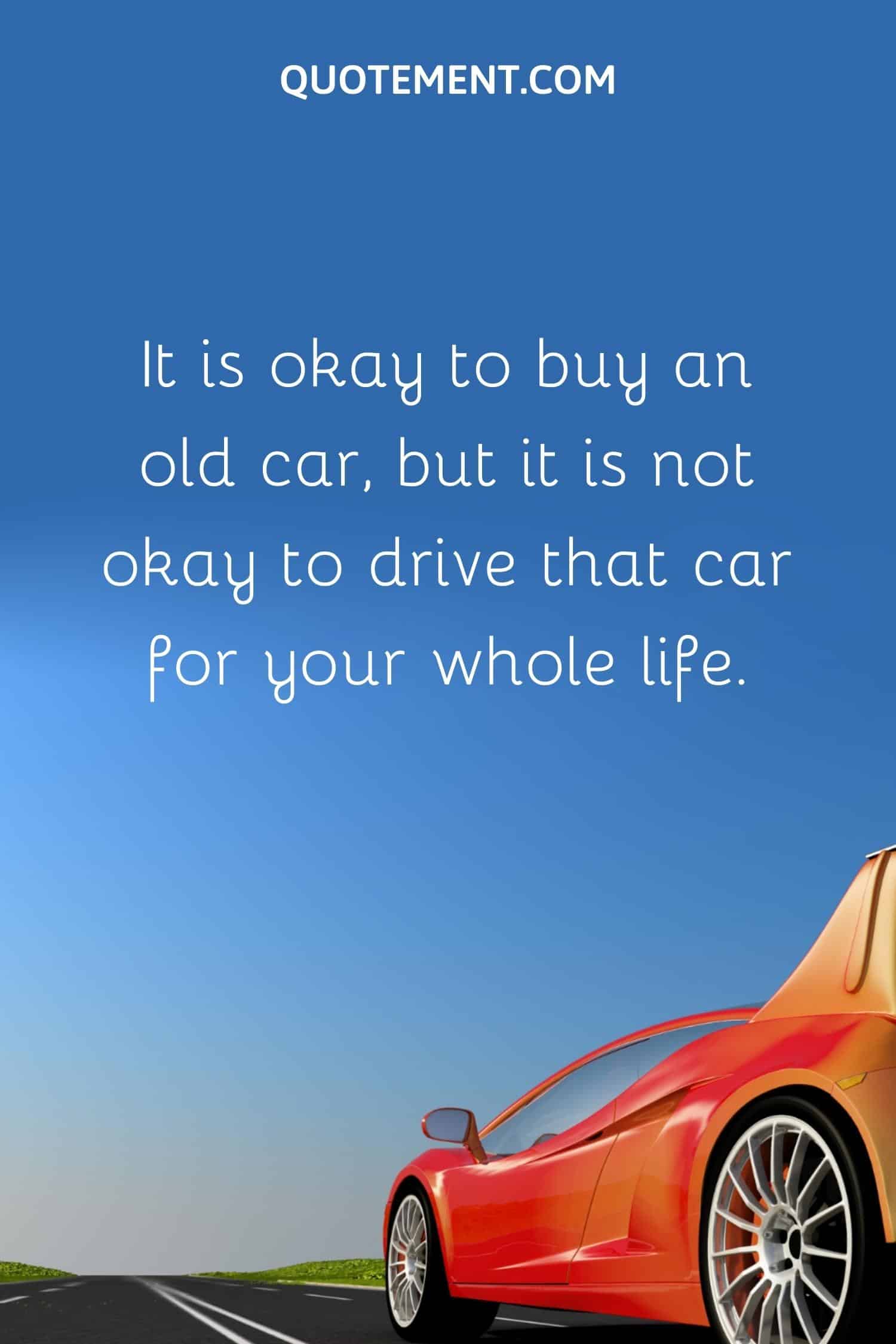 2. This happened today, so much hard work, and it's paid off.
3. A man loves his girlfriend for a month, his wife for a year, and his car forever.
4. Happiness is sitting in the driving seat and driving.
5. Stronger the horsepower, the harder the pull.
6. I'm not fast—the others are slow.
7. Take care of your car in the garage, and the car will take care of you on the road.
8. Seriously can't believe this car is mine.
9. After you buy a car, then wake up in the morning and look out the window and you can't believe it's really yours.
10. You are an emotional person if you love your car.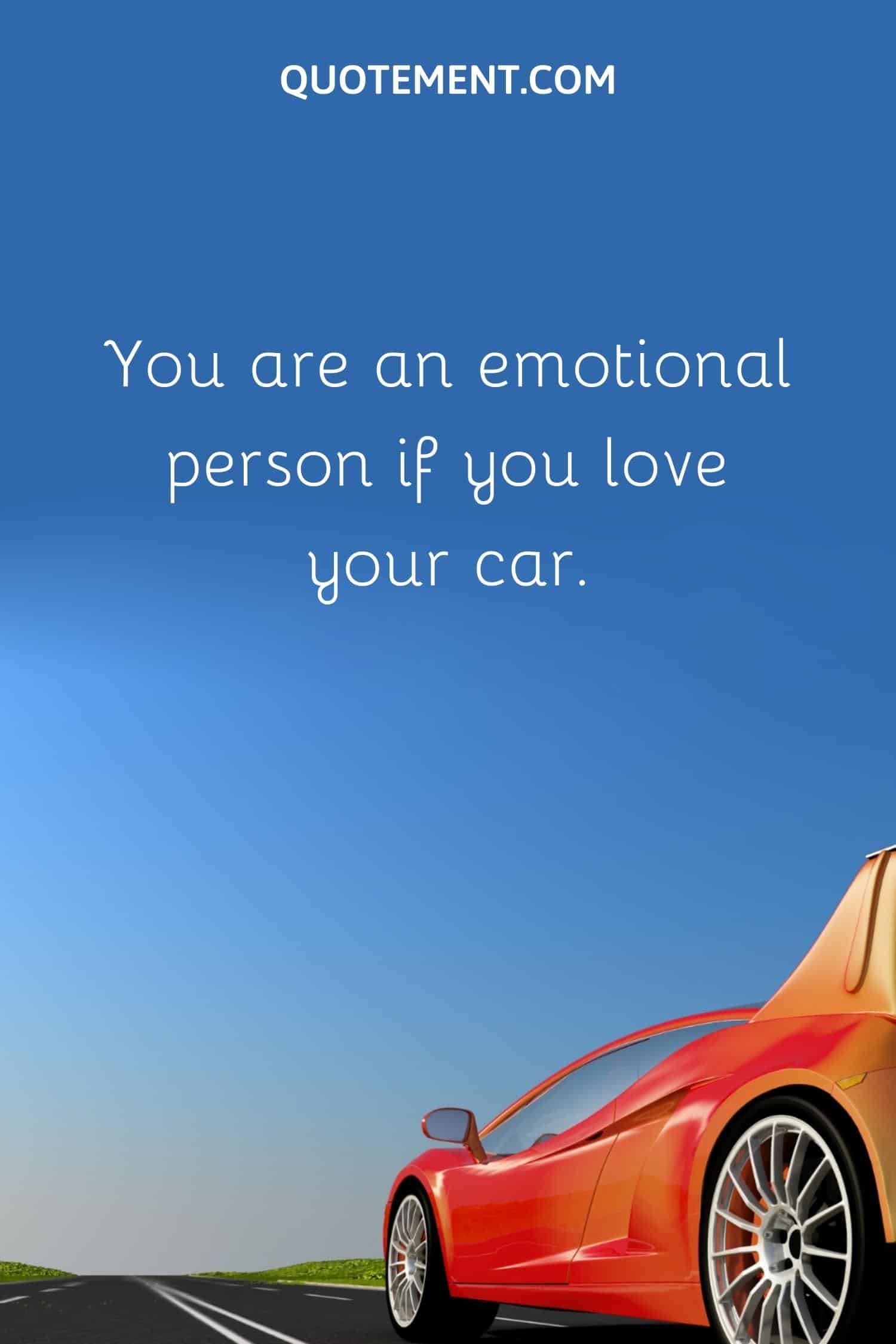 11. I'll never tire of the wind in my hair and the sun on my face.
12. Now you are mine forever.
13. Never cry for that person who doesn't know the value.
14. "A car for every purse and purpose." — Alfred p. Sloan
15. The world of the quark has everything to do with a Jaguar circling in the night.
16. Eat, sleep, drift, repeat.
17. There's no feeling like hitting the gas and just going.
18. Death will destroy my body, but my creatures will keep on living ever after, in the years to come.
19. I'm nothing without my car.
20. Nothing beats that first drive in your new car.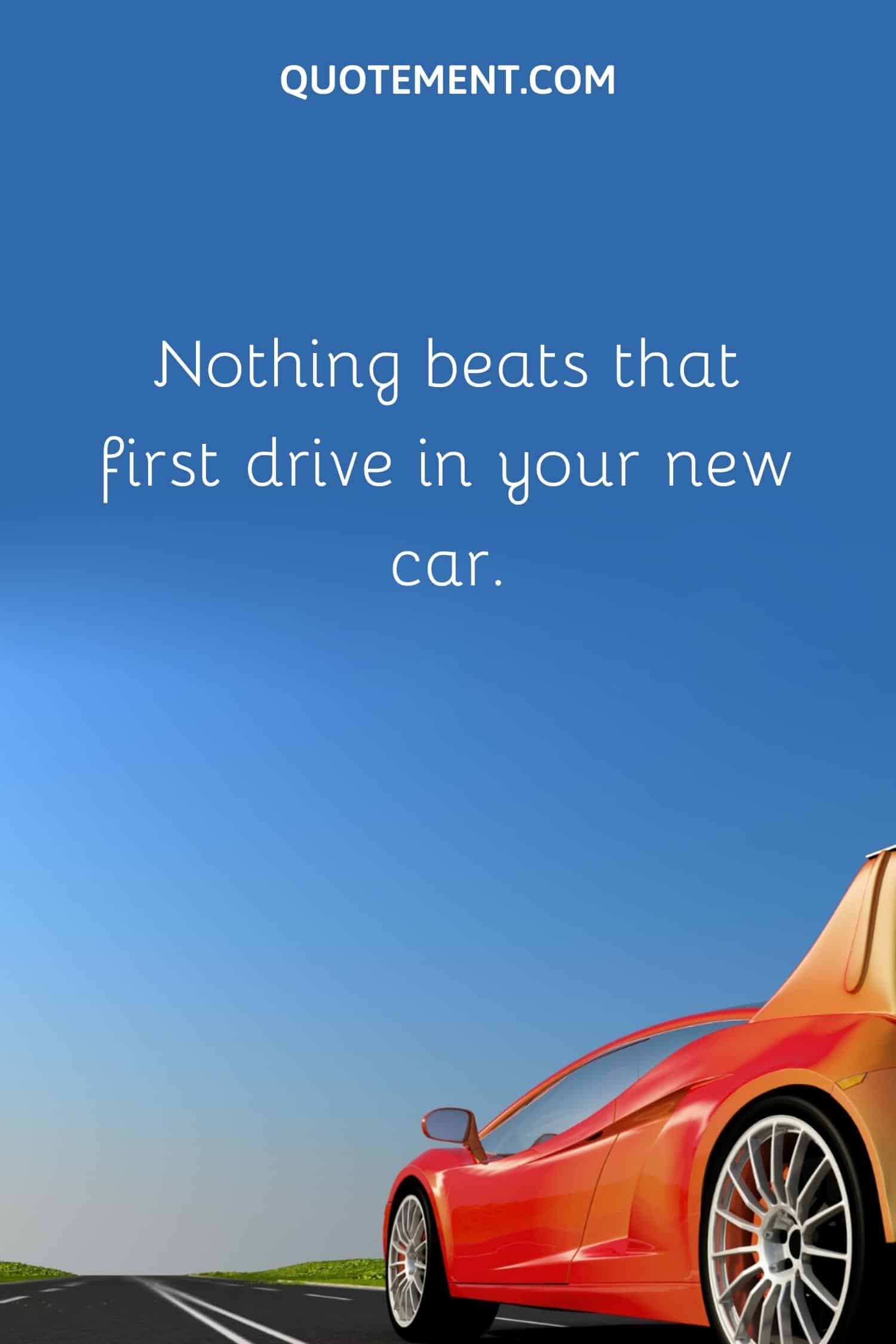 21. "I Am an artist, the track is my canvas, and my car is my brush." — Graham Hill
22. I will make sure that this car will not land me or someone else into a problem.
23. A car is just a car, but to me, it's so much more.
24. "Any man who can drive safely while kissing a pretty girl is simply not giving the kiss the attention it deserves." — Albert Einstein
25. Buy the car you want, and drive the road you want.
26. I may not know what the future holds, but I do know I will be holding a car that can last long.
27. "If one day speed kills me, don't cry because I was smiling." — Paul Walker
28. Living once is enough if you do it right. I am doing it right!
29. When it comes to cars, only two varieties of people are possible – cowards and fools.
30. One should know that the thrill of the skill should overcome the fear of death.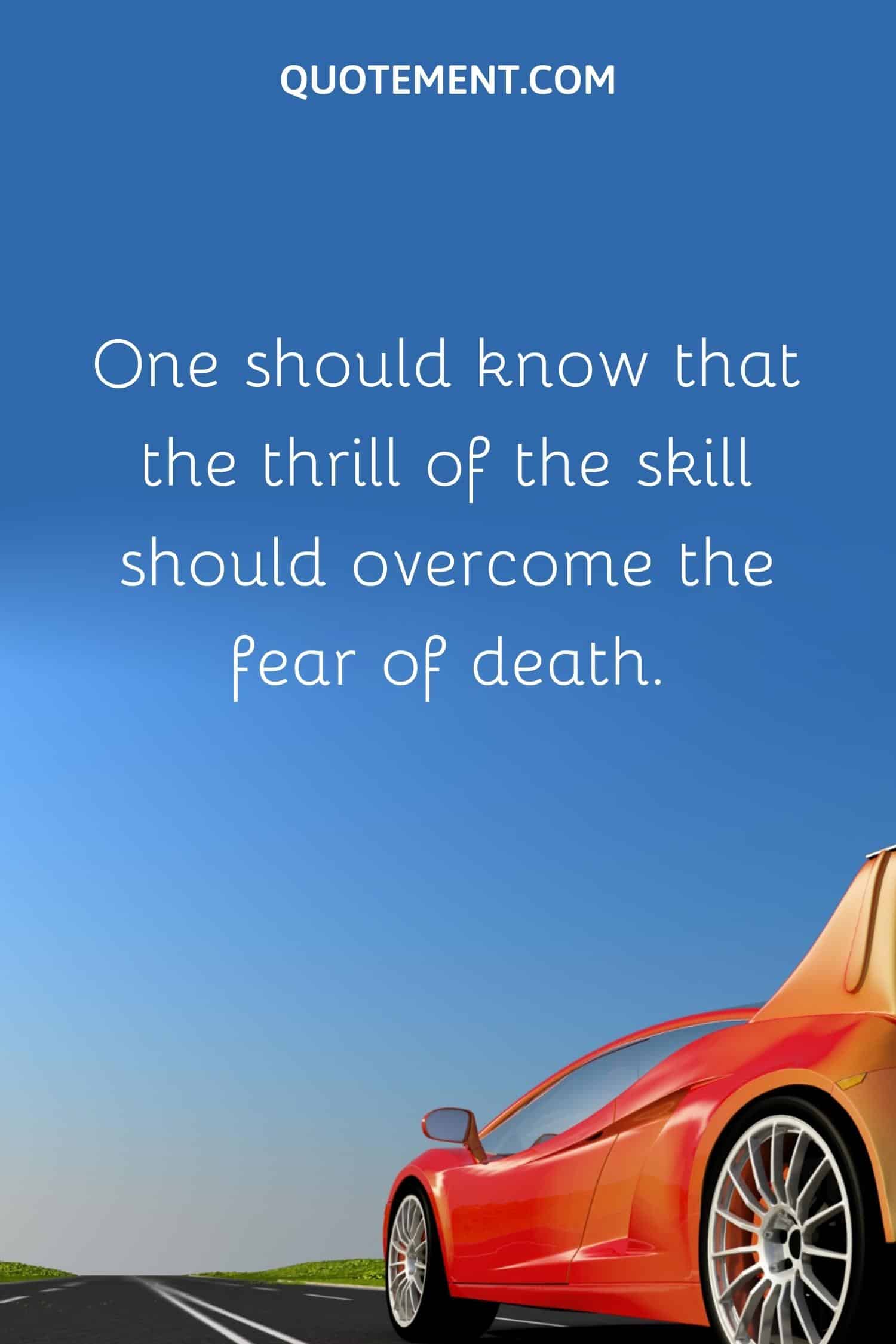 31. "I love sleeping in a moving car more than sleeping in bed." — Ben stein
32. Date a car guy. We break parts, not hearts.
33. No matter what else is going on in my life, cars will always be a part of it.
34. I worked and worked, and now I am going to play and play!
35. I don't want to be in a relationship, I want to be in a Lamborghini.
36. They say money can't buy happiness. But owning this gorgeous vehicle is making me happy!
37. Wanna go street drifting?
38. Do my eyes match the paint job on this gorgeous car?
39. "The winner ain't the one with the fastest car. It's the one who refuses to lose." — Dale Earnhardt
40. Summer nights and race track lights. Amazing, right?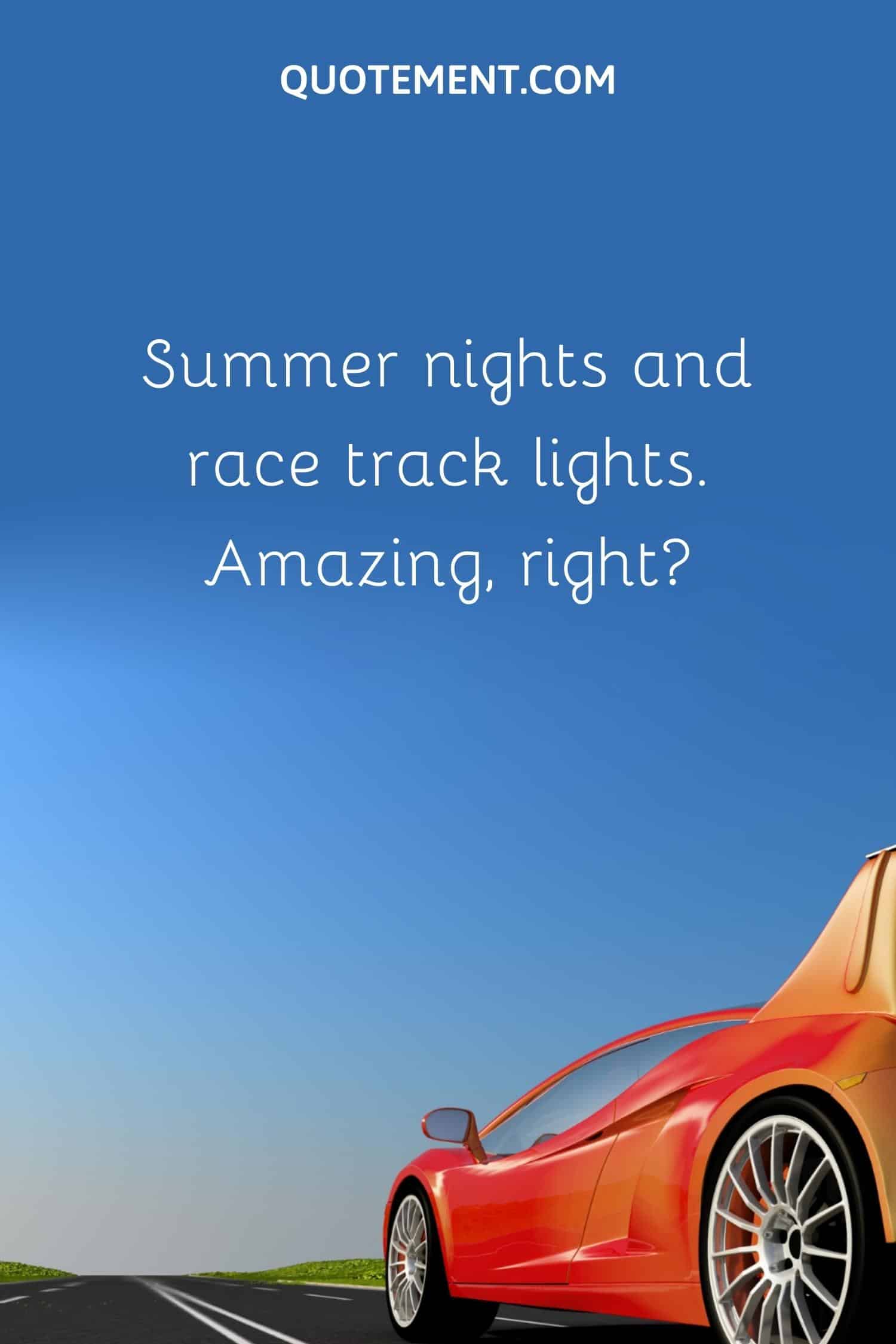 See also: 130 Best Summer Night Quotes To Enjoy Summertime
Inspirational Car Captions For Instagram
Next up is a collection of inspirational car captions for Instagram. Have a look!
1. Work hard until your car doors open upwards.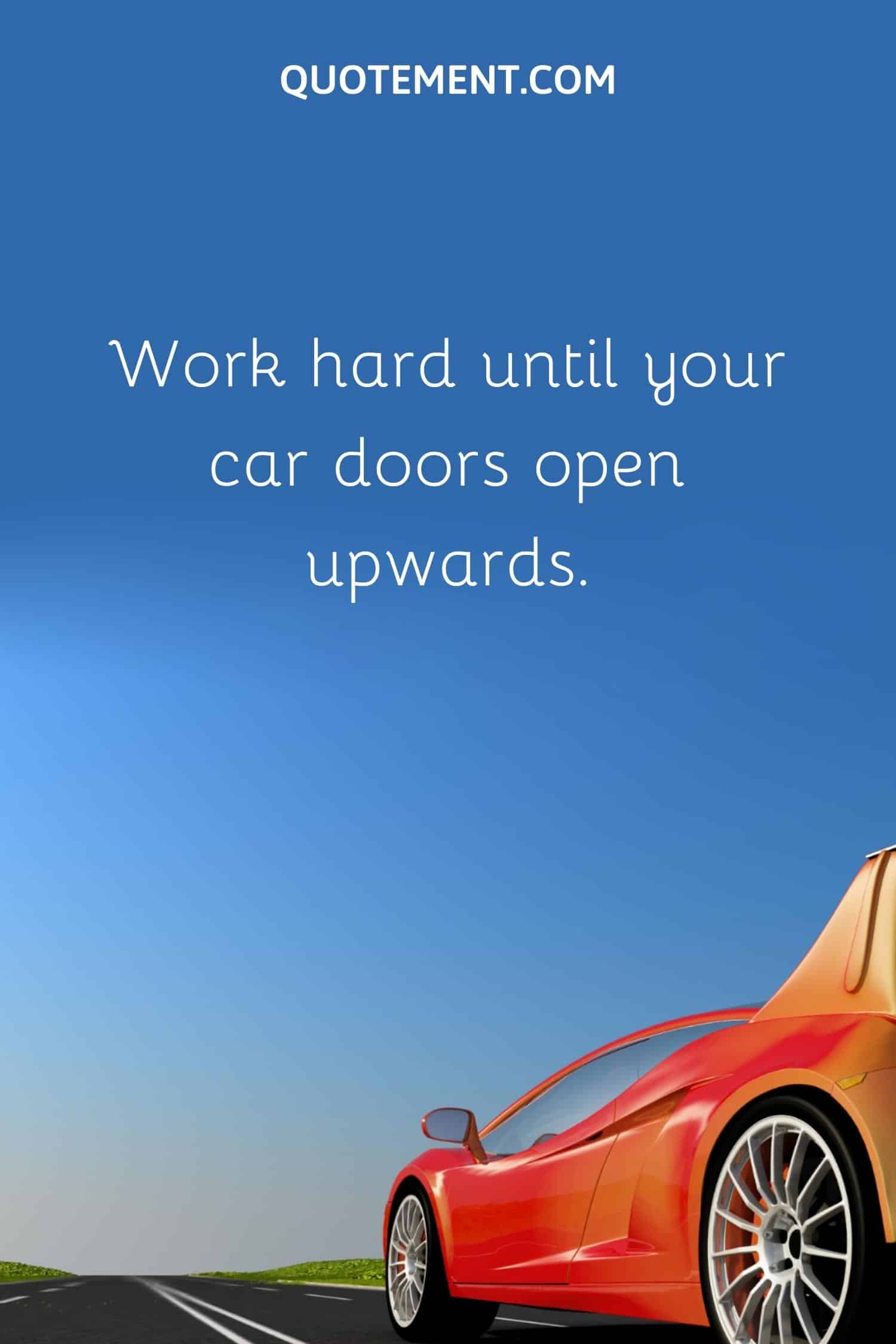 2. Cars are my biggest passion in life.
3. Finally bought my first car, I felt like I had got my life's biggest victory.
4. There's nothing like a good drive to make me feel alive.
5. Car is not a life-changer, but definitely an attitude builder.
6. Start your Jaguar and take a ride in it.
7. I can forget all my troubles when I'm behind the wheel.
8. I've never been without a car, and I never will be.
9. Driving is the only time I feel truly alive.
10. One day or day one. You decide, it's up to you!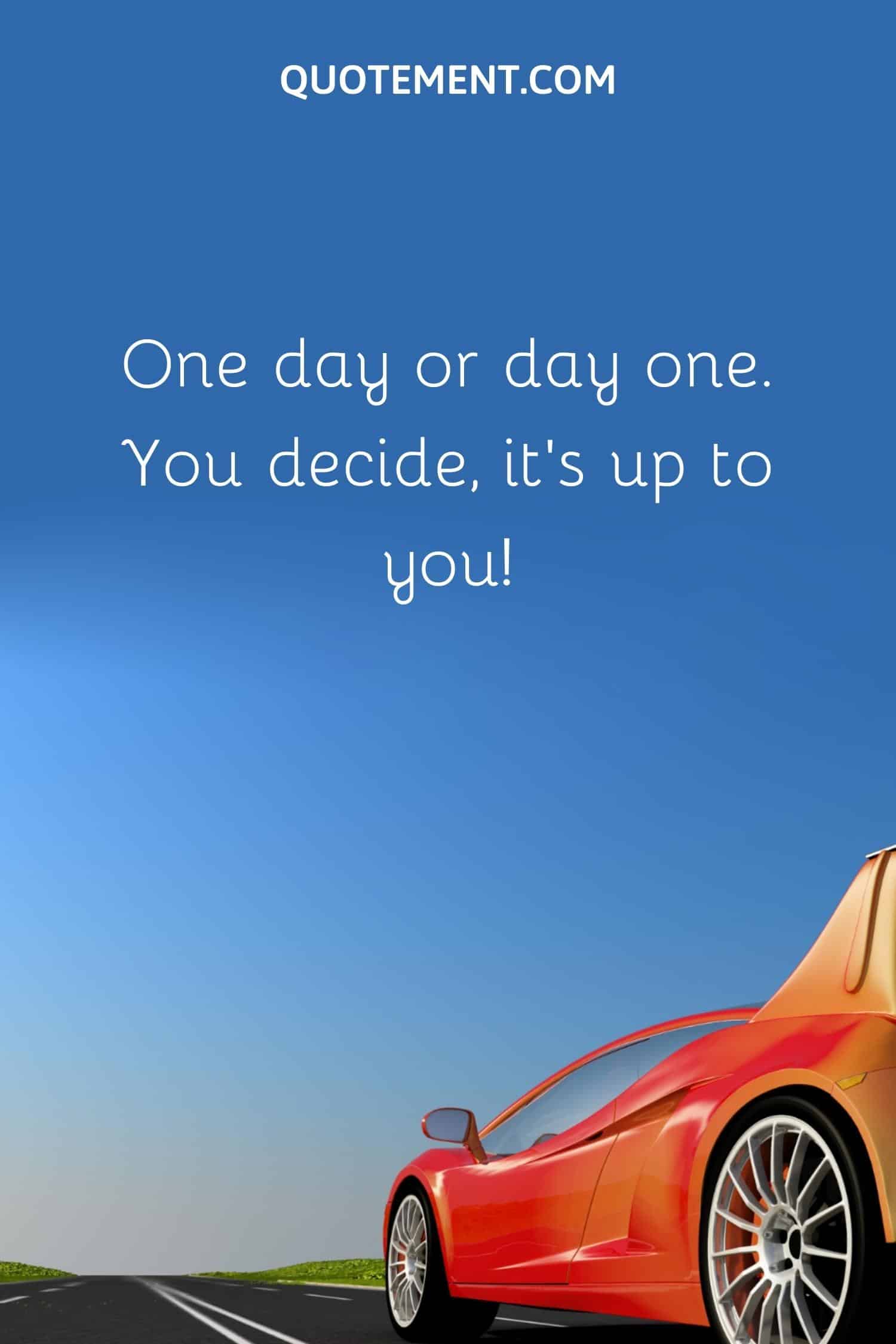 11. Every day may not be good, but there is something good about driving a car every day.
12. Buying your first new car makes you feel like royalty.
13. Truth is, I'm crazy for you. And everyone can see that but you.
14. Cars are my therapy.
15. I'll go anywhere as long as there's a good soundtrack.
16. We all start as strangers.
17. Work hard, stay humble, and make things happen.
18. Start your engine and speed on over.
19. My very first car. Definitely worth the wait!
20. Never drive faster than your guardian angel can fly.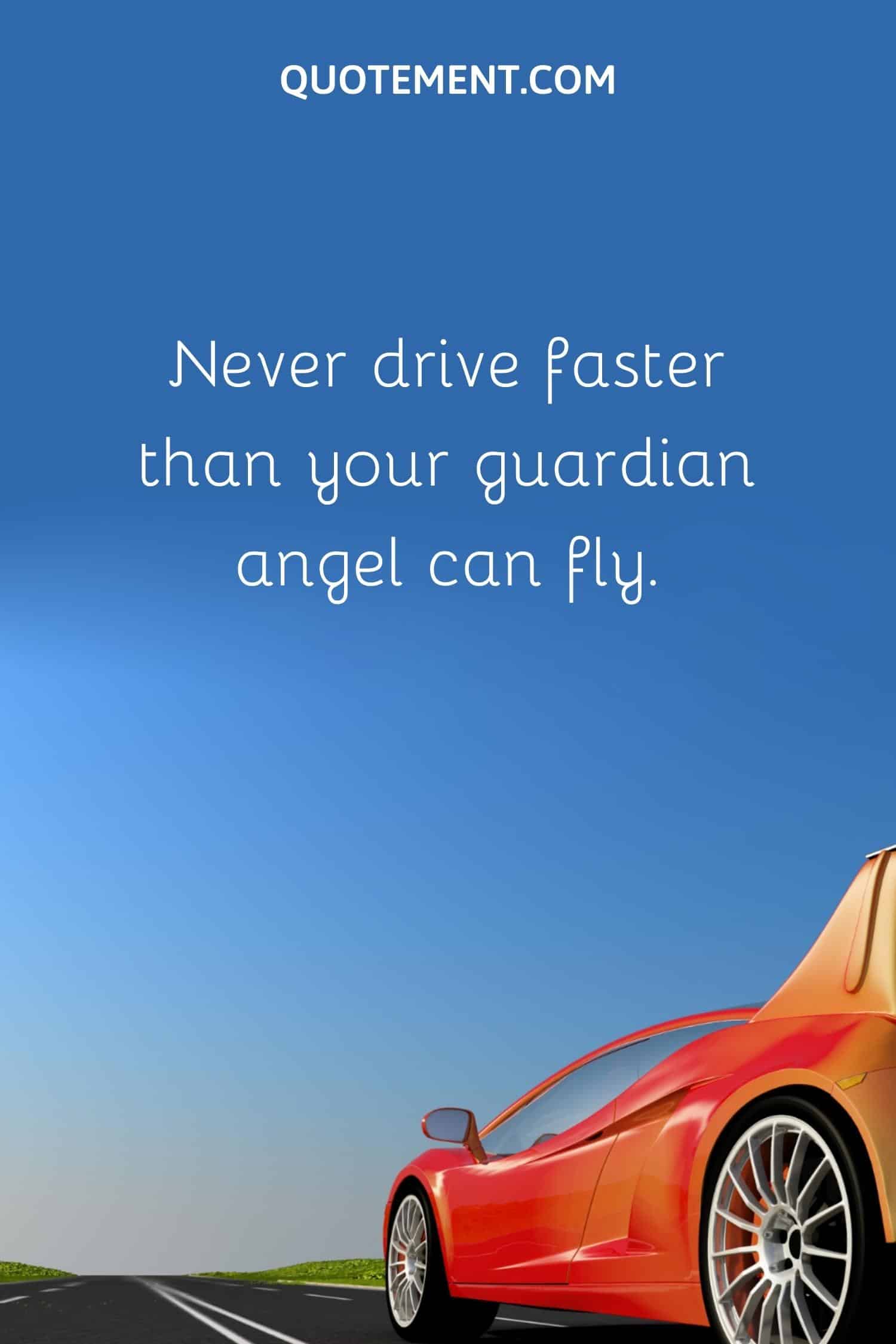 21. A red car is the ultimate cure for sadness.
22. I had fantasies of being a European lawyer, but I quickly realized I probably just had fantasies of wearing a raincoat and carrying a briefcase, and driving a BMW. I thought that would be cool.
23. Decide where you want to be, and don't stop until you get there.
24. Always remember one thing when you are driving, too much speed, too much destruction.
25. Keep your wheels turning, but remember that you don't need a certain type of vehicle to make it in life.
26. Aspiring people with inspiring speeds.
27. Work in silence and let your Ferrari roar.
28. You're a true car enthusiast if you remember people, not by their name, but by the car they drive.
29. The man who can drive himself further once the effort gets painful is the man who will win.
30. The two speeds I love are fast and faster!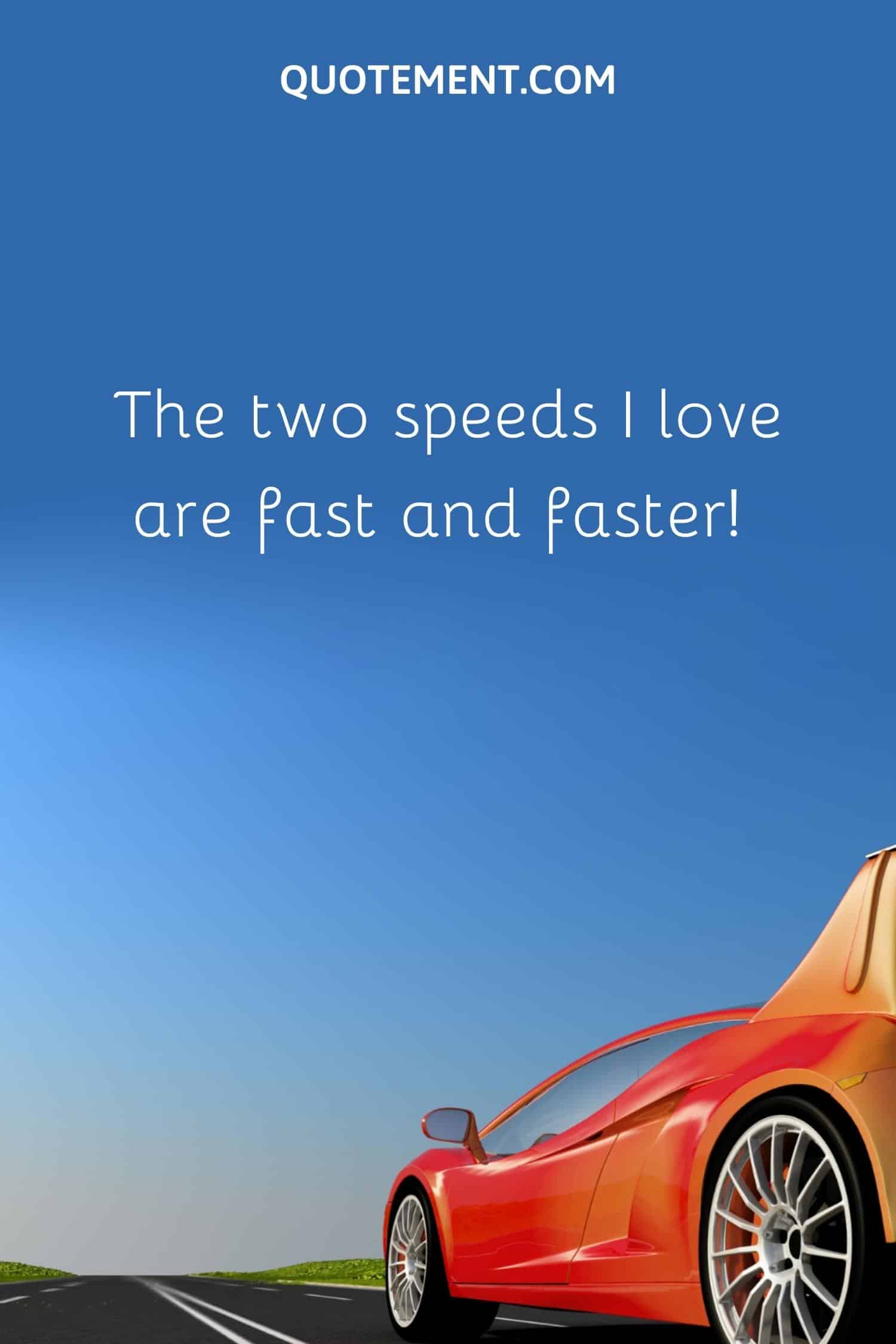 31. No one ever owned a sports car working 9-5.
32. Anything can be unloved, but not your hard-earned car.
33. Every day may not be good, but there is something good about driving a car every day.
34. Oh, hello, town! Get ready to take on your roads with my beauty.
35. I took the long route, not the wrong route.
36. Life is all about an upgrade. Let me upgrade my whip!
37. Cars are the reason people, you know, live or die.
38. I have wanted this for so long. Can't believe it is really happening!
39. "I couldn't repair your brakes, so I made your horn louder." — Steven Wright
40. Don't let anyone tell you that you're not strong enough.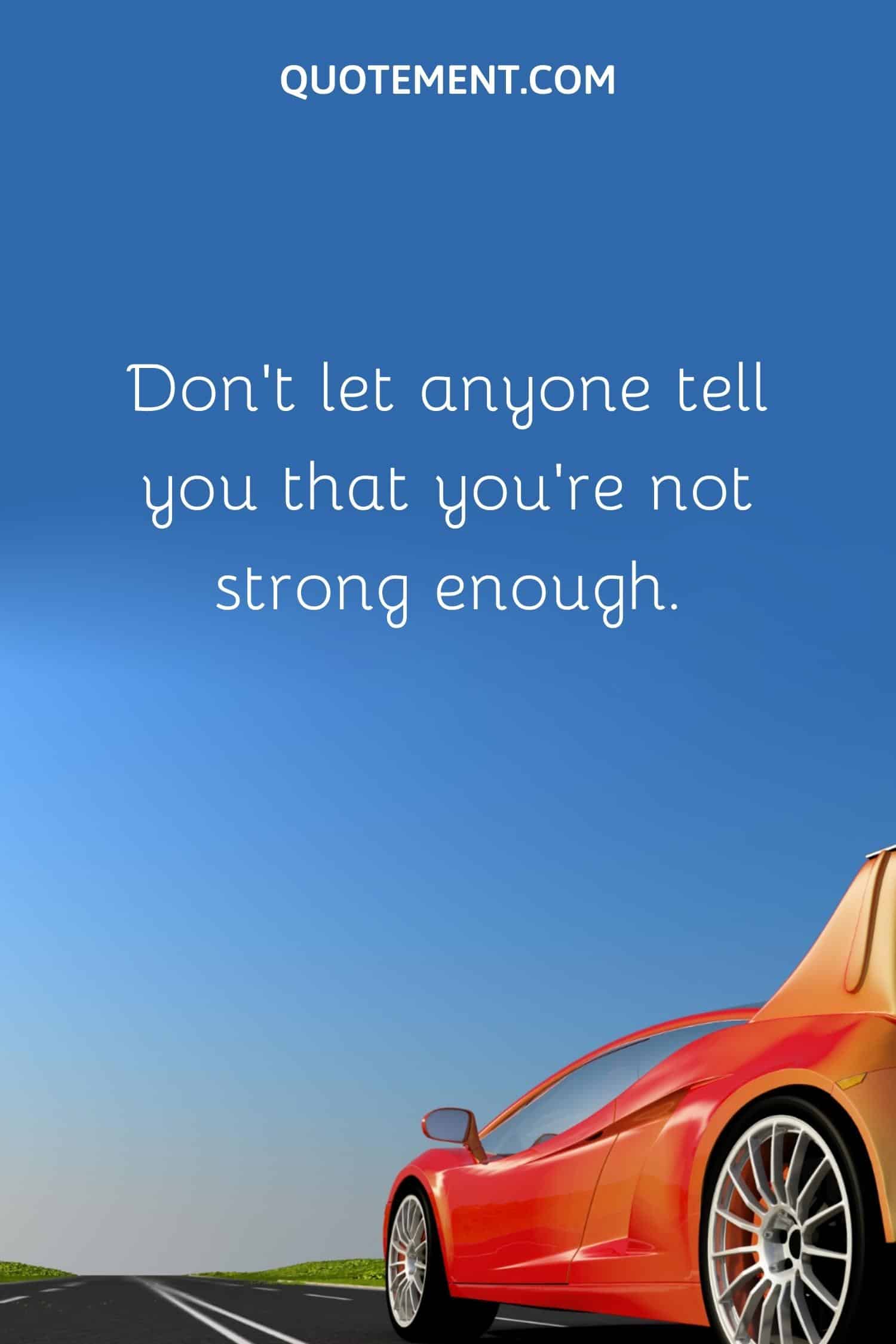 See also: 60 Inspirational You Are Stronger Than You Think Quotes
New Car Captions For Instagram
Nothing can compare to the excitement of buying your very own car. It's finally yours, and you can't wait to tell everyone. Here are some amazing car captions for Instagram for the pics of your newest ride.
1. My perfume? Oh no, I've just been sitting in my new car!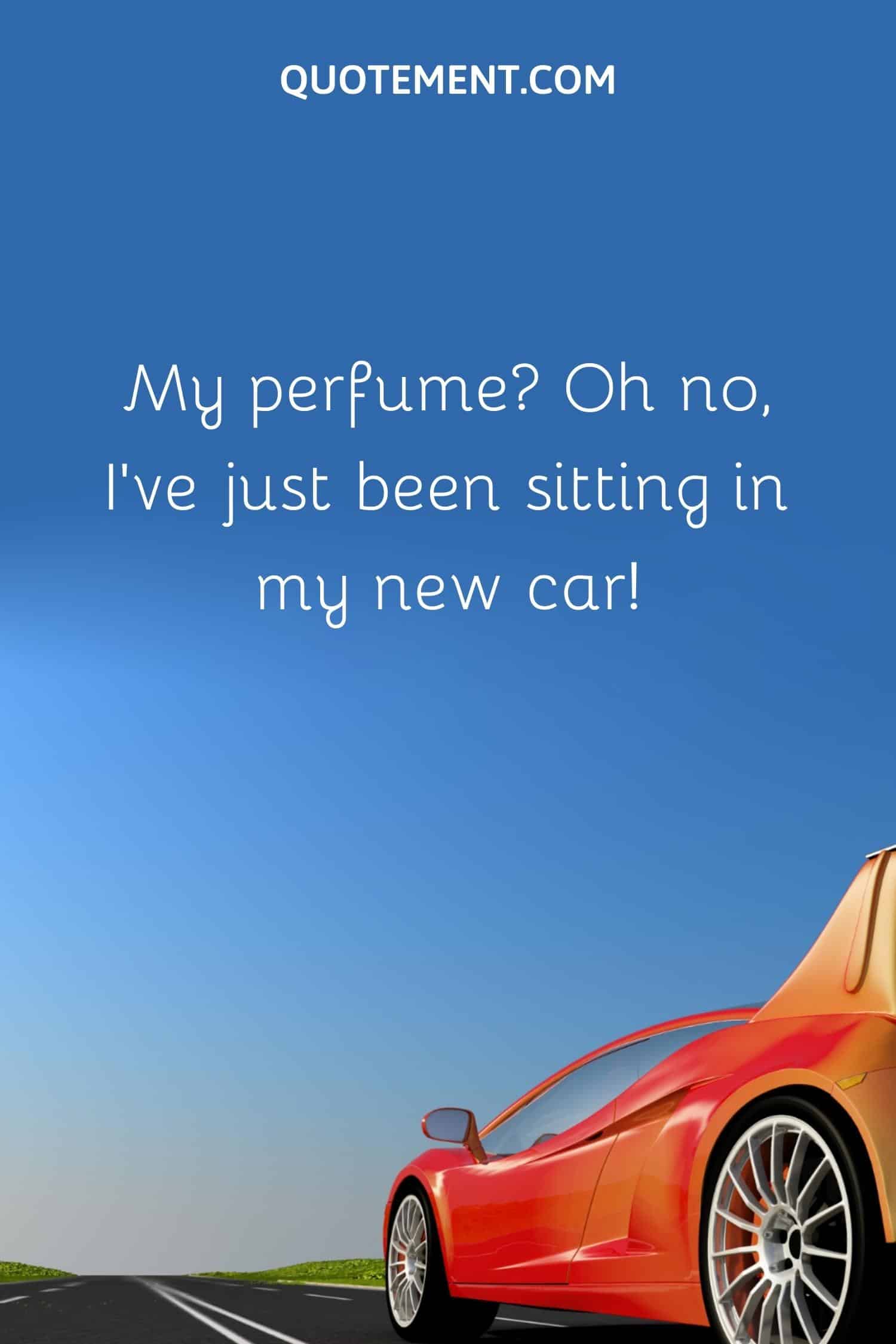 2. Absolutely in love with our new wheels.
3. I might be in a lac, but I ain't lackin', this is my new car.
4. Rise up, take courage and do it.
5. New things are good too, especially the new car smell.
6. Happiness is the smell of a new car.
7. The New addition to the collection.
8. I am in love with this new lady called My New Car.
9. To me, from me. Happy new car day.
10. As ridiculously expensive as it is, I'm absolutely obsessed with my new whip.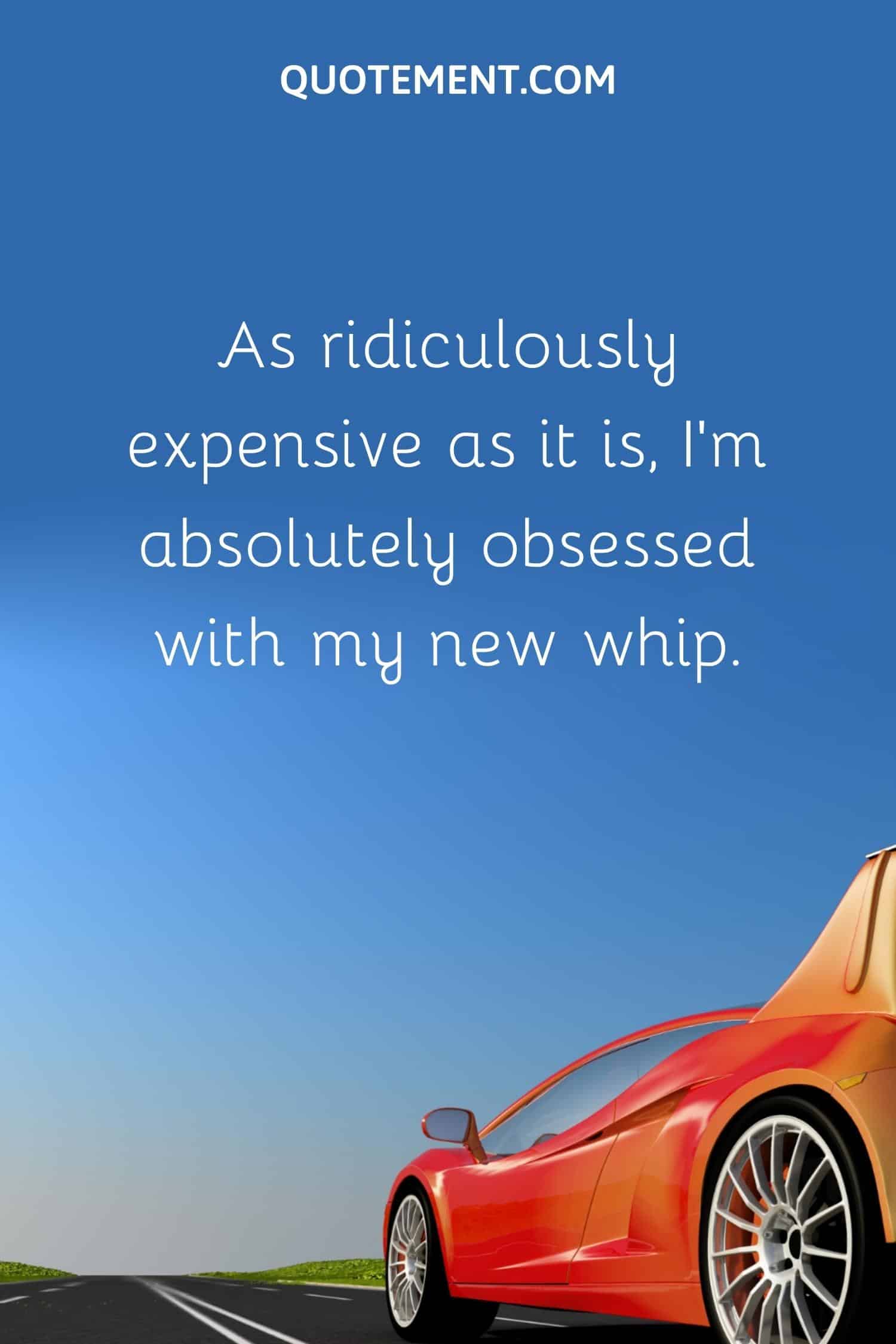 11. New year, New Car, New me.
12. In my new car, wherever I will go, I will go with all my heart.
13. If you know me, you know how excited I'm about my newest addition to the garage.
14. So in love with my new car.
15. It will cost you nothing to dream and everything not to.
16. My car is my ticket to adventure.
17. Smell of a new car is mind-blowing.
18. I just got a new car. I just need to put it together. They're easier to steal piece by piece.
19. A new car might not change your life, but it changes your attitude.
20. I see it, I like it, I want it, I got it. Ready to start a new adventure with my new car.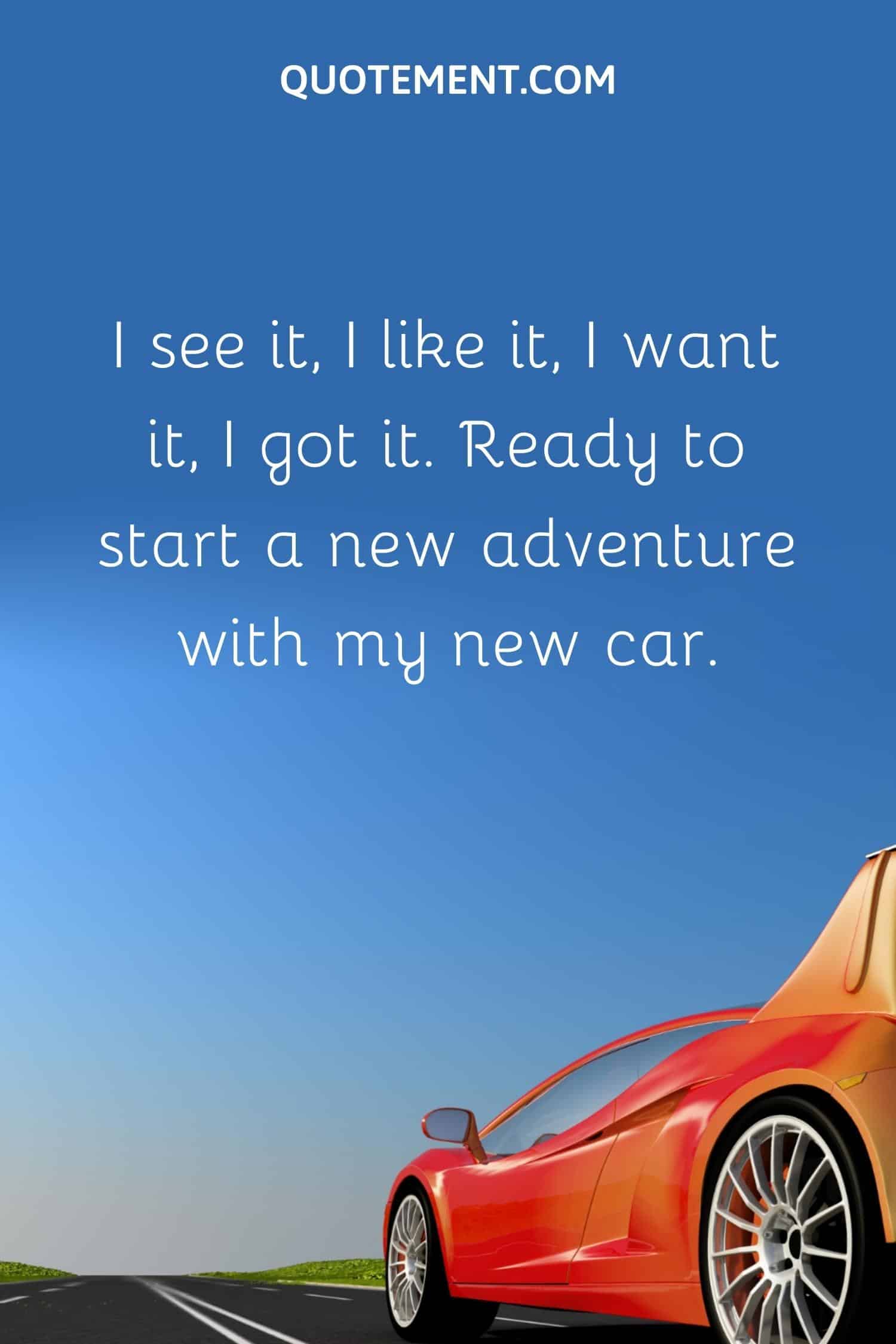 21. Decide what you want. Make a plan. Start working on it.
22. I'm excited to have a new ride but even more excited to have all these new places to explore.
23. I see it, I like it, I want it, I got it. Ready to start a new adventure with my new car.
24. I was ugly until she saw my new car.
25. Well, it doesn't bark like a dog…..but it honks like a new car.
26. Seriously can't believe she's mine.
27. Finally, I bought my first car! Where should I go for my first ride?
28. I've wanted this for so long. Can't believe it's really happening!
29. When the roads are calling, see them all in a new light with the headlights you've always wanted in your #Cadillac.
30. Keep your eye on the prize, but also treat yourself to a nice new car every now and then.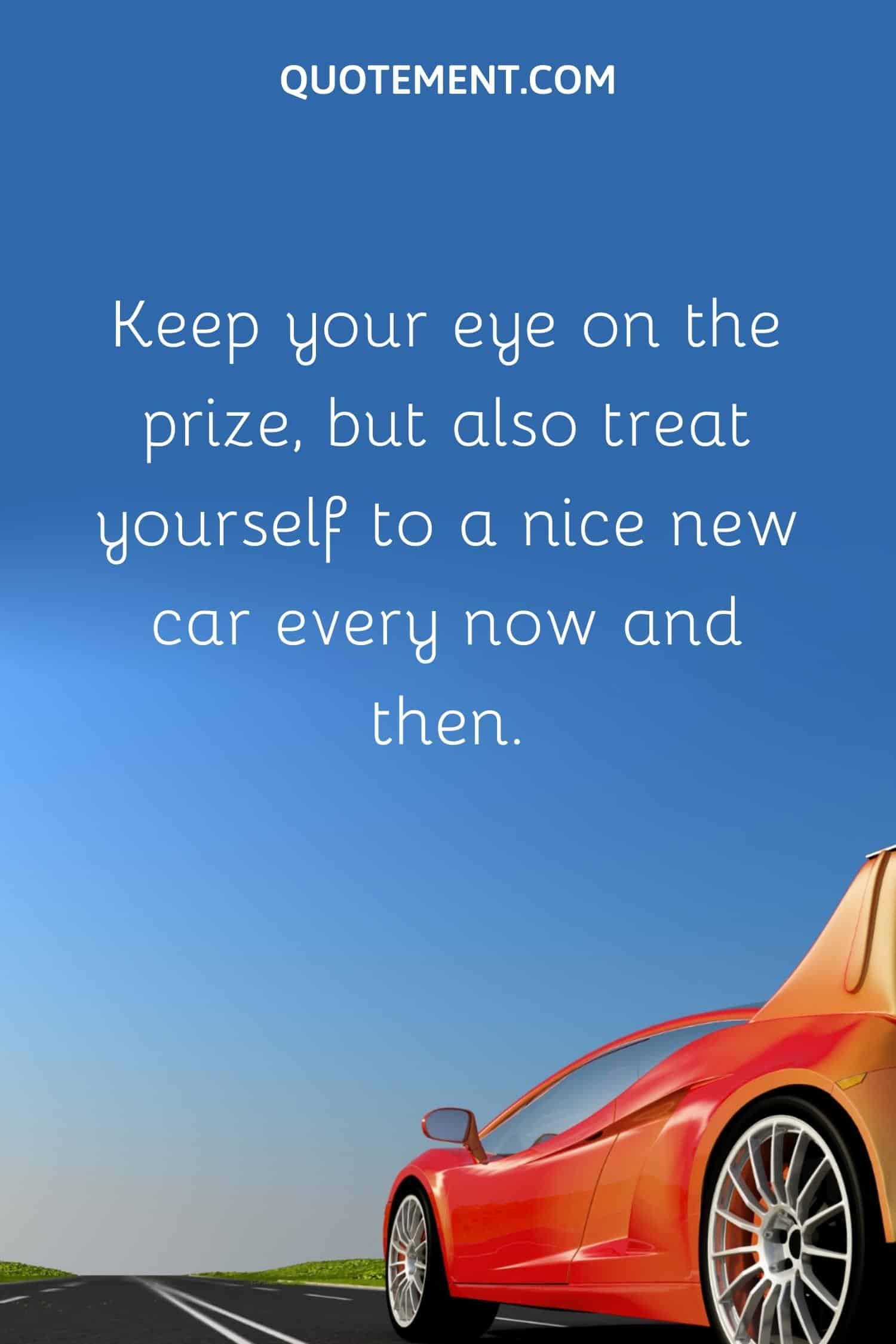 31. Just enjoy the ride, stop comparing your success to others.
32. The voices in my head told me to buy this new car!
33. Love the sight of the brand new tires and the sound of the great screech.
35. Help me think of a name for my new car!
See also: 90 Fantastic Congratulations For New Car Wishes & Messages
Attitude Car Captions For Instagram
Owning a nice car can boost your self-esteem and make you feel good. Here is a collection of attitude car captions for Instagram to show how cool you are.
1. Beat the odds, do numbers, and remain humble.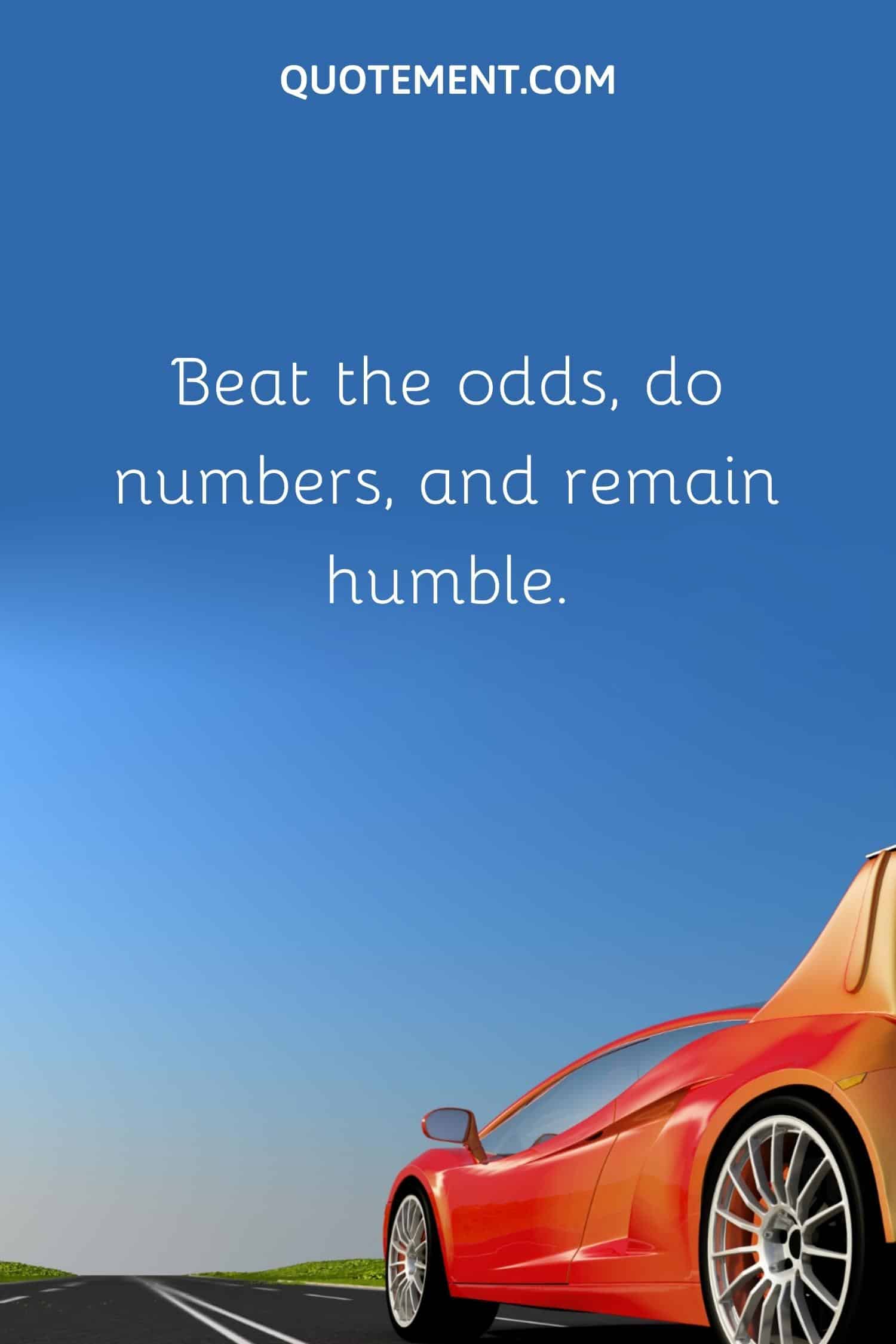 2. Nothing worth having comes easy.
3. Unleashing the beast.
4. Cars are my best friends.
5. Feel the car, drive it, and then show it.
6. Not much has changed with the new owner, but it has started looking so good.
7. In our cars, we have many memories.
8. A great road adventure is measured in friends rather than kilometers.
9. The First adult milestone.
10. Your car is your attitude, so wear it before going anywhere.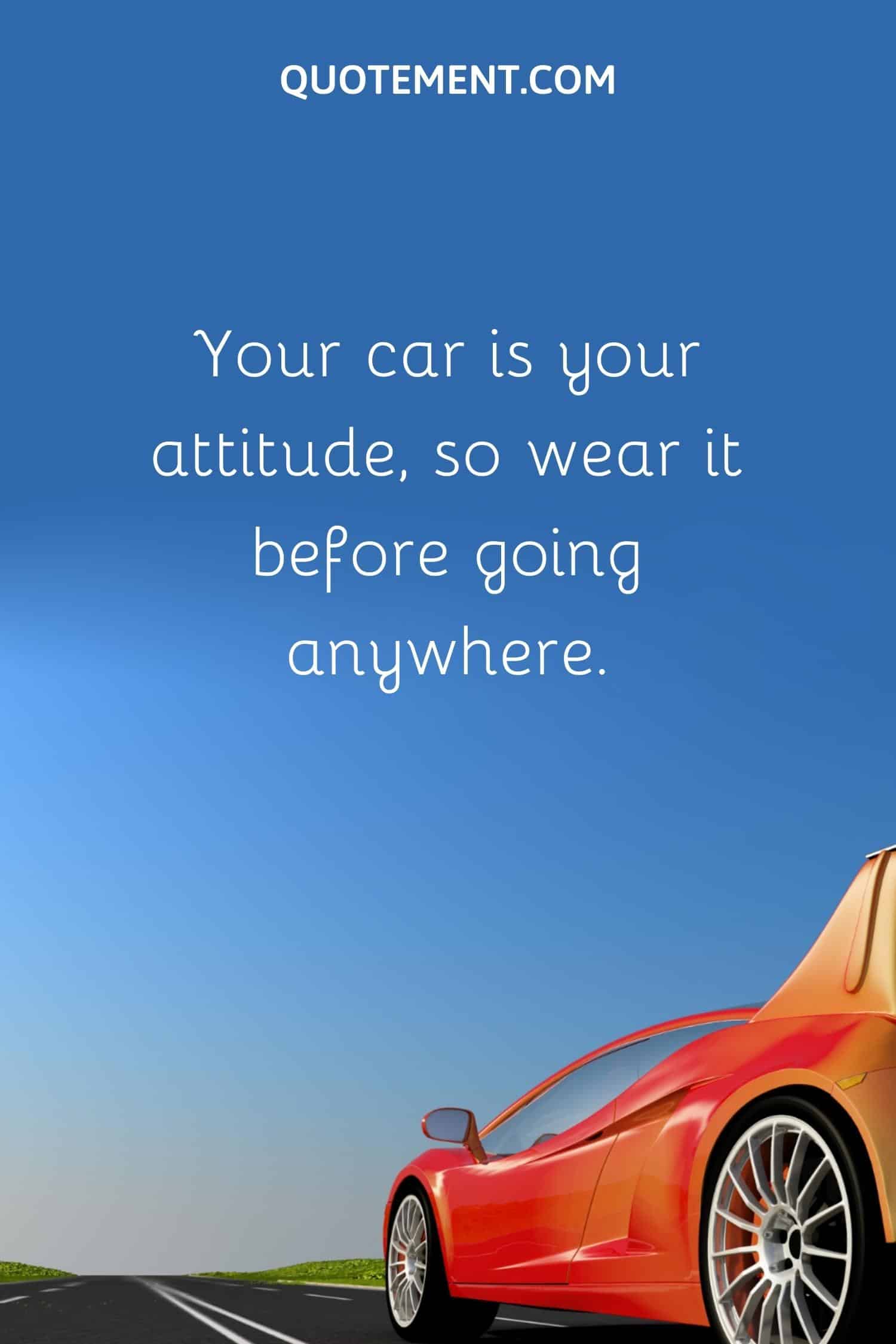 11. Life's all about an upgrade, Let me upgrade my whip.
12. Respect a man's car, and the man respects you.
13. My first car is giving me the freedom I have always wanted.
14. Cars are my lifeblood.
15. Fast cars are my only vice.
16. Finally bought my first car !!!! where should I go for my first ride?
17. Words can't describe how much I love my first car!
18. Everything in life is somewhere else, and you get there in a car.
19. Cars are my passion and always will be.
20. I'm doing what makes me happy! Deal with it!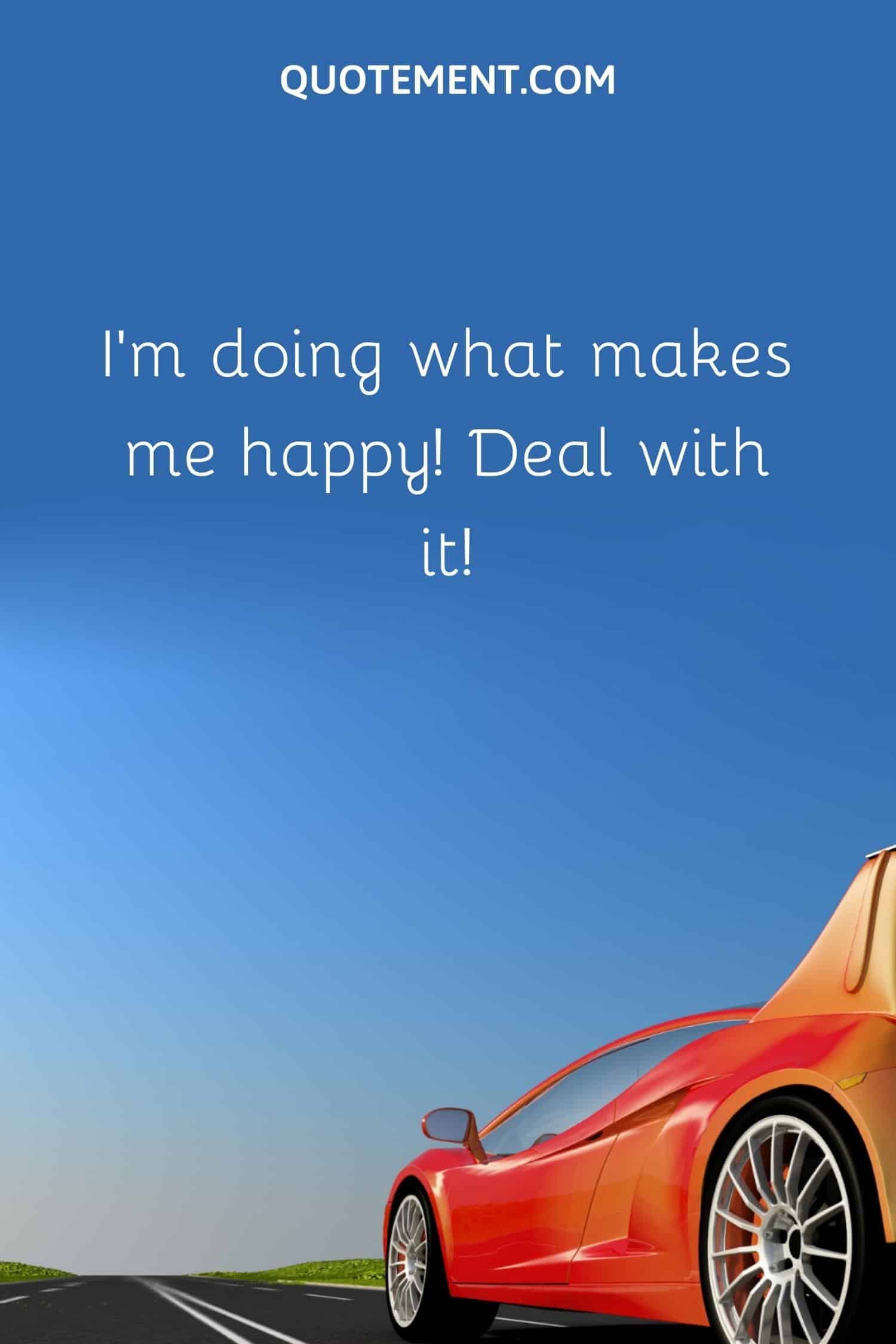 21. I breathe cars, I eat carbs, I sleep cars.
22. I'm not lost, I'm exploring.
23. Look at this beauty.
24. I never believed in love at first sight, but my car proved me wrong.
25. Do you know the common thing between your first love and your first car? You will forget neither. Congratulations on such a sweet ride.
26. You know what is the exact meaning of beauty? Just look at my car once, and you will understand.
27. I love the independence that comes with owning a car.
28. Girls that like cars are not weird, they are gift from god.
29. Turn up the music, roll down the windows, and open your eyes to it all.
30. Don't judge my past, look at my present, I am sure my future is really rocking.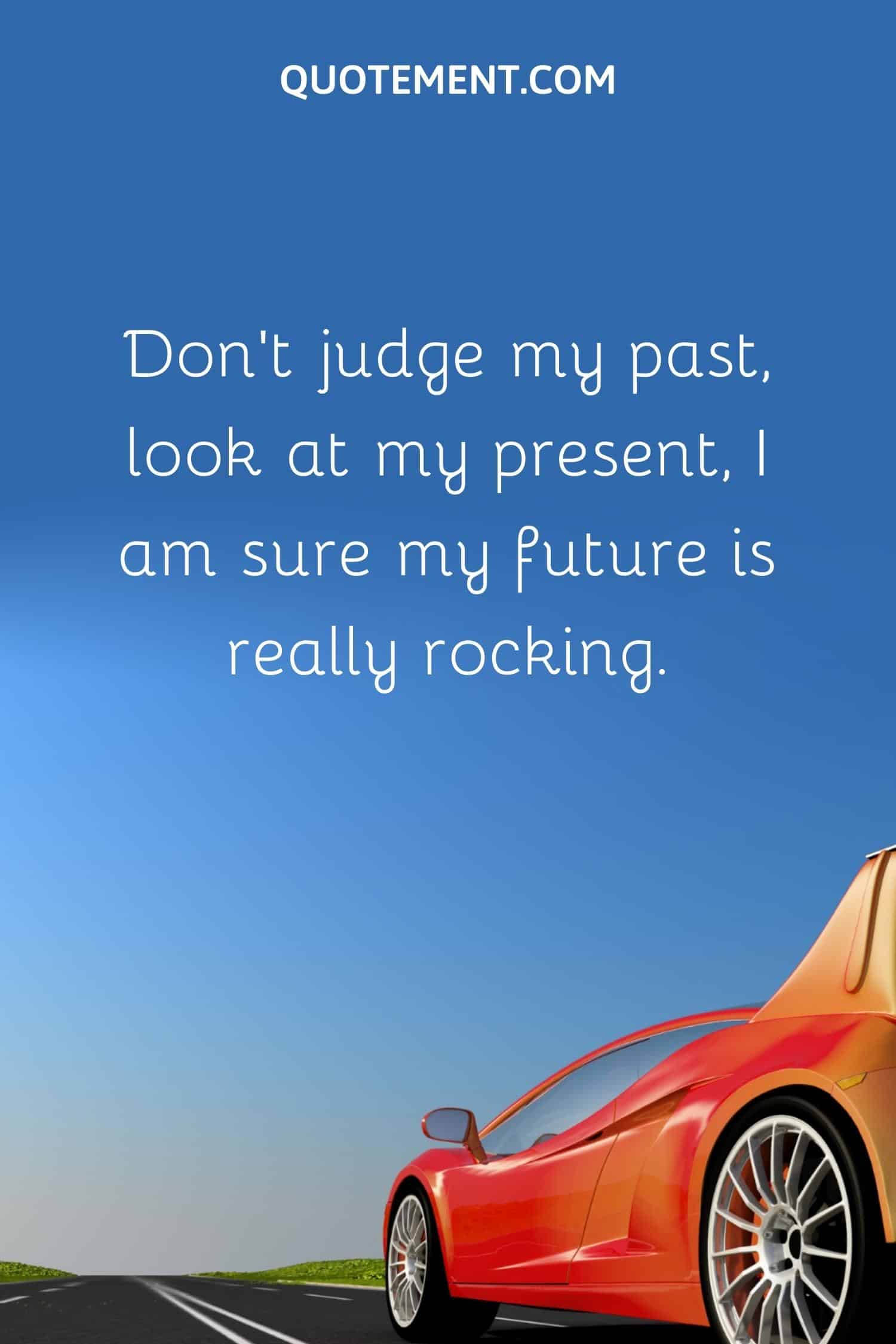 31. I'll never try to fit in. I was born to STAND OUT.
32. It's lonely at the top. That's why you see a Bugatti has 2 seats and a bus has 50.
33. Do not get demotivated by the fear of an accident or anything else.
34. Your vehicle is your attitude, so show the world your classy attitude.
35. Ambition is the path to success; persistence is the vehicle you arrive in.
See also: 220 Proverbs About Success To Give You Inspiration
Cool Car Captions For Selfies
Below you'll find more cool car captions for Instagram you don't want to miss. Enjoy!
1. My car is my pride, and I'm not gonna lose it.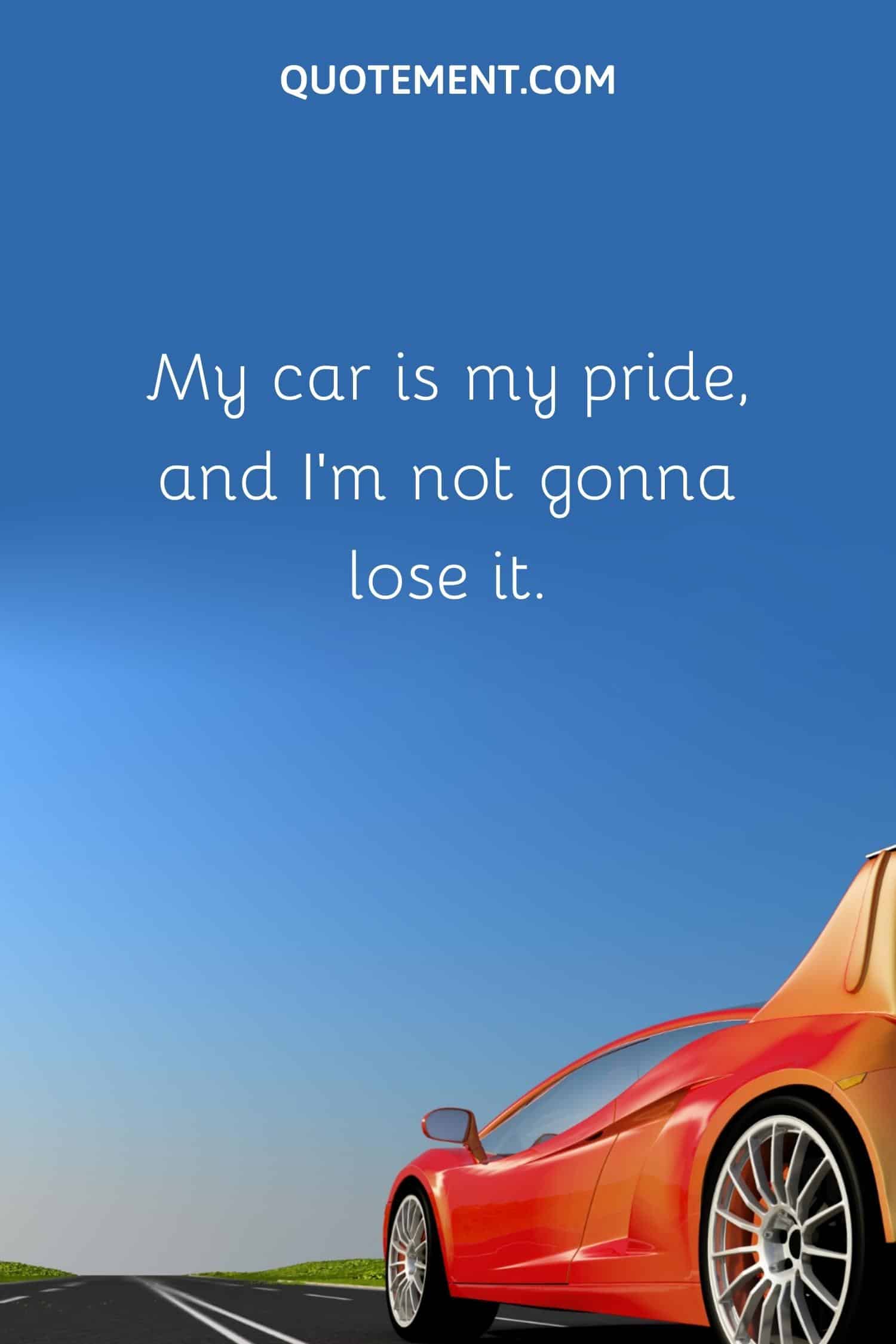 2. Happiness is the car we travel in, not our destination.
3. Cars are the air I breathe.
4. I love being able to go anywhere I want, anytime I want.
5. You've got to push yourself hard to get better results. You can't just wait for it.
6. Fast cars like Porsches and Ferraris – are things of beauty.
7. Don't hate me because my car and I are beautiful!
8. Am I making this car look good?
9. Aspiring people with inspiring speeds.
10. I feel more connected to the world when I'm driving.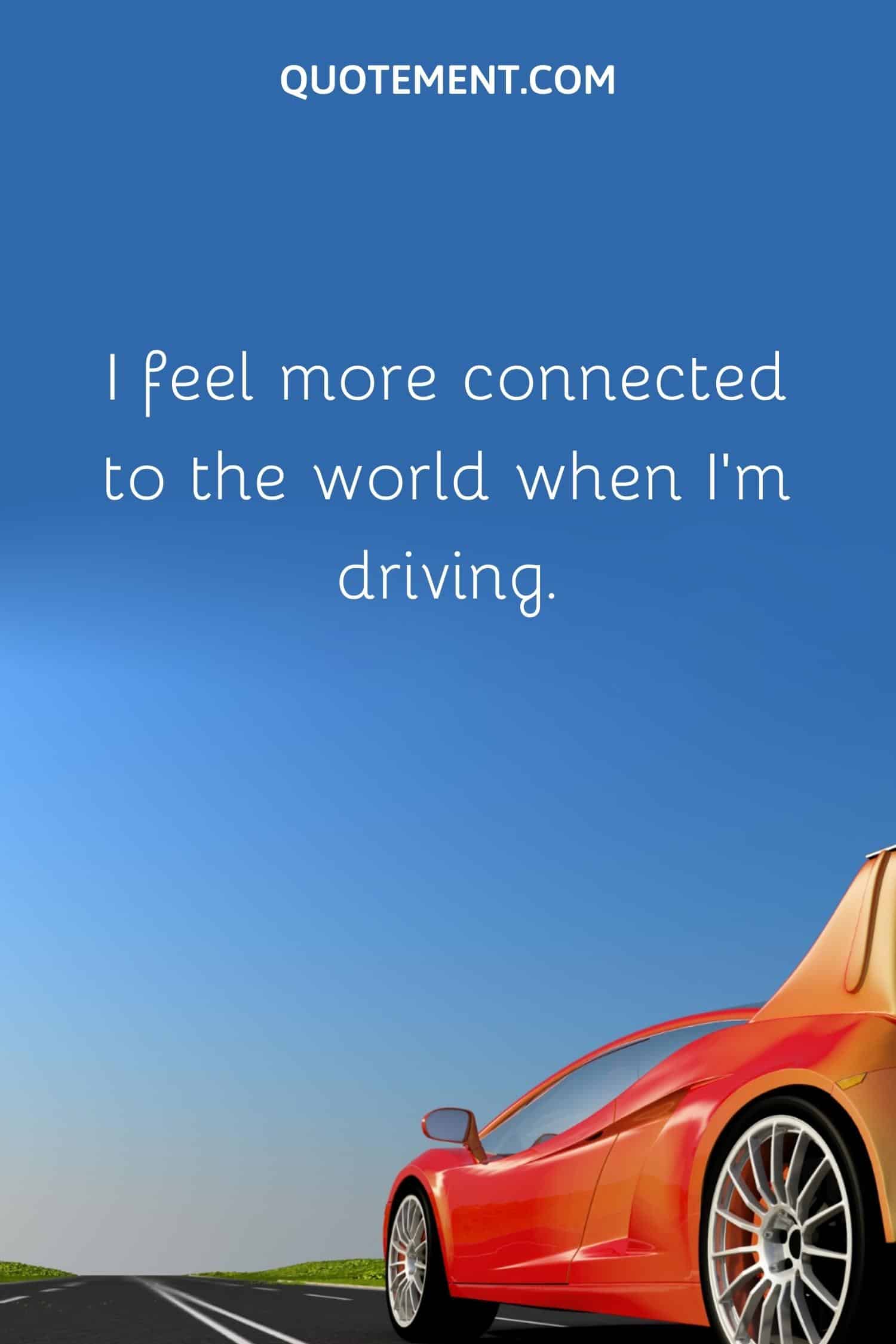 11. I haven't done this in a while so excuse me.
12. Is the car sparkling as much as I do!
13. The rush of excitement is pressing on the accelerator.
14. I do throw out a lot of ideas, and I forget completely about them.
15. "You can know or not know how a car runs and still enjoy riding in a car." — David Byrne
16. Cars are my one true love.
17. Nothing beats the feeling of hitting the open highway in a luxurious sports car.
18. Life's too short to drive boring cars.
19. The cars we drive say a lot about us
20. If cars say a lot about who we are, this one says I'm perfect!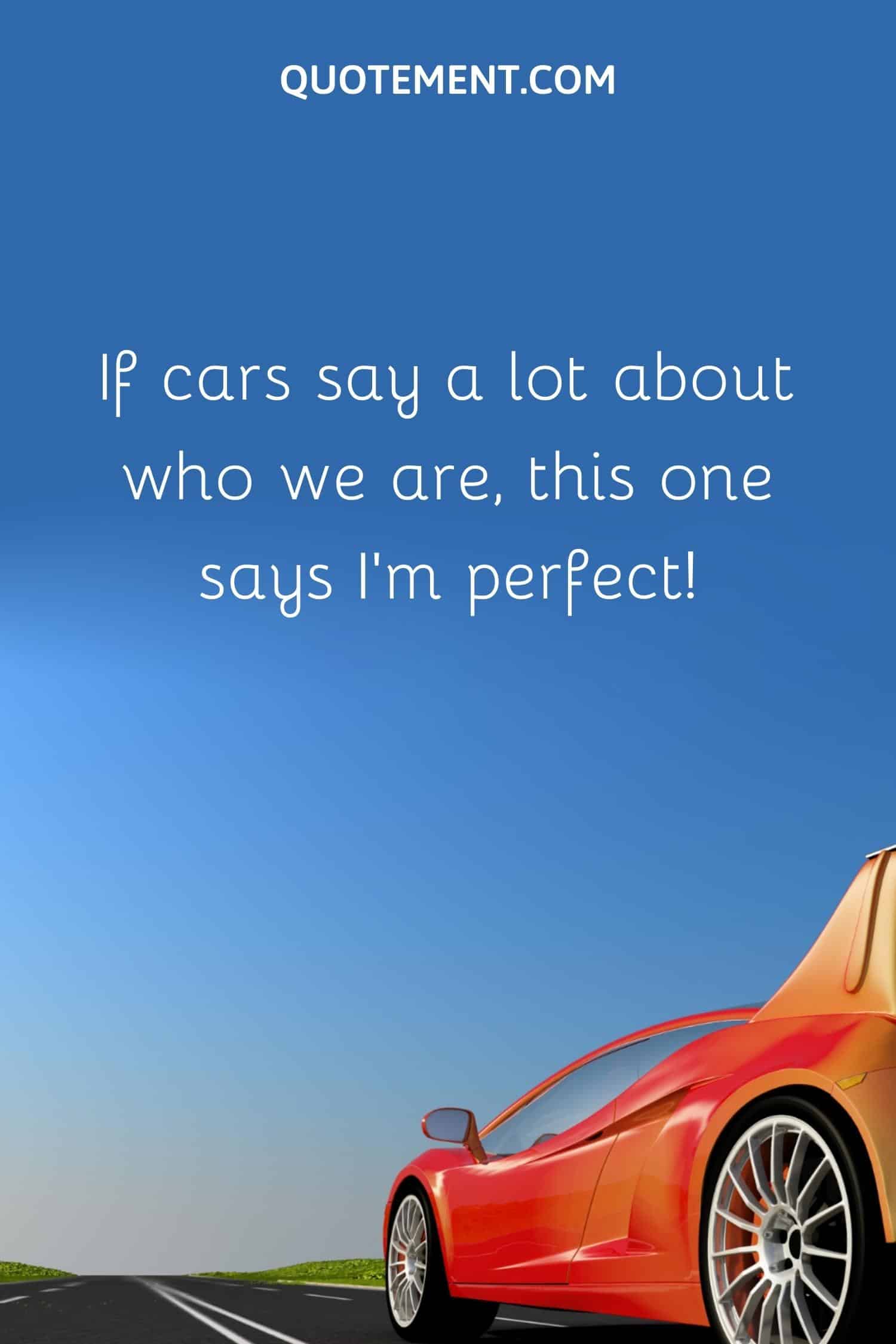 21. I never start the day without a cup of coffee and a spin in the car.
22. I'm not just a car enthusiast, I'm a gear head.
23. This is the best car I've ever had in my life. The GPS system is so cool. I'm going to take a selfie while using it!
24. People who stay in the car a little longer just to hear the end of the song are my kind of people.
25. Give a man a car, he will be happy for the day; Give a man a woman, he will be happy for the night; Give a man a woman who loves cars, he will be happy for life.
26. What's that, new Dolces? These here chrome heart. You need a key for yours? Me, mine will auto-start. Man, I talk to the car, and the car talks back. Then I step up out of the car and watch the car back.
27. Do you love your car? Well, I do, and I don't have any words to prove it.
28. Success is a lonely road and a car.
29. A drive-on car to nowhere is the best way to clear my mind.
30. In the end, my car will never turn around and leave.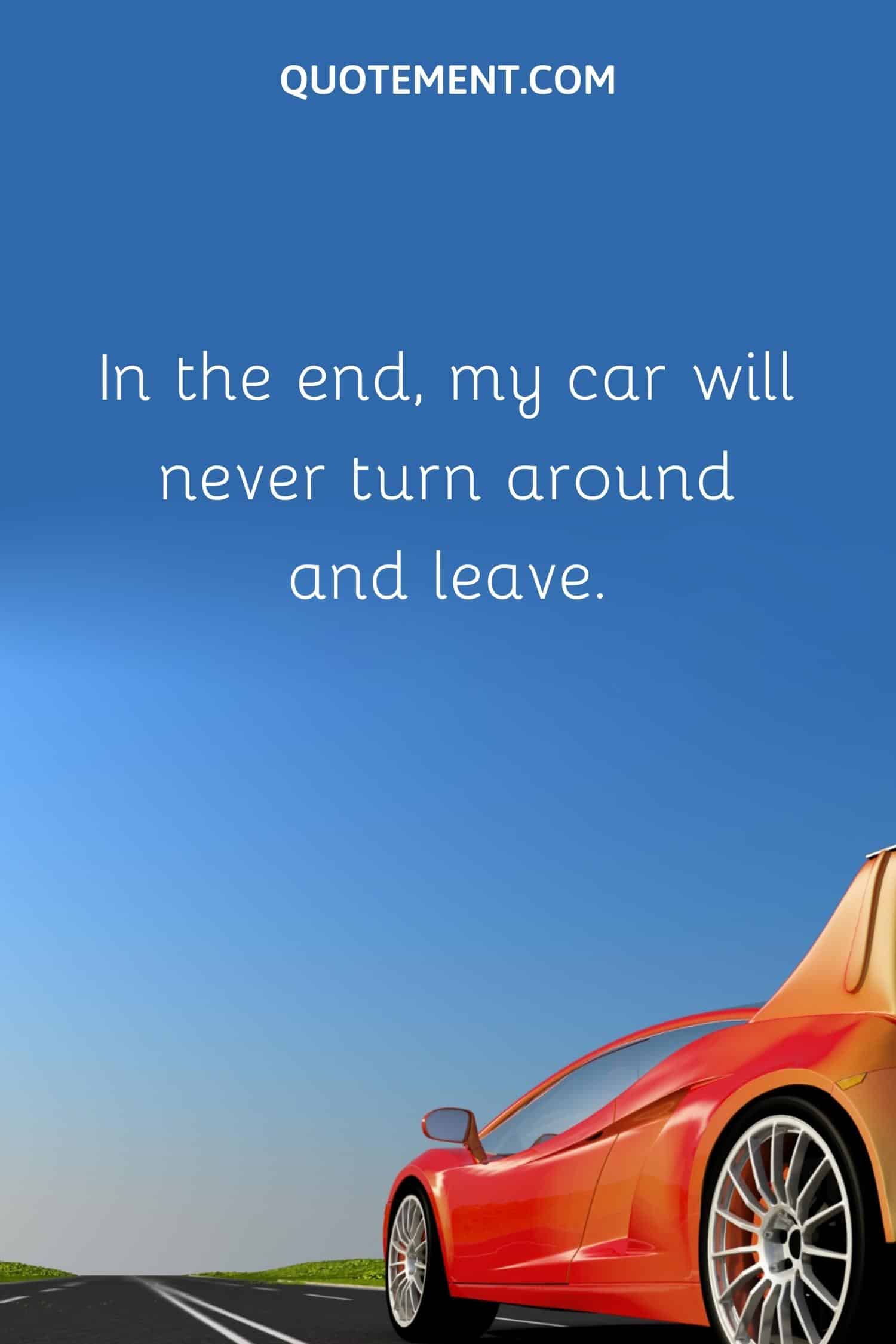 31. Here today, gone tomorrow.
32. A love between a man and his car can only be understood by those who feel it.
33. Hating me doesn't make you pretty.
34. Start your car and take a ride in it.
35. I live for weekends and long drives in my car.
Catchy Instagram Captions For Car Pics
If you're looking for captions to catch the attention of your friends and followers, these catchy car captions for Instagram will do the job.
1. Find a passion that makes you forget to check your phone.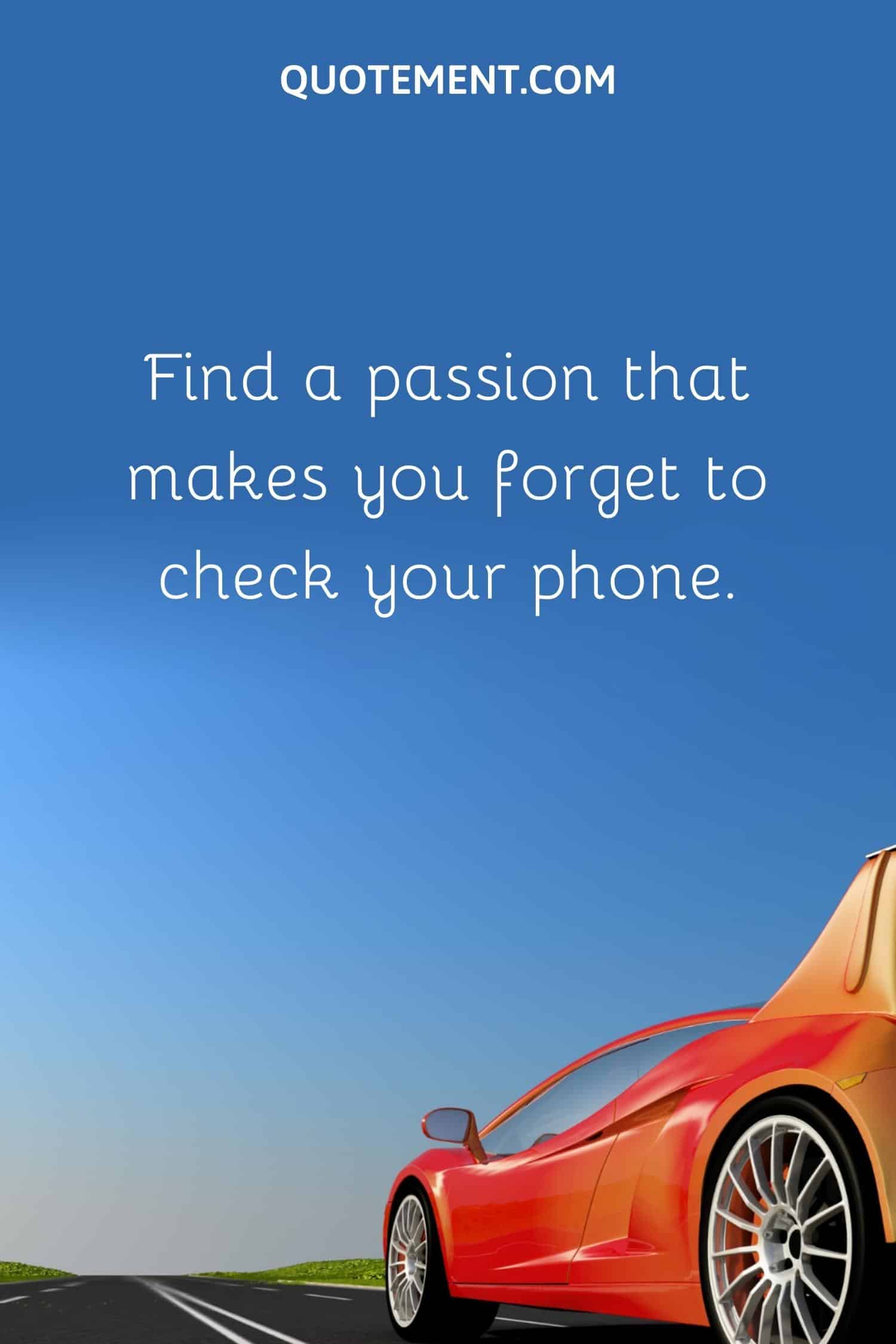 2. There are many beautiful reasons to keep your car.
3. Losing a car race gives you a lesson.
4. Thank you, thank you to whoever designed the coolest car on the planet!
5. My car is like a family member to me.
6. You want a car like this? Work for it!
7. My car is like another member of my family.
8. There's no such thing as too much horsepower.
9. Shut up! Let me take a selfie with my new car.
10. Nobody is perfect, but if you drive a sports car you're pretty close.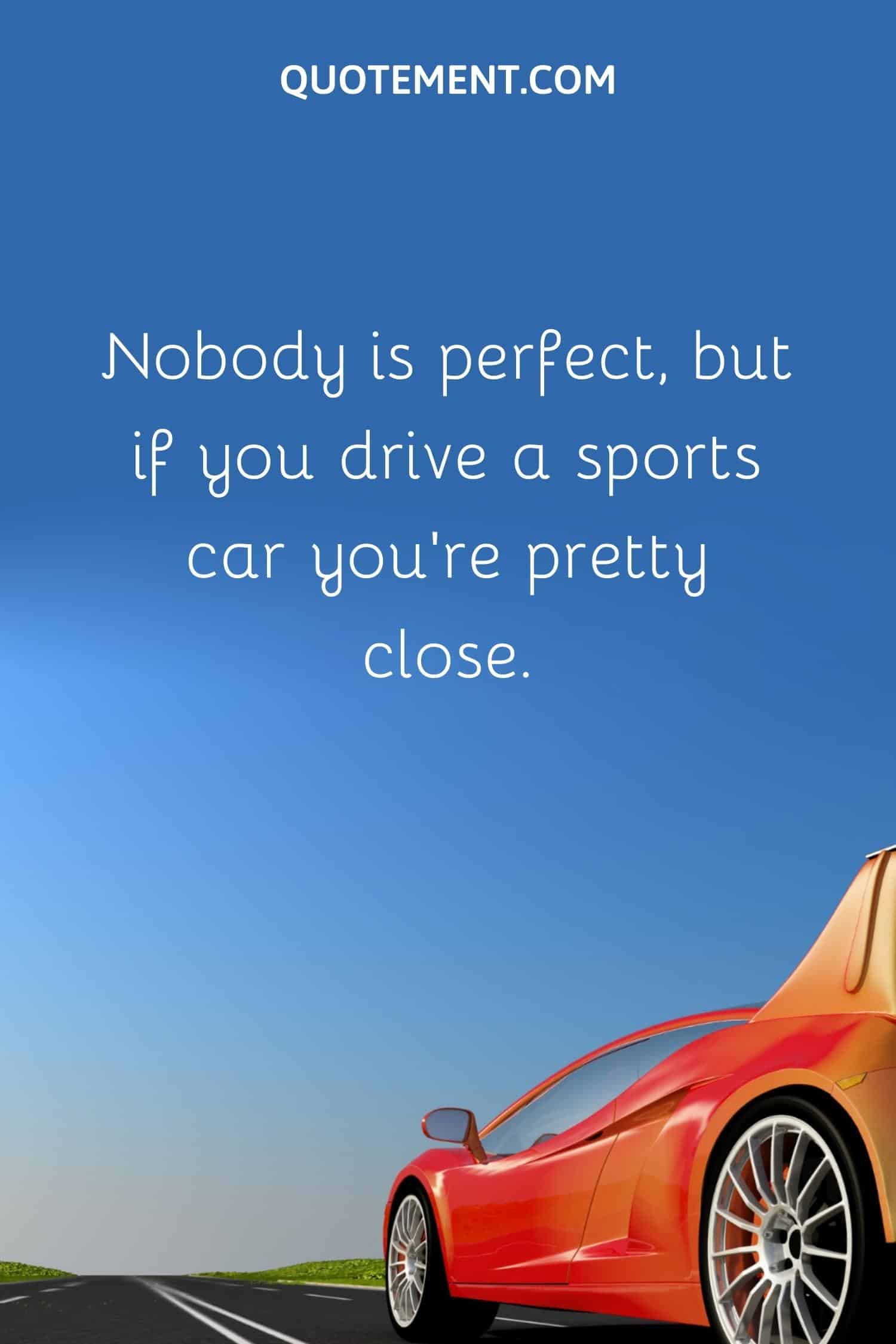 11. Life was an ordinary car that made it special.
12. Handling a fast car is an experience game.
13. "Never lend your car to anyone to whom you have given birth." – Erma Bombeck
14. Oh darling, let's be adventurers.
15. Just to be a mediocre driver has never been my ambition. That's not my style.
16. It doesn't matter where you're going, it's who you have beside you.
17. Car is for any person and every purpose.
18. A man's most expensive hobby.
19. Look what finally arrived at my house today… and I will admit, it was worth the wait for the one I wanted.
20. The way I drive, and the way I handle a car, is an expression of my inner feelings.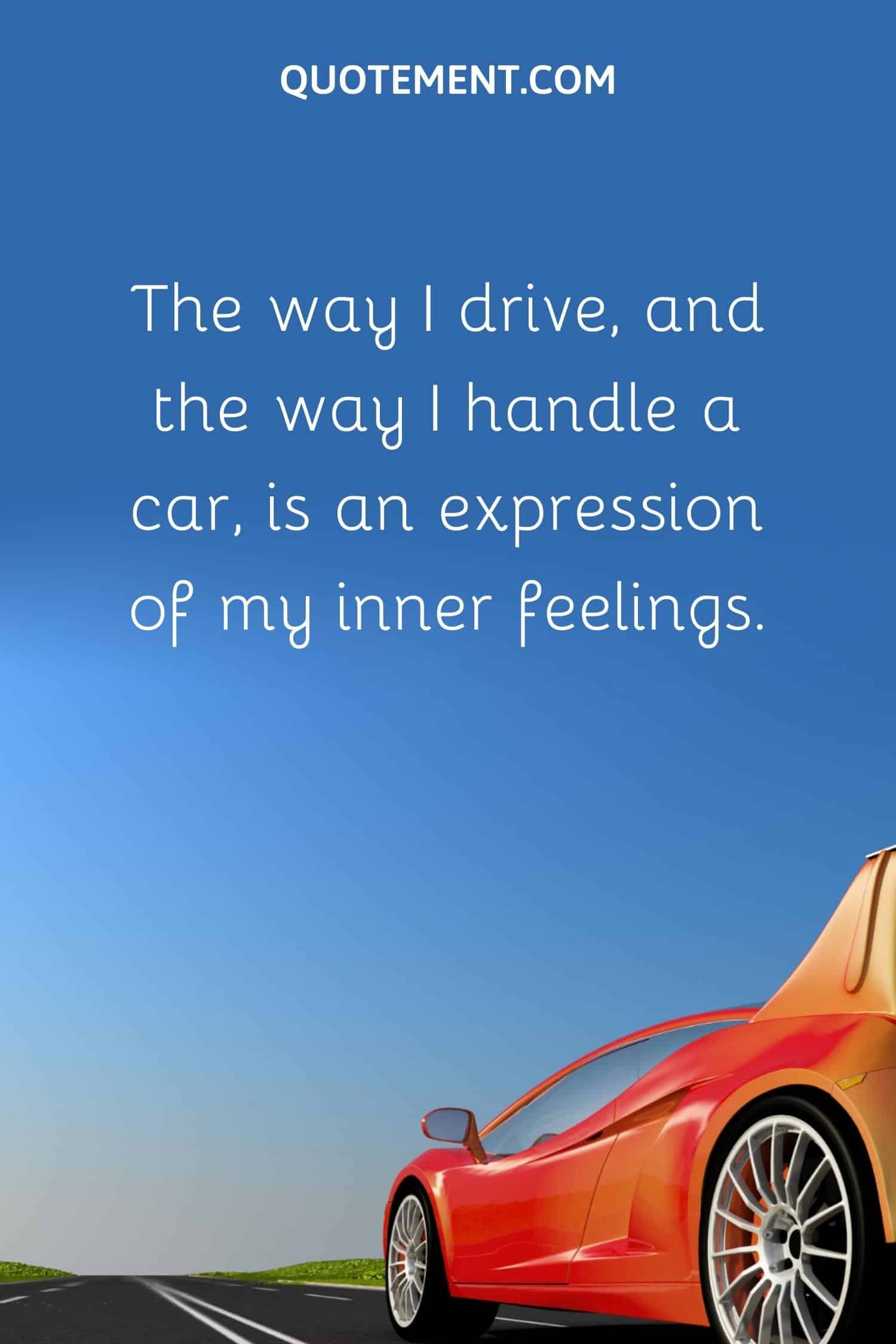 21. Cars bring me sheer joy.
22. "Jaguar! It's not just a car that you buy. It's a respect that you own." — Michael Schuhmacher
23. A car can either be a love or horror story; you just have to wrap your hands around the right one.
24. I might look like I'm listening, but in my head, I'm driving my dream car.
25. There are no words that can really tell you how much I love this car!
26. "Asking someone else to drive your sports car is like asking someone else to kiss your girlfriend." — Amit Kalantri
27. "Electric cars aren't pollution-free; they have to get their energy from somewhere." — Alexandra Paul
28. If someone tells me to slow down, I tell them to get out of my car!
29. All you need is love and this gorgeous car!
30. Cars are like friends – they take you places you've never been before.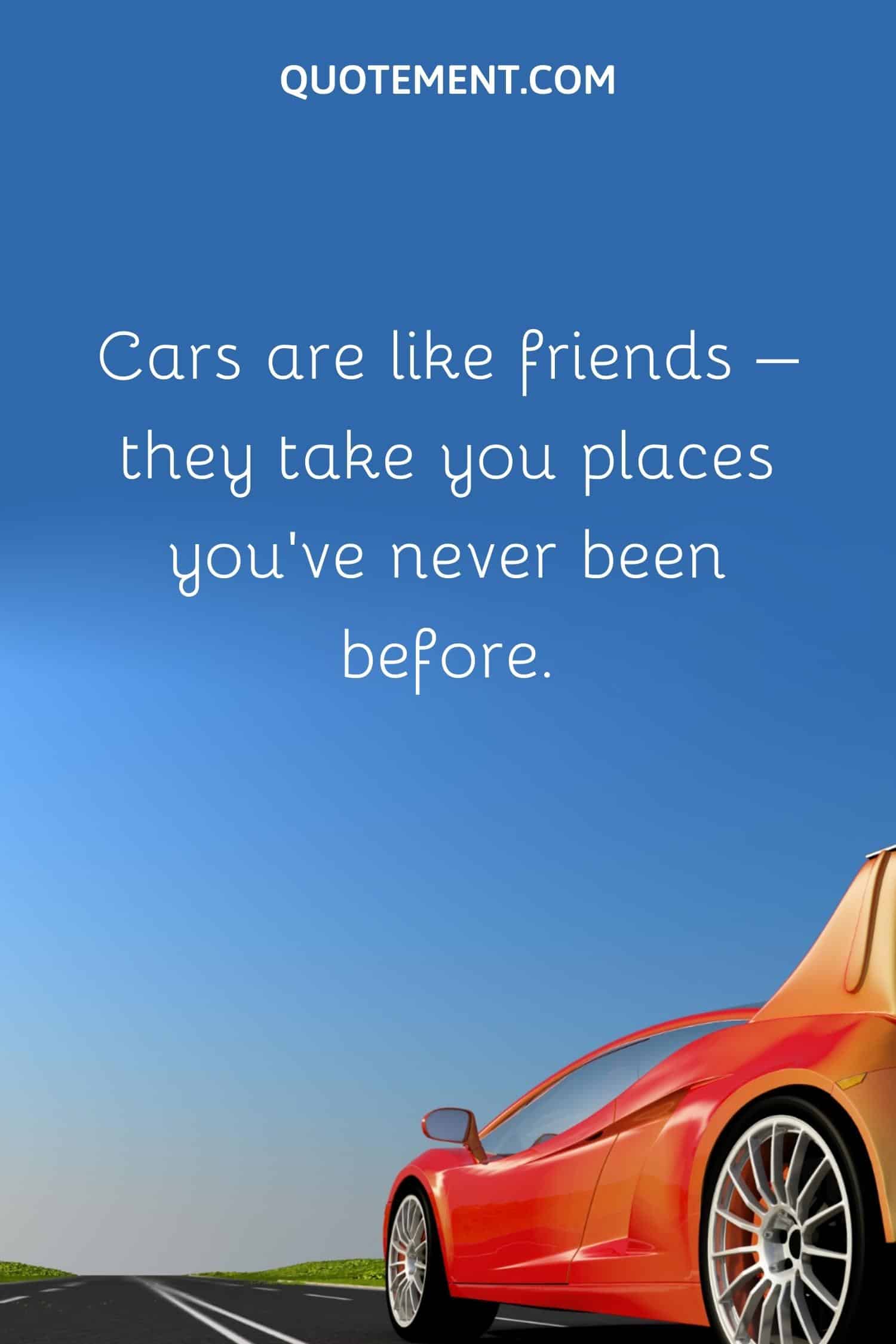 31. When nothing goes right, just go left instead!
32. What can I say, sometimes you just need to drive fast?
33. "Take it easy driving, the life you save may be mine." — James Dean
34. No more backseat driving for me. I'm the owner!
35. A Car is not going to change your life, but it will definitely change your attitude.
See also: 270 Best Attitude Caption Ideas To Make Your Instagram Pop
Vintage Car Captions For Instagram
There's something magical about vintage cars that only special people can understand. If you're a passionate vintage car lover, you're gonna love these vintage car captions for Instagram!
1. I'm driving my old car until I'm on a first-name basis with the tow truck drivers.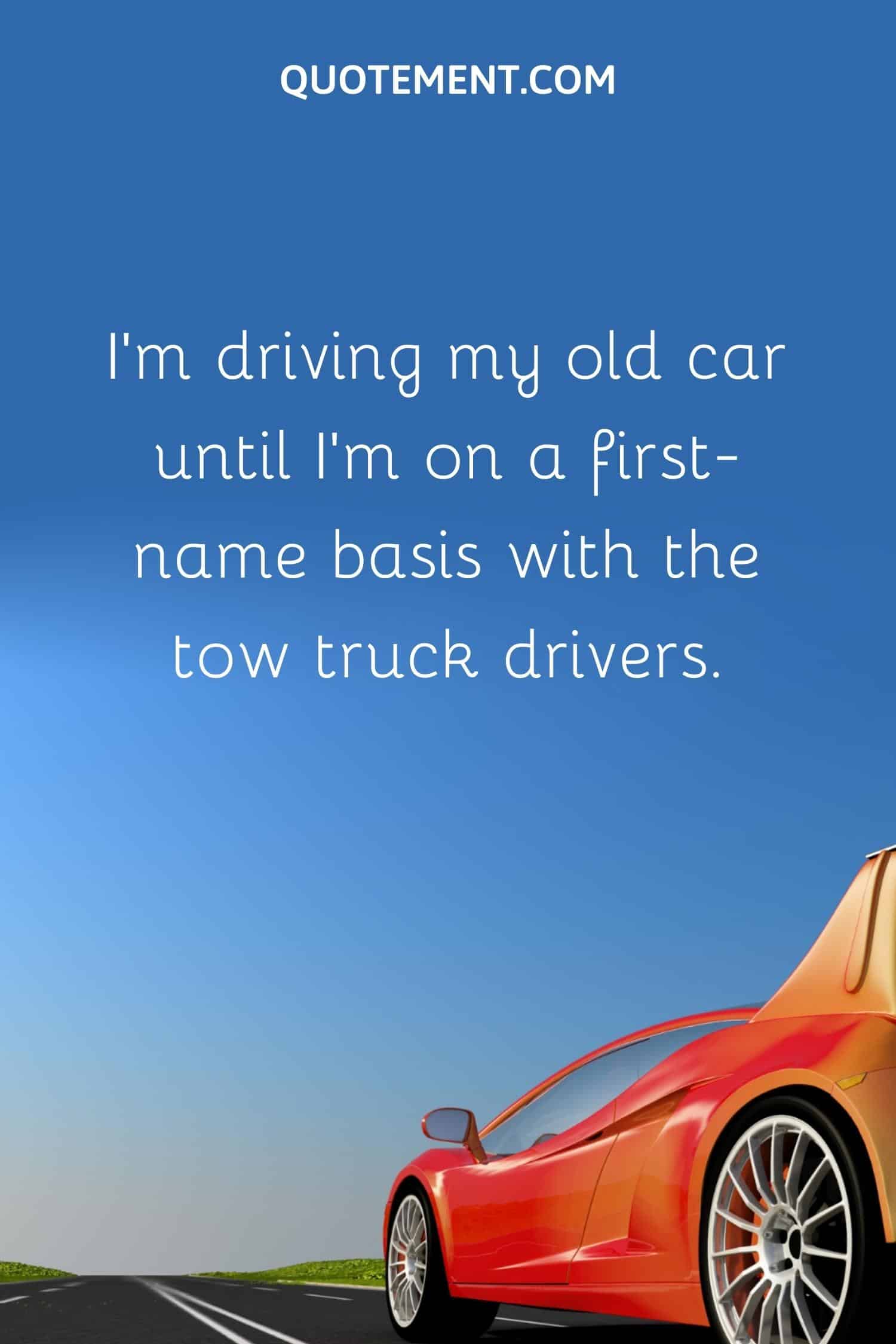 2. Getting beautiful and valuable with every passing year.
3. Instead of impressing a girl, I would prefer to own a classic car.
4. The view was 1/10 vintage car made it 10/10.
5. We're in love with this classic car for so many reasons: its unique design, beautiful curves, and the tasteful use of chrome.
6. The vintage car itself is a great mystery.
7. Older the vehicle, the more reliable the bond.
8. Old cars can be repainted, but they still keep moving in the same old ruts.
9. The older Mercedes is absolutely beautiful. It's got that lovely purring feeling as the engine ticks over, which you just don't get in a modern car.
10. Vintage is for simple-minded people.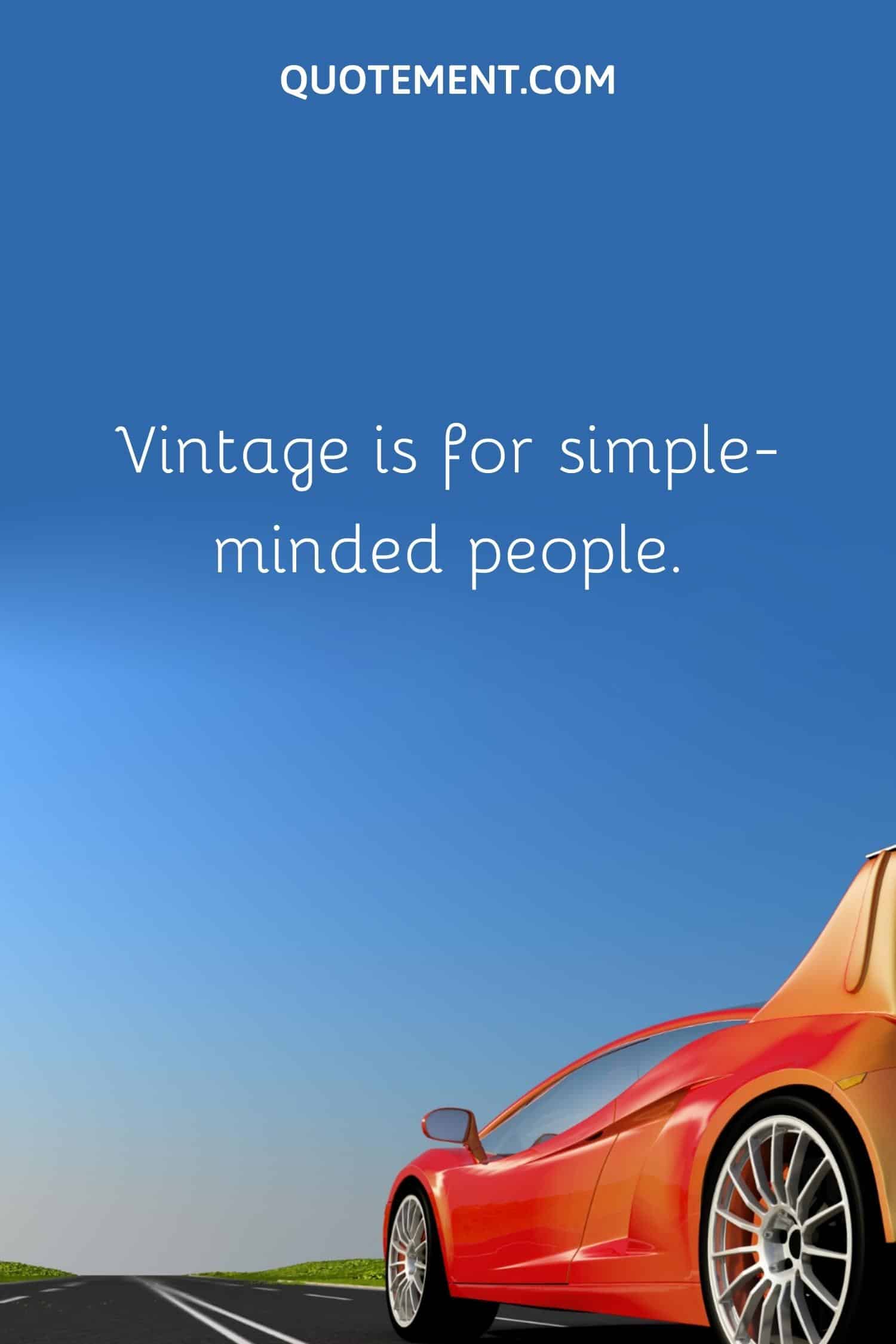 11. I love old cars that have a retro style, a kind of antique look. I'm just more in tune with that, more than anything else.
12. Purchasing an antique car is more interesting.
13. A vintage car is still my first love, a lovely car.
14. "I love vintage cars because you can do so much more to them." – T -Pain
15. Vintage cars are great reviewers of life.
16. Driving a classic car is more than just a means of transportation. It's a feeling that must be experienced to be understood.
17. I don't buy fur coats or jewels. I have antique vehicles.
18. Because I love taking old things and making new things out of them, not everything new is better than the old.
19. I love old cars that have a retro style, a kind of antique look. I'm just more in tune with that, more than anything else.
20. A timeless car for a timeless moment.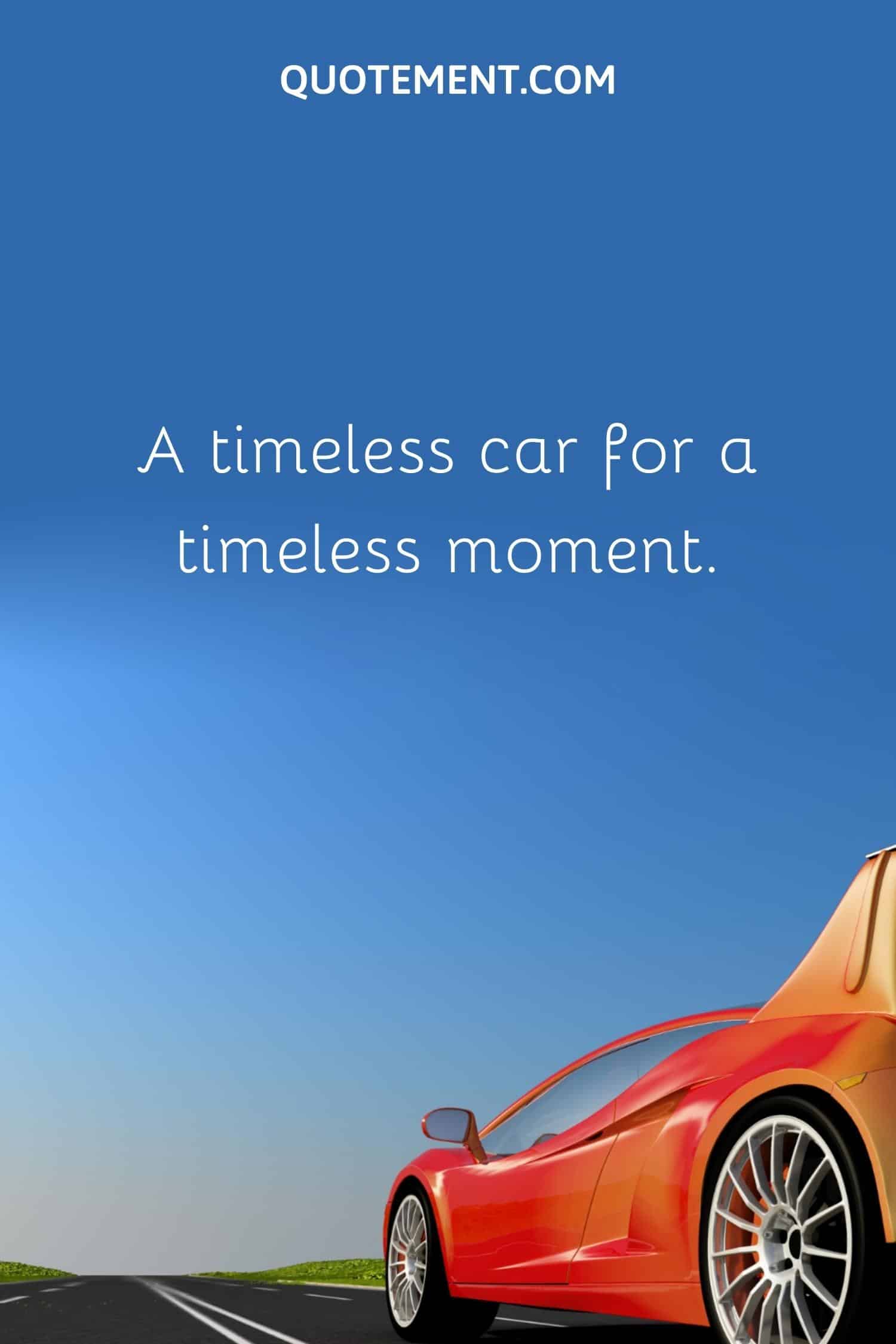 21. Old but a classy masterpiece.
22. It's a classic for a reason. Ride it into the sunset.
23. I love the feeling of driving on a foggy morning, especially when I'm in my favorite classic car.
24. I must admit that I'm a big fan of old cars. I like to listen to the engines and feel of vintage vehicles.
25. I just can't get enough of this vintage goodness.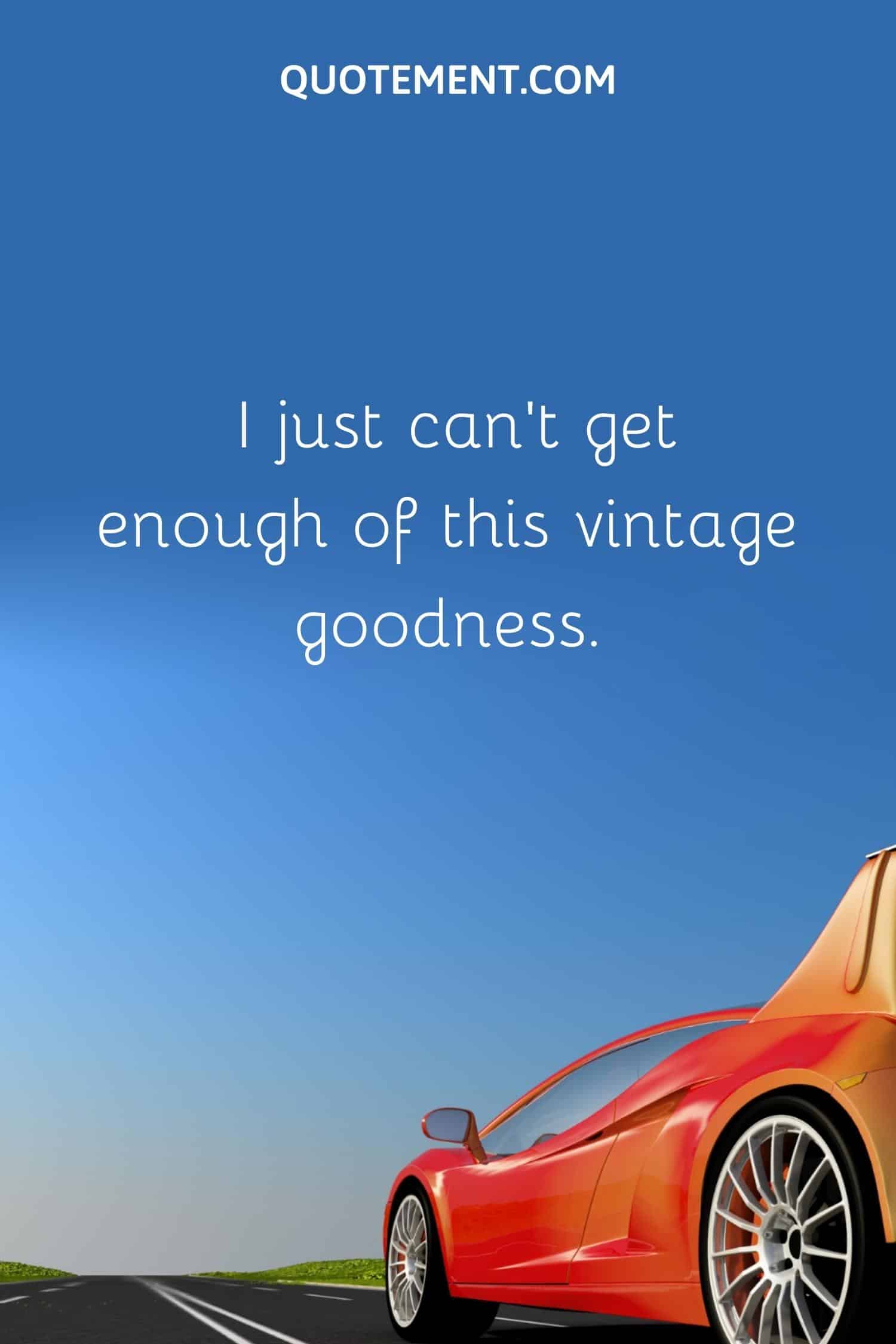 See also: 300 Absolutely Best Vintage Love Captions For Instagram
Road Trip Car Captions For Instagram
If you're ready to hit the road, you're gonna need a couple of catchy road trip car captions for Instagram. Come on, I know you'll be taking tons of pictures!
1. I'm a nomad at heart, and my car is my home.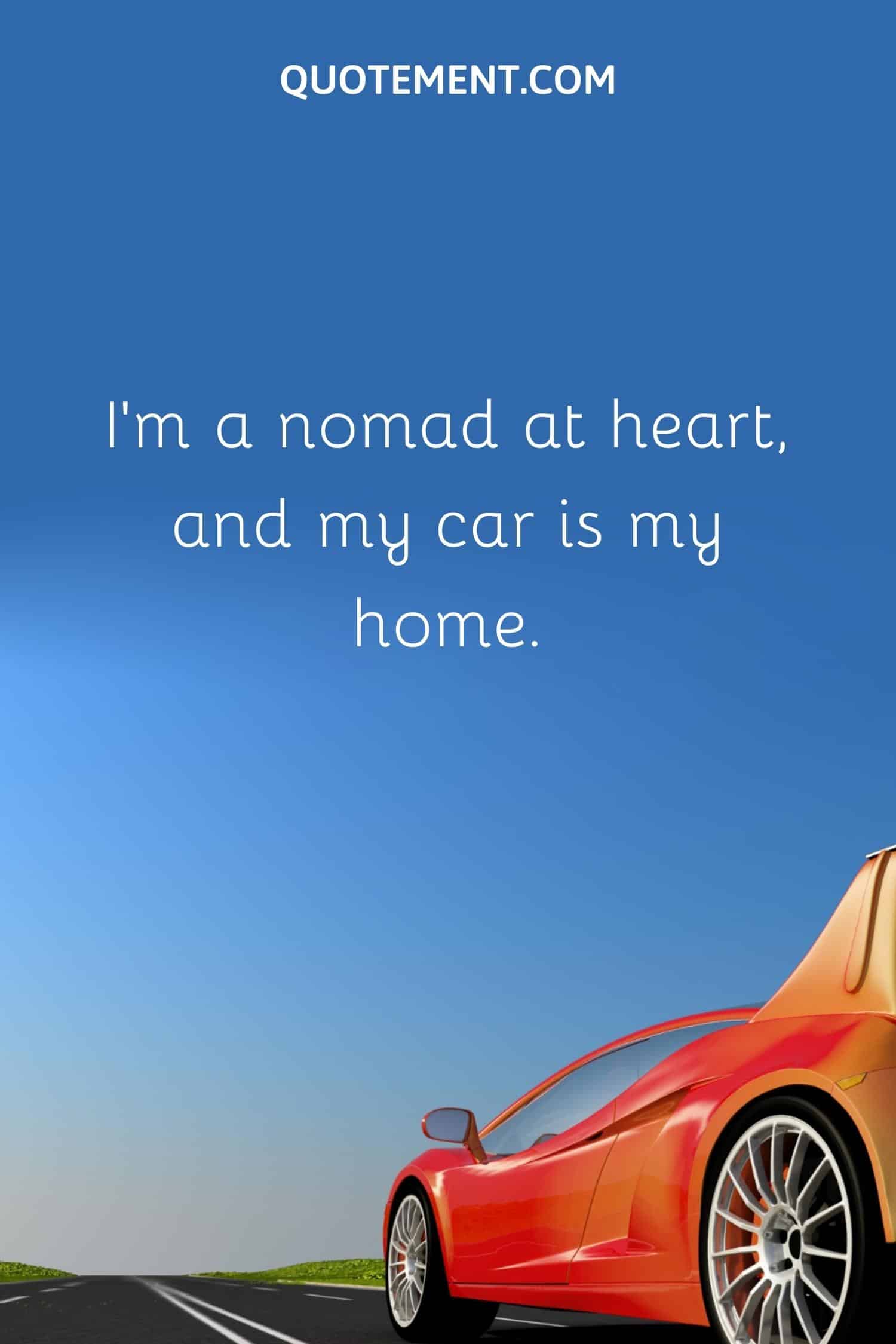 2. Wanderlust and city dust.
3. Trying to forget it, but the memories are too strong.
4. The mountains are calling, and I must go.
5. Finding paradise wherever I go.
6. We have nothing to lose and a world to see.
7. I love the feeling of being on the open road.
8. What do you think of the view?
9. Just grab a friend and take a ride together on the open road.
10. I'm a firm believer that life is better on the open road.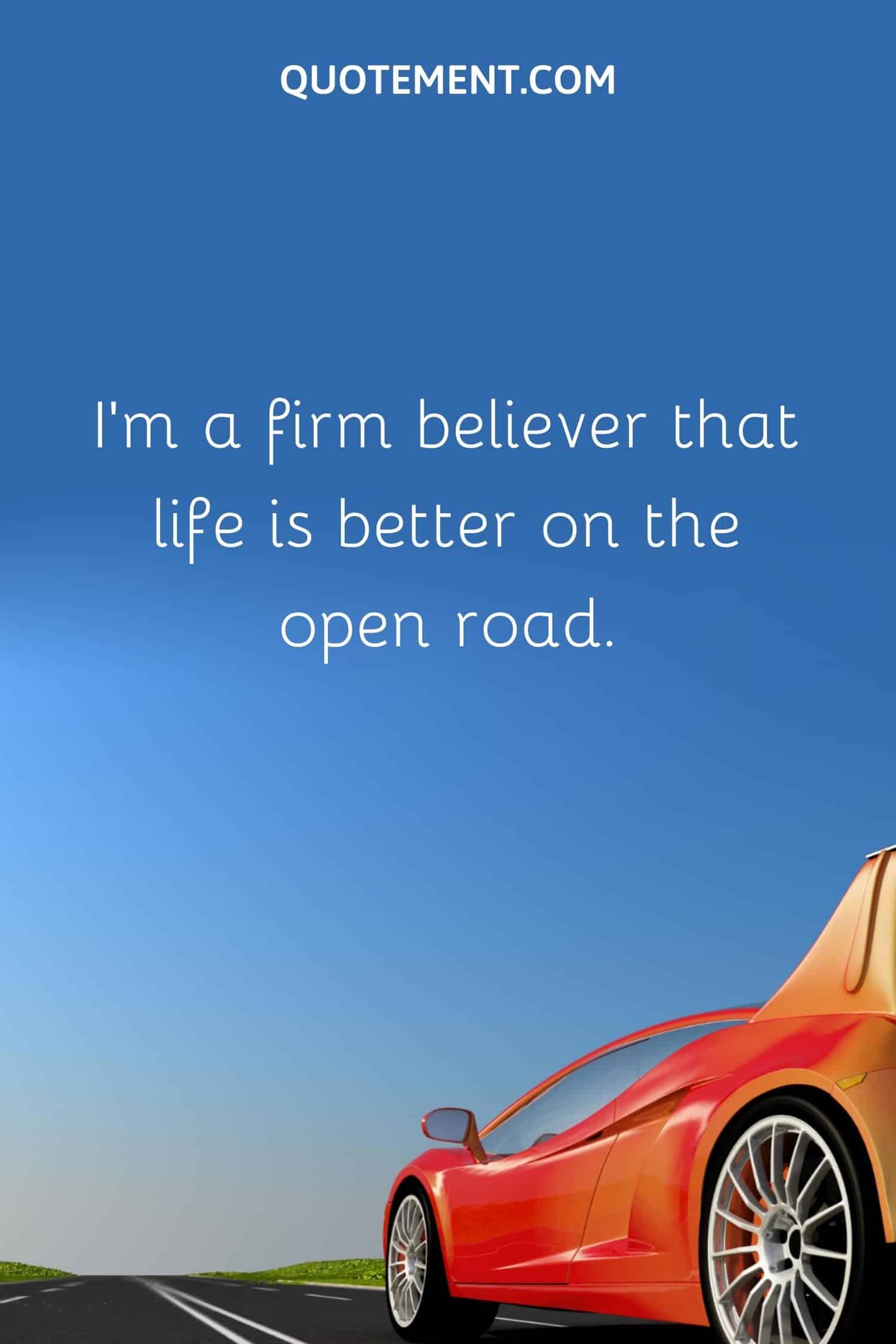 11. Choose the scenic route.
12. The open road is calling me – time to hit the gas!
13. I'm living my best life, one road trip at a time.
14. I love the feeling of the wind in my hair and the sun on my face.
15. Any bad day can be fixed by driving a country road with the radio up and windows down.
16. Just start off, and then the adventure carries your way.
17. Once in a while, the most beautiful streets in life are the diversions you didn't intend to take.
18. Catch me, driving in the car. Window down, hair blowing in the air.
19. Stop worrying about the hurdles on the roads, just put on your hands-free and enjoy the trip.
20. Never underestimate the therapeutic power of driving and listening to very loud music.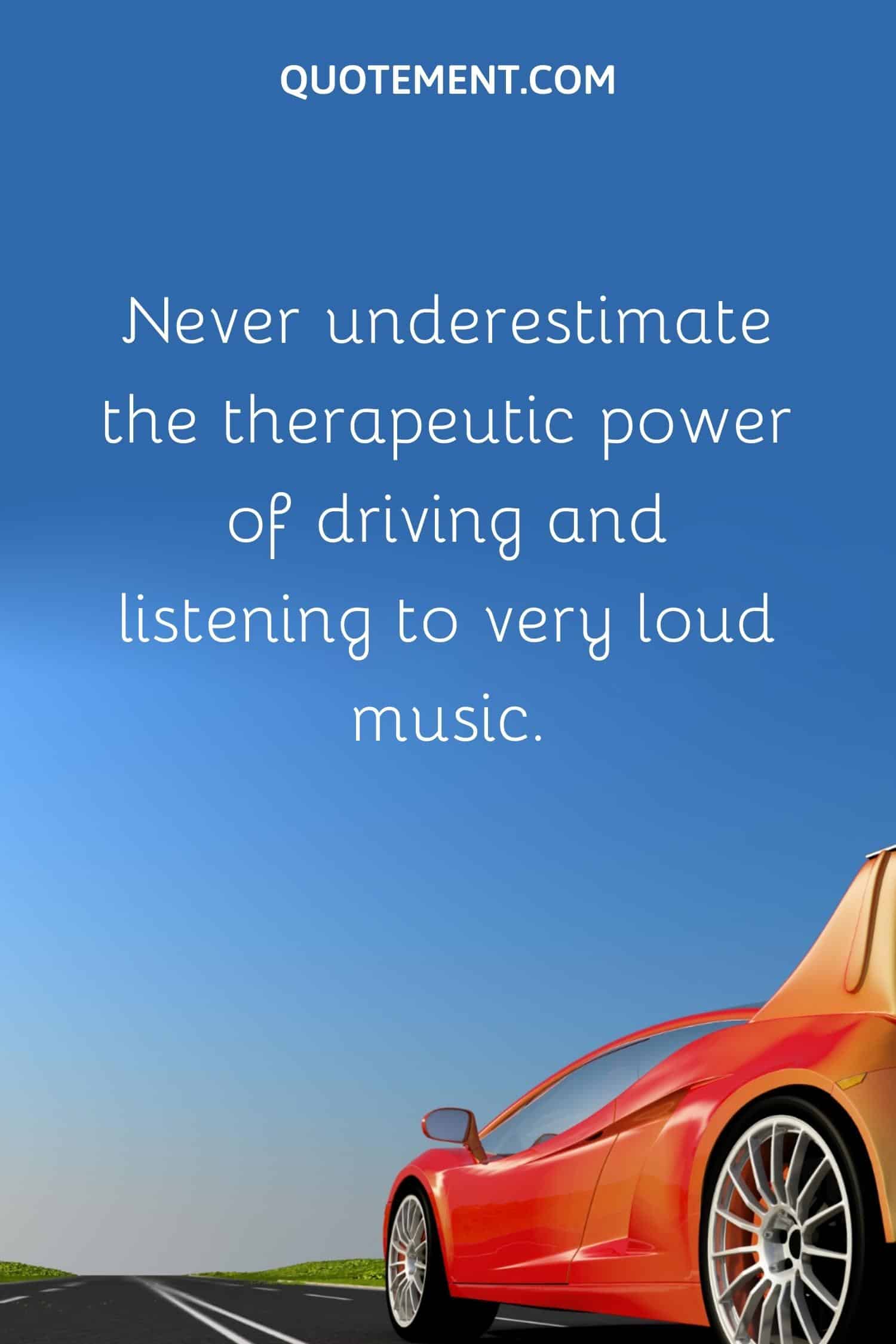 21. No hour of life is wasted when it's spent on four wheels.
22. Let's travel where the wifi is weak.
23. Life is always a bumpy road. Eventually, you just learn how to drive on it.
24. Drive slow and enjoy the scenery. Drive fast and join the scenery.
25. Some pathways are only open to adventurous people who are prepared to get lost.
26. Happiness is a road trip with a good playlist.
27. Driving on the highway, listening to the radio, rolling the windows down, and breathing the wild air. What a great time to be alive!
28. Every time I go on extended road trips, I get emotionally attached to the cars ahead of me.
29. You know you've found the perfect partner when they trust you to be DJ in the car.
30. Nothing behind me, everything ahead of me, as is ever so on the road.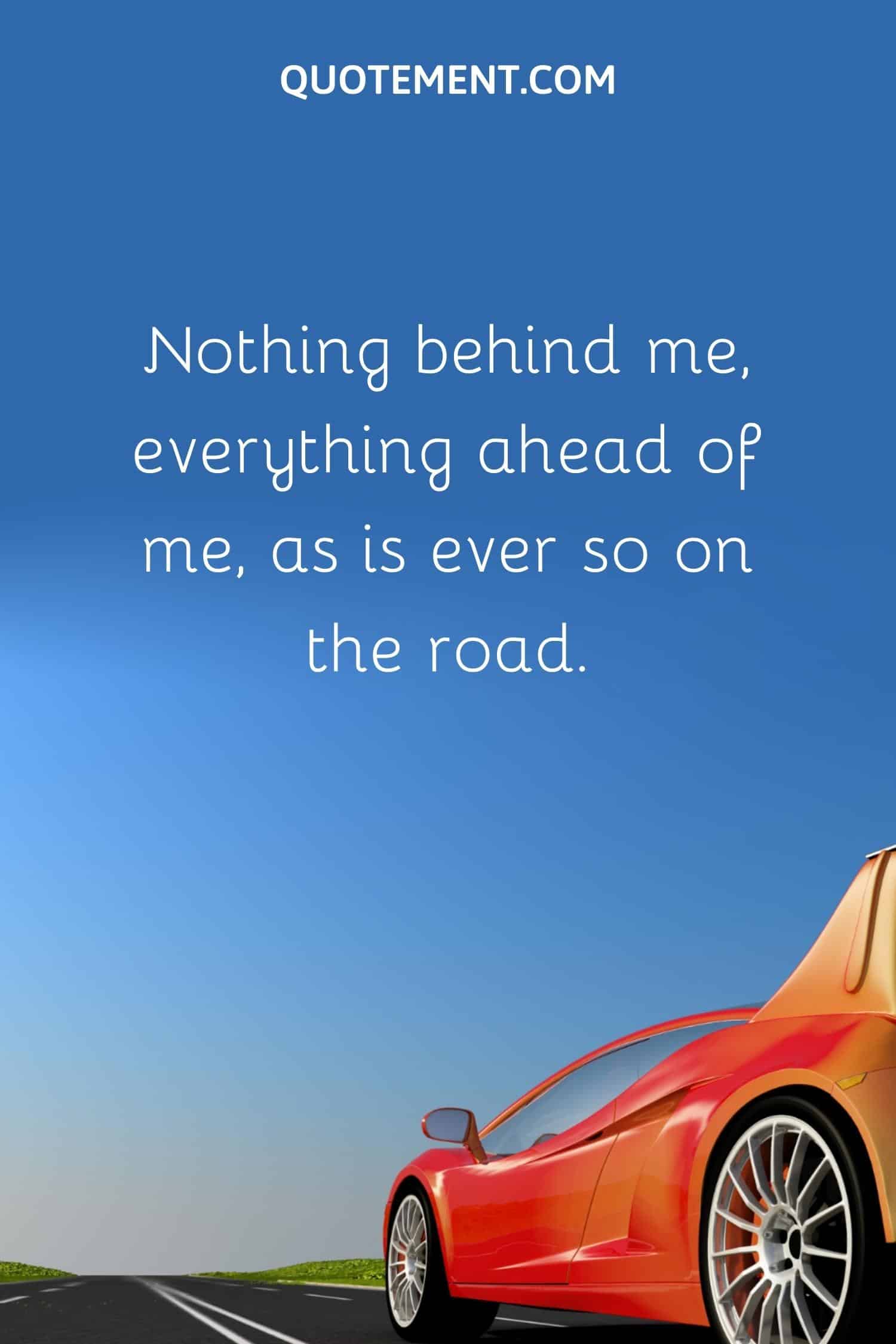 See also: 180 Best Road Trip Captions For All The World Wanderers
Funny Car Captions For Instagram
With these hilarious car captions for Instagram, you'll show off not only what a great vehicle you've got, but also your witty sense of humor!
1. If you don't look back at your car after you park it, you own the wrong car.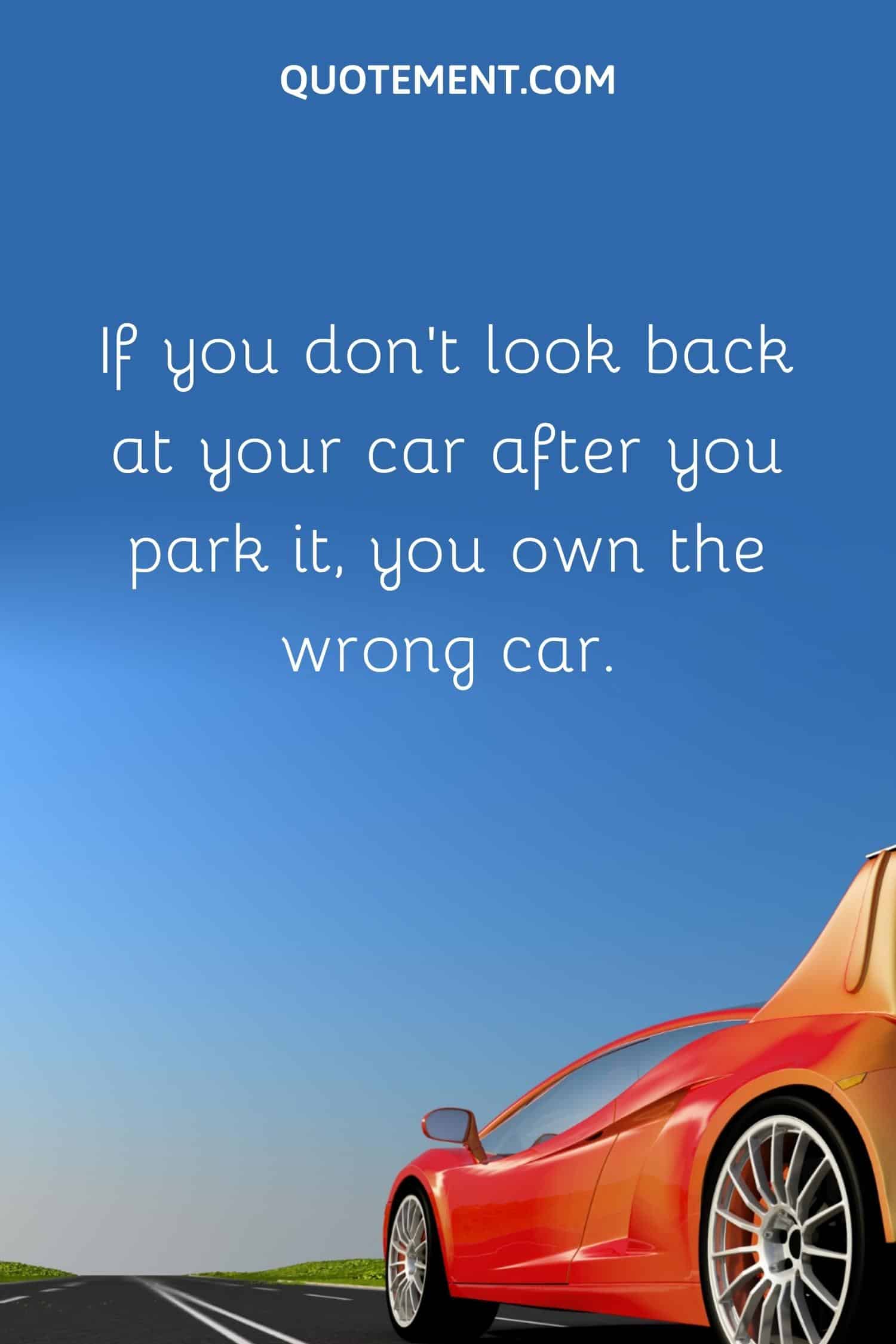 2. I tried to be normal once in my life, the worst two minutes of my life.
3. If you had to choose between unlimited gas and perfect love. What would be the first place you'd drive to?
4. Speed costs, how fast do you want to go?
5. She said you need to choose HER or the CAR. Sometimes I miss her when I drive my car.
6. Smoke tires, not drugs.
7. My family has five members: mom, dad, sister, me, and my car.
8. There will always be a love triangle between me, my car, and the one who loves me.
9. Cornering perfectly is like bringing a woman to climax.
10. When a man opens a car door for his wife, it's either a new car or a new wife.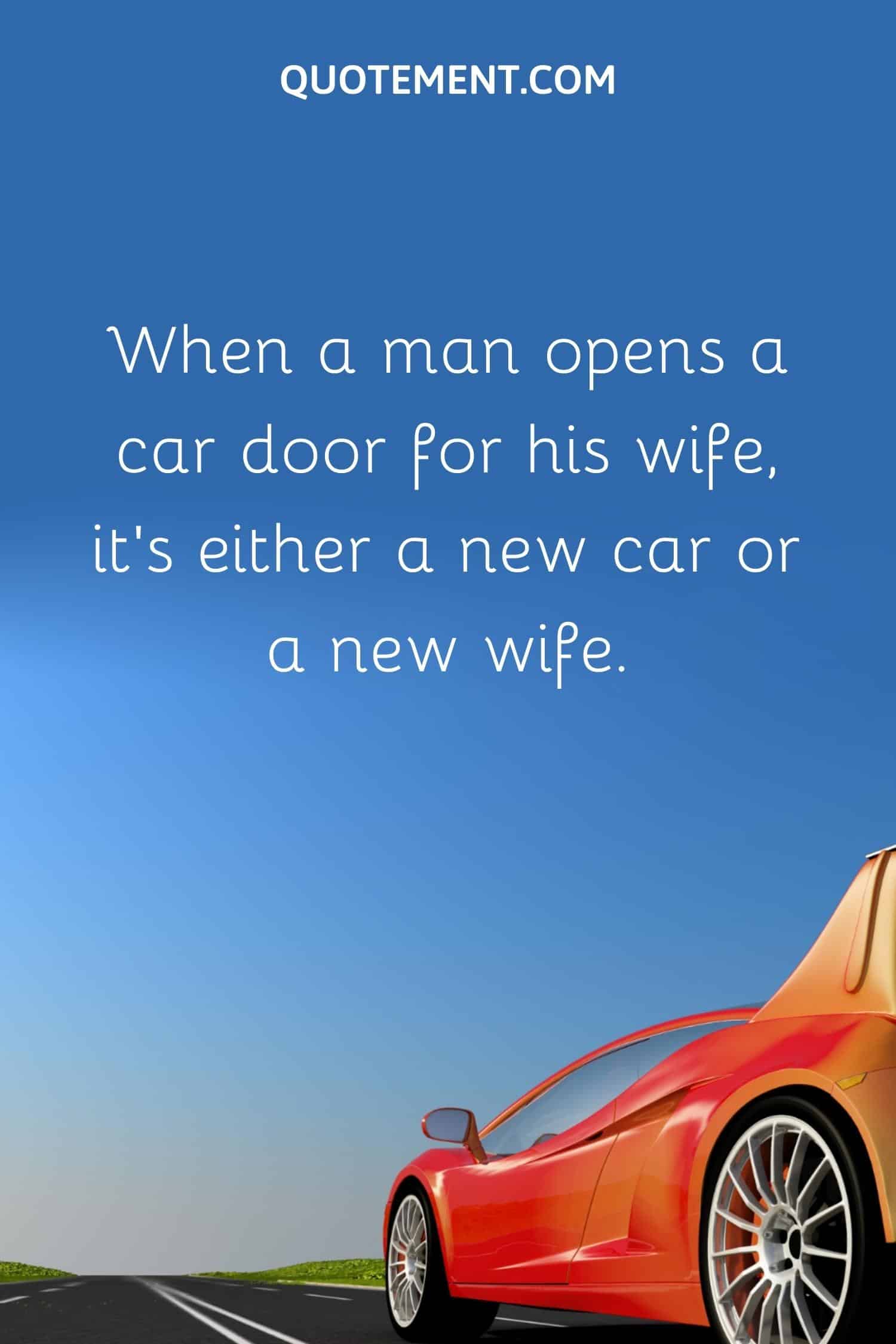 11. I'm following my dreams – please honk if you approve!
12. To attract a girl, I wear a perfume called New car interior.
13. Women are like cars: we all want a Ferrari, sometimes want a pickup truck, and end up with a station wagon.
14. Have you ever noticed that anybody driving slower than you is an idiot, and anyone going faster than you is a maniac?
15. Cars make me happy. You not so much.
16. "A car is like a mother-in-law – if you let it, it will rule your life." — Jaime Lerner
17. Raise your kids with car addiction, then they won't have money for a drug addiction.
18. Driving to the coffee shop because they love me!
19. Never have more children than you have car windows.
20. Honk if you love Jesus; Text while driving if you want to meet him.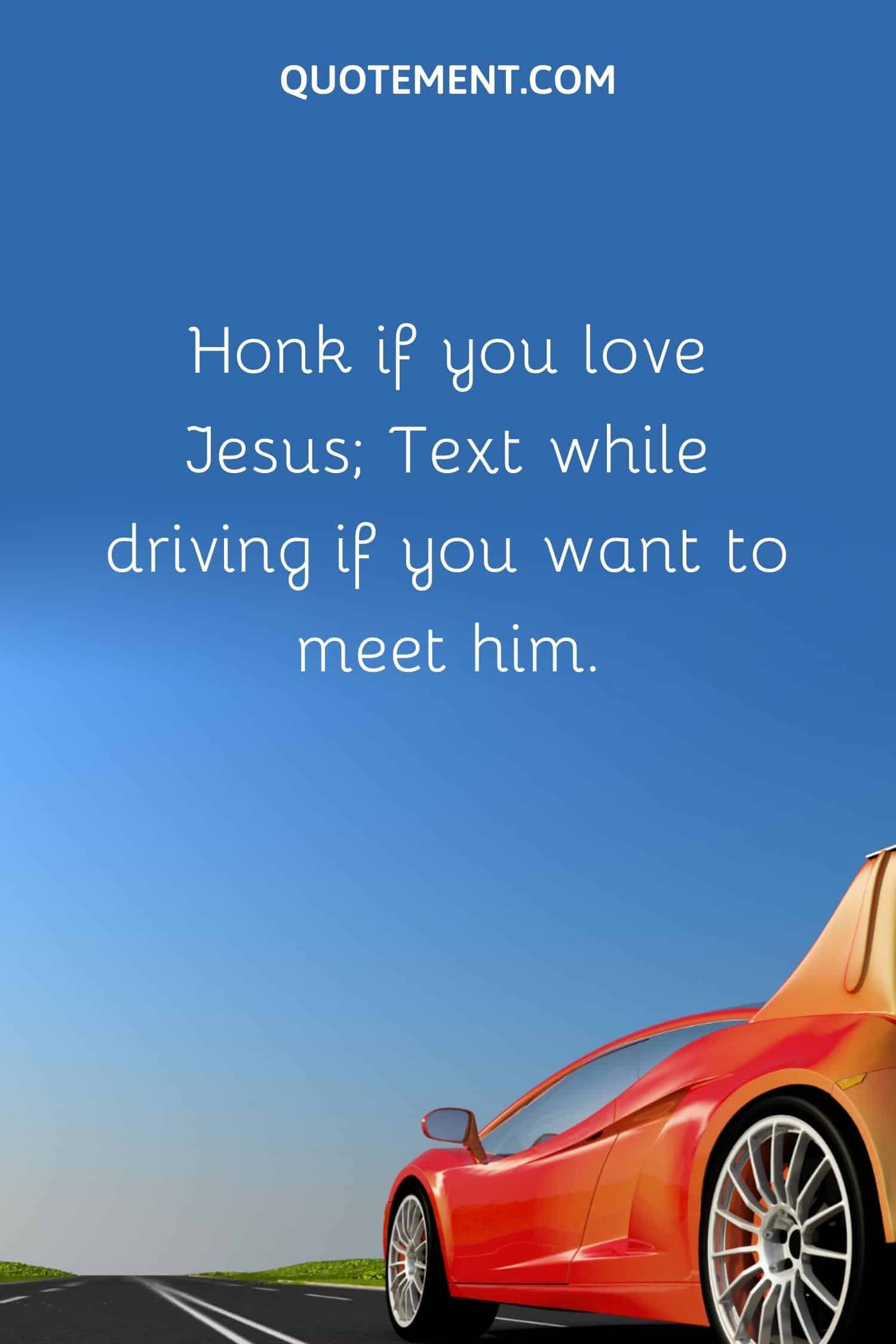 21. Going fast is for the very brave, or the very dumb! I'm the brave one!
22. I hope my car doesn't hold my driving skills against me!
23. I don't always drive….oh, wait, I do!
24. My girlfriend said it was her or the car. I'll miss her!
25. No girl will choose a six-pack over six cars, so stop going to the gym and go to work.
See also: 160 Funny Gym Captions For Instagram To Make You Laugh
Dream Car Captions For Instagram
These car captions for Instagram perfectly describe the feeling of finally owning your dream car. Take a look!
1. We dream of colors borrowed from the sea.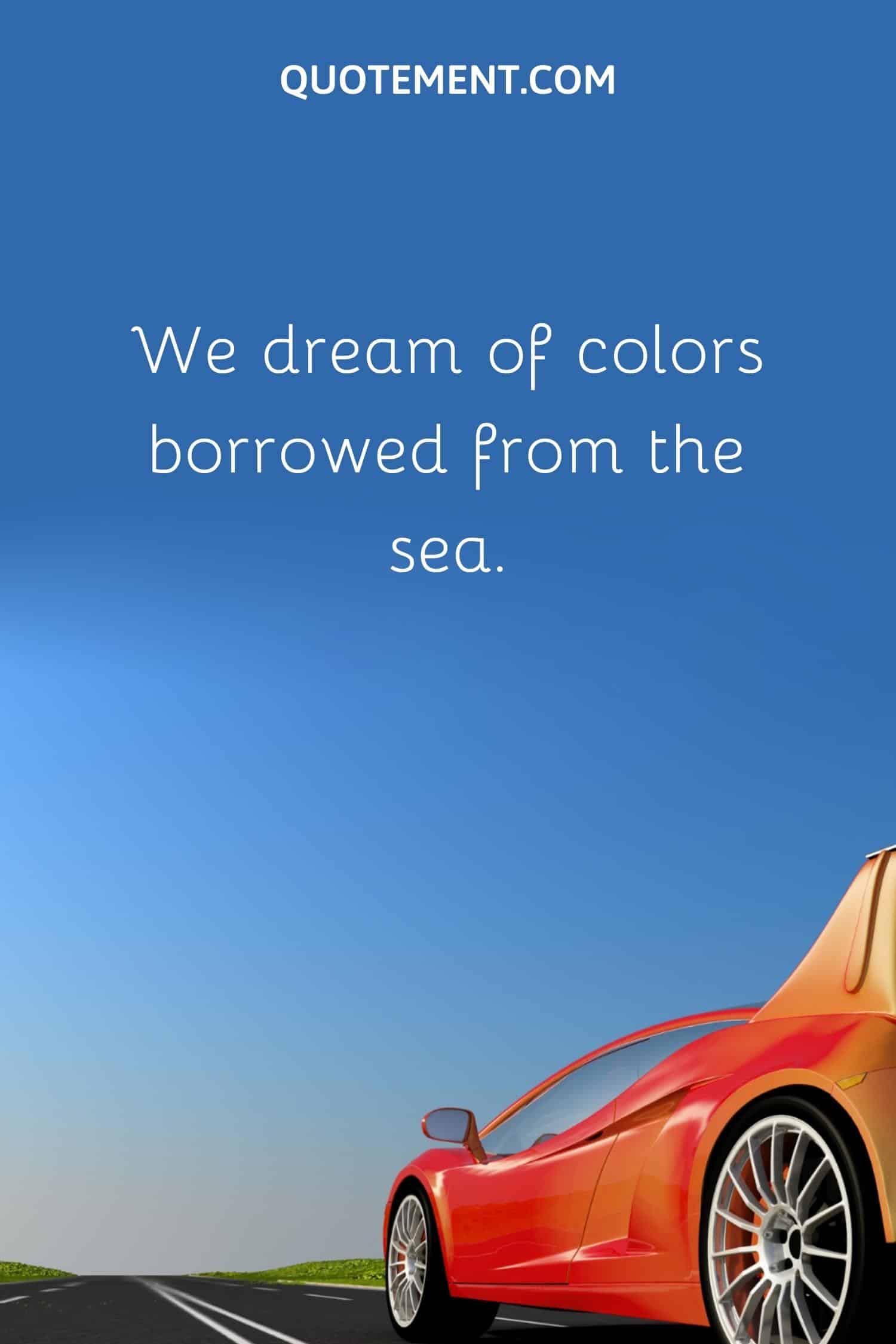 2. The law of attraction is a real thing, I can't tell how long I've been imagining myself driving this beautiful car, and finally, dreams come true.
3. You wish you were me on this dreamy ride!
4. People will chase you tomorrow if you chase your dreams today.
5. Cars are what get me out of bed in the morning.
6. I've been dreaming about this moment forever!
7. Never follow your dream, Control your dreams.
8. Buying your dream car surely adds enjoyment and fulfillment to your life.
9. Don't dream it, drive it.
10. I'll never tire of the sound of an engine revving – it's music to my ears.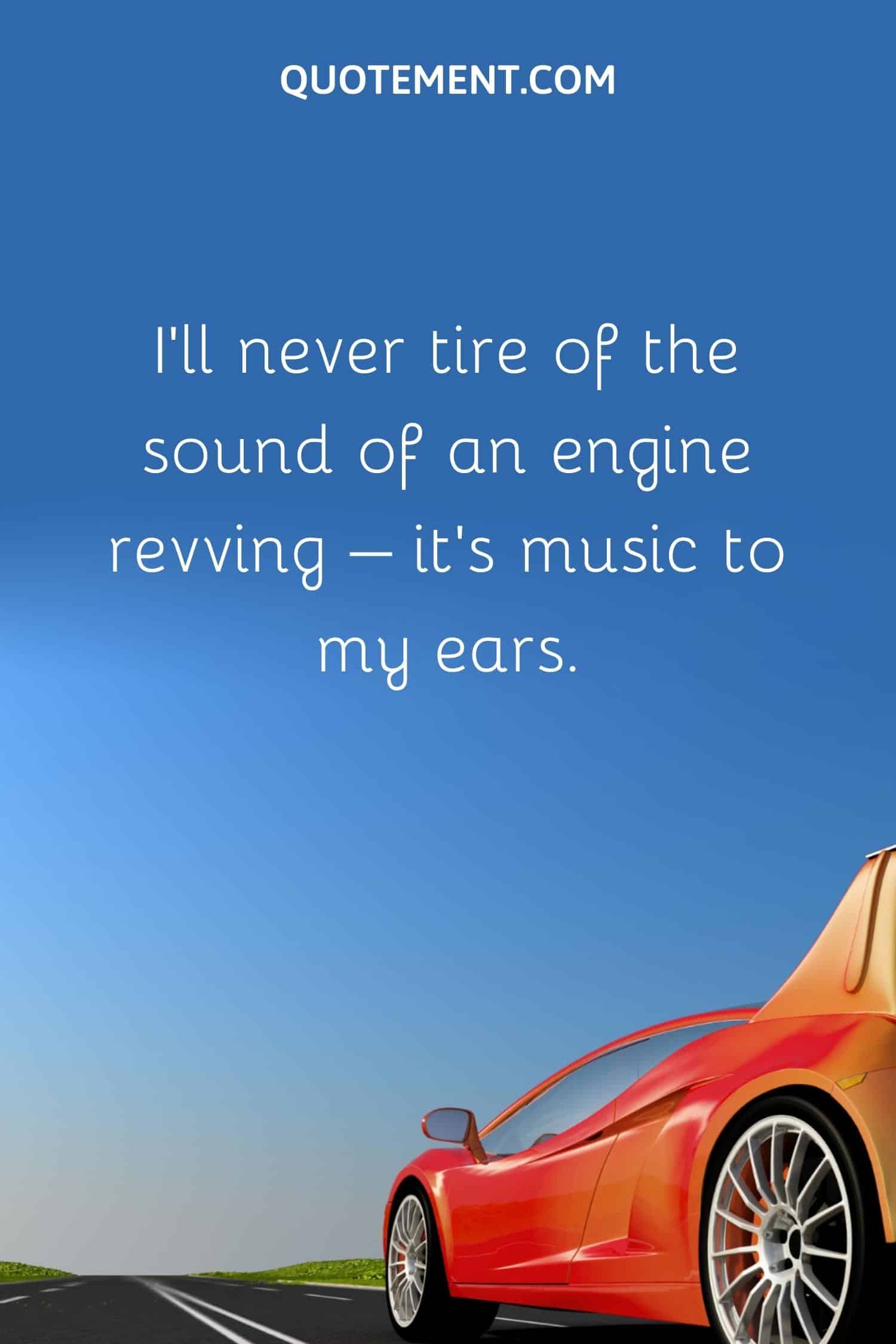 11. "The car has become an article of dress without which we feel uncertain, unclad, and incomplete in the urban compound." — Marshall McLuhan
12. Keep calm and drive on.
13. I can't believe I got this car. So sick. Does anyone want to hang out?
14. Forget proving them wrong, do it for you.
15. I'm living my dream – one lap at a time.
16. My first childhood dream finally came true, I have my own brand new car.
17. A dream without ambition is like a car without gas… you're not going anywhere.
18. This is the car of my dreams. I'm in love. But I'm going to need to sell my soul to afford it.
19. Whoever said you couldn't buy happiness never owned a car. Happiness is driving a new car.
20. Sometimes it's the little things that matter most, like the sound of your first drive in a new car.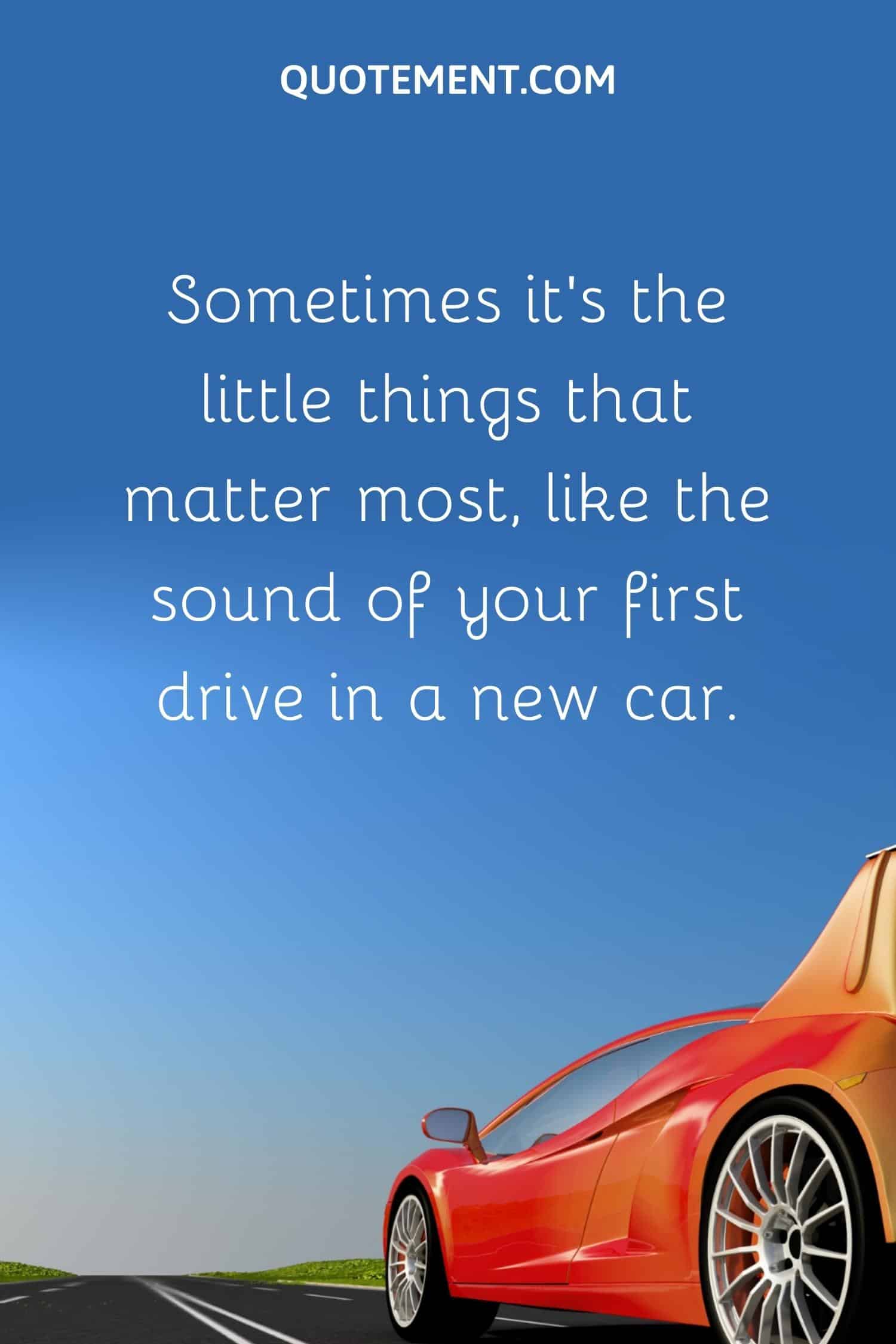 21. Purchasing your fantasy car, without a doubt, adds happiness and satisfaction to your life.
22. If you own your dream car, then you don't need a Dreamgirl.
23. Big dreams have small beginnings.
24. This beautiful car and, finally, dreams come true.
25. "Driving a race car is like dancing with a chainsaw." – Cale Yarborough
See also: 85 Brilliant Racing Quotes To Take Off At Full Throttle
Savage Car Captions For Instagram
I'll finish off with these savage car captions for Instagram to show your wild, bold and savage side.
1. There is only one thing bigger than the car, the pride of owning one!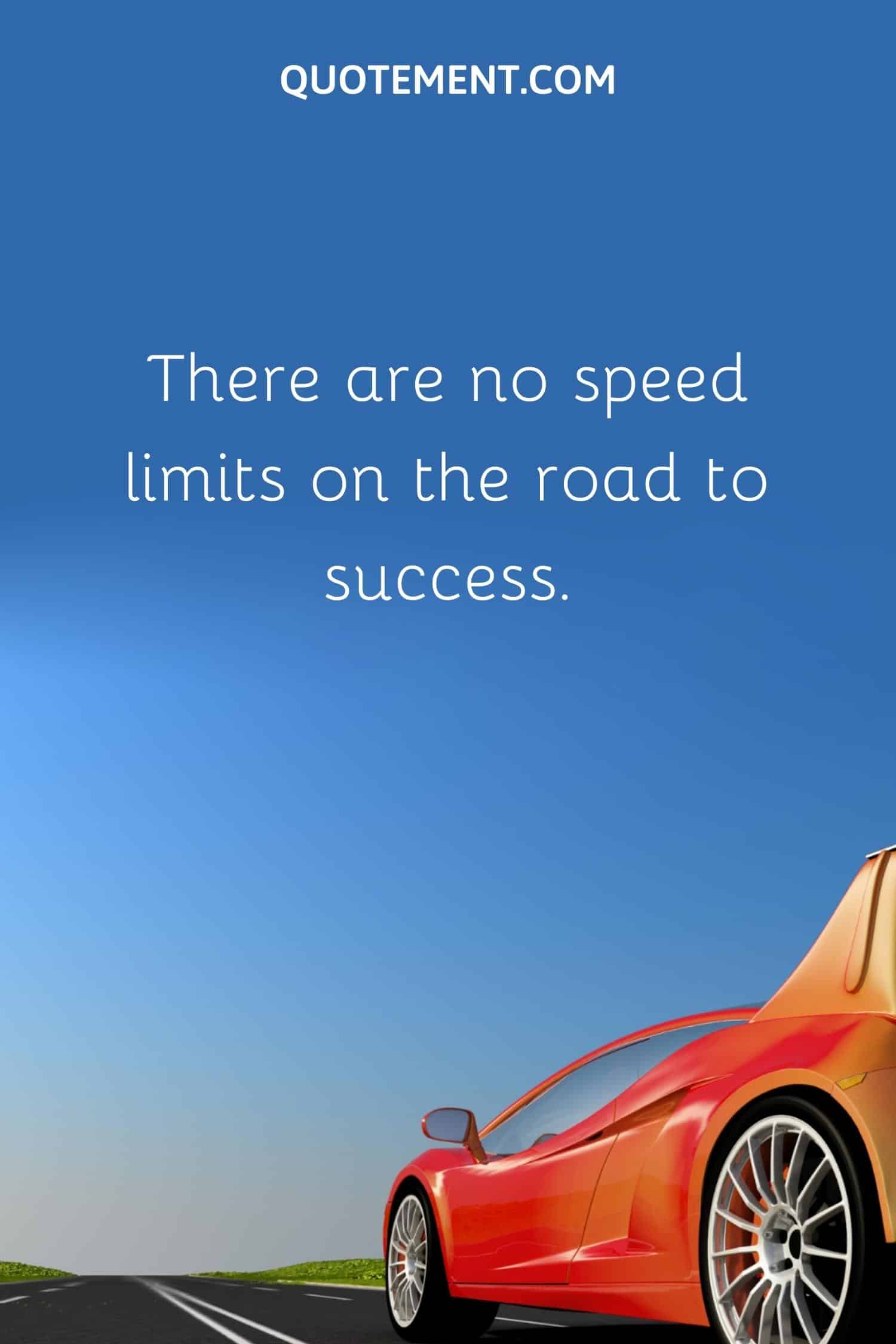 2. I'm not a car guy, but I know what I like.
3. I love being able to just get in my car and go.
4. I stop driving when tires go dull.
5. Start your engine and speed on over
6. Her car was a mirror of her determination.
7. Cars are my reason for living.
8. All I want is my friend and my car.
9. Unleashing the beast
10. There are no speed limits on the road to success.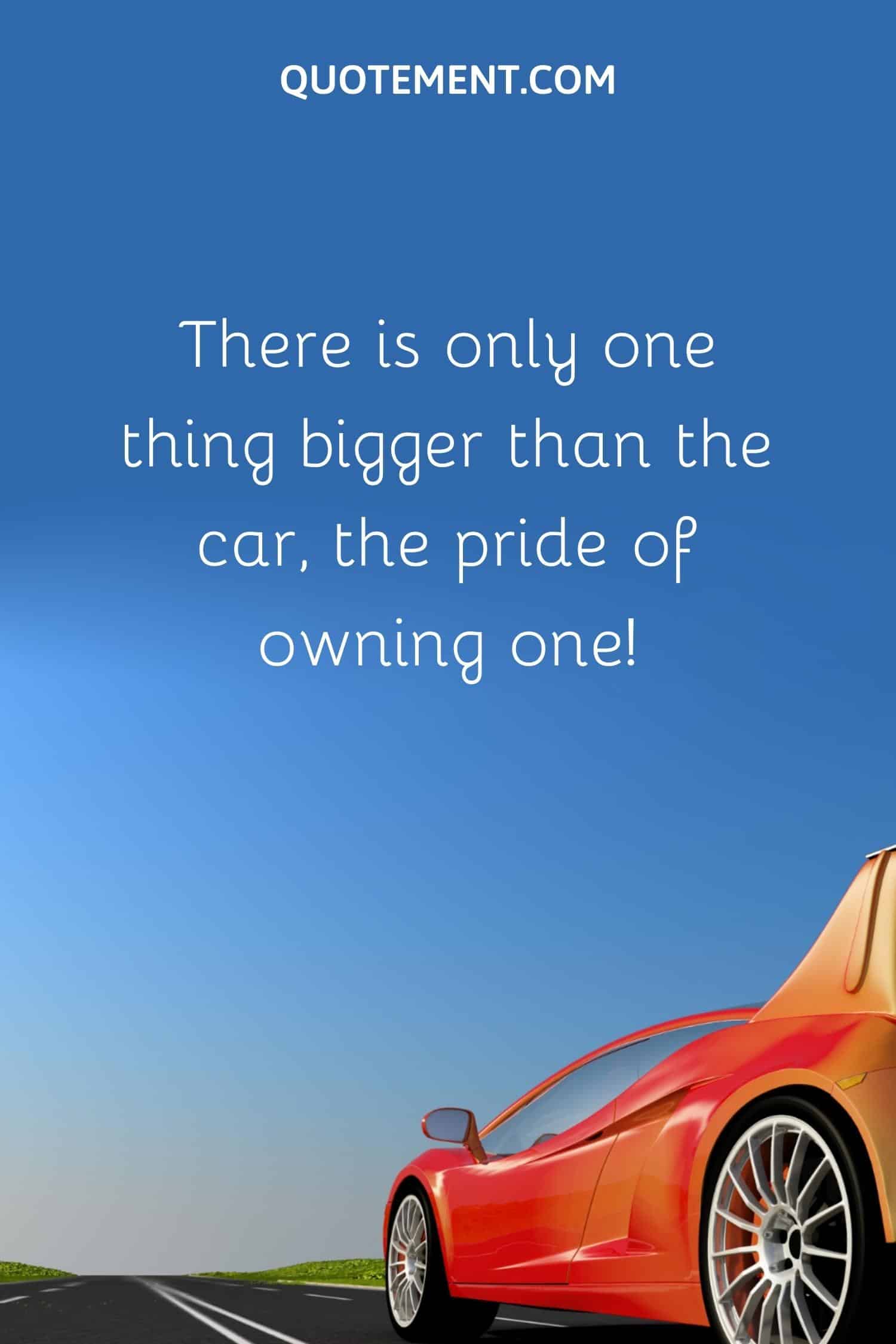 11. You see me rollin' they hatin'
12. Always focus on the front windshield and not the rearview mirror.
13. Usually, I don't give a name to things, but after buying you, I can call you my Attitude.
14. It is more fun to drive a slow car fast than to drive a fast car slow.
15. Shifting to success mode.
16. I'd rather be in my car than any person.
17. Treat your car well, and it will never give a single problem after.
18. A muscle is like a car. If you want it to run well, early in the morning, you have to warm it up.
19. If you can't take care of your car, then don't buy it.
20. They say that money can't buy happiness, but I would rather cry in a Ferrari than on a Honda.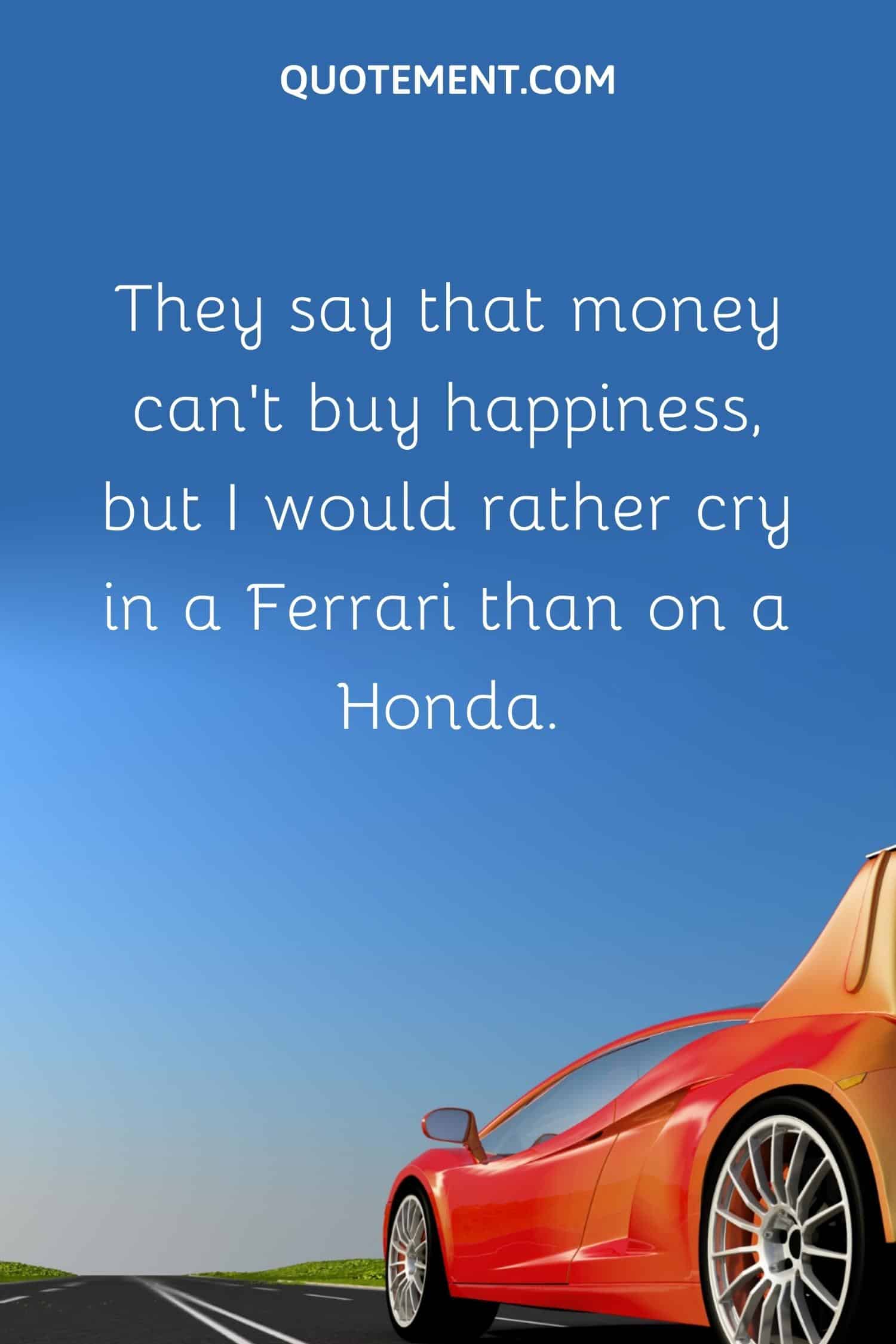 21. "I Don't care if the door gaps are straight – when the driver steps on the gas I want him to shit his pants." — Enzo Ferrari
22. Life is a highway – and I'm going to drive it all night long.
23. Some men take good care of a car. Others treat it like one of the family.
24. I don't sell cars; I sell engines. The cars I throw in for free since something has to hold the engines in.
25. Well, I don't know about you, but I can't wait to roll up to the club in this bad boy
26. If everything seems under control, you're not going fast enough.
27. Straight roads are for fast cars, and turns are for fast drivers.
28. A driver reaches a destination by driving on that road, not by laying back to enjoy the view.
29. Good cars get you from point A to point B; great cars well they just get you into trouble.
30. It's not about the car you drive, it's about the passion for cars and the people you meet along the way.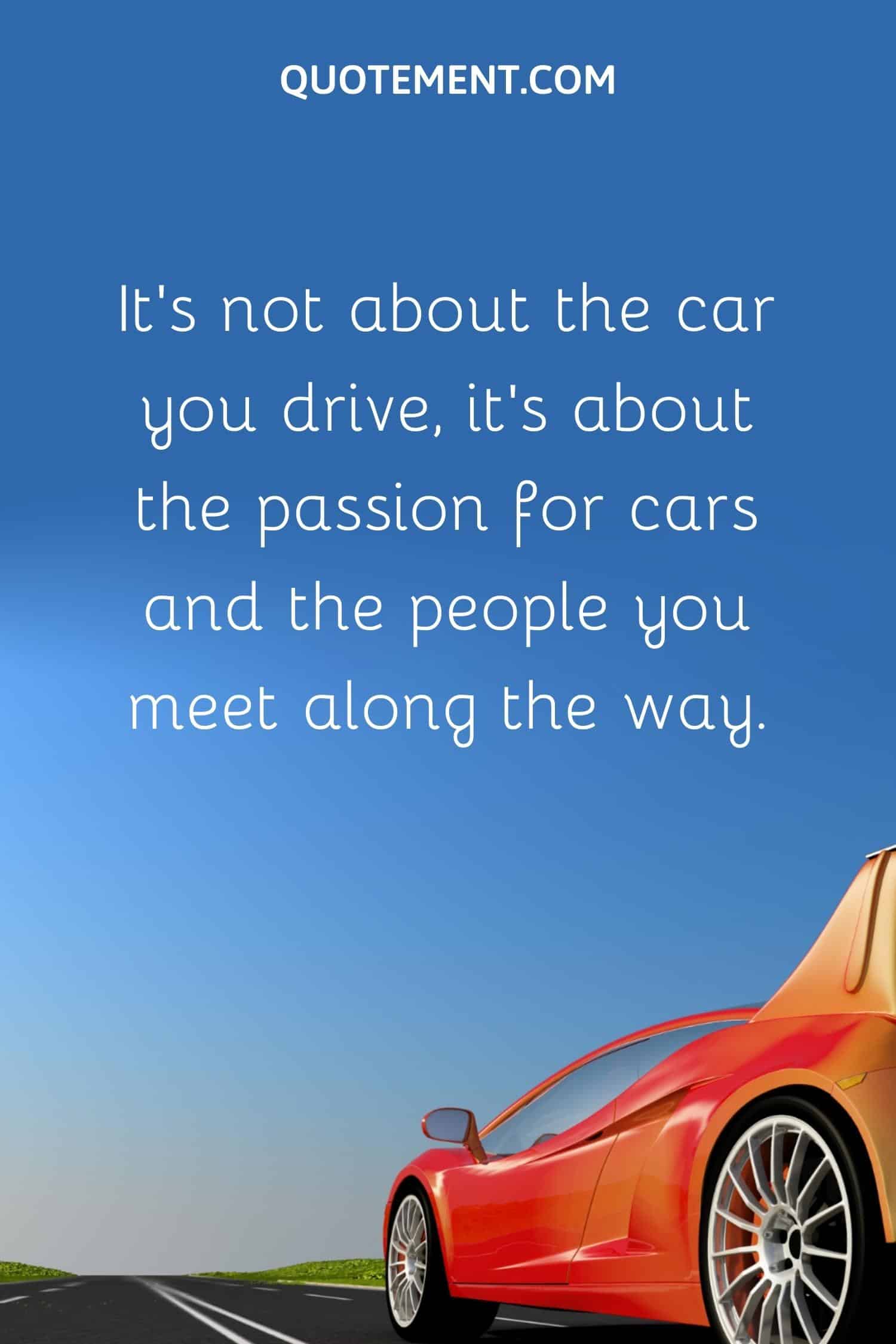 31. Real men don't take selfies.
32. There's nothing I love more than going for a drive.
33. I never feel freer than when I'm driving.
34. When you can find the drive in your fears, You will be unstoppable.
35. Don't say you like Halloween, then cry when I ghost you, get in the spirit.
See also: 200 Most Toxic Instagram Captions To Show Your Dark Side
The End
That was all for today's article on car captions for Instagram. With 390 caption ideas presented here, I'm sure you won't have trouble finding one you like.
Until next time!
Read next: 90 Quotes About Cars For The Coolest Car Lovers