Welcome to the most exciting collection of racing quotes in the world, inspired by pure legends and champions!
If you're a dedicated fan of racing, speed, fast cars, Formula 1, and NASCAR, you've come to the right place!
So, if you've been searching for the most inspirational quotes, look no more because I've gathered nothing but the very best quotes from different online sources!
Let's check them out.
10 Best Racing Quotes
Here are my 10 best quotes:
1. "In racing, I wanted to be a winner, and to be a winner you have to be willing to roll the dice." – Bobby Rahal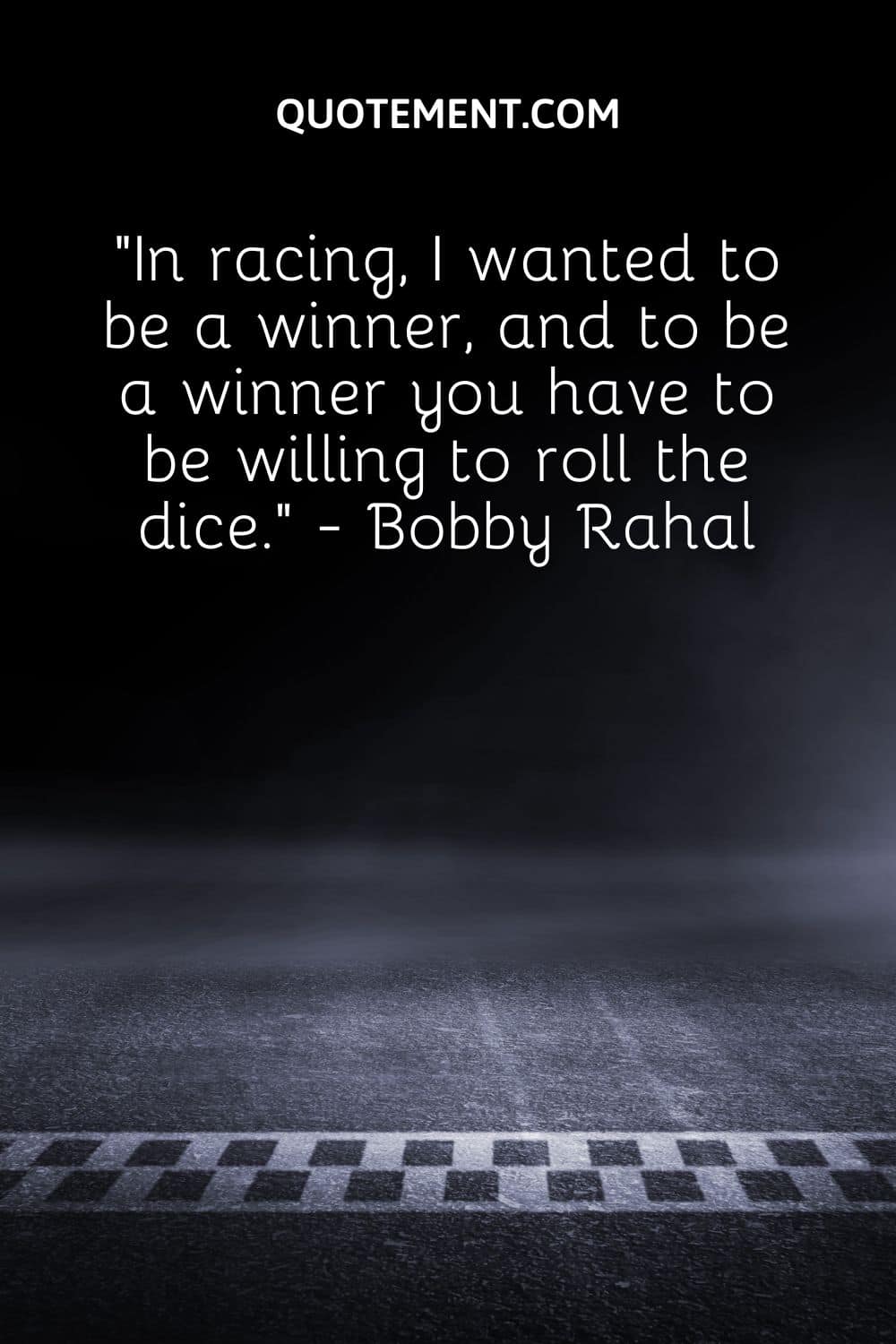 2. "I am an artist, the track is my canvas, and the car is my brush." – Graham Hill
3. "I've tried everything other than jumping out of a plane, but nothing gives you an adrenaline rush like racing a car." – Nigel Mansell
4. "I am not designed to come second or third. I am designed to win." – Ayrton Senna
5. "Faster, Faster, until the thrill of speed overcomes the fear of death." – Hunter S. Thompson
6. "A race isn't won until it's over." – Niki Lauda
7. "It is a dirt track thing. You wouldn't understand." – Unknown
8. "A racing car is an animal with a thousand adjustments." – Mario Andretti
9. "When you're racing, it's life. Anything that happens before or after is just waiting." – Steve McQueen
10. "Nobody is born with a steering wheel or a gear shift in his hand. It's something you choose to do or you don't." – Mario Andretti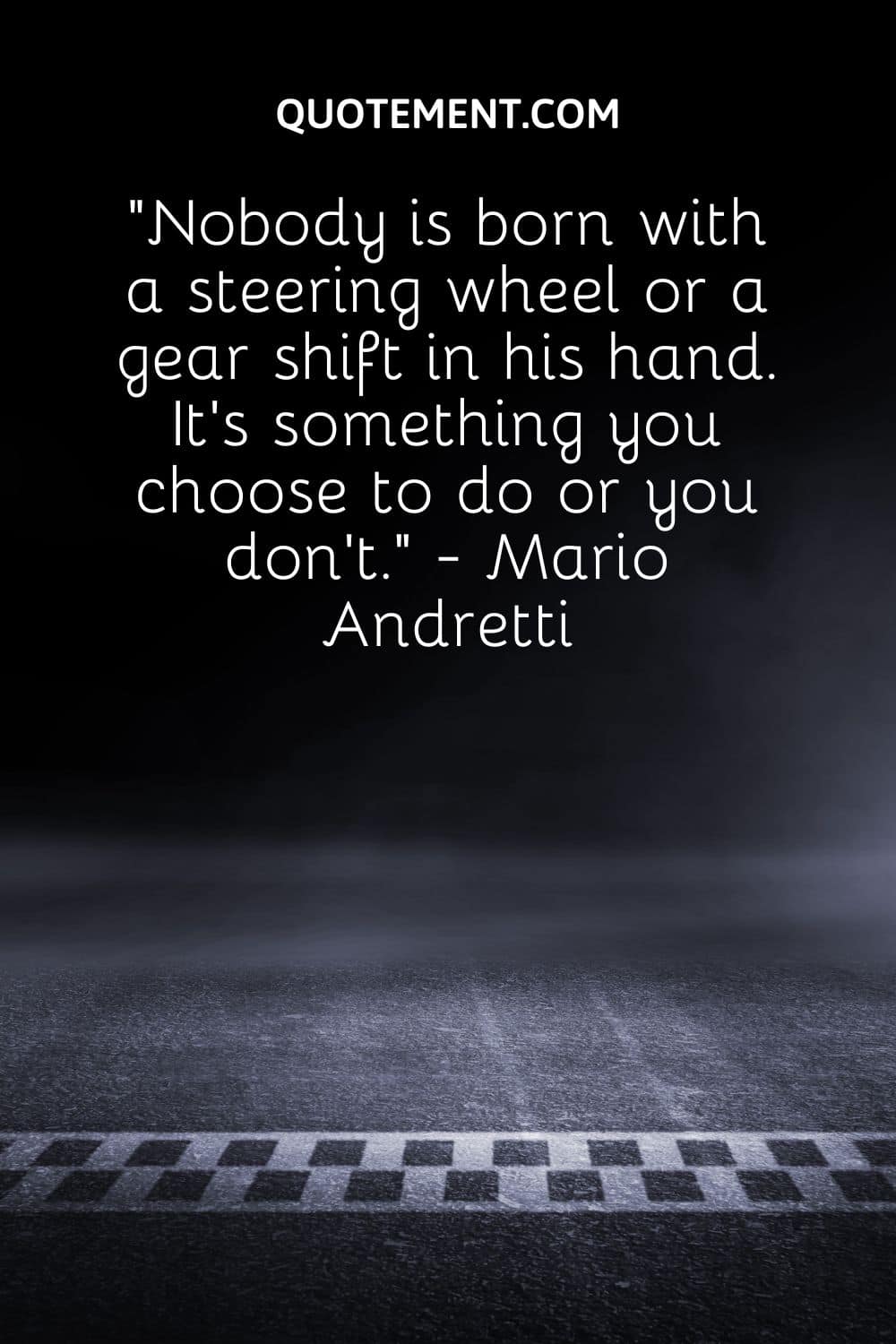 Inspiring Racing Quotes
If you're looking for inspiring racing quotes, be sure to check out these brilliant quotes:
1. "Speed has never killed anyone. Suddenly becoming stationary, that's what gets you." – Jeremy Clarkson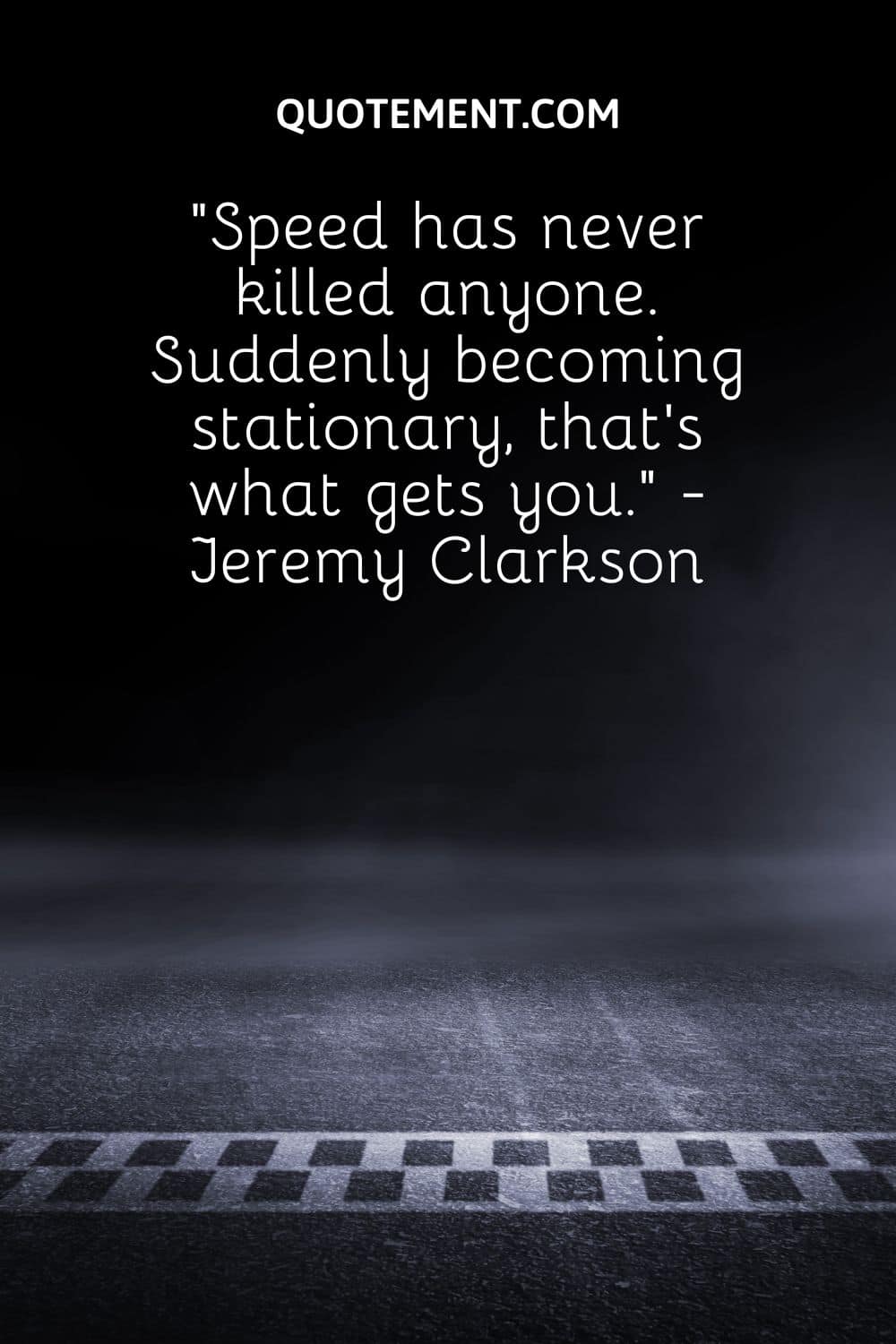 2. "Once you've raced, you never forget it… and you never get over it." – Richard Childress
3. "My whole feeling in terms of racing is that you have to be very bold. You sometimes have to be aggressive and gamble." – Bill Rodgers
4. "The miracle isn't that I finished. The miracle is that I had the courage to start." – John Bingham
5. "Nobody remembers who finished second but the guy who finished second." – Bobby Unser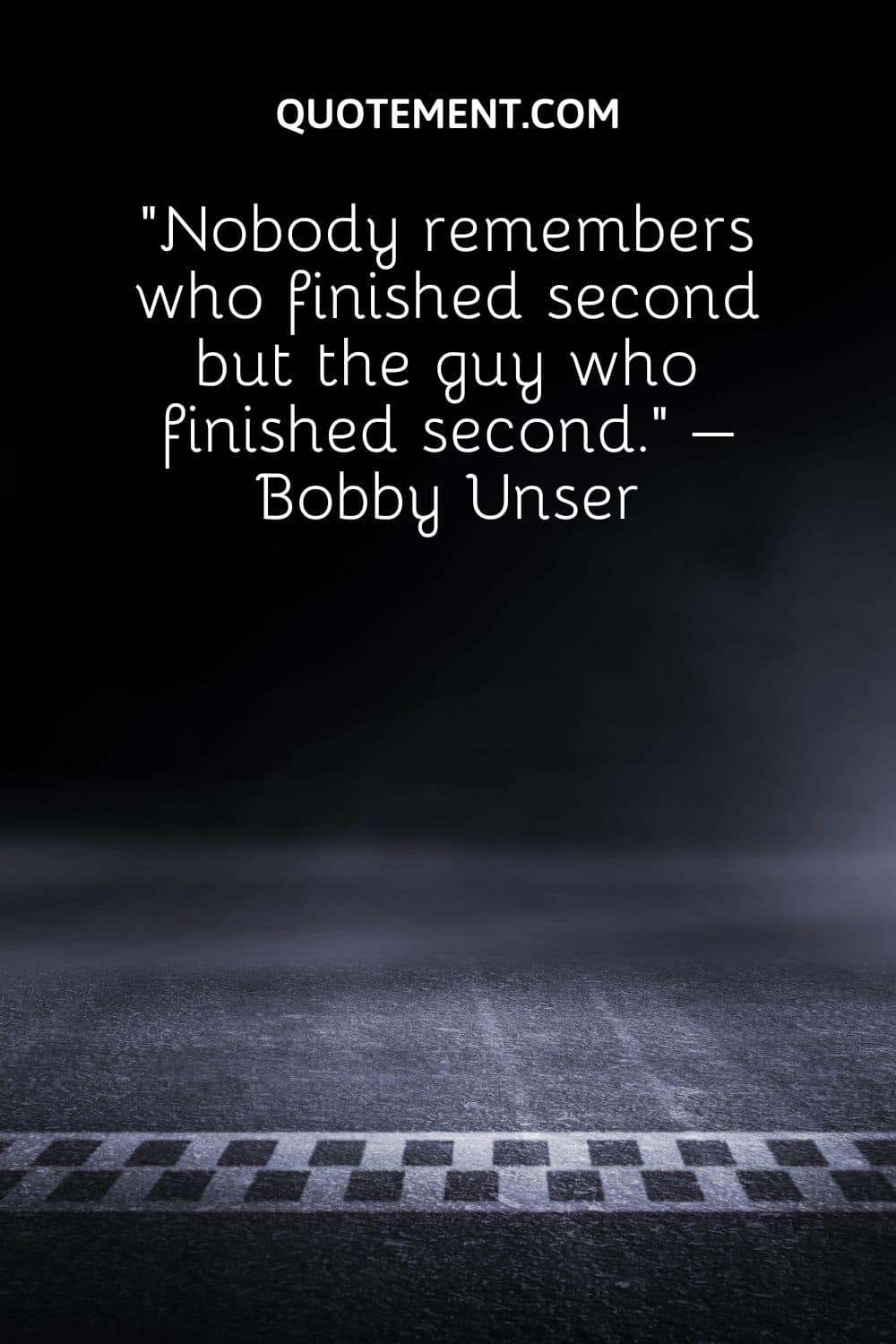 6. "If you're in control, you're not going fast enough." – Parnelli Jones
7. "There is no dishonor in losing the race. There is only dishonor in not racing because you are afraid to lose." – Garth Stein
8. "Be confident in the work you did to prepare for the race. Take a look back at your training logs to remind yourself that you've done everything possible to prepare. The race is the fun part where you get to see the hard work pay off. Enjoy it." – Desiree Linden
9. "You must always be faster and better than the others." – Niki Lauda
10. "Being second is to be the first of the ones who lose." – Ayrton Senna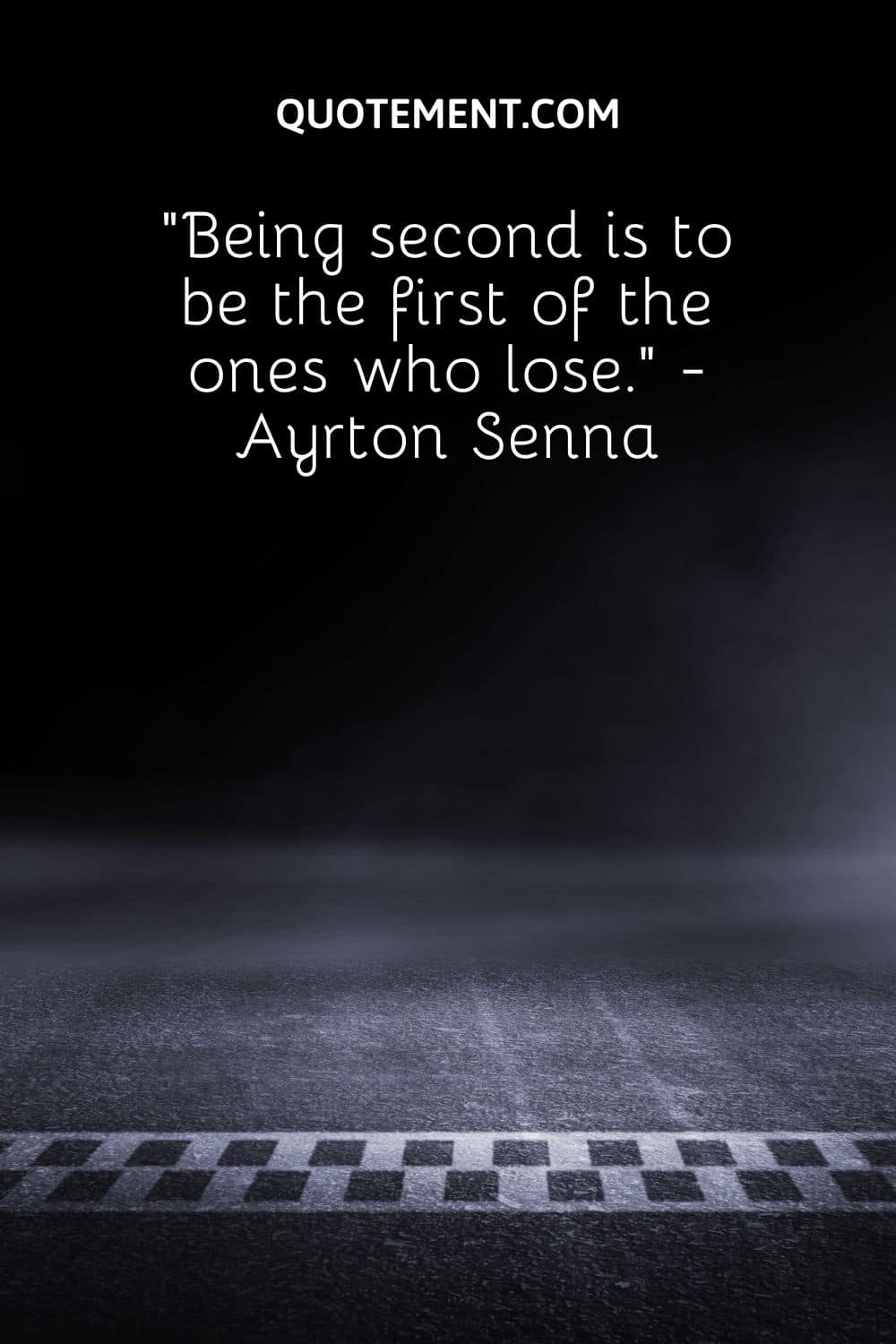 11. "When I look fast, I'm not smooth and I am going slowly. And when I look slow, I am smooth and going fast." – Alain Prost
12. "To finish first, you must first finish." – Juan Manuel Fangio
13. "The winner ain't the one with the fastest car. It's the one who refuses to lose." – Dale Earnhardt, Jr.
14. "You win some, lose some, and wreck some." – Dale Earnhardt
15. "Winning is everything. The only ones who remember you when you come second are your wife and your dog." – Damon Hill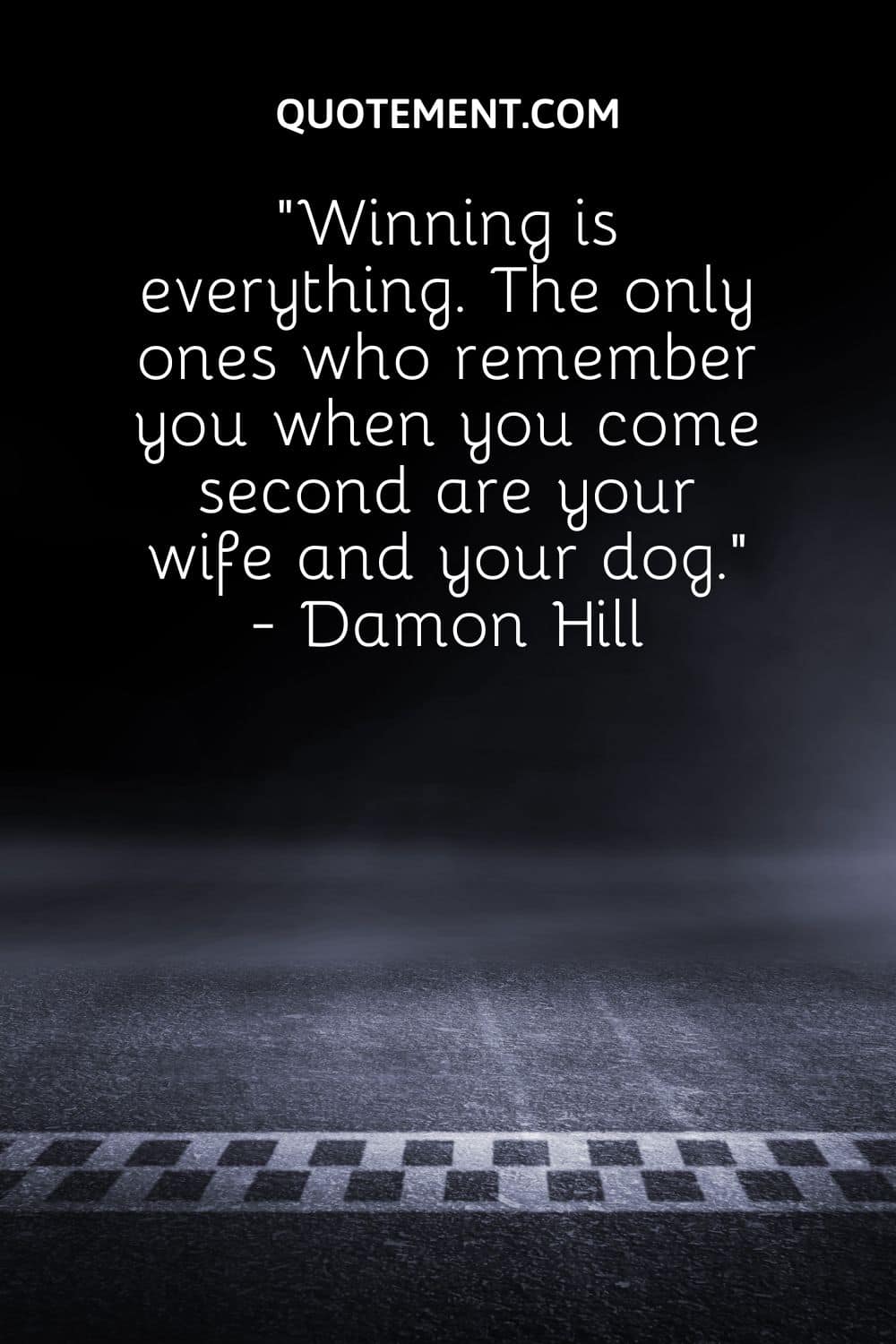 16. "Pure driving, pure racing, that's what makes me happy." – Ayrton Senna
17. "When you win a race, you're on top that day, so take it for what it's worth, have a good time and party, because the next day when you get out of bed, the meter goes back to zero again." – Bobby Allison
18. "Stardom equals financial success and financial success equals security. I've spent too much of my life feeling insecure. I still have nightmares about being poor, of everything I own just vanishing away. Stardom means that can't happen." – Steve McQueen
19. "My proudest moments are beating Ferrari for the World Championship in 1965, and working with Ford to win Le Mans in 1966 and 1967." – Carroll Shelby
20. "Finishing races is important, but racing is more important." – Dale Earnhardt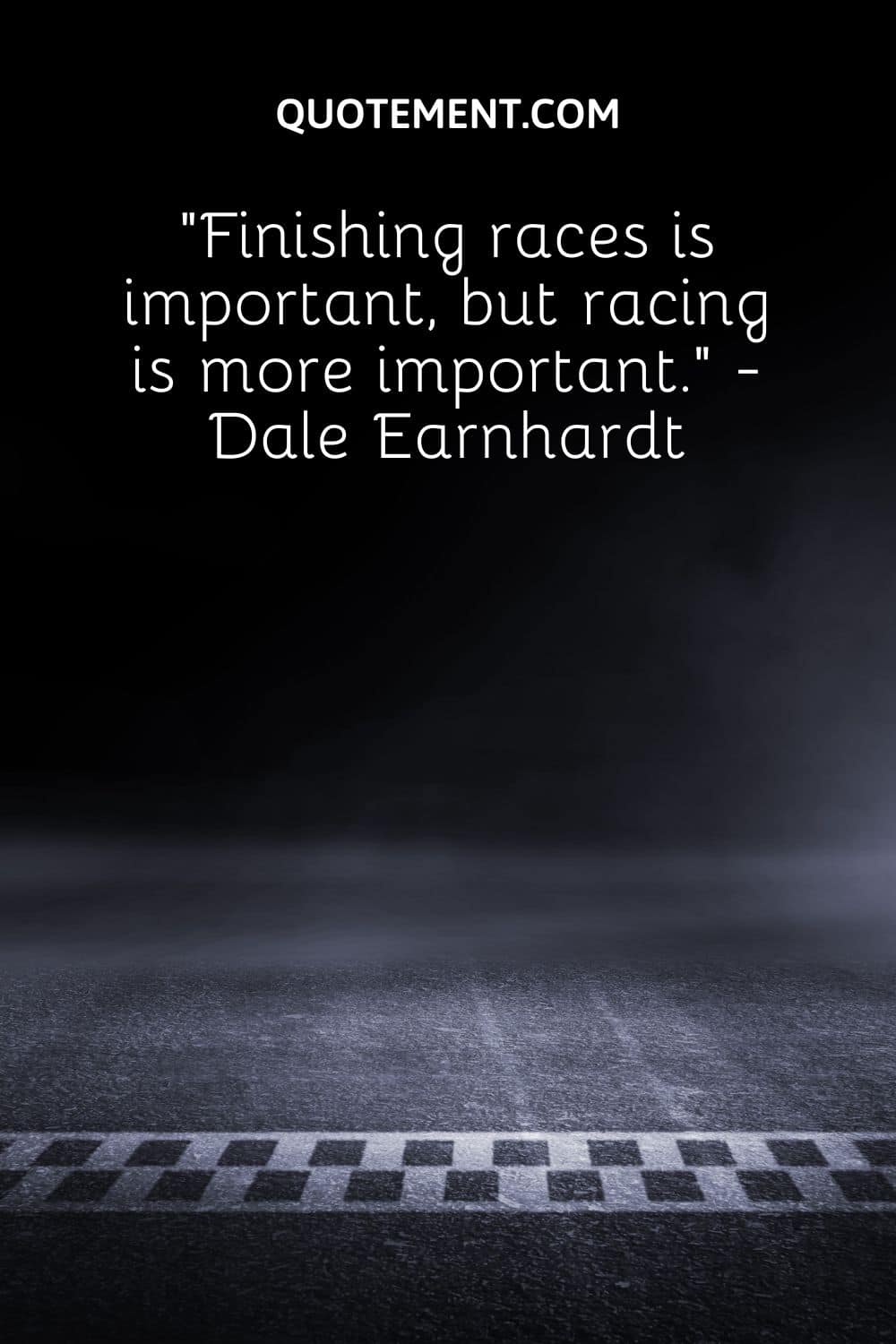 Race Car Quotes
If you're looking for race car and racing quotes, take a look at these amazing quotes:
1. "In racing, the fastest person wins. It is very simple." – Paul Newman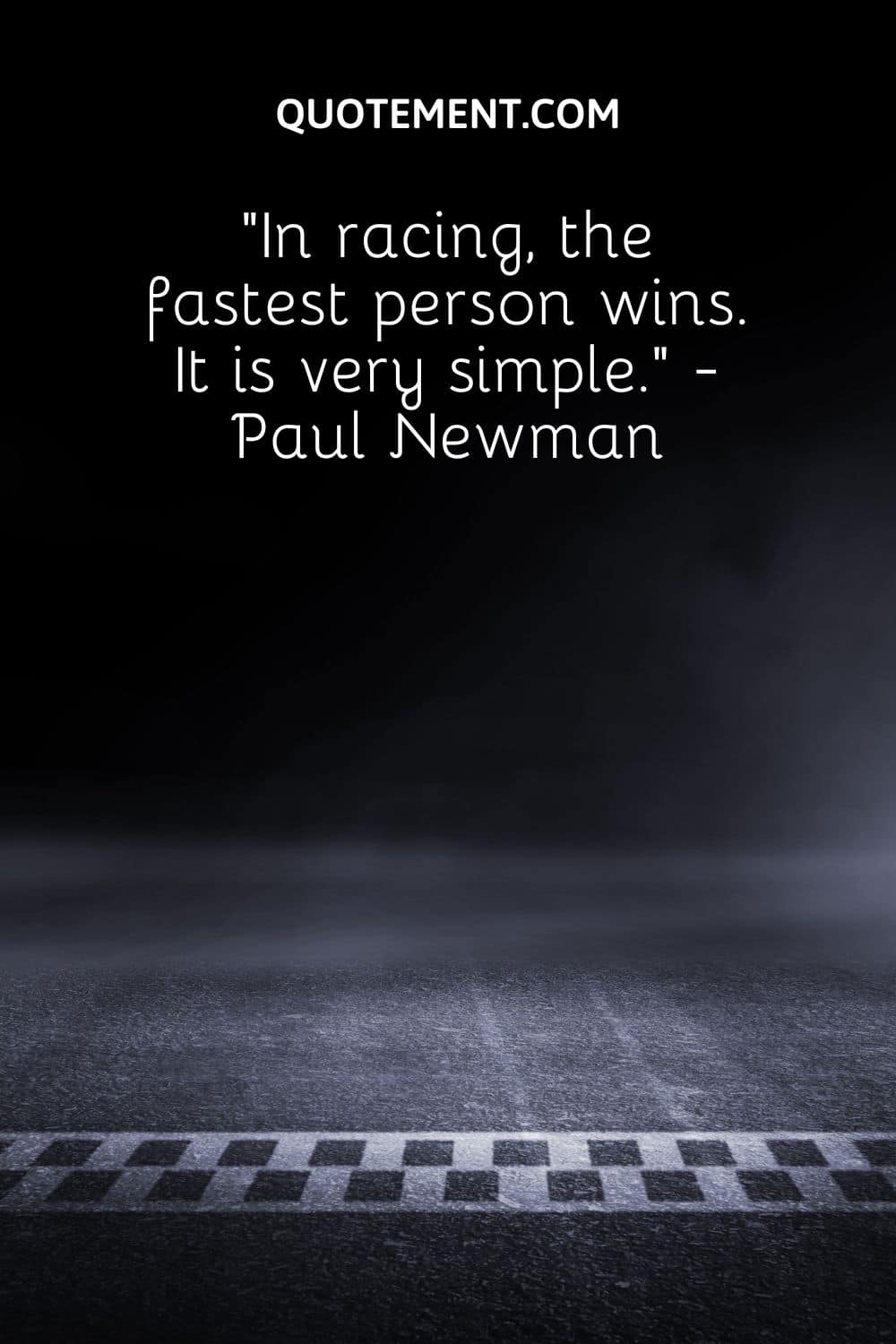 2. "There's a point – 7000 RPM – where everything fades. When your seeing becomes weightless, just disappears. And all that's left is a body moving through space and time. 7000 RPM that's where you meet it." – Caroll Shelby, Ford V Ferrari
3. "Nothing good has ever been written about the full rotation of a racecar about its roll axis." – Carroll Smith
4. "When I raced a car last it was at a time when sex was safe and racing was dangerous. Now, it's the other way round." – Hans Stuck
5. "Auto racing began 5 minutes after the second car was built." – Henry Ford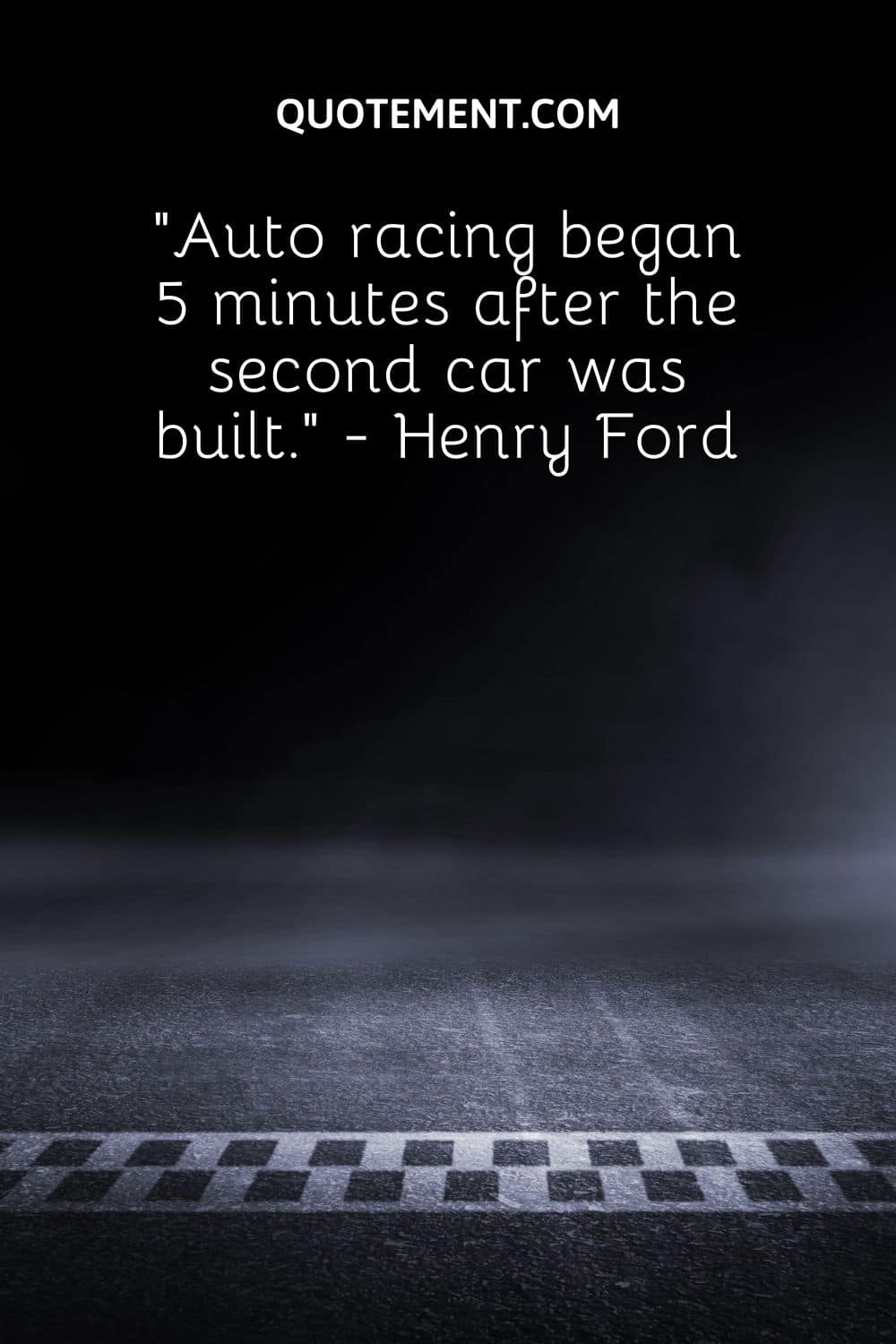 6. "Horsepower sells cars, torque wins races." – Carroll Shelby
7. "A race is a work of art that people can look at and be affected in as many ways they're capable of understanding." – Steve Prefontaine
8. "Auto racing, bull fighting, and mountain climbing are the only real sports… all the others are games." – Ernest Hemingway
9. "Aerodynamics are for people who can't build engines." – Enzo Ferrari
10. "Driving race cars was an avenue for me to learn how to build my own car, and that was my ambition all along." – Carroll Shelby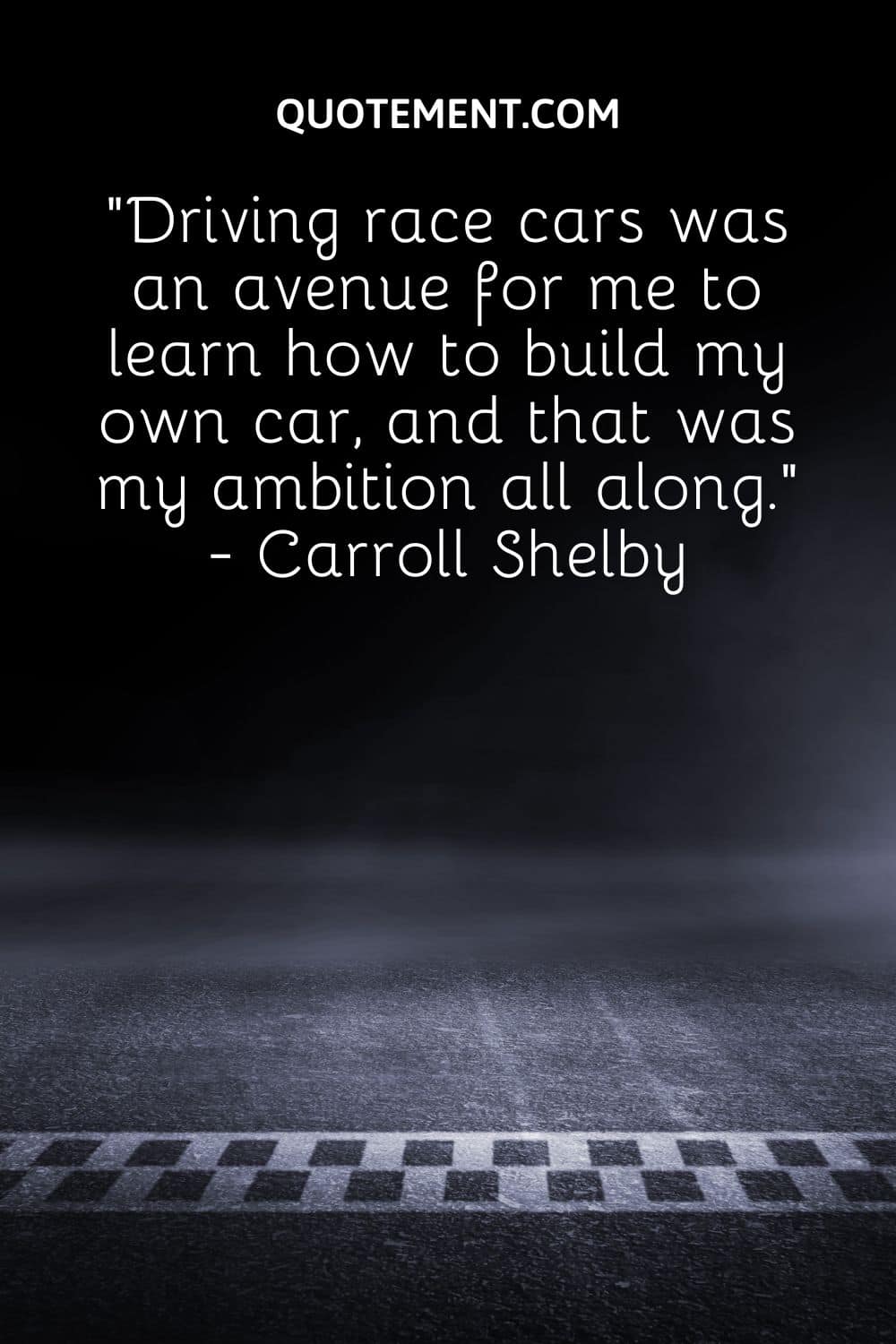 11. "If you can leave two black stripes from the exit of one corner to the braking zone of the next, you have enough horsepower." – Mark Donohue
12. "We broke something, I think it was traction." – Carl Edwards
13. "Oh yes. It's not when you brake but when you take them off that counts. Most people don't understand that." – Jackie Stewart
14. "There is never enough horsepower… just not enough traction." – Carroll Shelby
15. "Straight roads are for fast cars, turns are for fast drivers." – Colin McRae
16. "I feel safe when I'm on the racetrack, I really do. I know that I'm surrounded by the best drivers in the world. That's something you can't say when you're driving down the interstate." – Sterling Marlin
17. "Thank god there's no 48-hour race anywhere in the world, because chances are nobody could beat Porsche in a 48 hour race. They're probably the only cars in the world that would stand up for something like that." – Carroll Shelby
18. "What sets these – and all – racers apart from less daredevilish mortals is their complete lack of fear and their joy of doing something on the edge. They love to speed because it is dangerous." – Peter Golenbock
19. "Racing has reached the point where it is pricing the young driver, no matter his talent, out of the game." – Carroll Shelby
20. "The crashes people remember, but drivers remember the near misses." – Mario Andretti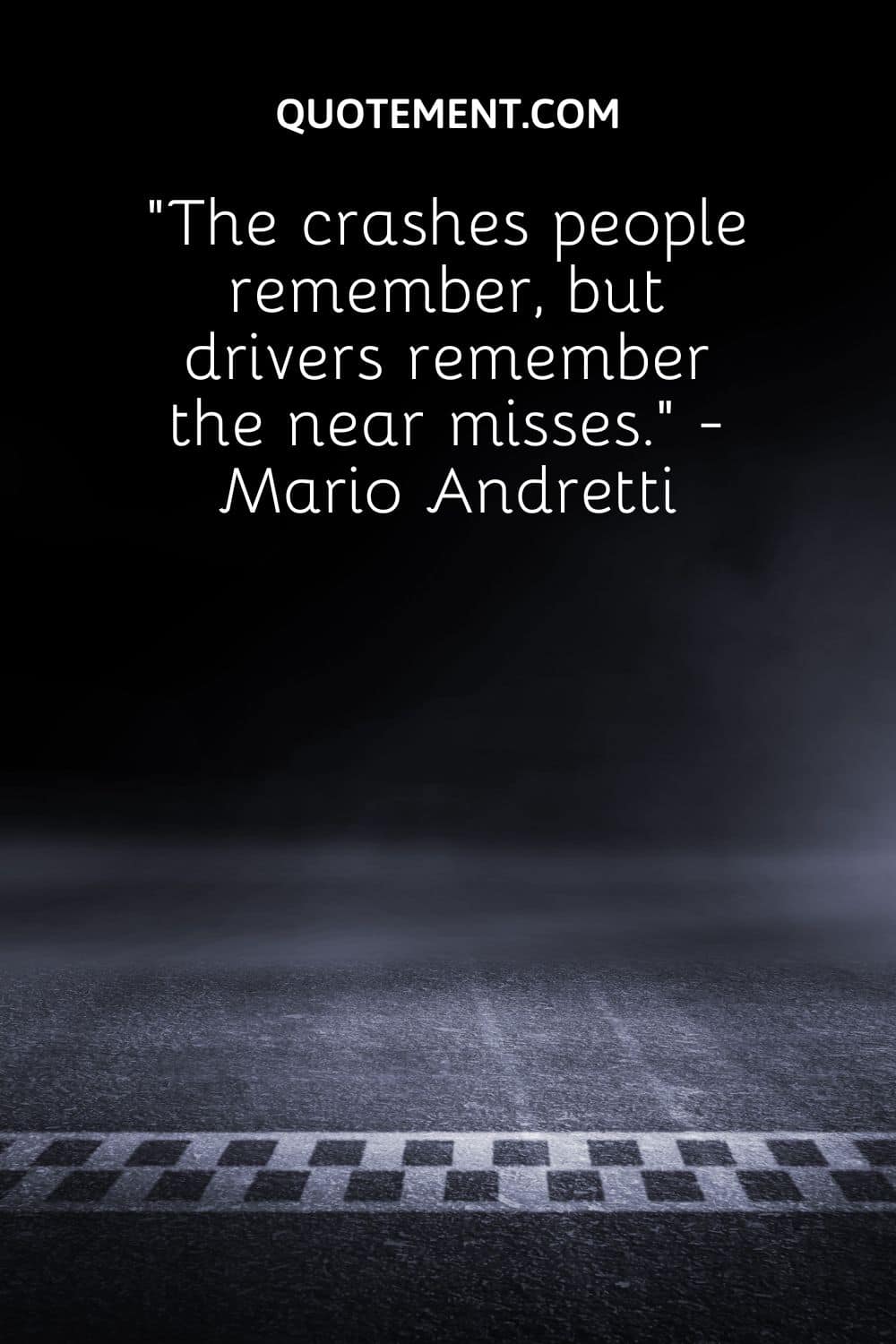 Famous Racing Quotes
Here's a selection of famous racing quotes I'm sure you'll love:
1. "Racing is the fun part; it's the reward of all the hard work." – Kara Goucher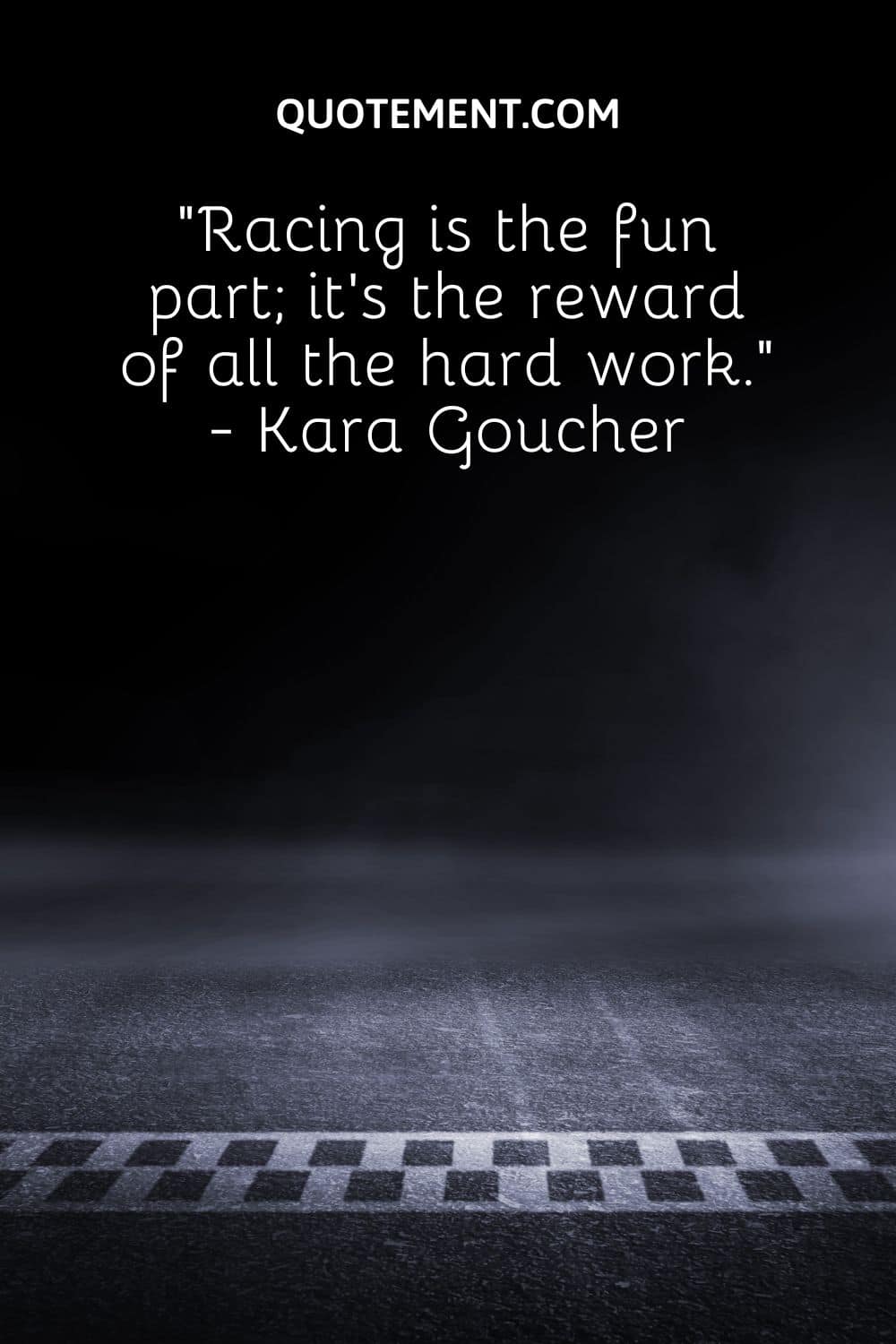 2. "The lead car is absolutely unique, except for the one behind it which is identical." – Murray Walker
3. "I love to feel a racing car around me, to feel the way it holds me. I love to make it do all that it was built to do, and then a little bit more." – Stirling Moss
4. "Sitting beside the pool is fine for two weeks, but after that I think it'd be quite hard to live with – so I need to keep racing." – Mark Webber
5. "Cornering perfectly is like bringing a woman to climax." – Jackie Stewart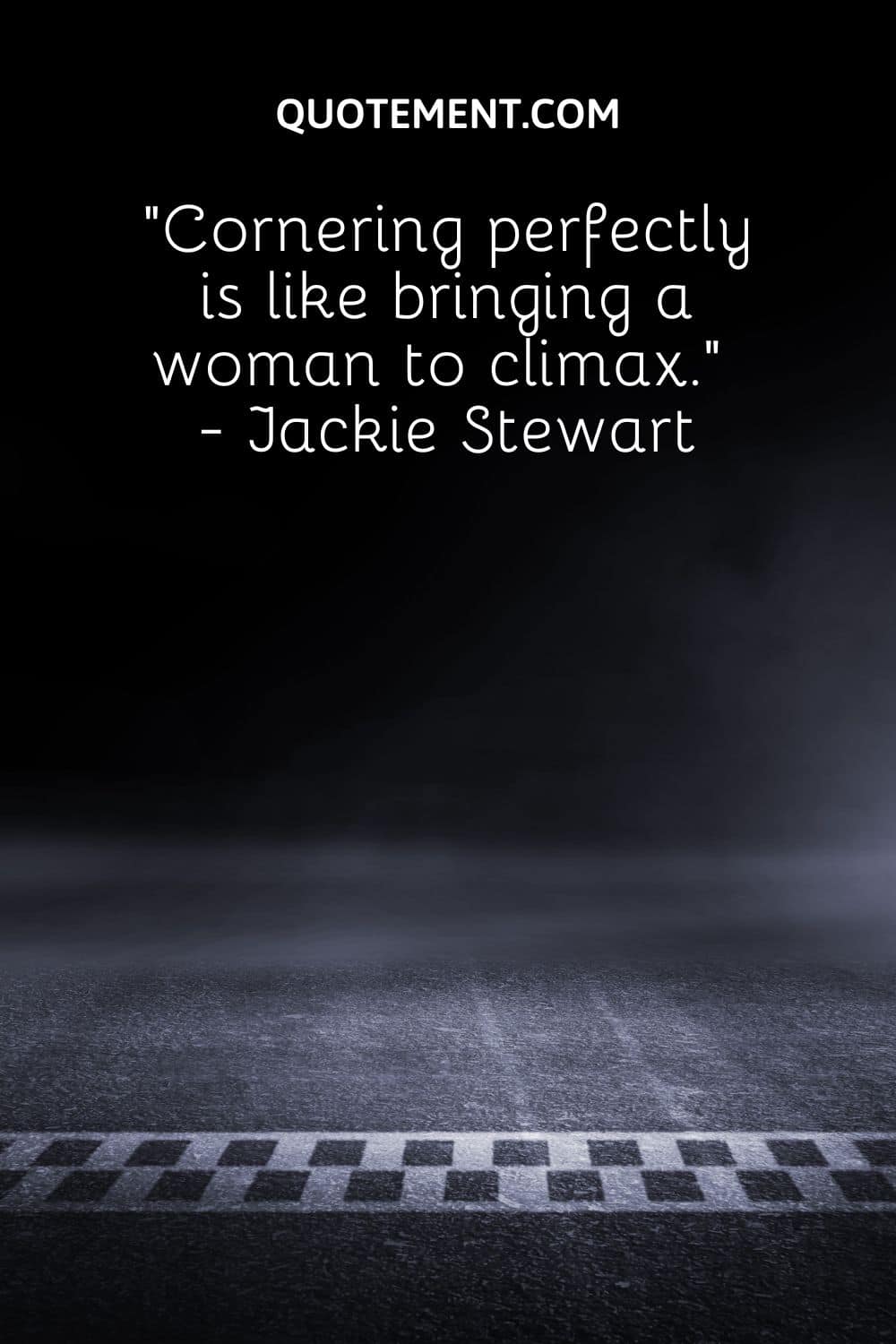 6. "We're lighter, we're faster, and if that don't work, we're nastier." – Carroll Shelby
7. "By being a racing driver means you are racing with other people. And if you no longer go for a gap that exists, you are no longer a racing driver because we are competing, we are competing to win." – Ayrton Senna
8. "My No. 1 goal in racing was never to be the most popular driver." – Brad Keselowski
9. "Different people have different reasons for racing, but one is simply the incentive to get out and run, increase mileage, and feel good." – Hal Higdon
10. "You will never know the feeling of a driver when winning a race. The helmet hides feelings that cannot be understood." – Ayrton Senna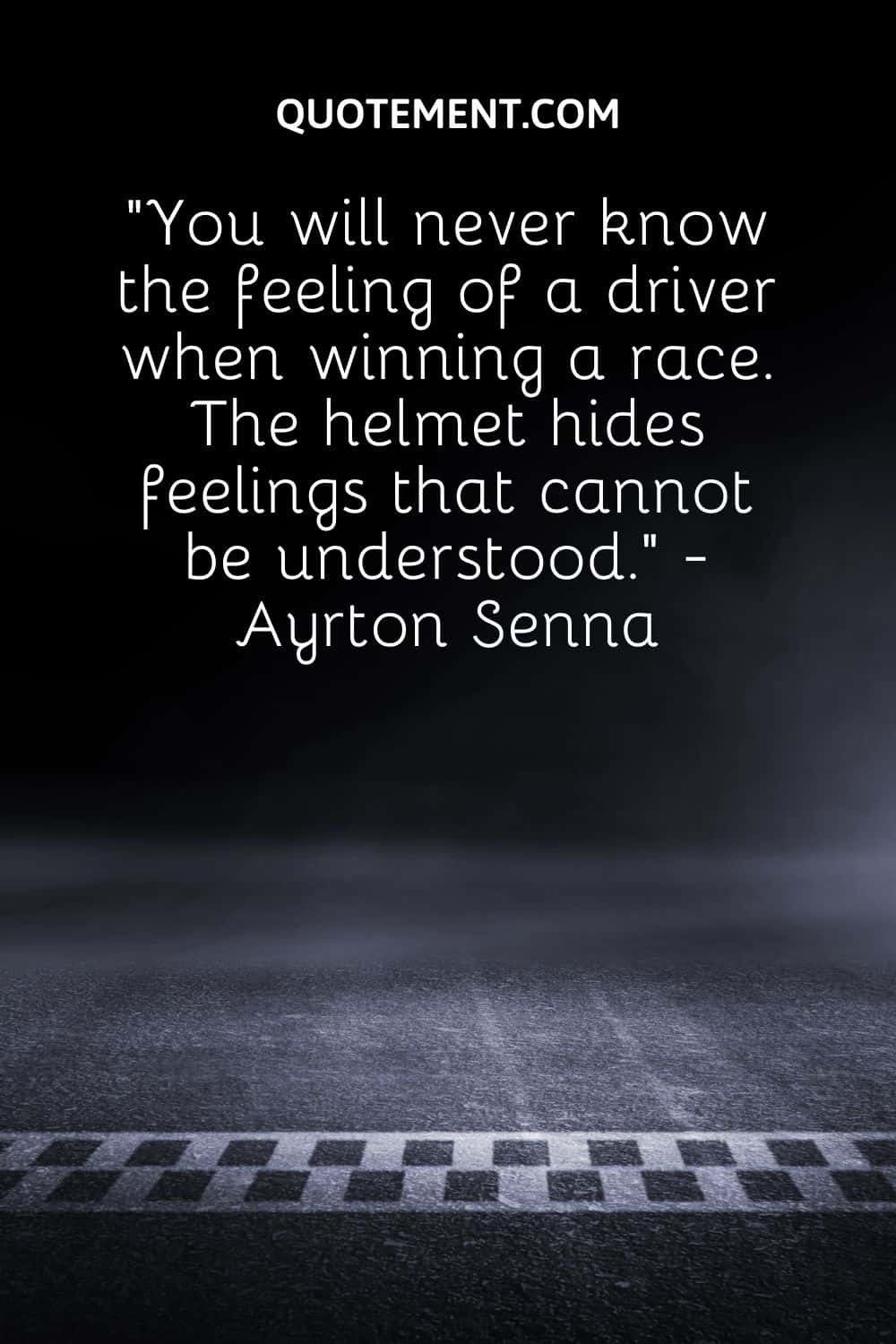 11. "Racing is not what I like to do; it's winning." – Jeff Gordon
12. "There are seven winners of the Monaco Grand Prix on the starting line today, and four of them are Michael Schumacher." – Murray Walker
13. "In racing there are always things you can learn, every single day. There is always space for improvement, and I think that applies to everything in life." – Lewis Hamilton
14. "When I first started racing, my father said, "Win the race as slow as you can." – Richard Petty
15. "I will continue to get behind the wheel of a racing car as long as I am able. But that could all end tomorrow." – Paul Newman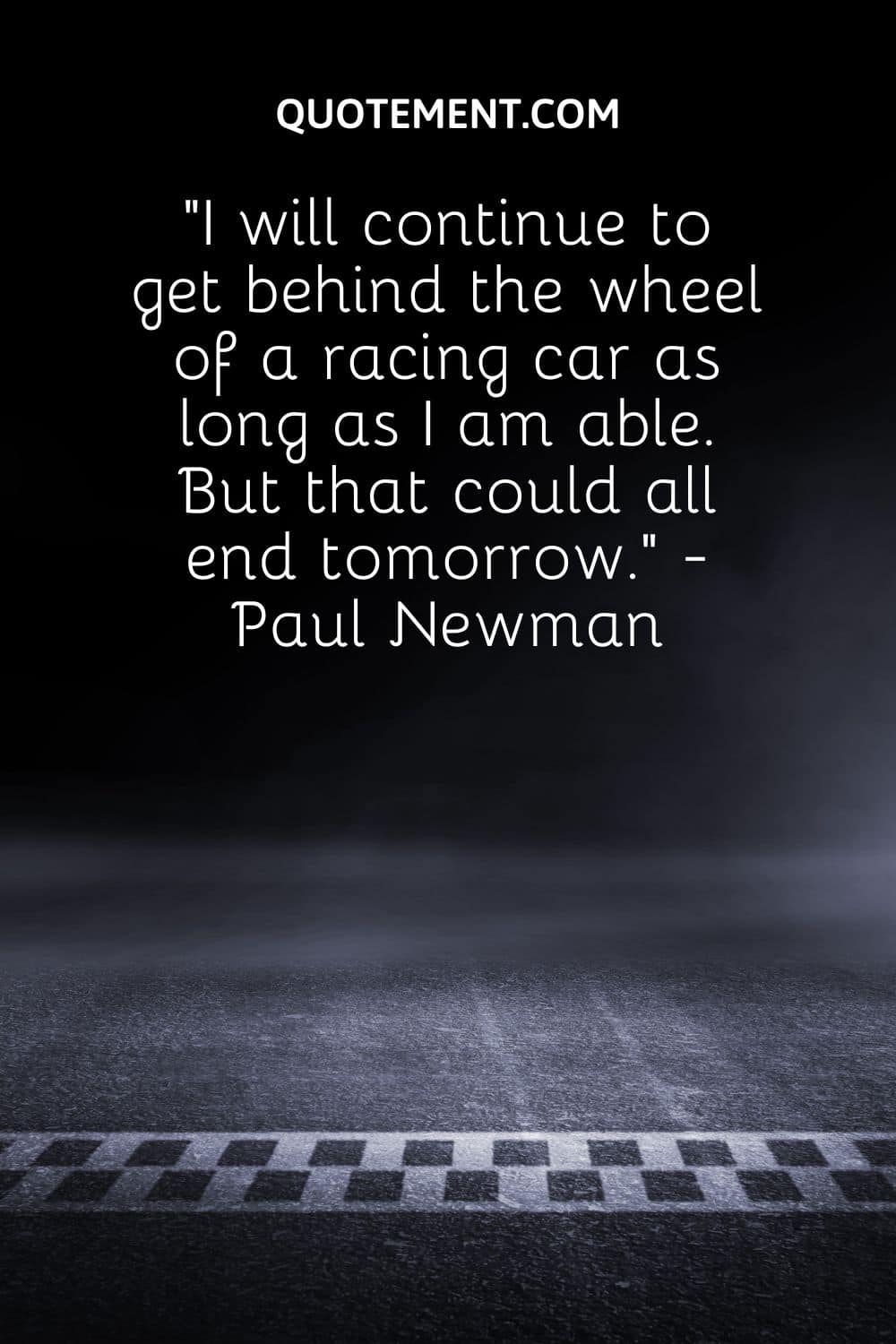 16. "There are two things no man will admit he cannot do well: drive and make love." – Stirling Moss
17. "I make jokes about the fact that as a neuro-surgeon I shouldn't be required at a motor race because the drivers don't have any brains…. otherwise they wouldn't race." – Sid Watkins
18. "Wrecks are going to happen in this business, that's just a risk of the sport. If you can't keep from worrying about it, then you're in the wrong line of work." – Coo Coo Marlin
19. "I don't know driving in another way which isn't risky. Each one has to improve himself. Each driver has its limit. My limit is a little bit further than other's." – Ayrton Senna
20. "To achieve anything in this game you must be prepared to dabble in the boundary of disaster." – Stirling Moss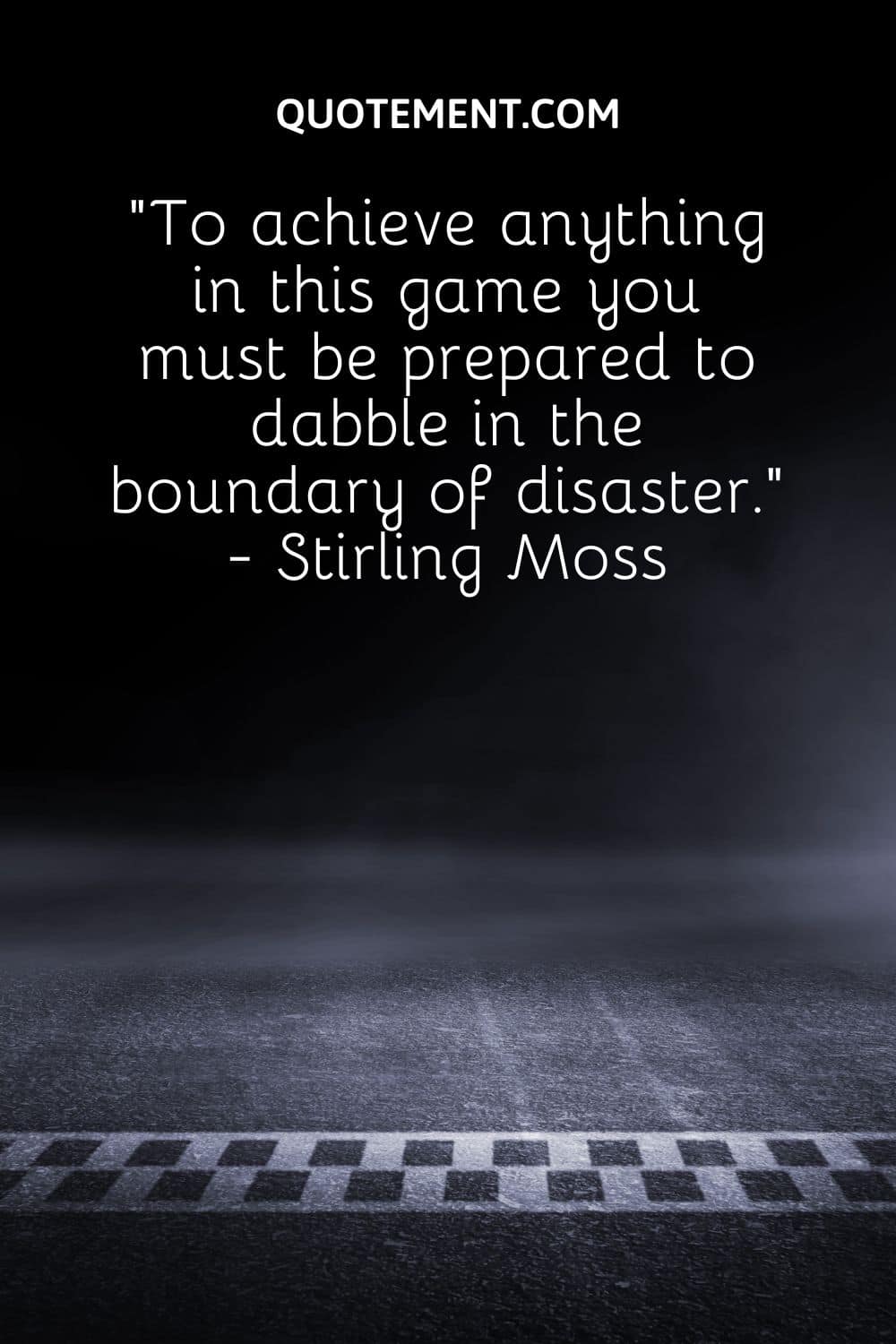 Formula 1 Racing Quotes
My collection ends with these remarkable Formula 1 racing quotes:
1. "A lot of people criticize Formula 1 as an unnecessary risk. But what would life be like if we only did what is necessary?" – Niki Lauda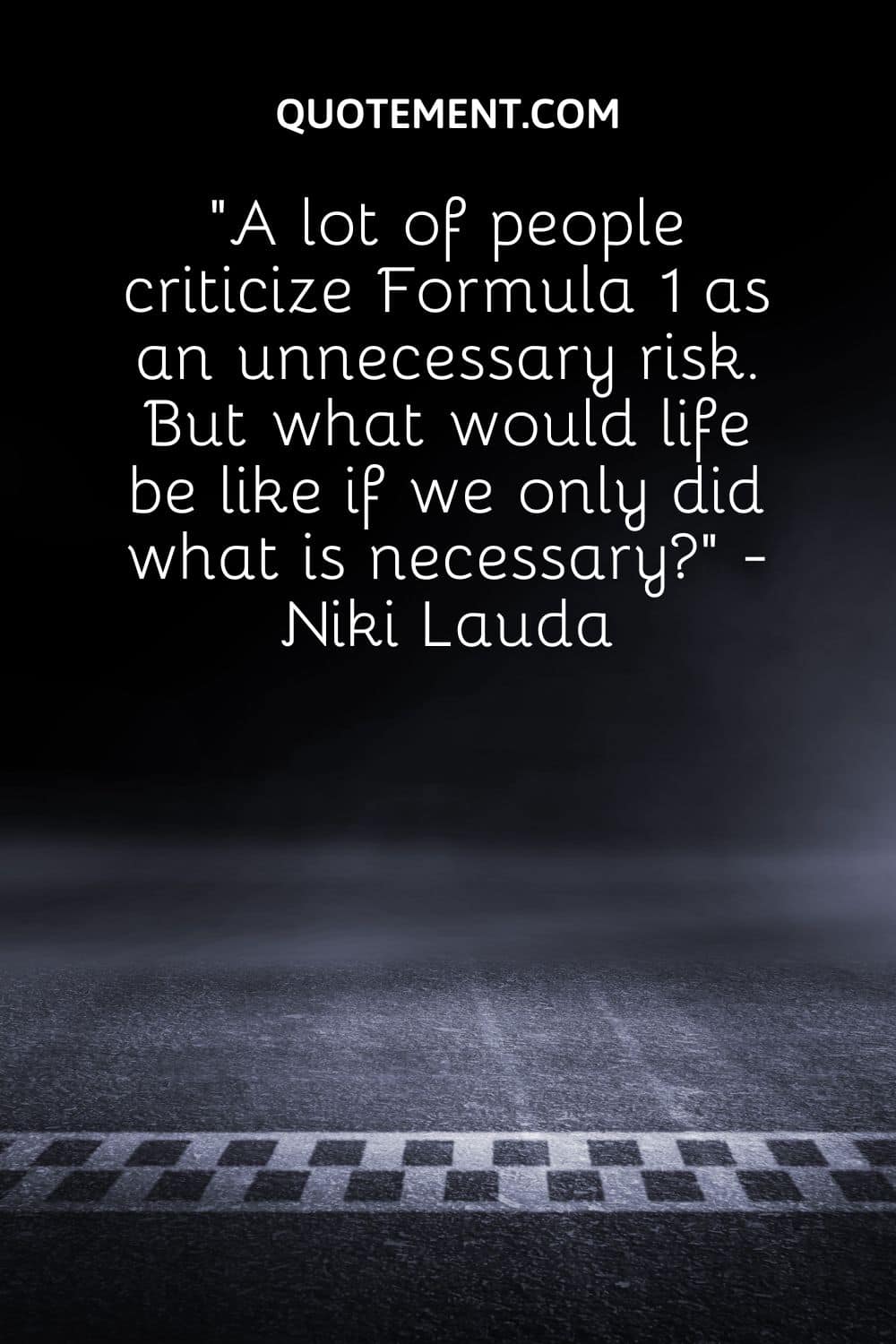 2. "F1 is about the best drivers competing against each other for the best teams producing the best cars they can." – Lewis Hamilton
3. "Nothing can really prepare you for when you get in the Formula One car. Knowing that you're driving a multimillion-dollar car, and if you crash it it's going to cost a lot of money, and they might not give you another chance, is scary." – Lewis Hamilton
4. "It is amazing how many drivers, even at the Formula One Level, think that the brakes are for slowing the car down." – Mario Andretti
5. "When you give up your hunger for success you are not racing full heartedly anymore. Just to be there, that is not my style." – Felipe Massa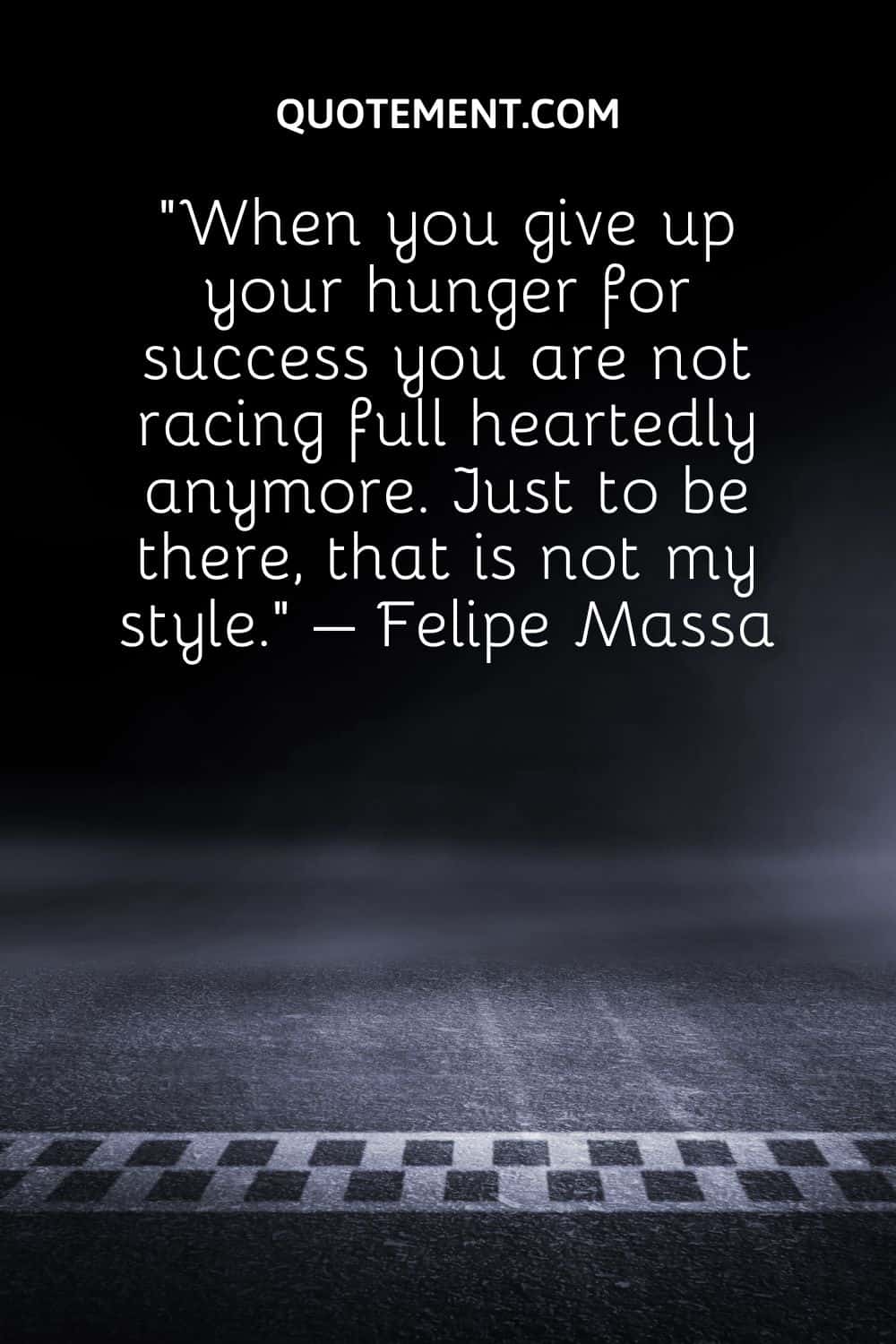 6. "On a given day, a given circumstance, you think you have a limit. And you then go for this limit and you touch this limit, and you think, 'Okay, this is the limit.' And so you touch this limit, something happens and you suddenly can go a little bit further. With your mind power, your determination, your instinct, and the experience as well, you can fly very high." – Ayrton Senna
7. IF is a very long word in Formula One; in fact, IF is F1 spelled backwards." – Murray Walker
8. "F1 needs Ferrari much more than Ferrari needs F1." – Toto Wolff
9. "It's one of the things I love about motorsports – you're always learning, always having to adapt. It's not like tennis, where the rackets might change a bit but everything else stays the same. If you're in motorsport, the formulas are always changing. The regulations, the tyres, the power, the type of engine. It keeps you excited." – Jenson Button
10. "Race cars are neither ugly nor beautiful. They become beautiful when they win." – Enzo Ferrari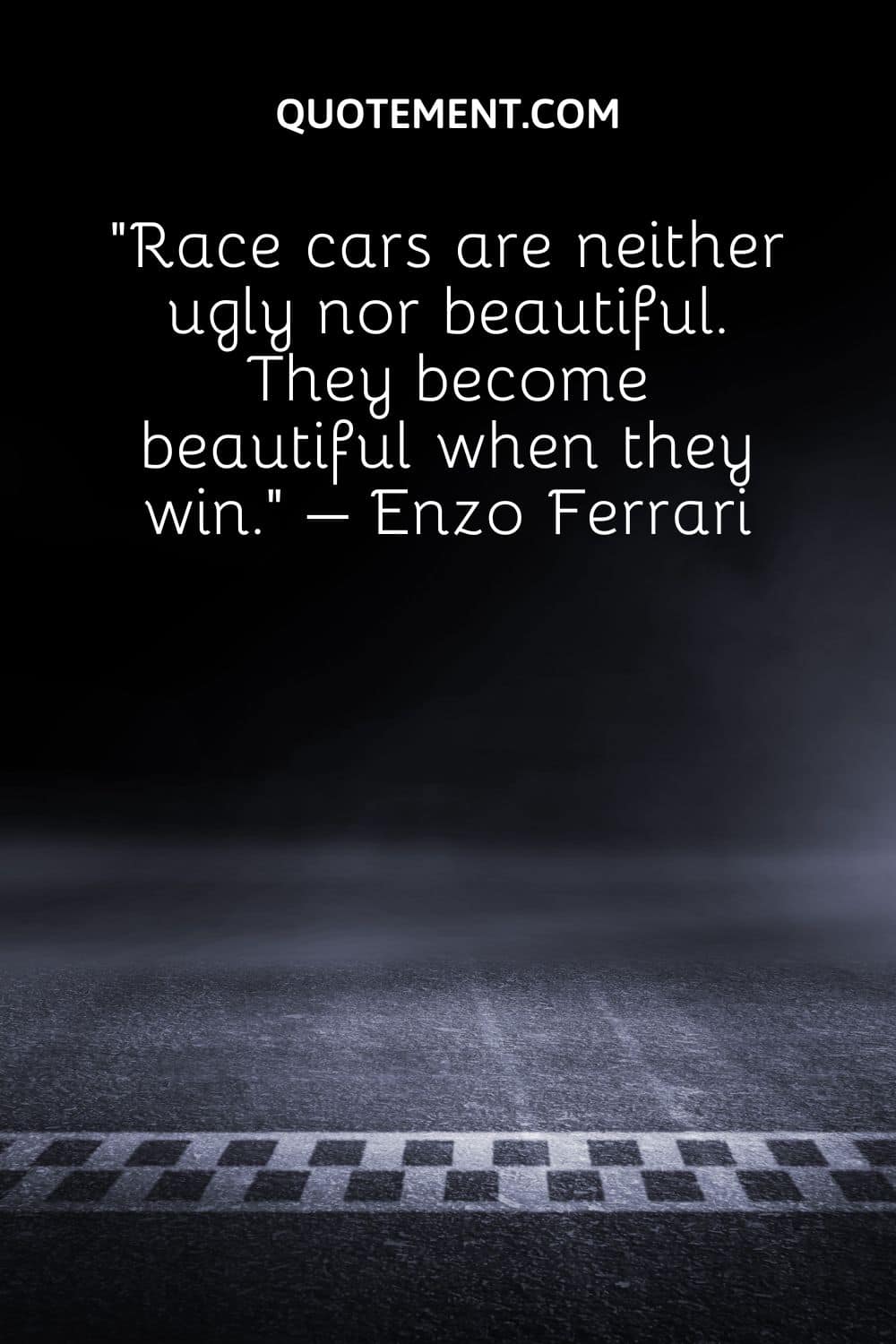 11. "Equalising performance between teams runs completely counter to the idea of F1 and would be very unfair for us." – Lewis Hamilton
12. "I was not interested at all in Formula One when I left; I was very busy with my airline. But slowly I started missing the adrenaline rush and the driving of such fantastic cars at the limit. In reality this urge never disappears when you're a top driver, because I think we're a different breed of people, we need to take chances, we need to push ourselves to the limit all the time, that sort of thing. It stays with you, although you can kill it by losing motivation or other things in your life, but it never leaves you forever." – Niki Lauda
13. "Being an F1 driver is a crazy job but not what everyone expects. My year consists of 20% driving and 80% media, marketing, and travel." – Daniel Ricciardo
14. "If you are a straightforward racing driver you should always see your limits. You have to be objective and not come up with any bul*****." – Niki Lauda
15. "The rule of thumb in F1 is to beat your teammate." – Nico Hülkenberg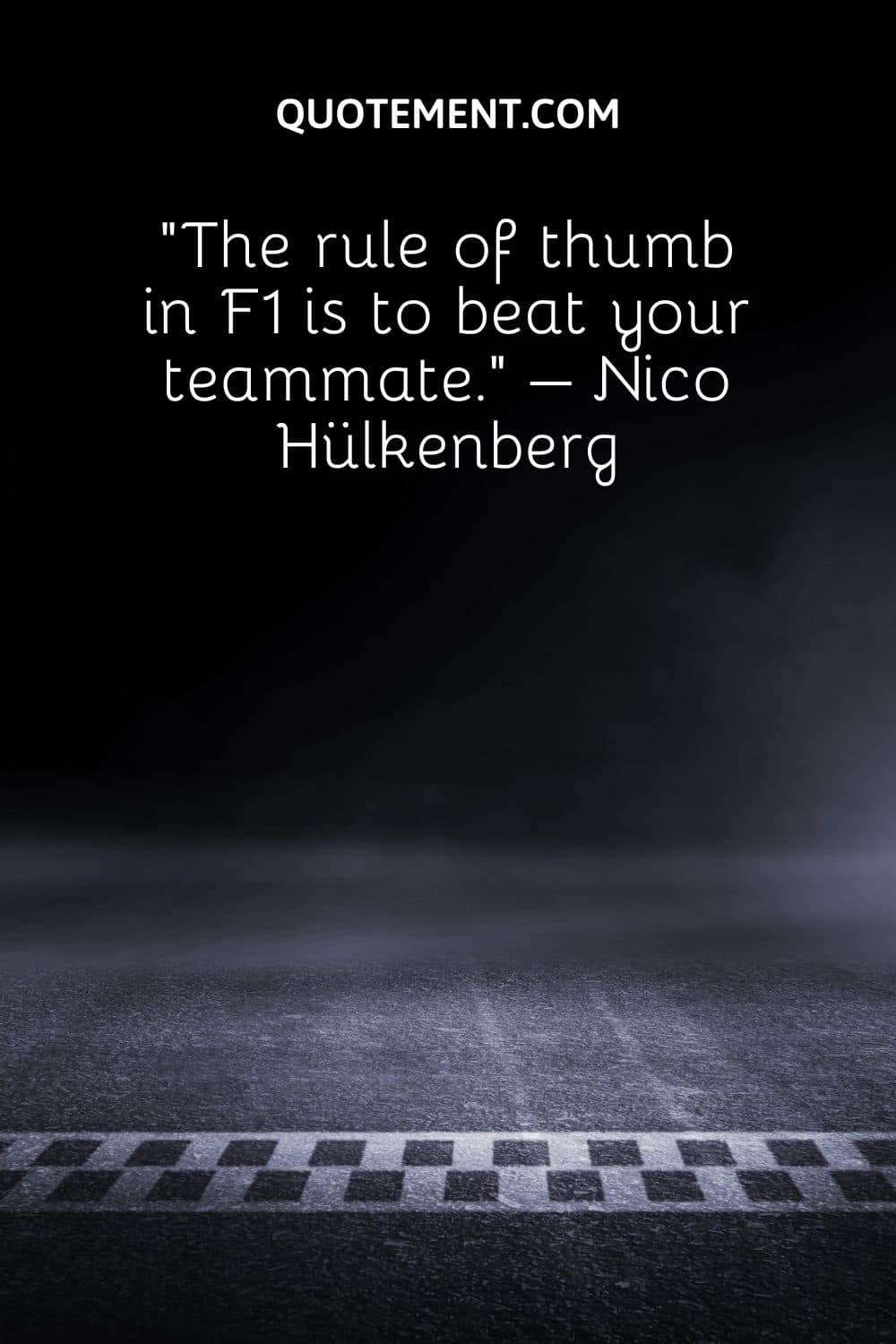 To Wrap It Up
That's all, folks!
I hope you loved my unique and exciting collection of 85 racing quotes, car racing quotes, car quotes, and drag racing quotes!
Now, let's put the pedal to the metal and have some fun!
Stay tuned for more amazing content.
Until next time!
Read next: 90 Fantastic Congratulations For New Car Wishes & Messages