Ladies, listen up! Life can be a wild rollercoaster ride, filled with ups and downs, challenges and triumphs.
But no matter what you're going through, remember this: you are phenomenal, strong, and capable of achieving greatness!
In this article, I bring you a collection of powerful words of encouragement for women taken from various online sources and specifically tailored to remind you how amazing you are.
So, get ready to be inspired, empowered, and motivated to conquer anything that comes your way. It's time to embrace your journey toward greatness and unleash your limitless potential.
Let's go!
Top 10 Words Of Encouragement For Women
1. "Think like a queen. A queen is not afraid to fail. Failure is another steppingstone to greatness." — Oprah Winfrey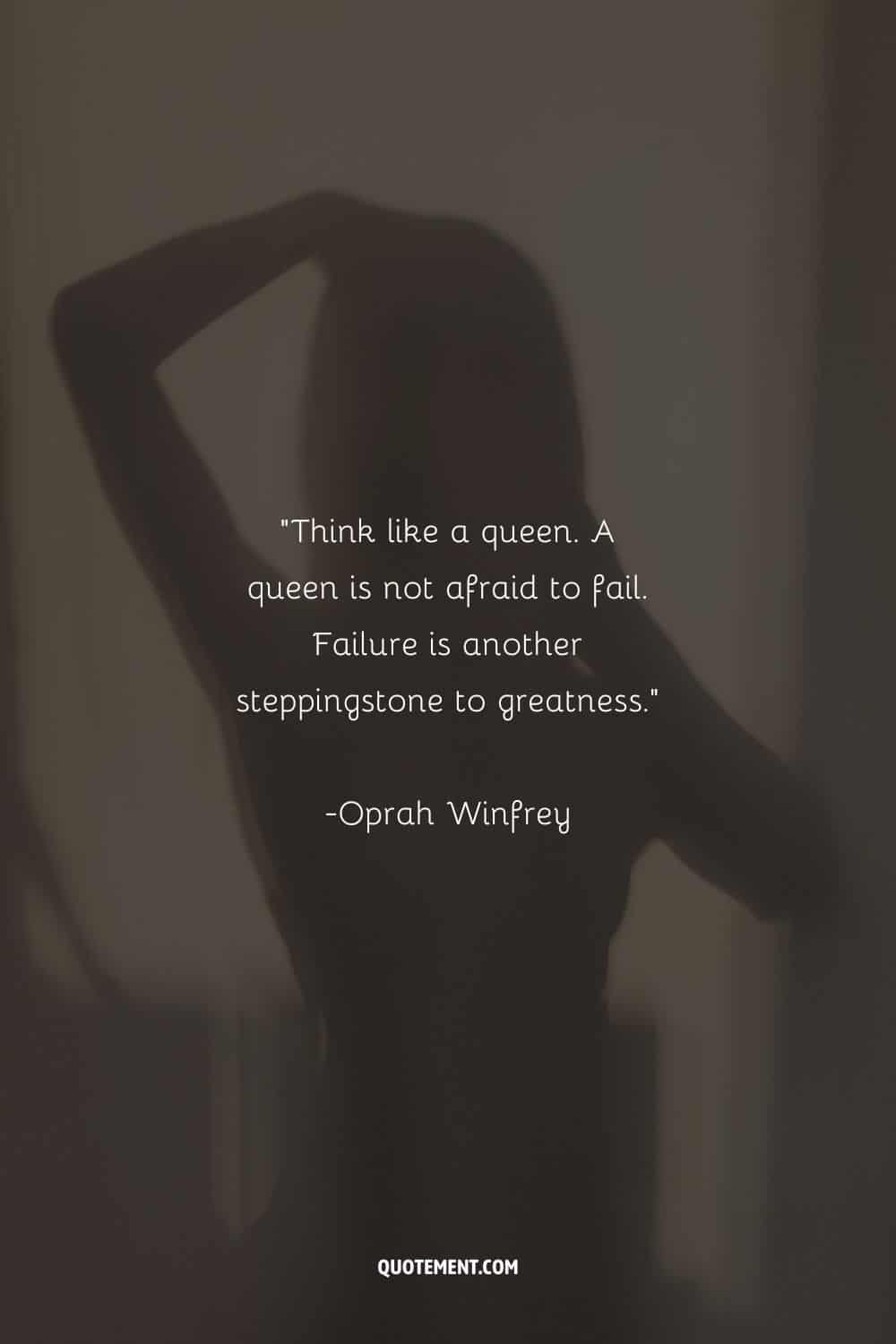 2. "It's all about confidence and how you feel about yourself. There's no such thing as a perfect woman. I like imperfections — that's what makes you unique." — Hayley Hasselhoff
3. "The beauty of a woman is not in a facial mode, but the true beauty in a woman is reflected in her soul. It is the caring that she lovingly gives the passion that she shows. The beauty of a woman grows with the passing years." — Audrey Hepburn
4. "A girl should be two things: who & what she wants." — Coco Chanel
5. "Strong women don't play the victim. Don't make themselves look pitiful and don't point fingers. They stand and they deal." — Mandy Hale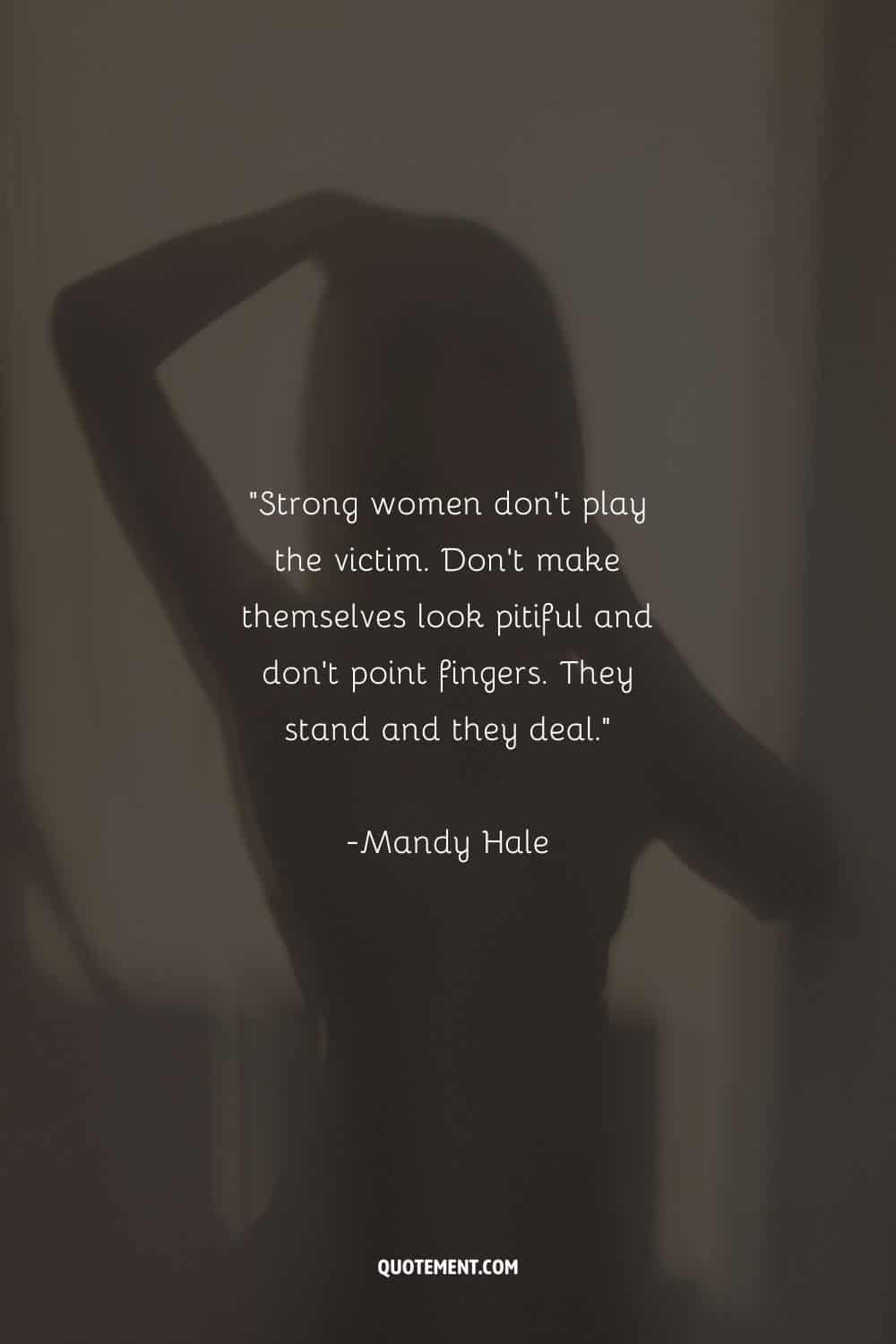 6. "And one day she discovered that she was fierce and strong, and full of fire and that not even she could hold herself back because her passion burned brighter than her fears." — Mark Anthony
7. "Females are the most beautiful, gorgeous creatures in the whole world. And I think that we are gorgeous no matter what size we are." — Alicia Keyes
8. "There is nothing more rare, nor more beautiful, than a woman being unapologetically herself; comfortable in her perfect imperfection. To me, that is the true essence of beauty." — Steve Maraboli
9. "The most alluring thing a woman can have is confidence." — Beyonce Knowles
10. "Learn to embrace your own unique beauty, celebrate your unique gifts with confidence. Your imperfections are actually a gift." — Kerry Washington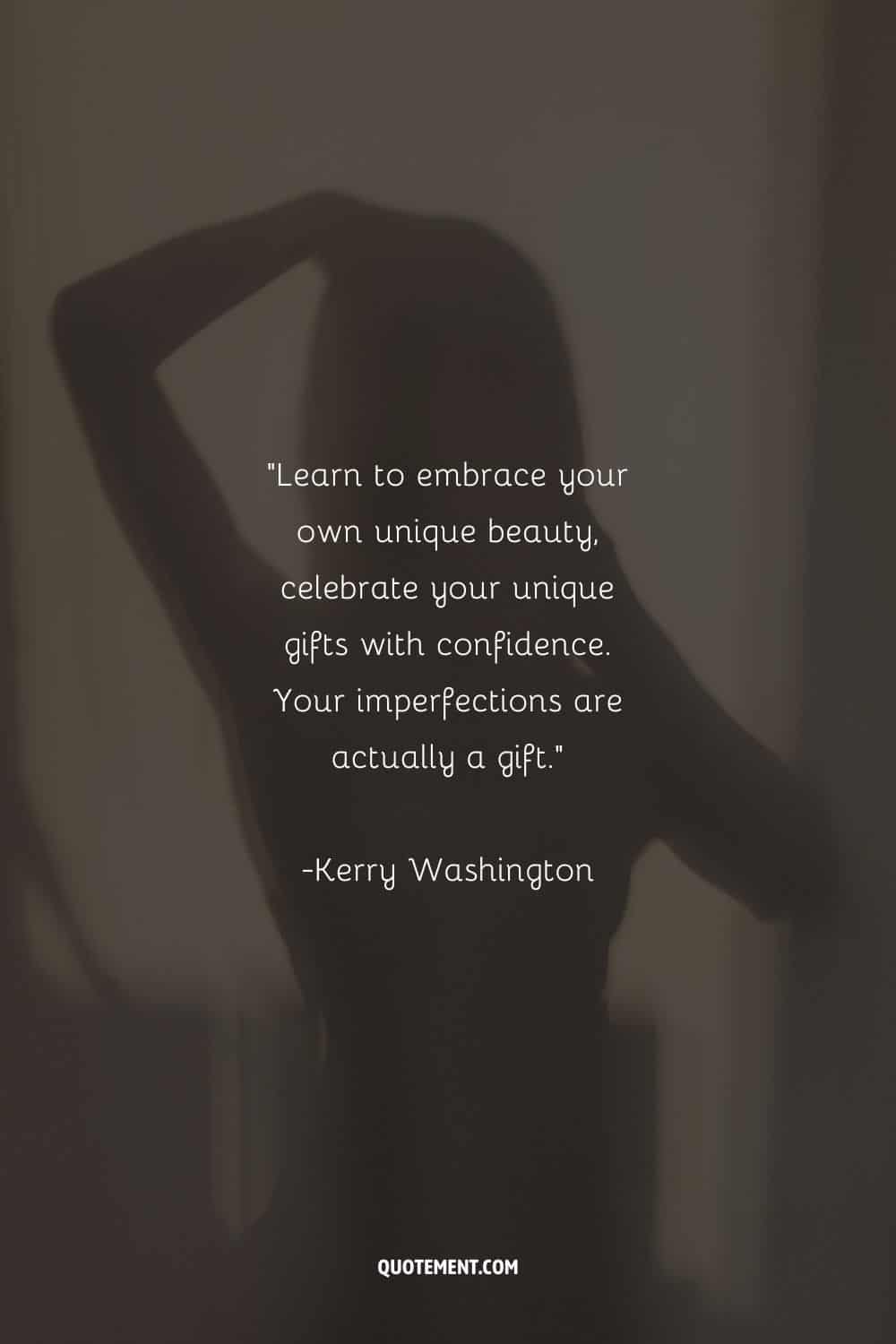 Words Of Inspiration For Her
1. "Everything you are is enough. You're destined to do incredible things. All you need to do is believe in yourself and work toward your goal." — Unknown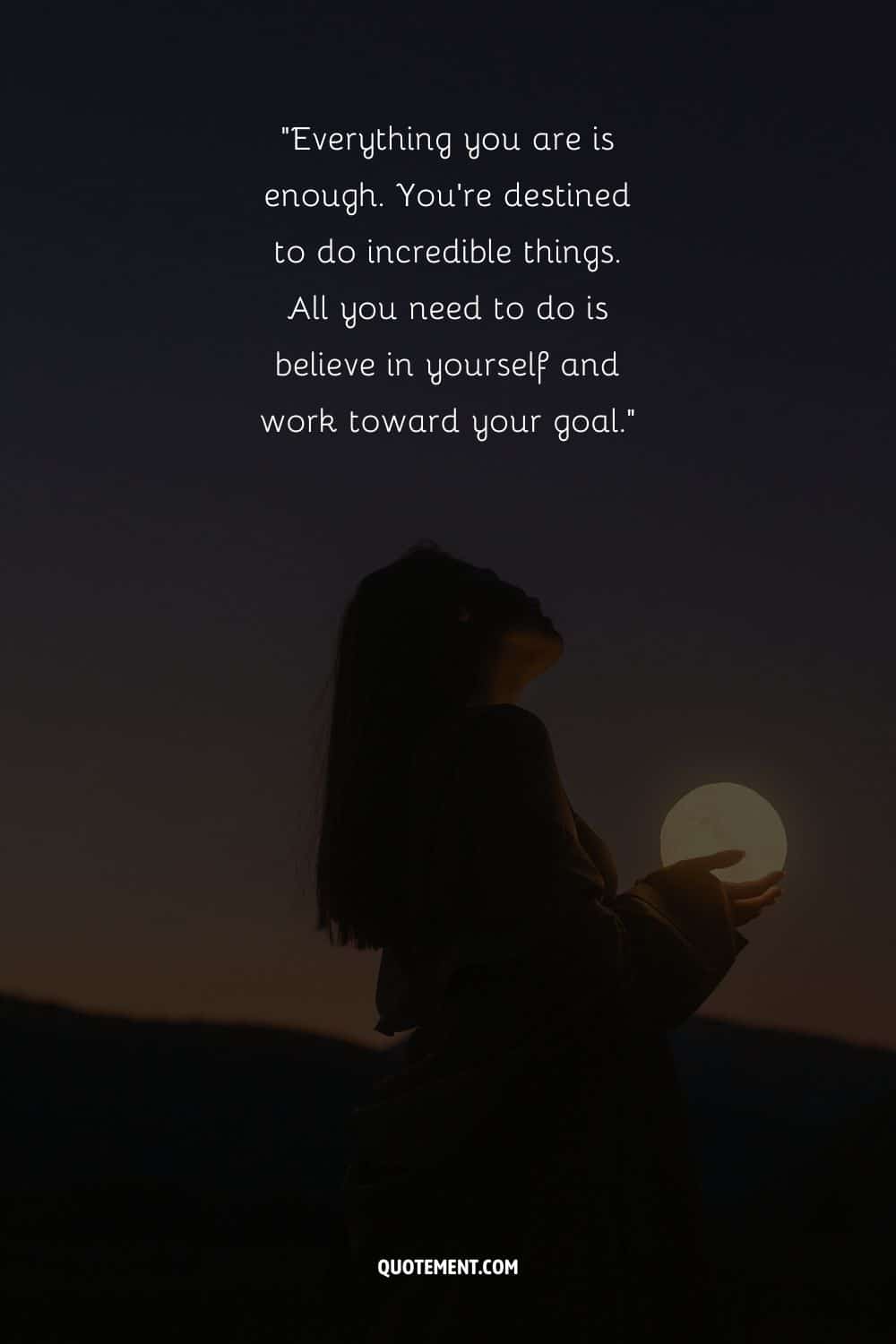 2. "If you want something said, ask a man; if you want something done, ask a woman." — Margaret Thatcher
3. "Women that believe in each other can survive anything. Women who believe in each other create armies that will win kingdoms and wars." — Nikita Gill
4. "The world needs strong women. Women who will lift and build others, who will love and be loved. Women who live bravely, both tender and fierce. Women of indomitable will." — Amy Tenney
5. "She was powerful not because she wasn't scared but because she went on so strongly, despite the fear." — Atticus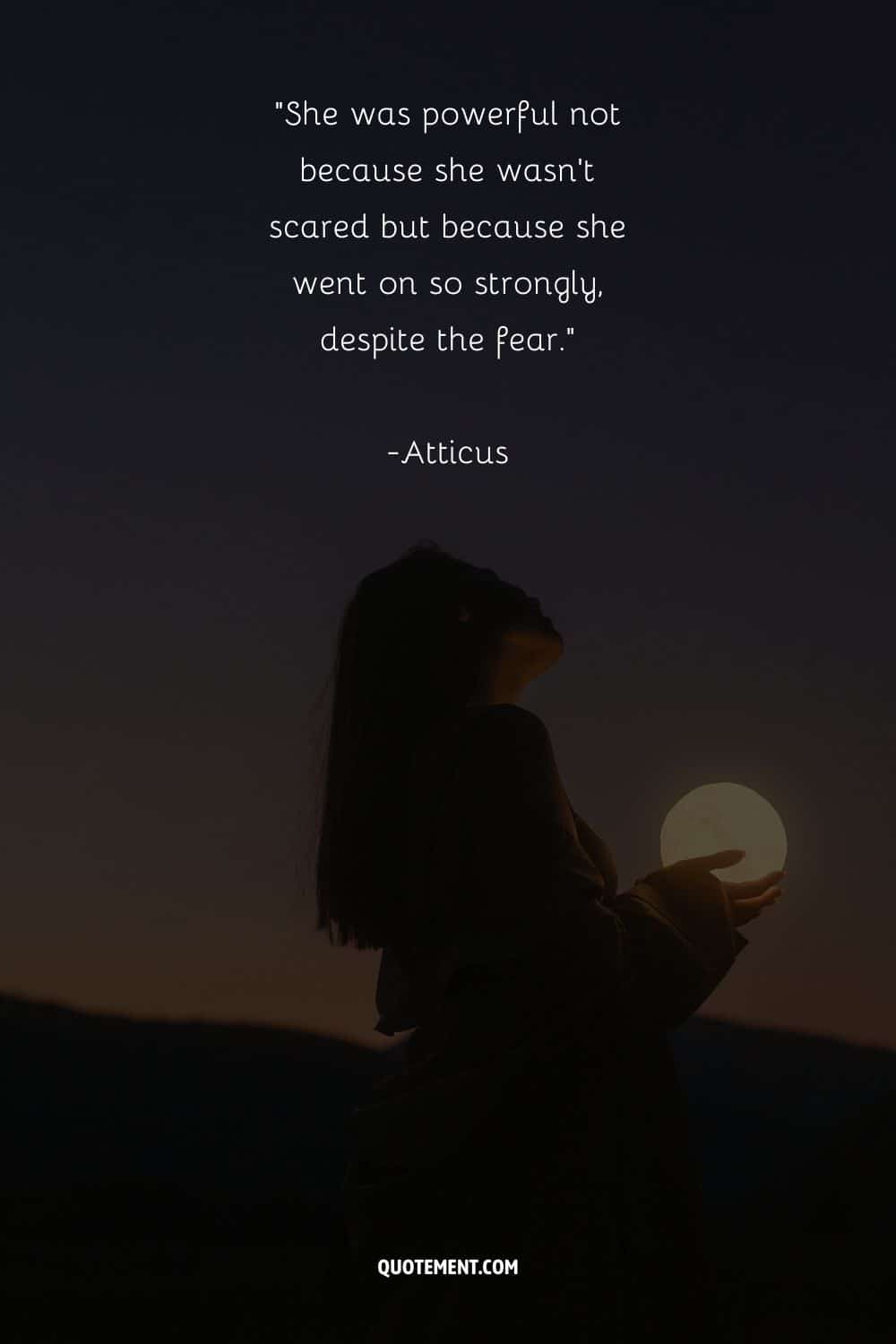 6. "There's something special about a woman who dominates in a man's world. It takes a certain grace, strength, intelligence, fearlessness, and the nerve to never take no for an answer." — Rihanna
7. "You educate a man; you educate a man. You educate a woman; you educate a generation." — Brigham Young
8. "I do not wish women to have power over men, but over themselves." — Mary Shelley
9. "You can tell the strength of a nation by the women behind its men." — Benjamin Disraeli
10. "In our society, the women who break down barriers are those who ignore limits." — Arnold Schwarzenegger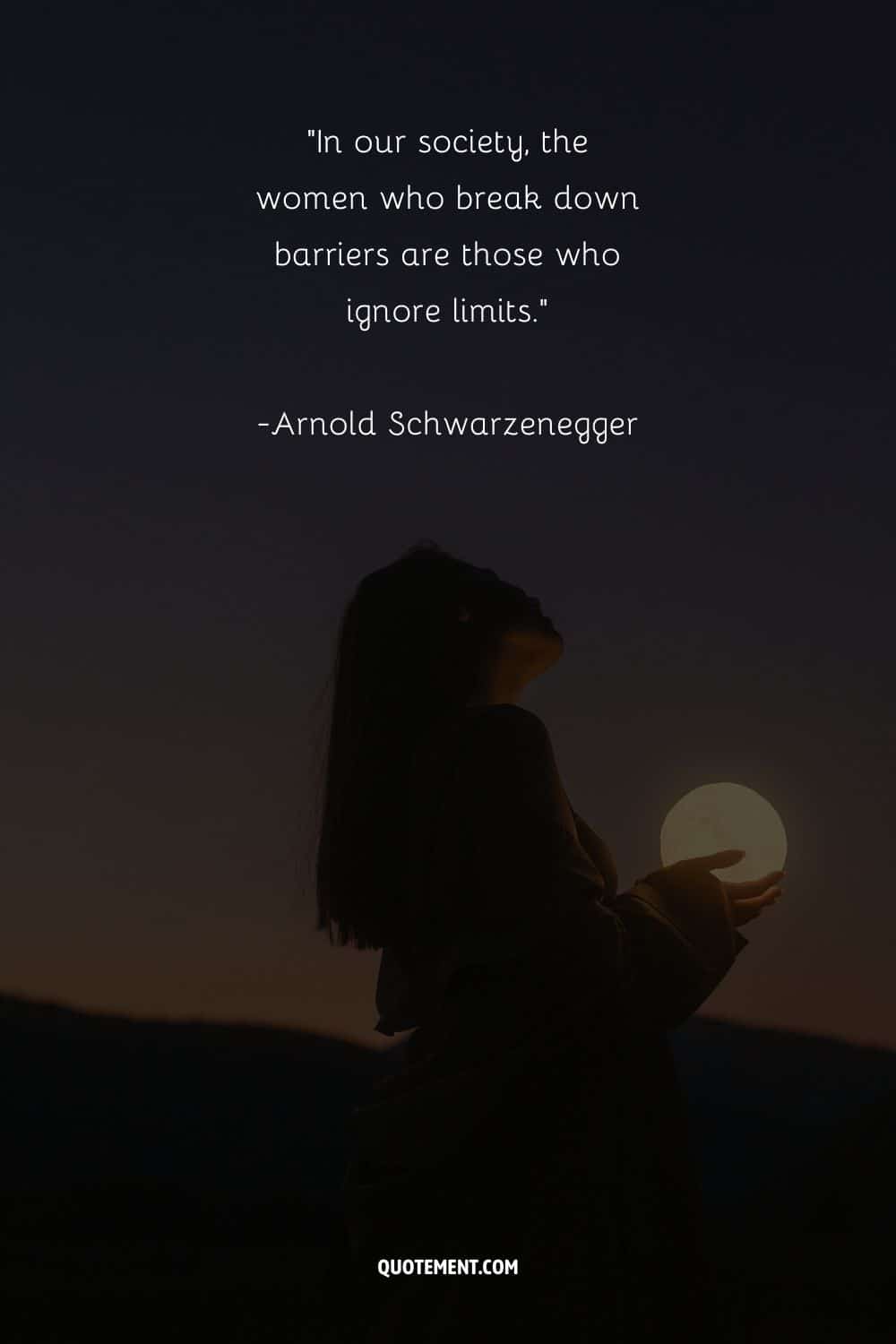 11. "Stay strong. Stand up. Have a voice." — Shawn Johnson
12. "Women have always been the strong ones of the world. The men are always seeking from women a little pillow to put their heads down on. They are always longing for the mother who held them as infants." — Coco Chanel
13. "Strong women don't have 'attitudes', we have standards." — Marilyn Monroe
14. "Do not stop thinking of life as an adventure. You have no security unless you can live bravely, excitingly, imaginatively; unless you can choose a challenge instead of competence." — Eleanor Roosevelt
15. "One of the most courageous things you can do is identify yourself, know who you are, what you believe in and where you want to go." — Sheila Murray Bethel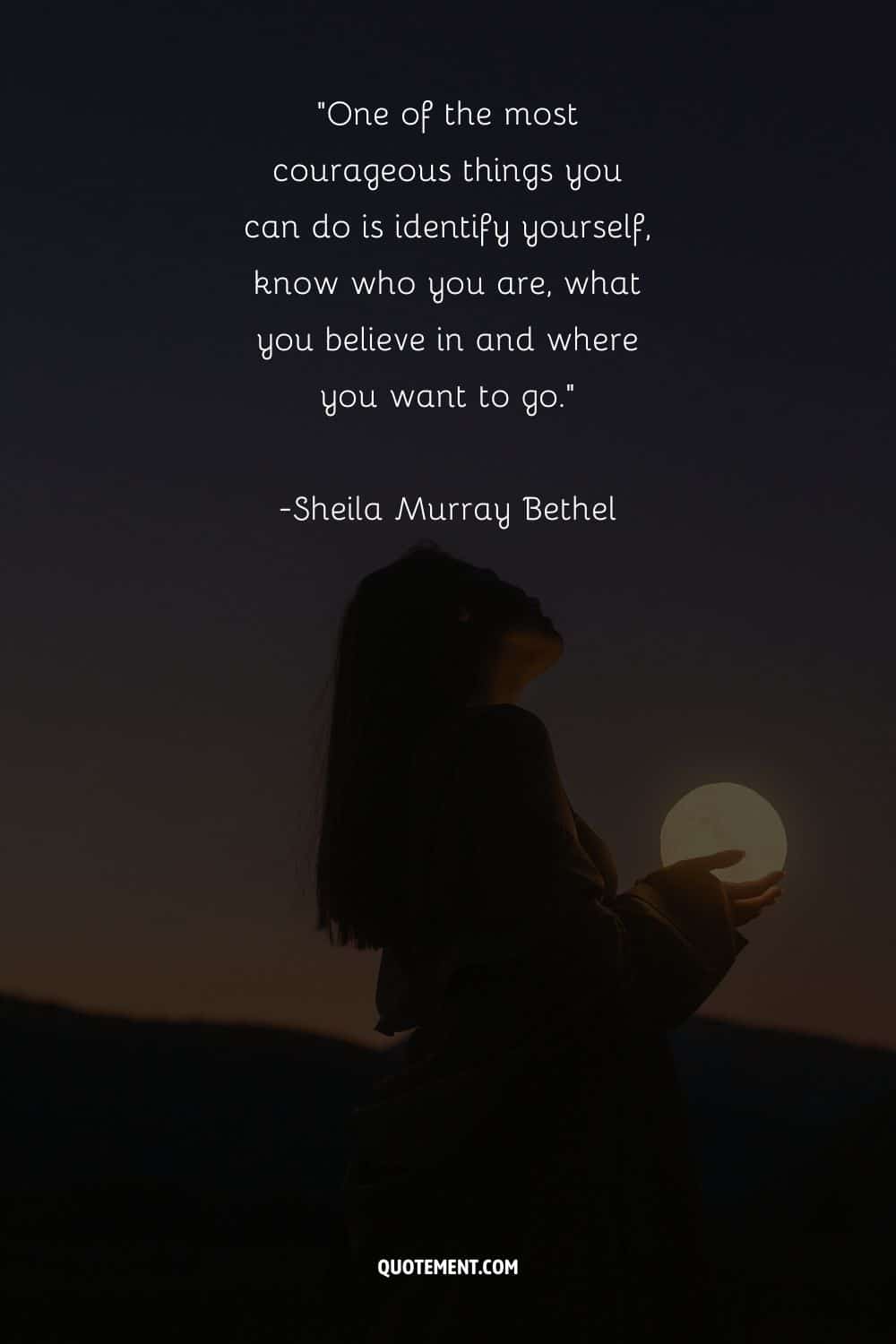 16. "Instead of focusing on whatever's bothering you, focus on things that bring you joy. This could be nature, friends, or anything you can think of. When you do this, you can gain inner strength and peace of mind." — Unknown
17. "Doing the best at this moment puts you in the best place for the next moment." — Oprah Winfrey
18. "A woman has to live her life, or live to repent not having lived it." — D.H. Lawrence
19. "Women are leaders everywhere you look—from the CEO who runs a Fortune 500 company to the housewife who raises her children and heads her household. Our country was built by strong women, and we will continue to break down walls and defy stereotypes." — Nancy Pelosi
20. "I have learned over the years that when one's mind is made up, this diminishes fear; knowing what must be done does away with fear." — Rosa Parks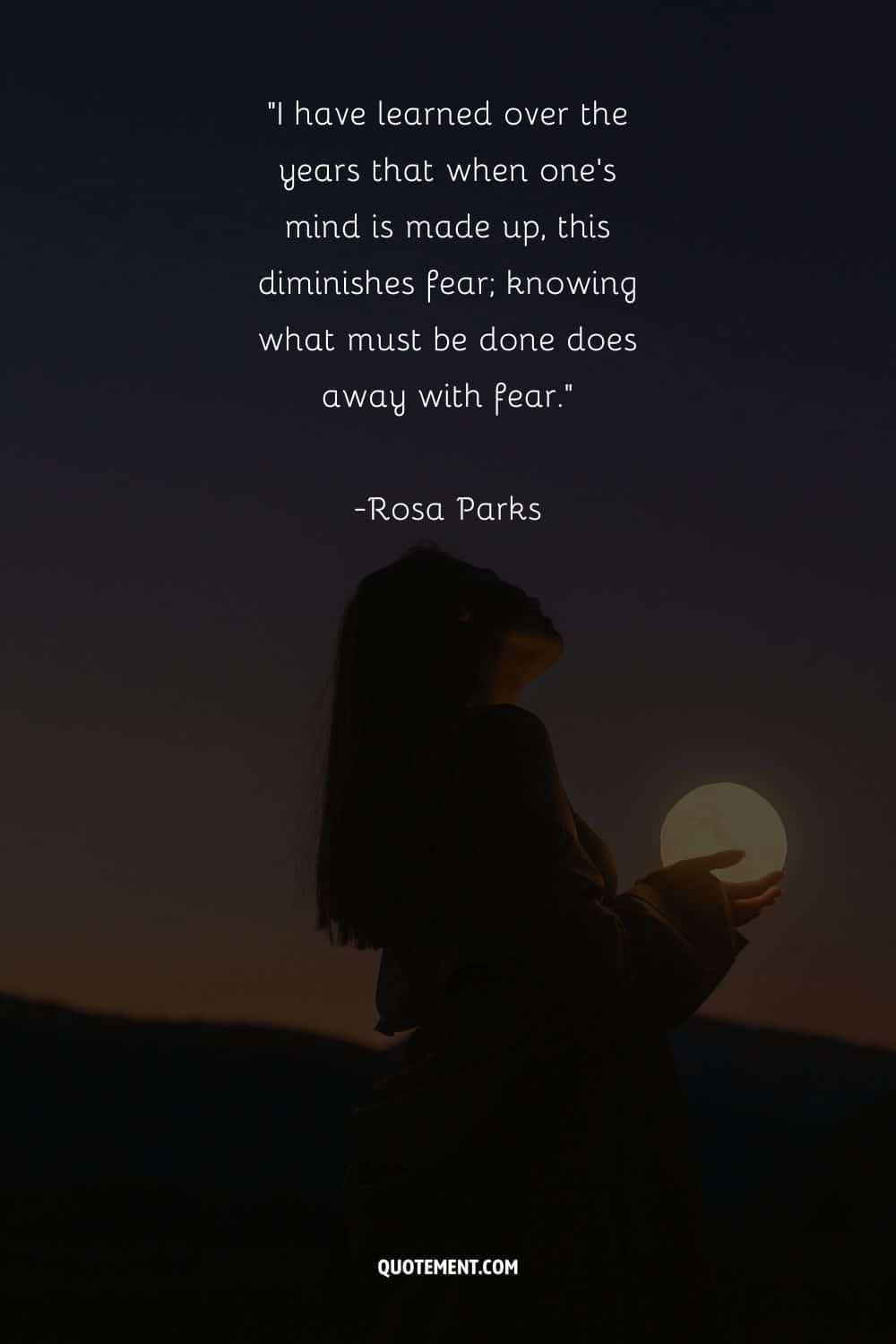 Encouraging Words Of Affirmation For Women
1. "Women are the most incredible creatures on Earth, and you're one of them!"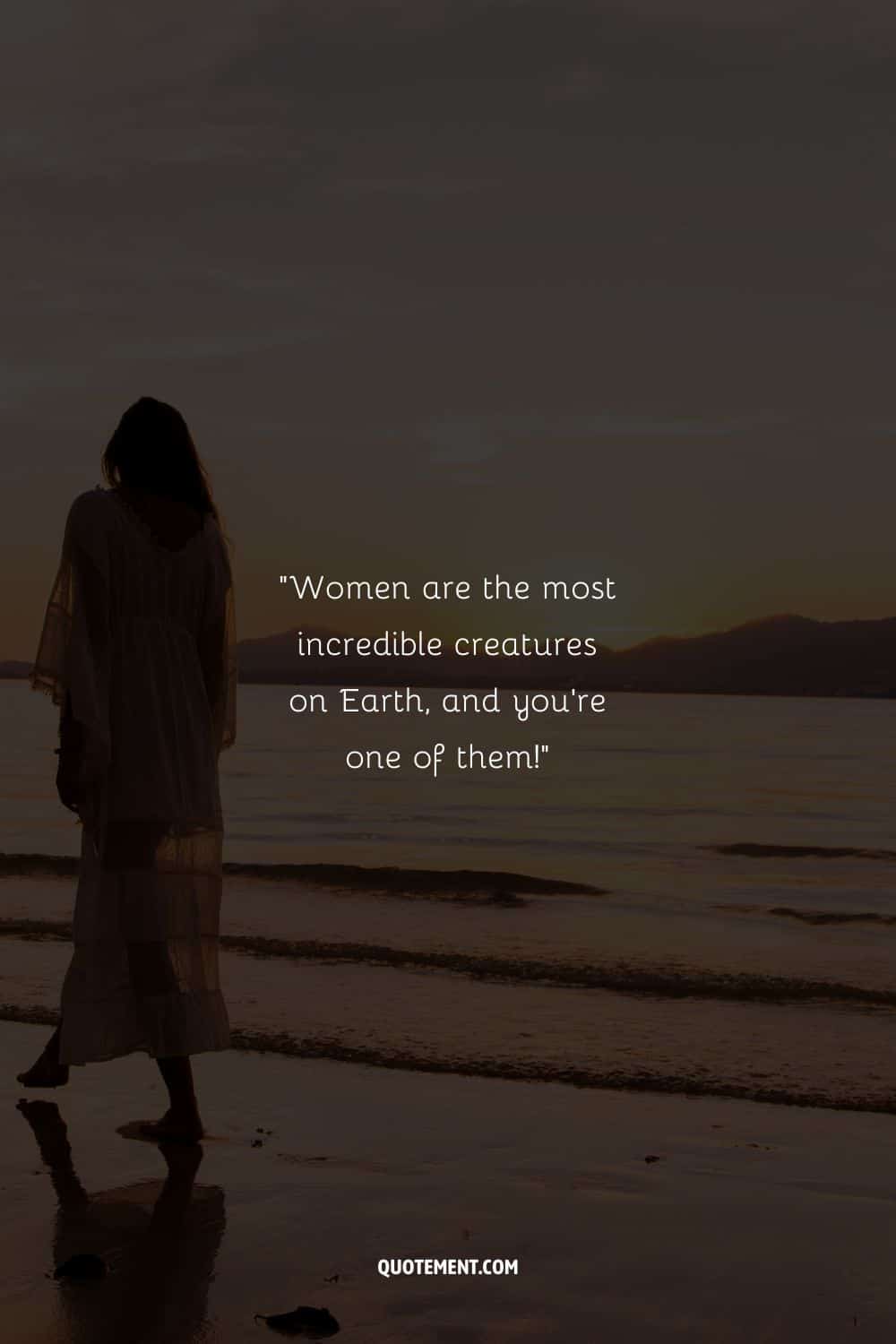 2. "You are important and valued."
3. "Your ability to make the ordinary beautiful is a true gift!"
4. "You look sensational. I've never seen you glow like you are right now."
5. "You never give up even when the way before you is uncertain."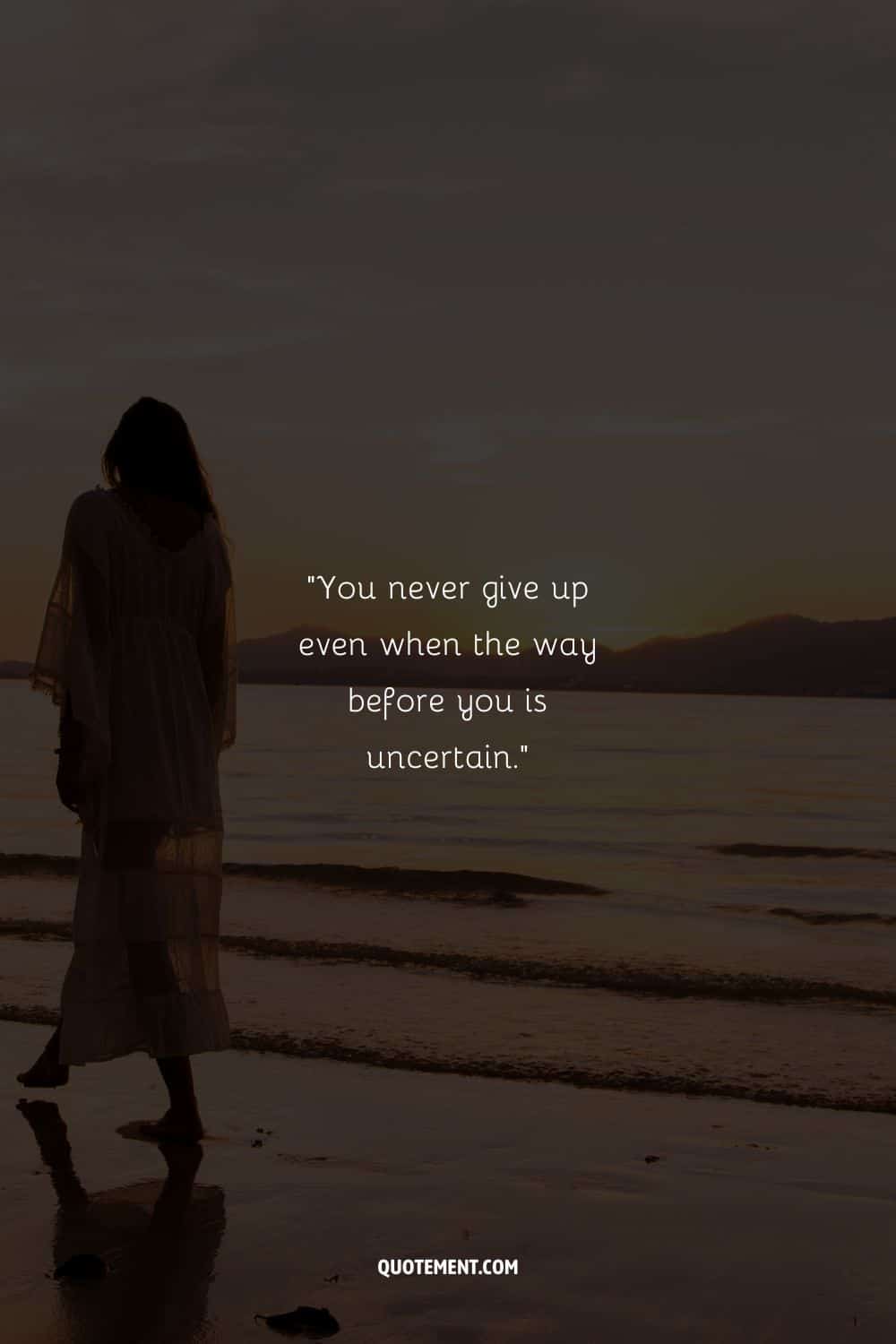 6. "You are a great wife to your husband!"
7. "I admire how strong you are!"
8. "You are fearfully and wonderfully made in the image of God."
9. "You are chosen and wanted."
10. "Take heart when you are discouraged and remember our God will defend you!"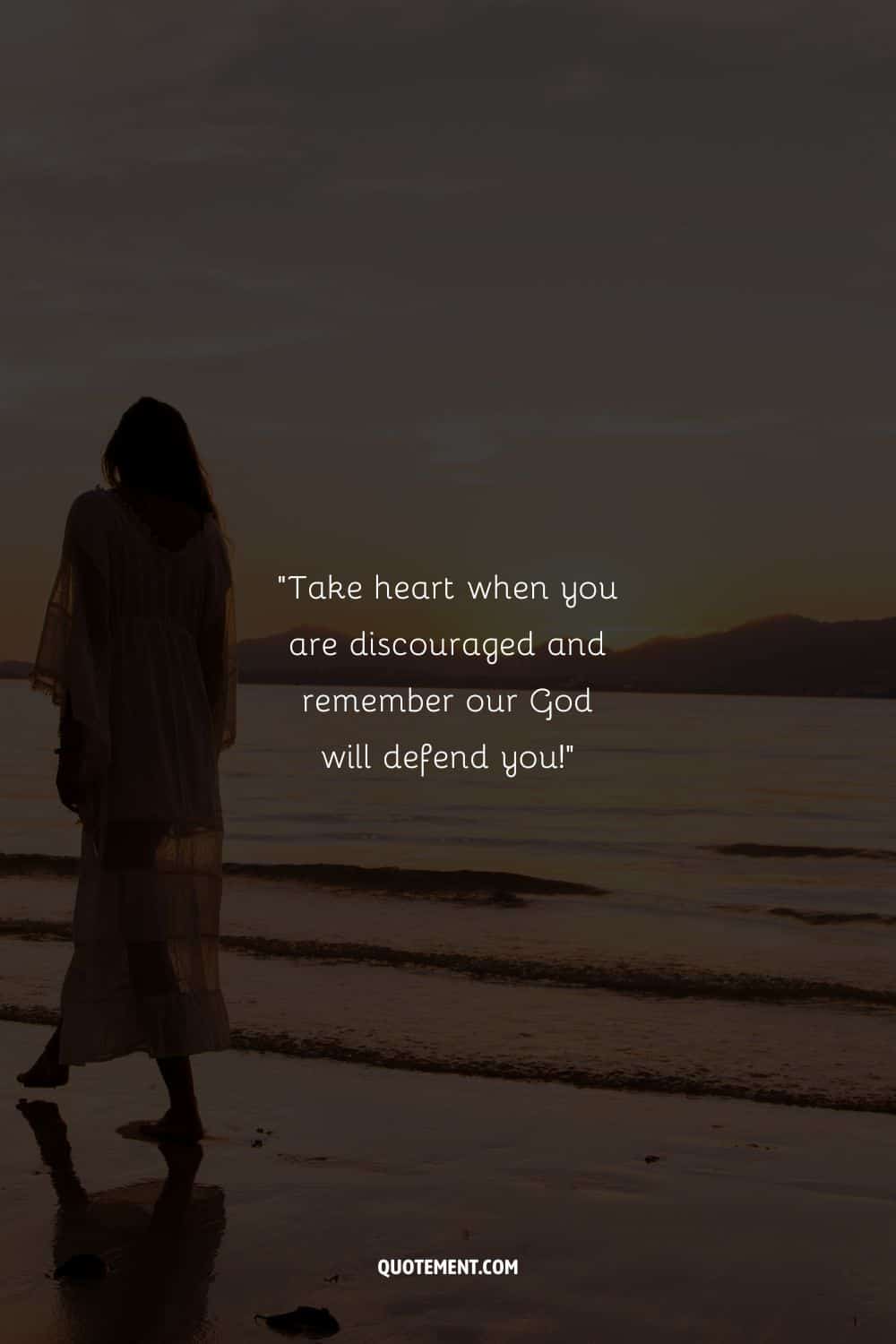 11. "I am so proud of the woman you've become."
12. "I admire how you've taken care of yourself!"
13. "You are not alone even when you feel lonely."
14. "Your grace and meekness are inspiring."
15. "I admire your tenacity and courage!"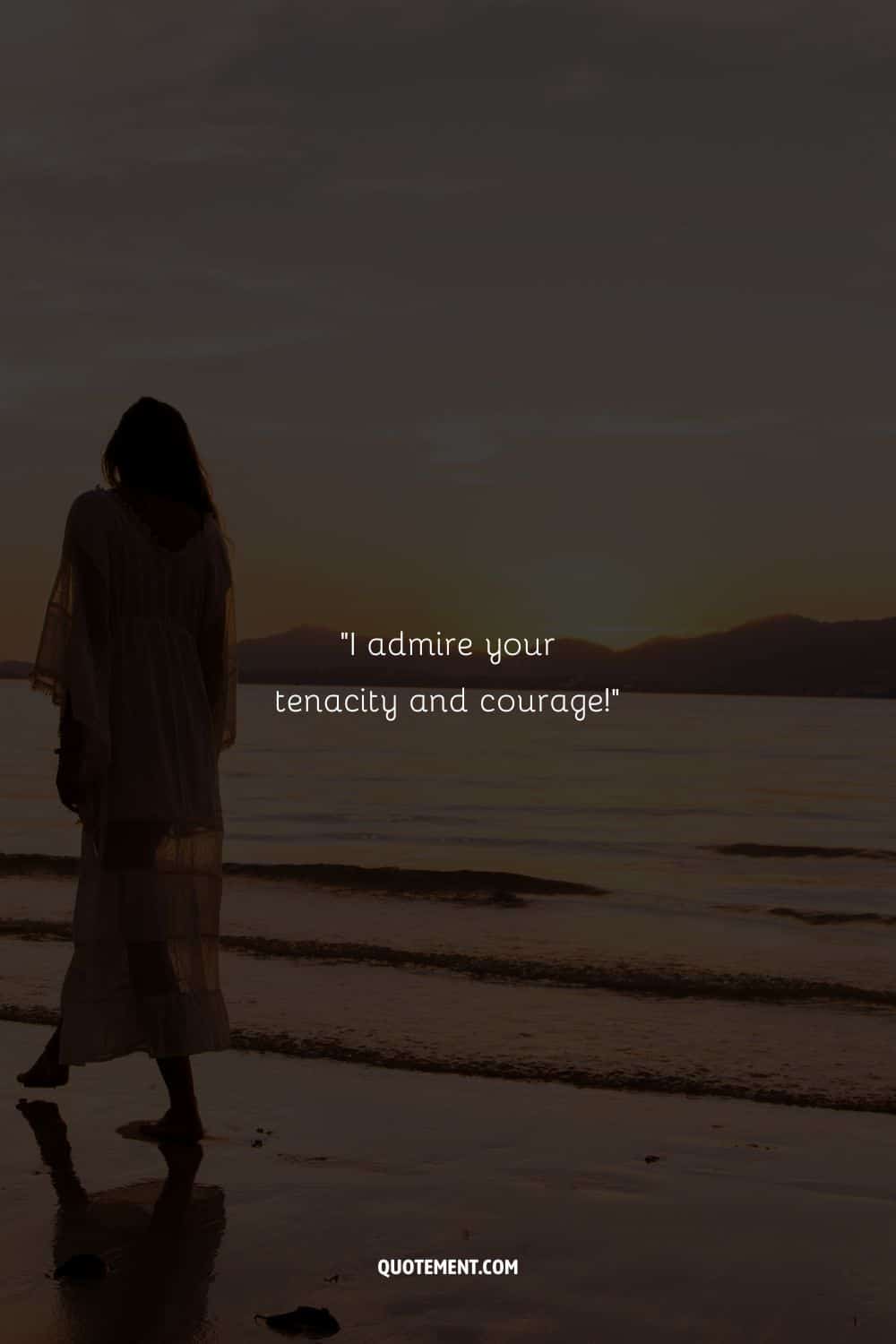 16. "Your beauty and personality are unique!"
17. "You help so many people. Your work is valued and vital."
18. "You are important to God's plan no matter your relationship status."
19. "You are loved more than you can fathom."
20. "You are a fighter and you never give up."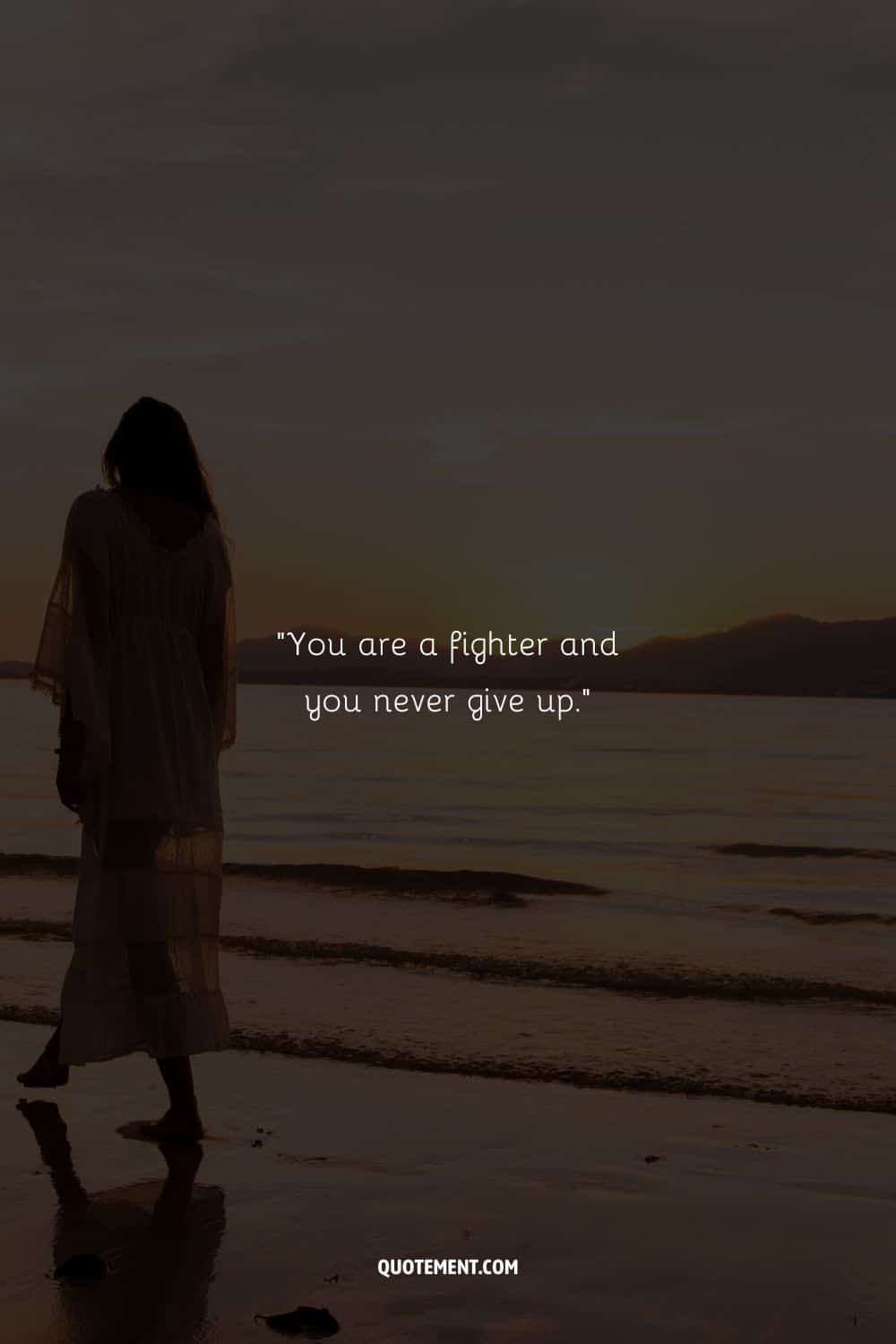 See also: Top 170 Daily Affirmations For Women Eager For Change
Words of Encouragement For Women In Tough Times
1. "The greatest glory in living lies not in never failing, but in rising every time we fail." — Nelson Mandela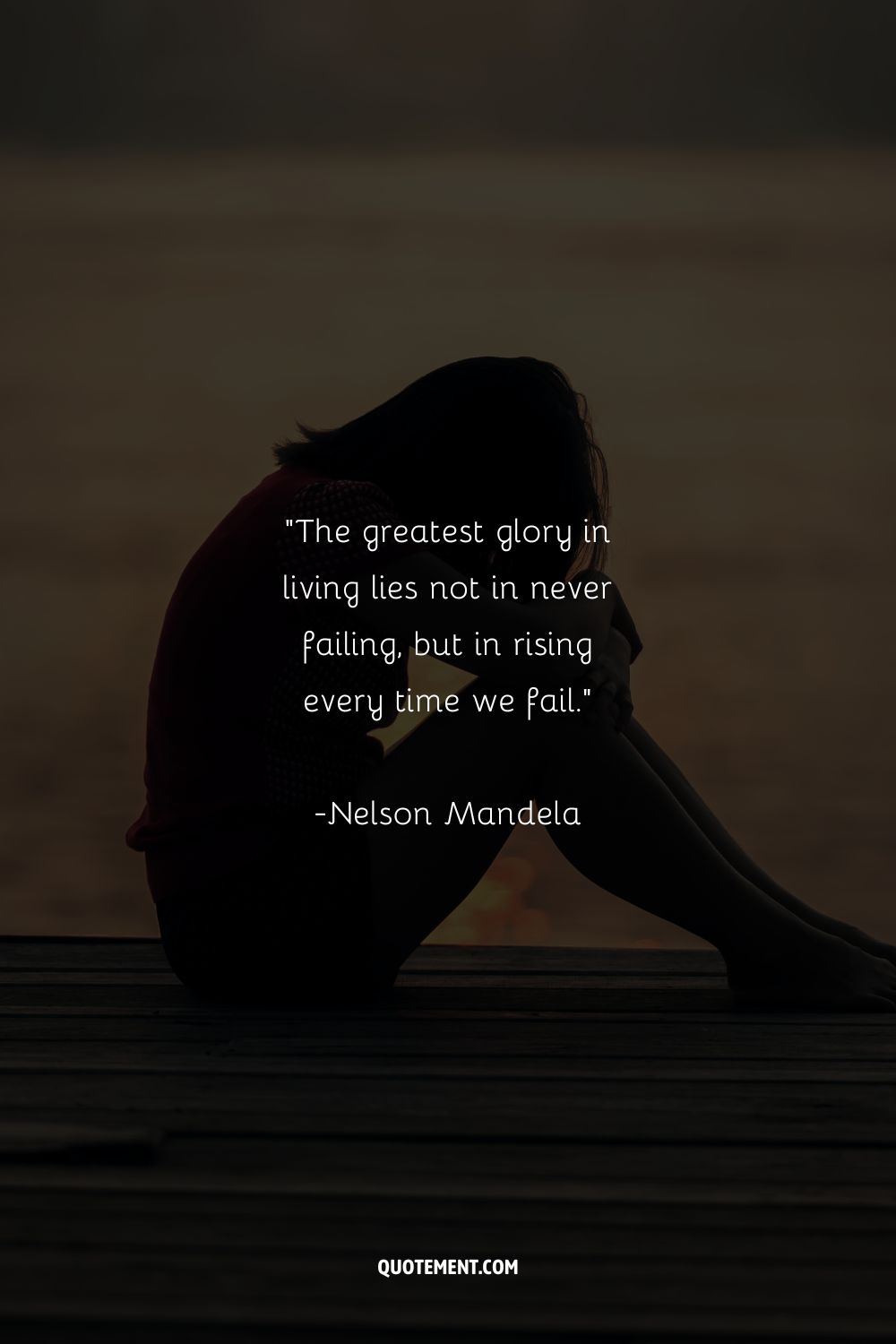 2. "It is impossible to live without failing at something, unless you live so cautiously that you might as well not have lived at all — in which case, you fail by default." — J.K. Rowling
3. "Characters cannot be developed in ease and quiet. Only through experience of trial and suffering can the soul be strengthened, ambition inspired, and success achieved." — Helen Keller
4. "You may encounter many defeats, but you must not be defeated." — Maya Angelou
5. "When life sucks you under, you can kick against the bottom, break the surface and breathe again." — Sheryl Sandberg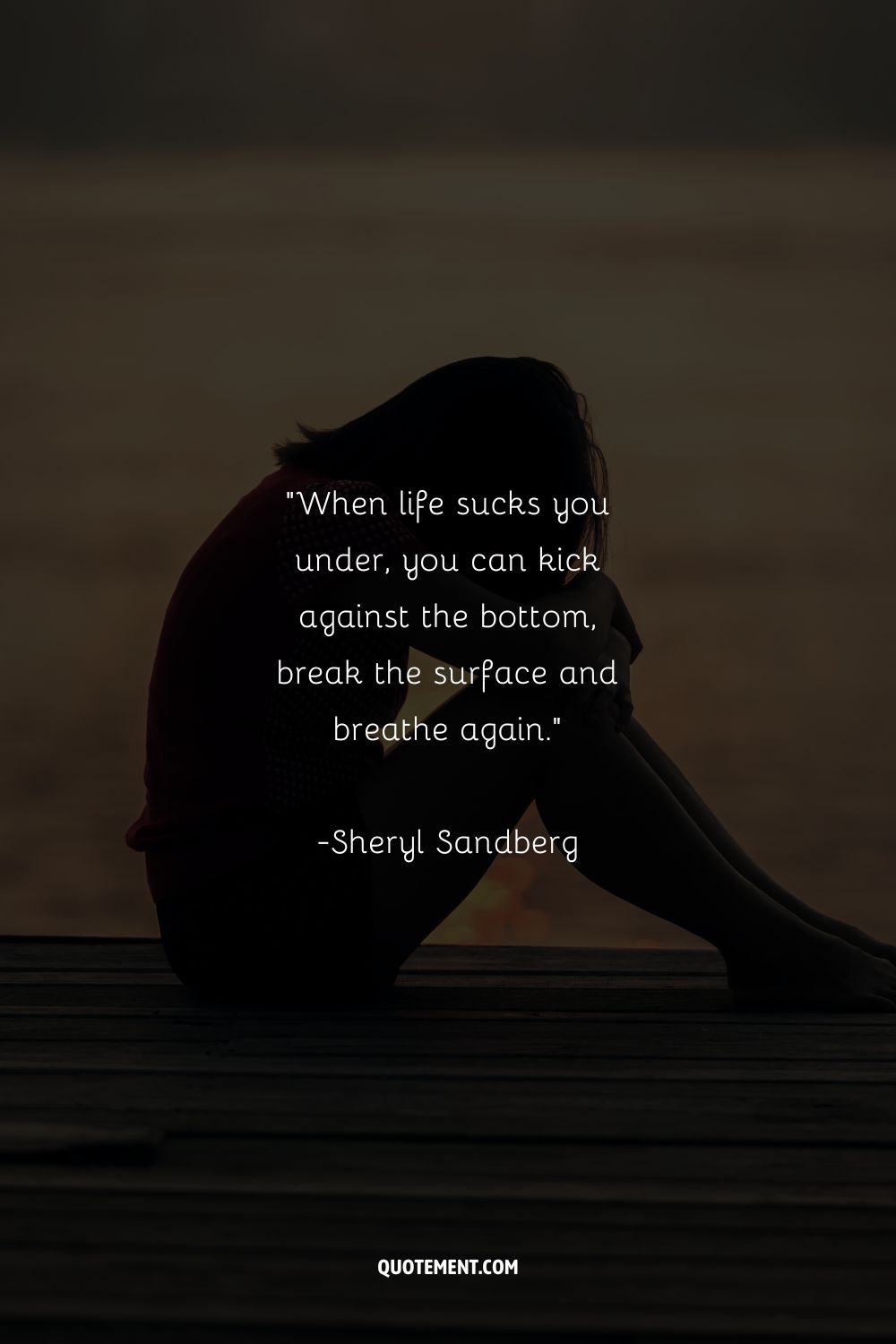 6. "There's more to life than what there seems on the surface. When you find this, you'll gain more hope for the future than ever." — Unknown
7. "Rather than let the world kick you when you're down and weak, stand up and do something about it." — Unknown
8. "Whatever happens to you belongs to you. Make it yours. Feed it to yourself even if it feels impossible to swallow. Let it nurture you, because it will." — Cheryl Strayed
9. "Rise above the storm and you will find the sunshine." — Mario Fernandez
10. "Sometimes you don't realize your own strength until you come face to face with your greatest weakness." — Susan Gale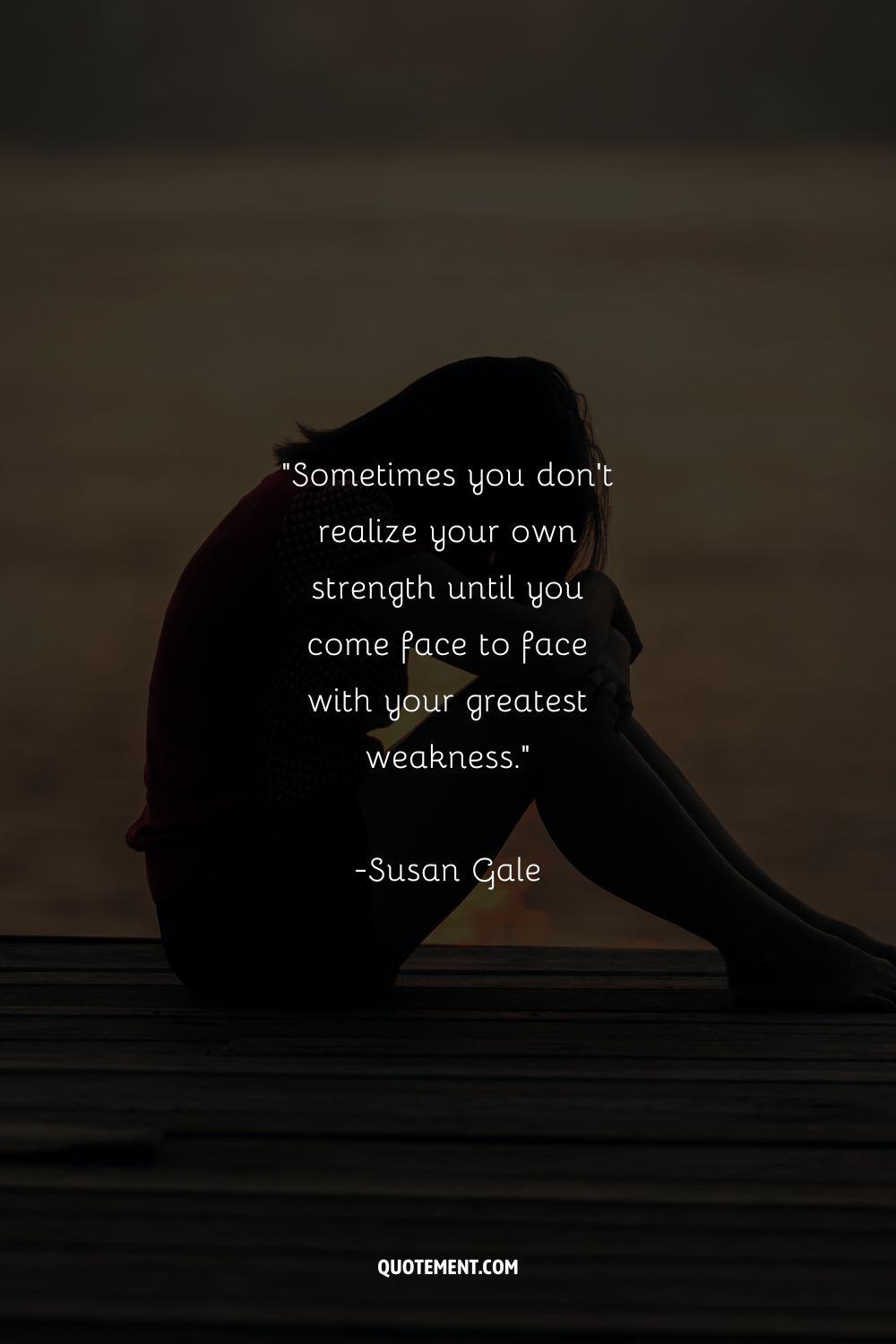 11. "The glass is half empty only because you choose to see it that way. Therefore, make the choice to see it as half full. Doing so can give you the strength you need to persist through almost anything." — Unknown
12. "Tell yourself you matter even when you don't believe it. Doing so can encourage you to be positive and keep your mind from wandering to the darkest place." — Unknown
13. "Above all, be the heroine of your life, not the victim." — Nora Ephron
14. "We must accept finite disappointment, but we must never lose infinite hope." — Martin Luther King
15. "The art of living lies less in eliminating our troubles than in growing with them. " — Bernard Baruch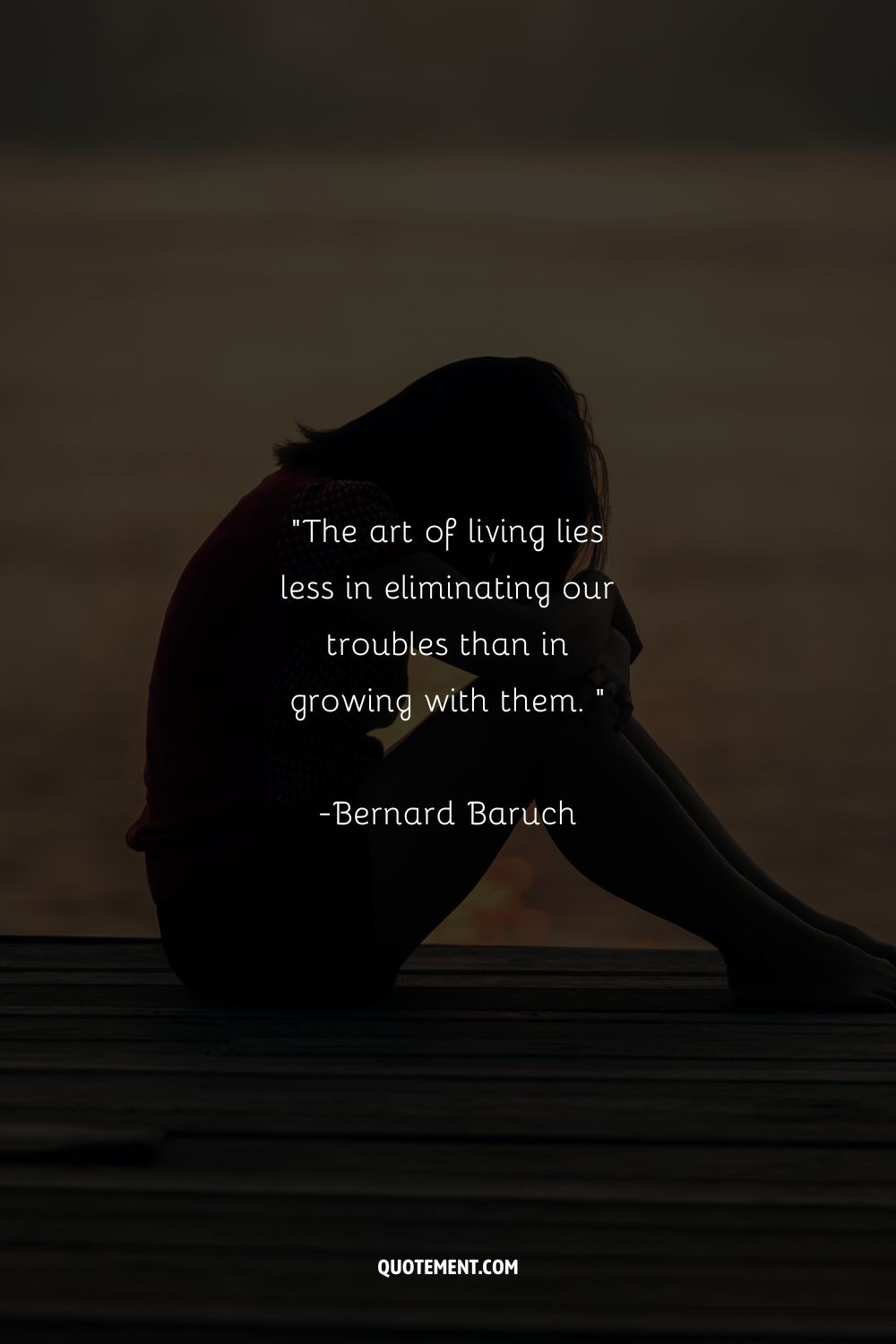 16. "Dark times eventually pass, and when they do, you can be grateful for the valuable lessons you've learned." — Unknown
17. "In the end, some of your greatest pains become your greatest strengths." — Drew Barrymore
18. "No matter how bad life may seem now, things will always improve as long as you commit to never giving up." — Unknown
19. "The world breaks everyone, and afterward, some are strong at the broken places." — Ernest Hemingway
20. "It is only in our darkest hours that we may discover the true strength of the brilliant light within ourselves that can never, ever, be dimmed." — Doe Zantamata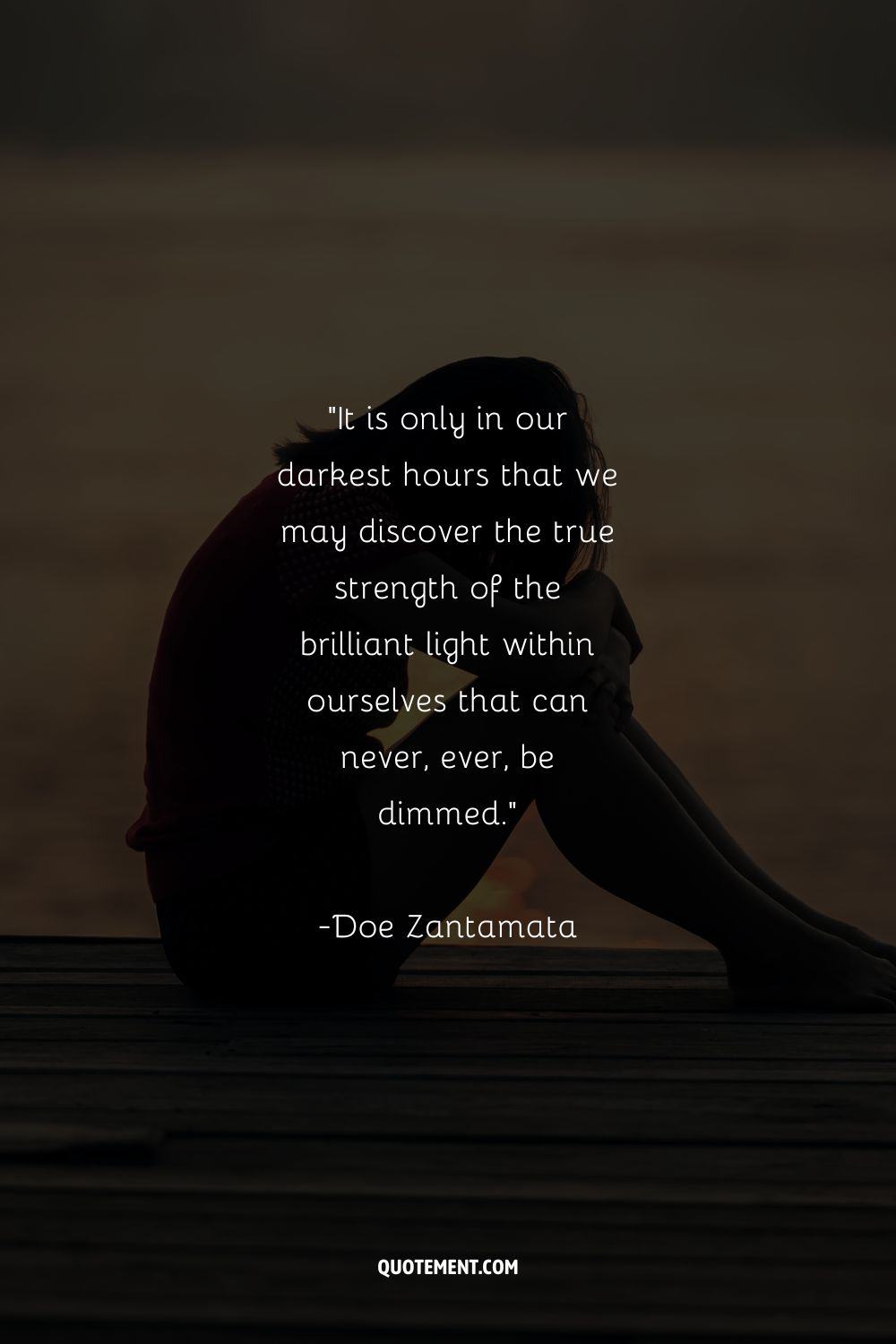 See also: Brilliant List Of 120 Light Quotes To Awaken Your Mind
Words Of Motivation To Uplift Women
1. "The power you have is to be the best version of yourself you can be, so you can create a better world." — Ashley Rickards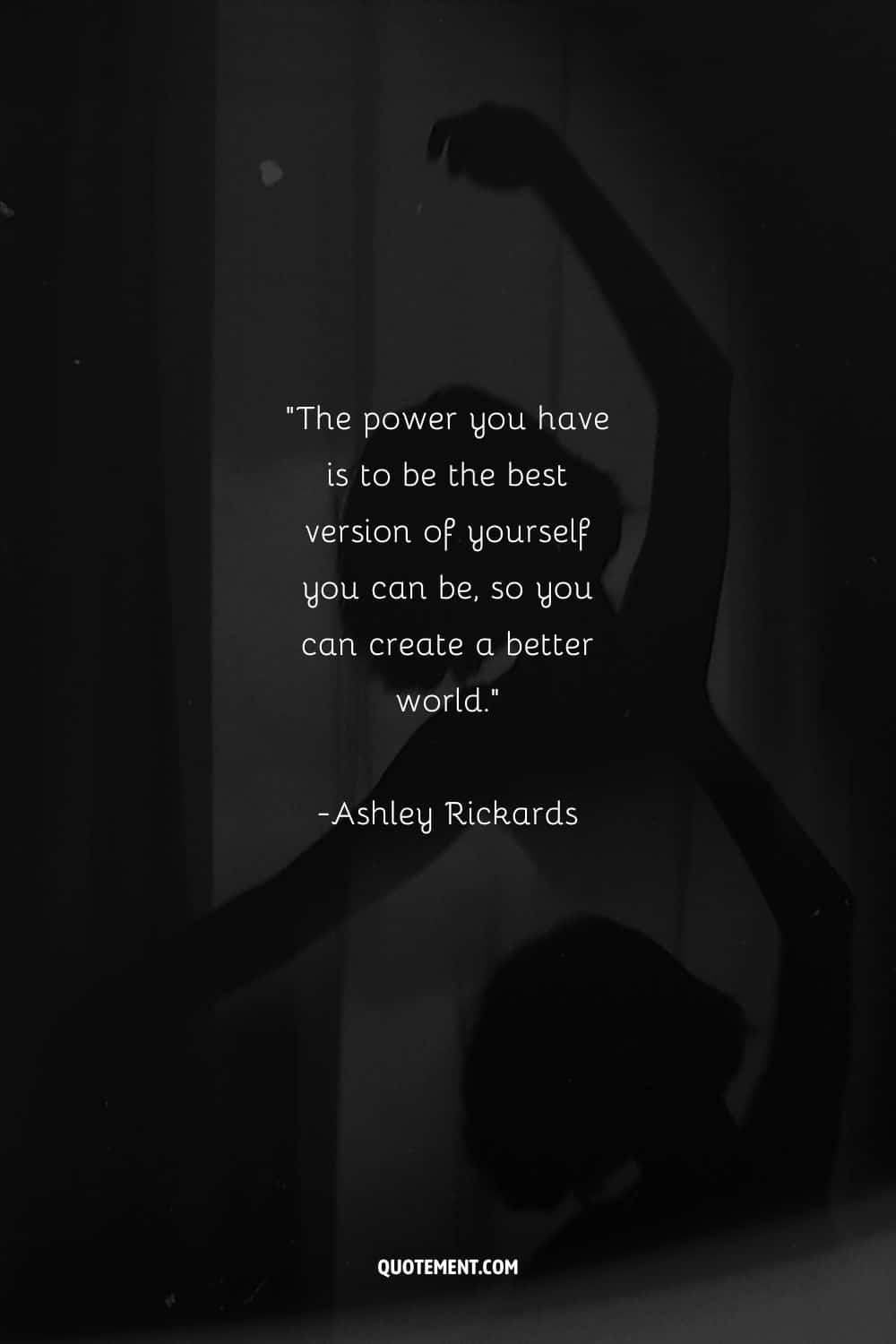 2. "The most beautiful thing you can wear is confidence." — Blake Lively
3. "You learn something out of everything, and you come to realize more than ever that we're all here for a certain space of time, and, and then it's going to be over, and you better make this count." — Nancy Reagan
4. "If you are always trying to be normal, you'll never know how amazing you can be." — Maya Angelou
5. "No, you may never be the "GOAT," but being the best you can be is within your reach — and that's more than enough." — Unknown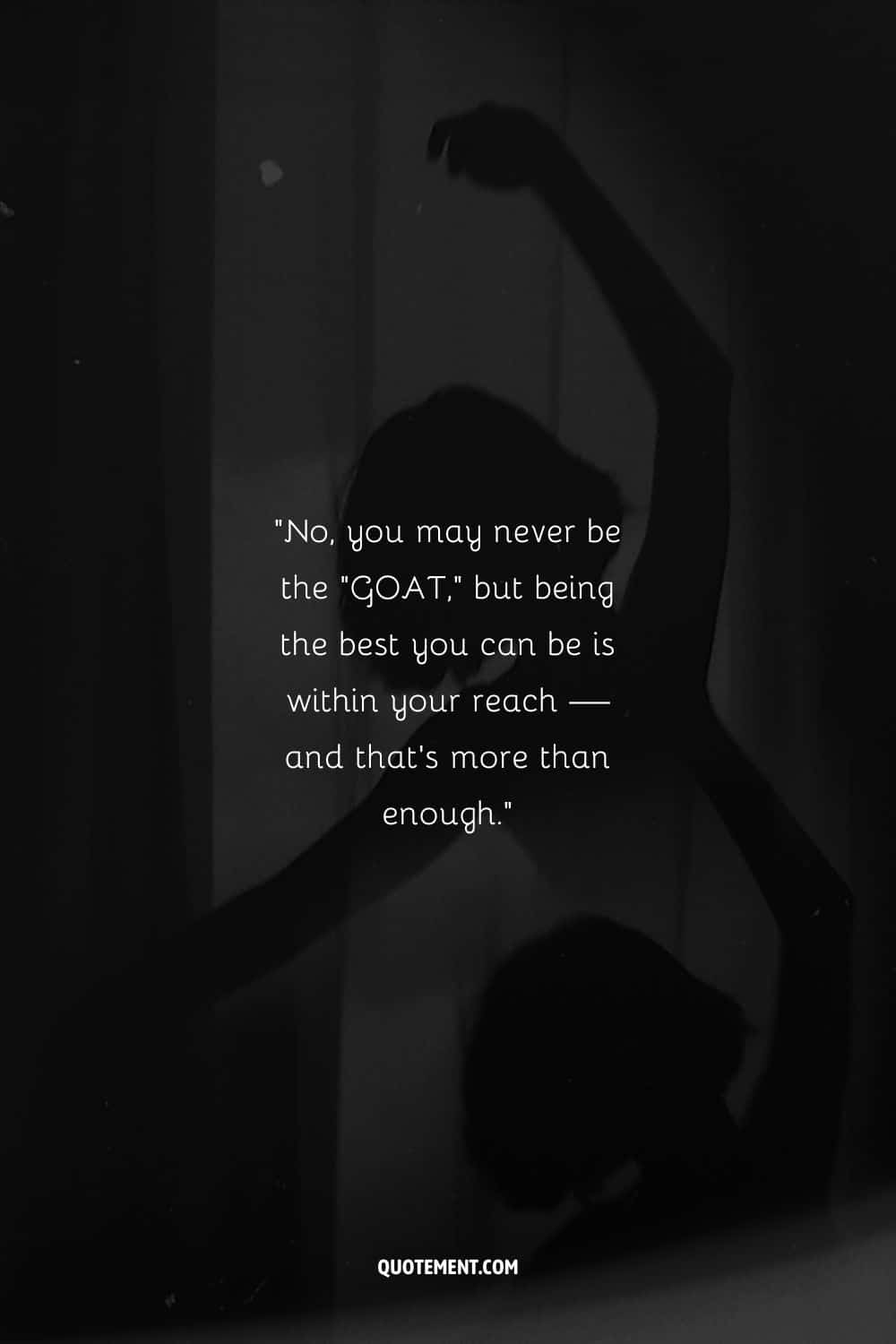 6. "You are altogether beautiful, my darling; there is no flaw in you." — Song of Solomon
7. "Nobody cares if you can't dance well. Just get up and dance. Great dancers are not great because of their technique, they are great because of their passion." — Martha Graham
8. "The only thing standing between you and success is confidence. Otherwise, you have what it takes!" — Unknown
9. "You are one of the most intelligent people I know — and also one of the most compassionate." — Unknown
10. "I think the best way to have confidence is not to allow everyone else's insecurities to be your own." — Jessie J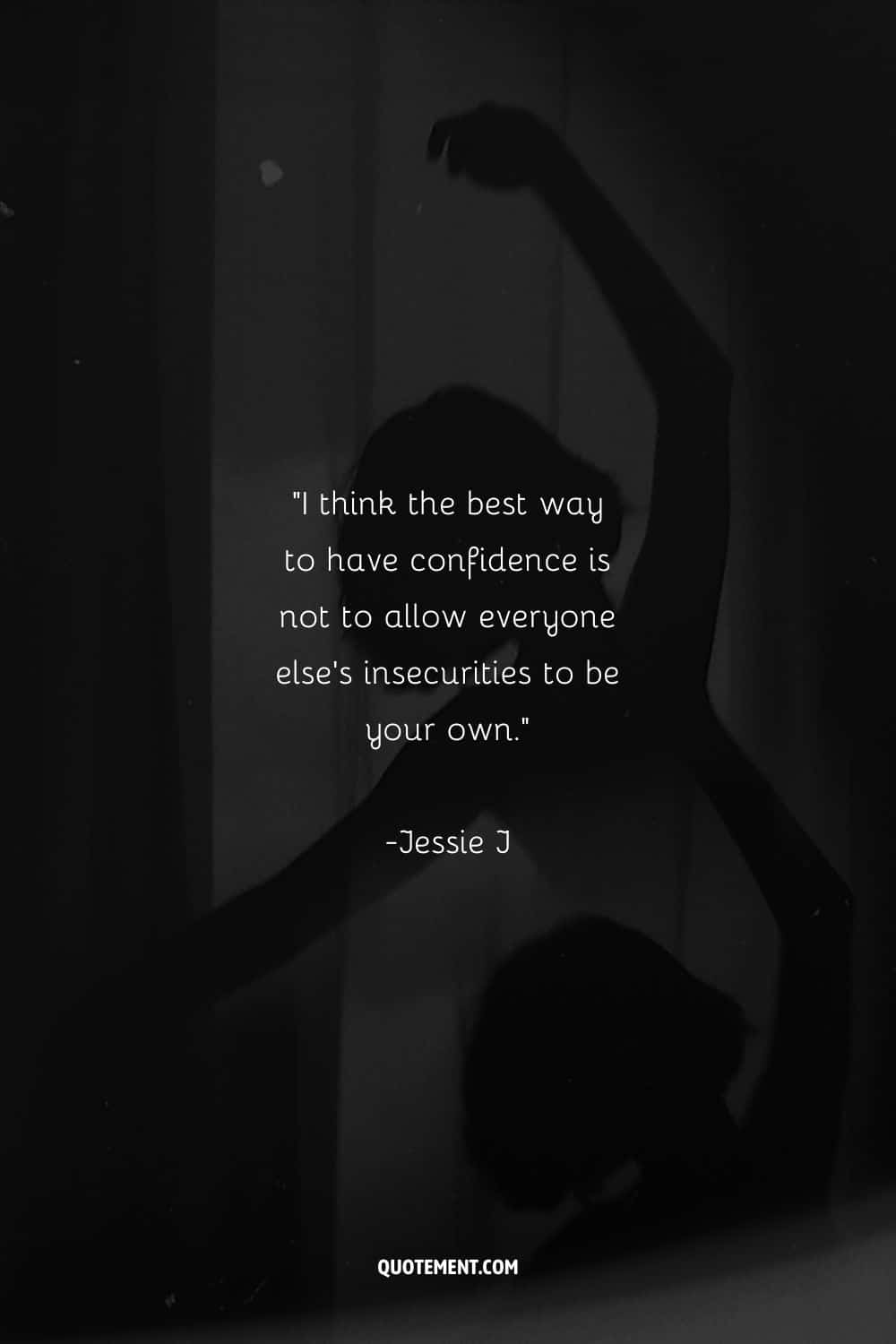 11. "I want to show you that God doesn't expect you to be happy about what has been torn from your hands—whether it's a marriage, your health, a job, or someone you love—but if you are willing to trust Him, he can turn trash into triumph." — Levi Lusko
12. "Failure is an essential part of life. Embrace it; learn from it, and be thankful for the lessons." — Unknown
13. "Each time a woman stands up for herself, she stands up for all women." — Maya Angelou
14. "You are more powerful than you know; you are beautiful just as you are." — Melissa Etheridge
15. "You're driven and bright. There's very little you can't accomplish if you put your mind to it." — Unknown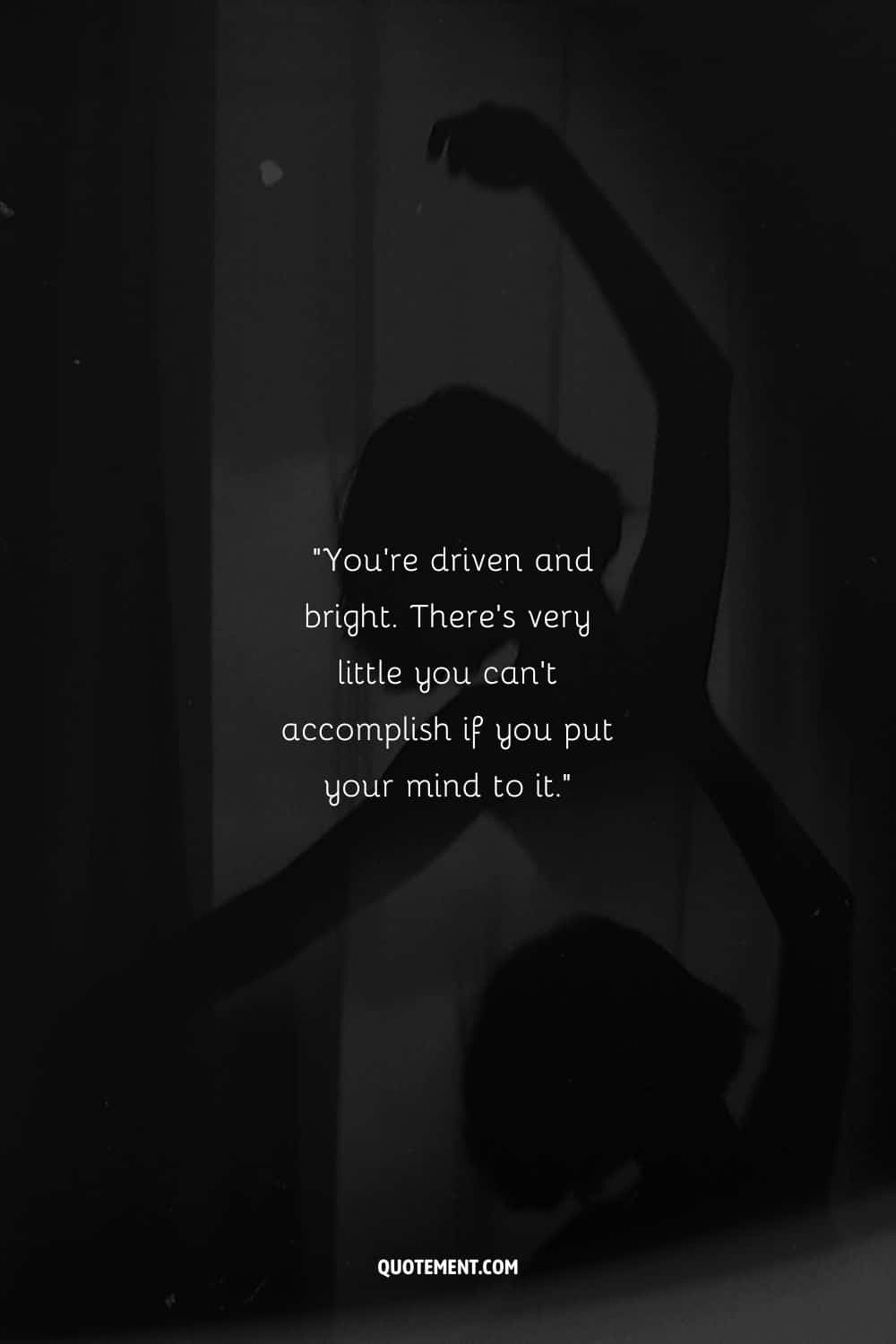 16. "Talent and intelligence are subjective, but hard work is undeniable. So don't worry if you're not the best; just make sure you work as hard as possible (without crossing the burnout line)." — Unknown
17. "When I grow up, I want to be just as responsible, fabulous, and fearless as you." — Unknown
18. "Forget about the noise and focus on cultivating self-love. It's the best gift you can give yourself." — Unknown
19. "We need women at all levels, including the top, to change the dynamic, reshape the conversation, to make sure women's voices are heard and heeded, not overlooked and ignored." — Sheryl Sandberg
20. "Don't let anyone rob you of your imagination, your creativity, or your curiosity. It's your place in the world; it's your life." — Dr. Mae Jemison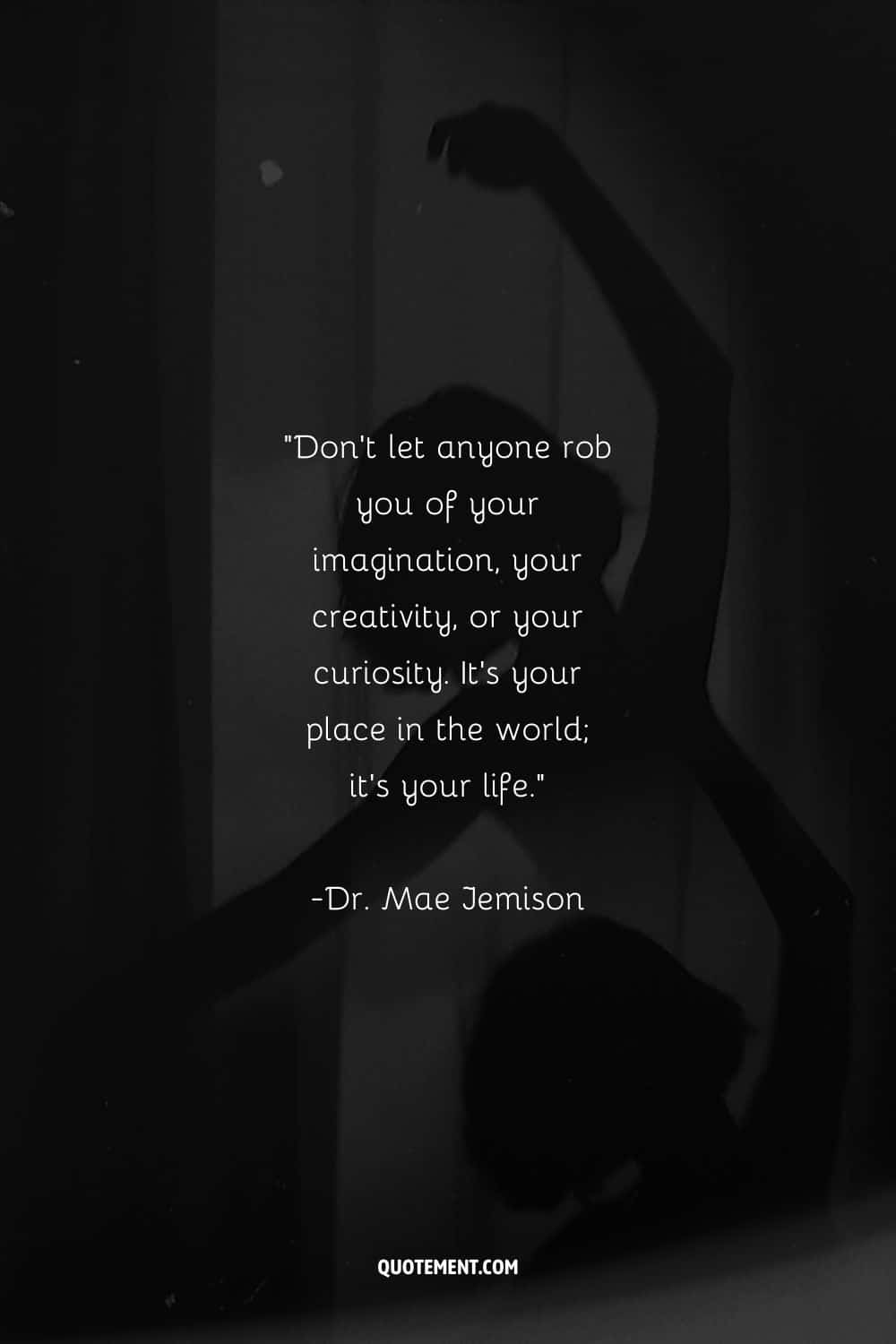 Wise & Encouraging Quotes For Women
1. "Risk it; go for it. Life always gives you another chance, another go at it. It's very important to take enormous risks." — Mary Quant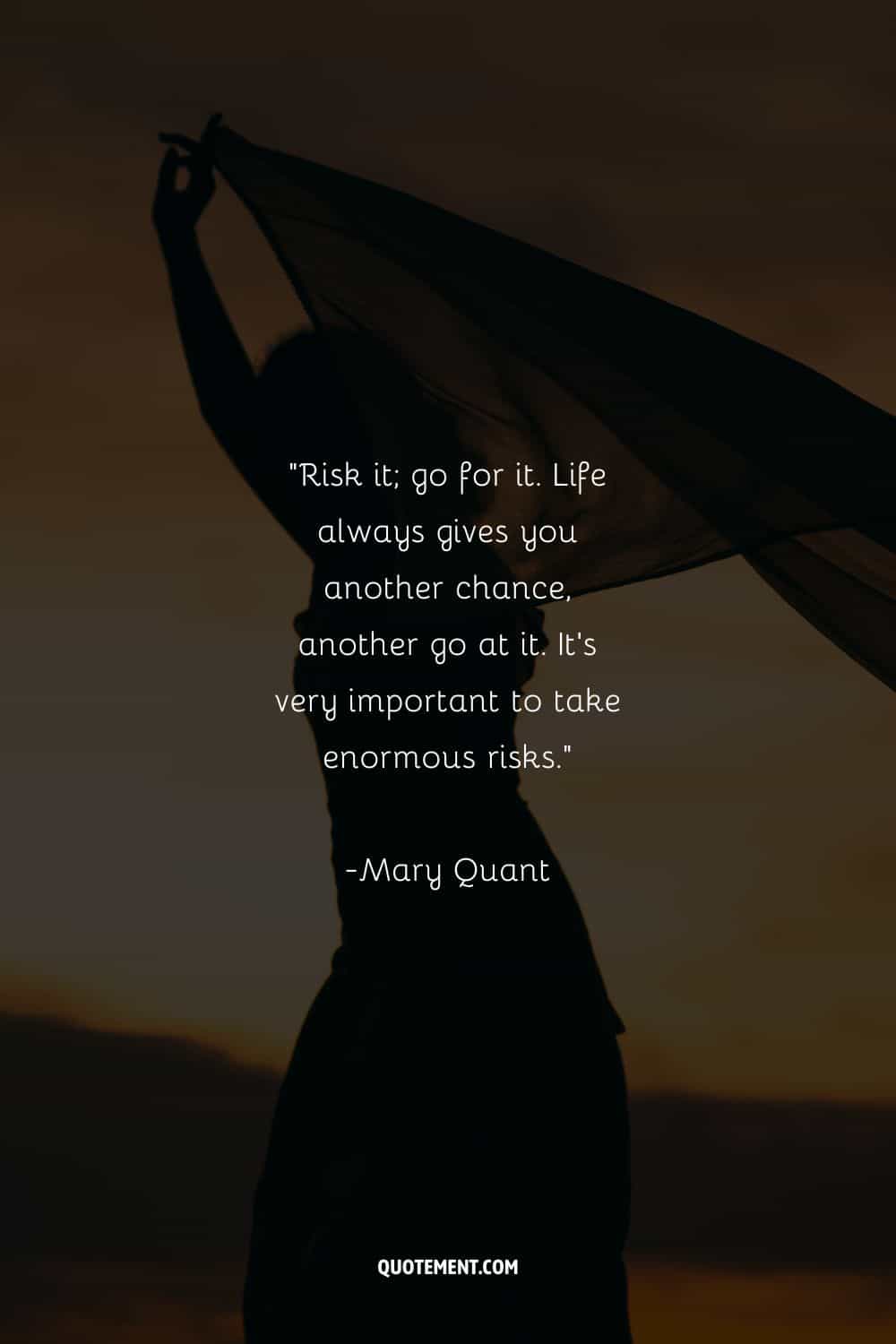 2. "You may not yet have even met this person who's going to explode your heart with love & fill your life with laughter. DON'T give up on love." — Beth Moore
3. "Love yourself first and everything else falls into place." — Lucille Ball
4. "So what's the antidote for loneliness? It's getting out of self. You've heard the phrase "Spread the love?" Well, that's what you have to do, girl! You've got to get busy. Love those who are available to be loved right now!" — Michelle McKinney Hammond
5. "A woman is the full circle. Within her is the power to create, nurture, and transform." — Diane Mariechild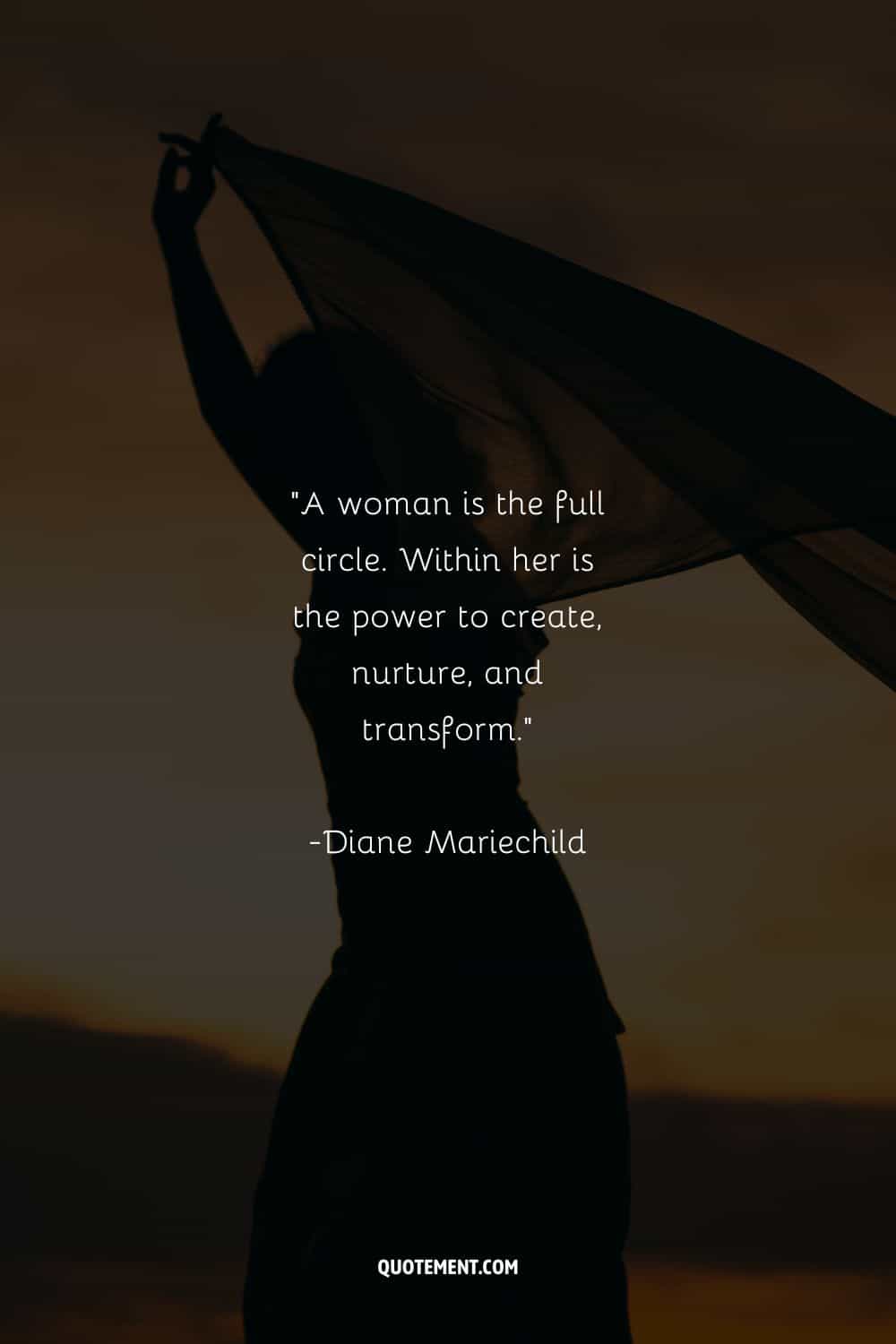 6. "You have to do what you dream of doing, even while you're afraid." — Arianna Huffington
7. "By being yourself you put something wonderful in the world that was not there before." — Edwin Elliot
8. "Character. Intelligence. Strength. Style. That makes beauty." — Diane Von Furstenberg
9. "Don't compromise yourself. You are all you've got. There is no yesterday, no tomorrow, it's all the same day." — Janis Joplin
10. "She stood in the storm, and when the wind did not blow her away, she adjusted her sails." — Elizabeth Edwards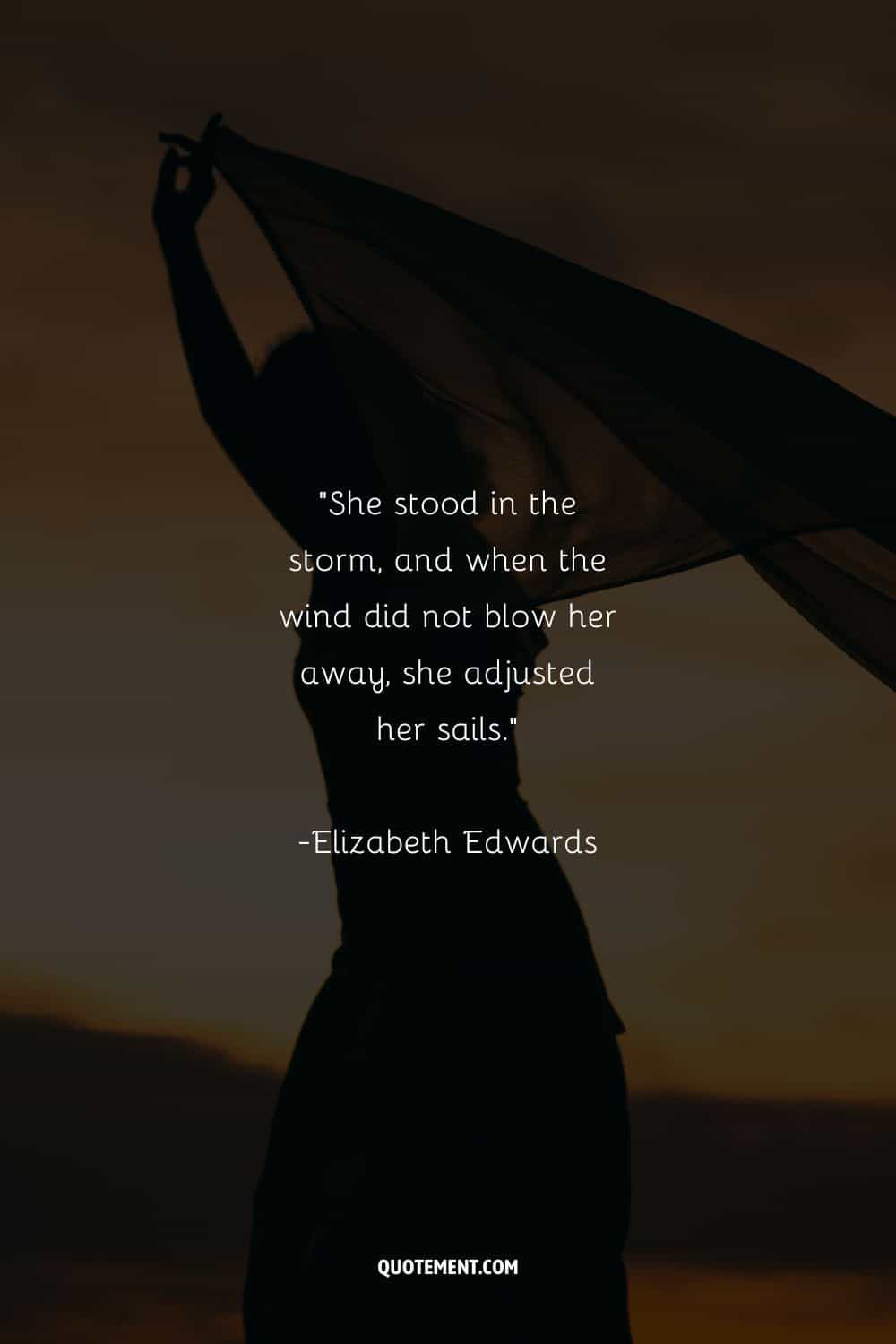 11. "Don't be afraid to speak up for yourself. Keep fighting for your dreams!" — Gabby Douglas
12. "If you can dance and be free and be embarrassed, you can rule the world." — Amy Poehler
13. "Maybe some women aren't meant to be tamed. Maybe they just need to run free until they find someone just as wild to run with them." — Candace Bushnell
14. "It's a helluva start, being able to recognize what makes you happy." ― Lucille Ball
15. "Don't be intimidated by what you don't know. That can be your greatest strength and ensure that you do things differently from everyone else." — Sara Blakely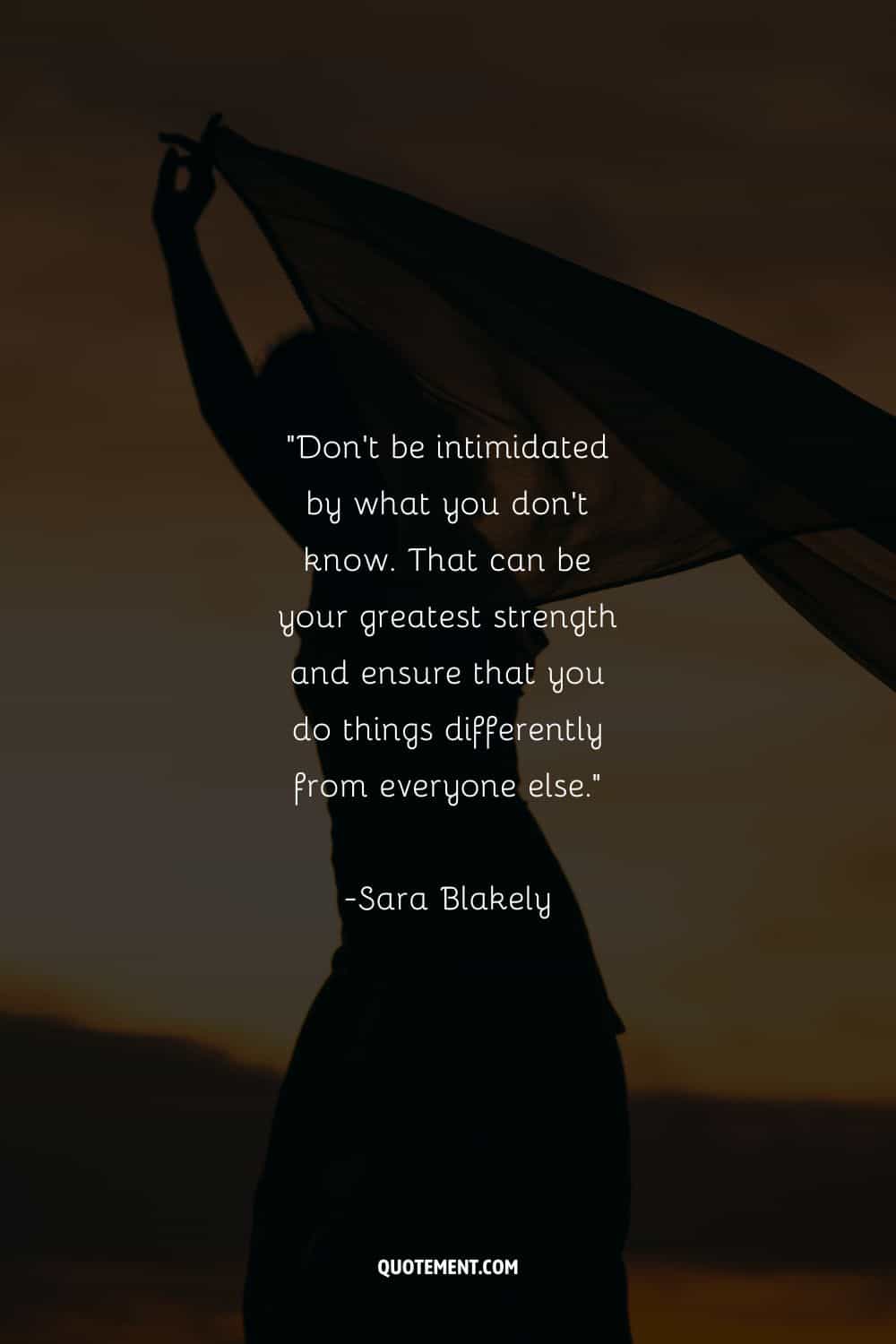 16. "If you don't see a clear path for what you want, sometimes you have to make it yourself." — Mindy Kaling
17. "I've been absolutely terrified every minute of my life — and I've never let it keep me from doing a single thing I wanted to do." — Georgia O'Keefe
18. "Never make yourself small for anyone, be your own person, and try wearing a little lipstick." — Grey's Anatomy
19. "Speak your mind, even if you voice shakes." — Maggie Smith
20. "Joy does not simply happen to us. We have to choose joy and keep choosing it every day." — Henri J.M. Nouwen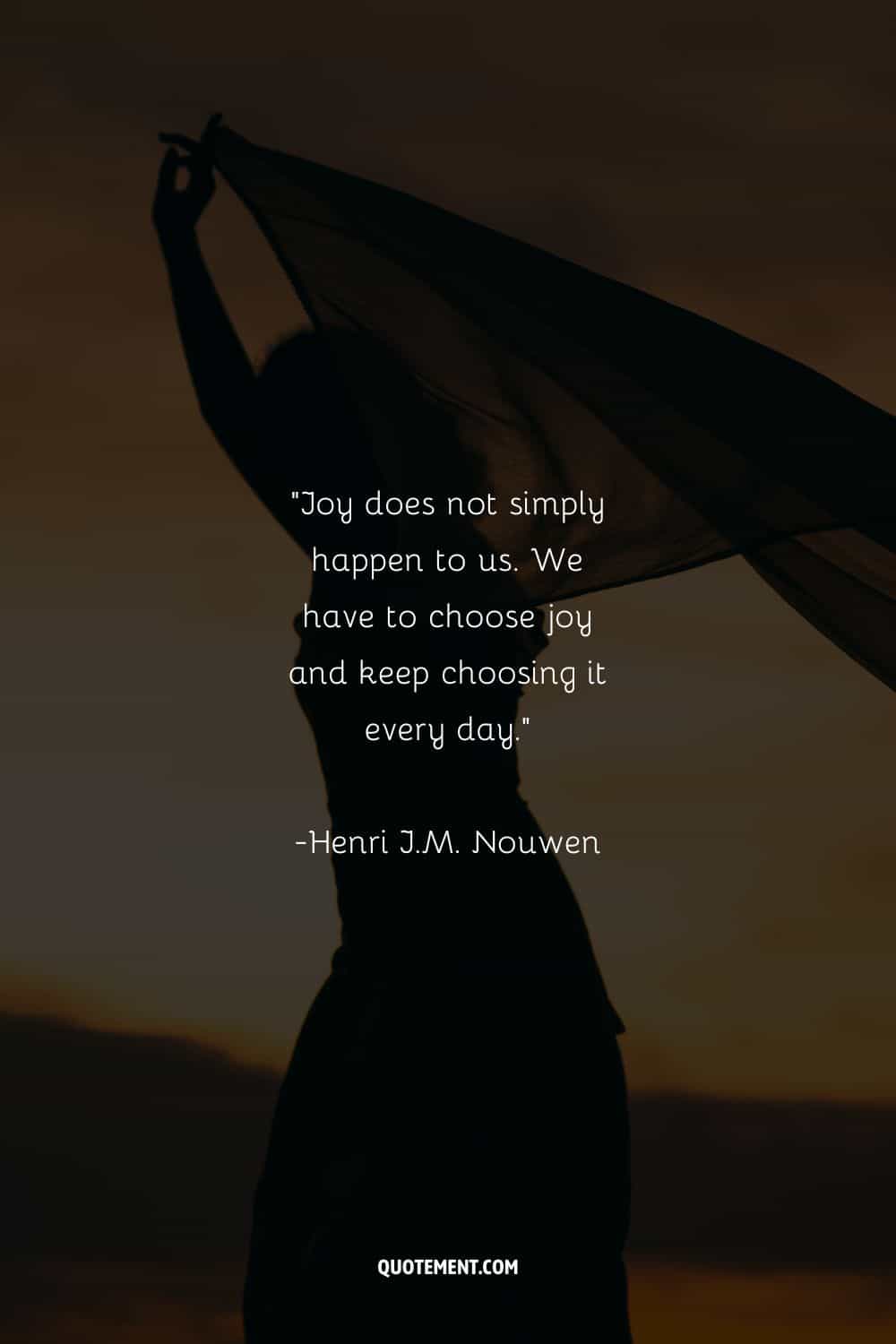 See also: 80 Inspiring Quotes On Joy To Turn Your Frown Upside Down
Summing Up
I hope that these words of encouragement for women have served as a guiding light, reminding you of your limitless potential and inspiring you to chase your dreams fearlessly.
Remember that you are capable of achieving greatness, and every challenge you face is an opportunity for growth and transformation.
So go forth, embrace your greatness, and conquer the world with confidence and determination.
Read next: The 130 Best Alpha Female Quotes For Women's Empowerment