Your perfect all-white outfit deserves an Instagram post to celebrate it, and a perfect Instagram post must always have a good Instagram caption!
In this article, you'll find the best white outfit captions for Instagram anywhere online, so snap a quick selfie, upload it, and add a caption from this list!
There's no better feeling than when we feel fabulous in our killer outfit and want the whole world to see it. However, the perfect outfit needs to be accompanied by a perfect Insta caption.
An all-white outfit is simple and powerful, and an IG caption should be too.
Stick with me, and you'll find some amazing white outfit Instagram captions you're gonna love.
Top 30 White Outfit Captions For Instagram
Without any further ado, let's check out the best white outfit captions for Instagram you can find anywhere online.
1. White is the queen of all colors.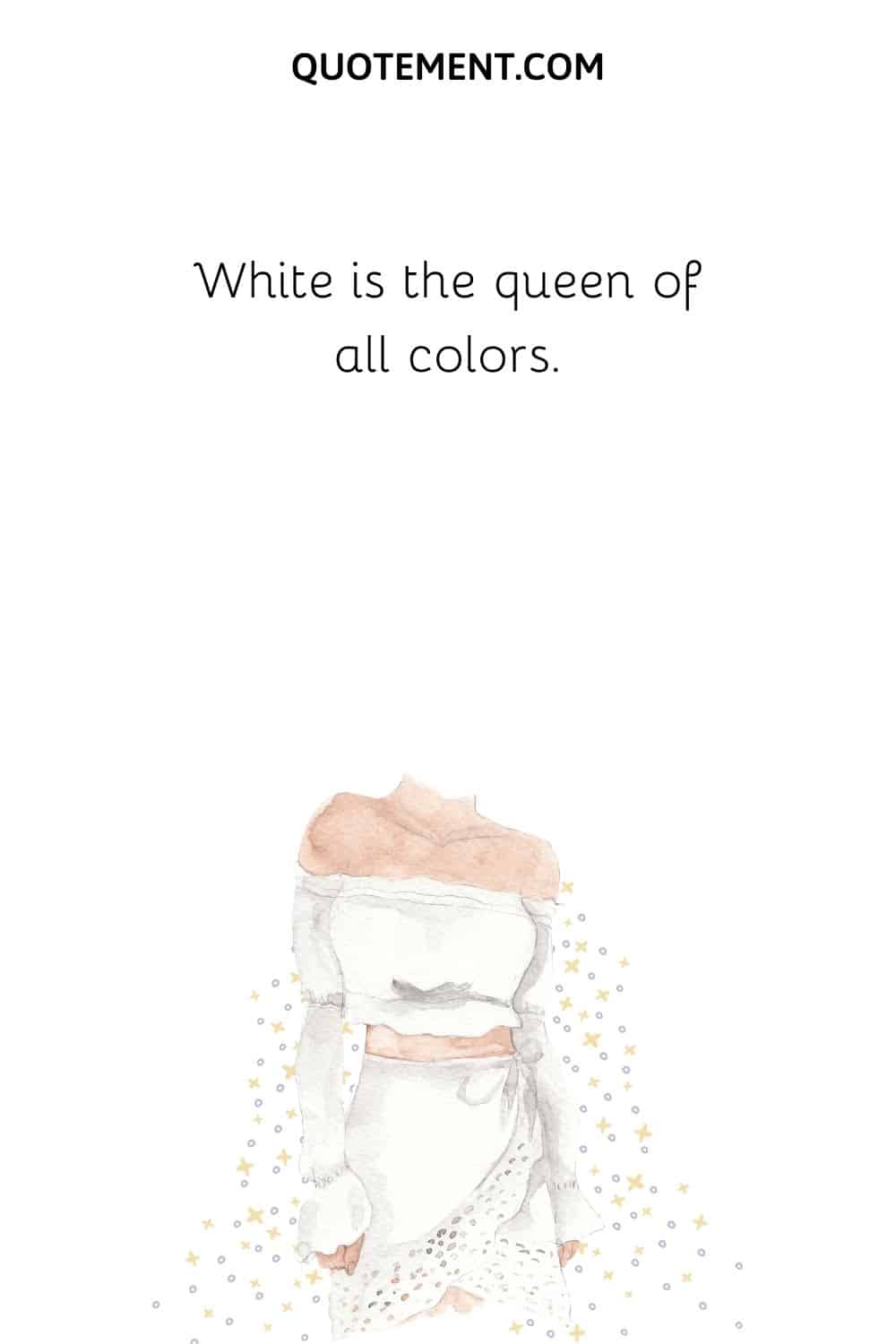 2. White isn't just the color of purity and love. It's the color of risk as well.
3. White is my signature color.
4. White has something strange and strong in it.
5. White is not for the messy life. It's for clarity. It's for those who are free.
6. Much like white, I'm a classic.
7. Colorful lives are led by women wearing white.
8. When I am wearing white, I get the most charming vibes.
9. So simple, yet white is the fashion color of the rich.
10. "White is not a mere absence of color; it is a shining and affirmative thing, as fierce as red, as definite as black" — G. K. Chesterton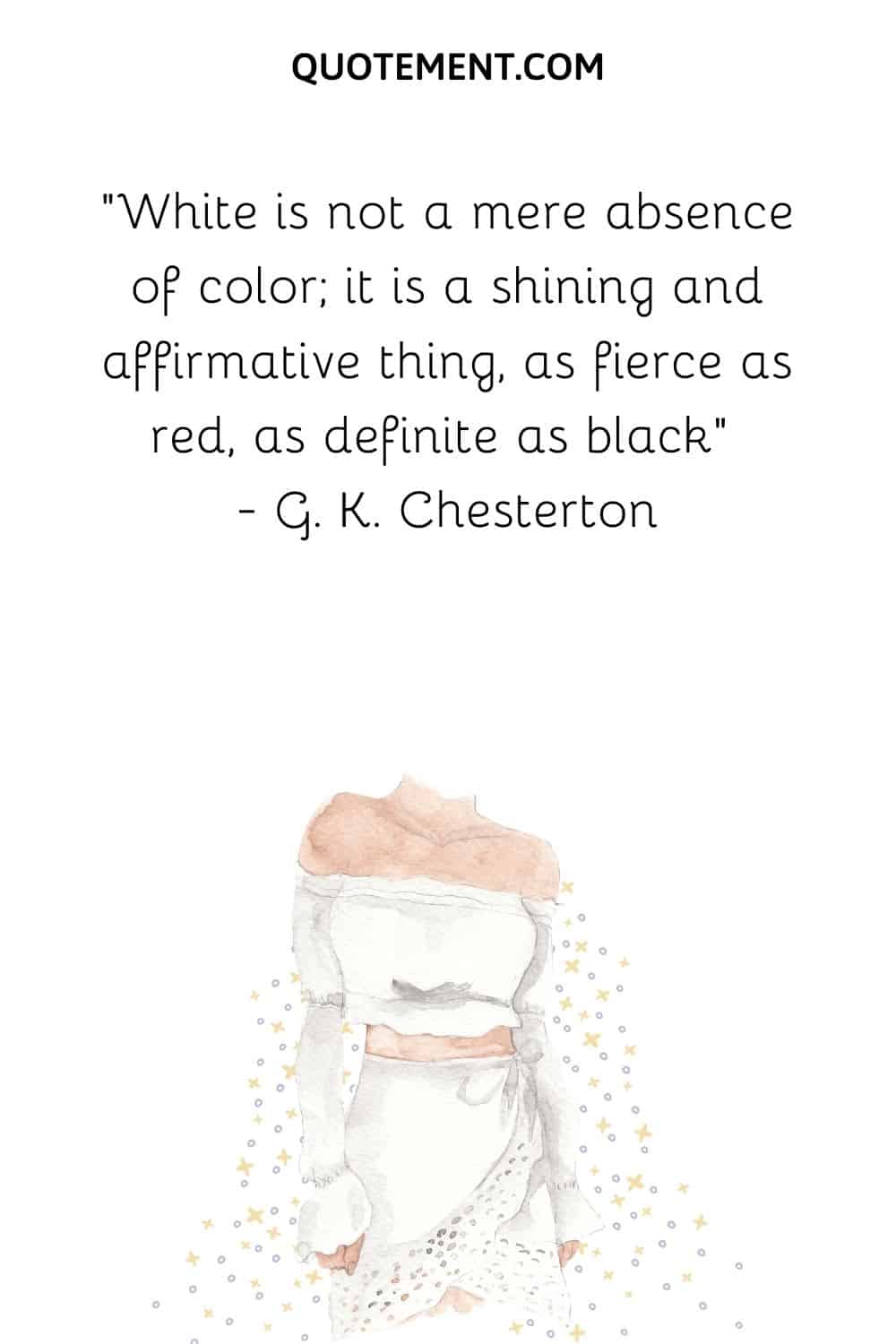 11. Fashion is the armor to survive the reality of everyday life.
12. Classy white.
13. The shine of the white dress.
14. White is such a magical color: it makes me feel light as a cloud, calm like a breeze, and yet rebellious like a wildflower.
15. I'll stop wearing white when they invent a brighter color.
16. White as the driven snow.
17. White dress strategy.
18. A little white dress lets you stand out without being dramatic.
19. "I will never be the woman with perfect hair, who can wear white without spilling on it." — Carrie Bradshaw
20. All-white outfit makes me feel like an angel.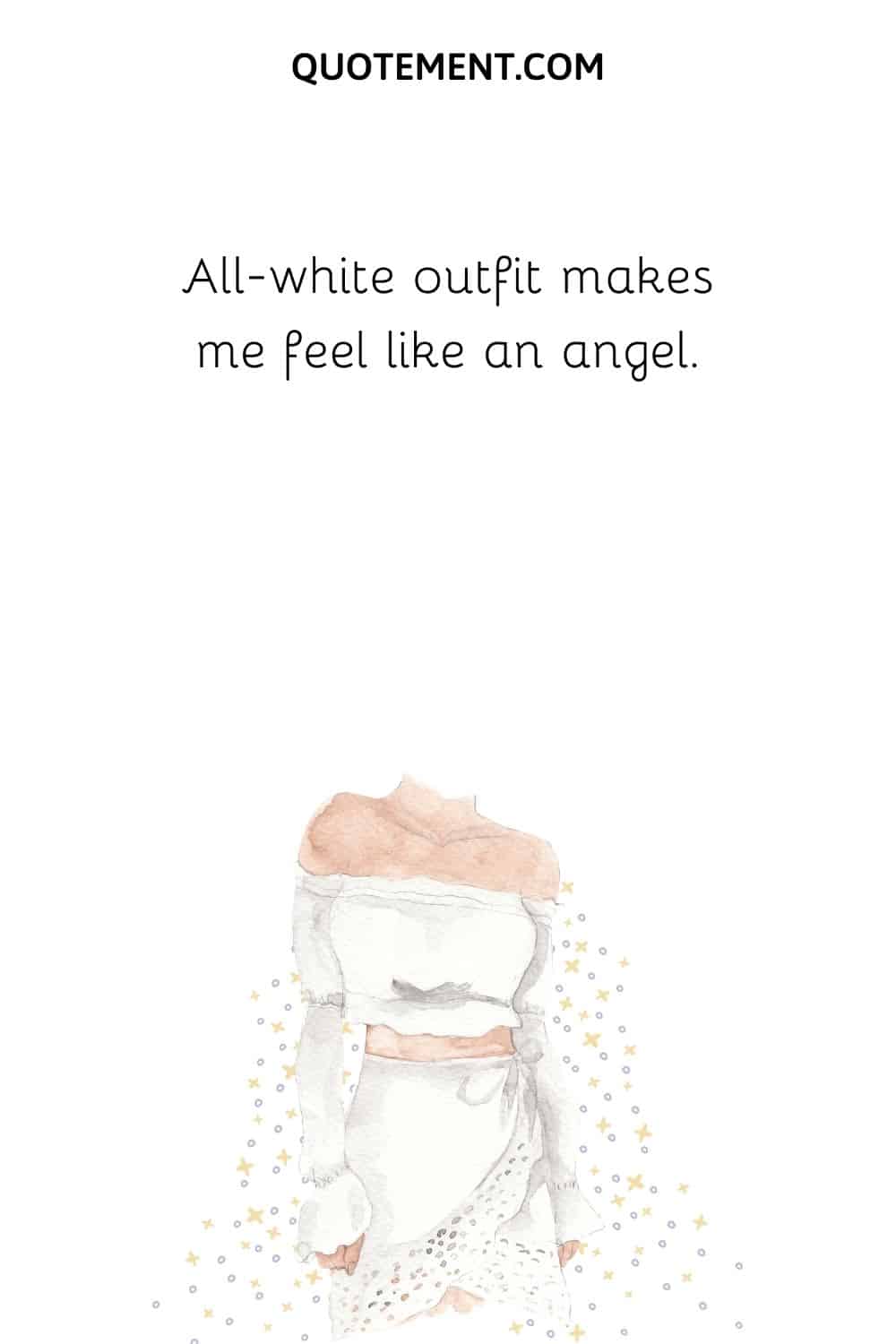 21. My middle name is 'white dressed to impress.'
22. Wearing white on the beach is a vibe.
23. Are you in the mood for a little white?
24. Excuse me, has anyone seen a white rabbit?
25. White is not a trendy color. It's the color of centuries of fashion!
26. White is eternal; colors fade.
27. Nothing better than an all-white outfit.
28. In bliss with white.
29. On Wednesdays, we wear white.
30. "White has it all. Its beauty is absolute. It's perfect harmony." — Coco Chanel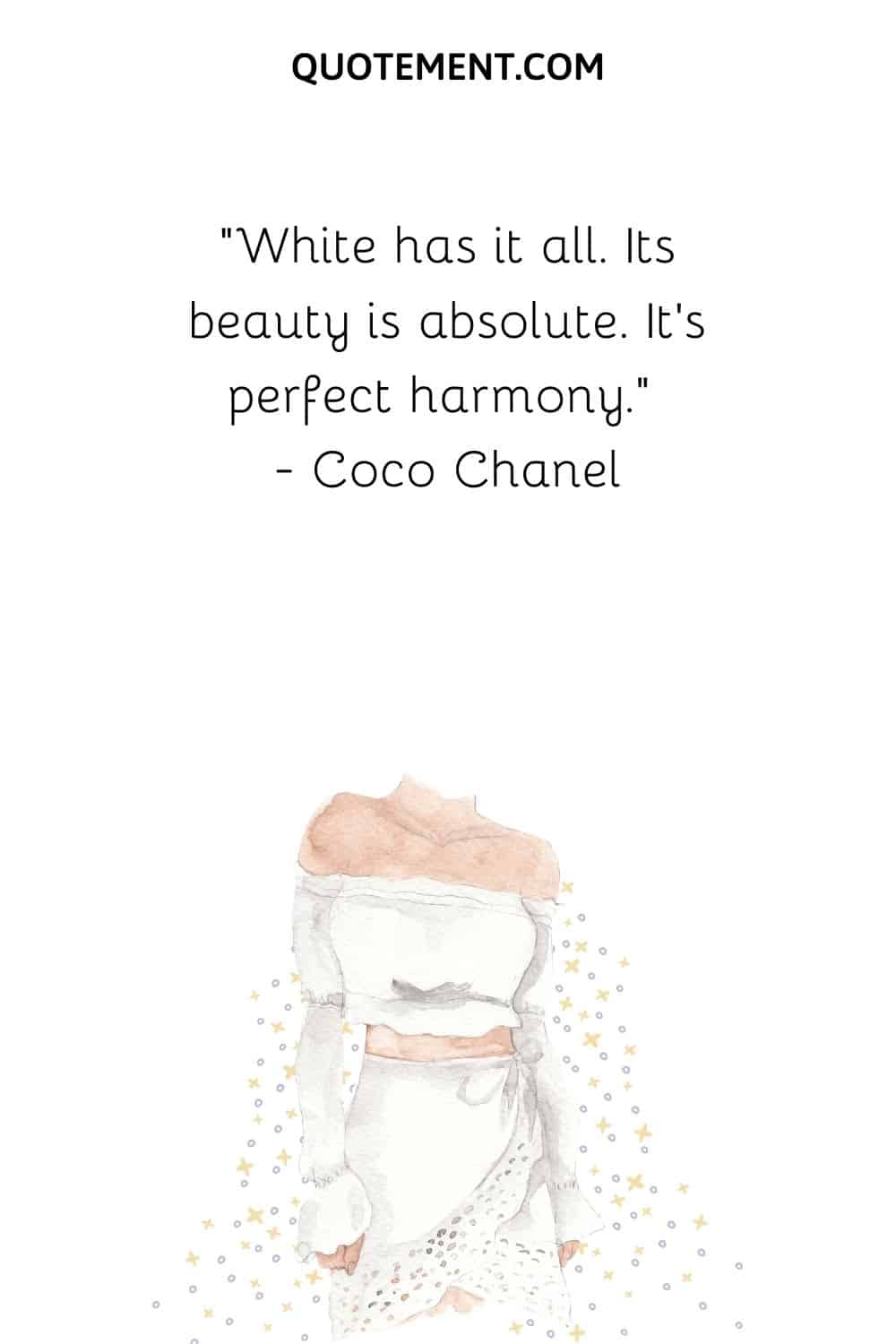 White Shirt Captions For Instagram
White shirts are so simple, yet so powerful. They instantly make you glow. Check out these white outfit captions for Instagram that are perfect for your wonderful white shirt.
1. The hotness is a man folding the sleeves of his white shirt.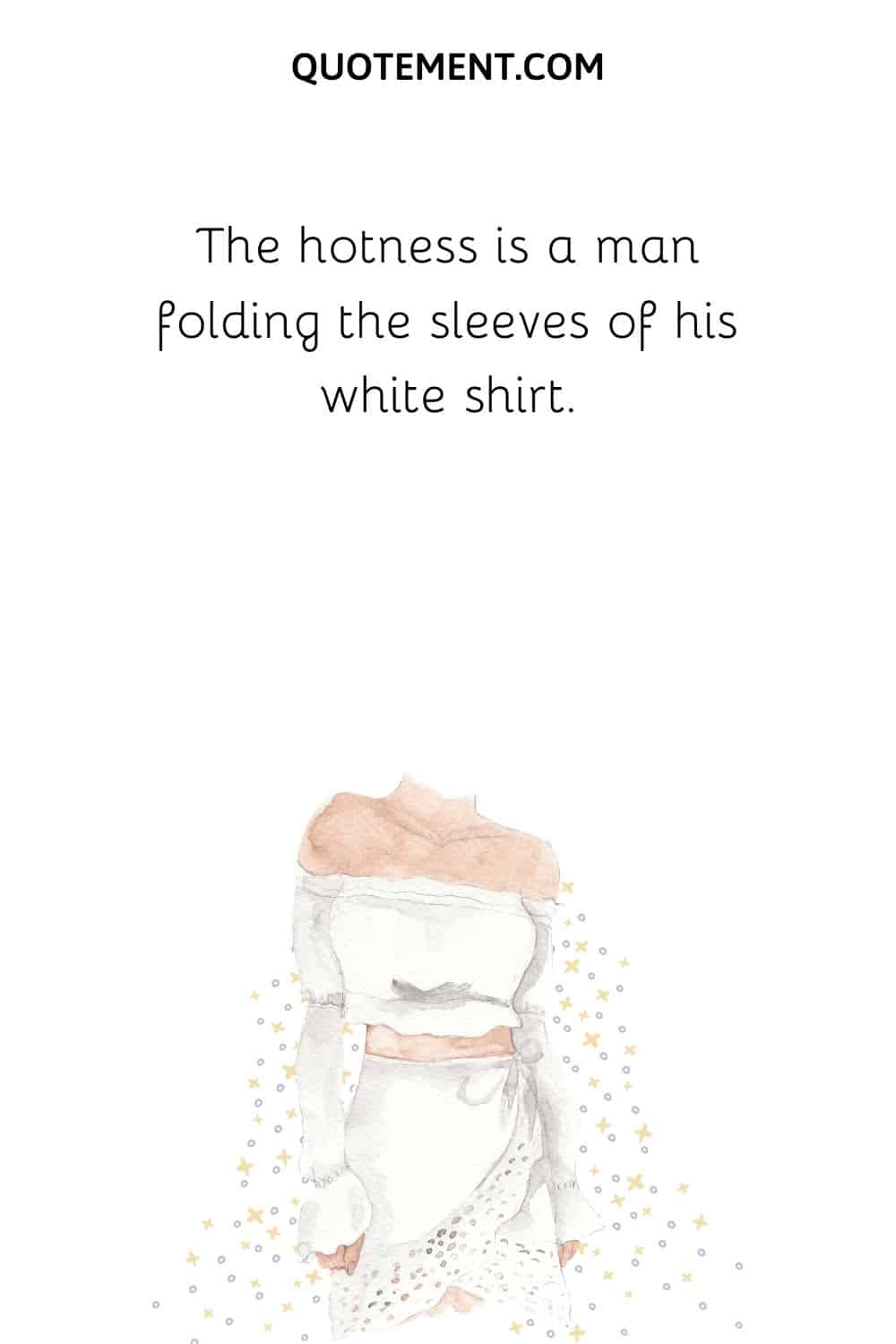 2. Nothing could be better for me than a white shirt.
3. White shirt suits my attitude.
4. A white shirt is the best.
5. If in doubt, everything looks good with a white shirt.
6. White T-shirt is like a black canvas – eternally versatile.
7. White adds soothing rhythm to a colorless day.
8. It's never too early to bring out the whites!
9. Boy in white.
10. Bad vibes just don't go with my outfit.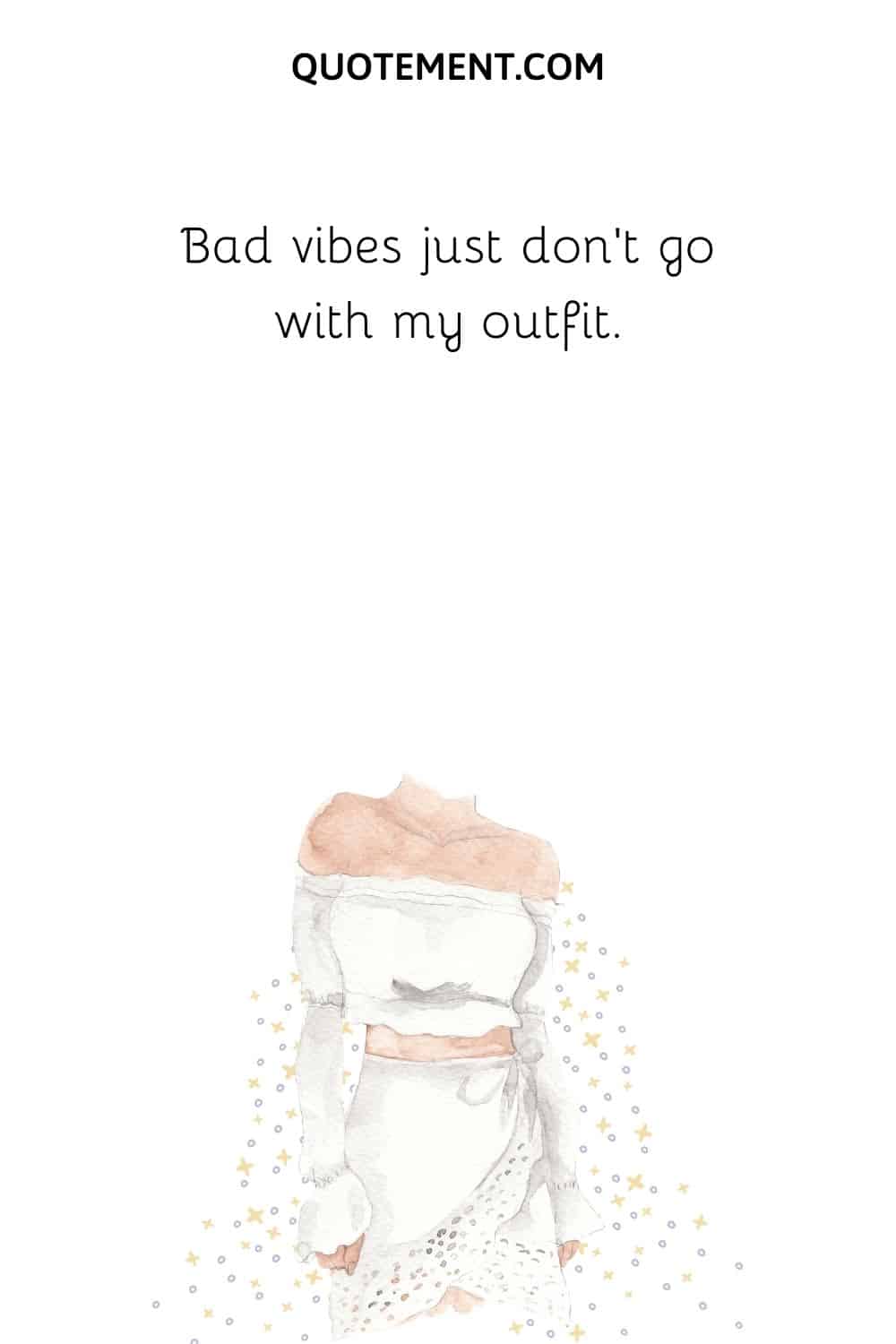 11. White is not a style. Never had it been. It's a way of life.
12. Basically, every day I am in a skirt and a white t-shirt.
13. This is my forever mood.
14. Never underestimate the power of a good outfit on a bad day.
15. I always bring my slay game.
Black And White Dress Captions For Instagram
It could be a white outfit, black outfit, or combination of both black and white – whatever you choose, you'll make no mistake!
These fashion captions and fashion quotes are about the power of black and white.
1. Life is not always black and white, but there's no harm in wearing it.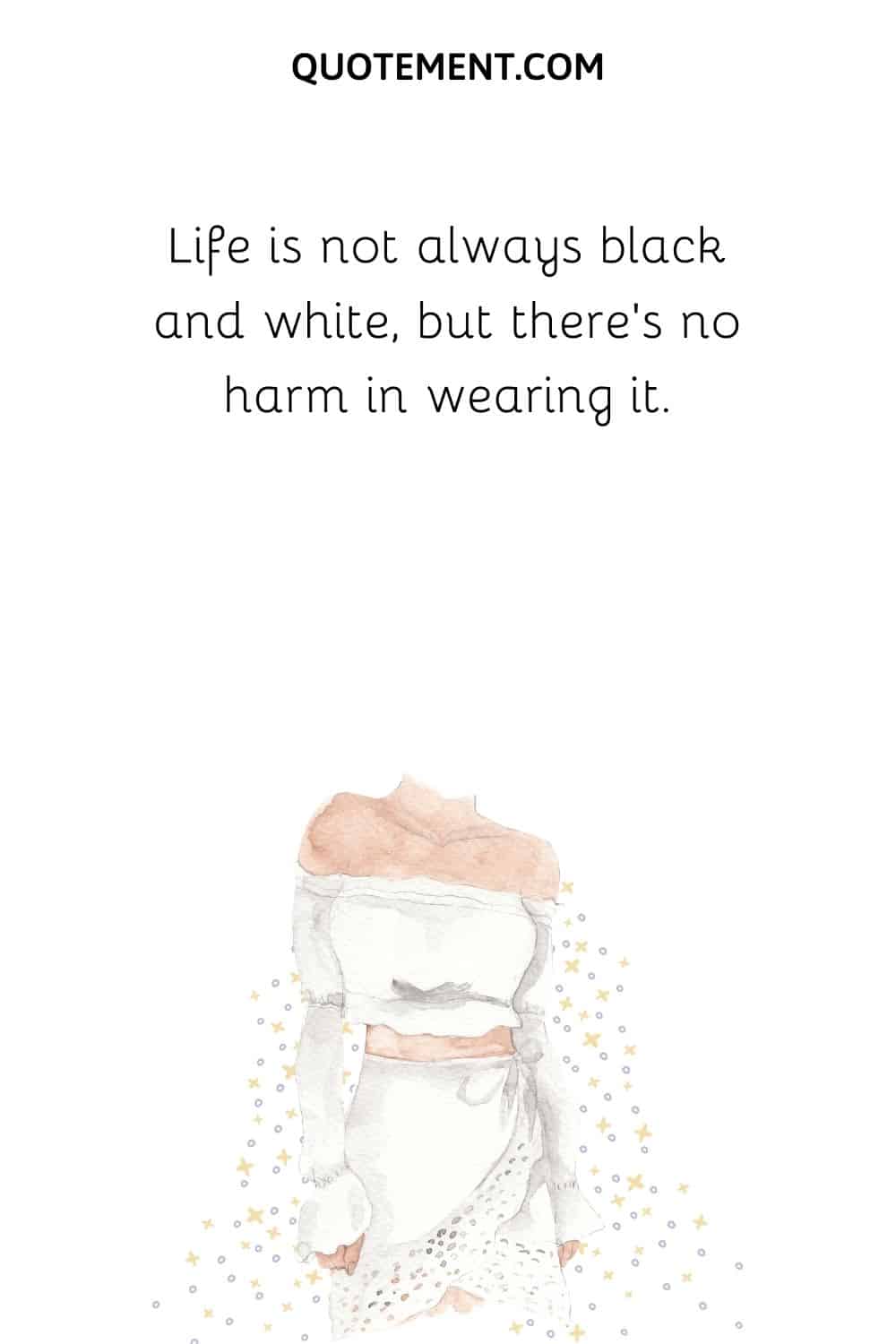 2. A white and black dress is like the promise of pure moonlight in the deep dark night.
3. Black and white: it's the lack of color that brings out the best in fashion.
4. You gotta have style. It helps you get down the stairs. It helps you get up in the morning. It's a way of life.
5. She sees in black and white, things in grays, and loves in color.
6. Black and white: the yin and yang that balance my life.
7. No color will ever be brighter for me than black and white.
8. I see more in black and white – I like the abstraction of it.
9. In the beginning, it was all black and white.
10. White for innocence. Black for mischief. I'm a complete package!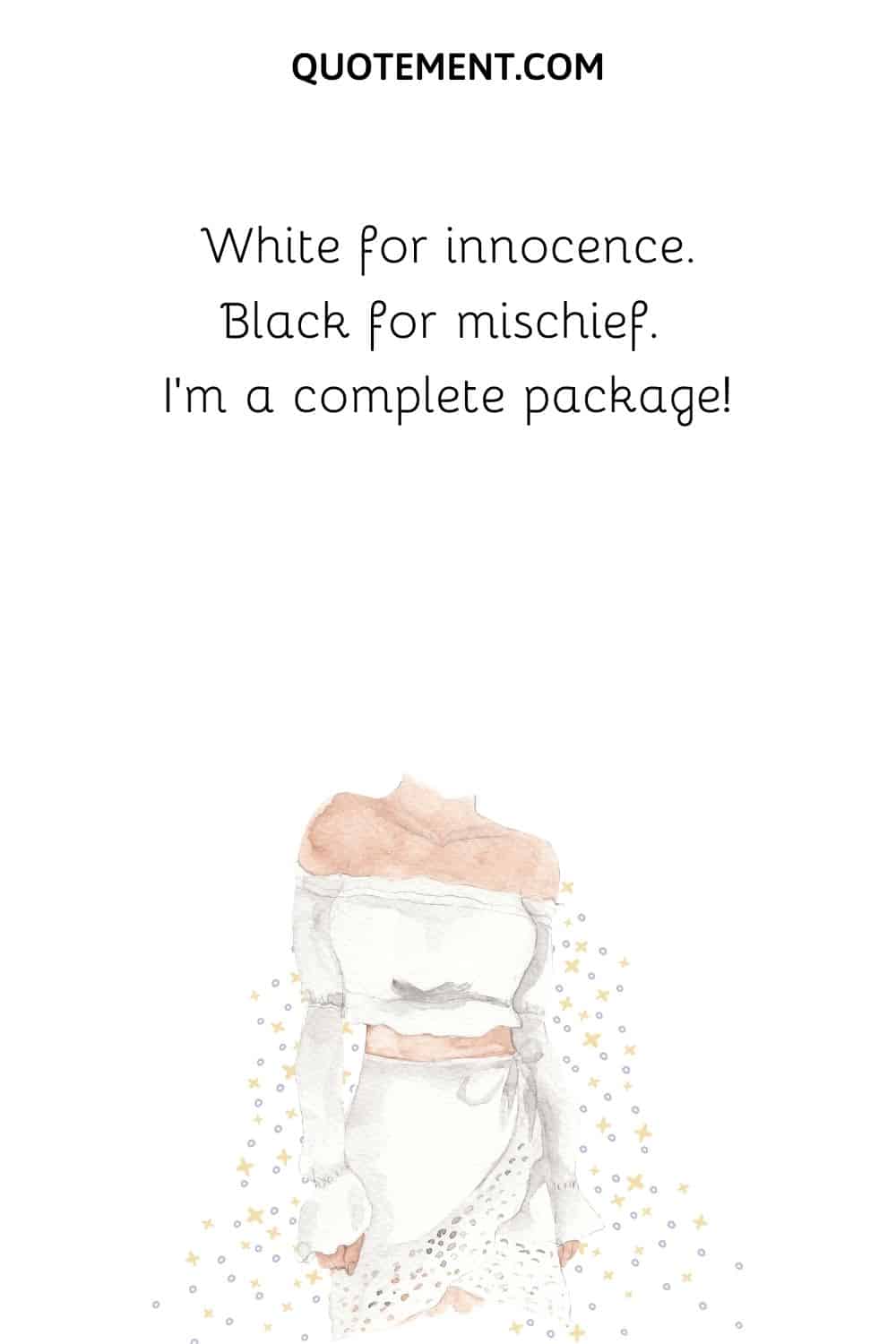 11. Embrace your dark side. Wear black.
12. "Black and white photography erases time from the equation." — Jason Peterson
13. Black and white are the two colors that can never go wrong together.
14. Everyone needs their Breakfast at Tiffany's moment.
15. Life is better in black and white.
16. Black and white create a strange dreamscape that color never can.
17. Black can make it seem mysterious to a woman, But white makes it look like a work of art to her.
18. Black and white can transform a scene into something magical.
19. "Florals for spring? Groundbreaking." — Miranda Priestly, The Devil Wears Prada
20. Black and white, but it's golden like daylight.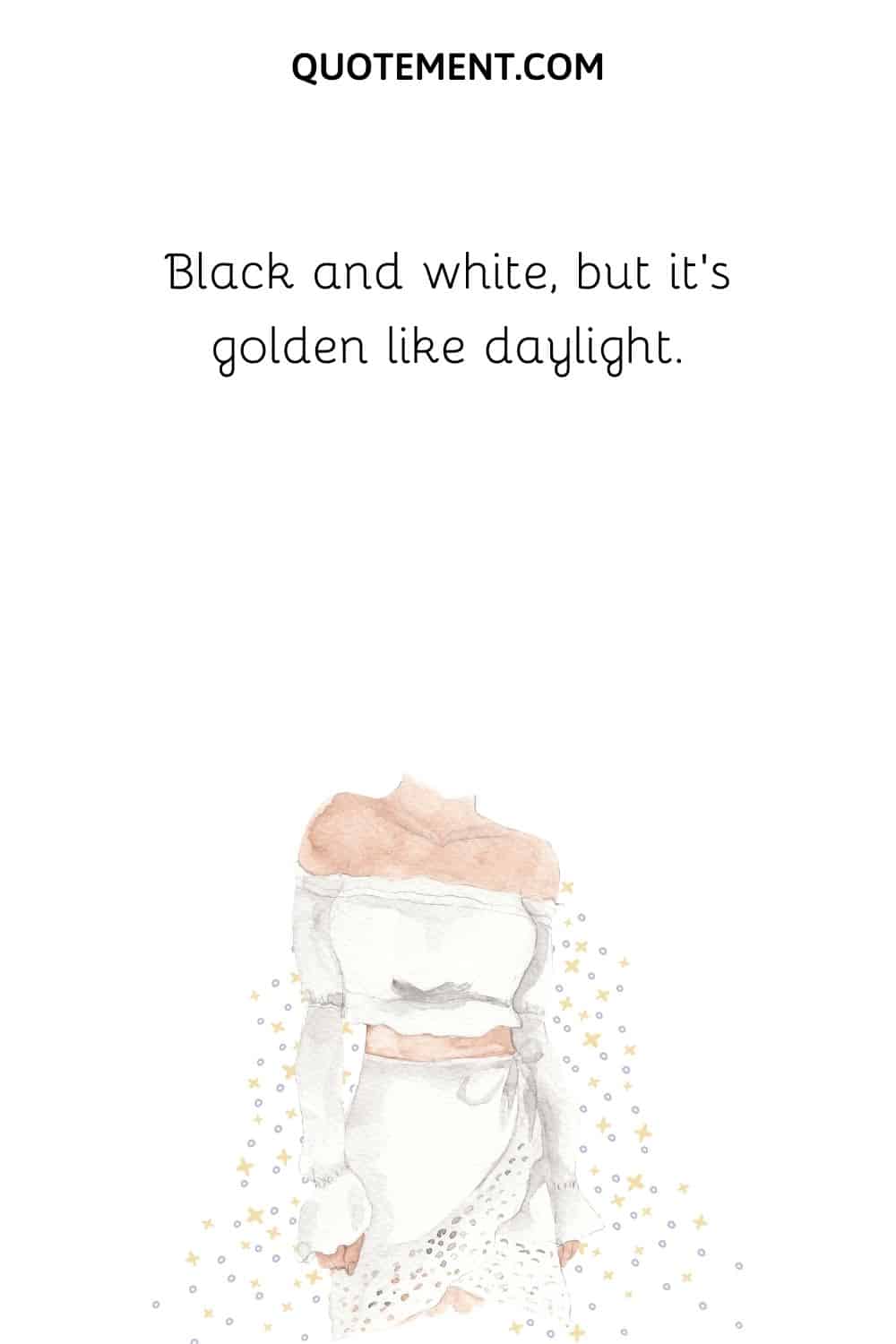 21. A black dress is to fashion what red roses are to romance.
22. There's something strange and powerful about black-and-white imagery.
23. Black dress, white pearls, red lipstick.
24. "One is never over-dressed or underdressed with a little black dress." — Karl Lagerfeld
25. White dress and black coffee.
See also: Caption For Black Dress: 130 Perfect Captions + Quotes
White Dress Instagram Captions For Selfies
A white dress will really make you stand out from the crowd, so it's a perfect choice if you wanna take a killer selfie.
With these selfie captions and white dress quotes accompanying your cute mirror selfie, you'll make a winning combination.
1. On today's episode of new obsessions, we have white dresses.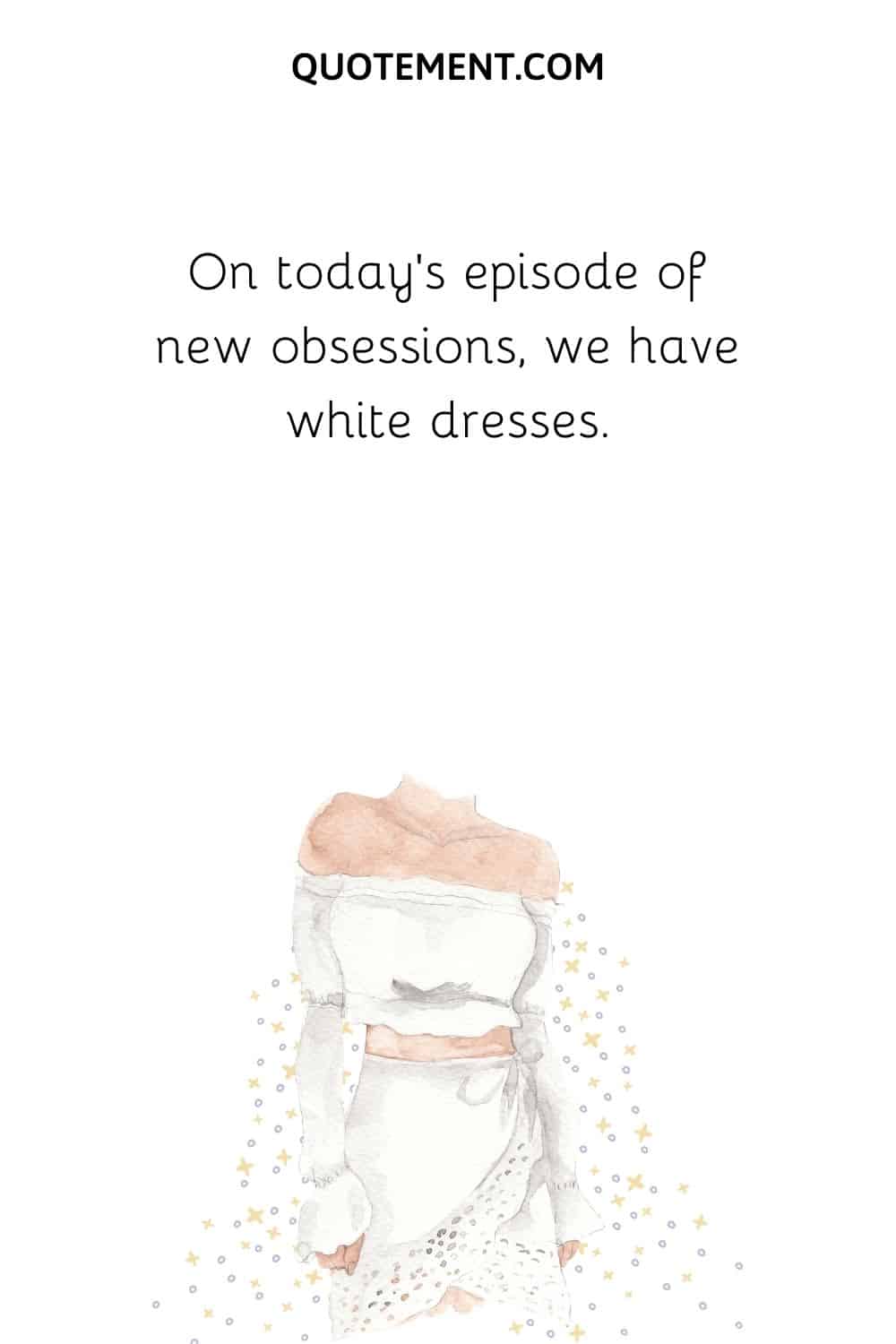 2. Self-confidence is the best outfit!
3. Never underestimate the power of a white dress.
4. A woman who owns a white dress in her wardrobe is patient, tasteful, and definitely knows how to carry herself well.
5. Nothing better than a white dress on a hot summer day.
6. Without the fluff and glamor, a white dress is still really charming.
7. Hot days call for a white dress in soft cotton.
8. I'm just here to have a good time. A Lil white chic, a Lil white wine.
9. White dress kinda day.
10. A woman in a white dress may look calm and simple on the outside, but has all the hidden energy and sensuality on the inside.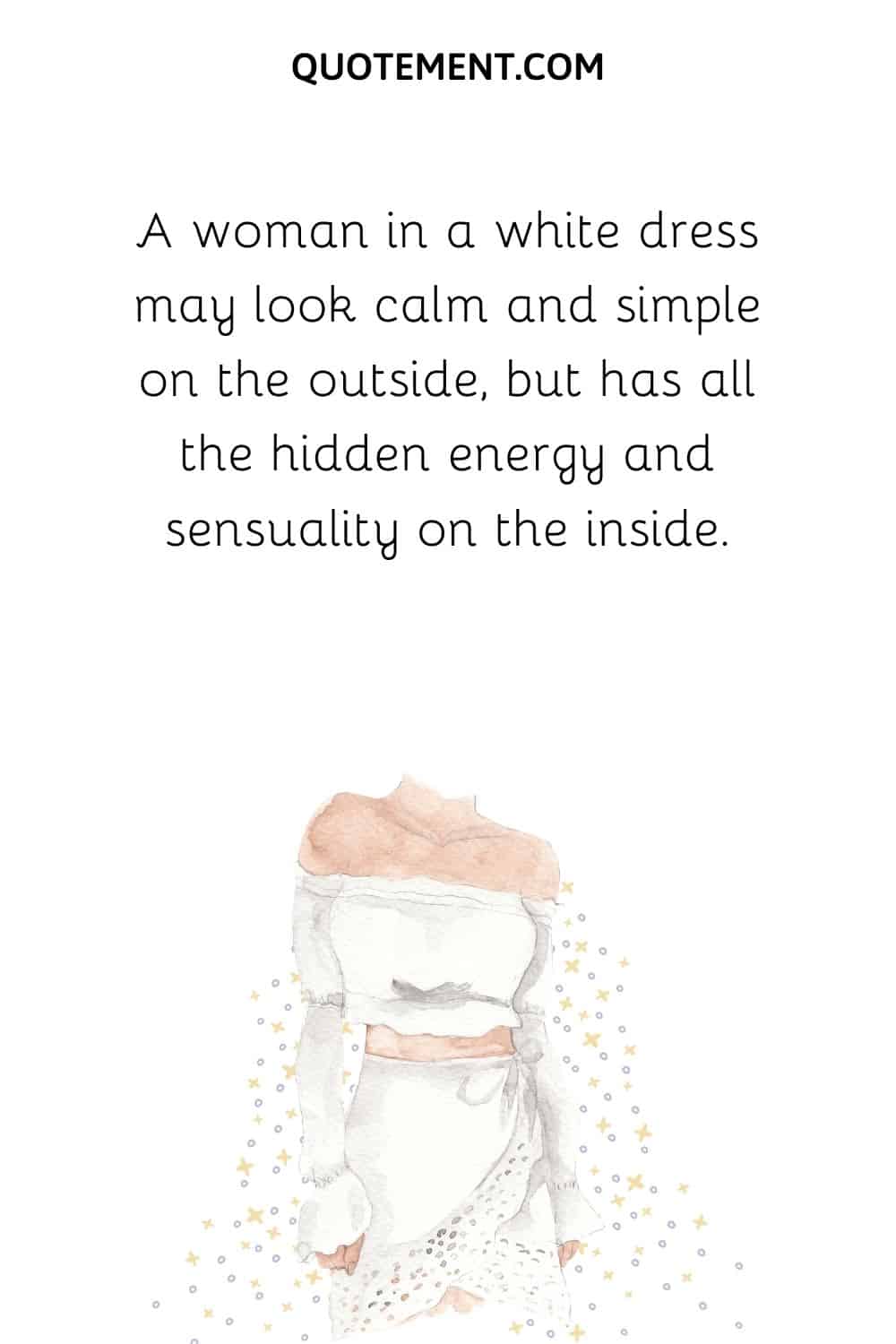 11. Puts a selfie on top of the tree because I'm the star.
12. White and tan is always a good combo.
13. "I want people to see the dress, but focus on the woman." — Vera Wang
14. Something about a white dress.
15. "I call white the most powerful non-color; it's clean, optimistic, powerful." — Jason Wu
16. White dress power.
17. Selfie in white.
18. Two things in the world, love and your white dress, are not meant to be hidden.
19. I am who I am. Your approval isn't needed.
20. Anything is possible with sunshine and a little white.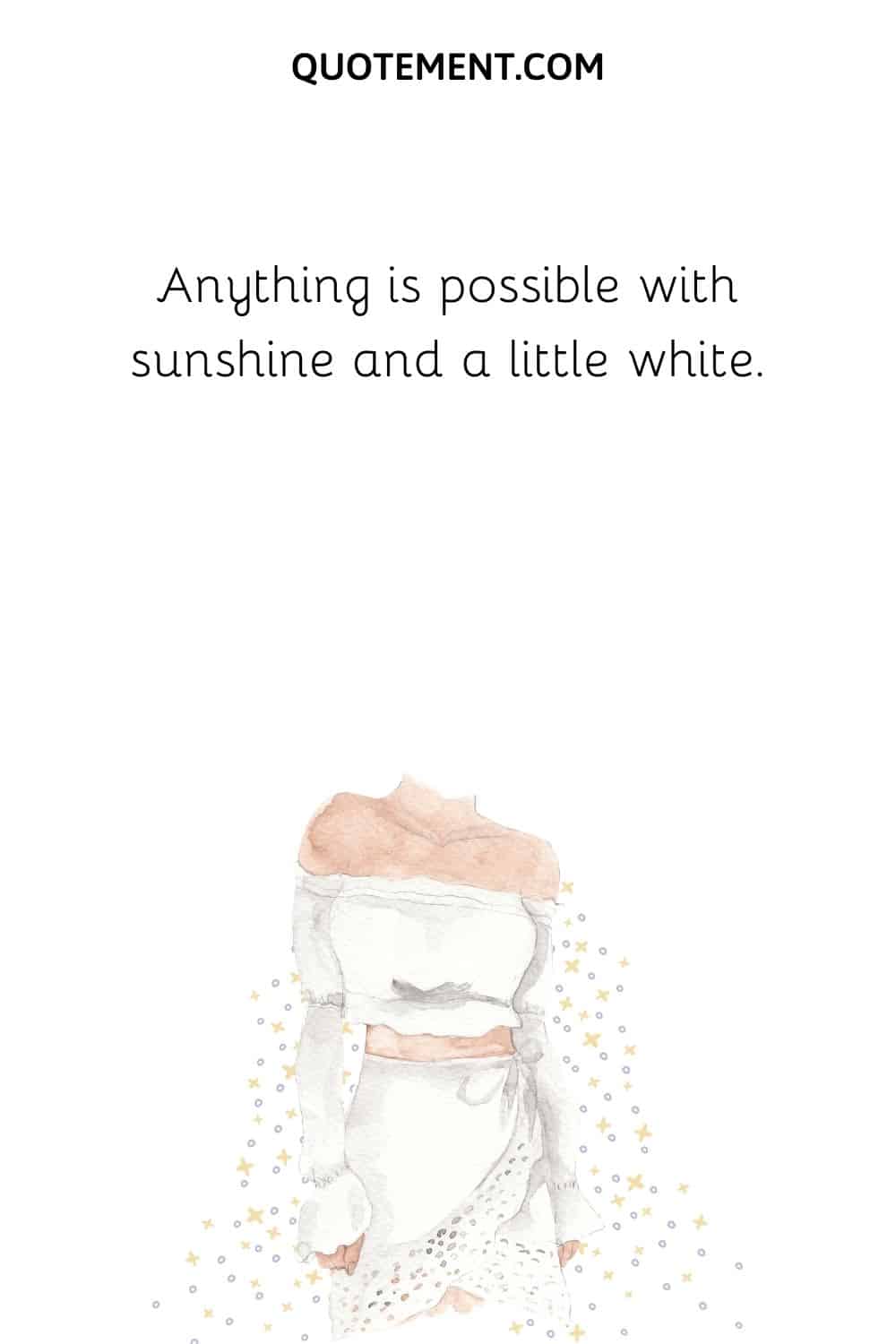 21. A white dress is just like my taste in men – high-maintenance.
22. Always start a new week in white.
23. Shine bright like a diamond.
24. White brings out my inner fairy.
25. People say a white dress represents motivation – I say it only motivates me to not spill anything on my dress!
White Pictures Instagram Captions
White is the color of angels, bliss, and harmony. These are the best captions to use with white pictures so you can make a beautiful Instagram post.
1. Love just comes in one color. White!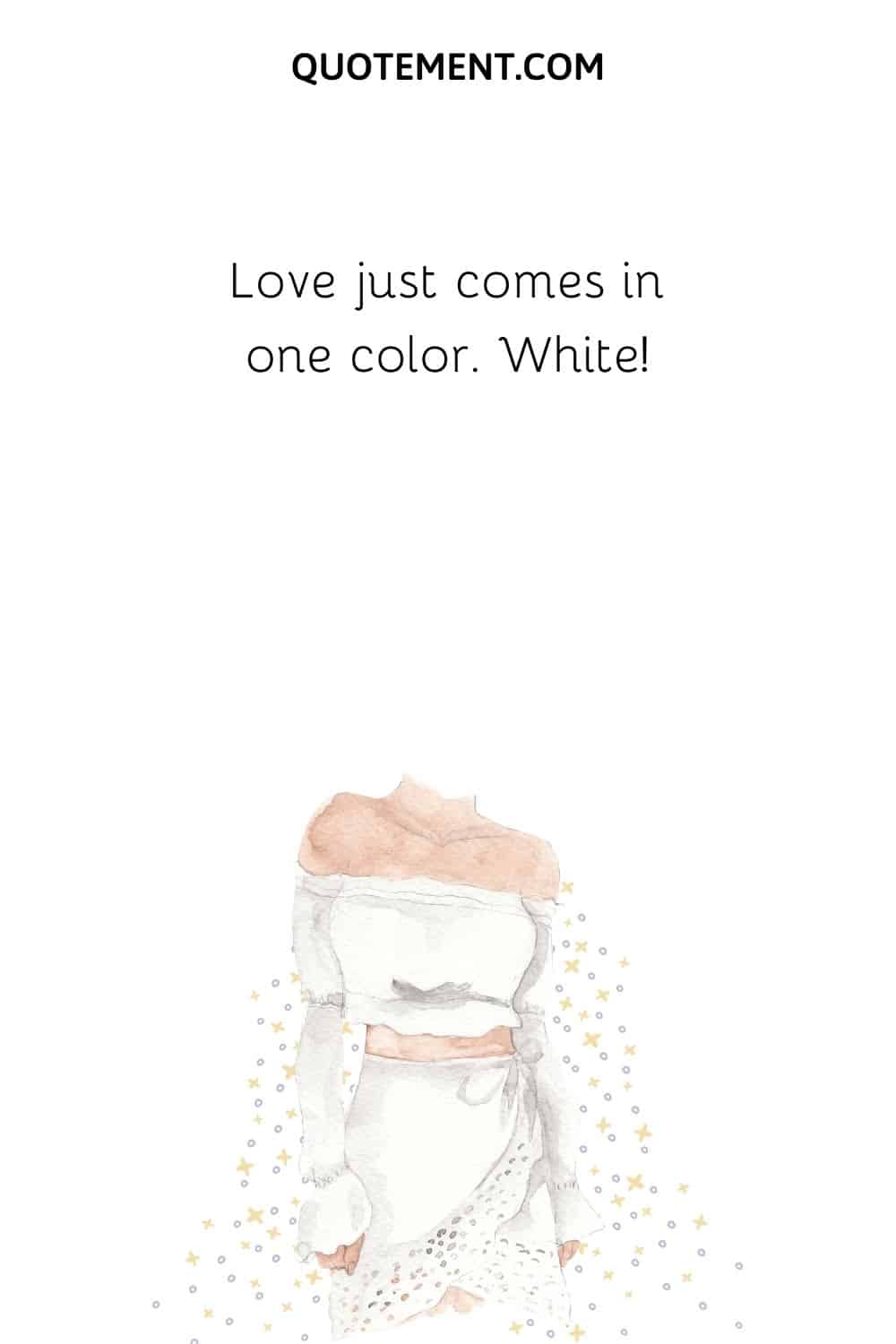 2. White is pure, and so is her heart. White symbolizes peace, and so does her smile.
3. Happy white hour.
4. White is not a color. It's an emotion.
5. White represents two things no one can hate – purity and innocence.
6. One can't capture peace and tranquility without some white.
7. White brings out the calmness in me.
8. If there's one color that does not need any tag lines or showing off, it's white.
9. White can be a color palette, too.
10. White adds a soothing rhythm to a colorless day.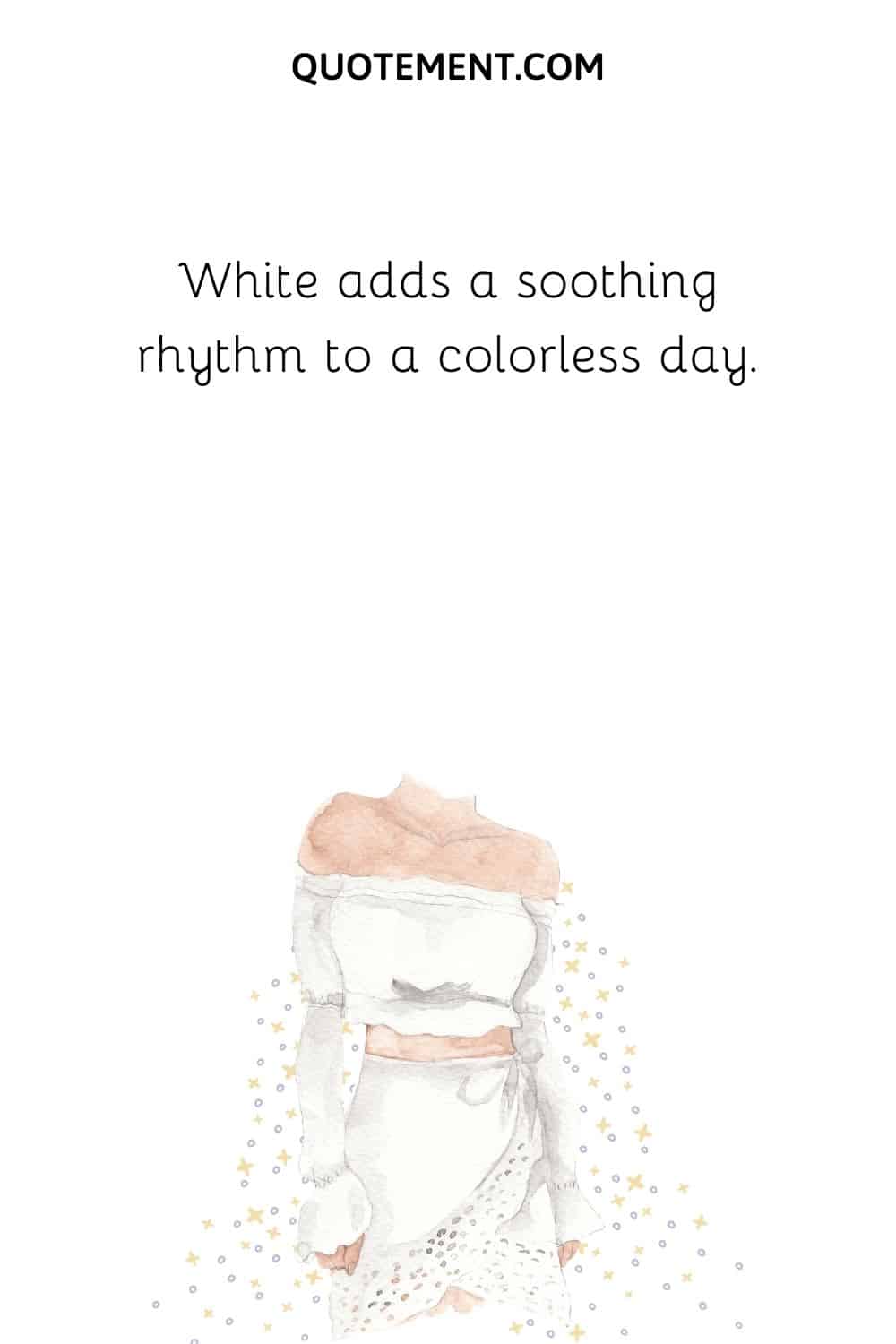 11. "If time were a color, I bet it would be a tasteful off-white." — Greg Parrish
12. "The color white is the absence of memory." — Stephen King
13. White is too pure for words.
14. "Renoir said once that nothing was so difficult, and at the same time so exciting, to paint, like white on white." — Ambroise Vollard
15. White gives me energy and yet makes me relaxed.
Final Words
Wearing colors is fun, but true glamor and beauty lie in simplicity, and an all-white outfit is exactly that – simple but glamorous.
It shows a refined sense of style and fashion that only certain people have. Wearing a white outfit requires a confidence in oneself that is rare.
Whether it's a white dress, white suit, or a simple white shirt, choosing white will surely make you shine.
So, now you have an amazing photo and a list of amazing white outfit captions for Instagram, what are you waiting for? Make a bomb Instagram post right now!
Until next time!