Weddings are so much fun, so no wonder they always end up on our Instagram.
If you're attending a wedding soon, these catchy wedding guest captions will help you to make the cutest Instagram post ever.
I've collected the 130 best wedding guest Instagram captions that will complement your stunning wedding pics perfectly.
Let's have a look!
Top 10 Wedding Guest Captions
I'll start off with the 10 best wedding guest captions. Have a look!
1. Now accepting applications for more single friends!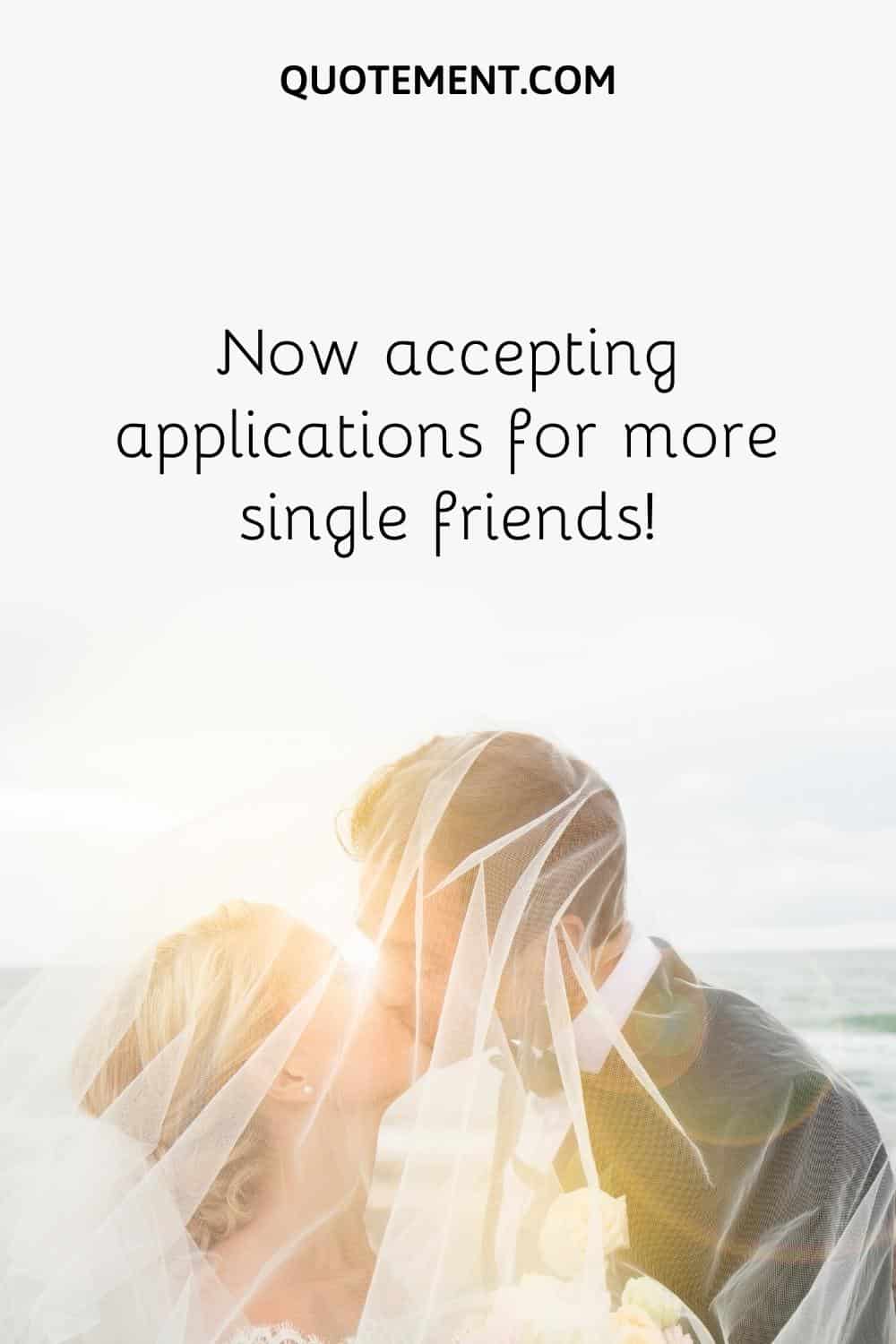 2. Basically, the royal wedding.
3. What happens at the wedding reception, stays at the wedding reception!
4. Your wedding day may come and go, but may your love forever grow.
5. Can people please stop cutting onions during the ceremony?
6. Confetti here, champagne there, love everywhere.
7. To love, laughter, and their happily ever after.
8. Came for the couple, stayed for the cake.
9. Call me a professional wedding hopper!
10. After this wedding, I really do believe in true love.
See also: 140 Heart Touching True Love Quotes For Your Sweetheart
Cute Wedding Guest Instagram Captions
1. They got married, and I got free booze. Win-win.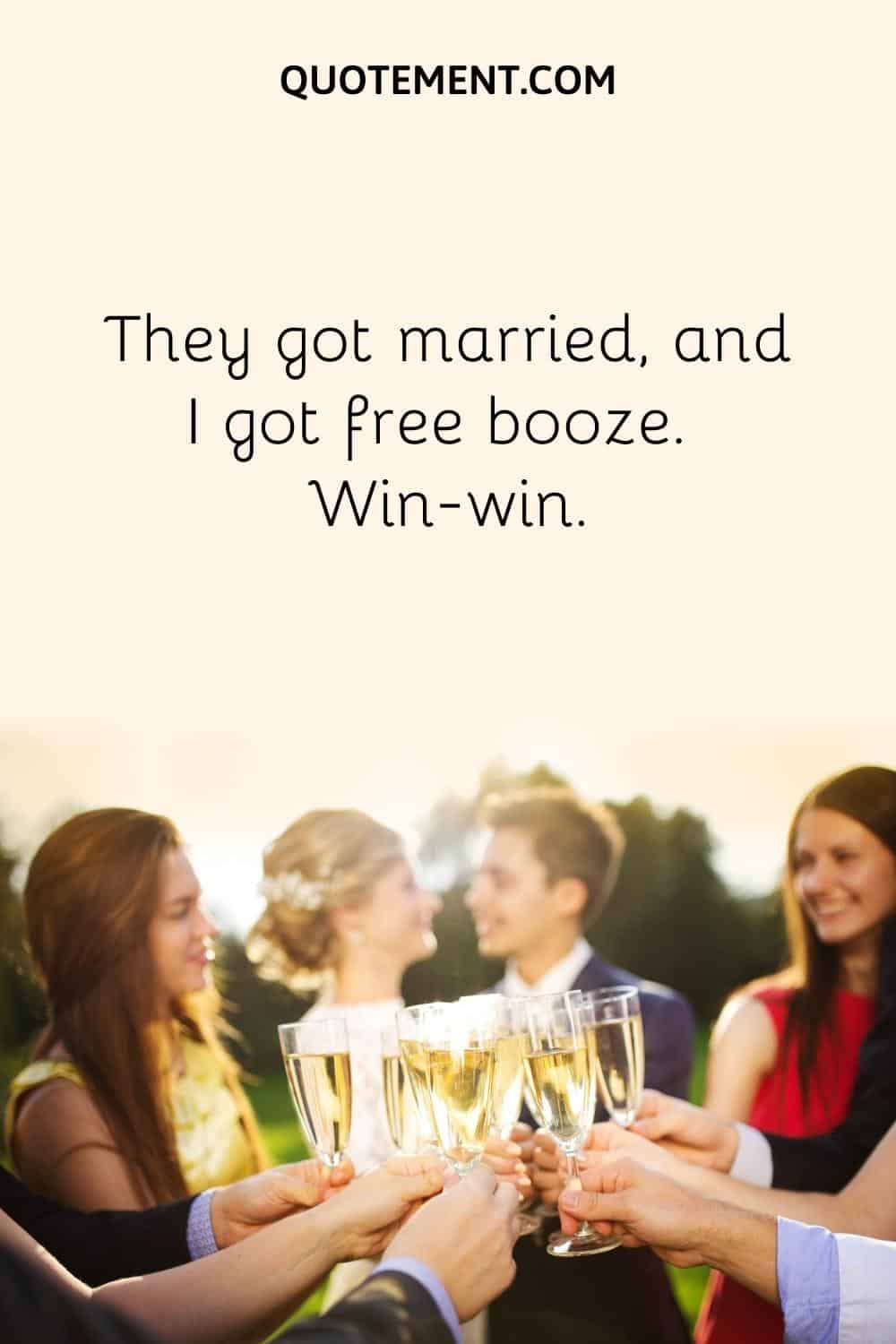 2. Forever looks good on these two.
3. All because two people fell in love.
4. Can I fit in your honeymoon luggage?
5. We're gathered here today to celebrate the union of a great couple.
6. That was one wild wedding!
7. Congrats to the happy couple – and good luck growing together!
8. Congratulations on this beautiful new chapter in your life.
9. You are my today and all of my tomorrows.
10. These two make such a gouda couple. Now, where's the charcuterie board?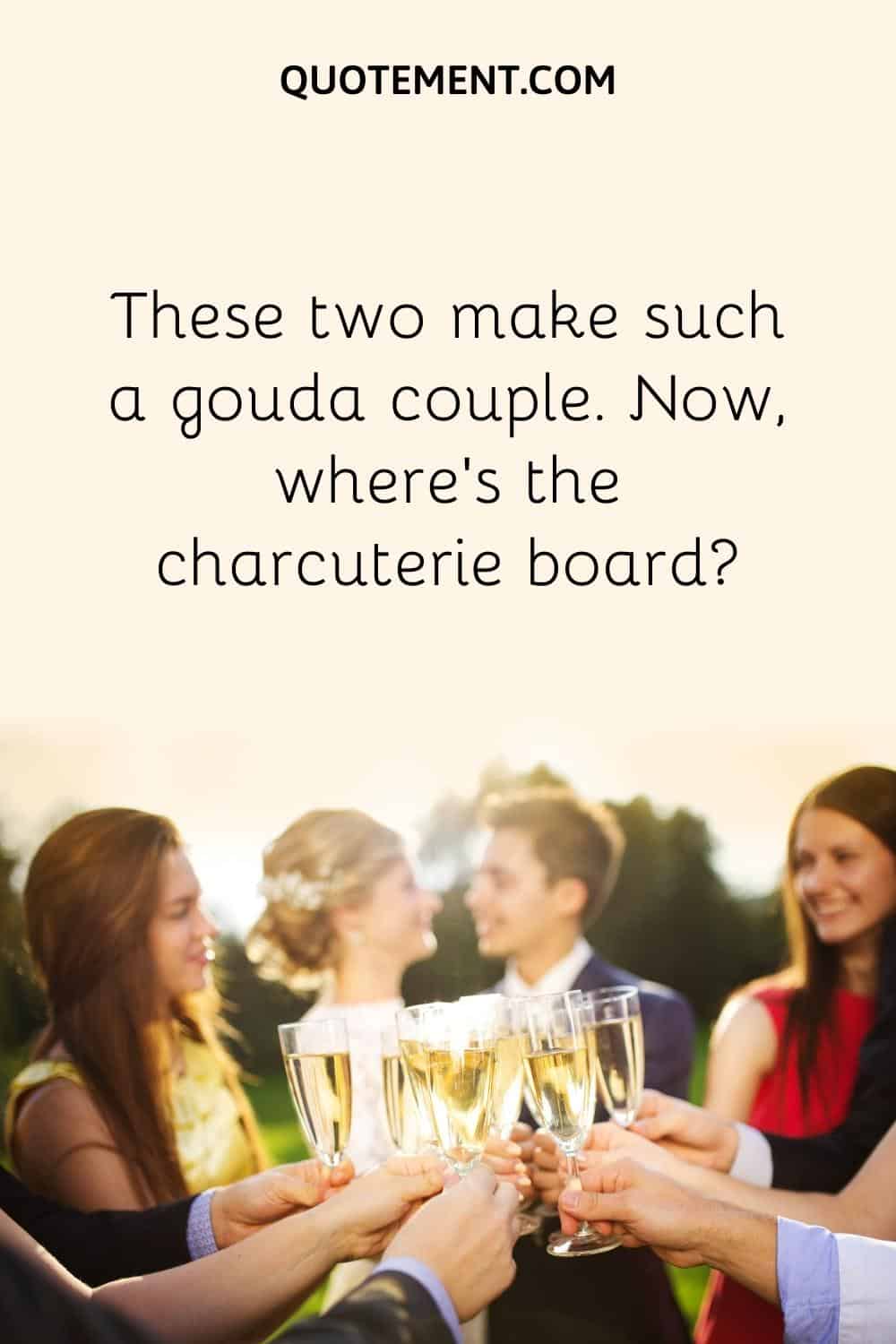 11. Once in a while, right in the middle of an ordinary life, love gives us a fairy tale.
12. Here's to becoming one. May your marriage bring you endless smiles, countless memories, and a lifetime of love.
13. Thanks for including us in your big day!
14. May your wedding be as beautiful as you are!
15. The party doesn't start 'til I walk in.
See also: Top 270 Party Captions To Get The Party Started
Wedding Captions For Guests
Here are some more wedding guest captions for you to check out.
1. You got to give the man credit… He liked it, so he put a ring on it!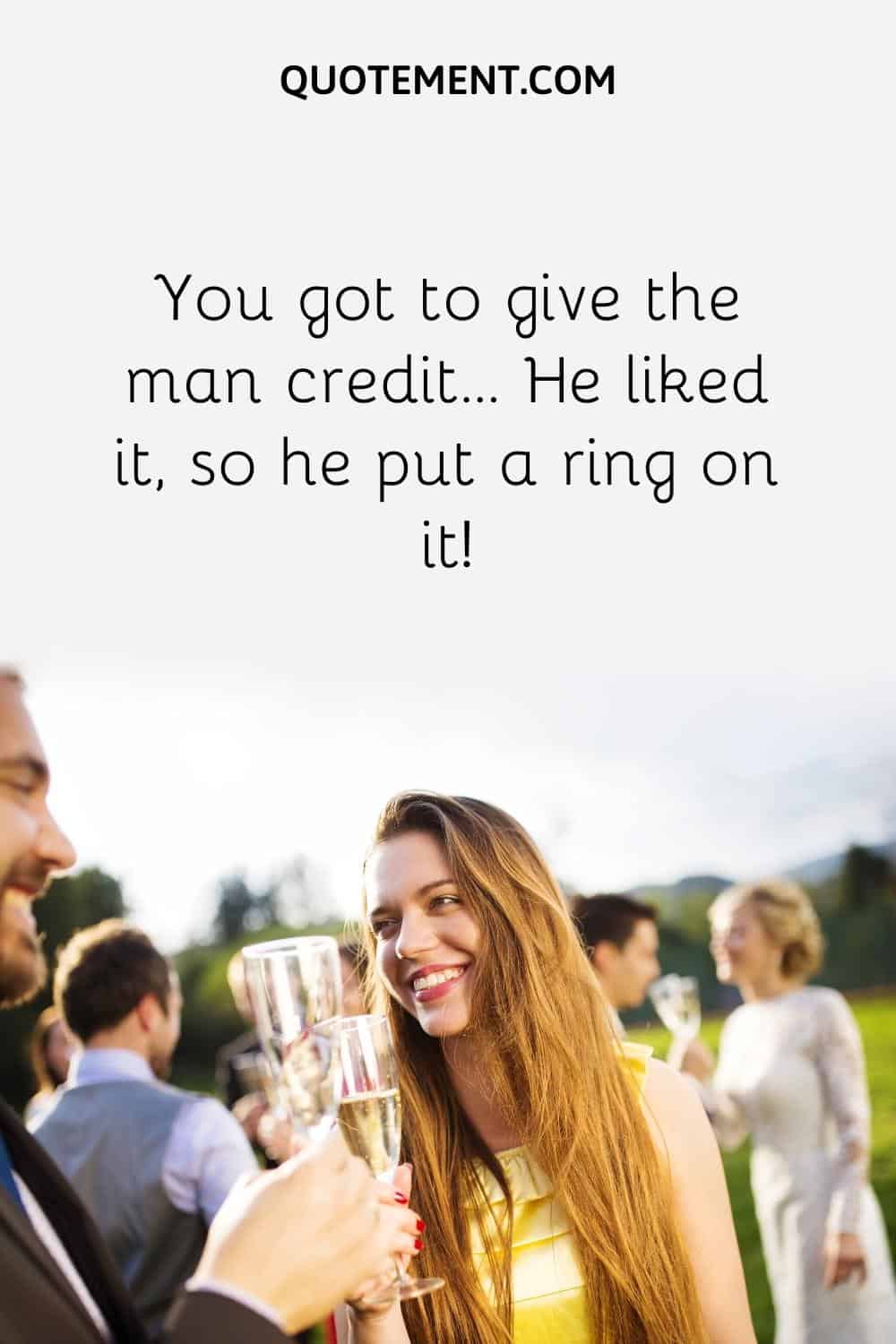 2. Too much confetti cake, said no one ever.
3. They tied the knot, now it's time for a shot.
4. Another weekend, another wedding.
5. This day was as perfect as this photo.
6. I'm only here to get drunk!
7. I'm not the bride, but I still look good!
8. They said "I do" to each other, and I said "I do" to cake.
9. If you invite me to your wedding, just know that I'll tear up the dance floor with you.
10. If you think I'm cute, just wait for the bride!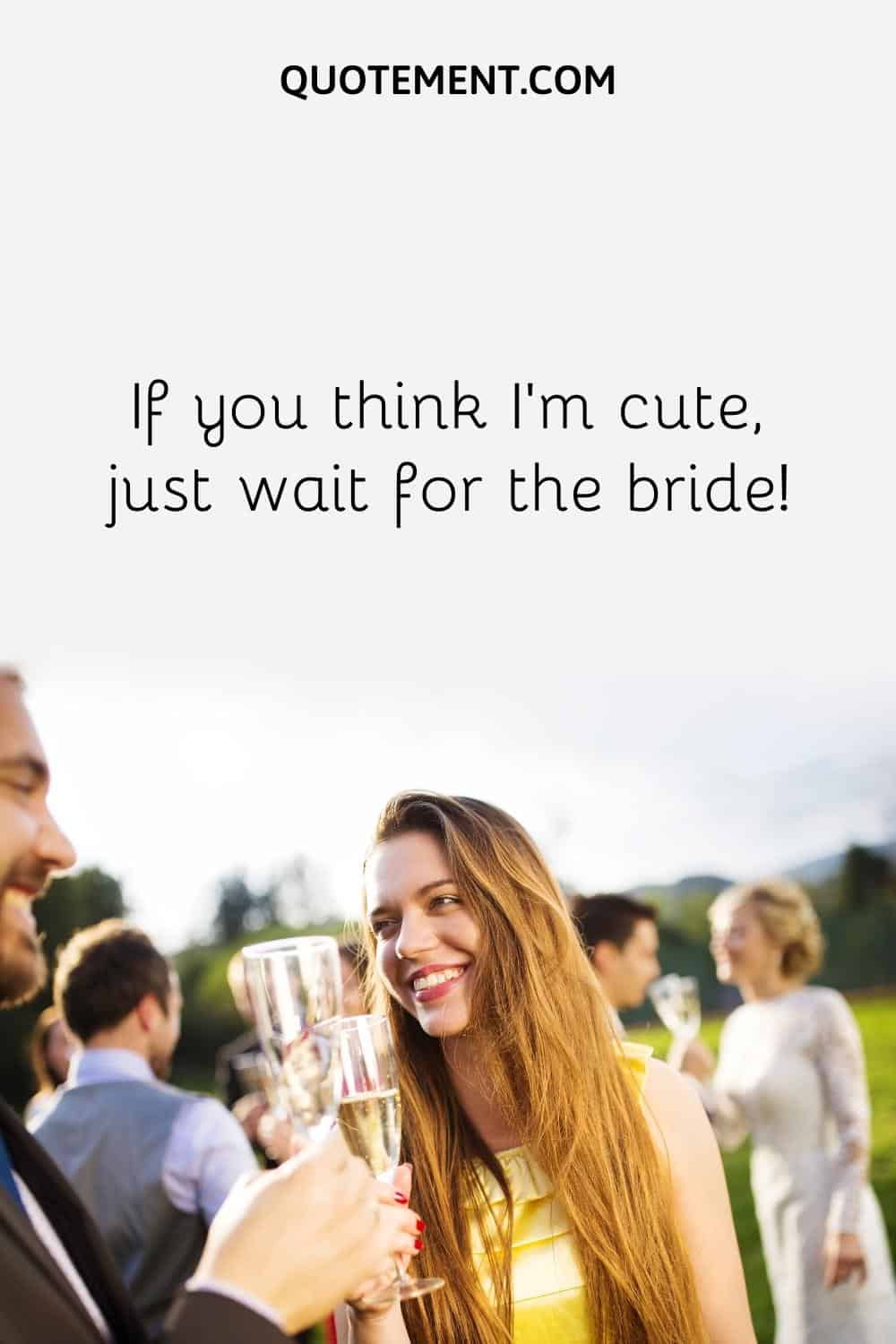 11. I'm with Cupid on this one.
12. You guys will make a cute old couple.
13. Did someone say champagne?
14. My favorite people finally met their match.
15. Here comes the bride, all dressed in white!
See also: 80 Beautiful Bride Quotes For Every Bride's Special Day
Bridesmaids Instagram Captions
Being a bridesmaid is a special role, and your Instagram captions should be special too. Here are some amazing wedding guest captions for bridesmaids.
1. Bridesmaids: because someone needs to keep the champagne flowing!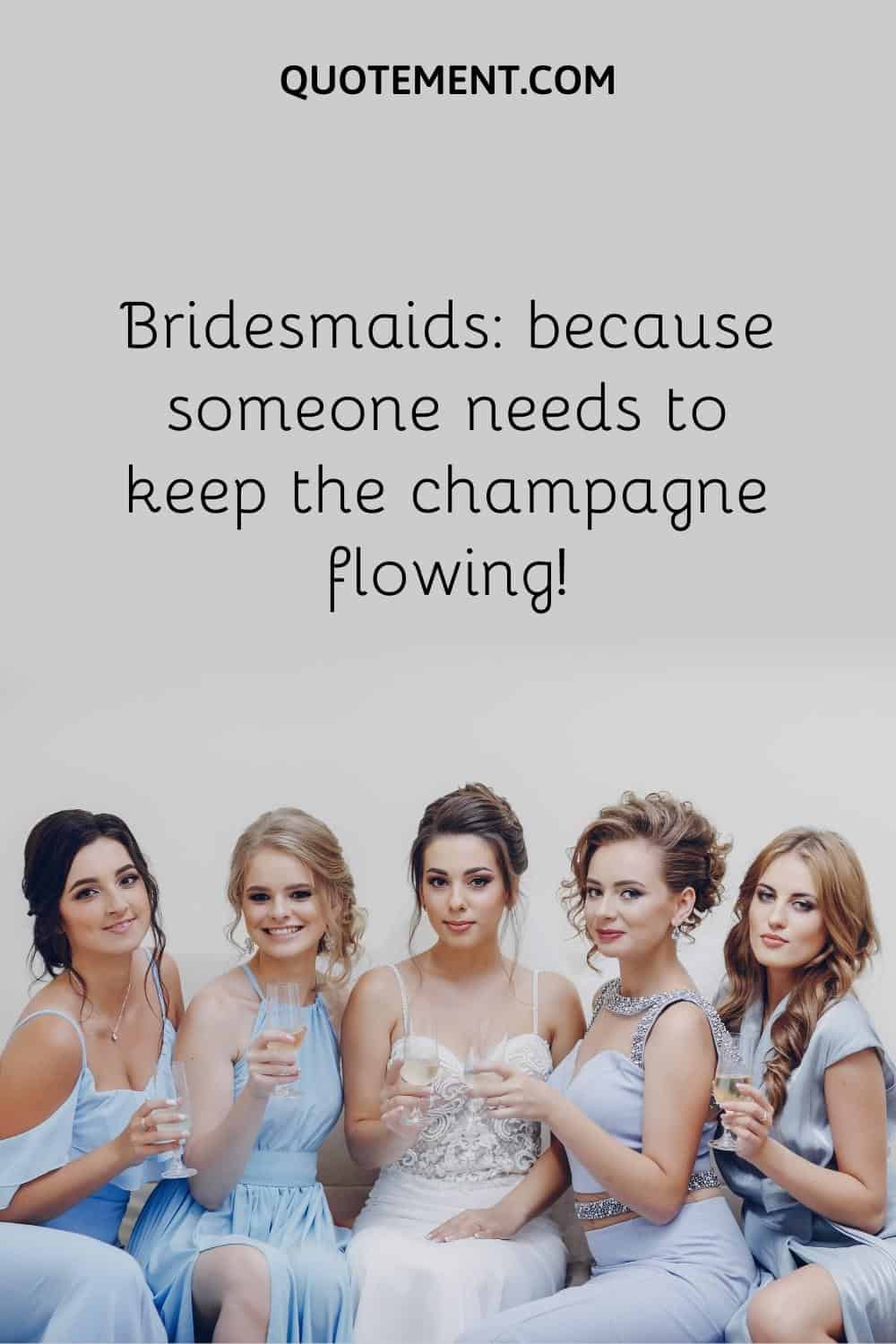 2. If they think this means less BFF time, they're wrong.
3. There's no place I would rather be today than standing next to you as you say "I do!"
4. A group you've never seen before, you'll never see again.
5. A good friend knows all your best stories. A best friend has lived them with you.
6. Bridesmaids are like champagne. Sparkly, bubbly, and fancy AF.
7. You only get married once, but you can be a bridesmaid as many times as you want!
8. We've been your friends; now we're your bridesmaids. We're there for the big day and every day after.
9. I'm so excited to be a part of this bride's special day!
10. Bridesmaids for a day. But best friends for life.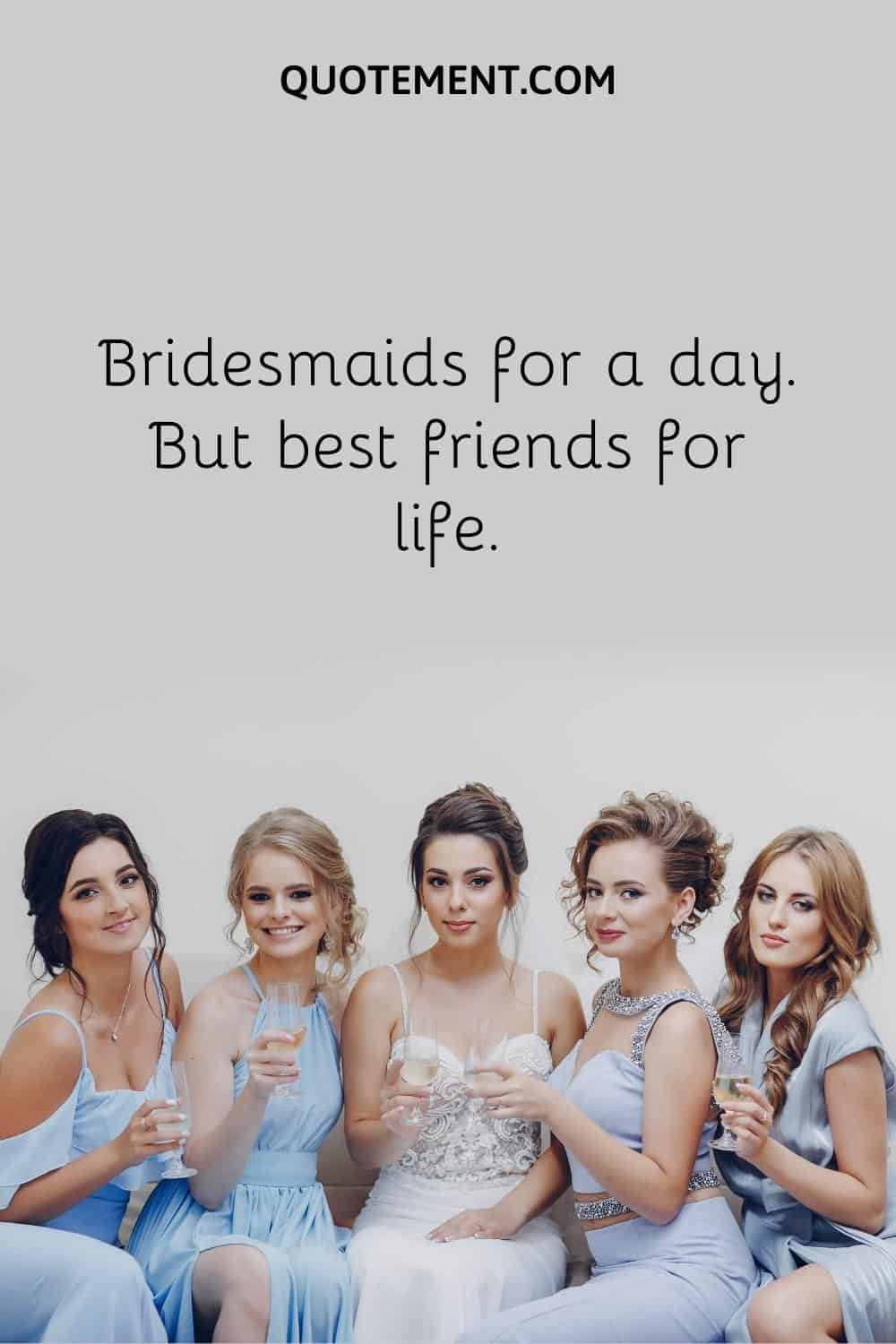 11. If the photographer sees this, please delete the photos of me ugly-crying at the ceremony. No one wants to see that.
12. Many congrats to the couple who planned a wedding straight out of a Disney movie.
13. I'm so blessed to have you as my best friend.
14. Others call it bridesmaids. I call it my crazy gang of awesomeness.
15. Friends by heart and sisters by soul.
See also: 120 Soul Sisters Quotes To Cherish An Irreplaceable Sister
Sweet Wedding Guest Captions
Next up is a collection of sweet wedding guest captions. Take a look!
1. Better than any Pinterest wedding board I've ever seen.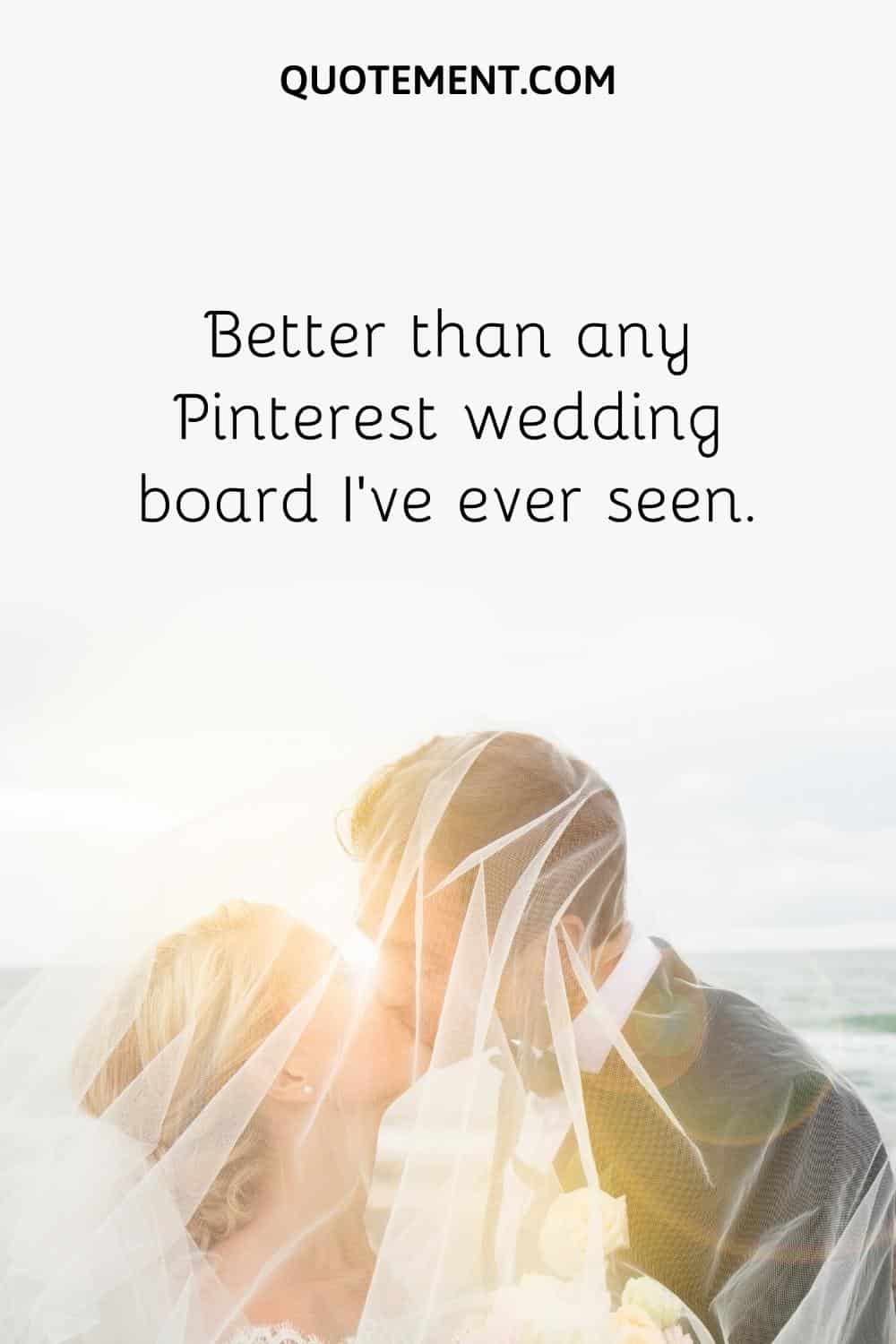 2. Having all of my loved ones by my side on my wedding day is going to be so special.
3. Sip, sip, hooray to the perfect wedding day.
4. I'm so excited to be part of this beautiful wedding.
5. Diamonds are forever, and so is this love.
6. I always say you can tell a lot about a couple based on their wedding cake, and this couple is going to have the sweetest marriage ever.
7. These two weirdos are perfect for each other.
8. Forever starts now for the happy couple.
9. May you be as happy as you are today for the rest of your life.
10. Watching these two get married makes me believe in love.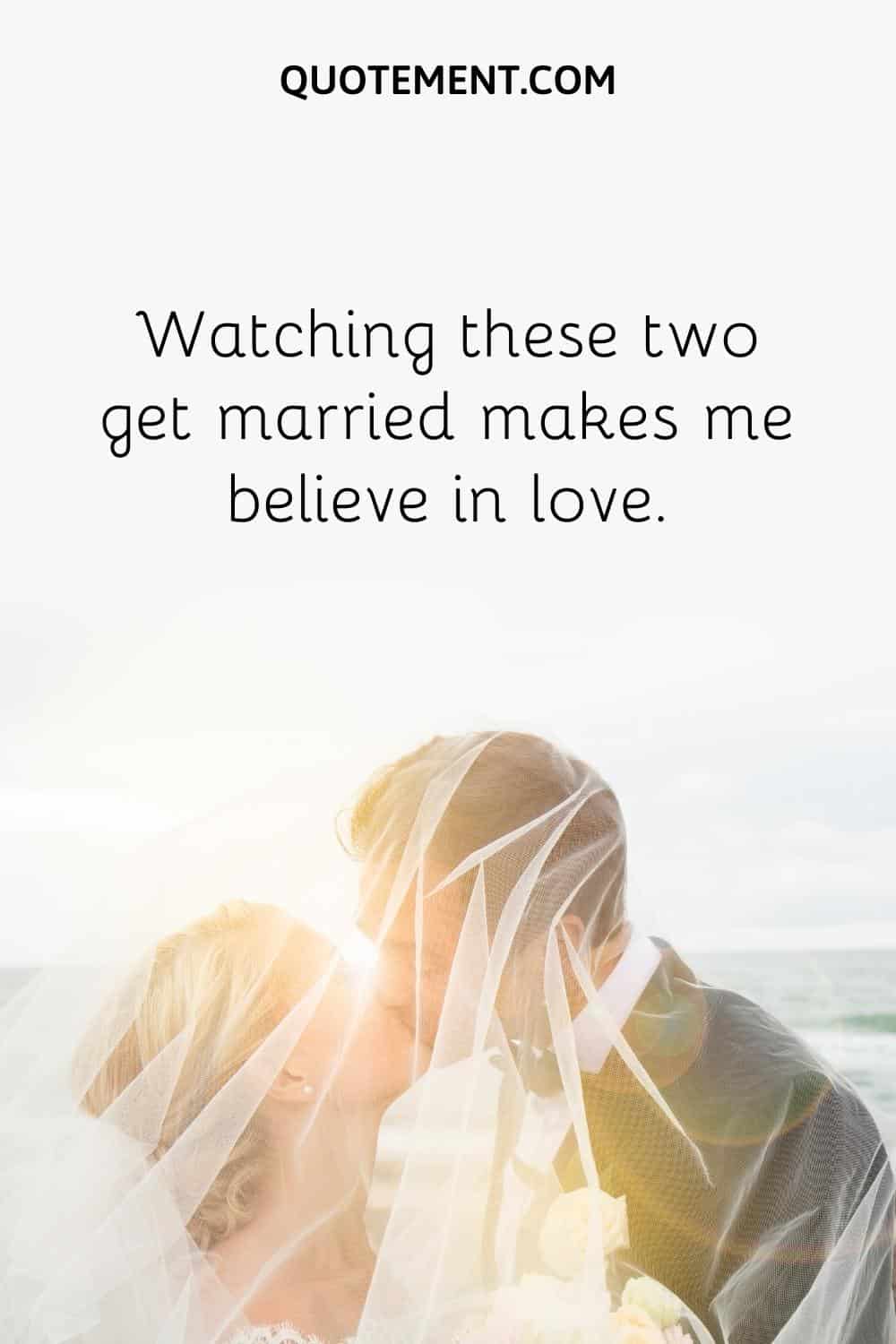 11. Here's a toast to the couple I love most.
12. May your life together be full of love, and your love be full of life.
13. Thanks to [bride and groom] for showing me what love looks like.
14. True love is when both people think they're the lucky ones.
15. The hangover only lasts a day, but the memories last a lifetime.
See also: 180 Unforgettable Memories Quotes For The Good Old Days
Wedding Vibes Captions
With these wedding guest captions, you'll capture the wedding vibes perfectly.
1. All you need is love. Oh, and an open bar.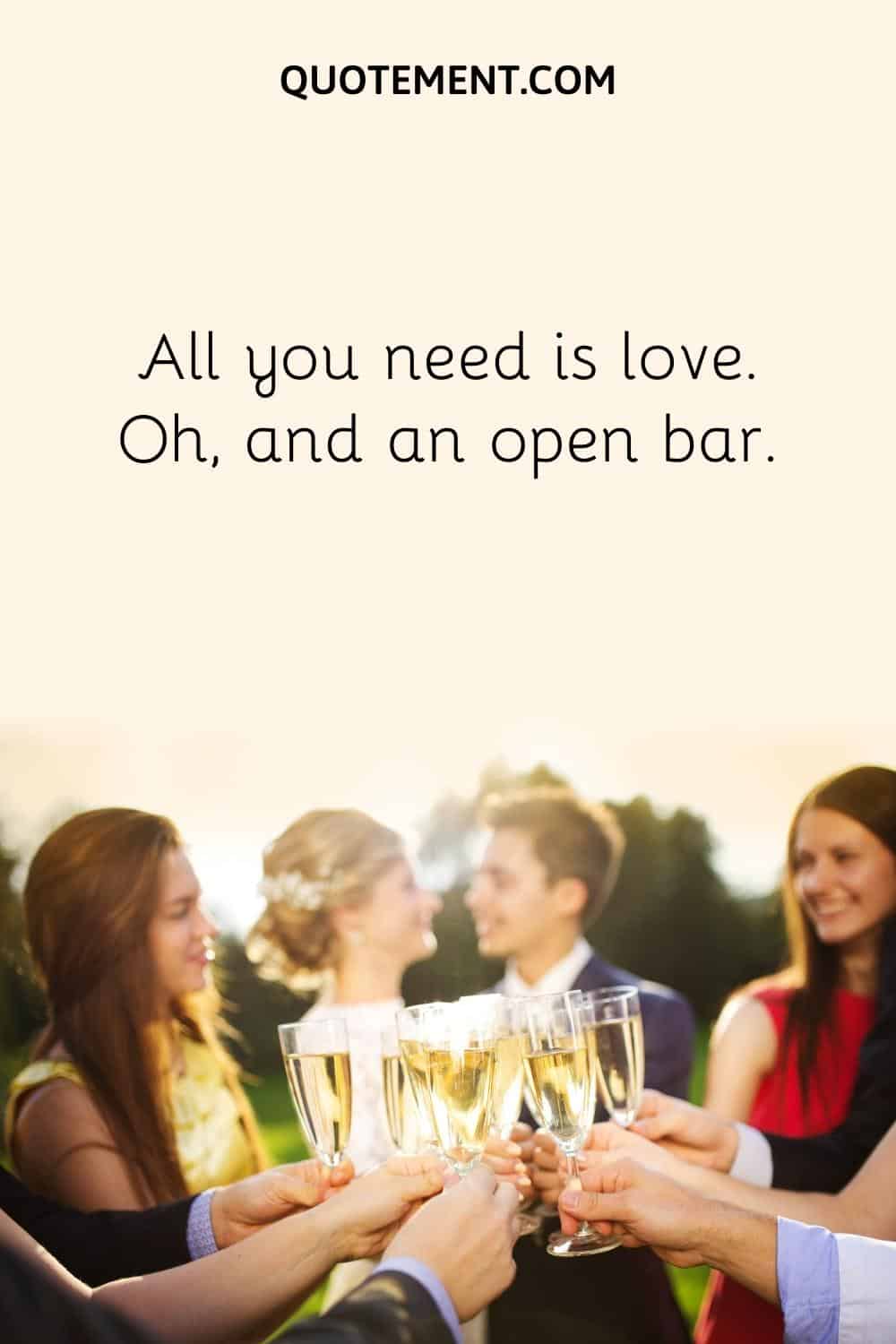 2. They got married. I got drunk.
3. To the happy couple: May you always be as happy as you made me today.
4. The best kind of wedding is one that leaves your bellies (and hearts) full.
5. Thank you for having an open bar! Oh yeah, and for including us in your big day.
6. Congratulations to the bride and groom!
7. Real love stories never end. Here is to the happy couple's beginning!
8. You can always find me on the dance floor!
9. You guys got me all emotional and stuff.
10. This picture was taken before I started crying.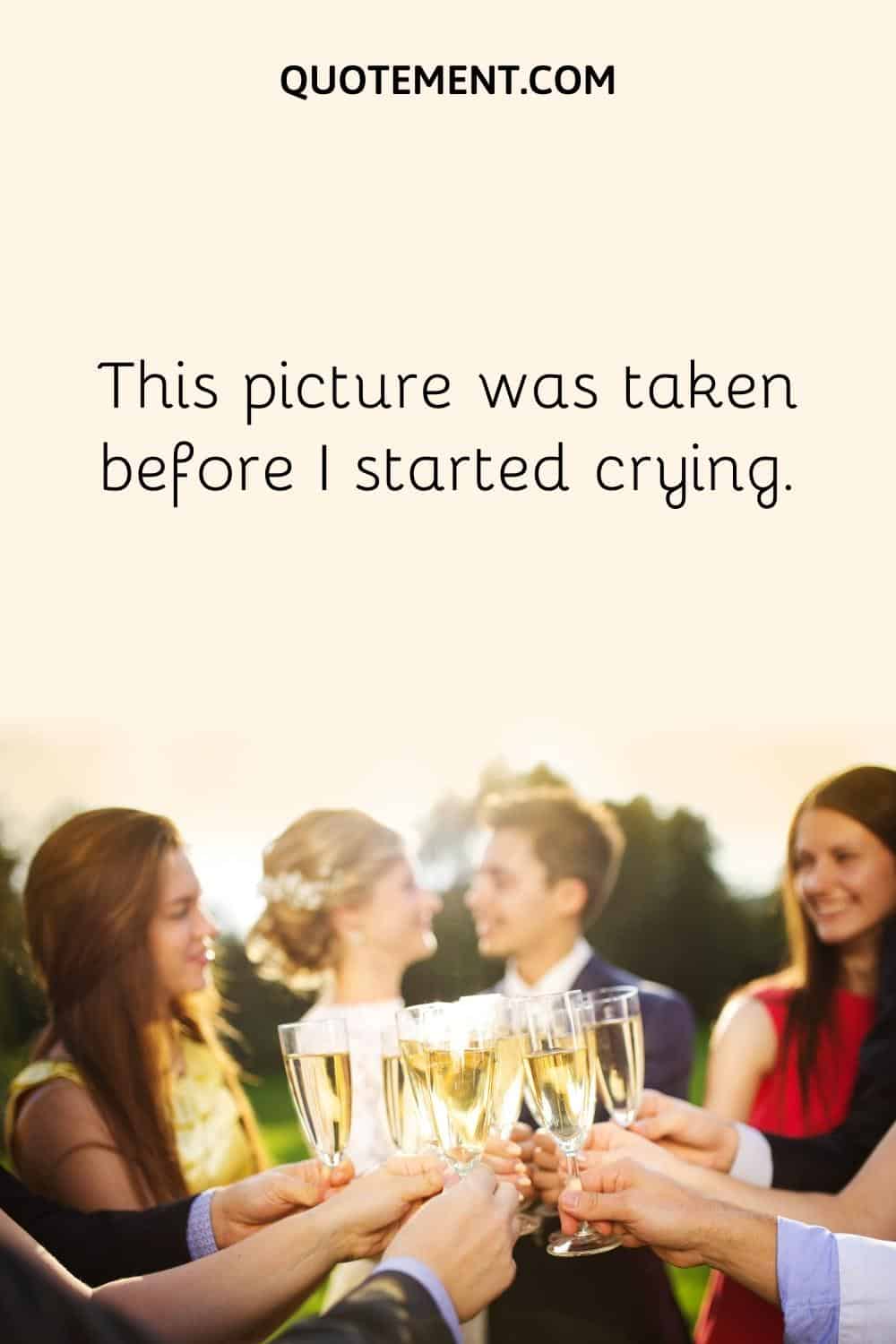 11. Did someone say wedding season?
12. Together is a wonderful place to be.
13. My plus one for the wedding is this cake.
14. Hand in hand, heart to heart, on this day your adventure starts.
15. Locked in for life? I'll drink to that.
See also: 320 Cool & Catchy Drinking Captions For Instagram
Funny Wedding Guest Captions For Instagram
Here are some funny wedding captions for guest you don't want to miss!
1. It was love at first swipe!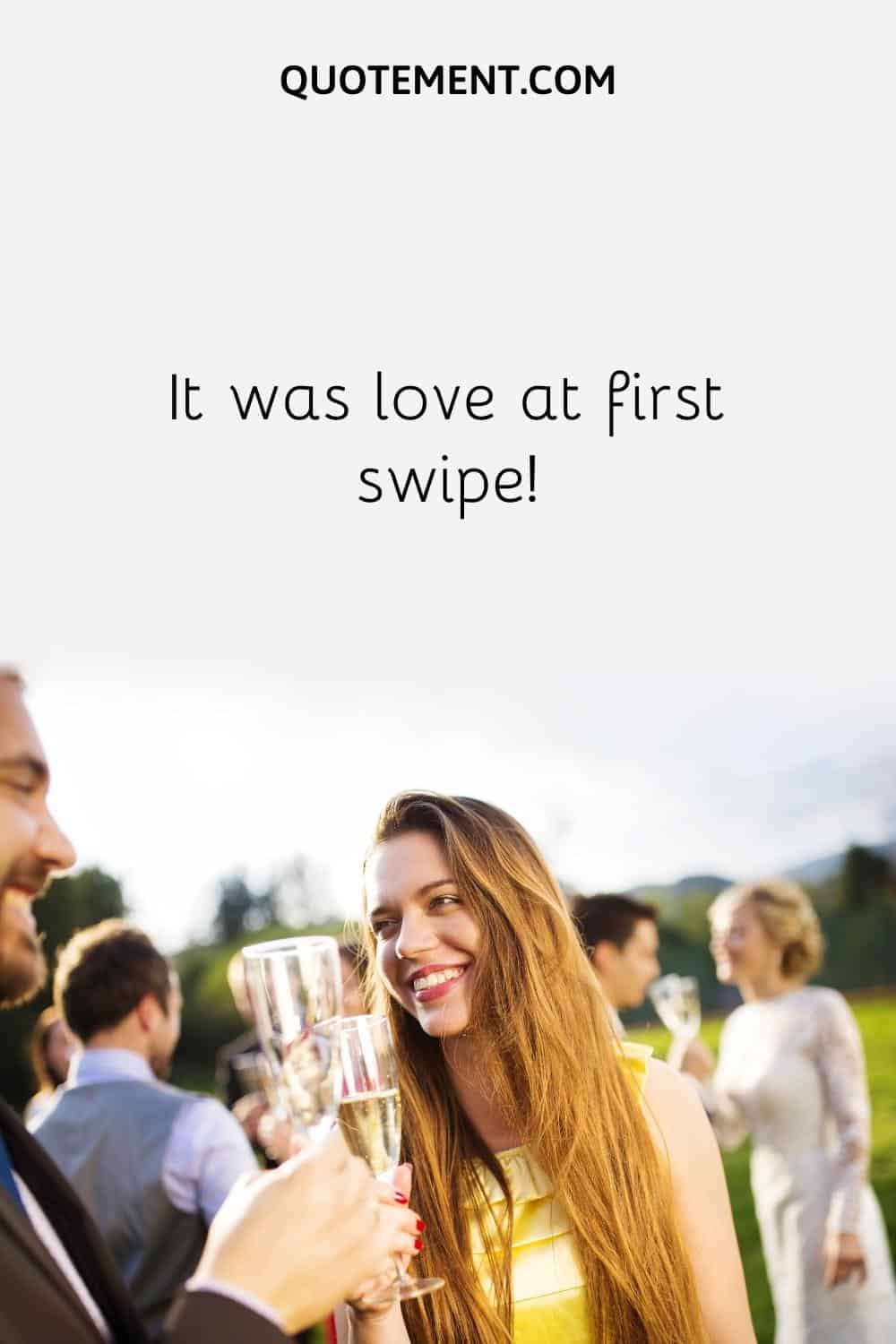 2. I can't wait to ugly cry at your wedding.
3. I'm just a wedding crasher, I don't even know these people.
4. Your wedding was so emotional, even the cake was in tiers.
5. A stranger in life is a neighbor on the dance floor.
6. Looks like you swiped in the right direction.
7. Marriage is as easy as a walk in the park… Jurassic Park!
8. The cake was yummy! Oh, by the way, congrats to the newlyweds!
9. 'Til death do us party.
10. I said YES!!! When someone asked me if I wanted more cake!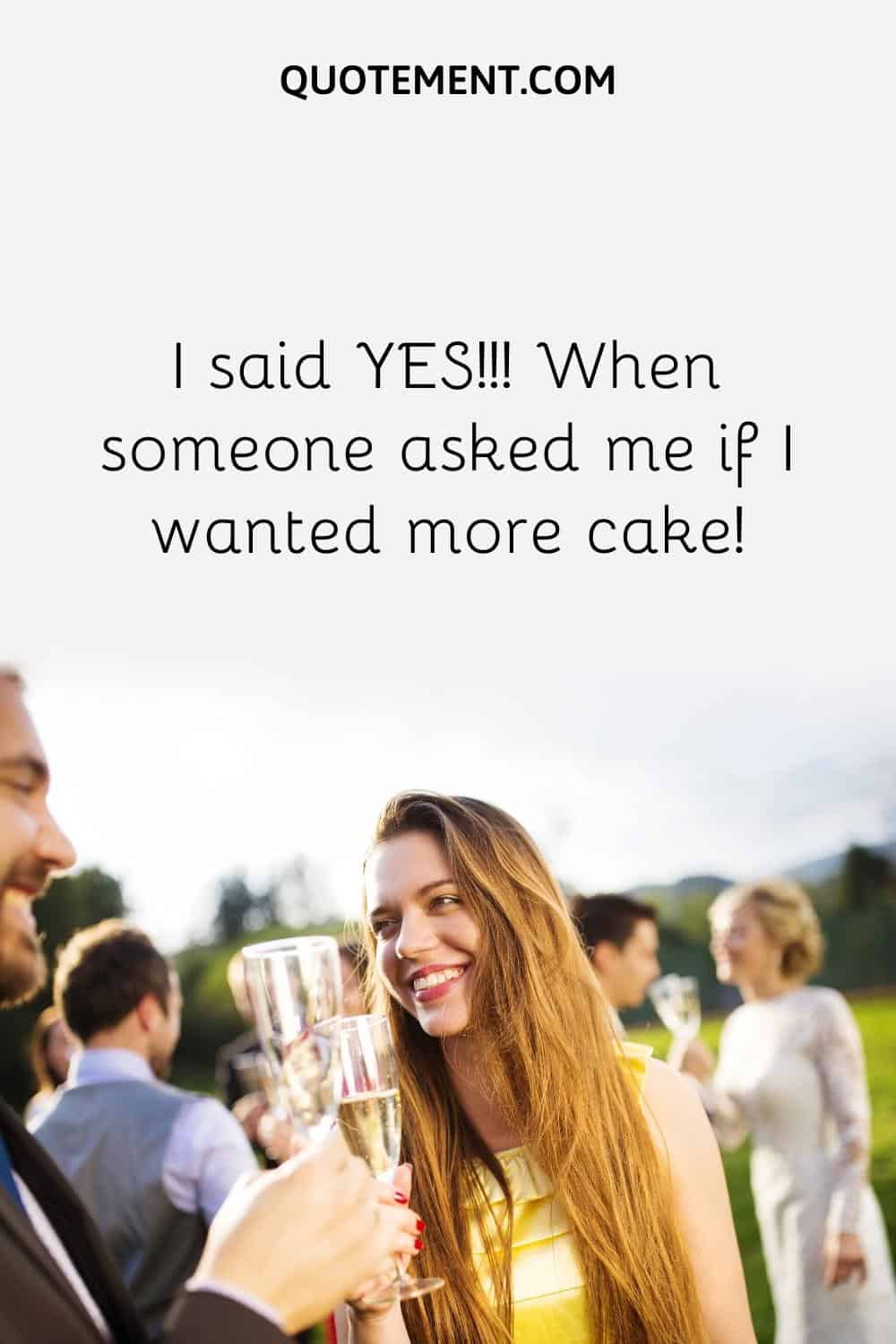 11. Congrats on making it o-fish-ial. Now, there are two less fish in the sea.
12. Here's to a marriage that lasts meow and furever.
13. Full-time wedding crasher.
14. Alexa, play 'Cupid Shuffle.' I'm about to go hard.
15. Me, myself, and I do.
See also: 200 Me Myself And I Quotes To Make You Love Yourself More
Catchy Wedding Guest Captions
If you're looking for a catchy wedding guest caption, you'll find it here.
1. Congratulations to the happy couple! Yes, I'm still single.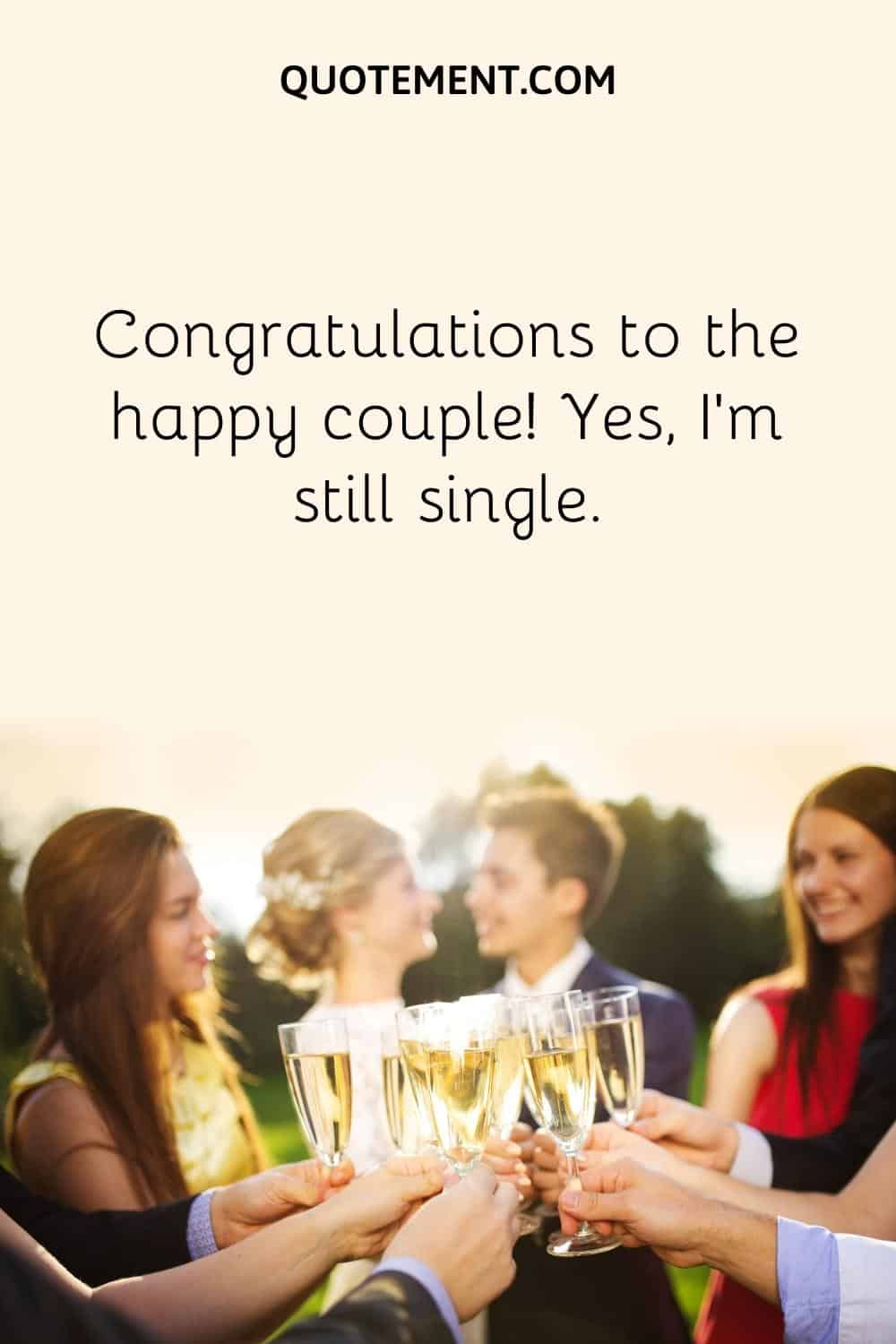 2. I don't dress up often, but when I do, it's for a wedding.
3. All dressed up for open bar season.
4. The wedding was great, but these late-night snacks were the real star of the show.
5. The hangover only lasts a day, but the memories last a lifetime.
6. That awkward moment when you realize you're the only single person at a wedding.
7. Together they built a life they loved.
8. Thanks to the happy couple for giving us an excuse to get dressed up!
9. Feeling grateful for all the love and joy you've poured into our lives and can't wait to celebrate with you.
10. Congratulations on being done with wedding planning!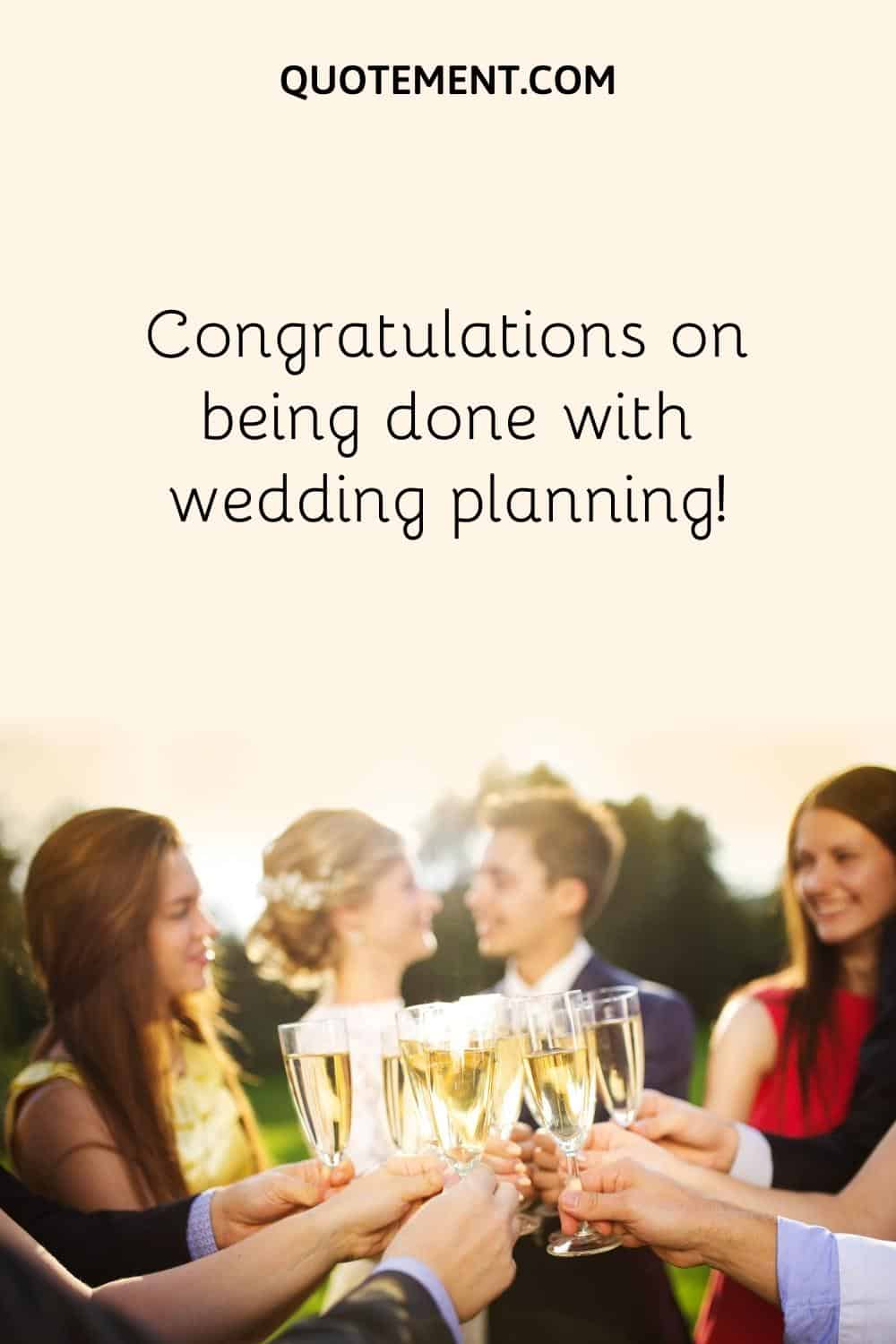 11. Today, I watched a real-life love story.
12. Oh snap, look who got a selfie with the newlyweds!
13. Wedding season is officially underway!
14. Only good vibes with these two.
15. We're the bachelorette support crew.
See also: 140 Bachelorette Party Quotes + Instagram Captions
Unique Wedding Guest Captions
I'll finish off with unique wedding guest captions. Enjoy!
1. Do you think anyone would notice if I take home some leftovers?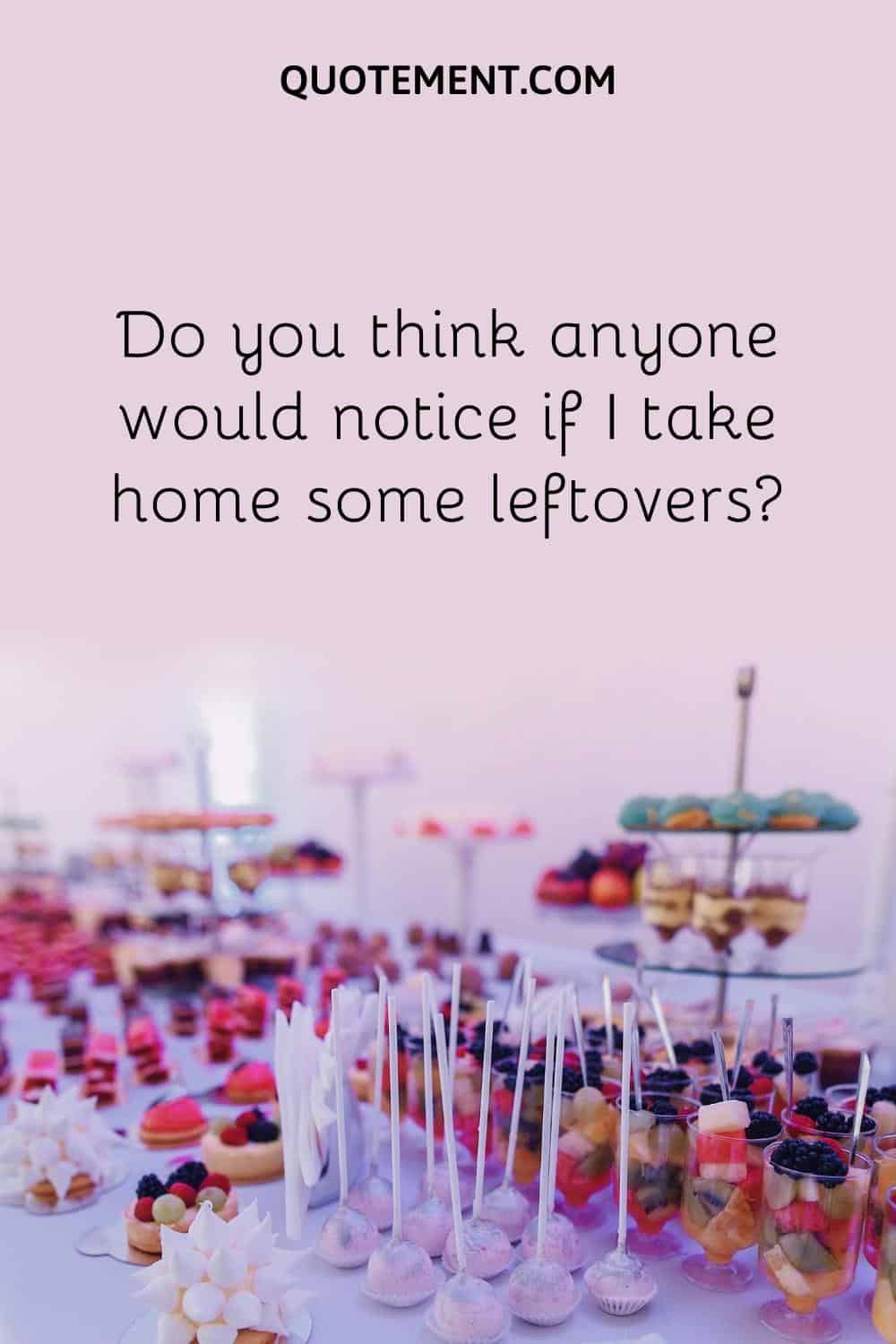 2. I wouldn't want to tear up the dance floor with anyone else.
3. Pop the champagne, she changed her name.
4. There's no place I'd rather stand today than next to my favorite people.
5. Congratulations to the happy couple on a wedding worthy of every Pinterest board.
6. Happy marriage to the couple who said 'I do' and looked deep into each other's eyes.
7. If you invite me to your wedding, there's a 99.99% chance that I will crush.
8. Pop the bubbly, she's getting a hubby.
9. They said I do, and we said finally!
10. Someone call the grocery store because they're off the market!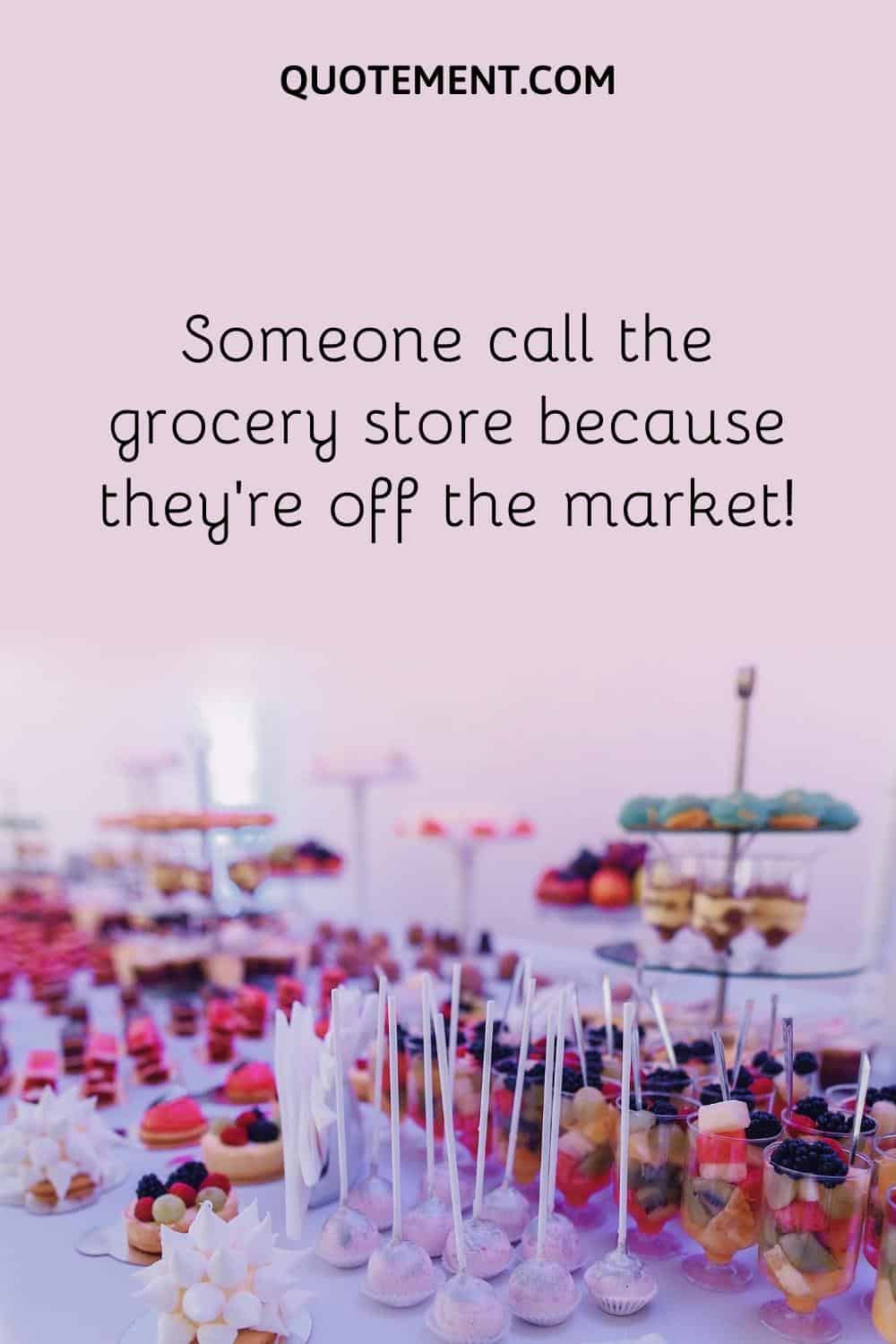 11. They go together like cupcakes and frosting.
12. Congrats on signing your life away!
13. Oh snap, I got a selfie with the bride.
14. My vow to the happy couple is to have the most fun at the reception.
15. Perfect day, perfect photo, perfect couple.
Final Words
With this many awesome wedding guest captions, I'm sure you'll find the perfect one easily.
Until next time!