When it comes to trust, we are often uncertain about who can we trust, how much can we trust, and when or whom we shouldn't trust.
Trust issues are something we all struggle with, and it all comes down to one reason — we had that someone who betrayed our trust.
To go more into this subject, I've searched the web far and wide to find the best trust quotes that can teach us a thing or two about how trust works.
There's only one way to find out — keep scrolling.
10 Greatest Trust Quotes
1. "Do not trust all men, but trust men of worth; the former course is silly, the latter a mark of prudence." — Democritus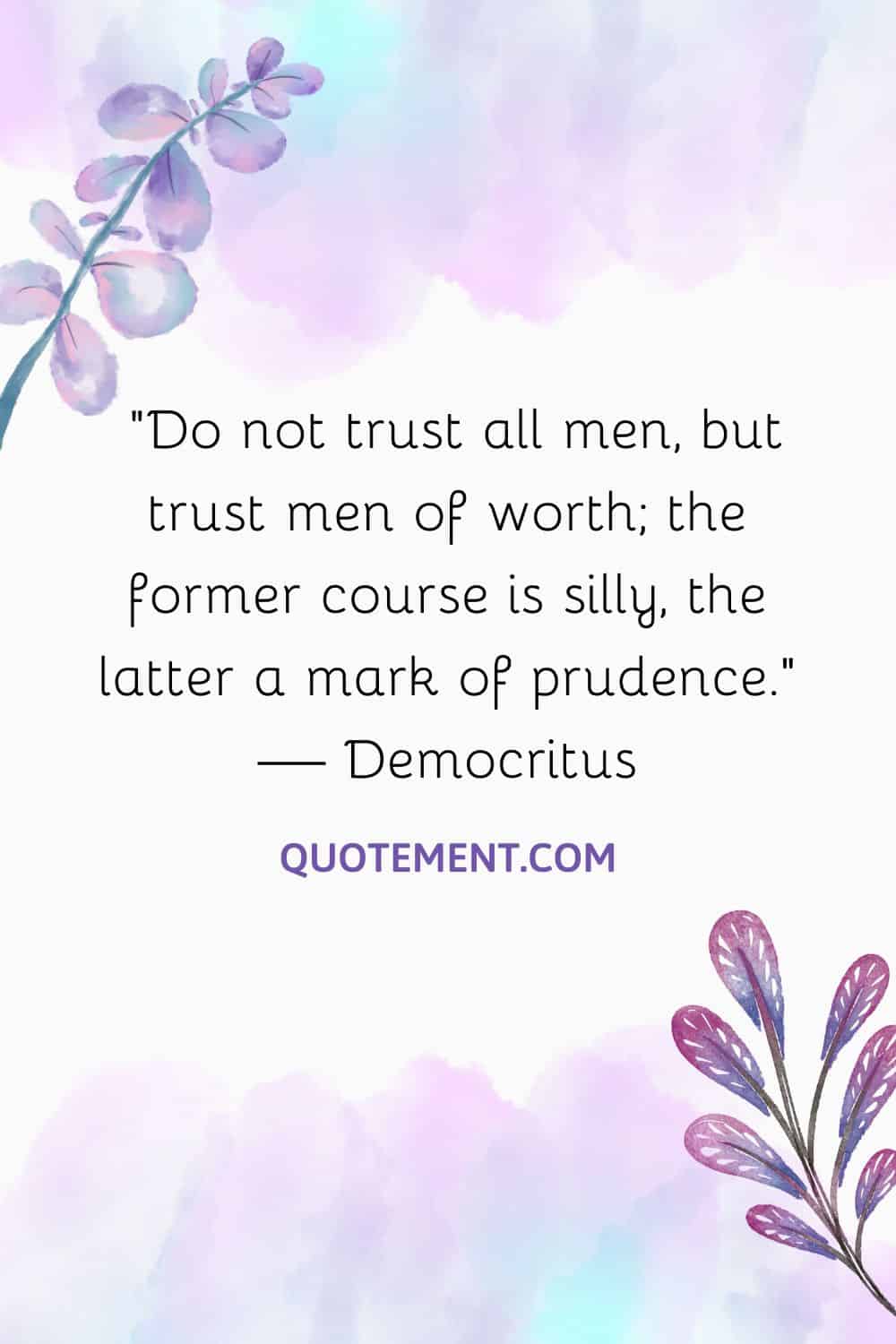 2. "Trust has to be earned, and should come only after the passage of time." — Arthur Ashe
3. "Trustful people are the pure at heart, as they are moved by the zeal of their own trustworthiness." — Criss Jami
4. "Consistency is the true foundation of trust. Either keep your promises or do not make them." — Roy T. Bennett
See also: 50 Life-Changing Consistency Quotes On The Key To Success
5. "Trust is like blood pressure. It's silent, vital to good health, and if abused it can be deadly." — Frank Sonnenberg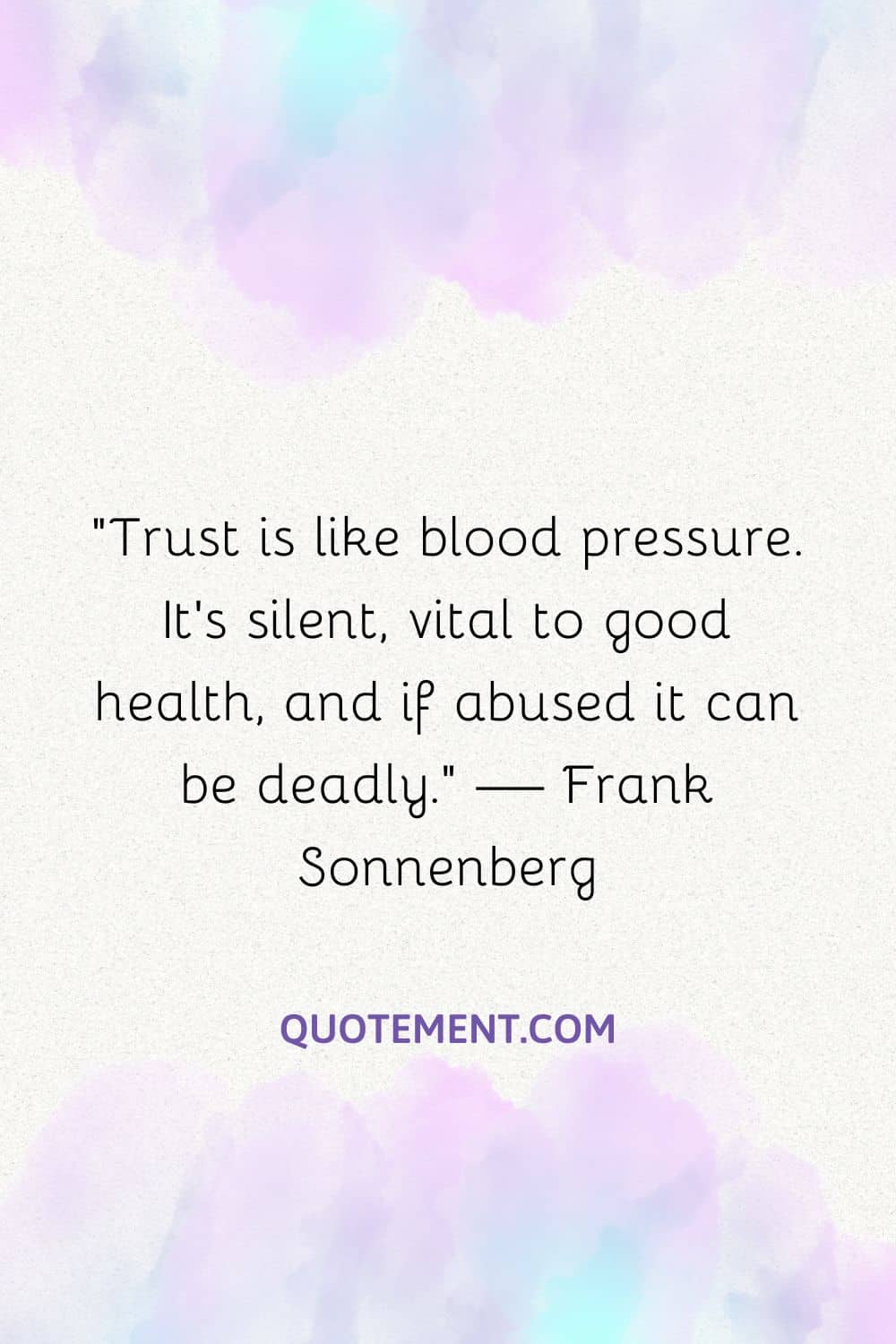 6. "It's a delight to trust somebody so completely." — Jeff Goldblum
7. "Trust is to human relationships what faith is to gospel living. It is the beginning place, the foundation upon which more can be built. Where trust is, love can flourish." — Barbara Smith
8. "If you're going to trust one person, let it be yourself." — Robert Tew
9. "Being trustworthy requires: Doing the right thing. And doing things right." — Don Peppers
10. "In this world, there was nothing scarier than trusting someone. But there was also nothing more rewarding." — Brad Meltzer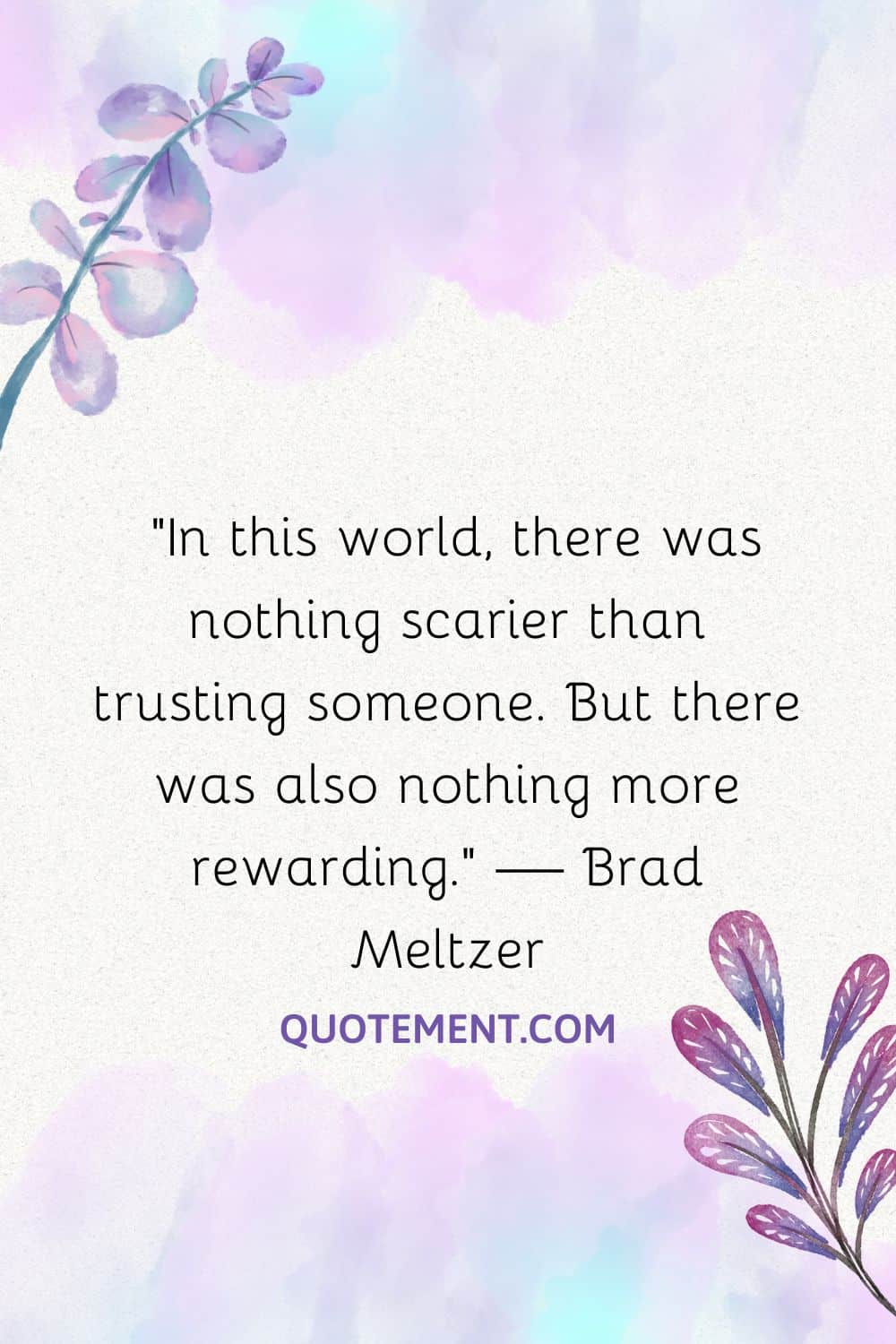 Wise Quotes About Trust
1. "It is mutual trust, even more than mutual interest that holds human associations together." — H.L. Mencken
2. "Never be afraid to trust an unknown future to a known God." — Corrie Ten Boom
3. "Honesty is the first chapter in the book of wisdom." — Buddha
4. "We are all selfish and I no more trust myself than others with a good motive." — Lord Byron
5. "A man trusts another man when he sees enough of himself in him." — Gregory David Roberts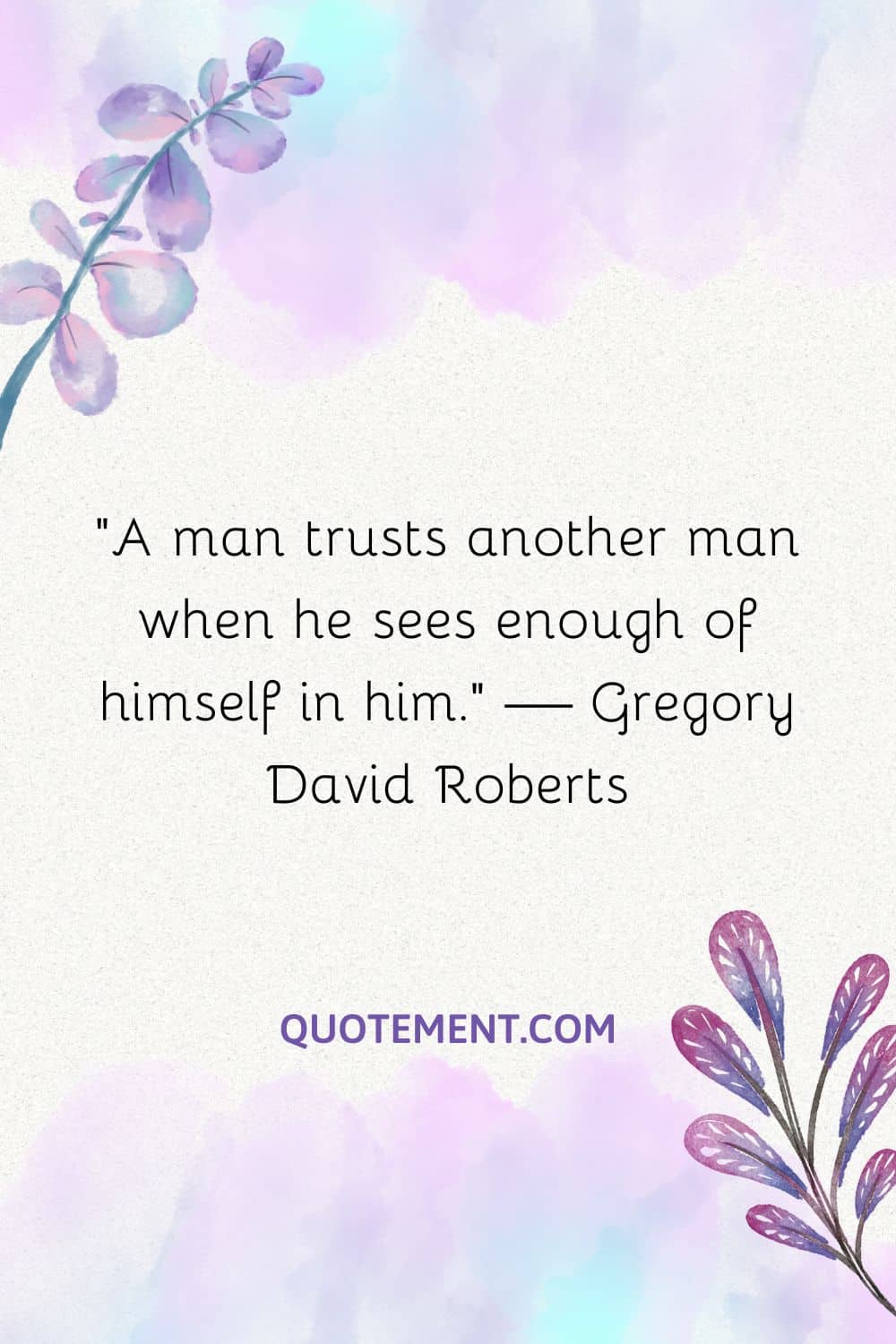 6. "The only statistics you can trust are those you falsified yourself." — Winston Churchill
7. "Trust begins with faith; not with blind faith." — Invajy
8. "A lie can travel halfway around the world while the truth is putting on its shoes." — Charles Spurgeon
9. "Love all, trust a few." — William Shakespeare
10. "Every kind of peaceful cooperation among men is primarily based on mutual trust." — Albert Einstein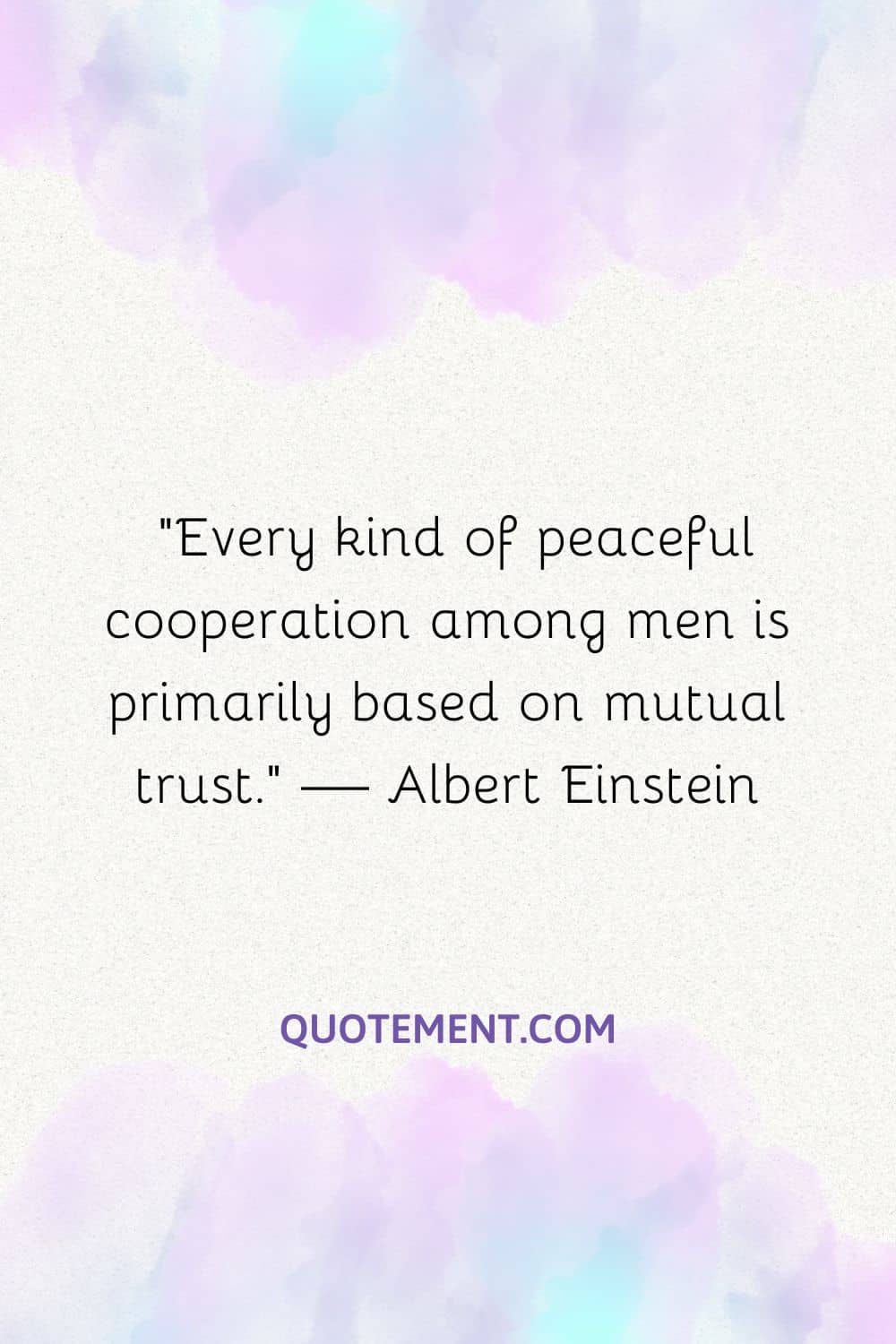 11. "Trust begins with yourself. Trust yourself first and you will start trusting others in life." — Invajy
12. "Trust your own instincts, go inside, follow your heart. Right from the start. Go ahead and stand up for what you believe in. As I've learned, that's the path to happiness." — Lesley Ann Warren
13. "I trust everyone. I just don't trust the devil inside them." — Troy Kennedy-Martin
See also: 220 Awesome Devil Quotes For Instagram + Devil Captions
14. "Wise men put their trust in ideas and not in circumstances." — Ralph Waldo Emerson
15. "Never trust the version that people give of themselves — it is utterly unreliable." — Robert Greene
16. "Trust, but verify." — Ronald Reagan
17. "For every good reason there is to lie, there is a better reason to tell the truth." — Bo Bennett
18. "Never trust a man who speaks well of everybody." — John Churton Collins
19. "Just trust yourself, then you will know how to live." — Johann Wolfgang von Goethe
20. "Take no one's word for anything, including mine — but trust your experience." — James Baldwin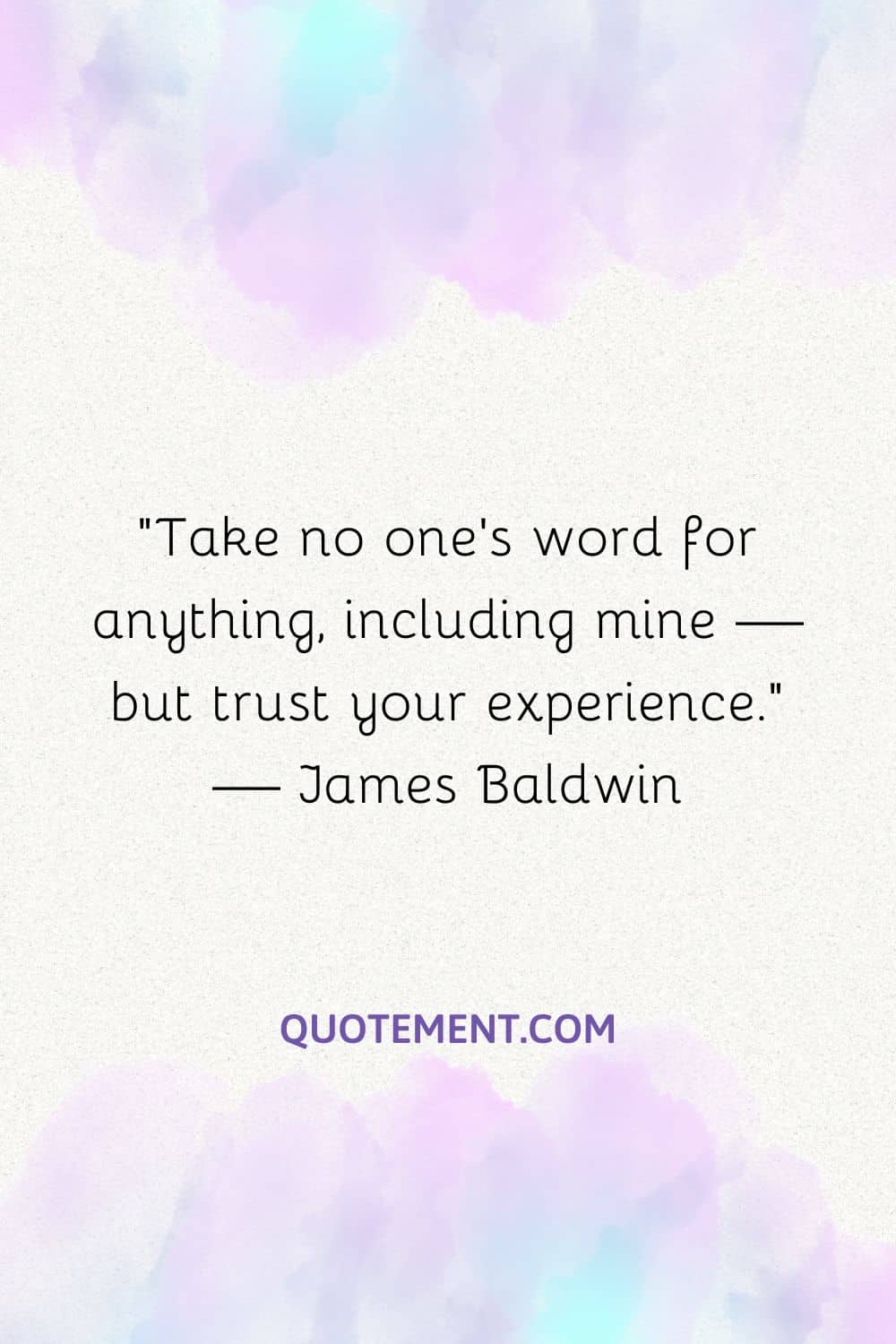 Relationship Trust Quotes
1. "Having trust makes love come alive. Trust isn't just the basis for a relationship; it's the lifeblood that keeps a relationship healthy." — Mira Kirshenbaum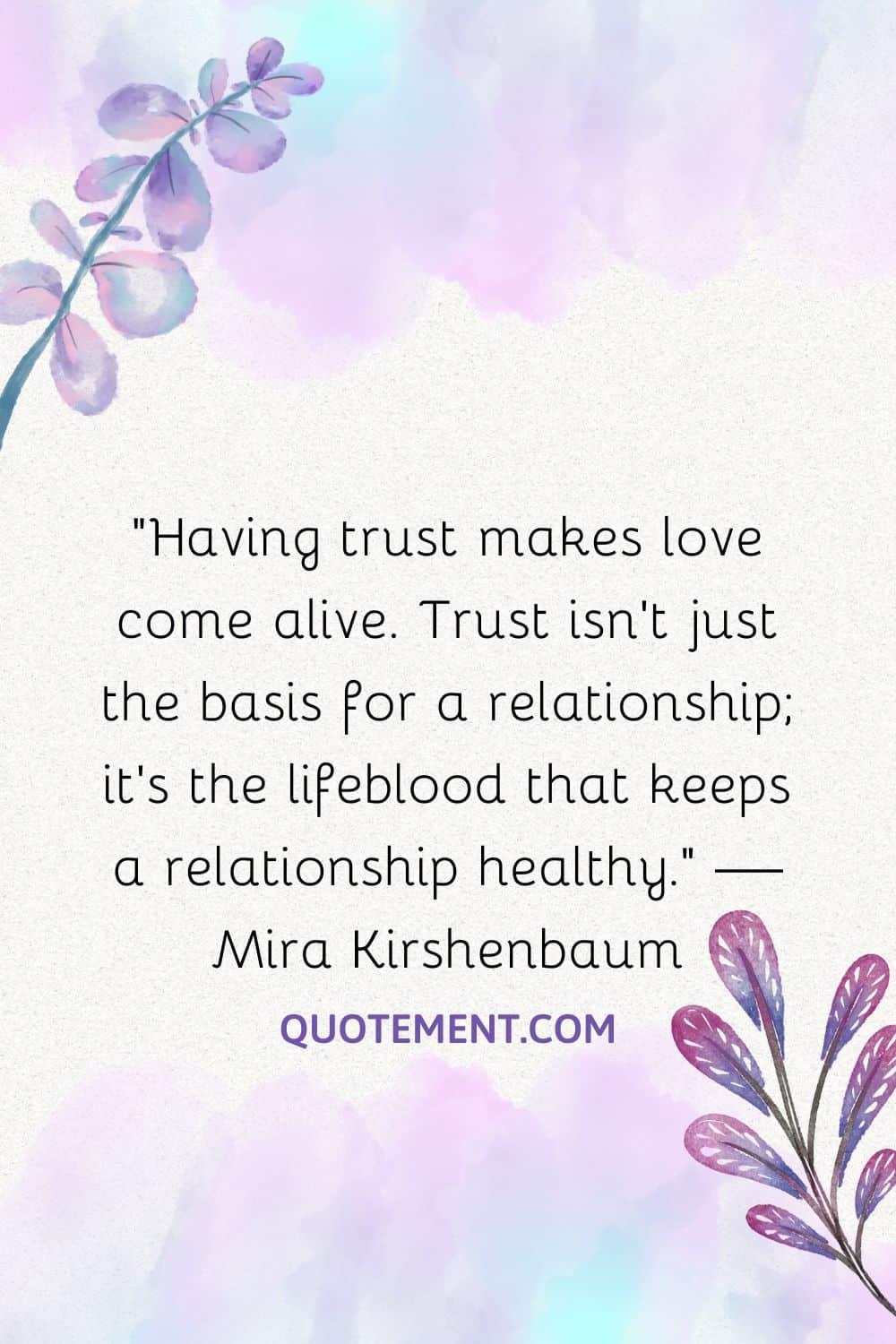 2. "If you are a real human being, never break promises, trust, and heart in your relationships." — Invajy
3. "Indifference is expensive. Hostility is unaffordable. Trust is priceless. It's all about relationships." — Ted Rubin
4. "Trust and faith bring joy to life and help relationships grow to their maximum potential." — Joyce Meyer
5. "Good relationship doesn't need promises, terms, and conditions. It just needs a SHE who can trust and a HE who can be loyal." — Unknown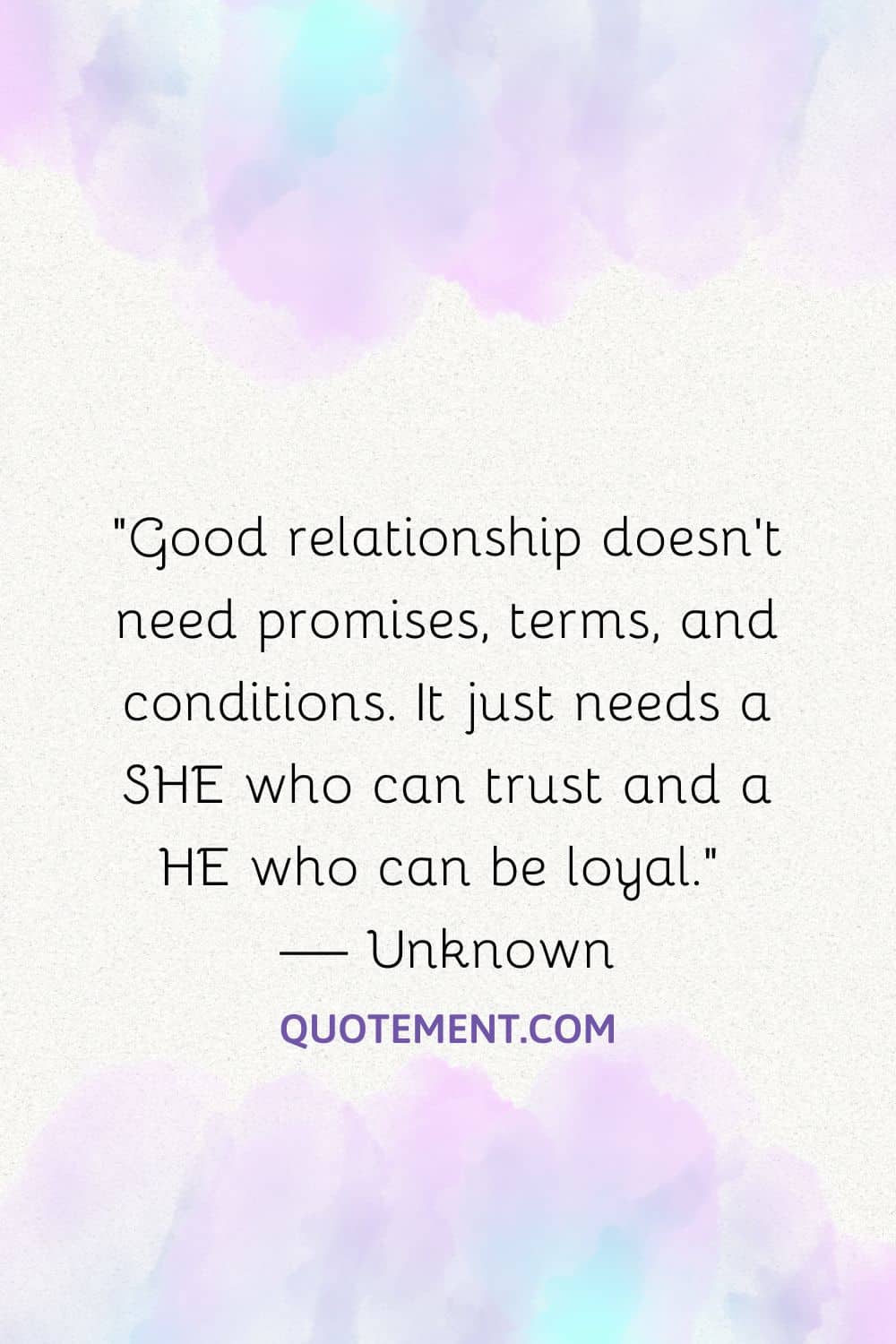 6. "Communication and trust are backbones of any relationship that will last for a lifetime." — Invajy
7. "Trust is the fruit of a relationship in which you know you are loved." — William P. Young
8. "Trust is only gained when one person risks and doesn't get harmed. It grows as both people increasingly risk and don't get harmed in the process." — Glen Williams
9. "It takes two people to make a lie work: the person who tells it, and the one who believes it." — Jodi Picoult
10. "Whether it's friendship or relationship, all bonds are built on trust. Without it you have nothing." — Unknown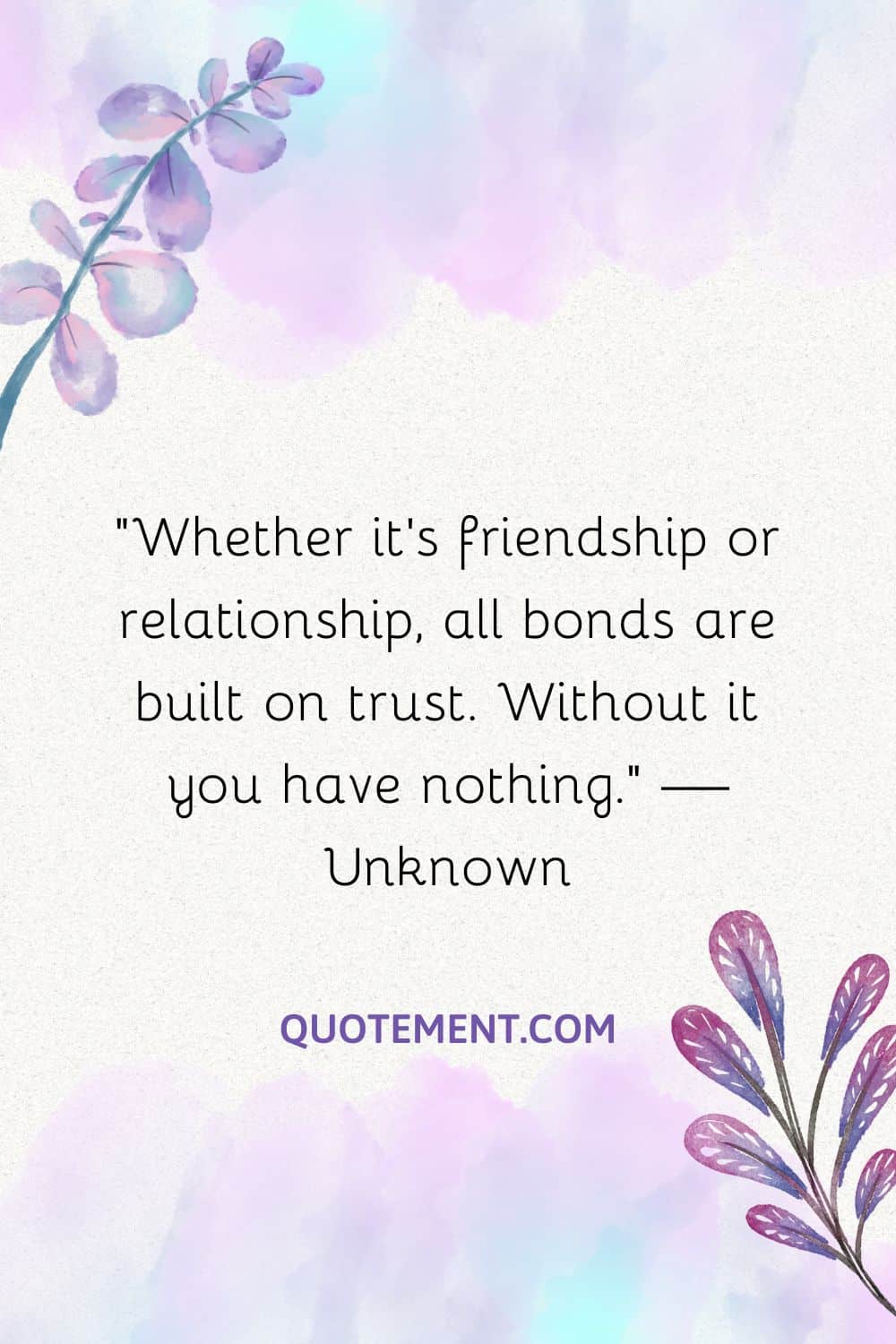 11. "Relationships should be built on trust and truth." — Sophie Kinsella
12. "Trust is the only thing that can help a relationship last a lifetime." — Unknown
13. "Relationships are all about trust in each other. When you have to become a detective, then it's time to move on." — Invajy
14. "A relationship without trust is like a car without gas, you can stay in it all you want, but it won't go anywhere." — Unknown
15. "Trust is the glue of life. It's the most essential ingredient in effective communication. It's the foundational principle that holds all relationships." — Stephen Covey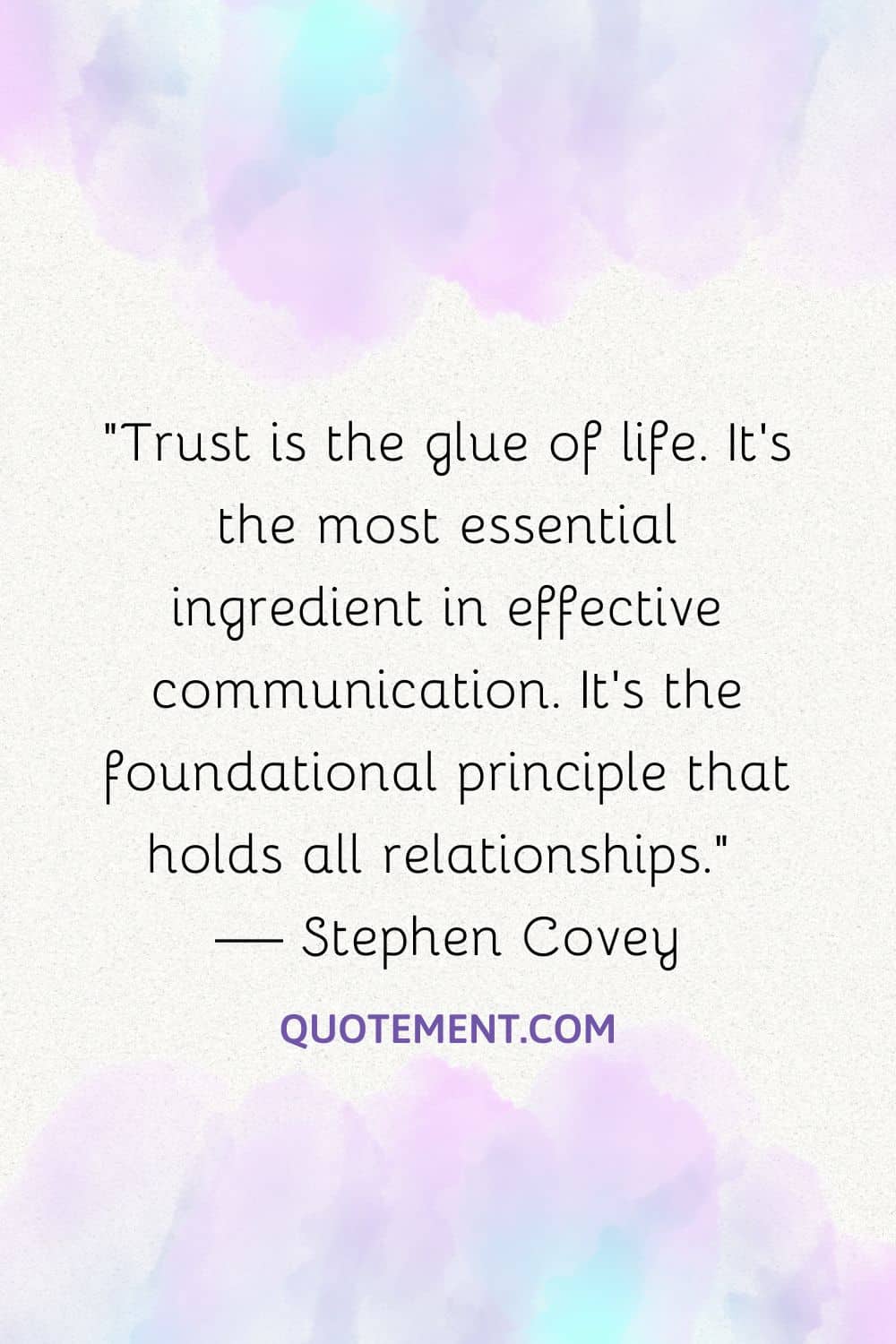 16. "A healthy relationship is built on unwavering trust." — Beau Mirchoff
17. "Without trust, it's only a matter of time before relationships crumble." — Unknown
18. "A blessed thing it is for any man or woman to have a friend, one human soul whom we can trust utterly, who knows the best and worst of us, and who loves us in spite of all our faults." — Charles Kingsley
19. "Trust is the foundation on which buildings of all relationships are built." — Invajy
20. "The glue that holds all relationships together — including the relationship between the leader and the led — is trust, and trust is based on integrity." — Brian Tracy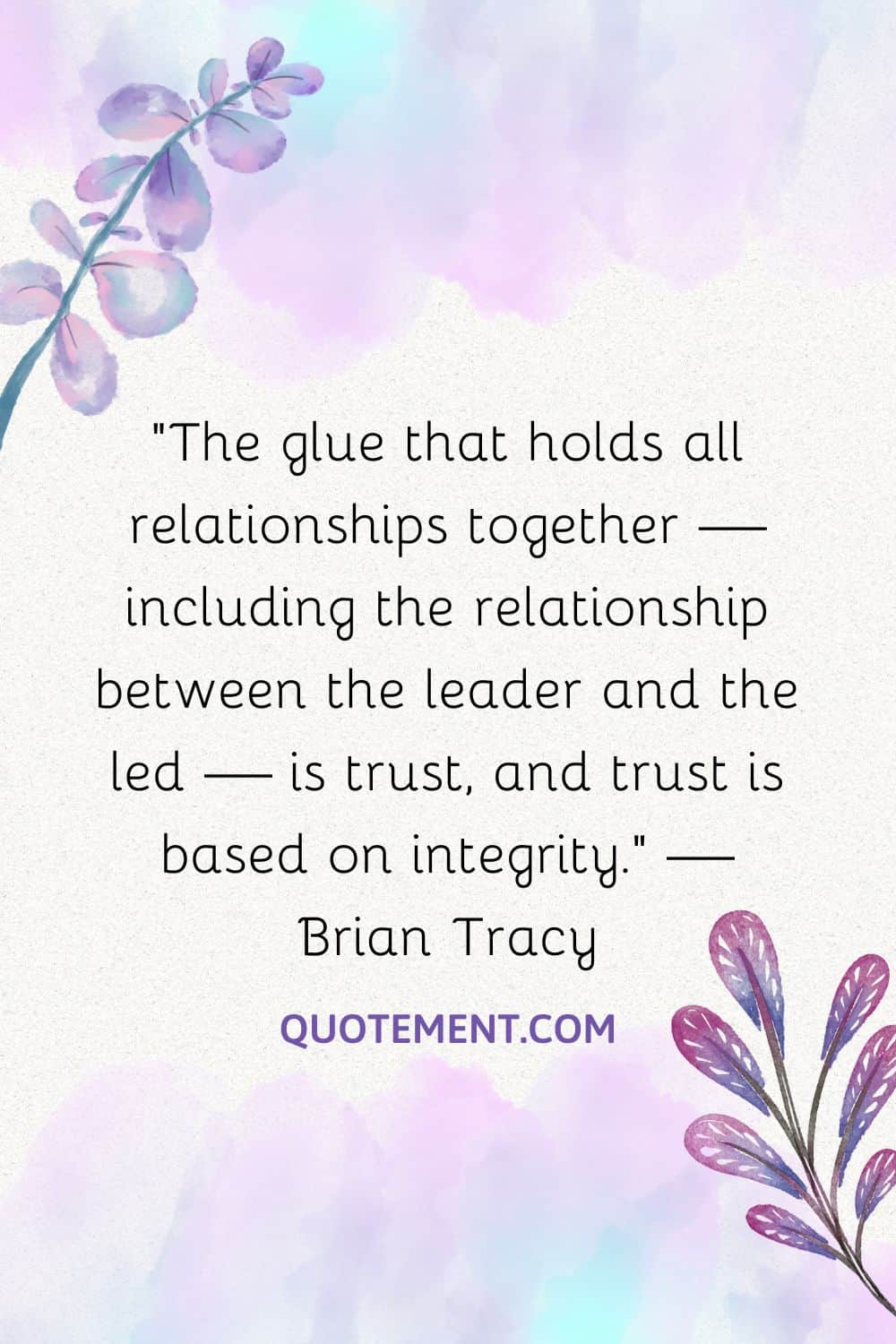 Love Trust Quotes
1. "Love and trust are so powerful. They can literally change the fate of a person." — Tasha Hoggatt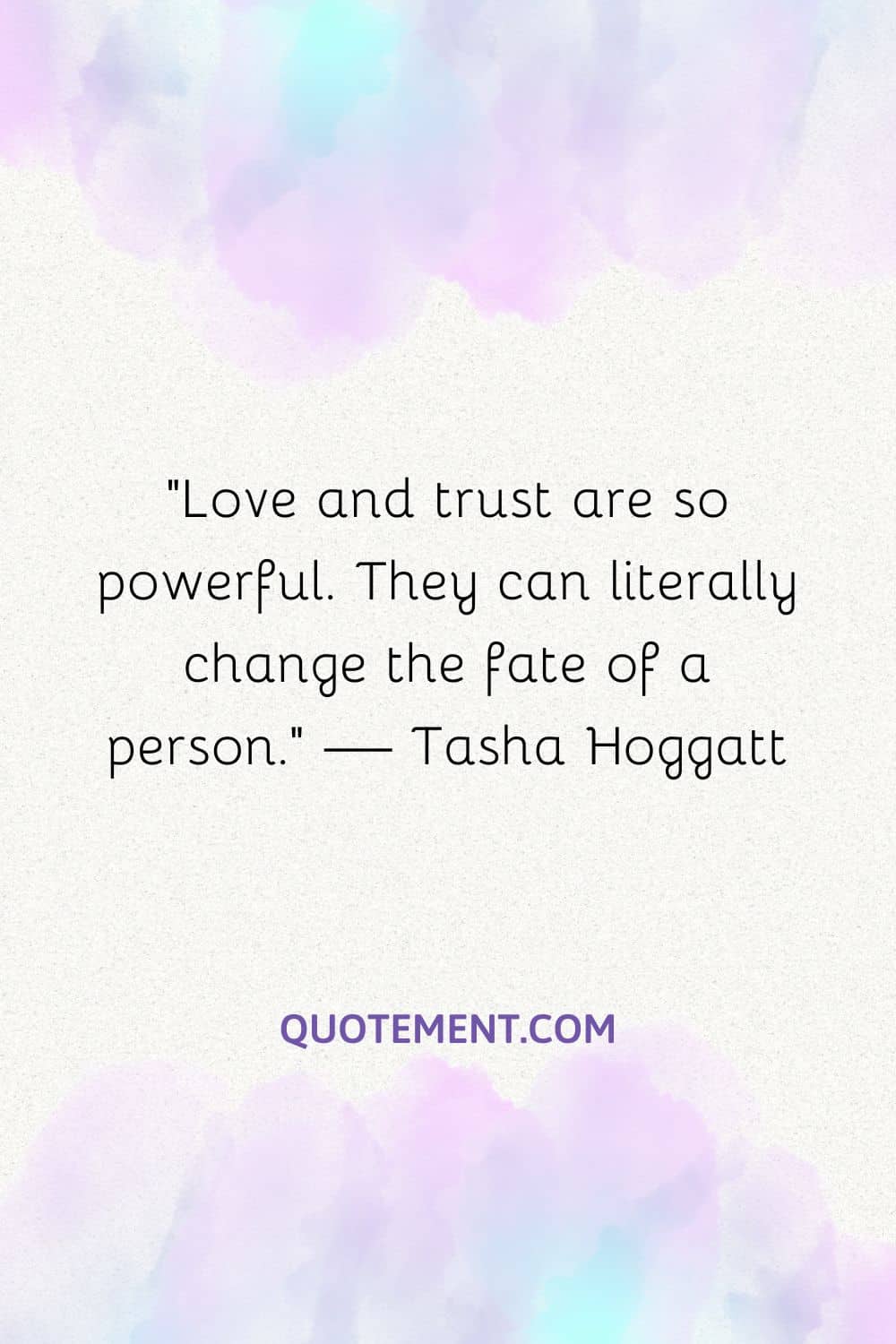 2. "When you are surrounded by the people you love, you can take immense comfort from them. Learn to talk to those you trust and just pour your heart out." — Brandon Cutt
3. "Have enough courage to trust love one more time and always one more time." — Maya Angelou
4. "We're never so vulnerable than when we trust someone — but paradoxically, if we cannot trust, neither can we find love or joy." — Walter Anderson
5. "Trust in what you love, continue to do it, and it will take you where you need to go." — Natalie Goldberg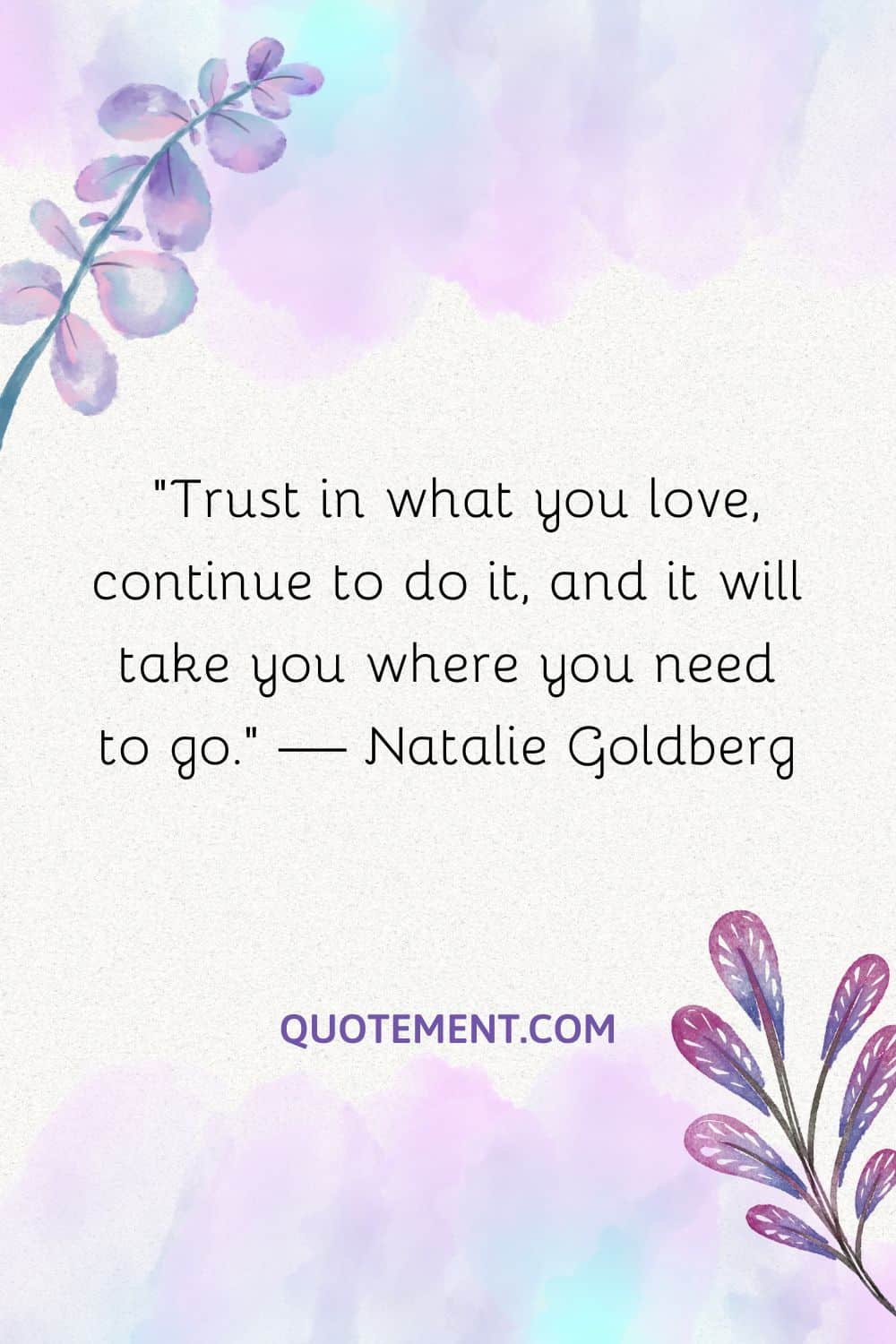 6. "What is love after all but trusting in the unknown." — Marty Rubin
7. "Trust is not an obsession, it's an extension of love. When we truly love someone, we give them our heart to hold in their hands. And when that love is returned, that very trust is balm to our souls." — Julie Lessman
8. "Love needs trust the way flowers need sunshine." — Unknown
9. "It's a very brave thing to fall in love. You have to be willing to trust somebody else with your whole being, and that's very difficult, really difficult, and very brave." — Nicole Kidman
10. "For me, love is magic; it's about trust and understanding. It's putting the other person before you effortlessly." — A. R. Hydari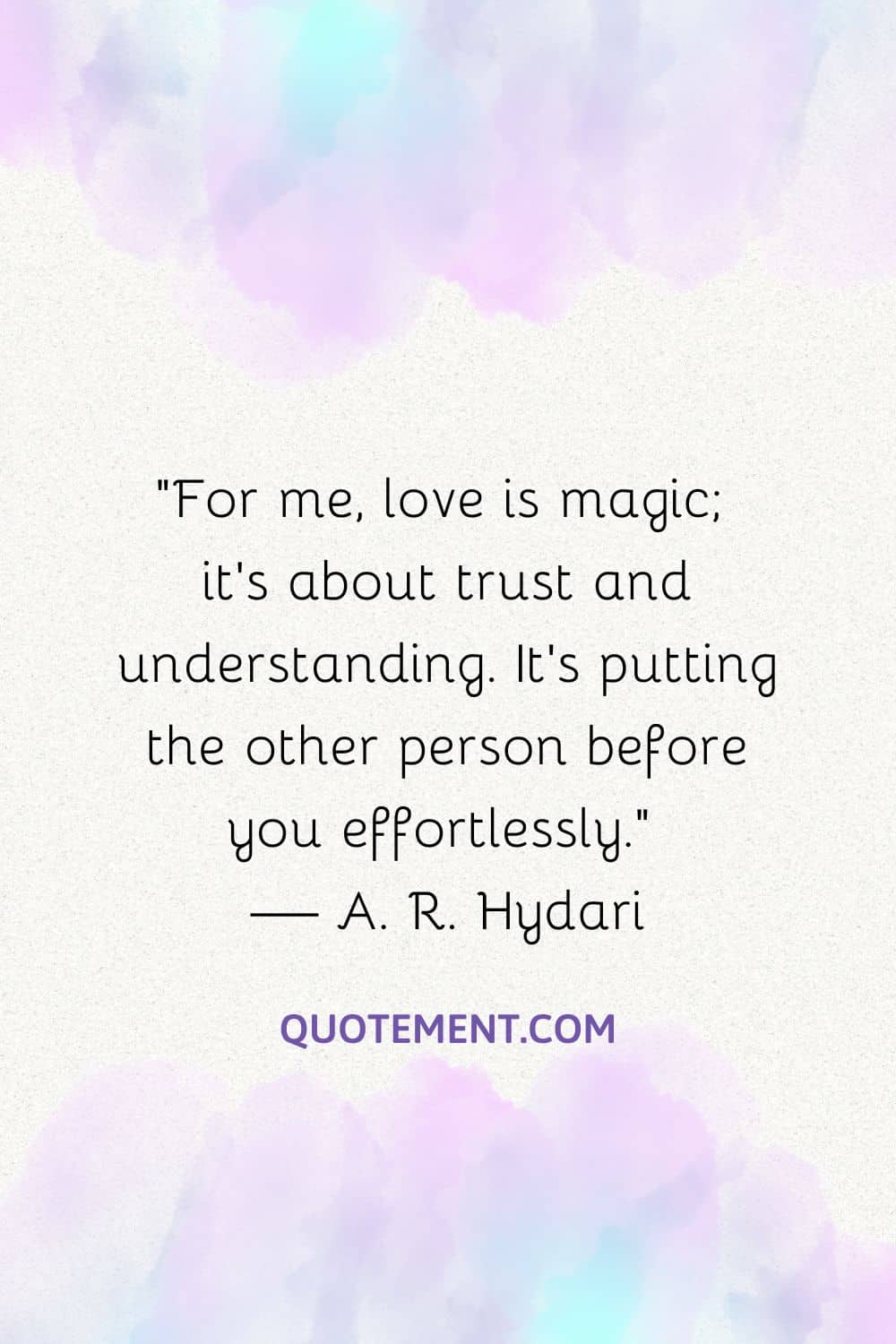 11. "To be trusted is a greater compliment than being loved." — George MacDonald
12. "After all, damn it, what does being in love mean if you can't trust a person." — Evelyn Waugh
13. "When mistrust comes in, loves goes out." — Irish proverb
14. "With love and understanding, trust in life can be regained, but it takes two to get through this, and you need to be devoted to each other and sufficiently motivated to show each other that there is no need for jealousy within the relationship." — Sofia Price
15. "People become trustworthy when the record shows that they are consistent in acting justly, being truthful, and showing loyal love." — David Richo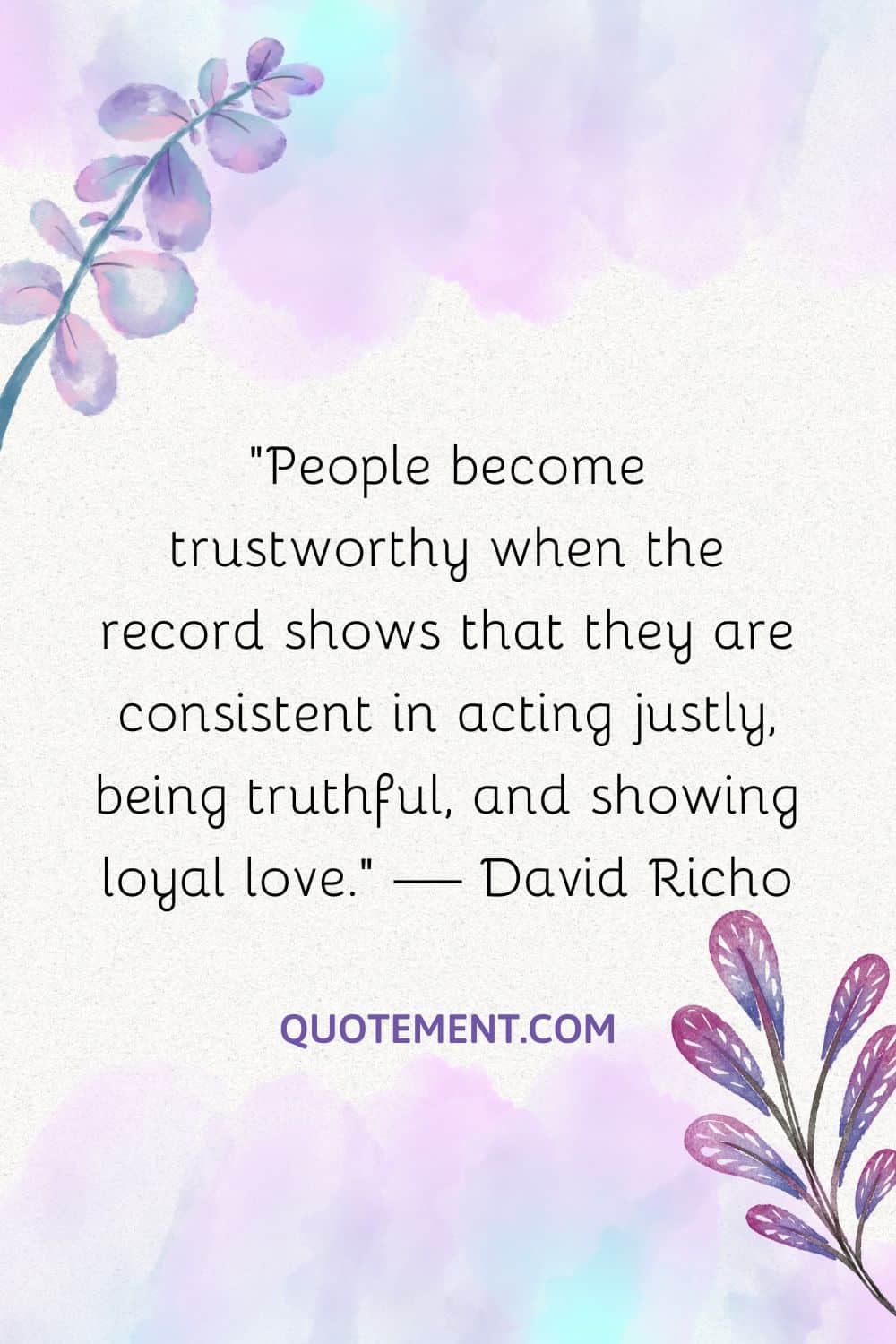 16. "The best proof of love is trust." — Joyce Brothers
17. "I have blind trust in people. Even if that ends up hurting me, I won't change. I will go on trusting people because that's the only way I know to love someone." — Bipasha Basu
18. "Love is supposed to be based on trust, and trust on love, it's something rare and beautiful when people can confide in each other without fearing what the other person will think." — E.A. Bucchianeri
19. "'I love you' is far different from 'I trust you'." — Shelaxai
20. "Love meant jumping off a cliff and trusting that a certain person would be there to catch you at the bottom." — Jodi Picoult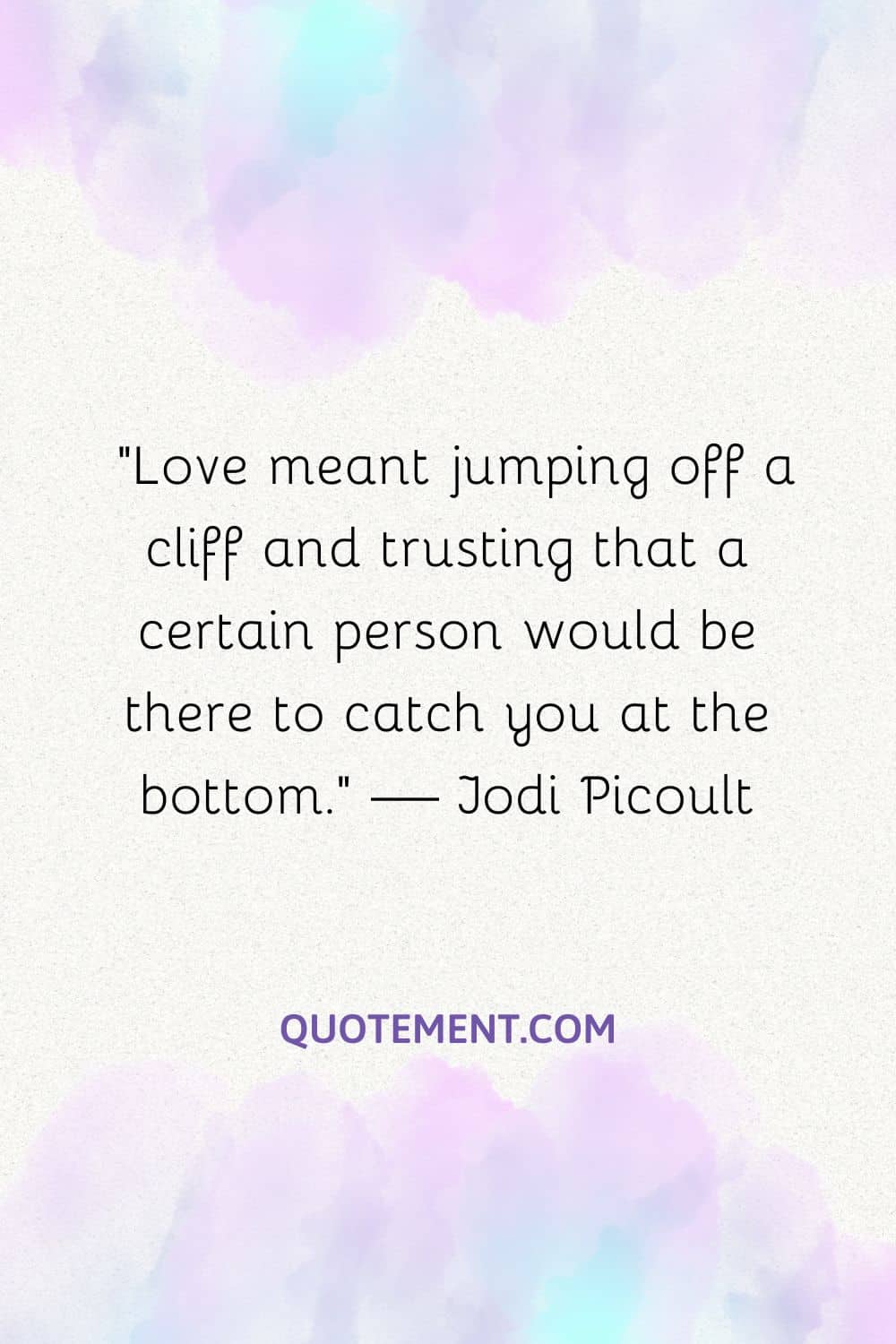 Quotes About Having No Trust
1. "A body of men holding themselves accountable to nobody ought not to be trusted by anybody." — Thomas Paine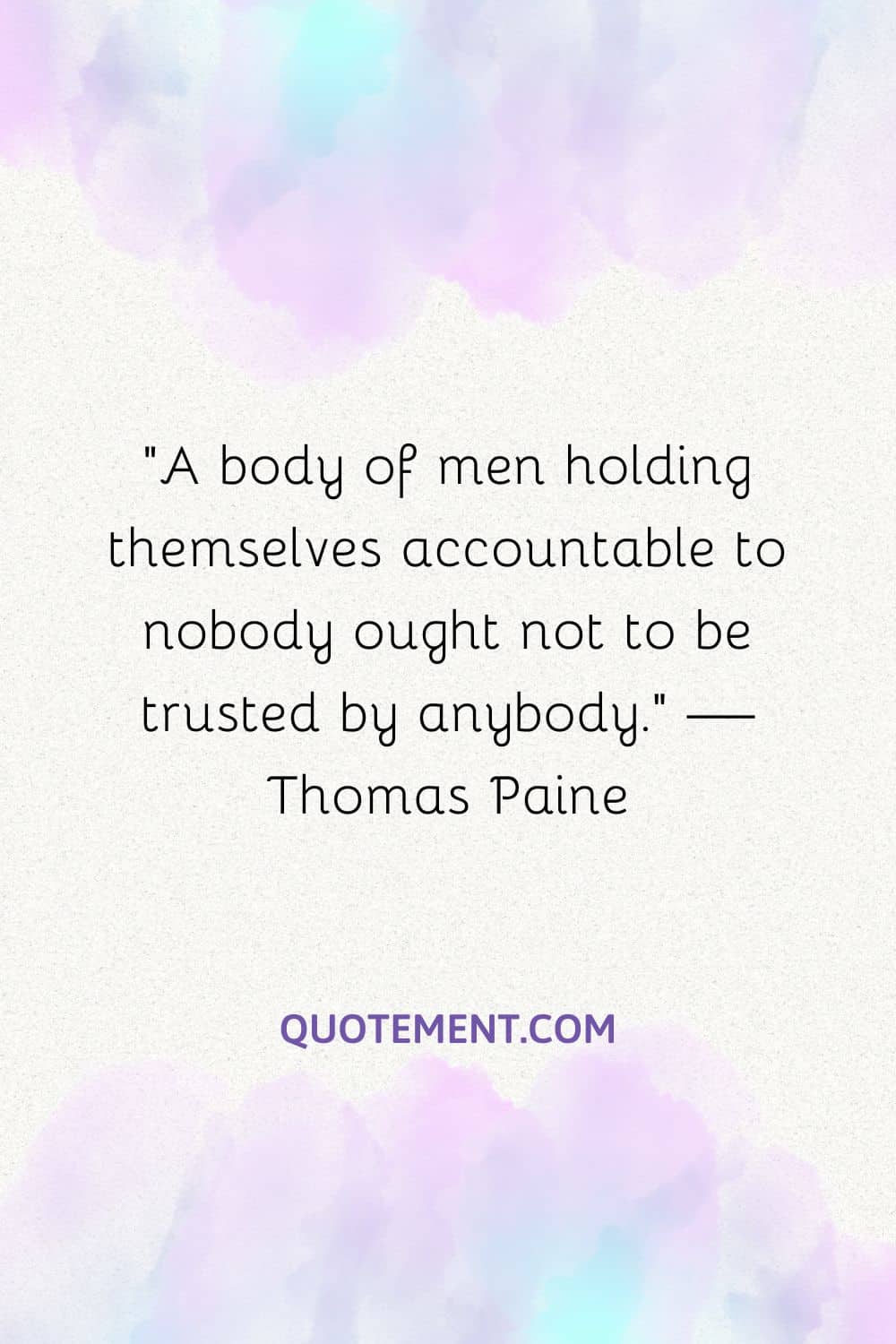 2. "He who does not trust enough will not be trusted." — Lao Tzu
3. "Trust dies but mistrust blossoms." — Sophocles
4. "I cannot trust a man to control others who cannot control himself." — Robert E. Lee
5. "You believe lies so you can eventually learn to trust no one but yourself." — Marilyn Monroe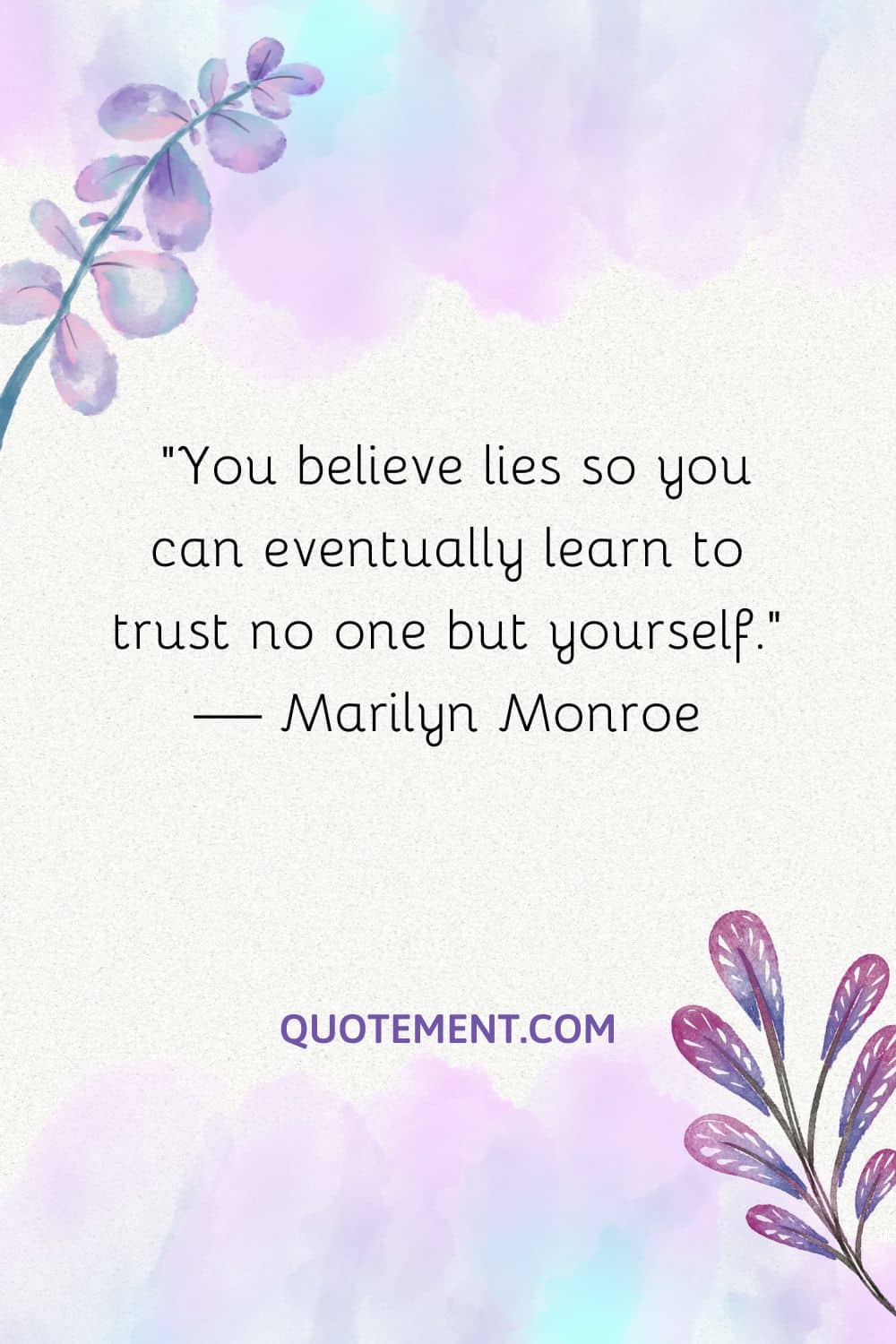 6. "It's good to trust others but, not to do so is much better." — Benito Mussolini
7. "Don't trust what you see. Even salt looks like sugar." — Unknown
8. "Trust no one because life is full of fake people." — Unknown
9. "Don't trust people who tell you other people's secrets." — Dan Howell
10. "I do not trust people who don't love themselves and yet tell me, 'I love you.'" — Maya Angelou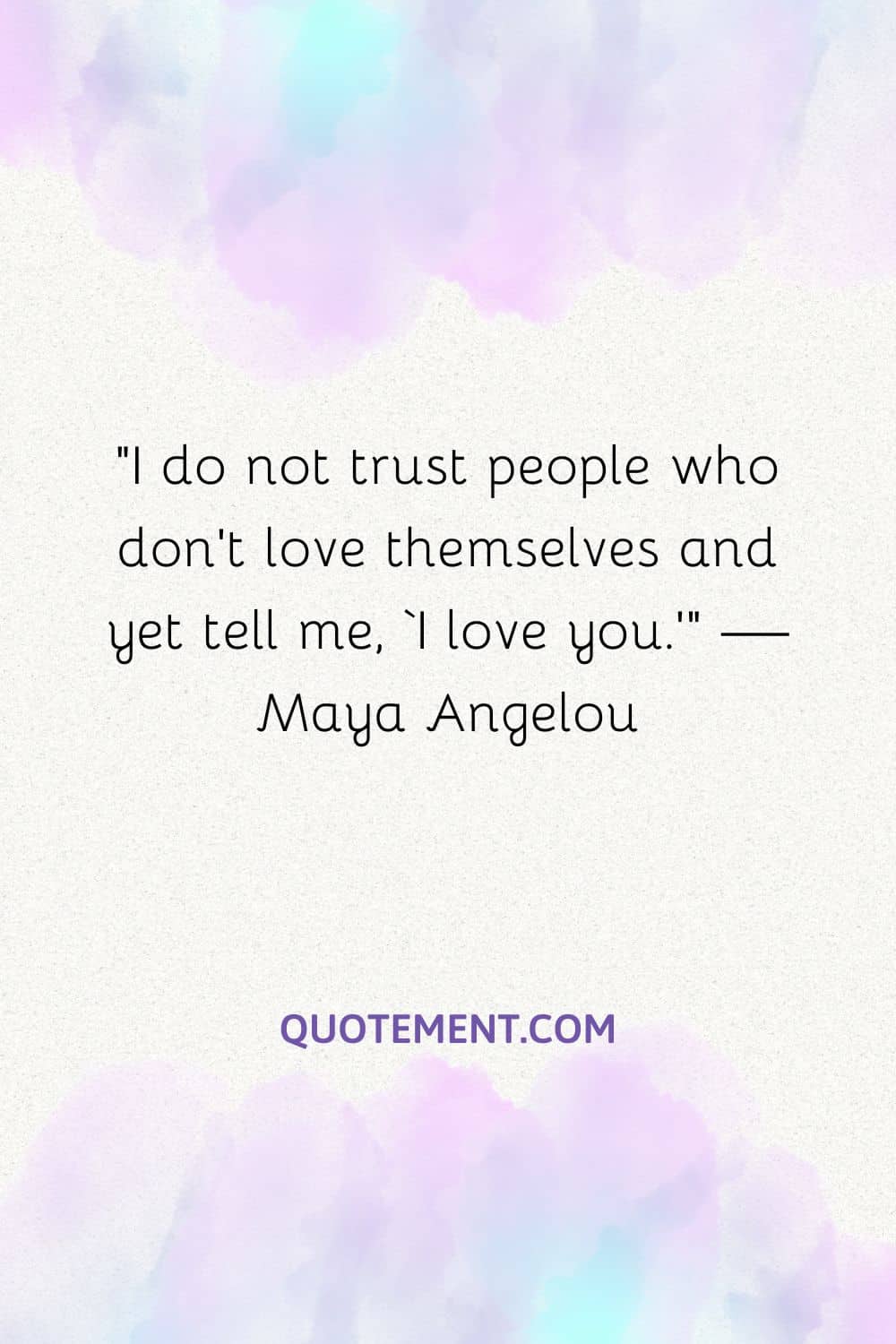 11. "The inability to open up to hope is what blocks trust, and blocked trust is the reason for blighted dreams." — Elizabeth Gilbert
12. "Only trust thyself, and another shall not betray thee." — William Penn
13. "What loneliness is more lonely than distrust?" — George Eliot
14. "Trust no one at your back unless you want them to bury a knife in it." — Sherrilyn Kenyon
15. "Never trust anything that can think for itself if you can't see where it keeps its brain." — J. K. Rowling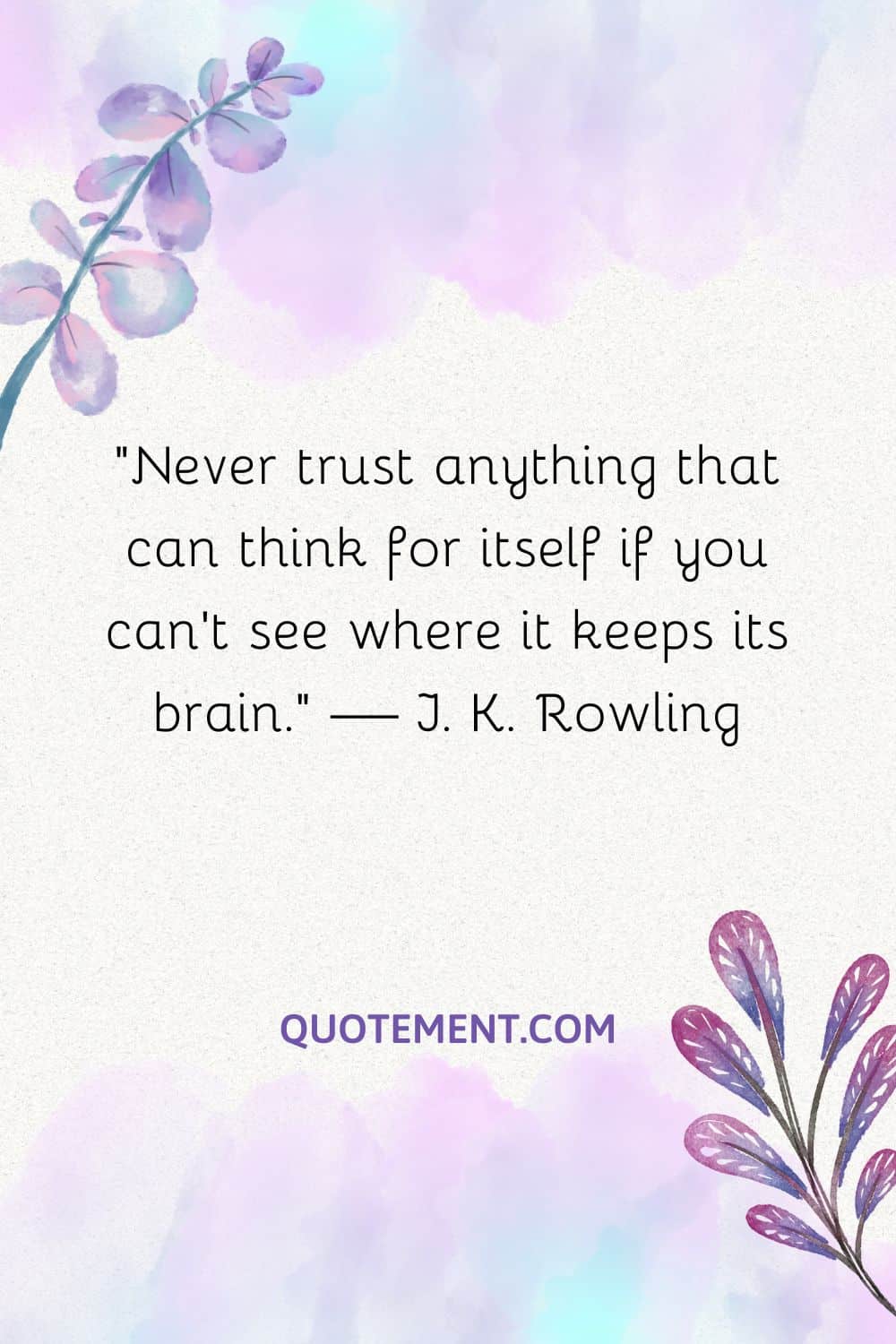 16. "Trust is very hard if you don't know what you're trusting." — Marianne Williamson
17. "Every day is just like April Fool's Day. You should not believe and trust in anyone." — Unknown
18. "To trust people is a luxury in which only the wealthy can indulge; the poor cannot afford it." — E. M. Forster
19. "Don't trust the person who has broken faith once." — William Shakespeare
20. "Where large sums of money are concerned, it is advisable to trust nobody." — Agatha Christie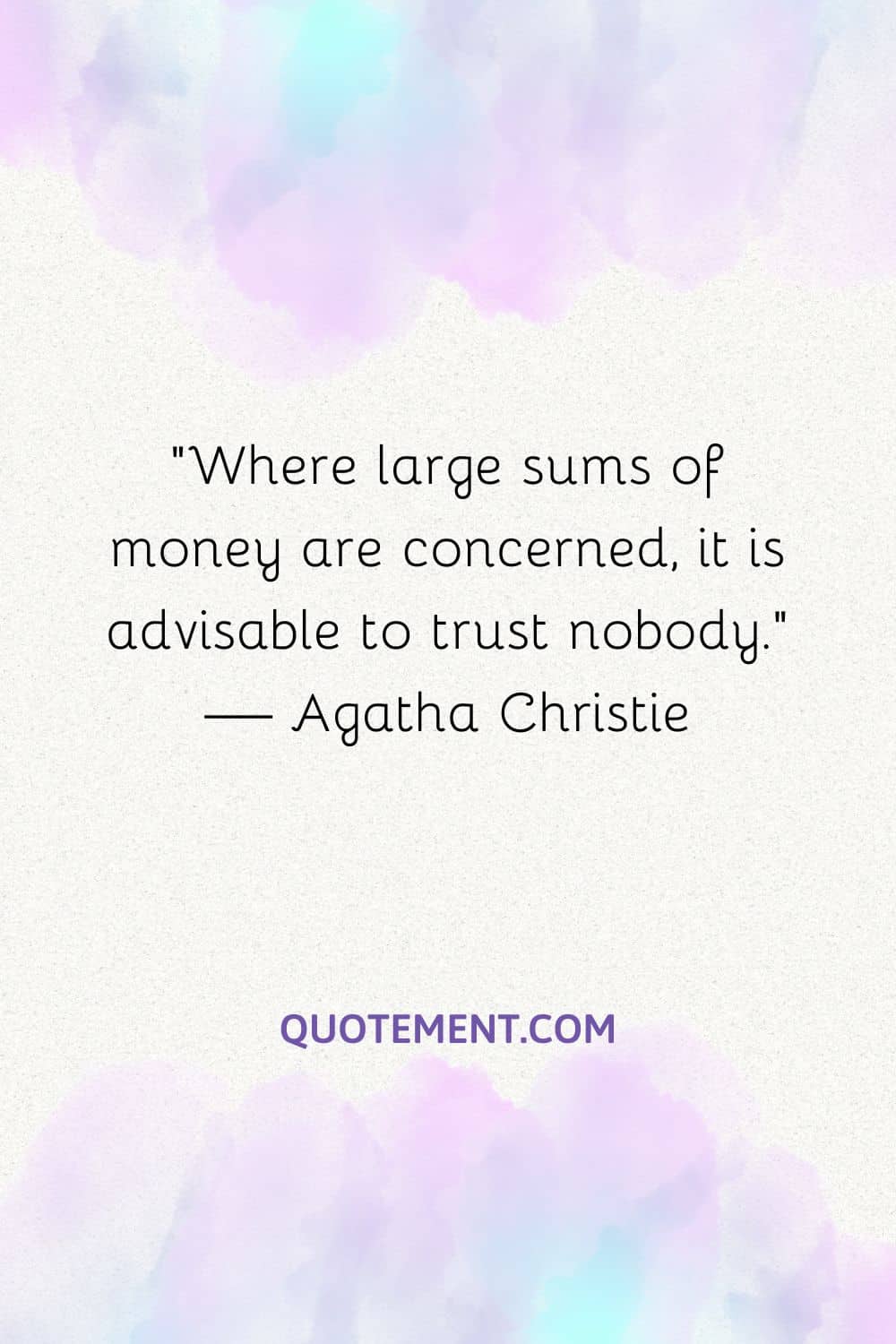 Trust Issues Quotes
1. "A single trust issue begets a neverending list of trust issues. Control them before it's too late." — Varun Pahwa
2. "You may be deceived if you trust too much, but you will live in torment if you don't trust enough." — Frank Crane
3. "Sometimes you don't know who you can and cannot trust. I still learn that over and over again." — Demi Lovato
4. "Whoever is careless with the truth in small matters cannot be trusted with important matters." — Albert Einstein
5. "People that have trust issues only need to look in the mirror. There they will meet the one person that will betray them the most." — Shannon L. Adler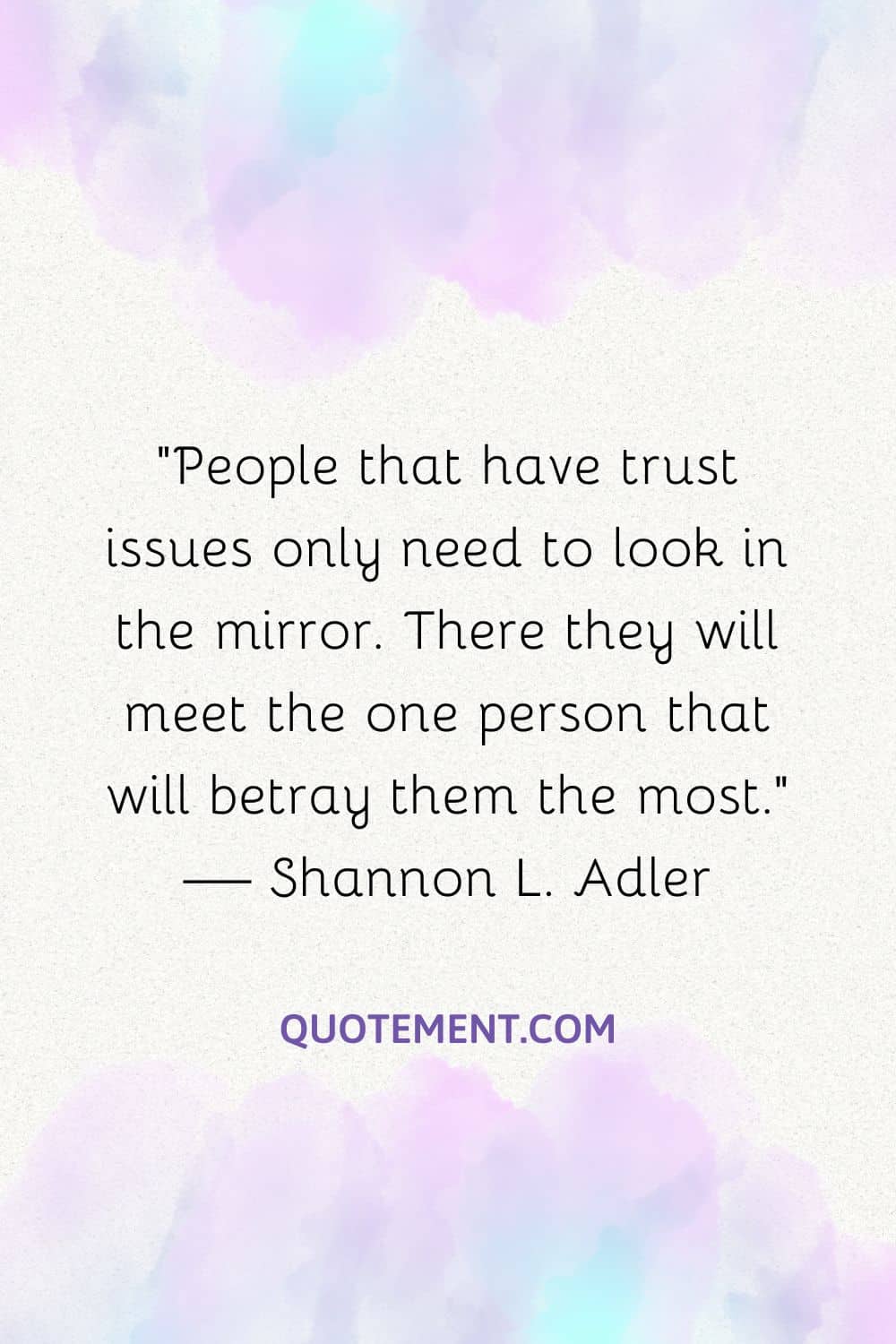 6. "There's never a reason to trust someone. If there's a reason, then it's not trust." — Gerald Morris
7. "Not everyone can be trusted. I think we all have to be very selective about the people we trust." — Shelley Long
8. "Better to trust the man who is frequently in error than the one who is never in doubt." — Eric Sevareid
9. "Even in the common affairs of life, in love, friendship, and marriage, how little security have we when we trust our happiness in the hands of others!" — William Hazlitt
10. "I don't trust anybody. Not anybody. And the more that I care about someone, the more sure I am they're going to get tired of me and take off." ― Rainbow Rowell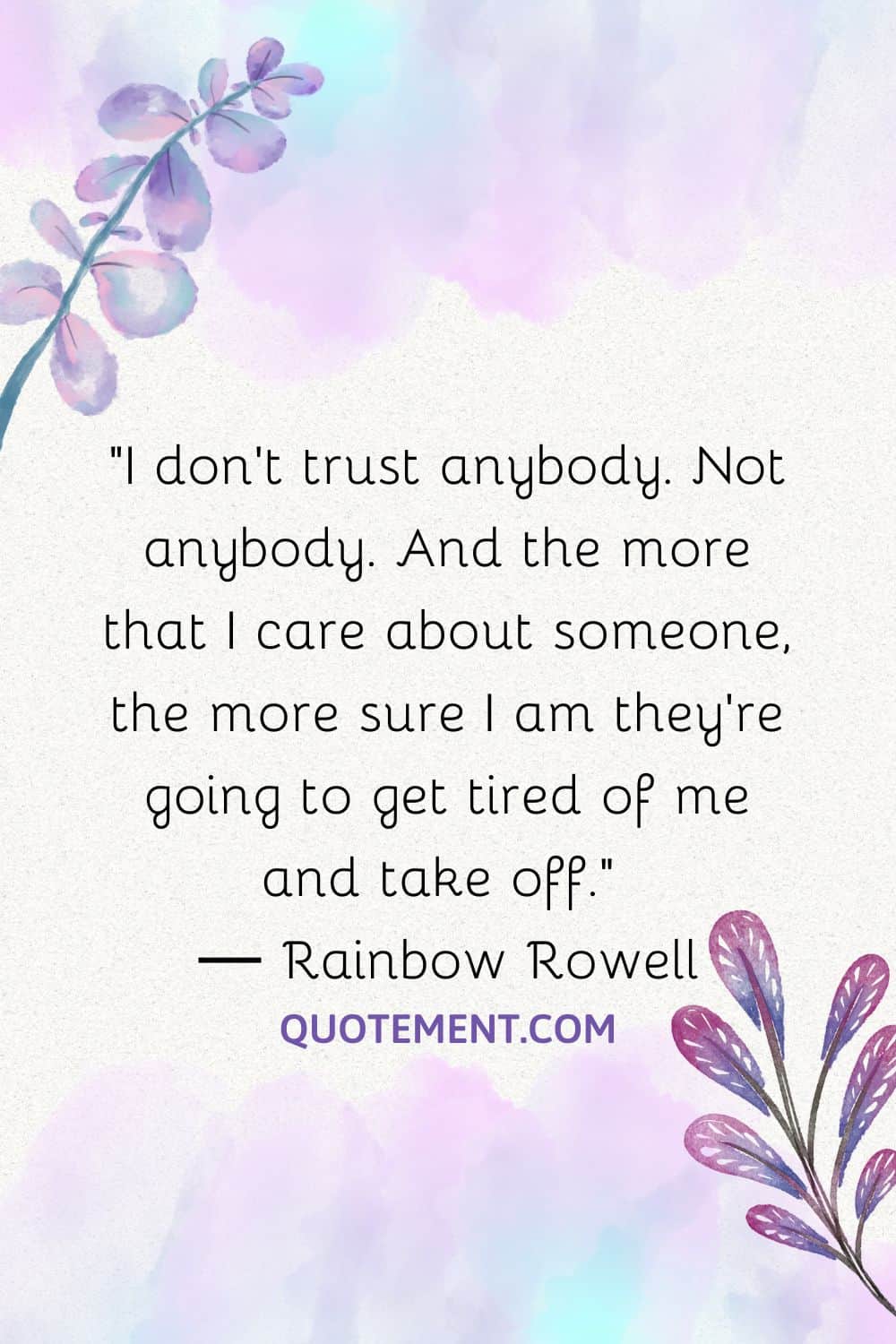 11. "I got trust issues because people got lying issues." — Unknown
12. "It is an equal failing to trust everybody, and to trust nobody." — English Proverb
13. "Trust your instincts, and make judgments on what your heart tells you. The heart will not betray you." — David Gemmell
14. "I would rather trust a woman's instinct than a man's reason." — Stanley Baldwin
15. "Trust is the highest form of human motivation. It brings out the very best in people. But it takes time and patience." — Stephen R. Covey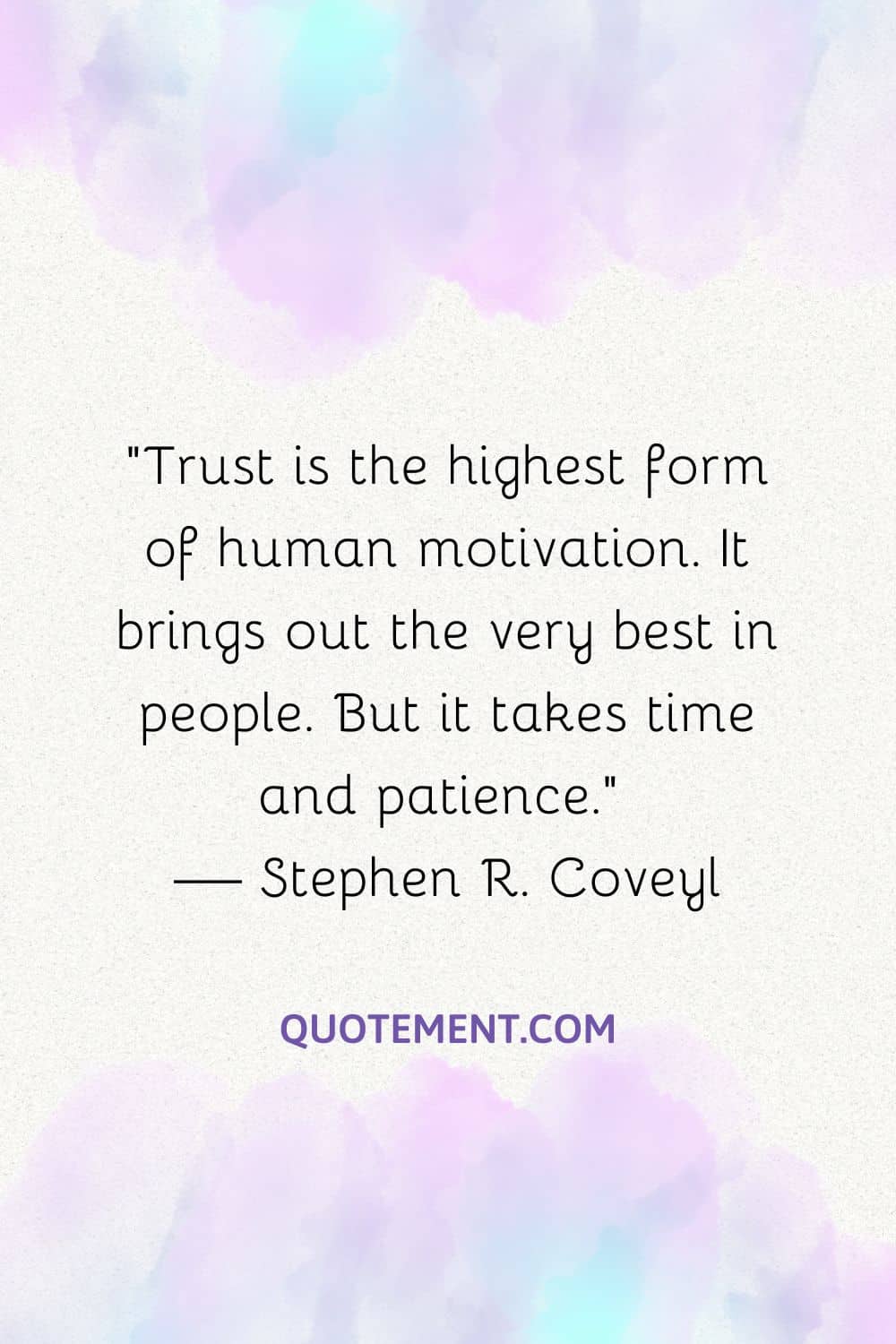 16. "You can't trust a promise someone makes while they're drunk, in love, hungry, or running for office." — Joe Moore
17. "I may have trust issues, but some people seem to have an issue with the responsibility of being trusted." — Melchor Lim
18. "Raisin cookies that look like chocolate chip cookies are the main reason I have trust issues." ― Woody Paige
19. "Familial betrayal is, to me, the most heartbreaking kind — because if you can't trust your family to love you and protect you, who can you really trust?" — Alexandra Bracken
20. "Trust is hard to come by. That's why my circle is small and tight. I'm kind of funny about making new friends." — Eminem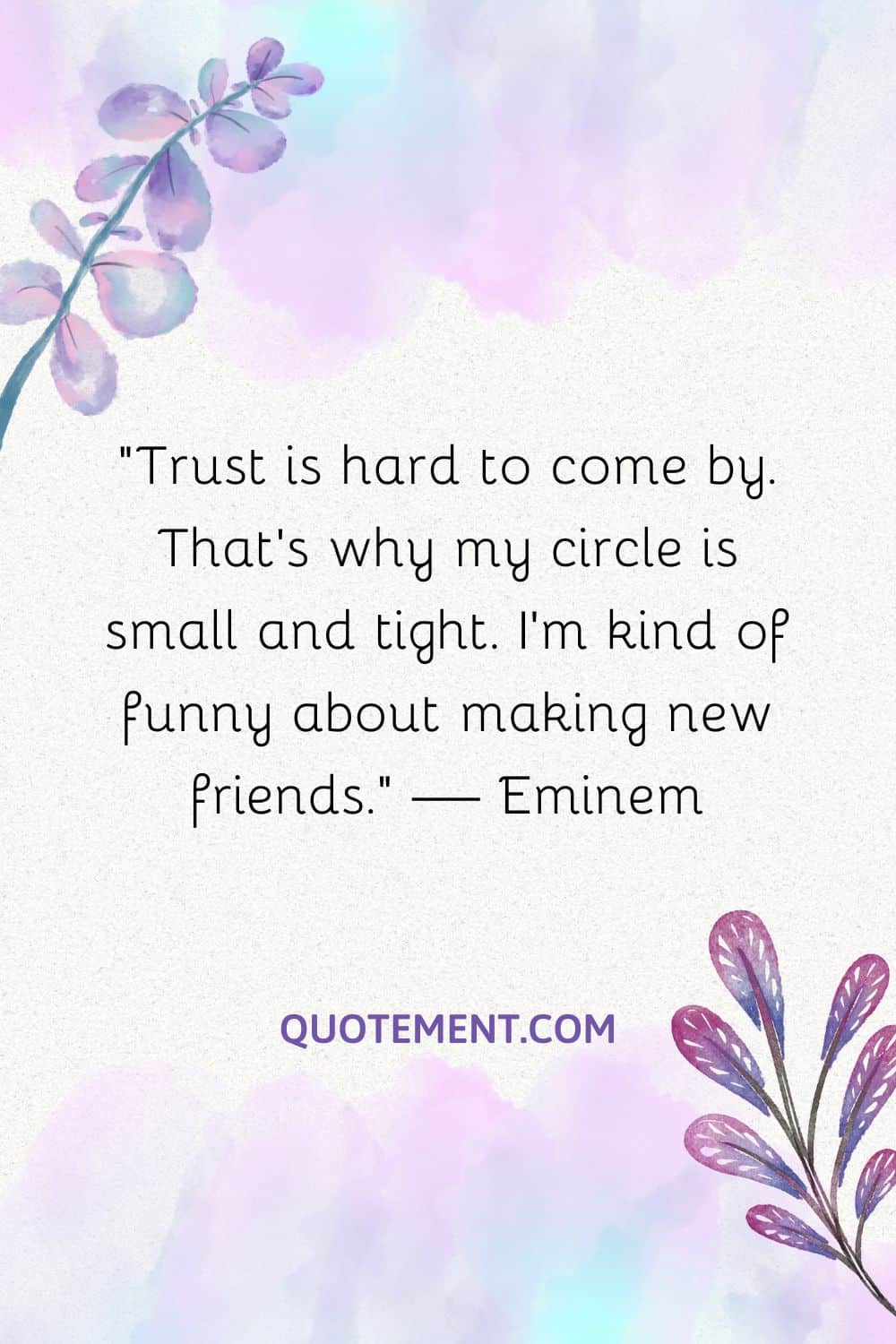 Life Quotes On Trust
1. "Trust is like a vase, once it's broken, though you can fix it, the vase will never be same again." — Walter Anderson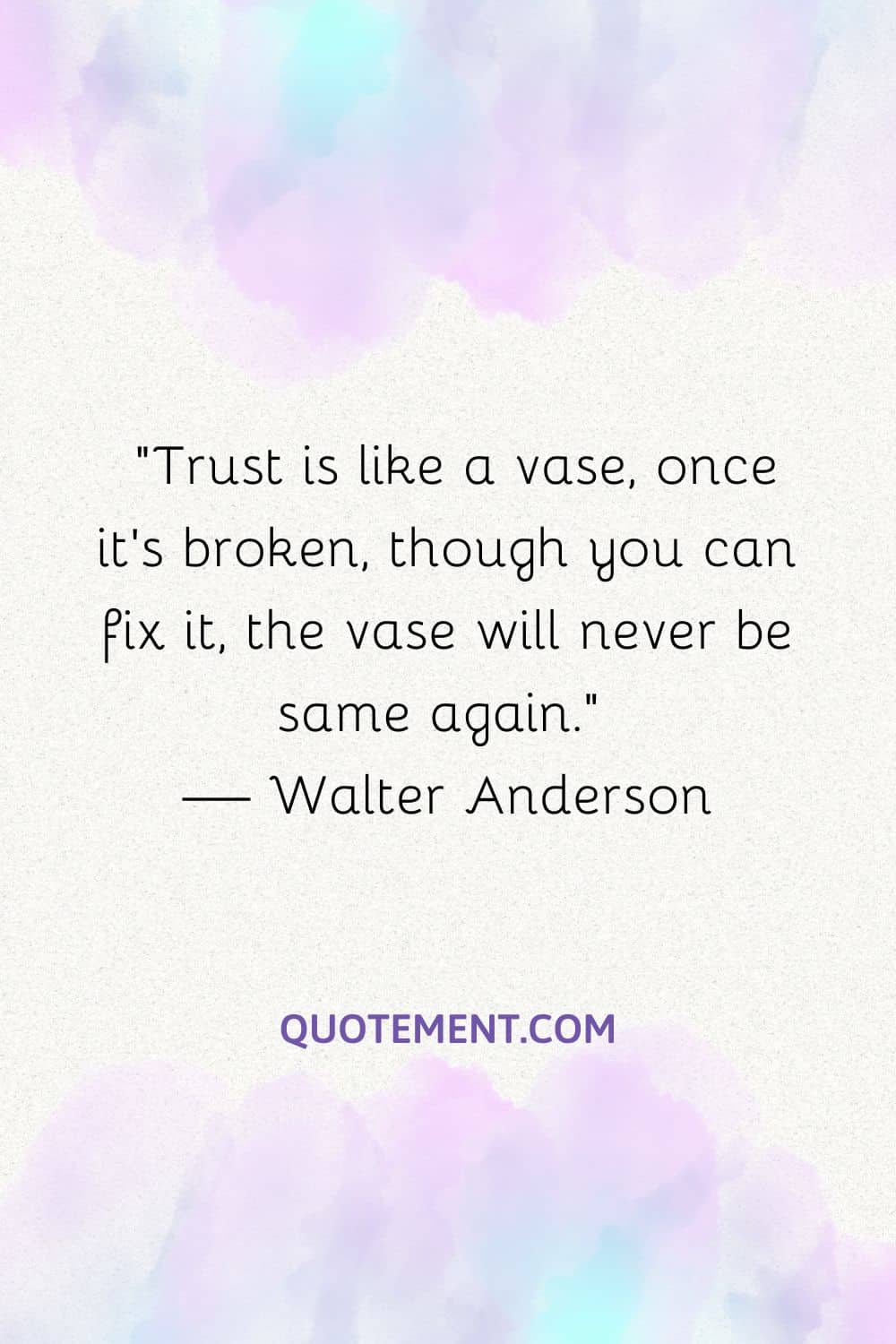 2. "Learning to trust is one of life's most difficult tasks." — Isaac Watts
3. "You must trust and believe in people or life becomes impossible." — Anton Chekhov
4. "Trust takes many years to build, few seconds to break, and forever to repair." — Invajy
5. "The best way to find out if you can trust somebody is to trust them." — Ernest Hemingway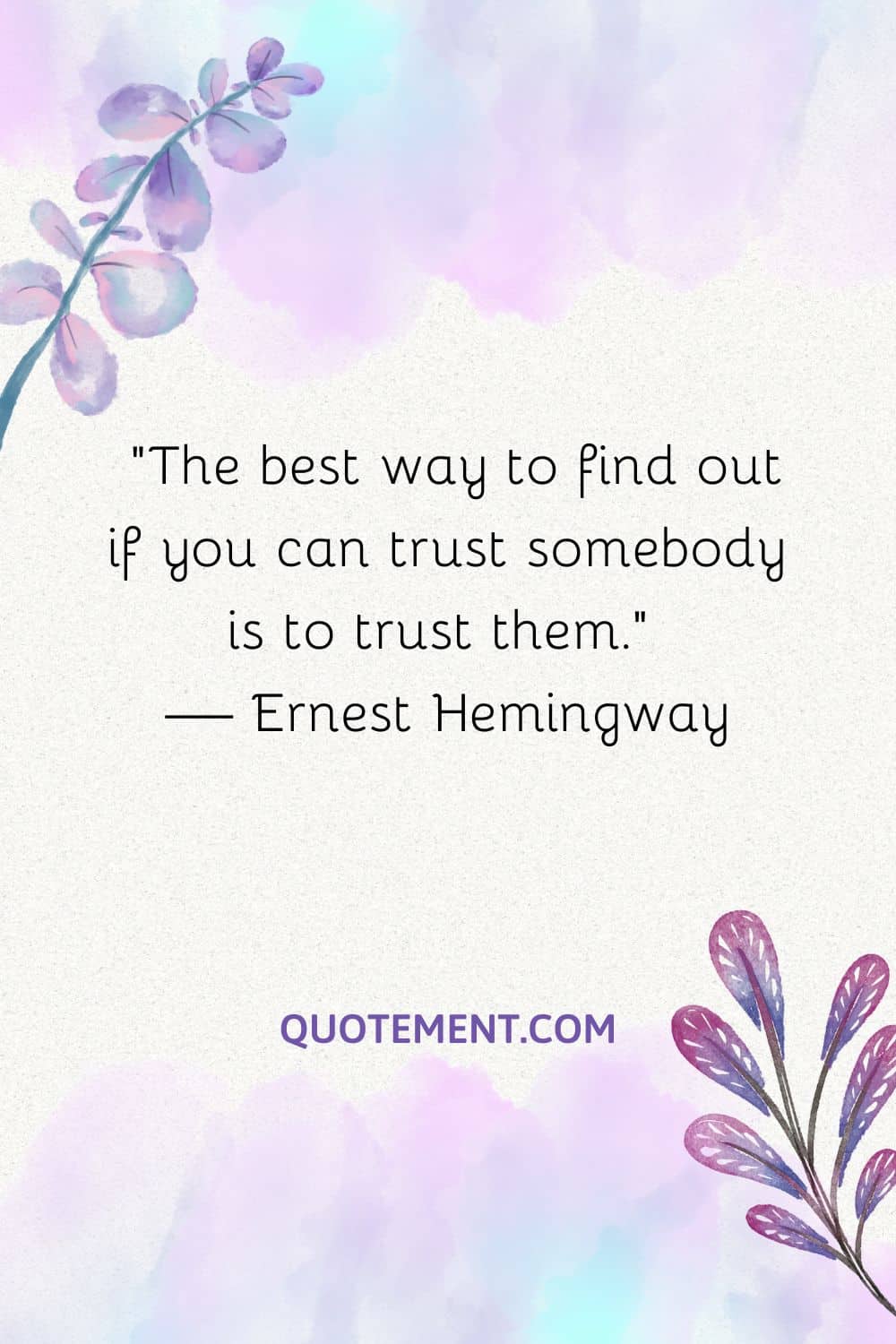 6. "The people when rightly and fully trusted will return the trust." — Abraham Lincoln
7. "When truth takes a backseat to ego and politics, trust is lost." — Patrick Lencioni
8. "Trust has no gradient." — Toba Beta
9. "Trust goes out from the same door, from which the doubt comes in." — Invajy
10. "Sometimes, the most dangerous people were the ones you trusted most." — Jennifer Lynn Barnes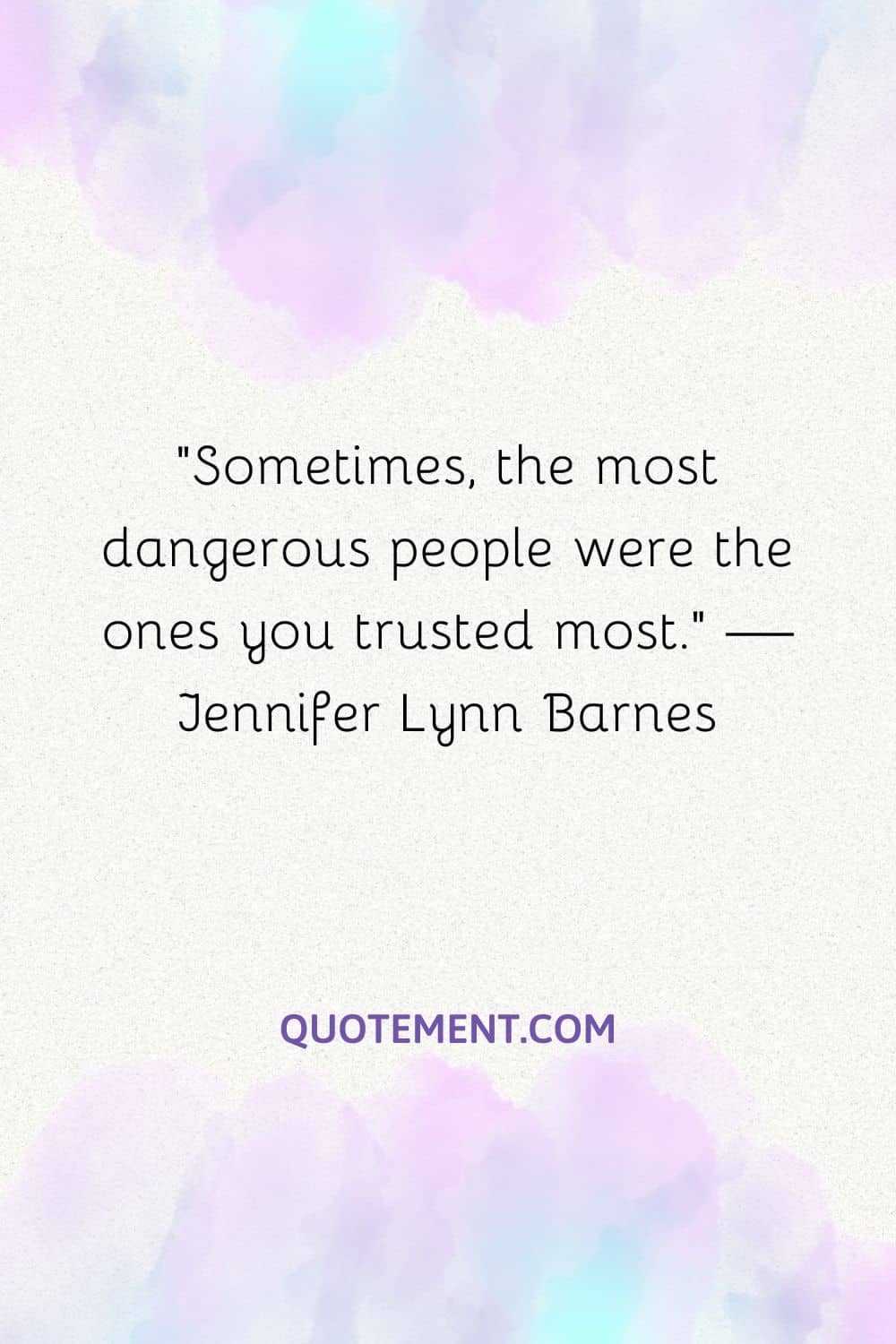 11. "Every human being is trustworthy, until and unless he proves it otherwise." — Invajy
12. "Trusting is harder than being trusted." — Simon Van Booy
13. "Fear leads to more fear, and trust leads to more trust." — Dean Ornish
14. "Money is more powerful than trust most of the time." — Invajy
15. "When the trust is high, communication is easy, instant, and effective." — Stephen Covey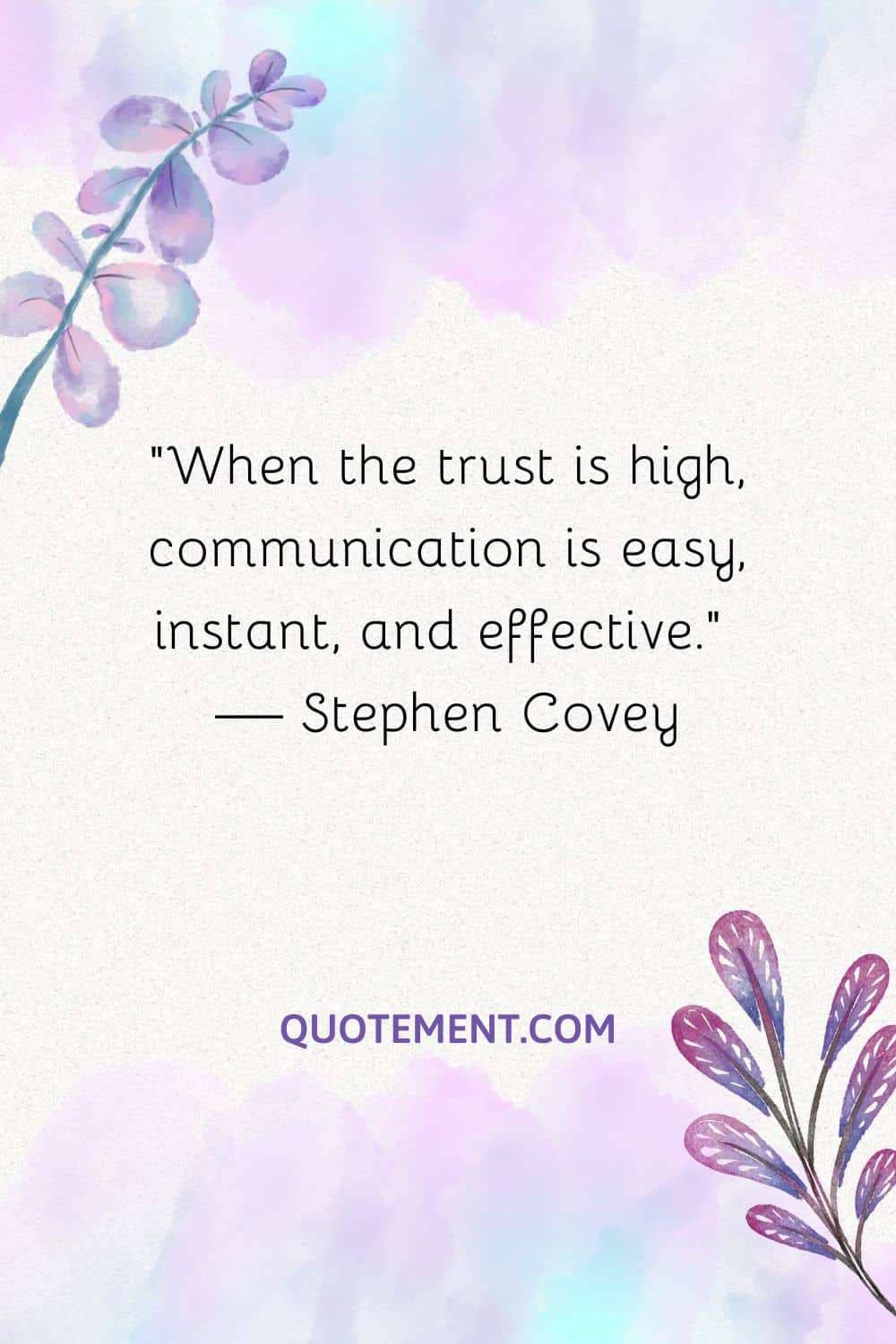 16. "Trusting is hard. Knowing who to trust, even harder." — Maria V. Snyder
17. "Men trust their ears less than their eyes." — Herodotus
18. "Learn to trust the journey, even when you do not understand it." — Lolly Daskal
19. "It is more shameful to distrust our friends than to be deceived by them." — Confucius
20. "Trust is built when someone is vulnerable and not taken advantage of." — Bob Vanourek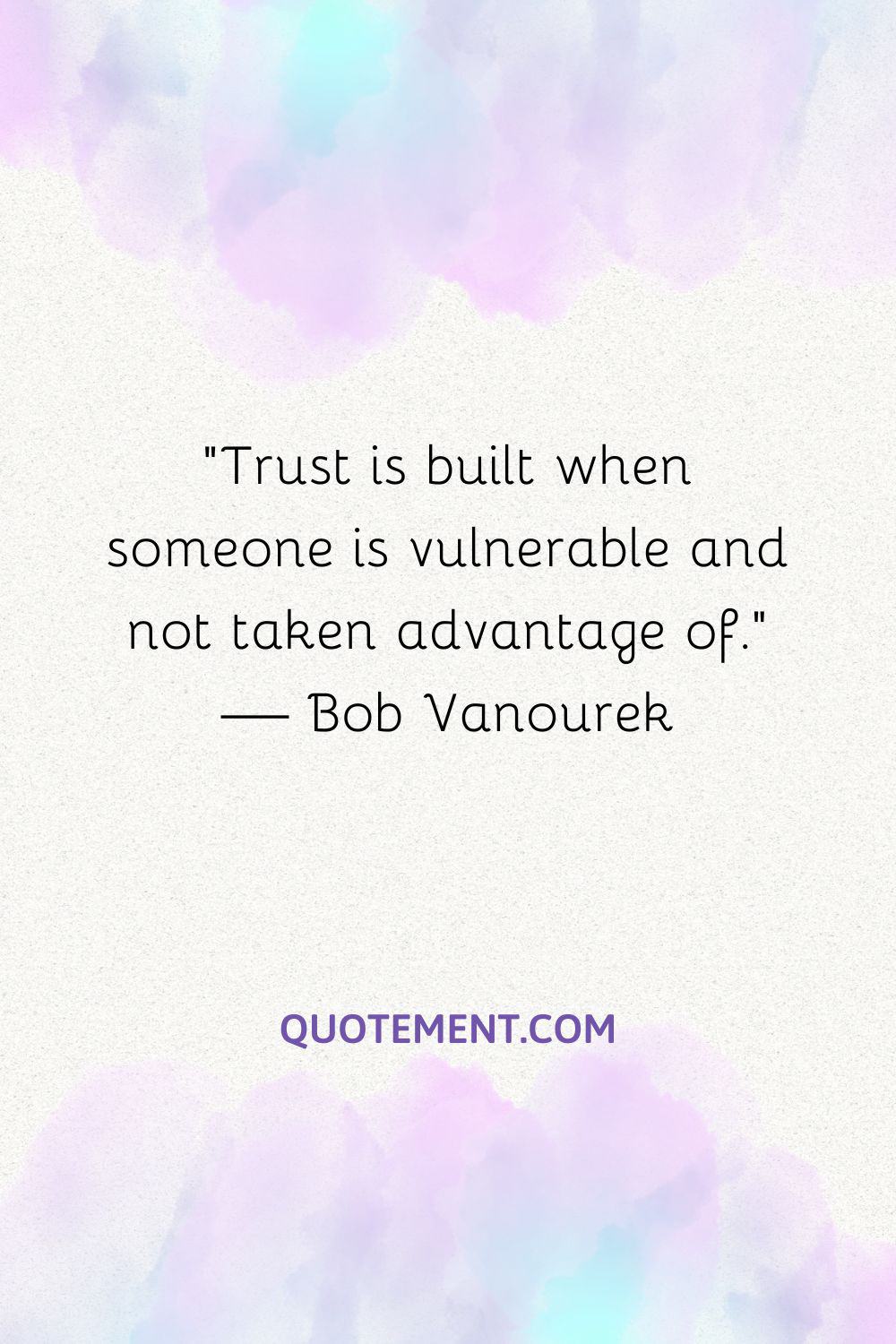 Breaking Trust Quotes
1. "For only when faithfulness turns to betrayal and betrayal into trust can any human being become part of the truth." — Rumi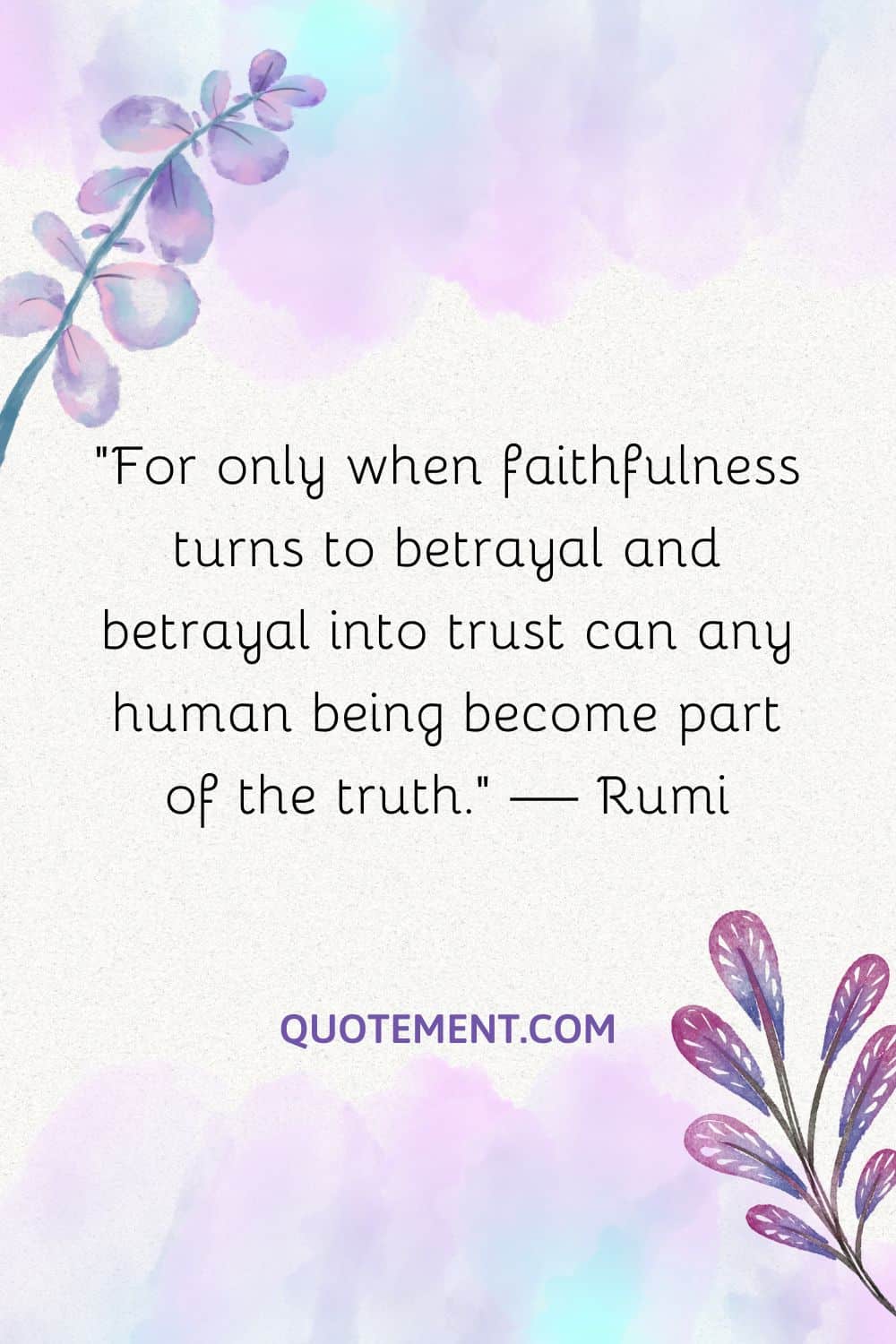 2. "Trust is fragile, don't break it; once broken it will never come back in its original shape." — Invajy
3. "Trust is hard to earn and it can be ten times harder to earn back once broken." — Unknown
4. "I'm not upset that you lied to me, I'm upset that from now on I can't believe you." — Friedrich Nietzsche
5. "Trust is a funny thing; it takes such a long time to build, yet it's broken in a second." — Sandie Jones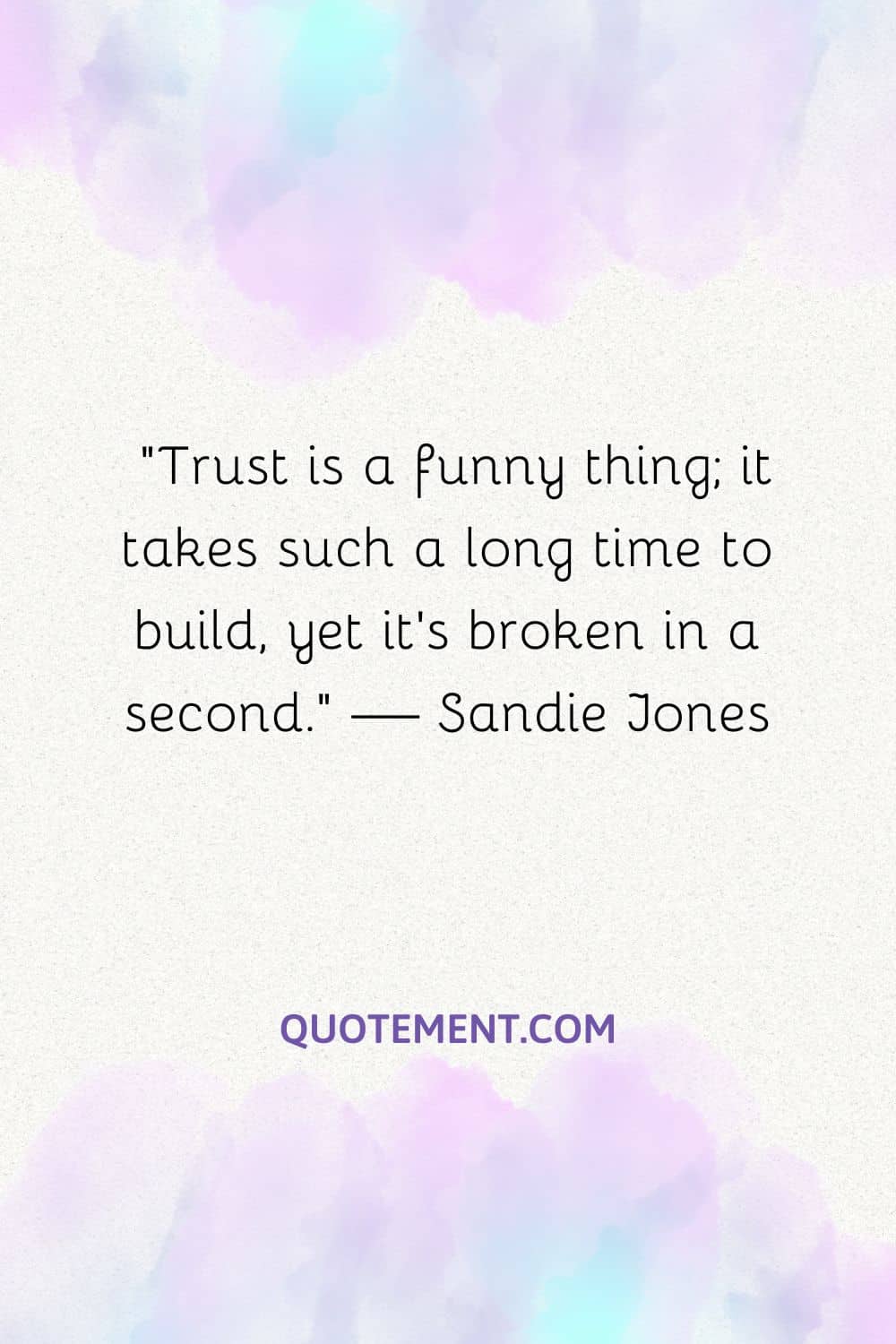 6. "Sometimes the people you trust are the ones who will hurt you the most." — Valenciya Lyons
7. "Trust cannot be broken only taken back from people not worthy of it." ― Jackie Viramontez
8. "When the person you trust the most breaks your trust, get over it by building a bridge but never let them cross it again." — Unknown
9. "Trust, once lost, could not be easily found. Not in a year, perhaps not even in a lifetime." — J.E.B. Spredemann
10. "Trust is like that. You can break it for a good reason. But it still remains broken." — Harlan Coben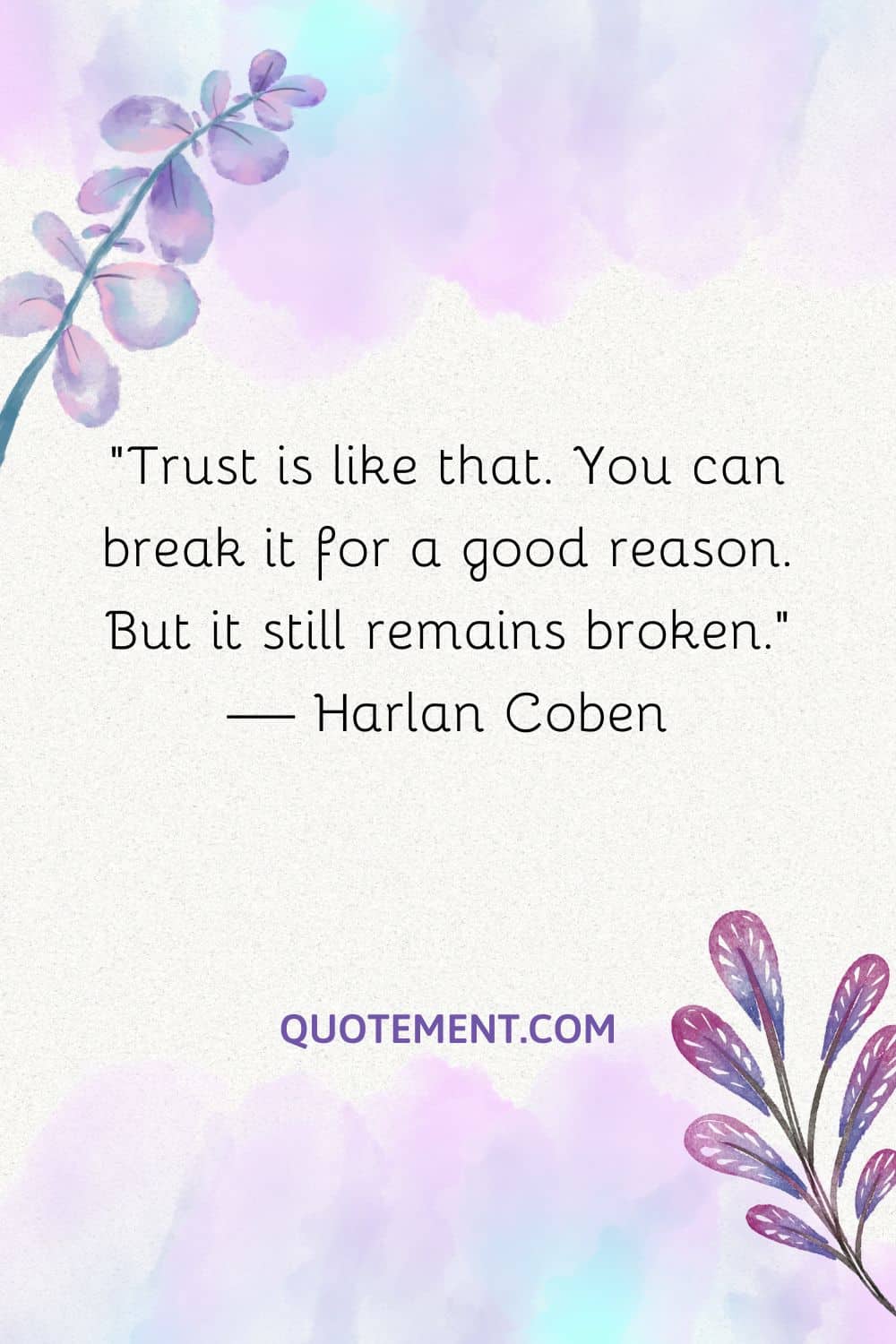 11. "For there to be betrayal, there would have to have been trust first." — Suzanne Collins
12. "Forgiveness must be immediate, whether or not a person asks for it. Trust must be rebuilt over time. Trust requires a track record." — Rick Warren
13. "Trust is something that is difficult to establish. It is very fragile that needs to be taken care of. Once trust breaks or shatters into pieces, it is very difficult to rebuild it." — K. Cunningham
14. "Only those you trust can betray you." — Terry Goodkind
15. "Trust is earned, respect is given, and loyalty is demonstrated. Betrayal of any one of those is to lose all three." — Ziad K. Abdelnour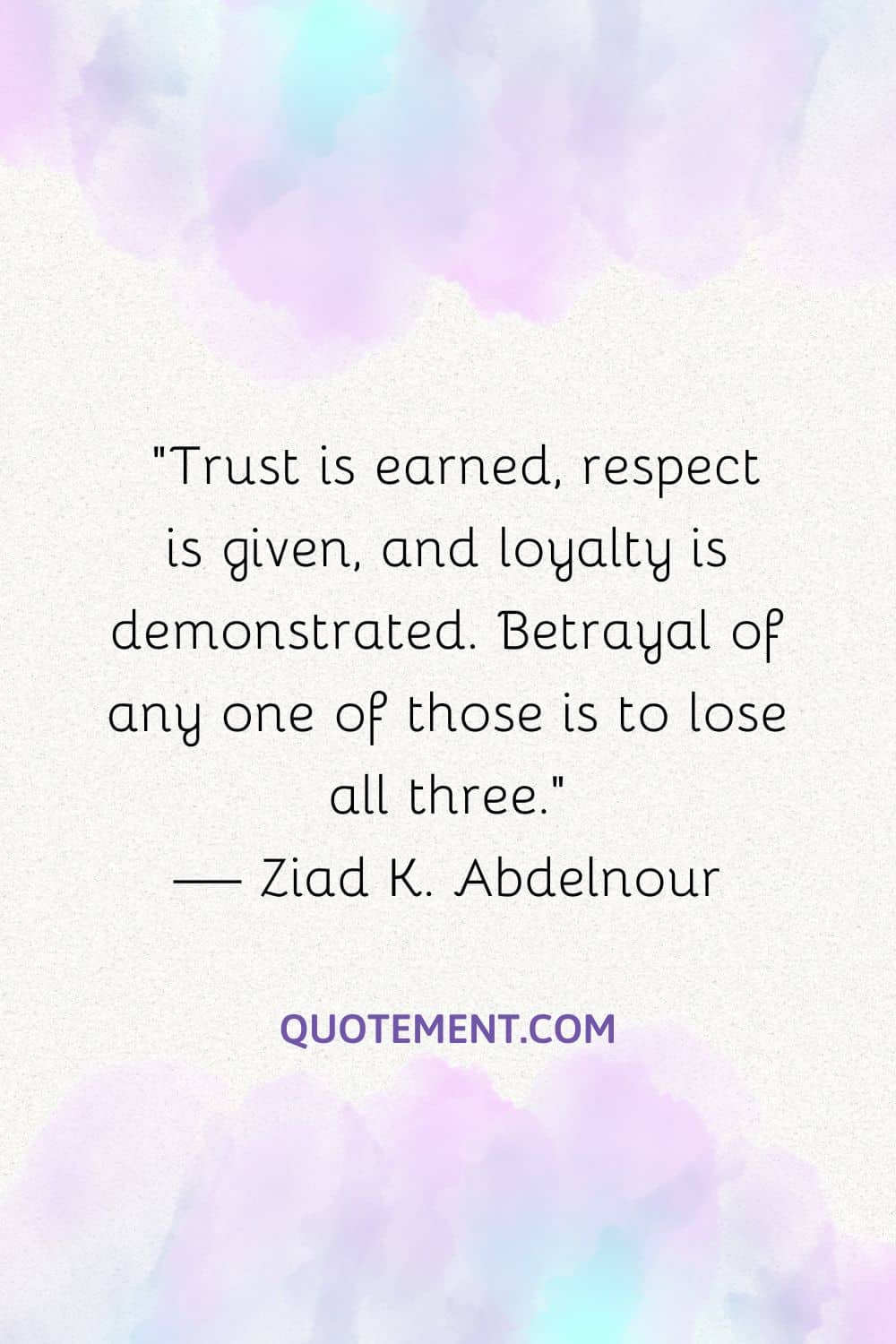 16. "Never trust someone who lies to you. Never lie to someone who trusts you." — Unknown
17. "Trust is not established in the absence of betrayal, but in those whose betrayal is least." — Wes Fesler
18. "Never stop trusting people just because someone has broken your faith, in this journey of trust building if you find one trustworthy friend, your life will be full of confidence." — Invajy
19. "The worst part about being lied to is knowing that you weren't worth the truth." — Mishaela
20. "Betrayal annihilates trust. The more trust there is to begin with, and the more deception is involved, the more damage is done." ― Sandra Lee Dennis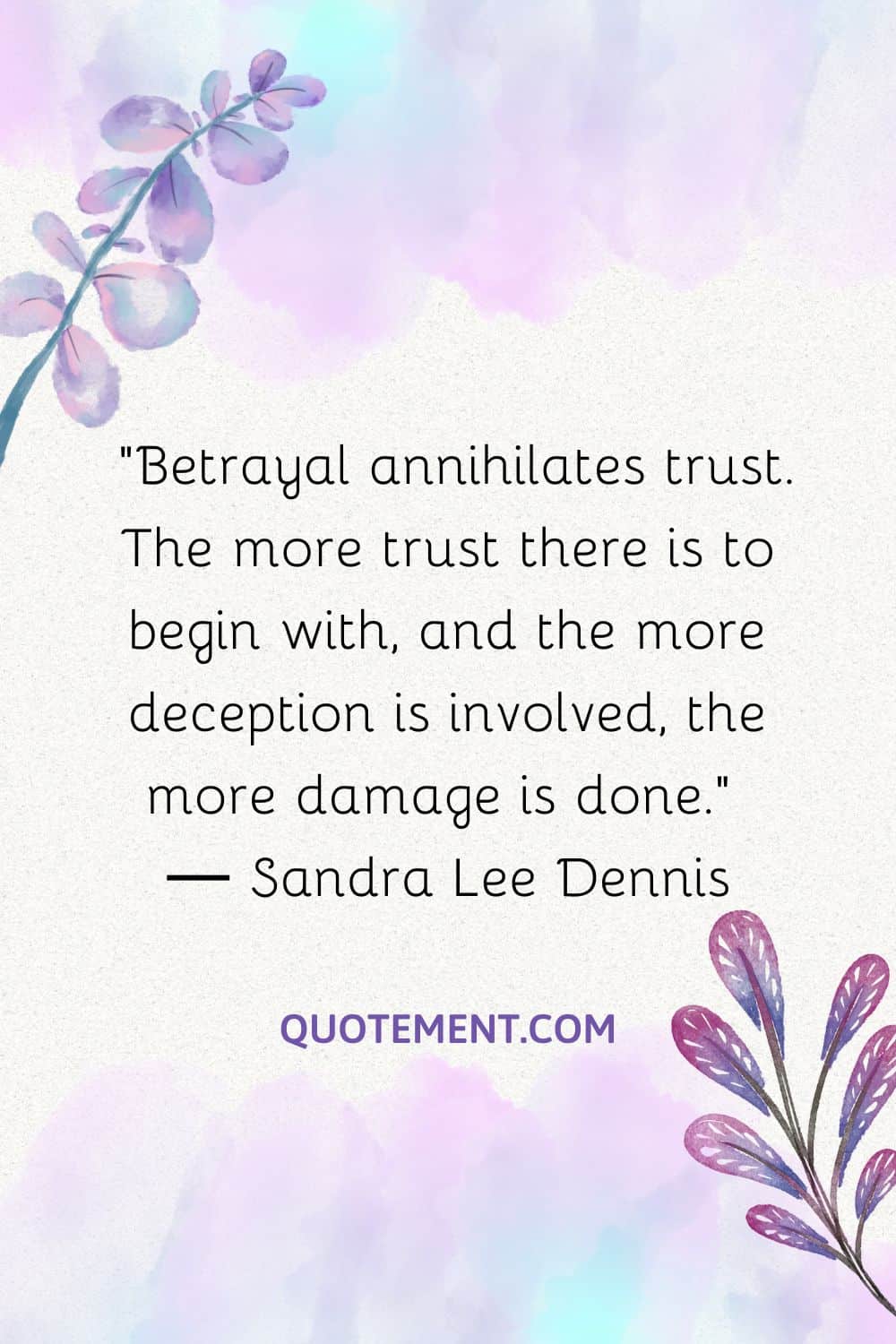 Wrapping It Up
I hope my collection of trust quotes has given you some wise points on trusting people and helped you understand the importance of being a trustworthy person.
Because, only when you realize this, will you be able to build strong relationships.