Rod Wave, a 23rd-year-old rapper, singer, and songwriter, has gained immense fame and collected millions of fans around the world — especially on TikTok.
Incorporating R&B and hip-hop and greatly touching upon meaningful life aspects in his music is what has made him a true sensation and inspiration.
Here are the best Rod Wave quotes I could find online that may inspire you to stay in the game and come out on top, just like him!
10 Greatest Rod Wave Quotes
1. "You only live one time. Don't spend it doing something you hate. Chase your dream, kid." — Rod Wave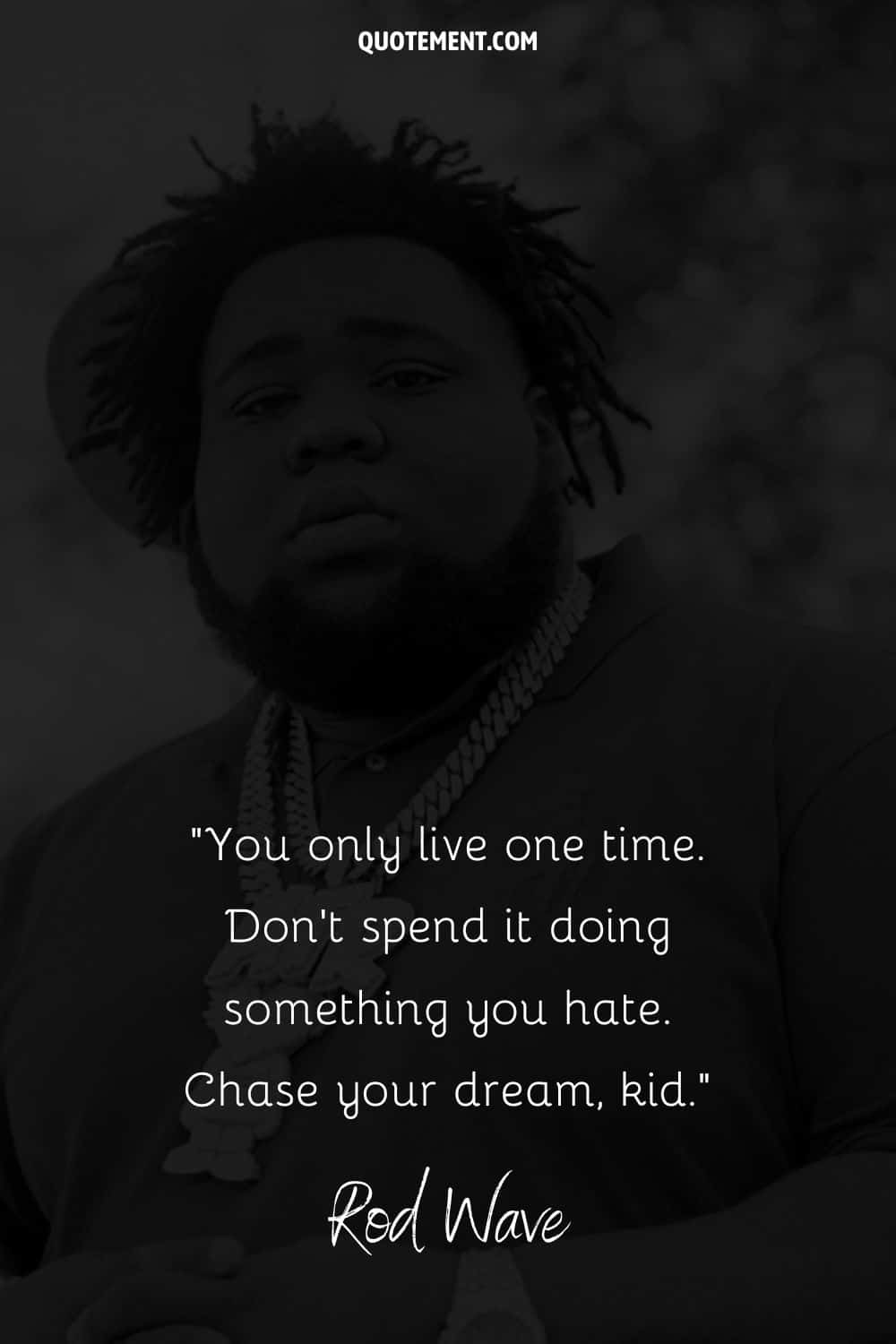 2. "My darkest times taught me to shine." — Rod Wave
3. "The secret to a good life is good days. Start with today." — Rod Wave
4. "We met for a reason, either you're a blessing or a lesson." — Rod Wave
5. "The only thing guaranteed is death, and the most valuable thing we have is time." — Rod Wave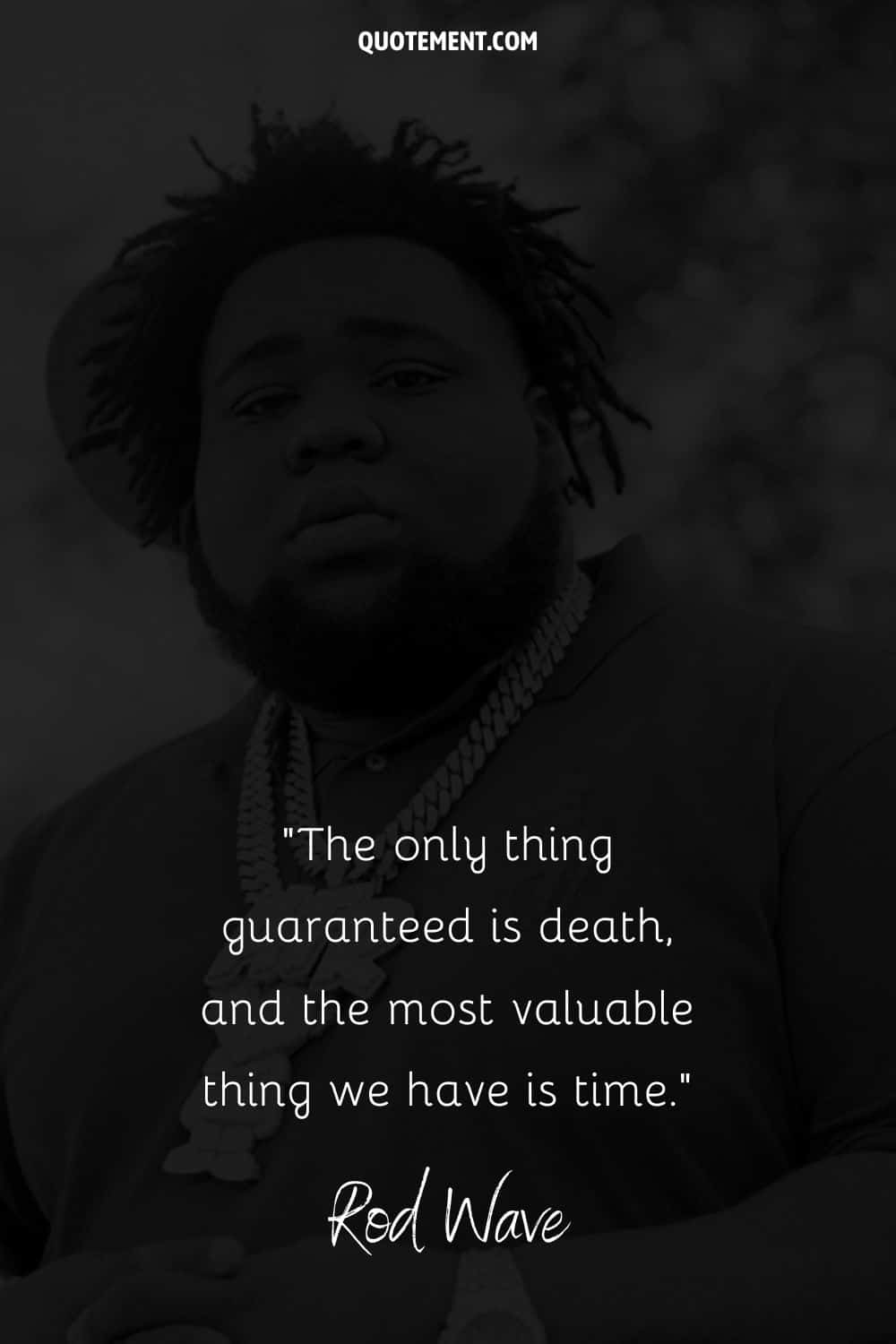 6. "Before it gets better, it's going to get worse." — Rod Wave
7. "Dreams come true. You gotta chase it." — Rod Wave
8. "I remember everything, the shine, and the struggle. I remember all the pain, all the grind, all the hustle." — Rod Wave
9. "Anybody can want you. It's different when someone actually values you." — Rod Wave
10. "Life is too short to tolerate stuff that doesn't make you happy." — Rod Wave
See also: Ultimate Collection Of 60 Do What Makes You Happy Quotes
Inspirational Quotes By Rod Wave
1. "I'm obsessed with becoming a better person and getting my life together." — Rod Wave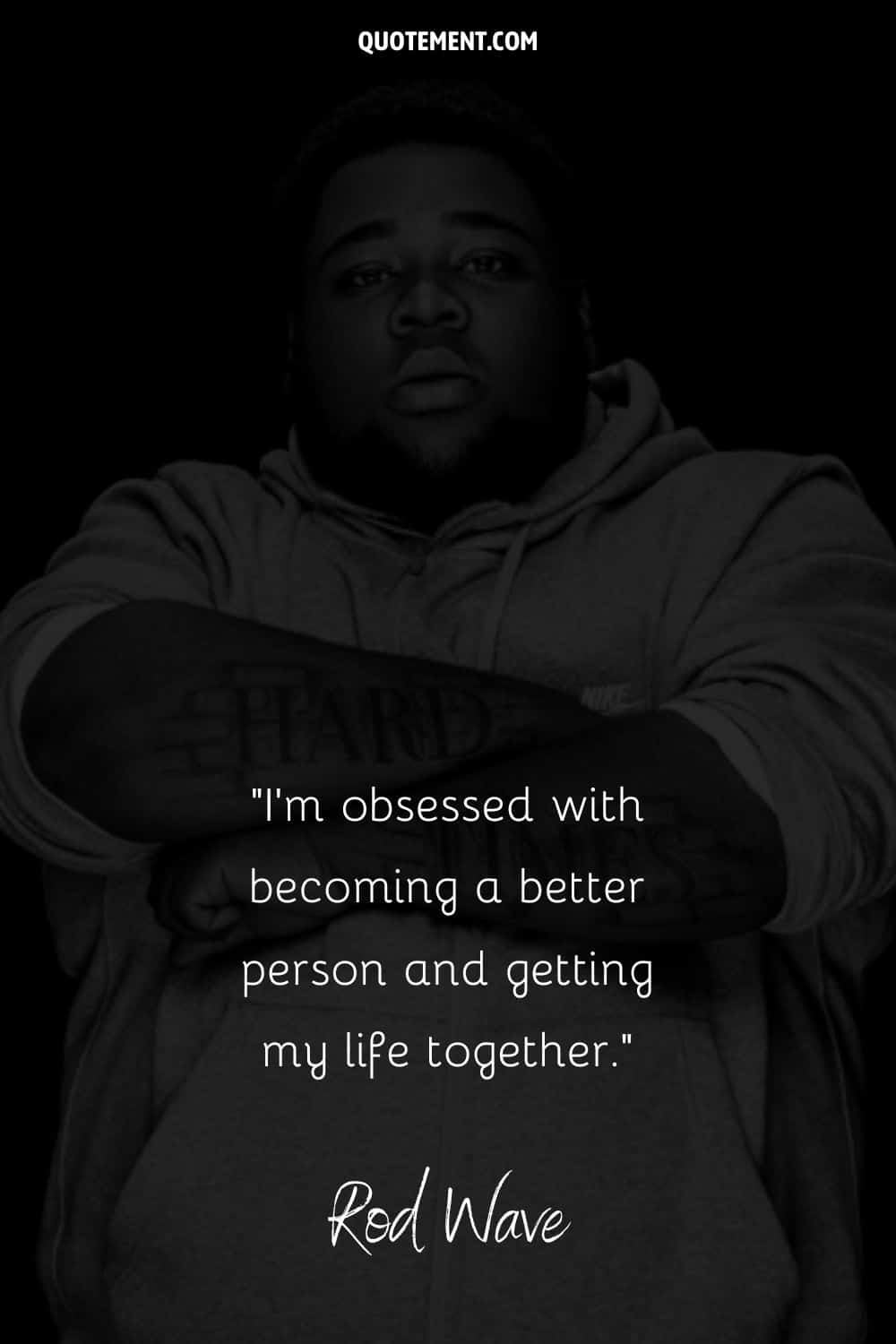 2. "Just 'cause they couldn't do it doesn't mean you can't." — Rod Wave
3. "You want to be happy? You got to let sh*t go and let sh*t be what it is." — Rod Wave
4. "Nobody perfect. Just admit you were wrong and get it right this time." — Rod Wave
5. "Don't let nobody who gave up on their dreams talk you out of yours." — Rod Wave
6. "Be scared to find out what's what. The ones that let you down be the ones you love so much." — Rod Wave
7. Straight from the bottom, and now we way, way up." — Rod Wave
8. "Yo reality is whatever u focused on." — Rod Wave
9. "Get some money, travel, see the world. You'll feel way better." — Rod Wave
10. "Before you get one win, you gotta take a thousand losses." — Rod Wave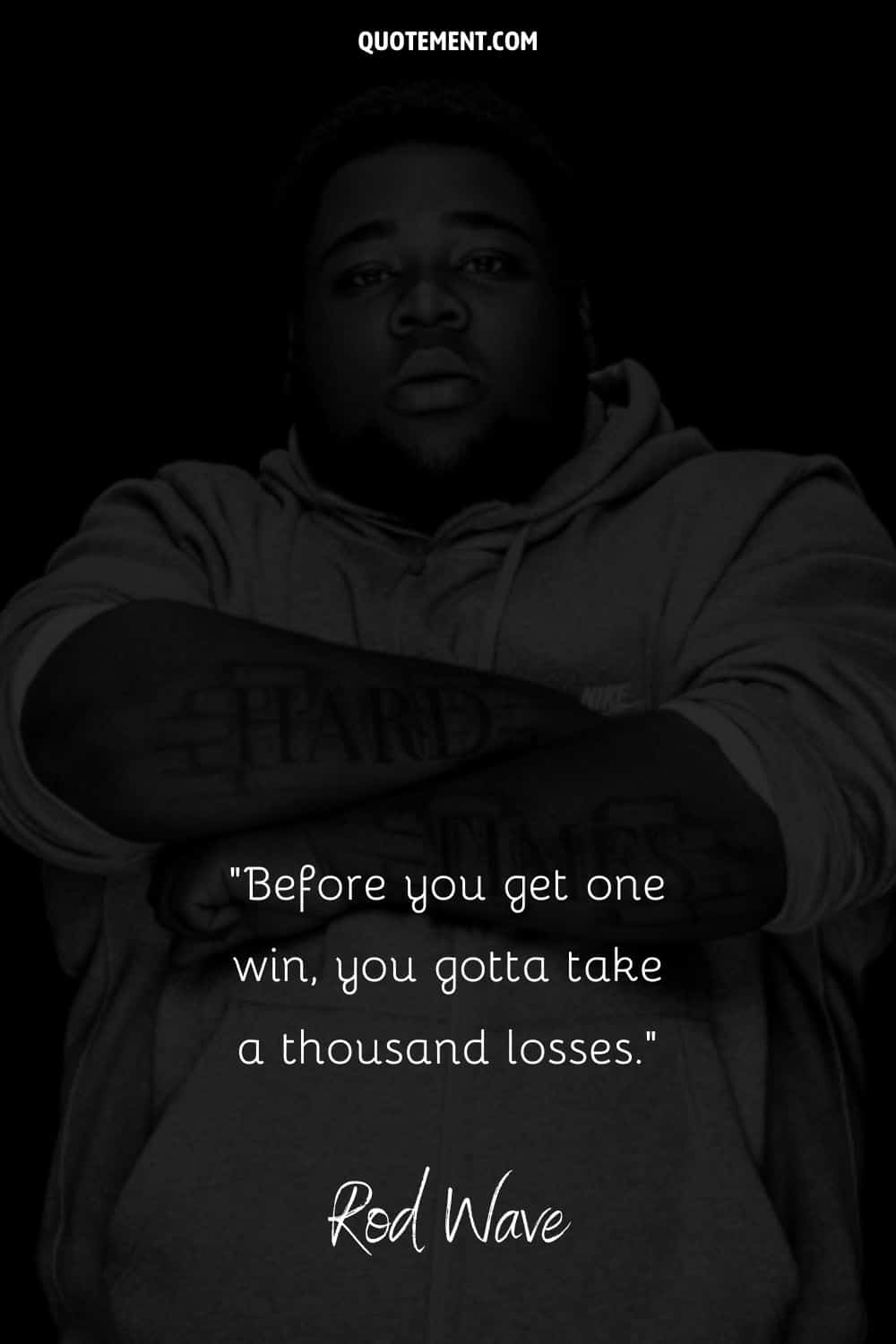 11. "I'm in with the struggle. I'm in with the hustle. I'm in with the problems." — Rod Wave
12. "Even if that sh*t is eating you up inside, you gotta keep it going and move on." — Rod Wave
13. "Nobody told me the road would be easy. I can't believe I made it this far. My whole life, I've been working so hard." — Rod Wave
14. "First, it hurts, then it changes you." — Rod Wave
15. "No such thing as a life that's better than yours." — Rod Wave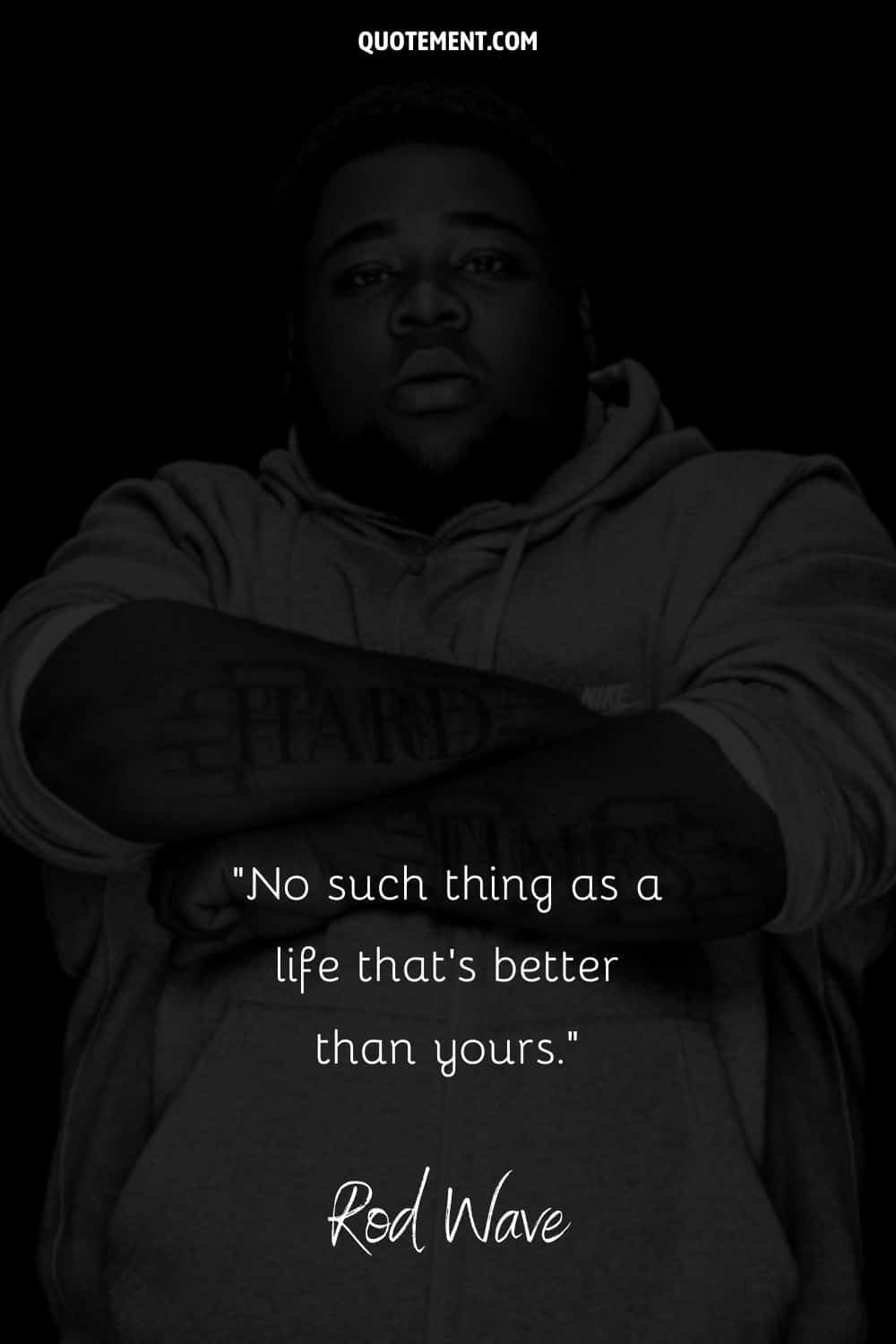 16. "You a leader to them people and them young n*gg*s is watching. Them young n*gg*s believe in you. Don't let them down. Be cautious." — Rod Wave
17. "God bless the child that can hold his own." — Rod Wave
18. "I'm moving on in life, so don't ask me about no old sh*t." — Rod Wave
19. "I don't need no extra attention from nobody. I'm good." — Rod Wave
20. "Just know it's going to get tough, it's going to get rough, but when you've had enough, you can't give up." — Rod Wave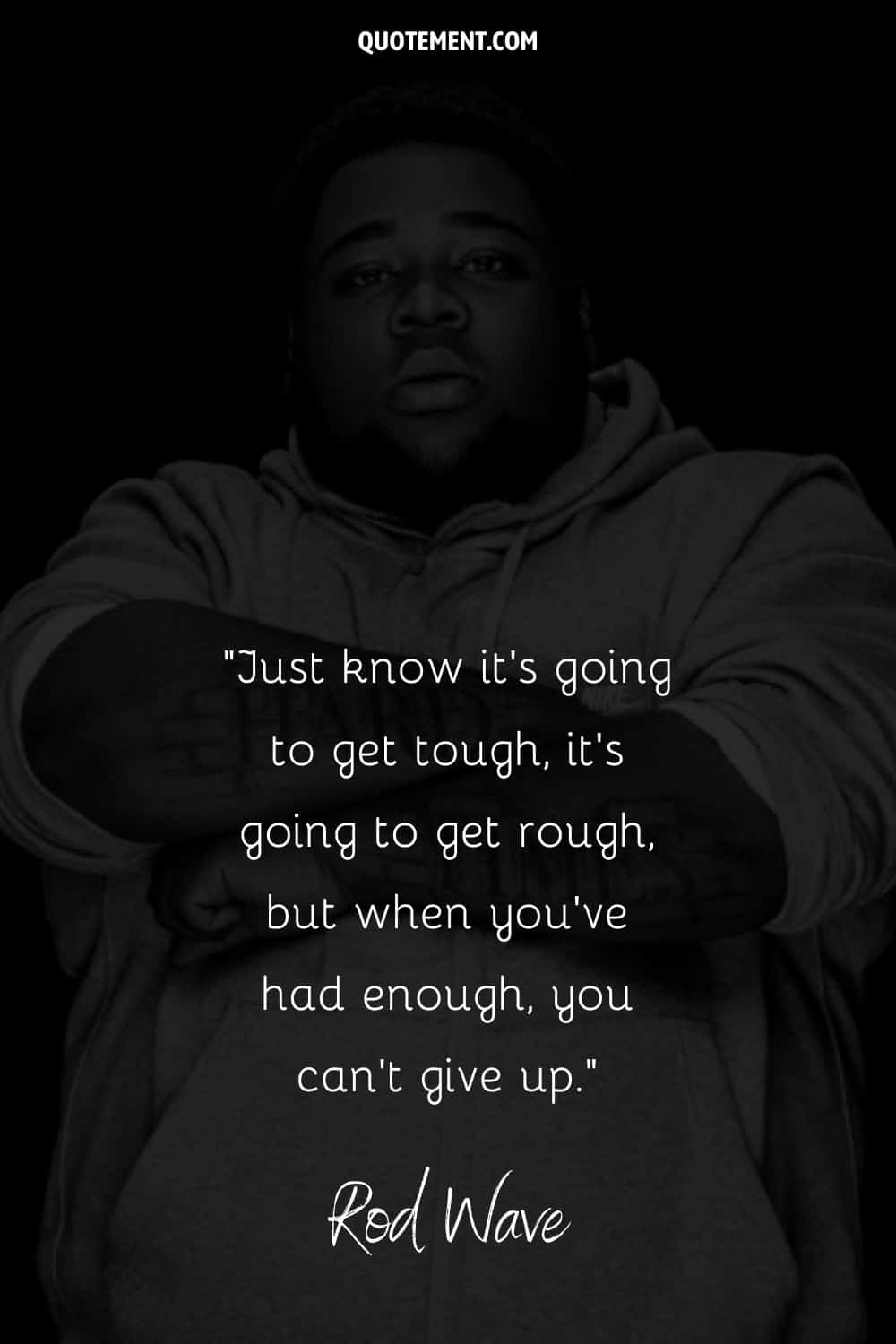 Thought-Provoking Rod Wafe Quotes
1. "What's the point of life if you can't enjoy it?" — Rod Wave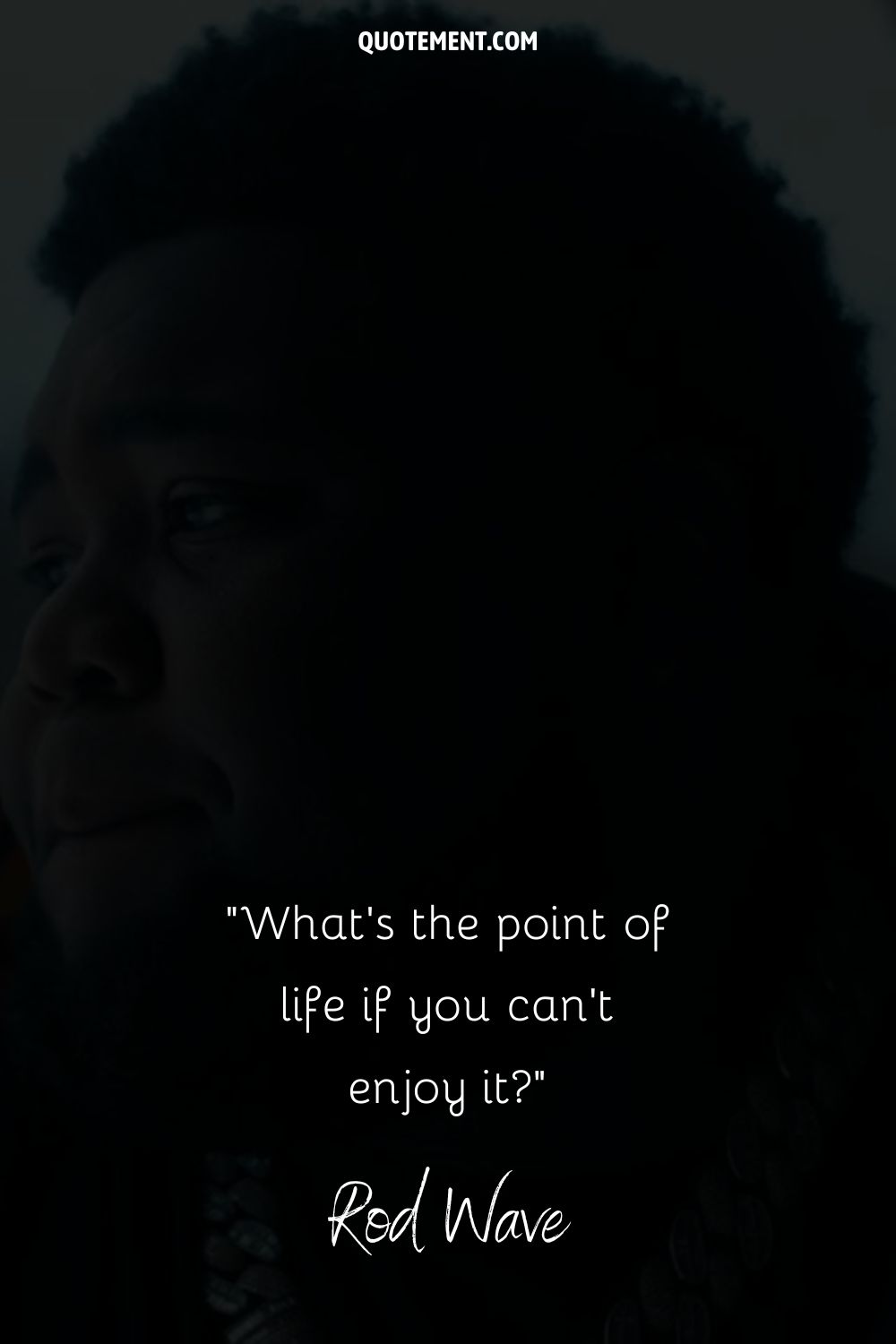 2. "I woke up this morning with tomorrow on my brain. Today could be the day I fall a victim to the game." — Rod Wave
3. "Death gotta be easy 'cause life is f*ck*ng hard." — Rod Wave
4. "An apology without change is just manipulation." — Rod Wave
5. This world cold boy. It's crazy how we find that out. Some of us never bounce back."— Rod Wave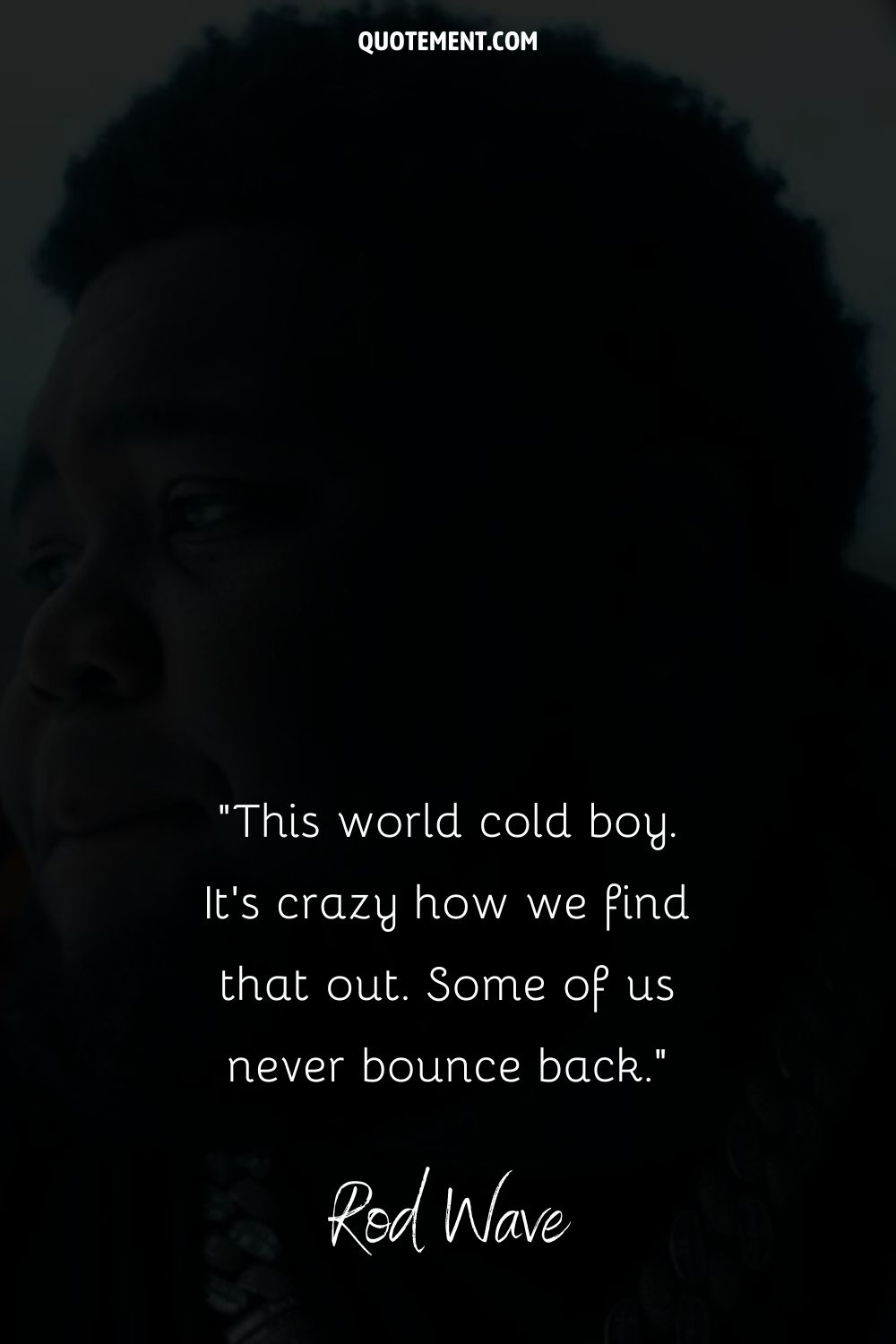 6. "Truth hurt. Sometimes, I sit back and accept the lies." — Rod Wave
See also: 80 When Someone Is Lying And You Know The Truth Quotes
7. "If you're looking for someone perfect on earth, you'll never find them." — Rod Wave
8. "Hope you don't think 'cause I got change, that's what made me change. It's just this life got so strange, I had to switch lanes." — Rod Wave
9. "Seen so many faces, been so many places, caught some cases." — Rod Wave
10. "The wider my eyes open, the smaller the world gets." — Rod Wave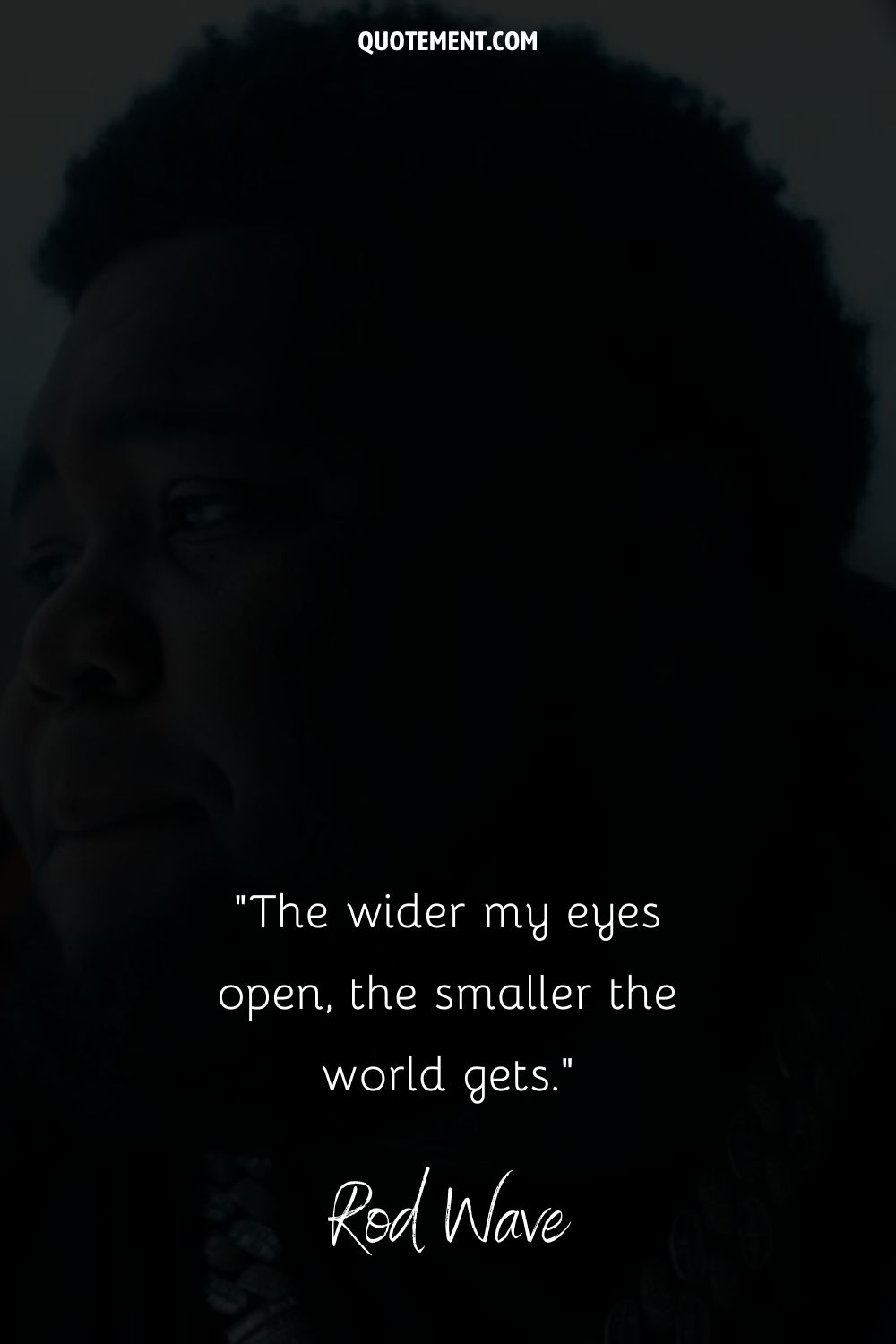 11. "My soul ain't for this generation." — Rod Wave
12. "Ain't no telling who all 'round for what reasons, like what's they true intentions." — Rod Wave
13. "Can't make everybody happy. They feel like I'm doing them dirt." — Rod Wave
14. "Where I'm from, it's an eye for an eye, nothing else. Ain't no love, it ain't no help. Every man for they self." — Rod Wave
15. "You can always read a person by what comes out his mouth." — Rod Wave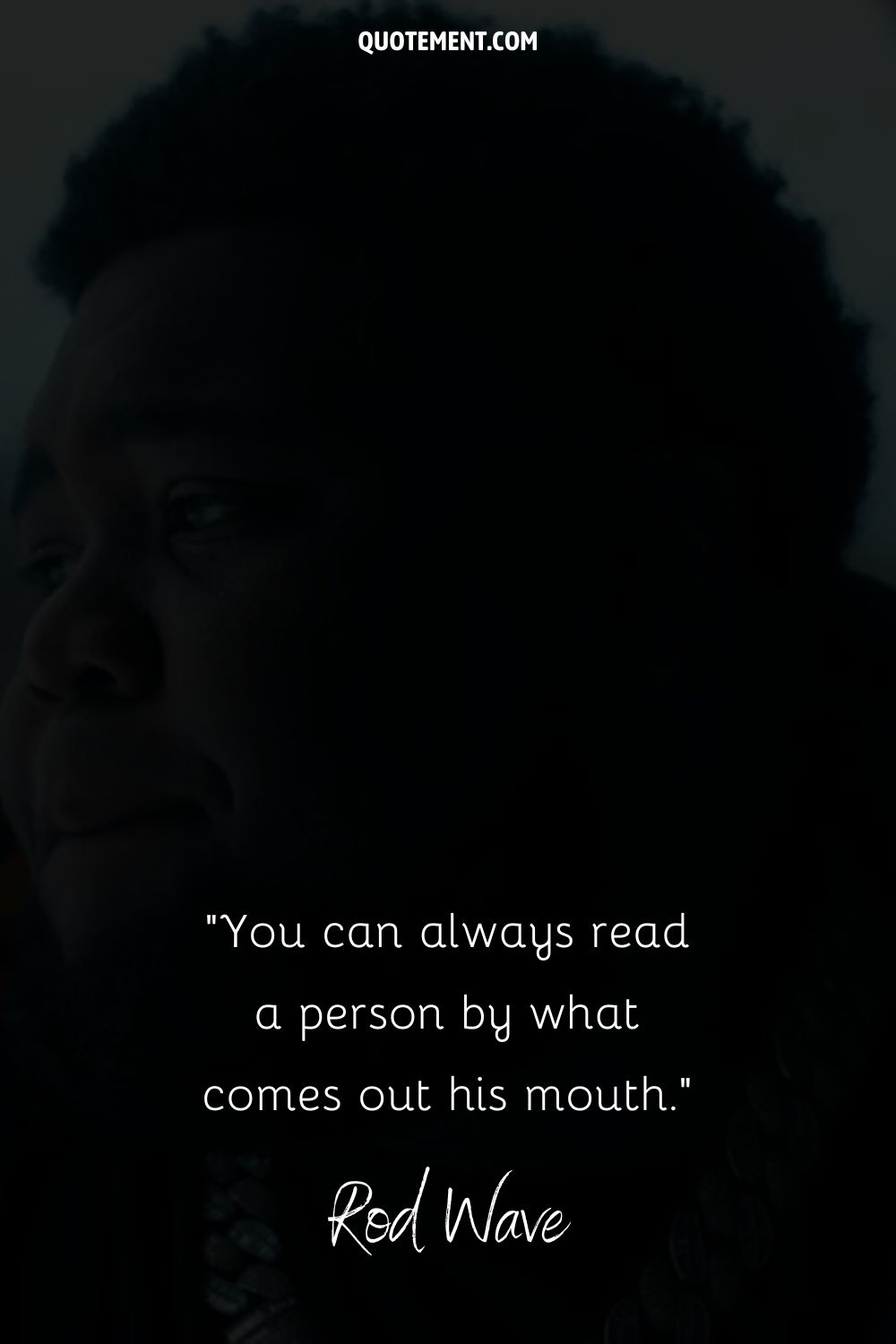 16. "You can break something in two seconds. Sh*t going to take forever to fix." — Rod Wave
17. "It's hard to keep your eye on the prize when you come out the trenches where n*gg*s they don't survive." — Rod Wave
18. "If they don't got a story these days, they'll make one." — Rod Wave
19. "But don't nobody be with ya, when the going get tough. Don't nobody be with ya, when the going get rough." — Rod Wave
10. "It's like people focus on looking happy more than being happy." — Rod Wave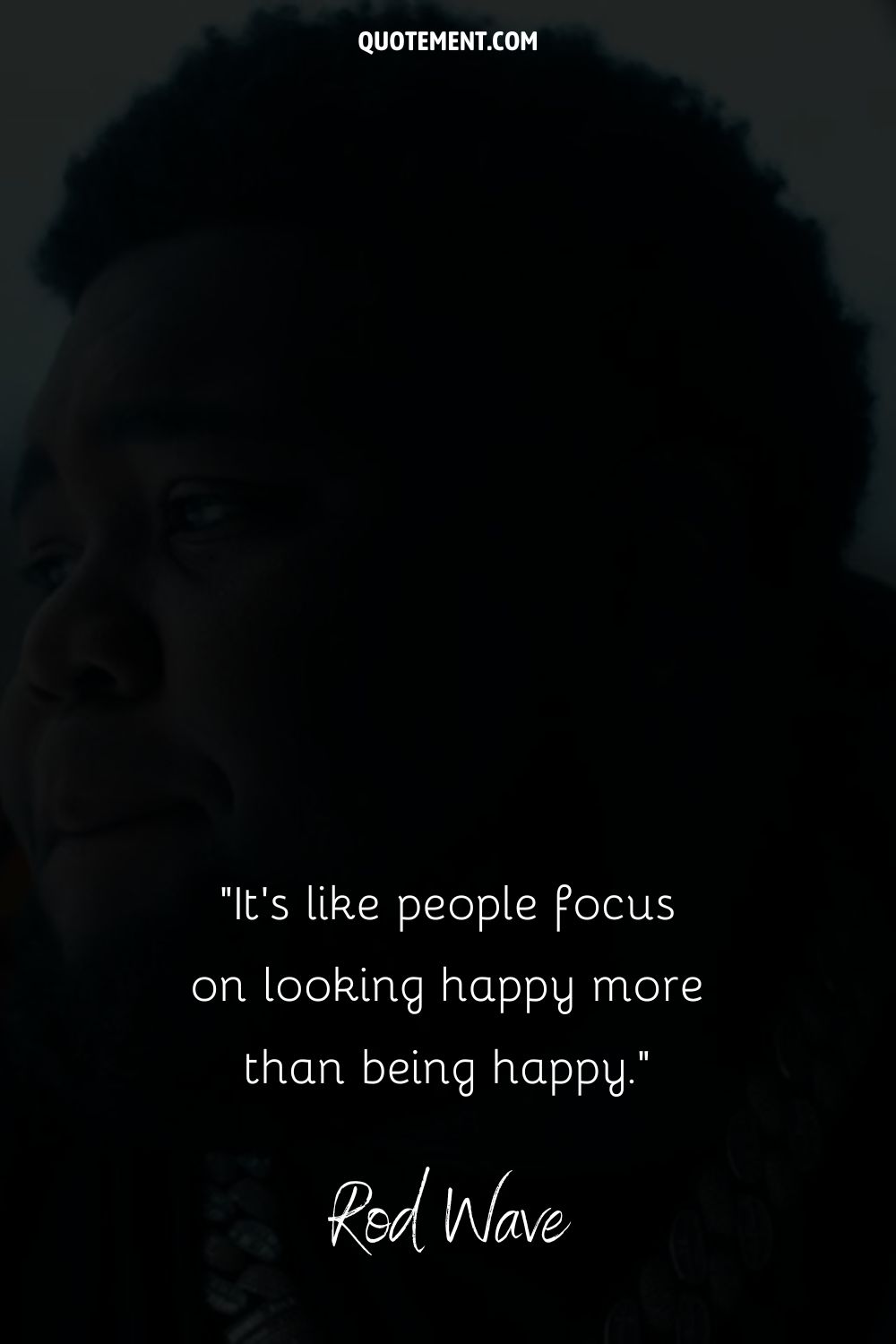 See also: 100 Eye-Opening Fake People Quotes To Avoid The Phonies
Rod Wave Quotes On His Music
1. "I used to put my headphones in and forget about the whole world. I make music for people like me." — Rod Wave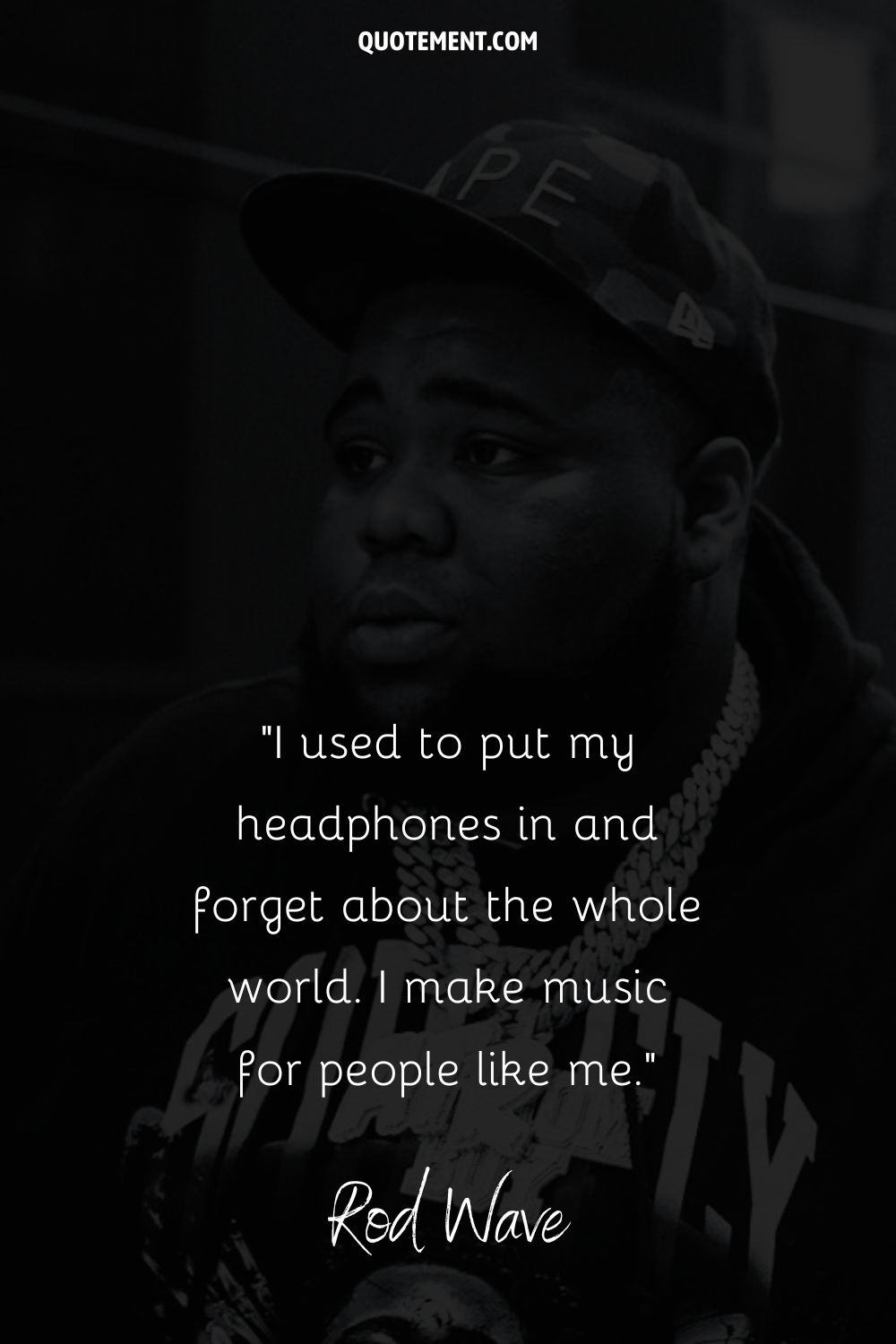 2. "Music saved my life." — Rod Wave
3. "You listen to my music, I'ma tell you how I'm feeling, the pain that I go through on a daily basis, my real life, you know what I'm saying? Reality — I feel like a lot of people living in fairytale land, wonderland." — Rod Wave
4. "I've never really been able to open up and record around people." — Rod Wave
5. "Life goes up and down. So I just incorporate it with my music. I'm just blessed." — Rod Wave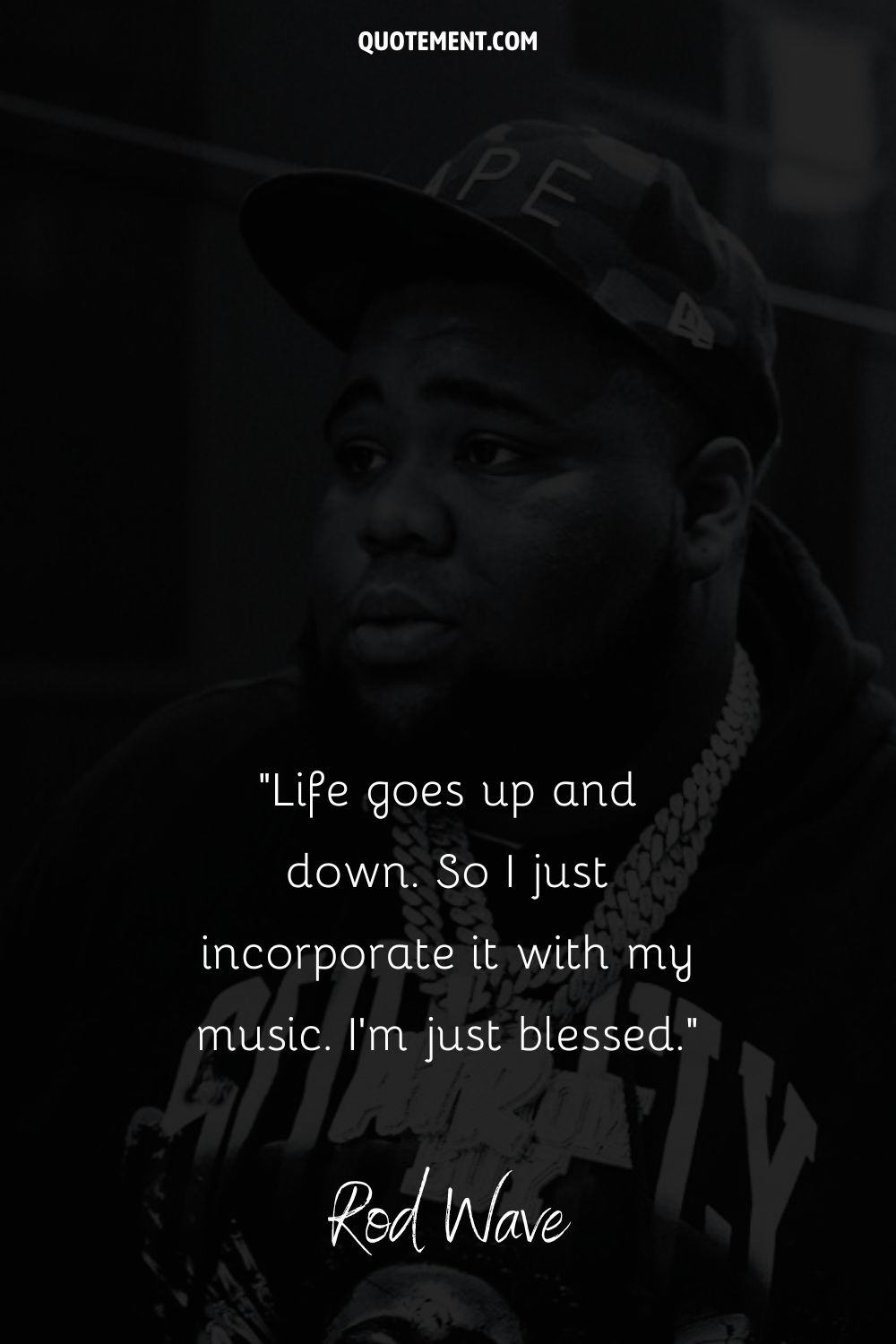 6. "Somebody who really influenced me since a kid was Lil Phat. He was just telling his life story." — Rod Wave
7. "I never thought I would be on the tour or that people would want to talk about my album. It was never about that." — Rod Wave
8. "Every show my heart's beating real fast, my palms sweating. I'm uncomfortable and I'm trying to get off the stage as fast as possible." — Rod Wave
9. "When I do my music, I don't even go to the studio. It's just me and my engineer in a dark room somewhere, recording." — Rod Wave
10. "I just wanted to make music, because it's how I get stuff off my chest. I want it to always feel like my escape." — Rod Wave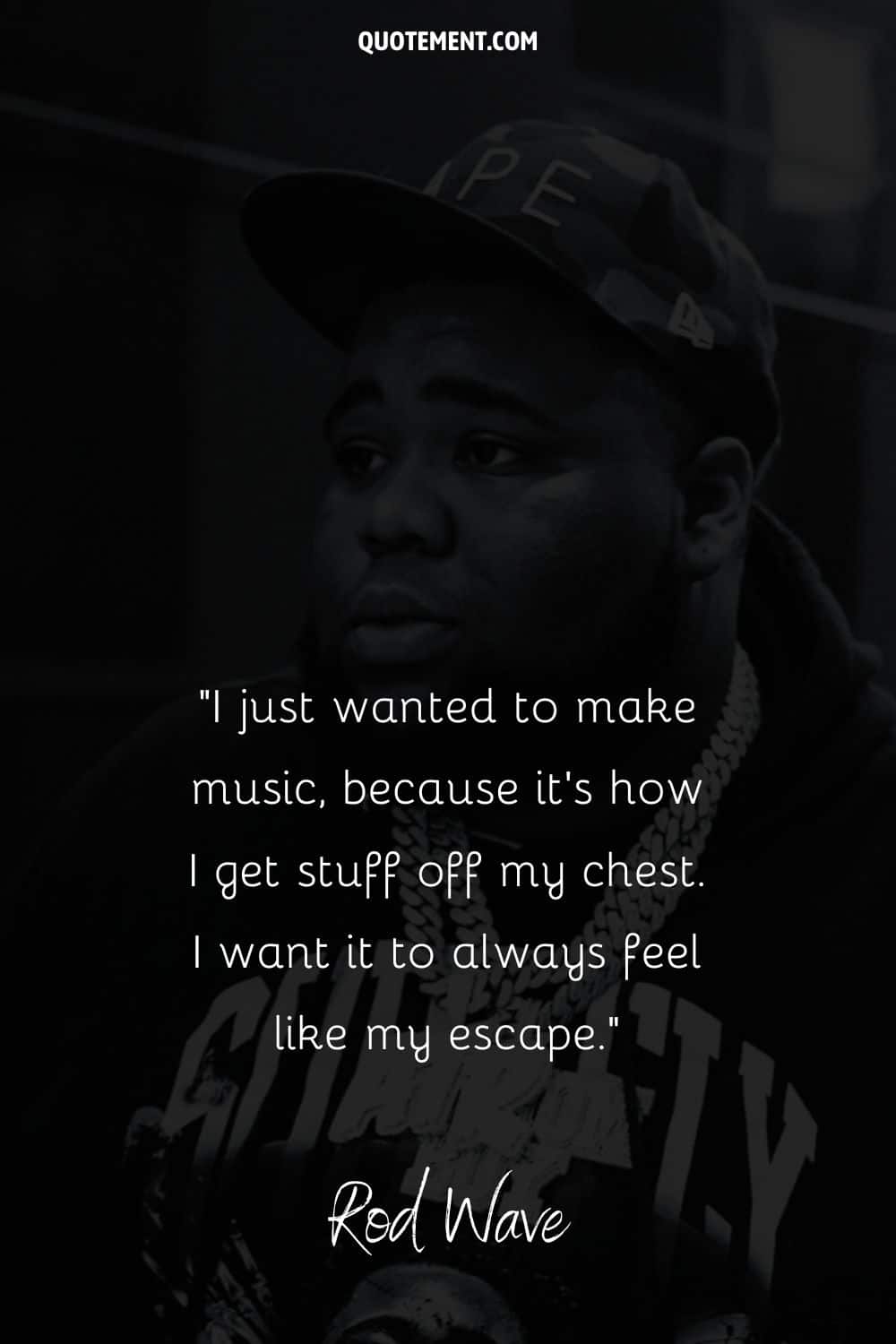 11. "I remember my first time in the studio, I wasted like six hours. There were too many people in there. I was kind of shy." — Rod Wave
12. "I feel like before music, I didn't really know what I wanted to do. I didn't know where I was going to end up. I was scared to even have people depending on me." — Rod Wave
13. "I never really was like, 'Let's me and this rapper link so the song can go crazy and everybody can listen to it.' I never made music for that purpose." — Rod Wave
14. "Only reason I keep going 'cause I know you n*gg*s hate it and my real fans." — Rod Wave
15. "I got skills in other things, but rich off rapping pain. So much that came with all this fame, but I remain the same." — Rod Wave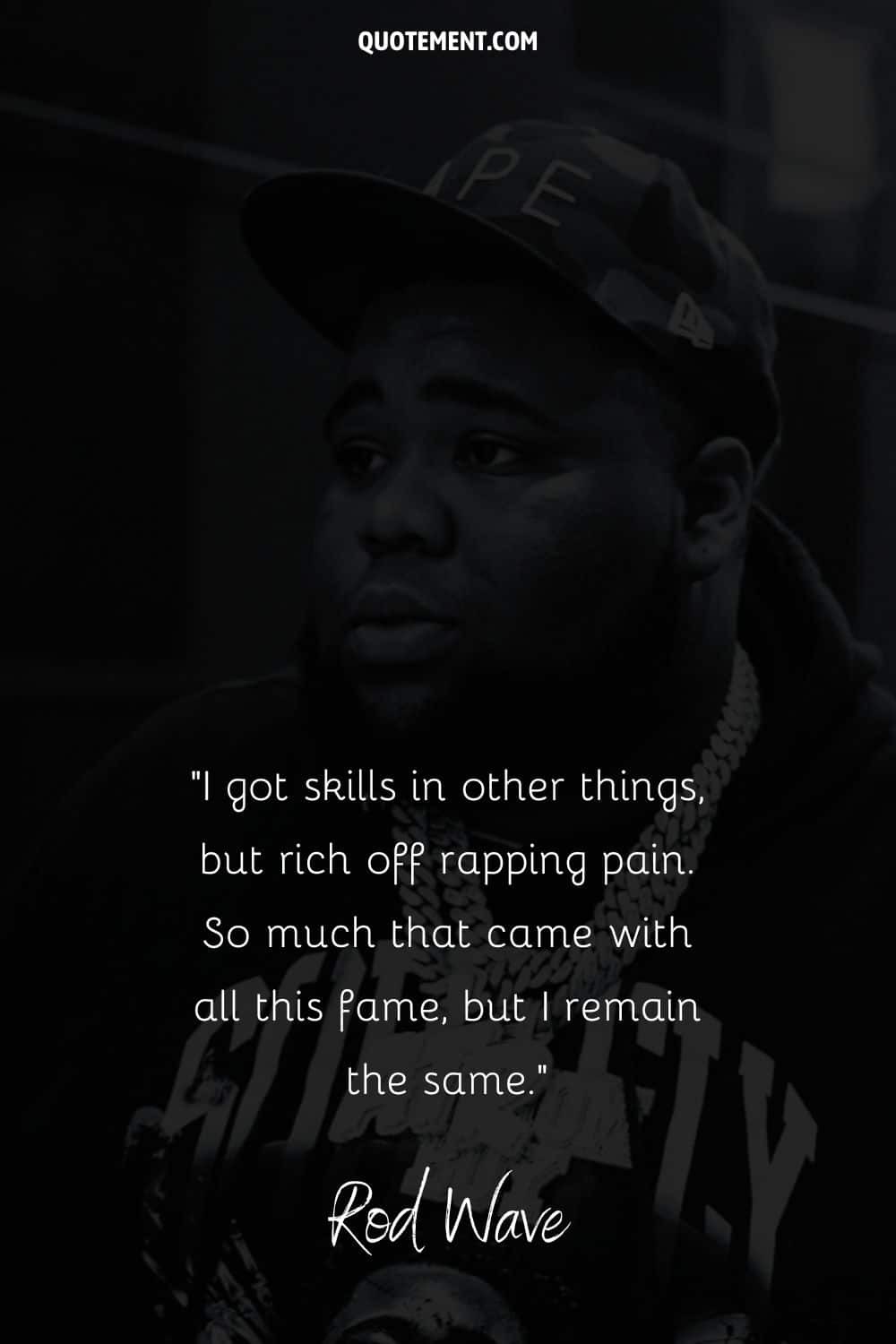 16. "Music is a way of opening up." — Rod Wave
17. "That's how I feel sometimes. I don't want to be around nobody. I just want to be alone." — Rod Wave
18. "I'm a regular person who just makes nice music." — Rod Wave
19. "I listen to everything that sounds good with a story. I even listen to Adele. I listen to all kinds of music. Everything with a story that I can listen to and close my eyes and visualize it. I just love music." — Rod Wave
20. "I'm a rapper and an artist, but I'm a human. That's what people forget. That's why I try to make them remember." — Rod Wave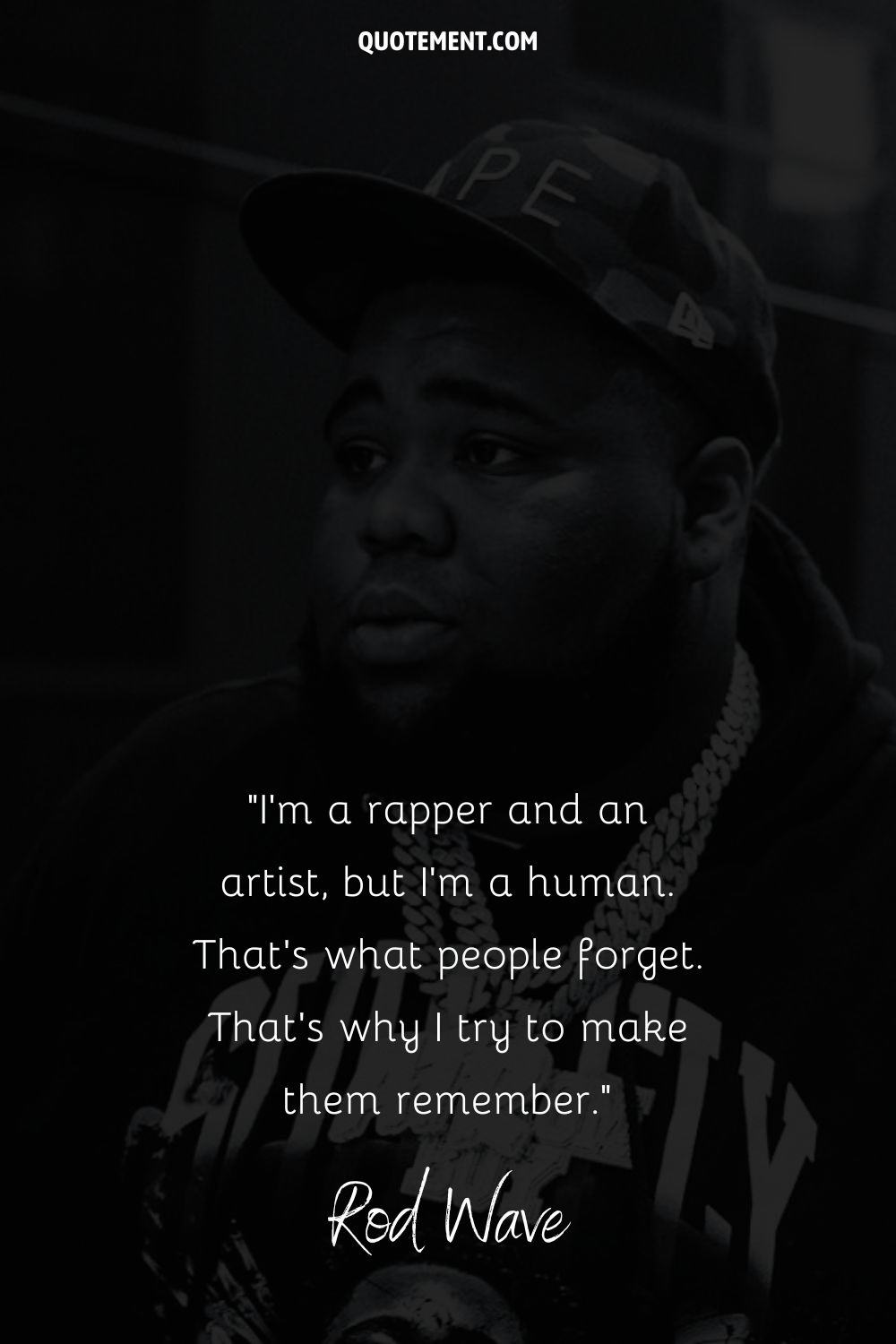 Love Quotes By Rod Wave
1. "You may not be her first, her last, or her only. She's loved before. She may love again, but if she loves you now, what else matters." — Rod Wave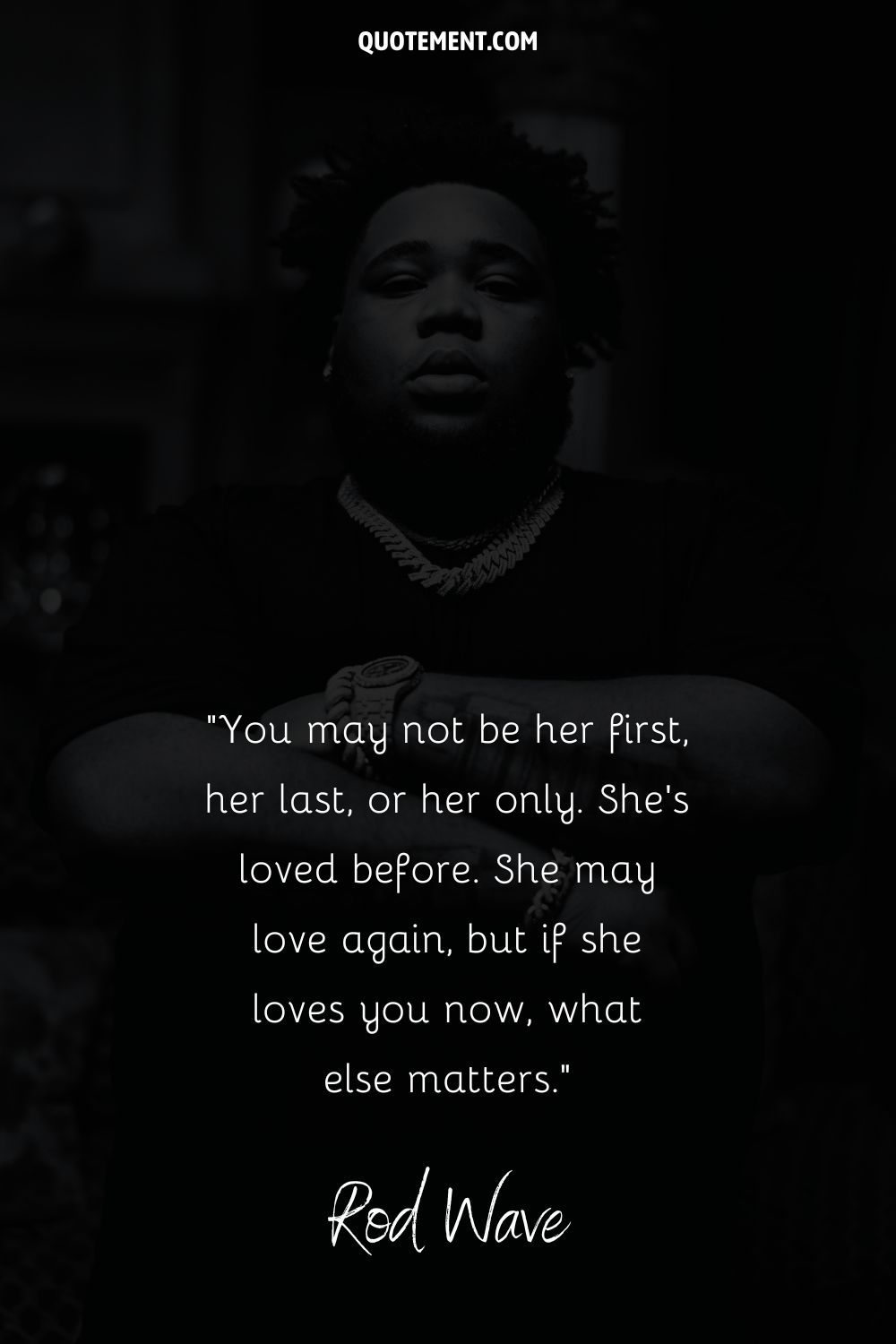 2. "If loving me is hard. I apologize." — Rod Wave
3. "I think I need your love. I don't need no one selfish. Wonder if I give this girl my heart, could she help it?" — Rod Wave
4. "I just hate feelings and getting attached. I just hate feelings and dealing with that. Love is a drug, and I've been attacked." — Rod Wave
5. "I've been so scared of love, got commitment issues, but somehow, someway, I fell in love with you." — Rod Wave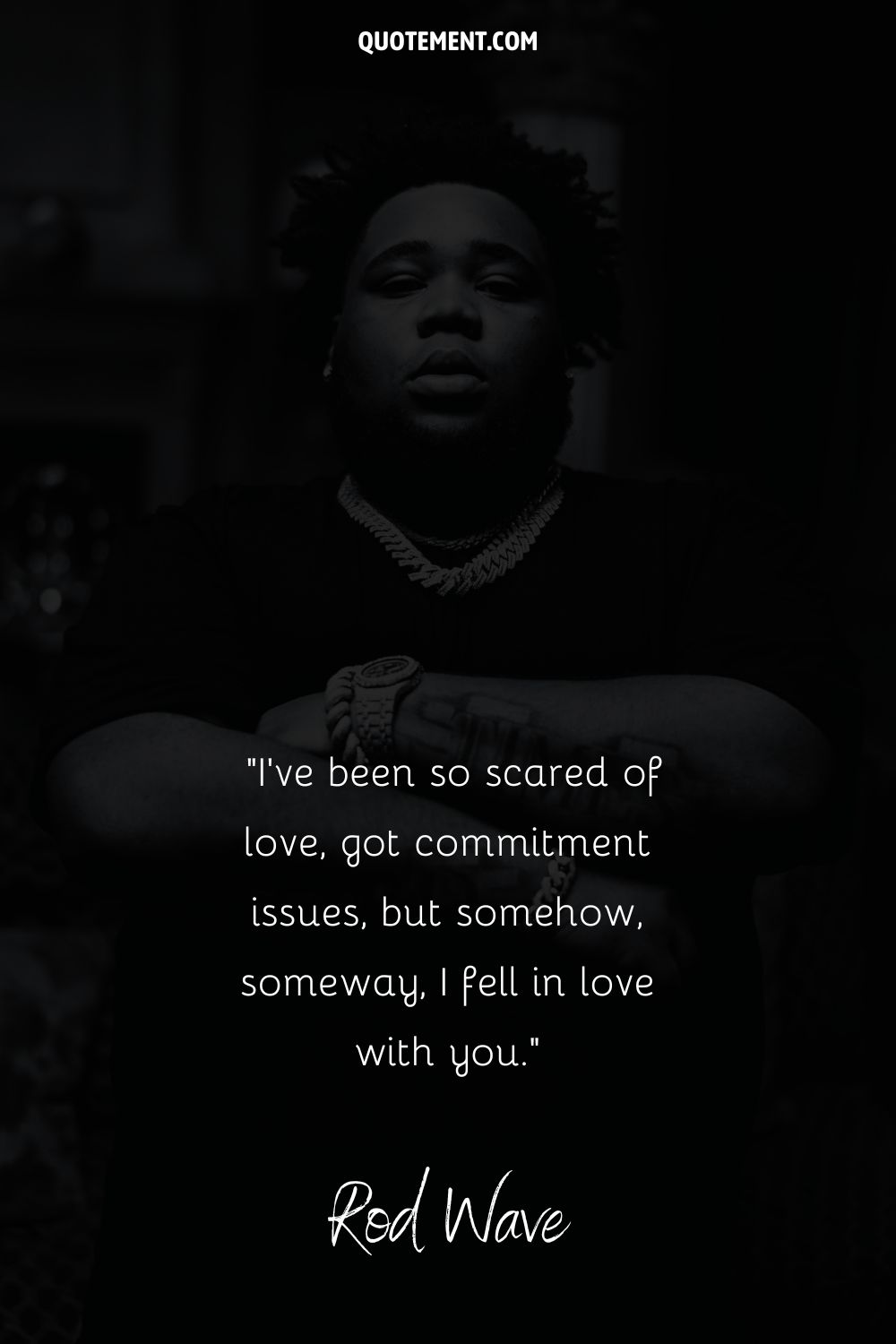 6. "Tell me how do I find love if I never seen it." — Rod Wave
7. "I need someone I can run to. Thugs need love too." — Rod Wave
8. "I give my heart to whoever, they take it, and they ran." — Rod Wave
9. "I know that I hurt you. I was a child trying to be a man." — Rod Wave
10. "I got one more piece of my heart left, and I've been saving it for you." — Rod Wave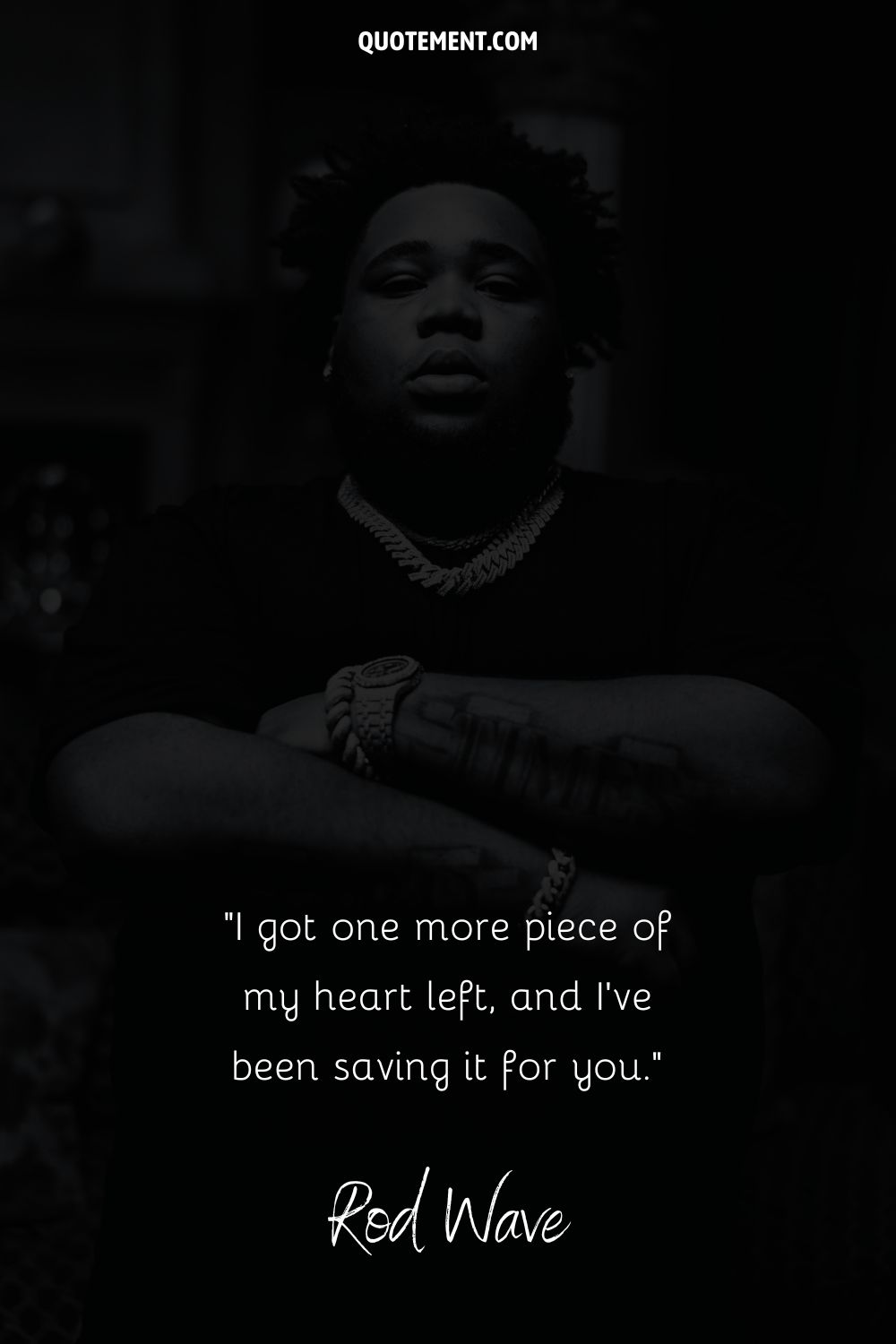 11. "You said you love me, but you are leaving me. I guess love ain't what it seems to be." — Rod Wave
See also: 210 Relatable Fake Love Quotes For The Brokenhearted
12. "If your heart really all mine, why I gotta fight for it?" — Rod Wave
13. "Remember when I first confessed my love, and I cried? I remembered when I asked you bout that n*gg*, and you lied." — Rod Wave
14. "I don't want no more love. I feel it's poison." — Rod Wave
15. "It's okay to start over. Let someone else love you the right way." — Rod Wave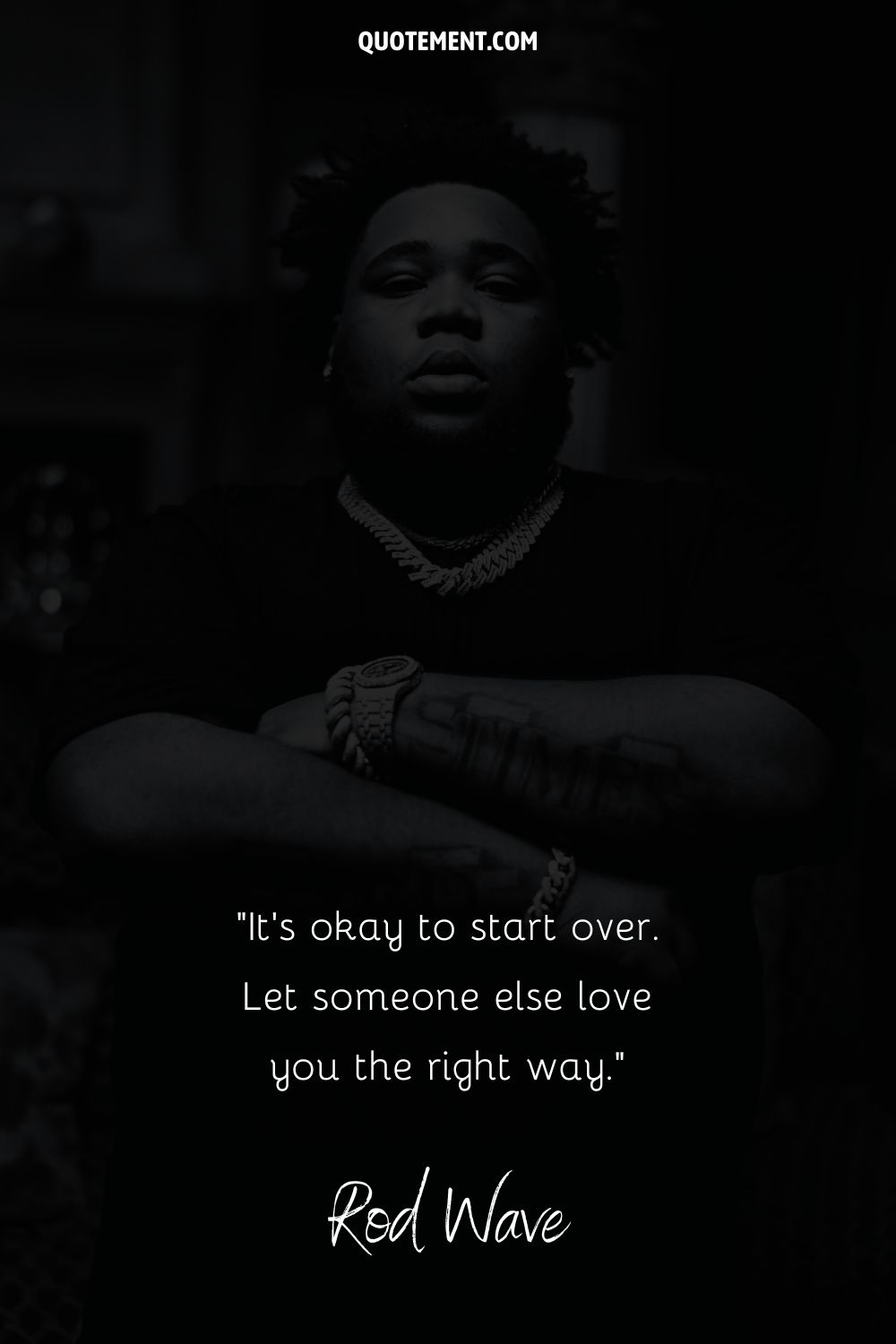 16. "I've been looking for the right kind of love." — Rod Wave
17. "Hurt me to my heart the way I love ended. I blame you. You the reason I don't trust bitches." — Rod Wave
18. "Ain't no love in this sh*t for real. They only love what you can do for them." — Rod Wave
19. "I've been thinking about our love and how much I miss your touch. I miss being around you, hearing your laugh, and holding your hand."— Rod Wave
See also: 190 Heartfelt I Miss You Baby Quotes For Emotional Souls
20. "Make every time feel like the first time. Out of my presence but still on my mind."— Rod Wave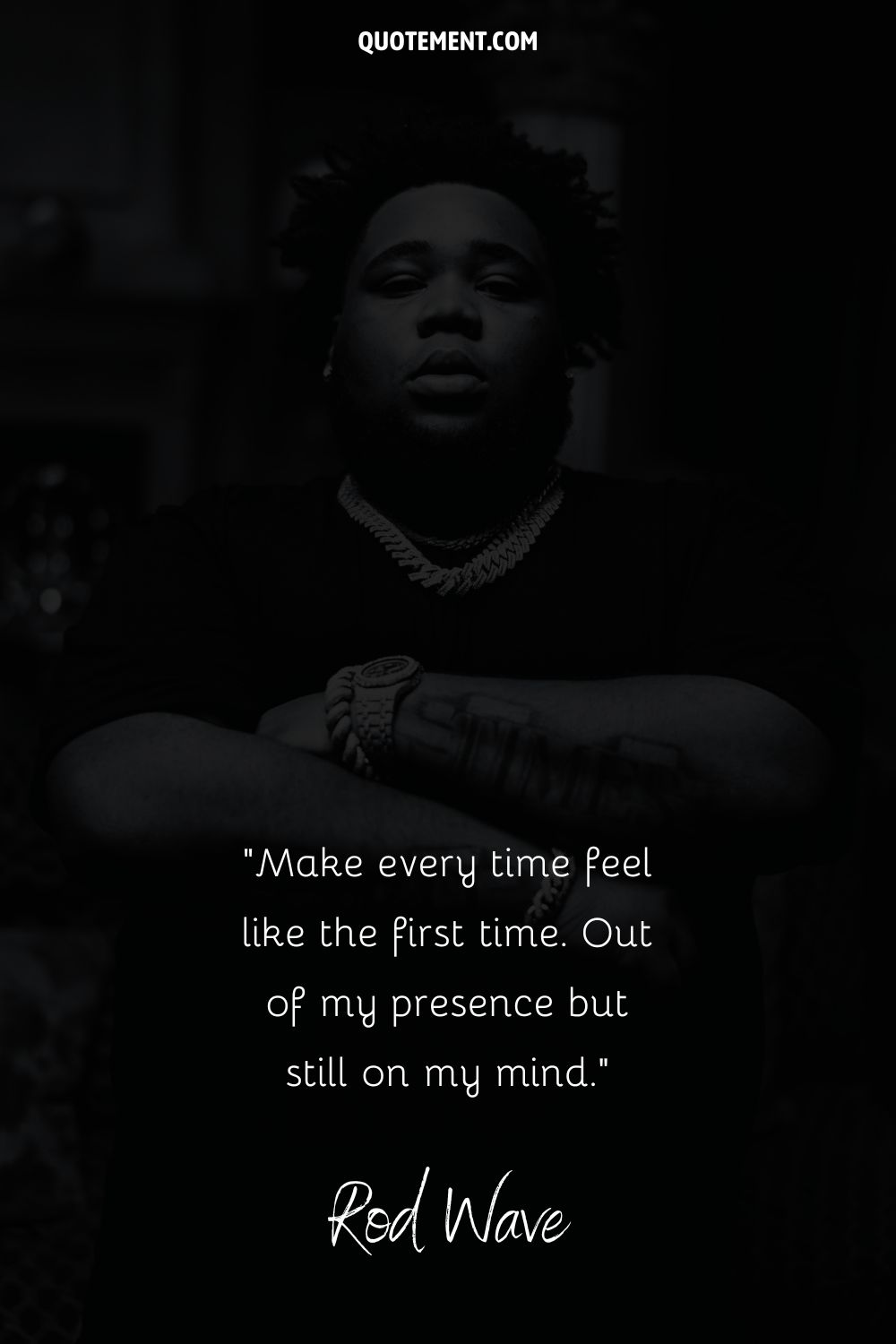 Sad Rod Wave Quotes
1. "Heart been broken so many times, I don't know what to believe. Mama said it's my fault I wear my heart on my sleeves." — Rod Wave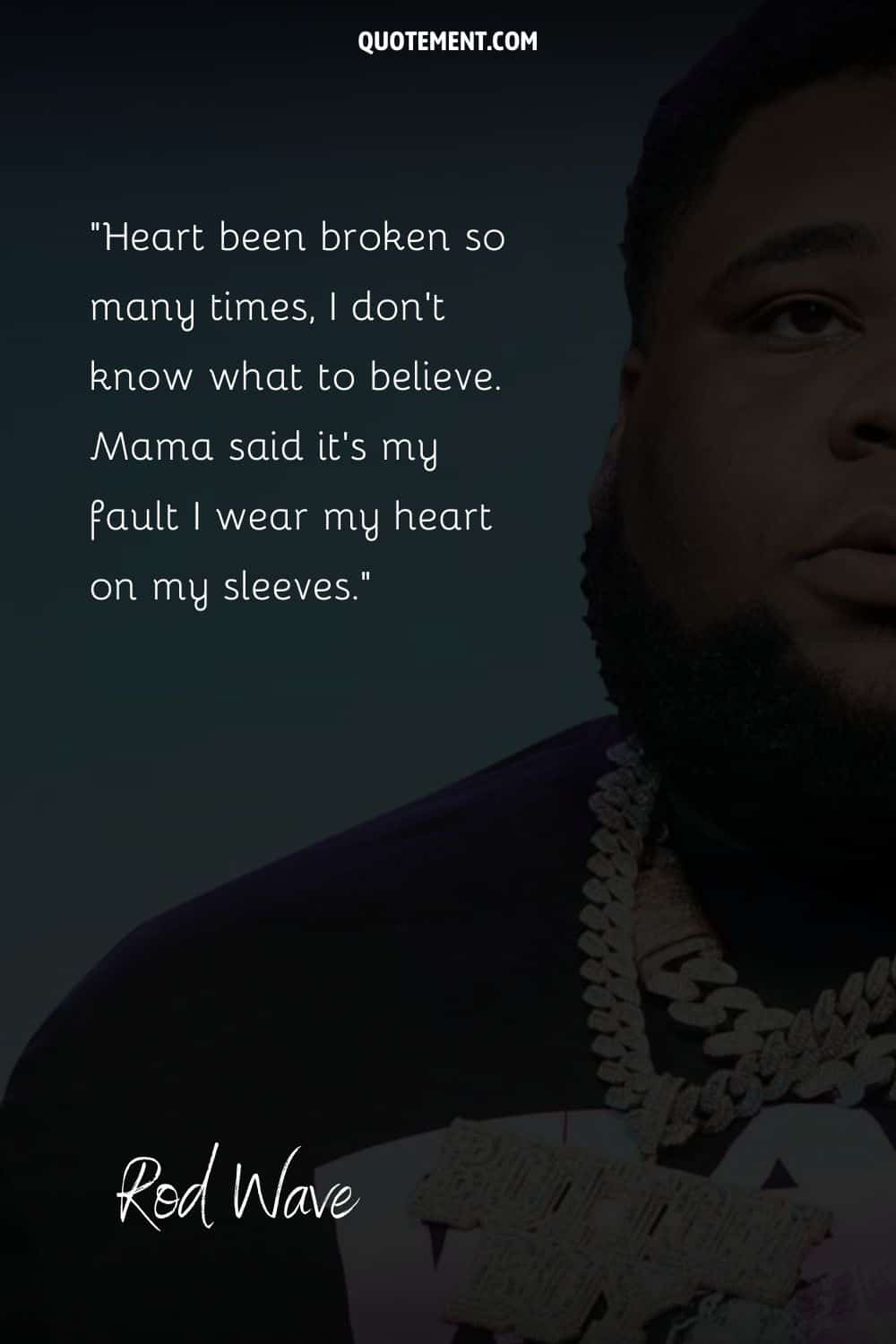 2. "Life comes with pain." — Rod Wave
3. "I feel like I'm in this world alone, but this is the life I chose." — Rod Wave
4. "I know it's hard dealing with a heart that you didn't break." — Rod Wave
5. "Me and my heart out of been touch all these years 'cause everything I touch with my heart, it disappears." — Rod Wave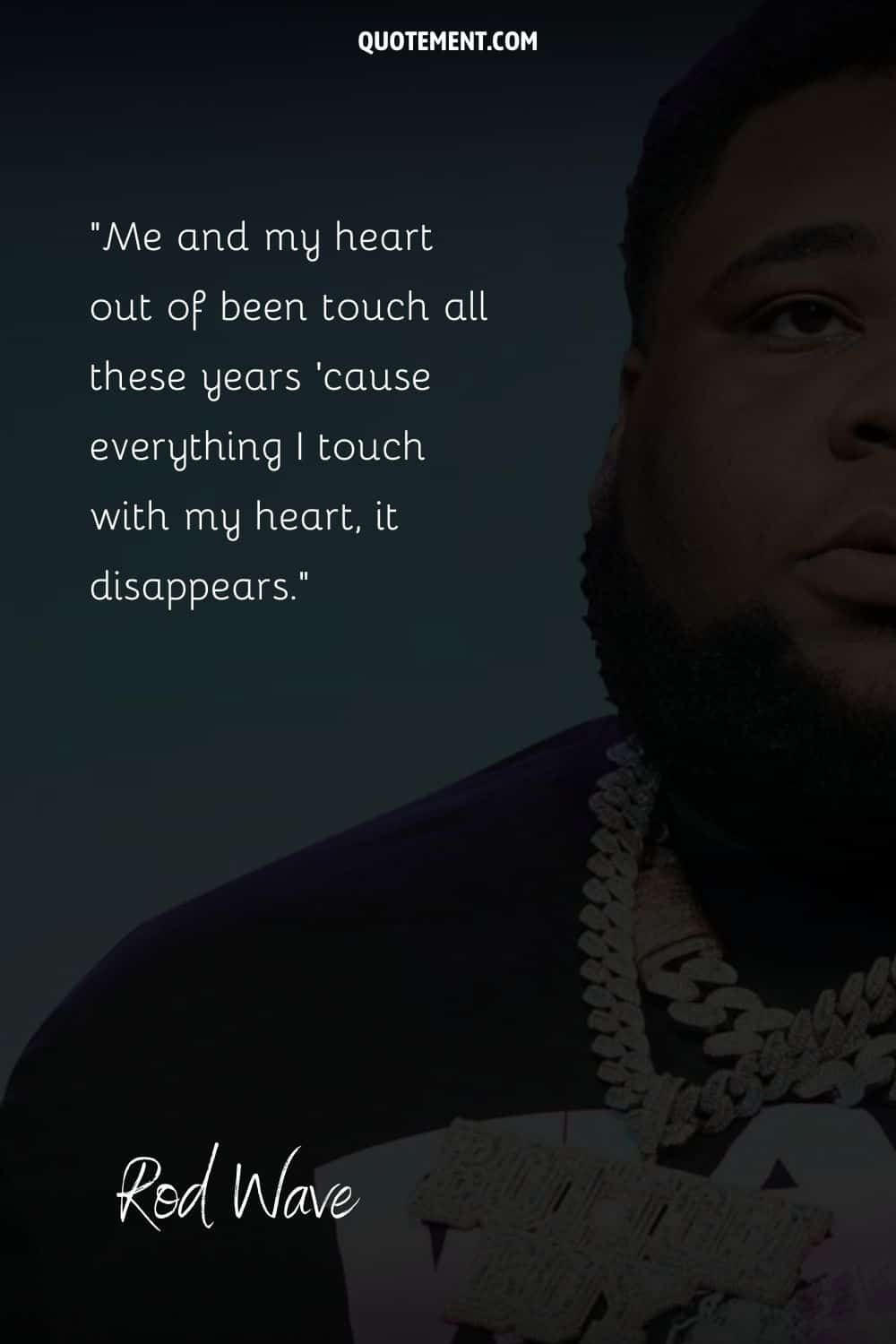 6. "It's hard to get me some peace with all the sh*t that I be battling. So many ups and downs, sometimes, I feel like I can't balance it." — Rod Wave
7. "We all wasted the best version of ourselves with someone who didn't give a f*ck." — Rod Wave
8. "I don't need another broken heart or sleepless night. God bless, guide me right." — Rod Wave
9. "I've been feeling pain for so long, I done become numb." — Rod Wave
10. "Could you feel me if I told you that it's hard to trust. I been hurt before, I done heard these words before." — Rod Wave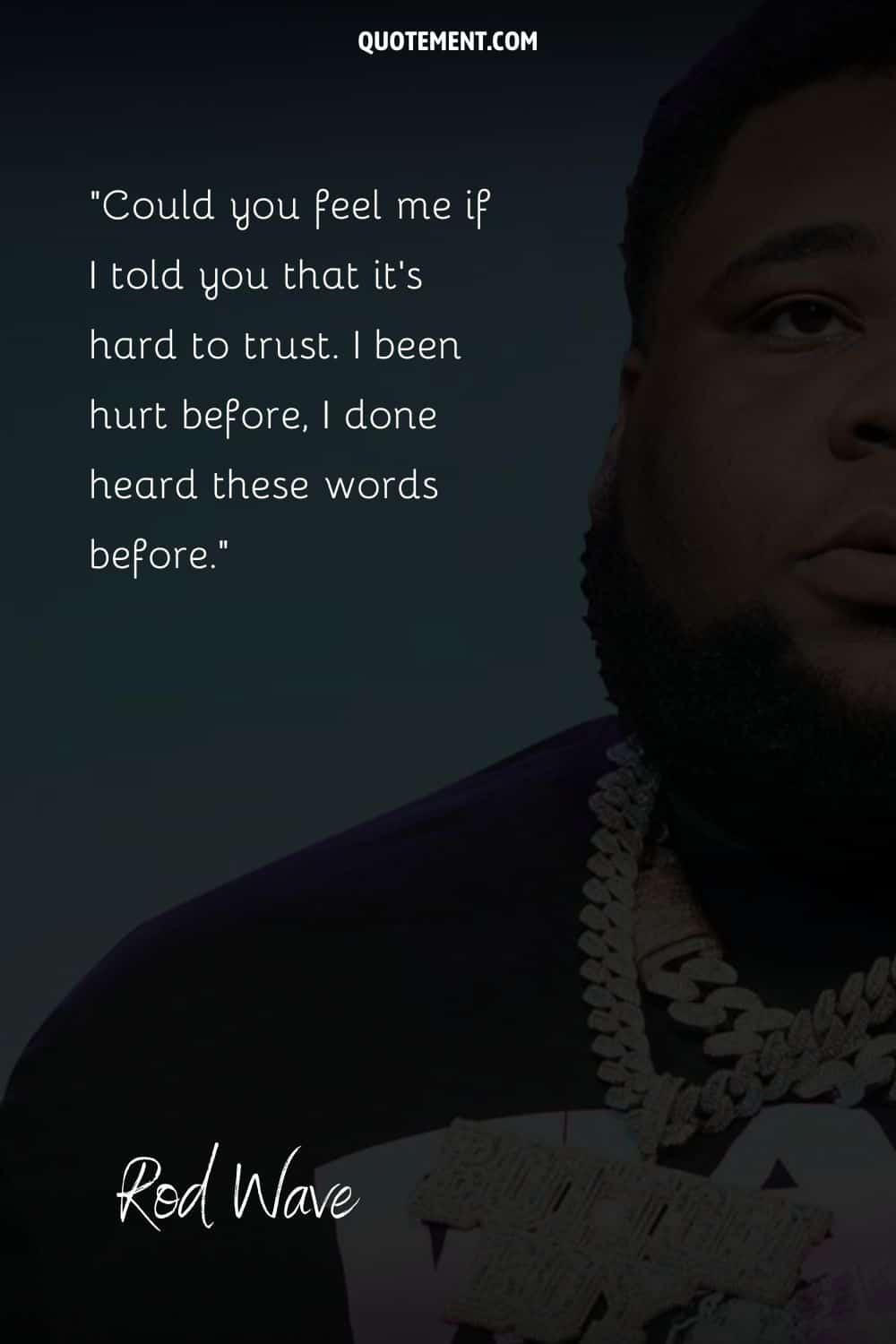 11. "Who can you trust in this cold, cold world? Better get a blanket." — Rod Wave
12. "Do I want to deal with the pain that tomorrow brings? Might grab a gun." — Rod Wave
13. "Sometimes, it feels like nobody understands me." — Rod Wave
14. "Late night, I ain't sleeping, I'm up thinking." — Rod Wave
15. "So much pain built up deep inside. I try to control it, but the anger build up deep inside." — Rod Wave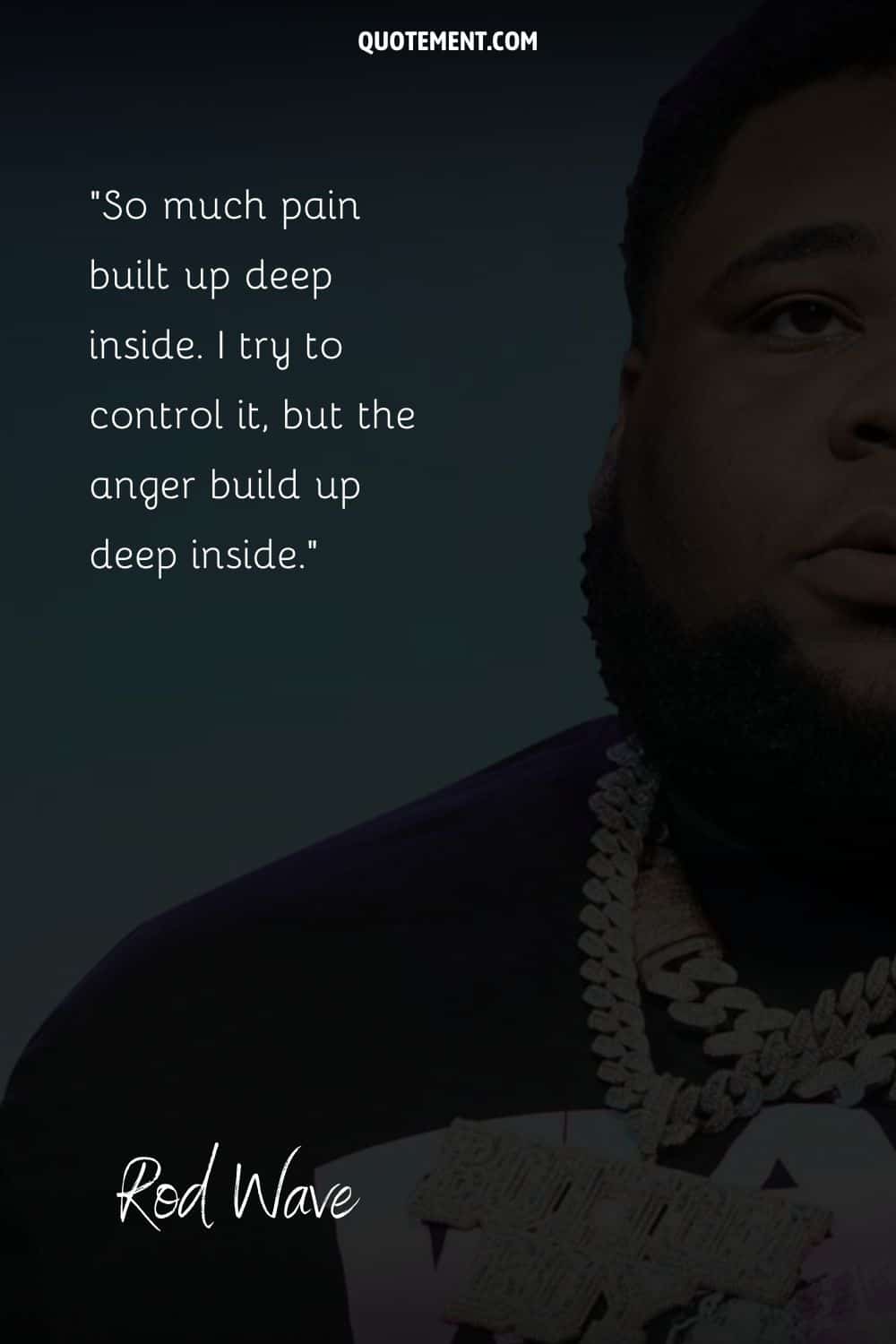 16. "I got issues back home, and I got pain running deep." — Rod Wave
17. "No matter what I do, can't keep nobody happy." — Rod Wave
18. "They turn they back, and they leave you. They gone be back when they need you." — Rod Wave
19. "Got me on my knees. I'm asking God what's my purpose." — Rod Wave
20. "It takes a strong, strong heart to heal a broken soul." — Rod Wave