Joining preschool is a huge step for little ones and is equally exciting for parents.
In today's article, you'll find a collection of inspirational kindergarten quotes to mark this new beginning in a child's life.
I've searched every corner of the internet to find only the best kindergarten quotes you can use for a fresh new start full of excitement and enthusiasm.
These inspirational school quotes will inspire your little ones to enjoy their kindergarten time and make the most of it.
In addition to that, I prepared a collection of positive quotes for parents to help them through this crucial phase of their child's life.
I also included a list of education quotes for teachers because their role is one of the most important.
If you're a kindergarten teacher, these quotes will inspire you to keep doing your job the best you can.
Let's start exploring!
Top 10 Kindergarten Quotes
Let's start off with some of the most inspiring kindergarten quotes you can find online.
1. "When you have a dream, you've got to grab it and never let go." — Carol Burnett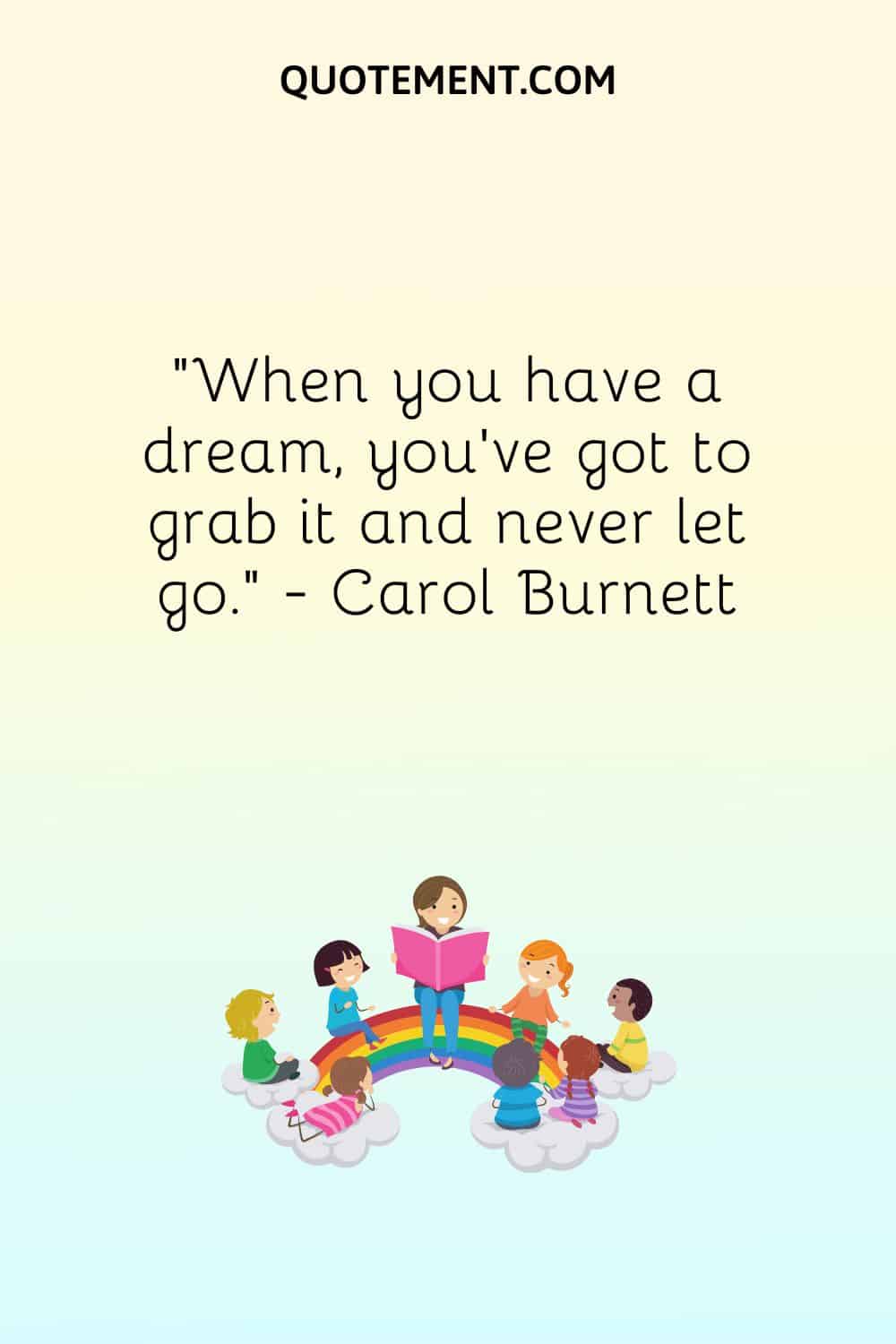 2. "A person's a person, no matter how small." — Dr. Seuss
3. "Education is not the filling of a pail, but the lighting of a fire." — William Butler Yeats
4. "Learning is a treasure that will follow its owner everywhere." — Chinese Proverb
5. "Children must be taught how to think, not what to think." — Margaret Mead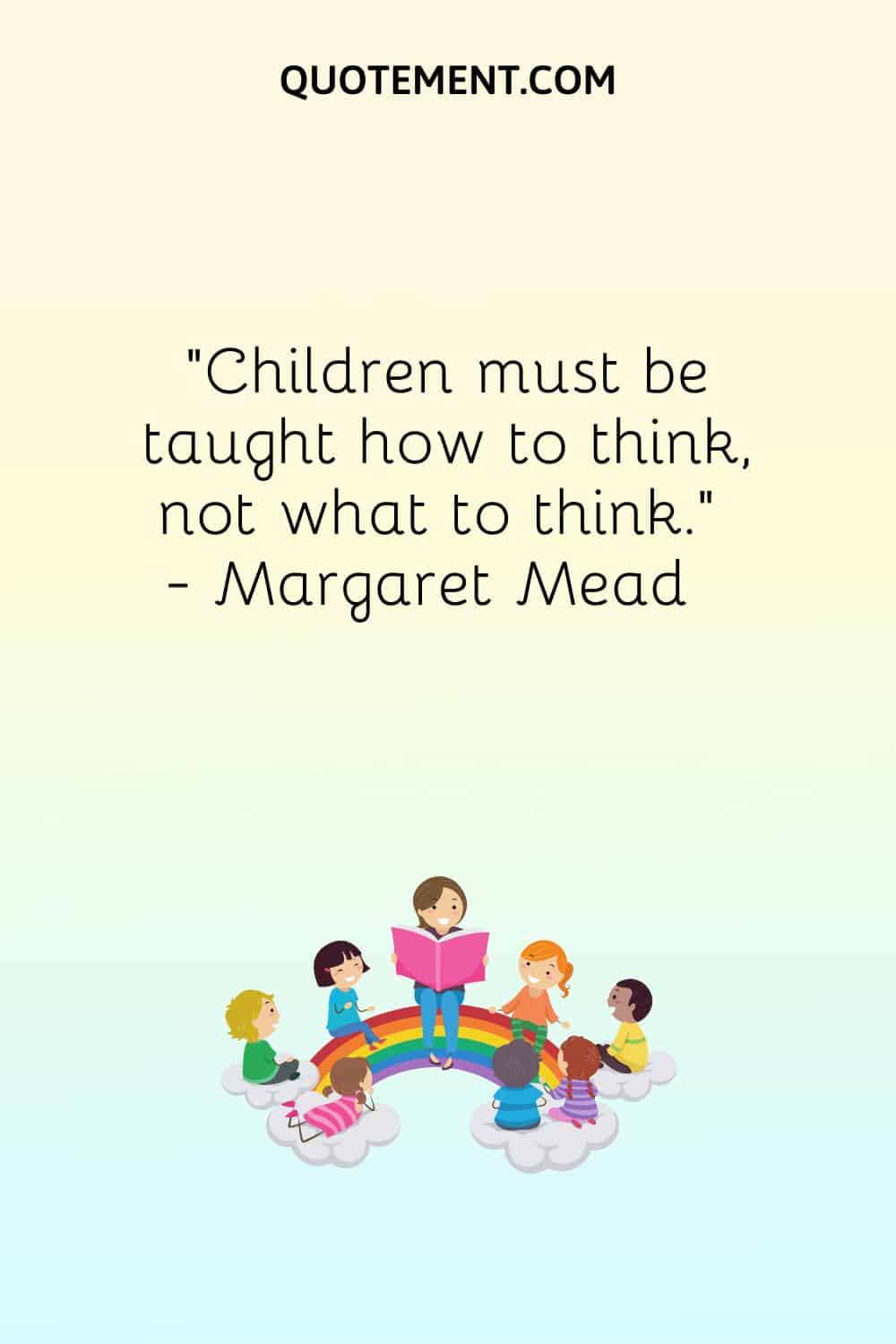 6. "No one is perfect — that's why pencils have erasers." — Wolfgang Riebe
7. "Let us remember: One book, one pen, one child, and one teacher can change the world." — Malala Yousafzai
8. "Your education is a dress rehearsal for a life that is yours to lead." — Nora Ephron
9. "Free the child's potential, and you will transform him into the world." — Maria Montessori
10. "You're braver than you believe, and stronger than you seem, and smarter than you think." — A.A. Milne, Winnie The Pooh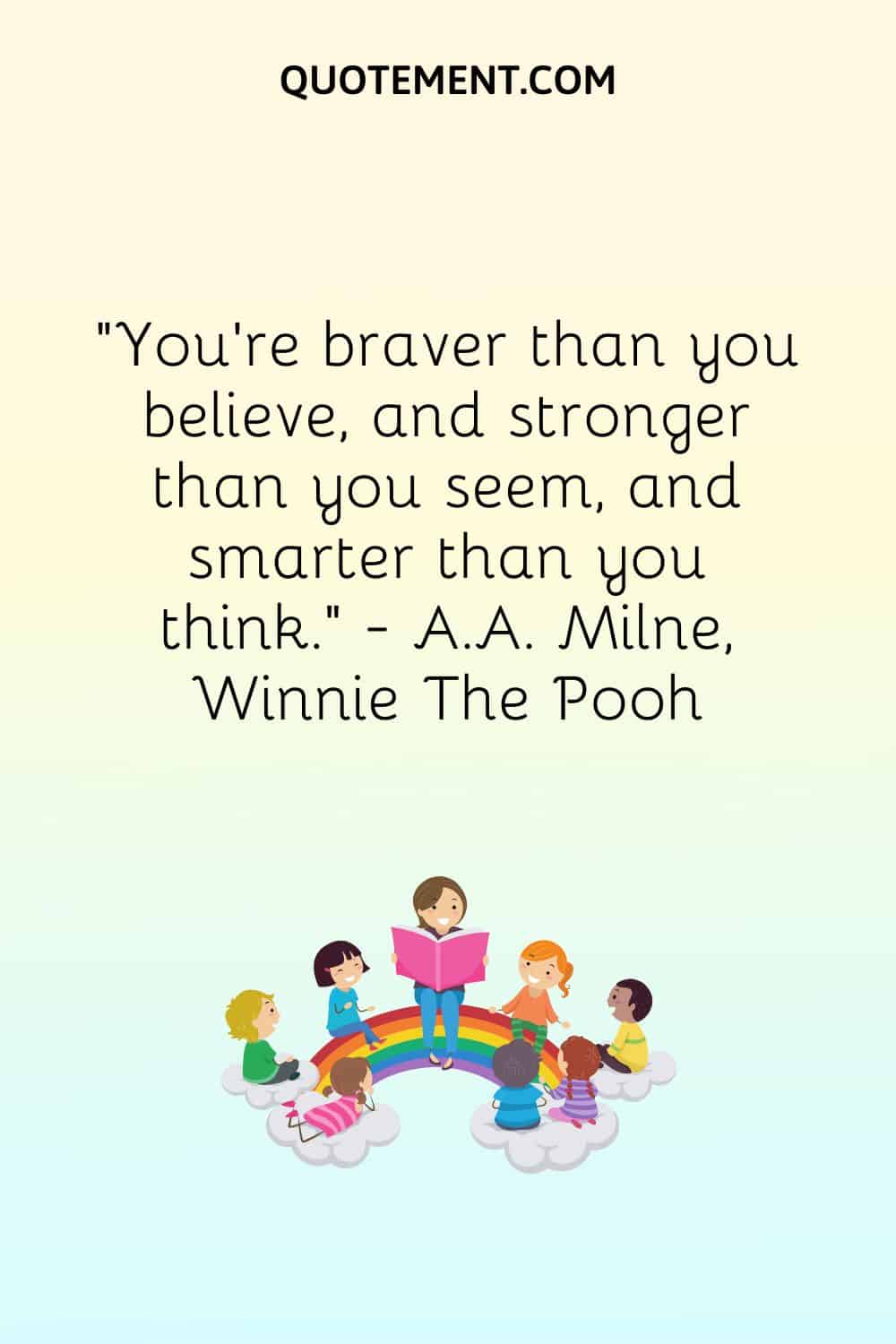 See also: 60 Inspirational You Are Stronger Than You Think Quotes
Inspirational Quotes For Kindergarten Students
These inspirational kindergarten quotes will inspire kids to explore the world and learn new things.
1. "A child loves his play, not because it's easy, but because it's hard." — Benjamin Spock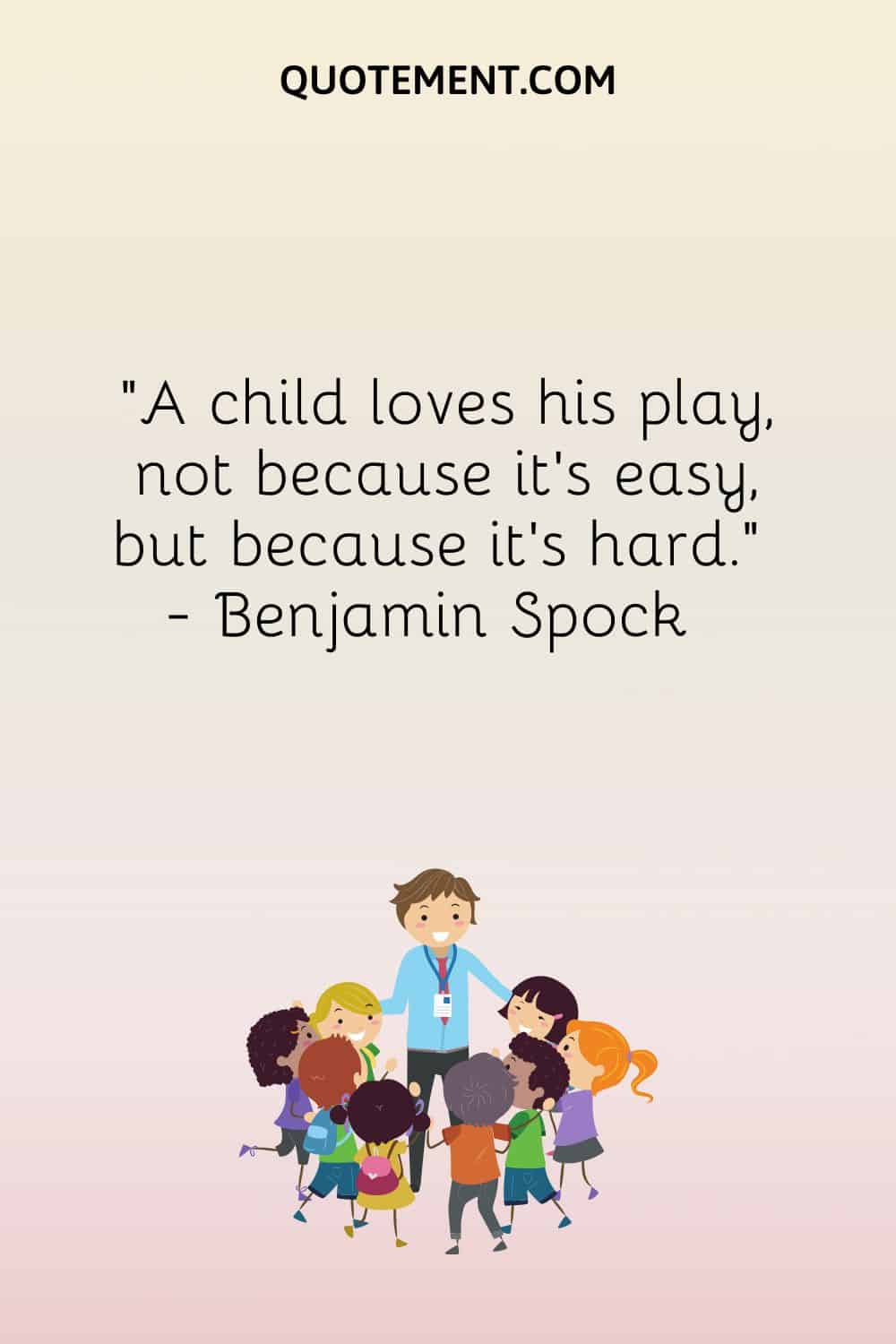 2. "Almost all creativity involves purposeful play." — Abraham Maslow
3. "What you get by achieving your goals is not as important as what you become by achieving your goals." — Zig Ziglar
4. "By education, I mean an all-round drawing out of the best in the child and man; body, mind and spirit." — Mahatma Gandhi
5. "Don't try hard to fit in, and certainly don't try so hard to be different…just try hard to be you." — Zendaya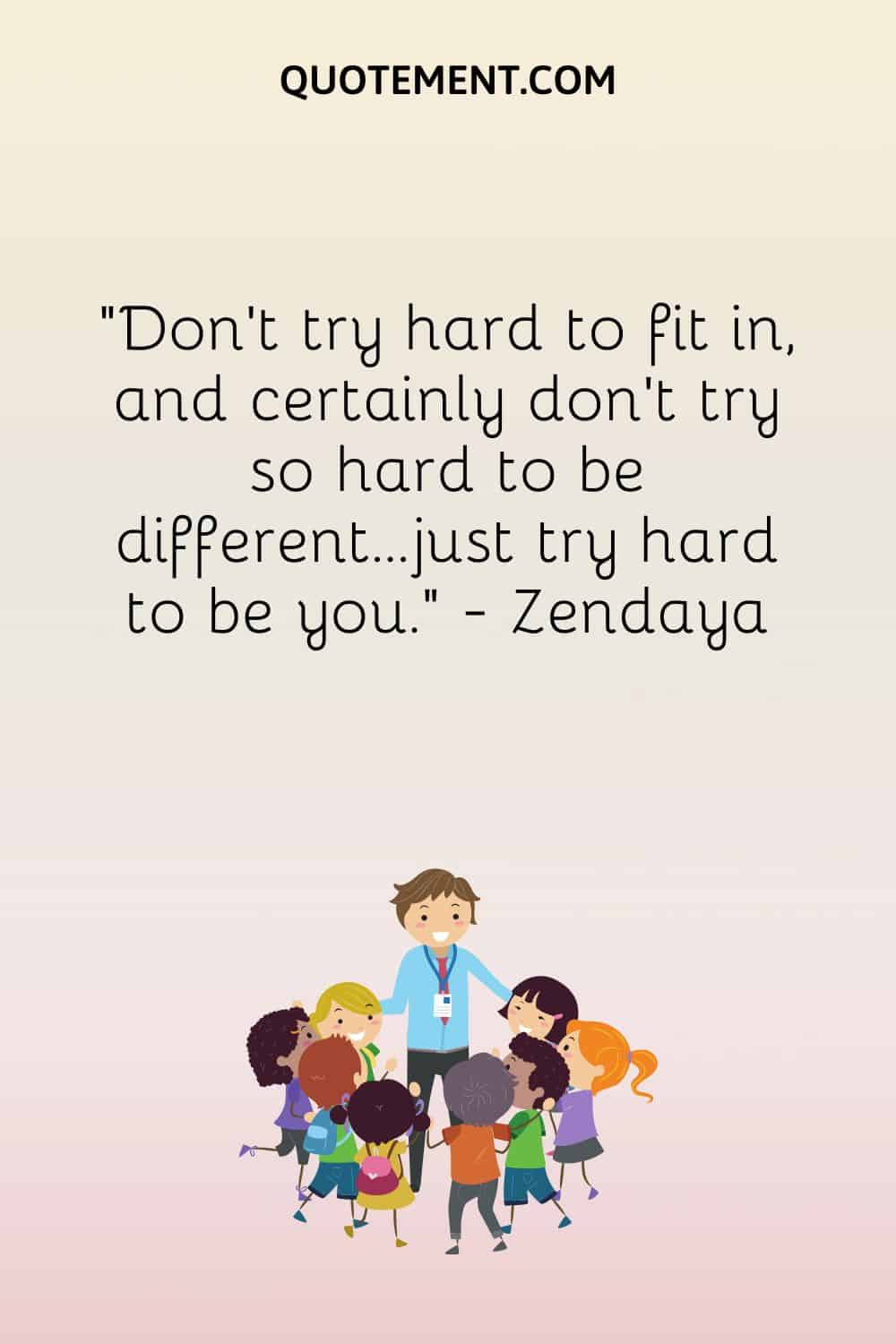 6. "The playing adult steps sideward into another reality; the playing child advances forward to new stages of mastery." — Erik H. Erikson
7. "Study while others are sleeping; work while others are loafing; prepare while others are playing; and dream while others are wishing." — William Arthur Ward
8. "Education is an admirable thing, but it is well to remember from time to time that nothing that is worth knowing can be taught." — Oscar Wilde
9. "What makes a child gifted and talented may not always be good grades in school, but a different way of looking at the world and learning."— Chuck Grassley
10. "To accomplish great things, we must not only act, but also dream, not only plan, but also believe." — Anatole France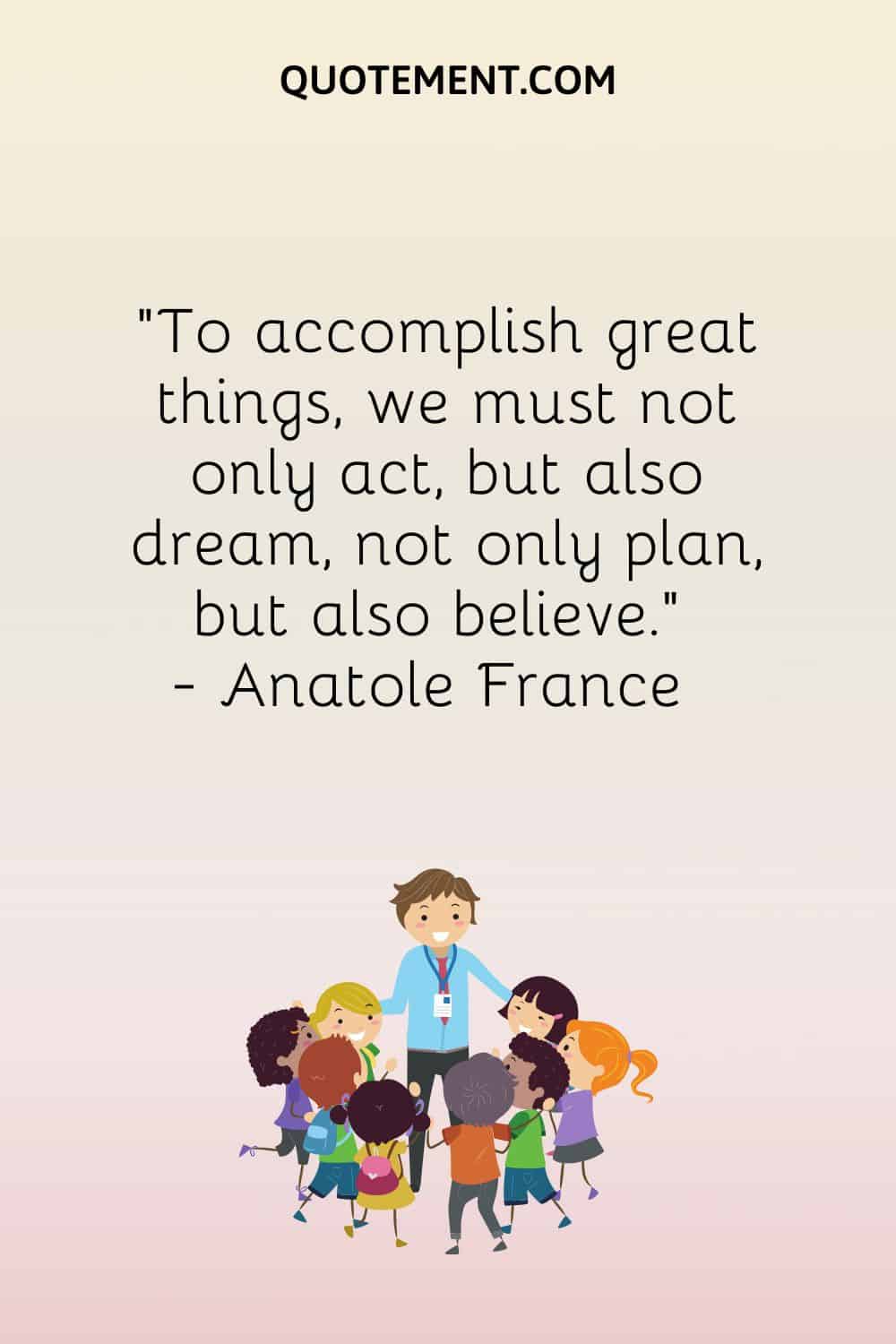 11. "A child can teach an adult three things: to be happy for no reason, to always be busy with something, and to know how to demand with all his might that which he desires." — Paulo Coelho
12. "Above all, watch with glittering eyes the world around you — because the greatest secrets are always hidden in the most unlikely places." — Roald Dahl
13. "The will to win, the desire to succeed, the urge to reach your full potential … these are the keys that will unlock the door to personal excellence." — Confucius
14. "Survival can be summed up in three words: Never give up. That's the heart of it really. Just keep trying." — Bear Grylls
15. "Three things in human life are important. The first is to be kind. The second is to be kind. And the third is to be kind." — Henry James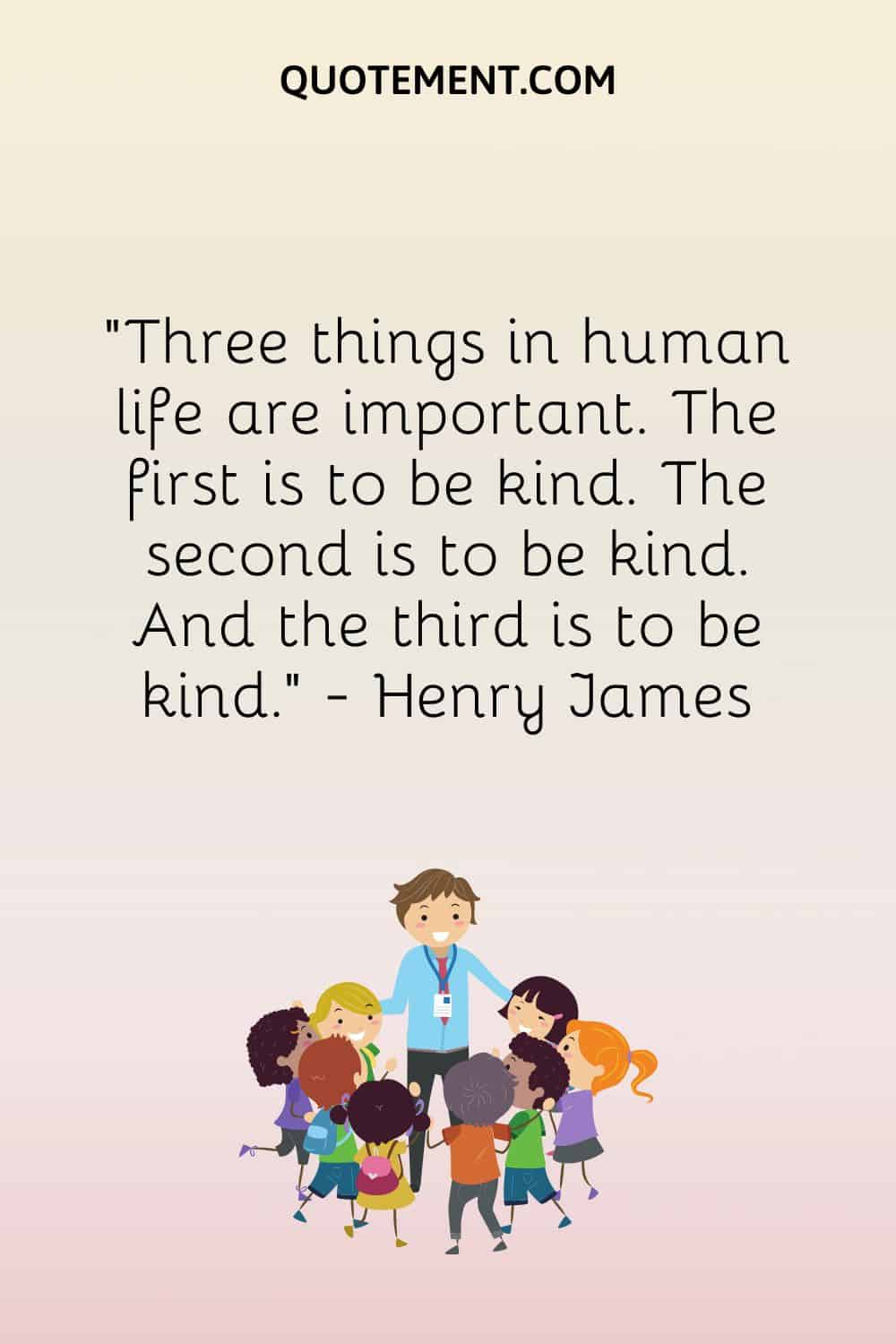 16. "The big lesson in life, baby, is never be scared of anyone or anything." — Frank Sinatra
17. "Your struggles develop your strengths. When you go through hardships and decide not to surrender, that is strength." — Arnold Schwarzenegger
18. "A true hero isn't measured by the size of his strength, but by the strength of his heart." — Hercules
19. "Every great dream begins with a dreamer. Always remember, you have within you the strength, the patience, and the passion to reach for the stars to change the world." — Harriet Tubman
20. "Whatever you decide to do. Make sure it makes you happy." — Paulo Coelho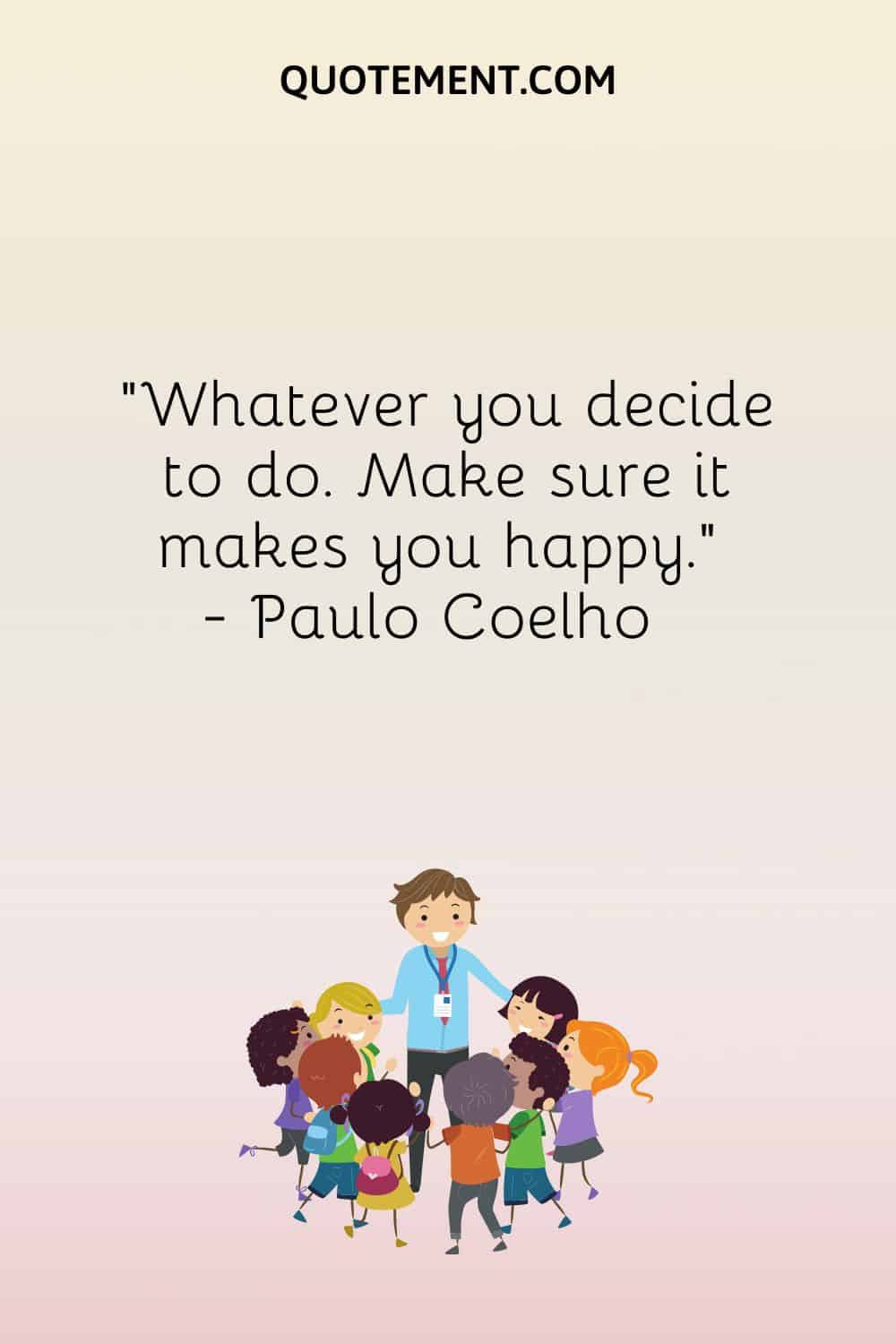 See also: Ultimate Collection Of 60 Do What Makes You Happy Quotes
Motivational Quotes For Kindergarten Students
Check out these motivational kindergarten quotes for kindergarten students.
1. "Tell me and I forget. Teach me and I remember. Involve me and I will learn." — Benjamin Franklin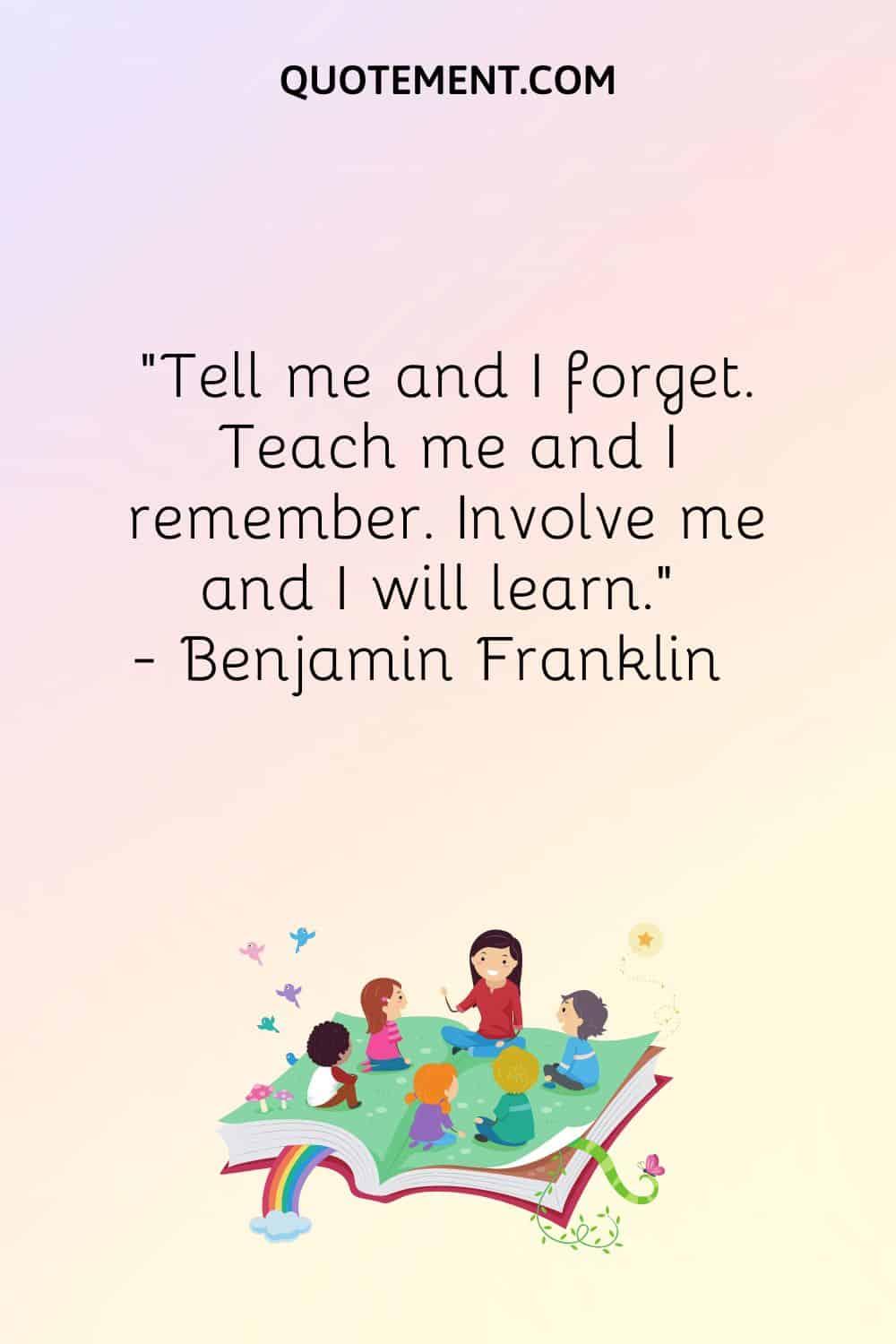 2. "It isn't where you come from. It's where you're going that counts." — Ella Fitzgerald
3. "When children pretend, they're using their imaginations to move beyond the bounds of reality. A stick can be a magic wand. A sock can be a puppet. A small child can be a superhero." — Fred Rogers
4. "Children learn as they play. More importantly, in play, children learn how to learn." ― O. Fred Donaldson
5. "We must all face the choice between what is right and what is easy." — Albus Dumbledore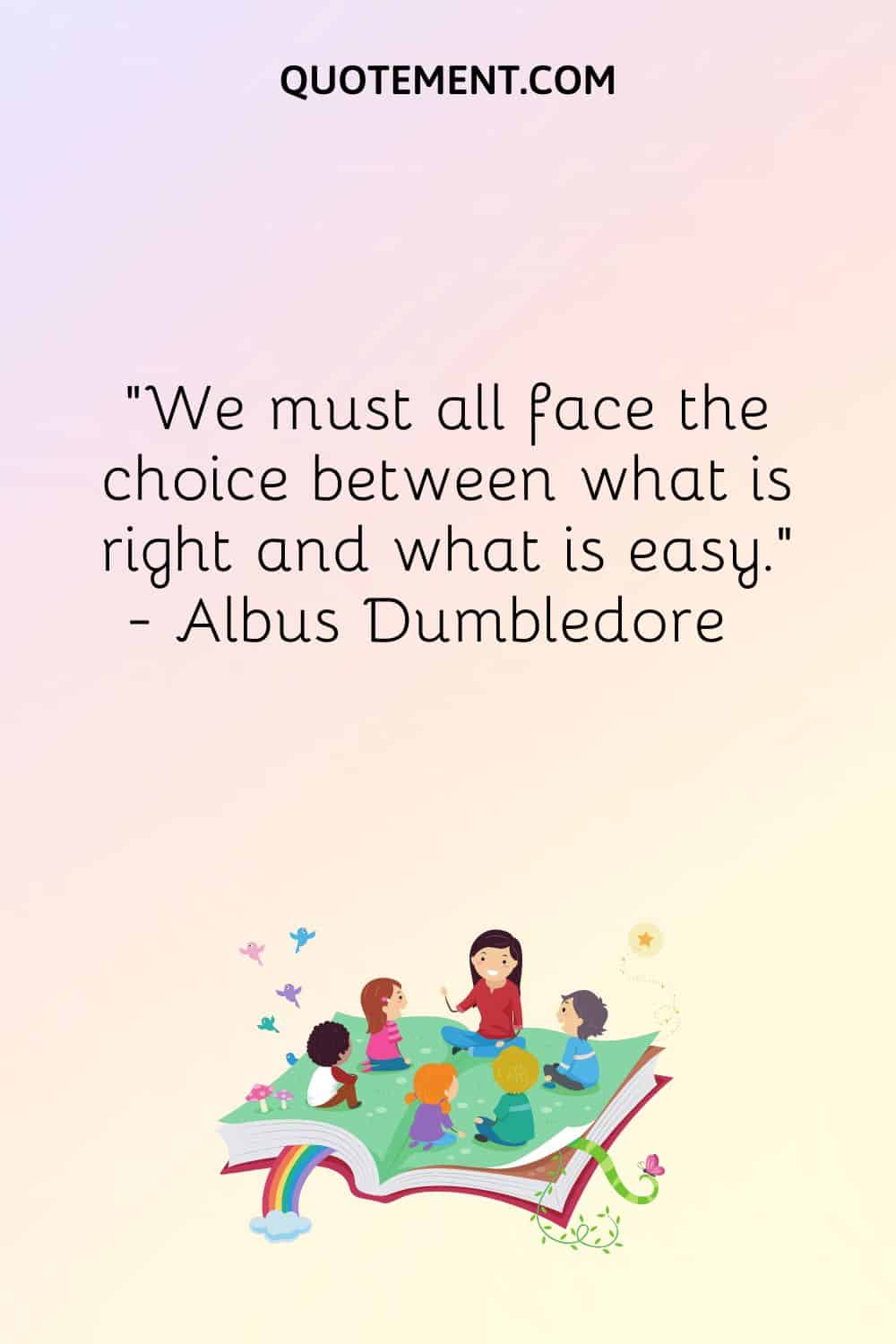 6. "The future belongs to those who believe in the beauty of their dreams." — Eleanor Roosevelt
7. "So please, oh please, we beg, we pray. Go throw your TV set away! And in its place, you can install a lovely bookshelf on the wall." — Roald Dahl
8. "I was coming home from kindergarten — well, they told me it was kindergarten. I found out later I had been working in a factory for ten years. It's good for a kid to know how to make gloves." — Ellen Degeneres
9. "Love yourself. It is important to stay positive because beauty comes from the inside out." — Jenn Proske
10. "Learn as much as you can while you are young since life becomes too busy later." — Dana Stewart Scott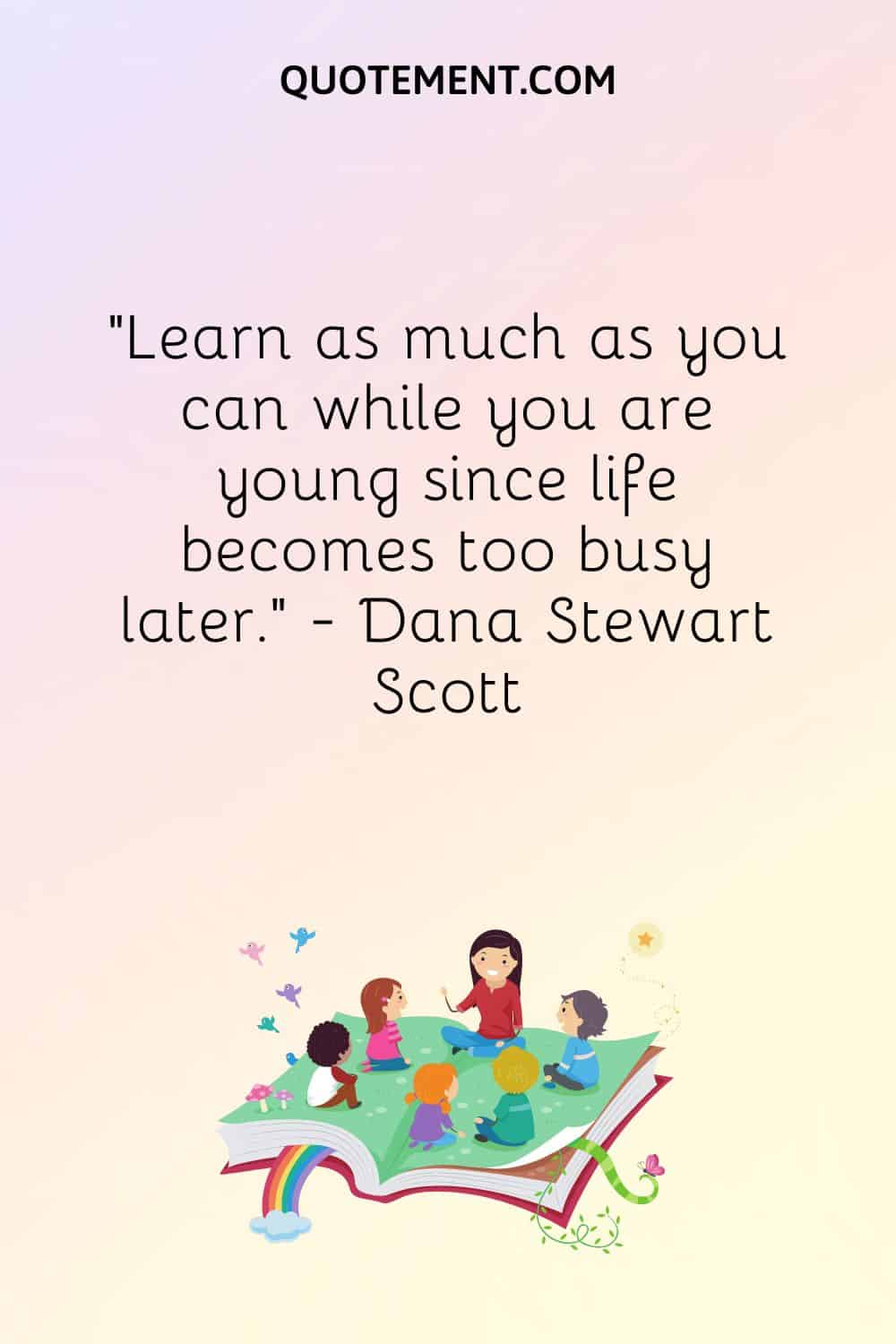 11. "Play is the highest expression of human development in childhood— for it alone is the free expression of what is in the child's soul." — Friedrich Froebel
12. "Play is often talked about as if it were a relief from serious learning. But for children, play is serious learning." — Mr. Rogers
13. "Look up at the stars and not down at your feet. Try to make sense of what you see, and wonder about what makes the universe exist. Be curious." — Stephen Hawking
14. "I've missed more than 9000 shots in my career. I've lost almost 300 games. 26 times I've been trusted to take the game-winning shot and missed. I've failed over and over and over again in my life. And that is why I succeed." — Michael Jordan
15. "Happiness can be found, even in the darkest of times, if one only remembers to turn on the light." — J.K. Rowling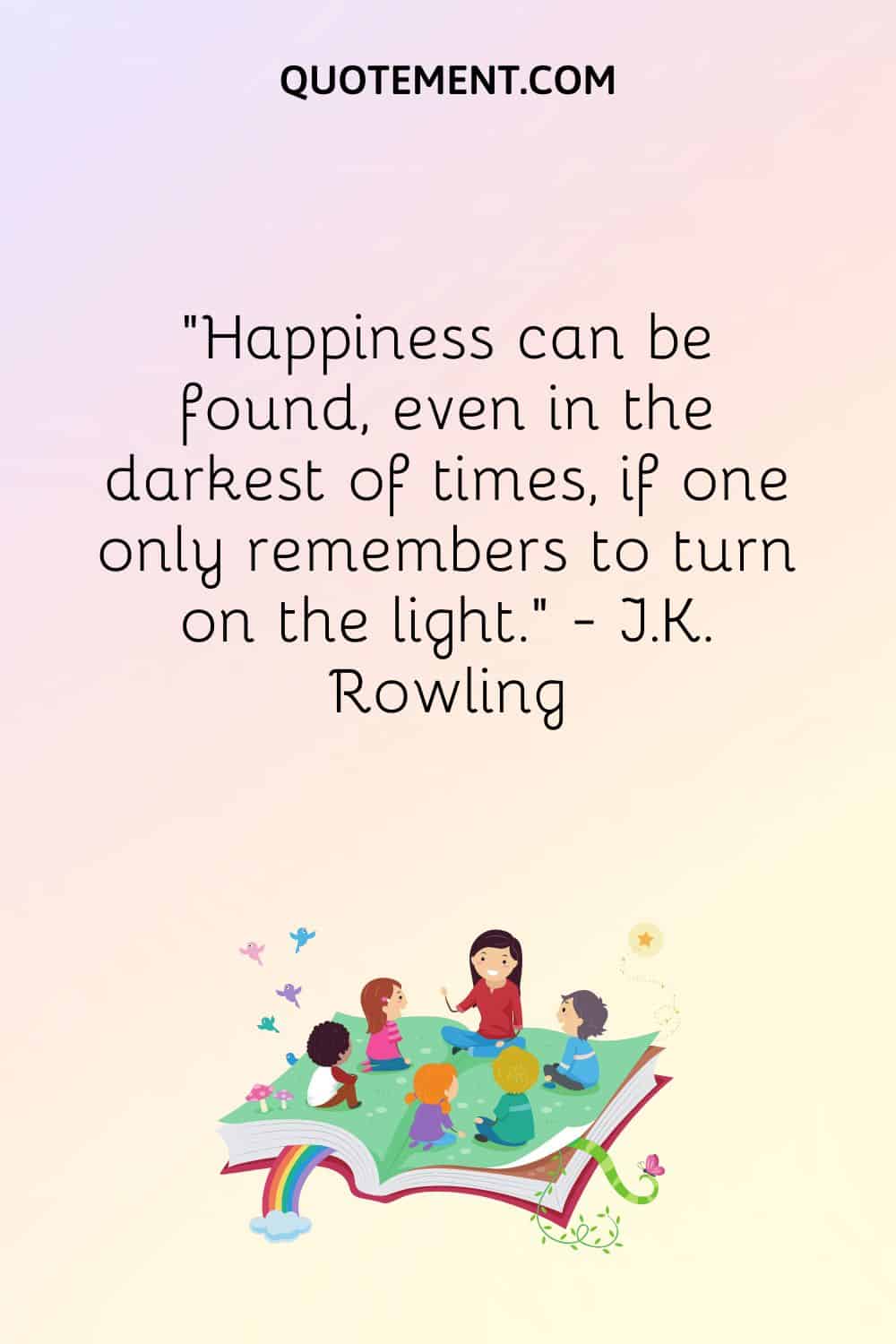 16. "You have brains in your head. You have feet in your shoes. You can steer yourself any direction you choose." — Dr. Seuss
17. "If you have good thoughts, they will shine out of your face like sunbeams, and you will always look lovely." — Roald Dahl
18. "Obstacles don't have to stop you. If you run into a wall, don't turn around and give up. Figure out how to climb it, go through it or work around it." — Michael Jordan
19. "We do not need magic to change the world, we carry all the power we need inside ourselves already. We have the power to imagine better." — J.K. Rowling
20. "You are amazing, and you shouldn't let anyone tell you otherwise. No matter what." — Bryant Collins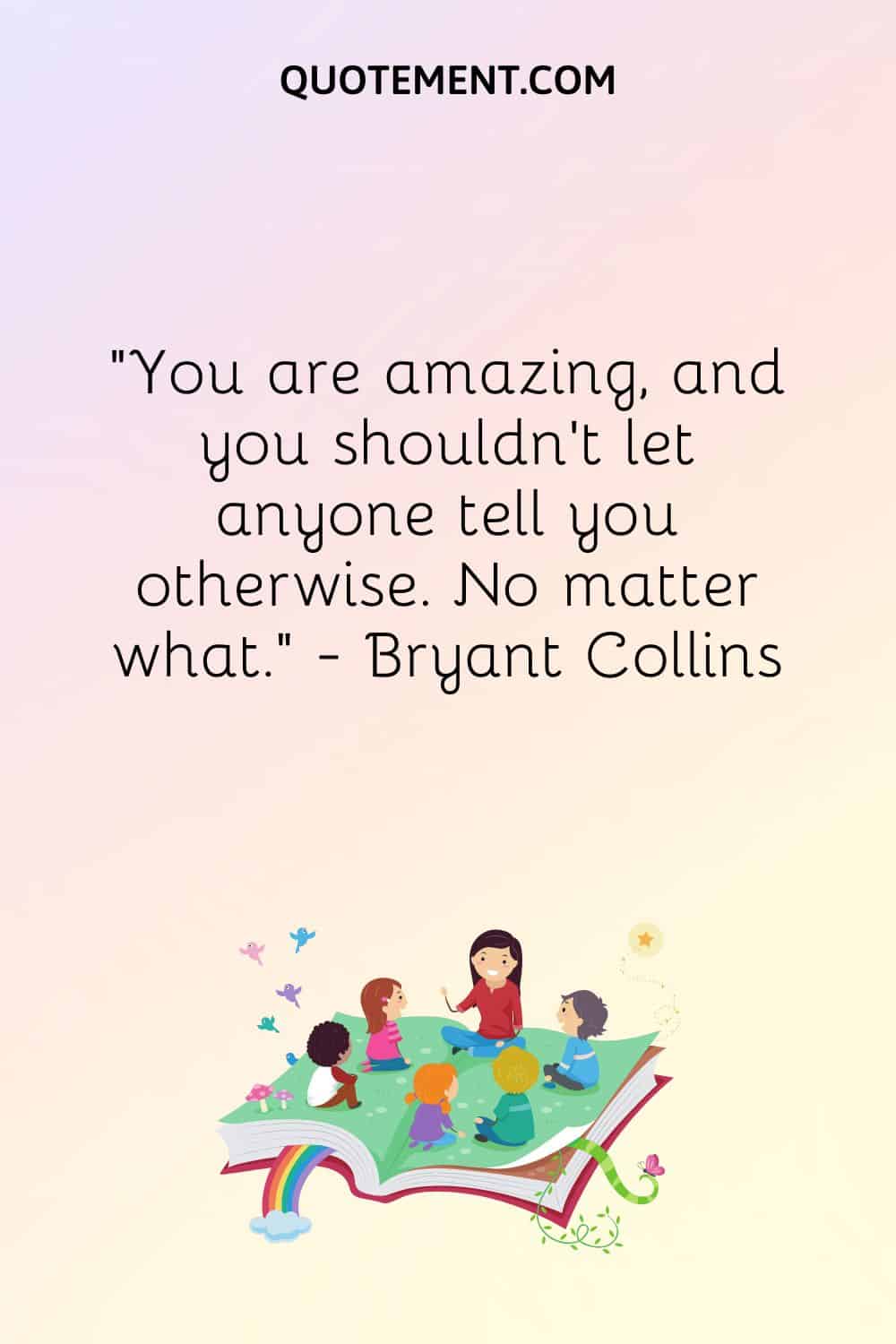 See also: 140 You Are Amazing Quotes To Fall In Love With Yourself
Short Inspirational Quotes For Kids
Next up is a collection of short inspirational quotes for kids who are joining preschool.
1. "Nothing is particularly hard if you break it down into small jobs." — Henry Ford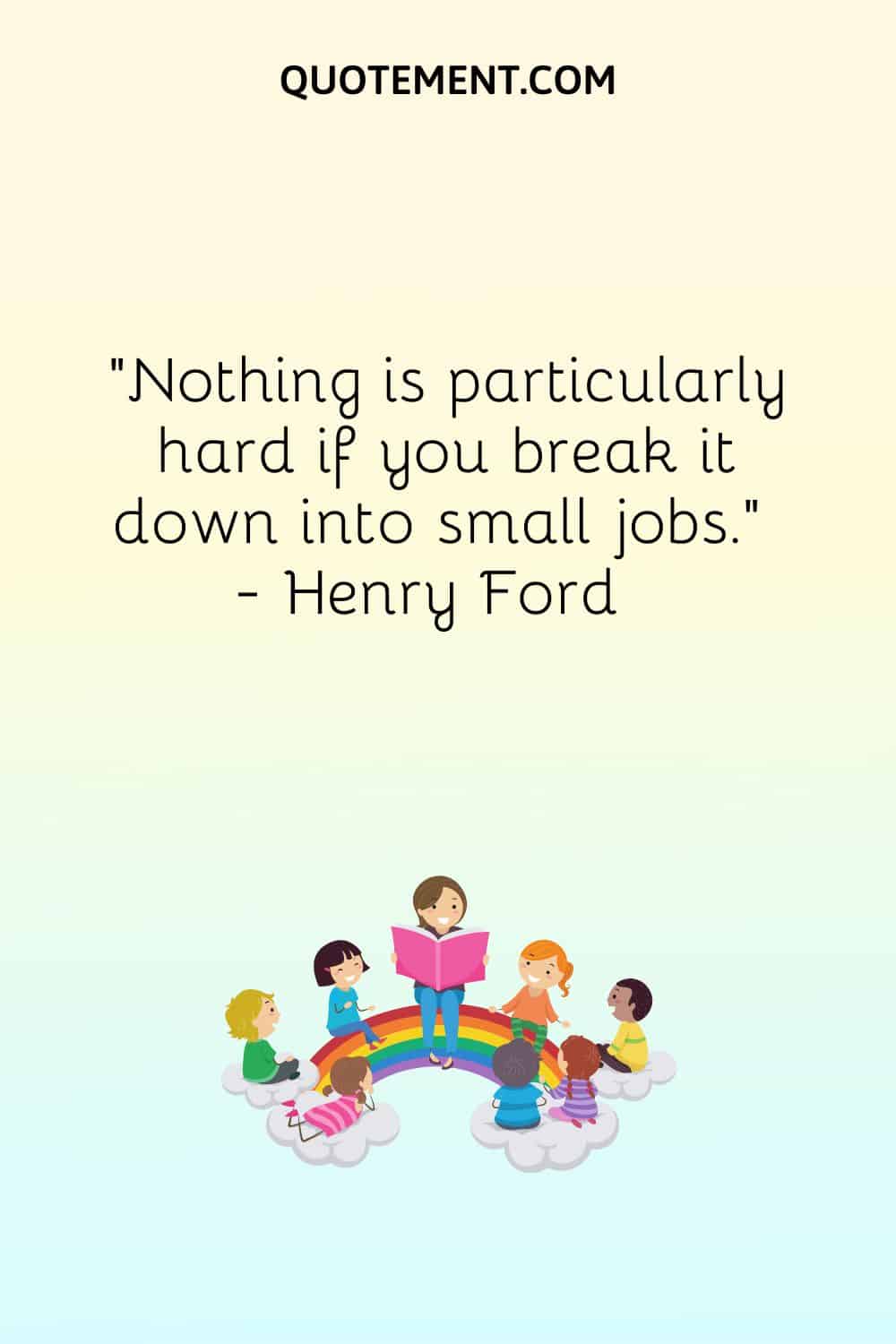 2. "Necessity may be the mother of invention, but play is certainly the father." — Roger Von Oech
3. "The secret of getting ahead is getting started." — Mark Twain
4. "I'm like the kid in kindergarten; I really do send valentines to everyone." — Susie Bright
5. "Heroes are made by the path they choose, not the powers they are graced with." — Iron Man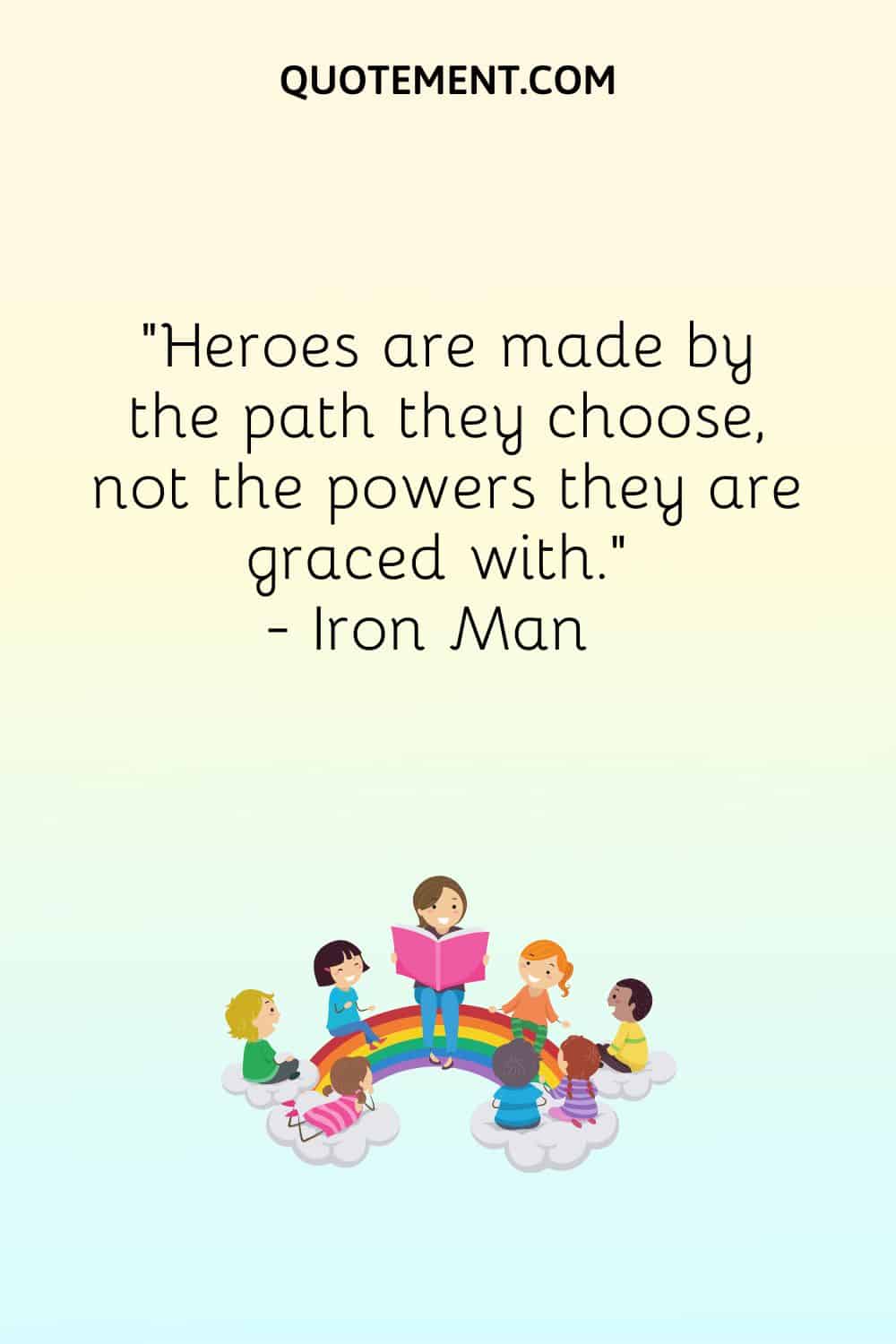 6. "Everything I should know, I figured out in first grade." — unknown
7. "In kindergarten, you can learn how to be a citizen of the world." — Jill Lepore
8. "Be bold, be courageous, be your best." — Gabrielle Giffords
9. "Success is the sum of small efforts, repeated day in and day out." — Robert Collier
10. "We all can dance when we find music we love." — Giles Andreae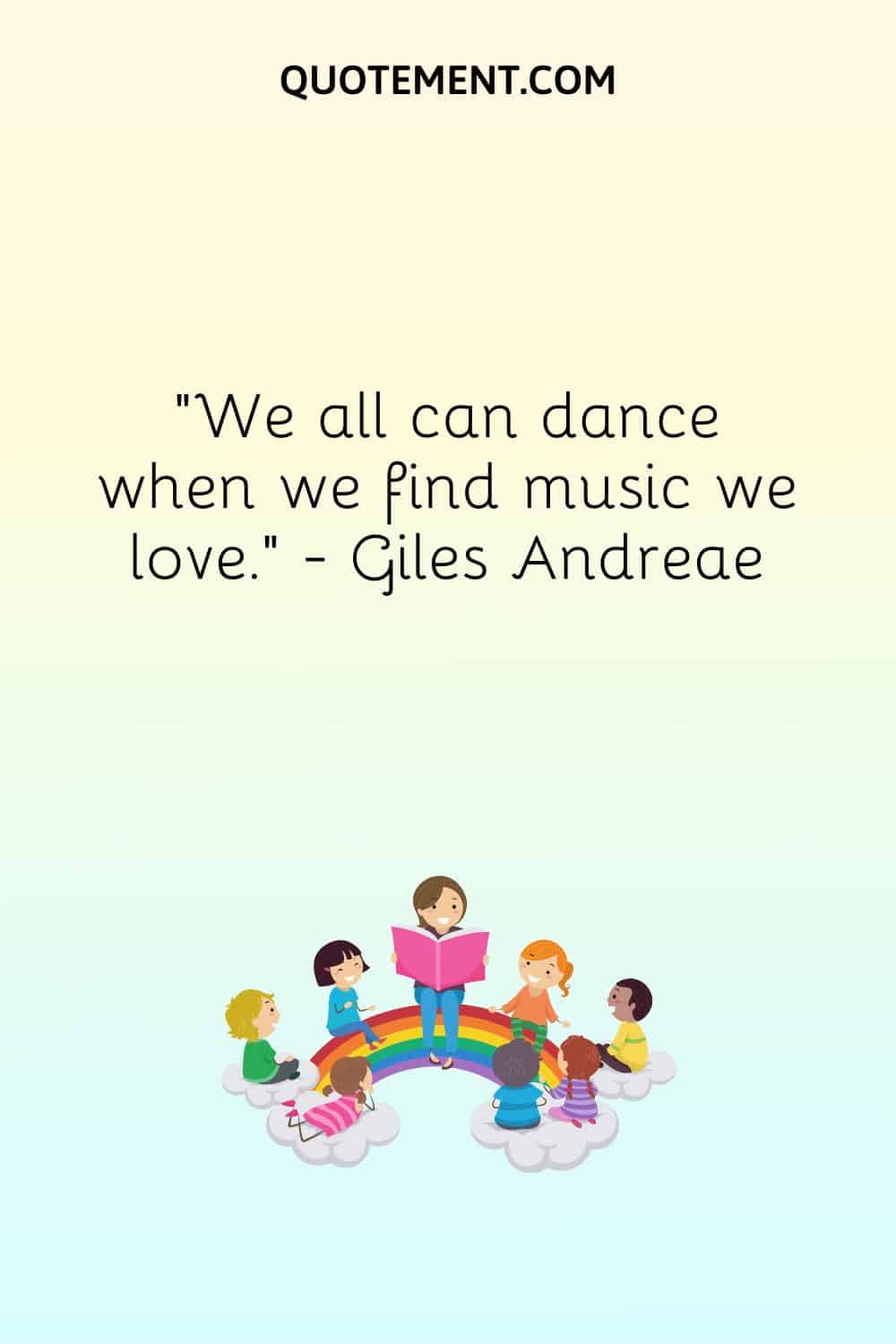 See also: The 280 Best Dance Captions To Awaken The Dancer In You
First Day Of Kindergarten Quotes
Below you'll find a list of kindergarten quotes that talk about the first day of this new life chapter.
1. "You're off to great places. Today is your first day! Your mountain is waiting, so get on your way!" — Dr. Seuss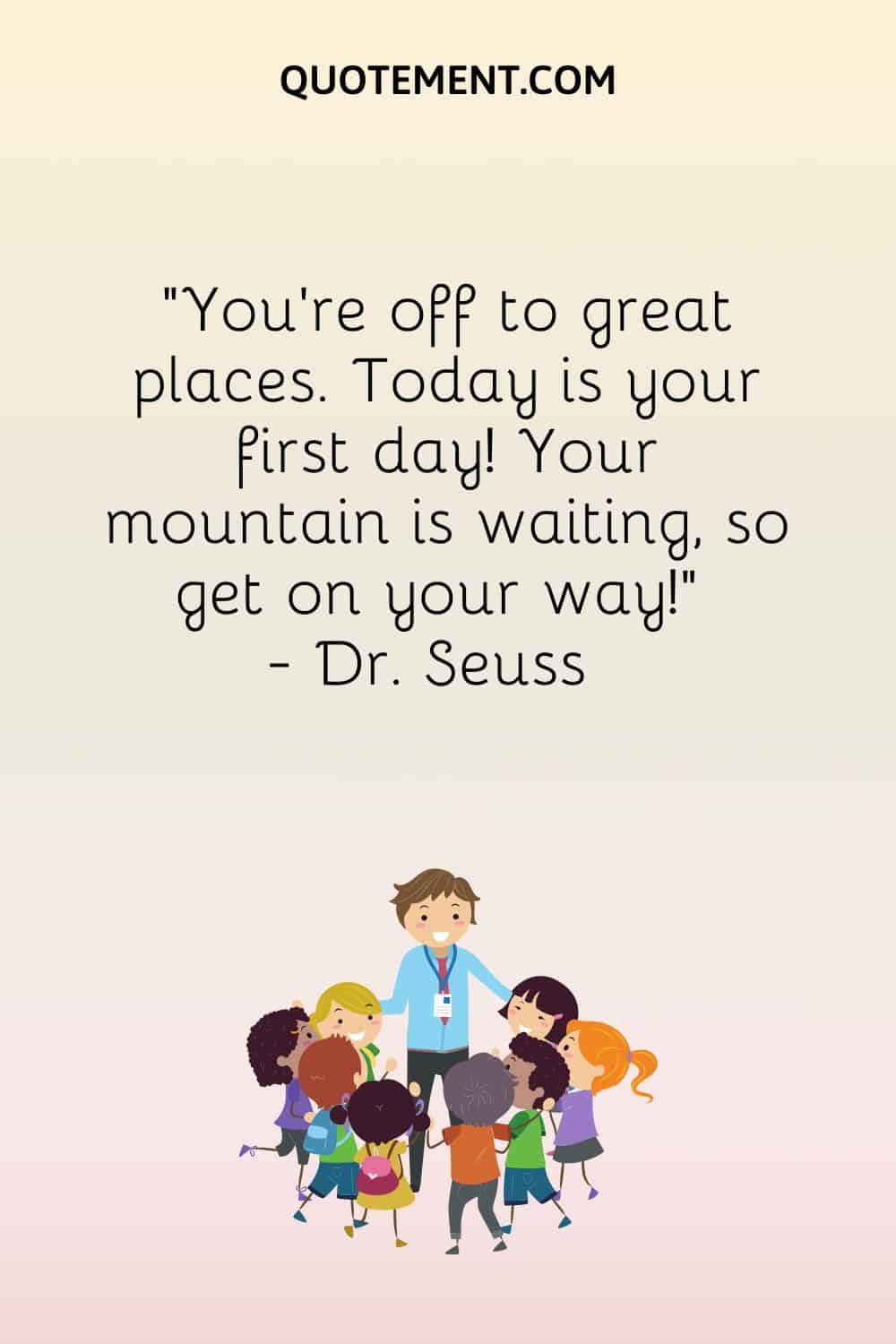 2. "Today is the first day of the rest of your life." — Charles Dederich
3. "The most important day of a person's education is the first day of school, not Graduation Day. " — Harry Wong
4. "Never be bullied into silence. Never allow yourself to be made a victim. Accept no one's definition of your life; define yourself." — Harvey Fierstein
5. "Logic will take you from A to B. Imagination will take you everywhere." — Albert Einstein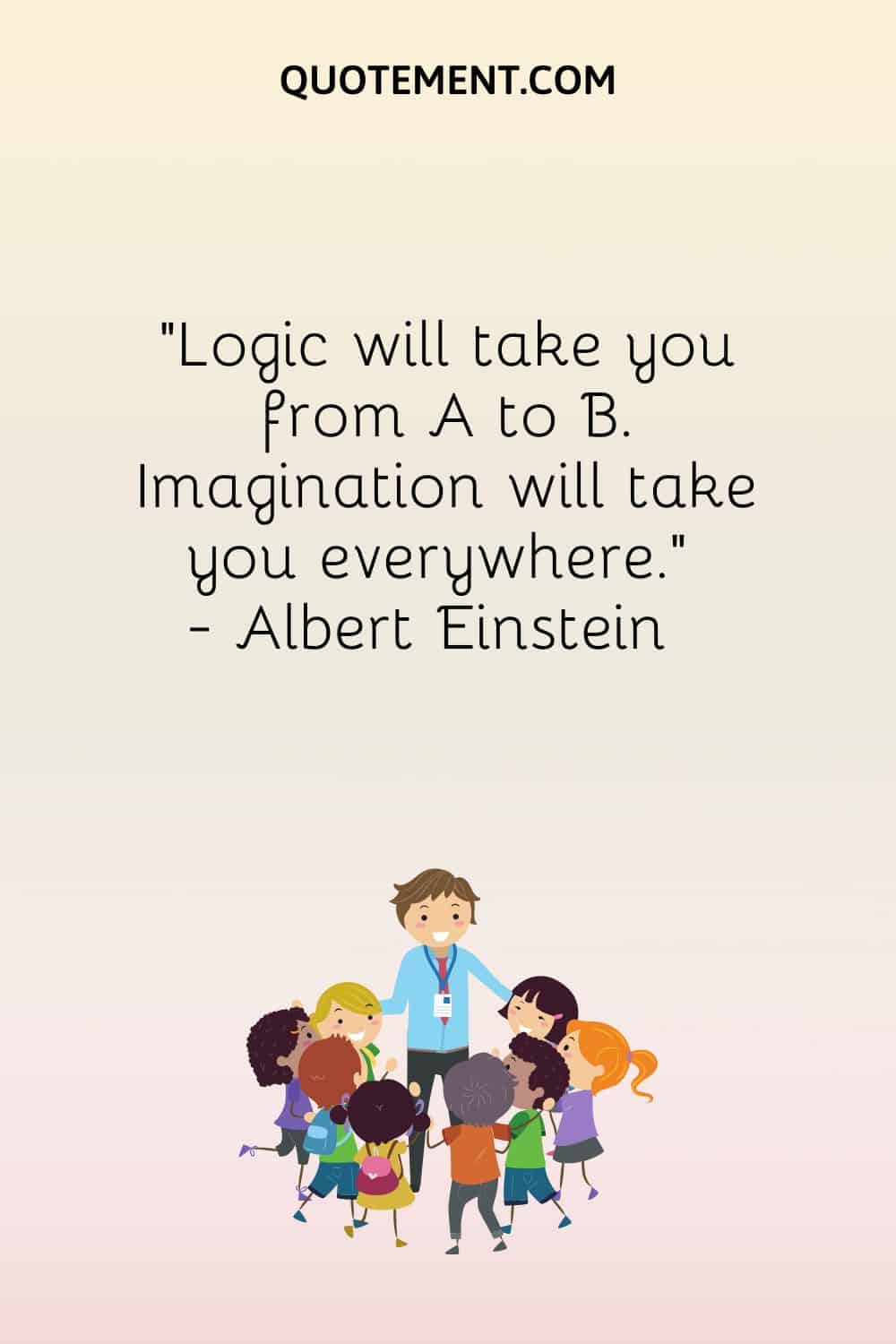 6. "You have brains in your head. You have feet in your shoes. You can steer yourself any direction you choose." — Dr. Seuss
7. "The moment you doubt whether you can fly, you cease forever to be able to do it." — J.M. Barrie (Peter Pan)
8. "Develop a passion for learning. If you do, you will never cease to grow." — Anthony J. D'Angelo
9. "The capacity to learn is a gift; the ability to learn is a skill; the willingness to learn is a choice."— Brian Herbert
10. "Today you are You, that is Truer than true. There is no one alive who is Youer than You!" — Dr. Seuss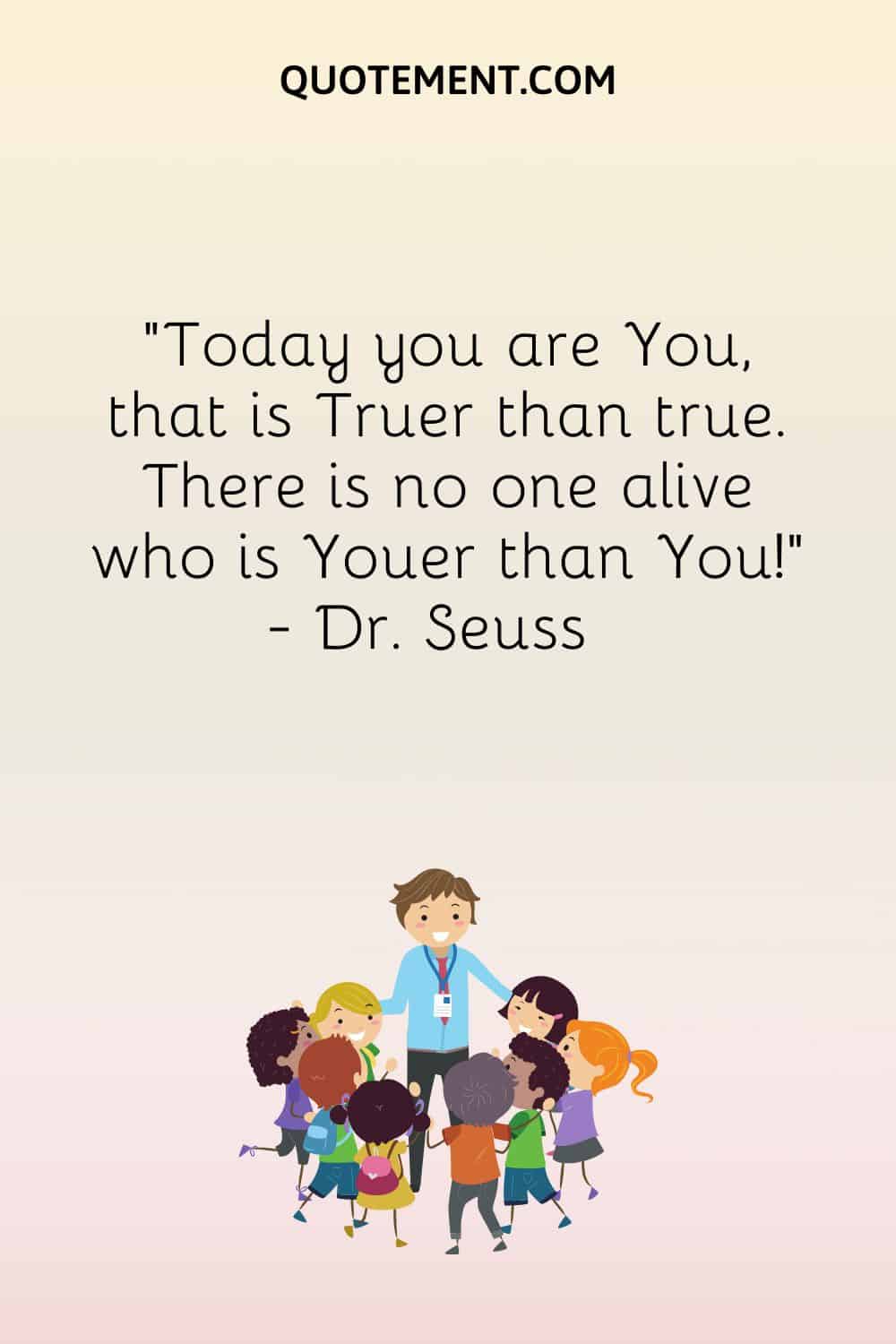 11. "It is time for parents to teach young people early on that in diversity there is beauty and there is strength." — Maya Angelou
12. "Since the jobs that our preschoolers will do probably don't exist yet, our priority is to teach them the skills to adapt and inquire and question and cooperate…life skills. So much more useful than rigid concepts such as the alphabet." — Caroline Bellouse
13. "I felt like the first day of school or something. My heart was beating a little faster, my anticipation was building up. It was like the first day of school when you go to kindergarten or something." — Carlos Boozer
14. "Never give up on what you really want to do. The person with big dreams is more powerful than one with all the facts." — Albert Einstein
15. "Rise and shine, because now it's your time." ― Anup Patel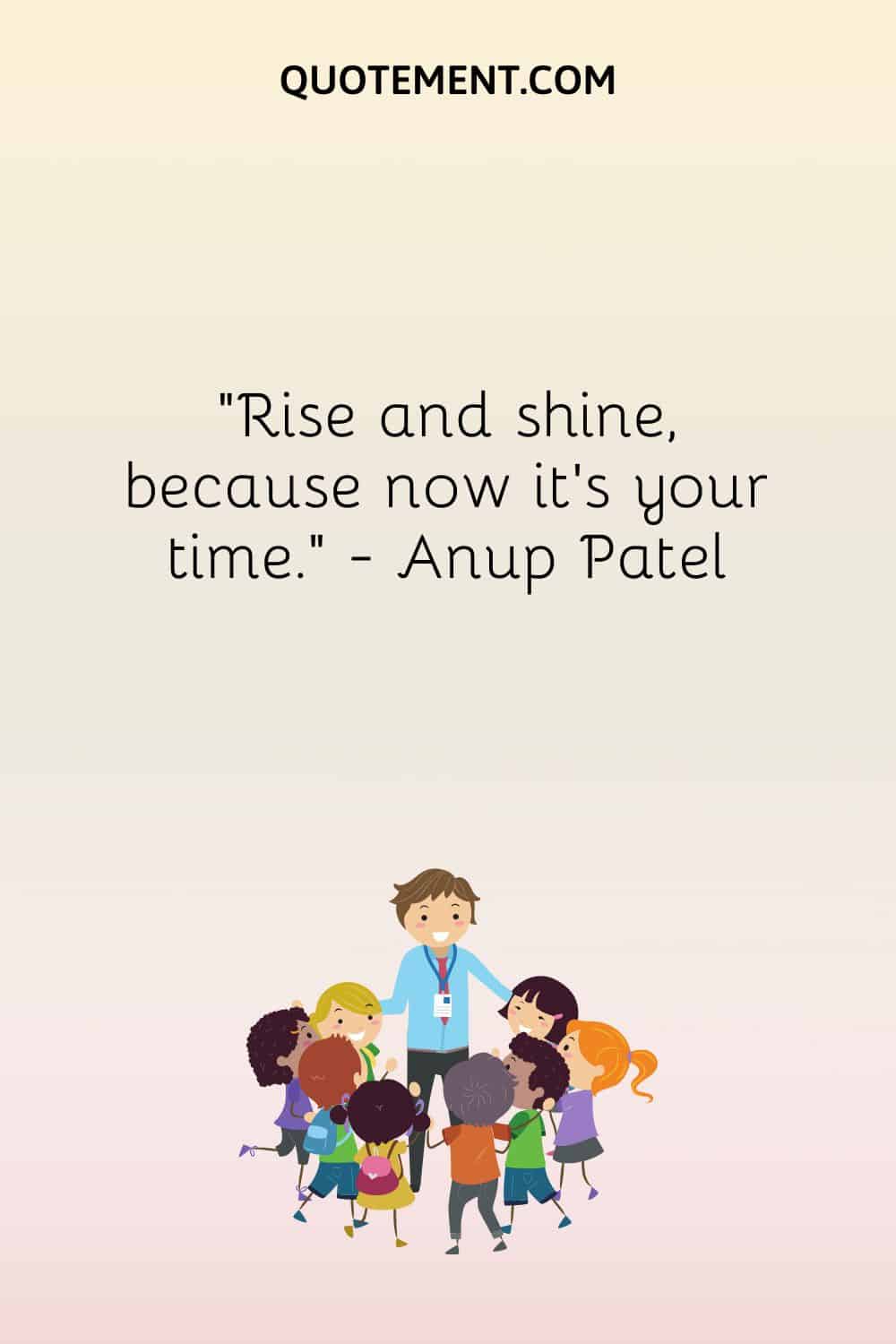 See also: 120 Most Powerful Rise And Shine Quotes To Inspire You
Inspirational Kindergarten Quotes For Parents
If you're a proud parent of a kiddo who's joining kindergarten, these kindergarten quotes are for you.
1. "They may forget what you said, but they will not forget how you made them feel." — Carl Buechner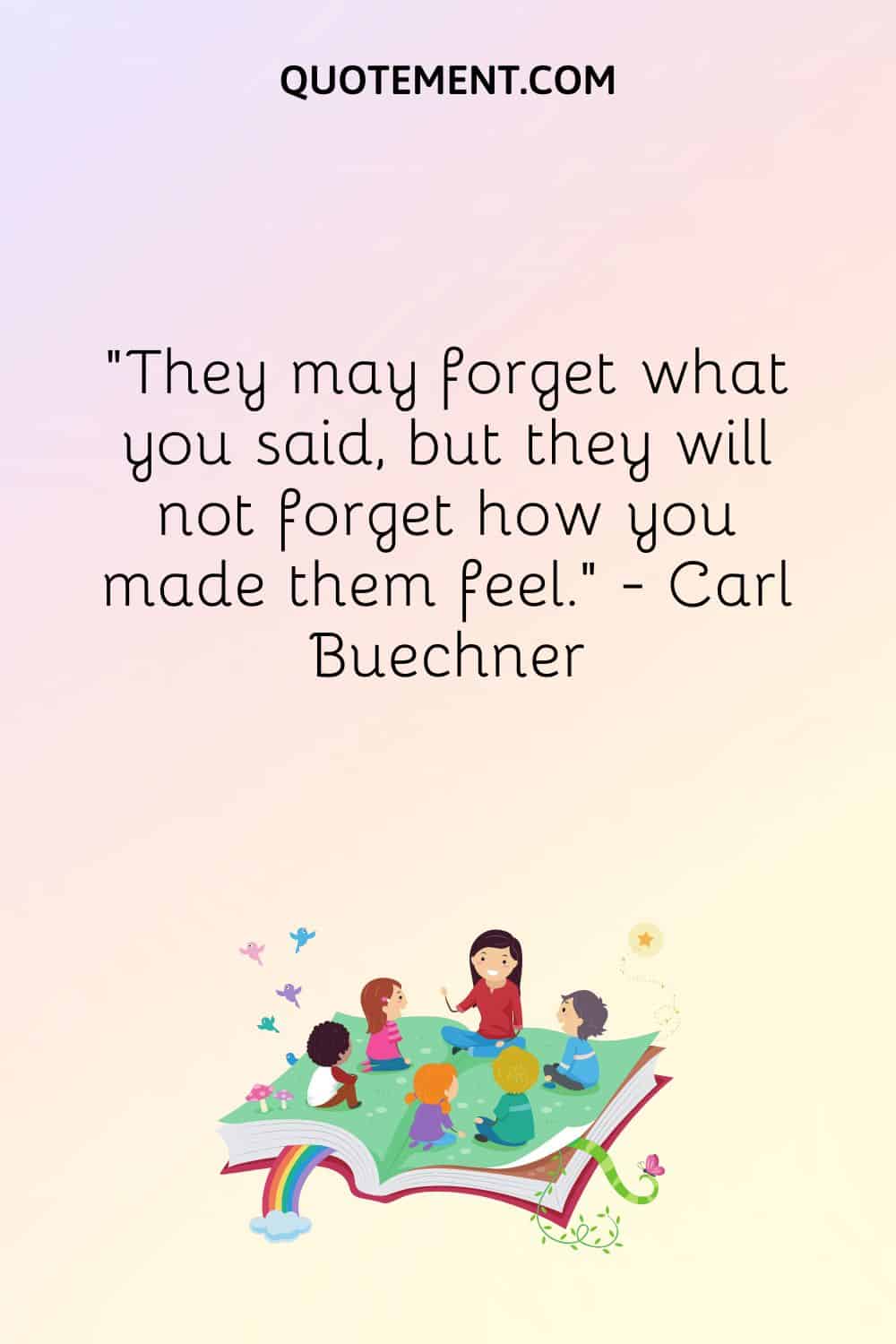 2. "Children are likely to live up to what you believe of them" — Lady Bird Johnson
3. "Don't just teach your kids to read, teach them to question what they read. Teach them to question everything." ― George Carlin
See also: 120 Reading Quotes For Kids That'll Impress Adults Too
4. "If you want your children to be intelligent, read them fairy tales. If you want them to be more intelligent, read them more fairy tales." ― Albert Einstein
5. "The greatest gifts you can give your children are the roots of responsibility and the wings of independence." — Denis Waitley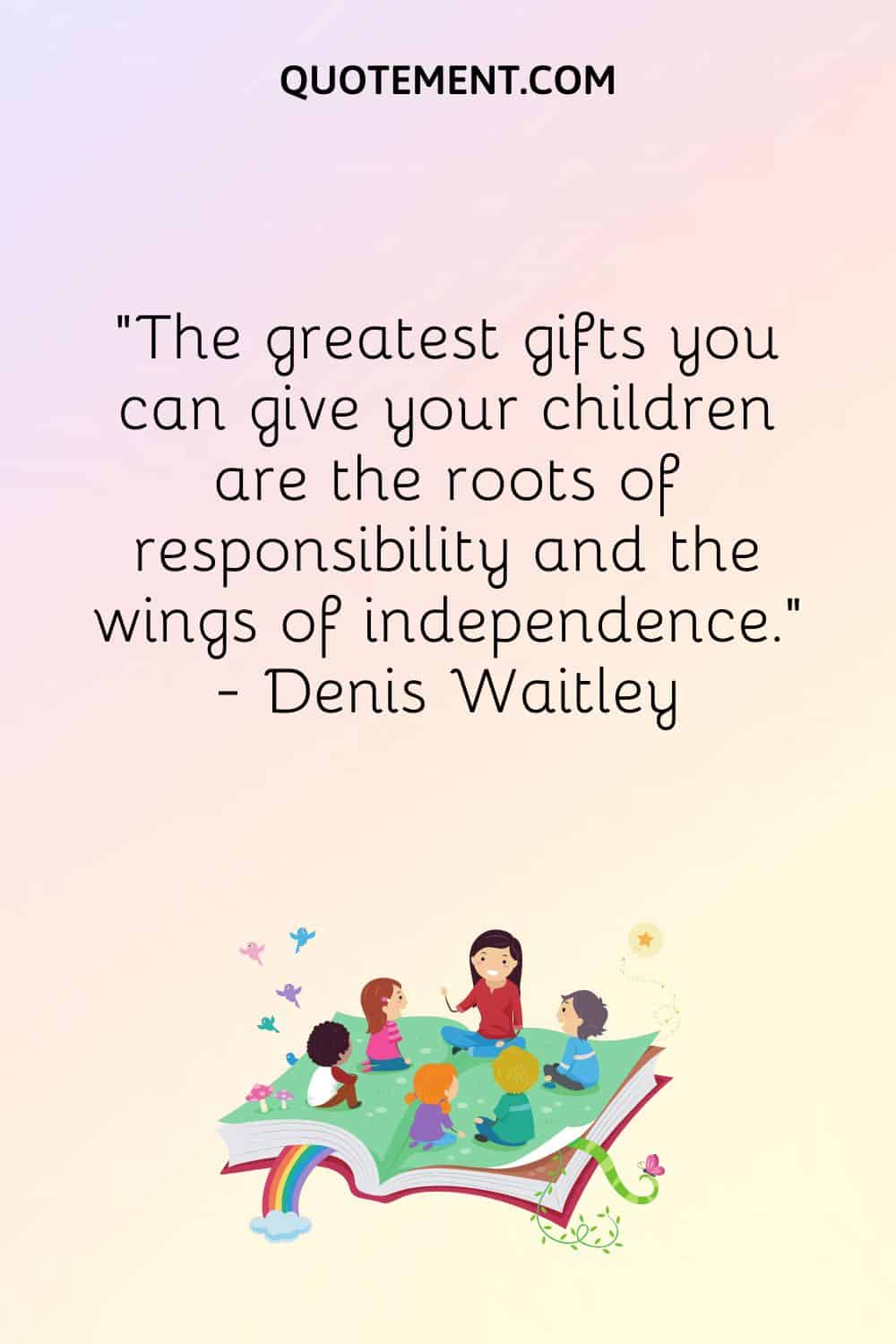 6. "Speak to your children as if they are the wisest, kindest, most beautiful and magical humans on earth, for what they believe is what they'll become." — Brooke Hampton
7. "We need to reframe our way of thinking. We shouldn't be thinking will Johnny be ready for Kindergarten. Instead, we should be asking will his new school be ready for him?" ― Jill Telford
8. "Every day, in a hundred small ways, our children ask, 'Do you hear me? Do you see me? Do I matter?' Their behavior often reflects our response." — L.R. Knost
9. "If a child is poor in math but good at tennis, most people would hire a math tutor. I would rather hire a tennis coach." — Deepak Chopra
10. "If children feel safe, they can take risks, ask questions, make mistakes, learn to trust, share their feelings, and grow." — Alfie Kohn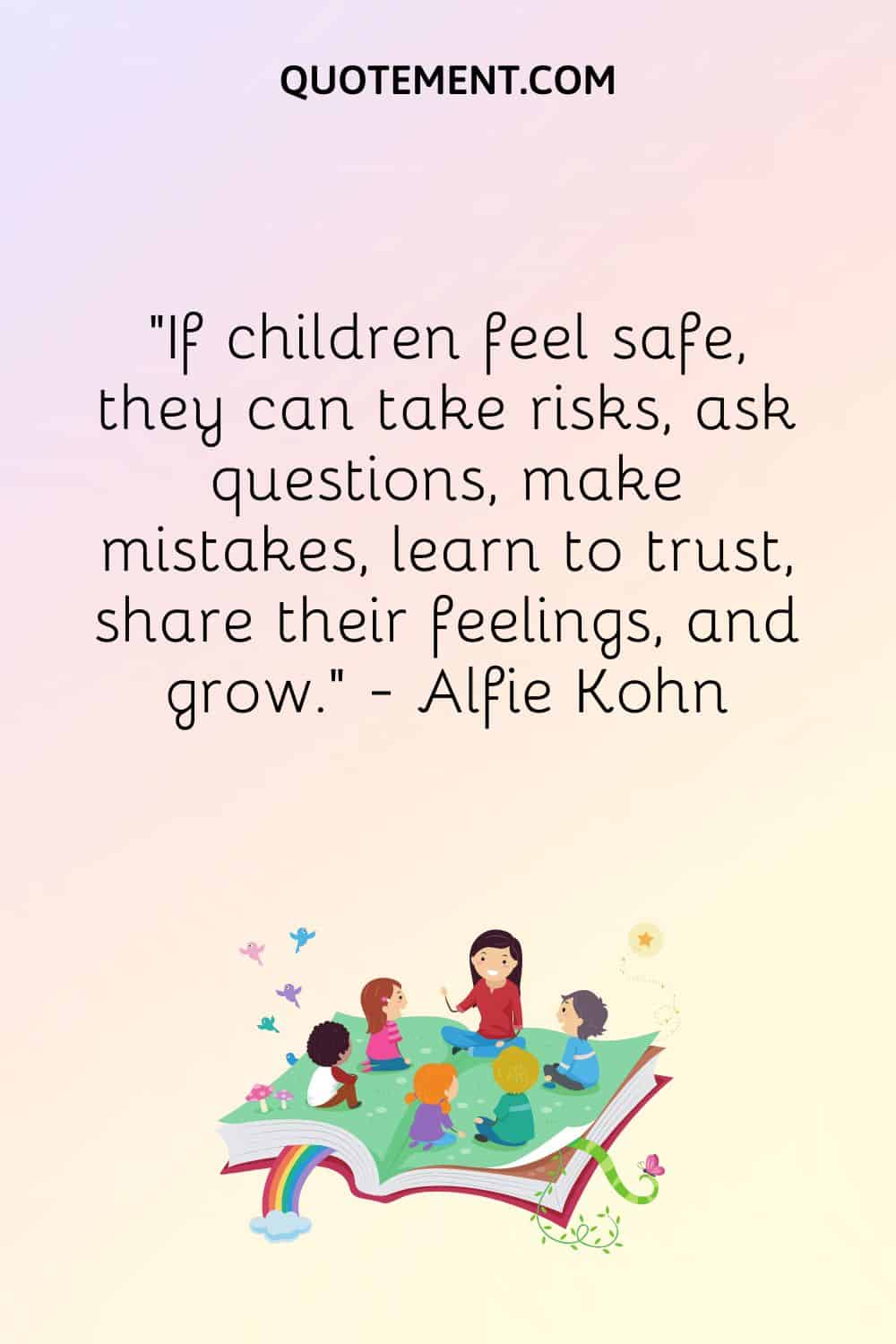 11. "A child must know that he is a miracle, that since the beginning of the world there hasn't been, and until the end of the world there will not be, another child like him." — Pablo Casals
12. "Children don't need much advice, but they really do need to be listened to and not just with half an ear." — Emma Thompson
13. "Experts tell us that 90% of all brain development occurs by the age of five. If we don't begin thinking about education in the early years, our children are at risk of falling behind by the time they start Kindergarten." ― Bob Ehrlich
14. "Children are not a distraction from more important work. They are the most important work." — C.S. Lewis
15. "Children do not need us to shape them. They need us to respond to who they are." — Naomi Aldort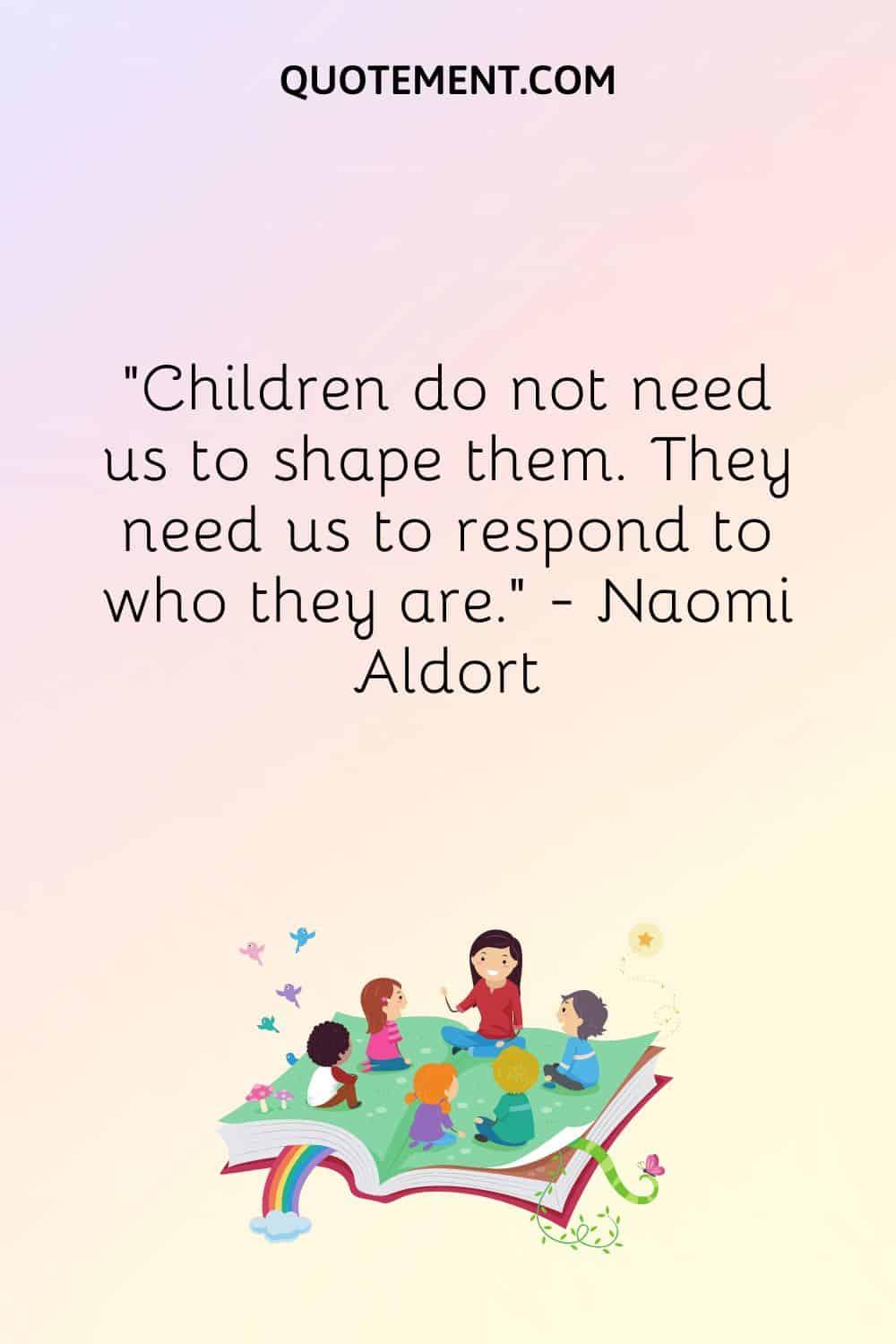 See also: 60 Best Parenting Quotes For Hard Times To Inspire You
Beautiful Quotes For Kindergarten Teachers
Being a teacher is one of the most difficult and responsible jobs, but the noblest one too.
If you're a teacher, check out these teacher quotes to find inspiration and motivation.
1. "The teacher's task is to initiate the learning process and then get out of the way." — John Warren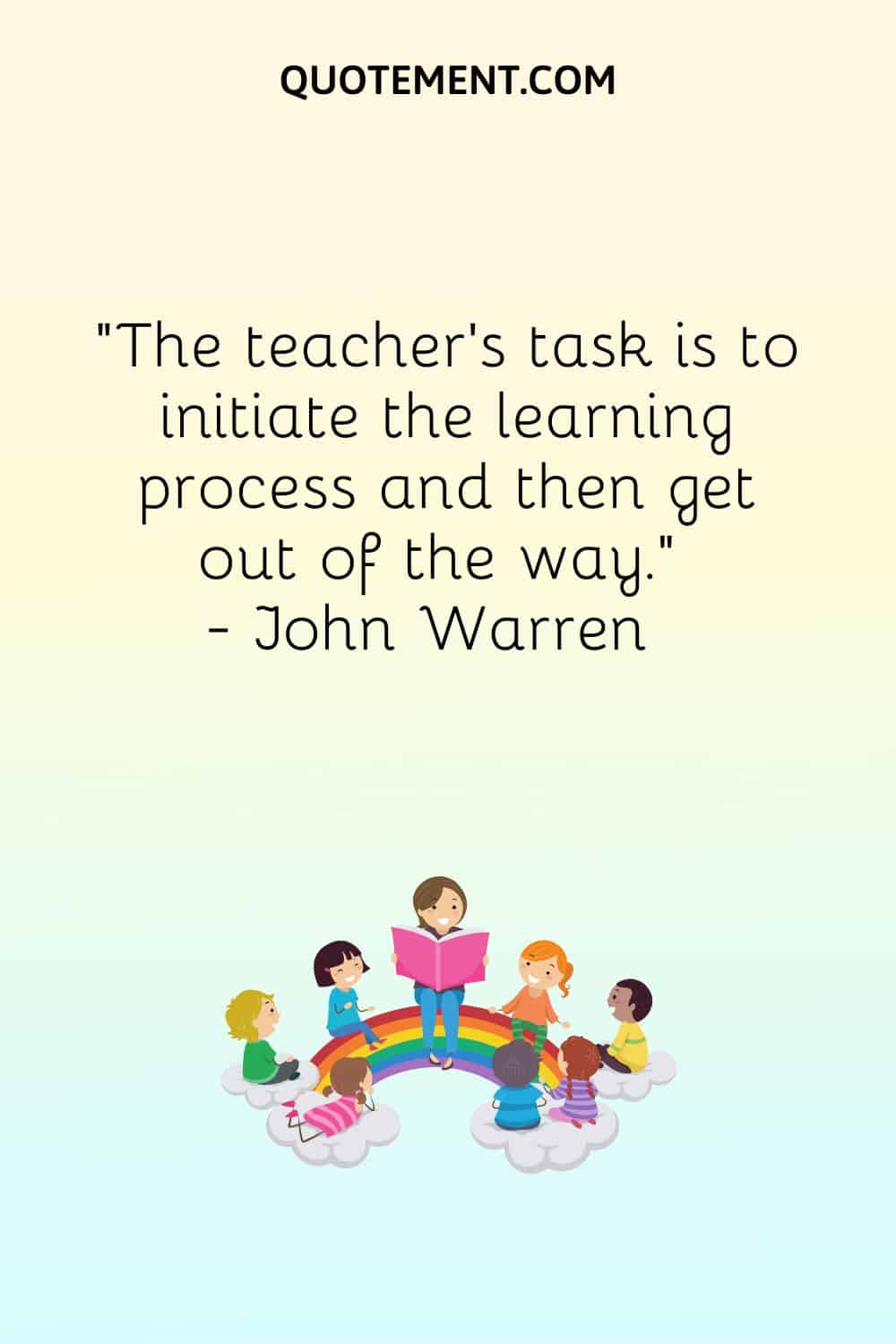 2. "A fool thinks himself to be wise, but a wise man knows himself to be a fool." — William Shakespeare
3. "True pedagogues put their pupils on the first place." — unknown
4. "If a child can't learn the way we teach, maybe we should teach the way they learn." — Ignacio Estrada
5. "The kindergarten children are confident in spirit, infinite in resources, and eager to learn. Everything is still possible." — Robert Fulghum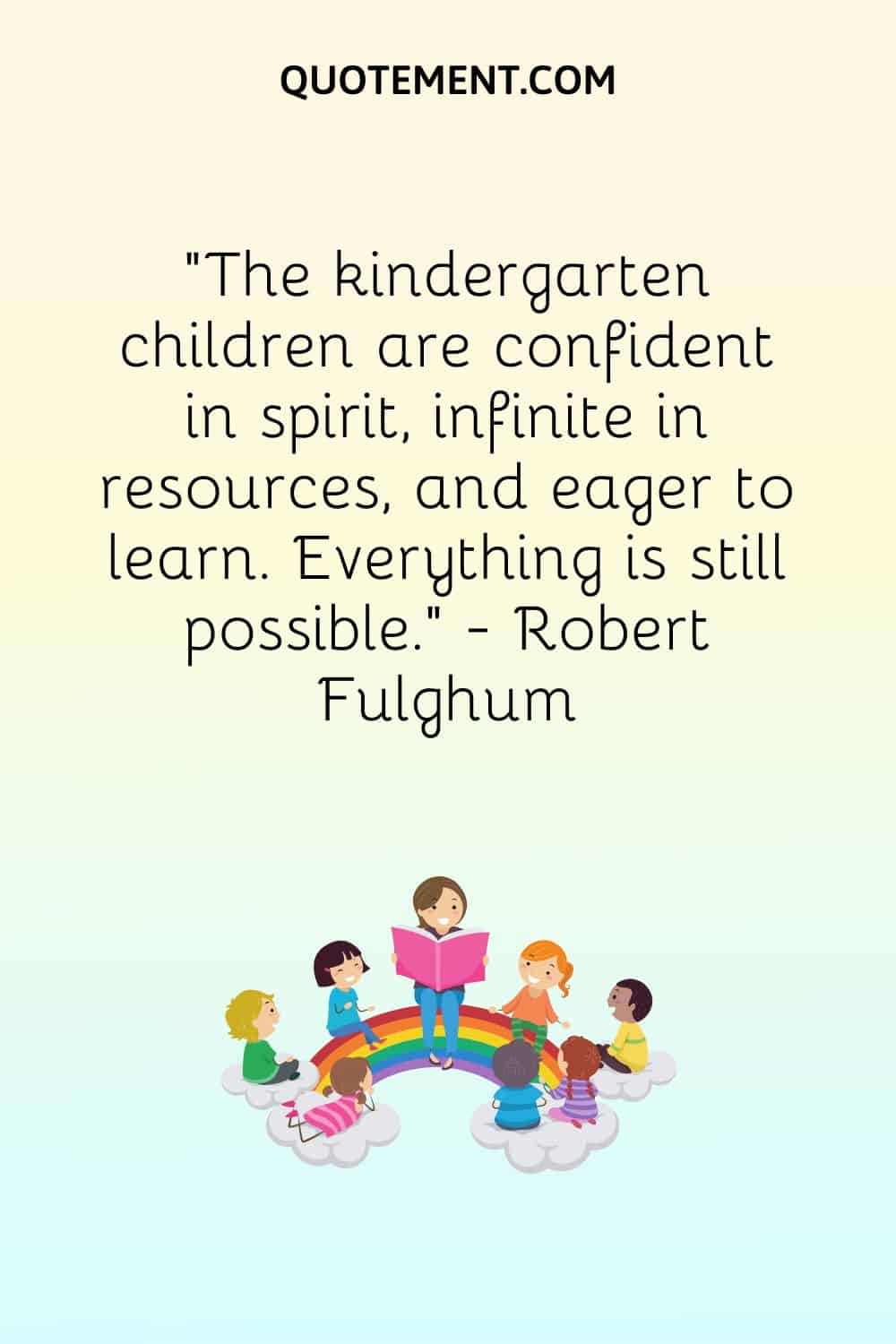 6. "Those seeing the lion tamer in the cage with six beasts are in awe. Kindergarten teachers are exempt from this rule. This joke captures the essence of what it is like to be a kindergarten teacher." — unknown
7. "A good teacher must be able to put himself in the place of those who find learning hard." ― Eliphas Levi
8. "In teaching you cannot see the fruit of a day's work. It is invisible and remains so, maybe for twenty years." — Jacques Barzun
9. "Teaching is not about answering questions but about raising questions — opening doors for them in places that they could not imagine." — Yawar Baig
10. "It is the supreme art of the teacher to awaken joy in creative expression and knowledge." — Albert Einstein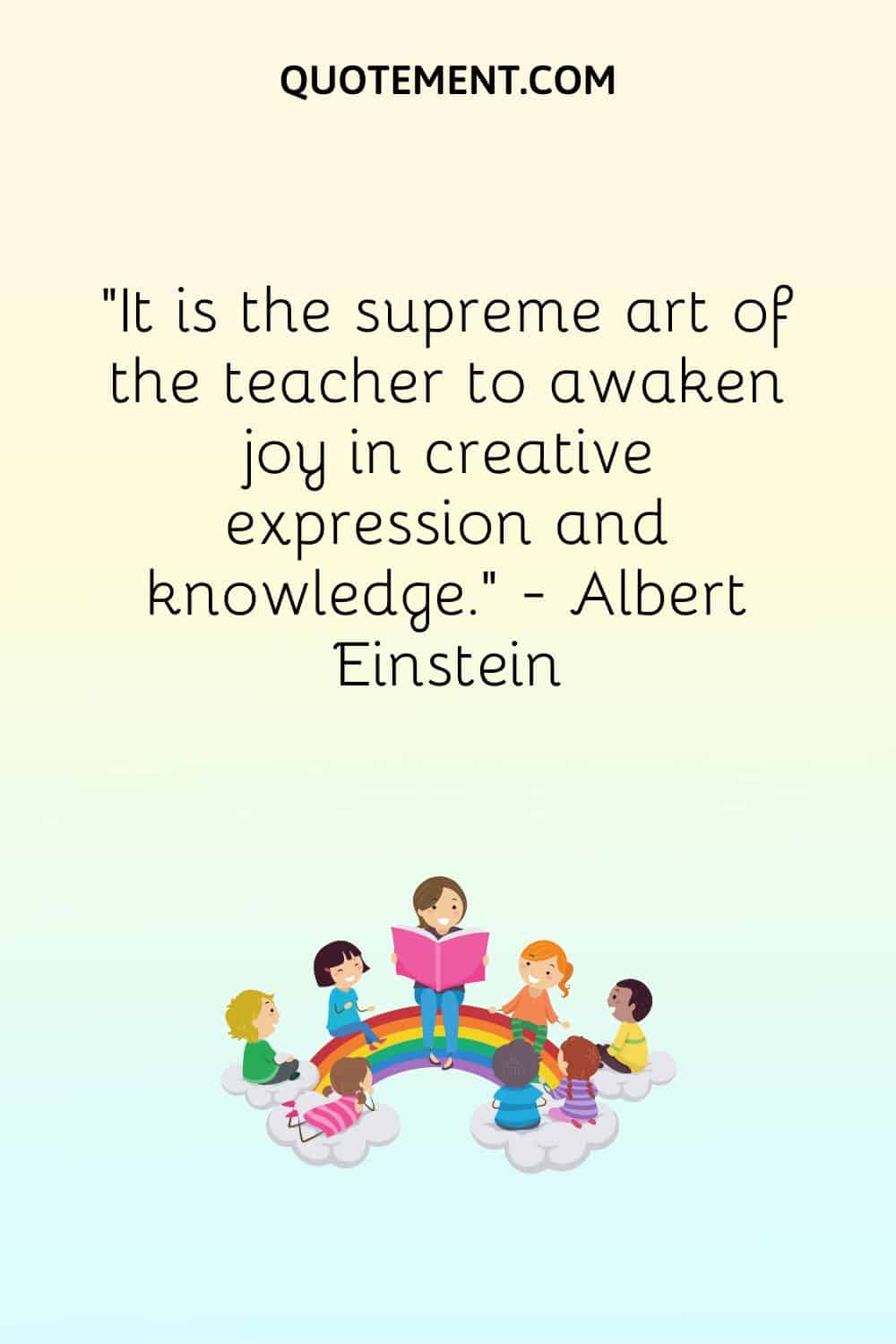 11. "Education … is a painful, continual, and difficult work to be done in kindness, by watching, by warning … by praise, but above all, by example." — John Ruskin
12. "If you really want to know about the future, don't ask a technologist, a scientist, or a physicist. No! Don't ask somebody who's writing code. No, if you want to know what society's going to be like in 20 years, ask a kindergarten teacher." — Clifford Stoll
13. "You can teach a student a lesson for a day; but if you can teach him to learn by creating curiosity, he will continue the learning process as long as he lives." — Clay P. Bedford
14. "Teaching is an instinctual art, mindful of potential, craving of realizations, a pausing, seamless process." — A. Bartlett Giamatti
15. "A teacher affects eternity; he can never tell where his influence stops." — Henry Adams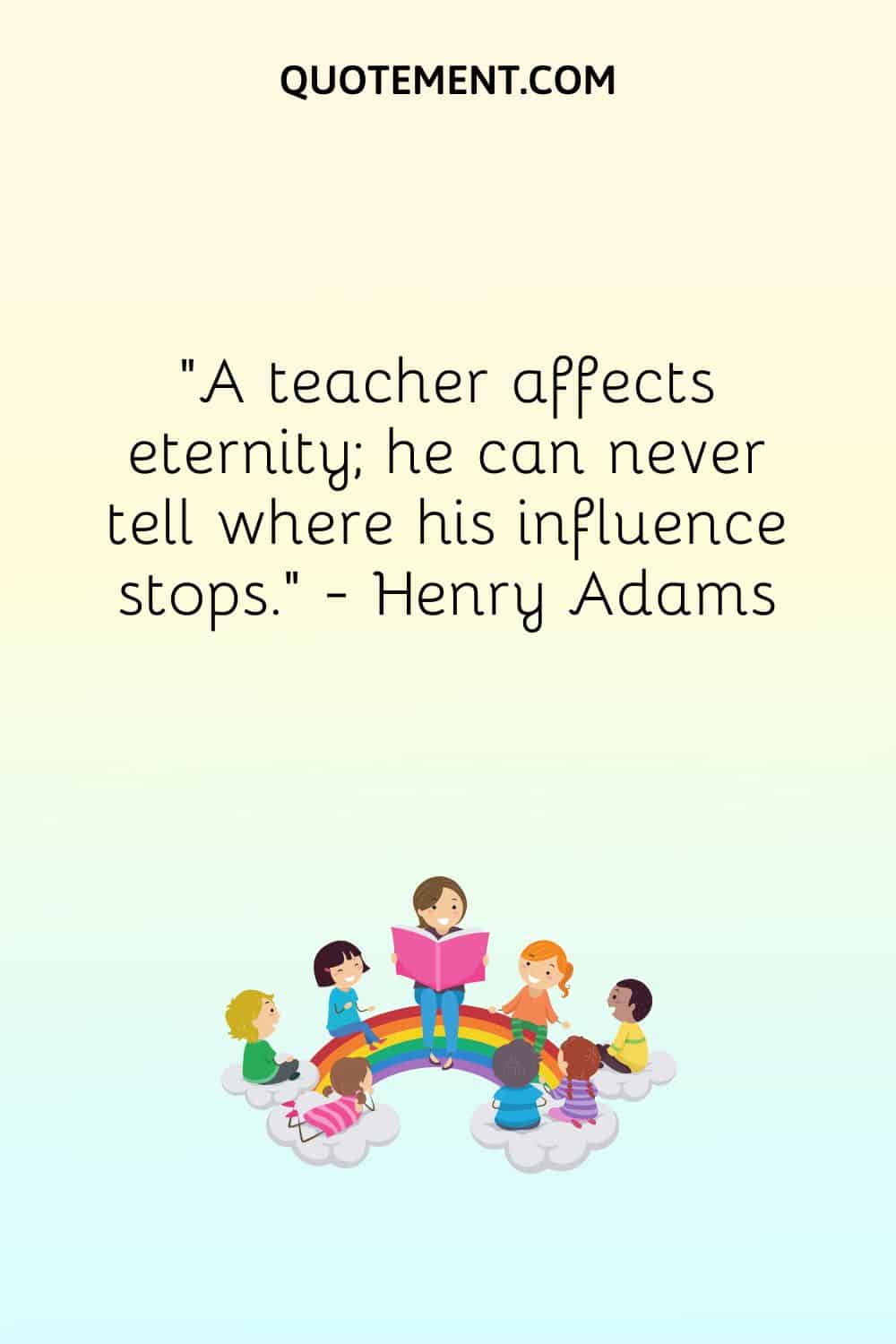 See also: 110 Heart Touching Quotes For Teachers To Celebrate Them
Kindergarten Graduation Quotes
Kindergarten graduation is so important because it symbolizes a start of a new life chapter, where kids are welcomed into the world of adults.
Here are some incredible kindergarten quotes perfect for little graduates.
1. "Education is the most powerful weapon which you can use to change the world." — Nelson Mandela
2. "A positive attitude can really make dreams come true — it did for me." — David Bailey
3. "Don't just read the easy stuff. You may be entertained by it, but you will never grow from it." — Jim Rohn
4. "Make each day your masterpiece." — John Wooden
5. "Yesterday is history. Tomorrow is a mystery. Today is a gift. That's why we call it 'The Present.'" — Eleanor Roosevelt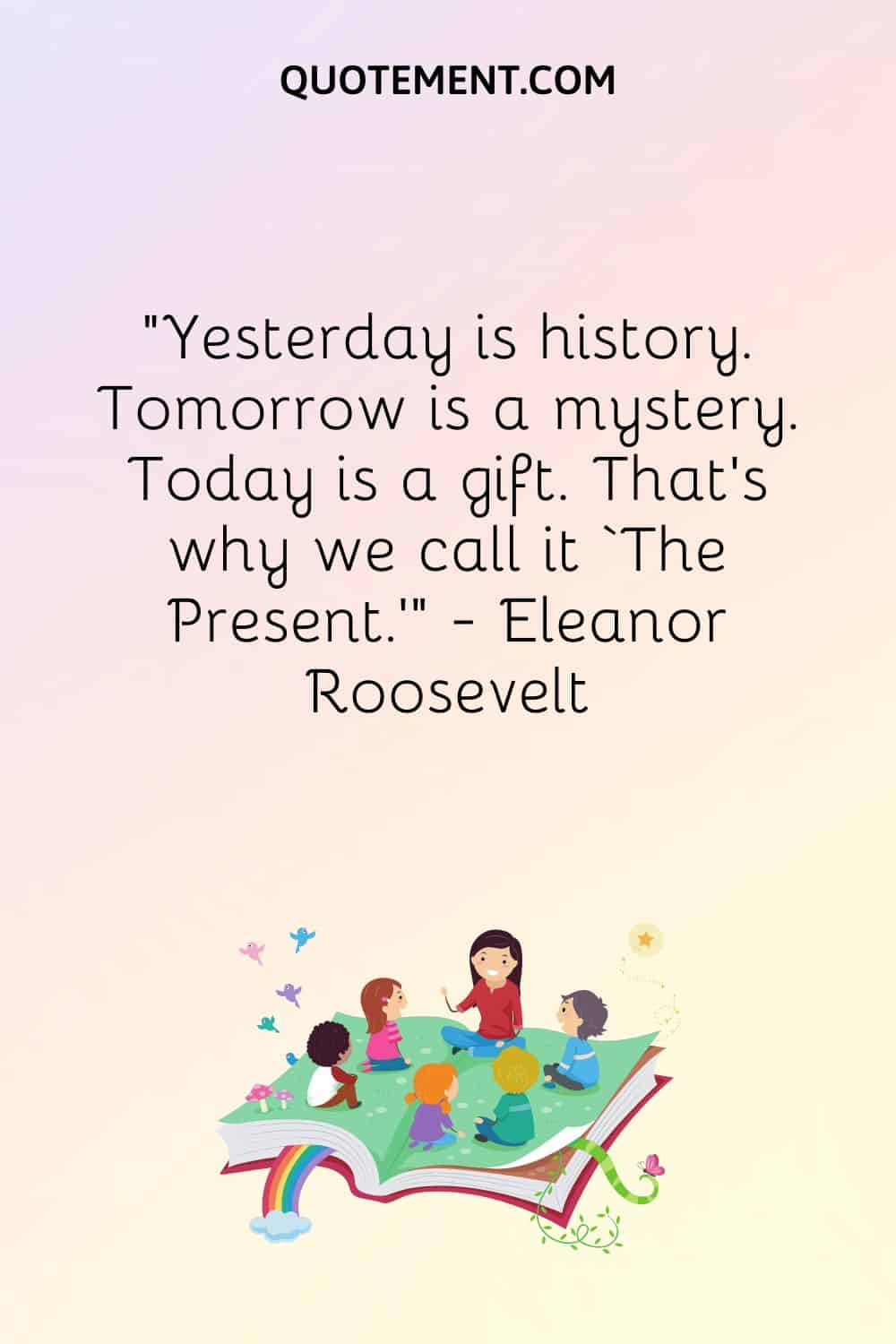 6. "Your life is your story, and the adventure ahead of you is the journey to fulfill your own purpose and potential." — Kerry Washington
7. "From kindergarten to graduation, I went to public schools, and I know that they are a key to being sure that every child has a chance to succeed and to rise in the world." — Dick Cheney
8. "Reach high, for stars lie hidden in your soul. Dream deep, for every dream precedes the goal." — Pamela Vaull Starr
9. "Education … is a painful, continual, and difficult work to be done in kindness, by watching, by warning … by praise, but above all, by example." — John Ruskin
10. "Winning doesn't always mean being first. Winning means you're doing better than you've done before." — Bonnie Blair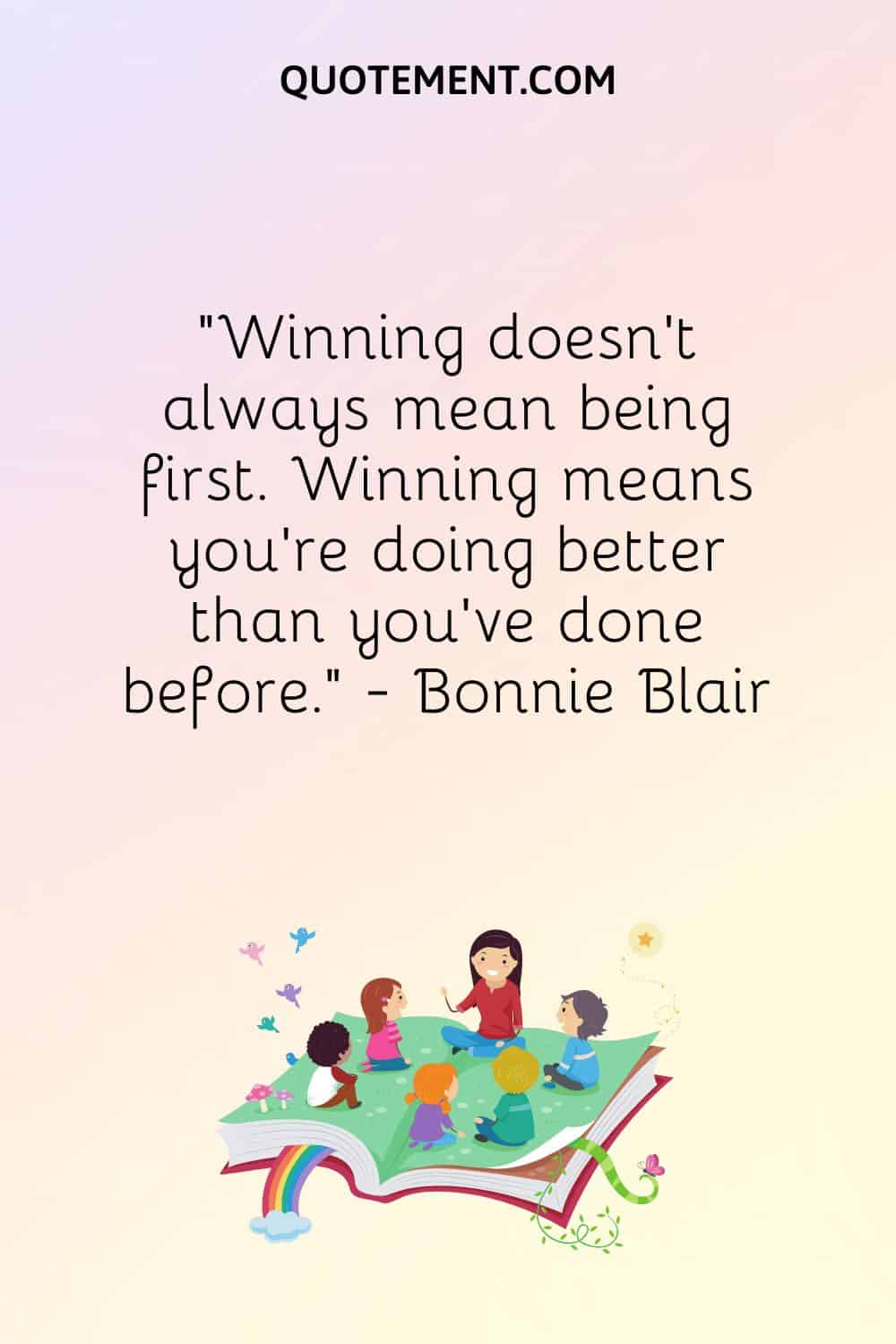 11. "Loving ourselves allows us to show up in the world so we can love others, uplift others, and make the world a more loving place." — Troy L. Love
12. "Twenty years from now, you will be more disappointed by the things that you didn't do than by the ones you did do. So throw off the bowlines. Sail away from the safe harbor. Catch the trade winds in your sails. Explore. Dream. Discover." — H. Jackson Brown, Jr.
13. "One of the first times I ever performed in front of a big group of people was at my kindergarten graduation. I did, like, a Michael Jackson impersonation as, like, a five-year-old. I had the suit and blazer, the glove and the fedora, and I just performed a whole Michael Jackson song. I'm sure it was 'Smooth Criminal." — Chance the Rapper
14. "It happens to everyone as they grow up. You find out who you are and what you want, and then you realize that people you've known forever don't see things the way you do. So you keep the wonderful memories but find yourself moving on." — Nicholas Sparks
15. "Many of life's failures are people who did not realize how close they were to success when they gave up." — Thomas Edison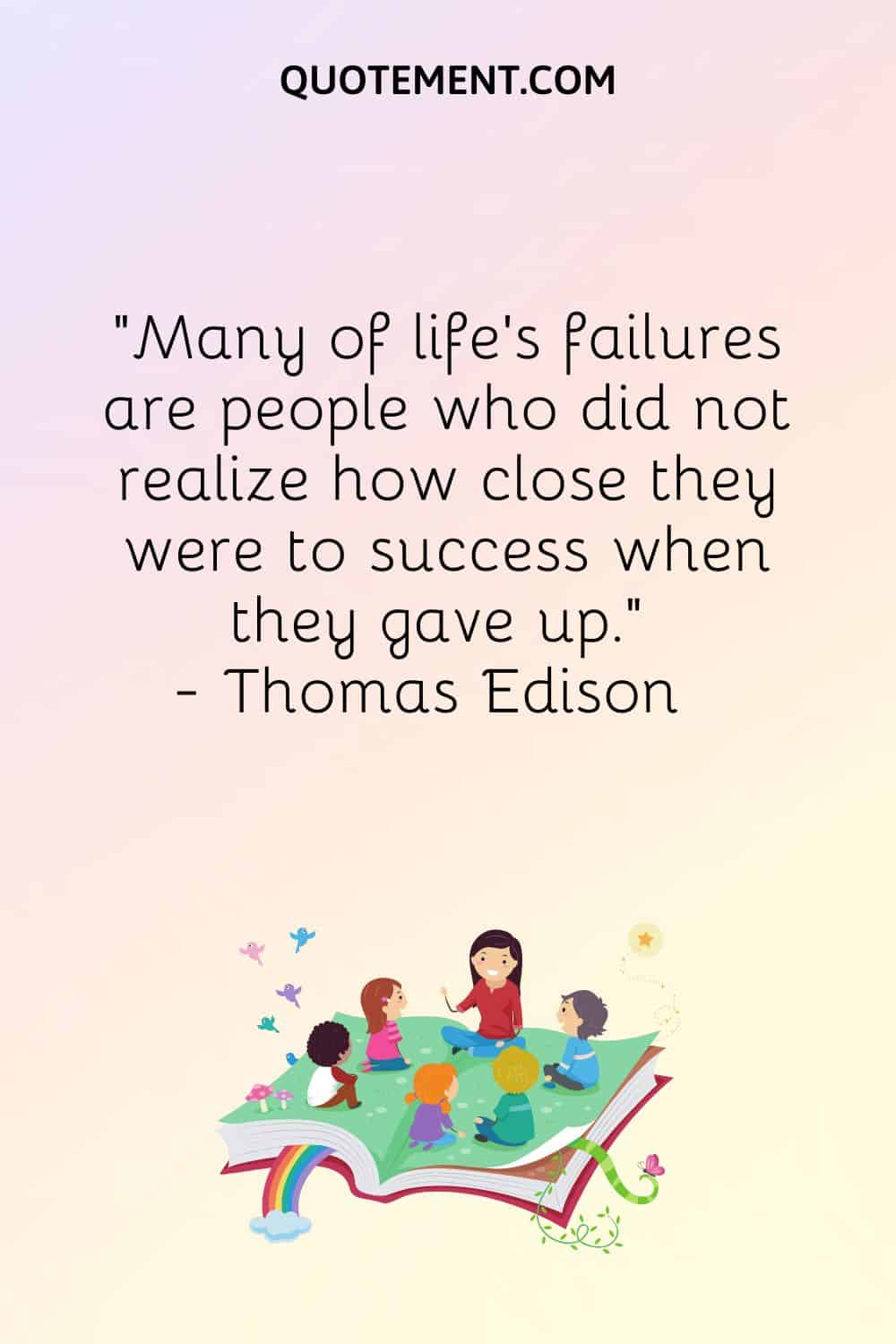 See also: 220 Best Proverbs About Success To Give You Inspiration
Final Words
Thanks for stopping by and checking my collection of kindergarten quotes. I hope you enjoyed it and hope to see you soon.P.S. What's your favorite quote? Let me know in the comments section below!