Have you been searching for some unique and heart touching quotes for teachers?
Well, your search is over because I've gathered the very best quotes for your favorite teacher right here in this article!
We all know how important their role is in society, which is why it's important to thank them for all that they do for us and our children!
A good teacher isn't only a teacher, they're a superhero!
They have the ability to change our lives by inspiring and encouraging us to become the best versions of ourselves.
Not just anyone can do that.
So, let's celebrate a great teacher whenever we can!
Check out this fabulous collection to inspire you to show your appreciation!
Top 10 Heart Touching Quotes For Teachers
First let's take a look at my top 10 quotes for teacher heroes:
1. "Whoever first coined the phrase 'you're the wind beneath my wings' most assuredly was reflecting on the sublime influence of a very special teacher." – Frank Trujillo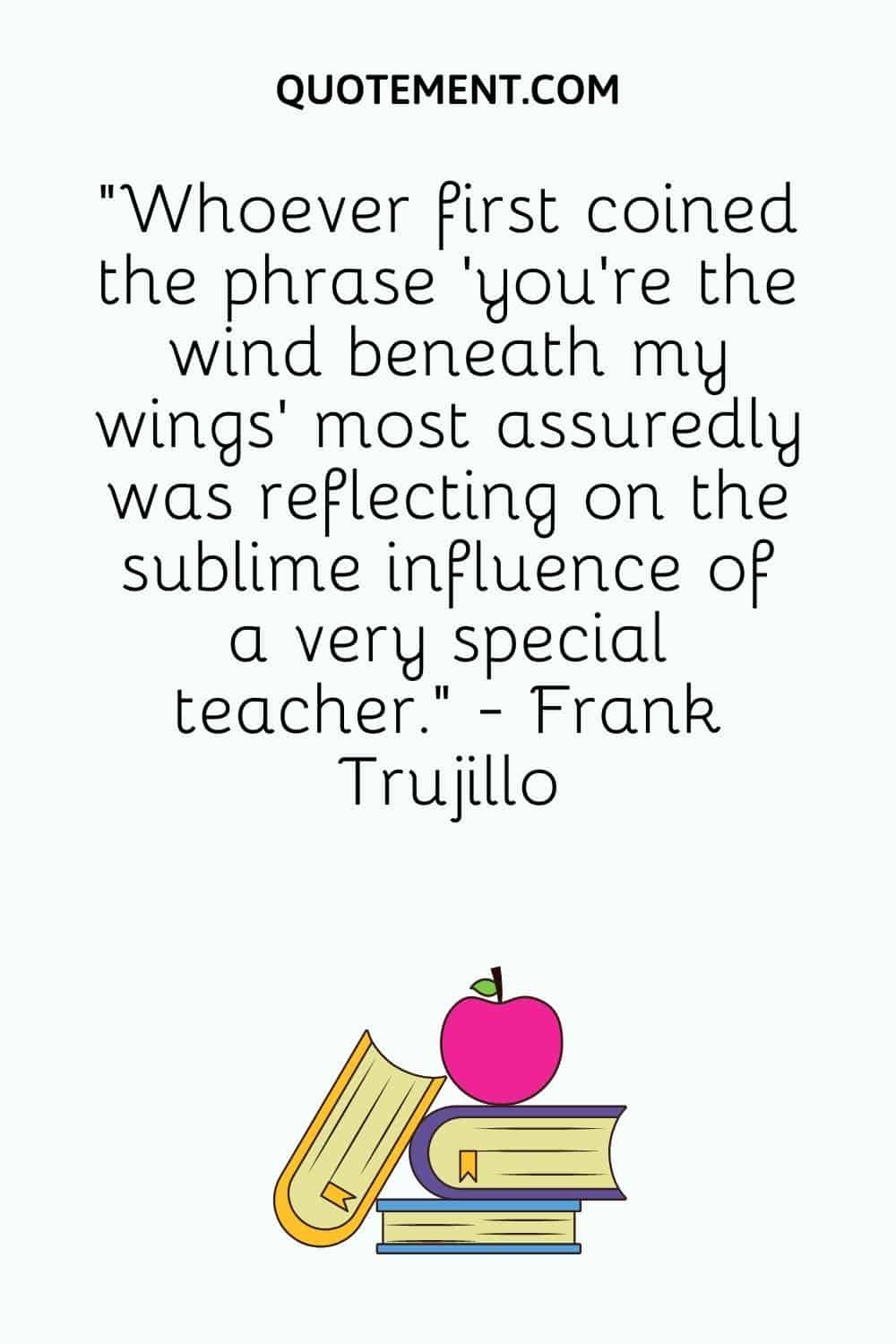 2. "If you have to put someone on a pedestal, put teachers. They are society's heroes." – Guy Kawasaki
3. "Your heart is slightly bigger than the average human heart, but that's because you're a teacher." – Aaron Bacall
4. "I have come to believe that a great teacher is a great artist and that there are as few as there are any other great artists. It might even be the greatest of the arts since the medium is the human mind and spirit." – John Steinbeck
5. "Ideal teachers are those who use themselves as bridges over which they invite their students to cross, then having facilitated their crossing, joyfully collapse, encouraging them to create bridges of their own." – Nikos Kazantzakis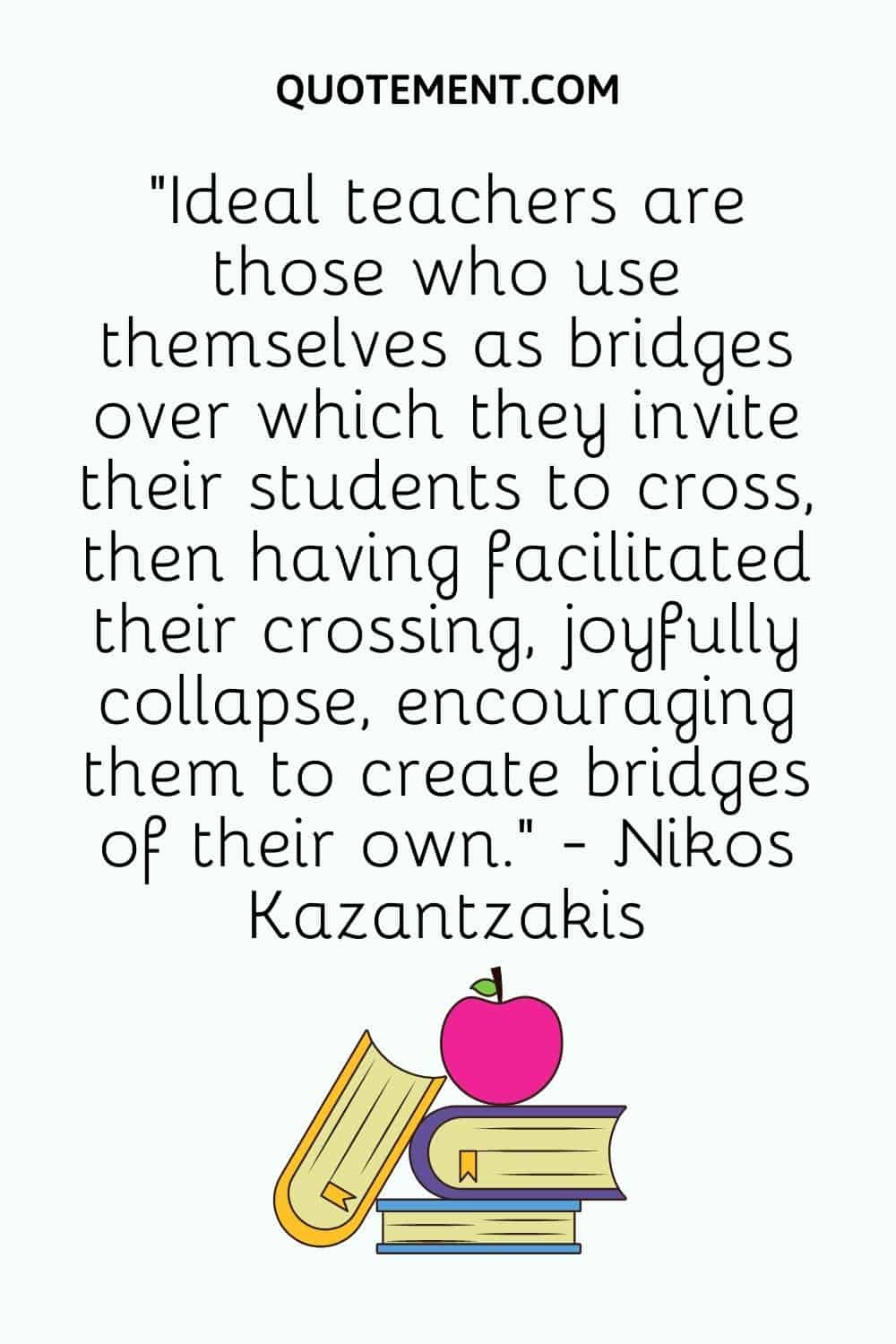 6. "A good teacher can inspire hope, ignite the imagination, and instill a love of learning." – Brad Henry Love
7. "Teachers can change lives with just the right mix of chalk and challenges." – Joyce Meyer
8. "I put the relation of a fine teacher to a student just below the relation of a mother to a son." – Thomas Wolfe
9. "Anyone who does anything to help a child in his life is a hero to me." – Fred Rogers
10. "One looks back with appreciation to the brilliant teachers, but with gratitude to those who touched our human feelings." – Carl Jung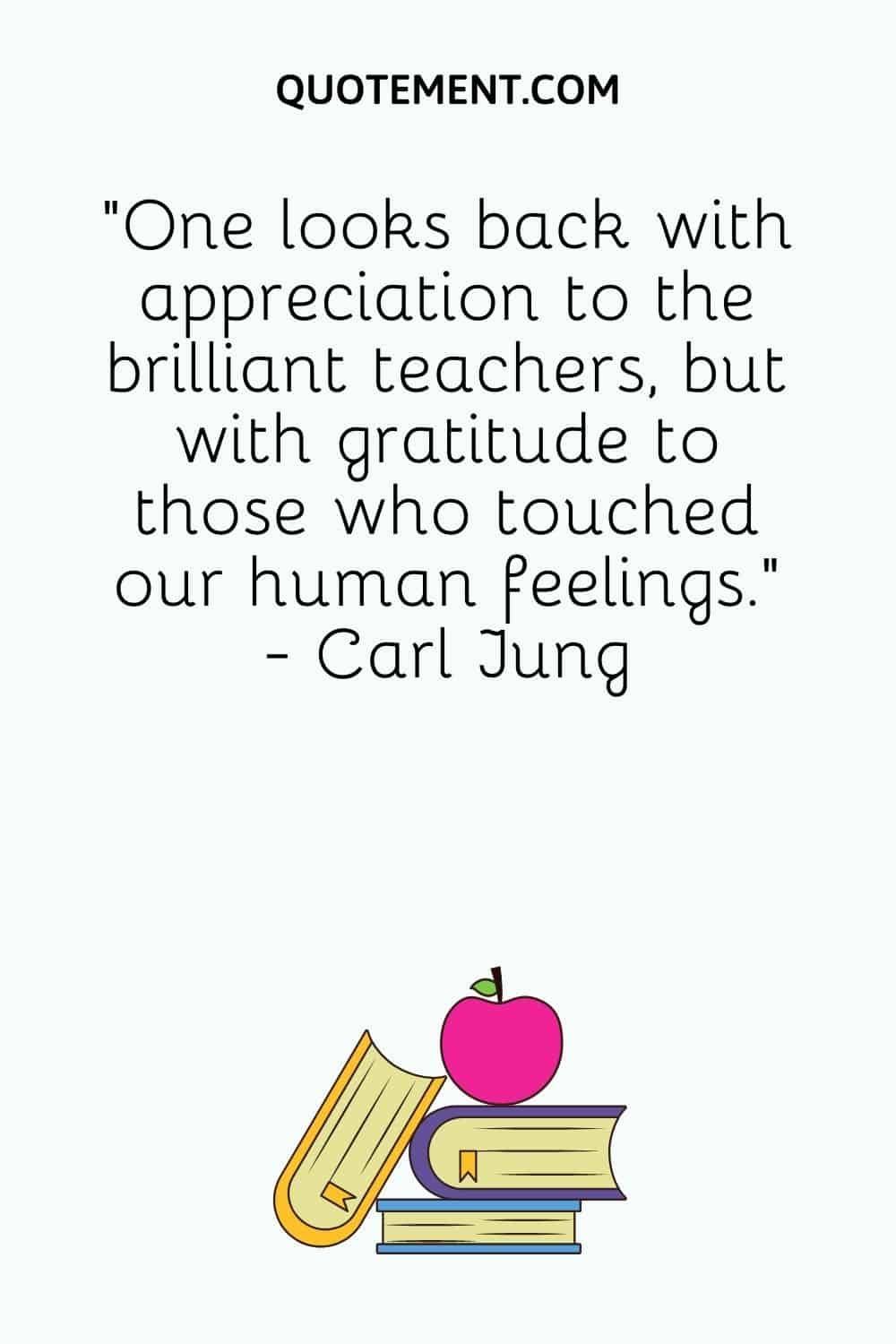 Heart touching Quotes For The Best Teacher
These heart touching quotes for teachers perfectly describe their unique role in our lives:
1. "What nobler employment, or more valuable to the state, than that of the man who instructs the rising generation." – Marcus Tullius Cicero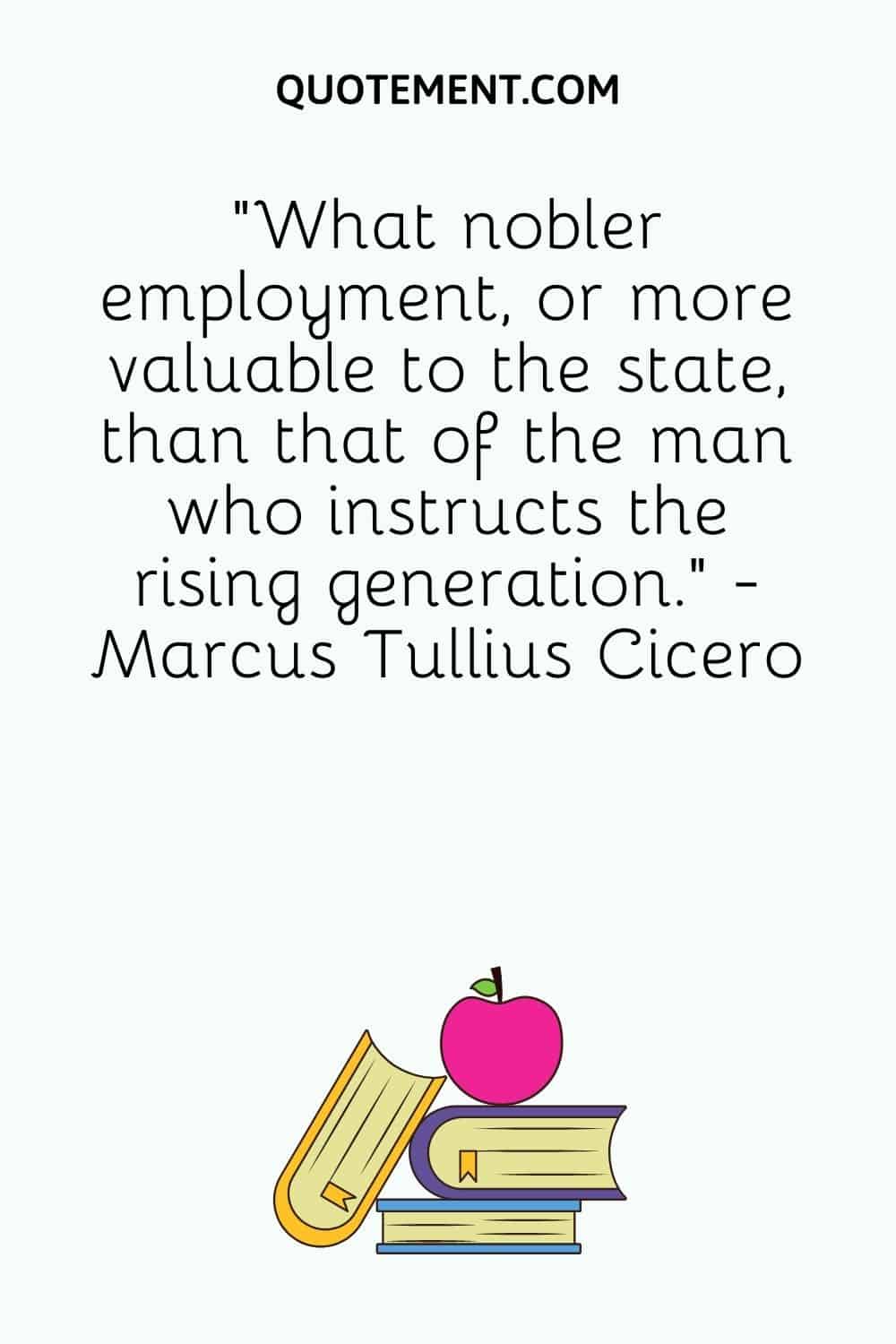 2. "The best teacher is the one who suggests rather than dogmatizes, and inspires his listener with the wish to teach himself." – Edward Bulwer-Lytton
3. "Teaching kids to count is fine, but teaching them what counts is best." – Bob Talbert
4. "The teacher who is indeed wise does not bid you to enter the house of his wisdom but rather leads you to the threshold of your mind." – Khalil Gibran
5. "The duties of a teacher are neither few nor small, but they elevate the mind and give energy to the character." – Dorothea Dix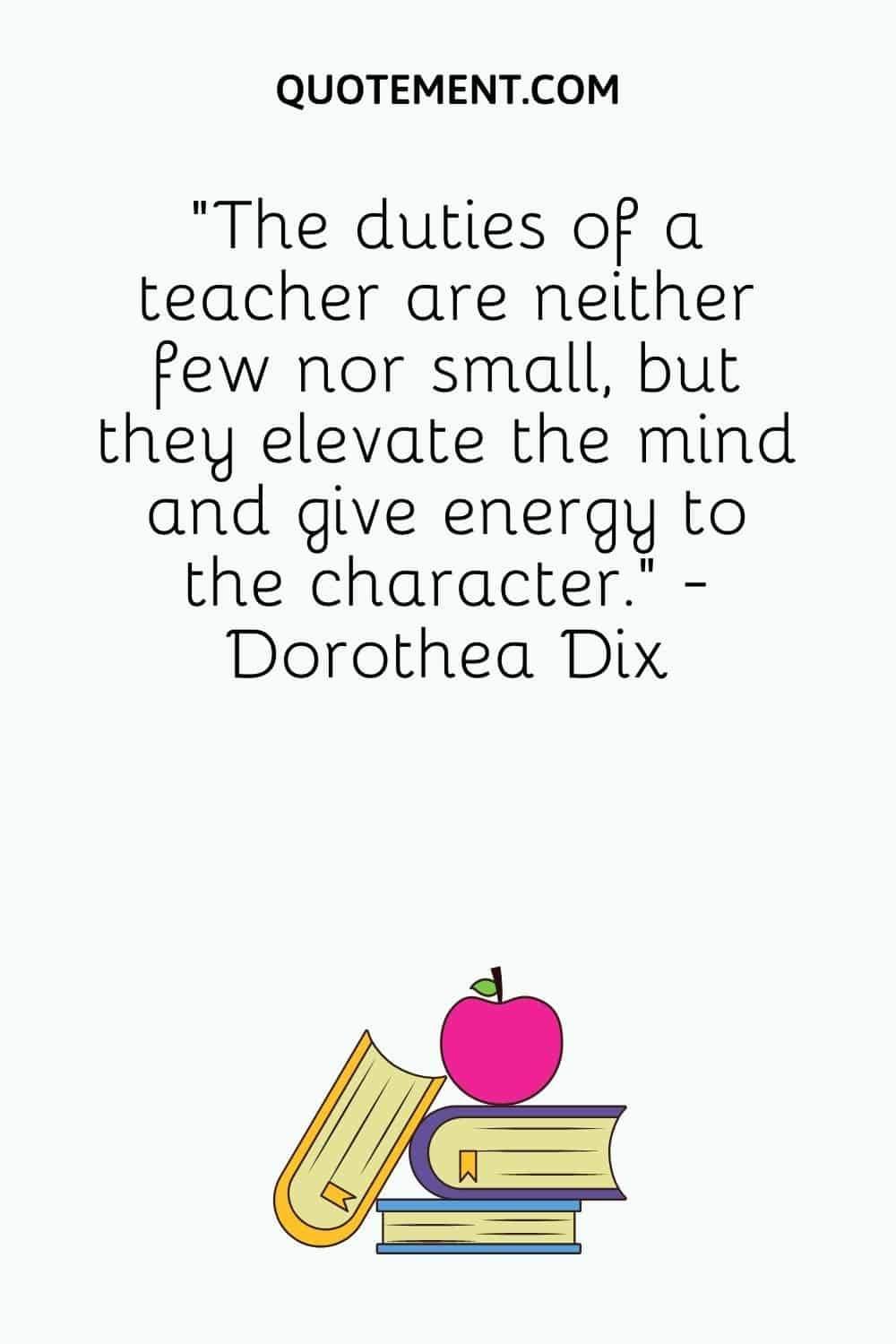 6. "Teachers have three loves: love of learning, love of learners, and the love of bringing the first two loves together." – Scott Hayden
7. "The best teachers are those who show you where to look but don't tell you what to see." – Alexandra K. Trenfor
8. "To this end, the greatest asset of a school is the personality of the teacher." – John Strachan
9. "The art of teaching is the art of assisting discovery." – Mark Van Doren
10. "A teacher affects eternity; he can never tell where his influence stops." – Henry Brooks Adams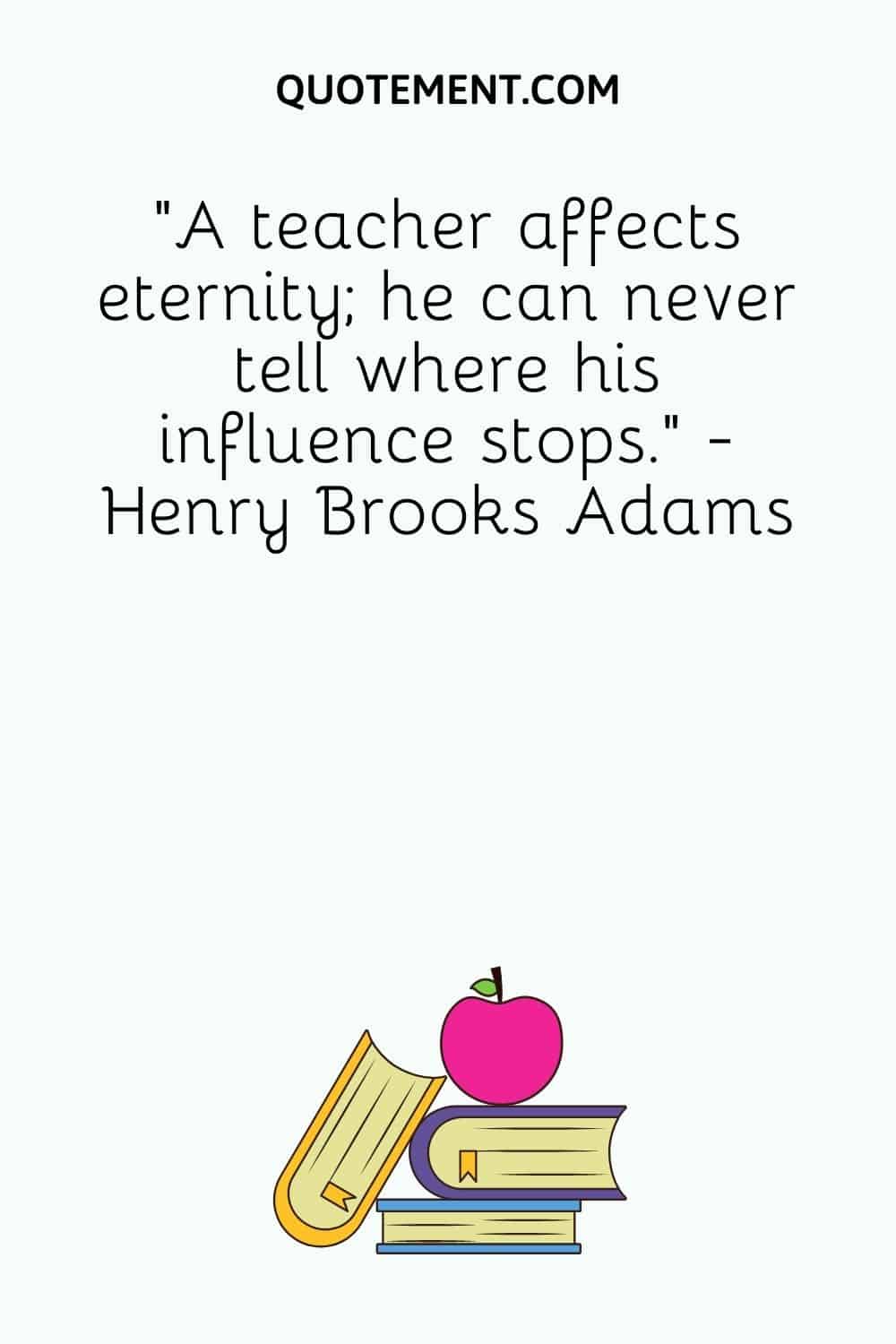 11. "Where your talents and the needs of your students meet there lies your calling as a teacher." – Robert John Meehan
12. "When you teach your son, you teach your son's son." – The Talmud
13. "It is the supreme art of the teacher to awaken joy in creative expression and knowledge." – Albert Einstein
14. "The mediocre teacher tells. The good teacher explains. The superior teacher demonstrates. The great teacher inspires." – William Arthur Ward
15. "Great teachers empathize with kids, respect them, and believe that each one has something special that can be built upon." – Ann Lieberman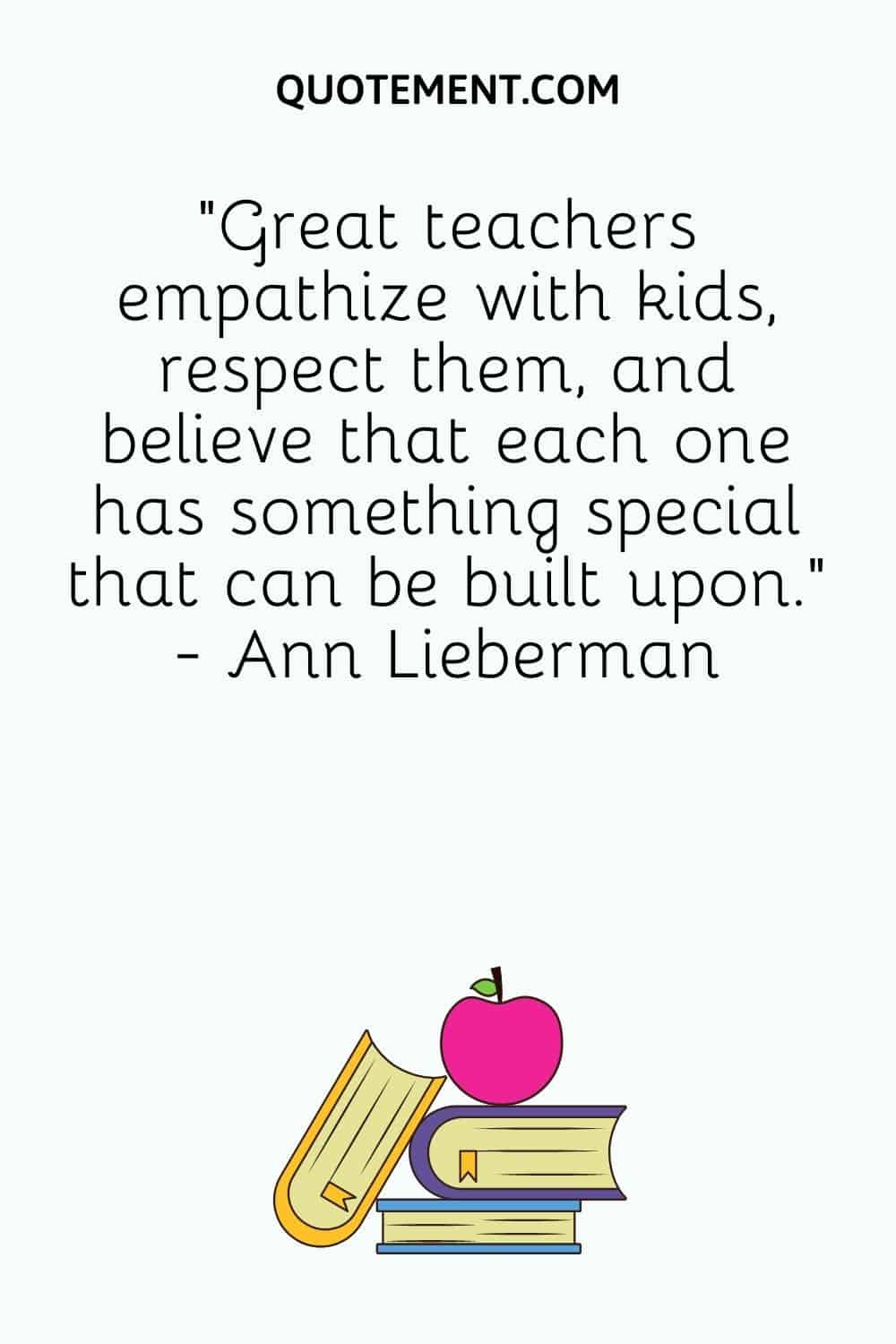 16. "Better than a thousand days of diligent study is one day with a great teacher." – Japanese proverb
17. "A good teacher is a master of simplification and an enemy of simplism." – Louis Berman
18. "Good teachers know how to bring out the best in students." – Charles Kuralt
19. "Nine-tenths of education is encouragement." – Anatole France
20. "Most of us end up with no more than five or six people who remember us. Teachers have thousands of people who remember them for the rest of their lives." – Andy Rooney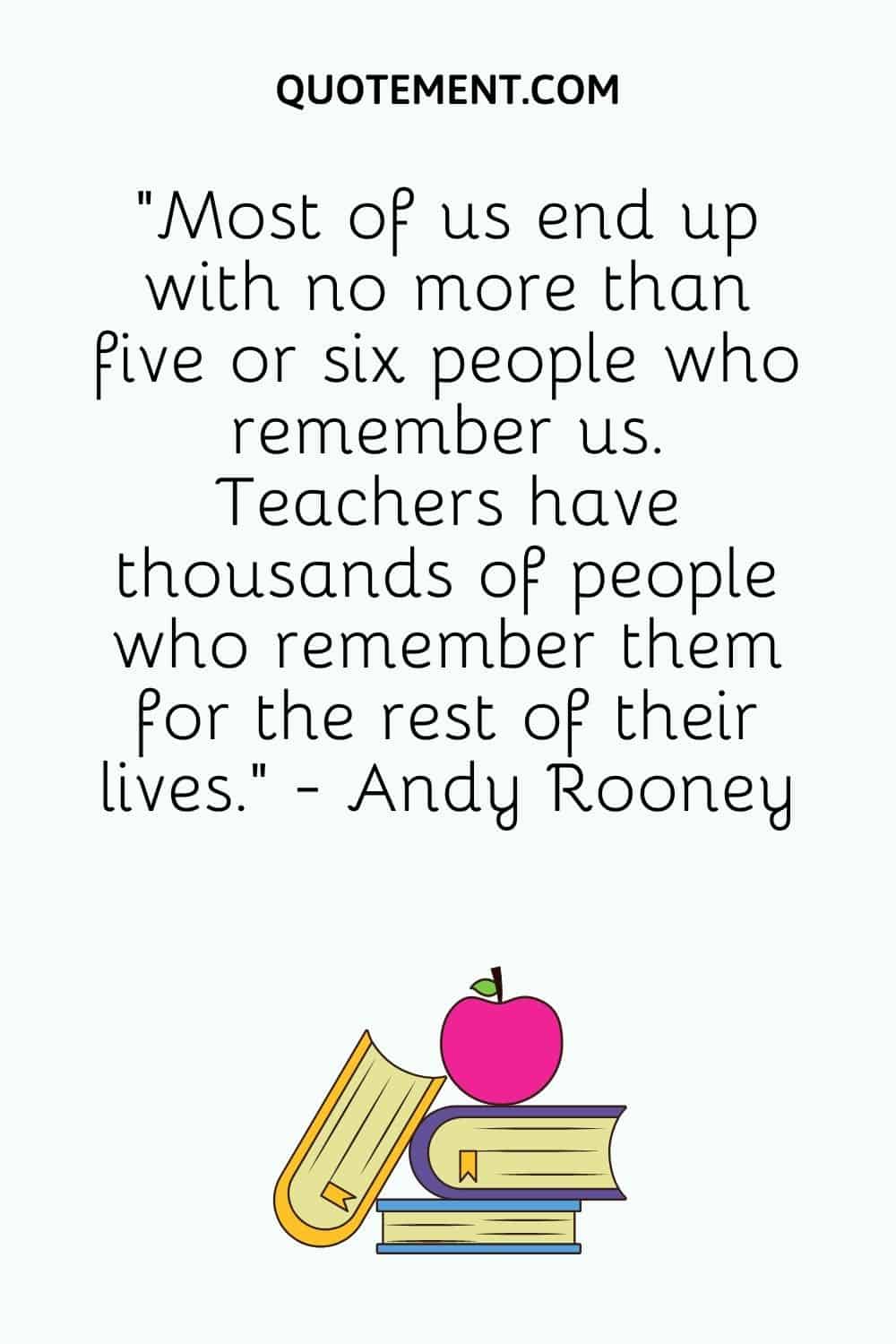 21. "Those that know, do. Those that understand, teach." – Aristotle
22. "The Master said, A true teacher is one who, keeping the past alive, is also able to understand the present." – Confucius
23. "Let us remember: one book, one pen, one child, and one teacher can change the world." –Malala Yousafzai
Inspirational Quotes For Our Teachers
The following heart touching quotes for teachers will inspire you to cherish these superheroes:
1. "The great teacher is not the man who supplies the most facts, but the one in whose presence we become different people." – Ralph Waldo Emerson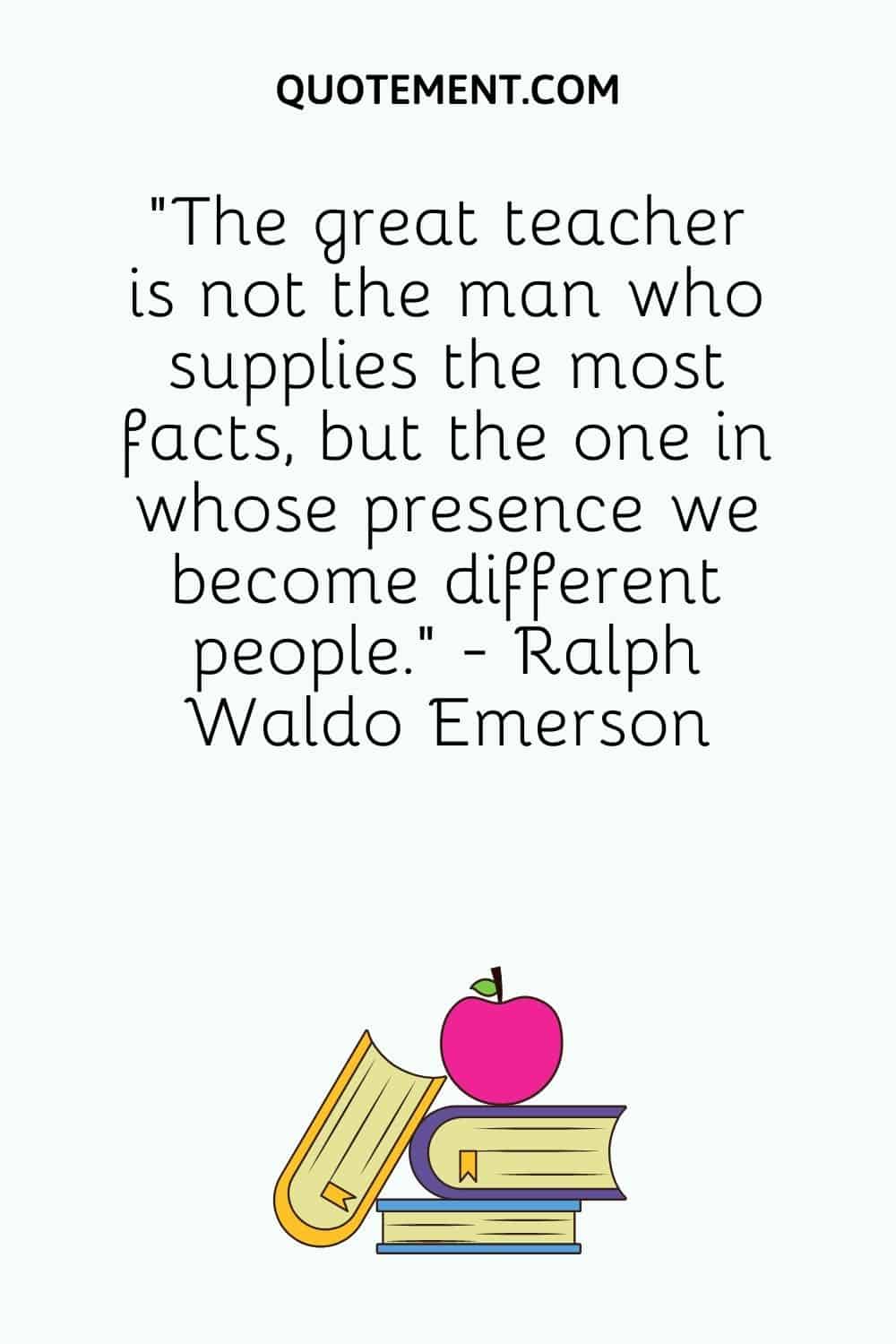 2. "Being able to help someone learn something is a talent." – Margaret Riel
3. "Students don't care how much you know until they know how much you care." – John C. Maxwell
4. "Everyone who remembers his own education remembers teachers, not methods and techniques. The teacher is the heart of the educational system." – Sidney Hook
5. "Teaching is not just a job. It is a human service, and it must be thought of as a mission." – Dr. Ralph Tyler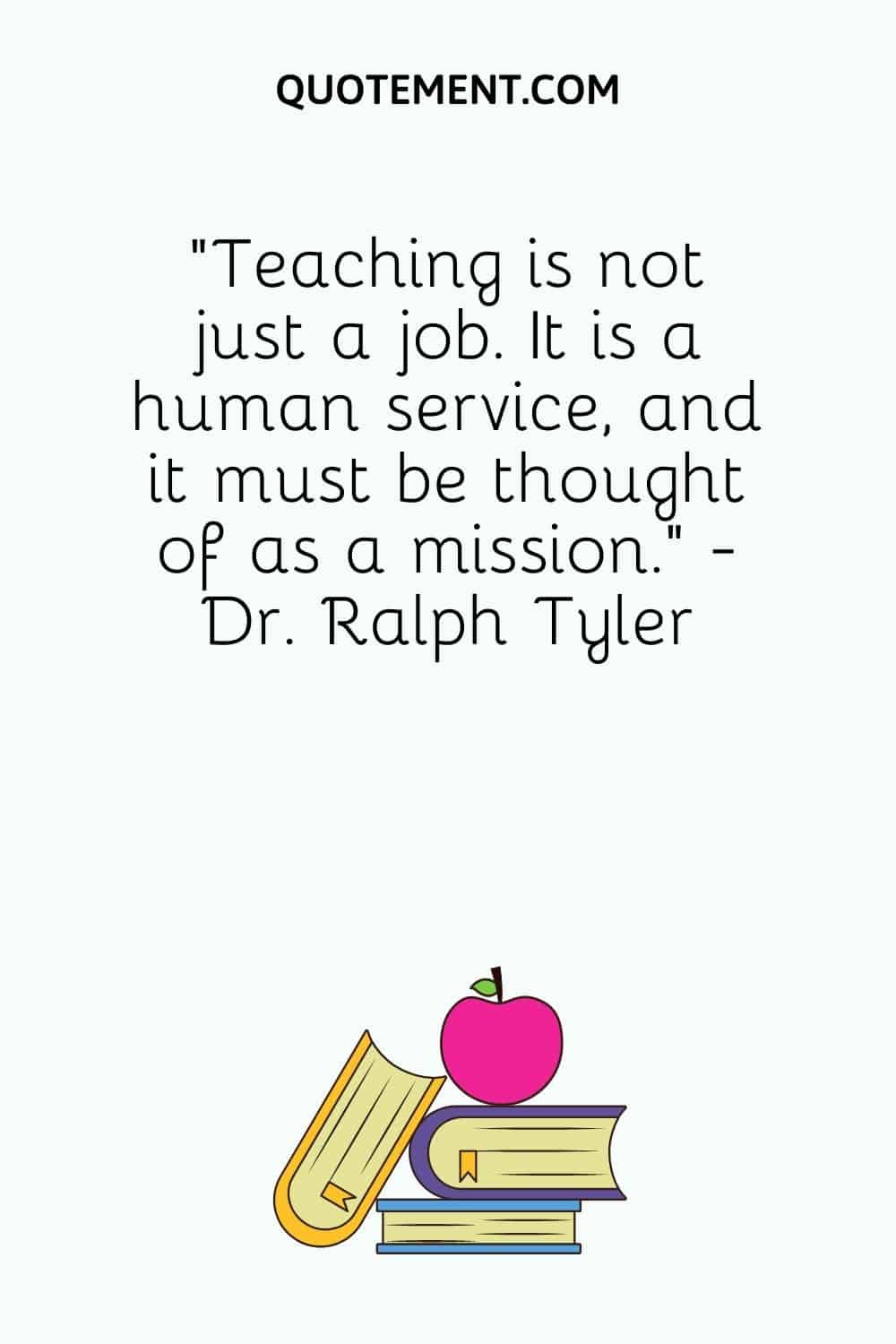 6. "It's the teacher that makes the difference, not the classroom." – Michael Morpurgo
7. "Not all superheroes have capes, some have teaching degrees."
8. "Be a wonderful role model because you will be the window through which many children will see their future." – Thomas Mckinnon
9. "If students don't feel teacher appreciation, their whole education has failed." – Michael Balkers
10. "I like a teacher who gives you something to take home to think about besides homework." – Lily Tomlin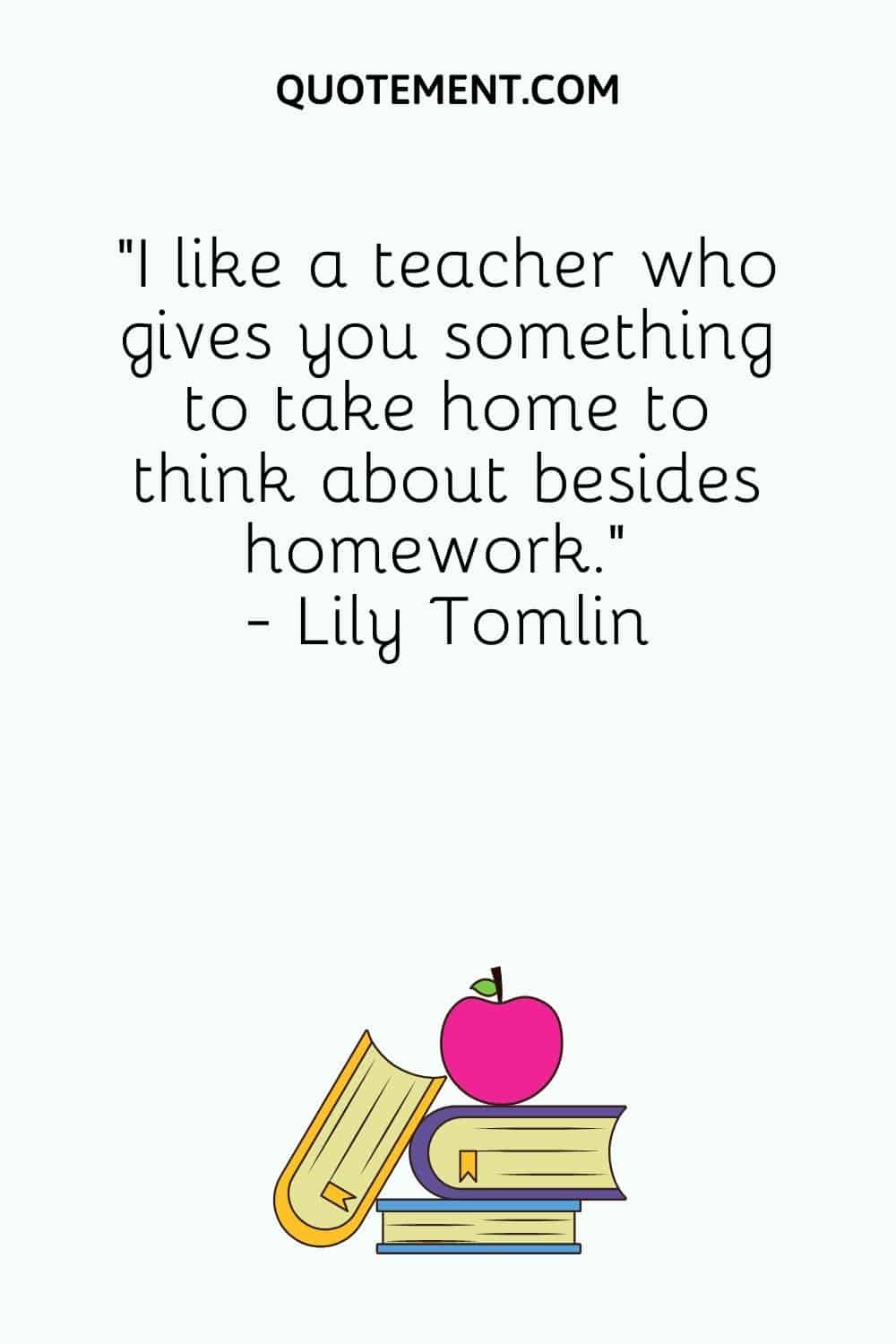 11. "I think the teaching profession contributes more to the future of our society than any other single profession." – John Wooden
12. "Teaching is not a lost art, but the regard for it is a lost tradition." – Jacques Barzun
13. "Teacher appreciation makes the world of education go around." – Helen Peters
14. "Teachers appreciate being appreciated, for teacher appreciation is their highest award." – William Prince
15. "It takes a big heart to help shape little minds."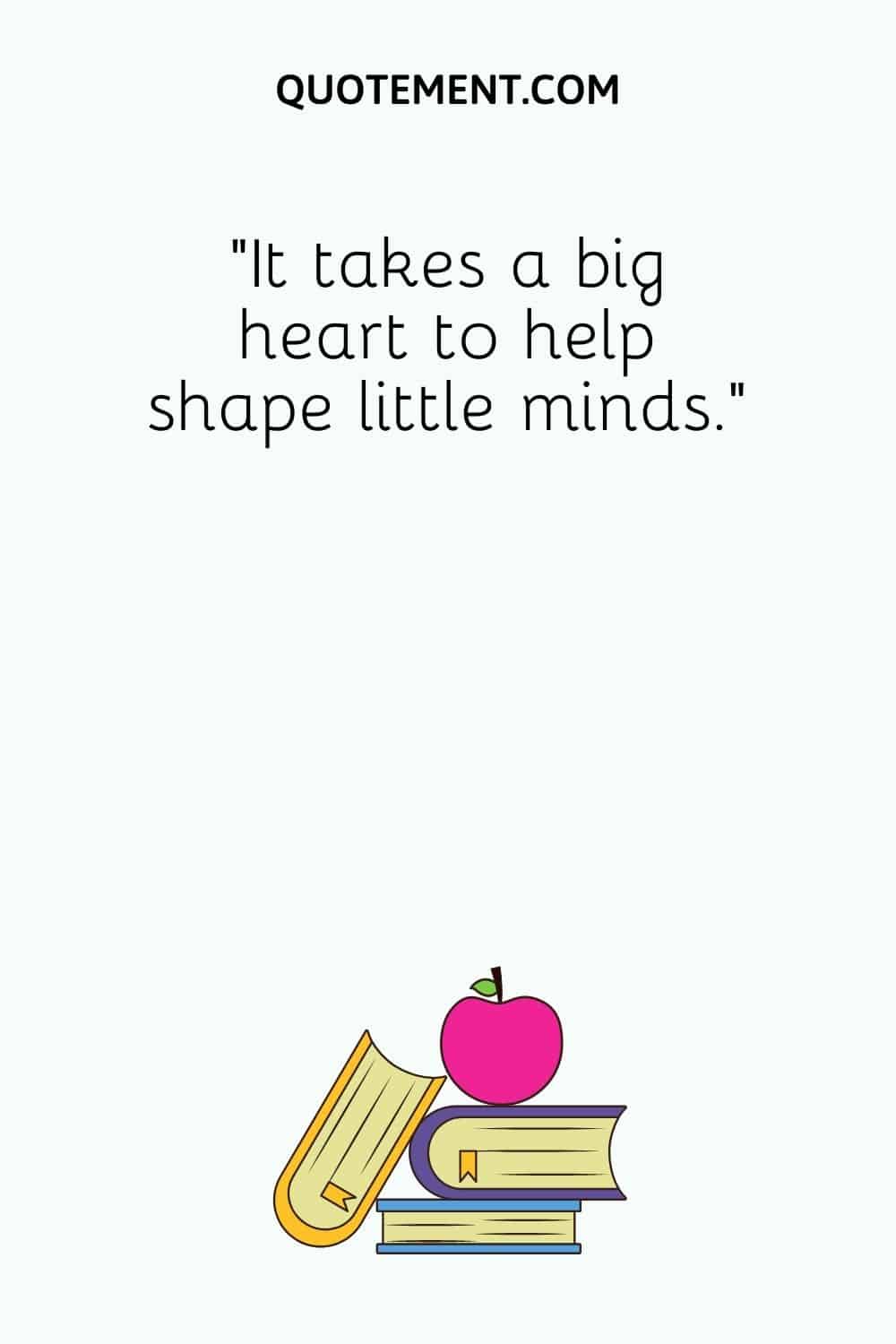 16. "If a doctor, lawyer, or dentist had 40 people in his office at one time, all of whom had different needs, and some of whom didn't want to be there and were causing trouble, and the doctor, lawyer, or dentist, without assistance, had to treat them all with professional excellence for nine months, then he might have some conception of the classroom teacher's job." – Donald D. Quinn
17. "One looks back with appreciation to the brilliant teachers, but with gratitude to those who touched our human feelings. The curriculum is so much necessary raw material, but warmth is the vital element for the growing plant and for the soul of the child." – Carl Jung
18. "Teachers, I believe, are the most responsible and important members of society because their professional efforts affect the fate of the earth." – Helen Caldicott
19. "Good teaching is more a giving of right questions than a giving of right answers." – Josef Albers
20. "Teaching is the profession that teaches all the other professions."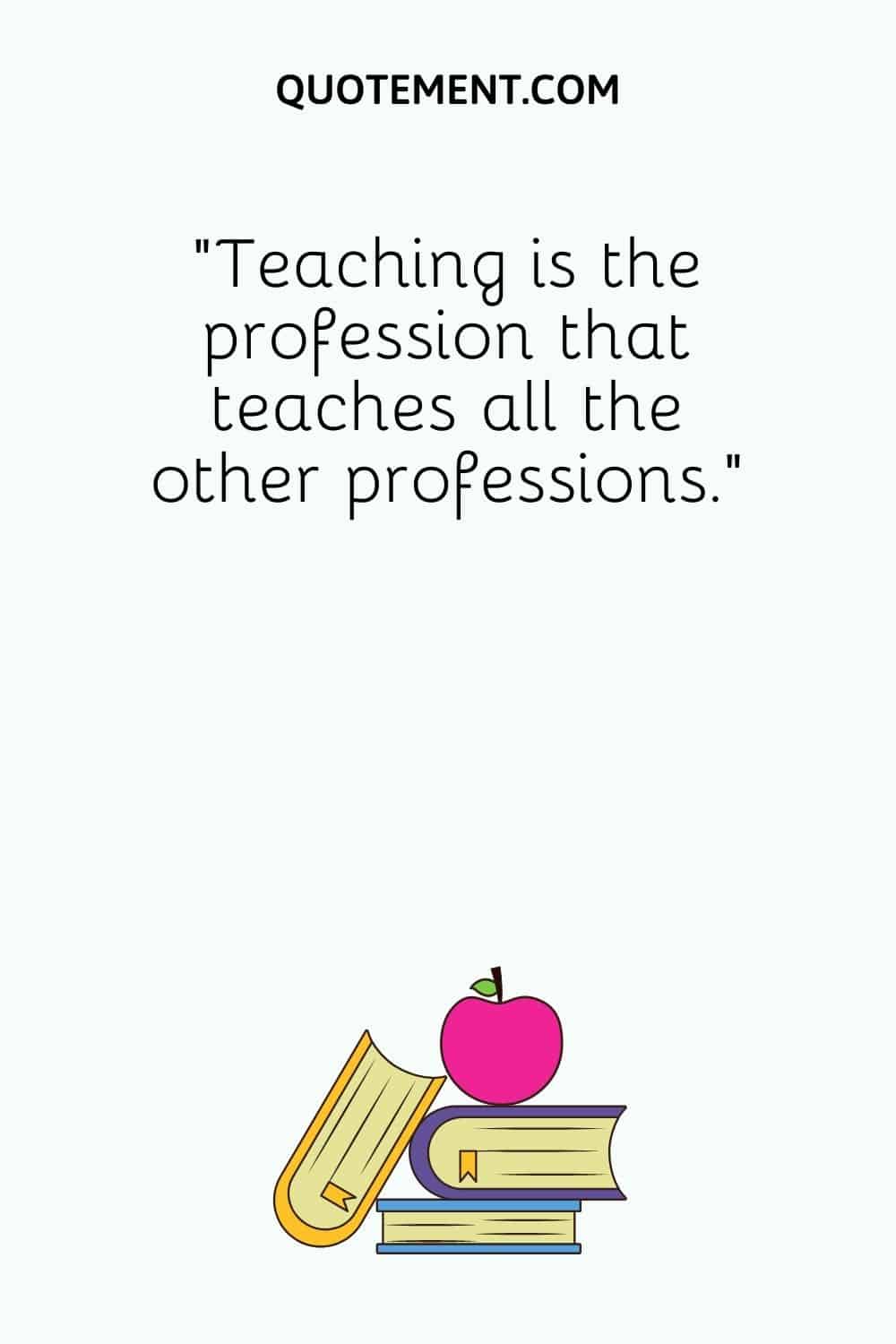 21. "Education is not the filling of a pail, but the lighting of a fire." – William Butler Yeats
22. "What you leave behind is not what is engraved in stone monuments, but what is woven into the lives of others." – Pericles
23. "Teaching is the greatest act of optimism." – Colleen Wilcox
24. "Technology is just a tool. In terms of getting the kids working together and motivating them, the teacher is the most important." – Bill Gates
25. "The dream begins with a teacher who believes in you, who tugs and pushes and leads you to the next plateau, sometimes poking you with a sharp stick called 'truth'." – Dan Rather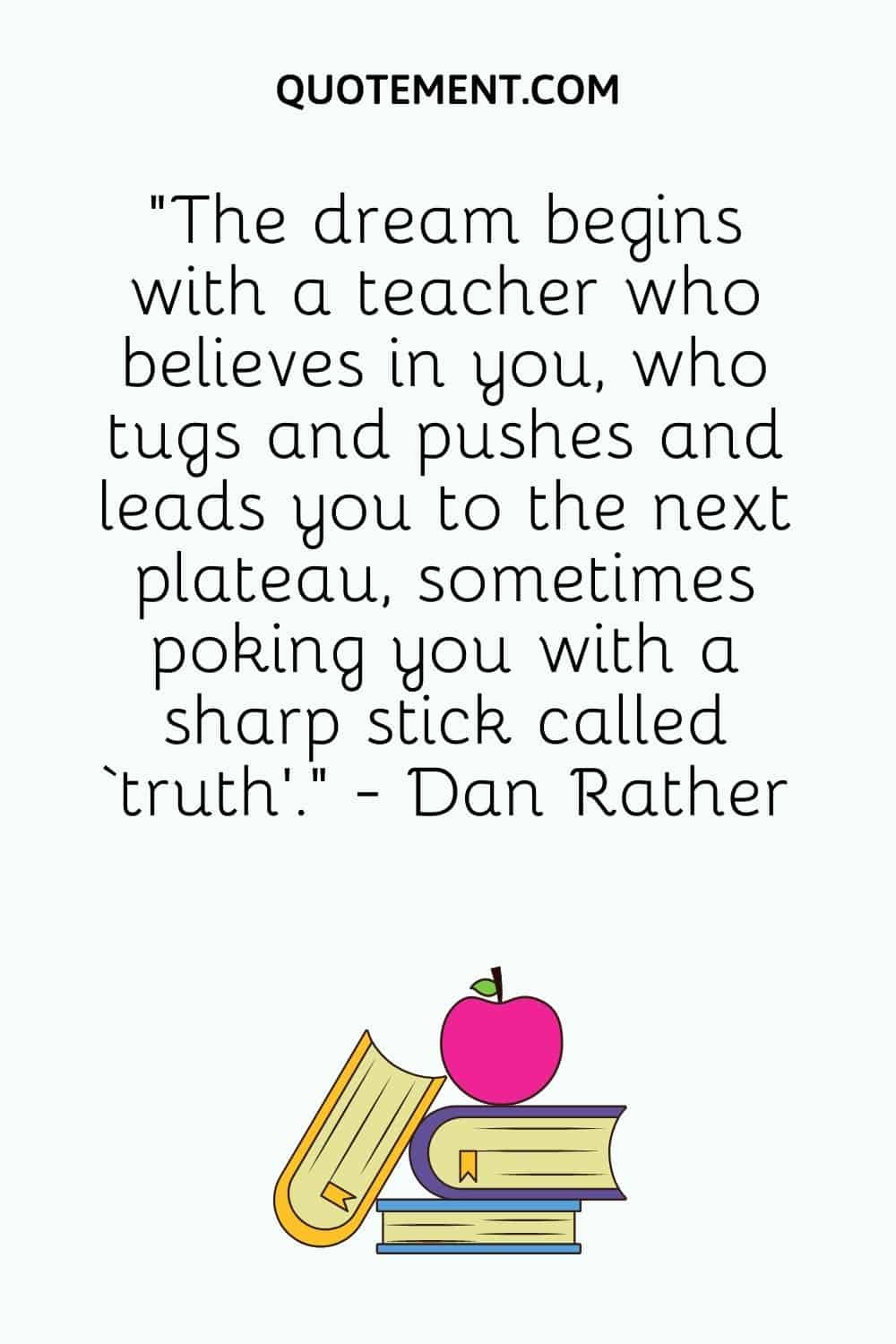 26. "Give me a fish and I eat for a day. Teach me to fish and I eat for a lifetime." – Chinese Proverb
Wonderful Quotes For Teachers From Parents
If your child has a wonderful teacher that you both love, be sure to check out these heart touching quotes for teachers as well:
1. "We parents may be accountants, scientists, doctors, and engineers – but nothing contributes to the nation's development more than the sacrifices made by teachers. Thank you."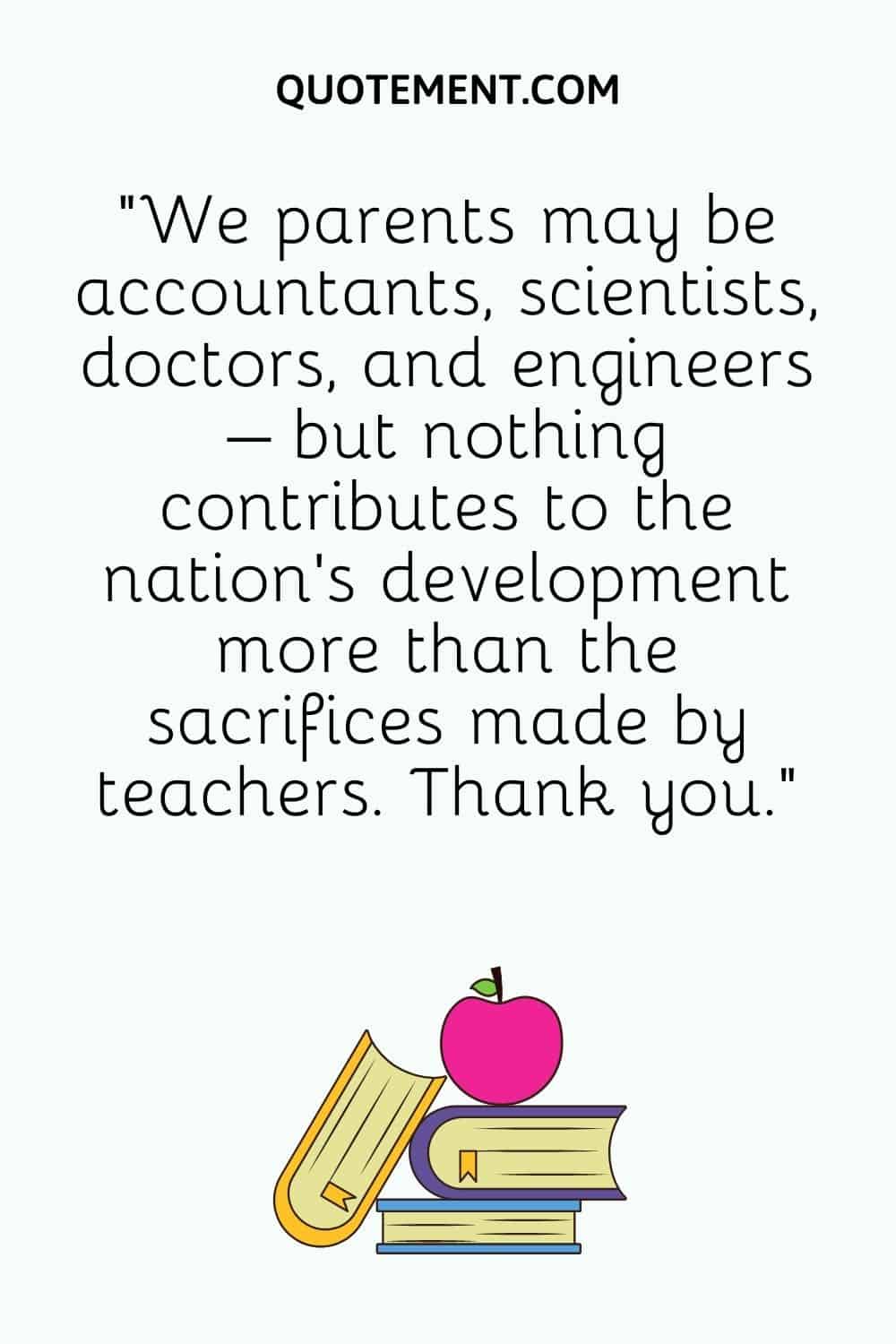 2. "Thanks to you, my child never feels alone in the classroom. Your support means the world to us. We are blessed to have you."
3. "You are an OUT OF THIS WORLD teacher!" – Heidi McDonald
4. "I was super worried about how my son would cope in school. But we were lucky to meet a teacher that didn't easily give up on people. Thank you for all you did for our son. We'll always be grateful."
5. "Thanks for giving our little one big dreams!"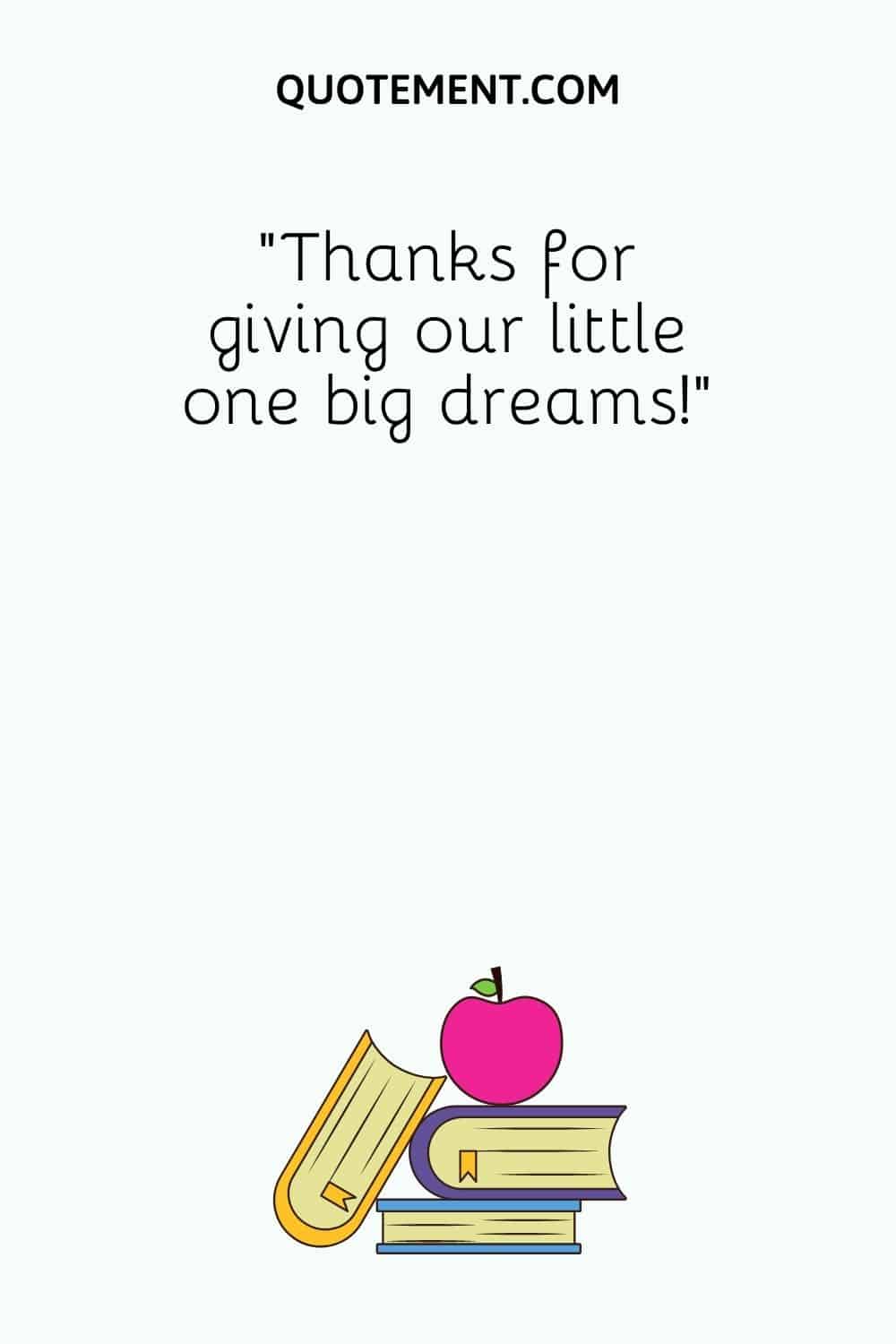 6. "You are the most passionate person I've met. You're passionate about life. You're passionate about your students and imparting knowledge. You're passionate about your community and the people around you. You're an amazing person."
7. "You are one in a million. I'm proud to say that you're my daughter's inspiration. She wants to become a teacher, just like you! I hope she does one day!"
8. "Thank you for putting a smile on the children's faces this year. With the new changes for this new school year, it's been great to see how you've been able to adjust and still keep a focus on the students. We're lucky to have you."
9. "Wow, you've gone above and beyond this week to help make the transition back to school as stress-free as possible. I'm sure it hasn't been easy for you, so I'm so grateful for your help this week."
10. "You made learning fun and exciting for our child. She comes home inspired and desperate to learn more, every single day. You're an amazing teacher!"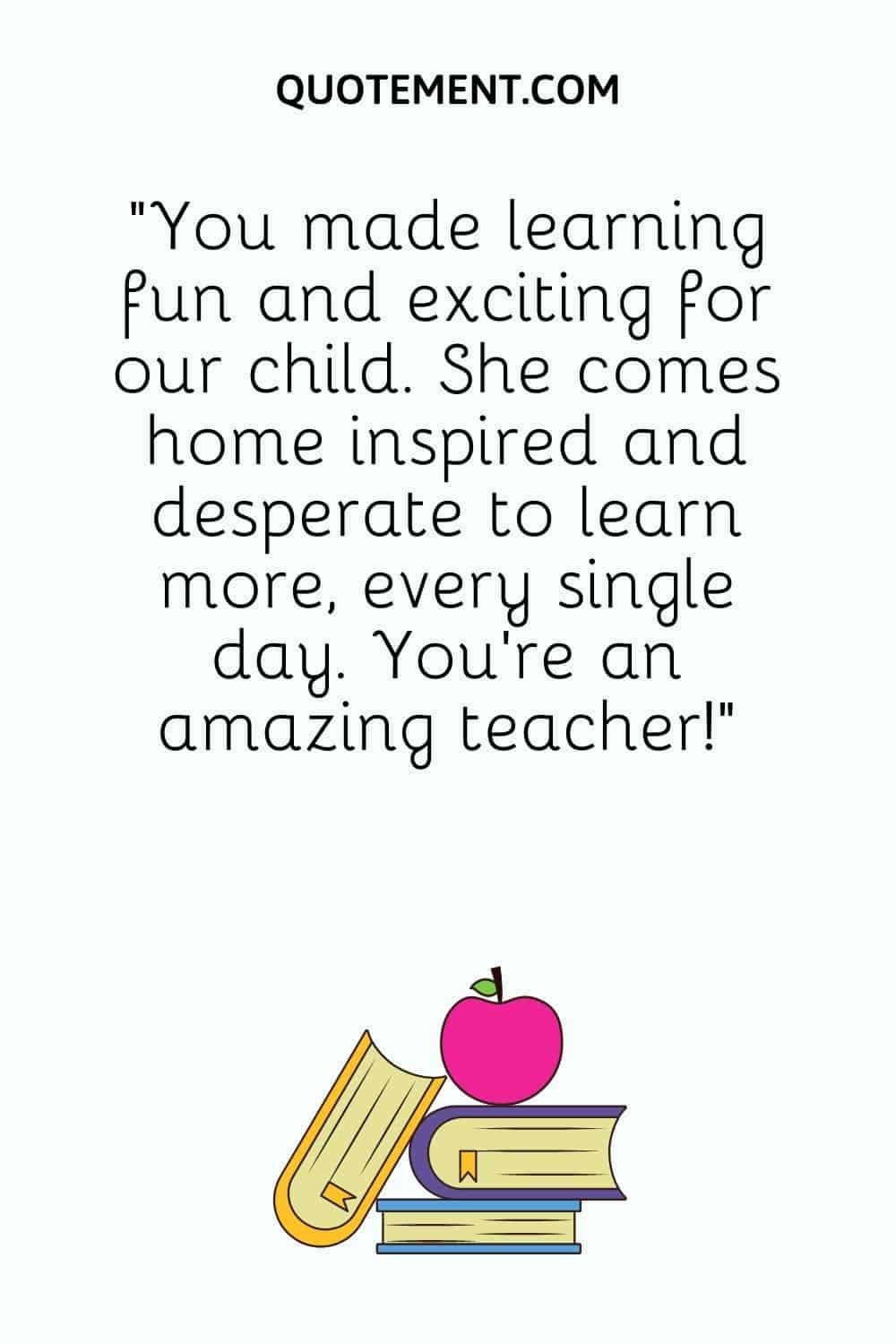 Beautiful Teacher Appreciation Quotes From Students
These heart touching quotes for teachers are perfect if you're a student who wants to show appreciation for an outstanding teacher:
1. "Your arms were always open when I needed a hug. Your heart understood when I needed a friend. Your gentle eyes were stern when I needed a lesson. Your strength and love has guided me and gave me wings to fly." – Sarah Malin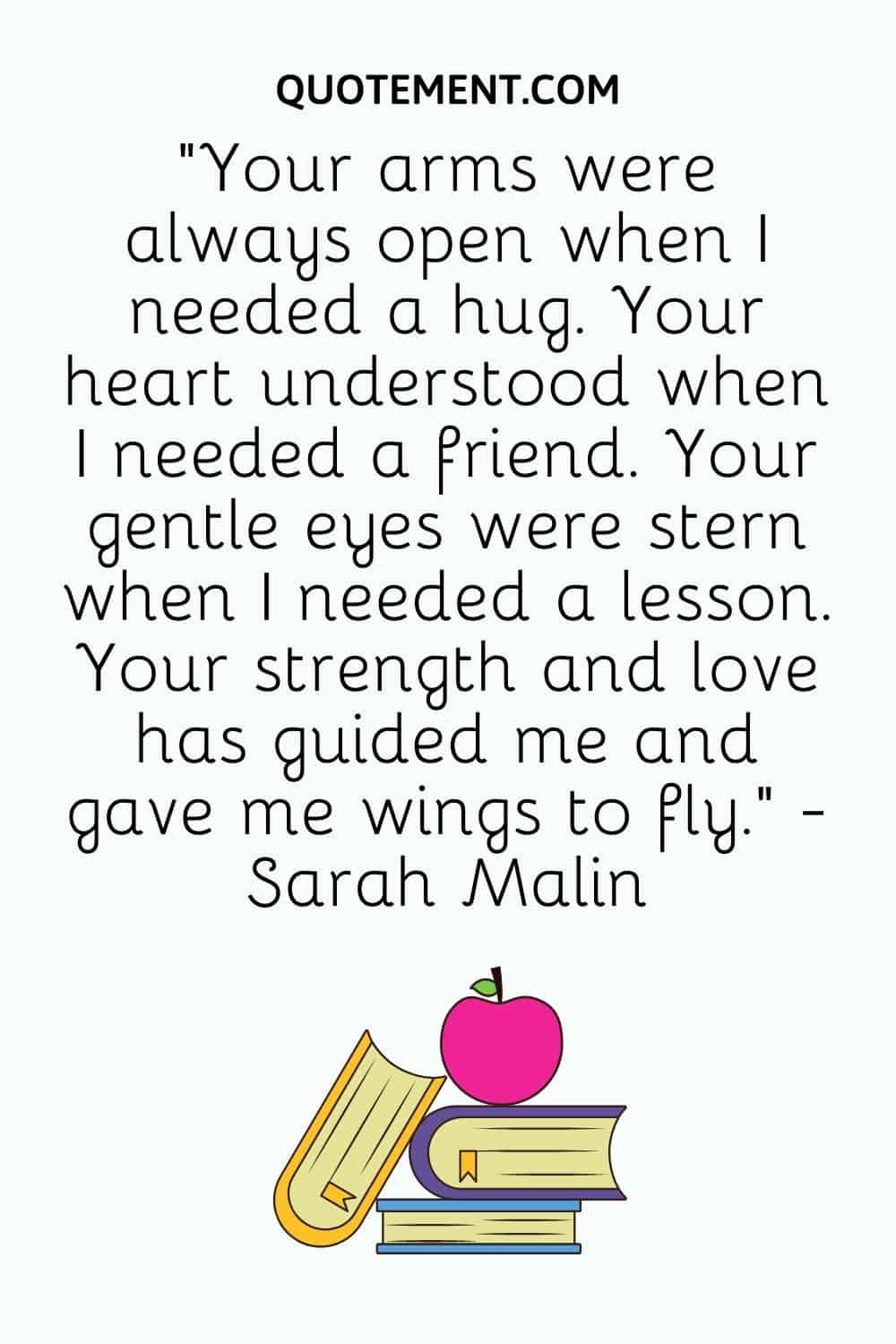 2. "None of us would be here without the teachers, mentors, and guides that so graciously poured all they knew into us."
3. "You believed in me and I was able to soar to heights I never dreamed possible. Thank you for being a teacher with a difference. There are indeed not many like you."
4. "At this point, I'm certain of what I'd like to do with the rest of my life. I'm sure that I want to walk in your path. I'm sure I want to be a teacher and be able to touch lives just like you do."
5. "There's no one quite like a special teacher, and no teacher quite as special as you."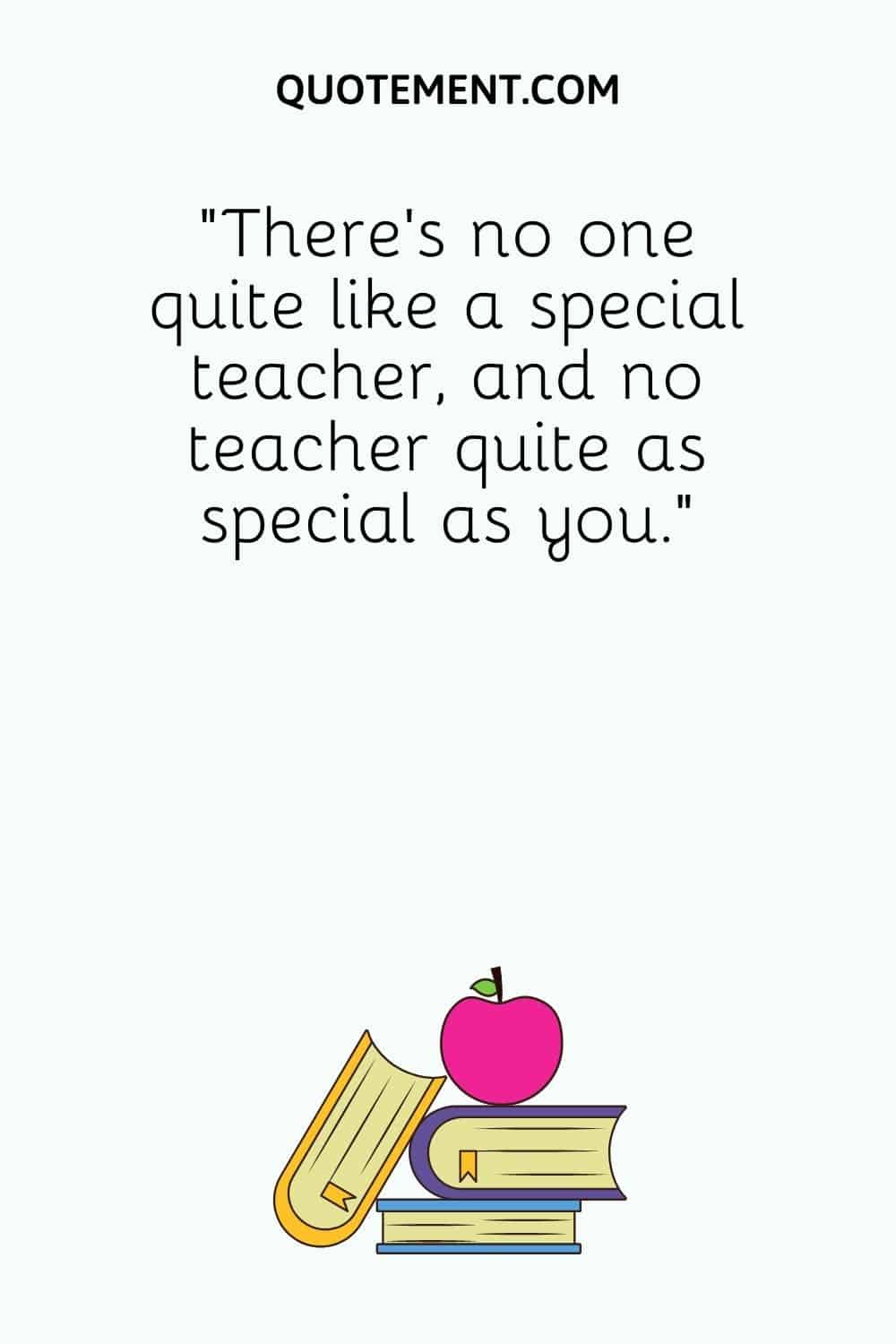 6. "You held all our hands until we could navigate life by ourselves. Thank you for holding my hands. You equipped me to navigate life, and I'll always be thankful to you, sir."
7. " You always make sure that you don't leave anyone behind. You taught me more than class lessons. You taught me life lessons, and how to properly treat my fellow human beings. Thank you so much."
8. "You go out of your way all the time to ensure that your students are doing well. I'm proof of your kindness and selflessness. And if I have to say thank you for a lifetime, it would be worth it."
9. "Learning under you has helped shape and give direction to my life. I came into your class unsure of the next step, unsure of what direction my life would take next. But I'm leaving confident and with the knowledge that I can shape things into whatever I want."
10. "You've taught me to go for whatever I want in life. You've taught me to follow my heart, to work hard and to trust the process. I've learnt a lot from you."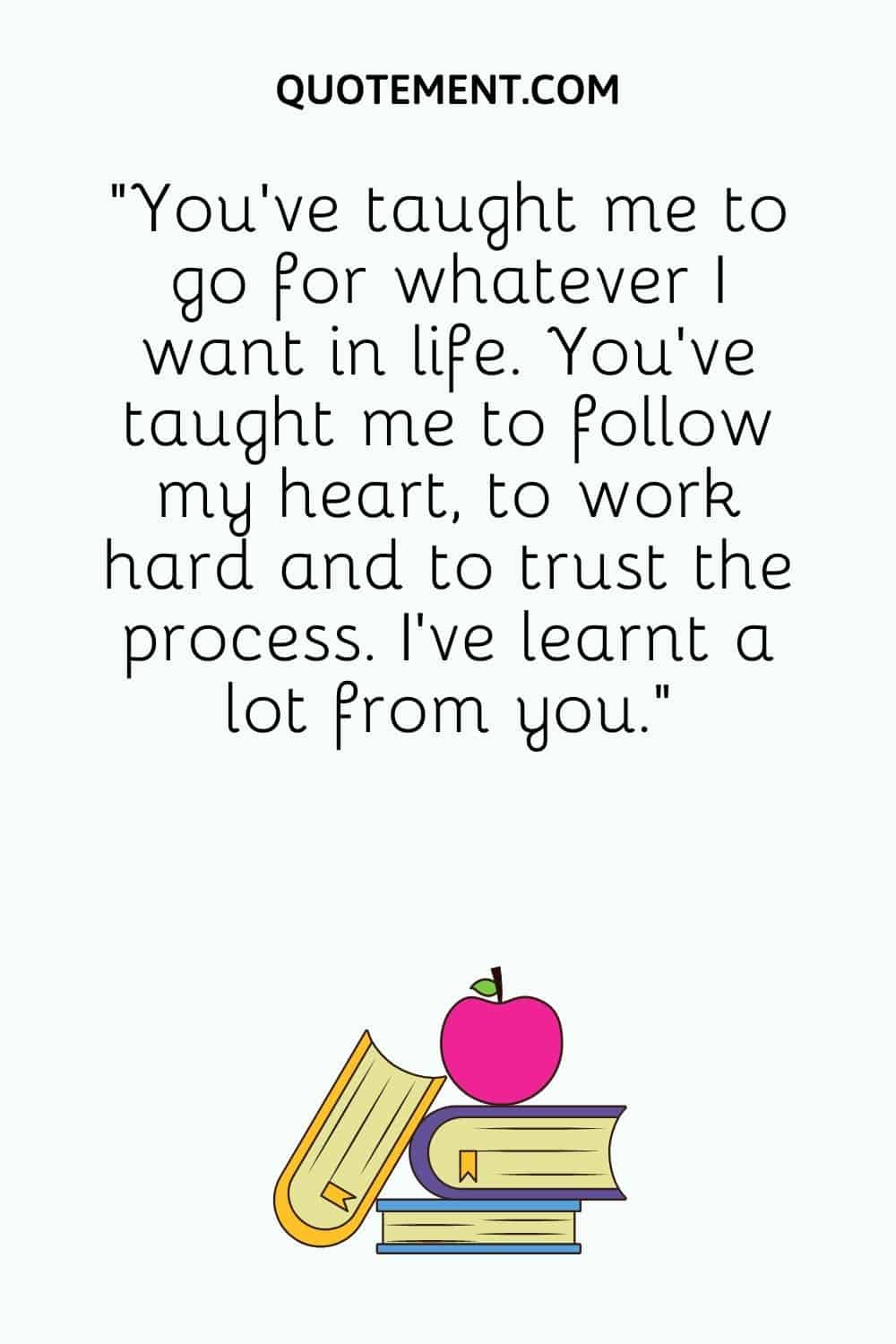 11. "You make teaching so easy. You make it look like fun, and as if it is everything. And indeed, it is everything. It has shaped me into this person I am today. Thank you so much."
12. "You are an inspiration through and through. And honestly, I didn't have to look too far for a role model. Thank you for being my role model and teacher."
13. "You are indeed a wonderful addition to our school. And you're a wonderful addition to my life. Thank you for being all shades of awesome. Thank you for being my friend."
14. "You are someone I want to be like when I grow older. That is how much I look up to you. Thank you for being an amazing teacher, and a role model for me."
15. "Because my teacher believed in me, I never gave up. Now I am flying towards my dreams." – Heidi McDonald
16. "You always took a chance on anyone you met. And among the 'anyone' was me. I didn't understand that people could be kind without expecting anything in return. I never thought people could believe in you, despite your faults and all. Until I met you. Thank you for taking a chance on me."
17. "I'd heard that teachers help people rewrite their history, but I never believed it. Until I sat in your class in the last session. I've found the strength to rewrite my history, and to dream again. Thank you for everything, sir."
18. "Your class changed my life forever. Your class brought all the clarification I needed, not only to pass your course but in moving forward as well. I'm grateful I met a teacher like you."
19. "Thank you for awakening a part of me that is adventurous and relentless. Thank you for showing me how I can be so much more."
20. "I feel like I can take on the world. I feel like I can take on whatever life throws my way. When you have a teacher that sees only possibilities, it's no surprise."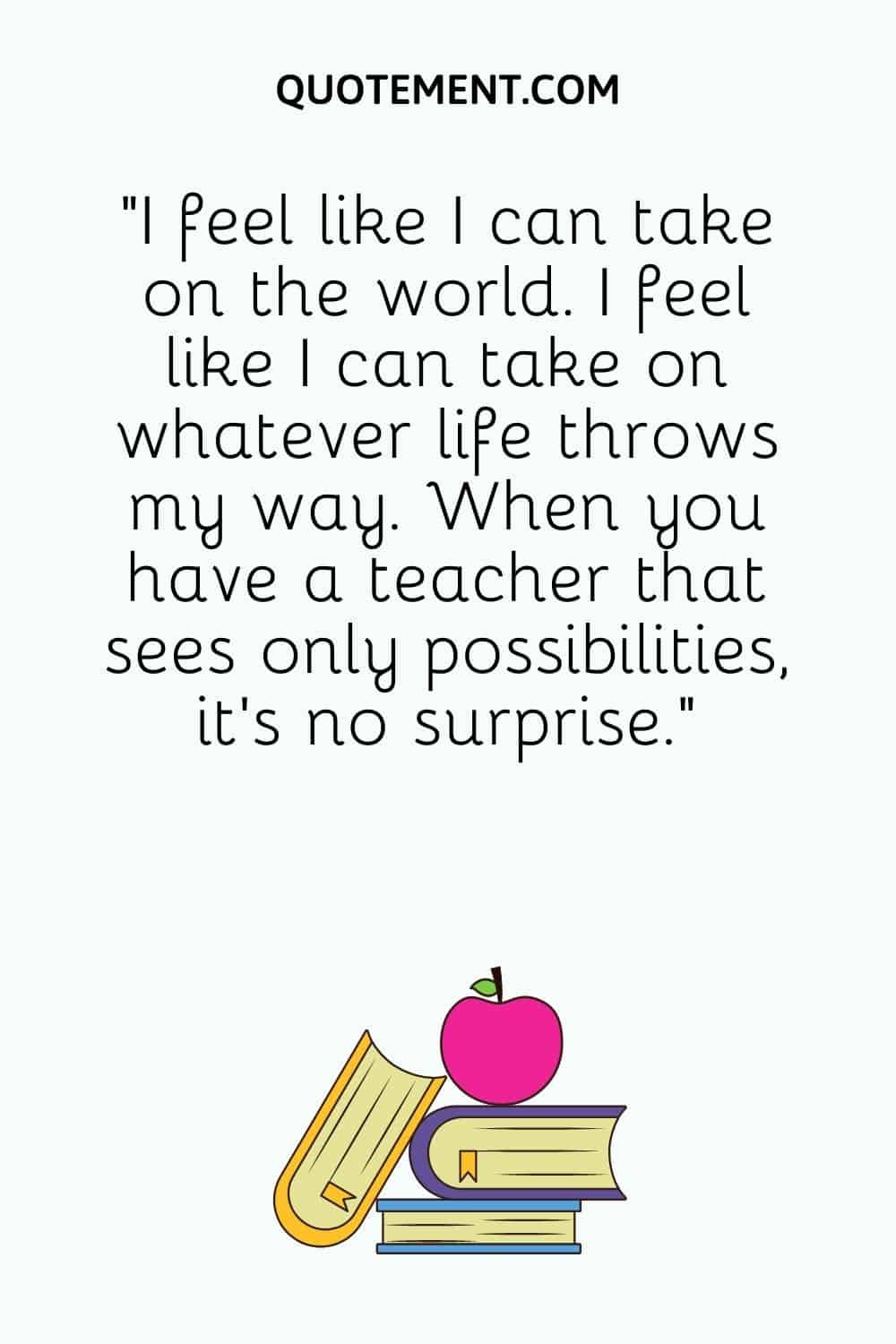 21. "On the first day of your class, you told me I could reach the stars if I wanted. 5 years later, I'm touching whatever stars I deem fit to touch. You're a phenomenal teacher."
22. "I'm a much better person because I met you. My life took a wonderful turn because I was privileged to sit under your tutelage. May God continue to increase your knowledge for us all."
23. "You've taught us to aim high in life. This particular lesson hasn't left me. I've learnt to not settle for less. I've learnt to set the bar high and to pursue my set goals with passion and determination."
24. "My parents could rest easy knowing I was under your care. They trusted you, and you never gave them reasons to feel otherwise. Thank you for teaching me. Thank you for making me feel safe."
25. "I am indebted to my father for living, but to my teacher for living well." – Alexander the Great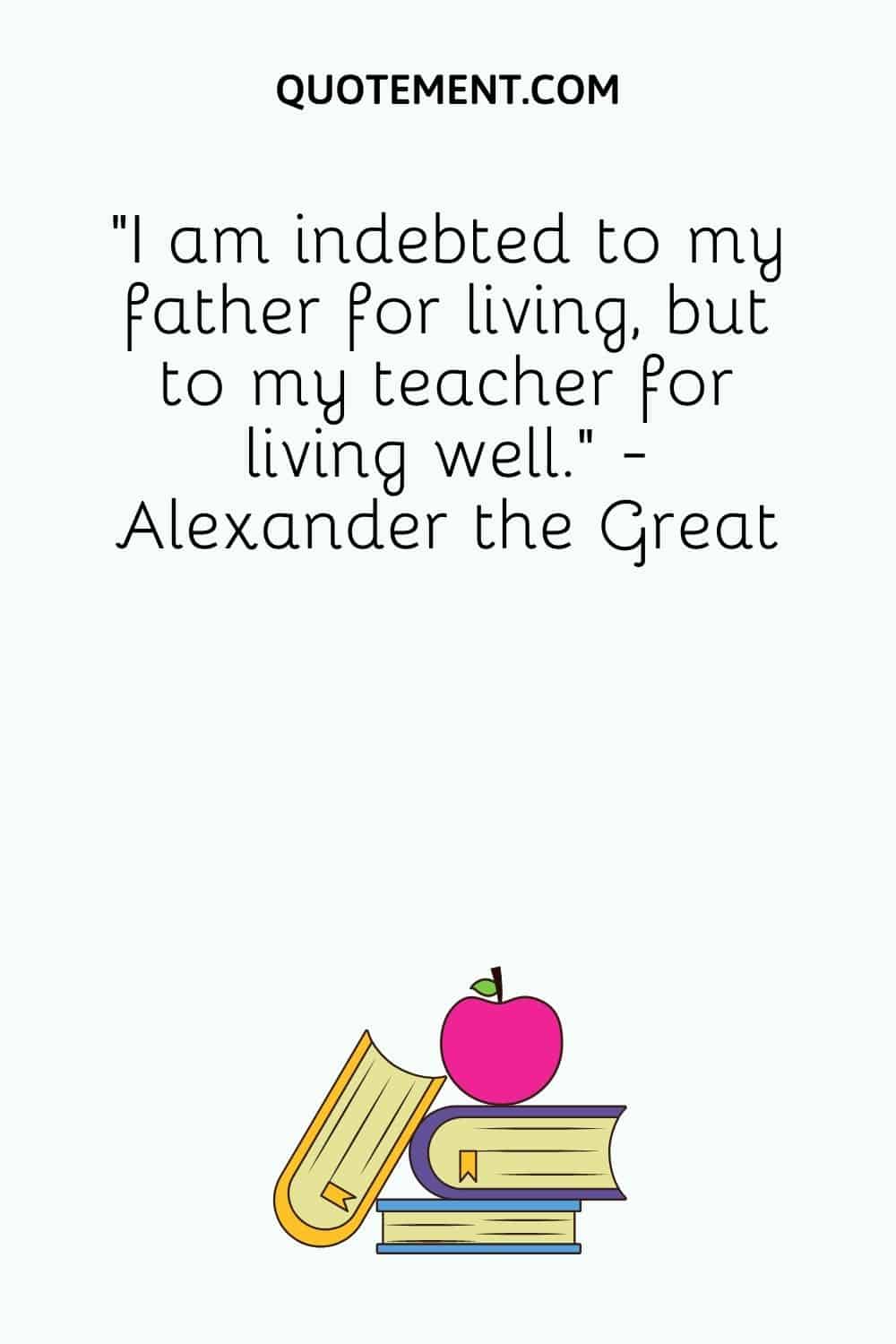 26. "A lot of people say teaching isn't profitable. But they also forget how much value teachers pass on to generations upon generations. Today, I'm saying thank you that you settled for 'less.' I'm saying thank you for deciding to teach. My life has been touched because you decided to give."
27. "Thank you for not forcing your opinions on us. Thank you for allowing us to think and express ourselves freely. Today, I have a mind of my own. I'm confident and self-assured."
28. "Thank you for listening all the time. Even when I kept saying the same thing over and over again. Even when you were tired and all. You're the best teacher in the entire world."
29. "The students who challenge their teachers the most, need their teachers the most." – Heidi McDonald
30. "We all need someone who inspires us to do better than we know how."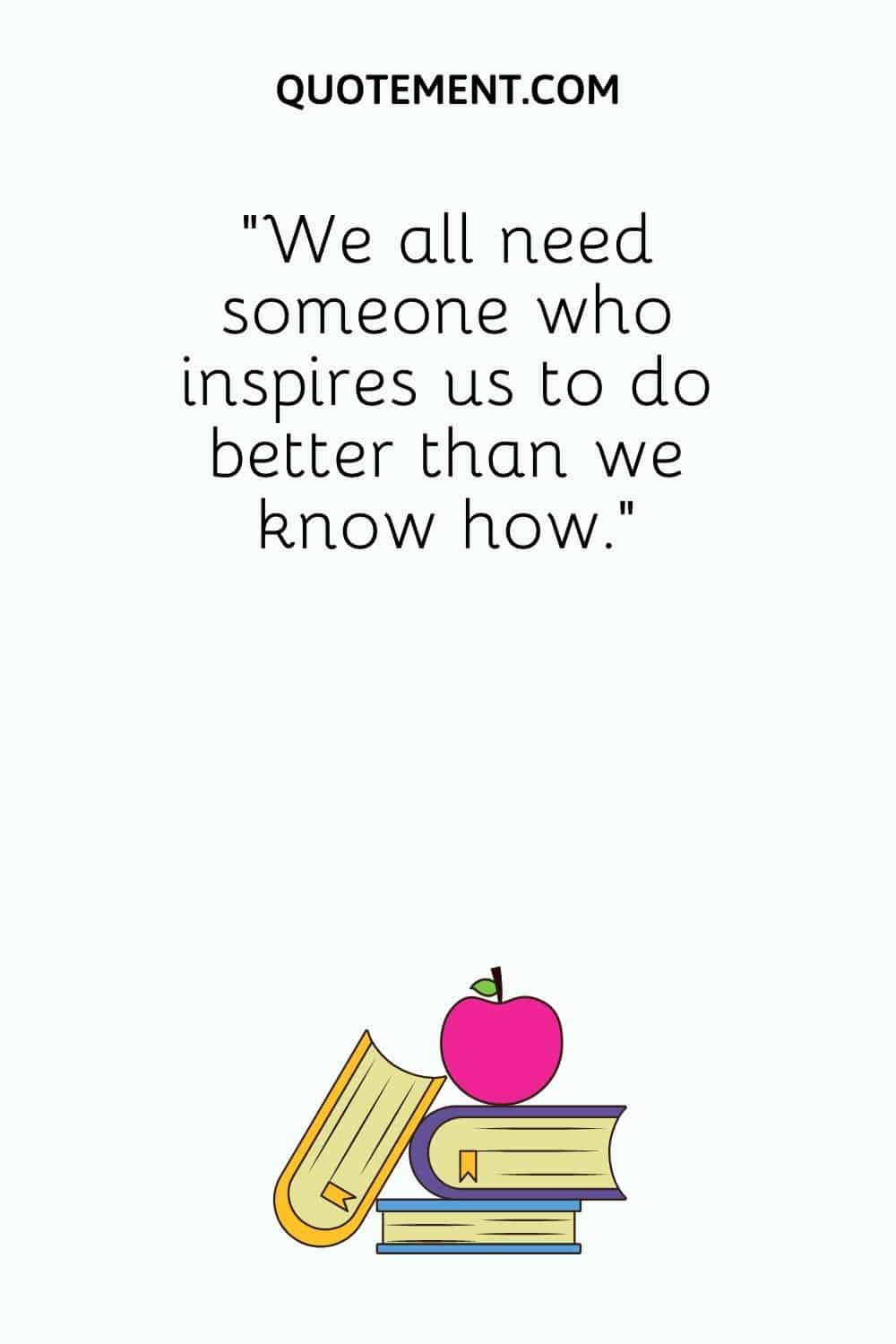 31. "Every single day is a learning experience with you and it is something I look forward to each and every day. I'm forever grateful for all that you do for me."
Unique Happy Teachers' Day Quotes
Finally, if their special day is coming up you can use the following quotes as Teachers day messages and Teachers day wishes as well:
1. "Not everyone has the patience of a saint, a heart of gold, and dedication without end – but you do! This is why I just wanted to let you know how much you are appreciated. Happy Teacher's Day!"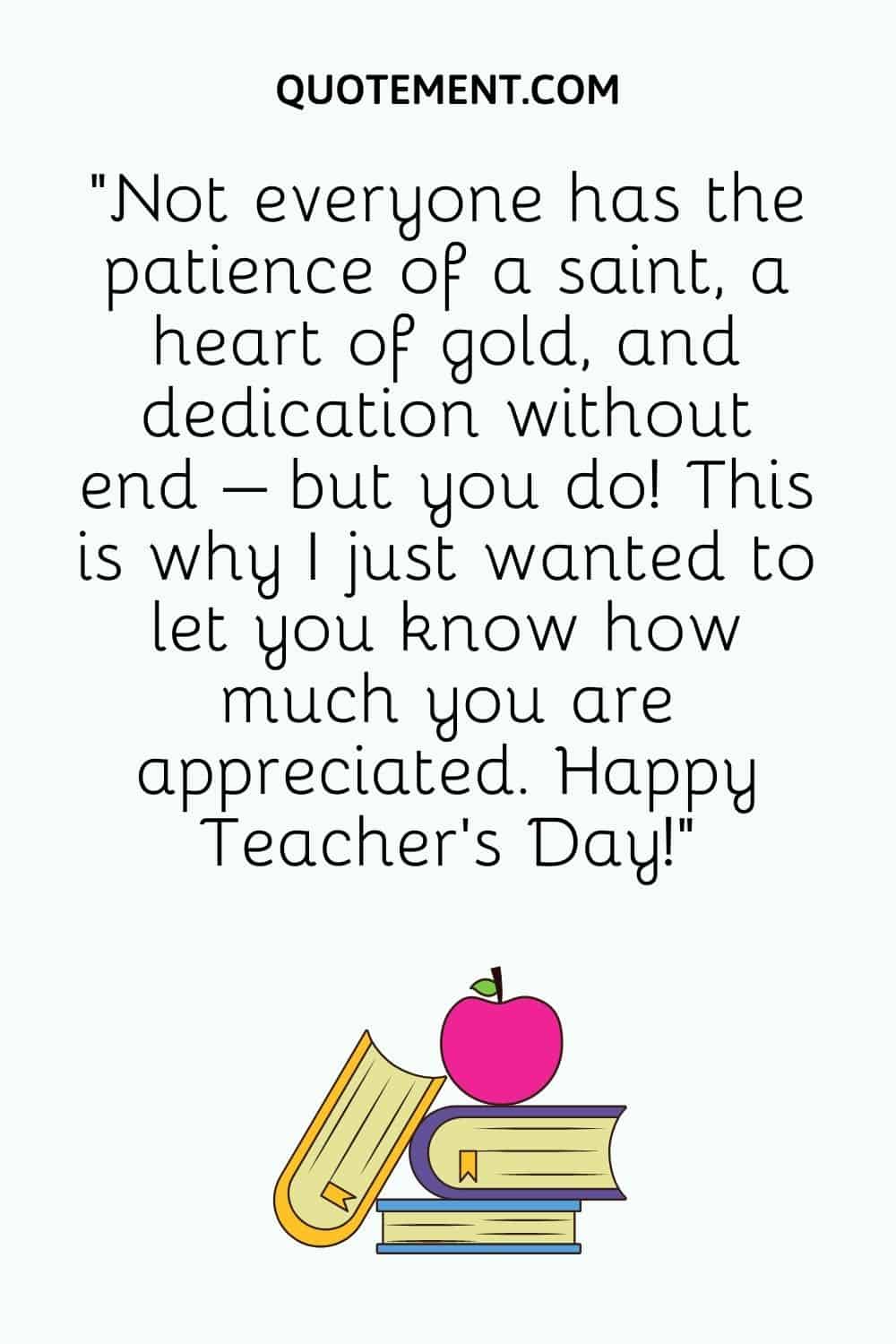 2. "Teacher, you have always challenged me to work hard and get good grades. I will always remember you. Happy Teacher's Day!"
3. "Today is a special day for you. Take a break and enjoy your day. And don't worry, because nobody can take your place. You are just the best! Happy Teacher's Day!"
4. "You gave us all the reasons to dream big and all the resources to achieve it. You are a blessing in our life. Happy Teachers' day!"
5. "Thanks for having a big heart and looking forward to making this world a better place with your warm and kind heart. The world needs more teachers like you!"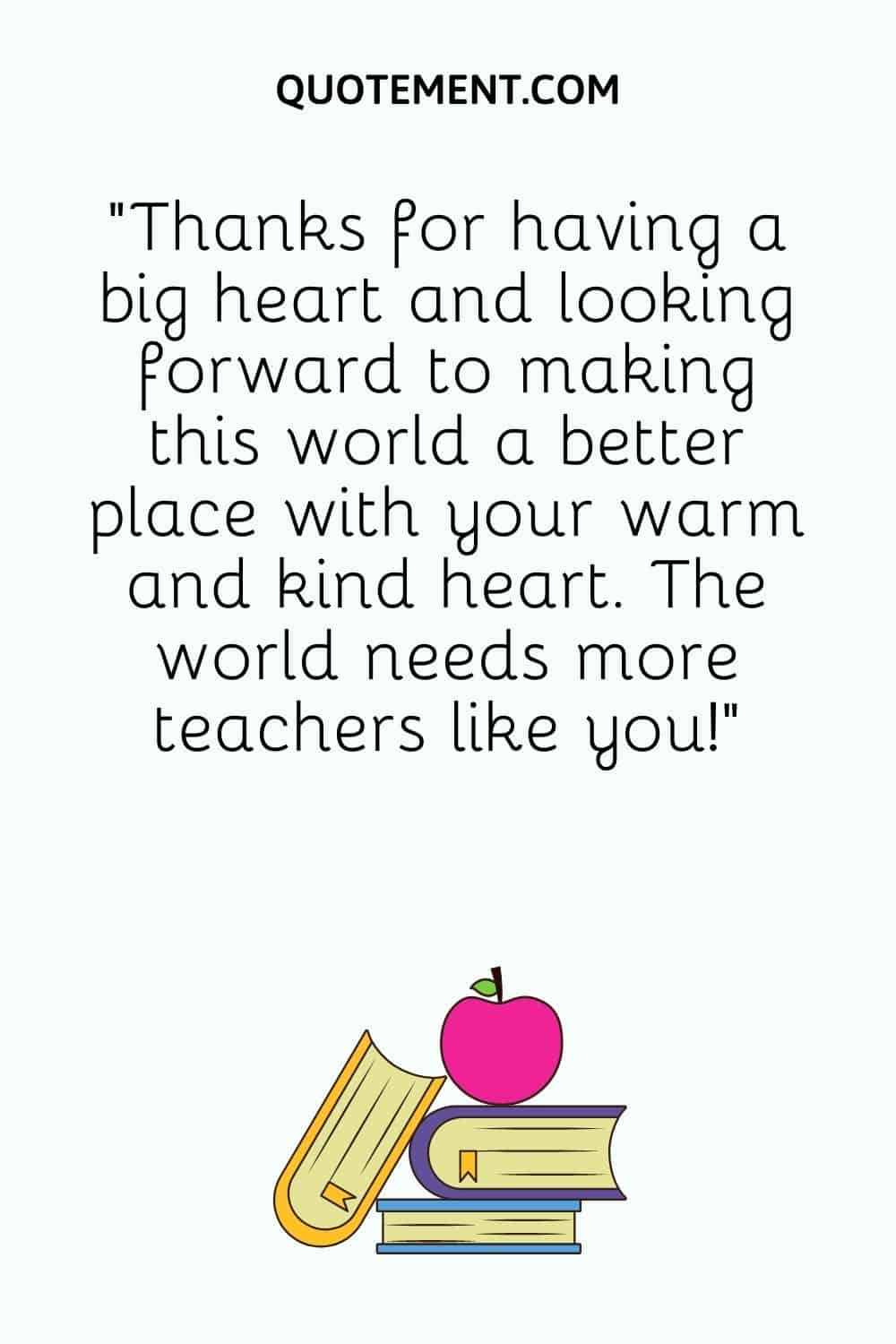 6. "You're a truly inspiring individual who has taught so much more than a simple curriculum. Your hard work, effort, and patience are much more appreciated than you know. Thank you for caring and happy Teacher's Day!"
7. "Dear Teacher, thanks for making us what we are today. Happy Teacher's Day!"
8. "A truly amazing teacher is hard to find, difficult to part with, and impossible to forget. Happy Teacher's Day!"
9. "What a teacher writes on the blackboard of life can never be erased. Happy Teacher's Day to our favorite teacher!"
10. "You are the spark, the inspiration, the guide, the candle to my life. I am deeply thankful that you are my teacher. Happy Teacher's Day!"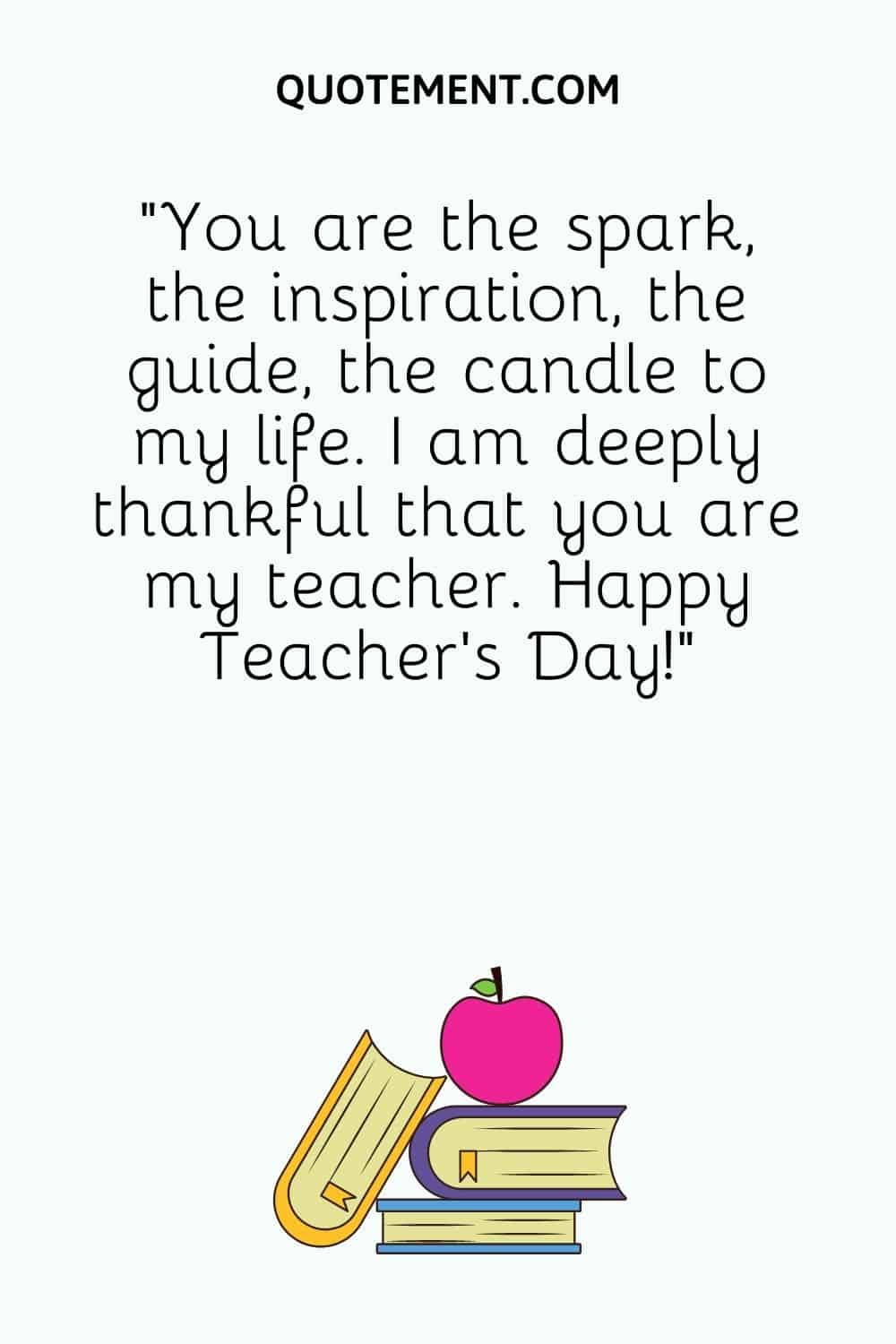 Final Thoughts
"Teachers shape the future." – I absolutely agree and I know you do too!
An amazing teacher is your mentor, best friend, role model, and hero.
It's no wonder we feel the need to show our appreciation for what they do for us and our children.
I hope my collection of heart touching quotes for teachers helped you find perfect quotes for that special teacher.
Make sure you use them when you need birthday wishes for teachers or for Teacher Appreciation Day messages!
You can make their day and put a big smile on their face. That's the least you can do to show how much they mean to you. 🙂
Until next time!