Welcome to the start of the week, where the alarm clock feels like a battle siren.
But fear not, fellow warriors, for we have the perfect antidote to those Monday blues! Get ready to have a laugh with funny Monday quotes that will rescue you from the dreaded Monday madness.
Best Funny Monday Quotes That'll Knock Your Socks Off
1. "If each day is a 'gift,' I'd like to know where to return Mondays." ― John Wagner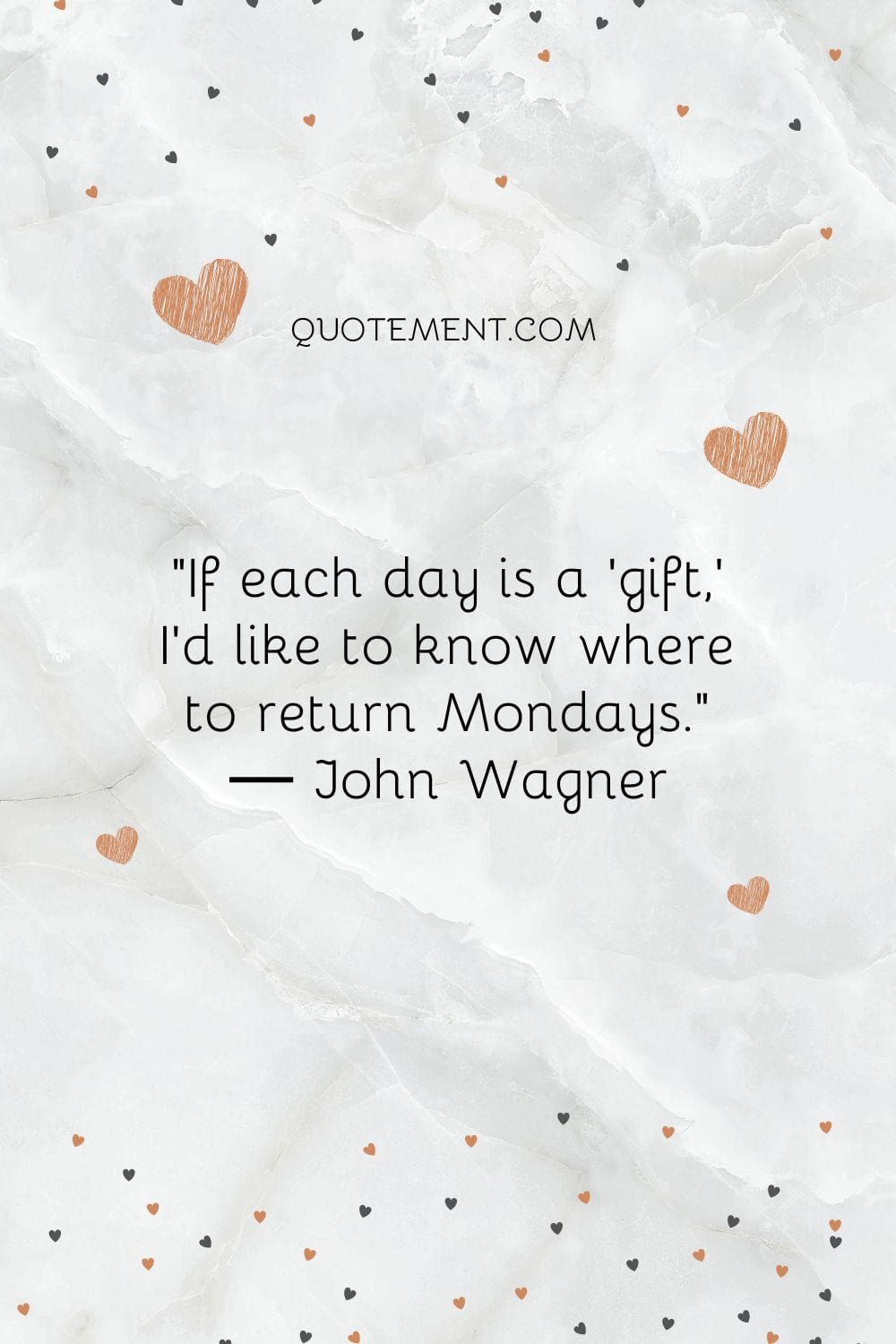 2. "I can't adult today. Please don't make me adult on a Monday." ― Unknown
3. "When life gives you 'Mondays,' make an espresso." ― Unknown
4. "It's Monday, and I'm already thinking about my 'weekend plans'." ― Unknown
5. "Candy is nature's way of making up for Mondays." ― Rebecca Gober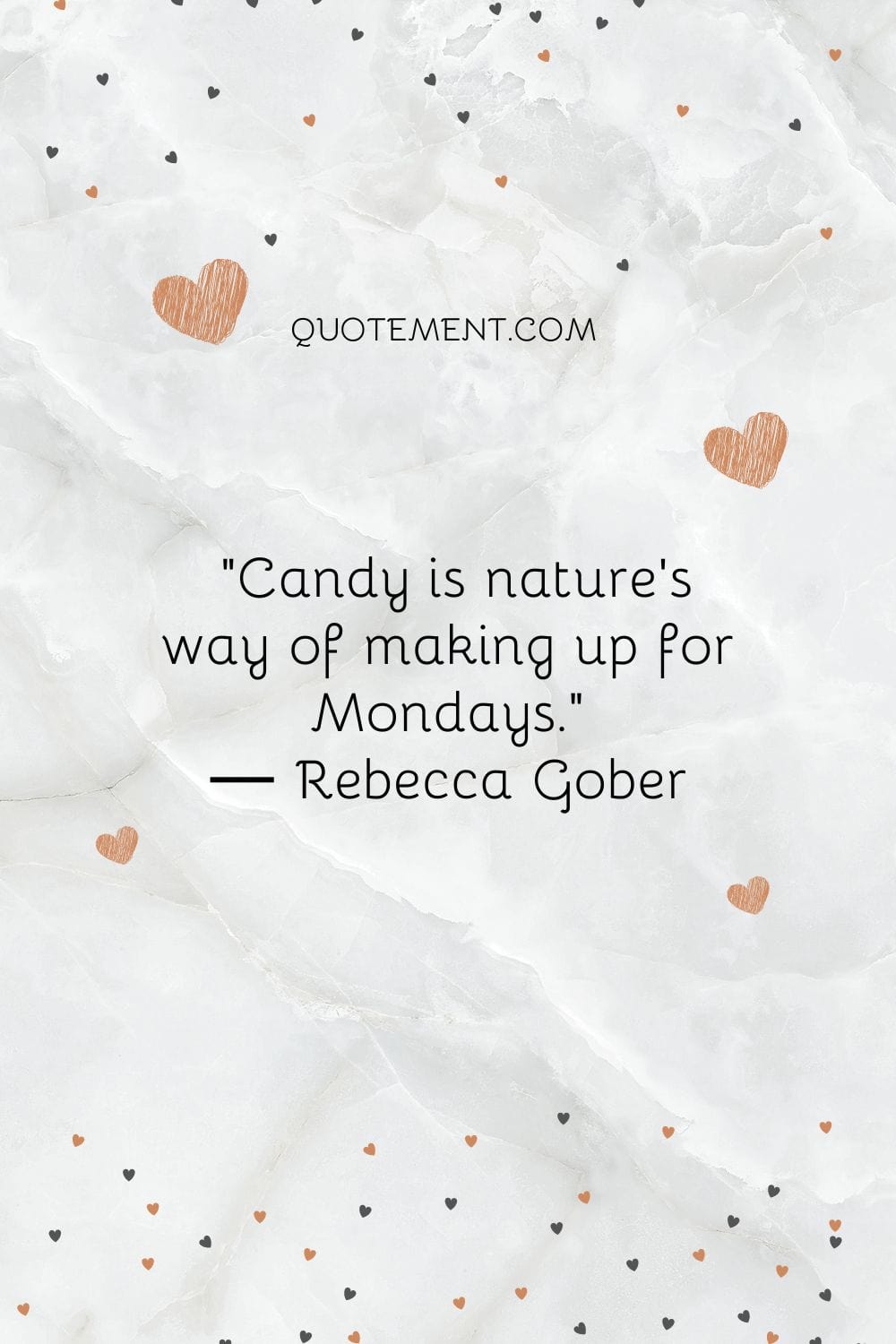 6. "Monday is the day of silence, the day of the whole white mung bean, which is sacred to the moon." ― Chitra Banerjee Divakaruni, The Mistress of Spices
7. ​​"If Monday had a face, I'd punch it." ― Unknown
8. "The first five days after the weekend are the hardest." ― Unknown
9. "I'm not ready for Monday. Can I get a refund on the weekend?" ― Unknown
10. "Mondays are the potholes on the road of life." ― Tom Wilson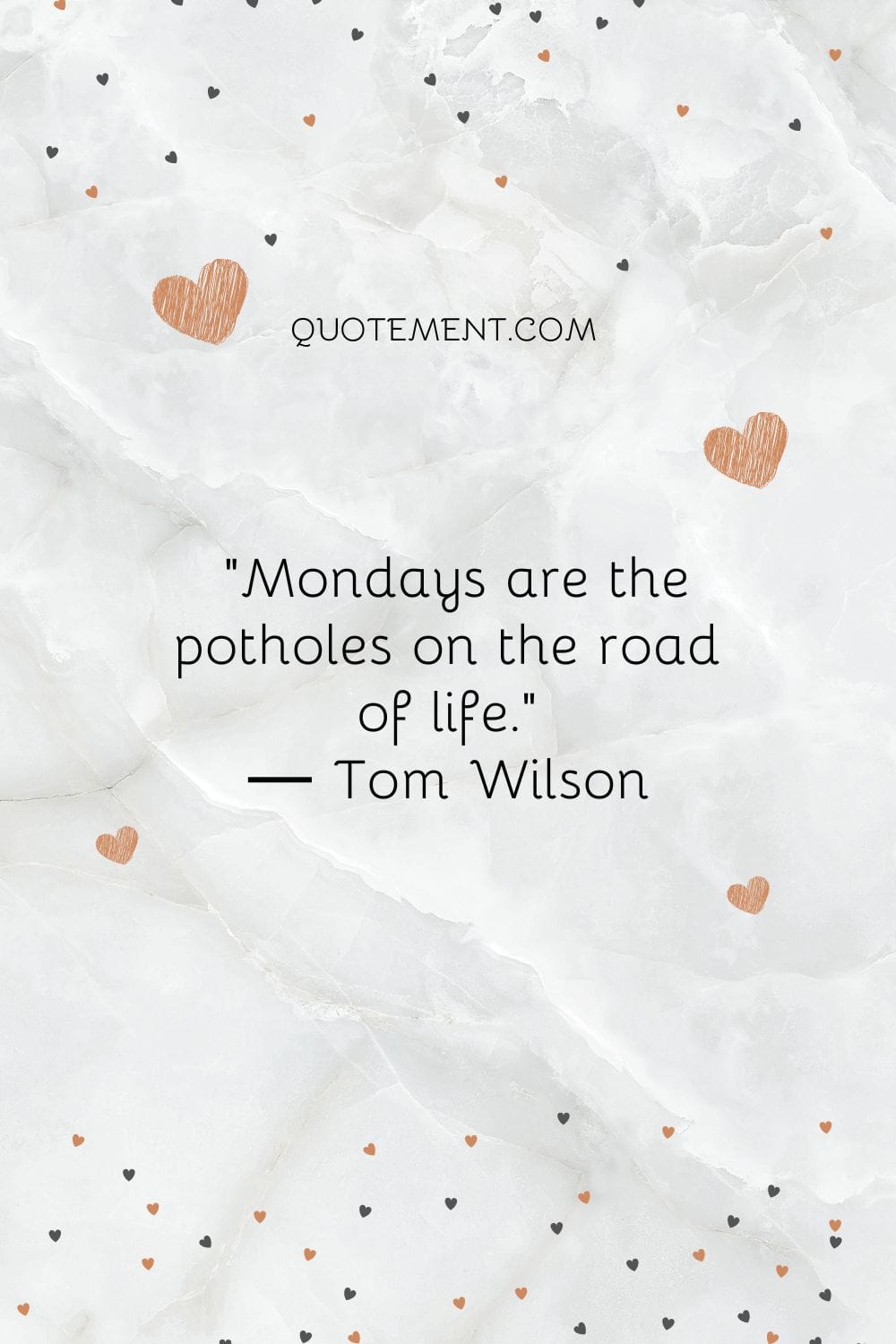 Funny Monday Motivation Quotes
1. "Monday is a 'strong cup of coffee' kind of day." ― Unknown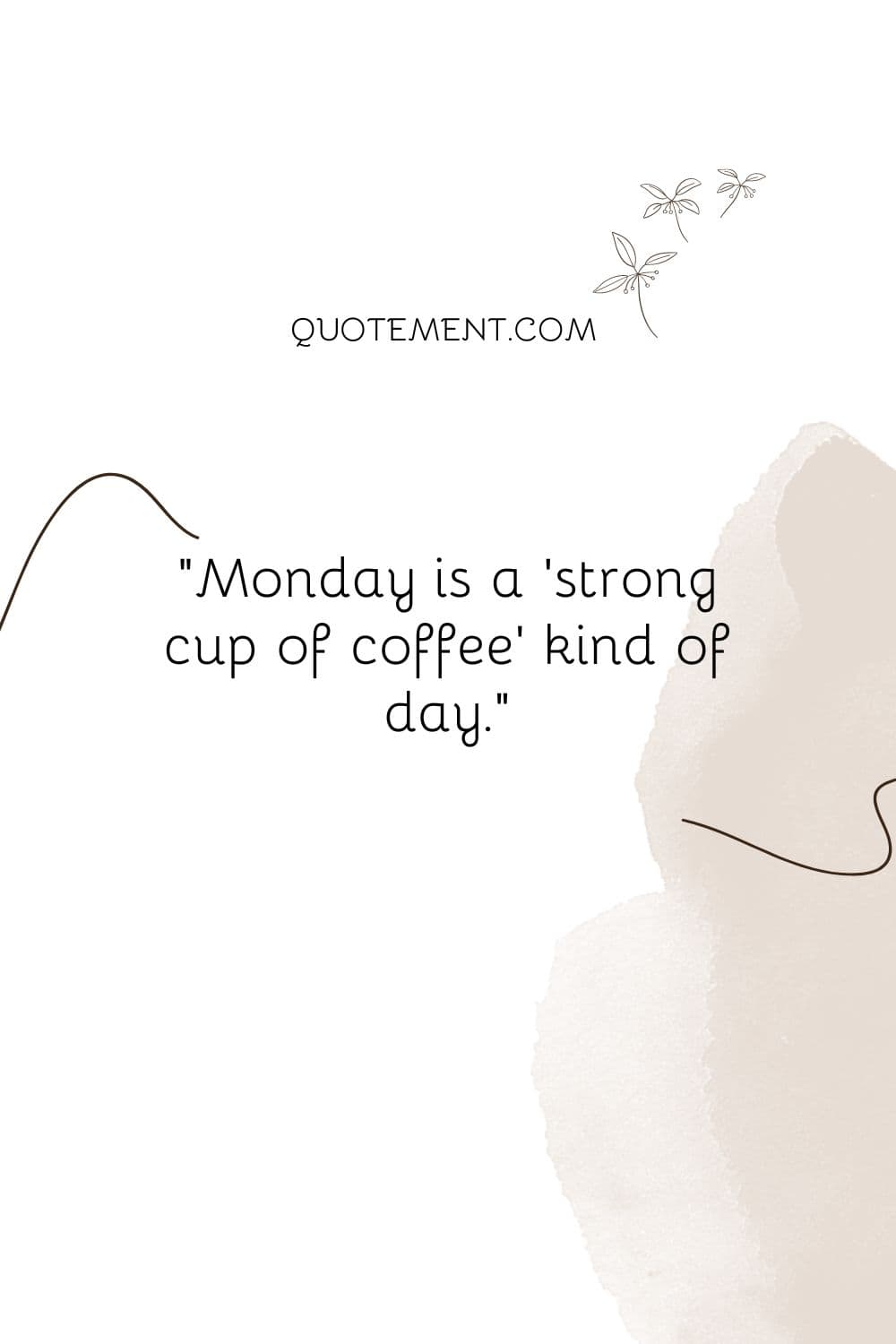 See also: 280 Awesome Coffee Captions To Show Your Coffee Obsession
2. "Monday makes me feel like the week is only just beginning." ― Anthony T. Hincks
3. "Employers are at their happiest on Mondays. Employees are at their happiest on Fridays." ― Mokokoma Mokhonoana
4. "Monday gives me the winter chills in summer. So have a great day!" ― Anthony T. Hincks
5. "Monday is for people with a mission. Those who favor vacations, not weekends." ― Cristina Imre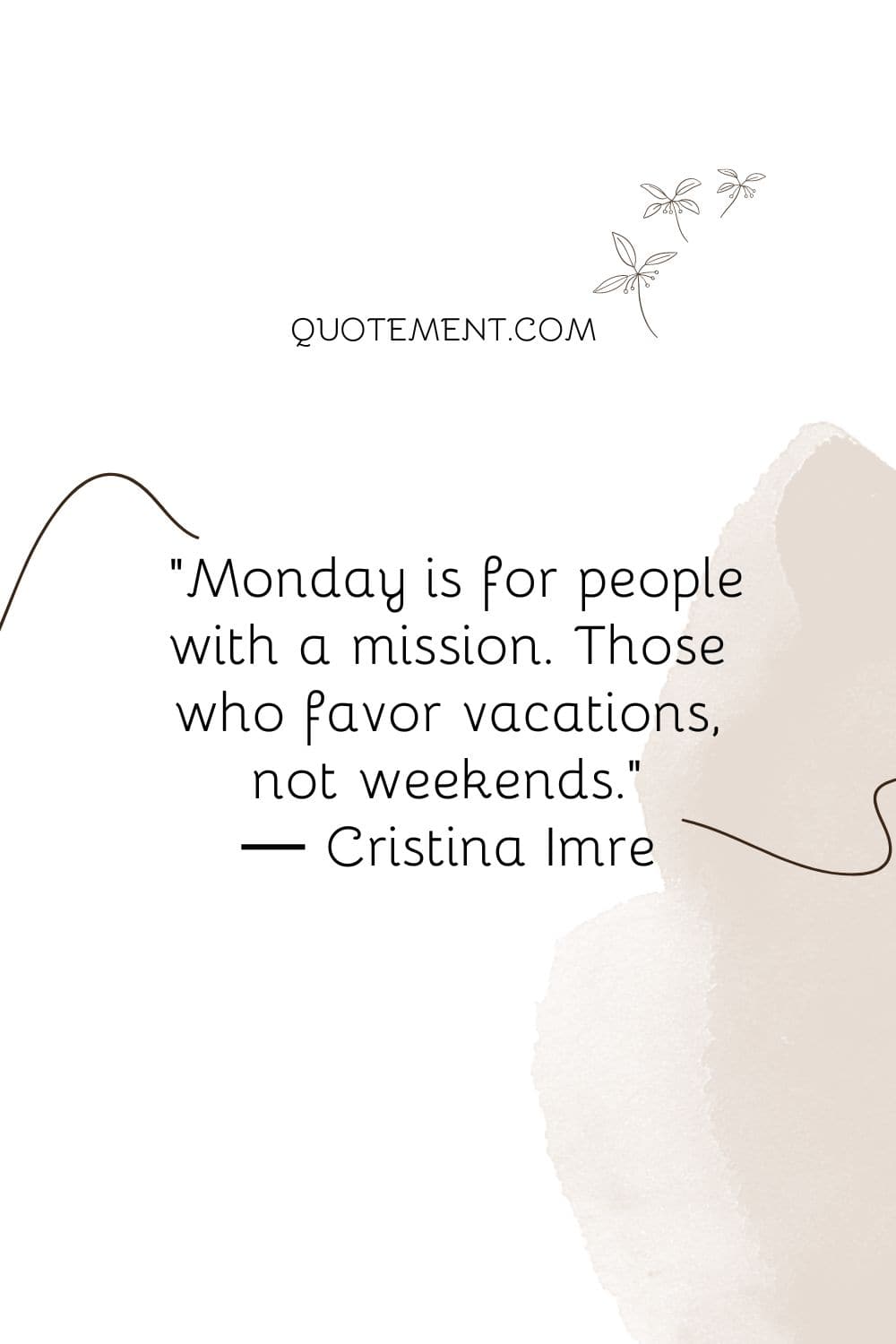 6. "Monday is my slope day. Wednesday's the summit and after that, it's all down hill until the next week. Have a great week skiing. I know that I will." ― Anthony T. Hincks
7. "Mondays are the start of the work week which offer new beginnings 52 times a year!" ― David Dweck
8. "The only good Monday is an Almost-Tuesday." ― Julio-Alexi Genao
9. "Your Monday morning thoughts set the tone for your whole week. See yourself getting stronger, and living a fulfilling, happier & healthier life." ― Germany Kent
10. "Monday is a breakfast of ideas." ― Anthony T. Hincks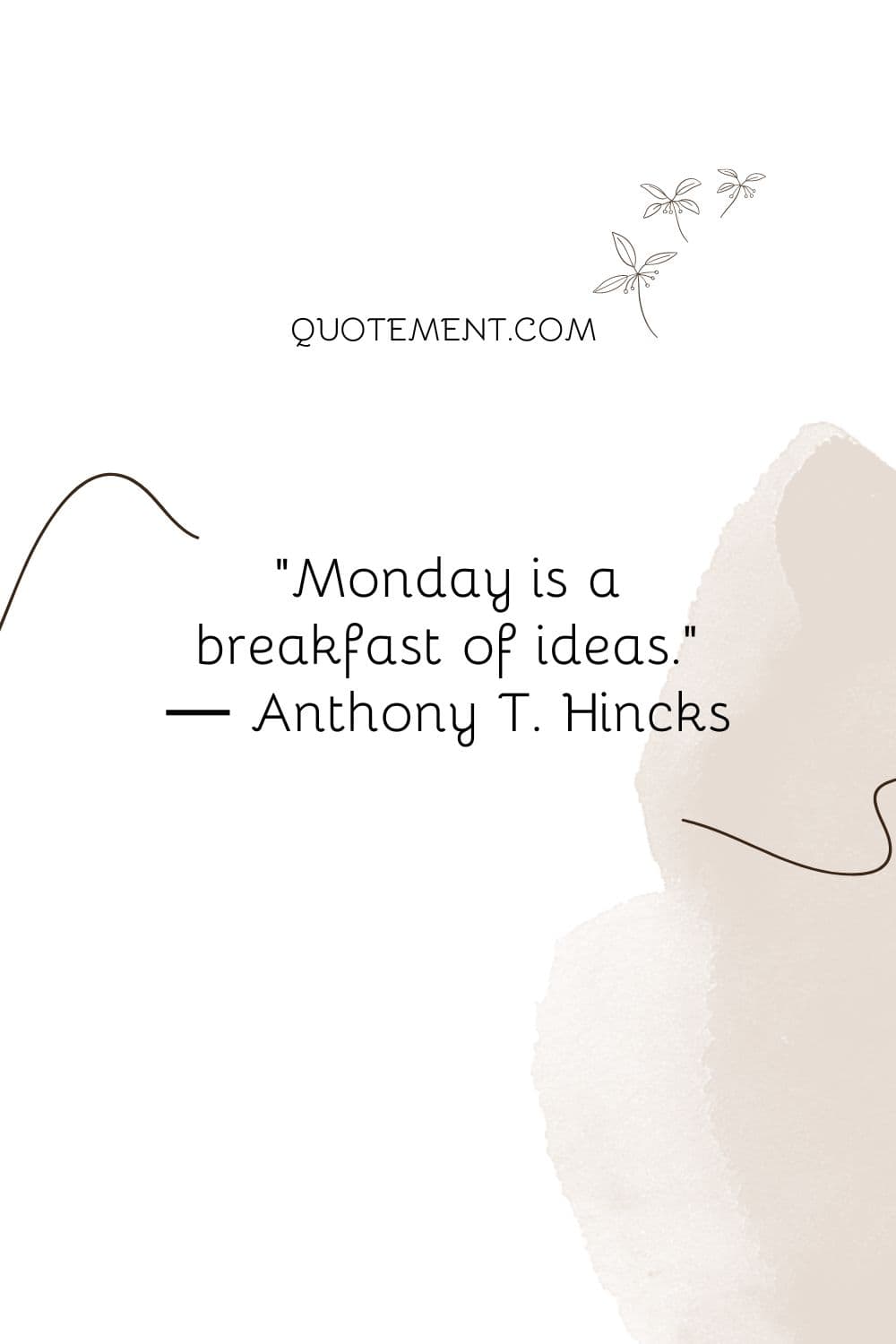 11. "The awfulness of Monday mornings is the world's greatest common denominator. To the millionaire and the coolie it is the same, because there can be nothing worse." ― Kenneth Fearing, The Big Clock
12. "Most people hate Mondays because most people do not know the incredible beauty of being simply existed in any day whatsoever!" ― Mehmet Murat ildan
13. "But it was time for Monday morning. The great arbiter of fresh starts and calendars stretching for days on end. Office workers in Park Avenue corner offices and pattern makers in Garment District walk-ups were drunk with the possibility of a whole week set before them like a new school year to a class full of wide-eyed kindergarteners. The idea that there was so much time to make things happen." ― Susie Orman Schnall, The Subway Girls
14. "I'm sorry I'm late." Kay smiled and didn't look the least bit sorry. "Everything takes longer then you think it does on Monday. Even if I pretend it's Tuesday It doesn't seem to help. I don't know why. Would you like some coffee?" ― Nora Roberts, Truly, Madly Manhattan: Local Hero / Dual Image
15. "Perhaps one day we can all be genetically altered to think of Mondays as backwards Fridays?" ― Neil Leckman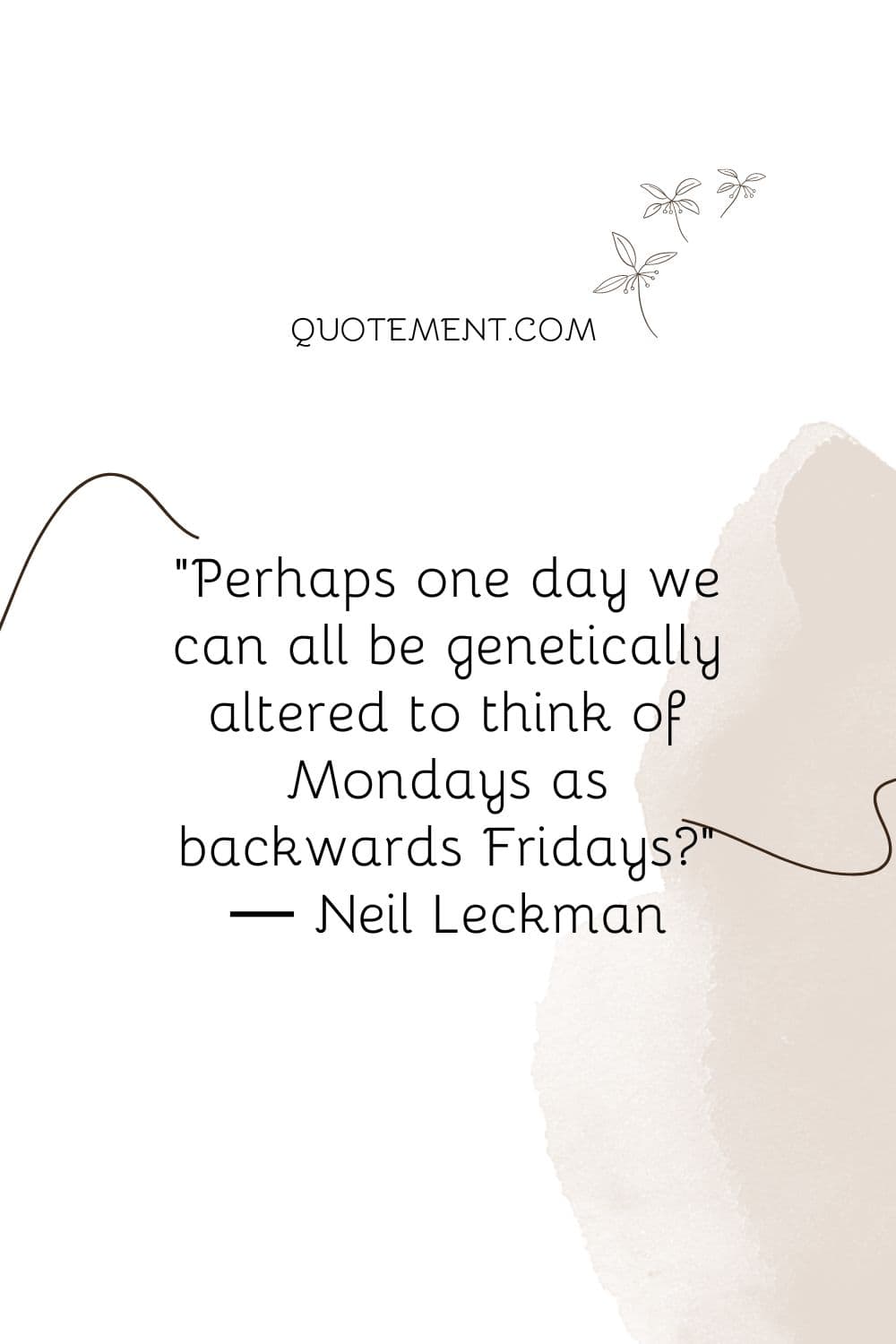 16. "People who discipline themselves to get up and do things they don't necessarily love or like doing, but do it regardless to succeed are people who will get the results and the success they are looking for." ― Jeanette Coron
17. "Magical Monday is an amalgamation of passion, perseverance and performance." ― Subhashree Jena
18. "Your life goal should be to make Monday the best day of the week." ― Trevor Carss
19. "There are many opportunities in every single day, and Monday is the perfect day to seize them all." ― Isabella Koldras
20. "Invest just 10% of your earnings in 'your own' handpicked stocks …. You'll realize that you have beaten 'Monday Blues' for life. " ― Sandeep Sahajpal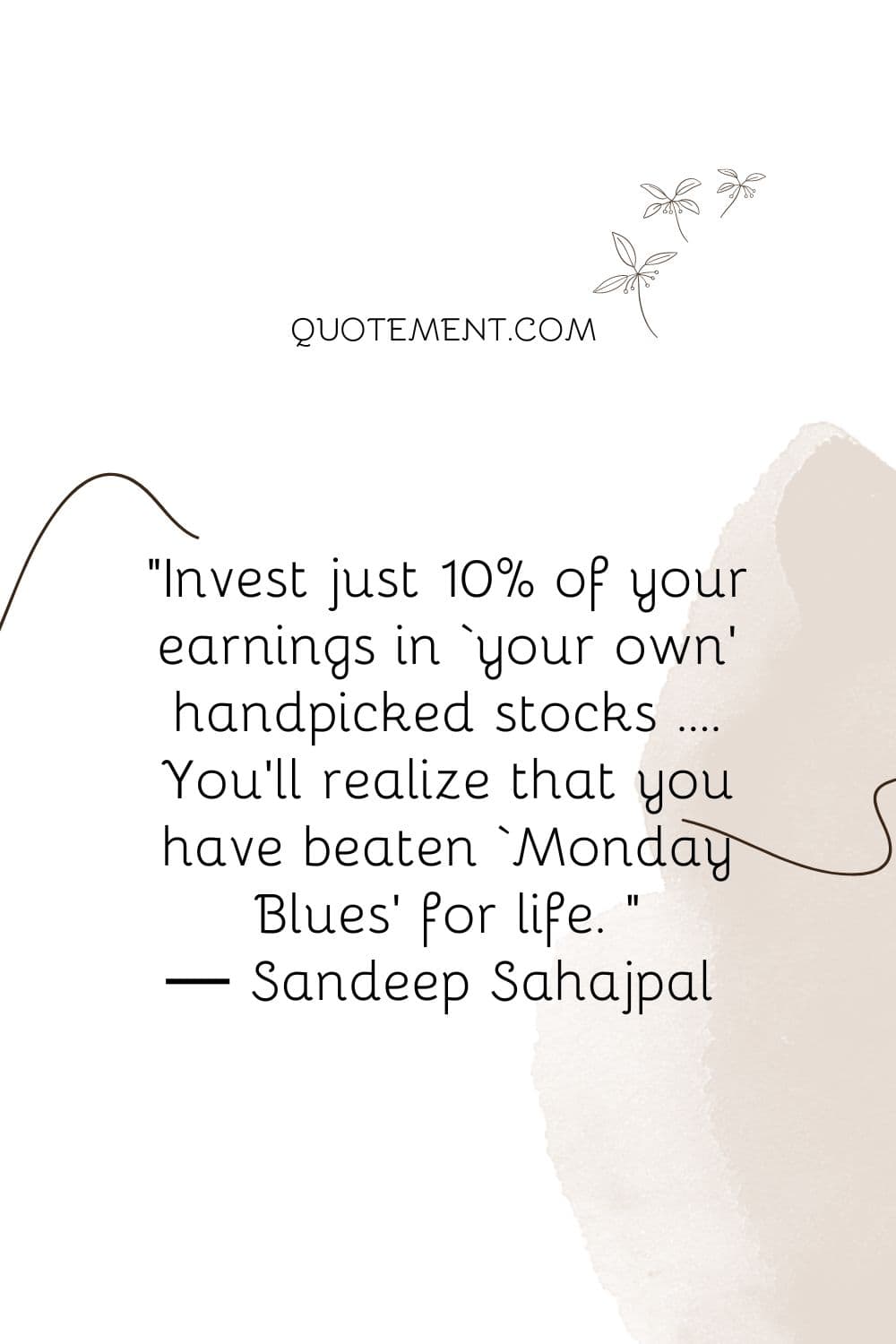 Sarcastic Monday Quotes
1. "This has been such a Monday! I wish I stayed in bed, and I wish that yesterday had never happened." ― Lisa Mantchev, Eyes Like Stars
2. "When I get home I take some sleeping pills and within what seemed like half an hour of unconsciousness it was Monday morning again." ― Irvine Welsh, Filth
3. "Monday is a great for becoming too busy to die." ― Roy Station, Trust Me.
4. "Isn't it weird how you can have an amazing weekend and still find yourself surrounded by the same wooden desks and wooden people come Monday morning?" ― Crystal Cestari, The Best Kind of Magic
5. "I hate Sundays because they give birth to Mondays." ― Chris Southwave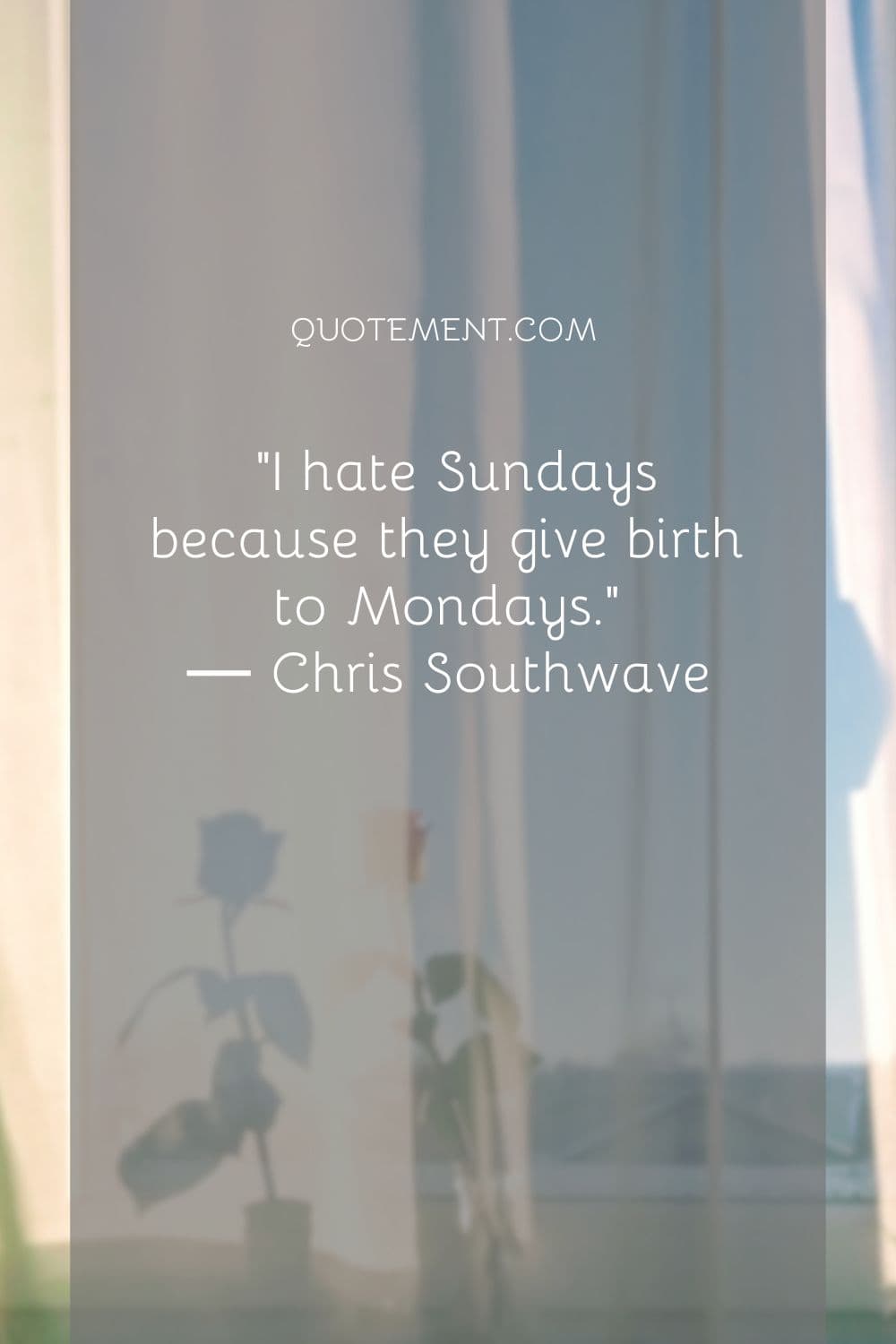 6. "So. Monday. We meet again.
We will never be friends—but maybe we can move past our mutual enmity toward a more-positive partnership." ― Julio-Alexi Genao
See also: 170 Positive Monday Blessings Quotes To Embrace The Week
7. "There are no miracles on Mondays." ― Amy Neftzger, The Orphanage of Miracles
8. "Some days, it just doesn't pay to get out of bed." ― Jim Butcher, Grave Peril
9. "Monday is a sloppy umbrella day, which makes everybody a little blue. Cole, dropping by my office in the morning, wastes no time in blowing off steam. "You can TAKE this DAY and SHOVE IT where the SUN DOESN'T SHINE," he growled.
"Too late. Somebody already DID THAT." ― Giorge Leedy
10. "Do you think there will be Mondays in heaven?' (…) 'Heaven will be one long Monday." ― Katherine Mansfield, Marriage a la Mode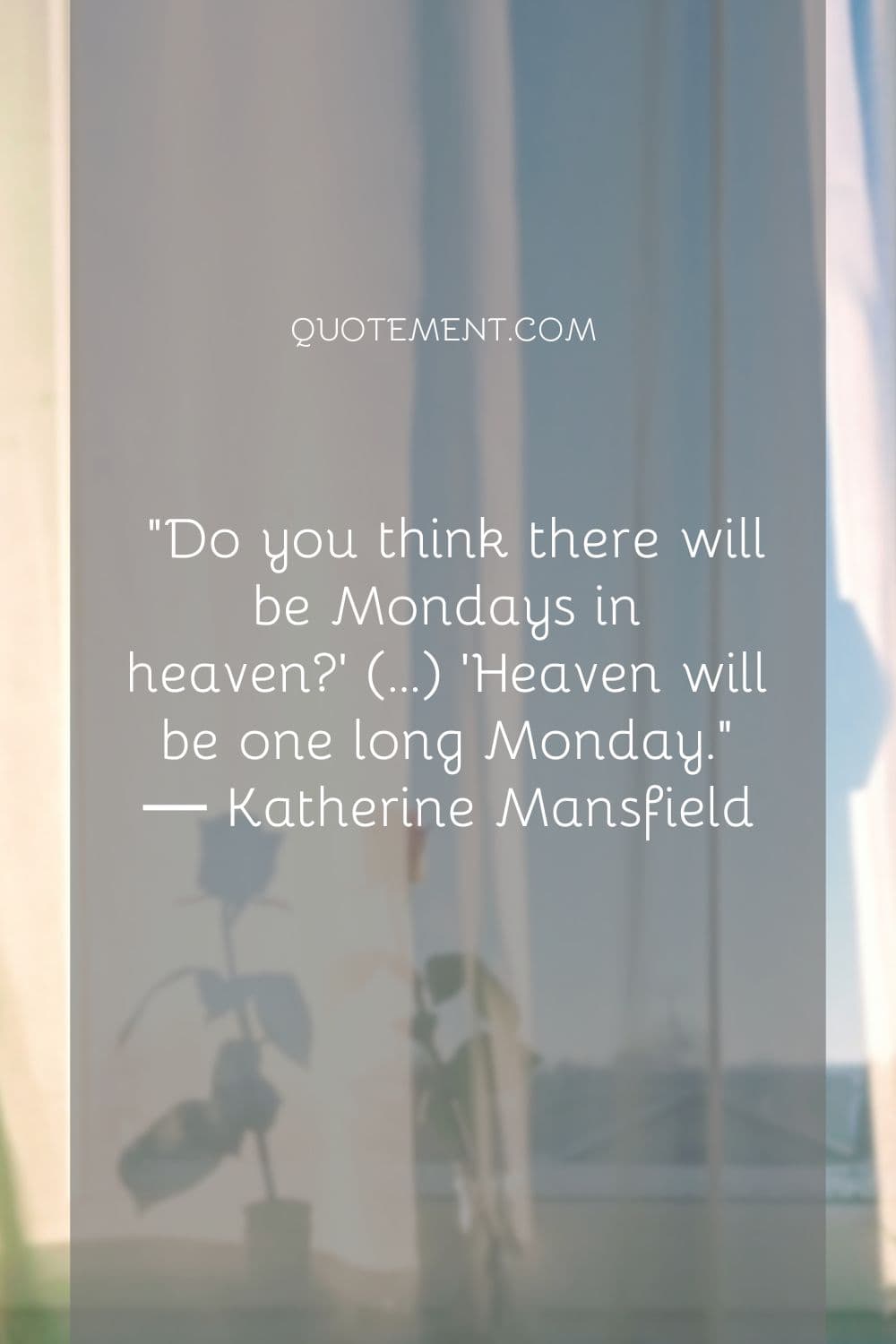 11. "The best time to do anything, get drunk, surf, run, take a walk, gamble, make love, get high, watch a movie, read a book, is on a Monday, when everyone else is at work, as their depression will heighten your celebration, of not being them." ― Robert Black
12. "There are many Mondays to go before I die. I may as well look forward to them." ― Trevor Carss
13. "So, now I am left with two unfortunate facts in my life. Mondays are creepy Chuck day, and even my mother thinks I'm getting desperate in the man department." ― Lindsay Detwiler, Without You
14. "In the weekend, the daylight of Tuesday, Wednesday, Thursday, Friday, Saturday and Sunday was the night of my life. In the night, the weekend was out there, just as Friday out of There. I see, under my roof, 8 Days were written down." ― Petra Hermans, Voor een betere wereld
15. "No! I'm not ready, this is still my first cup of coffee!" ― Anthony Liccione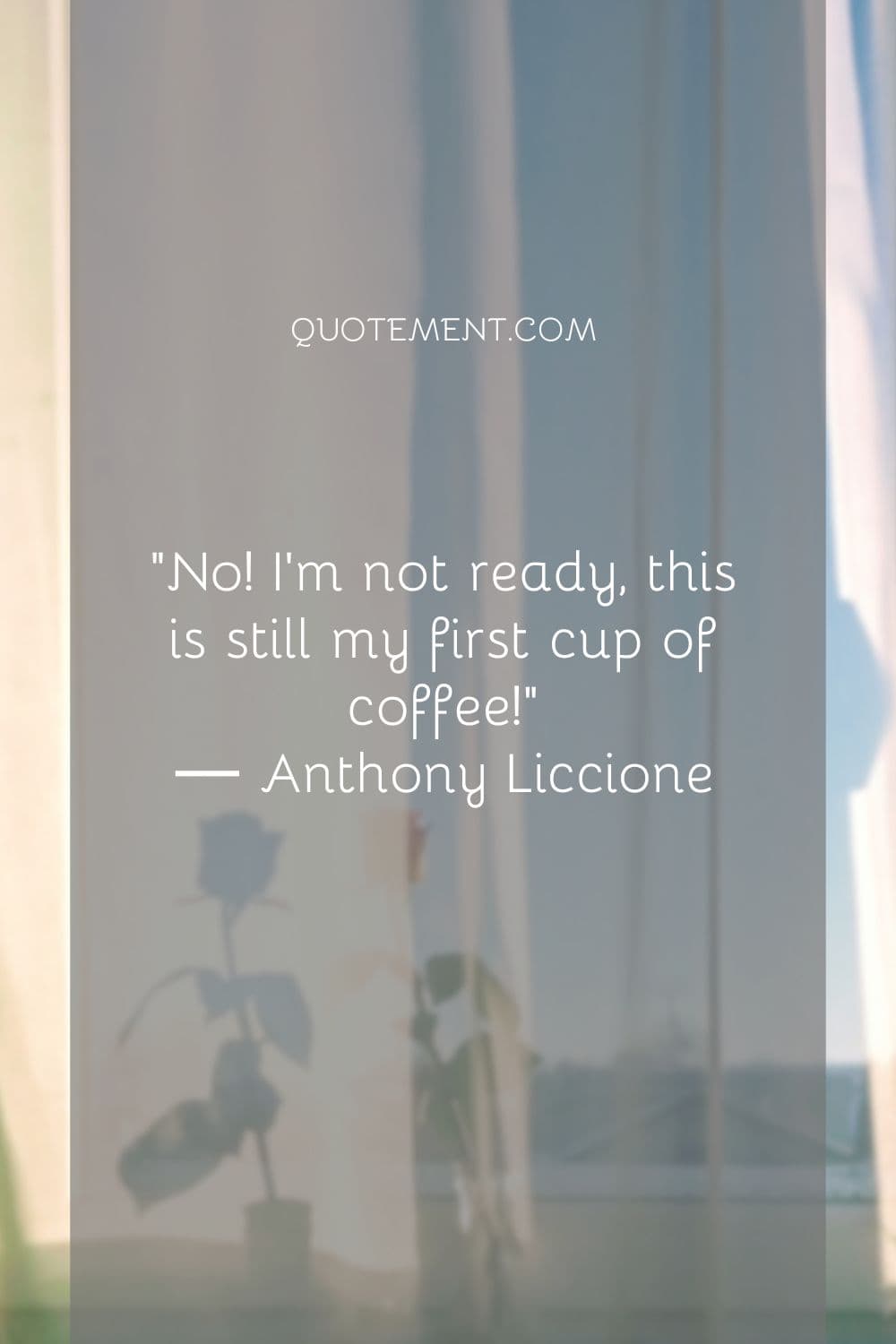 16. "Mindful Monday Humans, May your coffee kick in before reality does." ― Napz Cherub Pellazo
17. "You are only Half Happy unless you love them both equally: Friday & Monday!" ― Mohith Agadi
18. "Monday is the day of silence, day of the whole white mung bean, which is sacred to the moon." ― Chitra Banerjee Divakaruni, The Mistress of Spices
19. "Do one thing every day that scares you." ― Eleanor Roosevelt
20. "You are in control. Never allow your Monday to be manic." ― Andrea L'Artiste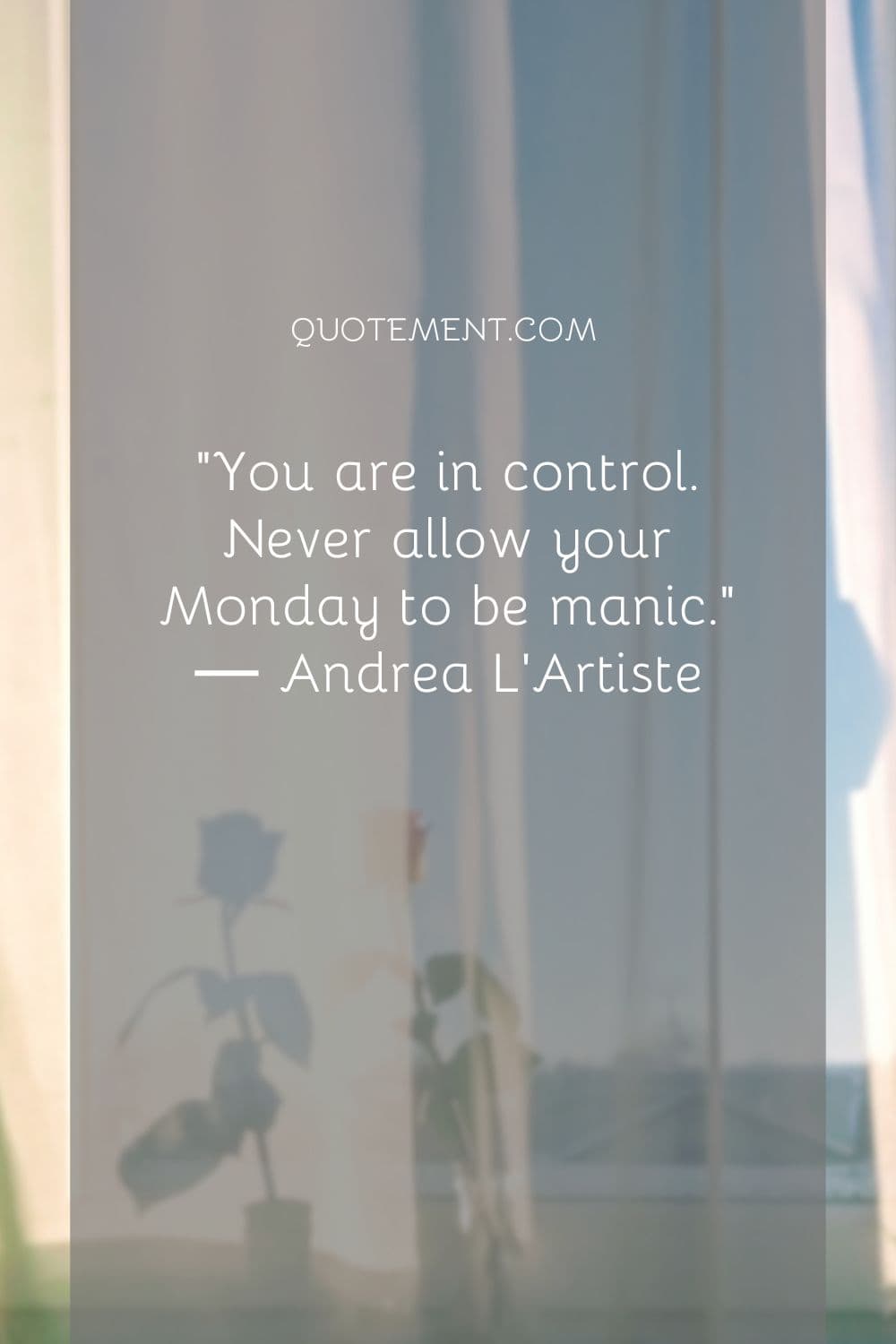 Happy Monday Funny Quotes To Make Fun Of The Grayness
1. "Monday Morning Blues? Why not change the color of your Monday to yellow and brighten up the coming week?" ― Kanika Saxena, A Lockdown Story!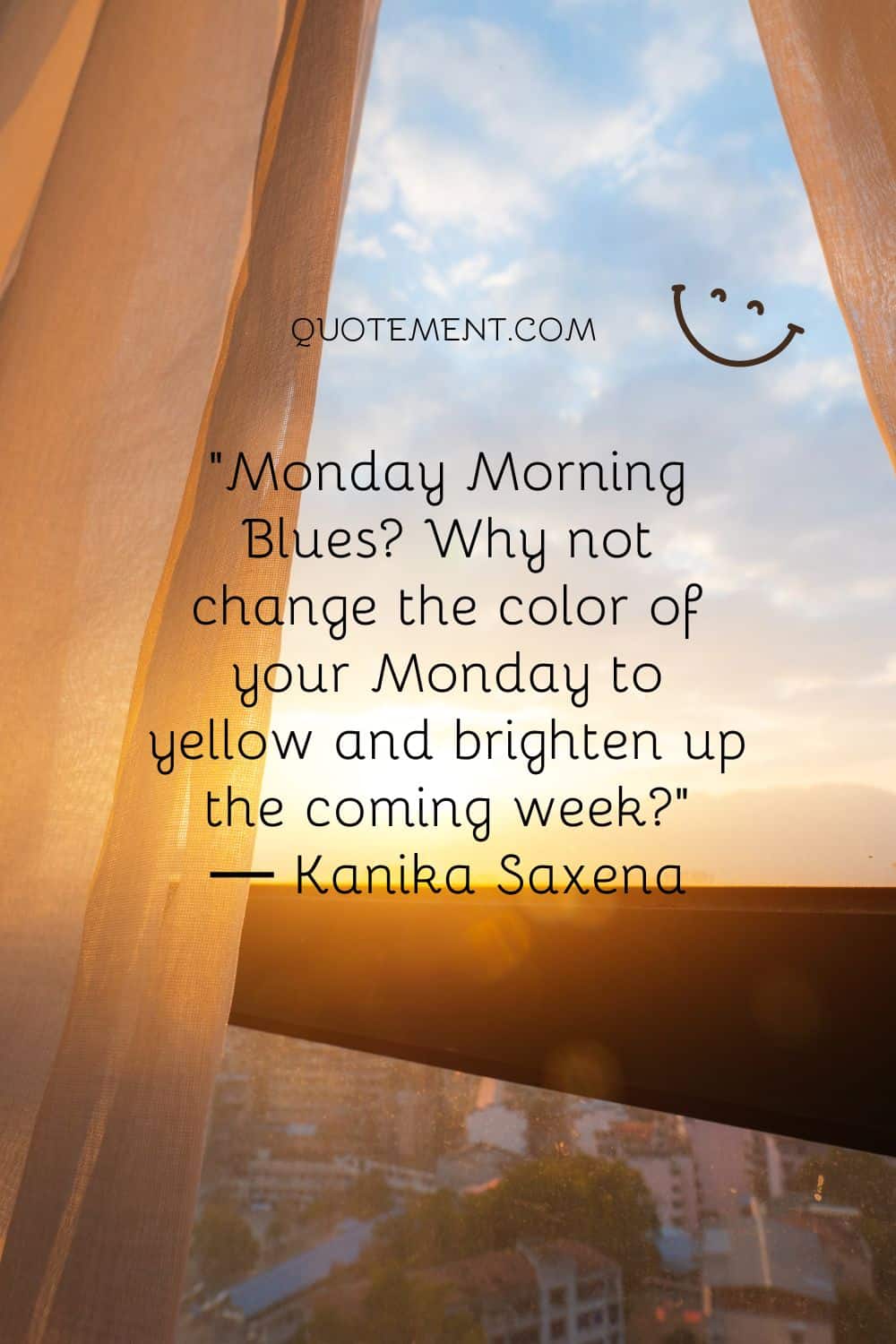 2. "Good Morning Humans…'It's Monday don't forget to be awesome, make it a good one" ― Napz Cherub Pellazo
3. "I've always hated Mondays, the whole lot of them. Too much whiplash, snapping the tired masses to attention. God's way, perhaps, of reminding us that we are not masters of our fate, no matter how deluded we became during the weekend respite." ― Jonathan Hull, Losing Julia
4. "Every day is new. It's just a new day. I look at six hours at a time." ― Wiz Khalifa
5. "Every day is a new day. It is better to be lucky. But I would rather be exact. Then, when luck comes, you are ready." ― Ernest Hemingway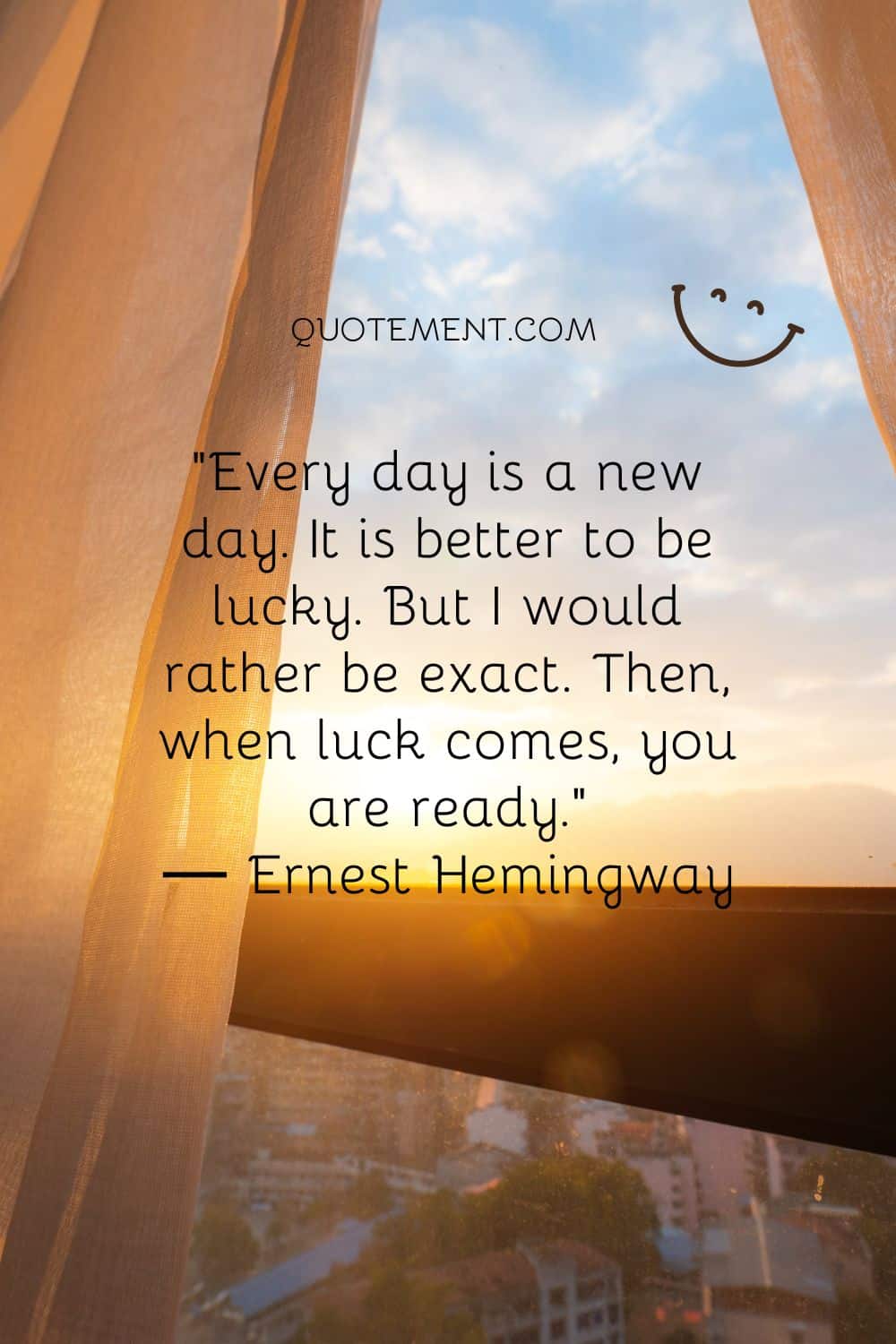 6. "Man starts over again every new day, in spite of all he knows, despite all he knows." ― Emil Cioran
7. "My grandmother lived to 104 years old, and part of her success was she woke up every morning to a brand new day." ― George Takei
8. "Each new day has a different shape to it. You just roll with it." ― Ben Zobrist
9. "Today is a new day. Even if you were wrong yesterday, you can get it right today." ― Dwight Howard
10. "The beginning is the most important part of the work." ― Plato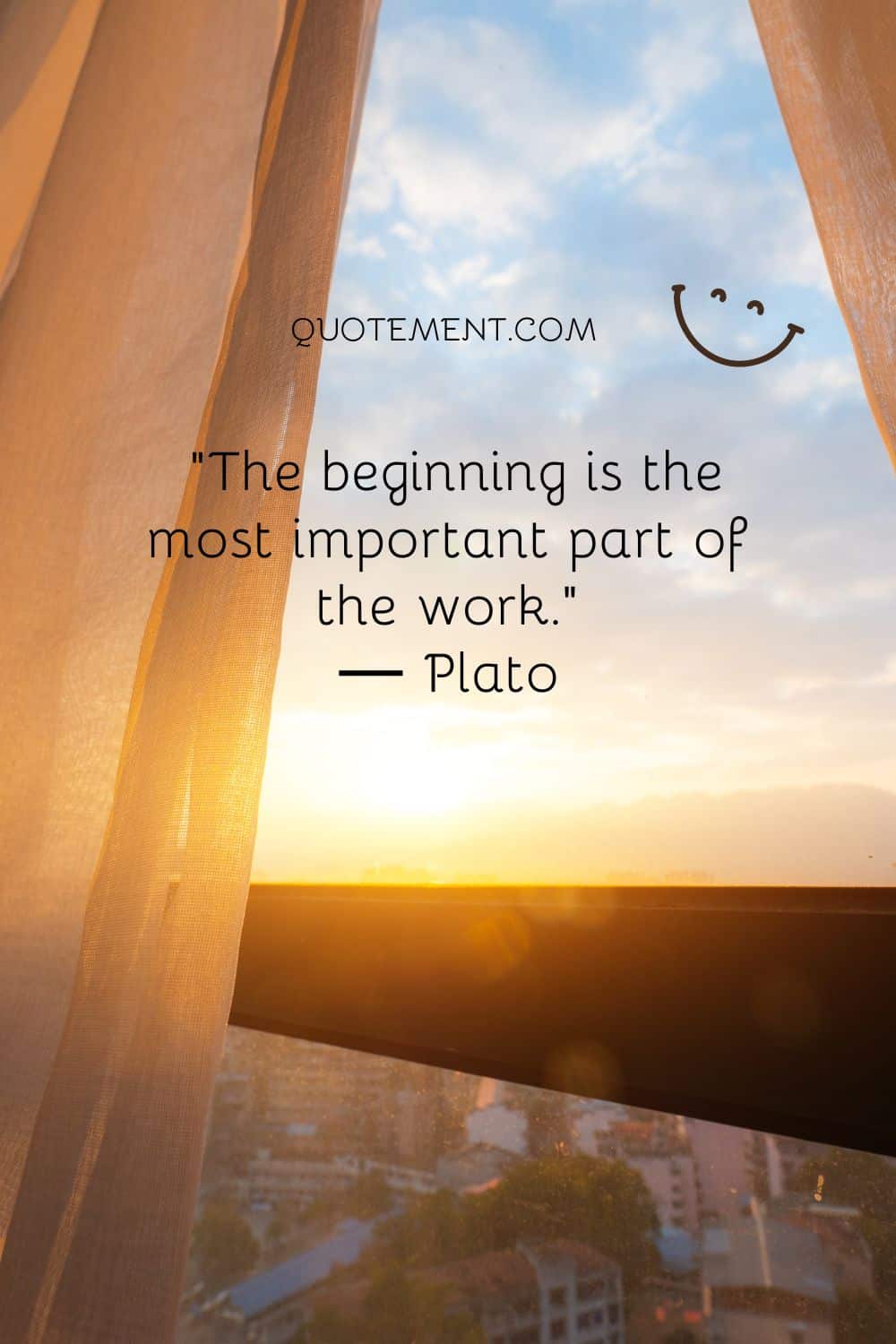 11. "Everyone has highs and lows that they have to learn from, but, every morning, I start off with a good head on my shoulders, saying to myself, it's going to be a good day!" ― Lindsay Lohan
12. "Isn't it nice to think that tomorrow is a new day, with no mistakes in it yet?" ― L.M. Montgomery
13. "If you're not getting it perfect, life is still going to go around. The world still turns. It's going to be OK. Tomorrow is a new day." ― Katy Mixon
14. "Every day brings you a chance to draw in a breath, kick off your shoes and dance." ― Oprah Winfrey
15. "You can write the best column in the world on Monday, and it does you absolutely no good on Tuesday." ― Lewis Grizzard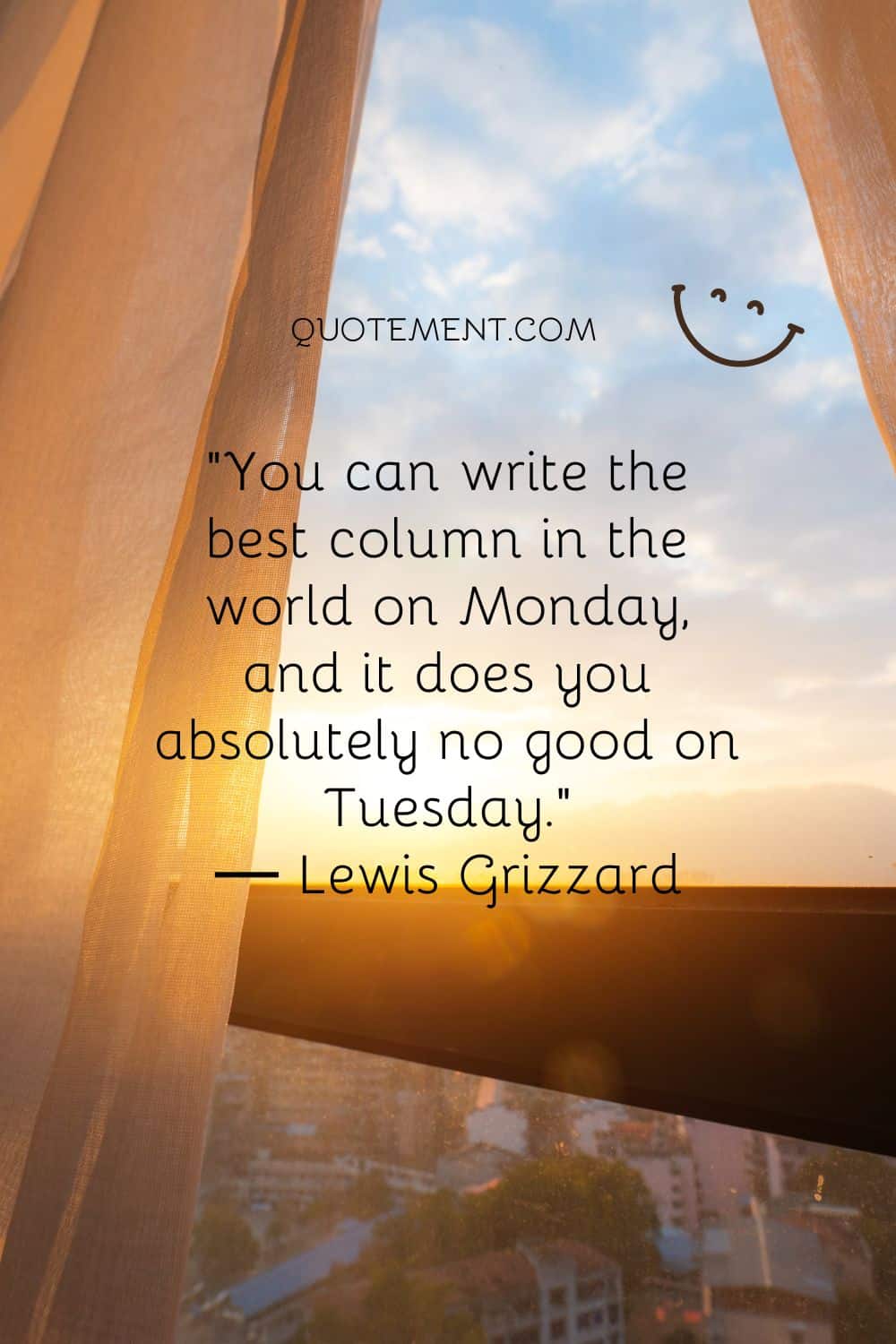 See also: 180 Tuesday Affirmations To Help You Conquer The Day
16. "If there was a day of the week I could skip it would be Monday. Clients had too much time to think and worry over a long weekend and by Monday they were often riddled with fear and anxiety." ― Stan Turner
17. "If I could, I'd give up Mondays to have her love again. Actually, forget her love, I'd give up Mondays for free." ― Jarod Kintz
18. "What about Monday? That could be one day we look at things the same way and wear funny shoes." ― Kevin Dalton
19. "Today I am doing better than yesterday, and tomorrow I hope to be doing better than I am today. And two days from now? Well, that's a Monday, so I'll be feeling shi*ty." ― Jarod Kintz
20. "There is nothing more dreadful than having to go walking on one's own on Monday." ― Thomas Bernhard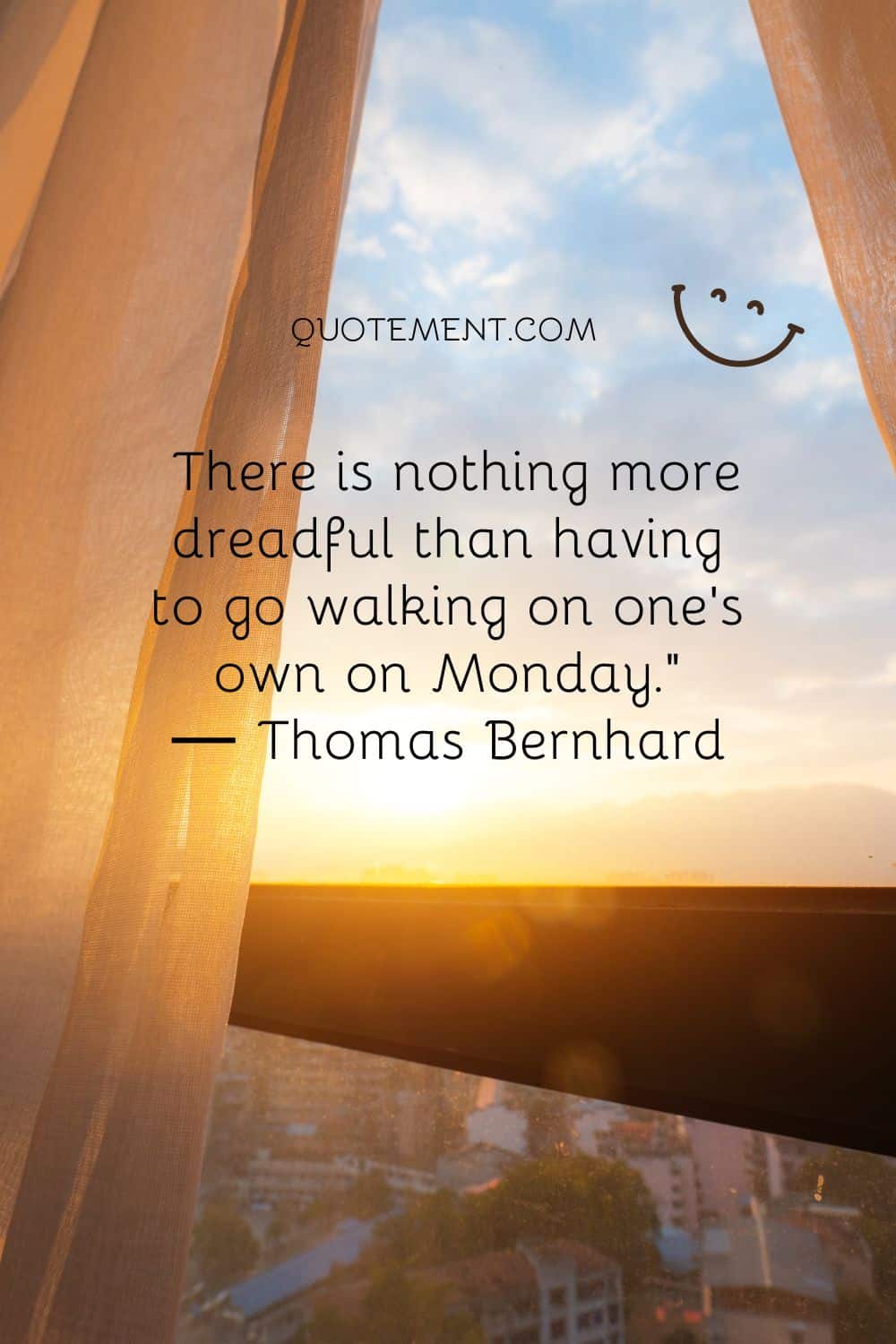 Funny Monday Quotes That Will Make You Laugh
1. "Mindful Monday Humans, May your coffee kick in before reality does." ― Napz Cherub Pellazo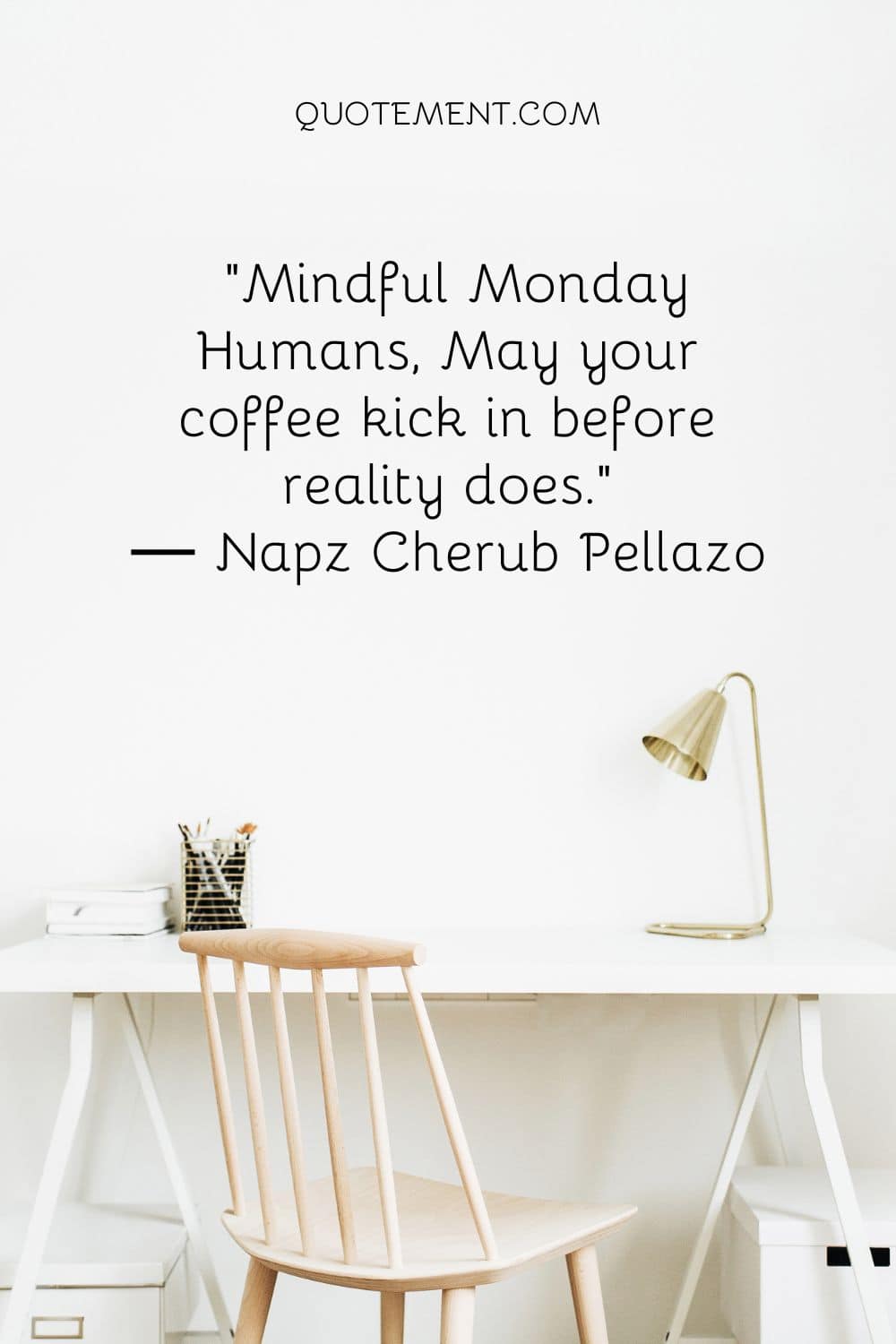 2. "It was Monday morning. Swaminathan was reluctant to open his eyes. he considered Monday specially unpleasant in the calendar. After the delicious freedom of Saturday and Sunday, it was difficult to get into the Monday mood of work and discipline. He shuddered at the very thought of school: the dismal yellow building; the fire-eyed Vedanayagam, his class teacher, and headmaster with his thin long cane…" ― R.K. Narayan, Swami and Friends, The Bachelor of Arts, The Dark Room, The English Teacher: Introduction by Alexander McCall Smith
3. "It was the kind of Sunday to make one ache for Monday morning." ― Joan Didion, South and West: From a Notebook
4. "But now I want to say things that comfort me and that are a little free. For example: Thursday is a day transparent as an insect's wing in the light. Just as Monday is a compact day. Ultimately, far beyond thought, I live from these ideas, if ideas are what they are. They are sensations that transform into ideas because I must use words. Even just using them mentally. The primary thought is thinking with words." ― Clarice Lispector
5. "Monday is the yardstick against which all that is unpleasant is measured." ― Lou Brutus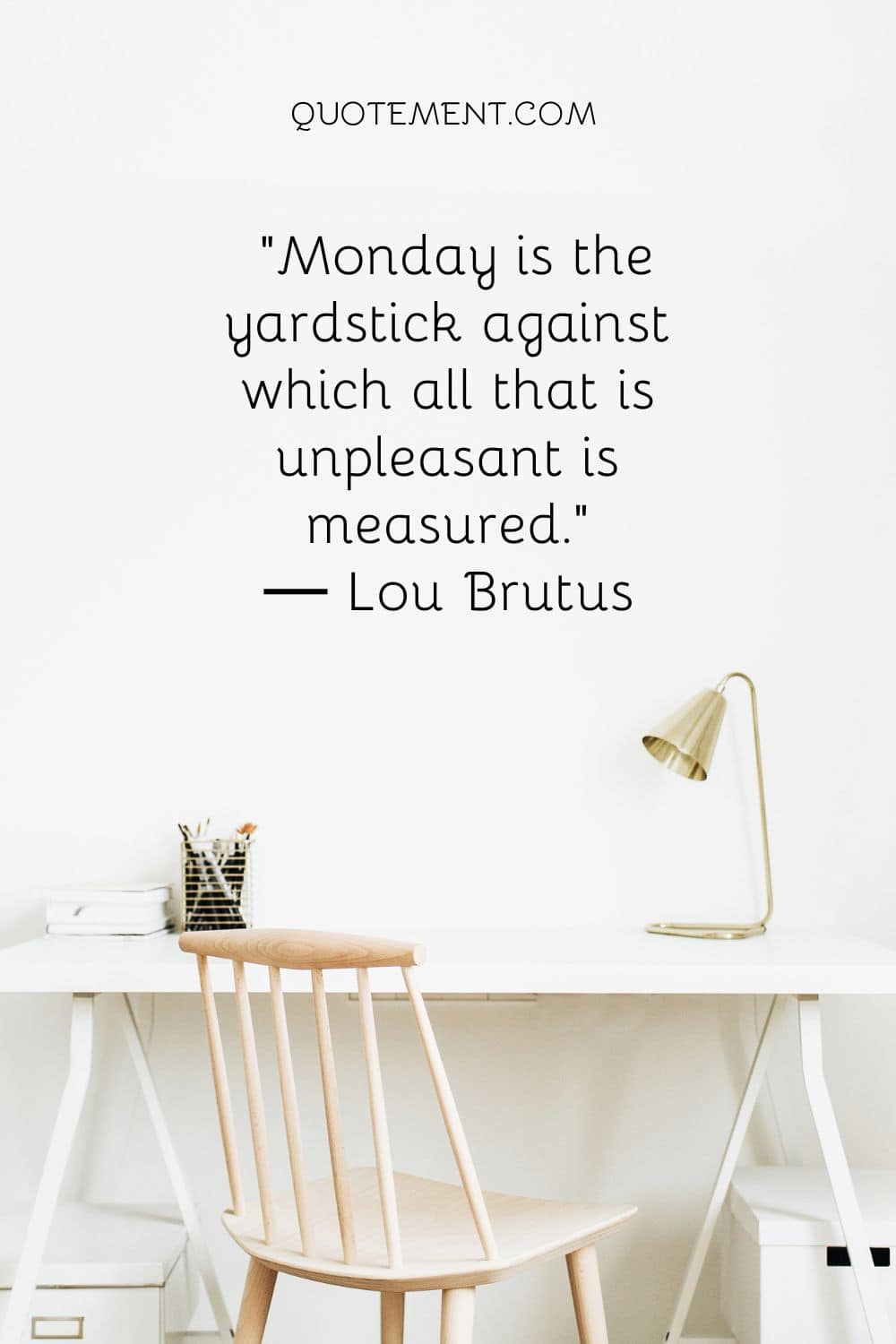 6. "It's just been a long week, that's all."
"It's monday night, Jess."
"My point exactly." ― Scott Westerfeld, Touching Darkness
7. "This is proof that Monday wants me dead…Wednesday wouldn't do this to me. It's laid back. Friday actually likes me! But Monday is a bitter, backstabbing treacherous day." – Thradly the Goblin." ― Arthur Daigle, Goblin Stories
8. "Monday is an awful way to spend 1/7 of your life." ― Steven Wright
9. "Like the song says, rainy days and Mondays always get ya down." ― Haruki Murakami
10. "Mondays are like the first day in school — you have everything but confidence." ― Nkwachukwu Ogbuagu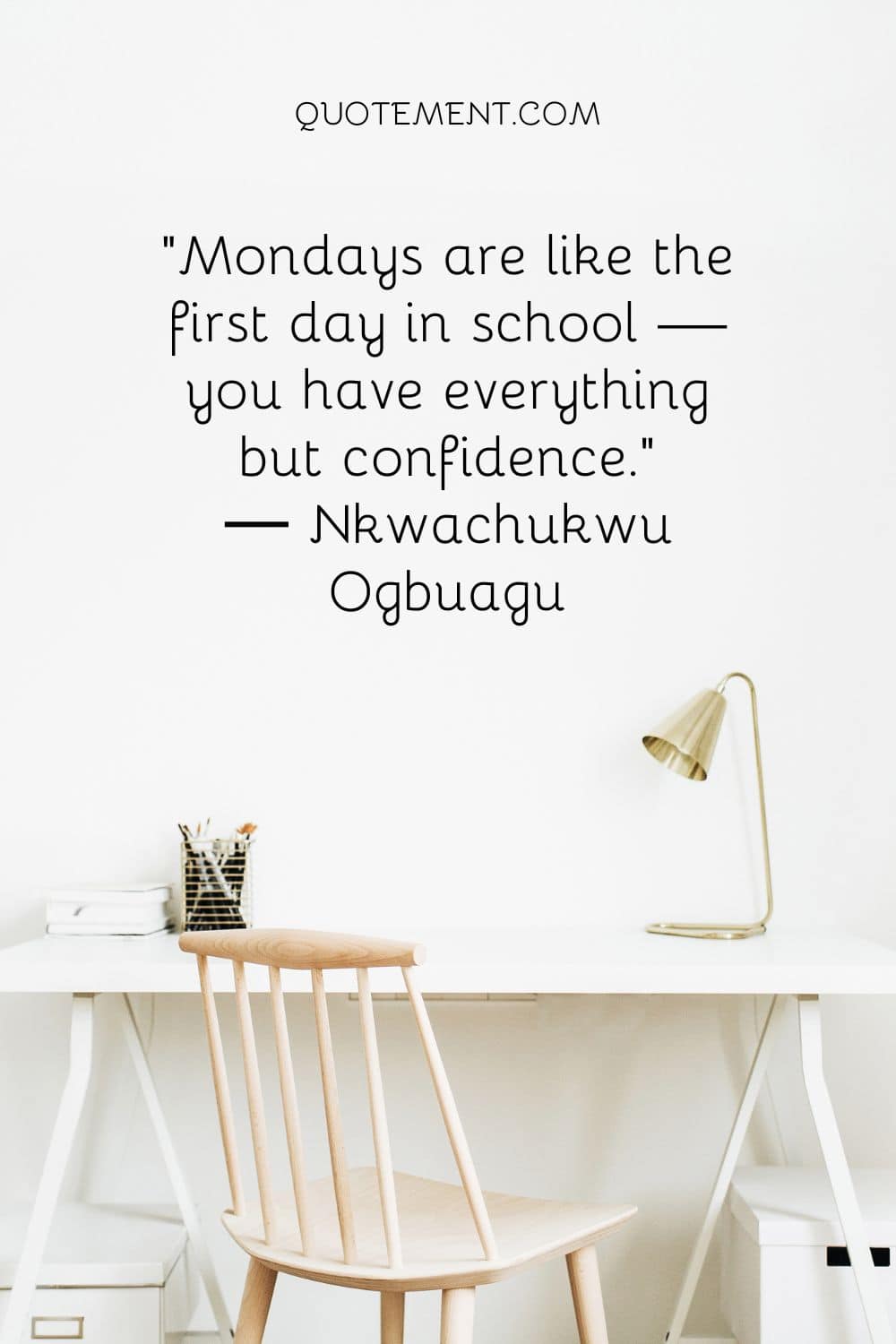 See also: 160 Believe In Yourself Quotes To Bask In Your Confidence
11. "Life is like Friday on a soap opera. It gives you the illusion that everything is going to wrap up, and then the same old s*it starts up on Monday." ― Stephen King
12. "I don't like Mondays, especially if they occur on Fridays." ― Jarod Kintz
13. "Everyday is Monday….till Friday." ― Viktor VolksPrater
14. "Your Monday is not going to be like Saturday; the emotions are going to be different." ― Jean Grae
15. "When life gives you Monday, dip it in glitter and sparkle all day." ― Ella Woodward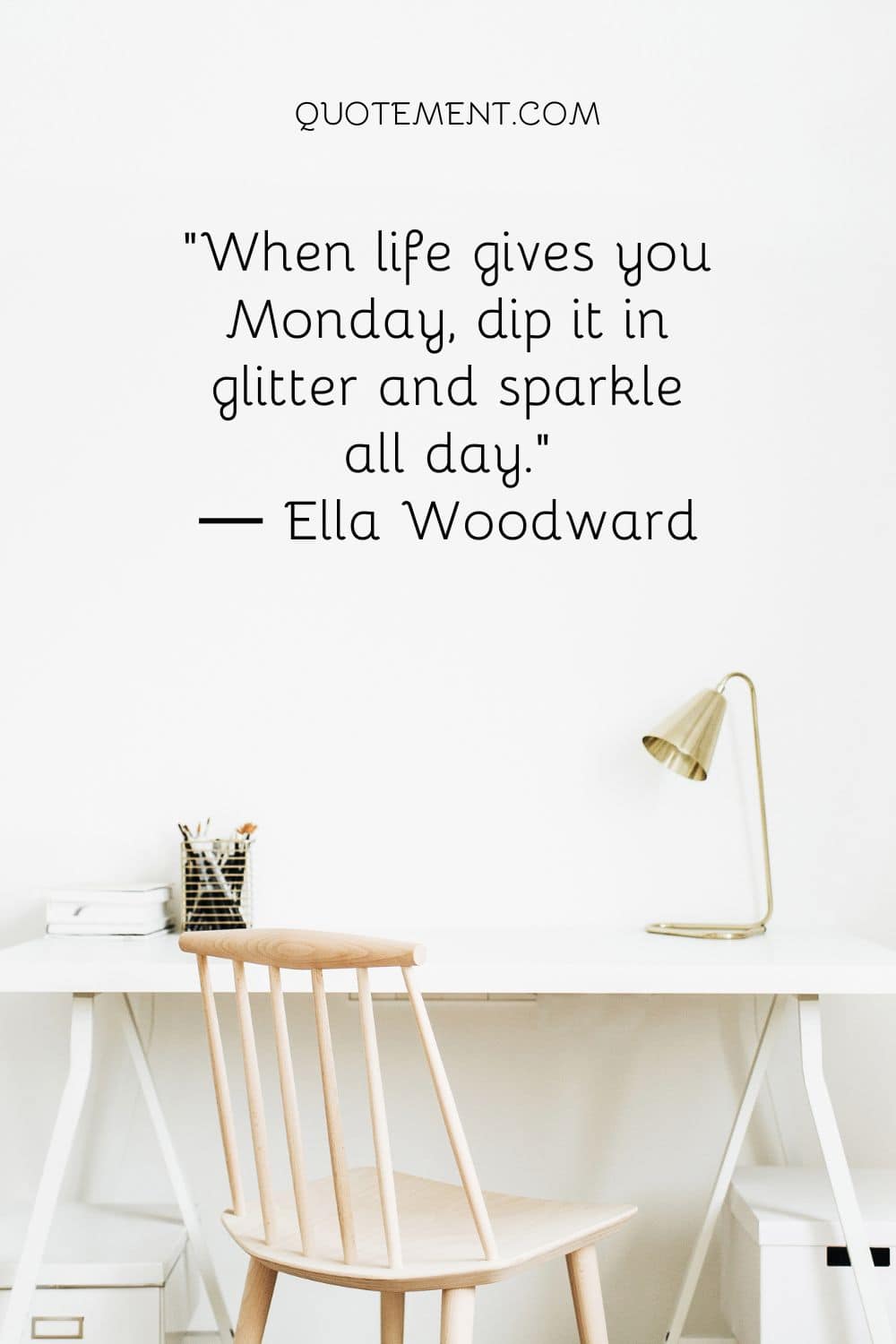 16. "Everyone wants me to be a morning person. I could be one, only if morning began after noon." — Tony Smite
17. "On Monday mornings, I am dedicated to the proposition that all men have created jerks." ― H. Allen Smith
18. "Monday isn't that bad to be honest, What makes it bad is living in it." ― Day
19. "I wake up every morning at nine and grab for the morning paper. Then I look at the obituary page. If my name is not on it, I get up." — Benjamin Franklin
20. "This has been such a Monday! I wish I stayed in bed, and I wish that yesterday had never happened." ― Lisa Mantchev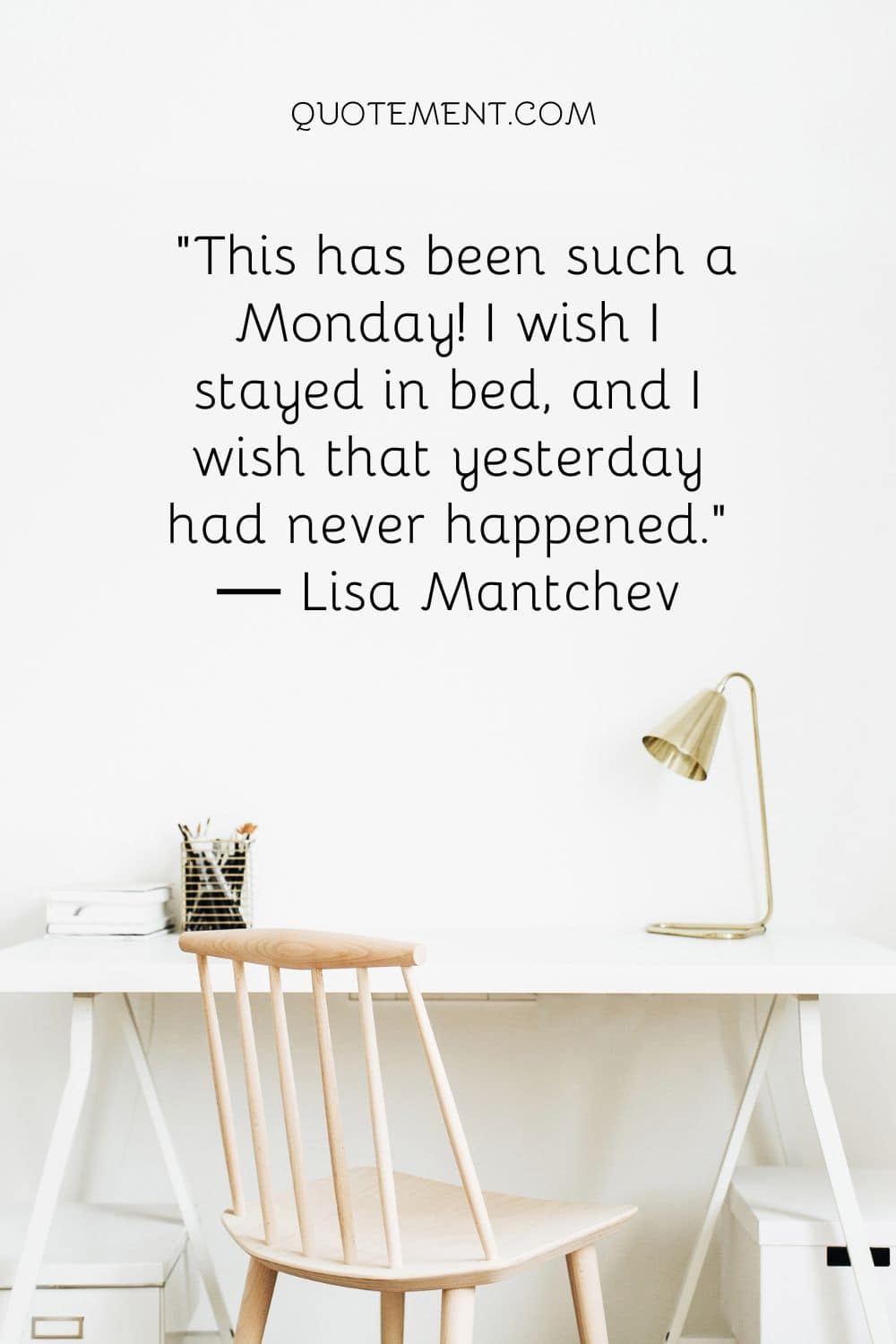 21. "What do sharks do on Monday mornings? They get up and start biting. That's me." ― Gemma Collins
22. "Good morning is a contradiction of terms." — Jim Davis
23. "Monday is great if I can spend it in bed. I'm a man of simple pleasures." ― Arthur Darvill
24. "The best weeks start on Monday." ― Nice Peter
25. "The only good Monday is a Monday in bed" ― Lee Horton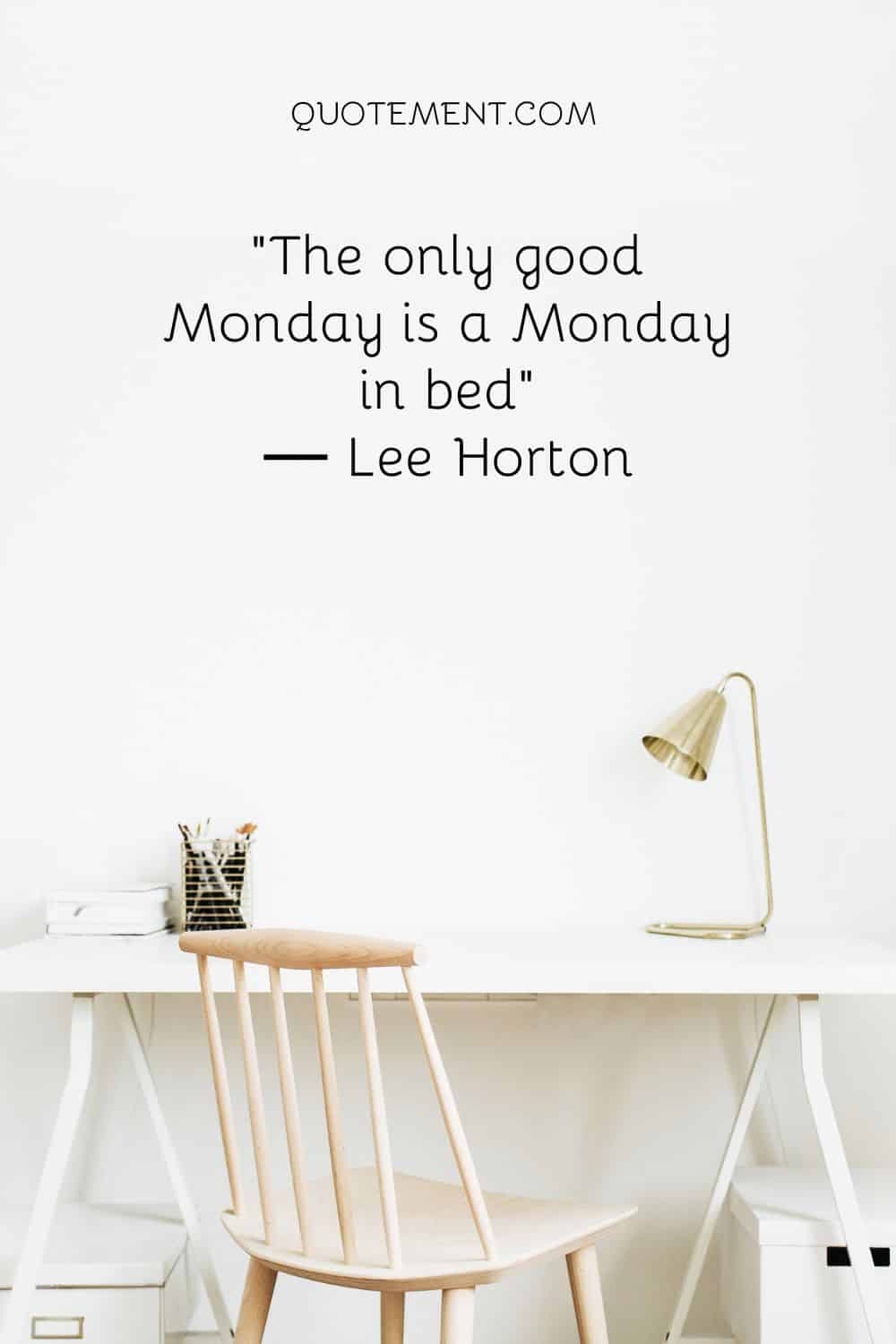 26. "I hate mornings, they start so early." — Janet Evanovich
27. "I hate when I dream of alarm clocks going off." — Jarod Kintz
28. "I like coffee because it gives me the illusion that I might be awake." — Lewis Black
29."When reality and dreams collide, typically it's just your alarm clock going off." — Crystal Woods
30. "The challenge of every Monday is to maintain the same vitality in each and every day of the week." ― Byron Pulsifer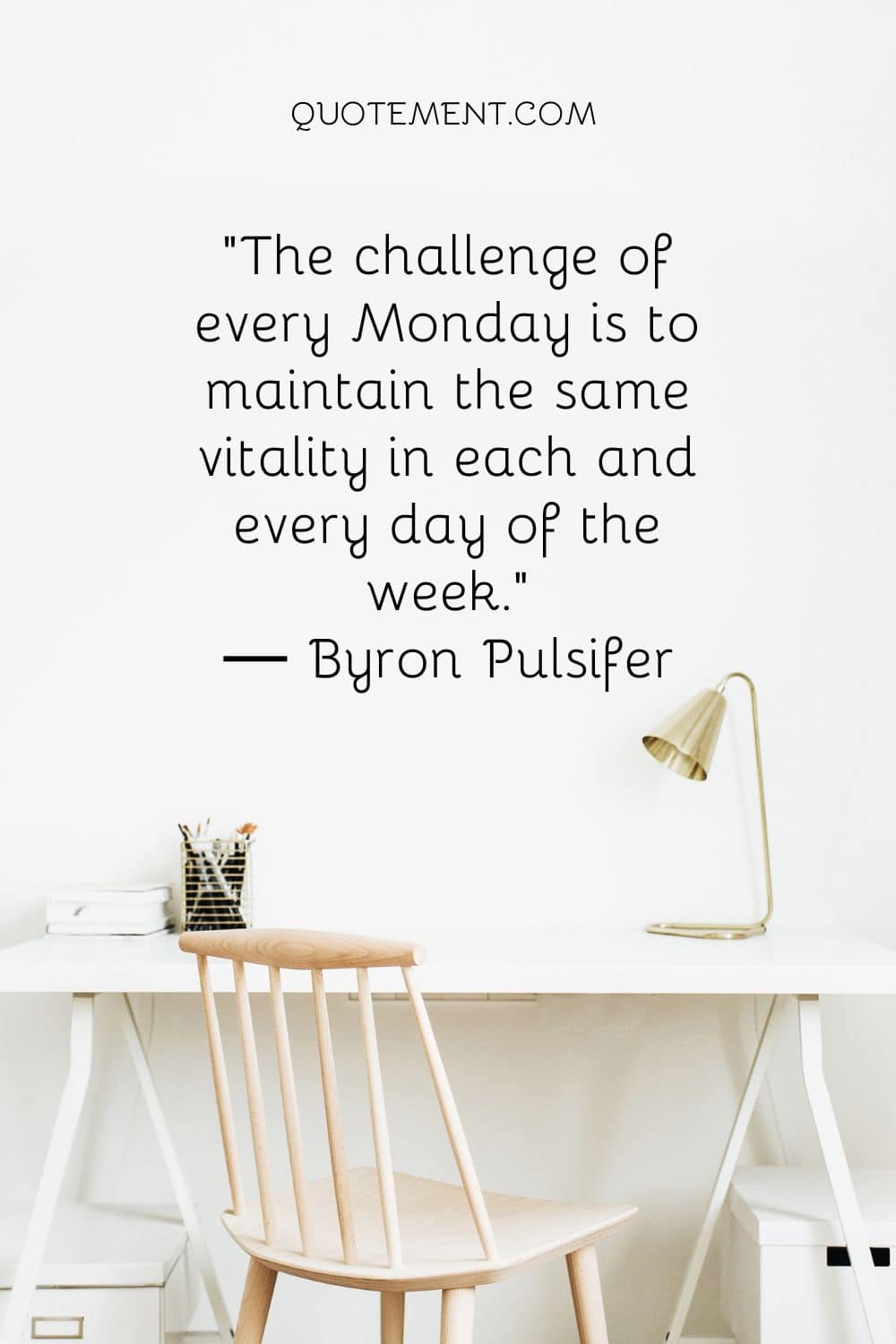 Monday Quotes
1. "Unclench your fists. Lower your shoulders. Step away. Then come back with a clear head, redouble your efforts. I believe in you." ― Lin-Manuel Miranda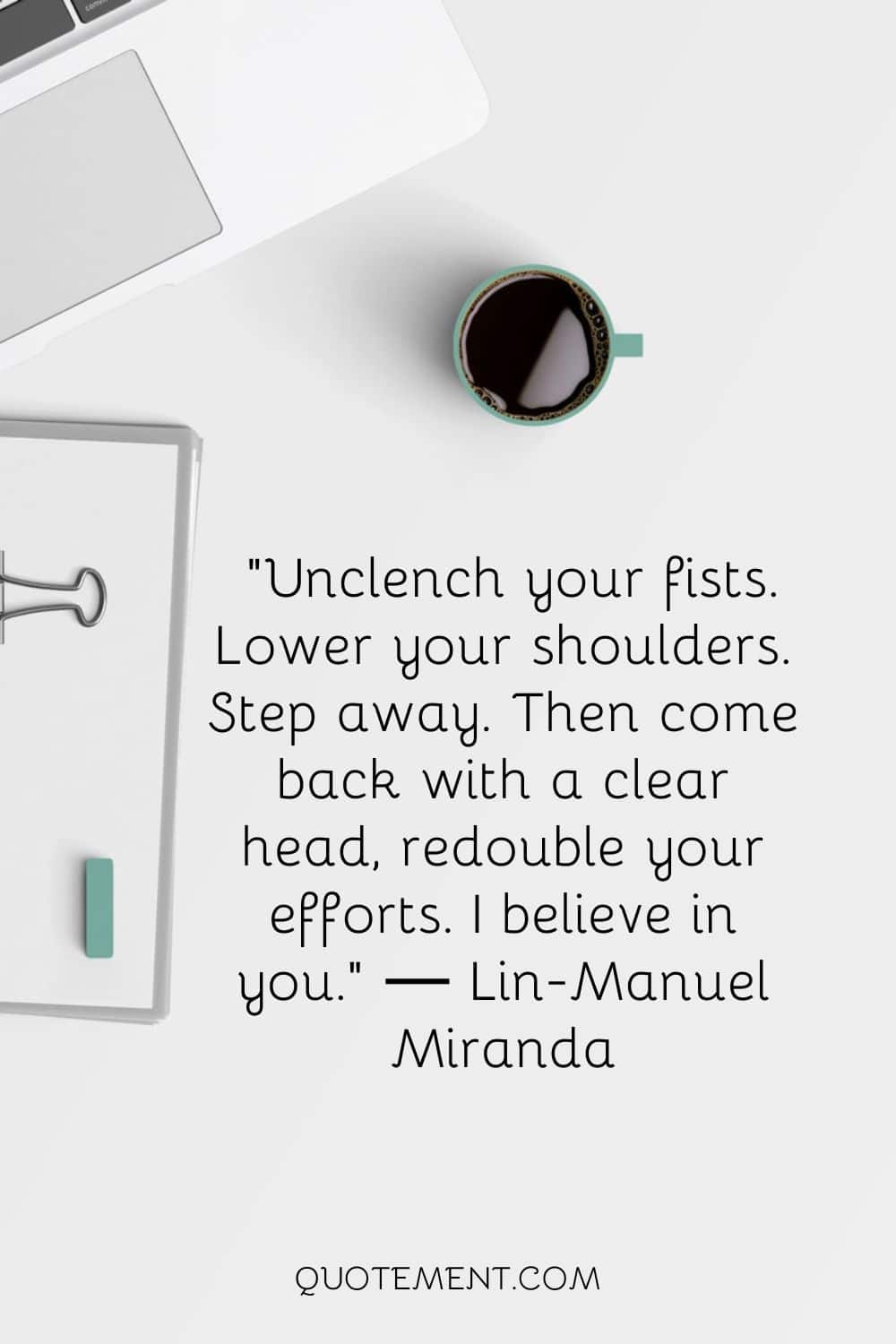 2. "When it's only Monday and my bestie is already having a horrible week, I start hunting for memes to send him so that in amongst all the pain and misery he can get really annoyed that his whatsapp is going every two minutes with pointless pictures taking up all of the space on his phone." ― C.S. Woolley
3. "There are two tests in life, more important than any other test. On Monday morning, when you wake up, do you feel in the pit of your stomach you can't wait to go to work? And when you're ready to go home Friday afternoon, do you say, 'I can't wait to go home?'" ― Chuck Schumer
4. "Mondays are mundane, like Tuesdays minus 24 hours." ― Jarod Kintz
5. "There isn't a Monday that would not cede its place to Tuesday." ― Anton Chekhov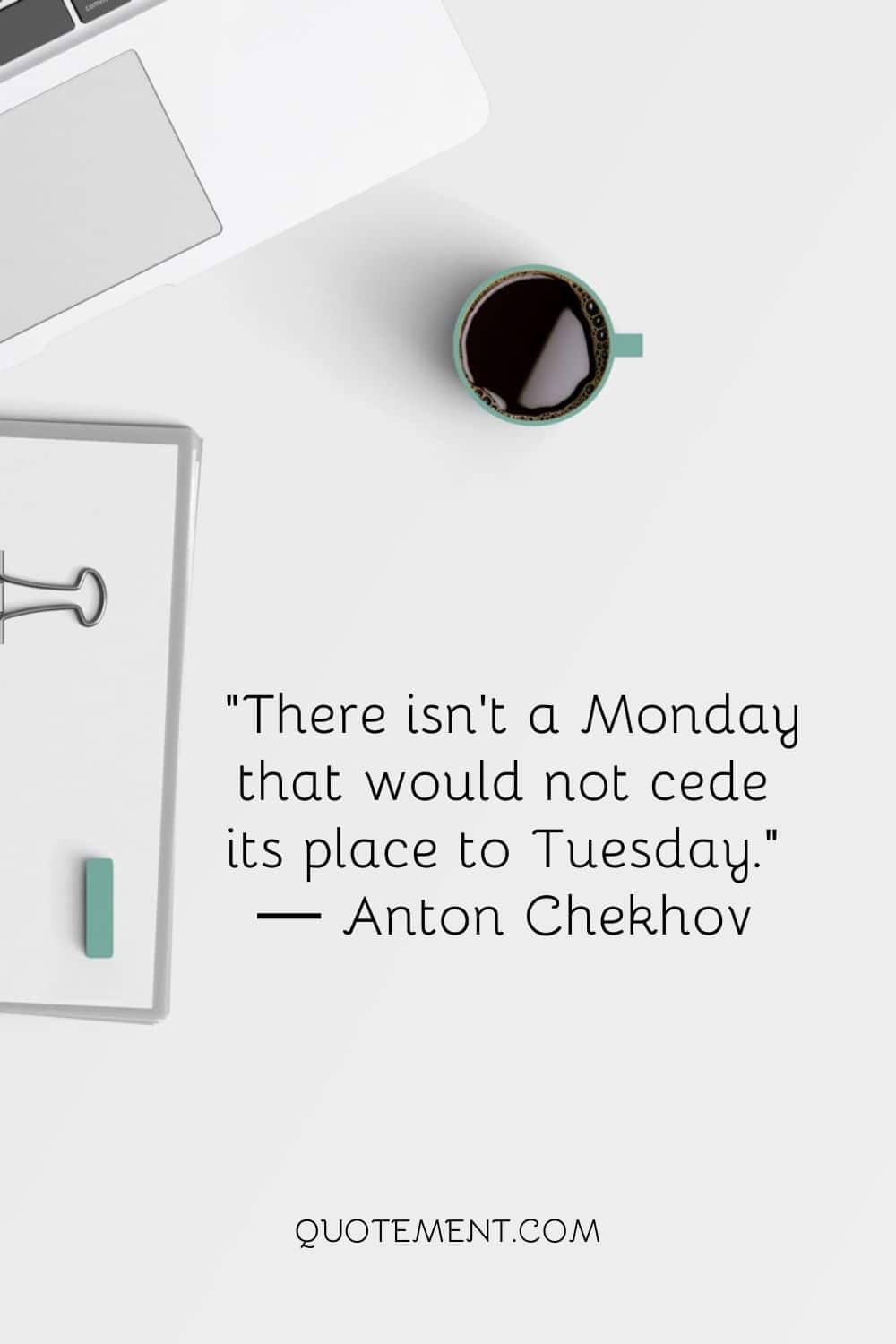 6. "Don't let the Monday morning quarterbacks stop you from being bold. You've got to set a high bar." ― Antonio Villaraigosa
7. "Birds scream at the top of their lungs in horrified hellish rage every morning at daybreak to warn us all of the truth, but sadly we don't speak bird." — Kurt Cobain
8. "By and large I think art is made by people who have discipline married to talent in sufficiently large amounts to work even if they don't feel like it. Anybody can get maudlin and decide to write poetry at 11 at night; the question is, can you do it at 8:30 on a Monday morning..?" ― Clive Barker
9. "Every single day I wake up and make up my mind that I am going to work really hard. Then my mind laughs at me and says 'Good joke.' Then we laugh for some more time and I go back to bed." — Gehenna Toss
10. "Monday morning is wonderful. Its only drawback is that it comes at such an inconvenient time of day." — Glen Cook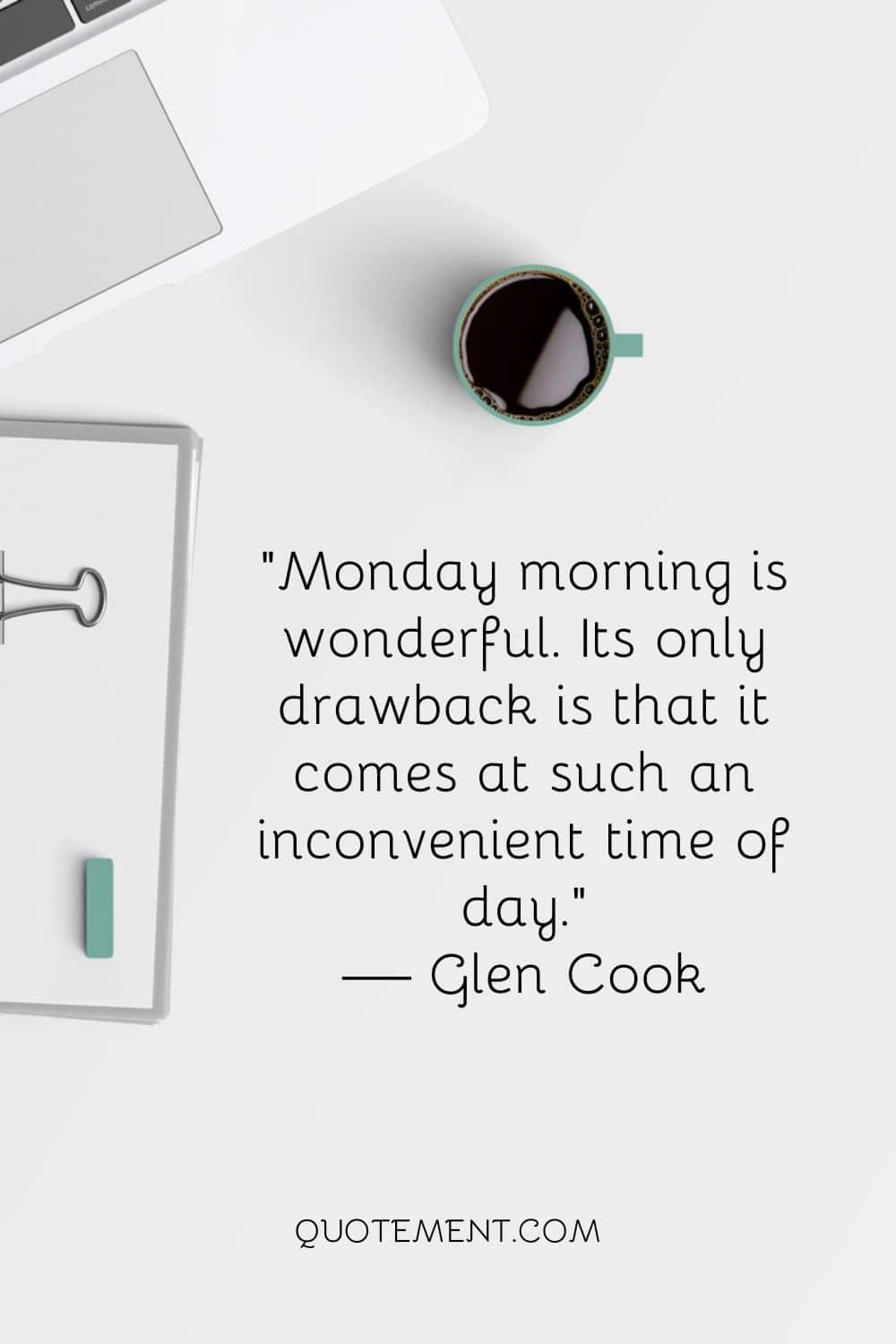 11. "I must break the routines and become a person who becomes productive every Monday. I must break the mindset of unhappiness and turn myself into a happy magnet for Mondays." ― Leggy Saul
12. "Do or do not. There is no try. " — Yoda
13. "The biggest thrill wasn't in winning on Sunday but in meeting the payroll on Monday." ― Art Rooney
See also: 150 Sunday Affirmations To Set You Up For A Fabulous Day
14. "Don't underestimate the value of Doing Nothing, of just going along, listening to all the things you can't hear, and not bothering." ― Winnie the Pooh
15. "If life was a book; every day would be a new page, every month would be a new chapter, and every year would be a new series." ― Elizabeth Duivenvoorde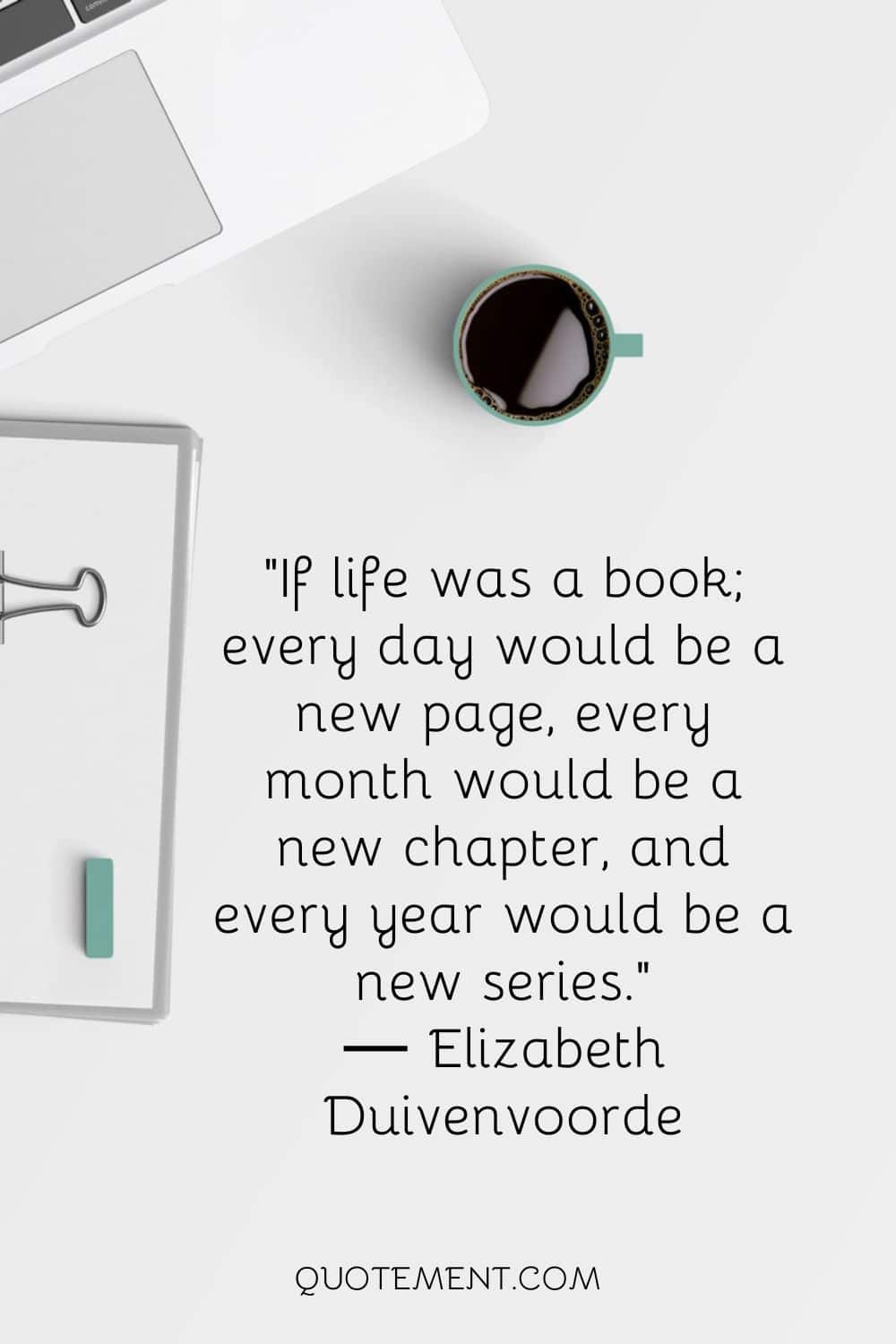 16. "Monday is the day that opens up the week for many opportunities." ― R.K. Narayan
17. "When the week begins, try your best to let your best overcome your worst and that is the best. Do your best to have a good week and never be weak in the week." ― Ernest Agyemang Yeboah
18. "The best weeks start on Monday." ― Nice Peter
19. "All days from the week are typical, that's all… nothing less, nothing more." ― Deyth Banger
20. No one likes Tuesday morning but at least it's not Monday morning." – Bev Johnston
Funny Monday Captions For Instagram
1. May your coffee be strong and your Monday be short.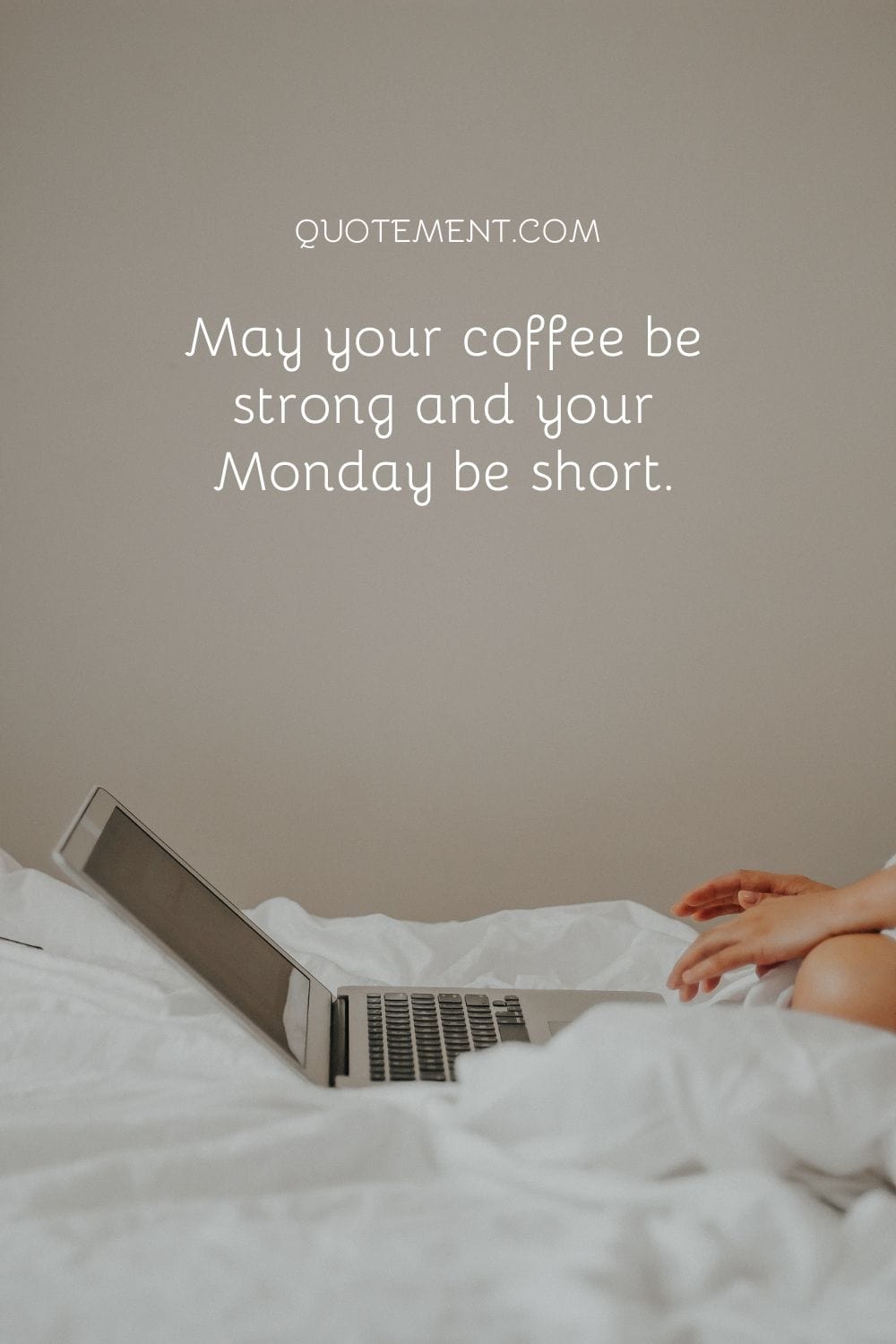 2. Monday is a reminder that life is too short for a job you hate. Just kidding, it's just a reminder that it's Monday.
3. Monday is a reminder that life is too short for a job you hate. Just kidding, it's just a reminder that it's Monday.
4. It's Monday. Time to be a unicorn in a field of horses.
5. On Mondays, I'm a human wishing to be a sloth.
6. If Monday had a flavor, it would definitely be 'meh.
7. The only thing getting a workout on Monday is my patience.
8. Mondays are like rainbows without rain – disappointing.
9. I'm not saying Mondays are the root of all evil, but they're close.
10. Monday: The day when even my coffee needs coffee.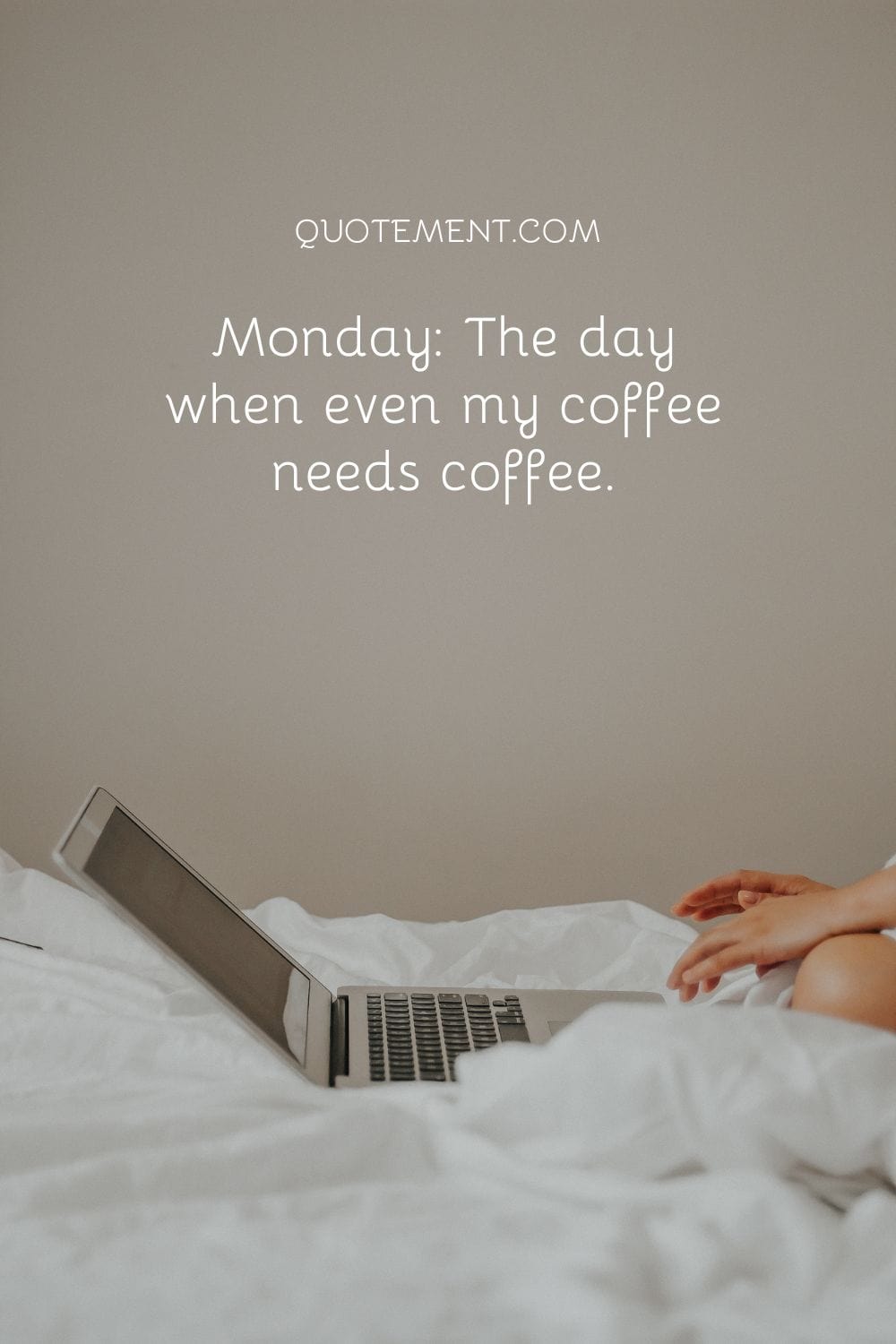 11. If Mondays were shoes, they'd be Crocs – nobody likes them, but somehow they're still around.
12. I'm not anti-social; I'm just anti-Monday.
13. Dear Monday, you're not as bad as you think. It's your reputation that's terrible.
14. I love Mondays, but only Cyber Mondays.
15. Please don't say tomorrow is Monday.
16. Oh, look, it's Monday again. I can't wait to experience the sheer joy and excitement it brings.
17. Monday: the day when the weekend seems like a distant memory and the next one feels light-years away.
18. Happy Monday! Remember, the best way to survive the workweek is by counting down the days until Friday.
19. Happy Monday. Wait, better yet, happy only four days until Friday.
20. Wow, Monday!" said no one ever.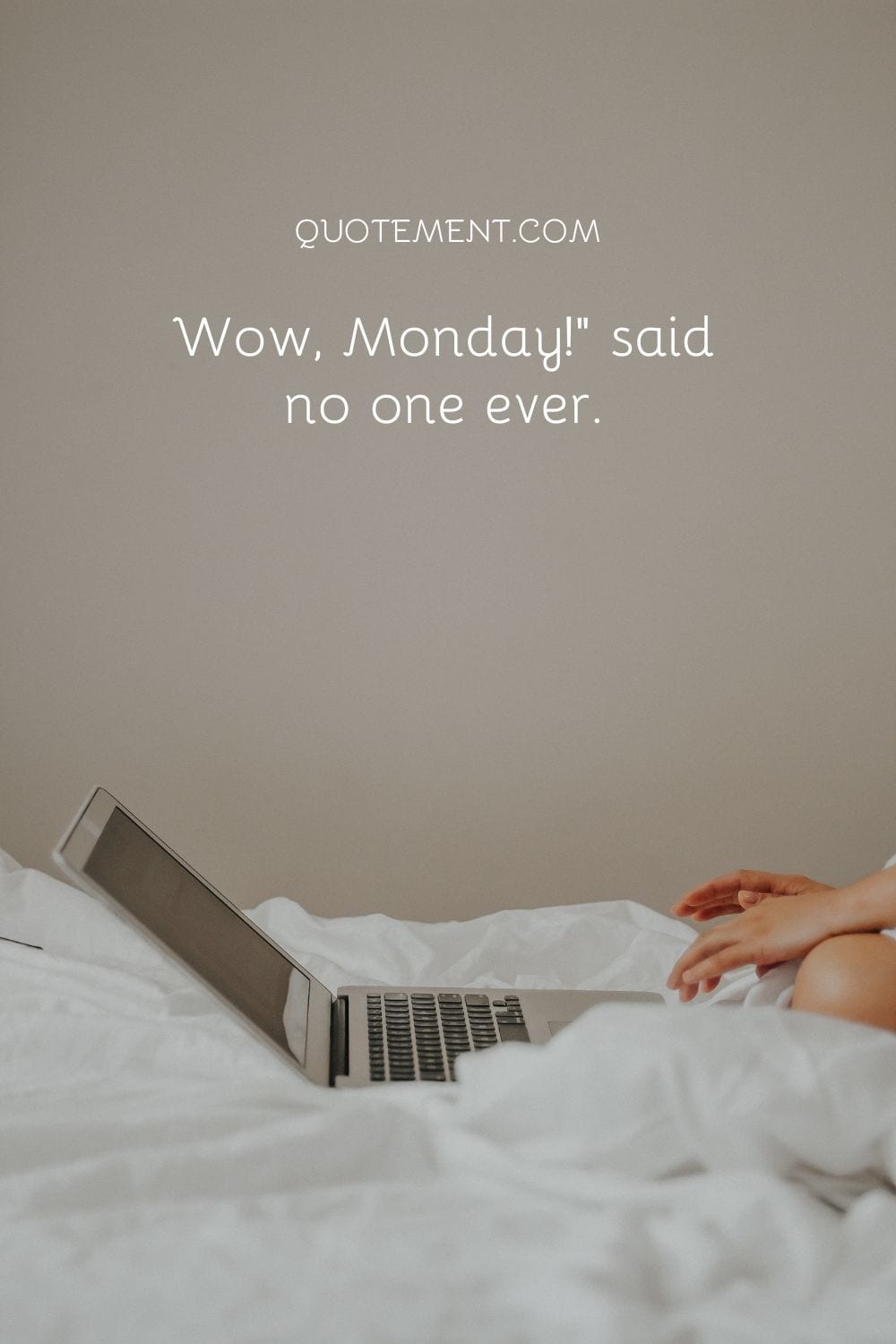 21. Monday, what brings you back? I asked you to leave on Tuesday and Wednesday. Thursday can stay because it's close to Friday, Saturday, and even Sunday.
22. Monday is the scientific proof that coffee alone cannot solve all your problems.
23. Monday is like a math problem. You're trying to find the value of 'x,' where 'x' is the number of cups of coffee required to function.
24. The struggle is real.
25. Barely surviving.
26. Can I reschedule this Monday for sometime else?
27. My weekend is never as long as Monday.
28. Hey Monday, go step on a LEGO.
29. This is my 'I'll make it through this Monday no matter what' face!
30. Please give yourself a round of applause for making it out of bed on a Monday.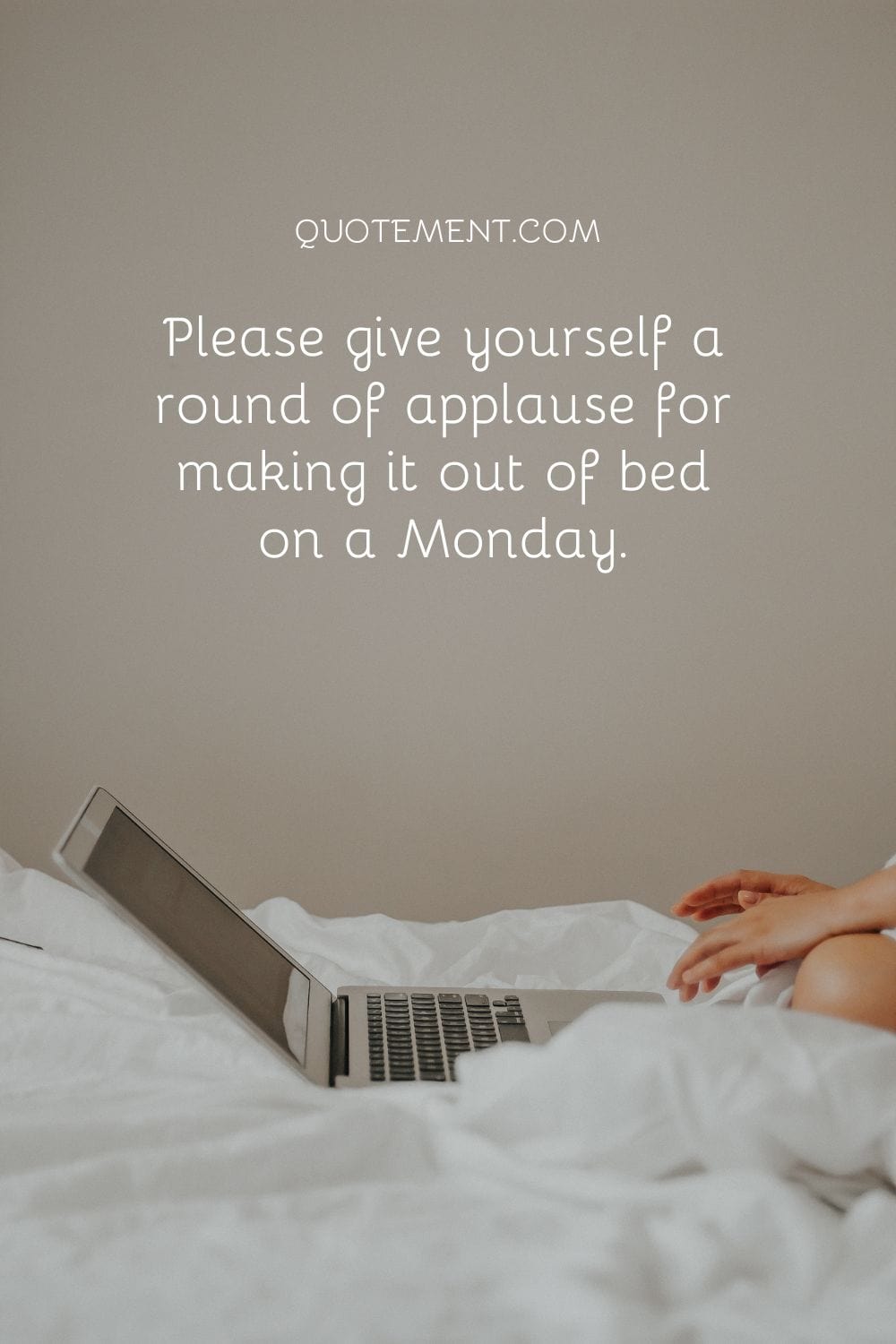 See also: 180 Great Monday Caption Ideas For Your Instagram Post
Final Word
I hope that you have enjoyed my collection of the best funny Monday quotes that I could find online. They have helped me too, to feel a bit better about the crazy energy that we all feel on Mondays.
I know you can't wait for Friday too, but fear not, because Friday is just 4 days away!
Read next: 70 Monday Motivation Quotes To Make Your Monday Blues Pink