If there's a super important mom-to-be in your life, you'll be happy to learn that this post is dedicated to one of the most adorable occasions – the baby shower!
In fact, I've compiled the sweetest and loveliest baby shower quotes I found on the web!
So, in case you've been wondering what to write in a baby shower card, you'll love this unique list that'll inspire you to join the celebration with style!
Let's get started!
10 Sweetest Quotes To Include In A Baby Shower Card
1. "Every child begins the world again." — Henry David Thoreau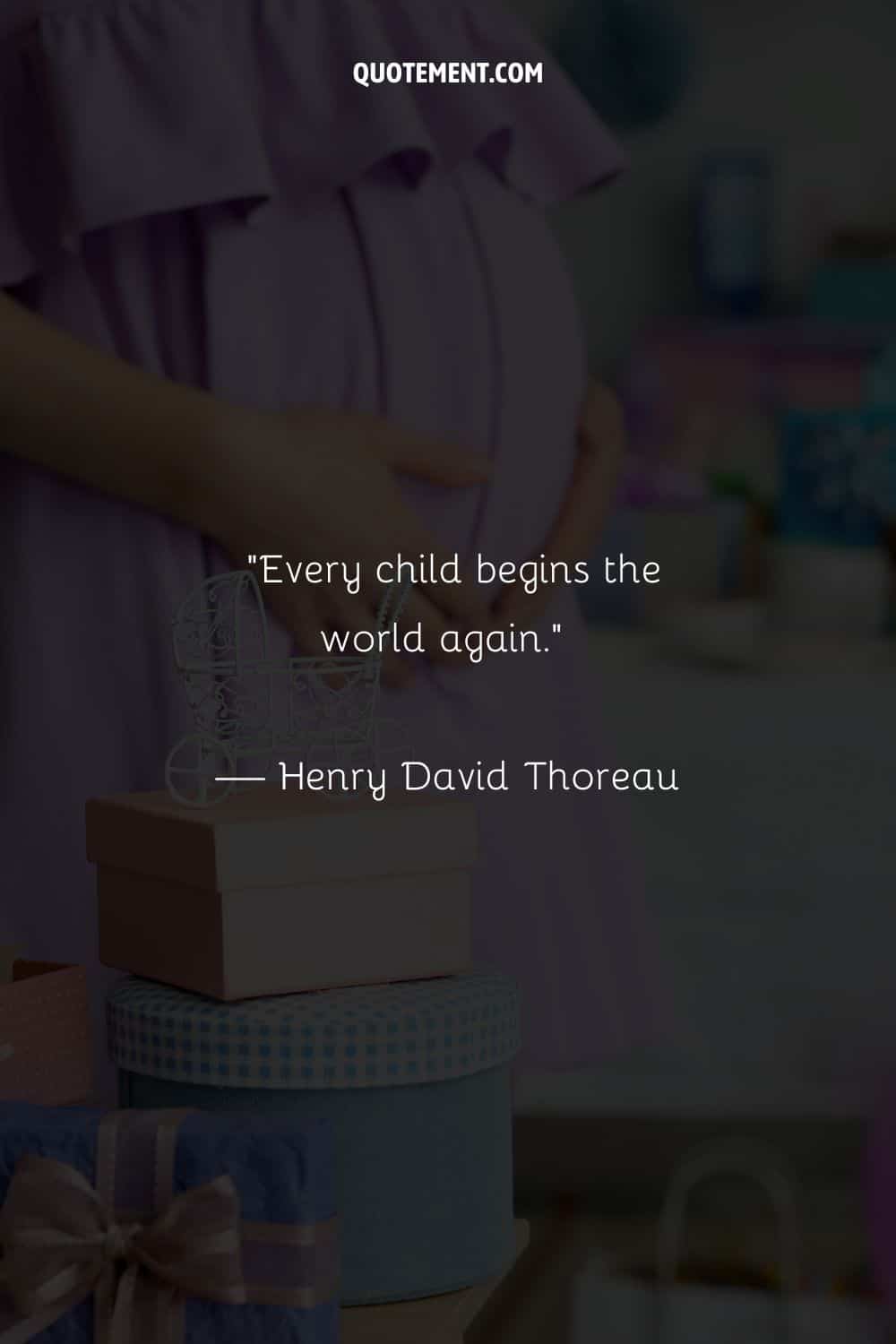 2. "Parenthood is the greatest journey of life. Buckle up and enjoy your ride." — Unknown
3. "Motherhood: All love begins and ends there." — Robert Browning
4. "There are two lasting bequests we can hope to give our children: One of these is roots, the other wings." — Hodding Carter
5. "I think that I see something deeper, more infinite, more eternal than the ocean in the expression of the eyes of a little baby when it wakes in the morning and coos or laughs because it sees the sun shining on its cradle." — Vincent Van Gogh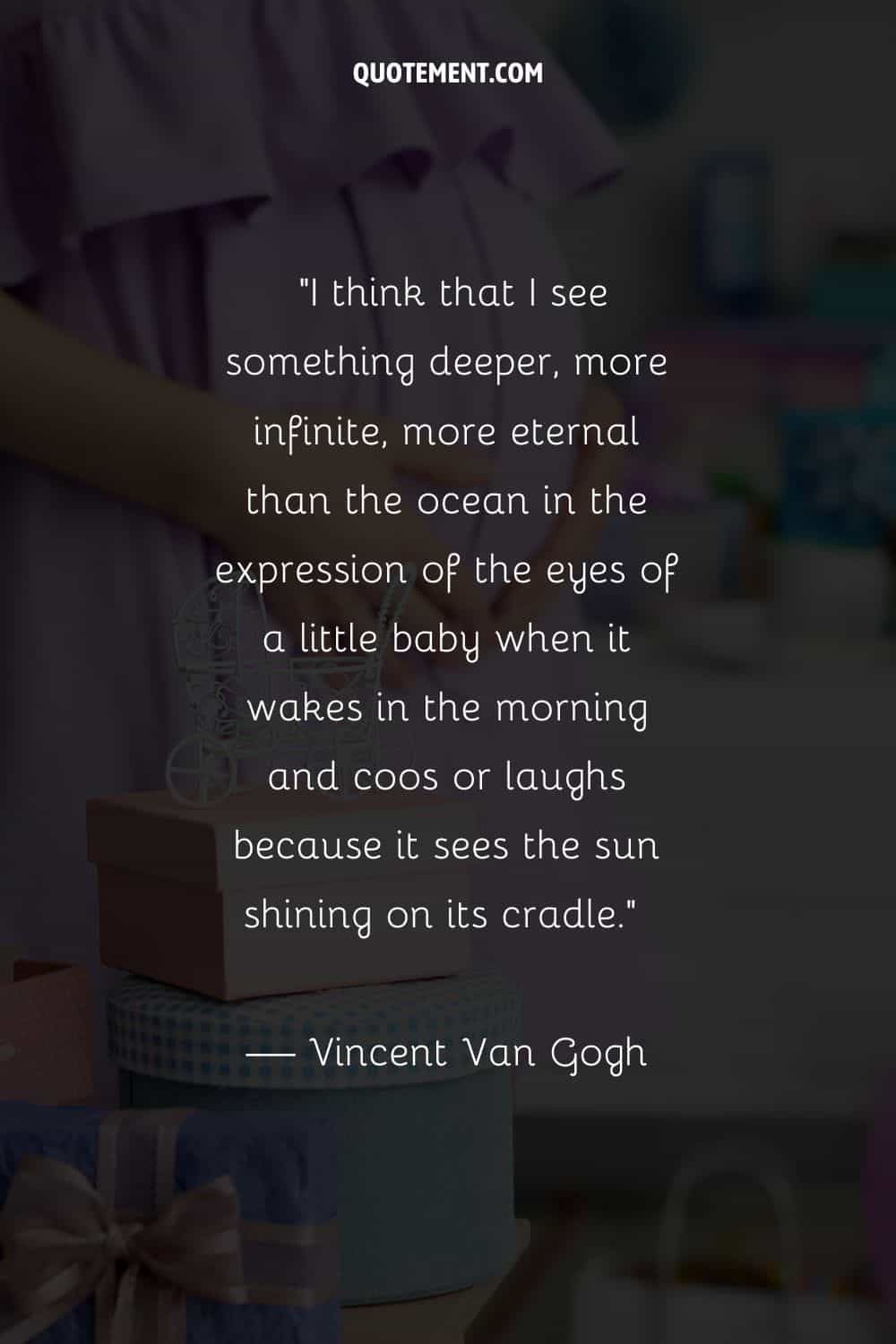 6. "A new baby is like the beginning of all things wonder, hope, a dream of possibilities." — Eda J. Le Shan
7. "You know what the great thing about babies is? They are like little bundles of hope. Like the future in a basket." — Lish McBride
8. "Congratulations on your baby's arrival! I know that you'll be a terrific mom." — Unknown
9. "Enjoy every minute. They grow up so fast!" — Unknown
10. "It is the smile of a baby that makes life worth living." — Debasish Mridha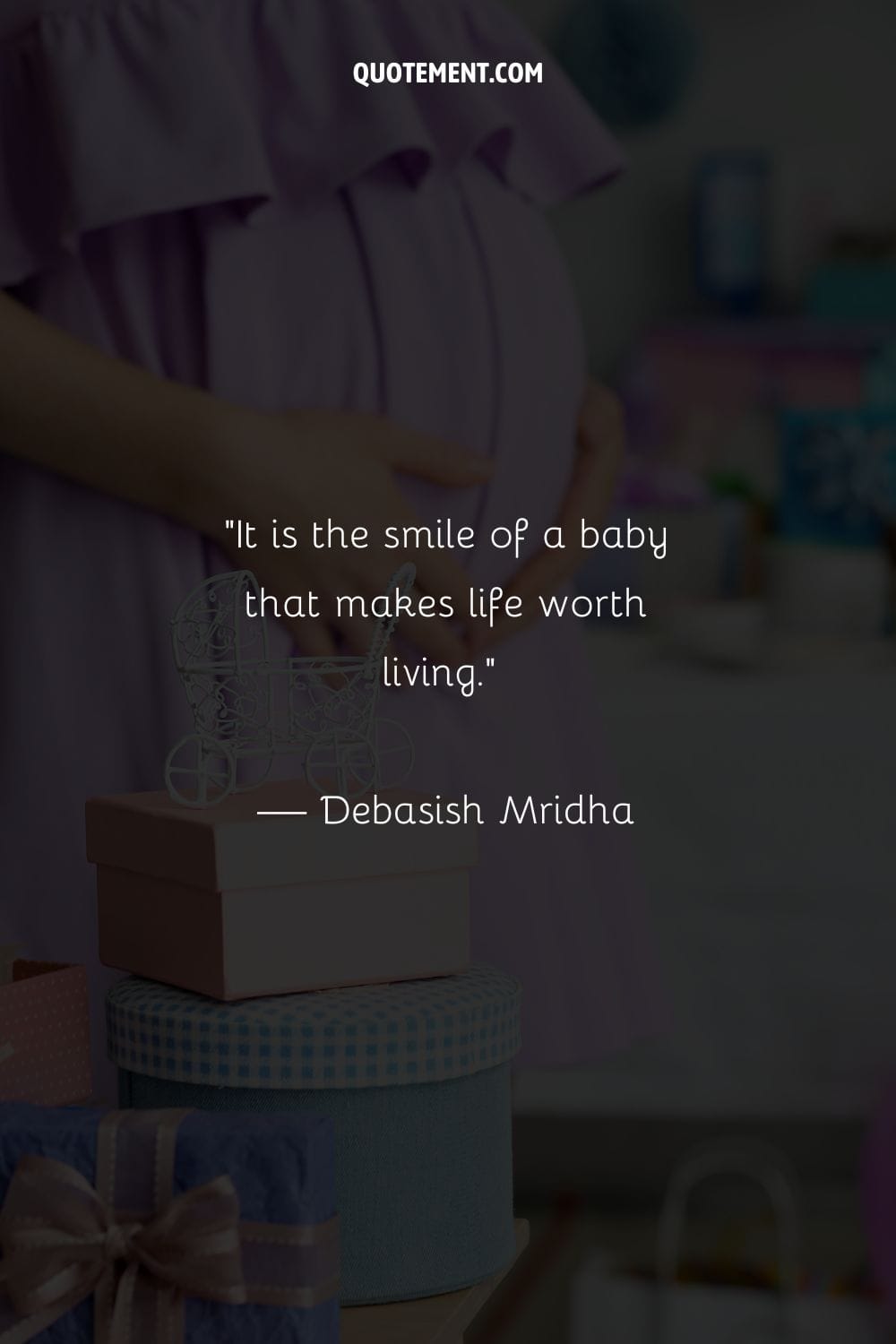 See also: 140 Bond Between Mother And Child Quotes To Warm Your Heart
Heart Touching Baby Shower Wishes Quotes For Parents
1. "Your family is about to be a little bit bigger, a whole lot better, and of course, much, much cuter!"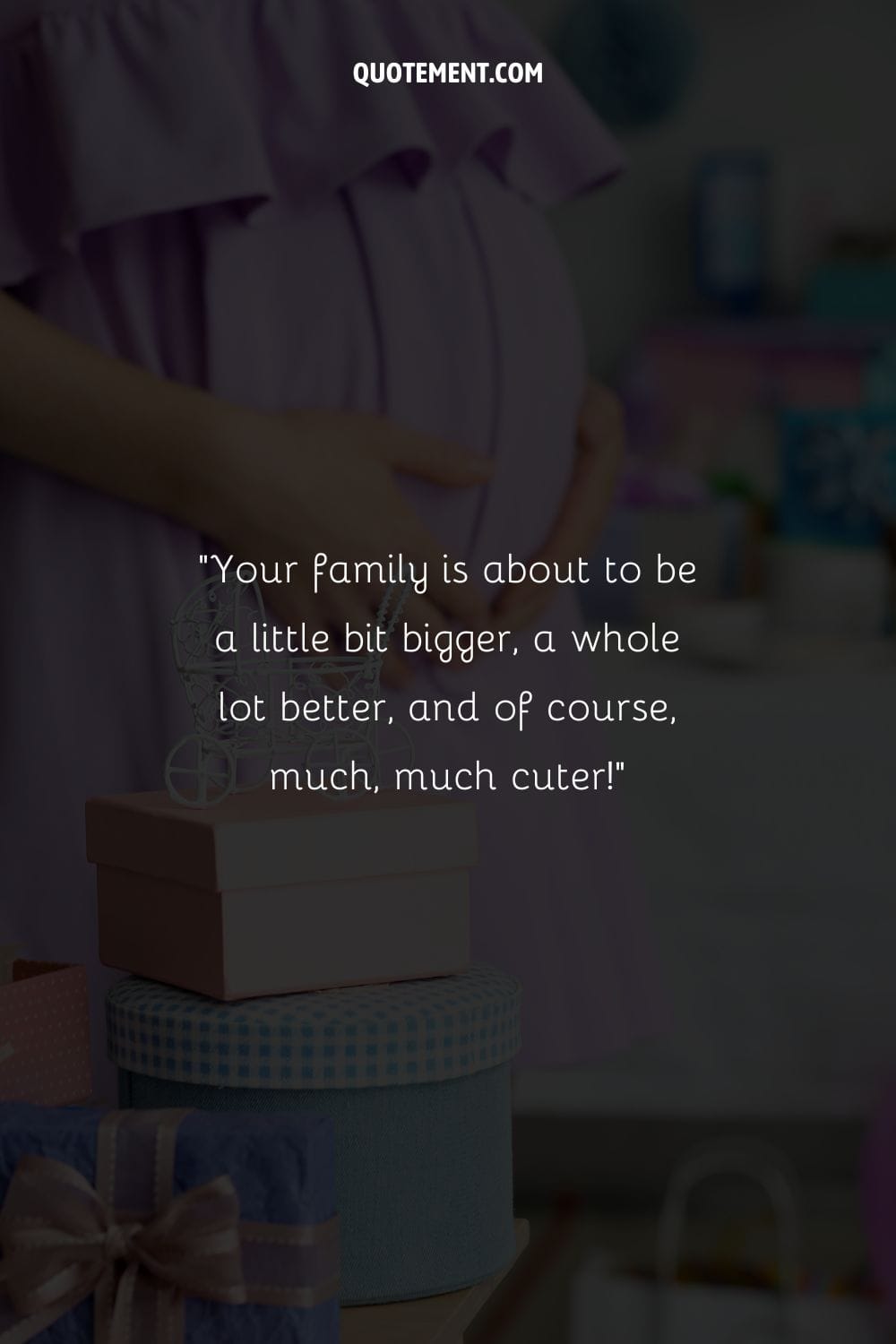 2. "From one mother to another, the moment you set eyes on your little one, you'll be smitten forever."
3. "Wishing you magical moments ahead. All the best! We love you."
4. "Here's to smiles, laughter, patience, and joy. We hope you get a healthy baby girl or boy."
5. "Your home will soon be filled with toys and will never be quiet again. Your house will often be a mess, and you'll frequently be tired. But there will always be love and laughter. All the best and many happy memories."
6. "Incredible blessing! I can't wait to see your little miracle!"
7. "Your life is about to change forever. Welcome to parenthood!"
8. "The unconditional love you'll feel for your new baby will be something you've never felt before."
9. "Best wishes for this adventure called parenthood. You'll be great!"
10. "Your little family is about to get bigger and cuter."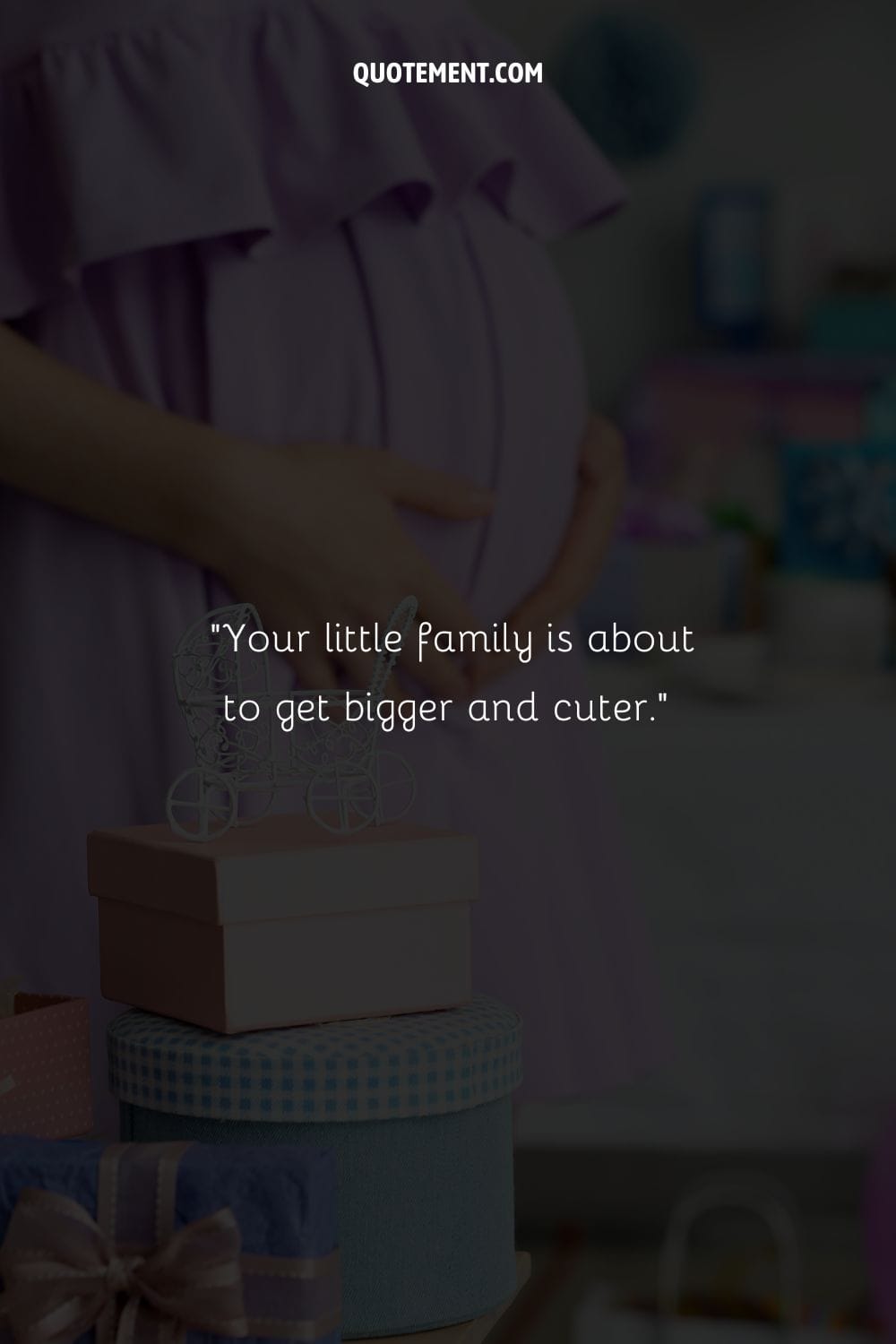 See also: Top 80 Family First Quotes That Emphasize Its Power
11. "So happy to be attending your baby shower, and excited to be helping you load up on some goodies for the baby!"
12. "Wishing you moments of joy with your new little baby."
13. "Your little boy will be here before you know it. I can't wait to meet him!"
14. "So happy that you're going from two to three. I can't wait to meet the newest member of your family."
15. "Congratulations! Wish you endless love and boundless patience for making your new role as super parents a grand success!"
16. "Welcome to the wonderful world of parenthood!"
17. "So excited to watch you become parents!"
18. "Your baby girl is lucky to have you as her parents."
19. "1 toddler, 1 baby, 1 crazy life you wouldn't trade for the world!"
20. "Congrats and hats off to you two. Raising a child is the most important job in the world."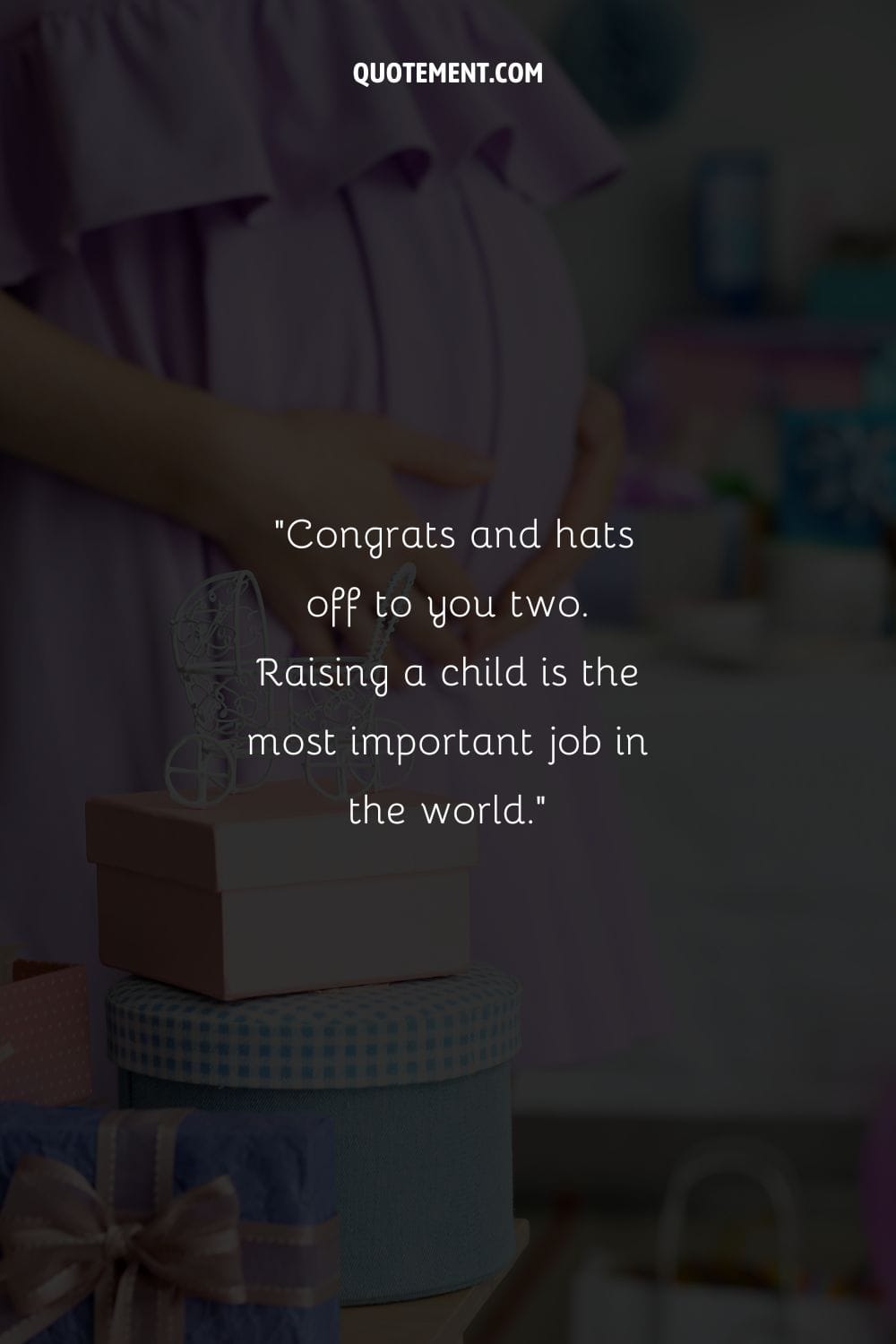 Cute Baby Shower Quotes For A Boy
1. "Your baby boy will grow up in a blink of an eye. We hope you savor each and every moment."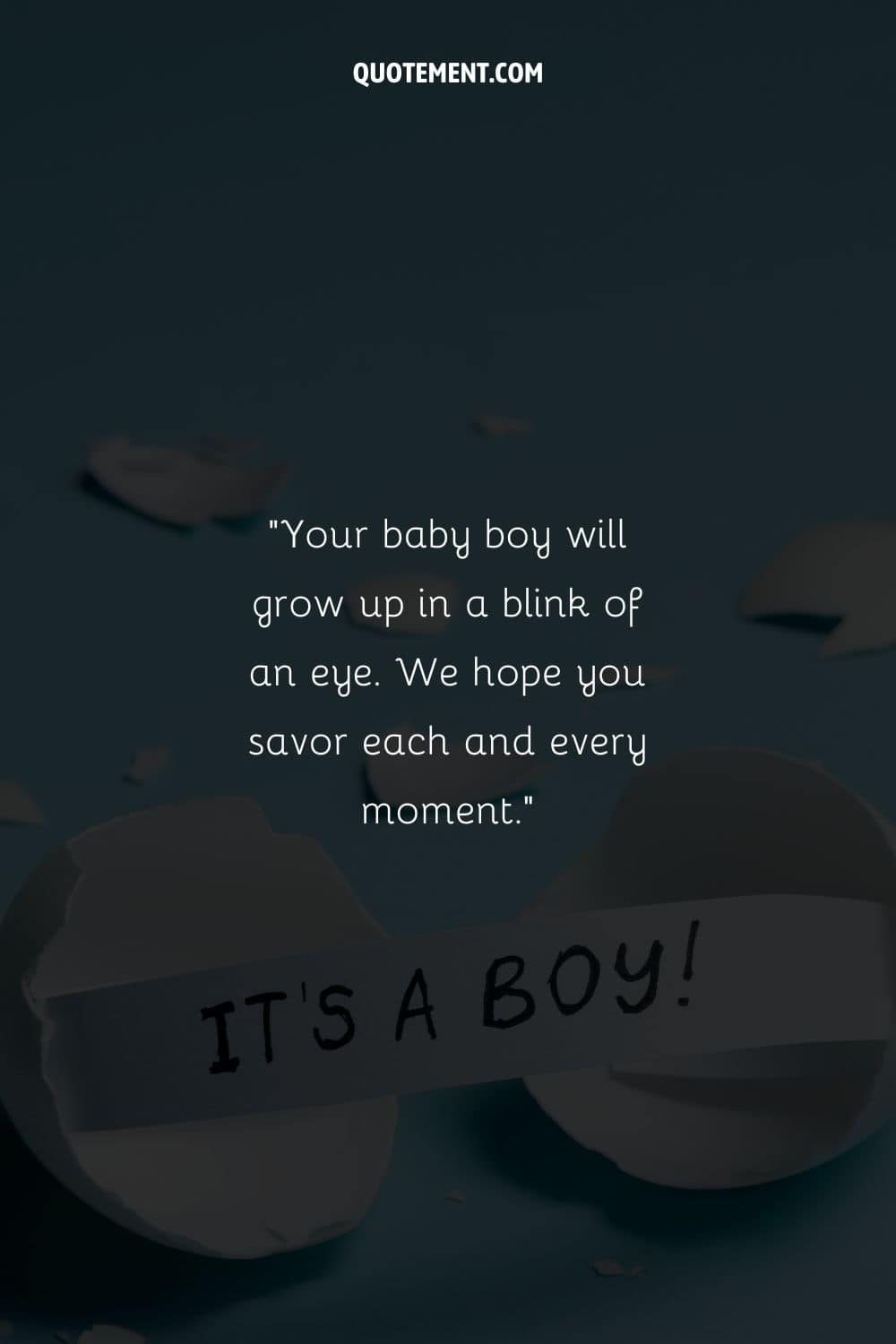 2. "There's nothing more fun than having a son! Wishing you endless smiles and laughter."
3. "Little boys will keep you on your toes. Wishing you all the energy in the world!"
4. "Blessings to you and your home as you welcome this new life."
5. "Twinkle, twinkle little star, can't wait to see how cute you are!"
6. "Your little prince will be here soon. I can't wait to spoil him!"
7. "Little boys are the sweetest! Congratulations on your baby boy!"
8. "Oh boy! We can't wait to meet your little guy."
9. "A handsome little guy is on his way! Congratulations!"
10. "Little hands, little feet, and a little trouble are on the way. Congratulations on your baby boy!"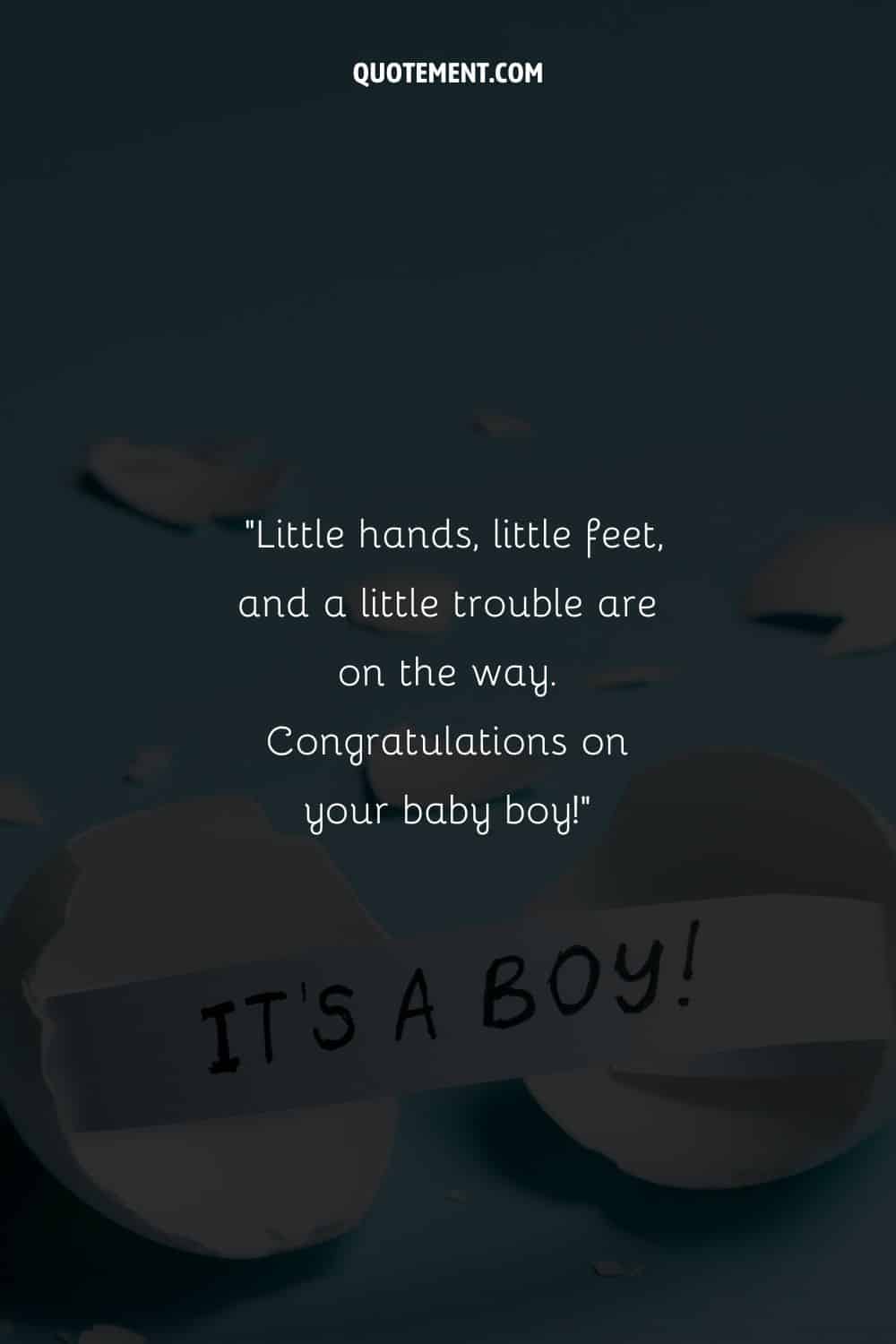 11. "It's beautiful seeing your family grow. Cheers to a baby boy."
12. "This little guy is about to enter the most amazing family. We wish you endless joy!"
13. "He doesn't know it yet, but your son is about to receive the world's best parents!"
14. "We're excited to meet your ray of sunshine. Best wishes on your baby boy's arrival."
15. "You're having a boy! I'm sure it'll be endless sticky fingers, plenty of cardio, and a home filled with laughter."
16. "Sending lots of love to your little man. May he always be healthy and safe."
17. "Congrats on your new baby boy. With you as parents, he's sure to be one handsome and kind little boy."
18. "Wishing you strong feet for all of the Legos and toy cars you're about to step on."
19. "This baby boy is going to be the greatest blessing. Excited to see how much joy and laughter he's sure to bring to your home."
20. "A baby boy arrives, and just like that everything changes. The world gets bigger, the heart grows fuller, and life gets better as he is in it."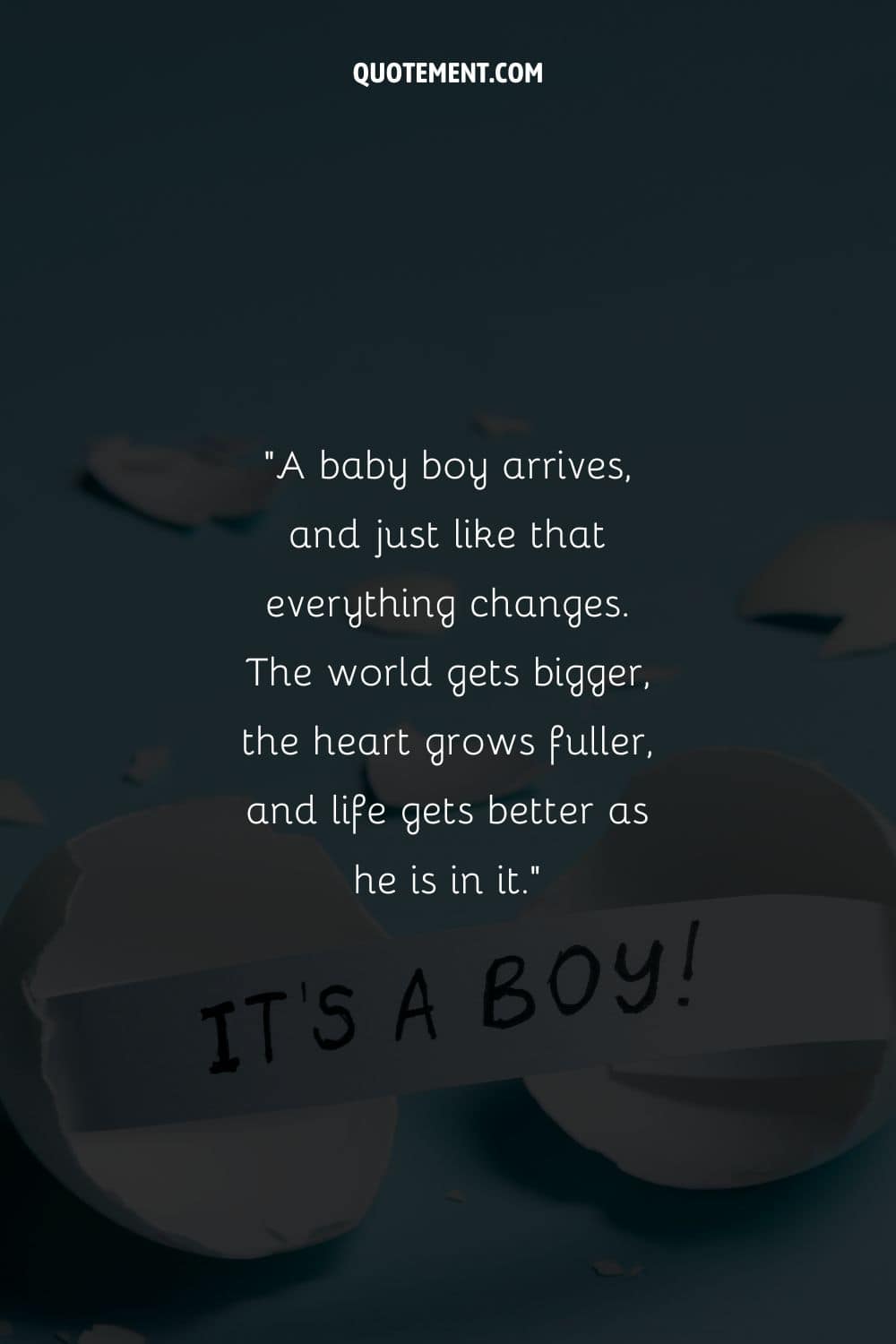 Lovely Baby Shower Quotes For A Girl
1. "Here comes a brand new little girl to fill all our hearts and lives with joy!"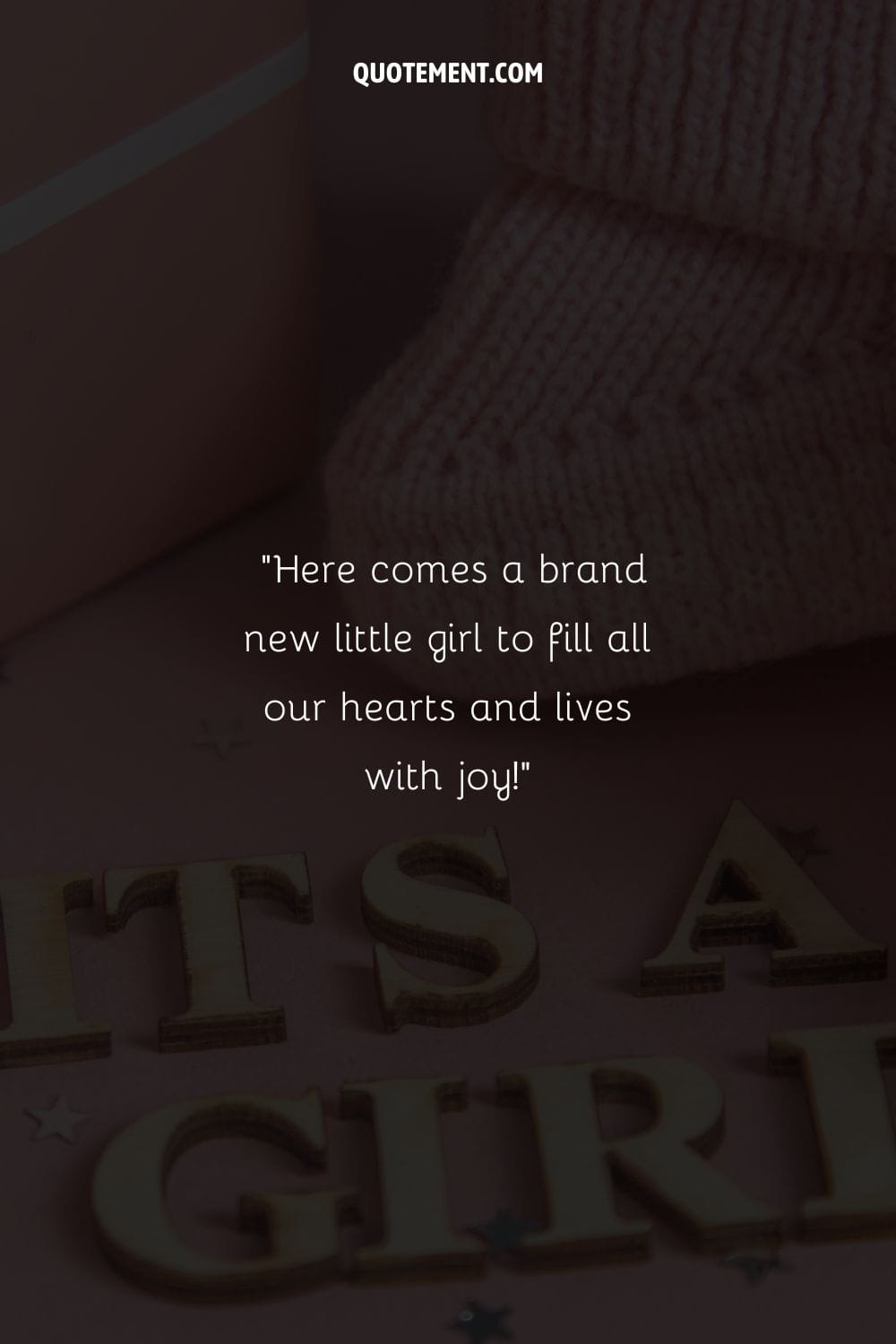 2. "Hold her a little longer, rock her a little more, tell her another story (you've only told her four)! Let her sleep on your shoulder, rejoice in her happy smile, for she's only little for such a little while."
3. "They don't call a baby a "bundle of joy" for nothing! Here's to all the joy you can hold."
4. "May your pink bundle be showered with everything splendid."
5. "Baby girls are like flowers that are forever in bloom."
6. "A beautiful little girl to play with and adore, to love a lot and spoil a little, who could ask for more?"
7. "May your daughter be blessed with health, happiness, and a wonderfully bright future."
8. "May your baby girl have your grace, beauty, and strength."
9. "Your daughter will be a mini version of her mom – smart, beautiful, and happy!"
10. "Little girls grow up so fast. One minute you're dressing her in princess outfits, and the next minute she's trying on bridal gowns. Enjoy every minute."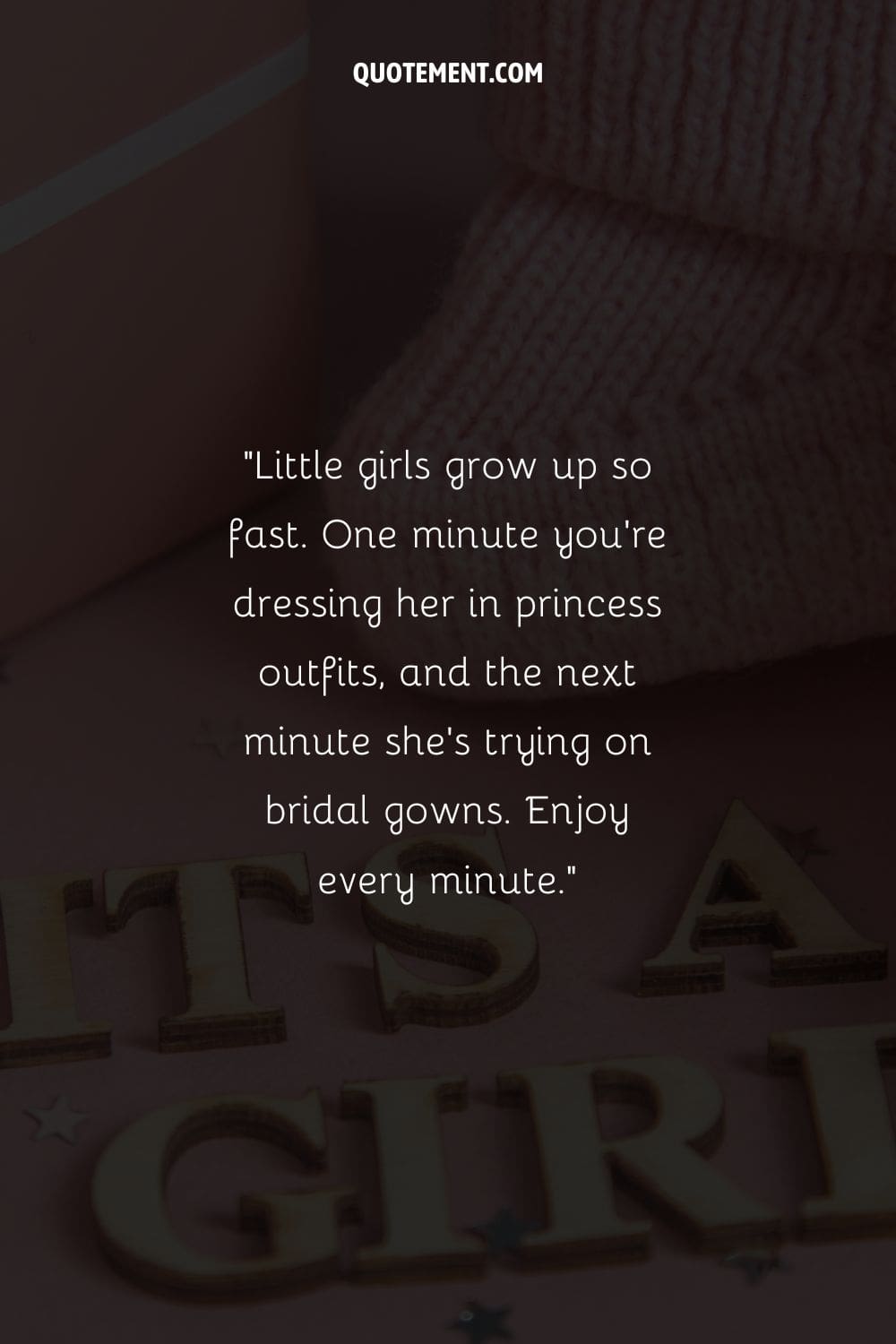 11. "Sugar and spice. May your new baby girl bring you everything nice!
12. "Congratulations! Just four more and you'll have the spice girls."
13. "Baby girls are a gift from heaven – precious angels to cherish and love."
14. "A precious baby girl will fill your heart and home with love and joy."
15. "Can't wait to see your baby girl's smile. She's going to be one lucky princess."
16. "Boss ladies raise boss babies. Can't wait to see you be the most amazing mom to your baby girl."
17. "May God bless you and your sweet baby girl."
18. "May your little warrior be as fierce and sassy as her mama."
19. "Your daughter will now hold your hearts for the rest of your life. I'm excited to see you be the most wonderful parents to your little angel."
20. "She's far more precious than jewels."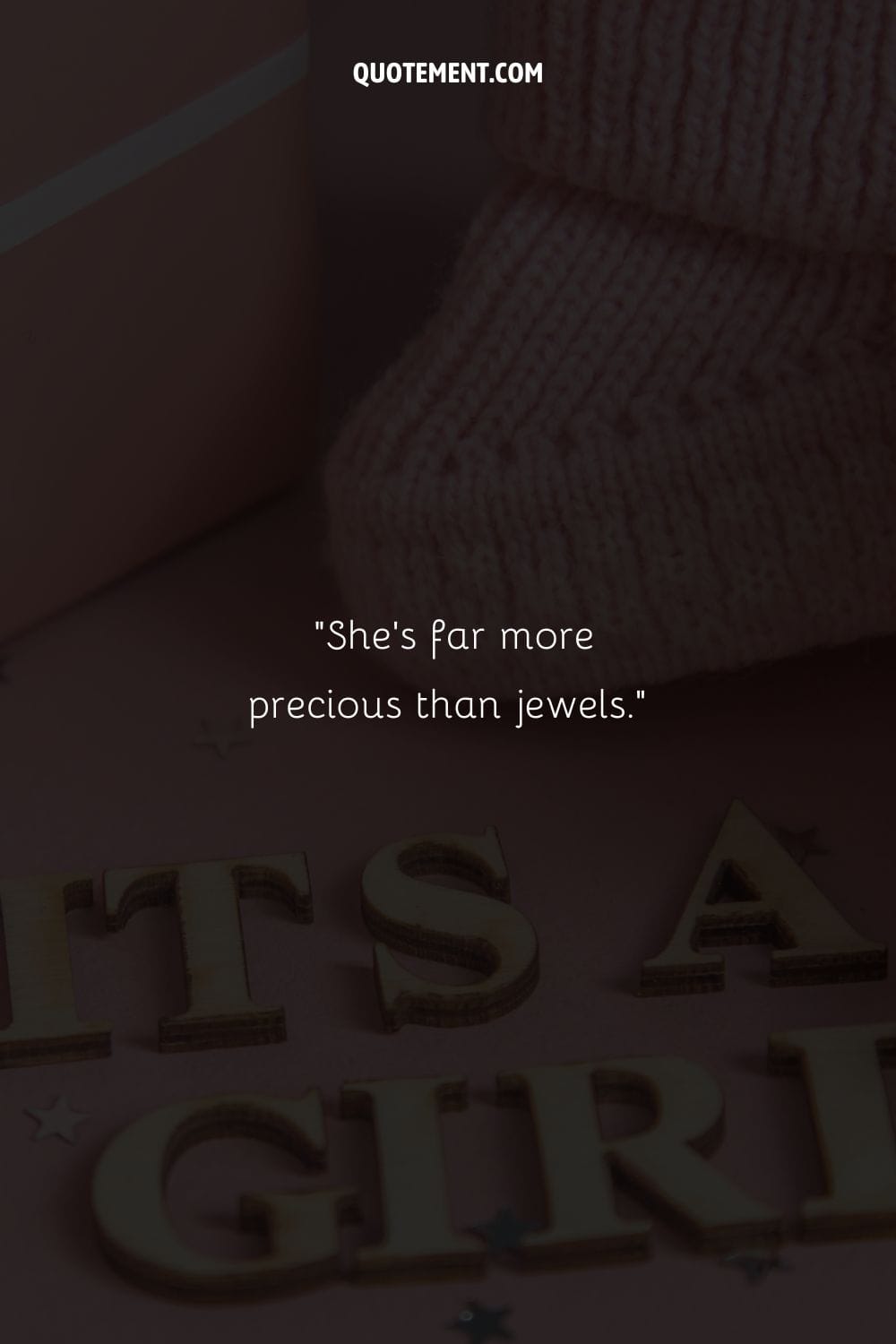 Adorable Baby Shower Wishes Quotes For Twins
1. "Now you can look forward to four arms hugging you!"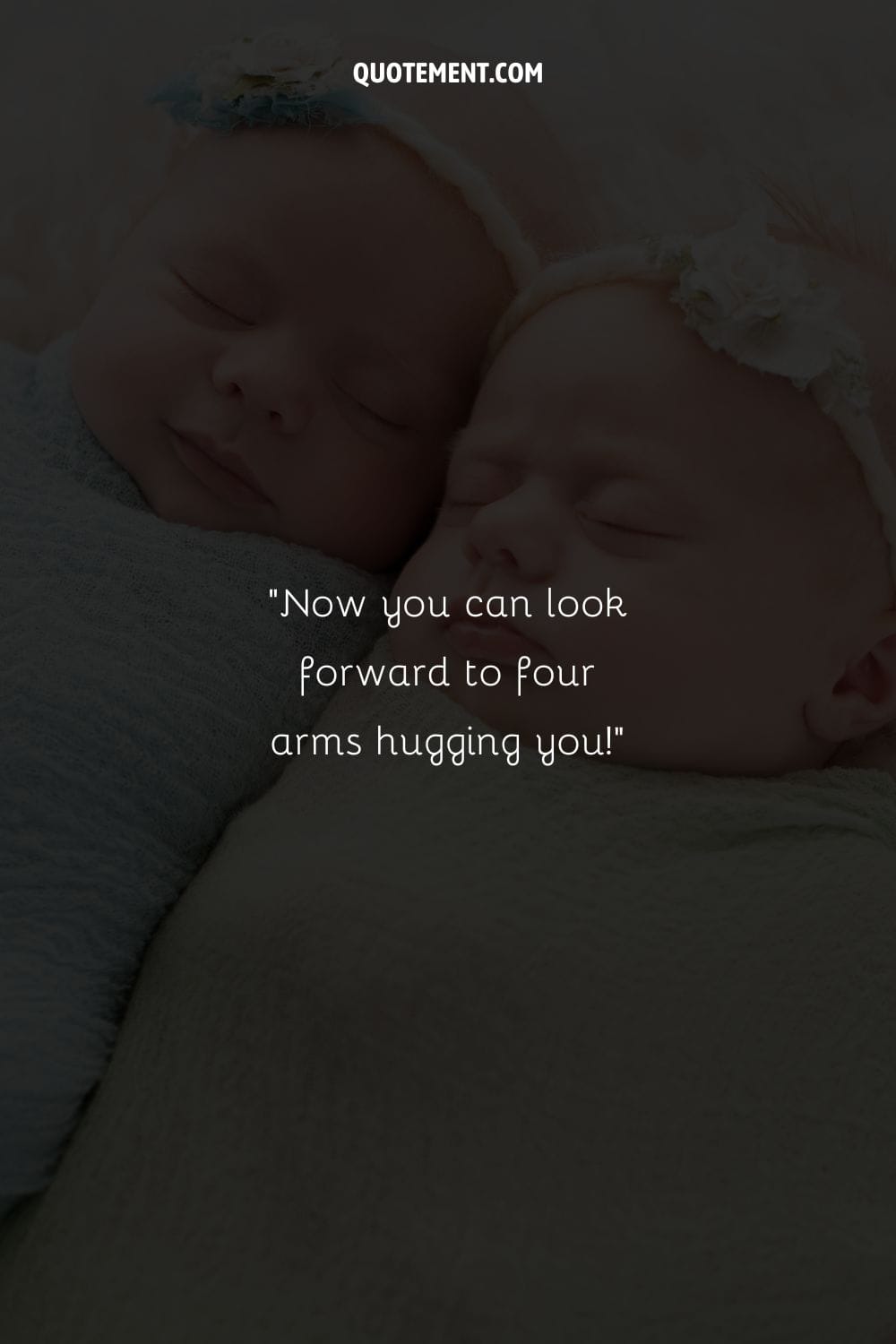 2. "There are so many reasons to smile, and you just got two more! Congratulations!"
3. "Congratulations on your twins! Now you'll have twice the love and half the sleep!"
4. "Sending all my love to your two bundles of joy. May they both be showered in love!"
5. "Twins! Sometimes miracles come in pairs."
6. "Double the diapers, double the trouble, double the love."
7. "You're going to have your hands full, and I can't wait to help!"
8. "Double the baby, double the excitement, and double the trouble!"
9. "Could there be anything better than two babies? Oh, maybe three!"
10. "One baby is special, but two babies are super special."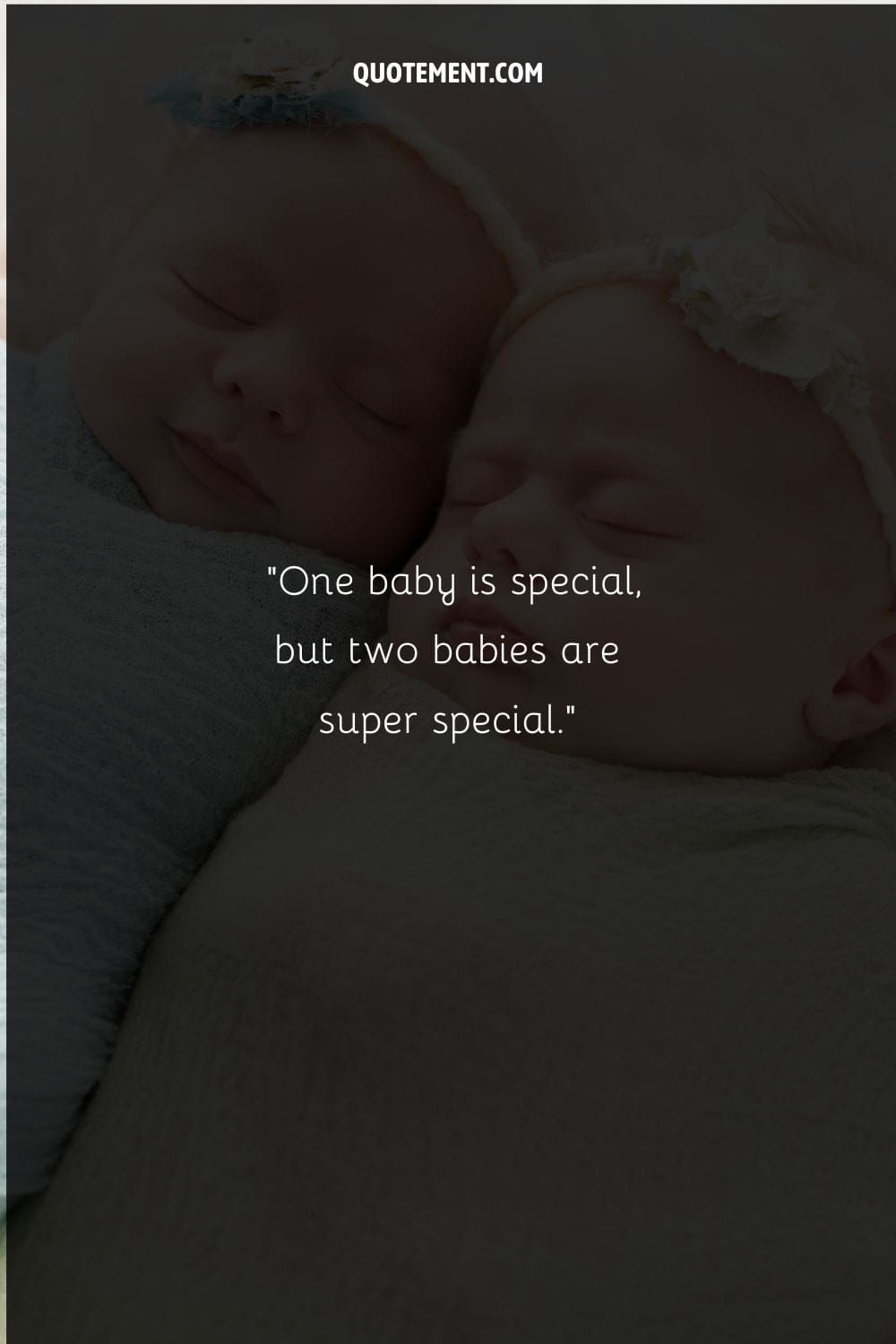 11. "You made one wish and two came true… congratulations on your double blessings!"
12. "Now you have two reasons to smile!"
13. "Sometimes the best things come in pairs."
14. "If there's anything more special than a new baby on the way, it's two babies on the way!"
15. "One will cry, and one will laugh, one will weep, and one will sleep. Though the troubles do a double shift, these memories will be worth the keep."
16. "Twin mommies are like buttons. They hold everything together."
17. "Good moms of twins have sticky floors, messy kitchens, laundry piles, dirty ovens, empty fridges and – happy twins!"
18. "Best wishes with your new duo!"
19. "A double-dose of baby love! What could be sweeter?"
20. "Why is it that the tiniest feet make the biggest footprints in our lives? Enjoy these little shoes/socks as you count those tiny toes."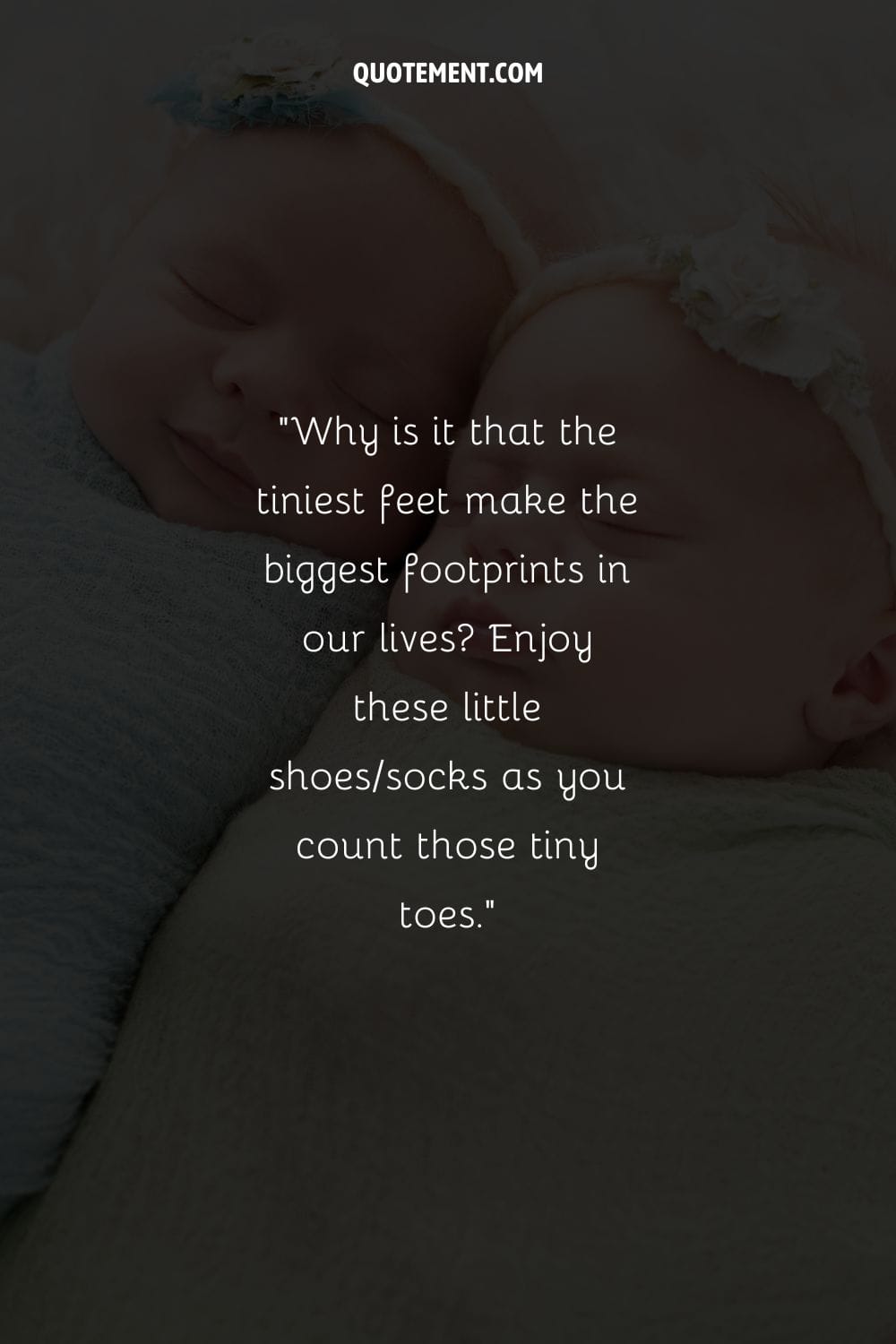 See also: 160 Family Instagram Captions To Celebrate A Magical Bond
Amazing Gender-Neutral Quotes For A Baby Shower
1. "So happy to know that there will be yet another mini you. I'm sure you'll do just as good at raising your little bundle as the first time around."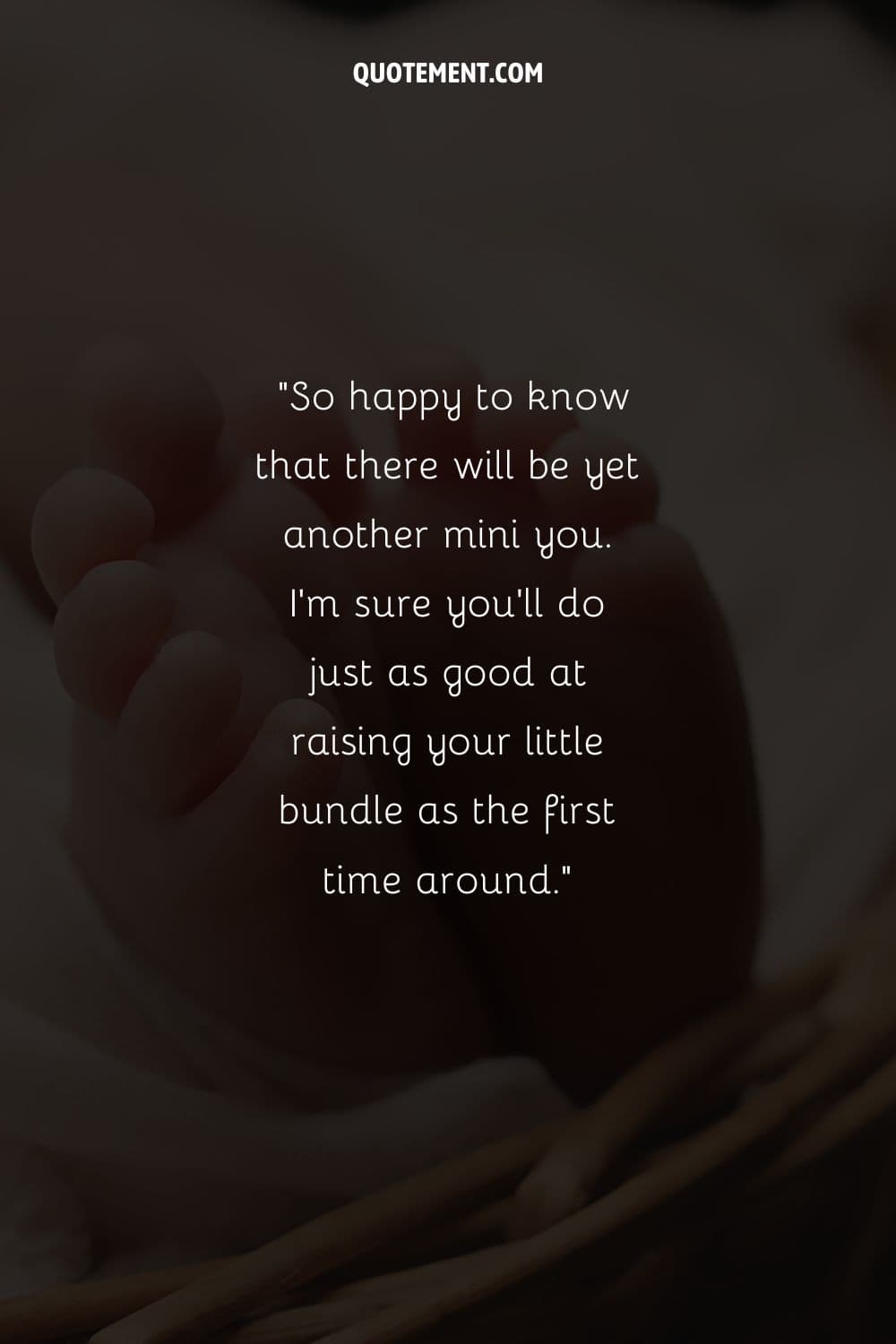 2. "Making the decision to have a child––it's momentous. It is to decide forever to have your heart go walking outside your body" — Elizabeth Stone
3. "Sleepless nights are more than worth it with your little one. Their bright eyes and glowing hearts make the best night lights."
4. "In another couple of weeks, it's going to be good-bye tummy and hello mommy! Can't wait enough to see the baby's pink-cheeked face and two beautiful eyes. We know your baby, be it a girl or a boy, will be a bundle of joy. We are hoping to see your new star soon and a shower of blessings to you and your new baby."
5. "Babies are bits of stardust, blown from the hand of God." — Barretto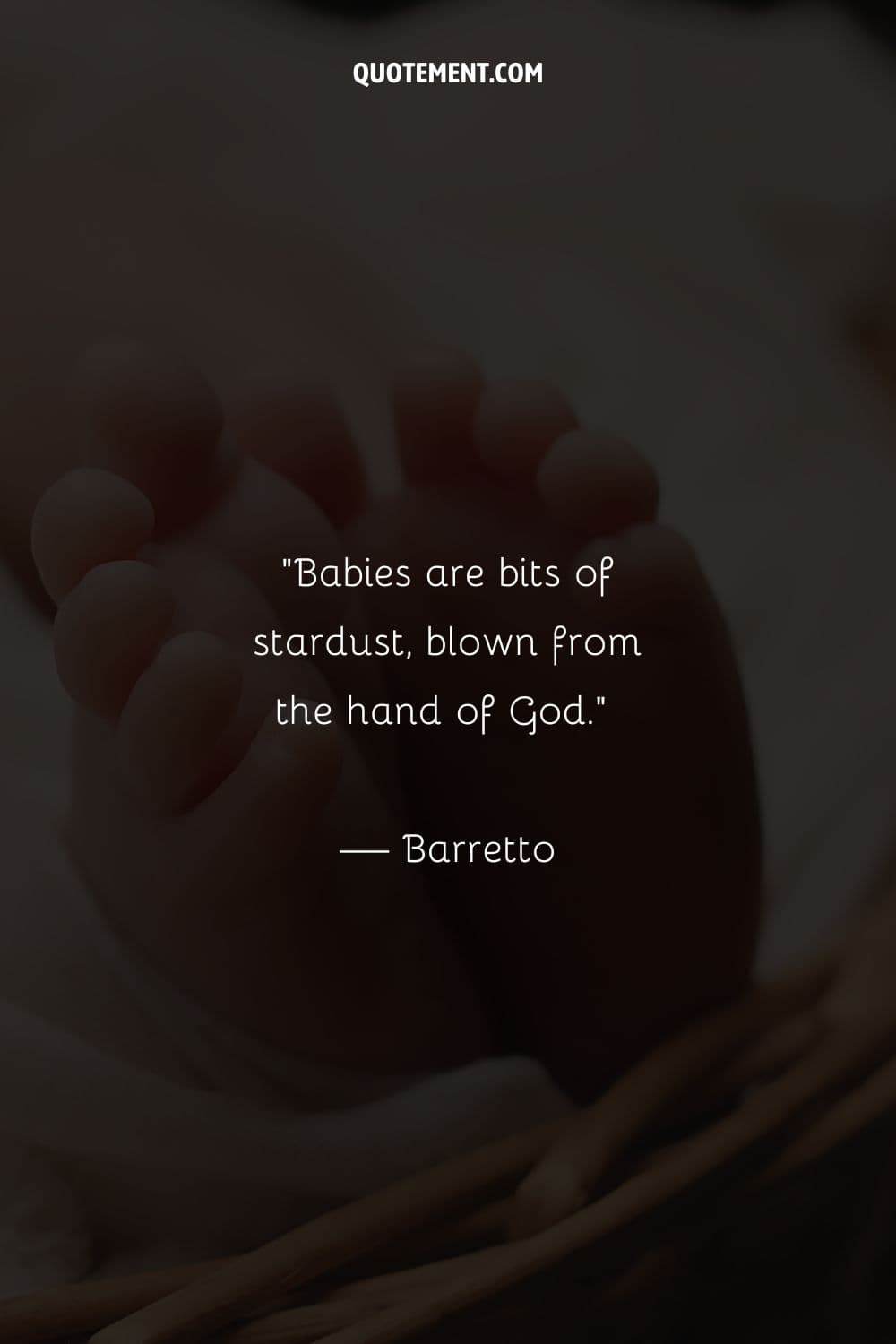 6. "May your baby double the joy and happiness in your life."
7. "Celebrating you and the sweet little someone who's on the way."
8. "Lots and love and the best of wishes on the arrival of your little one."
9. "New adventures are starting soon… can't wait to hear all about them!"
10. "May hope, love, joy, wisdom, bliss, and endurance fill your home with the new baby on the way. Congratulations!"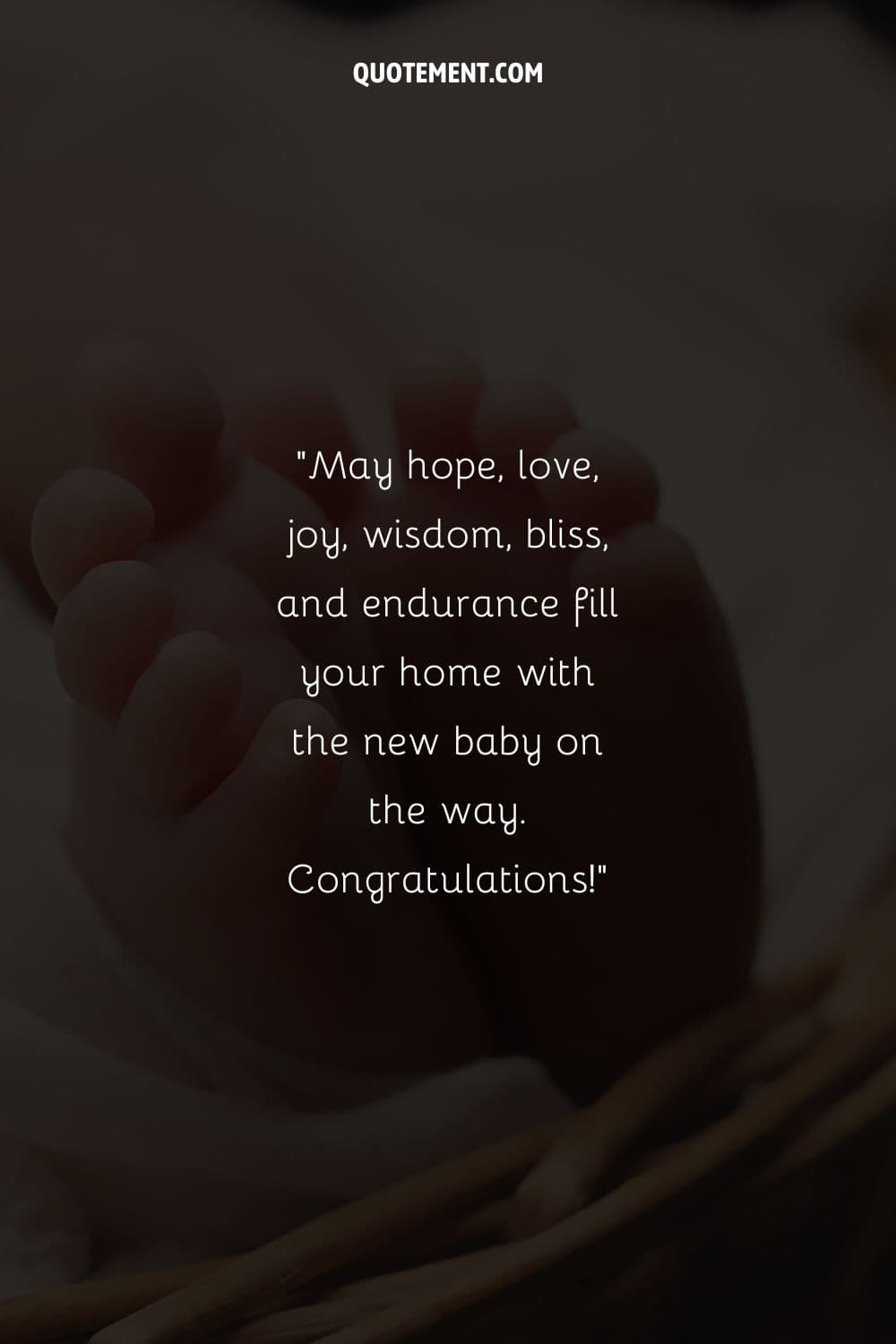 11. "Can't wait to shower the little one with hugs, kisses, and plenty of attention. Better get ready!"
12. "Sending happy thoughts your way as you prepare to welcome a little someone new to your family. This little miracle will soon make your world more beautiful and more joyful."
13. "Congratulations on your new bundle of joy! Can't wait to see their beautiful smile."
14. "Children reinvent your world for you." — Susan Sarandon
15. "Welcome to the world, little one! You're already so loved."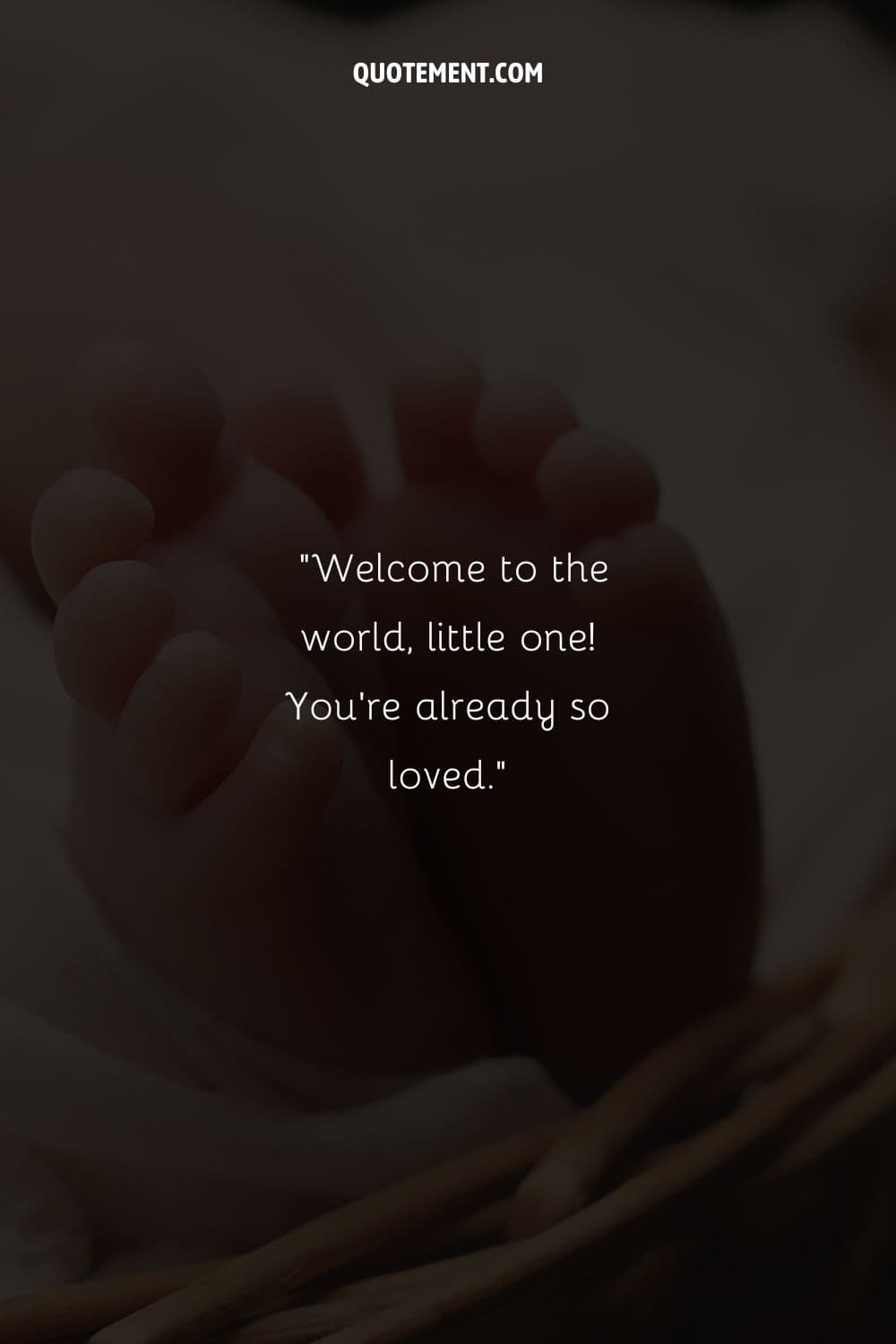 16. "A baby is something you carry inside you for nine months, in your arms for three years, and in your heart till the day you die." — Mary Mason
17. "Now that you're pros, it'll be easier, right? Congrats on your newest addition."
18. "A new baby is like the beginning of all things—wonder, hope, a dream of possibilities." — Eda J. Le Shan
19. "You're already such wonderful parents. Can't wait to see you raise another amazing child."
20. "Can't wait to witness the wonder that will come with your newest little one."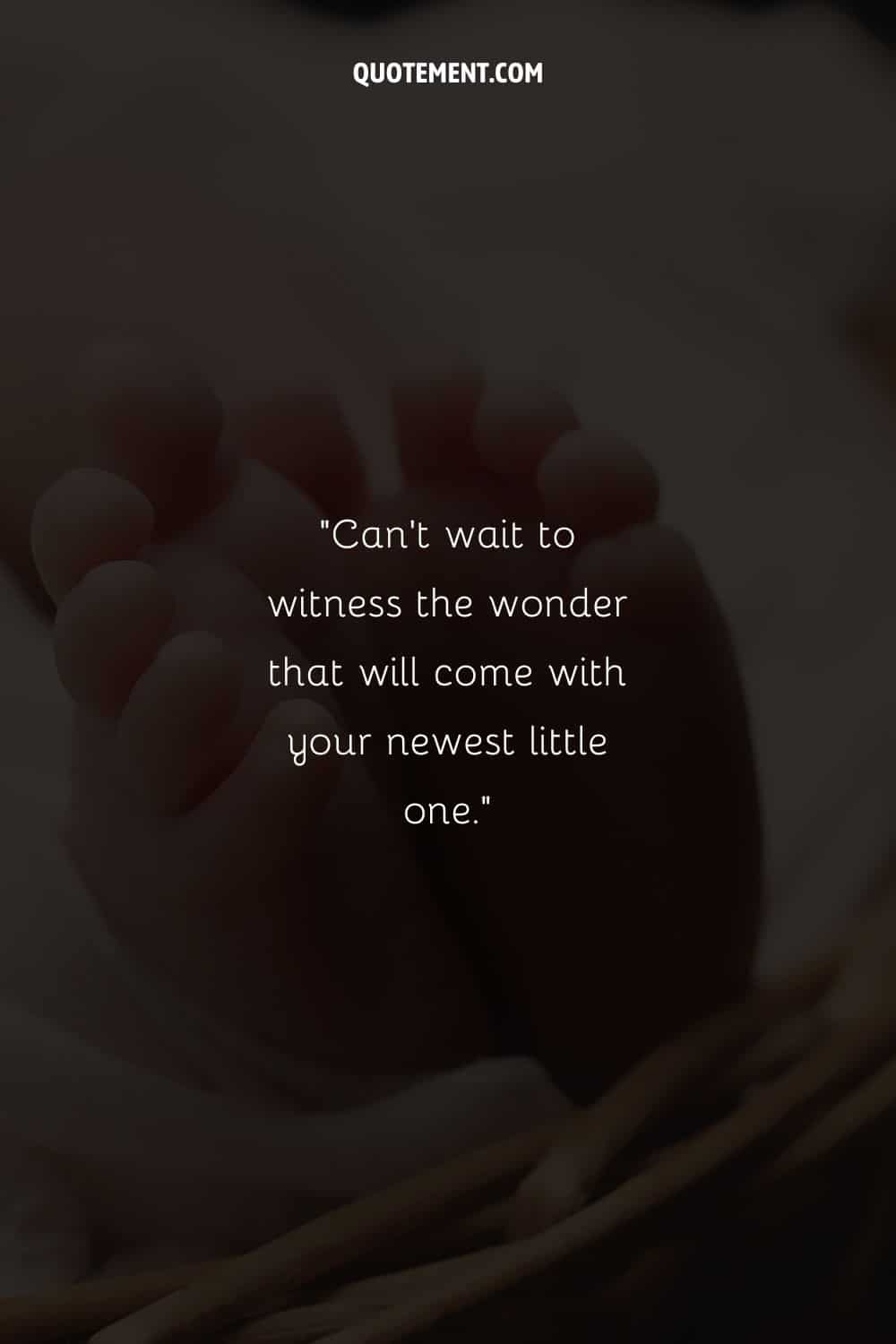 Funny Baby Shower Quotes
1. "Having a baby means you'll finally feel excited about having your in-laws over."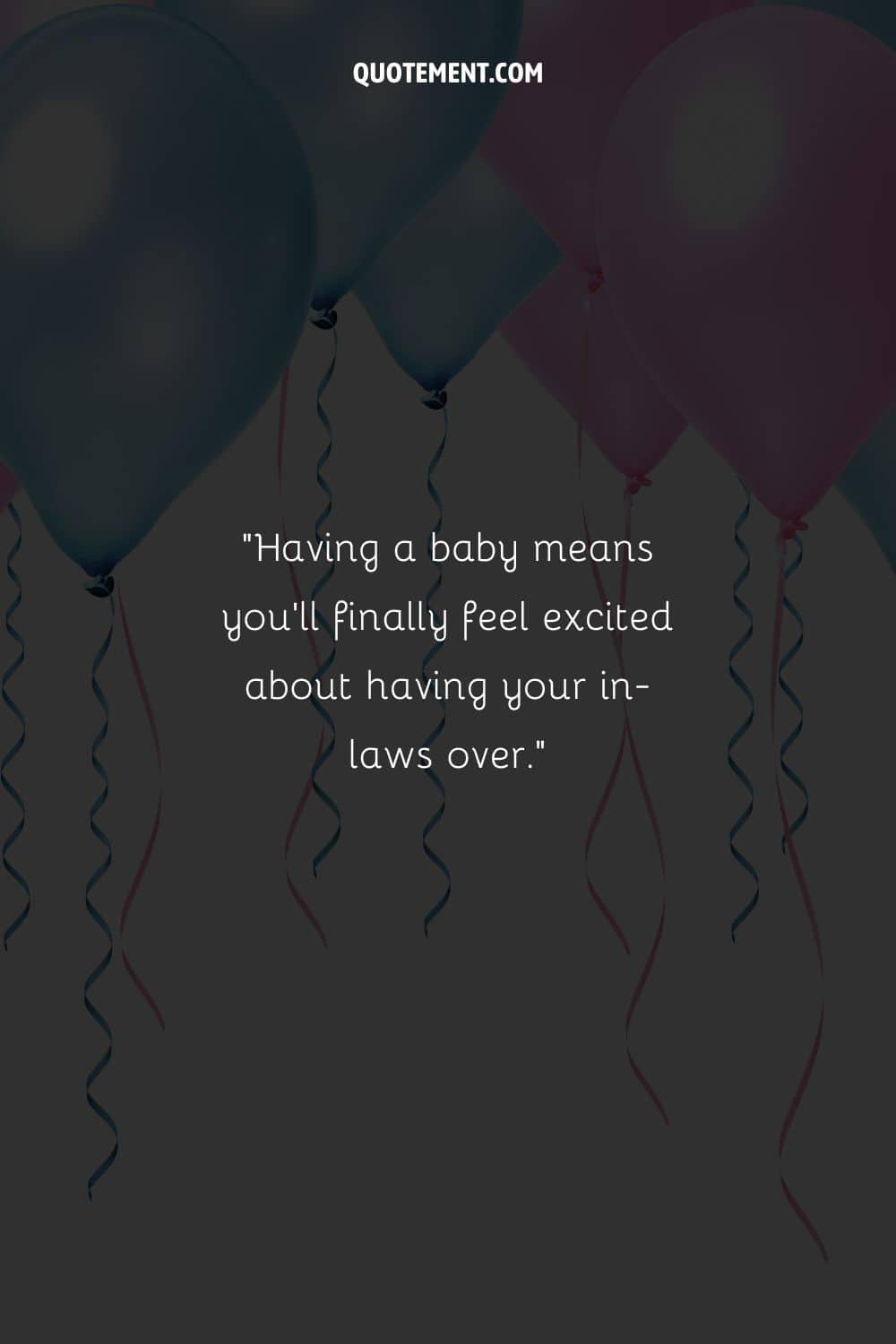 2. "Here's to all the toys that dad can play with again!"
3. "People who say they sleep like a baby usually don't have one." Leo Burke
4. "Congratulations on being so creative! Can't wait to see your latest project!"
5. "Parenting: when hard labor and sleepless nights are paid in smiles."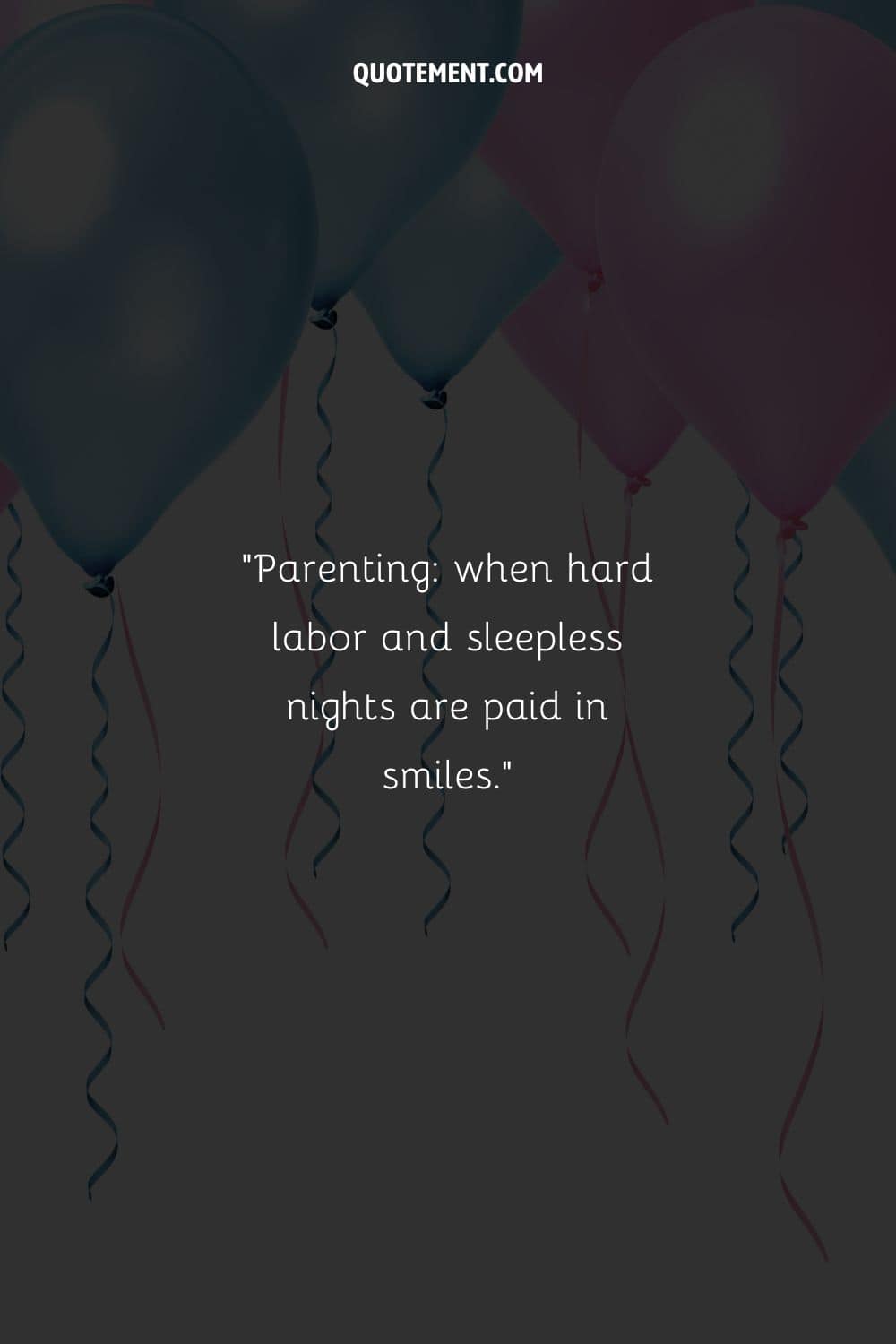 6. "Congrats on your adorable new alarm clock!"
7. "Becoming a parent is easy. It's the staying awake part that's hard."
8. "In just a few months you'll become a stain removal expert!"
9. "Babies are cute until you have to wake up for 2 am feedings."
10. "Thanks in advance for naming the baby after me!"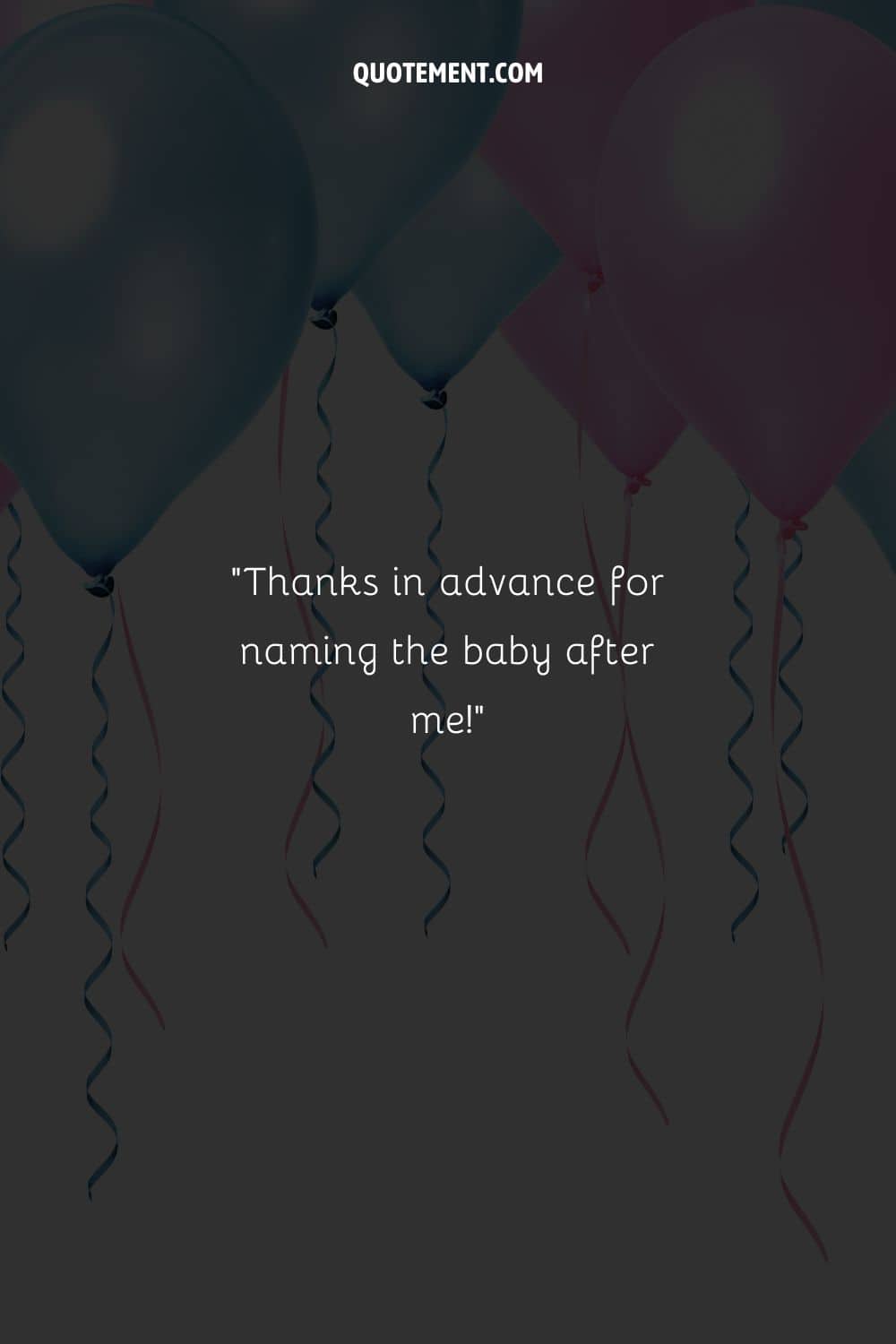 Wrapping It Up
What an adorable list, right?
I hope you enjoyed my unique compilation of 120 cutest baby shower quotes!
Until next time!
Read next: 90 Super Cute Gender Reveal Quotes For Your New Baby