As we go about our daily lives, trying our best to find happiness and peace, there's one rule we ought to remember; what we give is what we get.
These deep and powerful what goes around comes around quotes will remind you that the energy you put out there is the energy you will receive.
I've collected the best quotes and citations that talk about karma and the consequences of our actions to ensure you that nothing you do is in vain, neither good nor bad.
Everything will come back to you eventually.
That's why it's important to watch out for our thoughts and actions because they will create our future.
In this article, I've collected the best what goes around comes around quotes from different sources on the web. Check them out!
Top 10 What Goes Around Comes Around Quotes
These are my absolute favorite what goes around comes around quotes. Have a look!
1. "By each crime and every kindness, we birth our future." ― David Mitchell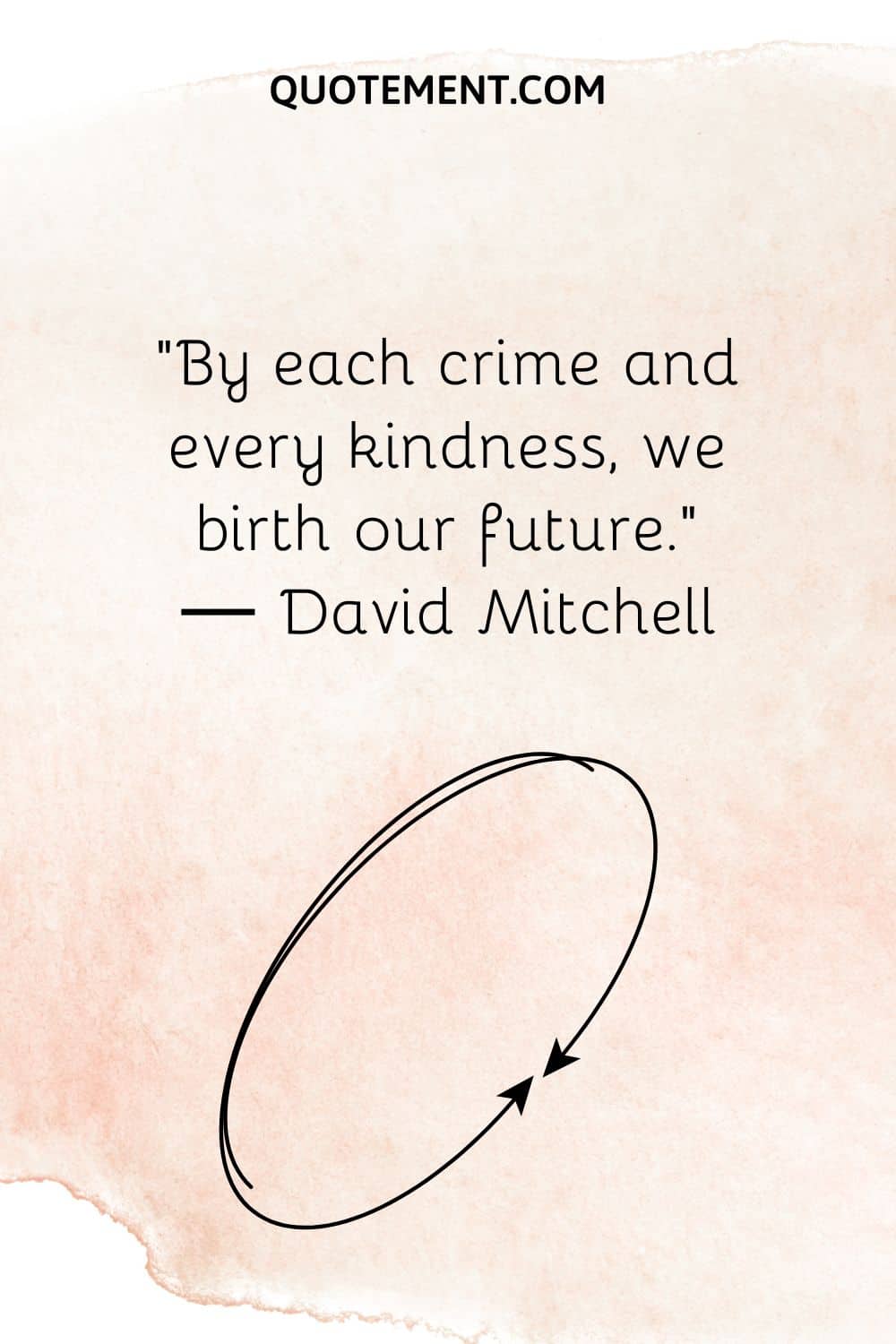 2. "Karma is karma. Karma is in life. You do the wrong things; you get the wrong things out of it." ― Antonio Brown
3. "Anger has no soul. But karma, that's a whole different story." — Efrat Cybulkiewicz
4. "Our thoughts, deeds, and words return to us sooner or later, with astounding accuracy." — Grant M. Bright
5. "Sometimes you get what's coming around. And sometimes you are what's coming around." ― Jim Butcher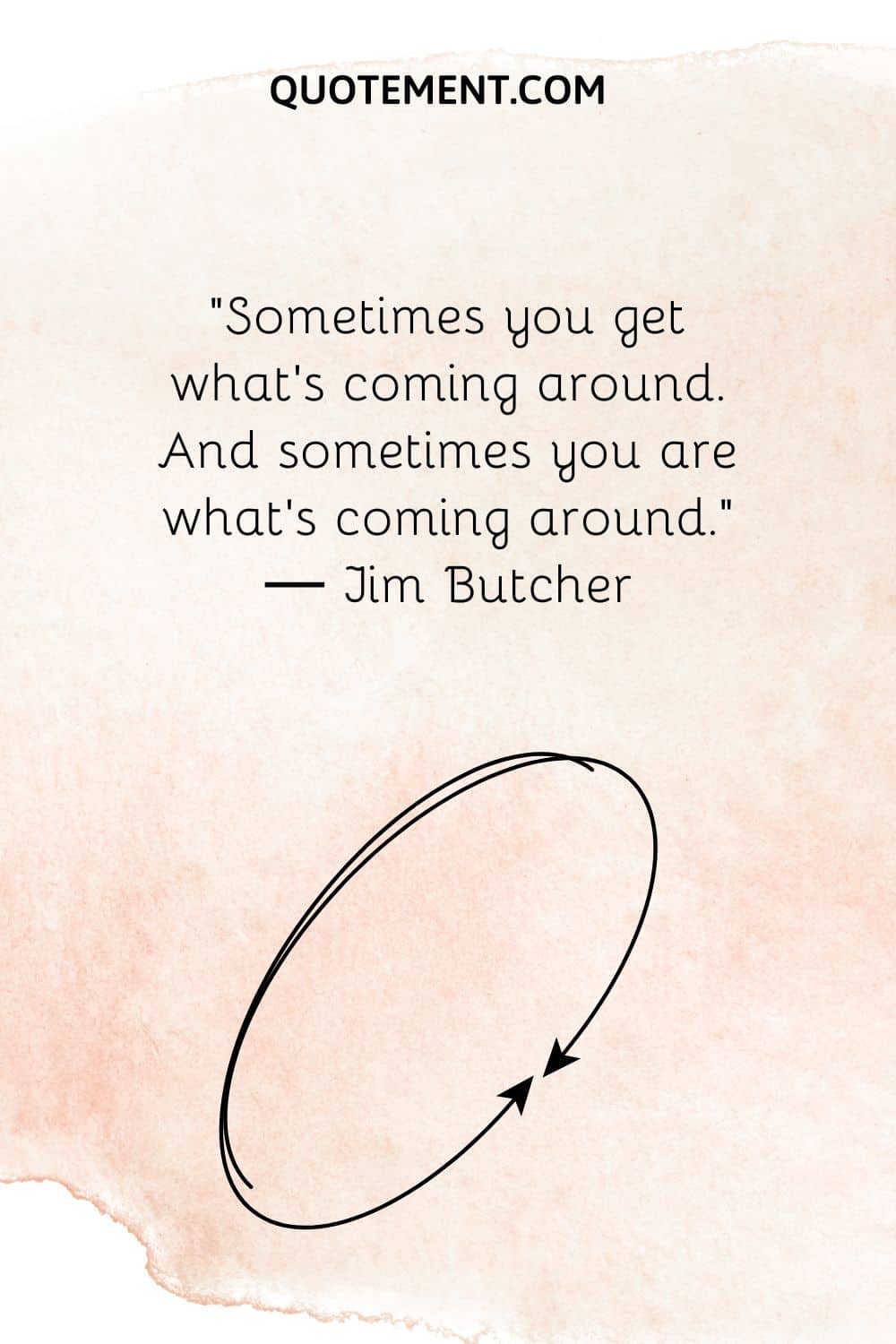 6. "Show a little faith in someone when they need it. It's amazing how it comes back around to you." — Garon Whited
7. "Within the realms of what goes around resides the magnitude and severity of what comes around." ― Sandeep N. Tripathi
8. "You have to protect yourself at all times. What goes around comes around." ― Floyd Mayweather, Jr.
9. "Not only is there often a right and wrong but what goes around does come around — karma exists." ― Donald Van De Mark
10. "The universe is based on a fair exchange. What you give, you will get." — Guruji Sri Poonamji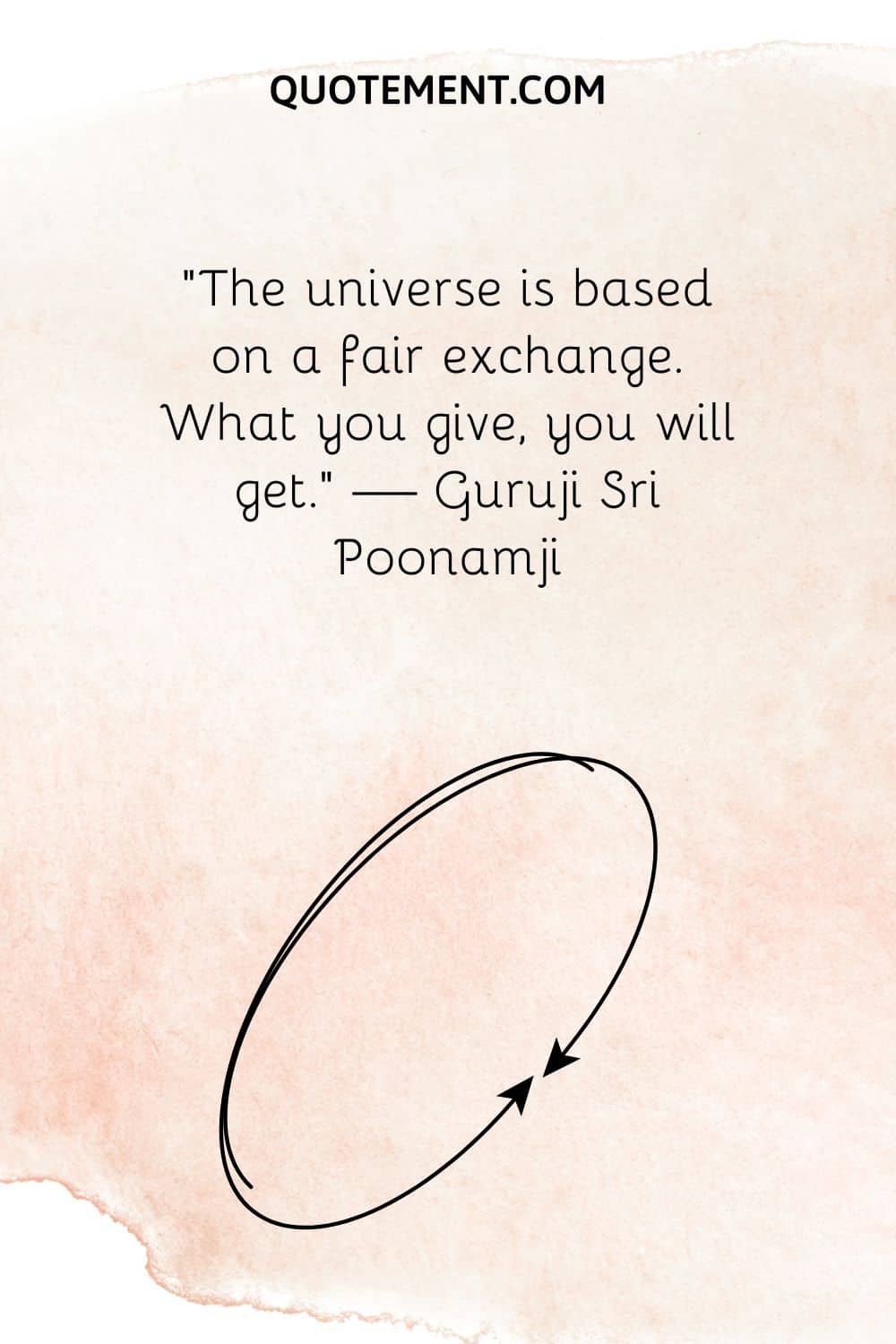 See also: 120 Spiritual Universe Quotes To Contemplate Life
Meaningful What Goes Around Comes Around Quotes
If you're looking for meaningful quotes about karma, these what goes around comes around quotes will thrill you!
1. "It is a rule of life that we eventually become victims of the evil we do to others." ― Wayne Gerard Trotman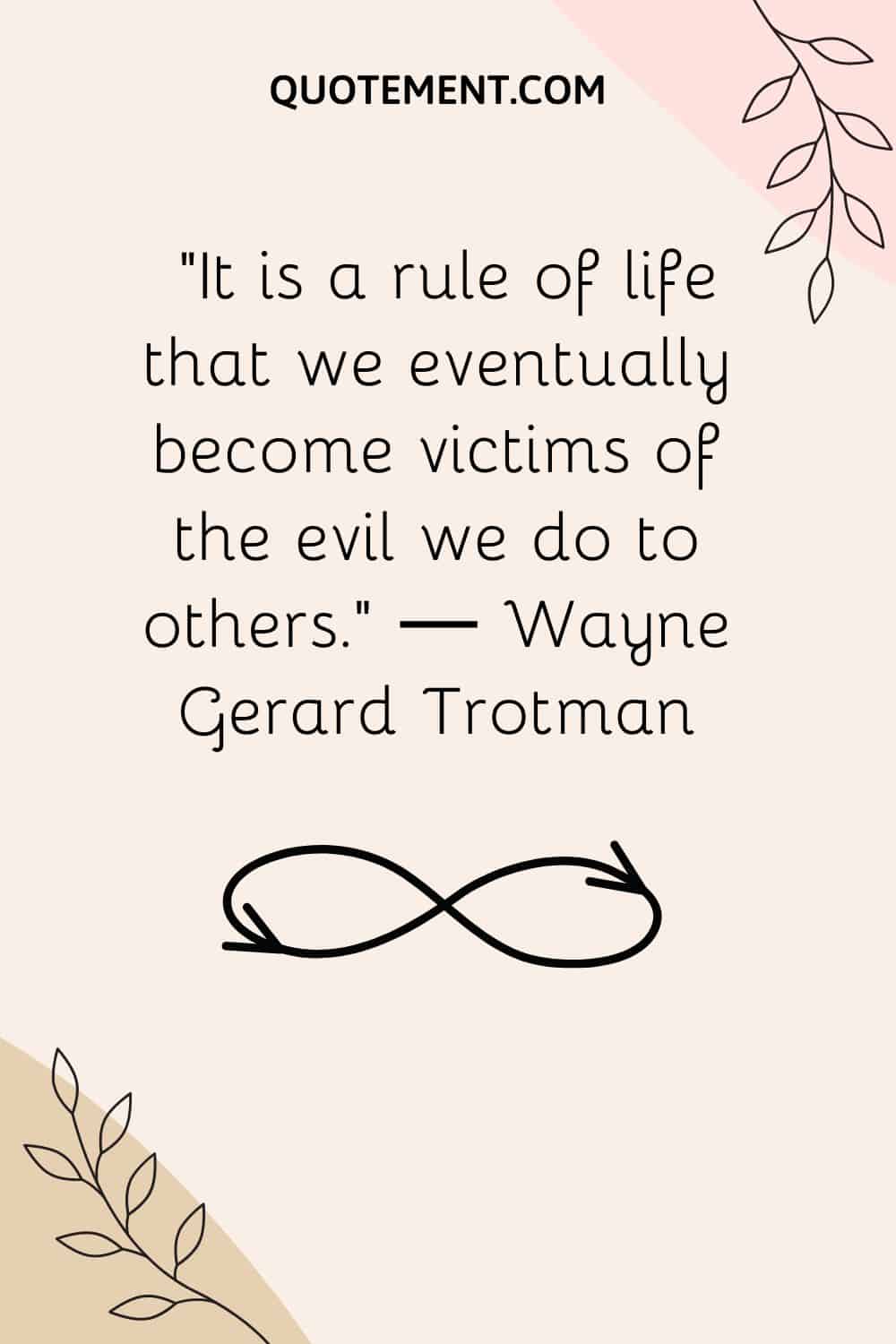 2. "A man is born alone and dies alone, and he experiences the good and bad consequences of his karma alone, and he goes alone to hell or the Supreme abode." ― Chanakya
3. "The negative energies, when sent out in the universe, will reap an equivalent or more of that. It can come back as health problems, an accident, material loss, or painful relationships." ― Hina Hashmi
4. "I would never disrespect any man, woman, chick, or child out there. What goes around comes around, and karma kicks us at the end of the day." — Angie Stone
5. "The trouble they cause recoils on them; their violence comes down on their own heads." — Psalm 7:16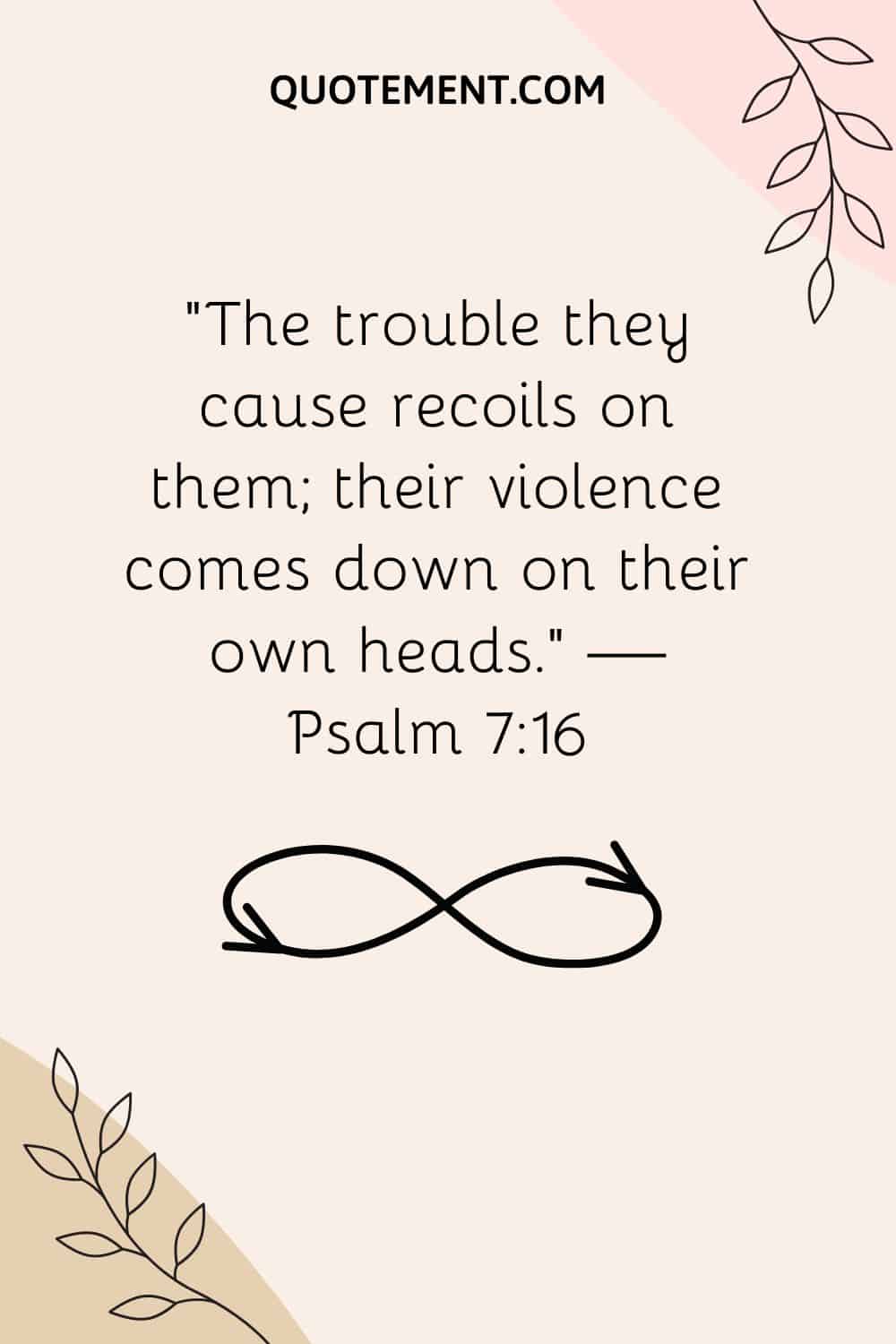 6. "They say, You can't give a smile away; it always comes back. The same is true of a kind word or a conversation starter. What goes around, comes around." — Susan RoAne
7. "Remember the unkindness, dishonesty, and deception you display towards others — don't be shocked when it comes back to bite you." — Sarah Moore
8. "There was only me, myself and I. Only dancing to my very own sound. But I was wrong, and now I know that, in fact, what goes around comes around." ― Ida Corr
9. "What goes around comes around. When it catches you, I plan on making popcorn, pouring some wine, and making a toast while I laugh." — unknown
10. "Live a good and honorable life. Then, when you are older, you can look back and enjoy it a second time." — Dalai Lama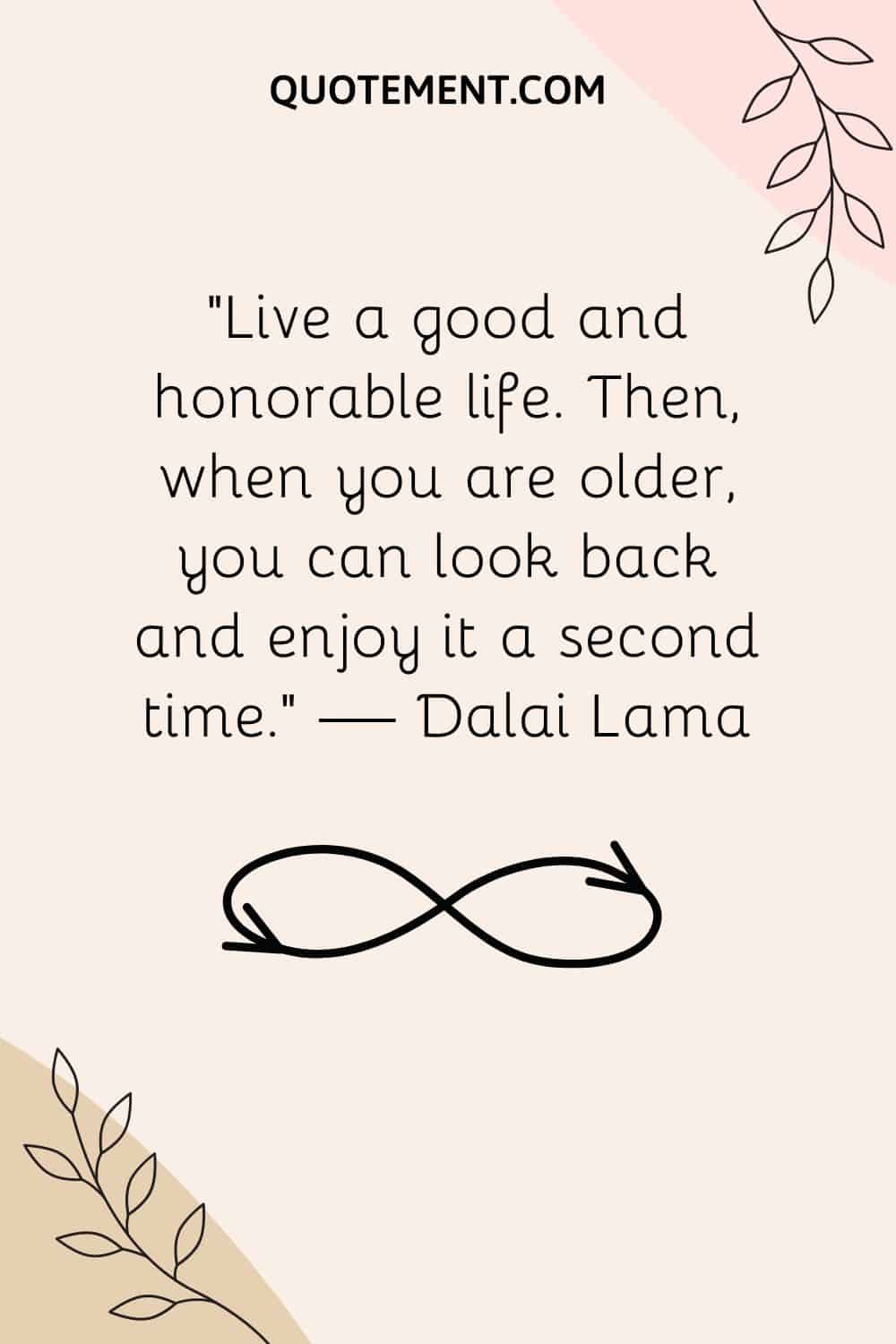 11. "Love life, engage in it; give it all you've got. Love it with a passion, because life truly does give back, many times over, what you put into it." — Maya Angelou
12. "If you want to be happy, stop thinking about revenge. When you stop focusing on someone else's unhappiness, you have more time and energy to work on your own happiness." — Karen Salmansohn
13. "My actions are my only true belongings. I cannot escape the consequences of my actions. My actions are the ground upon which I stand." — Thích Nhất Hạnh
14. "If your actions were to boomerang back on you instantly, would you still act the same?" — Alexandra Katehakis
15. "People seldom appreciate the pain they've caused until that pain is visited upon them. This is not vengeance. It is education." ― Wayne Gerard Trotman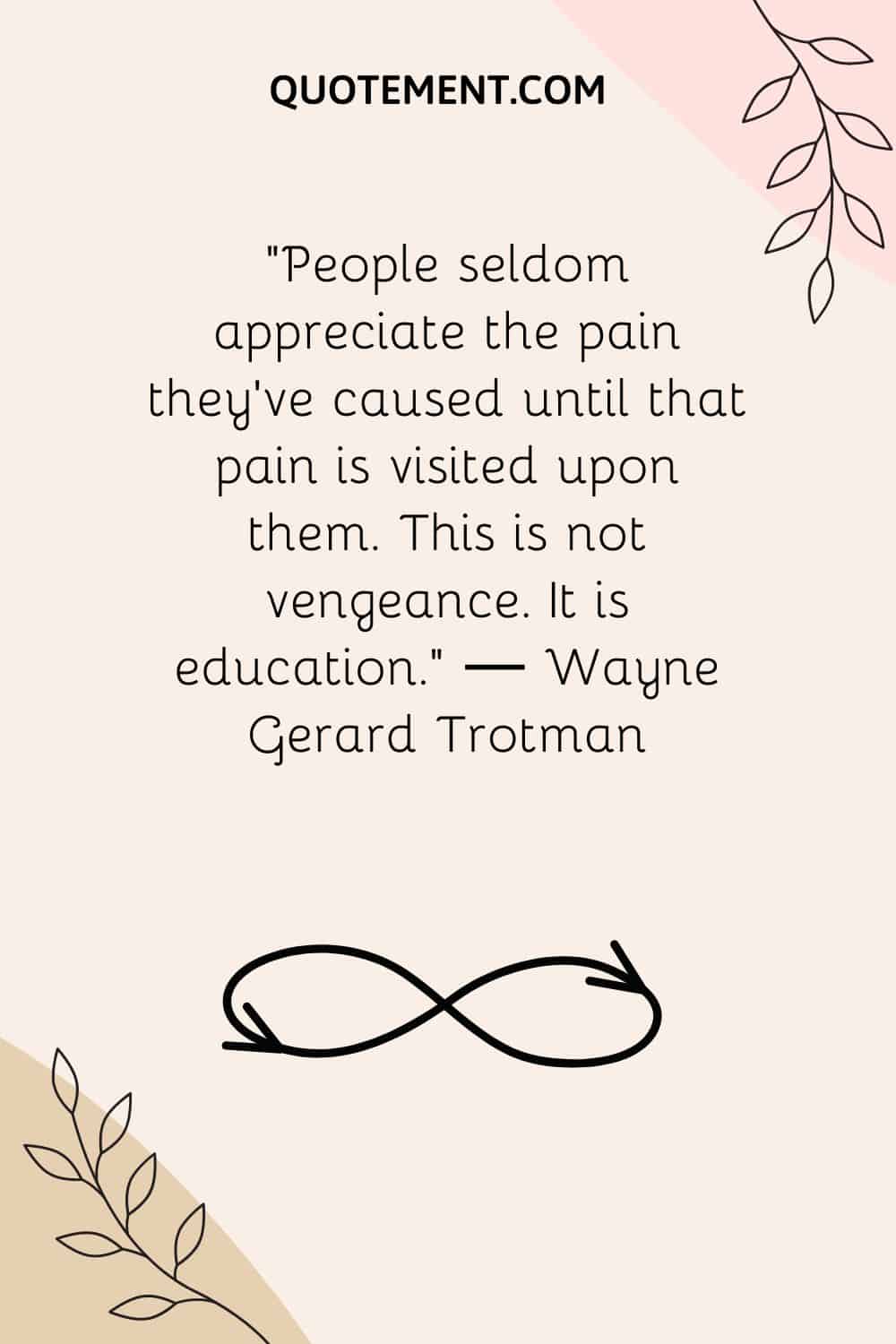 16. "Instead of drifting along like a leaf in a river, understand who you are and how you come across to people and what kind of an impact you have on the people around you and the community around you and the world so that when you go out, you can feel you have made a positive difference. After all, what goes around comes around." ― Jane Fonda
17. "Life is an echo. What you send out comes back. What you sow, you reap. What you give, you get. What you see in others exists in you." ― Zig Ziglar
18. "I have always believed that what goes around comes around." ― Rajeev Shukla
19. "If you give the slightest pain to any living being, then in the form of pain, the pain-giving-karma will give you its 'fruit'. So think before you hurt any living being." ― Dada Bhagwan
20. "Some people cheat their way through life. Karma, however, always waits." — unknown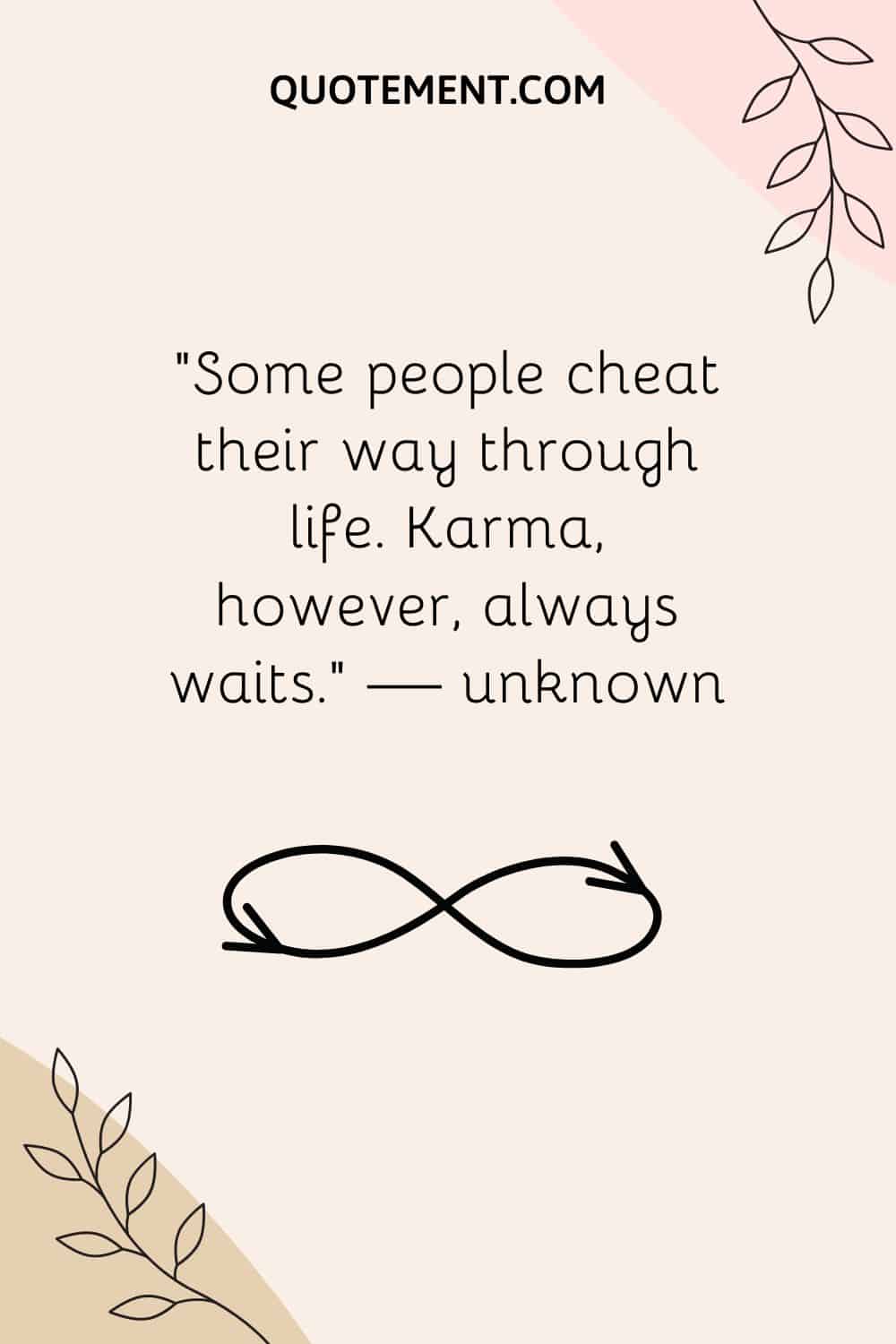 See also: 45 Best Karma Cheating Quotes To Help Deal With Infidelity
Motivational What Goes Around Comes Around Quotes
Below you'll find more amazing what goes around comes around quotes. These motivational quotes will keep you motivated to do the right things!
1. "Karma is not just about the troubles, but also about surmounting them." ― Rick Springfield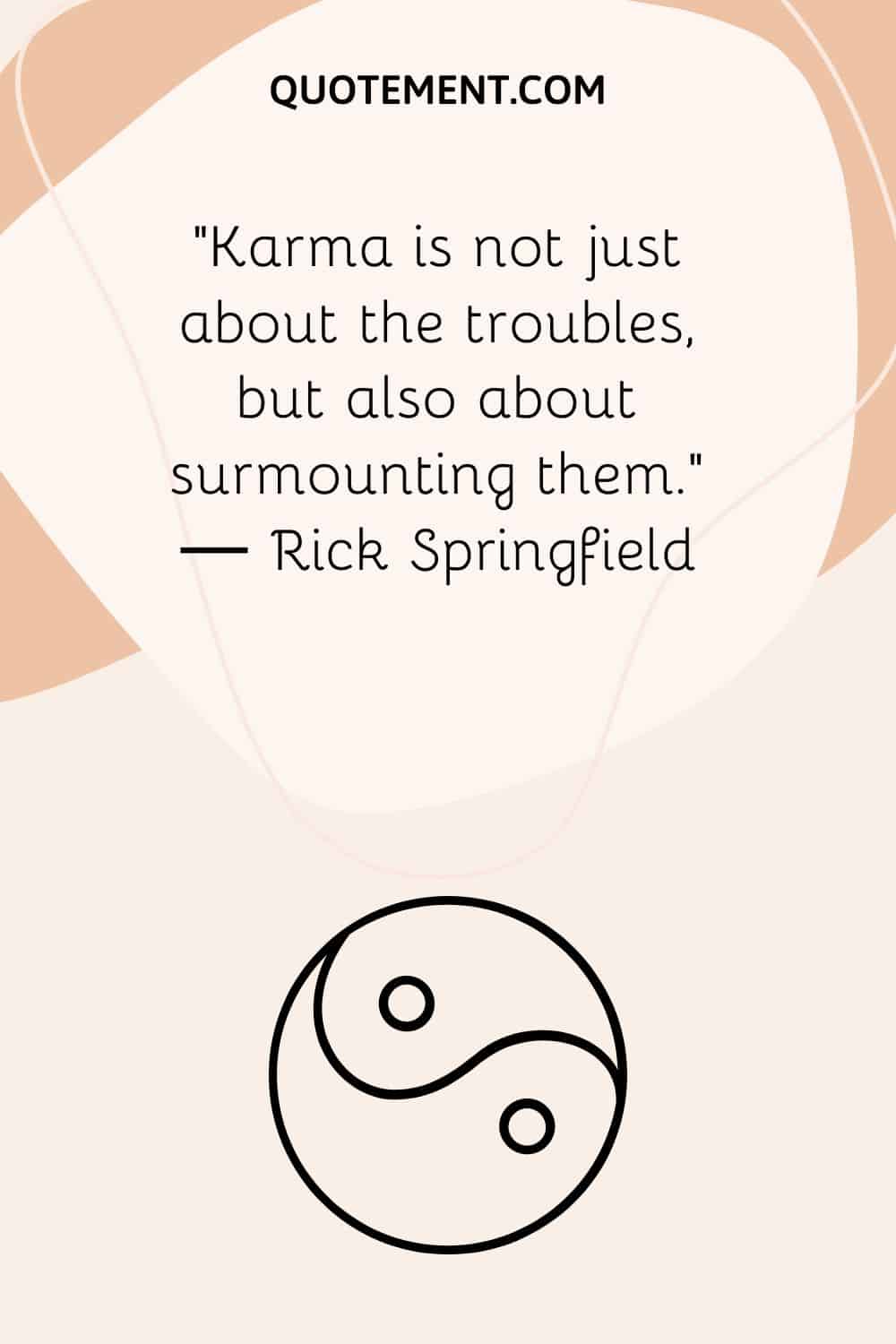 2. "To serve karma, one must repay good karma to others. To serve karma well, one must sometimes deliver bad karma where it is due." — M.R. Mathias
3. "I believe in Karma. If the good is sown, the good is collected. When positive things are made, that returns well." ― Yannick Noah
4. "What goes around comes around. That's how it works. Sooner or later, the universe will serve you the revenge that you deserve." ― Jessica Brody
5. "In life, you get what you put in. Everything comes back around." — unknown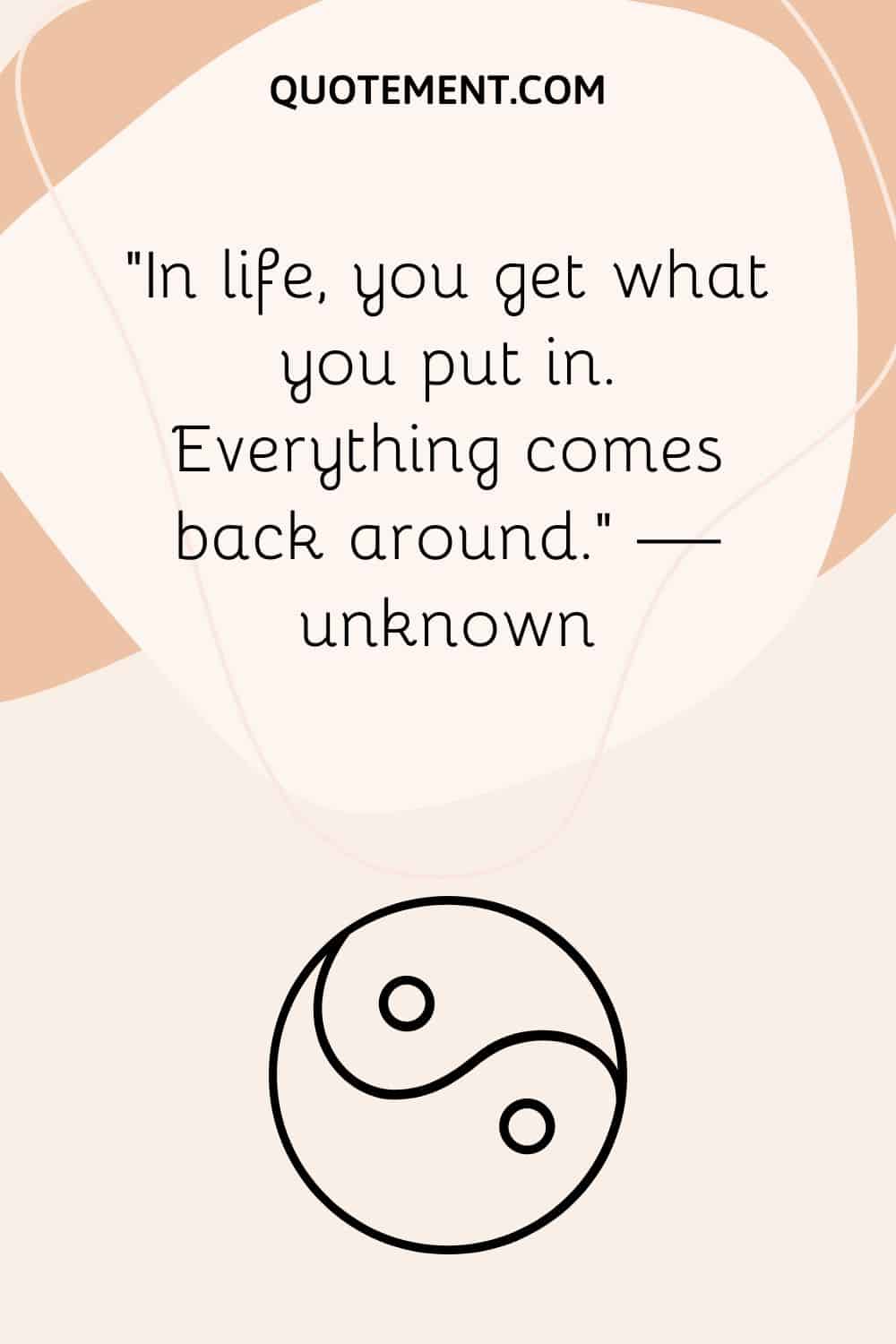 6. "All the thoughts/images in our minds, and all the emotions connected with our thoughts will sooner or later manifest as our reality." ― Maddy Malhotra
7. "Everything that goes around comes around, they say, and although I've never been able to figure out who the mysteriously wise sages known as they might be, they're certainly right when it comes to time travel." — Stephen King
8. "No need for revenge. Just sit back and wait. Those who hurt you will eventually screw up themselves, and if you're lucky, God will let you watch." — unknown
9. "I believe in karma, and I believe if you put out positive vibes to everybody, that's all you're going to get back." ― Kesha
10. "The universe does not carry debts. It always returns back to you what you gave it." ― Drishti Bablani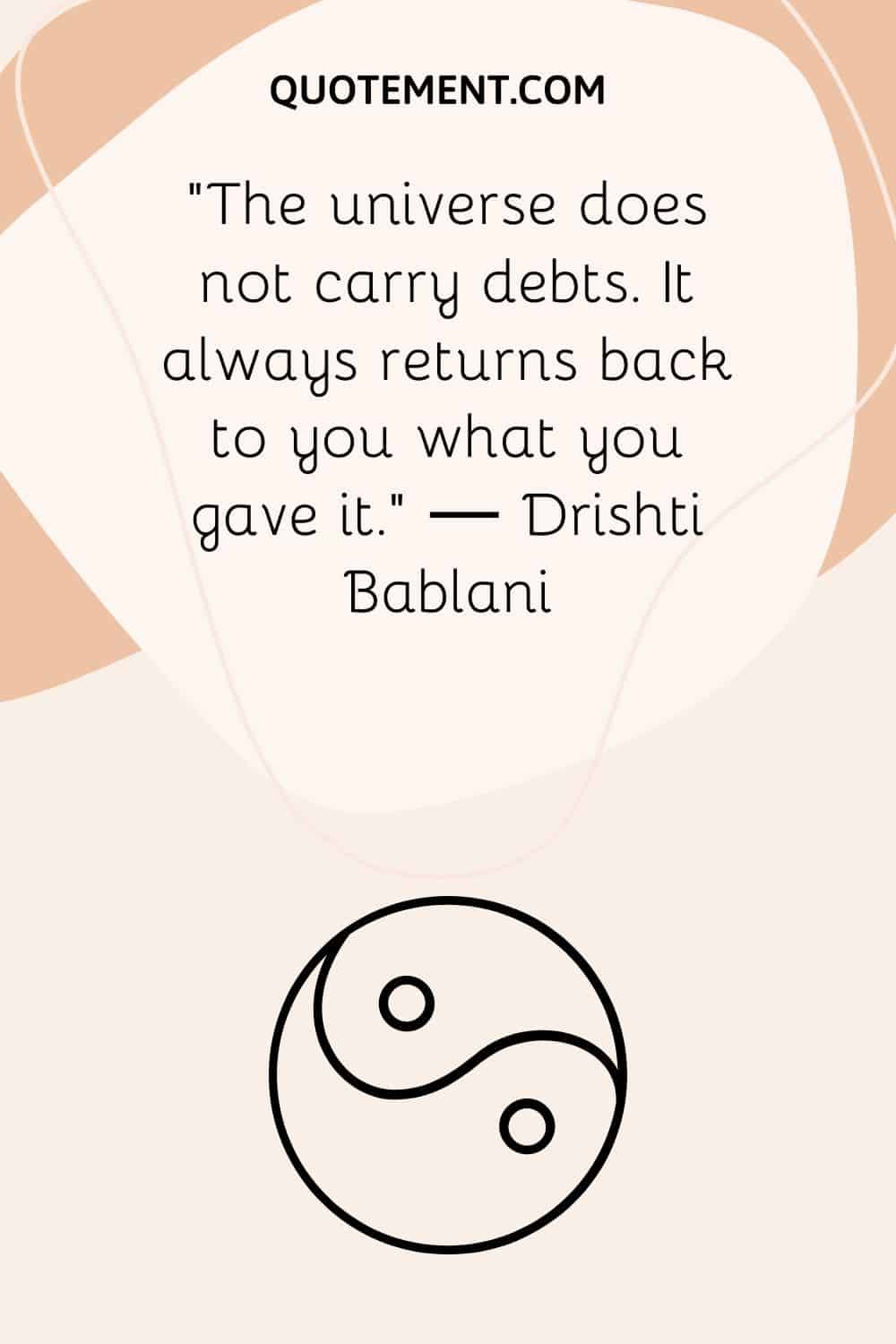 11. "I would think he knows what goes around comes around." "Lordy," Prentice thought. "If so, you have a hellacious coming around sooner or later." ― Marc Grossberg
12. "When you plant a seed of love, it is you that blossoms." — Ma Jaya Sati Bhagavati
13. "There are the waves, and there is the wind, seen and unseen forces. Everyone has these same elements in their lives, the seen and unseen, karma and free will." — Kuan Yin
14. "But life inevitably throws us curveballs, unexpected circumstances that remind us to expect the unexpected. I've come to understand these curve balls are the beautiful unfolding of both karma and current." — Carre Otis
15. "The tired wisdom of knowing that what goes around eventually comes around." — Arundhati Roy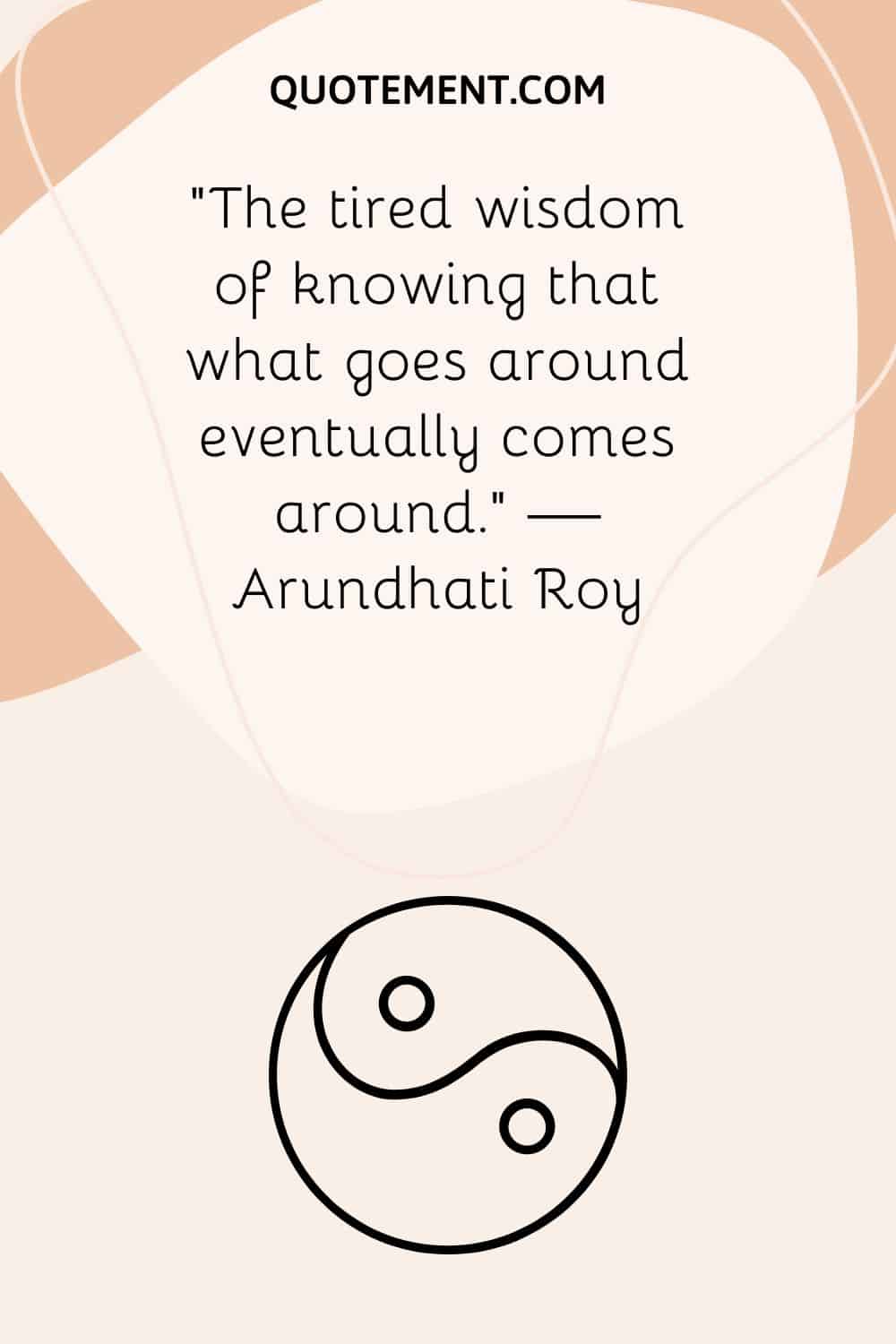 16. "Karma brings us ever back to rebirth, binds us to the wheel of births and deaths. Good karma drags us back as relentlessly as bad, and the chain which is wrought out of our virtues holds as firmly and as closely as that forged from our vices." ― Annie Besant
17. "If you give your best to someone, it will most definitely come back to you, often from a different person altogether." ― Hrishikesh Agnihotri
18. "The Law of Karma is also called the Law of Cause and Effect, Action and Reaction and: as you sow, so shall you reap." — Sham Hinduja
19. "Karma isn't fate. Nor is it a punishment imposed on us by some external agent. We create our own karma. Karma is the result of the choices that we make every moment of every day." — Tulku Thondup
20. "Forgive and move on. Focus on your happiness. Karma will take care of things." — Kirsten Hill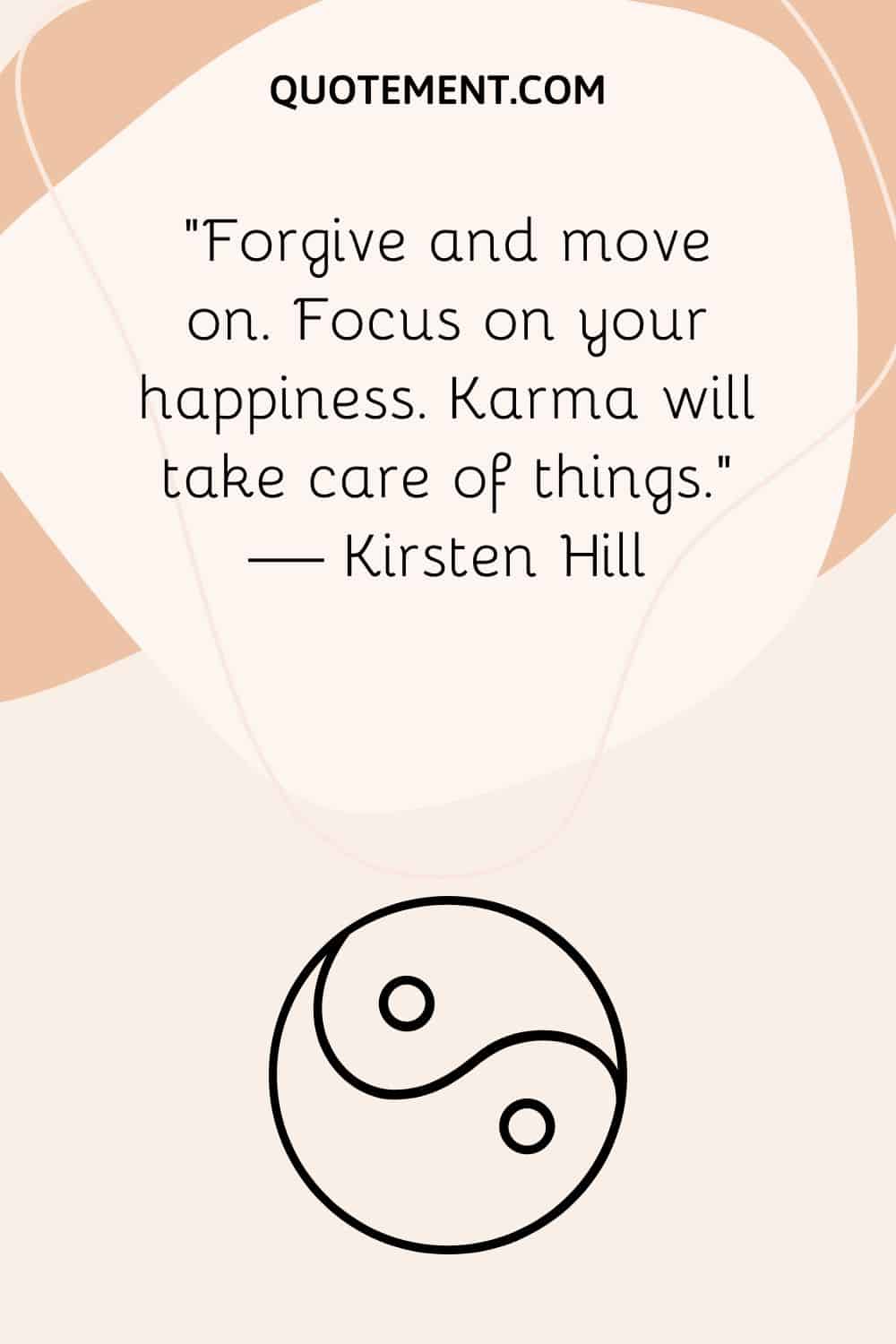 See also: 120 I Forgive You For Hurting Me Quotes To Help You Heal
Inspirational Quotes On Karma
Next up is a collection of inspirational karma quotes. Enjoy!
1. "Everything you do, everything you say, every choice you make, sooner or later comes back around." — unknown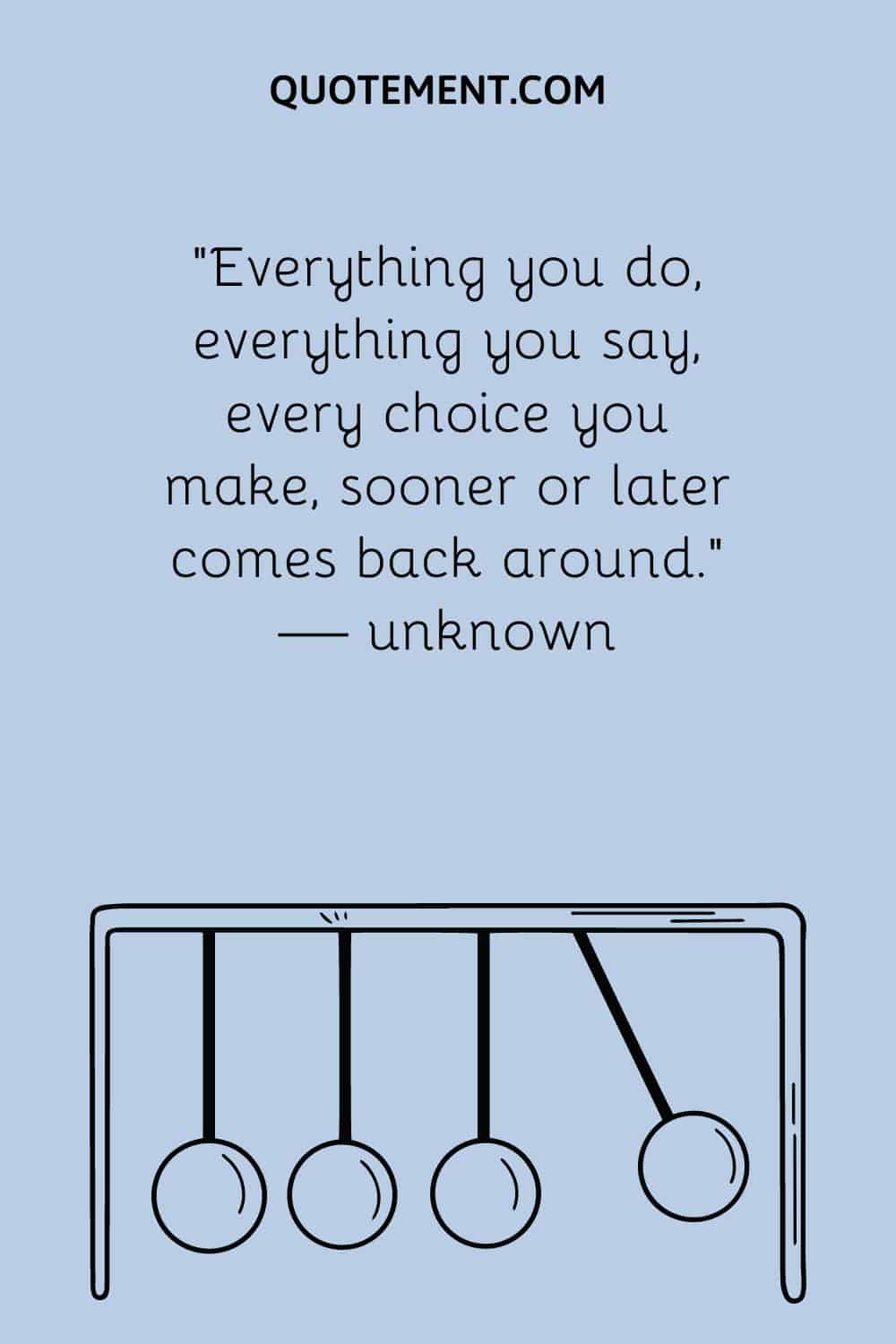 2. "Karma says what goes around comes around, so keep your circle positive. Say good words. Think good thoughts. Do good deeds."
3. "Even chance meetings are the result of karma. Things in life are fated by our previous lives. That even in the smallest events, there's no such thing as coincidence." — Haruki Murakami
4. "Karma bides its time. You will always have to watch out. Karma is unforgiving and always gets payback." — Benjamin Bayani
5. "Whoever seeks good finds favor, but evil comes to one who searches for it." — Proverbs 11:27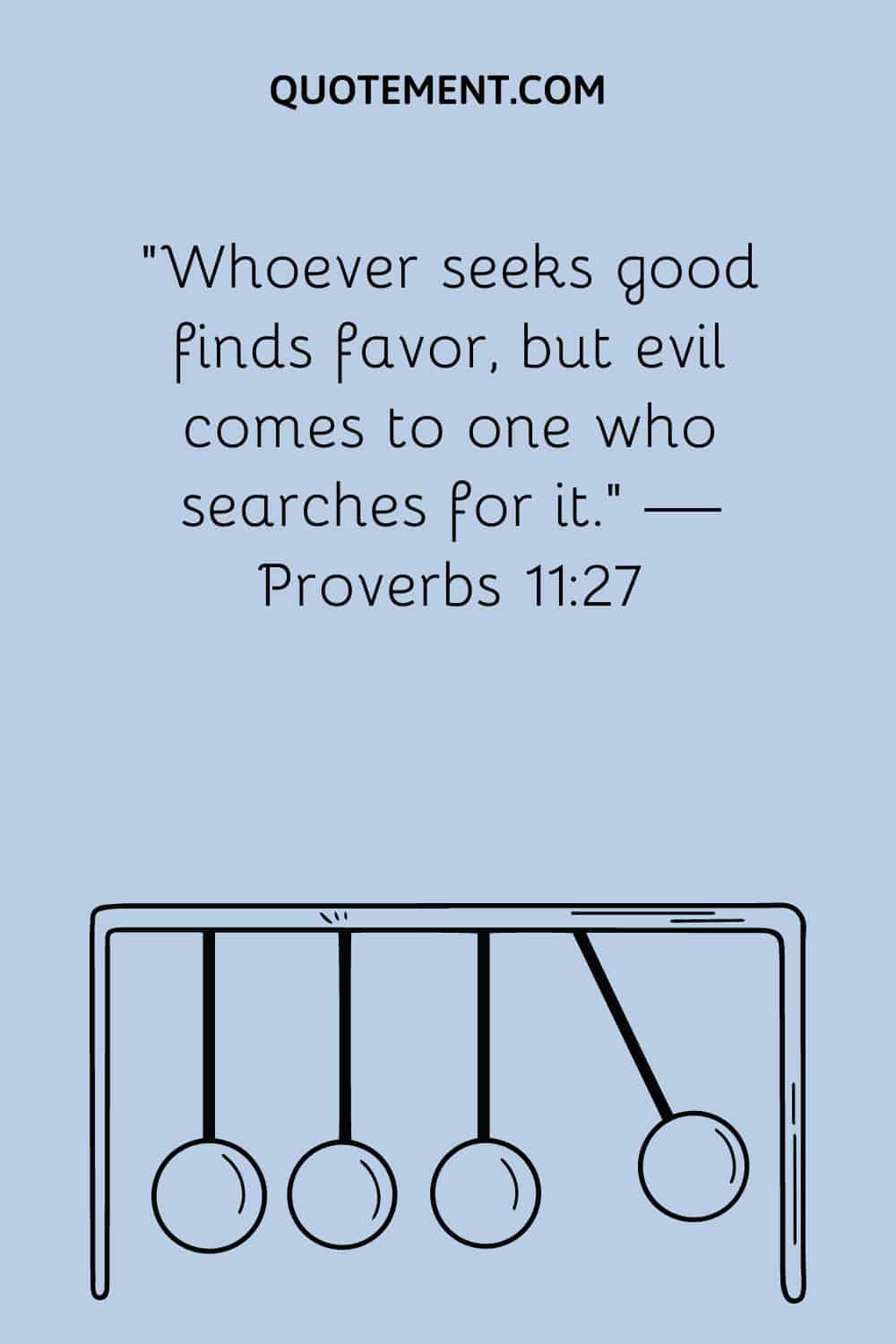 6. "To go from mortal to Buddha, you have to put an end to karma, nurture your awareness, and accept what life brings." ― Bodhidharma
7. "For the innocent, the past may hold a reward. But for the treacherous, it's only a matter of time before the past delivers what they truly deserve." — Kevin McCarty
8. "People pay for what they do, and still more, for what they have allowed themselves to become. And they pay for it simply by the lives they lead." — Edith Wharton
9. "Problems or successes, they all are the results of our own actions. Karma. The philosophy of action is that no one else is the giver of peace or happiness. One's own karma, one's own actions are responsible for bringing either happiness or success or whatever." ― Maharishi Mahesh Yogi
10. "Every action of our lives touches on some chord that will vibrate in eternity." — Edwin Hubbell Chapin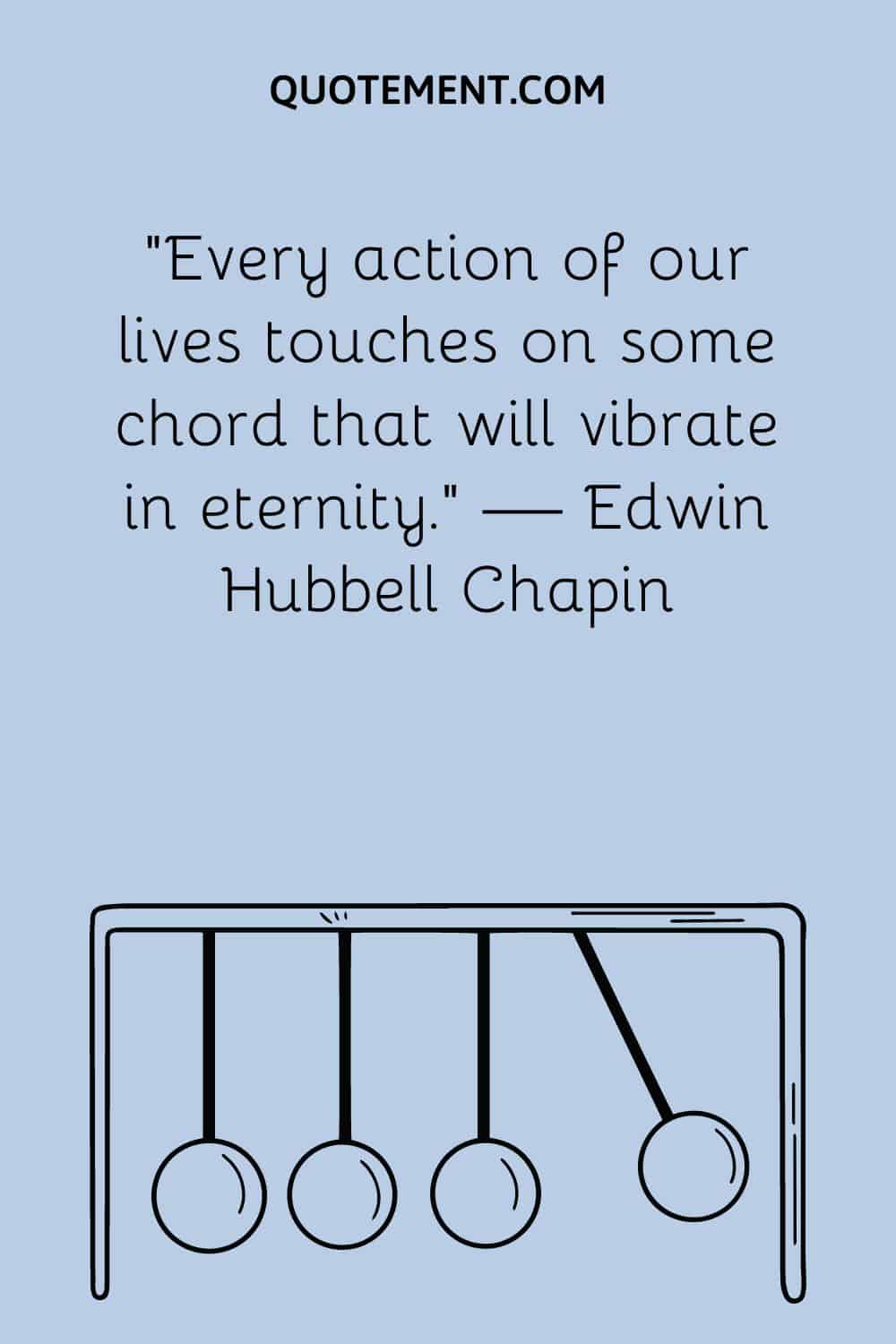 11. "Before you act, you have freedom, but after you act, the effect of that action will follow you whether you want it to or not. That is the law of karma." — Paramahansa Yogananda
12. "Life will let you get away with something for a while, but sooner or later, you will pay the price. Everything you do in life causes the effects that you experience. When you get the bill, be prepared to pay." ― Iyanla Vanzant
13. "Some people create their own storms and then get mad when it rains." — unknown
14. "Thoughts lead on to purposes; purposes go forth in action; actions form habits; habits decide character, and character fixes our destiny." — Tryon Edwards
15. "You have to learn to let go of people you love. Sometimes the love we give comes back to us from a different person." — Kirsten Hill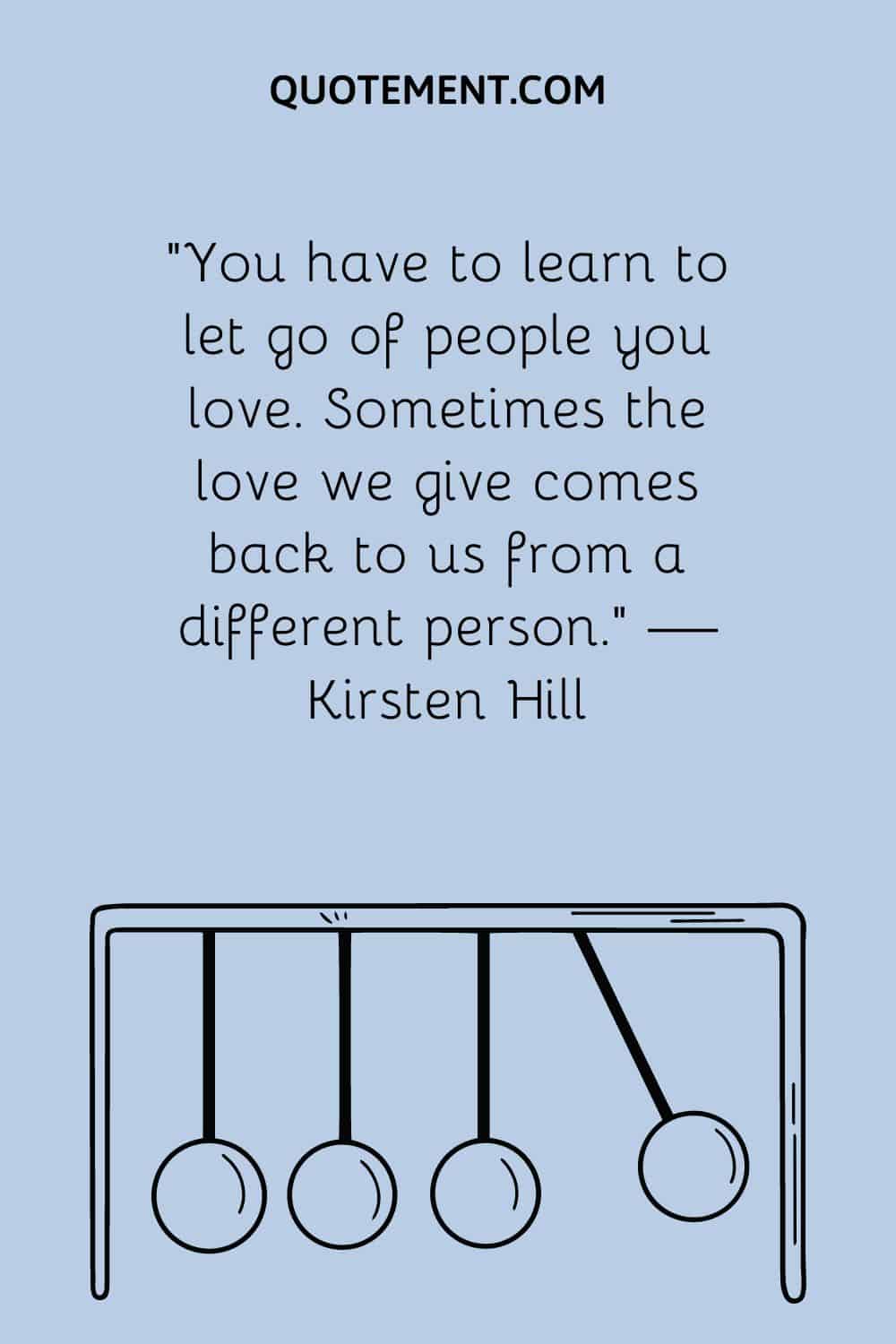 See also: 130 Deep Goodbye Letting Go Of Someone You Love Quotes
Deep What Goes Around Comes Around Quotes
I'll finish off with some more brilliant what goes around comes around quotes. Check them out!
1. "Treat other people's homes as you want them to respect yours because what goes around comes around." ― Ana Monnar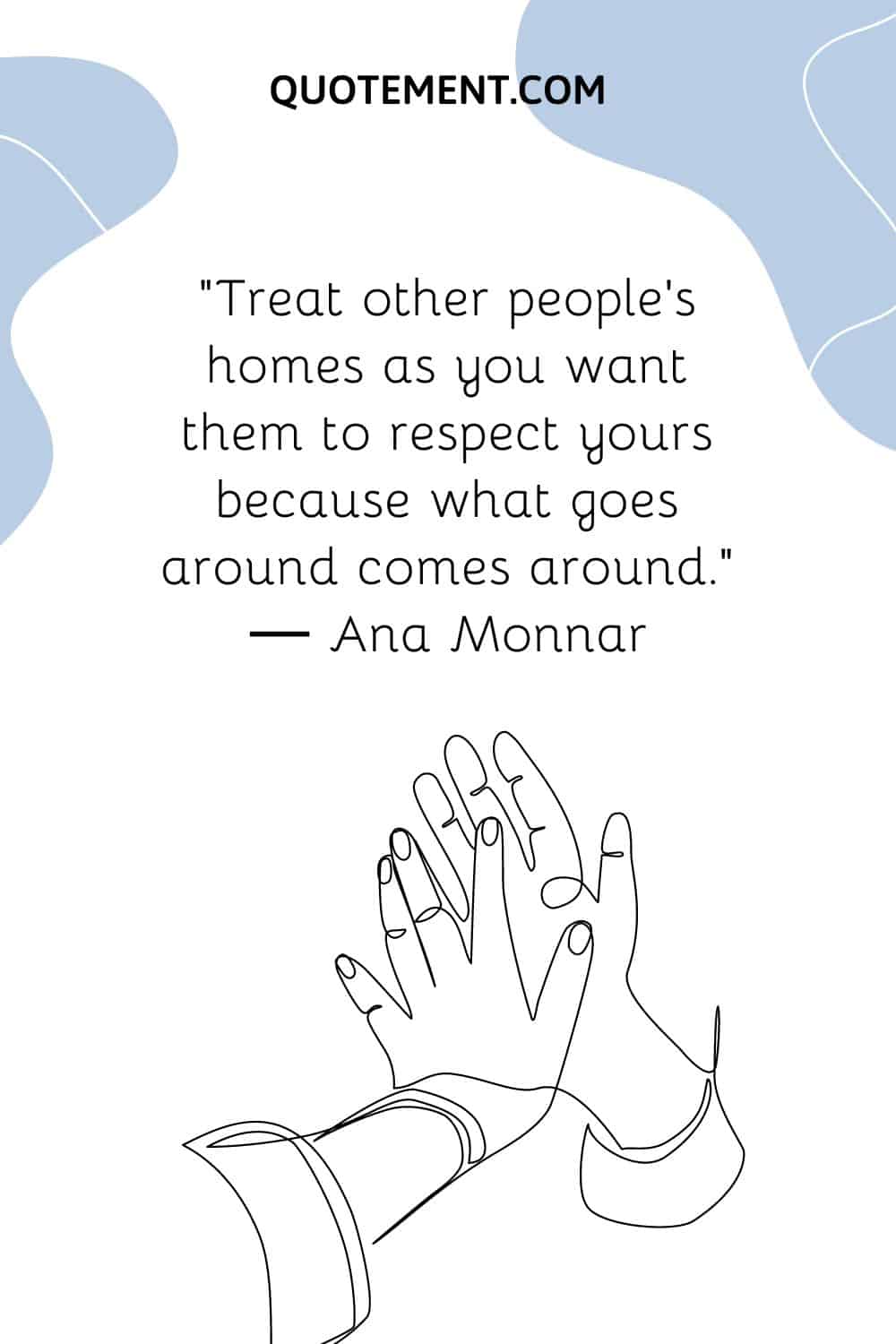 2. "There's a natural law of karma that vindictive people, who go out of their way to hurt others, will end up broke and alone." ― Sylvester Stallone
3. "Karma is like a boomerang. I hope you have many happy returns." ― Frank Sonnenberg
4. "What goes around comes around, simple words but powerful. Do bad, it will hit you ten times worse. Do good, it will come back a hundred times better."
5. "You cannot do harm to someone because someone has done harm to you. You will pay just like they will." ― Ericka Williams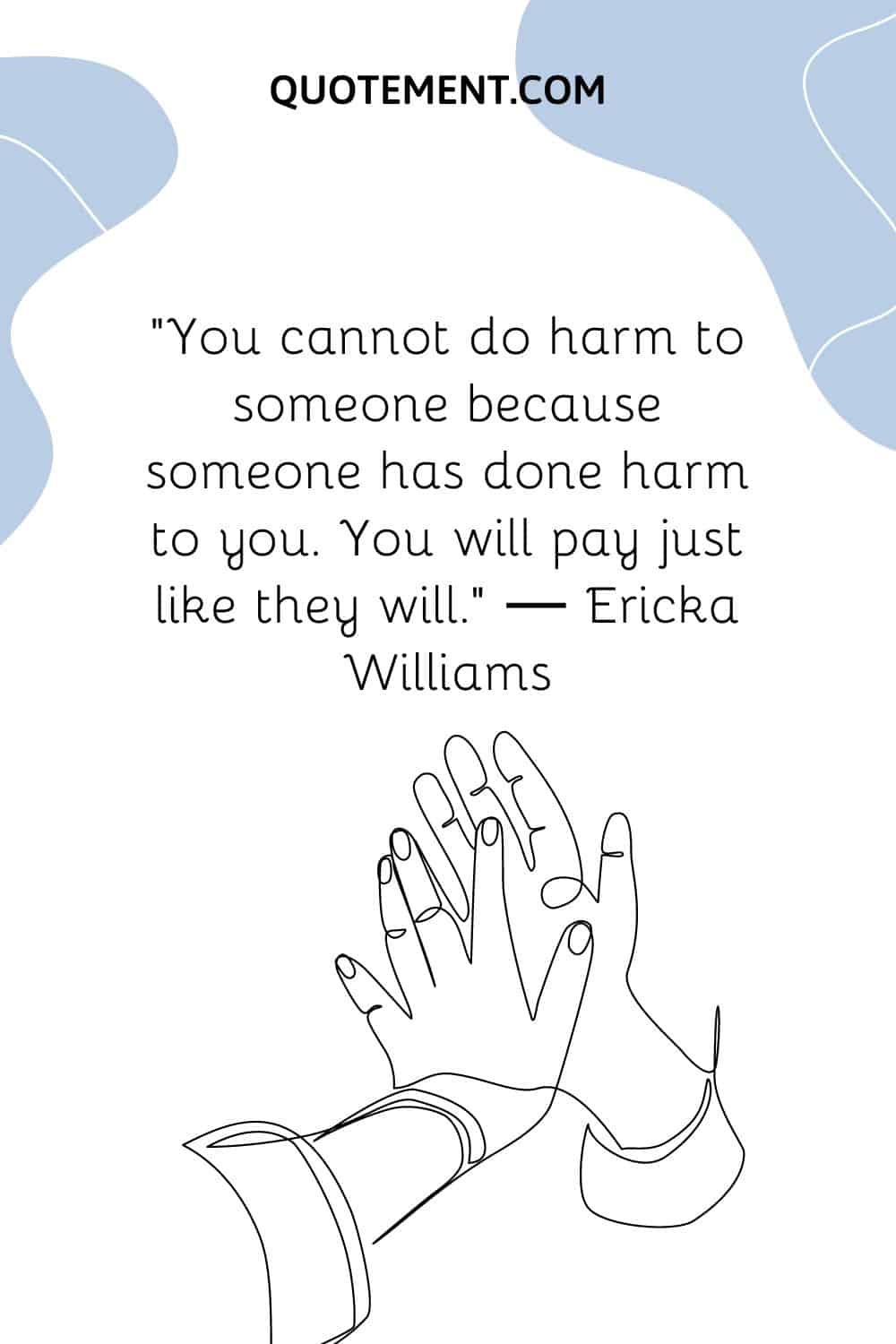 6. "If you send out goodness from yourself, or if you share that which is happy or good within you, it will all come back to you multiplied ten thousand times." — John O'Donohue
7. "Karma moves in two directions. If we act virtuously, the seed we plant will result in happiness. If we act non-virtuously, suffering results." – Sakyong Mipham
8. "Things don't just happen in this world of arising and passing away. We don't live in some kind of crazy, accidental universe. Things happen according to certain laws, laws of nature. Laws such as the law of karma, which teaches us that as a certain seed gets planted, so will that fruit be." ― Sharon Salzberg
9. "Always be kinder than necessary. What goes around comes around. No one has ever made themselves strong by showing how small someone is." — unknown
10. "If you give a good thing to the world, then, over time, your karma will be good, and you'll receive good." ― Russell Simmons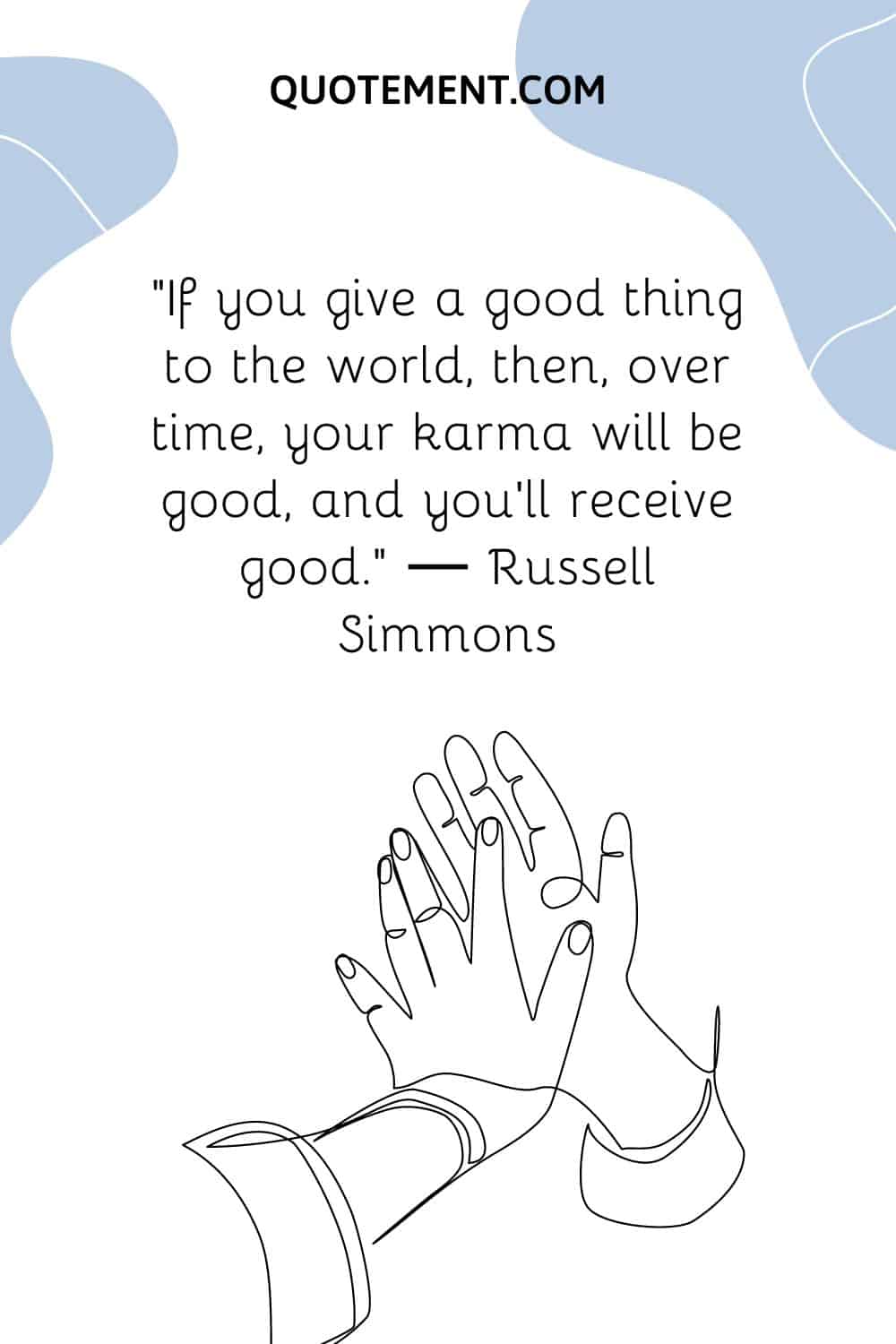 11. "We don't find love, love finds us. What you put out into the universe will find its way back to you." ― Raneem Kayyali
12. "Figure out what you're good at and start helping other people with it; give it away. Pay it forward. Karma sort of works because people are very consistent. On a long enough timescale, you will attract what you project." — Naval Ravikant
13. "Your karma should be good, and everything else will follow. Your good karma will always win over your bad luck." — Rohit Shetty
14. "But this was what happened when you didn't want to visit and confront the past: the past starts visiting and confronting you." — Bret Easton Ellis
15. "Whatever we do lays a seed in our deepest consciousness, and one day that seed will grow." — Sakyong Mipham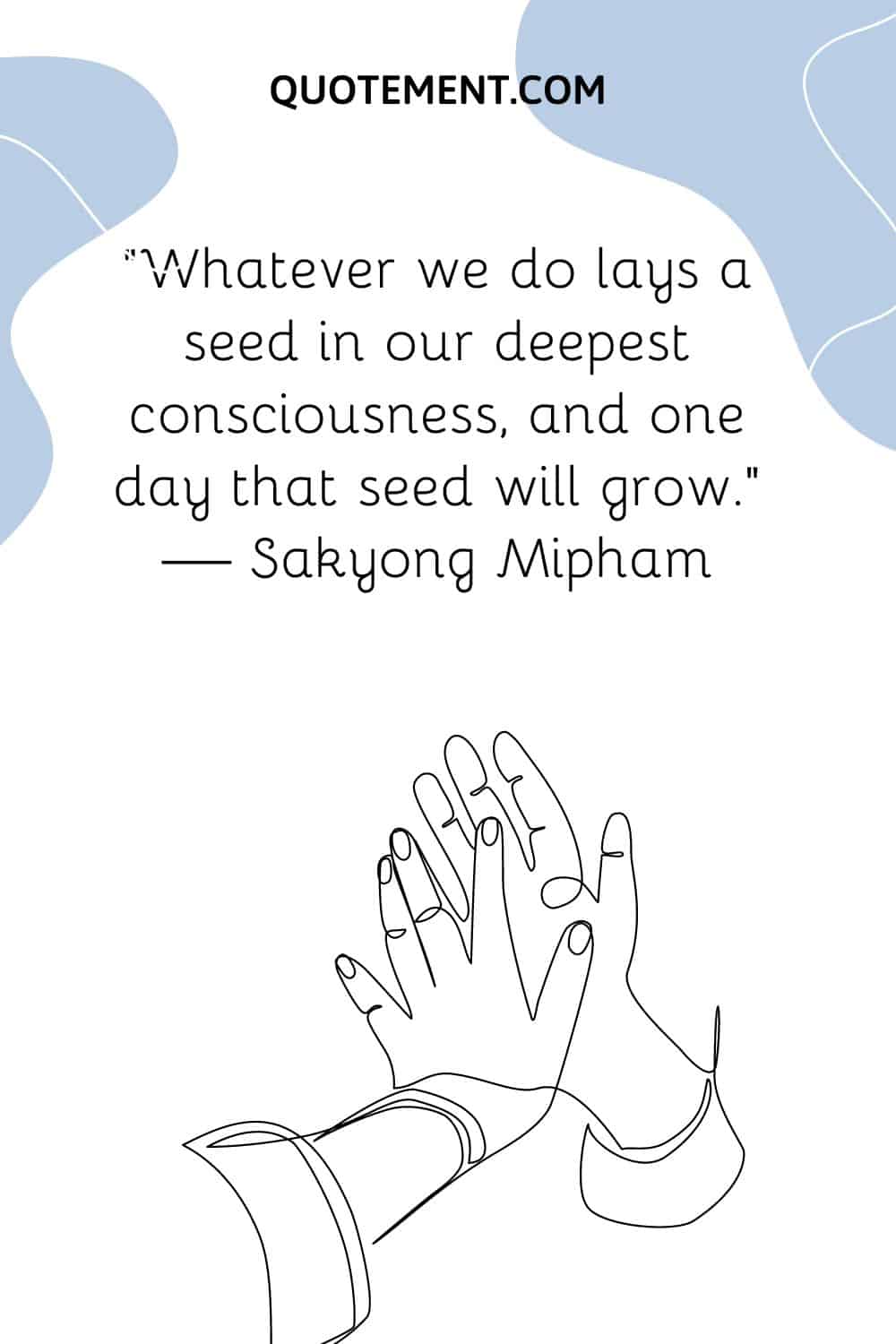 In Conclusion
Both pleasure and pain are temporary, but the consequences of your actions are long-term. I hope these what goes around comes around quotes inspired you to do more good.
Until next time!Read next: 210 Powerful Karma Narcissist Quotes About Life And Love