Today's article is about these fascinating little creatures that make even adults believe in magic; dragonflies.
I'm bringing you a collection of 70 inspirational dragonfly quotes you're going to love.
We associate dragonflies with magic, beauty, and good luck. These little insects are nature's true work of art.
Despite their size and fragile construction, dragonflies actually symbolize strength and wisdom.
I've gathered 70 beautiful quotes about dragonflies and dragonfly sayings so you can learn more about these beautiful creatures and their importance in nature.
Let's start exploring all the beautiful dragonfly quotes I prepared!
Top 10 Dragonfly Quotes
I'll start off with a collection of my favorite dragonfly quotes. Take a look!
1. "I love to see the sunshine on the wings of the dragonflies… there is magic in it." — Ama H. Vanniarachchy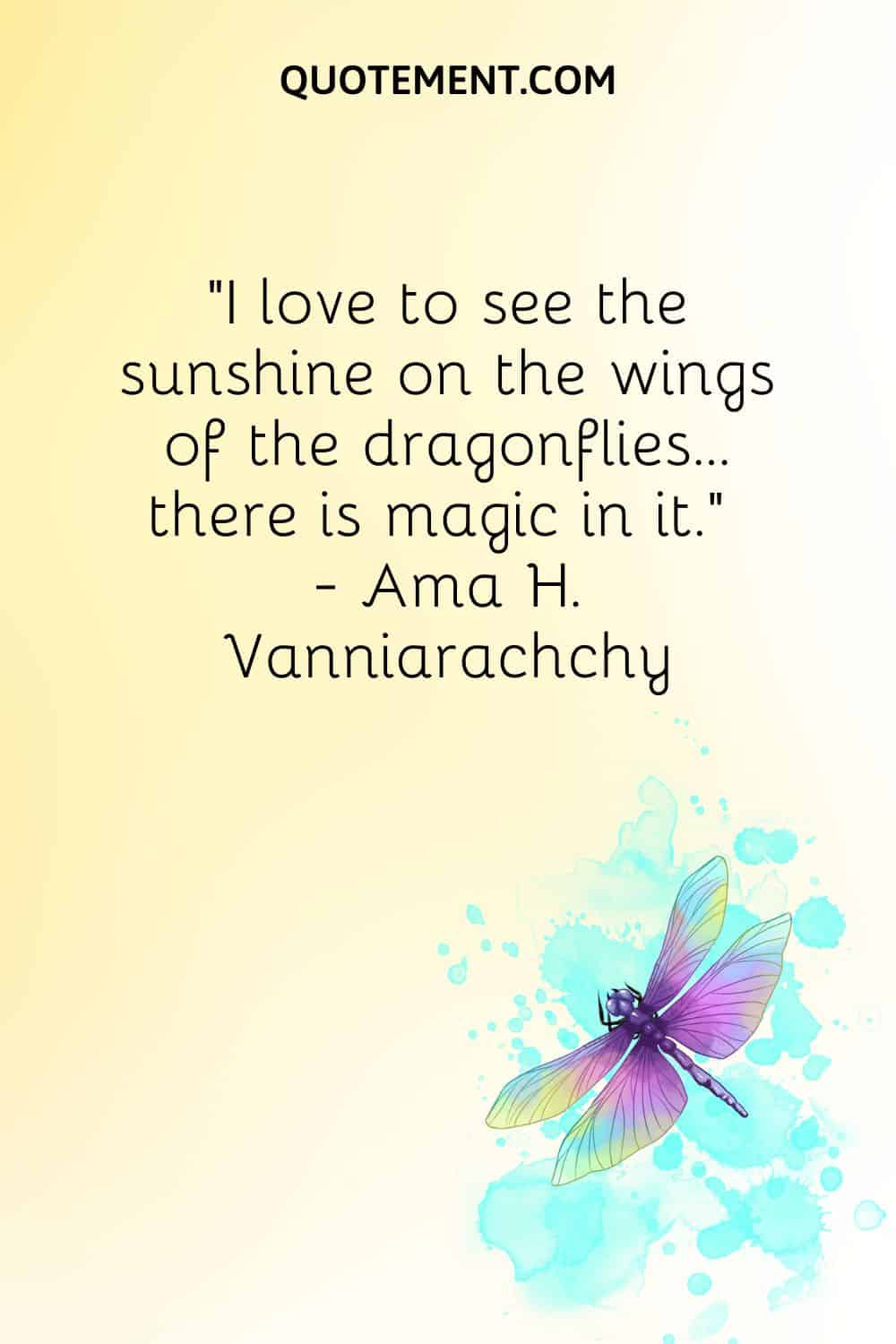 2. "Restless dragonfly, darting, dancing over the ribbons of trailing weed." — Arthur Christopher Benson
3. "The dragonfly charm. Embrace the magic of nature & life will be filled with good fortune." — Viola Shipman
4. "If you are old and you wish to be young again, if only for a moment, try and identify a dragonfly." — Simon Barnes
5. "Despite its dark veins, the transparency of dragonfly's wings assures me of a pure, innocent world." — Munia Khan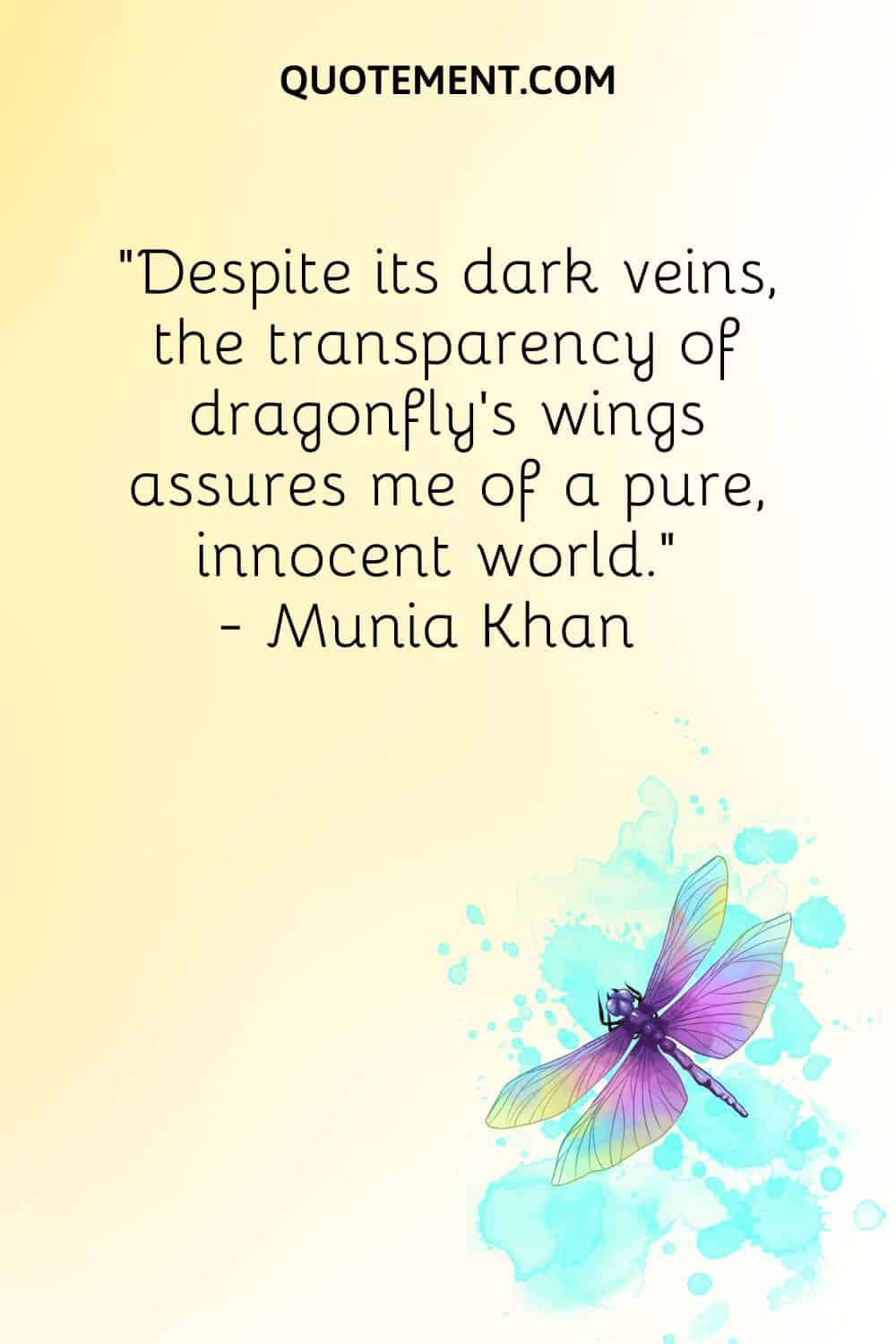 6. "The dragonfly exists because it exists and for no other reason." — Marty Rubin
7. "This dragonfly… He was hovering right in front of my face… How does he see me? I became enlightened." — Ziggy Marley
8. "The distant mountain reflected in his eyes dragonfly." — Kobayashi Issa
9. "When a dragonfly flutters by, you may not realize, but it's the greatest flier in nature…" — Louie Schwartzberg
10. "Smile, to see the lake lay the still sky and out for an easy make the dragonfly." — Lorine Niedecker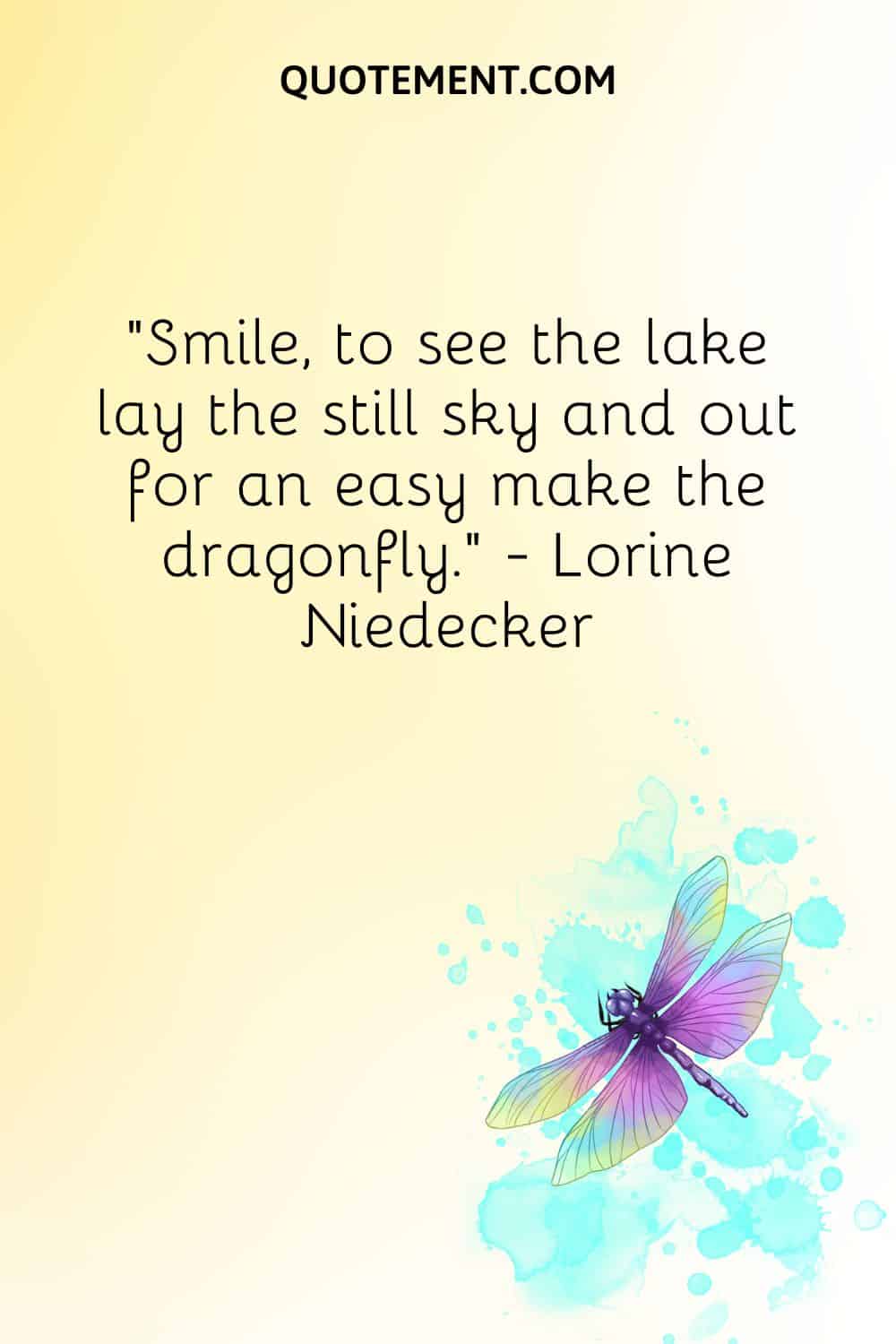 See also: 260 Amazing Lake Captions For True Lake Lovers To Enjoy
Beautiful Dragonfly Quotes
Here are some of the most beautiful dragonfly quotes anywhere on the web.
1. "Dragonflies are reminders that we are light, and we can reflect light in powerful ways if we choose to do so." ― Robyn Nola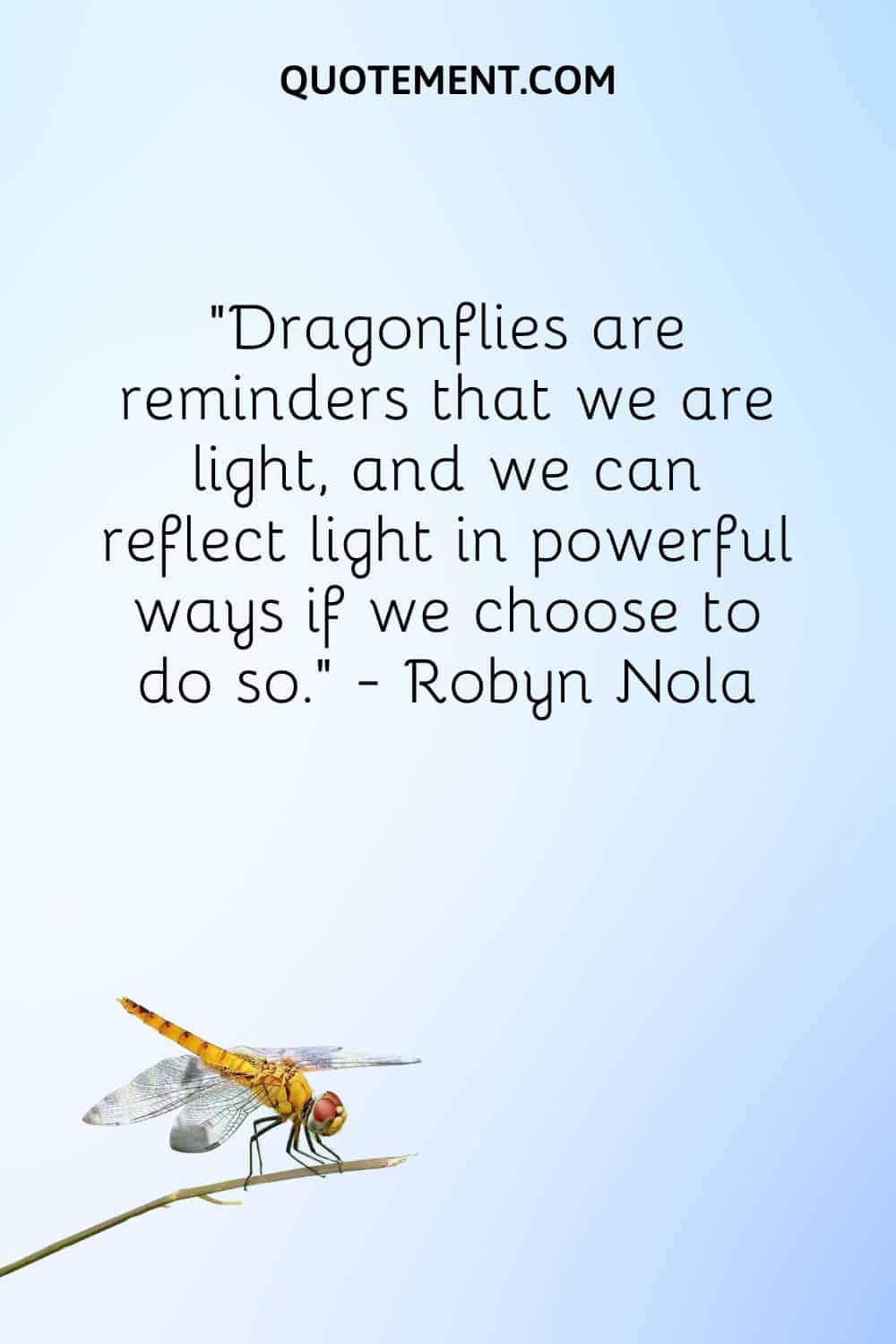 2. "In July the ant works, the dragonfly flaunts." — Russian proverb
3. "One can hardly believe a dragonfly laid the eagle eggs." — Georgian proverb
4. "Who would deduce the dragonfly from the larva, the iris from the bud, the lawyer from the infant? …We are all shape-shifters and magical reinventors. Life is really a plural noun, a caravan of selves." — Diane Ackerman
5. "The sun is lowering below the lines of the mountains that encase the town, and stars sparkle across the sky like dragonflies." — Jessica Sorensen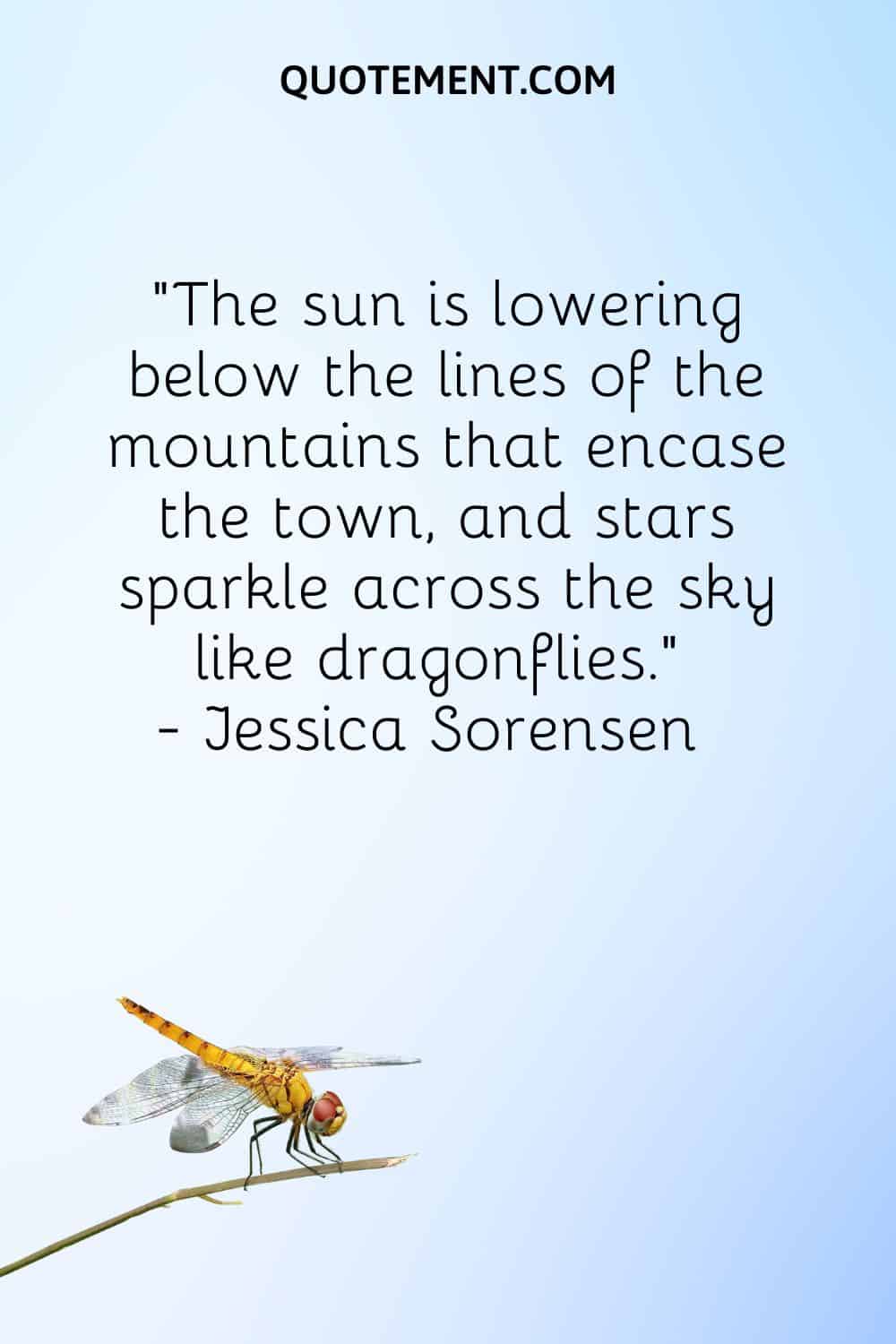 6. "Their love as a dragonfly… stopping to visit the lotus. Eating dreams and drinking blue sky." — Janet Fitch
7. "Living things tend to change unrecognizably… Who would deduce the dragonfly from the larva… the lawyer from the infant?" — Diane Ackerman
8. "The beauteous dragonfly's dancing by the waves of the rivulet glancing… her figure so slender." — Heinrich Heine
9. "I need to capture my sprite with trembling hands. Except I could crush her. Wonder how many small things of beauty – flowers, seashells, dragonflies – have met such a demise. Wonder how much fragile love has collapsed beneath the weight of confession." — Ellen Hopkins
10. "A dragonfly arrives and leaves like a change of mind." — David Mitchell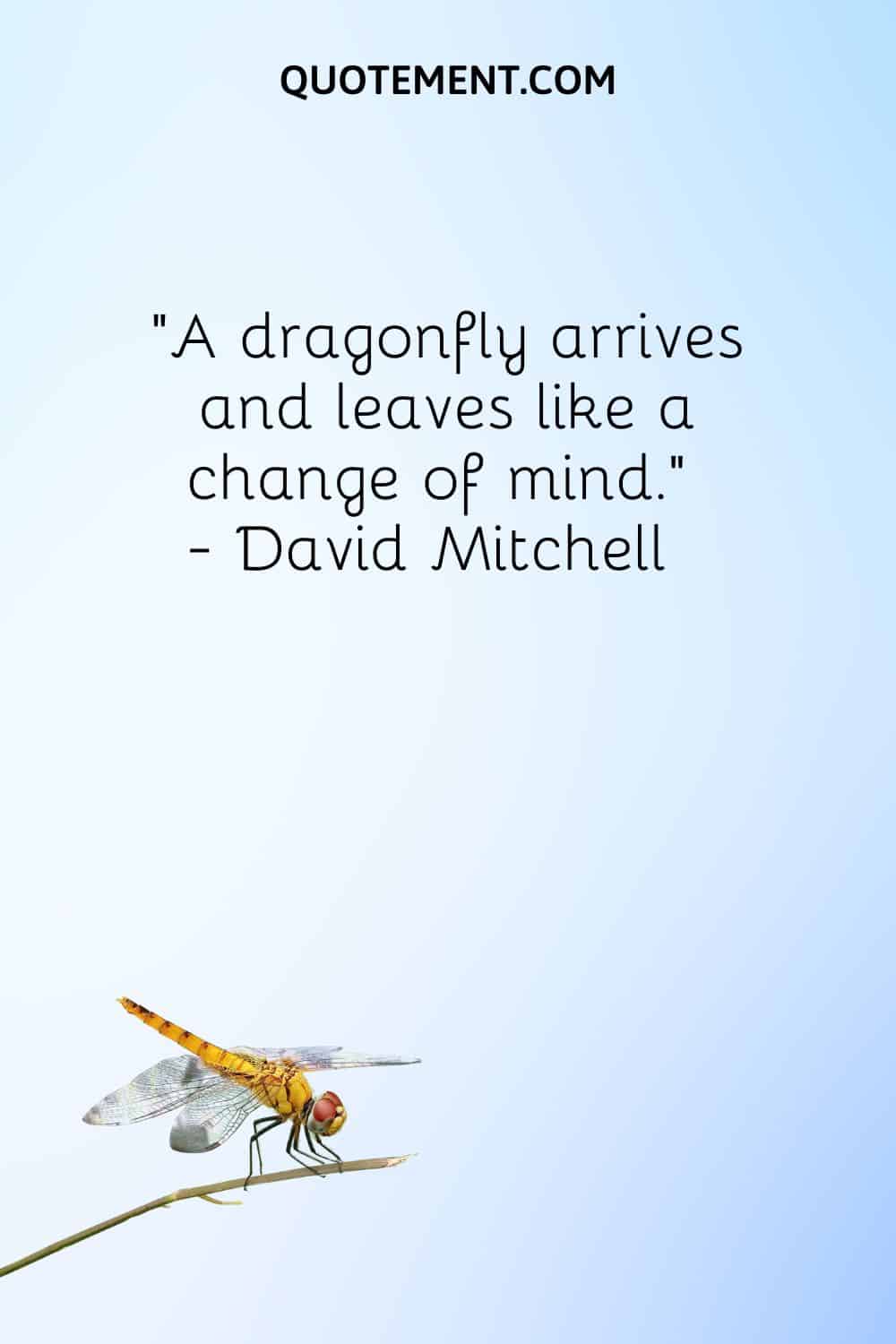 11. "And in time it will be as though men had never come to this perfect corner of the world-never called it paradise on earth, never despoiled it with their dream factories; and in the golden hush of the afternoon all that will be heard will be the flittering of dragonflies, and the murmur of hummingbirds as they pass from bower to bower, looking for a place to sup sweetness." — Clive Barker
12. "On dragonfly wings with buttercup tea." — Indian proverb
13. "Go to sleep, baby, Mama will sing. Of blue butterflies and dragonfly wings. Moonlight and sunbeams, raiments so fine. Silver and gold, for baby of mine. Go to sleep, baby. Sister will tell, of wolves and of lambs, and demons who fell." — Kim Harrison
14. "Intoxications of life's morning! Enchanted years! The wing of a dragonfly trembles! Oh, reader, whoever you may be, do you have such memories?" — Victor Hugo
15. "I got to keep a clip for my hair. It had a pretty little dragonfly on it." — Mackenzie Foy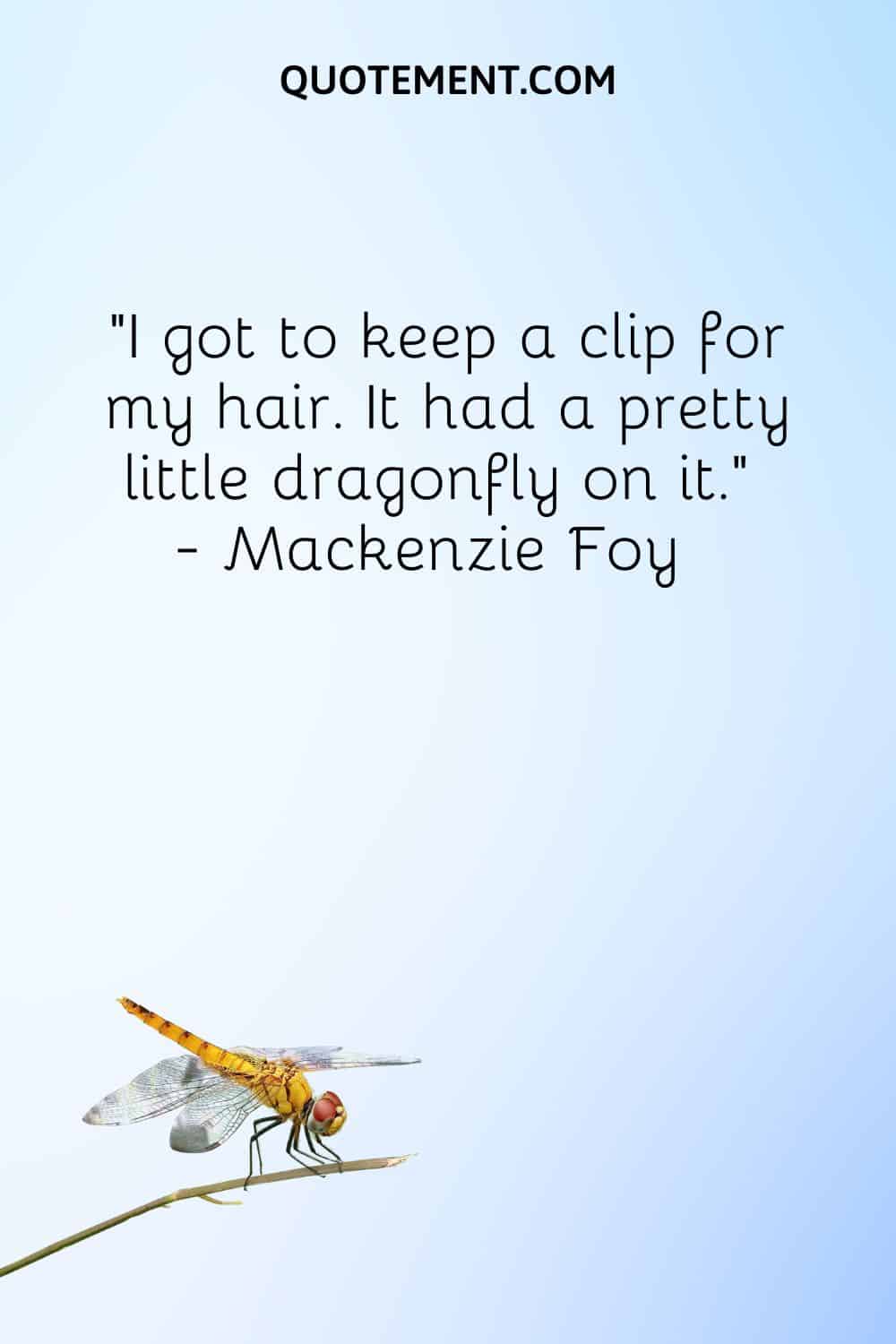 See also: 90 Fantastic Curly Hair Quotes To Embrace Your Curls
Inspirational Dragonfly Quotes
Below you'll find a list of inspirational quotes about dragonflies. Enjoy!
1. "I am the dragonfly rising on the wings of unlocked dreams on the verge of magical things." — Aimee Stewart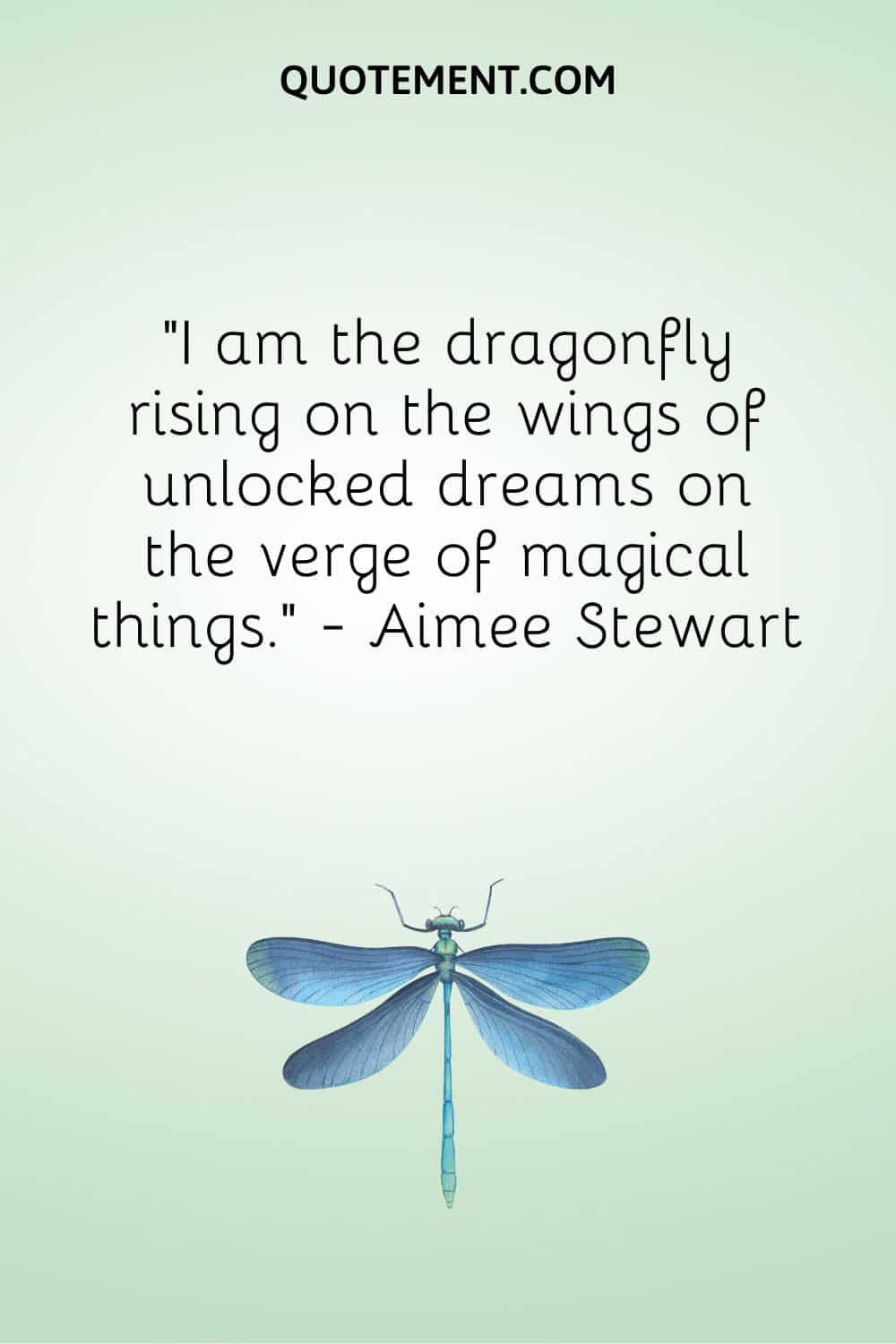 2. "A wet dragonfly can fly again!" — Anaka Jones
3. "The dragonfly pauses in the middle of an April rain to listen to the girl who cries. The girl… looks at the dragonfly and wonders what it means to pause in the middle of an April rain." — Robyn, 'Dragonfly'
4. "As kingfishers catch fire, dragonflies draw flame." — Gerard Manley Hopkins
5. "Time is for dragonflies and angels. The former live too little, and the latter live too long." — James Thurber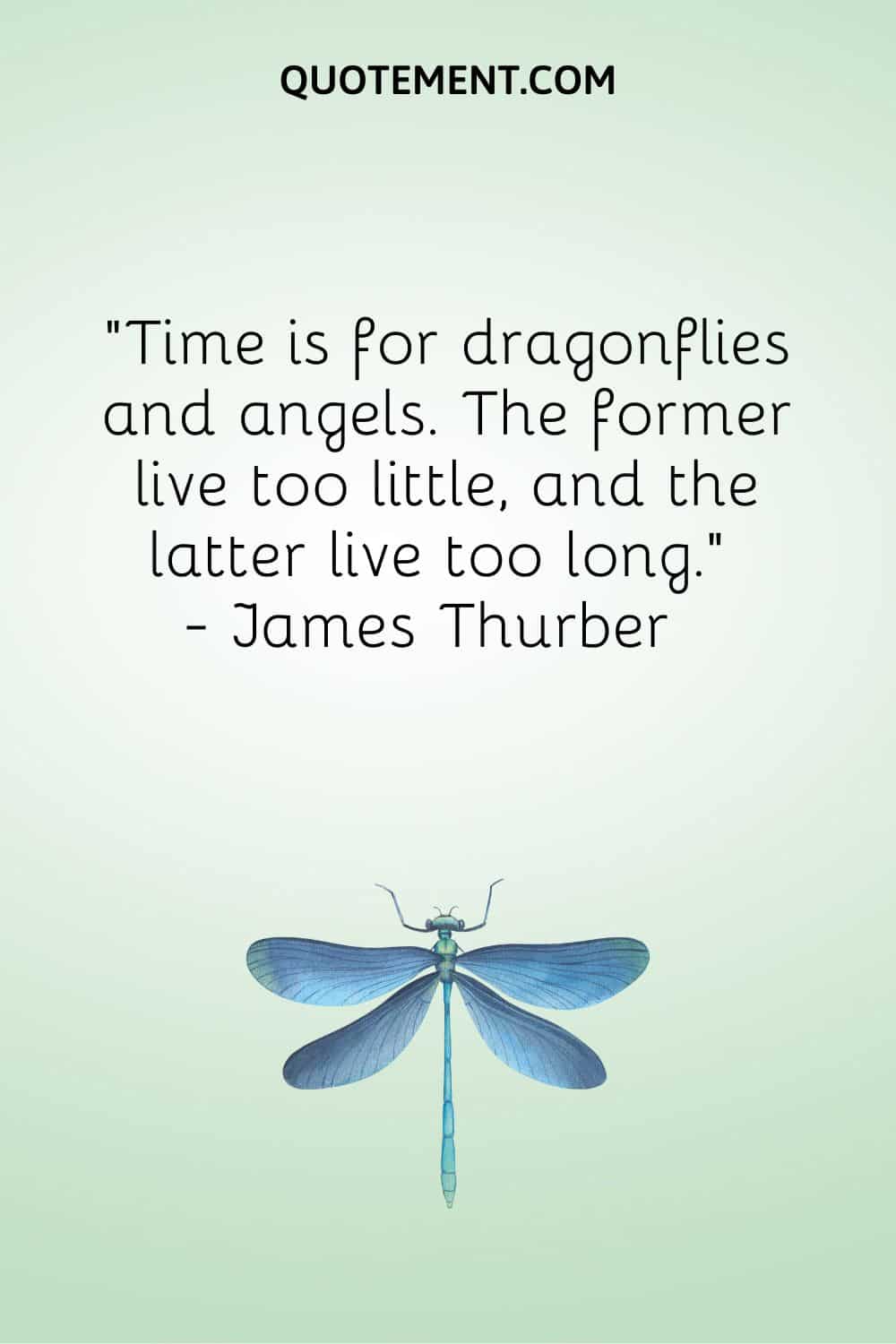 6. "The dragonfly spiritually embodies the stripping away of negativity that holds us back… Dragonflies are the keepers of dreams… Dragonflies inspire… creativity." — Beauty and the Green
7. "Yesterday, a child came out to wonder, caught a dragonfly inside a jar. Fearful when the sky was full of thunder and tearful at the falling of a star." — Joni Mitchell
8. "I need to capture my sprite with trembling hands. Except I could crush her. Wonder how many small things of beauty – flowers, seashells, dragonflies – have met such a demise. Wonder how much fragile love has collapsed beneath the weight of confession." — Ellen Hopkins
9. "He was becoming unstuck, he was sure of that – his bones were no longer wrapped in the flesh but in clouds of dust, in hummingbirds, dragonflies, and luminous moths – but so perfect was his equilibrium that he felt no fear. He was vast, he was many, he was dynamic, he was eternal." — Tom Robbins
10. "Deep in the sun searched growths, the dragonfly hangs like a blue thread loosened from the sky." — Dante Gabriel Rossetti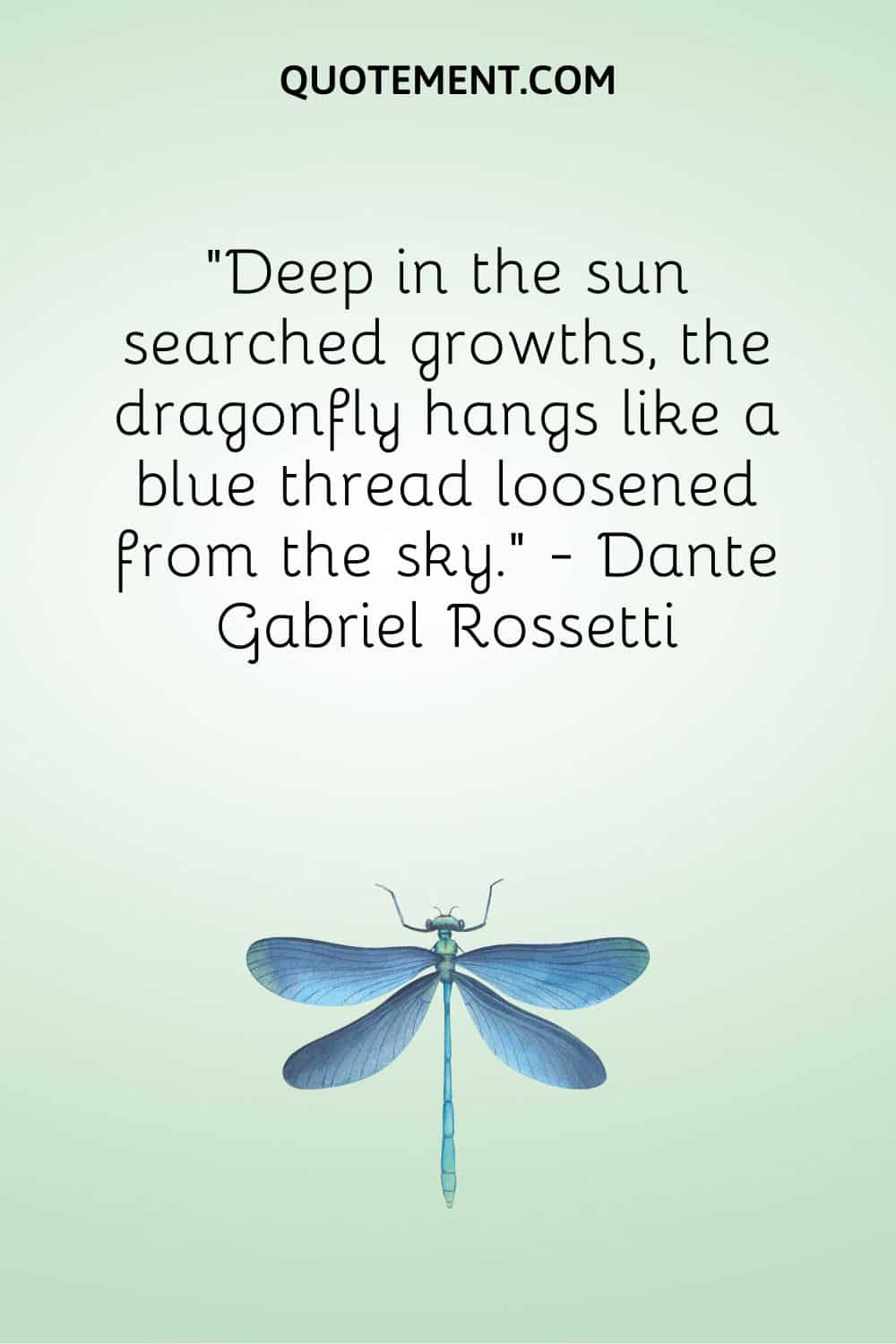 See also: 270 Absolutely Beautiful Sky Captions For Instagram
Famous Dragonfly Quotes
Check out these famous dragonfly quotes that are sure to impress you.
1. "It's very far away, it takes about half a day to get there. If we travel by my, uh, dragonfly." — Jimi Hendrix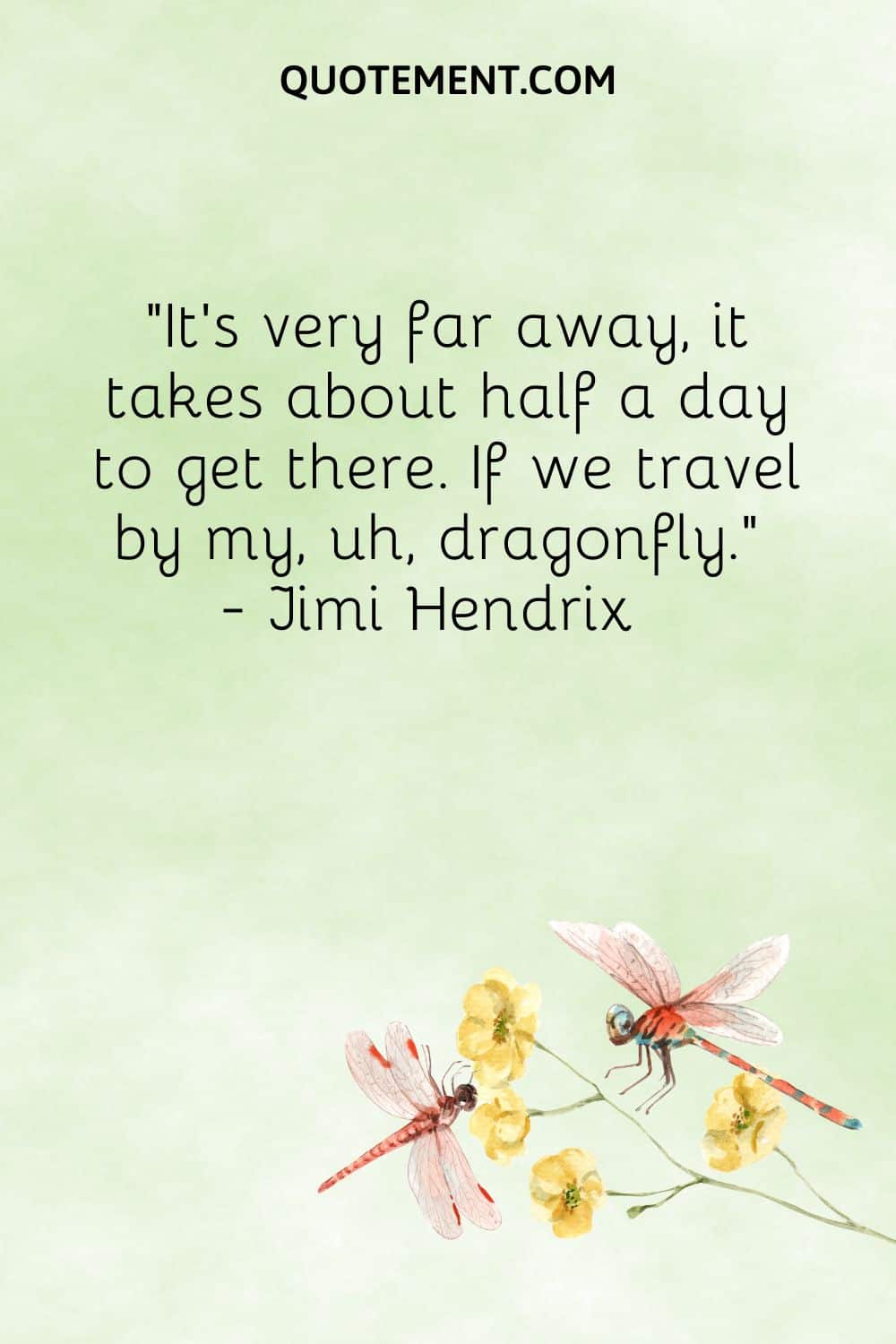 2. "Unless you are here: this garden refuses to exist. Pink dragonflies fall from the air and become scorpions scratching blood out of rocks. The rainbows that dangle upon this mist: shatter. Like the smile of a child separated from his mother's milk for the very first time." — Aberjhani
3. "Dragonflies didn't imagine they could sense the future. They just flew about, enjoying the sun on their wings." — Kate Morton
4. "Anyone can buy a car or a night on the town… I don't mean gawking at the Chrysler Building. I'm talking about the wing of a dragonfly." — Amor Towles
5. "All these words, words like 'evil' and 'vicious', they meant nothing to Nature. Yes, evil was a human invention." — John Marsden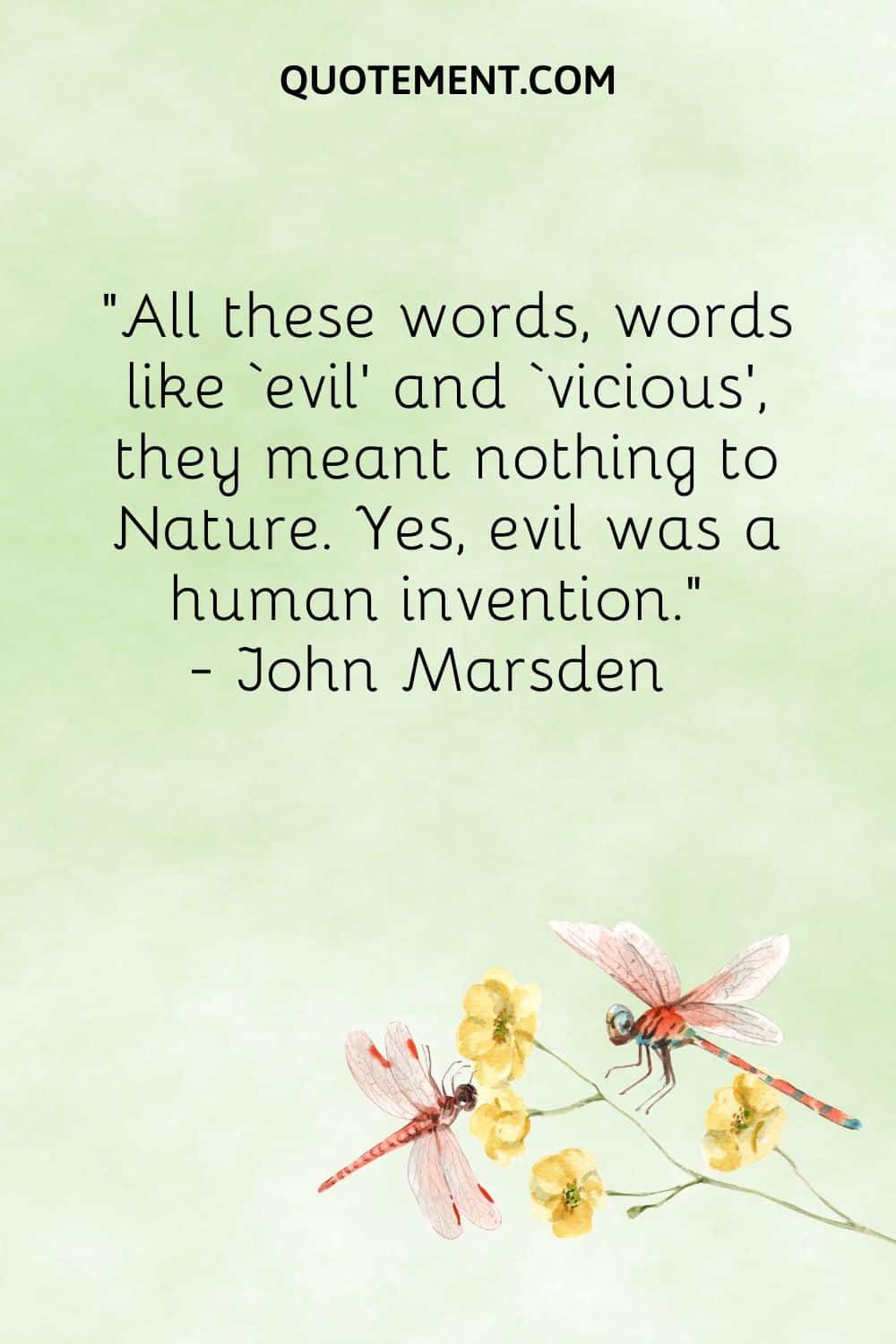 6. "Danced and buzzed in the golden autumn light… the air was full of… glinting dragonflies shot …with gauzy wings and gleaming bodies." — Arthur Conan Doyle
7. "So, that was Nature's way. The mosquito felt pain and panic, but the dragonfly knew nothing of cruelty. Humans would call it evil, the big dragonfly destroying the mosquito and ignoring the little insects suffering." — John Marsden
8. "Chasing dragonflies, like buying good books or eating gourmet food, can be curiously addicting." ― Cindy Crosby
9. "Sitting on the floor of a room in Japan, looking out on a small garden with flowers blooming and dragonflies hovering in space, I suddenly felt as if I had been too long above my boots." — Mark Tobey
10. "Magic is seeing the wonder in nature's every little thing, seeing how wonderful the fireflies are and how magical are the dragonflies." — Ama H.Vanniarachchy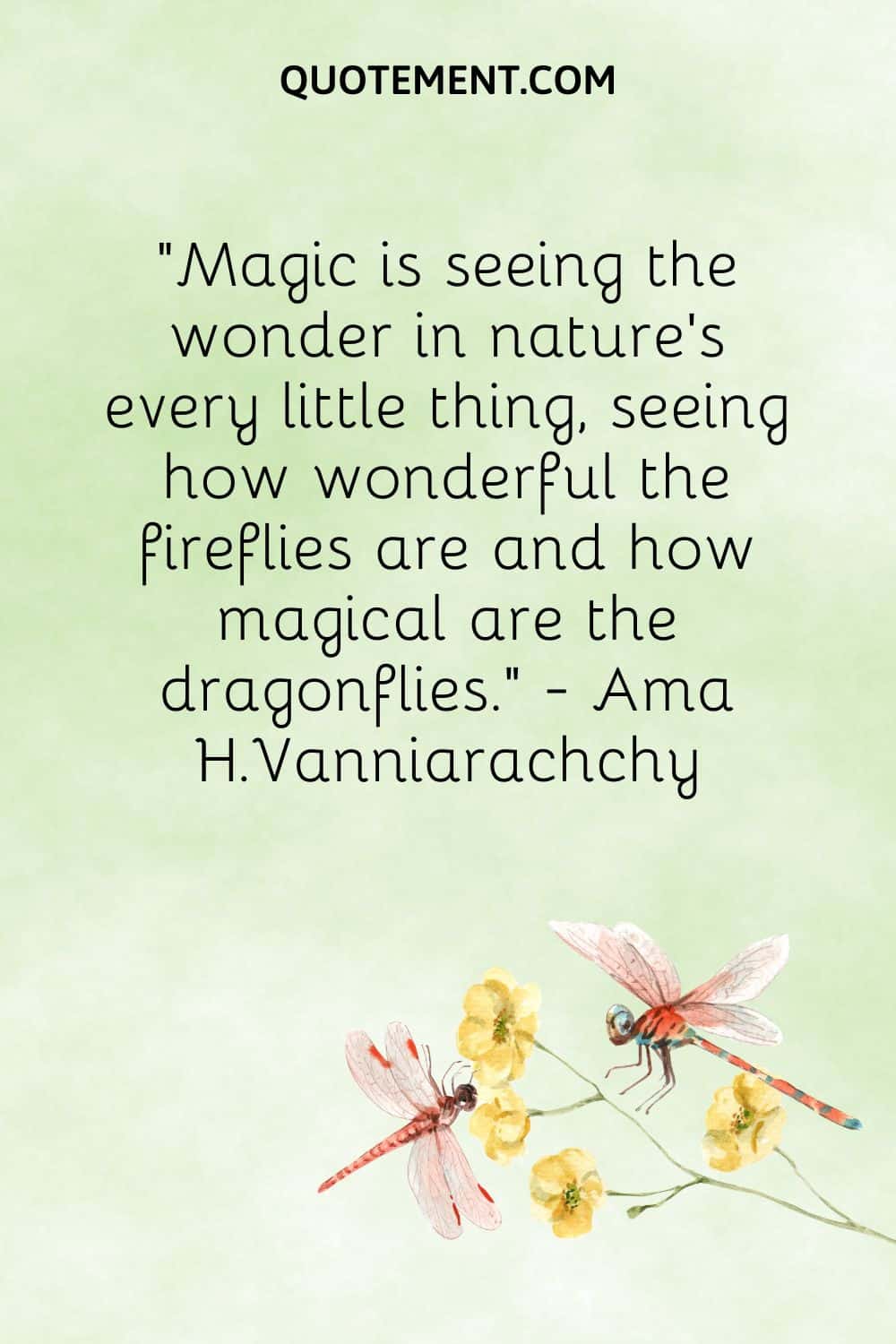 See also: 150 Nature Captions For Instagram For All The Nature Lovers
To Conclude
Thank you for stopping by and checking out my dragonfly quotes collection. I hope you enjoyed it and hope to see you soon.
Until next time!
Read next: 100 Tinkerbell Quotes To Get You In A Land Of Adventures