Are you looking for some curly hair quotes to express how you feel about your curls? If so, you're knocking on the right doors!
In today's article, I bring you the best curly hair quotes that I handpicked from various sources on the web.
These quotes will complement the stylish hair look pics and selfies you post on social media and inspire you to embrace the beauty of your curly hair.
Scroll down to read my collection of the best curly hair quotes!
Top 20 Curly Hair Quotes
1. "I was born with curly hair. It fits my personality, and it's totally who I am. I am rough around the edges, and I am not a polished girl." — Erin Wasson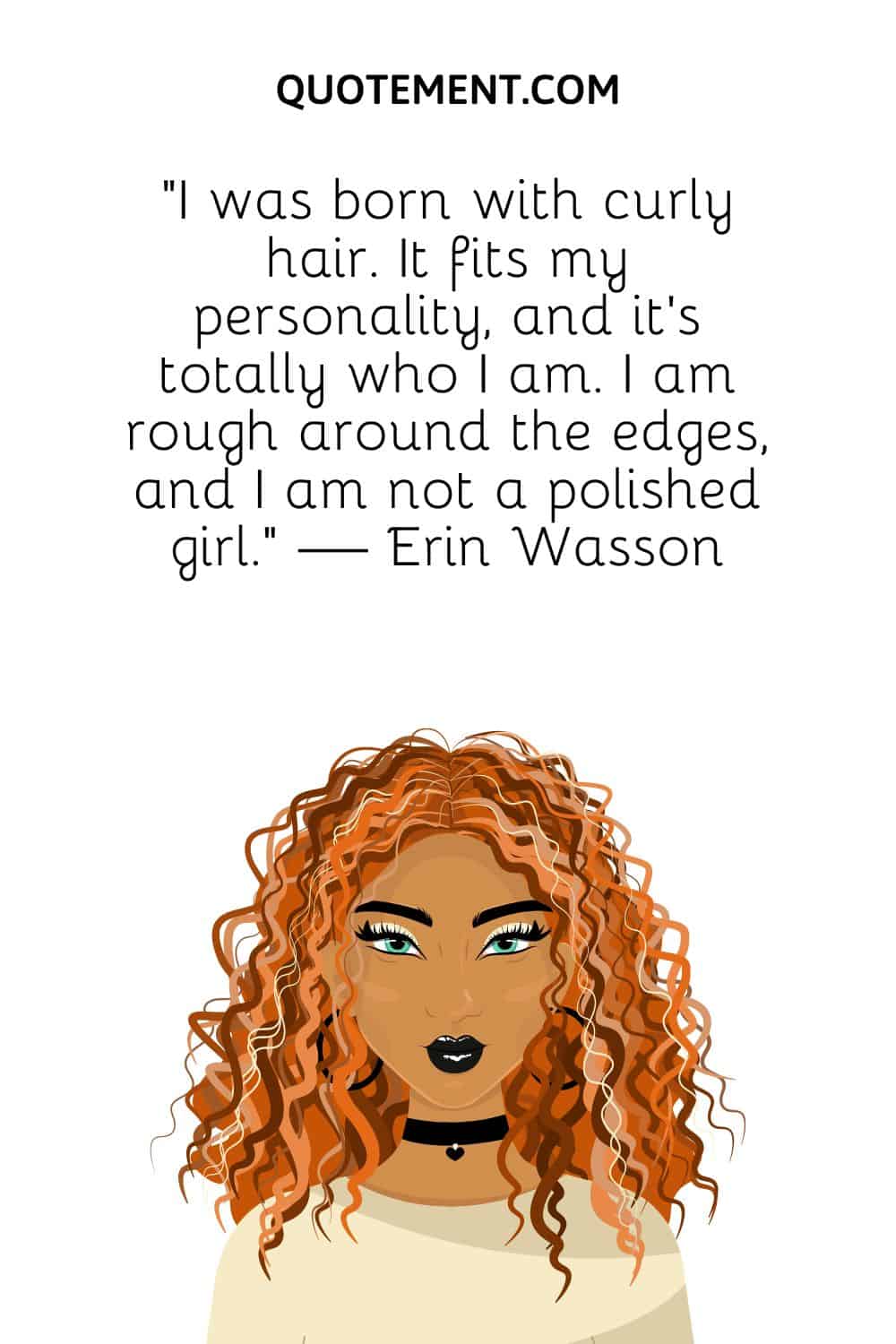 2. "I keep my hair curly and natural because I really just wanna show who I am." — Alessia Cara
3. "Of the small gifts of heaven, it seems to be a more than equal share. At birth to girls with curly hair." — Phyllis McGinley
4. "He is obviously proud of his shock of curly gray hair; it is the symbol of his aging masculinity. This is not a hairstyle; it is a world view." — Pierre Lemaitre, 'Camille'
5. "I was shy, but it came out in a big personality. My turning point was when I let my hair go naturally." — Tracee Ellis Ross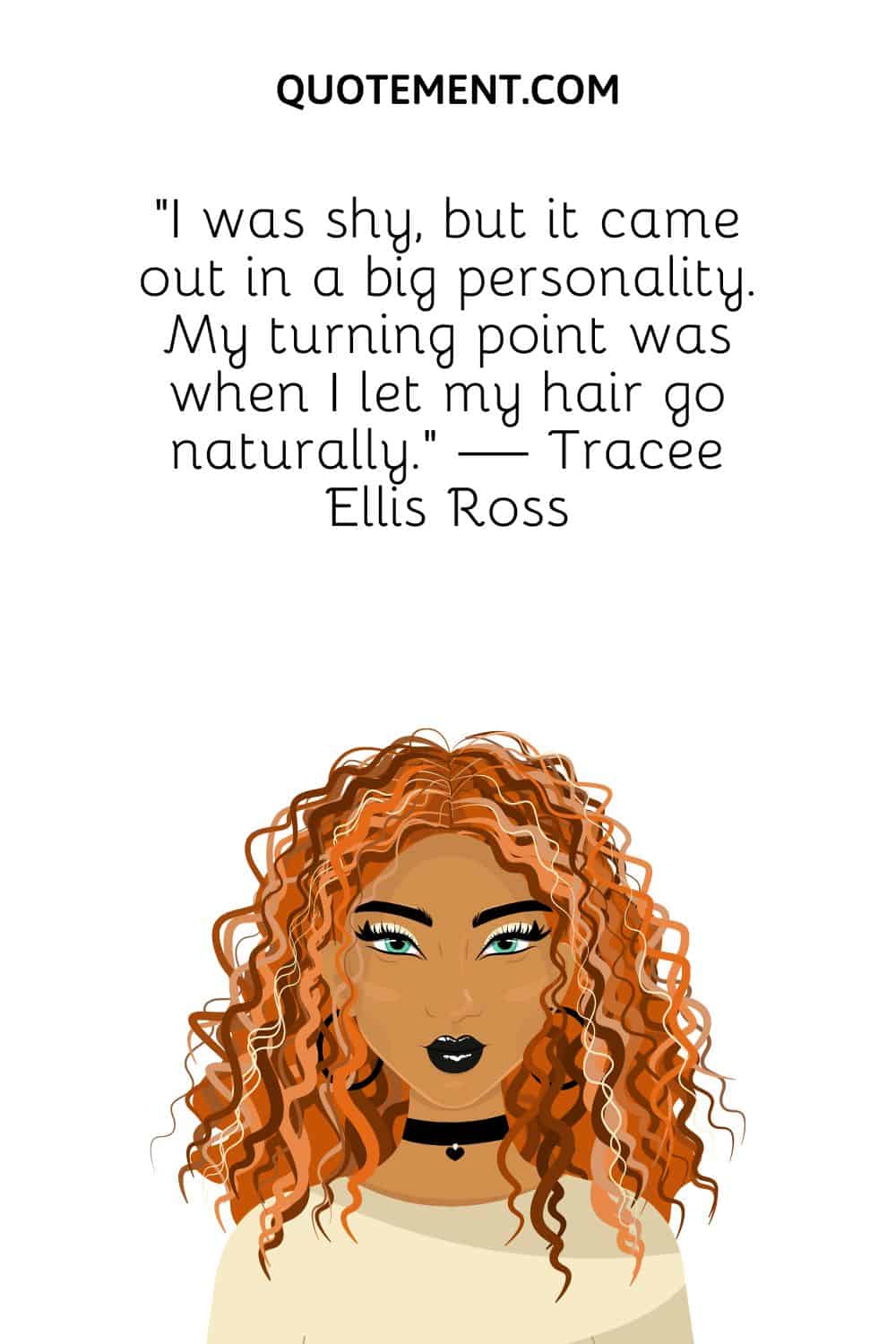 6. "Natural hair fiercely poppin' on purpose." — Stephanie Lahart
7. "Have you ever buried your nose in a mountain of curls and just wanted to go to sleep forever?" — Bo Goldman
8. "Come let me pluck that silver hair which 'mid thy clustering curls I see; The withering type of time or care has nothing, sure, to do with thee." — Alaric Alex Watts, 'The Grey Hair'
9. "My hair is short and kinky because I don't straighten it anymore. Once Shug says she loves it no need to." – Alice Walker, 'The Color Purple'
10. "My most noticeable physical trait is, hands down, my hair. It's big, unruly, and curly, and you can spot it from a mile away… literally." — Becca Fitzpatrick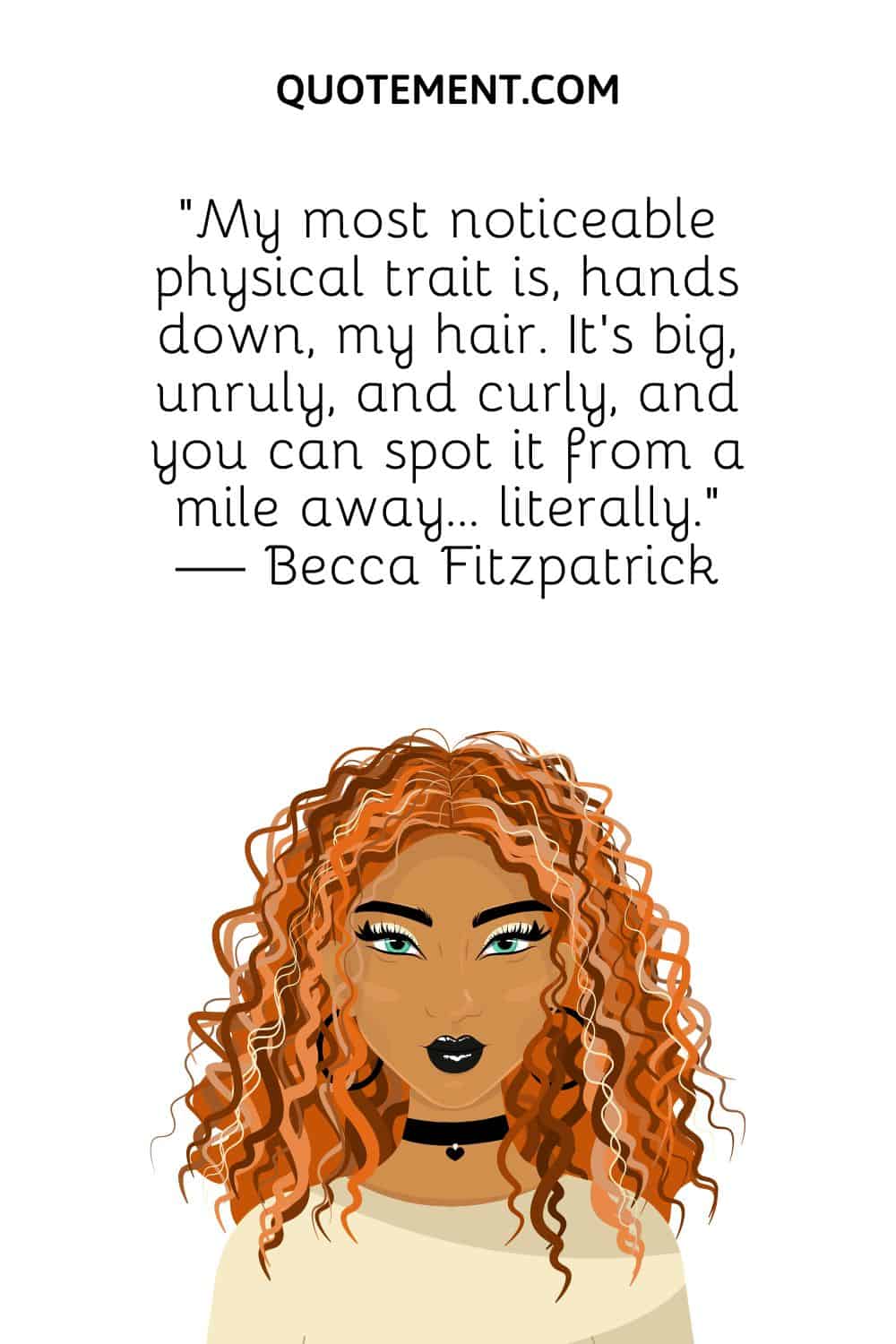 11. "I love my hair because it's a reflection of my soul. It's dense, it's kinky, it's soft, it's textured, it's difficult, it's easy, and it's fun. That's why I love my hair!" — Tracee Ellis Ross
12. "I have very curly hair, and I straighten it every day – it takes maybe two minutes. I can't imagine anyone having a bigger challenge than I do in the kinkiness that is my crazy 'fro." — Ginnifer Goodwin
13. "Nobody is really happy with what's on their head. People with straight hair want curly, people with curly want straight, and bald people want everyone to be blind." — Rita Rudner
14. "I'd like to run barefoot through your hair!" — Gifford Middleton, 'Bombshell'
15. "My curls defined me; even my personality was curly, bouncy, springy, and playfully twisted." — Elise Allen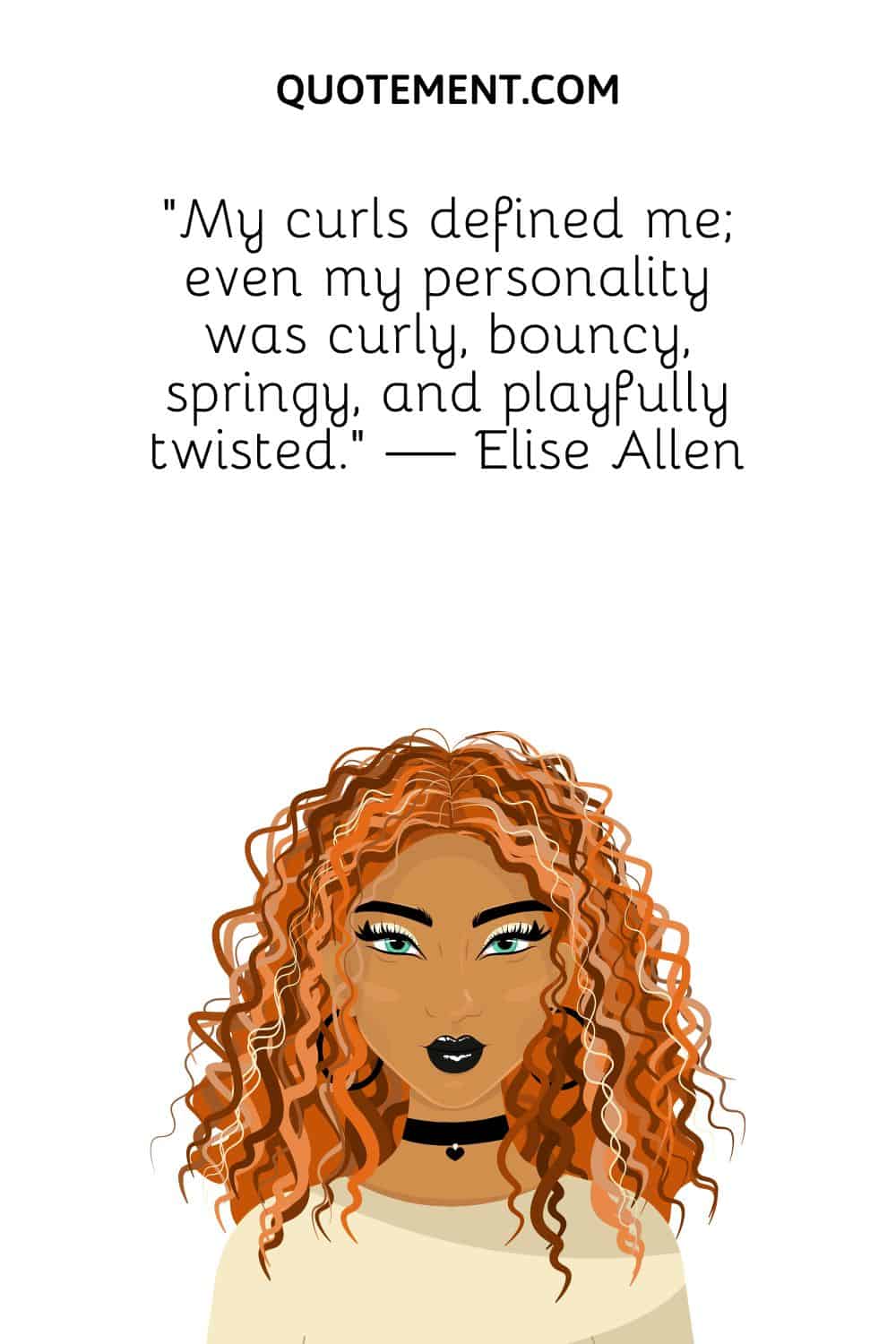 16. "Racism is very characteristic of imperialism and capitalism. Hate against me has a lot to do with racism. Because of my big mouth and curly hair. And I'm so proud to have this mouth and this hair because it is African." — Hugo Chavez
17. "Naturally curly hair is a curse, and don't ever let anyone tell you differently." — Mary Ann Shaffer
18. "My hair has become part of my identity; it's almost an appendage to me." — Troy Polamalu
19. "I think the most important thing a woman can have – next to talent, of course – is her hairdresser." — Joan Crawford
20. "Her caramel skin and curly beach sand hair spread in wavy chops like the choppy storm waves on the ocean." — Ami Blackwelder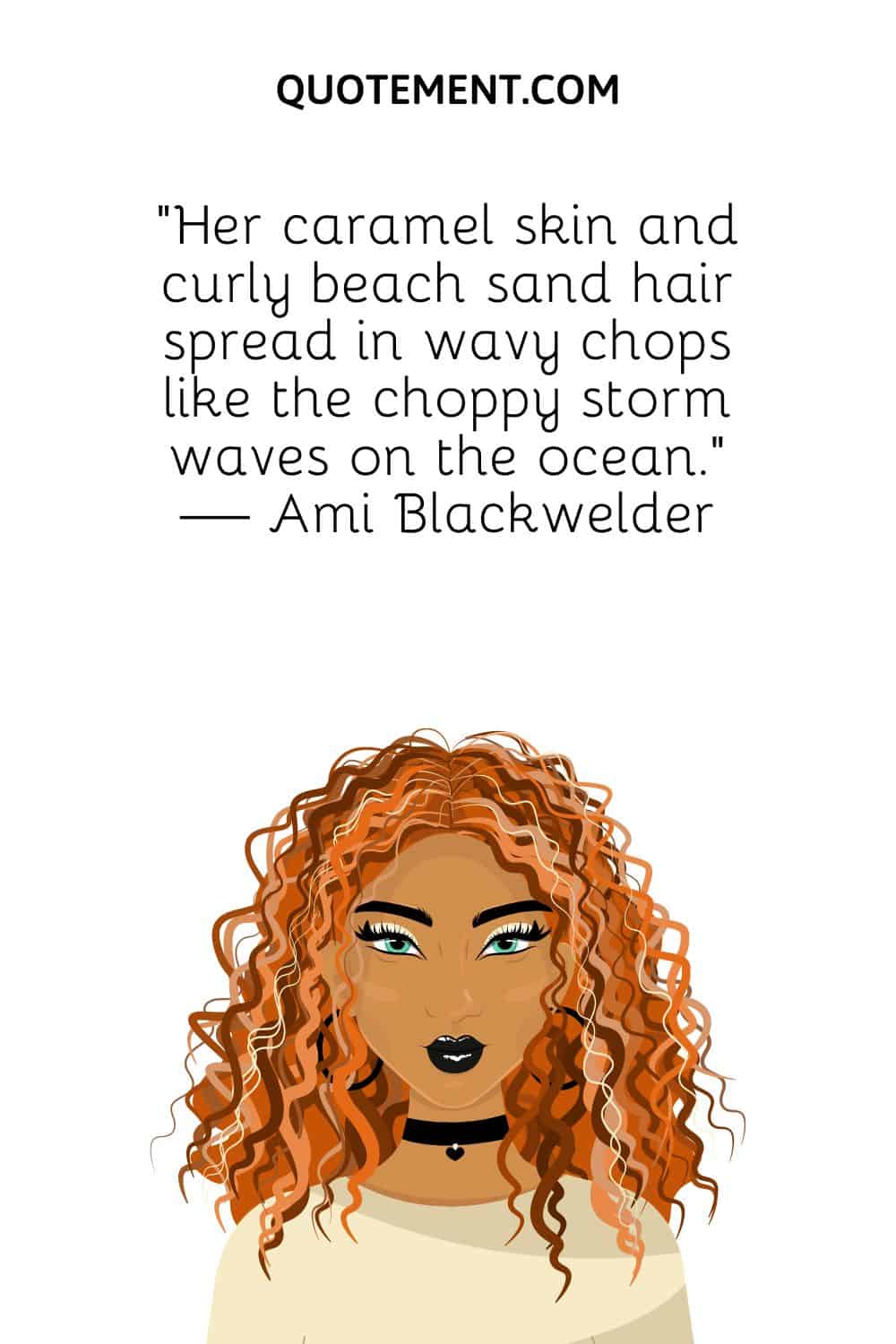 Inspirational Quotes About Curly Hair
1. "If someone tells you your hair is too big, get rid of them. You don't need that kind of negativity in your life." — Dolly Parton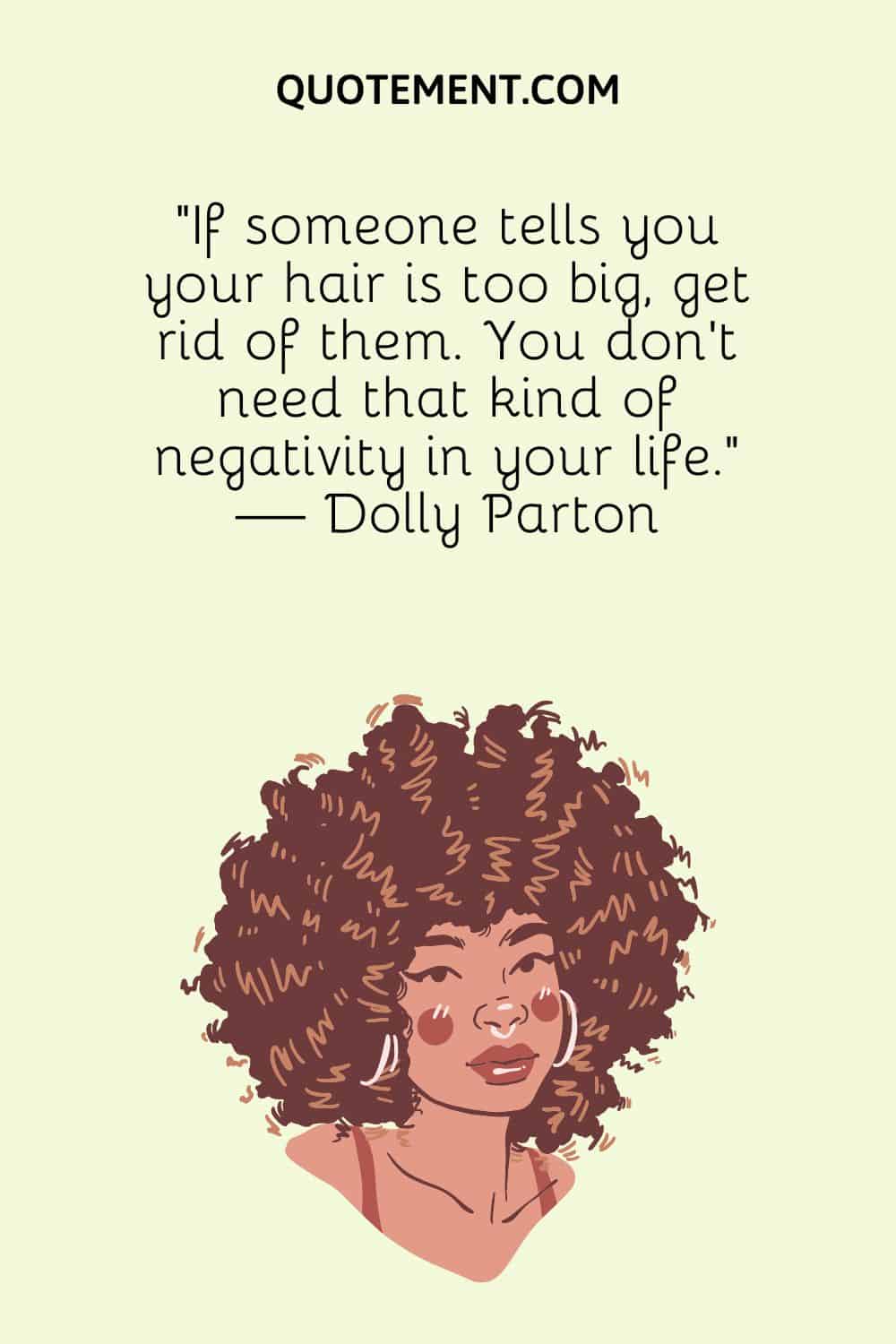 2. "Never let anyone dull your curls." — Unknown
3. "Your hair carries a lot of energy and memories." — Lindsey Price Stone
4. "To make your curly hair super curly, you don't need to do so much, just sleep on it and see the result." — Unknown
5. "You are more patient, more courageous, and have a big heart if you can wear your natural curly hair shape and be proud of it!" — Unknown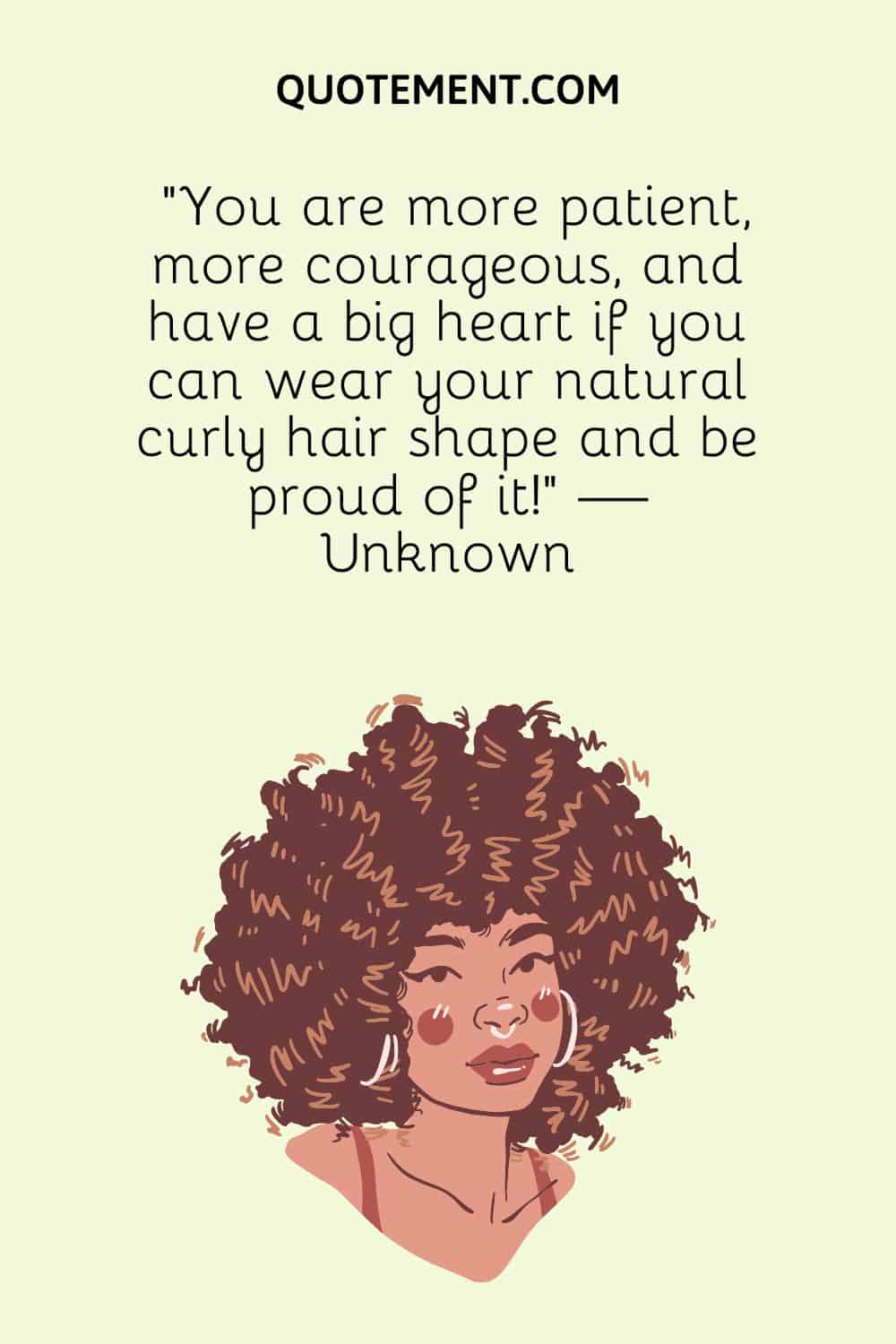 6. "It doesn't matter if your life is perfect as long as your hair color is." — Stacy Snapp Killian
7. "Don't remove the kinks from your hair. Remove them from your brain." — Marcus Garvey
8. "Stop worrying about your curly hair while styling. Rather, let the soft breeze flow on it to take care of it." — Unknown
9. "People always expect more of you when you have naturally curly hair." — Unknown
10. "Free your hair, and the rest will follow." — Lorraine Massey, 'Curly Girl: The Handbook'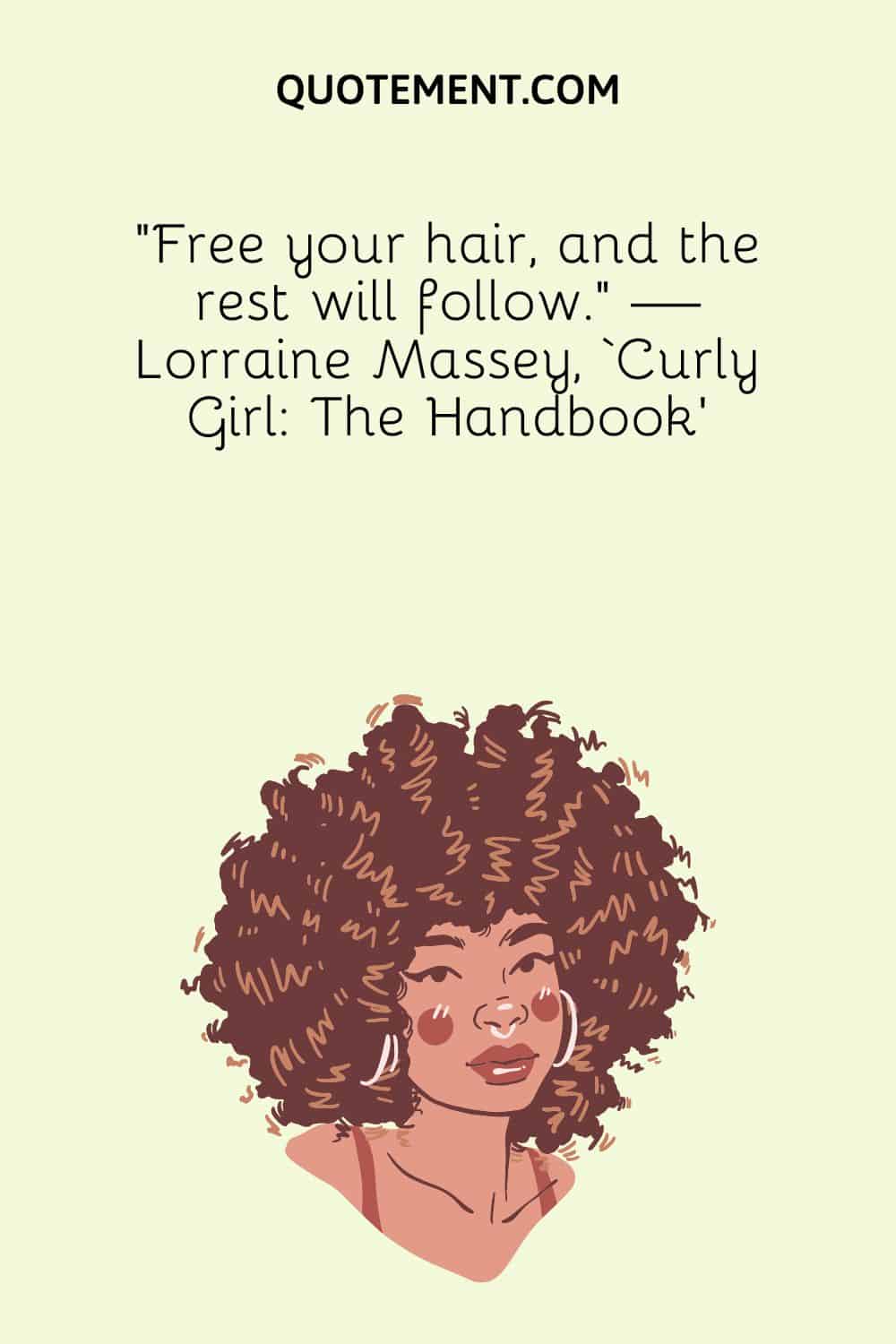 Beautiful Curls Quotes
1. "My curly hair is a blessing for me because it shows the attitude I have." — Unknown
2. "For me, the working of hair is architecture with a human element." — Vidal Sassoon
3. "I like your hair better curly." — Jenna Evans Welch, 'Love And Gelato'
4. "Curly hair is like a box of chocolates you never know what you're going to get." — Unknown
5. "Eventually, I knew what hair wanted; it wanted to be itself…to be left alone by anyone, including me, who did not love it as it was." — Alice Walker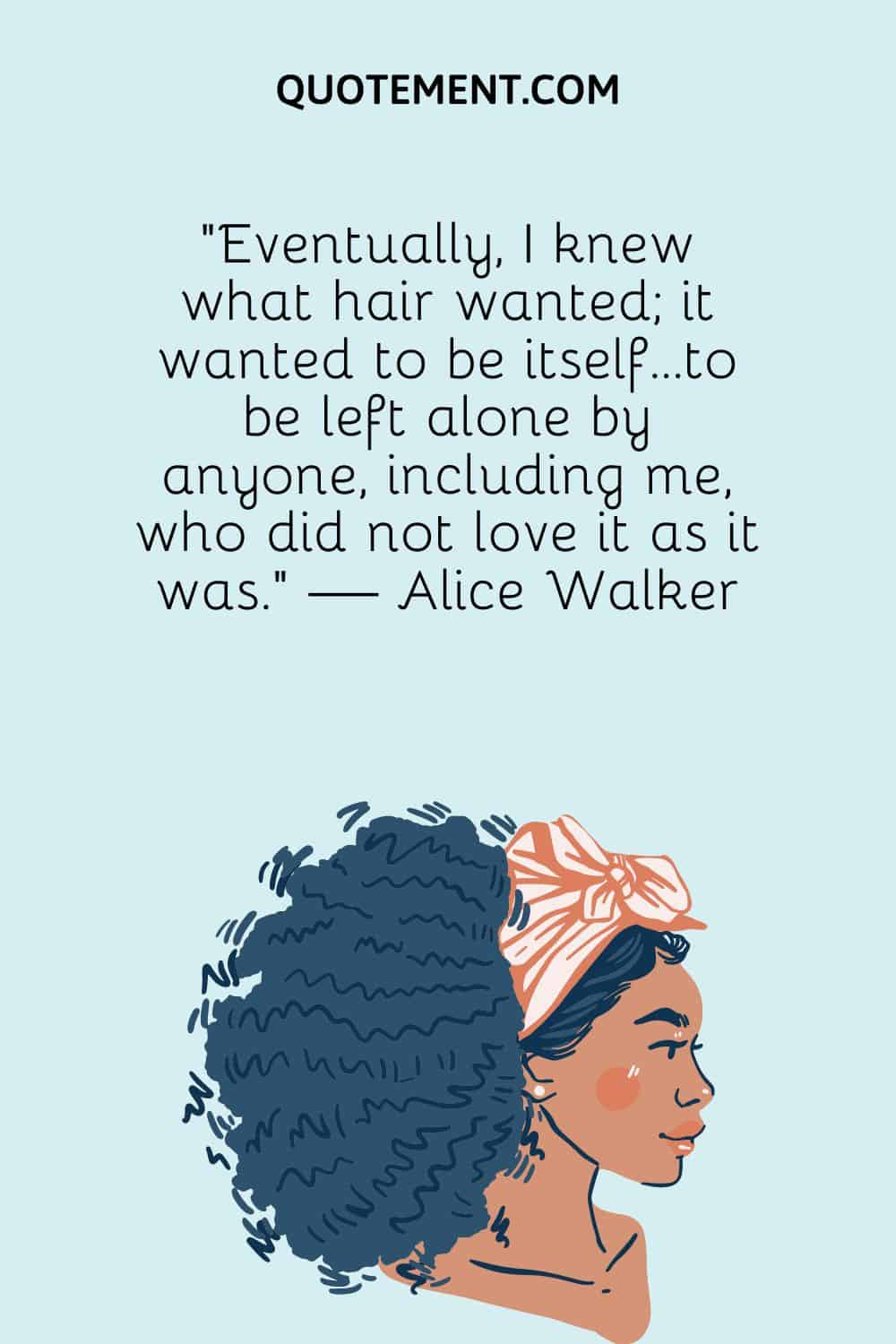 6. "Your hair is winter fire, January embers." — Stephen King
7. "As a kid, I was told 'pretty girls have straight hair' so I was always insecure about my curly hair. Now that I'm older, I couldn't be more in love with my crazy beautiful curls." — Unknown
8. "I like the way you've let your hair go curly," he finally said. "Suits your personality. Lots of energy, not much control, se*y as hell." — Janet Evanovich, 'One For The Money'
9. "Shug Avery sat up in bed a little today. I wash and comb out her hair. She got the nottiest, shortest, kinkiest hair I ever saw, and I love every strand of it." — Alice Walker, 'The Color Purple'
10. "In my place, I'm the only person who is passionate, beautiful, and free-minded because only I have curly hair." — Unknown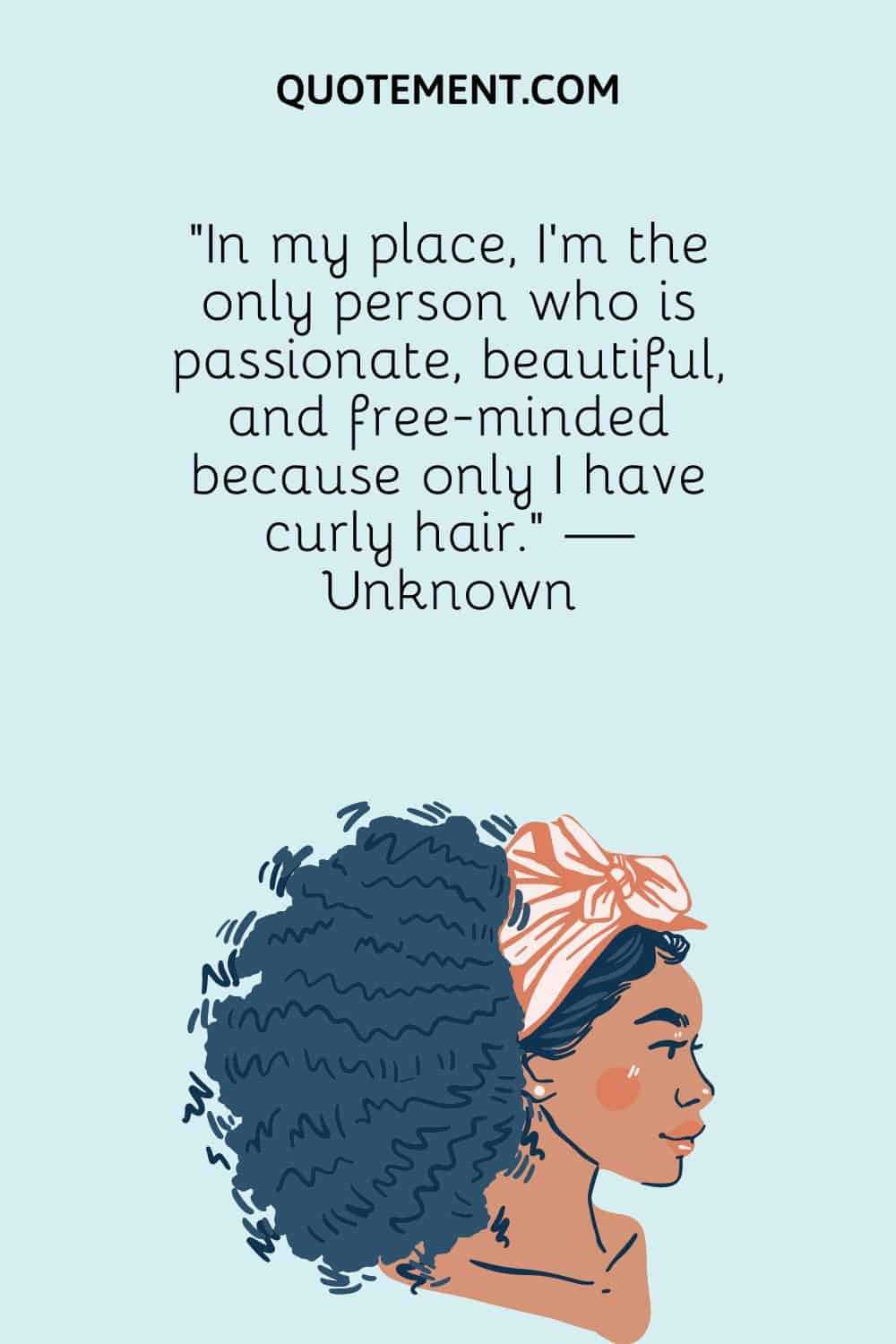 Curly Hair Struggles Quotes
1. "Curly hair problems: you think your hair looks like a mess, but everyone else loves it." — Unknown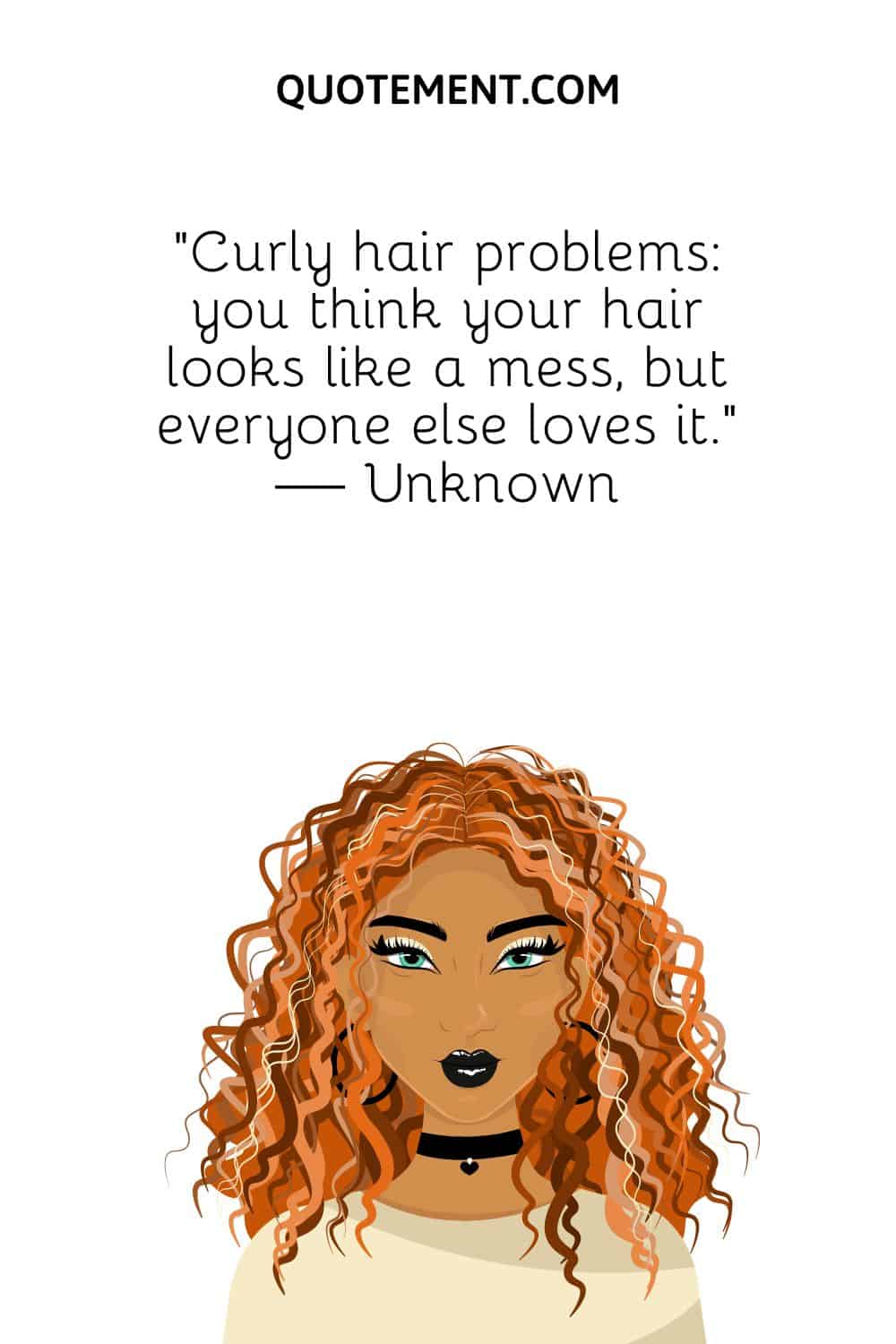 2. "I was somebody who never loved my hair. — Jennifer Aniston
3. "The struggle of having curly hair; is doing the same hair routine every time and getting a different result every single time." — Unknown
4. "Anybody who has curly hair knows you don't want it to be brushed out because it becomes a never-ending tangle." — Judy Davis
5. "Curly Problem 231: Not knowing how to wear your hair to formal events because everyone else curls it." — Unknown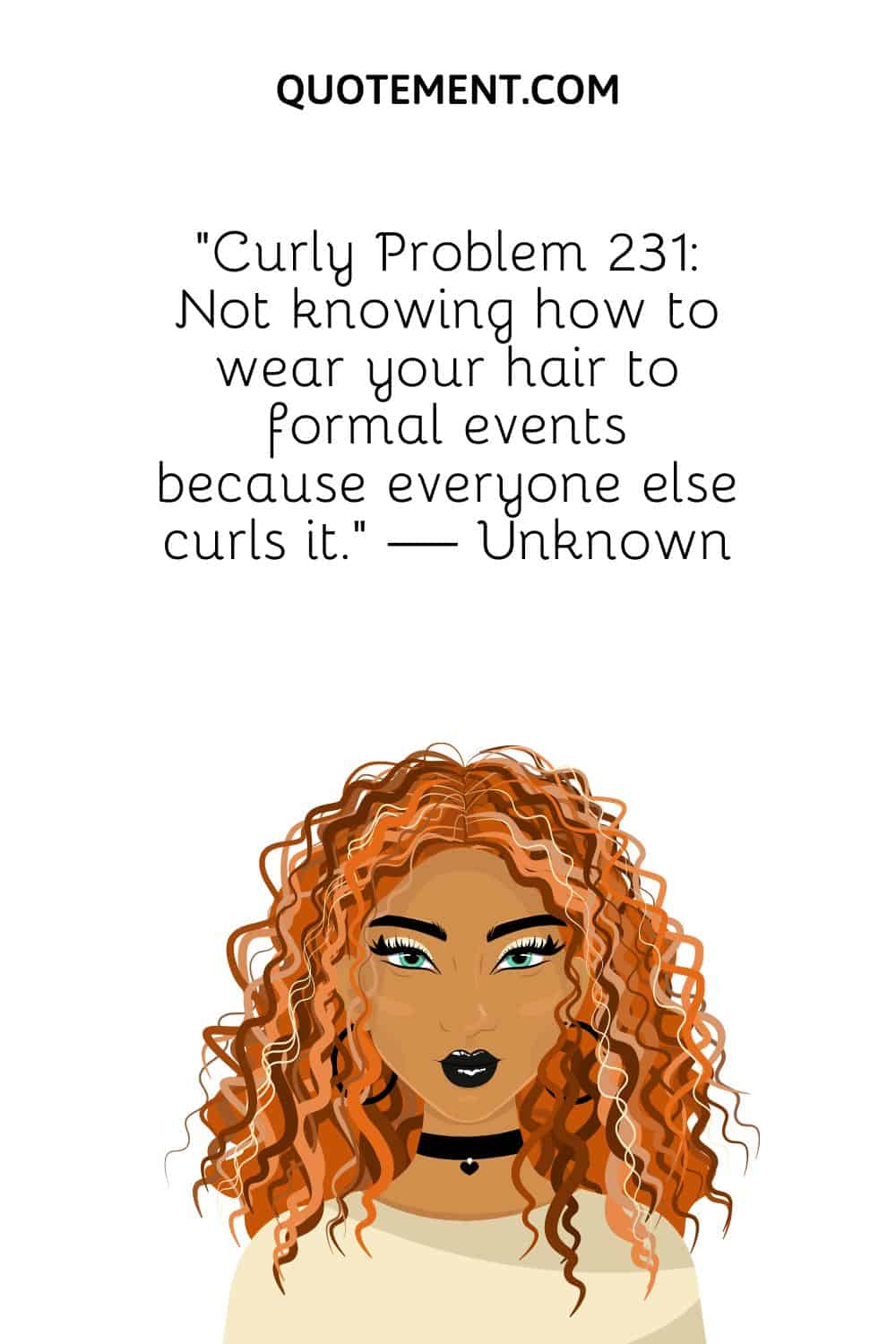 6. "If my hair gets any frizzier, I'll shave it to the scalp. Or light it on fire. Whichever is easier." — Victoria Scott
7. "Having curly hair means having to check the forecast before leaving the house." — Unknown
8. "I had curly hair and wished it was straight." — Jennifer Aniston
9. "Curly Problem 231: You have to shower to make your hair presentable." — Unknown
10. "Problem number 342: When you straighten your hair, people don't recognize you." — Unknown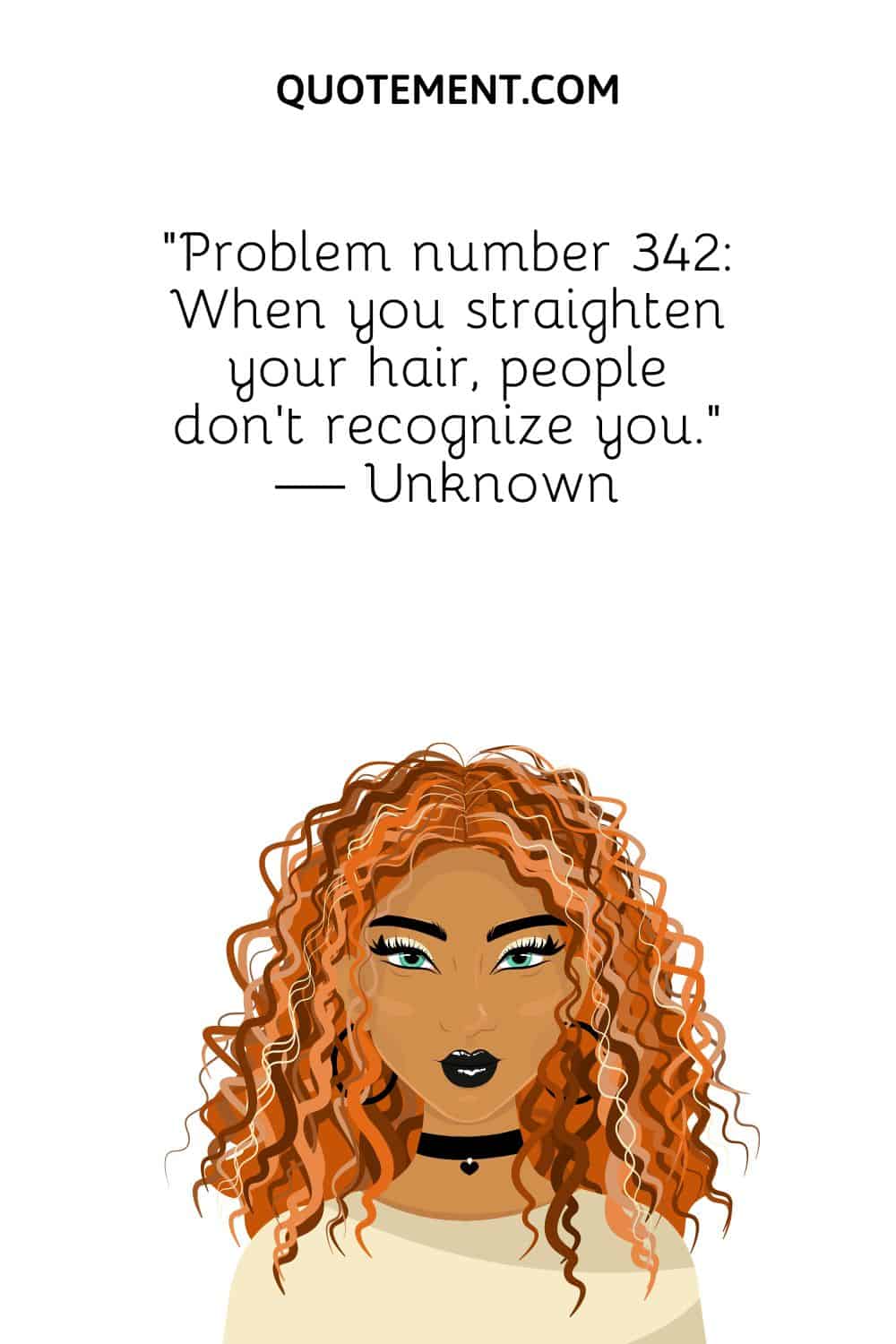 Curly Girl Quotes
1. "Curly girl: It's more than just hair, it's an attitude." — Lorraine Massey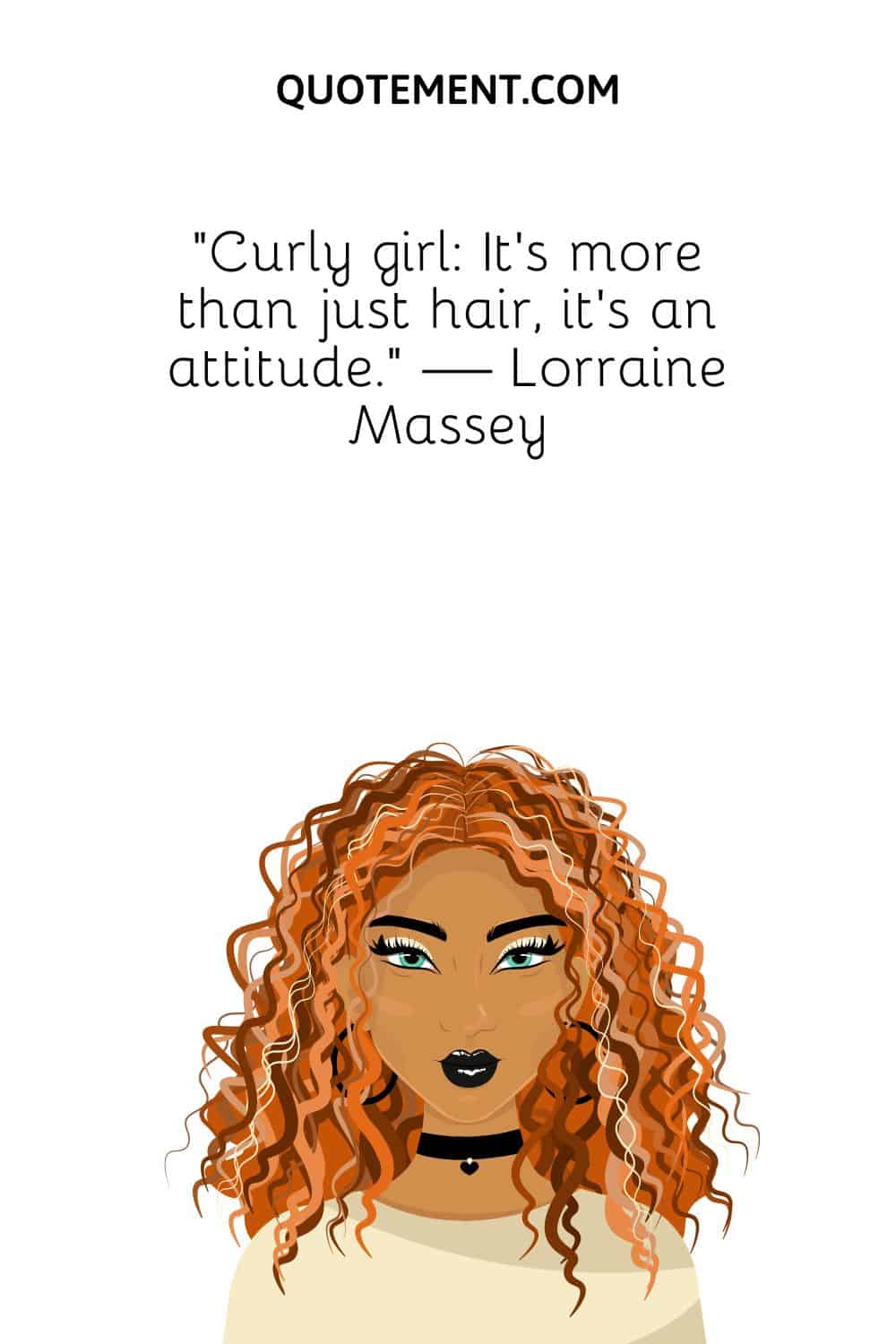 2. "I often have the fantasy that curly girls are mermaids who have had to adapt to life on dry land. We come from the sea. The ocean is in our blood. It sings through our hearts and lungs, our skin and hair. Our curls require the nourishment only a watery environment can provide." — Lorraine Massey, 'Curly Girl'
3. "Why didn't you comb your hair"- most of the girls with curly hair have heard this at least once." — Unknown
4. "'My hair is really easy to manage,' said no curly-haired woman ever." — Unknown
5. "Just a curly-haired girl living in a (mostly) straight-haired world!" — Unknown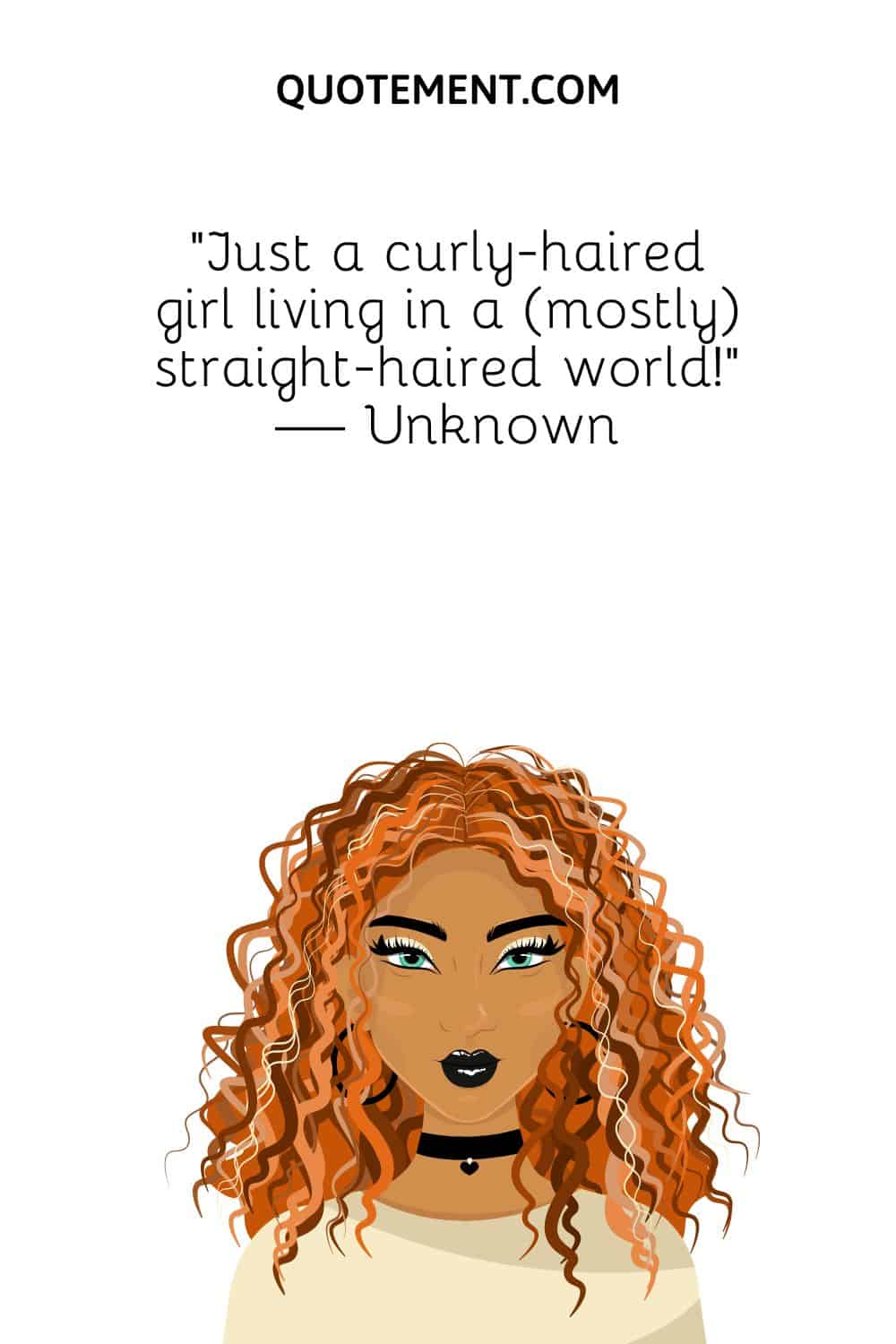 6. "Her hair is troublesome and curly." — Amit Chaudhuri, 'Afternoon Raag'
7. "I am I supposed to control my life when I can't even control my hair." — Unknown
8. "Ima sucker for the pretty girl with the curly hair." — 'Curly Hair', Jayoh Birch
9. "She wears the braid every day, and always, by lunchtime, the curls and ringlets of her thick mane have managed to escape in rebellious little tendrils. But she refuses to surrender to that hair of hers, and every morning, it goes back into the braid." ― Gayle Forman, 'If I Stay'
10. "I'm a big woman. I need big hair." — Aretha Franklin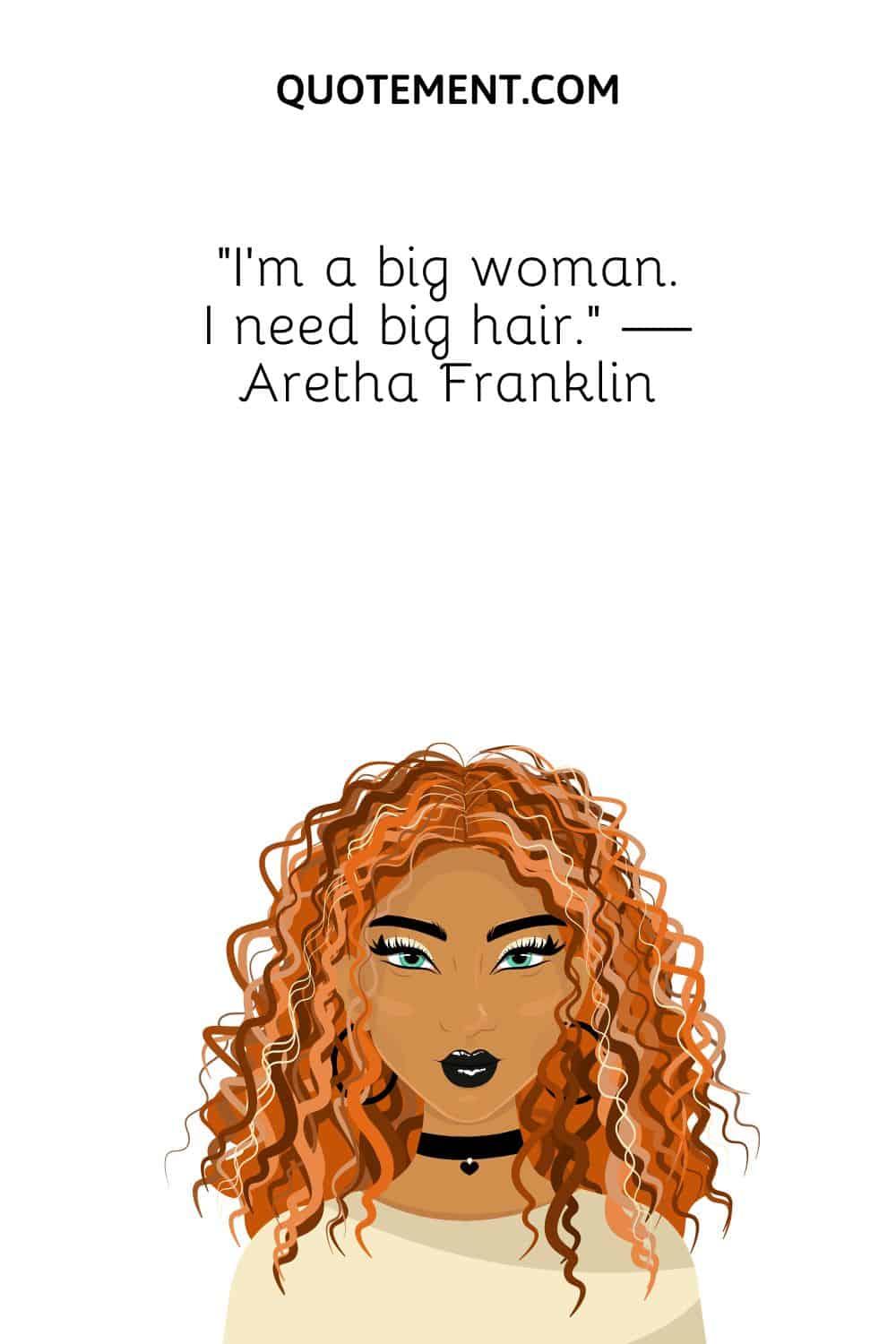 Curly Hair Quotes For Curly Hair Pictures & Selfies
1. "I will not deny my hair the wildness of my age." — Alice Walker, 'I Will Not Deny'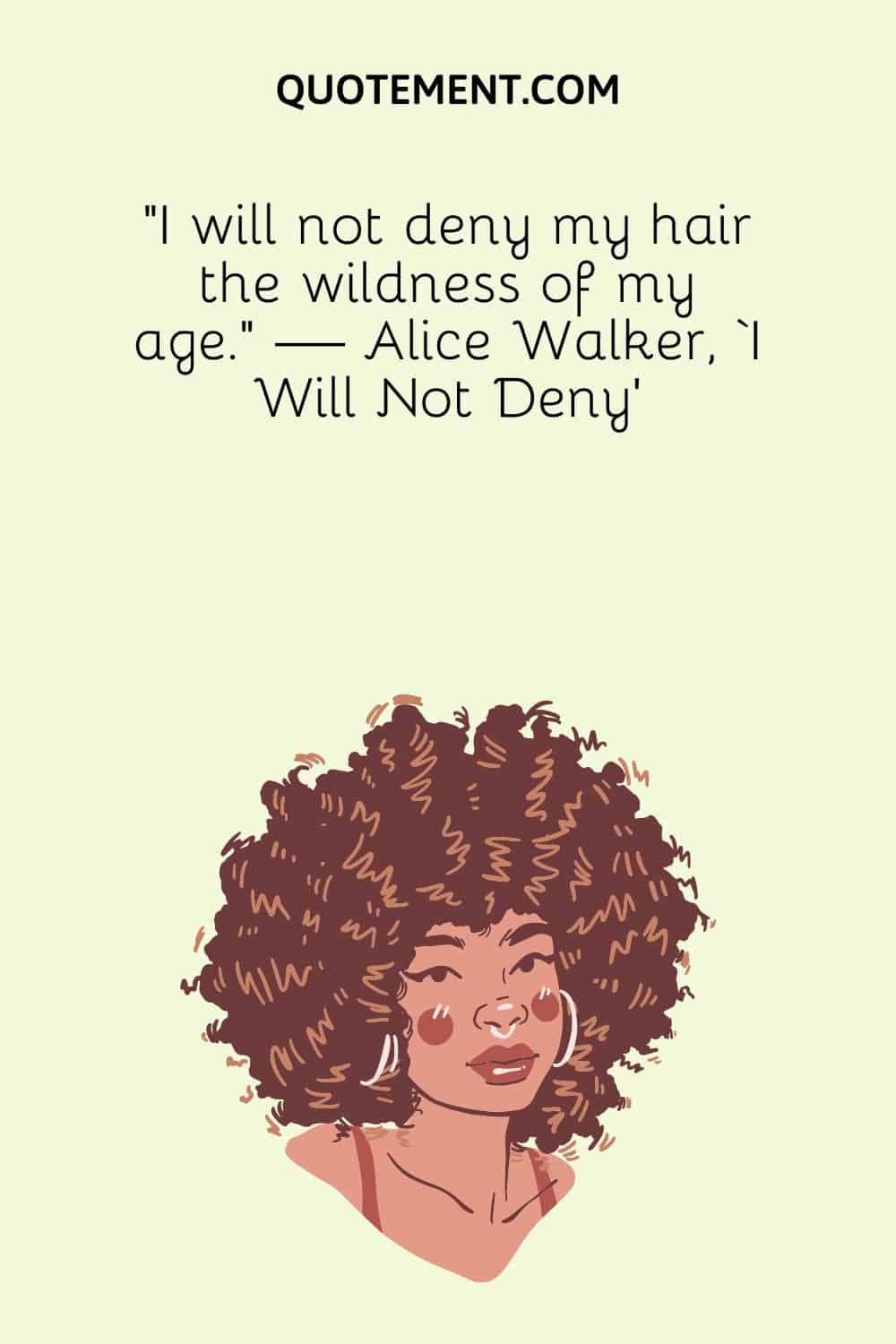 2. "Curly hair with a wide sweet smile is the perfect combination of beauty." — Unknown
3. "Let us dance in the sun, wearing wild flowers in our hair." — Susan Polis Shutz
See also: The 280 Best Dance Captions To Awaken The Dancer In You
4. "My curly hair shows who I am. I'm open-minded, careless, sometimes rough, just like my curly hair." — Unknown
5. "When most girls go out, they straighten their hair. Me? I flaunt my natural curls." — Unknown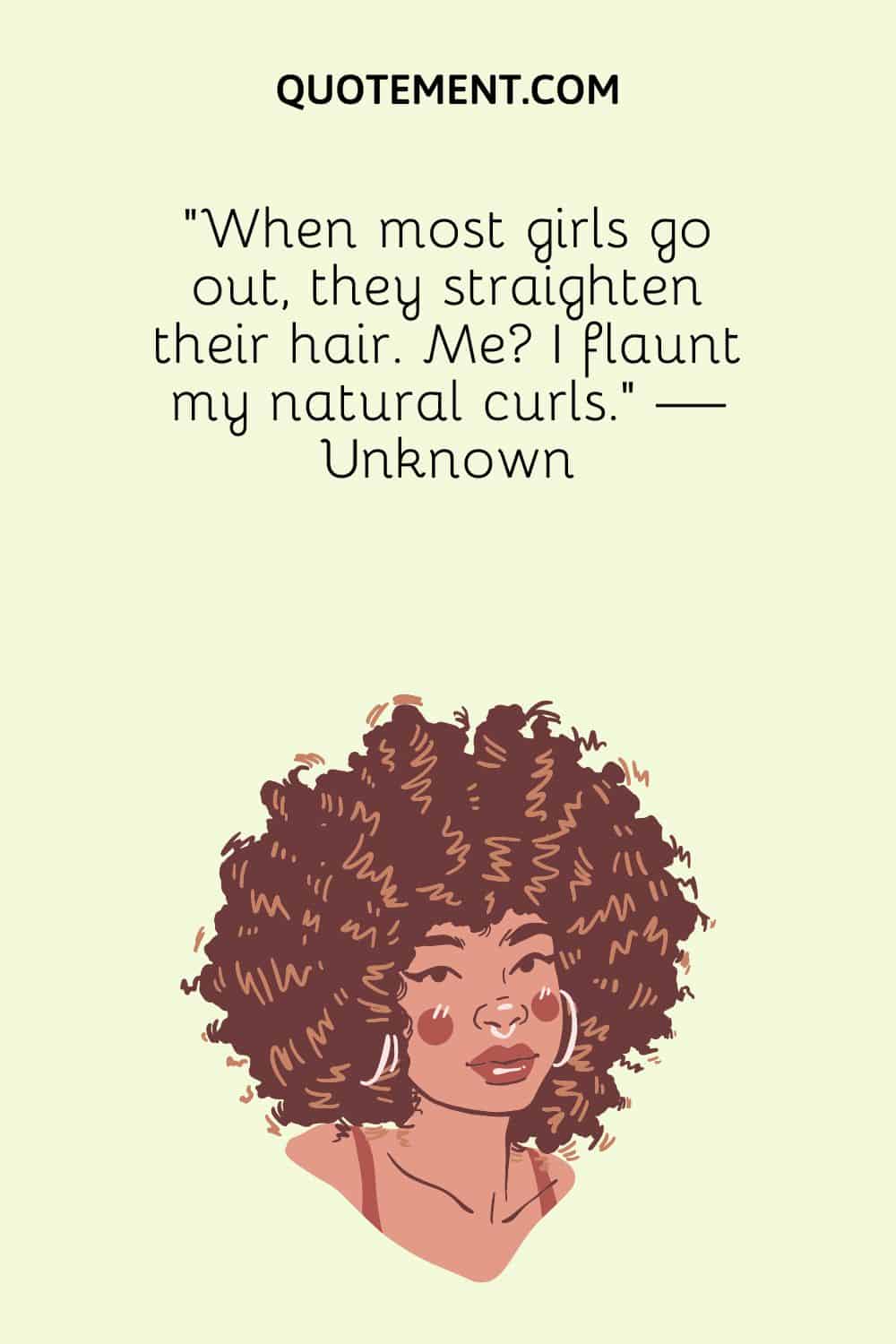 6. "Crazy, wild, free, and that's just describing my hair'." — Unknown
7. "Some boys feel they are like girls, They are gentle, and like their hair in curls." ― Christina Engela, 'Other Kids Are Kids Almost Just Like You'
8. "People will stare. Make it worth their while." — Harry Winston
9. "You know you have curly hair when your hair takes up 90% of your selfie." — Unknown
10. "They only hate me because I have naturally curly hair…They're jealous of me…What should I do?" — Charles M. Schulz, 'The Complete Peanuts, Vol. 6'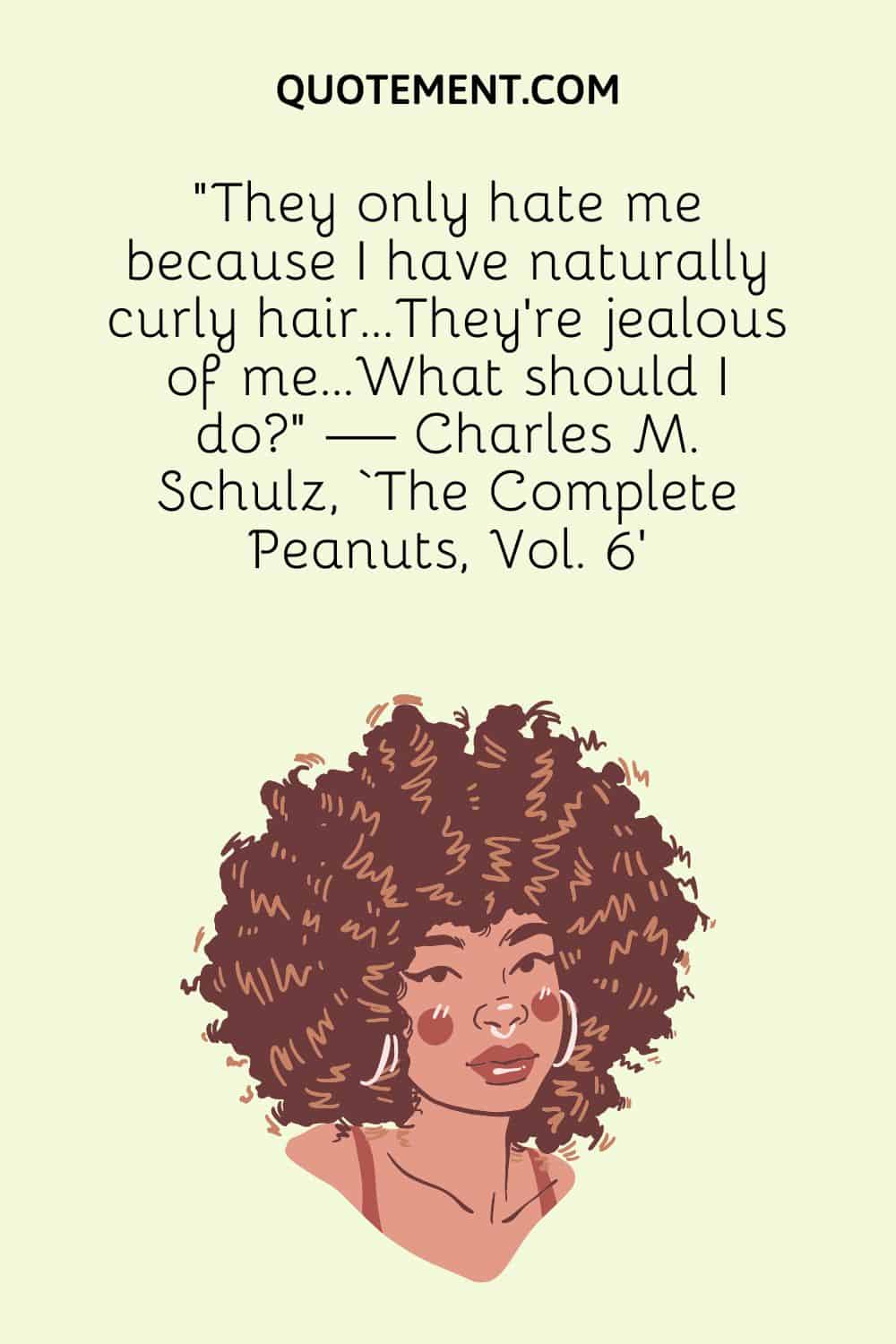 Funny Curly Hair Quotes
1. "Sometimes I find bobby pins in my hair on days I haven't worn any. I wonder what else is hiding in there?" — Unknown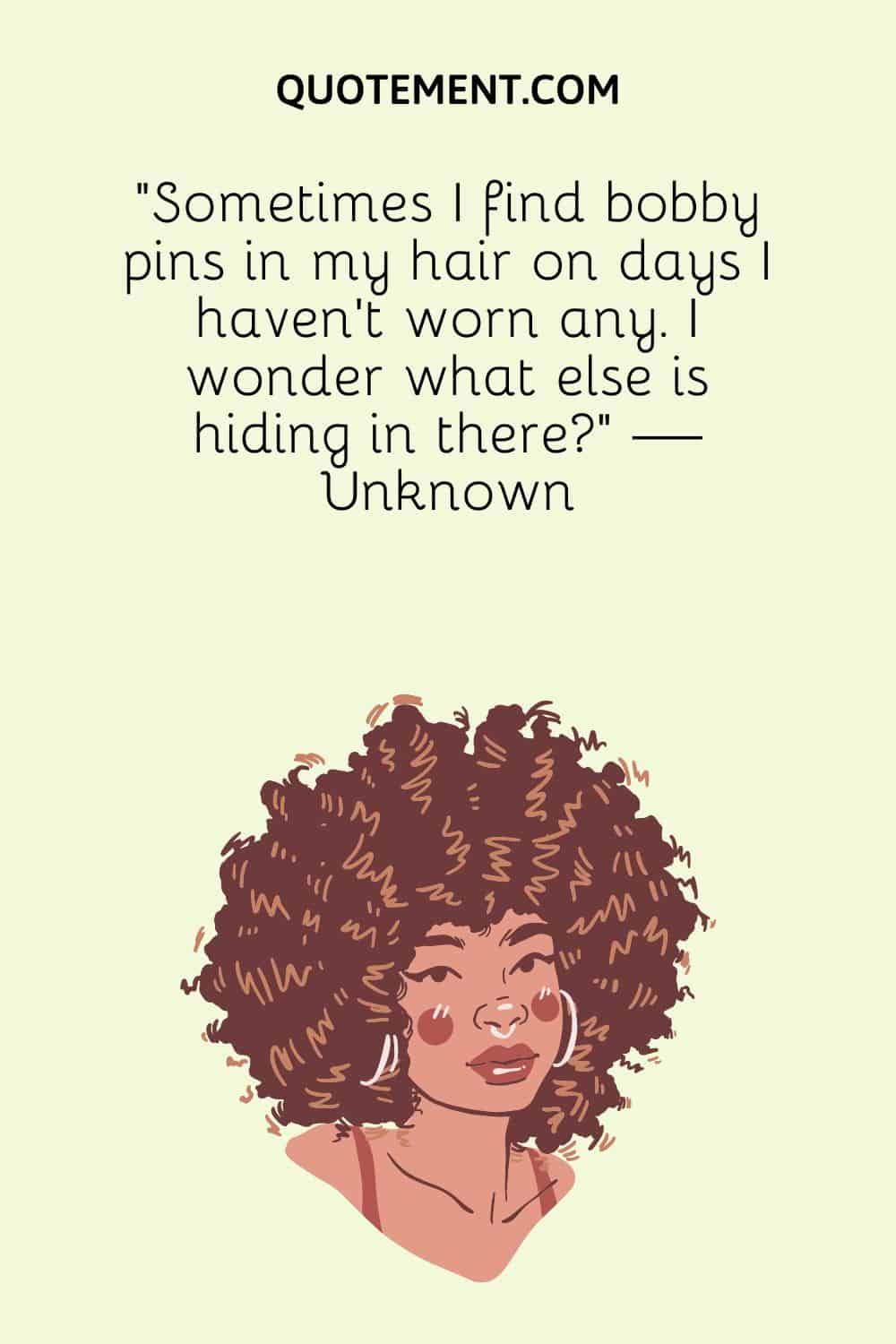 2. "I'll just quickly jump in the shower and leave – Said no curly-haired person ever." — Unknown
3. "I don't dare to color my curls blonde because I am afraid my friends will think it as instant noodles and will try to eat it." — Unknown
4. "I don't need a hairstylist, My pillow gives me a new hairstyle every morning." — Unknown
5. "People always ask me how long it takes to do my hair. I don't know, I'm never there." — Dolly Parton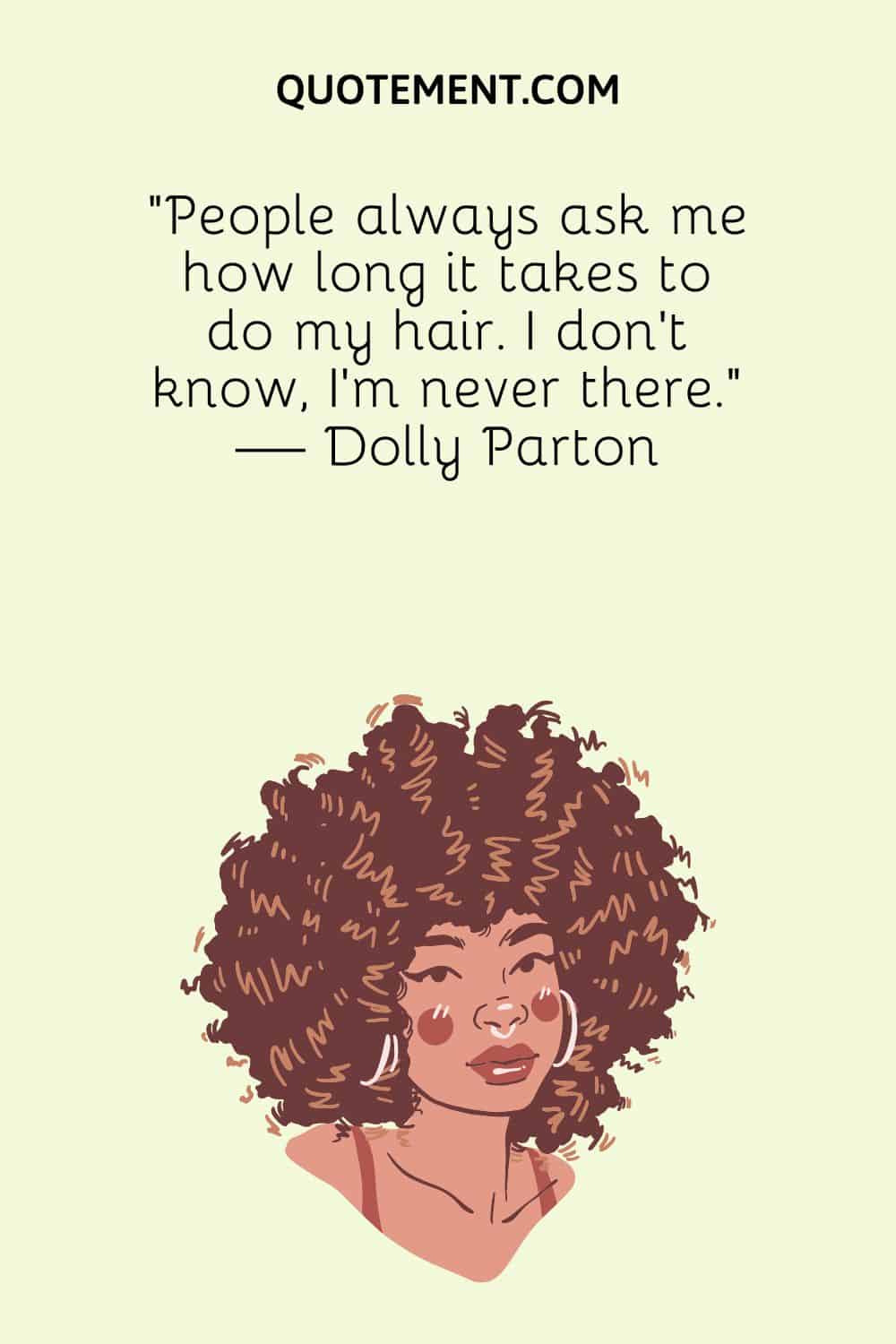 6. "Thank you, humidity, I always wanted to be the lion king… said no one ever." — Unknown
7. "You can't control everything. I was born with curly hair as a reminder of that." — Unknown
8. "Sorry, I can't hear you over the volume of my hair." — Unknown
9. "I'd like to have a moment of silence for the money I've spent over the years trying to find the right hair products for my curly hair." — Unknown
10. "Can we have a moment of silence for all those good hair days when no one important saw you." — Unknown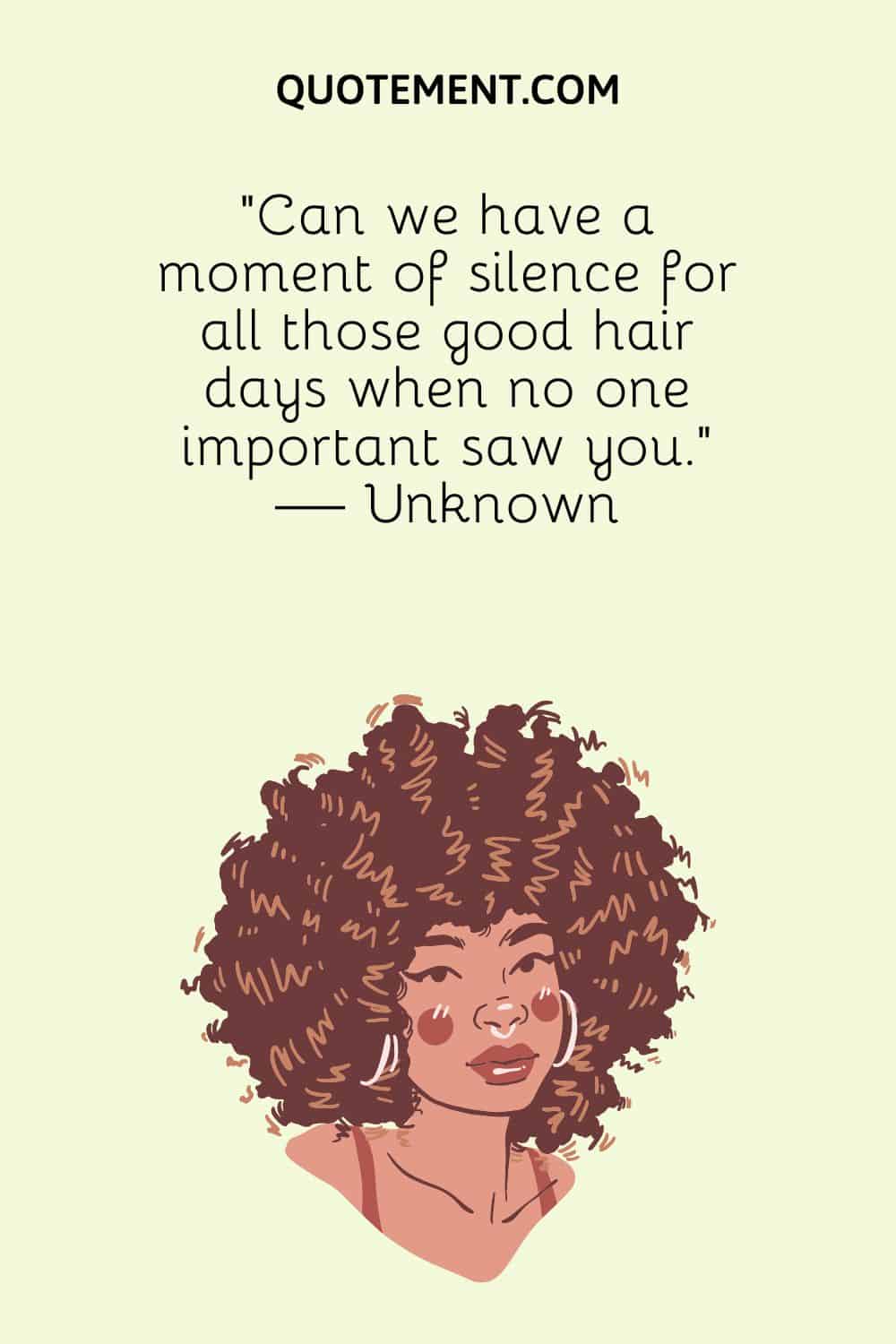 Curly Hair Captions For Instagram That Can Be Ues As Quotes
1. Who run the world? CURLS!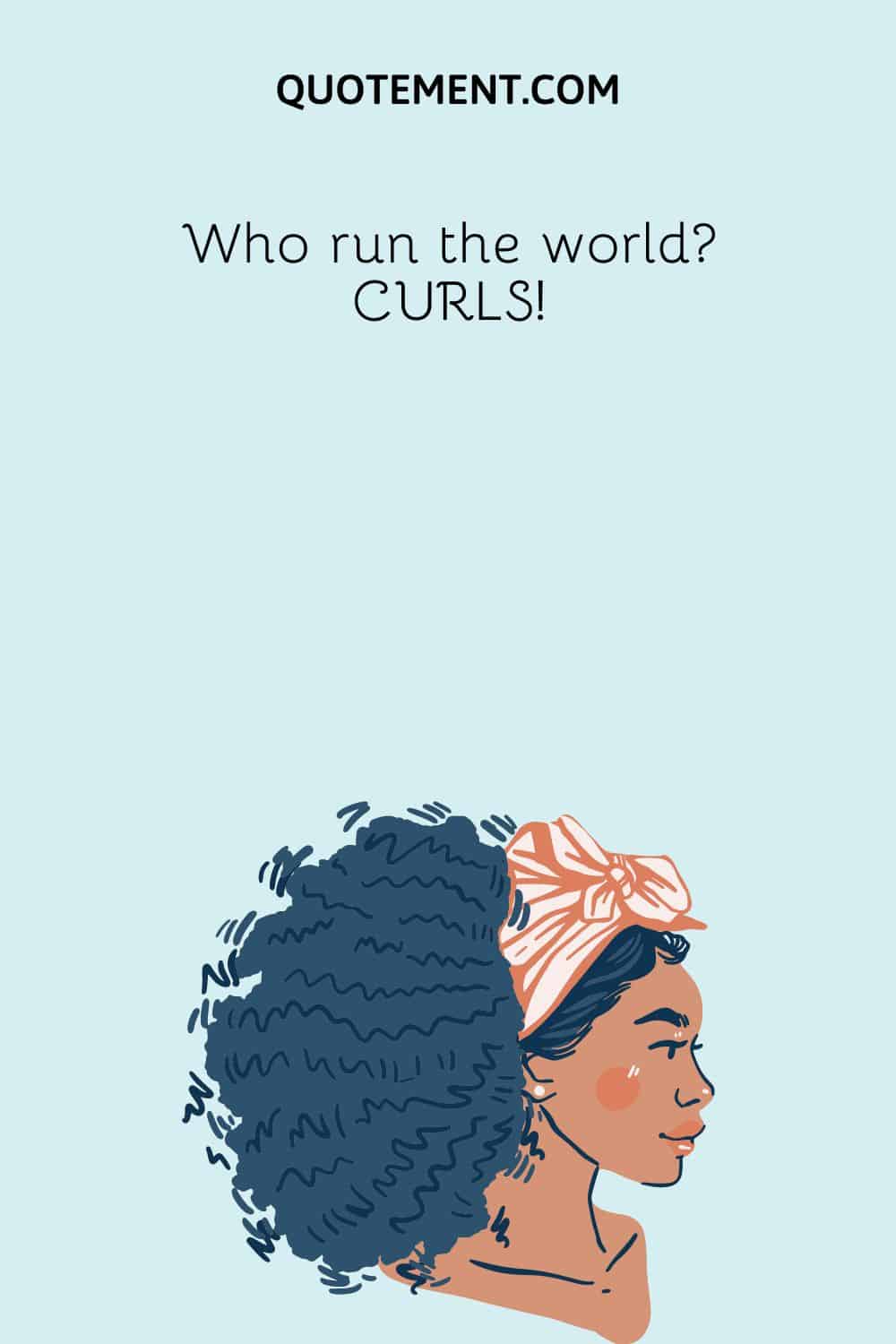 2. Life is too short to have boring hair.
3. With curls, every day is a new adventure.
4. Bad hair day more like bad hair life.
5. Curly hair isn't a trend, it's a lifestyle!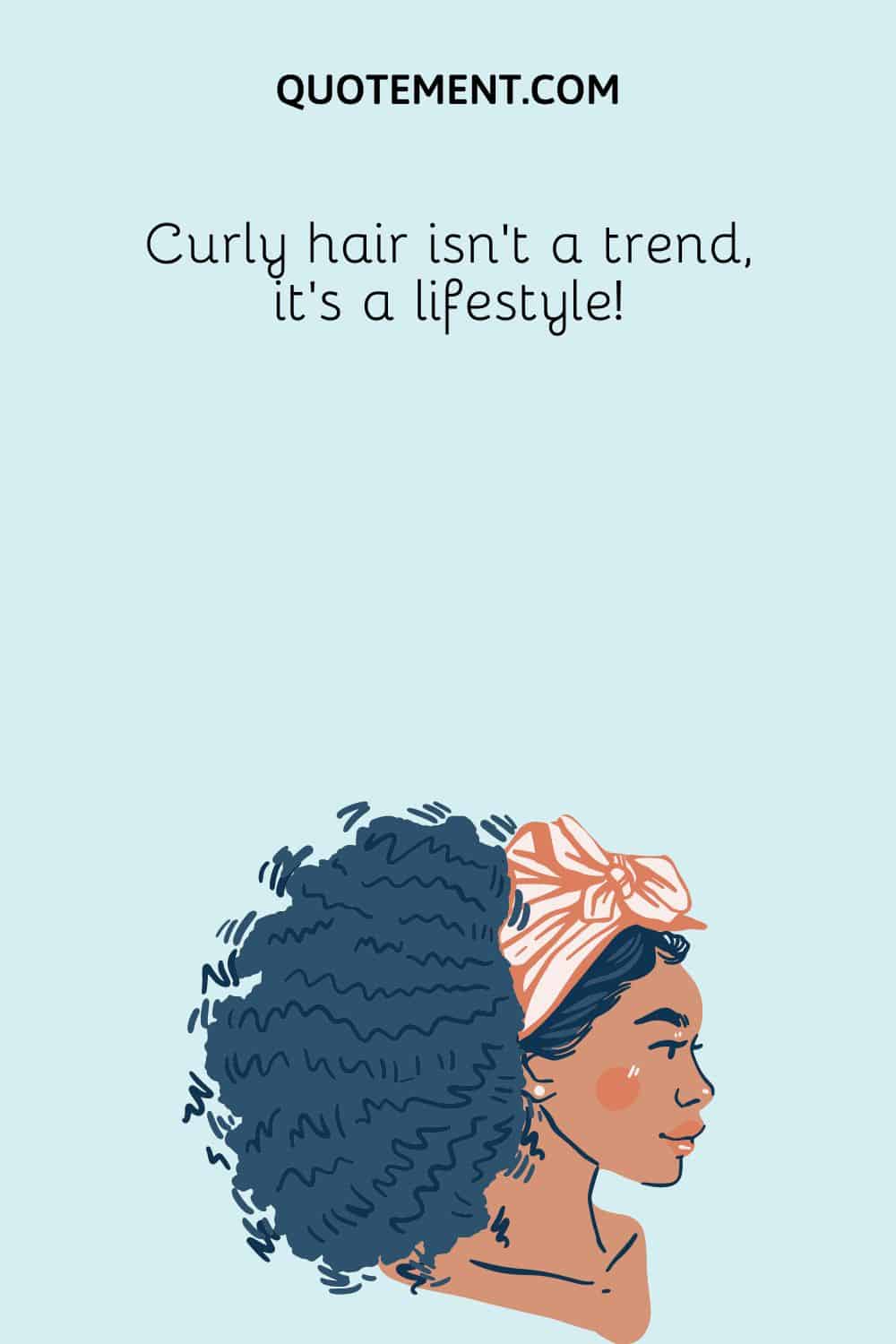 6. My life may not be perfect, but my curls are.
7. Big hair, bigger dreams!
8. My hairstyle is called I tried.'
9. I'm a queen crowned in my curls.
10. I make hair contact before I make eye contact.
To Conclude
I bet these curly hair quotes made you fall in love with your curls and inspired you to enjoy this hair look.
Until next time!
Read next: 170 Best Barber Quotes And Captions For Social Media