Have you ever thought about how much your hairdresser means to you? They're a person we have to have full confidence in after all!
He can help us feel more confident, make us more beautiful and tidy, and prepare us for an important meeting or life event.
He is much more than just a barber though. A hairdresser really has control over your mood from the moment you step into his hair salon.
A new haircut from your favorite barber can really give you a boost of self-confidence.
Today, I have prepared a collection of the best barber quotes and captions about barbers, I hope you will find one for your favorite barber!
Check out this extensive list of inspirational quotes, and use your favorite as a caption for your social media photo.
Top 40 Barber Quotes For Instagram
1. "Learning new hairstyles is essential for a barber."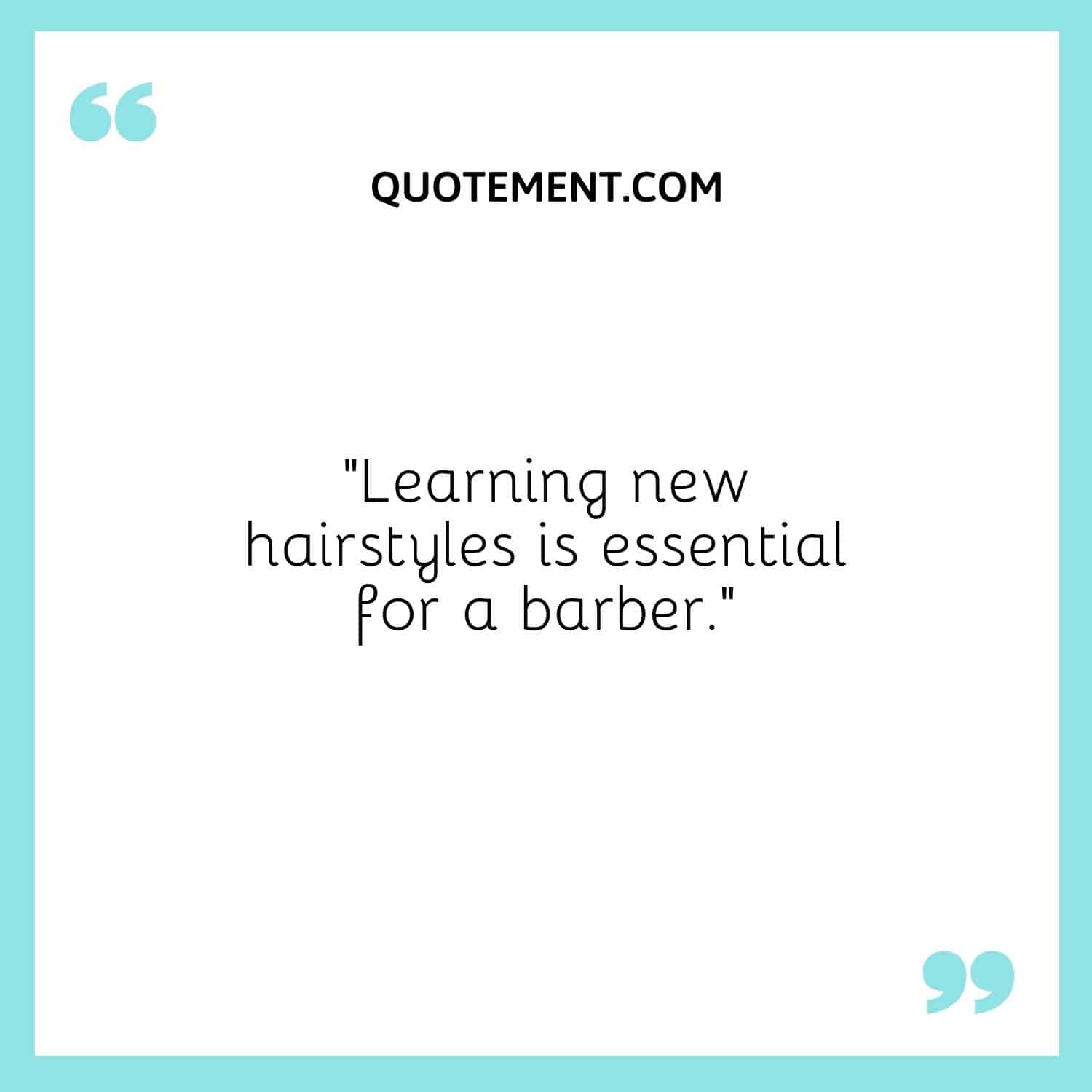 2. "If you can't trust your barber who can you trust?"
3. "Barbers are the artist whose drawing on someone's head become the trend and fashion."
4. "You know you've made it when you can dye your hair blue."
5. "A barber can point out flaws in a well-trimmed beard."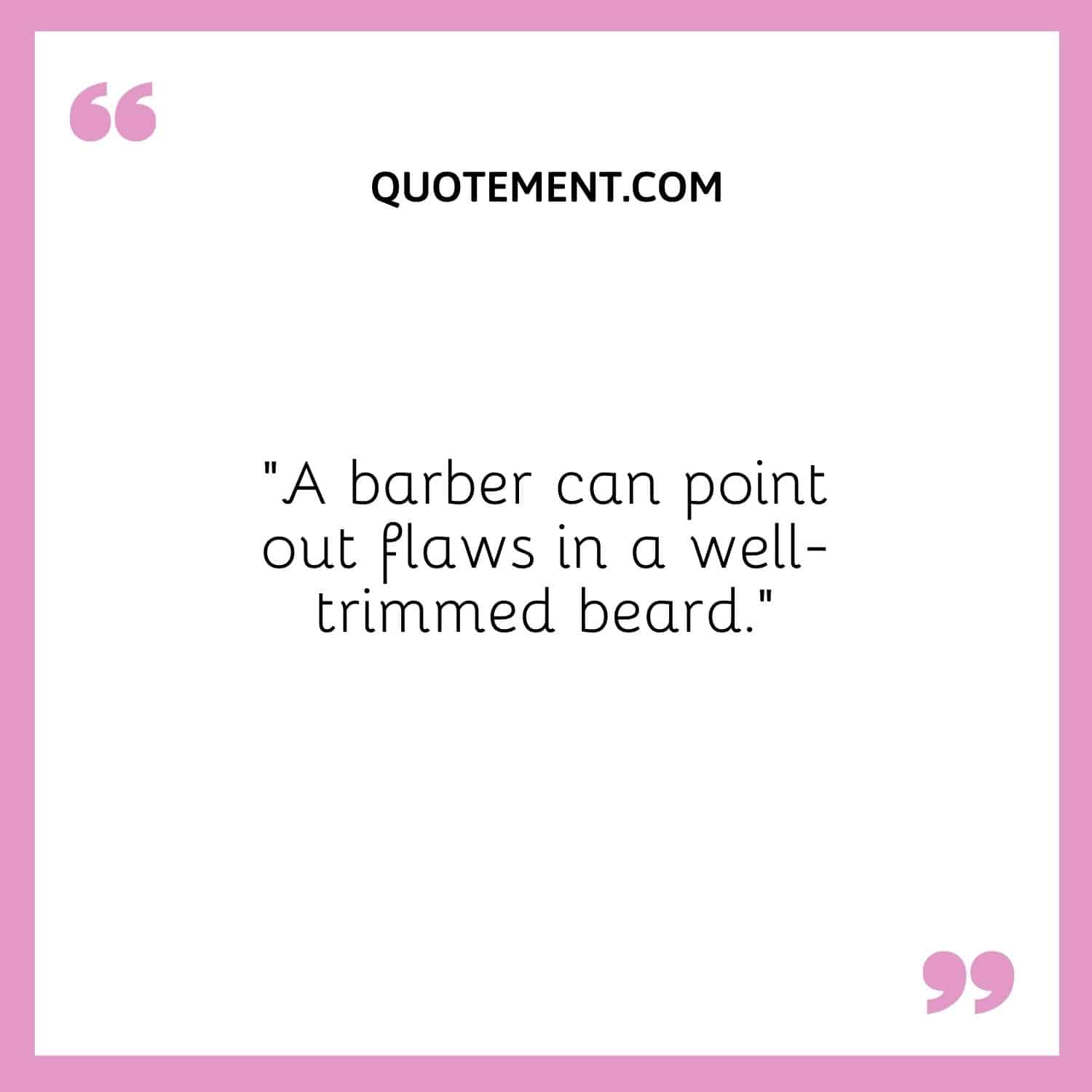 6. "Once you find a barber you like, keep him."
7. "Life is better with friends. And if your friends are also your barbers, even better. Here's to all the people who make me feel like home."
8. "Small businesses help improve society."
9. "If you keep walking past the barbers, eventually you'll get a haircut."
10. "If you want a good barber you have to deal with a busy barber."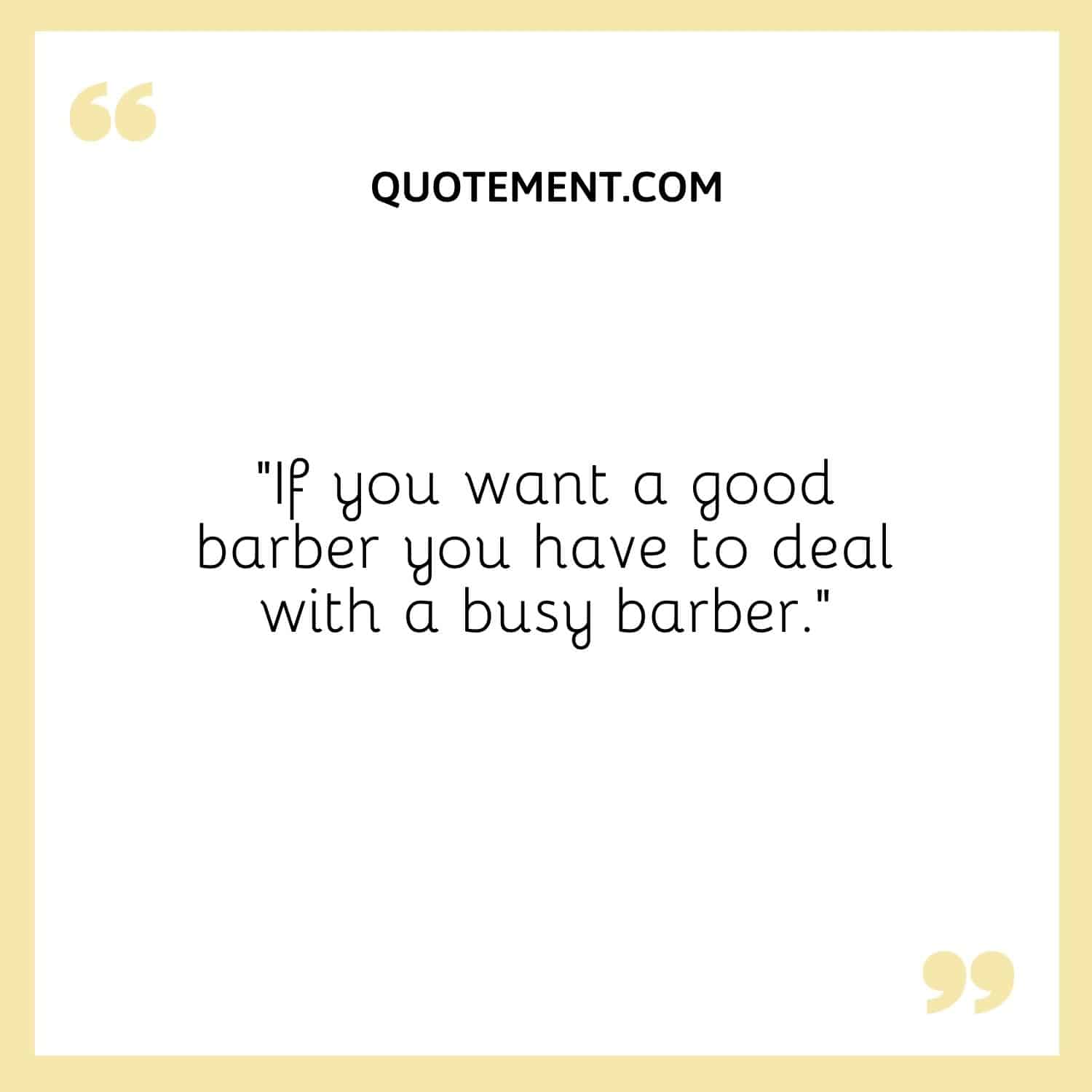 11. "Lathering is the first step of shaving."
12. "Never underestimate the power of a barber."
13. "Barbers show a high level of friendliness with their clients."
14. "Barbers and philosophers transform the personality of people."
15. "Barber told me that half shaved hairstyle is now in trend and gave me this haircut. So I paid him the half amount of the full shaved."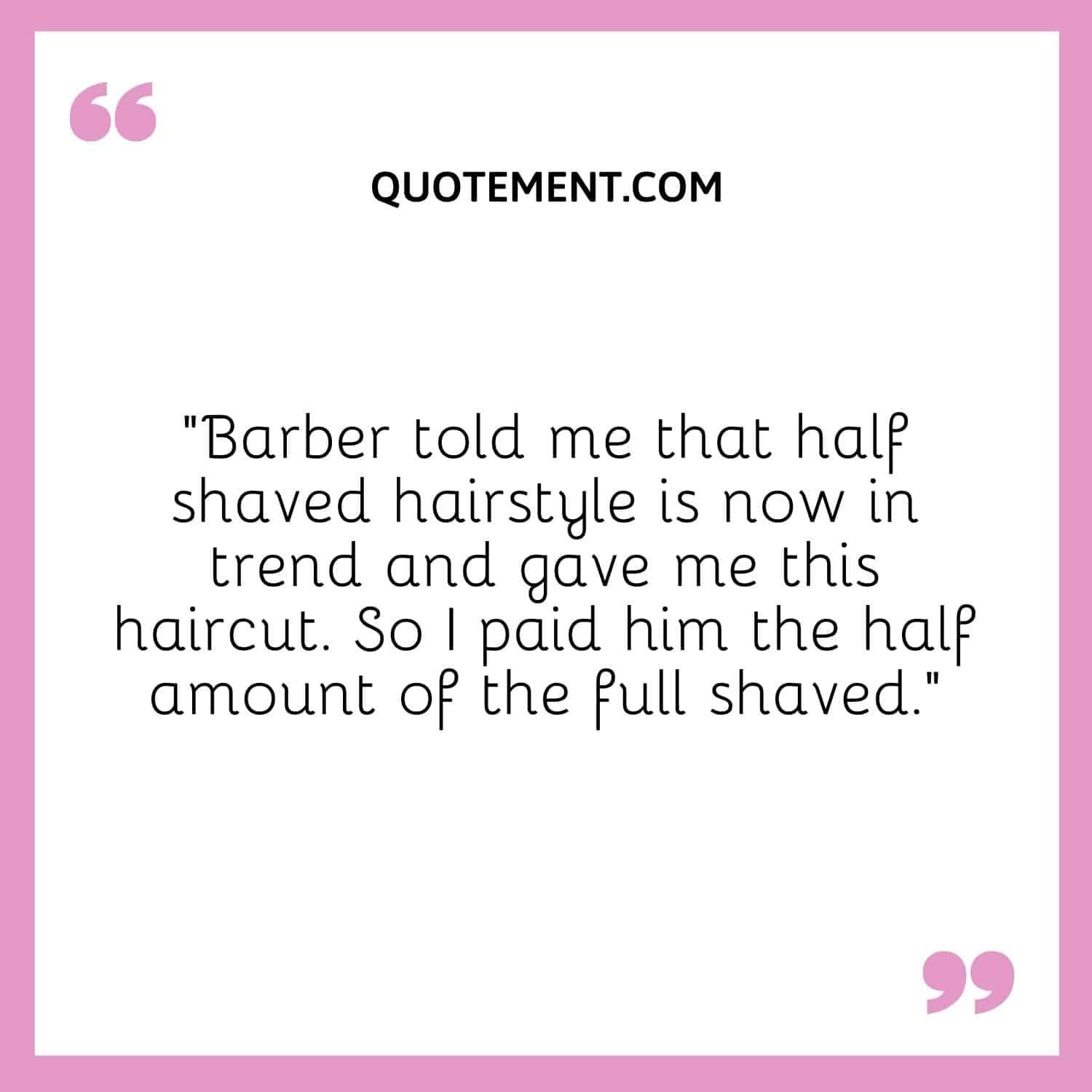 16. "Jobless barbers will give a haircut to anyone."
17. "If you can't change your surroundings, change your hair color."
18. "Don't mess with your barber. He can ruin your look by giving you a disaster haircut."
19. "A barber cannot use his skills on himself."
20. "Some people consider changing barber worse than cheating."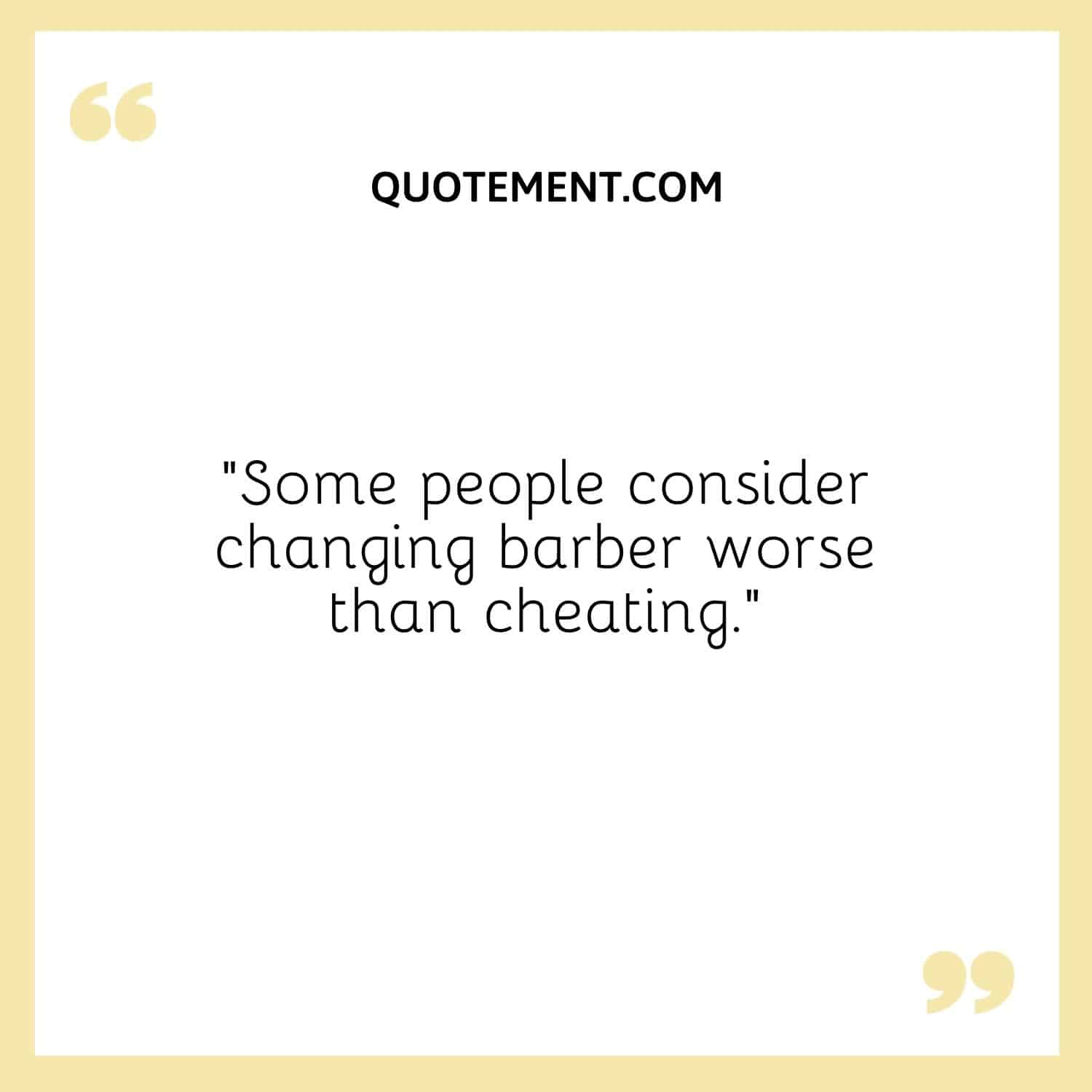 21. "When a barber cuts another barber's hair, who does the talking?"
22. "Kim Jong Un has killed people at the drop of a hat, yet curiously, allows his barber to live."
23. "Every barber thinks you need a haircut."
24. "Barbers can irritate their clients by talking too much."
25. "We play happy music, and we make people happy. That's why they like us."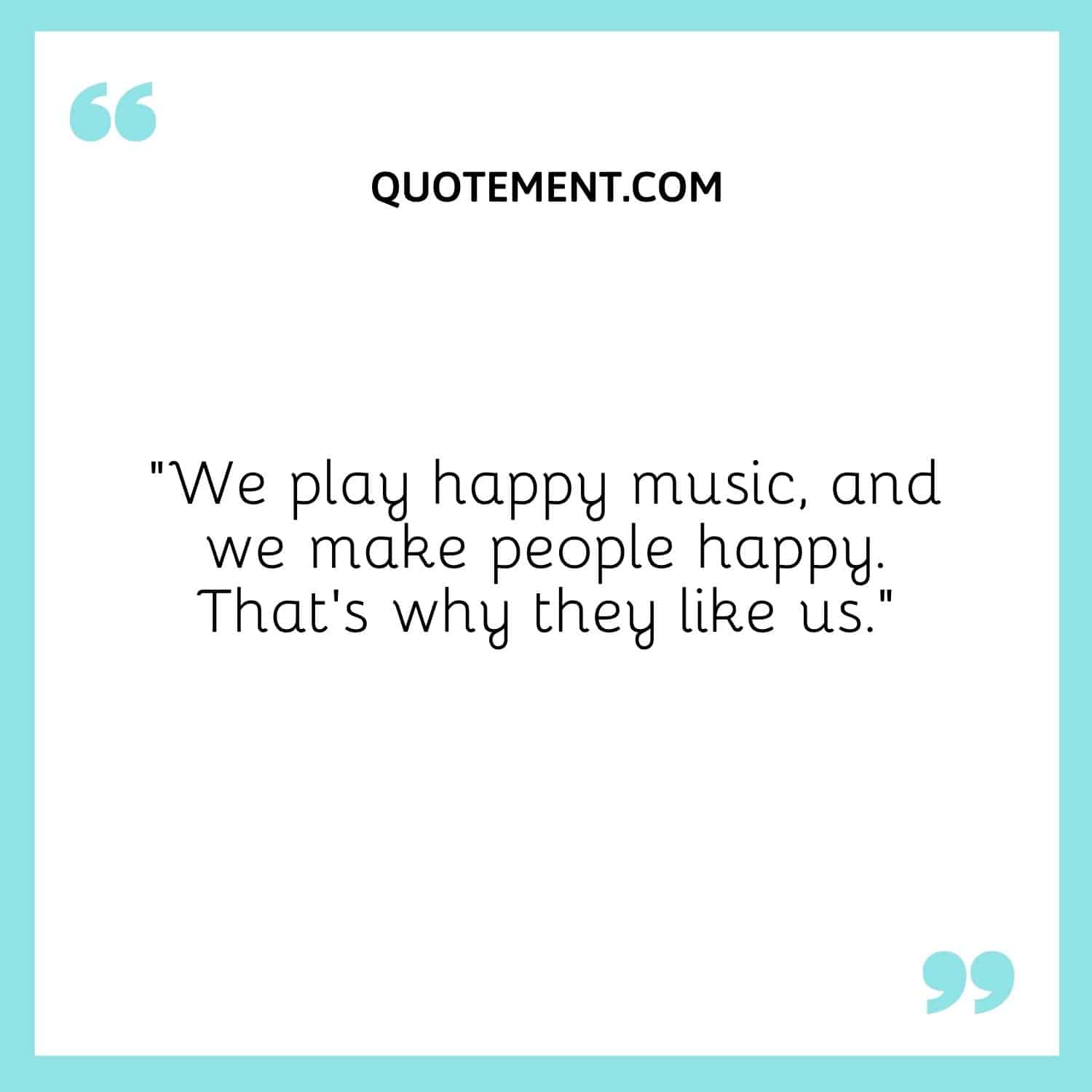 26. "A barber learns to shave by shaving fools."
27. "The best hair is the hair that is always changing."
28. "God is like a barber, don't expect him to give you a haircut, you must first get at his barbershop."
29. "Barbering is the art of creating without an eraser."
30. "Just express your mental state to your barber, he will understand what haircut will suit you in this state."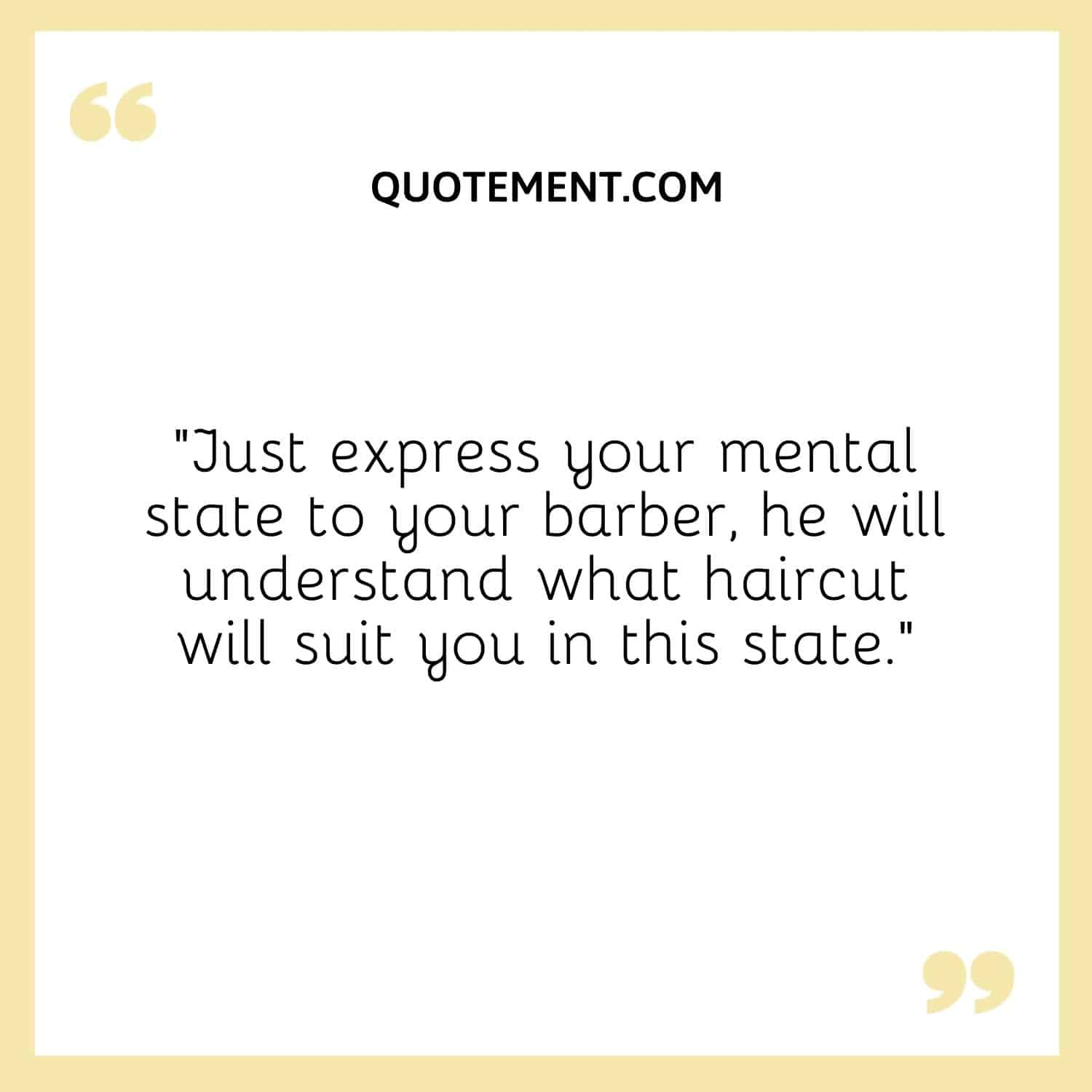 31. "Every barber always prays for the fast growth of the human hair. It's a blessing for them."
32. "You cannot get a haircut without bowing your head to a barber."
33. "Barbers rush in where stylists fear to tread."
34. "I've been a barber for over 30yrs, it's not just my job. It's my trade. This is the best feeling I get, knowing that I'm providing men with old school quality service."
35. "Barbers are social in nature."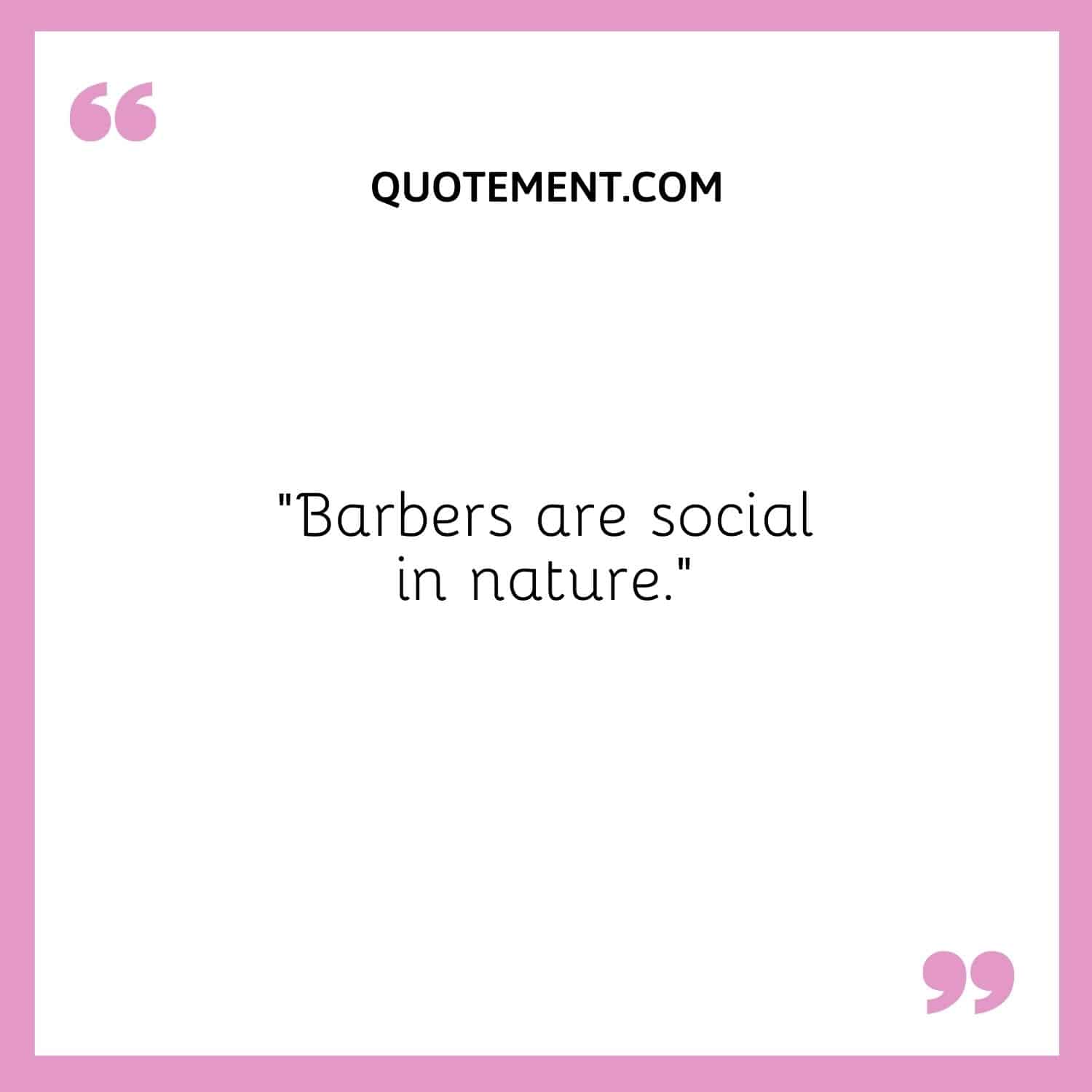 36. "A novice barber learns his art by practicing on poor people."
37. "Skilled barbers are not cheap. Cheap barbers are not skilled."
38. "Lathering is a must when shaving."
39. "A barber is the only husband who talks as much as his wife."
40. "Shave your head if you are tired of visiting a barber."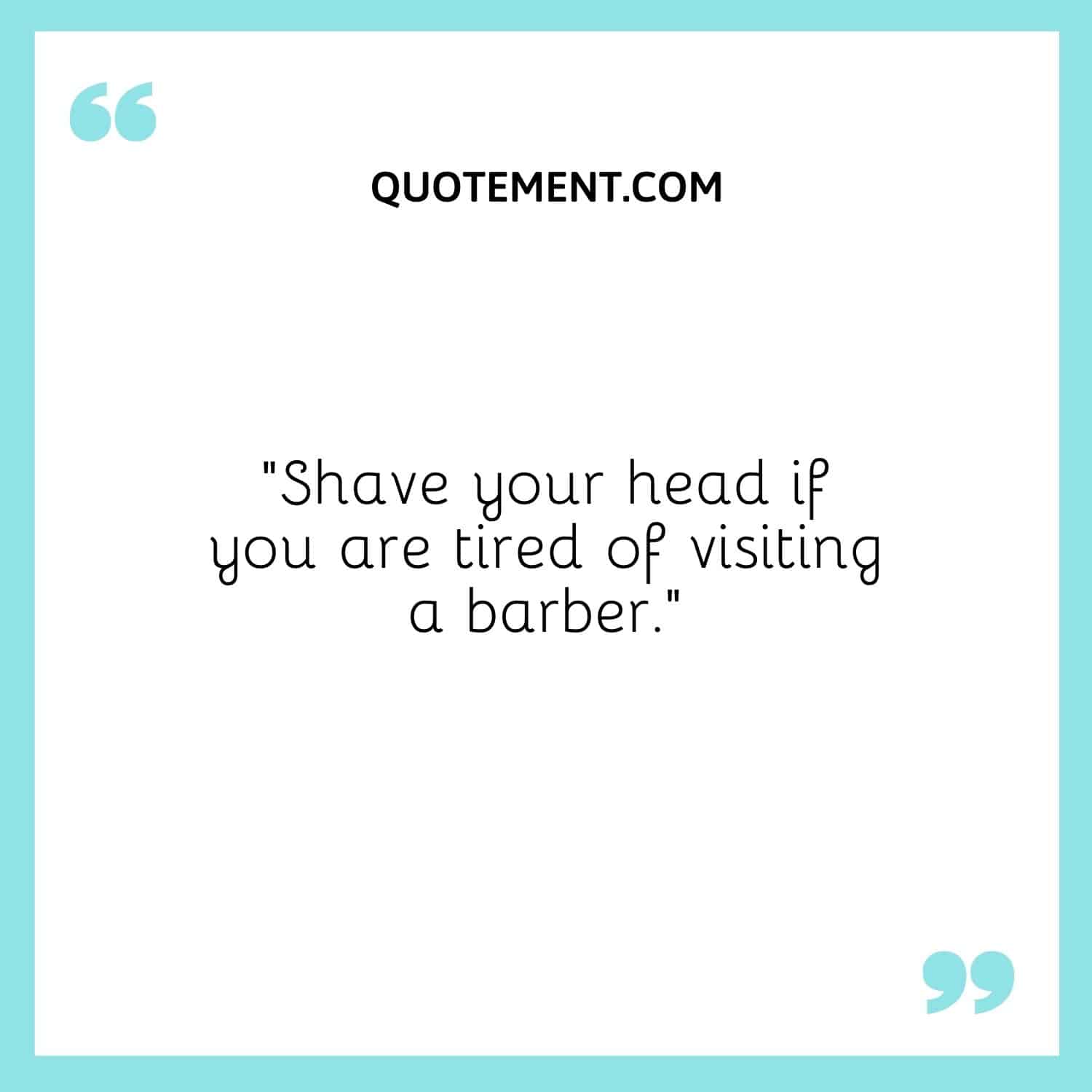 Captions And Quotes About Barbers
1. "I wanted to make people beautiful, so I became a hairstylist."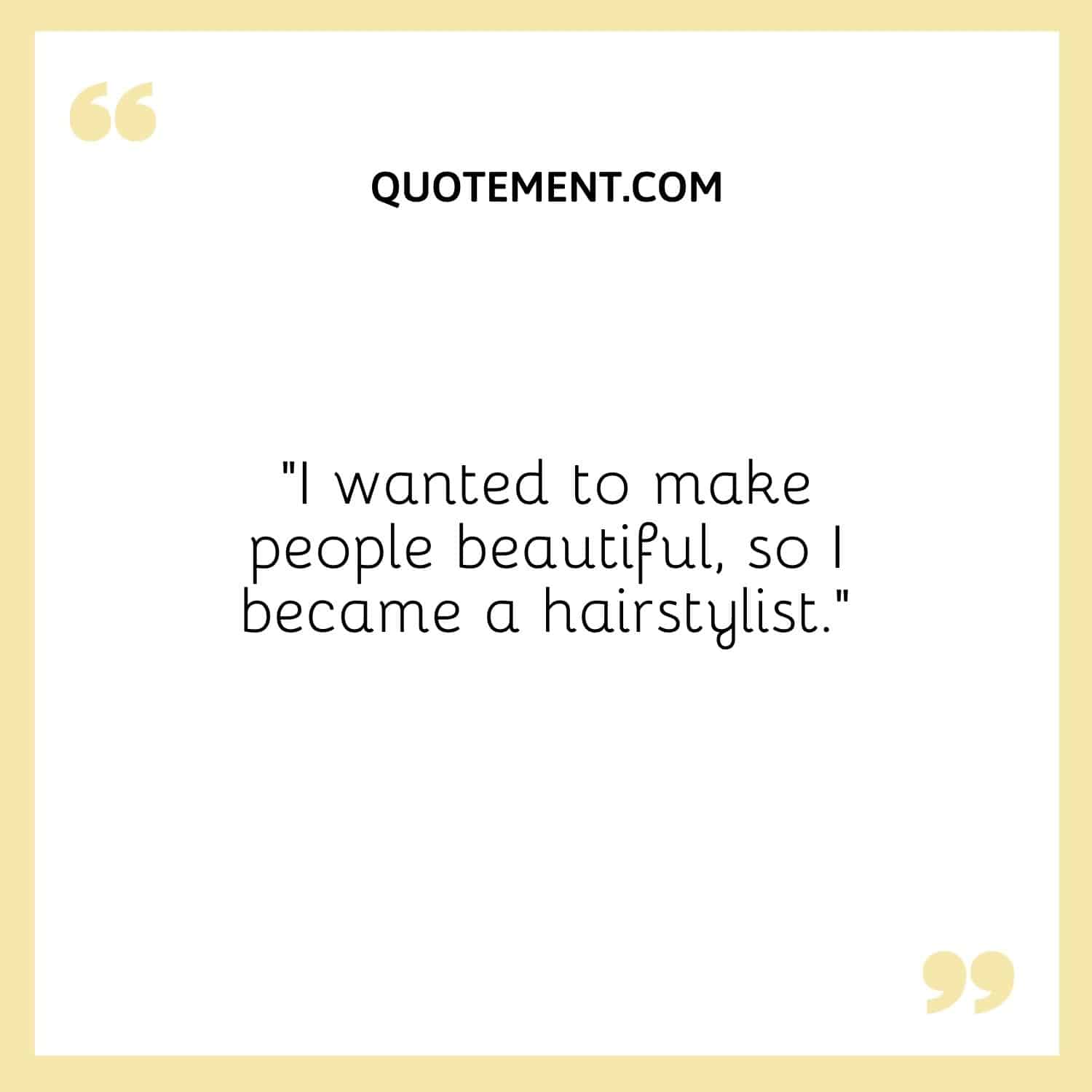 2. "No barber shaves so close but another finds work."
3. "Let your hair down and relax with a touch from our master barbers. They'll take care of you. No appointment necessary."
4. "Haircuts at the barbershop recapture the vibes of old school neighborhood shops. What's your signature cut. "
5. "I like to keep my clients on their toes. Keep guessing. What, you mean no fade. And the plate down the middle hasn't been in for months."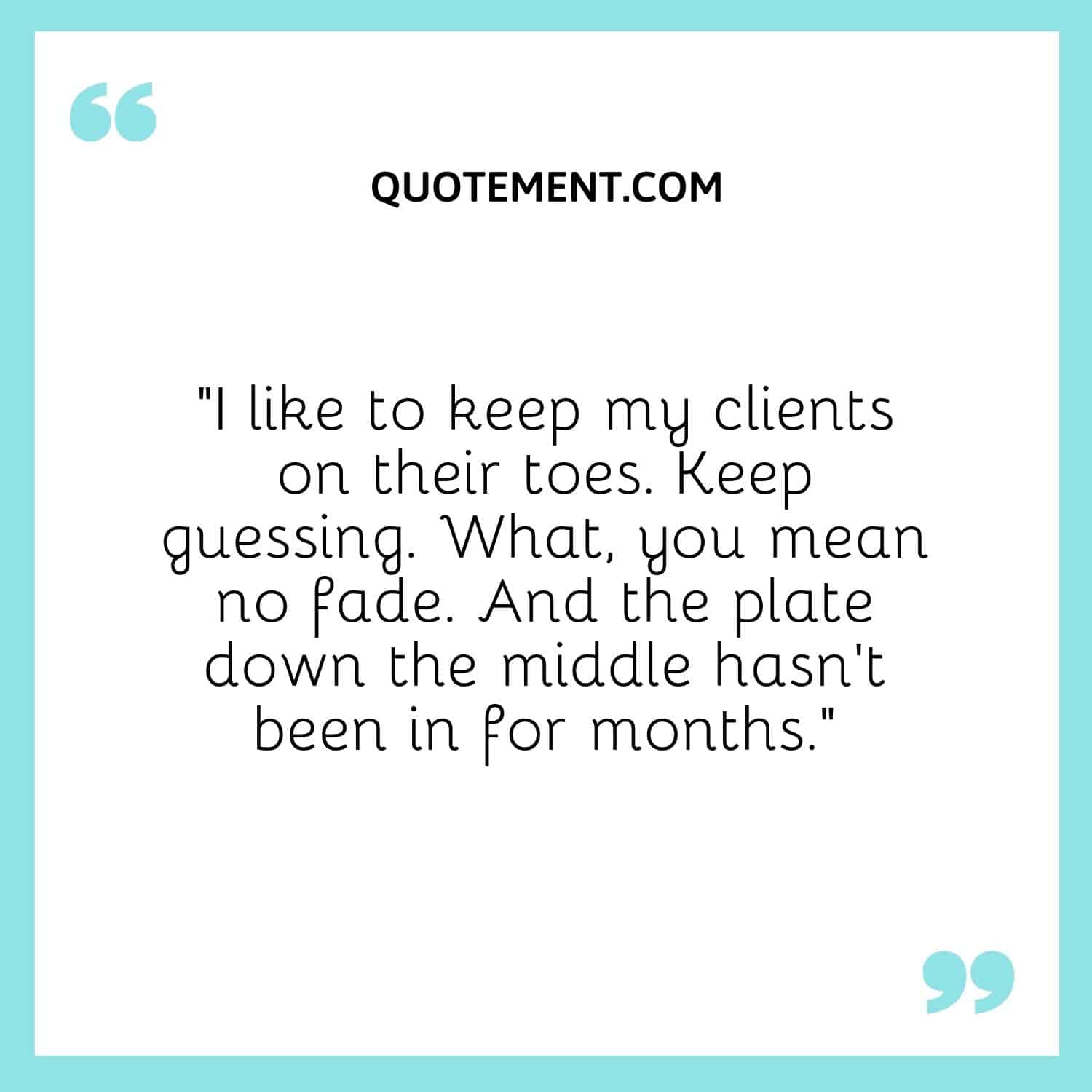 6. "What I did discover is there's no such thing as the perfect haircut!" — Sean Patrick Thomas
7. "You can change your whole attitude by changing your hair color."
8. "Nothing feels as good as a fresh haircut. Get your cut with Moxie's updated autumnal color options that won't let you down."
9. "My hairstyle was perfect, then the humidity said, today I shall make you look like The Lion King."
10. "I'm crazy about hair color. Color embraces you. It wakes you up & keeps you present."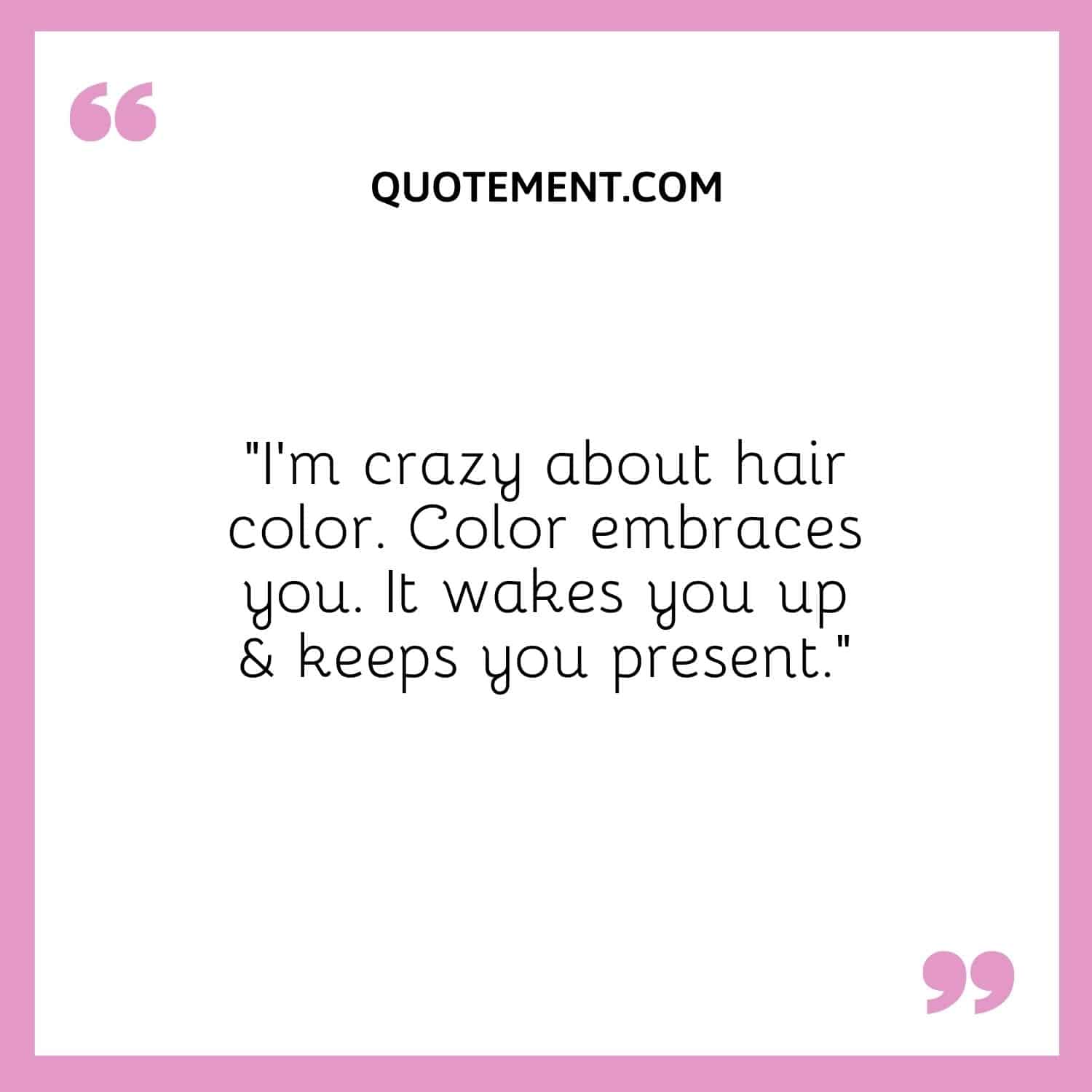 11. "Falling in love is easy, but staying in love is hard. And yet, here I am still falling for you each day."
12. "Some might disapprove of a haircut here and there, but in the end a good hair day is a good hair day no matter what."
13. "Because I understand that when you're looking for a barber, you're looking for a person who cares about your hair and how it looks and feels. That's why I do my job with care."
14. "It's not just a hair color, it's a state of mind."
15. "On my own path, taking chances, not afraid to fail. Because the only real failure would be not ever trying at all."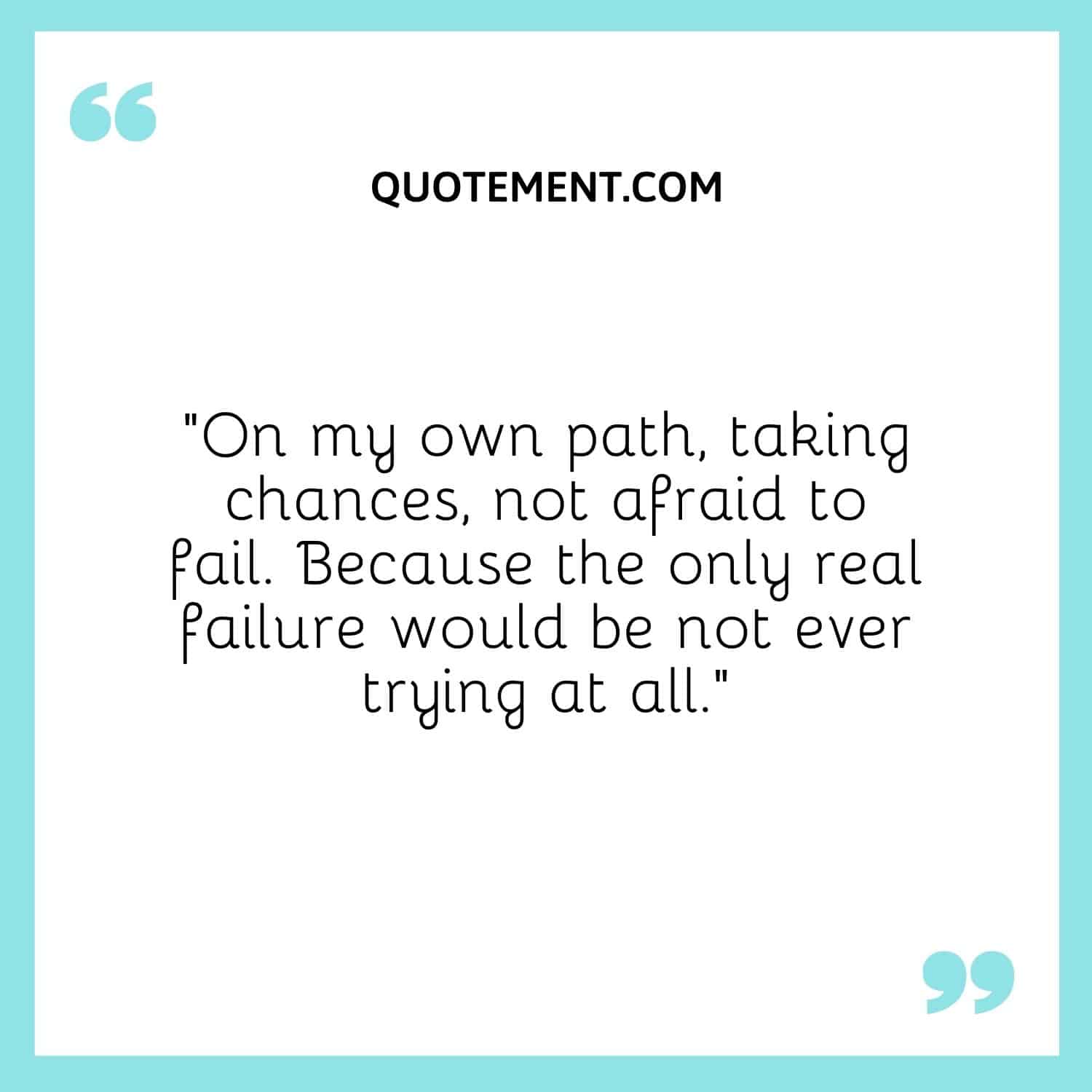 16. "A good haircut makes you stand a little taller, smile a little longer, and believe a little more in yourself." —Audrey Hepburn
17. "Barber Shops aren't just for haircuts. Come in and discover the benefits of premium grooming products from beardbrand."
18. "A haircut should not only look good, but it should make you feel good."
19. "Among the many talents I possess, ahem is an innate knack for barbering. In fact, I could easily give one of those stylish haircuts you're into right now."
20. "A barber cutting hair to create a feeling of being refreshed."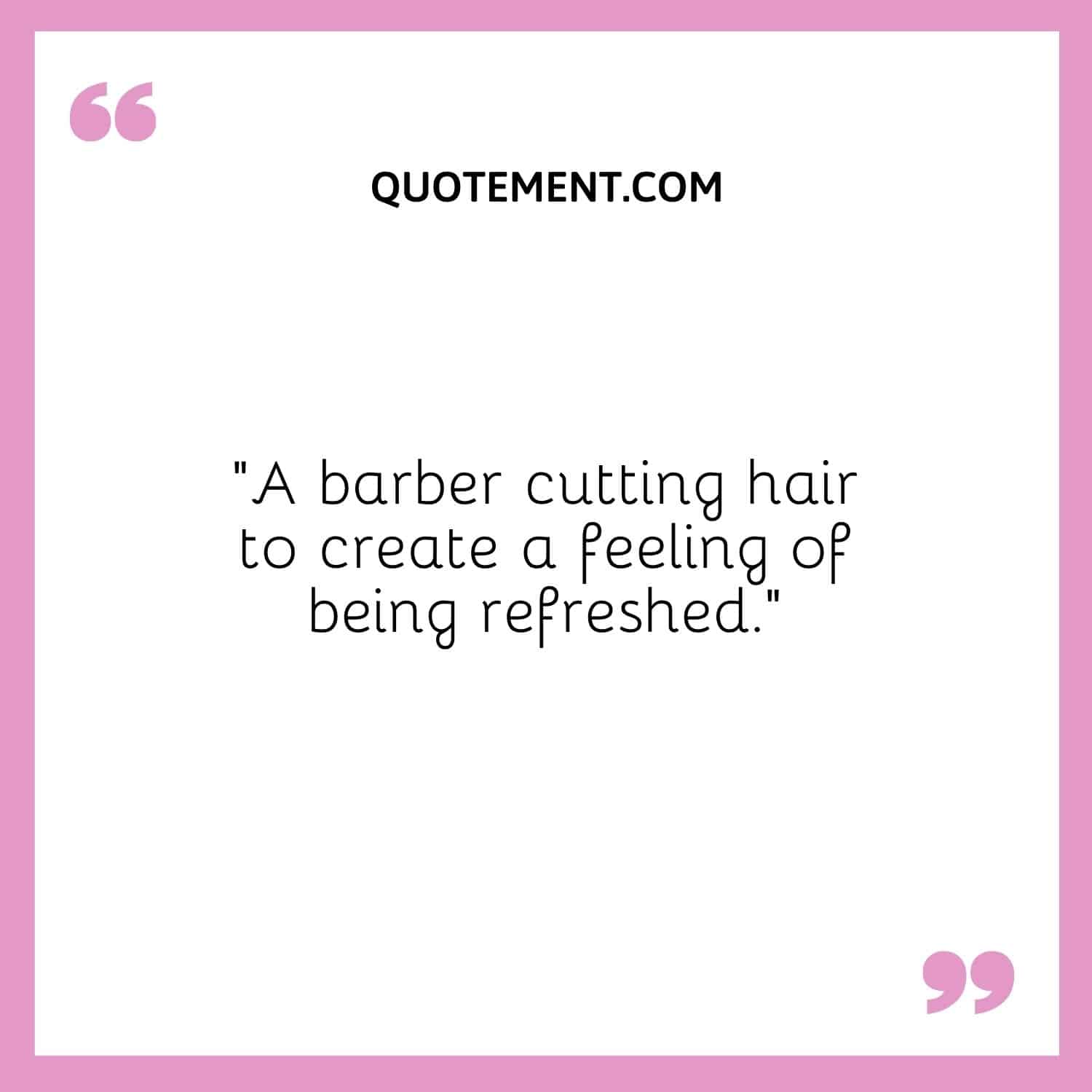 21. "His cuts are fantastic, but the chats are even better." — Joe Lycett
22. "The smell of fall is the time to embrace the seasonal change with fresh haircuts."
23. "When you own a pair of haircutting scissors, you cut your own hair constantly." — Emily Weiss.
24. "Today's hairstyle is called that, and I didn't brush my teeth either."
25. "From the hottest quip to the coolest cut, I've got you covered. The man your man could smell like."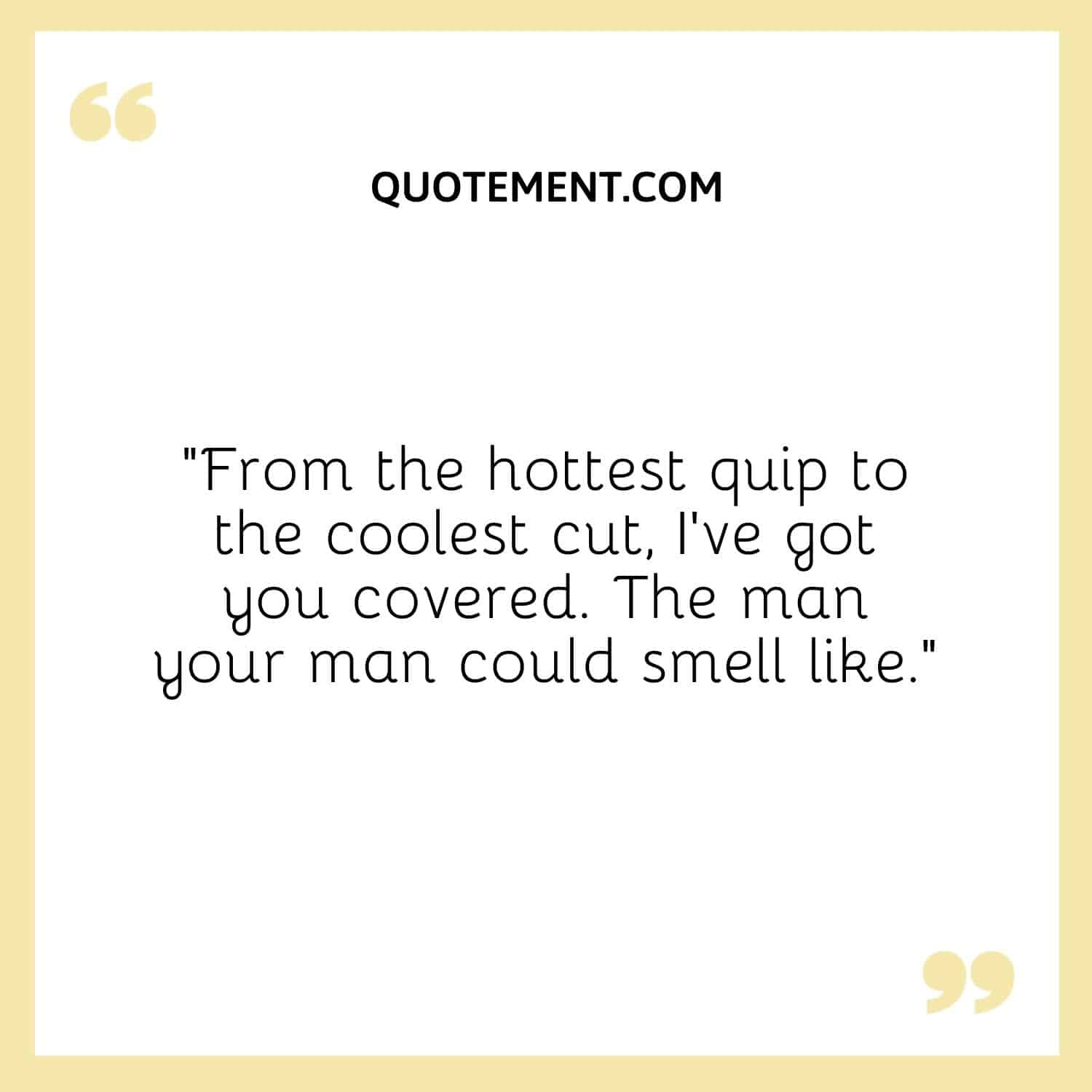 26. "A new hairstyle is like a new relationship, it makes you giddy, confident, & excited."
27. "To this day, my haircut is the number two clippers, which I apply to myself every month." — Henry Rollins
28. "Beware Of The Young Doctor And The Old Barber."
29. "Asking for financial advice from a financial planner is like asking a barber if you need a haircut."
30. "I speak hair. English is my second language."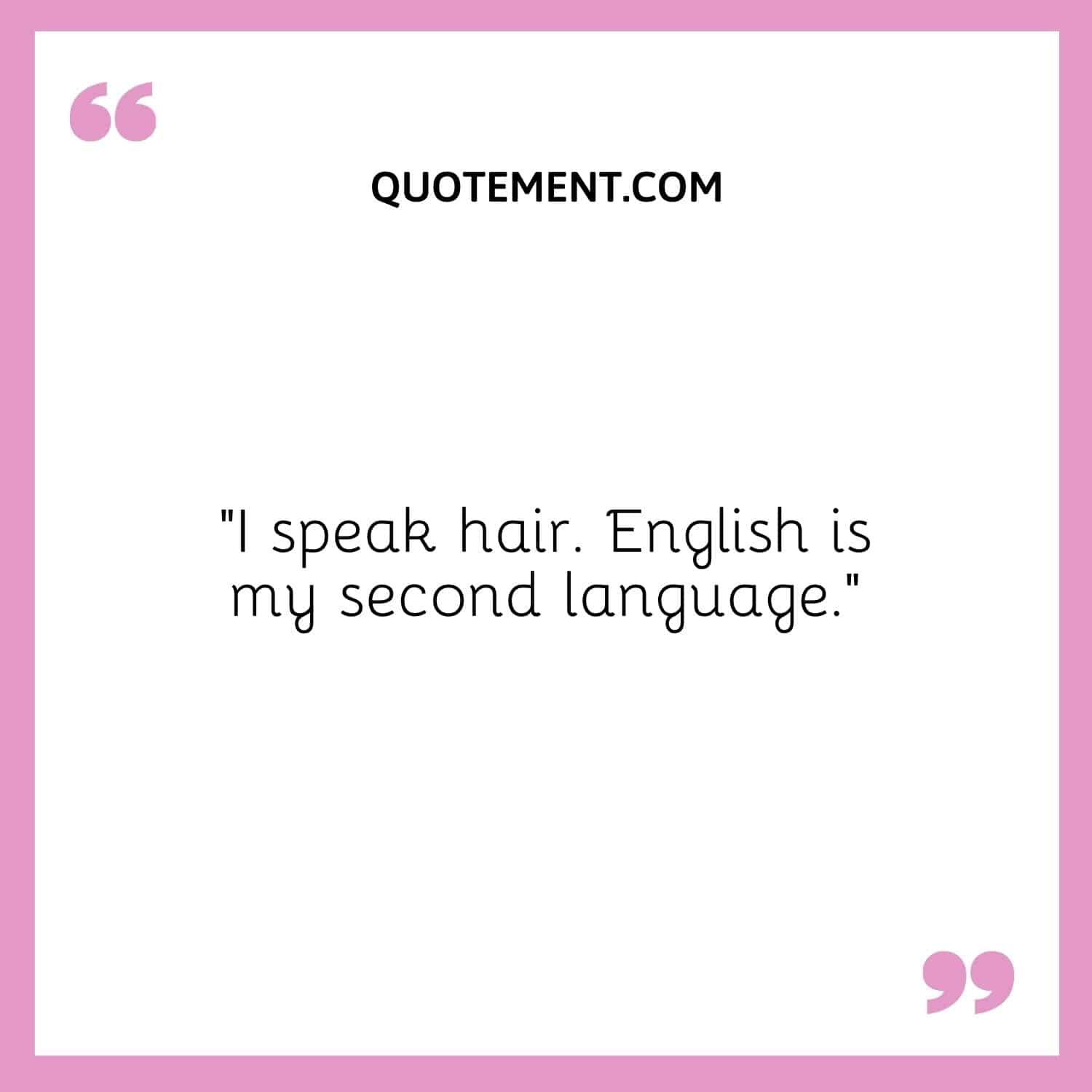 31. "As a Barber, it's my job to help you look and feel great. What do you need today."
32. "A prating barber asked Archelaus how he would be trimmed. He answered, In silence." — Plutarch
33. "Being a barber is about taking care of the people." — Anthony Hamilton
34. "Finding a good barber is like finding a good lawyer — you gotta go to the same guy." — Ronny Chieng
35. "To Make A Fine Gentleman, Several Trades Are Required, But Chiefly A Barber." — Oliver Goldsmith
Barber Instagram Captions
1. Cutting the cord is a great way to celebrate summer, but it's also perfect for getting rid of unwanted weight in your life.
2. Our barbers know that clean lines, smooth fades and fresh haircuts are the perfect mark of a man out for the hunt.
3. When a woman is in her red hair phase, leave her alone, she's going through some stuff.
4. The art of a great haircut is in the details. Don't just focus on how it looks now, but how it will look when you're older. Your hairline will one day recede and your natural wave won.
5. To me, shaving is an art. I use a straight razor and everything is done by hand. It's the only way to get a real close shave.
6. You're just a few haircuts away from being handsome.
7. Like a barber's chair, that fits all buttocks. A barber is the only husband who talks as much as his wife.
8. Not only do I give you a great haircut and shave, but I help you make the most of your daddy time with your kids.
9. If she changed her hair color after the breakup, you're never getting back together.
10. A girl who colors her hair is creative beyond measure.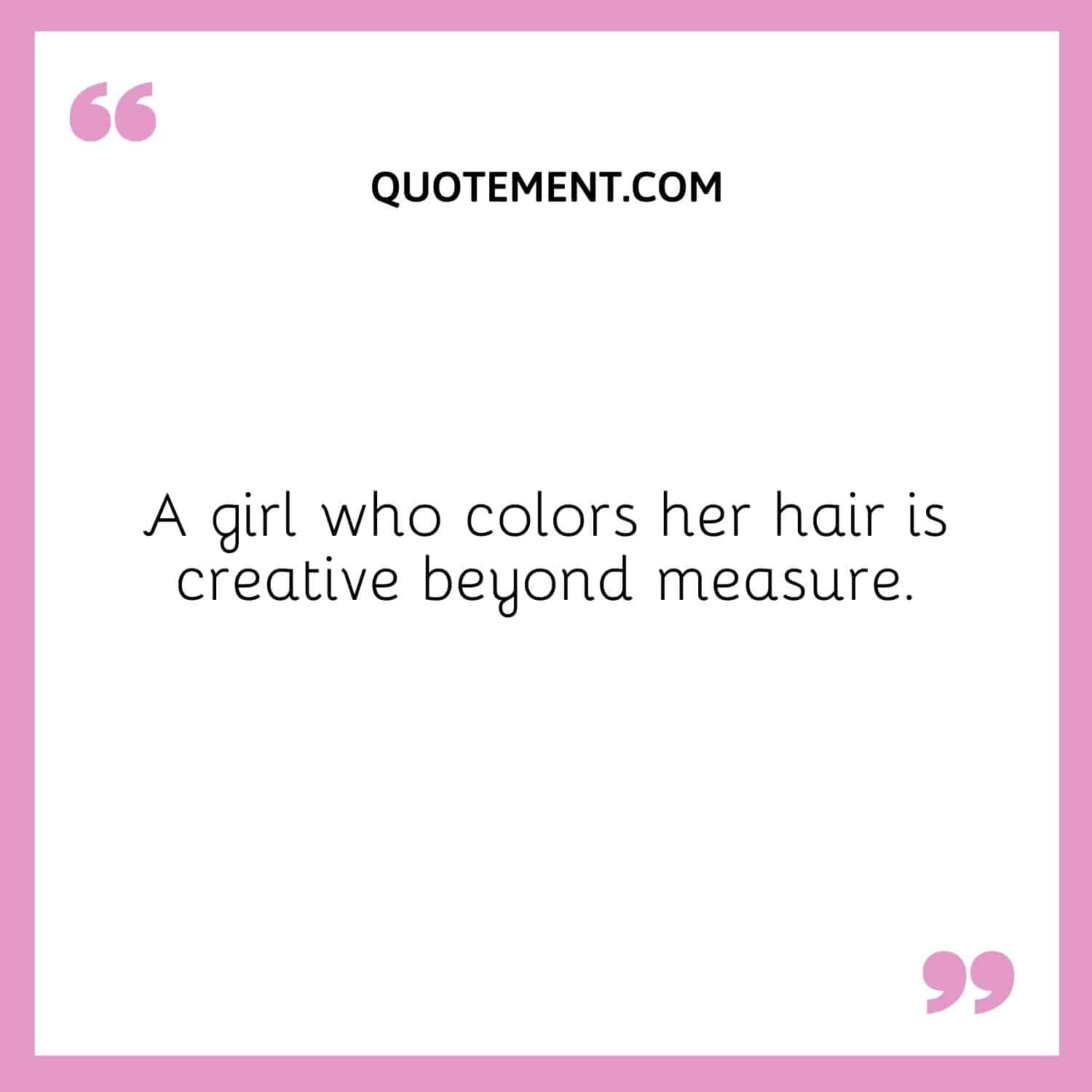 Clever Barbershop Quotes
1. "Be treated like a king."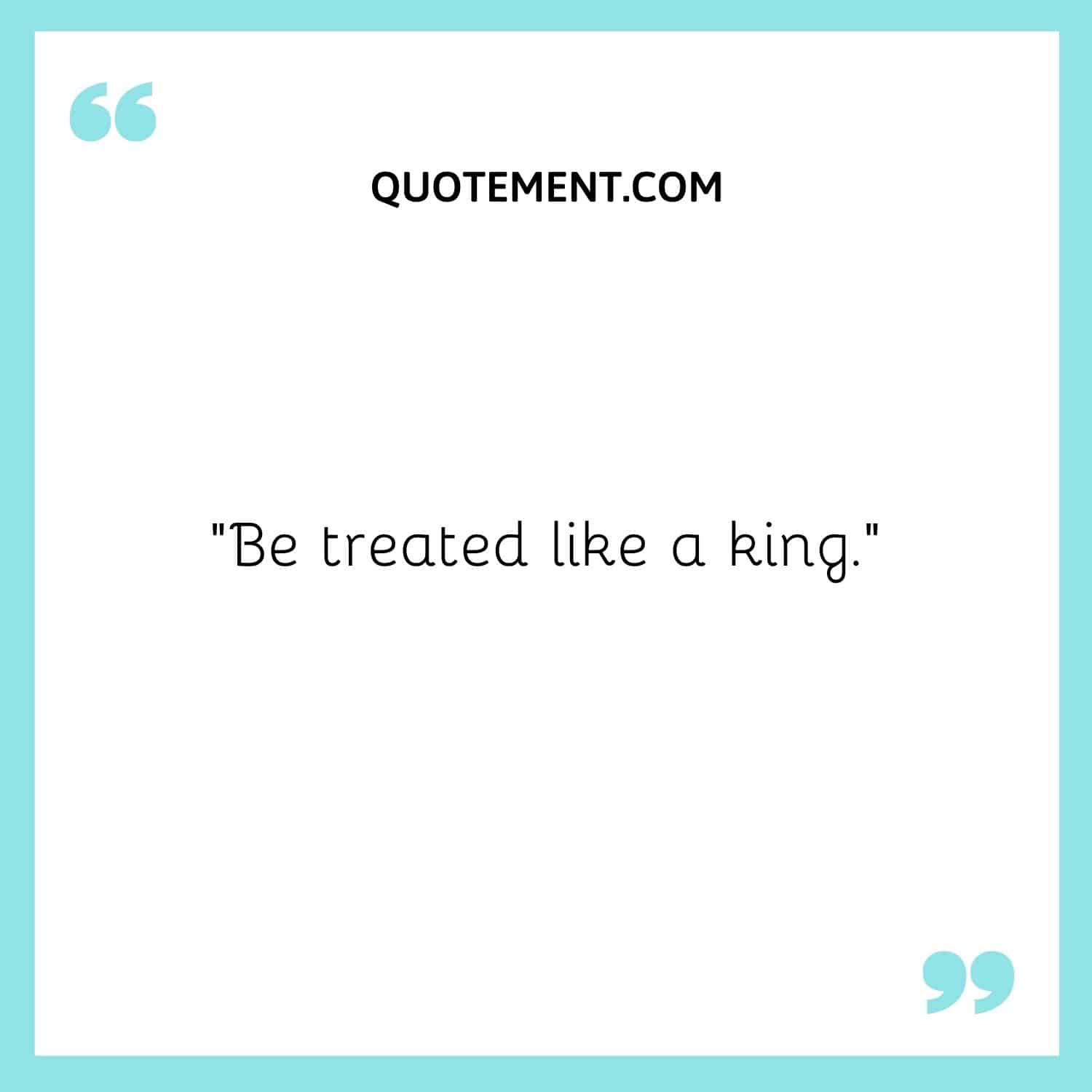 2. "Relax and sit back."
3. "Barbers and buzzes."
4. "Take a load off and get a cut."
5. "Quality, service, atmosphere!"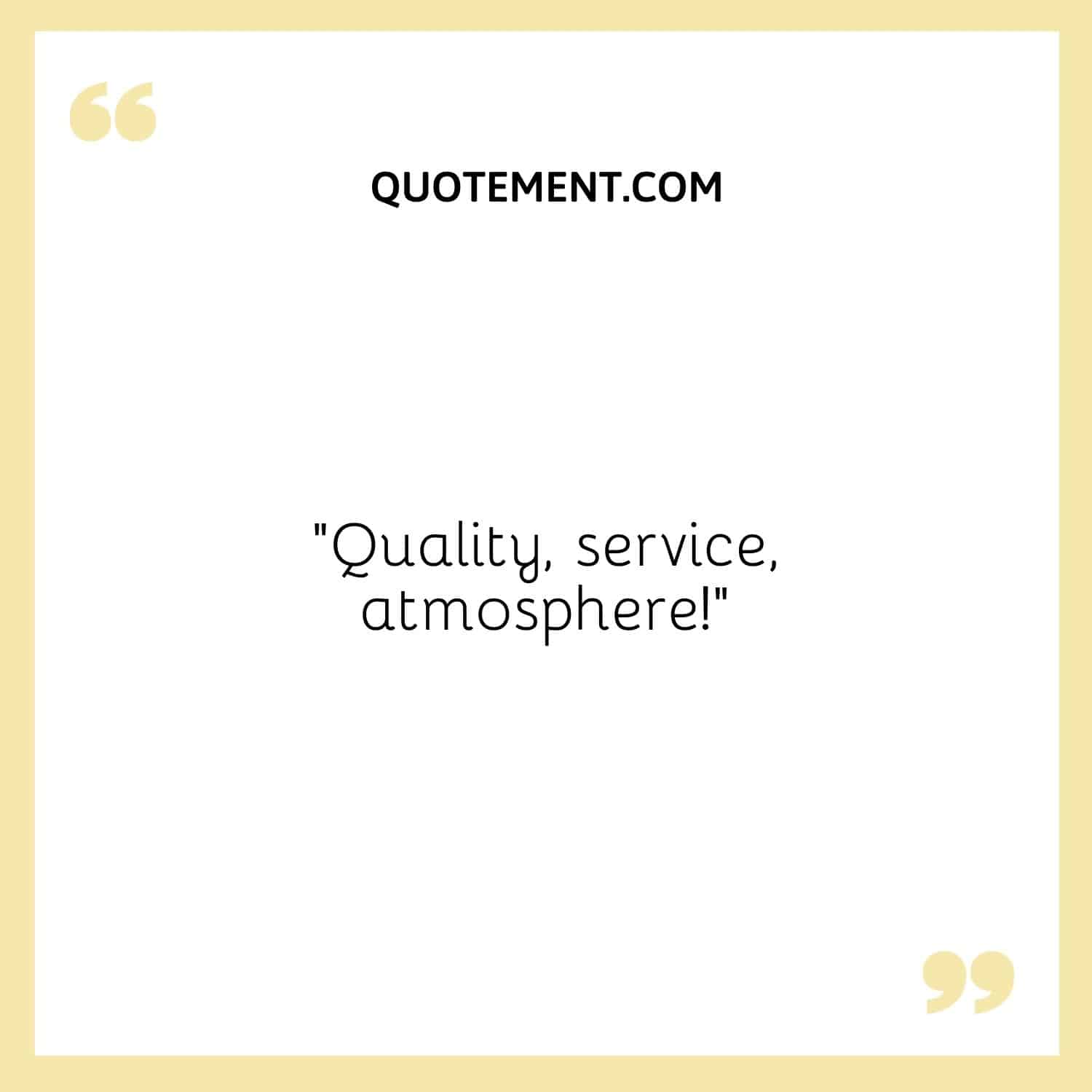 6. "Get a cut on us."
7. "Mess with us and get cut."
8. "Buzzed just right."
9. "Let your personality shine with a new fresh cut."
10. "We'll clip you."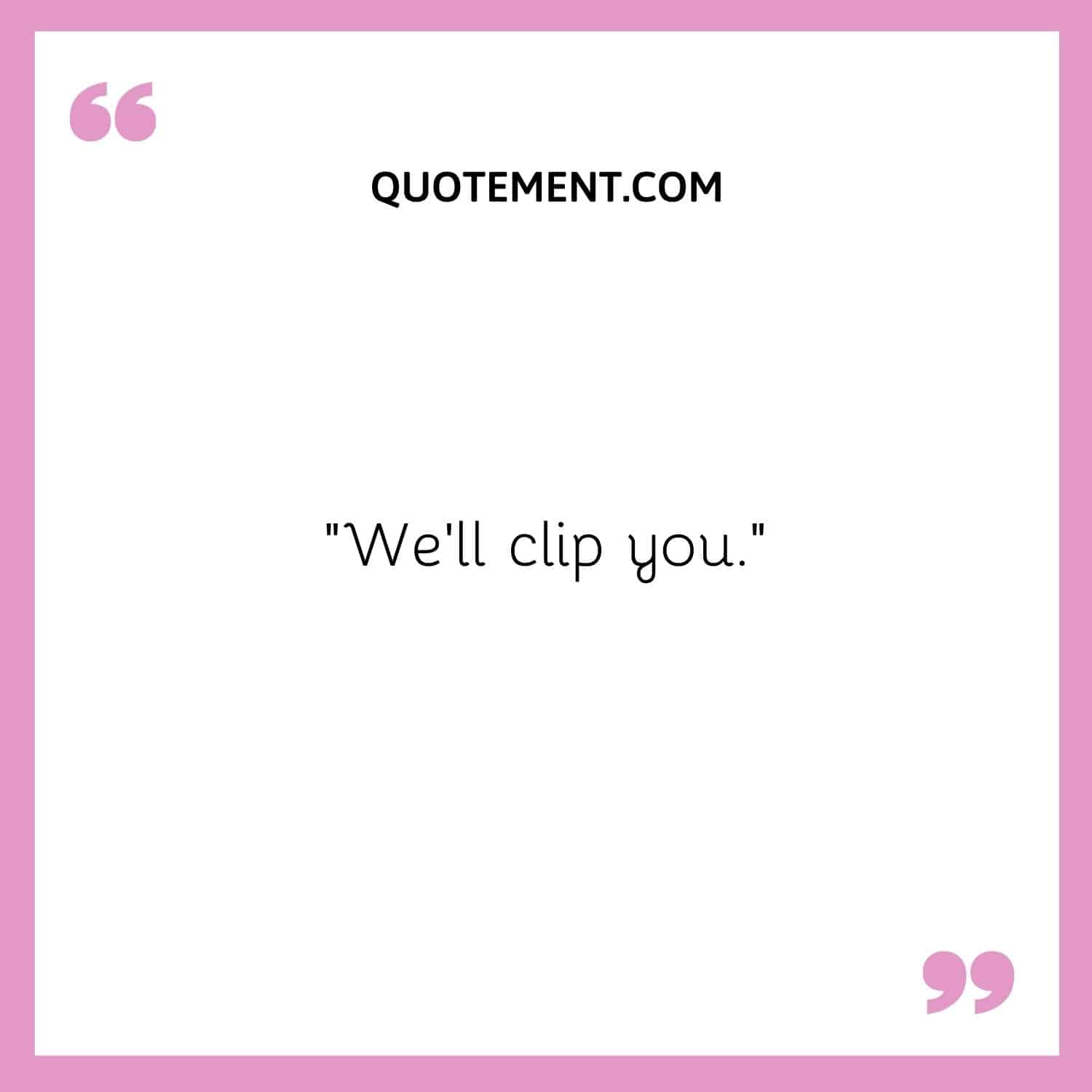 11. "You'll be sure to have an old-fashioned time."
12. "We've got it all."
13. "You'll find no one better!"
14. "Cut central."
15. "Come to the corner for a great cut."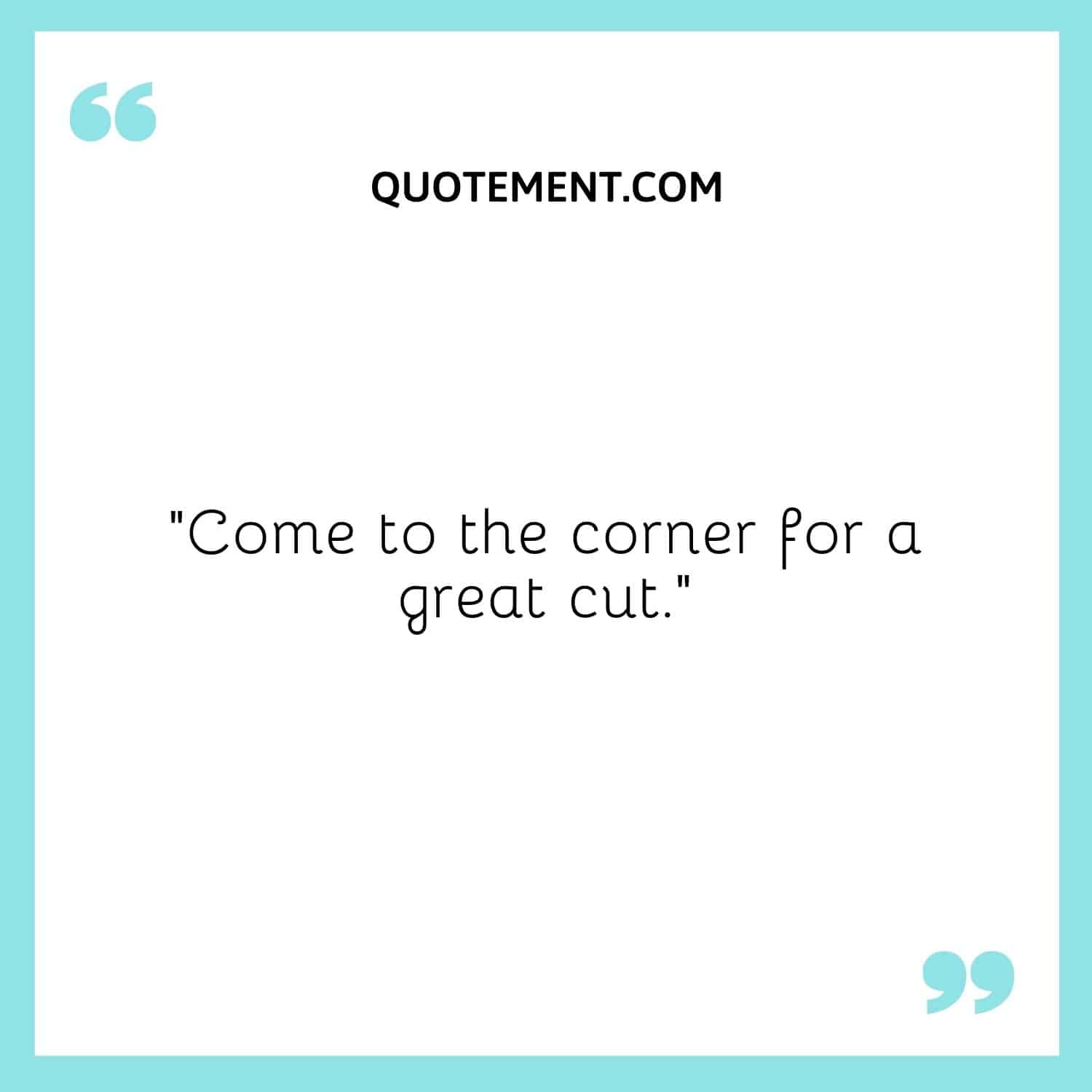 16. "The gentlemen's lounge."
17. "The design is in the detail. "
18. "Come hang with your boys."
19. "Buzzed by the best."
20. "Your hair, your style."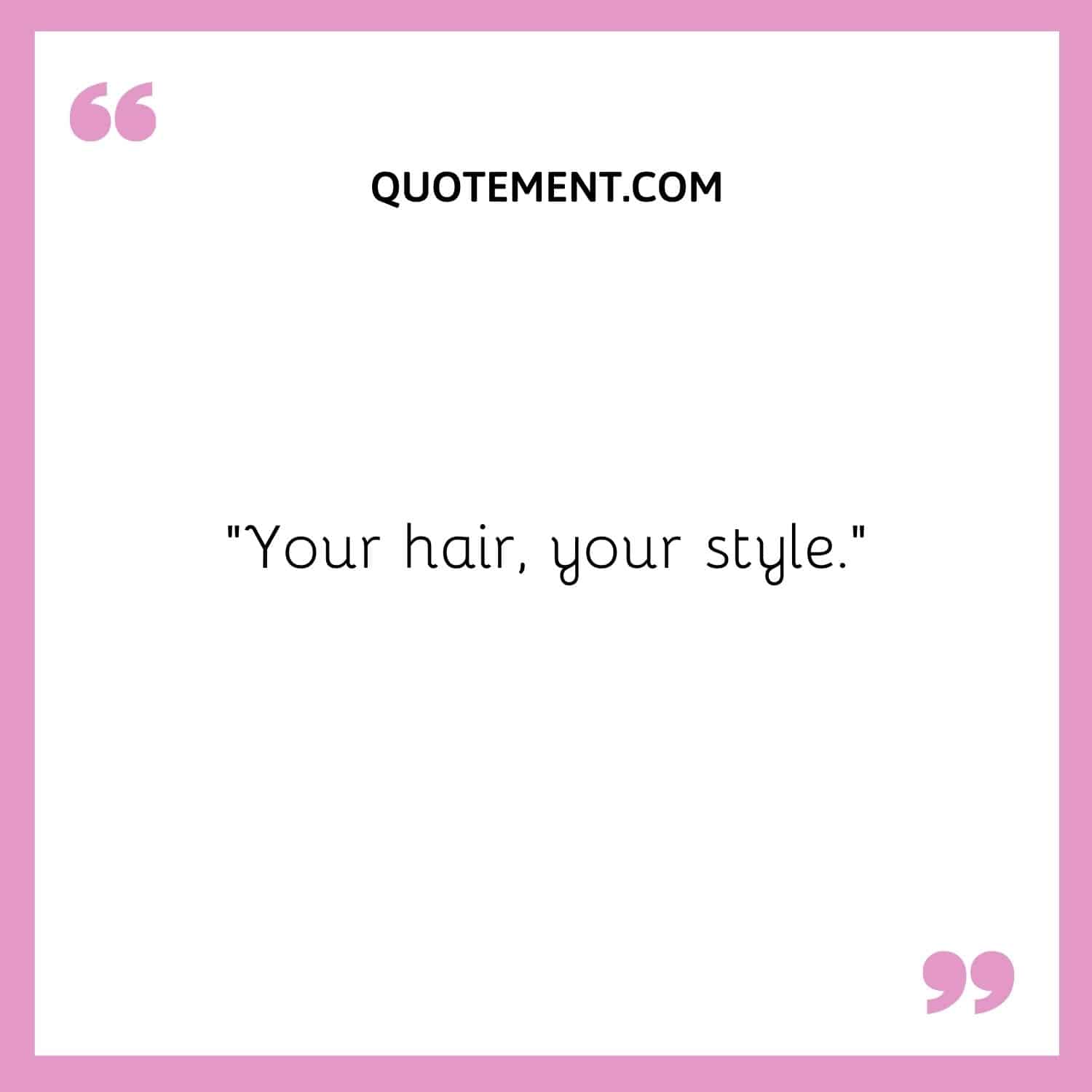 21. "Try us out and see."
22. "Live life on the edge."
23. "Stay for a while."
24. "Let your hair do the talking."
25. "Vintage style with modern cuts."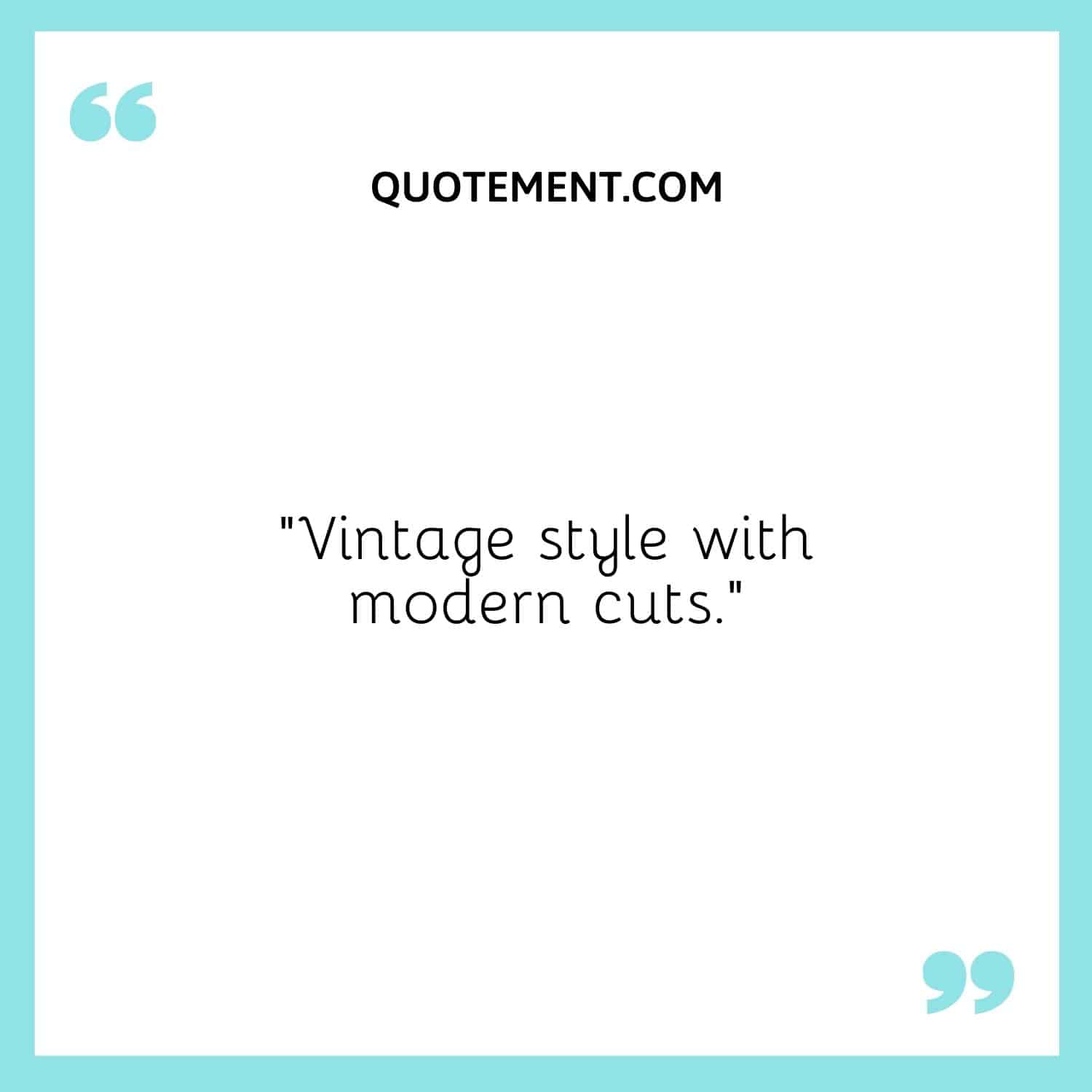 26. "Expect the best."
Catchy Barbershop Slogans
1. Don't miss our cuts.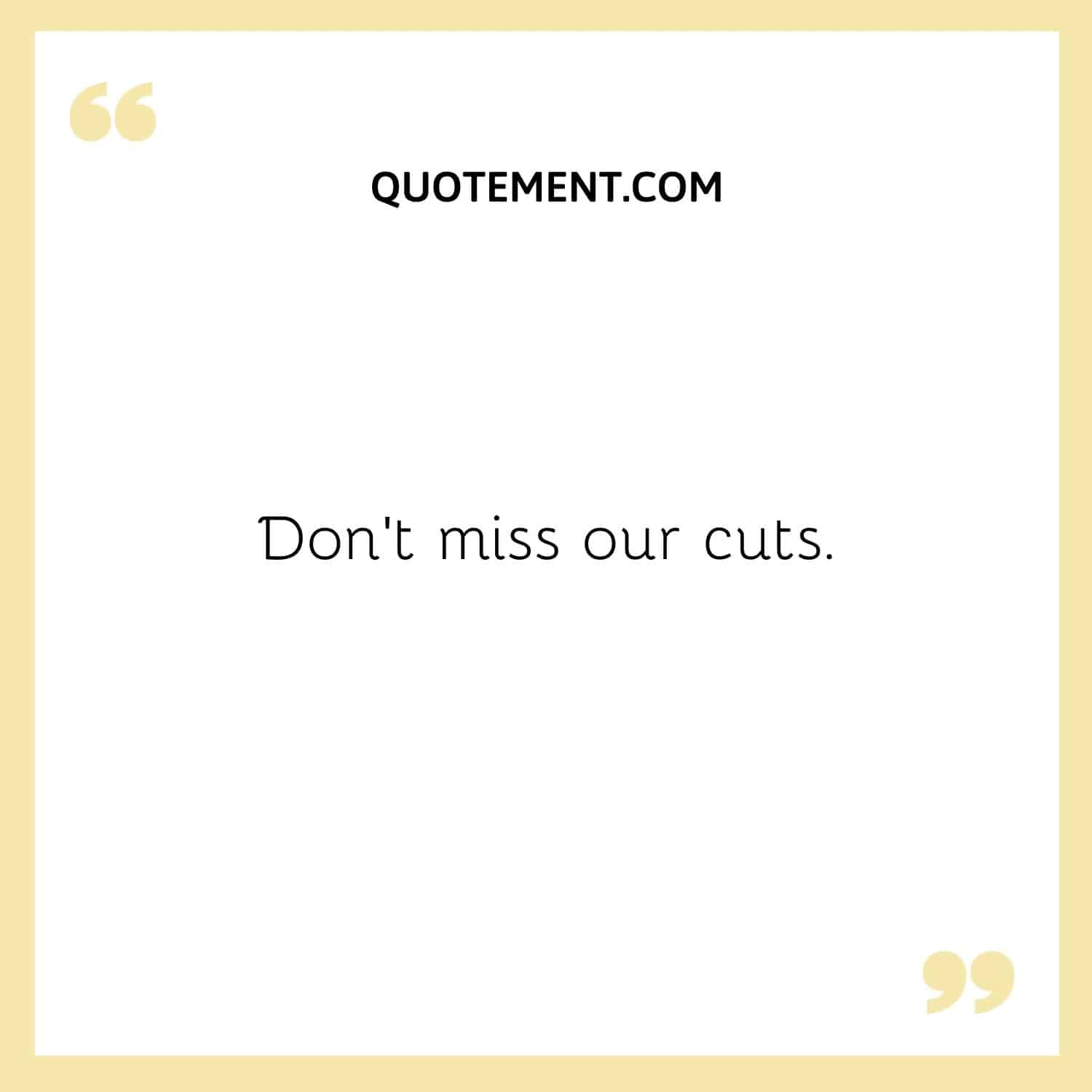 2. Enjoy our service.
3. High standards are on us.
4. Straight shaves.
5. It's your time to get buzzed.
6. Superior cuts.
7. Your satisfaction is our goal.
8. Fast fades in no time.
9. So fresh and so clean.
10. Always fulfilling your expectations.
11. Try a different style.
12. Cuts of your life.
13. Get groomed right.
14. Straight shaves, straight styles.
15. Styles on us.
16. The best shop in town.
17. All about quality.
18. Tailored hair.
19. No pain here.
20. Come to the professionals.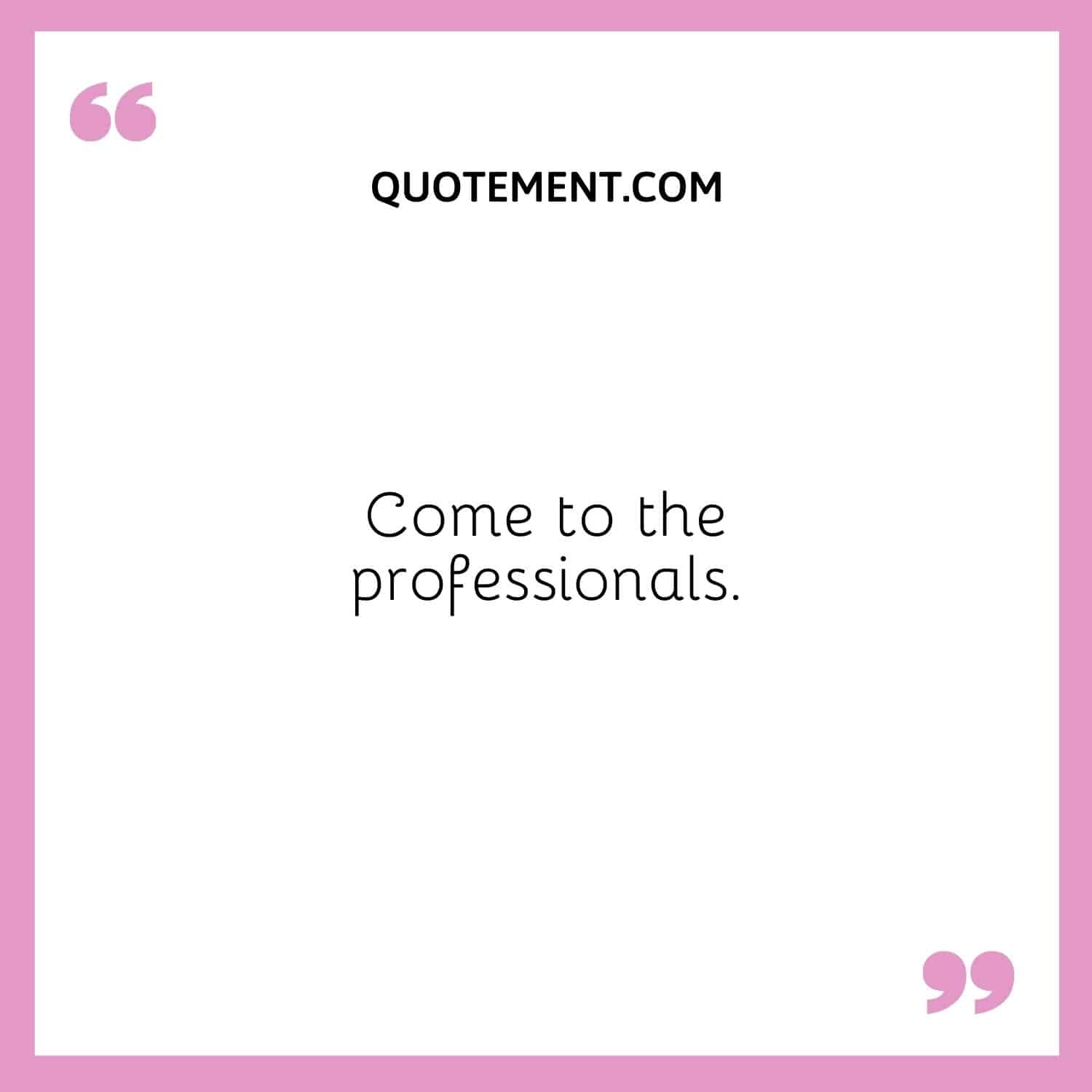 21. Be on the starting line-up.
22. Let your hair do the talking.
23. Good ole boys cuts.
24. All About You.
25. Come get shaped up.
Funny Barber Quotes
1. "We'll clip you better."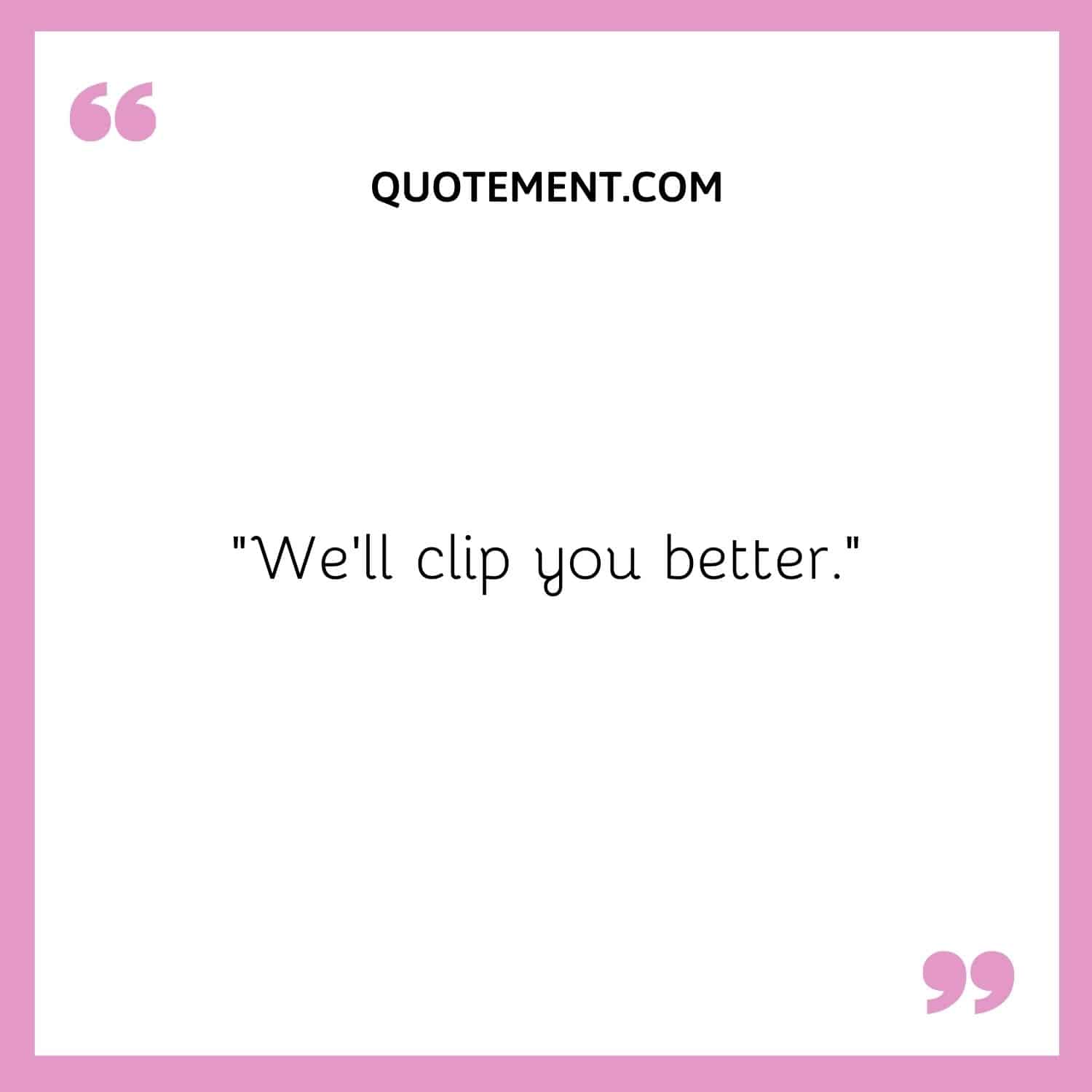 2. "Man up!"
3. "No pain no gain haircuts."
4. "Get up, get cut."
5. "Be a champ with us."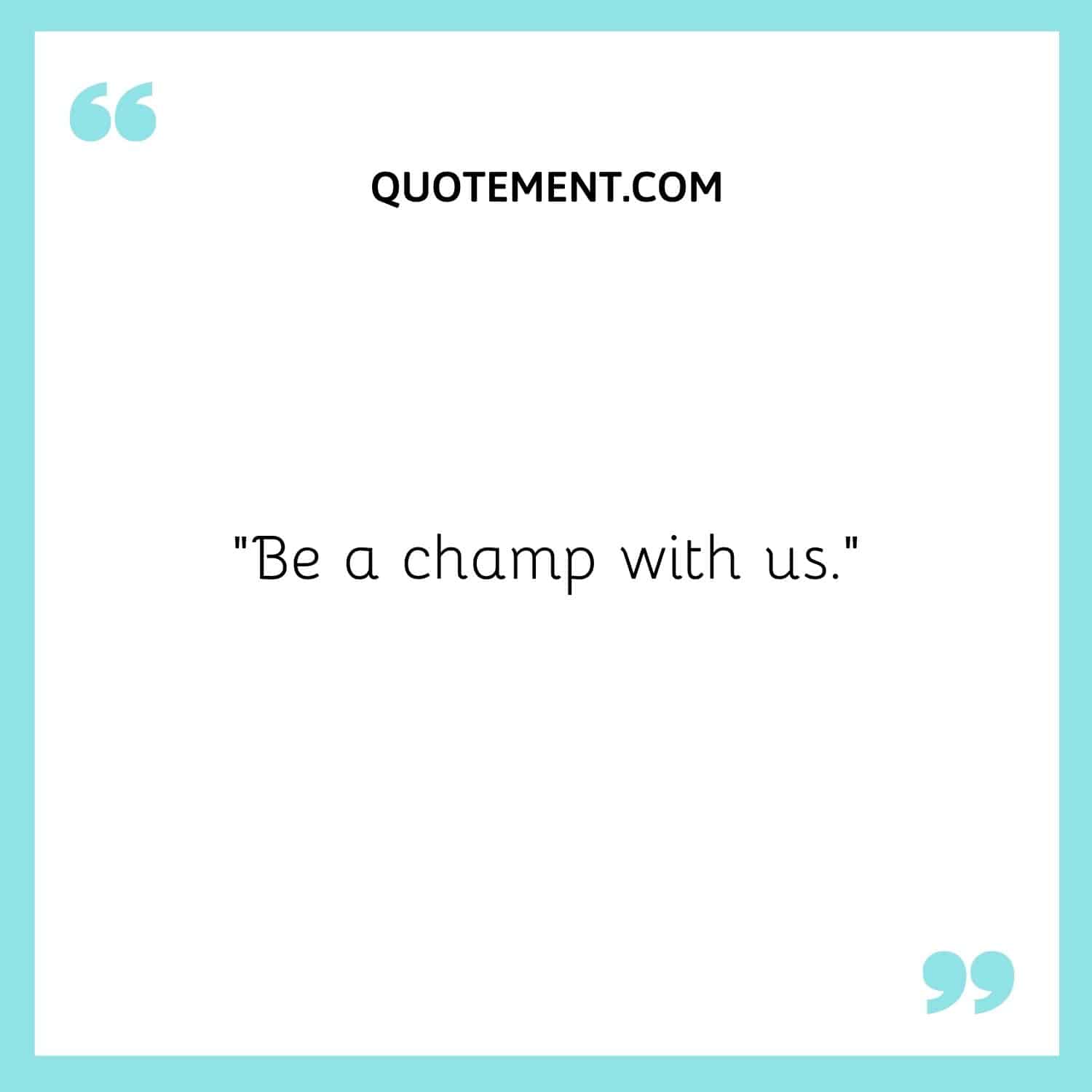 6. "Book with us and get buzzed."
7. "Come be a man."
8. "Get right."
9. "We'll love your hair."
10. "Fine and fancy."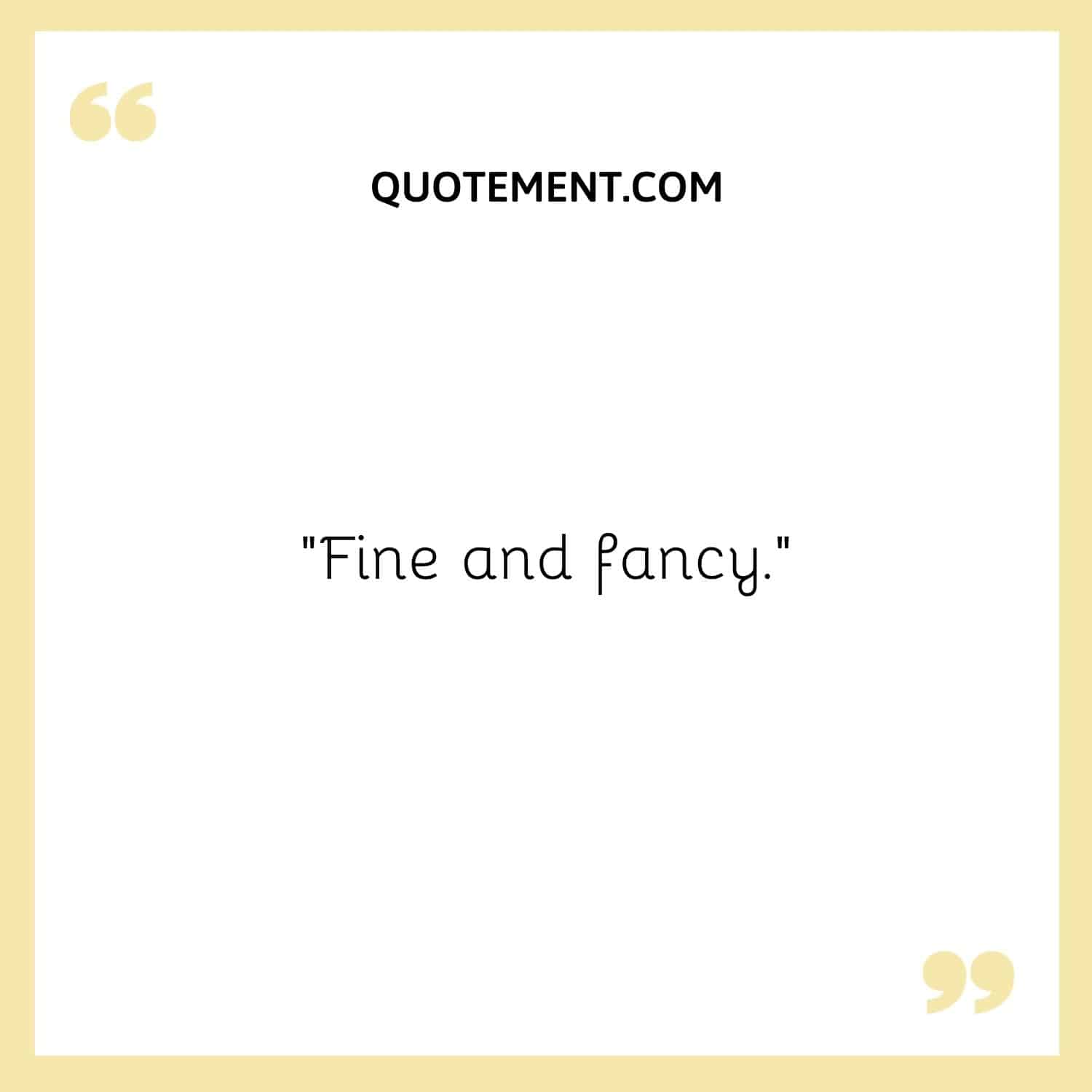 11. "Leave it to us."
12. "Where the good guys go."
13. "Dirty South Cuts."
14. "Style your life!"
15. "Be in demand."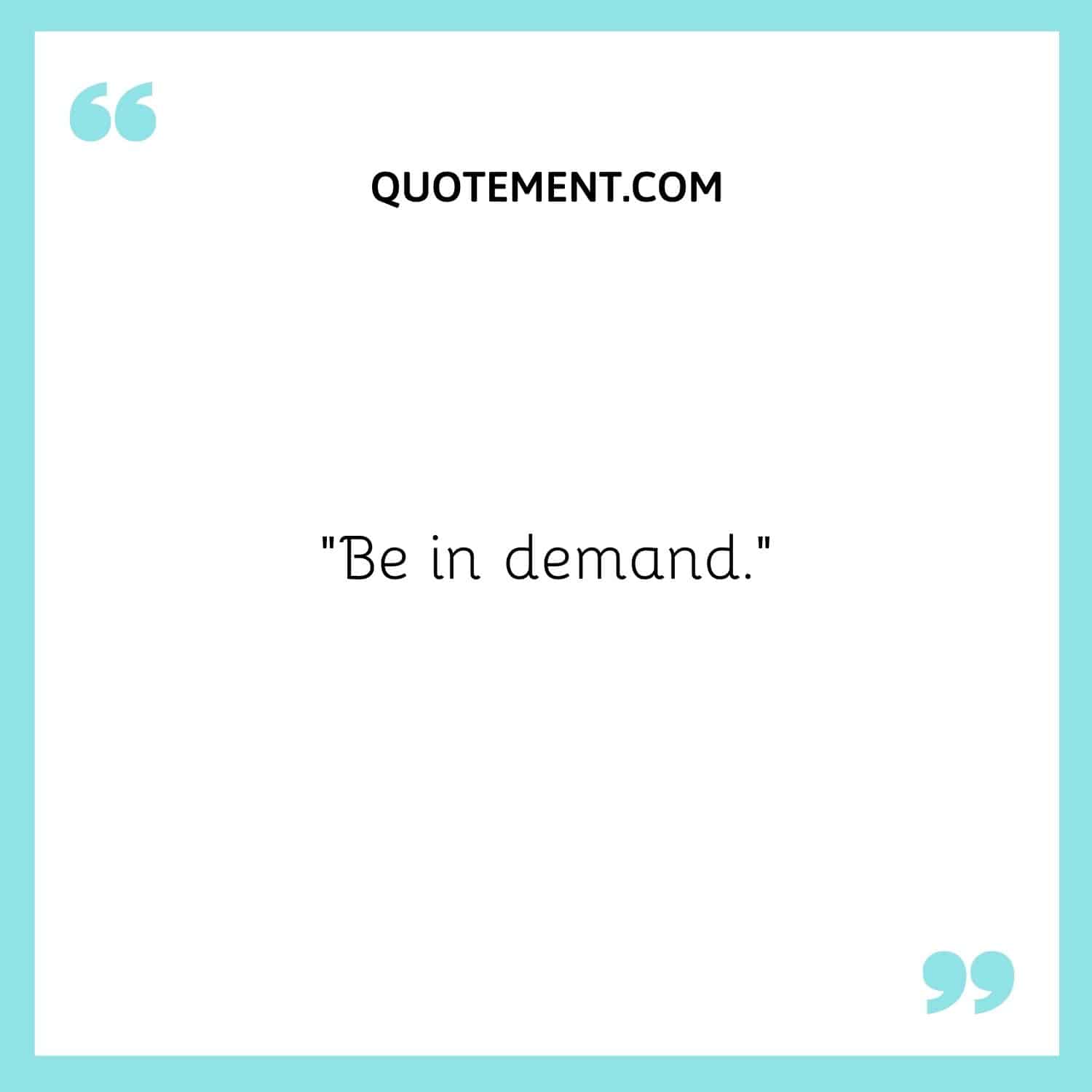 16. "Mess with the best!"
17. "Because no one likes a guy with bad hair."
18. "Let it loose!"
19. "Recreate yourself."
20. "Just a little off the top."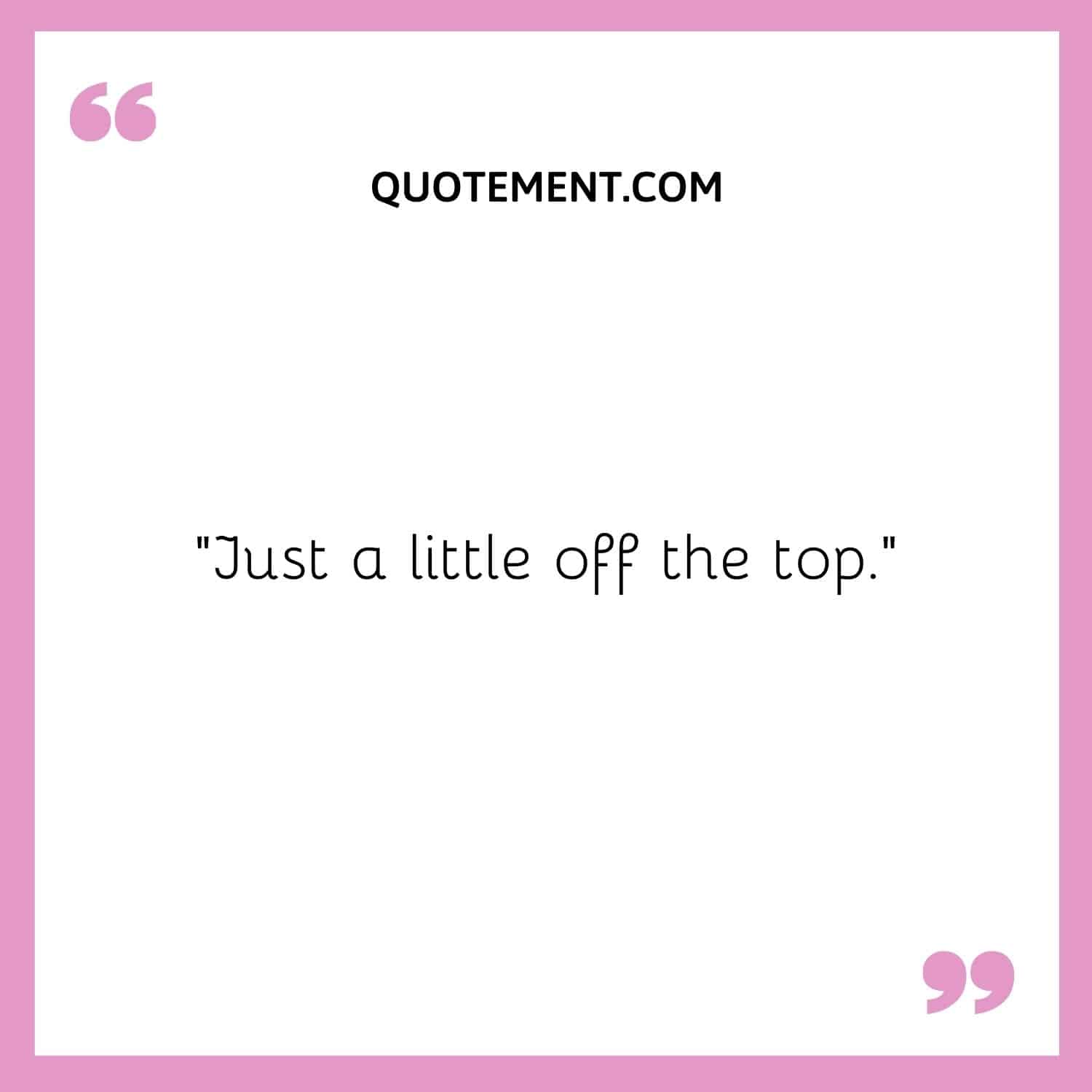 21. "Get freshly cut."
22. "Have a seat!"
23. "Because every man needs to look good."
24. "We cut heads."
25. "We'll uppercut you!"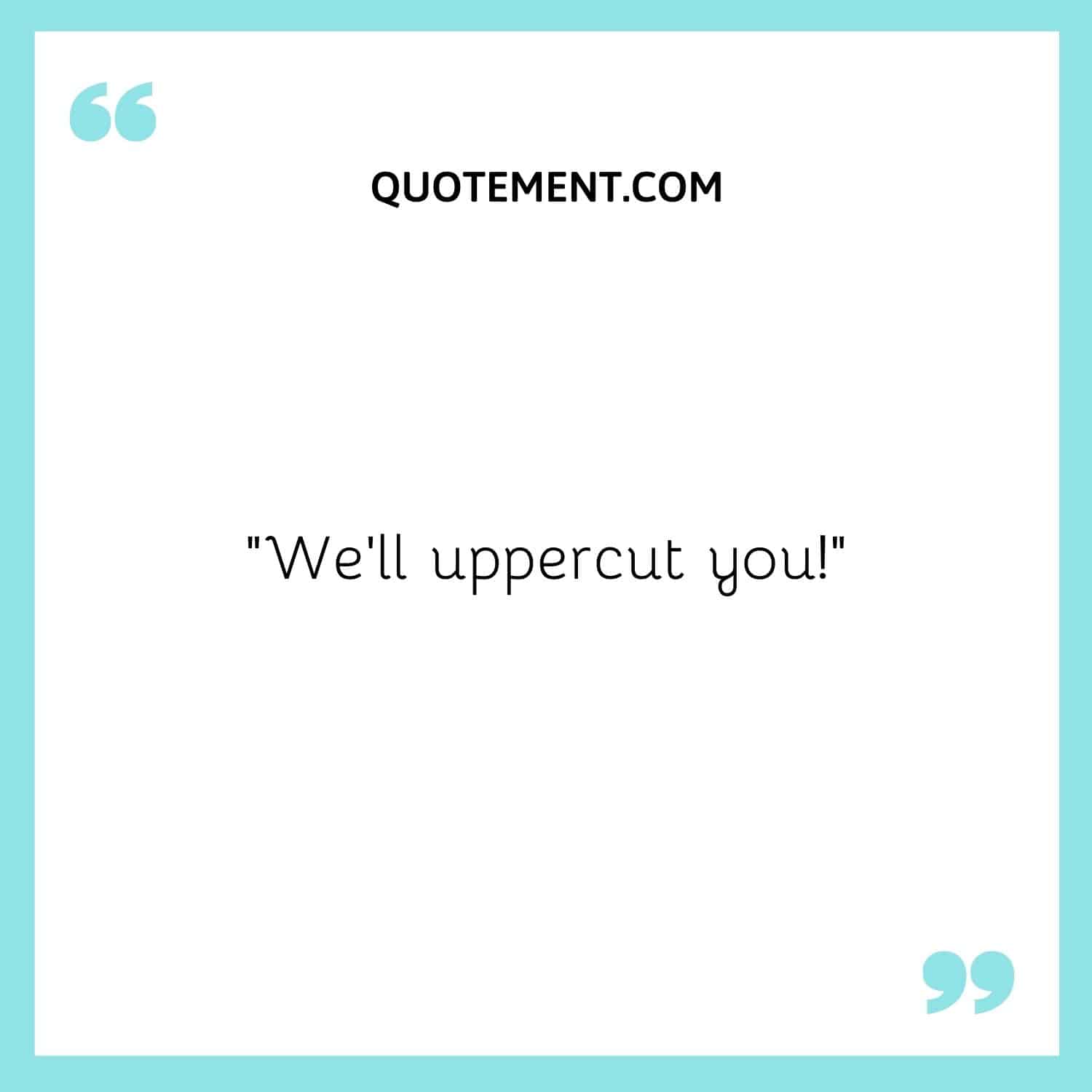 26. "The ladies will love it."
27. "Your one-stop cut shop."
28. "Put your head in our business."
29. "Don't be sloppy, be stylish."
30. "Get your buzz on."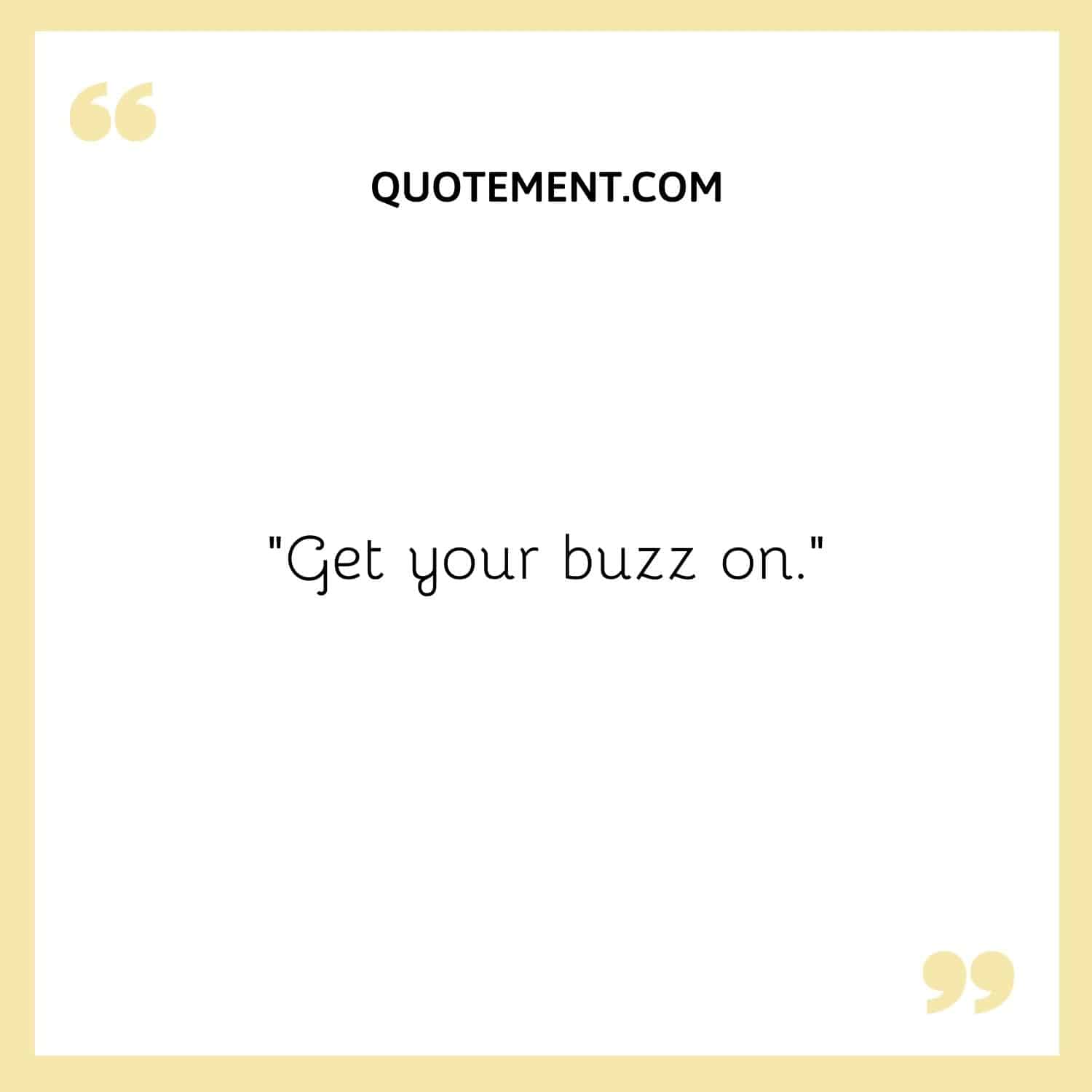 31. "An old-fashioned barbershop without old-fashioned barbers."
32. "No bull buzzes."
33. "Right cuts, right price."
34. "The man groomers."
Final Words
I hope you found a perfect quote for your barber in this extensive archive of hair quotes.
A perfect hairstyle photo is only complete with the perfect caption – and, of course, a perfect haircut!
So, now is the time to visit your barber as soon as you can. It's never a bad time to have a pleasant conversation and an awesome haircut from the best barber in town.
Use these barber quotes to make your photo look even better.
Stay tuned for more interesting content.
Until next time!