Have you been searching for the perfect Thursday caption for Instagram?
Well, your search is over because you've just discovered the ultimate collection of Thursday captions anywhere on the web!
Thursday's vibes are beautiful; the workweek is almost over, we're looking forward to the weekend, and everything is much more relaxed.
Friday is just around the corner, and excitement is rising.
In this article, I've collected 160 awesome captions that perfectly match those cool Thursday vibes.
Perfect social media requires perfect captions, and I believe you'll find yours in this article.
Let's see what I've prepared for today's article!
Top 20 Thursday Caption Ideas
I picked the 20 best Thursday captions for Instagram to get you started. Check them out!
1. Thursday. The day of throwback pics, almost Friday memes, and cups of coffee.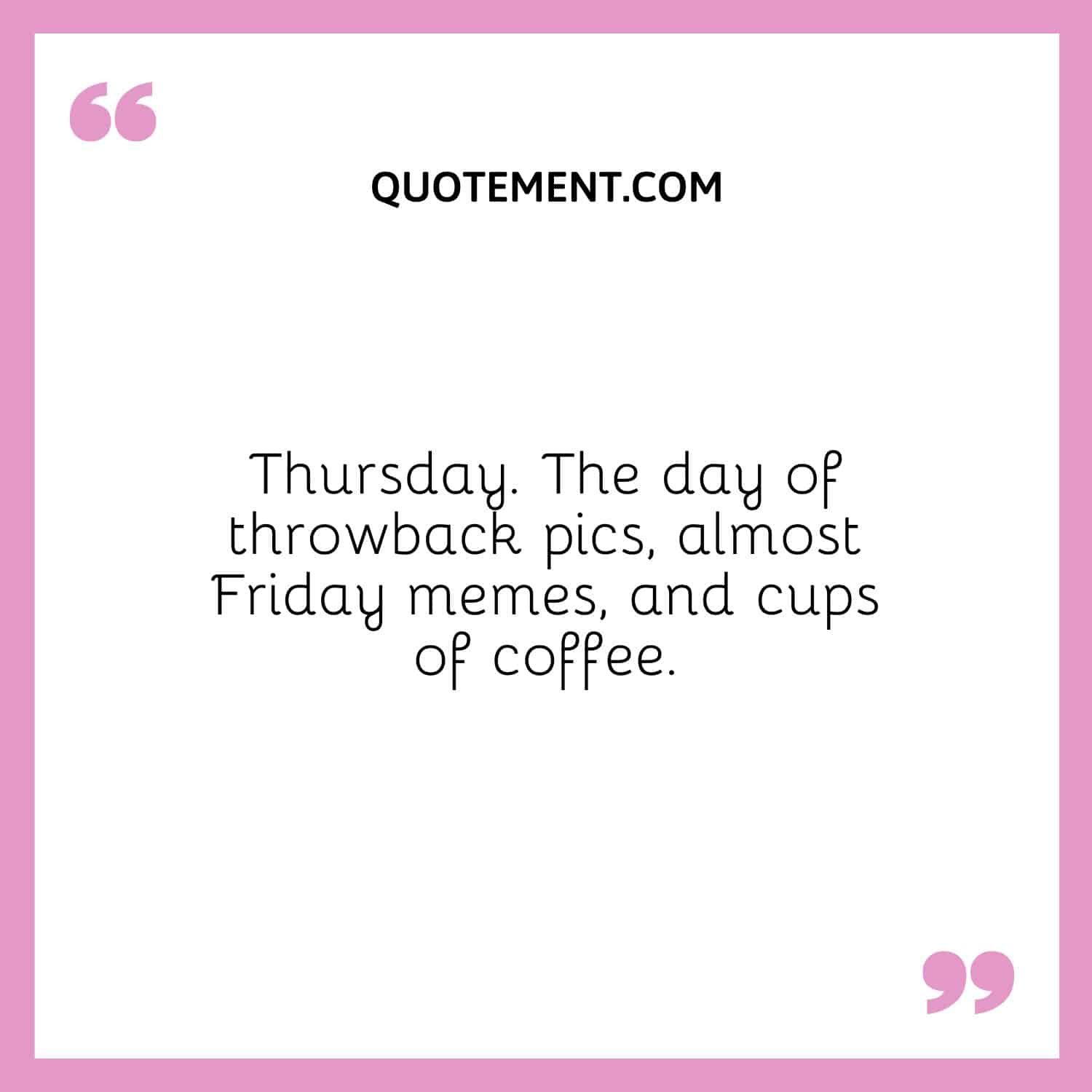 2. Nothing screws up a Friday like realizing it's only Thursday.
3. Thursday I forecast as mostly sunny. It's a much-needed break.
4. Be happy with what you have while working for what you want. Even on Thursday!
5. Good morning! Happy Thursday, and have a fabulous day.
6. A beautiful day begins with a beautiful mindset.
7. If you can stand on your tiptoes, you can see Friday. There's light at the end of the week tunnel!
8. Thursday, you're only one day away from being two days away from doing the same work you're doing right now!
9. Can't talk right now, too busy doing my 'it's almost the weekend' happy dance.
10. Have an awesome Thursday! Don't allow your fears to hold you back today – go do it!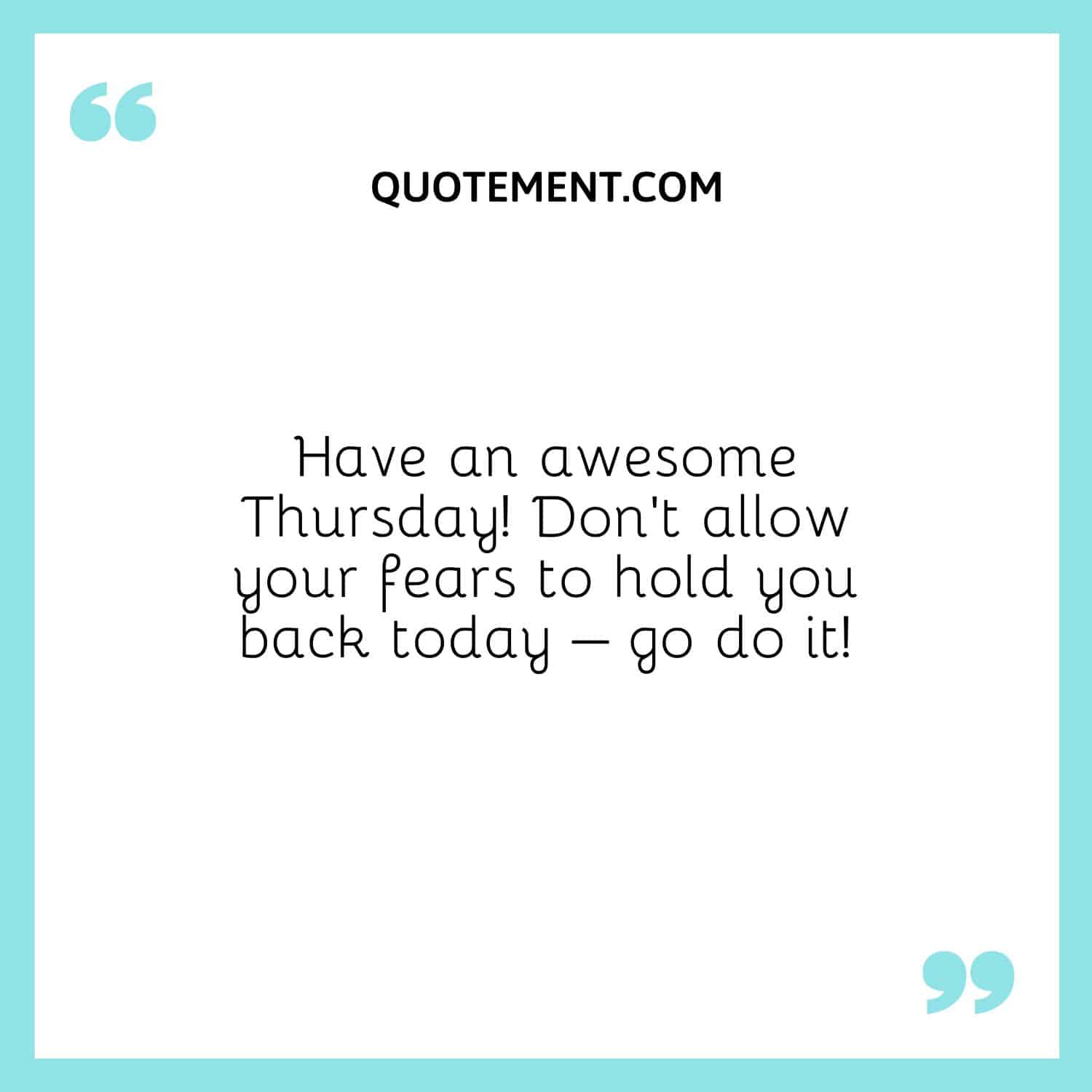 11. When you love what you do, every day is a happy Thursday.
12. Alexa, play my Thursday motivation playlist.
13. Happy Thursday! Always look on the bright side!
14. It's Thursday… or as I like to call it… "Day 4 of the hostage situation".
15. May your Thursday be as sweet as you are.
16. It's Thursday. I'm breathing. I'm alive. And I'm blessed. God is good.
17. Good Morning! Happy Thursday! Make the most of this day! Laugh, love, read, live, love, learn, play, dream, just be happy and live every moment.
18. Let's get out there and slay the day.
19. Thursday night may be Friday night's rehearsal, but Friday morning won't say 'Thank you' for that.
20. One small positive thought in the morning can change your whole day. So here's your Thursday morning smile!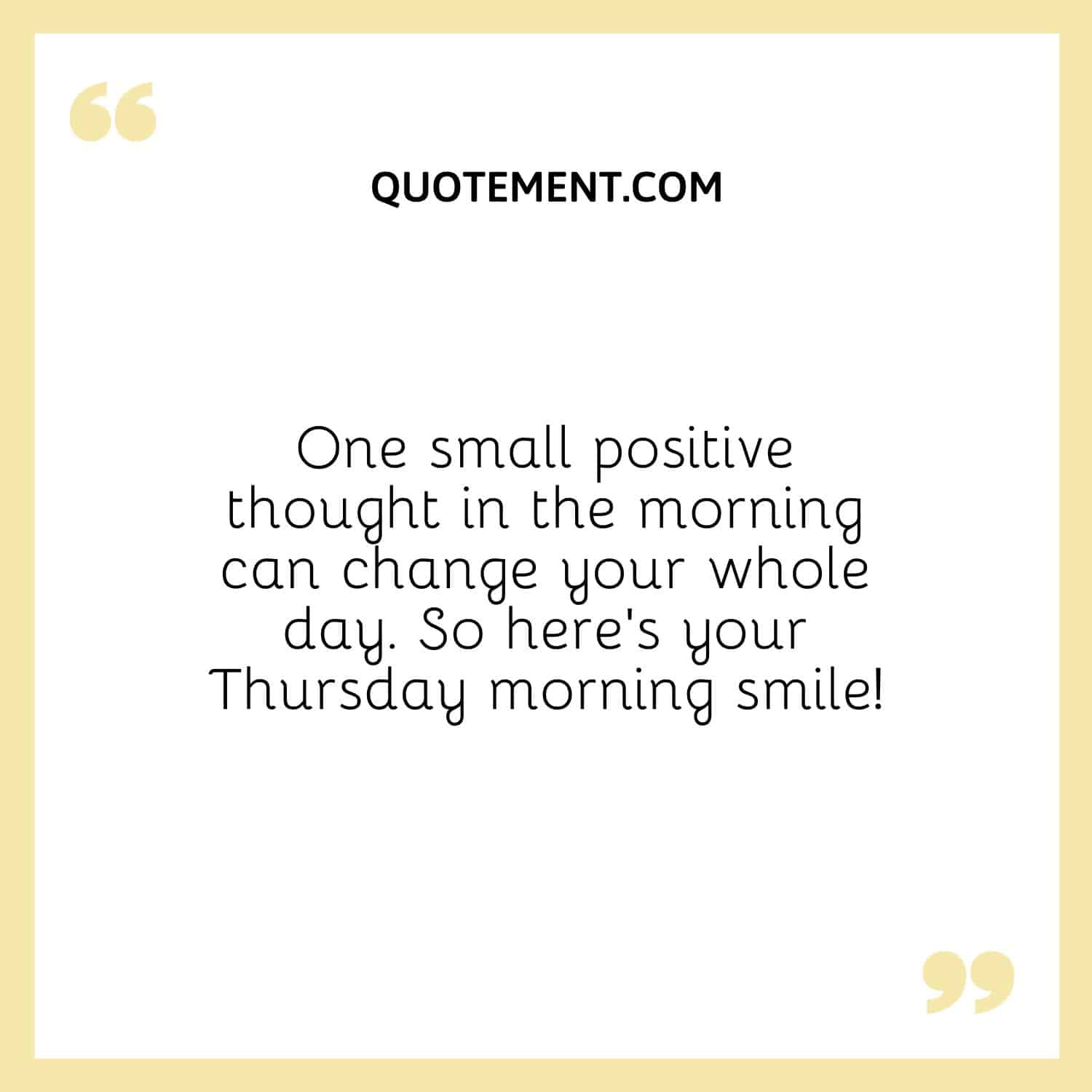 Funny Thursday Captions
If you're after something humorous, you must check out these funny Thursday captions. They're hilarious!
1. Some people call it Thursday, but I like to call it Friday's Eve.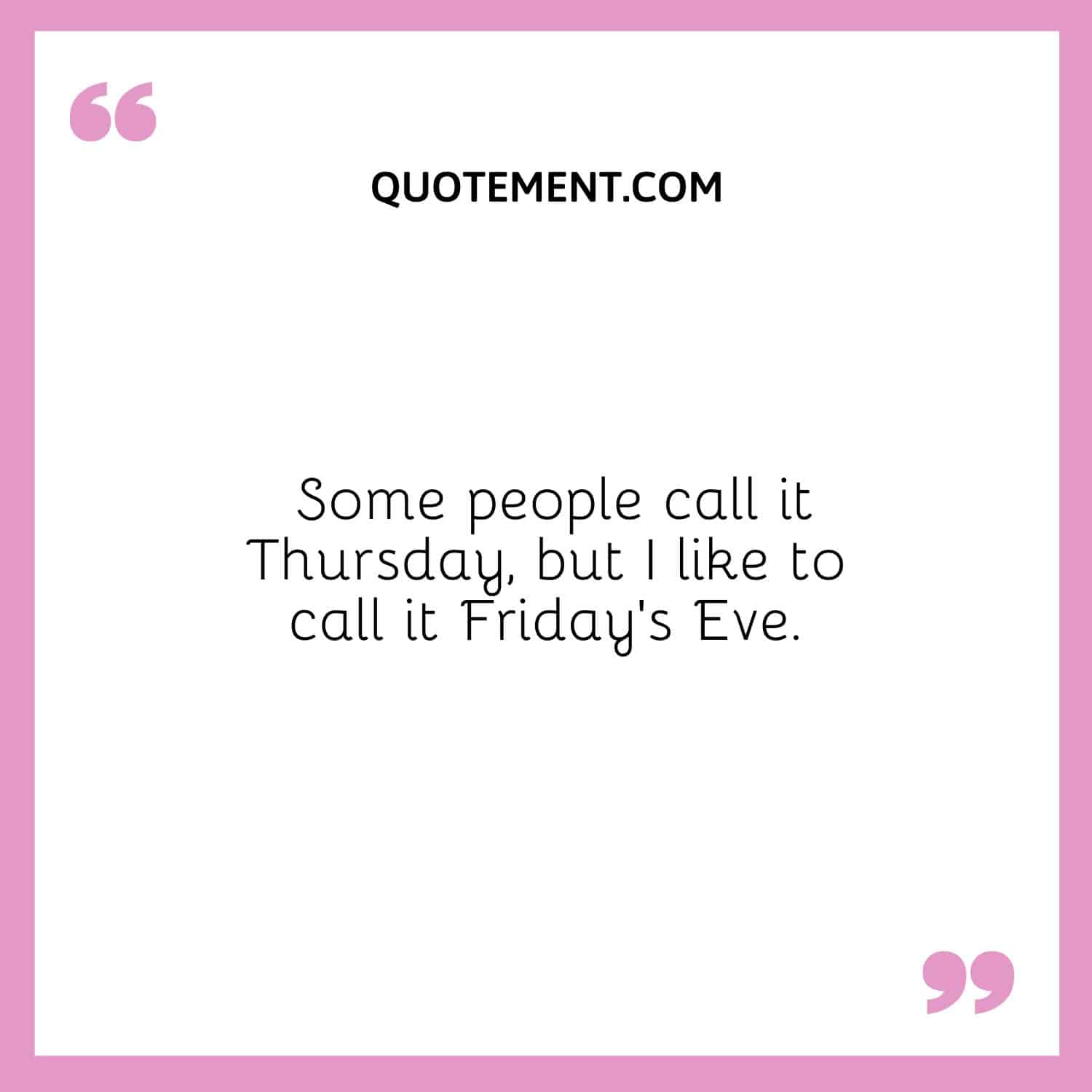 2. Low Self Esteem Support Group will meet Thursday at 7 p.m. Please use the back door.
3. The most useless day. It only exists as a reminder that it's been a really long week, and it's still not over yet.
4. Today is Thursday, which means I will be working really hard today to accomplish everything that needs to get done before the end of the week. And by that, I really mean that I'll be on my computer looking up fun things to do this weekend. (or memes)
5. Throwback Thursday reminds me of when I could drink on Thursday and still make it to work on Friday.
6. I wish you a tolerable Thursday. That's all any of us can hope for.
7. The only thing I throw back on a Thursday is a glass of wine.
8. Thursday is before Friday? False. Thursday is six days after Friday.
9. Thursday is practically Friday, and Friday is Friday.
10. People who think Thursday is the new Friday have serious mental problems.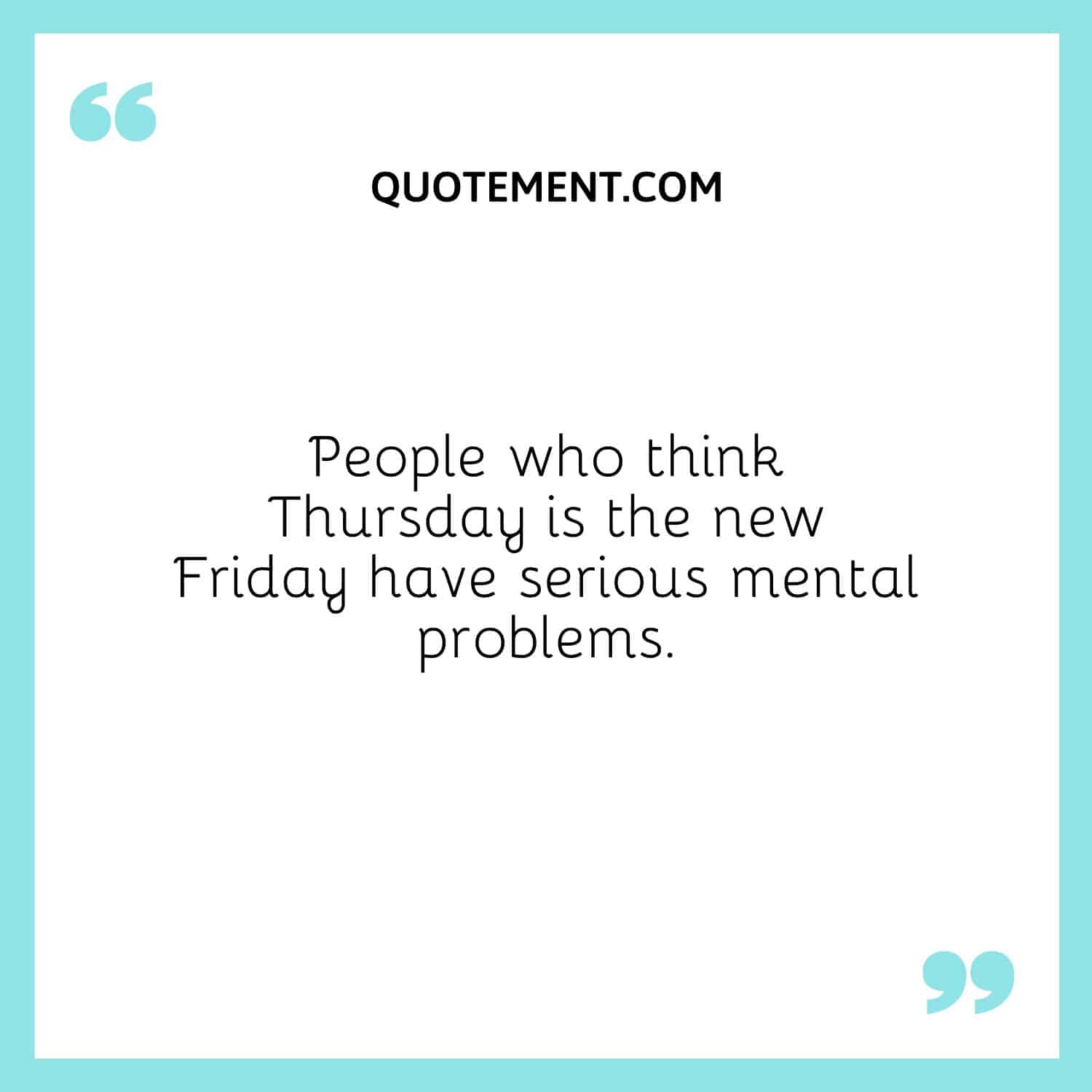 11. Dear Thursday, are you sure you're not Friday? Cuz I could really go for it being Friday today! Nothing personal Thursday… It's just been a long week.
12. Organizing a flash mob at my place Thursday at 3 pm. Bring lawnmowers.
13. Sooooooo… Is it Friday yet?
14. Thirsty Thursday should be a national holiday!
15. Thursdays are just wannabes. They are wannabe Friday, but they're not!
16. Would anyone object if we moved casual Fridays to Thursdays?
17. Wine not?
18. Patiently waiting for Friday
19. Doobie or not doobie.
20. If you look off into the distance and squint real hard, you'll see this glorious land called… the weekend.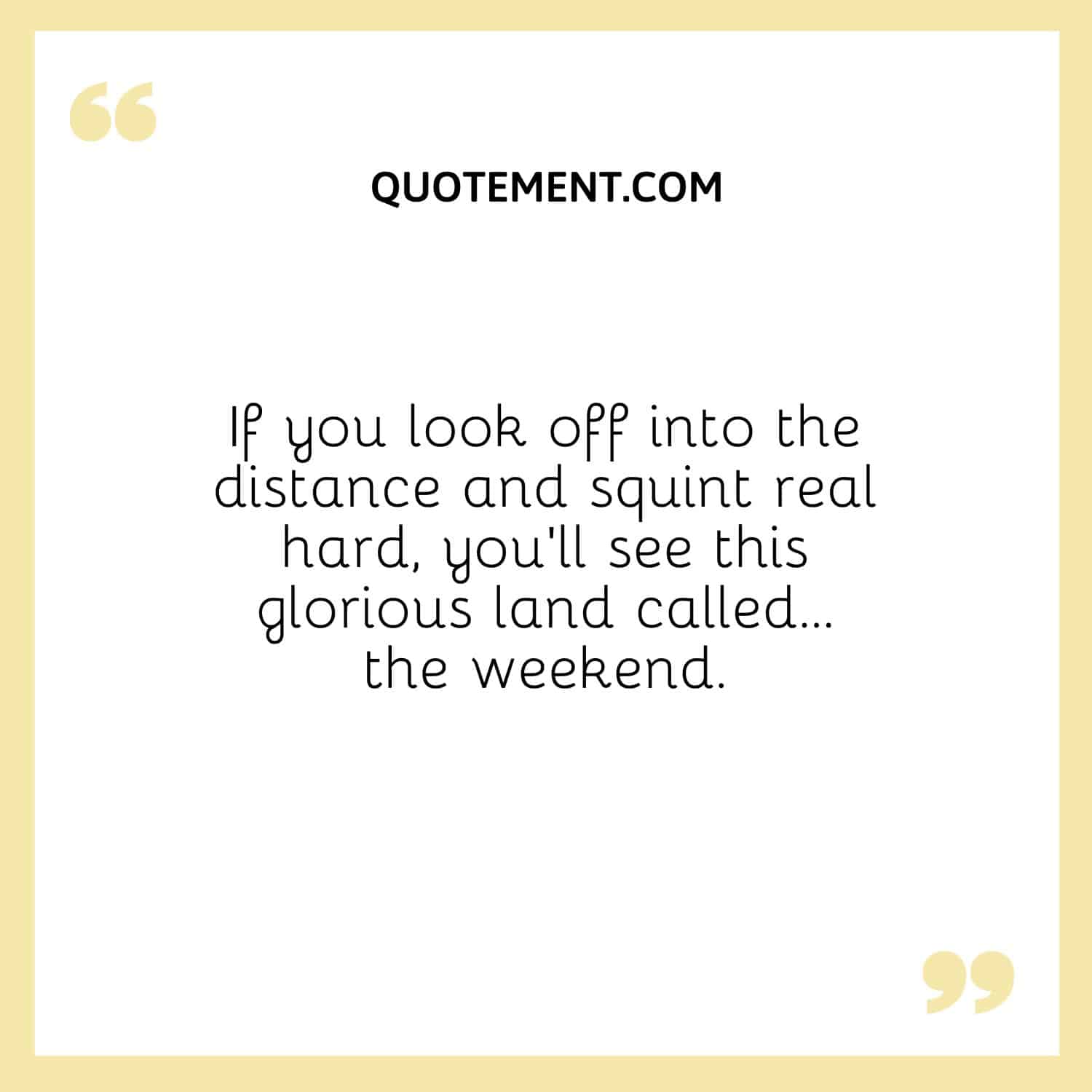 21. As long as you don't give me any timely assignments tomorrow, I promise I'll behave today.
22. The only thing I throw back on Thursday is Scotch.
23. Today, I'm thankful that tomorrow is Friday.
24. Throwback Thursday is my favorite excuse to avoid the present.
25. I wonder how to turn water into wine. Happy thirsty Thursday.
26. You know what rhymes with Thursday? Gin.
27. Don't let anyone else ruin your day. It's your day. Ruin it yourself.
28. Thursday doesn't even count as a day, it's just the thing that's blocking Friday.
29. One man's women crush Wednesday is another man's throwback Thursday.
30. Friday just called! She'll be here tomorrow, and she's bringing wine!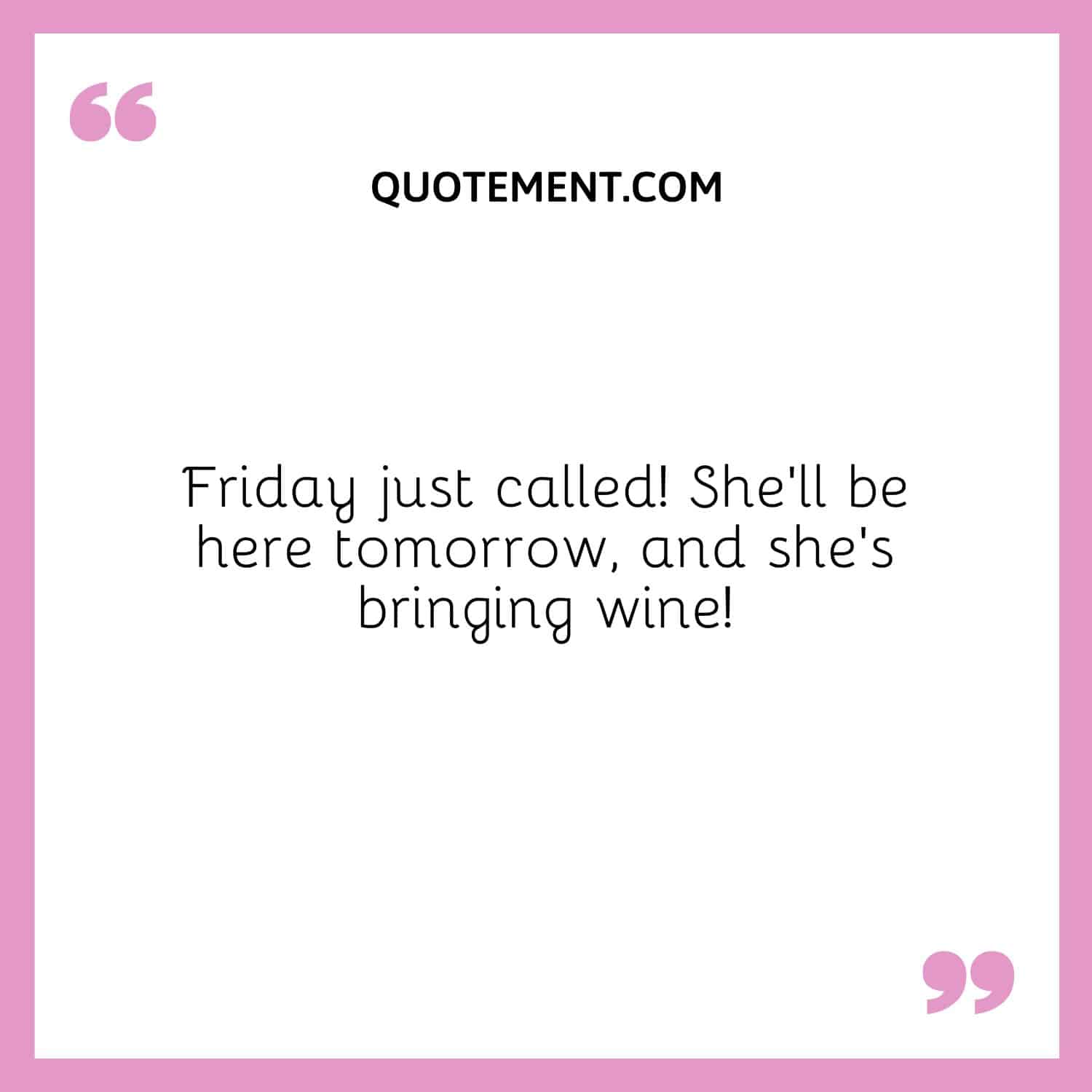 See also: 340 Ultimate Best Wine Captions For Wine Lovers Everywhere
Thursday Instagram Captions
Don't worry, I'm not done yet. Here are more amazing Thursday captions you'll love!
1. Don't let others affect the way you live your life!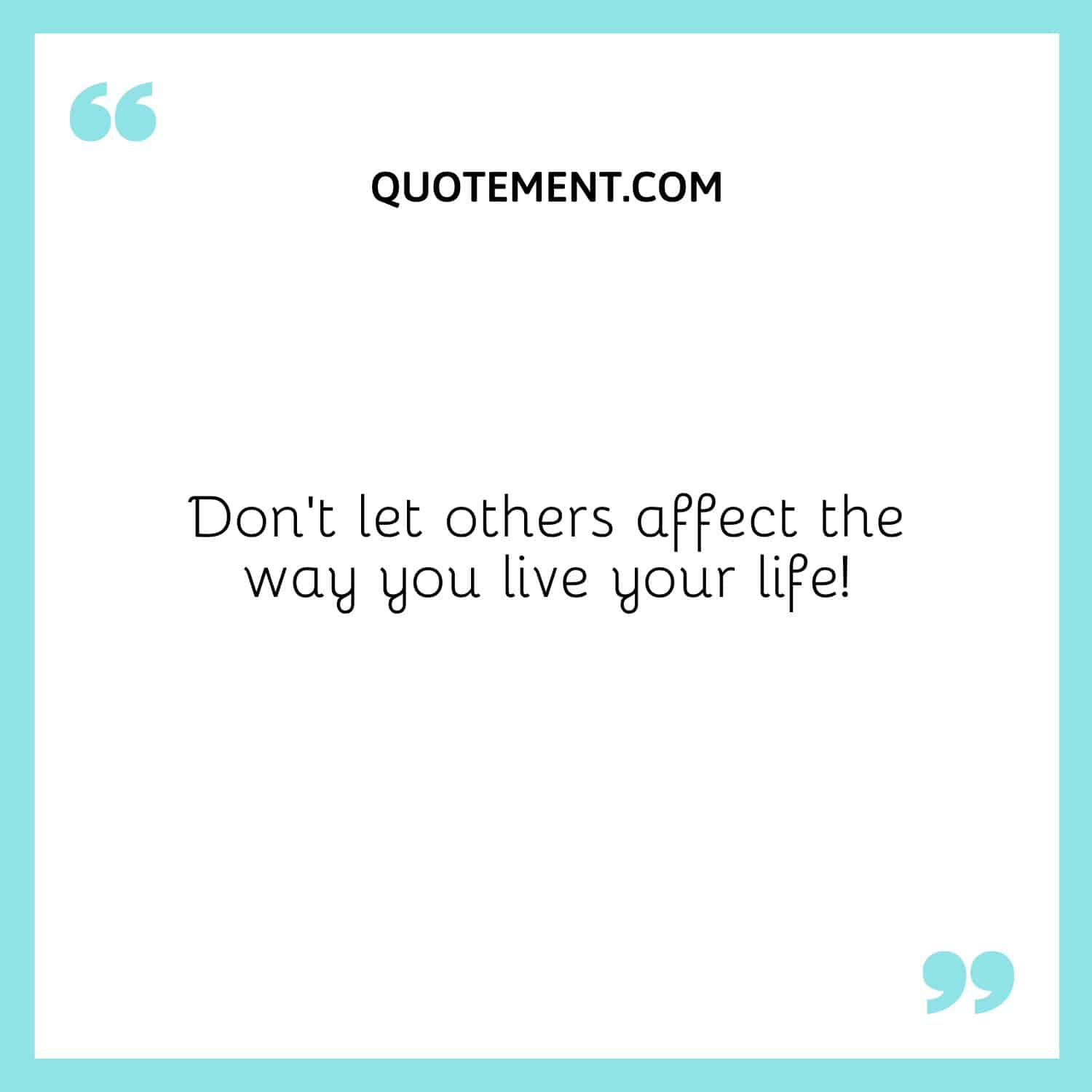 2. Good morning Thursday! If it starts out rough, remember this. Not all critics are worthy of your time. Now let's get out there and slay the day!
3. I know I'm kind of lagging today, but if you catch me at 5 p.m. tomorrow, you'll probably wonder where I got my energy from.
4. This must be Thursday. I never could get the hang of Thursdays.
5. I love Thursdays. A lot of good things happen on Thursdays. Thanksgiving Day, for example.
6. The greatest pleasure in life is doing things you like the most.
7. Throwback Thursday!
8. You can do anything you put your heart, mind, and soul into. Far more than you can imagine. Be fearless. Do it. Wishing you a Happy Thursday!
9. So, chase your dream and don't think about failure, just learn from failure and keep going.
10. Thursday is my favorite day. This is when I plan how I'm going to get out of the plans I already made for the weekend.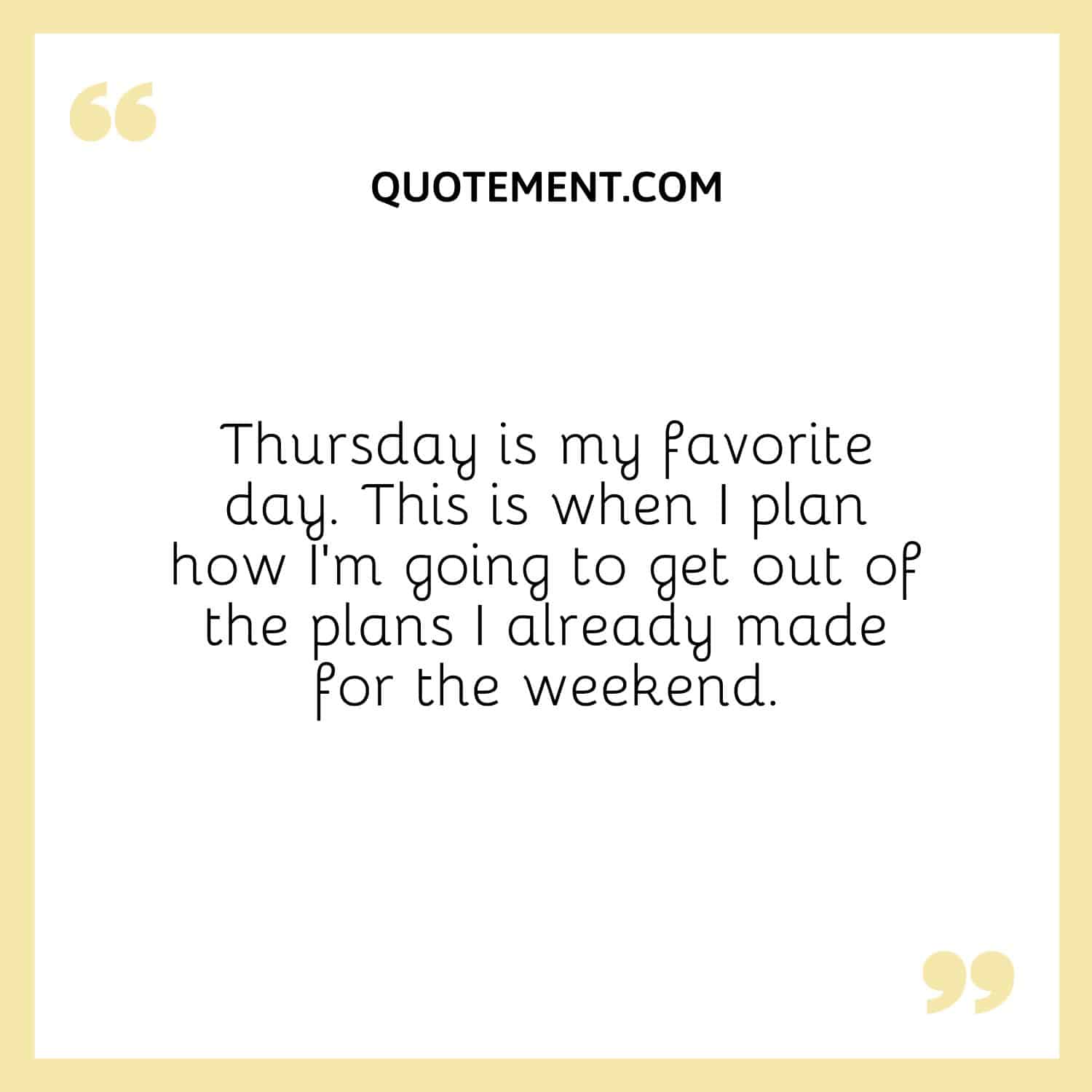 11. Thursdays bring a focus to our week to complete all that needs to be done.
12. Lesson one in time travel, Thursday. First of all, we are all-time travelers. The vast majority of us manage only one day per day.
13. Hang on tight! It's almost Friday!
14. Anyone else got that Friday feeling?
15. Dreaming of my happy place.
16. I know it isn't Friday yet, but it sure does feel like it.
17. I love Thursdays because it's a day filled with hope – hope for a long, pleasant weekend ahead.
18. These pictures don't do this moment justice. I guess I'll just have to go back!
19. Be conscious of your attitude. Work extra hard at keeping your attitude positive in all kinds of weather, through all the challenges of life.
20. Hang in there. Today is Thursday, which means that Friday is just around the corner.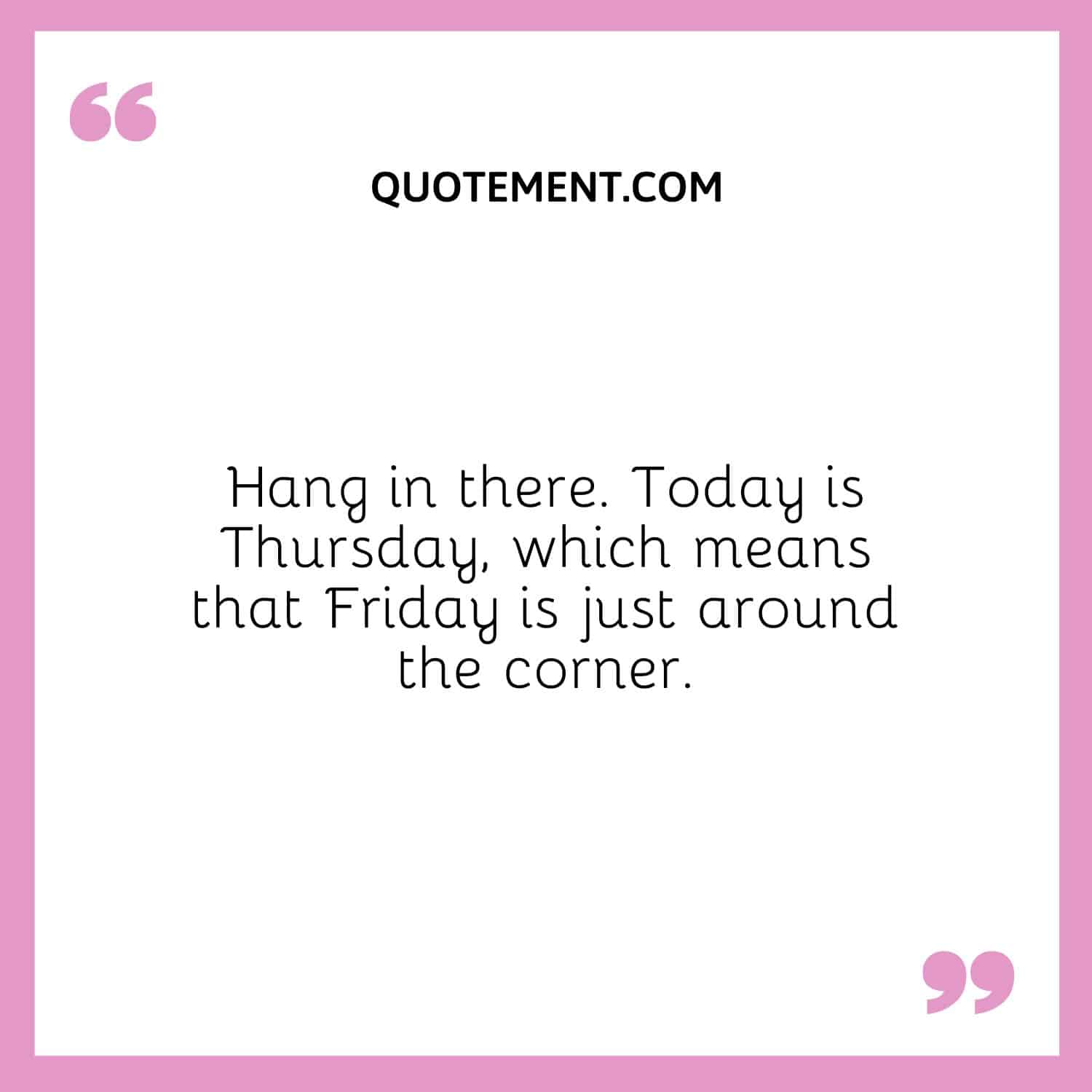 21. I'll take a one-way ticket back to this moment right here, please.
22. A little fun because it's almost the weekend!
23. BRB, just prepping for the weekend.
24. Happiness cannot be traveled to, owned, earned, worn, or consumed. Happiness is the spiritual experience of living every minute with love, grace, and gratitude.
25. Do something good today.
26. You can't have a better tomorrow If you are thinking about yesterday.
27. Look back and be grateful, look ahead and be hopeful, look around and be helpful.
28. There are so many days in a week, but my favorite is still Thursday because it is totally fabulous.
29. Life is made of small moments like this.
30. Please excuse me while I chug this cup of coffee to crush the rest of the day.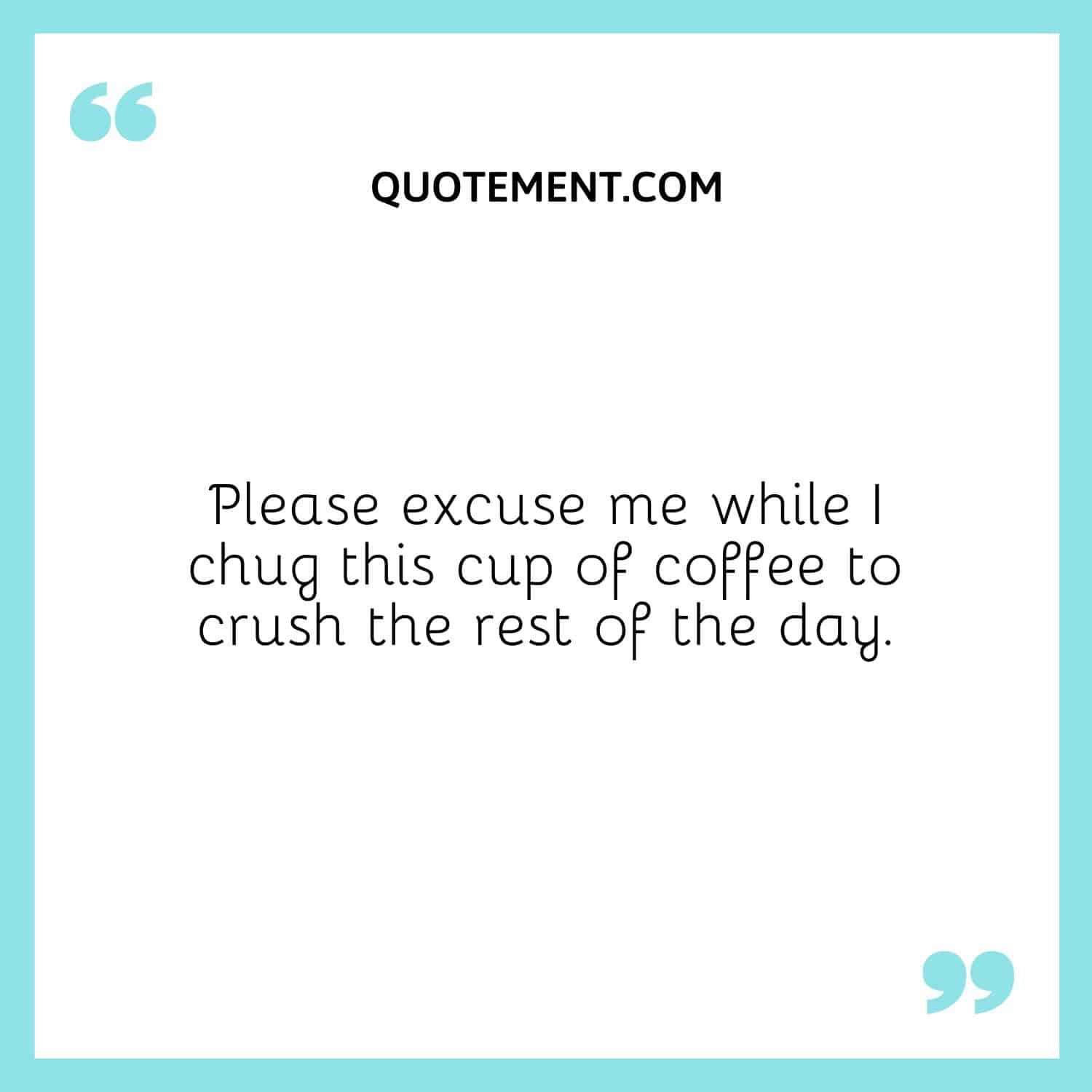 31. I do not fix problems. I fix my thinking. Then problems fix themselves.
32. Thursday comes, and the week's gone.
33. Memory is the treasure house of the mind wherein the monuments thereof are kept and preserved.
34. End of week motivation.
35. Thursday is a great day to expect great things.
36. Thursday is one of the finest days of the week where you can relax, and yet not relax too much.
37. It's Thursday night! It's time to get ready for Saturday!
38. Drink some coffee and pretend you know what you're doing.
See also: 280 Awesome Coffee Captions To Show Your Coffee Obsession
Thursday Selfie Captions For Instagram
Pair your cute selfie with one of these cute and inspirational Thursday captions.
1. Your mindset is a big part of having a good day. So start every morning with this thought, and have yourself a good day!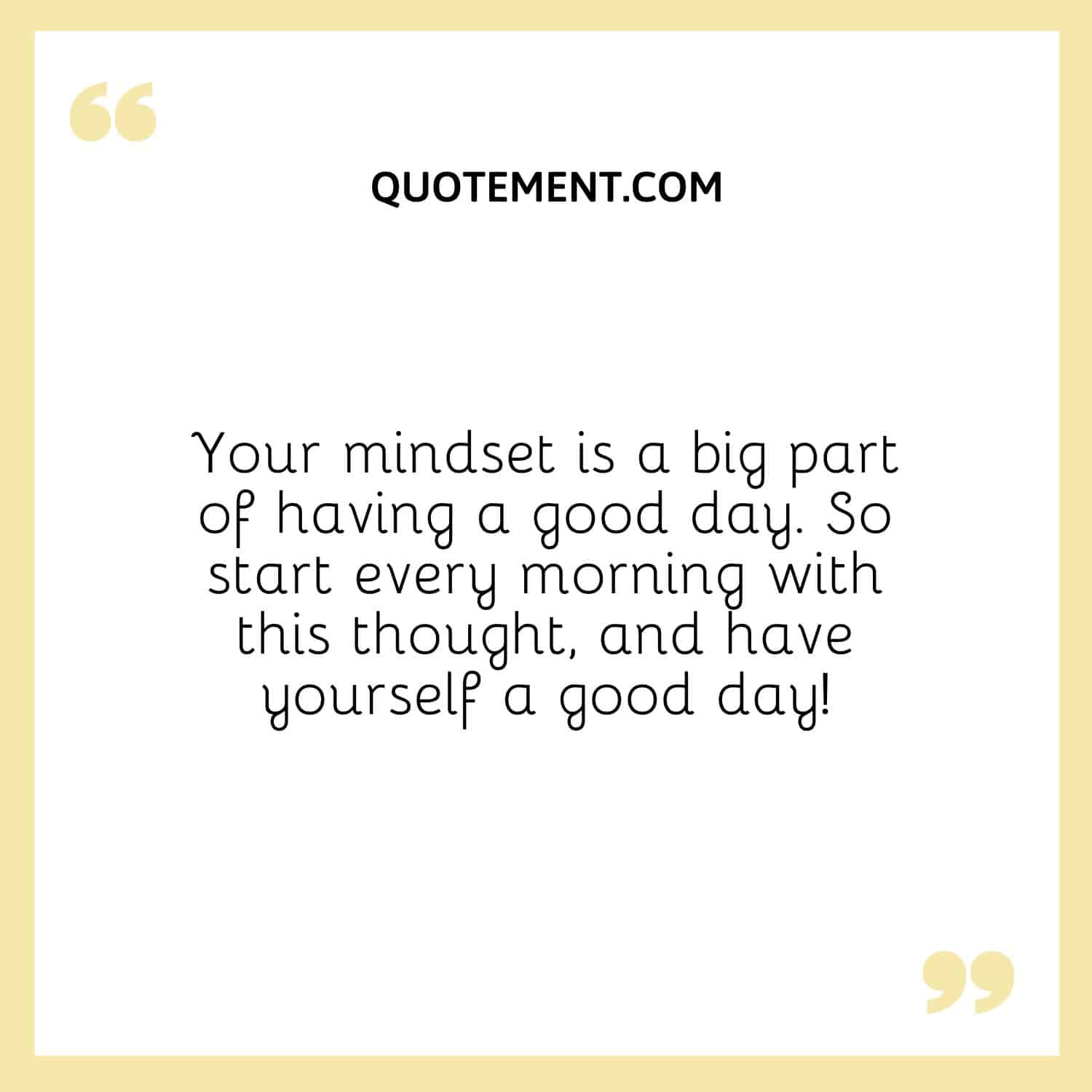 2. Hello, Thursday!
3. Isn't it funny how day by day nothing changes, but when you look back, everything is different?
4. Woohoo! Sorry, just practicing for tomorrow.
5. It's not whether you get knocked down, it's whether you get up! No matter how many times you get knocked, you have to get up, dust yourself off and keep going!
6. No one can hear our thoughts! What we think either betters us or destroys us. That depends only on us! Keep practicing – design your mind!
7. Your life is your journey, so stop comparing yourself to others. You will be much happier once you accept that!
8. Successful people keep moving. They make mistakes, but they don't quit.
9. Once you become fearless, life becomes limitless.
10. Good Morning! Have a wonderful Thursday. Here's a great big hug from me to you!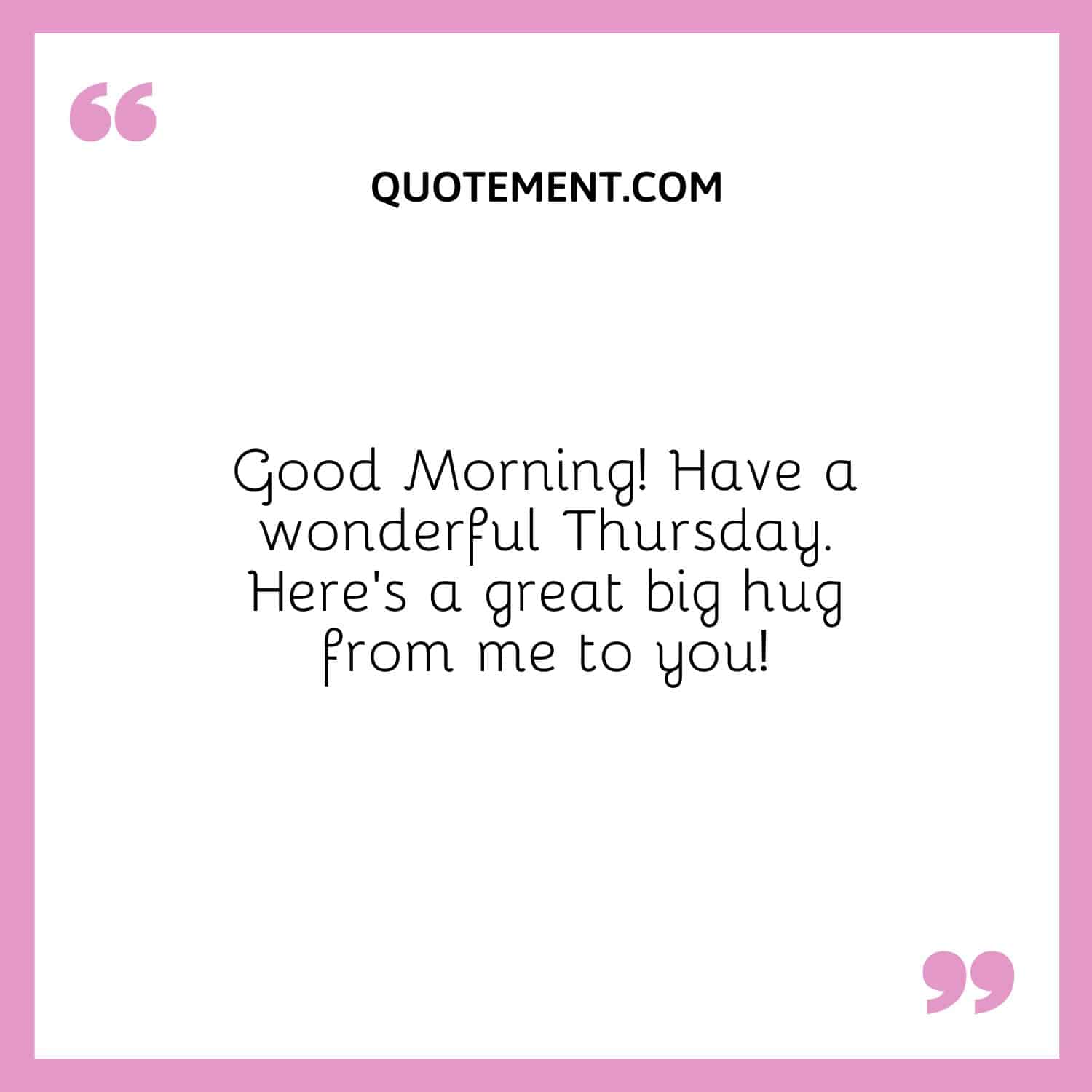 11. Do not allow negative thoughts to enter your mind, for they are the weeds that have strange confidence.
12. Sometimes, the place you are used to is not the place you belong to.
13. I love the satisfaction of living in a world on a Wednesday where a song didn't exist that you're going to create on a Thursday that's going to change somebody's life, possibly, you're creating that from nothing.
14. Today is Thursday! Wake up every morning HAPPY to be a child of God!
15. I am in charge of how I feel, and today I am choosing happiness.
16. Thursday, we like you because you sit next to Friday!
17. Life is 10% what happens to you, 90% how you handle it!
18. Don't watch the clock; do what it does. Keep going.
19. Choose a job you love, and you will never have to work a day in your life.
20. Thursday is one day closer to knowing that everything I have done through the week culminates in progress.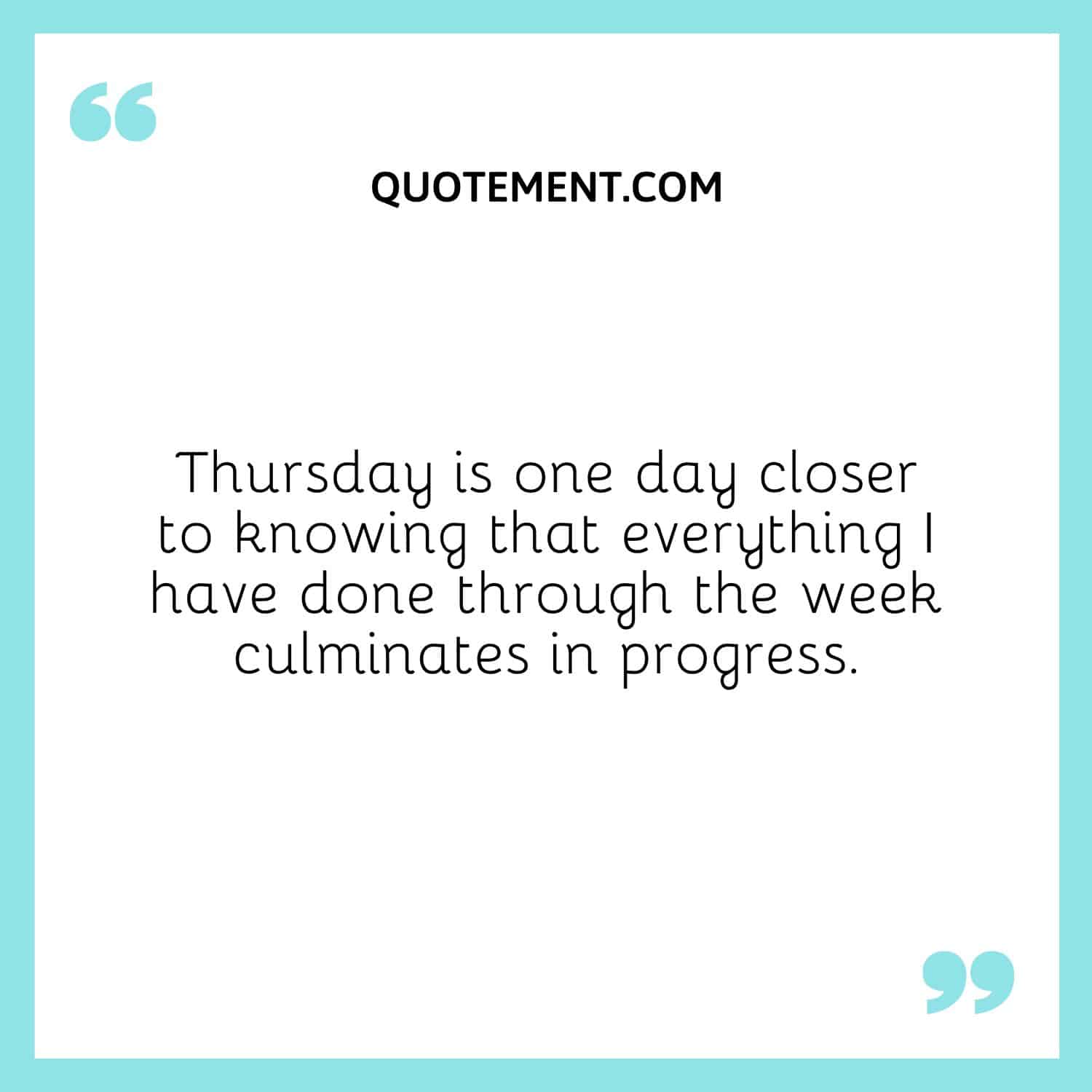 21. There is nothing more beautiful than when you prove to yourself just how strong you are.
22. Always appreciate where you are for the next door to open.
23. Make every day a productive day!
24. Don't let yesterday use up too much of today.
25. Whenever you want to achieve something, keep your eyes open, concentrate and make sure you know exactly what it is you want. No one can hit their target with their eyes closed.
26. Use your smile to change the world but don't let the world change your smile.
27. Always dress like it's the best day of your life.
28. It's time to embrace the crazy beautiful mess that you are because it's almost the weekend.
29. Take every chance you get in life because some things only happen once.
30. It's Thursday. Look back and be grateful!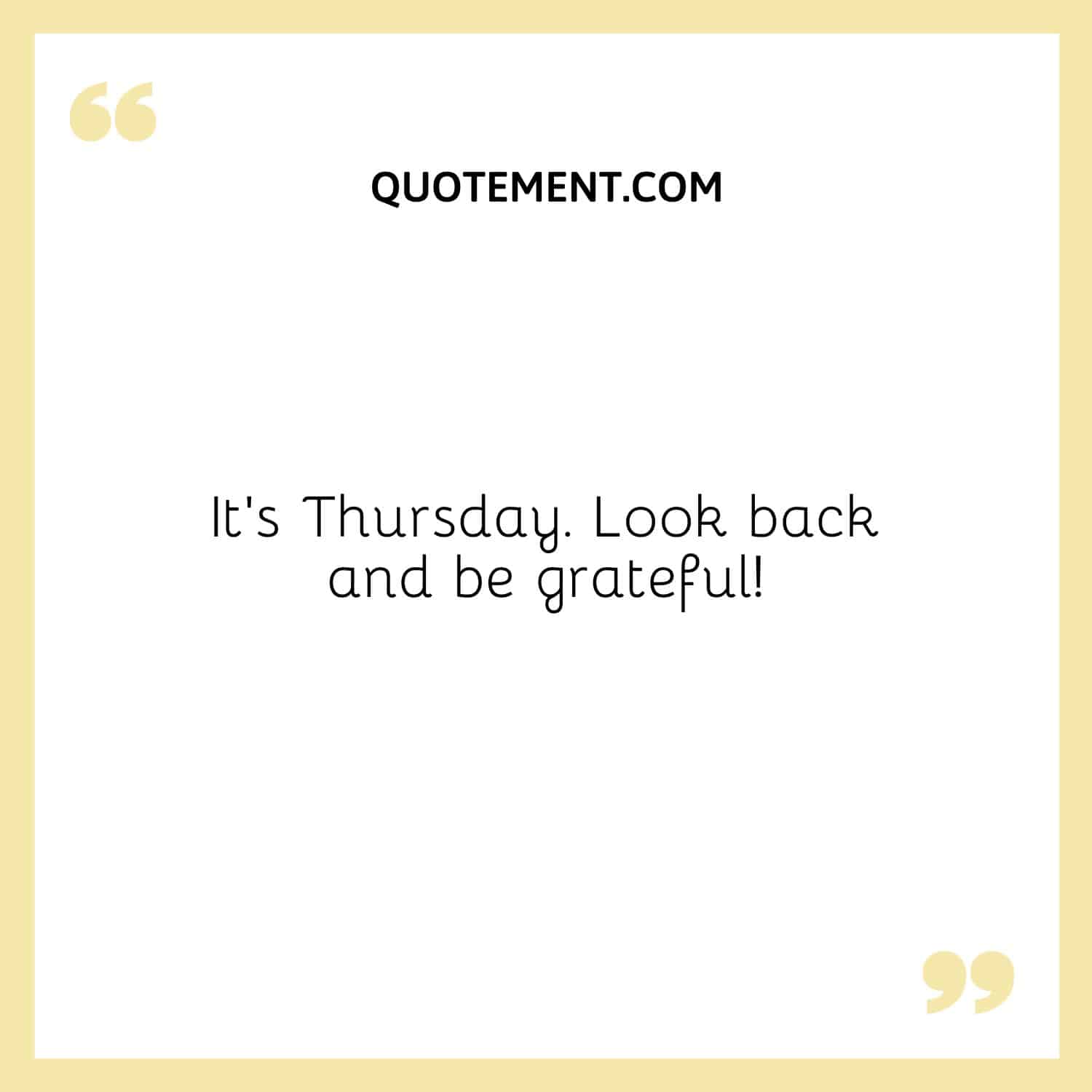 31. Thursday vibes. They're that feeling you get when Friday is just around the corner, and you decide to live in the moment instead of stressing about what's next.
32. Dream as if you'll live forever. Live as if you'll die today.
33. You can't fall if you don't climb. But there's no joy in living your whole life on the ground.
34. It's a beautiful Thursday. Don't let it get away. Enjoy it to the fullest.
35. I didn't ask to be special; it just naturally happened.
36. Don't wait until next Monday to start fresh. Today is a good day to be the change you want to see.
See also: 180 Great Monday Captions Ideas For Your Instagram Post
Happy Thursday Captions For Instagram
Thursday is such a happy day! Spread love and optimism with one of these cheerful Thursday captions.
1. Happy Thursday! Payday is almost here – I can almost taste it.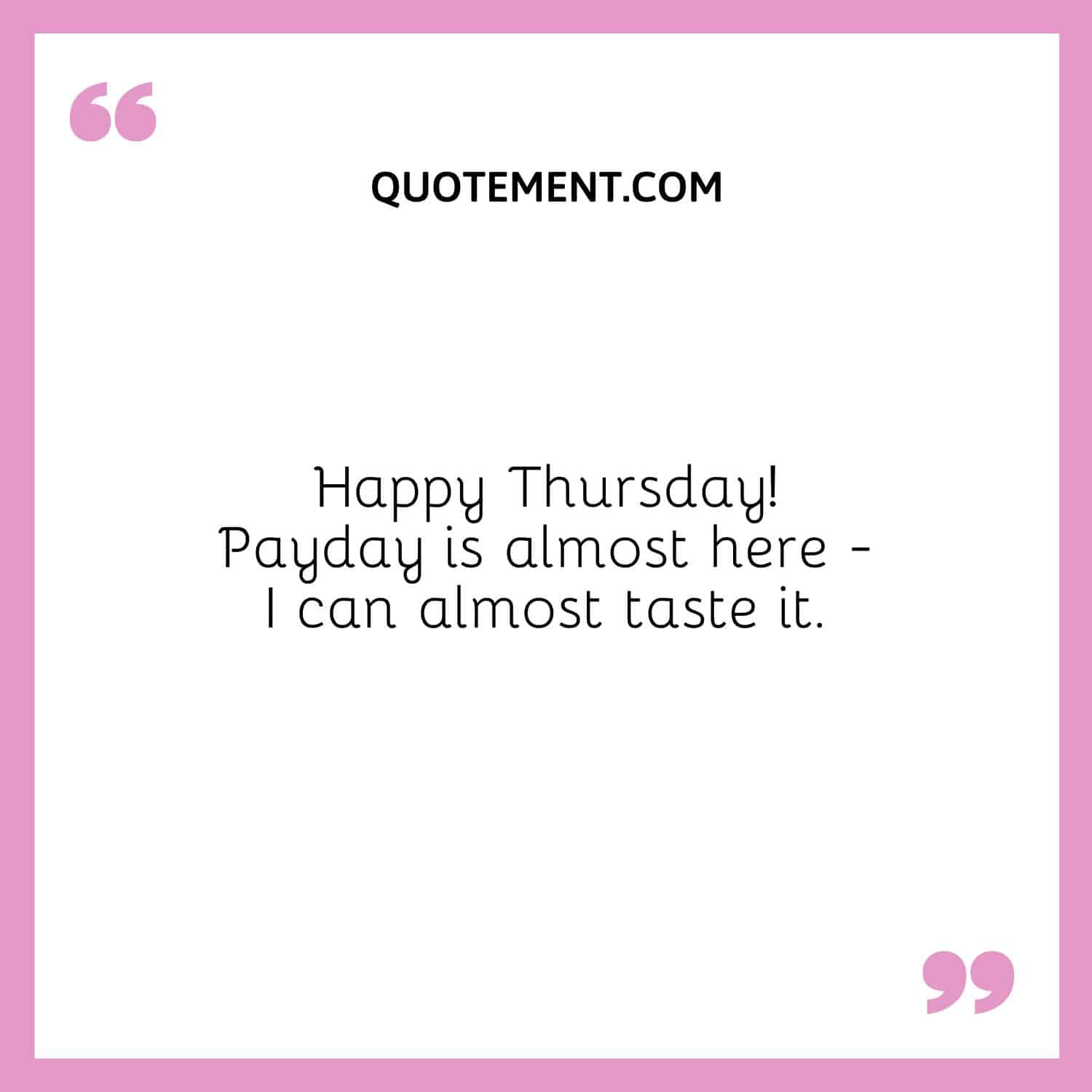 2. Happy almost Friday, or happy day before Friday.
3. Yeah, Thursday is the new Friday.
4. Happy Thursday, everyone.
5. Happy Thursday! Life at work and at home is so much HAPPIER when you speak and act with kindness! Share a SMILE and make it a great day!
6. A new day! Be open enough to see the opportunities. Be wise enough to be grateful. Be courageous enough to be happy! Happy Thursday!
7. Happy Thursday to all my married friends.
8. Happy Thirsty Thursday!
9. No Thursday should ever be boring as long as we are together, my dearest love!
10. The day is what you make it, so why not make it a great one. Happy Thursday!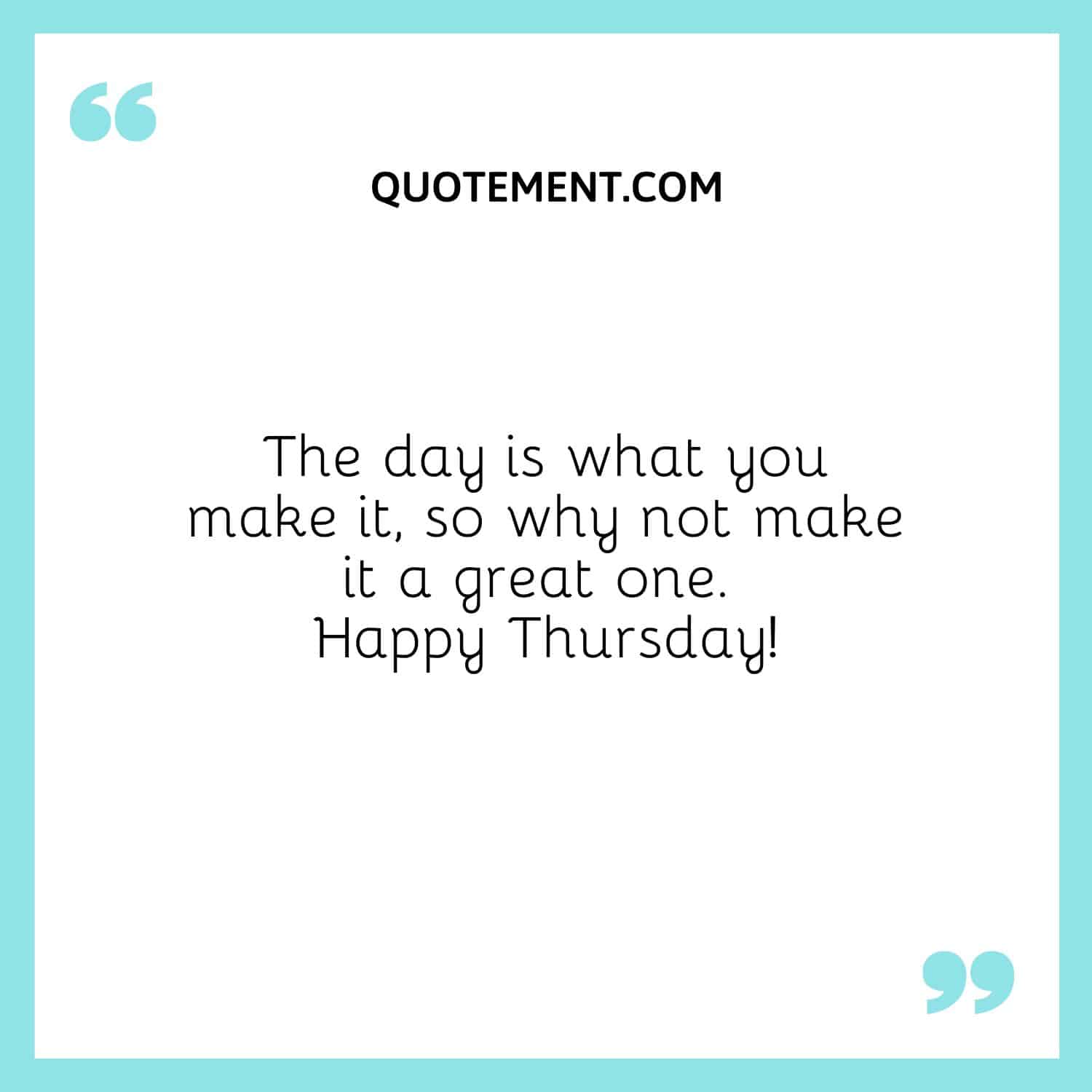 11. We can smell the weekend from here! Happy Thursday.
12. Thursday is my favorite.
13. Good morning! It's Thursday! Always find time for the things that make you feel happy to be alive.
14. Happy Thursday! Change your life today; don't gamble on the future, act now, without delay.
15. Thursday…nothing more pleasurable than opening our eyes and realizing that every day, God gives us a chance to try again. Of not looking back. To love, smile and love!
16. Good morning, dear friend! I wish a Happy Thursday to you!
17. May joy and happiness accompany you throughout day and night! Wishing you a very nice Thursday!
18. Be in love with every minute of your life. Happy Thursday.
19. Happy Thursday. A brand new day. A clean slate. The possibilities are endless.
20. To give and not expect a return is what lies at the heart of love. I wish you a wonderful Thursday!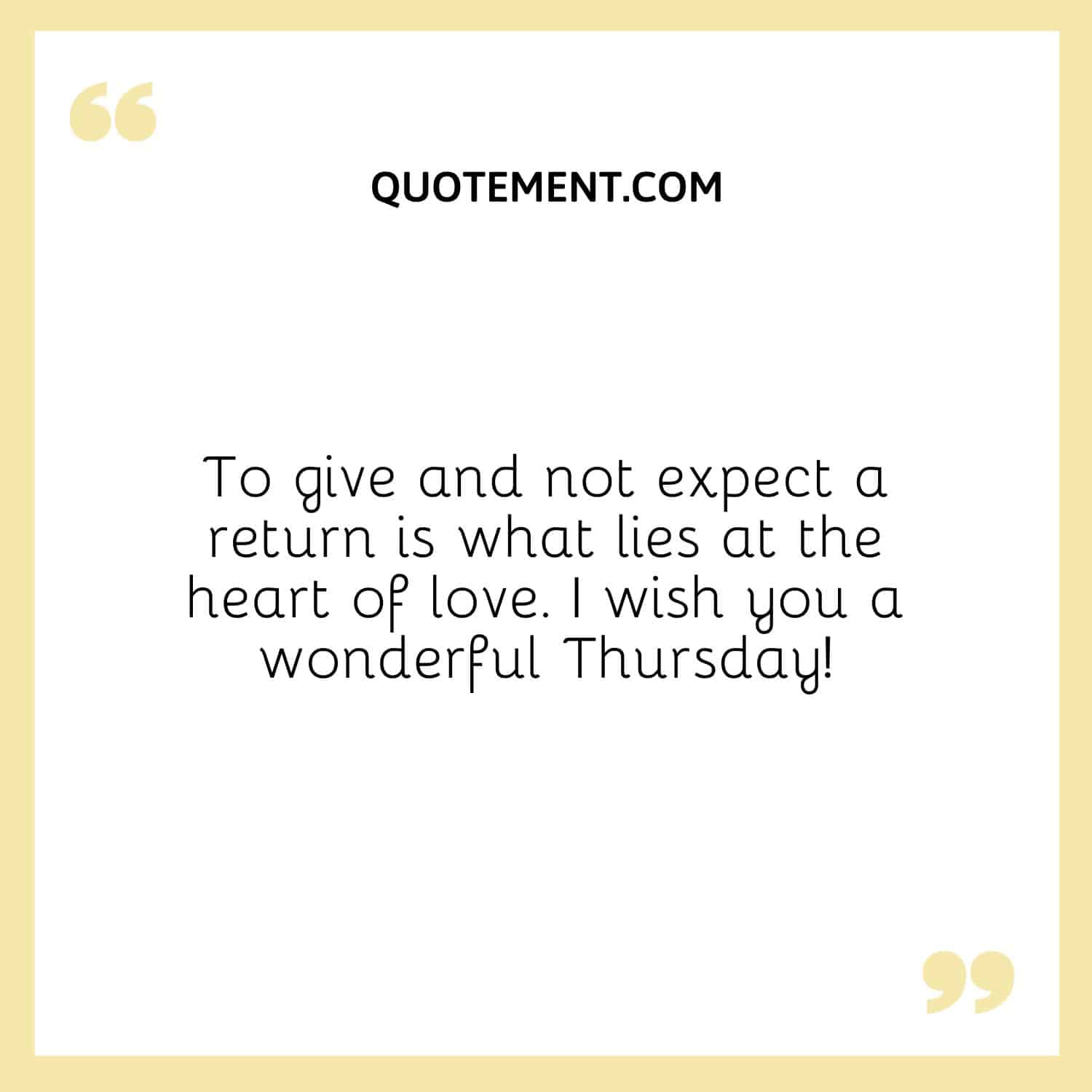 21. Inspire others, give thanks and live in the moment every day of the week. Happy Thursday!
22. Life is too short to worry about stupid things. Have fun, fall in love, regret nothing, and don't let people bring you down! Enjoy a new day of your life! Happy Thursday!
23. Happy Thursday! Hopefully, this last few hours of the week go by quickly so everyone can look forward to Friday. If you're having a rough day, don't worry ― tomorrow is always a clean slate.
24. Happy Thursday, everyone! Have a great weekend!
25. Happy Thursdeeee! Here's to hoping it just keeps getting better.
26. Bless everyone. The more you bless, the more blessed you will become. Thankful Thursday!
See also: 100 Greatest Thankful Thursday Quotes To Inspire You
Thursday Quotes That Can Be Used as Captions
You can also use one of these motivational quotes as a catchy Instagram caption.
1. "Thursday, I forecast as mostly sunny. It's a much-needed break." – John Farley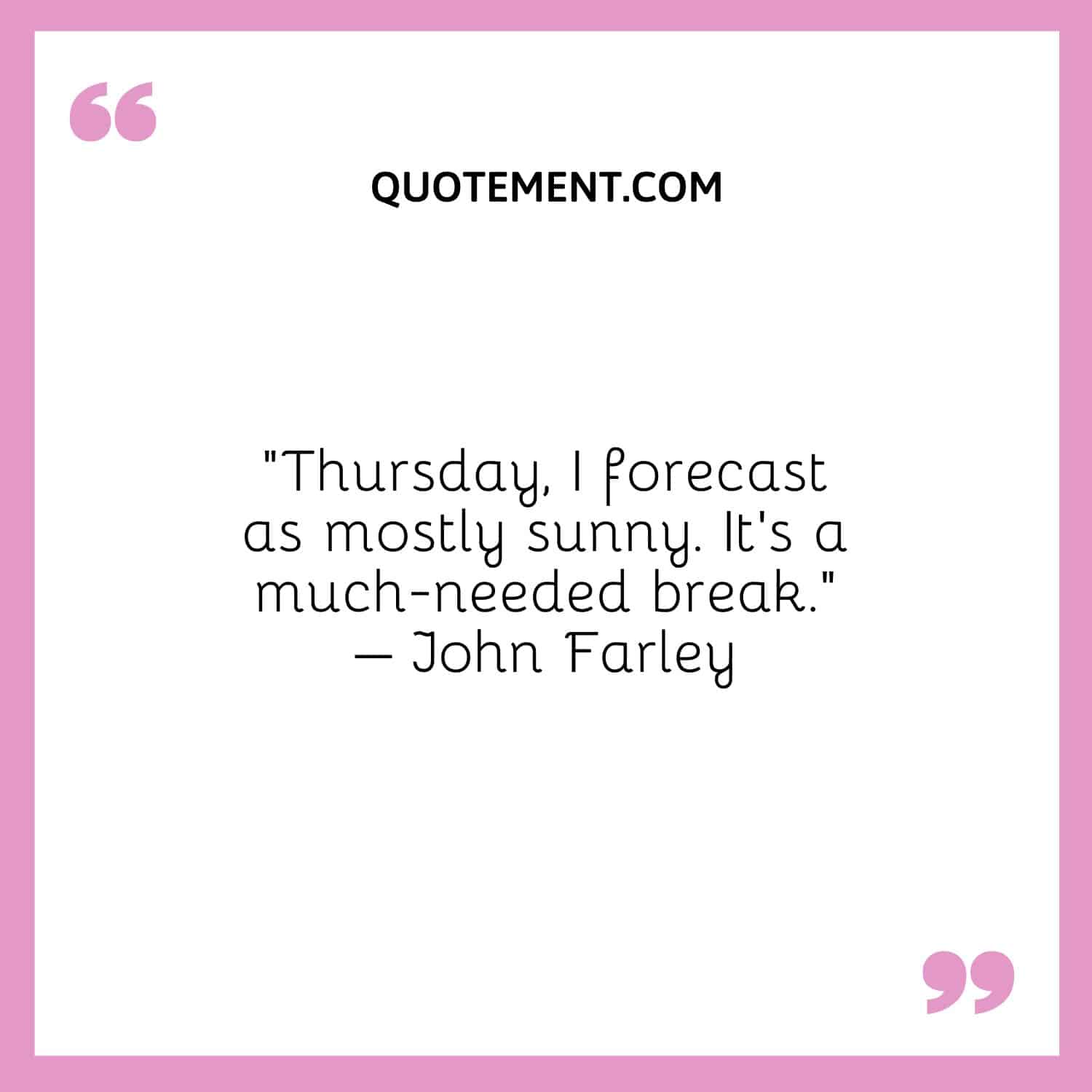 2. "Create a life that feels good on the inside. Not one that just looks good on the outside." — Maison Blanc
3. "Today's accomplishments were yesterday's impossibilities." — Robert H. Schuller
4. "Nothing in life is to be feared, it is only to be understood. Now is the time to understand more, so that we may fear less." — Marie Curie
5. "Don't let your struggle become your identity." — Ralston Bowles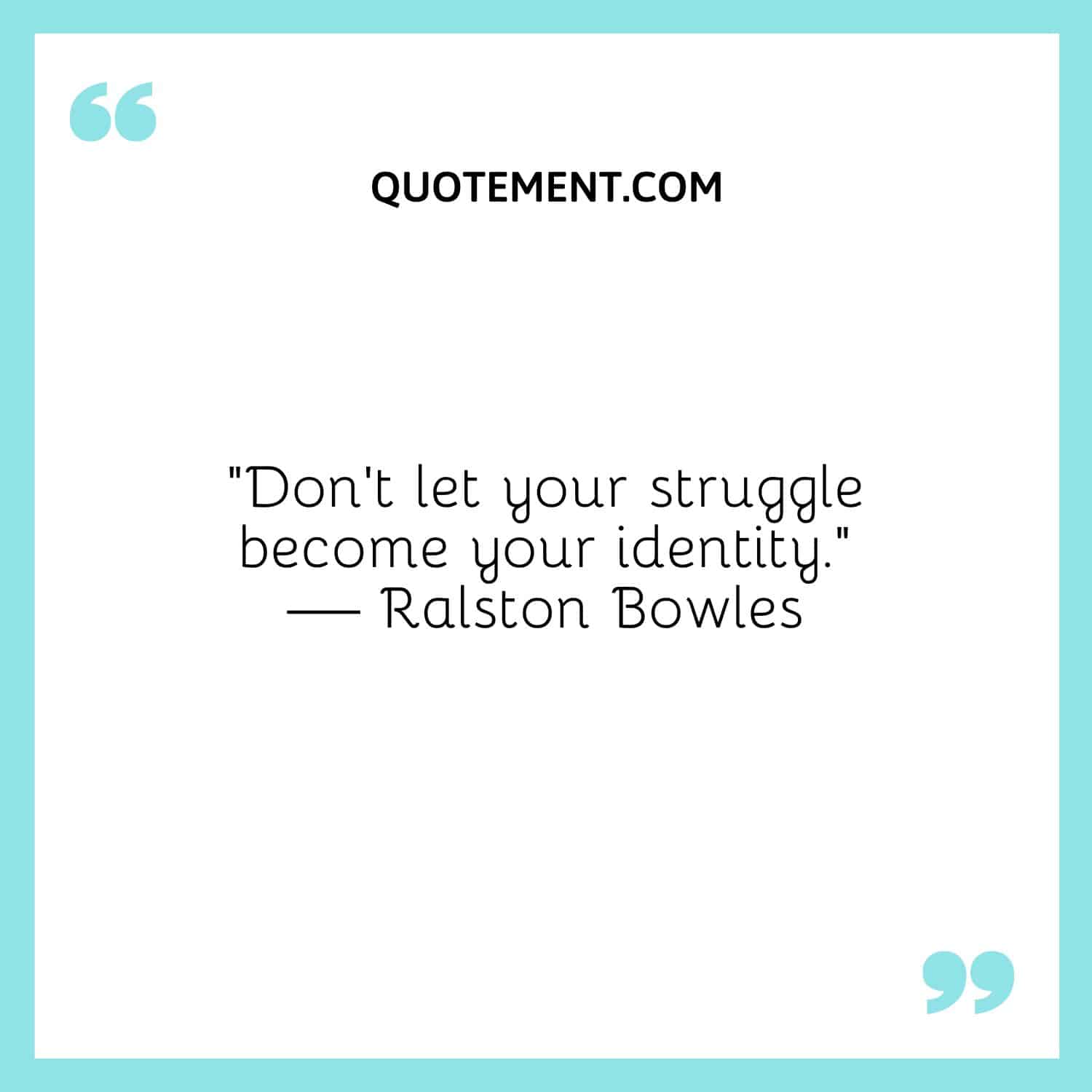 6. "It's Thursday, and it really feels like a Thursday. Sometimes things just work out." —- Demetri Martin
7. "Thursday is perhaps the worst day of the week. It's nothing in itself – it just reminds you that the week has been going on too long." — Nicci French
8. "Don't count the days. Make the days count." — Muhammad Ali
9. "Happiness is not something readymade. It comes from your own actions." — Dalai Lama
10. "Start your Thursday with an attitude of optimism. It's going to be a good day!" — Kate Summers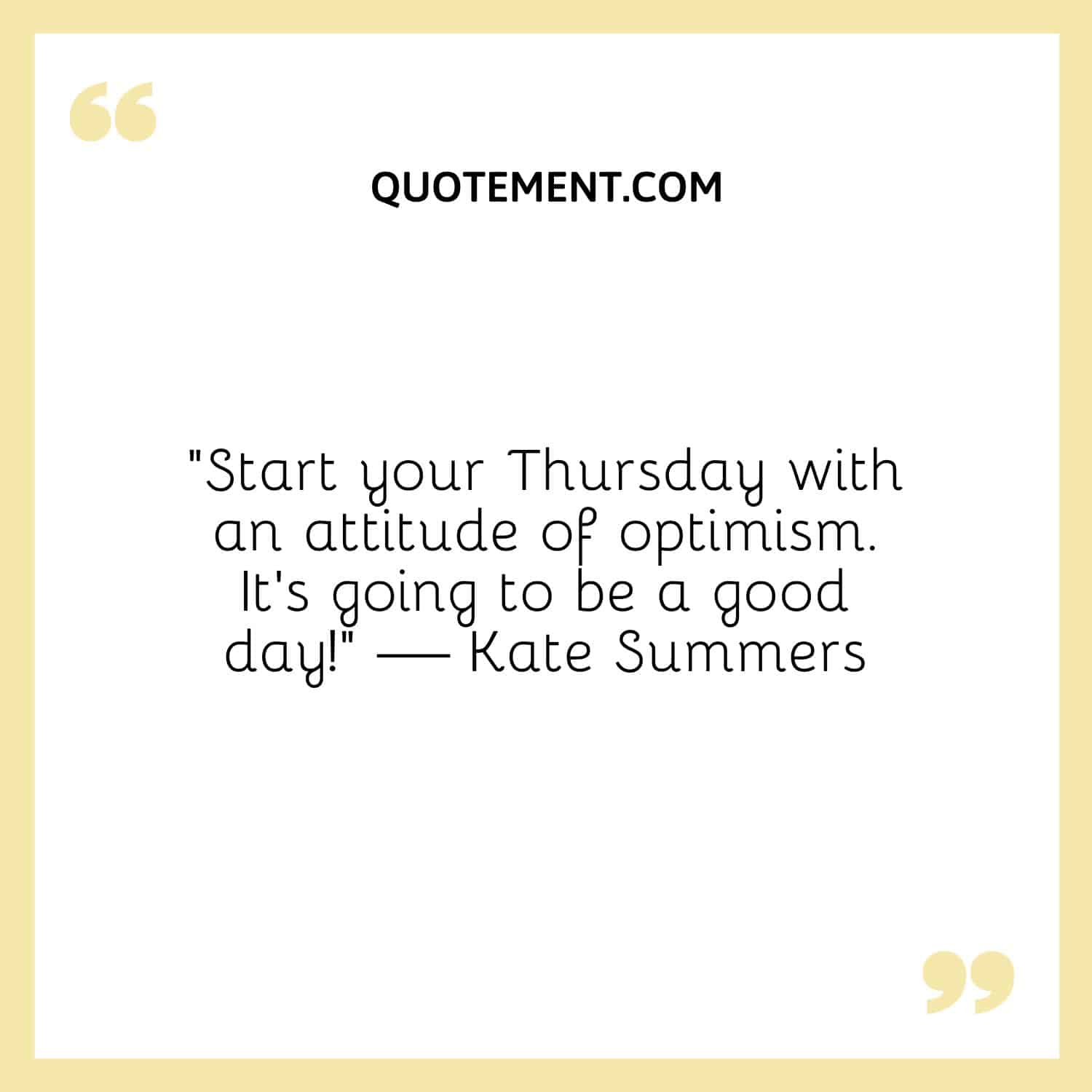 Conclusion
With all these awesome Thursday captions, finding the perfect one has never been easier!
I hope you enjoyed this article, and I wish you a happy and relaxed Thursday.
Until next time!