When I think of September, I think of the color gold. September is a golden month, a bridge between summer and fall, helping us transition from one season to another.
To show you that September is a truly magical time of the year, I've compiled a list of inspiring September quotes about the beauty of this month.
Each new month gives us the opportunity for a new start, and September is no different. It's a month of new beginnings.
Scroll through and you'll discover some of the most beautiful September quotes anywhere on the web.
Top 10 September Quotes
I'll start off with the 10 most beautiful September quotes to celebrate this beautiful month. Take a look!
1. "All the months are crude experiments, out of which the perfect September is made." — Virginia Woolf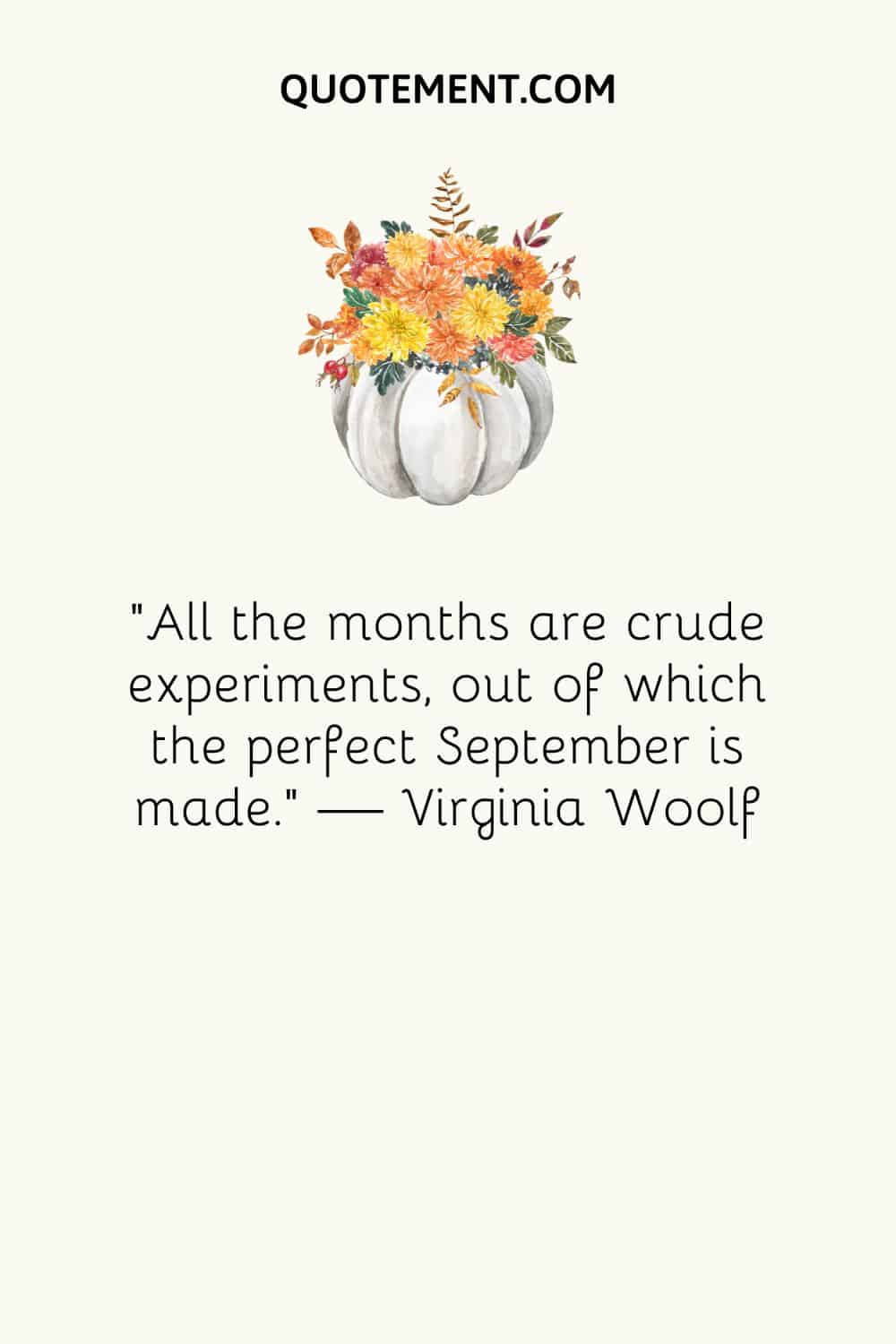 2. "Life starts all over again when it gets crisp in the fall." — F. Scott Fitzgerald
3. "And then the sun took a step back, the leaves lulled themselves to sleep, and autumn awakened." — Raquel Franco
4. "Wild is the music of the autumnal winds amongst the faded woods." — William Wordsworth
5. "Happily we bask in the warm September sun, which illuminates all creatures." — Henry David Thoreau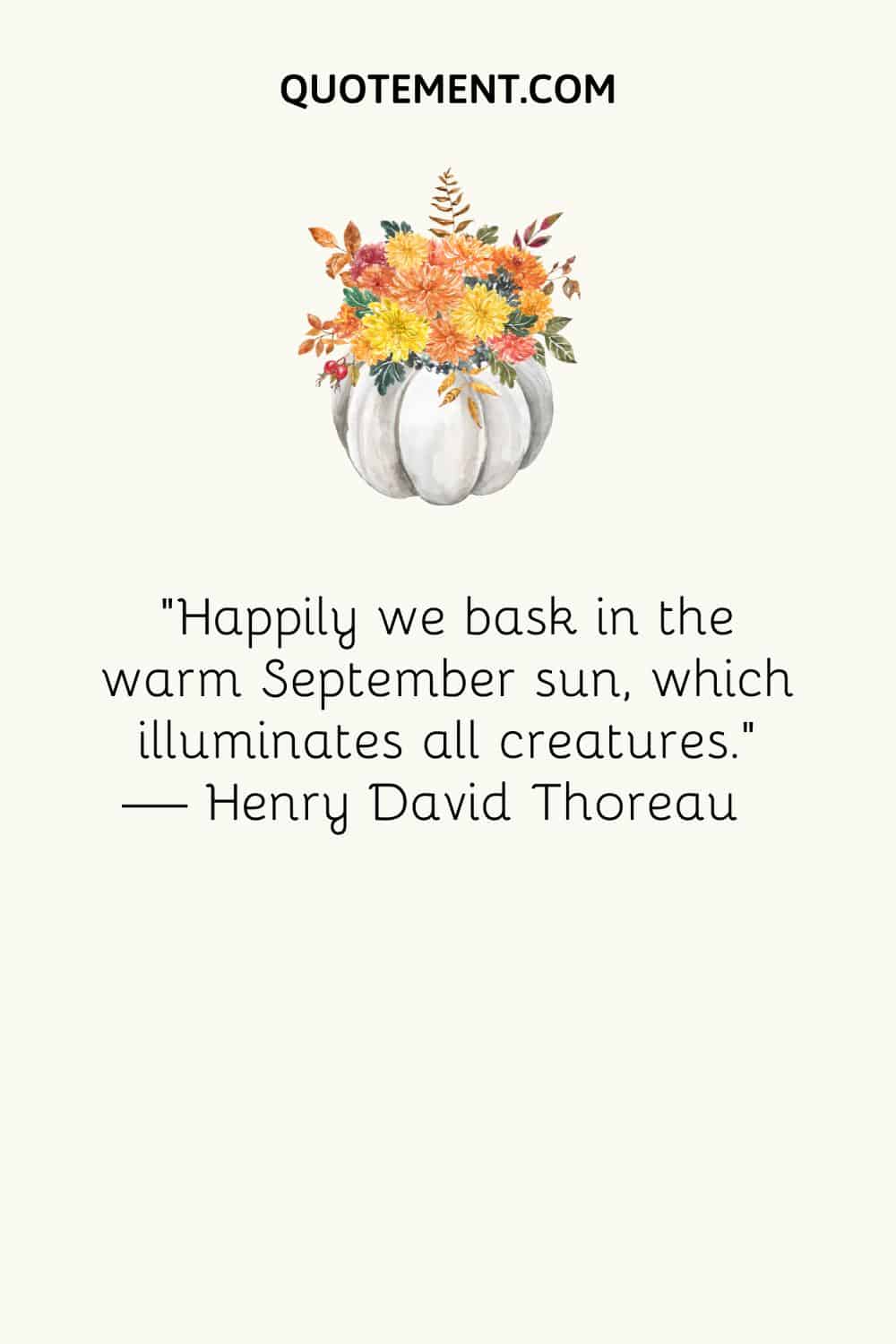 6. "Of all the seasons, autumn offers the most to man and requires the least of him." — Hal Borland
7. "It was September, and there was a crackly feeling to the air." — Carolyn Parkhurst
8. "No spring nor summer beauty hath such grace as I have seen in one autumnal face." — John Donne
9. "Autumn is the mellower season, and what we lose in flowers we more than gain in fruits." – Samuel Butler
10. "Autumn is a second spring when every leaf is a flower." — Albert Camus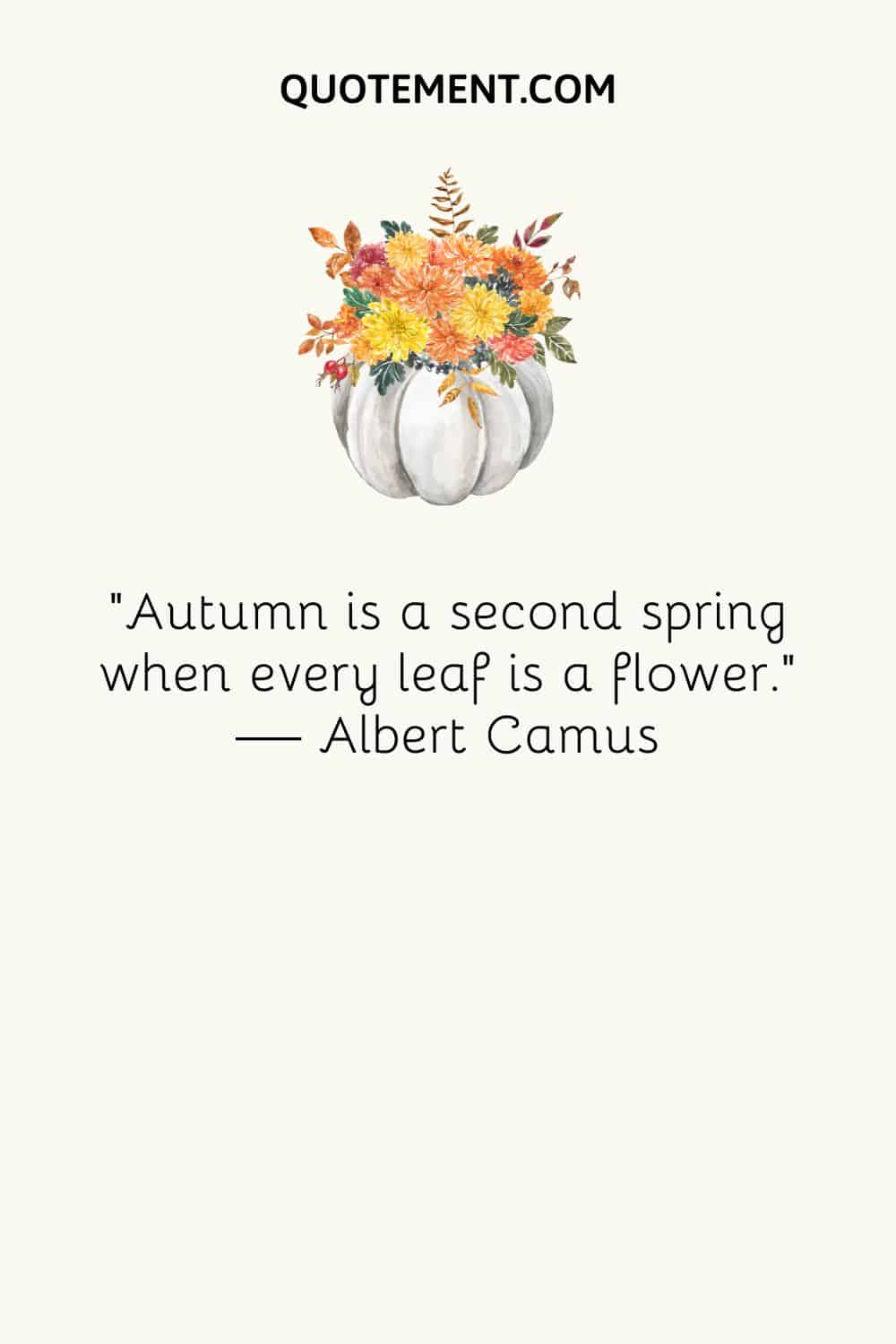 See also: 130 Beautiful Short Flower Quotes To Add Colors To Your Day
Beautiful September Quotes To Welcome New Month
Next up is a collection of lovely September quotes to welcome a new month. Have a look!
1. "Nostalgia – that's the autumn, dreaming through September. Just a million lovely things I will remember." — Jacqueline Kennedy Onassis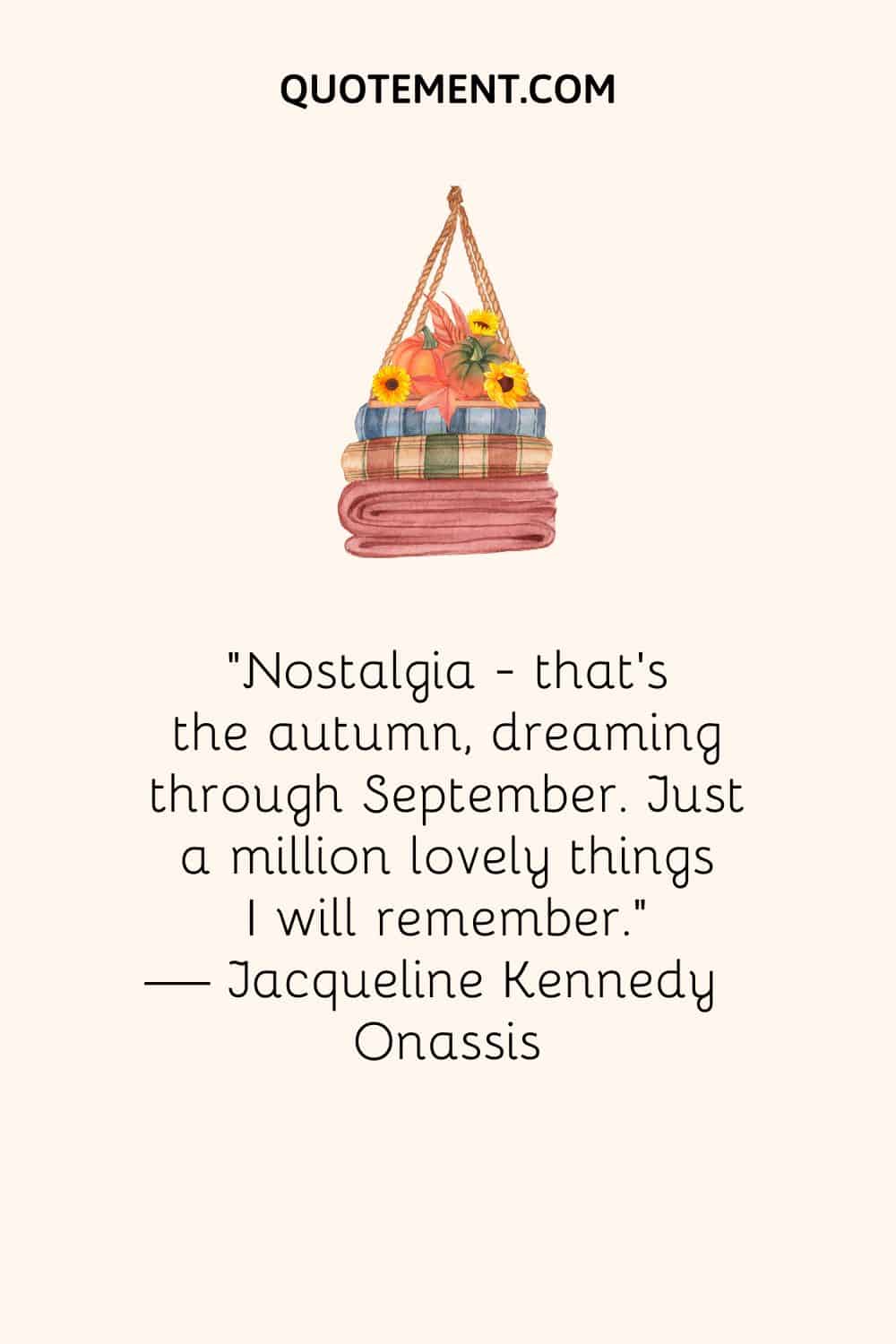 2. "Outside the leaves on the trees constricted slightly; they were the deep done green of the beginning of autumn. It was a Sunday in September." — Ali Smith
3. "Is this not a true autumn day? Just the still melancholy that I love – that makes life and nature harmonize." — George Eliot
4. "September has come, it is hers whose vitality leaps in the autumn, whose nature prefers trees without leaves and a fire in the fireplace." — Louis Macneice
5. "Happy September! The world shall now transform into pumpkin everything." ― Keith Wynn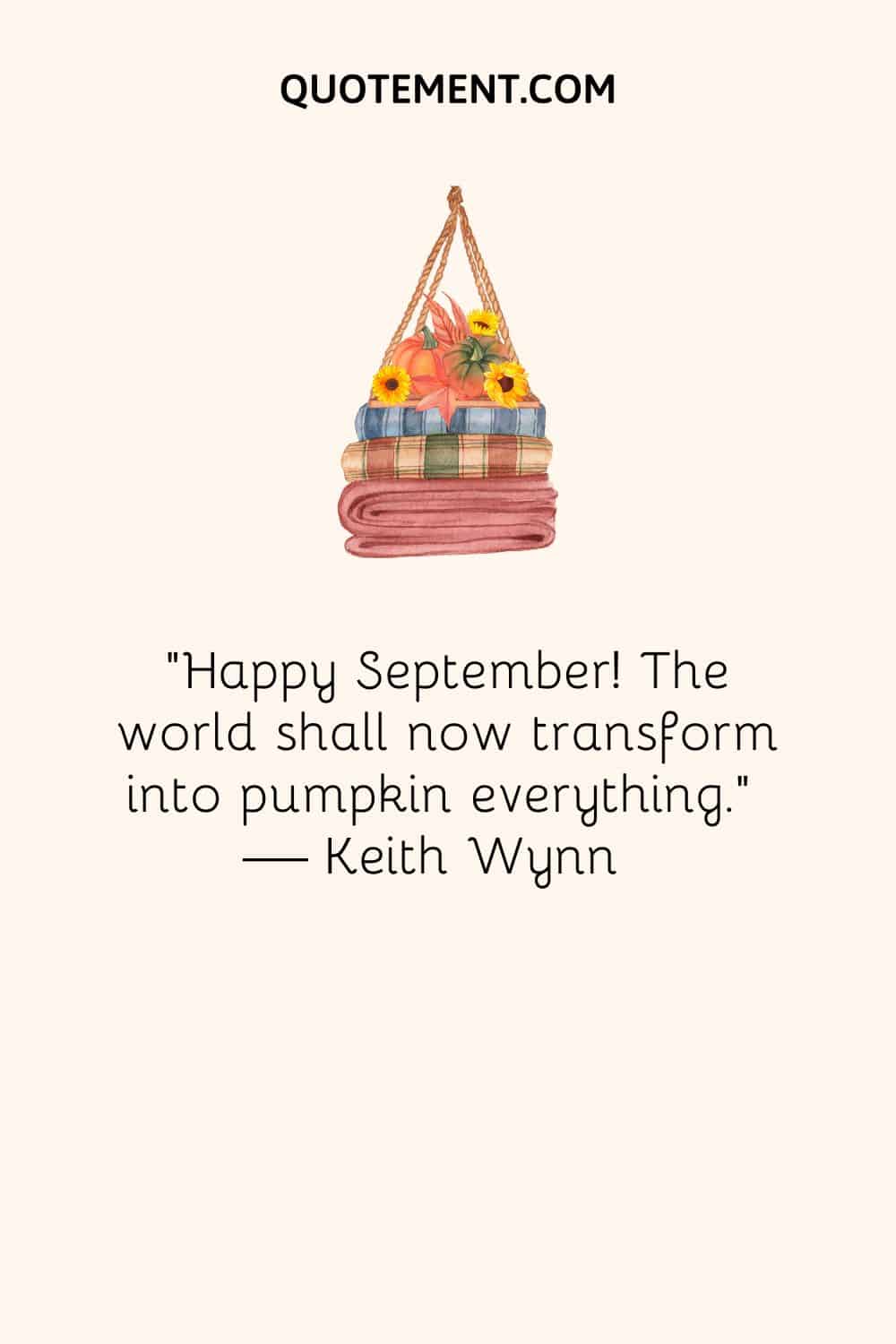 6. "Ah, September! You are the doorway to the season that awakens my soul … but I must confess that I love you only because you are a prelude to my beloved October." — Peggy Toney Horton
7. "Notice that autumn is more the season of the soul than of nature." — Friedrich Nietzsche
8. "And so with the sunshine and the great bursts of leaves growing on the trees, just as things grow in fast movies, I had that familiar conviction that life was beginning over again with the fall." ― F. Scott Fitzgerald
9. "The leaves fall, the wind blows, and the farm country slowly changes from the summer cottons into its winter wools." — Henry Beston
10. "It is worth taking the time to stop and contemplate at the beginning of each new month." — Nadine Locke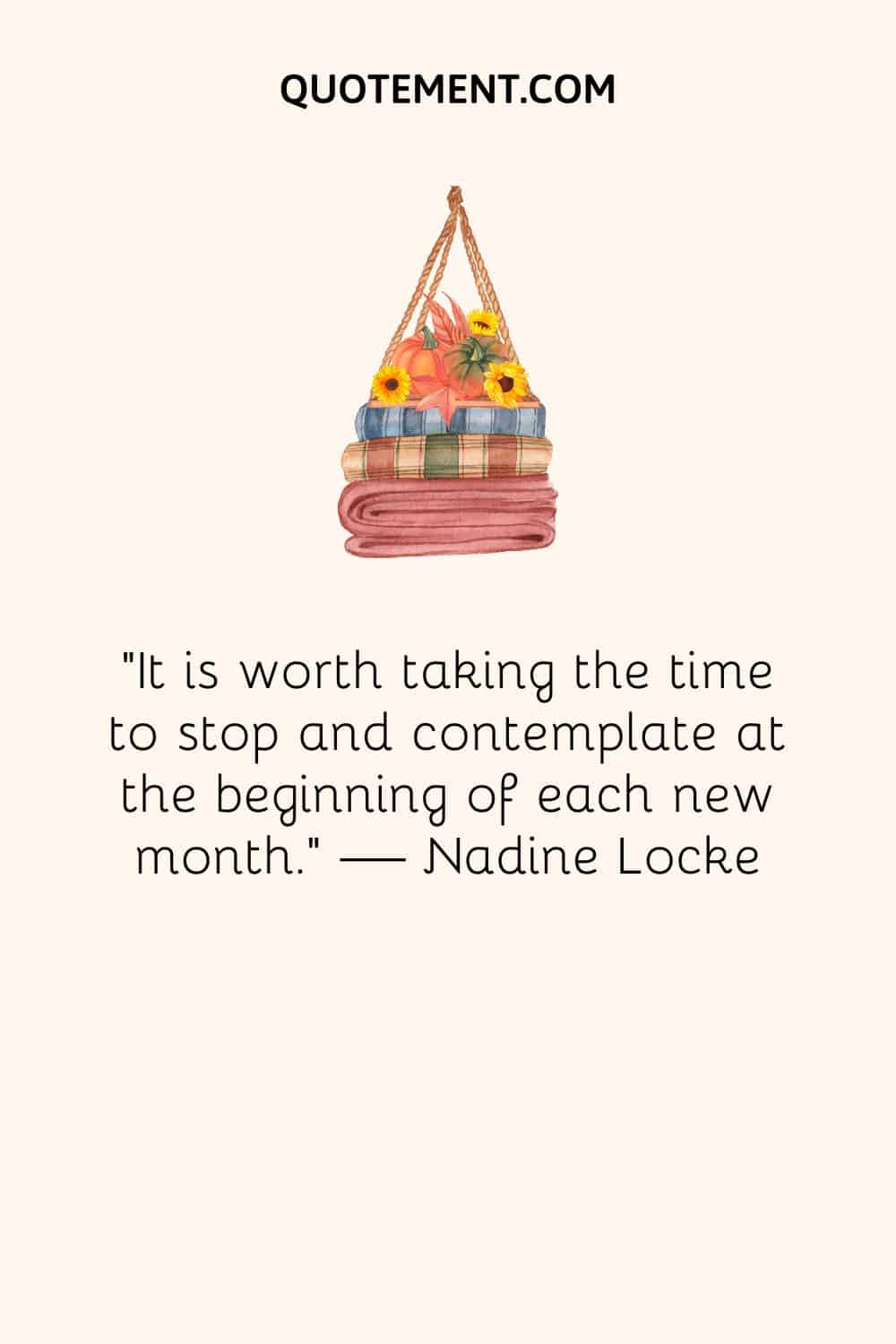 11. "That old September feeling, left over from school days, of summer passing, vacation nearly done, obligations gathering, books and football in the air." — Wallace Stegner
12. "September is the other January." — Gretchen Rubin
13. "Summer, with its dog days, its vacations, its distractions, is over. We have had our holidays, our rest, our recreation. The fall season, with its new opportunities for effort, enterprise and achievement, is upon us." — B.C. Forbes
14. "Anyone who thinks fallen leaves are dead has never watched them dancing on a windy day." — Shira Tamir
15. "Autumn. Time to dim the sunlight, cue the moody fog, and watch nature's most charming story unfold." — Angie Weiland-Crosby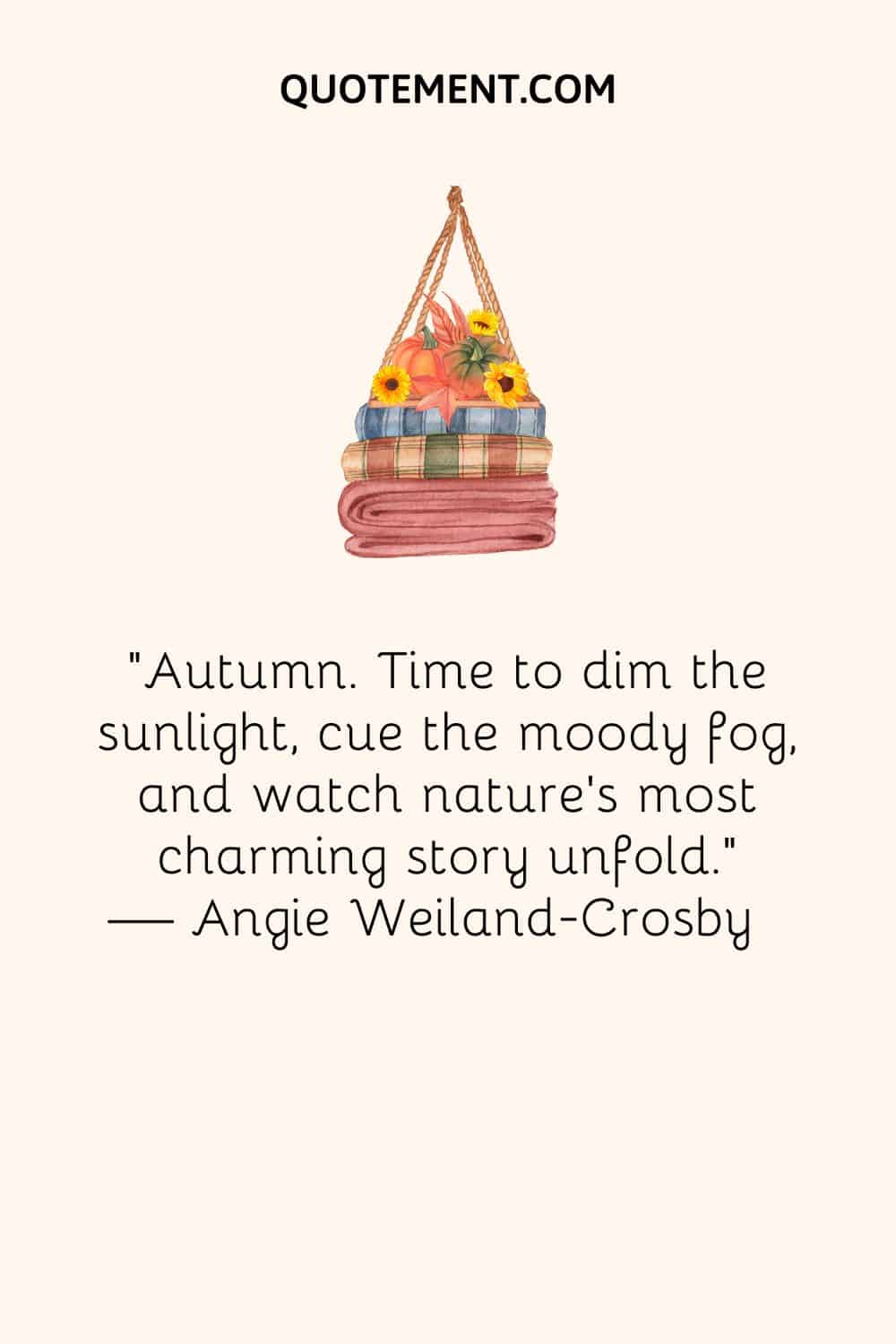 See also: 150 Nature Captions For Instagram For All The Nature Lovers
End of Summer September Quotes
Summer has come to end, but there's no reason to be sad because the most magical season is approaching!
These September quotes will help you say goodbye to summer and welcome the new season.
1. "September tries its best to have us forget summer." — Bernard Williams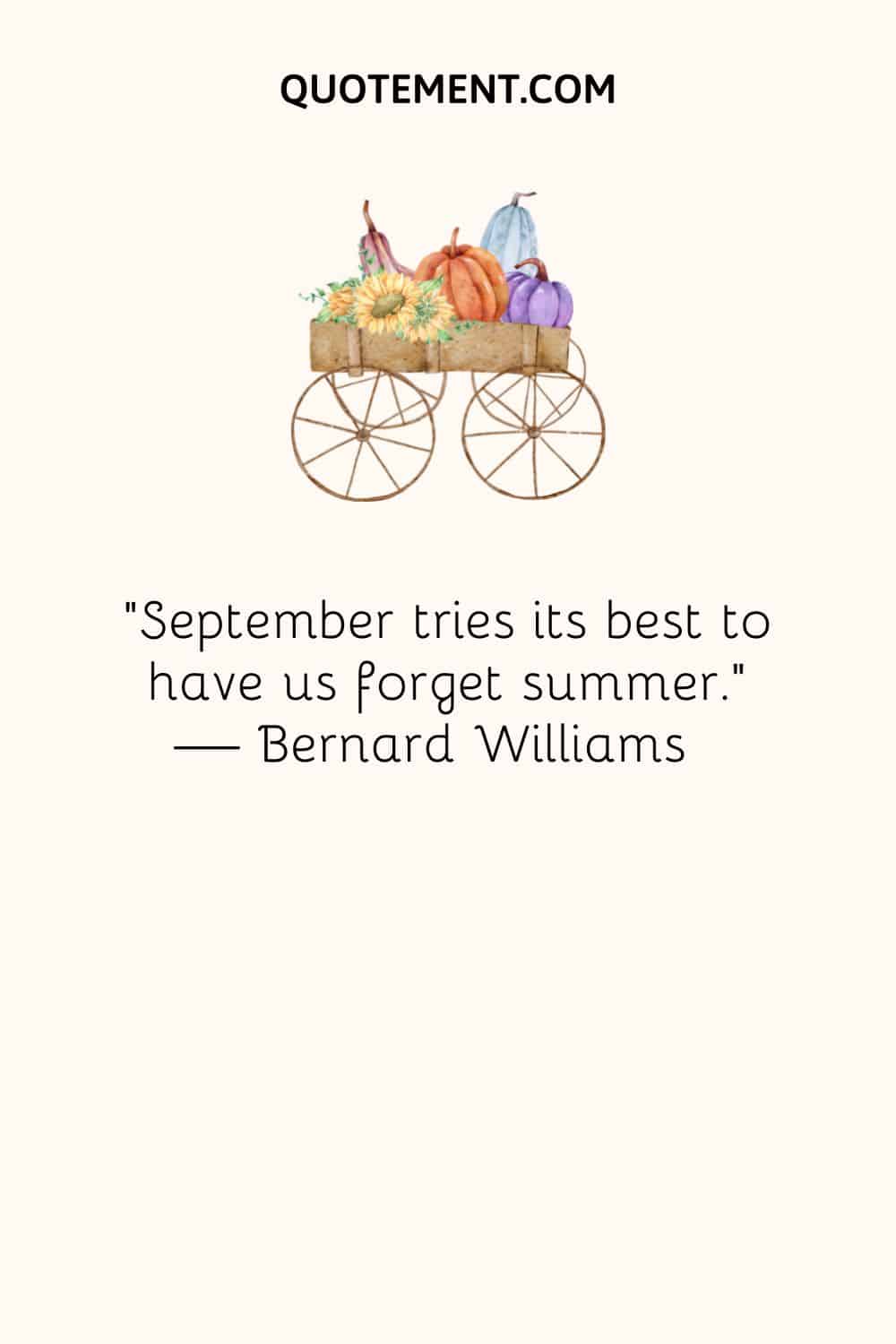 2. "September days have the warmth of summer in their briefer hours, but in their lengthening evenings a prophetic breath of autumn." — Rowland E. Robinson
3. "Autumn is the antidote to stifling summer." — Terri Guillemets
4. "There is a time in late September when the leaves are still green and the days are still warm, but somehow you know that it is all about to end, as if summer was holding its breath, and when it let it out again, it would be autumn." — Sharyn McCrumb
5. "All at once, summer collapsed into fall." — Oscar Wilde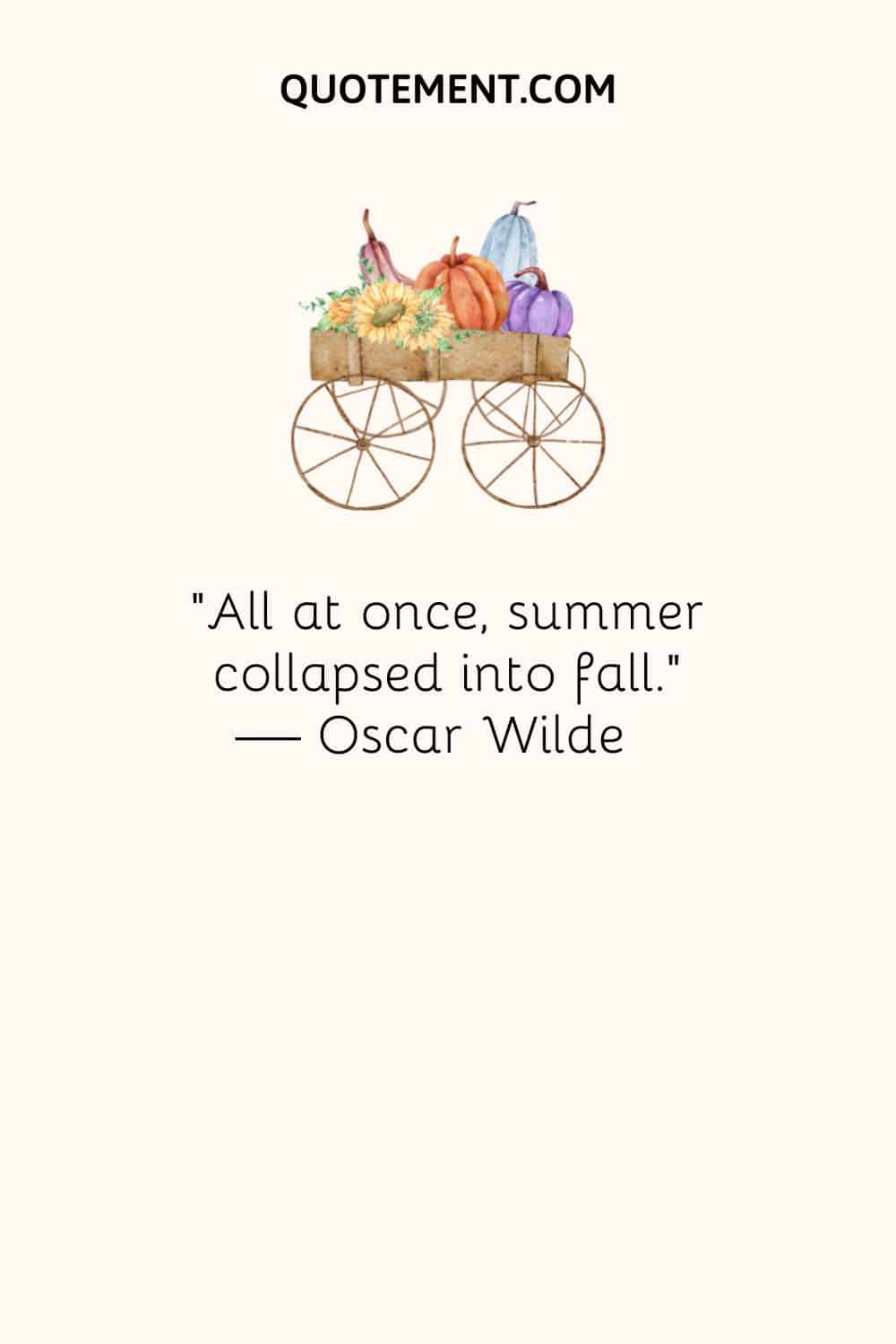 6. "Summer has come and passed. The innocent can never last. Wake me up when September ends." — Green Day, Wake Me Up When September Ends
7. "Why is summer mist romantic and autumn mist just sad?" — Dodie Smith
8. "September was a thirty-days long goodbye to summer, to the season that left everybody both happy and weary of the warm, humid weather and the exhausting but thrilling adventures." — Lea Malot
9. "There comes a day each September when you wake up and know the summer is over and fall has arrived. The slant of the sun looks different and something is in the air–a coolness, a hint of frosty mornings to follow." ― Ann Rinaldi
10. "For summer there, bear in mind, is a loitering gossip, that only begins to talk of leaving when September rises to go." ― George Washington Cable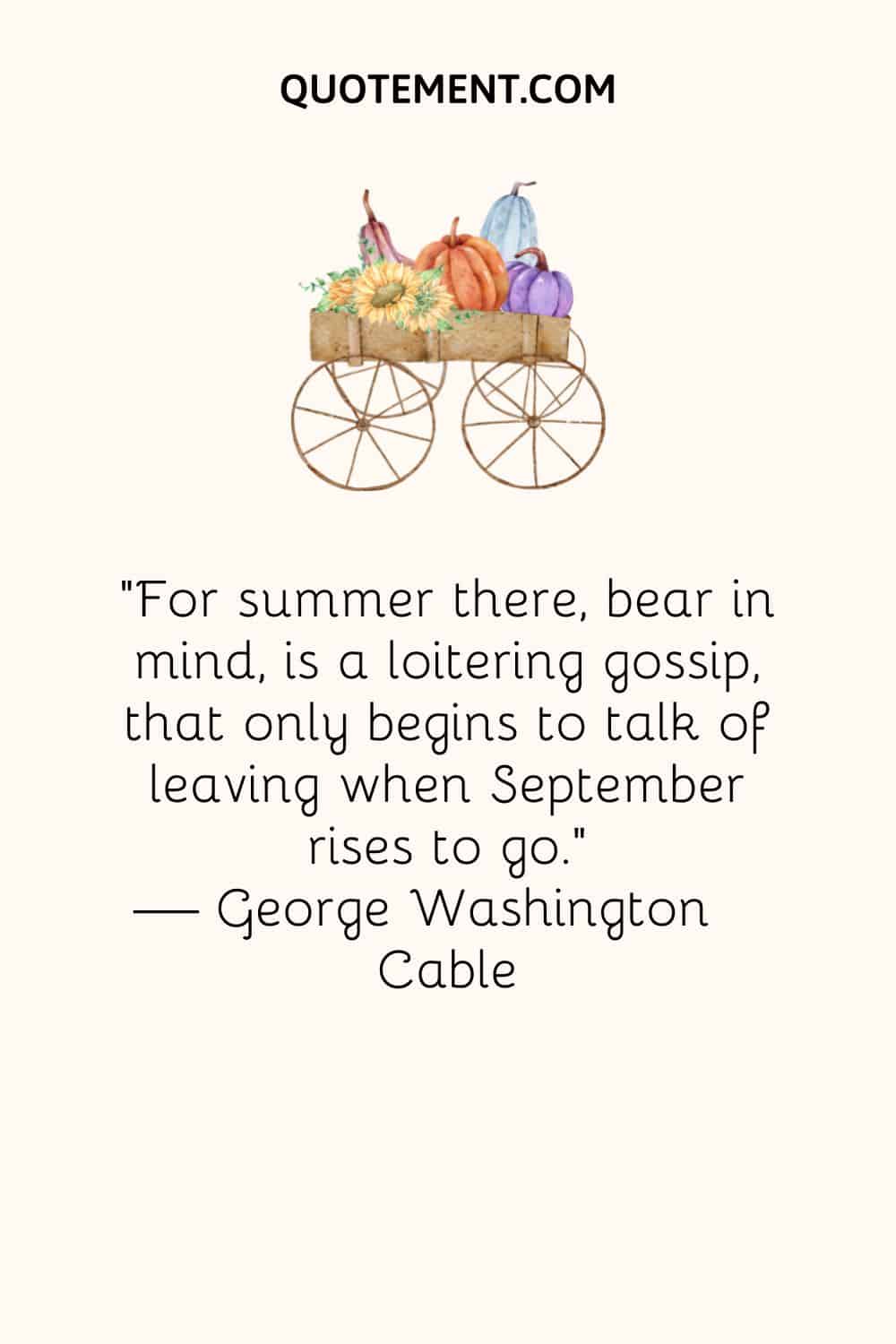 Dreamy Fall Quotes To Enjoy the New Season
Check out these dreamy September quotes below.
1. "As long as autumn lasts, I shall not have hands, canvas and colors enough, to paint the beautiful things I see." — Vincent Van Gogh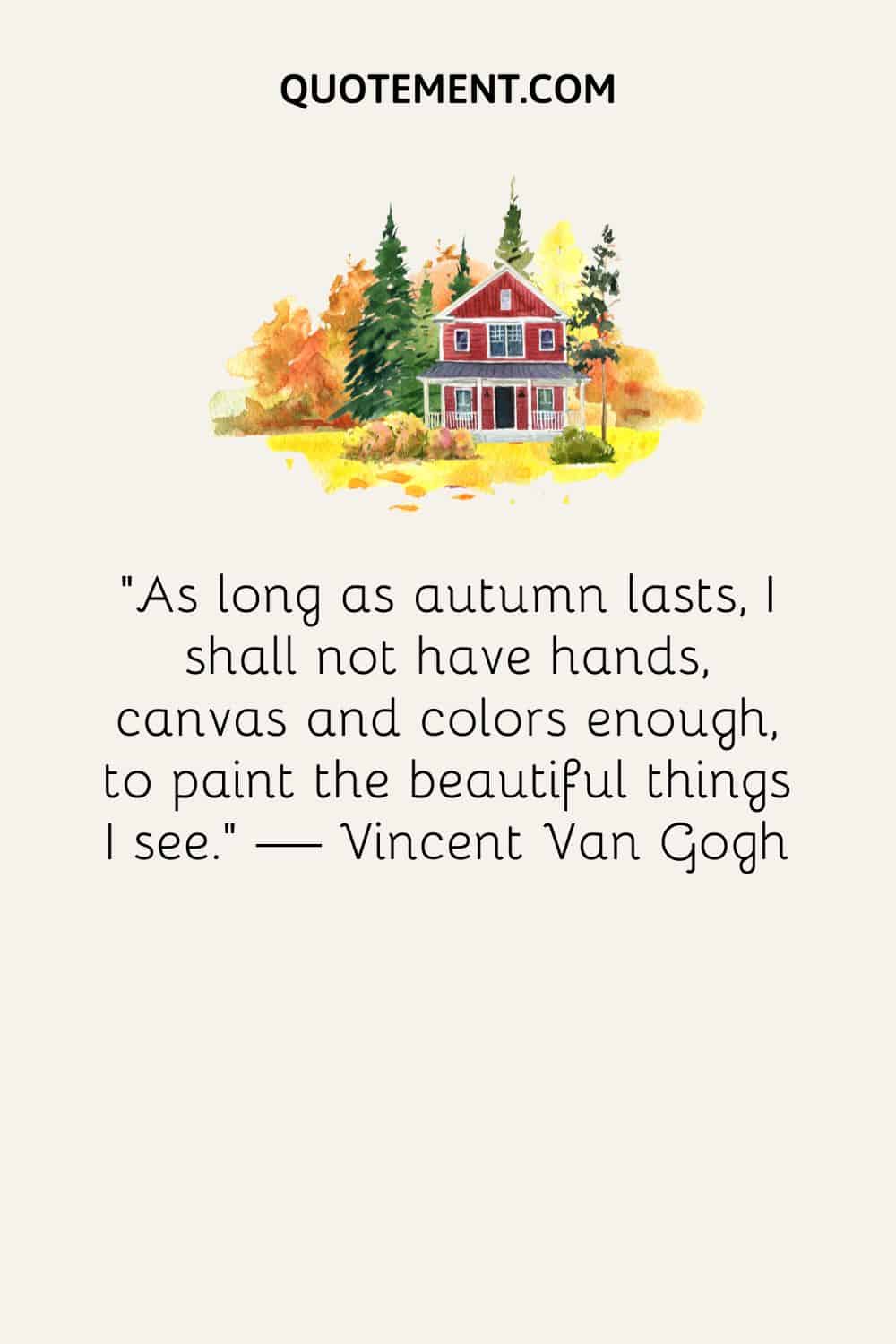 2. "By all these lovely tokens, September days are here. With summer's best of weather and autumn's best of cheer." — Helen Hunt Jackson
3. "Another fall, another turned page: there was something of jubilee in that autumnal beginning as if last year's mistakes had been wiped clean by summer." — Wallace Stegner
4. "The old summer's-end melancholy nips at my heels. There's no school to go back to; no detail of my life will change come the onset of September; yet still, I feel the old trepidation." — Sara Baume
5. "It looked like the world was covered in a cobbler crust of brown sugar and cinnamon." — Sarah Addison Allen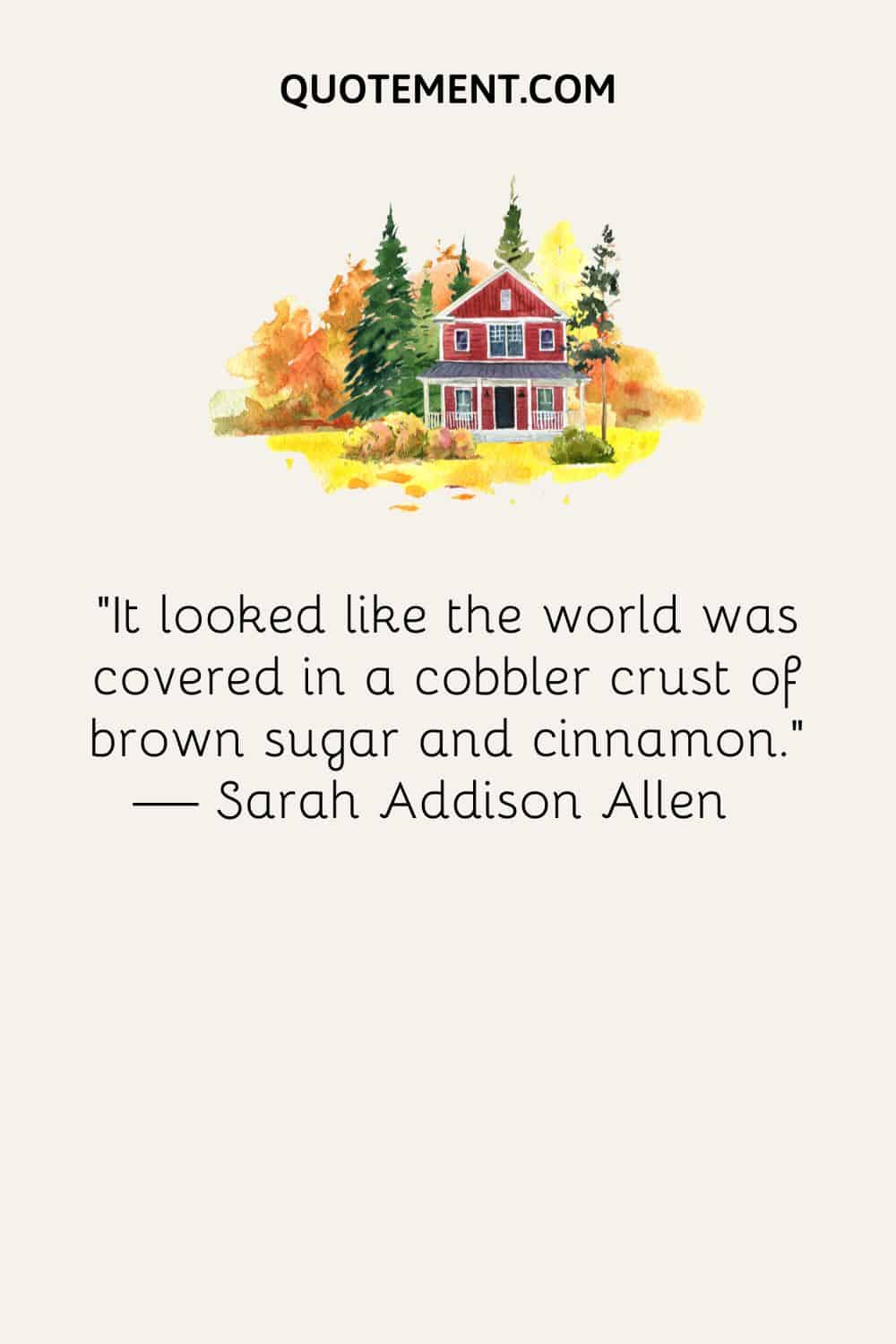 6. "I used to love September, but now it just rhymes with remember." ― Dominic Riccitello
7. "In many ways, September feels like the busiest time of the year: The kids go back to school, work piles up after the summer's dog days, and Thanksgiving is suddenly upon us." — Brene Brown
8. "Every leaf speaks bliss to me, fluttering from the autumn tree." — Emily Brontë
9. "Fall has always been my favorite season. The time when everything bursts with its last beauty, as if nature had been saving up all year for the grand finale." — Lauren DeStefano
10. "Autumn carries more gold in its pocket than all the other seasons." — Jim Bishop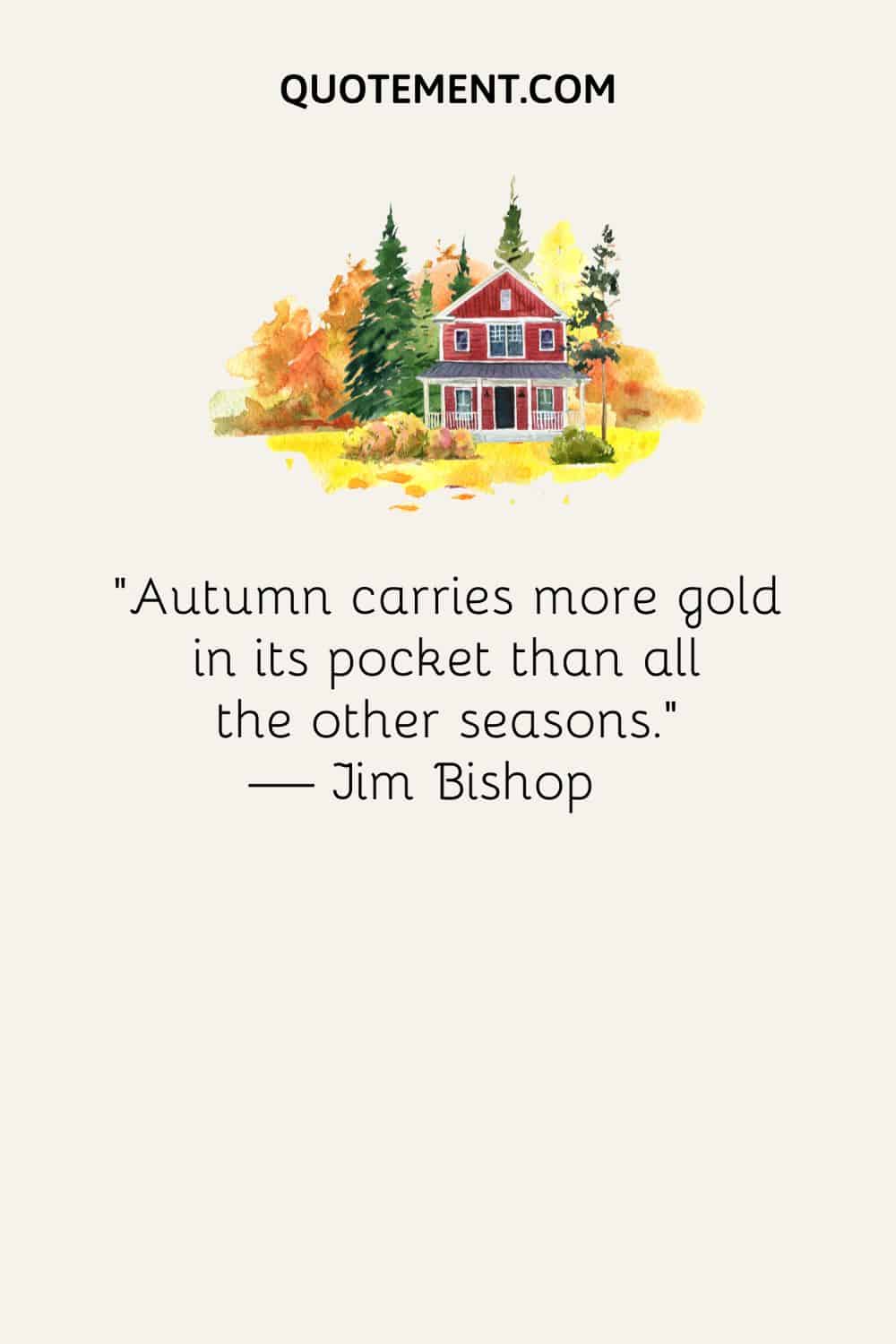 11. "The roses hung their heads and dreamed under the still September clouds, and the water plashed and murmured softly among the pebbles of the shore." ― E.L. Voynich
See also: 290 Beautiful Rose Captions For Instagram To Inspire You
12. "As the alluring song of September begins to whisper in my ear, my passionate spirit yearns for the splendor of its promise." — Peggy Toney Horton
13. "The leaves of brown came tumbling down. Remember, in September, in the rain. The sun went out just like a dying amber." ― Harry Warren
14. "The morning had dawned clear and cold, with a crispness that hinted at the end of summer." — George R.R. Martin
15. "Autumn seemed to arrive suddenly that year. The morning of the first September was crisp and golden as an apple." — J. K. Rowling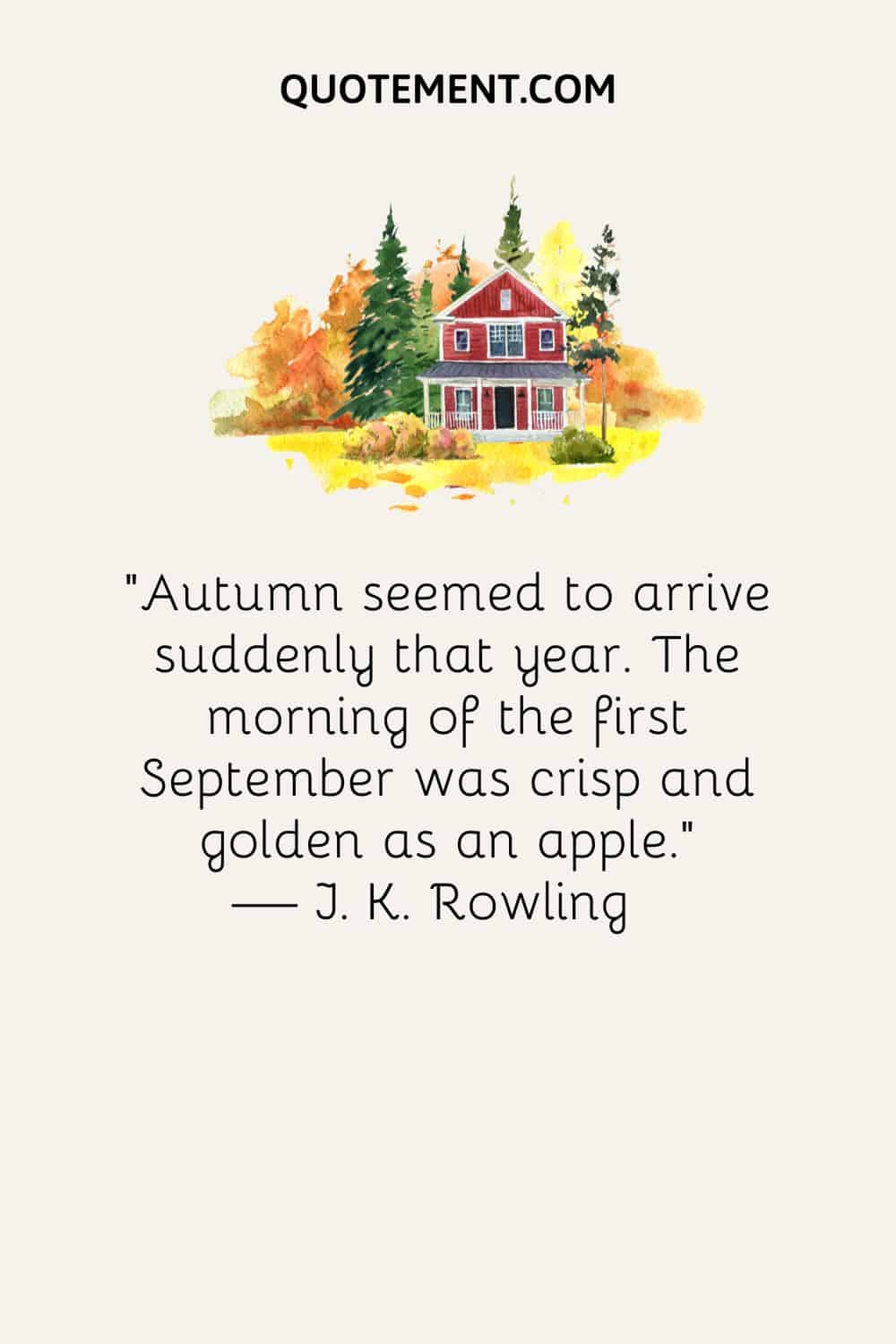 See also: 120 Golden Hour Quotes About The Magical Time Of The Day
Inspirational September Quotes
These inspirational September quotes will show you why September is full of magic and inspiration.
1. "Fallen leaves on the ground are the golden song of immortal creativity." — Amit Ray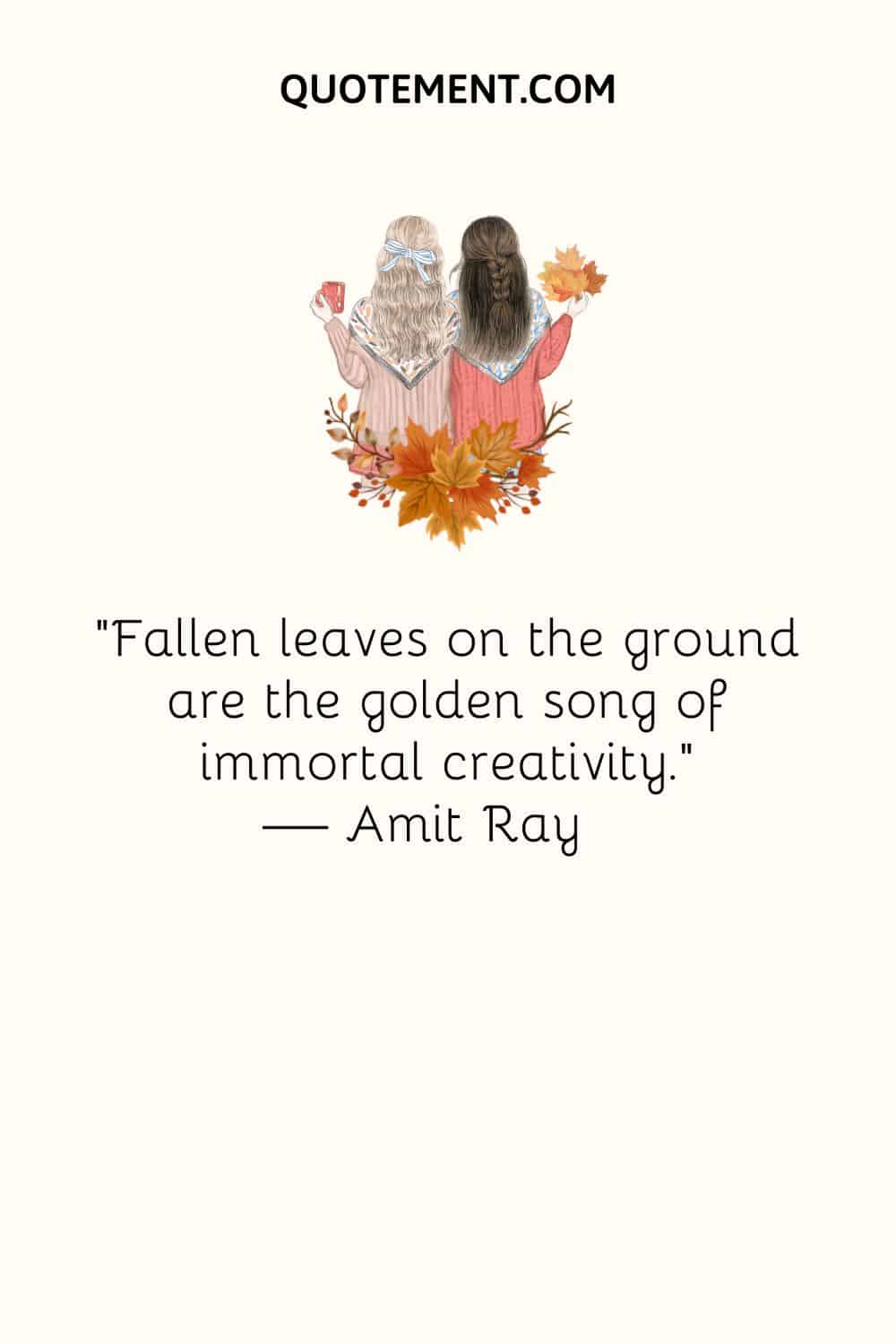 2. "We know that in September, we will wander through the warm winds of summer's wreckage. We will welcome summer's ghost." — Henry Rollins
3. "In short, a bad Sunday of September, in September of that traitor who let you go a big wave passed upon him, like a gunshot between the prickly pears." — Giovanni Verga
4. "September is the month of maturity; the heaped basket and the garnered sheaf. It is the month of climax and completion. September! I never tire of turning it over and over in my mind. It has warmth, depth and color. It glows like old amber." — Patience Strong
5. "When you are reluctant to change, think of the beauty of autumn." — V V Brown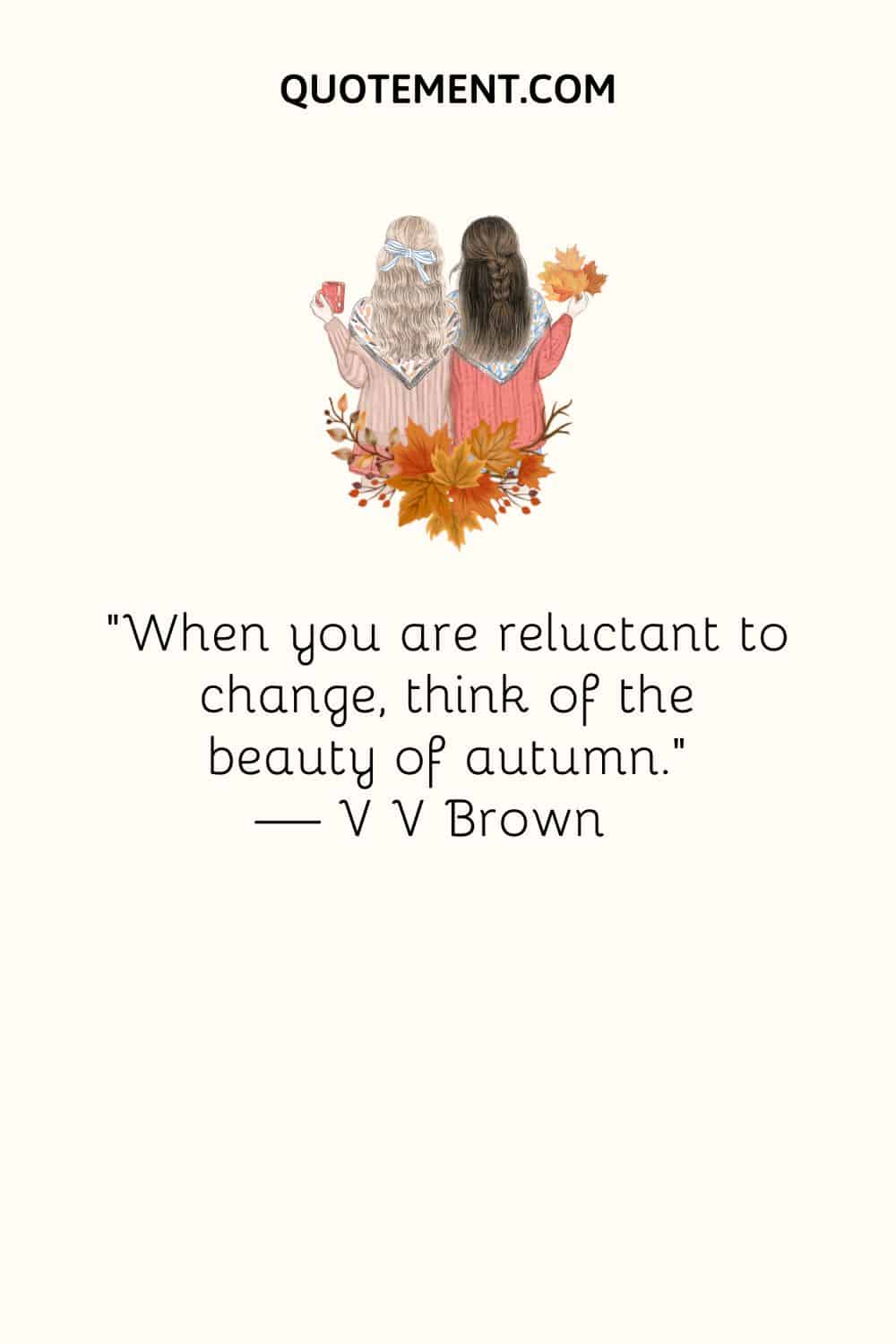 6. "Autumn is the hardest season. The leaves are all falling, and they're falling like they're falling in love with the ground." — Andrea Gibson
7. "As September rolls into October, I become obsessed with apples. Now obviously this is provoked by the ripening fruit clustering on the trees in our orchard, but it is as though all things pomological ripen in me, too." — Monty Don
8. "Summer ends, and Autumn comes, and he who would have it otherwise would have high tide always and a full moon every night." — Hal Borland
9. "Making your Christmas cake in September is perfect, as too fresh a cake crumbles when cut." — Mary Berry
10. "I cannot endure to waste anything so precious as autumnal sunshine by staying in the house." — Nathaniel Hawthorne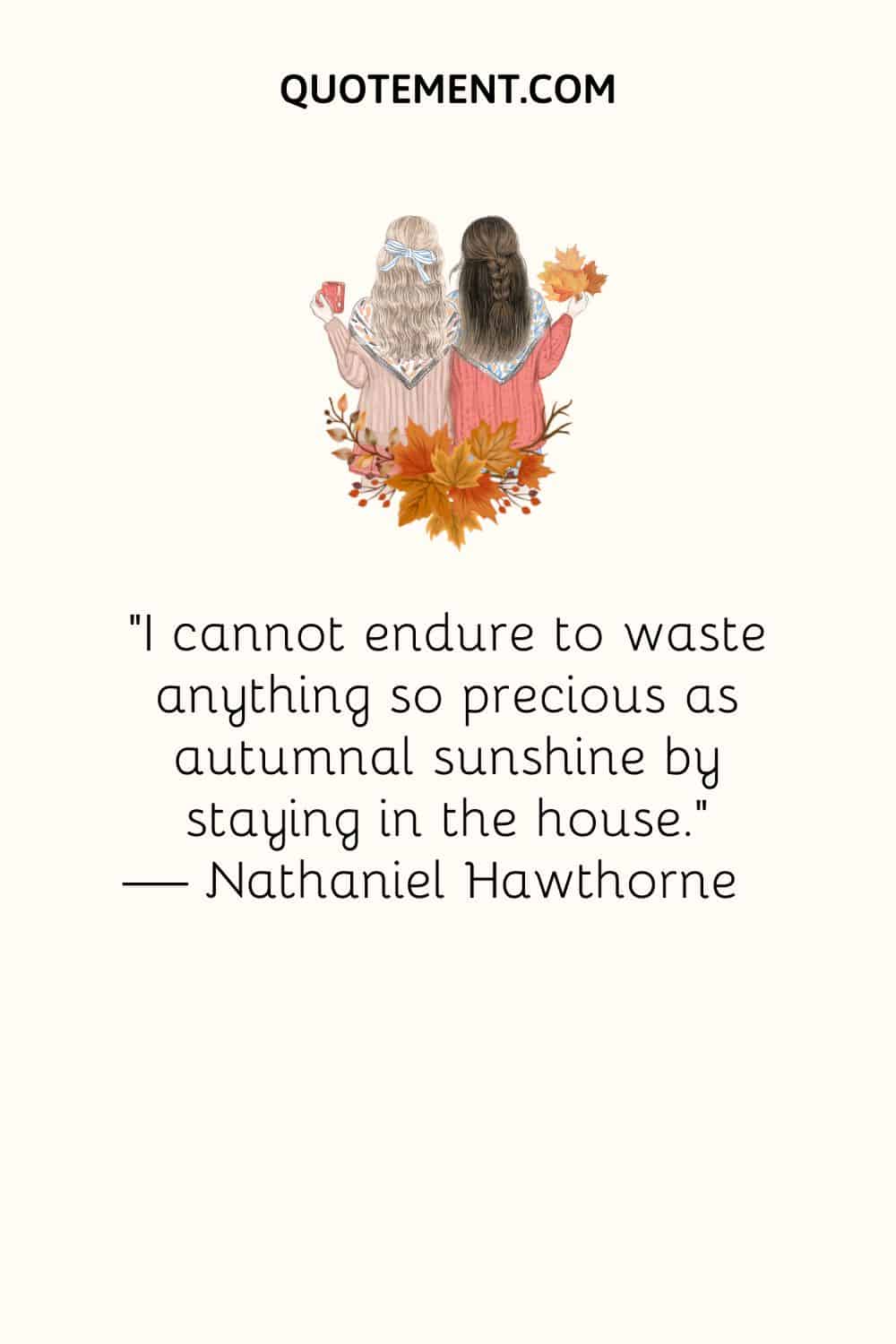 11. "O sweet September, thy first breezes bring The dry leaf's rustle and the squirrel's laughter, The cool fresh air whence health and vigor spring and promise of exceeding joy hereafter." — George Arnold
12. "It was September. In the last days when things are getting sad for no reason." ― Ray Bradbury
13. "Autumn is full of leave-taking. In September the swallows are chattering of destination and departure like a crowd of tourists." ― Mary Webb
14. "September showed up right on schedule, and lasted a whole month." ― Jenny Wingfield
15. "And suddenly, you just know it's time to start something new and trust the magic of beginnings." — Meister Eckhart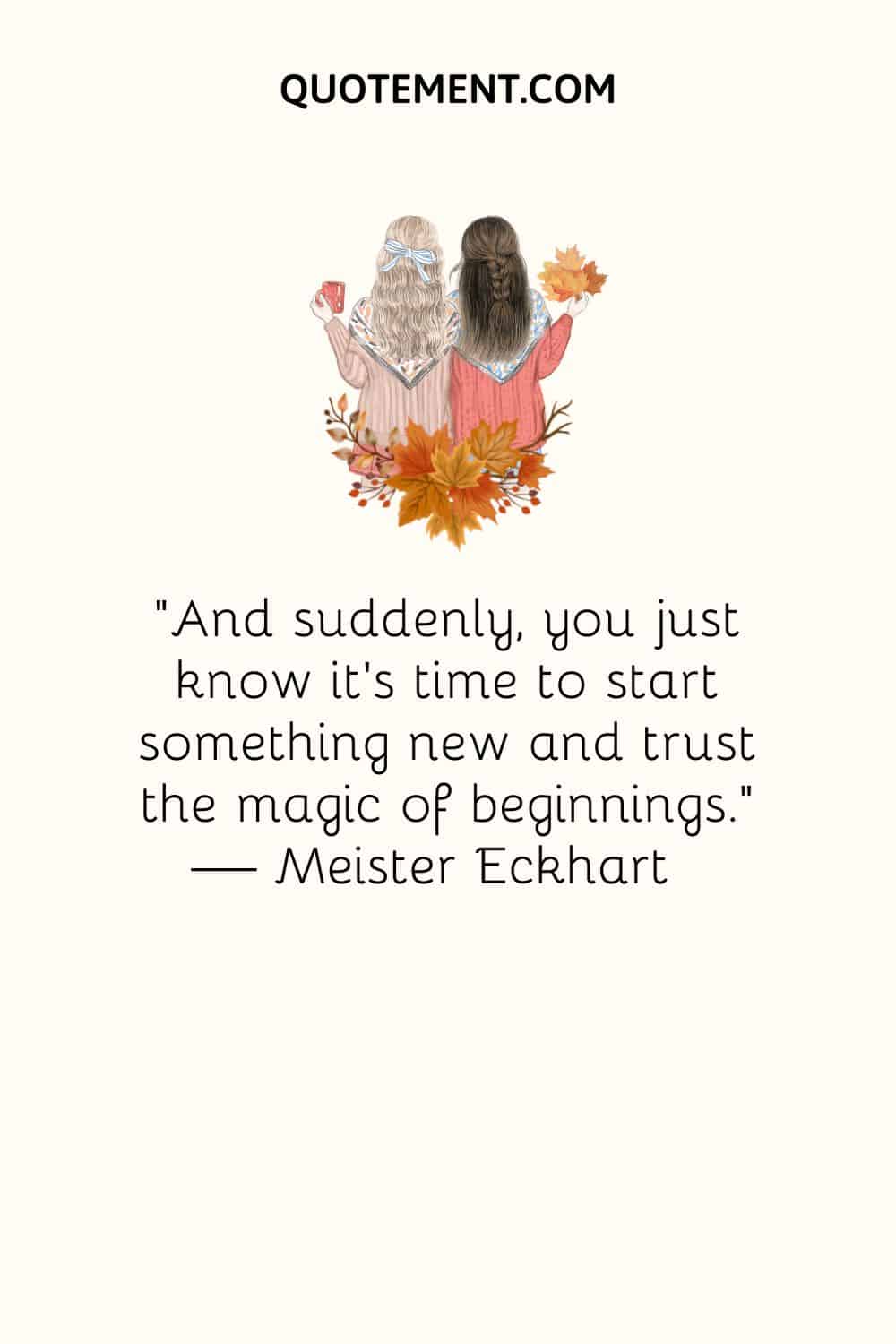 See also: 90 New Beginning Quotes To Embrace A New Day And New You
September Quotes To Celebrate the Beginning Of Fall
If fall is your favorite season, you'll love these September quotes below.
1. "September smiled at her wonderful friends in all their colors and bright eyes and gentle ways." — Catherynne M. Valente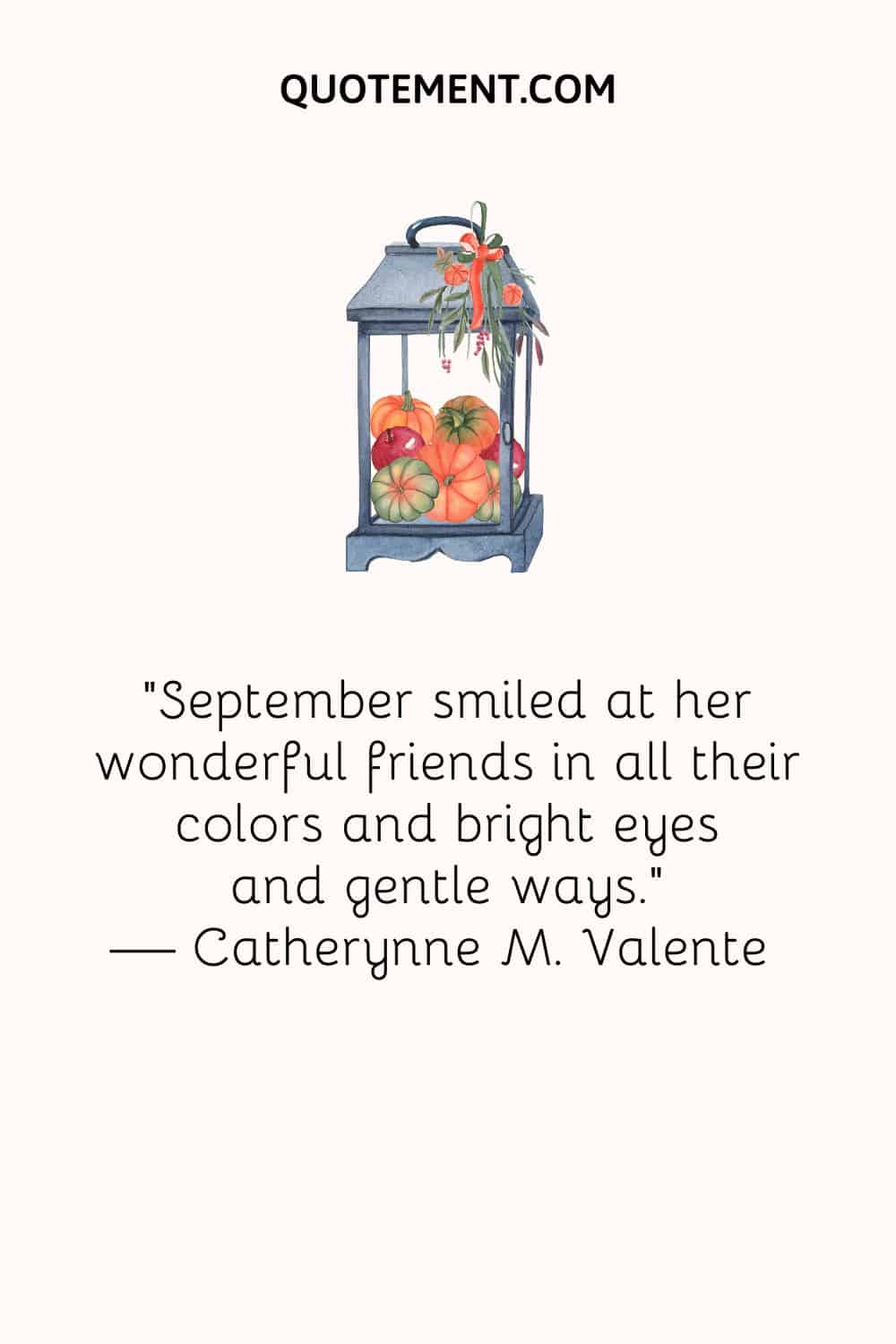 2. "It was a lovely afternoon—such an afternoon as only September can produce when summer has stolen back for one more day of dream and glamour." — L.M. Montgomery
3. "There is a clarity about September … the sun seems brighter, the sky more blue, the white clouds take on marvelous shapes; the moon is a wonderful apparition, rising gold, cooling to silver; and the stars are so big." — Faith Baldwin
4. "How smartly September comes in, like a racing gig, all style, no confusion." ― Eleanor Clark
5. "September: it was the most beautiful of words, he'd always felt, evoking orange-flowers, swallows, and regret." — Alexander Theroux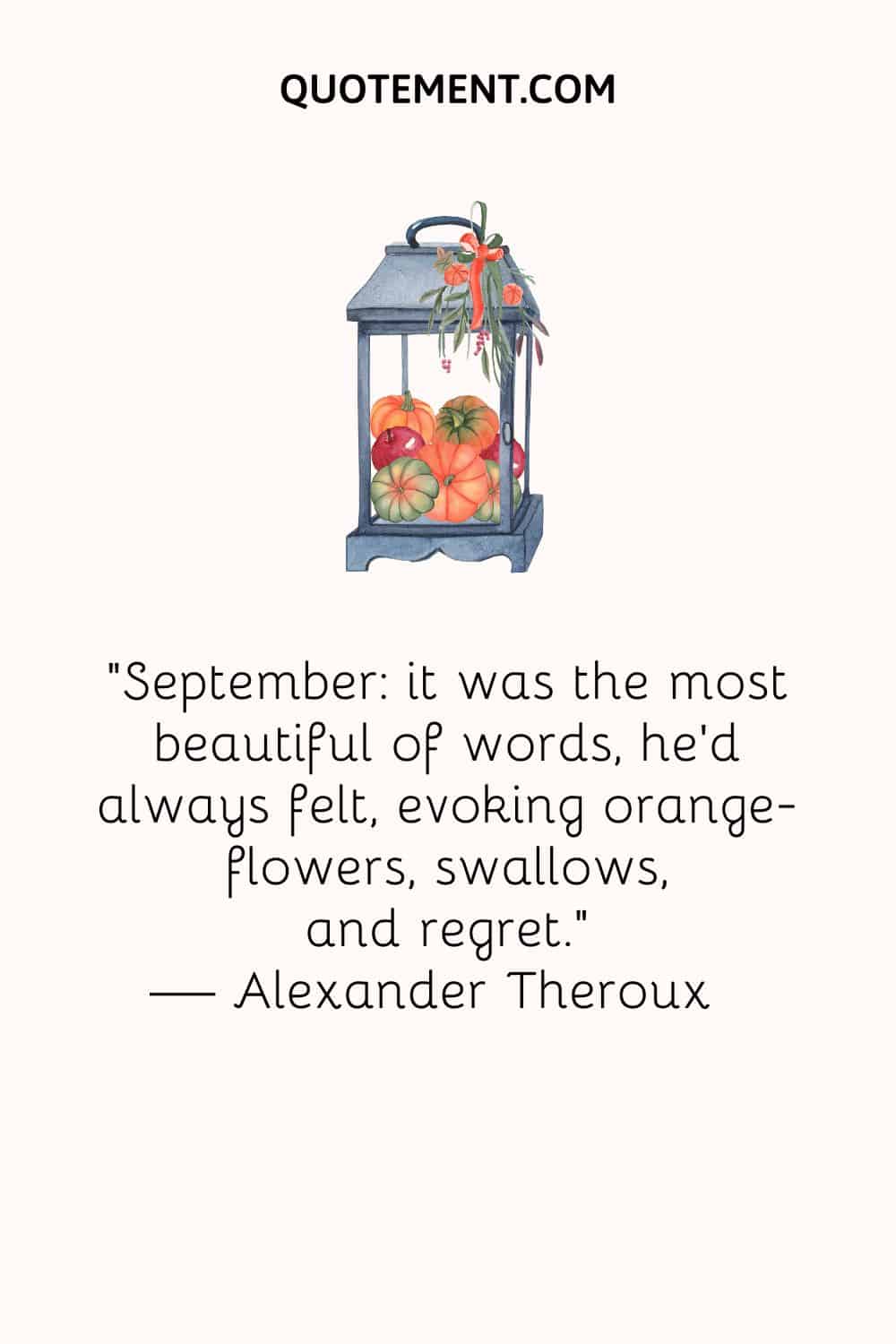 6. "Autumn is as joyful and sweet as an untimely end." — Rémy de Gourmont
7. "It must be September, July sun has disappeared." ― Charmaine J. Forde
8. "But when fall comes, kicking summer out on its treacherous ass as it always does one day sometime after the midpoint of September, it stays awhile like an old friend that you have missed." — Stephen King
9. "It strikes me that the spirit of the Fourth, this year, was used up by September's end and fell like an early leaf." ― William H. Gass
10. "Live in each season as it passes: breathe the air, drink the drink, taste the fruit." — Henry David Thoreau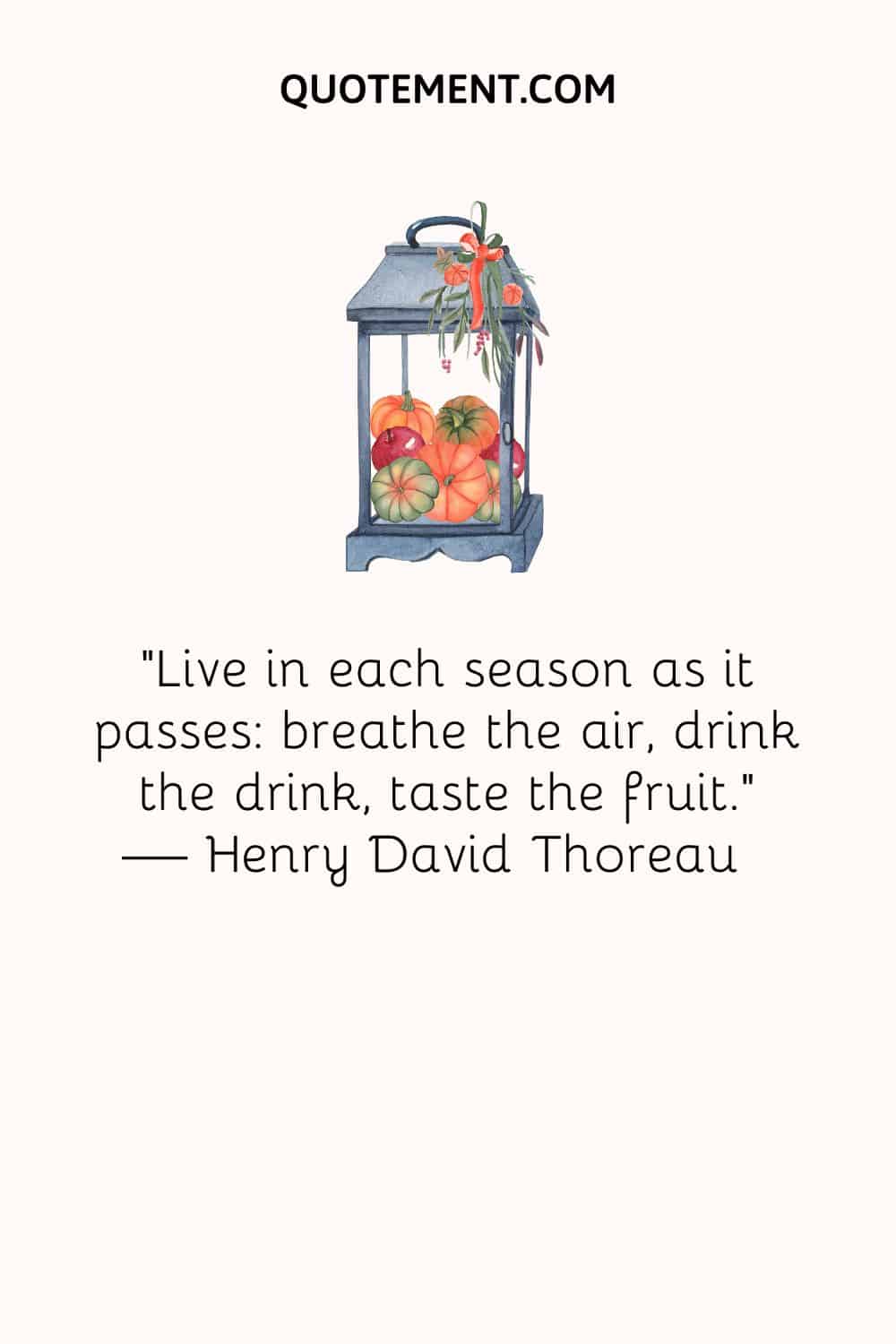 11. "But now in September, the garden has cooled, and with it my possessiveness. The sun warms my back instead of beating on my head… The harvest has dwindled, and I have grown apart from the intense midsummer relationship that brought it on." — Robert Finch
12. "September is dressing herself in showy dahlias and splendid marigolds and starry zinnias." ― Olive Wendell Holmes
13. "Autumn is a poem – while you fall for everything, you remember that there is something worth dying for." ― Laura Chouette
14. "There is something incredibly nostalgic and significant about the annual cascade of autumn leaves." — Joe. L. Wheeler
15. "September sky never looked more charming, or the sublime petals of the rose looked so graceful." ― Avijeet Das
See also: 270 Absolutely Beautiful Sky Captions For Instagram
Motivational September Quotes
September is a month of new beginnings, and these motivational September quotes will inspire a fresh and enthusiastic new start.
1. "If a year was tucked inside of a clock, then autumn would be the magic hour." – Victoria Erickson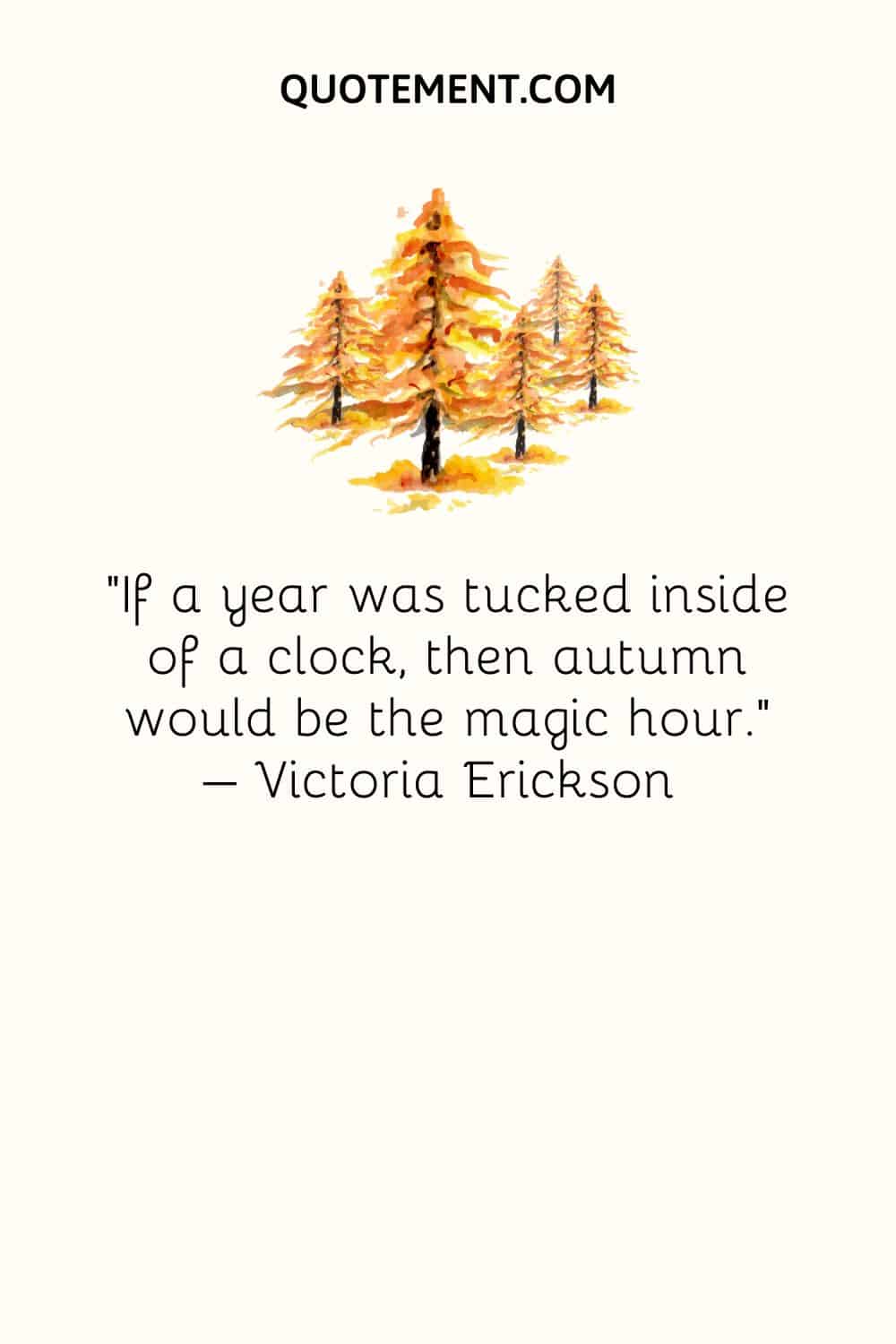 2. "The window is open, admitting the September breeze: A month that smells like notebook paper and pencil shavings, autumn leaves and car oil. A month that smells like progress and moving on." — Lauren Oliver
3. "Wine is the divine juice of September." — Voltaire
4. "The September storms—the hurricane warnings far away, the sudden gales, the downpour of rain that we have so badly needed here for so long—are exhilarating, and there's a promise that what September starts, October will carry on, catching the torch flung into her hand." — Faith Baldwin
5. "Winter is an etching, spring a watercolor, summer an oil painting, and autumn a mosaic of them all." — Stanley Horowitz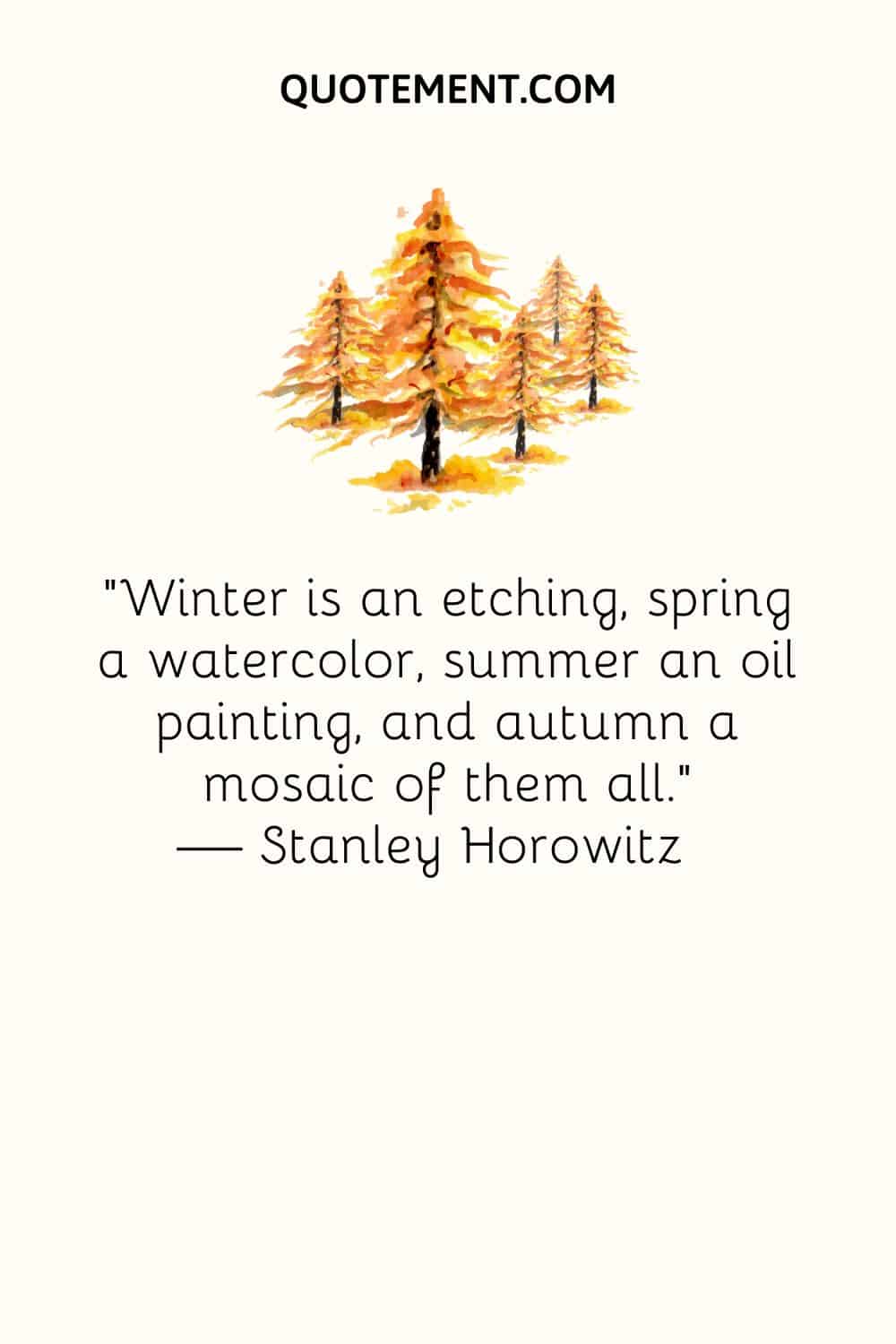 6. "Let's strive to be better in September!" ― Charmaine J. Forde
7. "Rest your eyes well before September because with all its colors autumn is coming to visit them!" ― Mehmet Murat Ildan
8. "The seasonal urge is strong in poets. Burns chose autumn. Longfellow liked the month of September." — Helen Bevington
9. "No matter how many losing seasons you might have had in the past with your marriage, the good thing is that all teams get a fresh start once September begins" ― Shon Hyneman
10. "The trees are about to show us how lovely it is to let the dead things go." — Unknown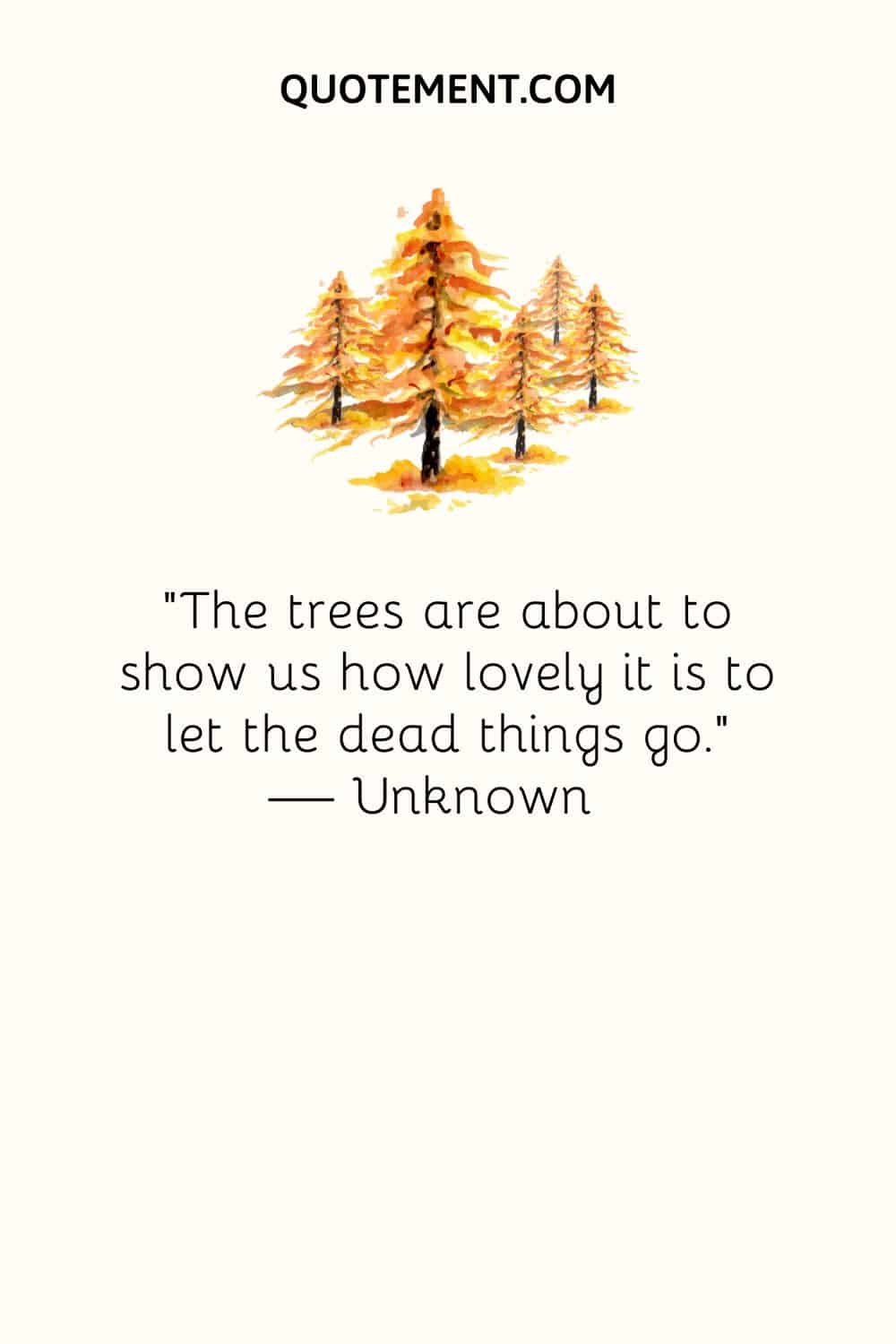 See also: 130 Deep Goodbye Letting Go Of Someone You Love Quotes
To Wrap Up
I hope these September quotes have inspired you to enjoy the magic of early fall.
Until next time!