Hollywood is full of talented actors and actresses, but very few have the charisma of Tom Hardy.
I've compiled a collection of the 35 best Tom Hardy quotes to boost your motivation and inspire you to always give your best, do your best and be a good person.
Not only he's an amazing actor with mind-blowing performances, but he's also a smart, humble, and inspiring person young people should look up to.
Tom Hardy is known for his roles in Venom, Inception, Mad Max: Fury Road, The Revenant, Legend, Tinker Tailor Soldier Spy, and many more successful movies.
What he's also known for is the strong, yet very kind and humble character that makes him loved by many.
Here are some of the most famous Tom Hardy quotes for inspiration.
Top 10 Most Famous Tom Hardy Quotes
It wasn't easy to pick only 10 quotes, but after careful research, I've chosen these 10 Tom Hardy quotes to be my favorite ones.
1. "The funny thing is when you don't let people disrespect you, they start calling you difficult." — Tom Hardy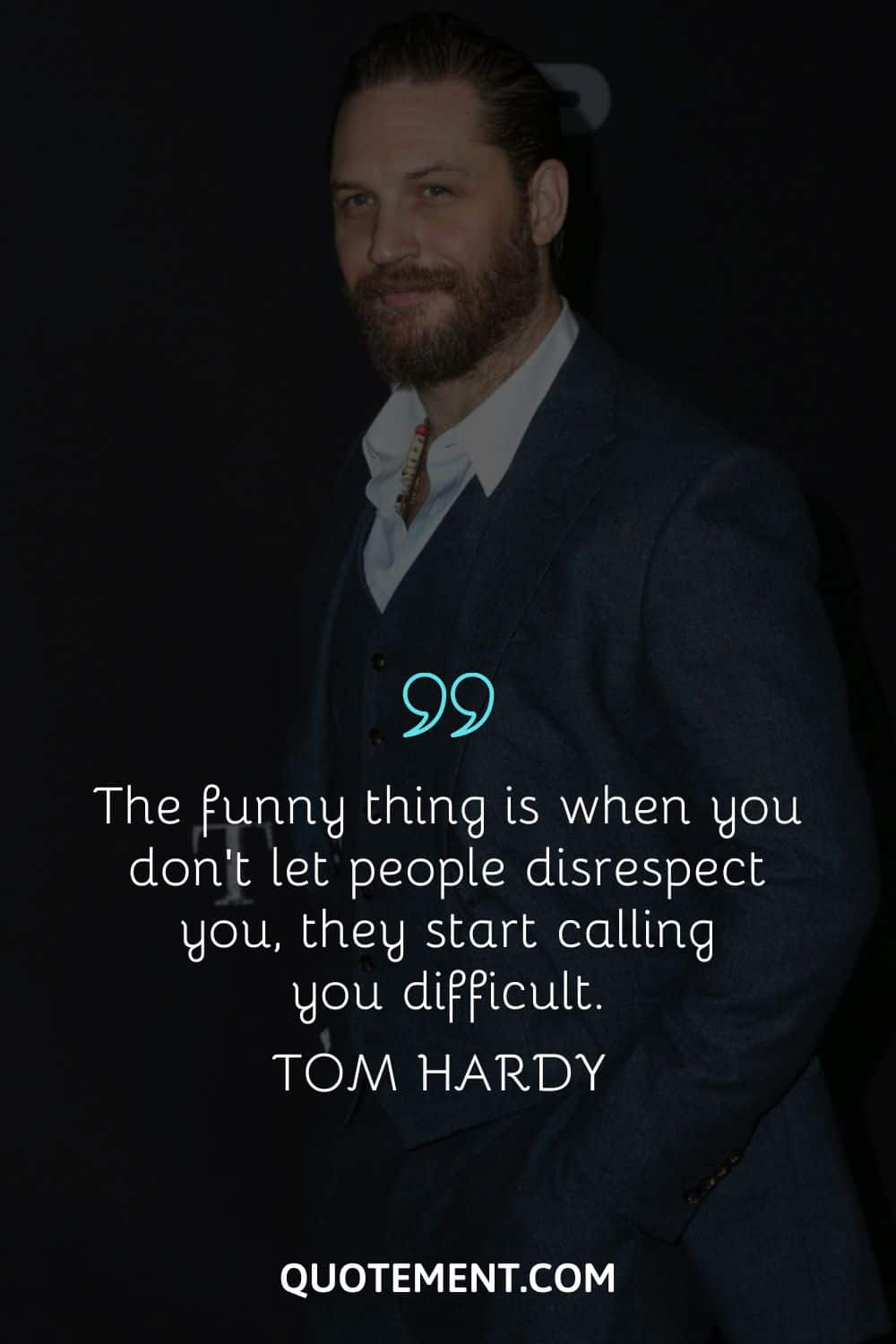 2. "Vanity is normal in performers. Does it bother other people? All the time. But 9 times out of 10, that says more about them than you." — Tom Hardy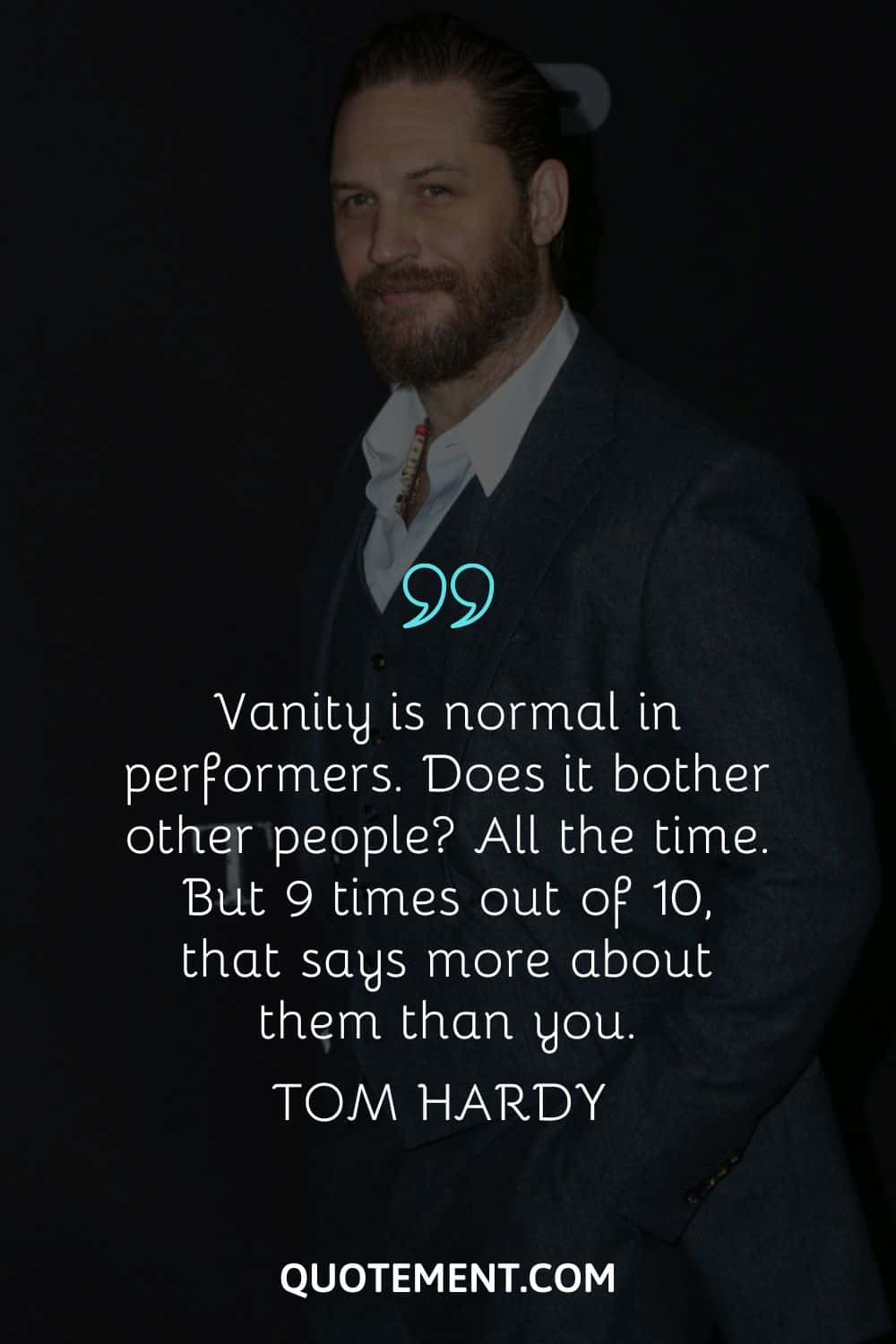 3. "I have a very busy head. I have inside voices that I have learned to contain." — Tom Hardy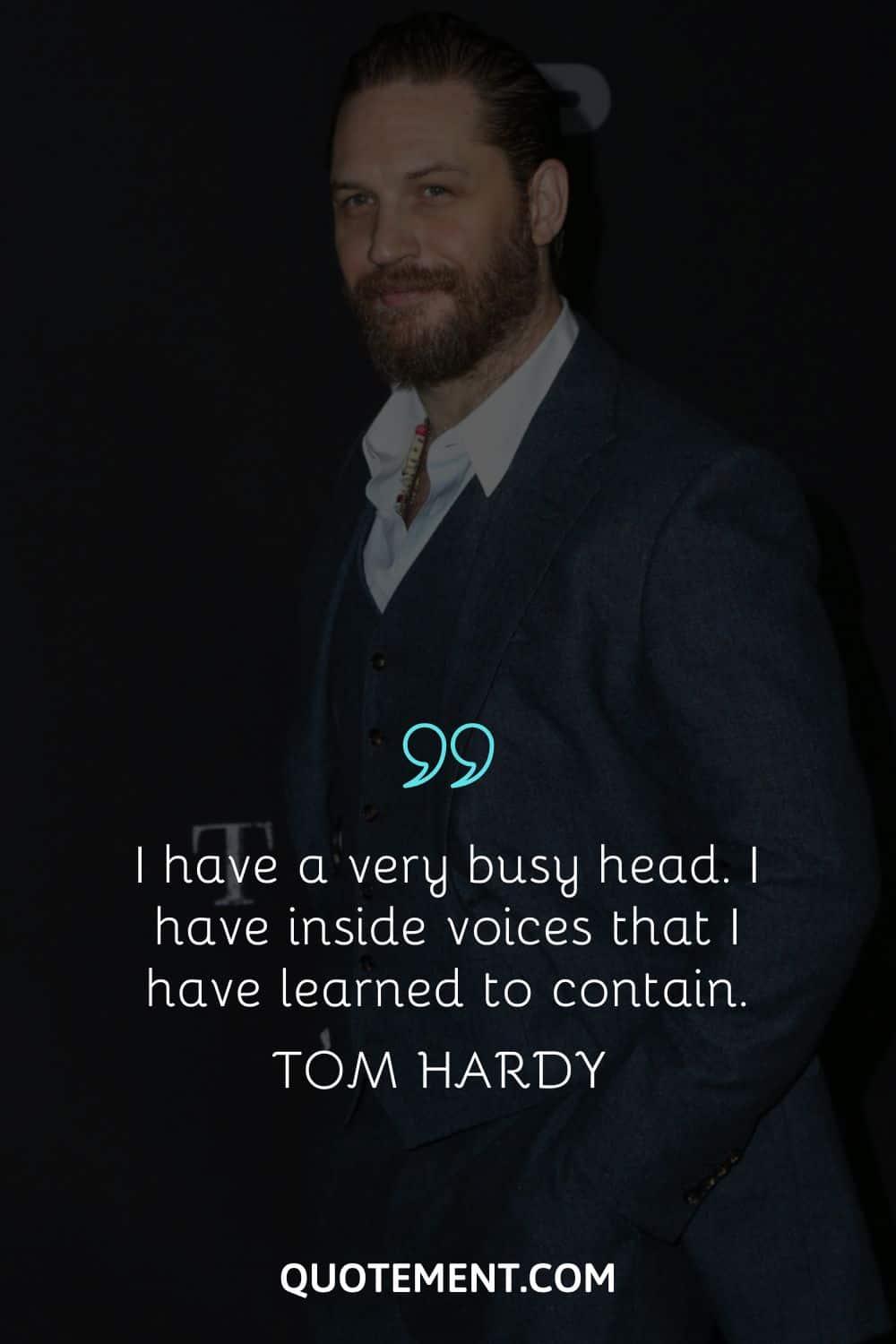 4. "Responsibility has a cost, and there's no such thing as perfection." — Tom Hardy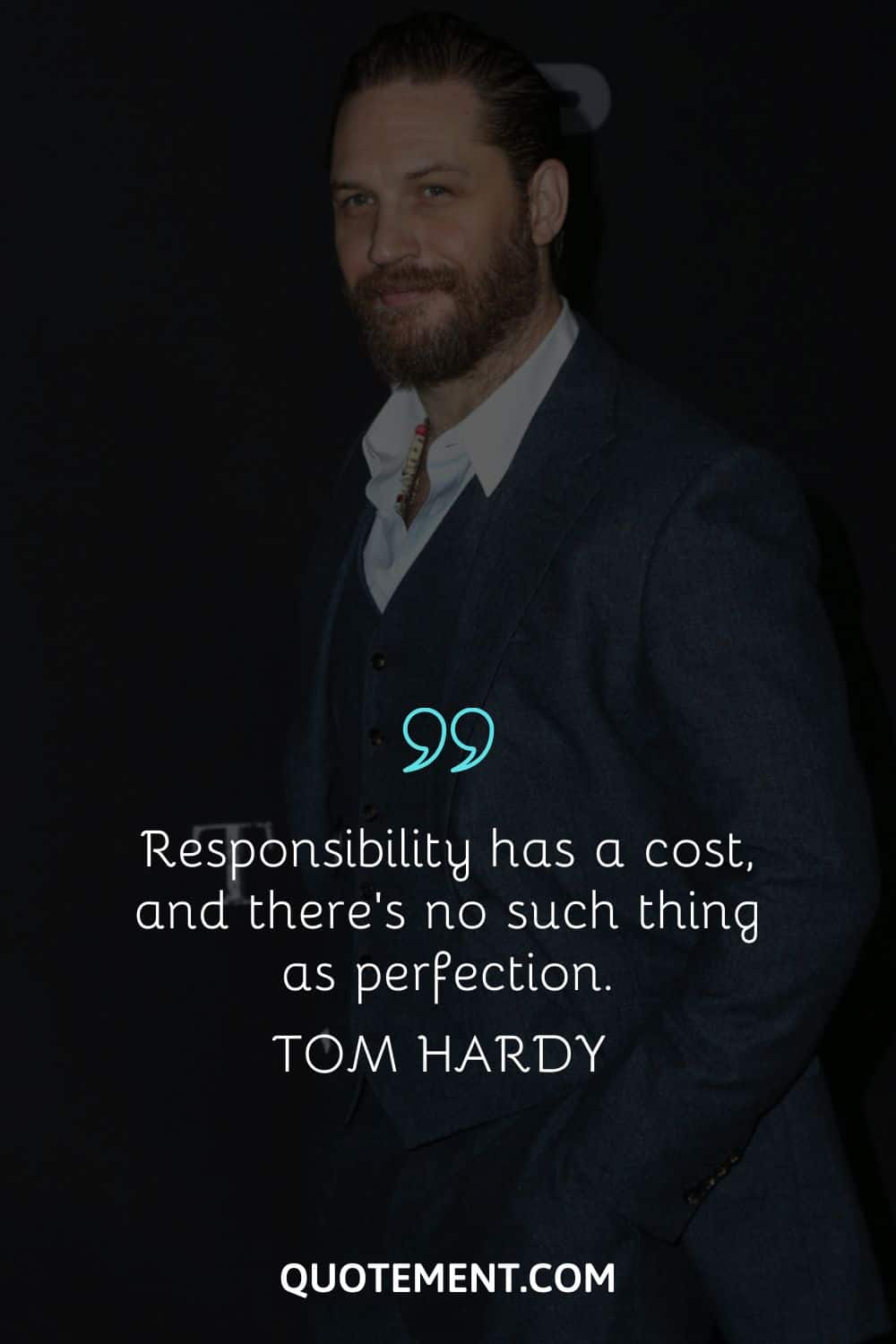 5. "I don't fight, really. I try not to fight, actually. I try not to react. I'm a Buddha floating on a lily pad." — Tom Hardy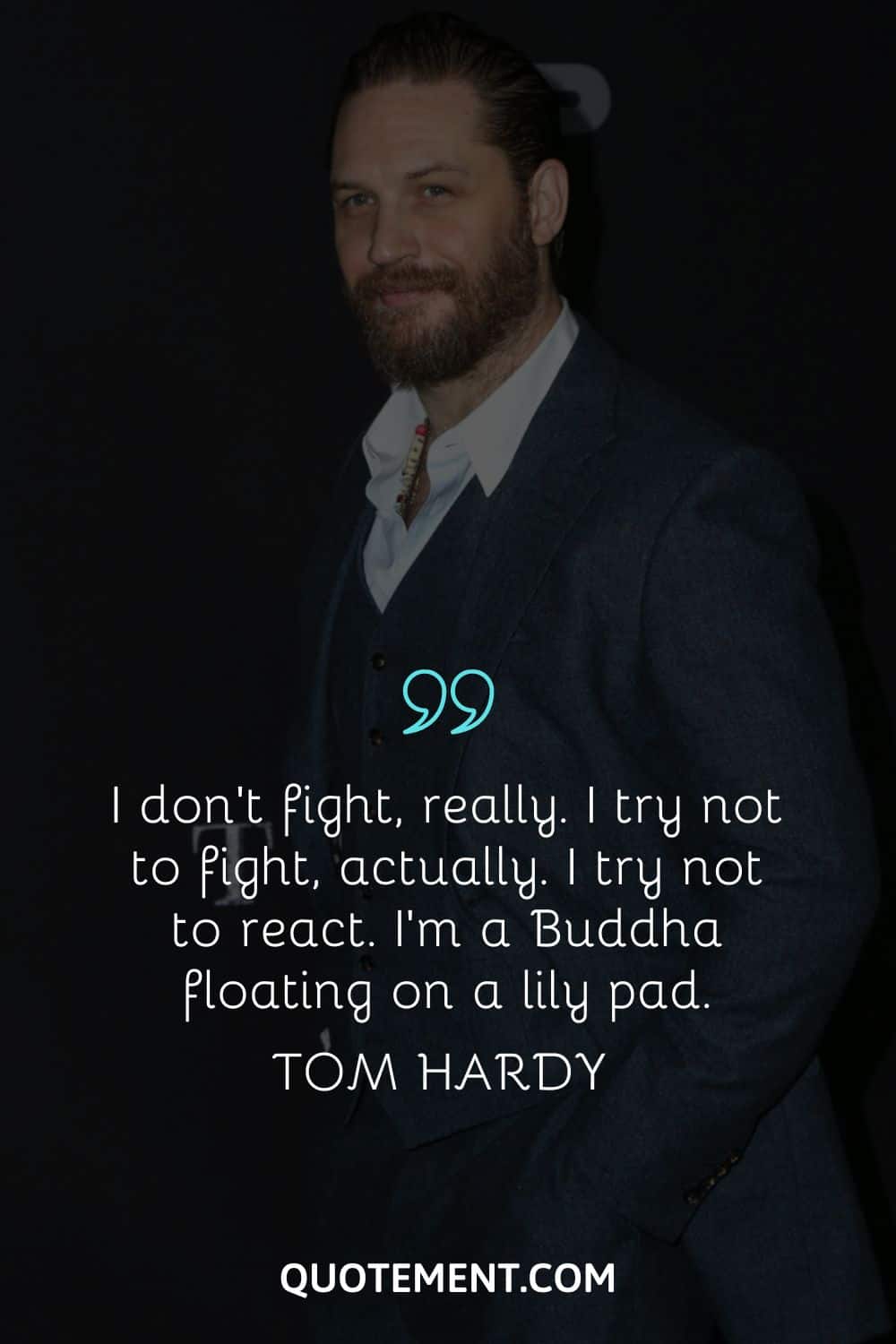 6. "I look both ways before crossing a one-way street. That's how much faith I have left in humanity." — Tom Hardy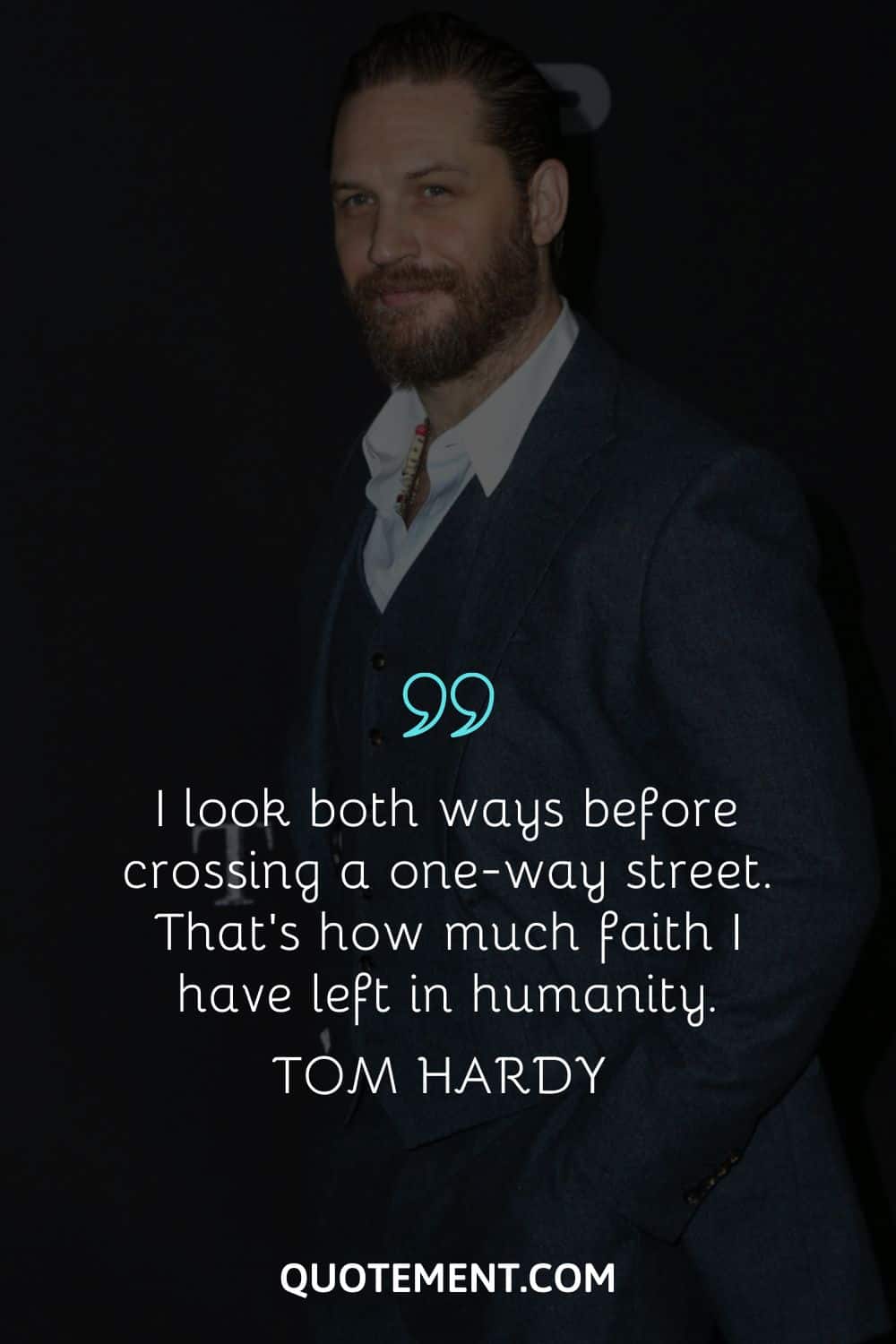 7. "You know too much psychology when you can't get mad at people because you understand everyone's reason for doing everything." — Tom Hardy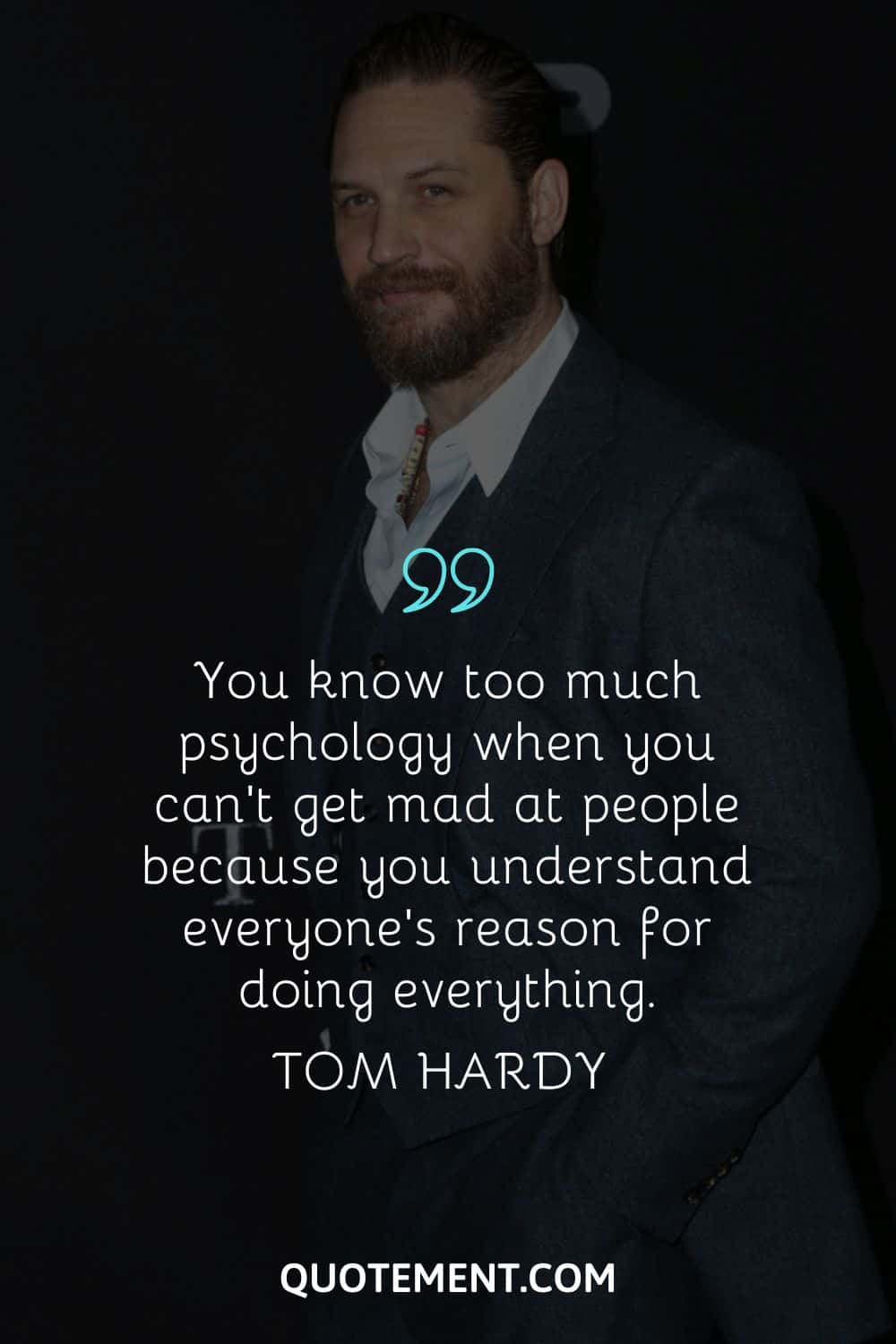 8. "Being alone for a while is dangerous. It's addicting. Once you see how peaceful it is, you don't want to deal with people anymore." — Tom Hardy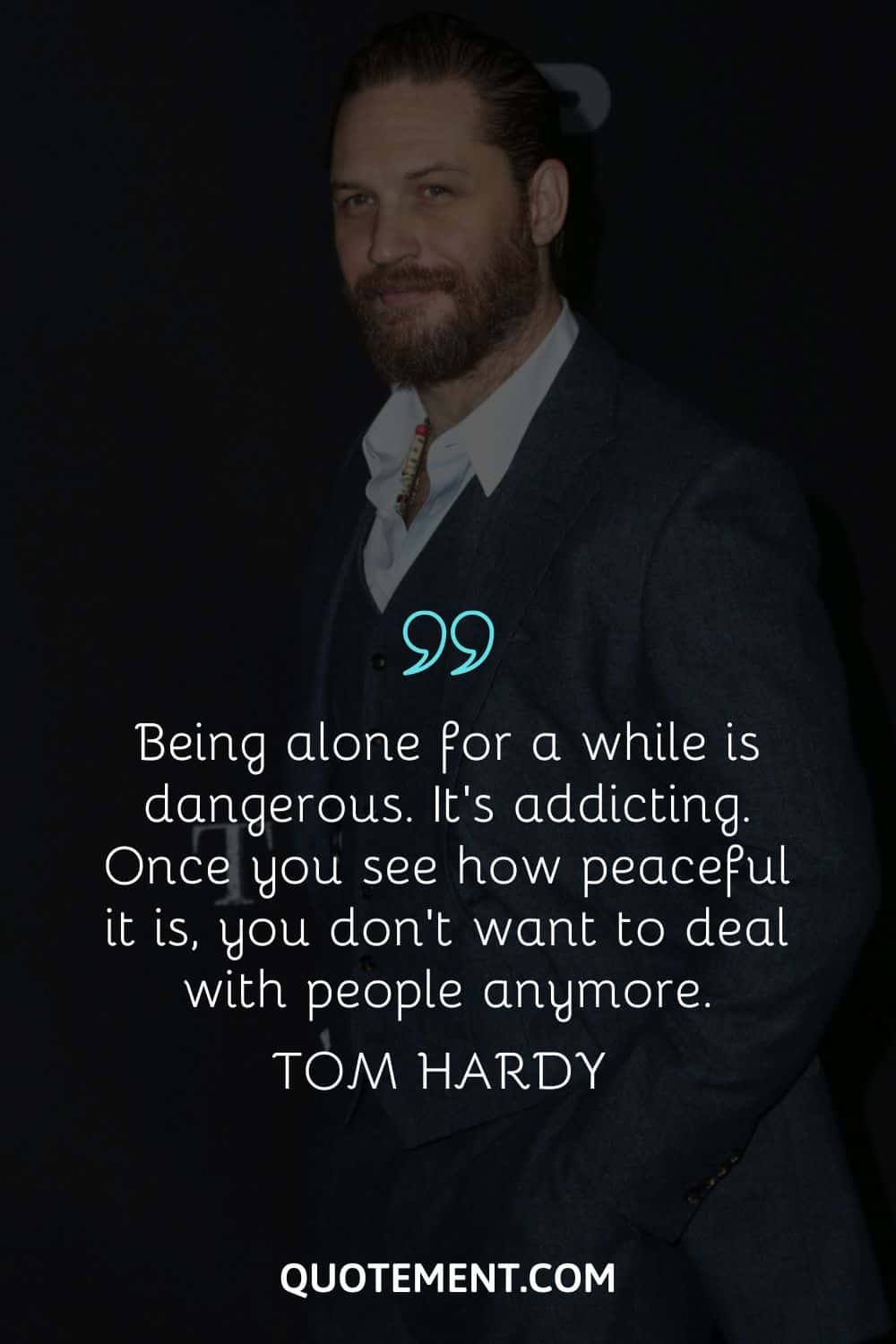 9. "We are survivors. We control the fear. And without the fear, we are all as good as dead." — Tom Hardy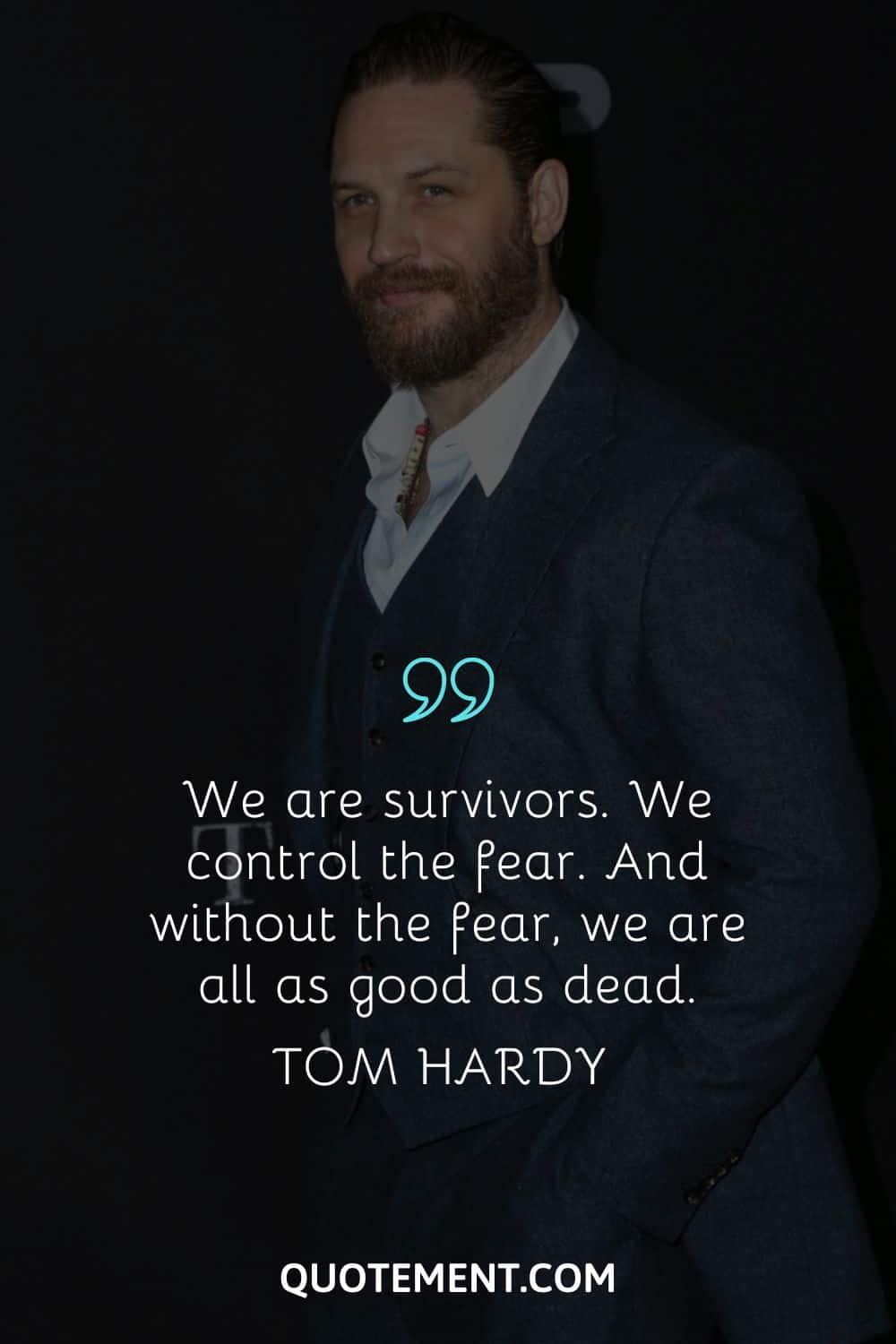 10. "Within the creative arts you can create things and destroy things. Passion creates and destroys." — Tom Hardy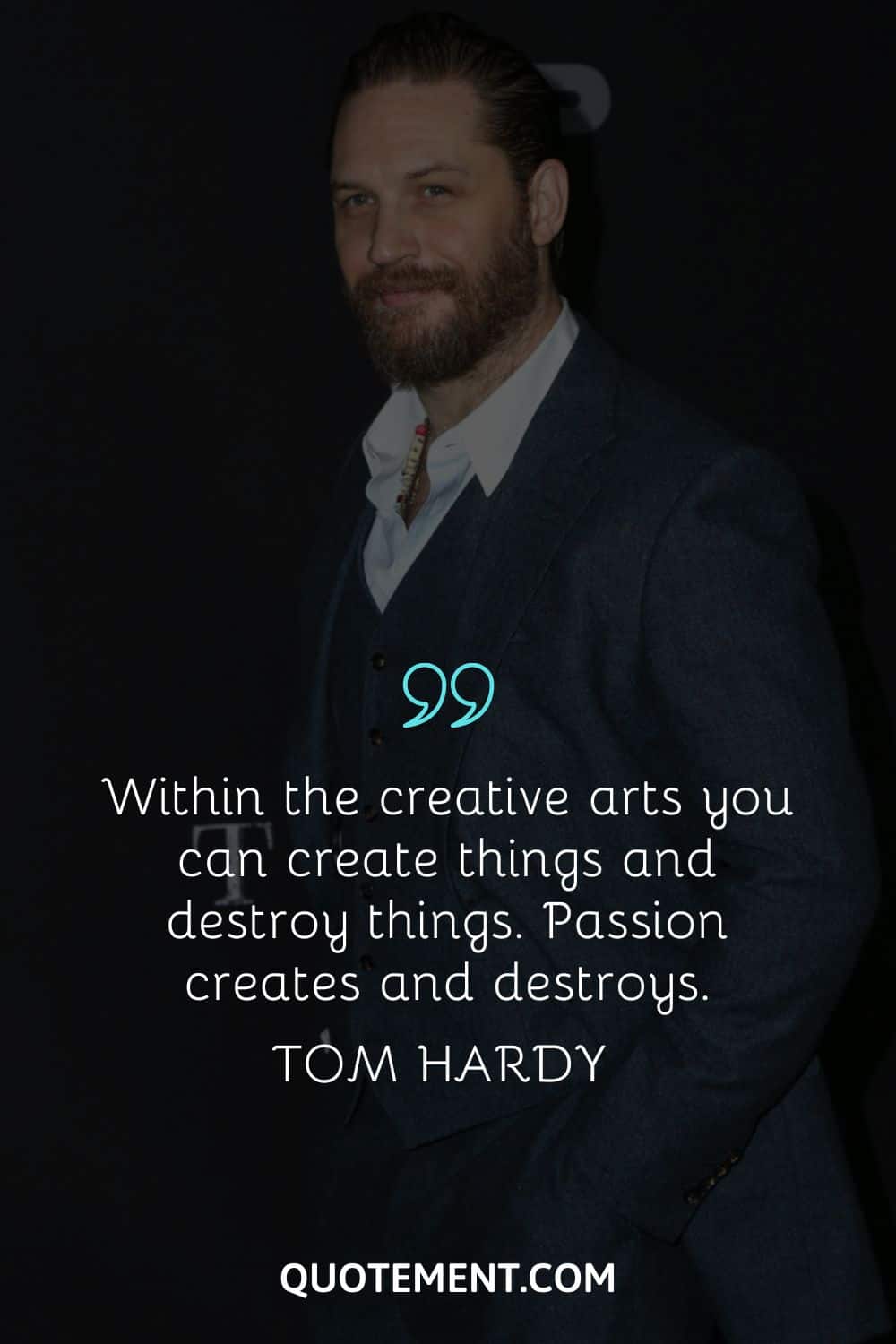 See also: 120 Inspirational Art Quotes To Awaken The Divine In You
Motivational Tom Hardy Quotes About Life
If you're struggling to stay motivated, these Tom Hardy quotes will remind you why quitting is never an option.
1. "Maybe it's a little ambitious of me to presume that no matter how big the film is, that I can always go down to the shop to buy a pint of milk." — Tom Hardy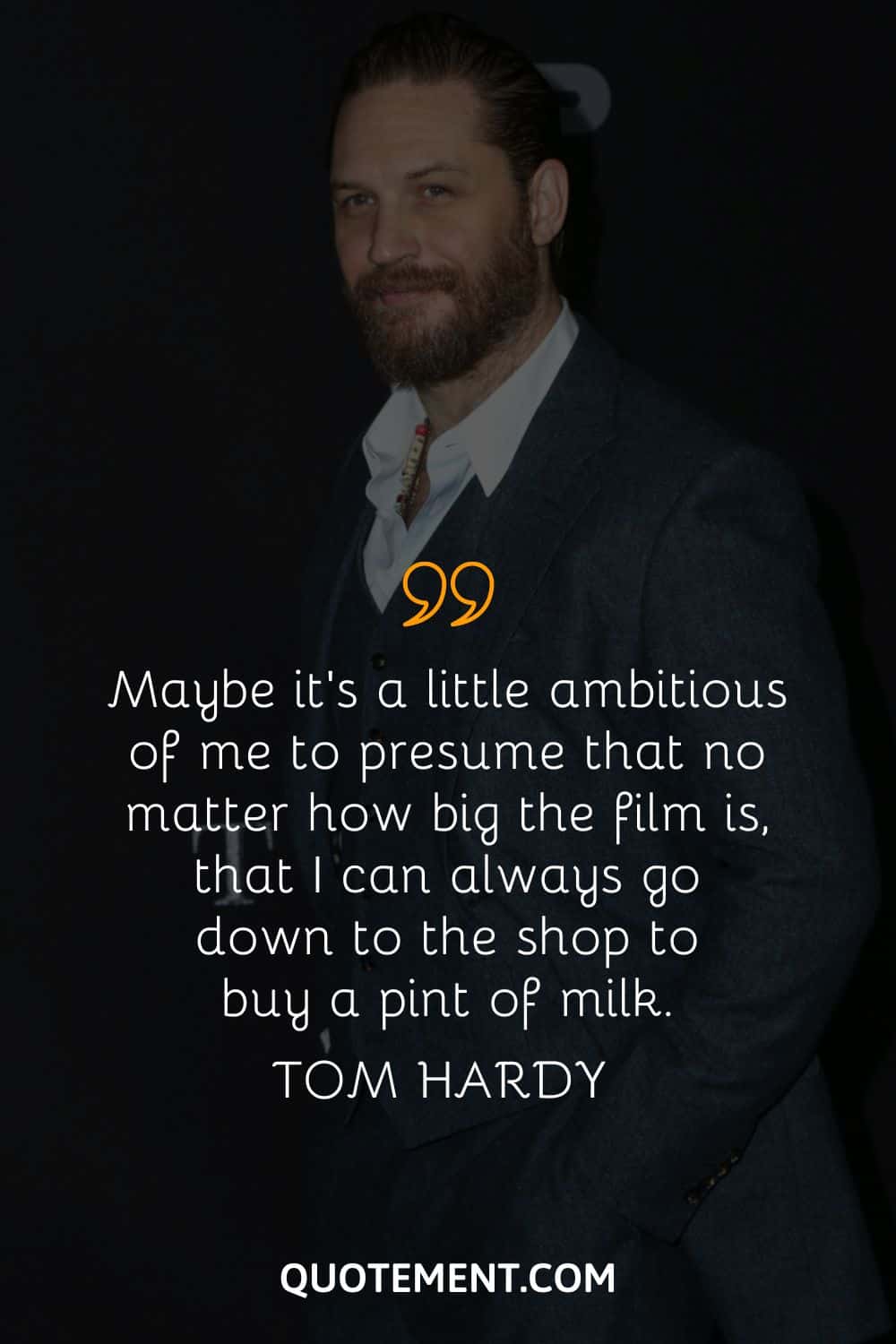 2. "We're all flawed human beings and we all have a cauldron of psychosis which we have to unravel as we grow older and find the way we fit in to live our lives as best as possible." — Tom Hardy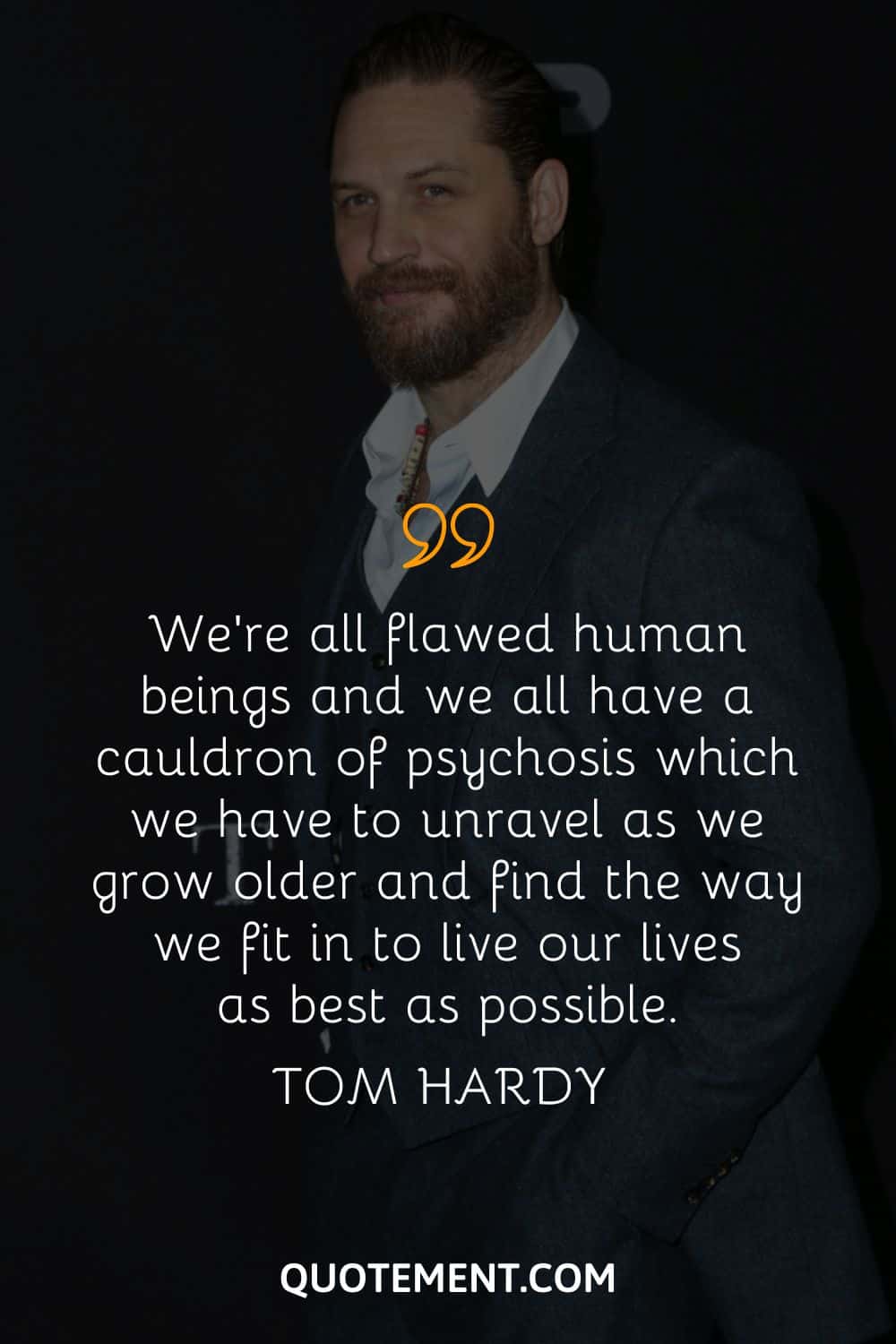 3. "A lot of people say I seem masculine, but I don't feel it. I feel intrinsically feminine. I'd love to be one of the boys but I always felt a bit on the outside. Maybe my masculine qualities come from overcompensating because I'm not one of the boys." — Tom Hardy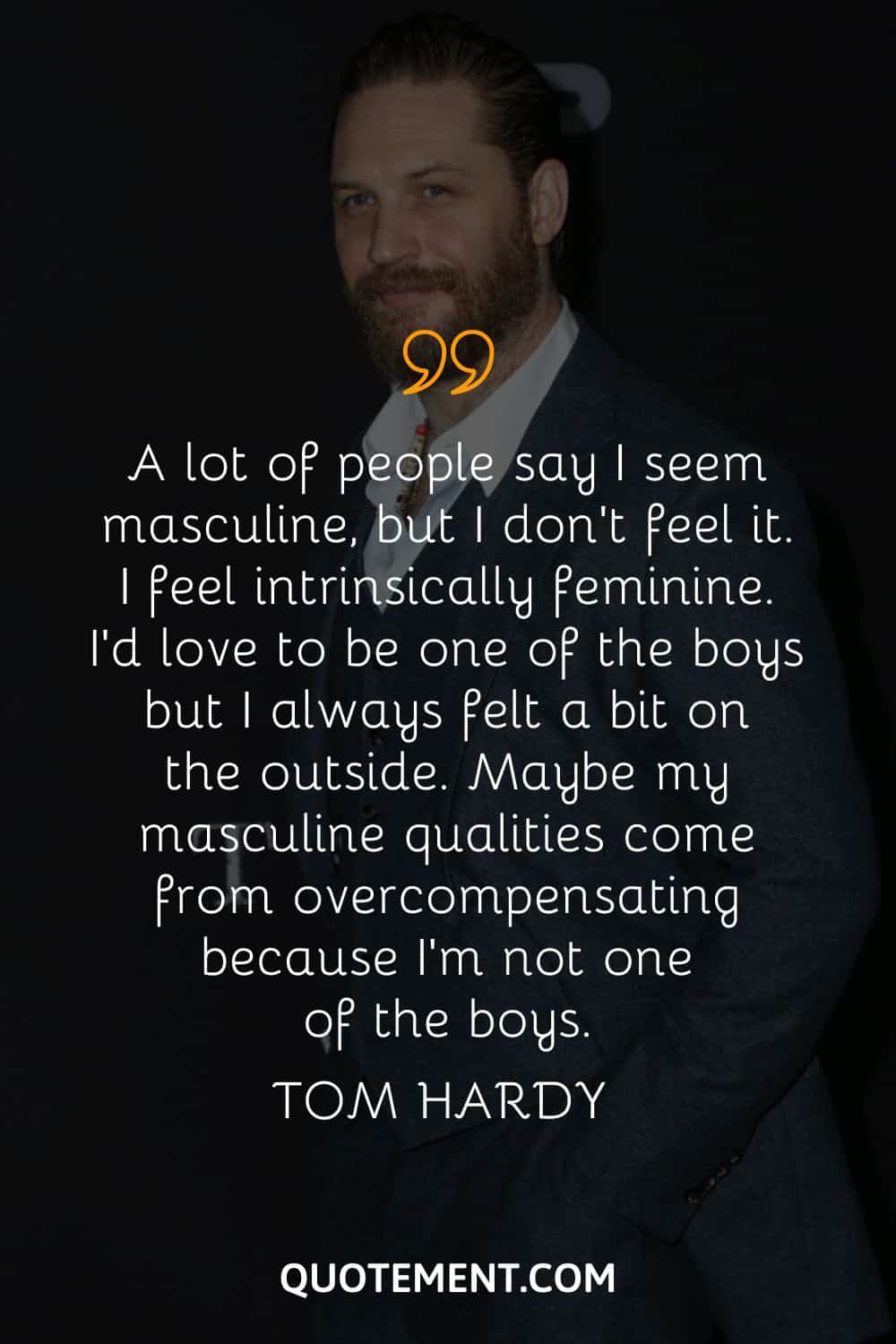 4. "It's funny in that because it is acting, and playing pretend, but I didn't see myself being synonymous with these tough-guy roles. That's not really me. I love acting. There was Bane, Warrior, Bronson, and now the Krays. I'm just surprised to be working, mate. Whatever gets me through the door." — Tom Hardy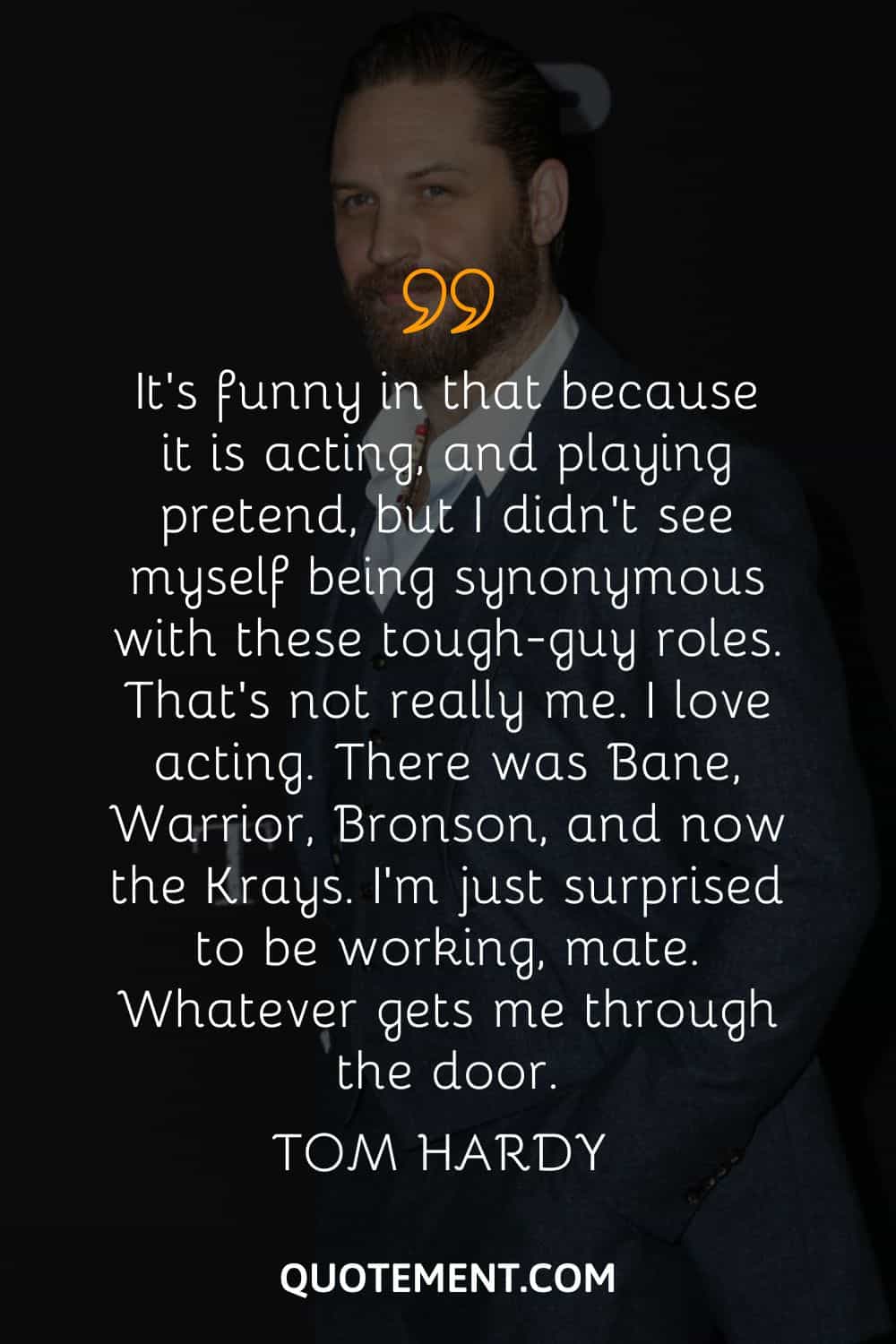 5. "I'm very sensitive. Because my mum was my primary emotional caregiver growing up, I found myself being pinned into dresses, darting her dresses, choosing her high heels for the evening or what to wear. I'm very much a mommy's boy." — Tom Hardy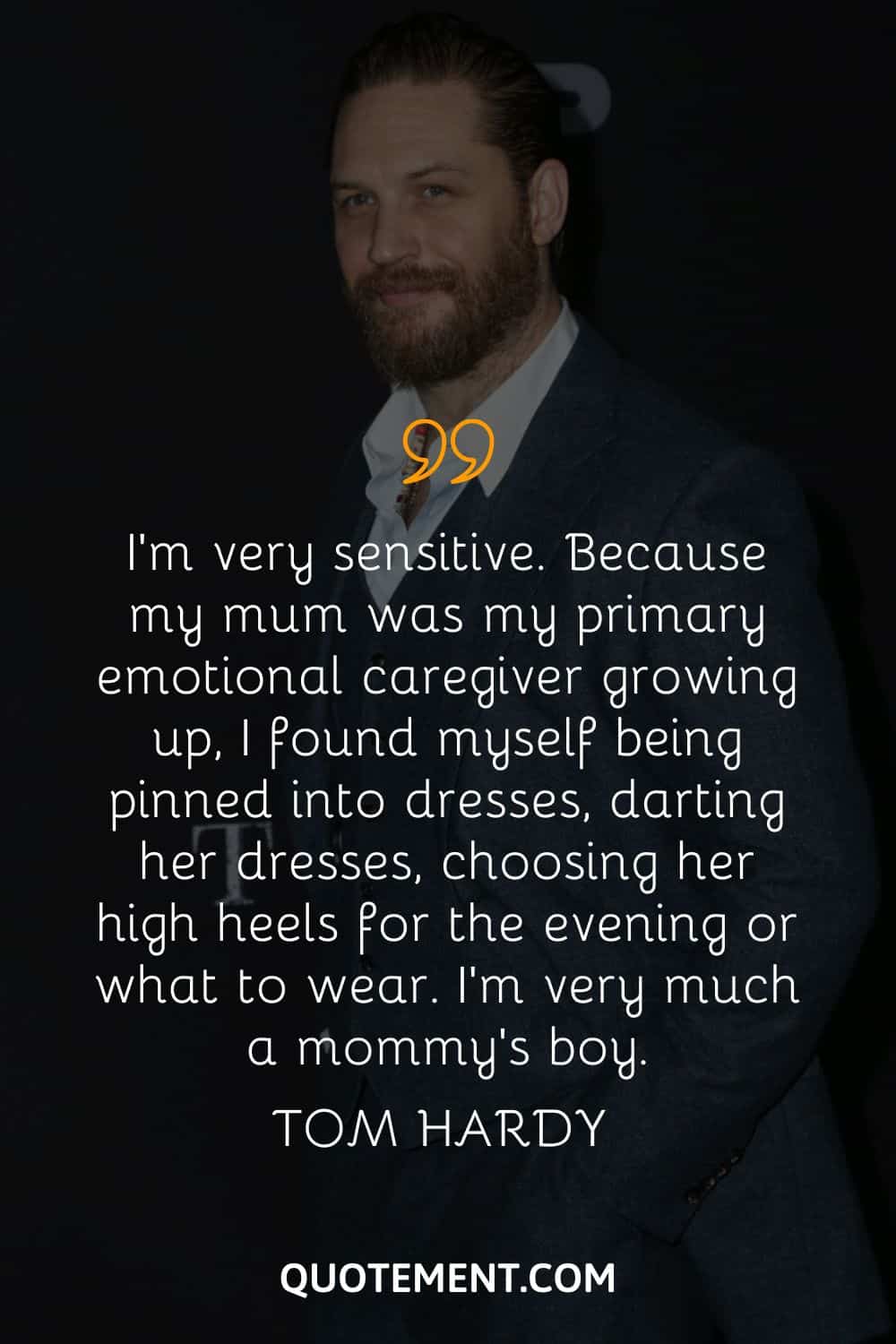 6. "I went entirely off the rails and I'm lucky I didn't have some terrible accident or end up in prison or dead because that's where I was going. Now I know my beast and I know how to manage it. It's like living with a 400-pound orangutan that wants to kill me. It's much more powerful than me, doesn't speak the same language and it runs around the darkness of my soul." — Tom Hardy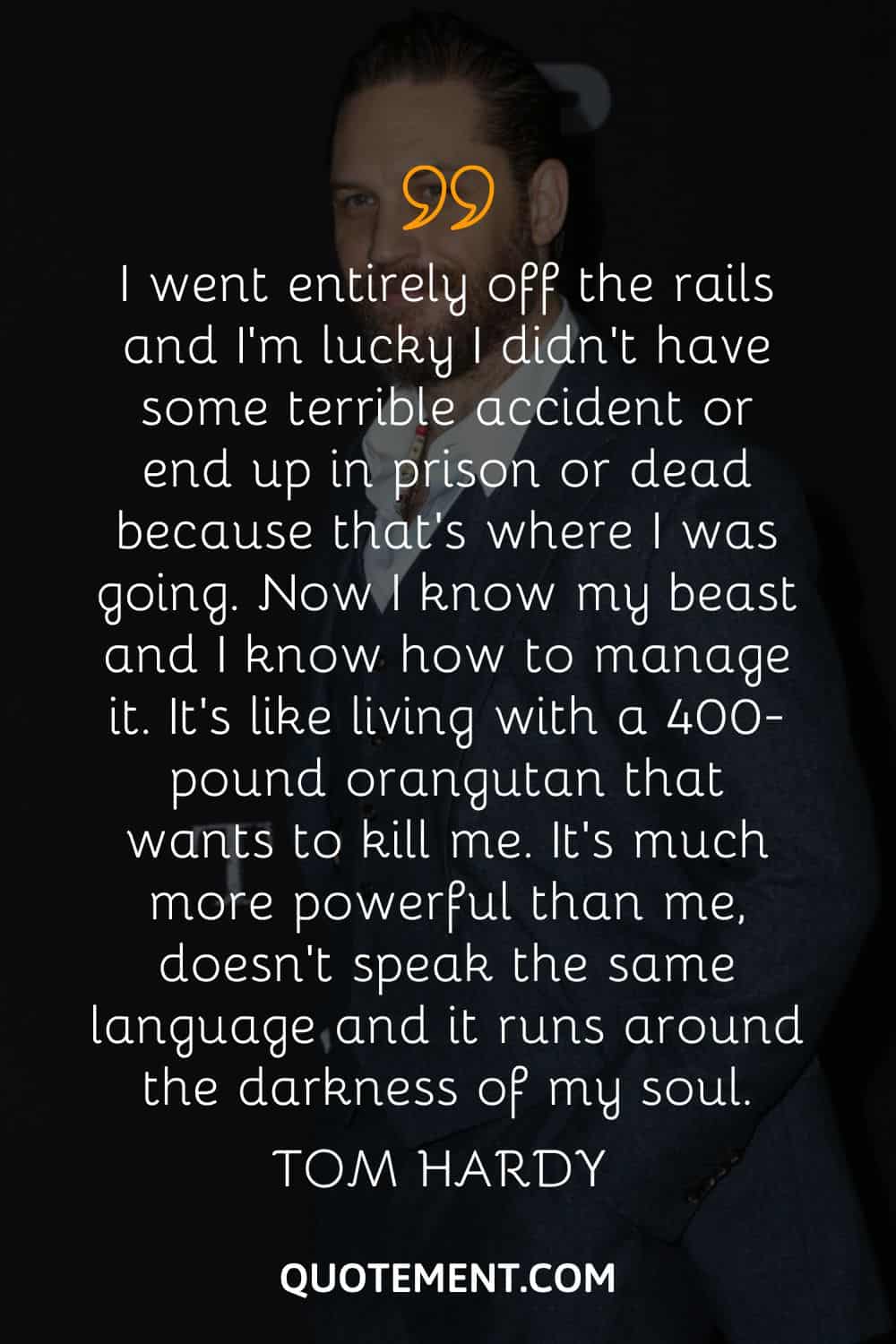 7. "Being an only child, I didn't have any other family but my mom and dad really, since the rest of my family lived quite far away from London." — Tom Hardy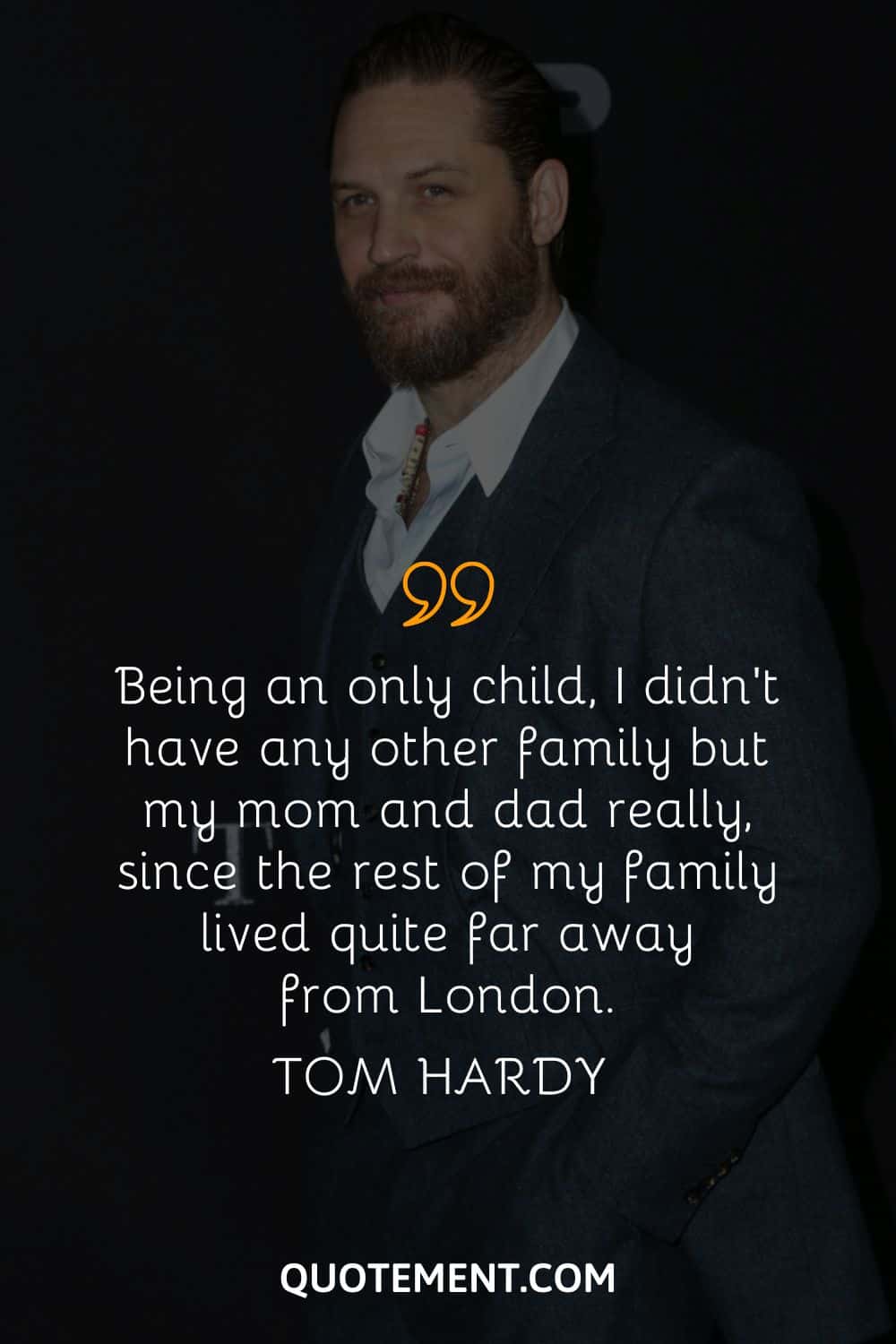 8. "There are two types of acting convincing and not convincing. People describe me as intense. It's because I care… Do I know what I'm doing? No. Do I have the best of intentions? Yes. Does that lead to hell? Sometimes." — Tom Hardy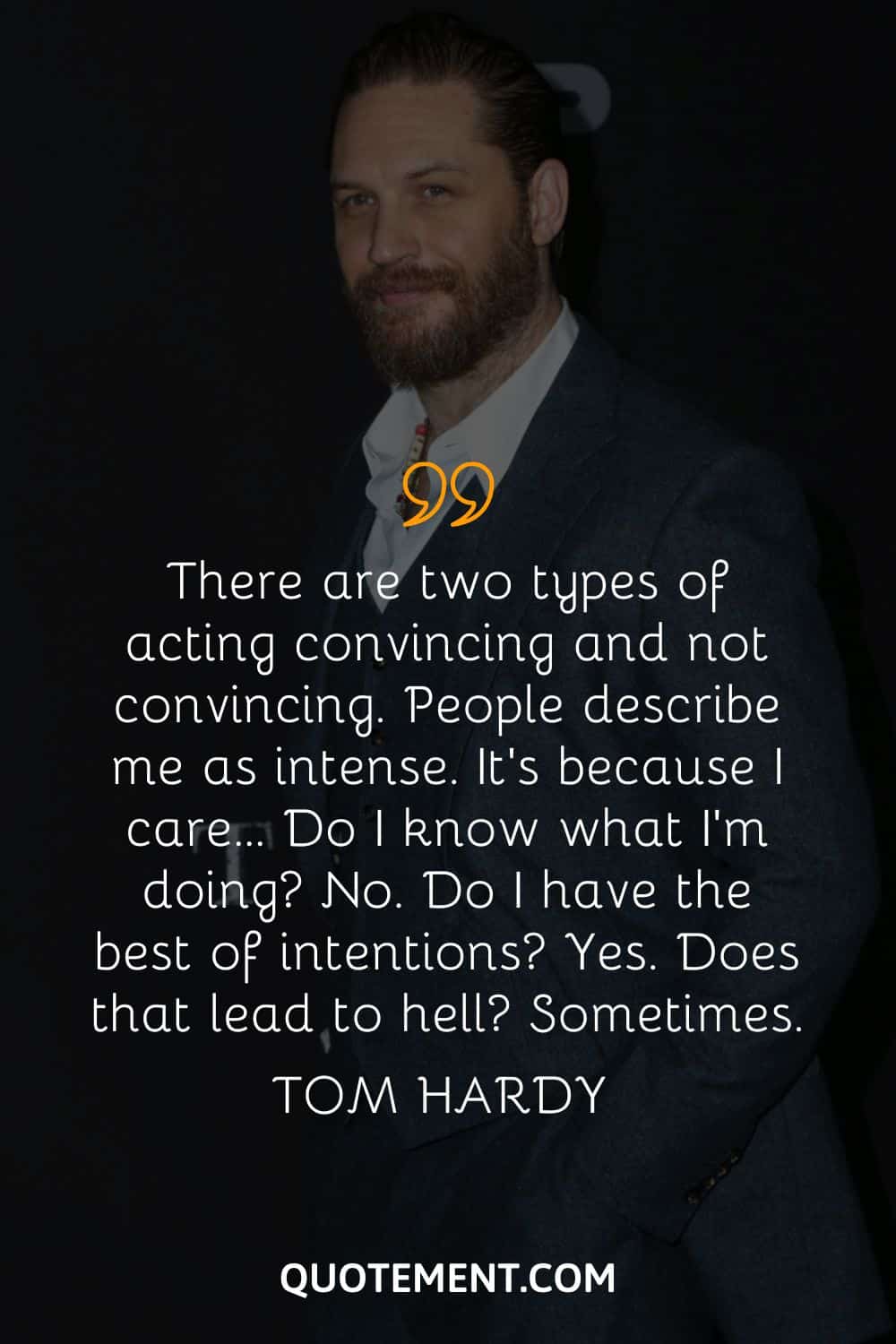 9. "So, somewhere between that acceptance and doing my homework and being competitive and having ambition and loving my job and observing and reflecting my society, that's where I find the purpose. Because man needs purpose." — Tom Hardy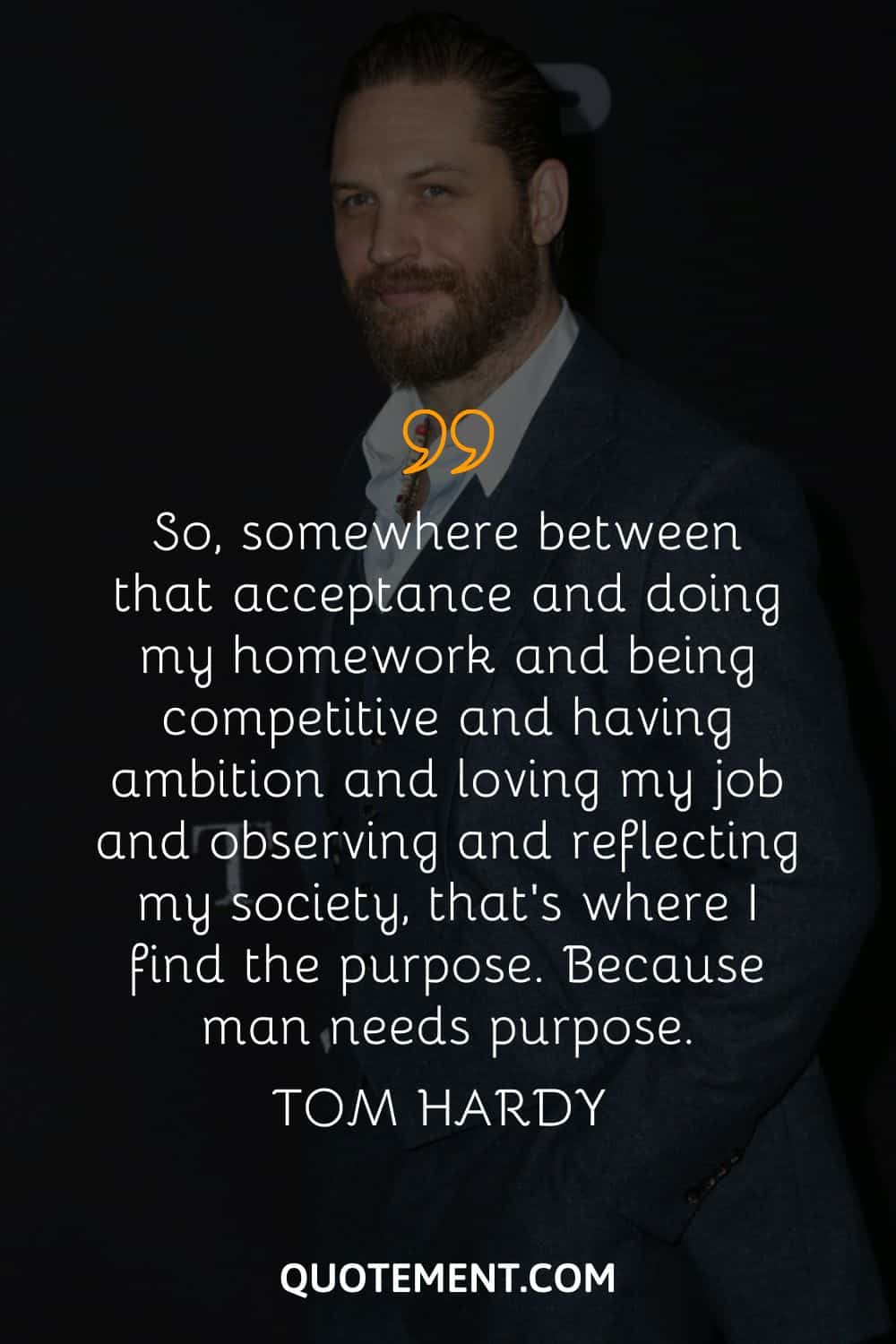 10. "I'm going to fail to hit the mark I've put up before me because it's not possible to hit it. I want to be the best at what I do so I've got to get over myself already because that's never going to happen. I ain't ever going to be God." — Tom Hardy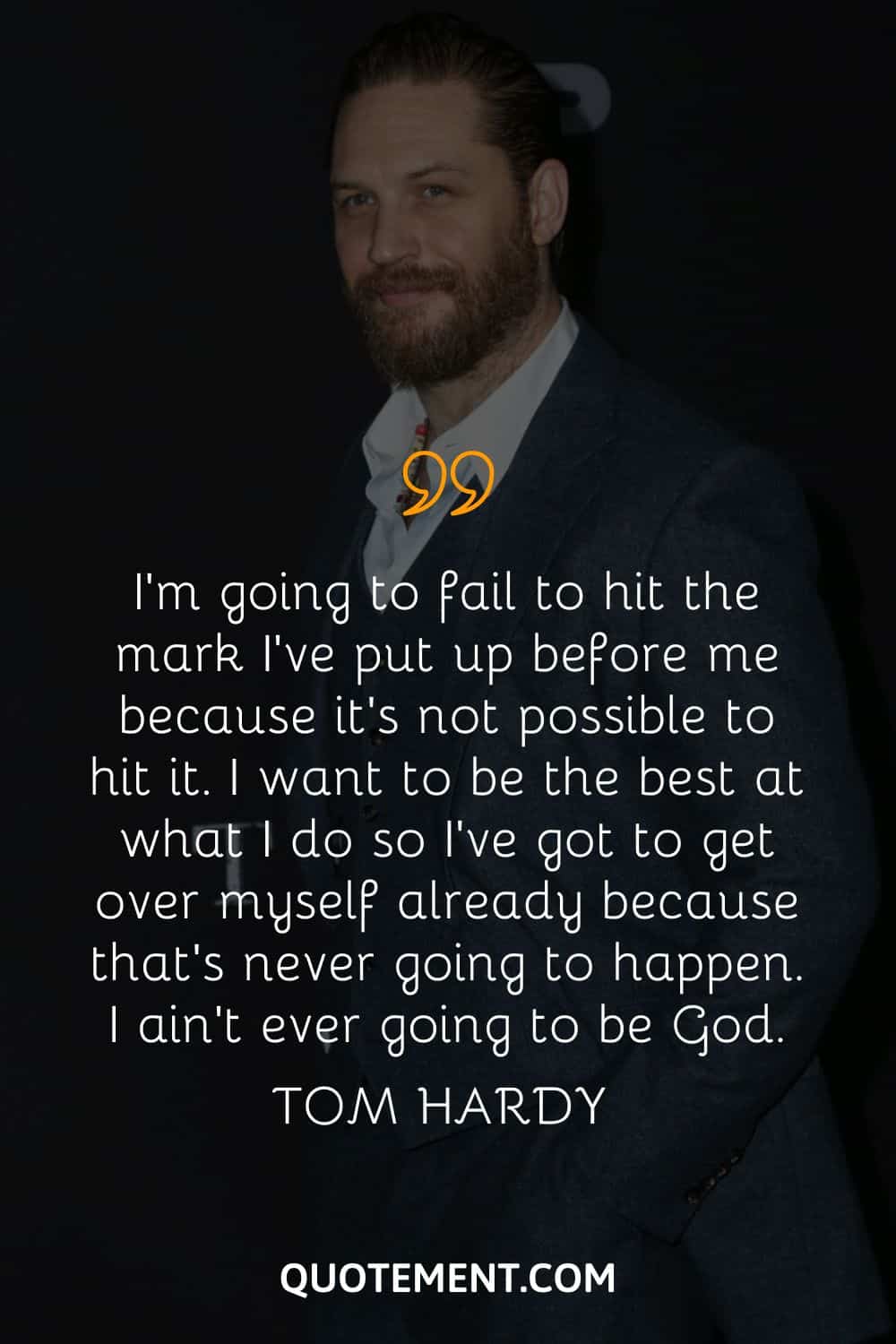 11. "I find crying difficult. It takes a long time for me to go. And I won't know what will send me. I'm quite sentimental. If my son tells me he loves me that will make me cry. Mr. Holland's Opus, unbelievably, broke me. A random anomaly. Bambi would probably do me." — Tom Hardy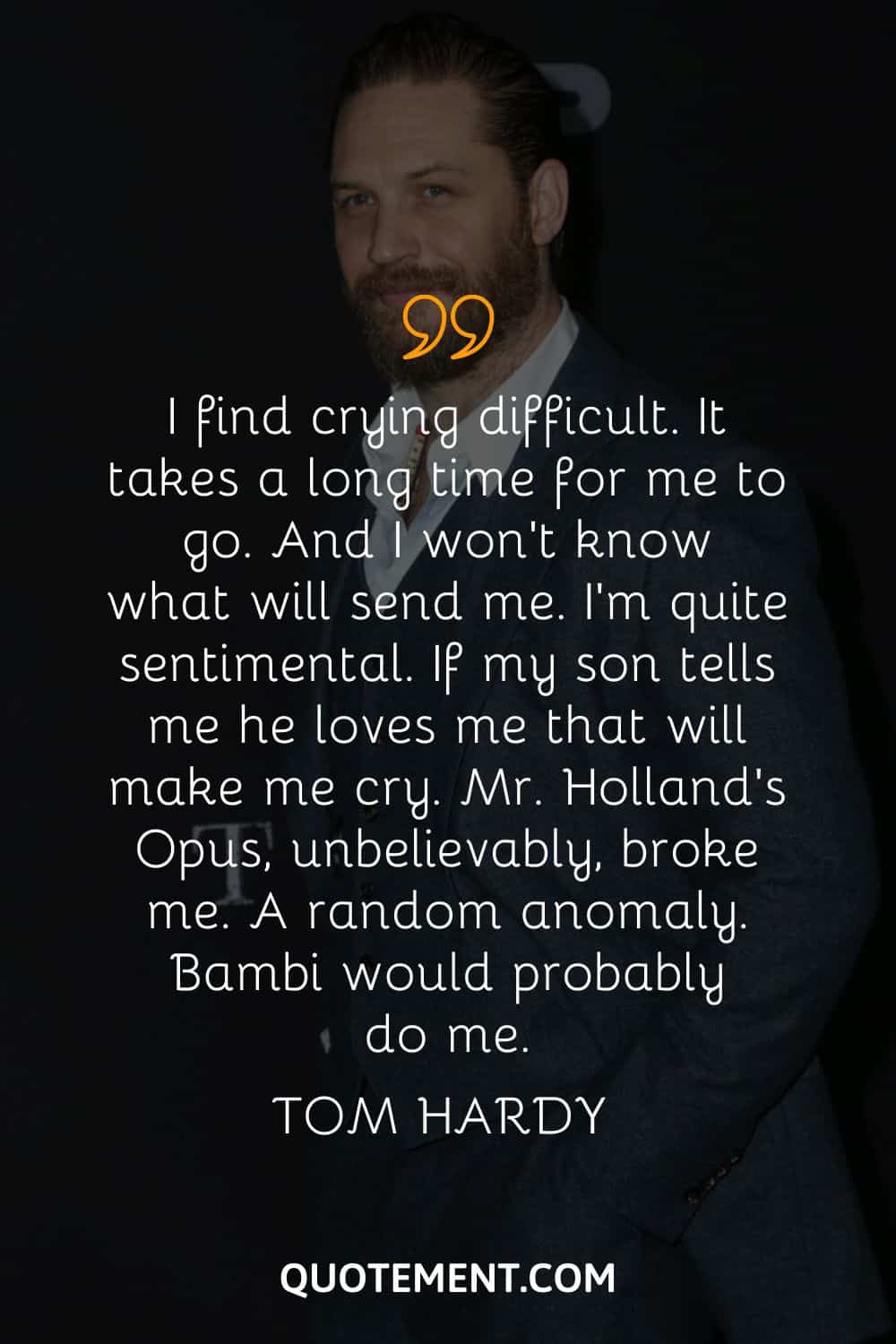 12. "Fame and stuff like that is all very cool, but at the end of the day, we're all human beings. Although what I do is incredibly surreal and fun and amazing and I'm really grateful for it, I don't believe my own press release, do you know what I mean?" — Tom Hardy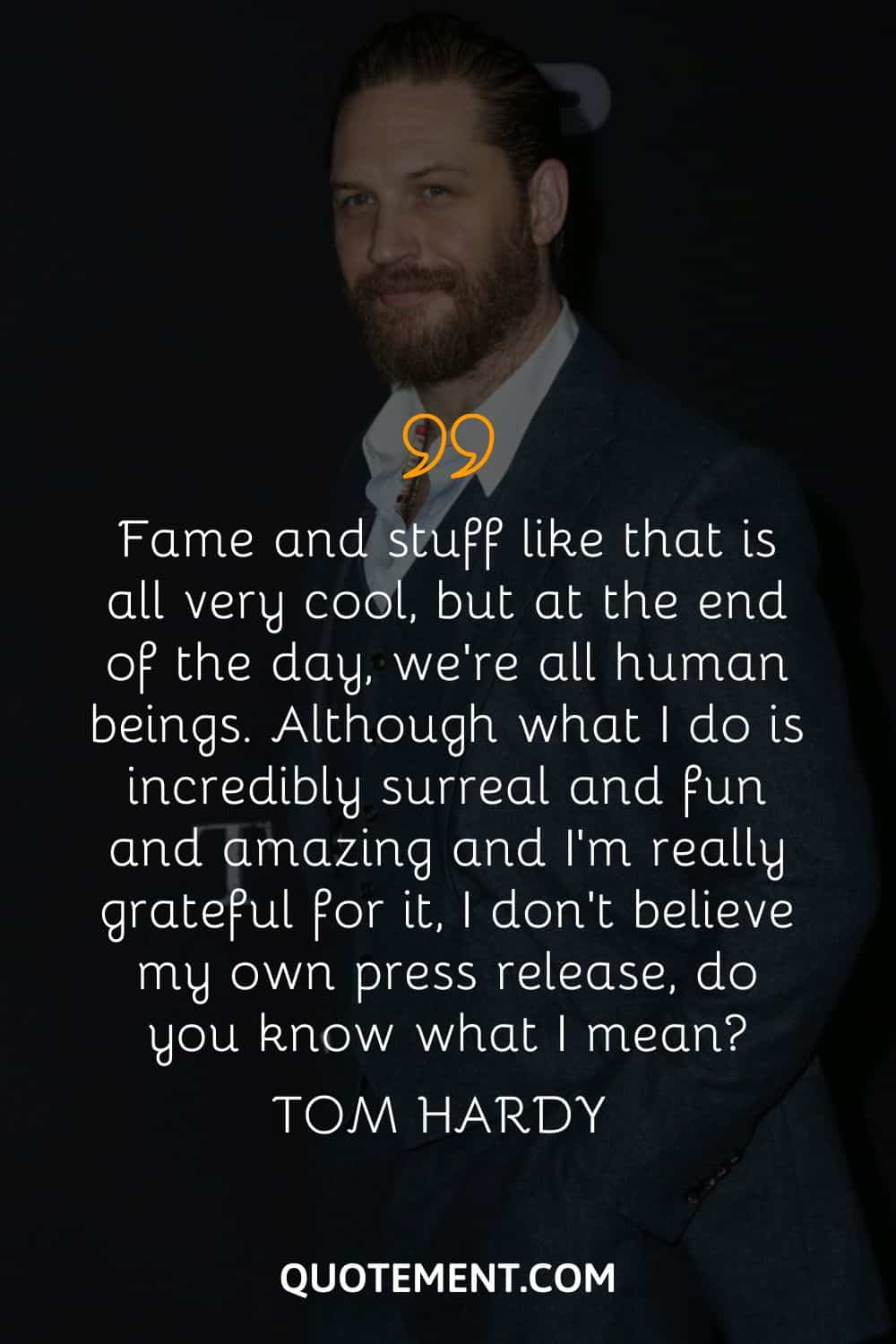 13. "I'm never lost in a character, ever. Everything is absolutely articulated and worked out and there's no room for error. The only thing there is room for is inspiration in the moment because you've done your homework up to that point…." — Tom Hardy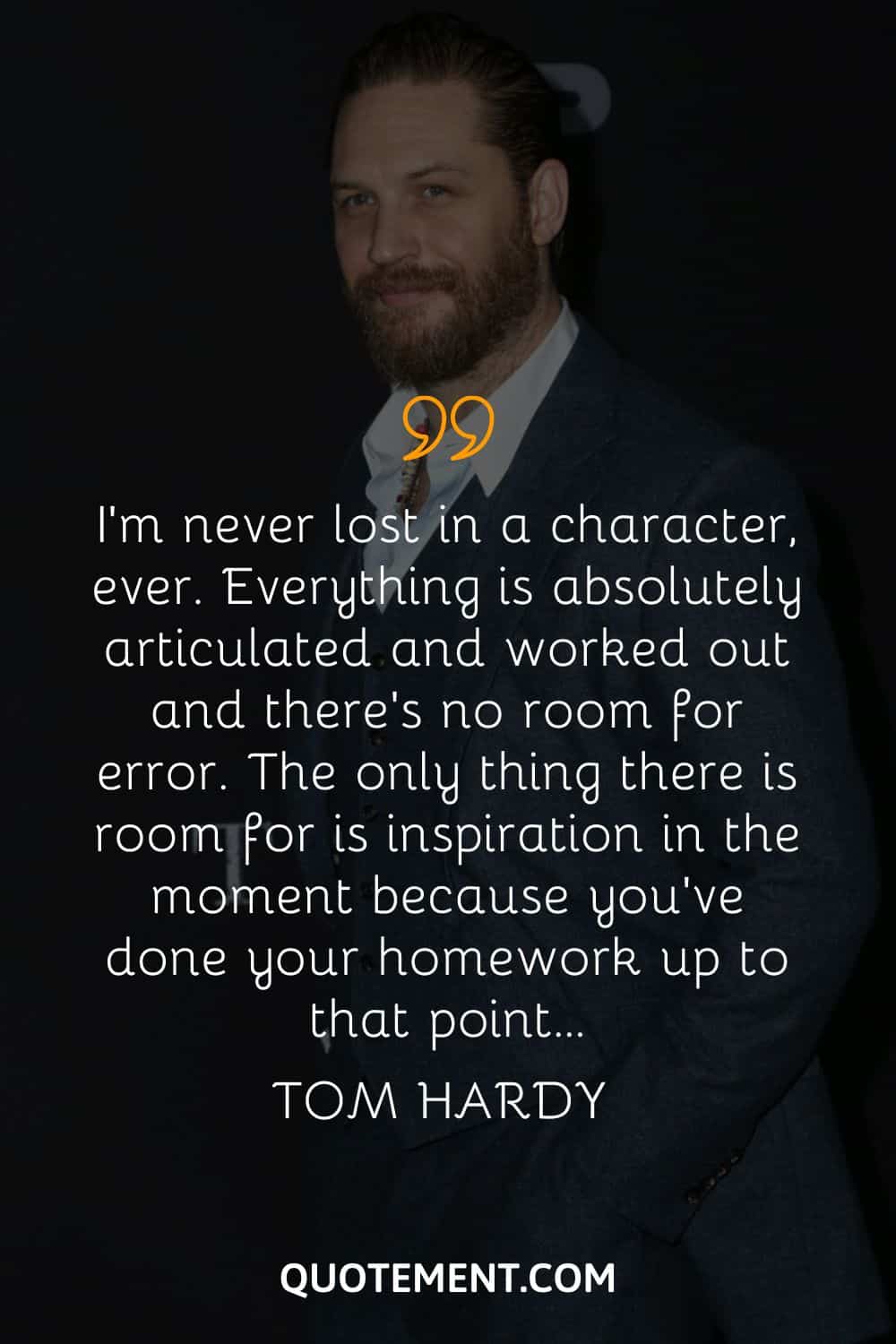 14. "Whatever character you play, remember they are always doing something. They are not just talking. They are alive; going through a drama in which they will go through some sort of dramatic human experience." — Tom Hardy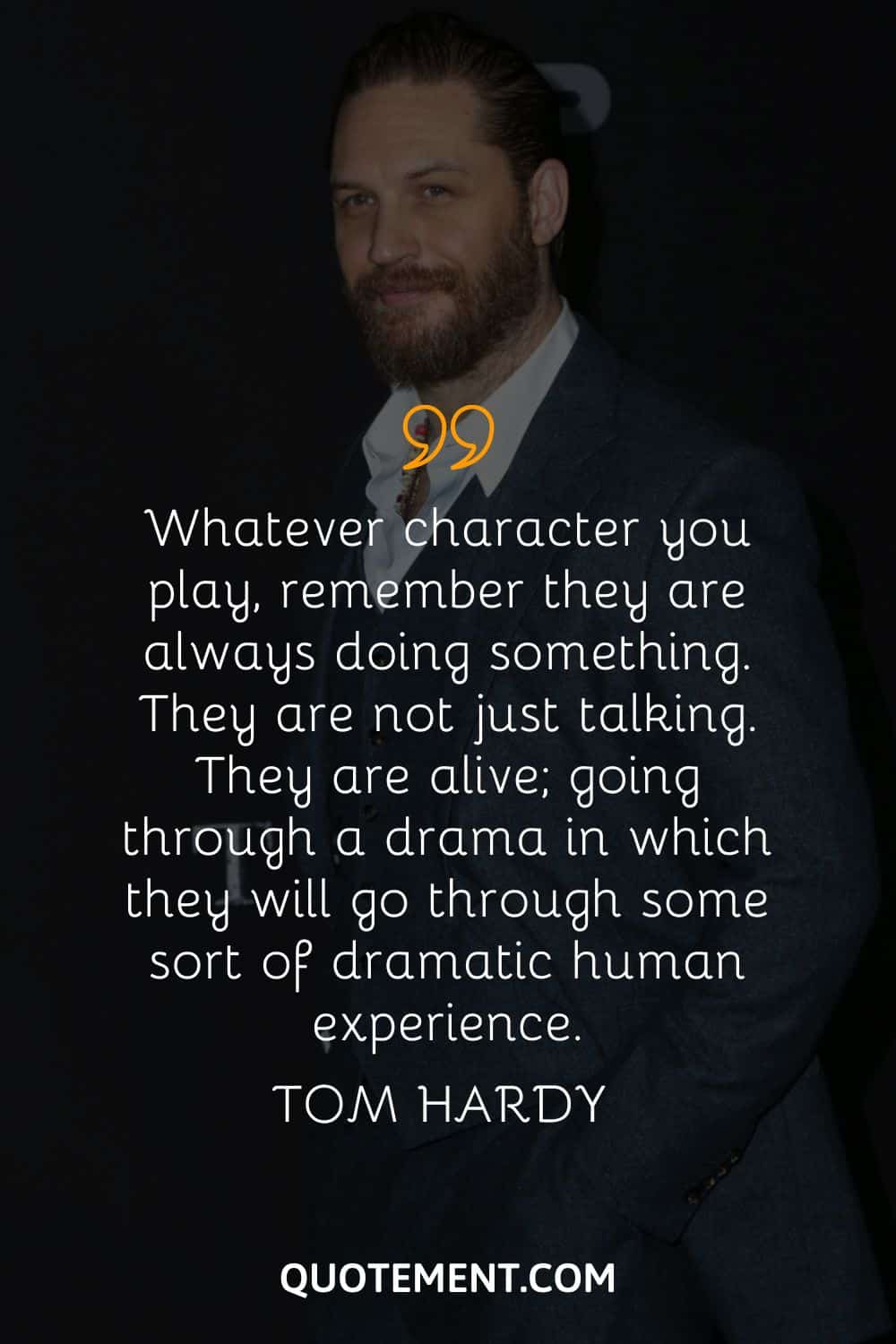 15. "I identify with having strong, powerful female influences in my life. Do you think that women are fairly represented in screenplays, film, TV, and theatre today? Or do you think there should be better parts for women than just girlfriend and wife or lover? Because I'm bored with that." — Tom Hardy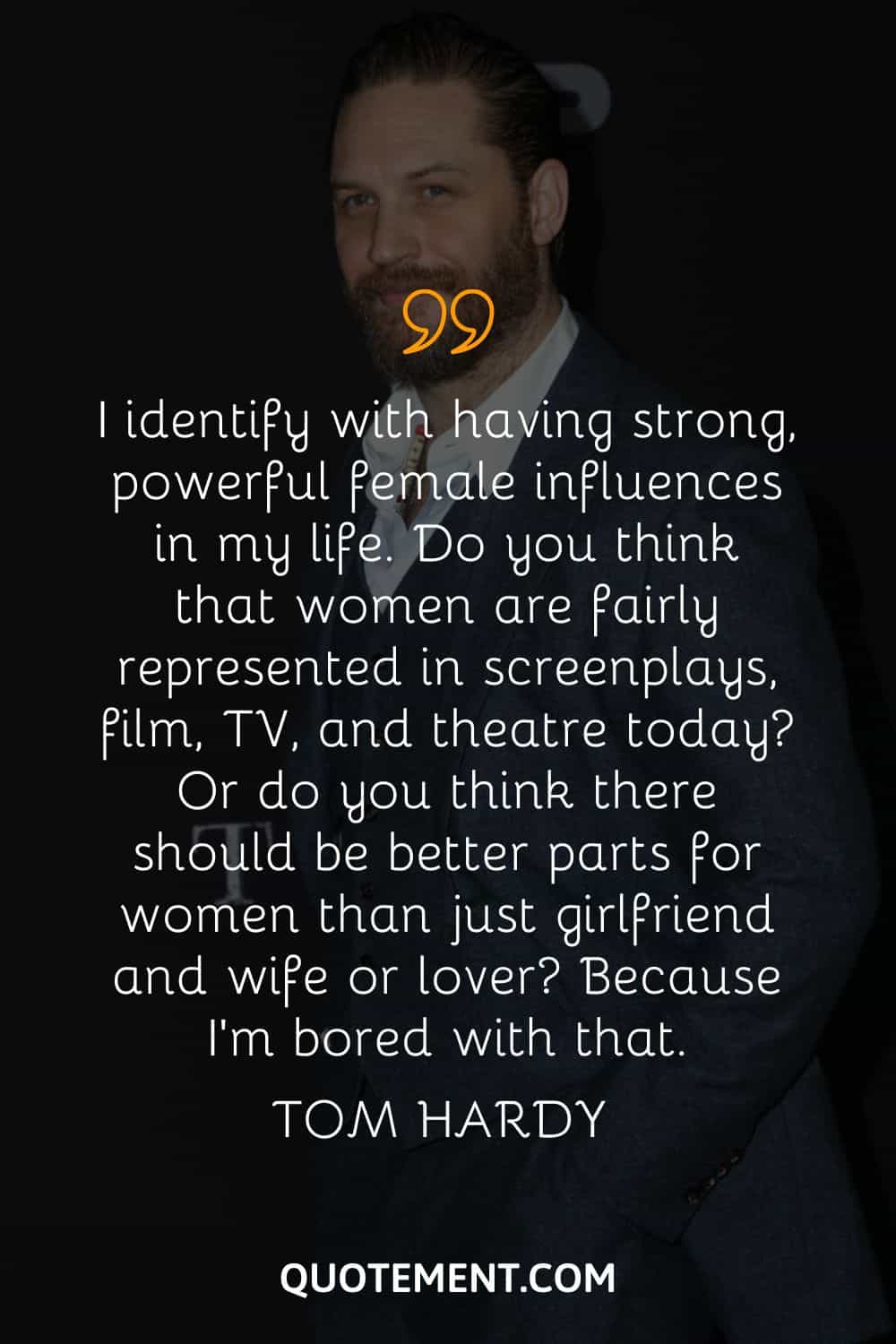 See also: 70 Woman Respect Quotes That Remind About Women's Worth
Inspiring Quotes By Tom Hardy
Here you'll find more inspiring Tom Hardy quotes definitely worth reading.
1. "I had no immediate knowledge of the world or Batman at all. I'm quite incubated. I just keep myself to myself and my dog." — Tom Hardy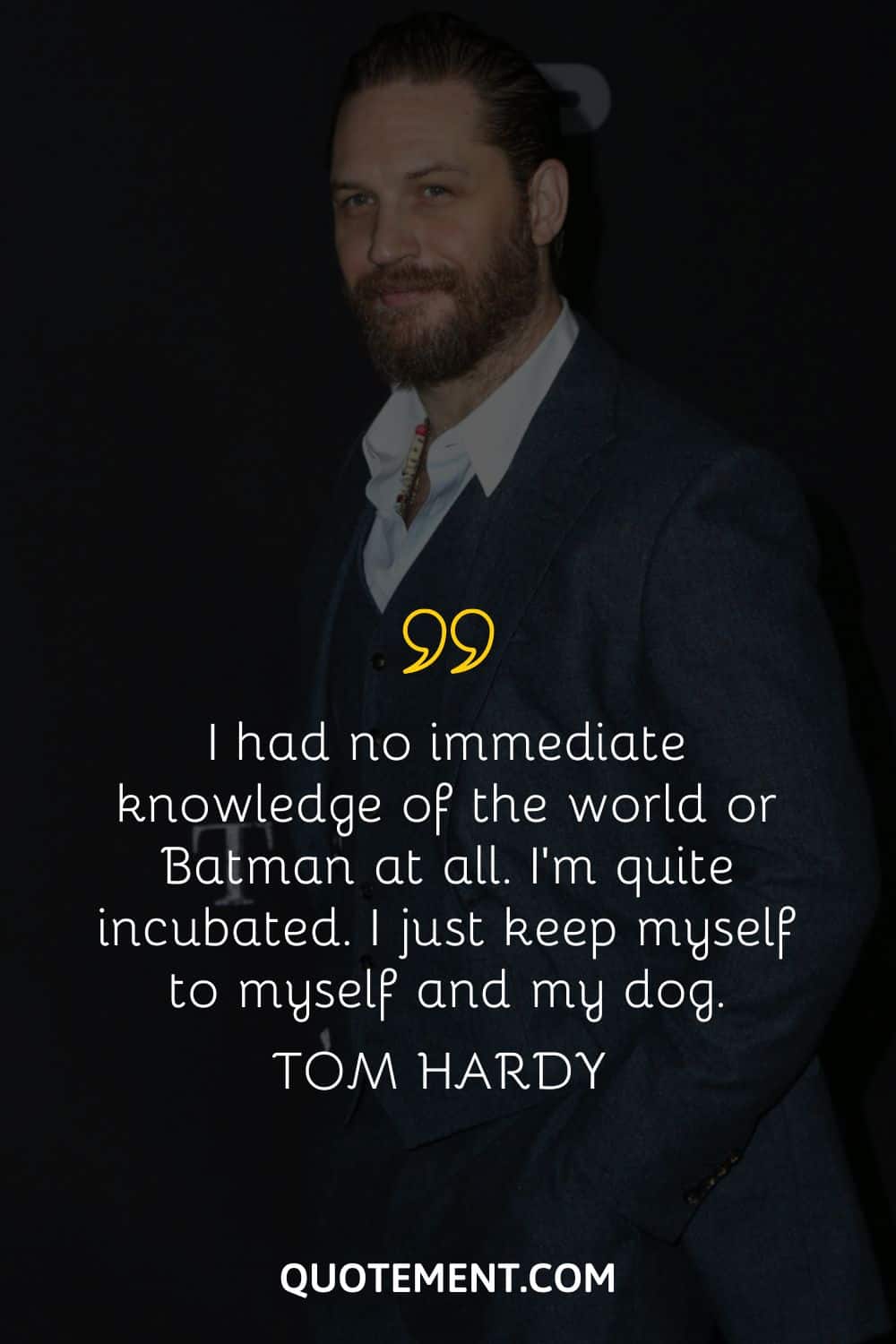 2. "I'm just getting settled as a responsible man – but if you split the elephant into little mouthfuls it will be fine." — Tom Hardy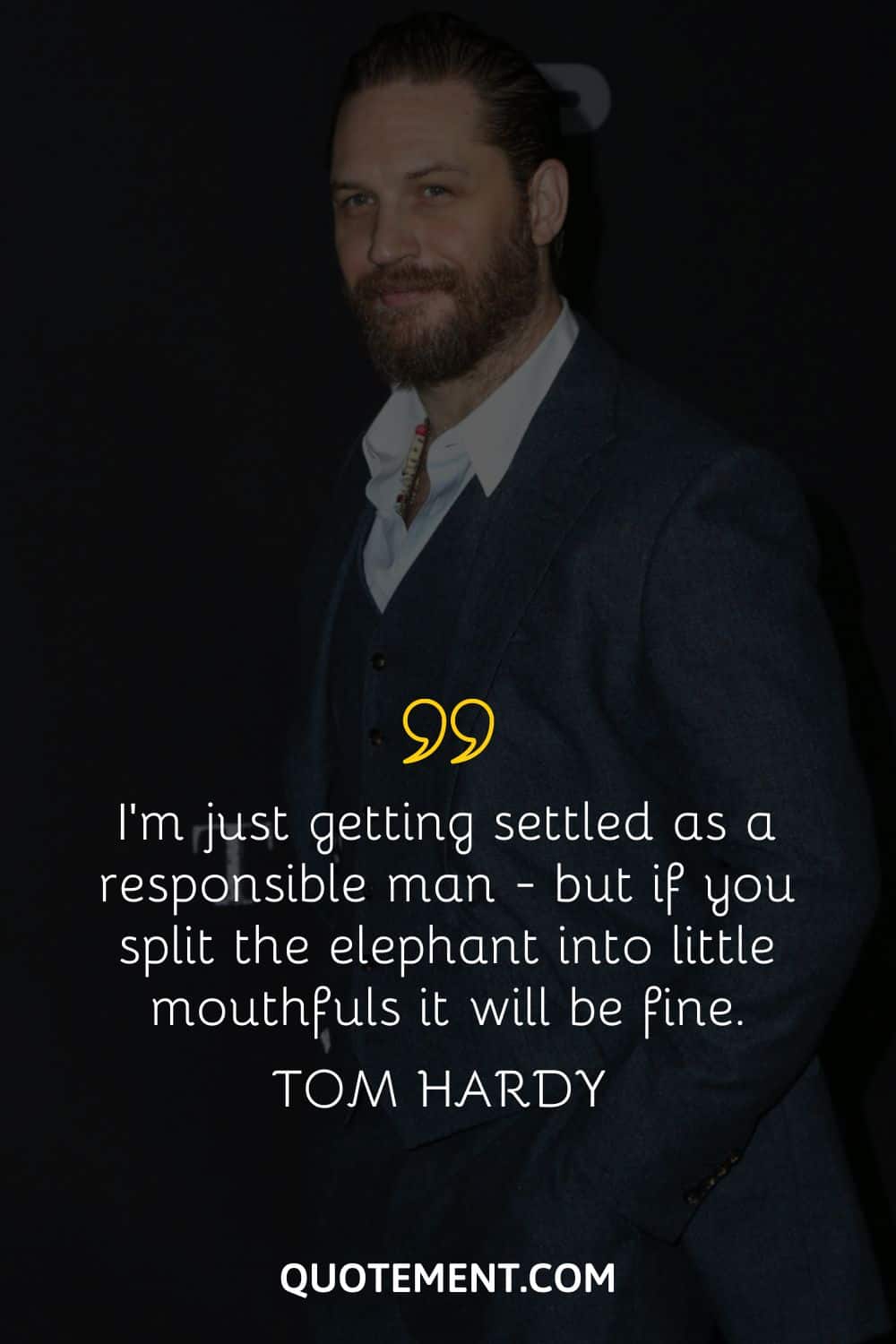 3. 3. "The difference between all actors, is that everyone is different, unique. To be successful in this profession, you need a lot of luck and enormous hard work." — Tom Hardy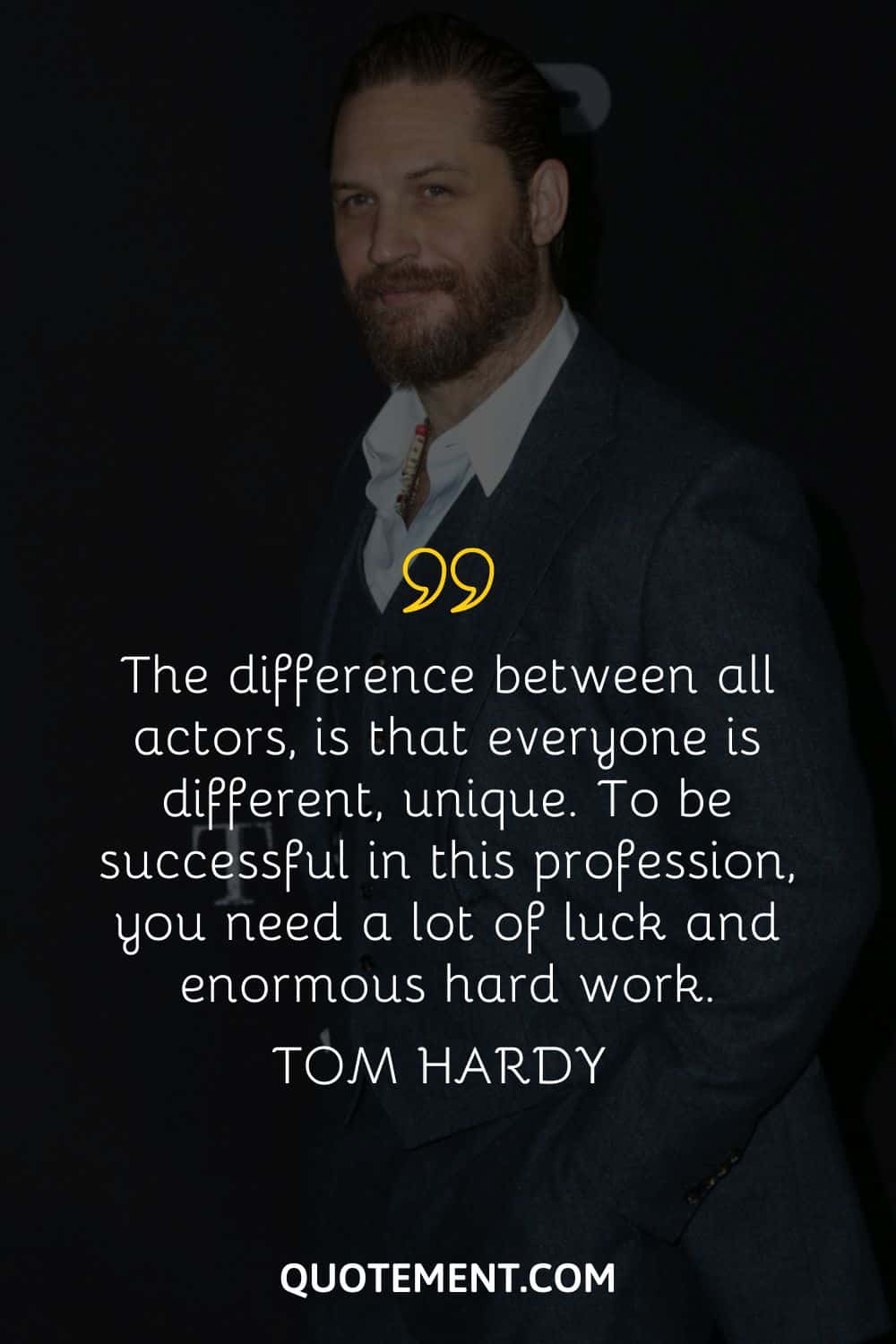 4. "A great man is largely forgotten by the public. He doesn't stand on top of a mountain waving a flag saying, 'Look at me—I'm a great man.' A great man often disappears into the ether." — Tom Hardy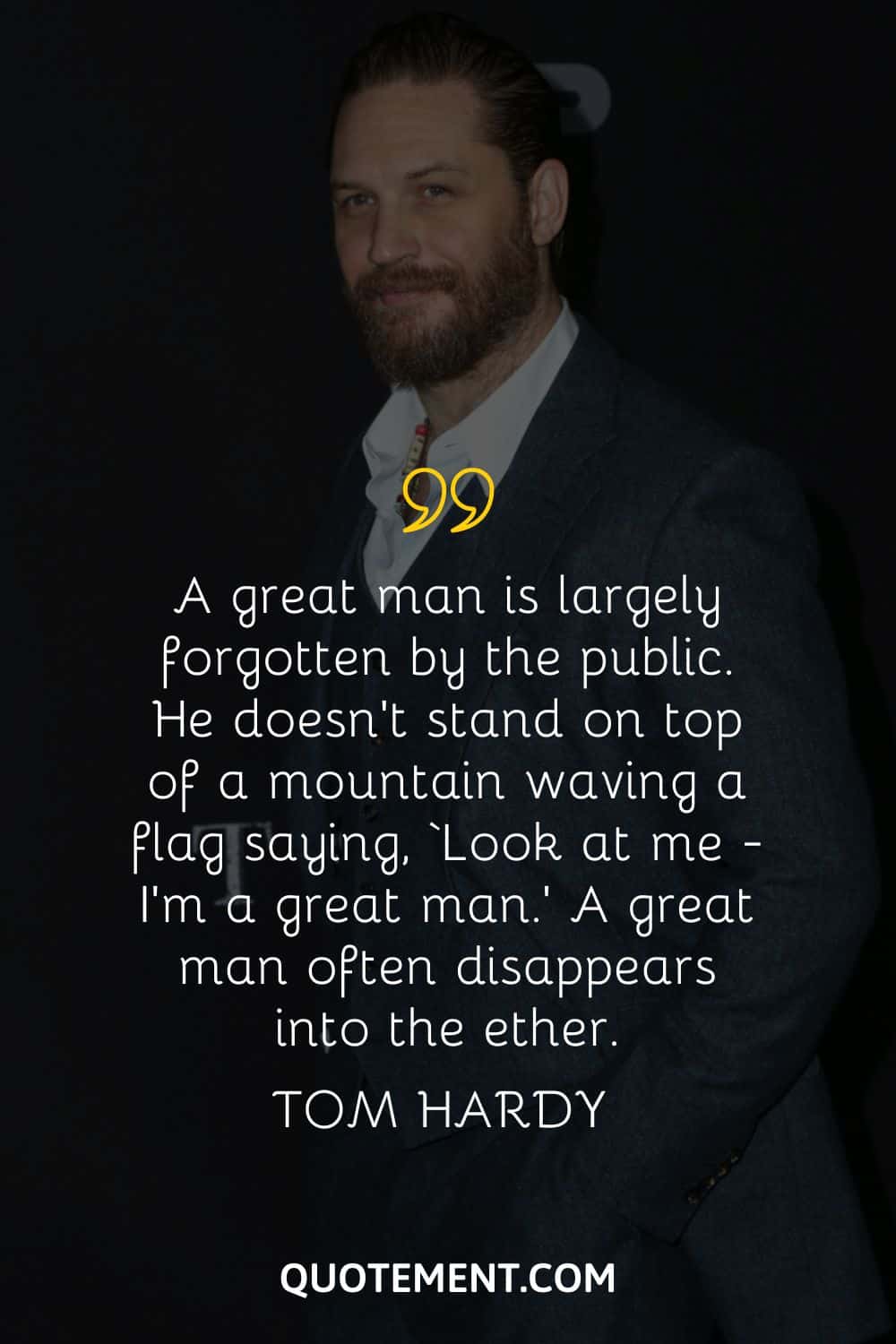 5. "When I was nine, I ran in a school race, and I suddenly realized I was in the lead. I looked at the finish line, and just freaked out, then ran to the side as if I'd hurt myself. It was everything to do with the fear of success." — Tom Hardy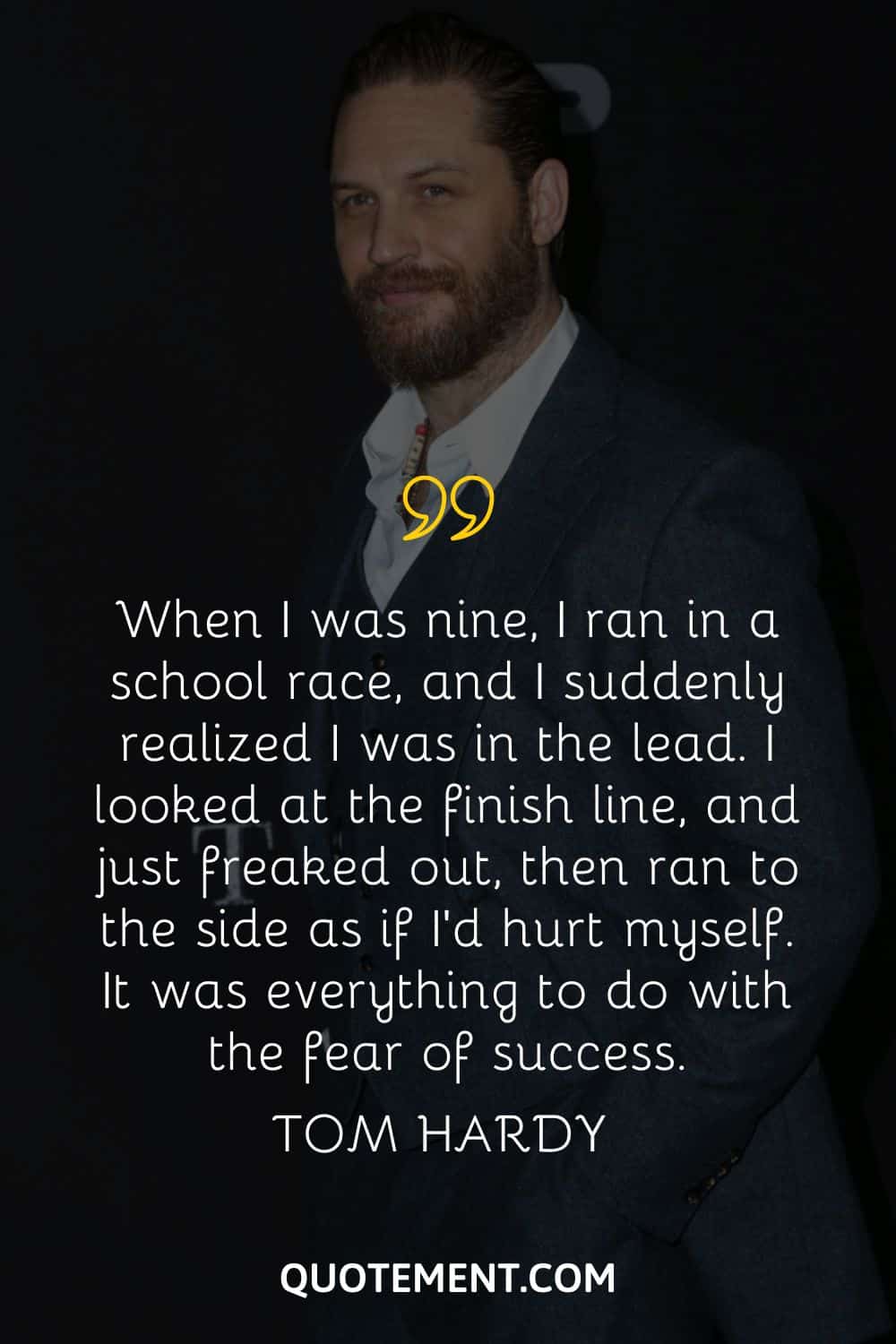 6. "I don't like it when people say, 'Well, you should have expected that when you accepted the job as an actor.' When you go to drama school, no one gives you a class on fame. Just treat people how you wish to be treated." — Tom Hardy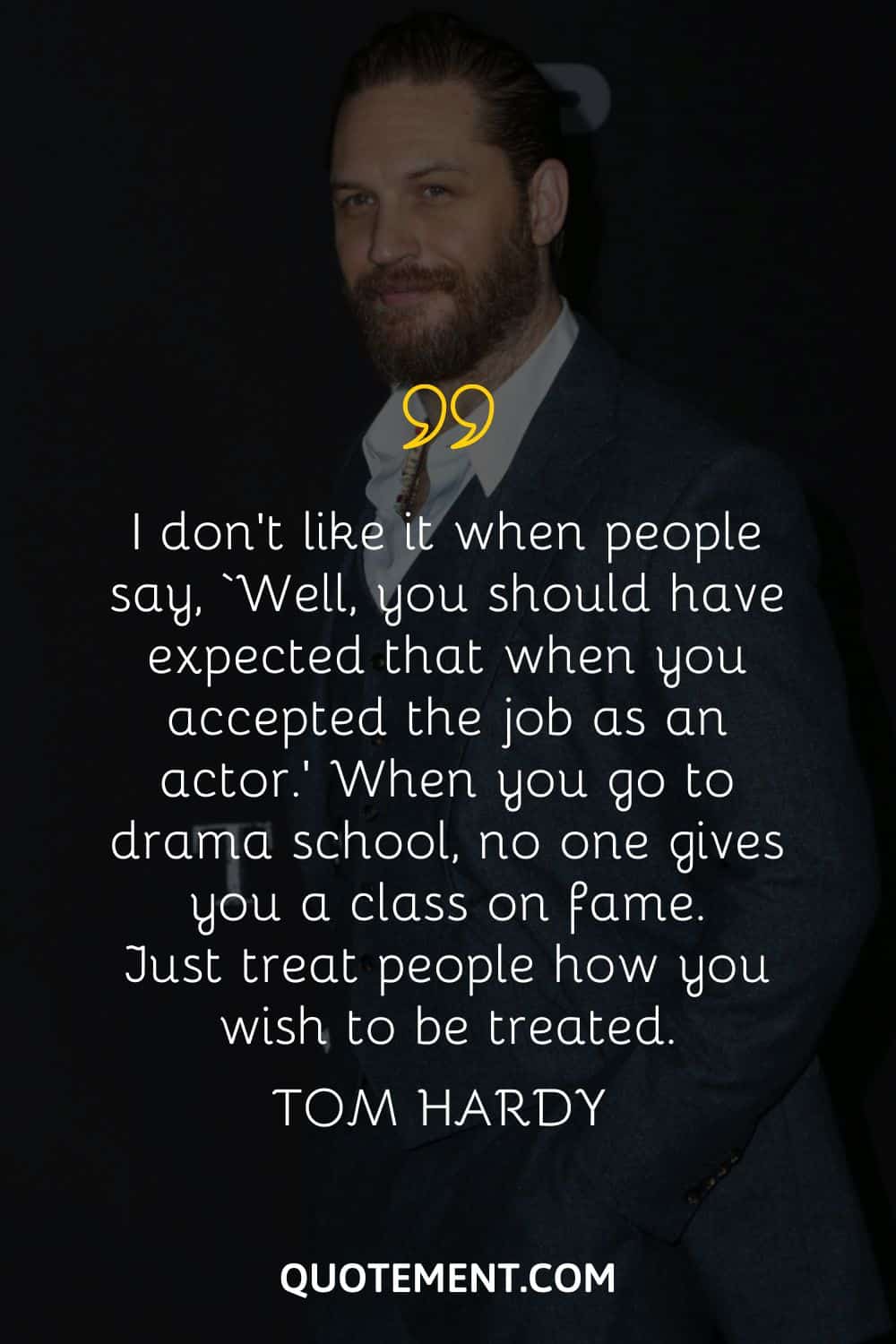 7. "I think I had only been working nine months when I got 'Star Trek,' and it was huge. It was very overwhelming. So that opened my eyes a bit at an early age, kind of how not to be frightened when walking into a responsibility of something like that." — Tom Hardy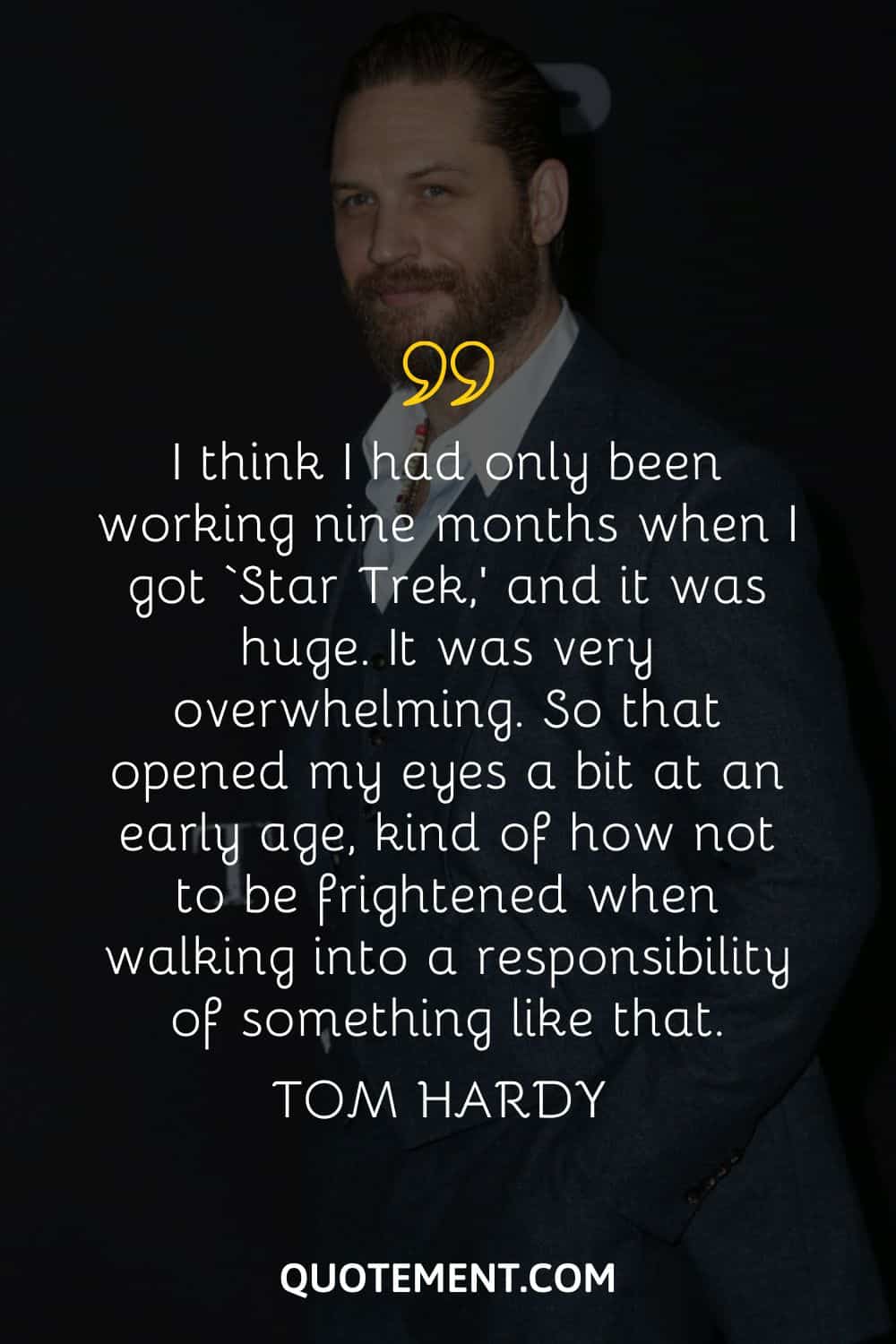 8. "My father came from an intellectual and studious avenue as opposed to a brawler's avenue. So I had to go further afield and I brought all kinds of unscrupulous oiks back home – earless, toothless vagabonds – to teach me the arts of the old bagarre." — Tom Hardy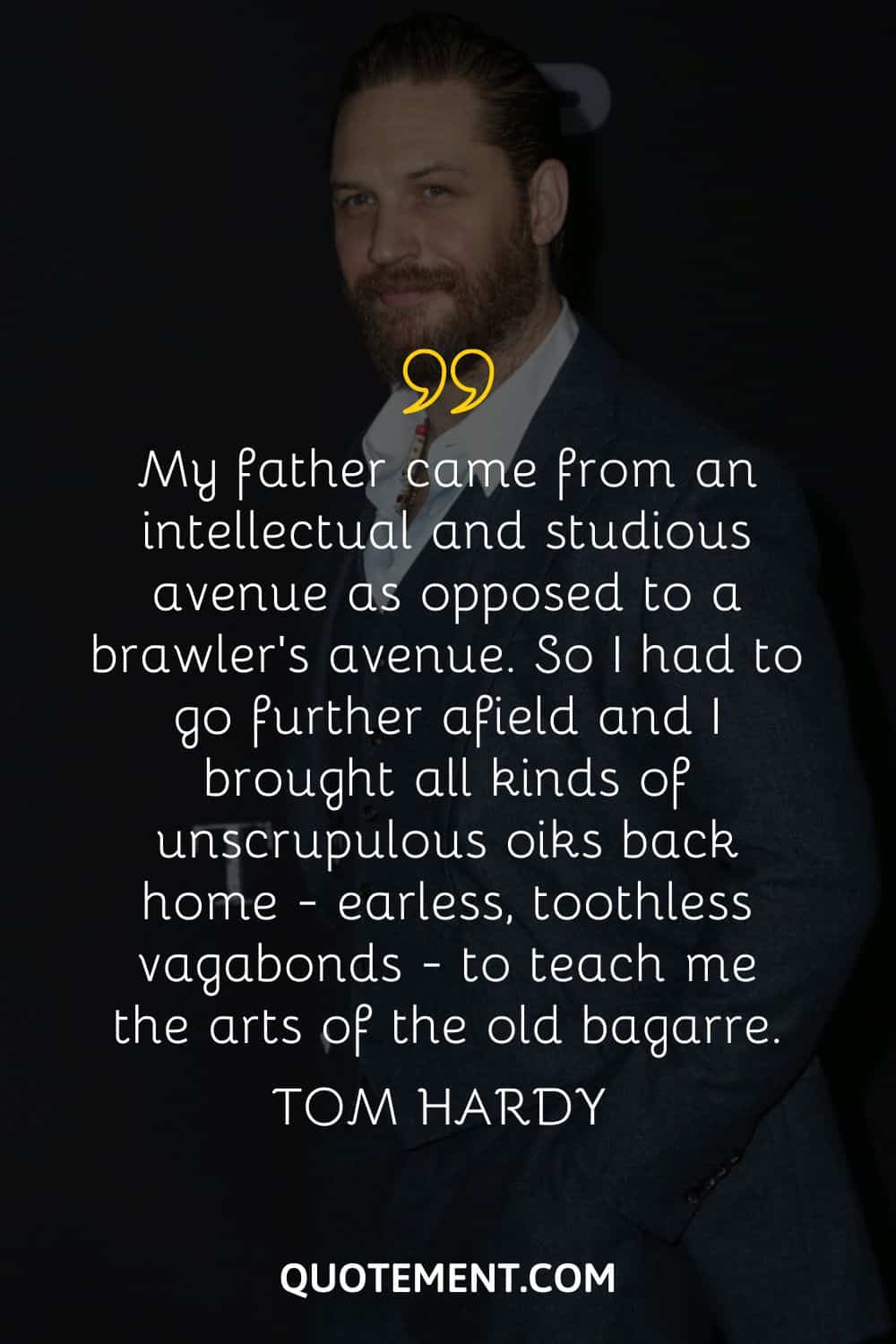 9. "I hate publicists and publicity. But I love people." — Tom Hardy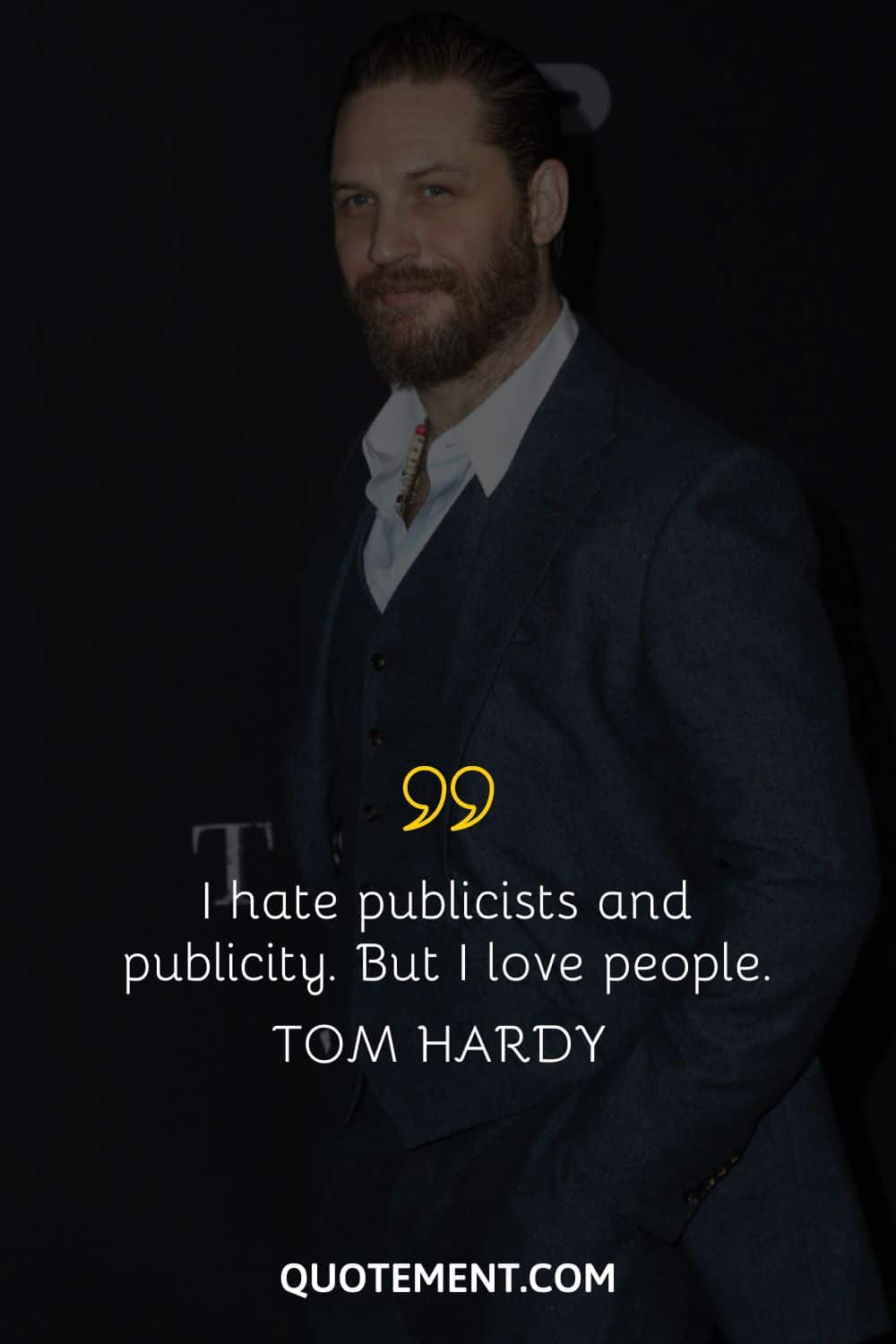 10. "Weak people always have to be in a relationship so they can feel important and loved. Once you start enjoying your own company, being single becomes a privilege." — Tom Hardy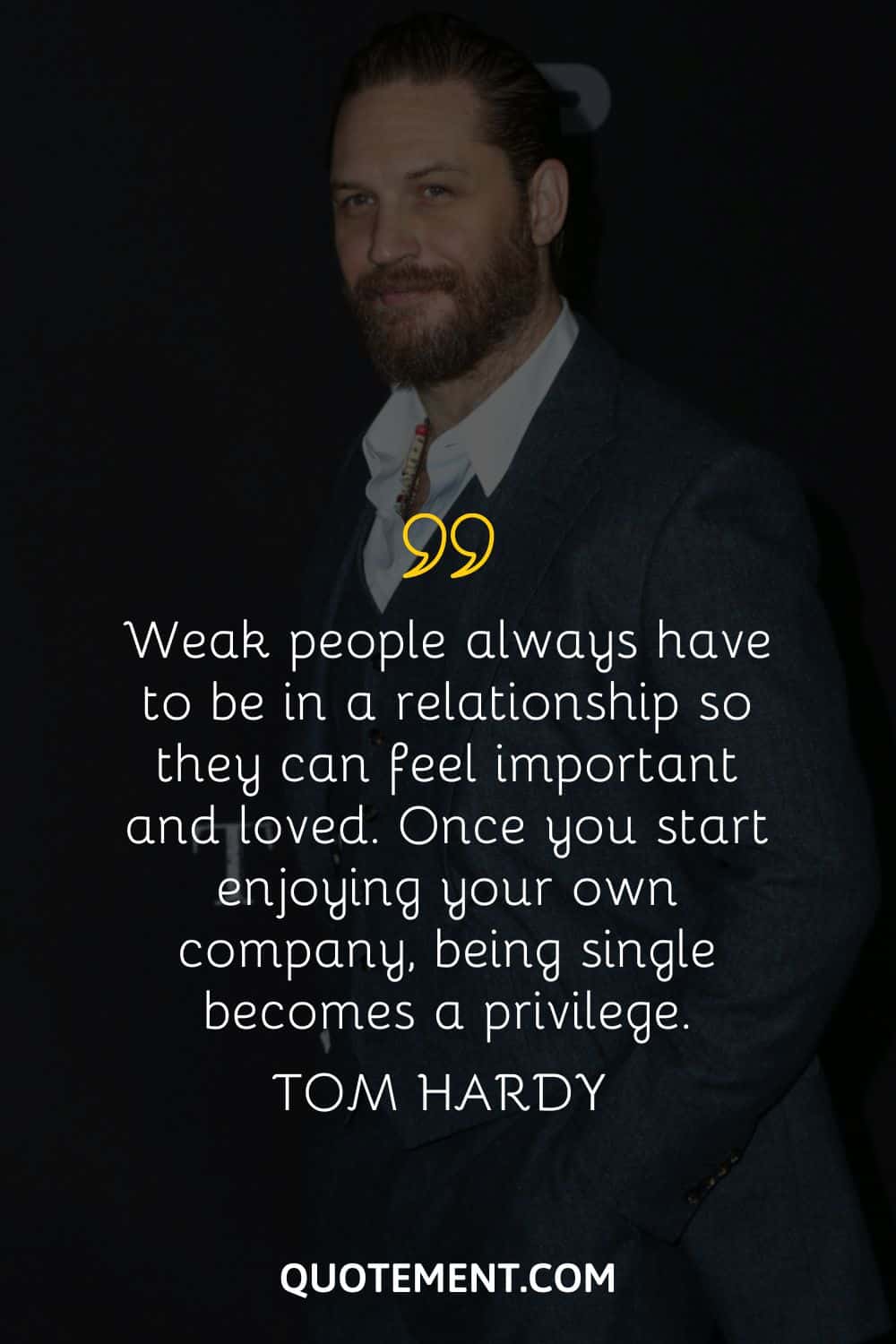 See also: 140 Single Quotes For Instagram Celebrating Single Life
In Conclusion
Tom Hardy is one of my favorite actors. I believe after reading this article and all these inspiring Tom Hardy quotes, he's one of your favorites too.
Isn't he the cutest?
If you have more inspiring quotes by Tom Hardy you'd love to share, drop them in the comments section below.
Until next time!