Have you been on a quest to find the perfect salad caption to go with a healthy and colorful salad picture you've taken? Well, you've come to the right place!
I've put together the ultimate collection of salad captions that will make your next Instagram post pure perfection!
A bowl of healthy fruit or veggies tastes delicious and looks heavenly. To resist posting it on your social media is almost impossible.
However, posting a food pic on Instagram requires a proper food caption. Don't worry, I've got everything you need right here! I've collected salad captions for every type of salad and any occasion.
Whether you're looking for a fruit salad caption, vegetable salad caption, or funny and catchy salad captions, you'll find all that and much more in this article.
Let's dive in!
Top 30 Salad Captions For Instagram
1. Creating salads from scratch is an art – a healthy and flavorsome art.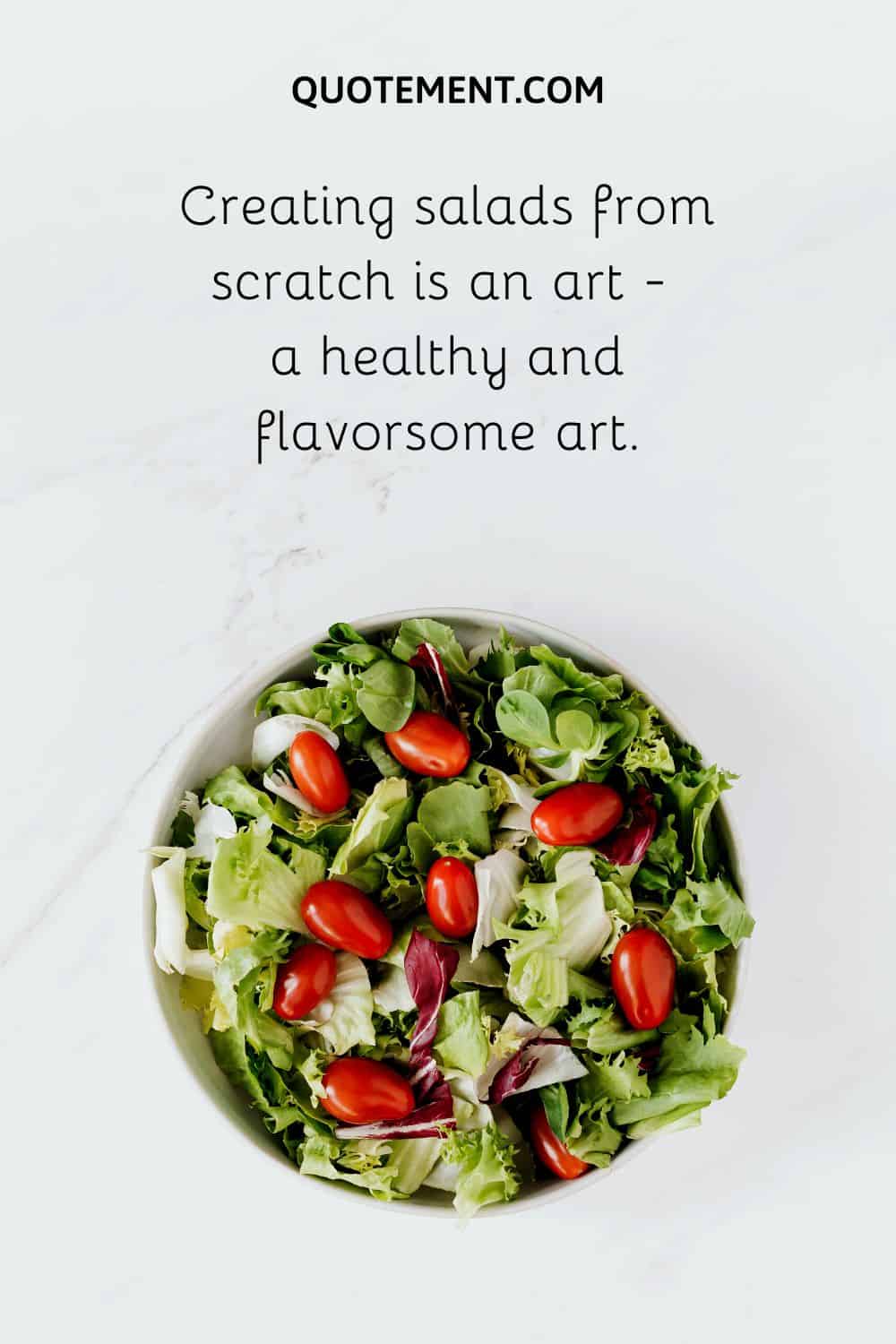 2. The only bar I go to is the salad bar.
3. From salad dressings all blessings flow.
4. It takes more oil than vinegar to make a good salad.
5. Go veg or go home.
6. No phone, a movie, a glass of wine, and some salad – perfect.
7. Guess who's cutting back on carbs?
8. Salads are an art form.
9. Cholesterol is a substance in the blood that causes you to eat salads.
10. Forget falling in love, I'd rather fall in salad.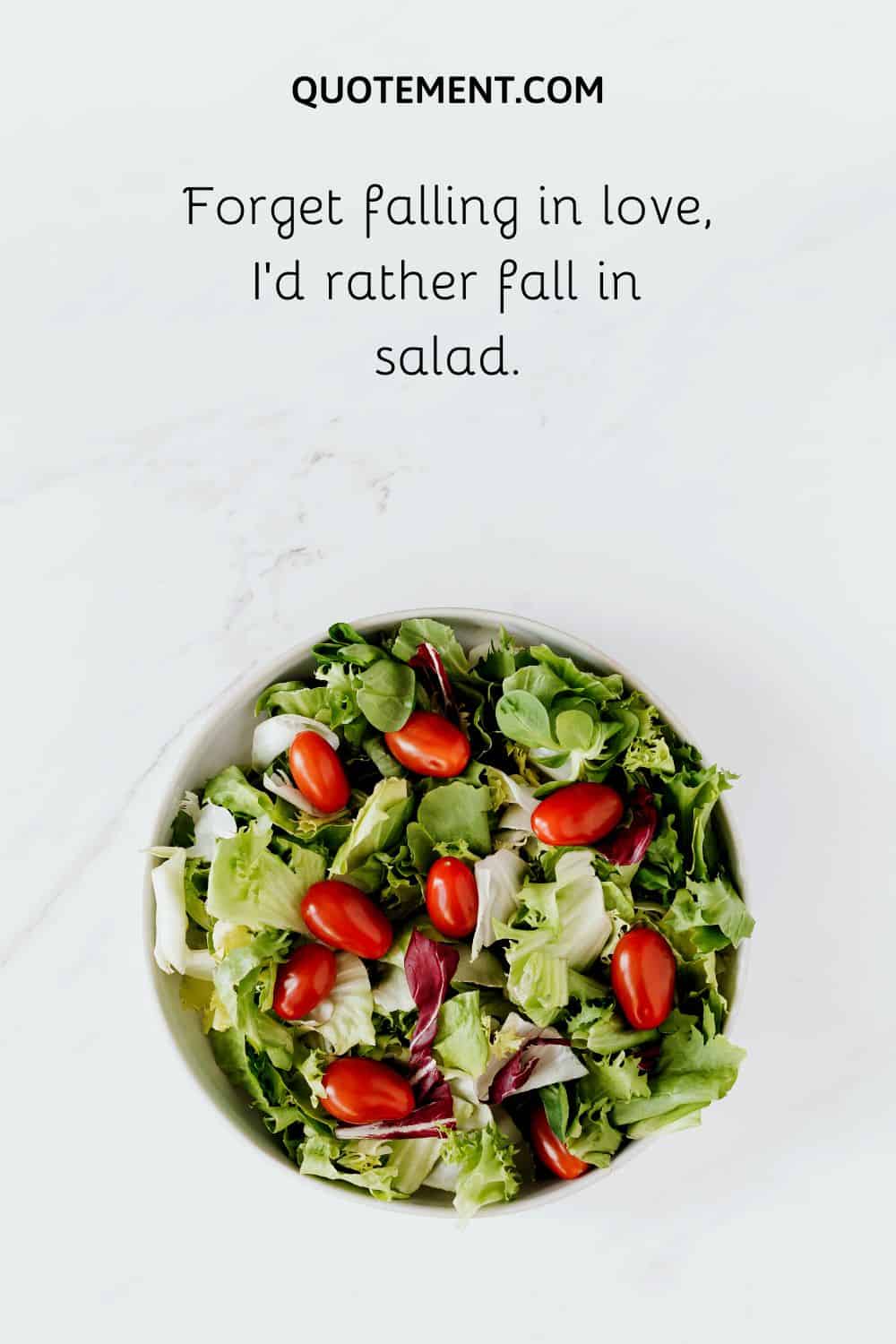 11. A salad a day keeps disease and aging at bay.
12. Let the food be medicine and medicine be the food.
13. Another day, another yummy salad.
14. Happiness is picking and enjoying greens from your own backyard.
15. Here's the golden rule for salads: "Don't forget the dressing."
16. Happiness is a delicious salad.
17. It's not a diet, it's a reset to the best version of you!
18. If a man prepares dinner for you and the salad contains three or more types of lettuce, he's serious.
19. There are three things a woman can make out of almost anything – a salad, a hat, and a quarrel.
20. Eat less from a package and more from the earth.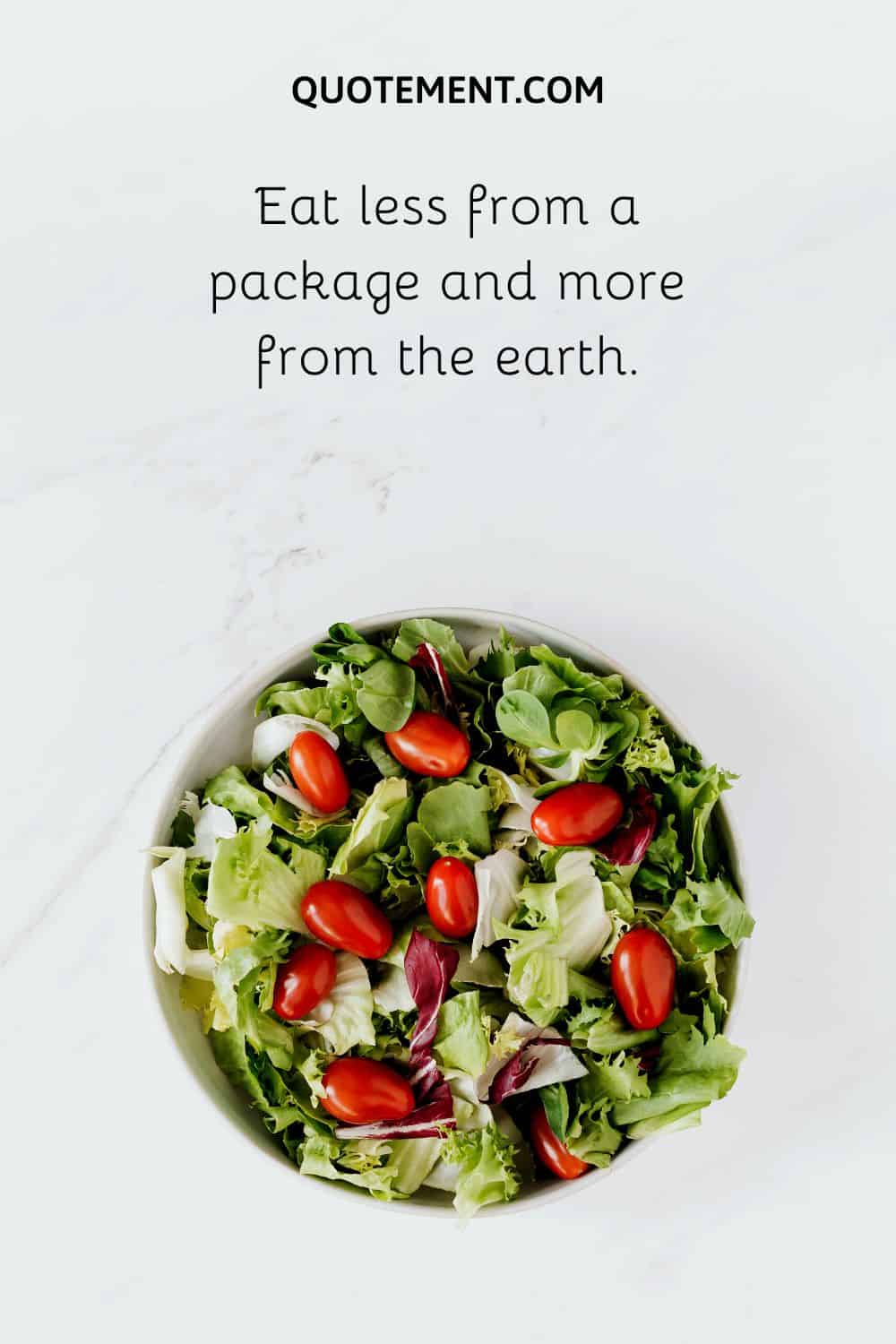 21. My healthy future begins now.
22. My bowl is filled to the brim with all the colors of the earth.
23. The colors of a fresh garden salad are so extraordinary, no painter's pallet can duplicate nature's artistry.
24. Each salad has a soul, a soul that is fueled by freshness, creativity, and taste.
25. People cannot live on bread alone. Every now and then, they need salad.
26. You can create a healthy, colorful, and delicious bowl of salad from scratch with almost anything. Oh, the fun, the joy, and the possibilities!
27. Every bowl of salad is an opportunity to see fruits and vegetables in a new light.
28. Salad obsessed.
29. In order to be healthy and well on the outside, one needs to start from the inside.
30. My heart says chocolate, but my jeans say, for the love of God, woman, eat a salad.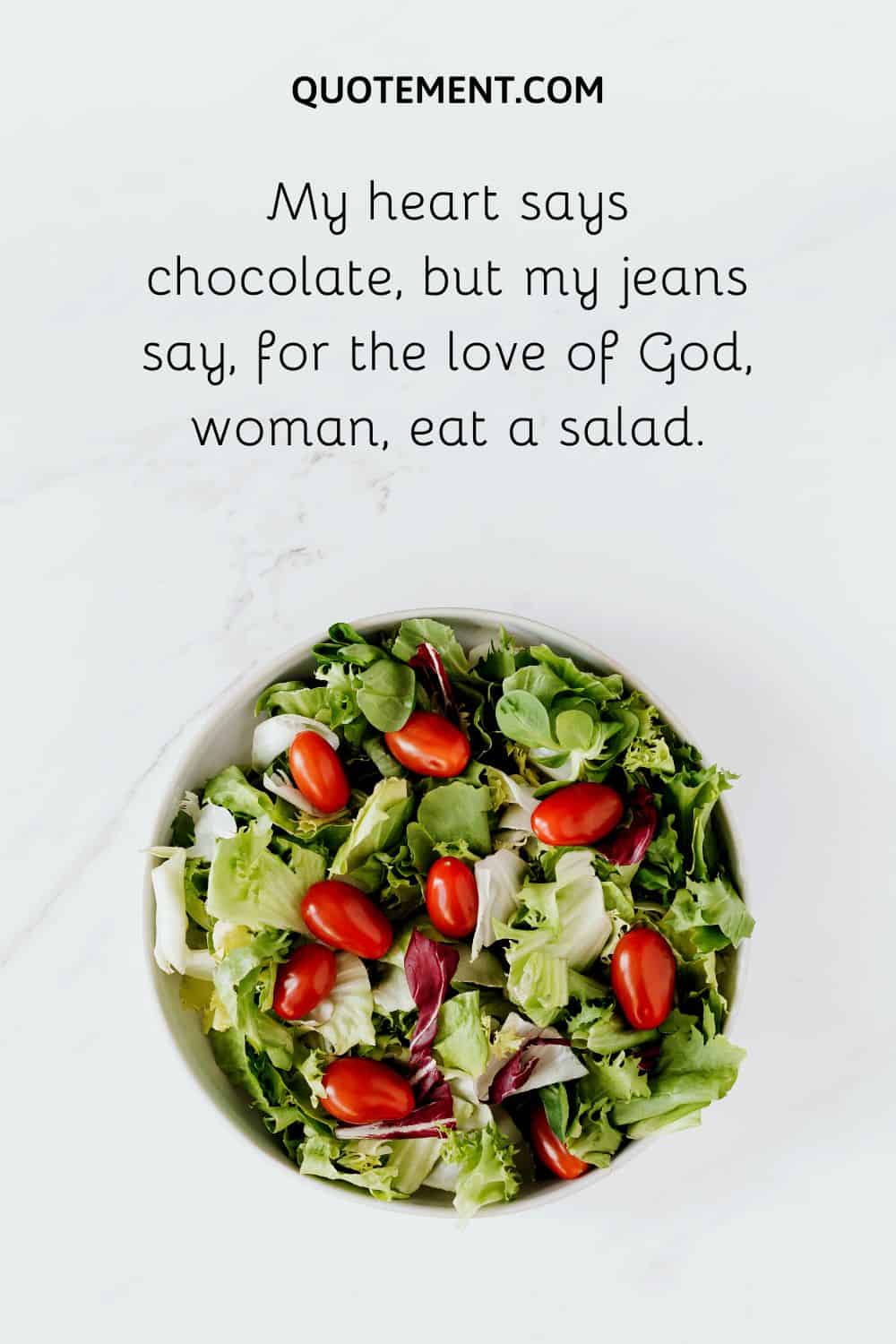 See also: 200 Sweet Chocolate Captions For Instagram You'll Love
Fruit Salad Captions For Instagram
Chocolate is nice, but fruit salad is the best! Check out these fruit salad captions for Instagram, I'm sure you'll find something you like.
1. Fruit salad is the best salad. Fight me!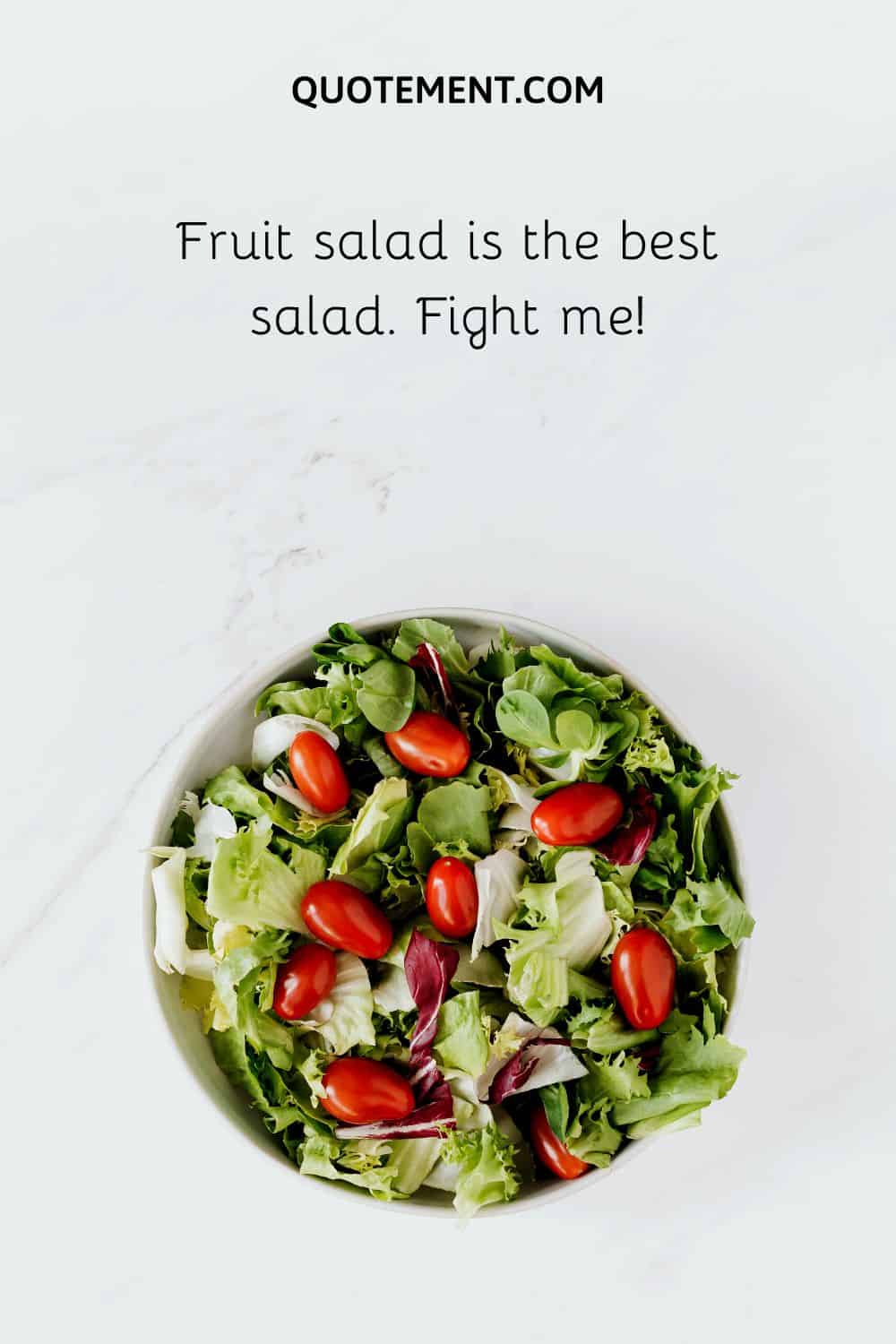 2. Adding a little sweetness to my day with a fruit salad.
3. A fruit salad is delicious precisely because each fruit maintains its own flavor.
4. If it has fruit in it, that's my kind of salad.
5. Fruit salad, yummy yummy!
6. Fruit salads are always a crowd pleaser! It's like a party in your mouth!
7. Knowledge is knowing that a tomato is a fruit. Wisdom is knowing not to put it in a fruit salad.
8. All the colors of the season in one fruit salad!
9. It's a real fruit salad of different pieces and parts.
10. Sometimes all you need is a little splash of color.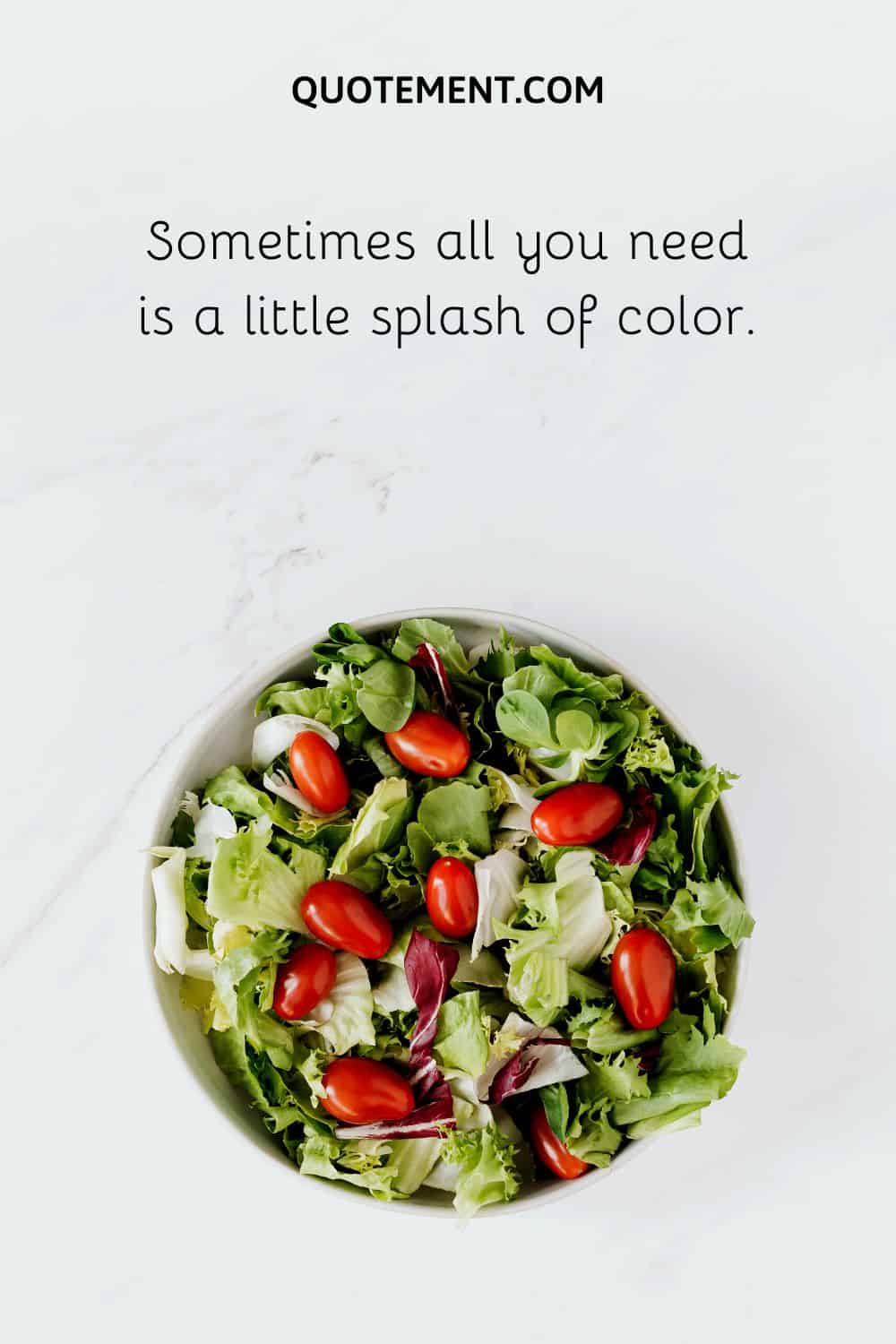 11. Nothing tastes better than fresh fruit salad laced with sweet, sugary syrup.
12. Papaya, passion fruit, pineapple – the tropical trio that's giving my salad a sassy new spin!
13. The only salad I need in the summer.
14. Yummy and refreshing.
15. This fruit salad serves up just about everything you want in a bowl of fruit.
16. This watermelon-filled salad is a must-eat.
17. I cherry-ish our friendship!
18. A well-made salad must have enough fruits and love in it.
19. I don't like fruits much, but when they are in the shape of wine and salads, I love them.
20. My head says go with the meat, my heart says to eat the mixture of fruits.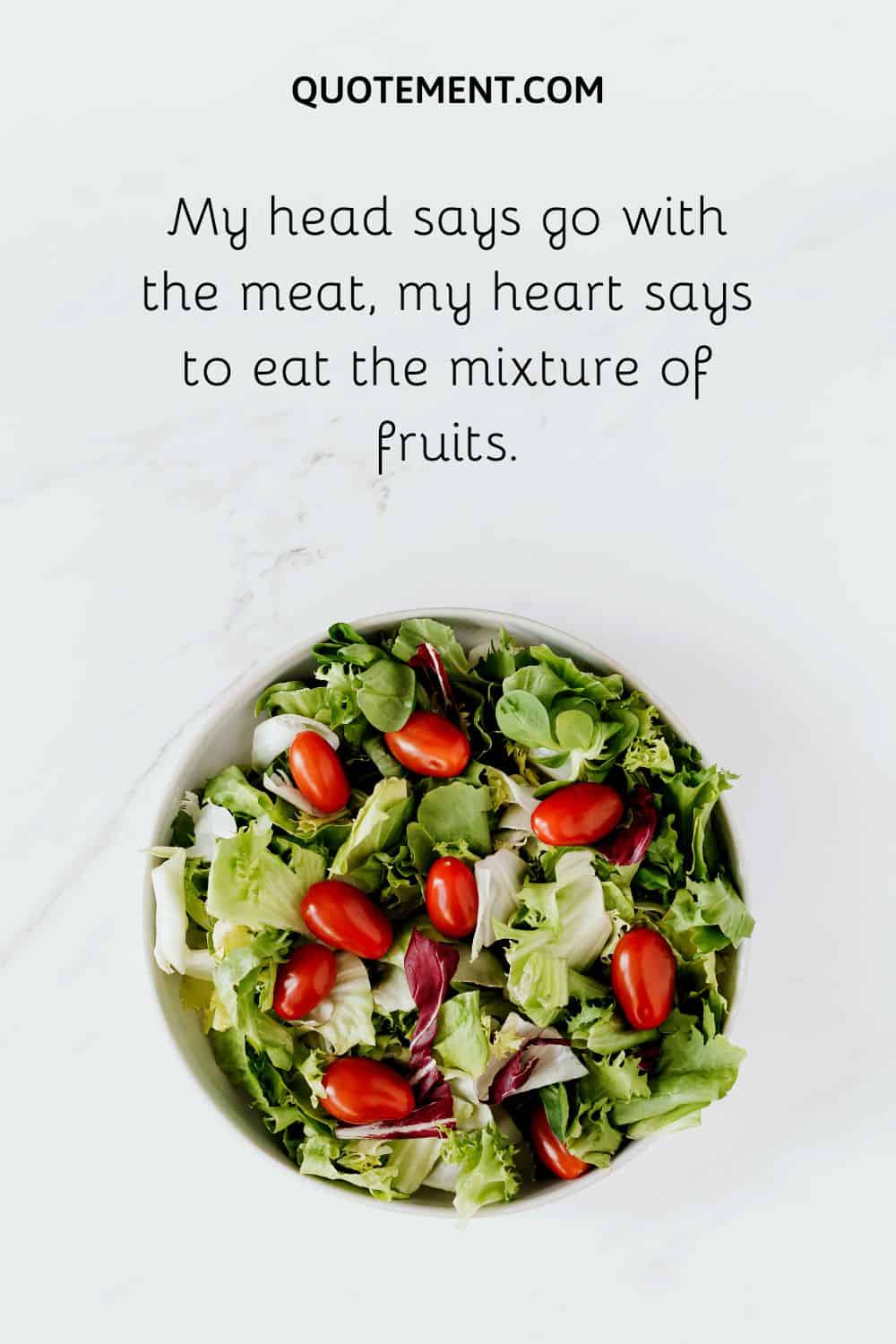 21. Keep calm and make fruit salad.
22. Let's have a little fun this morning, post the last fruit salad you had.
Vegetable Salad Captions For Instagram
If veggies and greens are what you prefer, these vegetable salad captions are for you!
1. Too many simple green salads suffer from a lack of imagination.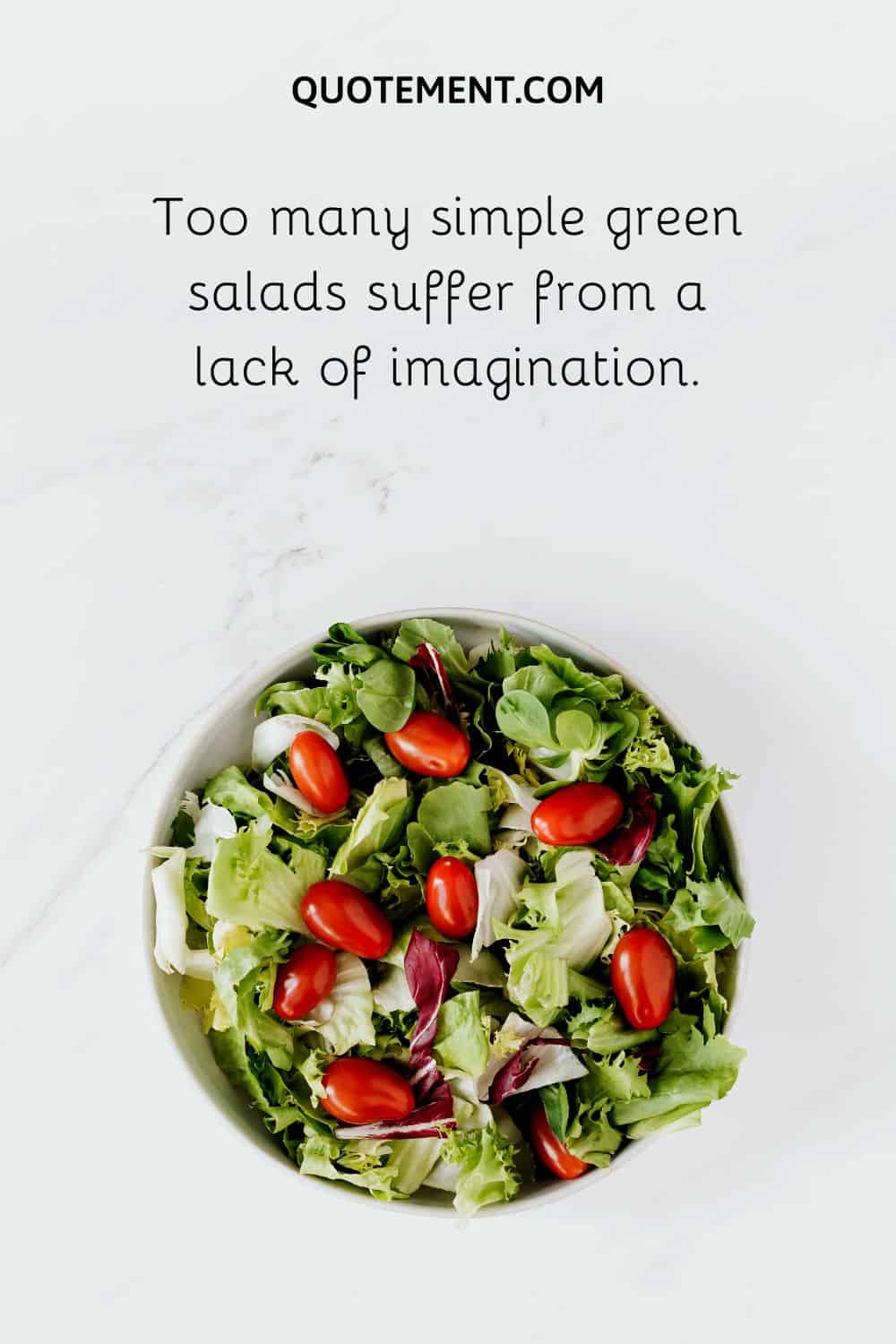 2. When life gives you lemons, squeeze them on your salad!
3. You cannot see the lettuce and the dressing without suspecting a salad.
4. Check out my greens!
5. I'm anti-cheese in a salad.
6. I came, I saw, I ate the salad.
7. Got vegetables?
8. Light on calories, loaded with taste.
9. Life is all about making good choices, and this salad is one of them.
10. Frankly speaking, a good salad relies more on oil than vinegar.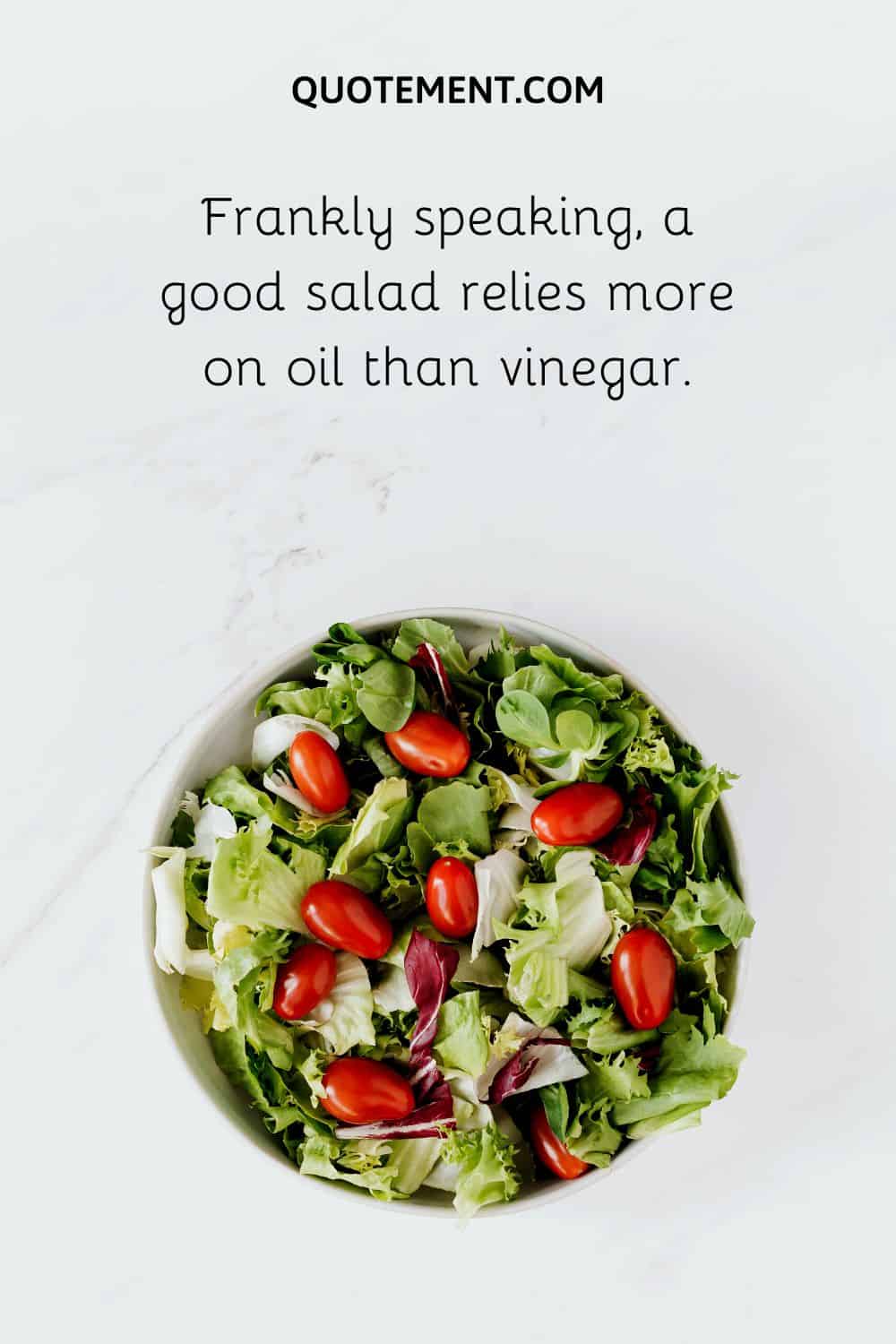 11. Who said salads have to be boring?
12. What garlic is to salad, insanity is to art.
13. Junk food satisfies you for a minute. Healthy food, on the other hand, satisfies you for life.
14. Every time I eat salad, I'm like: "My life better change after this!"
15. Fresh, crisp, and full of life.
16. Don't kale my vibes this summer.
17. Veggies help keep the eyesight good.
18. Meat-free salad is just perfect.
19. I love vegetables!
20. On a quest to eat a healthy amount of veggies? Then salad is your friend.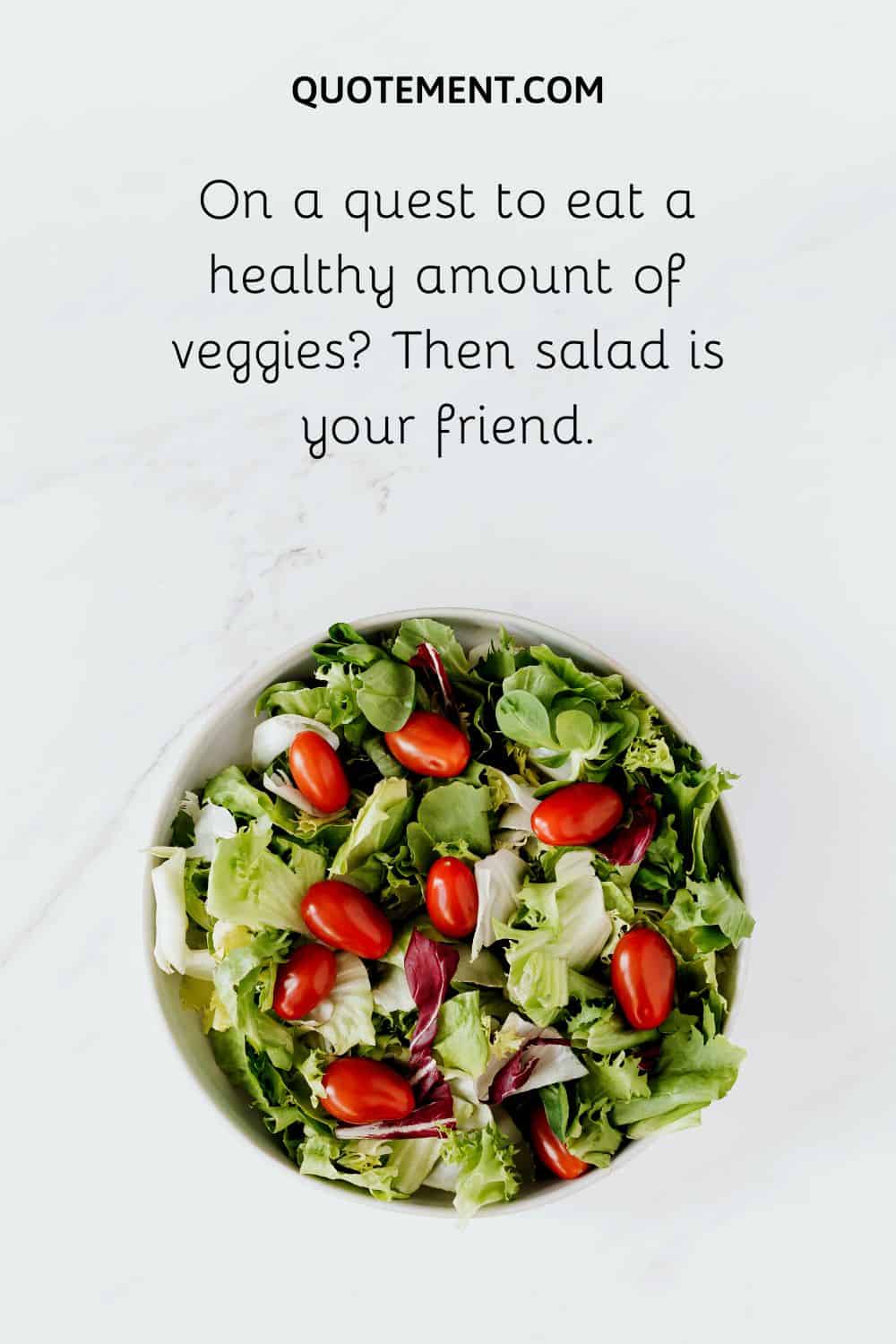 21. Good food is the foundation of happiness.
22. Uniformity is what dictates the quality of a salad. Each and every ingredient must share a sense of harmony inside the bowl.
23. My summer can be summed up in a bowl of salad.
24. With kale, you can't fail.
25. Vegetable salad is happiness condensed.
26. Be healthy. Have a salad.
27. Live green and go green.
28. Cool as a cucumber.
29. The only salad I love is the one with no meat in it.
30. The perfect dressing is essential to the perfect salad.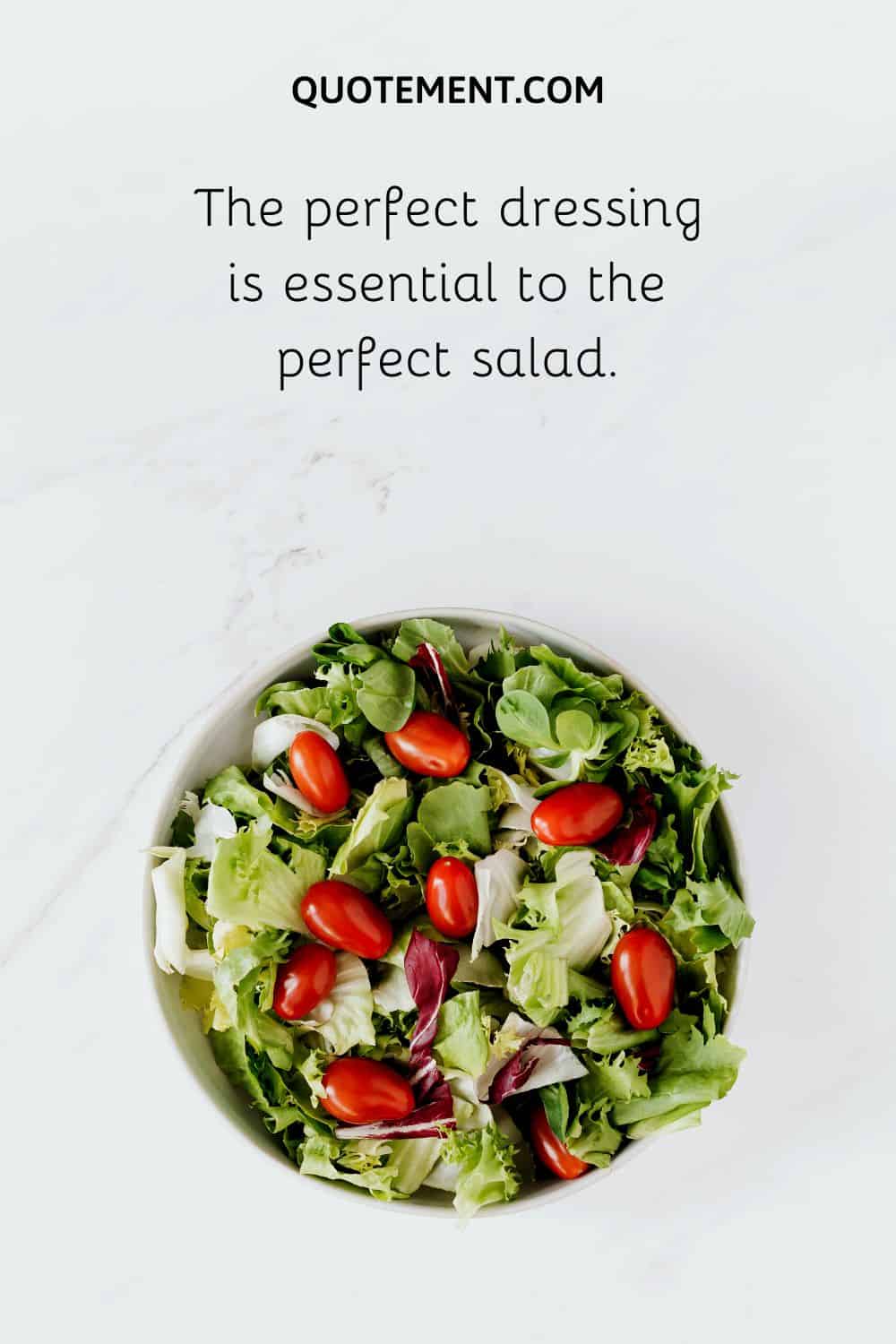 31. Nutritious, delicious, and fresh.
Good Salad Captions For Instagram
Here are some more fantastic salad captions for Instagram that you must check out!
1. Living my best life, and it started with a bowl of salad.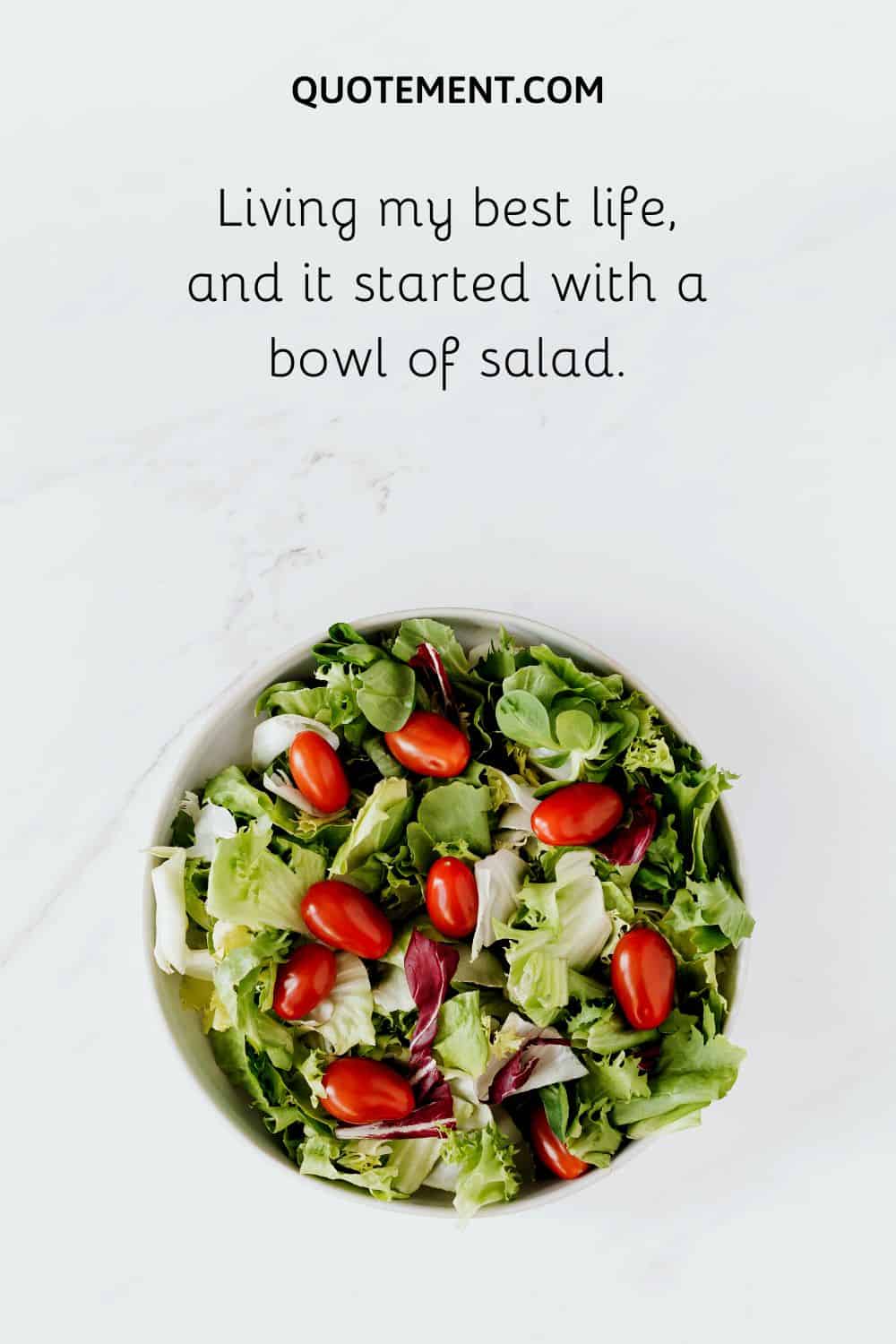 2. A pasta salad is a complete meal. You have your veggies, carbs, and protein. What more do you need?
3. If there's meat in it, then that's my salad.
4. My tuna salad just smells amazing.
5. One of the salad wonders in the world.
6. Call it crazy, or just chicken salad.
7. The healthy option if you don't mind the carbs.
8. Simplicity is what makes a truly good salad.
9. This bowl of salad is kind of a big dill.
10. Which came first, the chicken salad or the egg salad?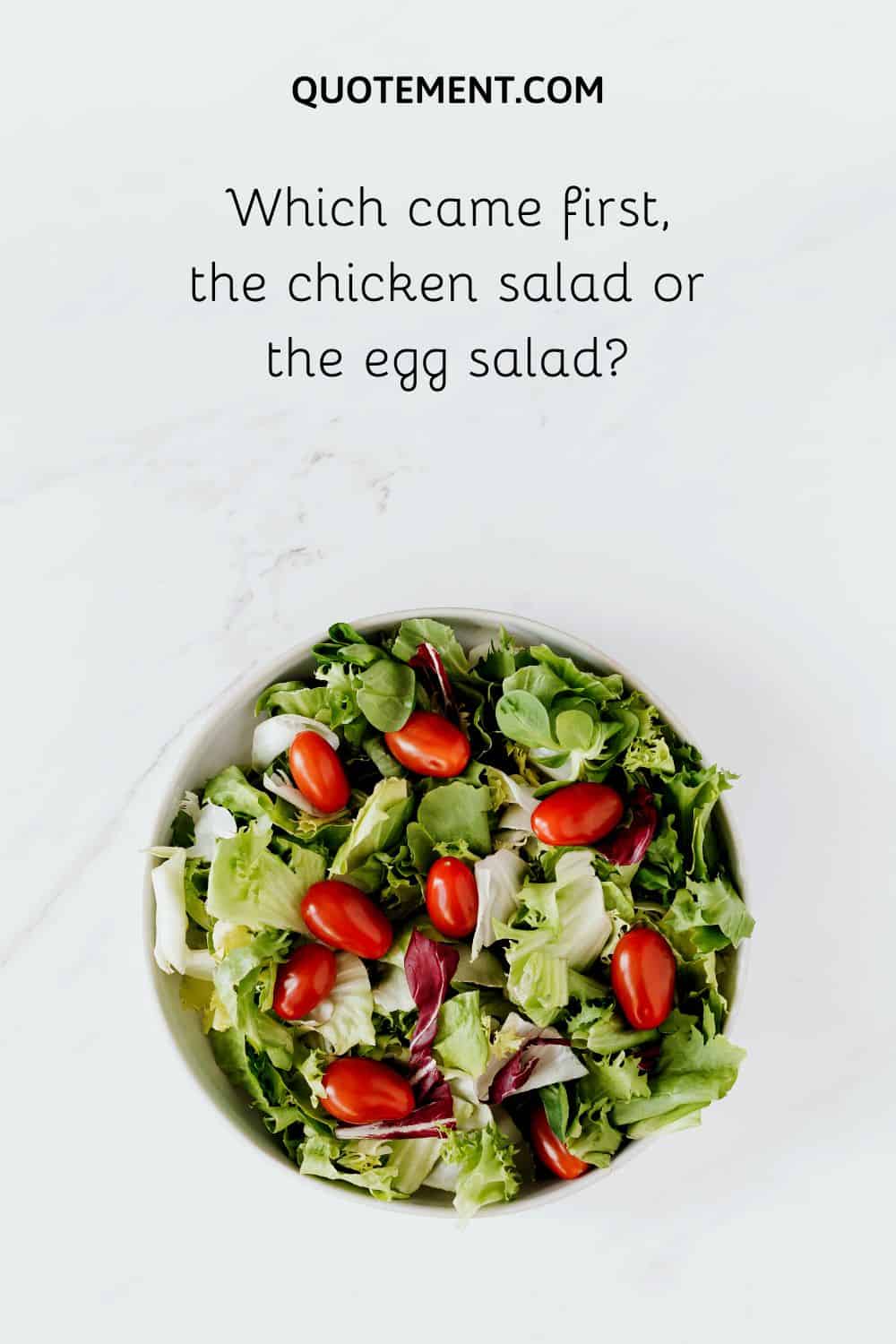 11. Probably the best tuna salad in the world, and I made it!
12. It's all about the dressing.
13. This is the salad combo I've been waiting for.
14. Salad is the only thing keeping me sane.
15. Pasta and salad to end my night.
16. There's always time for tuna salad.
17. Chock full of delicious flavors!
18. Nice salad! It would be a shame if I tossed it.
19. This salad is just meant to be eaten in hot weather.
20. A salad is not only a meal, it is a classy style to meet happiness.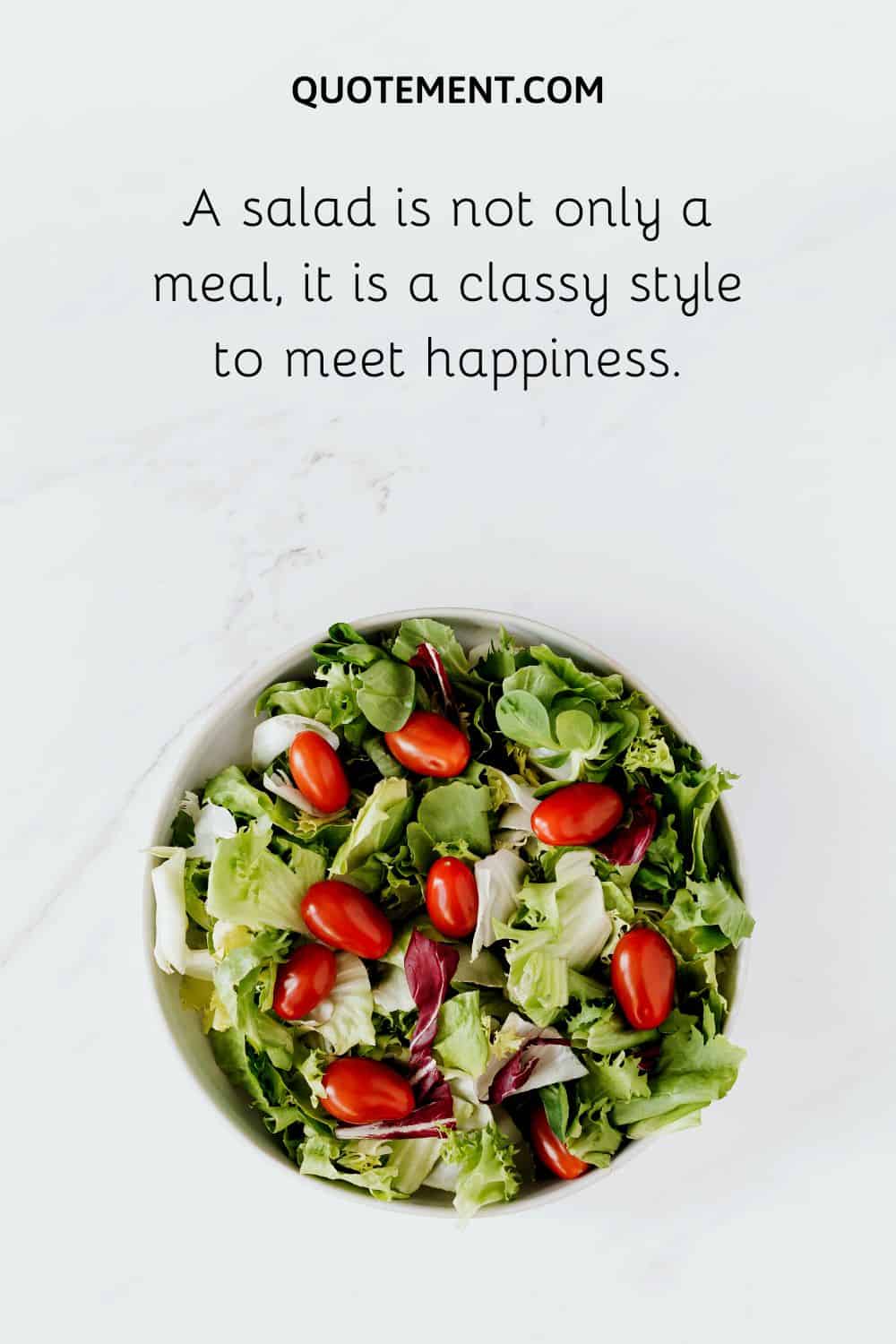 21. To make a good salad is to be a brilliant diplomat – the problem is entirely the same in both cases. To know how much oil to mix in with one's vinegar.
22. It's my first time eating cold salad, and I'm sure I'll start eating this every day in June.
23. Going to McDonald's for a salad is like going to a brothel for a hug.
24. I can deal with sadness with the help of salad.
25. If you really want me to love you, just get me some salad, and we will eat that together.
26. Will always have a smile on my face when I see tuna salad.
27. If you like good ol' fashion Southern soul food, then, yes, I am a good cook! My specialty is chicken dumplings and pokes salad.
28. How fresh and delicious does this salad look?
29. Salads invigorate without stupefying and motivate without irking.
30. One of the benefits of eating salad is that you can eat tons of it, and you will love it more on every spoon.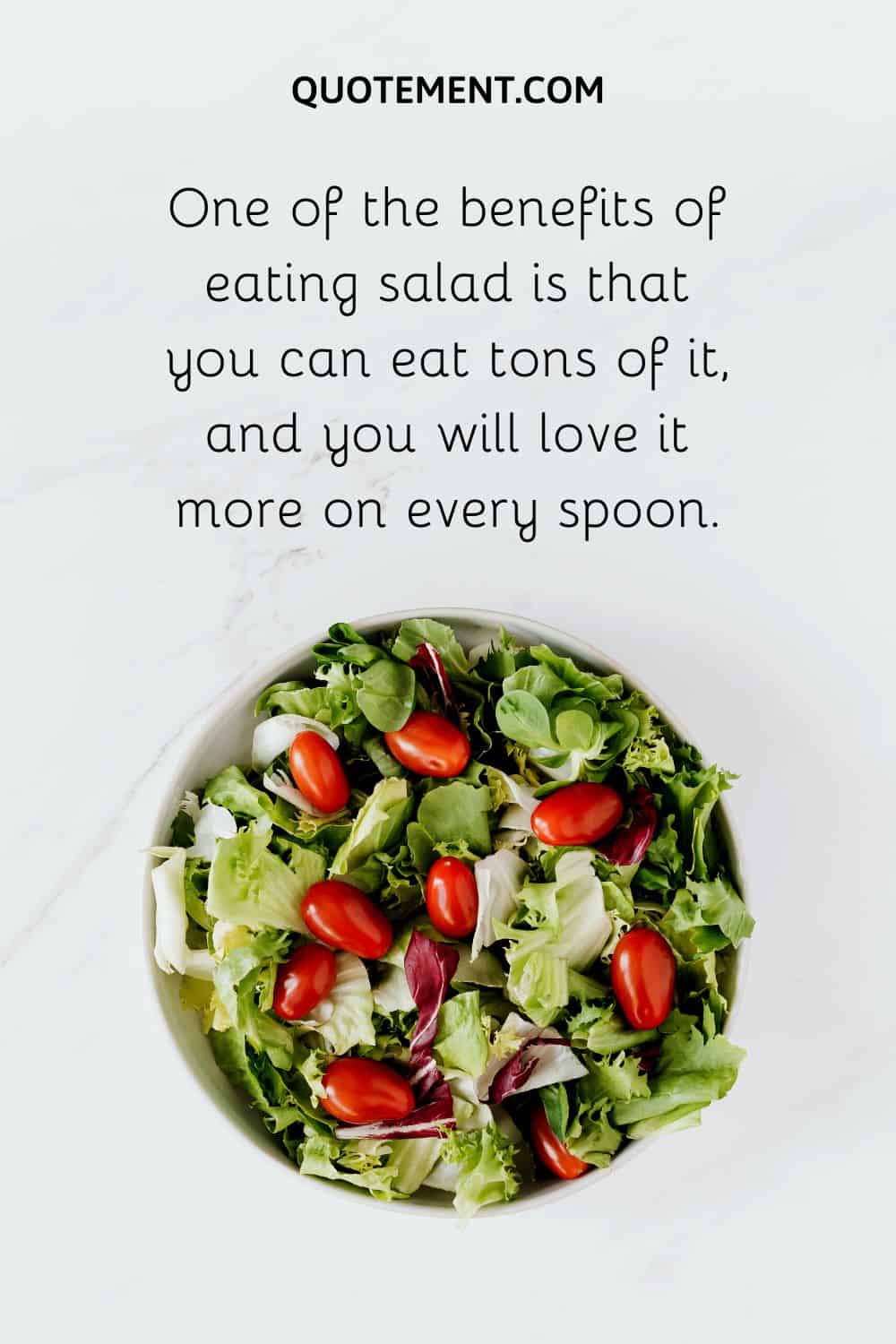 31. Sometimes, I eat a lot of chicken with salad and salad with salmon.
32. A day without tuna salad is like a day without sunshine.
33. I eat a lot of salad, a little meat, and some fruit – that's all.
34. You can't make chicken salad out of chicken feathers.
35. I just realized how good pasta is when you combine it with salad.
See also: 180 Awesome Captions For Pasta Lovers + Quotes
Healthy Salad Captions For Instagram
While enjoying your healthy meal, snap a quick pic for your Instagram and add one of these salad captions!
1. Salad freshens without enfeebling and fortifies without irritating.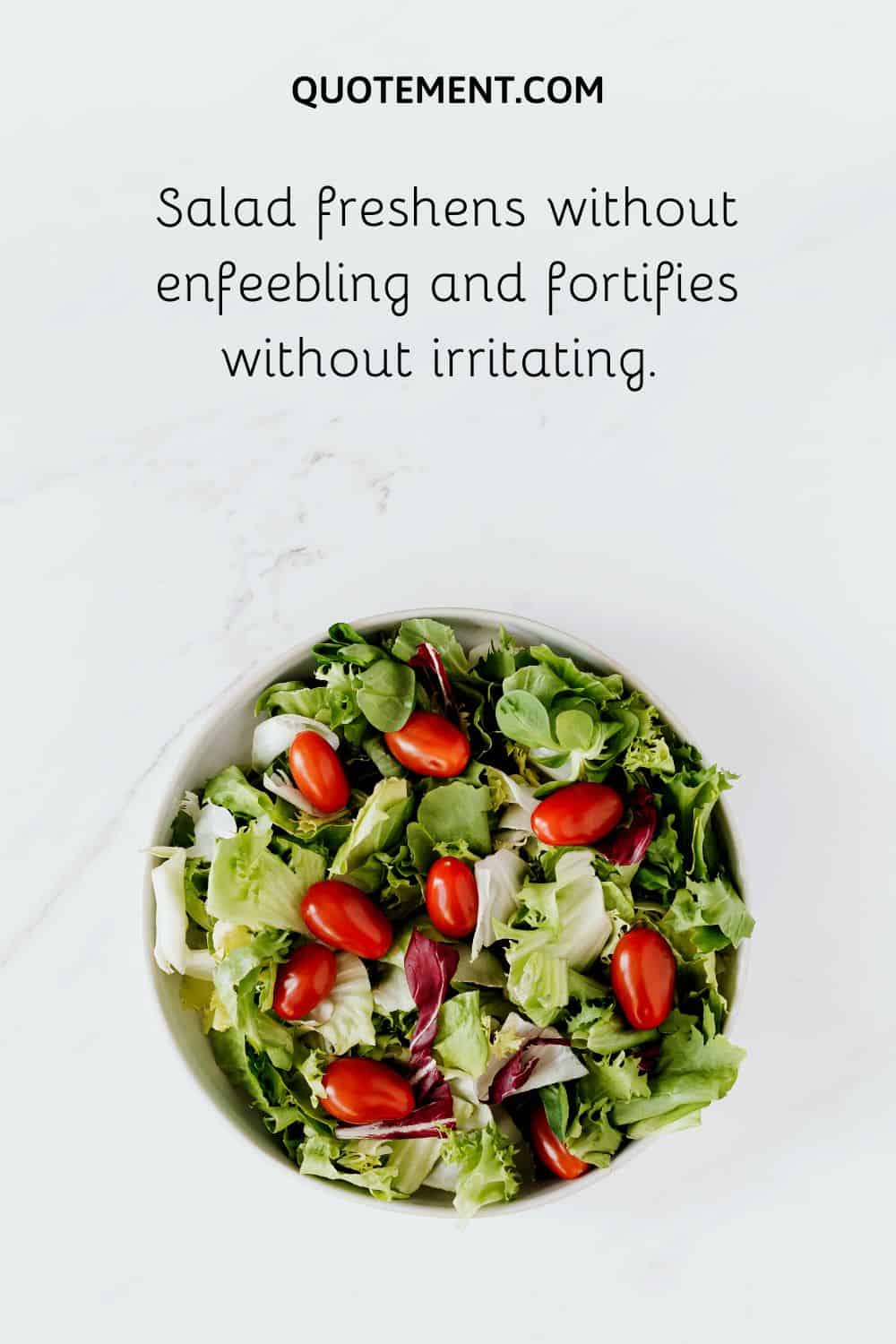 2. When you start to realize that foods without labels are perfect for every meal, there is no longer any need to count the calories.
3. Eat crappy, feel crappy. Eat healthy, feel healthy.
4. Health requires healthy food.
5. Homegrown and homemade.
6. Salad freshens my mood and is a source of my daily fiber.
7. Nothing tastes as good as healthy feels.
8. Making salads is an art. A delicious, healthy art.
9. Healthy salads rule the world.
10. I followed my heart, and it led me to a bowl of salad.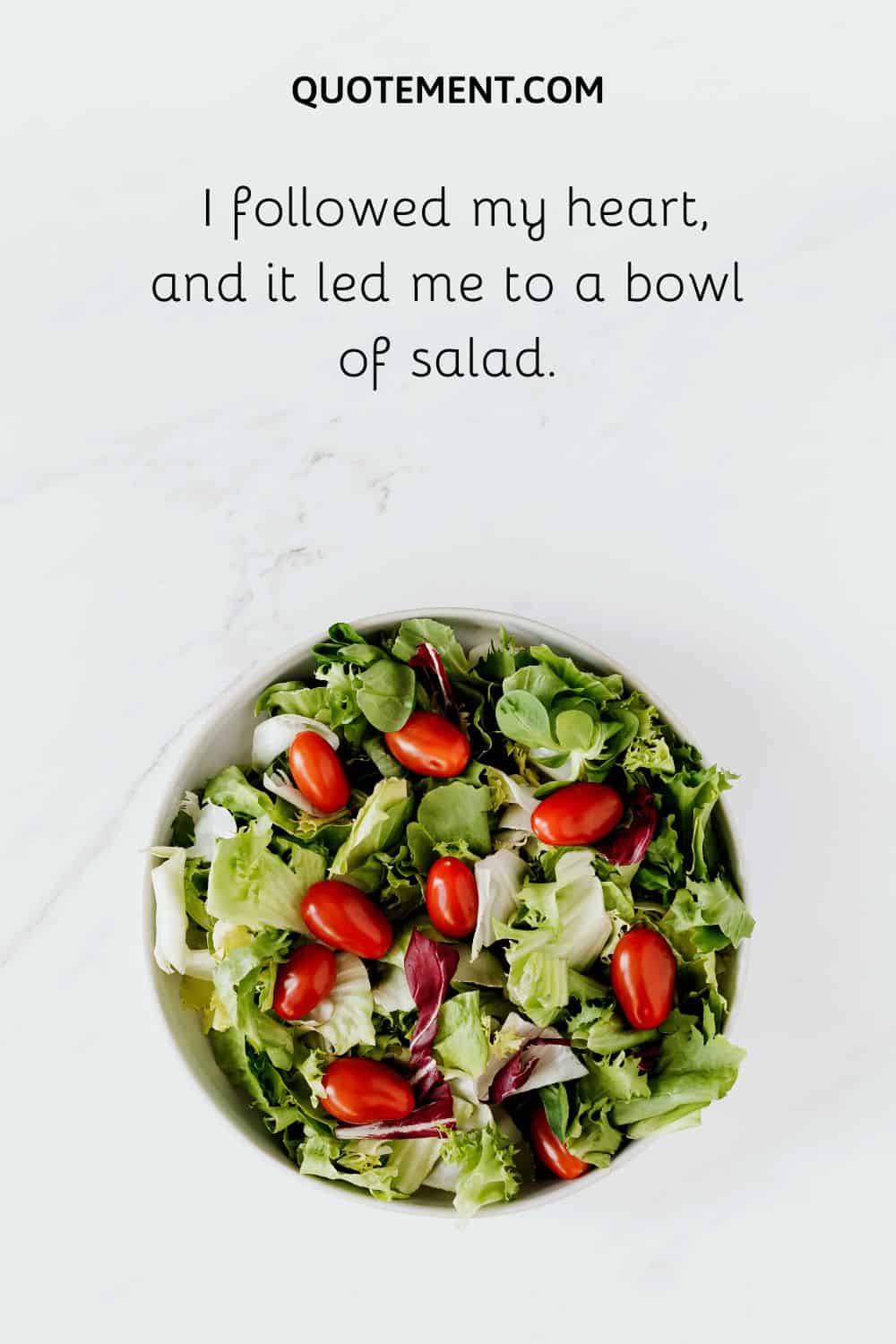 11. Fewer calories and more strength.
12. Always choose healthy.
13. Big fan of leafy dishes.
14. Eating a salad regularly has opened up a world of possibilities for me. I never imagined that salads could be enough to satisfy anyone for many mundane meals.
15. All you need is…plants.
16. The addition of nuts in salad… I always find it to be beneficial.
17. Eat clean, be happy.
18. Forget apples. A healthy salad a day keeps the doctor away.
19. Healthy without cutting carbs.
20. Healthy food for a wealthy mood.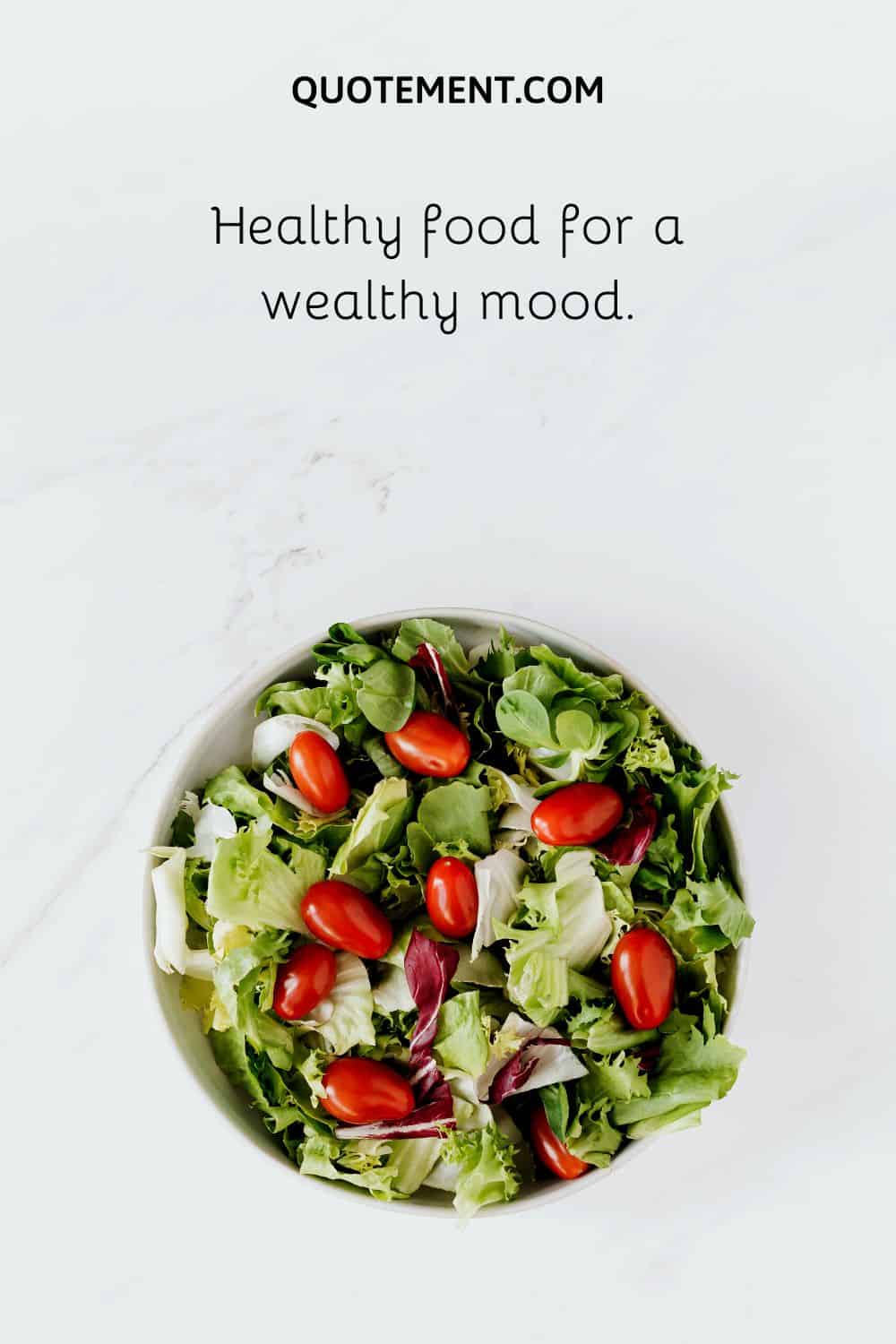 21. Trying to eat healthy. Starting with this salad.
22. Herbs are a must in salads. They impart new dimensions to the overall flavor profile.
23. If my plate is full, I'm happy.
24. To be honest, nothing is as refreshing as salads when your appetite seems to have abandoned you.
25. My life's changed since I switched to salad.
26. I eat plants every day for my health.
27. Living on salads.
28. It's like a healthy party in my mouth.
29. Healthy living is not a diet.
30. Let's make the most out of these colorful fruits and veggies.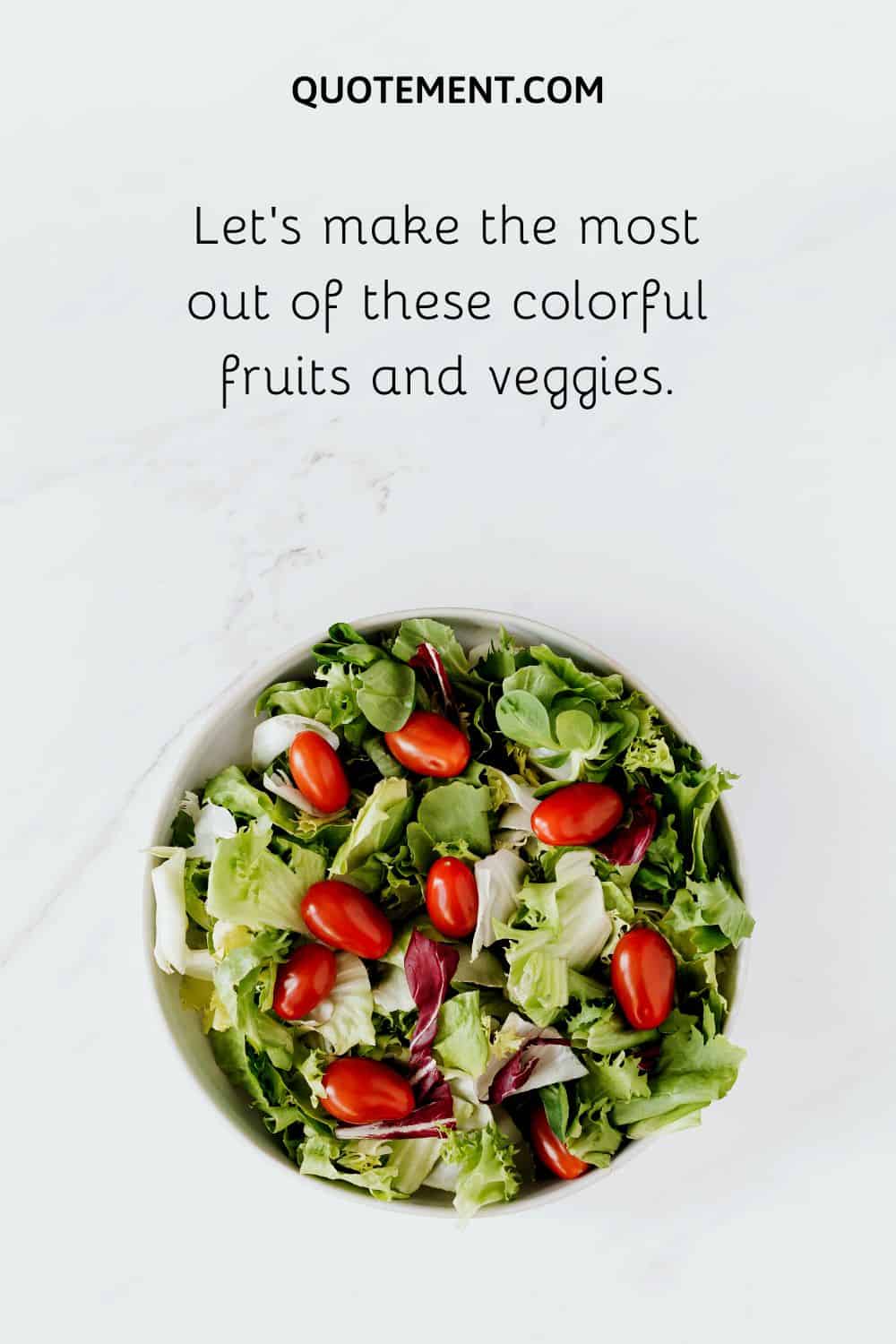 31. Developing healthy eating habits becomes easier each day.
32. Leafy vegetables for a long life.
33. Keep calm and make yourself healthy by eating salad.
34. Stop focusing on how much you eat and start focusing on what you eat.
35. Good food is good mood.
Funny Salad Captions For Instagram
Show your witty sense of humor with one of these funny salad captions for Instagram.
1. Welcome to the Church of the Holy Salad! Lettuce pray.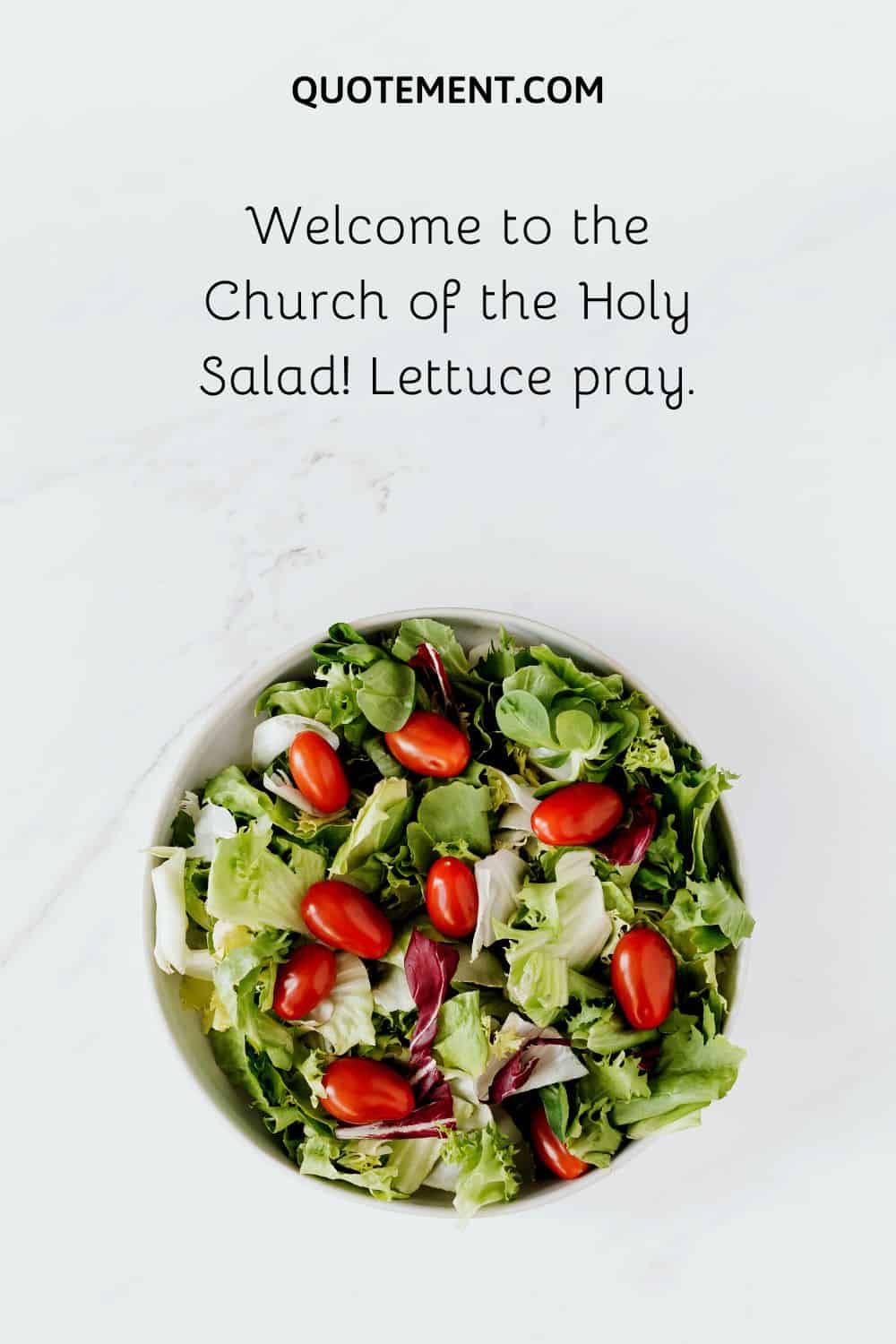 2. Why did the salad blush? Because he saw the tomato dressing.
3. I chop 'em into salad, and my name ain't Caesar.
4. Last night, I had fruit salad for dinner. It had a lot of grapes. It was full of grapes. It was wine.
5. I'd toss you one, but I'm not into that.
6. If you're a salad lover, then lettuce discuss more.
7. Manifesting my inner cow.
8. Lettuce grow old and wilted together.
9. Please romaine calm.
10. Any salad can be a Caesar salad if you stab it enough.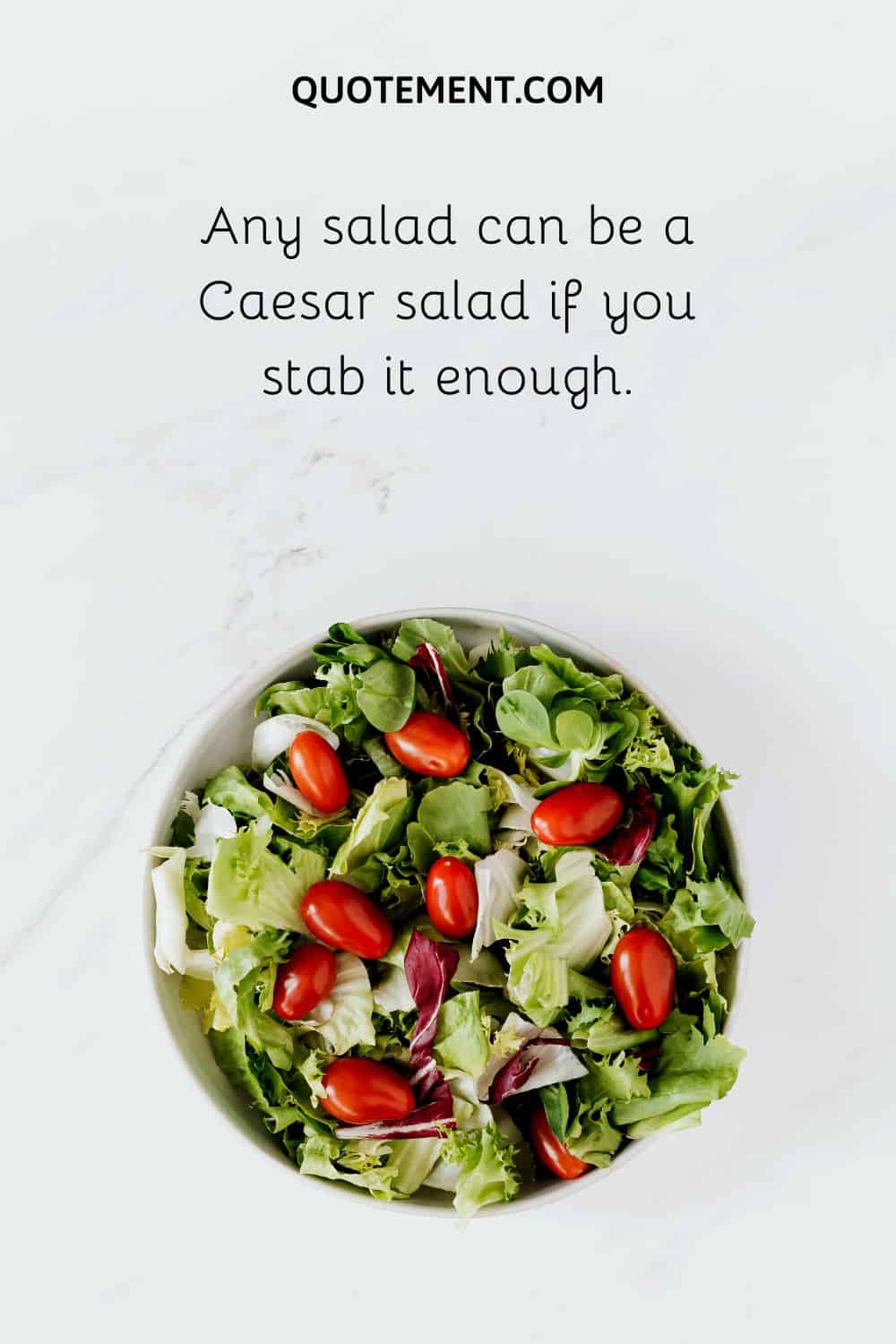 11. They call me Tater Salad.
12. Let us celery-brate!
13. I chop 'em into the salad, but my name ain't Julicus.
14. Leaf me and my salad alone.
15. A southerner would fry a salad if he could figure out how.
16. Lettuce be happy.
17. He toss my salad like his name Romaine.
18. They call me a Salad Farvent.
19. When my stomach grumbled, I filled up on hamburgers, hot dogs, gyros, tacos, jerk chicken, pizza, and a side salad because I was watching my figure.
20. Eating greens so that I can fit in my jeans.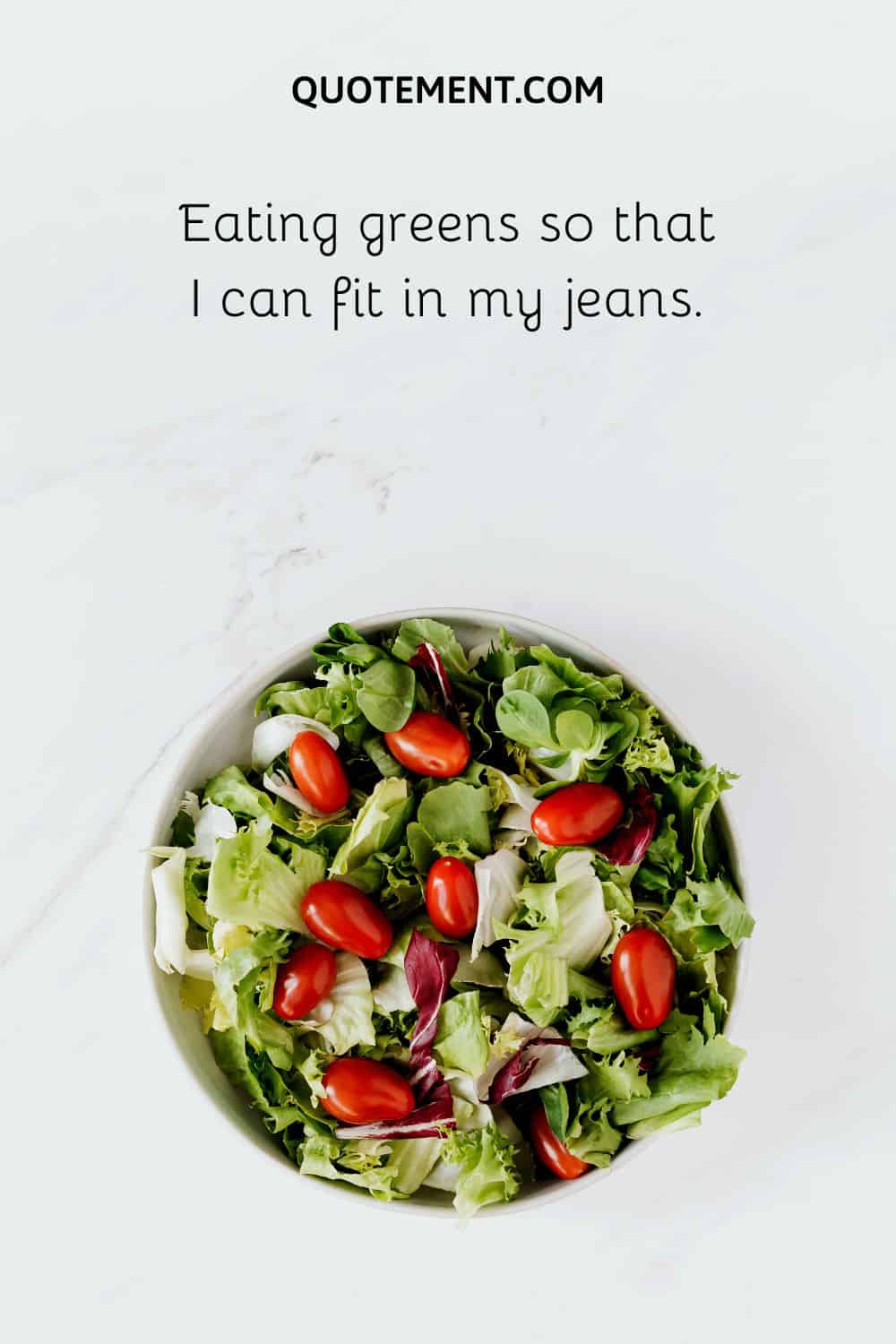 21. Lettuce turnip the beet.
22. Haters gonna hate, but I don't carrot all!
23. When I die, please toss my ashes like you toss salad.
24. For the love of greens!
25. Don't kale my vibes.
26. Everyday is mangonificent!
27. Potatoes, turn them into vodka or a salad. Your choice.
28. I love salads from my head tomatoes.
29. Just found my inner peas.
30. Vodka is made from potatoes. Potatoes are a vegetable. Vodka is a salad.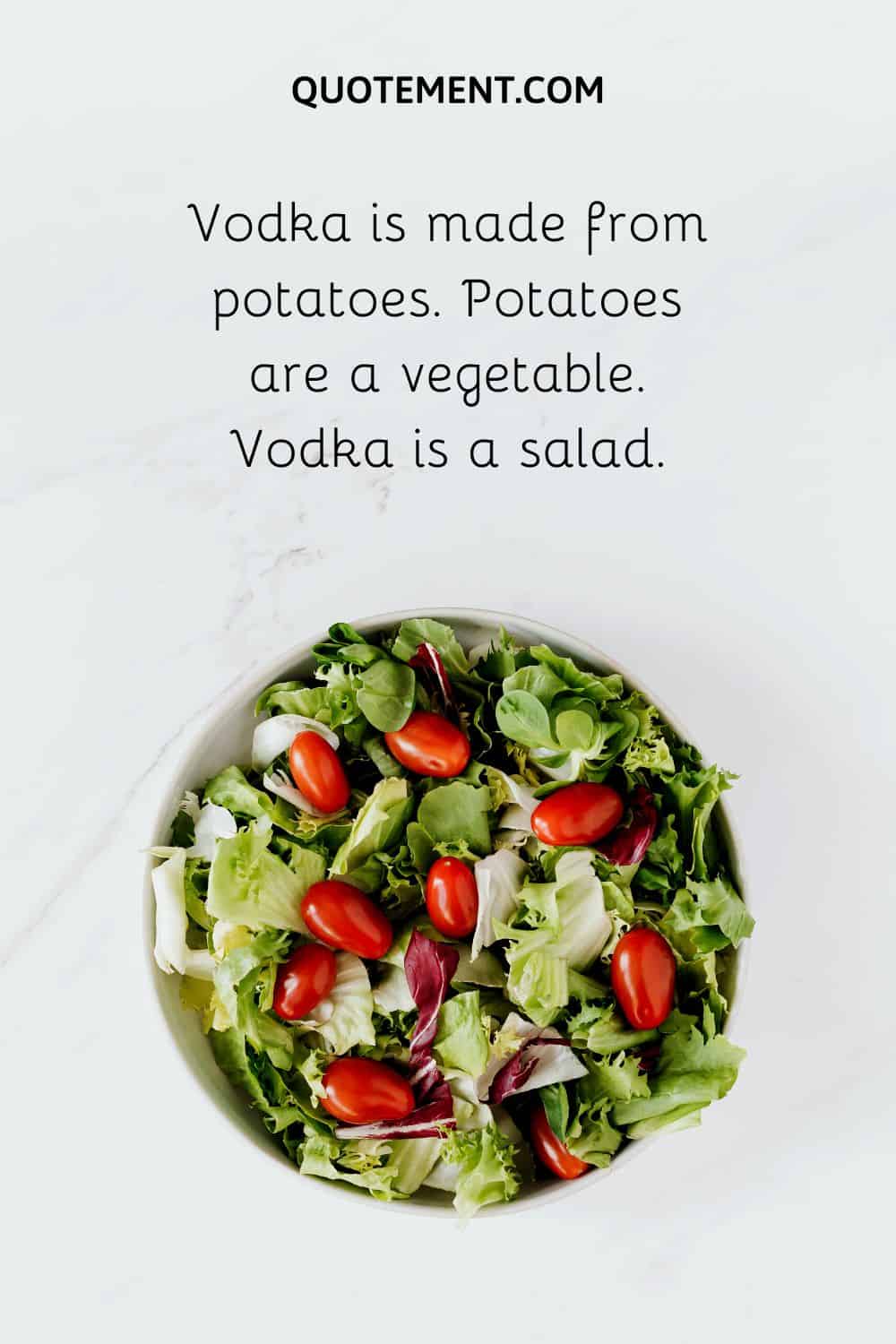 31. Beleaf in me when I say this is good.
32. My salad days, when I was green in judgment.
33. Perhaps I was a panda in my past life.
34. Salad for lunch and three boxes of chocolates tonight!
35. One of my favorite games is "Find the bacon in the lettuce!".
36. Some days you eat salads and go to the gym, some days you eat cupcakes and refuse to put on pants. It's called balance.
37. I always knock on the fridge door before opening it in case there is a salad dressing.
38. How I make salad: Step 1, substitute pizza for salad.
See also: 270 Perfect Pizza Captions For A Catchy Instagram Post
Catchy Salad Instagram Captions
1. Keep your eyes away from my salad.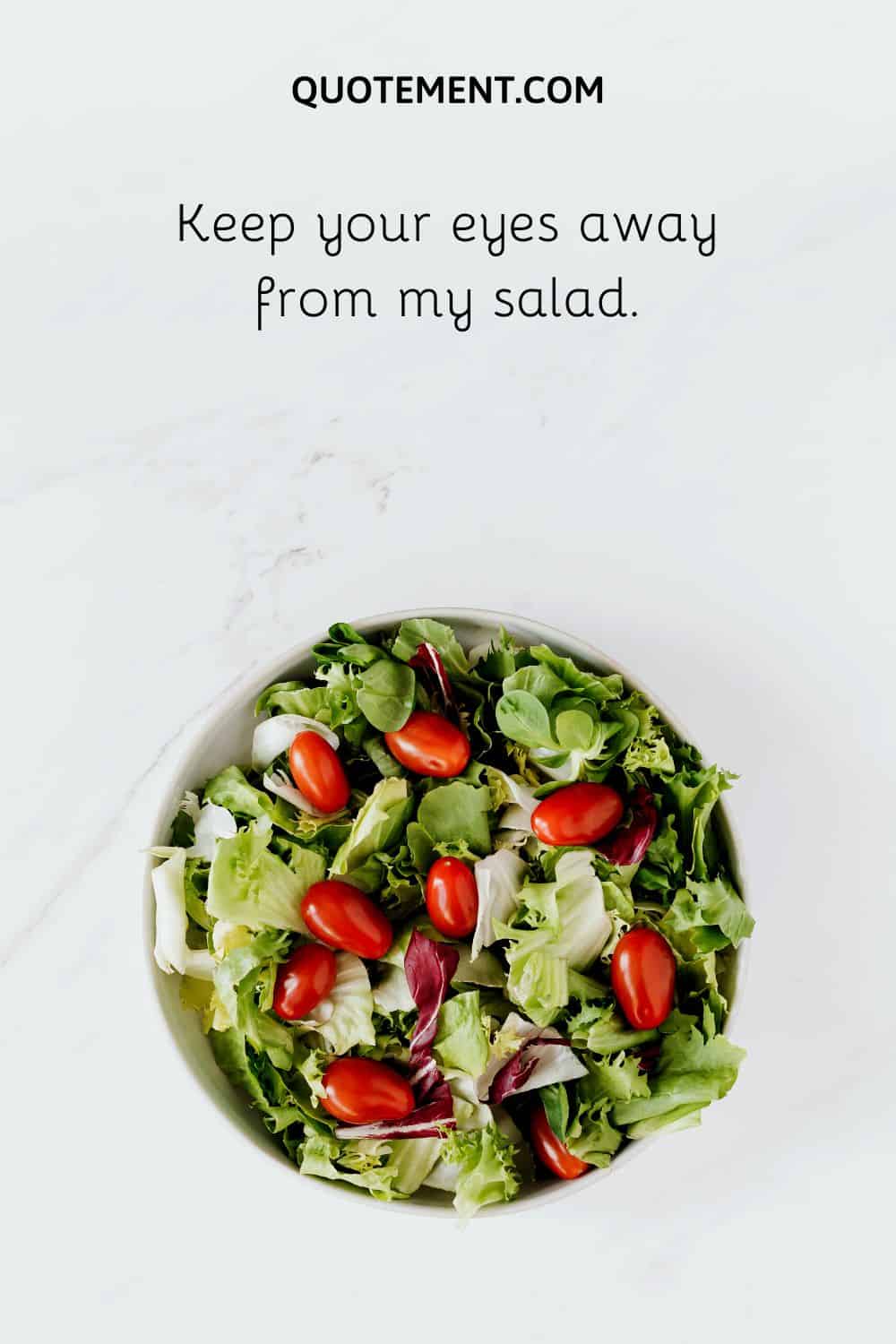 2. Friends are the bacon in the salad bowl of life.
3. Grazing and gorging as much as I want.
4. Salad is the essence of life.
5. Right in front of my salad?
6. I don't really do drugs apart from salad sometimes.
7. Feed me salad, and I'm yours.
8. Life is better when you eat salad.
9. Salad is roughage and a French idea.
10. Salad is never more appetizing than when served in a large wooden bowl.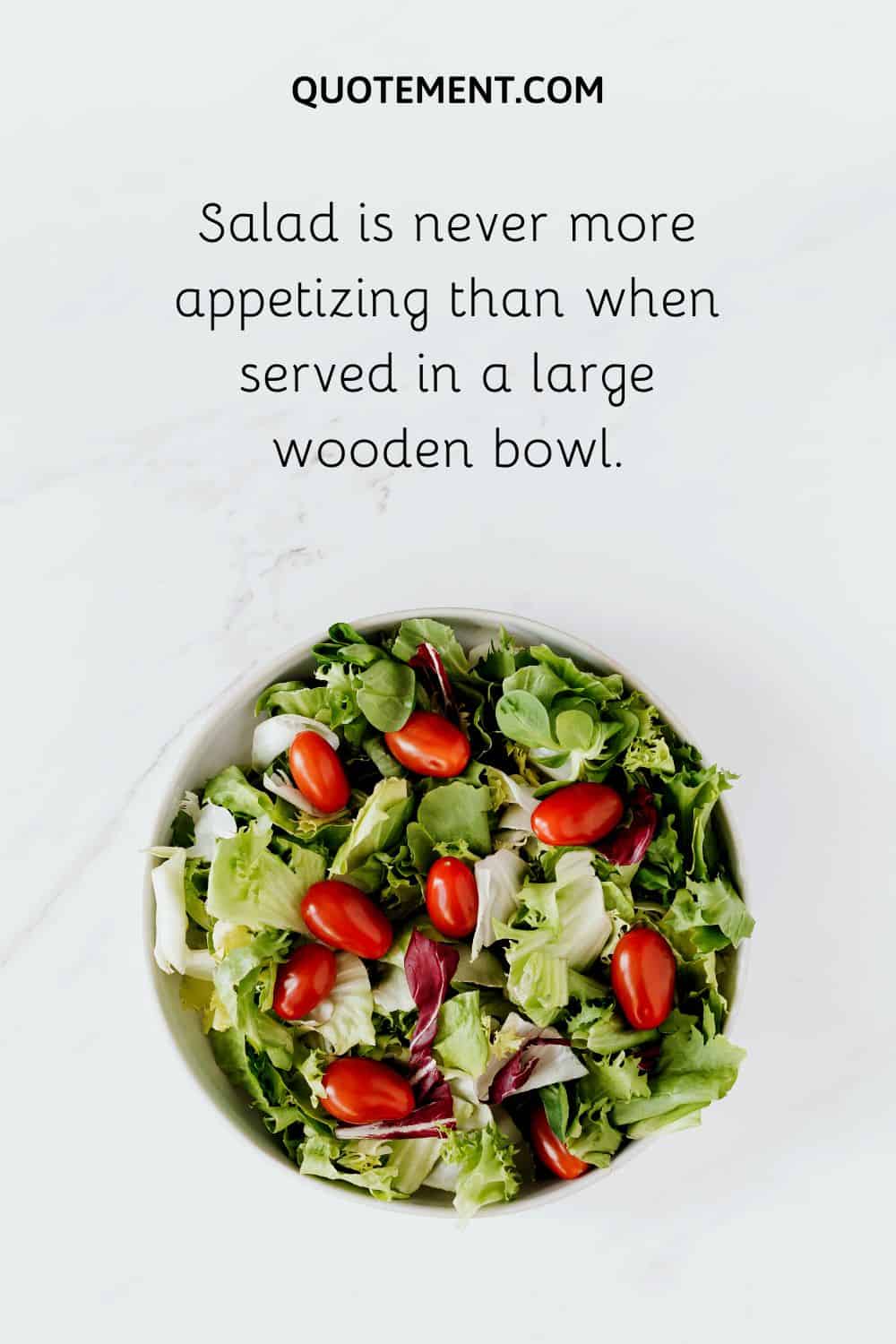 11. Sometimes, the success of a dinner event depends on whether the salad served was perfect or not.
12. One of the benefits of eating salad is that you can eat tons of it and never be satisfied.
13. It's salad o'clock.
14. A woman is like a salad; much depends on the dressing.
15. I dreamed I was making a salad. I was tossing all night.
16. Happiness is a luscious salad.
17. I'm just a girl, standing in front of the salad, asking it to be a donut.
18. Life is better when you eat salad.
19. This is just the veganning.
20. Peace, love, and a satisfying bowl of salad.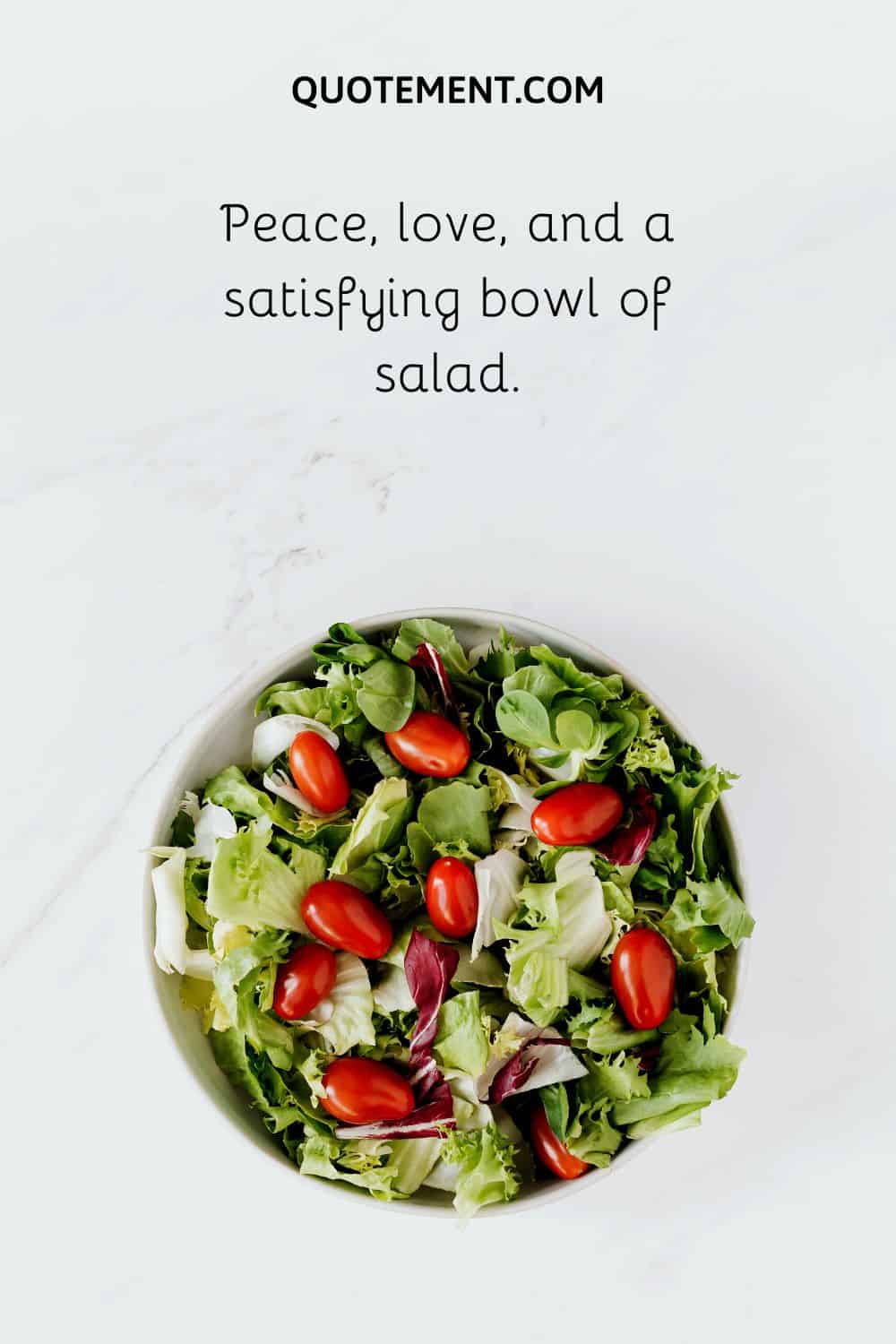 21. Living on salads this summer.
22. The embarrassing thing is that the salad dressing is out-grossing my films.
23. I'm pretty awesome at making salad dressings.
24. Can't wait to recommend this to my friends.
25. If you are on a date and don't know what to do, order salads, and everything will be fine.
26. With a hint of lemon.
27. Sometimes I eat salad not because I am hungry, but just because I love it.
28. You make my heart skip a beet.
29. Skip the diet and just eat healthy.
30. Do I have any addictions? Well, salads maybe.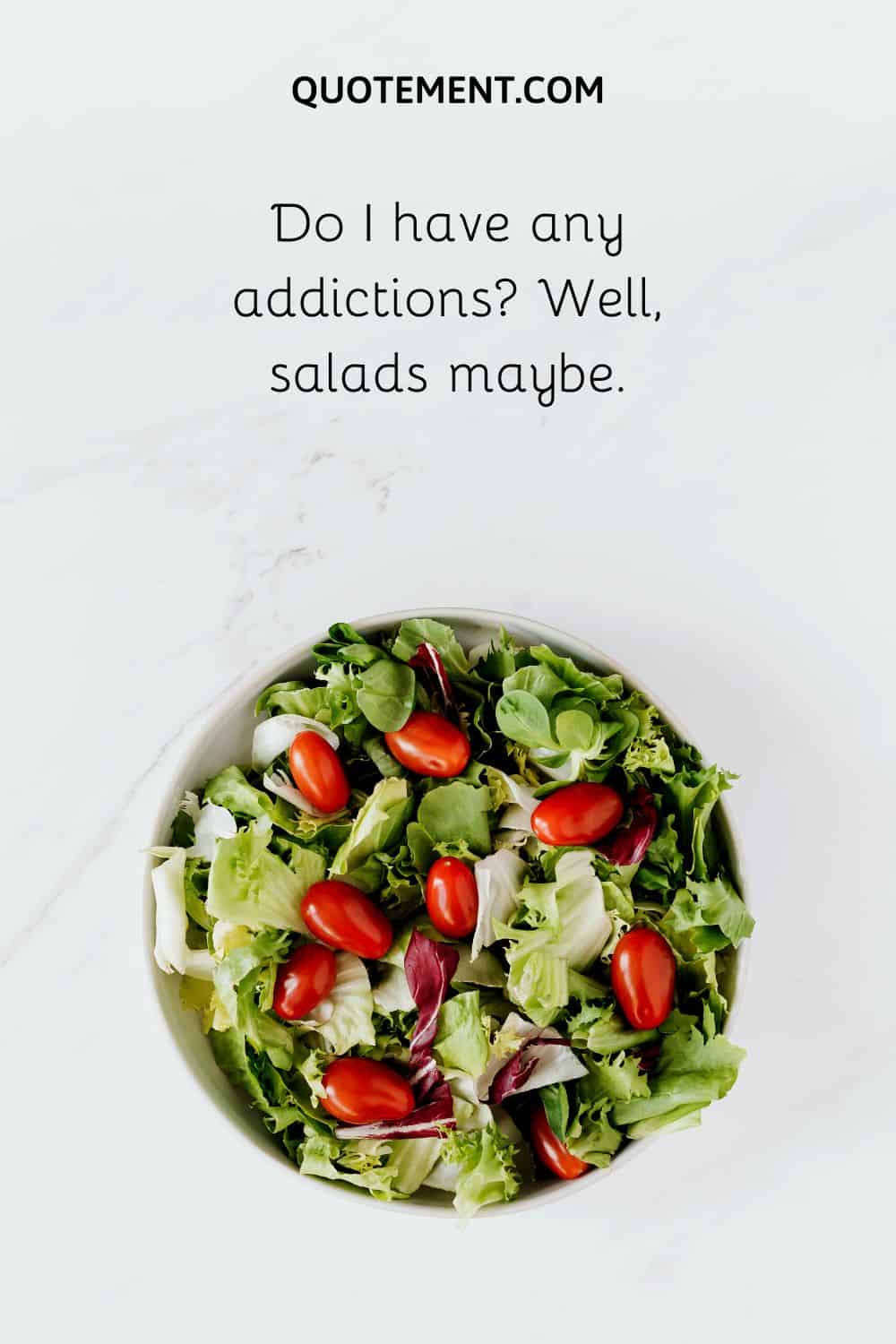 31. To make a salad more appetizing, one must add colorful stuff.
32. Vulgarity is the garlic in the salad of charm.
33. This salad is my summer fling.
34. In a relationship with salad.
35. What you eat in private will show up in public.
36. To remember a successful salad is to remember a successful dinner.
See also: The 160 Absolute Best Dinner Captions For Instagram In 2022
Short Salad Captions
1. Eat better, not less.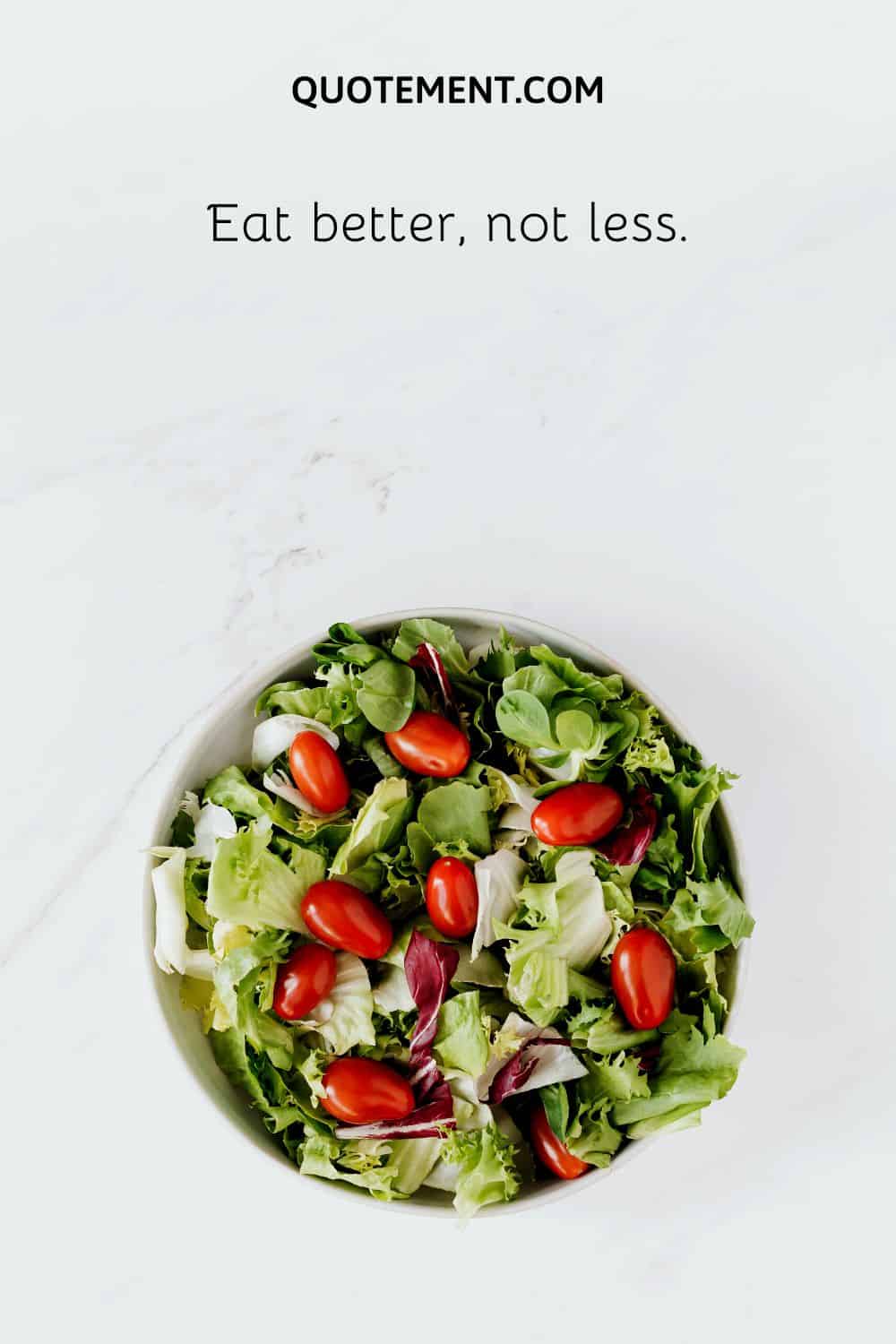 2. Shake that salad.
3. I'm doing this for me.
4. Strong salad game today.
5. Garden to table.
6. Herbivores rule!
7. Eating lighter today.
8. I'm doing this for me.
9. Aloe there!
10. Go for the greens!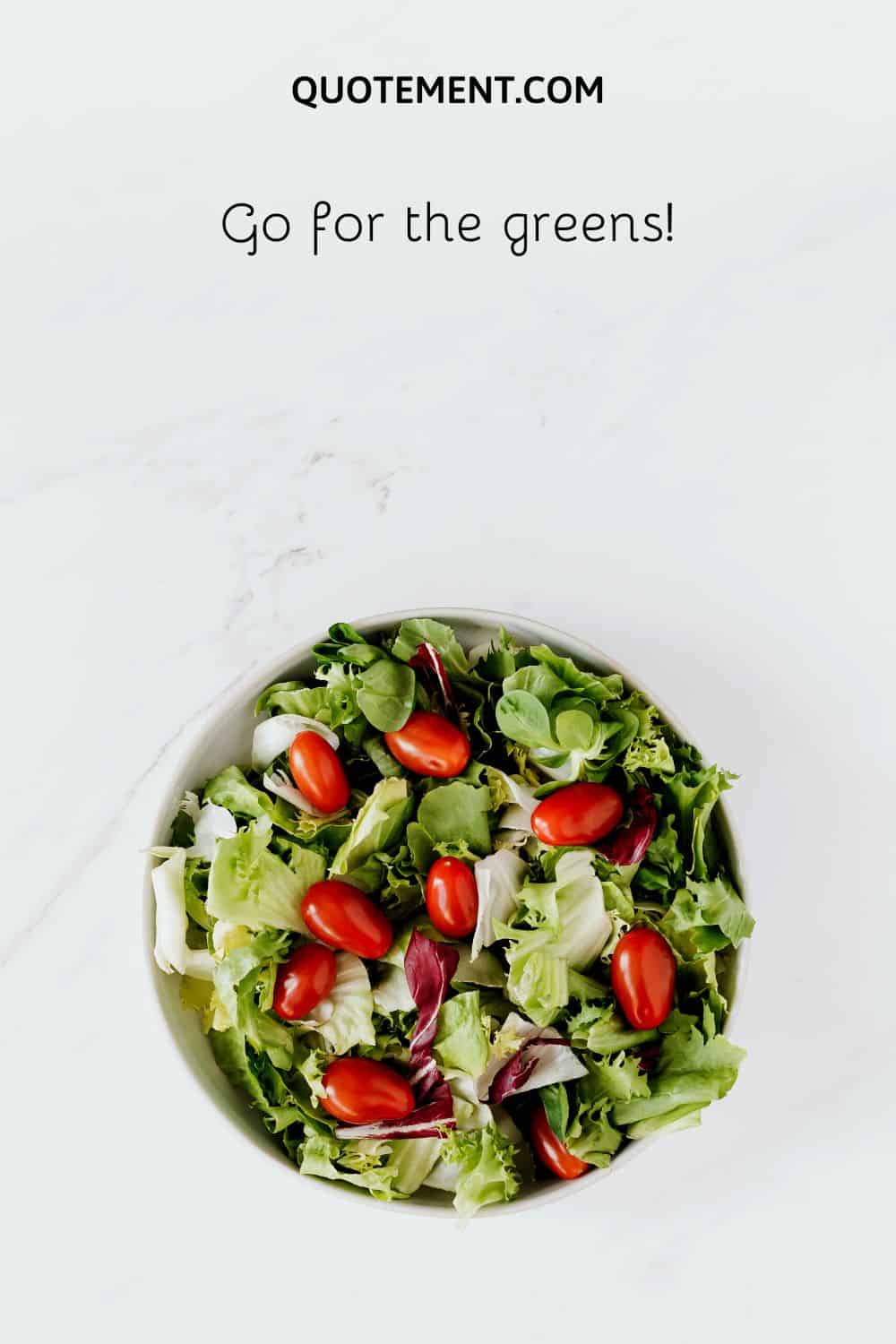 11. Eat healthy. Live long!
12. Certified herbivore.
13. Invigorate thy palate.
14. Made a salad.
15. Be-leaf me.
16. My body is a garden.
17. Food is my best medicine.
18. Salad gold.
19. Rainbow salad.
20. Eat healthy, live healthy.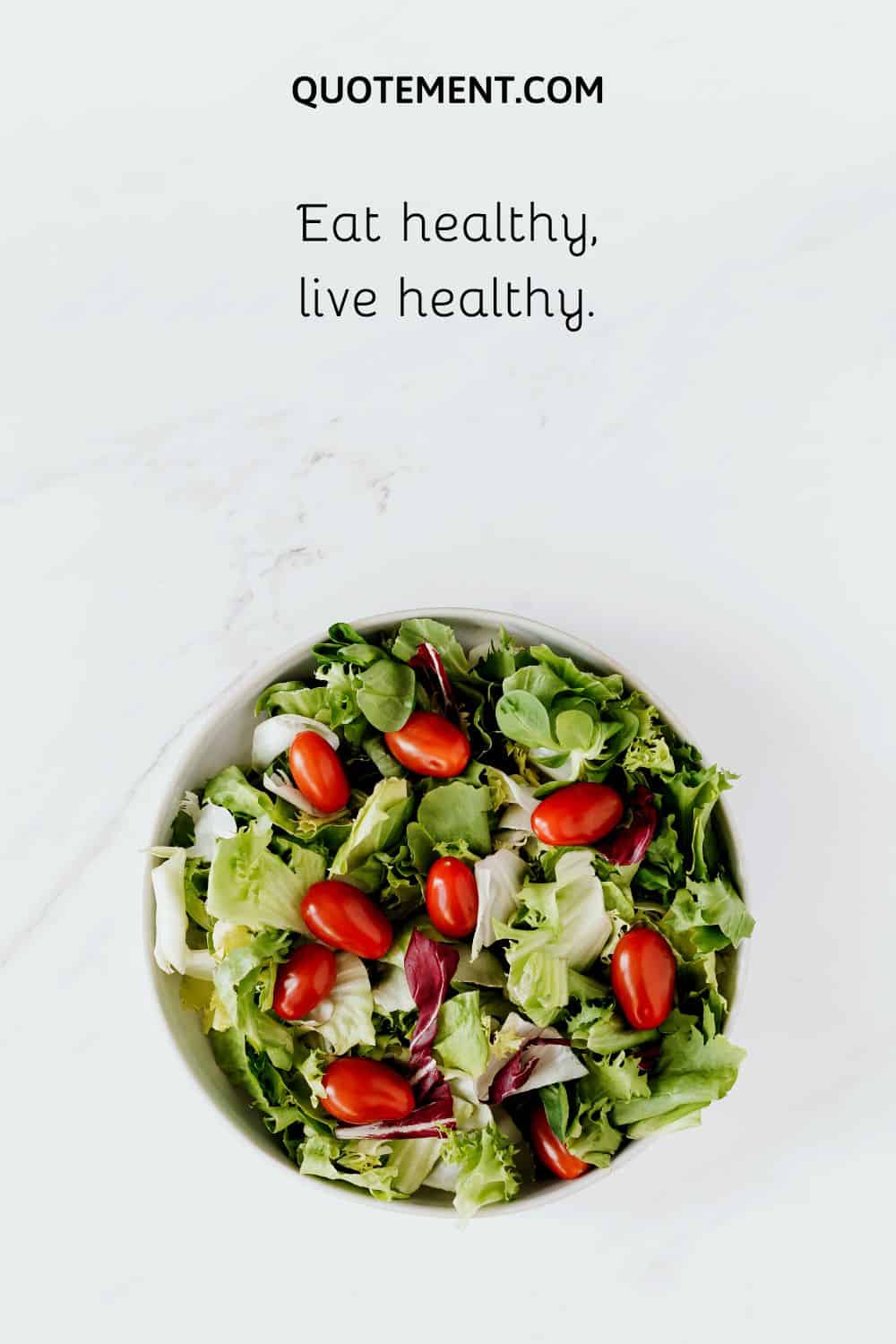 21. I dream of salads.
22. A healthy option.
23. Salad days.
Salad Quotes That Can Be Used As Captions
You can also use these healthy salad quotes as catchy Instagram captions.
1. "A well-made salad must have a certain uniformity." — Yotam Ottolenghi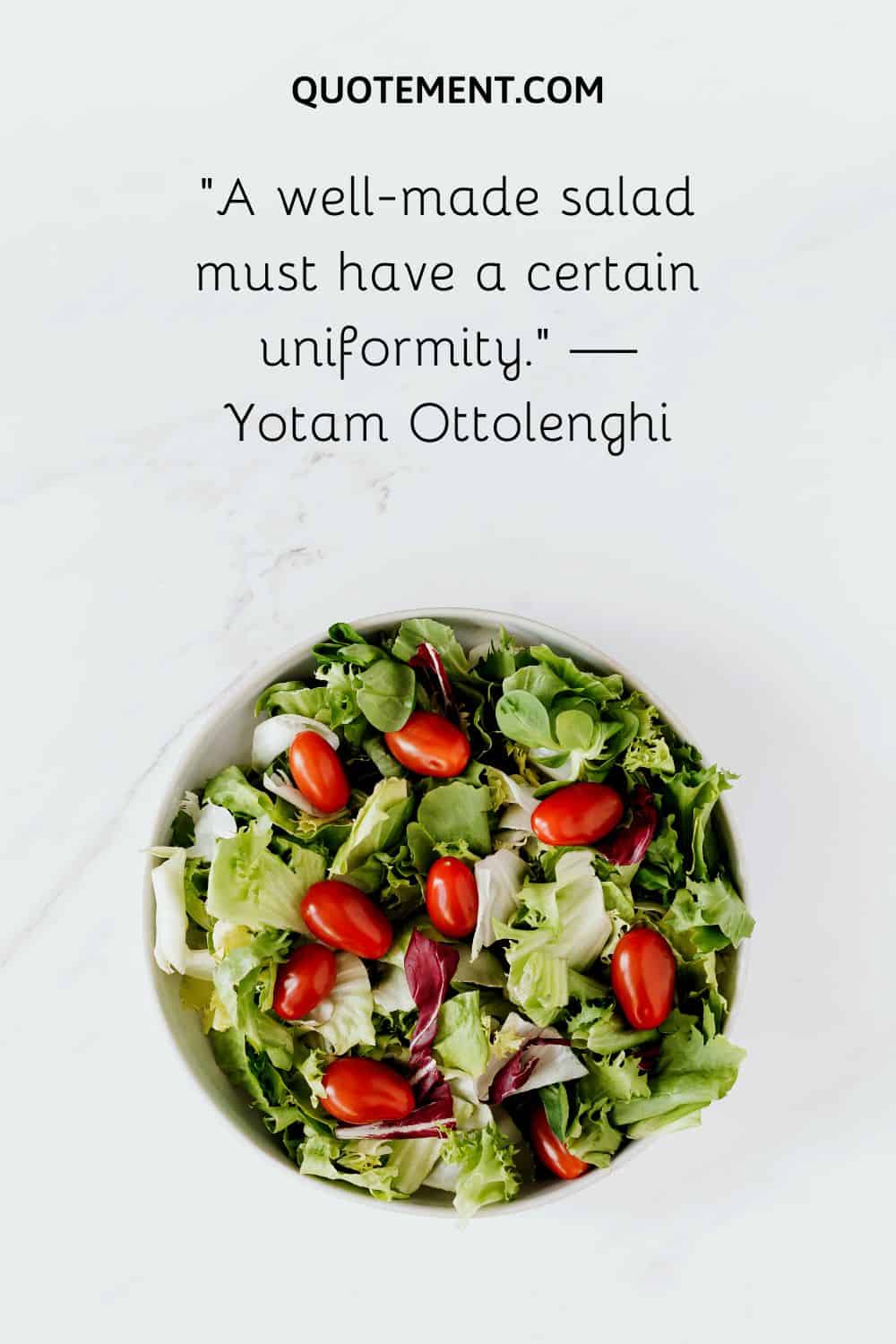 2. "Lies are like anchovies in a Caesar salad. You may not be able to see them, but your soul knows they are there." — Molly Friedenfeld
3. "Herbs are appreciated for the complex flavor and refreshing taste they bring to a salad." —Chuck Williams
4. "Salad is never more appetizing than when served in a large wooden bowl." — Dorothy Draper
5. "Love, like a chicken salad or restaurant hash, must be taken with blind faith or it loses its flavor." — Helen Rowland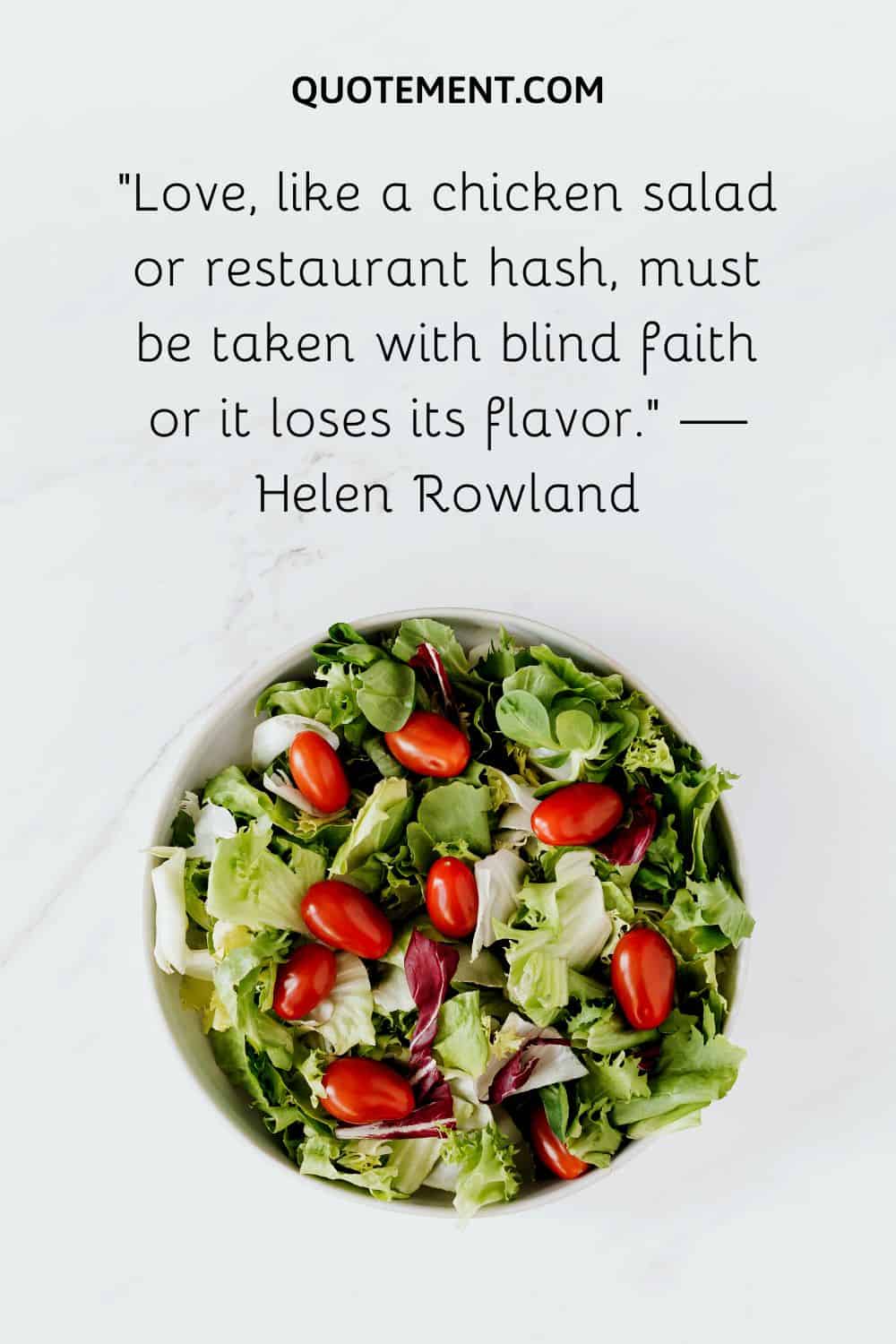 6. "A salad is only as good as the ingredients used to create it." — Pam Powell
7. "I naturally favor a clean, healthy diet. A salad sandwich is one of my favorite meals." — Victoria Pendleton
8. "Health is a relationship between you and your body." — Terri Guillemets
9. "I love green juices, soups, and salads. I also love dark chocolate." — Donna Karan
10. "A salad is not a meal, it is a style." — Fran Lebowitz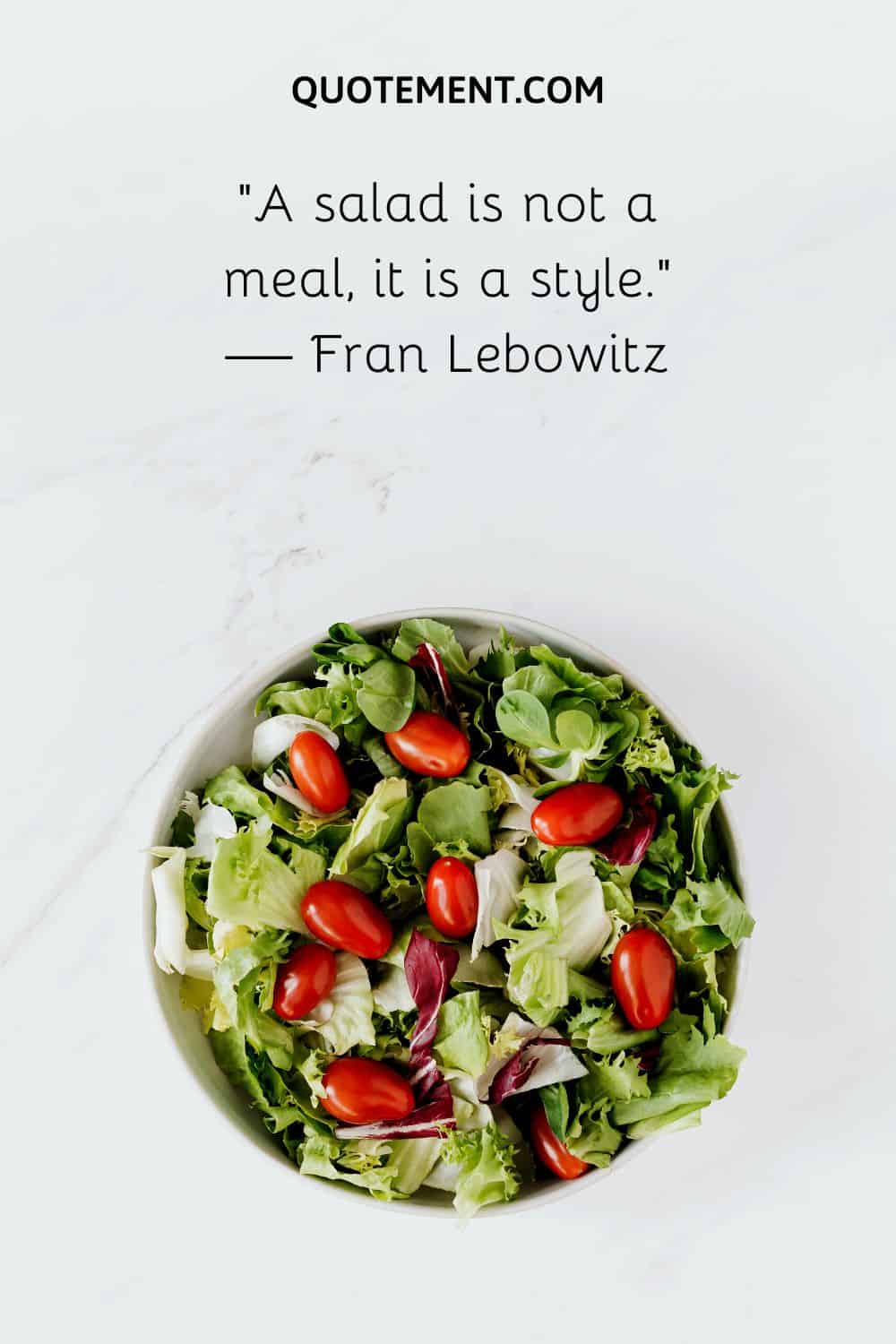 Final Words
That's all for this time.
I hope you enjoyed the amazing salad captions I prepared for today's article.
Until next time!