A good personality has incredible power. It shapes all our relationships, influences our perceptions, and leaves an indelible mark on all aspects of our lives.
That's why we should always strive for self-improvement by making good choices and embracing high values.
The following quotes on good personality explore the intricacies of having worthy personality traits.
I collected them from various online sources to inspire you and lead you on a journey toward a remarkable personality.
Let's go!
10 Greatest Quotes On Good Personality
1. "Man's main task in life is to give birth to himself, to become what he potentially is. The most important product of his effort is his own personality." — Erich Fromm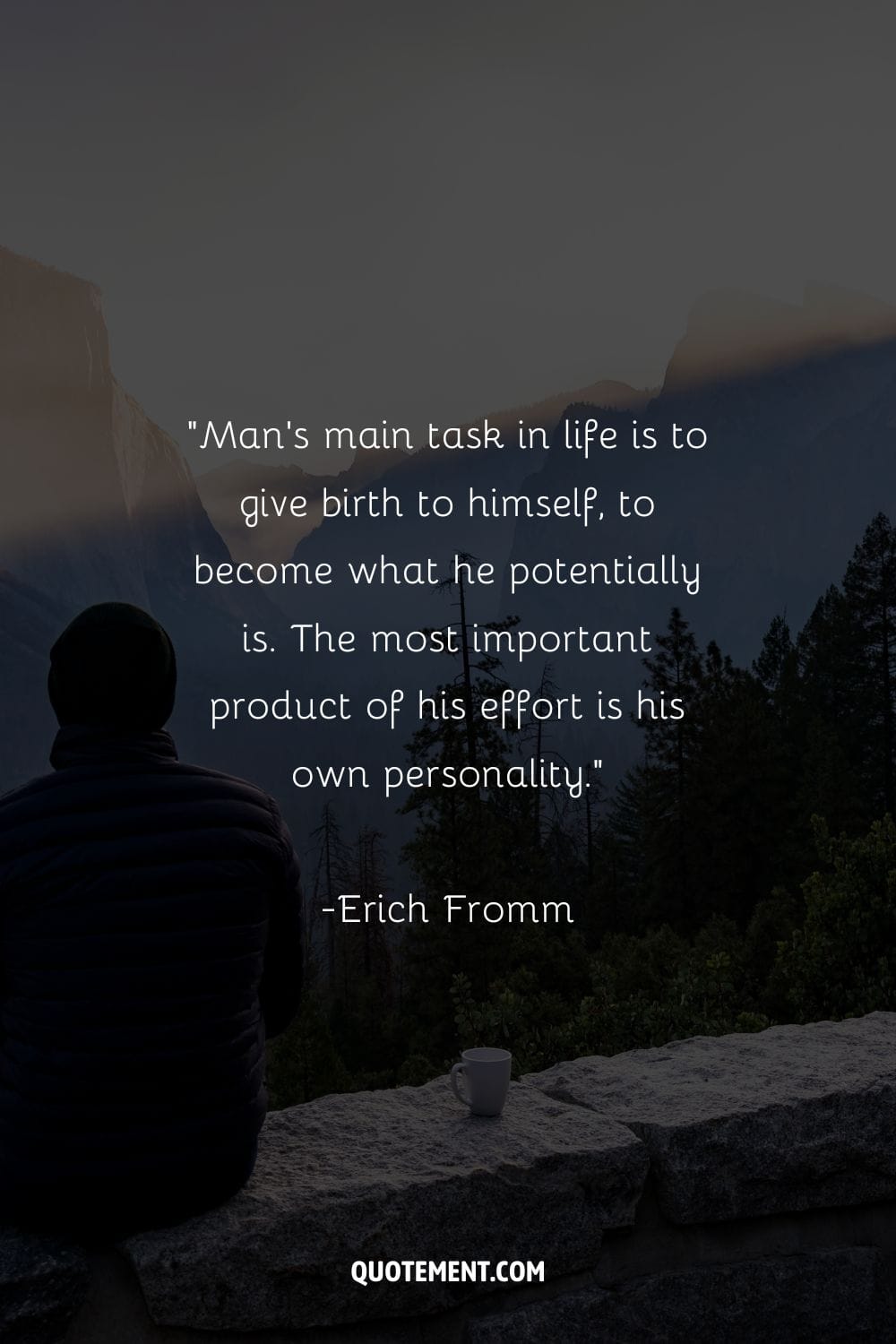 2. "The note of the perfect personality is not rebellion, but peace." — Oscar Wilde
3. "Personality begins where comparison ends." — Karl Lagerfeld
4. "All of our experiences fuse into our personality. Everything that ever happened to us is an ingredient." — Malcolm X
5. "It's beauty that captures your attention; personality that captures your heart." — Oscar Wilde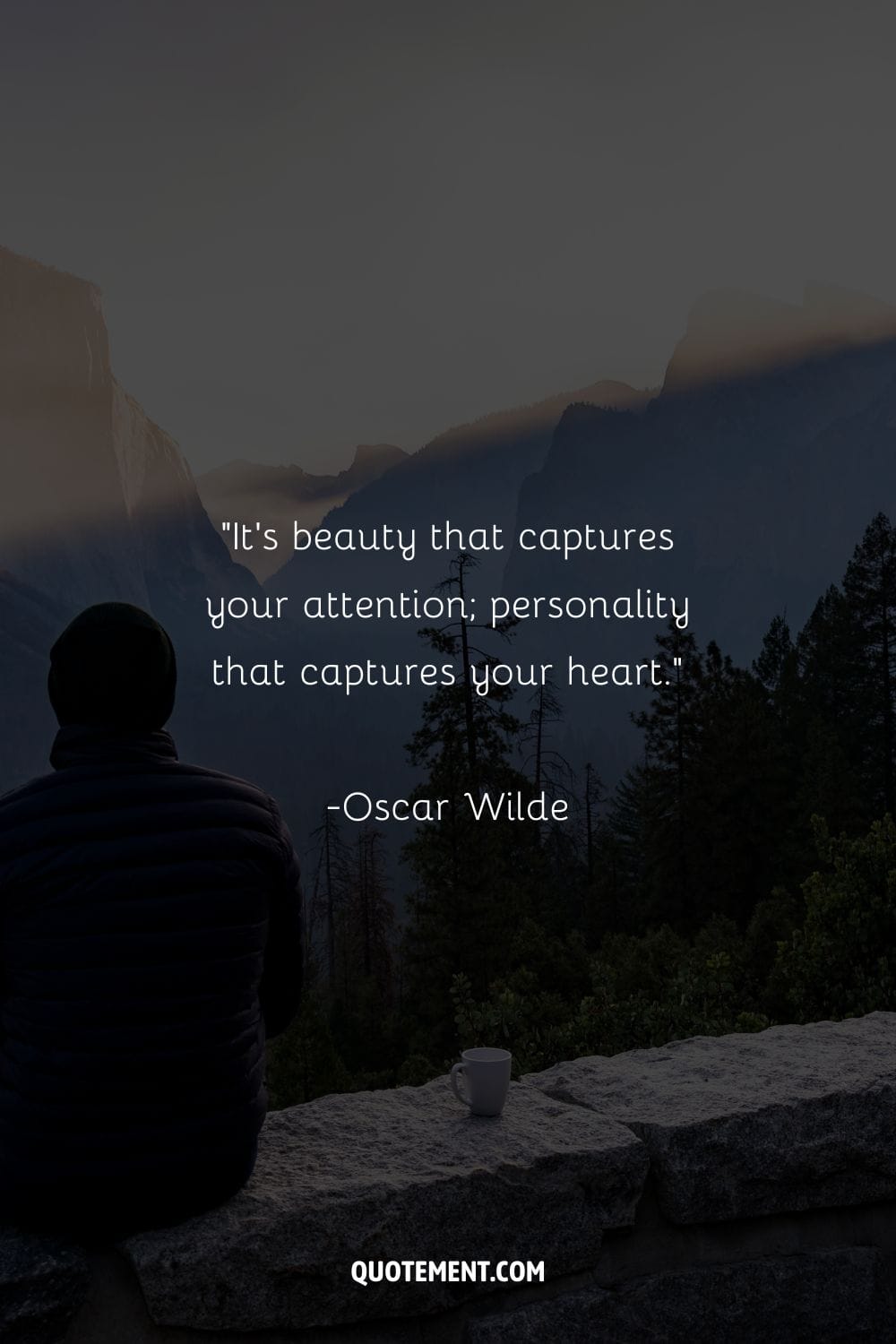 6. "I am what is mine. Personality is the original personal property." — Norman O. Brown
7. "Personality has power to uplift, power to depress, power to curse, and power to bless." — Paul P. Harris
8. "Personality is an unbroken series of successful gestures." — F. Scott Fitzgerald
9. "Don't confuse my personality with my attitude. My personality is who I am, and my attitude depends on who you are." — Frank Ocean
10. "Always be yourself, express yourself, have faith in yourself, do not go out and look for a successful personality and duplicate it." — Bruce Lee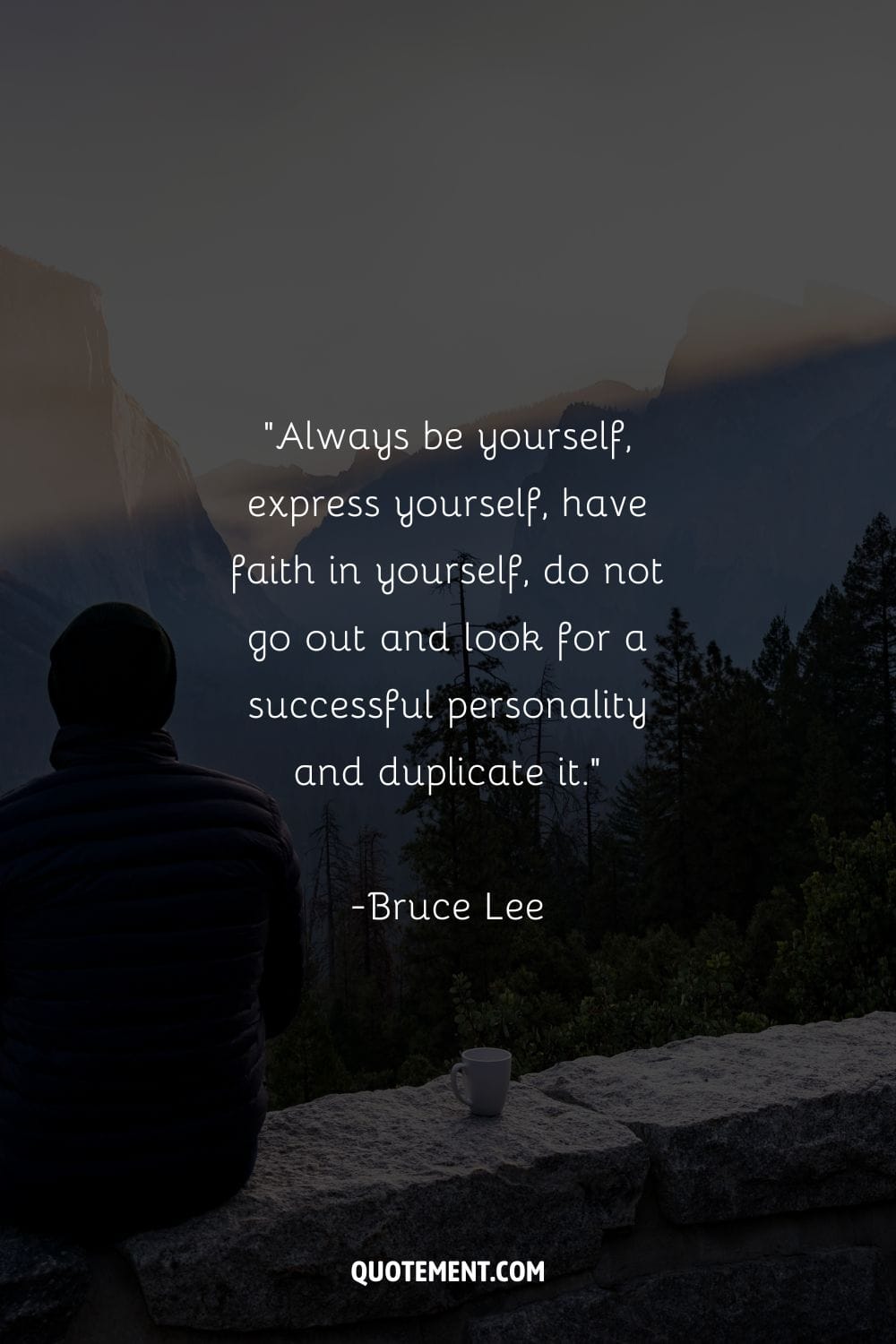 Inspirational Quotes About Good Personality
1. "There is nothing more attractive than a great positive personality. Its beauty never fades away with time." — Edmond Mbiaka
2. "Positive expectations are the mark of the superior personality." — Brian Tracy
3. "If you stick to ethics and goodness; even if no one is watching you; then you have a personality, which is very rare in this plastic world." — Unknown
4. "The 'self-image' is the key to human personality and human behavior. Change the self-image and you change the personality and the behavior." — Maxwell Maltz
5. "If you want to build your personality don't do extraordinarily, just act like a human being." — Mohammad Rishad Sakhi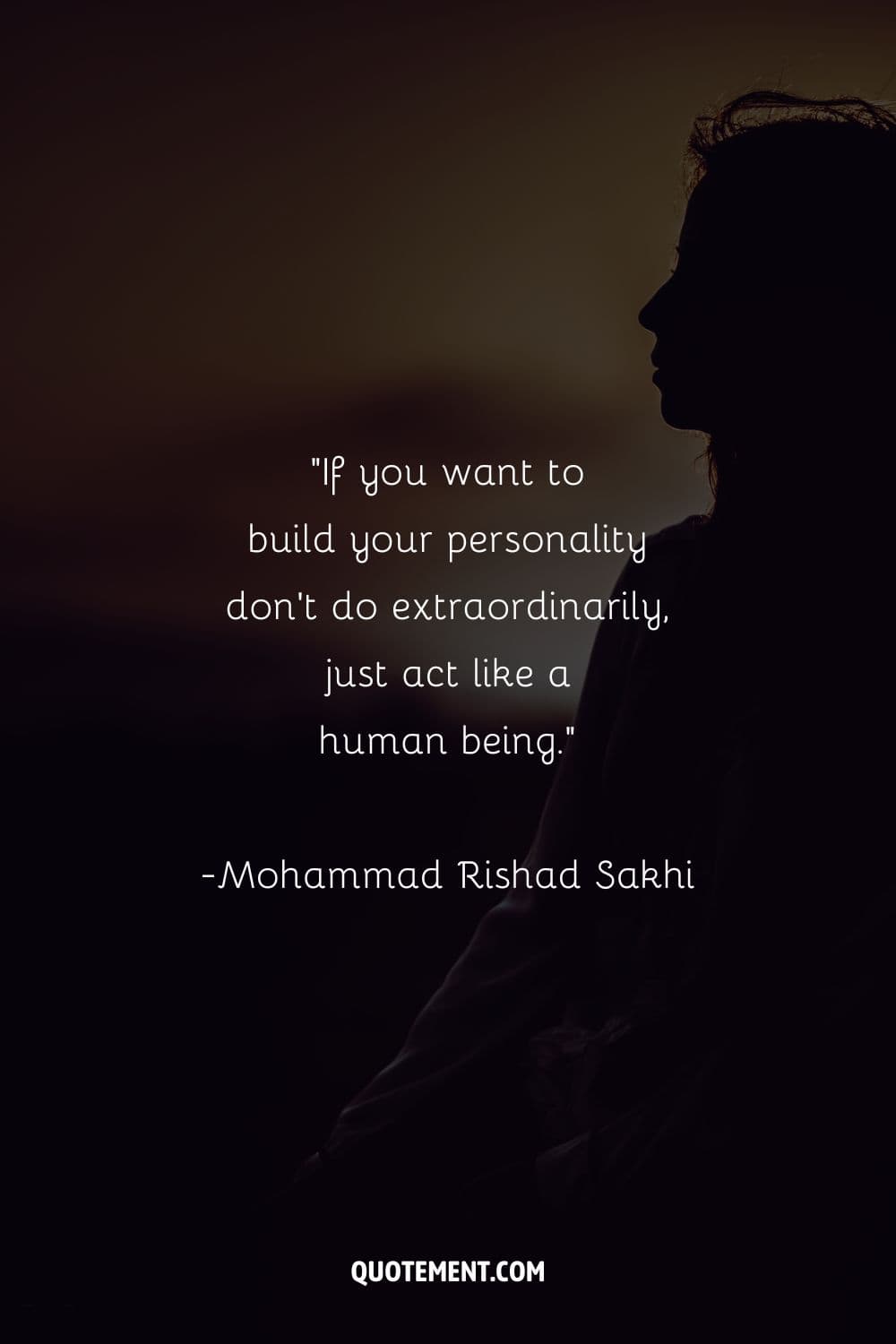 6. "The beauty of a person is temporary. But personality is permanent and lasts forever." — Unknown
7. "Personality is only ripe when a man has made the truth his own." — Soren Kierkegaard
8. "If a man harbors any sort of fear, it percolates through all his thinking, damages his personality, makes him landlord to a ghost." — Henry Ward Beecher
9. "Personality is to a man what perfume is to a flower." — Charles M. Schwab
10. "Time has the power to mend appearance, wealth, and fame; but it always bends its knee in front of an amazing personality." — Unknown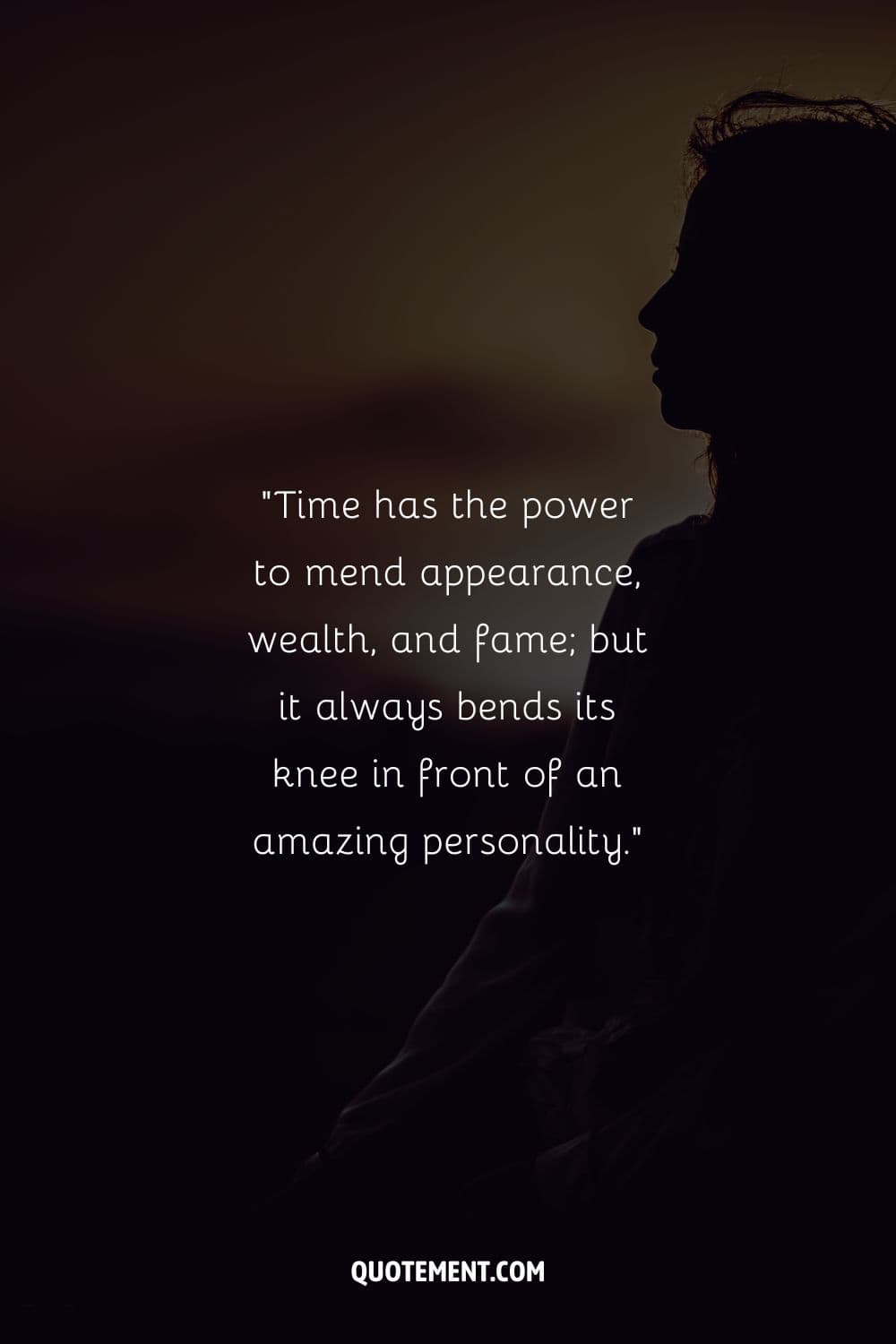 11. "I believe in doing the right things; that is my character and personality." — Gianluigi Buffon
12. "The real sign of a successful person is when people find him or her as an example to define good quality." — Unknown
13. "Attractiveness and magnetism of man's personality is the result of his inner radiance." — Yajur Veda
14. "A great personality makes everyone feel energized; just like a flower's fragrance that freshens ups the complete surrounding." — Unknown
15. "Anyone can fall in love with your beautiful personality, your good looks will be a bonus." — Unknown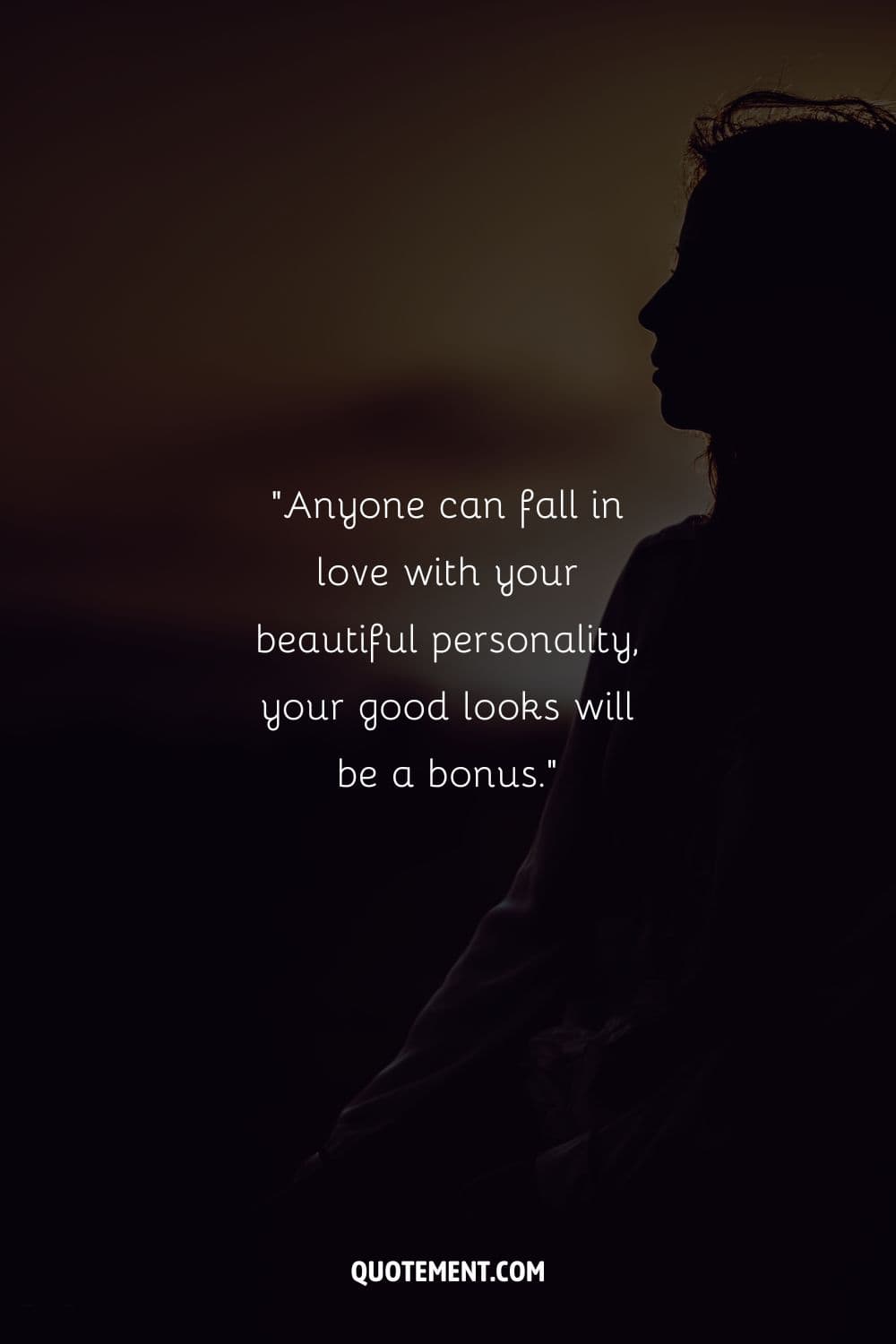 16. "Personality is more important than beauty, but imagination is more important than both of them." — Laurette Taylor
17. "Success, fame, and wealth are tiny branches supported by a big trunk of great personality." — Unknown
18. "When you are joyful, when you say yes to life and have fun and project positivity all around you, you become a sun in the center of every constellation, and people want to be near you." ― Shannon L. Alder
19. "You cannot dream yourself into a character, you must hammer and forge yourself into one." — James Anthony Froude
20. "Mediocre run for a materialistic goal; Great personalities look for happiness around them." — Unknown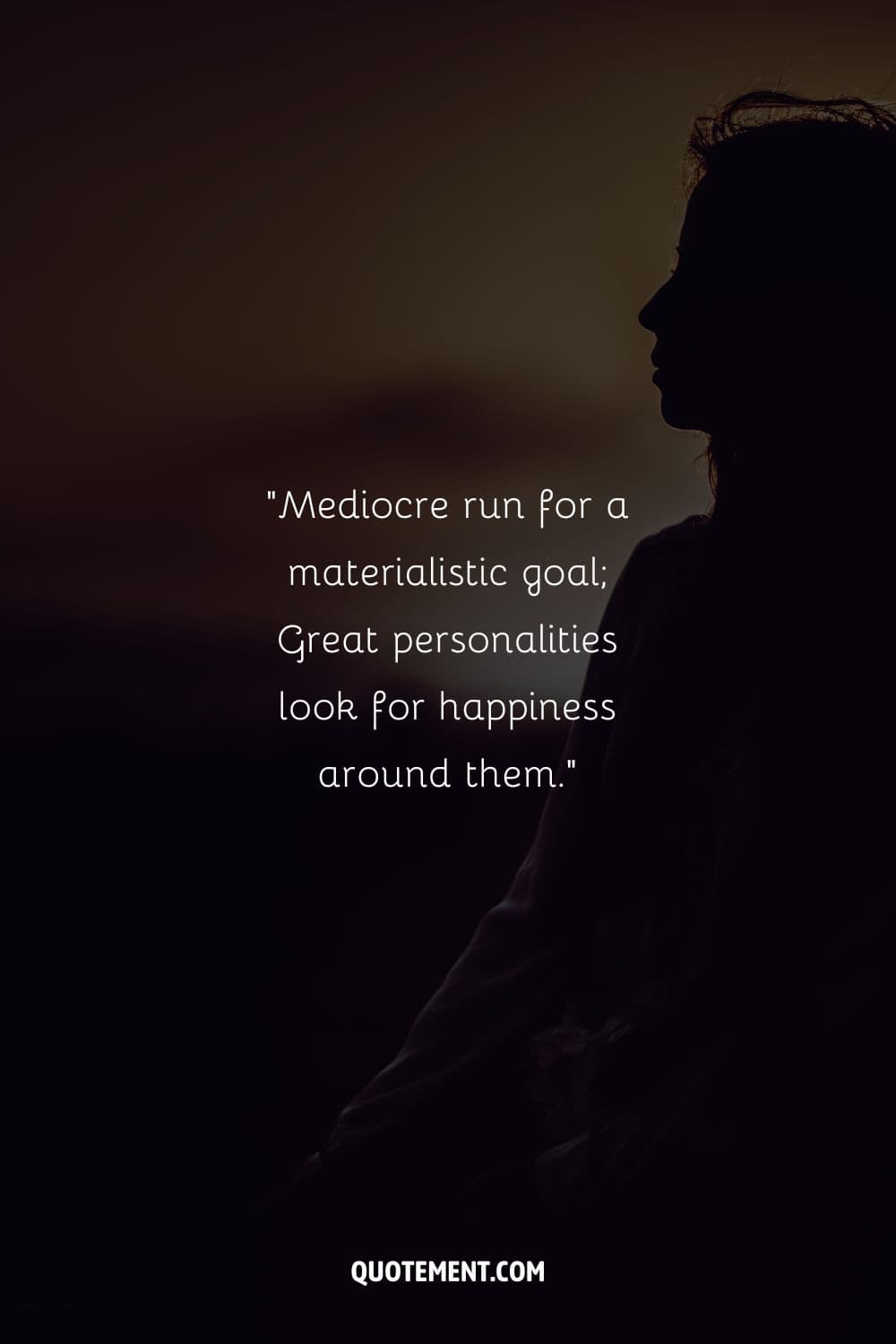 Encouraging Good Personality Quotes
1. "If life is a race, looks will help you in winning only sprints; while your good personality helps you in winning long marathons." — Unknown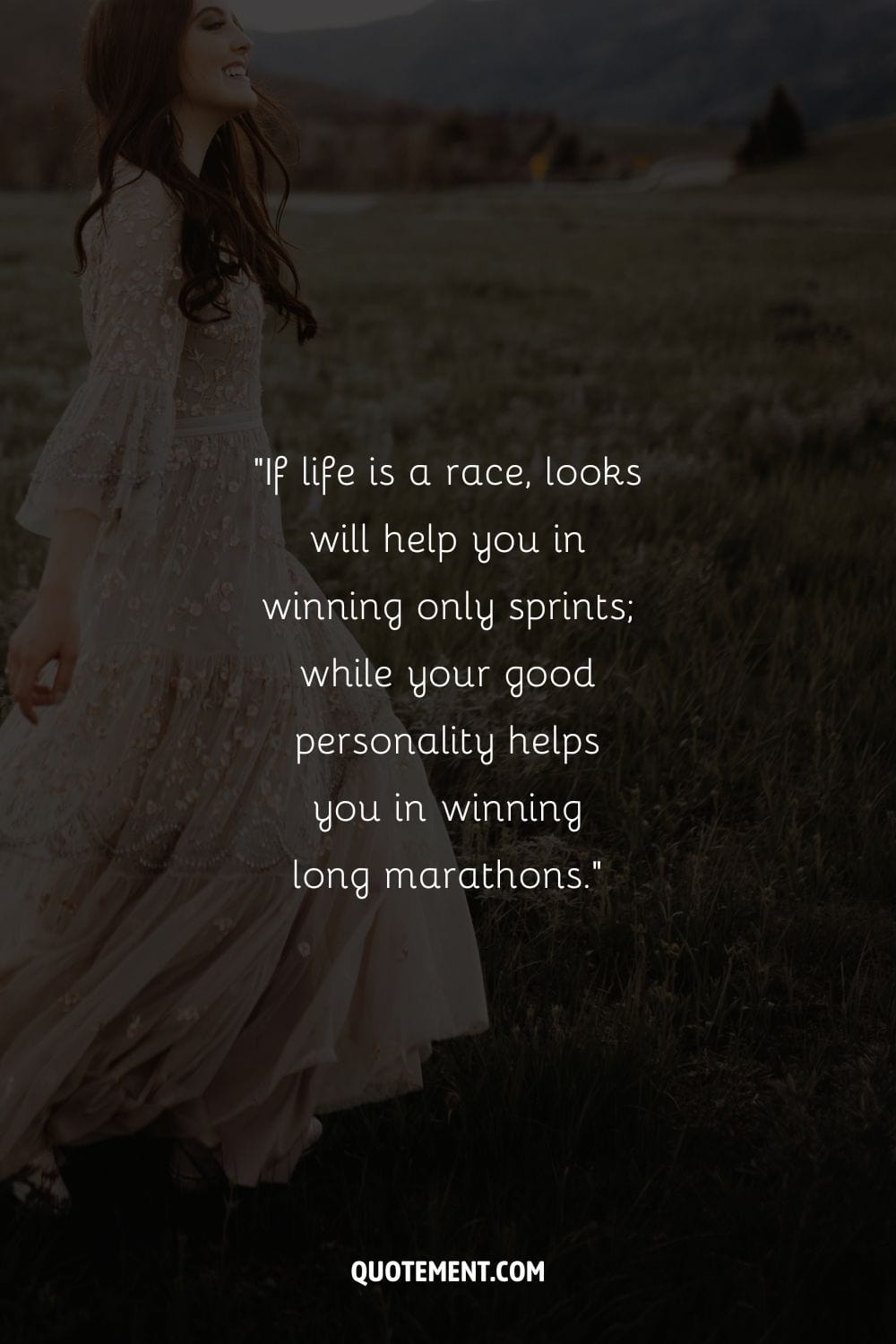 2. "Desire is the key to motivation. It is the key to develop a healthy personality and a positive attitude towards oneself and others." — Amit Abraham
3. "A beautiful face with a sexy body is a dime a dozen in showbiz. When you have magnetic personality, you beat everybody else." — Heart Evangelista
4. "A lot of people think being at the top means you have to be the best at a certain game. You don't. It's more about personality." — KSI
5. "You don't have to be someone else to achieve greatness in life. Celebrate your personality and uniqueness, because that's what makes a legend." — Unknown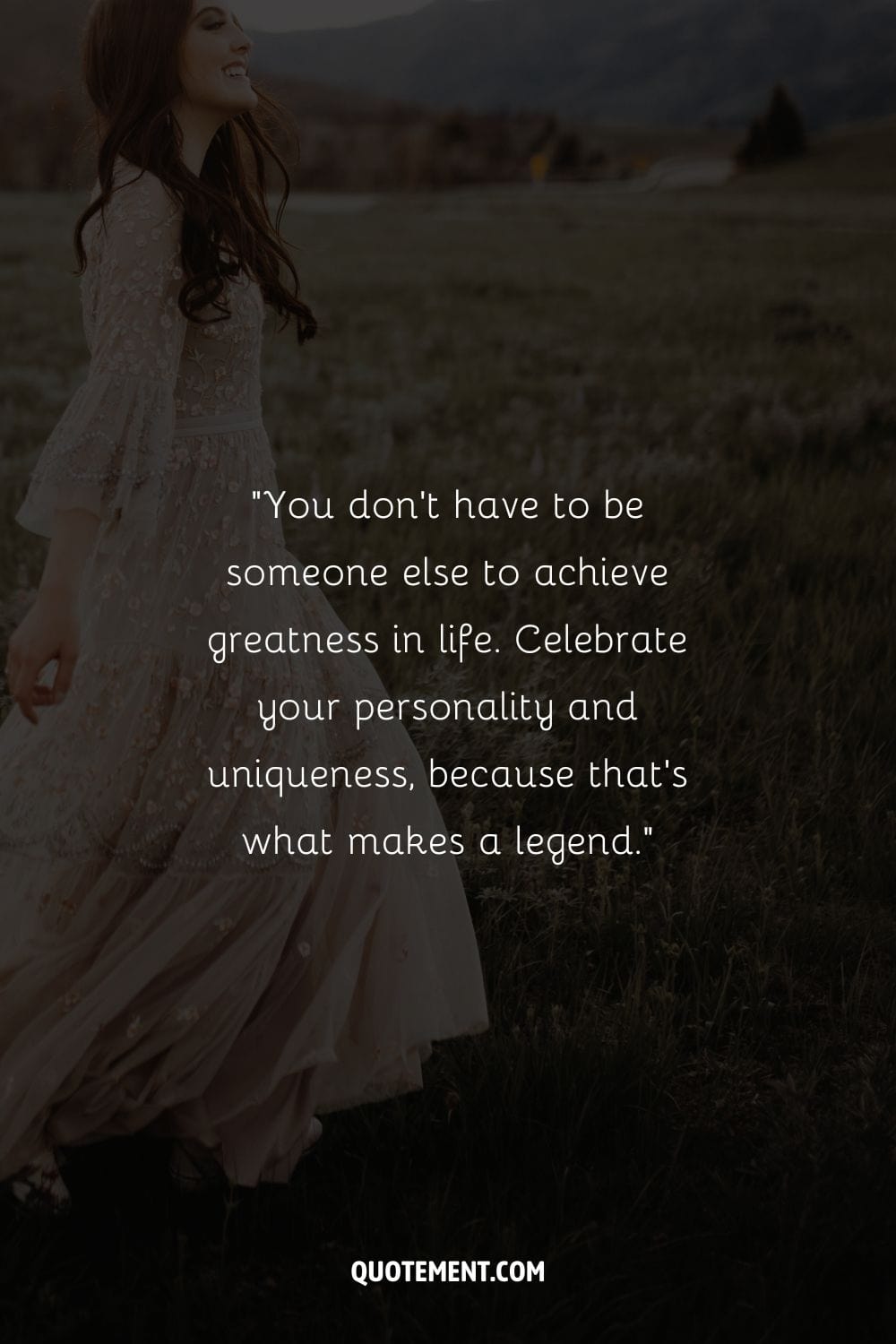 6. "Brilliance can earn you money, and personality can win hearts for you." — Unknown
7. "Always dream and shoot higher than you know you can do. Do not bother just to be better than your contemporaries or predecessors. Try to be better than yourself." ― William Faulkner
8. "Let your personality be your profit and not your punishment." — Amit Kalantri
9. "Hard conditions of life are indispensable to bringing out the best in human personality." — Alexis Carrel
10. "Help and smile are like scents, the more you give it to others, the more fragrant your personality becomes." — Unknown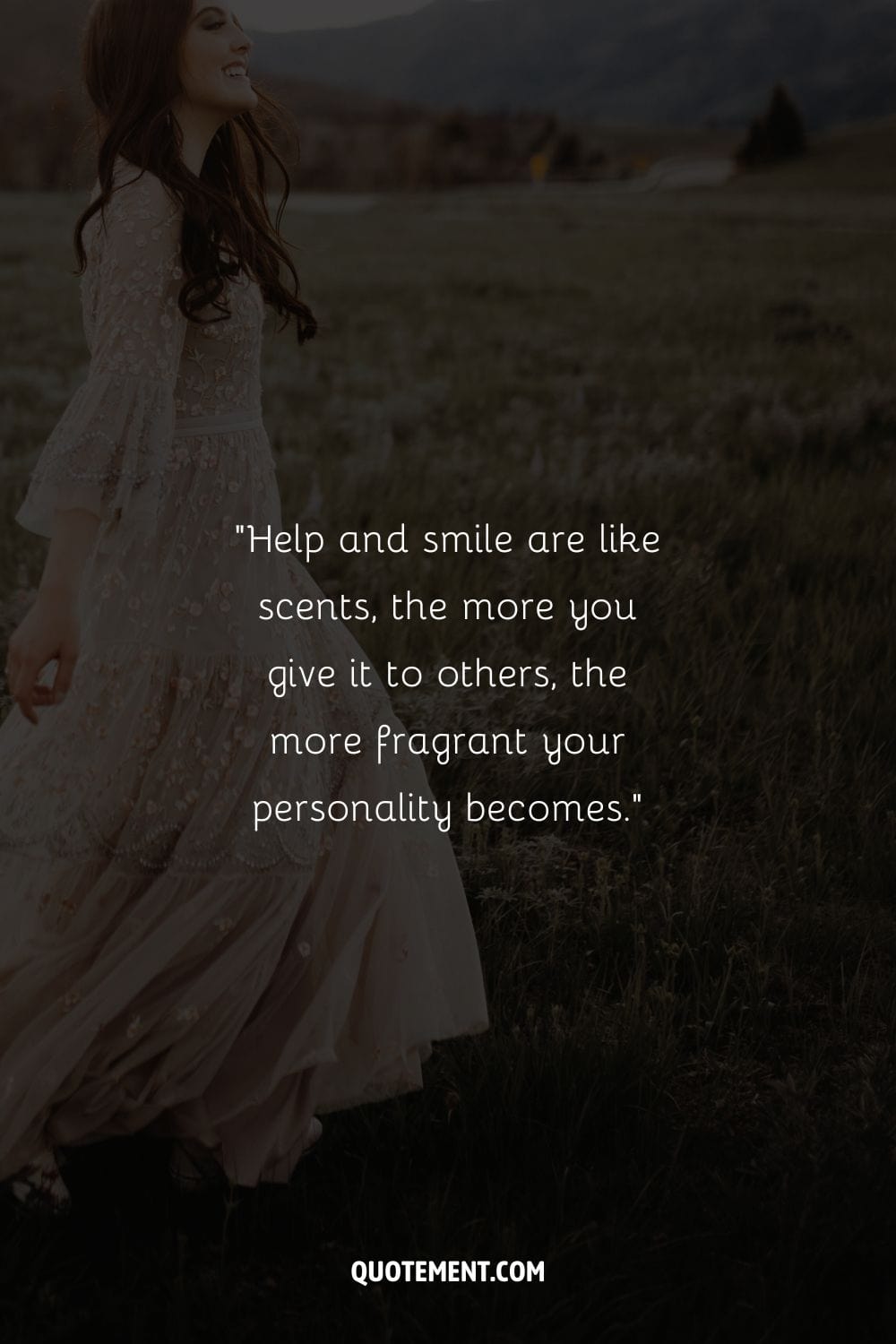 11. "The real test of your personality is when a person junior to you asks for your help, and you know that they can't help back in any form." — Unknown
12. "Let others lead small lives, but not you. Let others argue over small things, but not you. Let others cry over small hurts, but not you. Let others leave their future in someone else's hands, but not you." — Jim Rohn
13. "Beauty and make-up are your plus points if you have a very good personality." — Unknown
14. "Two things define your personality, the way you manage things when you have nothing and the way you behave when you have everything." — Unknown
15. "When you don't care about the results, and keep working and improving, then you become the living definition of a successful personality." — Unknown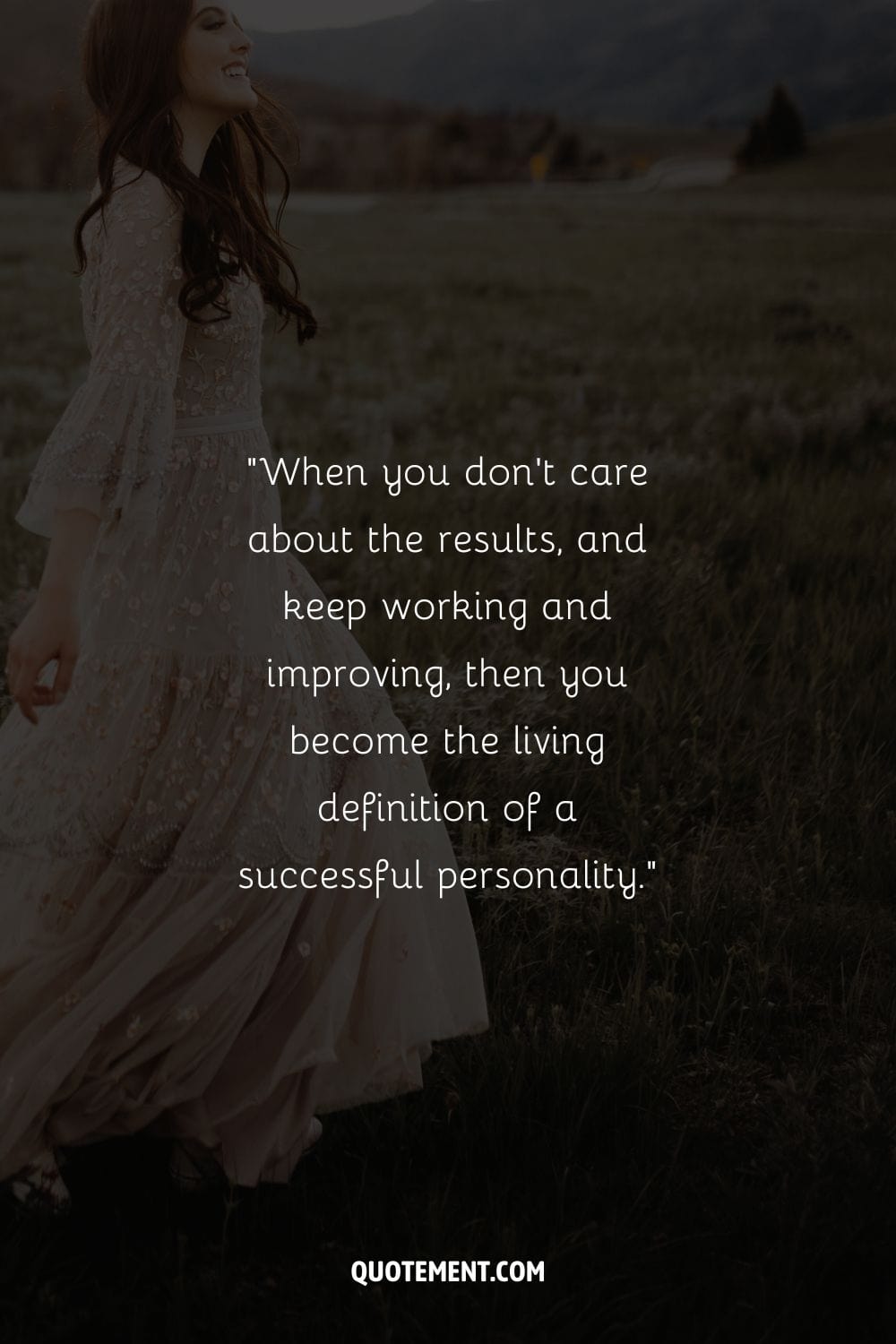 16. "But however good you get at translating personality into line or paint it's no go if your personality isn't worth translating." — John Fowles
17. "To have a successful team, you have to have great players of course — but you have to have good personalities and good people as well." — David Beckham
18. "The way you dress is an expression of your personality." — Alessandro Michele
19. "The way to gain a good reputation is to endeavor to be what you desire to appear." — Unknown
20. "I really would not change anything. Have a passion for what you do, work hard, have great people with good personalities, enjoy the ride." — Wayne Huizenga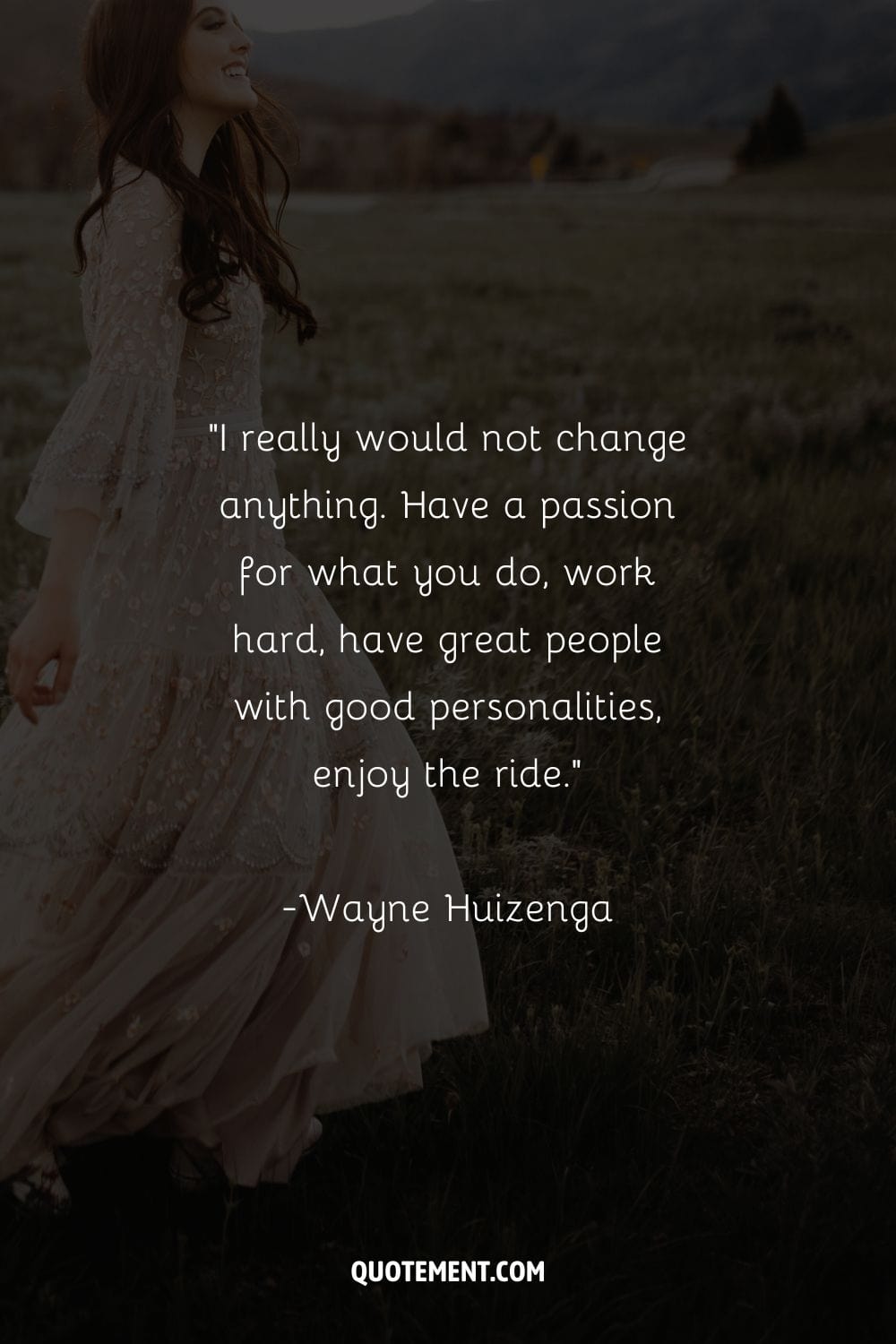 Strong Personality Quotes
1. "Power in hand is like opening doors for arrogance, ego, and superiority complex. You really need a strong personality to overcome them." — Unknown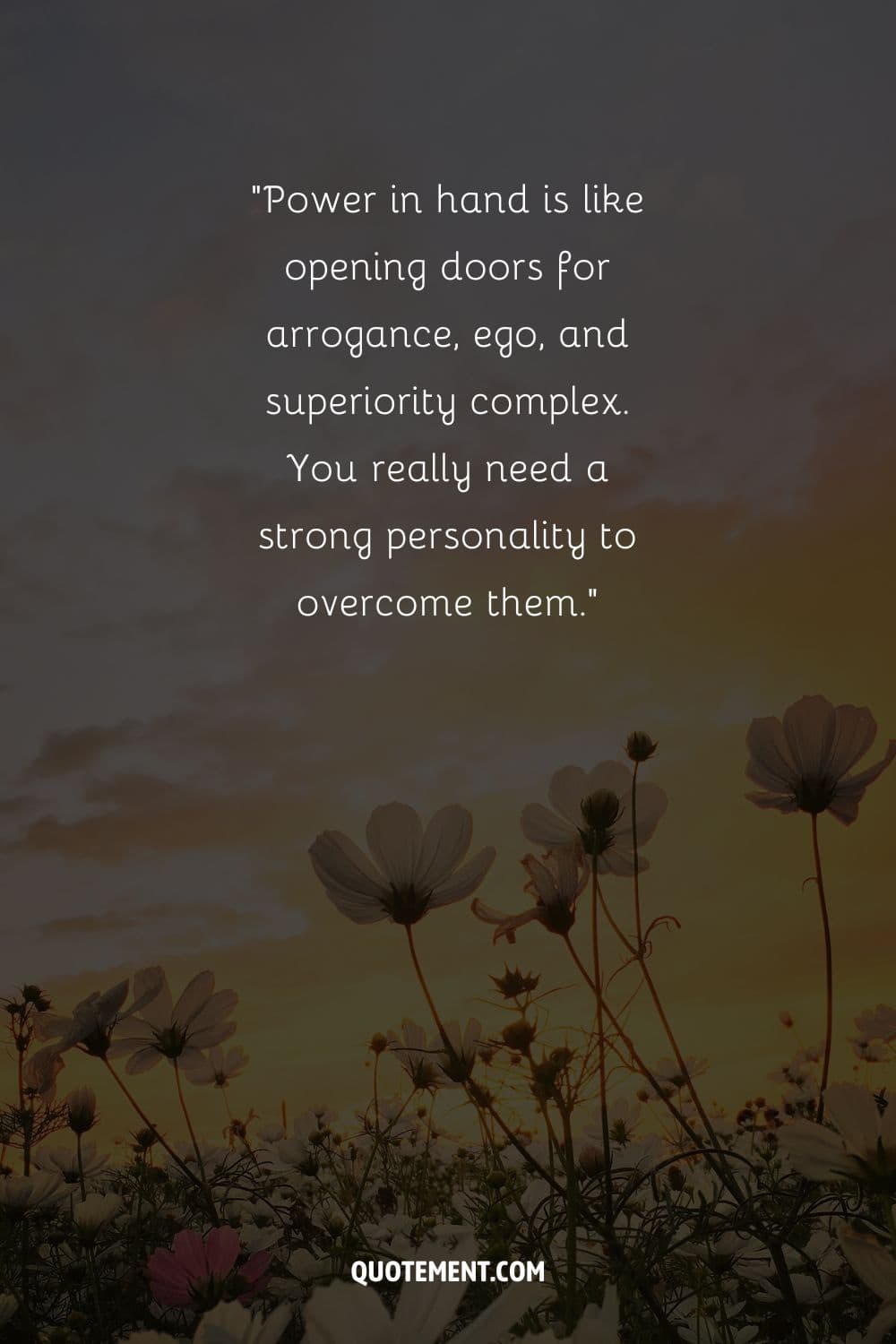 2. "I have a strong personality, and I say what I think." — Penelope Cruz
3. "Every time I fail I assume I will be a stronger person for it." — Joan Benoit
4. "Out of suffering have emerged the strongest souls; the most massive characters are seared with scars." — Khalil Gibran
5. "Only a real champion and a person of character and strength can keep going and refuse to give up." — Sadie Robertson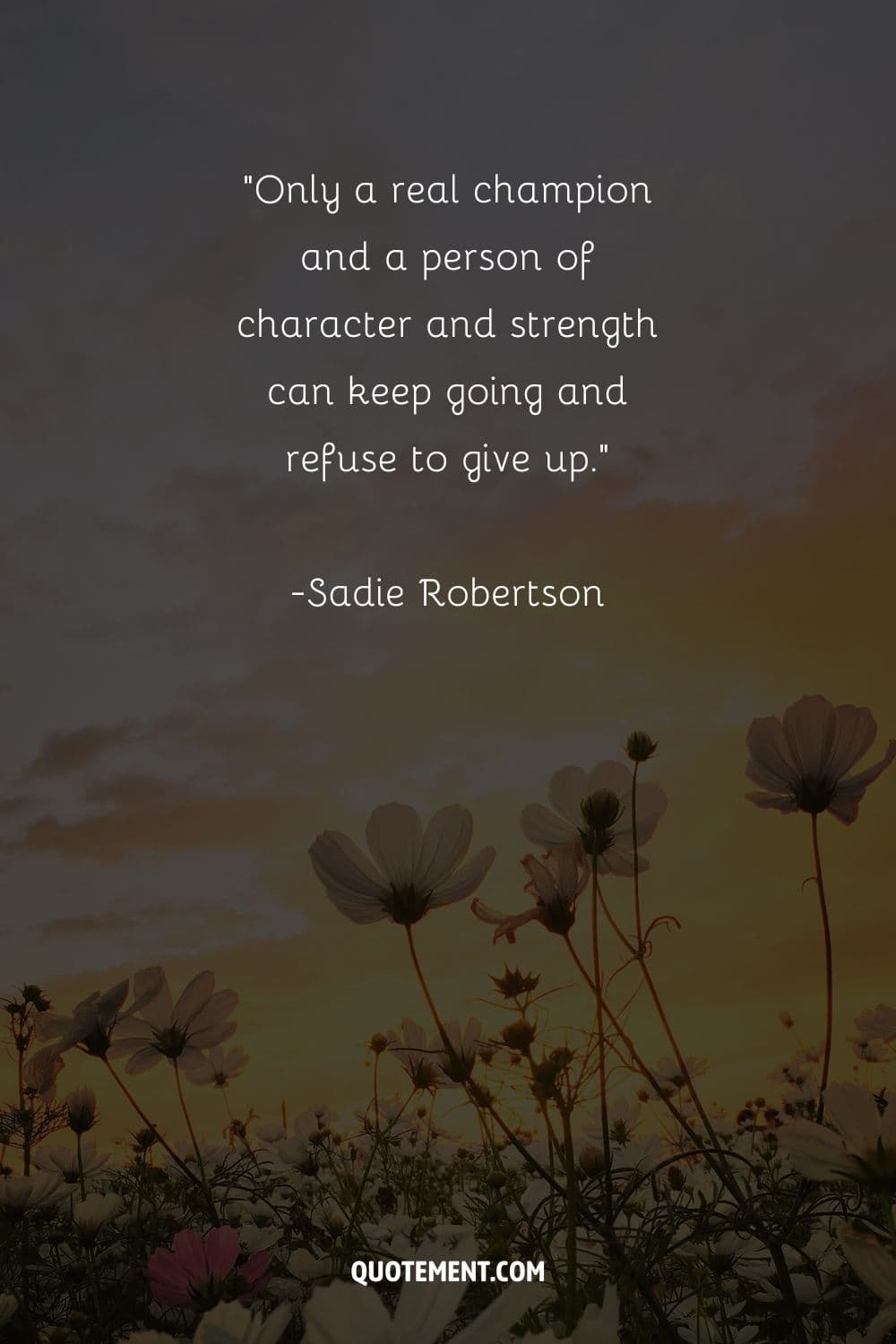 6. "Very strong personalities must confine themselves in mutual conversation to very gentle subjects." — F. Scott Fitzgerald
7. "I've come to believe that each of us has a personal calling that's as unique as a fingerprint — and that the best way to succeed is to discover what you love and then find a way to offer it to others in the form of service, working hard, and also allowing the energy of the universe to lead you." — Oprah Winfrey
8. "Be strong, but not rude; Be kind, but not weak; Be bold, but not bully; Be humble, but not timid; Be proud, but not arrogant." — Zig Ziglar
9. "I'm unapologetic not because I'm strong-willed or overconfident, I'm unapologetic because this is it; this is my life. There is nothing I can do, no one I can please. I am a person with a strong sense of being, that's all." — Jean Seberg
10. "Only strong personalities can endure history, the weak are extinguished by it." — Friedrich Nietzsche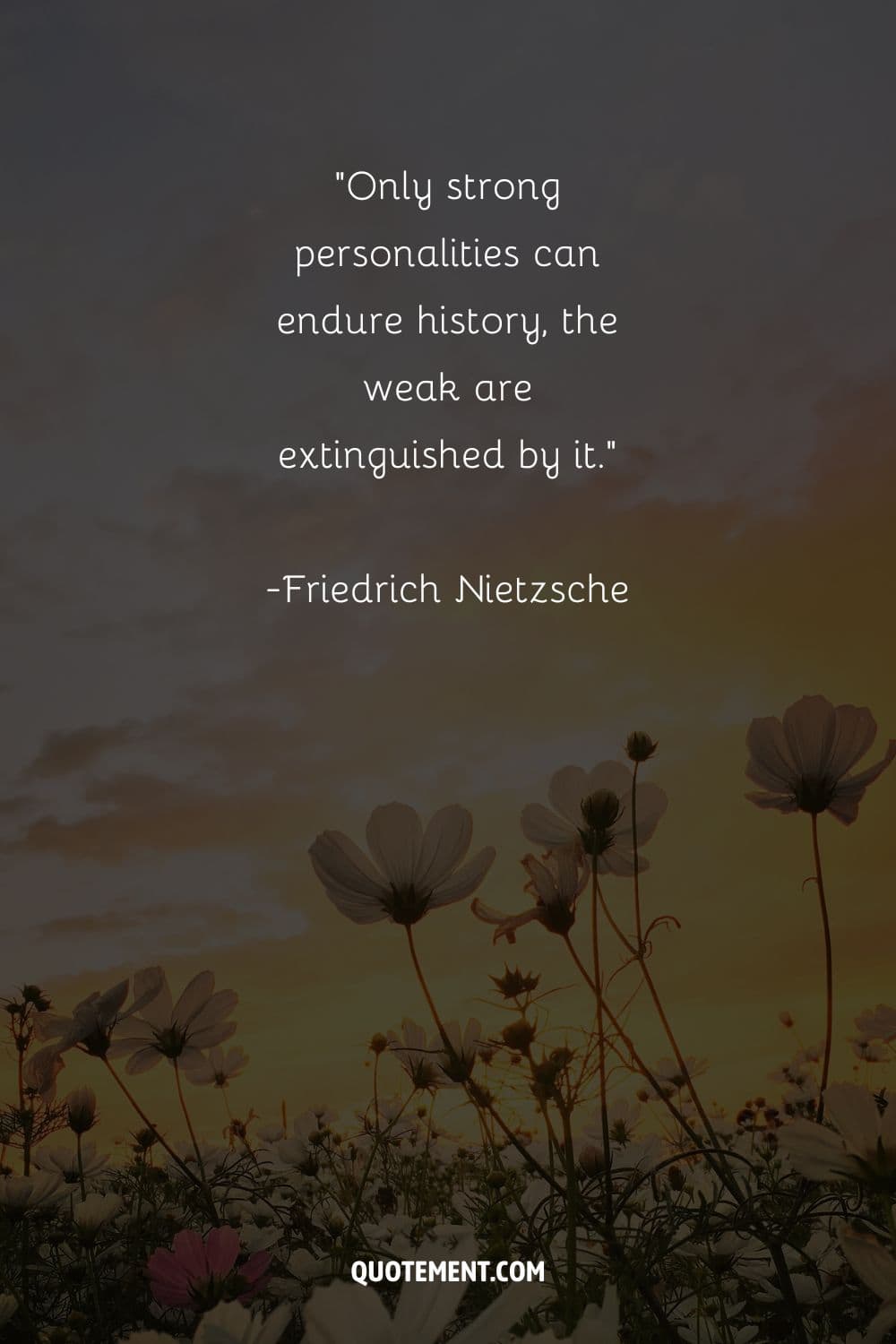 11. "A strong person will not be nervous and not express aggression towards his opponent… he will face the fight calm and balanced." — Fedor Emelianenko
12. "But to understand what it means to be strong and courageous, Christians should look to the person of Christ." — Marvin Olasky
13. "I'm a strong person, I'm a strong family man, I'm a strong husband and a strong father." — David Beckham
14. "Awareness of your weakness and confusion makes you strong because conscious awareness is the bright light that destroys the darkness of negativity. Detection of inner negativity is not a negative act, but a courageously positive act that makes you a new person." — Vernon Howard
15. "I hold that a strongly marked personality can influence descendants for generations." — Beatrix Potter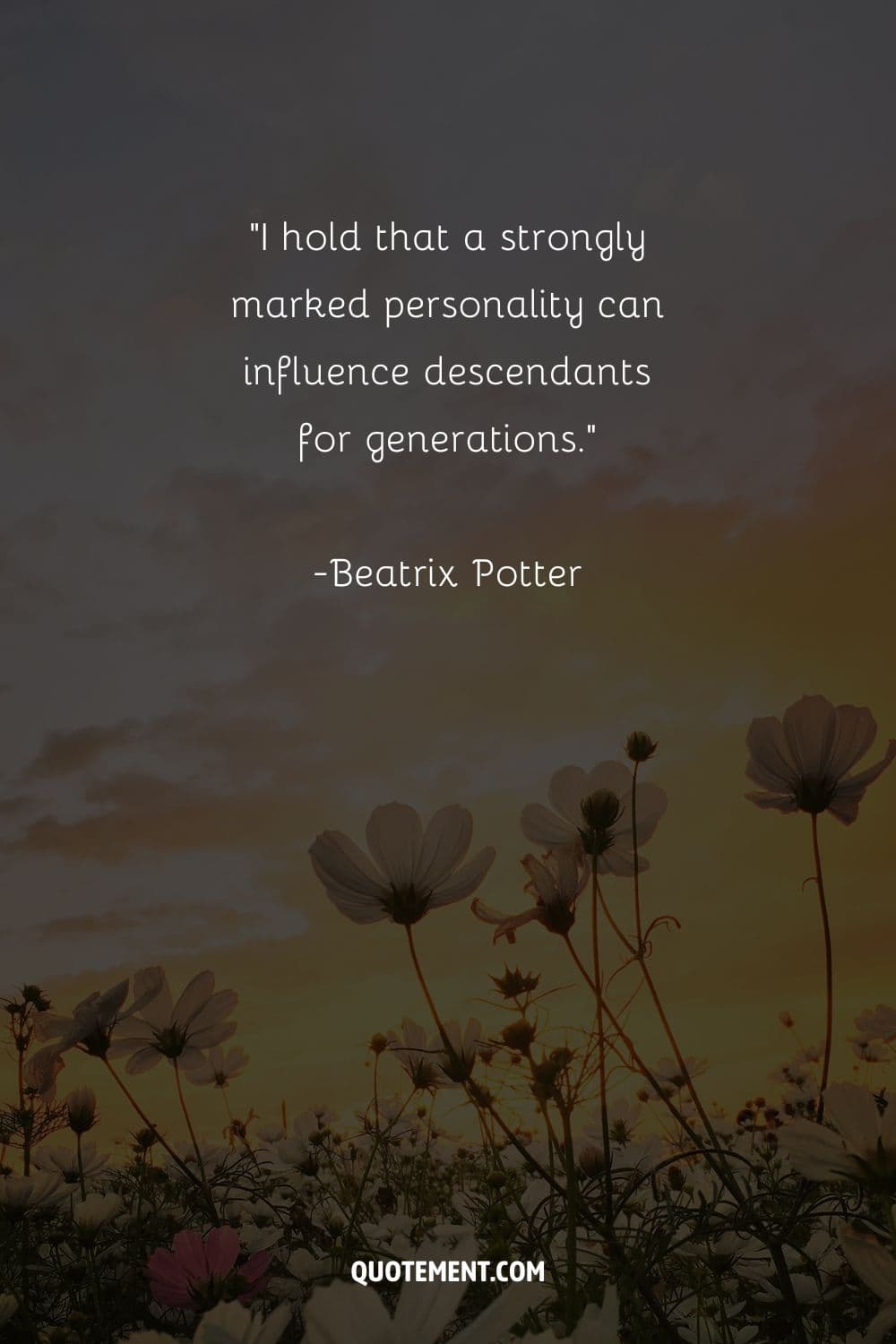 16. "Weakness of attitude becomes weakness of character." — Albert Einstein
17. "If God gave you a strong personality it's for serving others not controlling them."— Jimmy Evans
18. "Every person and every team will be tested on their journey. It is part of the curriculum of life. It's just like riding a bicycle. In the beginning, you're going to fall off and get knocked down but the important thing is to get back on, stay strong, and after a while, once you master it you'll ride with the confidence of a champion." — Jon Gordon
19. "I always think before I speak. I'm not the sort who will just say anything that comes to my mind. I'm a very emotional and sensitive person. But I'm also very strong and know my mind well." — Deepika Padukone
20. "People will hate you, rate you, shake you, and break you. But how strong you stand is what makes you." — Unknown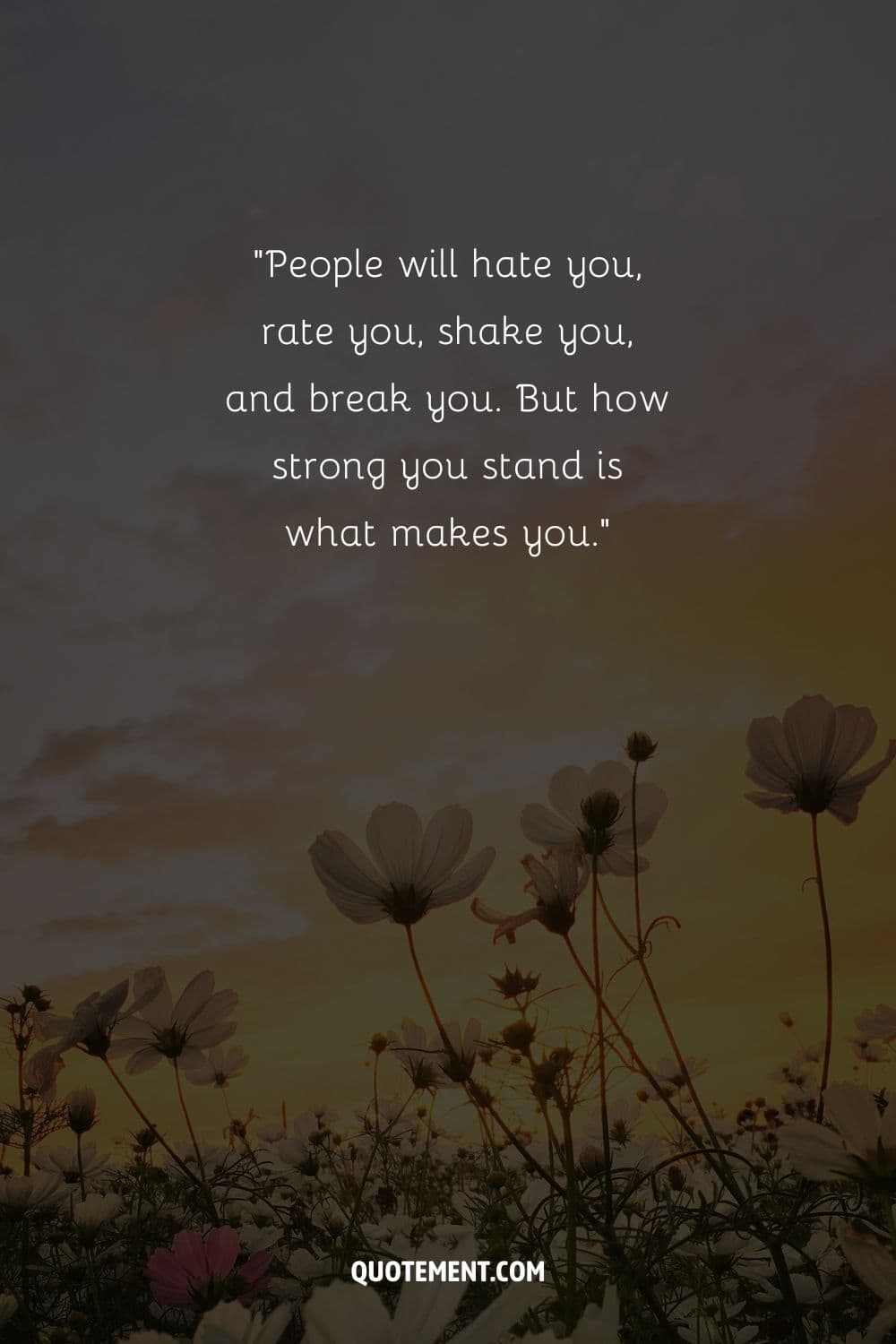 Wise Quotes On Good Personality
1. "Nearly all men can stand adversity, but if you want to test a man's character, give him power." — Abraham Lincoln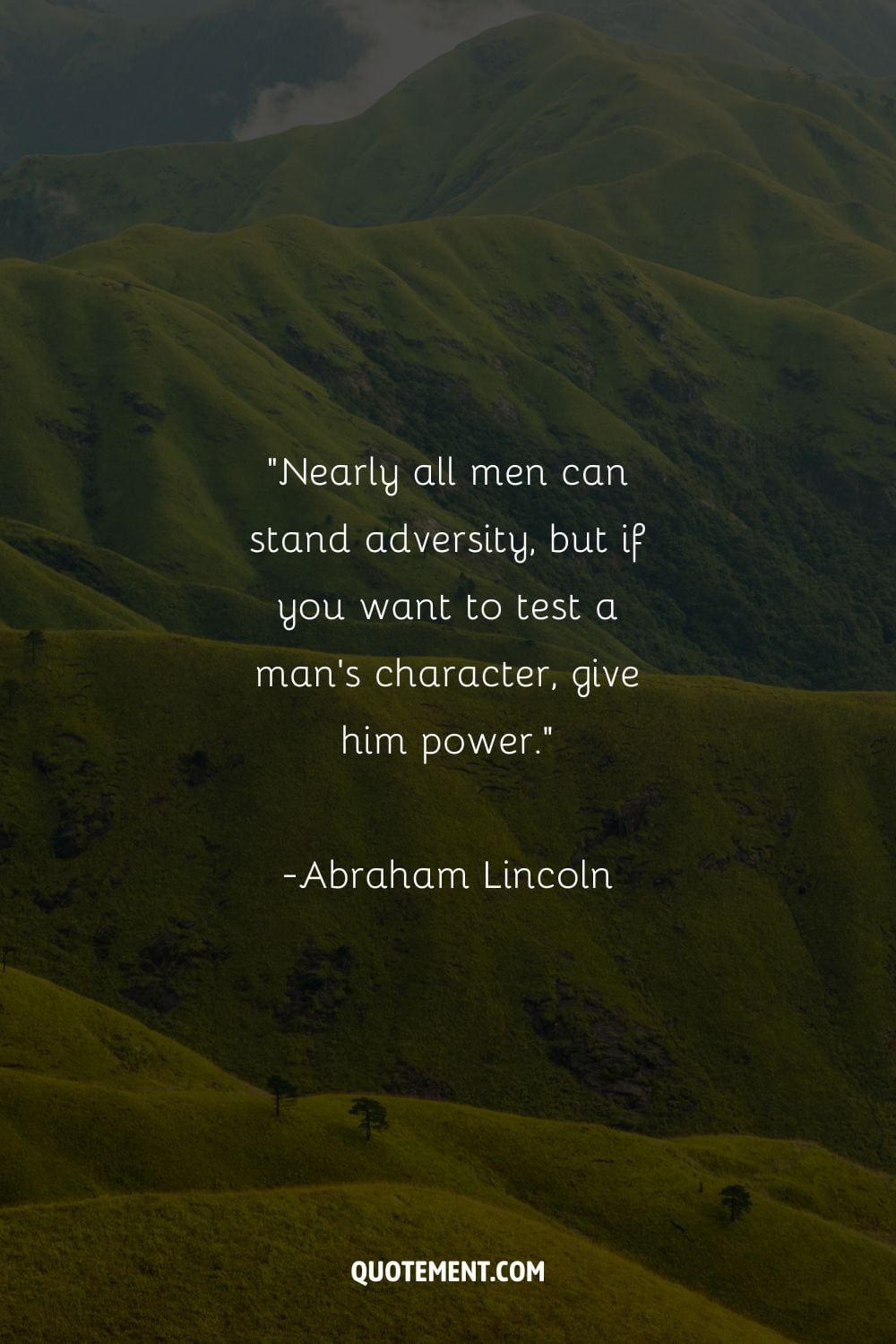 2. "A magnetic personality doesn't necessarily indicate a good heart." — Laura Linney
3. "A man of personality can formulate ideals, but only a man of character can achieve them." — Herbert Read
4. "Humility is no substitute for a good personality." — Fran Lebowitz
5. "Suffering is the substance of life and the root of personality, for it is only suffering that makes us persons." — Miguel de Unamuno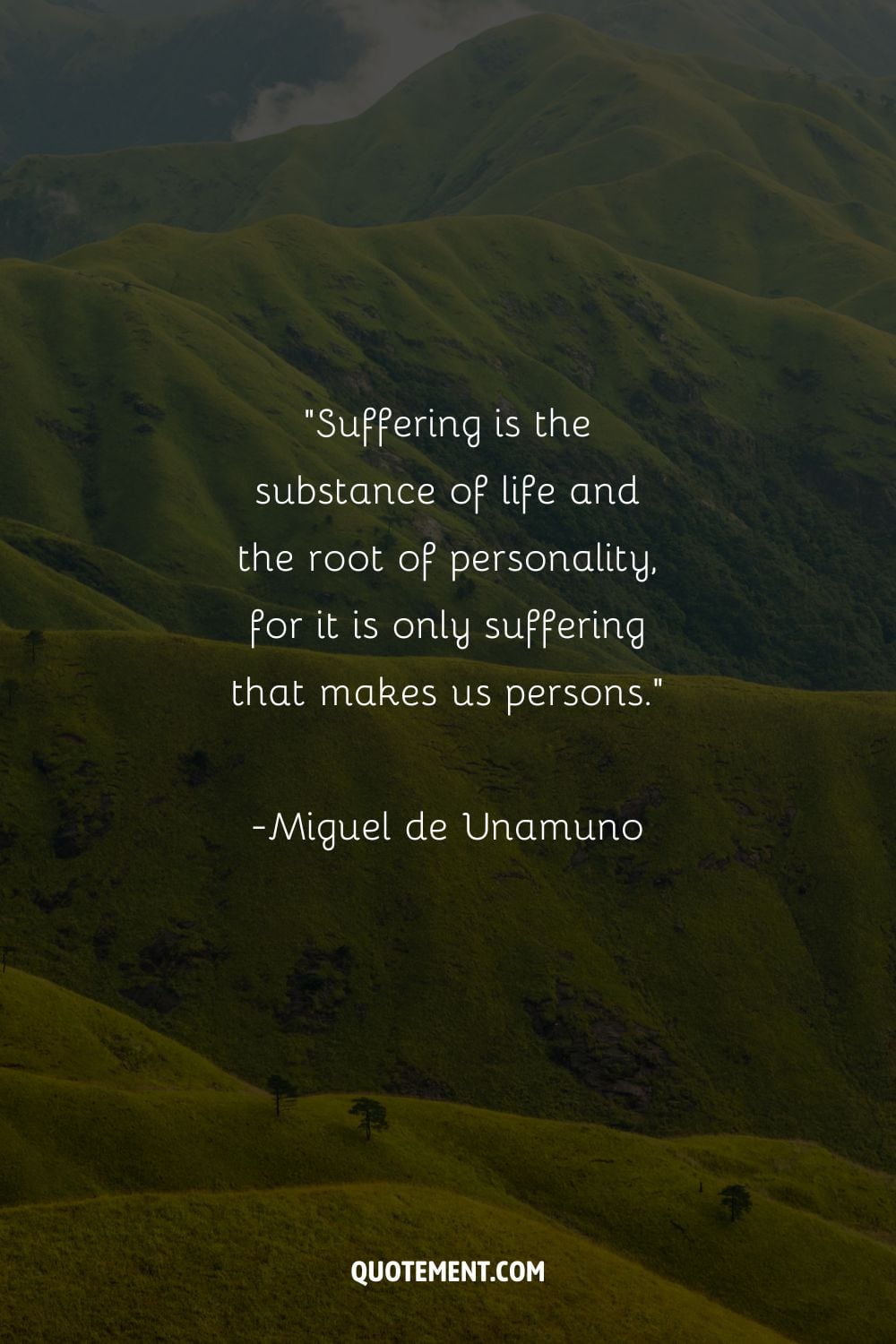 6. "From birth to age 18 a girl needs good parents. From 18 to 35 she needs good looks. From 35 to 55 she needs a good personality. From 55 on, she needs good cash." — Sophie Tucker
7. "We are all born with a unique genetic blueprint, which lays out the basic characteristics of our personality as well as our physical health and appearance… And yet, we all know that life experiences do change us." — Joan D. Vinge
8. "The things that we love tell us what we are." — Thomas Aquinas
9. "Personality is, in fact, only a free being emphasizing and recognizing itself as such. Every man makes his own personality, he is to that extent his own creator." — Sabine Baring-Gould
10. "Maybe that's what a person's personality is: the difference between the inside and the outside." — Jonathan Safran Foer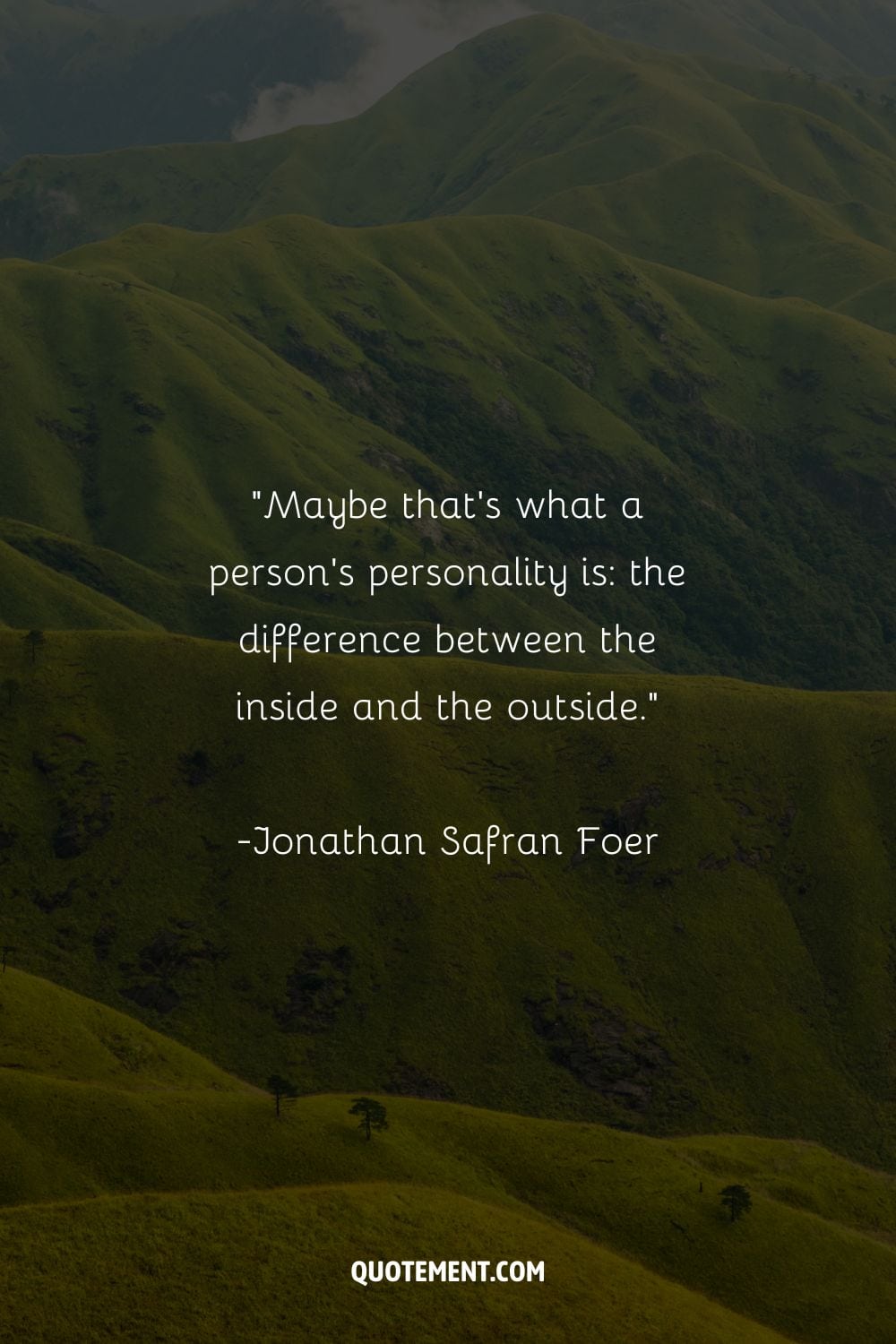 11. "Tell me what you pay attention to and I will tell you who you are." — José Ortega y Gasset
12. "Personality is the knowledge that we are apart from the rest of the universe." — Ernest Dimnet
13. "Our lives are shaped as profoundly by personality as by gender or race. And the single most important aspect of personality … is where we fall on the introvert-extrovert spectrum." — Susan Cain
14. "Personality is the outcome of our conditionings." — Balkrishna Panday
15. "We get criticized for showing no personality, then we get penalized when we do." — Lindsay Davenport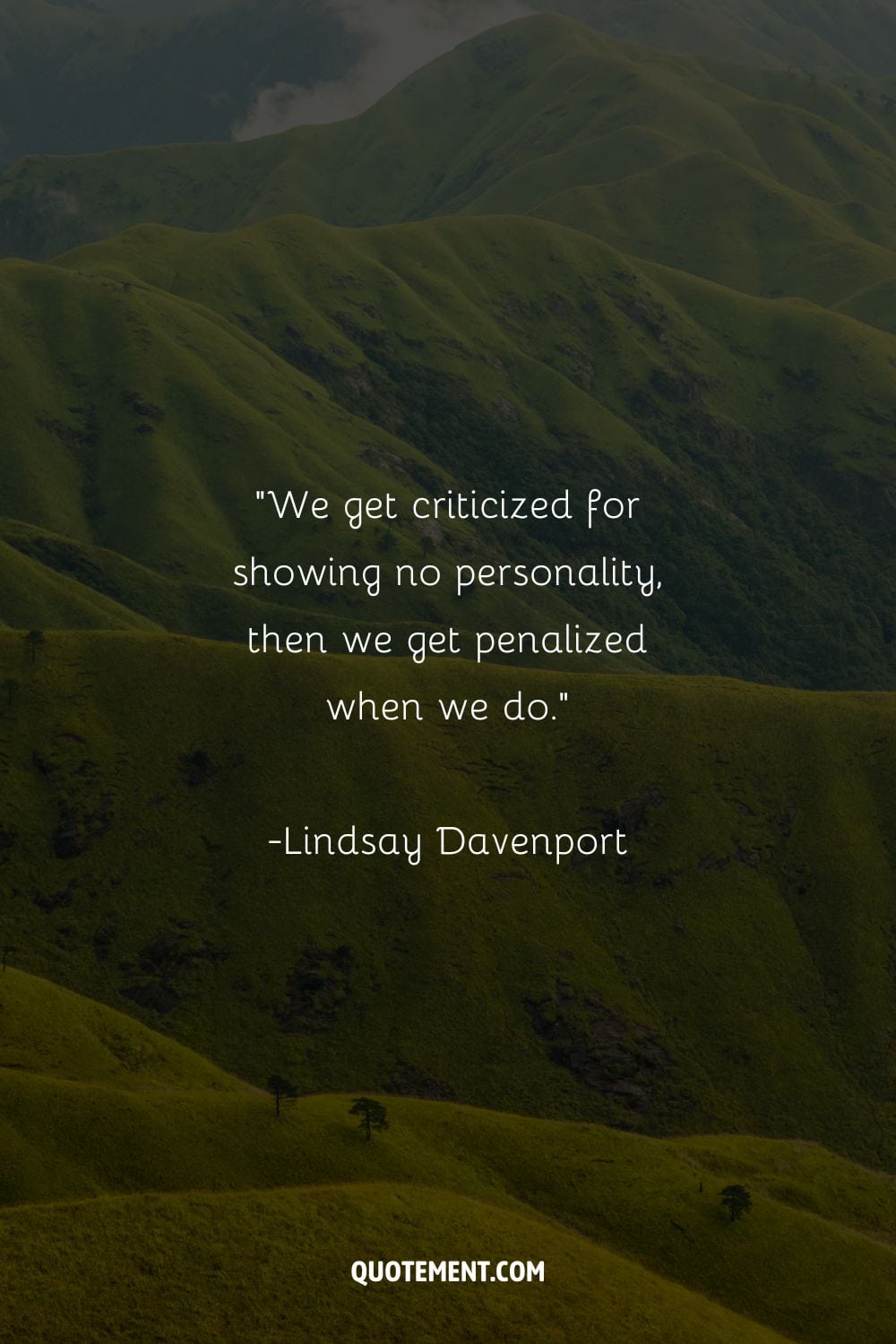 16. "Personality is like a charioteer with two headstrong horses, each wanting to go in different directions." — Martin Luther King, Jr.
17. "If you want to know my personality, look through my bedroom window and see how I act." — Benjamin Ndayishimiye
18. "Where there is personality, there is discord." — Terry Pratchett
19. "The deeds and motive of man define his personality." — Lailah Gifty Akita
20. "Your personality is the only permanent thing in your, ultimately, temporary life…that's all the more reason to cherish it." — Isabella Koldras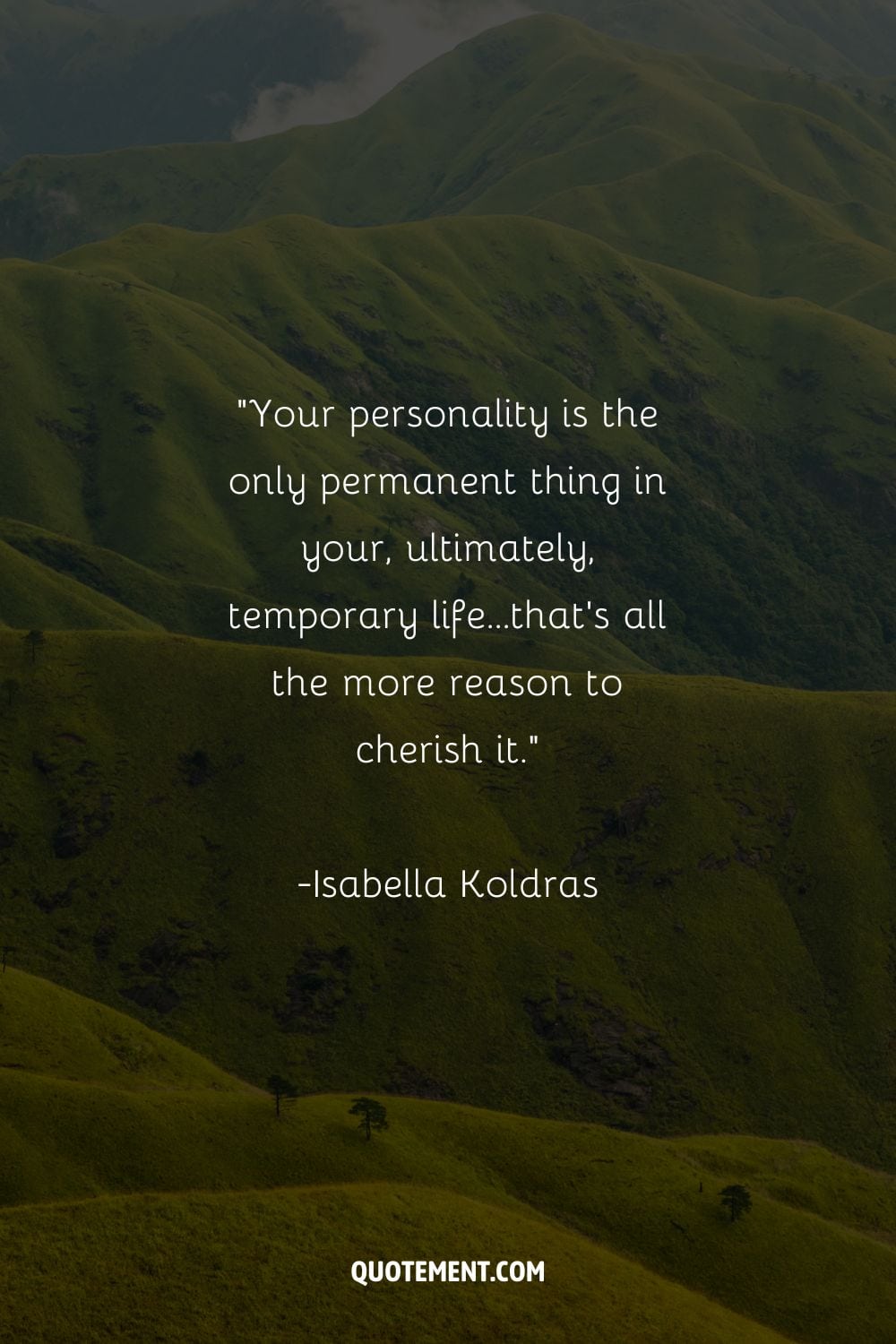 Motivational Good Personality Quotes
1. "Cute is when a person's personality shines through their looks. Like in the way they walk, every time you see them you just want to run up and hug them." — Natalie Portman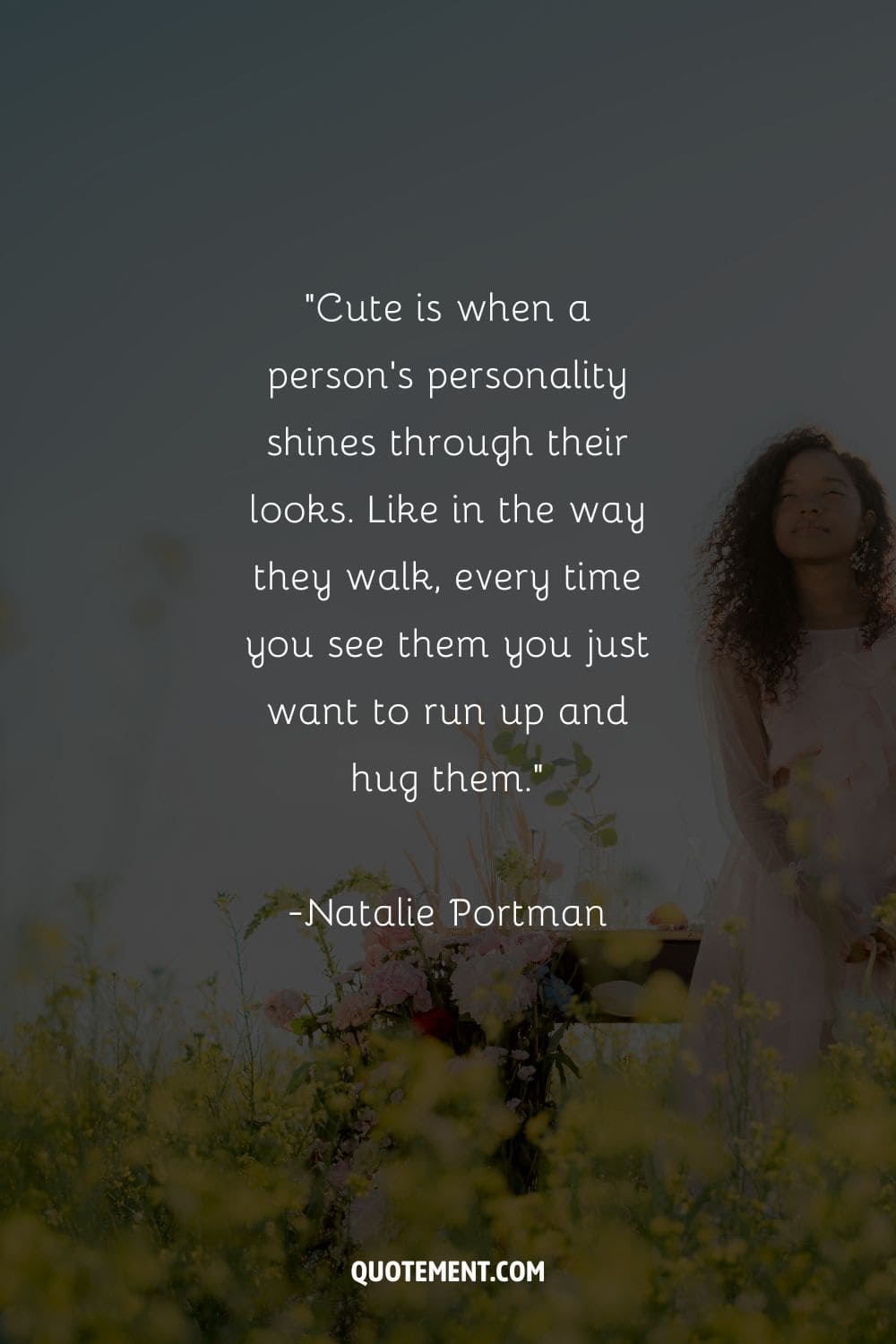 2. "Your personality is what makes you beautiful." — Unknown
3. "No matter how much successful you are, your personality decides the life of your relationship with your keens." — Unknown
4. "Life is mortal, but your personality stays forever in the hearts of others." — Unknown
5. "I think if you're happy and you're a nice person and you have a nice personality that always shines through." — Nicola Roberts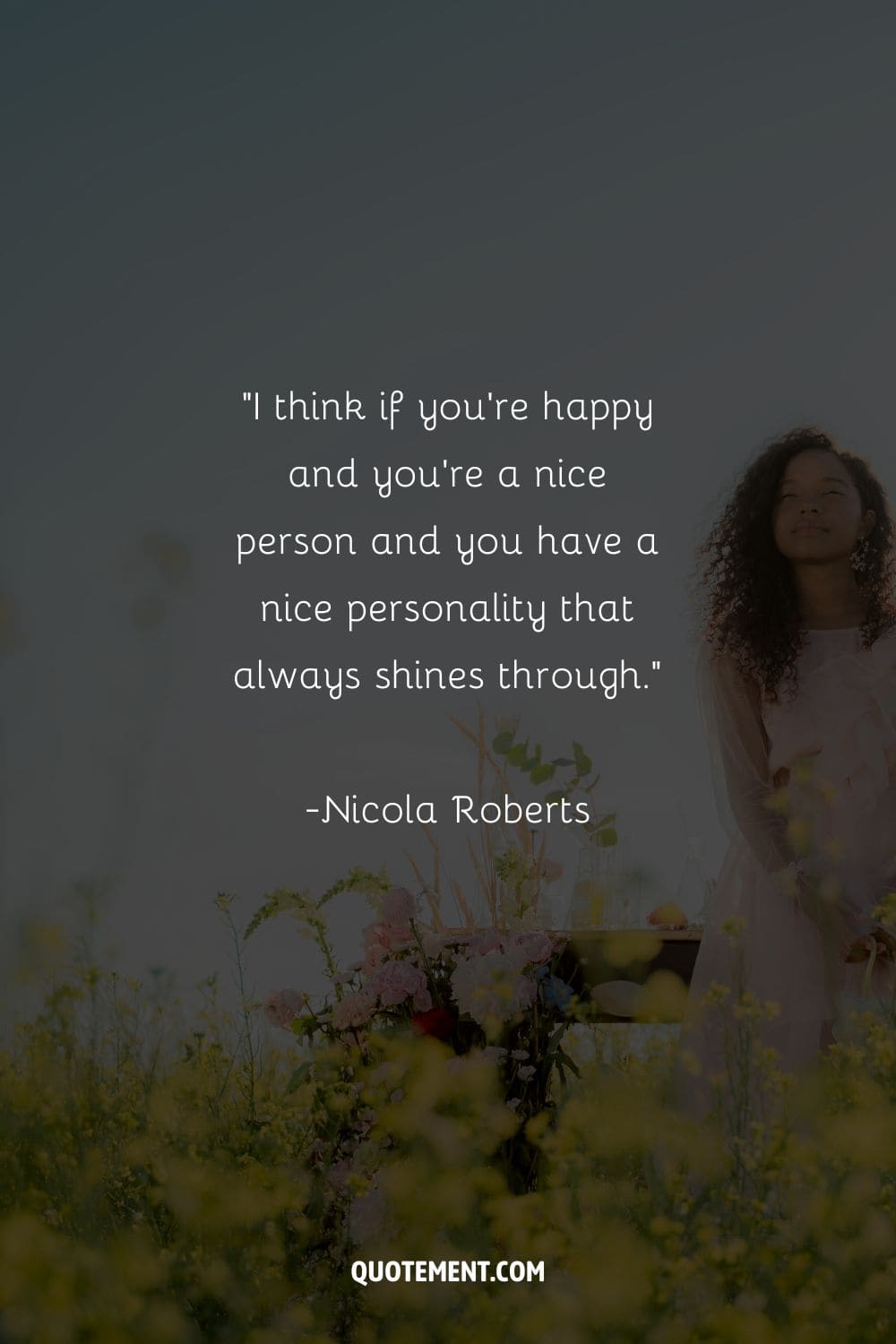 6. "'Friday' is about hanging out with friends, having fun. I felt like it was my personality in that song." — Rebecca Black
7. "Personality is the glitter that sends your little gleam across the footlights and the orchestra pit into that big black space where the audience is." — Mae West
8. "Appearances make impressions but it is the personality that makes an impact." — Unknown
9. "A good dress can change your looks, while a beautiful personality can change your life completely." — Unknown
10. "God has not made anyone to be a copy of some other one. Live with the personality God gifted you and try to make it better." — Unknown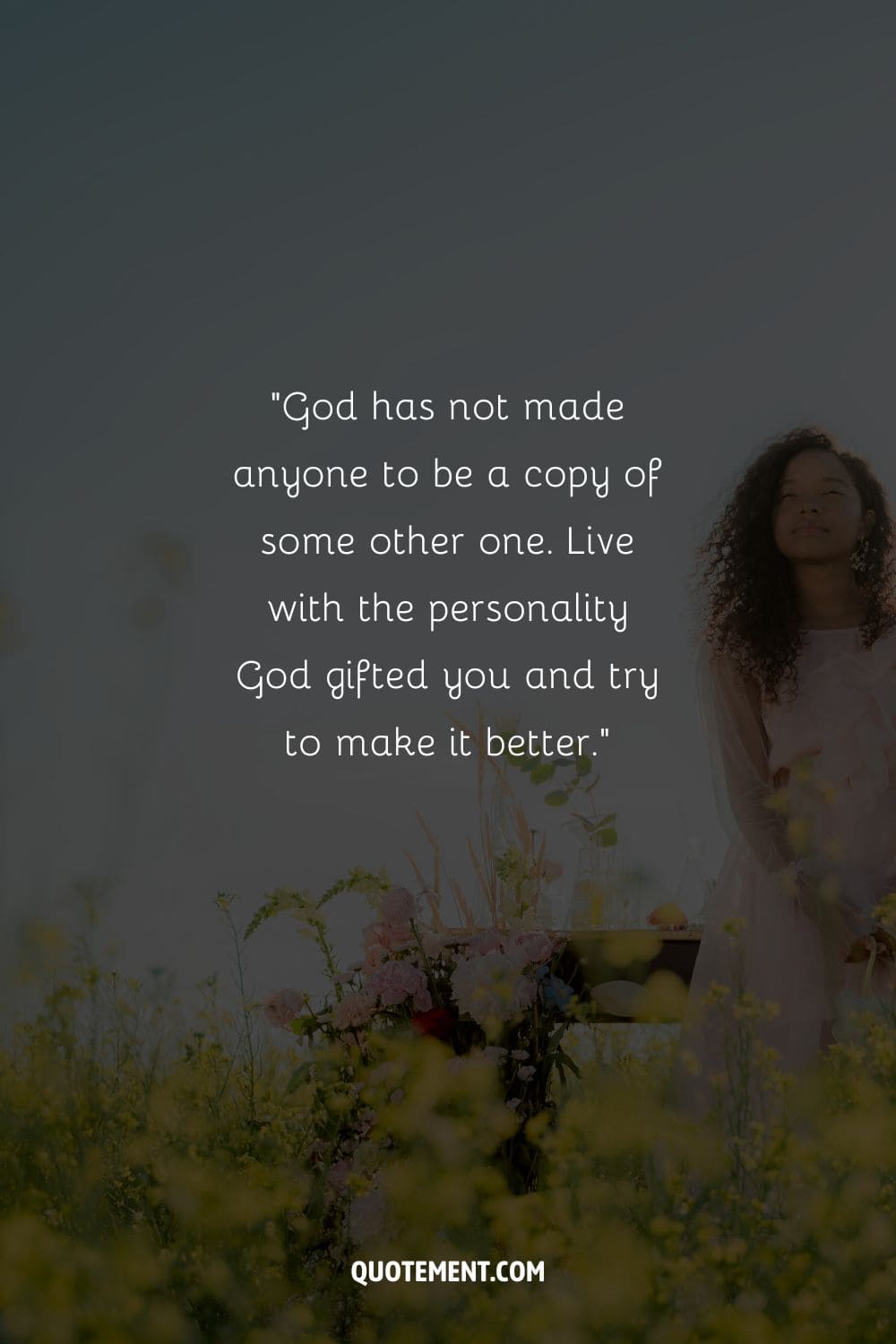 11. "To go from life to life means having no personality of your own. But to have a personality of your own is an idea which is peculiar to a certain form of civilization." — Albert Camus
12. "A girl can get somewhere in spite of stringy hair or even just a bit bowed at the knee if she can show a faultless personality." — Bing Crosby
13. "I think that personality traits that come through when somebody is really sincere is what makes them beautiful." — Taylor Swift
14. "A beautiful appearance will last a few decades, but a beautiful personality will last a lifetime." — Unknown
15. "When people see your personality come out, they feel so good, like they actually know who you are." — Usain Bolt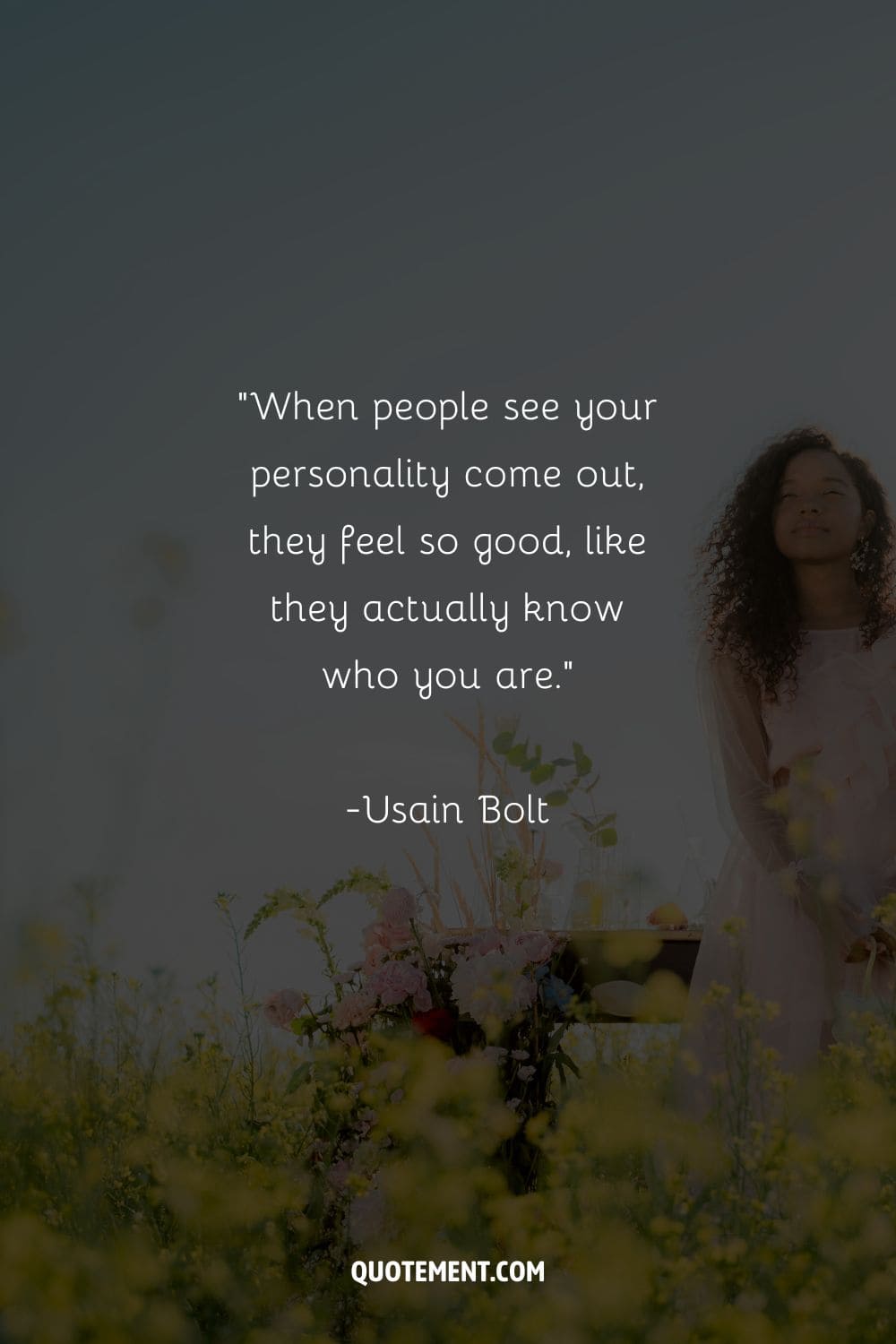 16. "Nothing can more quickly reveal aspect of personality and character than the choice — or absence — of color." — Van Day Truex
17. "It's not what you say, it's how you say it — because personality always wins the day." — Joseph L. Baron
18. "Your looks don't make you pretty, it's the person inside who makes you pretty." — Unknown
19. "Every human personality is the product of an innate drive to create something unique from one's raw individual experience." — Tadahiko Nagao
20. "A great personality is the most important beauty of any woman. Physical appearance is only temporary." — Edmond Mbiaka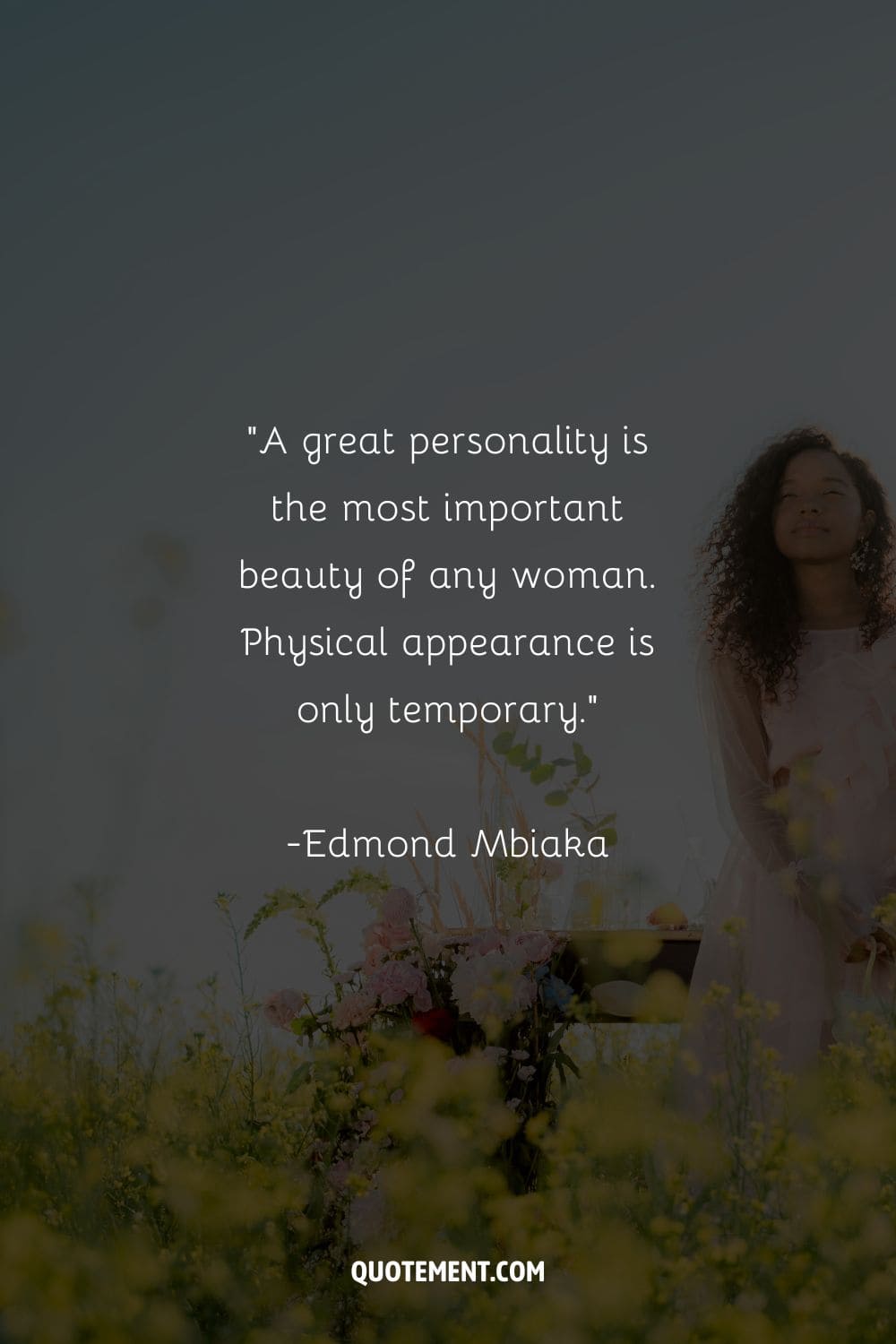 Final Words
I hope my collection of good personality quotes has reminded you to always try to be the best version of yourself.
Remember, the essence of a good personality is not in any kind of superficial traits, but in the willingness to constantly learn, evolve, and improve.