Forty-five is an extraordinary age and a person turning 45 deserves a birthday card that's equally amazing.
If your favorite person is turning 45 soon and you feel like you could use a bit of help to create a perfect birthday card for them, this article is for you.
I've compiled a list of 60 superb happy 45th birthday wishes for your special person, whether it's a spouse, family member or friend.
Without further ado, let's start exploring!
10 Most Beautiful Birthday Wishes For 45-Year-Olds
1. "The best is yet to come! Just sit back and enjoy the ride as you coast into the best years of your life. Happy 45th birthday!"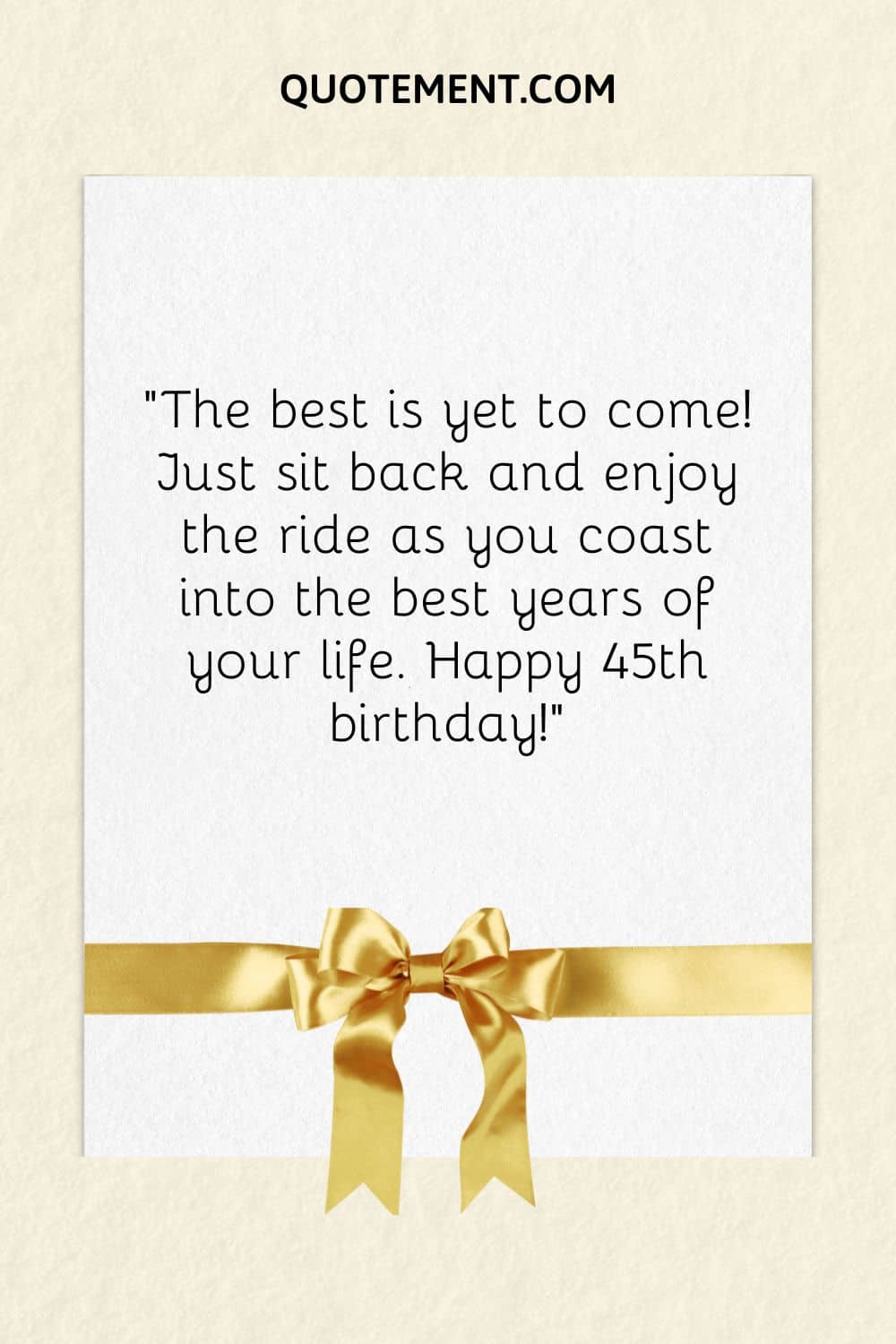 2. "On this day, someone extraordinary came into the world, and I couldn't be more grateful. Cheers to many, many more years of celebrating your birthday together."
3. "The sun may be the center of the solar system, but you are the center of my world! Have a lovely 45th birthday!"
4. "I don't know about wine, but you definitely get better with age. Look at you, 45 and glowing! Happy birthday!"
5. "Rather than counting all the candles on your birthday cake, count all the people in whose life an impact you make!"
6. "Chapter 45! May it bring out the best in you and gift you with all the blessings. I wish you a wonderful year ahead!"
7. "On your special day, I wish that you continue to change the lives of others with your beautiful spirit and positive attitude. Happy 45th birthday!"
8. "Forty-five years ago, the world became a better place because of you. It's such a blessing to have you here with us. Happy birthday!"
9. "Happy birthday to the person who's been making the world a better, brighter place every day for the last 45 years!"
10. "You live life in a way that makes every day a celebration. Happy 45th birthday to my favorite person."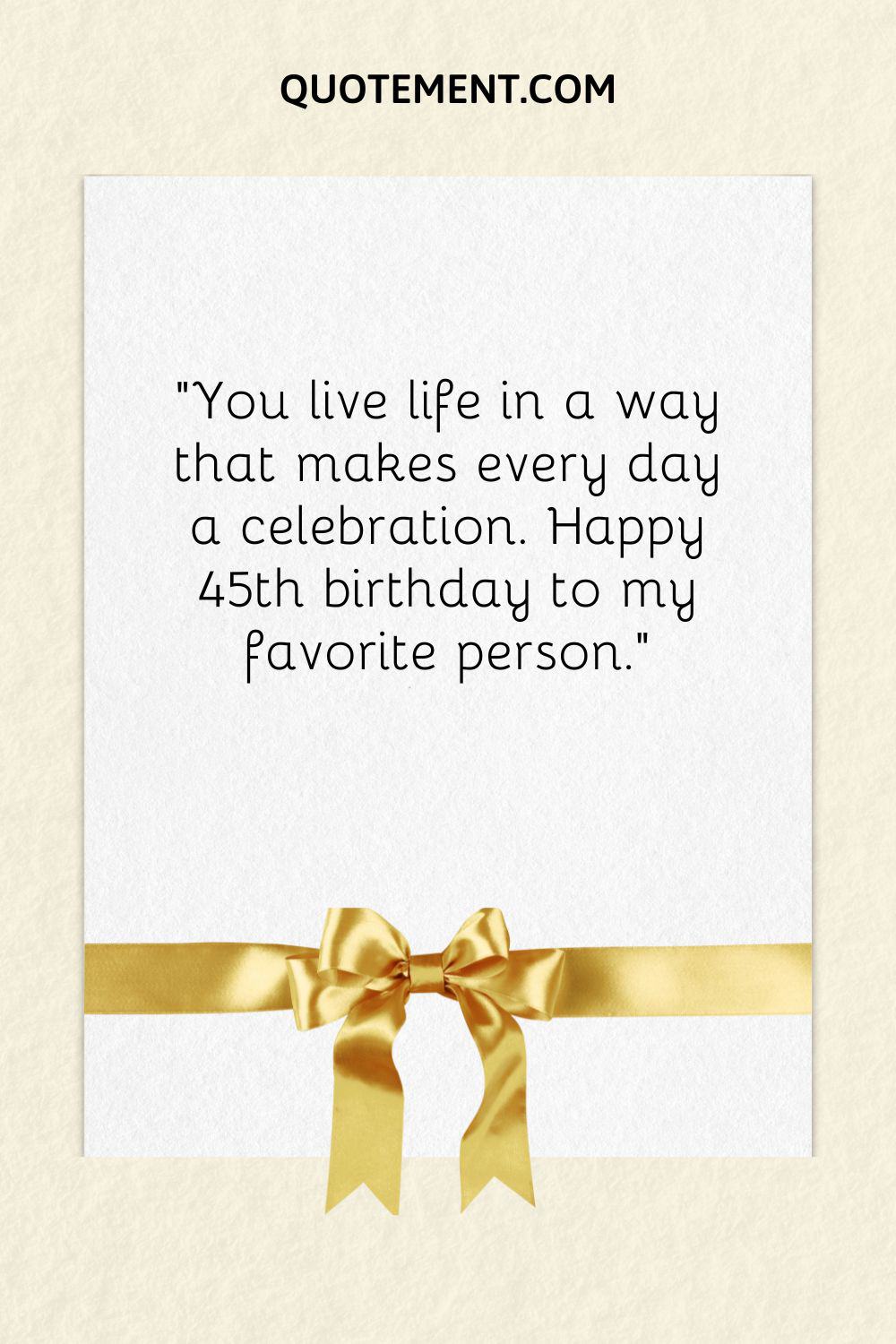 See also: 80 Best Favorite Person Quotes To Make Them Feel Special
Cool Ways To Wish A Happy 45th Birthday
1. "Be okay with not knowing for sure what might come next, but know whatever it is, you will be okay. Happy 45th birthday!"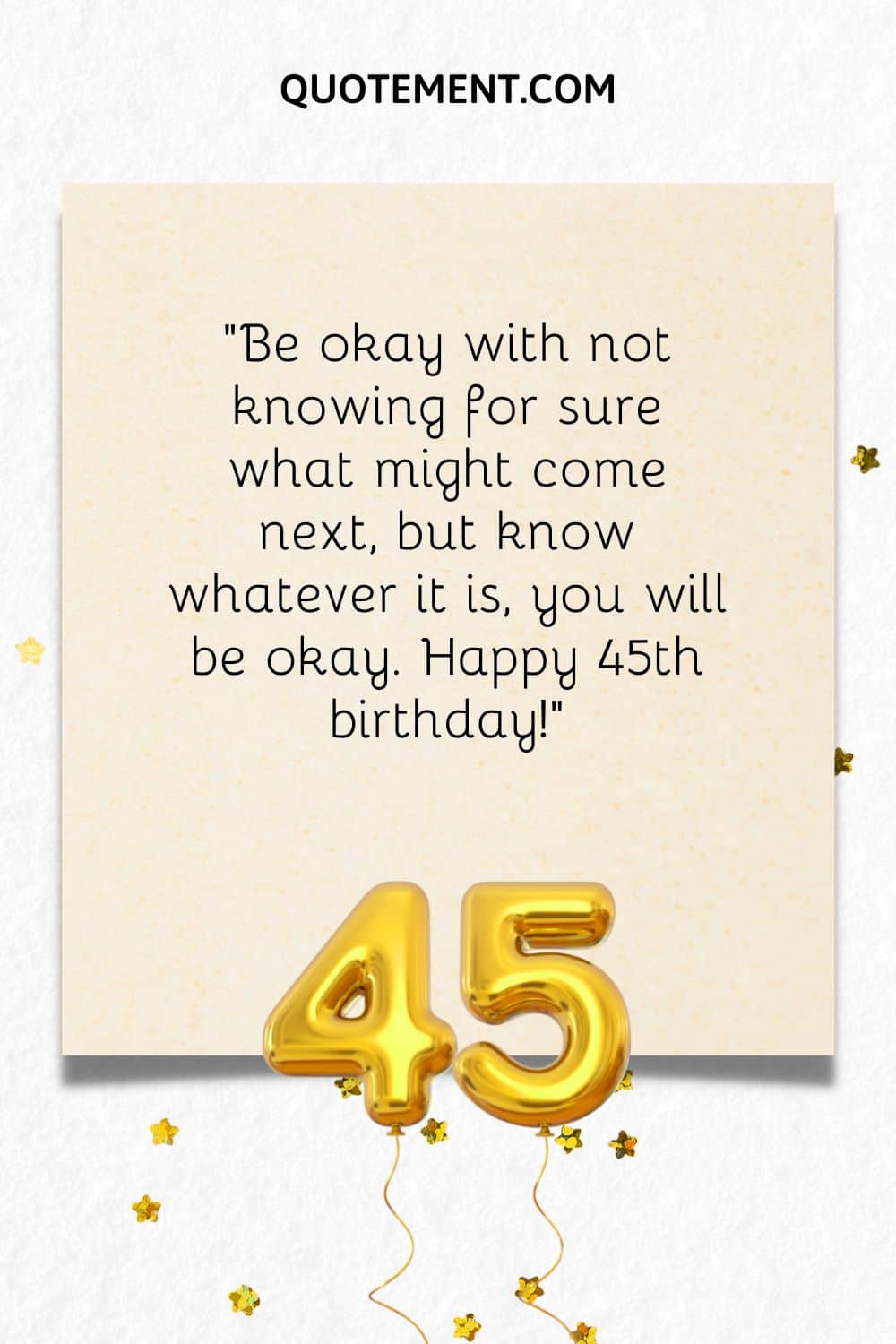 2. "Happy birthday to an 18-year-old celebrating 27 years of life experience. I want you to have the most amazing birthday today. Cheers!"
3. "At 45, it's okay to turn the light dim and get busy daydreaming as the child in you awakes when the urge to fit into society dies. Enjoy the most peaceful forties. Happy 45th birthday."
4. "Officialy 45, forever 18. Happy birthday!"
5. "Congratulations on making it to the midway in the lane of 40s. And I wish you all the tools you might need to make it to the end of it. Happy 45th birthday."
6. "Just because your body feels more stiff and sore Doesn't mean your life has to be a bore! Happy birthday to a friend who still knows how to party at 45!"
7. "Only 5 more years to go for you to finish two-quarters of life. Set a five-year resolution this birthday to let these years take you to the gleaming land filled with joy. Happy 45th birthday."
8. "I don't know what tomorrow holds, but I know right now, it's time to have fun and enjoy every second. Happy 45th!"
9. "It's your day so get on those dancing shoes and feel young, you are only as old as you feel. Happy 45th sweetheart!"
10. "Each day is a gift from above, and each year a brand-new page. Your 45th birthday is a chance for a new beginning and a fresh start. It's never too late!"
See also: 90 New Beginning Quotes To Embrace A New Day And New You
Romantic Happy 45th Birthday Wishes For Your Spouse
1. "Happiest of birthdays to my soulmate, my partner in crime. May we always see the sunrises and sunsets together!"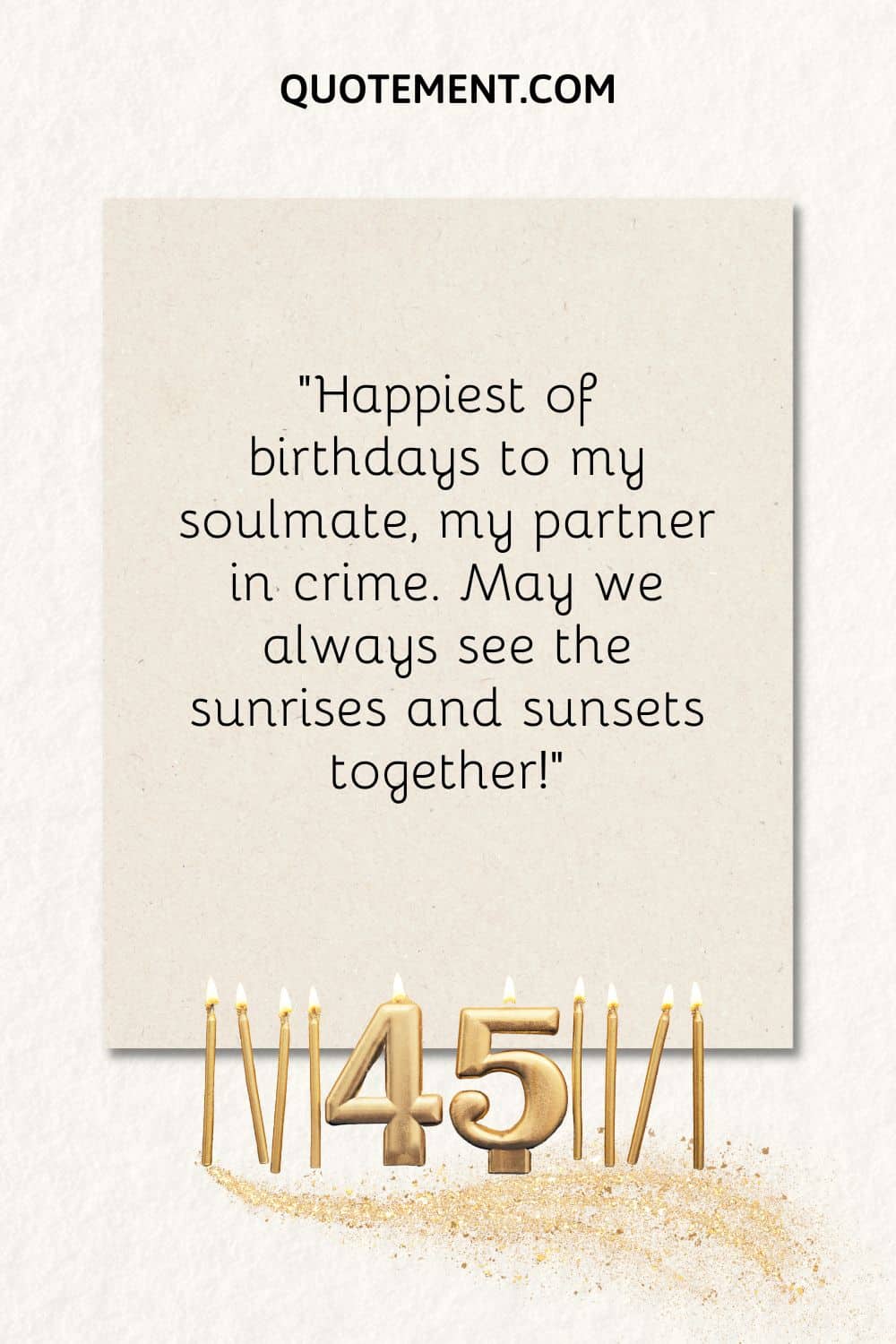 2. "Life with you is the adventure my heart always wanted, anchored by your steady, unshakable love. Wishing you the Happiest Birthday Ever!"
3. "I know certainly that through you, I have received a whole lot of blessings in life. You're the sweetest husband one can ever have in the World, and I'm glad to call you mine. May this 45th birthday bring you endless joy and achievements."
4. "Happy 45th birthday to my favorite person, the one that makes me wake up with a smile on my face every day. I love the life we've built together and can't wait to spend the rest of my life with you. I love you with all my heart!"
5. "Another year full of love, blessing and good times, that is what I wish and hope for. Have a great birthday my love, you light up my world."
6. "I am falling short of words to express my feelings today. But just remember that the best years of our lives are yet to come and I will always be there with you through thick and thin."
7. "The joy that my heart holds today cannot be compared to anything there is in the World. I pray that this 45th birthday of yours will bring into your life, countless blessings and more of God's love. You're the best wife anyone can ever wish to have."
8. "Holding your hand reminds me again that we're in this together. Twice as strong. Bound by love. You're the one I want beside me, connected to me, part of me. Happy Birthday, Love."
9. "This beautiful woman in front of me is turning 45 years young! I am so thankful to celebrate another birthday with you, happy birthday to my forever girl. My wish is that I always have you by my side."
10. "You've grown better and stronger and more wonderful with every year I've known you. Happy 45th birthday, my love! "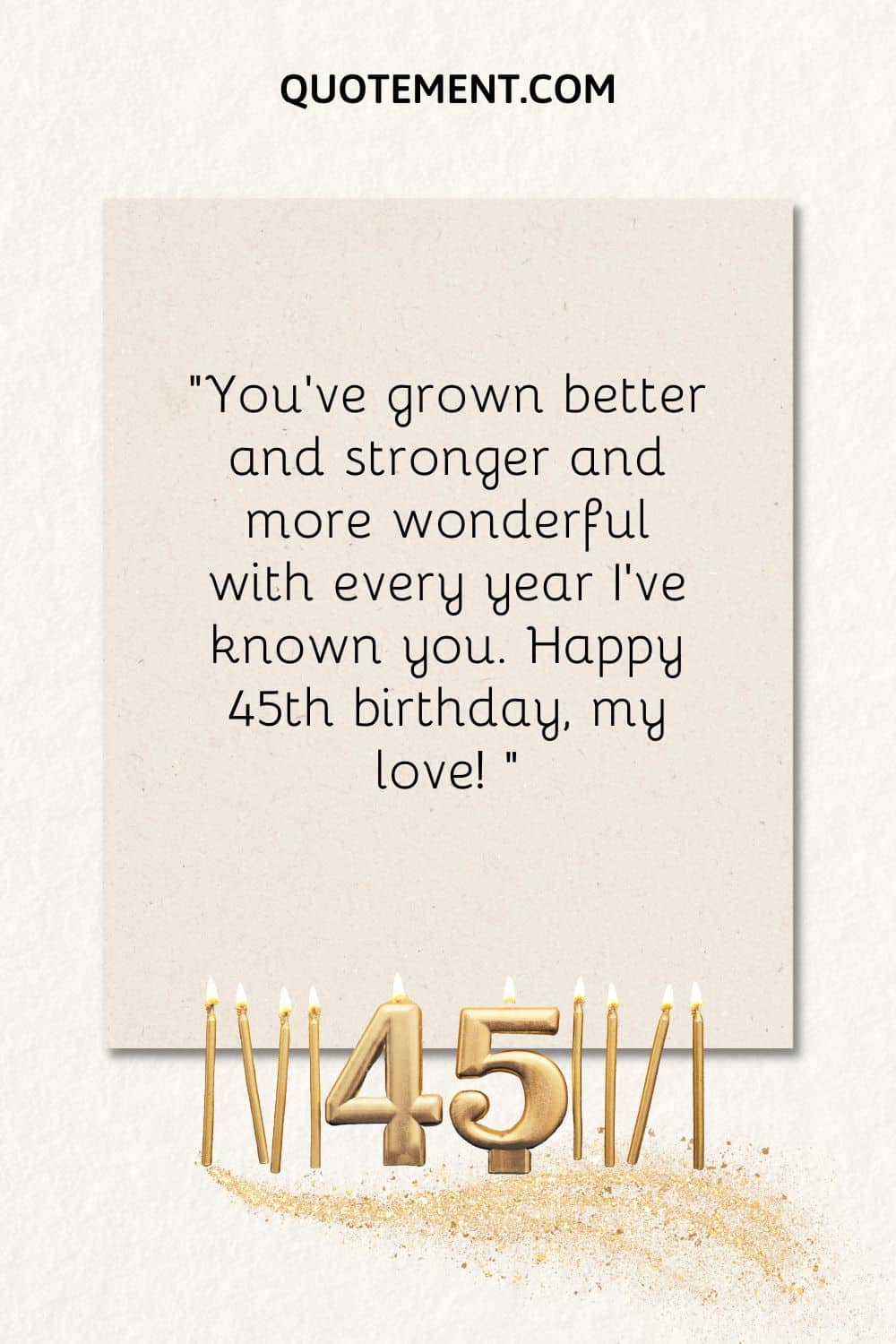 11. "There's no one I'd rather have by my side as we go through the highs and lows of life together. Happy birthday to my forever person."
12. "It feels wonderful to look at you and call you mine. For every reason, I love you more than I can find words good enough to tell. May you continue to shine in God's grace. Happy 45th birthday, my love!"
13. "Here's to more adventures together, my sweet wife. I can't wait to travel the world with you and create brand-new memories that we will treasure many years from now. Cheers to 45 years of life. Happy birthday, love."
14. "My greatest wish is that I may always have you by my side even as you grow older. Happy birthday, my dear."
15. "You and I will not have a happy ending, because true love never ends. Happy Birthday my only love."
See also: 140 Heart Touching True Love Quotes For Your Sweetheart
Sweet 45th Birthday Wishes For Friends & Family Members
1. "A one-of-a-kind birthday message for a one-of-a-kind person. I hope all your birthday wishes come true this year. Happy 45th birthday!"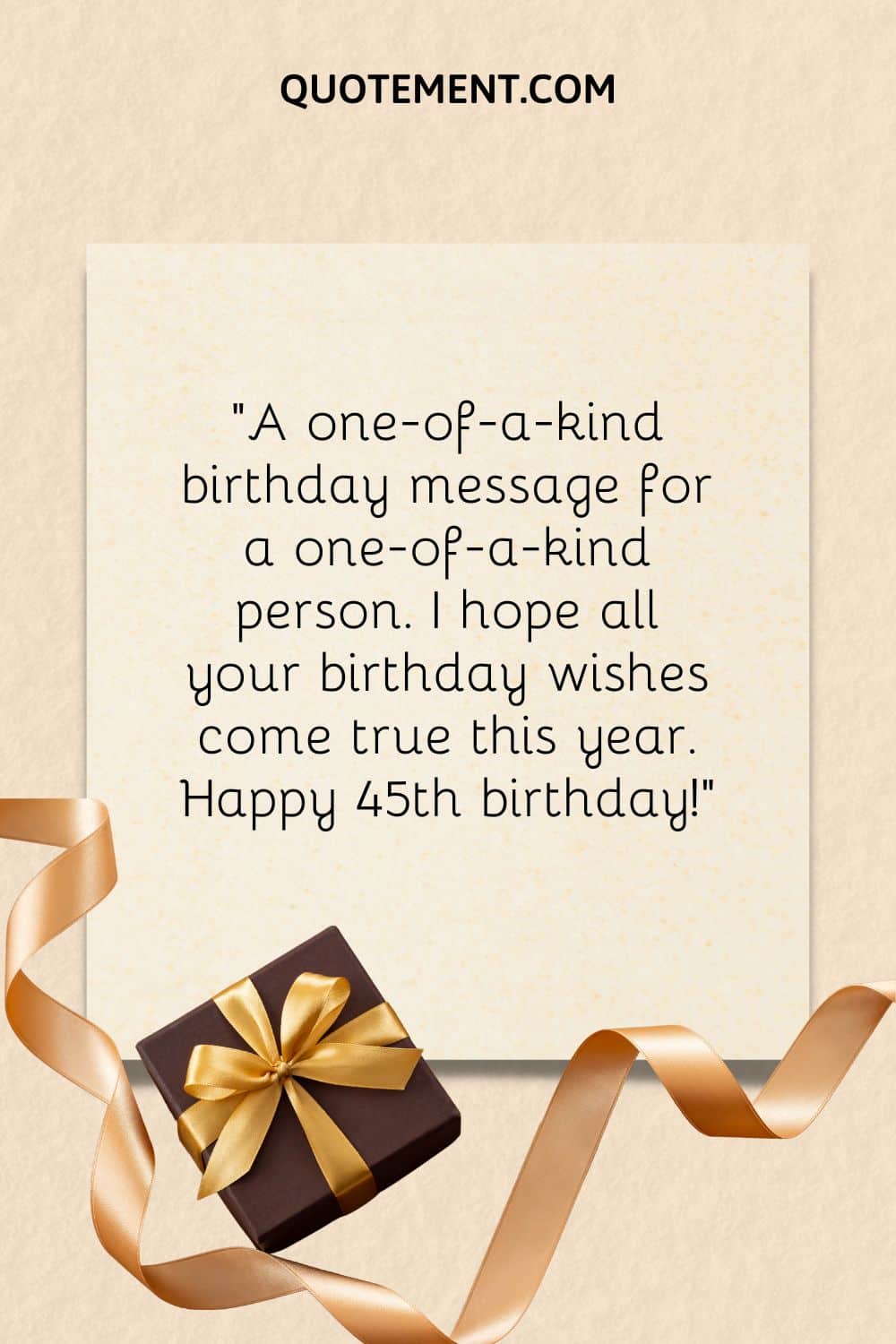 2. "Aren't you glad that we're done with the awkward twenties and the stressful thirties? Now we're in our steady forties. Cheers to being forty and fabulous. Have a happy 45th birthday, love!"
3. "With love from the depth of my heart, I wish you a happy and amazing 45th birthday. Like always, may God's blessings, care and wisdom always be with you. Keep shining."
4. "You have always been my rock and my support system. May your 45th year be filled with love, success, and endless happiness."
5. " Happy 45th birthday, my dear friend. Let the mistakes of the past walk out of your life leaving only joyful moments. You are like the sun, which never dims and, on your birthday, I wish you an abundance of happiness."
6. "Come to think of it, 45 is not really that old. Remember that age is just a state of mind. You're only considered old when you start thinking that you are! To my dearest and most amazing friend, a very happy 45th birthday!"
7. "Thanks for always being there for me throughout the years. I want you to know that on your birthday I'm reminded of how blessed I am to have you as a friend. Happy 45th Birthday!"
8. "I can't believe how young we were when we first met, and now here we are celebrating your 45th birthday. I am so grateful for all the memories we share. Feeling very blessed today."
9. "Our ability to dream and make them a reality dies at no age. Set this as a reminder to fight the thoughts and society that tell you otherwise. Happy 45th birthday, friend."
10. "Keep living life to the fullest! You're one of the coolest members of this family, and I can't wait to see you rock on for another year."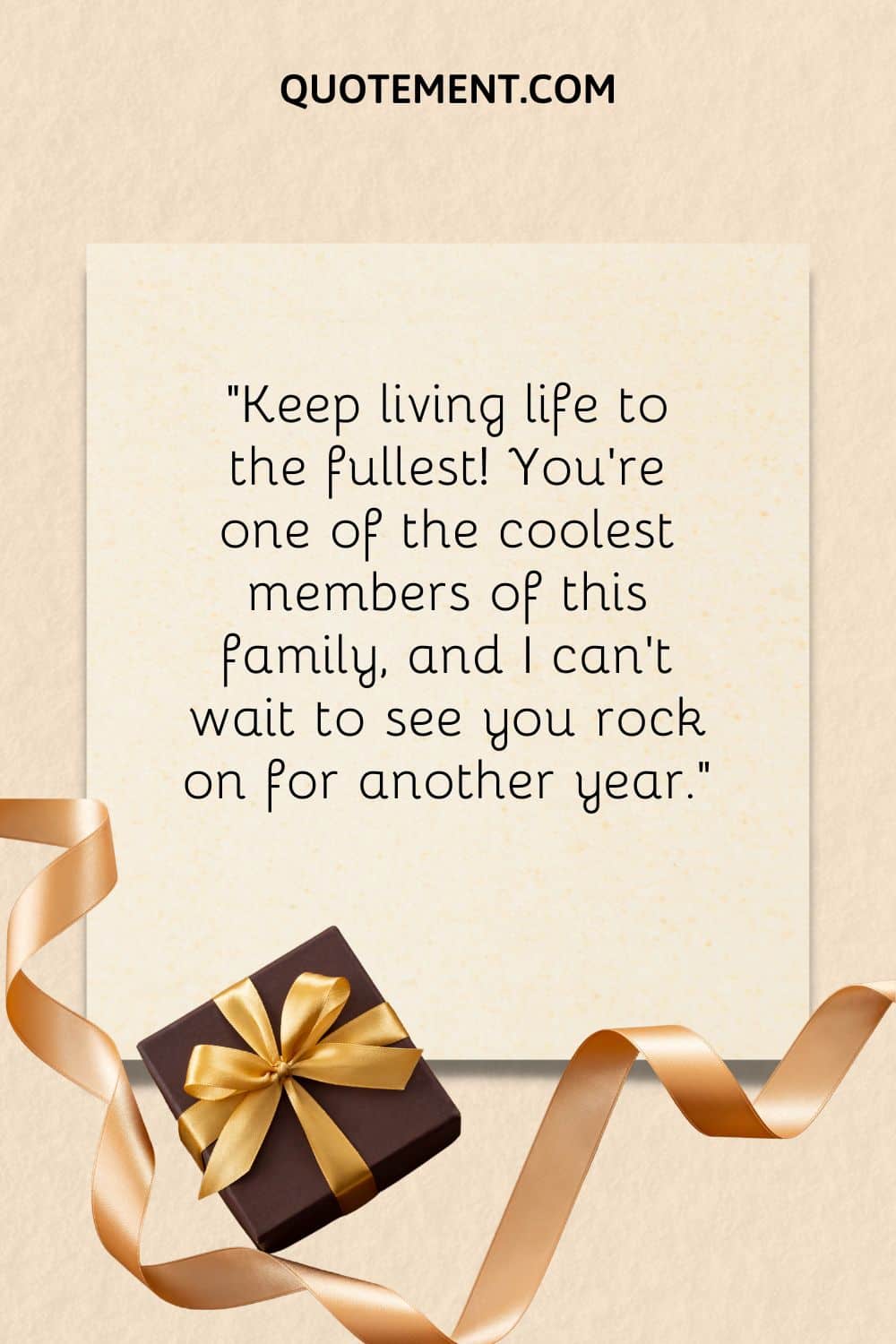 11. "If you're worried about what this year will bring, quit worrying. Let's claim that this year will be your year. I know that this will be a year of blessings and wonderful favors because you are a special person with a heart of gold. You deserve all the best things in the world. I wish you a very happy 45th birthday."
See also: 300 Heart Touching Birthday Wishes For Special Person
12. "I'm waiting with excitement and anticipation to wish the most special person a very happy 45th birthday! You've been such an inspiration to me, congratulations on this milestone birthday. This is a day where I get to remind you of just how amazing you are."
13. "On your 45th birthday be grateful for how far you've come, how long you still have to go, and how much you've accomplished to reach this milestone."
14. "Wishing you many more years of health, wealth, and happiness. I'm so glad we are able to celebrate another great life moment together. At moments like this, I am reminded of how lucky we are. Happy 45th birthday!"
15. "Happy 45th birthday to the sweetest person ever! May God continue to bless you with many more years to share with us. Cheers to many more memories together!"
See also: 70 Beautiful May God Bless You Quotes For Your Loved Ones
Funny 45th Birthday Wishes
1. "At your age, people expect you to be calm, dignified, and sober. Disappoint them."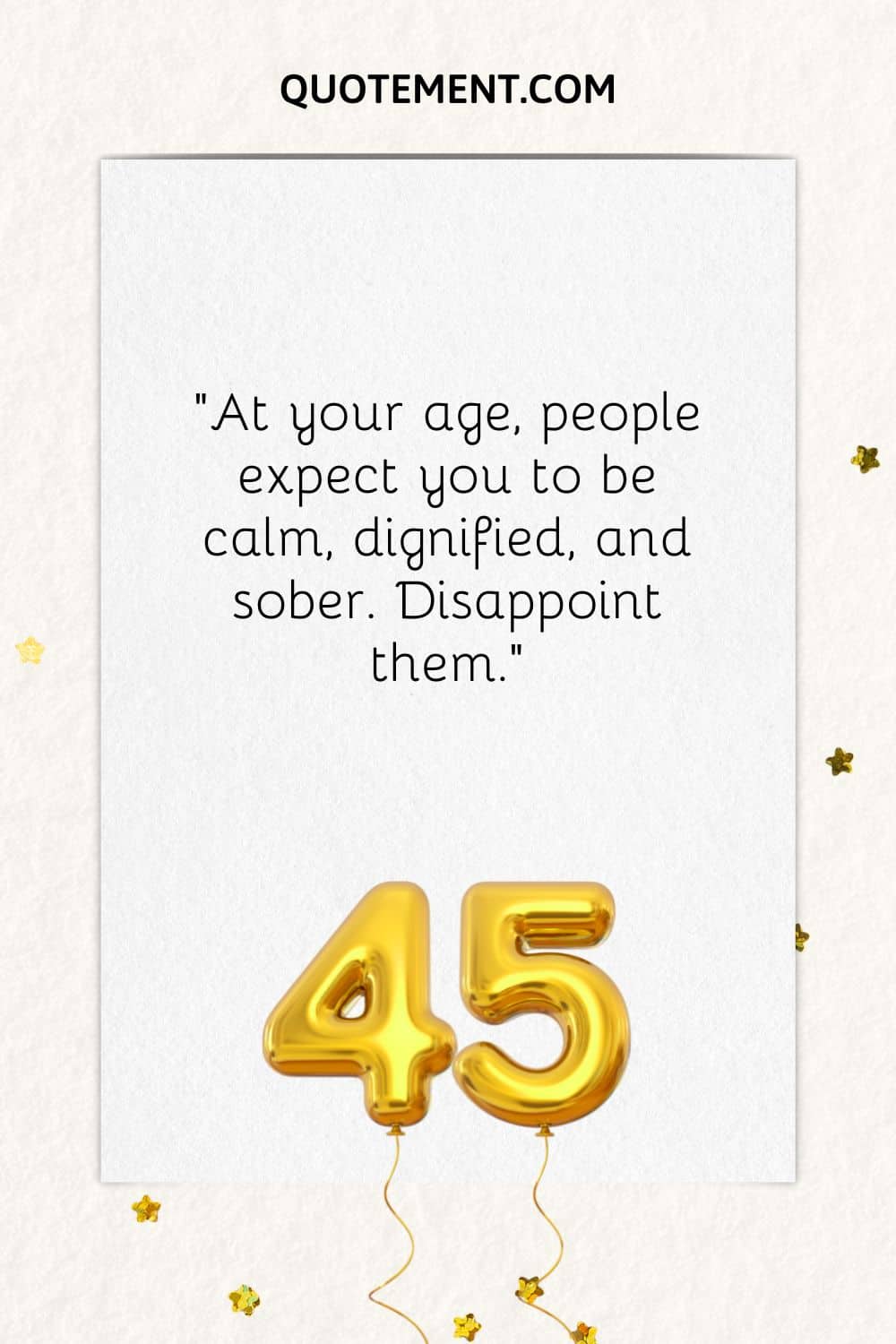 2. "You know you're getting old when they stop asking for your ID at the store check out and they start asking if you qualify for a senior discount at restaurants. Don't worry, 45 is just the tip of the aging iceberg! Happy Birthday!"
3. "Don't worry, they are not gray hairs, they are wisdom-highlights. You just happen to be extremely wise."
4. "Happy birthday! You don't look a day over… whatever age you were at your last birthday!"
5. "Here is to all the years that you have been alive, and the cake budget we cut down, just because candles cost a lot! Happy birthday!"
6. "It's your birthday! Do you know what that means? One year closer to being that old guy who yells at kids "get off my lawn!" Everyone loves that guy!"
7. "Thanks for being older and wiser and letting me know when to expect grey hair and wrinkles. Happy birthday!"
8. "You're how old?! Better take that cake outdoors to light the candles! Have a very happy birthday."
9. "One minute, you're young and fun. Next, you have a favorite burner on the stove. I think we both know which you are… Happy birthday!"
10. "Yes, we have reached that age… when every compliment we get is usually followed by 'for your age'. You're still looking great though… for your age!"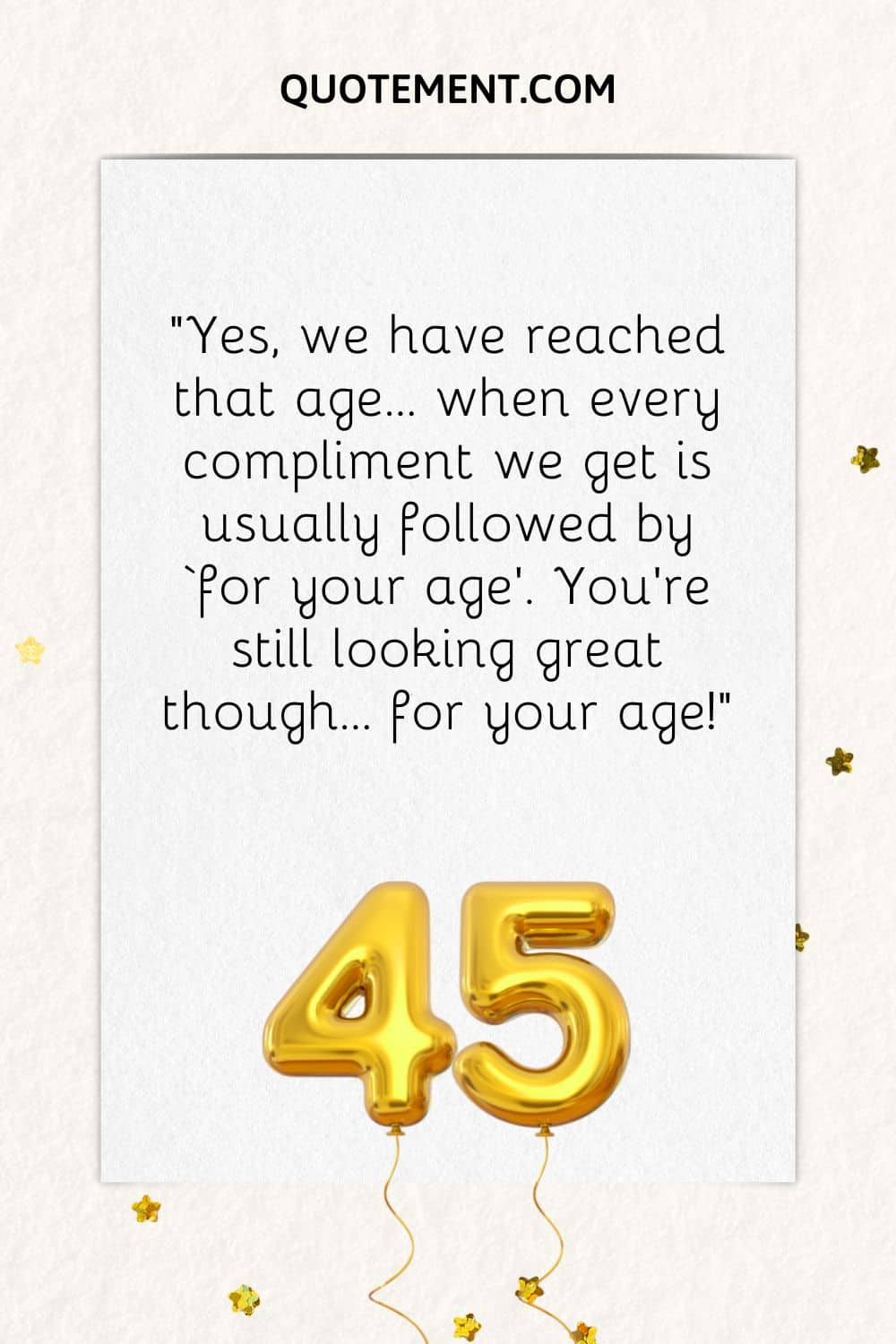 See also: 90 Inspiring & Funny Quotes About Ageing Gracefully
To Wrap Up
Here you have it, 60 extraordinary ways to wish your special person a happy 45th birthday. You'll bring tears to their eyes. Tears of happiness, of course.
Until next time!