Are you interested in some humorous quotes about getting older?
Stay tuned because I have an awesome collection of funny quotes about aging gracefully that will make you smile and keep you young at heart.
Getting older brings plenty of wisdom.
However, we don't only become wiser with the years, but our sense of humor increases too.
There are many funny sayings and quotes on the Internet to prove that, and I collected the best ones for this article!
Aside from funny quotes about aging gracefully and funny retirement quotes, I've also included inspirational quotes about aging to tell you a thing or two about the beauty of getting old.
Let's get down to business!
Top 10 Funny Quotes About Aging Gracefully
1. "By the time you're 80 years old, you've learned everything. You only have to remember it." — George Burns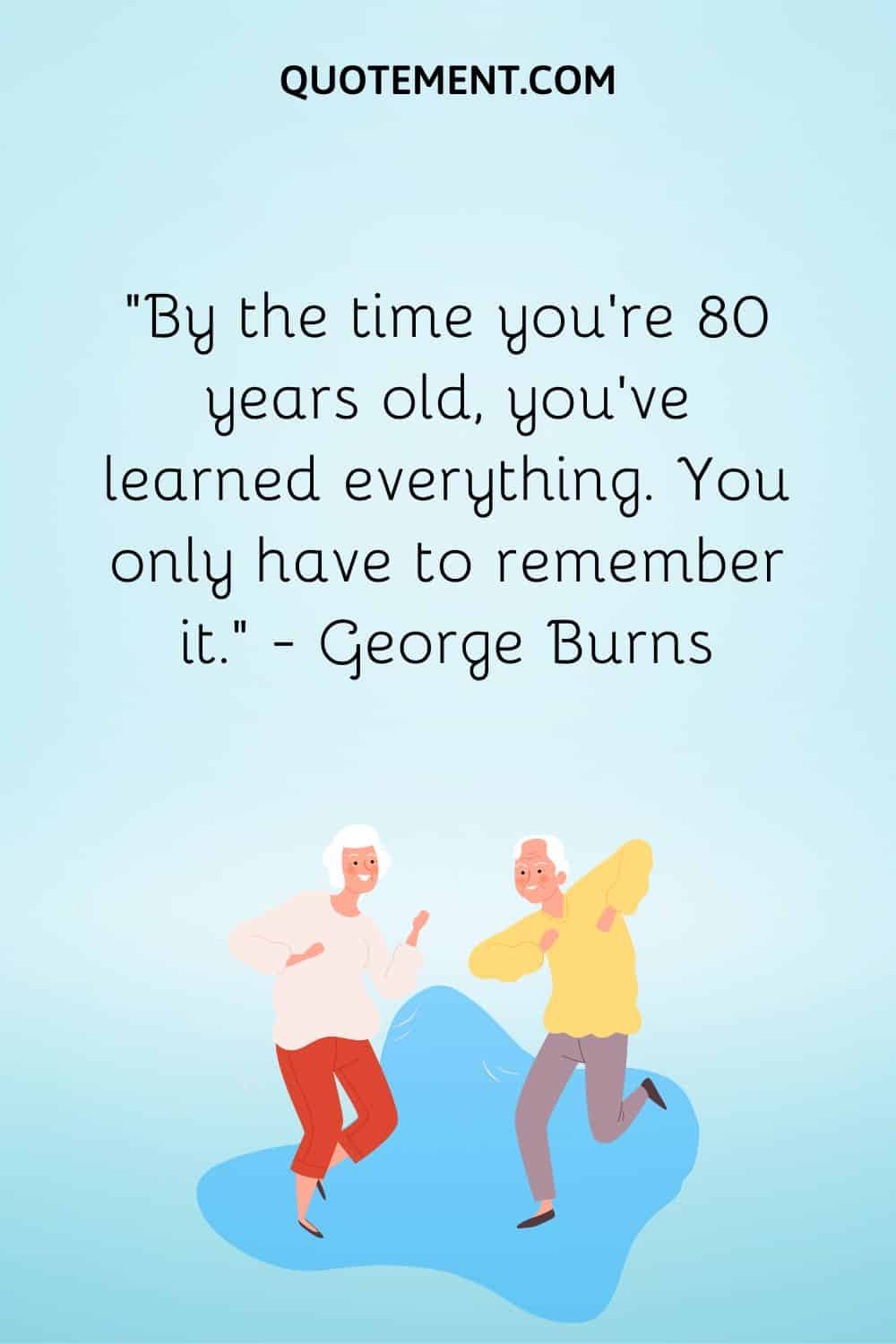 2. "You can live to be a hundred if you give up all things that make you want to live to be a hundred." — Woody Allen
3. "At age 20, we worry about what others think of us. At age 40, we don't care what they think of us. At age 60, we discover they haven't been thinking of us at all." — Ann Landers
4. "You know you're getting old when you stoop to tie your shoelaces and wonder what else you could do while you're down there." — George Burns
5. "I'm very pleased to be here. Let's face it, at my age, I'm very pleased to be anywhere." — George Burns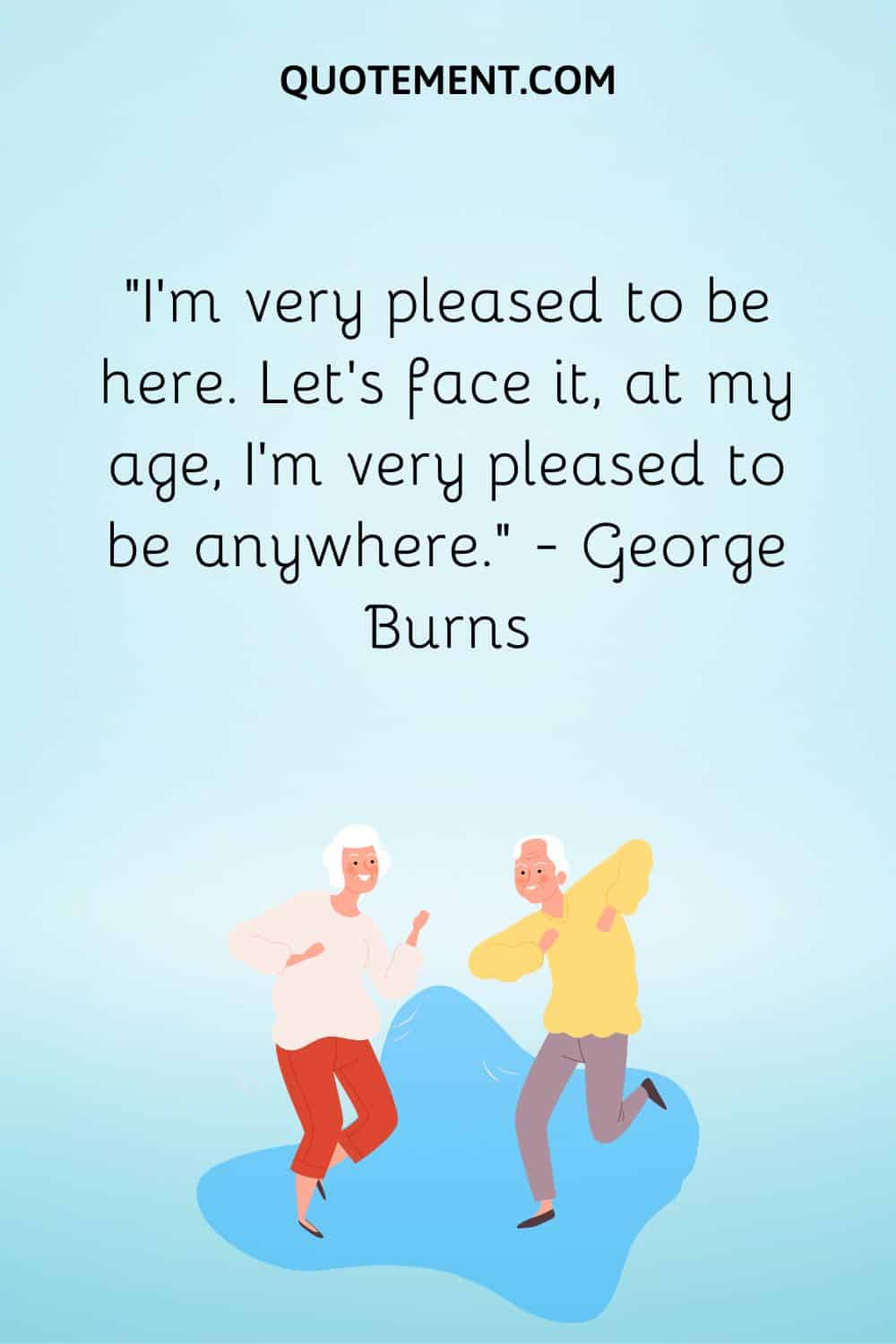 6. "I don't feel old. I don't feel anything until noon. Then it's time for my nap." — Bob Hope
7. "Old age is always fifteen years older than I am." — Oliver Wendell Holmes
8. "People ask me what I'd most appreciate getting for my eighty-seventh birthday. I tell them, a paternity suit." — George Burns
9. "Life's tragedy is that we get too old soon and wise too late." — Benjamin Franklin
10. "I don't plan to grow old gracefully. I plan to have face-lifts until my ears meet." — Rita Rudner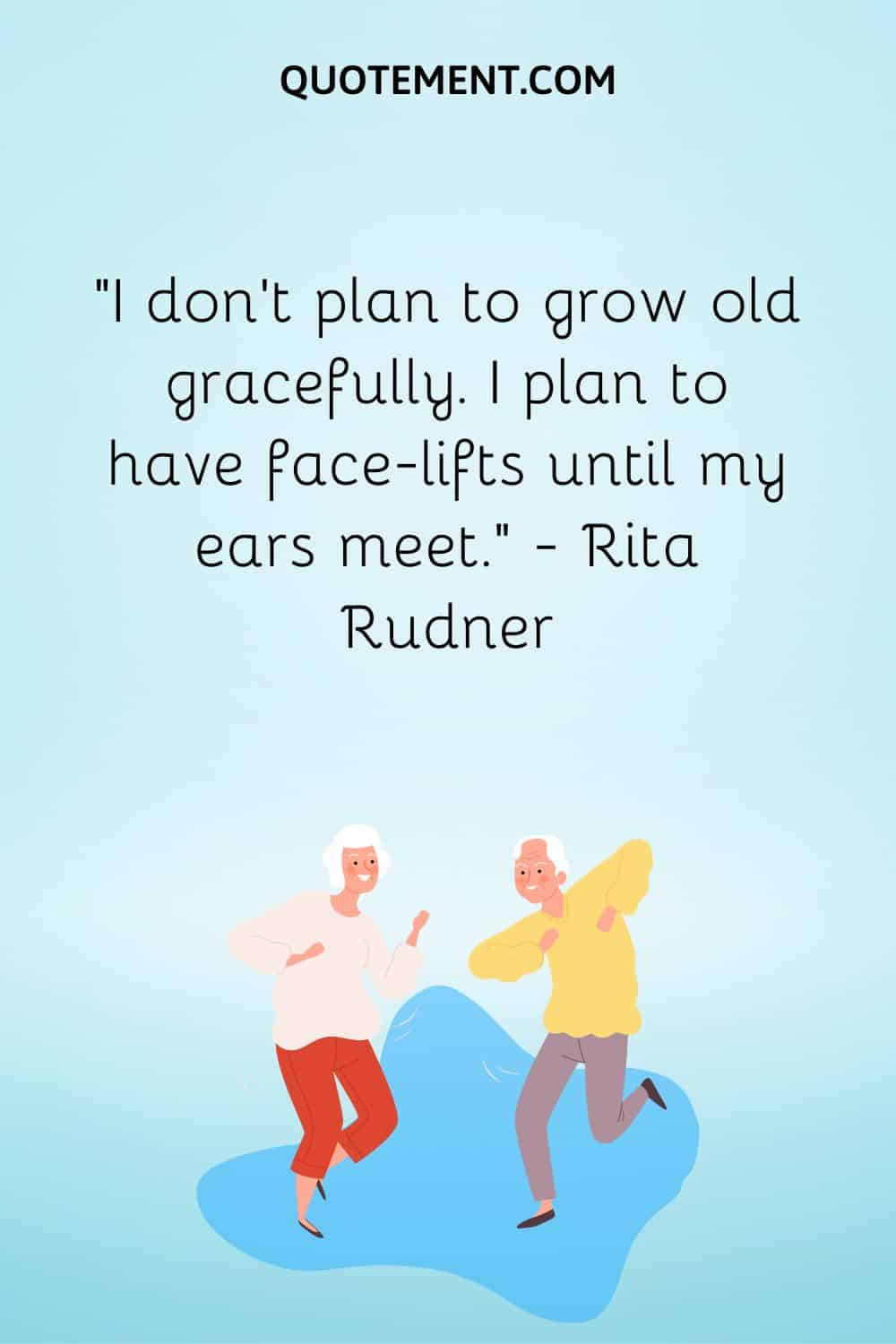 Inspirational Quotes On Aging
1. "You don't stop laughing when you grow old, you grow old when you stop laughing." — George Bernard Shaw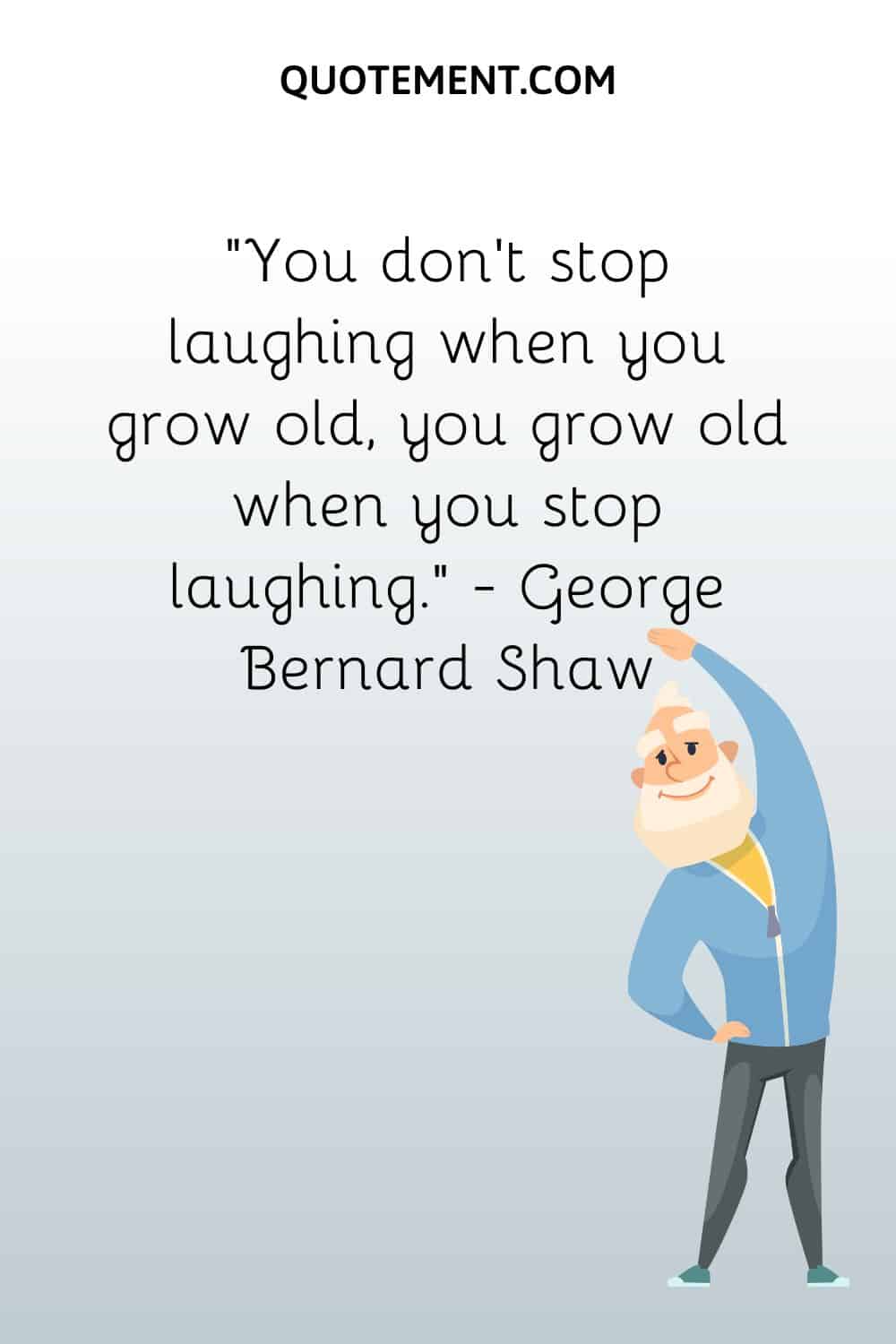 2. "Old age is like everything else. To make a success of it, you've got to start young." — Theodore Roosevelt
3. "I suppose real old age begins when one looks backward rather than forward." — Mary Sarton
4. "He who is of a calm and happy nature will hardly feel the pressure of age, but to him who is of an opposite disposition, you and age are equally a burden." — Plato
5. "Getting old is like climbing a mountain; you get a little out of breath, but the view is much better!" — Ingrid Bergman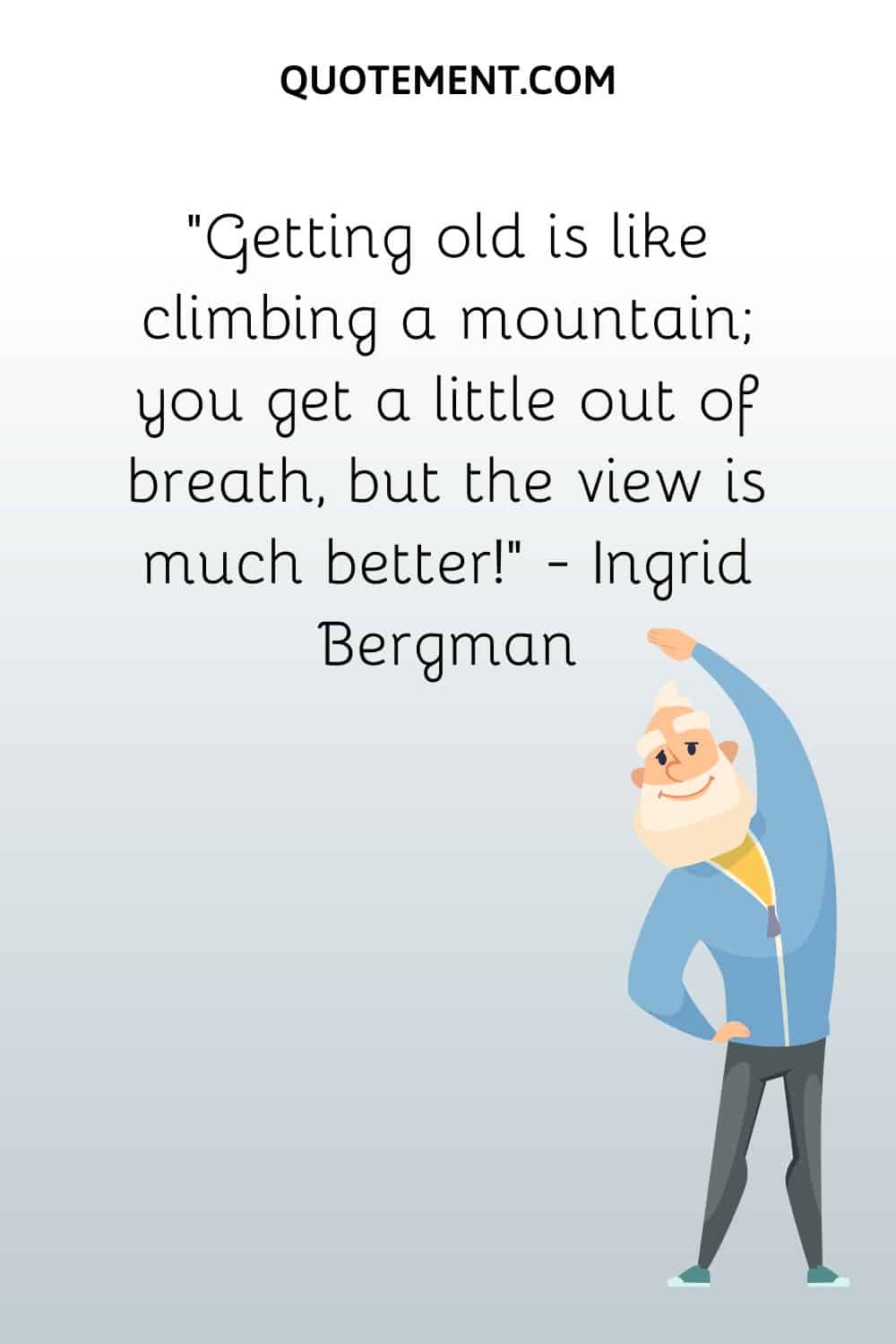 6. "The wiser mind mourns less for what age takes away than what it leaves behind." — William Wordsworth
7. "My physical body may be less efficient and less beautiful in old age. But God has given me an enormous compensation: my mind is richer, my soul is broader, and my wisdom is at a peak. I am so happy with the riches of my advanced peak age that, contrary to Faust, I would not wish to return to youth." — Robert Muller
8. "We don't grow older, we grow riper." — Pablo Picasso
9. "There is a fountain of youth: it is your mind, your talents, the creativity you bring to your life and the lives of people you love. When you learn to tap this source, you will truly have defeated age." — Sophia Loren
10. "Anyone who stops learning is old, whether at twenty or eighty. Anyone who keeps learning stays young." — Henry Ford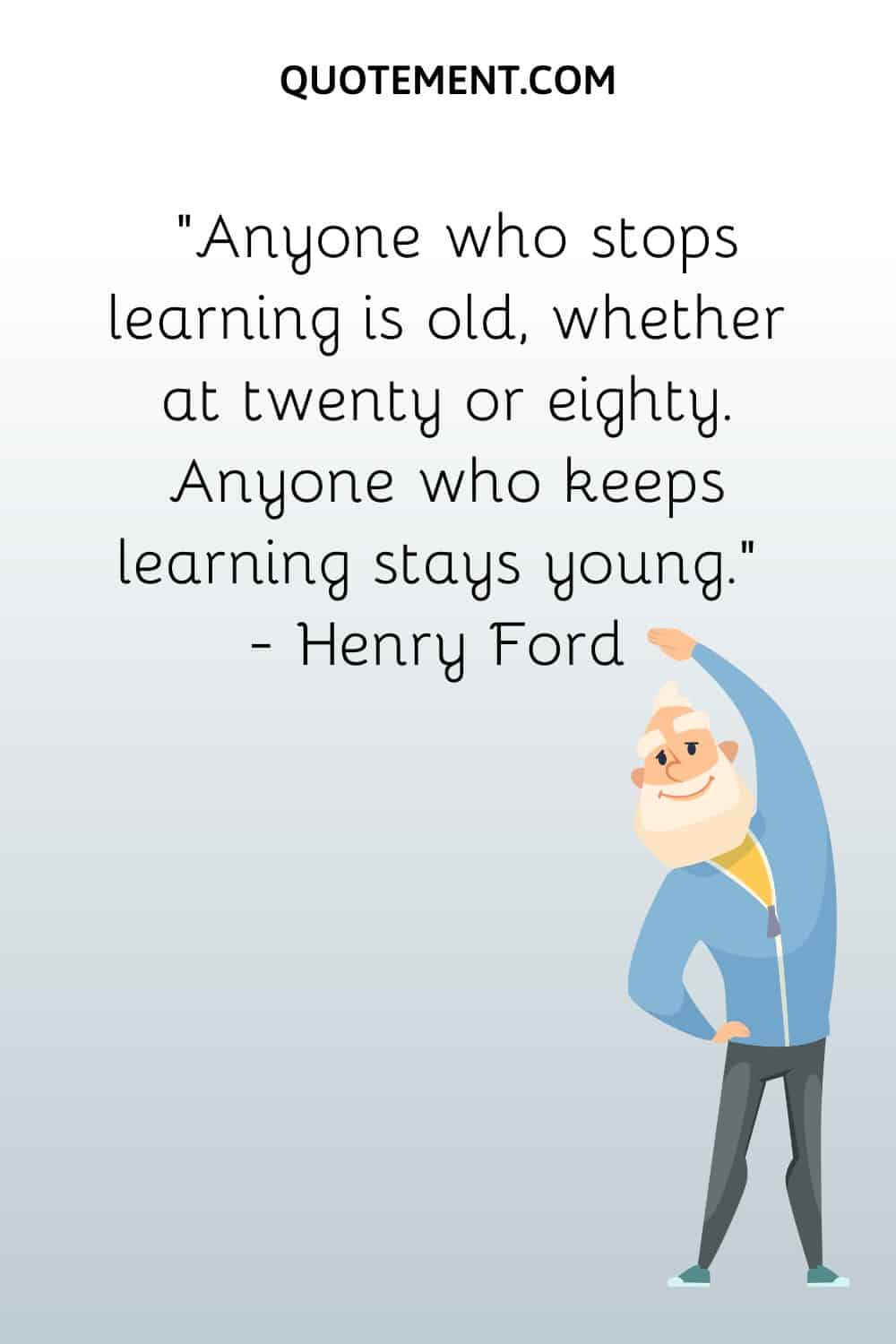 11. "As soon as you feel too old to do a thing, do it." — Margaret Deland
12. "One day, you will look back and see that all along you were blooming." — Morgan Harper Nichols
13. "My face carries all my memories. Why would I erase them?" — Diane Von Furstenberg
See also: 180 Unforgettable Memories Quotes About The Good Old Days
14. "In the end, it's not the years in your life that count. It's the life in your years." — Abraham Lincoln
15. "Something pretty… that's just the surface. People worry so much about aging, but you look younger if you don't worry about it." — Jeanne Moreau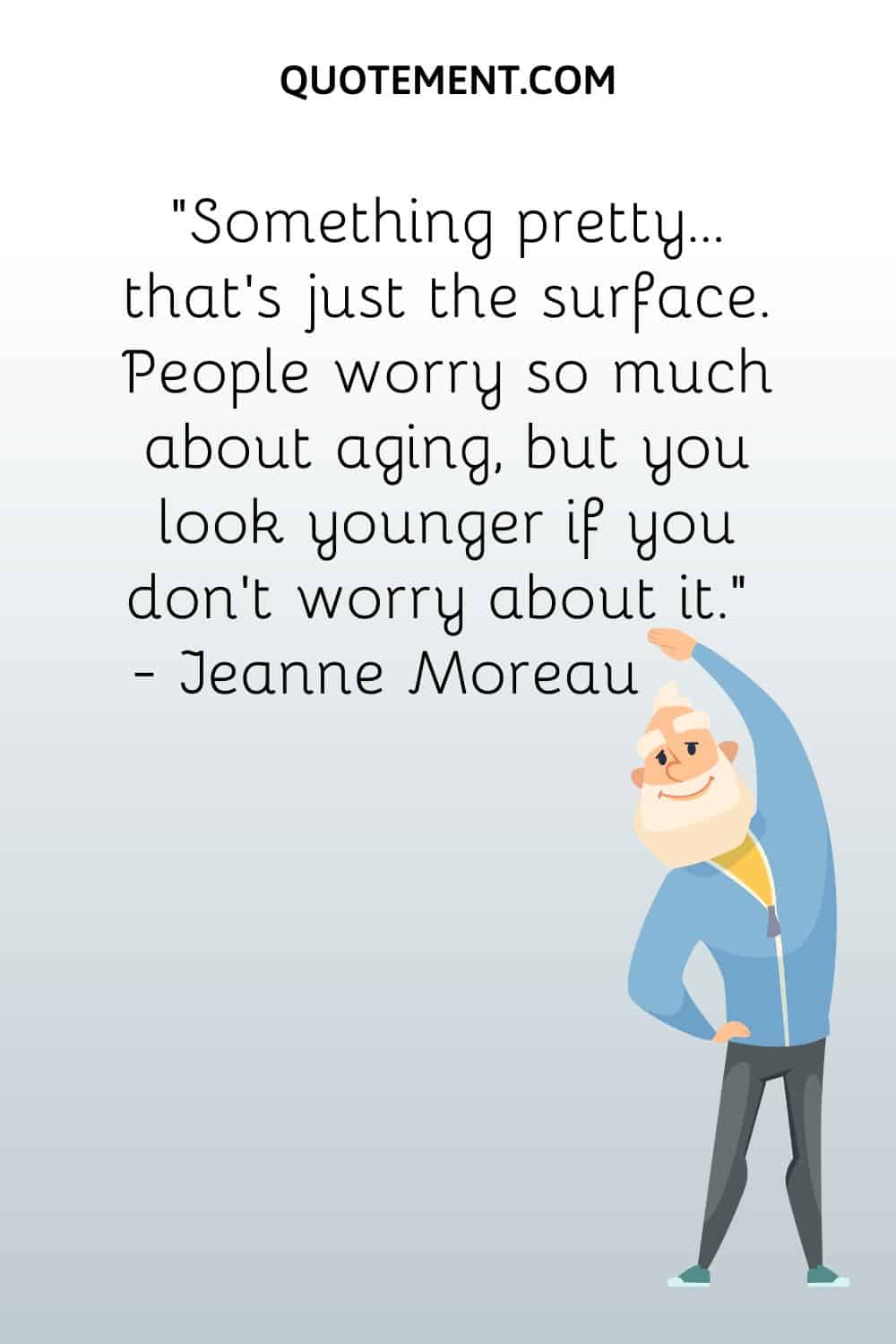 16. "The longer I live, the more beautiful life becomes." — Frank Lloyd Wright
17. "I don't believe in aging. I believe in forever altering one's aspect to the sun." — Virginia Woolf
See also: 280 Best Sun Captions For Instagram For A Shiny Post
18. "It's not how old you are. It's how you are old." — Jules Renard
19. "We are always the same age inside." — Gertrude Stein
20. "Count your age by friends, not years. Count your life by smiles, not tears." — John Lennon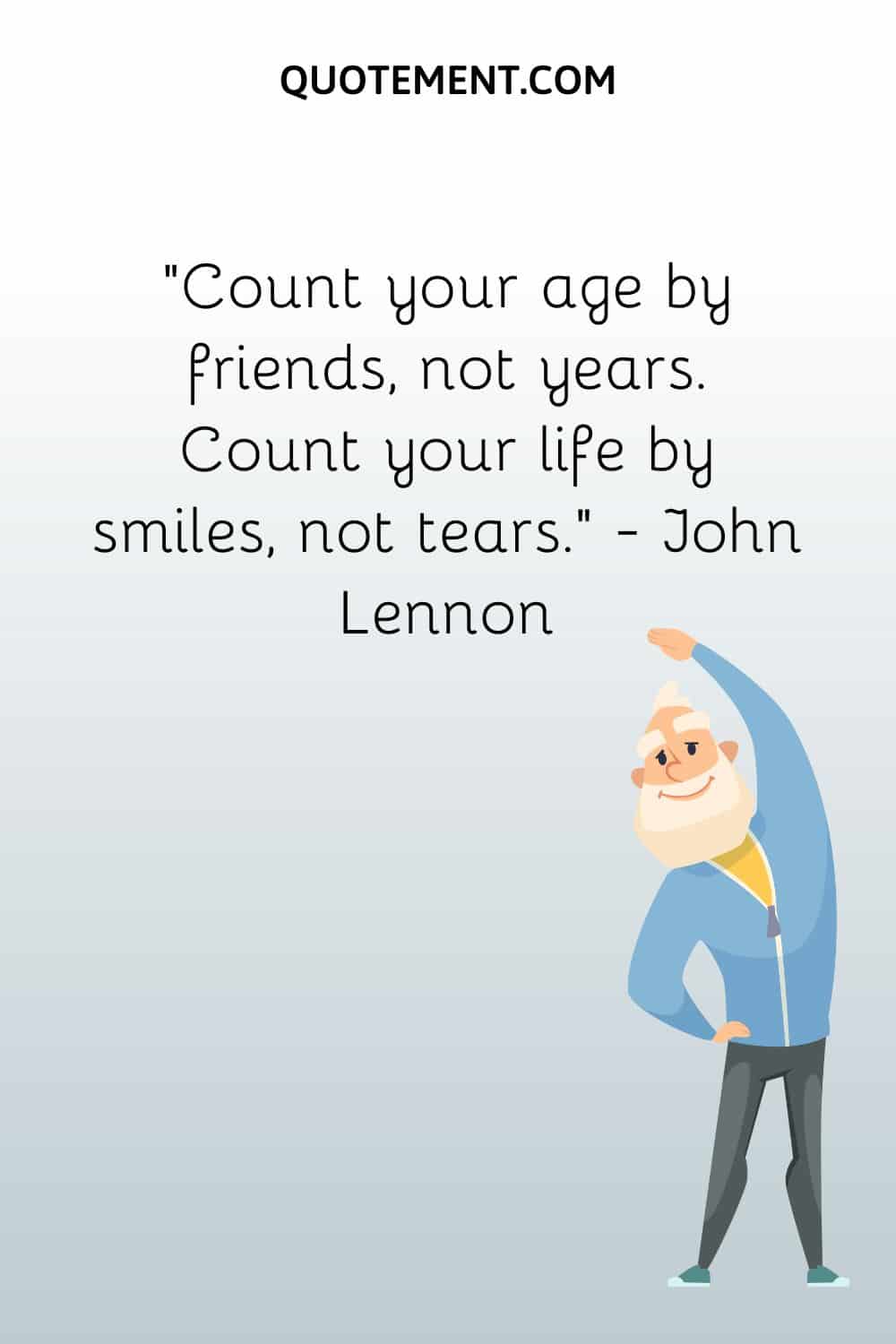 Funny Quotes About Getting Older
1. "The really frightening thing about middle age is that you know you'll grow out of it." — Doris Day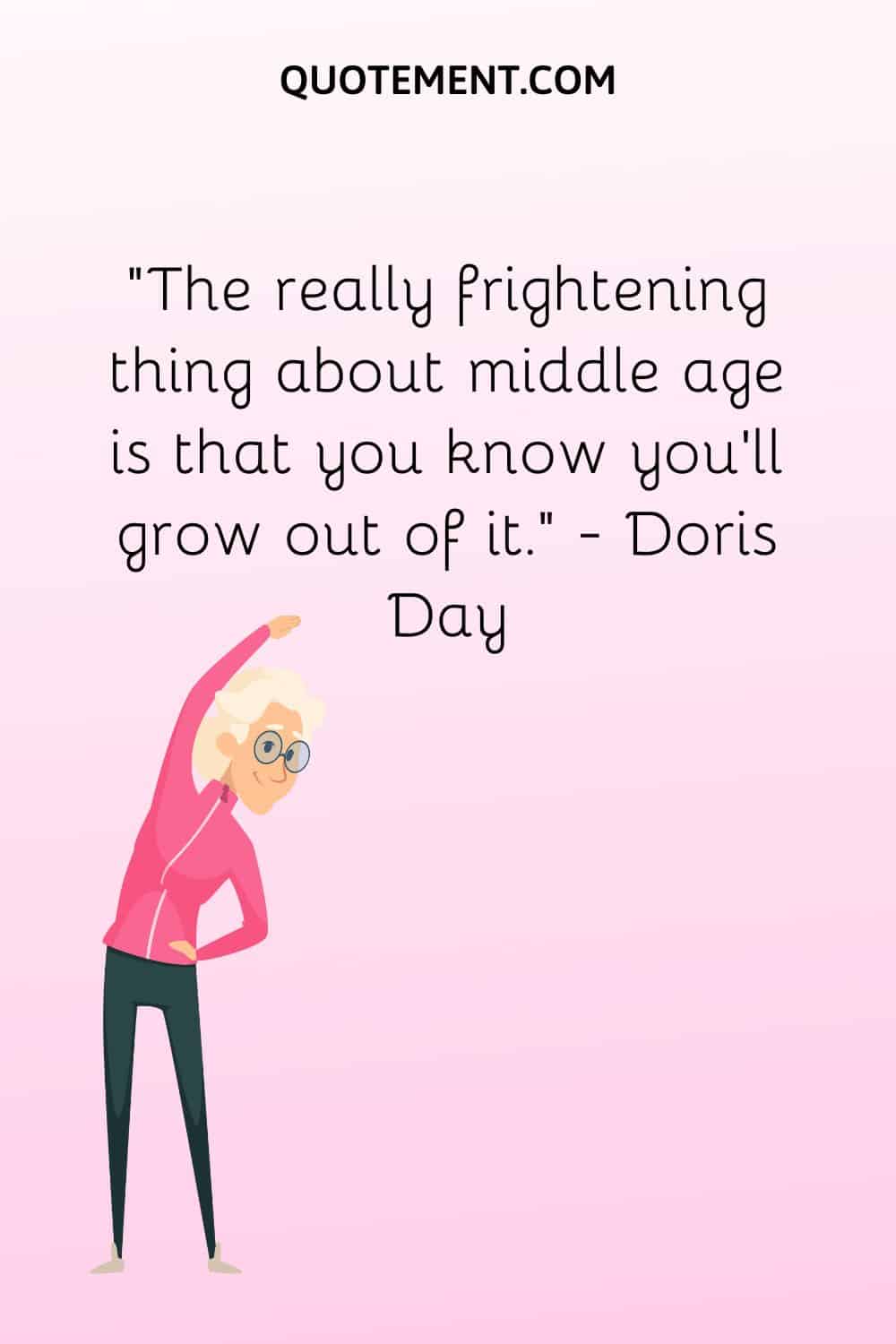 2. "How old would you be if you didn't know how old you was?" — Satchel Paige
3. "Growing old is mandatory, but growing up is optional." — Walt Disney
4. "Old age is an excellent time for outrage. My goal is to say or do at least one outrageous thing every week." — Maggie Kuhn
5. "I don't let my age define me, but the side-effects are getting harder to ignore." — Unknown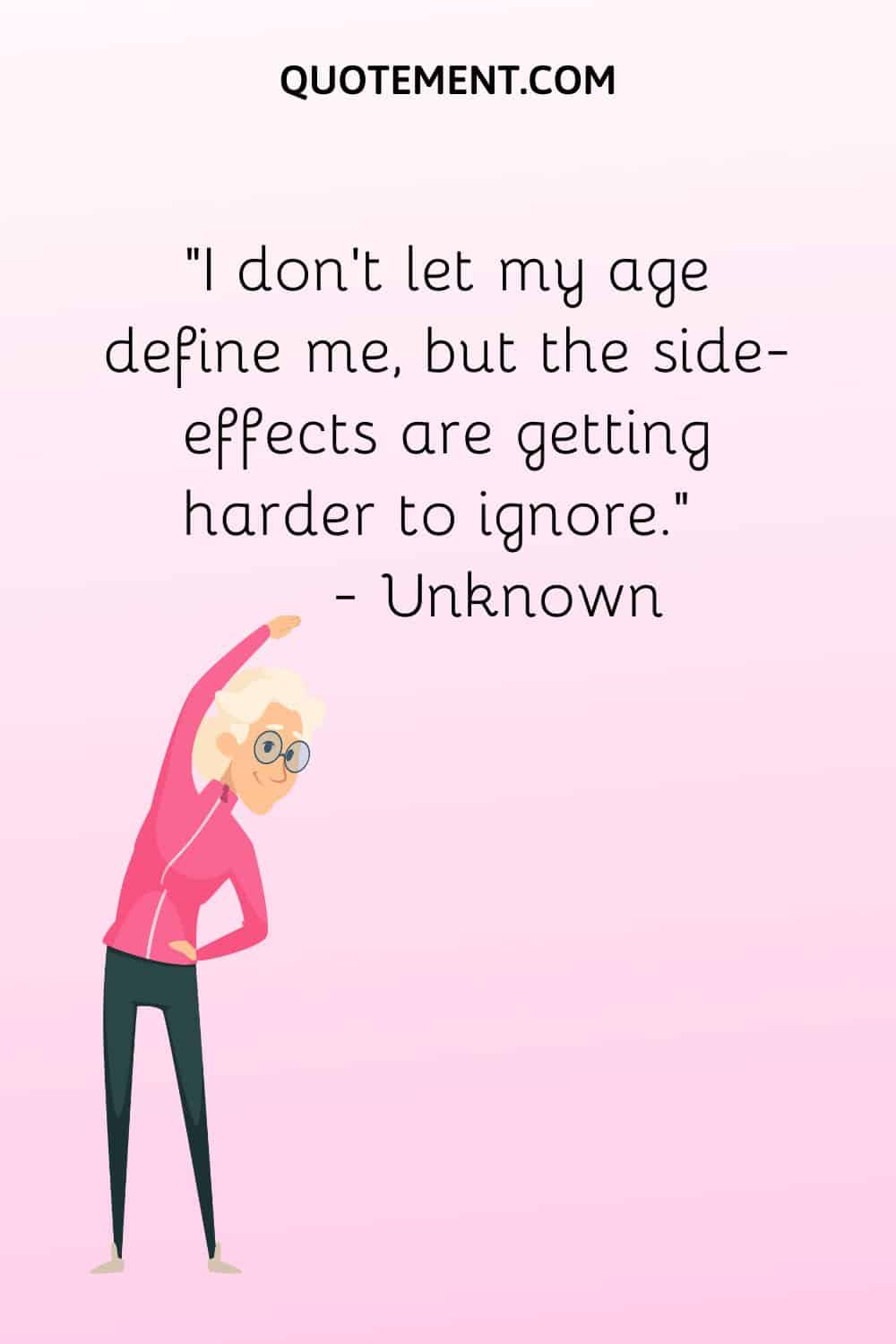 6. "It's paradoxical that the idea of living a long life appeals to everyone, but the idea of getting old doesn't appeal to anyone." — Andy Rooney
7. "Aging gracefully is about no heavy makeup, and not too much powder because it gets into the wrinkles, and, you know, to not get turtle eyelids and to not try to look young." — Iris Apfel
See also: 110 Turtle Quotes For Your Daily Dose Of Inspiration
8. "You are only young once, but you can stay immature indefinitely." — Ogden Nash
9. "Aging seems to be the only available way to live a long life." — Kitty O'Neill Collins
10. "Life is like a roll of toilet paper. The closer you get to the end, the faster it goes." — Unknown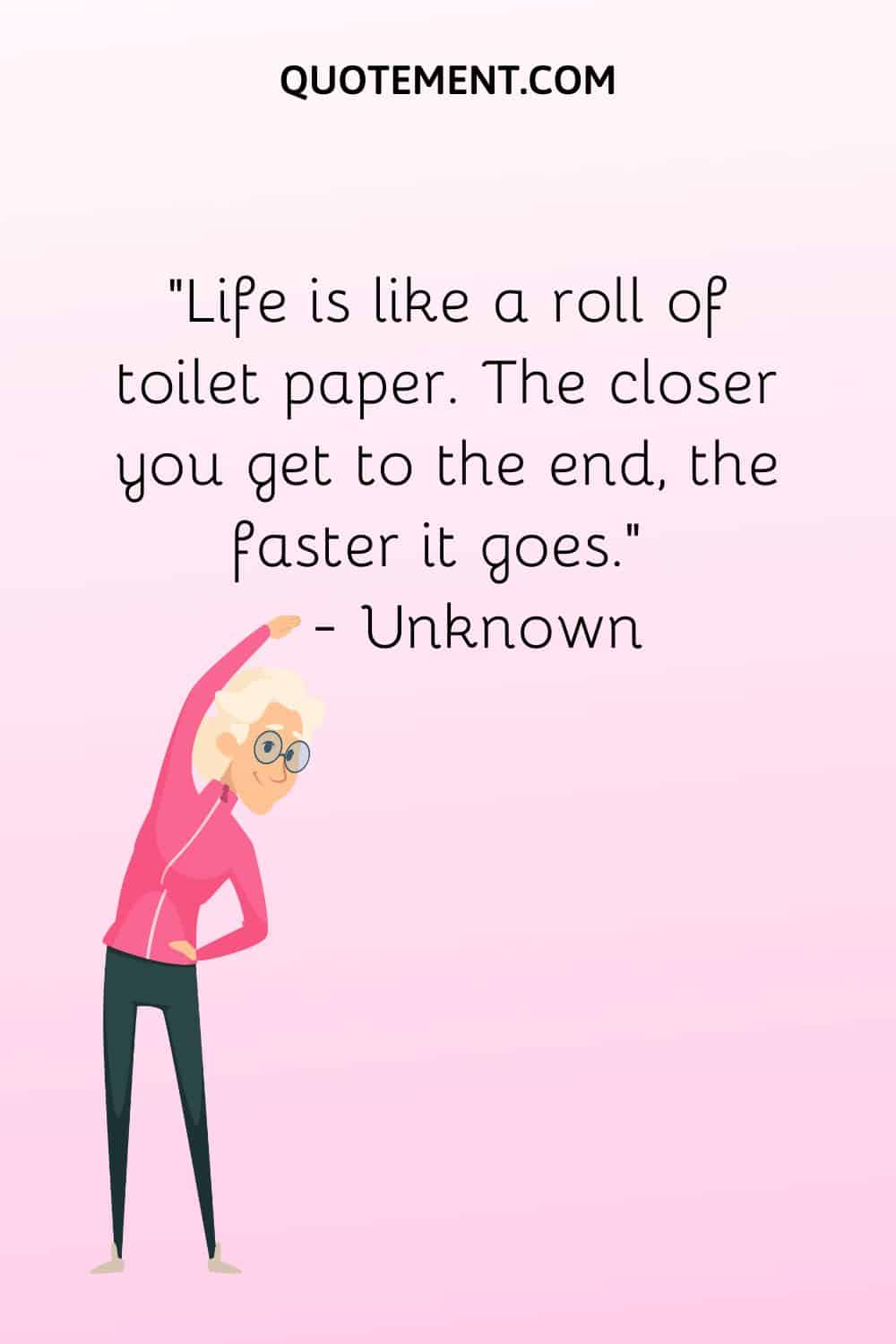 Beautiful Old Age Quotes
1. "Wrinkles should merely indicate where the smiles have been." — Mark Twain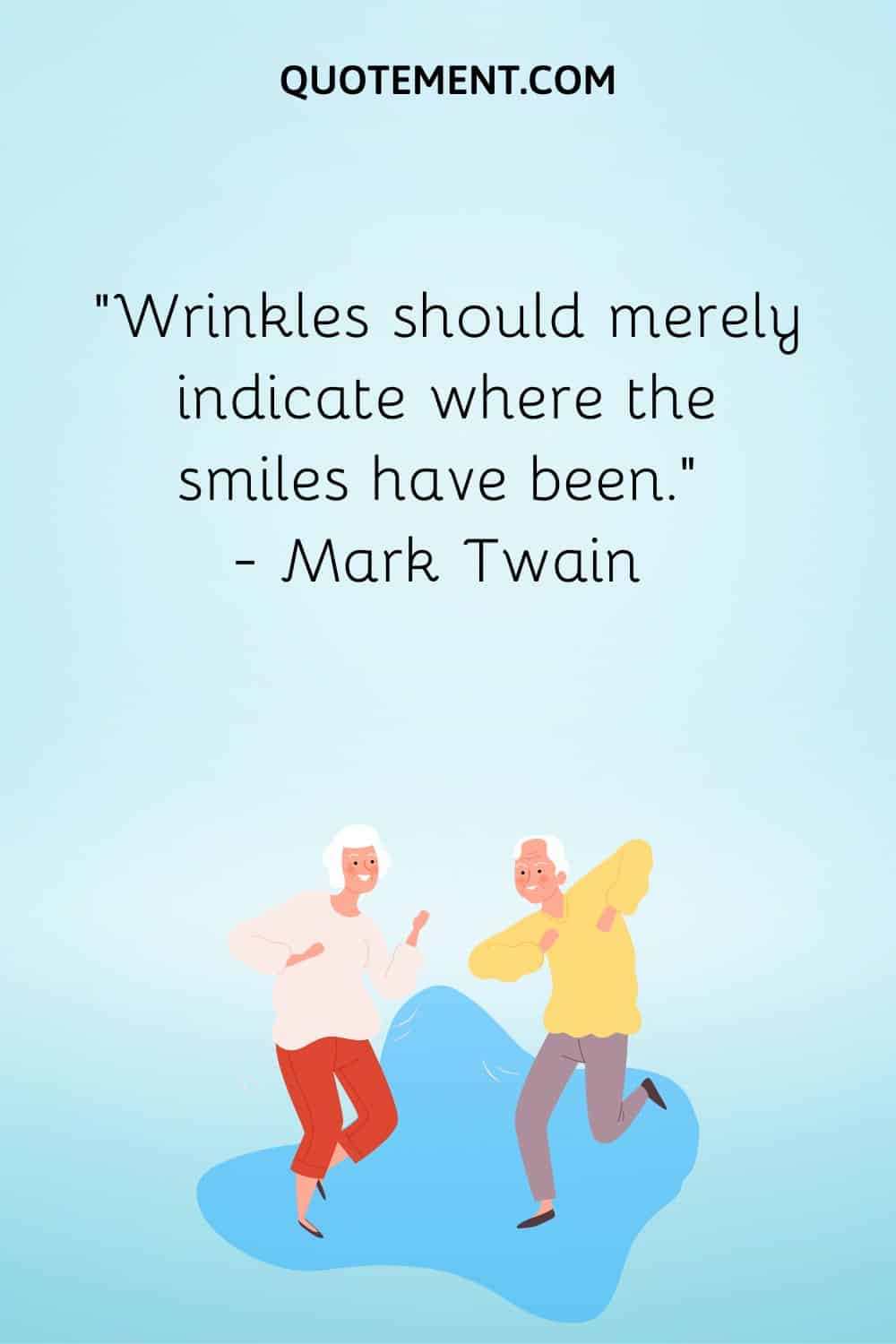 2. "Today is the oldest you've ever been, and the youngest you'll ever be again." — Eleanor Roosevelt
3. "It matters not how long we live but how." — Philip James Bailey
4. "Grow old along with me! The best is yet to be." — Robert Browning
5. "Age is simply the number of years the world has been enjoying you!" — Unknown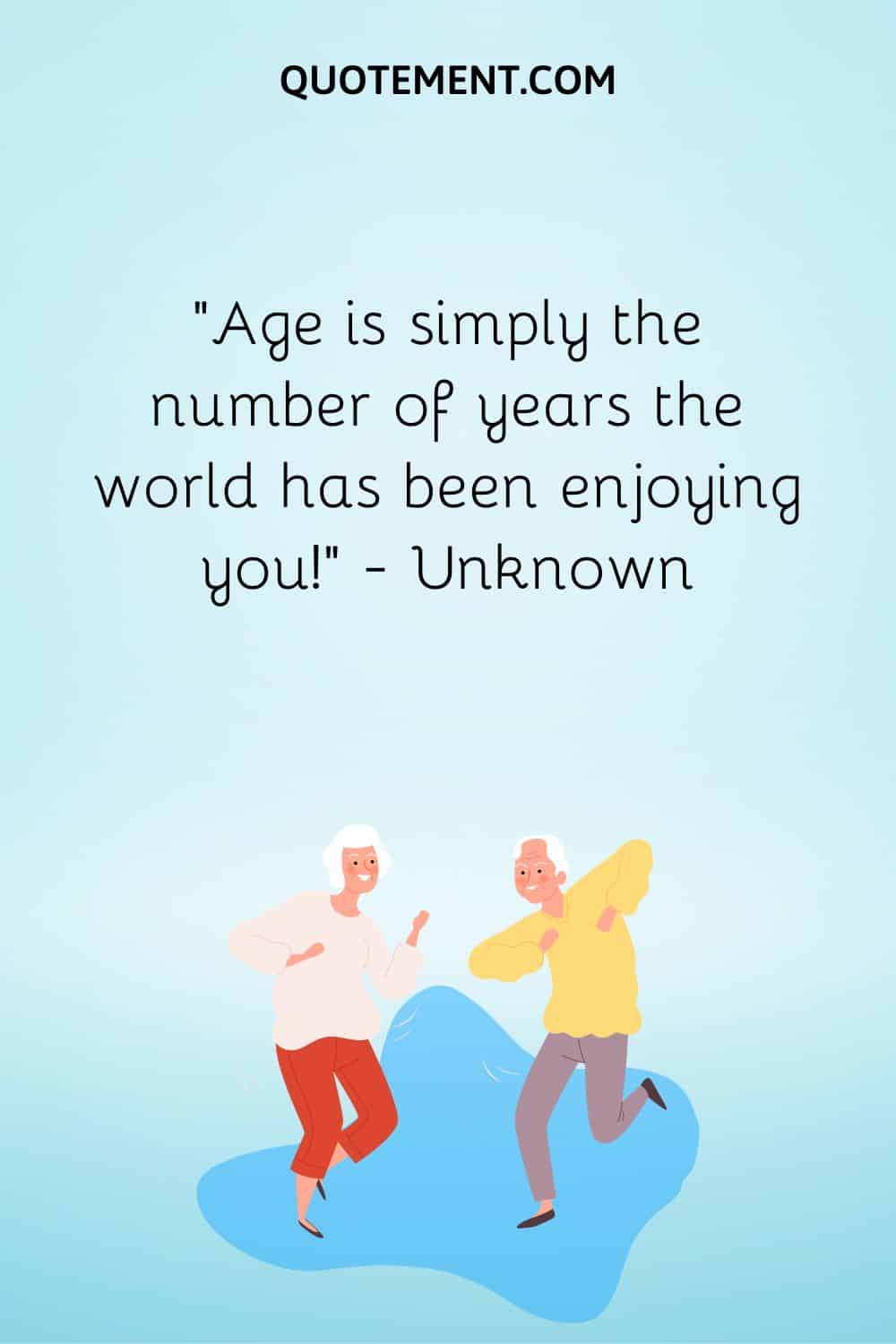 6. "Old age isn't so bad if you consider the alternative." — Maurice Chevalier
7. "Anyone who keeps the ability to see beauty never grows old." — Franz Kafka
8. "The idea is to die young as late as possible." — Ashley Montagu
9. "Say what you want about aging; it's still the only way to have old friends." — Robert Brault
10. "Those who love deeply never grow old; they may die of old age, but they die young." — Ben Franklin
11. Old age comes at a bad time." — San Banducci
12. "Aging is an extraordinary process where you become the person you always should have been." — David Bowie
13. "No one is as old as those who have outlived enthusiasm." — Henry David Thoreau
14. I'm 59, and people call me middle-aged. How many 118-year-old men do you know? — Barry Cryer
15. "Do not regret growing older. It is a privilege denied to many." — Unknown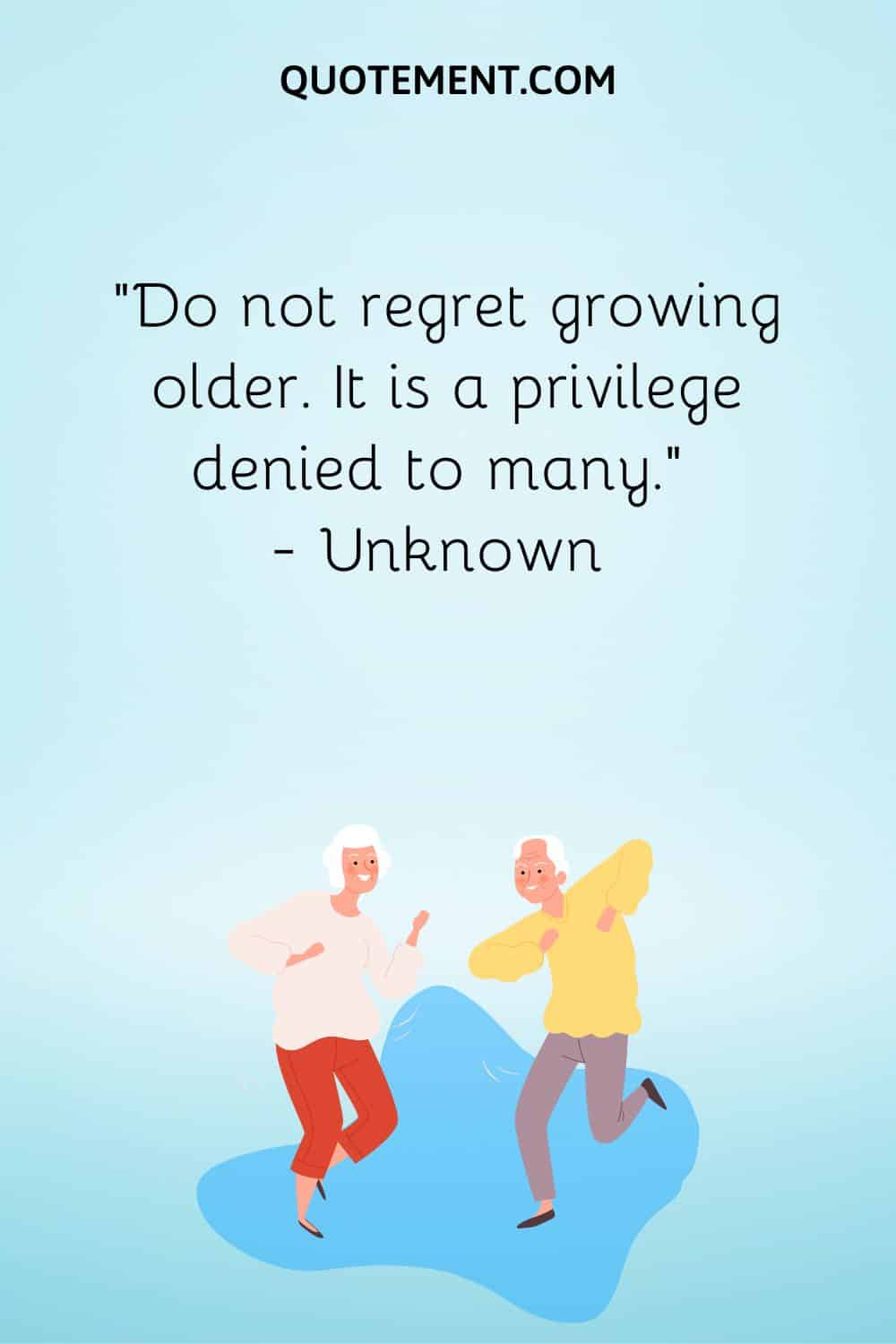 16. "Of all the self-fulfilling prophecies in our culture, the assumption that aging means decline and poor health is probably the deadliest." — Marilyn Ferguson
17. "Age is a very high price to pay for maturity." — Tom Stoppard
18. "Few people know how to be old." — Francois de la Rochefoucauld
19. "Age is an issue of mind over matter. If you don't mind, it doesn't matter." — Mark Twain
20. "Getting old is a fascinating thing. The older you get, the older you want to get." — Keith Richards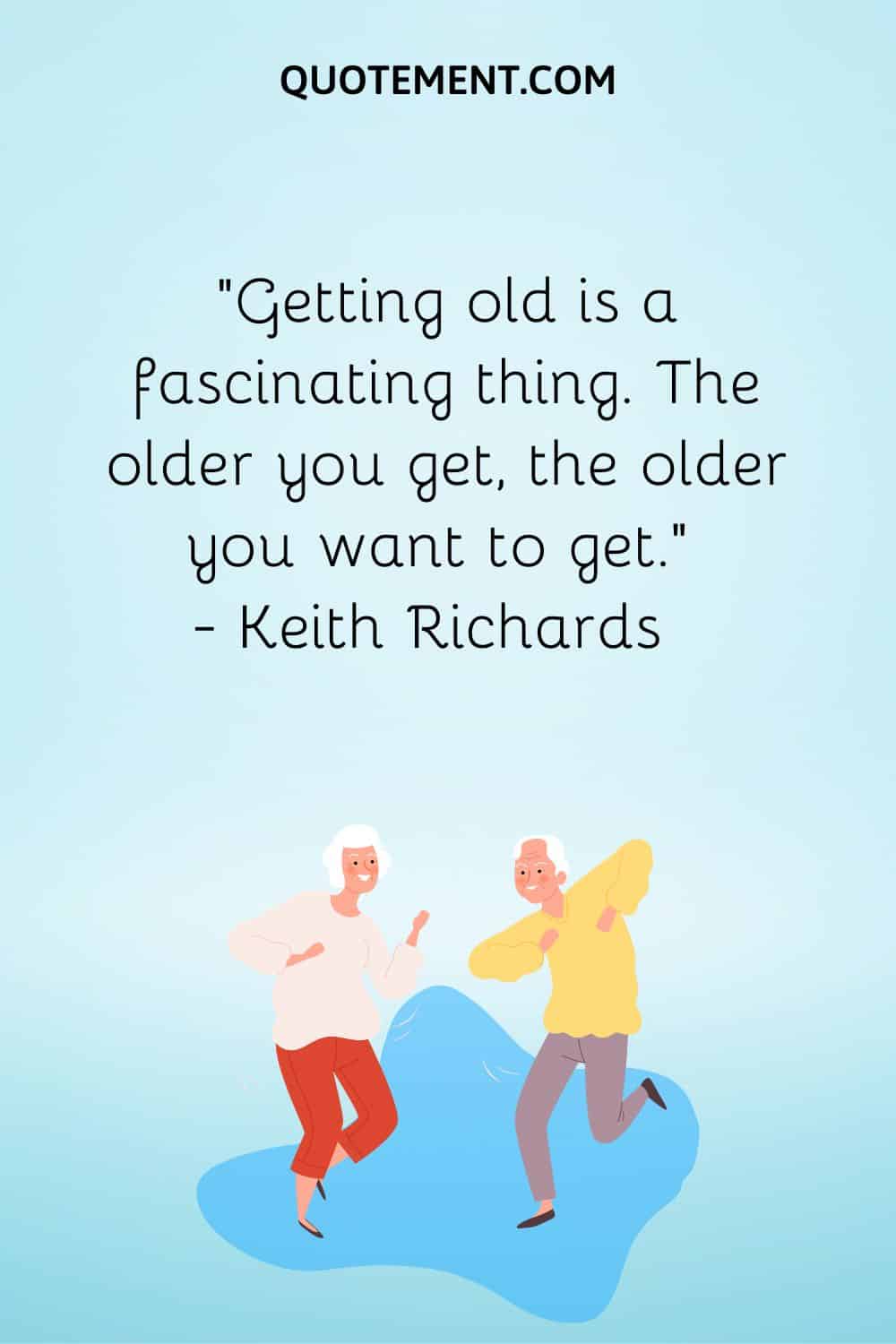 Getting Older Quotes
1. "You can't help getting older, but you don't have to get old." — George Burns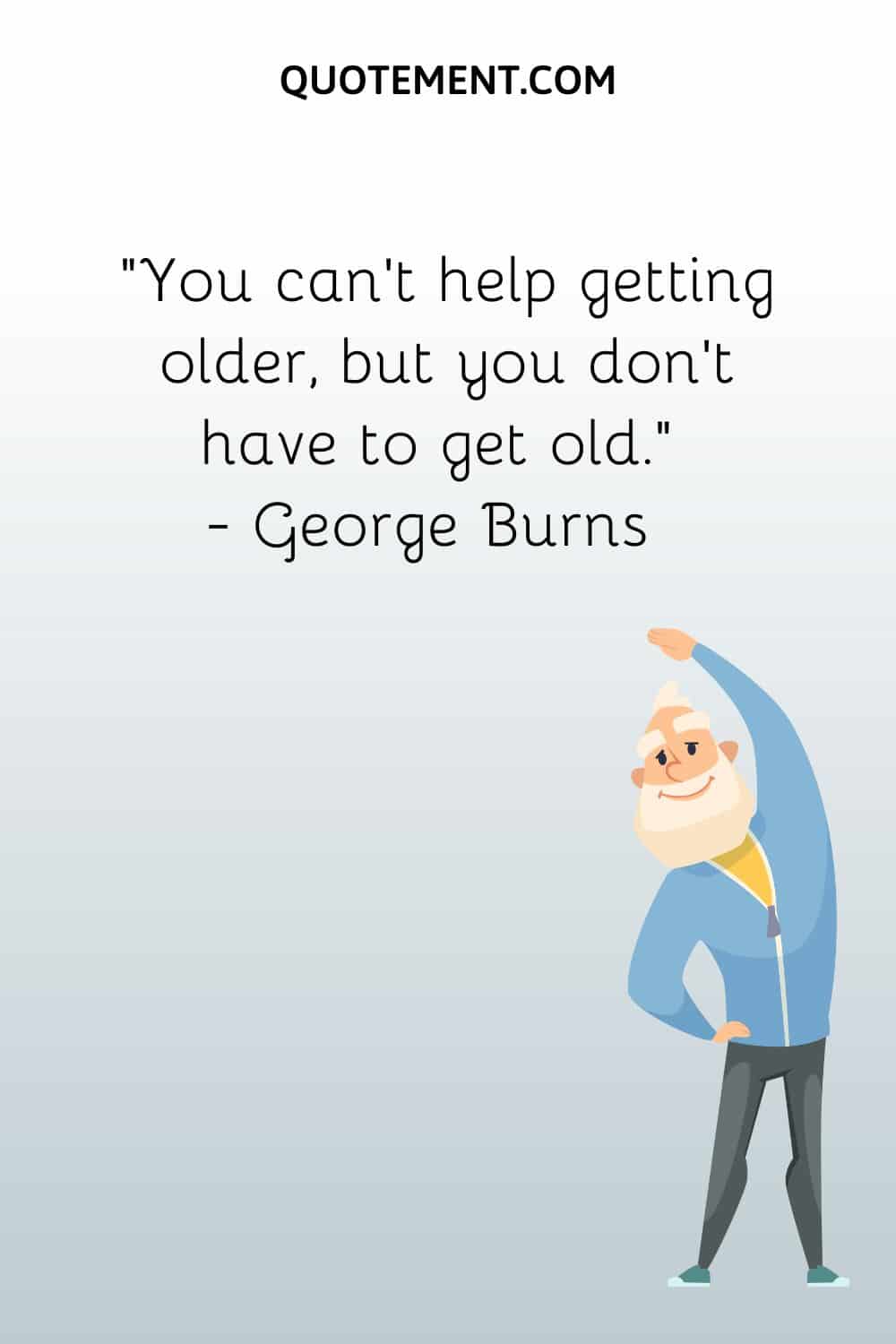 2. "Birthdays are good for you. Statistics show that the people who have the most live the longest." — Larry Lorenzoni
3. "The trouble is, when a number—your age—becomes your identity, you've given away your power to choose your future." — Richard J. Leider
4. "That's another great thing about getting older. Your life is written on your face." — Frances McDormand
5. "Do not grow old, no matter how long you live. Never cease to stand like curious children before the great mystery into which we were born." — Albert Einstein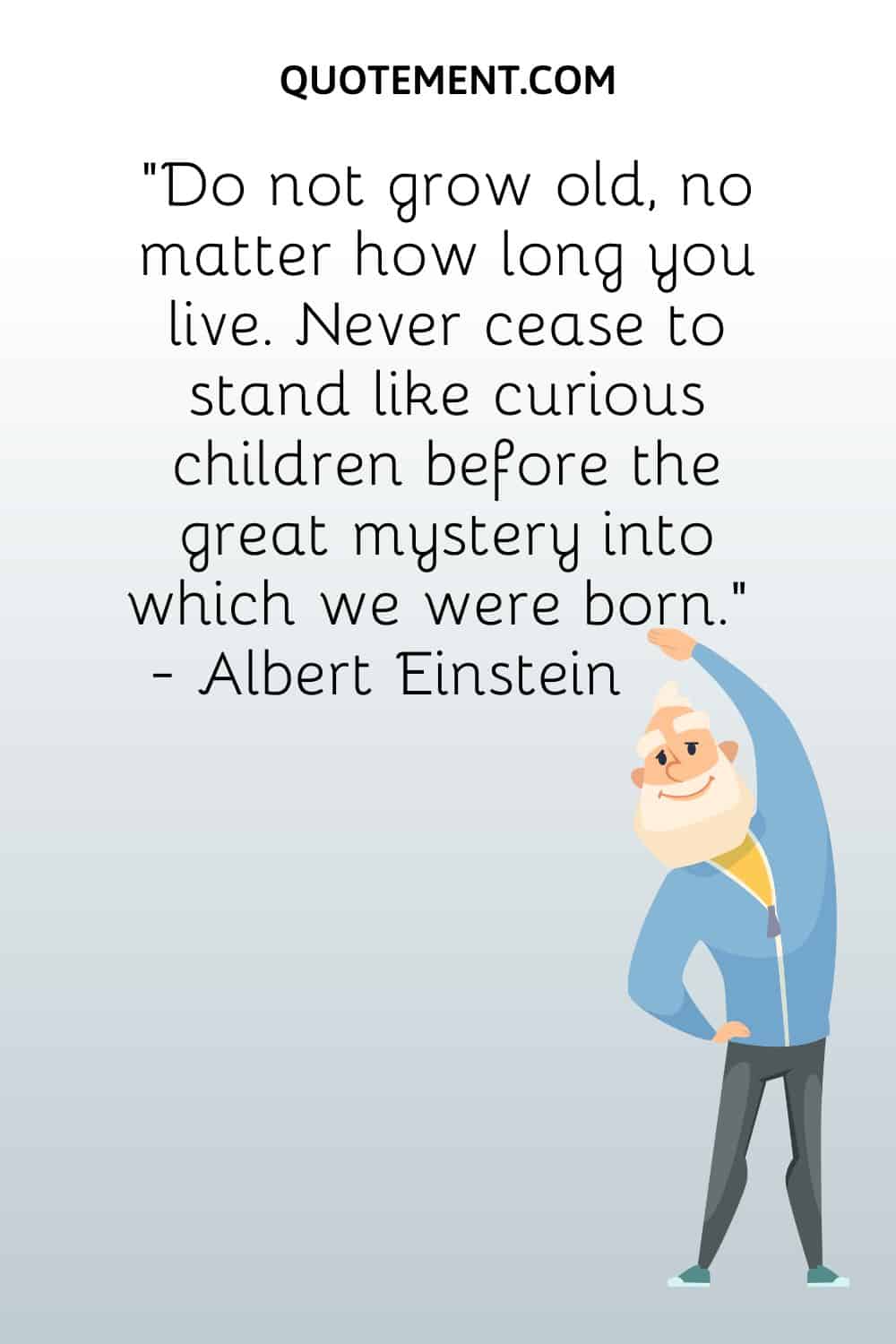 6. "A man is not old until regrets take the place of dreams." — John Barrymore
7. "Laughter is timeless. Imagination has no age. And dreams are forever." — Walt Disney
8. "It's like you trade the virility of the body for the agility of the spirit." — Elizabeth Lesser
9. "Age is no barrier. It's a limitation you put on your mind." — Jackie Joyner-Kersee
10. "Youth is the gift of nature, but age is a work of art." — Stanislaw Jerzy Lec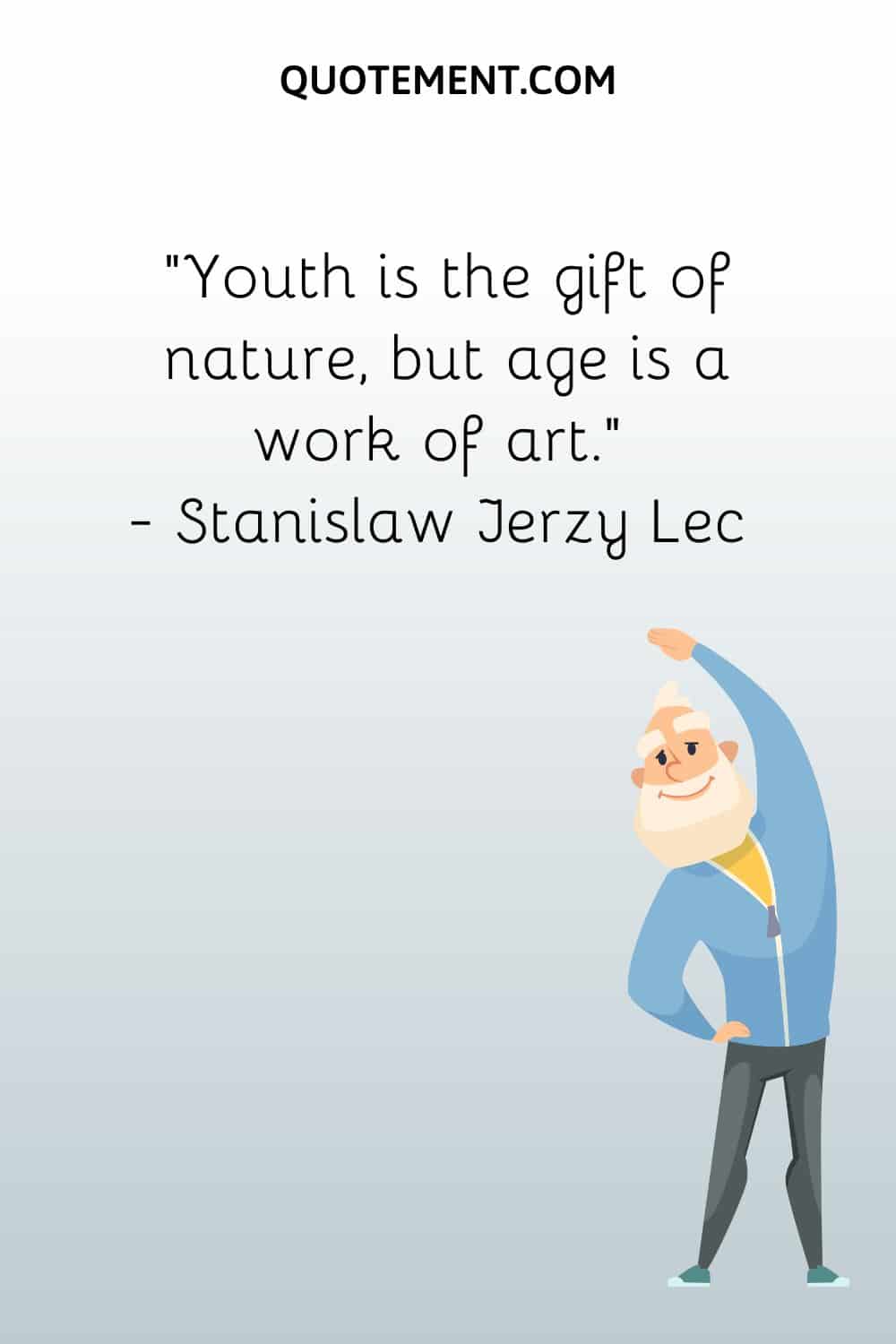 11. "Try to keep your soul young and quivering right up to old age." — George Sand
12. "For the unlearned, old age is winter; for the learned, it is the season of the harvest." — Hasidic saying
13. "Aging is not 'lost youth' but a new stage of opportunity and strength." — Betty Friedan
14. "My advice: Don't waste so much time worrying about your skin or your weight. Develop what you put your hands on in the world." — Meryl Streep
15. "Nature gives you the face you have at twenty; it is up to you to merit the face you have at fifty." — Coco Chanel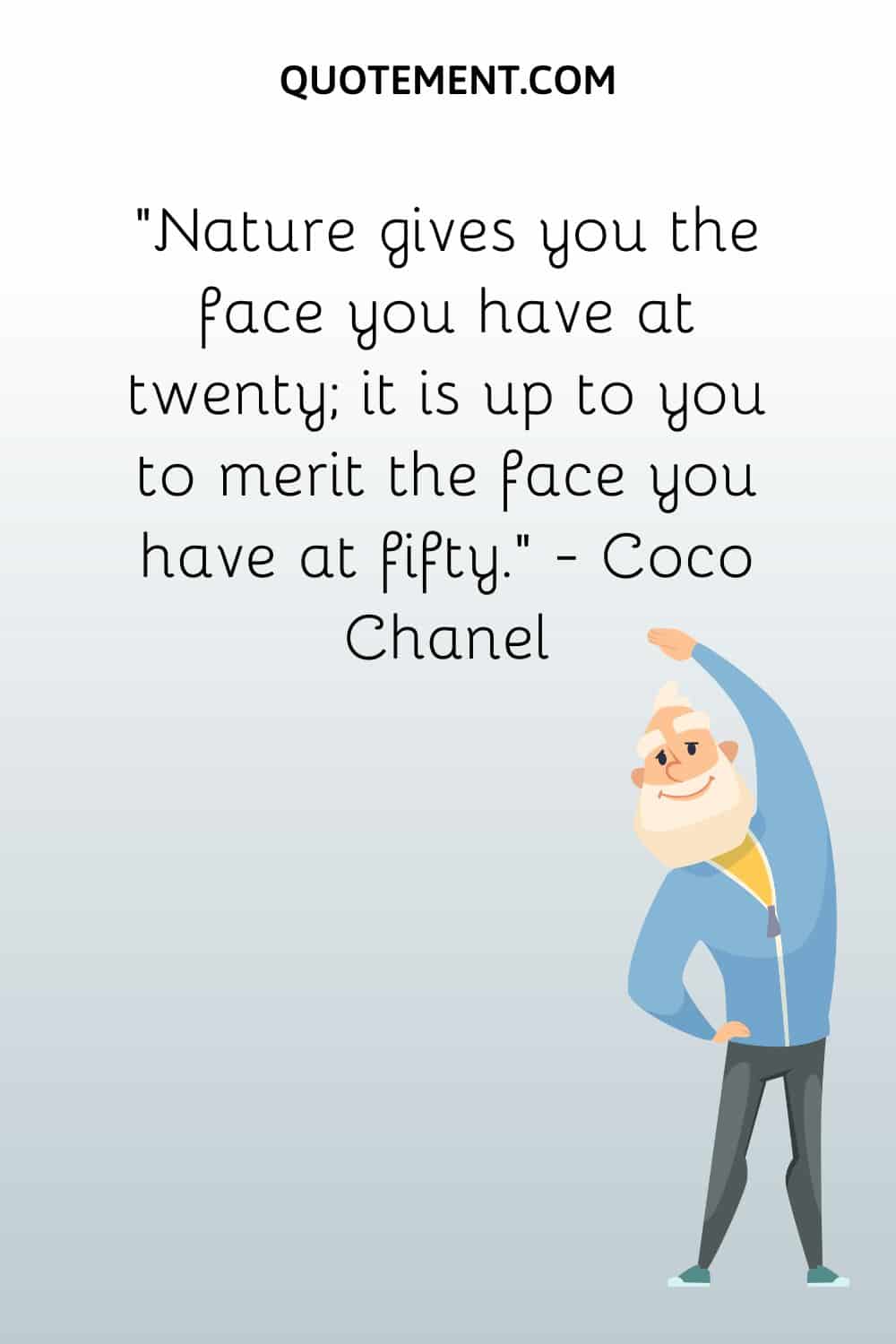 See also: 150 Nature Captions For Instagram For All The Nature Lovers
16. "Why would I worry about getting older – what's to moan about?" — Dawn French
17. "I'm just getting older and better." — Neal Schon
18. "If you're not getting older, you're dead." — Tom Petty
19. "Aging is just another word for living." — Cindy Joseph
20. "The best tunes are played on the oldest fiddles." — Ralph Waldo Emerson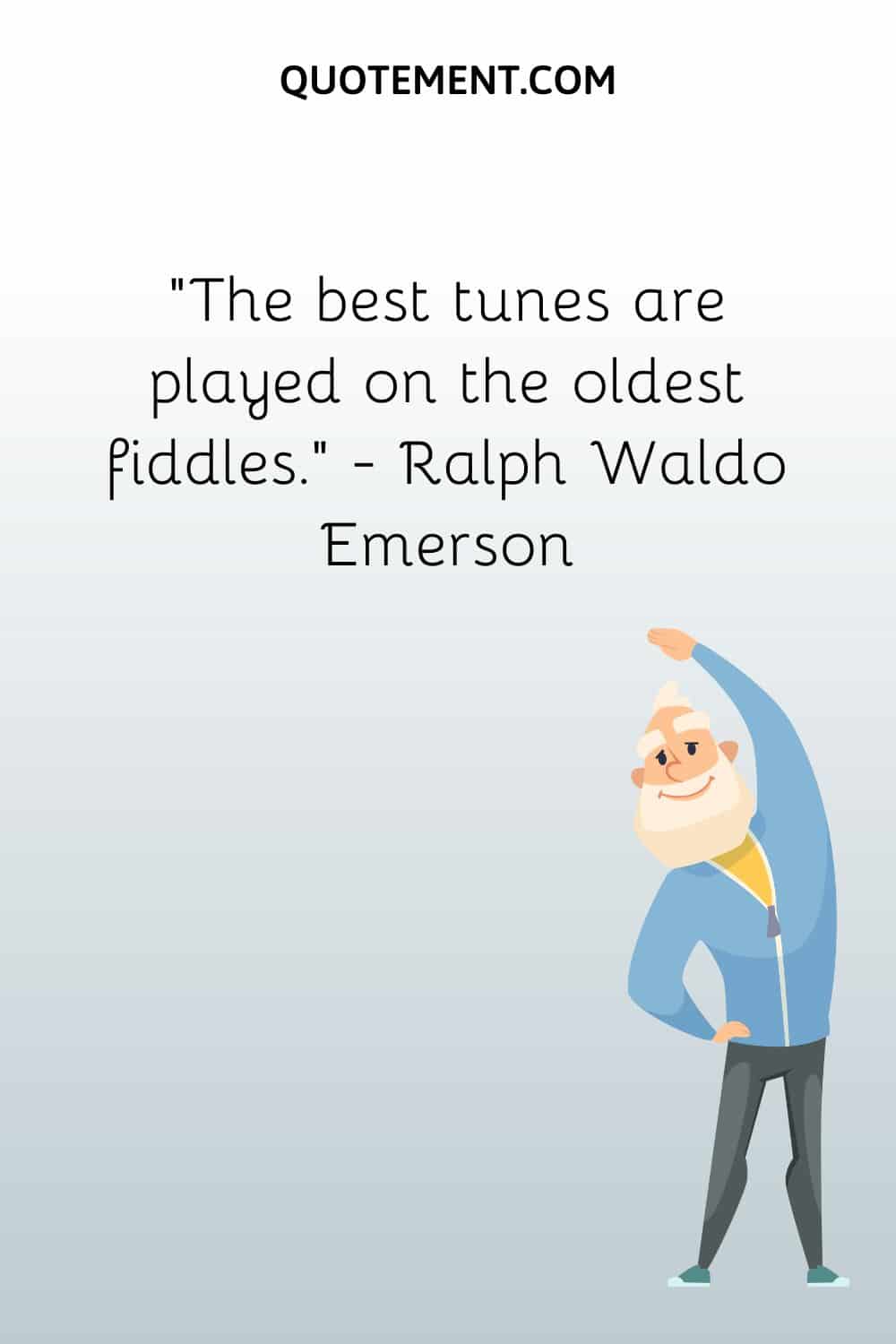 More Funny Aging Quotes
1. "Don't let aging get you down. It's too hard to get back up." — John Wagner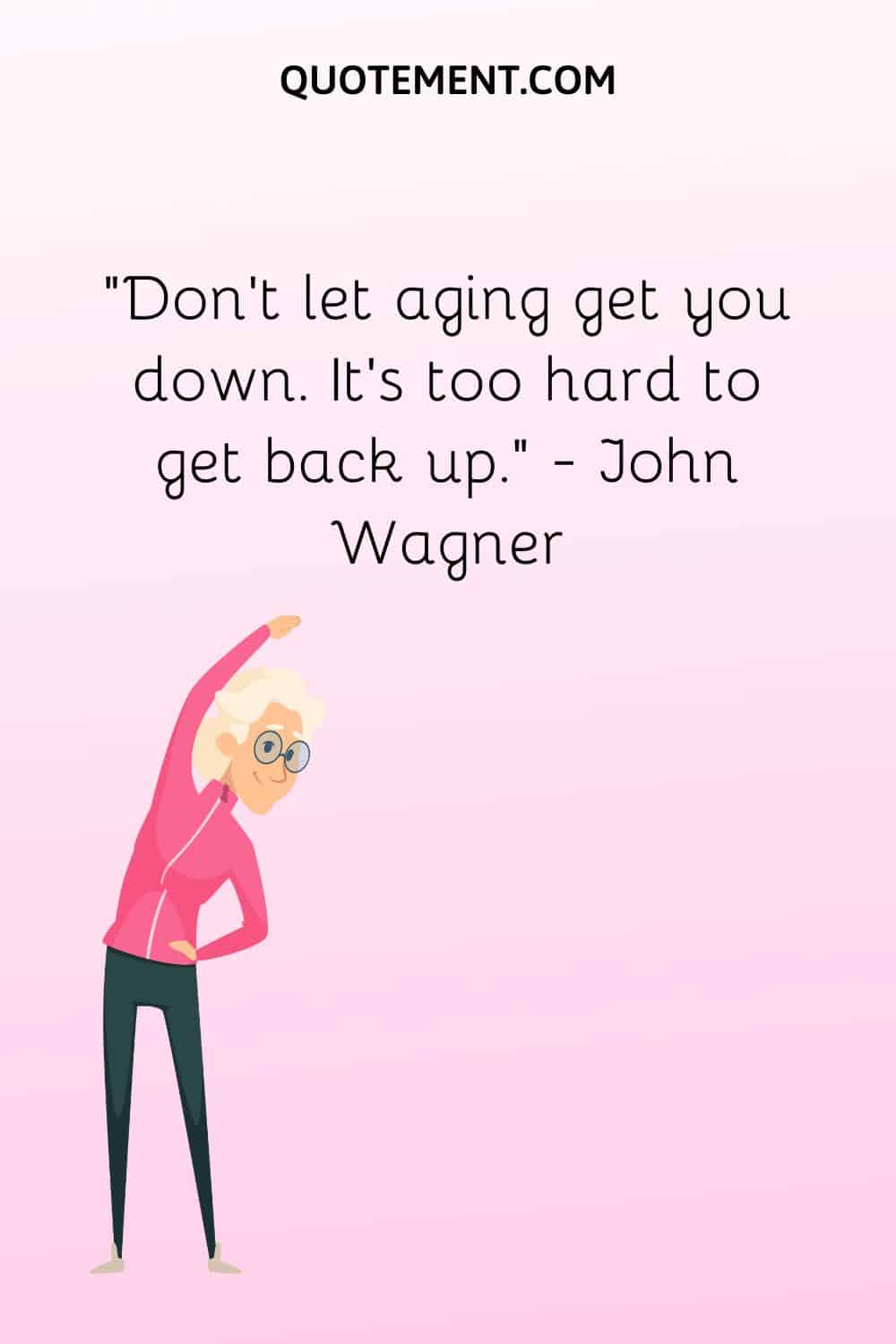 2. "Respect old people. They graduated from high school without Google or Wikipedia." — Unknown
3. "There are six myths about old age: 1) that it's a disease, a disaster. 2) That we are mindless. 3) That we are sexless. 4) That we are useless. 5) That we are powerless. 6) That we are all alike." — Maggie Kuhn
4. "Your 40s are good. Your 50s are great. Your 60s are fab. And 70 is f*@king awesome!" — Helen Mirren
5. "You know you're getting old when the candles cost more than the cake." — Bob Hope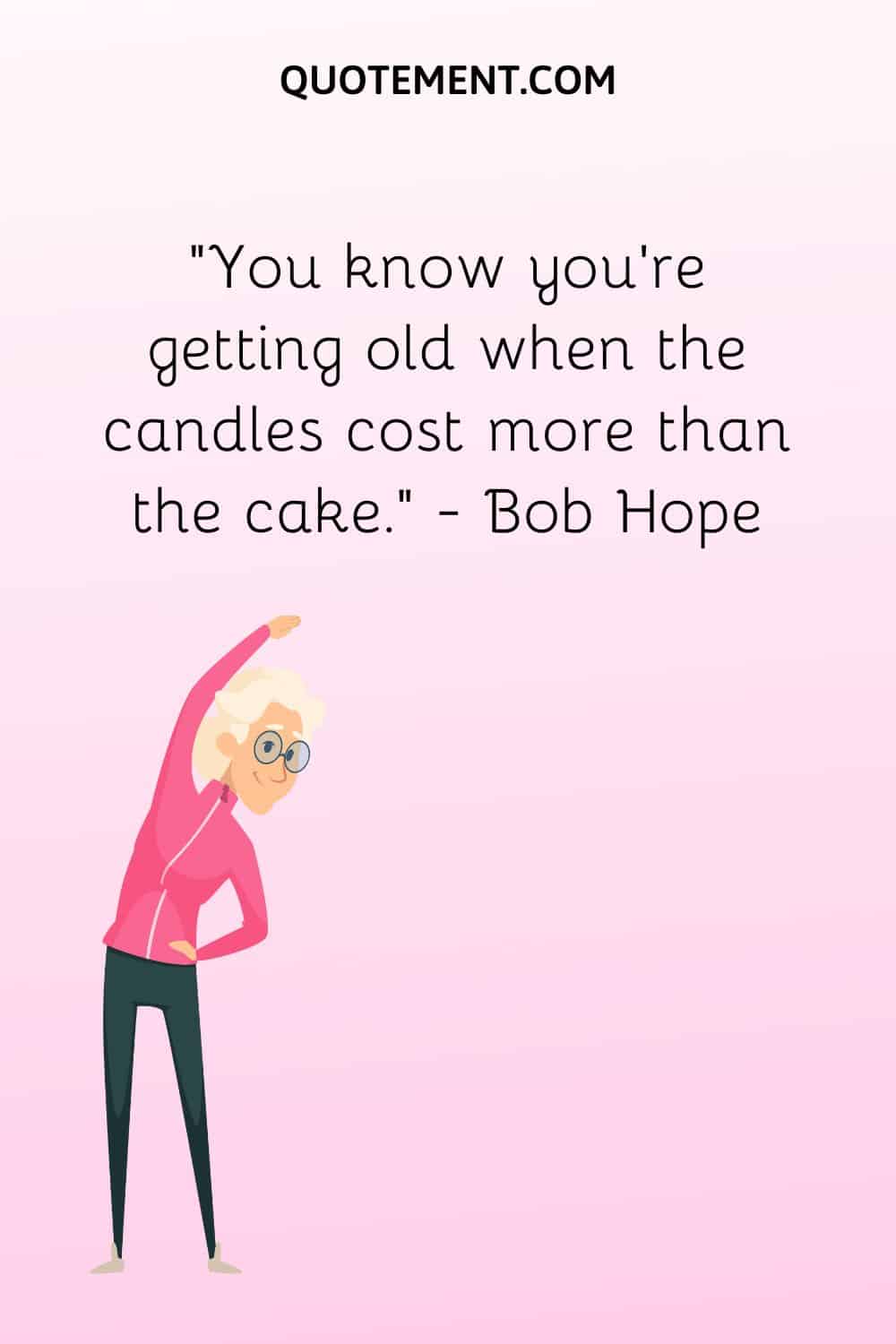 6. Some guy said to me: 'Don't you think you're too old to sing rock n roll?' I said: 'You'd better check with Mick Jagger.'" — Cher
7. "I feel about aging the way William Saroyan said he felt about death: 'Everybody has to do it,' but I always believed an exception would be made in my case." — Martha Beck
8. "When it comes to staying young, a mind-lift beats a face-lift any day." — Marty Buccella
9. I'm at an age when my back goes out more than I do." — Phyllis Diller
10. "Age is something that doesn't matter unless you are a cheese." — Luis Bunuel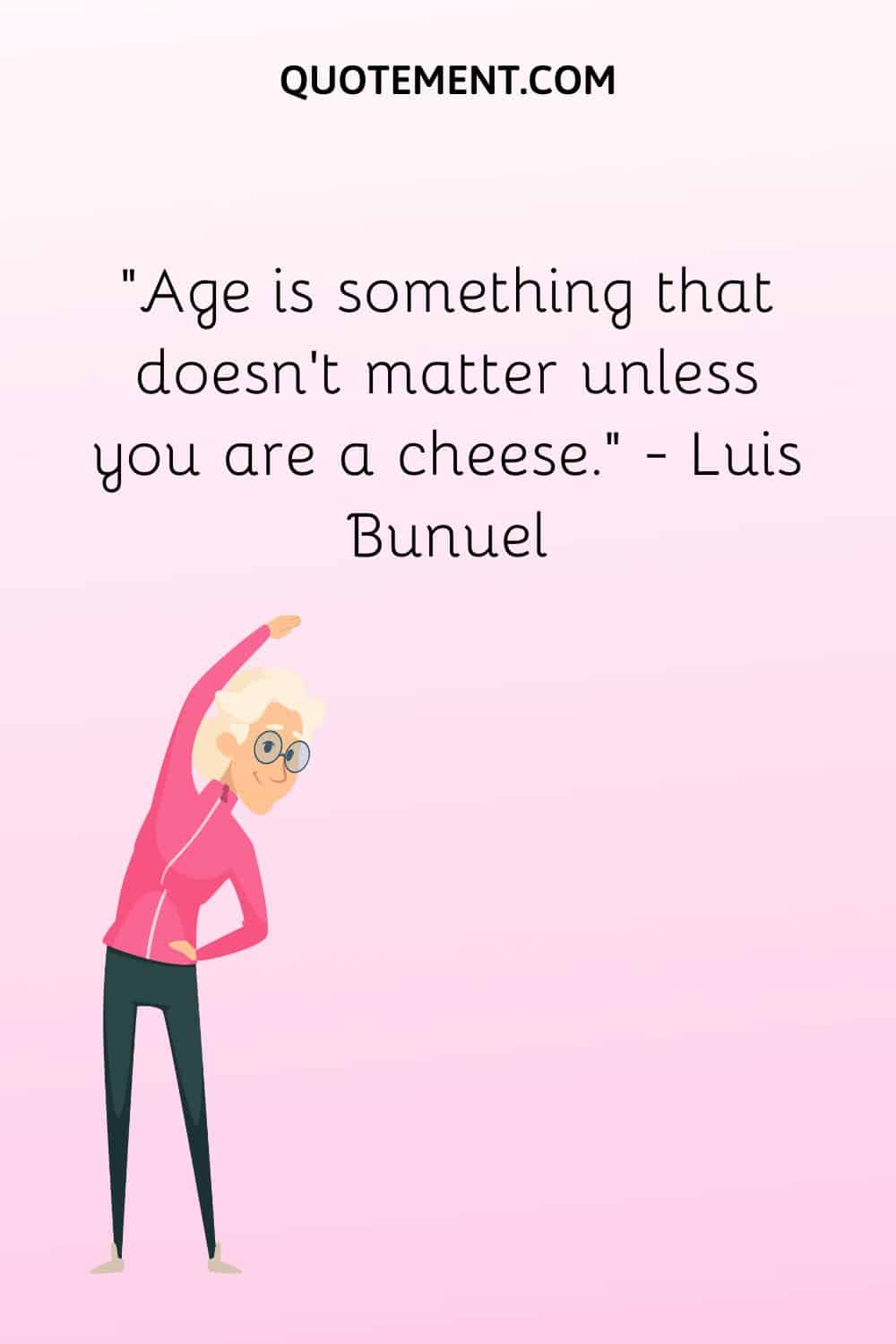 Wrapping It Up
I believe my collection of funny quotes about aging gracefully helped you see the humorous side of growing old.
And I hope you liked it!
Be sure to check out more awesome content on our page.
Until next time!