Deciding to hit the gym and stay committed to a regular gym routine is definitely easier said than done.
Believe me, I know.
I was once one of those who would get all hyped up for some quality workout, but after the first few visits to the gym, I would give up.
It wasn't until I realized what I need to change about myself that I actually got on the right path to achieving my fitness goals.
So, I built up my workout plan — instead of focusing myself to work on my body, I worked on my mind first.
Instead of forcing myself into heavy and exhaustive workouts in the gym, I decided to take it slow and build it up over time. I focused on making the gym my hobby instead of a chore, and this enabled me to improve my fitness and my well-being in the long run.
I set myself new fitness goals — not for a hot body in the summer, not to make my friends envious or my ex crazy, and not to impress others. I decided to do it for my health!
And now I'm going to motivate you to do this too, by sharing some great gym quotes, the best ones I could find on the web.
They'll help you adopt the right attitude to make fitness a part of your life and the gym your regular routine, just like I have.
Let them be your guide, not only toward the gym door but also toward the best version of yourself!
Top 10 Gym Quotes to Motivate Your Workout
1. "Your mind is the strongest and most valuable muscle you can grow in the gym." — Greg Plitt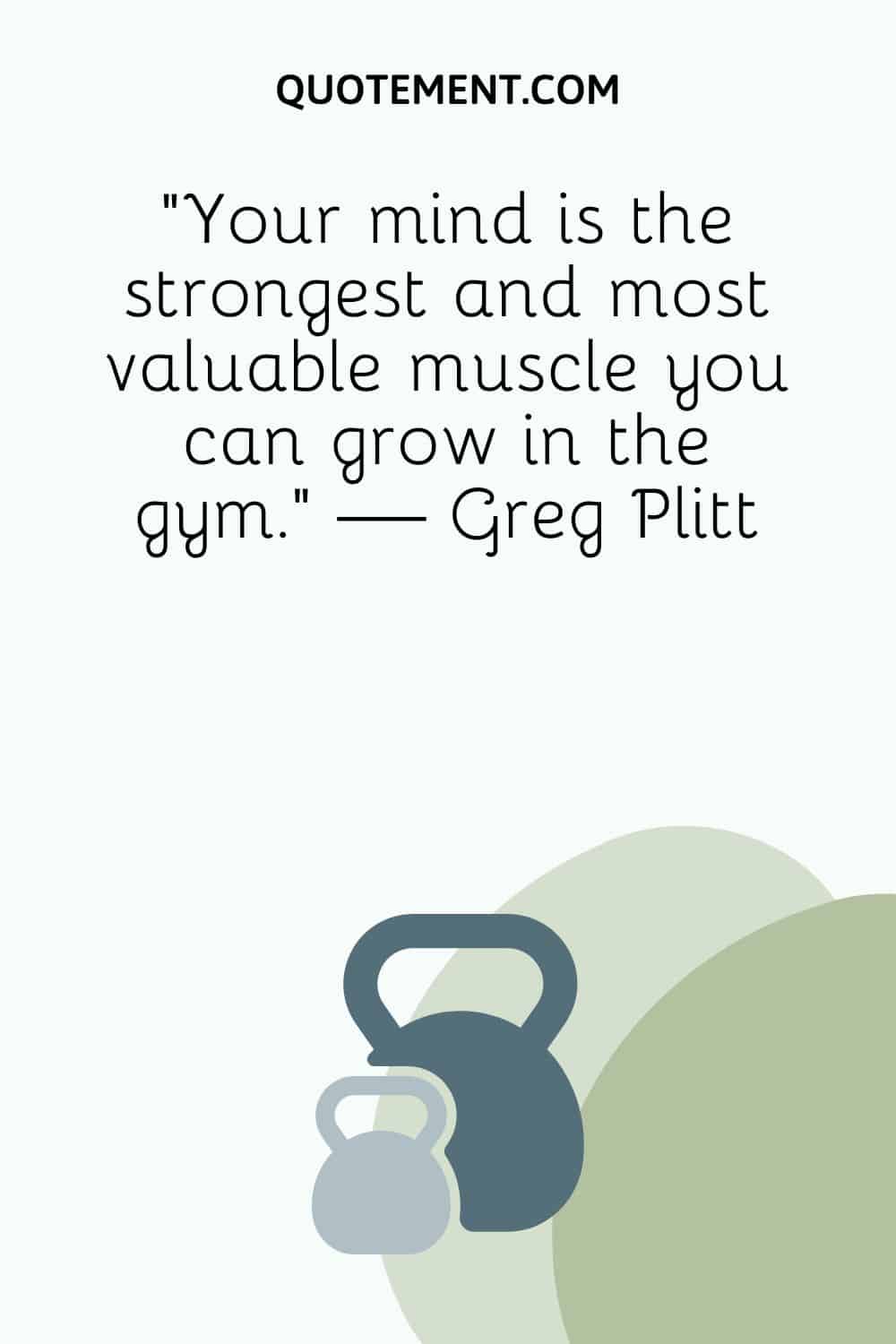 2. "Late in the afternoon, when the mind is fatigued and waning in cognitive function, could be the better time to hit the gym." ― Dan S. Kennedycero
3. "Every champion was once a contender who refused to give up." — Rock Balboa
4. "Physical fitness is not only one of the most important keys to a healthy body, it is the basis of dynamic and creative intellectual activity." — John F. Kennedy
5. "It is exercise alone that supports the spirits, and keeps the mind in vigor." — Marcus Tullius Ci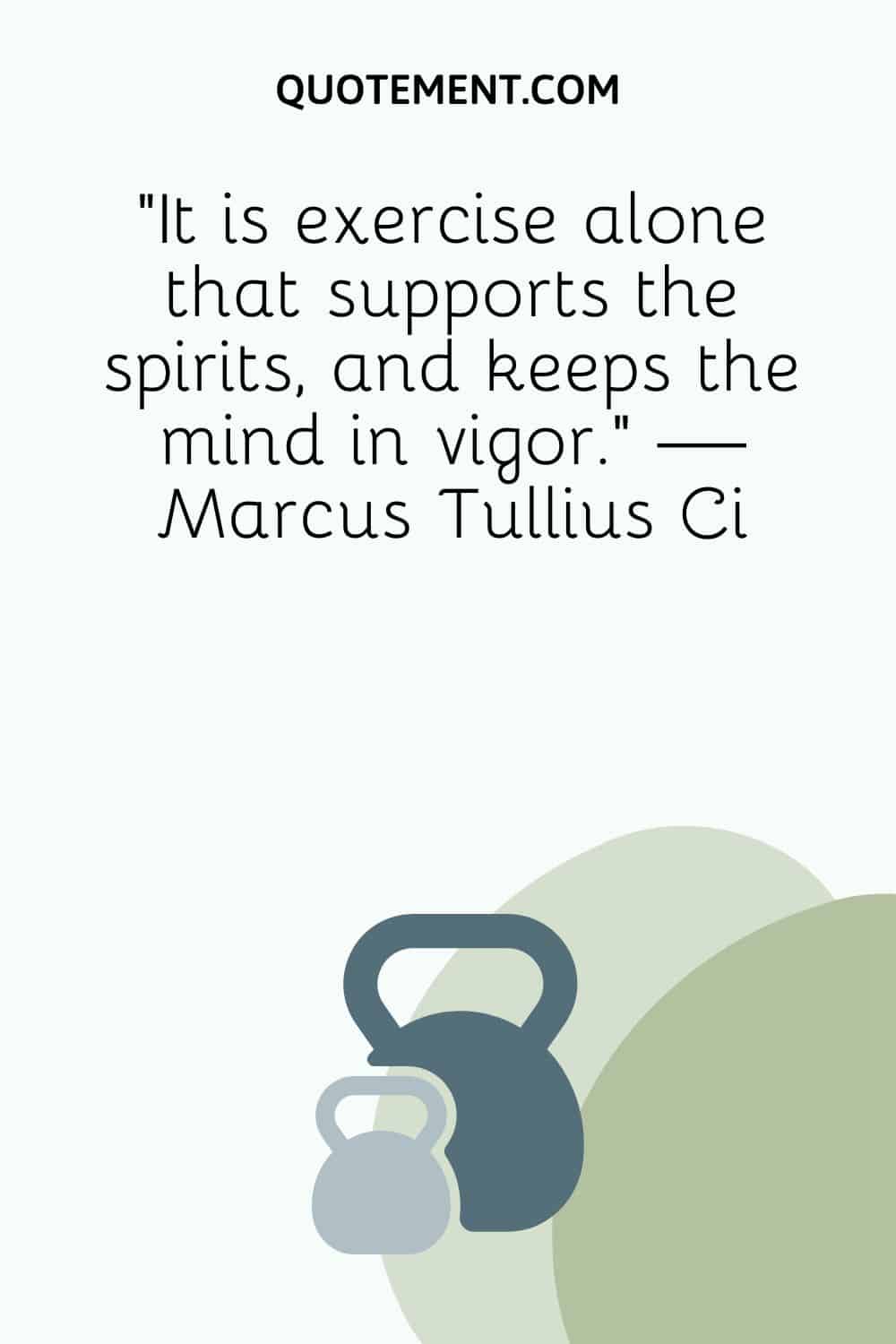 6. "The gym is somewhere you can go to just forget for an hour what you do for a living, what you are doing on a daily basis. You just turn up and get on with it." — Luke Evans
7. "The gym is the best place you'll ever be." ― Skip Prosser
8. "The mind is the most important part of achieving any fitness goal. Mental change always comes before physical change." — Matt McGorry
9. "You know that in order to feel good about yourself and work toward your goal, you should hit the gym." ― Barbara Sorrelson
10. "I hated every minute of training, but I said, 'Don't quit. Suffer now and live the rest of your life as a champion.'" — Muhammad Ali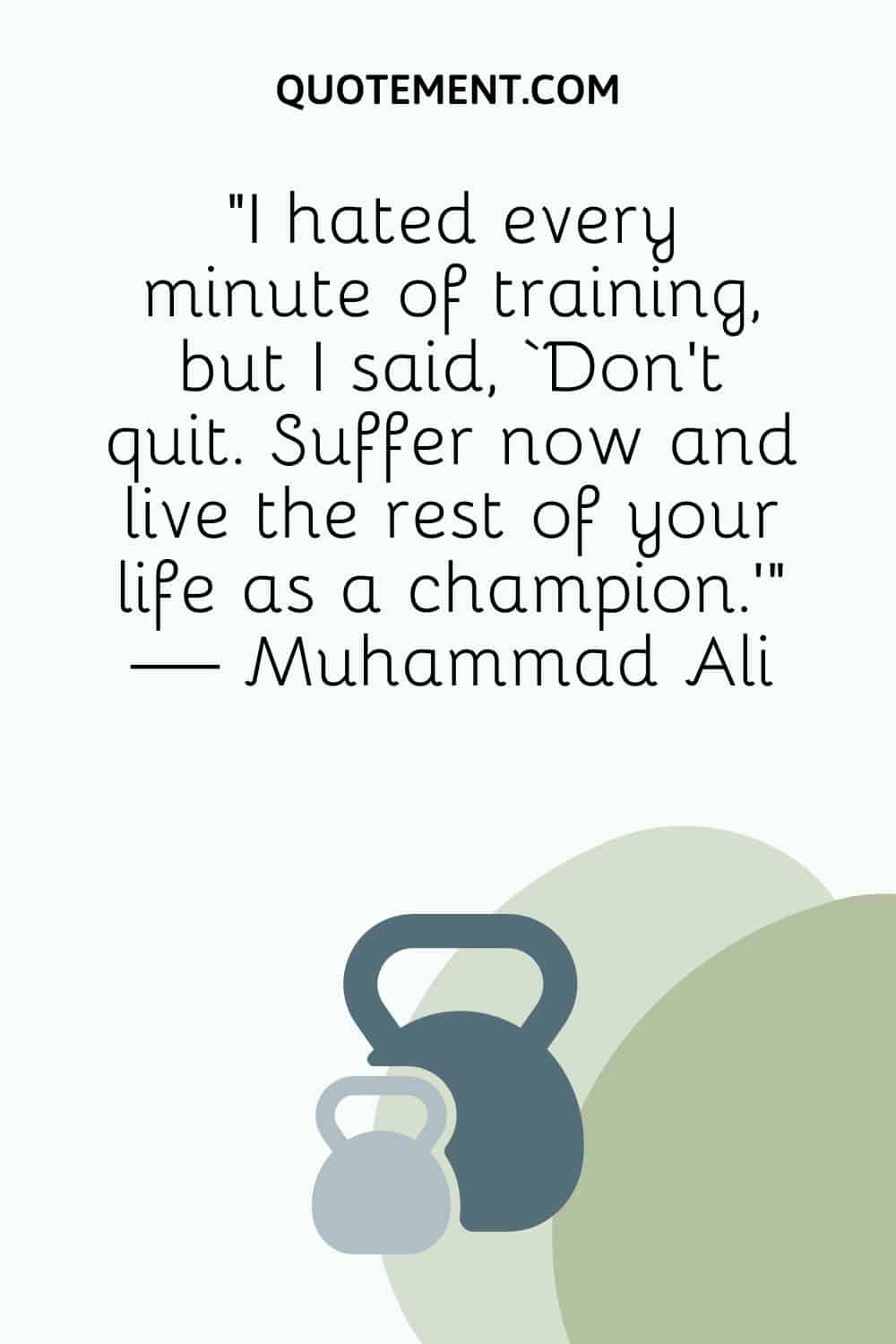 No Excuses
1. "Put all excuses aside and remember this: You are capable." — Zig Ziglar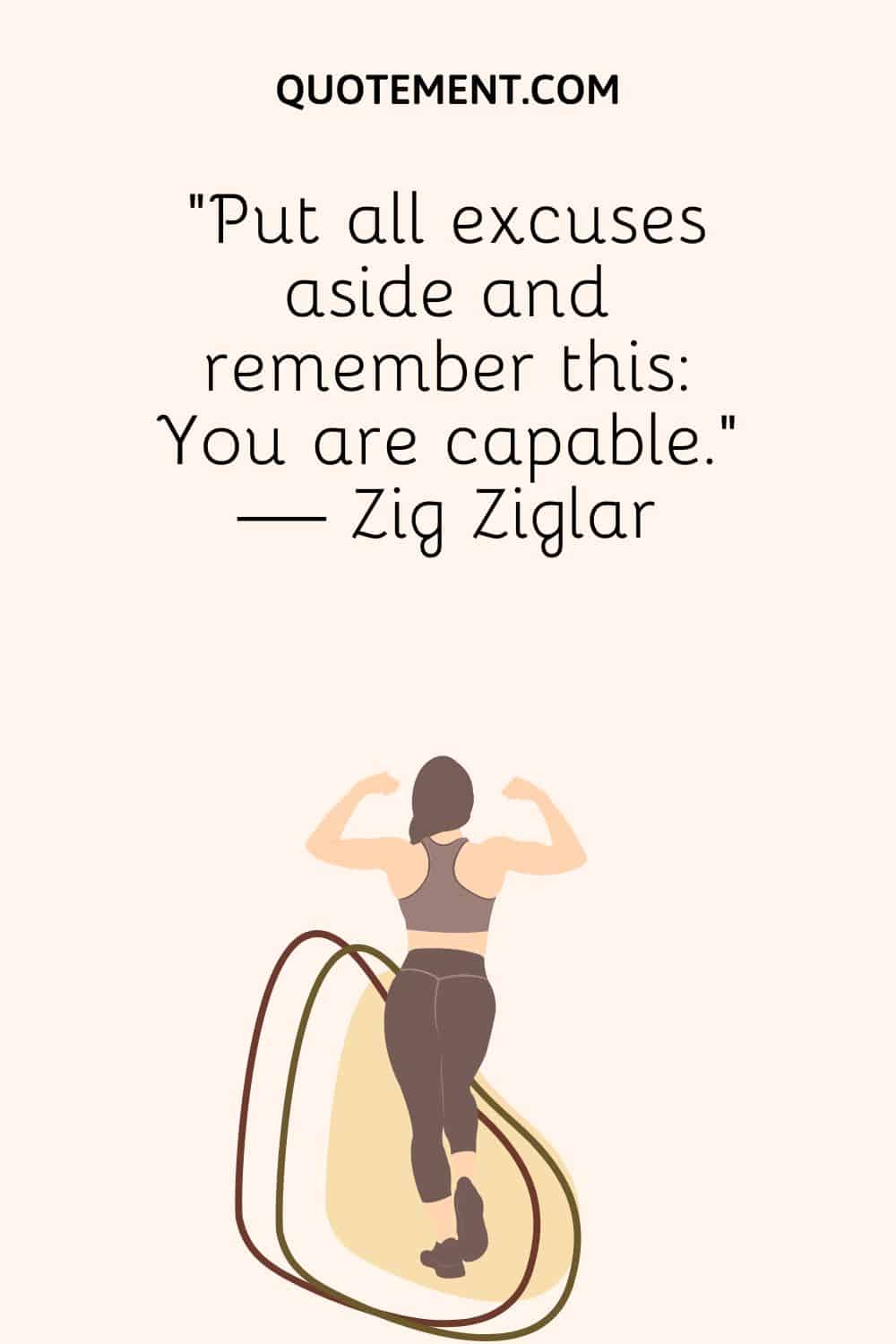 2. "Great things come from hard work and perseverance. No excuses." — Kobe Bryant
3. "The secret of getting ahead is getting started." — Mark Twain
4. "A one-hour workout is 4% of your day. NO EXCUSES." — Unknown
5. "He that is good for making excuses is seldom good for anything else." — Benjamin Franklin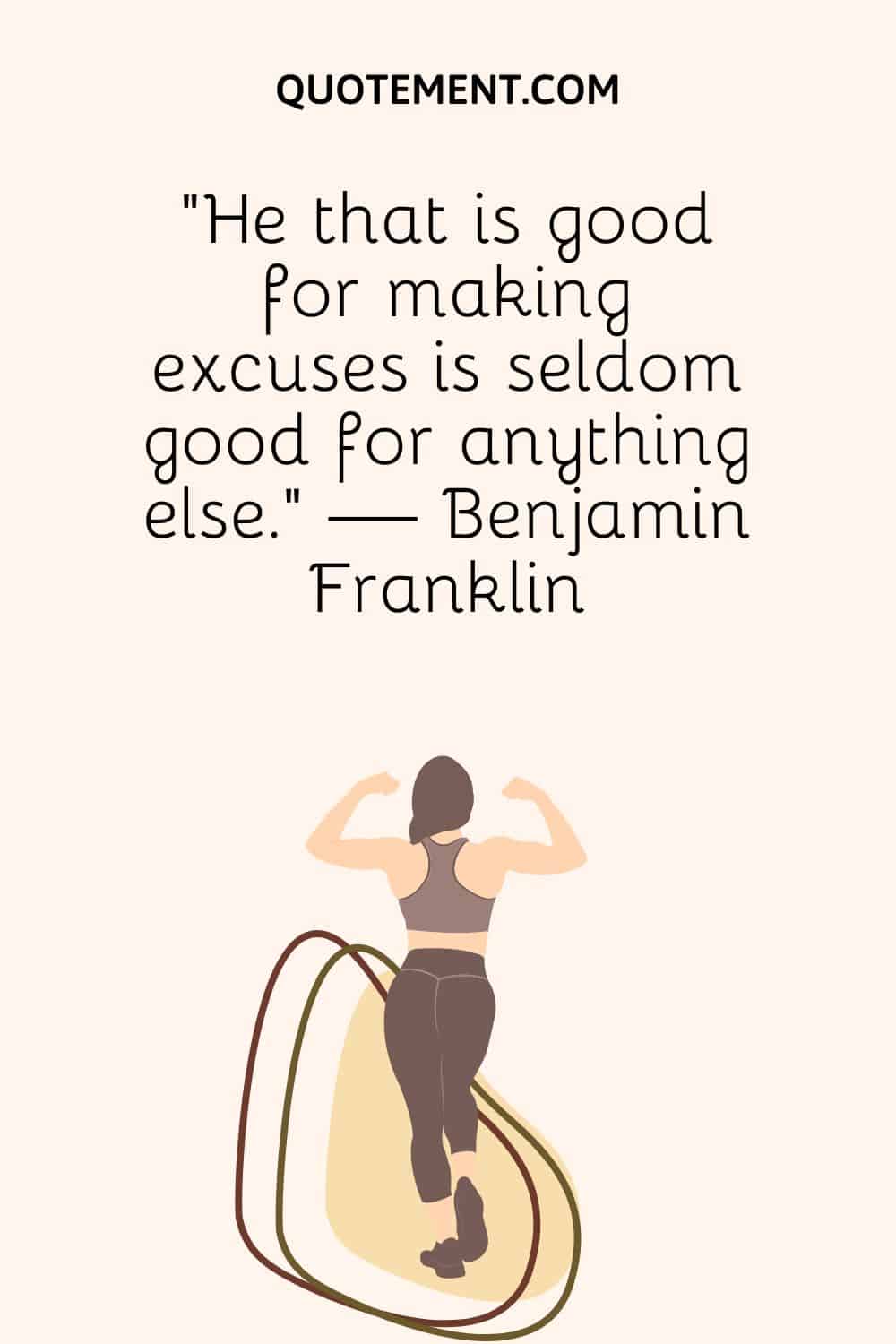 6. "Making excuses burns zero calories per hour." — Unknown
7. "A year from now you may wish you had started today." — Karen Lamb
8. "Continuous improvement is better than delayed perfection." — Mark Twain
9. "Be stronger than your excuses." — Unknown
10. "It's time to hit the gym. Grab a bottle of water, and prepare to sweat!" ― Frank Sepe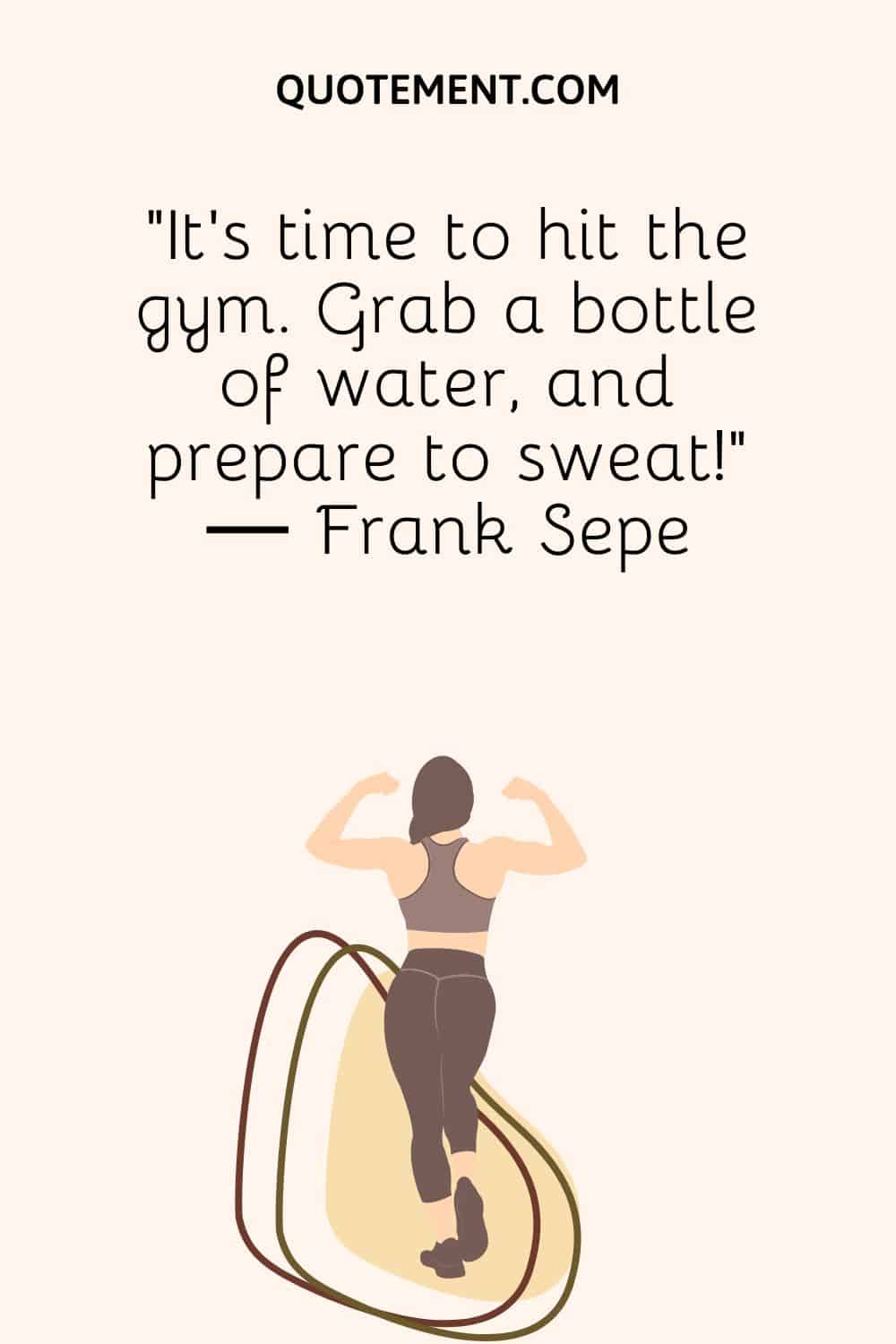 Stop Stopping Yourself
1. "Set your goals high, and don't stop until you get there." — Bo Jackson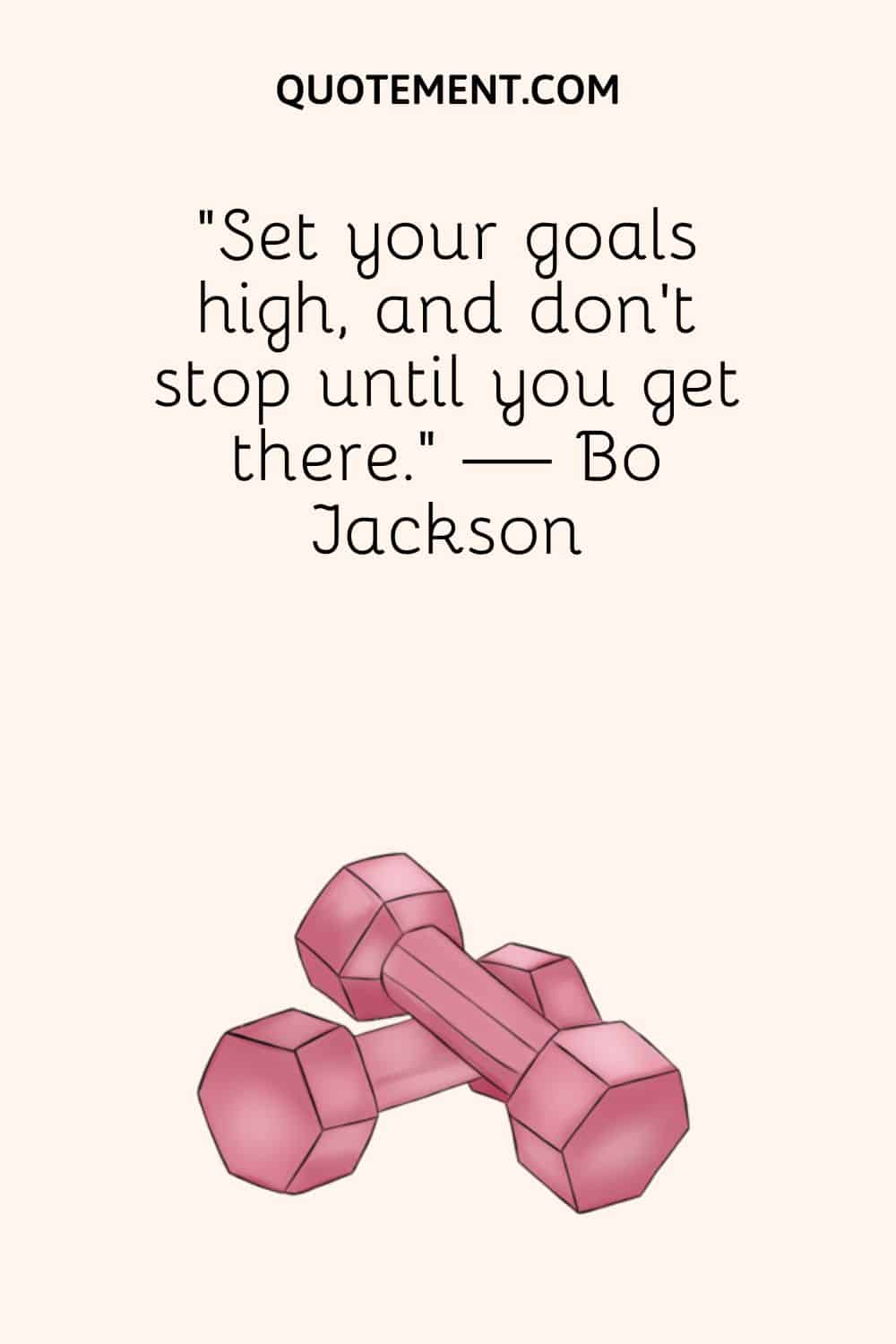 2. "We can push ourselves further. We always have more to give." — Simone Biles
3. "Your health account, your bank account, they're the same thing. The more you put in, the more you can take out. Exercise is king and nutrition is queen. Together you have a kingdom." — Jack LaLanne
4. "Push harder than yesterday if you want a different tomorrow." — Vincent Williams Sr.
5. "The real workout starts when you want to stop." — Ronnie Coleman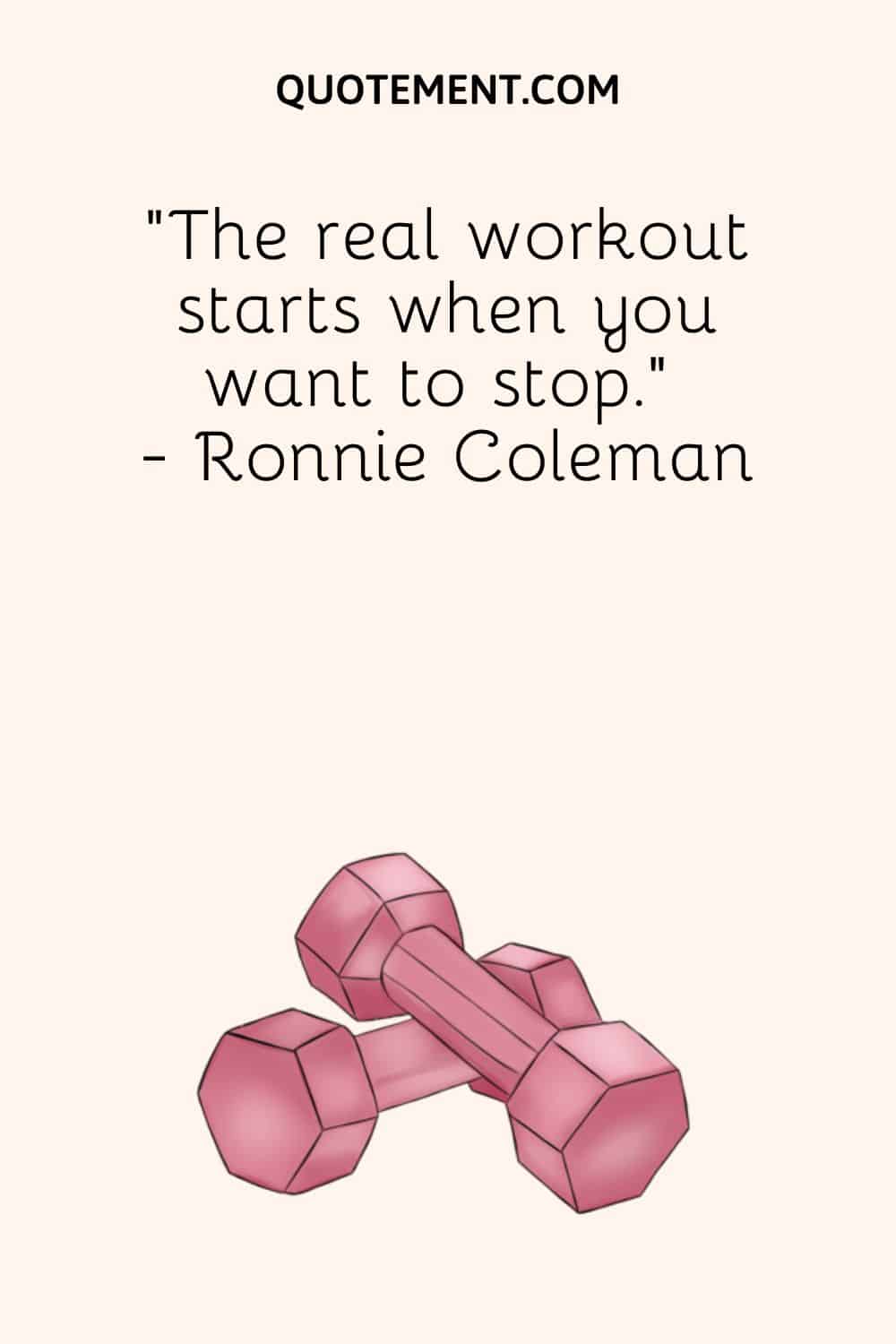 6. "The harder you work and the more prepared you are for something, you're going to be able to persevere through anything." — Carli Lloyd
7. "Discipline is the bridge between goals and accomplishment." — Jim Rohn
8. "When you have a clear vision of your goal, it's easier to take the first step toward it." — LL Cool J
9. "You must expect things of yourself before you can do them." — Michael Jordan
10. "You have to push past your perceived limits, push past that point you thought was as far as you can go." — Drew Brees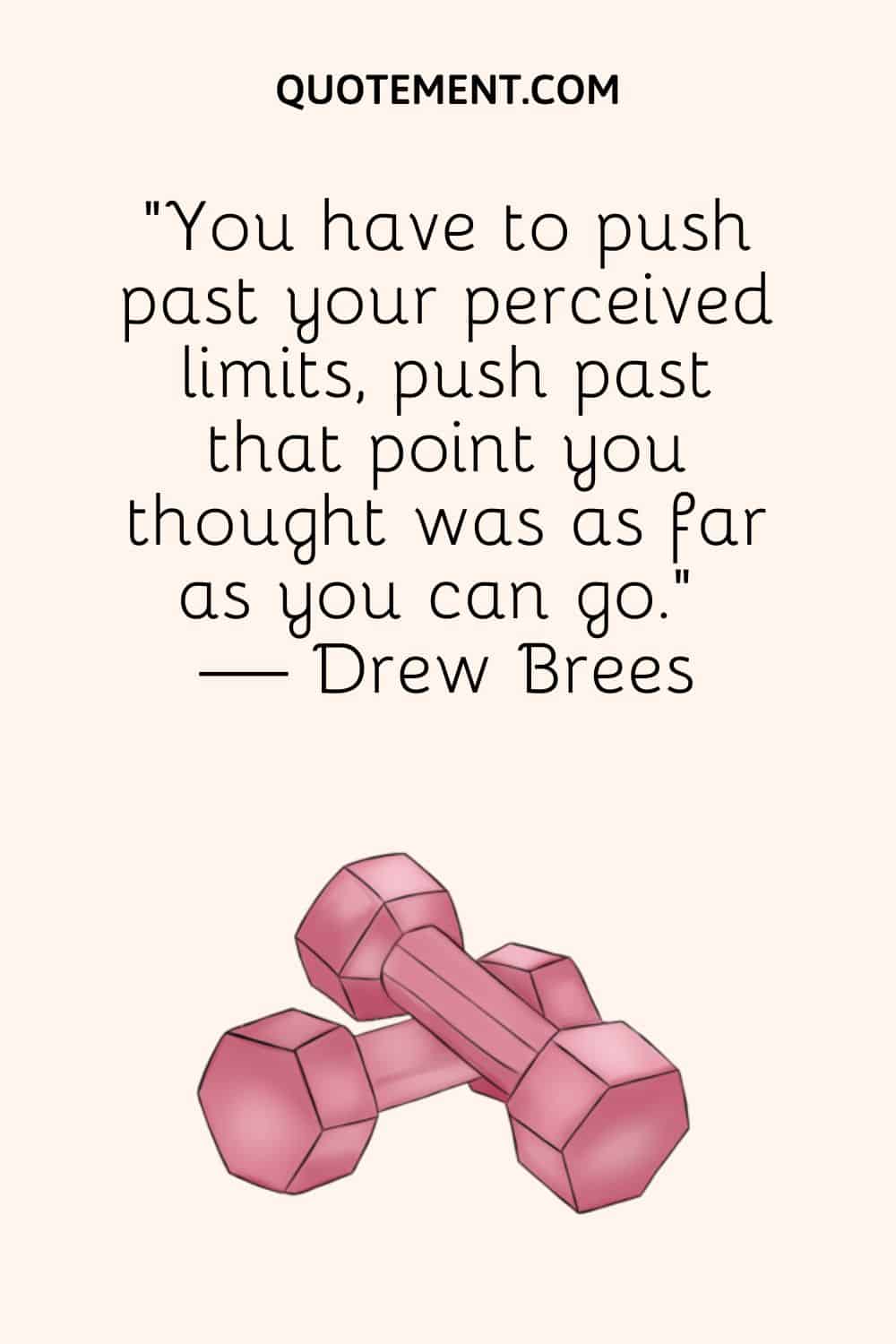 Sore Today, Stronger Tomorrow
1. "What hurts today makes you stronger tomorrow." — Jay Cutler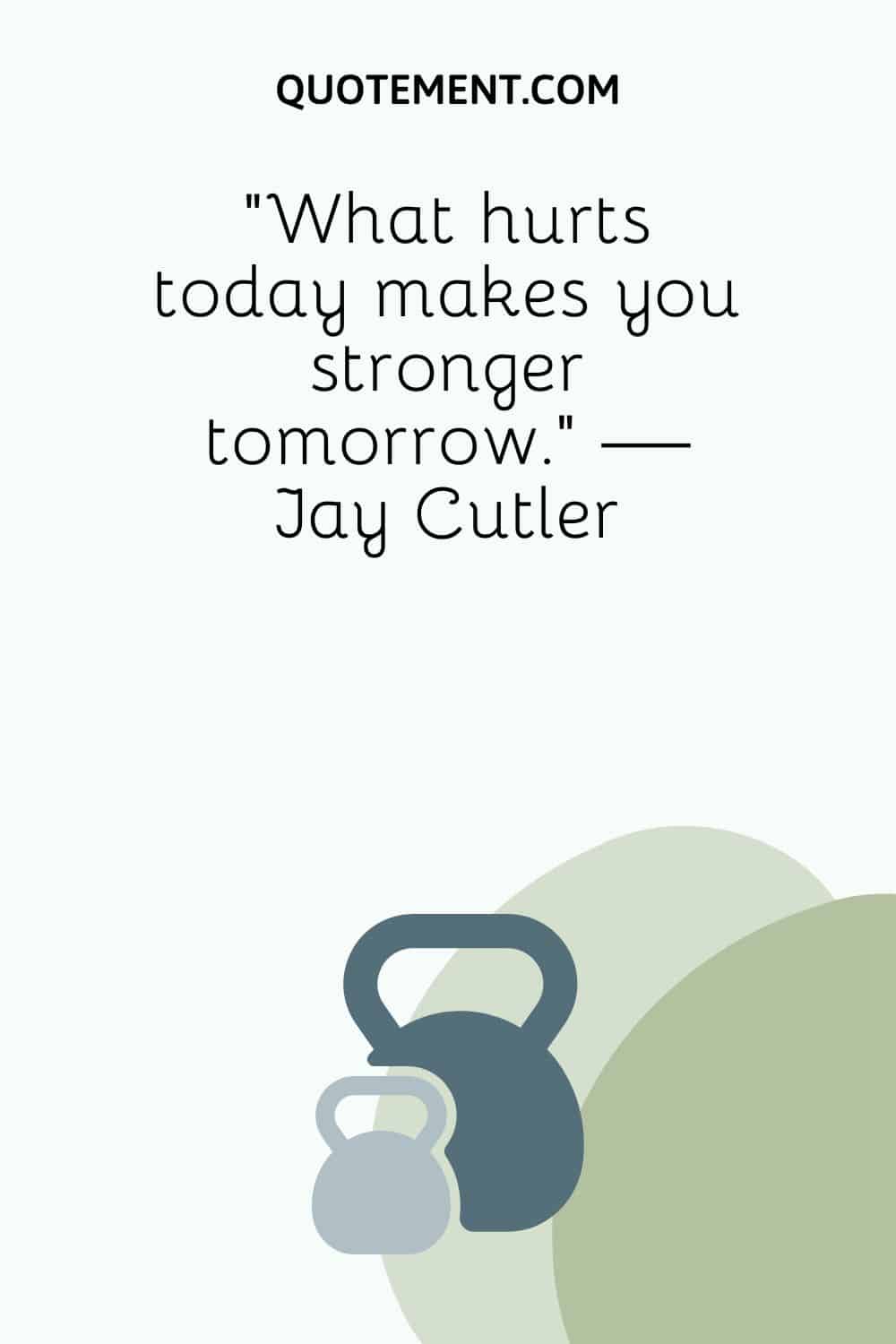 2. "The resistance that you fight physically in the gym and the resistance that you fight in life can only build a strong character." — Arnold Schwarzenegger
3. "Strength does not come from physical capacity. It comes from an indomitable will." — Mahatma Gandhi
4. "You've always been beautiful. Now you are just deciding to be healthier, fitter, faster, and stronger." — Unknown
5. "To keep the body in good health is a duty… otherwise we shall not be able to keep our mind strong and clear." — Buddha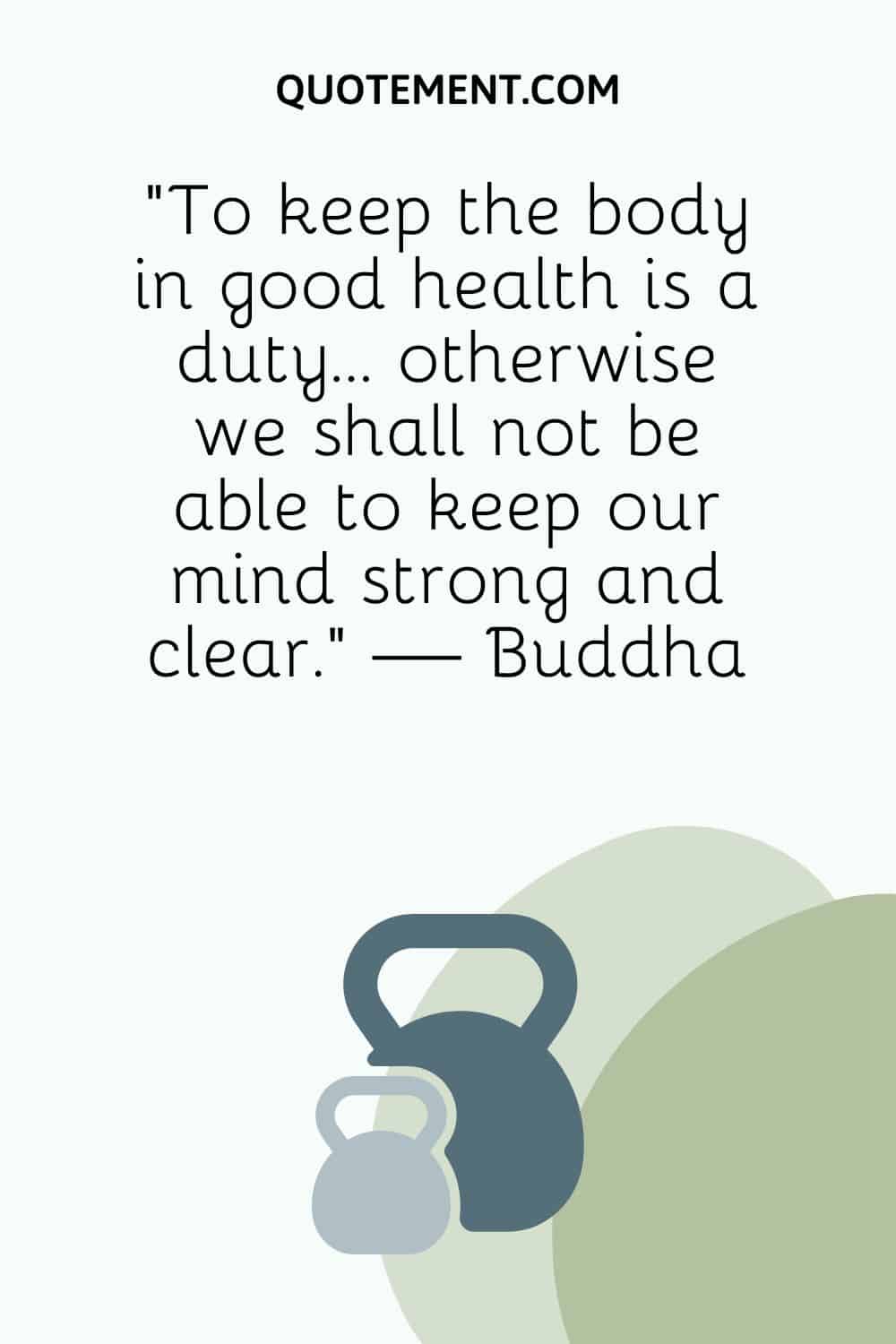 6. "Total physical fitness is a positive state of well-being bringing about sufficient strength and energy to participate in a full, active lifestyle." — Karen S. Mazzeo
7. "Strength does not come from winning. Your struggles develop your strengths. When you go through hardships and decide not to surrender, that is strength." — Arnold Schwarzenegger
8. "It's supposed to be hard. If it wasn't hard, everyone would do it. The hard is what makes it great." — Tom Hanks
9. "Your mind will quit a thousand times before your body will." — Reginald Red
10. "Today is your day. To start fresh. To eat right. To train hard. To live healthy. To be proud." — Bonnie Pfiester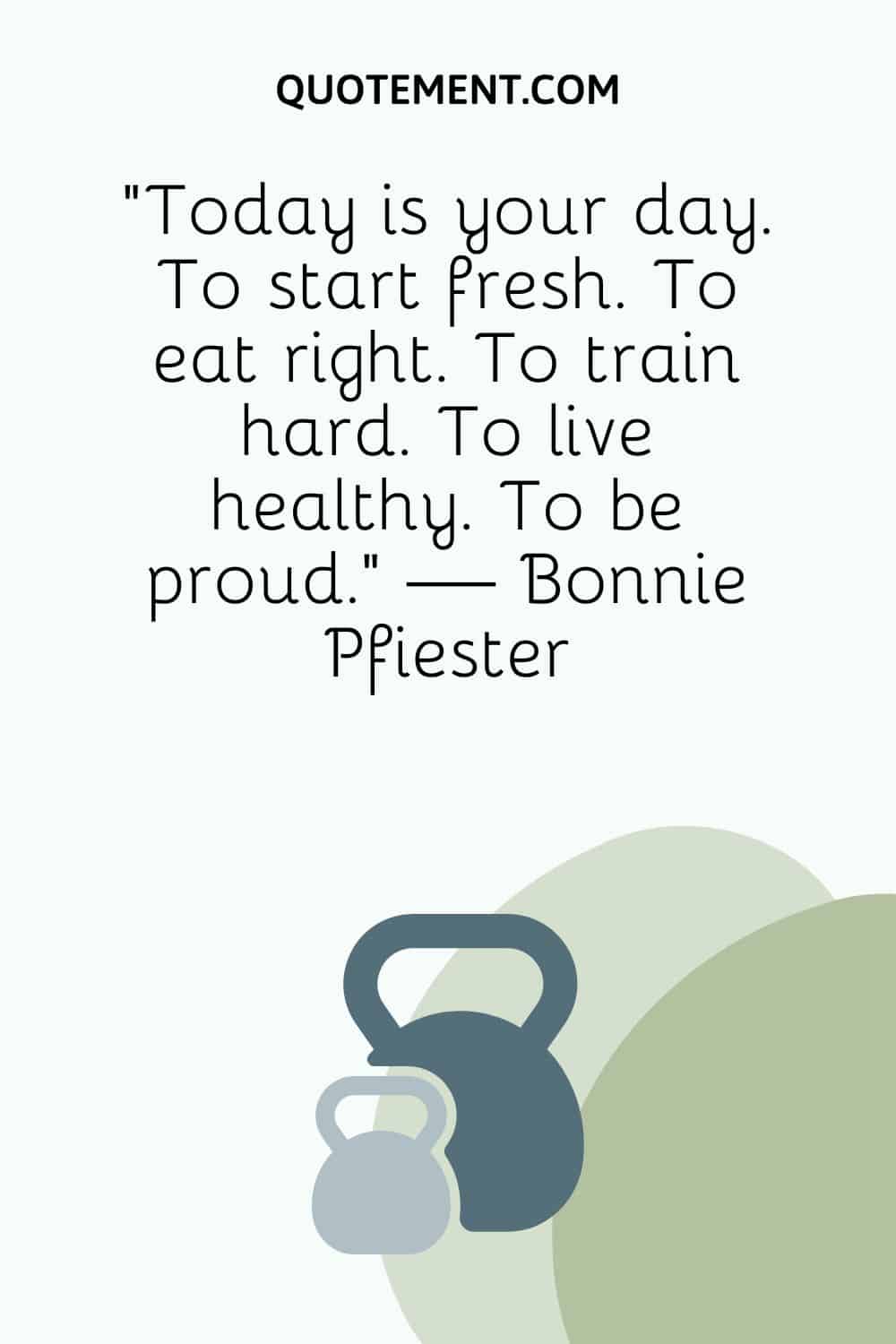 See also: 60 Inspirational You Are Stronger Than You Think Quotes
Good Things Come To Those Who Sweat
1. "Exercise should be regarded as tribute to the heart." — Gene Tunney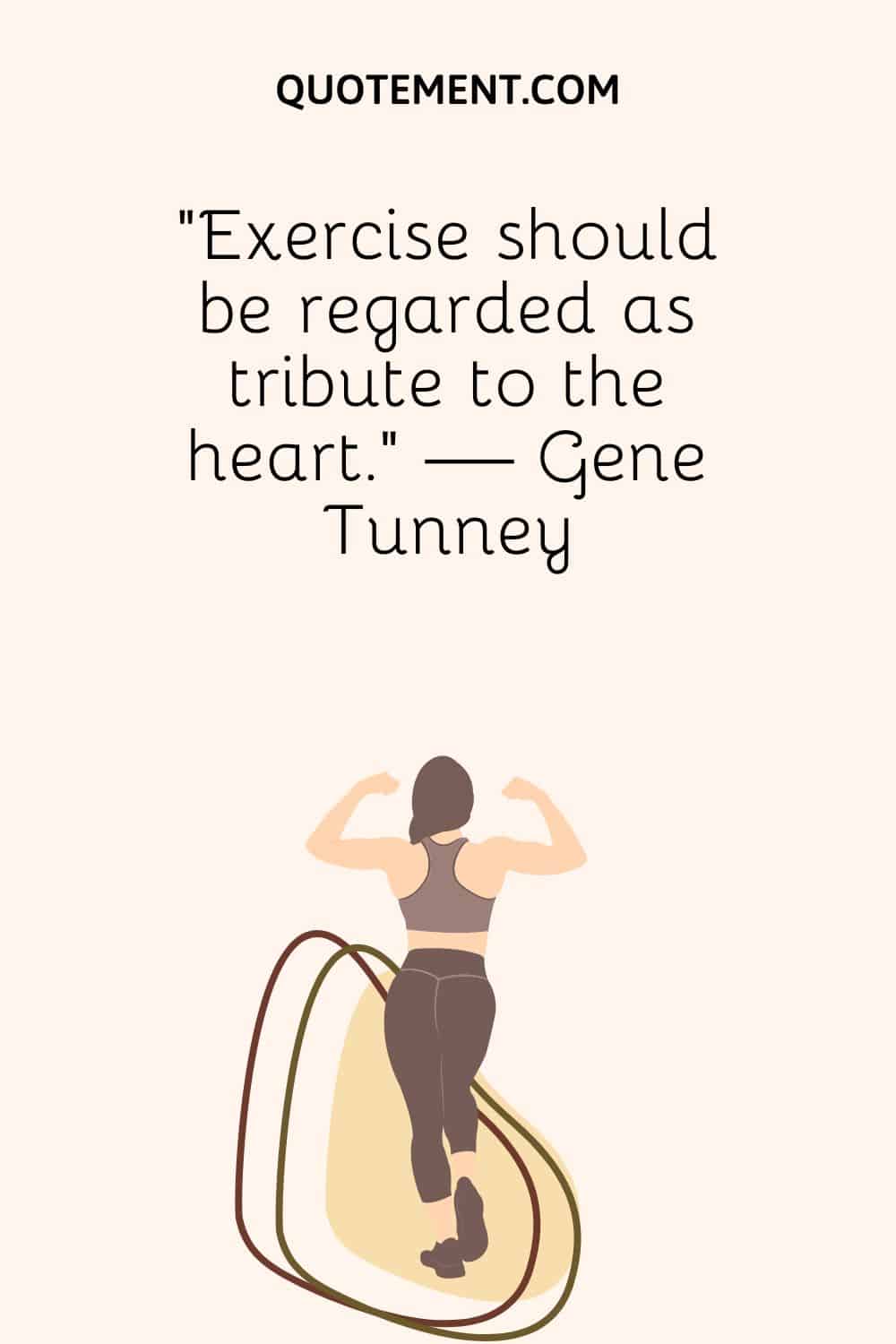 2. "Time, Effort, Sacrifice, and Sweat. How will you pay for your goals?" — Usain Bolt
3. "The purpose of training is to tighten up the slack, toughen the body, and polish the spirit." — Morihei Ueshiba
4. "The body achieves what the mind believes." — Napoleon Hill
5. 'Things may come to those who wait, but only the things left by those who hustle.' — Abraham Lincoln
6. "Confidence comes from discipline and training." — Robert Kiyosaki
7. "Do something today that your future self will thank you for." — Sean Patrick Flanery
8. "Action is the foundational key to all success." — Pablo Picasso
9. "Lack of activity destroys the good condition of every human being, while movement and methodical physical exercise save it and preserve it." — Plato
10. "The more you sweat in training, the less you bleed in combat." — Navy Seals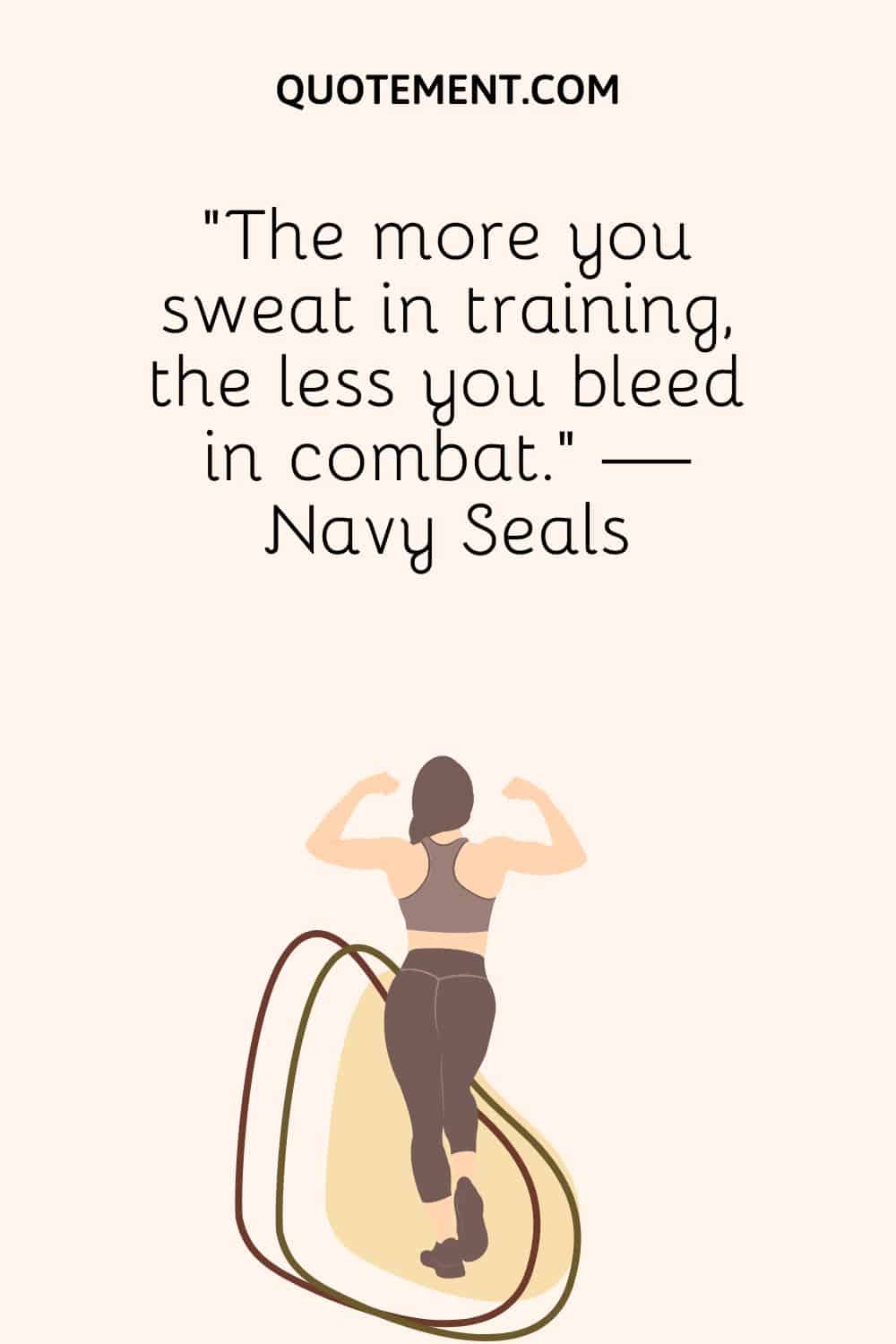 Progress Takes Place Outside Your Comfort Zone
1. "I don't count my sit-ups. I only start counting when it starts hurting because they're the only ones that count." — Muhammad Ali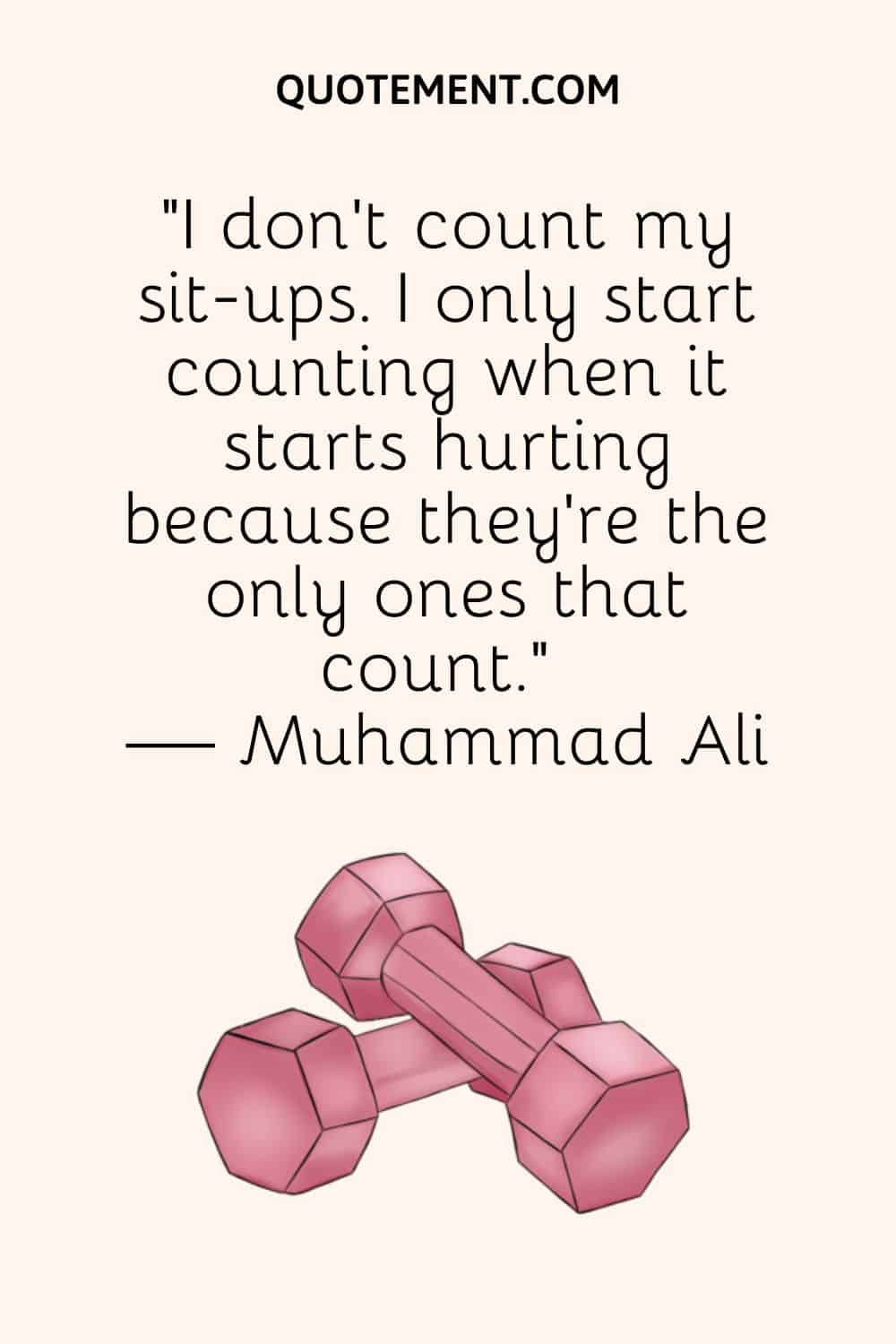 2. "If you ever wonder about the correct way to do an exercise, the answer is: whatever hurts most. When your muscles cry out in a voice of their own, you've got it!" — Jason Love
3. "Get ready, be prepared. So when opportunities finally show themselves, you'll be able to own them." — Hannah Gabriels
4. "The only place where success comes before work is in the dictionary." — Vidal Sassoon
5. "Always make a total effort, even when the odds are against you." — Arnold Palmer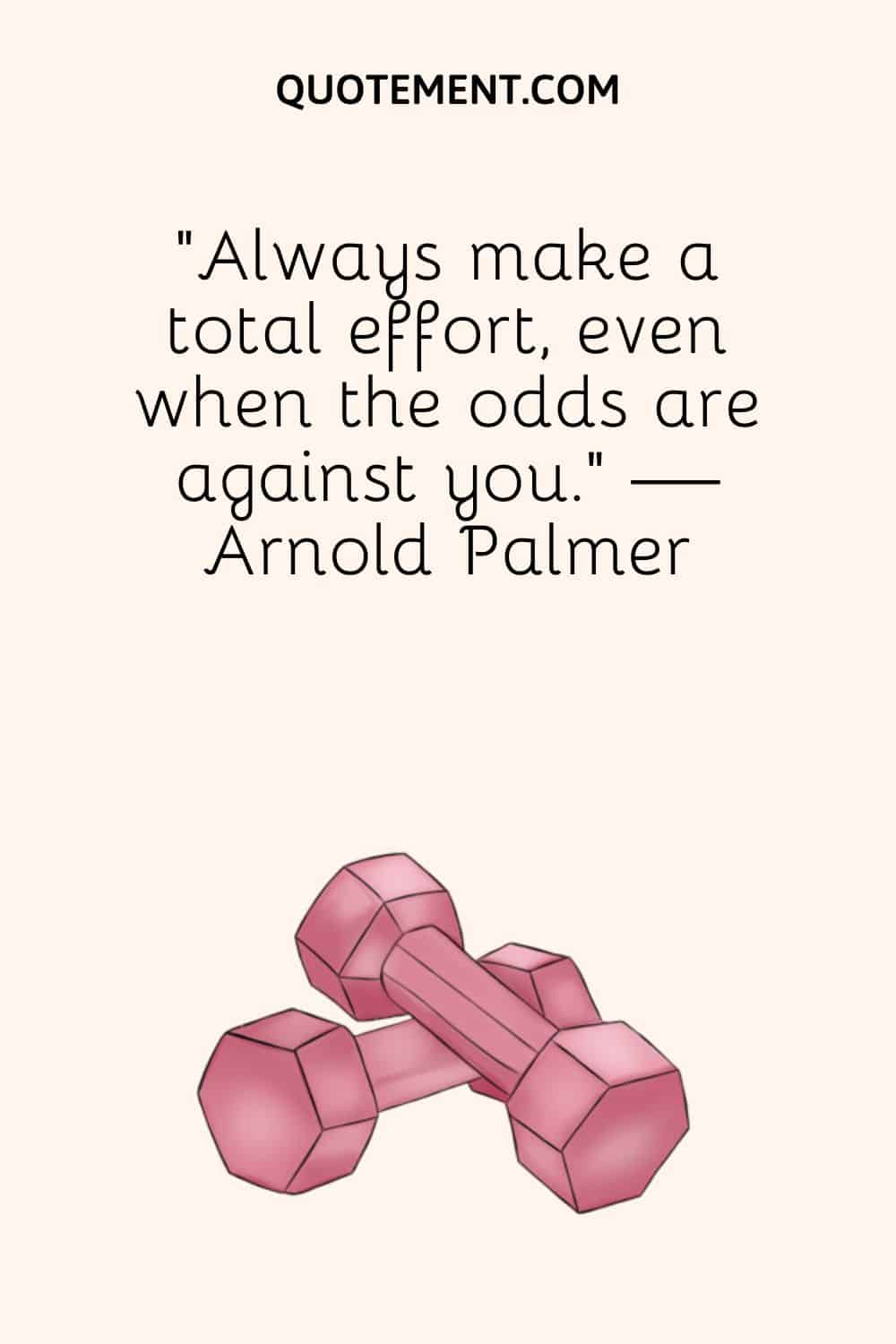 6. "A champion is someone who gets up when they can't." — Jack Dempsey
7. "If you are aiming to trim down and you have the time to hit the gym twice per day, by all means, go for it. That may be the perfect way to burn fat and build muscle for some people." ― Daniel J. Shamy
8. "If you are not pissed off for greatness, that just means you're okay with being mediocre." — Ray Lewis
9. "A gym is a sacred place which makes your life feel worth existing by putting the effort of care into the home of your soul called body!" — Munia Khan
10. "Would you rather be covered in sweat at the gym or clothes at the beach?" — Unknown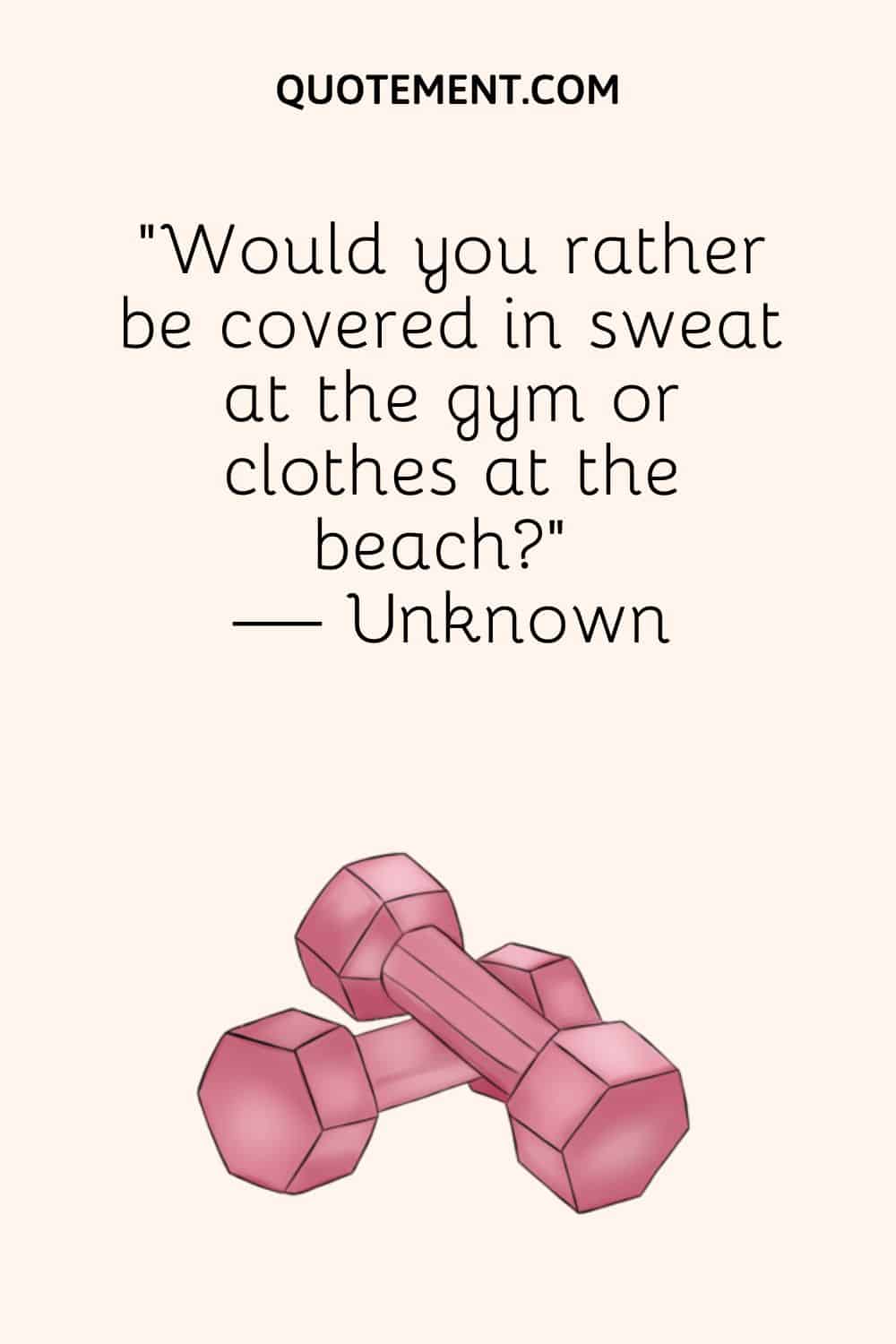 See also: 120 Ultimate Best Quotes About Progress To Fuel Your Growth
Be Your Own Competition
1. "I am not training to be strong or handsome — just better than I was yesterday. These days the race is just against myself." — Jean-Claude Van Damme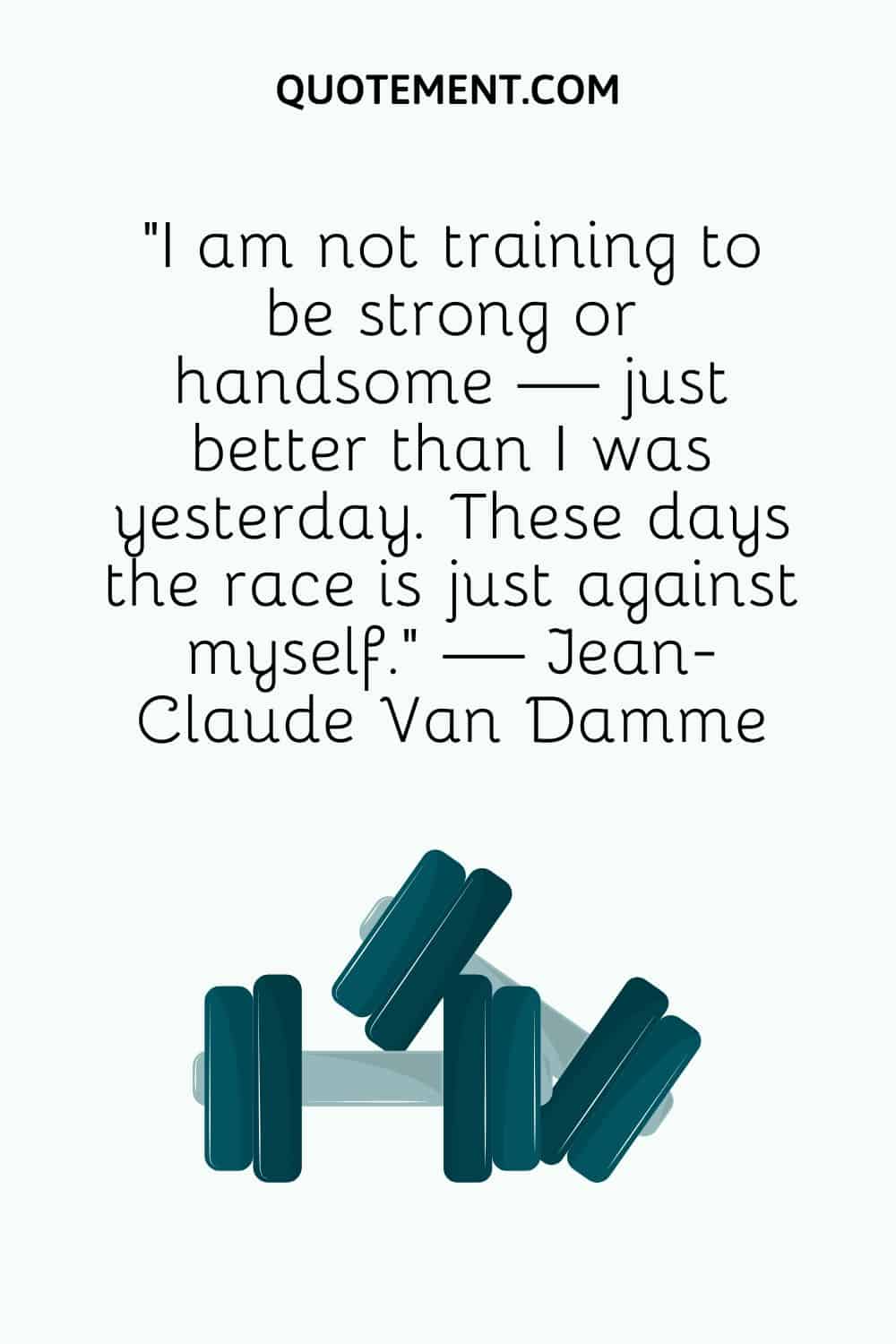 2. "Some people want it to happen, some wish it would happen, others make it happen." — Michael Jordan
3. "Keep working even when no one is watching." — Alex Morgan
4. "The only person you are destined to become is the person you decide to be." — Ralph Waldo Emerson
5. "Fitness is not about being better than someone else. It's about being better than you used to be." — Khloe Kardashian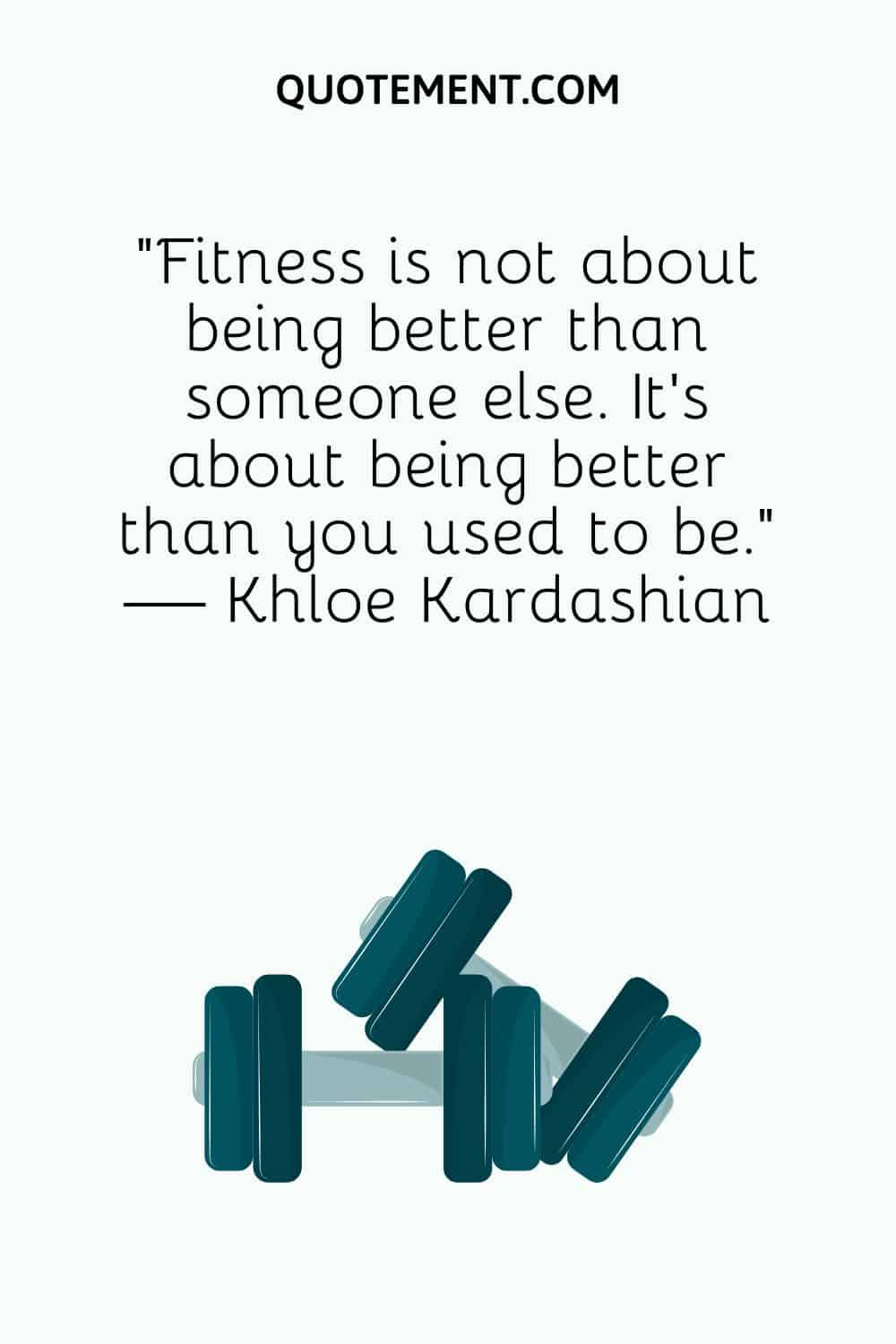 6. "No matter how many mistakes you make or how slow you progress, you are still way ahead of everyone who isn't trying." — Tony Robbins
7. "If it doesn't challenge you, it doesn't change you." — Fred DeVito
8. "The clock is ticking. Are you becoming the person you want to be?" — Greg Plitt
9. "If you do not believe in yourself, no one will do it for you." — Kobe Bryant
10. "Think of your workouts as important meetings you schedule with yourself. Bosses don't cancel." — Unknown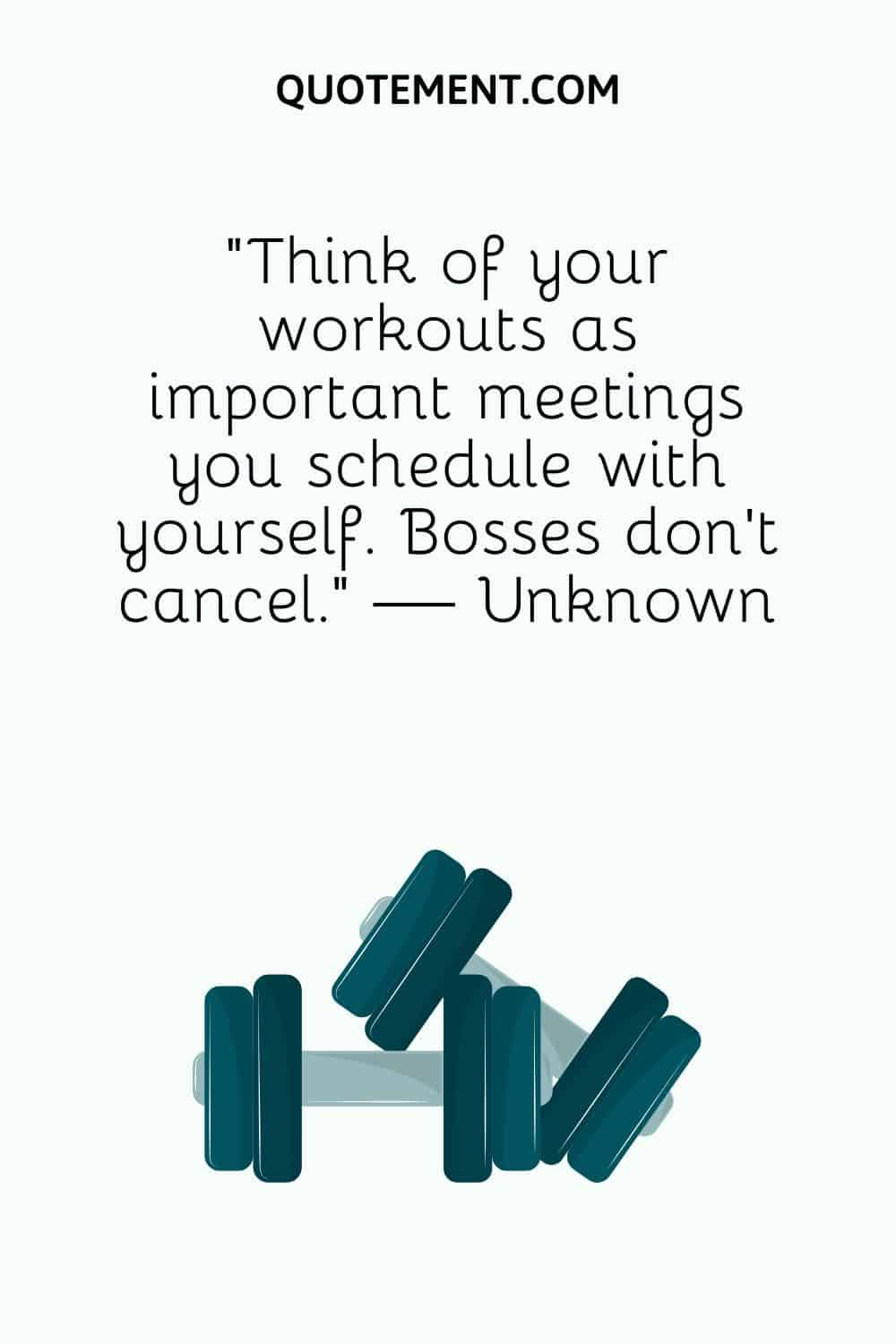 No Pain, No Gain
1. "Workout till you feel that pain and soreness in muscles. This one is good pain. No pain, no gain." — Invajy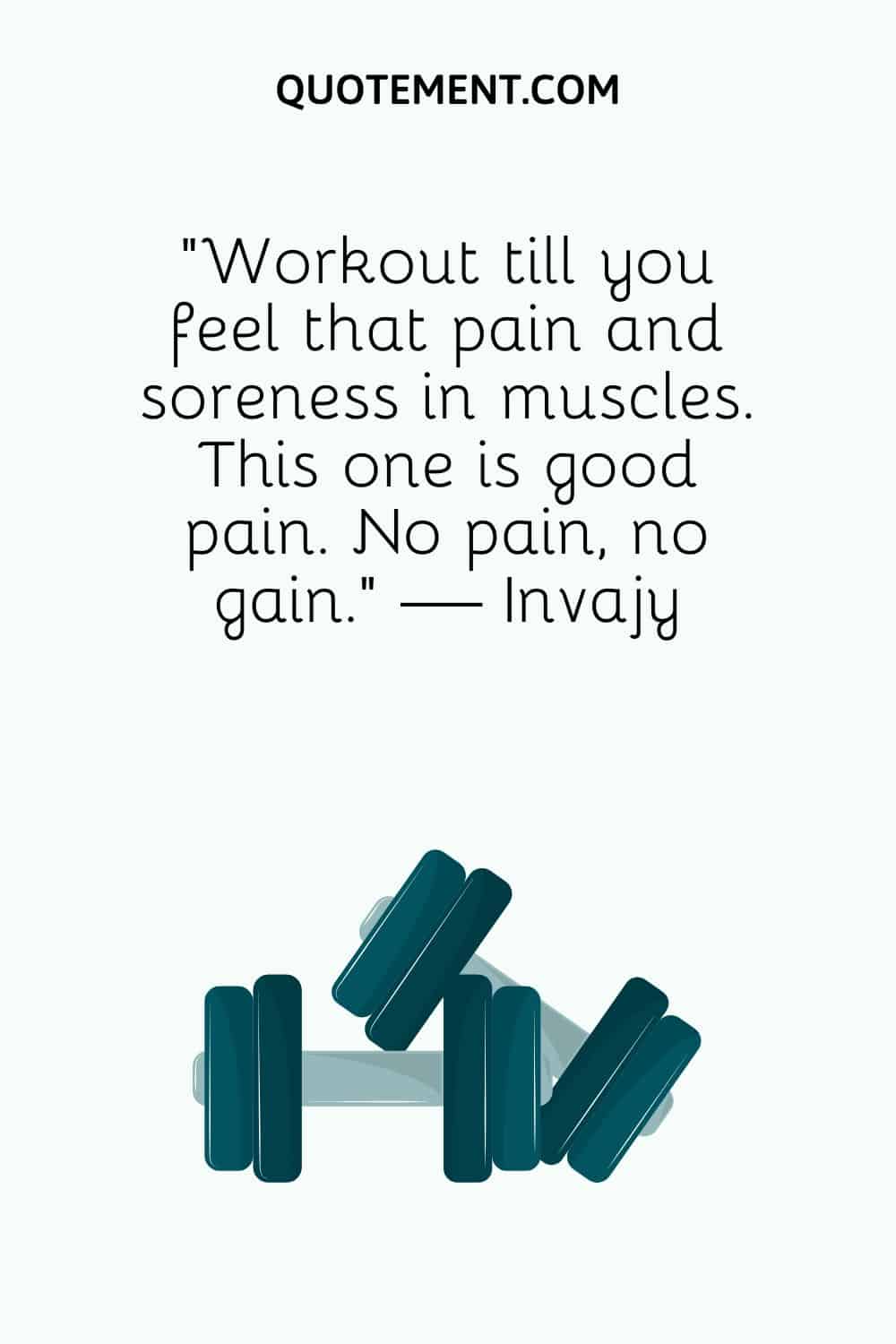 2. "The successful warrior is the average man, with laser-like focus." — Bruce Lee
3. "You shall gain, but you shall pay with sweat, blood, and vomit." — Pavel Tsatsouline
4. "The last three or four reps is what makes the muscle grow. This area of pain divides a champion from someone who is not a champion." — Arnold Schwarzenegger
5. "You can either suffer the pain of discipline or the pain of regret." — Jim Rohn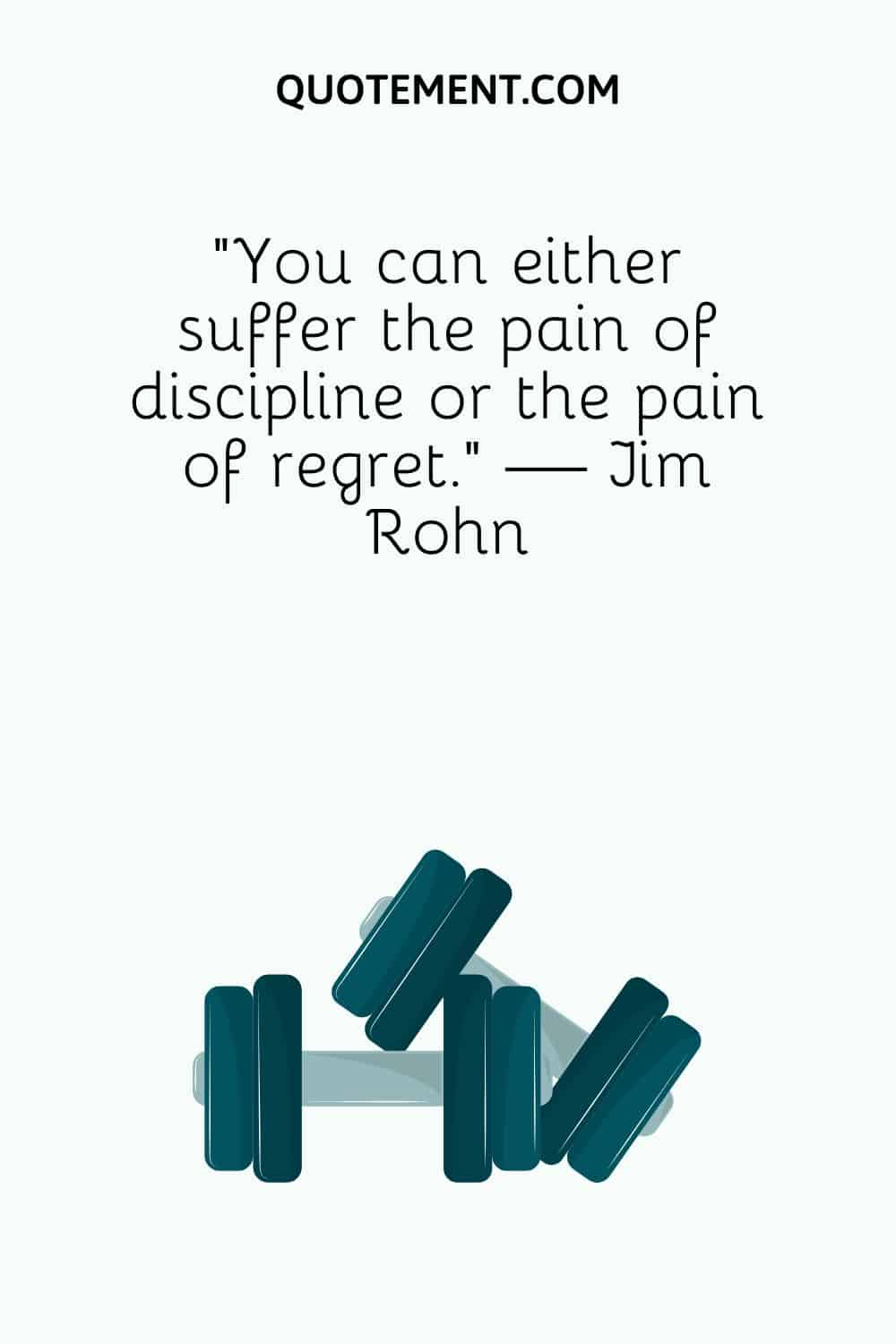 6. "Pain is temporary. It may last a minute, or an hour, or a day, or a year, but eventually it will subside and something else will take its place. If I quit, however, it lasts forever." — Lance Armstrong
7. "When I feel tired, I just think about how great I will feel once I finally reach my goal." — Michael Phelps
8. "There are two types of pain in this world: pain that hurts you, and pain that changes you." — Unknown
9. "Be patient and tough; someday this pain will be useful to you." — Ovid
10. "If you aren't hurting after a good workout then obviously you haven't done something right." — Mark W. Boyer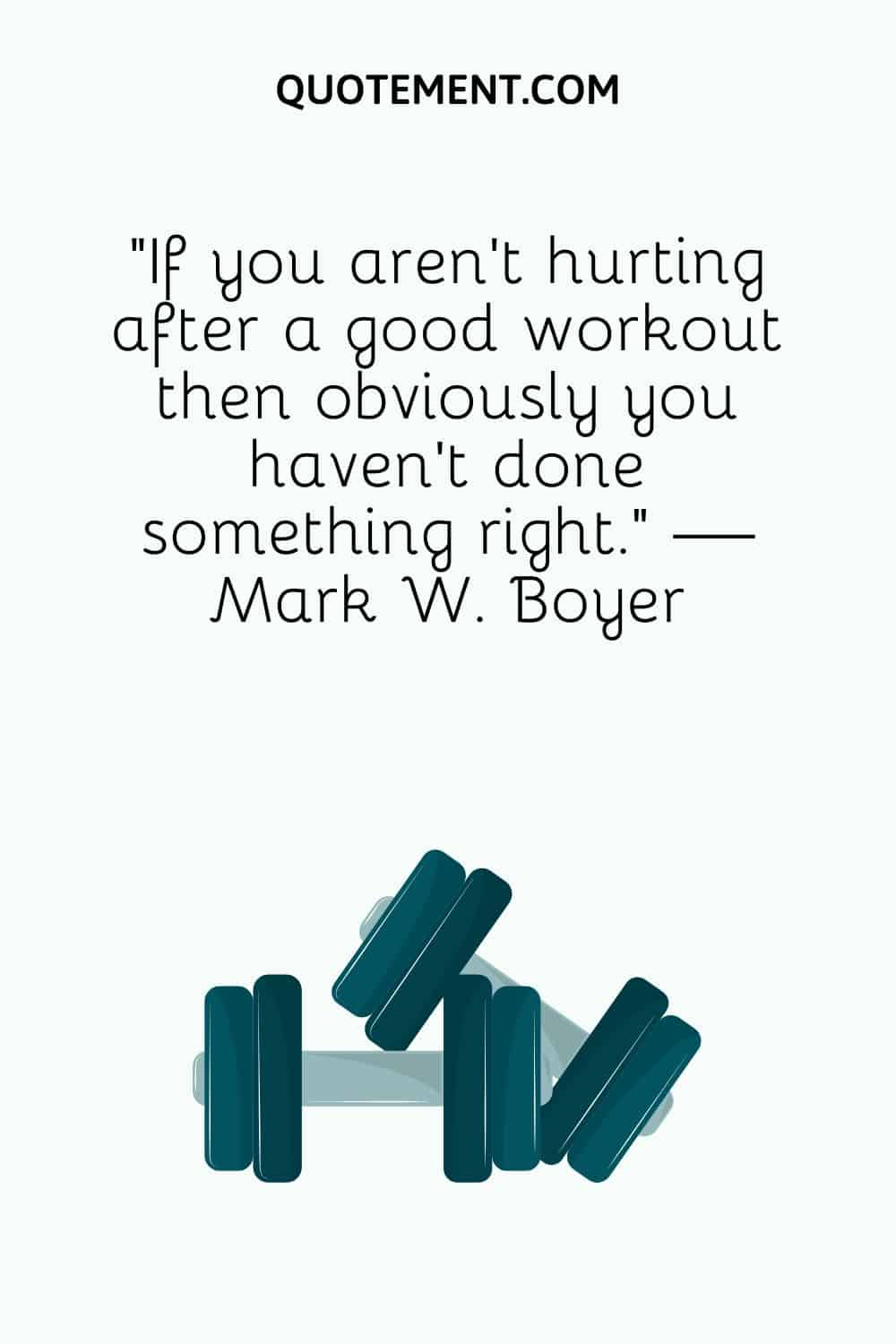 Lift Heavy And Run Fast
1. "If you think lifting is dangerous, try being weak. Being weak is dangerous." — Bret Contreras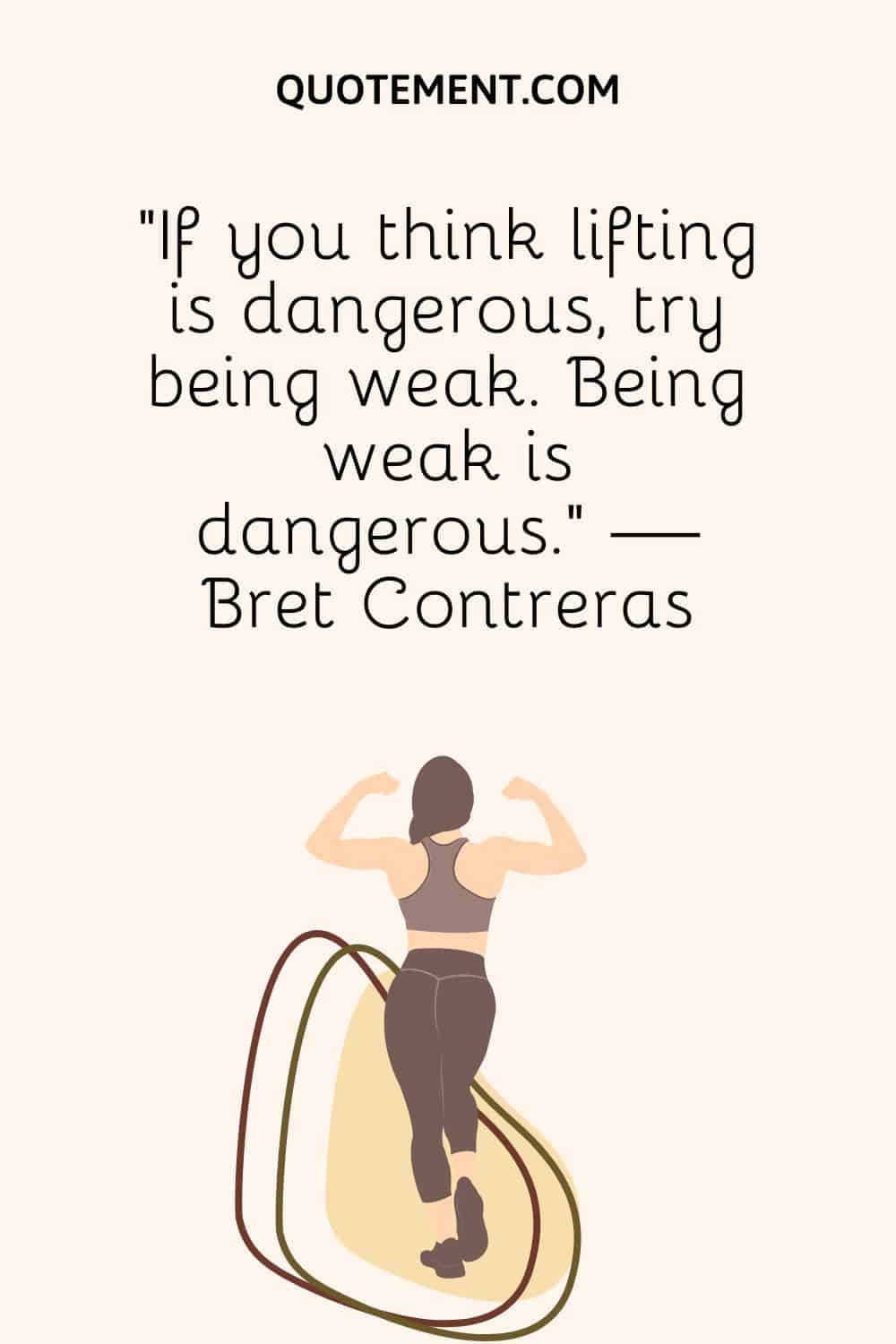 2. "I don't run to add days to my life, I run to add life to my days." — Ronald Rook
3. "When people tell me they can't afford to join a gym, I tell them to go outside; planet Earth is a gym and we're already members. Run, climb, sweat, and enjoy all of the natural wonders that are available to you." — Steve Maraboli
4. "Get to the gym regularly; that's your focus. You are consistently working towards your goal, therefore… You are attracting your success through what you do." ― Glyn Jenkins
5. "Don't be scared to LIFT HEAVY! You won't get huge and bulky, you'll just get amazing." — Jessie Hilgenberg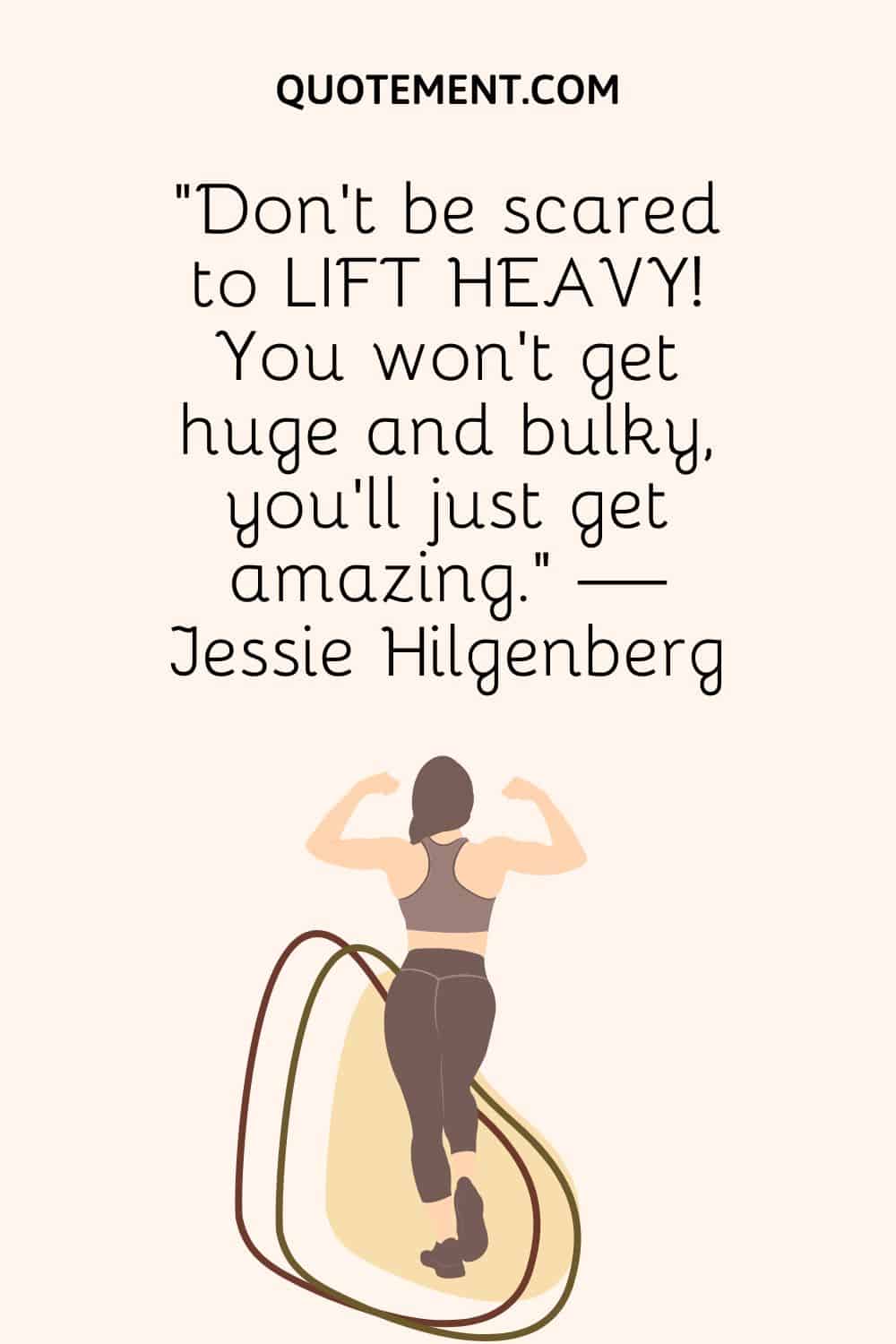 6. "Don't train to be skinny. Train to be a badass." — Demi Lovato
7. "My gym has two-pound weights. If you're using two-pound weights, how did you even open the door to the gym? What's your dream? To pump up and open your mail?" — Dave Attell
8. "To enjoy the glow of good health, you must exercise." — Gene Tunney
9. "Nobody gets muscles by watching ME lift weights." — Arnold Schwarzenegger
10. "A man's health can be judged by which he takes two at a time: pills or stairs." ― Joan Walsh Anglund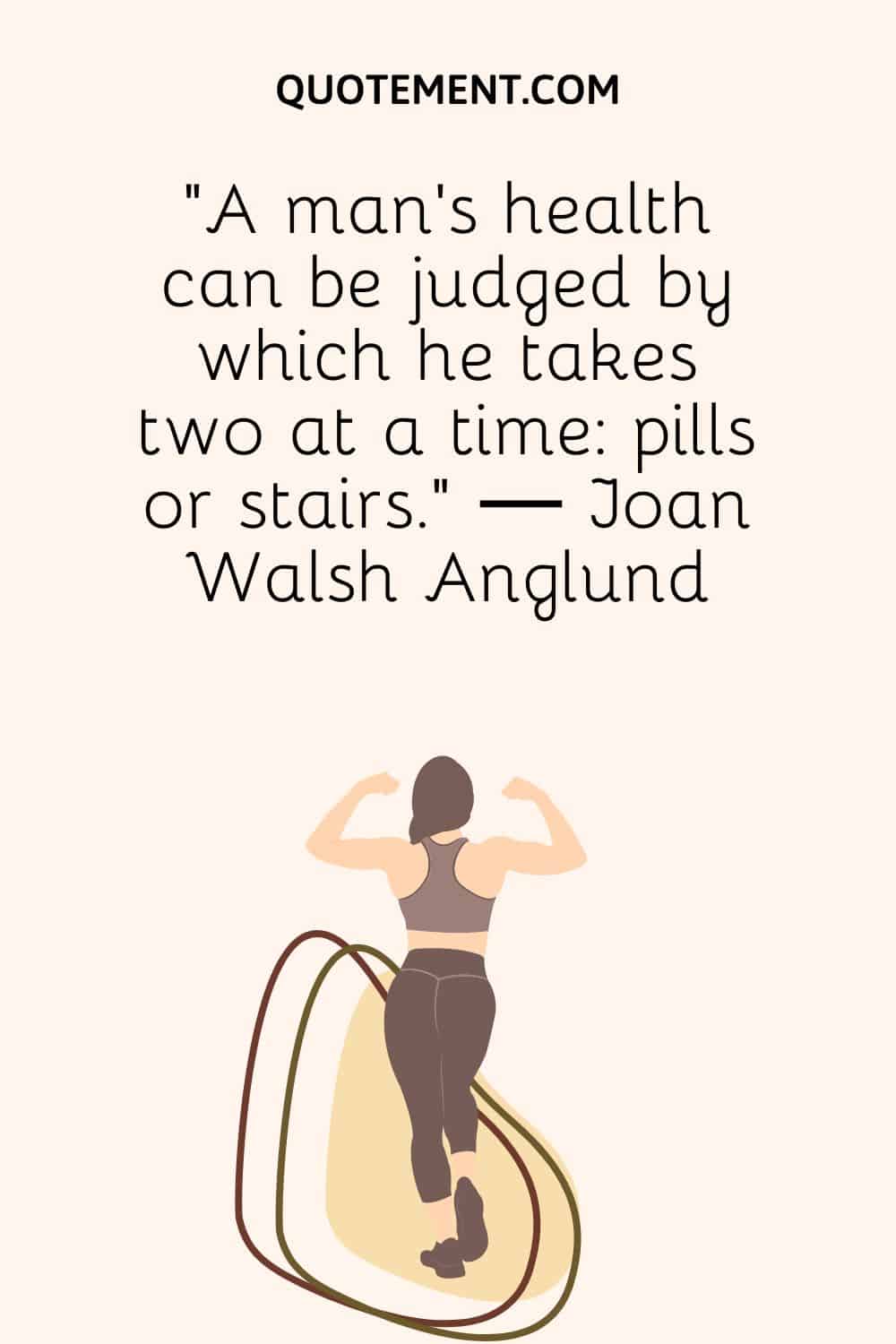 See also: 130 Powerful Health Affirmations For A Healthy Lifestyle
Eat Clean, Train Dirty
1. "When it comes to eating right and exercising, there is no 'I'll start tomorrow.' Tomorrow is a disease." — V.L. Allinea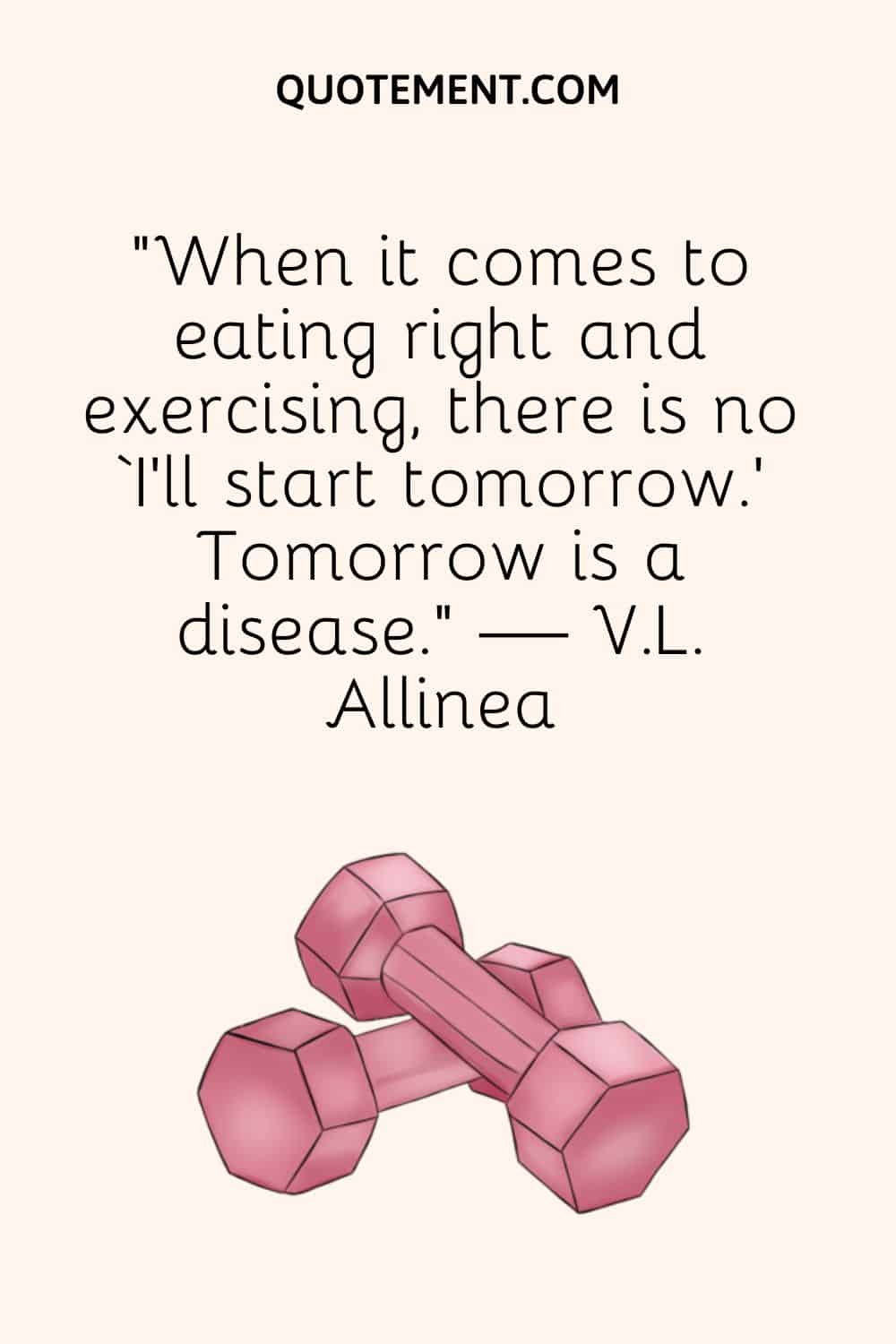 2. "Every day is another chance to get stronger, to eat better, to live healthier, and to be the best version of you." — Unknown
3. "Keep listening to your body. It will tell you when something is not okay." — Emily Infeld
4. "The groundwork for all happiness is good health." — Leigh Huntfs
5. "If you don't make time for exercise, you'll probably have to make time for illness." — Robin Sharma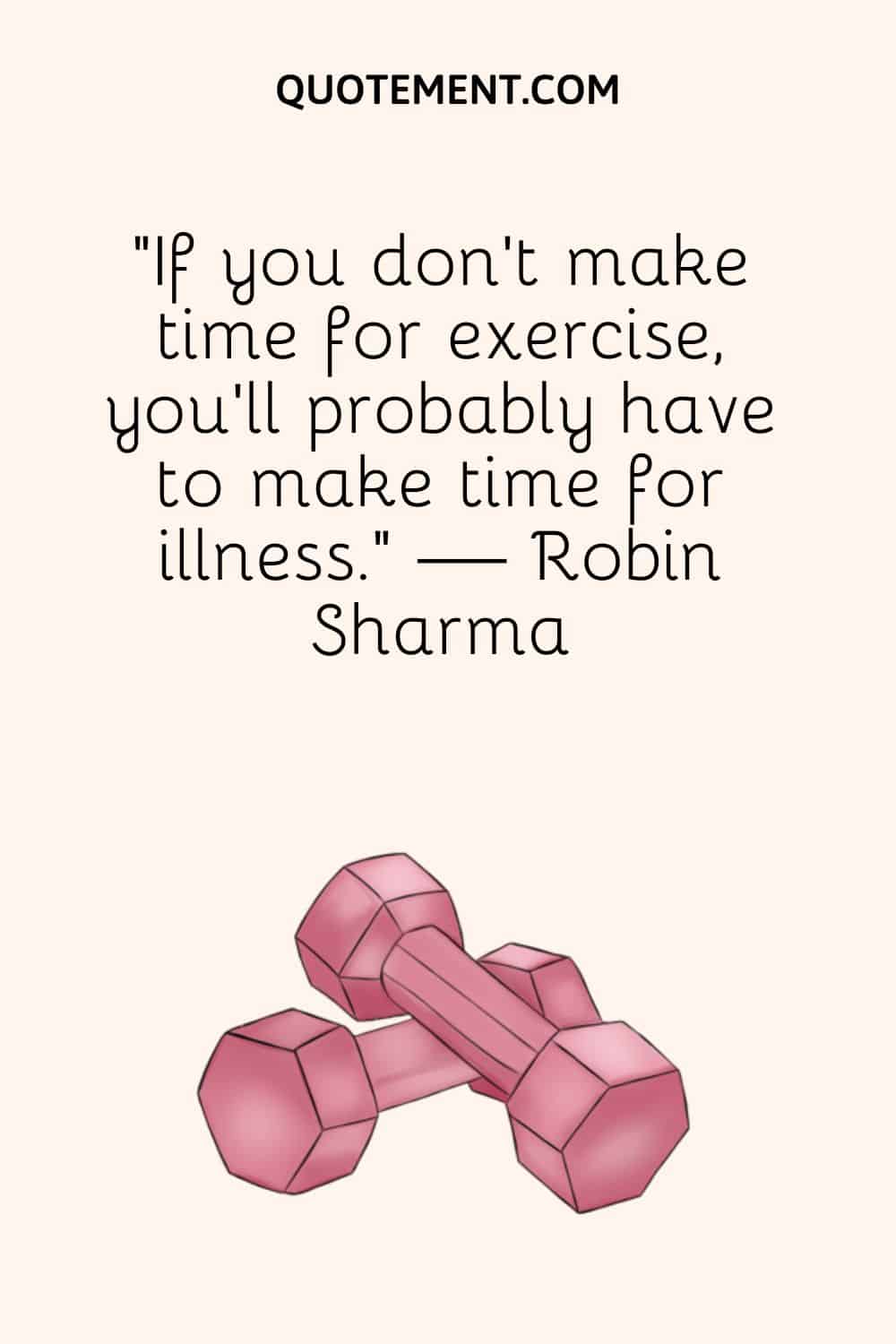 6. "Don't dream of winning. Train for it!" — Mo Farah
7. "When you hit failure, your workout has just begun." — Ronnie Coleman
8. "I will beat her. I will train harder. I will eat cleaner. I know her strengths. I've lost to her before but not this time. She is going down. I have the advantage because I know her well. She is the old me." — Unknown
9. "Feed your fitness. Starve your mediocrity." — Krystal Breakley
10. "When it comes to health and well-being, regular exercise is about as close to a magic potion as you can get." — Thich Nhat Hanh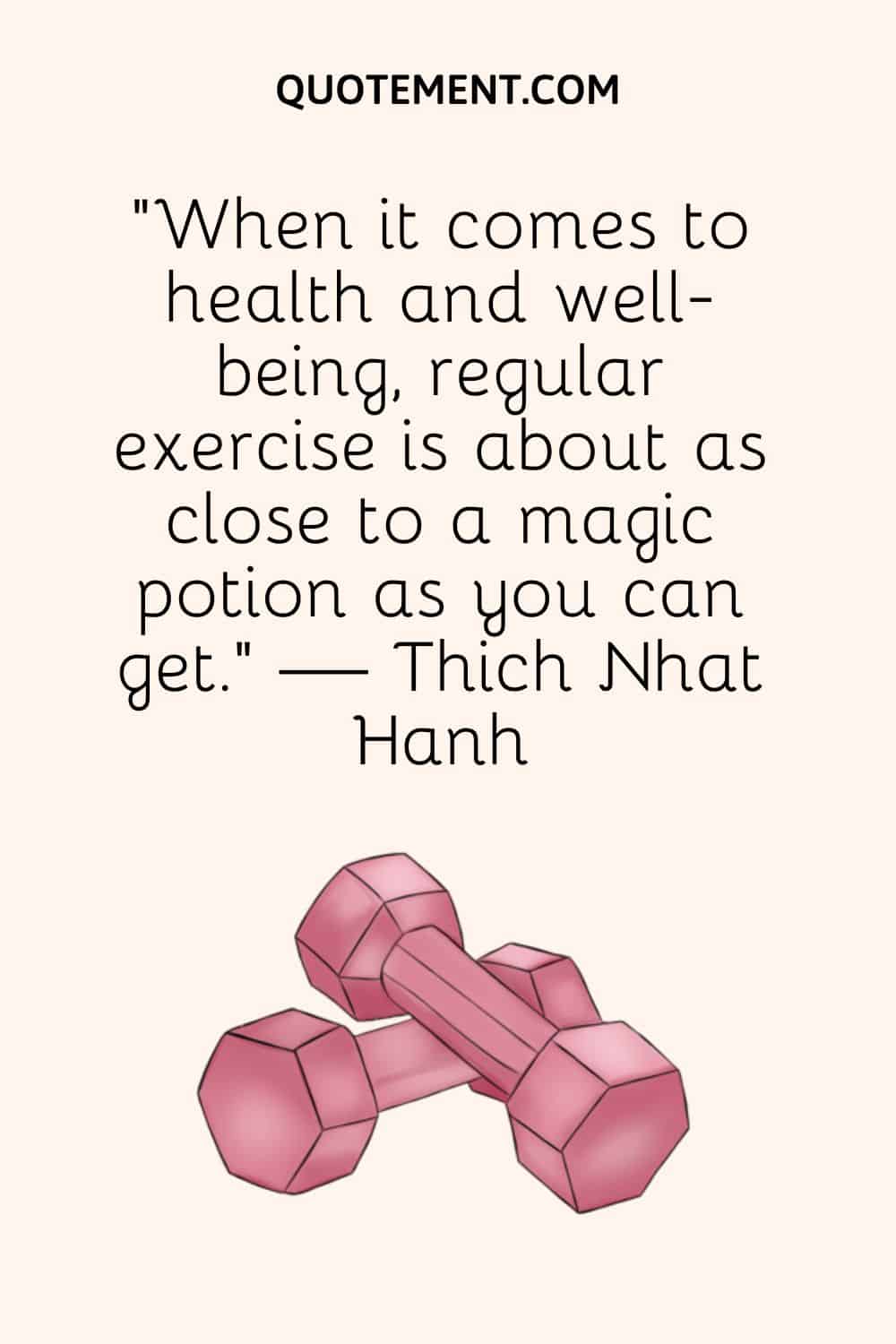 Don't Be Extreme; Be Consistent
1. "Most people fail, not because of lack of desire, but, because of lack of commitment." — Vince Lombardi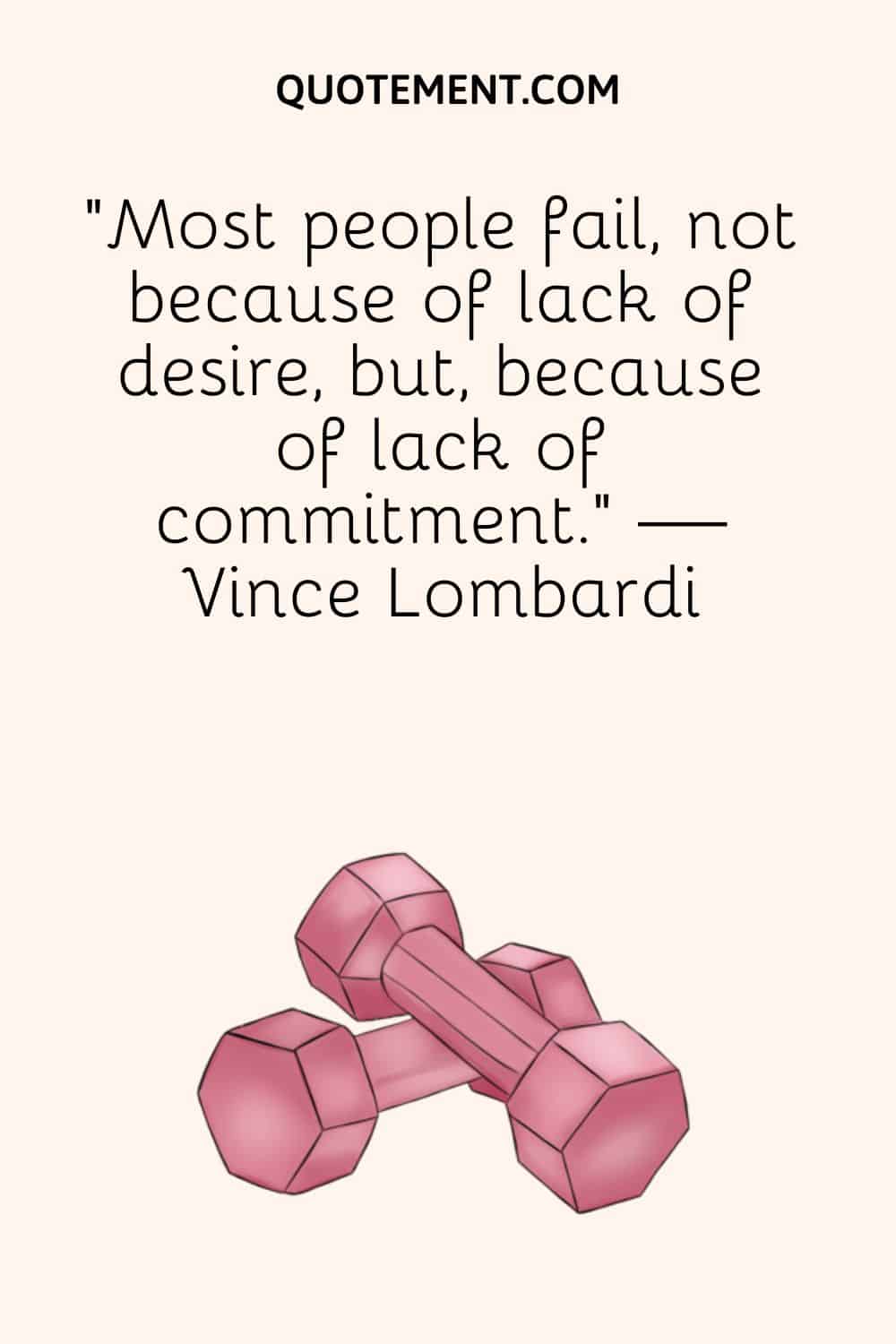 2. "Never finished. Always under construction." — Unknown
3. "Motivation is what gets you started. Habit is what keeps you going." — Jim Ryun
4. "Once you are exercising regularly, the hardest thing is to stop it." — Erin Gray
5. "I've failed over and over again in my life and that is why I succeed." — Michael Jordan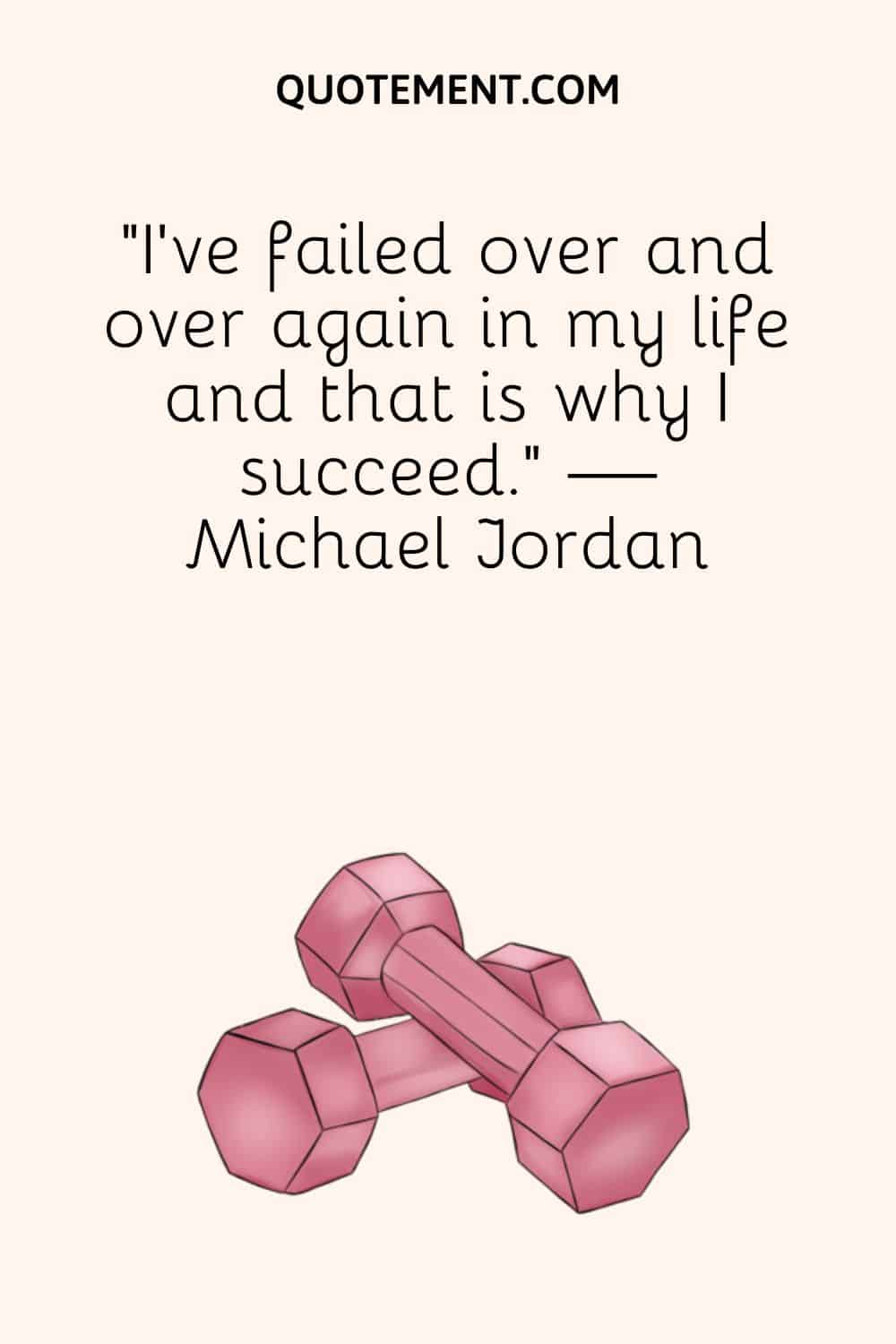 6. "Take care of your body. It's the only place you have to live." — Jim Rohn
7. "Just believe in yourself. Even if you don't, just pretend that you do and at some point, you will." — Venus Williams
8. "The only bad workout is the one that didn't happen." — Unknown
9. "It's hard to beat a person who never gives up." — Babe Ruth
10. "Physical fitness can neither be achieved by wishful thinking nor outright purchase." — Joseph Pilates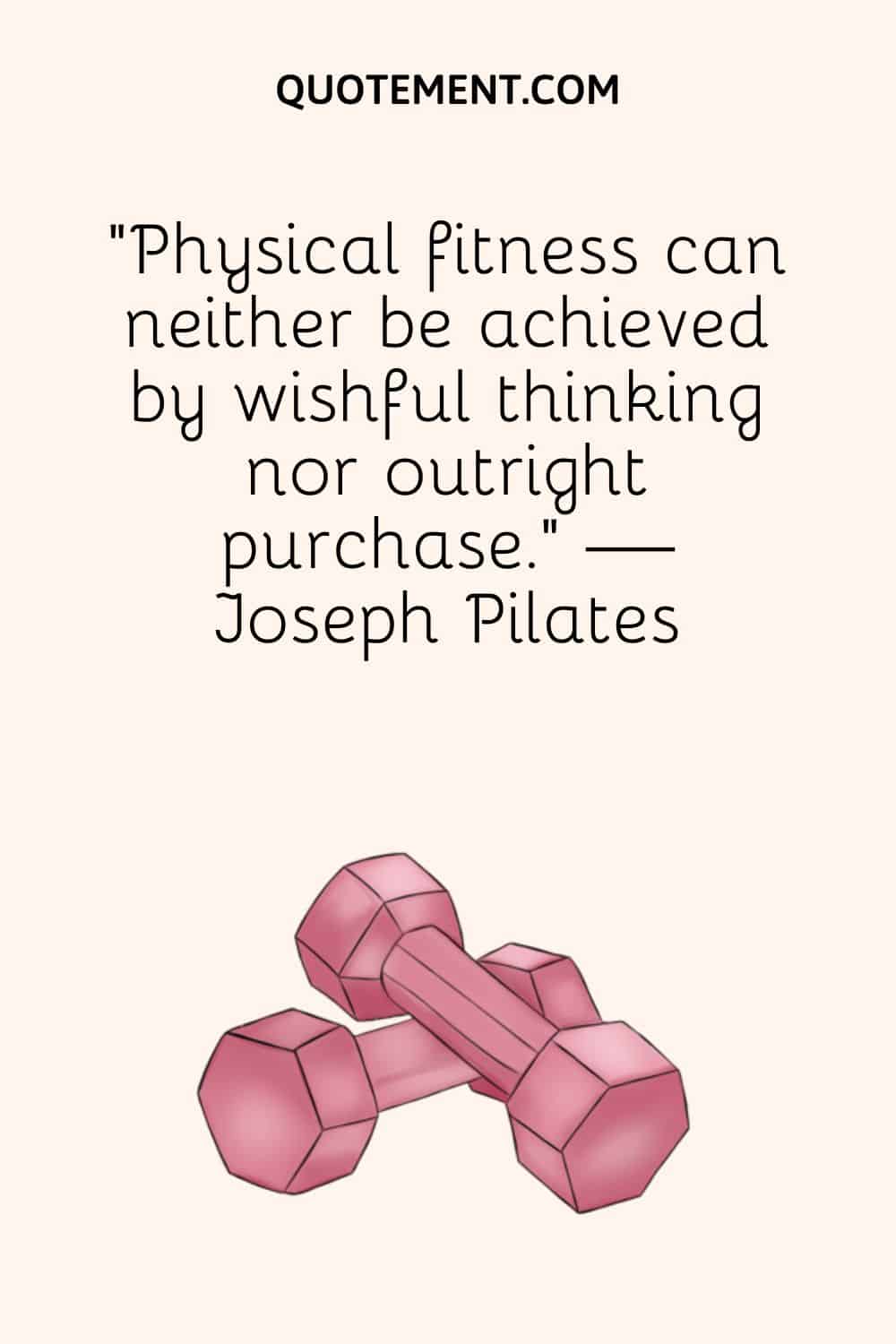 See also: 50 Life-Changing Consistency Quotes On The Key To Success
It's Not A Race — It's A Journey
1. "You should never stay at the same level. Always push yourself to the next." — Marnelli Dimzon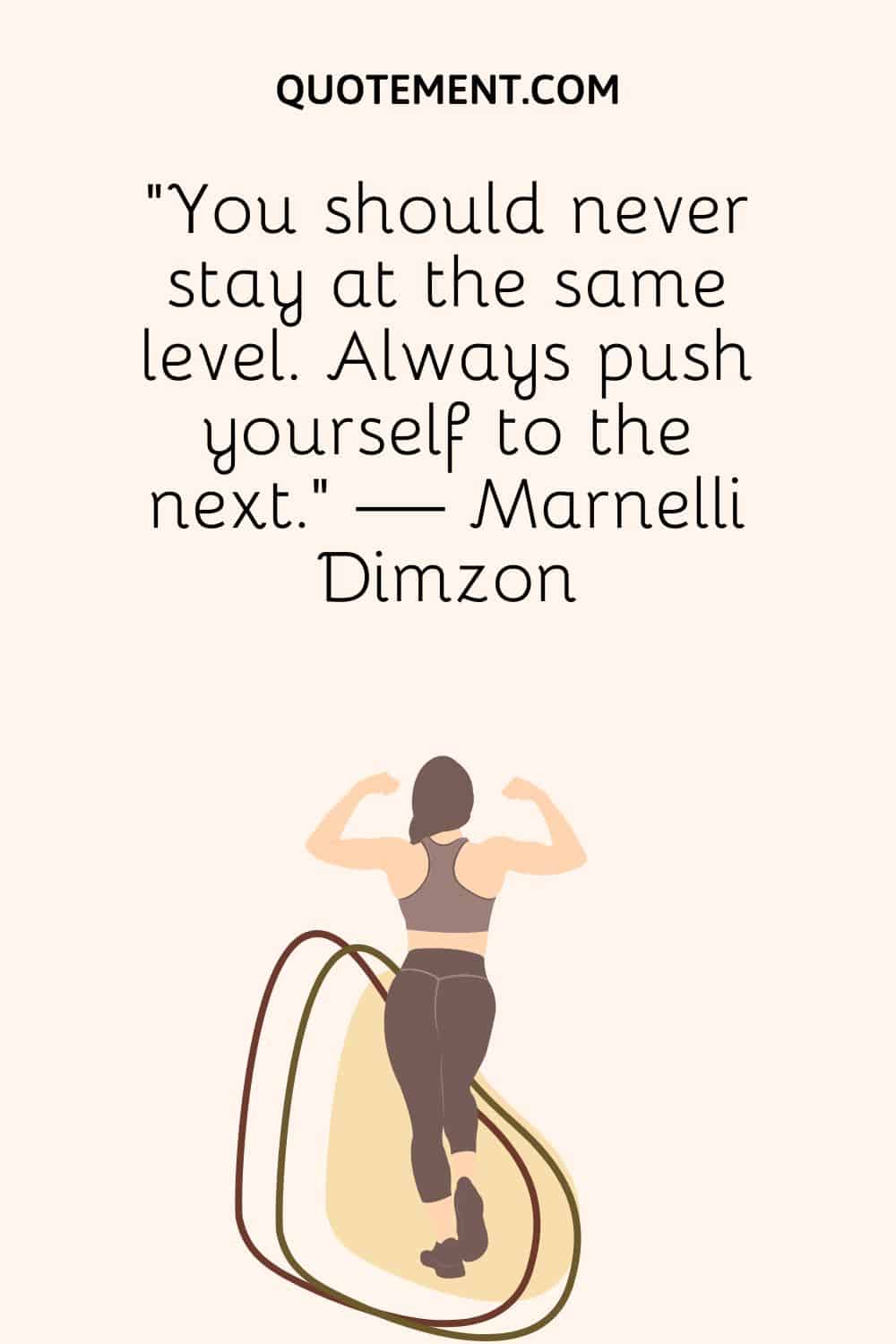 2. "You're going to have to let it hurt. Let it suck. The harder you work, the better you will look. Your appearance isn't parallel to how heavy you lift, it's parallel to how hard you work." — Joe Manganiello
3. "The hard days are the best because that's when champions are made, so if you push through, you can push through anything." — Dana Vollmer
4. "Our bodies are gardens, our wills are our gardeners." — William Shakespeare
5. "Exercise to stimulate, not to annihilate. The world wasn't formed in a day, and neither were we. Set small goals and build upon them." — Lee Haney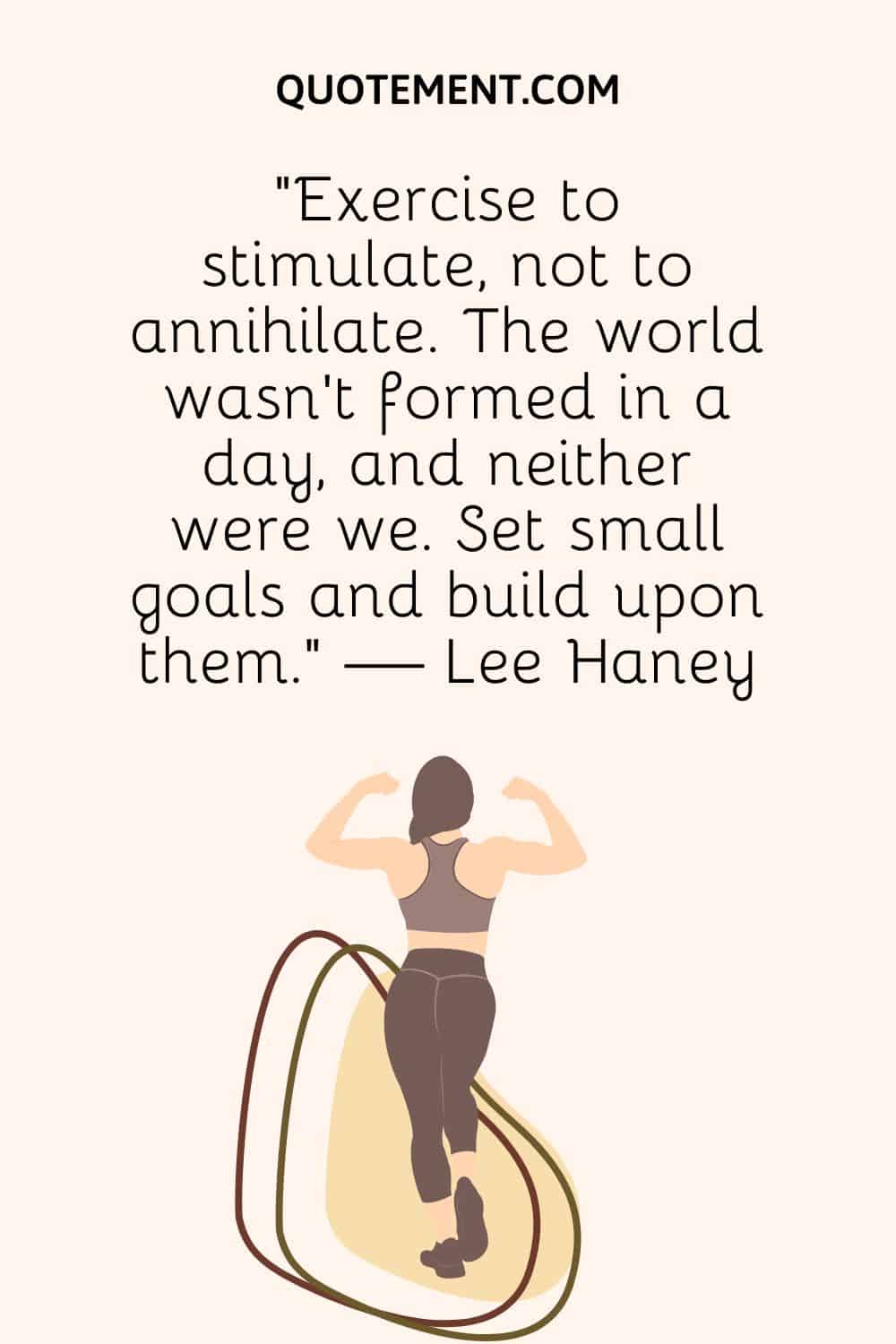 6. "We are what we repeatedly do. Excellence then is not an act but a habit." — Aristotle
7. "Fit is not a destination. It is a way of life." — Unknown
8. "We do not stop exercising because we grow old- we grow old because we stop exercising." — Dr. Kenneth Cooper
9. "You dream. You plan. You reach. There will be obstacles. There will be doubters. There will be mistakes. But with hard work, with belief, with confidence and trust in yourself and those around you, there are no limits." — Michael Phelps
10. "Don't wait until you've reached your goal to be proud of yourself. Be proud of every step you take toward reaching that goal." — Unknown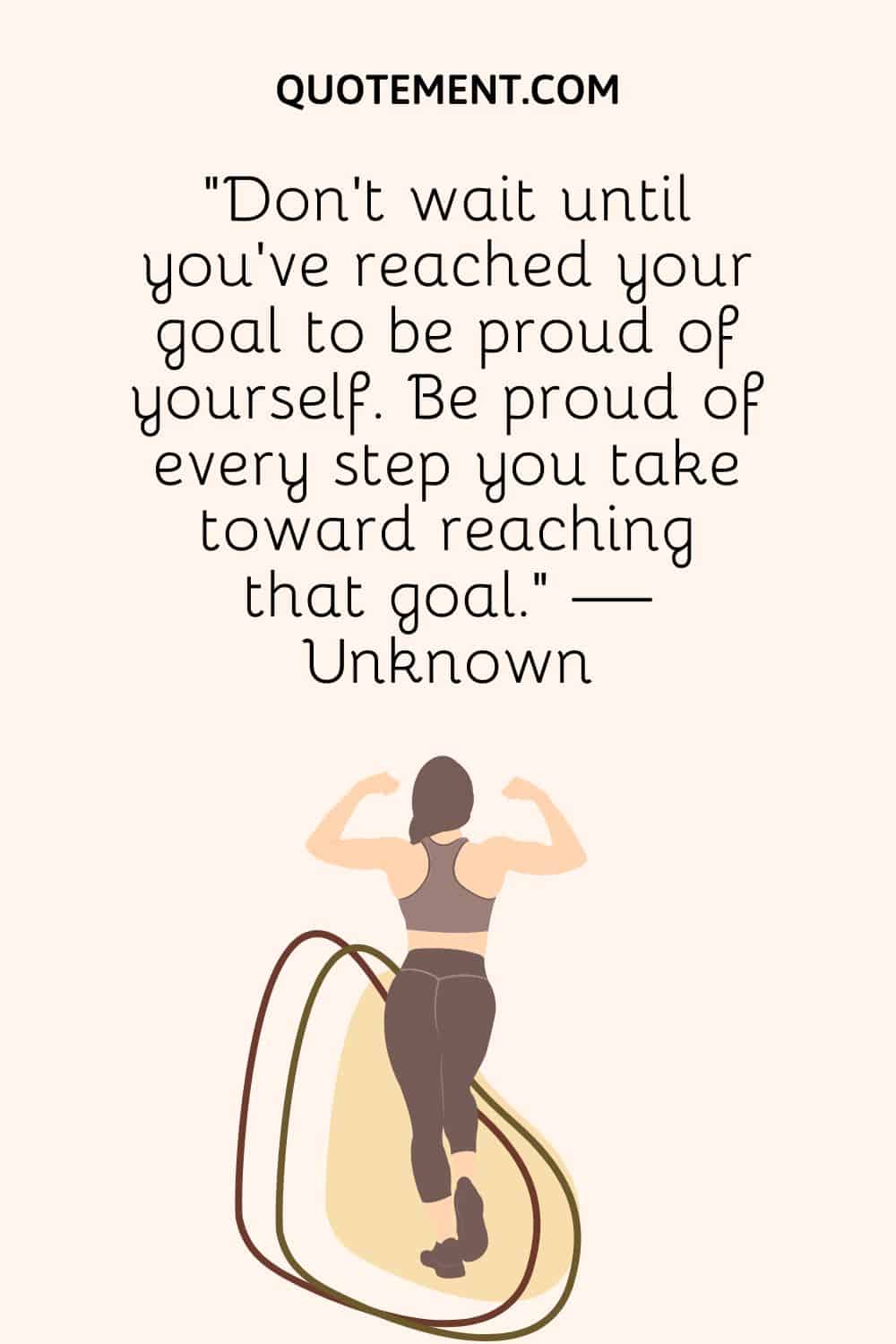 Summing Up
I hope my collection of motivational gym quotes gave you that extra push you needed to hit the gym and stay on track with your fitness goals!
Read next: 140 Female Fitness Quotes To Awaken Your Inner Beast