Enjoying a romantic evening with your beloved is one of the biggest joys in life.
Today's article brings you an extensive collection of 180 exquisite date night quotes for those sweet nights full of magic.
I searched wide and far to collect only the best date night quotes from various sources on the web.
You can use them to inspire you to set a date night with your lover. These quotes will give you plenty of ideas for a lovely romantic date, from coffee dates to romantic dinner date nights.
You can share them with your partner, and if you want to post cute pics on your social media, you can also use them as Instagram captions.
I'm sure you'll find lots of inspiring quotes here, so let's start exploring!
Top 10 Most Beautiful Date Night Quotes
I'll start this article with my top 10 favorite date night quotes. Check them out!
1. "I don't need no vacation, no fancy destination. Baby, you're my great escape." — Thomas Rhett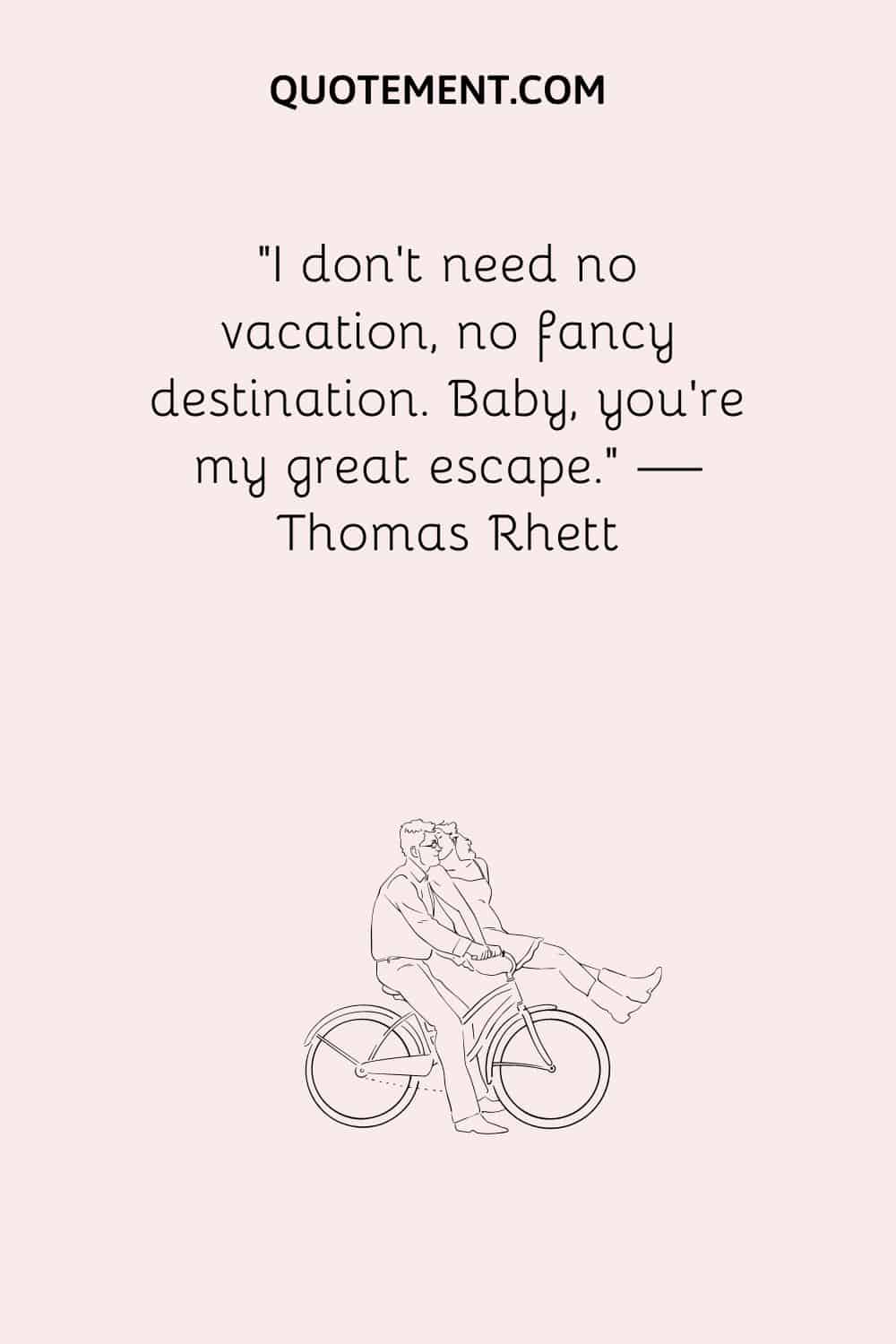 2. "Hair blowing in the wind, losing track of time, just you and I." — Demi Lovato
3. "It doesn't matter what you are doing for date night – It matters who you are doing it with." — Paulo Rollo
4. "Beware the man who doesn't ask you any questions about yourself on your first date." — Merrill Markoe
5. "I want to approach life as if I'm going on a first date, with joy and enthusiasm." — Lauren Levine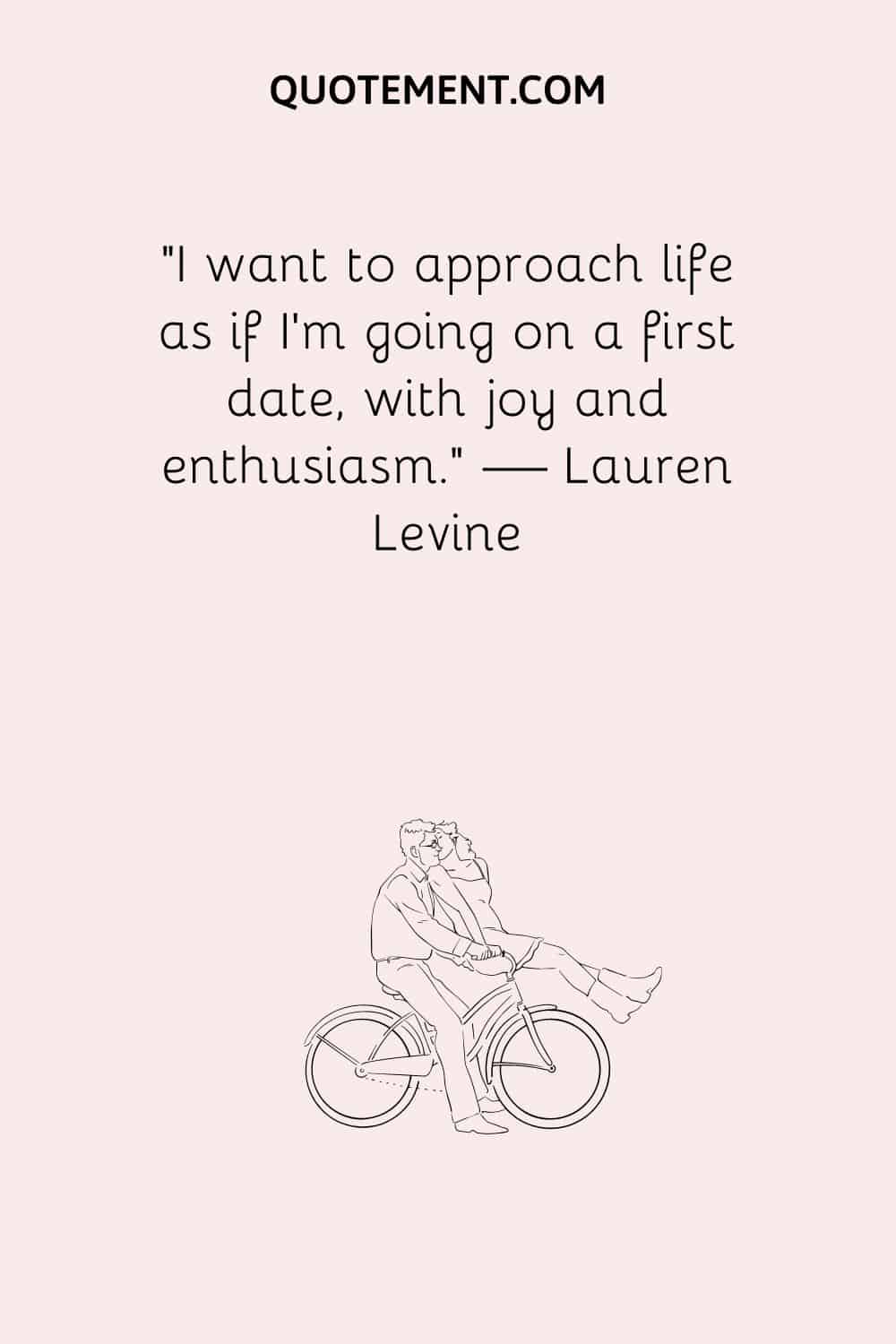 6. "In the end, like so many beautiful promises in our lives, that dinner date never came to be." — Haruki Murakami
7. "Do what you did in the beginning of a relationship and there won't be an end." — Anthony Robbins
8. "To love and be loved is to feel the sun from both sides." — David Viscott
9. "The perfect date is the one where anything and everything goes wrong, but at the end of it, all you want is to see them again." — Dylan O'Brian
10. "When every night is a candlelight dinner, how could Feb. 14 only be our Valentines Day?" — Nikhita Jr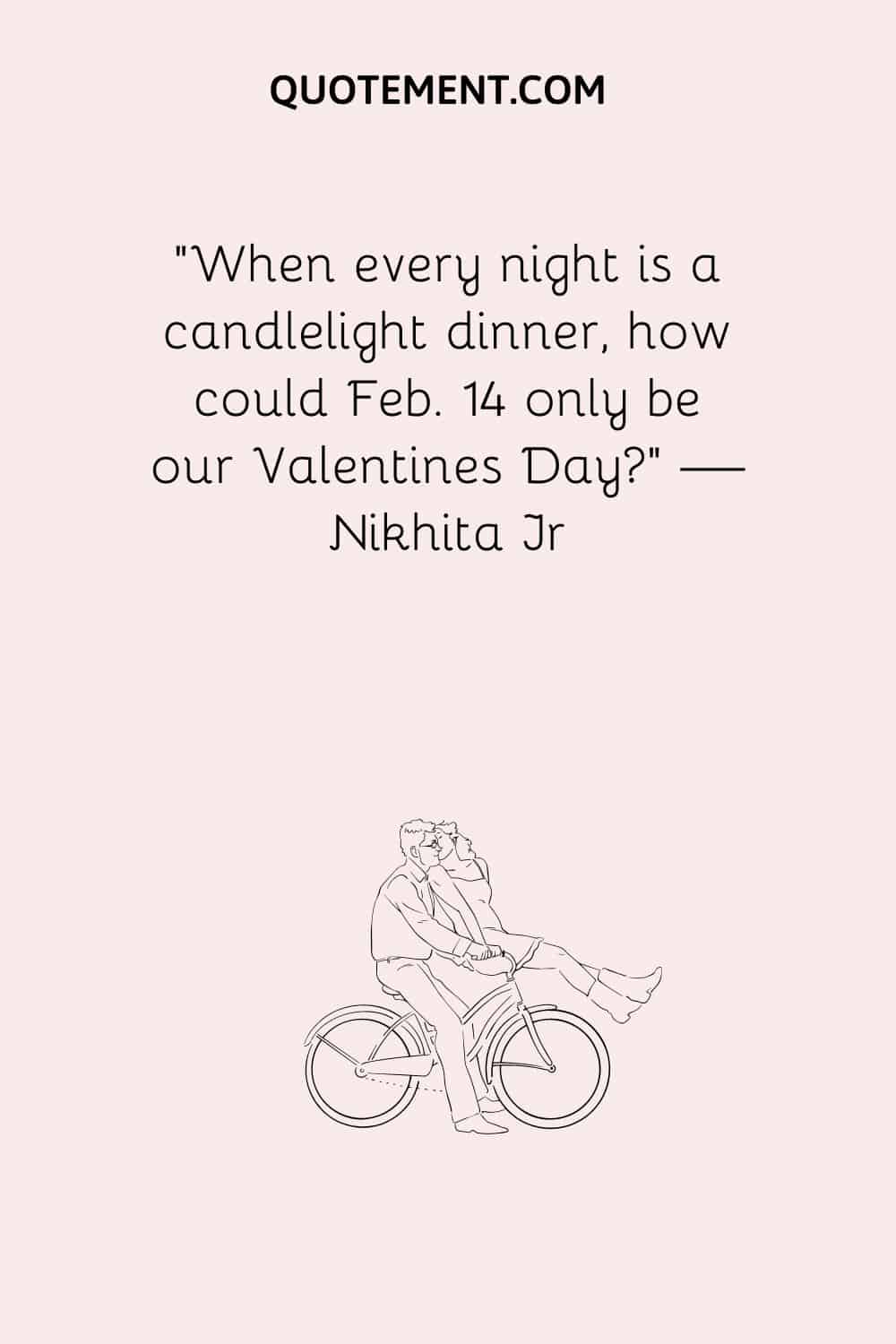 See also: 120 Valentine's Quotes For Husband To Make Him Feel Loved
Date Night Quotes For Confidence
No matter how old we are, going on a date with someone we have sweet feelings for can make us nervous.
To prepare you and calm you down, I've prepared a bunch of encouraging and inspiring date night quotes. Have a look!
1. "All I need is a bottle of wine and my partner in crime to have a good time." — unknown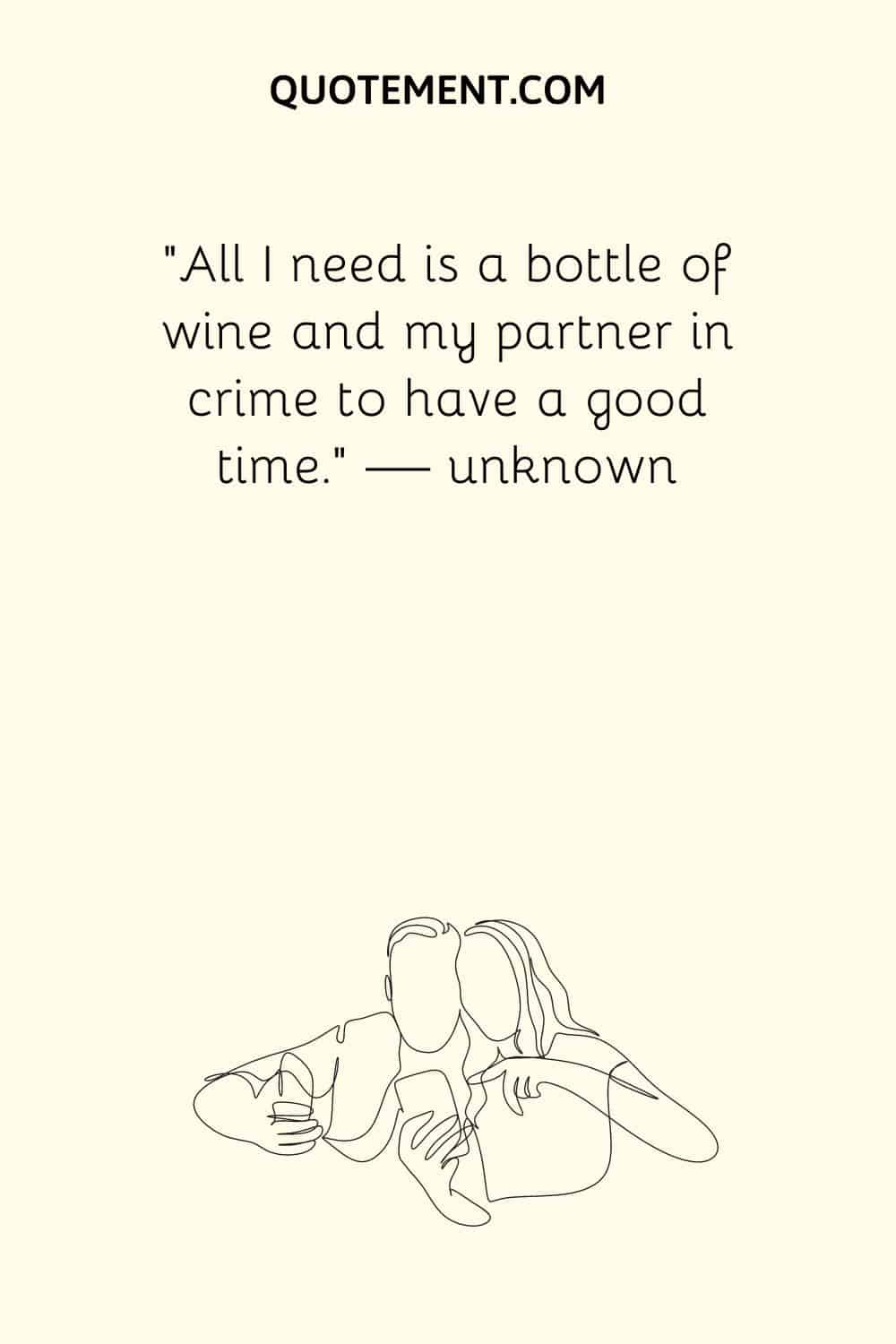 2. "In case you didn't know, baby, I'm crazy 'bout you." — Brett Young
3. "You know you're in love when you can't fall asleep because reality is finally better than your dreams." — Dr. Seuss
4. "It's the best feeling when you look at him, and he's already staring at you across the table." — unknown
5. "Life is short, so we always order extra dessert on date night." — unknown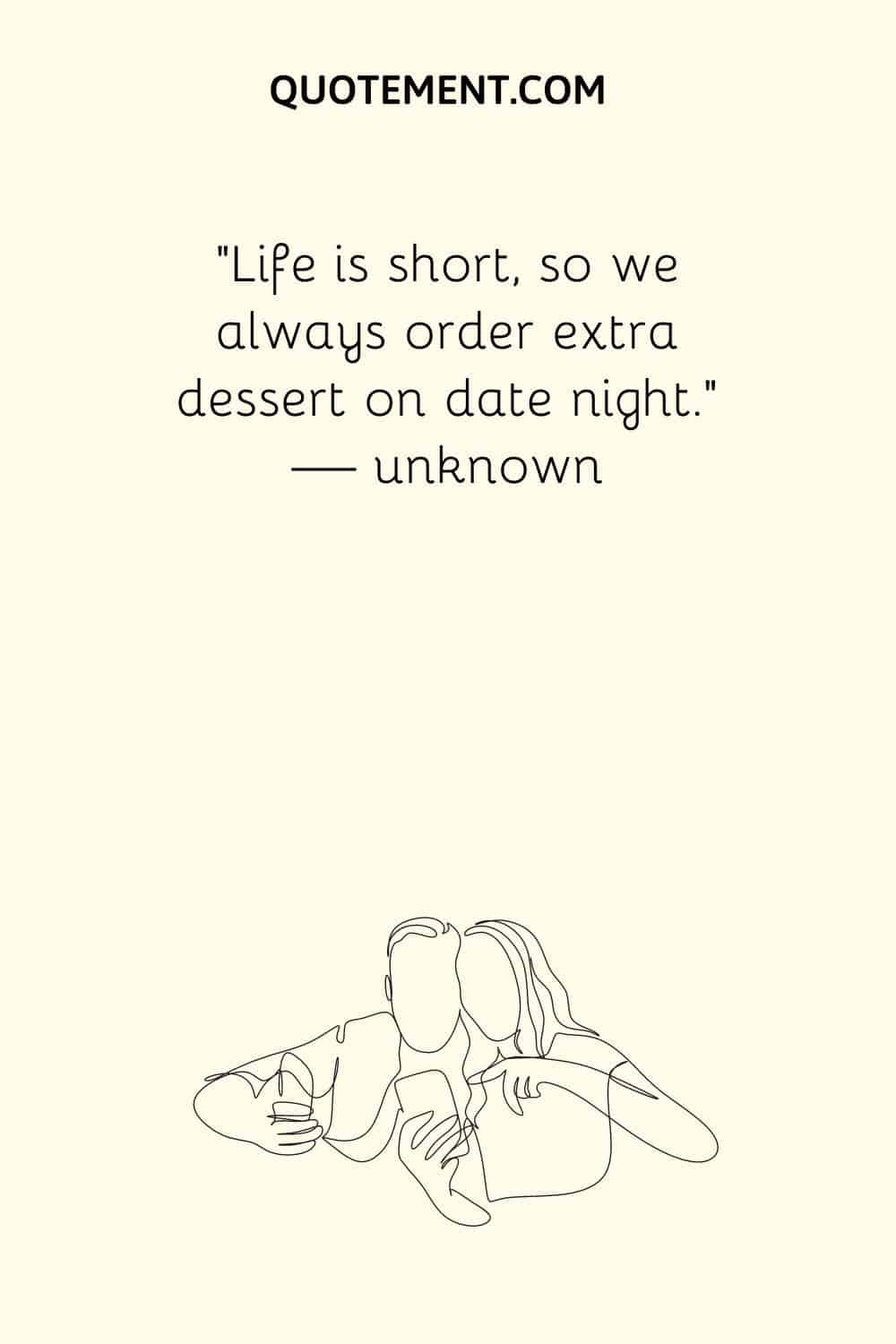 6. "Our life before moving to Washington was filled with simple joys… Saturday at soccer games, Sundays at grandma's house… and a date night for Barack and me was either dinner or a movie because as an exhausted mom, I couldn't stay awake for both." — Michelle Obama
7. "The moment I entered the bar with a book and a diary in hand, her eyes were on me. She had always fantasized about getting into a deep conversation with a writer while sipping whiskey!" ― Avijeet Das
8. "Nothing defines humans better than their willingness to do irrational things in the pursuit of phenomenally unlikely payoffs. This is the principle behind lotteries, dating, and religion." — Scott Adams
9. "If you go out on a date, for the first date, a guy should pay, a guy should be respectful and, you know, I'm not saying roll out a red carpet, but, like, open the door and just be polite and just have common courtesy." — Carly Aquilino
10. "The best part of a great date night is the feeling that the whole evening is made especially for the two of you." — unknown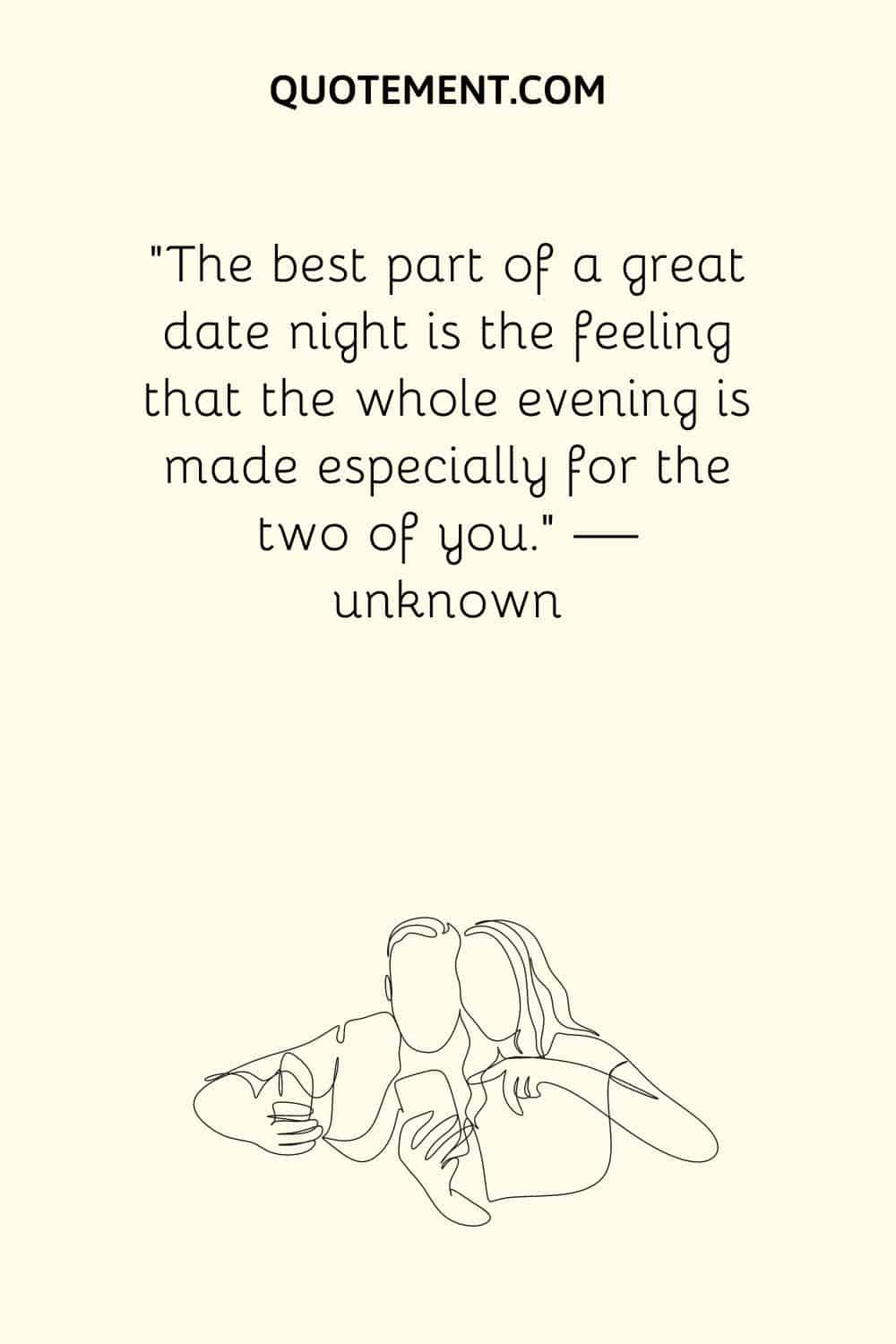 11. "I can't go on any more bad dates. I would rather be home alone than out with some guy who sells socks on the internet." — Cynthia Nixon
12. "This is not how I meant to begin. I meant to give you wine and fruit and cheese. I meant to tell you how your hair is as beautiful as curling woodsmoke, your eyes the exact color of walnuts. I thought I could compose an ode about it, but I am not very good at odes.' I laugh, and he covers his heart as though stung by cruelty" ― Holly Black
13. "When I got old enough to date, I realized that Valentine's Day is just a commercial marketing scam to make men feel bad. So I let my boyfriends off the hook." — Evangeline Lilly
14. "I realized I was thinking of you, and I began to wonder how long you'd been on my mind. Then it occurred to me: Since I met you, you've never left." — unknown
15. "The perfect date for me would be staying at home, making a big picnic in bed, eating Wotsits and cookies while watching cable TV." — Kim Kardashian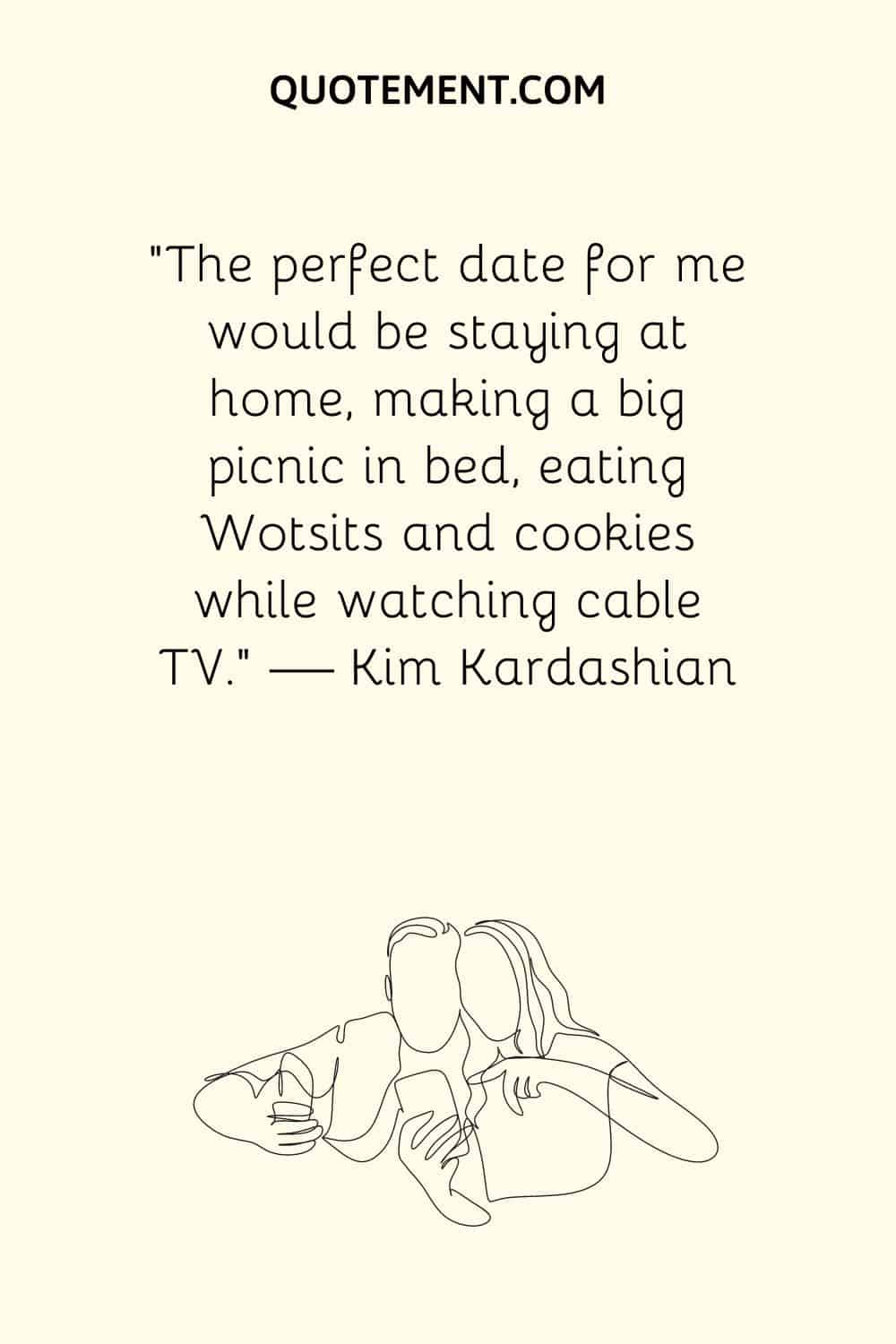 16. "My perfect date night will be: in the middle of the night, I wanna hug you tight. We count stars and our 2 AM talks, some jokes, and fights, for the whole night" — Her Story
17. "To find a prince, you gotta kiss some toads." — Foxy Brown
18. "I'll let you be in my dreams if I can be in yours." — Bob Dylan
19. "I'm horrible at these things, 'cause I'm a horrible date. What's a good date? A nice dinner and a movie? I don't know. What are dates? An amusement park? What am I supposed to say? Hmm. I have no idea." — Drake Bell
20. "There is always madness in love. But there is always some reason for madness." — Friedrich Nietzsche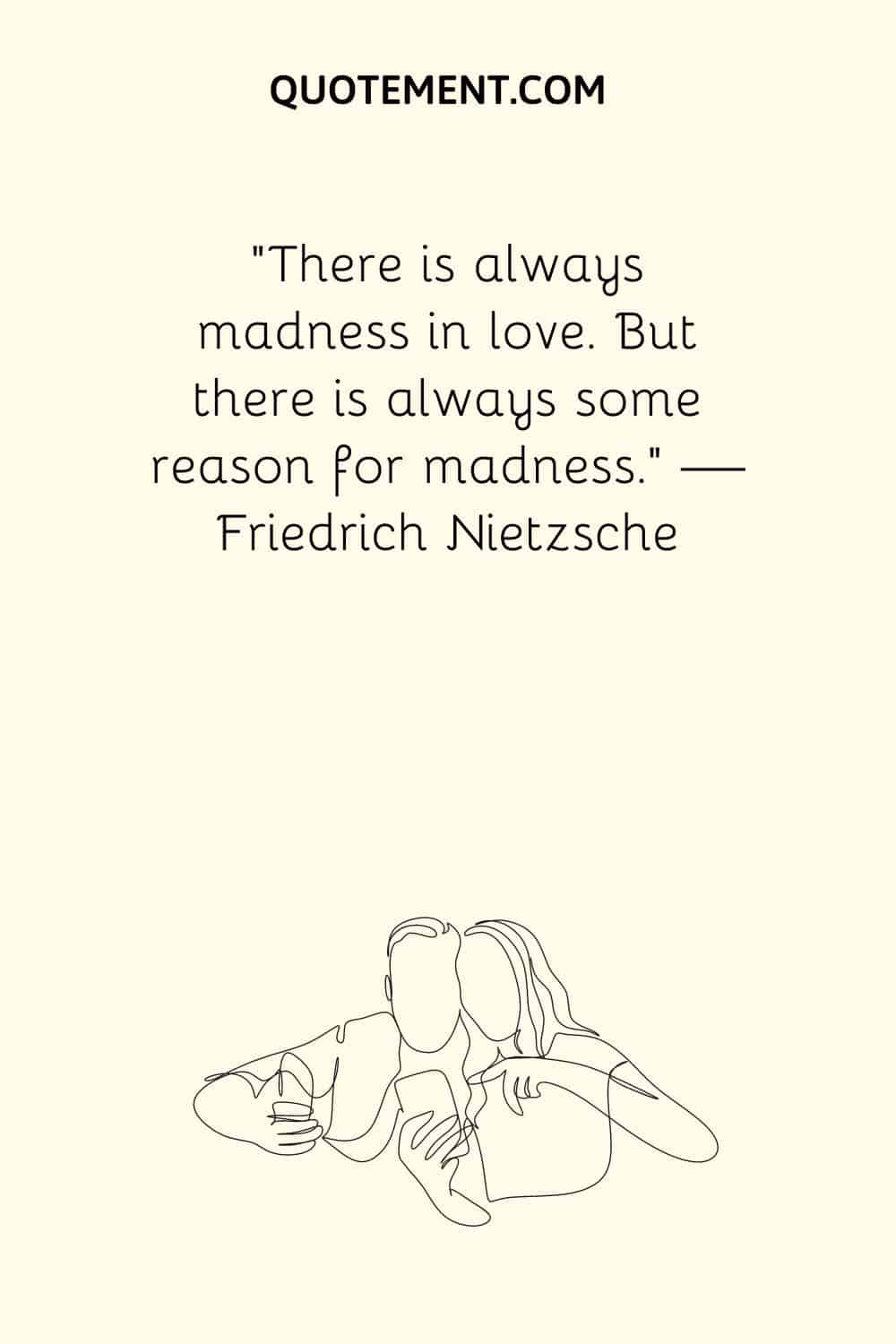 See also: 130 Mad Love Quotes For Him To Show Love & Win His Heart
Date Night Quotes For Couples
Dating is not only for new couples who are getting to know each other. Every couple, whether married or in a committed relationship should go on dates regularly.
Next up is a list of beautiful date night quotes for couples to inspire you to set a romantic date night. Enjoy!
1. "Friday night is our date night. We really carve out time for each other." — Karen Kain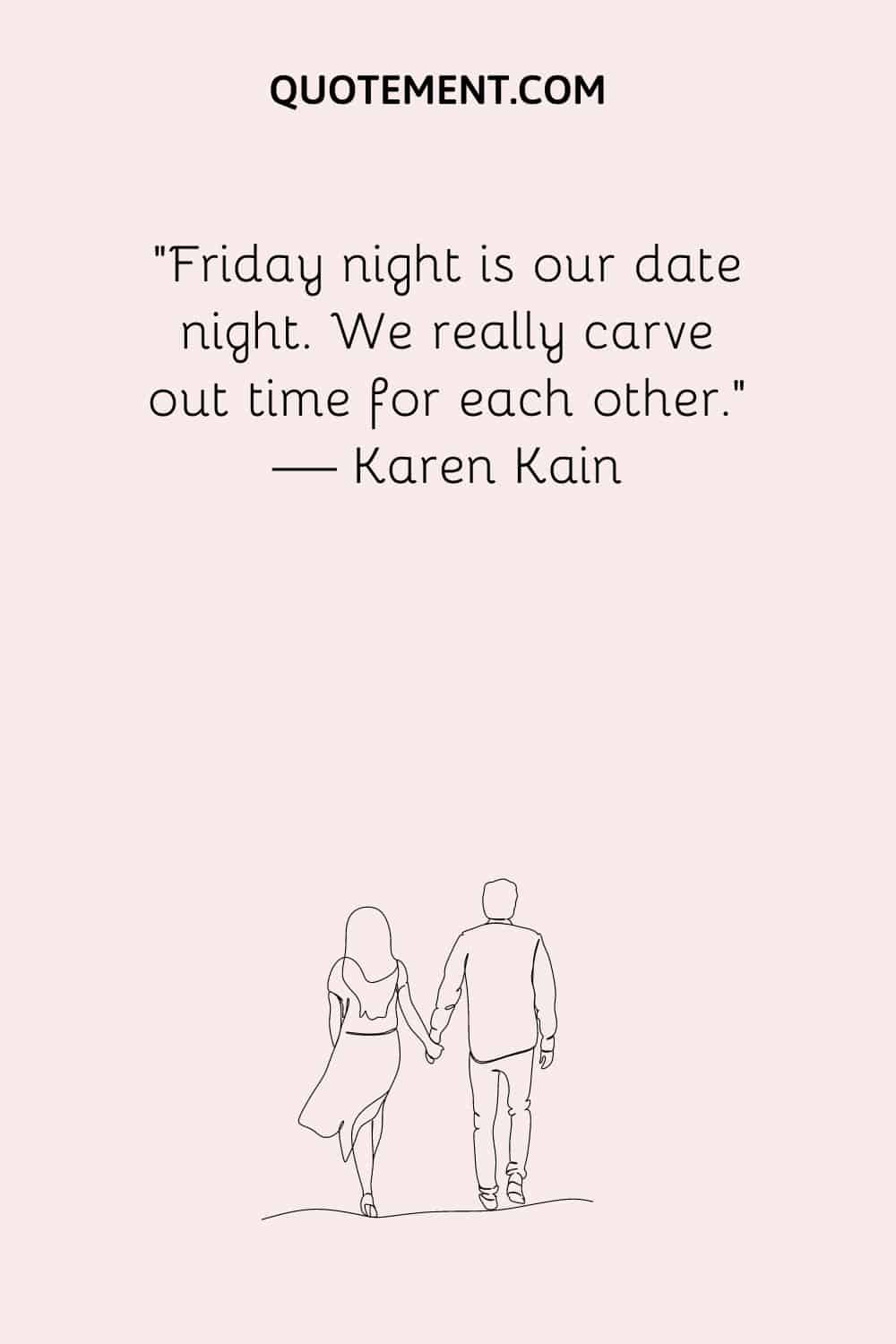 2. "Every night I spend with you is my new favorite." — unknown
3. "Date night just proves one more time, I'm so lucky to have found him in this life." — unknown
4. "In a crowded room my soul would still feel its way to you. All we need to do is thank fate for putting us there." ― Nikki Rowe
5. "Date night is important, even if it's going to Schlotsky's." — Brad Paisley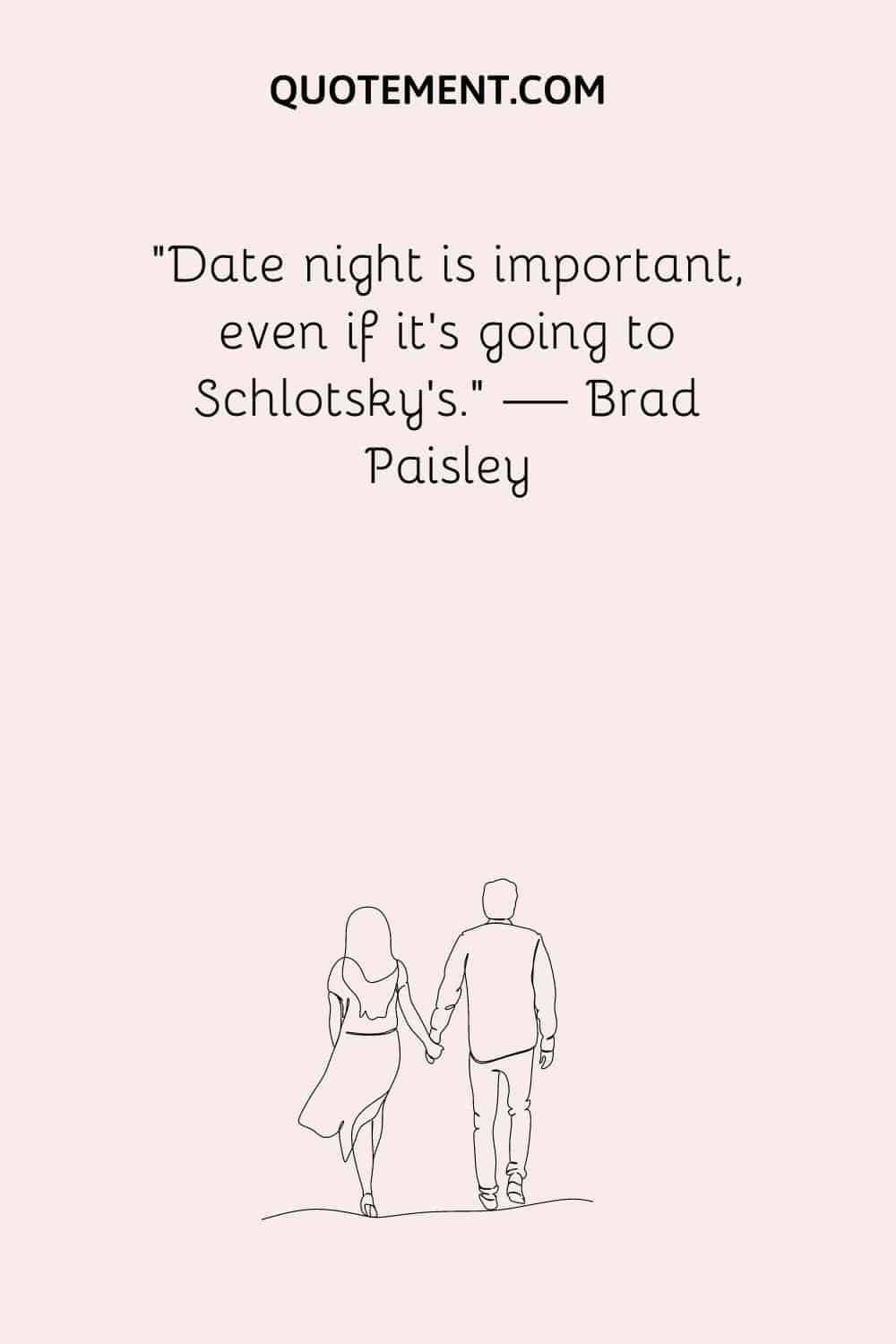 6. "You make me dance like a fool, forget how to breathe, shine like gold, buzz like a bee. Just the thought of you can drive me wild- oh, you make me smile." — Uncle Kracker
7. "A date may be just a pleasant coming together; a way of saying thank you for a favor, or it may be a delicate step in a courtship and mating dance." — Rebecca Sharp Colmer
8. "When we hear romantic music it makes you want to take your girl out to dinner or buy her something or take her out in the moonlight or take her on a walk." — Robert Sylvester Kelly
9. "Even if you can't go out on some extravagant date night, spending quality time together is very important for the health of your relationship." — unknown
10. "Date night is not optional for those who want to create a close and connected intimate relationship." — unknown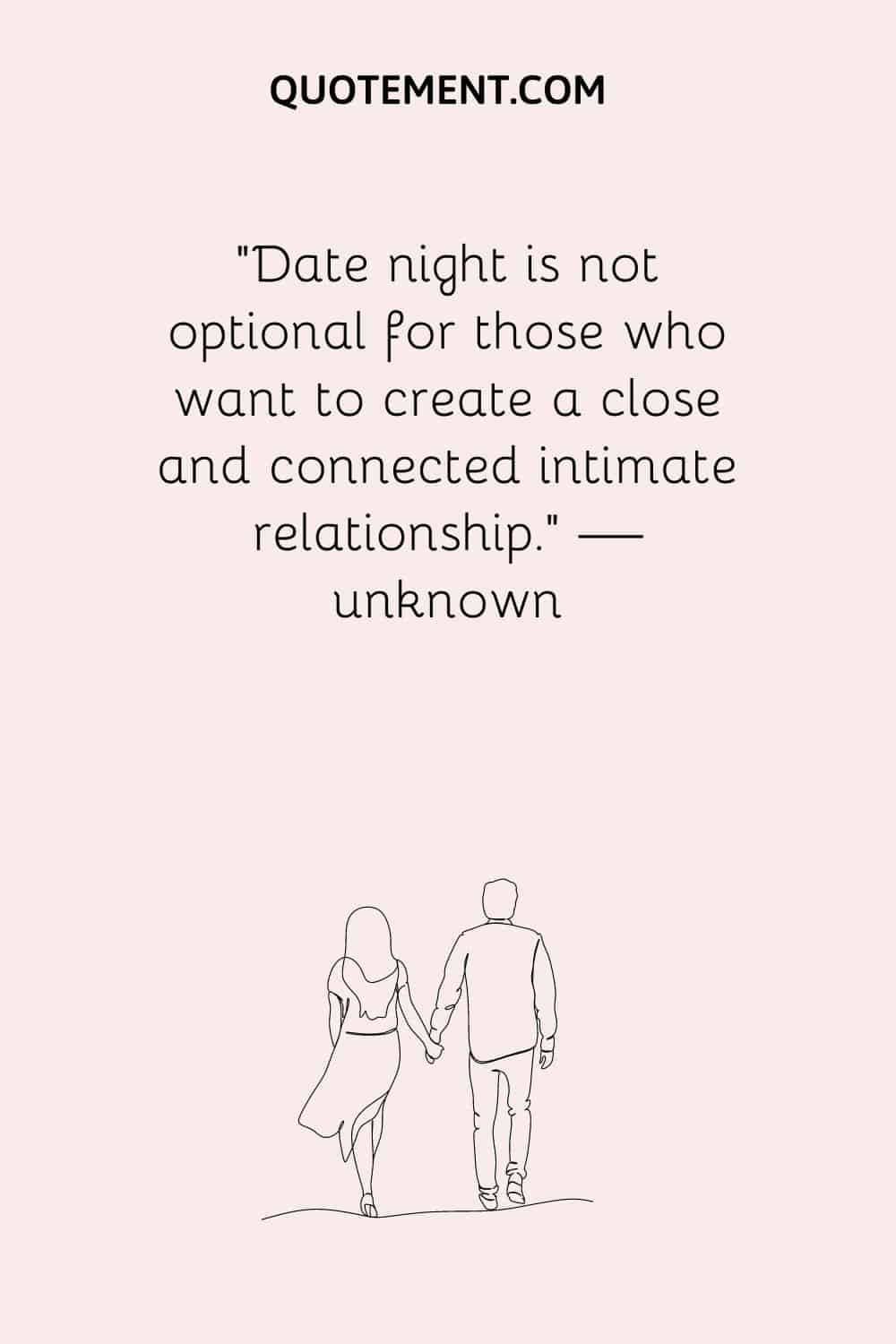 11. "Dinner for two; save a booth, lace your boots, fondue and fondles, smiles and smooches. We sailed at sunset; skin and snuggles, moon and moans. I've lost myself in you." ― Fidelis O Mkparu
12. "I may not be your first date, kiss, or love – but I want to be your last everything." — unknown
13. "I thought perfect couples only exist in books and movies but that changed after I met you." — unknown
14. "My husband and I are really trying to be good about date night. So once a week we get a babysitter and we go, even if it's just going to dinner. Just to know that you have that to look forward to is such a gift." — Alyson Hannigan
15. "Love does not consist in gazing at each other, but in looking outward together in the same direction." — Antoine de Saint-Exupery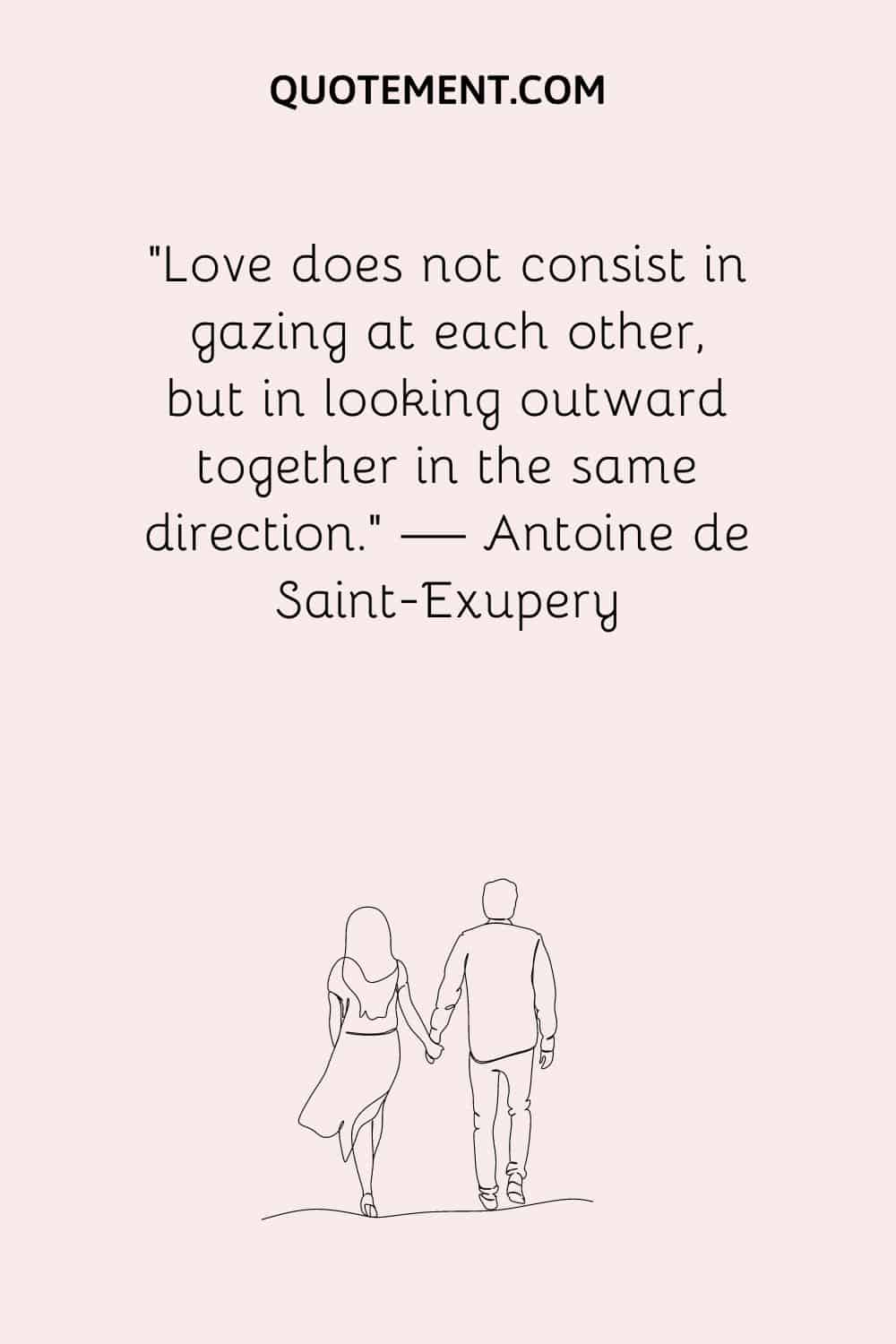 16. "Your words are my food, your breath my wine. You are everything to me." — Sarah Bernhardt
17. "…make time for one another. Don't forget about those date nights. Put on a se*y dress and some sexy high heels and have a great night and enjoy each other. Also, incorporate your husband. Get him involved and let him know how important he is with taking care of your joy." — Tia Mowry
18. "I often think that the night is more alive and richly colored than the day." — Vincent Van Gogh
19. "For our first date, I made Ryan Hamburger Helper, which is basically what I grew up on. I make my own version of it now, with macaroni and cheese and hamburger meat. And the kids – it's their favorite dinner." — Reese Witherspoon
20. "True love is singing karaoke 'under pressure' and letting the other person sing the Freddie Mercury part." — Mindy Kaling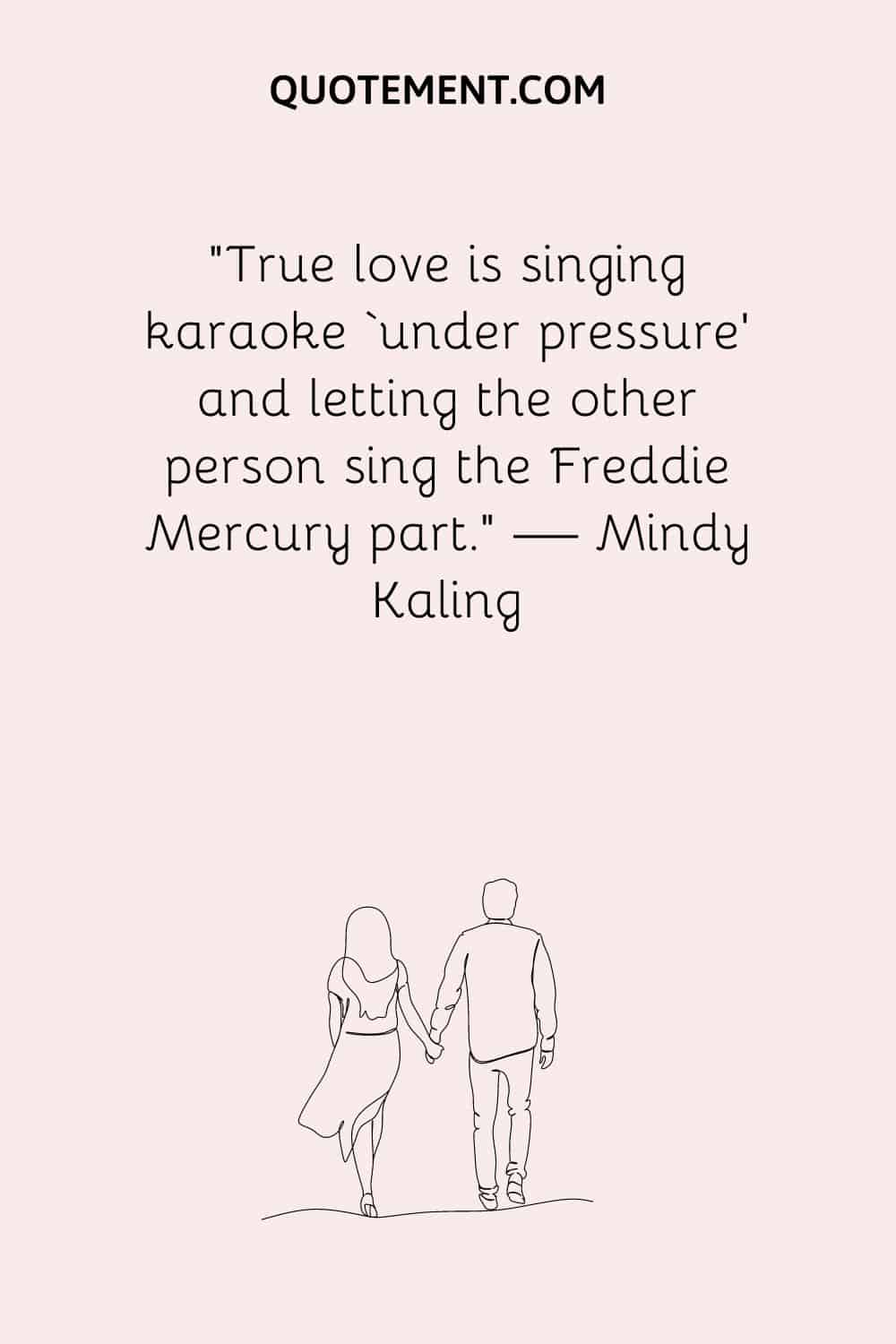 See also: 140 Heart Touching True Love Quotes For Your Sweetheart
Catchy Date Night Quotes
Check out more catchy date night quotes below.
1. "I live for nights like these when you ain't nobody but you and I'm just me." — Neyo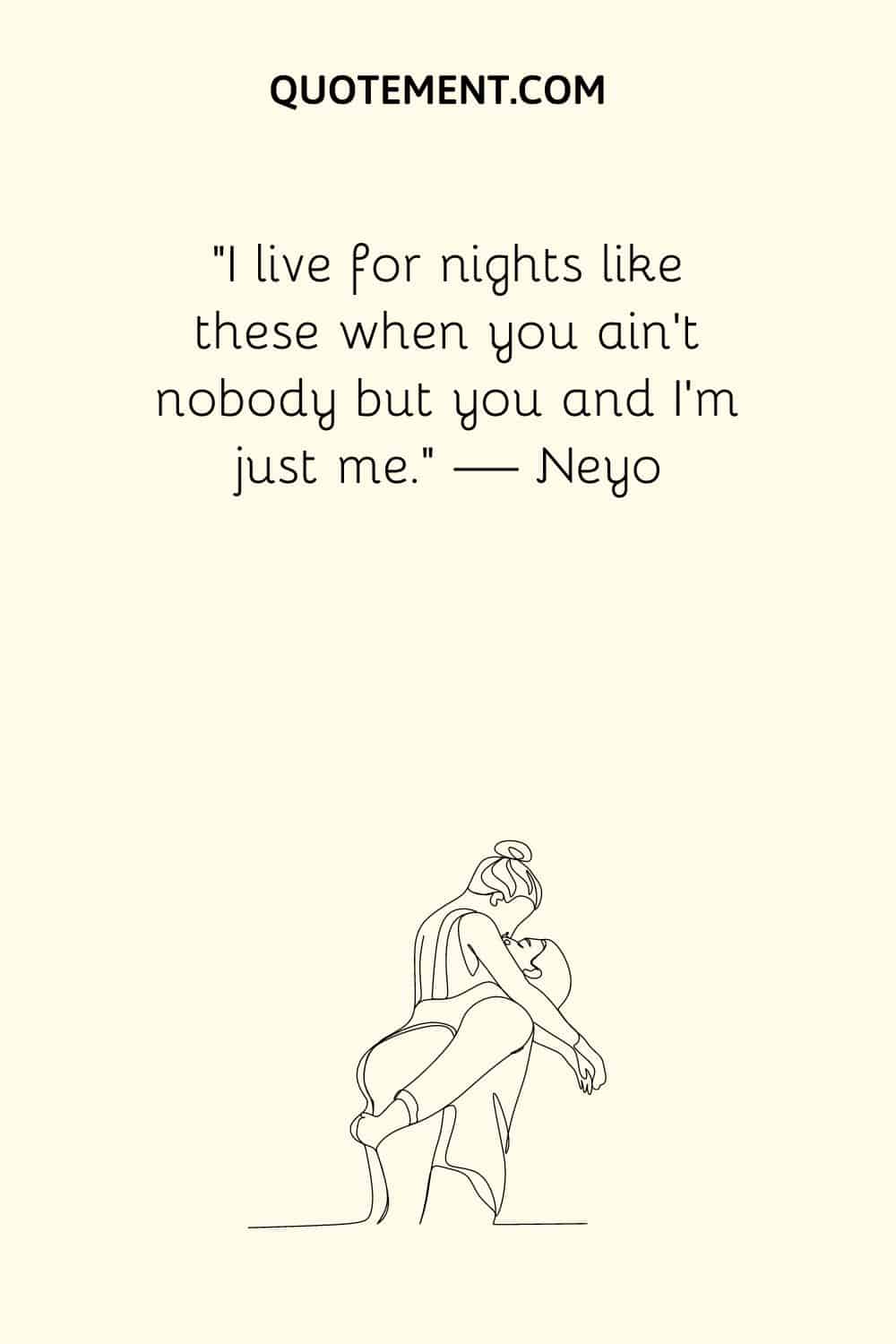 2. "I hope you don't mind that I put down in words how wonderful life is while you're in the world." — Elton John
3. "I've actually never been taken on a date in my whole life. I have never had a one-night stand. I'm a real relationship person — contrary to public perception." — Sienna Miller
4. "Oh hell no, I thought. I am not wasting my first kiss on some guy who's skipping out on our first date." — Joey Graceffa
5. "I'm winning a date with you. Granted, it's the frigging lamest date on earth, but I'm winning it anyway." ― Liz Reinhardt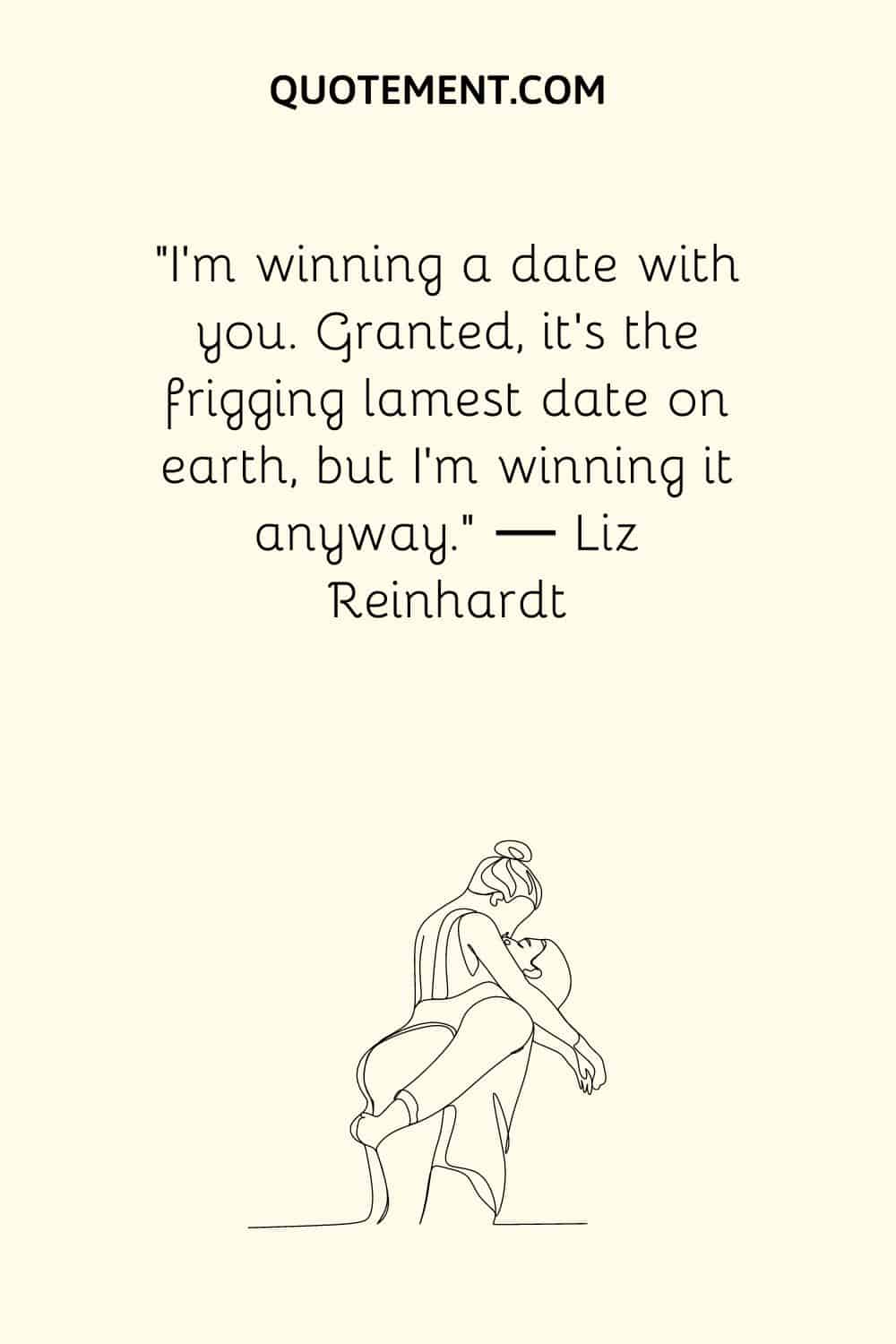 6. "You don't want to seem too eager, too romantic – otherwise, it just looks a bit try-hard. But I do think that a first date should be intimate. So I'd choose a nice dinner somewhere cozy, not too crowded, with good wine." — Kit Harington
7. "Every queen deserves a king who notices and understands when the crown gets a little heavy. So glad to get out with this guy." — unknown
8. "I have never been so calculating as to sing some Barry White song to get a girl. But I do think it's very romantic to cook dinner and sit around the piano at night and sing together." — John Stamos
9. "Good night, good night! Parting is such sweet sorrow, that I shall say good night till it be morrow." — William Shakespeare
10. "If you want to stay married, keep dating your spouse" — Andy Traub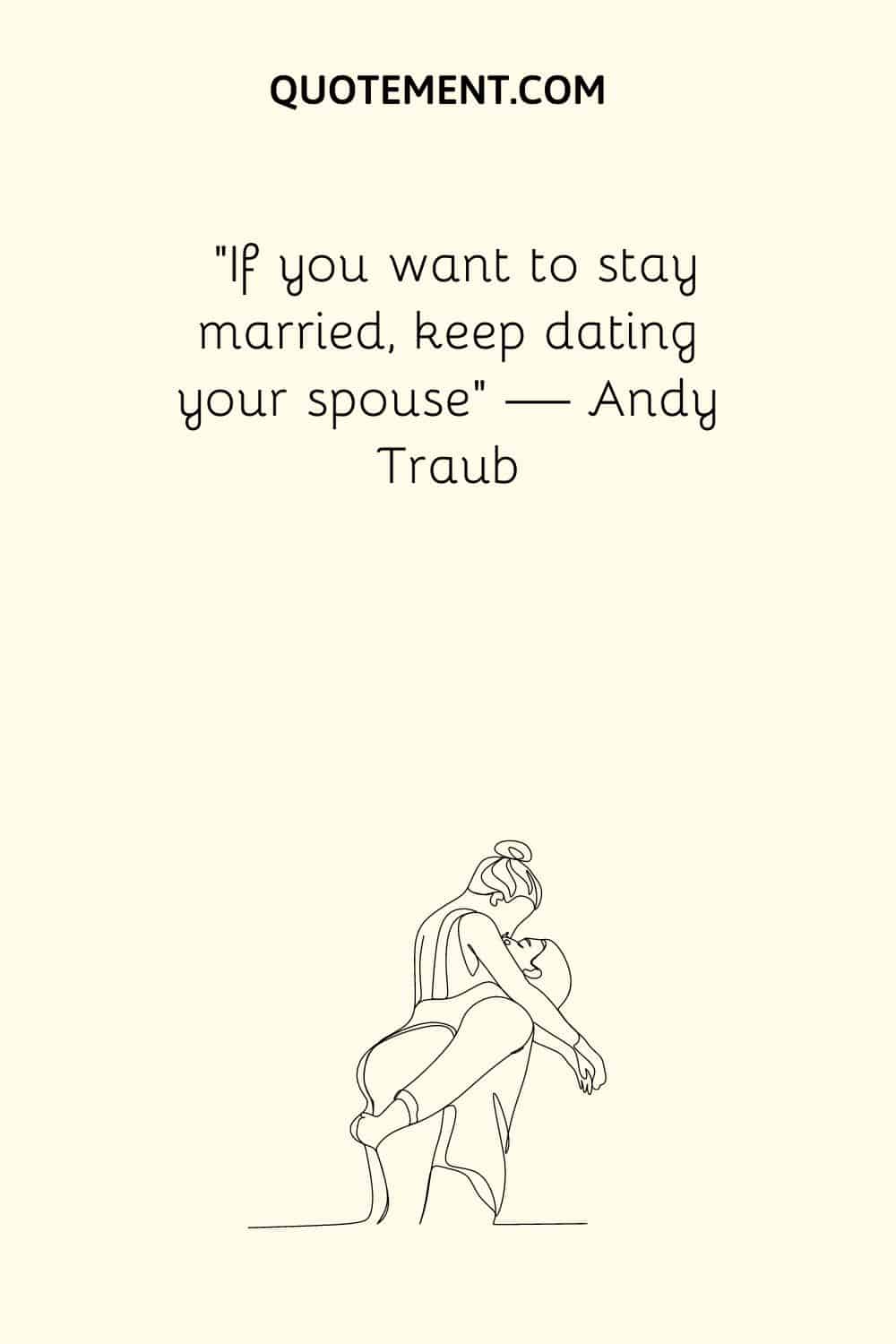 11. "For a dinner date, I eat light all day to save room, then I go all in: I choose this meal and this order, and I choose you, the person across from me, to share it with. There's a beautiful intimacy in a meal like that." — Anthony Bourdain
12. "Date night is for dorks. We're those dorks." — unknown
13. "If I had to live my life over again, I would find you sooner so that I could love you longer." — unknown
14. "When we are together, the world feels like it is in perfect harmony." — unknown
15. "Love makes your soul crawl out from its hiding place." — Zora Neale Hurston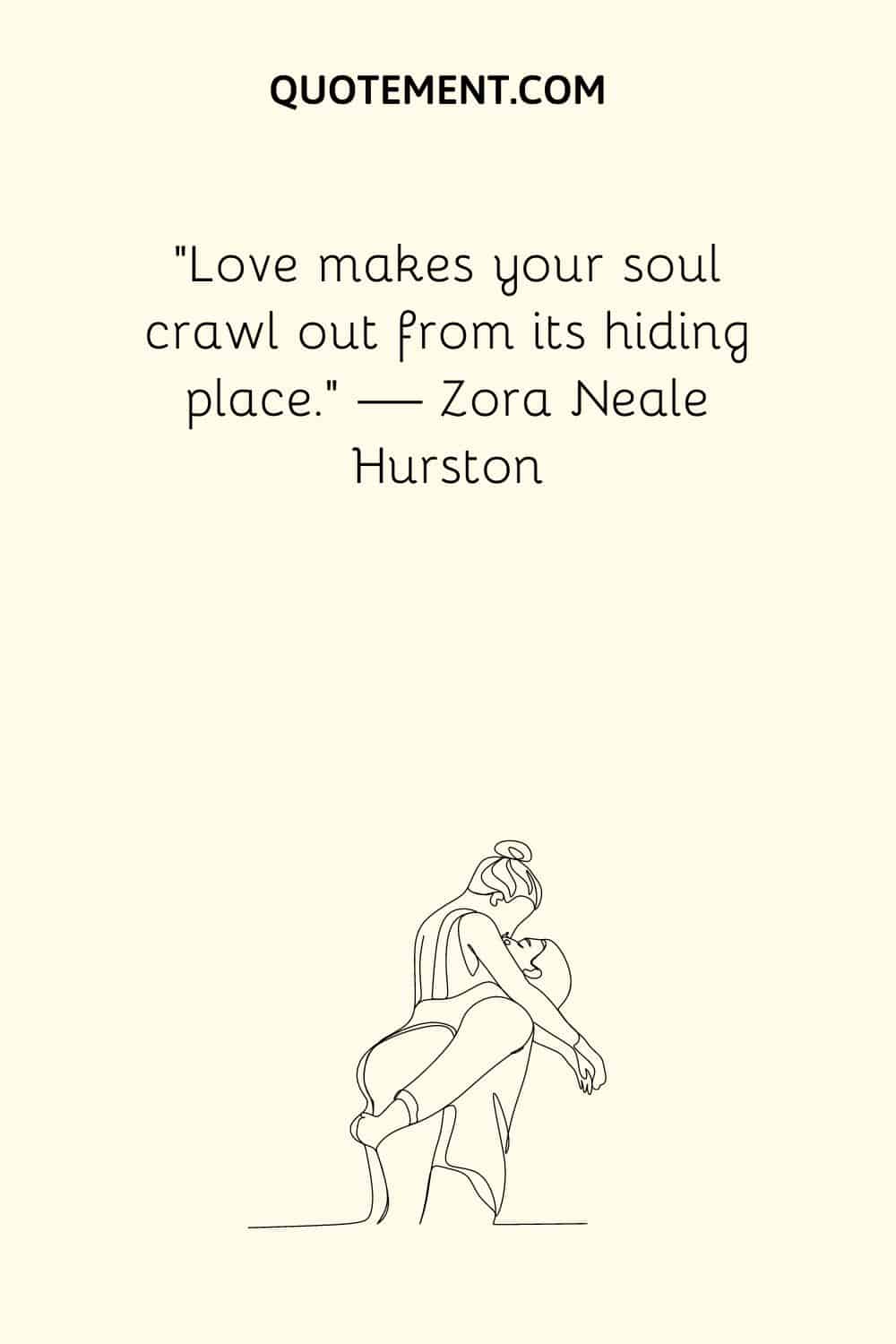 16. "I'm so lazy. I'm on the road all the time working, so when I'm at home, my perfect date is just laying on the couch!" — Kellie Pickler
17. "My husband, Sal, and I put date nights on the calendar once a week. I know that doesn't sound romantic, but otherwise, it won't get done." — Sherri Shepherd
18. "It is quite proper to meet a young man at a cocktail party and go on to dinner with him. If he is attractive, you can consider yourself not only correct but lucky." — Alice-Leone Moats
19. "Dates are fun, but being a serial dater isn't my thing; I'd rather care about someone and be able to wear sweatpants out to dinner. That's the end goal." — Gerard Horan
20. "He brought me flowers and champagne in the pouring rain. Of course, it was a night to remember." — unknown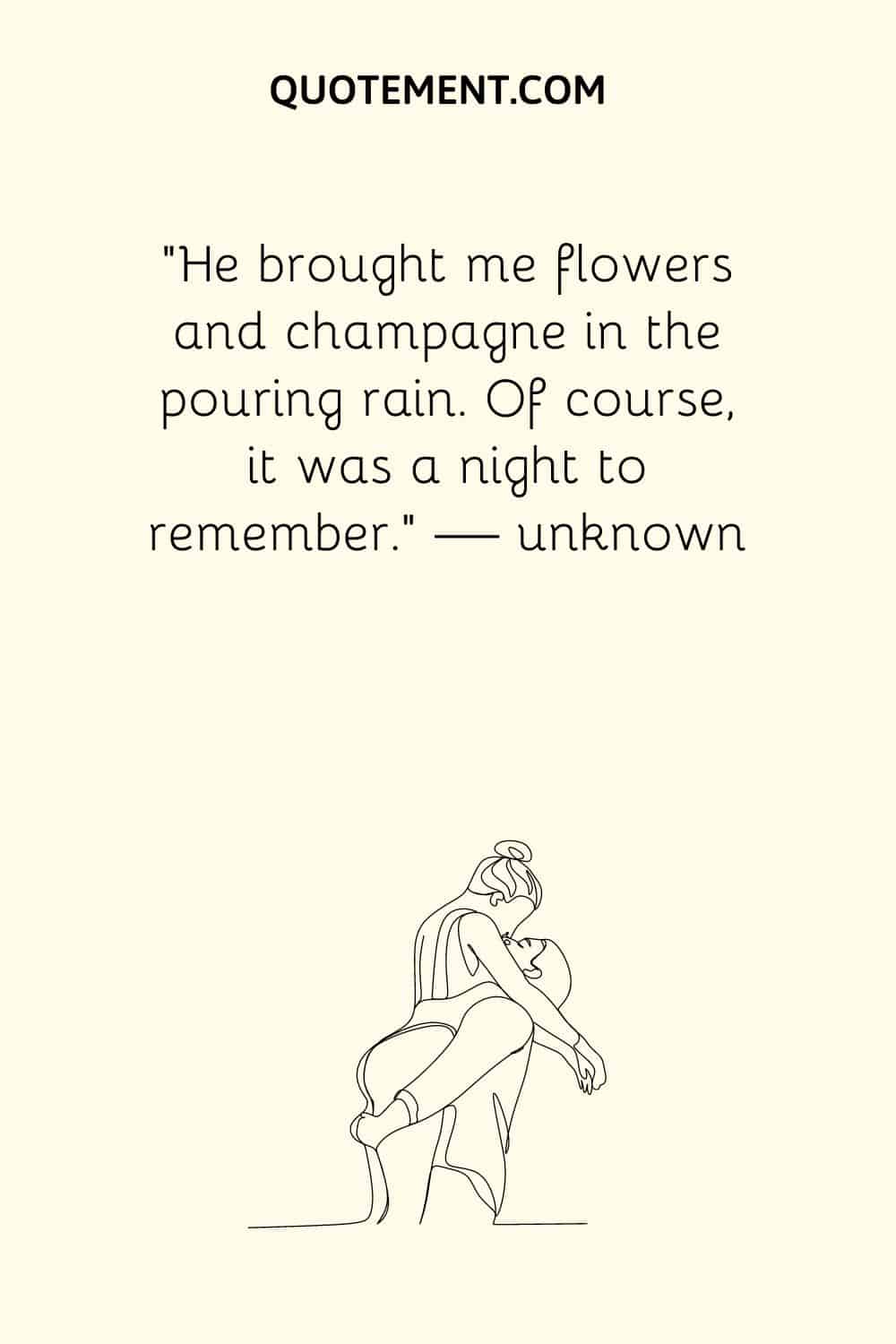 See also: 130 Beautiful Short Flower Quotes To Add Colors To Your Day
Funny Date Night Quotes
Don't miss these funny date night quotes I've prepared!
1. "I've been on so many blind dates I should get a free dog." — Wendy Liebman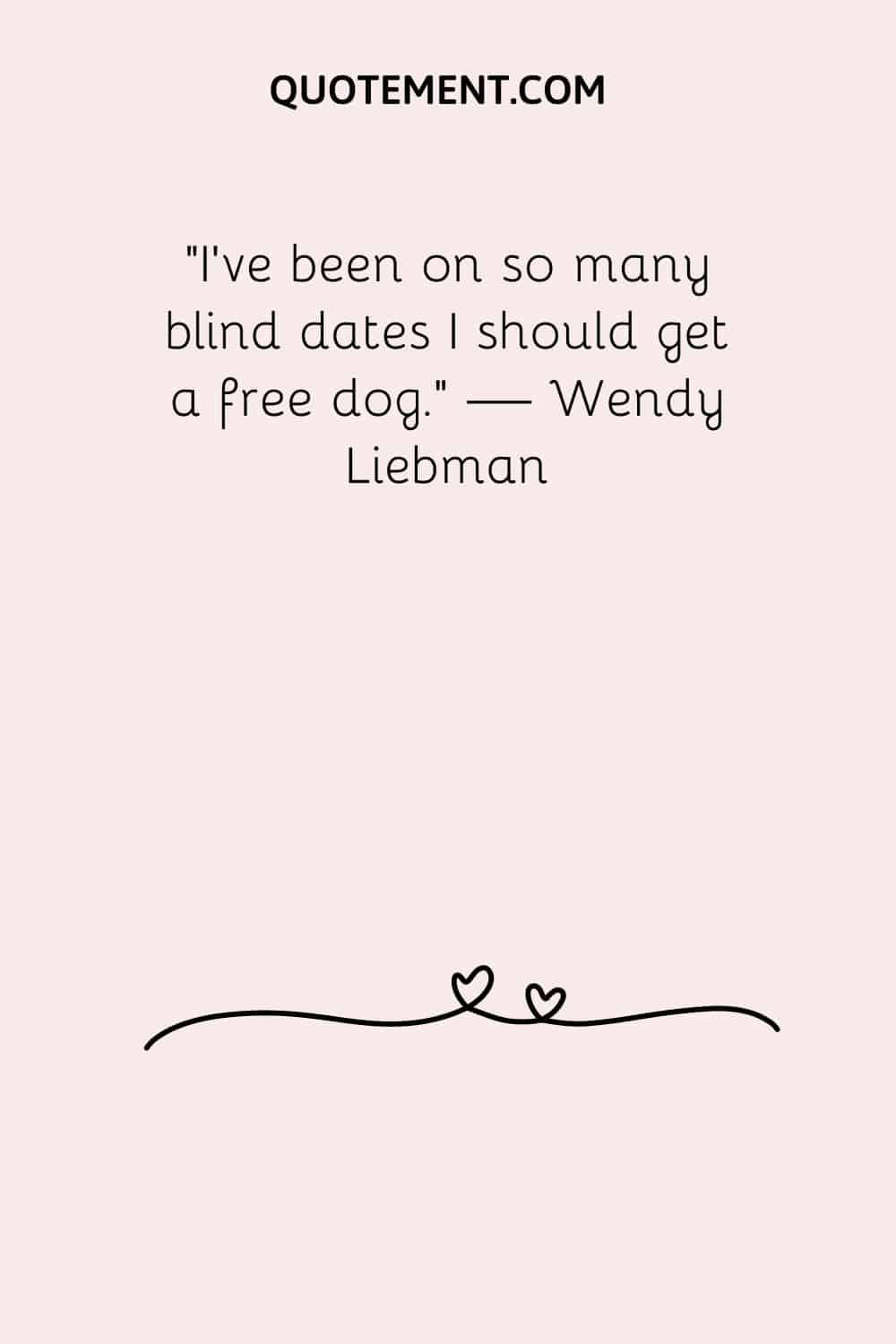 2. "I like you even when I'm starving and we have to wait 45 minutes for a table."
3. "Thanks for never asking me for a bite of my dinner."
4. "Steller ice cream, even better company."
5. "The person first showing up for a date is always the loser." ― Michael Ampersant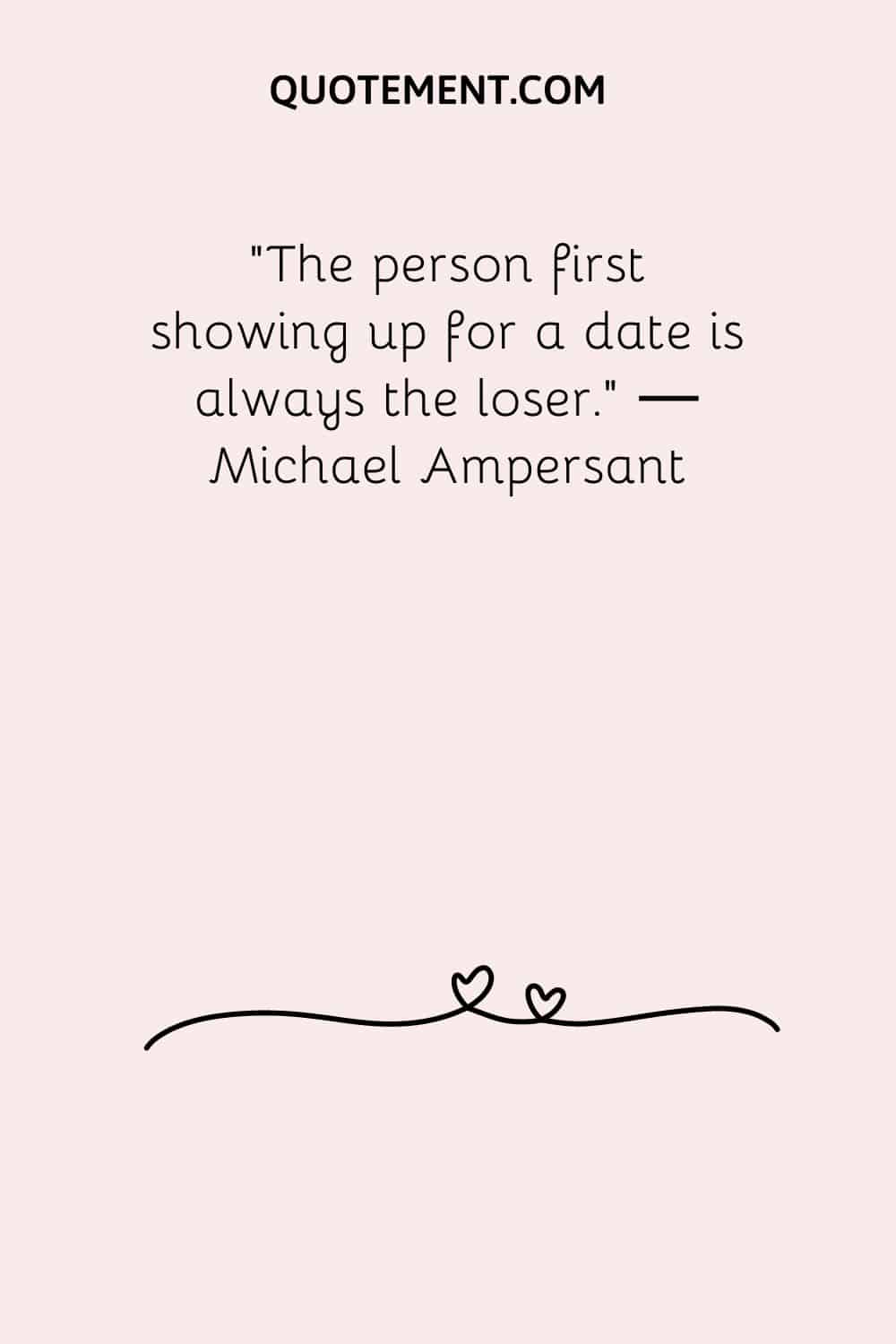 6. "Whenever I want a really nice meal, I start dating again." — Susan Healy
7. "Next dinner is on me."— Me, after every date night
8. "I want a man who is kind and understanding. Is that too much to ask of a millionaire?" — Zsa Zsa Gabor
9. "Do you have like a first date outfit I could borrow? Like, I don't know, a pair of cargo pants?"
10. "Save a boyfriend for a rainy day, and another, in case it doesn't rain." — Mae West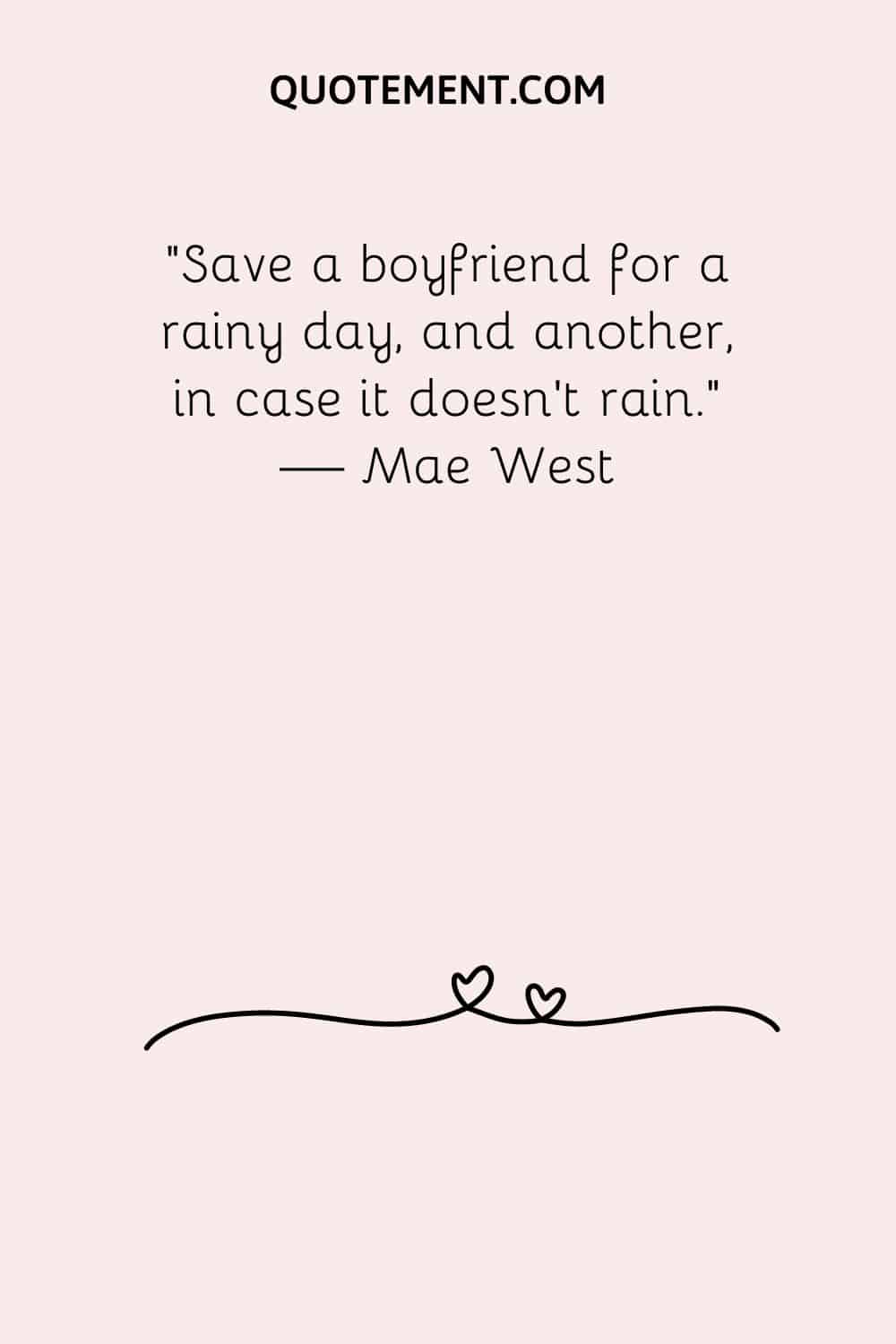 11. "Dating is where you pretend you're someone you're not to impress someone you don't know." — Melanie White
12. "Find yourself someone who's always willing to ask the server for a second bread basket."
13. "I'll share my heart and this pic… just don't ask me to share my fries."
14. "You like my hair? Gee thanks, just got an overpriced blowout for date night."
15. "Relationships are 50-50: He pays for dates and I make myself pretty."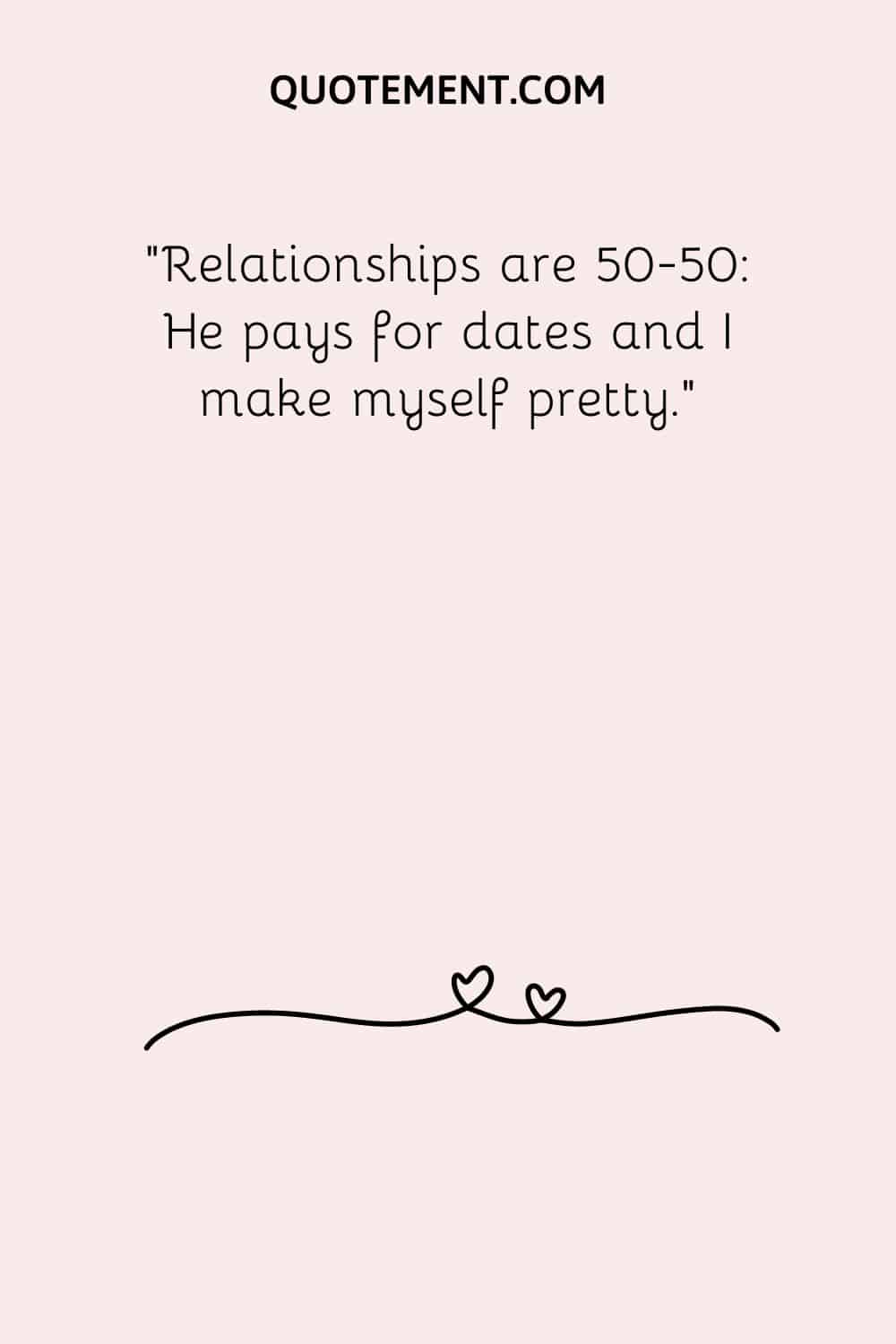 16. "The fact that I'm virtually deaf. Any woman who's going to date a rock musician has to be prepared to repeat herself every 10 seconds. My wife asks me where we should go for dinner and it sounds like the schoolteacher from Charlie Brown." — Dave Grohl
17. "What is a date, really, but a job interview that lasts all night? The only difference is there aren't many job interviews where you'll wind up naked." — Jerry Seinfeld
18. "Living in LA is like not having a date on Saturday night." — Candice Bergen
19. "I met my wife by breaking two of my rules: never date a girl seriously that you meet at a nightclub and never date a fan." — Corey Feldman
20. "I once invited a guy over for a dinner date at my place. While cooking, I set my kitchen on fire. You can say we were twin flames." — Lauren Levine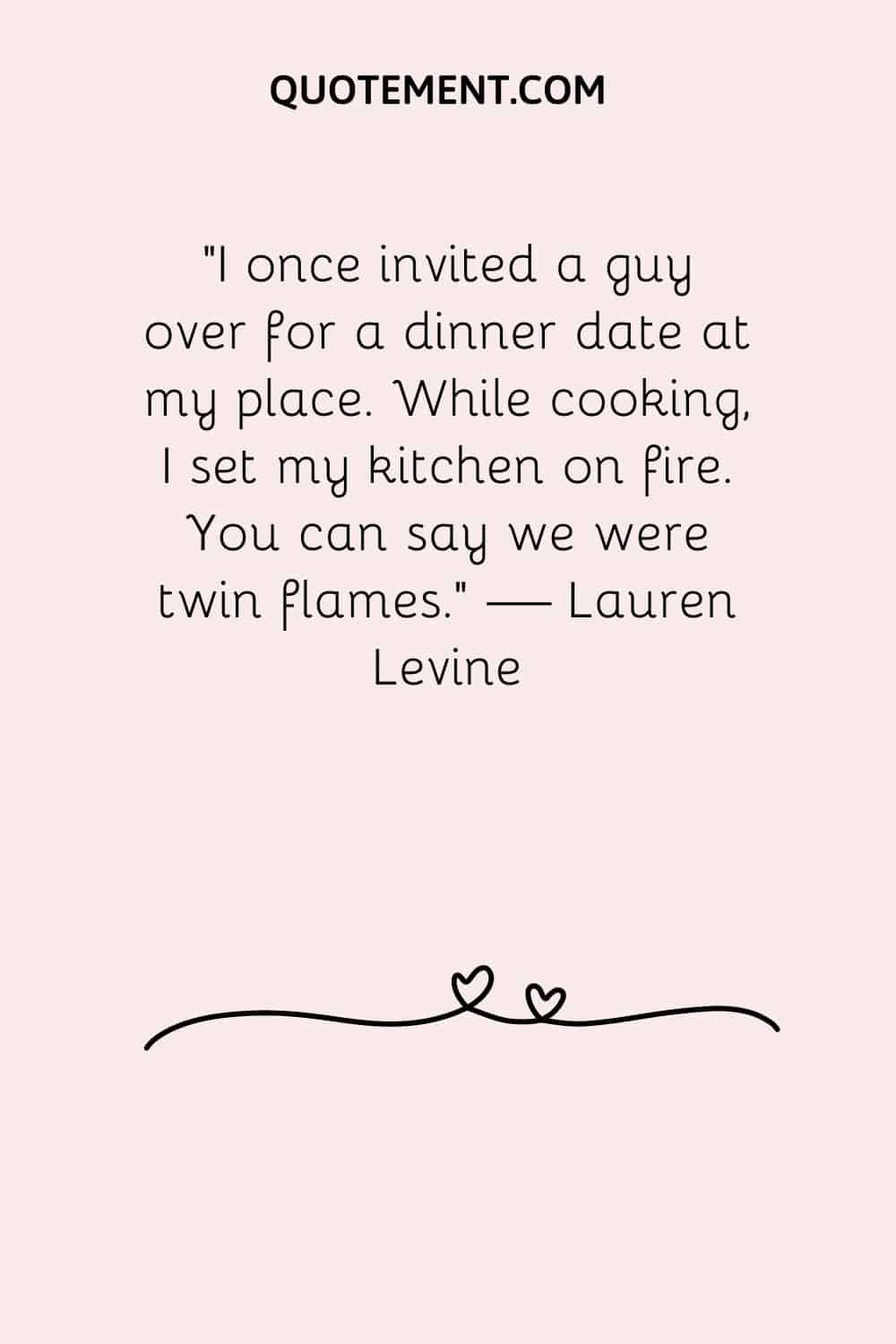 See also: Top 110 Twin Flame Quotes To Cheris An Unbreakable Bond
Coffee Date Night Quotes
Coffee dates are so lovely! Take a look at these coffee date night quotes below.
1. "Perfect first date would be coffee at Aroma talking for hours. That's when I would know to ask for a second date." — Kelly Blatz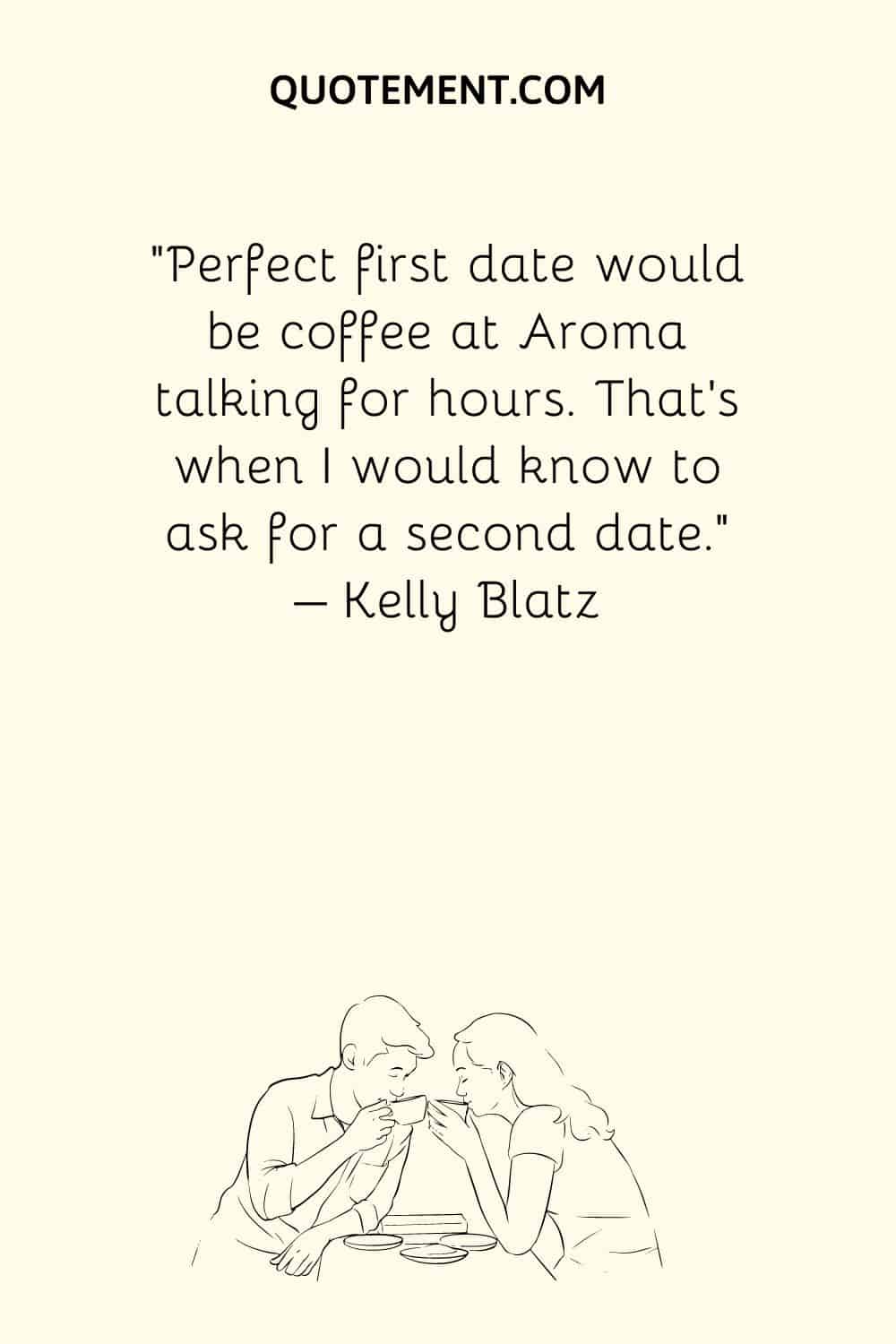 2. "Life is beautiful. She's proof." — unknown
3. "Exercise is important, but exercise in a gym is not important. Go and take a walk outside. Skip the umpteenth coffee date and go for a hike instead." — Daphne Oz
4. "I'm not here to grant you the extraordinary love you never had for yourself. I'm here, on my own accord, to love you. So that when you stare into my mirror eyes, you may see how extraordinary you are." ― Kamand Kojouri
5. "It doesn't matter if the guy is perfect or the girl is perfect, as long as they are perfect for each other." — Fad Ibra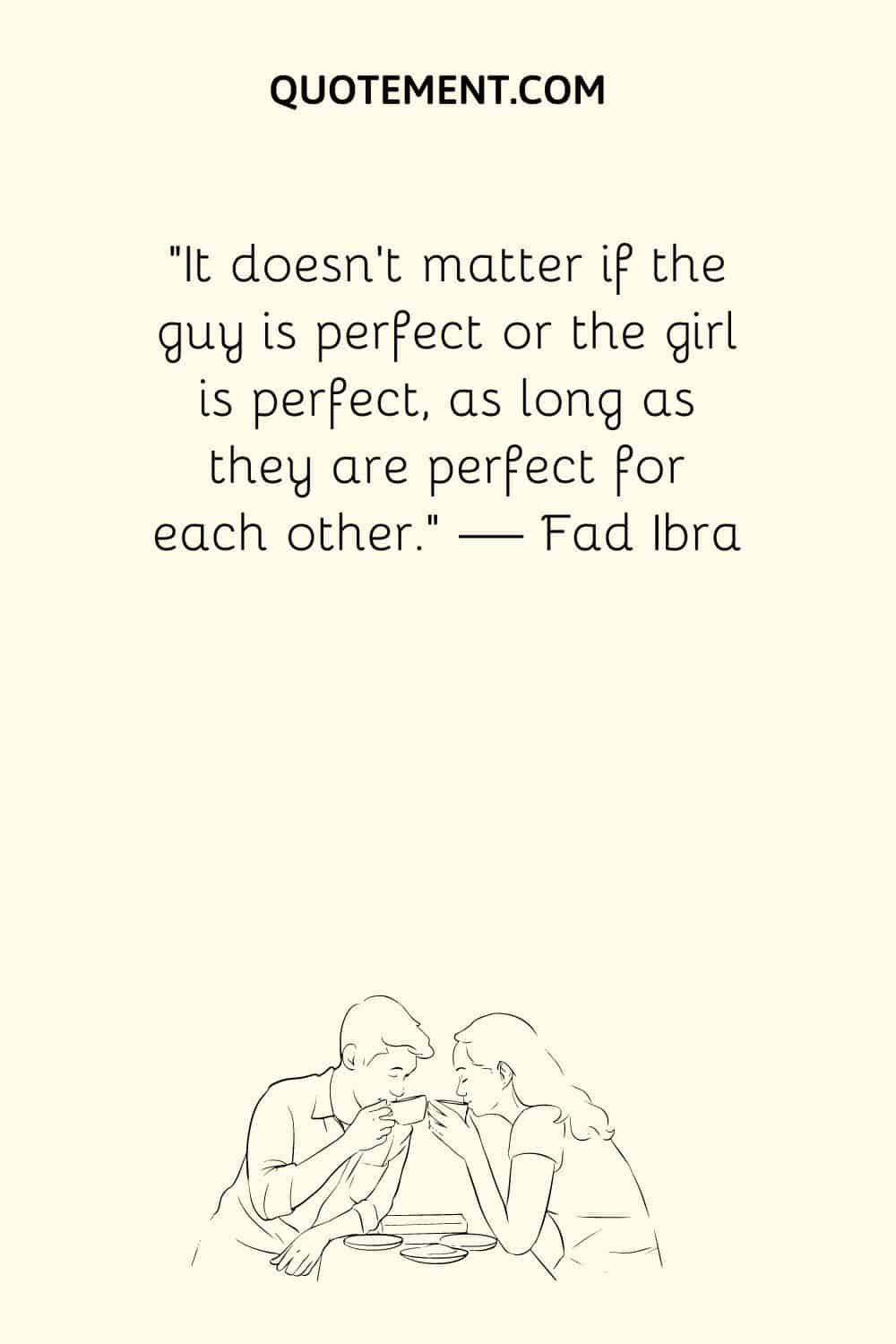 6. "The best moments in life aren't even planned."
7. "I like day dates. On night dates, you just go somewhere and start drinking. But if you really want to see if a girl is worth your time, go to a museum or for coffee." — Leslie Bibb
8. "Coffee is my time, time to catch up, read the news, and connect. Coffee is also my lover. That's why I'm always reaching for this cup." — unknown
9. "I know we've only just met, but I have the feeling that I've known you all my life because every little thing you do drives me up the wall." — Dan Piraro
10. "When you can talk to each other for hours over coffee, it's a sign that you should go on a second date." — unknown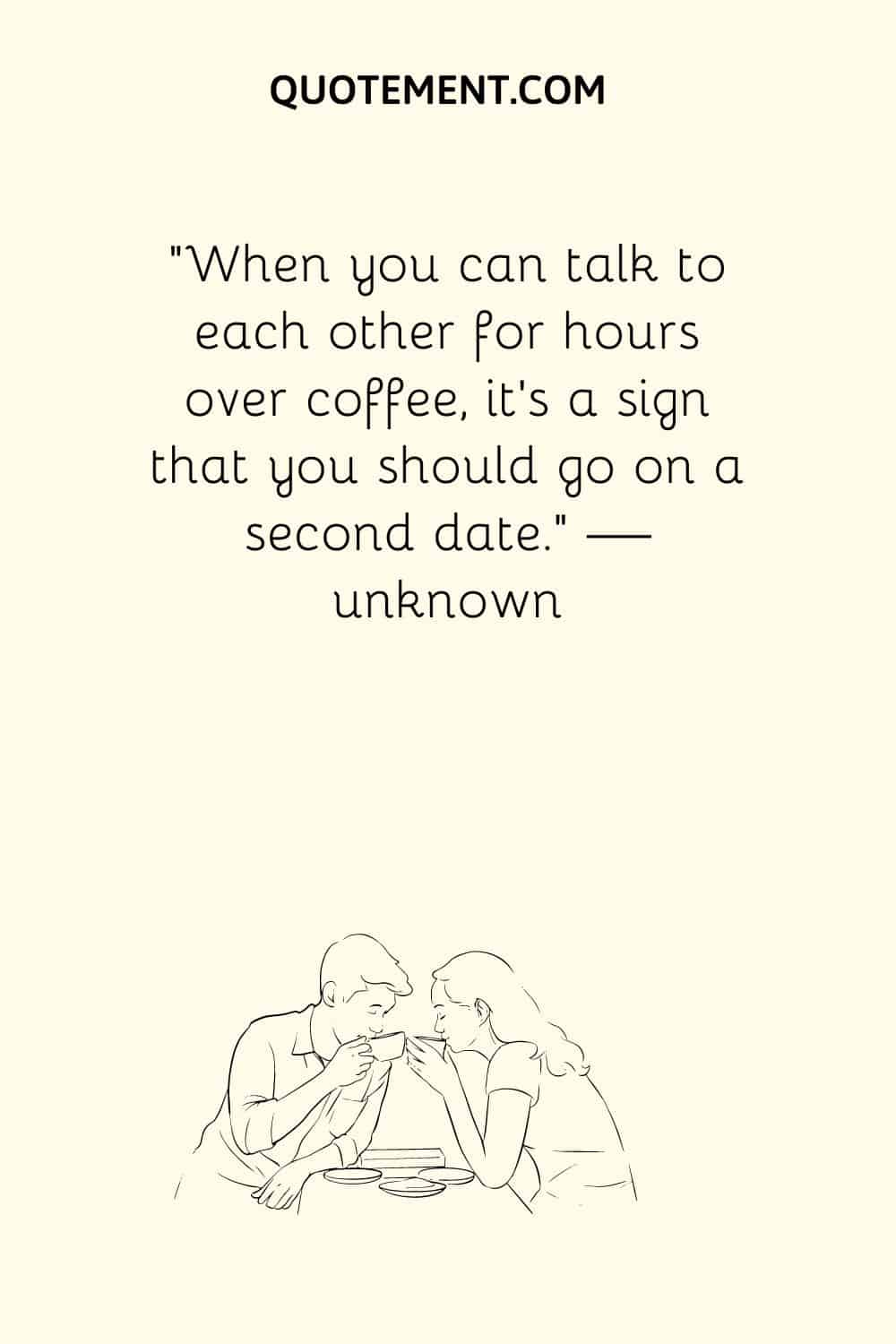 11. "It was a while before we had our official first date, but this was where the connection was made. By the way, I didn't drink coffee before I met him." — Ryane Pearson
12. "My husband and I met on OkCupid. We went out on our little coffee date, and I knew right away he was my husband. He's a handsome, smarty-pants architect from Tokyo. On our first date, I said, 'I wake up like this. I'm Pollyanna Sunshine, and I'm not for everyone." — Geneva Carr
13. "I like daytime dates now. By the time night comes, I'm so exhausted and I feel like I'm no fun at night anymore." — Chrissy Teigen
14. "On girls night in we talk about dating; the ups and downs of the previous week. Our collective laughter is uncontrollable and tearful, even the most disappointing dates become meritorious on a girls night in." — Cilla Black
15. "You know that feeling when you're with the person you love and it's just so easy, messy, and real? That's coffee date perfection."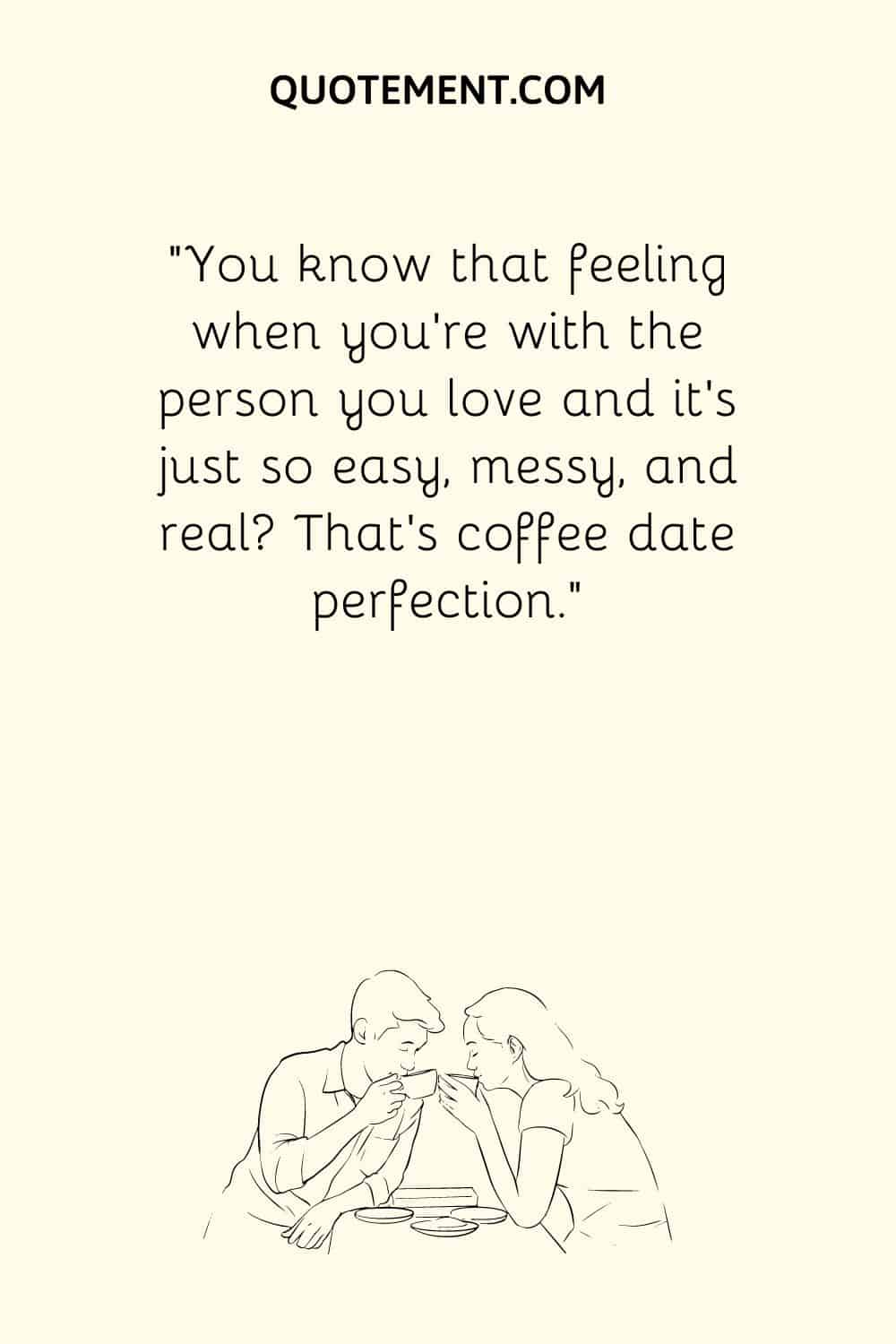 16. "It doesn't matter where we are or what we do. I'm up for anything when we're together." — unknown
17. "I made sure the moon is full tonight so you can see how beautiful you are in my eyes." — unknown
18. "I enjoy getting gussied up for an event or date night." — Olivia Wilde
19. "A coffee date is not just a cup of coffee. It's a chance to get to know someone better and have a meaningful conversation with them." — unknown
20. "Coffee and love taste the same, bittersweet!" ― Saravana Kumar Murugan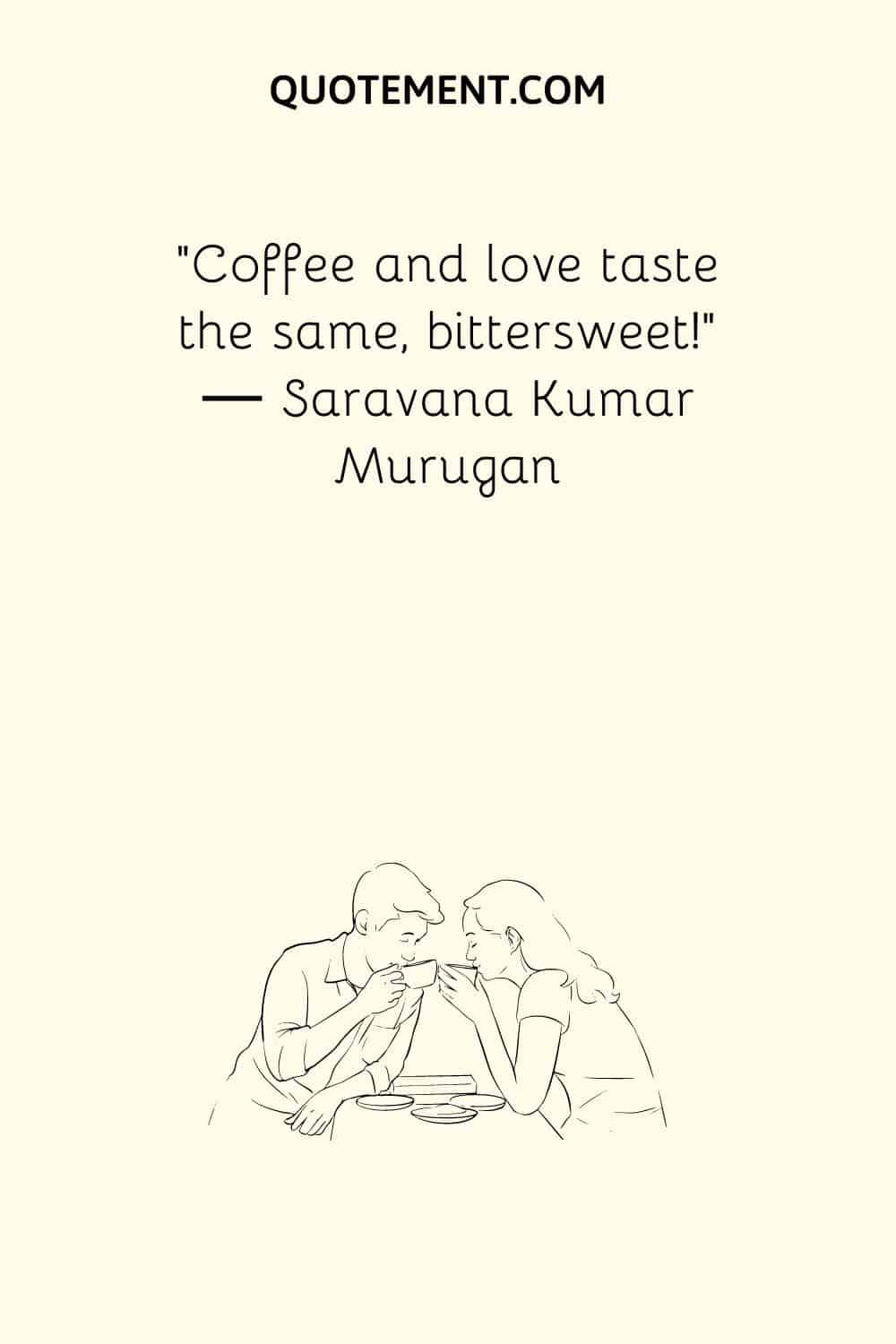 See also: 280 Awesome Coffee Captions To Show Your Coffee Obsession
Dinner Date Night Quotes
Every now and then, a couple should go on a dinner date night. Enjoying delicious food in the company of your favorite person is such a wonderful experience.
Below you'll find a selection of dinner date night quotes, check them out!
1. "There is just no comparison between having a dinner date with a man and staying home playing canasta with the girls." — Marilyn Monroe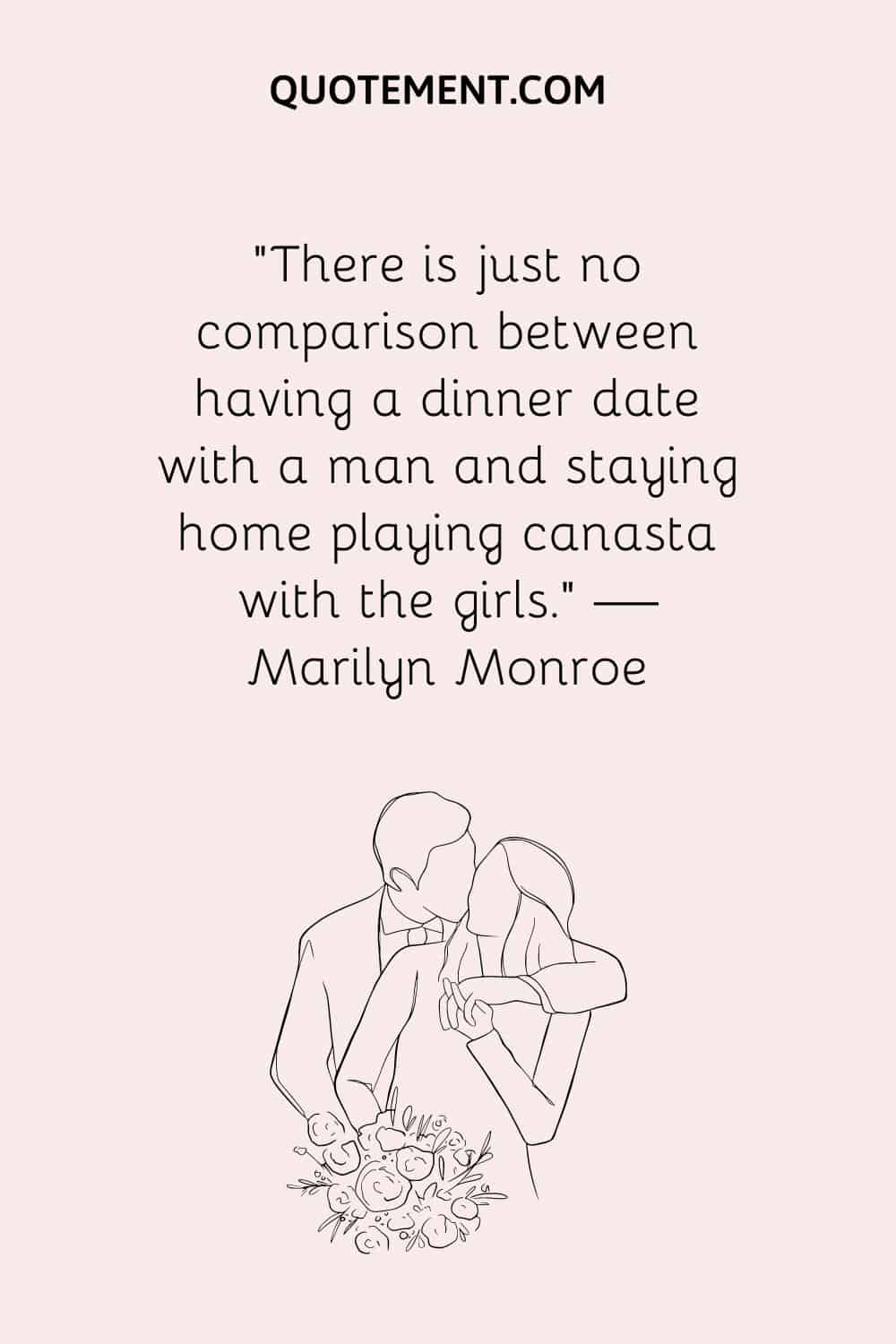 1. "People who love to eat are always the best people." — Julia Child
3. "I think a nice romantic dinner should be saved for when you and the girl you're dating or seeing have something special and it's a more special occasion." — Ben Savage
4. "A first date should be elegant. In comfortable surroundings. A place with excellent food, where you can talk easily and get to know each other." — Oleg Cassini
5. "There are lots of people who can call you by name but there is only one person who can make it sound so special." — Kim Jarabelo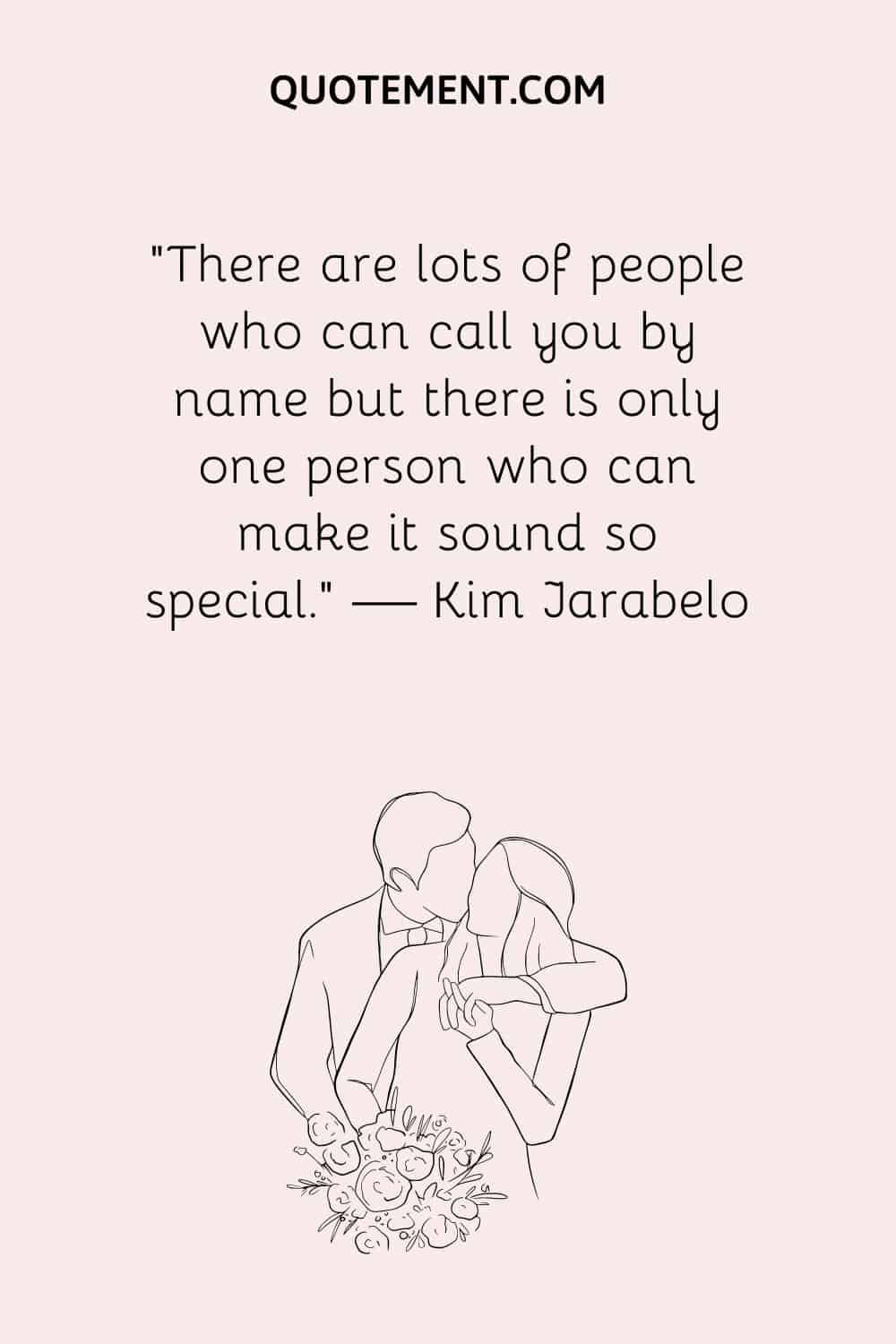 6. "Every species has a dinner date as part of courting ritual. A woman who won't let you pay for dinner is rejecting your courtship. She may think she's playing fair, or that she's being a feminist, but on a very deep level, she knows that she's crossing you off her list of possibilities." — Jennifer Crusie
7. "About once a month or so, my daughter and I go out on what we call a Fancy Dinner Date, just the two of us." — Tim DeKay
8. "The bottom line is that dating is supposed to be fun and enjoyable. Maybe a few butterflies will flutter in your tummy but that is part of the thrill of dating." – Rebecca Sharp Colmer
9. "Have dinner with me tonight?" Day asked his voice full of emotion. "Yes," God answered immediately." ― A. E. Via
10. "I like dressing up for dates and dissecting a dinner conversation with a new guy to determine if he might be The One." — J. Courtney Sullivan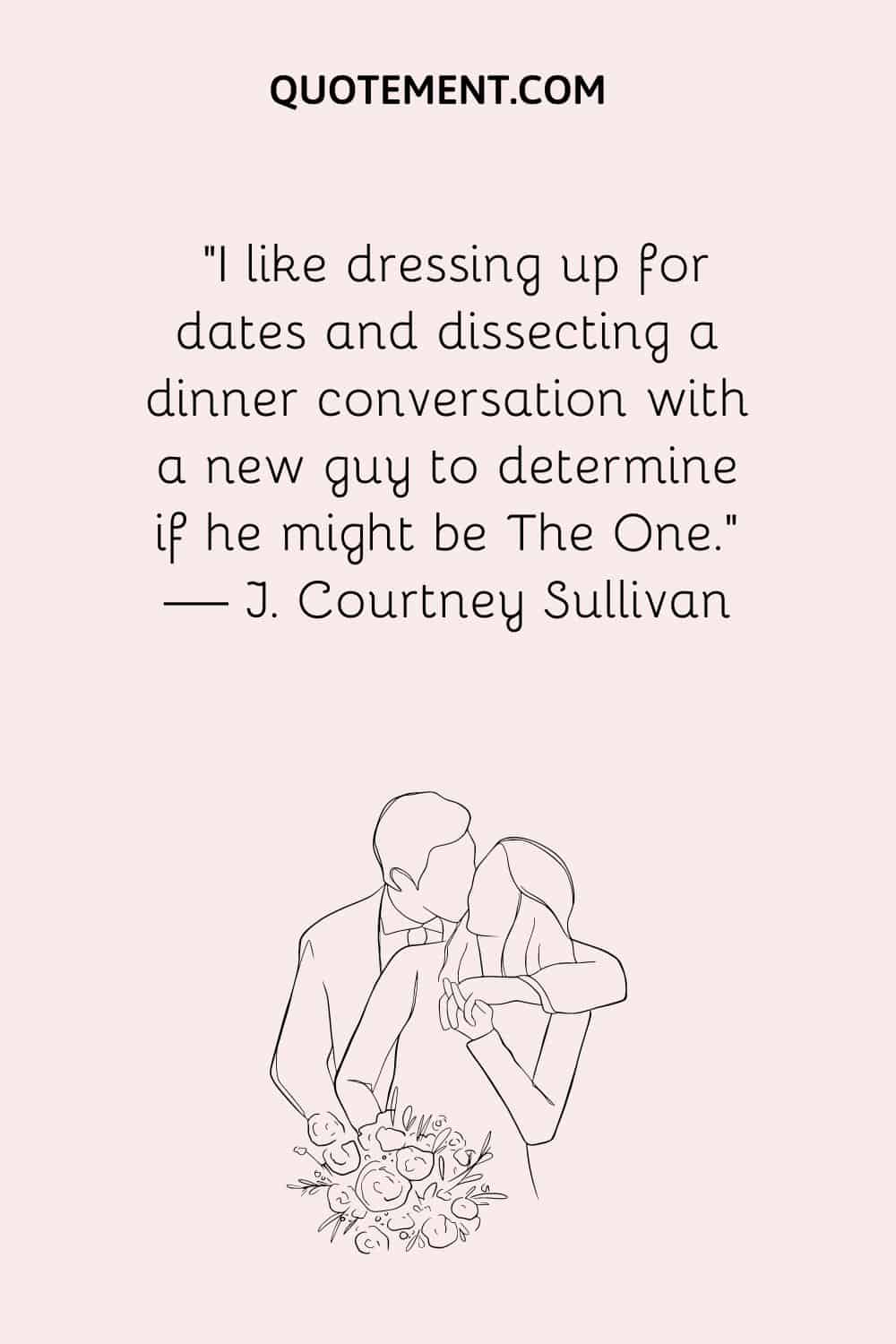 11. "Dinner is a great first date. Don't believe that stuff about girls not wanting to eat on a first date – sharing a romantic meal is so sexy." — Carmen Electra
12. "Dates used to be made days or even weeks in advance. Now dates tend to be made the day after. That is, you get a phone call from someone who says, "If anyone asks, I was out to dinner with you last night, okay?" — P. J. O'Rourke
13. "You could have my heart or we could share it like the last slice." — Drake
14. "When I need a break, a date night with my husband or a night out with girlfriends always does the trick." — Adriana Lima
15. "There is no spectacle on earth more appealing than that of a beautiful woman in the act of cooking dinner for someone she loves." — Tom Wolfe
16. "I was on a date with this really hot model. Well, it wasn't really a date date. We just ate dinner and saw a movie. Then the plane landed. " — Date Attell
17. "A lunch date is more fun than a dinner date; you're not tired. It's a secret that not a lot of other parents told me about." — Jessica Capshaw
18. "I still get nervous on dates. I'll be sitting at dinner with a guy and I have to excuse myself and go to the bathroom because I can't breathe." — Shannen Doherty
19. "I'm a real low-profile guy. So a date night for me is kind of curled up at home and watching something… have a nice glass of wine, a nice meal and we're all set." — Vincent Piazza
20. "I like doing something romantic with a girl on valentine's day, like making her dinner and keeping it simple. The more quality time the better." — Spencer Blodman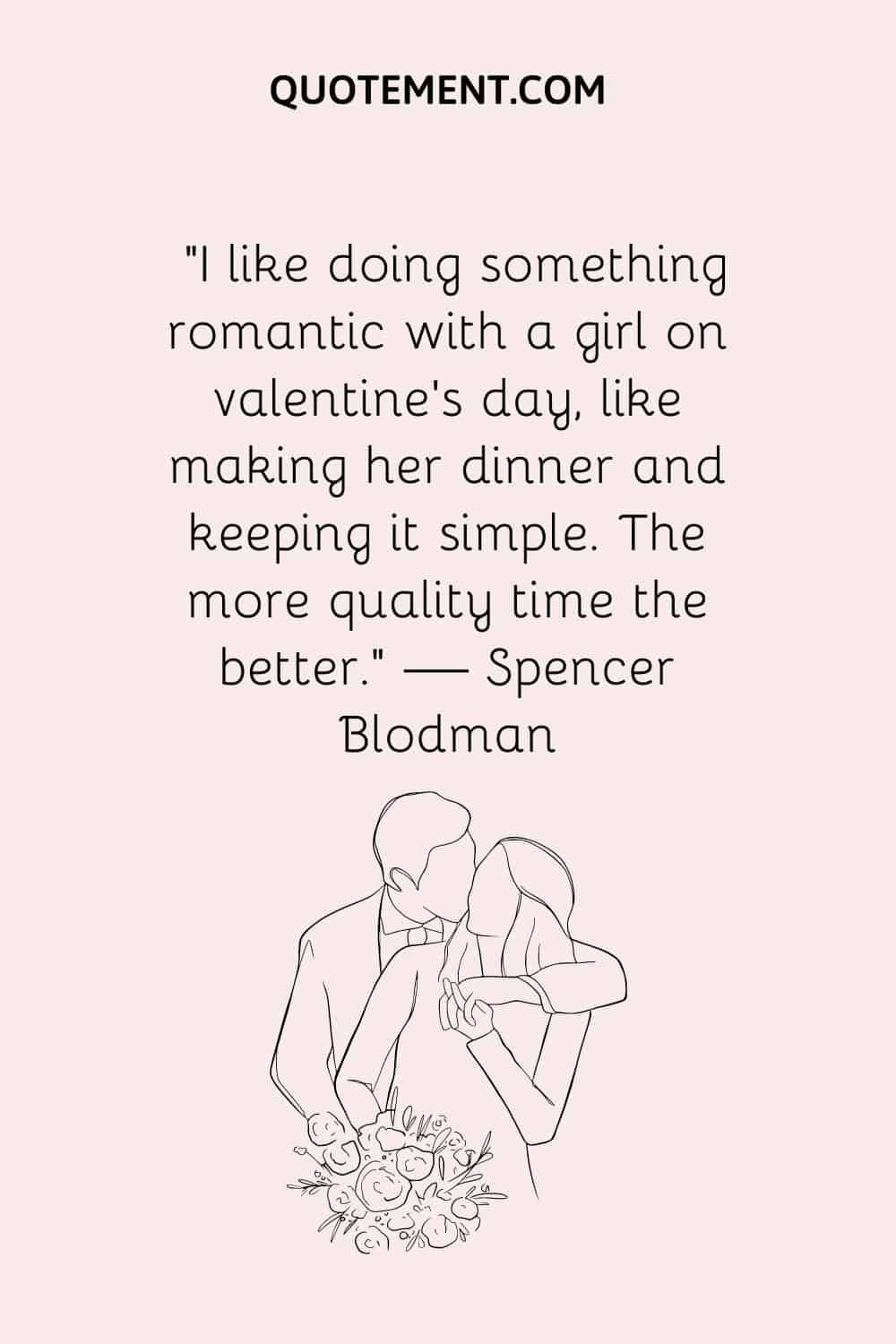 See also: 160 Best Dinner Captions For Instagram You Can't Resist
First Date Night Quotes
Few things can compare to a thrill of a first date night. I picked some of the best date night quotes about first dates.
1. "Keep the first date brief, short, sweet and simple and they'll come back to you." — Auliq Ice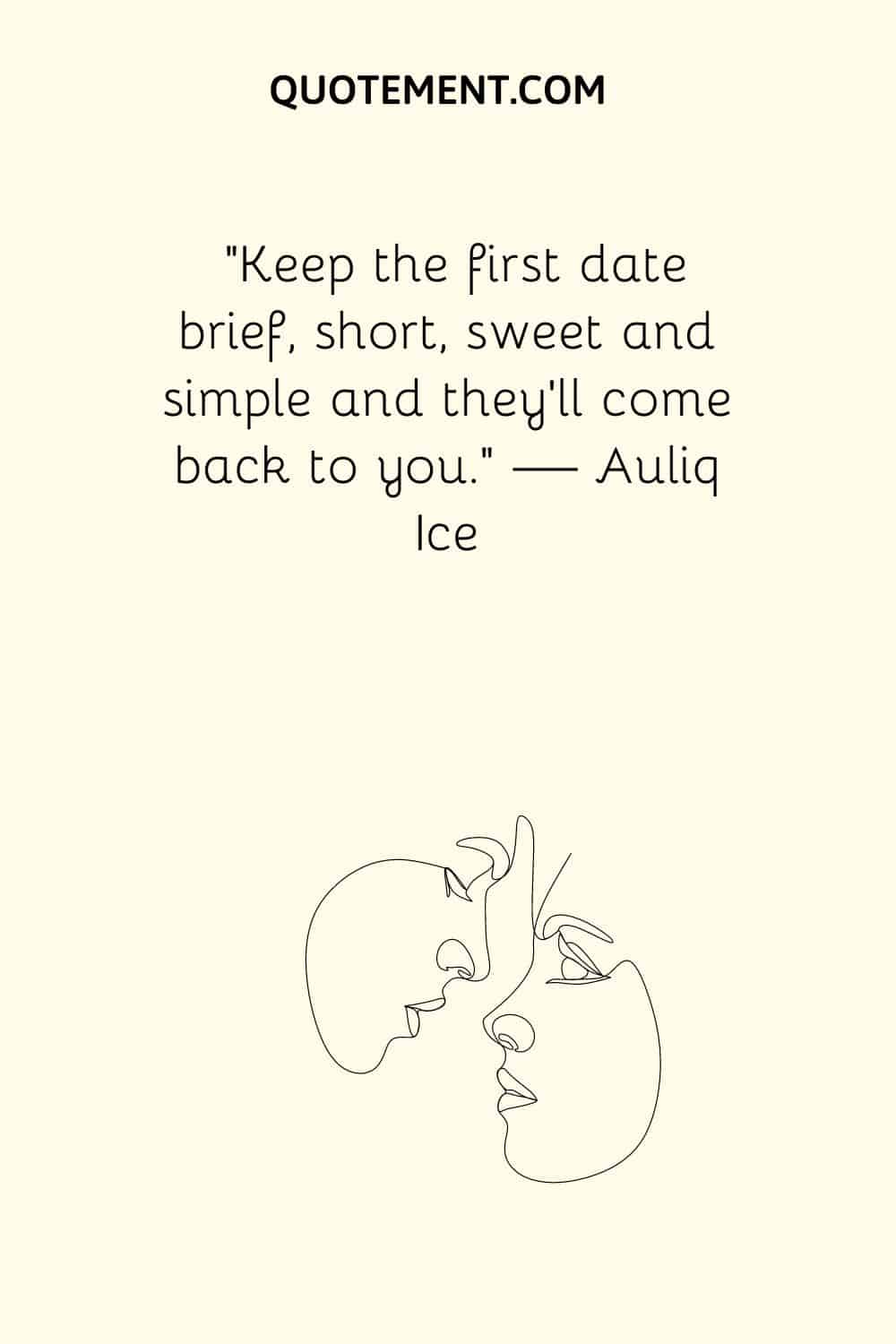 2. "Just remember, a first date is your opportunity to mess up a relationship forever." — unknown
3. "Just don't pull out your phone at all on the first date." — Jessica Szohr
4. "If you kiss on the first date and it's not right, then there will be no second date. Sometimes it's better to hold out and not kiss for a long time. I am a strong believer in kissing being very intimate, and the minute you kiss, the floodgates open for everything else." — Jennifer Lopez
5. "On the first date, men worry about what they're going to say, while women worry about what they're going to wear." — unknown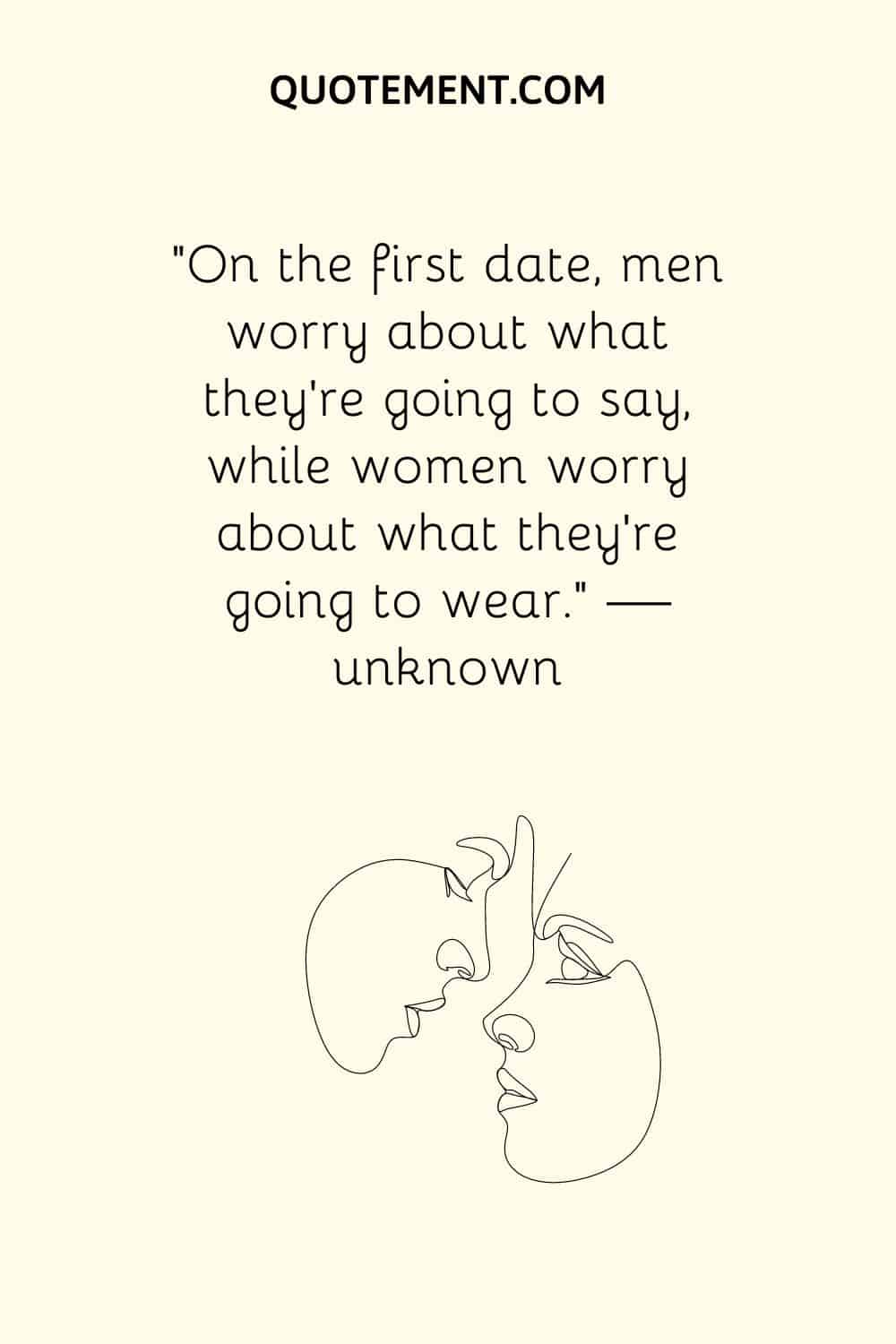 6. "Love is so unpredictable. Sometimes you'll know a man for years and then one day, boom! Suddenly you see him in a different way. And other times, it's that first date, that first moment. That's what makes it so great." — Sarah Dessen
7. "A type of love where a guy takes a girl to the old bookstore and talks about nothing but dead poets." ― Nitya Prakash
8. "The ultimate first date? Something that is completely out of the ordinary – go crazy, because first dates are always a little awkward, so do something a little extreme." — Gina Carano
9. "I hate first dates. I made the mistake of telling my date a lie about myself, and she caught me — I didn't think she'd actually demand to see the bat cave." — Alex Reed
10. "On first dates, always go to your favorite restaurant, because if the date goes bad, at least you had a good meal!" — unknown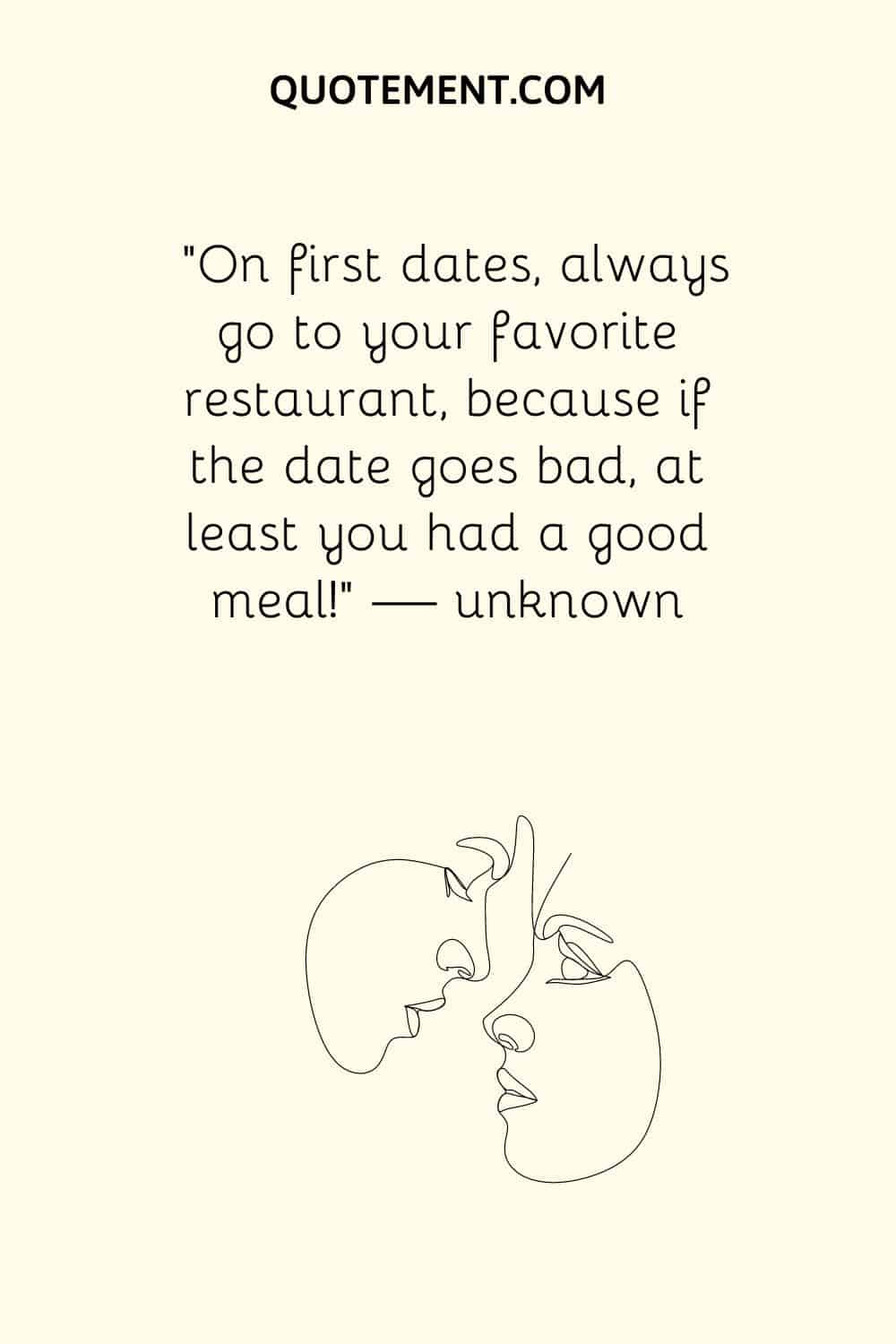 11. "Guys usually like a very natural look. I think it's a bad idea to wear a strong lip on a first date – or for the first few dates. I'm always too nervous he'll kiss it off – if I'm lucky enough to get a kiss! I also think soft, se*y hair is important." — Emmy Rossum
12. "A perfect date is probably something somewhere where you can kind of communicate and talk to the person. I don't like movies as the first dates. I don't think that's a good idea because you don't really get to talk to the person. I think taking a walk or just having one on one time with that person is the best." — Selena Gomez
13. "Everybody knows the pressure of a first date: Searching for that perfect outfit. Hunting for ways to be engaging. Dissecting each detail when it's over to check for mistakes. Dating can make even the most confident person lose his cool." — Kelly Starling
14. "Everyone has their first date and the object is to hide your flaws. And then you're in a relationship, and it's all about hiding your disappointment. And then, once you're married, it's about hiding your sins." — Joss Whedon
15. "As for kissing on the first date, you should never date someone whom you would not wish to kiss immediately." — Garrison Keillor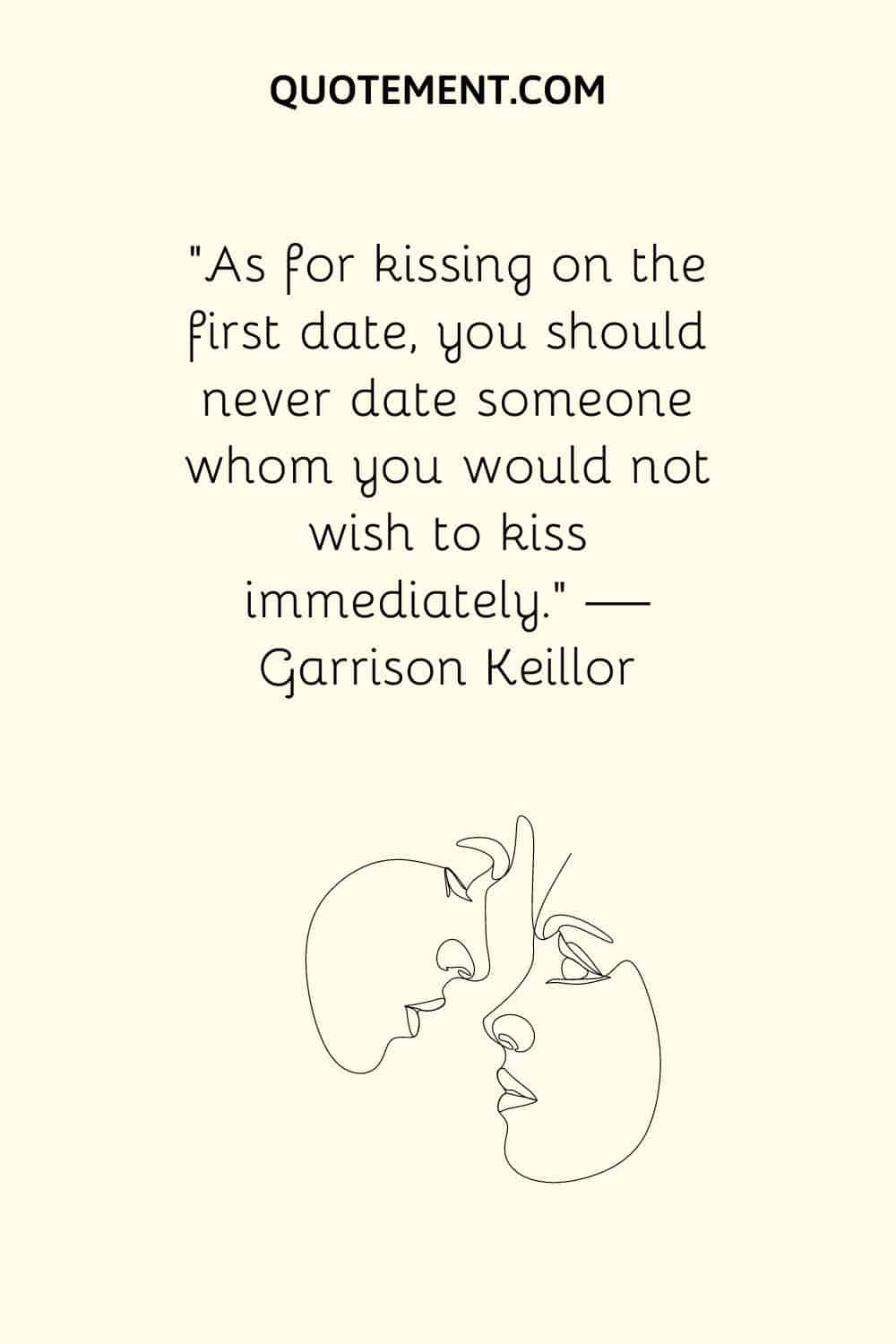 See also: 120 Most Romantic Bedroom Kisses Quotes For Lovers
16. "Clothes have a special power. I'll always remember the raspberry-colored v-necked silk sweater I was wearing on my husband and my first date. If I hadn't been wearing that sweater that night, would any of it have happened?" — Delia Ephron
17. "I don't think there's a date minimum or maximum. I don't get the whole 'All right, you've got to wait three days to call after the date.' If I got a number from a girl, I'd call that night. There's no science to it for me. You just do what it is that you feel like doing." — Channing Tatum
18. "Starry eyes sparkin' up my darkest night." — Taylor Swift
19. "I remember the first date I ever went out on. It was in high school. Her name was Marguerite. She was kind of a heavyset girl… I took her out on one date. We went out for dinner and a movie and dinner." — Kevin Nealon
20. "First dates are fun! Even if it's not love at first sight, you can still enjoy your first date and have a good time." — Lauren Levine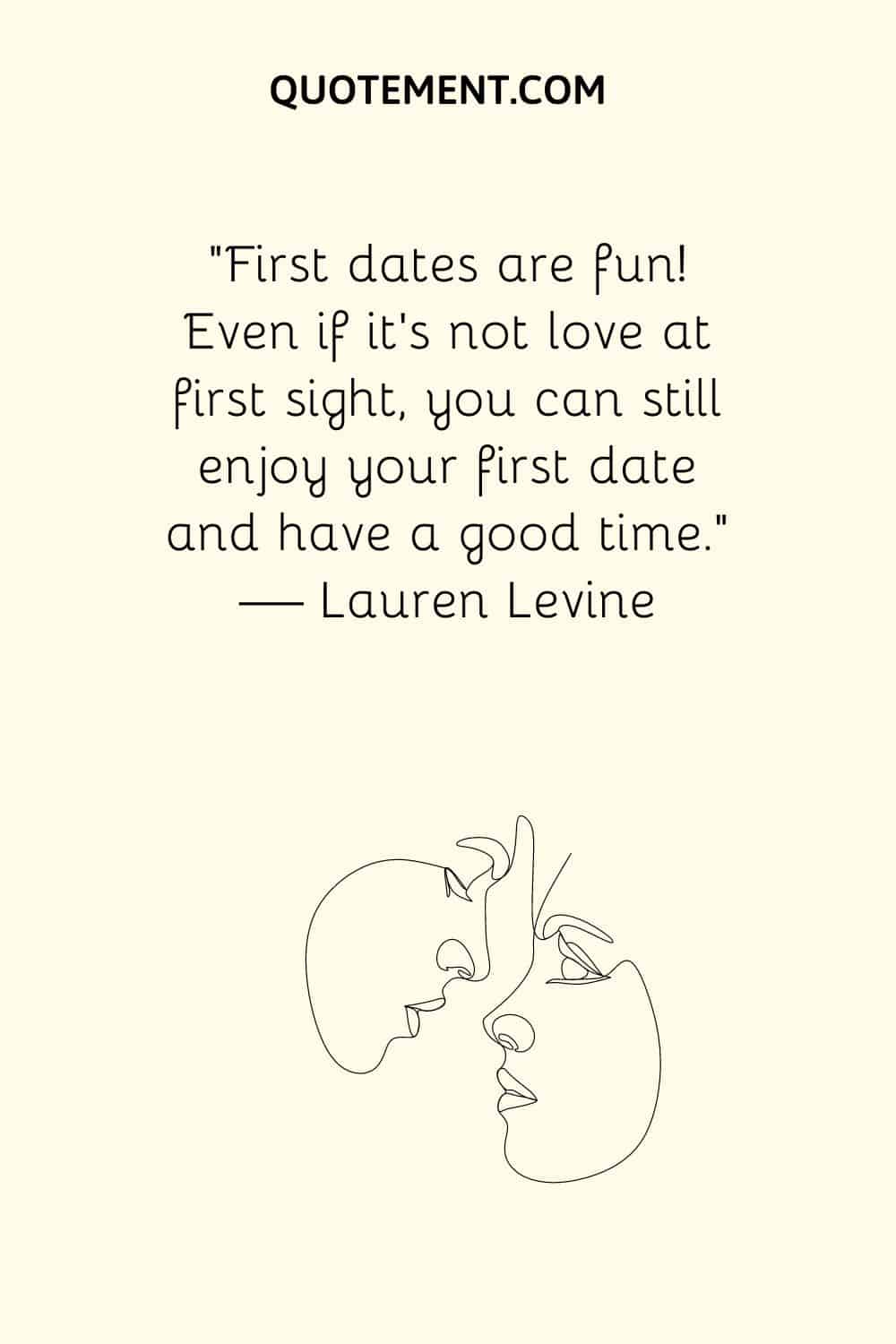 See also: 80 Love At First Sight Messages And Quotes For Your Loved One
Seasonal Date Night Quotes
Here you'll discover some really interesting date night quotes about dates through all seasons.
1. "I want to date you near the beach. Look you in the eye. Drink red wine slowly" — Azhar King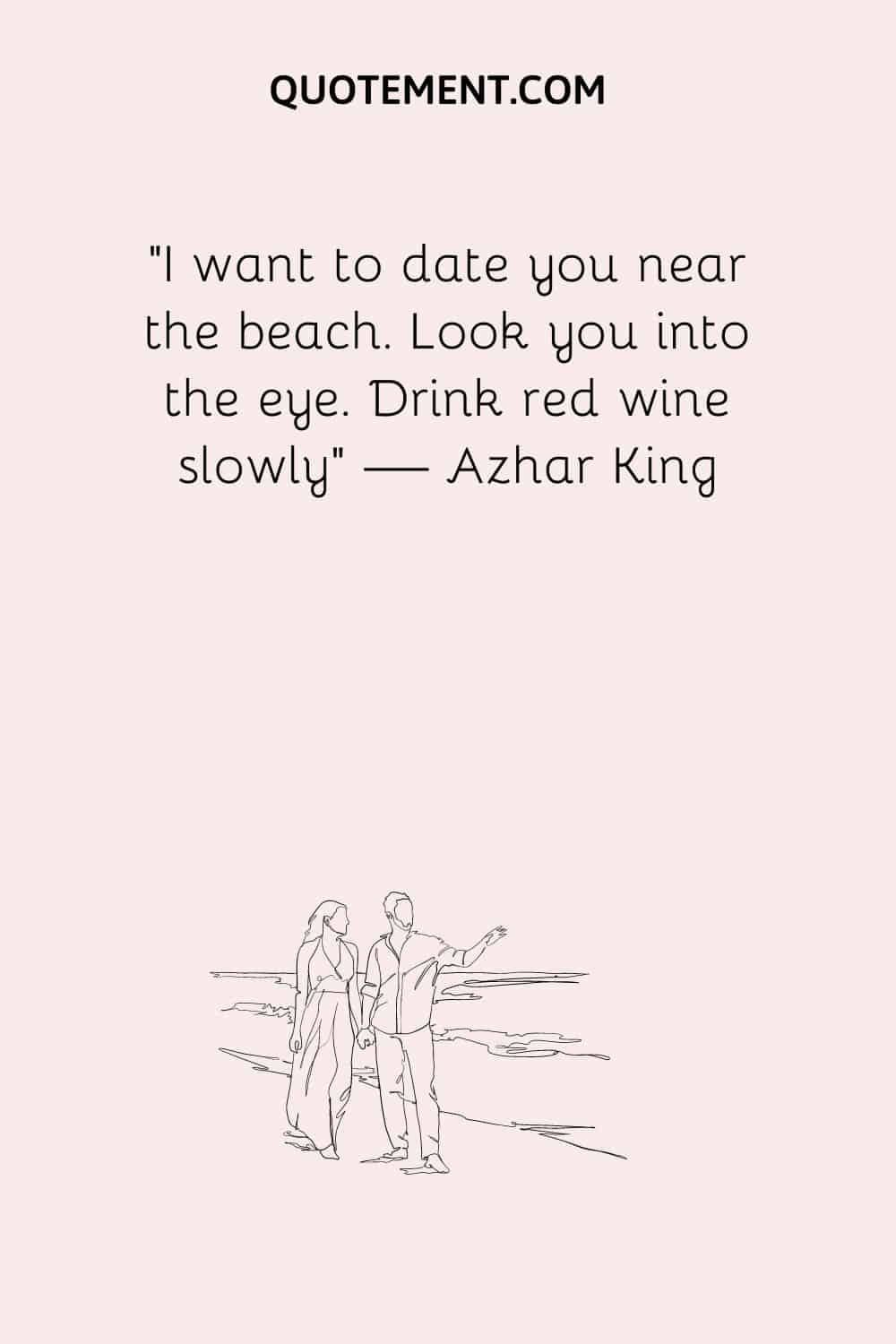 2. "There's nothing better than fall walks and cozy sweaters."
3. "I love to travel, and I think being whisked away somewhere for a vacation is a pretty amazing date. But, I'm really into the basic movie and dinner. It's not where you are, but who you're with that really matters." — Alexandra Daddario
4. "Summer lovin' with this hot guy (or girl)."
5. "Winter is the most romantic time of the year. Cuddling and watching TV while it's snowing outside, is there anything better than that?" — Lauren Levine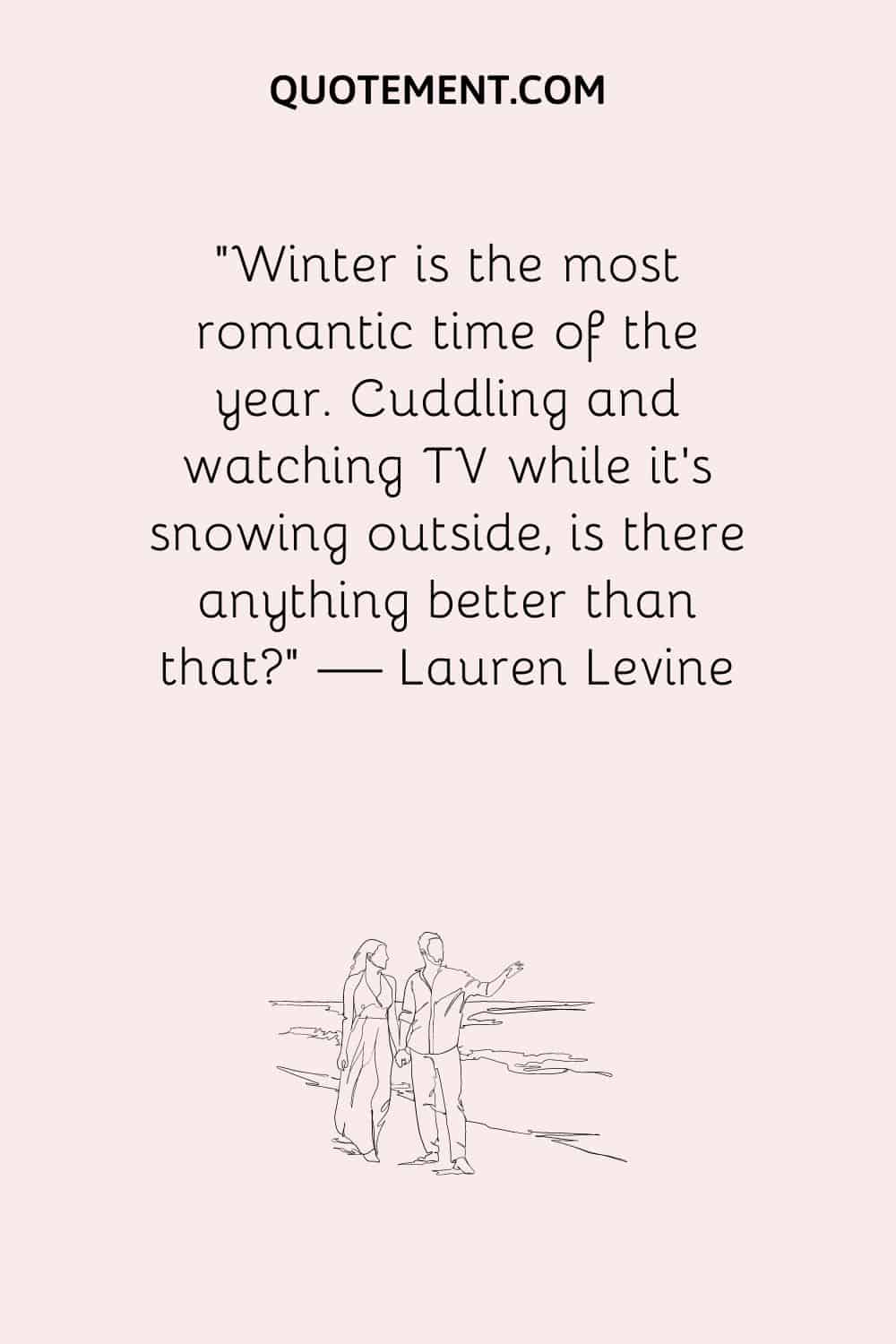 6. "I went on a date recently and the guy took me horseback riding. That was kind of fun until we ran out of quarters." — Susie Loucks
7. "It's called fall for a reason. It's the perfect time to fall in love!" — Kirsten Hill
8. "Pretty Polynesian baby over the sea, I remember the night, when we walked in the sands of Waikiki and I held you oh so tight." — Ricky Nelson
9. "I told God a wanted a bae by winter…He canceled winter."
10. "True love is not based on romance, candle light dinner and walks along the beach. In fact, It Is based on respect, compromise, care and trust."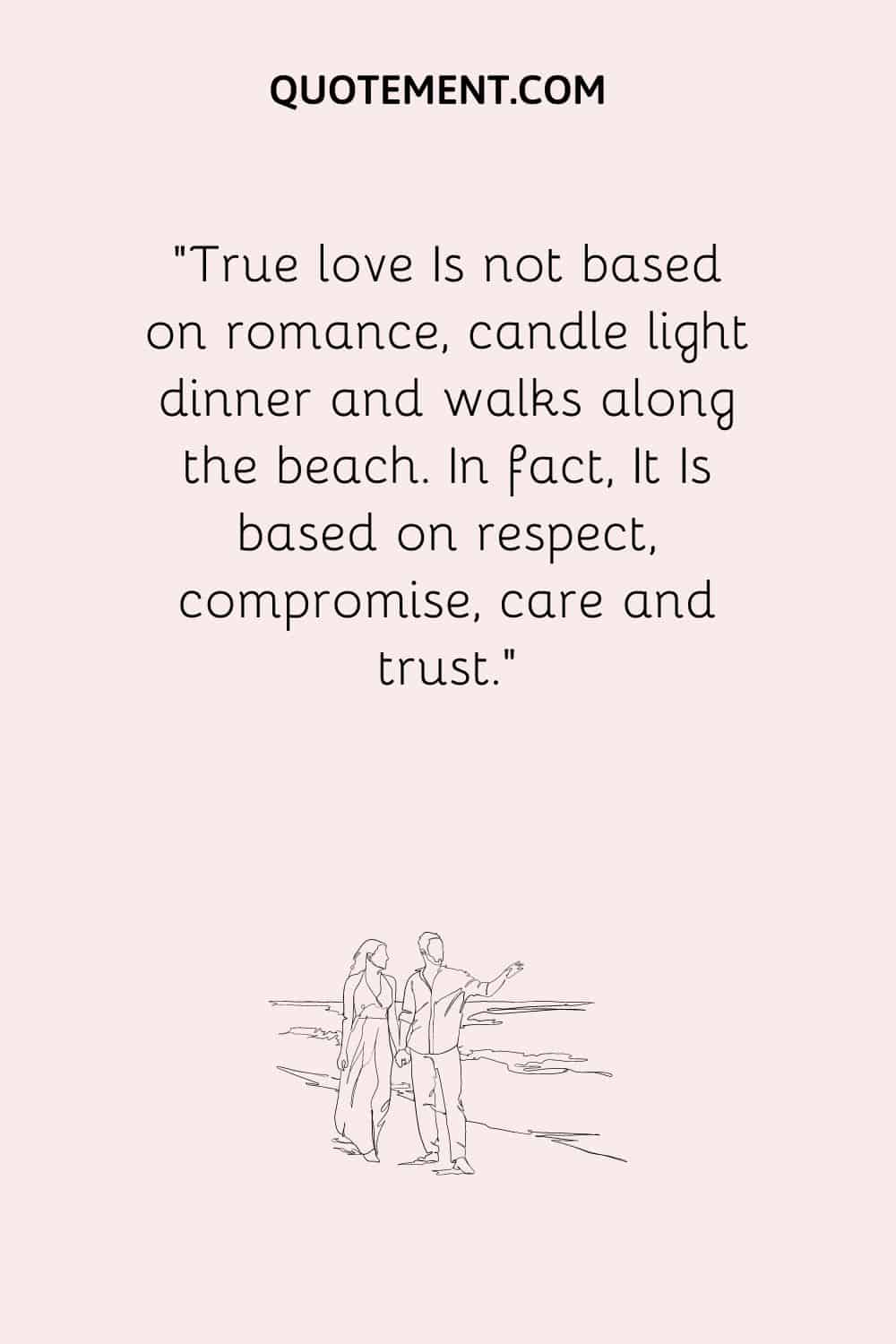 See also: 200 Most Romantic True Love Messages For Your Loved Ones
Cute Date Night Quotes To Use As Instagram Captions
Romantic date nights with your loved one are magical, no wonder you want to post them on your social media. These lovely date night quotes can serve as amazing date night captions for Instagram.
1. "Always carry a book on a date so that when you get bored you can slip into the Ladies' for a read." — Sharon Stone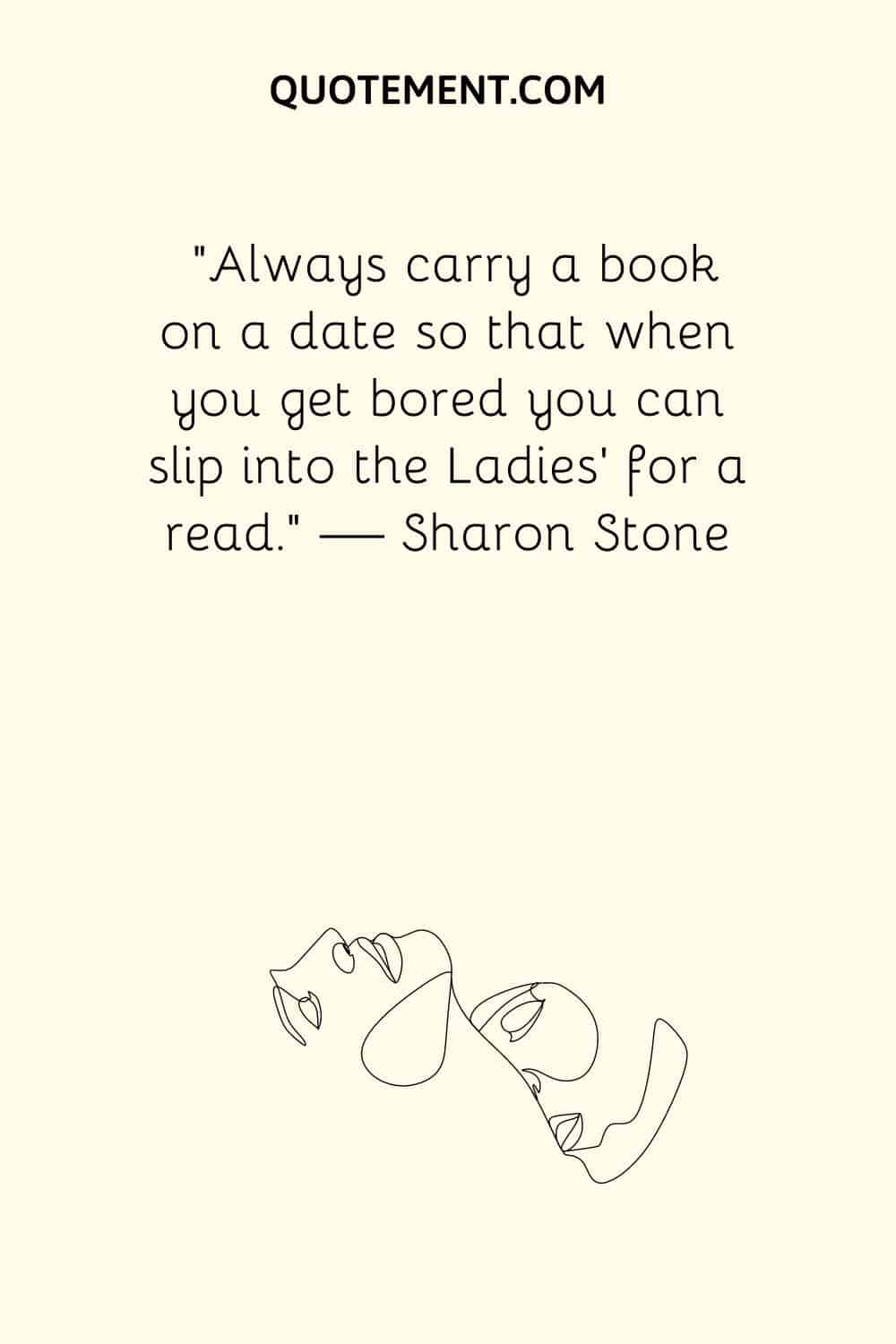 2. "Achieving all those date night goals!"
3. "Date night is always my favorite night."
4. "Cheers to new beginnings."
5. "A good date ends with dinner together but an awesome date ends with breakfast together."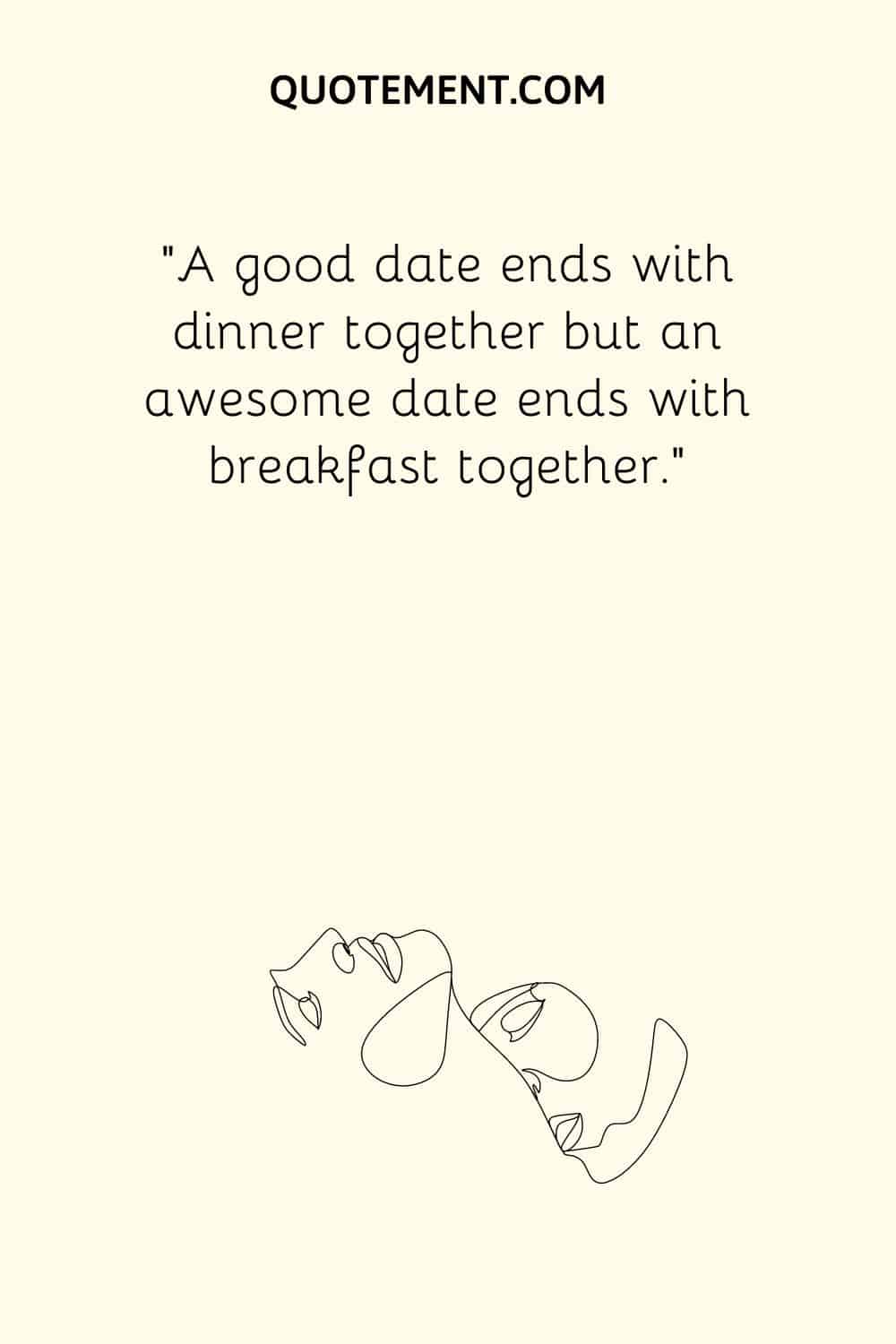 6. "Not sure if it was my date or the food that made me all lovey-dovey."
7. "He taught me how to use chopsticks!"
8. "We go together like these fries go with this burger."
9. "Being with you is like breathing champagne: It's intoxicating, but I'd indulge in your presence all over again."
10. "That feeling when you're getting ready for a date you wanted for a long time."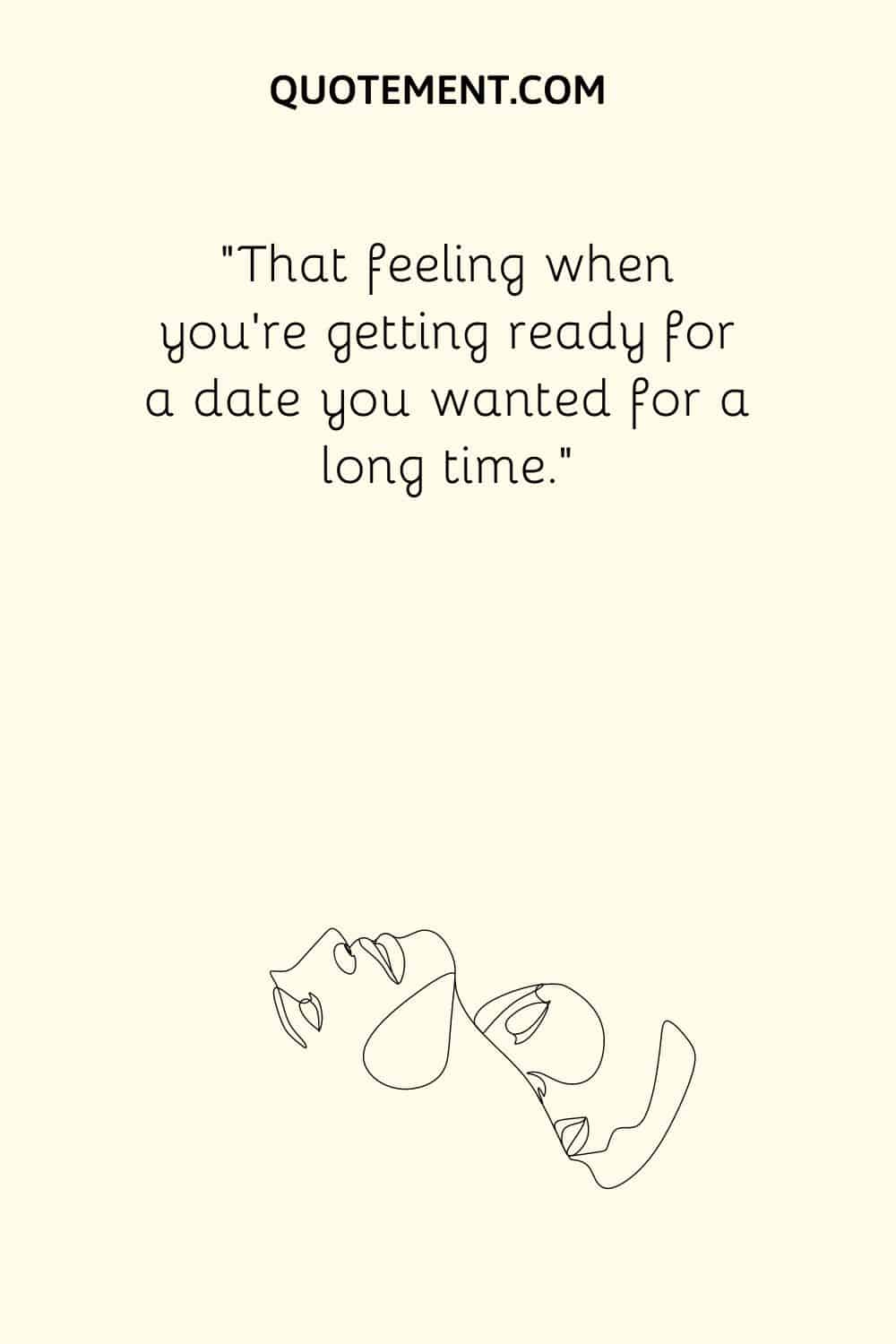 See also: 120 Lovely I Wanted You Quotes Straight From The Heart
In Conclusion
I hope you enjoyed the date night quotes I prepared and hope to see you on my blog again.
Until next time!