As you've found your way to this article, you've probably been searching for the perfect caption to include in your Instagram post about the Golden State.
You got lucky today because here you'll find the best California captions that are all about Cali fun!
These captions will be a great addition to all your California photos and selfies.
Besides the best California Instagram captions, this article will provide you with lovely captions covering the California sunset and beautiful California beach captions.
There are some funny California captions and puns to be found here too, and plenty of California quotes.
Let's get down to business!
20 Best California Captions
1. There is no place like California.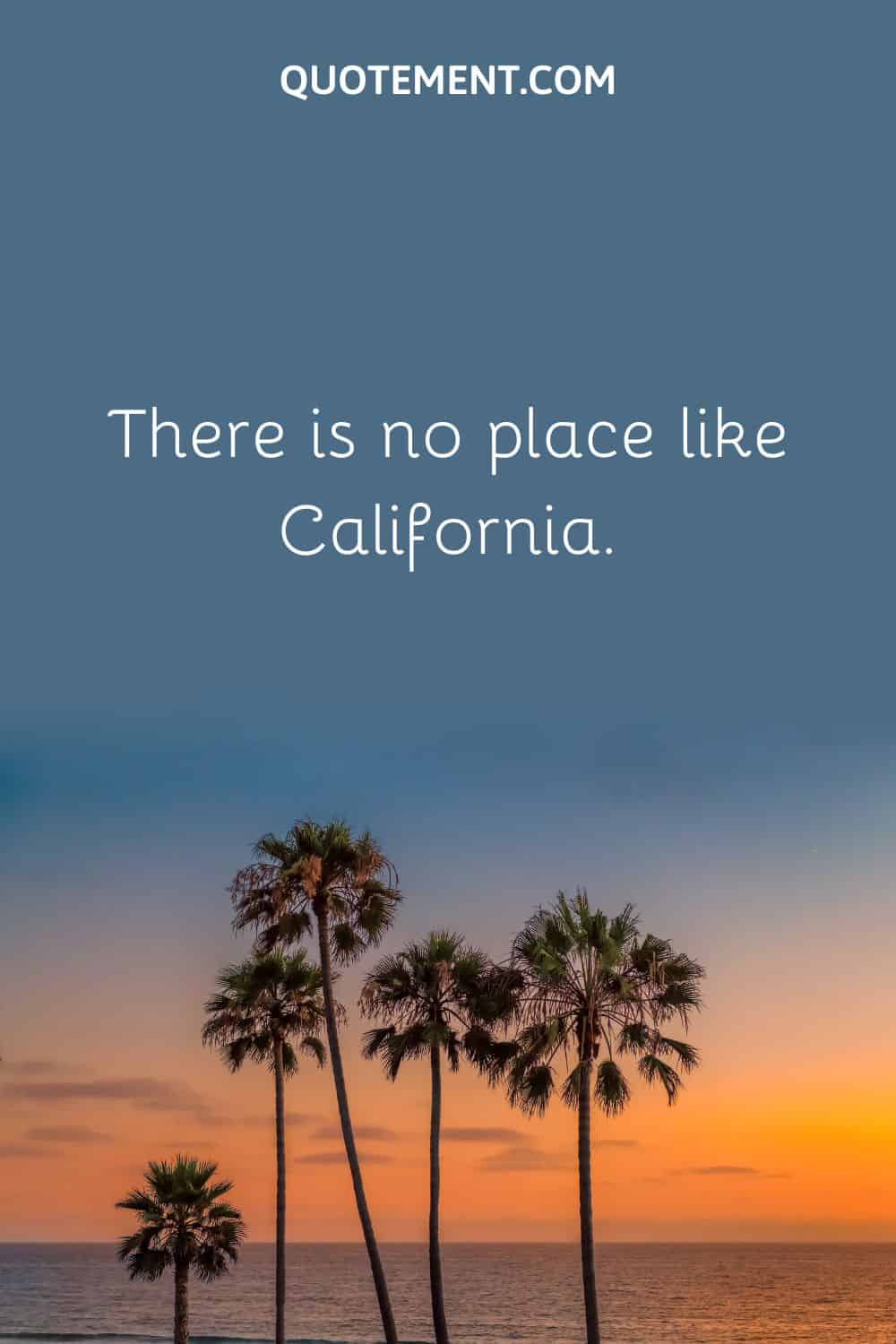 2. A bad day in California is better than a good day anywhere else.
3. I fell in love, her name is California.
4. California is where you get to start over.
5. Crushing on Cali.
6. California: where it always is summertime.
7. I think California has the best energy.
8. California is always in my mind.
9. Salt air, cool breeze, and adventure in my soul.
10. Home is where the heart is, and mine is in California.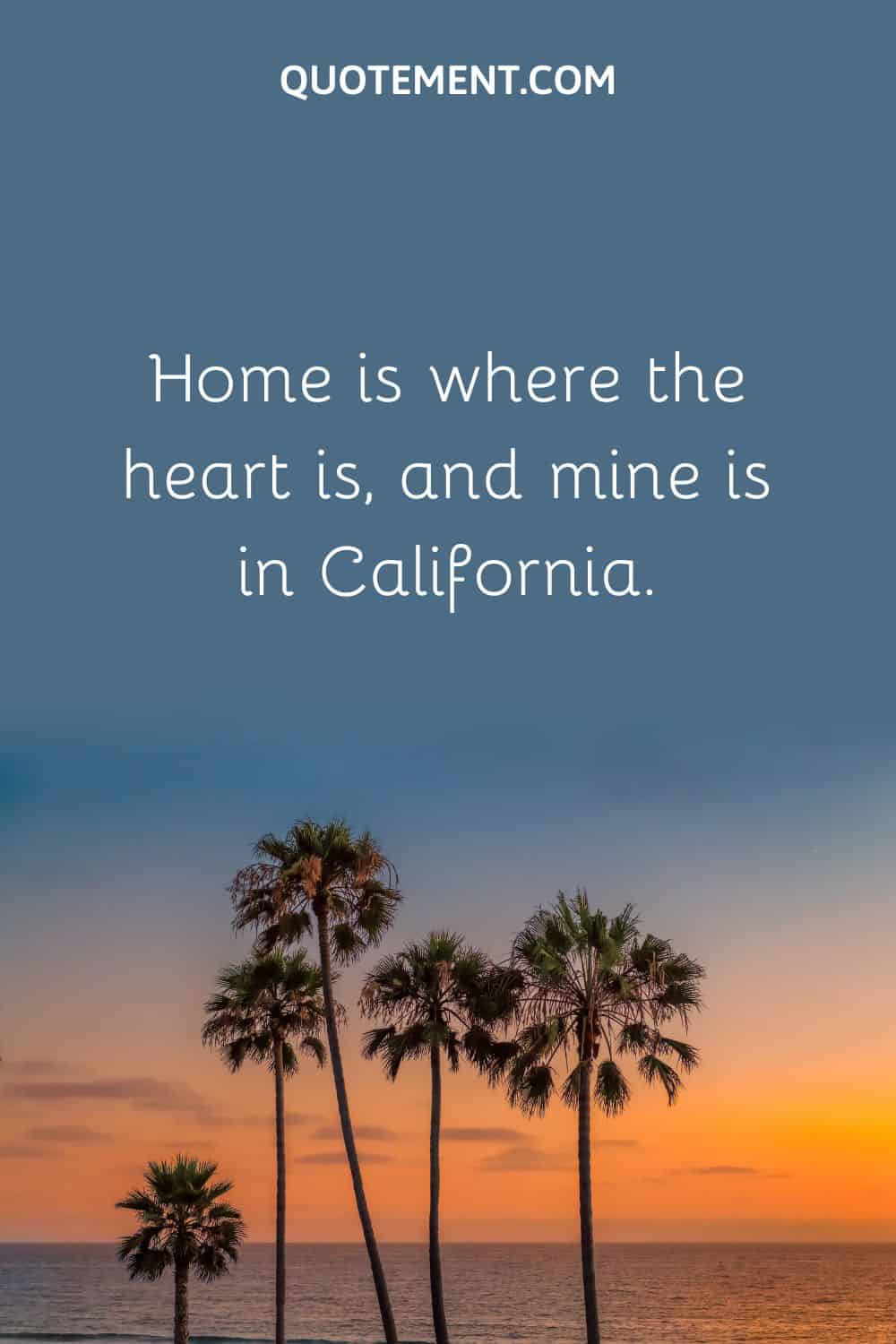 11. My soul lives in California.
12. California hair, don't care.
13. It's never too late to go to California.
14. California is always a good idea.
15. California weather is worth all the geniuses in New York.
16. If I can't go to heaven, let me go to California.
17. Once you come to California, you will never look back.
18. They write songs about California girls for a reason.
19. California, still a magical vanity fair.
20. California: the Golden State of mind.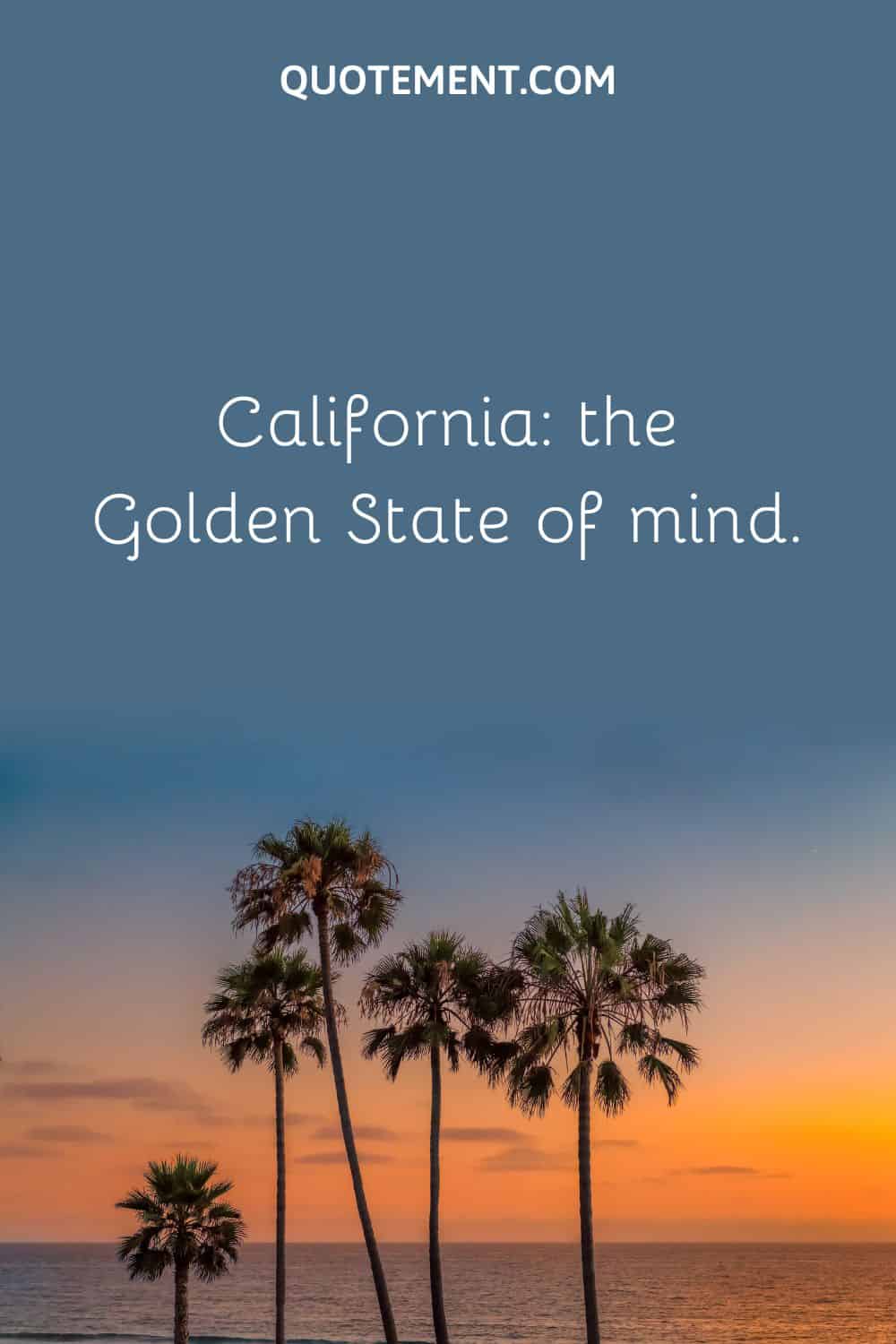 California Instagram Captions
1. I want a little bit of California.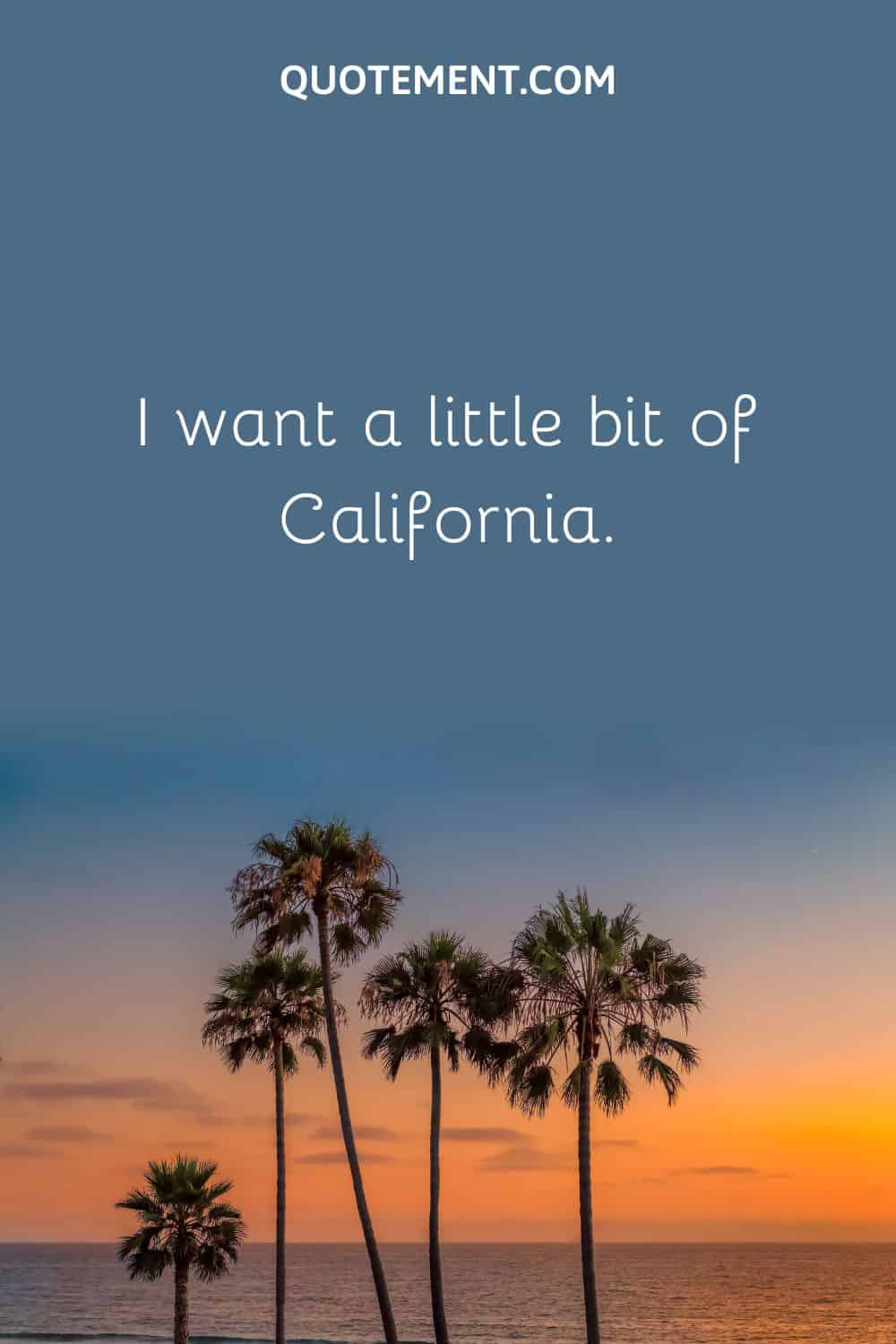 2. Happiness is a week in California.
3. Living my best life in California.
4. California knows how to party.
5. Making memories in California.
6. Who doesn't love a trip to California! The Golden State is one of the most visited states in America.
7. Endless adventures in California.
8. But first, let's go to California.
9. Eat. Sleep. Breathe. California.
10. California is where my heart is.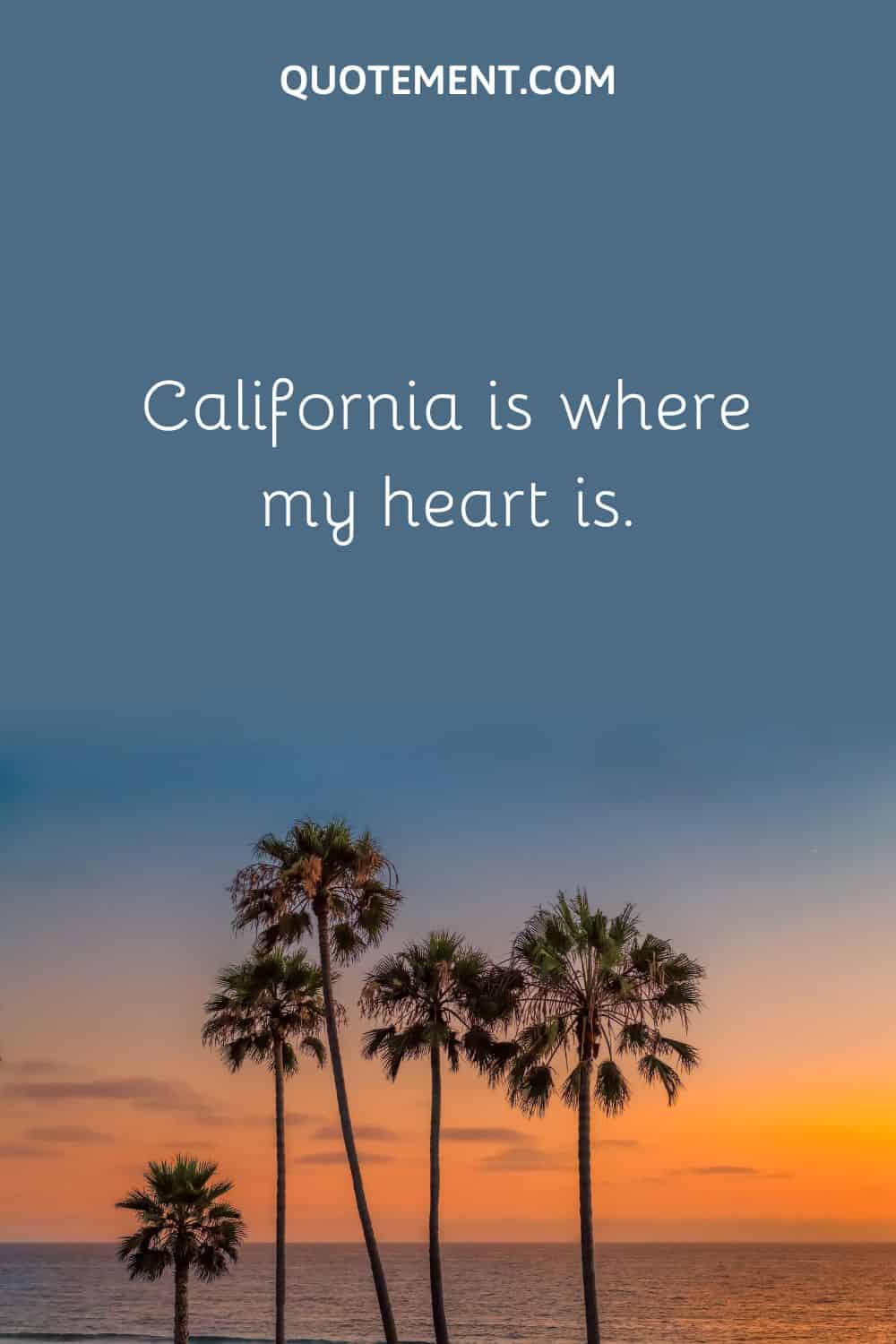 11. Maybe I just need to go to California.
12. California can and does furnish the best bad things that are obtainable in America.
13. Waking up in California is the best.
14. From Los Angeles to Sacramento, you'll find me in Cali.
15. You haven't lived until you've died in California.
16. California, I just can't help loving you.
17. Follow your heart even if it takes you all the way to California.
18. The West Coast is the best coast!
19. This place makes me feel most alive.
20. There's a feeling I get when I look to the west.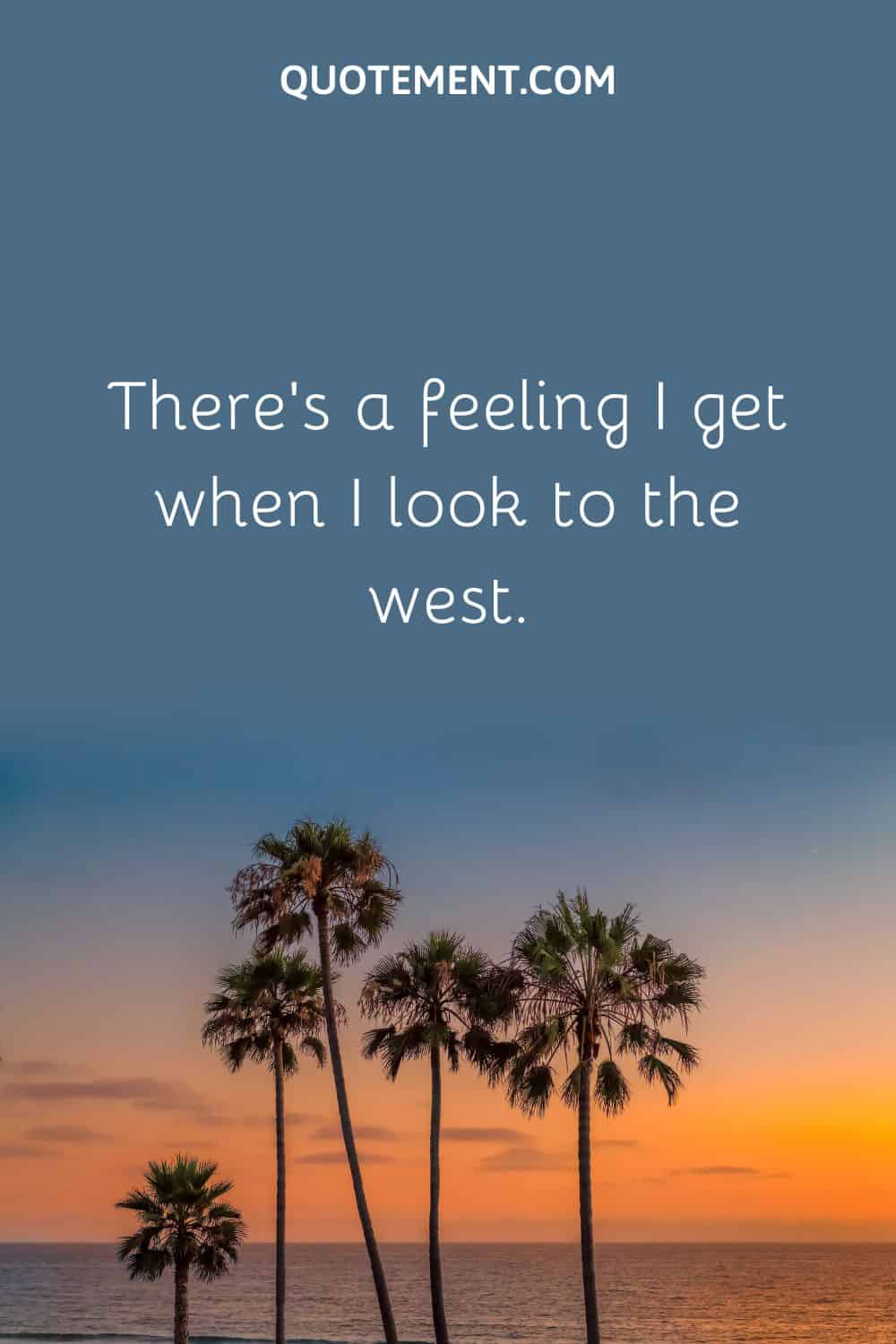 21. Don't miss out on America's hidden gems!
22. If they can't do it in California, it can't be done anywhere.
23. I should probably move here, right?
24. In the warm California sunshine.
25. Someone in California loves me.
Short California Instagram Captions
1. California Dreamin.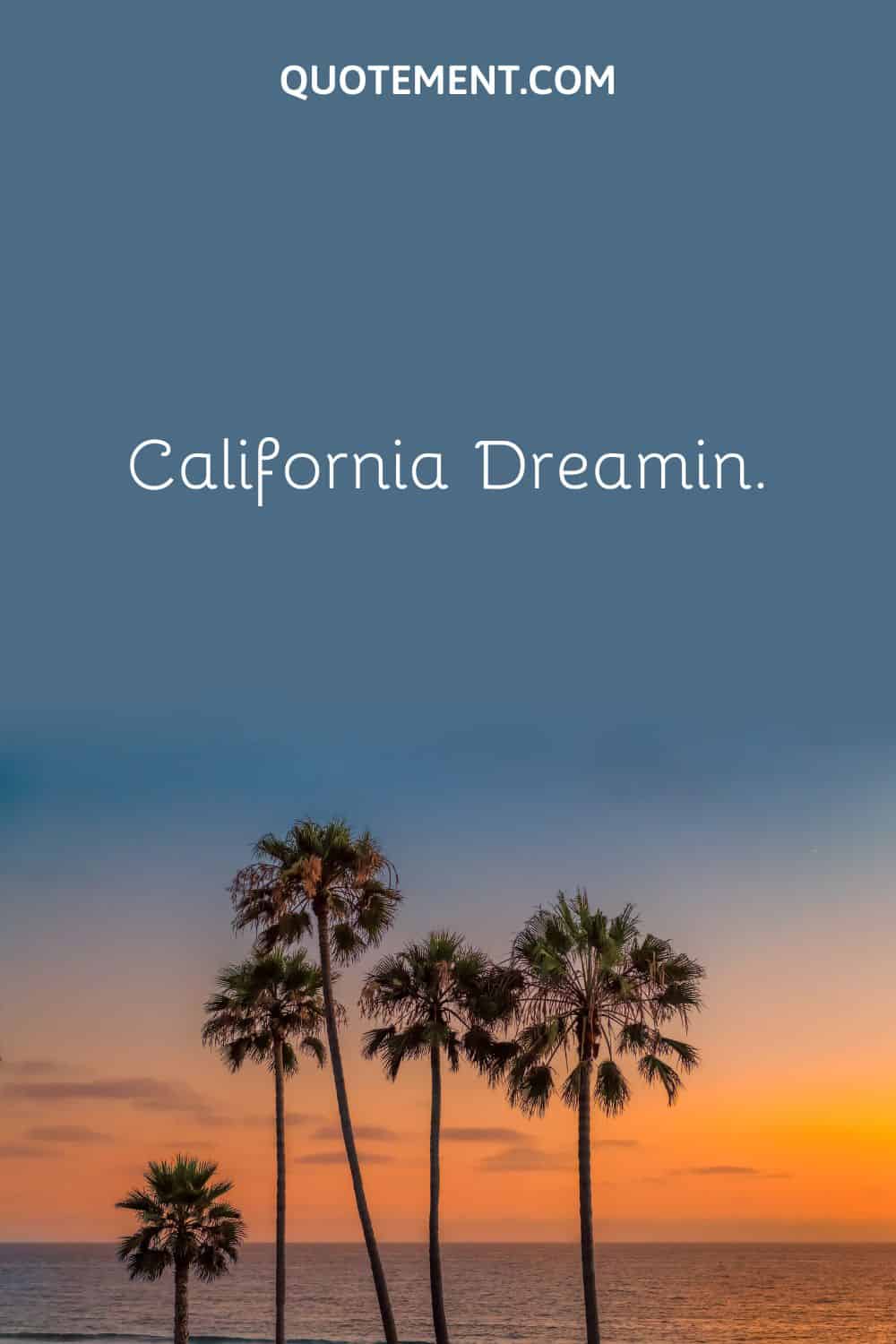 2. California vibes.
3. Follow me to California.
4. California state of mind.
5. You had me at California.
6. Peace, Love, California.
7. At home in California.
8. California, be mine.
9. California girl.
10. Dream of Californication.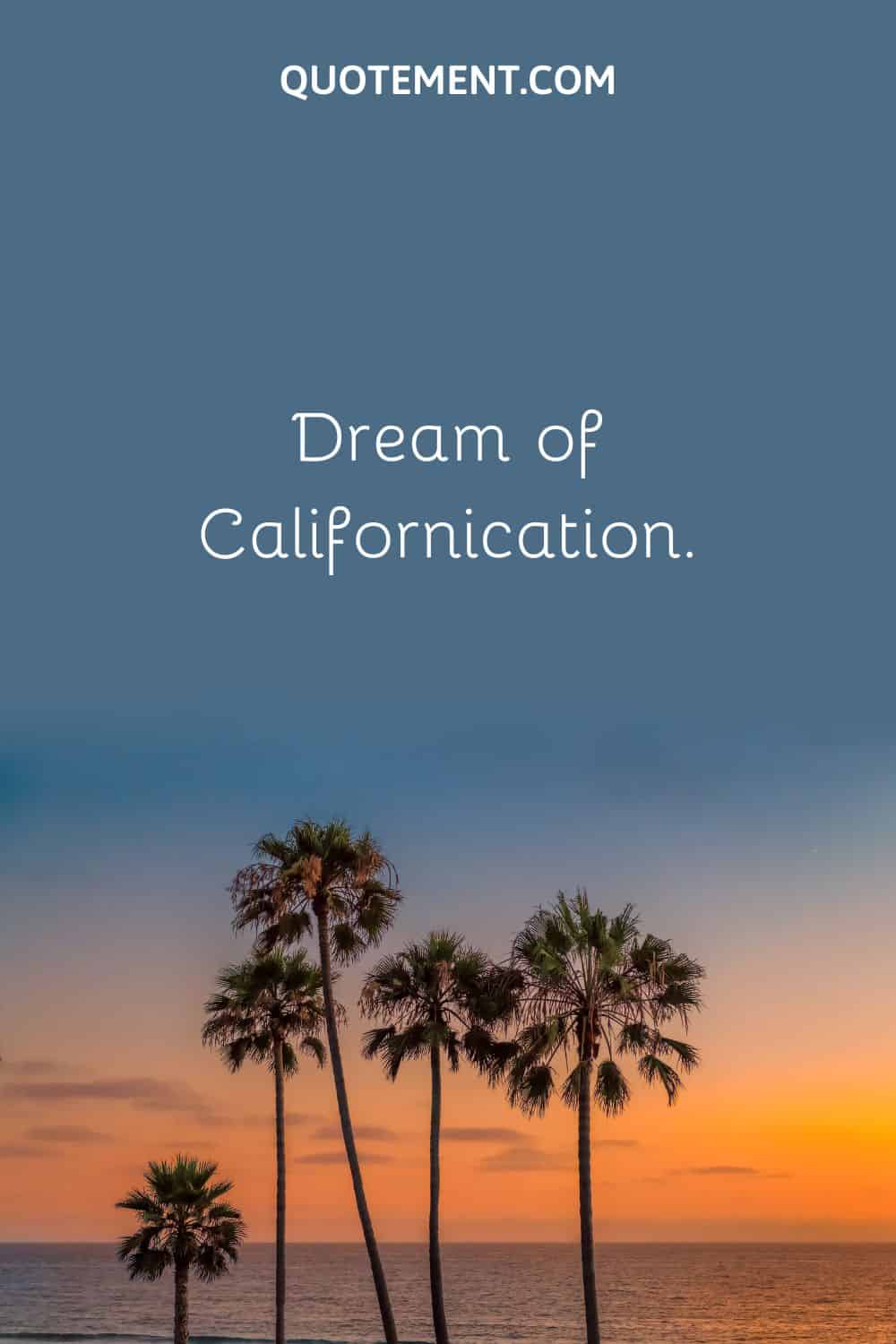 11. I left my heart in California.
12. Stay golden.
13. California: Sunny nutland.
14. Life in California is beautiful.
15. Always say yes to California.
16. Seizing the day in California.
17. Alexa, take me to California.
18. Dear California, I love you.
19. Palm trees and 80 degrees.
20. Living that California life.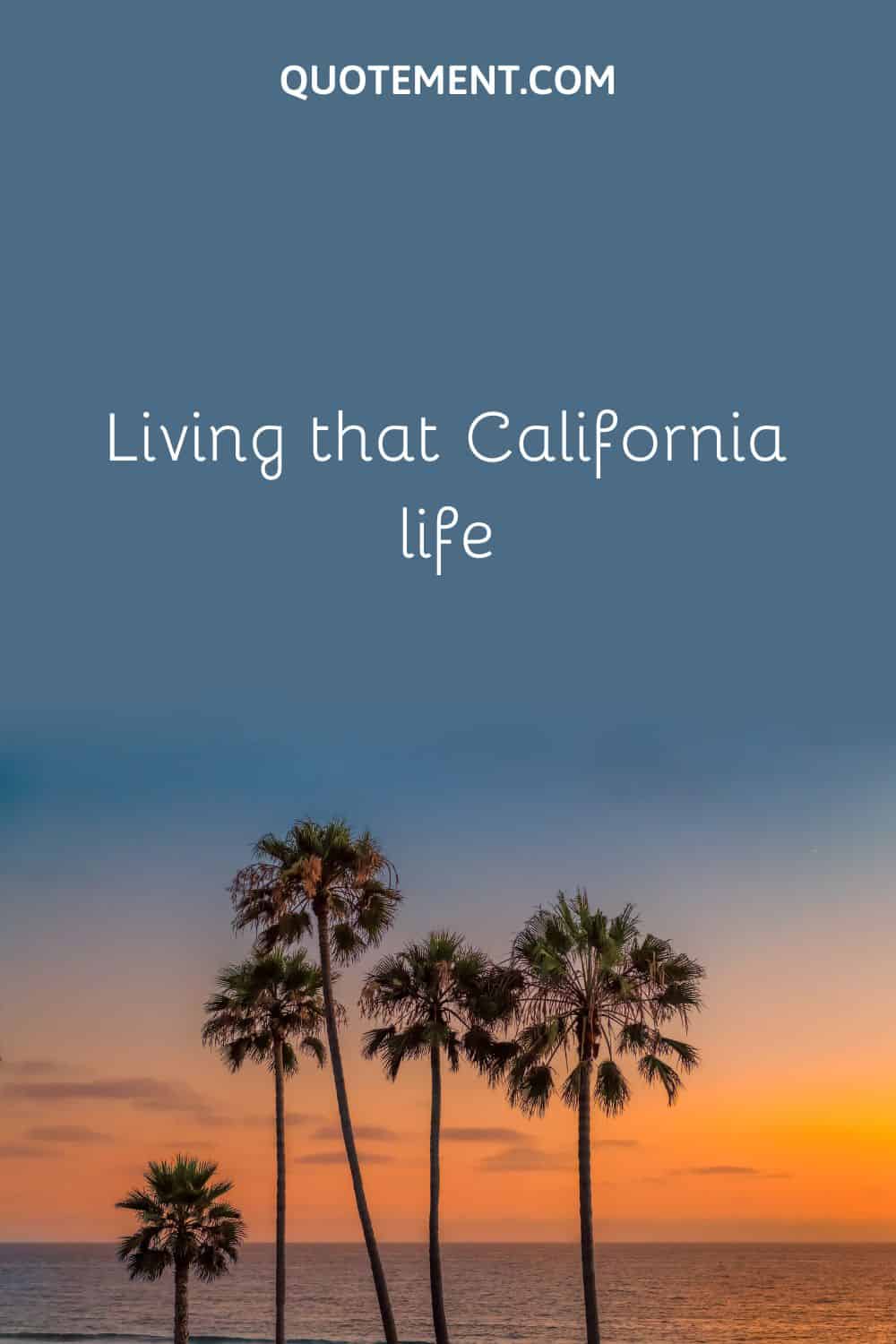 California Sunset Captions
1. Happiness — available from the California sunset.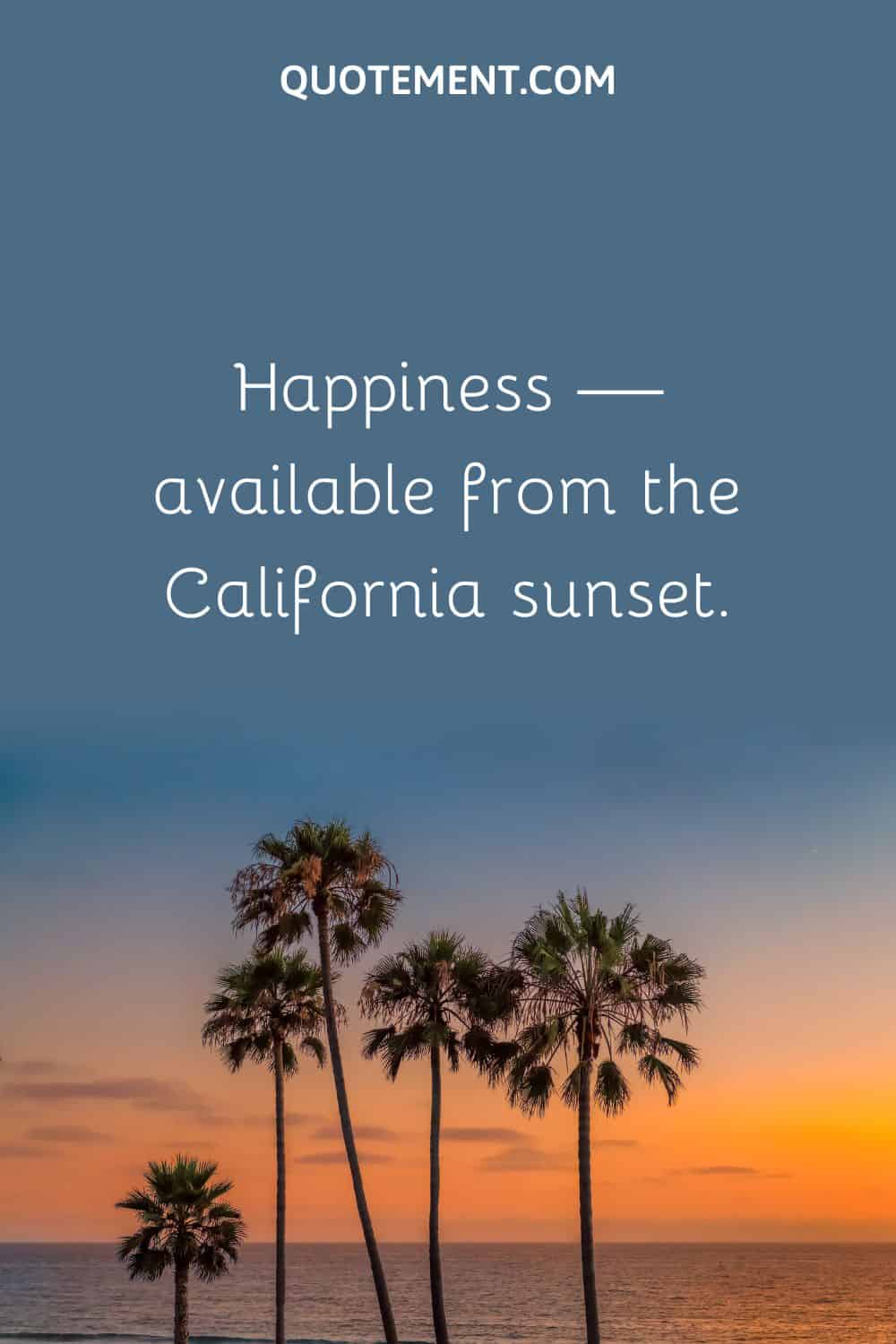 2. All you need is California sunset.
3. Dreams are made of sand and sunsets.
4. Sunsets are better in California.
5. This is paradise.
6. Sunsets, palm trees, and California life.
7. I wanna spend the rest of my sunsets with you in California.
8. My favorite color is sunset.
9. Beach bums and setting suns.
10. Sun kissing ocean. Beach touching bum.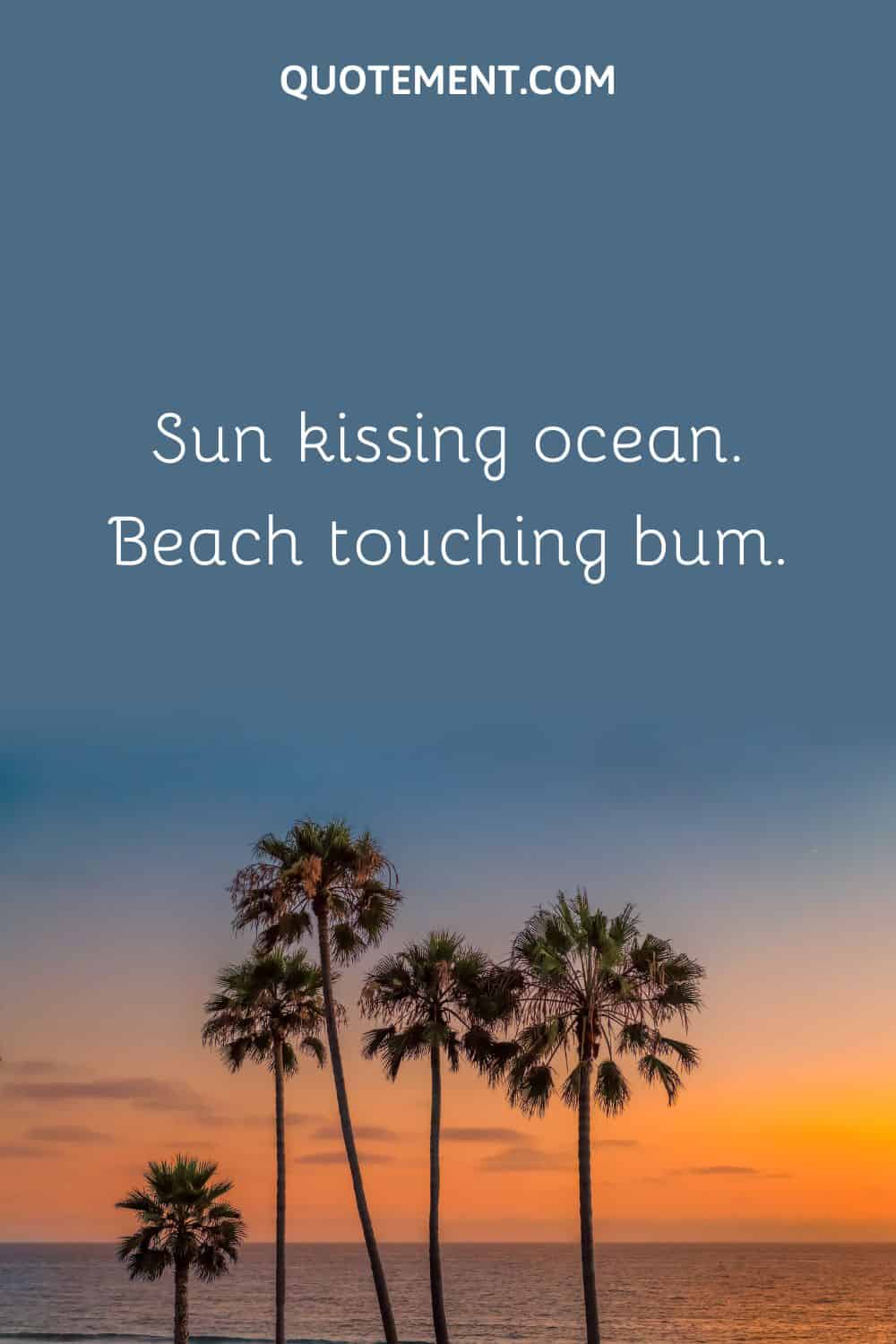 11. Sunsets & palm trees.
12. The California sky speaks in a thousand colors.
See also: 270 Absolutely Beautiful Sky Captions For Instagram
13. Sunsets and oceans. It's what I do.
14. There's a boulevard called Sunset here.
15. I love you like the sun loves California.
See also: 340 Absolutely Best Sunset Captions For Instagram + Quotes
California Beach Captions
1. Happiness is the sun setting over the California beach.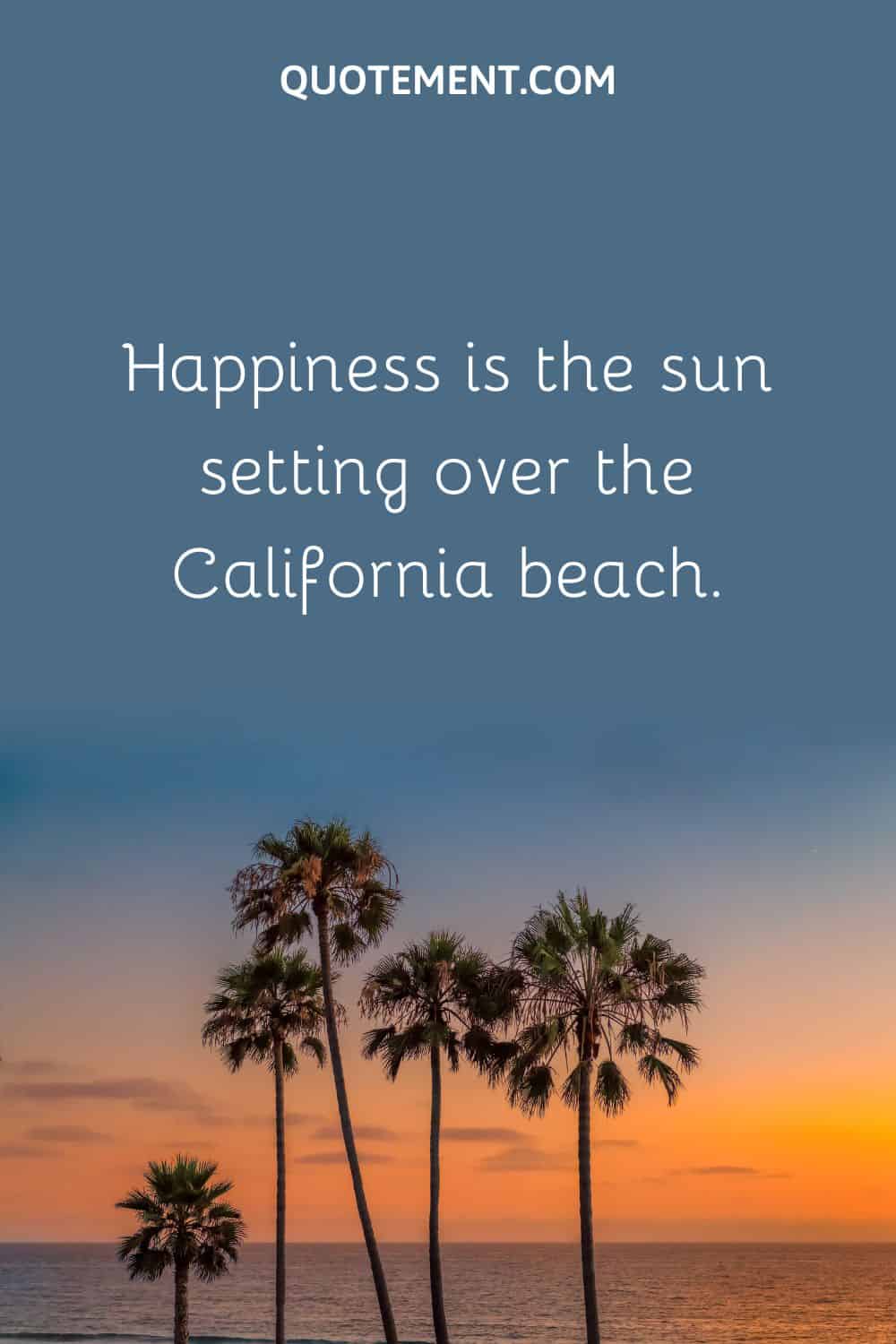 See also: 280 Best Sun Captions For Instagram For A Shiny Post
2. Palm trees, ocean breeze, salty air, sun-kissed hair – California, take me there.
3. Raised by waves.
4. More Pacific Ocean, please.
5. Beach day is every day in Cali.
6. Find me on the beach in California.
7. Driving along the California coastline.
8. Happiness comes in waves.
9. Nothing comes close to the Golden coast.
10. Keep calm and go to Cali beach.
11. Twilight + Beach = Perfection.
12. Beach days, always.
13. Find me where the waves are.
14. We're just coastin'.
15. Just watching sun-kissed waves drift the day away.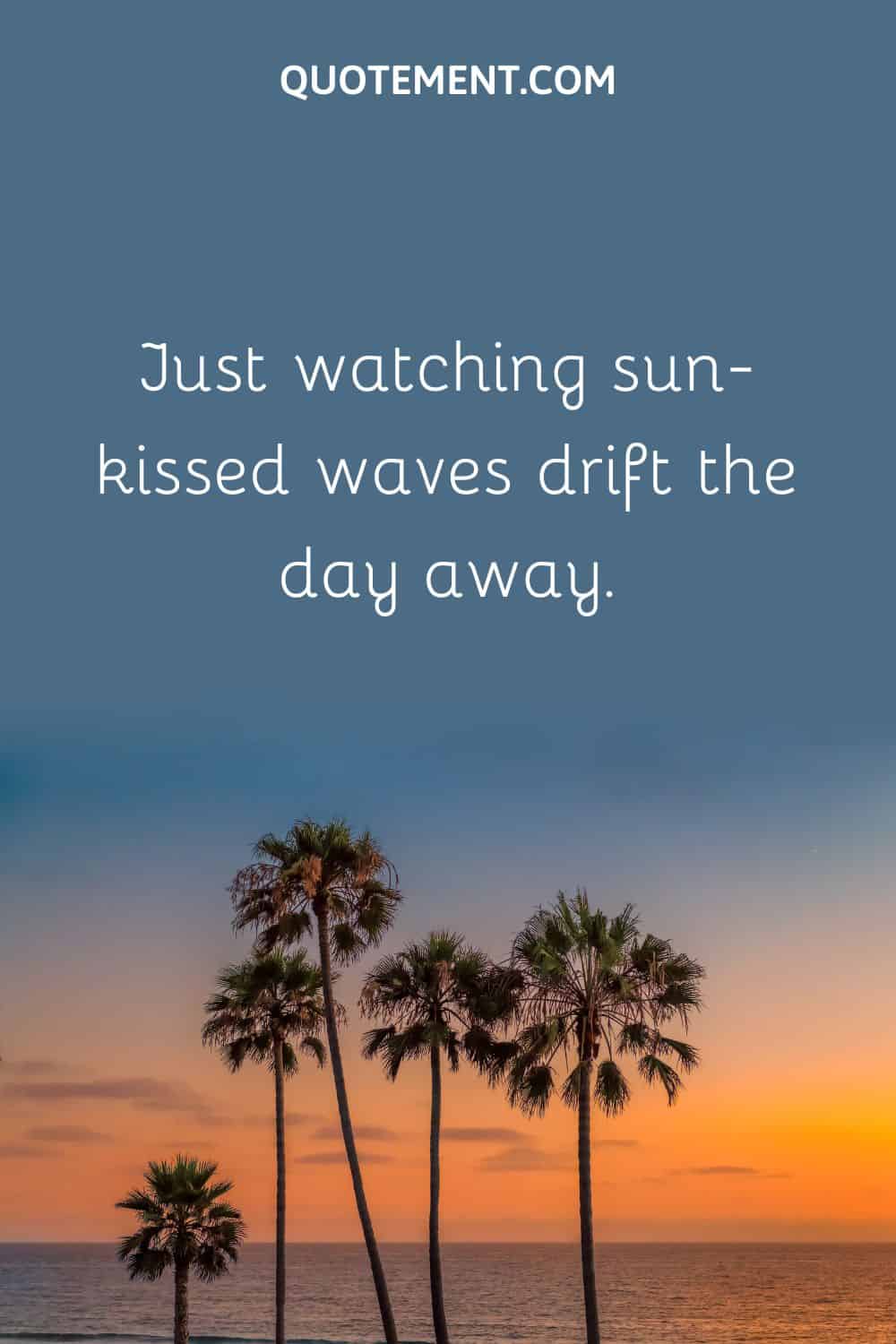 See also: 80 Glowing Sun Kissed Quotes For A Perfect Instagram Post
LA Instagram Captions
1. LA, where dreams come true.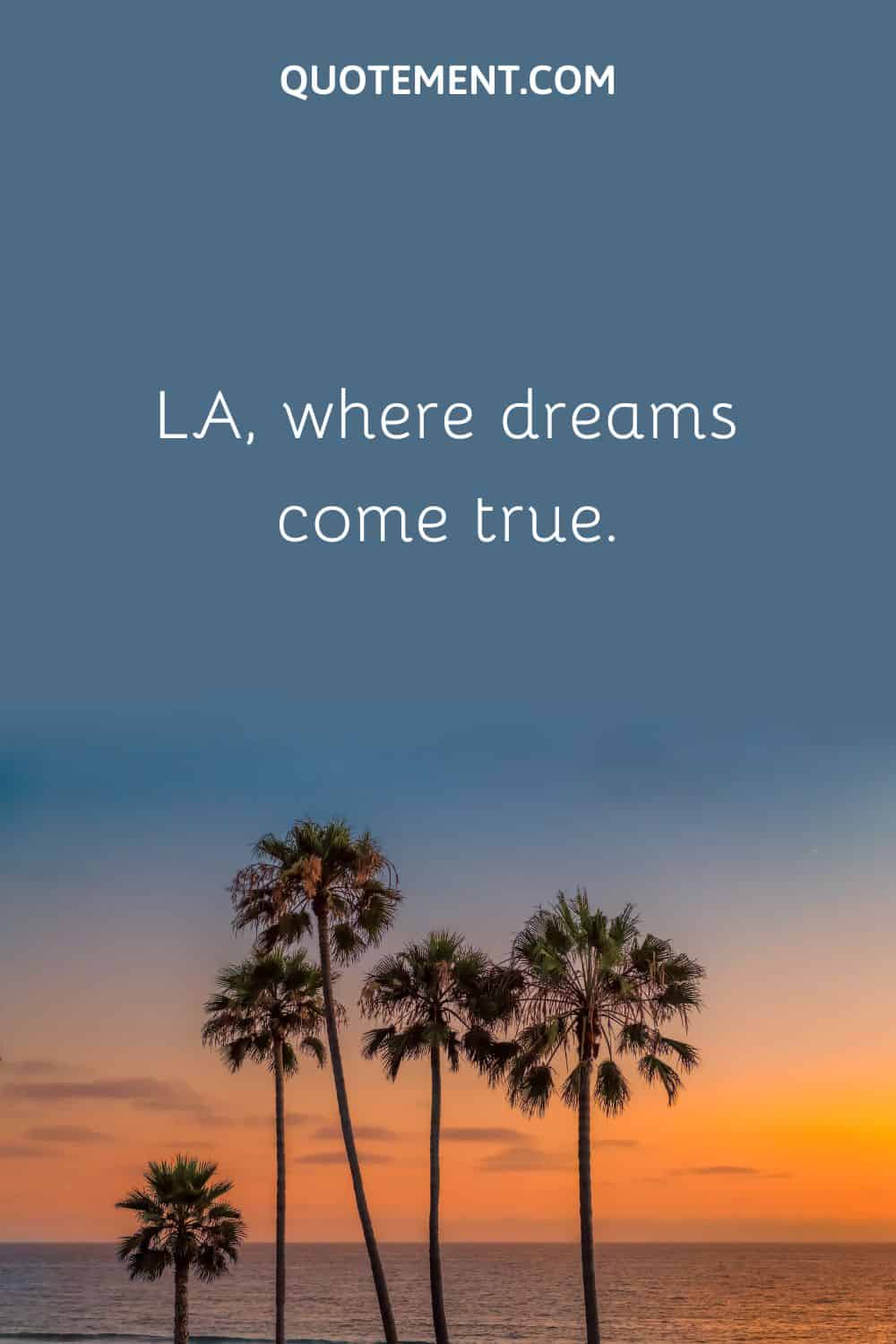 2. You can't buy happiness, but you can buy a trip to Los Angeles.
3. Just here to get my star.
4. If you can't go to heaven, LA is the next best thing.
5. Don't miss out on this Los Angeles bliss.
6. Los Angeles is the city that I love.
7. Palm trees. Poolside. Tanned skin. Sunsets. Hot Nights. Los Angeles."
8. We were made in LA.
9. Endless summer in LA.
10. You're not done with LA until LA is done with you.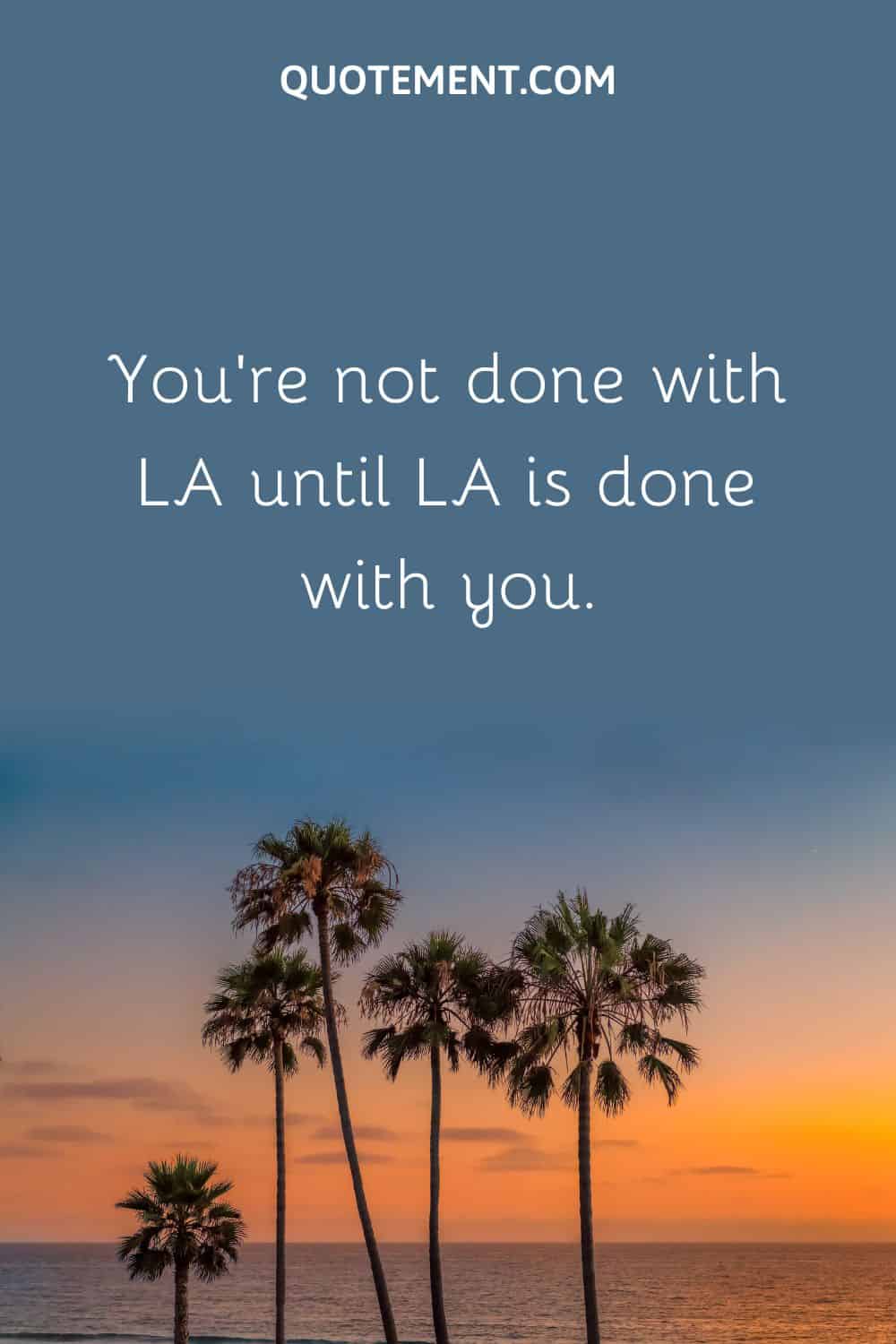 San Francisco Captions
1. Dear San Francisco, I will never get over you.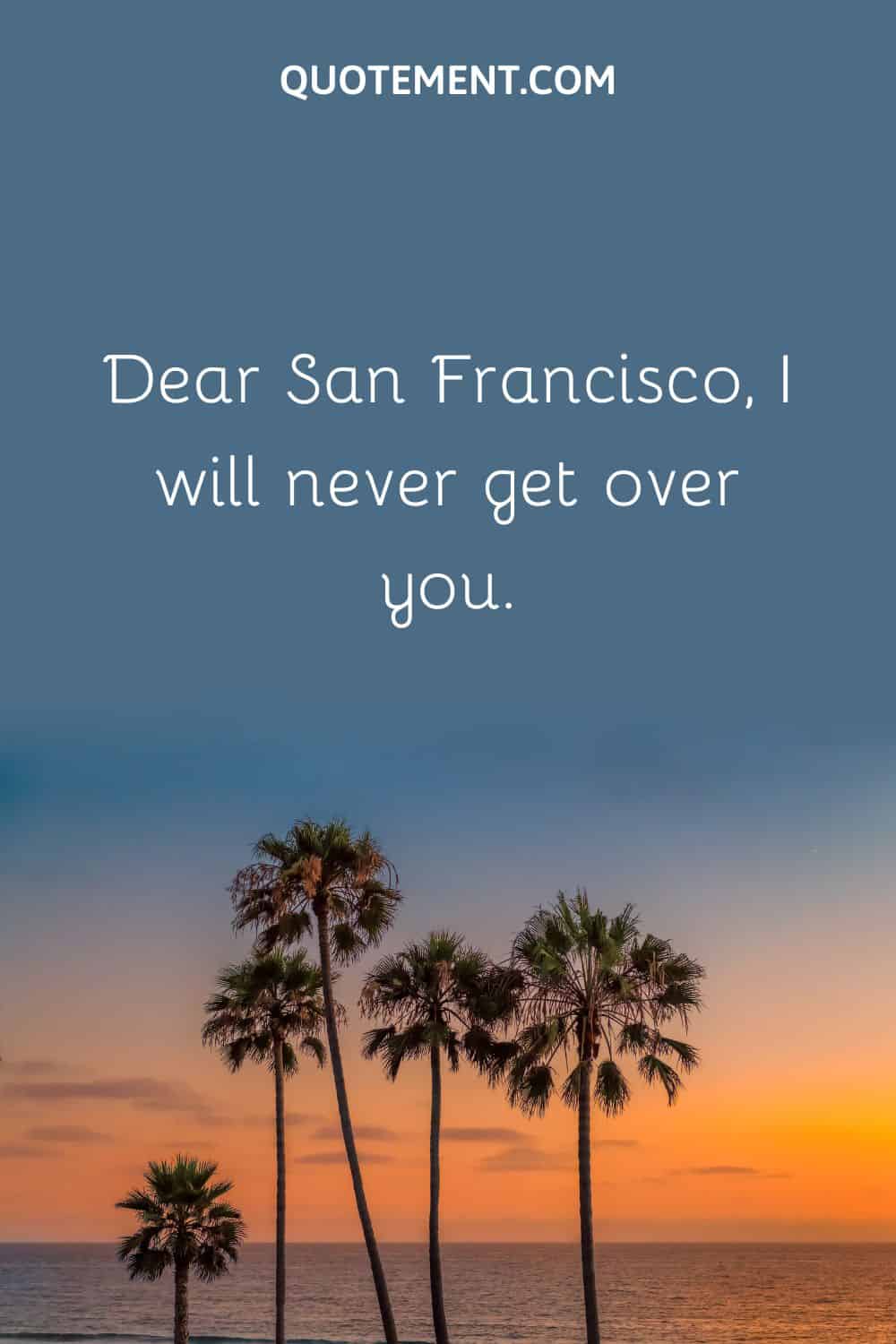 2. I'm having an affair with San Francisco.
3. Happiness is…. holding tickets that say San Francisco!
4. I fell in love. His name is San Fran.
5. You can leave San Francisco, but it will never leave you.
6. This trip is golden, baby.
7. Chillin' in the San Francisco hills.
8. San Francisco, I've really missed you.
9. I can finally tick San Francisco off my bucket list.
10. Somewhere between living and dreaming, there's San Francisco.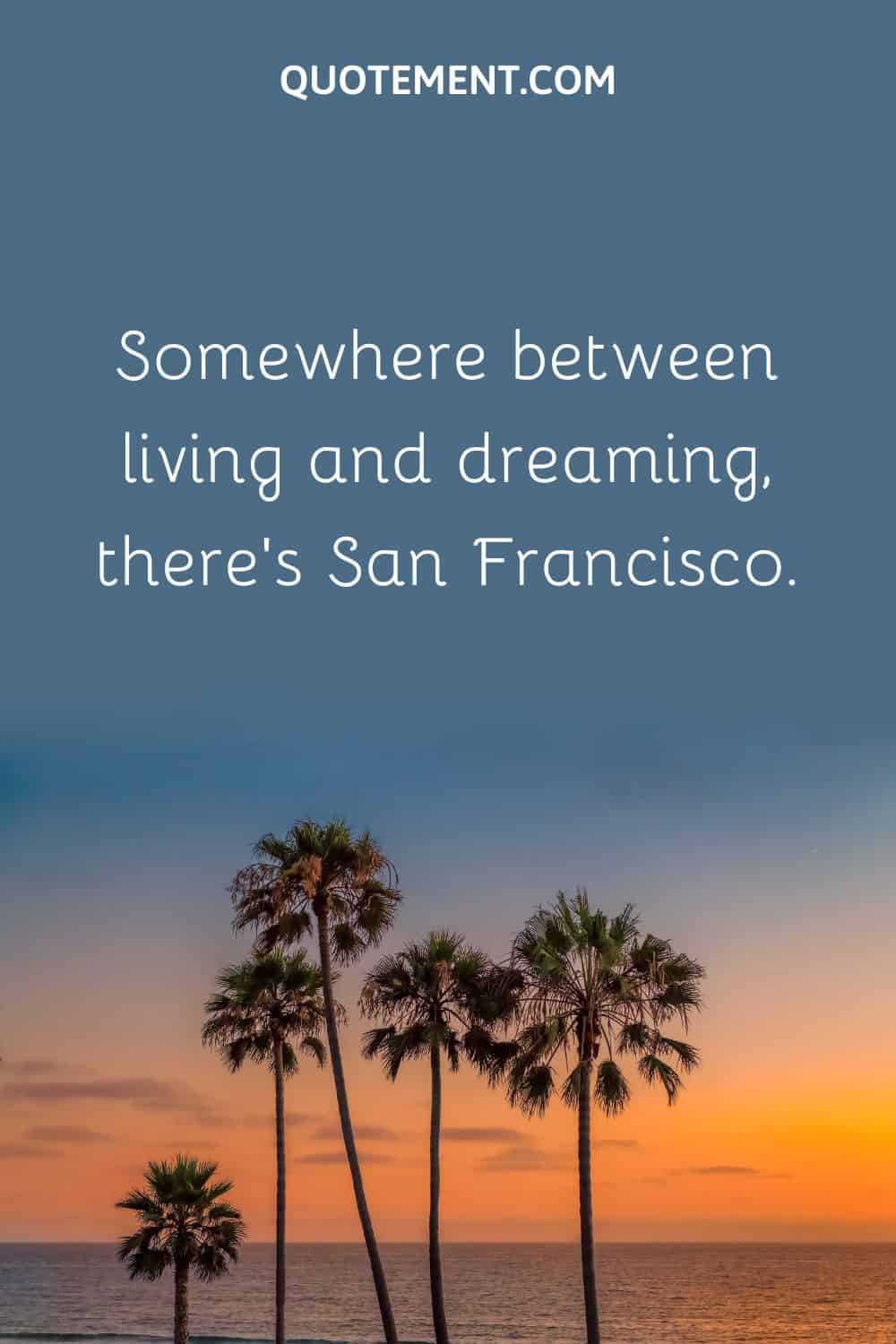 See also: 130 Best San Francisco Captions To Match Its Magnificence
San Diego Captions
1. I'm just a San Diego girl living in a San Diego world.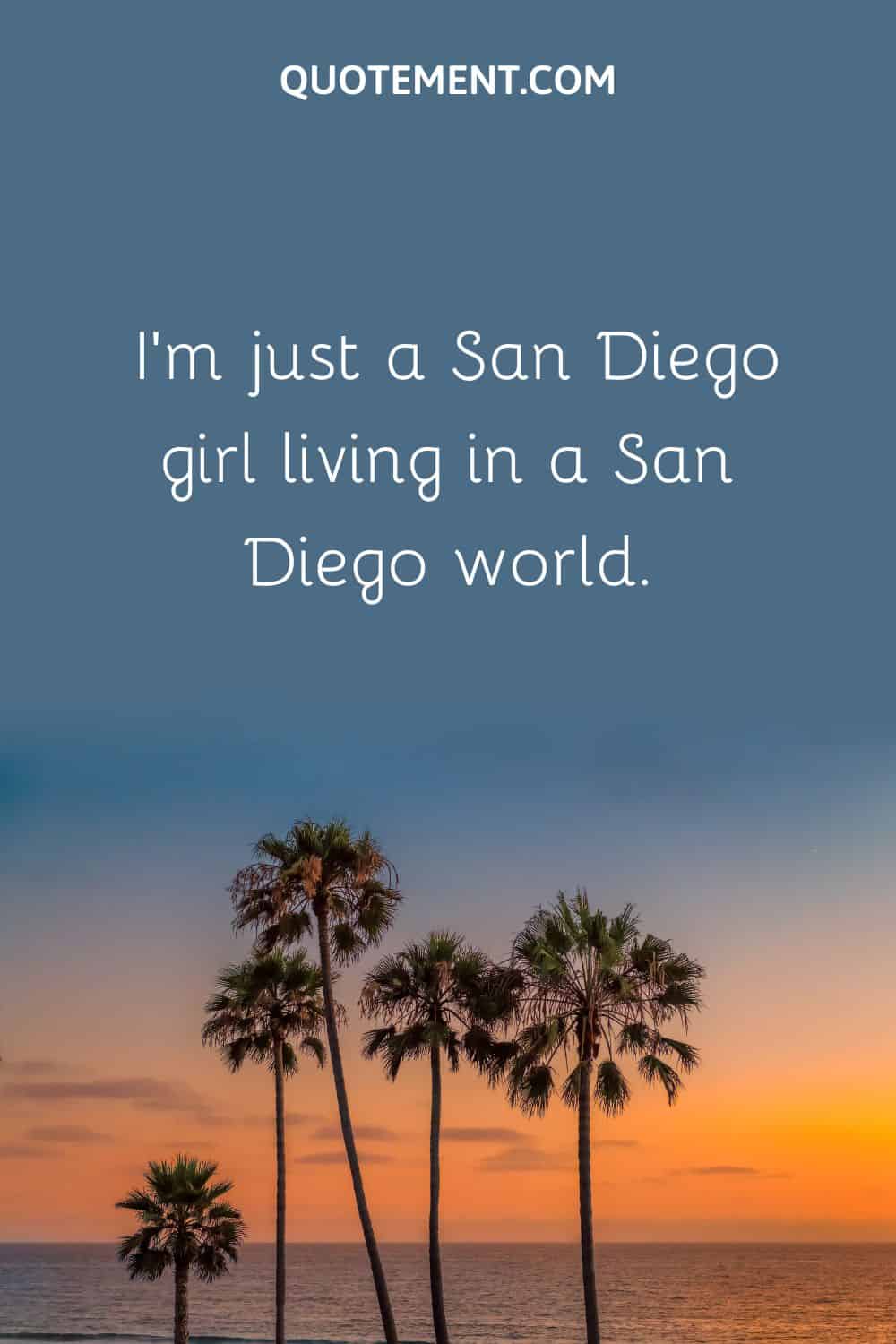 2. Going to San Diego, be back never.
3. There's no problem that San Diego can't solve.
4. San Diego = freedom.
5. There's no better place than San Diego.
6. San Diego is my therapy.
7. You can take the girl out of San Diego, but you can't take San Diego out of the girl.
8. Never underestimate the power of a day in San Diego.
9. I'd rather be in San Diego.
10. I just can't help falling in love with San Diego.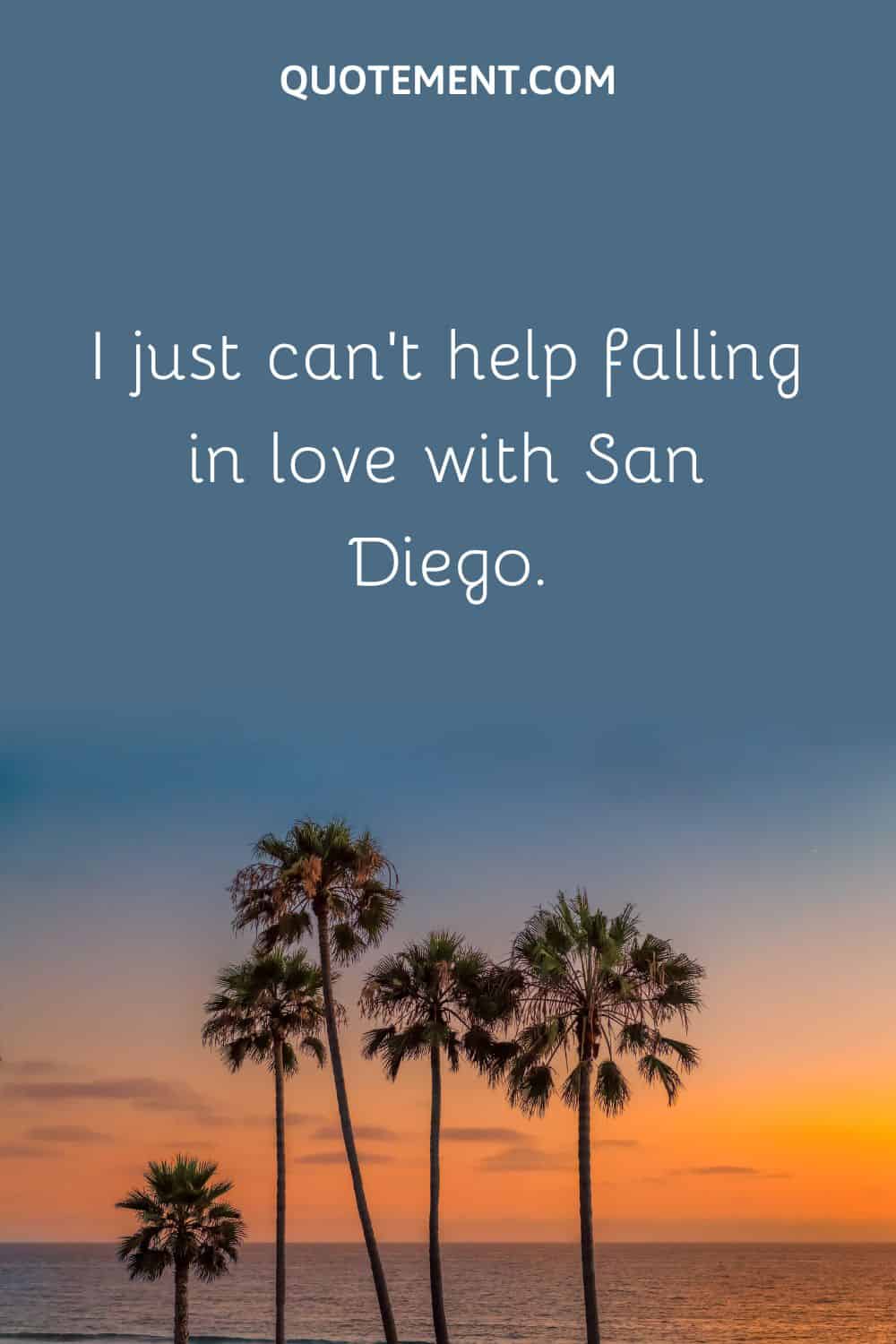 Funny California Instagram Captions & Puns
1. California English: No yeah = yes. Yeah, no = no. Yeah, no, for sure = definitely.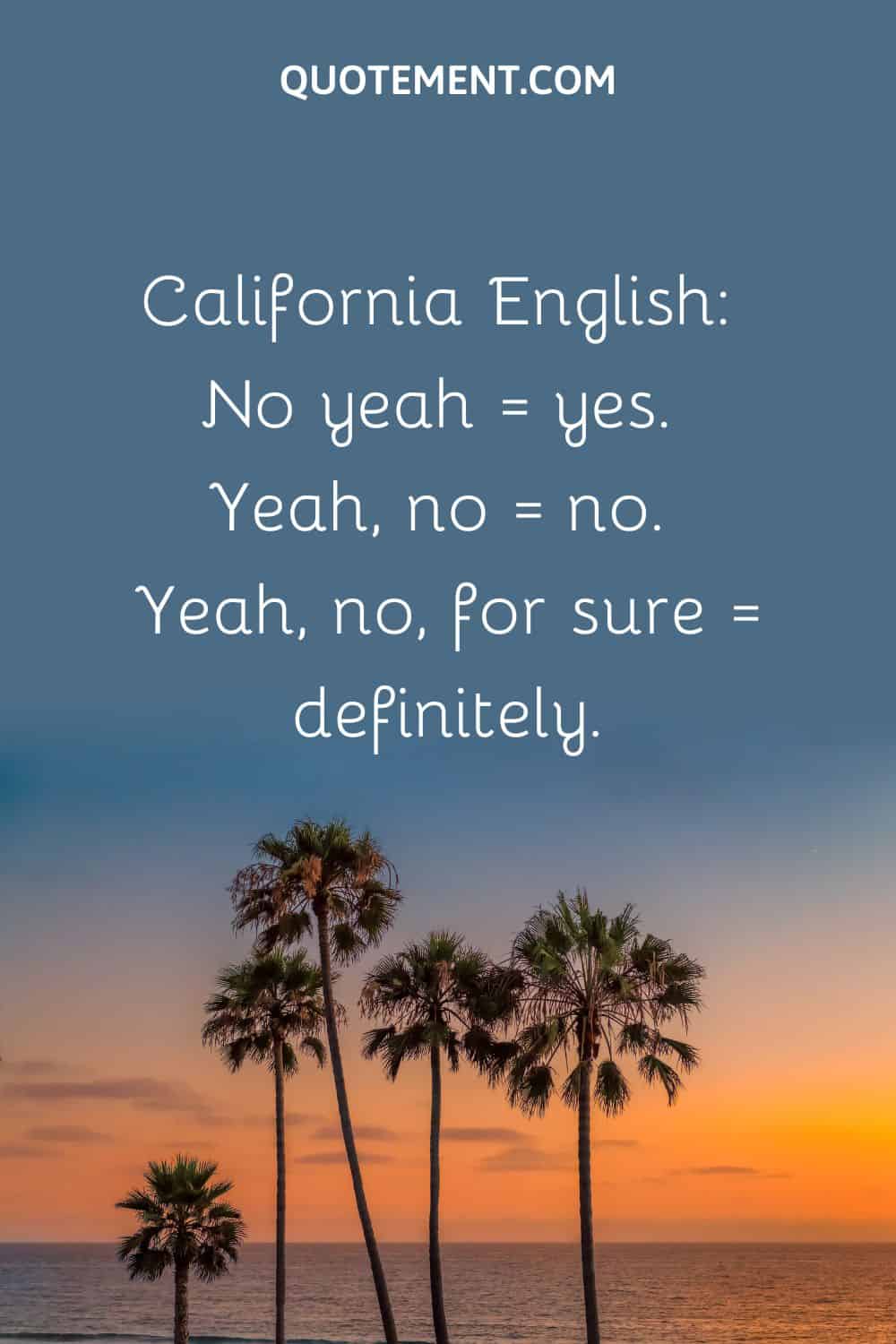 2. Must be winter in California – there are a few clouds in the sky.
3. California is my sand-tuary.
4. You know you're from California when you don't call it Cali.
5. California is all I avo wanted.
6. I'm Looking California and feeling Minnesota.
7. Leaving California is un-bear-able.
8. Dear California, I love you to NY and back.
9. California, I sea you.
10. After drinking so much California wine, I need a Napa!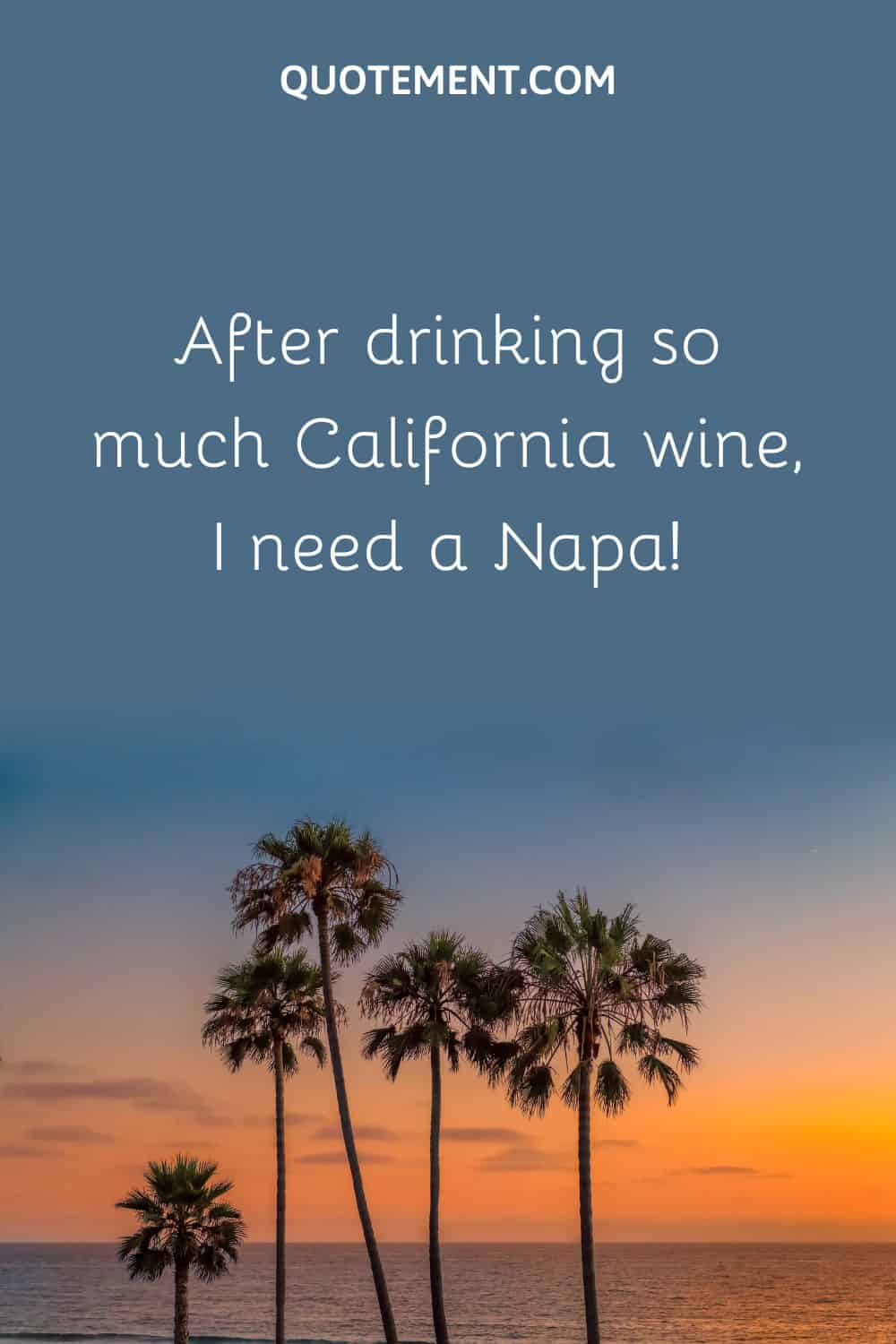 California Song Lyrics To Be Used As California Captions
1. "California girls, We're unforgettable, Daisy dukes, Bikinis on top, Sun-kissed skin, So hot, We'll melt your popsicle." — Katy Perry, 'California Gurls'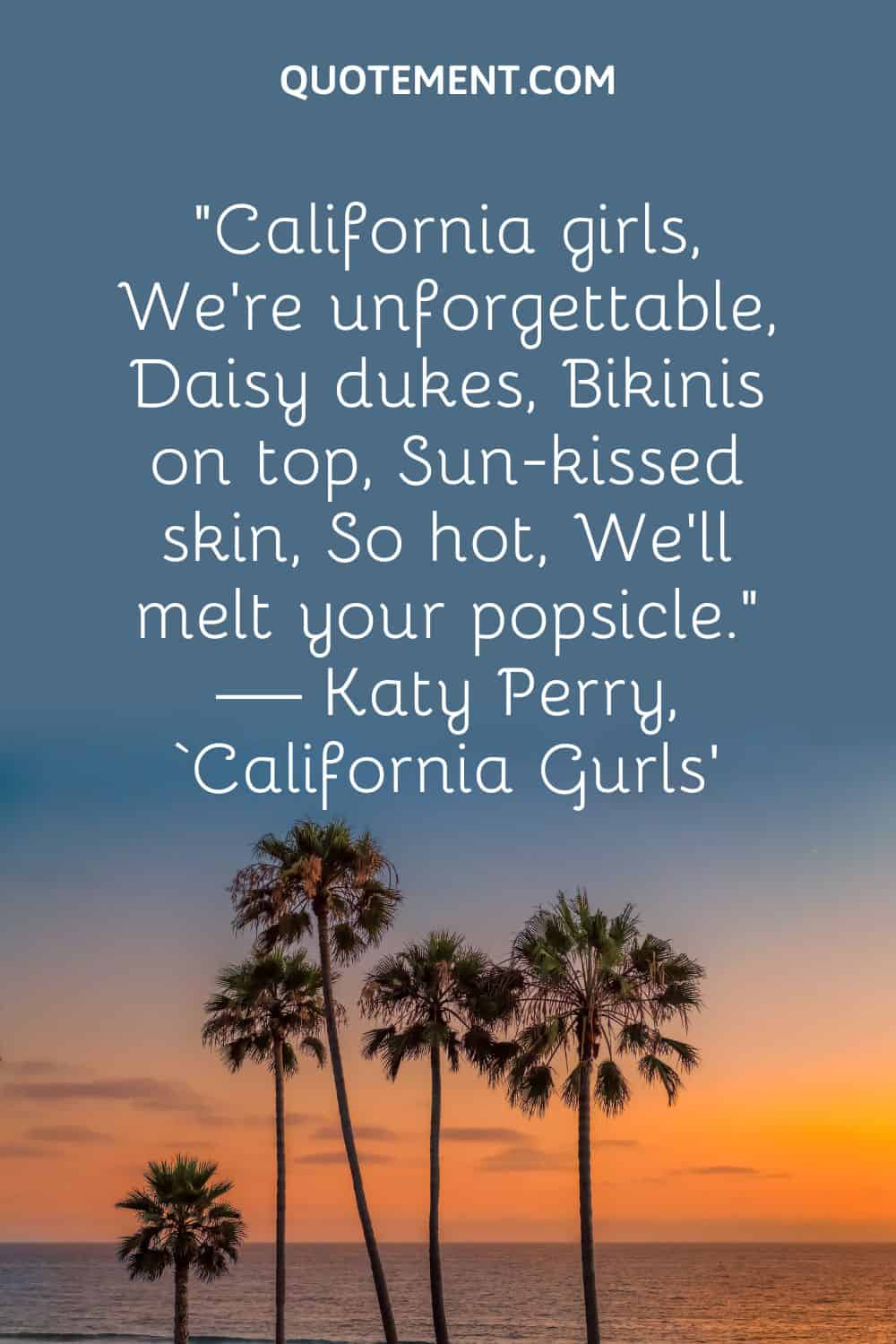 2. "I don't need another gift, I just have one wish, this year, can you just make it snow in California, I'll even settle for rain, don't want him to go tomorrow morning, give me something to make him stay." — Ariana Grande, 'Snow In California'
3. "These palm trees they sway, Each night and each day, I'm California dreamin' 'bout you." — Snoop Dogg, 'California Dreaming'
4. "And here we go again It's never gonna end, We're all so sick of California Songs, Yeah, We know you love LA, There's nothing left to say, Please no more California Songs." — Local H, 'California Songs'
5. "Hello, can you hear me? I'm in California dreaming about who we used to be, When we were younger and free." — Adele, 'Hello'
6. "Take away my heart, It doesn't wanna work no more, I never meant to make you cry, California calling 20 miles to go, And I don't, I don't know, Should I turn around or should I leave you alone?" — Enrique Iglesias, 'California Callin'
7. "You could travel the world, But nothing comes close, To the golden coast, Once you party with us, You'll be falling in love." — Katy Perry, 'California Gurls'
8. "Hey here's to you California, Beautiful haze of suburbia, Living in the perfect weather, Spending time inside together, Hey here's to you California." — Blink 182, 'California'
9. "It's the edge of the world and all of the western civilization, The sun may rise in the East, at least it's settled in a final location, It's understood that Hollywood sells, Californication." — Red Hot Chili Peppers, 'Californication'
10. "I wish they all could be California girls." — The Beach Boys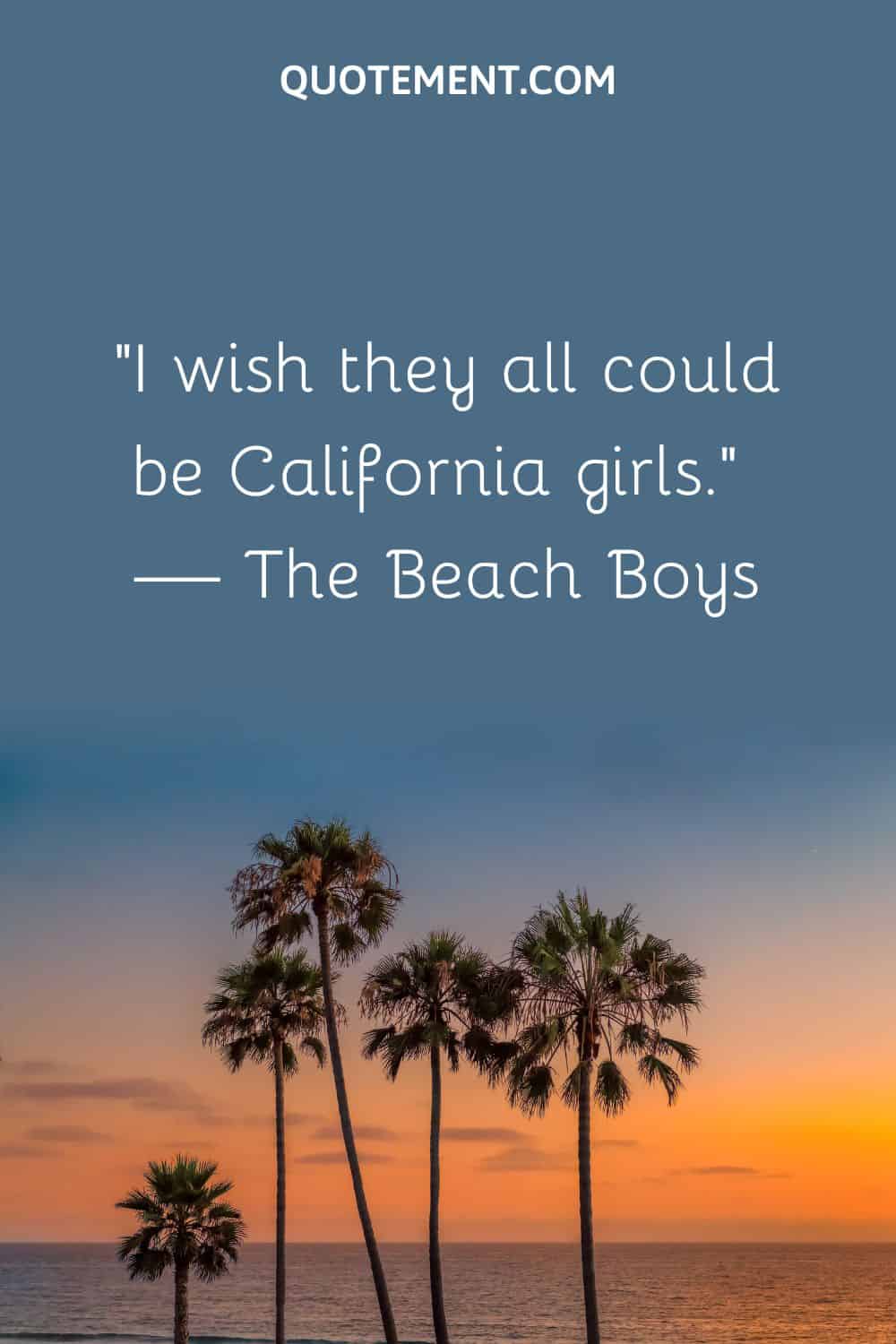 California Quotes That Can Be Used As Captions
1. "I'm always tan and blonde and don't really fit into New York. I'm a California girl, even if I try and cover it up with leather." — Gigi Hadid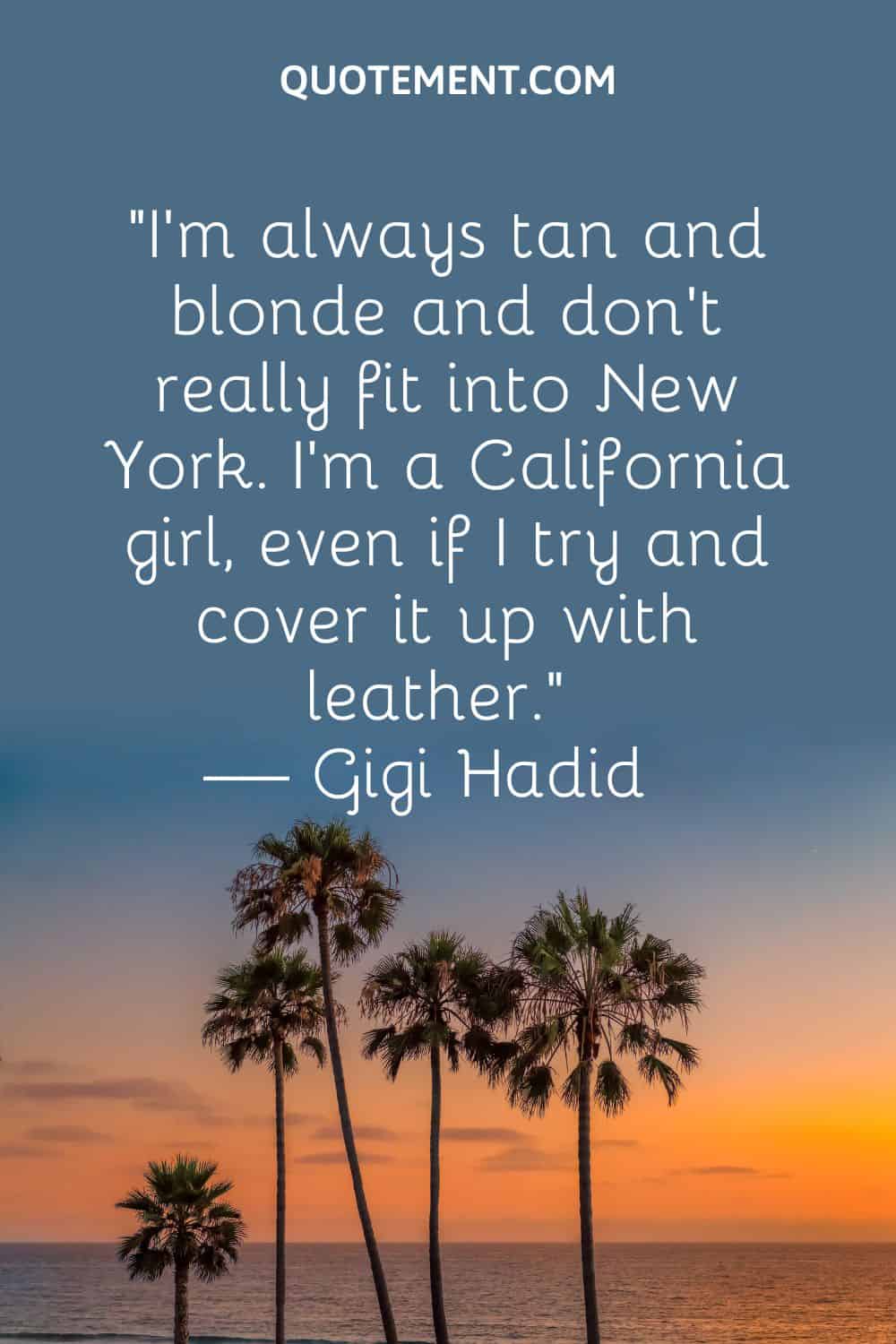 2. "Nature. That's the one thing that tips the balance in terms of living here in California. Within minutes, I can be in a desert, at the ocean, in a park, and that's the most nourishing food for my soul." — Lara Pulver
3. "She stood there bright as the sun on that California coast." — Bob Seger
4. "Everything is just better in California – the wine, the food, fruits and vegetables, the comforts of living. Even instrumentalists are generous and curious. Everything is wonderful." — Beth Anderson
5. "Move to California. Malibu is paradise." — David Geffen
6. "When the Okies left Oklahoma and moved to California, they raised the average intelligence level in both states." — Will Rogers
7. "This is the California that men dreamed of years ago, this is the Pacific that Balboa looked at from the Peak of Darien, this is the face of the earth as the Creator intended it to look." — Henry Miller
8. "My heart cried out for you, California." — Joni Mitchell
9. "Everybody knows what California smog is – that's fog with the vitamins removed." — Bob Hope
10. "Secretly, I think everyone who makes fun of California really does want to be in California." — Zooey Deschanel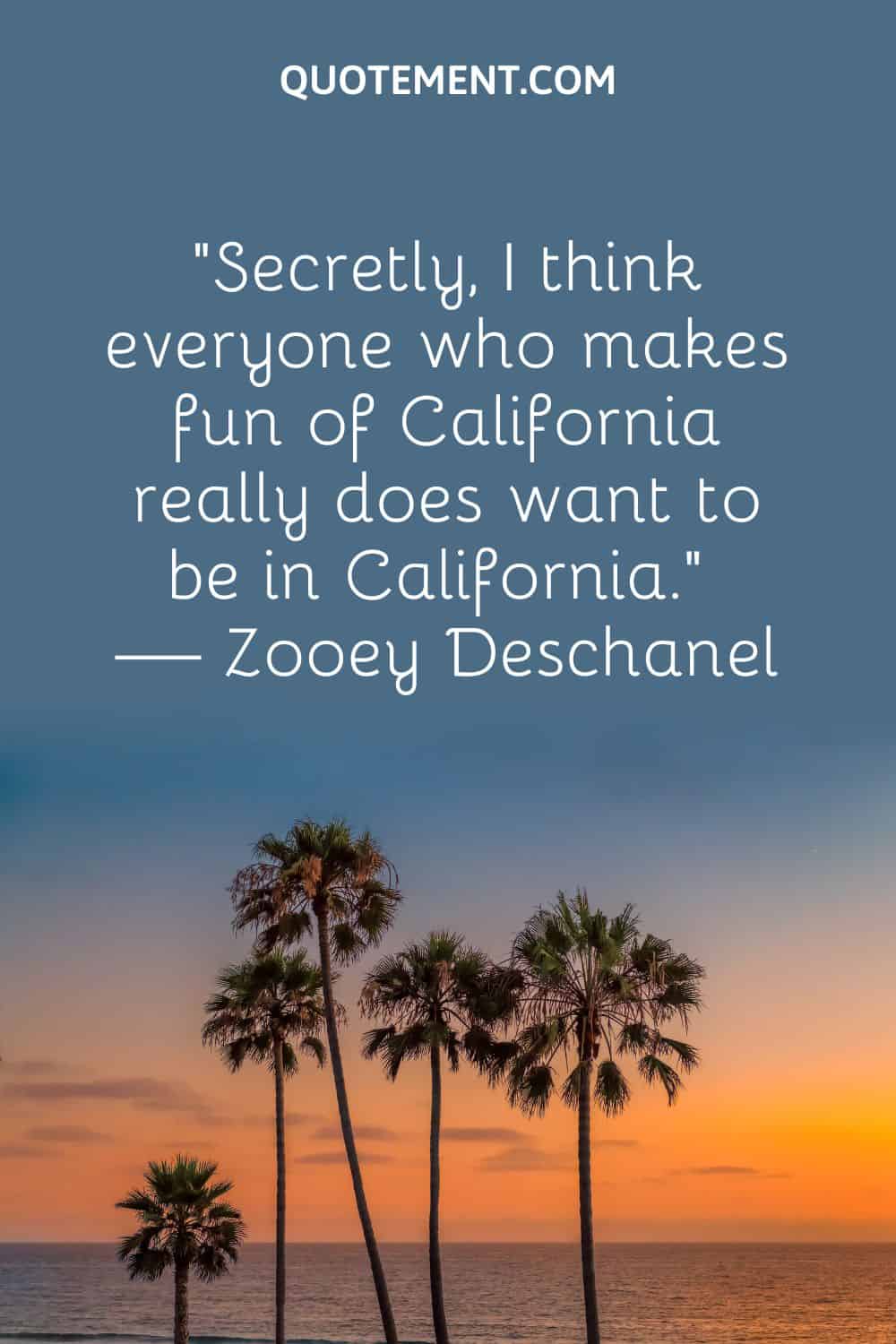 11. "California is a place where they make too many pictures and not enough actors." — Walter Winchell
12. "California is a fine place to live – if you happen to be an orange." — Fred Allen
13. "Nothing is wrong with California that a rise in the ocean level wouldn't cure." — Ross Macdonald
14. "It's a scientific fact that if you stay in California, you lose one point of your IQ every year." — Truman Capote
15. "One of the things I had a hard time getting used to when I came to California in '78 was Santa Claus in shorts." — Dennis Franz
16. "And you know something because everything that I've gotten – my career, my money, my family; everything that I've gotten and achieved is because of California." — Arnold Schwarzenegger
17. "California is an unbelievable state. One day I might be in a spiritual place like Joshua Tree, then before I know it, I'm eating groovy sushi in a mini-mall. I'm a Cali girl through and through." — Drew Barrymore
18. "Whatever starts in California, unfortunately, has an inclination to spread." — Jimmy Carter
19. "There are so many different challenges California has; it's the greatest state in the greatest country in the world. Hasta la vista, baby!" — Arnold Schwarzenegger
20. "The formula for a happy marriage? It's the same as the one for living in California: when you find a fault, don't dwell on it." — Jay Trachman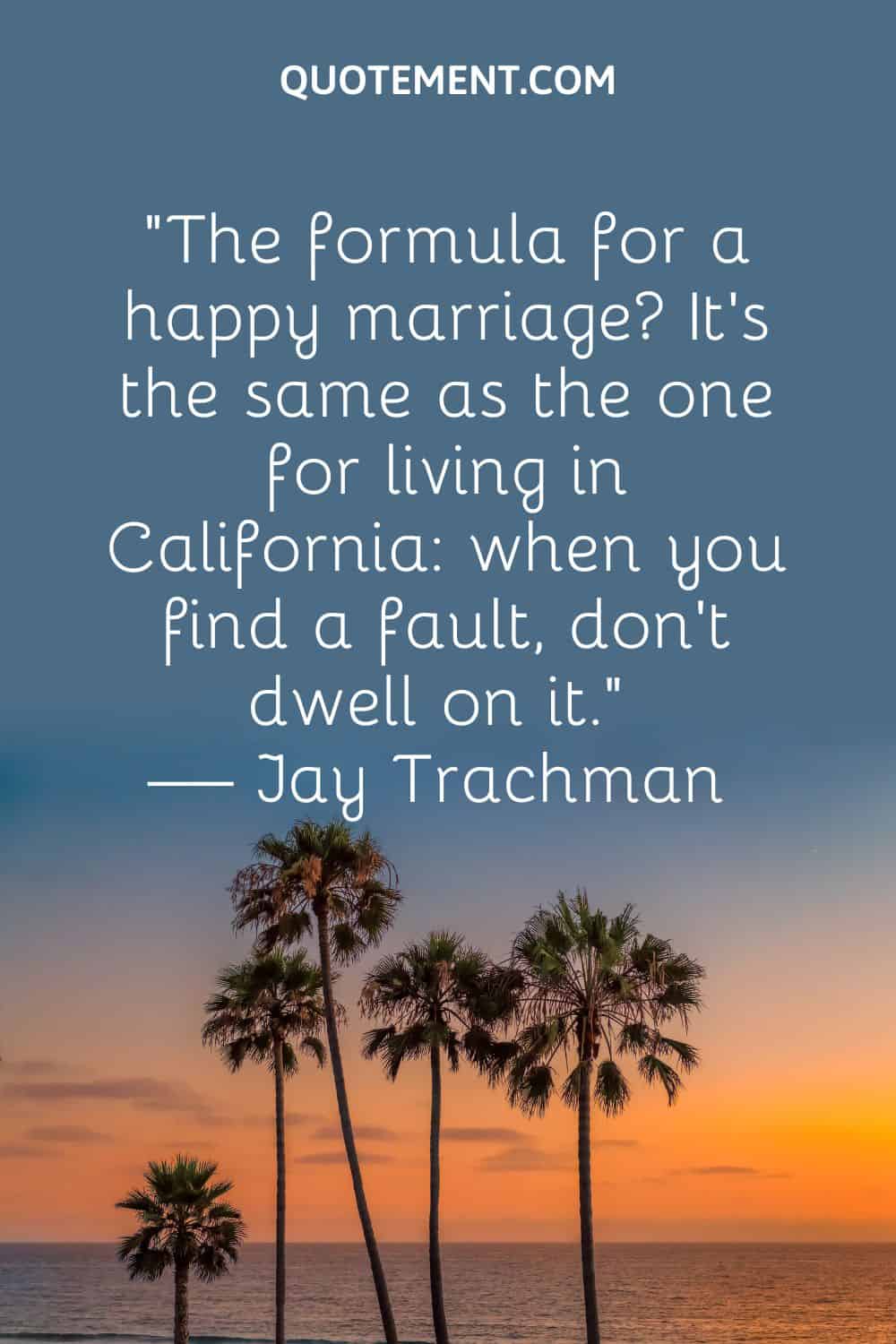 21. "In California, they don't throw their garbage away – they make it into TV shows." — Woody Allen
22. "A new study says that over half of all Californians are obese. In fact, half of Californians are really two-thirds of Californians." — Jay Leno
23. "All of a sudden, I feel very old and very tired. Maybe when I get to California, the smog, brush fires, floods, and earthquakes will cheer me up." — Erma Bombeck
24. "There's also this weirdness to California, this darkness, it's a place where people come to follow their dreams and sometimes don't make it." — Mark Hoppus
25. "Here in California, we passed a law against texting while driving. But there's no law preventing you from writing a letter while driving." — Craig Ferguson
Final Words
So many fun California captions to be found in this article!
Select those that resonate with you the most and share some Cali fun with your friends and followers on Instagram.
Until next time!
Read next: 130 Texas Instagram Captions To Capture The Best Memories