How many times have you been told to just be yourself, but you'd still feel kind of discouraged once you saw the society's reaction to your uniqueness?
If you've been searching for deep, powerful, inspirational and encouraging quotes about being different, look no more since today's article covers this matter with a list of unique perspectives from different authors.
I gathered the best quotes I could find on the web to motivate you to stay true to yourself and your values.
Being different can be both exciting and demanding at the same time. While some may praise you, others may disdain you. Simple as that.
Of course, everyone has the right to have their own opinion. However, the power is in your hands. You can either embrace your uniqueness or desperately try to fit in.
I hope my collection of 130 quotes will encourage you to be yourself and accept yourself. You are amazing and irreplaceable.
Now let's dive into my list and get inspired straight away!
Top 10 Quotes About Being Different
Let's start off with my 10 best quotes about being different and unique:
1. "You laugh at me because I'm different, I laugh at you because you're all the same." – Jonathan Davis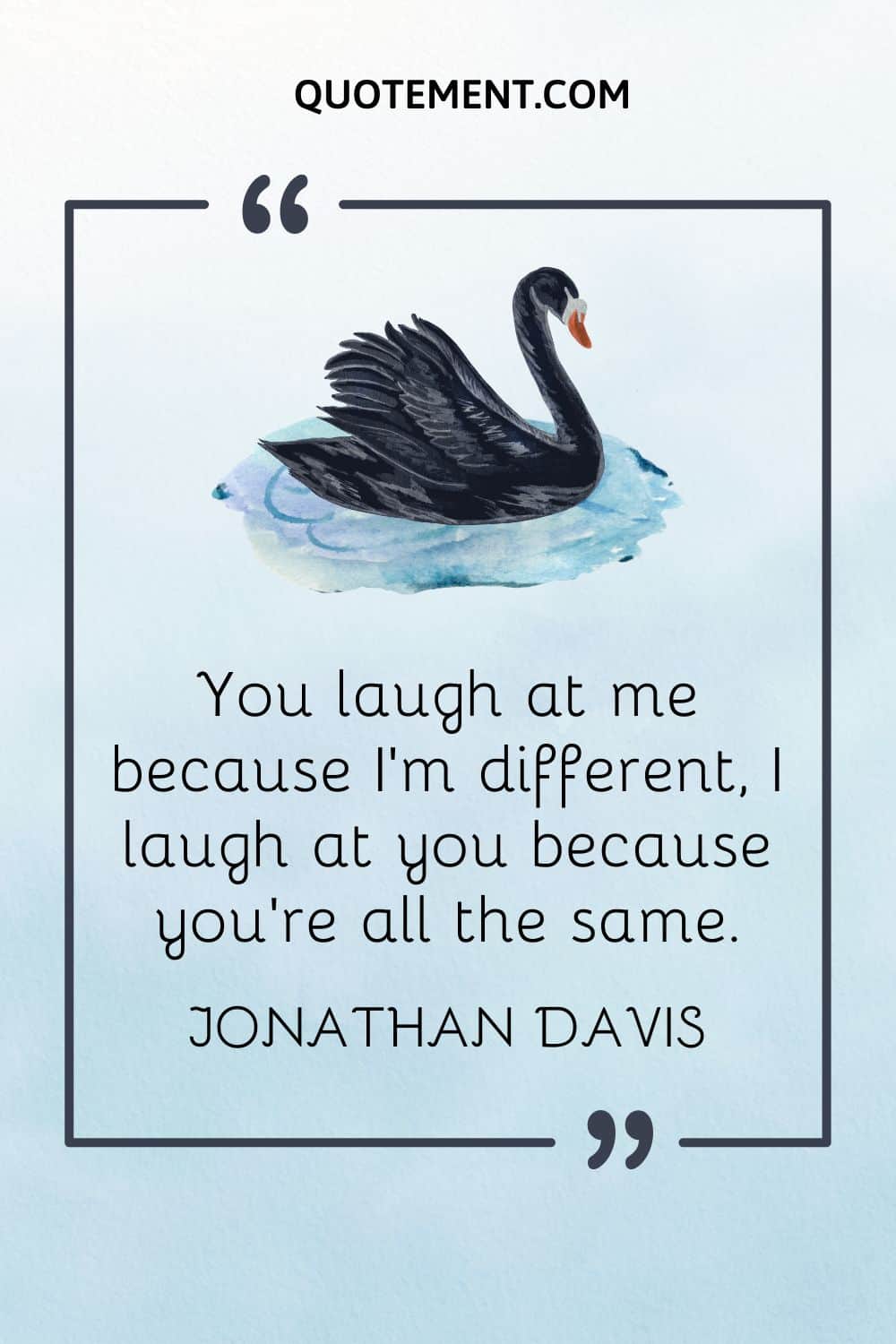 2. "Be different so that people can see you clearly amongst the crowds." – Mehmet Murat ildan
3. "Being different isn't a bad thing. It means you're brave enough to be yourself." – Luna Lovegood
4. "At the bottom, every man knows well enough that he is a unique being, only once on this earth; and by no extraordinary chance will such a marvelously picturesque piece of diversity in unity as he is ever be put together a second time." – Friedrich Nietzsche
5. "I thought not fitting in was something I had to fix. Now I see it as my superpower." – Maxime Lagacé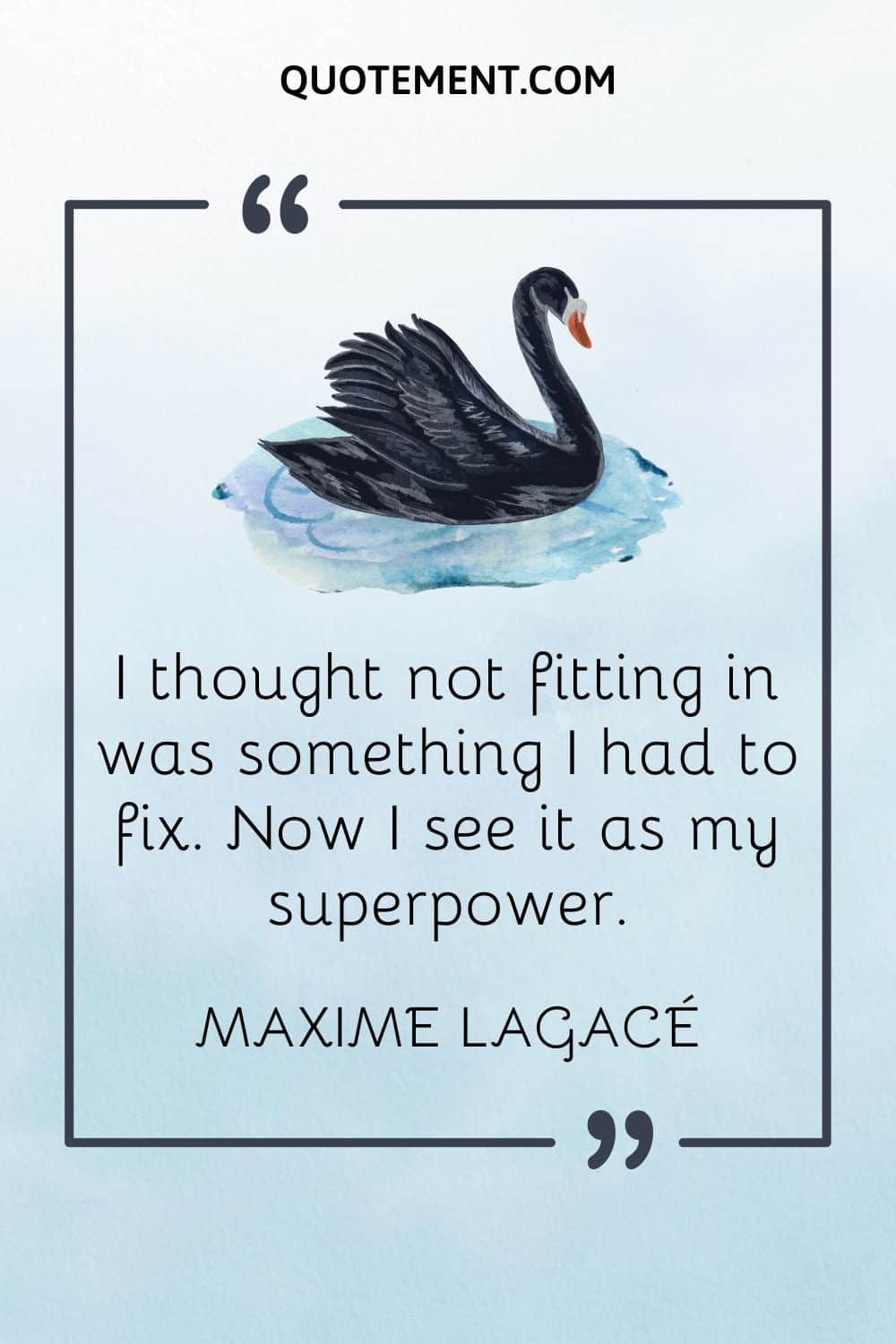 6. "Better to embrace the discomfort of being different than the comfort of fitting in." – Ogwo David Emenike
7. "Fitting in allows you to blend in with everyone else, but being different allows you to be yourself, to be unique, and to be more creative." – Sonya Parker
8. "Be daring, be different, be impractical, be anything that will assert integrity of purpose and imaginative vision against the play-it-safers, the creatures of the commonplace, the slaves of the ordinary." – Cecil Beaton
9. "Only recently have I realized that being different is not something you want to hide or squelch or suppress." – Amy Gerstler
10. "You must not be afraid of your uniqueness and you must care less and less what people think of you." – Robert Greene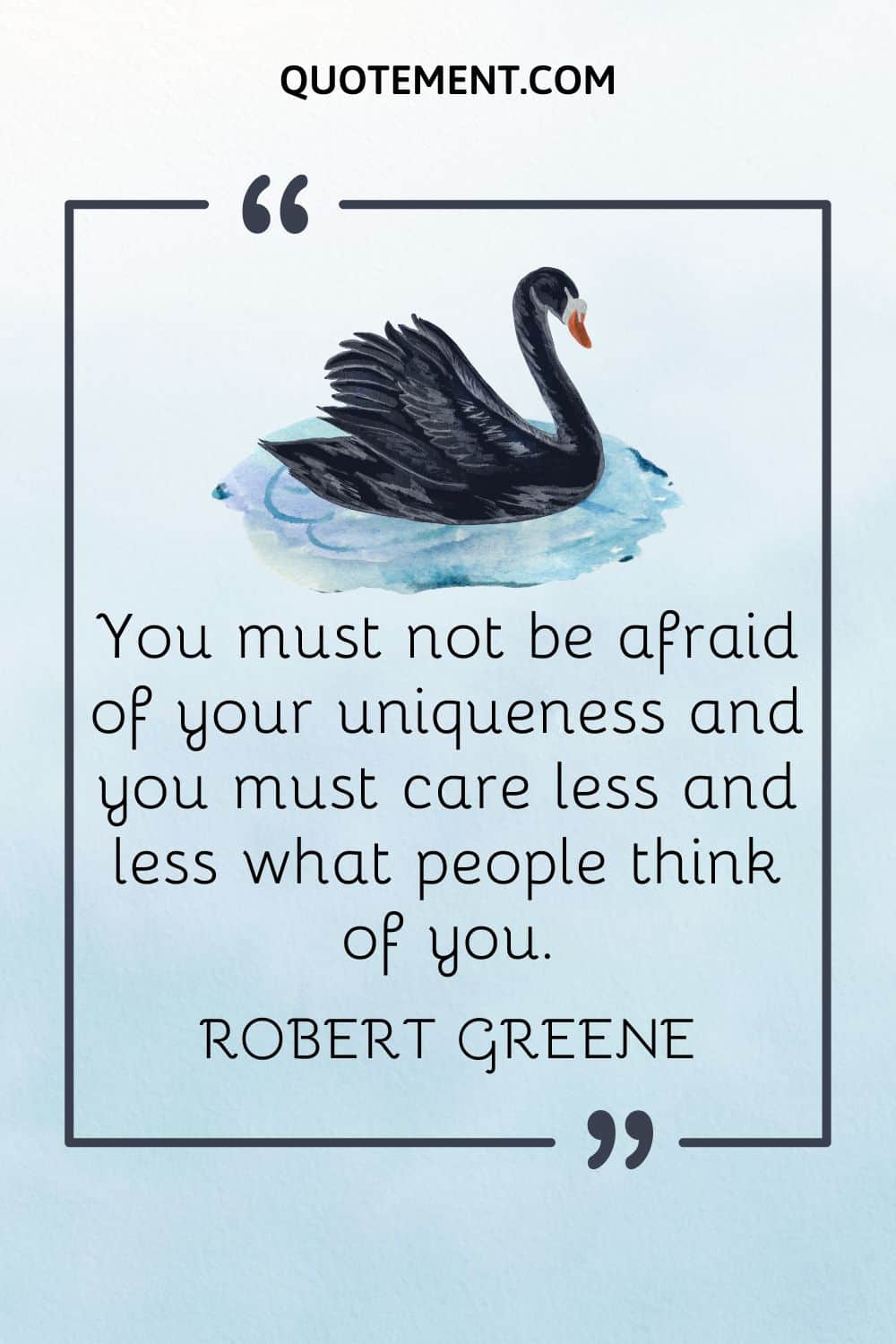 Powerful Being Different Quotes
If you've been searching for powerful being different quotes, you should definitely check these out:
1. "History honors the unique minority the majority cannot forget." ― Suzy Kassem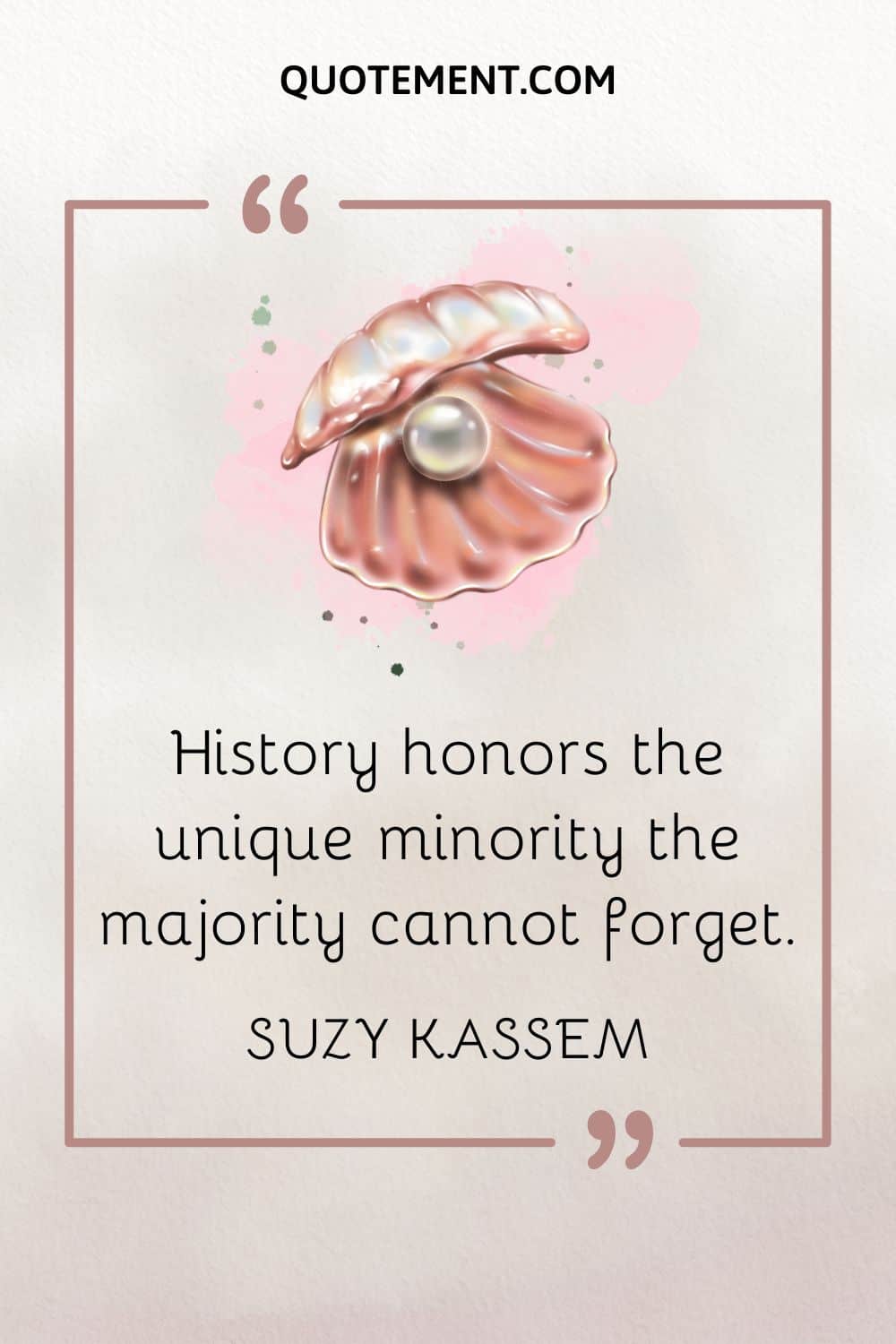 2. "People would beat me up after school; they would throw names at me. Children are brutal… Being different when you're a child is always a challenge." – Joanne Liu
3. "When you want to do something that isn't the 'norm', you will be made to feel like you have a problem, and if you hear it often enough, then you start to believe it too." ― Radhika Vaz
4. "Before you take up that fight against history, do remember that she has a track record of beating 'champions' like you. Therefore, it's best to stick with the flow, and go with what works for everyone. But… In the event you do decide to go against the convention, all you need is to get your heart straight, and your eyes fixed on the target. You might just be the underdog that will surprise history." ― Ufuoma Apoki
5. "No doubt, I know how it feels like to be different. Being different comes with some responsibility." ― Nurudeen Ushawu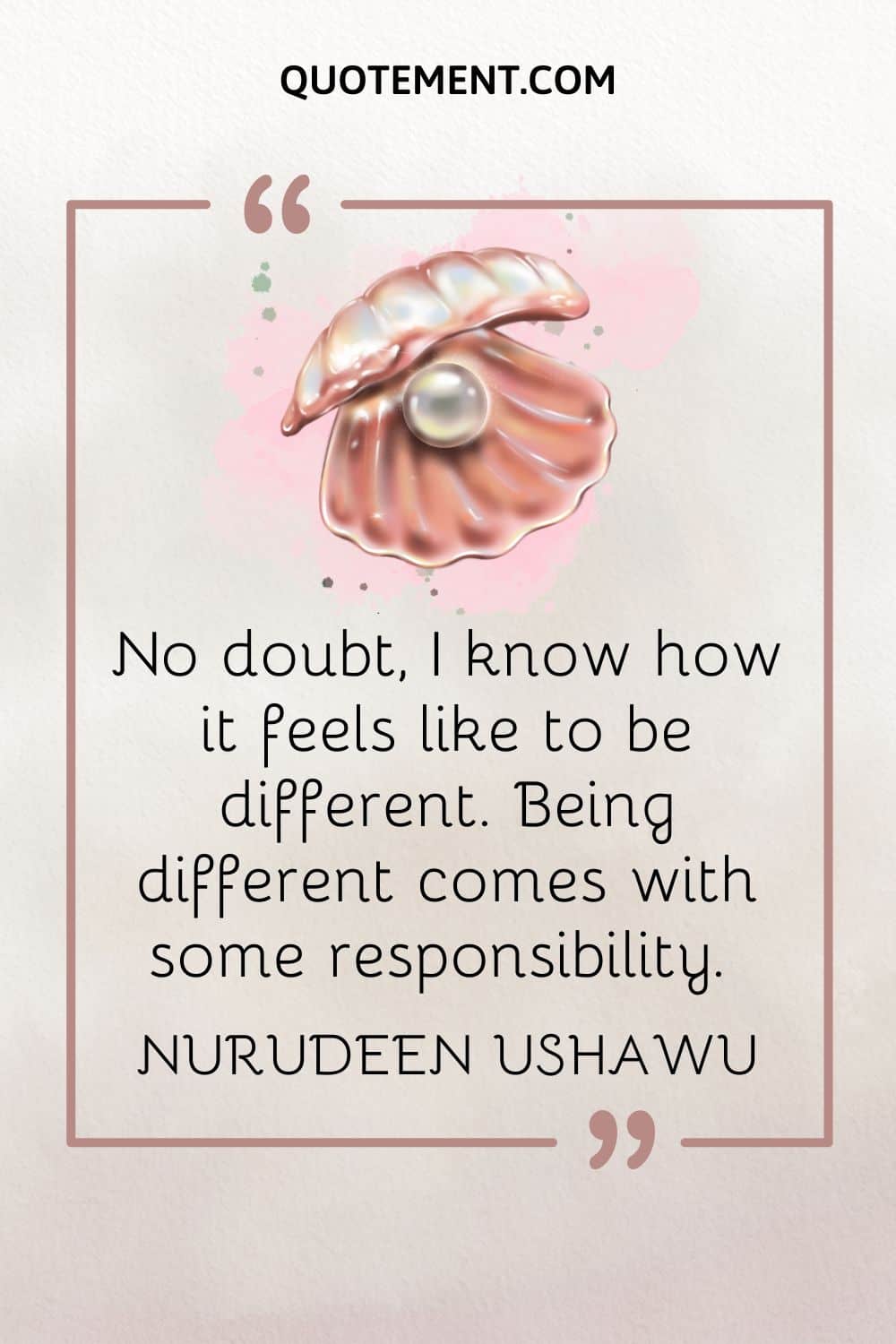 6. "We always need something kind of different, to make that which is different, really different!" ― Mark Dawson
7. He couldn't imagine how lonely it must be for a child to be so profoundly different." ― Dan Brown
8. "I was feeling like a real misfit in middle school, but when I saw 'Wicked,' it made me feel really cool for being different… and you can carve that in stone!" – Jennifer Damiano
9. "I finally know the difference between pleasing and loving, obeying and respecting. It has taken me so many years to be okay with being different, and with being this alive, this intense (xxvi)." – Eve Ensler
10. "He who is authentic assumes the responsibility to be what he is, and recognizes himself free to be what he is." – Jean-Paul Sartre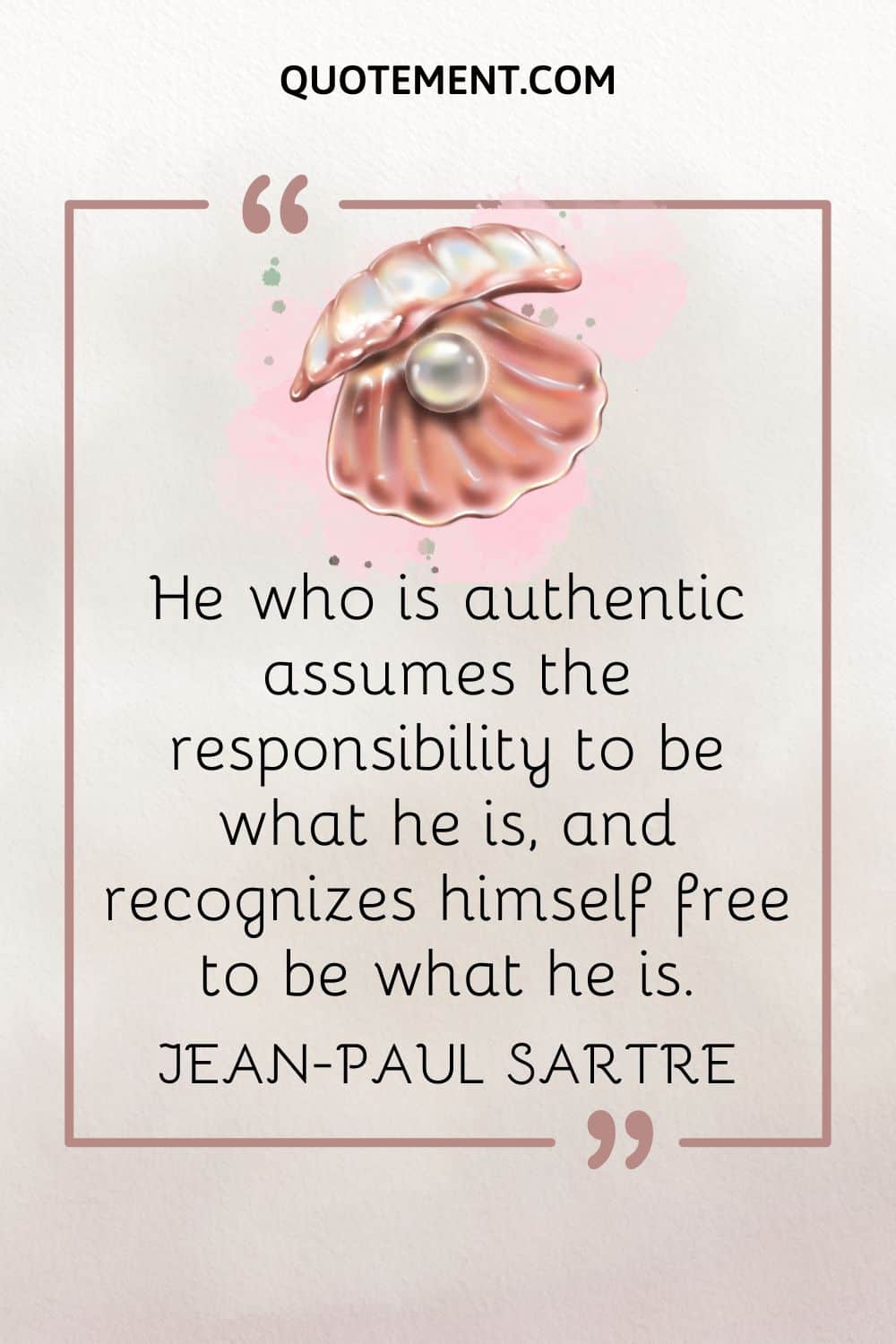 11. "I'm comfortable in my body and I don't mind putting it on display. Honestly, I like how unique it is. My big arms, my bigger hands, these long legs – I love being different." – Brittney Griner
12. "Some people around you will not understand your journey. They don't need to; it's not for them." – Paulo Coelho
13. "It is better to be hated for what you are than to be loved for what you are not." – André Gide
14. "The reward for conformity is that everyone likes you but yourself." – Rita Mae
15. "We must not allow other people's limited perceptions to define us." – Virginia Satir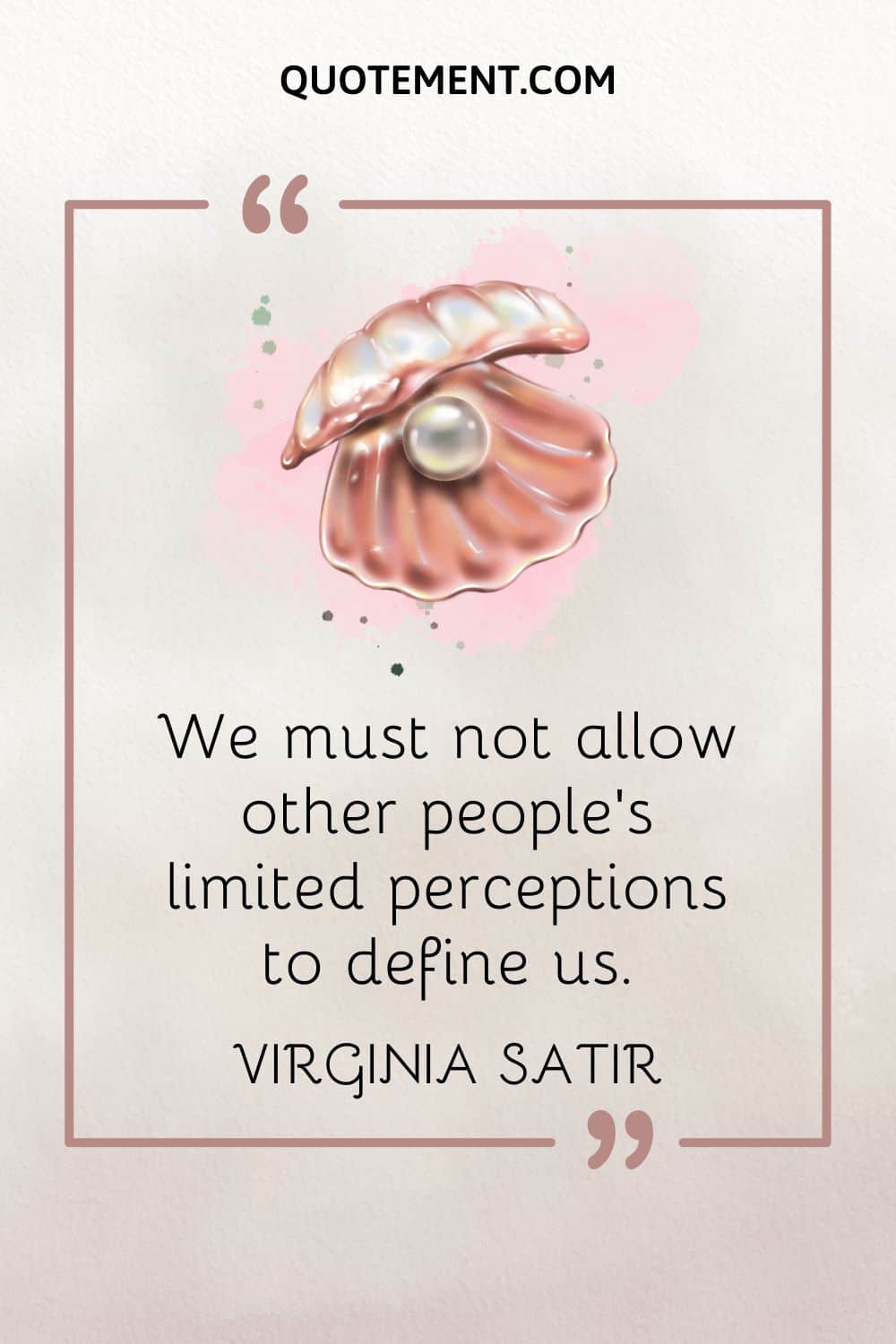 16. "I think everybody carries a slight sense of being different, and I know that it comes very naturally to me." – Louis Theroux
17. "So what? You're another person, so of course, you look different. What do you need to be ashamed for?" – Yana Toboso
18. "A fruit salad is delicious precisely because each fruit maintains its own flavor." – Sean Covey
19. "If one's different, one's bound to be lonely." – Aldous Huxley
20. "Most people are other people. Their thoughts are someone else's opinions, their lives a mimicry, their passions a quotation." ― Oscar Wilde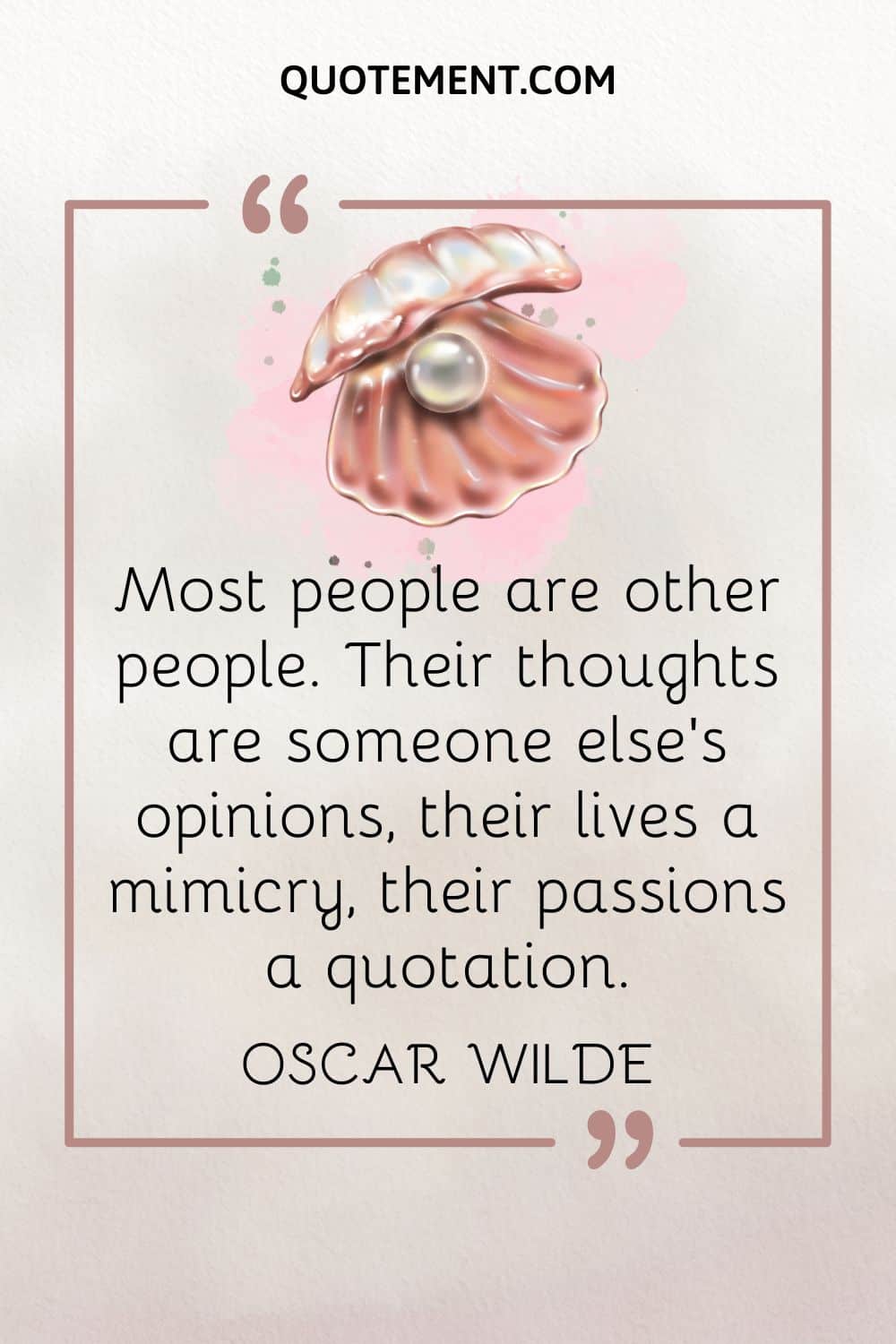 21. "It is the child in man that is the source of his uniqueness and creativeness, and the playground is the optimal milieu for the unfolding of his capacities and talents." – Eric Hoffer
22. "Never be afraid to be different. An original is more valuable than a copy." – Roy Sutton
23. "When you are content to be simply yourself and don't compare or compete, everybody will respect you." – Lao Tzu
24. "To be successful, one has to be one of three bees; the queen bee, the hardest working bee, or the bee that does not fit in." – Suzy Kassem
25. "Being different gives the world color." – Nelsan Ellis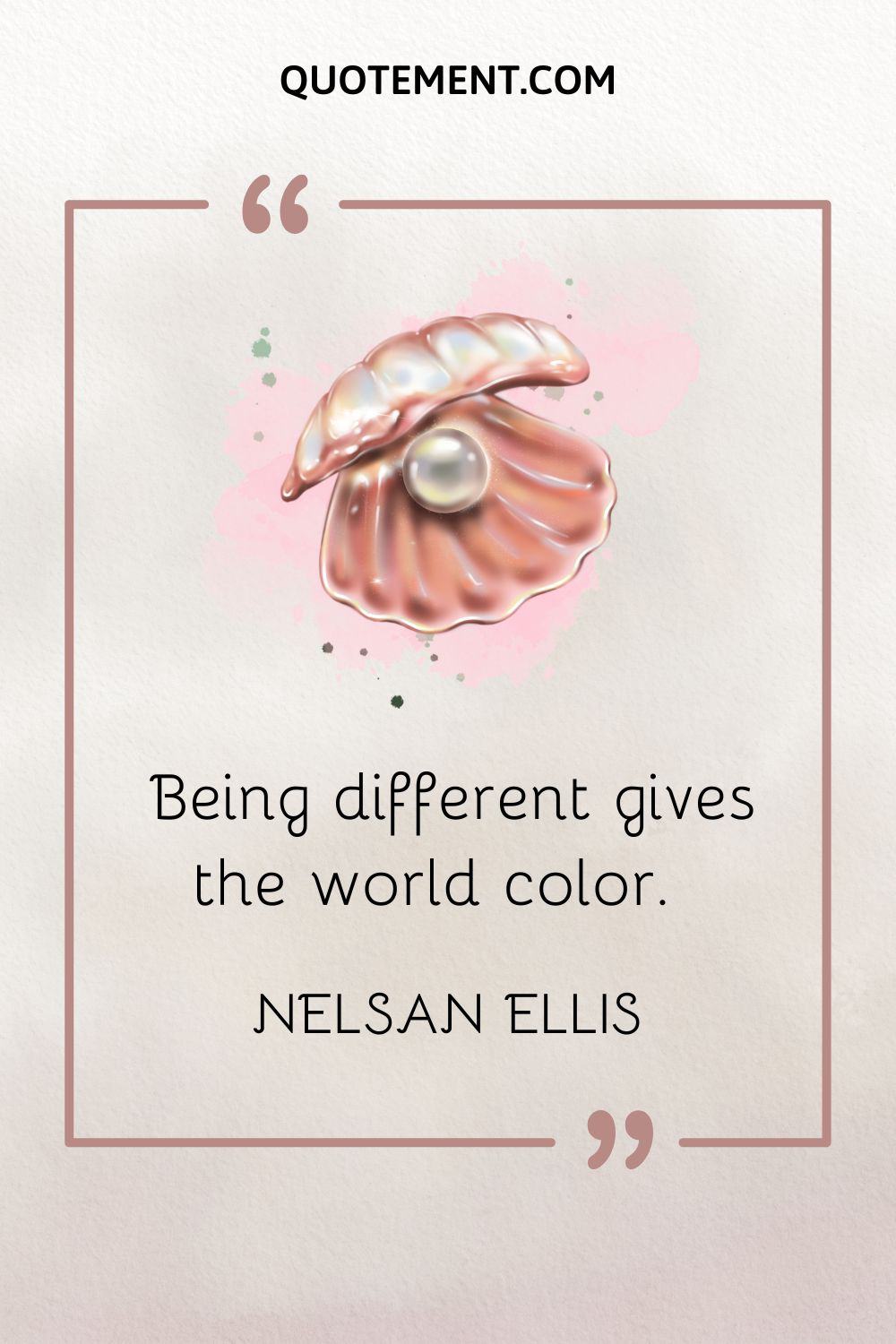 26. "The key to me is being different not for the sake of being different, but being the most authentic version of what you do." – Sam Hunt
27. "You are lucky enough to be different, never change." – Taylor Swift
28. "Until we respect our own, and everyone's, right to be different, to make our own choices, and create our own conscious realities free from imposition and pressure to conform, we will remain in a prison of our own making." ― David Icke
29. "You will be remembered for making a difference, and not for being the owner of fleets of cars." ― Michael Bassey Johnson
30. "The higher we soar, the smaller we appear to those who cannot fly." – Friedrich Nietzsche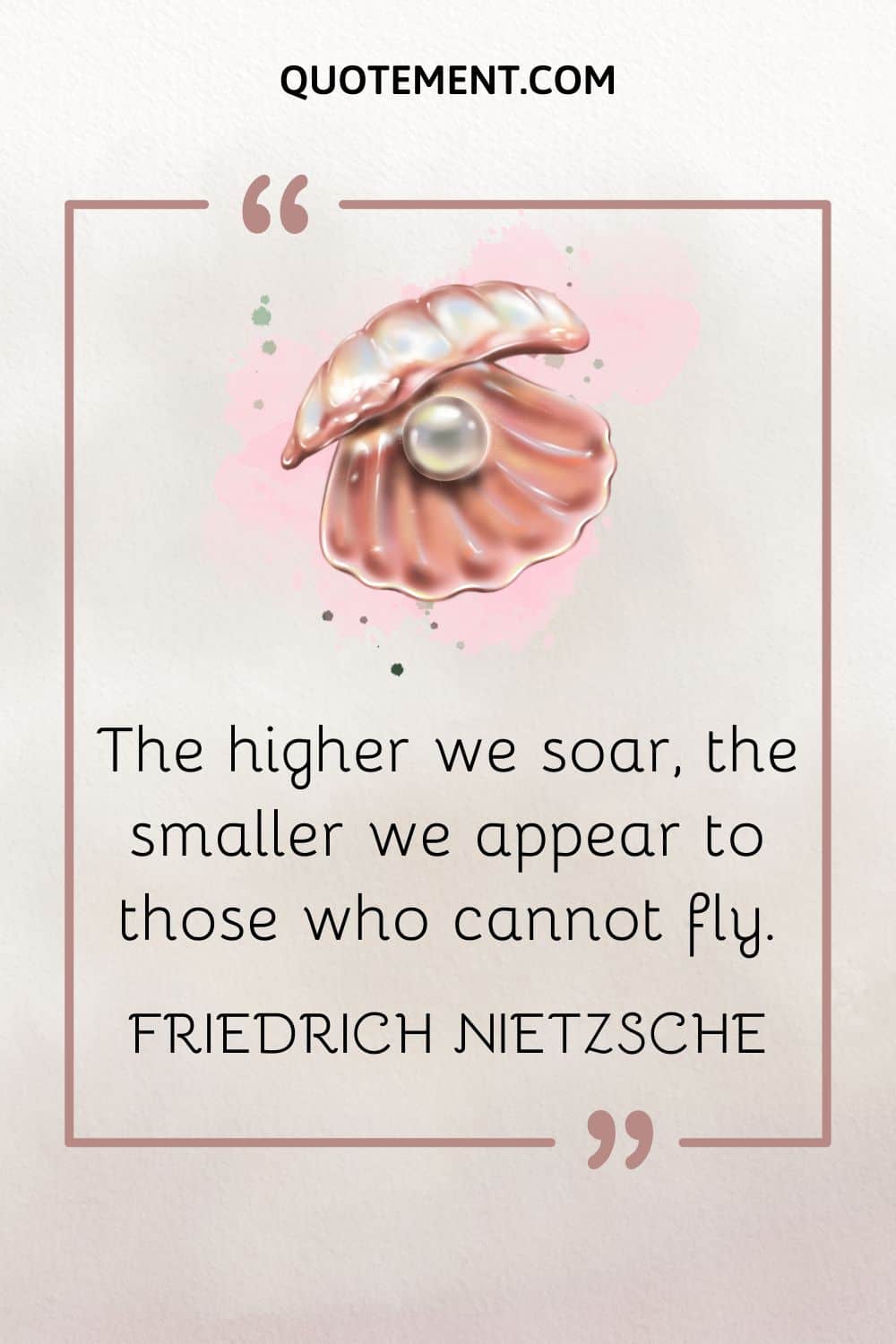 Inspirational Quotes About Being Unique And Different
These inspirational quotes about being different are here to remind you that you need to pick yourself up during hard times.
1. "In order to be irreplaceable, one must always be different." – Coco Chanel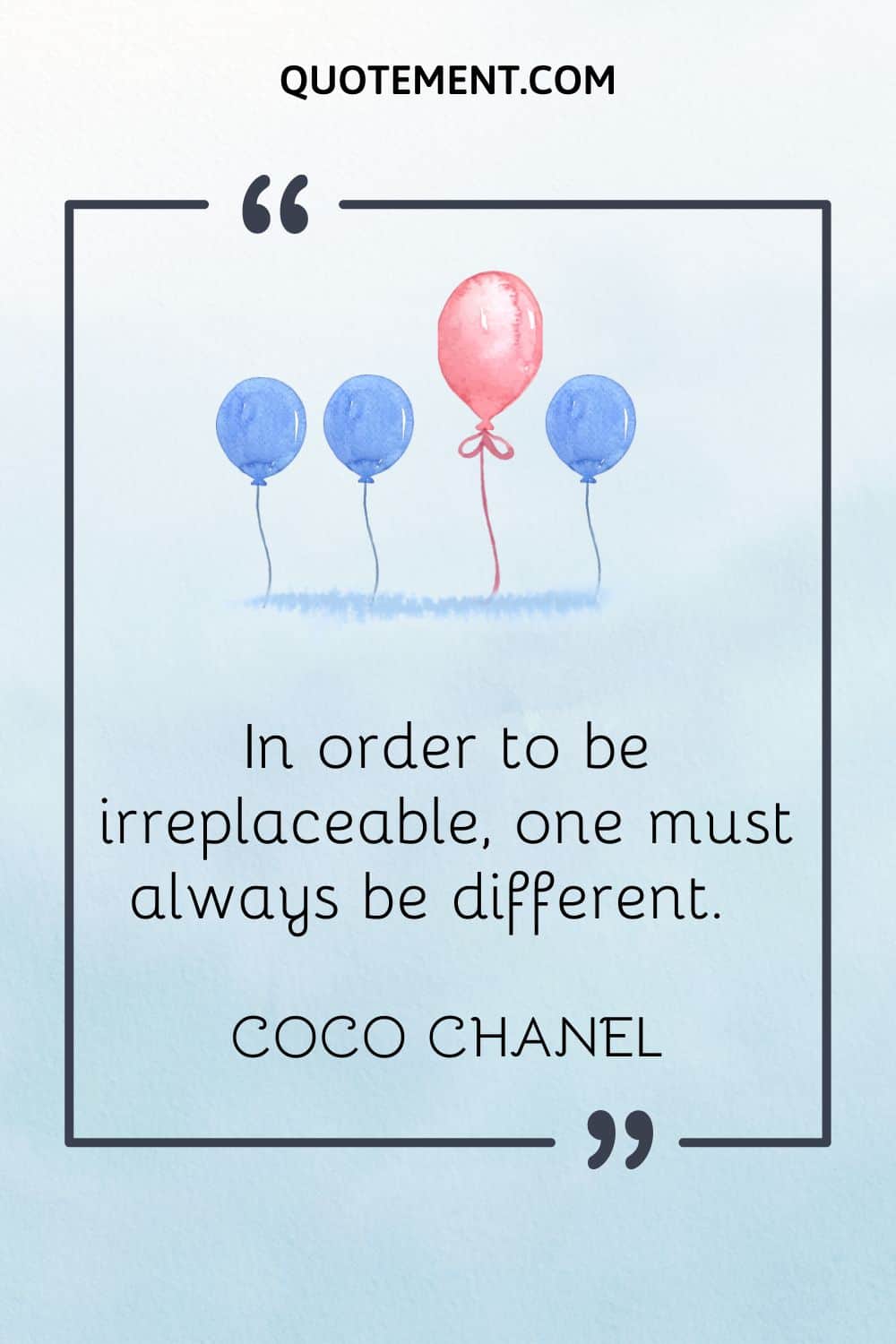 2. "Always refuse to be like the others! The more you become similar to the others, the more you will be useless because there are already plenty of the others!" – Mehmet Murat Ildan
3. "You can make life very simple or very complicated. Some people try to be what others want them to be. Others try to be different just to stand out. In both cases, they are changing themselves to impress others. Neither of these paths has a heart. Just be true to yourself. It's that simple." – Mike Stutman
4. "Normal is not something to aspire to, it's something to get away from." – Jodie Foster
5. "I find that the very things that I get criticized for, which is usually being different and just doing my own thing and just being original, is the very thing that's making me successful." – Shania Twain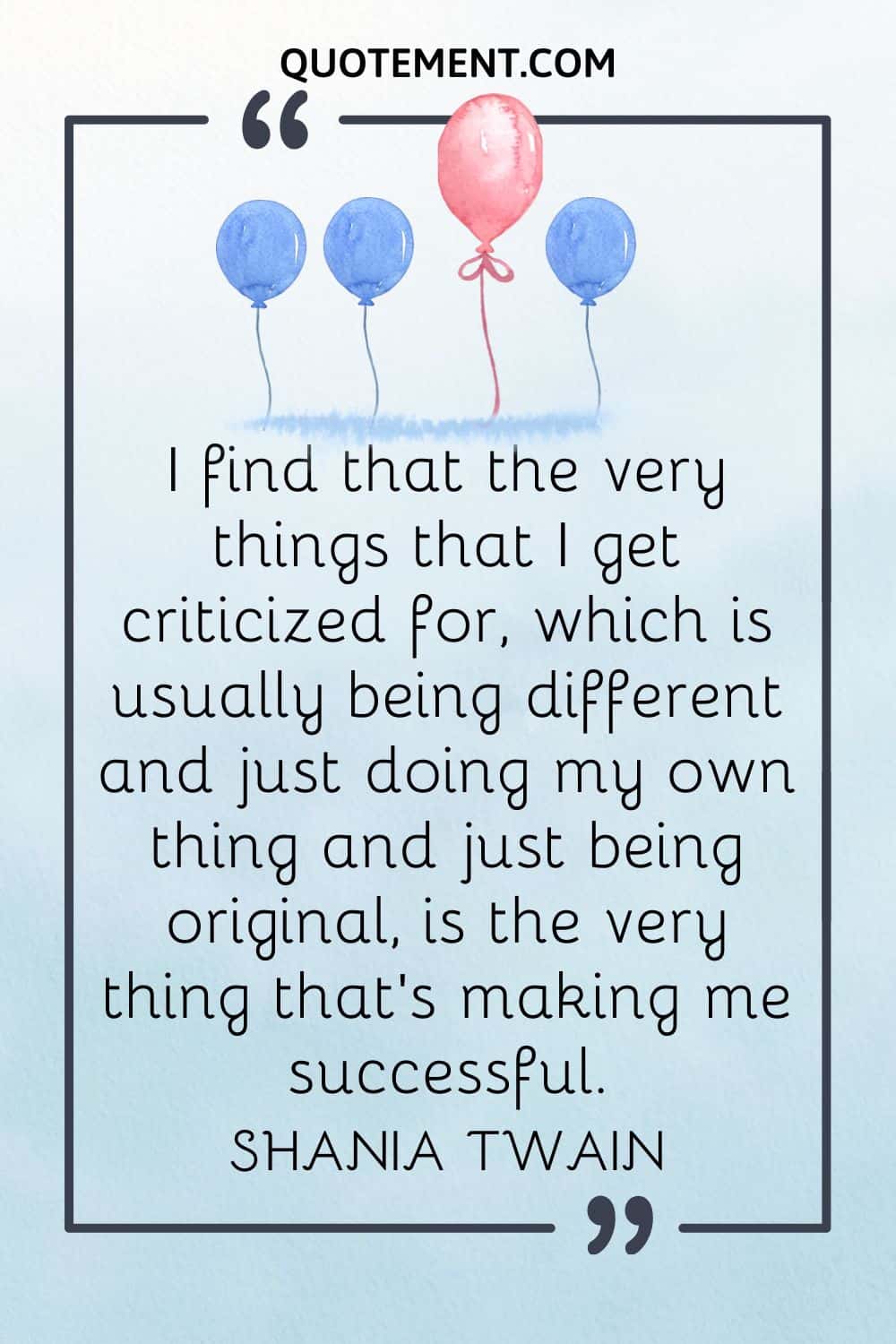 6. "Sometimes, being different feels a lot like being alone. But with that being said, being true to that and being true to my standards and my way of doing things in my art and my music, everything that has made me feel very different… in the end, it has made me the happiest." – Lindsey Stirling
7. "Stop apologizing! It's ok if your ideas are different, your goals are big – don't be afraid of what others would say. You are skilled, capable, and talented – you deserve to be a leader, and you are enough. Leaning in can be uncomfortable, so don't be afraid to own your seat, lean back, and kick your feet up." – Joy Fitzgerald
8. "My advice to anyone being picked on for being different or for working towards a dream is to remember it's never personal. These people don't actually dislike you at heart. They're just going through difficult things in their own personal lives." – Cassadee Pope
9. "What sets you apart can sometimes feel like a burden, and it's not. And a lot of the time, it's what makes you great." – Emma Stone
10. "When you embrace your difference, your DNA, your look or heritage or religion or your unusual name, that's when you start to shine." – Bethenny Frankel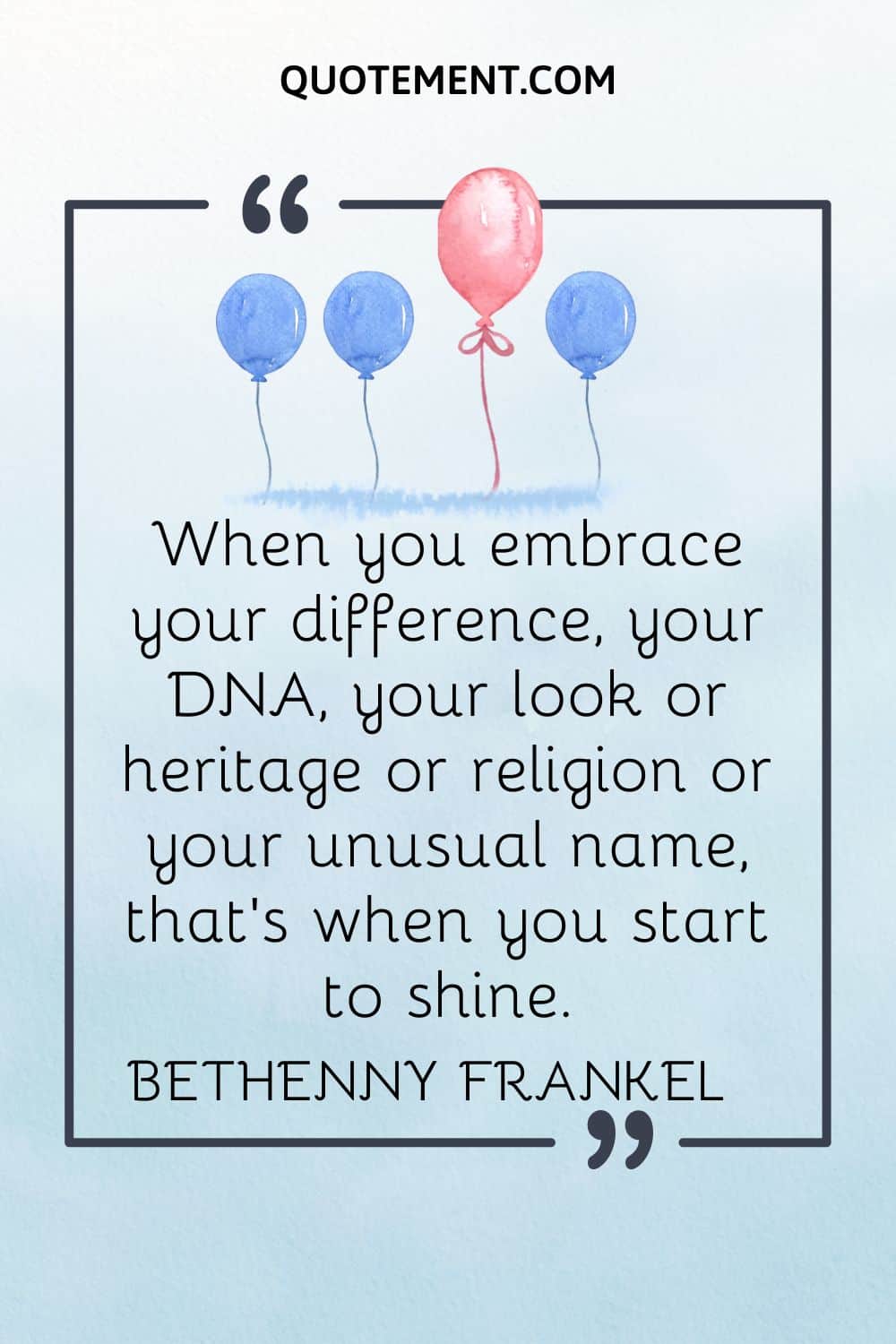 See also: 120 Most Powerful Rise And Shine Quotes To Inspire You
11. "The most incredible beauty and the most satisfying way of life come from affirming your own uniqueness." – Jane Fonda
12. "Who you are authentically is alright." – Laverne Cox
13. "Being the lone wolf is sometimes the best thing that could happen to you."
14. "Being different is one of the most beautiful things on Earth."
15. "I'm inspired to post a lot of positive messages on my social media because, growing up, I felt as though I needed somebody that looked like me in the limelight or in entertainment to promote being different and promote accepting your differences." – Nia Jax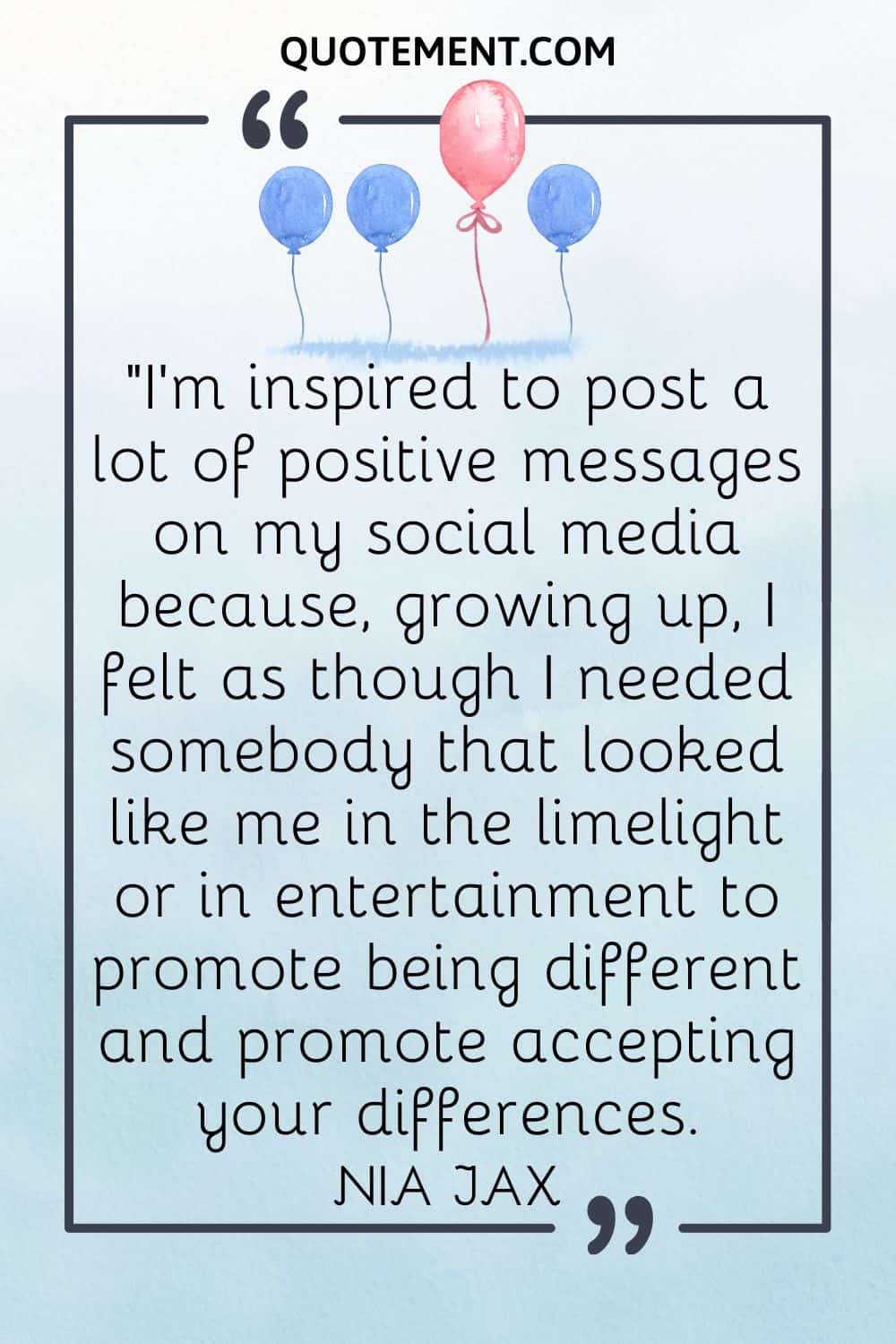 16. "The things that make me different are the things that make me." – Winnie The Pooh
17. "Don't doubt your value. Don't run from who you are." – Aslan
18. "Kites rise high against the wind, not with it." – Winston Churchill
19. When you're the only sane person, you look like the only insane person. –Criss Jami
20. "So you're a little weird? Work it! A little different? OWN it! Better to be a nerd than one of the herd!" – Mandy Hale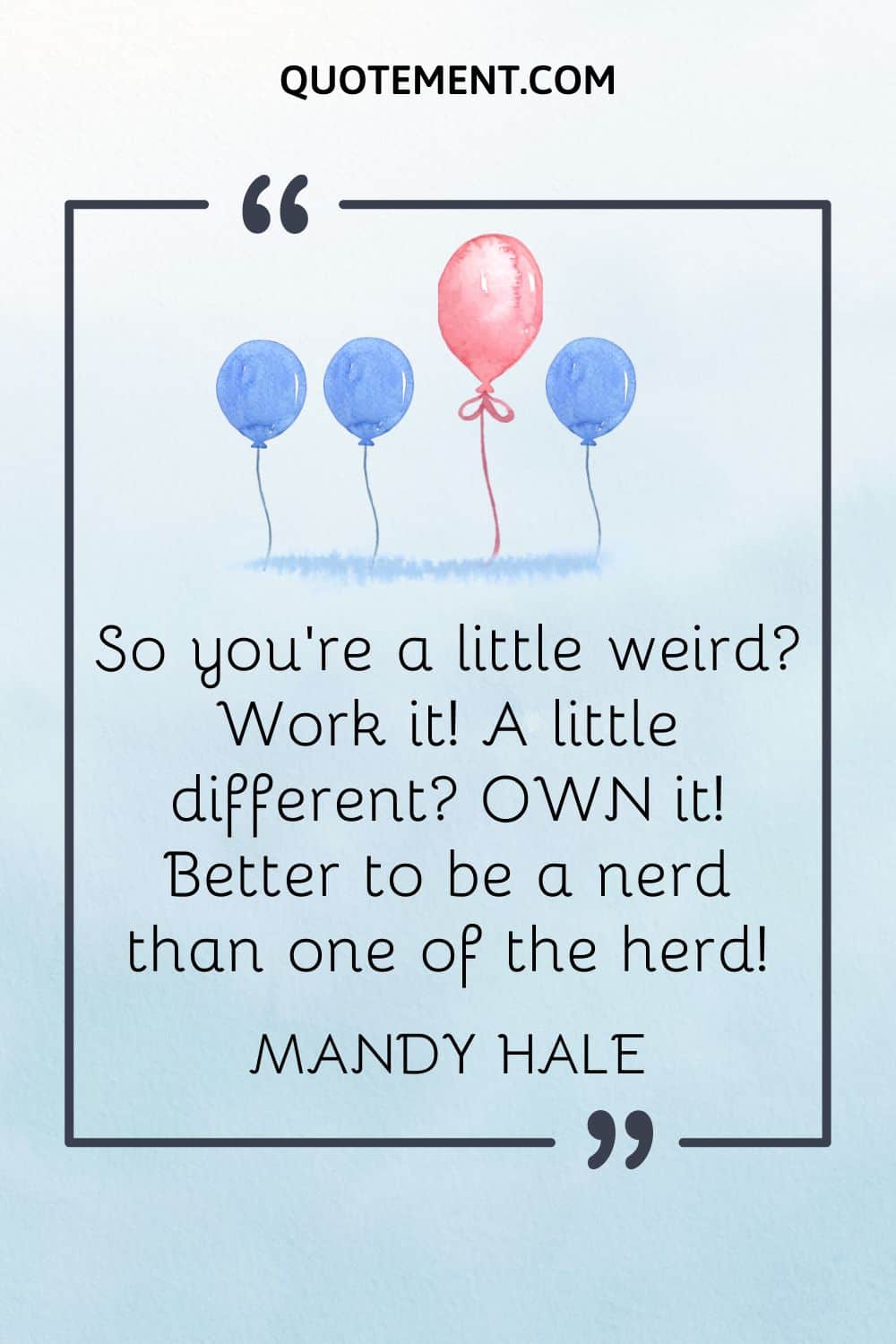 21. "There is nothing more rare, nor more beautiful, than a woman being unapologetically herself; comfortable in her perfect imperfection. To me, that is the true essence of beauty." – Steve Maraboli
22. "There would be no need for love if perfection were possible. Love arises from our imperfection, from our being different and always in need of the forgiveness, encouragement, and that missing half of ourselves that we are searching for, as the Greek myth tells us, in order to complete ourselves." – Eugene Kennedy
23. "It's really important to share the idea that being different might feel like a problem at the time, but ultimately diversity is a strength?" – Carson Kressley
24. "Be who you are and say what you feel, because those who mind don't matter and those who matter don't mind." – Dr. Seuss
25. "We must never be afraid to be a sign of contradiction for the world." – Mother Teresa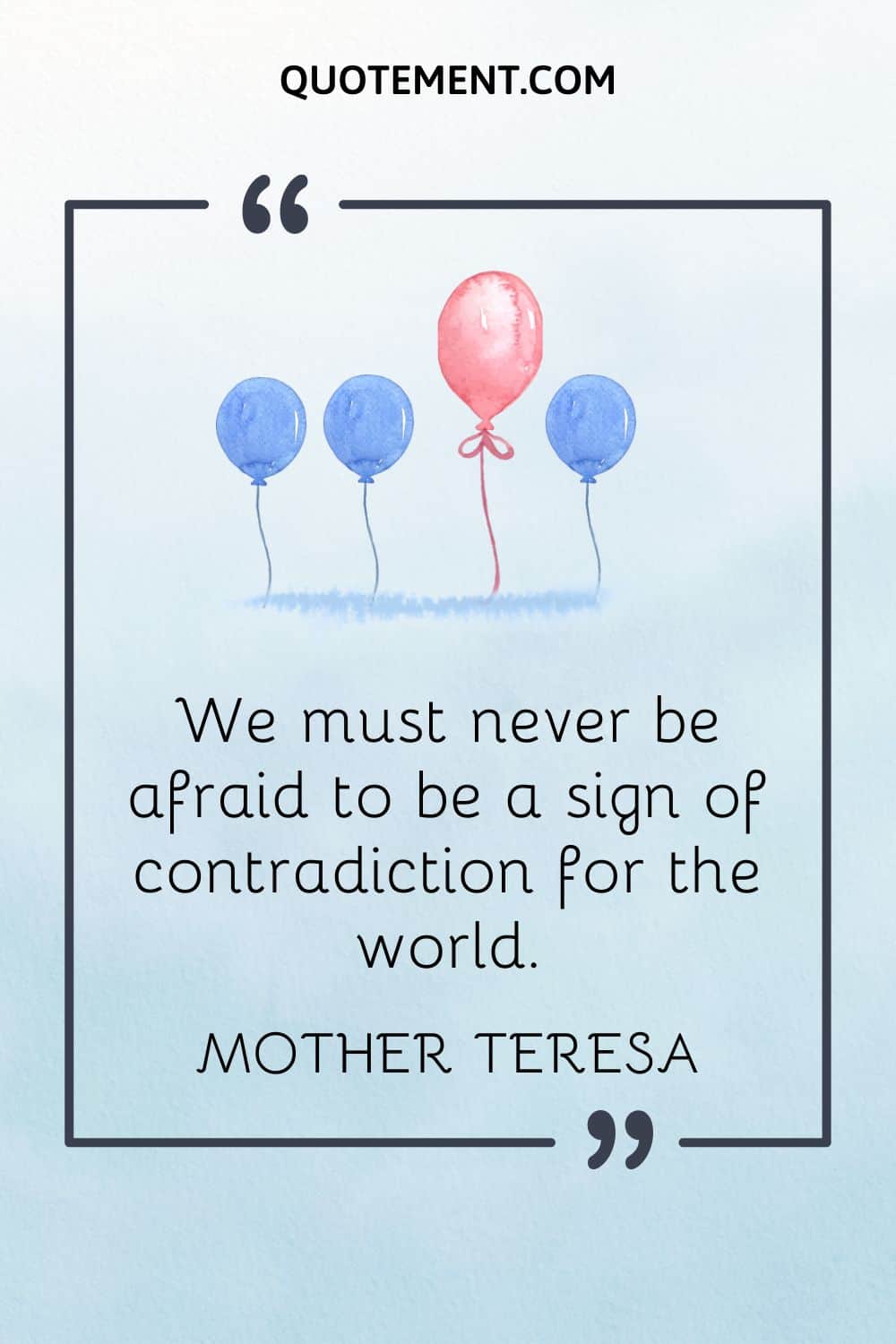 26. "I think that the shame of being different is very painful for a lot of people." – Min Jin Lee
27. "Life's no piece of cake, mind you, but the recipe's my own to fool with." – Haruki Murakami
28. "I'm different from everyone else because everyone else is not me." – Julian Aguilar
29. "I am different. Not less." – Temple Grandin
30. "Don't let that nagging fear – that feeling that being different automatically qualifies you as being wrong – eat away at you." – Kathryn Minshew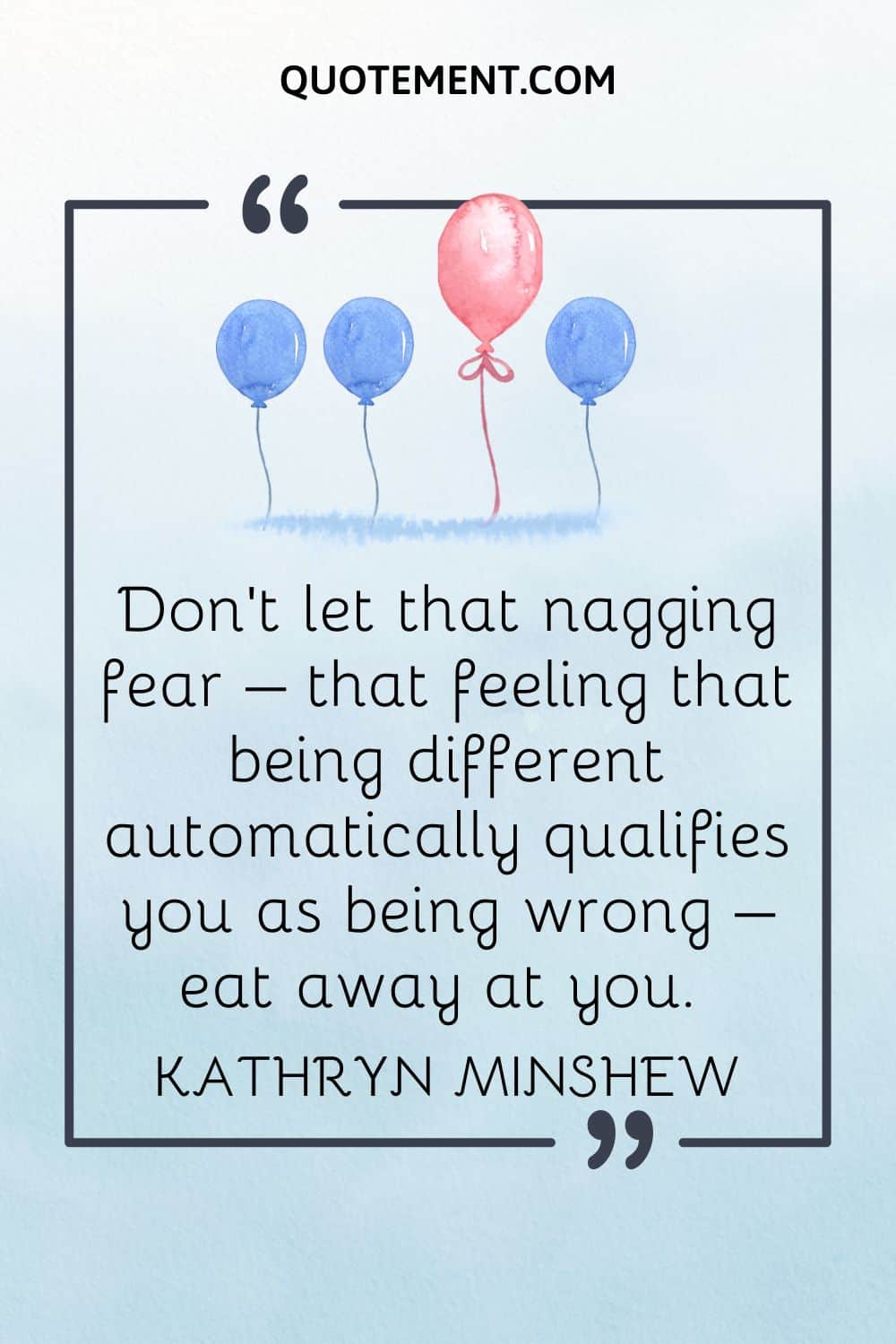 Deep Quotes About Being Different
This wonderful section brings you a few deep quotes about being different:
1. "Freedom means nothing, unless it means the freedom to be different." – Marty Rubin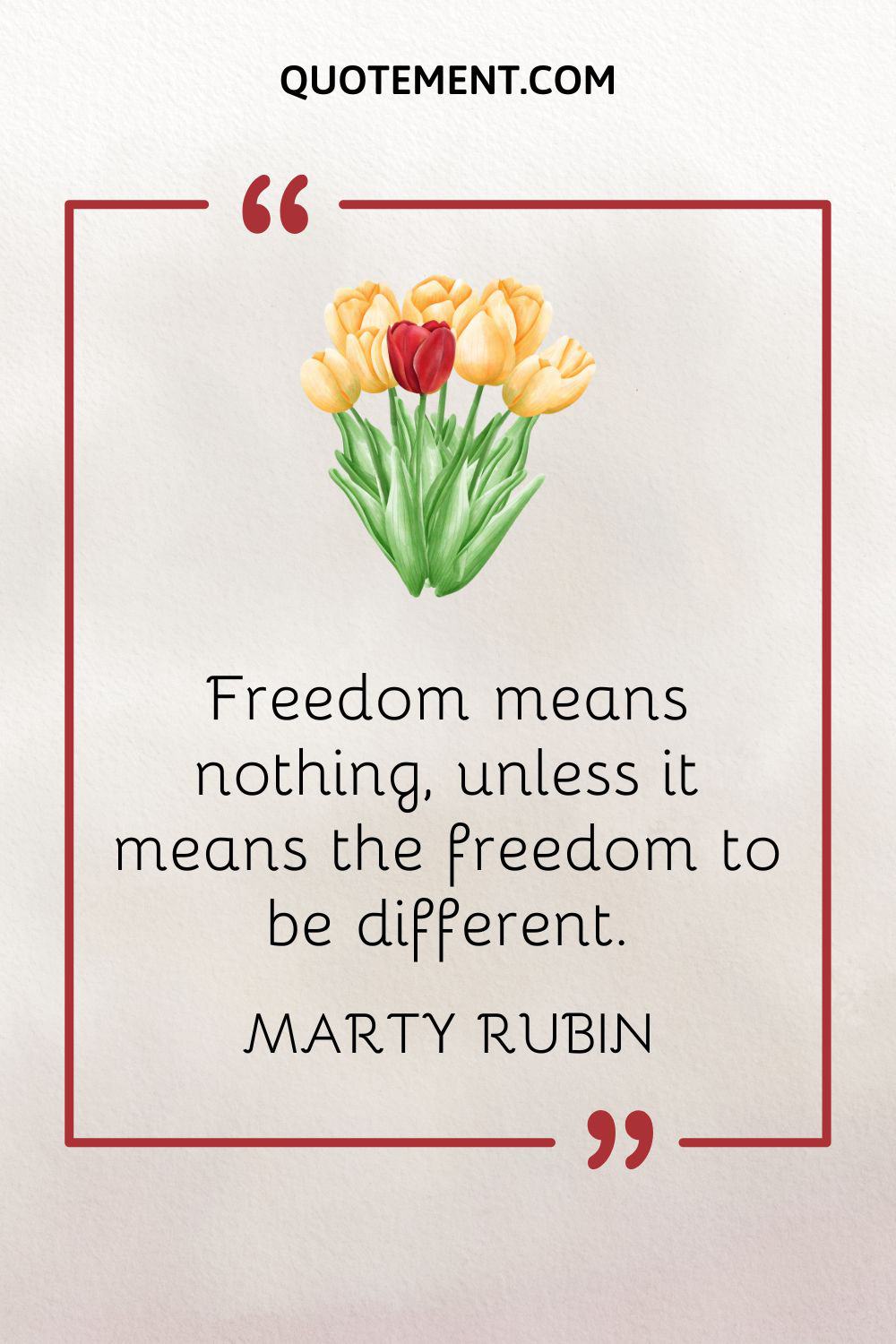 2. "I was beginning to understand why Harold didn't like being around large numbers of people; if you were at all different, people were apt to stare." ― Maddy Kobar
3. "No, no and no. I'm not desperate, unlike what you think. I'm not like the madding crowd. I'm a different breed of woman. The sort of woman who's unstoppable once she's set her mind onto something. I march to the beat of my own drum like a free-spirit, and I know exactly what I want out of life. So get it out of your head, honey." ― Anne Bancroft
See also: The 130 Best Alpha Female Quotes For Women's Empowerment
4. "What makes you unique is what makes you attractive." ― Amit Kalantri
5. "Whenever you find yourself on the side of the majority, it is time to pause and reflect." – Marc Twain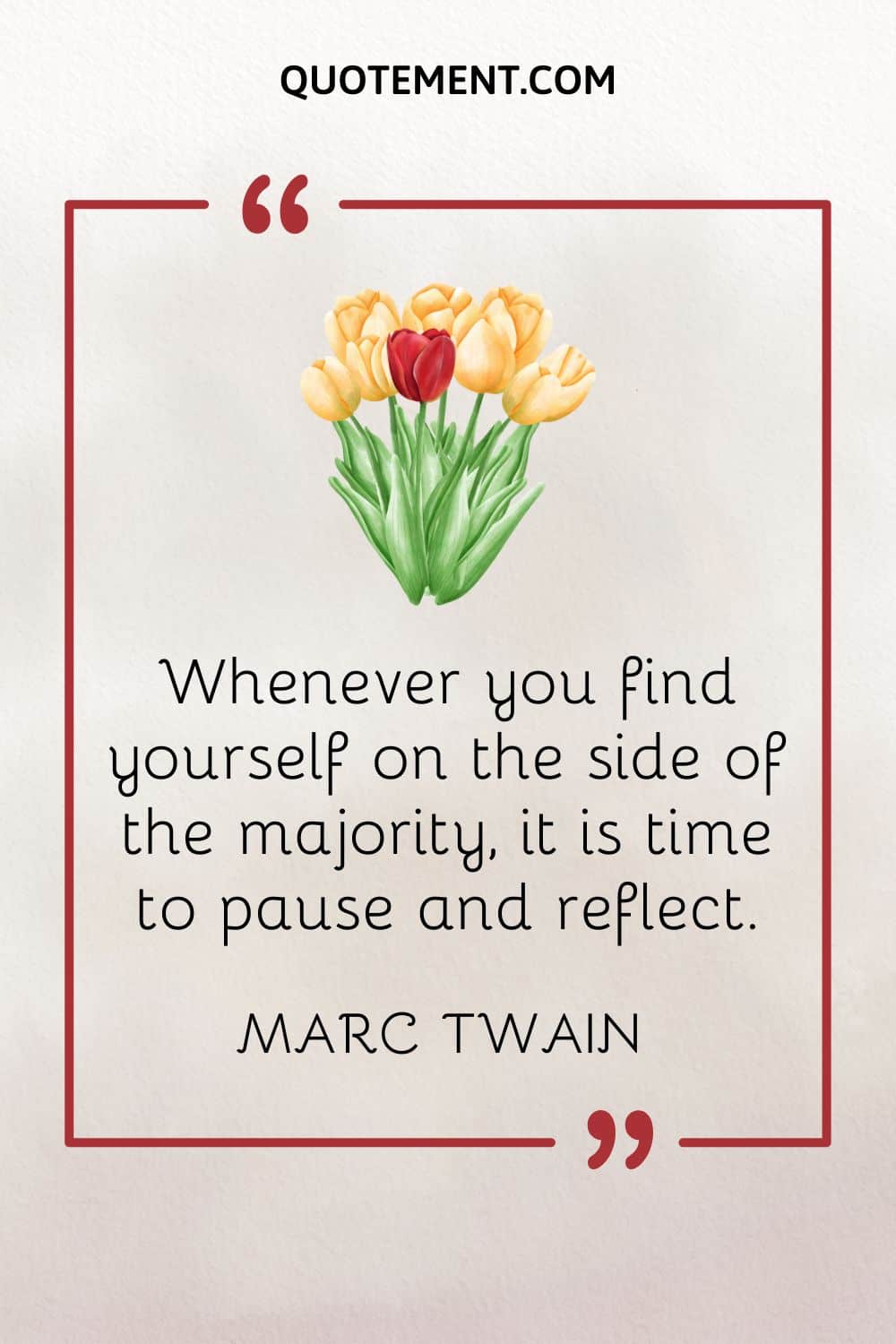 6. "'I always had to pretend back then', he said. 'Trying to act the way I was supposed to, to understand what people wanted from me. Alone is not synonymous with lonely. Out in the world, everyone tells you to just be yourself but then punishes you if you are. And yet they are right. Alone I can be myself.'" ― Maria Romasco Moore
7. "I wonder how many people would care about the world if they could do it anonymously. It's fine to believe what we want, but it's not fine to think people are less than us because they think differently. Different is beautiful. Variety is gracious. We live in a time of two: you or me. It's so cold." ― Karl Kristian Flores
8. "I'm not everyone's cup of tea… But I'm someone's." ― Dan Pearce
9. "The right to be different, whether by choice or necessity, is our greatest right as human beings. And dealing with differences is the greatest of all human challenges. People react anxiously and fearfully to differences. We learn to hate, glorify, deny, exaggerate, or eradicate a difference." ― Harriet Lerner
10. "Be yourself; everyone else is taken." – Oscar Wilde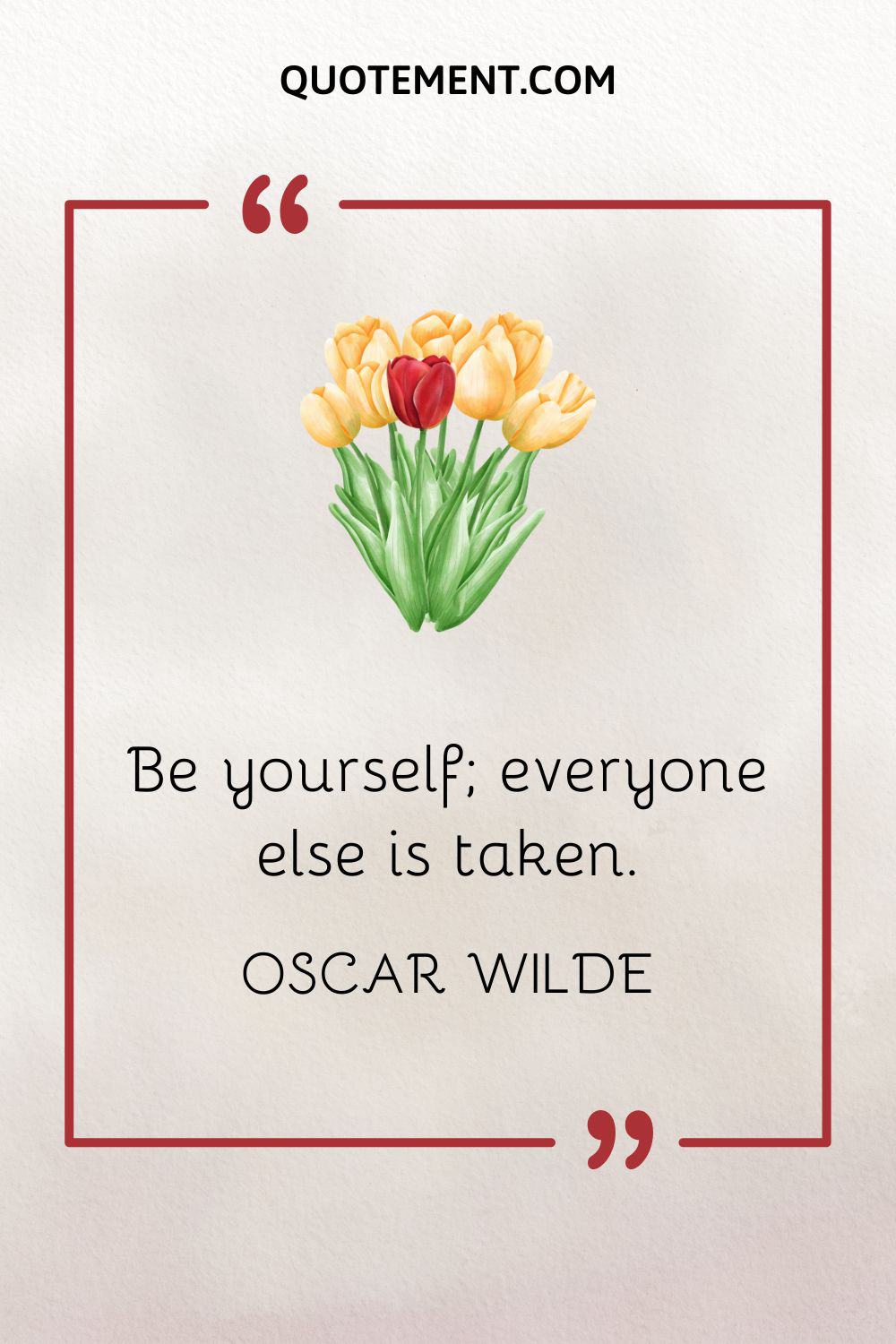 11. "… everybody wants to make a difference, but nobody is willing to be different." ― Andy Andrews
12. "To choose not to be part of a team or religion does not make me non-religious; for my religion is Truth and I am very much in love with God. I do not need to align myself with a specific messenger if I already understand God's message. And the way I think is not considered 'New Age', since common sense is not new. So long as you act and speak with love and truth in you, and are good to your fellow man — in that you treat everybody as you would want yourself to be treated, your heart will stand by God regardless of the label you have assigned to your mind." ― Suzy Kassem
13. "Like LaVey, I had also discovered what happens when you say something powerful that makes people think. They become afraid of you, and they neutralize your message by giving you a label that is not open to interpretation –– as a fascist, a devil worshipper or an advocate of r*pe and violence." ― Marilyn Manson
14. "Just because a person chooses to express themselves in an extreme way doesn't mean they have an extreme personality." ― Susane Colasanti
15. "Conformity is the last refuge of the unimaginative." – Oscar Wilde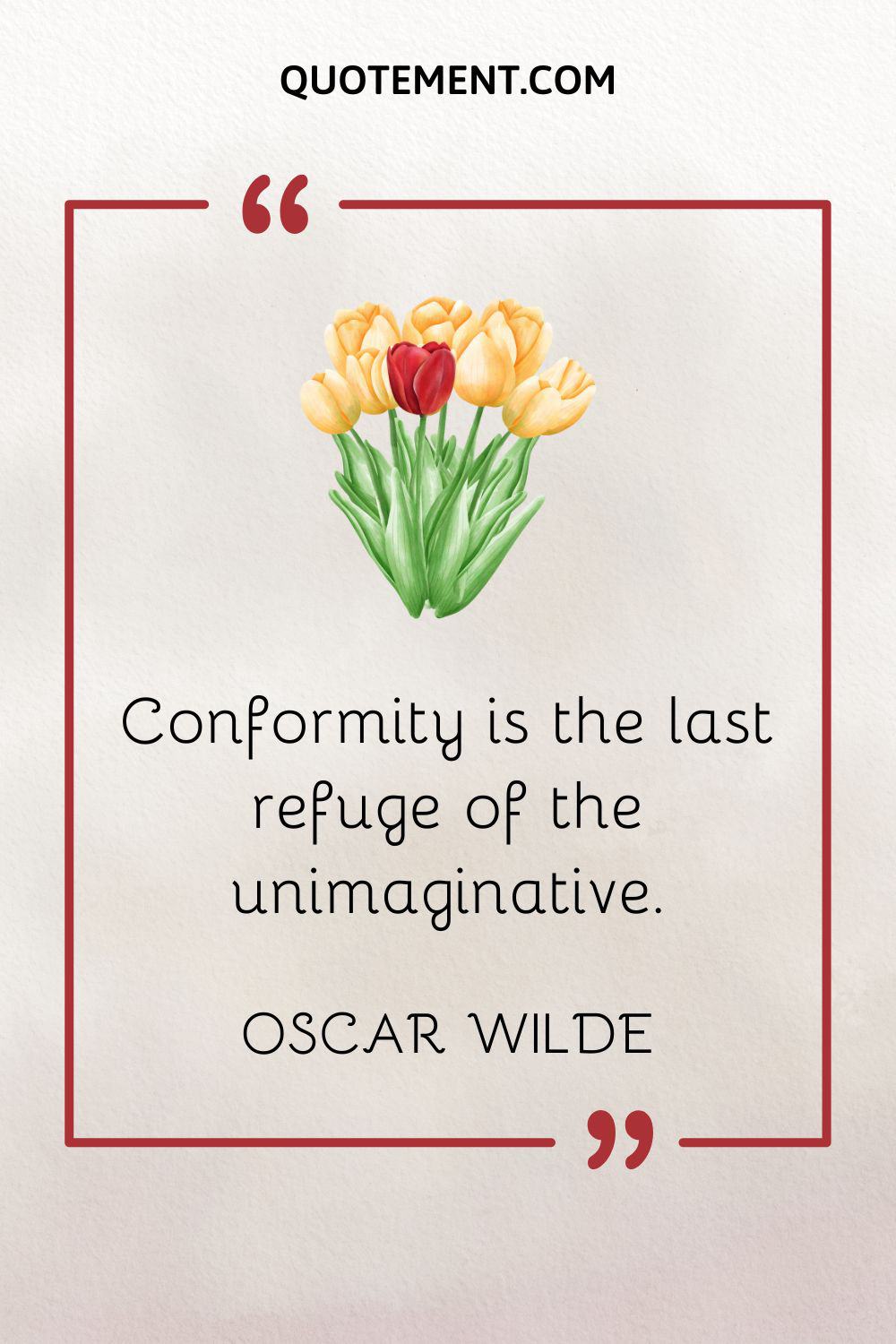 16. "Being different was good, I liked it and I wouldn't change myself for anyone. Not ever." – Amanda James
See also: 200 Me Myself And I Quotes To Make You Love Yourself More
17. "We don't do things the same way everyone else does. We relish being different. We see that difference as an element that makes us more compelling." – Reggie Fils–Aime
18. "I stopped focusing on people being different, and I started treating everyone the same way." – Ivan Glasenberg
19. "The human being is single, unique, and unrepeatable." – John Paul II
20. "Everybody in the world wants to be understood and to have others appreciate them. Being different is scary. Solitude is pain and loneliness." ― Mizuki Nomura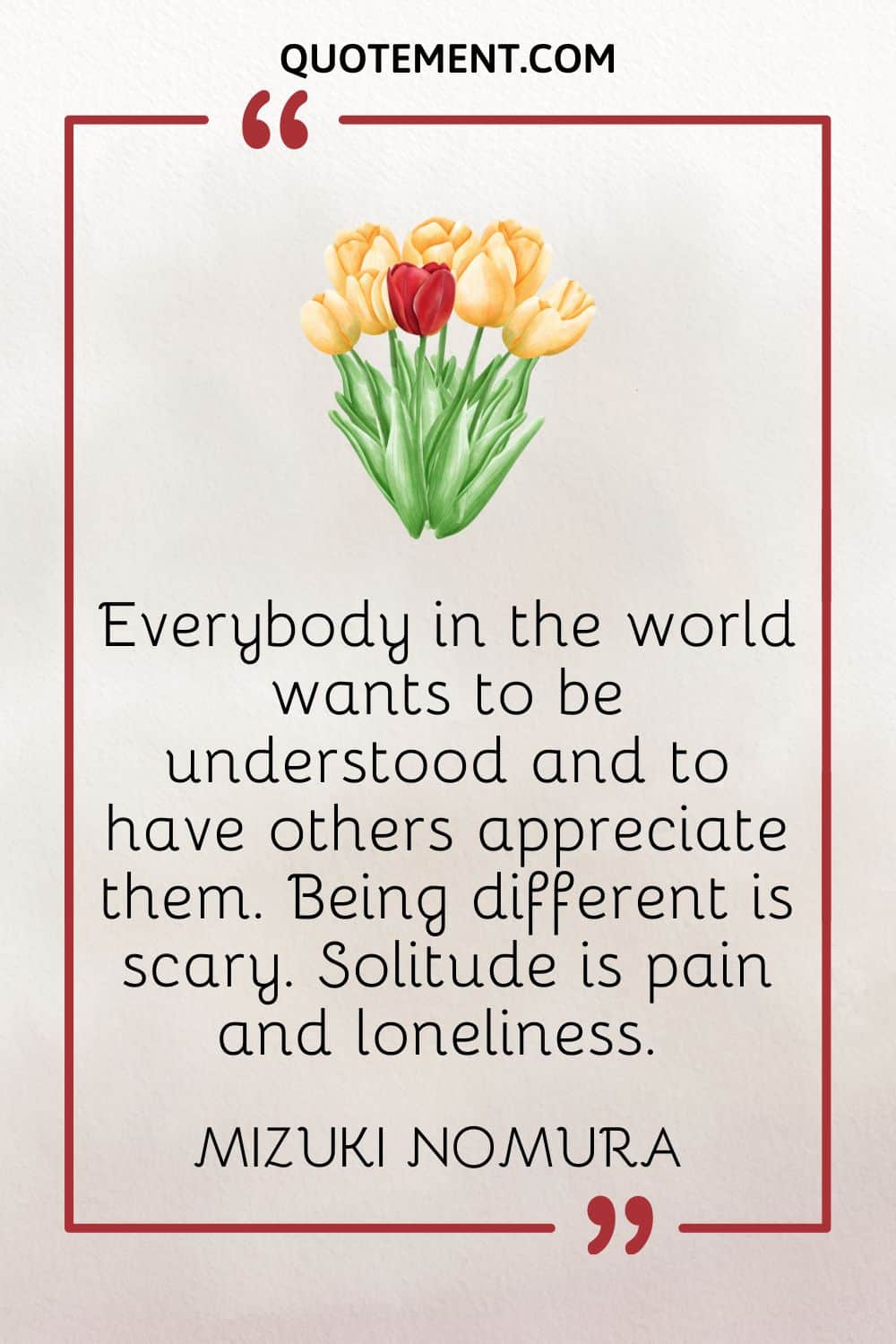 21. "We are all different. We see things differently. The things I appreciate and value may not be the things you appreciate and value. Our beliefs might conflict. And even if we agree on much, we perceive the world differently." – Zamm Zamudio
22. "The blending, of course, is the challenge. Most creatures who are special cannot seem to stop themselves from announcing the fact, despite the dangers that come with being different from the rest of your species. If you tie a red string around a wren's leg, the others in the flock will peck it to death." ― Kim Wright
23. "Share our similarities, celebrate our differences." – M. Scott Peck
24. "Don't apologize for being yourself, but ask for an apology if they want you to be something else." – Amit Kalantri
25. "I want to show people they don't have to be scared of being different." – Jazz Jennings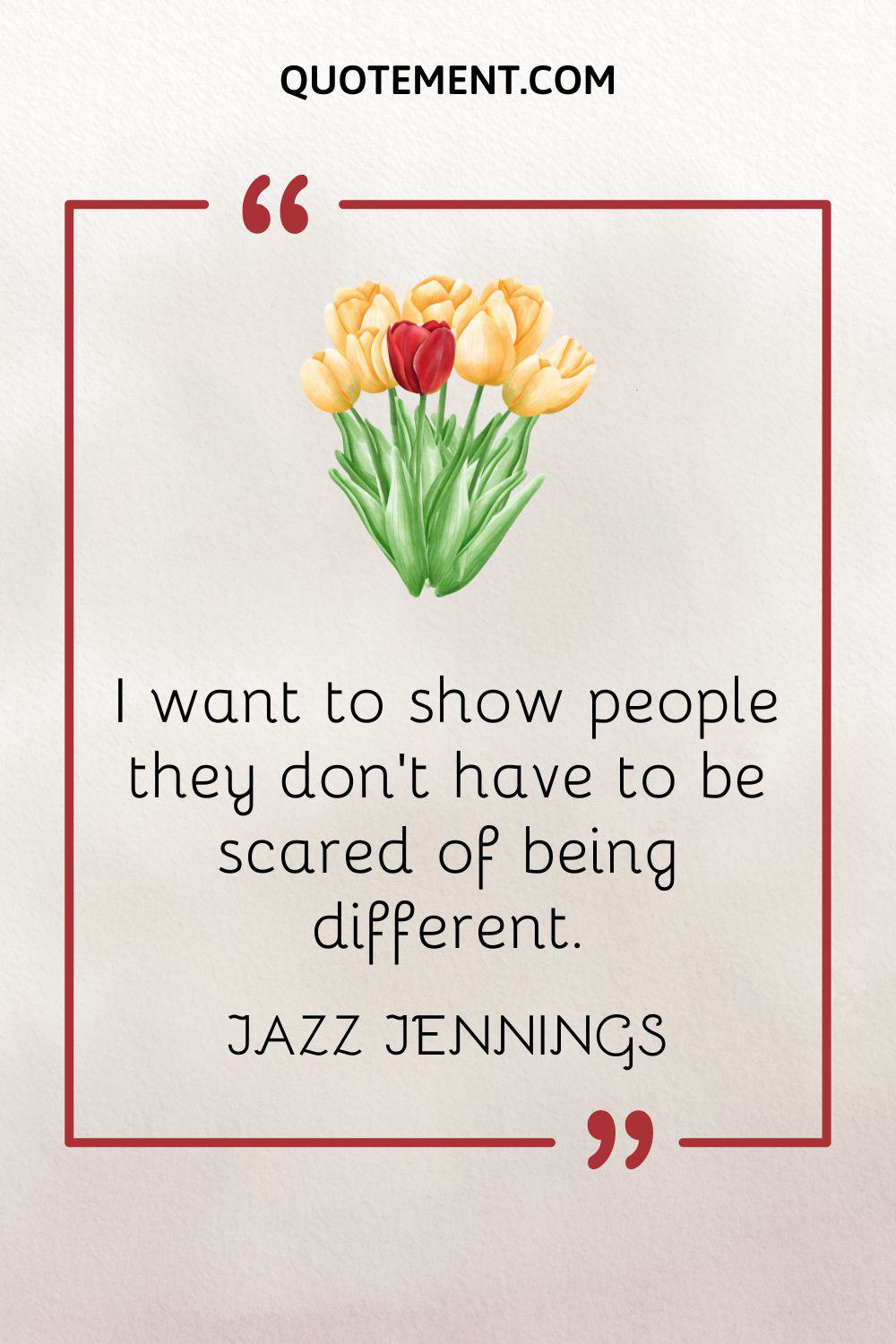 26. "You are not a one dimensional human being. You are not your social media etiquette, a picture, a few things said under stress or through misunderstanding. You are much more. You are a fearless and wonderful soul who loves greatly. The people that matter are the ones that see all the dimensions of your soul, not just the superficial. They will climb inside that box with you not because they are not sure if they will ever find your uniqueness in another person. They do so because they feel safe enough to share their uniqueness with you. They see your faults and know that they have them also. They feel the walls lowered and the freedom of being themselves. Honesty is never guarded or regretted. That is what makes that box home." ― Shannon L. Alder
27. "When you are like everyone, you are nobody; but when you are different from everyone, you are somebody." – Mehmet Murat iIdan
28. "So what? You're another person, so of course you look different. What do you need to be ashamed for?" – Yana Toboso
29. "Be brave and celebrate with us your 'perceived flaws', as society tells us. May we make our flaws famous, and thus redefine the heinous." – Lady Gaga
30. "I'm obsessively opposed to the typical." – Lady Gaga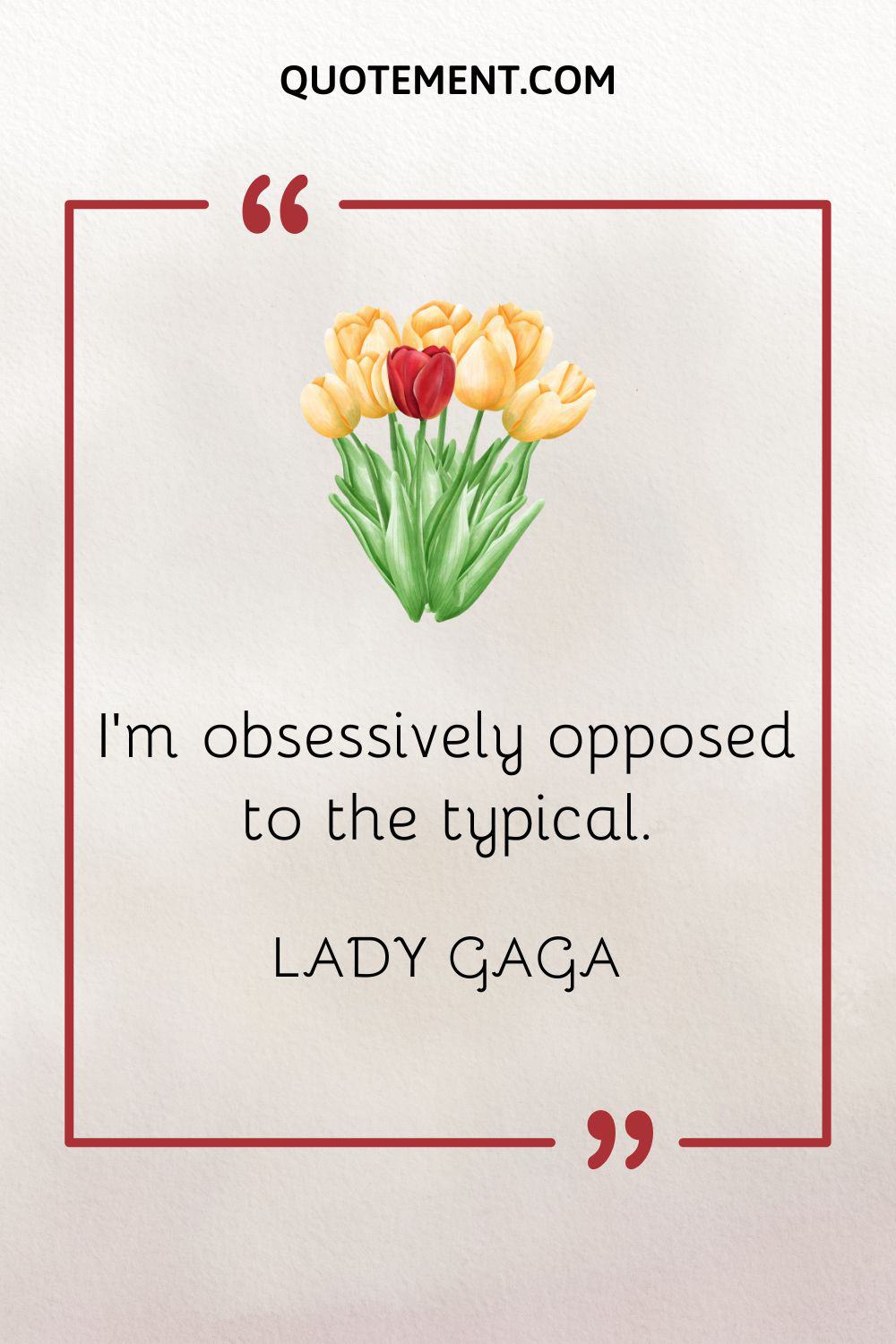 Encouraging Being Different Quotes
Check out these encouraging be unique quotes and start taking action today:
1. "People have a problem with me being different, but that propels me forward in life." – Mary-Louise Parker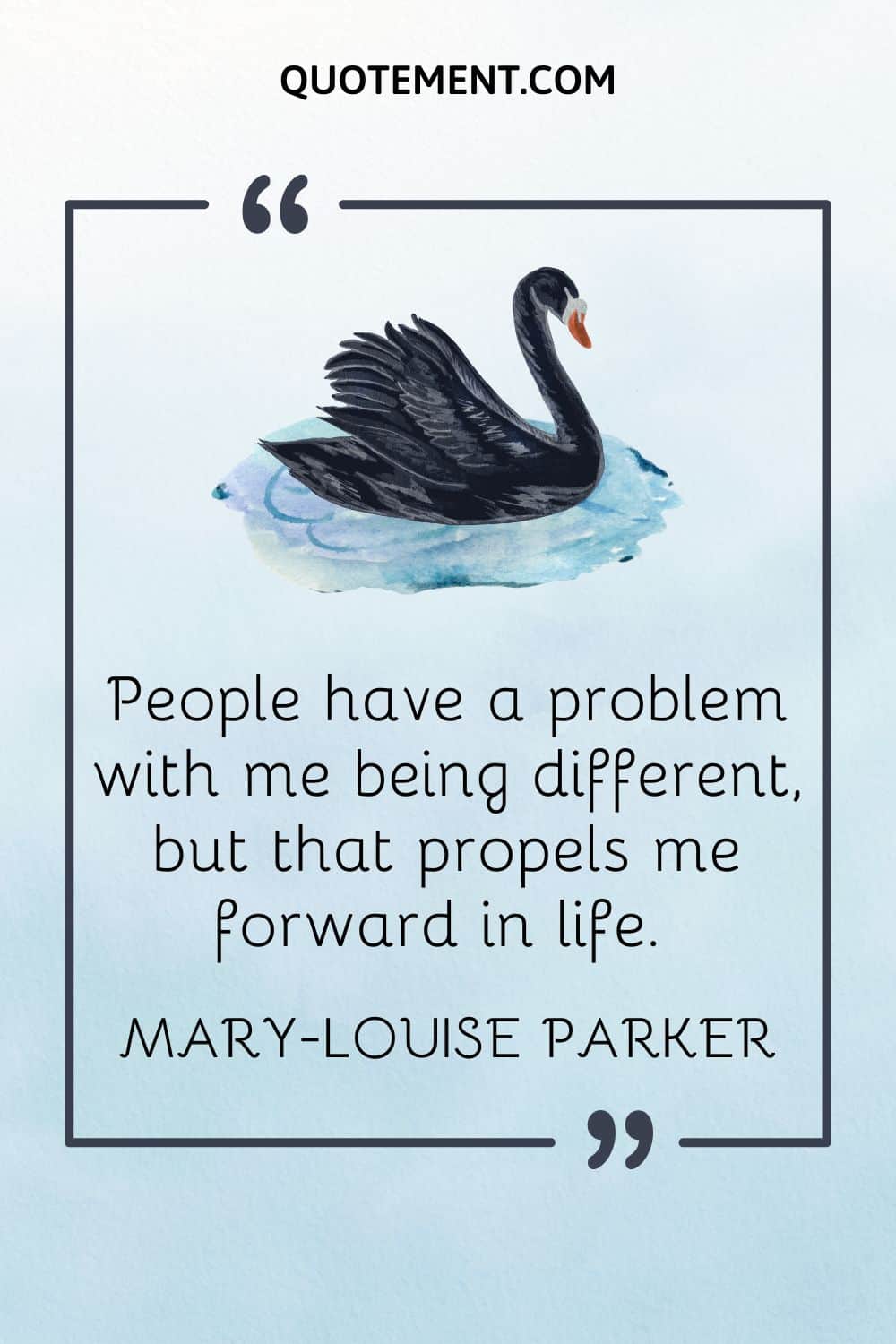 2. "Always be a first-rate version of yourself, instead of a second-rate version of somebody else." – Judy Garland
3. "You have to be unique, and different, and shine in your own way." – Lady Gaga
4. "Always remember that you are absolutely unique. Just like everyone else." – Margaret Mead
5. "To be nobody but yourself in a world doing its best to make you everybody else means to fight the hardest battle any human can ever fight and never stop fighting." – E. E. Cummings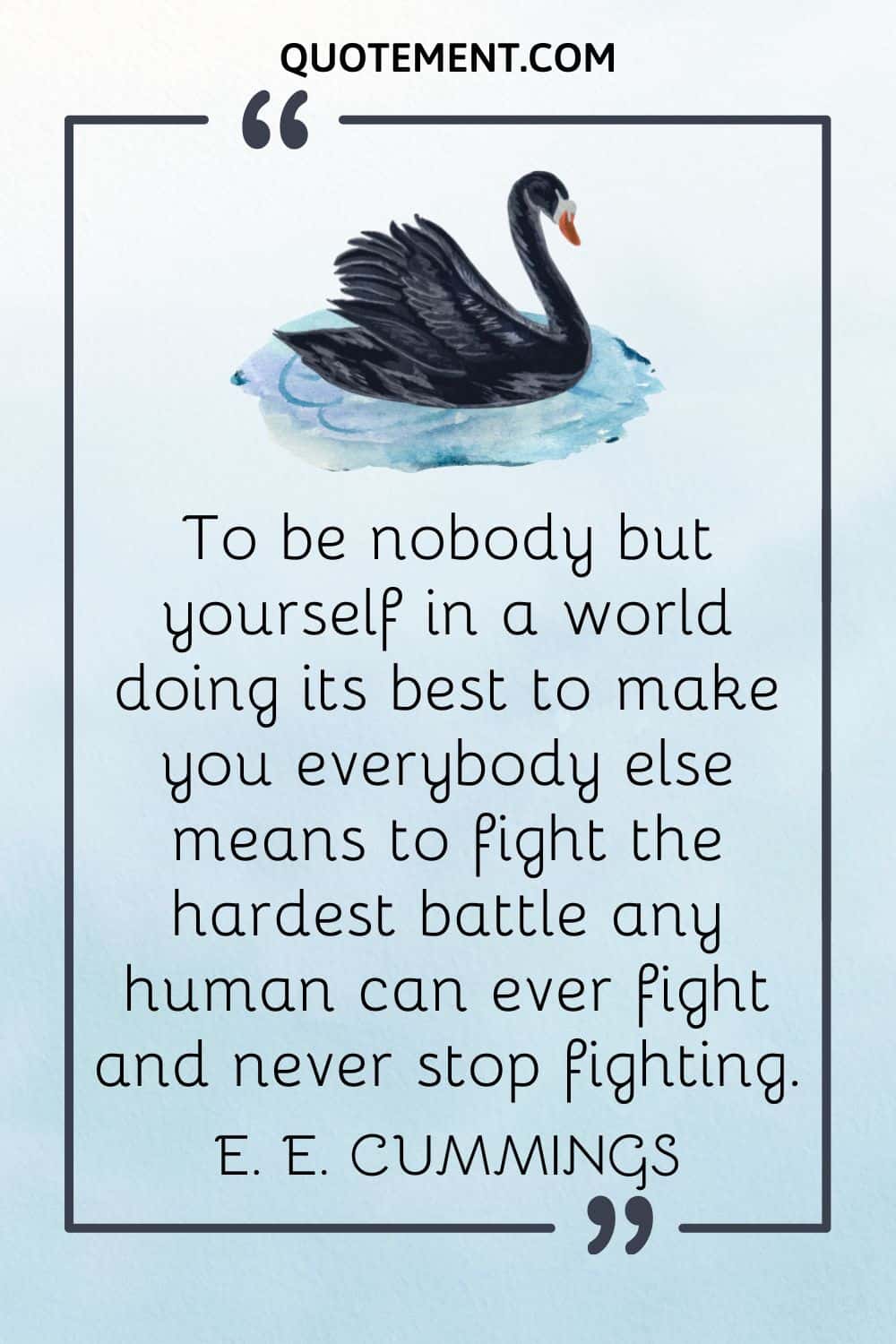 6. "How would your life be different if… you stopped allowing other people to dilute or poison your day with their words or opinions? Let today be the day…You stand strong in the truth of your beauty and journey through your day without attachment to the validation of others." – Steve Maraboli
7. "You are beautiful. Your beauty, just like your capacity for life, happiness, and success, is immeasurable. Day after day, countless people across the globe get on a scale in search of validation of beauty and social acceptance. Get off the scale!" – Steve Maraboli
8. "A person who is truly cool is a work of art. And remember, the original works of art cost exponentially higher than imitations. Just take a look at the coolest people in history. They will always be a part of history for being extremely original individuals, not imitations." – Suzy Kassem
9. "If anyone tells you that you can't achieve your dreams, or puts you down, make your hand into a claw and tell them you're a little monster and you can do whatever the f*** you want." – Lady Gaga
10. "If you are always trying to be normal, you will never know how amazing you can be." – Maya Angelou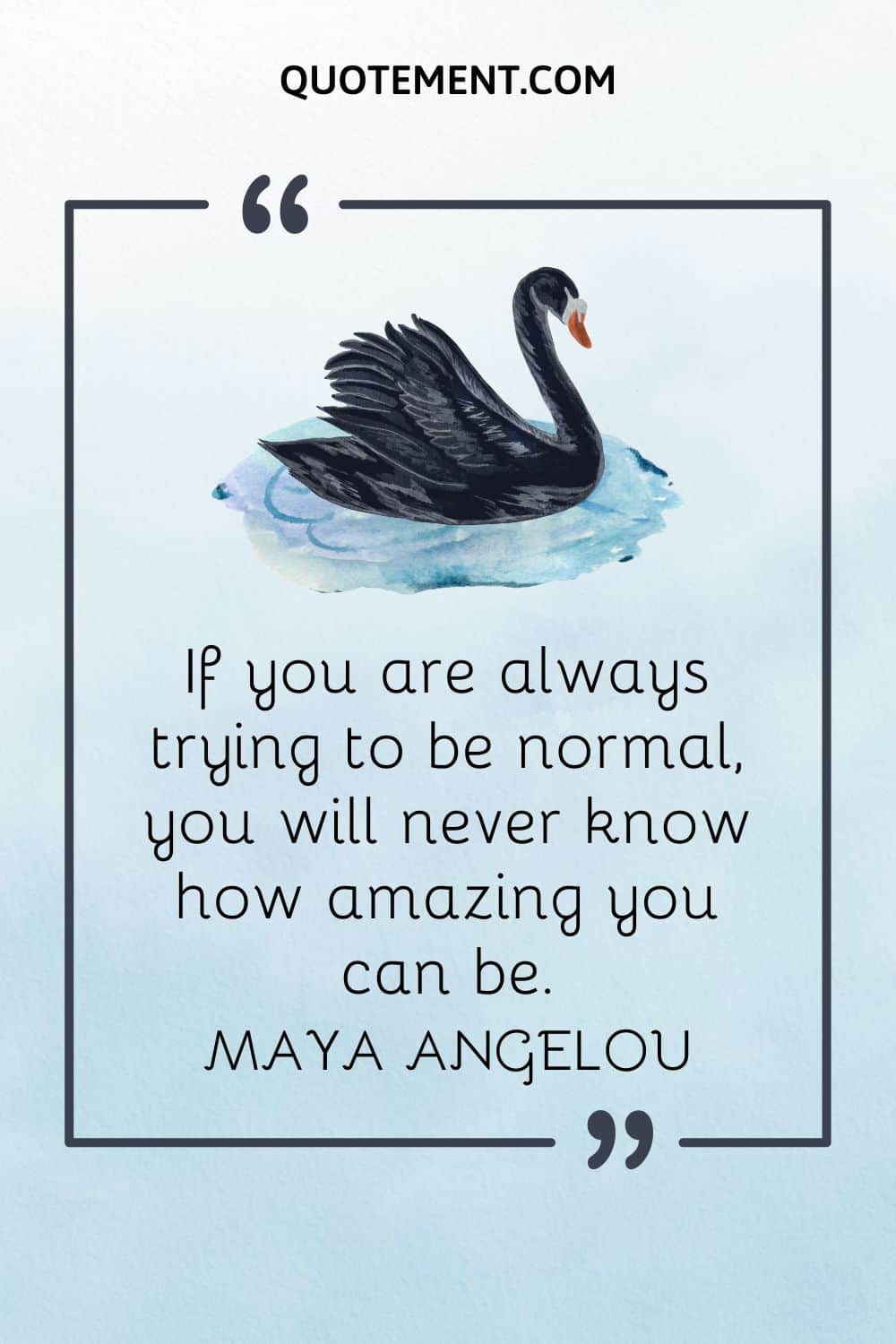 11. "I think every person has their own identity and beauty. Everyone being different is what is really beautiful. If we were all the same, it would be boring." – Tila Tequila
12. "Do not be afraid to color outside the lines. Take risks and do not be afraid to fail. Know that when the world knocks you down, the best revenge is to get up and continue forging ahead. Do not be afraid to be different or to stand up for what's right. Never quiet your voice to make someone else feel comfortable. No one remembers the person that fits in. It's the one who stands out that people will not be able to forget." – Nancy Arroyo Ruffi
13. "I've come to believe that each of us has a personal calling that's as unique as a fingerprint – and that the best way to succeed is to discover what you love and then find a way to offer it to others in the form of service, working hard, and also allowing the energy of the universe to lead you." – Oprah Winfrey
14. "By being yourself you put something wonderful in the world that was not there before." – Edwin Elliott
15. "Being different and thinking differently make a person unforgettable. History does not remember the forgettable. It honors the unique minority the majority cannot forget." – Suzy Kassem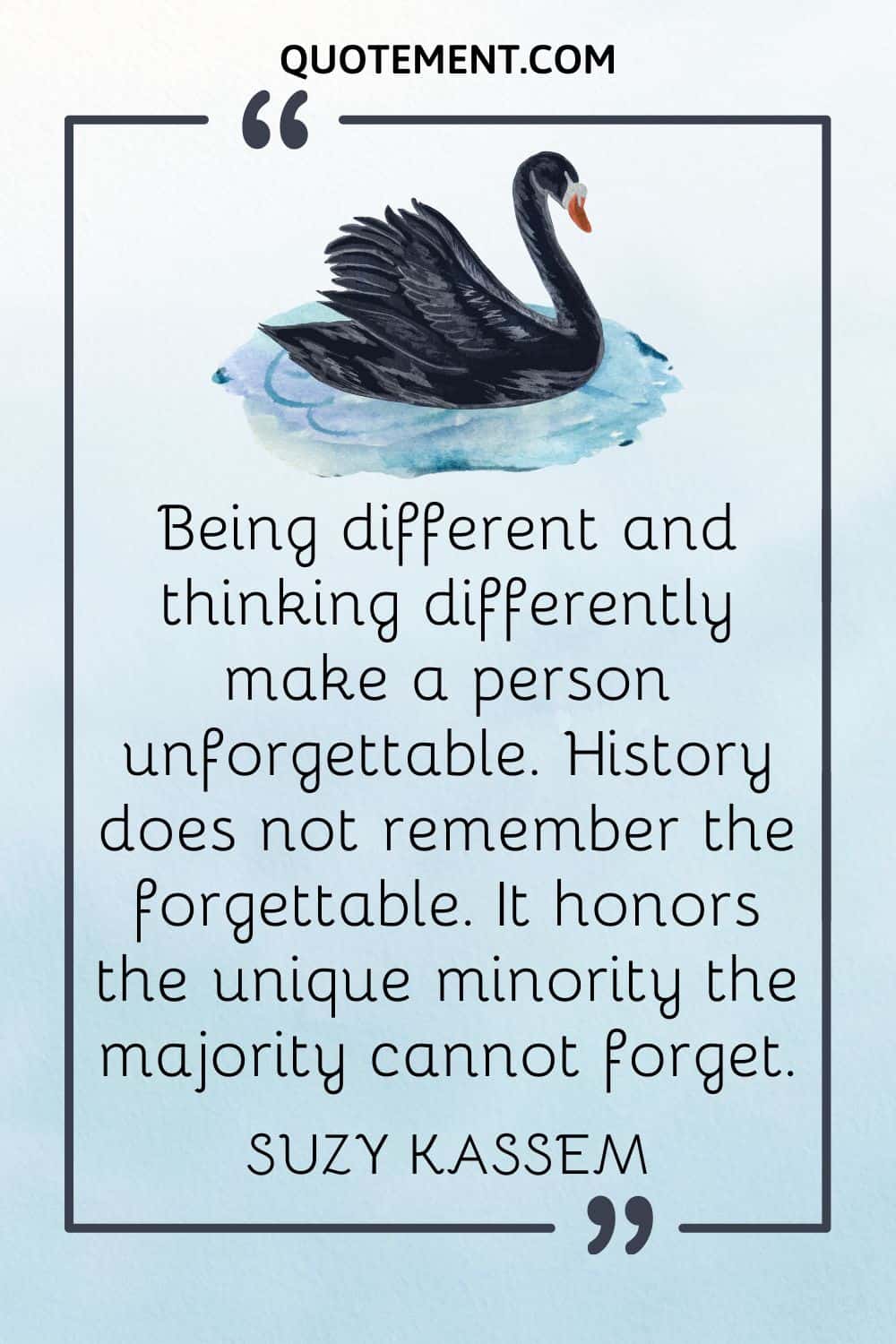 16. "Do not allow people to dim your shine because they are blinded. Tell them to put on some sunglasses because we were born this way." – Lady Gaga
17. "Don't you ever let a soul in the world tell you that you can't be exactly who you are." – Lady Gaga
18. "Creative people have it hard. There is always something trapped in their noggins yearning to escape like a caged animal, both too free and wild to contain. Little does the world know it will often scrape the inner walls of the mind until it gets what it wants." – H.S. Crow
19. "Yes, be different, but not for the vanities of being different." ― Criss Jami
20. "You cannot be all things to all people. Be unique. Be different. Give to others what you want yourself. And do what you were made to do." – Robert Kiyosaki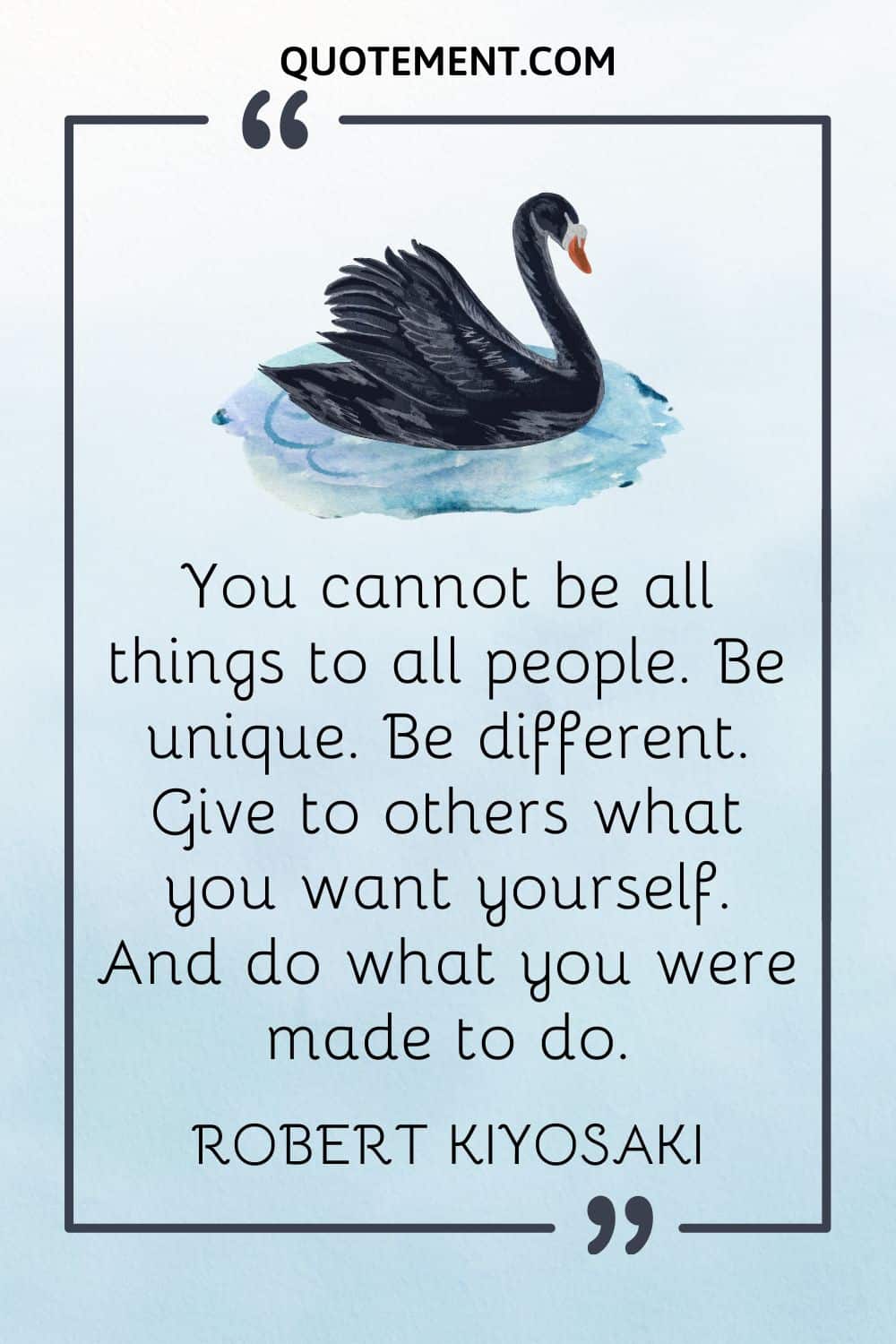 Amazing Quotes About Being Different
You've reached the final selection of quotes about being different! Let's read these amazing quotes as well:
1. "Ordinary people are products of their environment and fit in. Artists transcend their environment and stand out." – Oliver Gaspirtz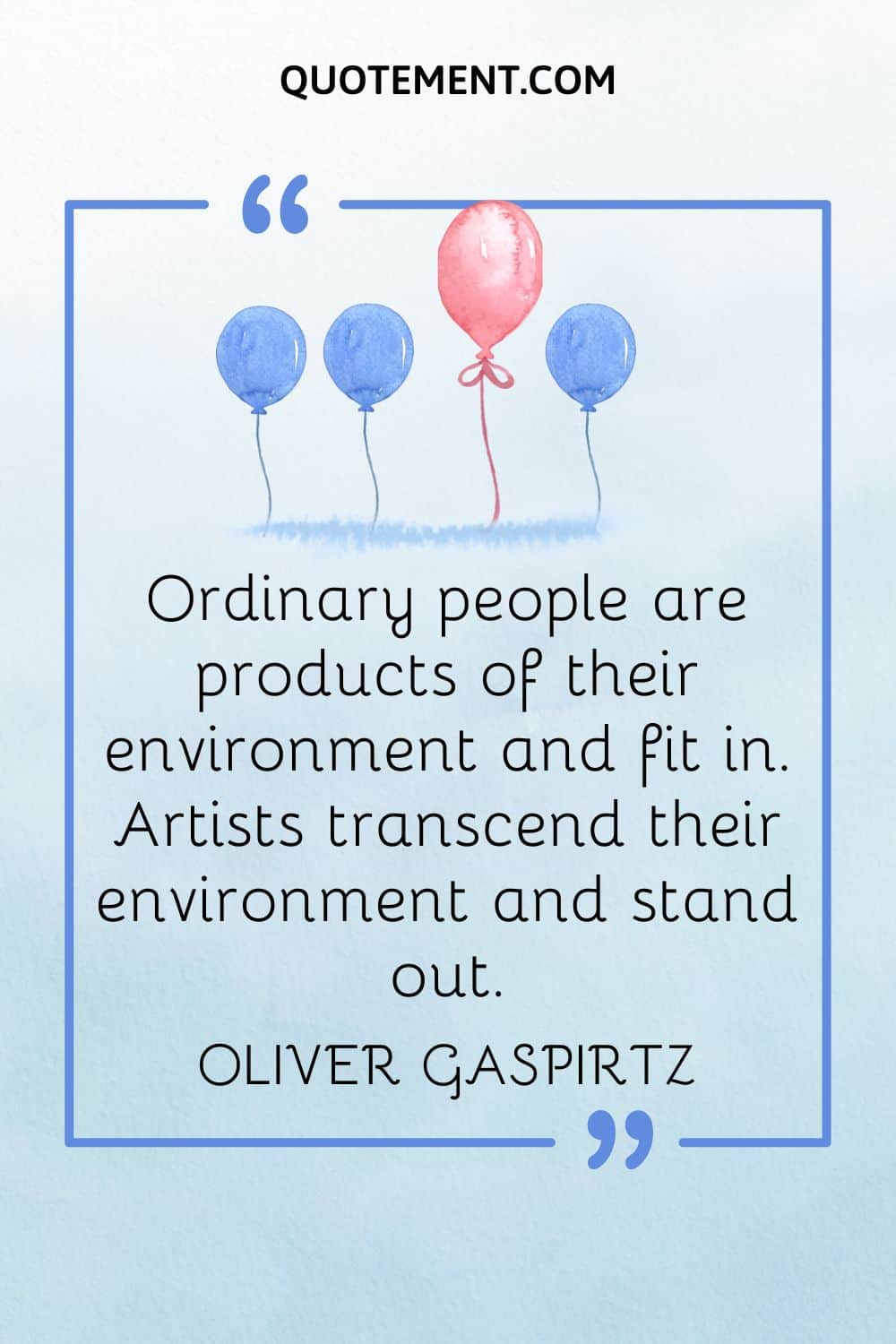 2. "You are a marvel. You are unique. In all the years that have passed, there has never been another child like you. Your legs, your arms, your clever fingers, the way you move. You may become a Shakespeare, a Michelangelo, a Beethoven. You have the capacity for anything." – Henry David Thoreau
3. "Take care not to listen to anyone who tells you what you can and can't be in life." – Meg Medina
4. "Two roads diverged in a wood, and I – I took the one less traveled by, and that has made all the difference." – Robert Frost
5. "The person who follows the crowd will usually go no further than the crowd. The person who walks alone is likely to find himself in places no one has ever seen before." – Albert Einstein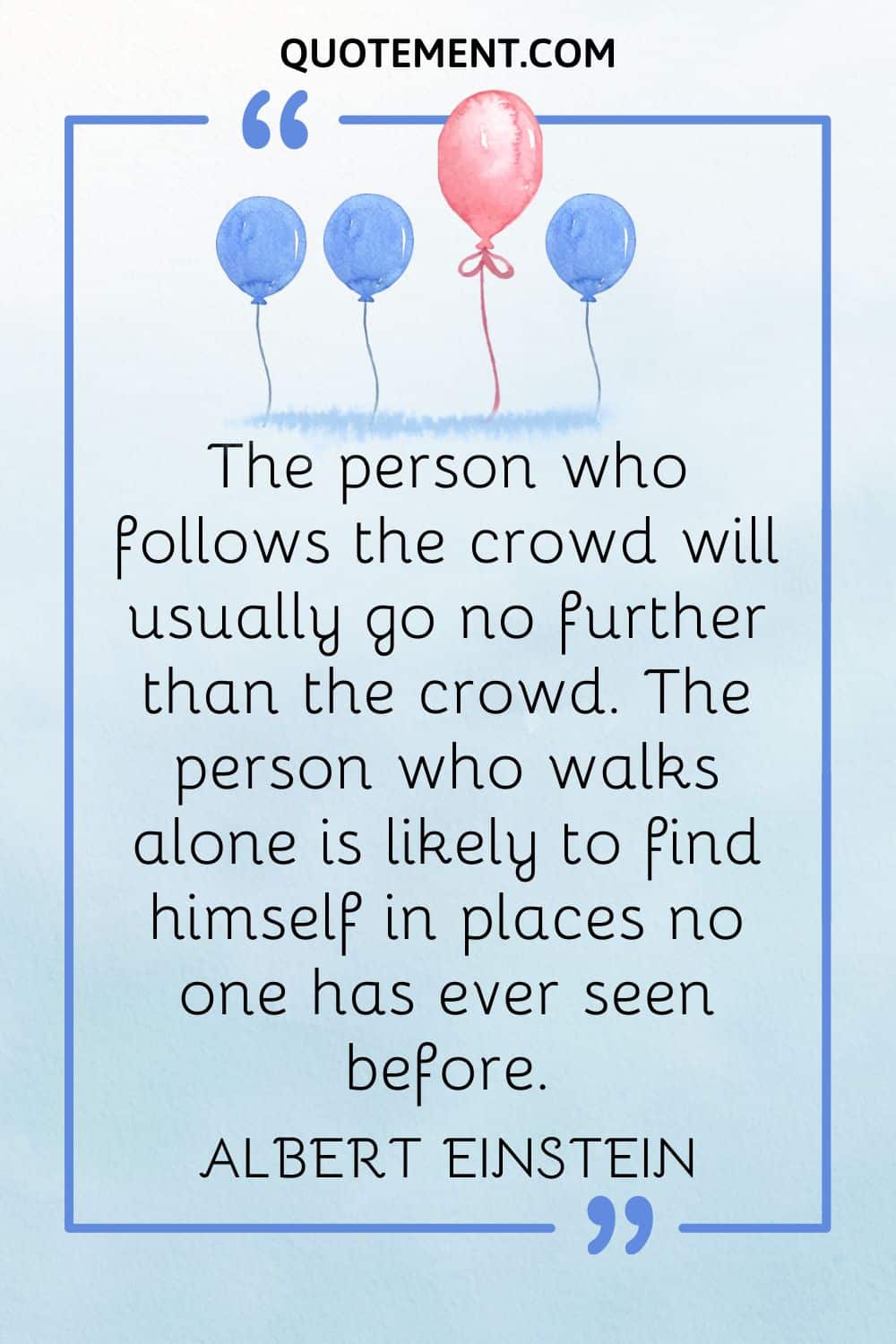 6. "Any regime or any government which motivates its own people to be different than one another is a good regime, is a good government! Encourage people to think differently, to act differently, and to believe in different things, otherwise you create just a herd of animals!" ― Mehmet Murat Ildan
7. "I want to say when I was little, like Maleficent, I was told I was different. And I felt out of place and too loud, too full of fire, never good at sitting still, never good at fitting in. And then one day I realized something – something I hope you all realize. Different is good. When someone tells you that you are different, smile, and hold your head up and be proud." – Angelina Jolie
8. "Whatever you do, be different – that was the advice my mother gave me, and I can't think of better advice for an entrepreneur. If you're different, you will stand out." – Anita Roddick
9. "If a man does not keep pace with his companions, perhaps it is because he hears a different drummer. Let him step to the music which he hears, however measured or far away." – Henry David Thoreau
10. "As we grow as unique persons, we learn to respect the uniqueness of others." – Robert H. Schuller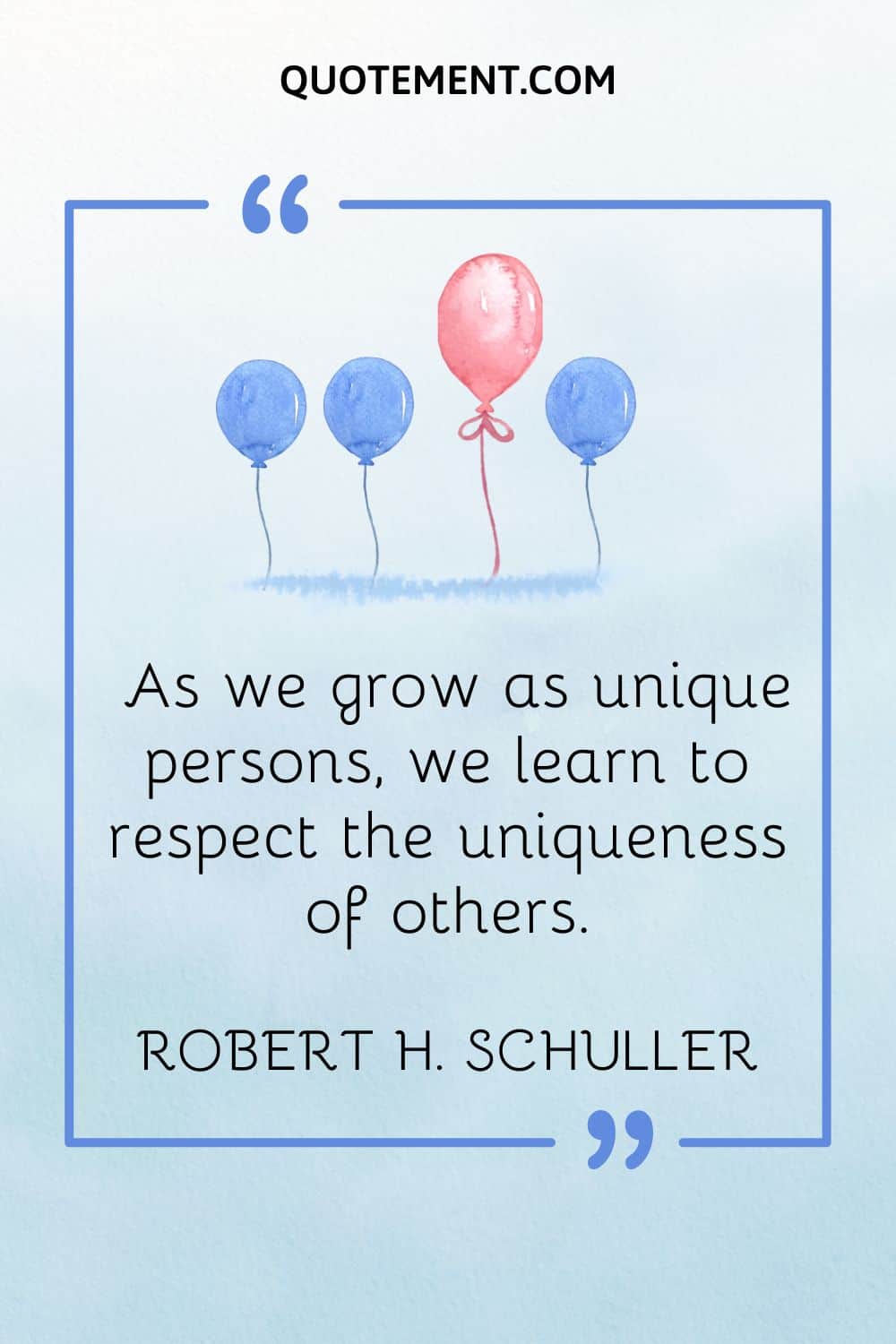 To Wrap It Up
Being different can be viewed either as a blessing or a curse. As far as I can remember – it all starts during our childhood – you're supposed to fit in.
If you stand out, if you do not belong to the crowd – it can be quite challenging, regardless of your character and personality.
Embracing your uniqueness and being yourself is easier said than done in a society that's constantly trying to change you.
I hope my collection of 130 quotes about being different has helped you embrace your uniqueness and individuality!
Finally, I'll finish my article with one of my favorite sayings: "Variety is the spice of life". 🙂
Thank you for reading my collection and stay tuned for more inspirational content.
Until next time!
Read next: 120 Special People Quotes To Praise Their Uniqueness