If you've been obsessing over someone but have no clue how to express the way you feel, this article is for you.
It contains the 100 sweetest paragraphs to send to your crush and steal their heart immediately!
Finding the right words to express your feelings can get tricky. Luckily, this article will save you the stress and help you finally pull that cutie who's been on your mind lately.
I've collected the sweetest love paragraphs to send to your crush and make them crazy about you.
Take a look!
Top 10 Romantic Paragraphs To Send To Your Crush
Let's start with the ten sweetest paragraphs to send to your crush!
1. "I know you a little more every day and like you even more. You are the cutest person I know and the kindest of all. Your pure heart and honesty have won me over."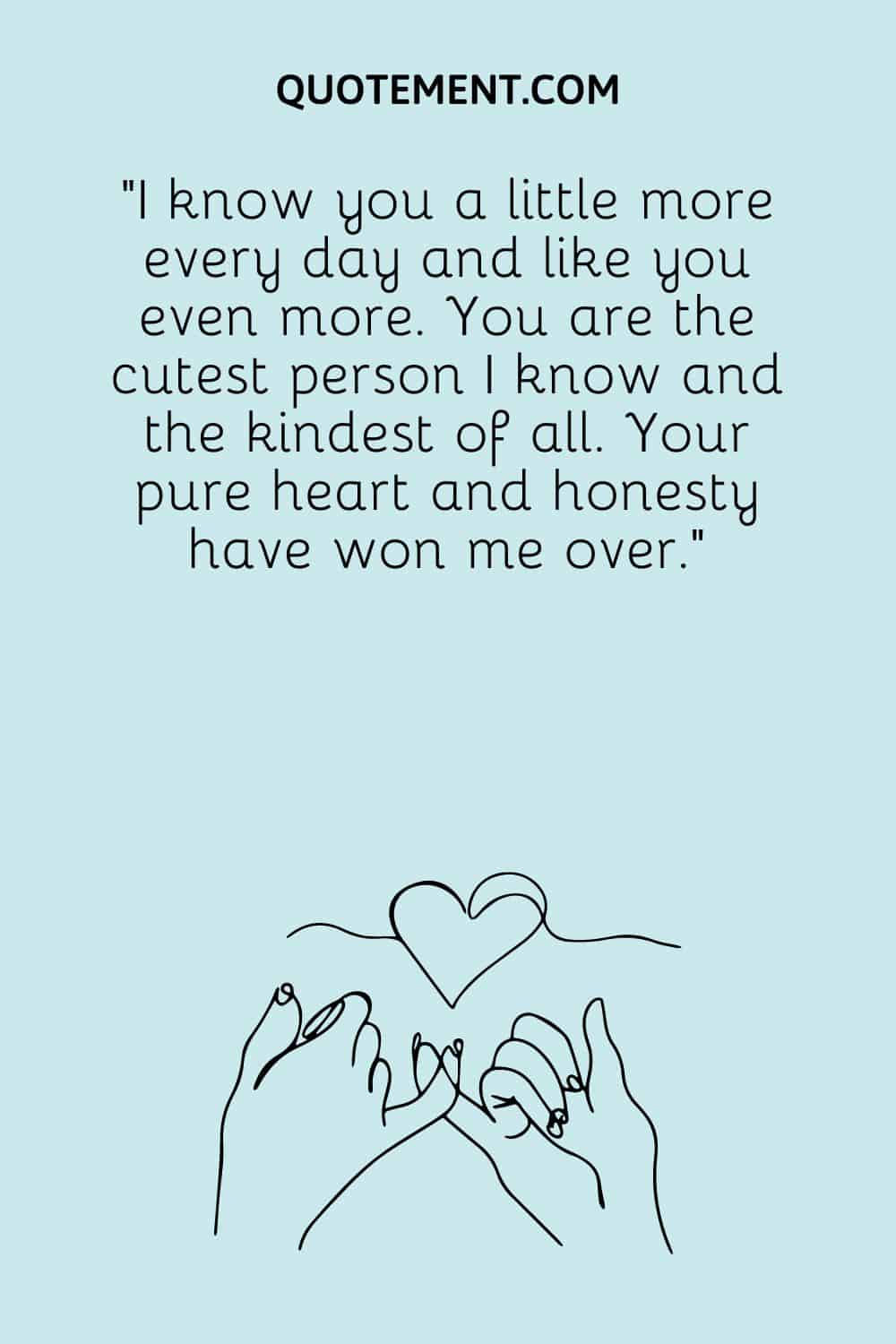 2. "You're never far from me even if we're apart because I always keep you in my heart."
3. "I must confess, I dream about us a lot. I think of all those moments we could share together and how happy we'd be. But I first need to know if you're up for that. Would you allow me to call you "mine"?"
4. "I genuinely believe that we are soulmates because the love I experience for you is like none other. It makes me want to hold on to you forever. My imperfect life becomes perfect with you in it. You complete me."
5. "There is something about you that makes my body come alive. I can't explain what it feels like, but I know that it is the best feeling in the whole world."
6. "Your smile is the only legitimate one I have seen in recent times. And it's the same one that I want to wake up to every morning for the rest of my life. Deal?"
7. "In the shades of love, hide me. In the armor of love, keep me safe. In the dreams, let me have you. In the name of a friend, you love me but let me in the name of a lover, love you."
8. "If I only had one wish left, I want it to be YOU for the rest of my life. I cannot imagine my life without you. You are like sugar in my coffee, icing on my cake, and an apple to my pie. We are always the best combination."
9. "There is no better music than your voice, no better book than your text messages, and no better taste than your sweet kisses."
10. "The moment I met you, you stole my heart. But I'm kinda not mad at you for that. I actually think that I've become a better person because of it."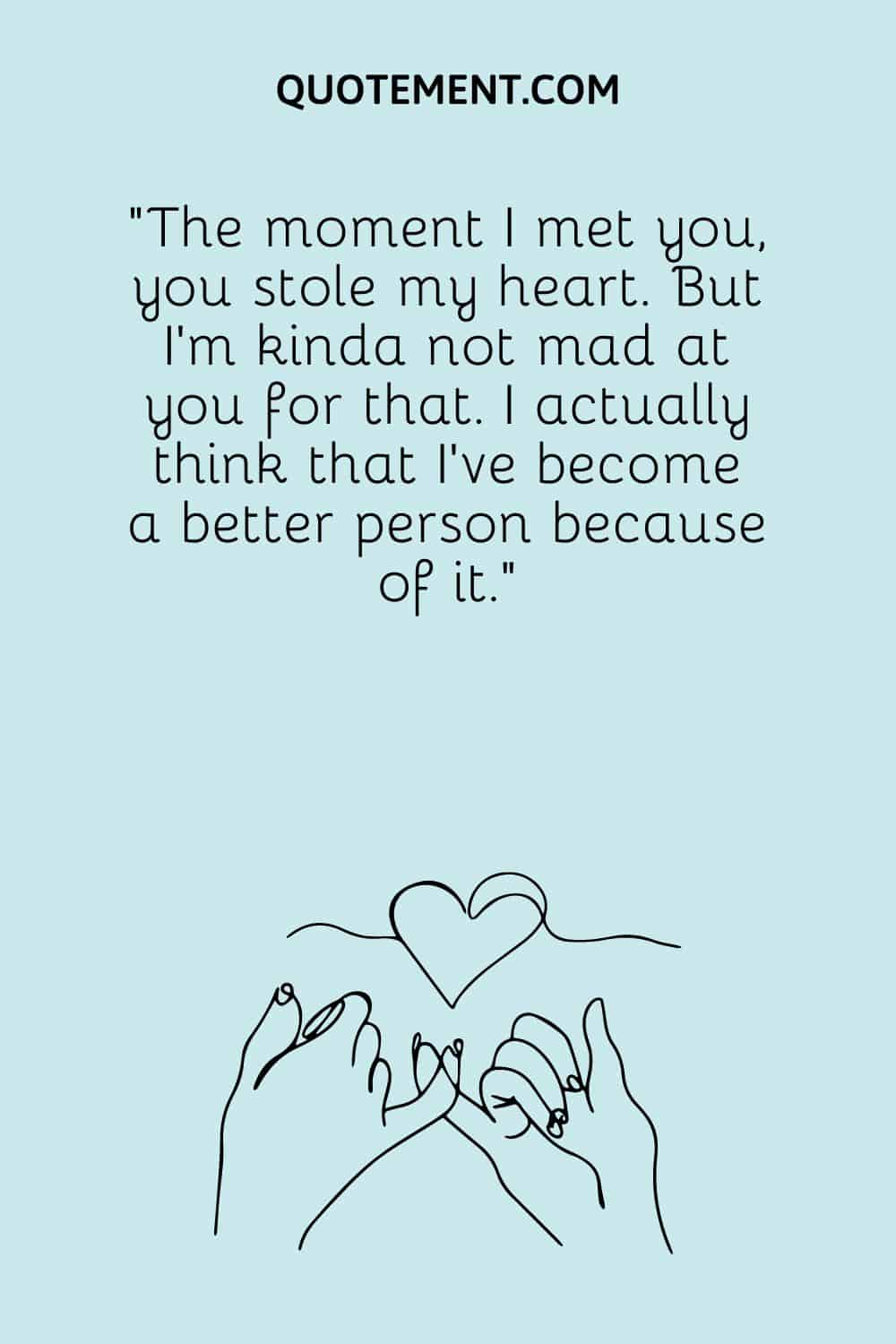 See also: 80 Love At First Sight Messages And Quotes For Your Loved One
Long Paragraphs To Send To Your Crush
The best way to ignite romance is by sending a cute love letter. Below you'll find an excellent collection of long romantic paragraphs to send to your crush that will definitely make them fall for you.
1. "My guardian angels have been kind to send you into my life. You are my match made in heaven and what I feel for you is beyond anything that has ever been used to describe love. I love you the way no one must have ever loved. I am madly in love with you."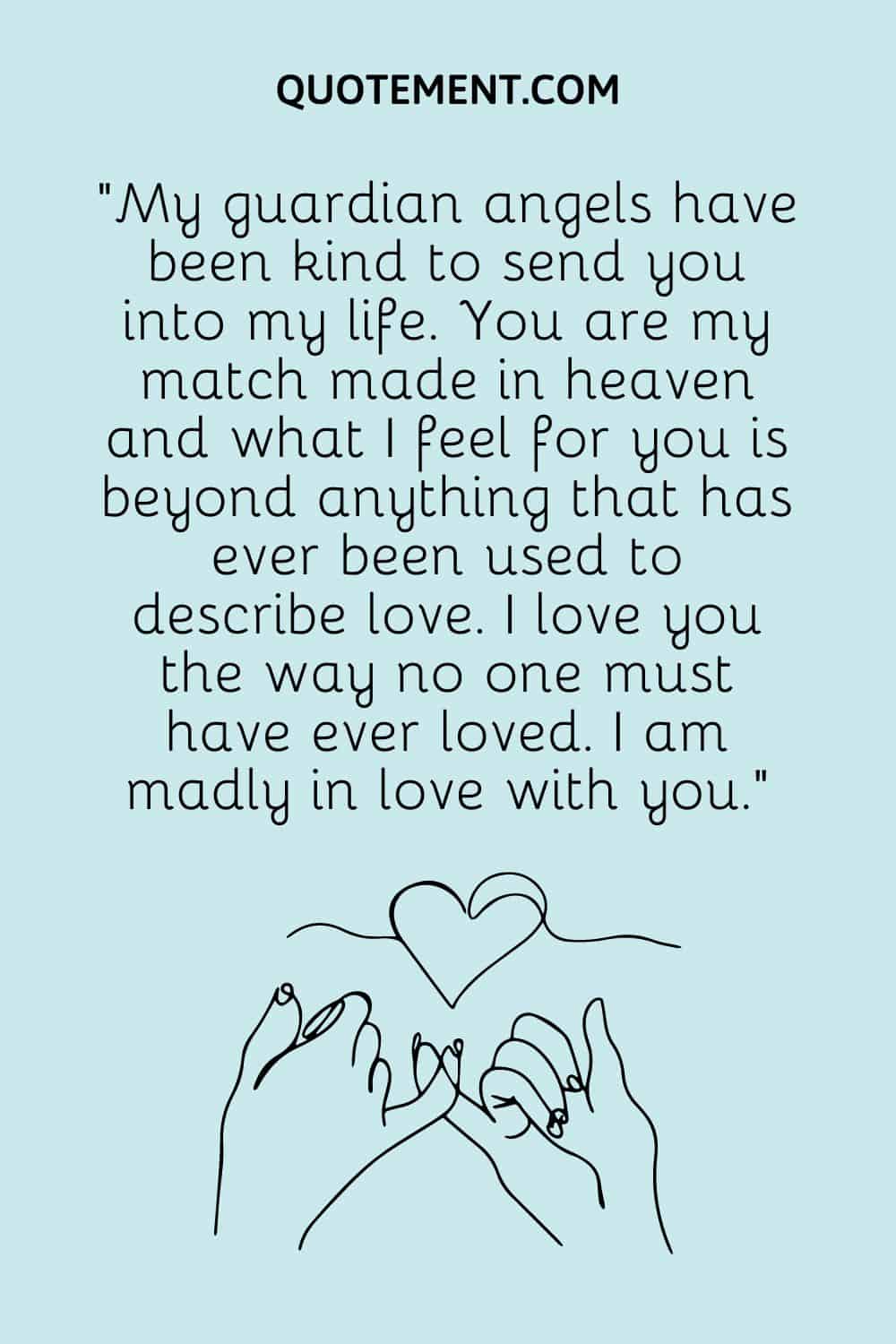 2. "They say the heart wants what it wants, and there's no logic behind it. It's a little crazy, my love for you. Sometimes it makes me so happy and giddy. It's like I'm a little boy/girl again. You make me feel like I can do anything, and I am so happy to be with you. Thank you for being the wonderful, amazing person that you are. You surprise me every day, and you warm my heart every night. I am the person I am today because you've loved me and helped me, love."
3. "I know that my day was a success if I made you smile. It might sound odd to you, but that's what I live for. When I see you laughing, I know that I did the right thing. I know that I succeeded as a person. And as long as you're making me a better person with your smile, I'll know that I'm doing the right thing."
4. "Never in my life have I been so profoundly attached to anyone. You are my best friend, lover, partner-in-crime, and the most significant support of my life. Bringing you happiness is my sole motto. Being with you forever has been my life's desire. I am elated even by the thought of spending my life with you. It would be an incredible journey together."
5. "You're so attractive that my eyes cannot look away when you're with me! How God has not forgotten to make you with everything of wonder! How are you so heavenly yet so down to earth? Why are you like the artwork that I can't get enough of? Why aren't you kind enough not to keep me up at night with your thoughts? How can you not already see that I'm crazily in love with you?"
6. "I have to confess something. There were times when we'd be talking well into the night. On those nights, I'm usually pretty sleepy. However, I ignore the urge to cut off the conversation and let you know I'm sleepy. Why? Because I enjoy the conversation way more to let it slip away. After which, I realized that regardless of my love of sleep, I still chose to stay up just to keep listening to your voice on the other line. That's when I knew that I used to be talking to a special person."
7. "You are the most incredible, beautiful woman I have ever encountered. It seems impossible to express my emotions in words, yet I must try. I can only say that meeting you was one of the nicest things that have ever occurred to me. When you're gone, it feels like my heart travels with you, and you're never far from my thoughts."
8. "When I saw you yesterday, I had to stop for a second and appreciate every detail about you. You mesmerize me, you know that? You're perfect in every way, and I needed to tell you that. Do you think that there's a chance for us to be more than friends since I really like you?"
9. "Sometimes, I just close my eyes and daydream. My mind often just wanders to this or that, but you are always part of my thoughts as well. I dream about us being together, and you know just how much I care about you."
See also: Thank You For Caring: 120 Beautiful Ways To Say Thank You
Cute Paragraphs To Send To Your Crush
Stay with me and discover more cute paragraphs to send to your crush.
1. "I never thought I could feel this about someone. It is incredible how your sheer presence makes me happy. I love the way you make me feel."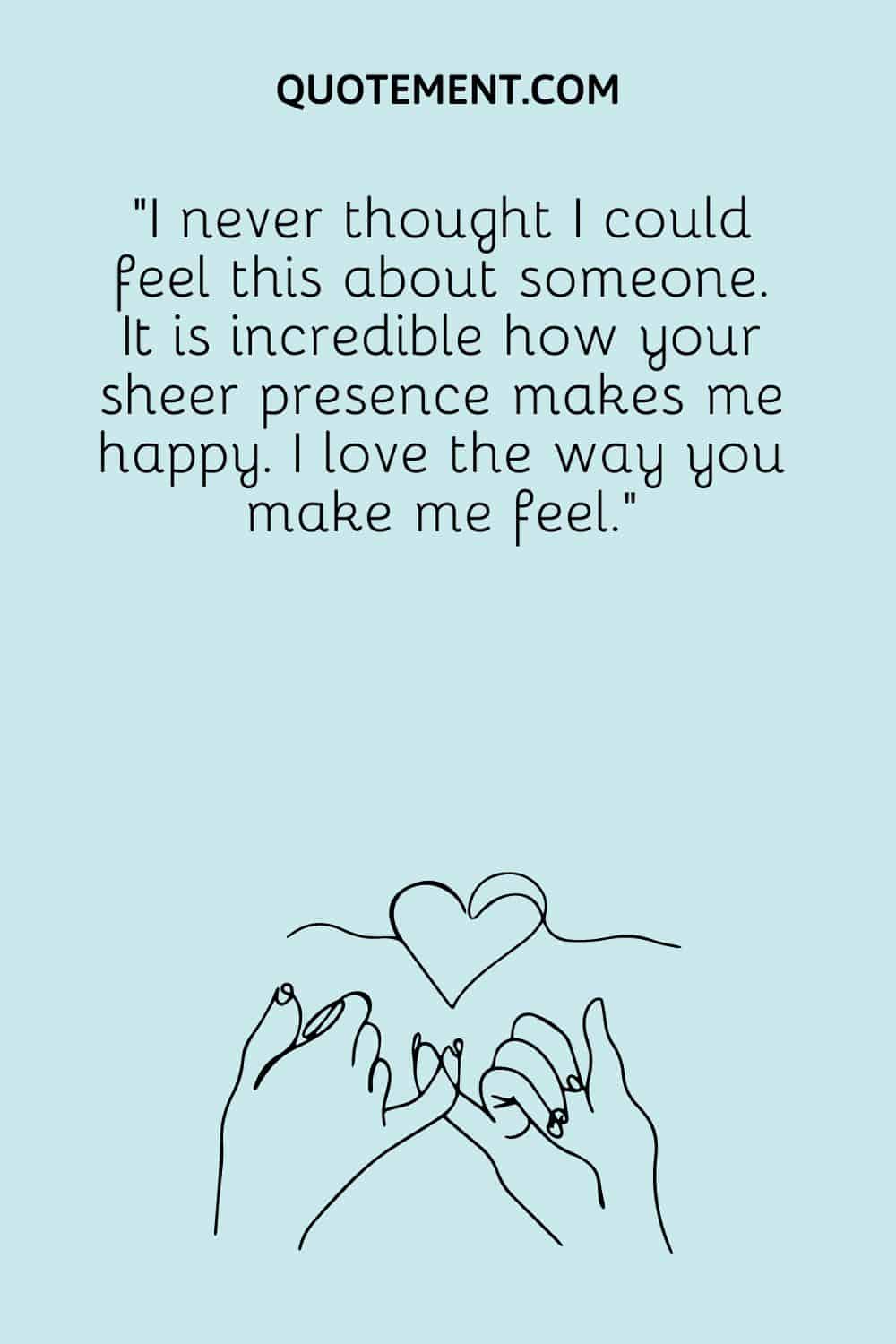 2. "It was easy to fall in love with you. You are beautiful inside out, and it is irresistible not to fall for you. I cannot believe that you are with me, and now that you are, I want to make every moment of your life magnificent."
3. "I don't really know how to describe the way I feel about you. I just know that I enjoy talking to you a lot. I feel funny sometimes, like a butterflies in the stomach sort of moment. I think we should explore this thing. And start having some more interesting conversations. I want to get to know you better."
4. "Thinking of you keeps me awake because my reality is better than my dreams. You are always on my mind, and I cannot think of a better person to spend my life with. You are my destiny."
5. "I get paralyzed and mesmerized by your beauty each time I look into your beautiful eyes. You bring me so much joy and happiness. You are amazing."
6. "You know, if I was a singer, I could write a really awesome love song. If I was a writer instead, well, I'm sure I could create the greatest of love stories, and it'd be a bestseller. I'm neither, though, so how about you and me just stick to creating our own form of love?"
7. "Hey, I've been looking for someone who really brightens up my day when I talk with them and whose laughter just makes my soul burst with joy. So, when you get a chance to look into a mirror, will you please let yourself know that you should give me a call?"
8. "You're the sweetest treat that I've received from God. The way you laugh makes me want to snuggle you in my arms and tell you that you're the cutest being I've ever met. As you can tell, underneath these layers of friendships, I've carried a deep love you've never seen."
9. "It is amusing how you find love in an unexpected way at an unexpected time. Isn't that magical? Before I met you, I didn't even imagine that a love like this could exist for me. I found you, and I consider that my biggest blessing."
10. "I was just wondering if you would like to hold this hand of mine while I go out for a walk? Actually, my hand really wants your company."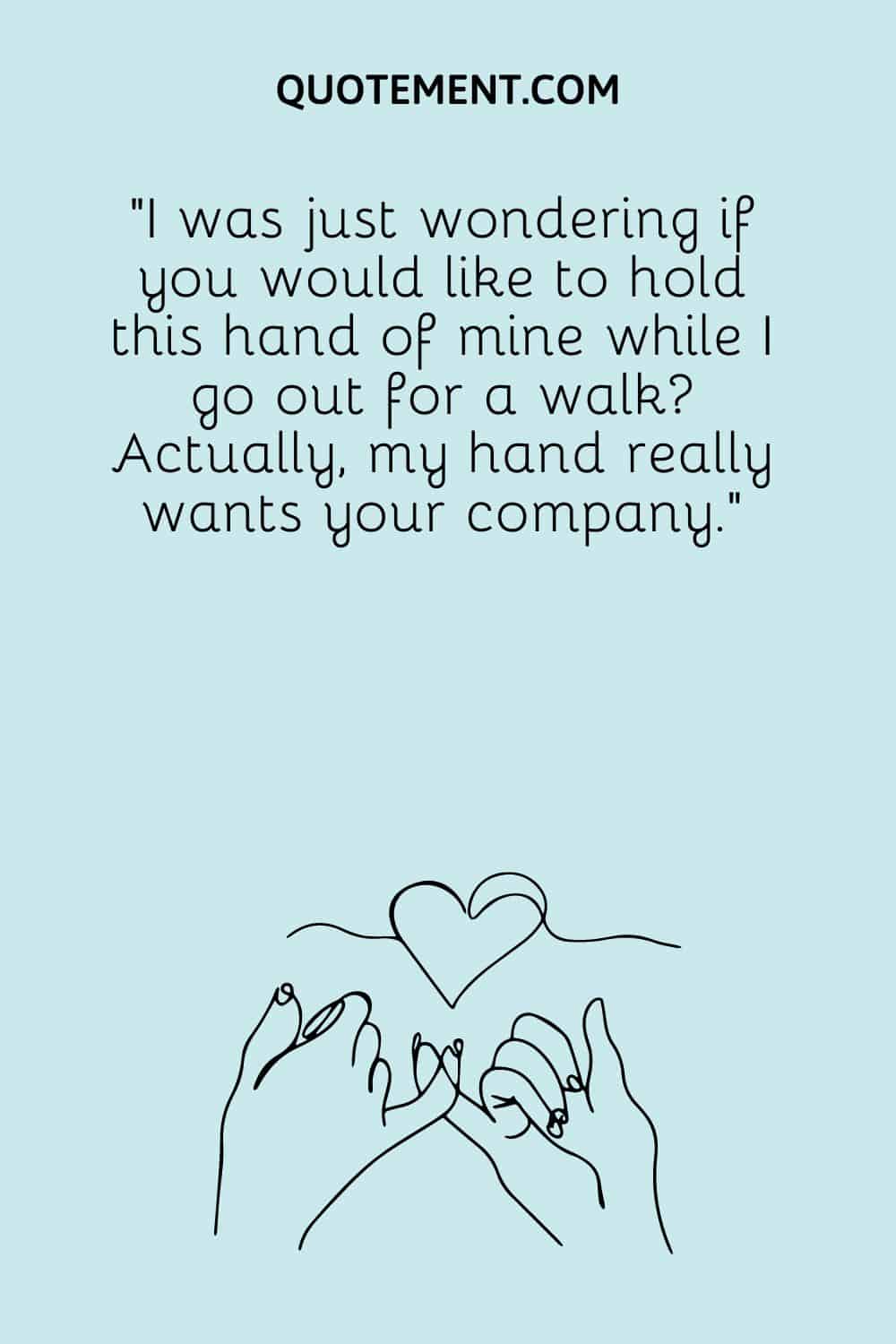 11. "Every time I try, the words just never come out right. You are not only my crush but my best friend. Ever since I met you, I never wanted to let you go. The attraction you and I share is one that is so intense, and I never want to be separated from you."
12. "Even though the world is filled with billions of people, there is none whose face I want to see as much as yours. It must have been fate that brought me the most fantastic person out of all the people in the world. I feel that you are the only one I could ever love this much and cherish for an eternity."
13. "The first time we met, something inside of me told me I was going to fall in love with you. Ever since then, I have been trying to hold back the tides of my heart from crashing down on you."
14. "I think of you for inspiration whenever I encounter a challenge. I have the strength and energy to tackle any challenge when I think of you. I just hope that I can provide you with the same joy and courage that you have provided me."
15. "Whenever I am texting you, you can safely assume that I am smiling. The very thought of you lights up my outlook and makes everything seem so much brighter."
16. "Nobody has ever contributed such a great amount of bliss to my life as you have. With you and you only, I discover a true love I have never known. I find myself longing to spend every remaining moment on this earth with you. I can't envision a single day where you are not by my side from here on out. I promise to love you to the end of time, no matter what happens."
See also: 110 I Love You No Matter What Quotes That Melt Hearts
Good Morning Paragraphs To Send To Your Crush
If you're thinking of sending a cute good morning message to your crush, you'll find plenty of sweet ideas for your message right here.
Use one of these cute good morning paragraphs to send to your crush and make them think of you throughout the whole day!
1. "You have a cute yawn on your face, a cup of coffee in your hands. All that remains is a good morning message from me. Have a great morning!"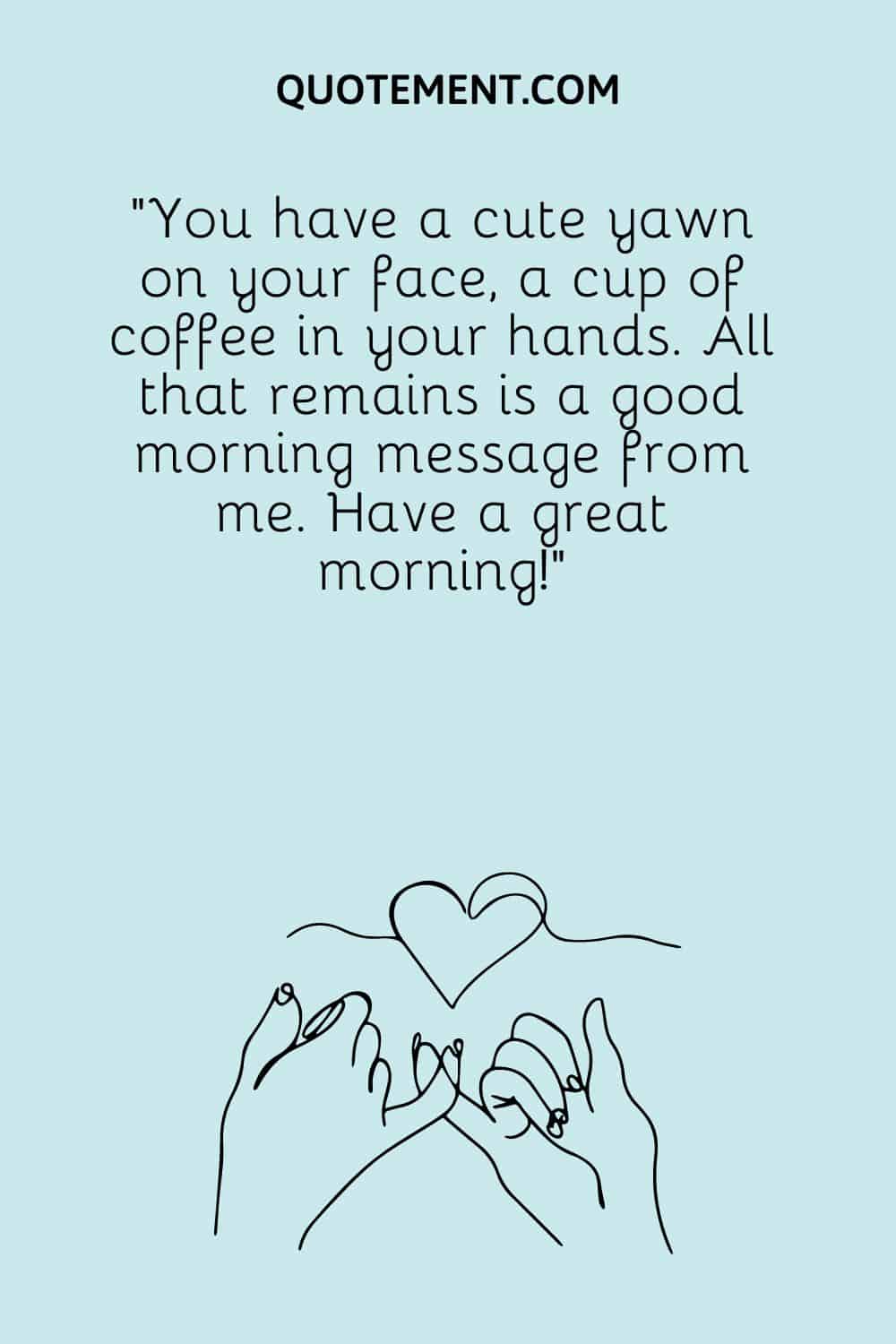 2. "You have been living in my dreams for a long time. Every morning I awake, I look forward to the day that you will be in my reality, sharing my life with me and building our dreams together."
3. "Every day is a great day when I can start it by replying to your message. It makes me appreciate how amazing it feels when you have someone special in your life. I'm sending you kisses and blessings to start your week right!"
4. "You know my daily routine. The first thing I always do is wish you a good morning. The second thing I do is miss you the whole day. My nights become darker when you are not with me. My time becomes harder when you are angry with me. I can't assure you about tomorrow, but we will be handling every situation together when it comes."
5. "One of my wishes every day is to fall asleep as I'm talking with you on the phone or texting you a sweet good night message. Every morning I wake up hoping I have a message from you or wanting to leave you a good morning text for when you wake up."
6. "I know you might be feeling weary from the stress of yesterday. Rise, my strong lady, you are a born winner, you are a boss babe. Go out there and explore the world."
7. "Your smile is infectious, and your energy is so contagious. To be around you is to be dancing in the flames of love. To be with you is to be with this energy ball that continues to swirl me in the rounds of laughter. To surround me with you is the best choice I make in a day."
8. "I start every morning with a smile on my face because I know that there's a chance that I'll hear your calming voice and see that beautiful smile of yours. And when I think of that, I get as excited as a child on Christmas morning. I hope you feel the same way. Oh, and have a great day!"
10. "Every day is better when it starts with hugs and kisses. So, I'm sending you both since I can't be right next to you. I hope you have an amazing day!"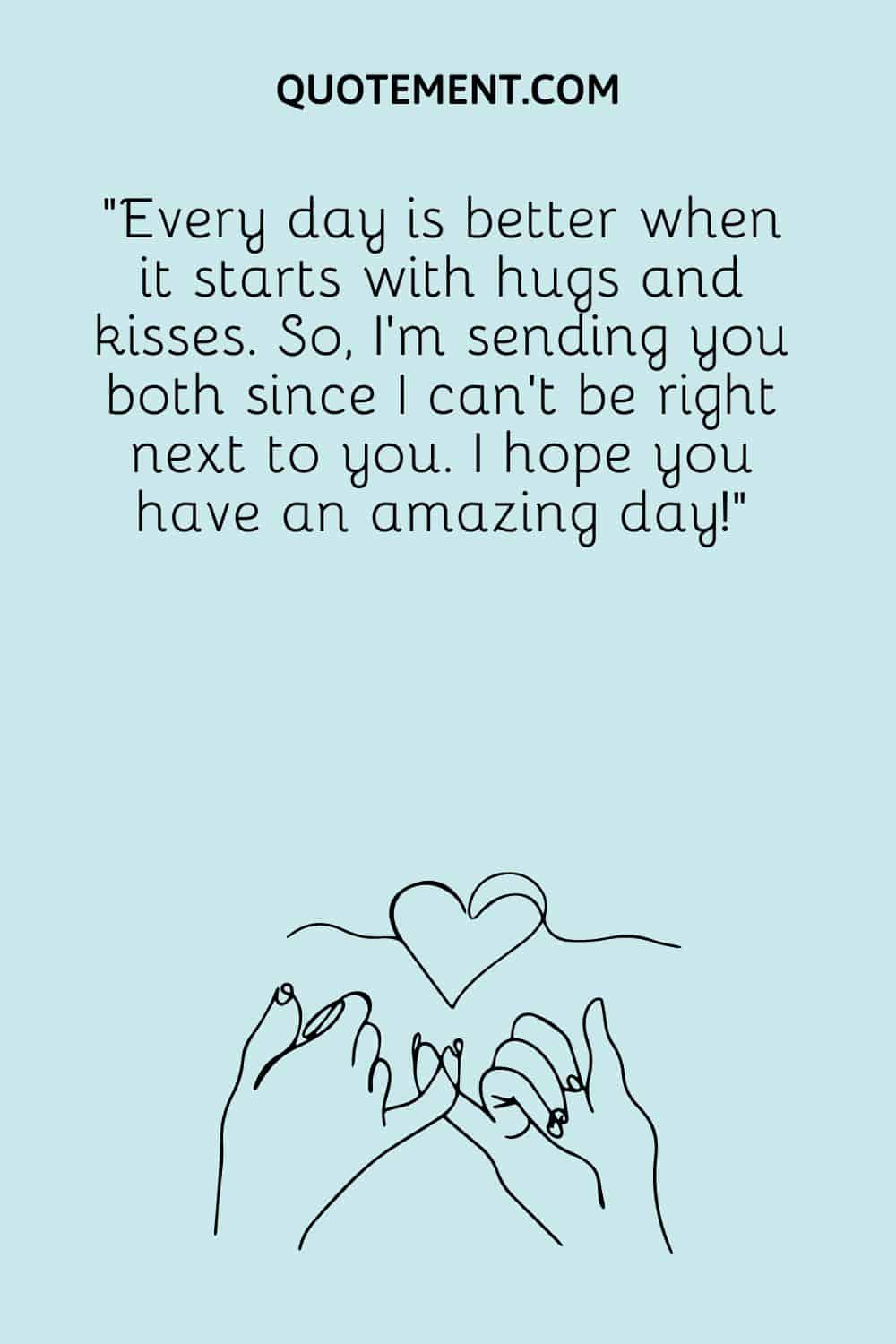 11. "Good morning to the person who keeps making me happy day after day. Maybe you're not aware of the happiness you brought into my life, but let me assure you that your presence has made everything ten times better than it used to be."
12. "If I were a bird, I would have invaded your bedroom and given you a soft little peck with my beak, along with a little song. You'd wake up, and I'd fly out the window, reminding you that it's such a nice day outside."
13. "You've made my life better, and as a small sign of gratitude, I want to at least make your day greater. Let your smile guide you, and don't ever forget how much value you carry within yourself. I can't wait to hear back from you."
14. "Your gleaming eyes and beaming smile makes me wonder how God has delivered its most precious gift wrapped in all the colors to me! Perhaps to fill the colors in my grey life or to show me his best work. In either case, he has surprised me with the best present ever, the person who's irreplaceable in my life. Good morning, my princess."
15. "I do think about you so much that nothing else comes into my head. I do wish to one day call you mine. I do wish that your heart belongs to me one day. I do hope that we get to become the best for each other. I do want to treat you as the best person in the world."
16. "Dear crush, you should know by now that you're beautiful and amazing just the way you are, and you don't have to change for anyone, even me. And the truth is, if I could be with anyone, I'd still choose you."
See also: 100 Heartwarming I Choose You Quotes For Your Special One
Good Night Paragraphs To Send To Your Crush
Check out these good night paragraphs to send to your crush and wish them the sweetest of dreams!
1. "Each night, I fall asleep with a smile on my face. Just the thought of seeing you again tomorrow makes me happy. Good night, gorgeous."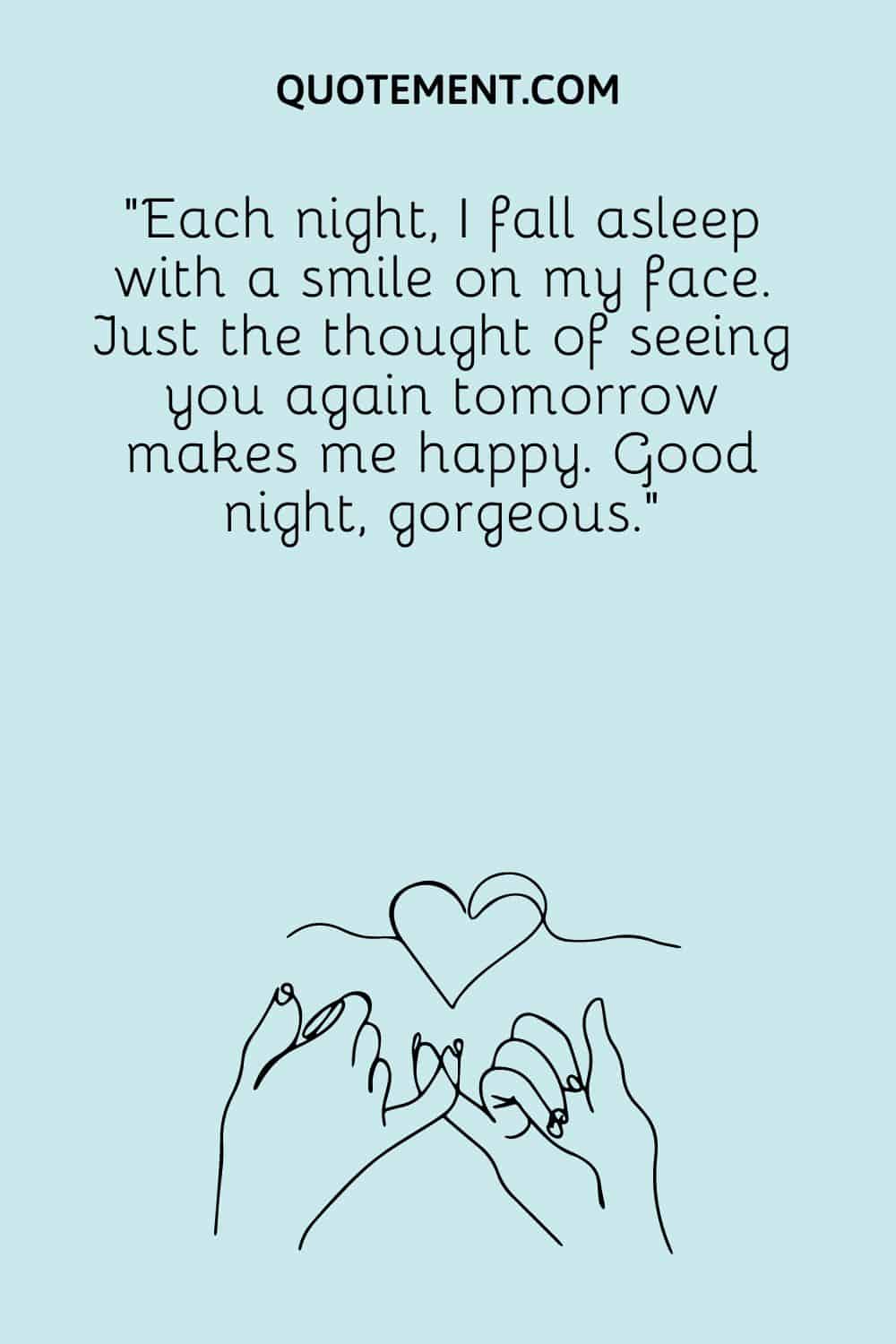 2. "Hey, beautiful:) I just wanted to tell you that I've been thinking about you all day and how much you mean to me. You are the most beautiful girl I have ever seen. You're cute, funny, smart, and nice, any guy would be lucky to have you. When I see you, my heart skips a beat. I really like you, and I hope you will give me a chance. I promise to be there for you when you need me. I would do anything for you."
3. "Good night to the person who changed my life for the better. I hope that one day, I won't have to wish you sweet dreams through a text. Instead, I'll roll to your side of the bed and hug you tightly. That hug will speak for itself."
4. "Good night to the only human being who makes my heart skip a beat. You're unique in every way, and I couldn't wish for anyone else to cross my path. You're perfect, that's all I can say."
5. "I know that you are sleeping, but I just couldn't close my eyes without saying 'goodnight' to the one I love."
6. "I hope that all those nights where I fell asleep while Facetiming you will turn into nights falling asleep holding you in my arms. Good night to the only person who knows how to make me smile without saying a word."
7. "Spending a day with you is like spending a minute with you. Spending a whole night away from you feels like a million years. I am waiting for the day when you will be with me always, my love. 'Til then, sleep tight."
8. "I can promise you that every night you go to bed, I'll be waiting for you in the morning. For as long as there are nights and dawns. I wish you sweet dreams, and maybe we'll see each other there as well."
9. "What is it about you that makes me go crazy? Because of you, I always look forward to each new day because I'll have you around. I love you, and you know it. I can't wait for tomorrow to come so I can see you again."
10. "I am looking at the night sky, and it's breathtaking. But something's missing here. It's you. Have sweet dreams!"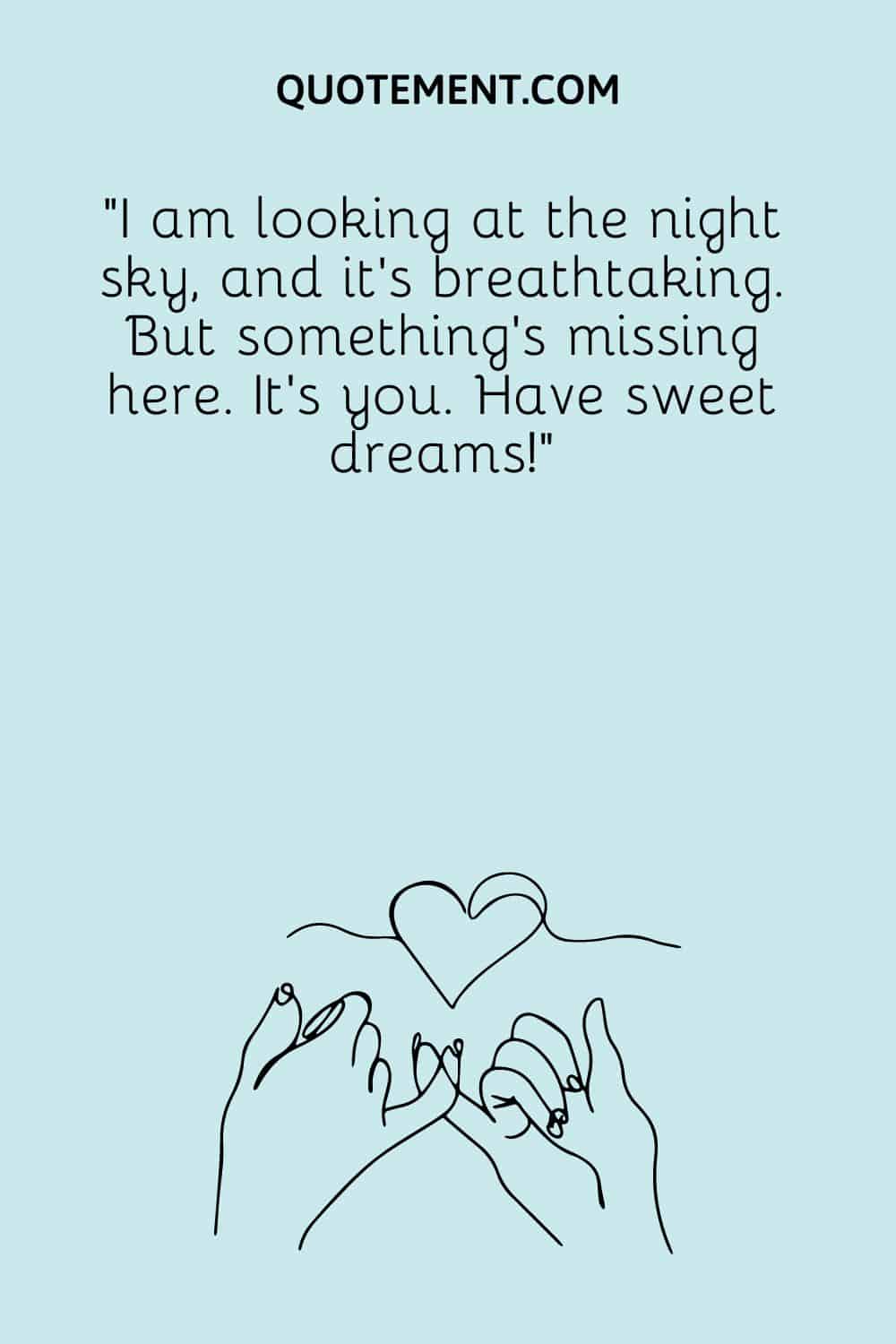 11. "You are a great source of inspiration to me. As well as your beauty and smile, which are enough reasons to love you, I love you more for your intelligence and smartness. I don't want to lose you. Never. Dream of me tonight and always, my love."
12. "As much as I don't really like nights because you're always away from me, I still love nights because I can always dream of you. It's just all about you, dear. Sleep tight."
13. "You may not have a crown over your head, but you are the queen of my world. The thought of you is magical as it makes me swim in an ocean of imagination. Yet I do not doubt that everything I ever wanted is within you. I wish you pleasant dreams."
14. "I'm no writer or poet. Even though I've been trying all day to do it, I'm having trouble putting all of my feelings into words. But one thing is for sure. I like you a lot, and I can only pray to God that you feel the same way."
15. "How I wish you knew how much I care about you. You don't realize how much your presence in my life has changed me for good. You are the best guy that has ever touched the surface of my heart. Since I have been with you, I have never regretted it. I love you!"
16. "I miss you so much, and I hope to be in your dreams tonight. That's all I ask. To be in your dreams and, of course, your heart."
See also: 350 Good Night I Miss You Messages & Quotes For Her & Him
Sweet Paragraphs For Your Crush To Make Her Cry
Have you been thinking about sending your crush a touching love message to make her cry tears of joy? These heartwarming paragraphs to send to your crush will do the job!
1. "I am going to have you arrested for captivating my heart the moment I saw you. You are a sight to behold and one of my favorite people. Your presence in my life has made it beautiful."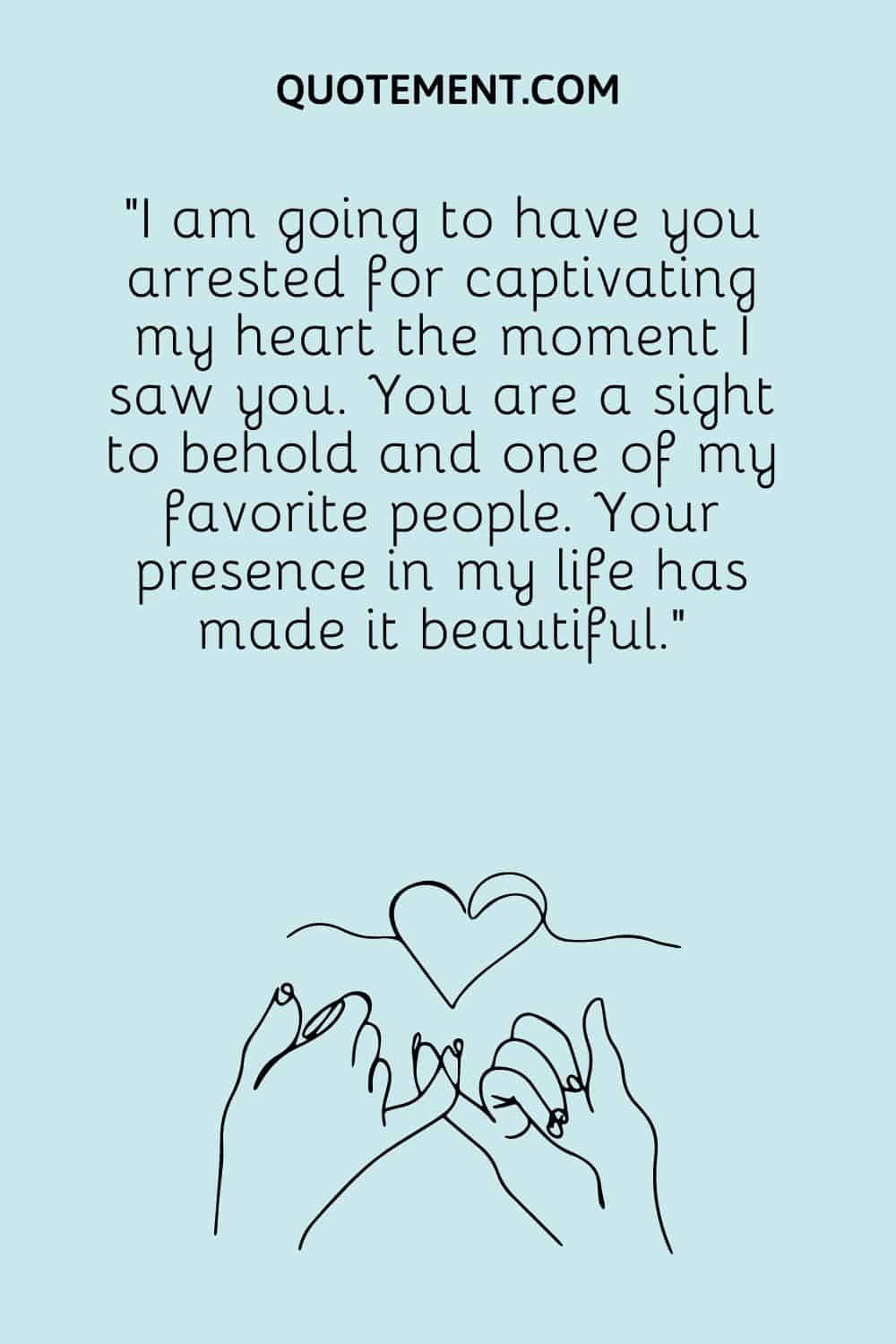 2. "The first time I set my eye on you, I was drooling over. I couldn't even help myself. I just thought to let you know that you will belong to me forever, and there is nothing you can do about it. I love you."
3. "Has anyone told you lately about how wonderful you are? Has anyone noticed just how great it is to be around you? Has anyone mentioned how you make it so much easier to smile and laugh all the time? Has anyone informed you about that beautiful face that complements your beautiful mind? No one yet? Well, then let me be the first."
4. "This morning, when I got up to make my coffee, I had to put in 5 scoops of sugar because I was missing your sweetness. And let me tell you, even that wasn't enough. So, hurry up and come to me so I can taste the only sweetness I crave on your lips anymore."
5. "Every smile that leaves your lips is like the world's most brilliant sunrise. It sets the clouds aflame and brightens the entire day. For me, you are the sun, moon, and stars. Each breath that I take is because of you and in anticipation of seeing you again."
6. "Just think of me as your very own superhero, you can call me Captain Love. I will lift your heart out of trouble and fly it in my arms to safety. I will shield your heart with my force field of love."
7. "I usually think about you a lot over a regular day, but the last time we met, damn, you were really beautiful. I keep thinking about you over and over, and I just can't get your smile out of my head; not that it's a bad thing, mind you."
8. "When I'm by your side, it's like all of my fears, worries, and anxieties melt away, thanks to your warm presence. I really feel blessed to have you in my life. Each day with you is a memory worth having."
9. "There's simply something about your presence that makes me feel so comfortable. I don't recognize what it is for sure. But simply talking to you and being around you is sufficient to make any awful day better. Your radiant smile and your infectious laugh make me feel so lighthearted that I can't help but feel uplifted. I just wish to do the same for you someday."
10. "Wanted: a girl with a smile that lights up the room, a laugh that tickles the spirit, and a heart that wants mine. Wanted: you."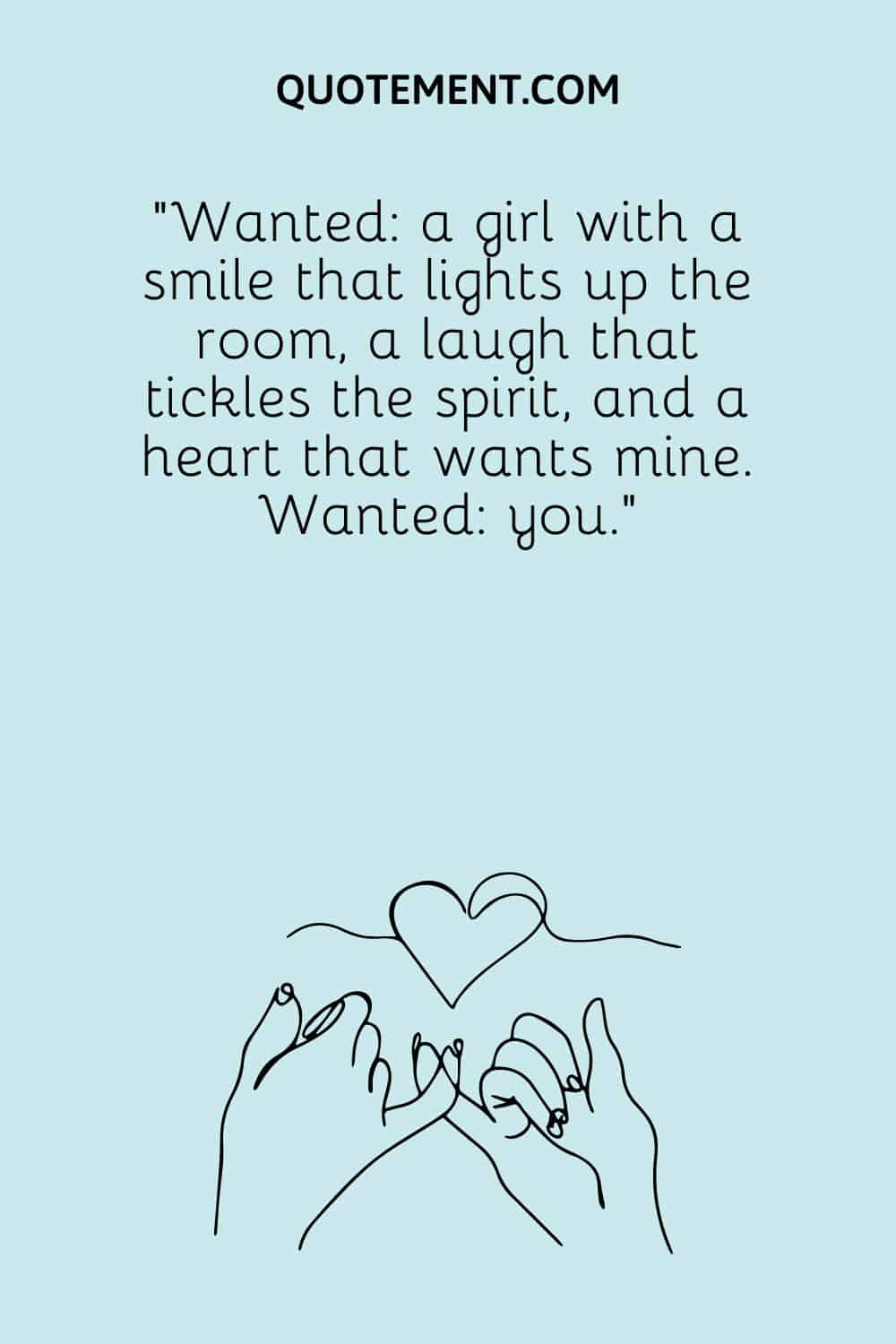 11. "I didn't believe in love until I met you. I didn't even think I would be hopelessly in love with someone until you came around and turned my life upside down. I love you so much. I want you to know how much you mean to me because you mean everything to me."
12. "I am always shy when you are around; you make me weak and give me a feeling I have never had before. But I can't hide it anymore. There's a feeling in my heart, and I can't deny it any longer. Can I love you? Please let me love you."
13. "My feelings for you are so natural that it was effortless for my heart to connect with yours. Every moment I spend with you continues adding to the beautiful catalog of great memories we have made together. May we grow old to the fondness of our beautiful memories together."
14. "It can be difficult to see the sunny side of life's troubles at times. There always appear to be problems and issues to resolve. Now, no matter what happens to me, I am content. When I'm feeling down, all I have to do is think of you, and I'm instantly upbeat about everything the world has to offer."
15. "This weather is for two. I wish you could be with me to keep me warm. The pillow around my arms is not really helping matters. It's you I want. Tonight and always."
16. "What we have is truly magical. It is like a romantic movie, and all I dream of is weaving our love story together. My heart knows there will be a happy ending with you in my life. Our story would be the perfect example of true love."
See also: 200 Most Romantic True Love Messages For Your Loved Ones
Paragraphs For Your Crush To Melt His Heart
If you're searching for the perfect love message to make him cry, I have something for you!
I've prepared a bunch of sweet paragraphs to send to your crush that will really melt his heart!
1. "All I want to be in life is a very special person to you. All I want is to be the reason you'll smile through tough days because my heart will be yours, and the race is one we shall run together."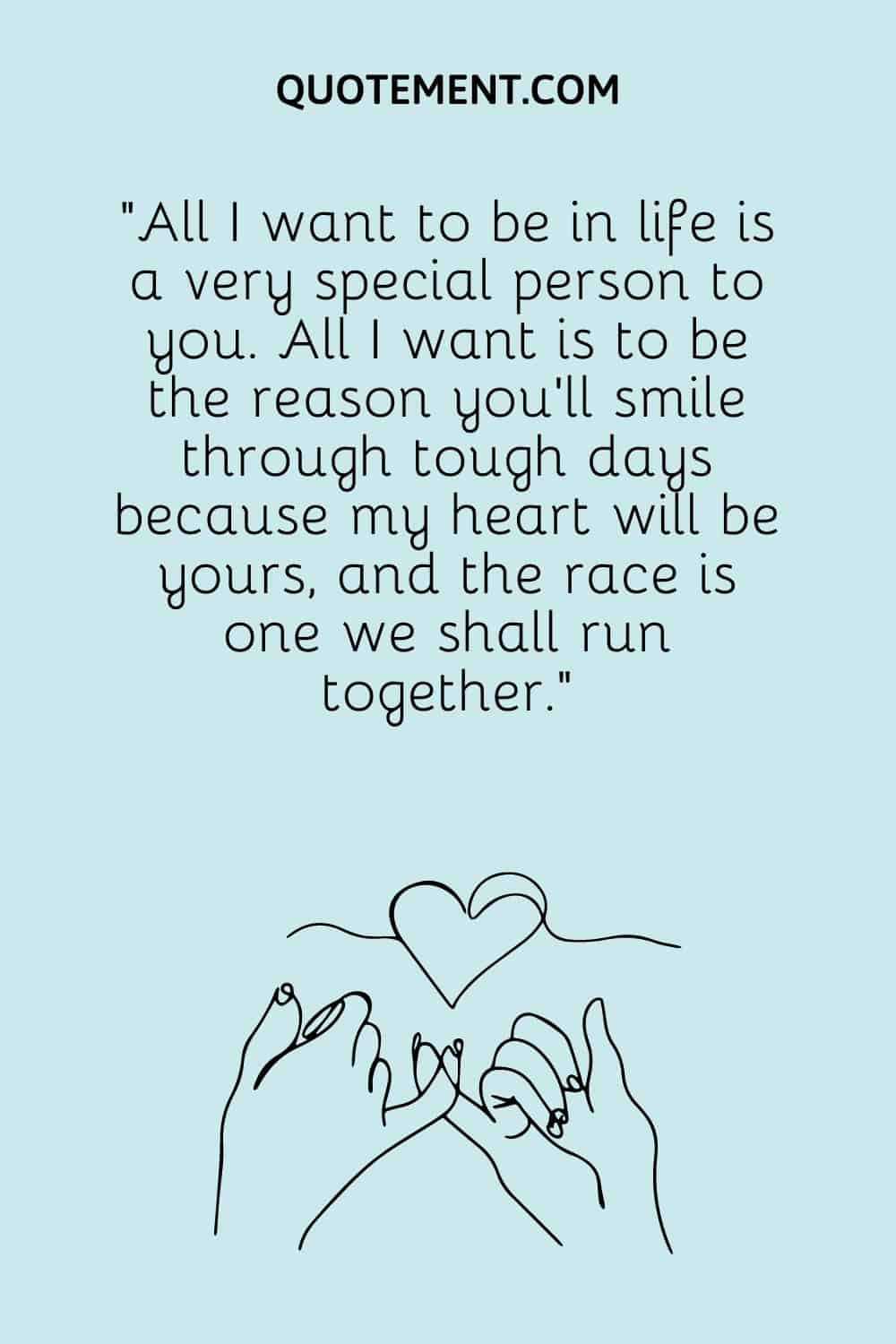 2. "I gotta tell you that you're one of the biggest reasons why I look forward to a new day. Spending time with you, getting to see your beautiful smile, and feeling all of the butterflies you give me – that's what makes me happy. Everything else is irrelevant."
3. "Ever since the first moment I saw your face and heard your name, I just knew you were the one for me. There's something about you that feels like I'm coming home. Being in your presence fills me with peace, and when I look in your eyes, I see my future."
4. "Wherever you go, whatever you do, I will be right here waiting for you. Whatever it takes, or how my heart breaks, I will be right here waiting for you!"
5. "The way you lift me when I'm sinking in my drowsy life is the way you make me feel valued. The little and the largest gestures you make toward me and for me only raise my bars of adoration for you. It only makes me see you with more respect and love."
6. "I want to be the reason you always have a smile on your face. I want to be the reason for your laughter. To be the reason behind the joy in your heart. The reason you doze off with your phone in your hand and a smile on your sleeping face. I want to be your reason for a lot of things. However, most of all, I need to be the reason you want to fall in love once again."
7. "There's just something about your presence that makes me feel so at ease. I don't know what it is exactly. But just talking to you and being around you is enough to make any bad day better. Your radiant smile and your infectious laugh make me feel so lighthearted that I can't help but feel uplifted. I can only hope to do the same for you one day."
8. "I'm nowhere near perfect, but you still found your way into my life. I don't know how that's possible, but I'm thankful for the moment when that happened. But since you're already here, I need to let you know how special you are to me. You're everything I've been dreaming of. And if it weren't for you, I would've never known what happiness feels like."
9. "All those childhood stories I read with knights in shining armor and damsels in distress felt so silly. I never thought those love stories actually existed in the real world. But, I was wrong. Because, now I understand all of it, as I feel that way for you."
10. "I felt butterflies in my tummy the very minute we started talking, and right then, I knew it was meant to be you."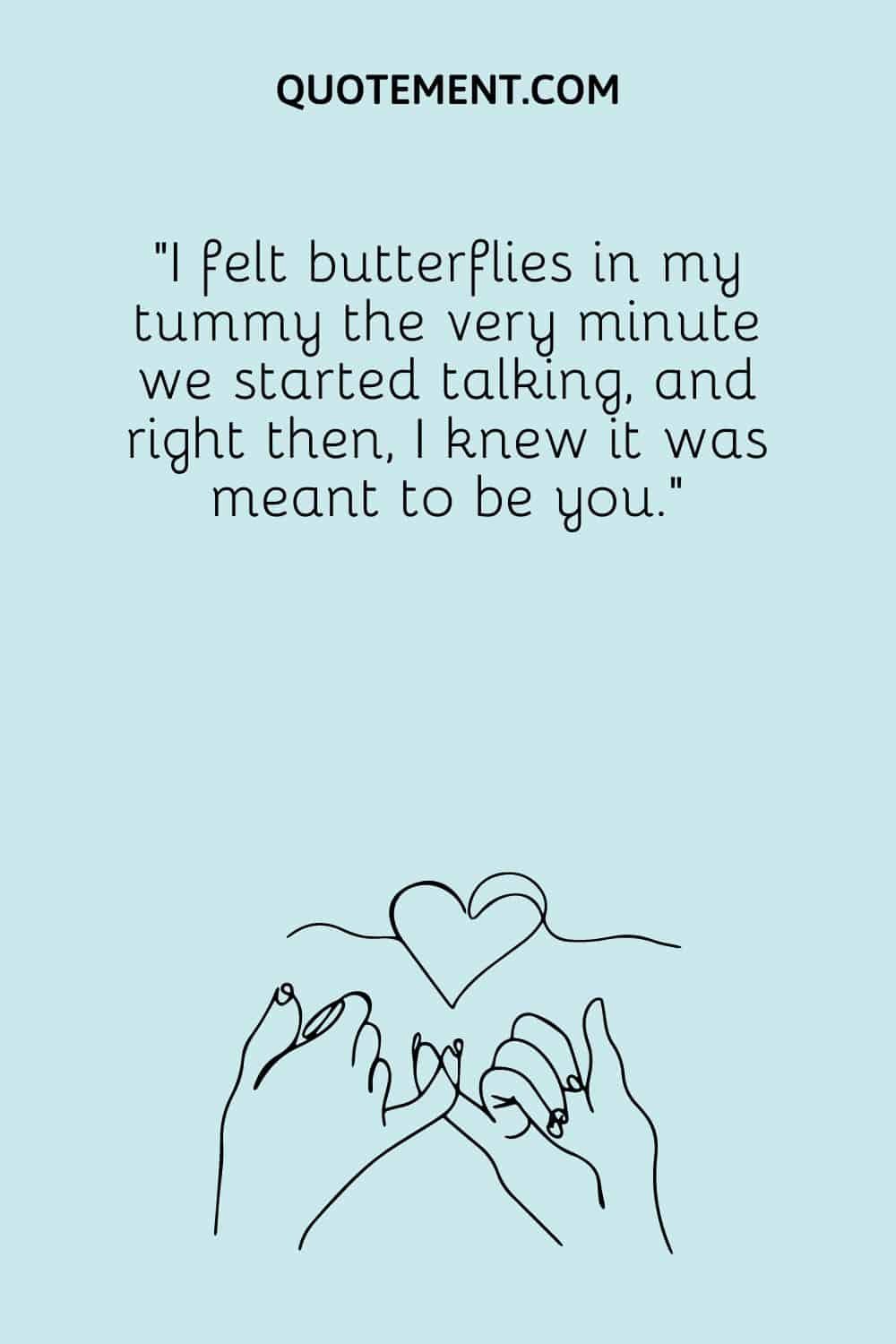 11. "Small things like watching the sunset together, having a coffee date, and holding hands make me happy. Thankfully, you never fail to make such small efforts to make me smile. You are my little package of happiness that I never want to lose."
12. "All this time, I've been telling you that you're my best friend. And that's no lie. But you're also so many other things that I would need a dictionary to list them all. You're the one I can picture myself with, my protector, and my guardian angel. All of the best adjectives I know, I would use to describe you."
13. "I just need to let you know that you owe me something. Since the day you entered my life, you've been living rent-free in my mind. It's time for you to pay up, but the only currency I take is either hugs or kisses. It's your choice."
14. "I must admit that the first thing I do when I wake up is to check if I have any messages from you. You're also the last person I talk to before I go to bed. I secretly wish that your texts never stop coming and that our paths never part ways."
15. "You've unlocked my heart as if you have the key that holds all the answers, that has shown you the gateway to my heart. Yet you act as if I'm your friend, and you haven't seen a part of me that's crazy for you."
16. "Since the first time I saw you, I felt like I'd known you all my life. I have a crush on you, boy, and I hope to be your valentine this year."
17. "When we first met, I don't really remember what my impression of you was, but I never expected to fall in love. I was never a "fan" of love, and I didn't expect these feelings I have to develop for you either, but I know that they're true."
See also: 80 Today Is The Day We First Met Quotes For Your Love
In Conclusion
Now that you have plenty of cute love paragraphs to send to your crush to choose from, Which one will you go for?
Let me know in the comments section below!
Until next time!
Read next: 90 Secret Crush Quotes To Help You Express Your Feelings