If you've been searching for some good lunch captions for Instagram to add to your awesome lunch pic, then you've come to the right page!
Here you'll find the best lunch captions for Instagram of all time!
When it comes to posting your lunchtime meal on social media, nothing pairs better with a good lunch pic or selfie than an equally good lunch caption.
That's why I've rounded up the best food captions for lunch; so you have the perfect caption idea for your lunch Instagram post anytime you want to share some lunchtime vibes.
As well as lunch captions for Instagram, I've also included a number of good lunch quotes and puns your Insta friends and followers will love.
Whatever lunchtime meal you want to show off on social media, be it a tasty roast, a bowl of soup, or maybe some delicious pasta, you'll find the best caption ideas for it right here.
Let's dive right into my collection of lunch captions for Instagram!
Top 20 Lunch Captions For Instagram
We'll start with my list of the 20 best lunch Instagram captions to help you entice all the foodies to your posts.
1. Lunchtime, my favorite time of the day.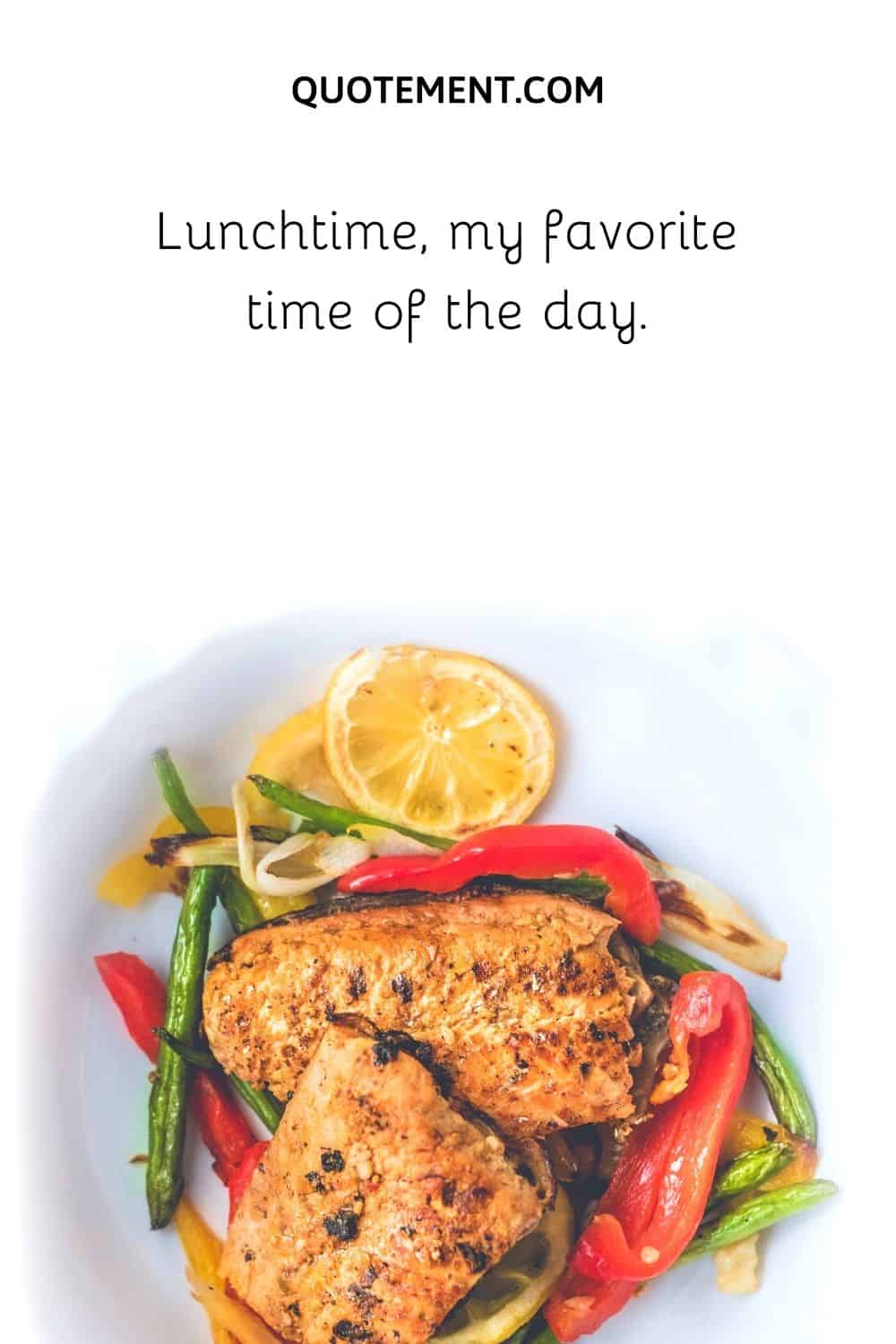 2. If it's break time, it's gotta be lunchtime.
3. All you need is love, but sometimes, a lunch break works, too.
4. You can take literally everything from me, but don't you dare take my lunch.
5. Lunchtime is me time!
6. Eating good food is my favorite thing in the whole world. Nothing is more blissful.
7. Lunch the pain away.
8. When I say it's lunchtime, it's lunchtime.
9. Good food. Good mood.
10. Friends buy you lunch. best friends eat your lunch.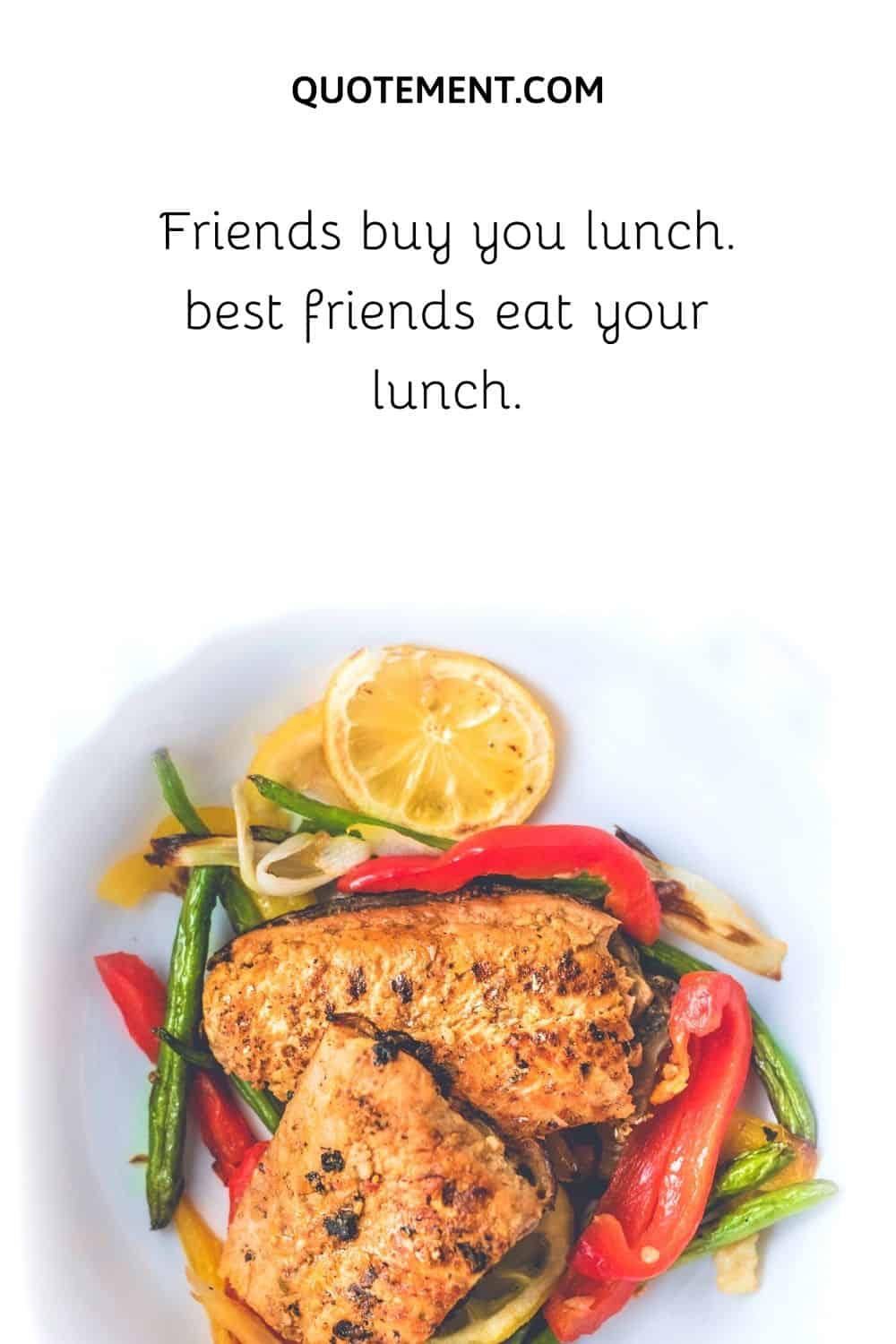 11. Lunchtime all the time.
12. Lunch… Are you my soulmate?!
13. Lunch shared with friends is happiness tasted and time well spent.
14. Even a meaningless life may contain many good lunches.
15. My lunch, my happiness.
16. Lunchtime is coworker bonding time!
17. When your tummy chooses lunchtime.
18. Please God, let it be lunchtime!
19. Since when did lunchtime occur during midday?
20. Let's taco 'bout it at lunch.

See also: 200 Fantastic Taco Captions For Your Next Instagram Post
Good Lunch Instagram Captions
Check out these really good lunch captions for Instagram, which will add a dose of grace to the precious moments you spend enjoying your lunchtime.
1. What's a delicious lunch without sharing it with your friends?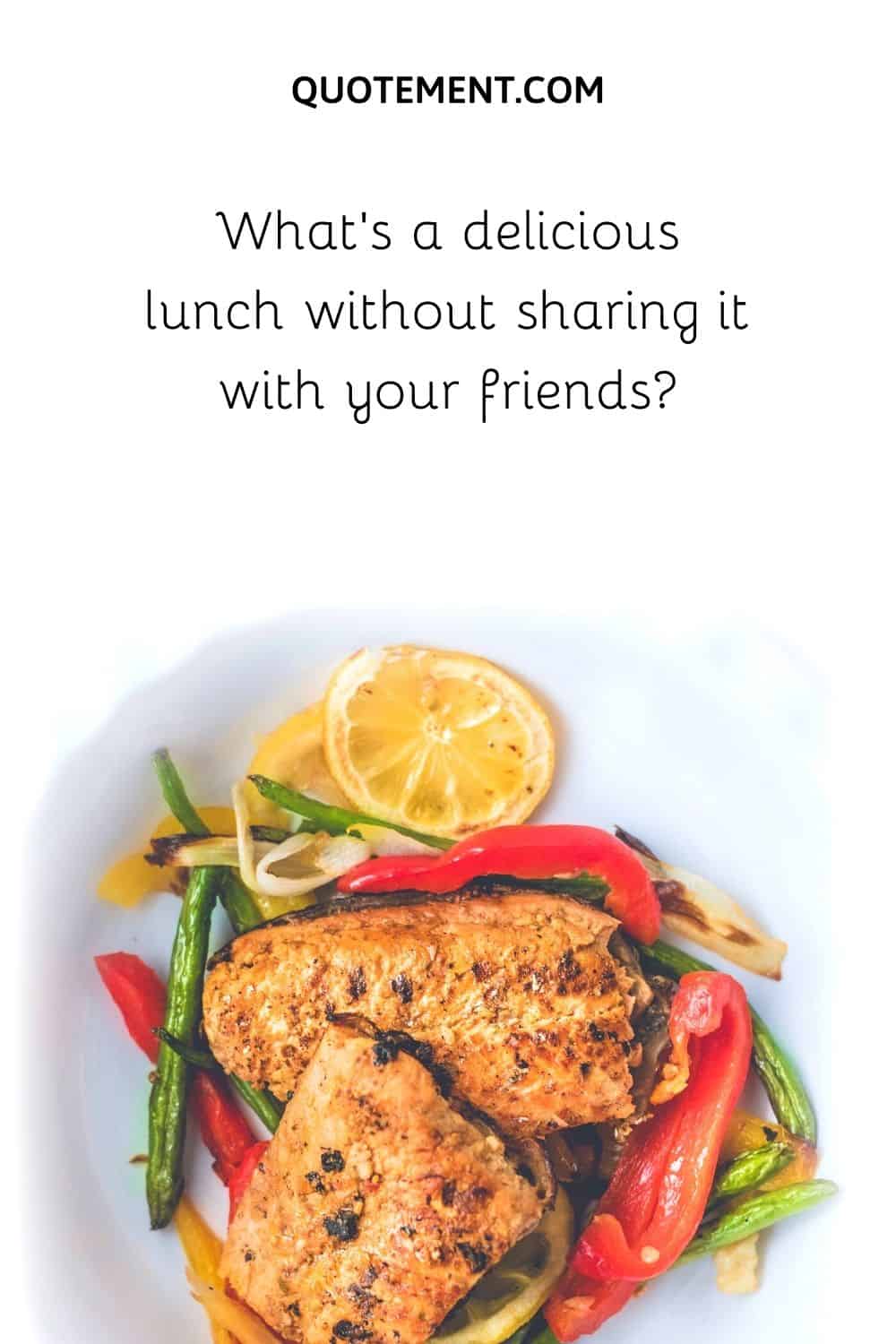 2. Lunch won't be complete without the fam.
3. Lunch is a combination of a lunge and a crunch that I call my favorite workout.
4. I wish it was always lunchtime.
5. Lunchtime, break it to me gently.
6. That vibe when it's 10 am and you've already finished your lunch.
7. It's our time, it's lunchtime!
8. My lunch is like my body…I just have it without thinking.
9. Take what you want, but leave my lunch alone!
10. Count the memories, not the calories.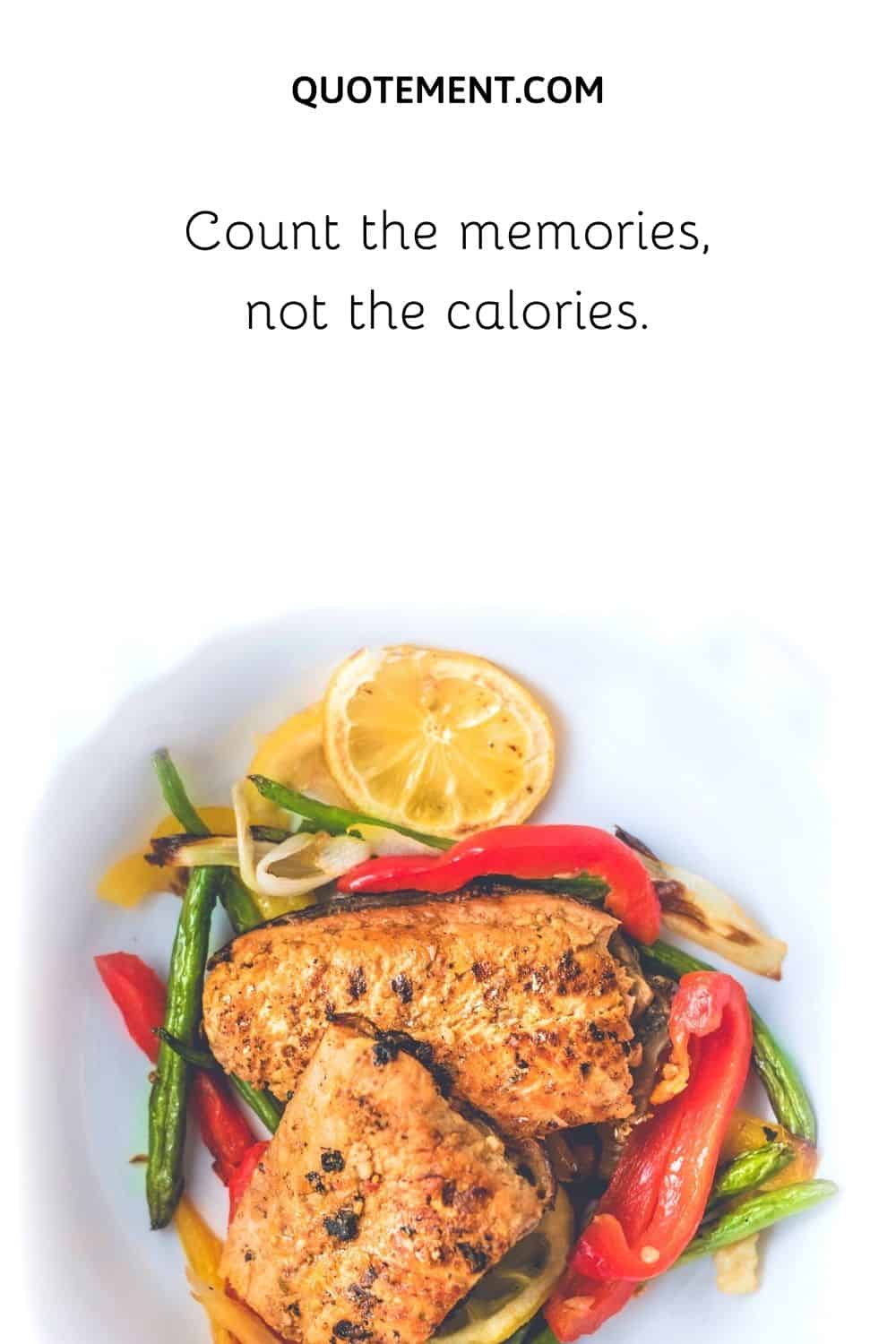 11. Join me and enjoy it.
12. Lunchtime is always the best part of my day.
13. Lunch dates are kind of a big dill for me.
14. Lunchtime, if breakfast's not enough.
15. In a relationship with lunch.
16. Food is my number 1 priority.
17. Nothing brings a family together like a good lunch.
18. Friendships are made during lunchtime.
19. I get my best ideas while eating lunch.
20. My favorite thing for lunch is to make reservations.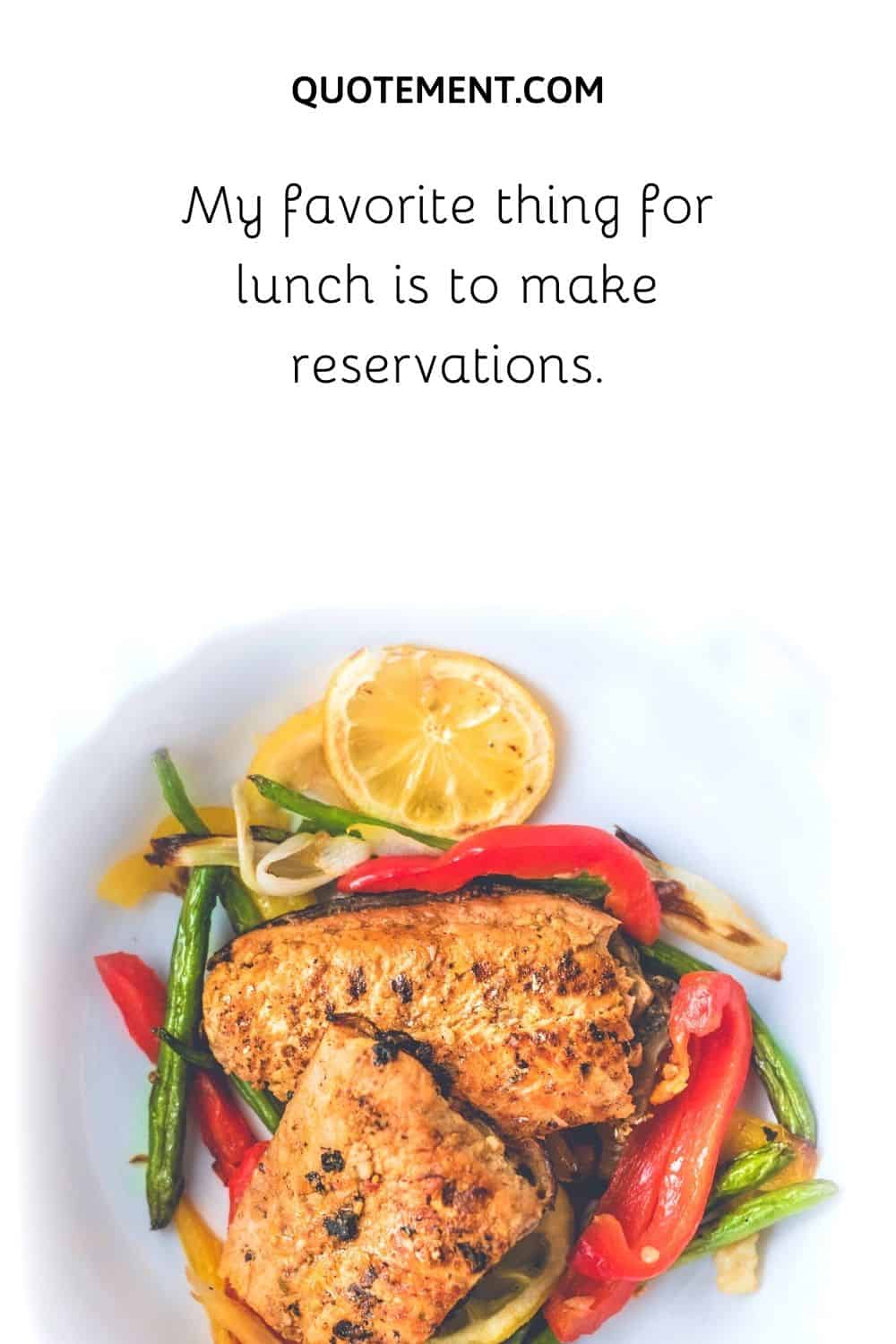 21. Eat well, exercise, die anyway.
22. Food is for eating, and good food is to be enjoyed… I think food is, actually, very beautiful in itself.
23. Food is the ultimate pacifier. I feel like I can forgive anyone after a scrumptious meal.
24. Lunch is best served with friends!
25. Food is the most primitive form of comfort.
26. Lunch with the fam!
27. Lunchtime can bring together like-minded people and form lifelong bonds.
28. Lunch out will always be memorable with you guys.
29. The best lunch I've ever had… with my fam!
30. No family is complete without lunch.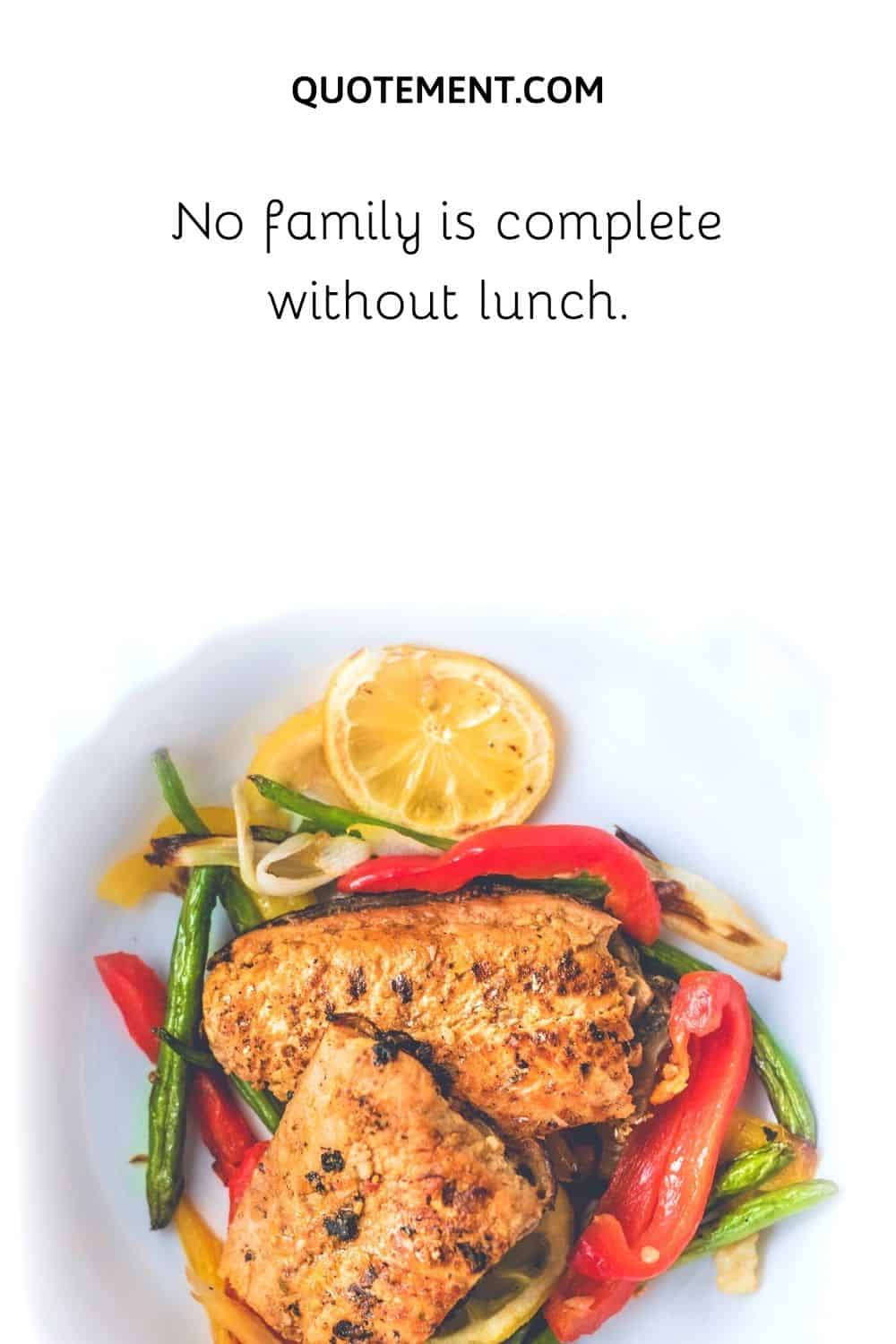 31. The pasta, the sauce, and the holy meatballs.
32. Food is a blessing with our family beside us.
33. Healthy Food = Happy Food; Happy Food = Happy Body; Happy Body = Happy Mind.
34. I can't turn lead into gold, but I can turn pizza into breakfast, lunch, and dinner.
35. Burgers are my favorite food group.
See also: 200 Perfect Burger Captions To Rock Your Instagram Post!
Lunch Instagram Captions For Foodies
The following lunch captions for Instagram capture foodies' cravings for their delicious food!
1. Lunch is always a good idea.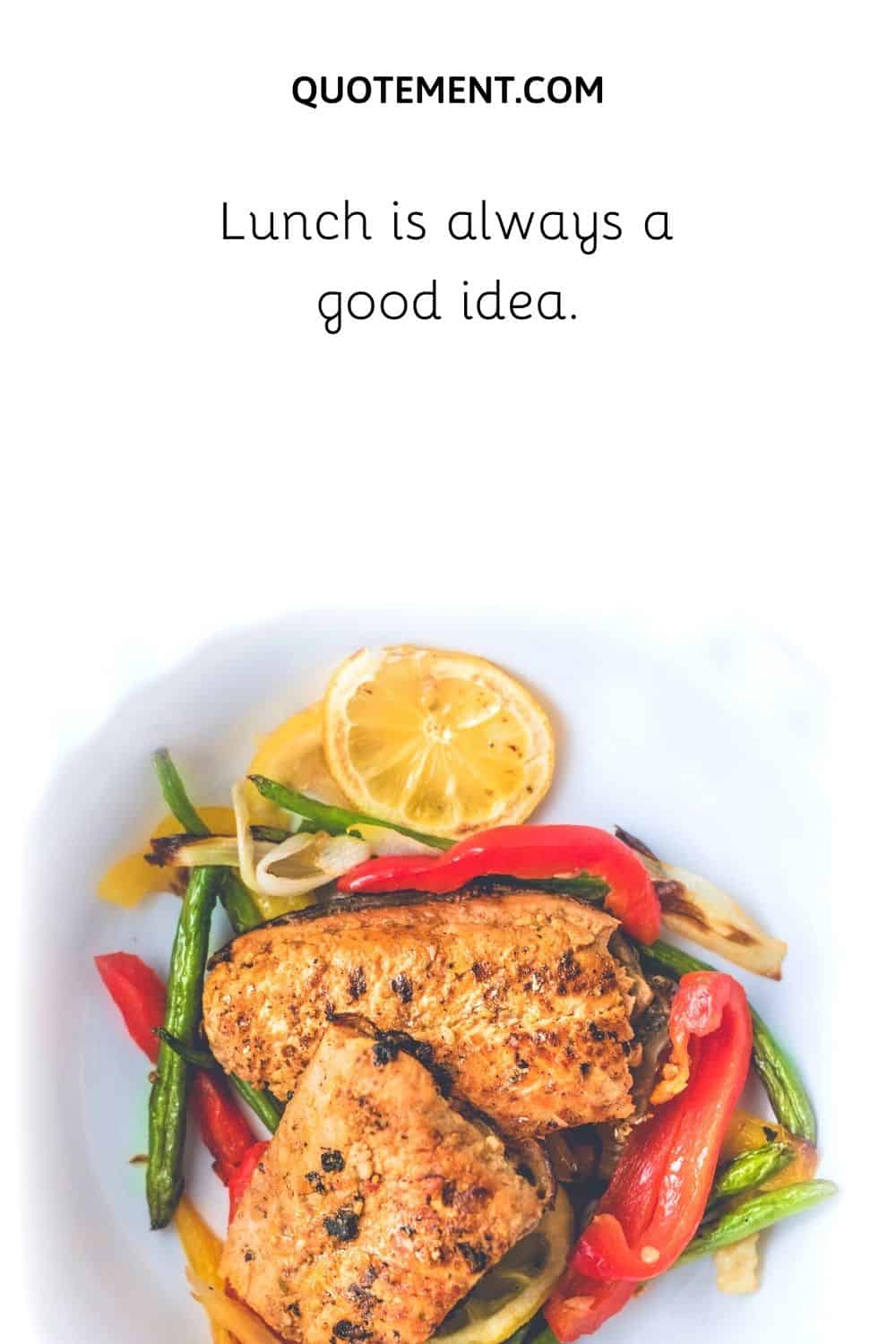 2. This is the most important meal of the day.
3. I am very punctual when it comes to lunch.
4. Let's have some lunch gossip.
5. Best gathering place: lunch table with friends.
6. The world needs some more time to enjoy lunch.
7. The only thing I like better than talking about food is eating.
8. Lovely lunch, healthy for all.
9. Despair is perfectly compatible with a good lunch, I promise you.
10. Gather around the table for Sunday lunch.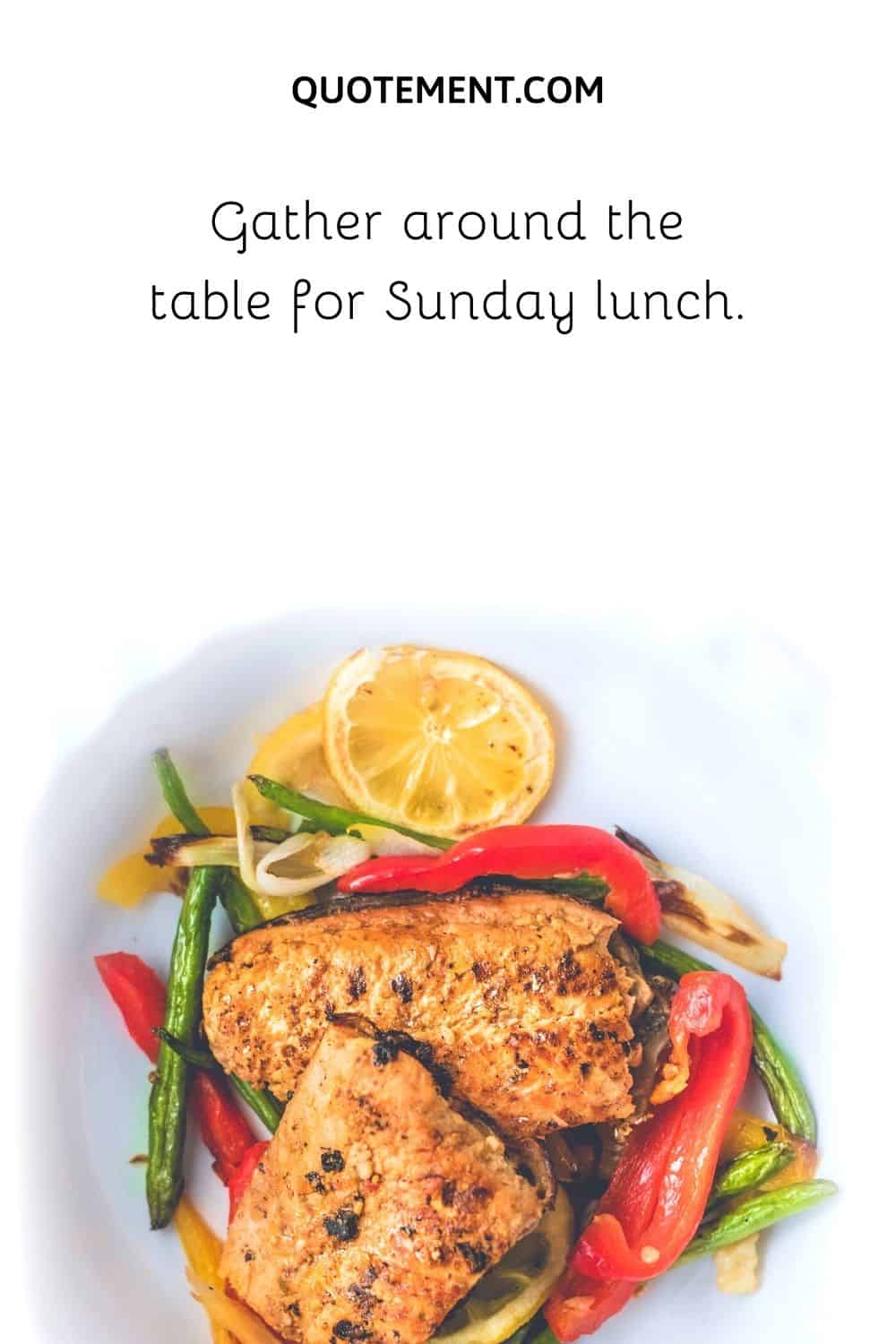 11. You are what you eat, so it is not quick, cheap, and easy.
12. I can't live without lunch on Sunday.
13. The only thing better than a delicious lunch is when it's cooked by your loving family.
14. I am happy with my lunch.
15. Sunday lunch is better when we eat together.
16. If you do not eat well, you can not think well, can love well, or sleep well.
17. Lunch with the family.
18. Work hard, eat hard.
19. A taste of the food life.
20. It's lunchtime. I'm having you.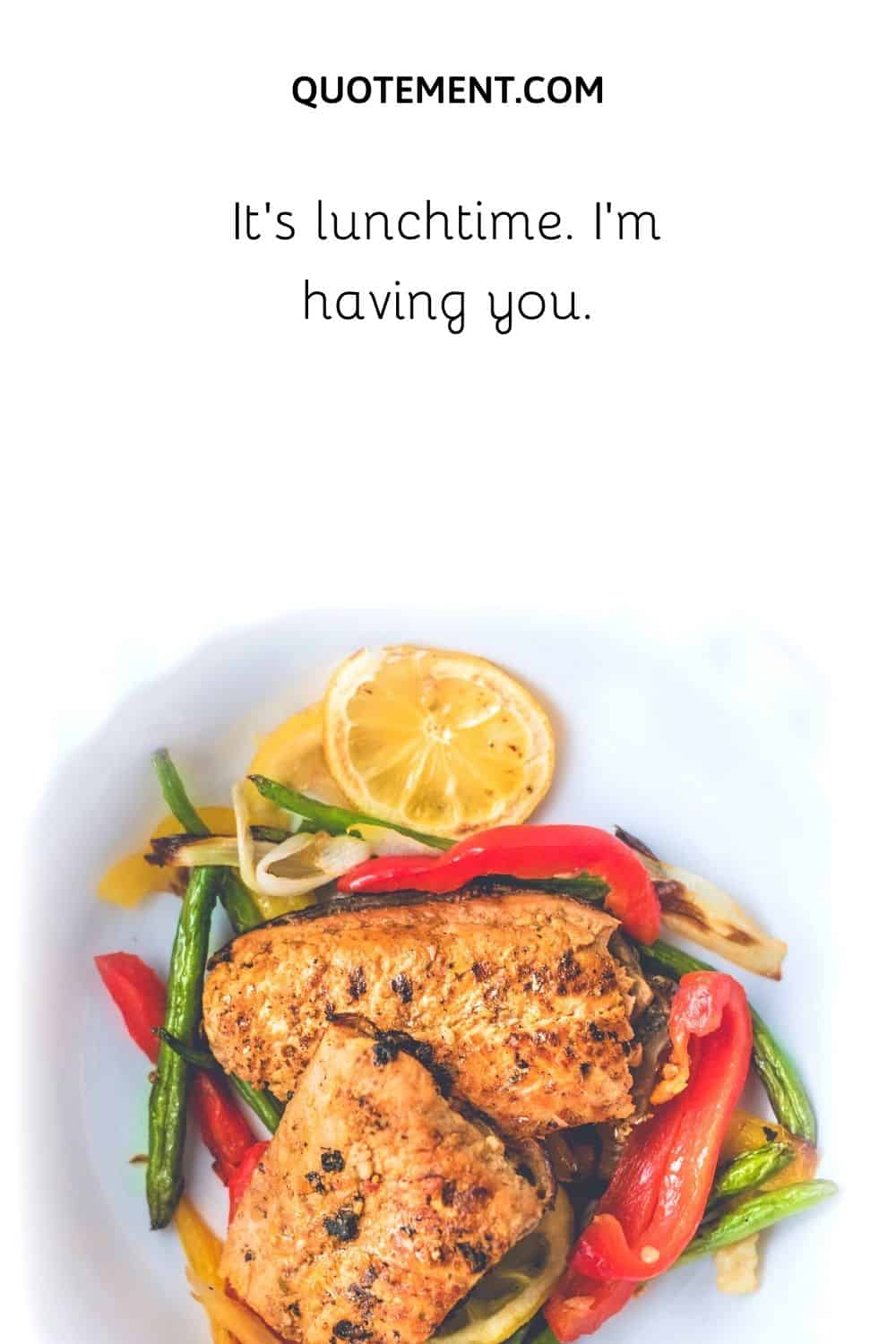 21. Lunch dates and complimentary bread are small pleasures to be cherished.
22. Lunch will always be complete with you guys.
23. Skip ropes, not lunchtime.
24. That's my lunch you are staring at…
25. Nutritious lunch for every age.
26. Eat well and feel fantastic.
27. Have a bunch for lunch.
28. A fancy restaurant is not good at all if it does not serve my favorite food.
29. It is a must to eat lunch, but it is an art to lunch sensibly.
30. Happiness depends on a leisurely lunchtime.
31. Food is an important part of a balanced diet.
32. That all-natural, delicious lunch packed with nutrition.
33. Scrumptious family lunch you've already made waiting for you at home? Now that's a reason to celebrate.
34. The most important time of the day.
35. There's nothing more romantic than Italian food.
Lunch Instagram Captions For Pics & Selfies
Do you have your scrumptious lunch plate snapped and ready for sharing? Read on and pick a lunch Instagram caption for pics and selfies to show it off to the social media world!
Pairing these lunch caption ideas with photos of your favorite food will boost your Instagram post, making it more attractive and engaging.
1. It's not lunch without the whole gang.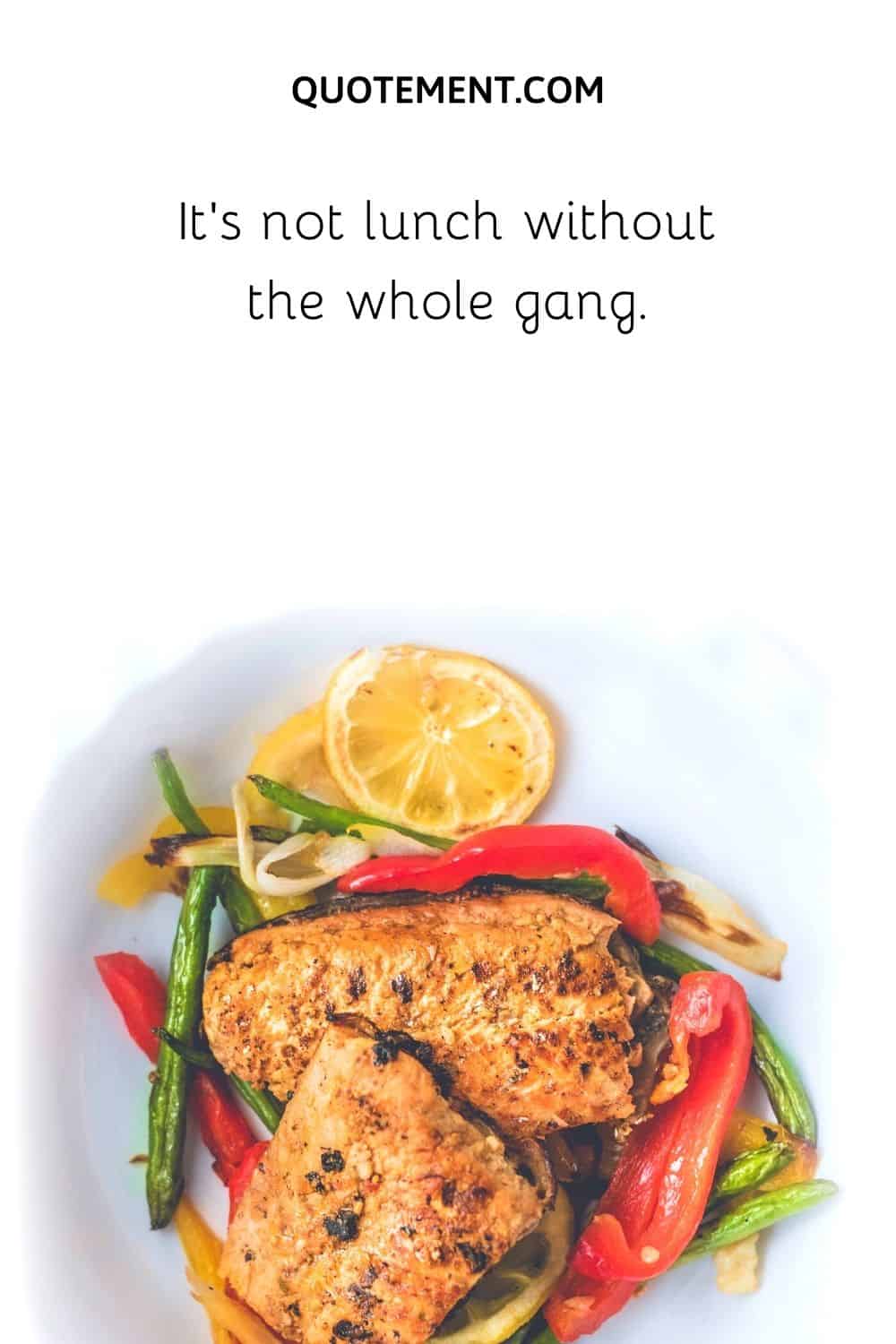 2. Lunch vibes.
3. All great families start with lunch at the table.
4. But first take a selfie, before eating lunch.
5. Lunchtime draws friends together in a way that nothing else does.
6. Always nice to 'ketchup' with you!
7. When you said, 'Let's have lunch,' I knew it was going to be a fantastic day.
8. Lunch is best shared with each member of the family.
9. I'm such a good cook that even the fire alarm cheers for me.
10. Lunch is the ultimate family bonding.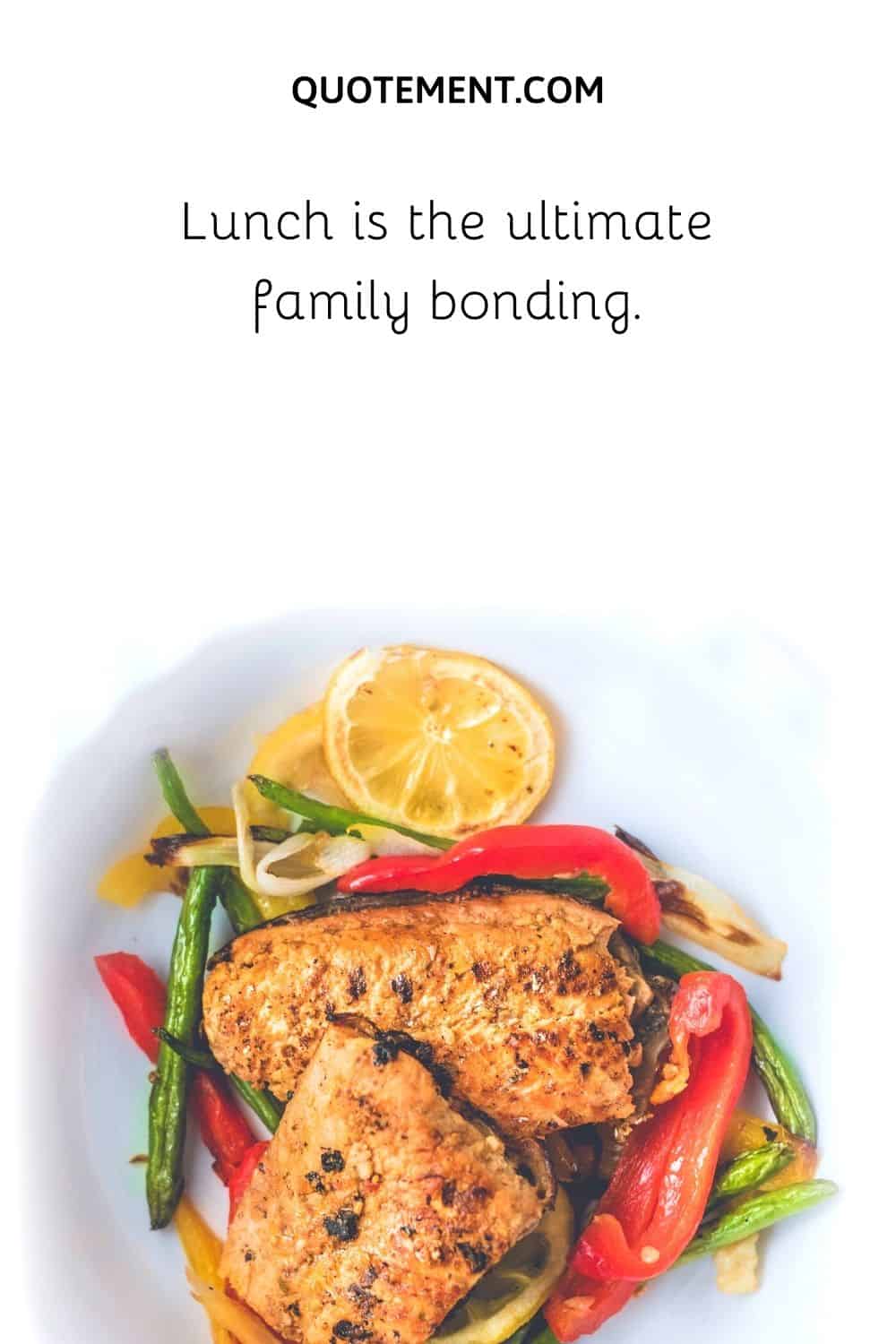 11. It's selfie time during lunch.
12. Lunch won't be the same without you.
13. What a perfect day…great food, good company, lots of laughter. Perfection.
14. The family that eats lunch together, stays together.
15. My weakness has always been food… shared with the family.
16. Missing those lunch dates with the gang.
17. Made by me.
18. Lunch date with my date.
19. Lunch is better eaten with family.
20. Day first selfie with lunch.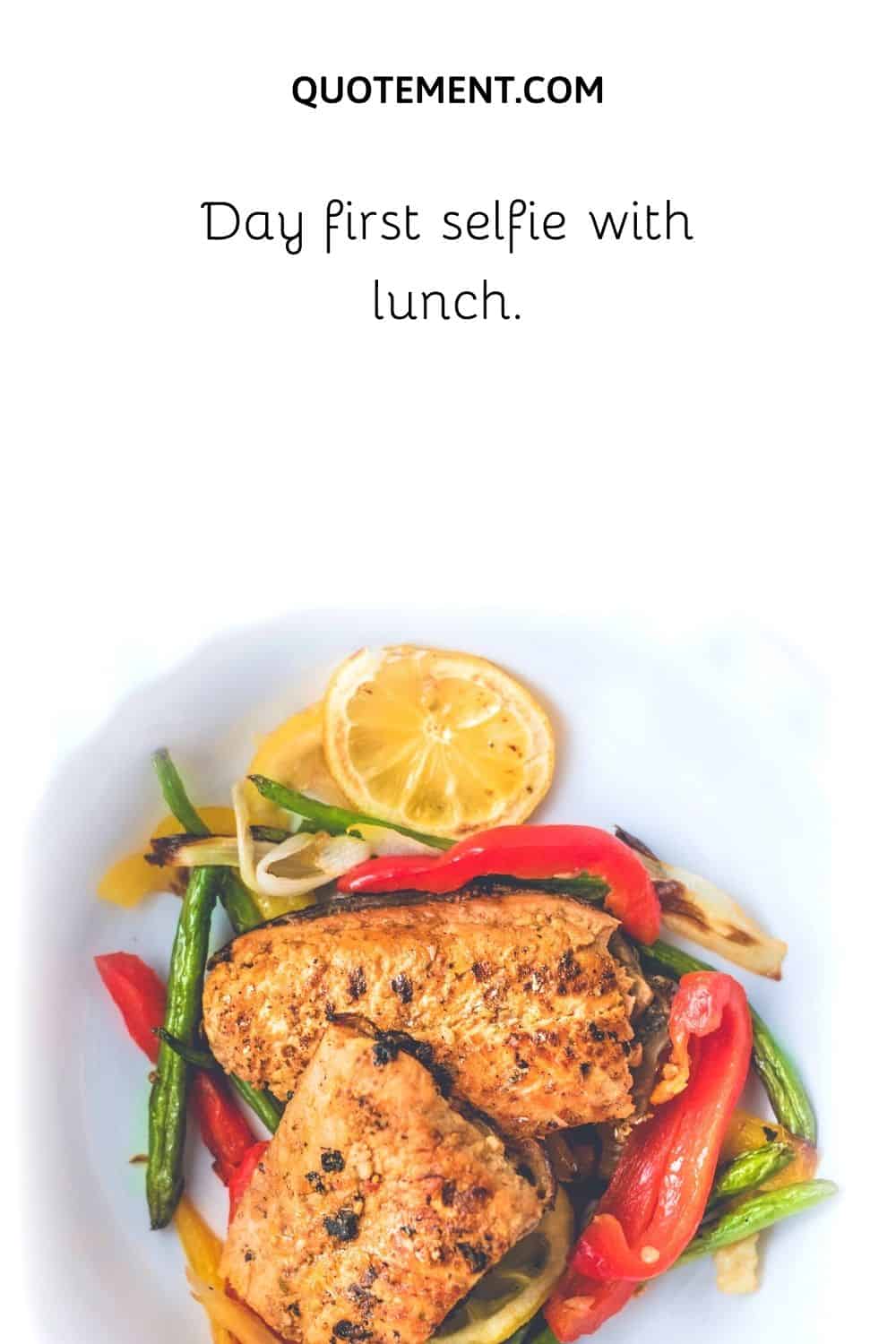 21. Let this lunch be the start of something special.
22. Miss those adventures during lunchtime.
23. Lunch by the ocean makes one forget the world and just relax.
24. Out of the office… with friends.
25. Thanks for always being there for me during lunch.
26. Nothing's better than eating out with your family.
27. Lunch won't be over without the family coming over.
28. Waffles for lunch, anyone?
29. Lunch will always be colorful with these friends.
30. Really don't get why people like brunch. What's the benefit of combining break-dancing and lunch?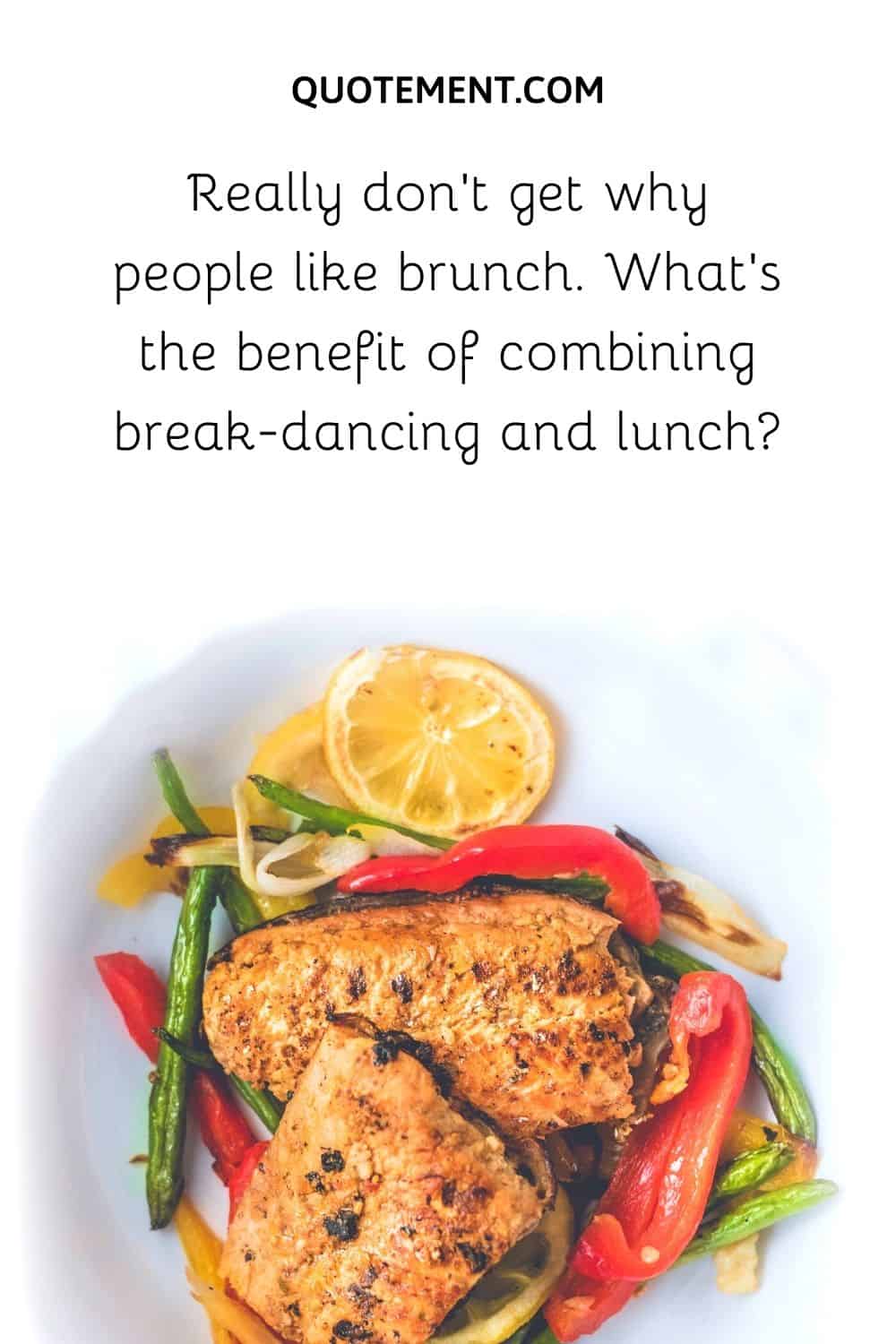 31. The family that gathers for Sunday lunch together, stays together.
32. Every time you use the word 'healthy,' you lose. The key is to make yummy, delicious food that happens to be healthy.
33. Lunch vibes in our space.
34. Lunch date with special people.
35. I can eat shrimp for breakfast, lunch, and dinner.
See also: The 320 Absolute Best Sea Food Captions For Seafood Lovers
Cool Lunchtime Instagram Captions
Check out this cool collection of food Instagram captions for lunchtime to highlight the tasty meal you enjoy eating most.
1. Is there a more meaningful time than lunchtime?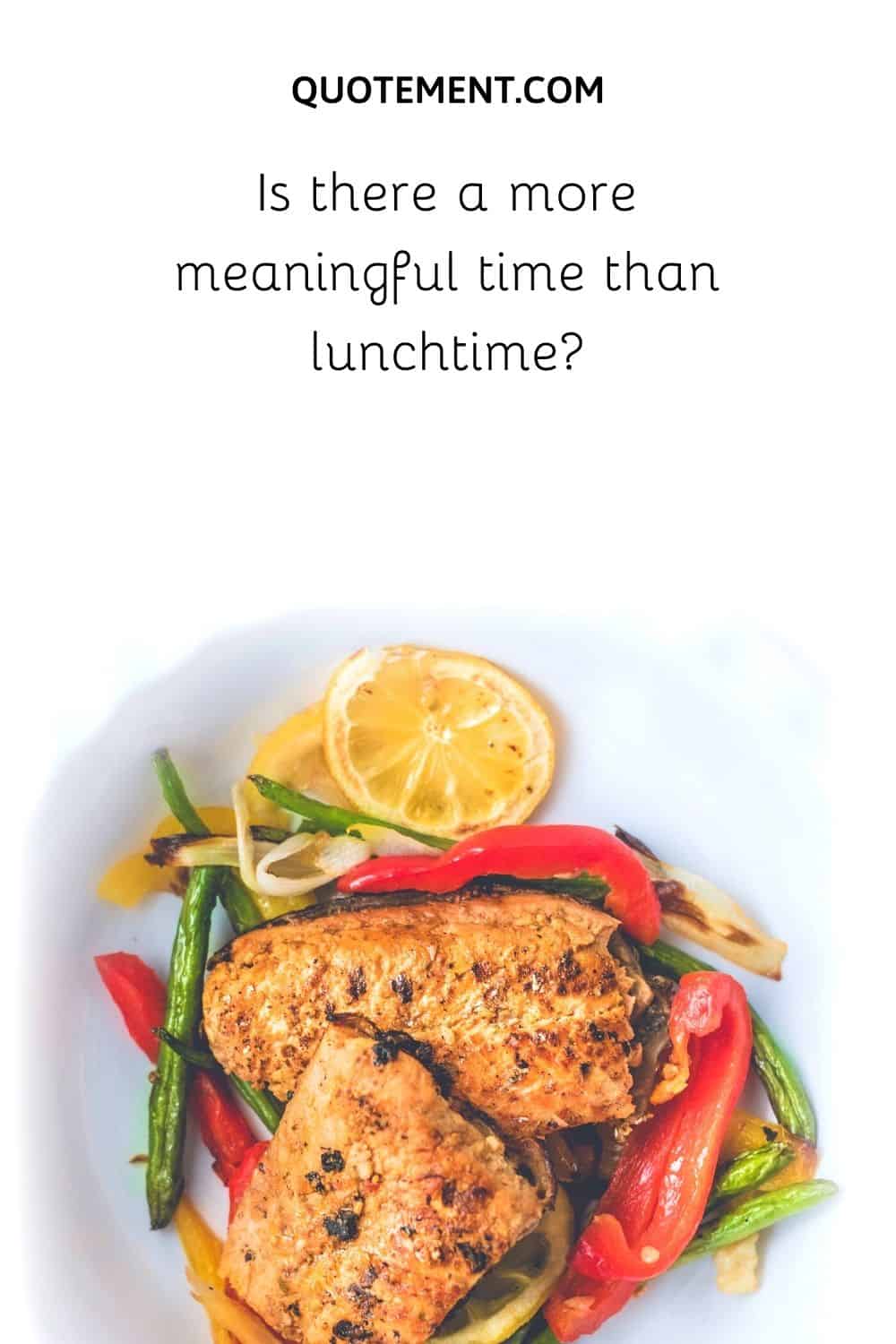 2. Keep calm and eat lunch.
3. A good lunch is always a great idea!
4. Always make time for lunchtime.
5. Lunchtime fun time!
6. Lunchtime, the best bonding experience.
7. Good food, good life!
8. Ready, set, lunchtime!
9. Karma has no menu. You get served what you deserve.
10. My favorite exercise is a cross between a lunge and a crunch… I call it lunch.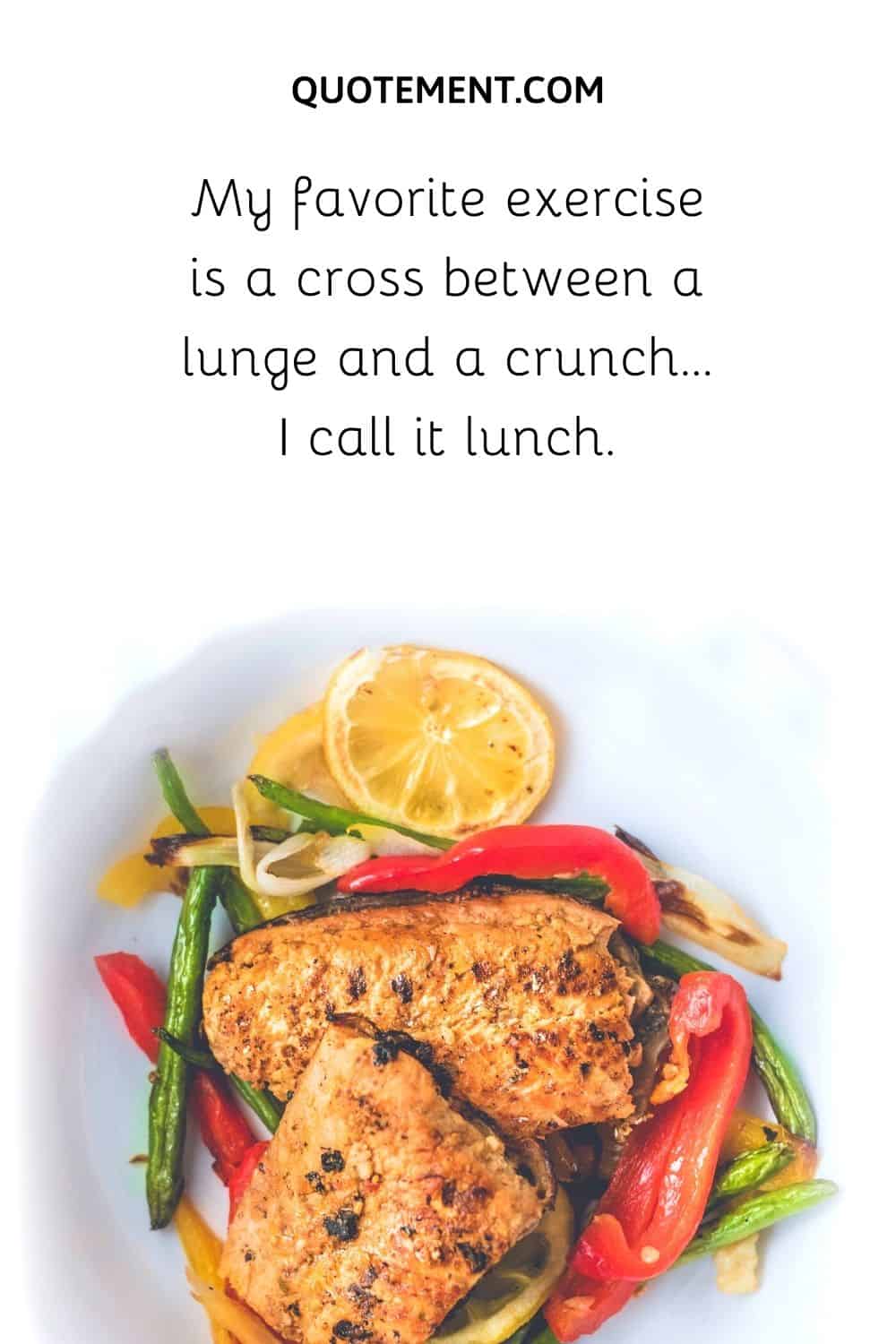 11. Lunchtime made better.
12. A nutritious lunch that will give you the energy you need to keep going.
13. Lunchtime is munchtime.
14. I like hashtags because they look like waffles.
15. Lunch hour is the best hour of the day.
16. Lunch is what keeps the world turning.
17. Comfort zones do not yield great results.
18. Don't bother with the diet. Simply eat well.
19. Taking a break from work to enjoy some delicious food.
20. Magic happens in the kitchen during lunchtime.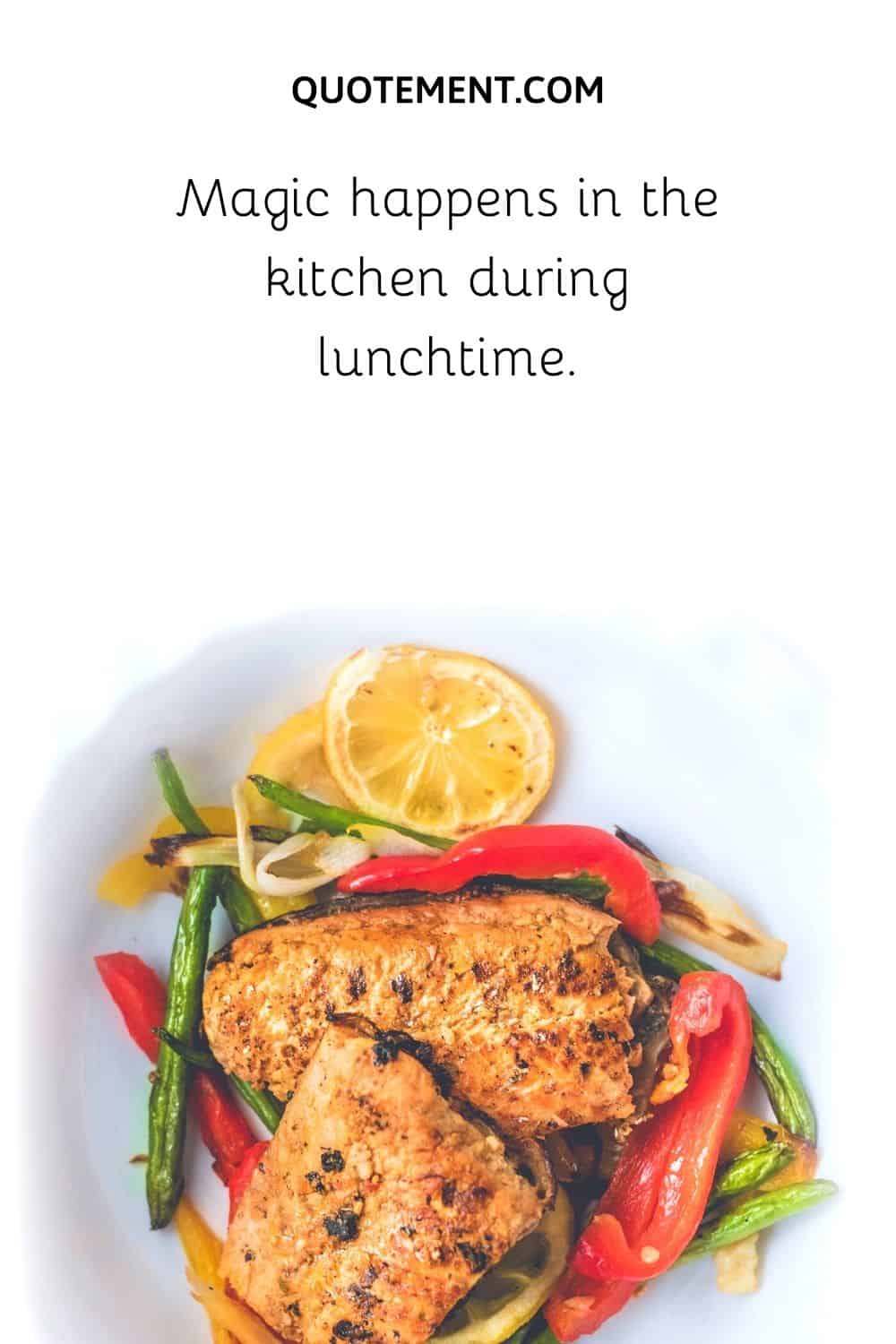 21. Take care of your body and fall in love with it.
22. Junk food satisfies you for a minute. Healthy food satisfies you for life.
23. With kindred spirits, the bond of a lifetime can happen at lunchtime.
24. Lunch is not an excuse to cheat for the day.
25. Eat whatever you want and if someone tries to lecture you about your weight, eat them too!
26. I'm just going to sit here and eat donuts all day!
27. Eating lunch like it's my last.
28. Food tastes better when you're eating with the family.
29. Make a practice of eating nutritious lunches. No limitations.
30. Love is in the air, and it's medium-rare.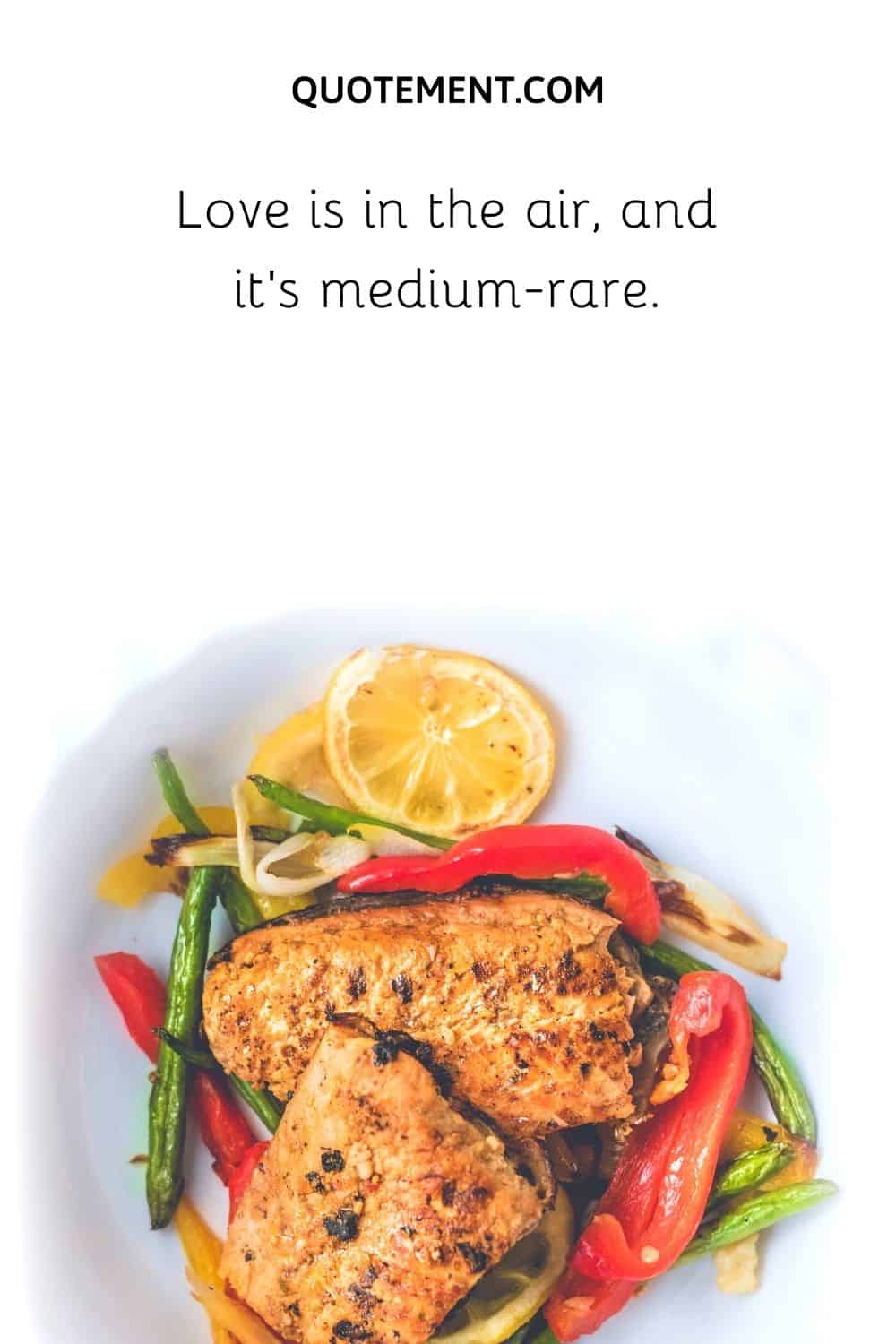 31. There is no love more sincere than my love for food.
32. The only way to ruin my day is to cancel lunch plans.
33. Lunch like a lady!
34. Guess which part of this lunch I did not eat. (Hint: it was the salad).
35. Whatever the question, pizza is the answer.
See also: 270 Perfect Pizza Captions For A Catchy Instagram Post
More Lunch Captions For Instagram
If you still haven't found your favorite lunchtime line, here are some more lunch captions for Instagram for you.
1. We found love on a hopeless plate.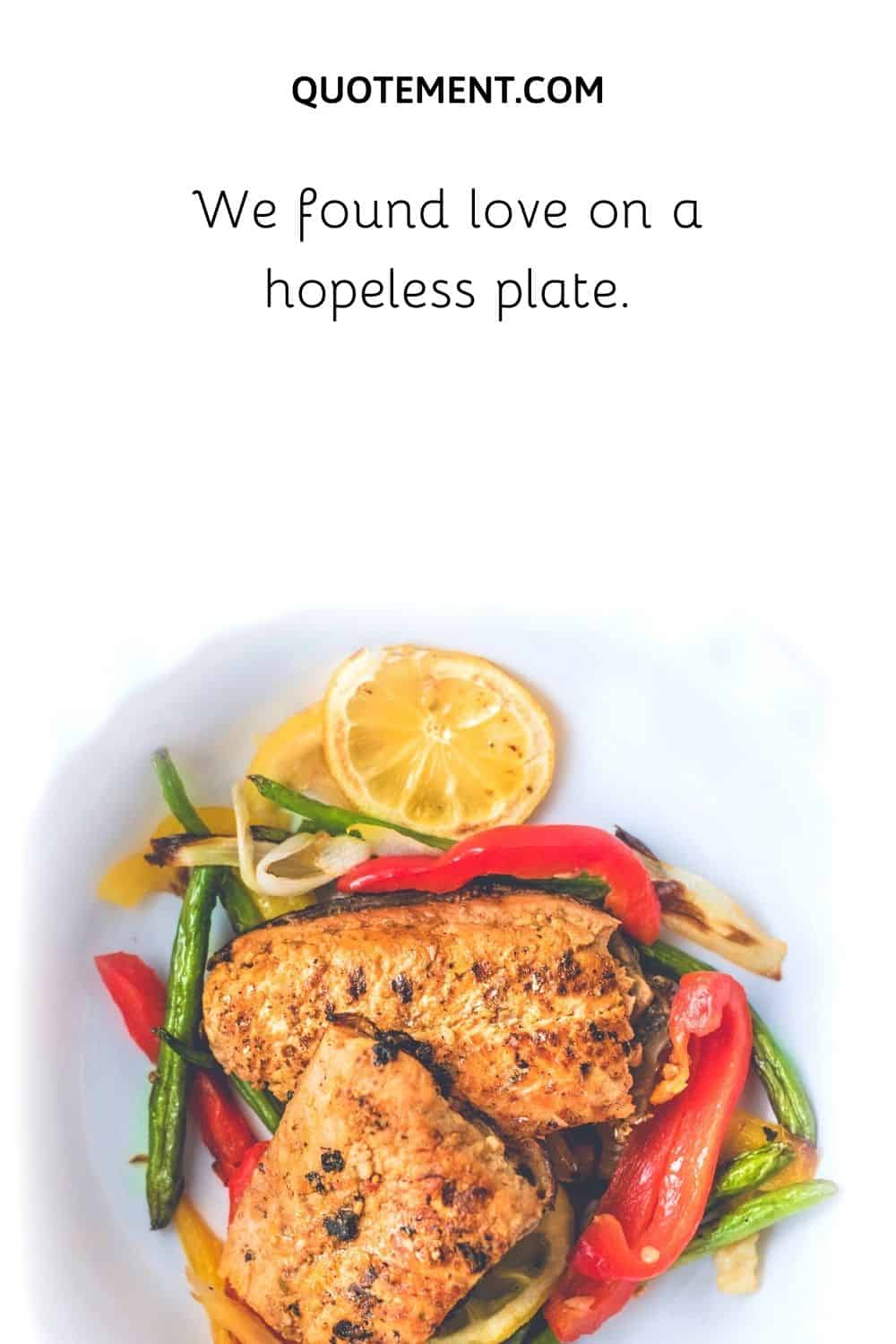 2. Wham bam, lunch with the fam!
3. Eat one healthy meal at a time.
4. The best lunches are made with the family gathered around the table.
5. The most tempting part of lunchtime.
6. You gotta nourish yourself to flourish.
7. Today is a great day to have the best lunch!
8. What time is it!? It's lunchtime!
9. You can't eat a big lunch if you're hungry.
10. Everyone who says money can't buy happiness, clearly never had this lunch.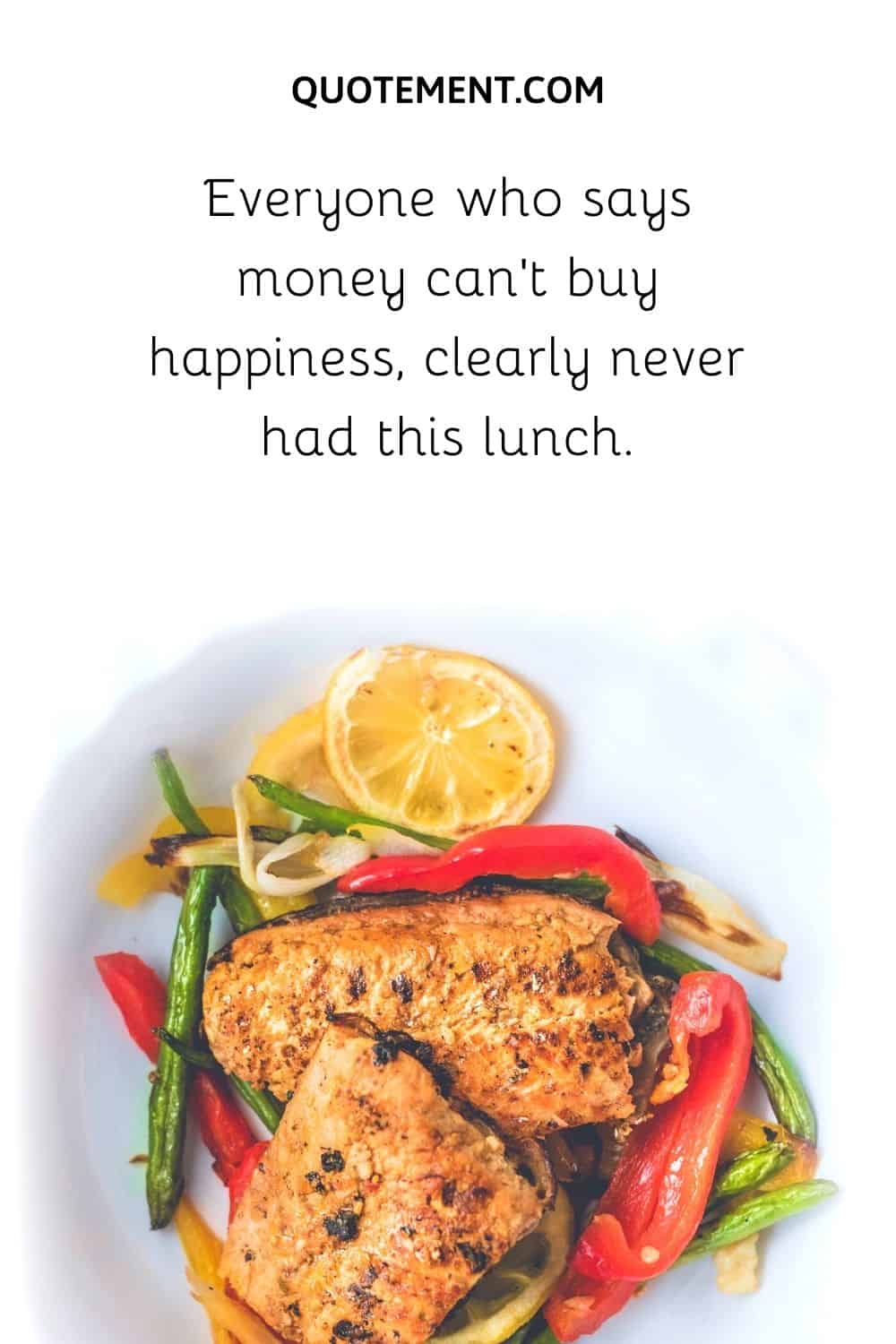 11. All I want for Christmas is food.
12. The best treasure is a delicious lunch.
13. Stop allowing food to rule your life.
14. French fries are those potatoes who went to Harvard to graduate.
15. Yummy lunch all alone.
16. Lunch lover foodie.
17. Award-winning lunch.
18. Made by mom and eaten by me.
19. This is how lunch is done.
20. A balanced diet is comfort food on my plate.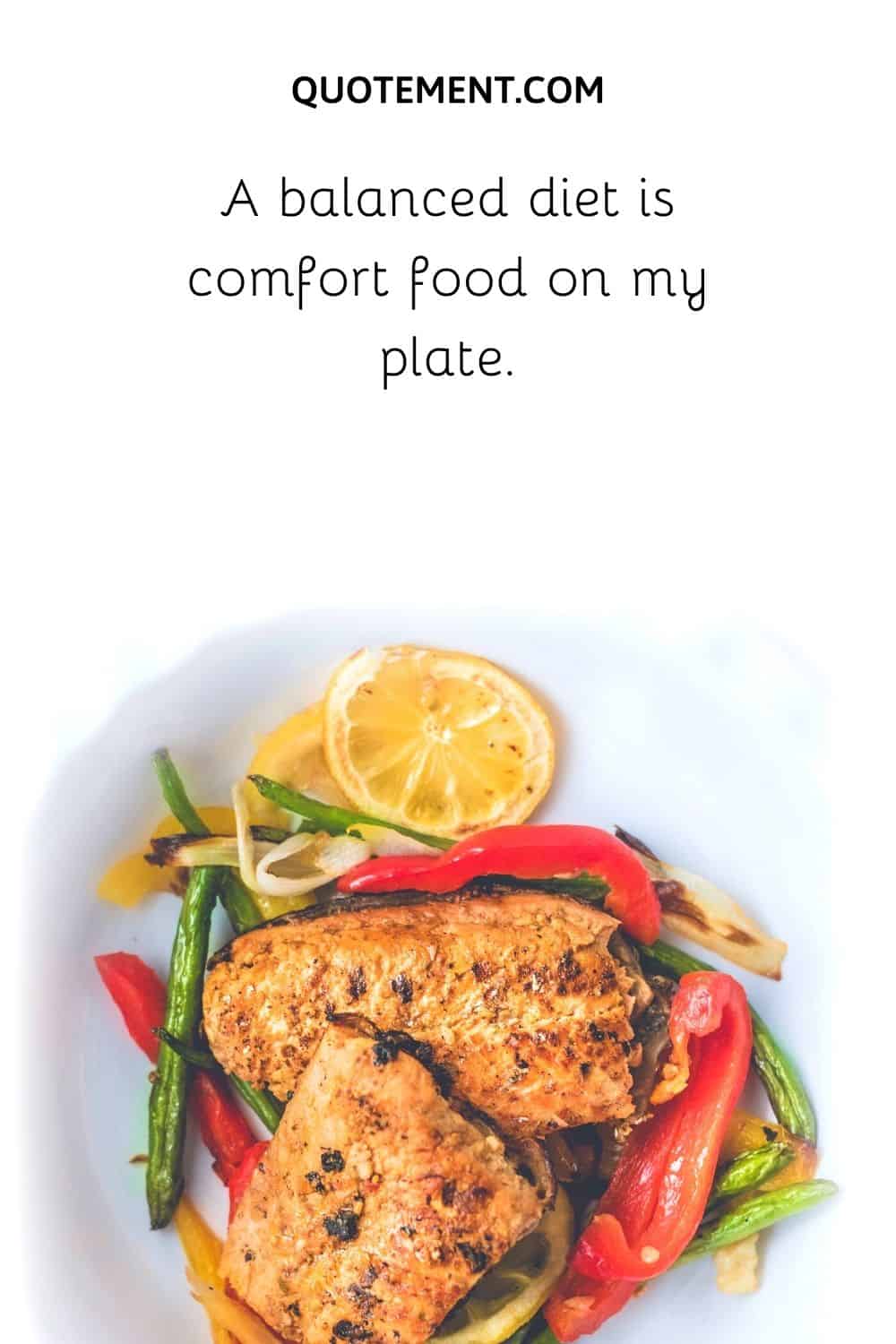 21. Memorable lunches start with the family.
22. I think my soulmate might be carbs.
23. Everybody needs to eat this.
24. This isn't just another lunch; this is a celebration of our friendship!
25. Nutrition starts with this bowl.
26. Hello! Healthy lunch.
27. I get way too much happiness from good food.
28. Always a great lunch experience with the family.
29. Enjoying lunch with the fam!
30. Eat a good lunch, and feel good the rest of the day.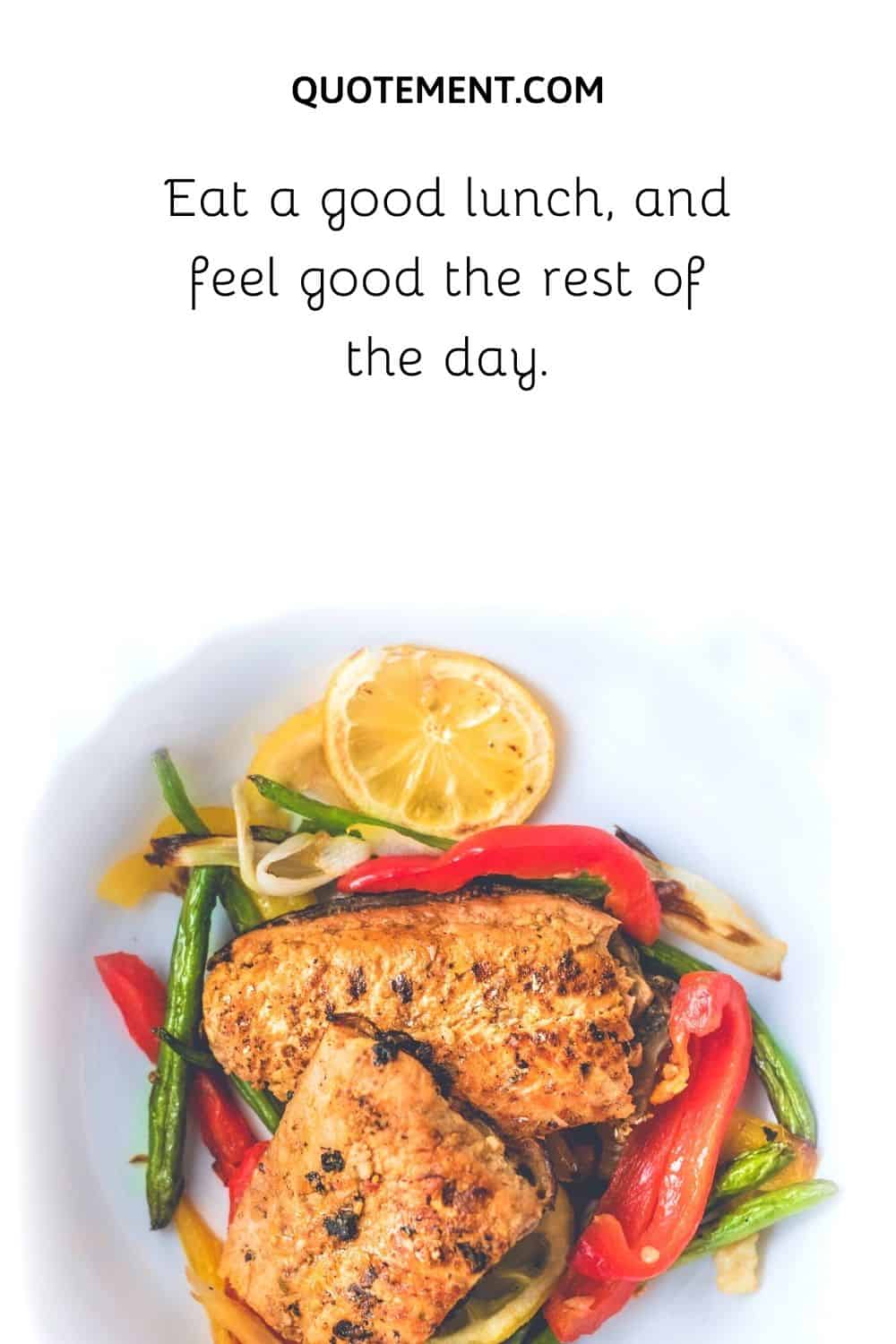 31. Keep calm and take lunch breaks.
32. Lunch is on me.
33. Taking a break from work to refuel with some healthy food!
34. It's not a quick fix, but rather a long-term lifestyle improvement.
35. Always had health in my mind first.
36. The cornerstone of happiness is good food.
37. It is a sign of self-respect to eat a nutritious lunch.
38. There is no better mealtime than lunchtime.
39. Lunch with my bestie and two scoops of ice cream.
40. Salad for lunch and three boxes of chocolates tonight!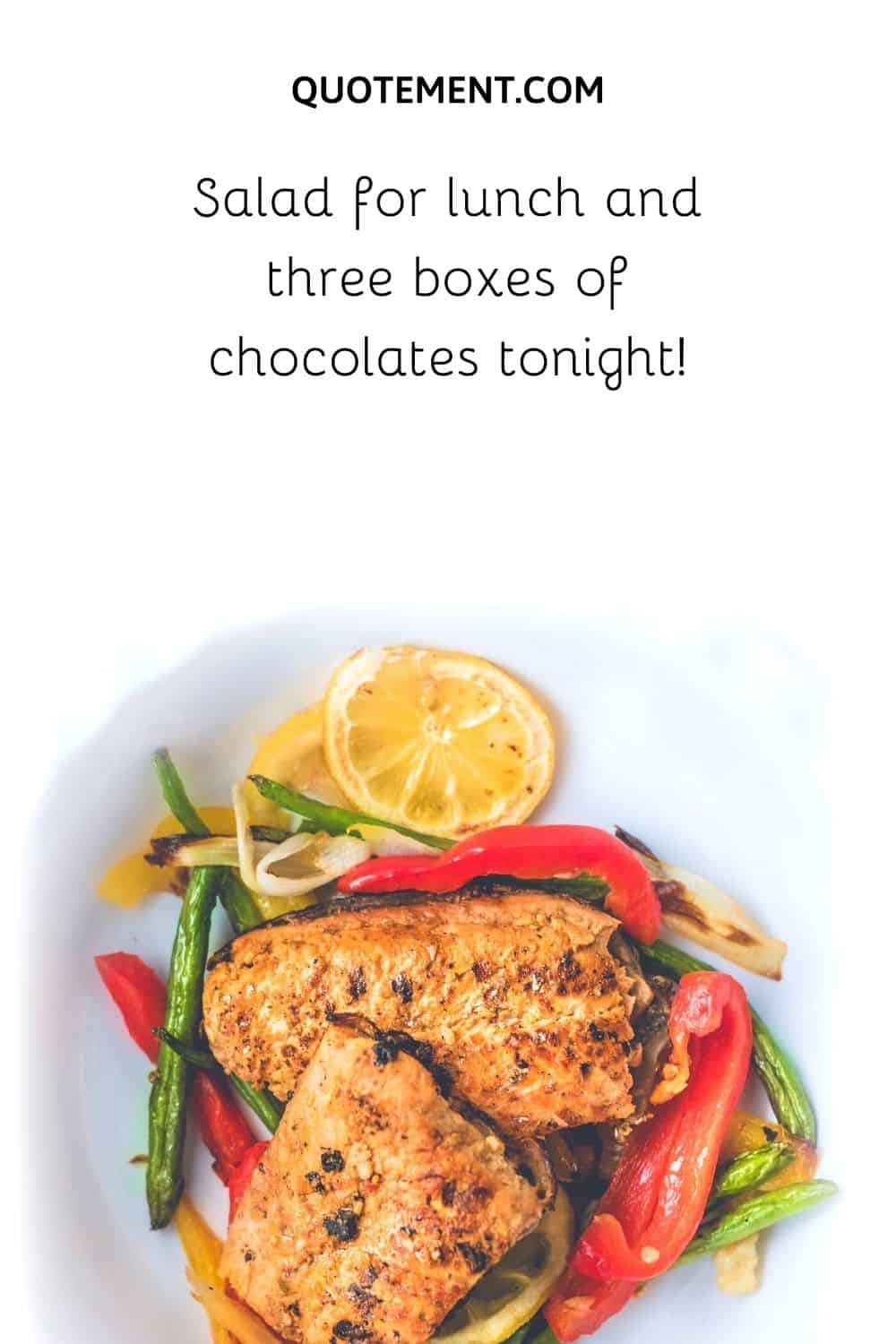 See also: 200 Sweet Chocolate Captions For Instagram You'll Love
Lunch Quotes That Can Be Used As Captions
Take a look at these food quotes about lunchtime that you can also use as perfect captions for your lunch Instagram post.
1. "Ask not what you can do for your country. Ask what's for lunch." — Orson Welles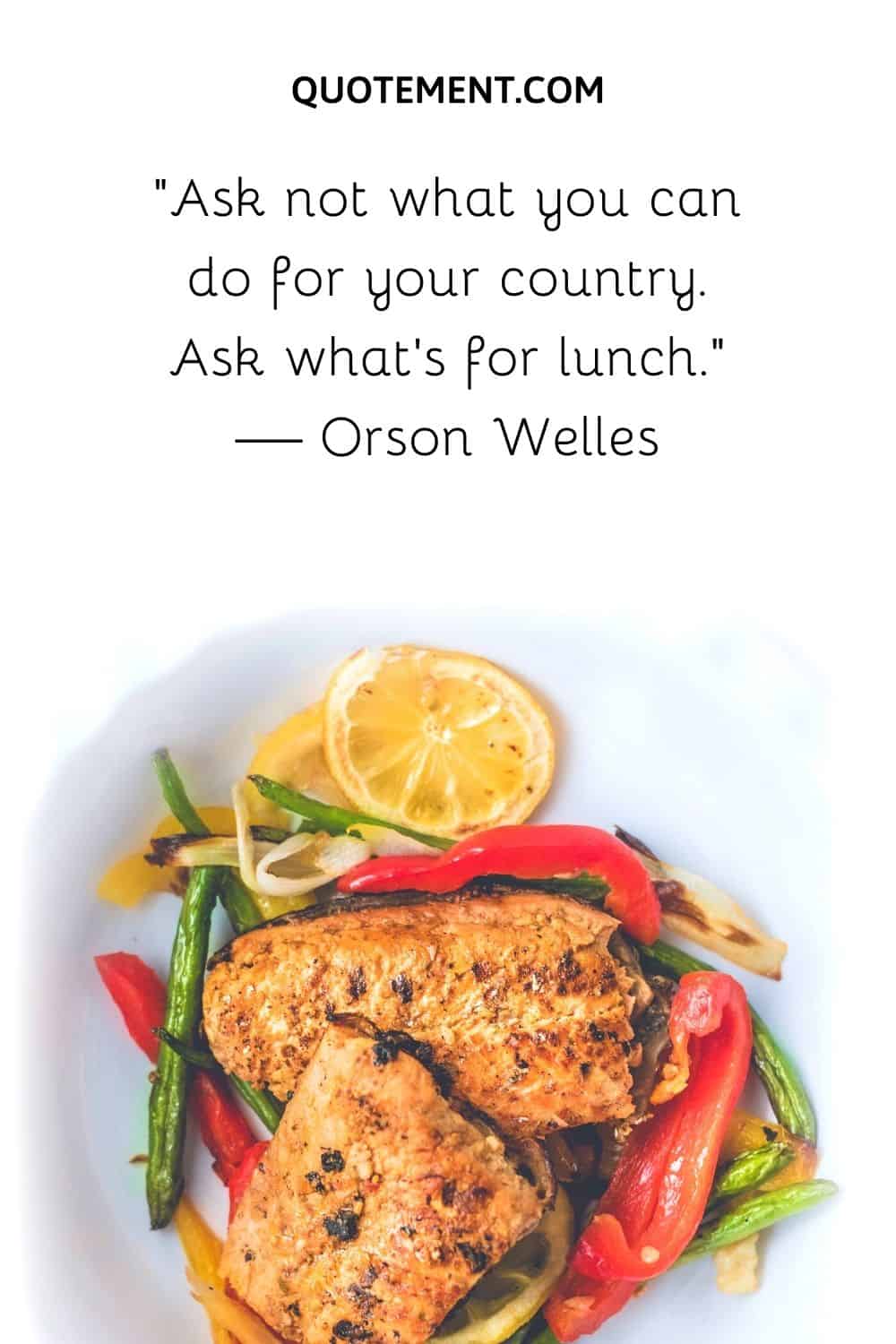 2. "Old habits eat good intentions for lunch. Change your habits so you can change your outcomes." — Darren Hardy
3. "Mmmm! Lunch and no cleanup! Can life get better? I submit that it can NOT!" — Brian Regan
4. "I believe in stopping work and eating lunch." — L'Wren Scott
5. "Office hours are from 12 to 1 with an hour off for lunch." — George S. Kaufman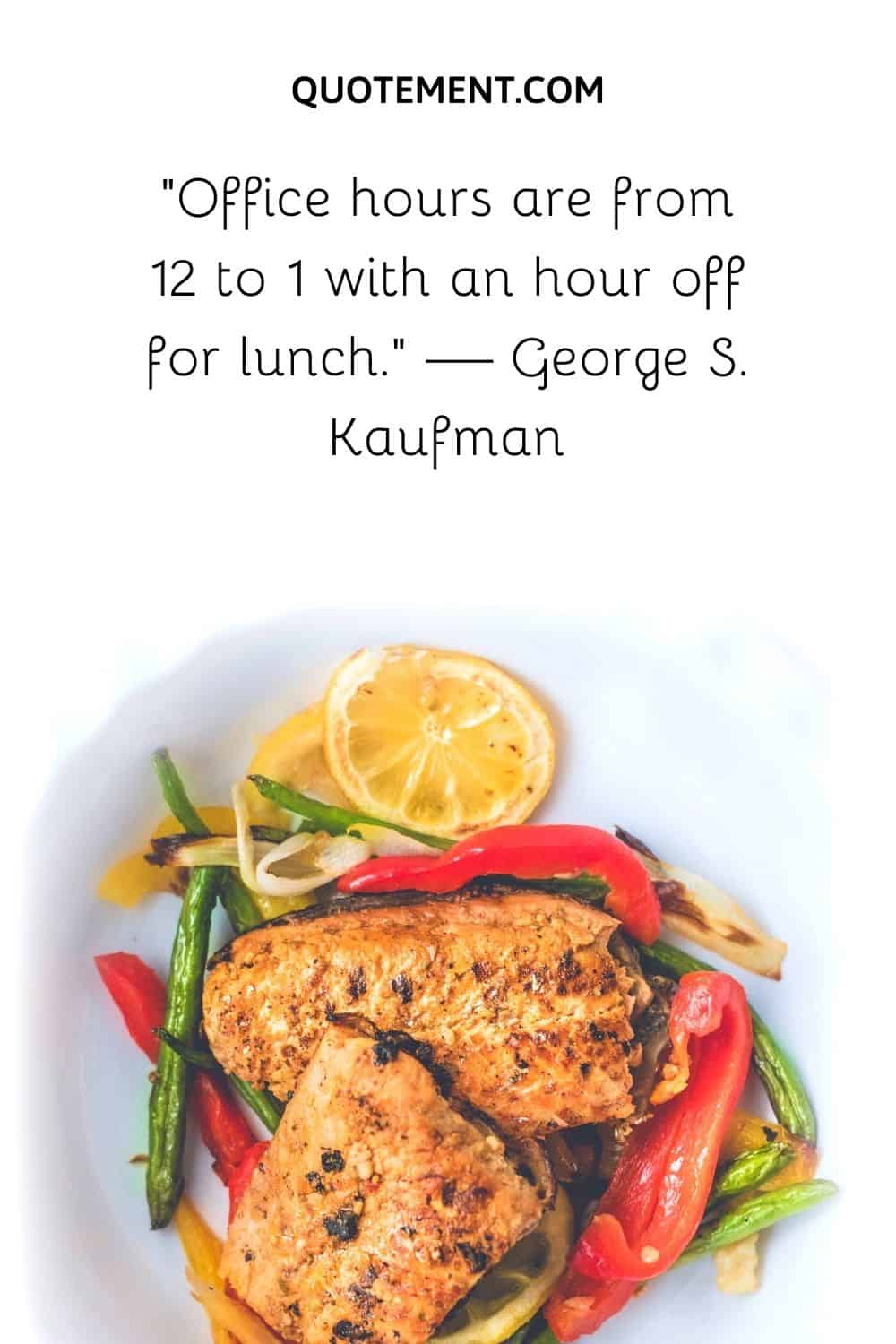 6. "People who say they're too busy to have lunch have a false impression of their own importance." — John Howard
7. "I cook a mean Sunday lunch. My idea of Heaven is a lunch outside on a beautifully sunny Sunday afternoon. It's the time to gather everyone together." — Cate Blanchett
8. "When people you greatly admire appear to be thinking deep thoughts, they probably are thinking about lunch." — Douglas Adams
9. "I'm very fortunate in that I don't have money problems. I have lunch with my wife at home. I don't have to commute, so I have much more time with my family." — Kazuo Ishiguro
10. "After a good dinner, one can forgive anybody, even one's own relatives." — Oscar Wilde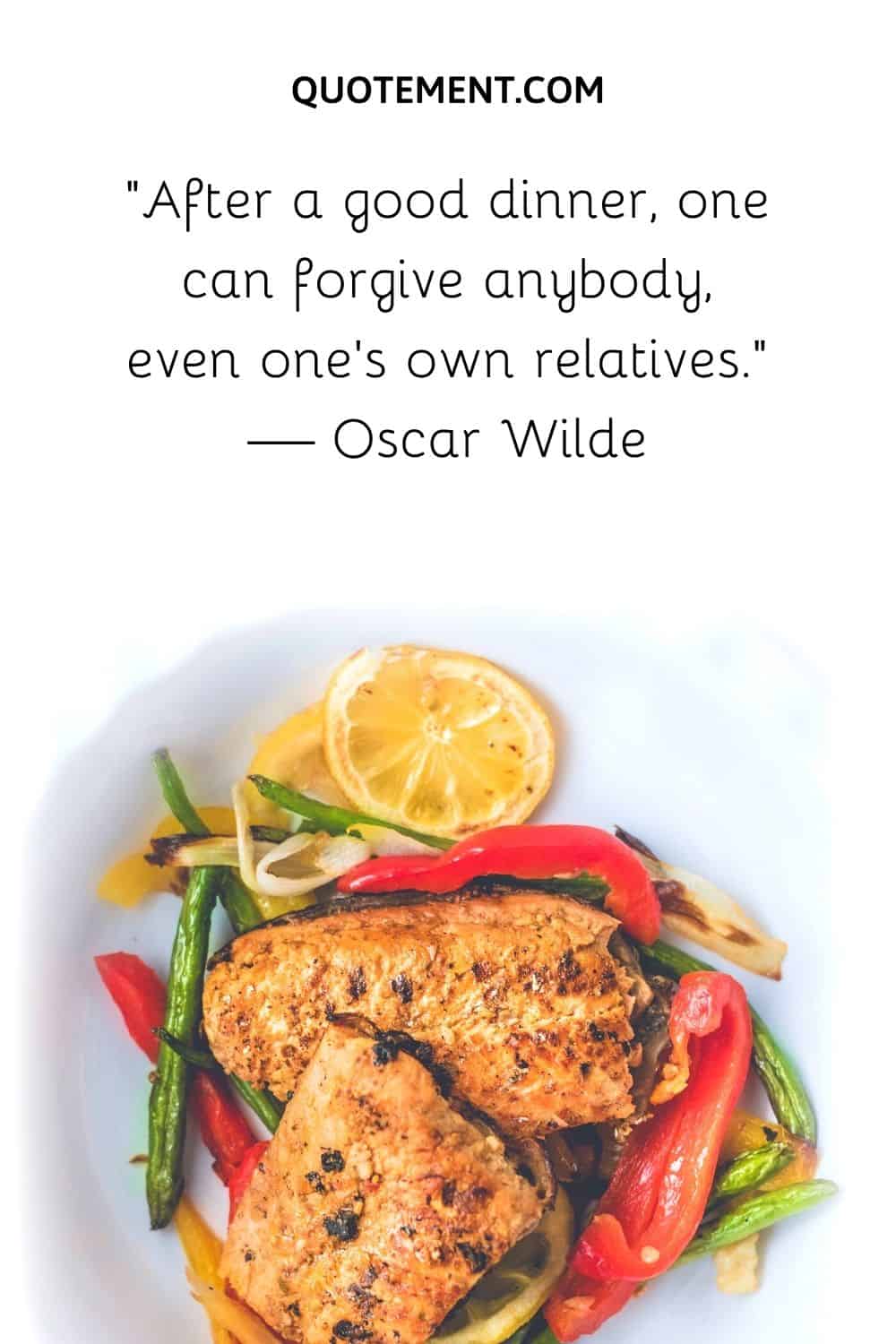 See also: The 160 Absolute Best Dinner Captions For Instagram In 2022
11. "I enjoyed physical education and lunchtime. The social aspect of school was great, but as soon as I left school, I wanted to get out there and race. I couldn't sit still for long." — Daniel Ricciardo
12. "I never drink coffee at lunch. I find it keeps me awake for the afternoon." — Ronald Reagan
13. "Is this film more interesting than a documentary of the same actors having lunch?" — Gene Siskel
14. "The beauty of diversification is it's about as close as you can get to a free lunch in investing." — Barry Ritholtz
15. "If you can't be happy at the prospect of lunch, you are unlikely to be happy about anything" — Robert Johnson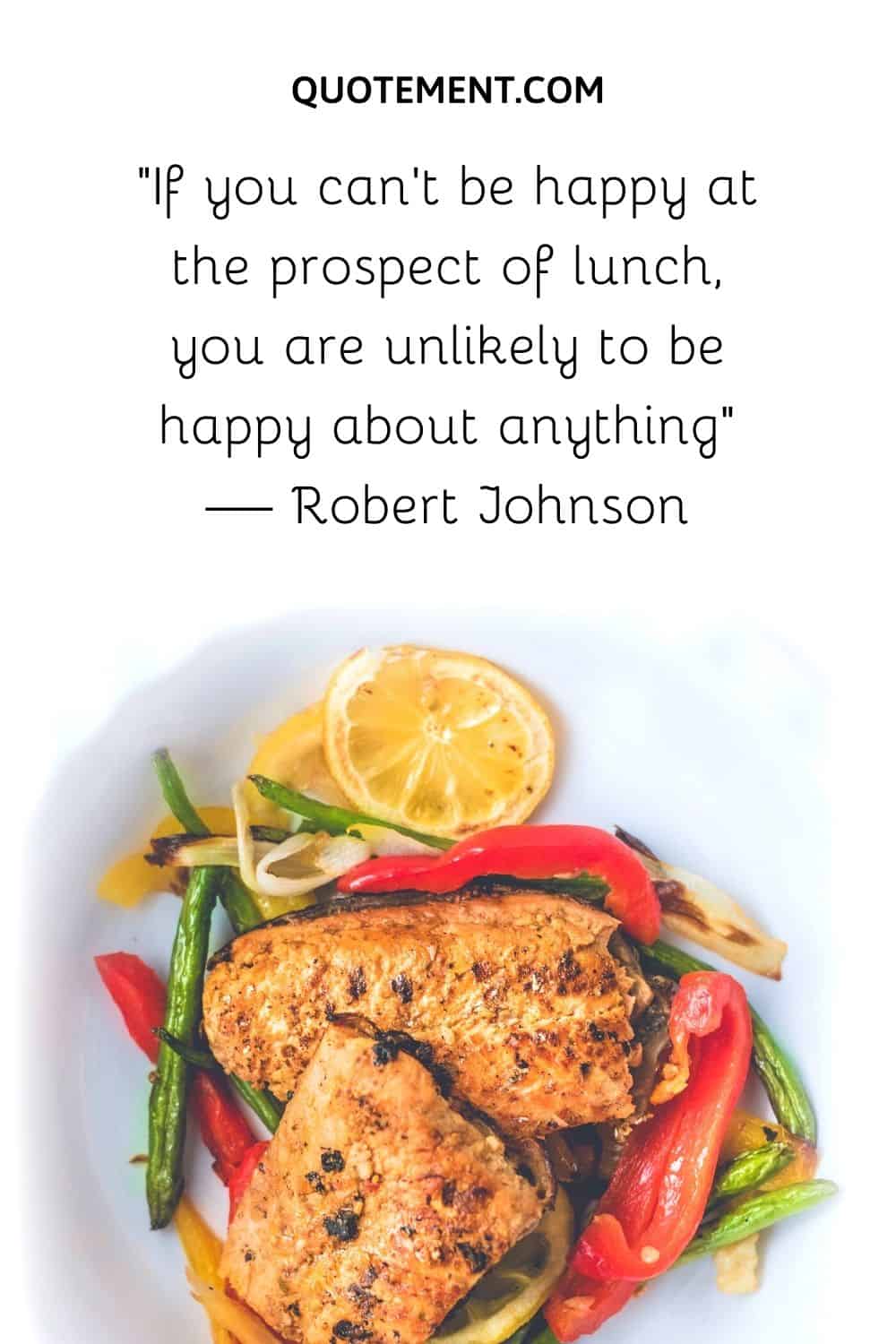 16. "Sometimes I dress like what I want for lunch because all I can think about is having a tuna sandwich." — Mika
17. "Please watch a little less television. Maybe post a few less comments about the lunch you had today." — John Skipper
18. "I don't think we are here for anything. We're just products of evolution. You can say, "Gee, your life must be pretty bleak if you don't think there's a purpose." But I'm anticipating a good lunch." — James D. Watson
19. "Nobody is taking my lunch money." — Jorge Masvidal
20. "Time is an illusion. Lunchtime is doubly so." — Douglas Adams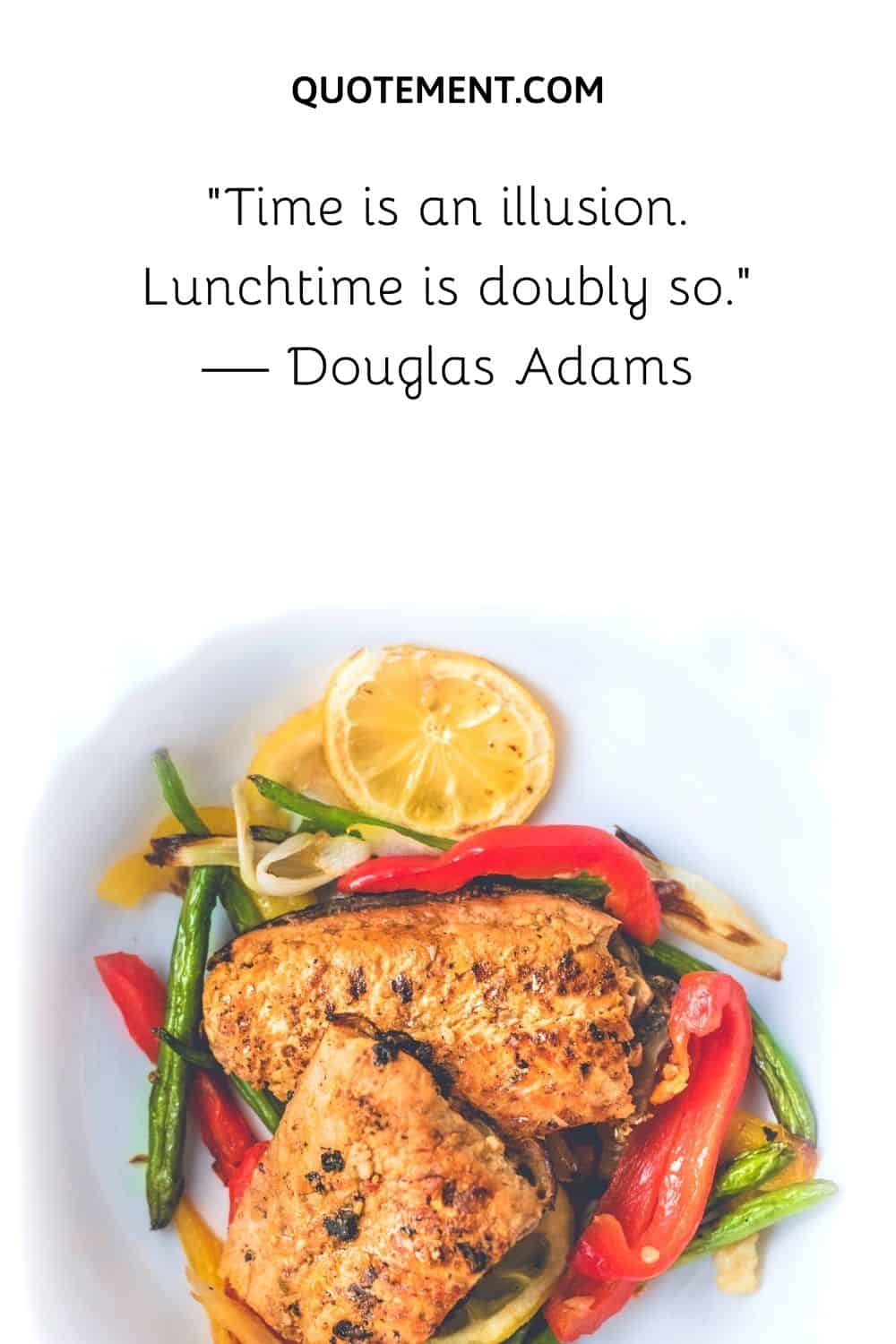 Wrapping It Up
I hope you liked my collection of lunch captions for Instagram, and that you now have the perfect one for your lunch Instagram post.
Be sure to check out more content on our page, we've got loads of incredible stuff!
Until next time!
Read next: 260 Best Breakfast Captions To Make Your Post Rock