If you've been looking for a good burger caption to post on social media along with your mouth-watering burger photo, then you've come to the right place!
Here are the best burger captions of all time!
I've rounded up an awesome collection of burger captions for all the burger lovers enjoying their burger time.
The burger caption ideas you're about to read in this article will capture all your feelings and cravings for this timeless classic.
These comfort food captions will make your burger photos all the more attractive, and your Instagram burger post more engaging.
These are the best burger captions for Instagram or any other social media platform, including some of the best burger quotes.
Let's check them out!
20 Best Burger Captions
Here is my list of the best burger captions to catch people's attention and make your burger time post really pop!
1. Best memories are created eating burgers with friends.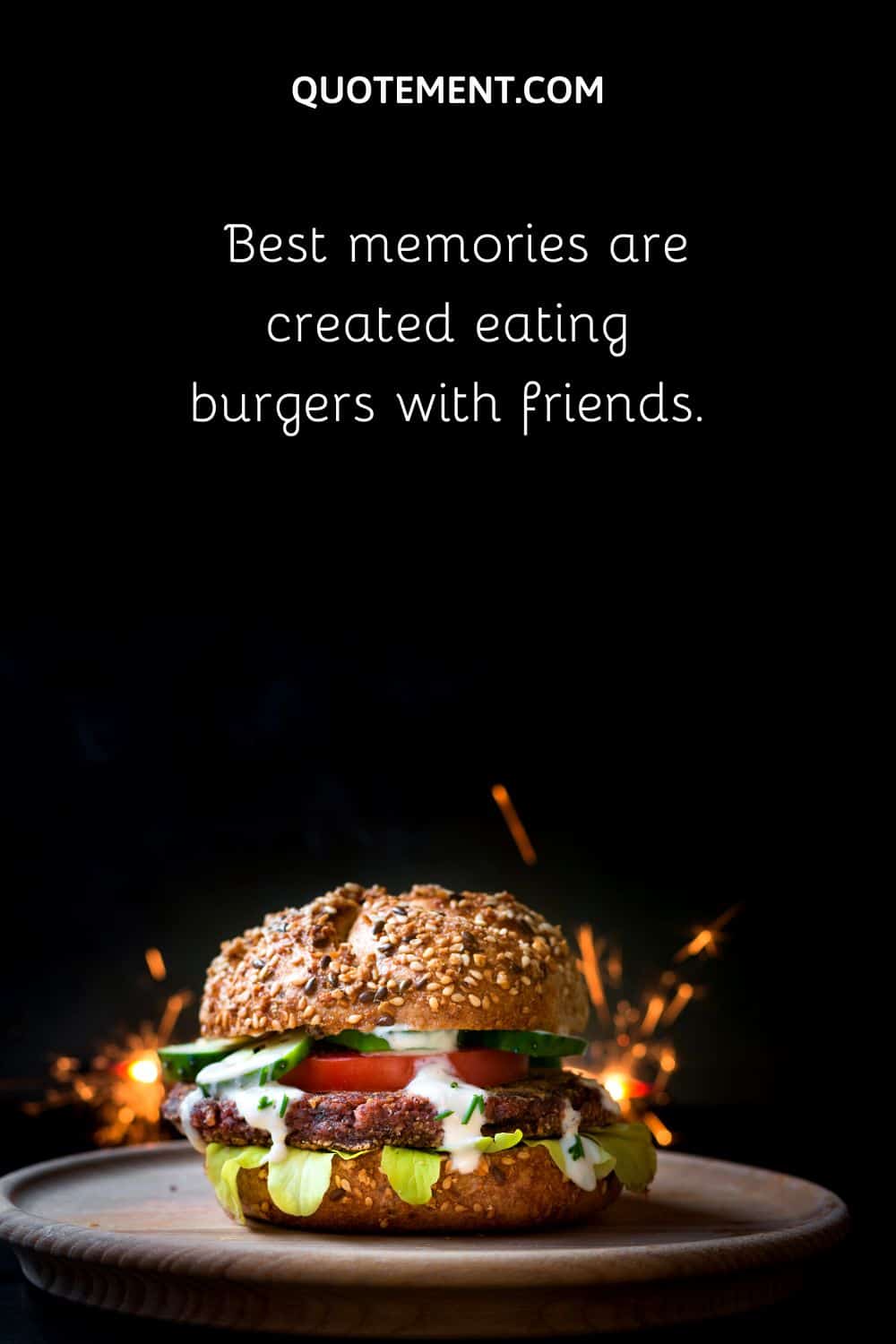 2. A good burger calms my mind.
3. A burger is not just a food, it's an emotion for the foodies.
4. Heaven between two buns.
5. Life is uncertain, eat burgers first.
6. A balanced diet is a burger in each hand.
7. Happiness between two buns.
8. The first American word that I learned was cheeseburger.
9. Better to wait a little time for your burger than to have your burger wait a long time for you.
10. A journey of a thousand pounds begins with a single burger.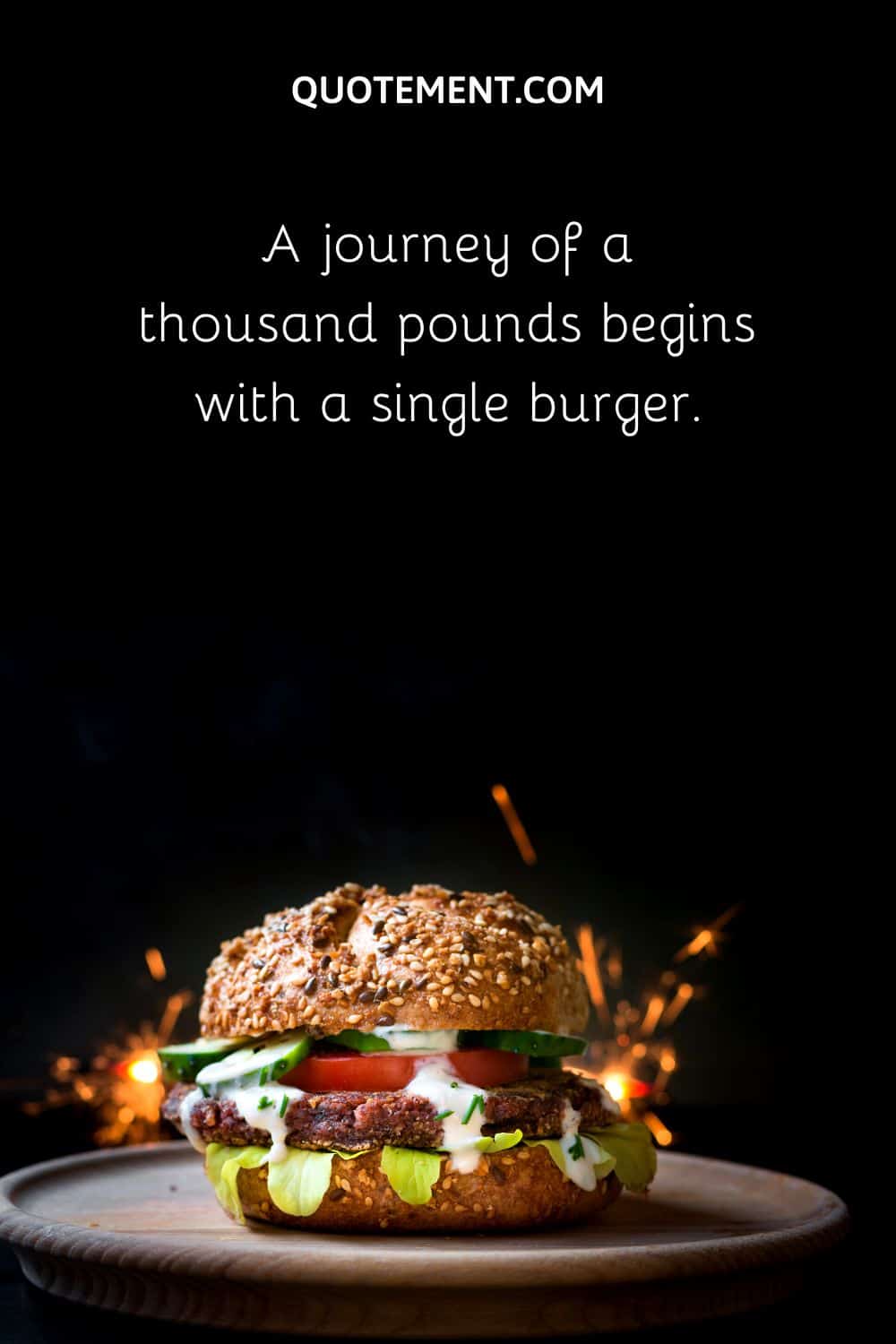 11. Burgers — the ultimate cheat meal.
12. Burgers make the world go round.
13. Eat clean. Stay fit. And have a burger to be sane.
14. Burgers are the best stress buster.
15. Life is like a burger, the more ingredients you add to it, the tastier it becomes.
16. The best burgers are like life — messy and topped with bacon.
17. Is your smile from McDonald's? Because I'm lovin' it.
18. Have it like no one is looking at you.
19. Many people crave a romantic relationship. I'm just craving a burger that looks like the ones in posters and ads.
20. I only have eyes for burgers and fries.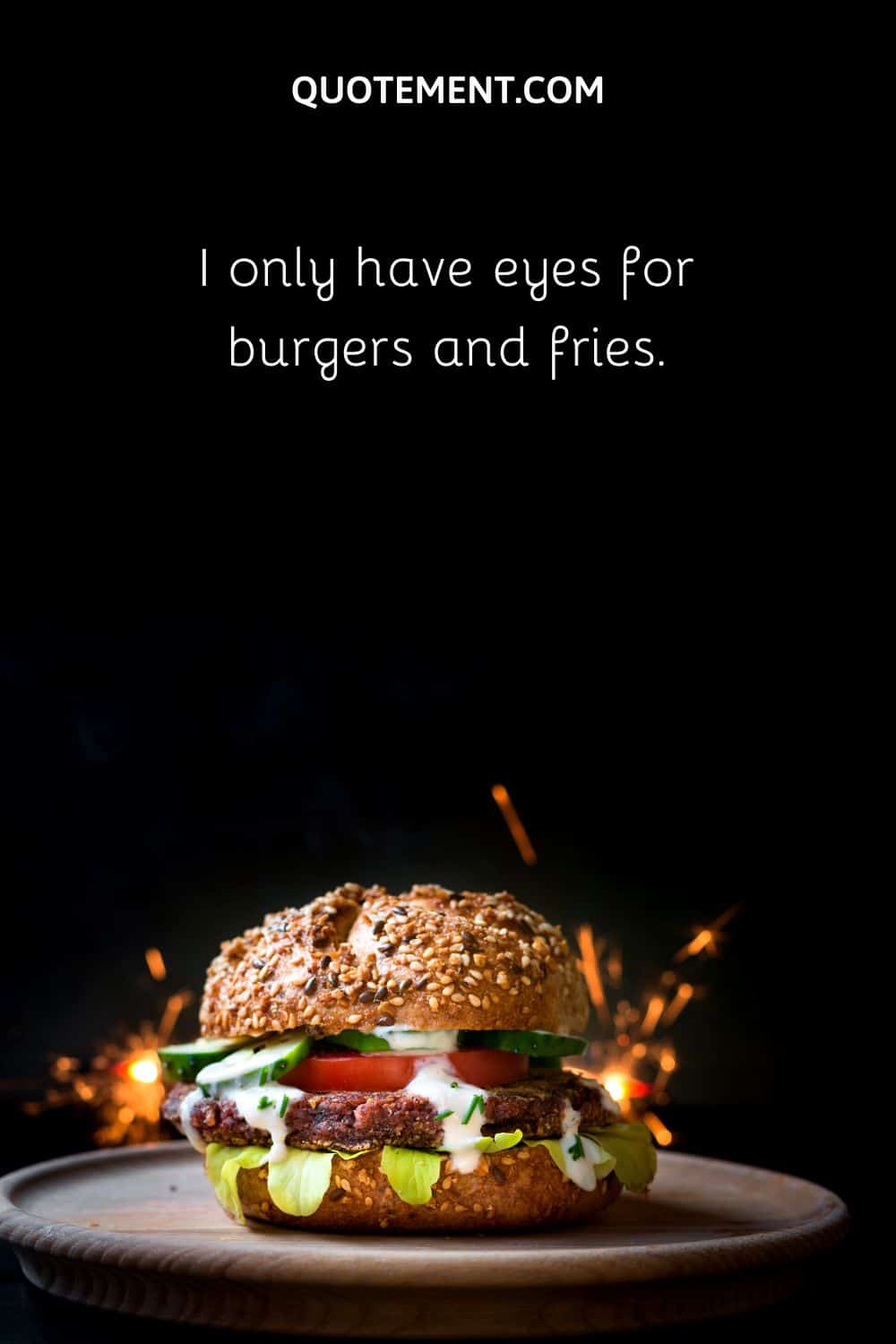 Burger Captions For Instagram
Check out this cool list of burger captions for Instagram that will give you a perfect caption idea for all your burger Insta posts.
1. Burgers are our love language.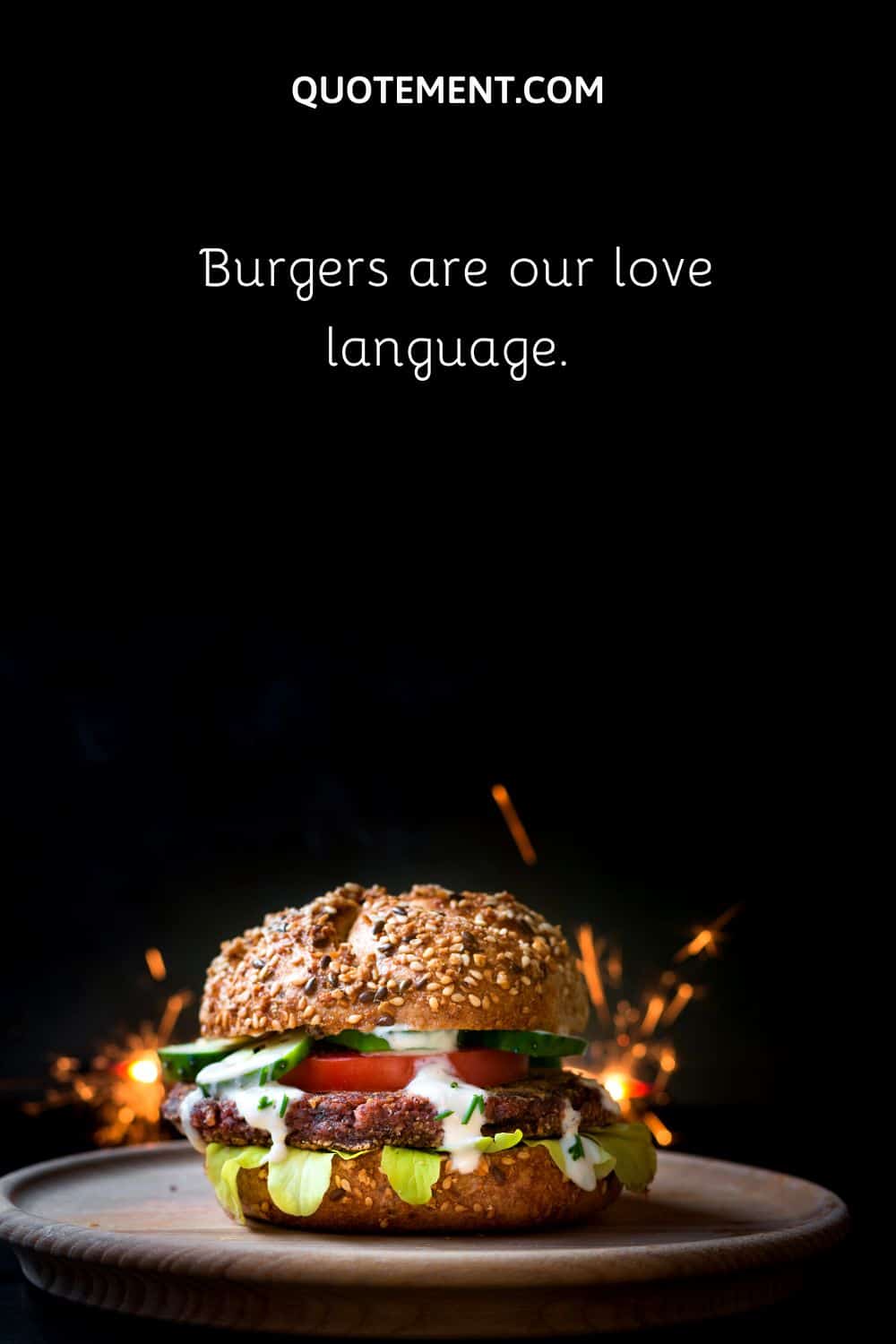 2. A perfectly round quarter pound.
3. When in doubt, take a bite of burger.
4. I guess I always felt even if the world came to an end, McDonald's would still be open.
5. I'm going to eat fast food. I'm going to McDonald's. I don't need to pretend.
6. A crusted bun is the perfect burger.
7. Stepping towards vegan burgers is like stepping towards a new phase of a happy life.
8. Food is life, life is food. If you don't like my approach you are welcome to go down to Mcdonald's.
9. It's burger time.
10. Burger + bacon = perfect combo.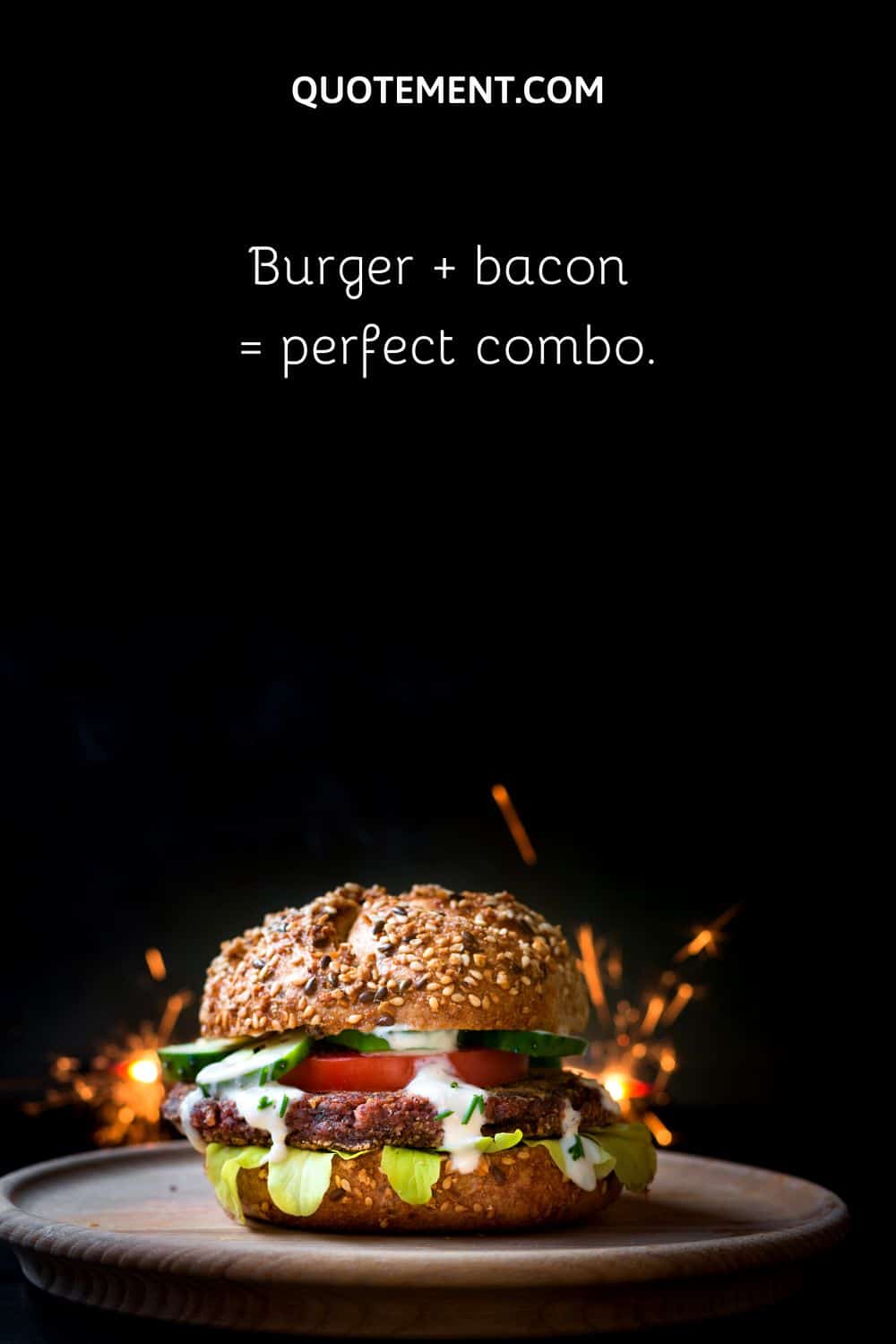 11. I happened to be in the right place at the right time.
12. Vegan burgers are pure love.
13. Bacon — it's like meat candy.
14. Every day is burger day.
15. Life is too short for a well-done burger.
16. Don't go bacon my heart.
17. For an adult, eating alone at McDonald's is admitting a kind of defeat.
18. All you need is a good burger.
19. Nice buns.
20. You're the ketchup to my fries.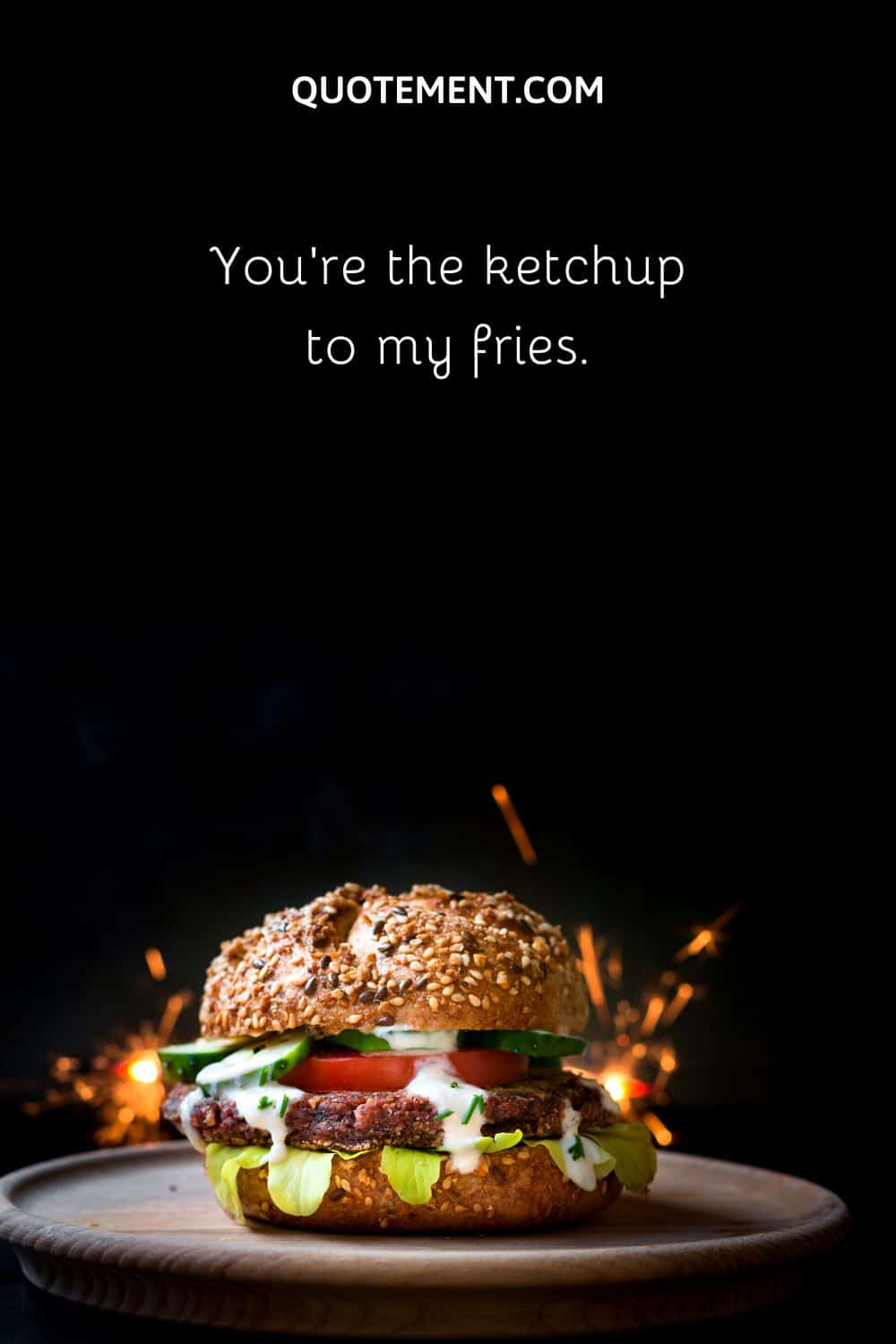 21. That last rogue fry in the bottom of the bag…
22. Love is in the air, and it's medium-rare.
23. Burger and fries always work for me.
24. Good food is the sweetest when shared with good friends.
25. Burger-holic.
26. I went into a McDonald's yesterday and said, 'I'd like some fries.' The girl at the counter said, 'Would you like some fries with that?'
27. You're more special than the special sauce.
28. Today I will be happier than a bird with a french fry.
29. Life is too short to eat veg burgers.
30. Meat is on.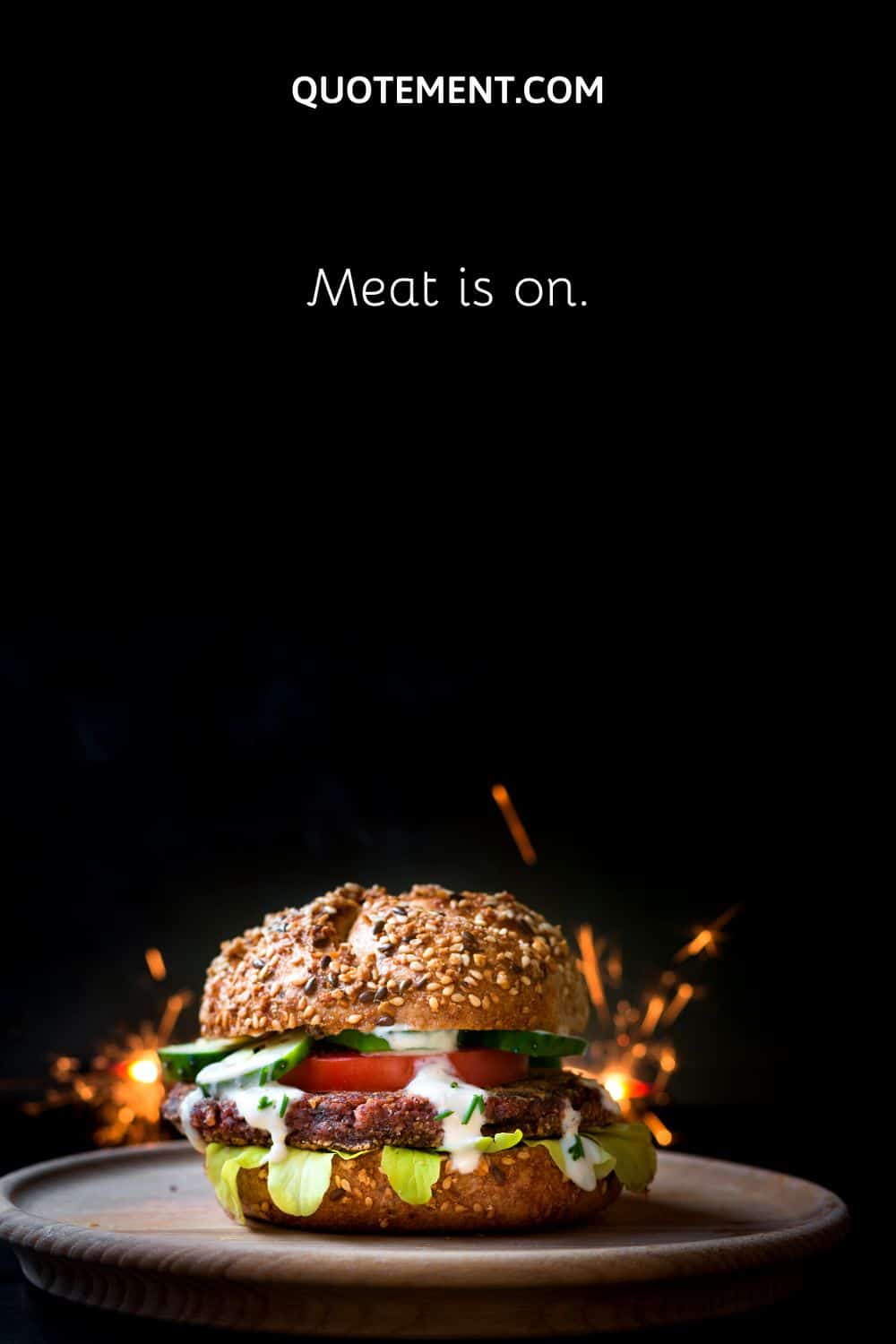 31. Treat yo'self (to a burger).
32. You can't spell "friends" without "fries".
33. Stay healthy and eat a vegan burger.
34. Burger and coke is the best combination ever.
35. Friends with burger-fits.
36. No burgers, no enjoyment.
37. We followed our hearts and it led us to burgers.
38. Love, peace, and veggie burgers.
39. Burgers are my favorite food group.
40. Eat a burger and stay calm.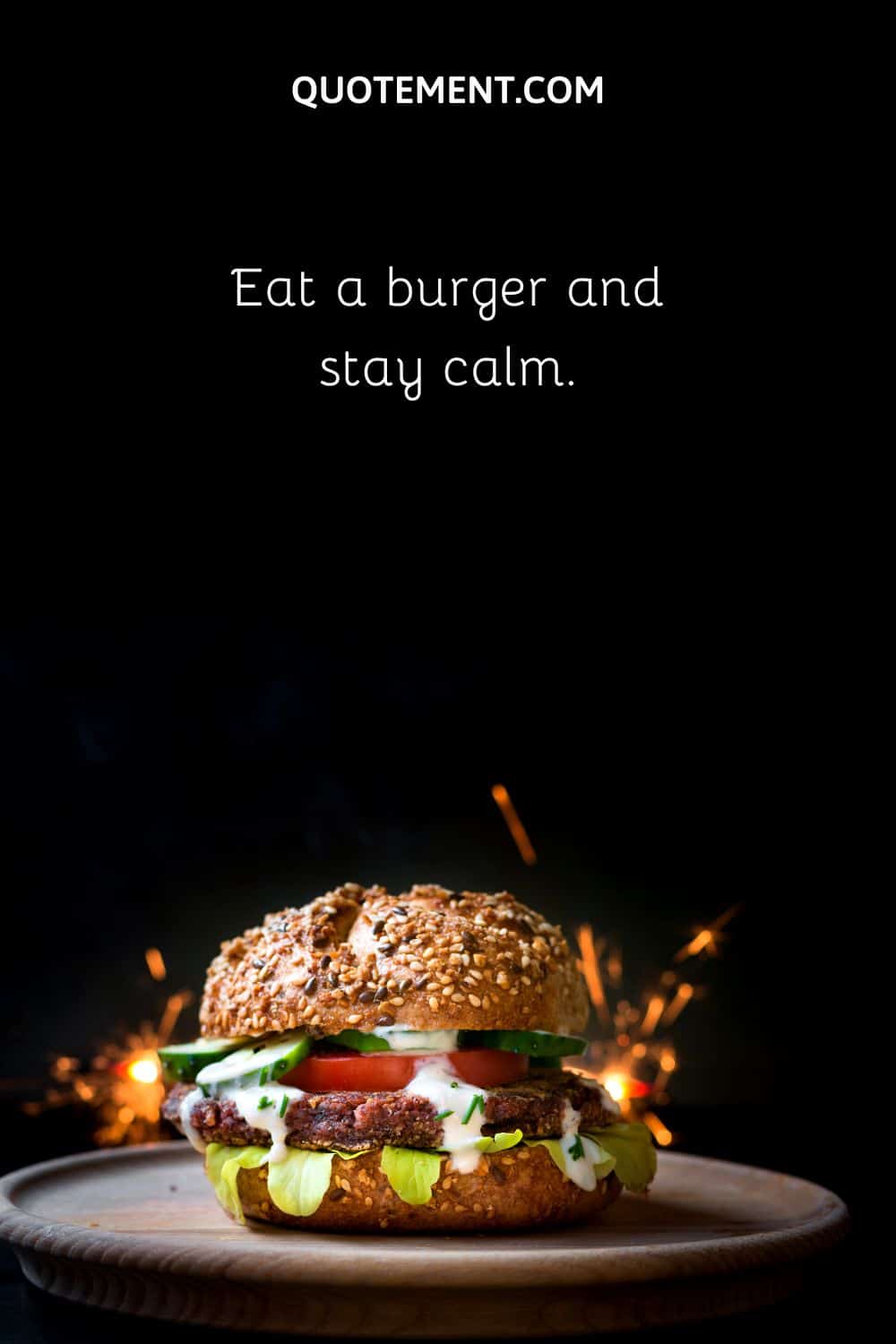 41. We want none unless you got buns hun.
42. Good burger, good vibes.
43. Burger bae.
44. This is the one and only bun for me.
45. I was in the right place at the right time.
Tasty Burger Instagram Captions
If you are a burger lover, then you probably often snap pics while eating or cooking and post it on Instagram.
Next time you post one, make sure to use one of the following burger captions for Instagram alongside it!
1. A burger for your late-night cravings.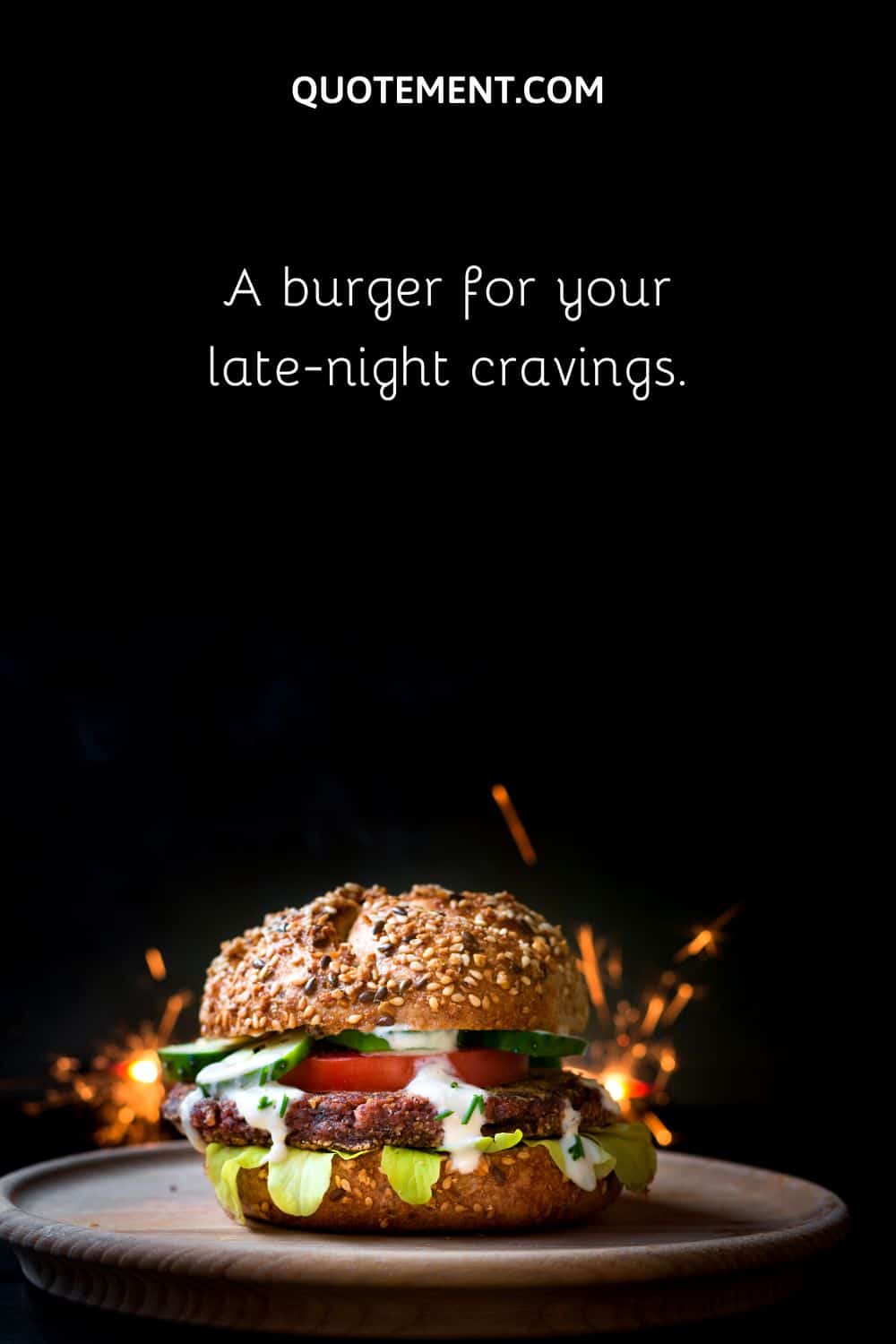 2. Chicken burgers are the all-time favorites.
3. Every bite is crunchy.
4. Let's meat up.
5. Burgers loaded with meat are my type of burger.
6. I fell for the chicken burger.
7. Grill and chill.
8. Vegan burgers are rich in nutrients.
9. Is it a food baby? Nah, just a burger.
10. You did something today to deserve a burger.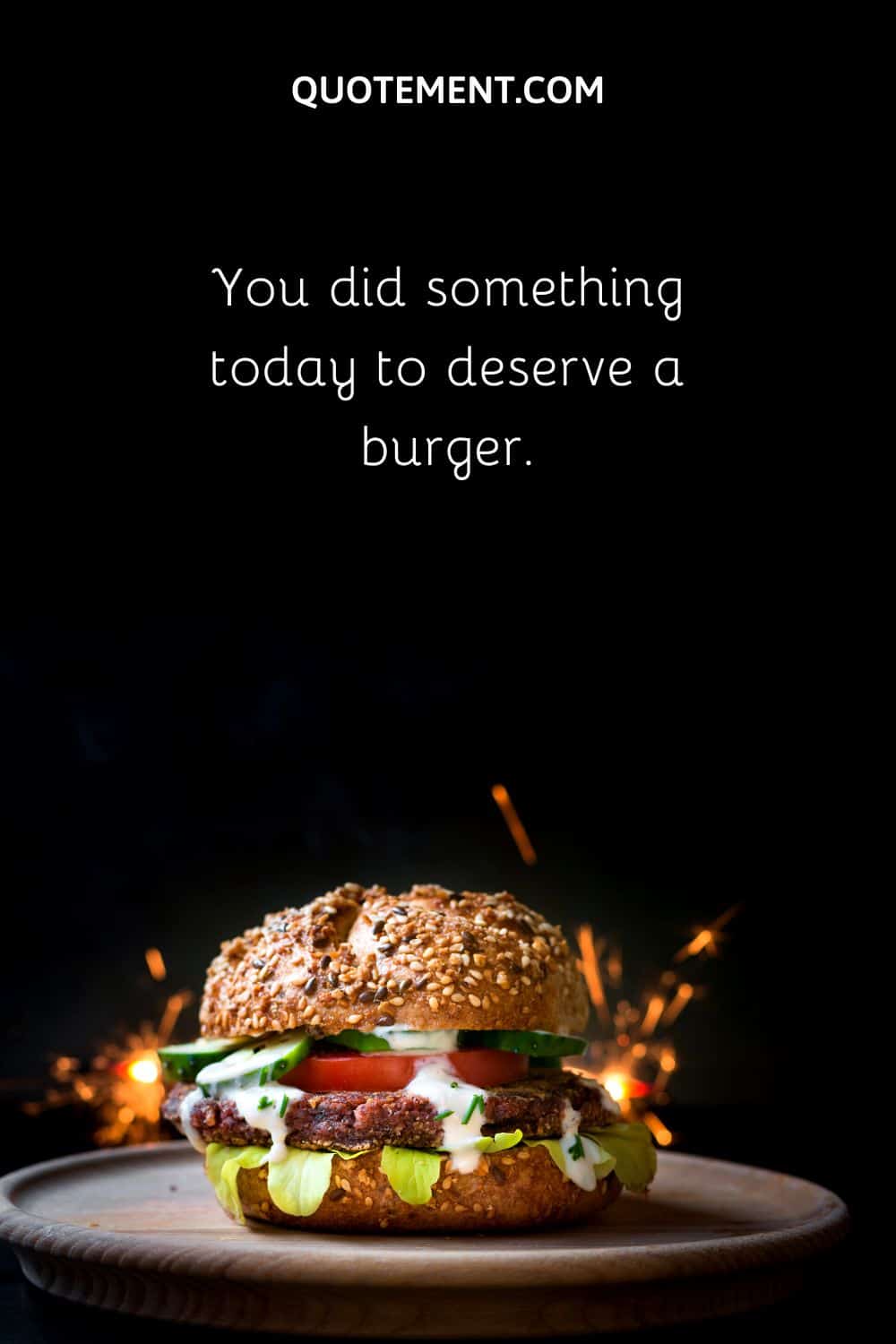 11. A place for food lovers.
12. Get the best vegan burgers here.
13. Enriched with the tastiest burgers.
14. Burgerlicious.
15. I work out because I love burgers.
16. Burgers cure what ails you.
17. Late-night cravings solved!
18. Yeah, I lift…this burger to my mouth.
19. Grill and chill.
20. Burger heaven.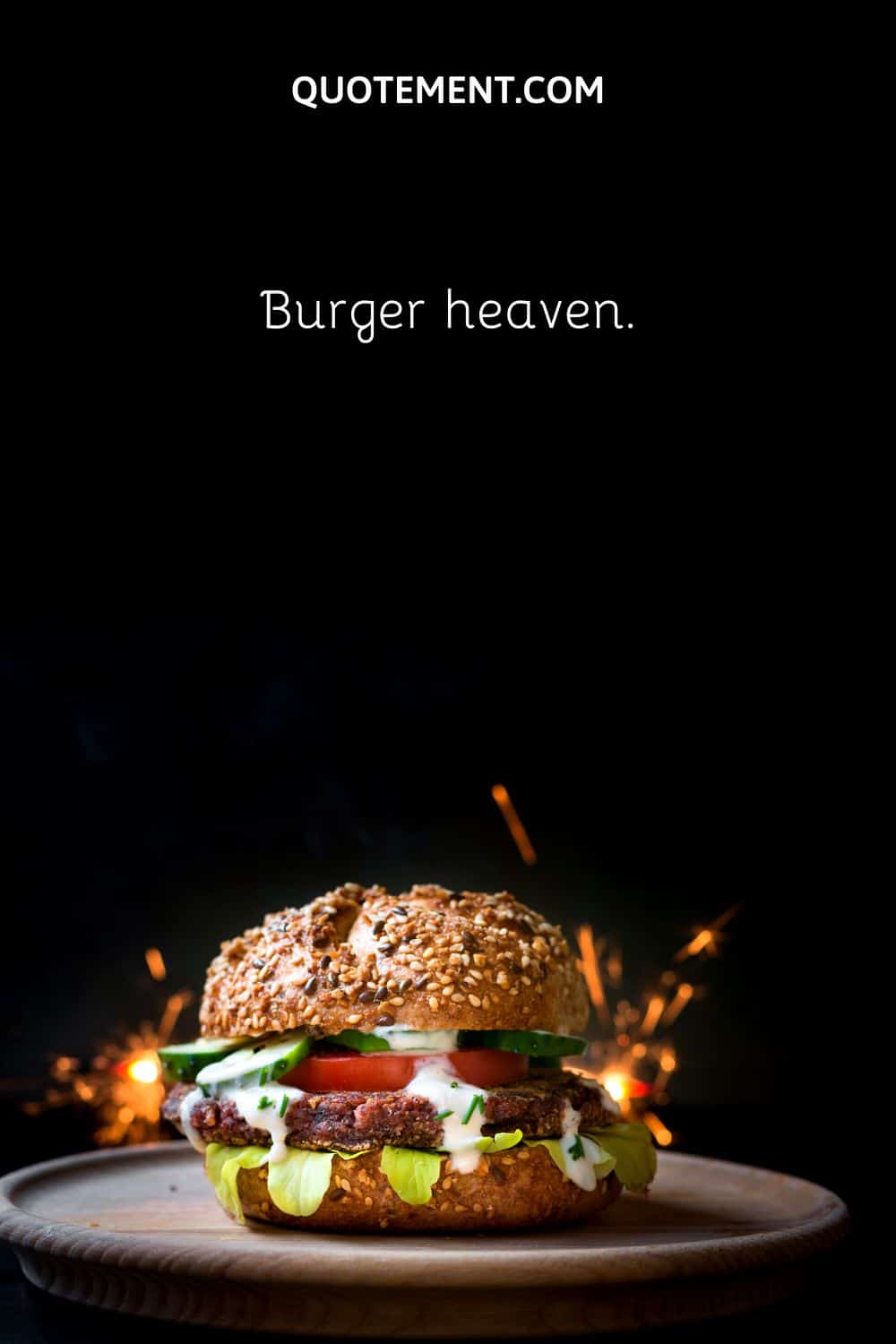 21. When life throws you a burger, eat it.
22. Burgers that taste like heaven.
23. Reunite with your favorite burgers today.
24. Burger at first sight.
25. Keep calm and have a burger.
26. Stay hungry and eat burgers.
27. Loaded with tons of chicken.
28. A burger is always better.
29. Now THAT is a tasty burger.
30. I'm into fitness…fitness whole burger in my mouth.
31. Come for the burger, stay for the fries.
32. Ground beef between your teeth.
33. Burger on the brain.
34. Burger day is the best day.
35. Burger goals.
36. Who's the burger boss?
37. Tomatoes grow up to be ketchup.
38. Wind in my hair, the smell of burgers in the air.
39. I'm sorry for what I said before I had my burger.
40. We go together like a burger and fries.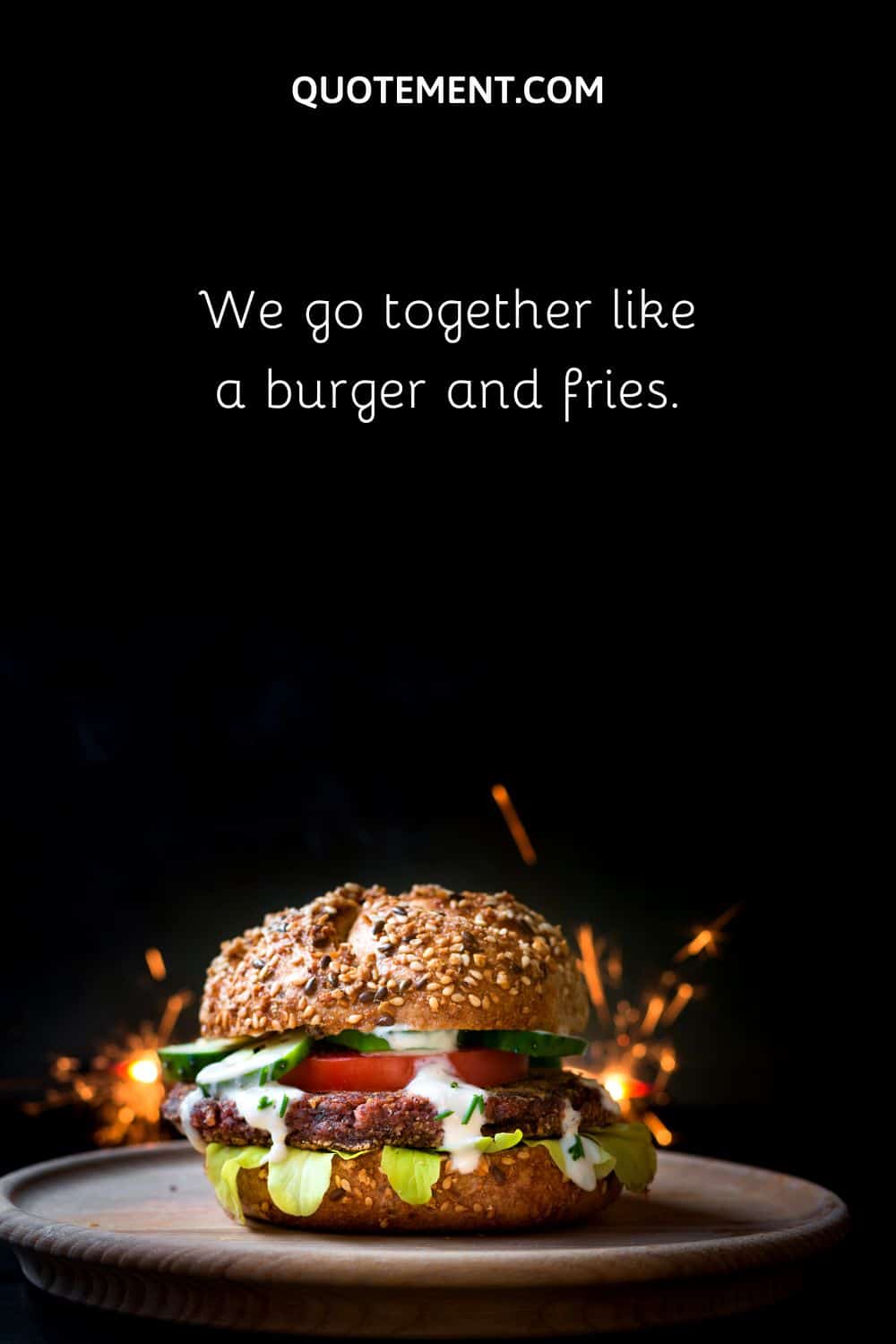 41. Burger party at my place.
42. Eyes on the fries.
43. It's burger o'clock.
44. One can't simply drive past a burger joint.
45. It has lettuce and tomato…so a burger is basically a salad.
See also: 260 Fantastic Salad Captions For Veggie & Fruit Lovers
Burger Caption Ideas For Burger Lovers
Use the following burger captions to express your feelings about this delicious comfort food and share your burger vibes with your friends and followers on social media.
1. Bite into tender juicy goodness.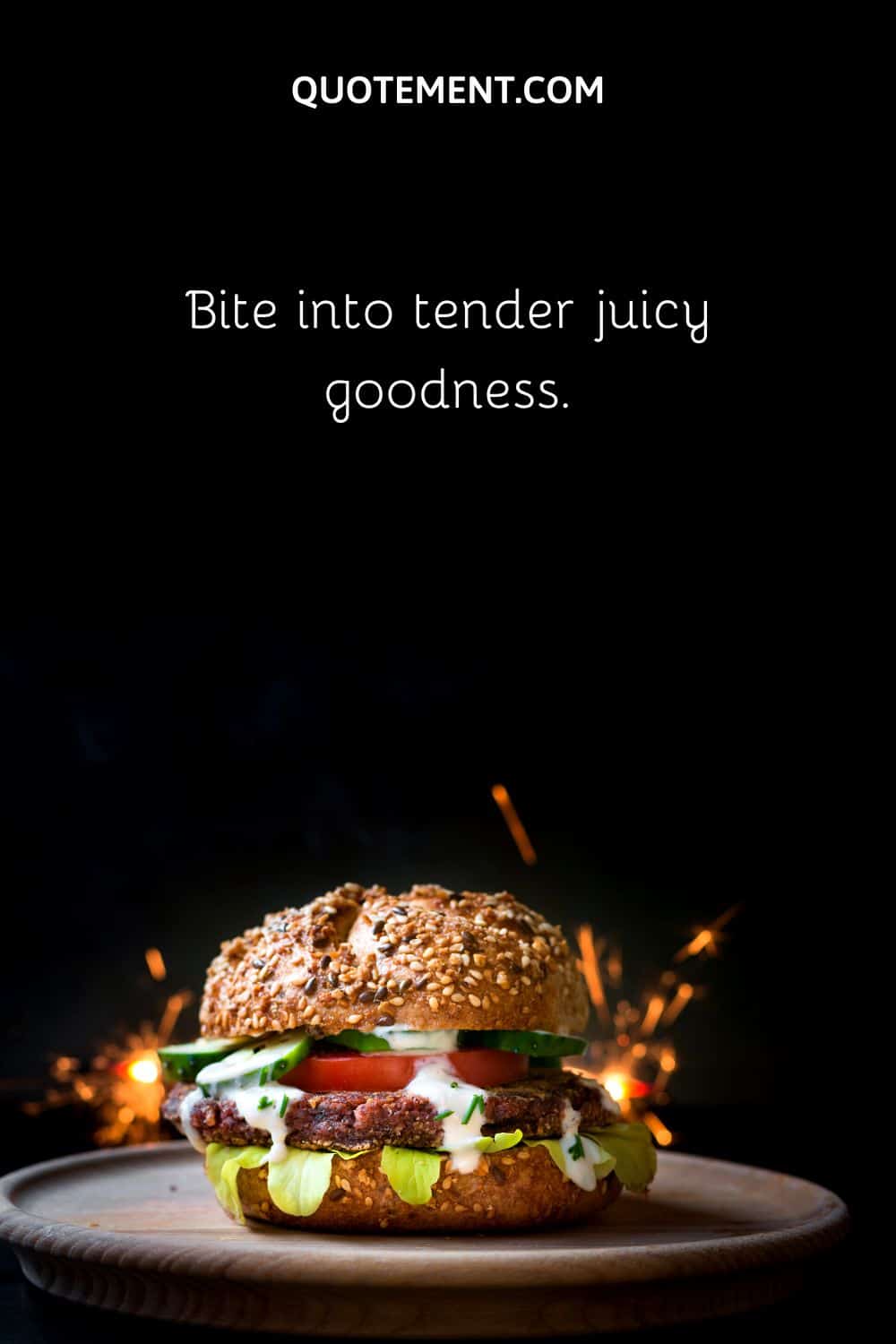 2. Big and Beefy.
3. Paving the way for delicious burgers.
4. Grilling every day.
5. Baddest burgers in town.
6. Having the greatest burgers on the planet.
7. Quality Ingredients. Quality Burgers.
8. Because you deserve only the best.
9. Patties perfected.
10. Slip into burger madness.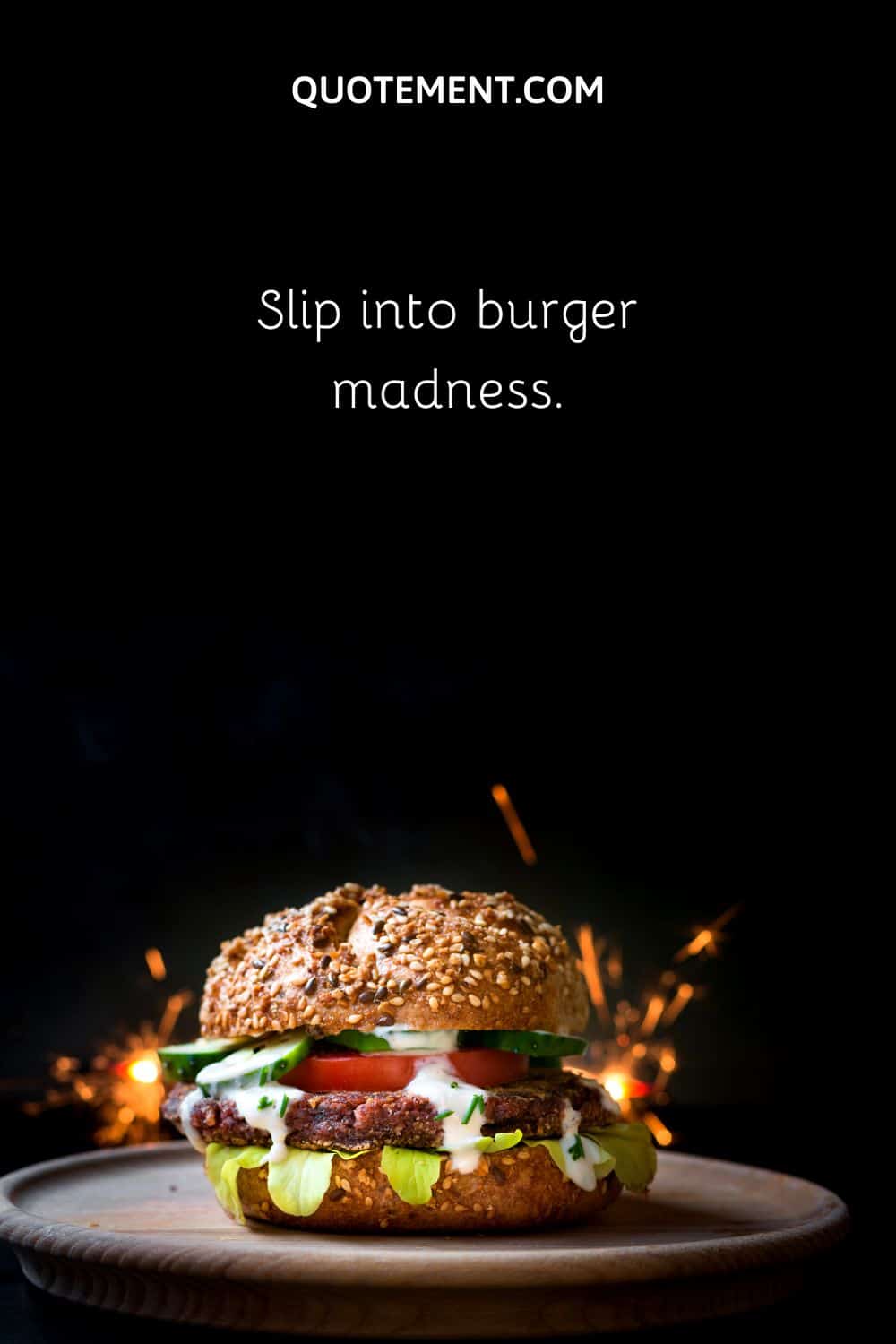 11. Chicken is the heart of the burger.
12. I'm a vegan burger lover.
13. Flame on.
14. Patties are my passion.
15. We're all about real burgers.
16. The great thing about McDonald's is that they have a lot of different things on the menu. I love their salads.
17. Giving you that burger lovin'.
18. Grab a bite.
19. Bite into flavor town.
20. Burgers are great, but chicken burgers are magic.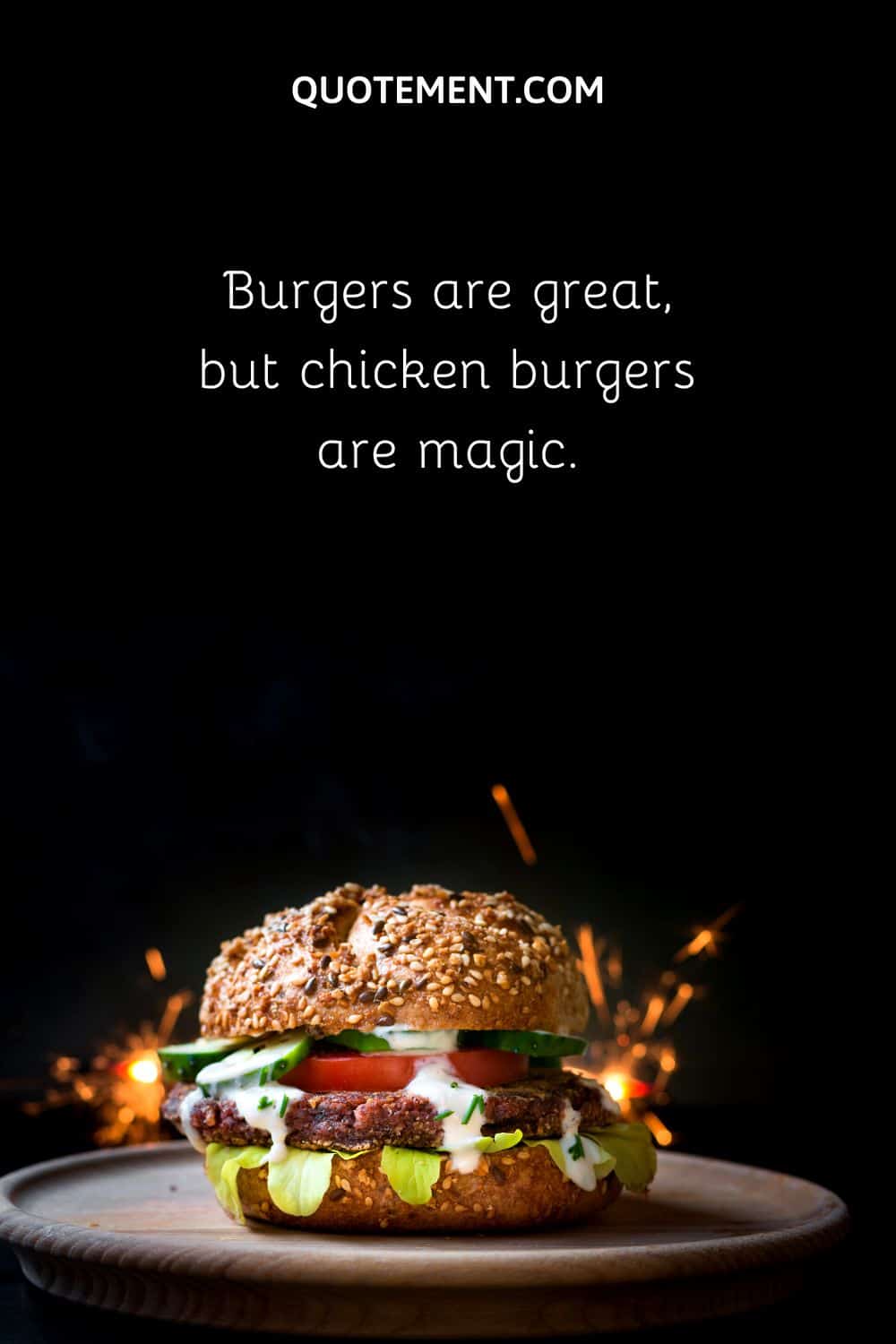 21. The best place for burgers.
22. Have a vegan burger and stay fit.
23. Juicy to the last bite.
24. Grilled to perfection.
25. We swear by our juicy burgers.
26. The ultimate patty and bun treat.
27. Burger to the rescue.
28. It's always burger day.
29. Glorious heavenly burgers.
30. Get the goodness in vegan burgers.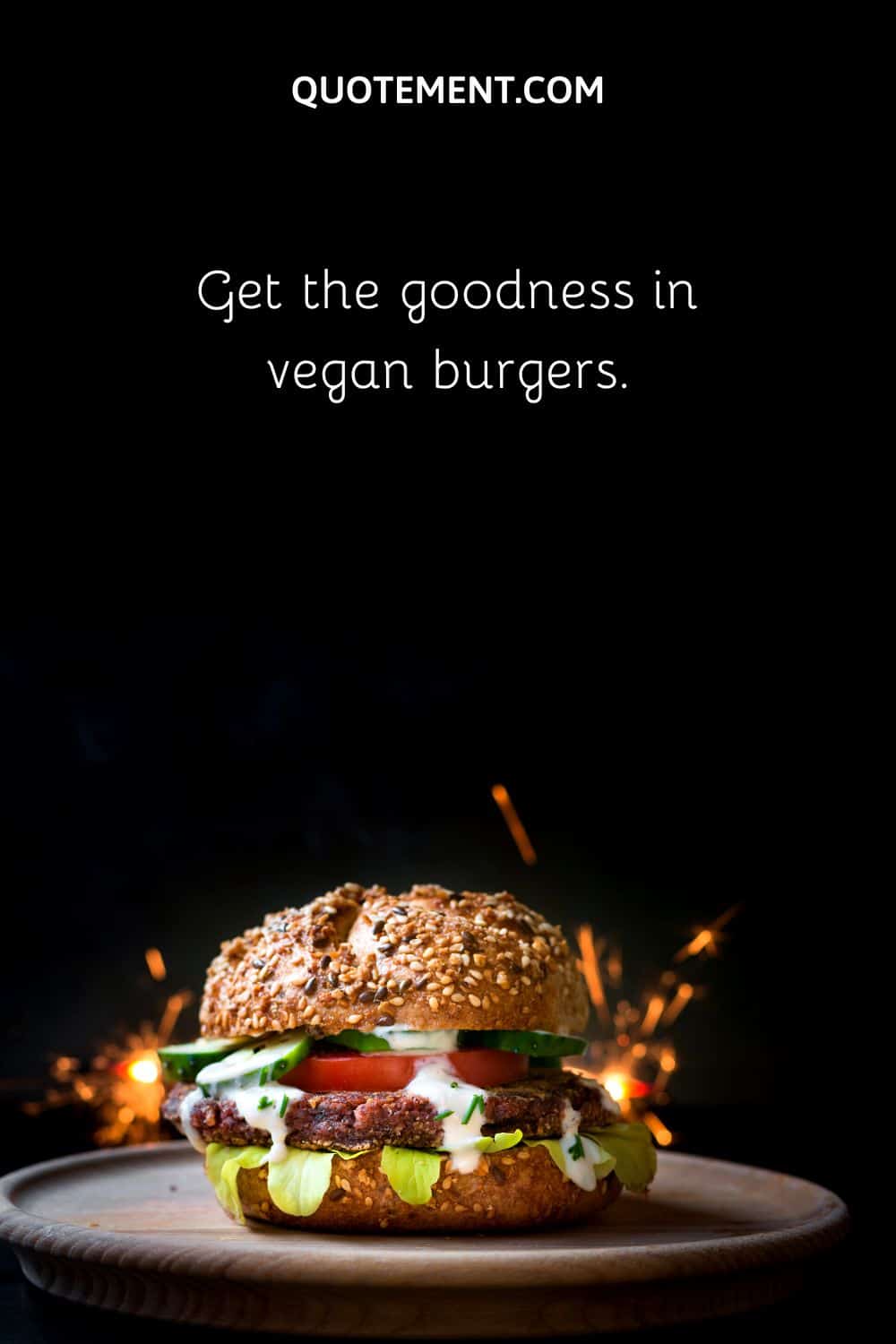 31. More than just your average burger.
32. Burgers made with love.
33. Hand-crafted burgers.
34. Where the real burgers are.
35. Crazy beefy burgers.
36. Vegan burgers are the best ones.
37. Burger Up.
38. Join us in burger heaven.
39. Burgers that won't break your heart.
40. Flame-grilled perfection.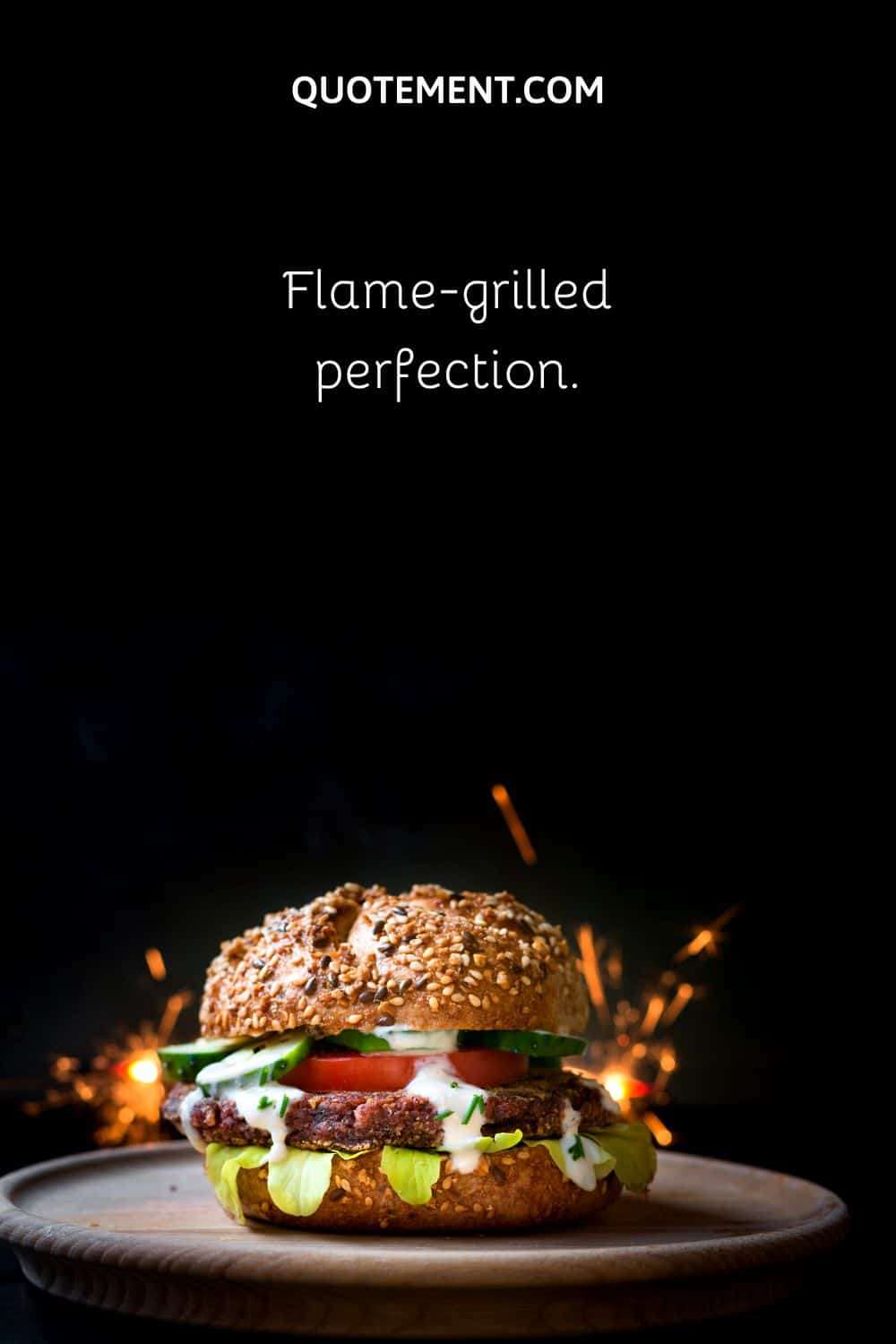 41. Expect beefy goodness.
42. Out of this world yumminess.
43. Grilling awesome burgers.
44. Chicken burger vibes.
45. Redefining burgers.
Cheeseburger Captions
If cheeseburgers are your favorite kind of burger, here are some perfect caption ideas for all your pics and selfies with cheeseburgers!
1. Cheeseburgers are proof that God loves us.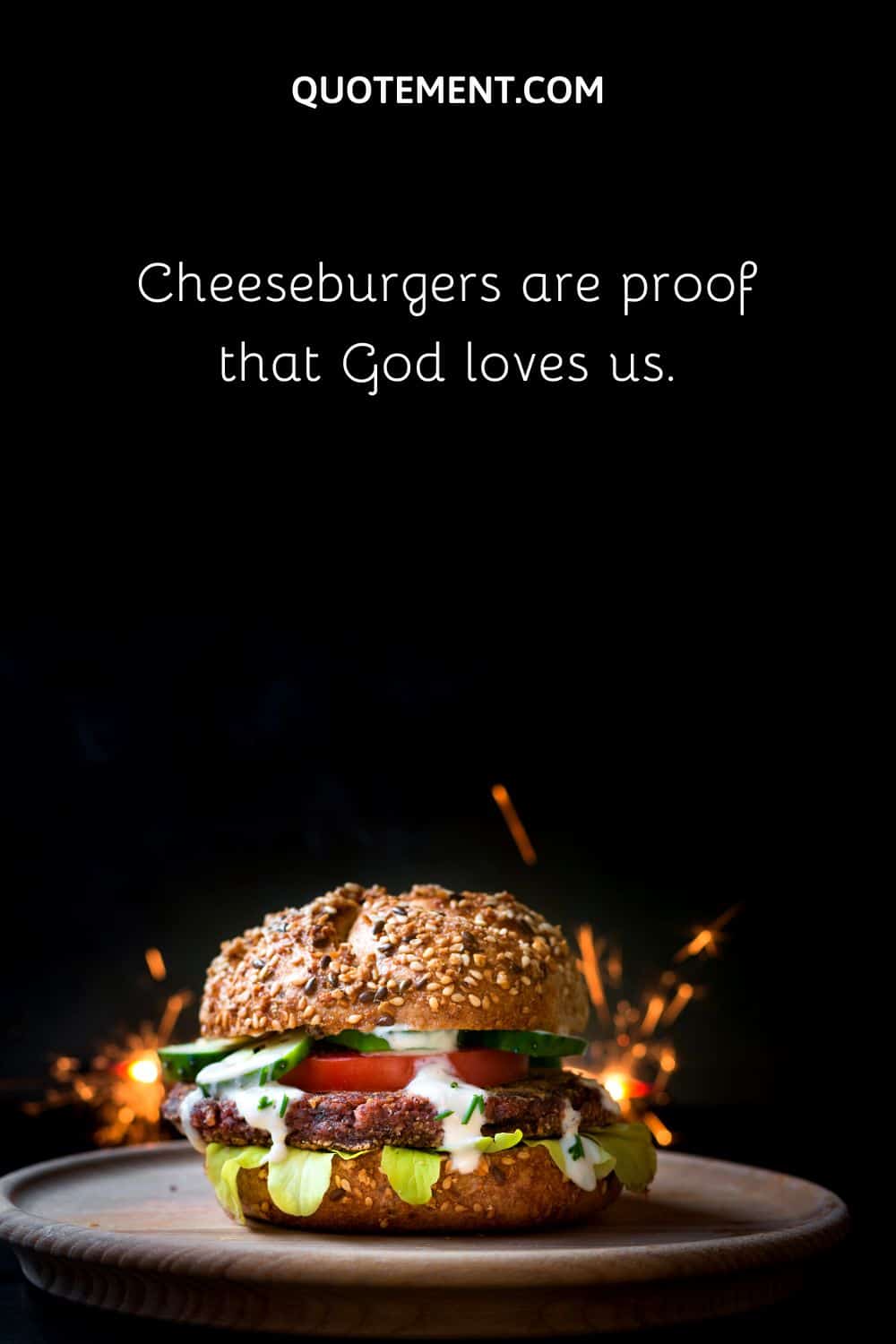 2. Burgers with extra cheese make my day.
3. It's a cheesy day.
4. You can finish that cheeseburger. I believe in you.
5. Everything in this world is fake except the cheeseburger.
6. My weekend ends with a cheeseburger.
7. Let's go cheesy.
8. Say cheese (burgers)!
9. I can haz cheezburger?
10. Let the cheese melt inside the burger as the ice melts in summer.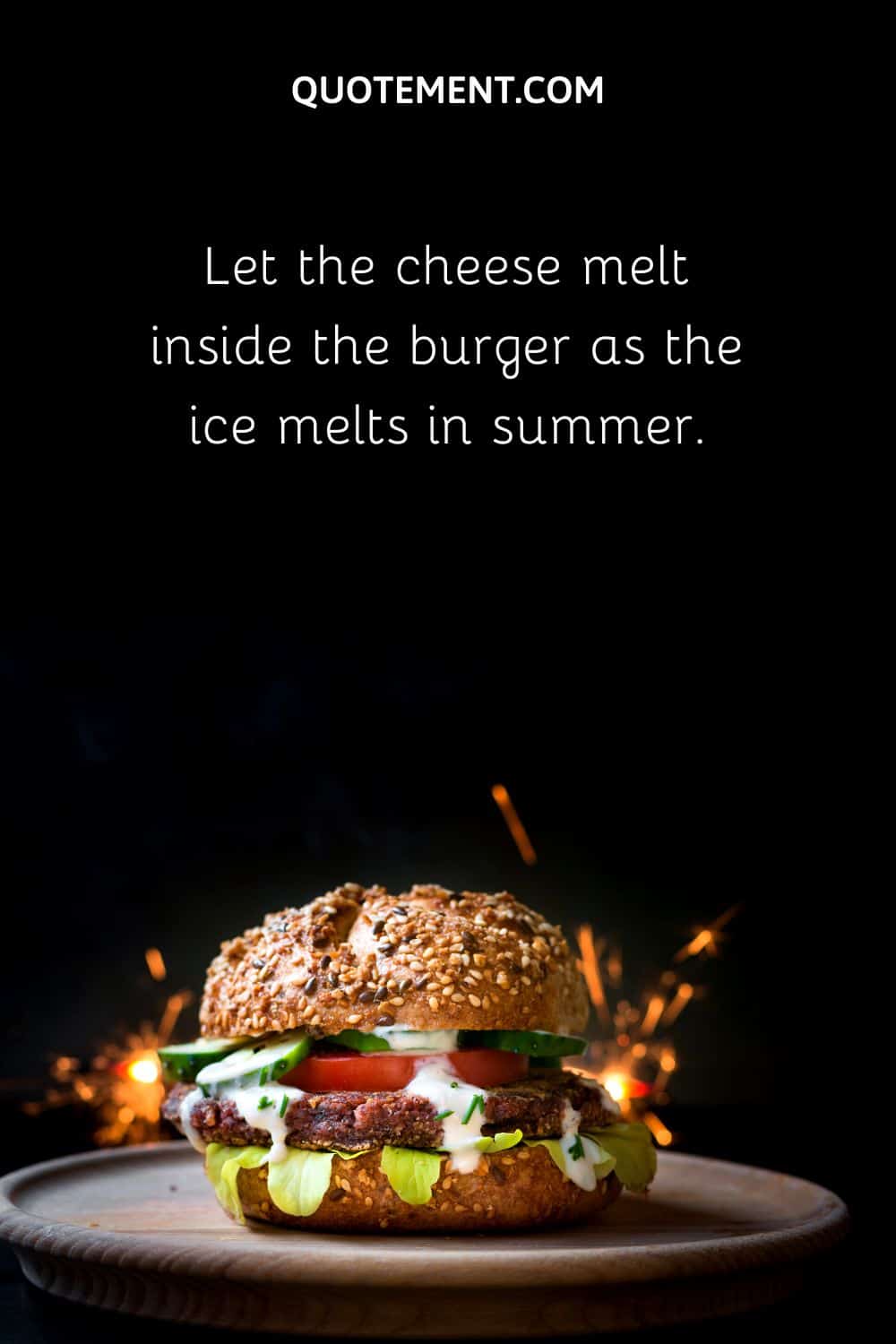 11. Always ready to have a cheeseburger.
12. Cheeseburger vibes.
13. Every bite is cheesy.
14. Life is too short to miss out on double cheeseburgers.
15. Filled with rich cheese.
16. A burger without cheese is like a hug without a squeeze.
17. Burger = good. cheeseburger = better. bacon cheeseburger =?
18. The taste of the burger increases while you eat.
19. Burgers are loaded with the happiness of cheese.
20. Following your heart will eventually lead you to cheeseburgers.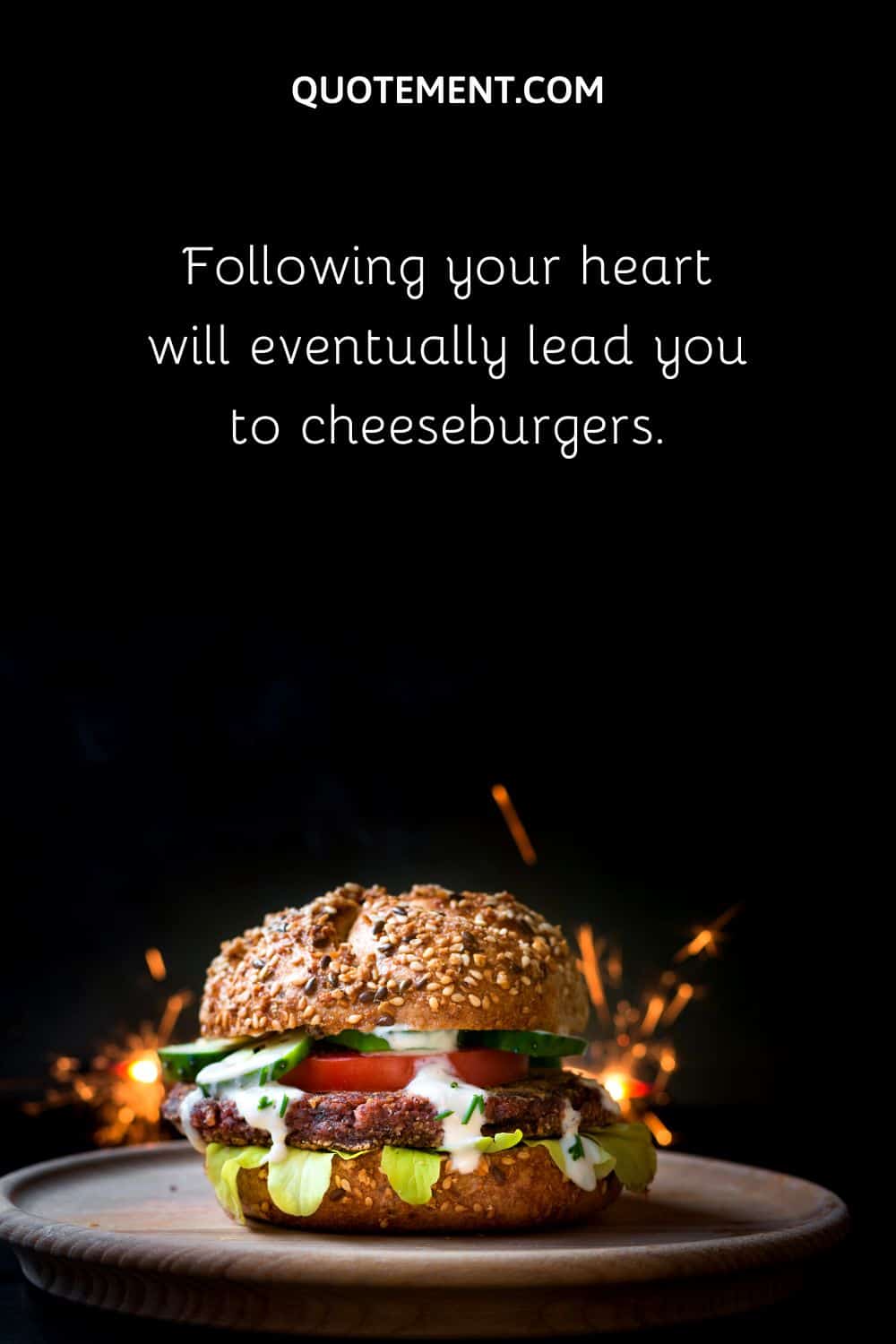 21. Say cheese while eating cheeseburgers.
22. The more the cheese, the more delicious the burger will be.
23. Make your mouth feel cheesy.
24. Extra cheese, please.
25. So juicy. So savory. So mouthwatering, you'll want to eat it without a bun.
26. Double cheese the burger if the single is not enough.
27. In an unhealthy relationship with cheeseburgers.
28. Our ABC's — always be cheesin'.
29. It's not that cheesy unless it falls from your mouth.
30. There's no "we" in a cheeseburger.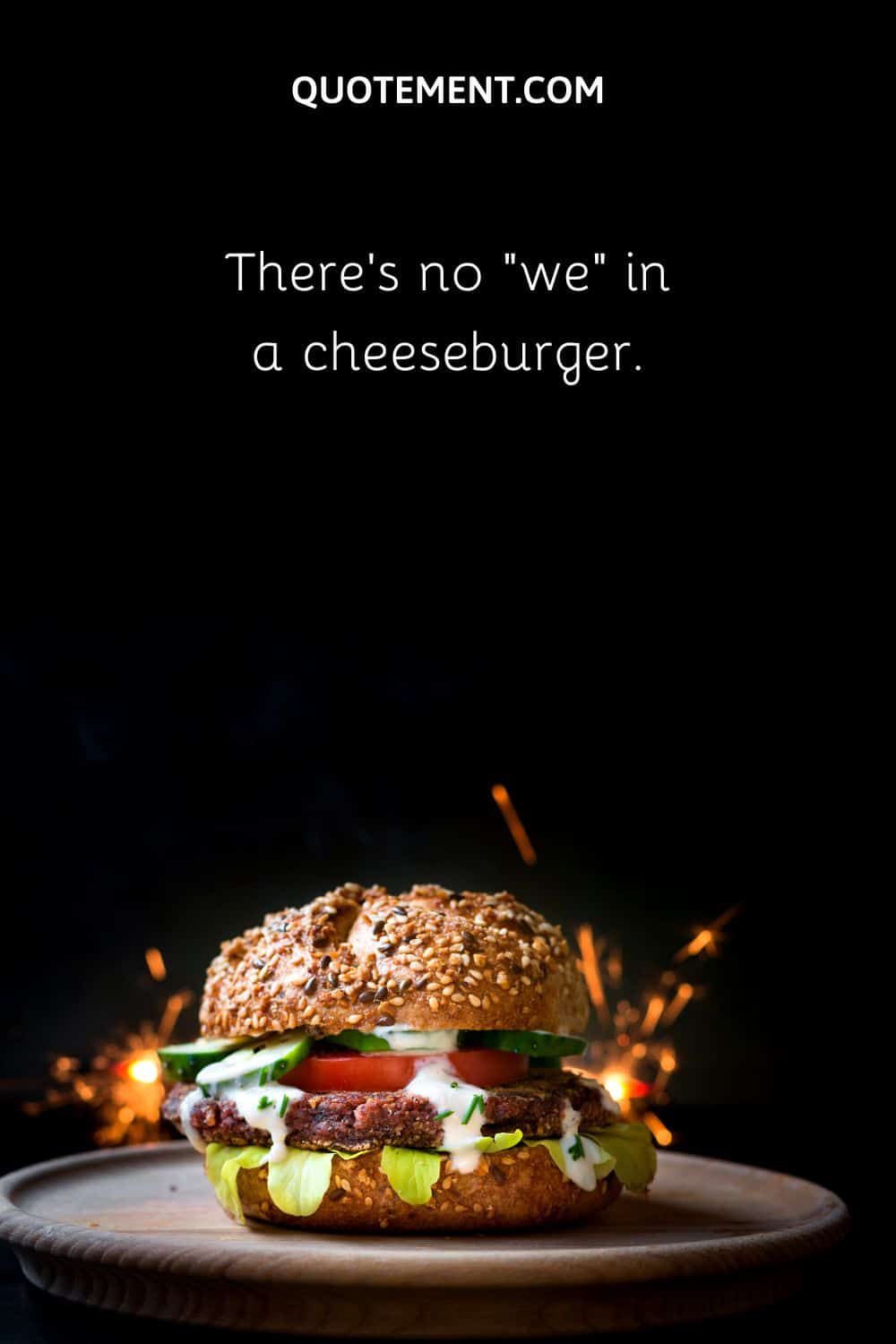 31. Check out this magnificent beast.
32. You are the bacon to my cheeseburger.
33. Don't be sad. We live in a reality where cheeseburgers exist.
34. The only bad cheeseburger is the one you didn't eat.
35. Always on a mission for the most perfect cheeseburger.
Burger Quotes That Can be Used As Captions
Take a look at what some celebrities have said about tasty burgers.
1. "I don't know if you call a burger 'recession food.' It's comfort food." — Michael Mina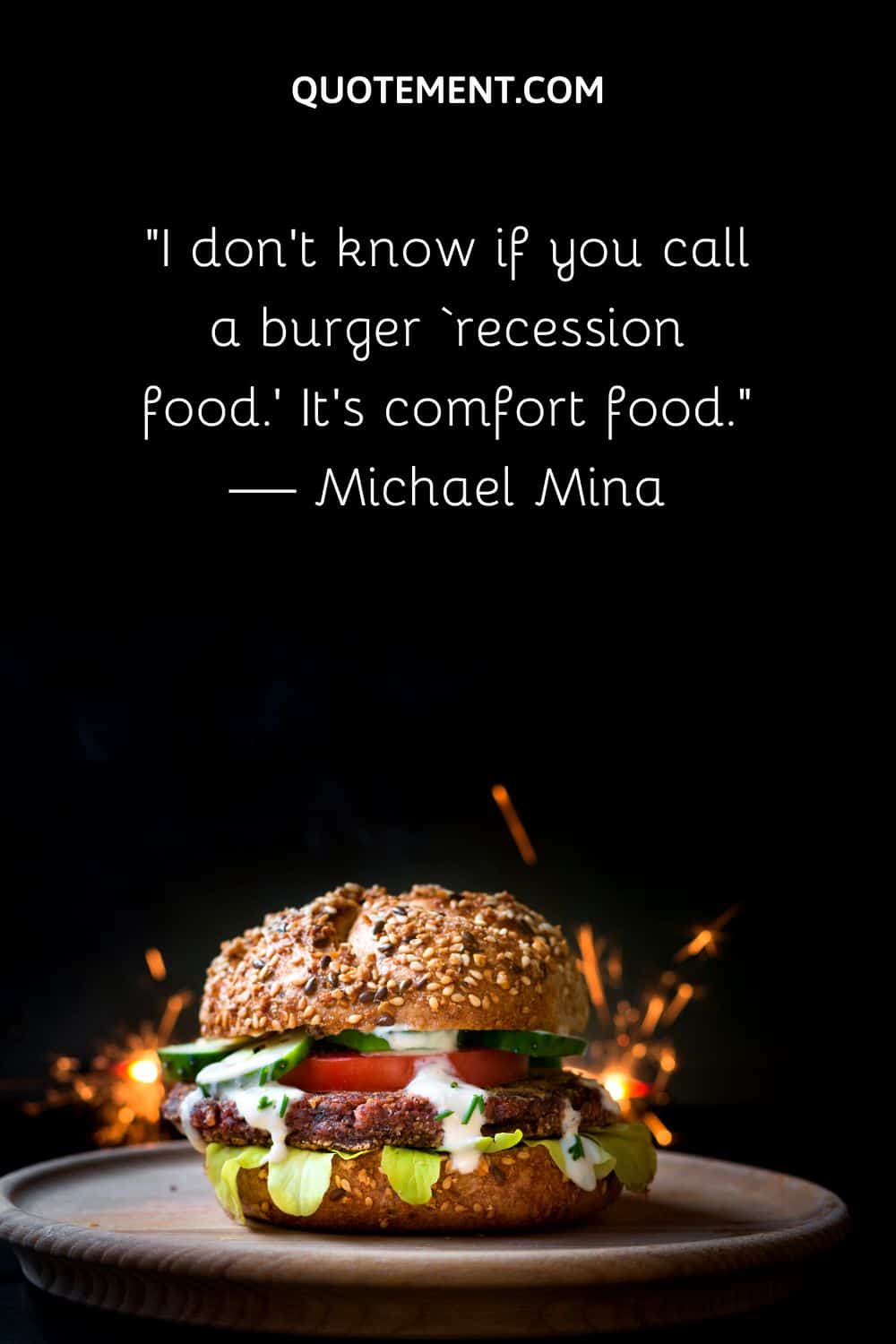 2. "Cheeseburger in paradise!" — Jimmy Buffett
3. "Saying this is just a cheeseburger is like saying Mona Lisa is just a painting." — Unknown
4. "There are some people who are Burger King people, and there are some people who are McDonald's people." — Anderson Cooper
5. "Sometimes I thank God … for cheeseburgers." — Garth Brooks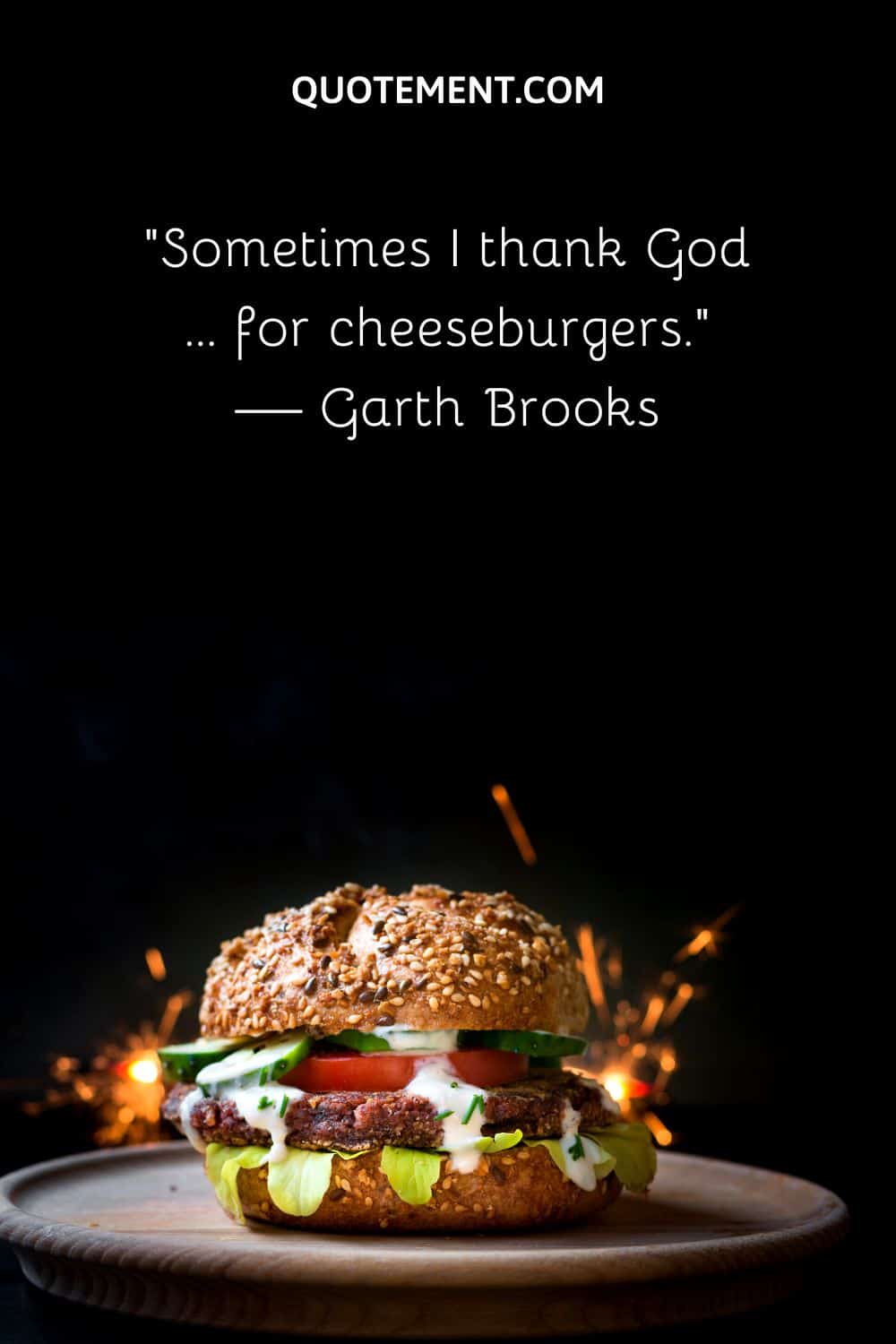 6. "I'm all about fashion, cheeseburgers and bright-red lipstick." — Scarlett Johansson
7. "It requires a certain kind of mind to see beauty in a hamburger bun." — Ray Kroc
8. "We all need to make time for a burger once in a while." — Erica Durance
9. "Pizza and burgers are really different. It depends on my mood. Right now, I could go for both. I don't want to pick one. I don't think it would be fair to the burger or to the pizza." — Sam Darnold
See also: 270 Perfect Pizza Captions For A Catchy Instagram Post
10. "When people pile seven things onto one burger, it drives me nuts!" — Bobby Flay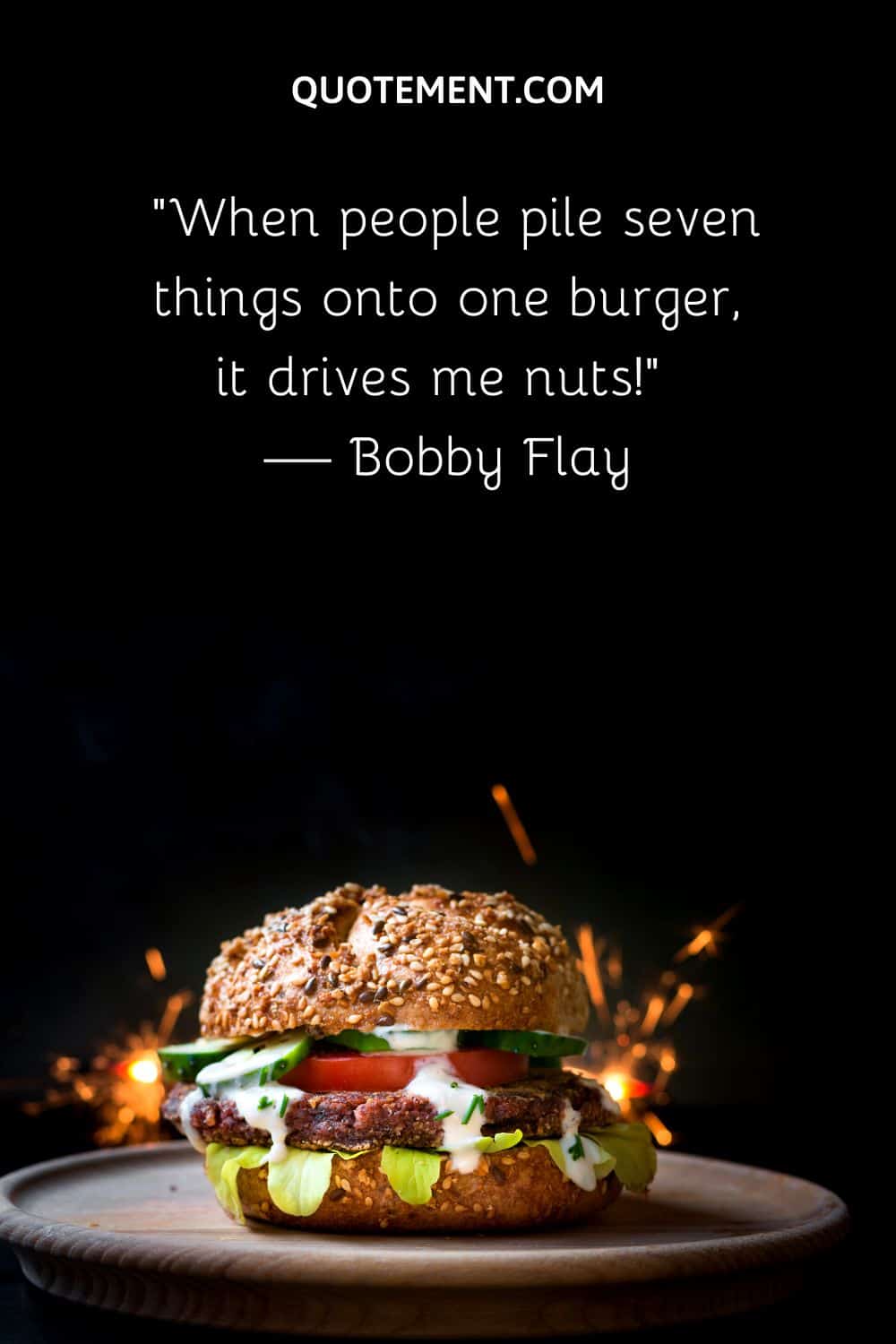 Conclusion
Thank you for checking out my collection of the best burger captions. I'm sure you love this juicy comfort food as much as me!
Which one will you pick for your burger post?
Until next time, burger lover!