If you want to post your cool gothic outfit on social media, just a photo isn't enough – you also need a good caption.
You'll be happy to discover that I've rounded up the 250 darkest goth Instagram captions along with some grim goth quotes to help make your Instagram post fire!
These captions are catchy and powerful and will help you express your deepest feelings and passions.
You can use them as Insta captions to go with a pic of your gothic outfit, or even as an Instagram bio.
Let's dive into the darkness!
Top 20 Goth Instagram Captions
I present to you the 20 best goth Instagram captions anywhere on the web!
1. It's not about being different for different sake, it's about being confident enough to be yourself despite what others think.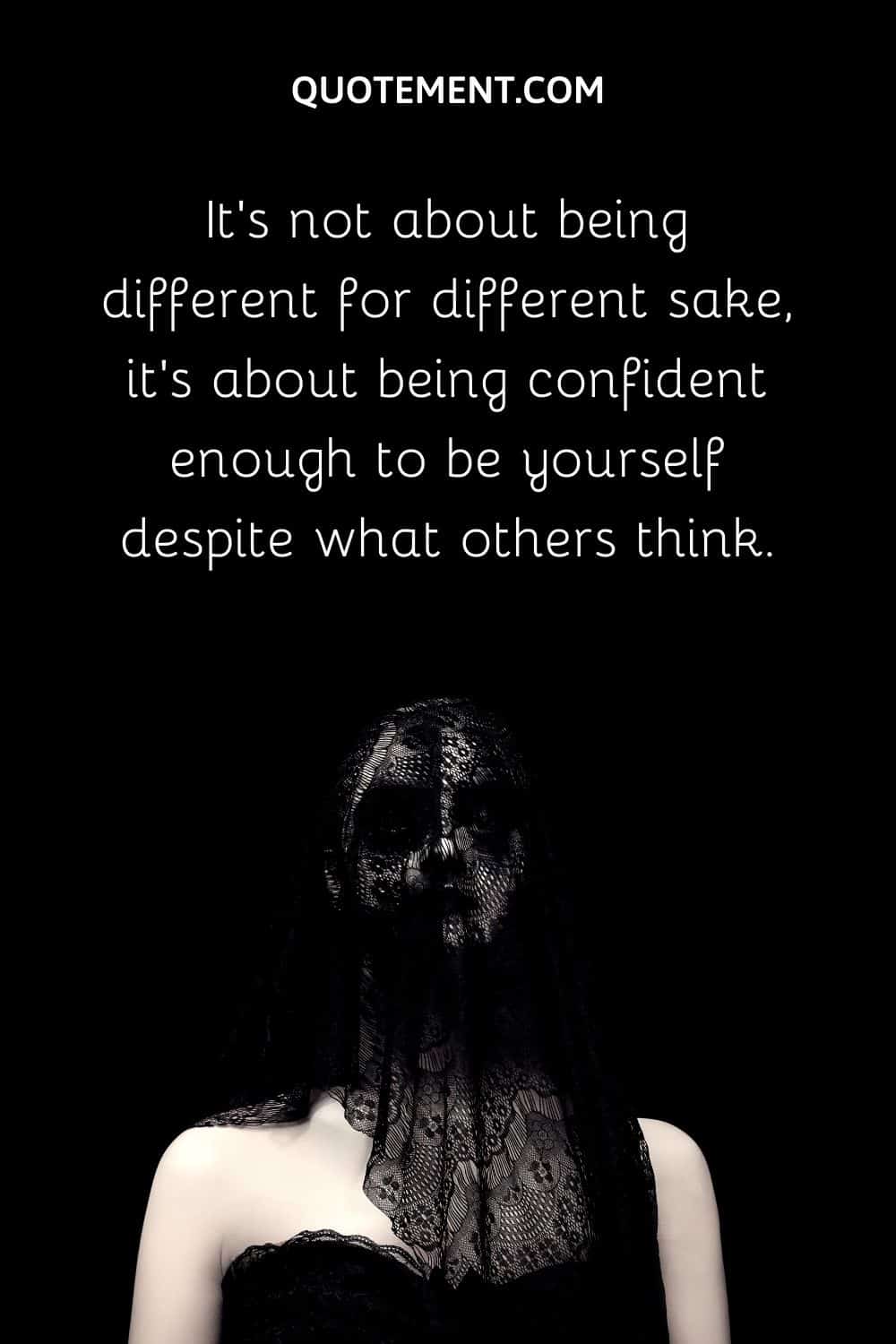 2. I'm one of one, I don't see any competition.
3. I'm the darkness, forever shrouded in mystery.
4. We're all about pushing the limits of our style and taking those risks to stand out.
5. Unleashing the darkness within…
6. As a goth in a world that isn't, that's what makes me a supermodel.
7. I only wear two colors – black and noir.
8. Having a gothic style is all about having fun, looking good and staying unique.
9. A color should be two things – dark and powerful.
10. Goth style is anything but depressing.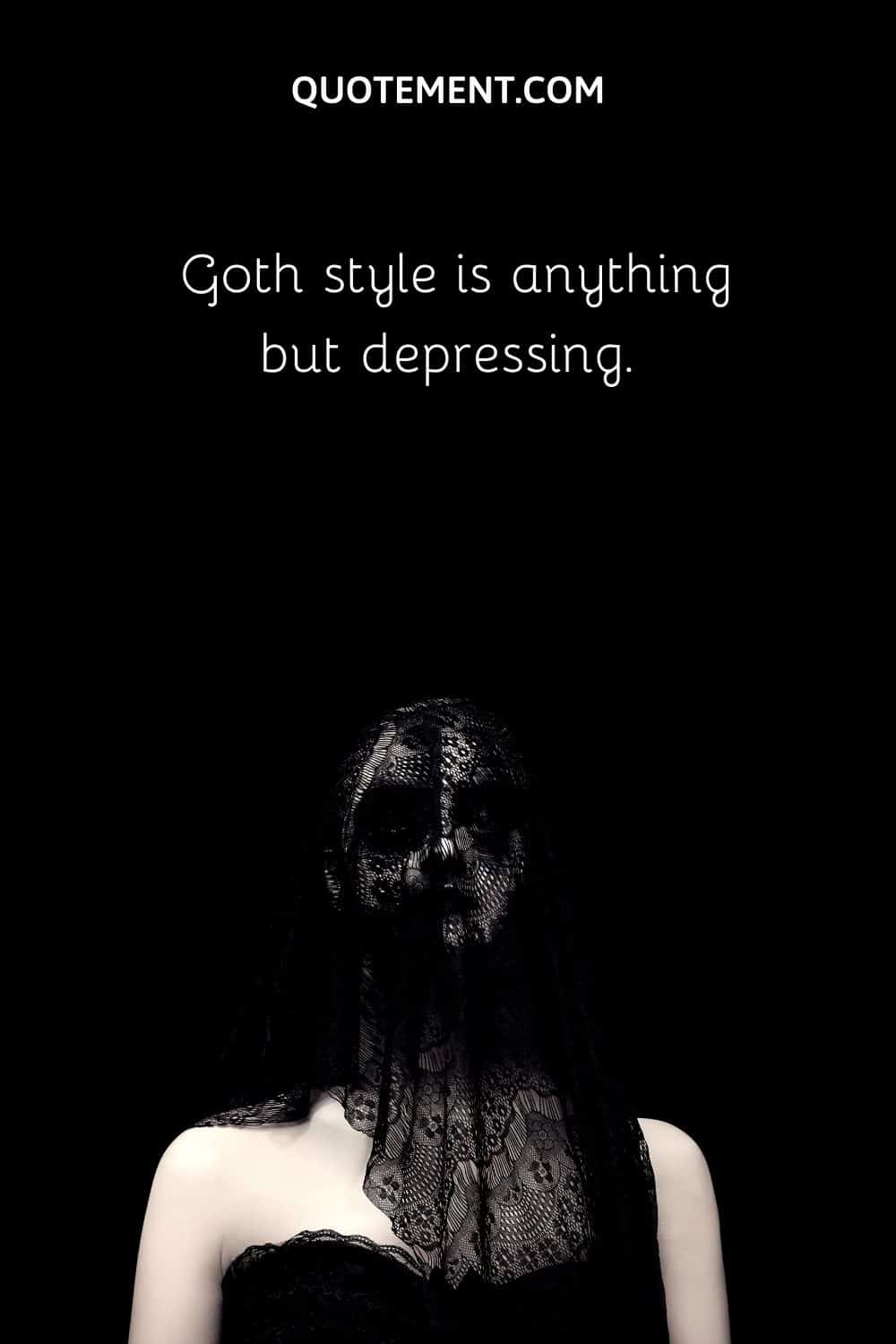 11. Blood type: matte black with a hint of gold.
12. Anybody who says black is depressing or negative clearly has not seen the darker side of white.
13. In a world of copycats, be a little goth.
14. I'm just a goth girl who lives in an alternate universe, trapped between heaven and hell.
15. I'll stop wearing black when they make a darker color.
16. Gothic culture has never been more accessible than it is today.
17. See you in the hidden alleyways of Hogwarts.
18. Don't be easy to define. Let them wonder about you.
19. My attitude is kinda savage.
20. I'm the girl you've always wanted.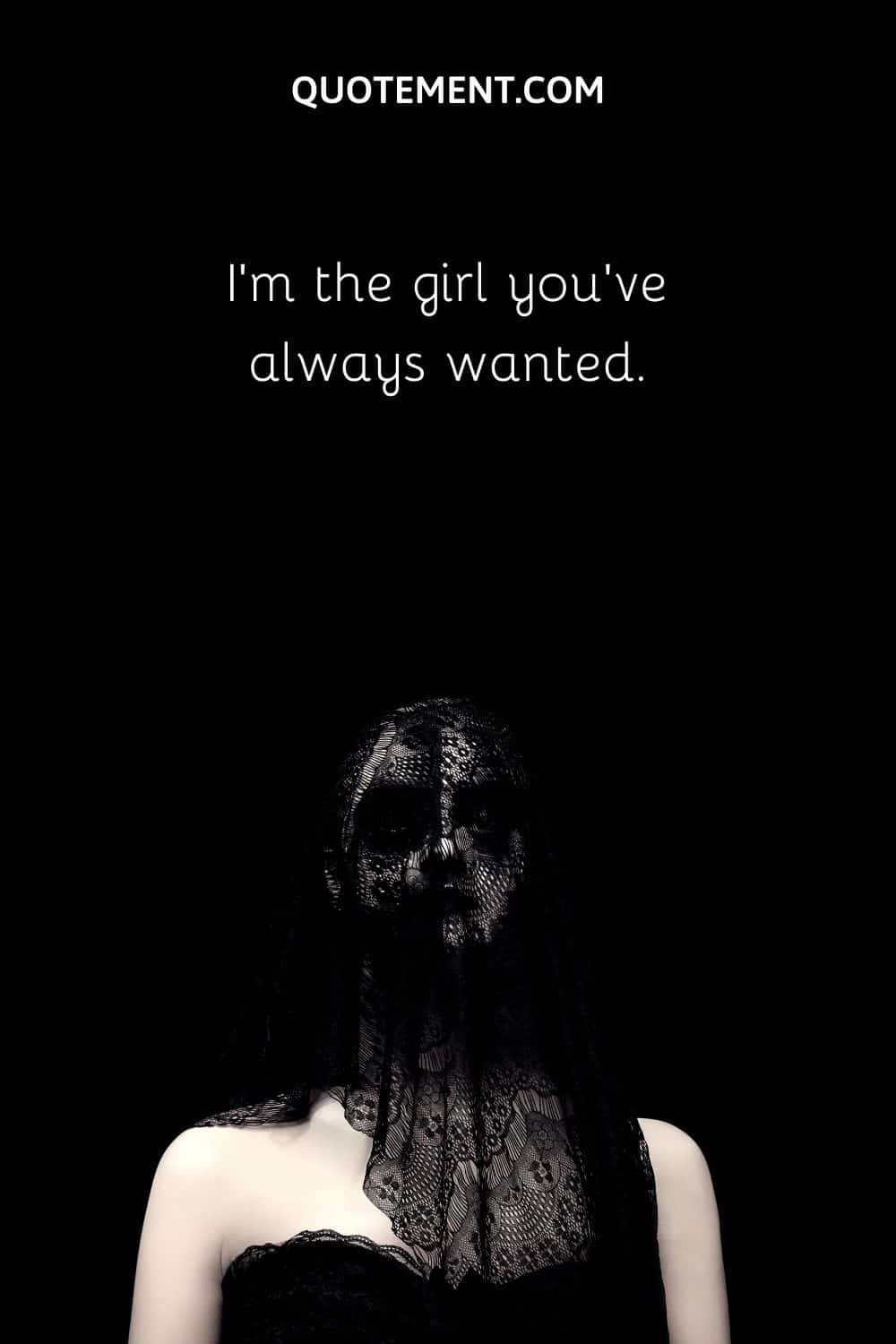 Dark Goth Instagram Captions
Goth or not, wearing black is always a good idea. Except many quotes about wearing black, you can surely use some of the best captions to accompany your cute black outfit pic.
1. Dress up and feel like a queen. No matter what your style is, you are an inspiration.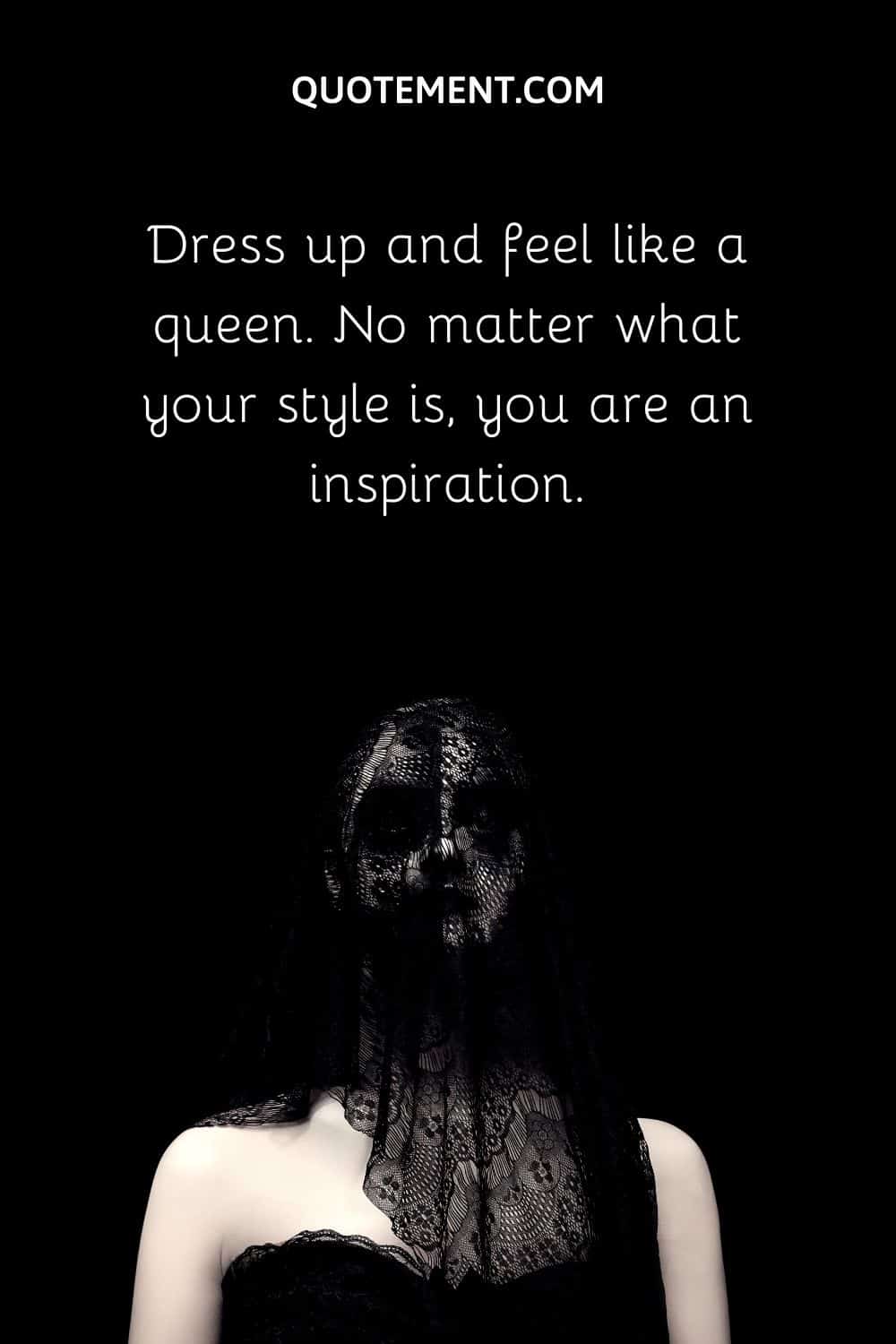 2. We've all been there… Fashion change is a struggle but be proud of your personal style!
3. Style goes dark when you crave the simple yet elegant look of black. Softer on the eyes, darker on the edges.
4. Set your soul free and find your inner darkness.
5. Wear your love for decayed things – and the goth subculture – on your sleeve with decayed style.
6. Goth out with these stylish yet dark & glamorous fashion pieces that will make you feel like a million bucks.
7. Dark and deeper, darker, darker still. We embrace the coming of fall's darker hues with these dark Gothic-inspired styles.
8. Make yourself at home, for the night is dark and full of terrors.
9. I don't always wear black. Sometimes I wear nothing.
10. If you met me, you would never guess I'm a witch.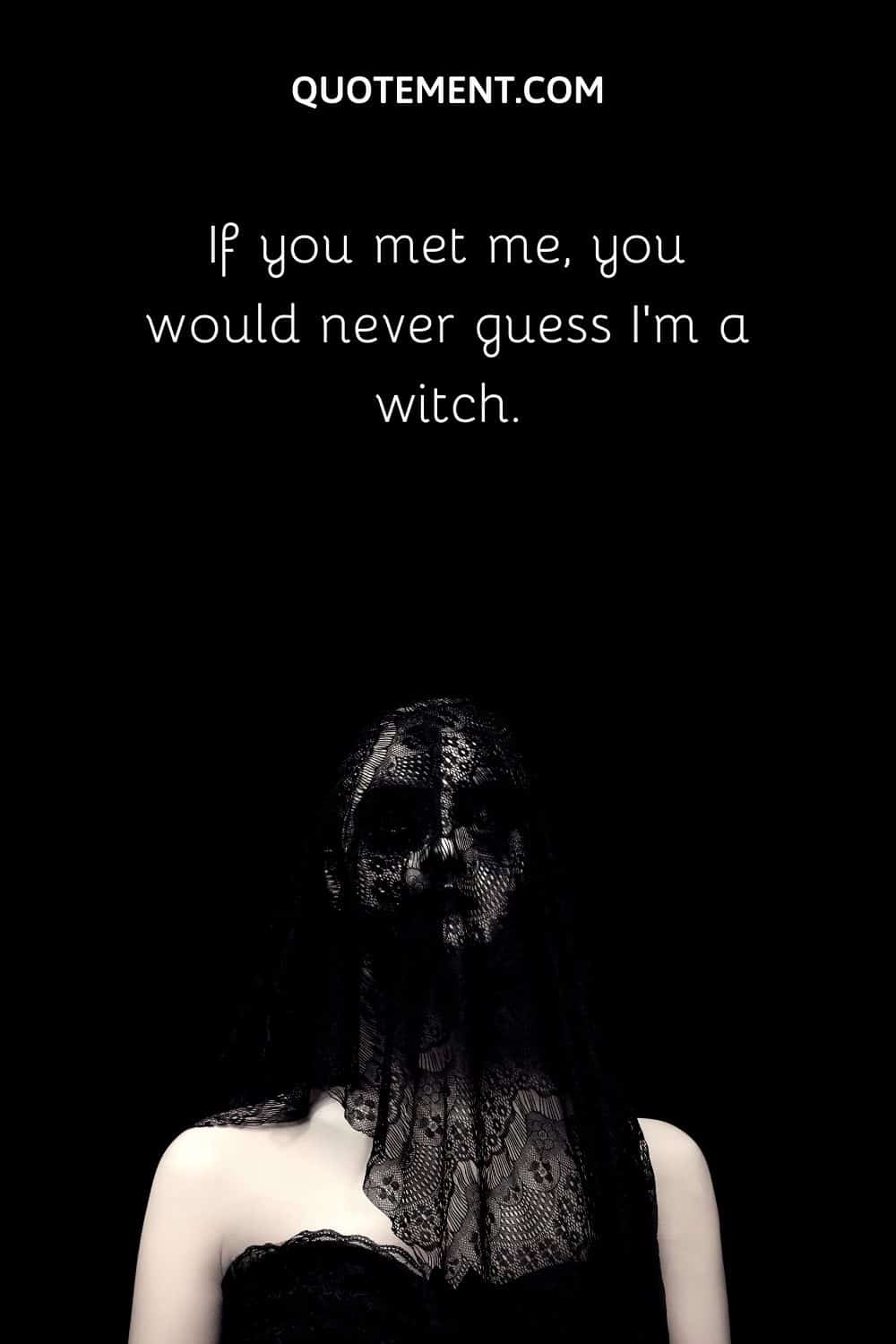 11. There's something special about the perfect gothic dress-up.
12. Life is a gothic novel. What happens next?
13. I am dark. I am beautiful. I am gothic. I am strong.
14. "I like to keep my look dark, but not too dark. I live in the night, but I most definitely don't sleep during the day." – Goth Girl Problems
15. Black is modest and arrogant at the same time. Black is lazy and easy – but mysterious. But above all, black says this: I don't bother you – don't bother me.
16. Dark and deeper, darker, darker still. We embrace the coming of fall's darker hues with these dark Gothic-inspired styles.
17. When life gives you lemons, squeeze them into your enemies' eyes.
18. Classic gothic romance, modernized for today's readers.
19. We all have the good and the bad, embrace them both. It's what makes you beautiful so love yourself.
20. When your dark side is in the spotlight.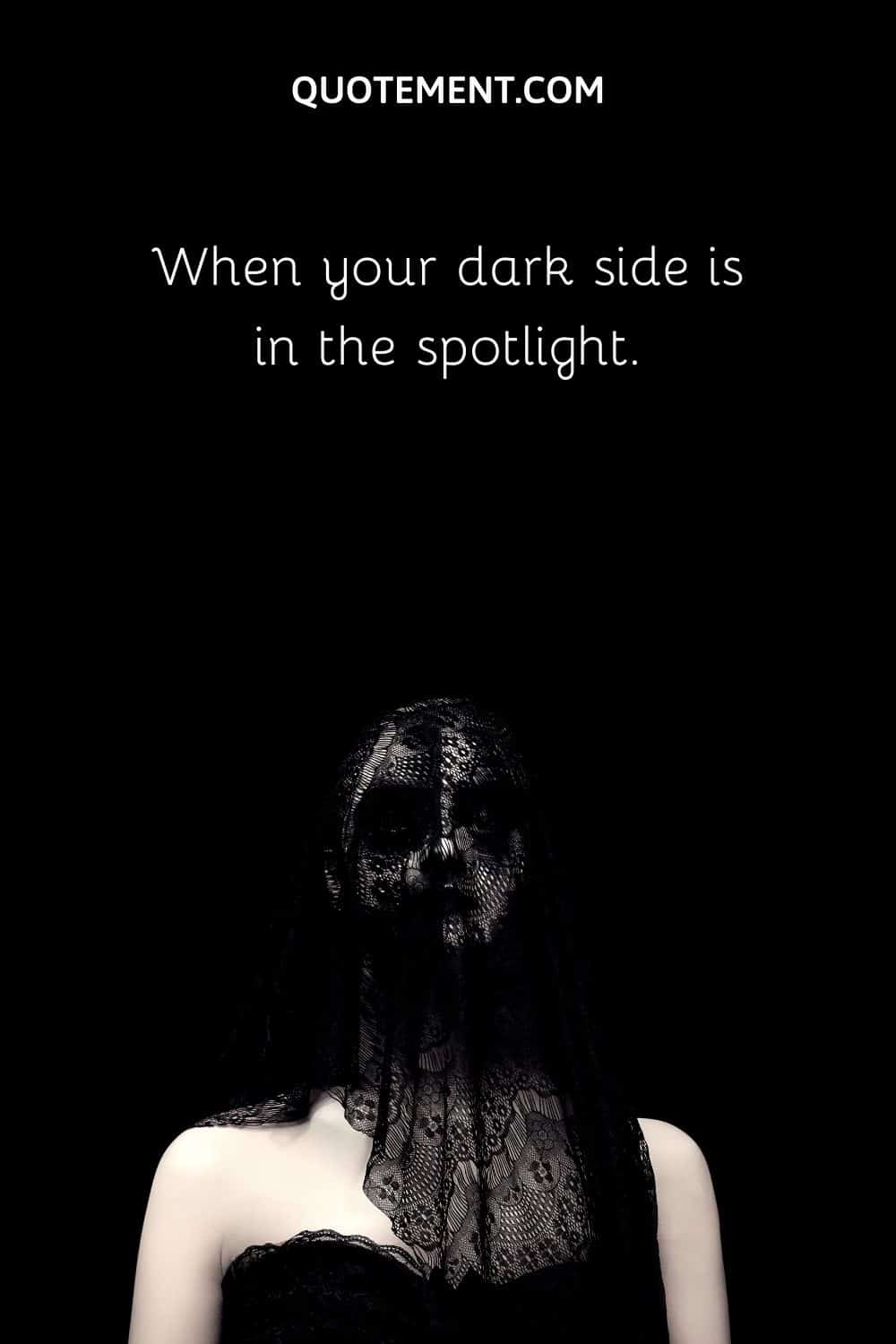 21. We're all about pushing the limits of our style and taking those risks to stand out.
22. Some say I'm bringing out my Goth side, some say I'm trying to look se*y. But hey, I'm just wearing a black dress because it's the only one that I can't wear twice before washing!
23. The stars are shining bright and there is a full moon tonight, always keep reaching for your dreams. Be you always. Stay strong!
24. Once the water starts to rise and heavens are out of sight, she'll want the devil on her team.
25. Feeling goth when it's raining outside is very relaxing!
26. This black lace number is strong and sophisticated for the dark seas ahead.
27. Strangely delighted in the strangely delighted by things that aren't depressing at all.
28. Sometimes the world weighs down your chest, and you gotta find some good friends to help carry that weight. Good friends like these witches.
29. Welcome to the dark side of fashion. This is our version of a black-tie affair.
30. When it's time for bed, you realize life is really short. So it's best to fill up your life with enough meaningful activities and bring back happiness each day.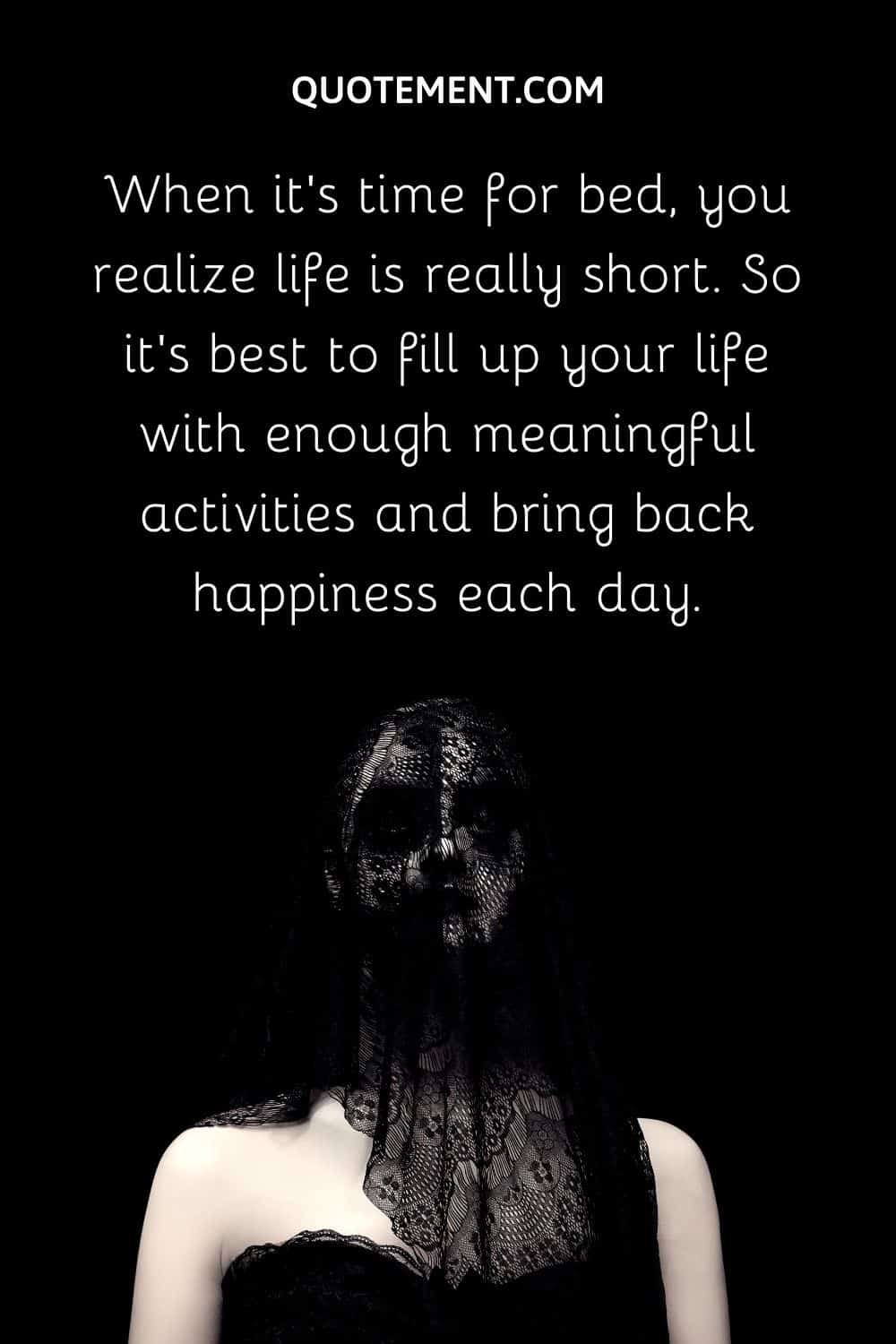 31. I want my friends to be forever young. I want my poems to be forever long. I don't care about lives, I care about moments. I wonder what the moon is thinking while it pulls the seas behind it.
32. We are all a little weird. And life is a little weird. And when we find someone whose weirdness is compatible with ours, we join up with them and fall in mutual weirdness and call it love.
33. When you're surrounded by black and white, is colorful even a color?
34. Good morning, gorgeous. It's a dark & gloomy day so pair your all-black goth look with a smile.
35. But, love, I'm here to reassure you that the only way I know how to battle the shadow is to become it.
36. Smile, because we are all mad here.
37. Give me an old-fashioned sort of love.
38. Call it a mood board or a lookbook, but I call it my mood board that I can look at while I'm dreaming of summer.
39. I've got the dress – the perfect black pattern.
40. Boys will be boys, but girls will be whatever they wanna be.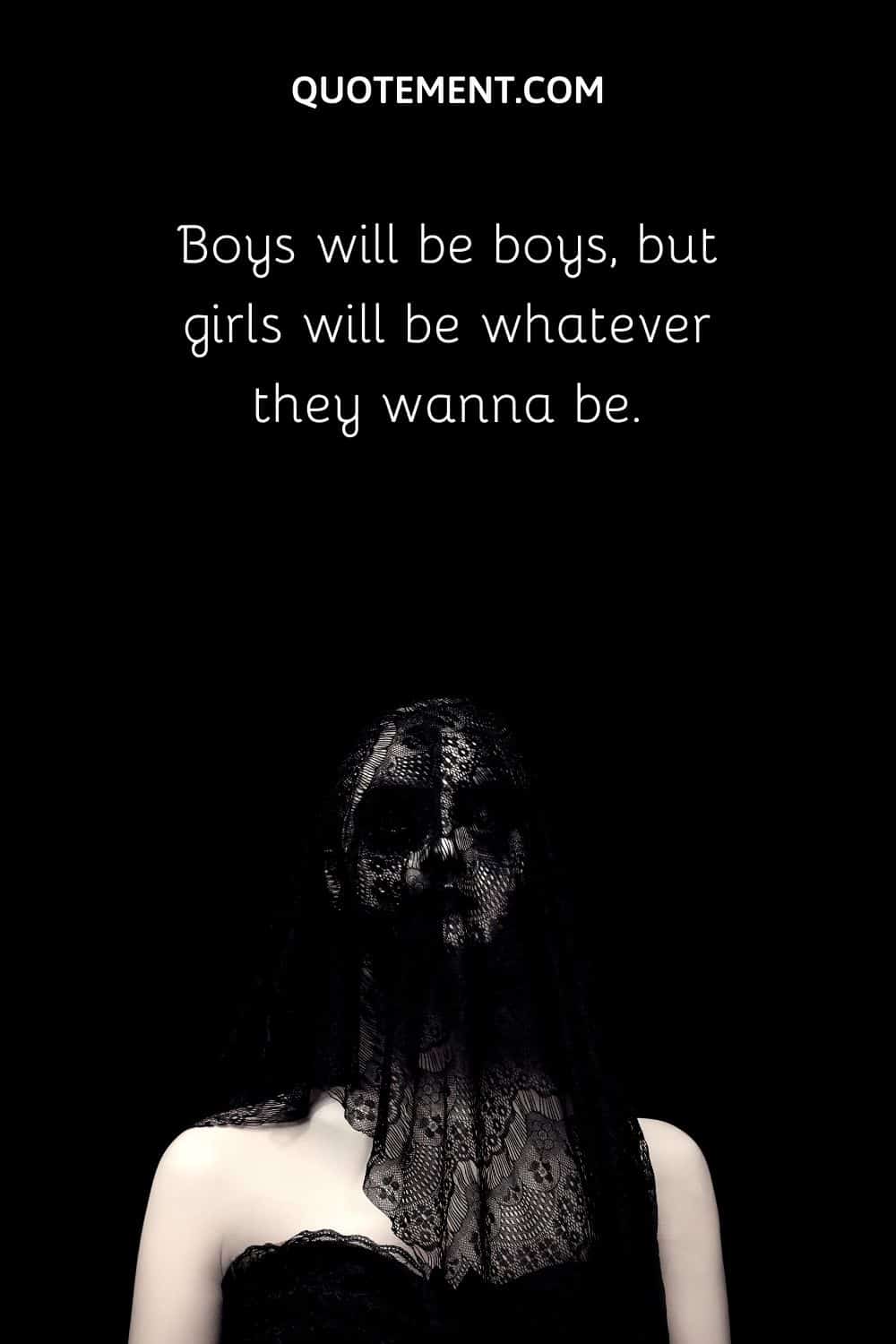 41. In the darkest hours, I gain sight.
42. The ultimate goth outfit you can wear to that Halloween party.
43. Stop chasing the wrong one, the right one won't run.
44. It is a bit darker than your average fall weather, but you won't see any clouds hanging over these chic outfits.
45. A little black frock can set you in the mood for many things. Whether you want to explore, appreciate or just be yourself.
46. The days are shorter, the nights are longer, the cold is blowing in. What's better than staying home and curling up with a book tonight?
47. Fashion doesn't always have to be about what you wear, sometimes it's how you present yourself.
48. Keep calm and join the dark side.
49. I like my dresses just as I like my coffee. Black.
50. And I was in the darkness, so darkness I became.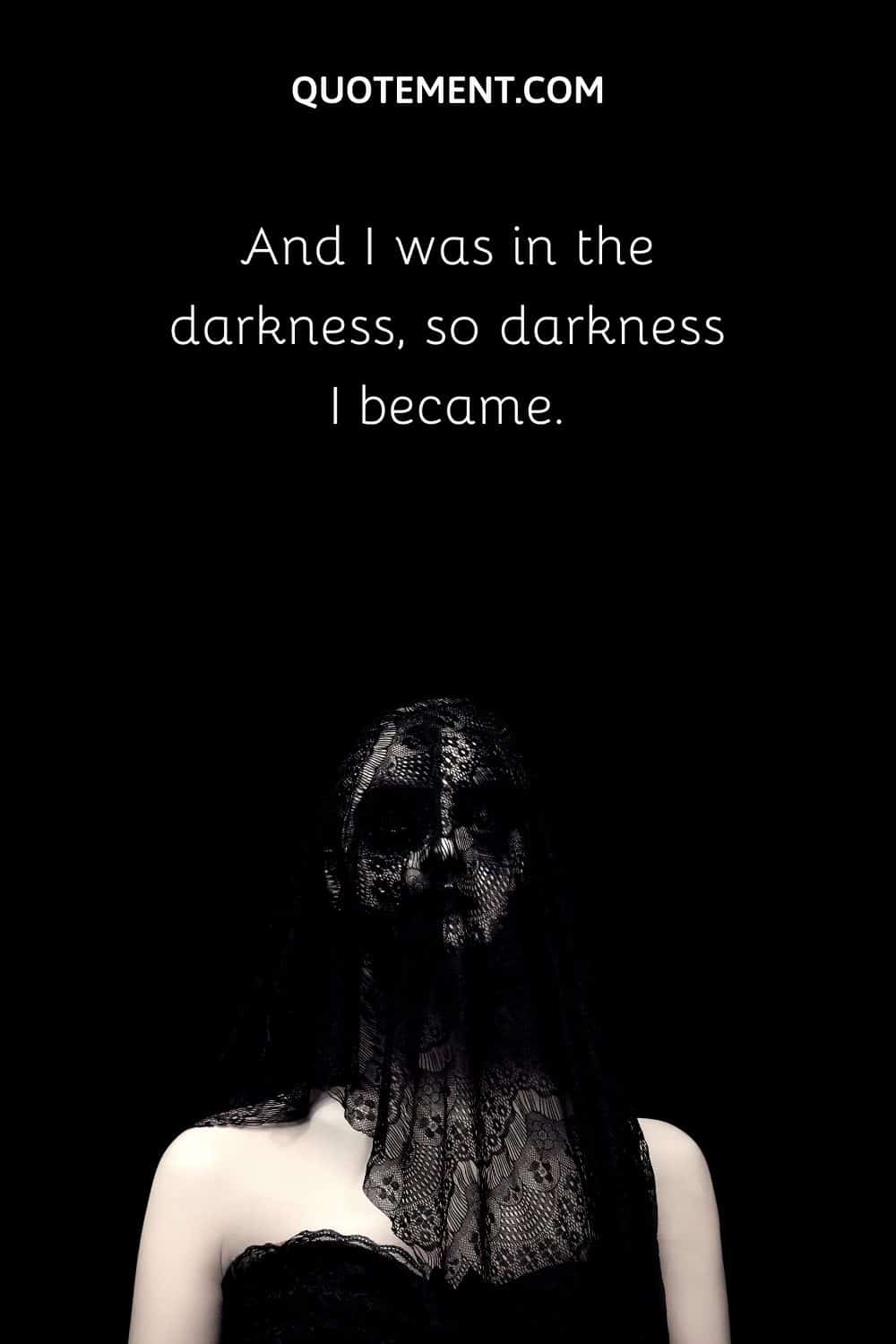 Gothic Emo Captions For Instagram
Here are some more goth Instagram captions for all the emo souls out there.
1. There is no sunshine, just dark clouds and endless rain of tears…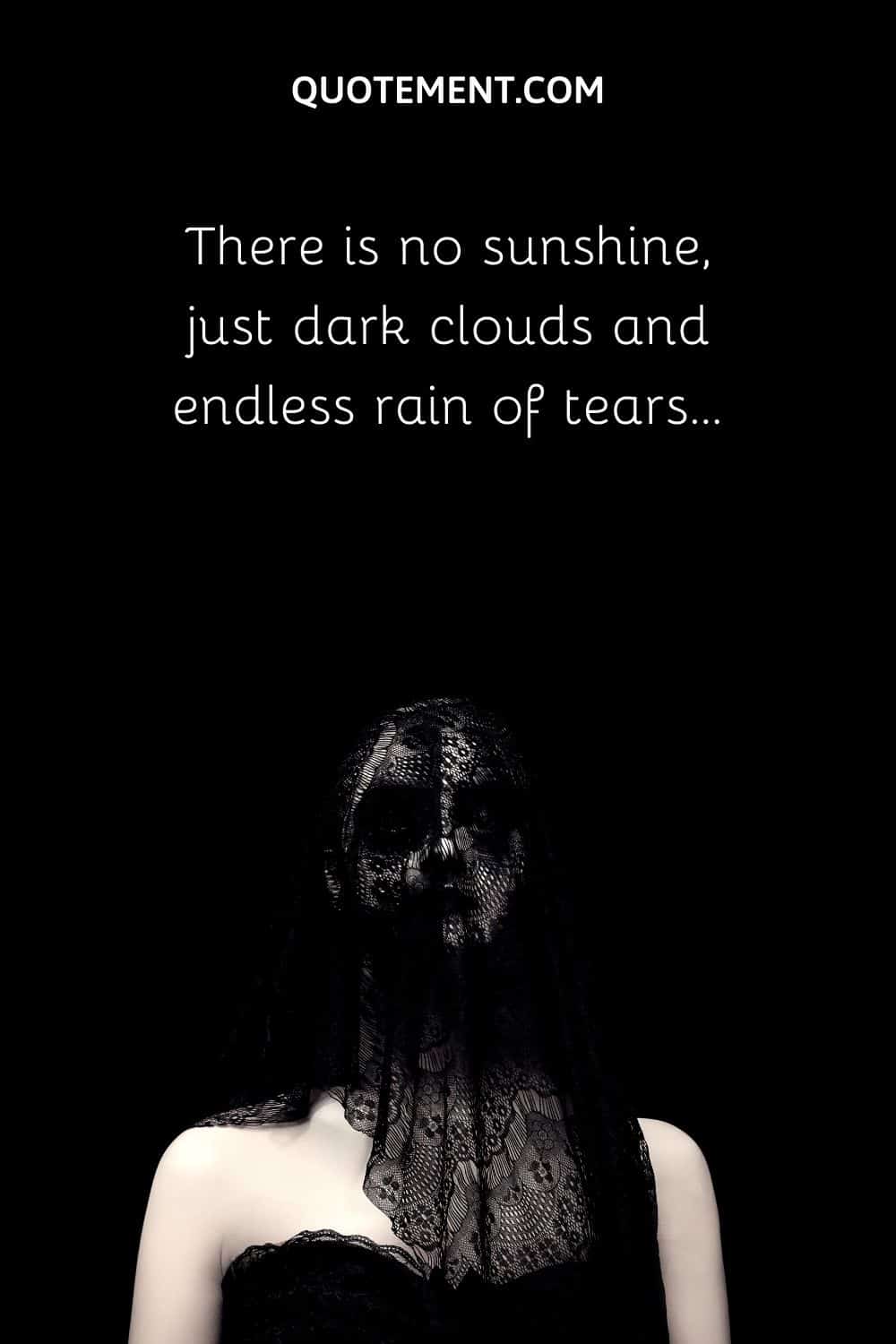 2. I do not suffer from insanity, I enjoy every minute of it.
3. Lonely, I was born surrounded by my enemies. And the only light I've ever known came from a star. I'm a long way from home, and I will never forget how the darkness took me.
4. You are a little soul carrying around a corpse.
5. Gothic, gloomy, emo, punk, alternative, post punk, and dark gothic.
6. Writings from a heartbroken soul.
7. When you look at your reflection in the mirror, what do you see? I see a woman with black hair and black lipstick. I see someone who is misunderstood and who feels alone in this world. I always look backward instead of forward.
8. I bark and I bite. I'm the love of your life, alright?
9. I was born when she kissed me. I died when she left me. I lived a few weeks while she loved me.
10. Hello darkness, my old friend. I've come to talk with you again.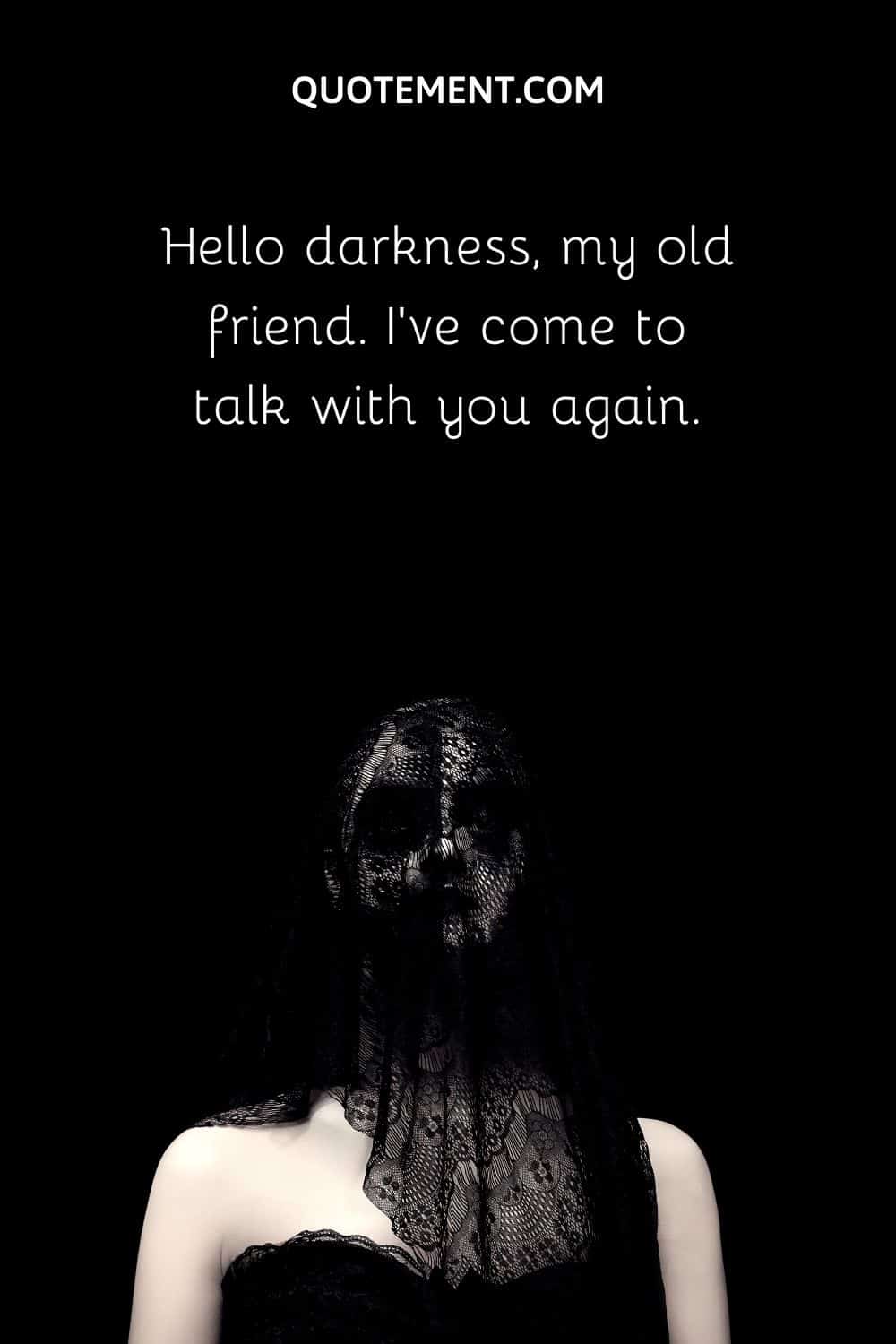 11. They say home is where the heart is. If that's the case, then I've never been home.
12. Hug me 'till I forget all my sadness.
13. Tears are words from the heart that can't be spoken.
14. The Great Gothic… it lures you in and then leaves you stranded in the middle of nowhere behind a dead-end water tower with no running water…
15. Through me, if you listen very carefully, you can hear the sound of my dark soul.
16. And the words to every sad song seem to say what I think.
17. Losing you was a nightmare. But loving you was even worse.
18. Writing is such a lonely job. If I quicken my pace and drink too much coffee I can endure it, but on those days when I sit for hours on end the silence and isolation become unbearable and make me think of death or madness.
19. I come to play, but I remember to bring my own chains.
20. Look into her eyes. She's breaking inside.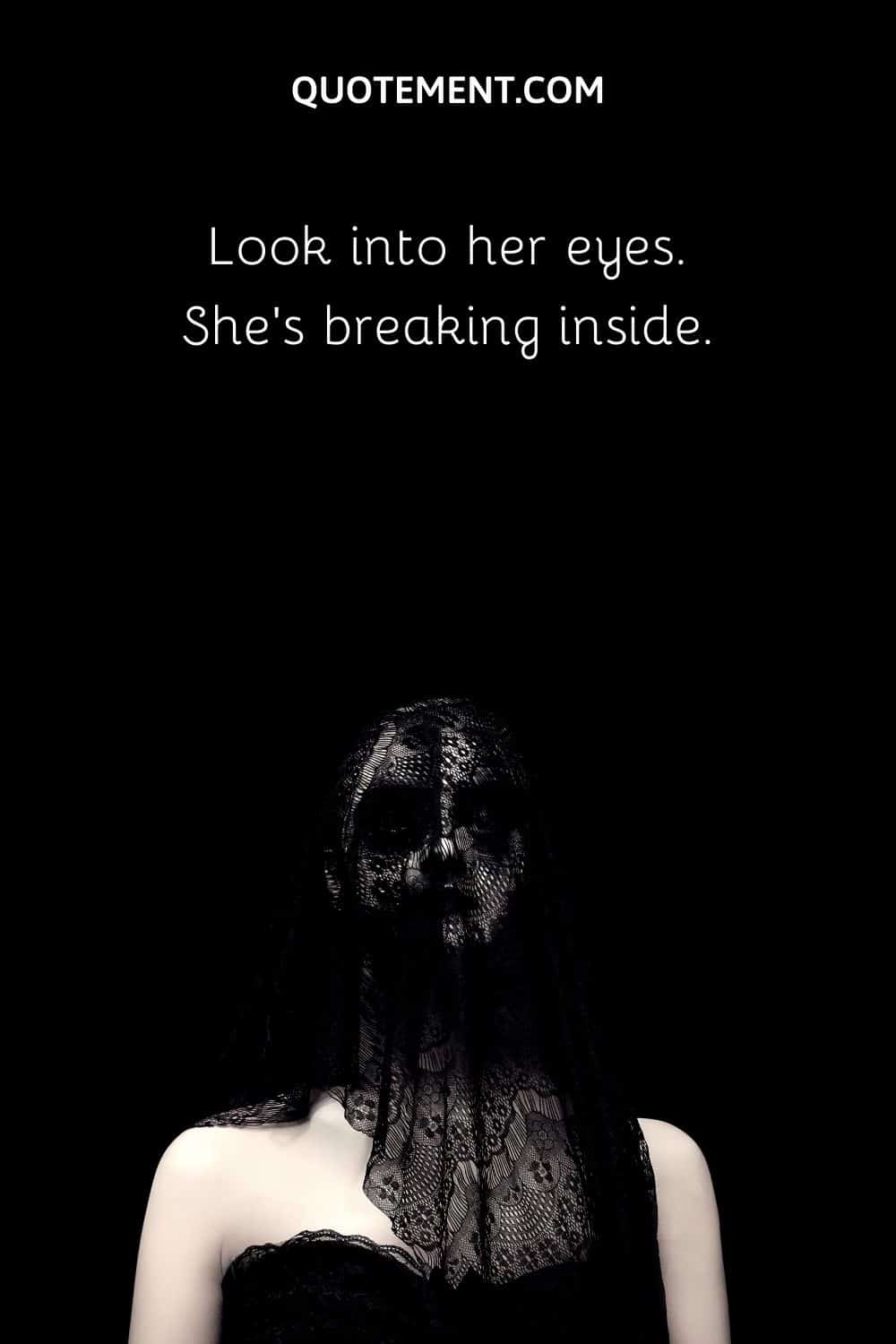 21. There is nothing above, there is nothing below.
22. A black cat has crossed my path. I've seen bad luck after bad luck, but I just can't seem to get rid of it.
23. We say do what you want, be what you are and never apologize. Never stop being you.
24. The dead will walk the earth and drive out the living. Clouds will fall from the sky, and breaths will turn to vapor. Old forgotten gods will rise and end their contemptuous slumber, for I am that unusual thing: a sentient book.
25. You don't have to be a goth to appreciate the dark and mysterious.
26. Every day, somewhere in the world, a goth is born.
27. Some are born to sweet delight, some are born to endless night.
28. As lost as Alice, as mad as the Hatter.
29. Every guy should date a goth girl at least once.
30. Oh honey, you can't break a broken heart.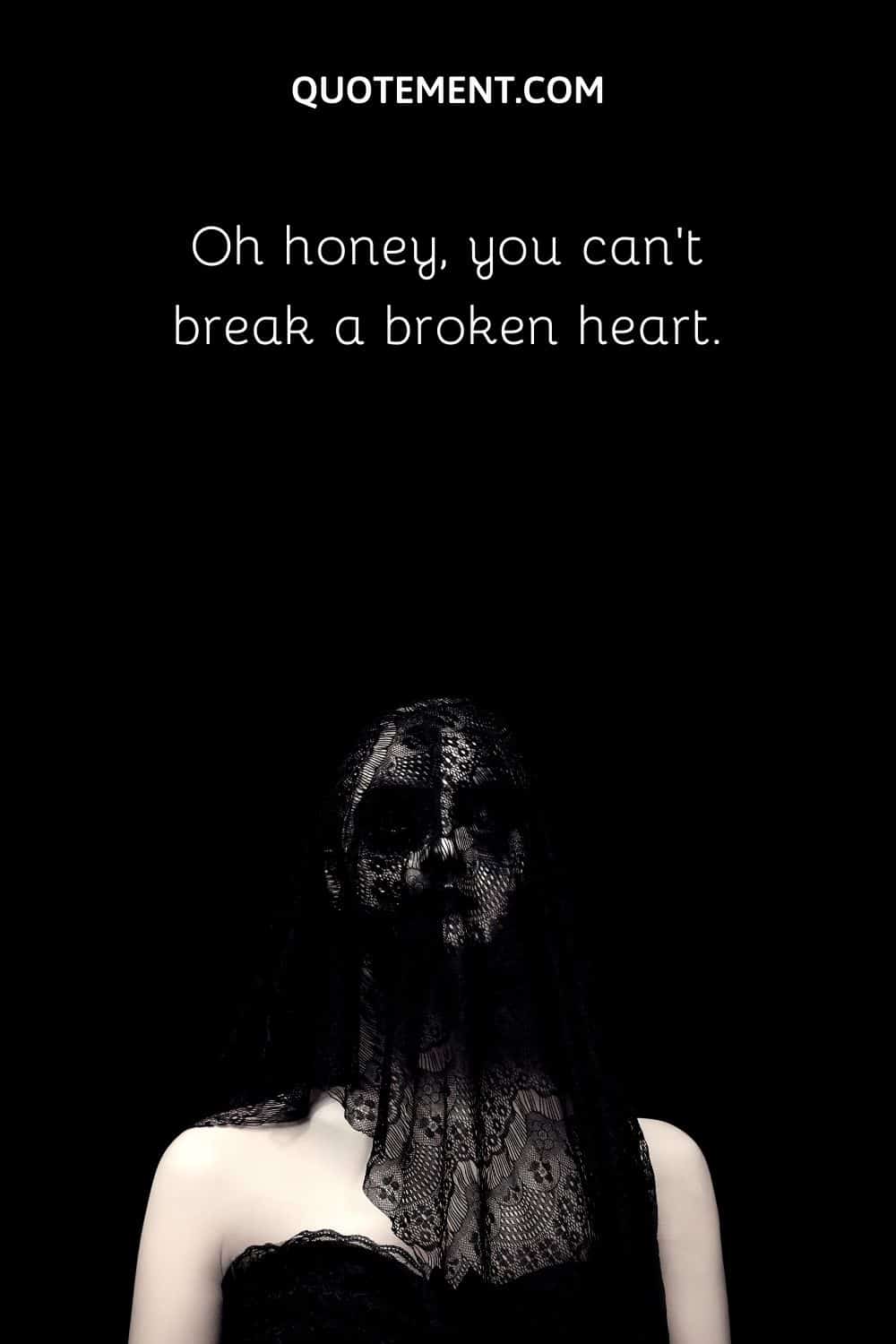 31. Creepy cute girl, just wanna have some fun.
32. Just because her eyes don't tear, doesn't mean her heart doesn't cry.
33. Looking for goth or emo people to befriend.
34. I'm full of wounds and still standing on my feet.
35. Go get yourself free and disengage from reality!
36. Maybe my problem is that when I'm lost, I look for you and not myself.
37. I can feel myself slowly fading from your mind.
38. It's getting dark in this little heart of mine.
39. The dark is afraid of me.
40. In the darkness of the unknown, undiscovered parts of you exist.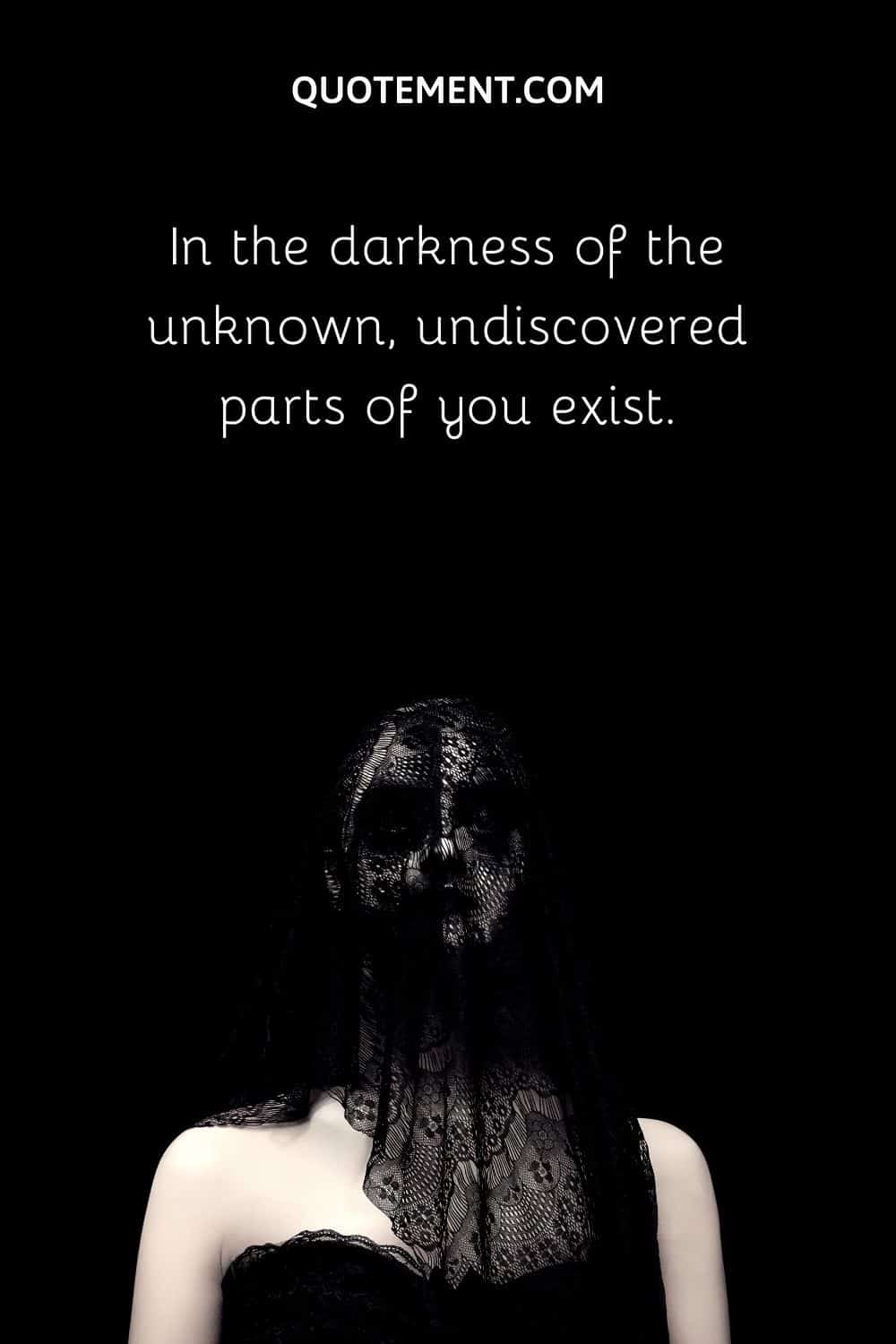 41. I'm not like other people. I am burning in hell. Hell of myself.
42. I love dark chocolate. Because it has a nice taste of death.
43. Whoever is trying to bring you down is already below you.
44. I feel like I am a vampire sometimes.
45. I am a dark lover. But I also need a warm hug every once in a while.
46. Black is not a color. It's a lifestyle.
47. Welcome to my world.
48. Life's not all lovely thorns and singing vultures, you know?
49. The magic and mystique of black never fail to amaze me.
50. Wearing black makes me smile from the inside.
Gothic Captions For Instagram
Haven't found your perfect caption yet? Check out these amazing goth Instagram captions, and I'm sure you won't be disappointed.
1. The only thing more misunderstood than black lace is black lace on a cloudy day.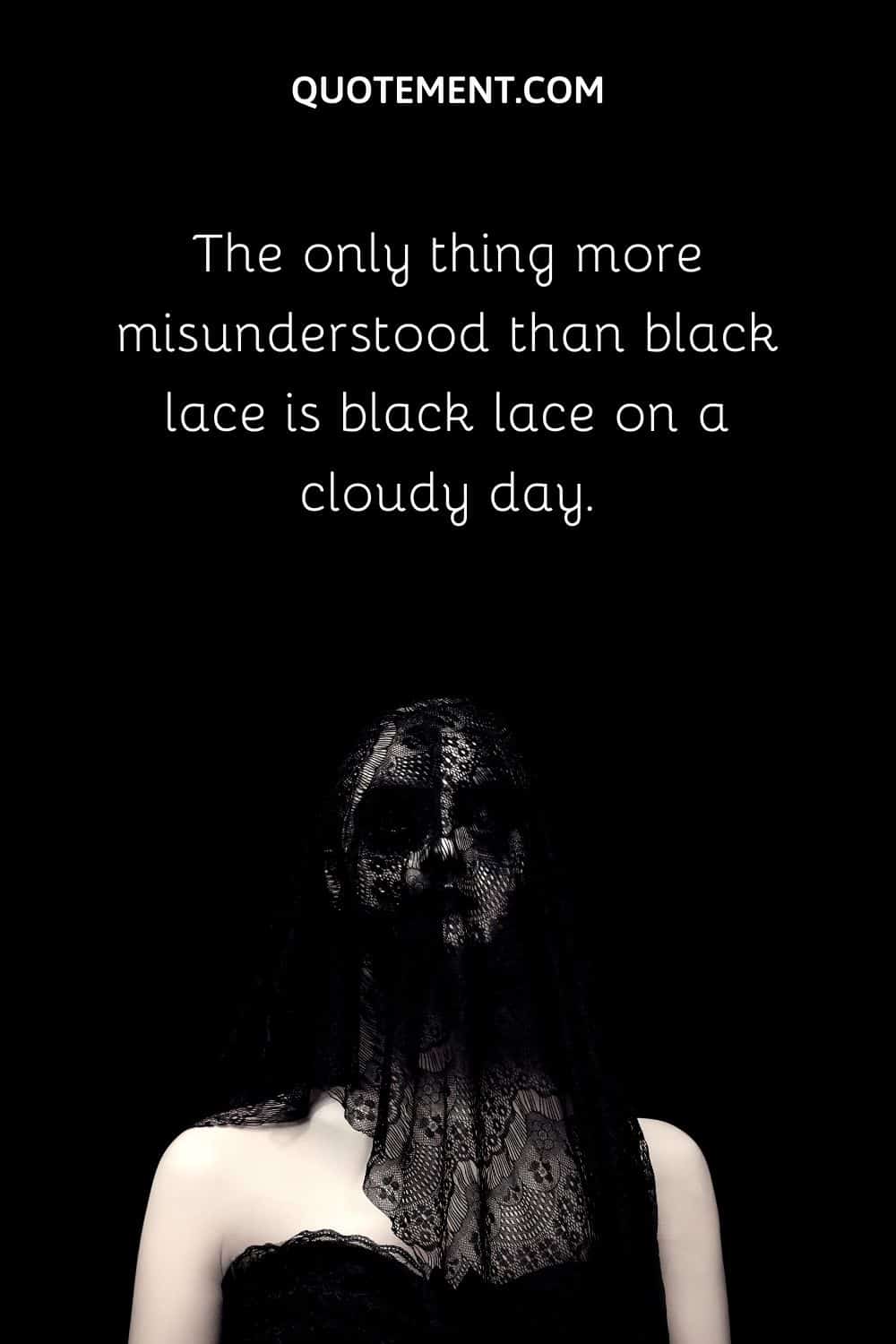 2. Black is my happy color.
3. We're not saying goth is back, but… black velvet and lace look so good on everyone.
4. I need a partner to vanquish this darkness within me.
5. You can take the girl out of the goth, but you'll never take the goth out of the girl.
6. We're goths. Goths are cool. We're not really your normal goths, but we're edgy enough to speak for our entire gothic community who love blood, black lace and velvet.
7. Gothic fashion style is a subculture of its own. People tend to show off their dark side through their makeup and clothes, from Gothic lipstick to Tattoos, from long black lace dresses to the most wanted vinyl coat.
8. It's never too late to unearth the goth in you.
9. It isn't about standing out for the sake of standing out. It's about being comfortable in your own skin.
10. One night. One dance. One spark. I'm gonna tell you a story about a little girl who was born with the breath of god in her throat and the fearlessness of a demon.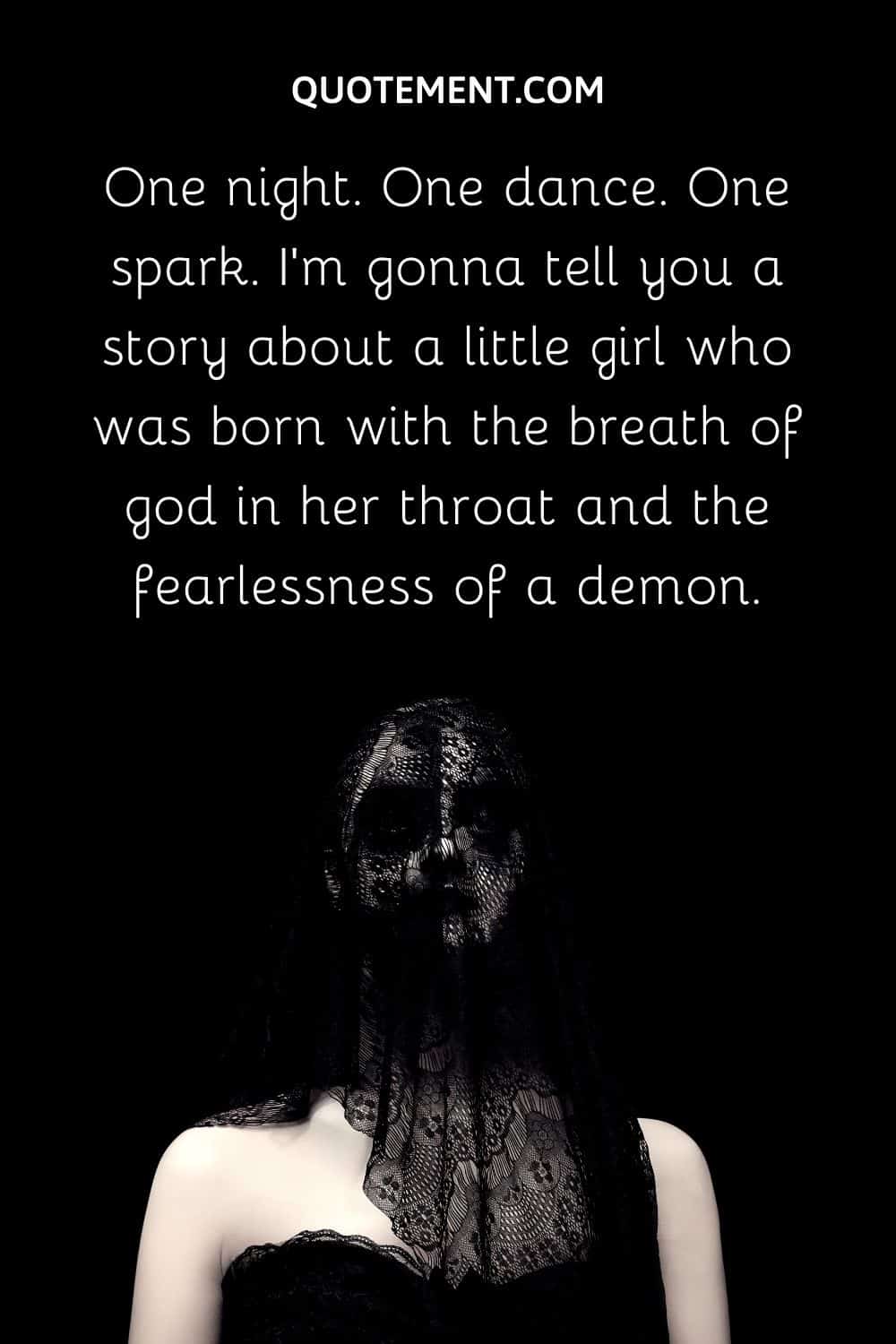 11. In this world, you must be either a painter or lacquered.
12. Gothic fashion made me feel like a boss.
13. Gonna chill with the moon for a while.
14. Late-night music is a soft, sweet caress on my skin. The half-light of the shadows is like the embrace of an old lover. The room is filled with shadows like lost lovers hiding behind closed doors…
15. Serve them up like gangbusters with our new boots that feature bats, skulls and black rose patterns.
16. A color that makes me look slim, makes me feel mysterious, and doesn't need a wash every time? What's not to love!
17. Dark and mysterious, gothic and gloomy romanticism, piercing and tattoos.
18. Dark and deeper, darker, darker still. We embrace the coming of fall's darker hues with these dark Gothic-inspired styles.
19. Don't be afraid to live a full, daring life.
20. Stay safe and don't let rude judgemental people ruin your day!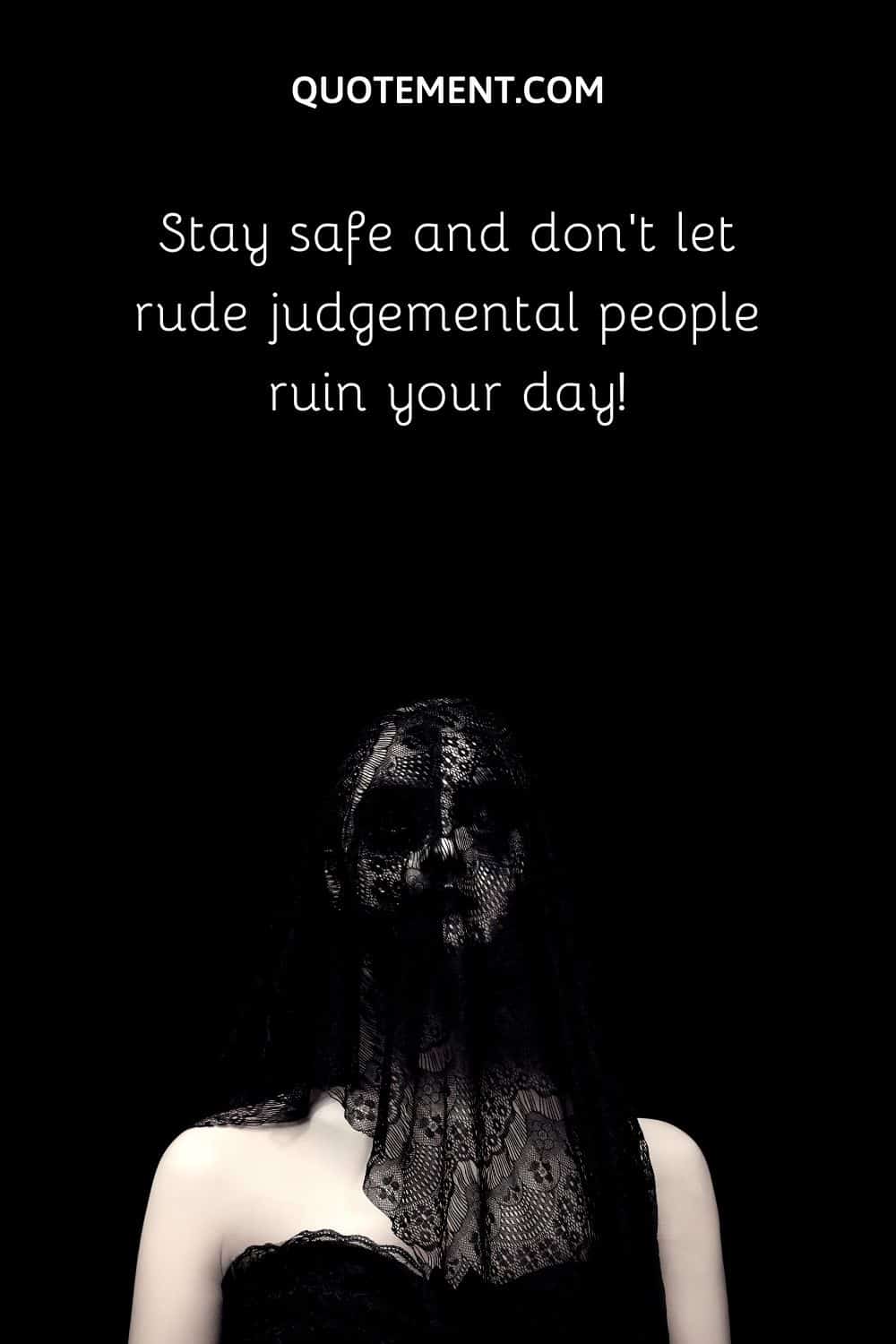 21. Life is like a box of chocolates – unsweet, bitter, and dark.
22. Take my hand and I'll promise to love you till the day I fall.
23. Cuddle up with a cute furry friend, wear your favorite warm sweater and an oversized collar then enjoy your evening.
24. No girl is me. She may be cute, but she's not me.
25. We are dark, mysterious creatures of the night. Our eyes reflect the moon, our hearts pump heavy metal. We celebrate the spooky season most of all. We are Goths.
26. Goth or not, everyone has that one black piece in their wardrobe and this fall is the perfect time for it.
27. We are your perfect Halloween costume that can bring an end to all your costume dilemmas.
28. I'm a lot brighter when I'm out of the dark.
29. Being my own version of me is the only way I can be.
30. Her vibe was completely her own. She reminded me of no one.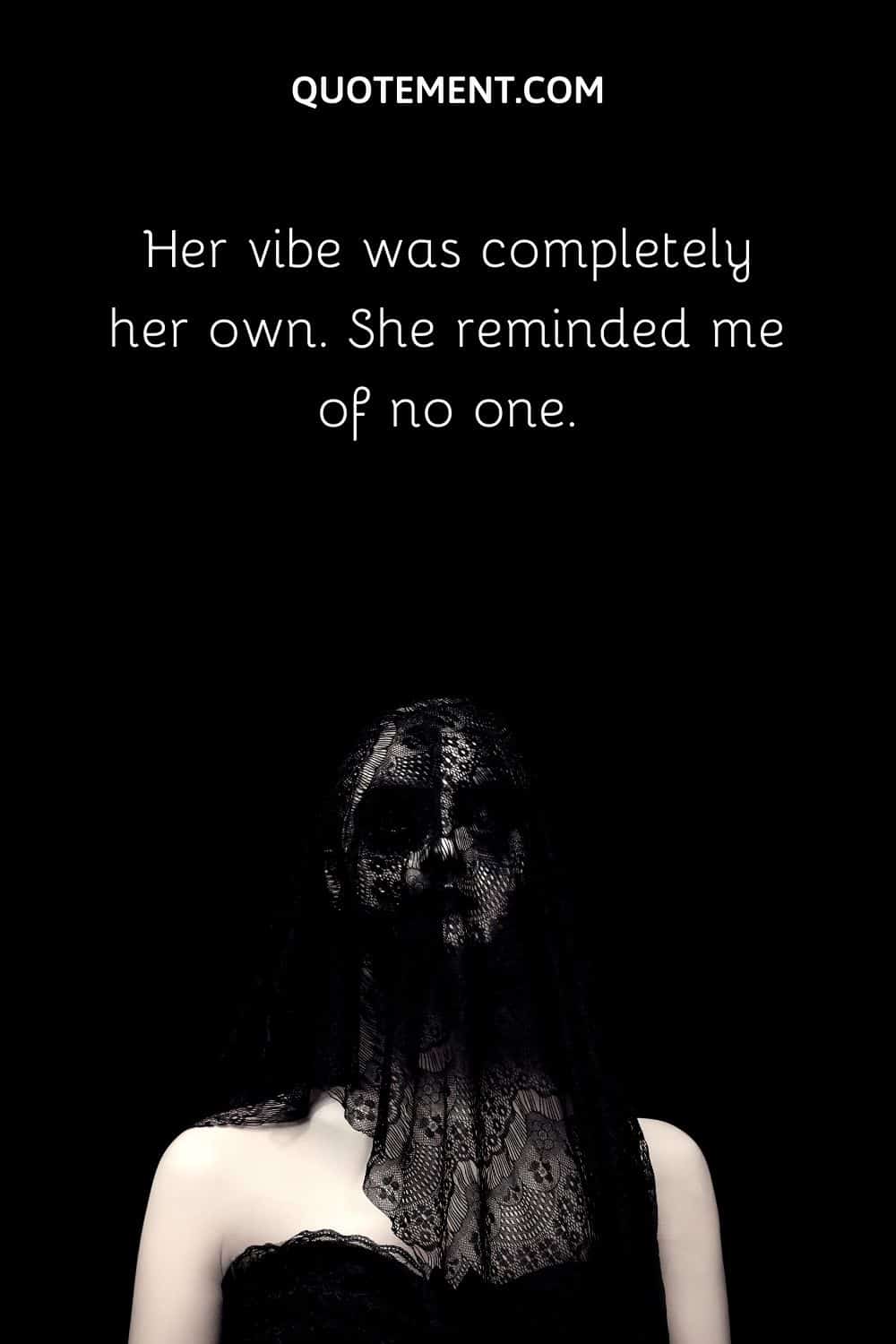 31. I left my heart in the snake pit. Find it if you can.
32. "I'm satan's lover."
33. The ultimate inspo for a badass #ootd with our chic gothic jewelry. Stay fierce and fabulous this week.
34. Never sacrifice who you are just because someone has a problem with it.
35. Clothes so dark they match my soul.
36. Honey, I rose from the dead. I do it all the time.
37. I am strange yet lovable!
38. Old goths don't die, we just fade to gray.
39. "Darkness doesn't have to mean evil." — Mari Adkins
40. I don't live in darkness, darkness lives in me.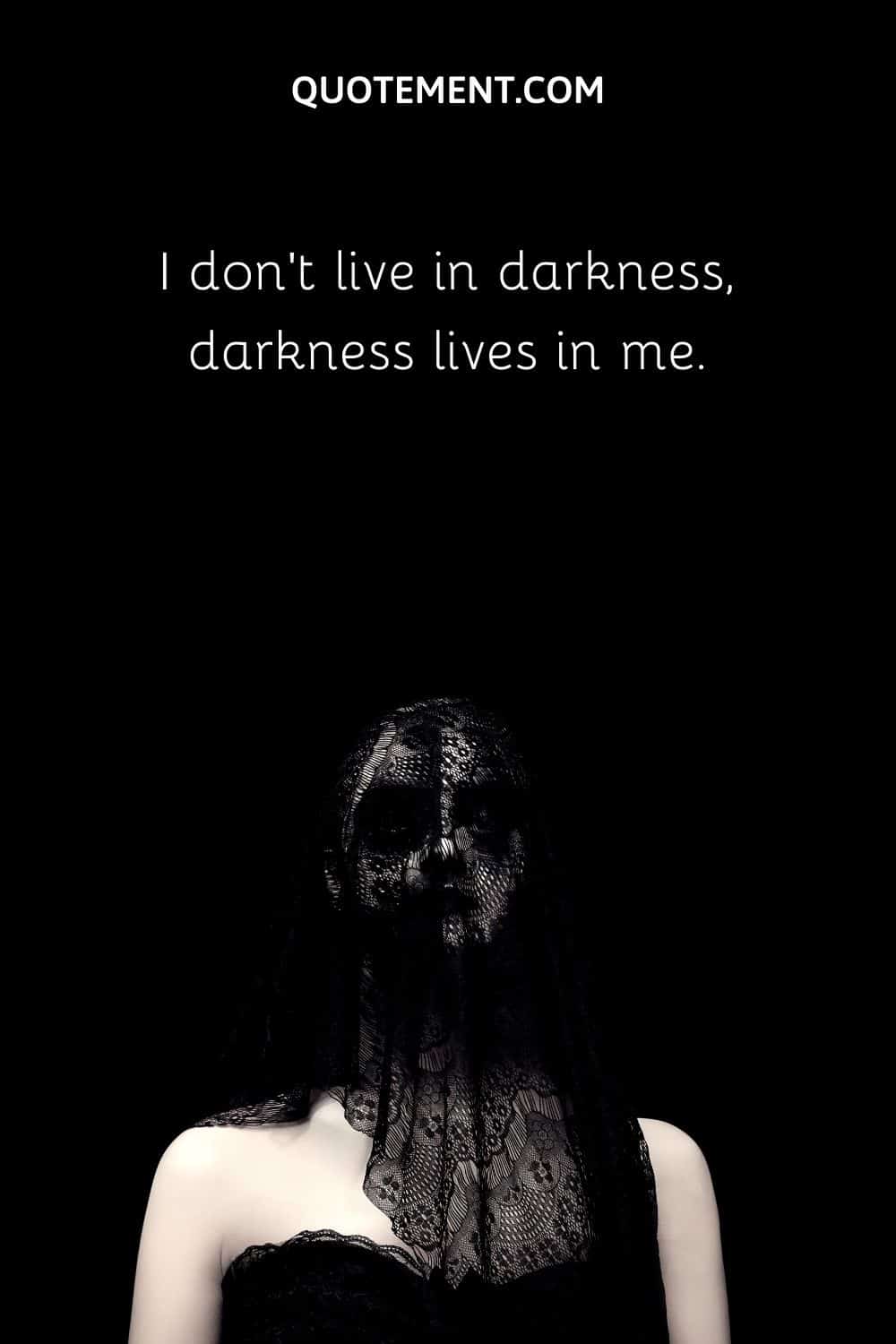 41. BEWARE!! The wickedest witches are in the neighborhood.
42. Put the creepy back in stalker – You stalk the halls of a museum. We stalk the streets.
43. I feel comfortable in black.
44. Walked away from my black jeans and threw on some of my favorite leather pants. And I'm liking it.
45. This time, we're in the mood for something dark, gothic and edgy…
46. The darker the outfit, the brighter the smiles.
47. Showing off my dark side today…
48. On Wednesdays, we wear black, just like any other day.
49. Sometimes, no matter how much you try to speak your heart out, words are not just enough to describe how you truly feel.
50. Let us step into the night and pursue that flighty temptress adventure.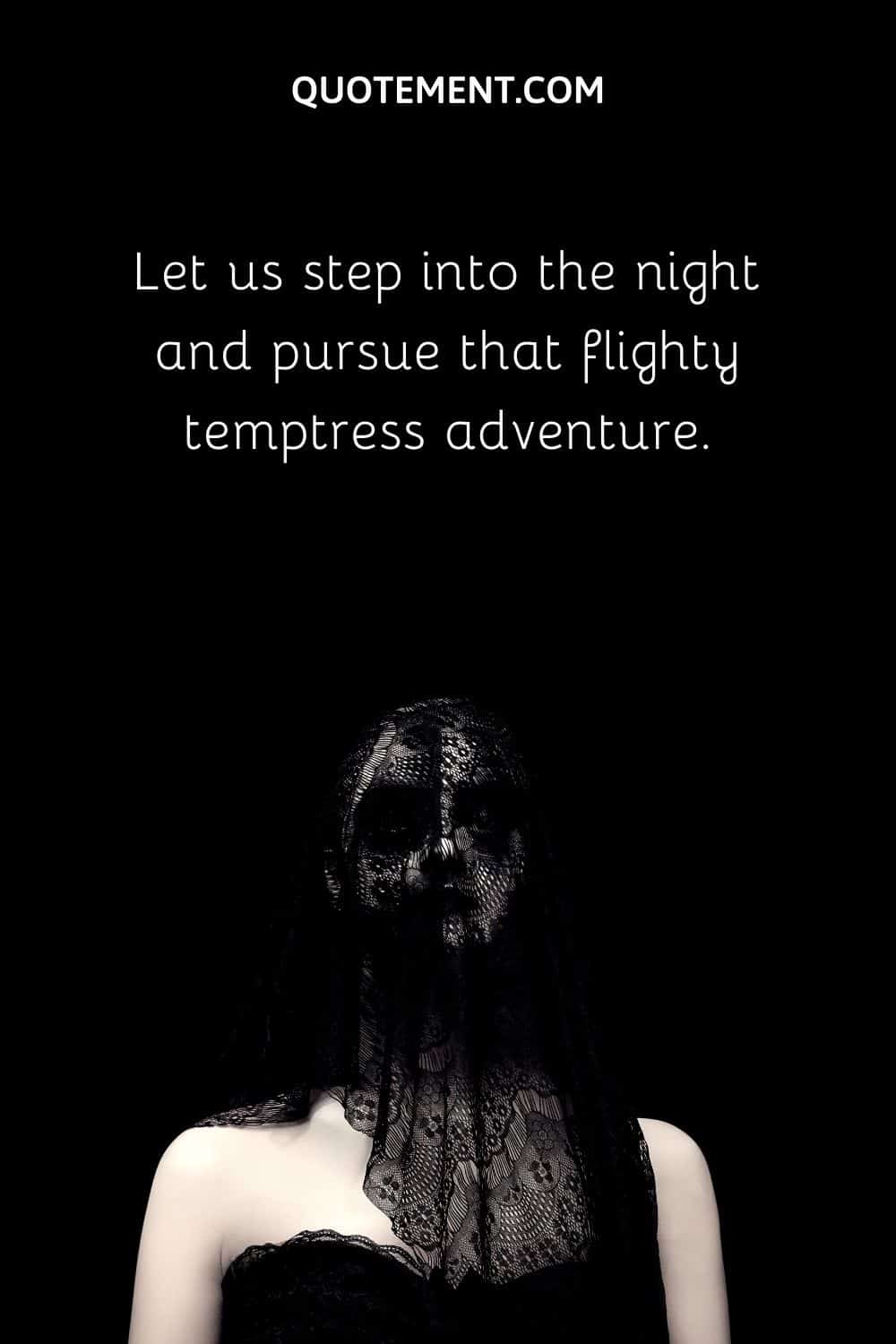 Short Goth Captions For Instagram
If you prefer using short Instagram captions, I've got something for you. Keep it simple with one of these short goth Instagram captions.
1. Prepare for darkness.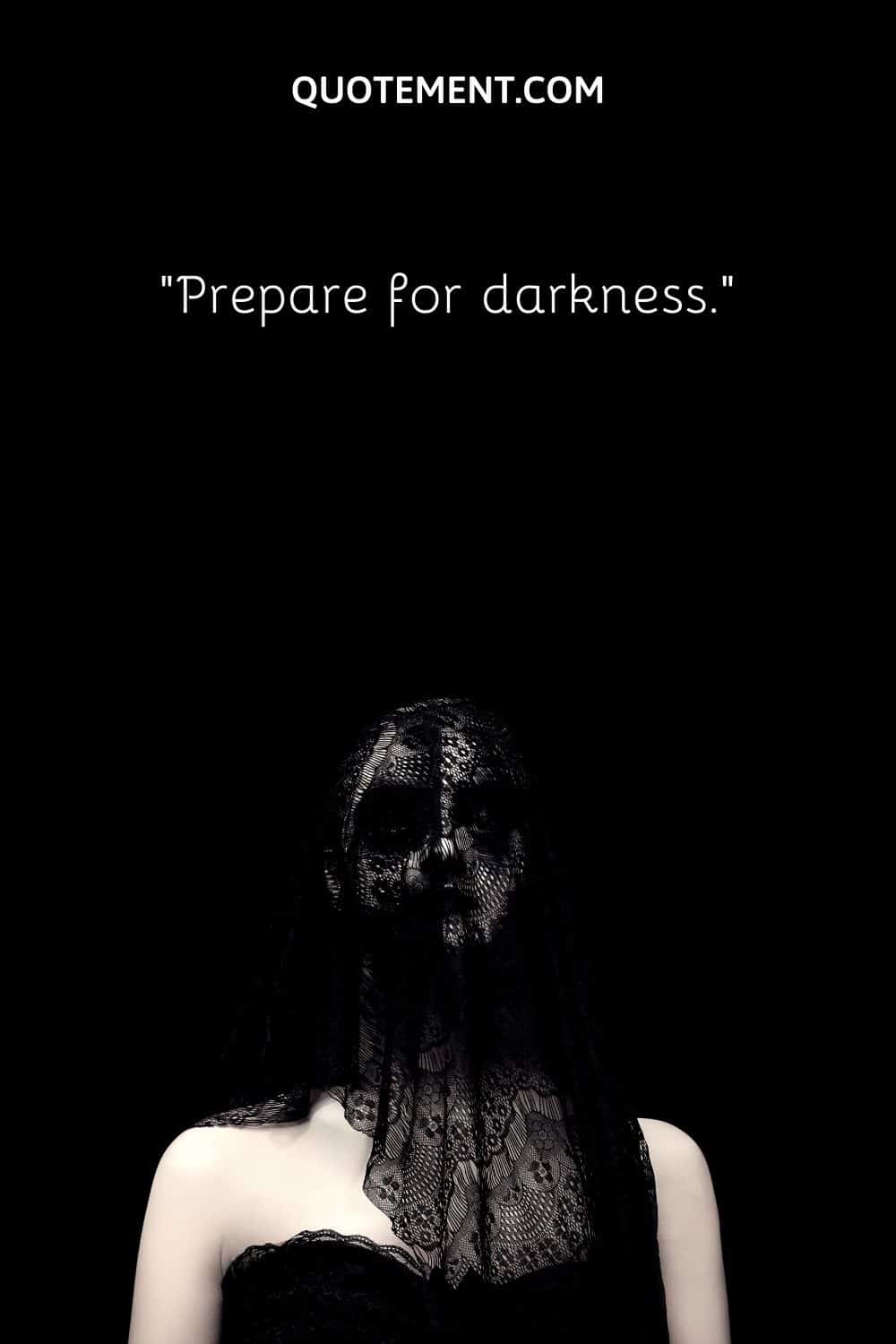 2. Goth style.
3. We're naturally drawn to the dark side.
4. How delightfully tragic!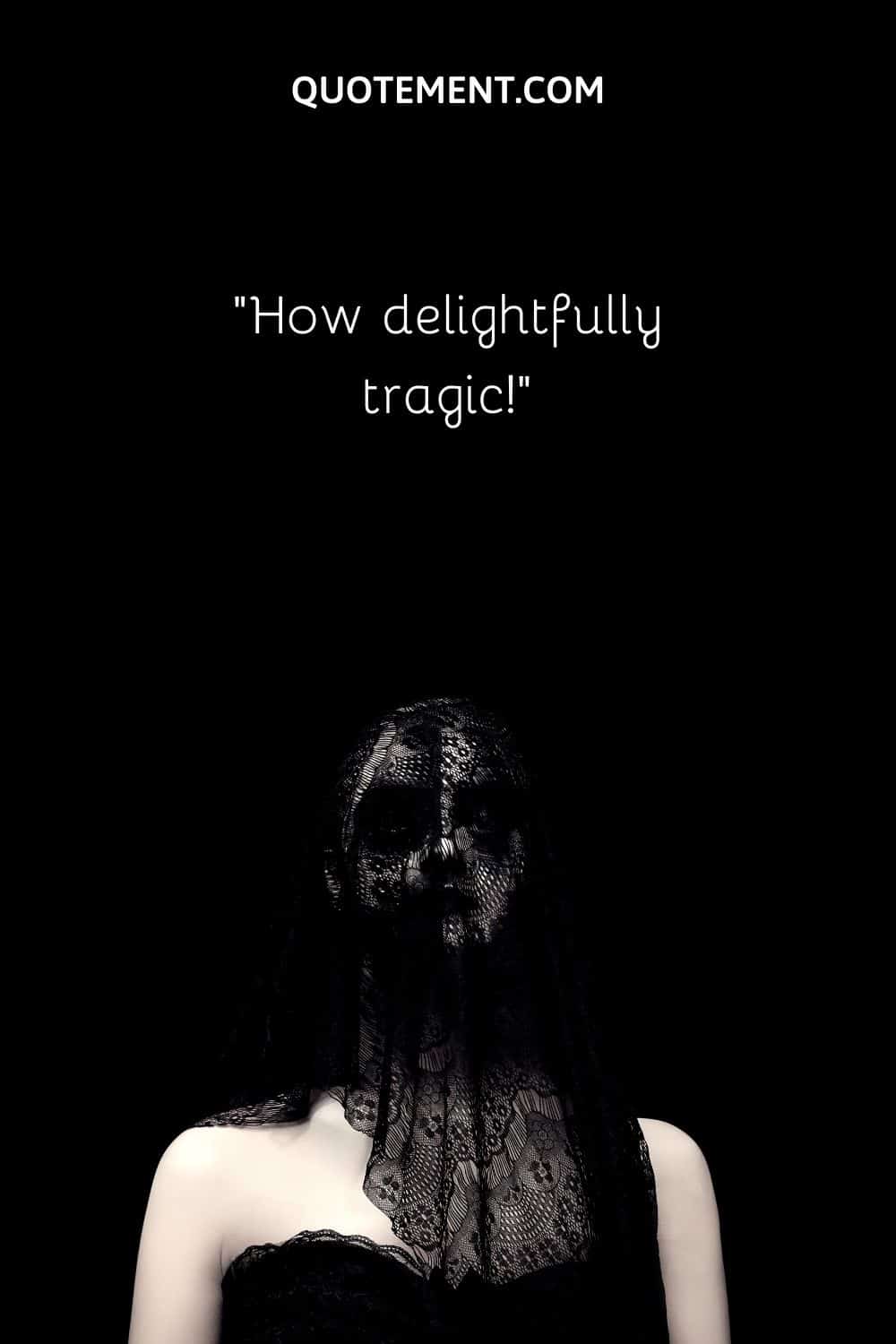 5. Get your goth on.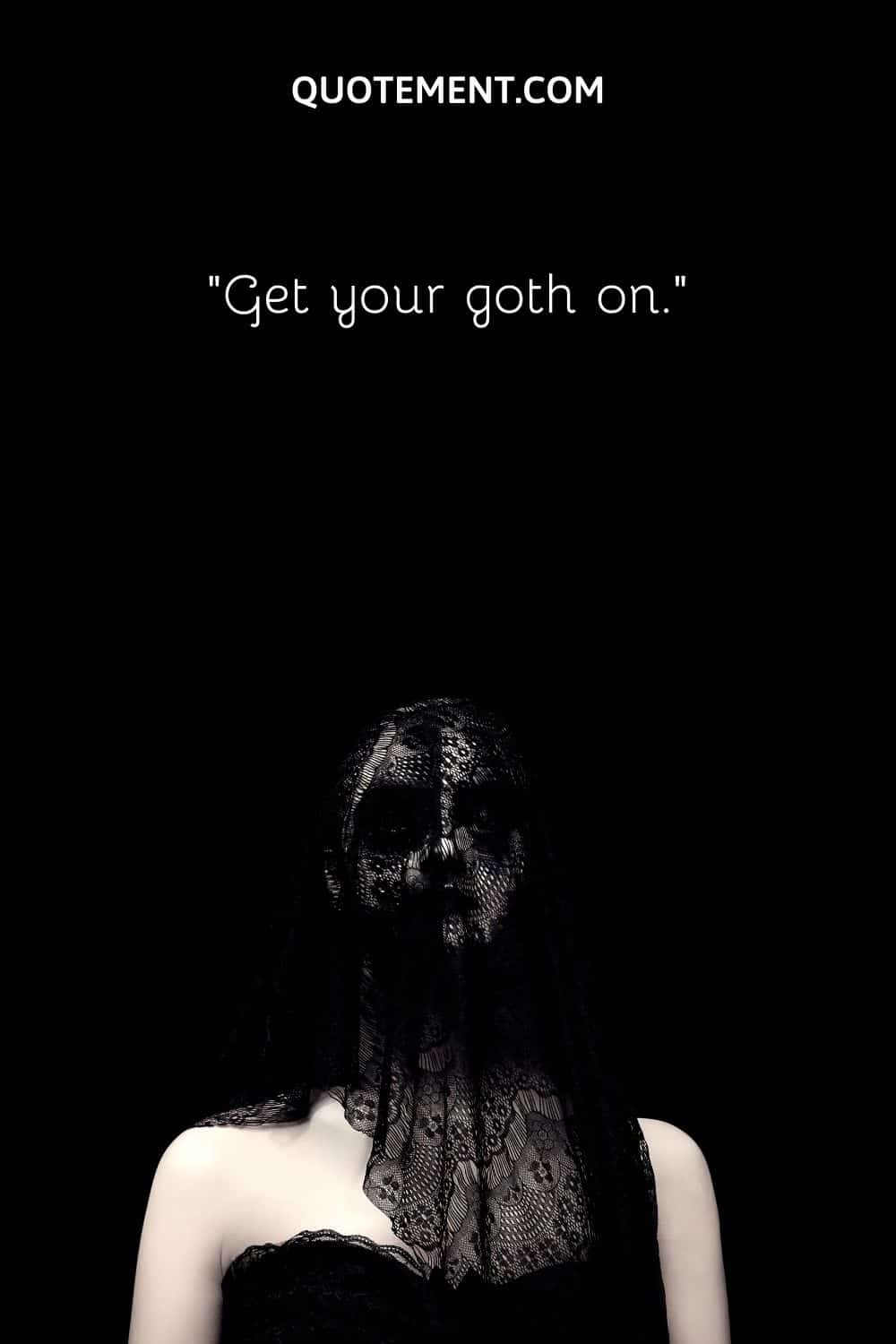 6. Supernatural…but still comfy.
7. Don't ask why I just wear black.
8. I'm the light in the darkness.
9. Well, hello, goths.
10. What do you mean other colors?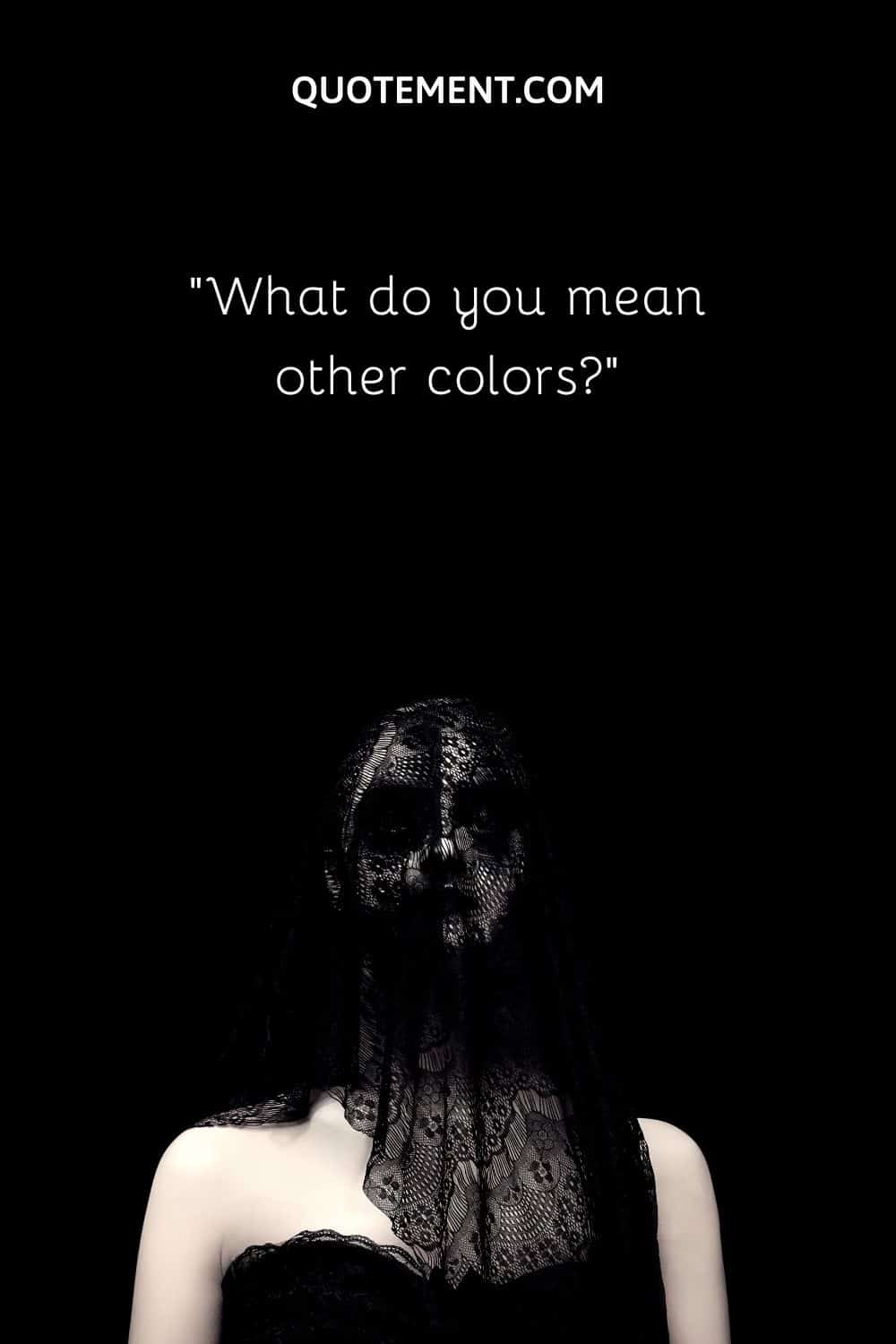 11. I am from a small gothic town near a megacity.
12. Now it's time for some gothic fashion inspo.
13. I am heaven-sent. Don't you dare forget.
14. Put a spell on them.
15. The key to any outfit: accessories!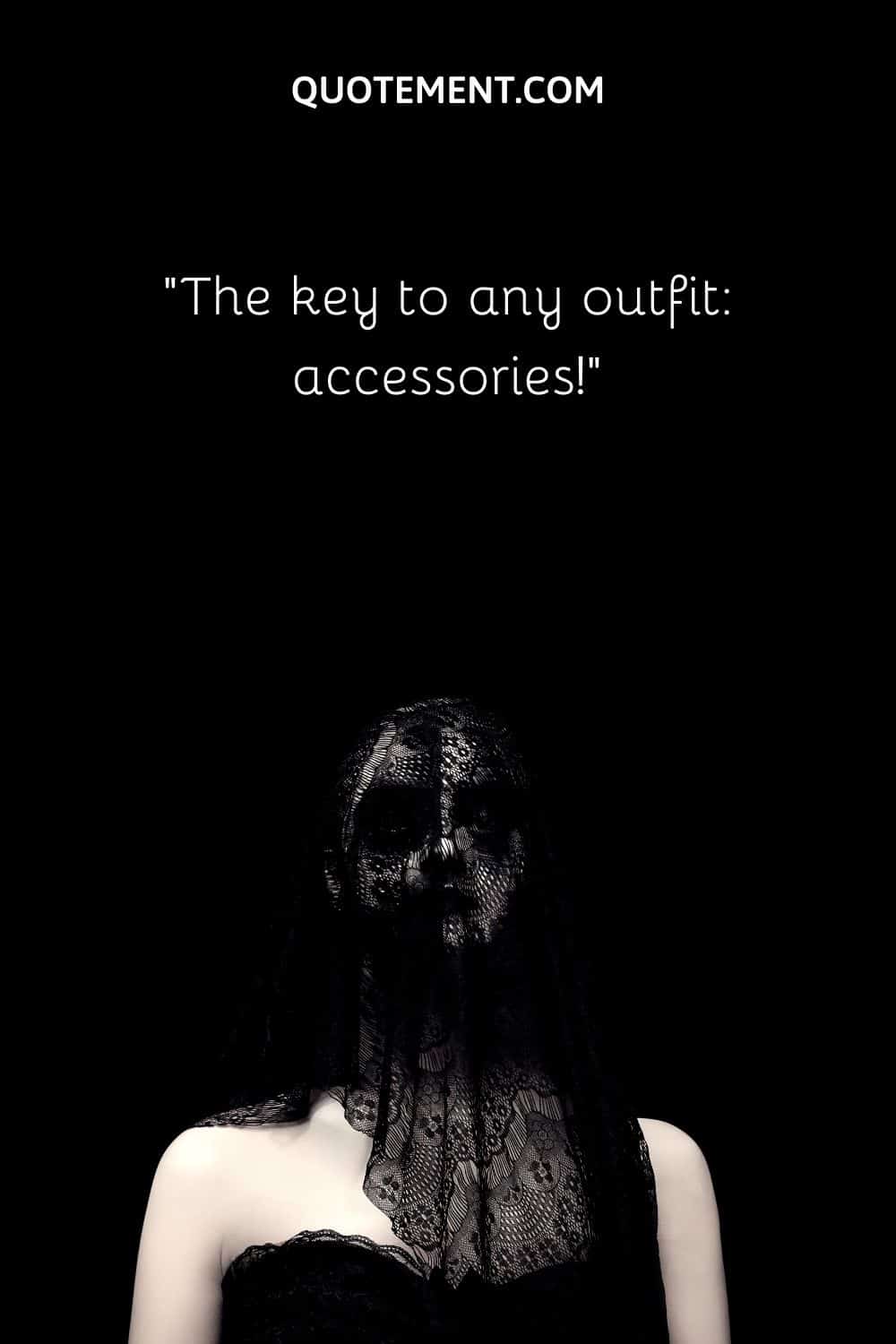 16. You inspire my inner serial killer.
17. Spookey!
18. Thrilling and delightful!
19. We speak the language of Goth.
20. Life is a bat, so dress like one.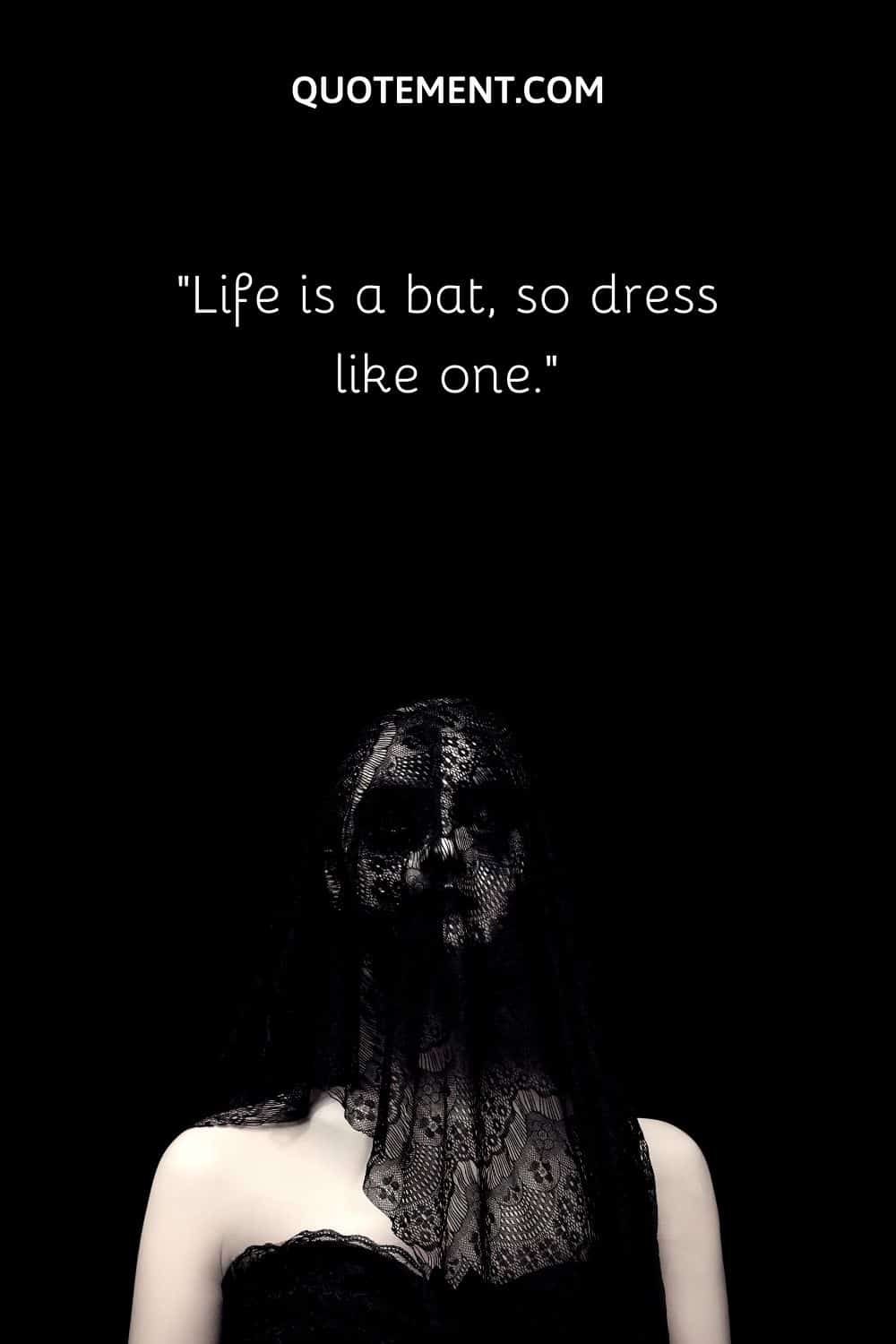 21. Only the strong wear black in the summer.
22. All the best people have gone mad.
23. An angel of terror!
24. Look at my cute pastel goth outfit.
25. More than a feeling: it's an attitude.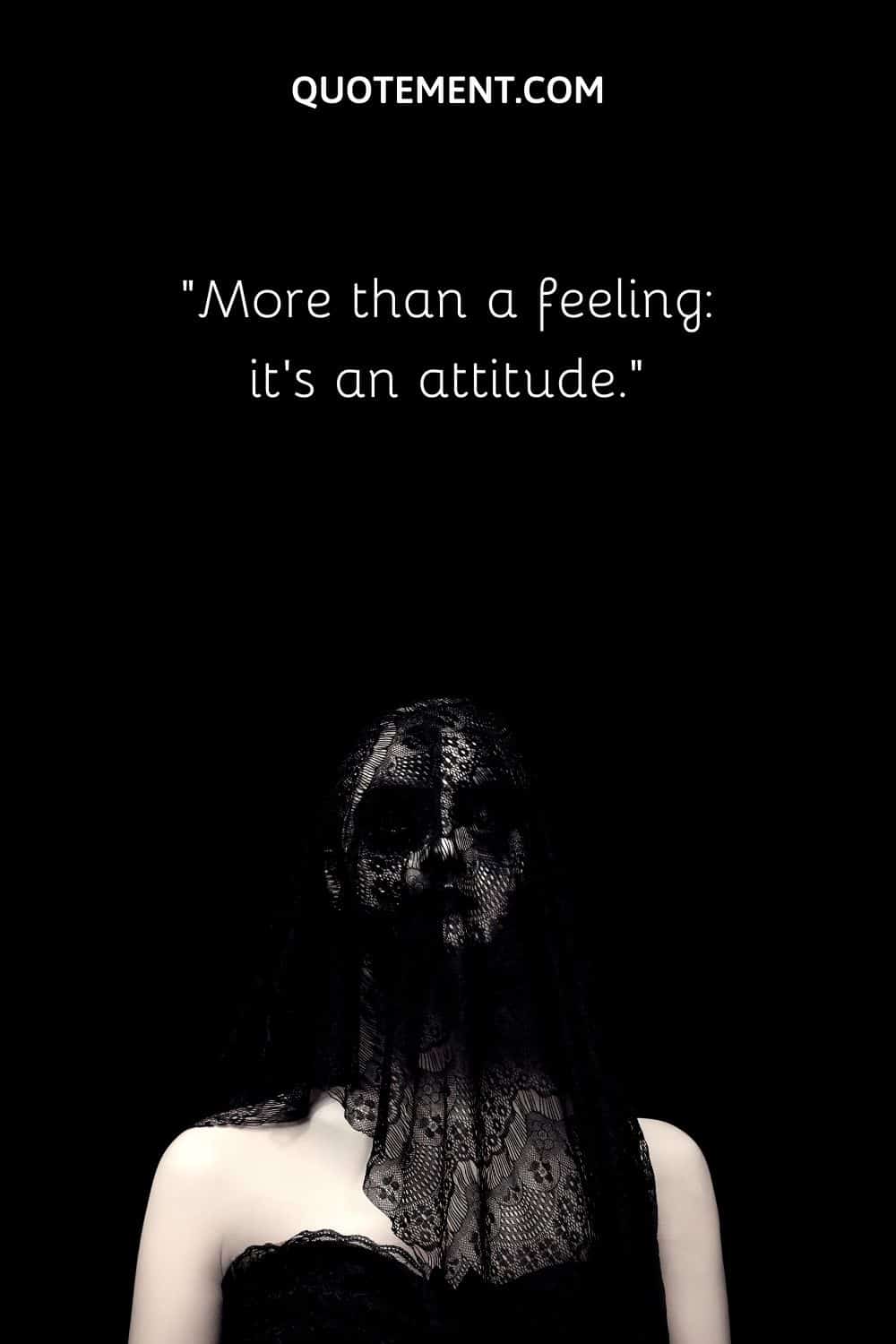 26. If you love gothic outfits, press the like button…
27. Don't cry for him. Make him cry.
28. Give me all the glitter and lace.
29. Back to black.
30. Putting our darkness to good use today.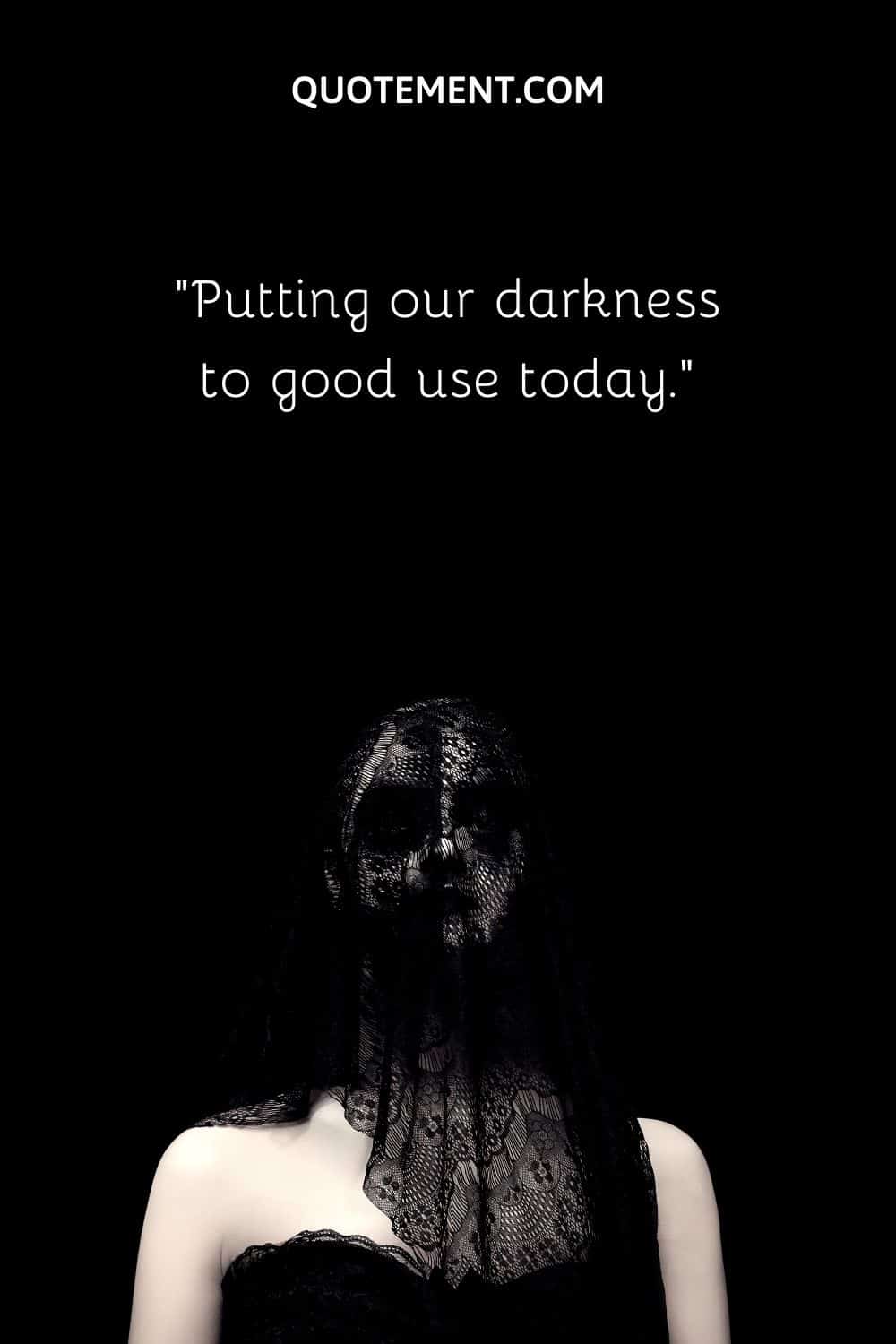 31. Proof that I can do selfies better than you.
32. I want roses set on fire.
33. Gothic season! Awesome!
34. I'm your vampire, baby.
35. Dark angel of the autumn.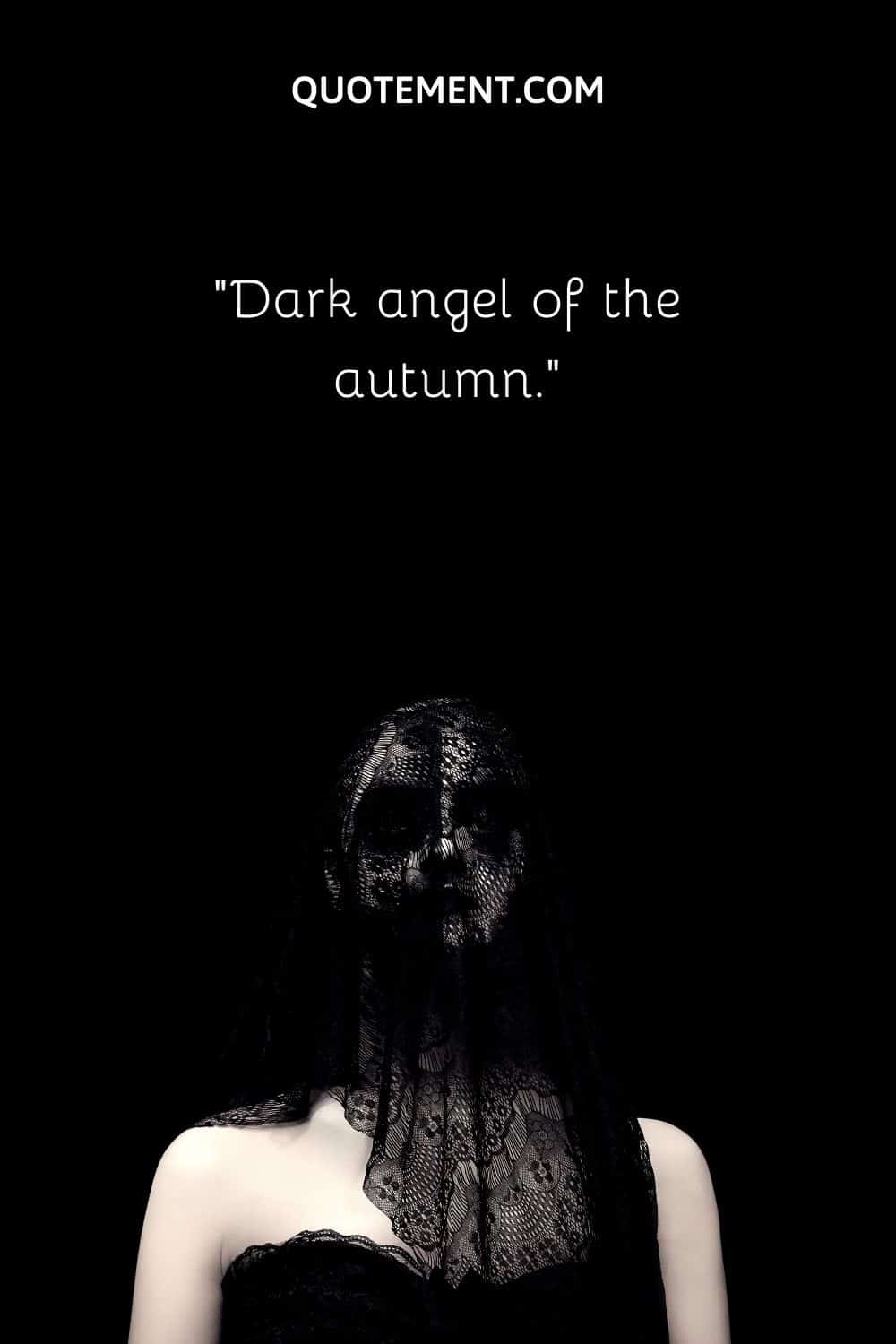 36. Grunge is not dead.
37. Infinite darkness!
38. Ready for your new semester's varsity jacket?
39. I like to keep it moody.
40. Seduce and destroy.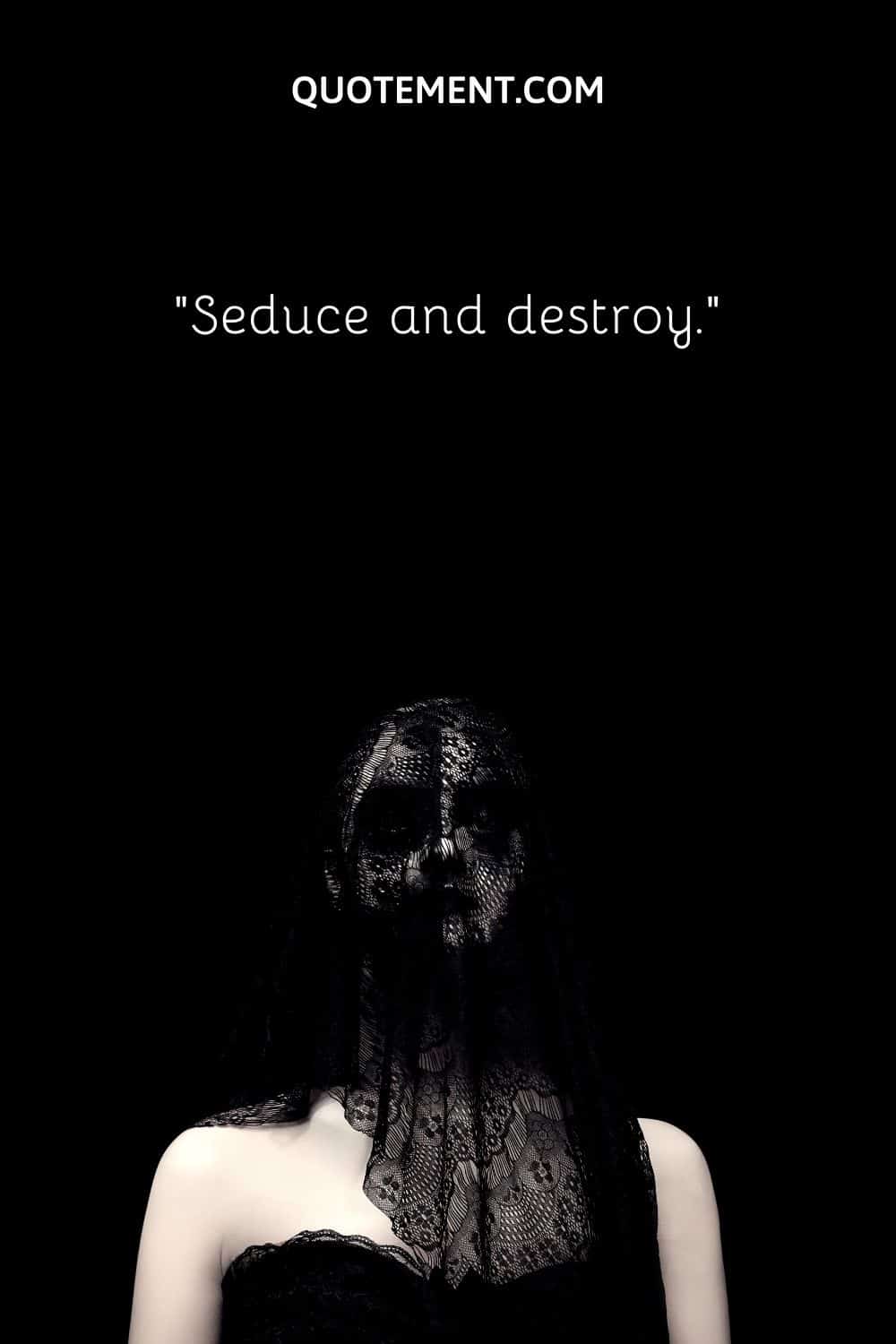 41. Good vibes. Great music. Gorgeous clothes.
42. Goth outfit Ideas for fall.
43. Black is power within.
44. Black suits me best.
45. I think in black.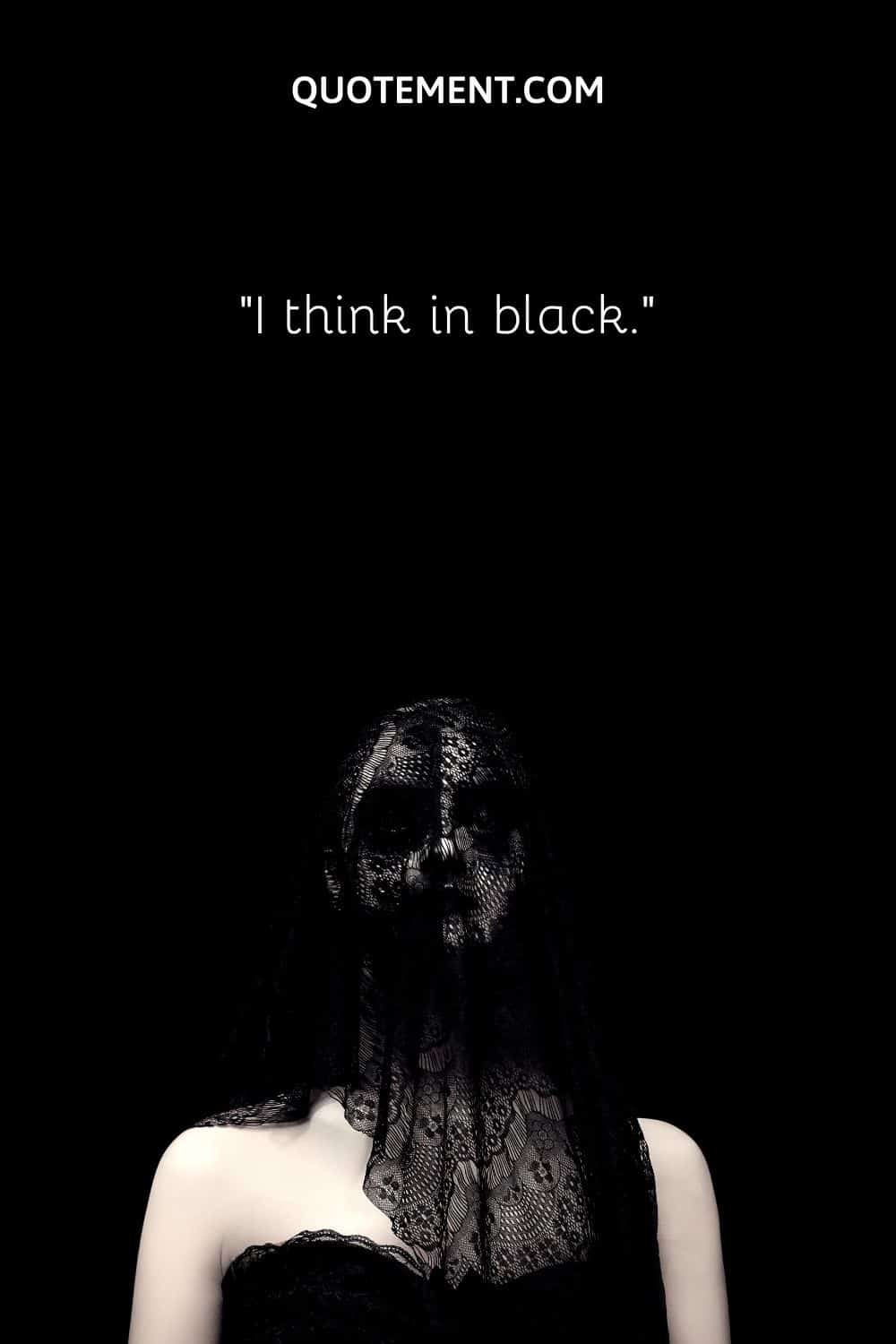 46. Welcome to my dark side!
47. One smile can hide 1000 emotions.
48. She distanced herself to save herself.
49. Disappointed but not surprised.
50. I fell in love with the devil and now I'm in trouble.
See also: 220 Awesome Devil Quotes For Instagram + Devil Captions
Goth Quotes About Beauty
Here are some of the best quotes inspired by the gothic subculture.
1. "There is no exquisite beauty without some strangeness." — Edgar Alan Poe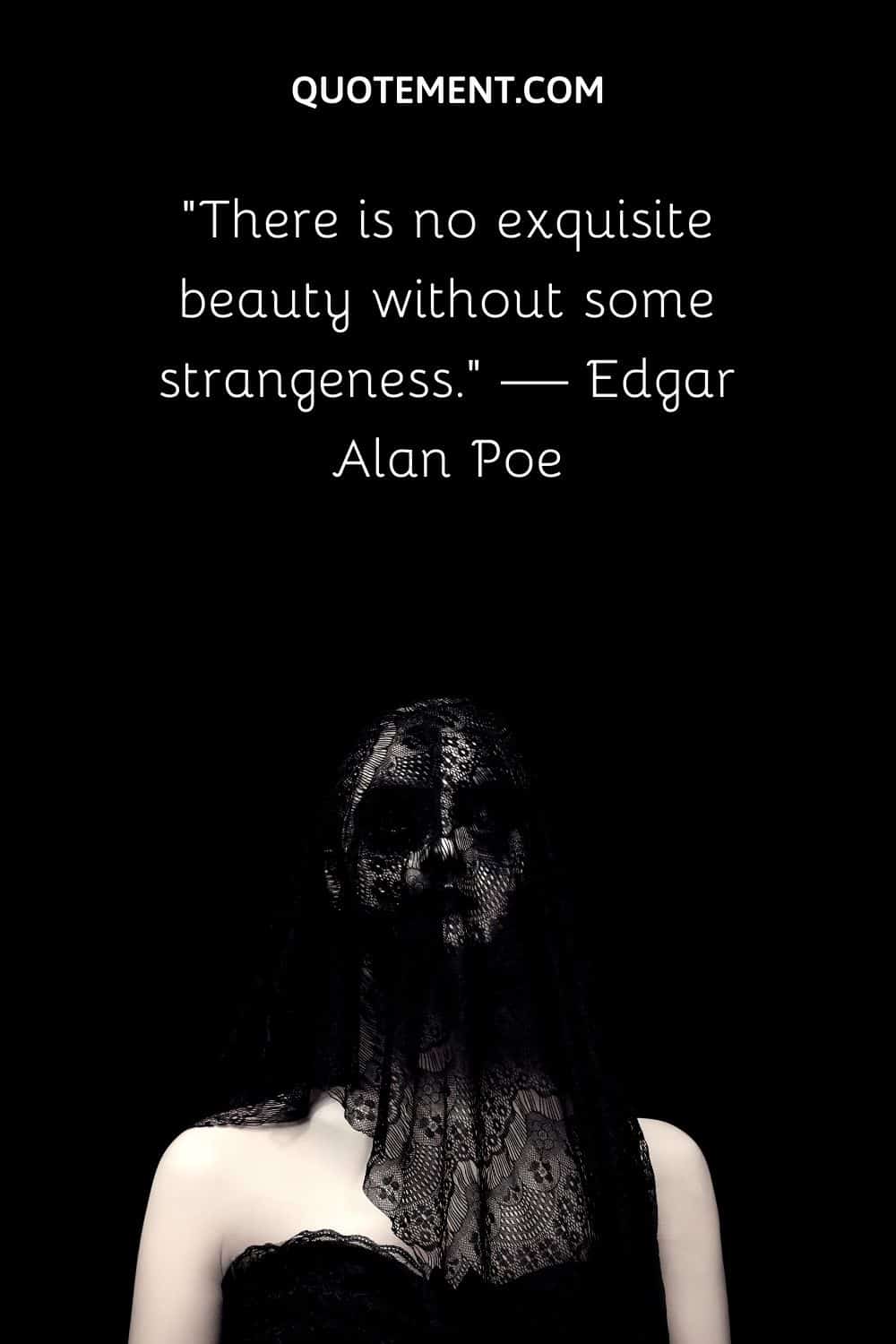 2. "I'm cute as hell, which, incidentally, is where I came from."
3. "Make sure to get your full face of makeup done and set before you leave the house."
4. "Gothic aesthetics don't mean weird or anti-social – we carry a wide selection of styles for all your gothy needs."
5. "Beauty doesn't only have to be pretty. You can also be fierce and strong!"
6. "Life is short, but there's always time for a quick selfie."
7. "Always remember to keep your look dark and mysterious."
8. "The sky's the limit with a slinky slip dress."
9. "I believe in a personal interpretation of goth – not a look, but a way of being."
10. "You're never fully dressed without a smile."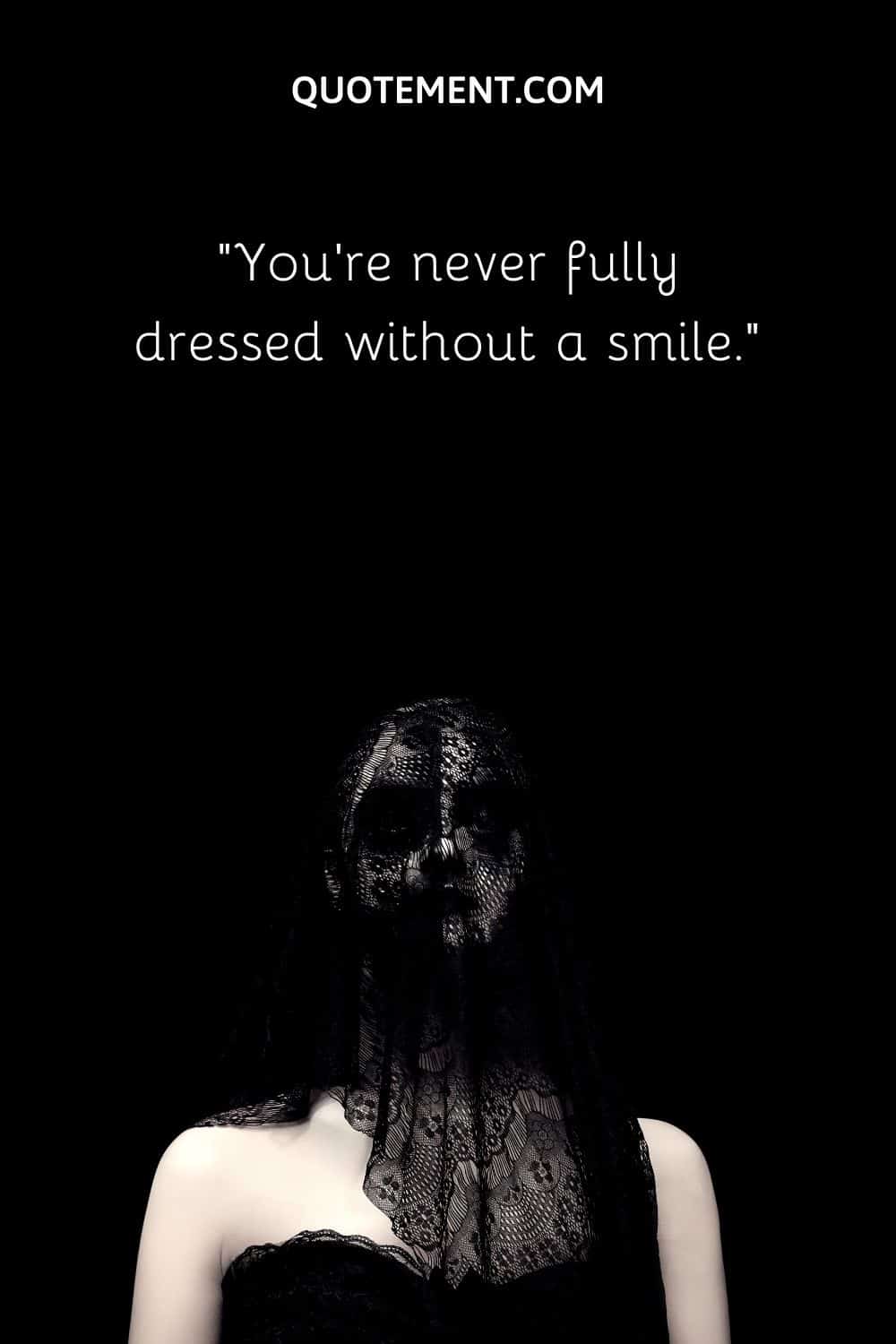 11. "It takes more than lace to be a lady – it takes guts."
12. "We never knew clothing could be this much fun!"
13. "I do not define my style. It defines me."
14. "Style goes dark when you crave the simple yet elegant look of black. Softer on the eyes, darker on the edges."
15. "Dark clothes, dark nails, dark soul."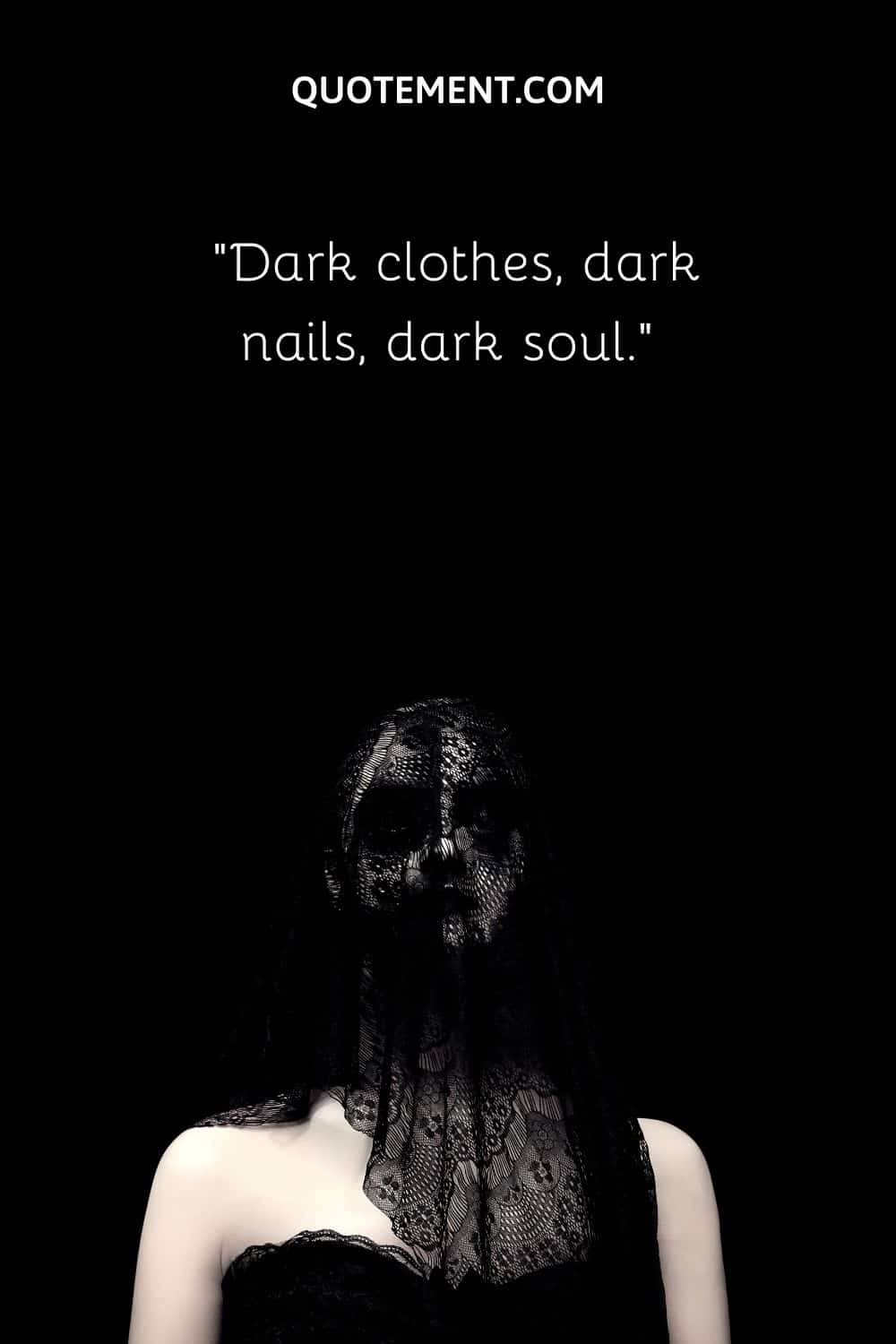 16. "Gothic is a stylish, contemporary company driven by classic principles. We create candles inspired by the very best in art and scent making."
See also: 120 Inspirational Art Quotes To Awaken The Divine In You
17. "In a world where everyone wears black, it's a privilege to see a soul."
18. "Be the strange you wish to see in the world."
19. "I love dressing up to go out."
20. "Filled with poison but blessed with beauty and rage."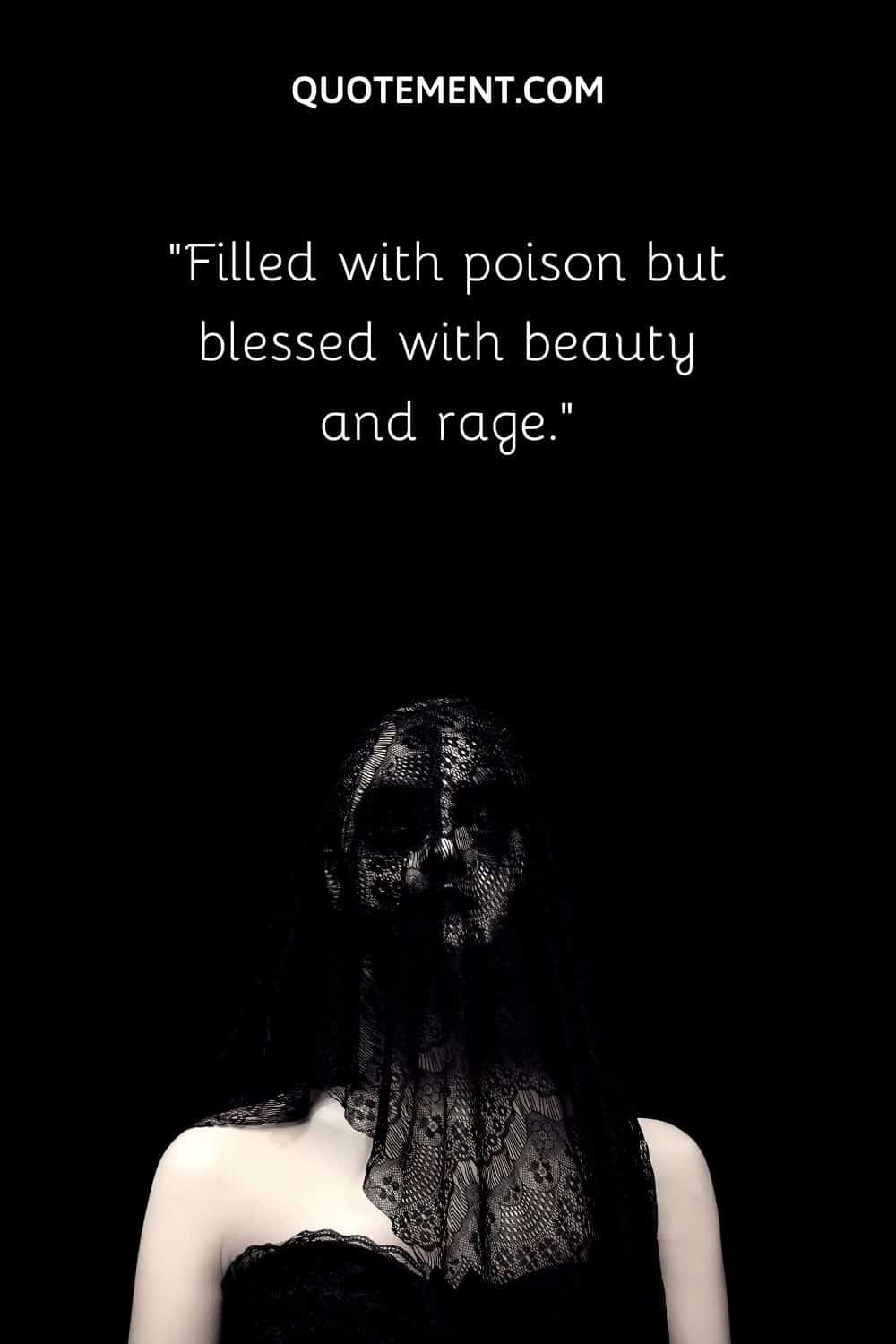 21. "I had a gothic phase and I'm more edgy chic." — Ashley Benson
22. "Last wishes for all my corset friends out there, life is too short to wear boring clothes. Stay unique, stay alluring."
23. "Now I know, there's beauty in darkness."
24. "The beauty of light owes its existence to the dark."
25. "Gothic fashion has the power to express part of who you are and what matters most to you in your heart."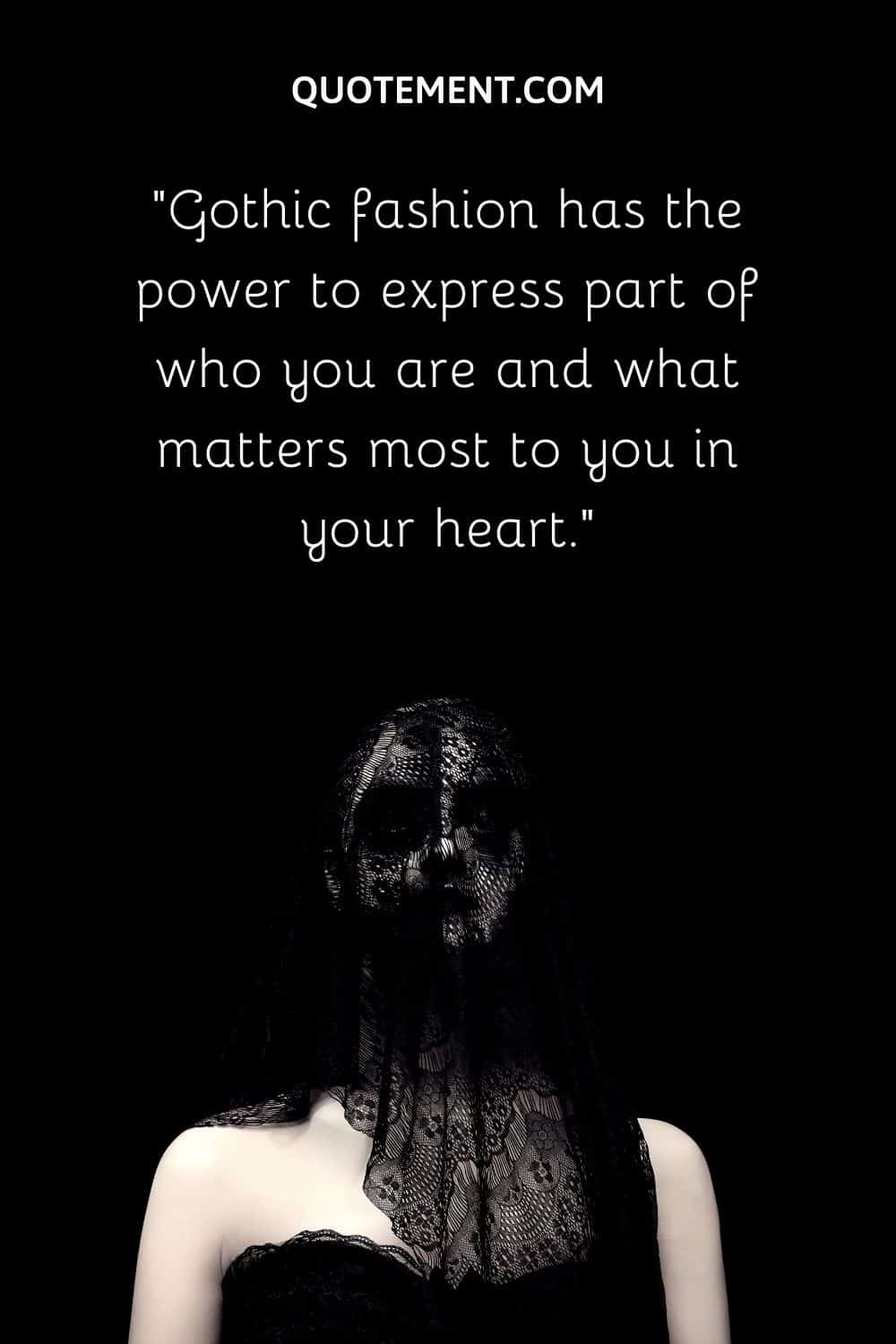 26. "Black is not sad. Bright colors are what depresses me. They're so…empty. Black is poetic. How do you imagine a poet? In a bright yellow jacket? Probably not." — Ann Demeulemeester
27. "Normal people have no idea how beautiful the darkness is."
28. "Gothics find beauty where others don't."
29. "Darling, some people have a twisted sense of beauty." — Morticia Addams
30. "Darkness is where the magic of moonlight lives."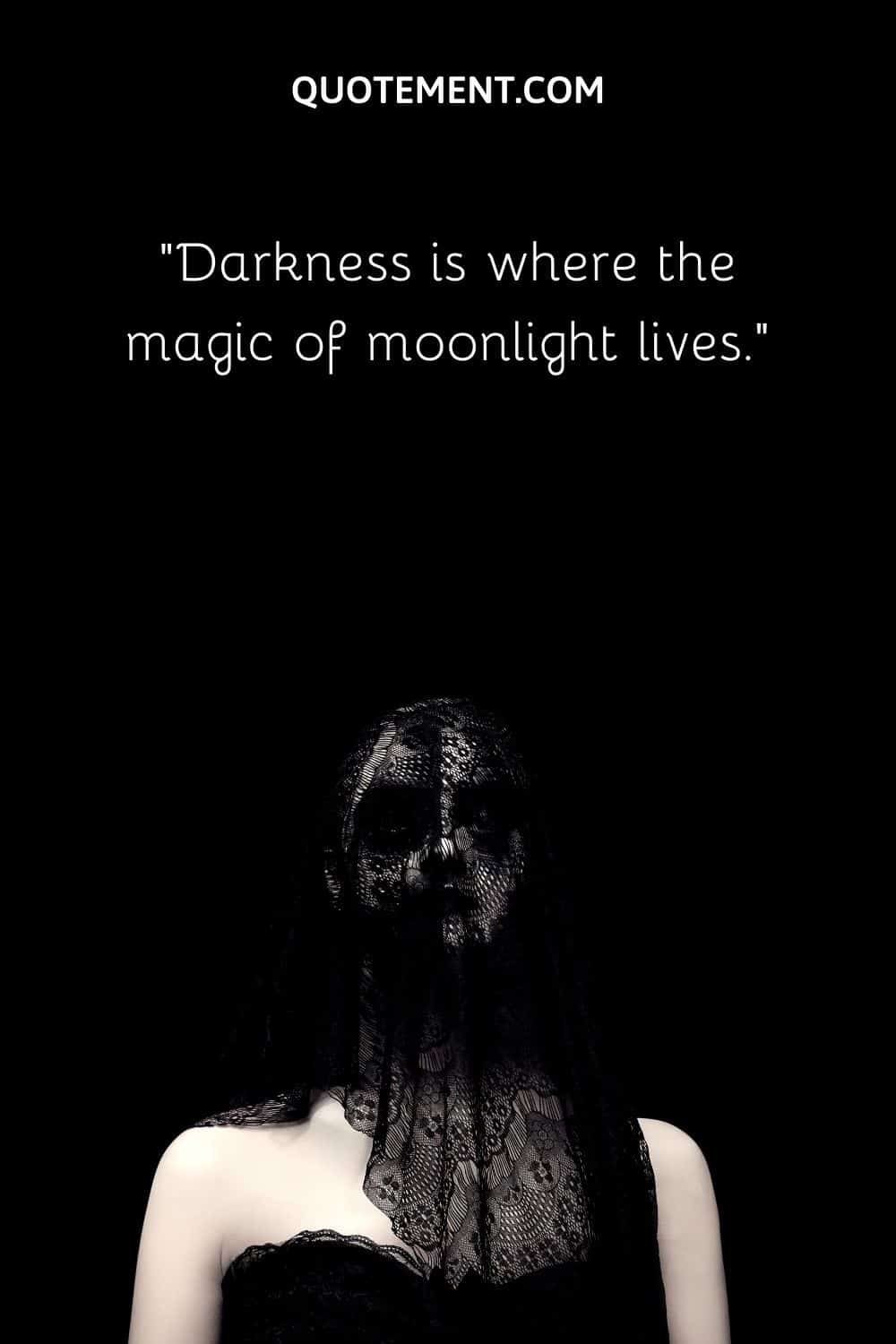 Final Words
There are plenty of goth Instagram captions and quotes to choose from here.
I'm sure your Instagram post will be on point with any of them!
Talk to you soon!
Read next: 20 Most Toxic Instagram Captions To Show Your Dark Side