In the hustle and bustle of our daily lives, we often forget to pause, take a deep breath, and count our blessings.
But what if I told you that each afternoon brings with it a fresh opportunity to do just that?
To that end, I bring you a wonderful collection of good afternoon blessings, the best ones I could think of or find online.
Let's dive in and make every afternoon a beautiful moment of reflection and gratitude!
10 Powerful Good Afternoon Blessings
1. "May your afternoon be filled with blessings like the sun that lights the day. May you always have the courage to spread your wings and fly."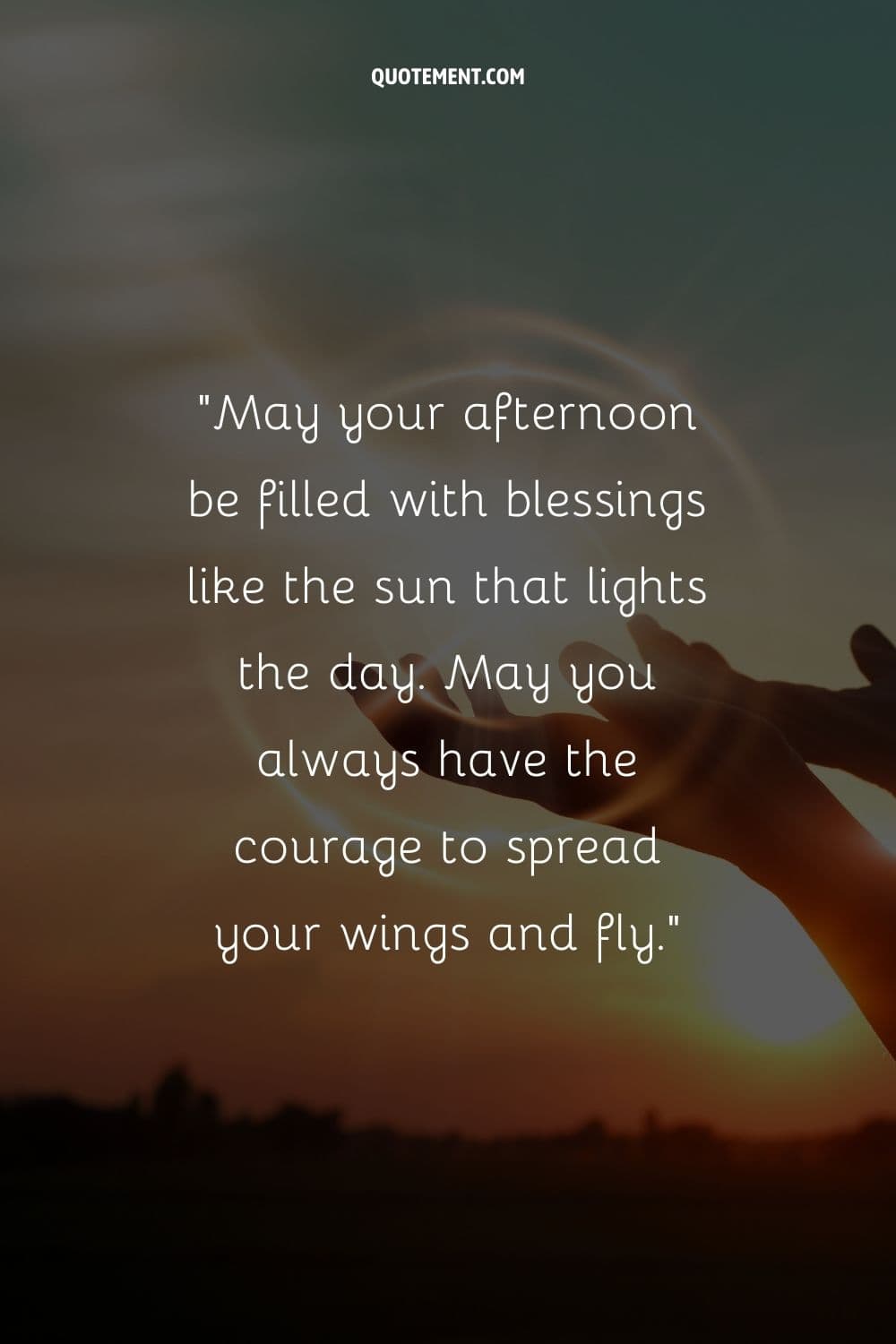 2. "Half of the day has already passed, a few more hours to go. The gentle and soothing afternoon breeze reminds me of you. I bless you with some afternoon hues."
3. "Every afternoon reminds us of this priceless gift called life. I bless you to overcome its struggles and strife and stay healthy and hearty. "
4. "May God bless you with sensitivity so that you enjoy the comfort of the warm afternoon and its beauty."
5. "God woke you up today. Count your blessings like you count your money. Good afternoon."
6. "I am sending you rays of sunshine and blessings to brighten your afternoon and fill it with joy."
7. "I speak blessings of divine favor and provision over your lives. May God open doors of opportunity, and may you walk in His divine alignment and purpose."
8. "May your afternoon be filled with the warmth of the sun, the comfort of good company, and the blessings of a peaceful heart."
9. "May your troubles be less this afternoon, and your blessings are more. Nothing but happiness should come through your door."
10. "May this afternoon bring you the gift of renewed energy and the assurance that life's blessings are always within reach."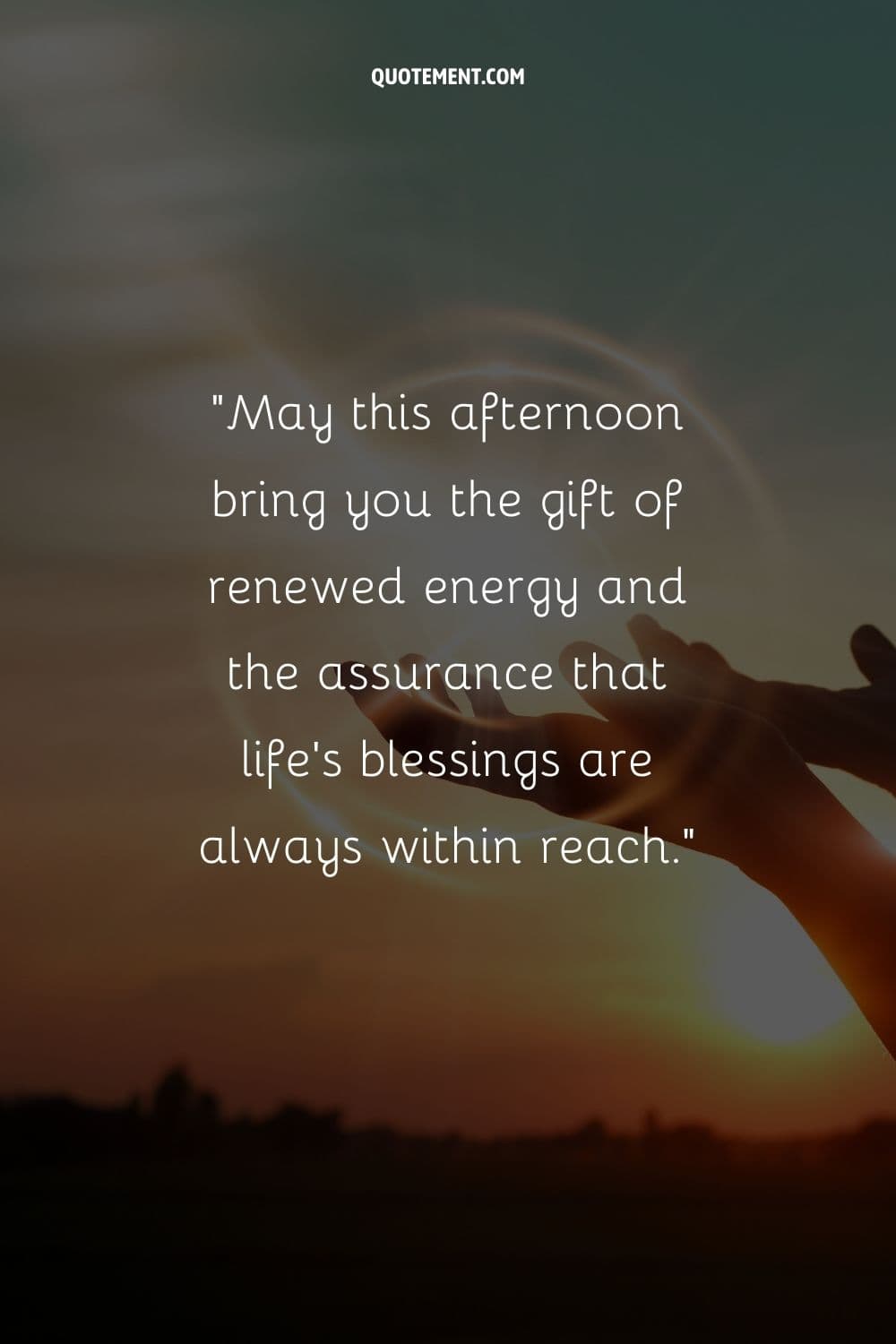 Inspirational Afternoon Blessings
1. "Let go of all your sadness and light up your world with the brightness of this afternoon. You have miles to go still. I wish you an afternoon that's full of inspiration!"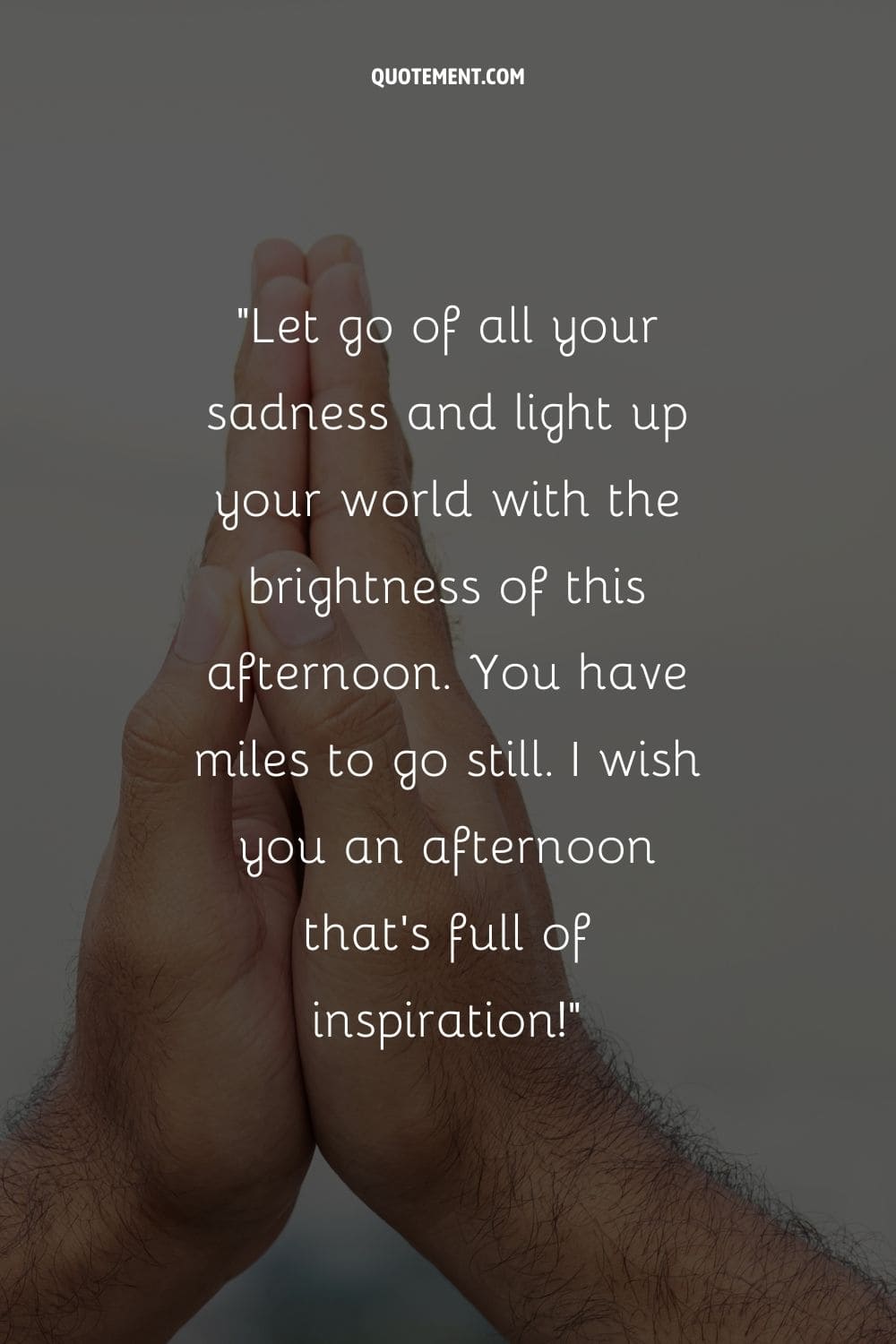 2. "Just like light shows up in the afternoon after dark hours of the night, may you always steer through the sorrows with full courage and might."
3. "Good afternoon. The peace I give unto you, let not your heart be troubled, neither let it be afraid. Blessings!"
4. "Be bright like the afternoon sun, and let everyone who sees you feel inspired by all the great things you do. You have one life here on earth. Make it count in whatever way you can. I wish you a blessed afternoon."
5. "May the blessings of God find their way to you from every side. Good afternoon."
6. "Wishing you a pleasant afternoon filled with laughter, love, and beautiful memories. May it remind you of life's priceless blessings."
7. "May this afternoon bring you moments of peace and inspiration to propel you on your journey to success."
8. "Help will come running after you speedily. Nothing shall delay your blessings. Never! The blessings of God, which no doubt makes rich without adding sorrow, will be your portion."
9. "May the power of God empower you to be a blessing to others. May you shine His light brightly, bringing healing, comfort, and encouragement to those around you."
10. "My wish today is that you have a lovely afternoon and that you keep up your optimism because the mind is powerful enough to do great things. Be blessed."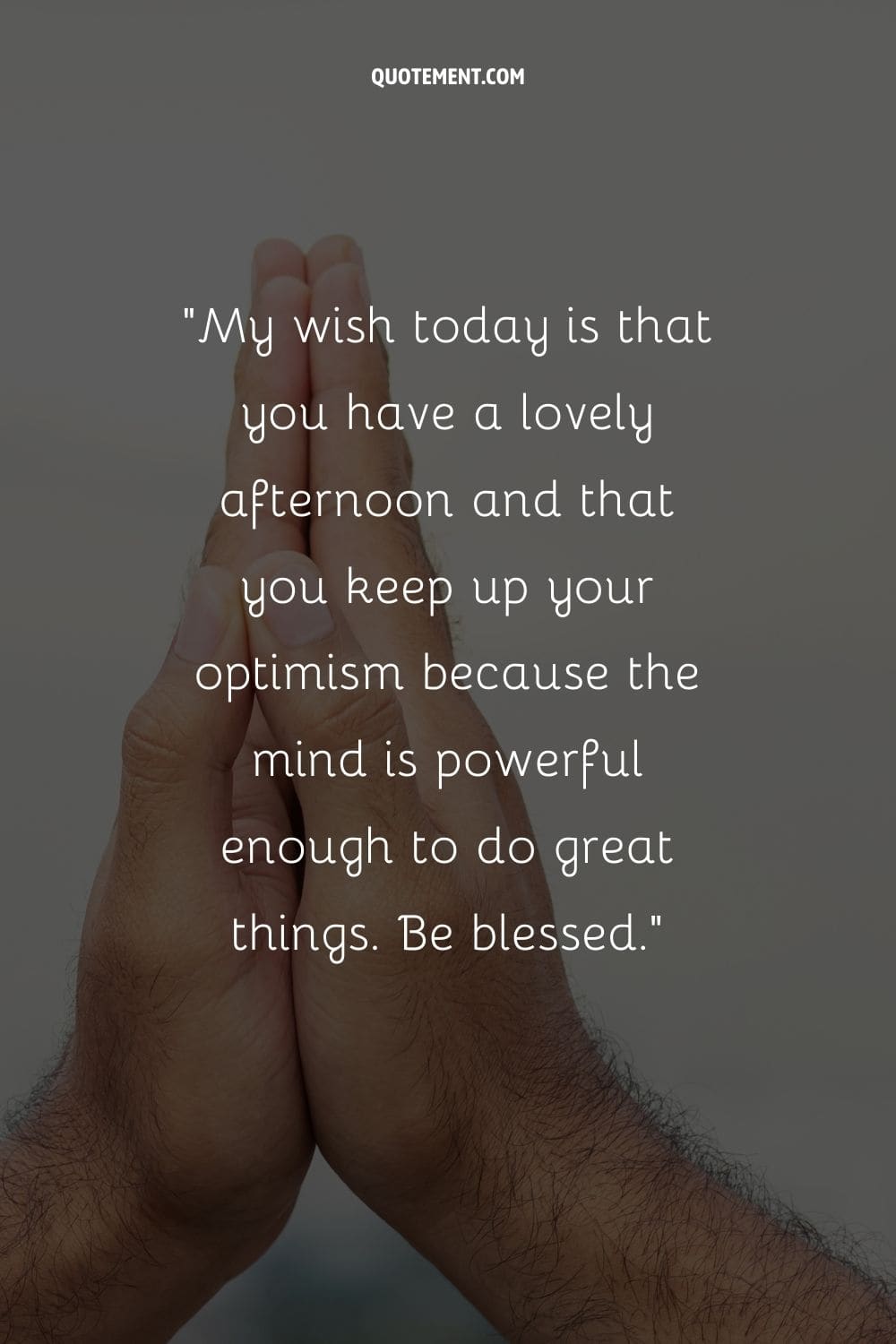 11. "Your dream doesn't have to have an expiration date. Please take a deep breath, and try again. Good afternoon blessings."
12. "New day new blessings. Don't let yesterday's failure ruin the beauty of today because each day has its promise of love, joy, and forgiveness. Have a blessed afternoon."
13. "Here's the afternoon to tell you that half of the time you have to work, is gone. Just the remaining half to go. I wish you more strength as you do your work. Have a joyous afternoon." 14. "May this afternoon bring a lot of pleasant surprises for you and fill your heart with infinite joy. Wishing you a very warm and love-filled afternoon!"
15. "Wishing you a peaceful afternoon where you can take a break, recharge, and find inner harmony."
Thankful Good Afternoon Blessings
1. "As the sun smiles down on you this afternoon, may you be reminded of all the reasons to be thankful for this beautiful day and the blessings it holds."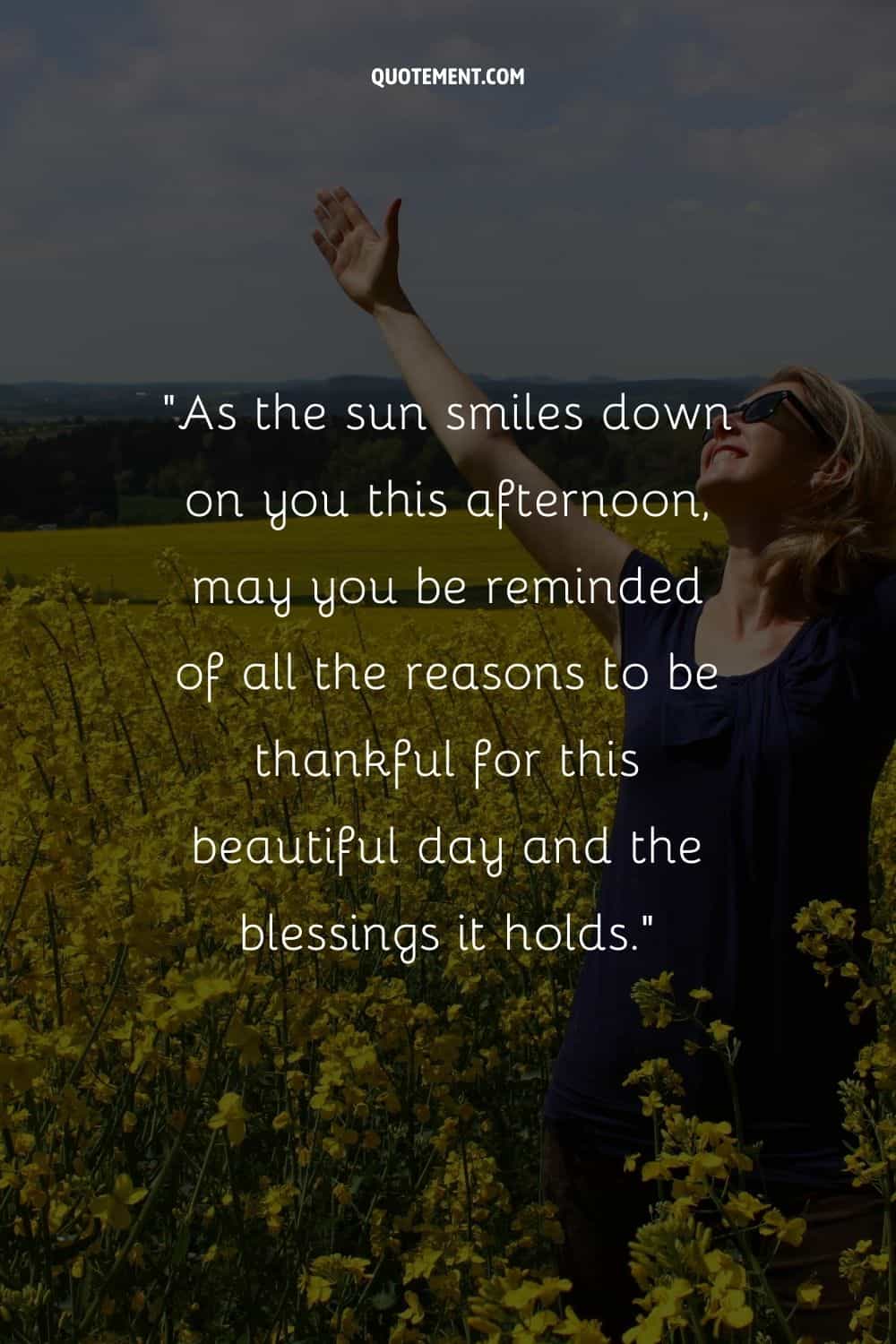 2. "Do you know the time the sun shines at its fullness? It's in the afternoon. It shows me how you brought light into my life, ever since I met you. Good afternoon, may God bless you!"
3. "On this wonderful afternoon, I just wanted to thank you for believing in me and making me believe in myself. Thanks for being my lucky charm!"
4. "Good afternoon. Don't forget to take time out to be thankful for all God's blessings."
5. "At this midday hour, I give thanks to you for the morning that has passed. I reflect upon the blessings I have been given today."
6. "In this beautiful afternoon, may your heart be filled with gratitude for all the goodness that surrounds you. May you find strength and encouragement in the Holy Spirit to face any challenges that come your way."
7. "Good afternoon. Enjoy the blessings that noon offers you and be thankful always."
8. "In the middle of the day's hustle, take a moment to pause and count your blessings. May your afternoon be full of gratitude and contentment."
9. "I am glad to have you by my side amidst the bumpy life's ride. Thanks for being the cushion for any tension in my life. God's blessings will always overtake you. Good afternoon."
10. "Good afternoon! In this moment of quiet reflection, may you find gratitude in your heart for the countless blessings that fill your life."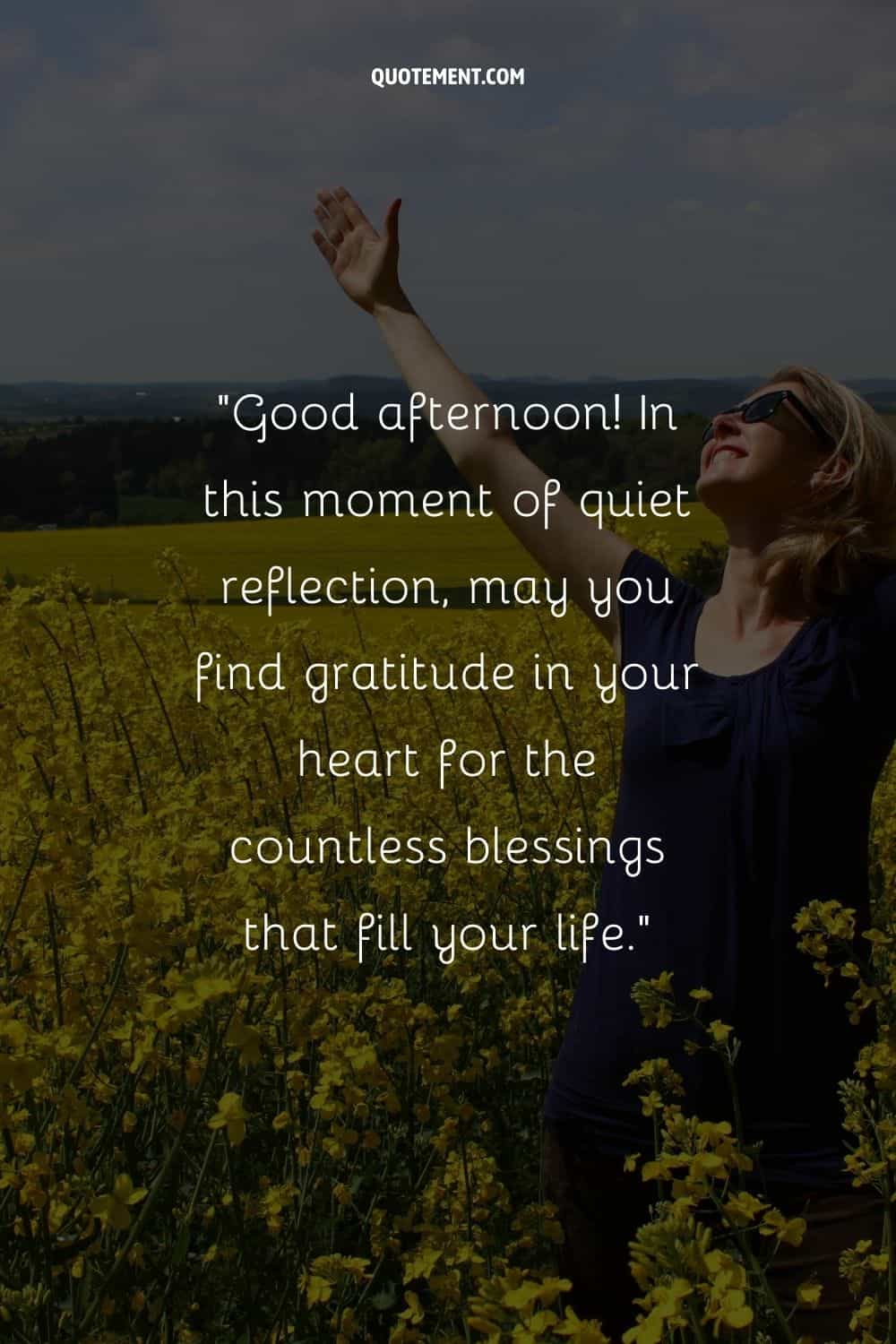 11. "This afternoon, let's pause and express our gratitude for the simple yet profound blessings that surround us and thank the Lord for the gift of another day."
12. "God has blessed me with a friend like you, and I am grateful. Have a happy afternoon."
13. "Good afternoon! Take a moment to appreciate the blessings of love, friendship, and good health that grace your life. You are truly blessed."
14. "Good afternoon! Let's count our blessings today, both big and small, and be grateful for the beauty they bring to our lives."
15. "In the stillness of this afternoon, may you be filled with thankfulness for the blessings of family, the comfort of home, and the joy of shared moments."
Have A Blessed Afternoon
1. "As the busy morning has given up its buzz to succumb to the cozy afternoon, may your afternoon be sweet and comfortable."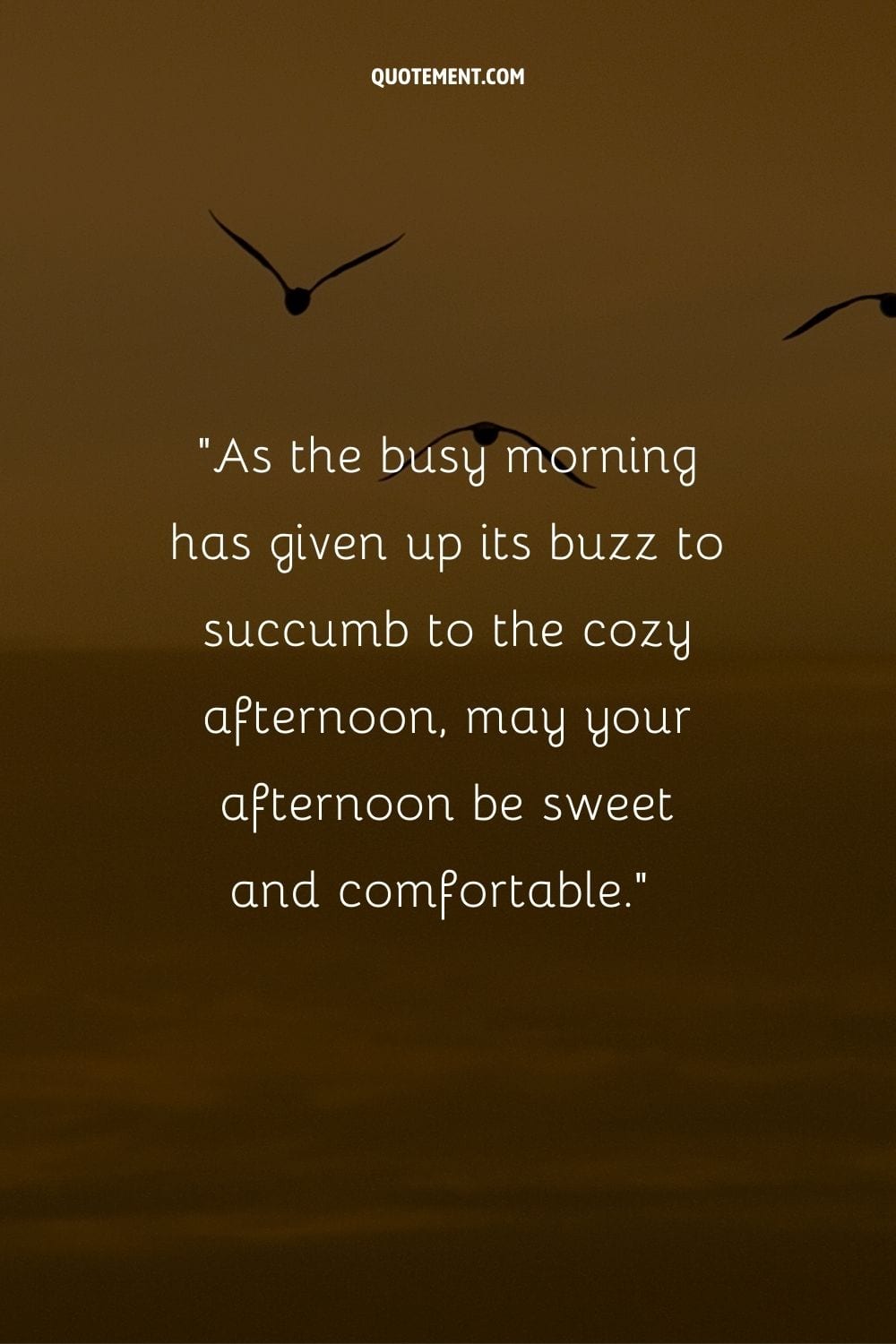 2. "Today shall be a dream come true for you, don't be afraid the Lord is with you, good afternoon."
3. "Remember that nothing happens without God's wish. Have a blessed afternoon."
4. "May you rise and shine like the sun upon every obstacle in your path today. Fill your heart with joy, good afternoon."
5. "Good afternoon. May the Lord bless you with a heart full of peace and a life full of prosperity."
6. "As you go on with your daily activities, I beseech God to bless every single thing that you do today. Good afternoon."
7. "May the blessings of God find their way to you from every side. Good afternoon."
8. "As shiny as the sun, may the Lord's favor continue to shine upon your life. good afternoon."
9. "The midday sun is busy clothing the afternoon sky with its gold and orange hue, just like I am always busy thinking about you. May God bless you with all your heart desires. I hope you enjoy a happy afternoon."
10. "Every experience, no matter how bad it seems, holds within it a blessing of some kind. The goal is to find it. Have a blessed afternoon."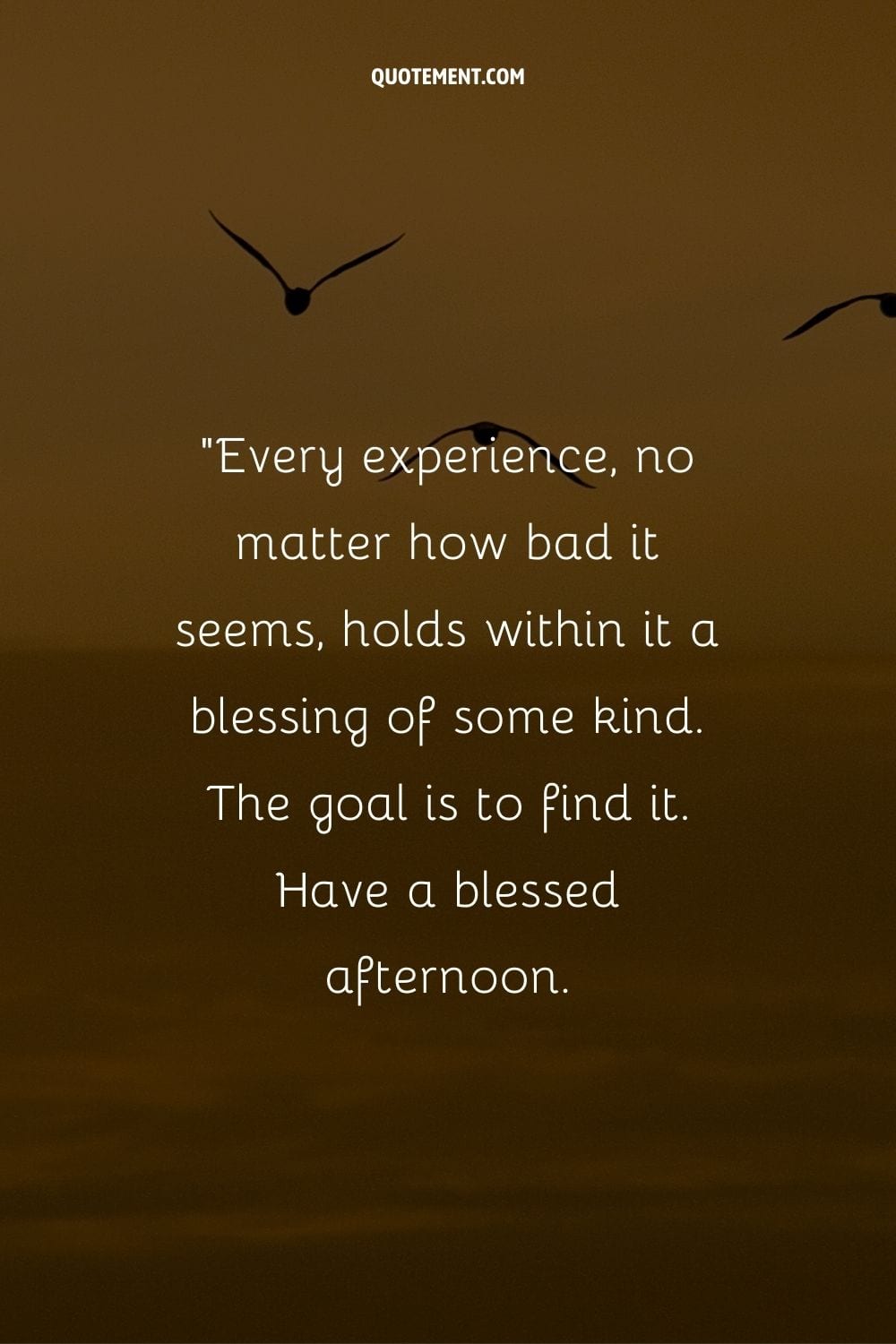 11. "Keep shining, may the Lord assist you in every way possible. good afternoon."
12. "On this great afternoon, I wish you fruitful labor and a rewarding effort. Have a great afternoon."
13. "May this afternoon bring you eternal joy, may your life shine brighter than this sunlight, Lord bless you, good afternoon."
14. "The misty afternoon brings the news of your achievements, God bless you, dear, may you have more such moments."
15. "May your afternoon be light, blessed, enlightened, productive, and happy."
Beautiful Blessings For A Good Afternoon
1. "May your afternoon be as beautiful as a blooming garden, as serene as a calm lake, and as bright as the sun above. Enjoy its natural blessings."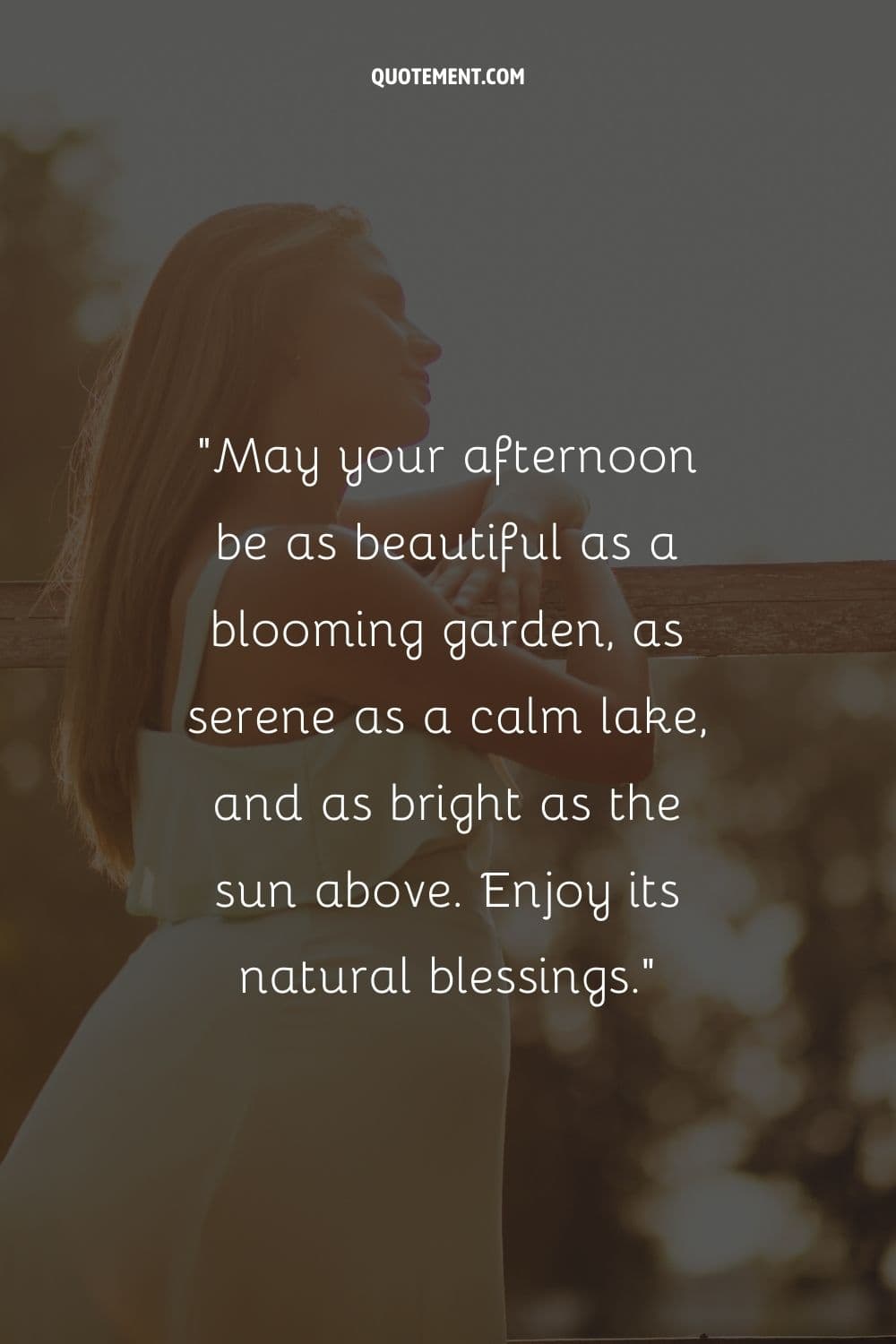 2. "On this blessed afternoon, may you find the courage to pursue your dreams and the resilience to overcome any obstacles. Believe in yourself, and great things will happen."
3. "The Lord bless you and keep you. The Lord makes his face shine on you and is gracious to you. The Lord lifts his face towards you and gives you peace. Blessed afternoon."
4. "Sending warm blessings and positive energy to brighten your afternoon. May it be filled with productivity and achievements."
5. "As you continue your day, may God guide your thoughts, words, and actions. May you be a light in the darkness, spreading love, kindness, and compassion to those around you. Remember, with the Holy Spirit by your side, you are capable of extraordinary things."
6. "No matter how you are feeling today, whether sad or glad, I am sending you a great smile to cheer you up this afternoon. Have a blessed day!"
7. "Good afternoon! I pray that your day finishes even better than it started. May God bless everything you put your hand to."
8. "As the day winds down, may you find solace in the embrace of the afternoon. May it be a reminder that you are capable of overcoming any challenge that comes your way."
9. "Blessed afternoon! May your joys be many and your troubles be few, and may all God's blessings be upon you."
10. "As the afternoon sun casts its golden glow, may your heart be touched by the beautiful blessings that surround you, making this moment truly special."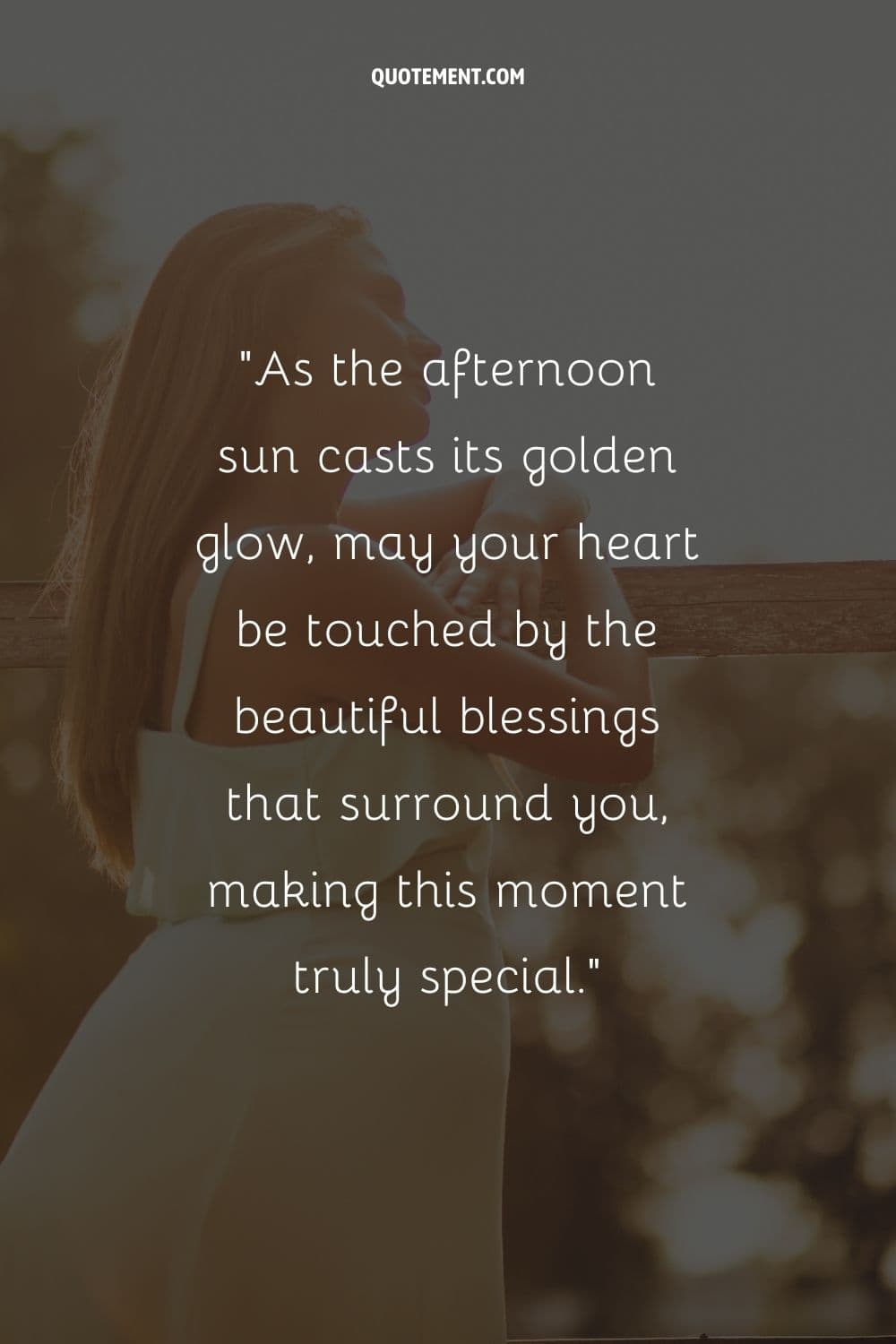 11. "Lord, I ask for your blessings. Let everything I touch this afternoon bring blessings to me."
12. "Good Afternoon! May the power of the Lord strengthen your heart and bring you peace and joy on this beautiful day. As the sun shines brightly above, may it illuminate your path and guide you towards the blessings that God has in store for you."
13. "May you feel the warmth of God's love surrounding you and may His blessings overflow in every area of your life."
14. "Good afternoon. There is no greater blessing than finding someone with whom you can always count on. Have a wonderful day."
15. "Good afternoon. I want to bless each and every one of you with the abundance of God's power. May you be filled with His wisdom, strength, and love in every aspect of your lives."
Summing Up
Remember, it's the small moments of reflection and appreciation that can turn an ordinary day into something extraordinary.
So, take a moment each day to send some good afternoon blessings to your nearest and dearest, and inspire them to embrace the beauty of life!