So, how to flirt with a guy over text?
When it comes to flirty things to say to a guy via text messages, the right words can make all the difference and be a real game-changer.
Let's explore some fun and flirty ways to keep the conversation going with my collection of flirty texts for him, the best ones I could find on the web.
Get ready to send some texts that'll make his heart race!
Top 10 Flirty Texts For Him
1. "Just wanted to say that you make my heart race and my emojis blush."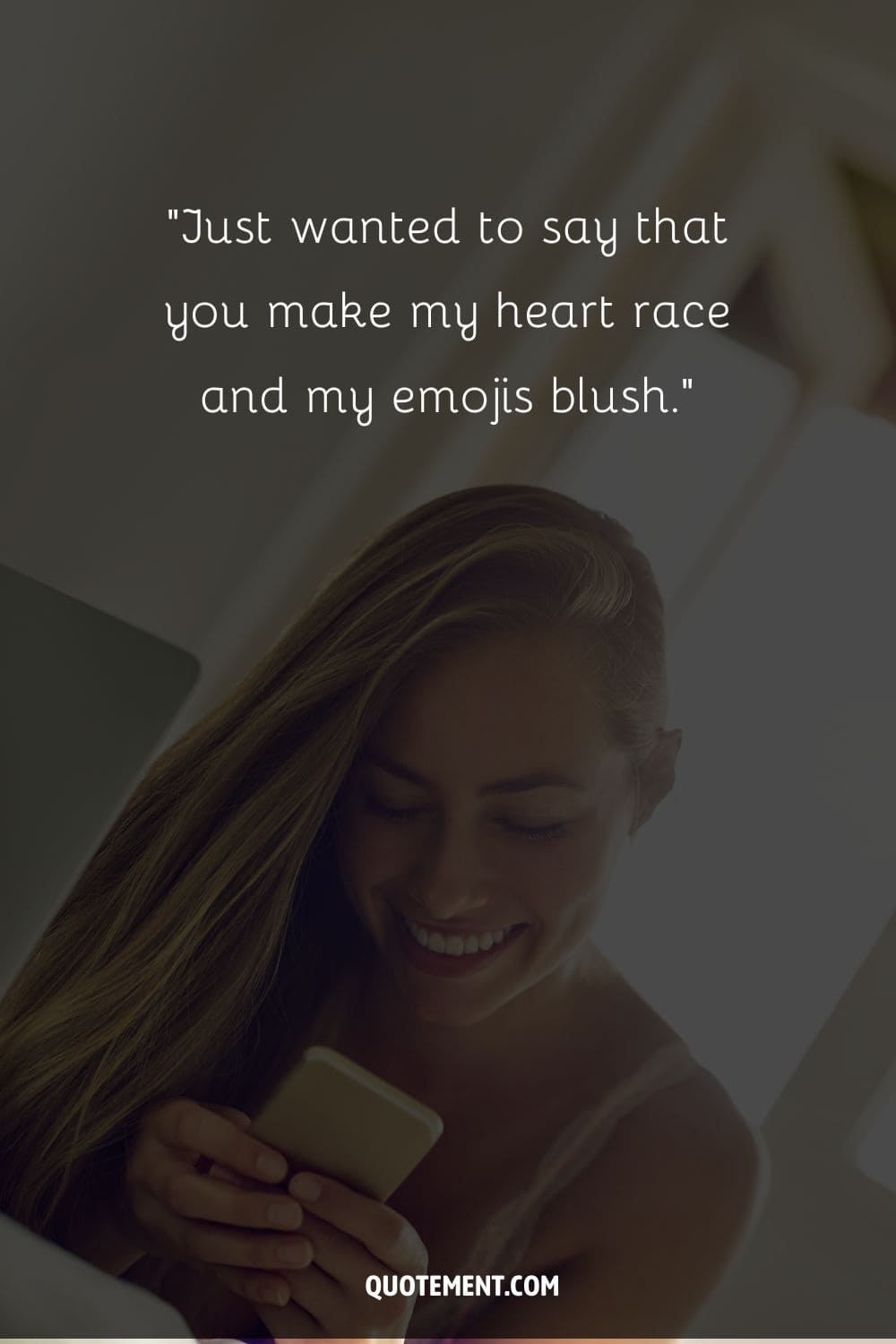 2. "They say laughter is the best medicine, but I think a date with you could cure anything."
3. "Flirting with you is one of my favorite things to do…"
4. "I literally can't stop smiling ever since we met. I like you. What are you going to do about it?"
5. "Thank you for reminding me what it feels like to feel butterflies again."
6. "I never believed in love at first sight but after meeting you…"
7. "If kisses were raindrops, I'd send you a storm."
8. "Ok I gotta admit something…you're my dream guy. Being with you makes me feel like I'm living in a cheesy romantic comedy, only waaaay better."
9. "Hey, stranger! Wait, why are we still strangers? Let's fix that."
10. "I have a confession to make: Every time I see your name pop up on my screen, I can't stop smiling."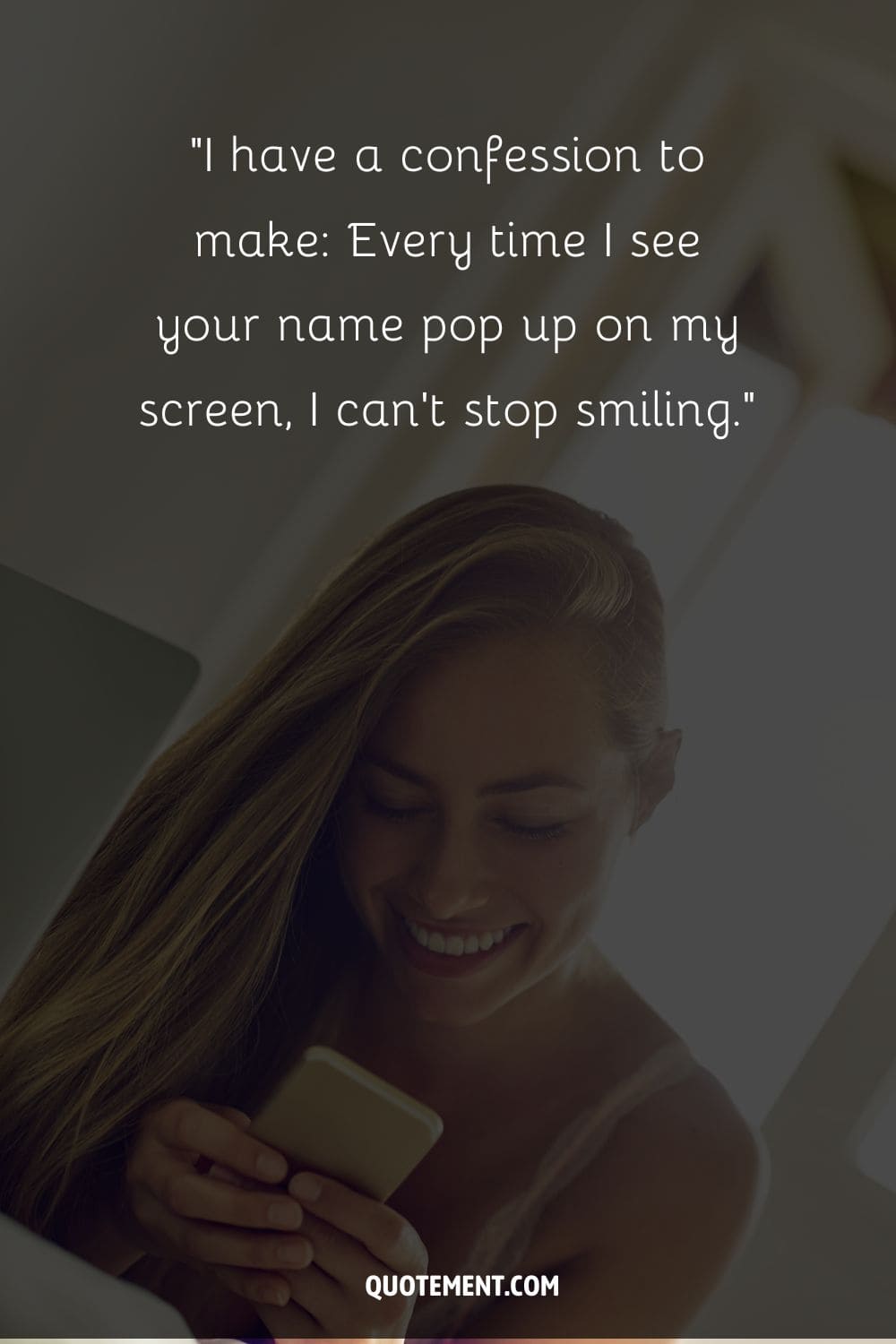 See also: 150 Sweet You Make Me Smile Quotes To Spread Joy & Love
Cute Texts For Him To Let Him Know He's On Your Mind
1. "Hey there, just wanted to remind you that you're the best part of my day."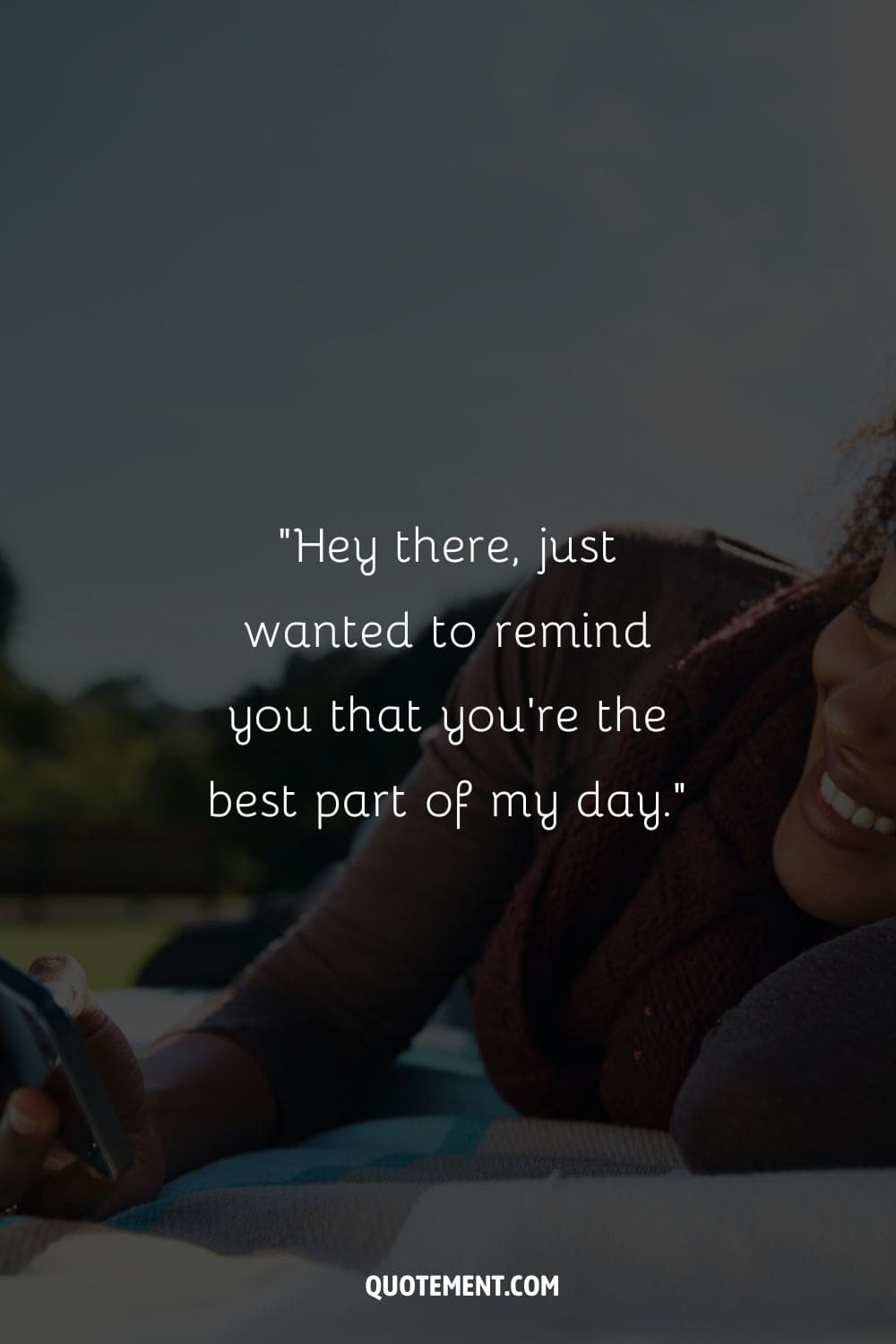 2. "I can't focus today. I'm too distracted thinking about you."
3. "I was going to wait another day or two to text you, but I can't wait that long to talk to you."
4. "Do you believe in love at first text? Because you can delete this one, and I can keep texting until you do."
5. "Still wearing your sweatshirt…"
6. "My place is missing something — your presence. Come over and let's fix that together."
7. "Now that I've officially texted you, I'm going to be obsessively staring at my phone, waiting for it to beep, so don't keep me waiting."
8. "What are your favorite letters of the alphabet? Mine are U and I."
9. "You are the missing piece to my puzzle."
10. "Be honest. How long have you been waiting for a text from me?"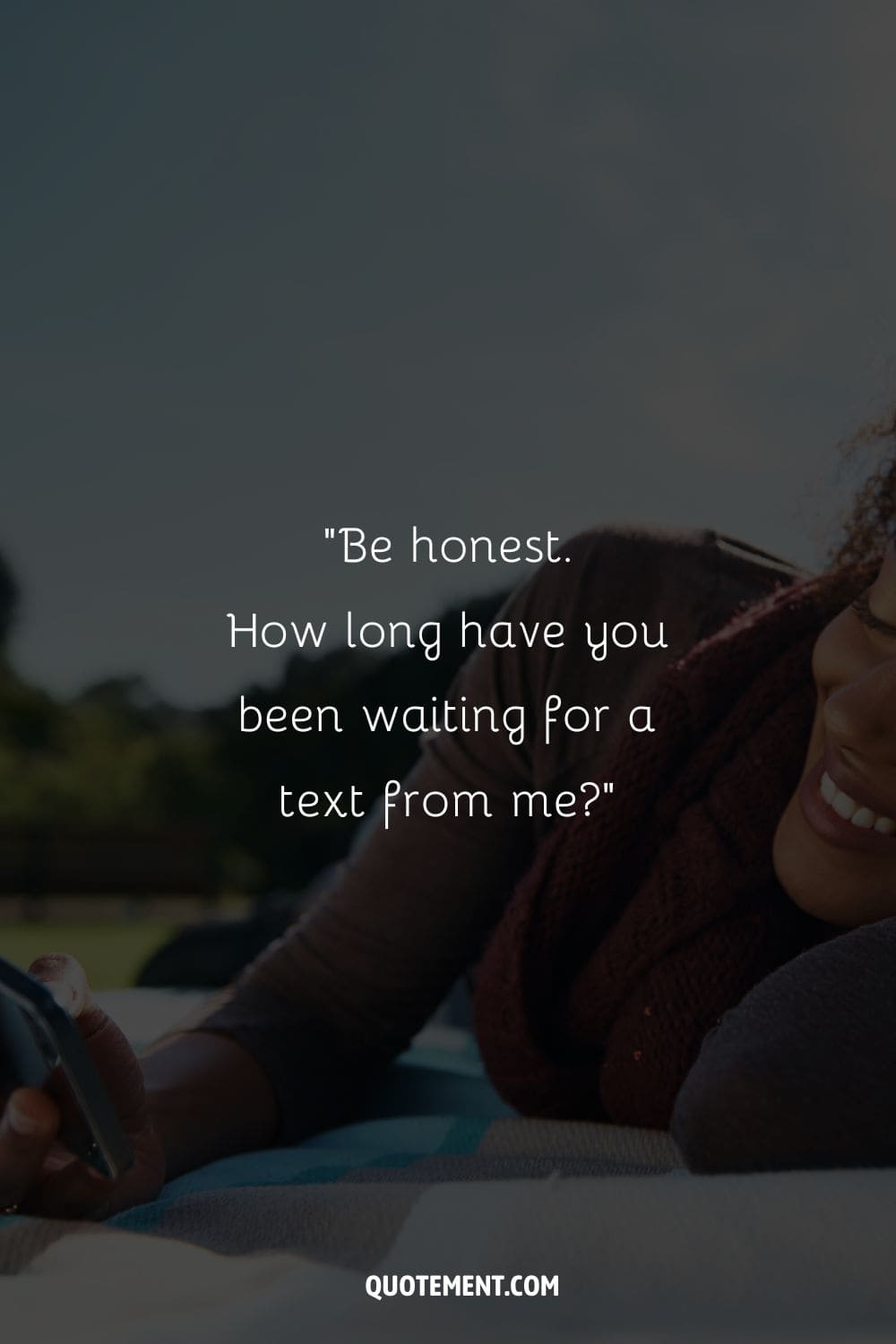 11. "Can't stop thinking about your lips."
12. "You're single. I'm single. I feel like this is a problem we can solve together."
13. "I'm making the first move when it comes to texting, so I'm expecting you to make the first move when it comes to kissing."
14. "You remind me of someone. Oh, it's my next boyfriend!"
15. "Instead of missing you, I could be kissing you."
16. "What color are my eyes? Let me know if you need a closer look."
17. "I'd rather do nothing with you than something with anyone else."
18. "Thinking a lot of things about you I can't say…but I could text."
19. "What's the first photo on your phone? Dare you to send it."
20. "The only time I stupidly smile at my phone is when I get text messages from you."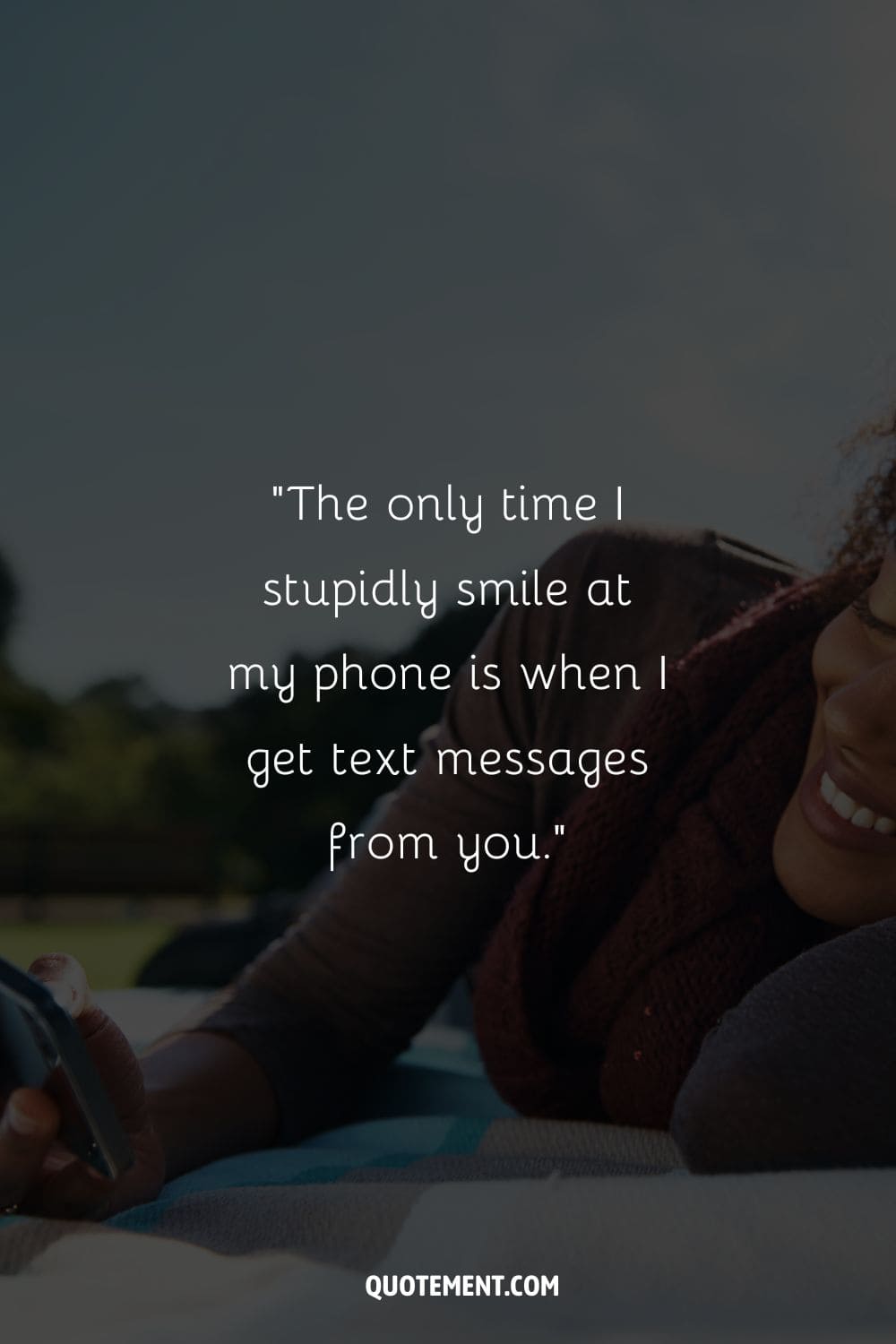 Hot Flirty Texts That Will Make Him Want You
1. "Do you want to know the first thing that I will do when I see you? Use your imagination…"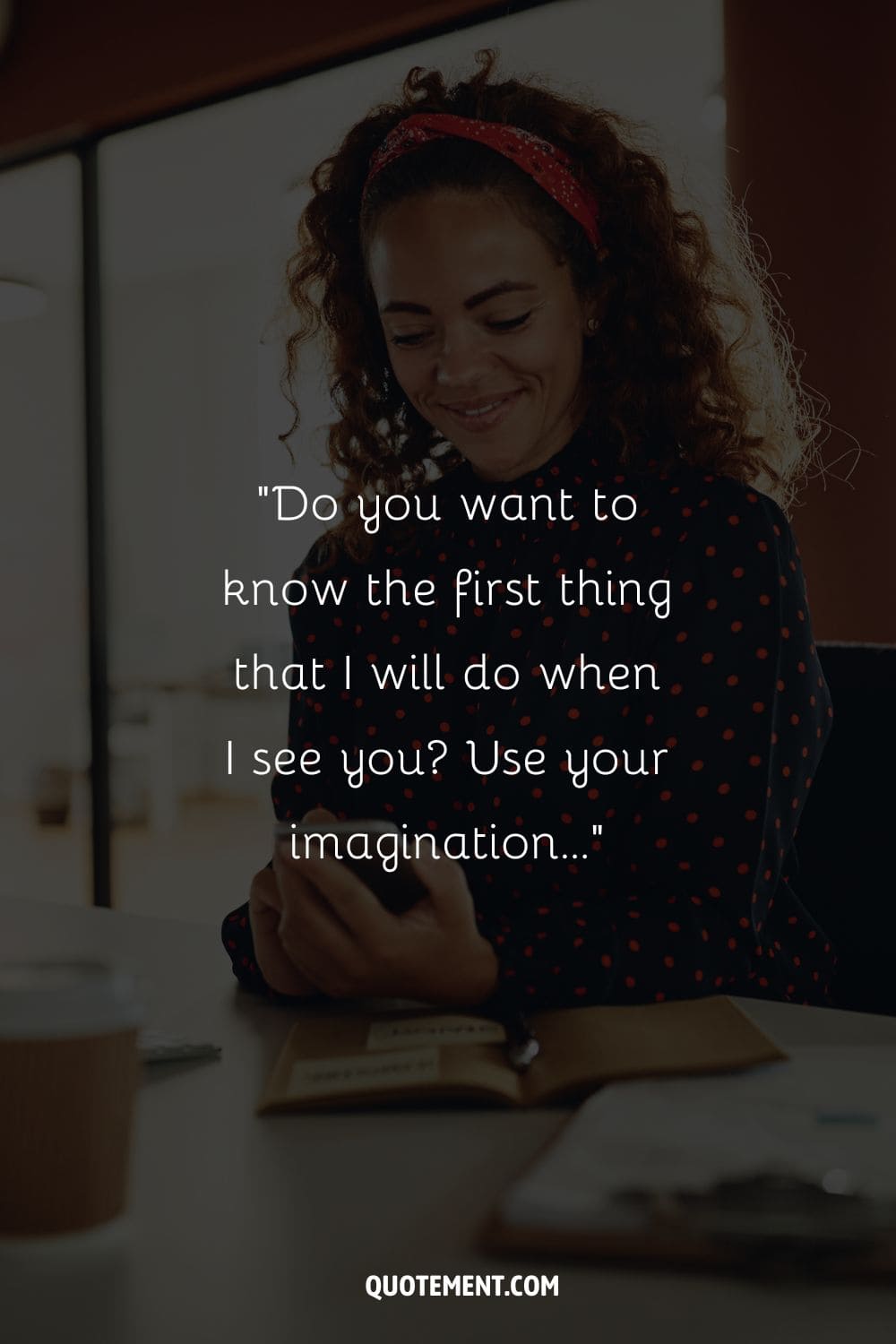 2. "I went shopping today for new lingerie, how about a fashion show?"
3. "I can't figure out why, but my thoughts are especially X-rated today. I think it's your fault."
4. "If I were to whisper something in your ear right now, what would you want it to be?"
5. "Should I wear a short skirt tonight or a really short skirt?"
6. "Are your lips always that luscious?"
7. "If you kiss me, I'm not responsible for what happens next…"
8. "I just got out of the shower and wanted you to know that you are on my mind."
9. "I could text with you all night long… well, among other things…"
10. "You make me want to reveal the naughtier version of me."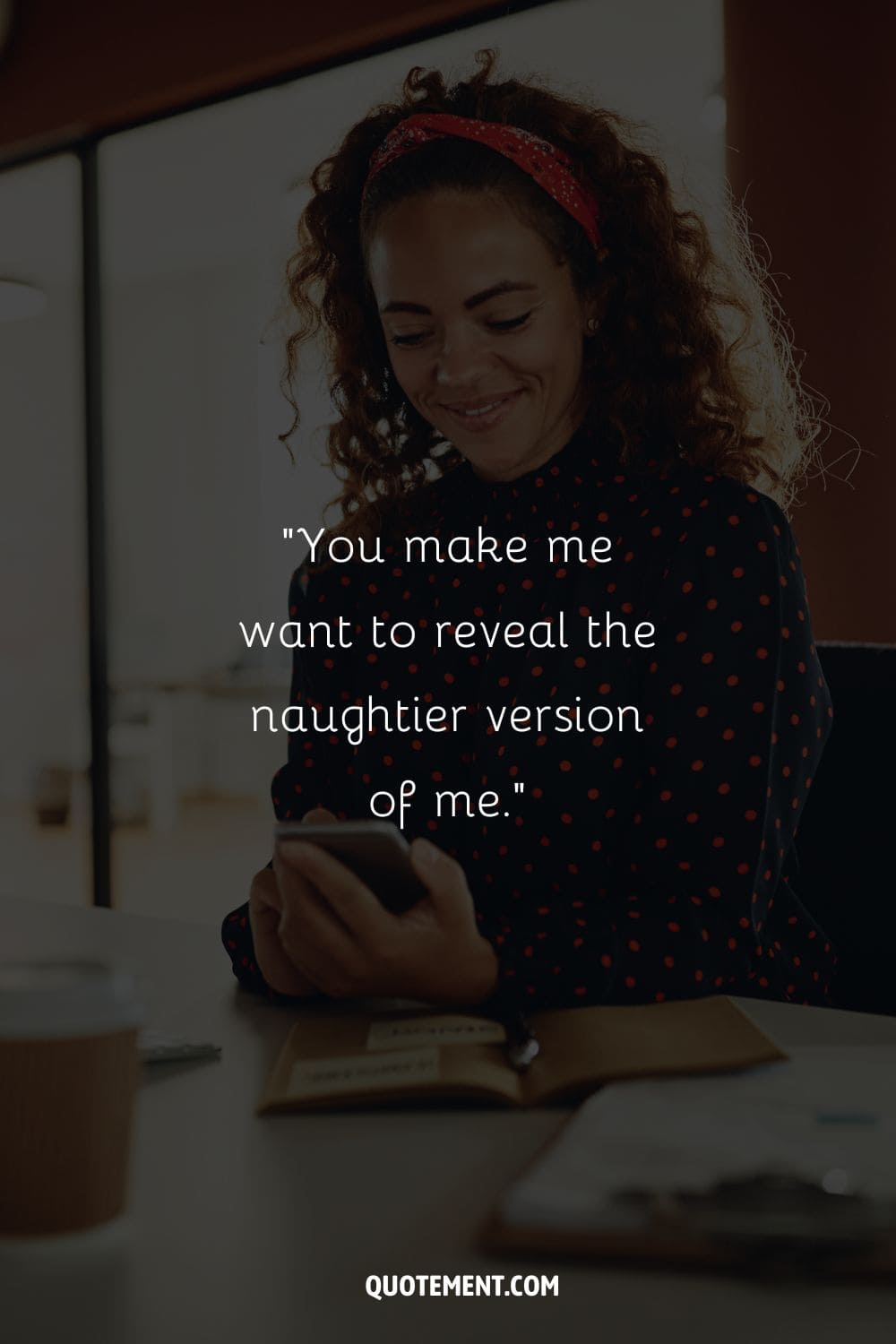 11. "I'm good at sharing. Dessert, fries, the covers…"
12. "I have a king-sized bed but it's missing its king."
13. "I've been imagining what it would be like to feel your lips on mine all day. It's driving me wild."
14. "My love language is physical touch. Want a present?"
15. "I just watched a show about vampires and it made me think of your lips on my neck."
16. "I'll be cooking dinner tonight..what should we have for dessert?"
17. "You have no idea how much I want you right now…"
18. "How soon do you think your lips will be on mine?"
19. "I have a secret that I can tell you only in person…"
20. "Aren't you curious about what I am wearing right now?"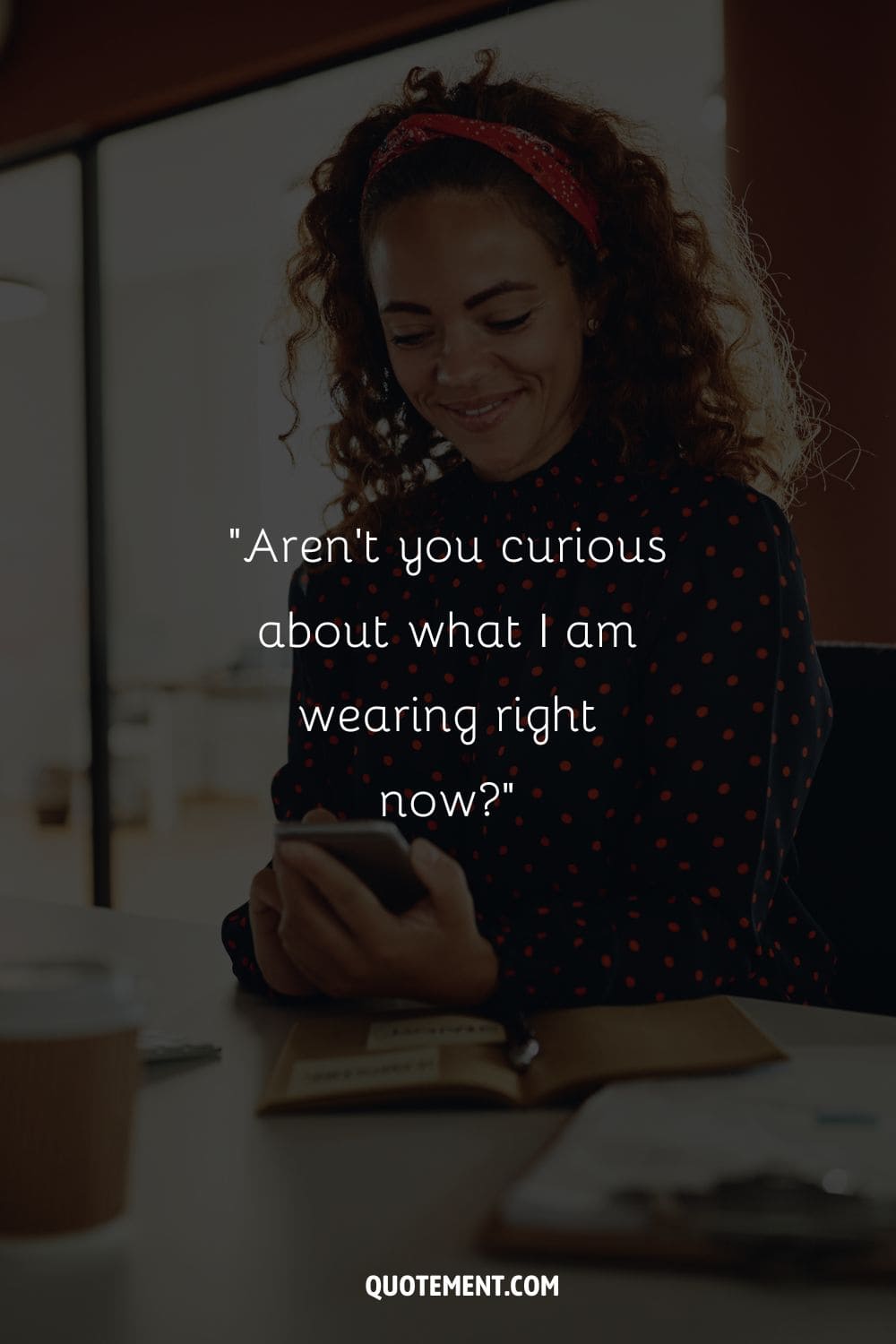 Flirty Texts For Him To Come Over
1. "Call for you to attend the 'you and me' cuddle session, 8 p.m., at my house!"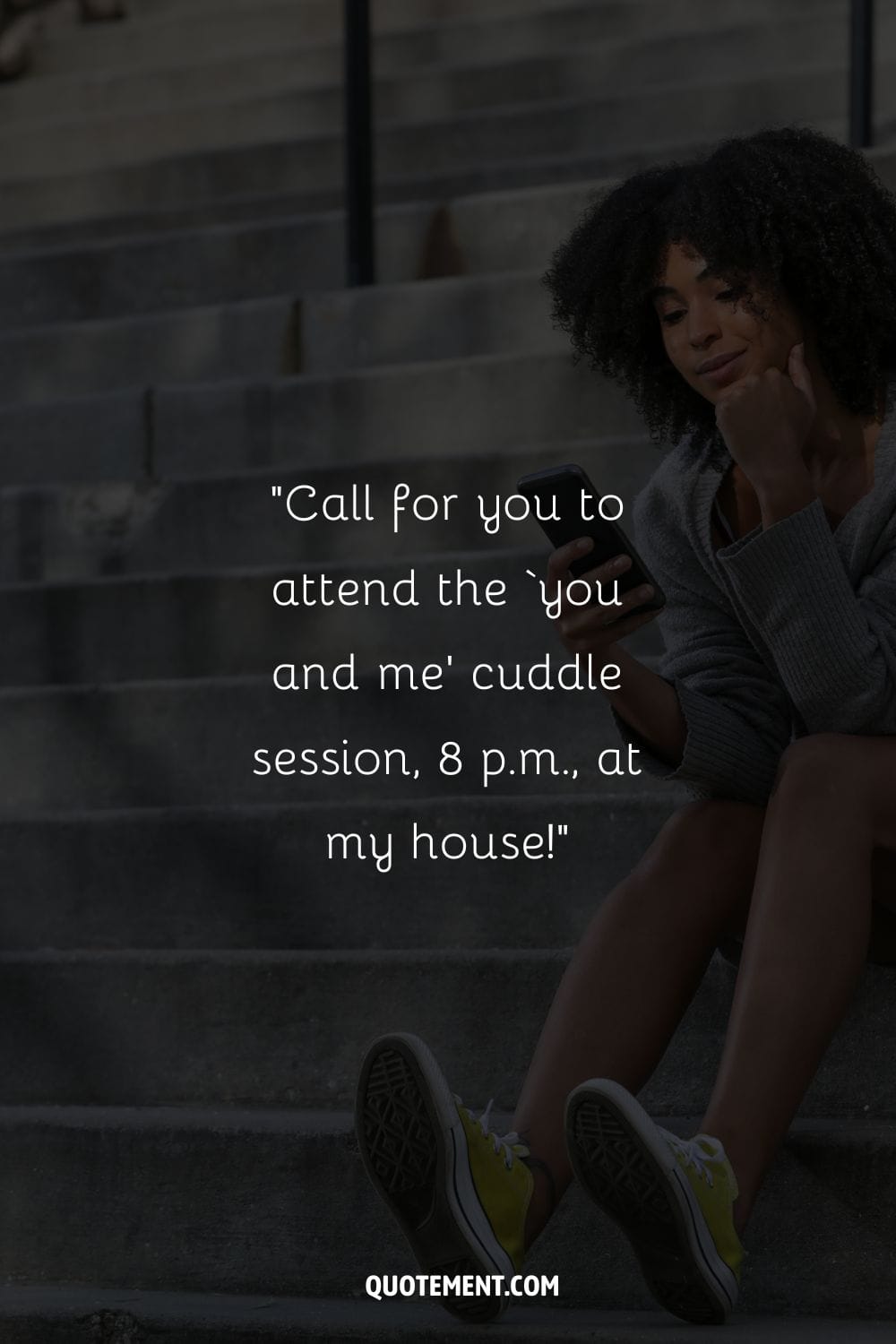 2. "Feeling a bit lonely here. How about you swing by and we make tonight unforgettable?"
3. "I have three little words I've been wanting to tell you: Bring. Pizza. Now."
4. "What would you do if I asked you to come over? Hypothetically, of course."
5. "The only thing missing right now is you. Come over, and let's turn this evening into something magical."
6. "Put your phone down and come right over here!"
7. "You. Me. Takeout. Tonight."
8. "I'm new in town, can I have directions to your house?"
9. "If you wanna stop by my house tonight I'll make it worth the trip."
10. "Hey, I've got a movie night and a cozy blanket waiting for you. Care to join me?"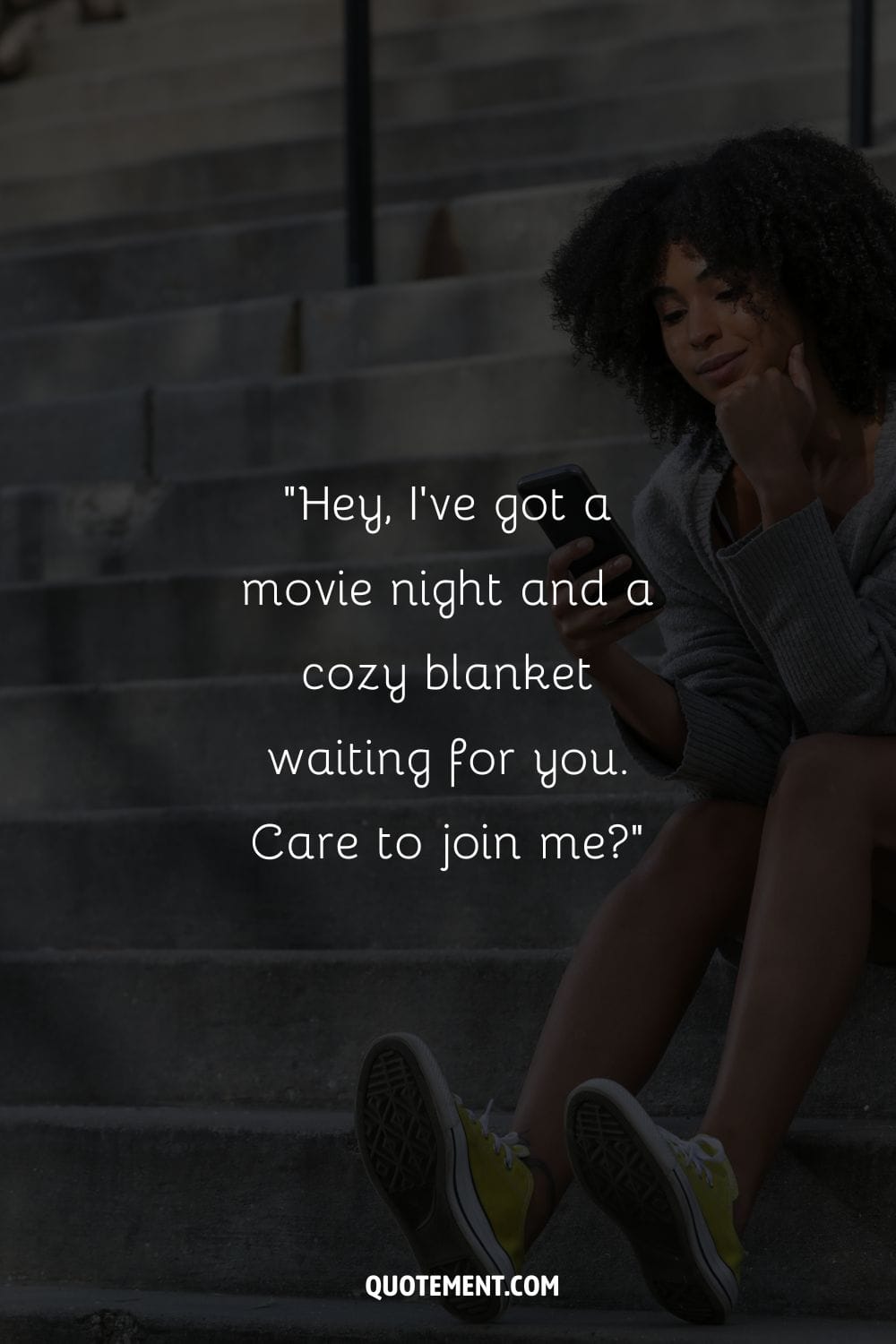 11. "Netflix? Chill? Both?"
12. "I have a bottle of wine chilling…"
13. "You're my dream guy. How do I know you're real? I think you should come over and prove it."
14. "I just finished a book I know you would love. You should come over to pick it up."
15. "Come over, I have all your favorites. Pizza, beer, and of course, ME."
16. "You left something at my place…why don't you stop by?"
17. "What would you say if I asked you to come over right now?"
18. "I'm thinking it's a burgers and beer kind of night… You in?"
19. "How about we cozy up and watch a movie tonight?"
20. "I'm addicted to you, and I need another hit."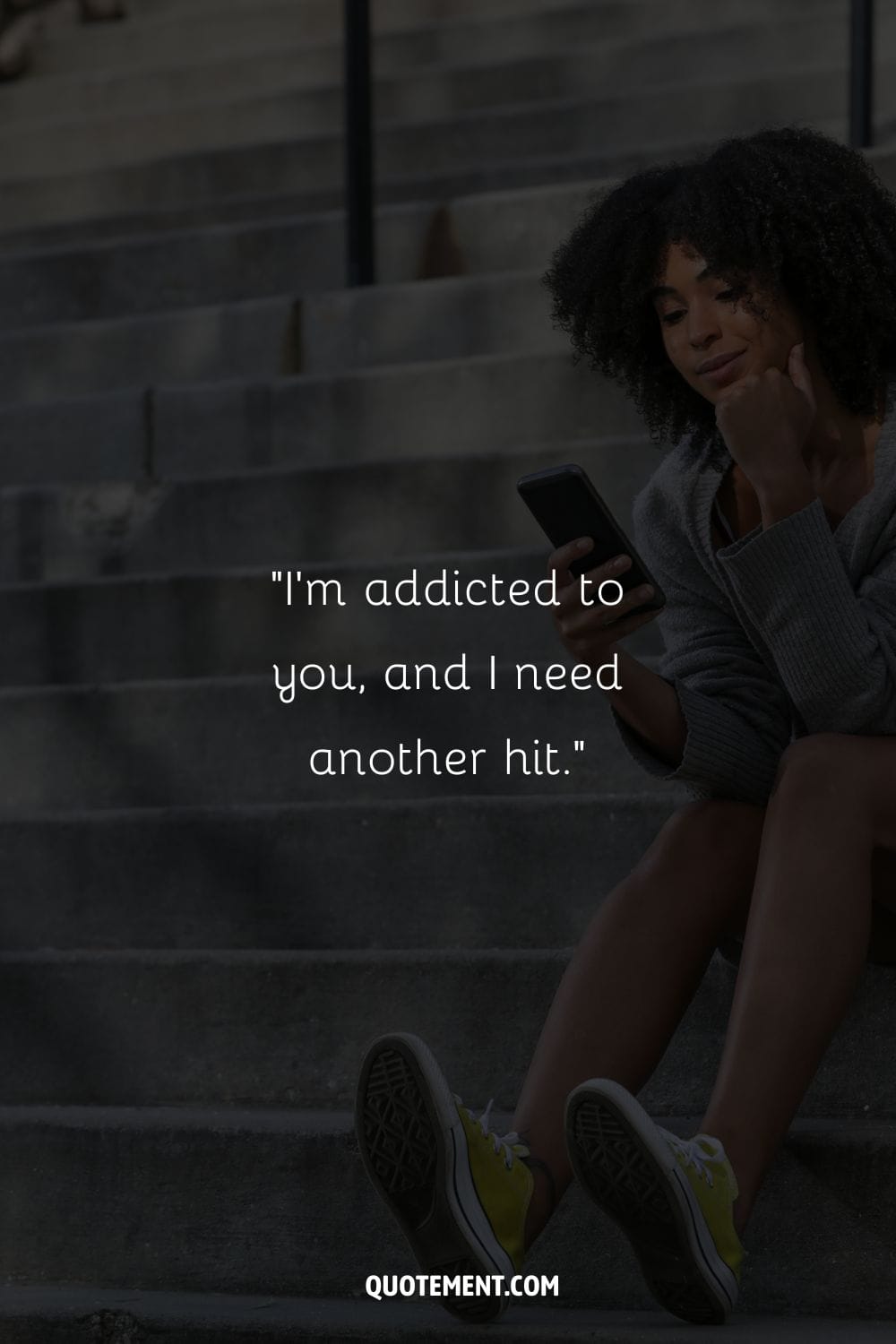 Pick Up Lines For Flirting Over Text
1. "My parents told me not to talk to strangers, but I'll make an exception for you."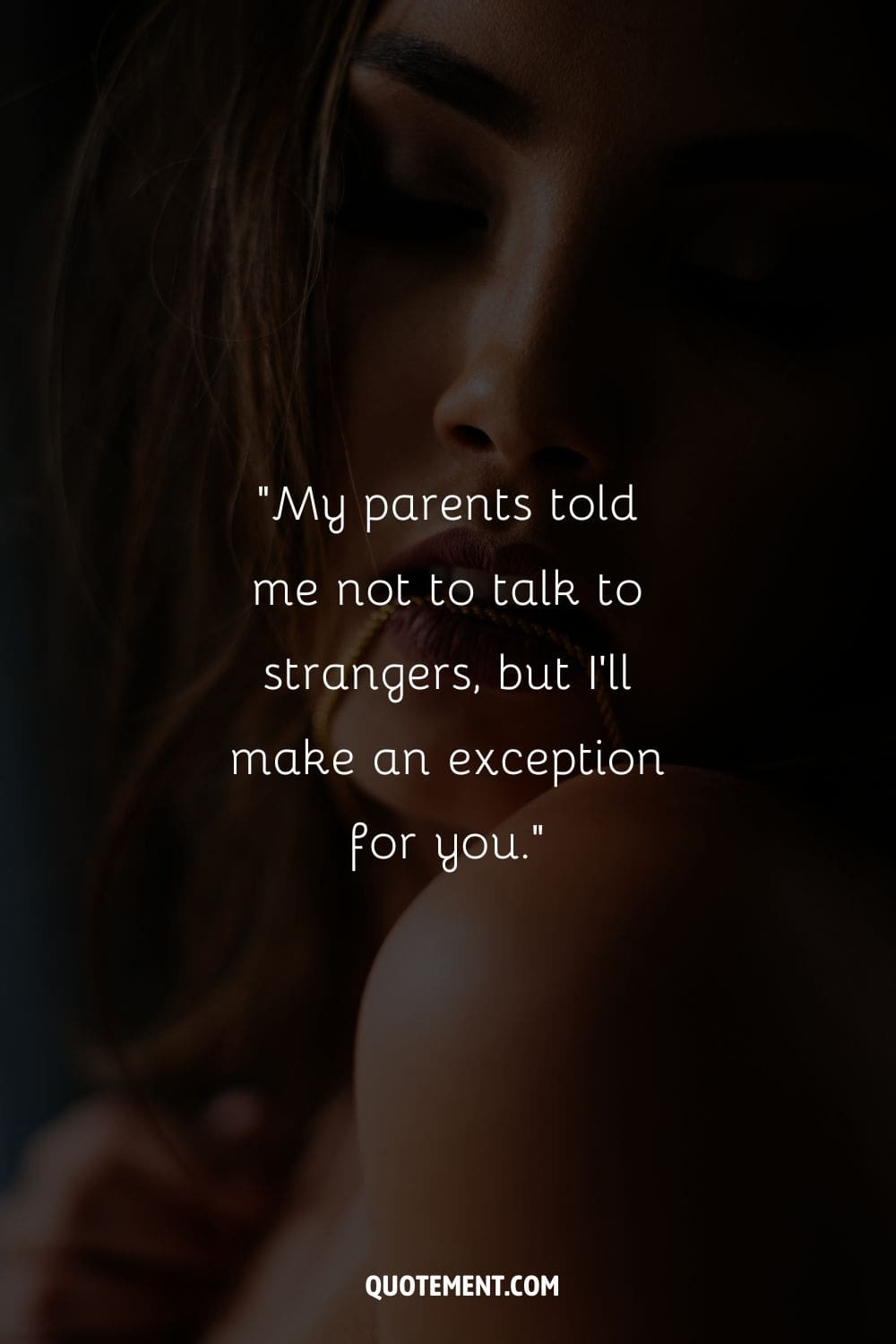 2. "Was that an earthquake or have you just ROCKED my world?"
3. "When can I see you again? Pick a day that ends in "y"."
4. "I must be a snowflake because I've fallen for you."
5. "Do you play soccer? Because you look like a keeper."
6. "Hands up! I'm the FBI, and you're on my most-wanted list."
7. "You look familiar. Oh yeah, you're the man from my dreams."
8. "You can delete the dating app now, I'm here."
9. "Are you a photographer? Because I can already picture us together."
10. "Do you have a sunburn, or are you just always this hot?"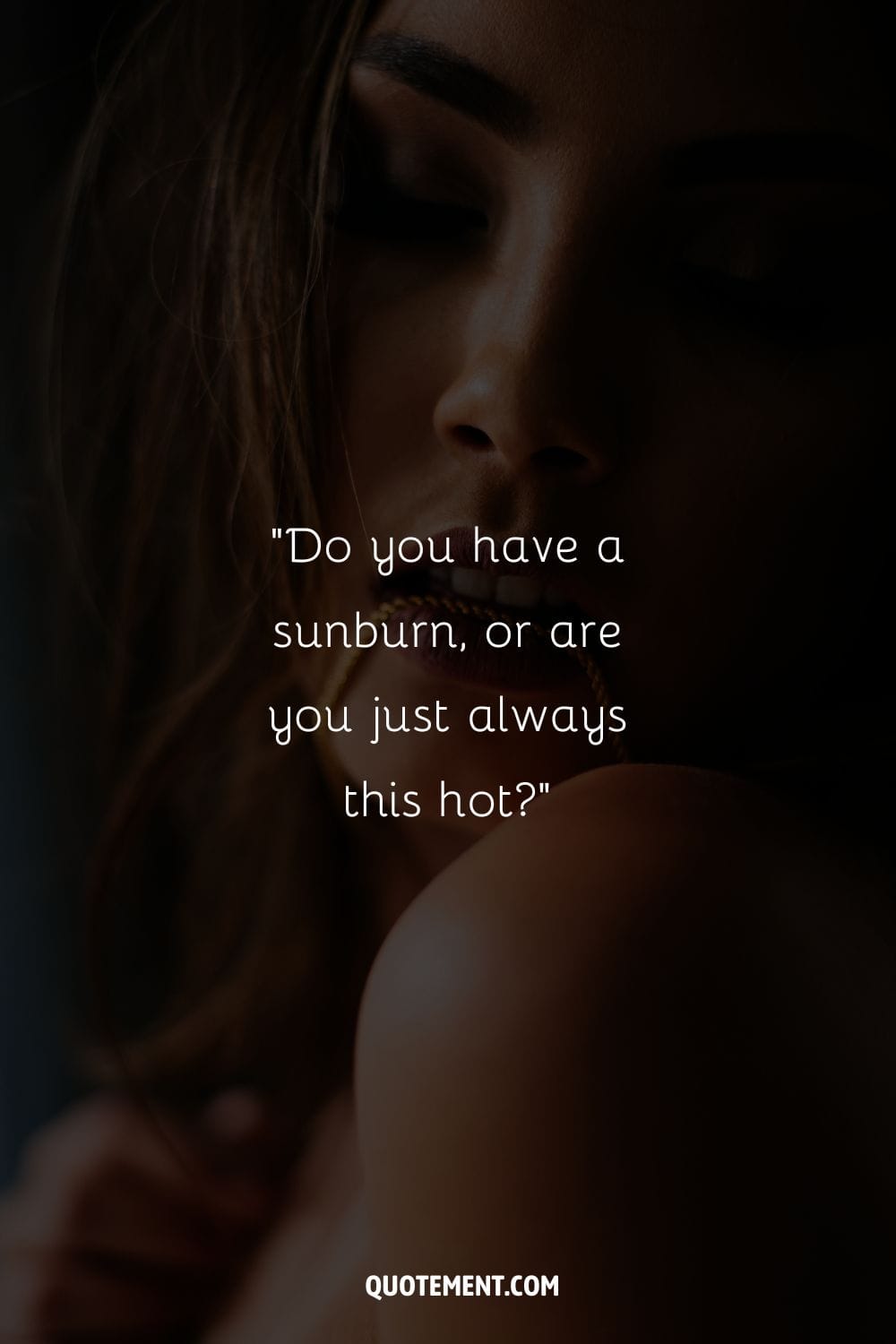 11. "I don't like running but I'd chase after you."
12. "Has anyone told you that you have the most beautiful eyes?"
13. "Do you have a map? I just got lost in your eyes, and I need directions back to reality."
14. "You remind me of my favorite tea: HOT n' SWEET."
15. "Are you a magician? Every time I look at your texts, everyone else disappears."
16. "Are you a parking ticket? You've got fine written all over you."
17. "Are you an electrician? Because you're lighting up my day."
18. "Is your name Google? Because you have everything I've been searching for."
19. "A kiss burns like 7 calories a minute, wanna workout?"
20. "Let's talk about the health benefits of kissing."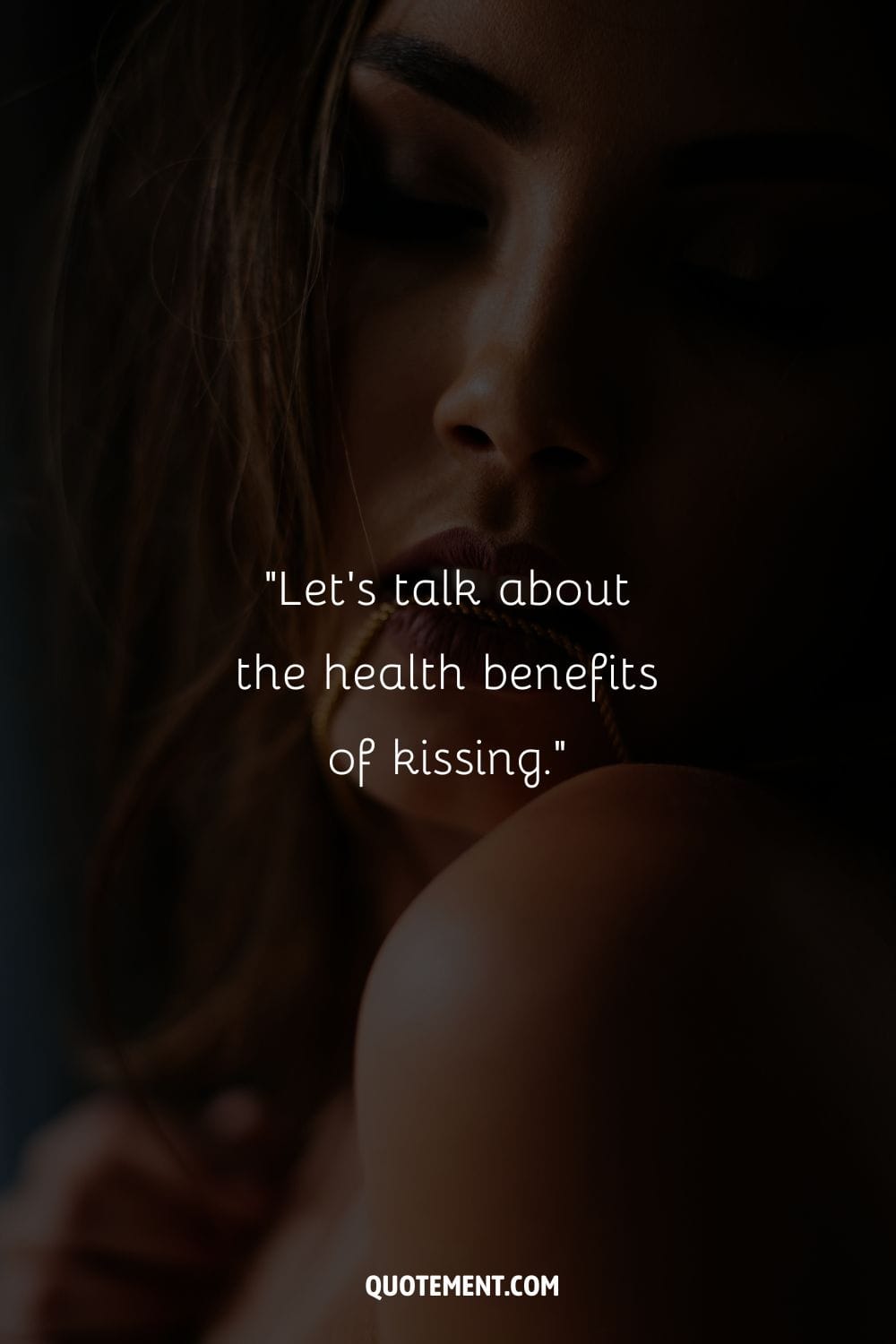 See also: 100 Awesome Kiss Pick Up Lines To Help You Get A Kiss
Morning Texts To Send To Your Crush
1. "Hey, you! Just wanted to be the first to wish you a great day."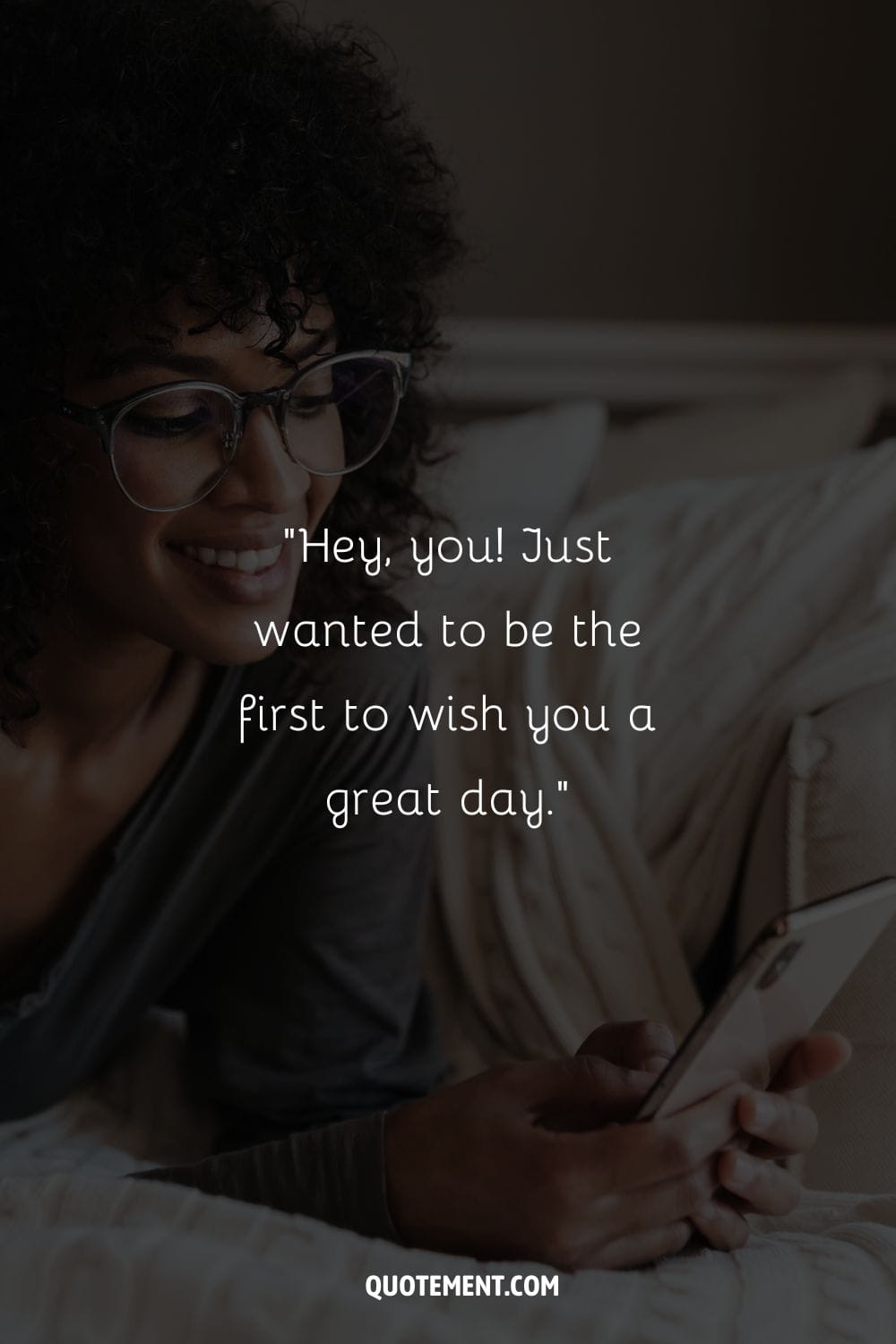 2. "I woke up with a smile…do you want to guess what I was dreaming about?"
3. "You'll never guess what you were doing in my dream last night…"
4. "Morning! Did you know you're the reason my mornings are brighter and my coffee tastes better?"
5. "You are the first thing that I think of in the morning, that's even before coffee!"
6. "You mentioned you like bed and breakfasts. I'll bring the bed, you bring the breakfast."
7. "Morning, handsome! You're like a shot of espresso for my heart — energizing and irresistible."
8. "I go to bed thinking of you and by the morning, you are still on my mind."
9. "I've been thinking about you a TON today…and it's only 9 a.m."
10. "Morning, babe. Wish we were waking up together."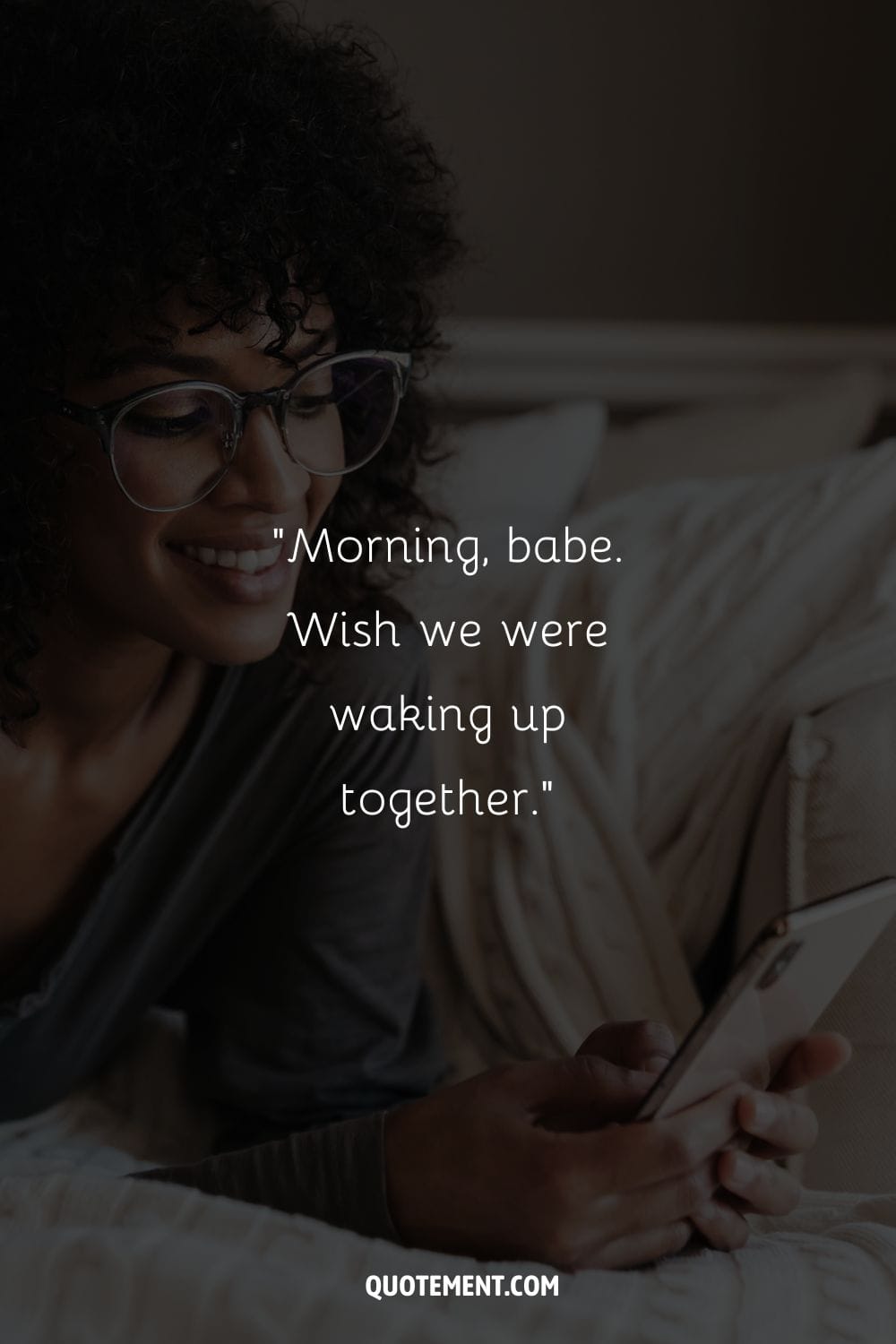 11. "Wakey-wakey! I bet your day would start even better with a virtual hug from me."
12. "Never thought mornings could be so good until I met you!"
13. "Woke up with butterflies this morning thinking of you."
14. "Rise and dazzle! Your charm is the perfect way to kick-start my day."
15. "Had to pinch myself this morning just to make sure you weren't a dream."
16. "You're my favorite reason to get up in the morning."
17. "Wanna hear about my dream last night? Starring you, naturally."
18. "Did I set my alarm just to text you good morning? Quite possibly…"
19. "Morning, charming! I hope your day is as amazing as you are."
20. "You're always the first person I want to say good morning to."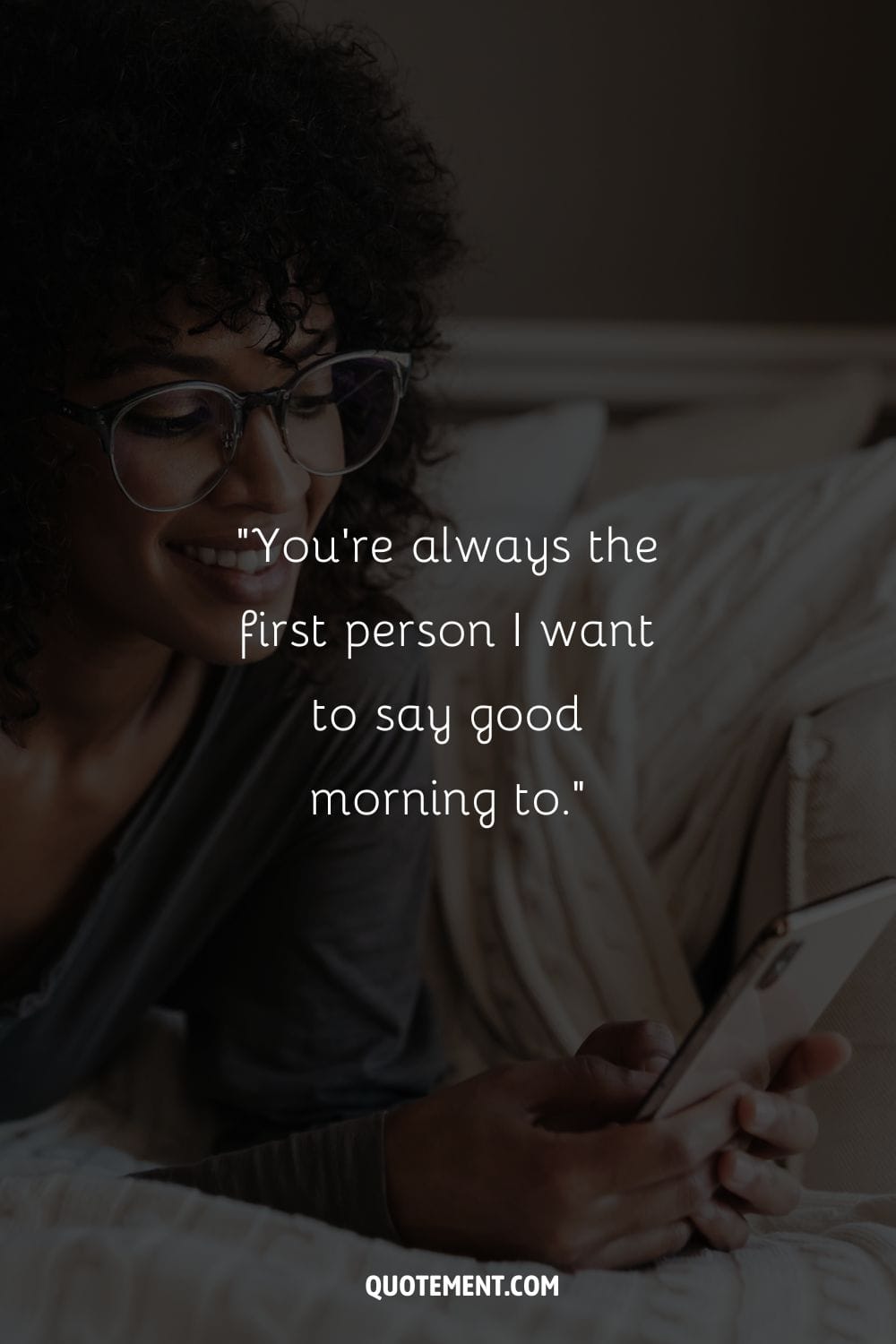 See also: 170 Sweetest Good Morning Messages For Him To Wake Up To
Flirty Texts For Him At Night
1. "You do realize that I am texting you rather than sleeping, and you KNOW how much I love sleeping!"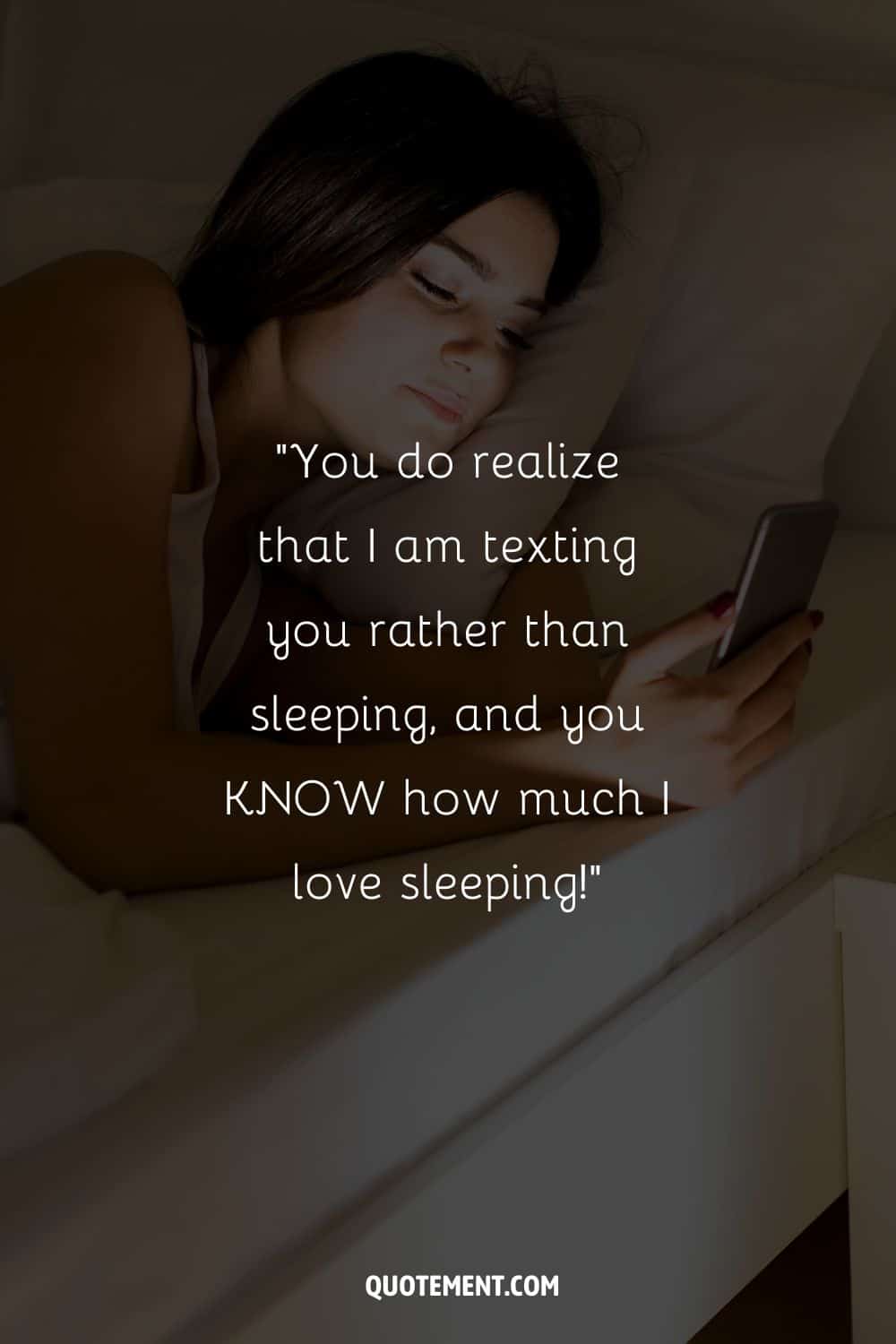 2. "If you ever wonder who's thinking about you at night, it's definitely me."
3. "Goodnight, my favorite person. You make life so much better."
4. "The best way to start my day is to tell you good morning. The best way to end my day is by wishing you good night."
5. "I love that you never forget to text me goodnight."
6. "I'm already looking forward to your good morning text."
7. "I could talk to you all night long."
8. "Dreamland is calling. Let's meet there and make some beautiful memories together."
9. "I want to cuddle with you all night long. Goodnight, handsome."
10. "I never want to say goodnight to you. But since I have to, sweet dreams."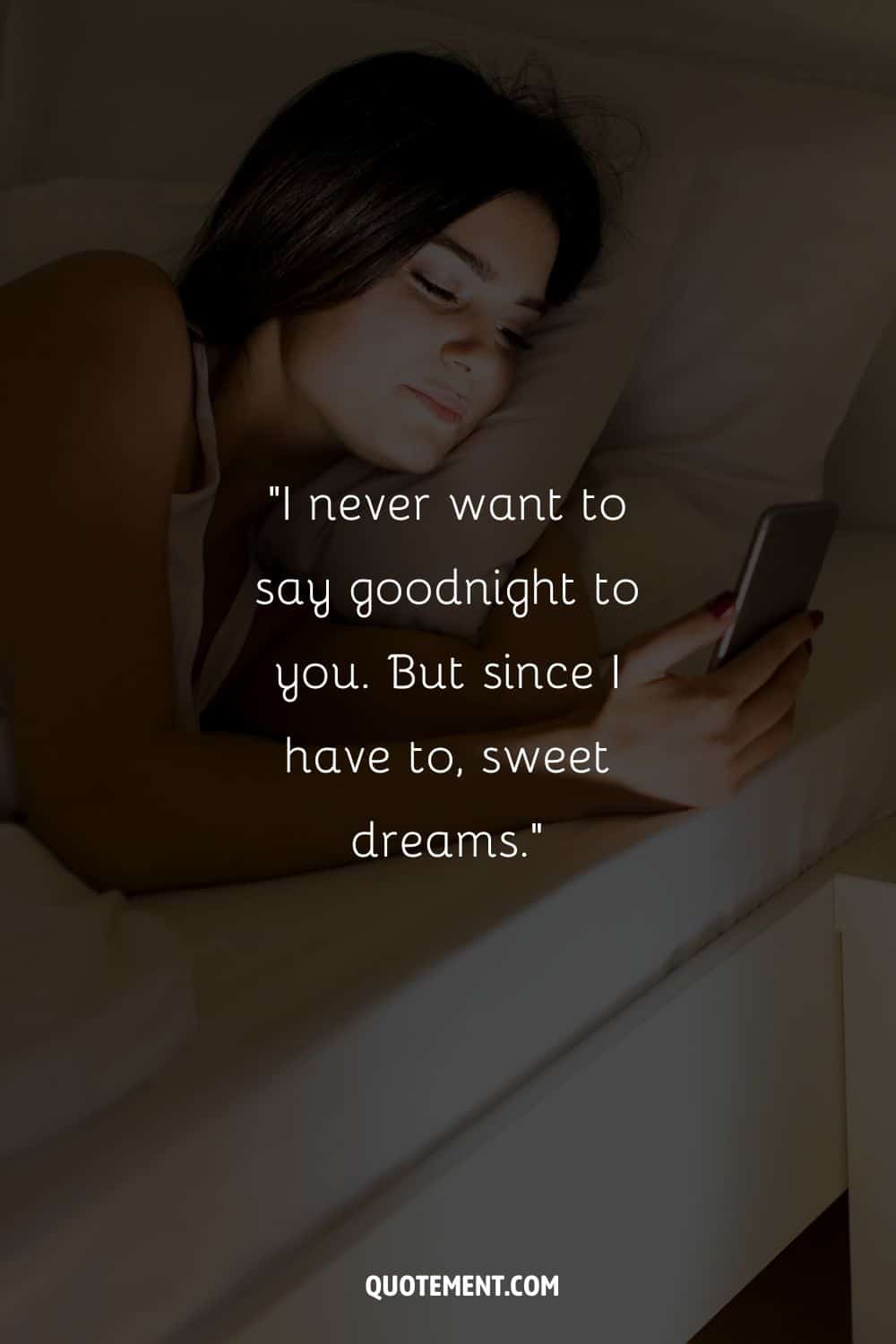 11. "I never believed in soulmate energy until I met you. You make my heart skip a beat every time we're together. Good night!"
12. "I'm sending all my hugs and goodnight kisses to the guy who makes me feel like the luckiest girl in the world."
13. "I can't help but wonder if you're dreaming about us like I am. Sweet dreams, handsome."
14. "You make everything better, even just saying goodnight."
15. "Can't wait to wake up to another day of loving you. Sweet dreams!"
16. "You make my life complete, and my dreams sweeter. Sleep tight!"
17. "I wish you were here to hug me to sleep."
18. "Good night handsome, sweet dreams."
19. "I can't wait to wake up and see your handsome face again."
20. "You are the reason I fall asleep with a smile on my face."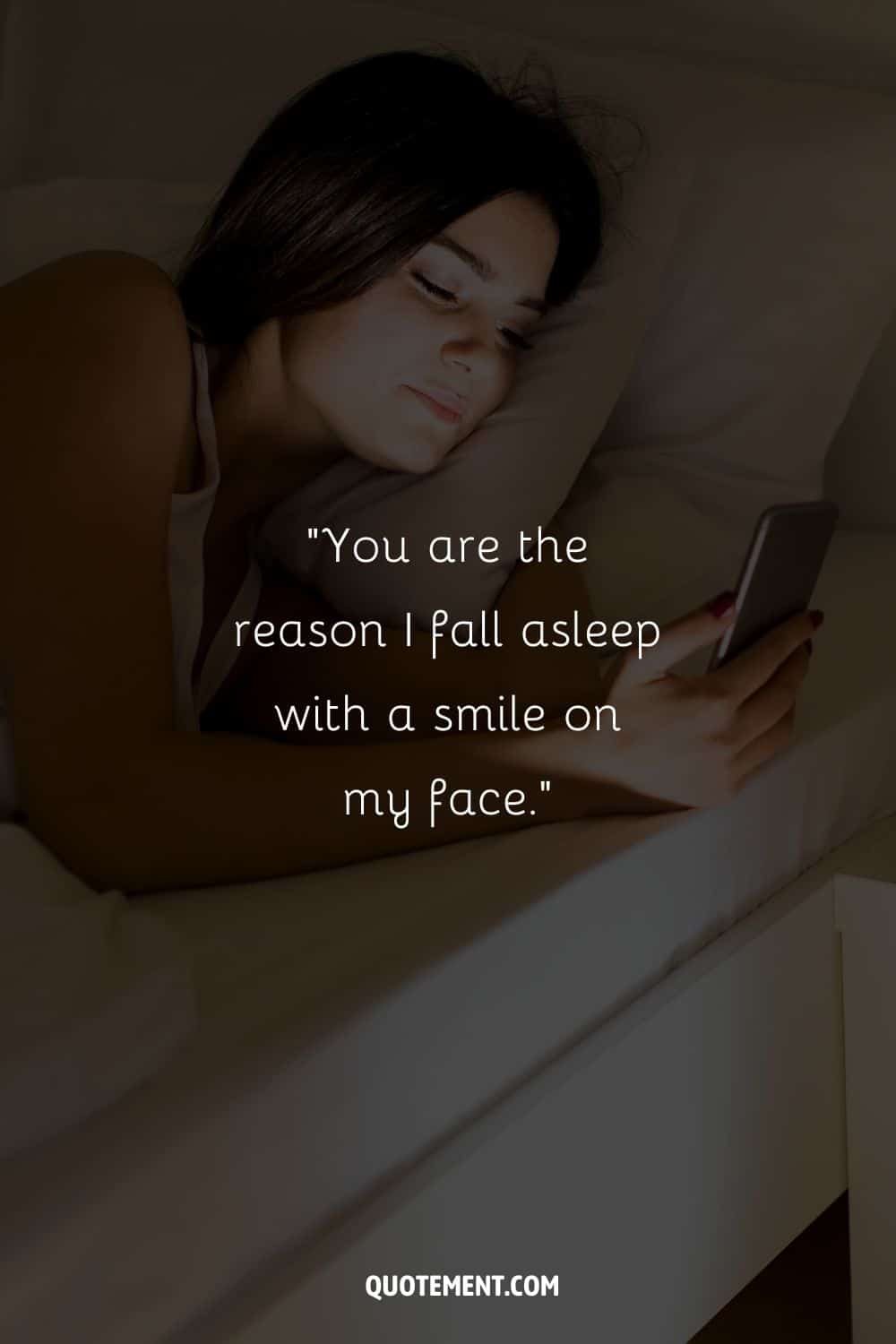 See also: 120 Good Night Messages For Him To Make Him Dream Of You
Funny Flirty Texts To Make Him Chuckle
1. "Do you know how much do penguins weigh? Enough to break the ice. Hello!"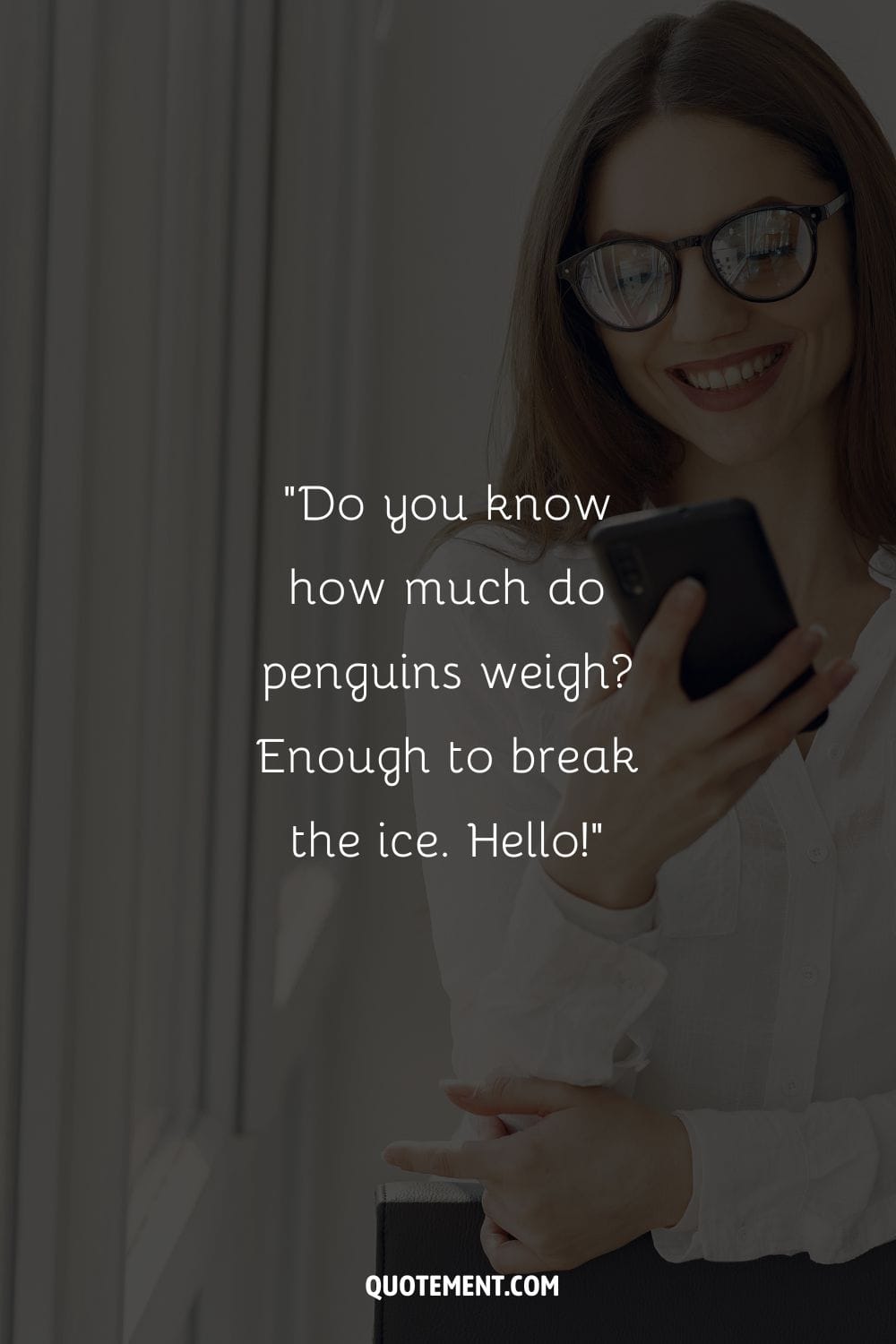 2. "Well, I am an unemployed girl with a certificate in cuddling, a diploma in caring, and a degree in kissing. Do you have a job for me?"
3. "So what is your type, and why is it me?"
4. "You have electrocuted me with your love, writing from the death bed right now."
5. "Excuse me, I just dropped something looking at your pictures again… My jaw!"
6. "I can't decide what I want more, food or you? Food… No, you. Maybe, food on you!"
7. "I have to warn you, from your pictures I get a sense of multiple personality disorder."
8. "I'm on the toilet but thinking of you. Who said romance is dead? LOL."
9. "You are under arrest for being too cute. Your punishment is a wild night with me."
10. "I wanted to send you something that would make you smile, but the mailman told me to get out of the mailbox"!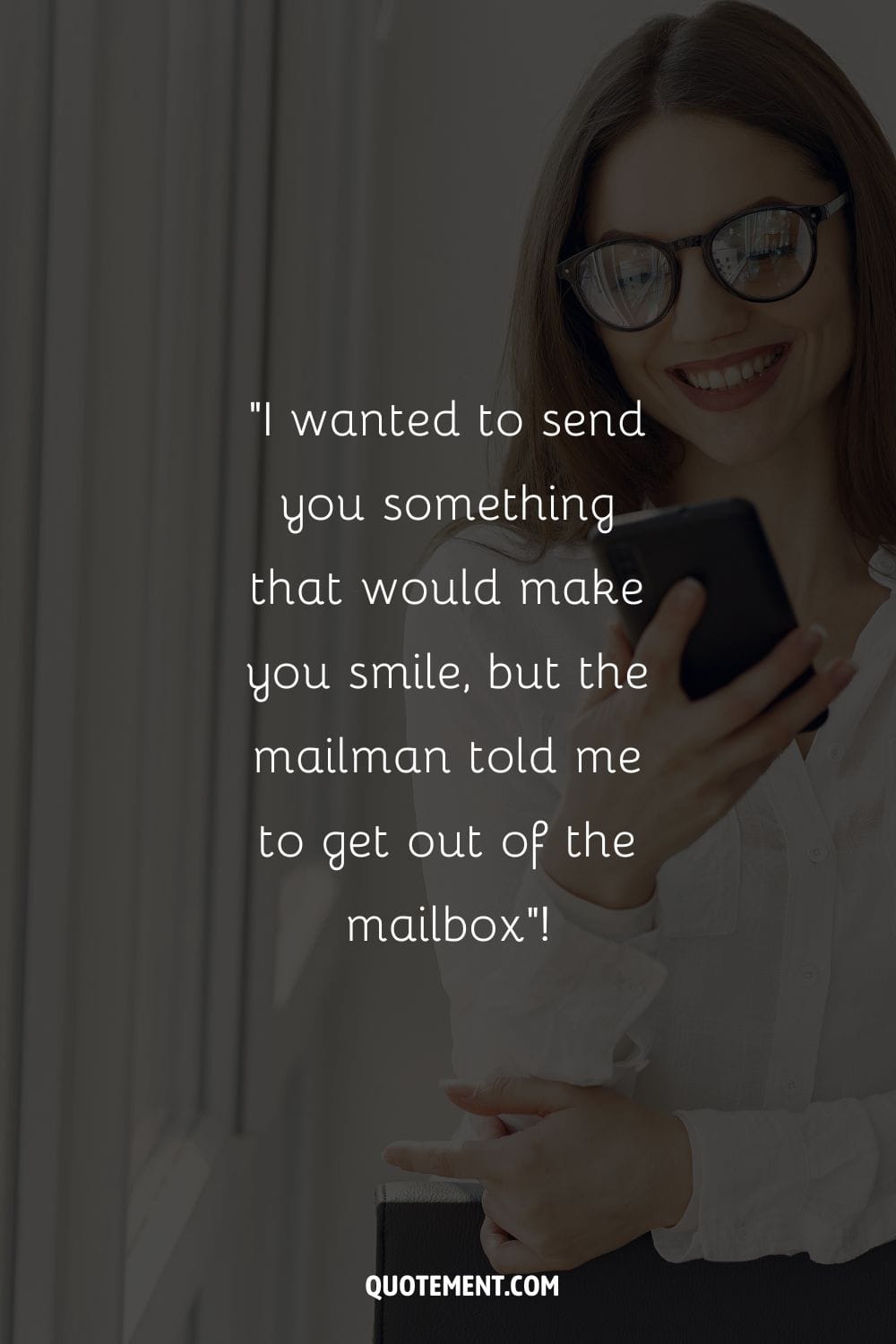 Wrapping It Up
Whether you're in the early stages of getting to know your crush or want to keep the romance alive, these flirty texts for him will help you express your feelings in a fun and playful way.
Now, grab your phone and start texting your way to his heart!