Things don't always go according to our plans and timing. Lucky for us!
These profound God's time quotes will assure you that God knows what's best for you and He will deliver it when the time is right.
I've collected the most inspiring quotes on God's perfect timing to let you know that you're not alone and good things are coming your way. You just have to be patient.
Top 10 God's Time Quotes
1. "God's timing is always perfect. Trust His delays. He's got you." — Tony Evans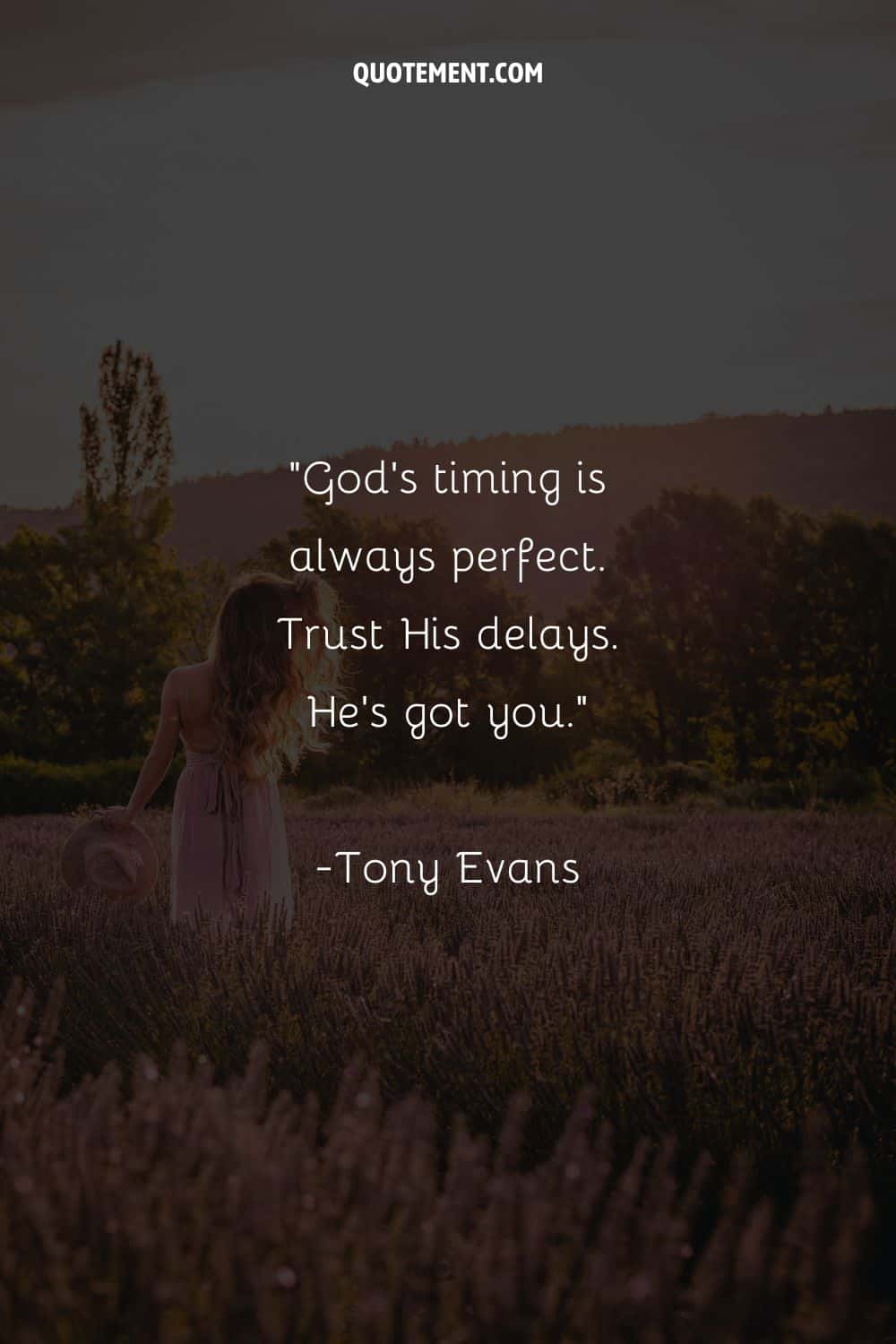 2. "Trust in Divine timing. Your future holds something far greater than your past." — Cheryl Richardson
3. "His timing might not be our timing, but it is always perfect." — Karen Witemeyer
4. "God is never late and rarely early. He is always exactly right on time – His time." ― Dillon Burroughs
5. "God never made a promise that was too good to be true." — D.L. Moody
6. "Trust in God's timing. It's better to wait a while and have things fall into place, than to rush and have things fall apart." — Adam Cappa
7. "When you think about the success you desire, don't forget that God's 'not yet' doesn't mean 'not ever'." — Tiffany L. Jackson
8. "Time is the brush of God, as he paints his masterpiece on the heart of humanity." — Ravi Zacharias
9. "Sometimes we have to let our dreams go in order to allow God to bring them back to us – in his way and his timing." ― Melody Carlson
10. "Trust God's process and timing. He's got you covered!" — Prophetess Dina Rolle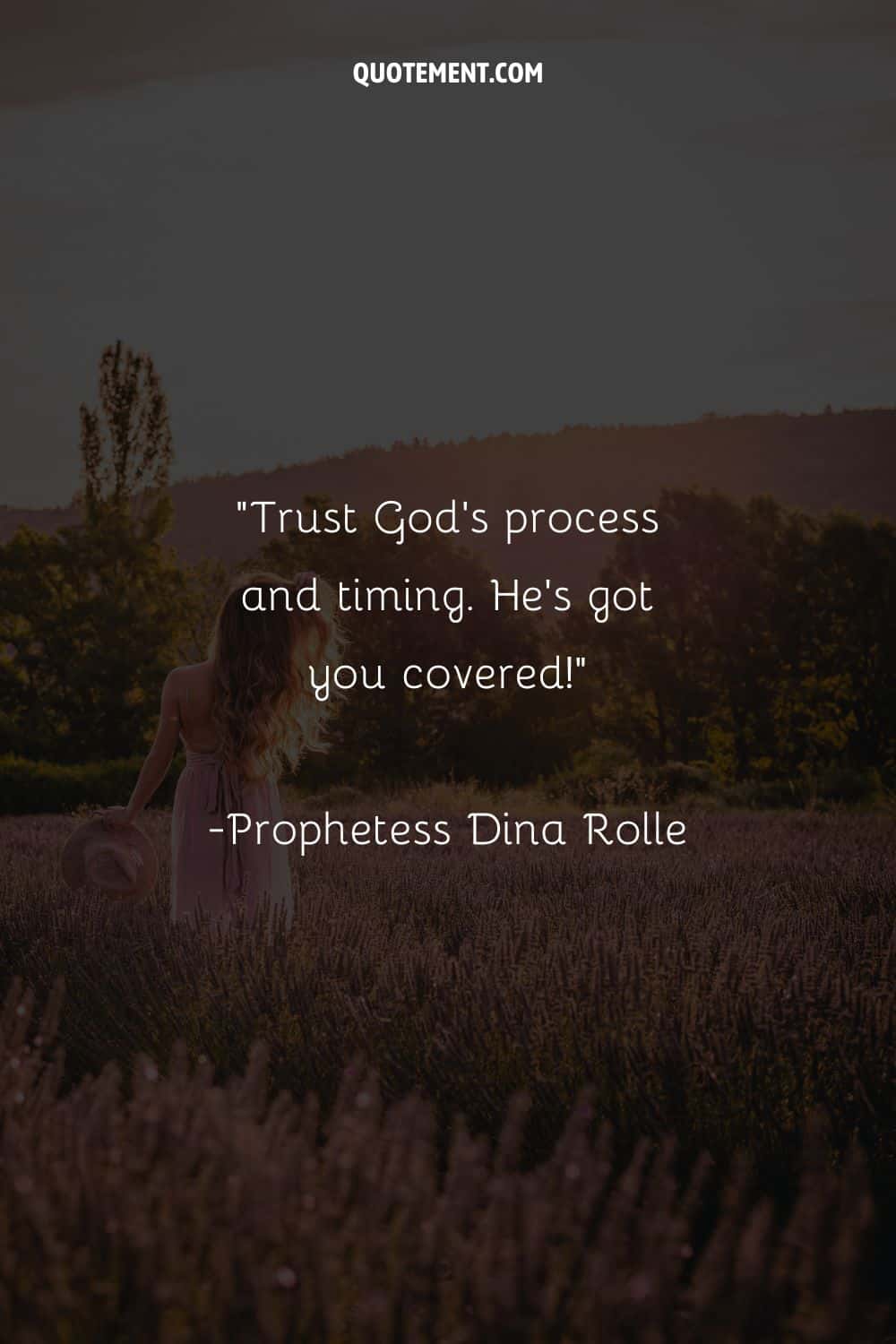 See also: 70 Best Trust God Quotes To Boost Your Spiritual Growth
Inspiring God's Timing Quotes
1. "Faith reassures you that everything will happen in God's timing." — Marcus Lamb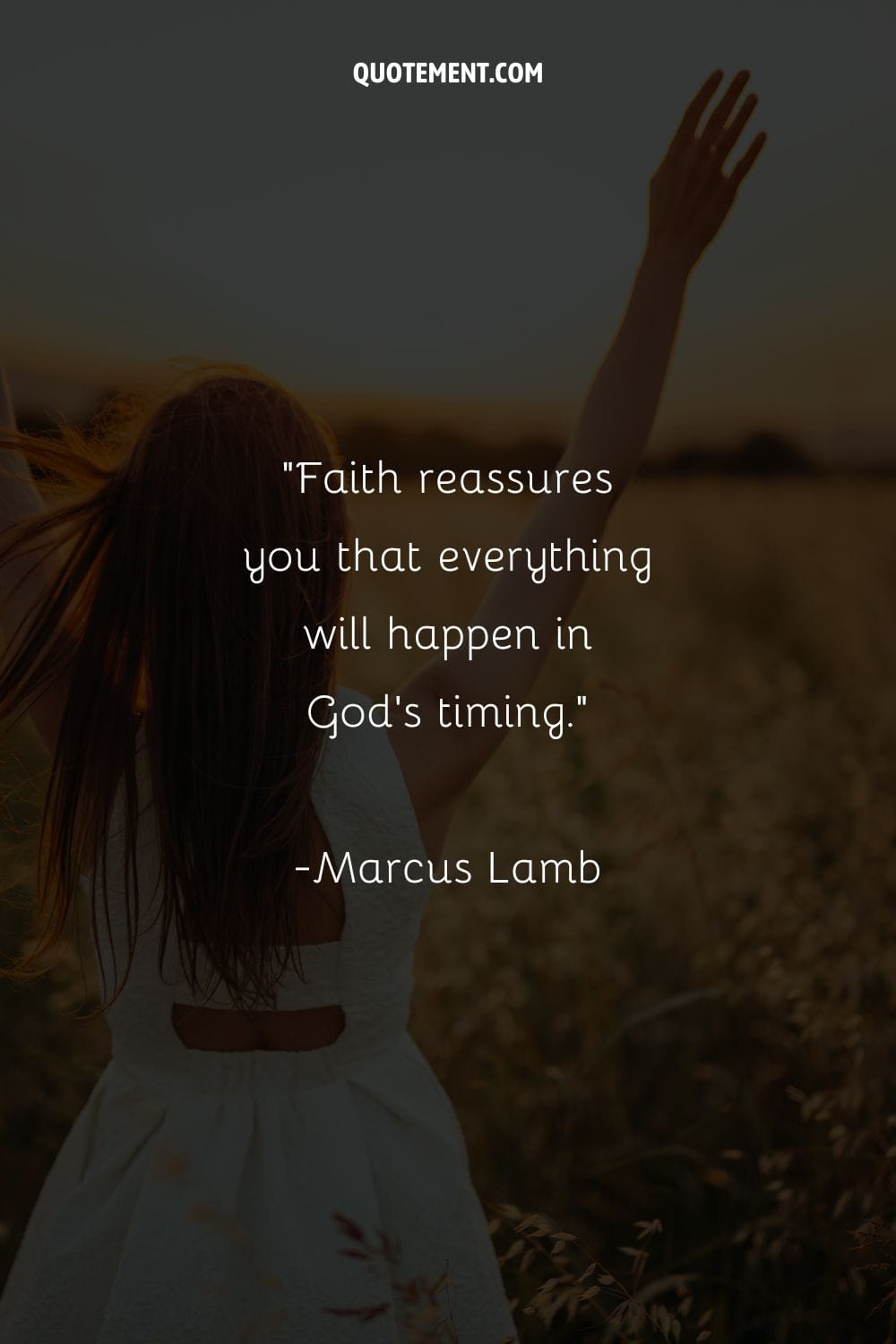 2. "When we surrender to His timing, He does mighty things in and for us, according to His will and His timing. God acts on behalf of those who wait for Him." — Charles Stanley
3. "Just because I had the resources and a good idea didn't mean the timing was right. I was operating on Nick's time instead of God's." — Nick Vujicic
4. "With God, there's always an appointed time for things, and when you put Him first, trust in His timing, and keep the faith, miracles happen!" ― Germany Kent
5. "God's affairs are accomplished gradually and almost imperceptibly and His spirit is neither violent nor tempestuous." — St. Vincent de Paul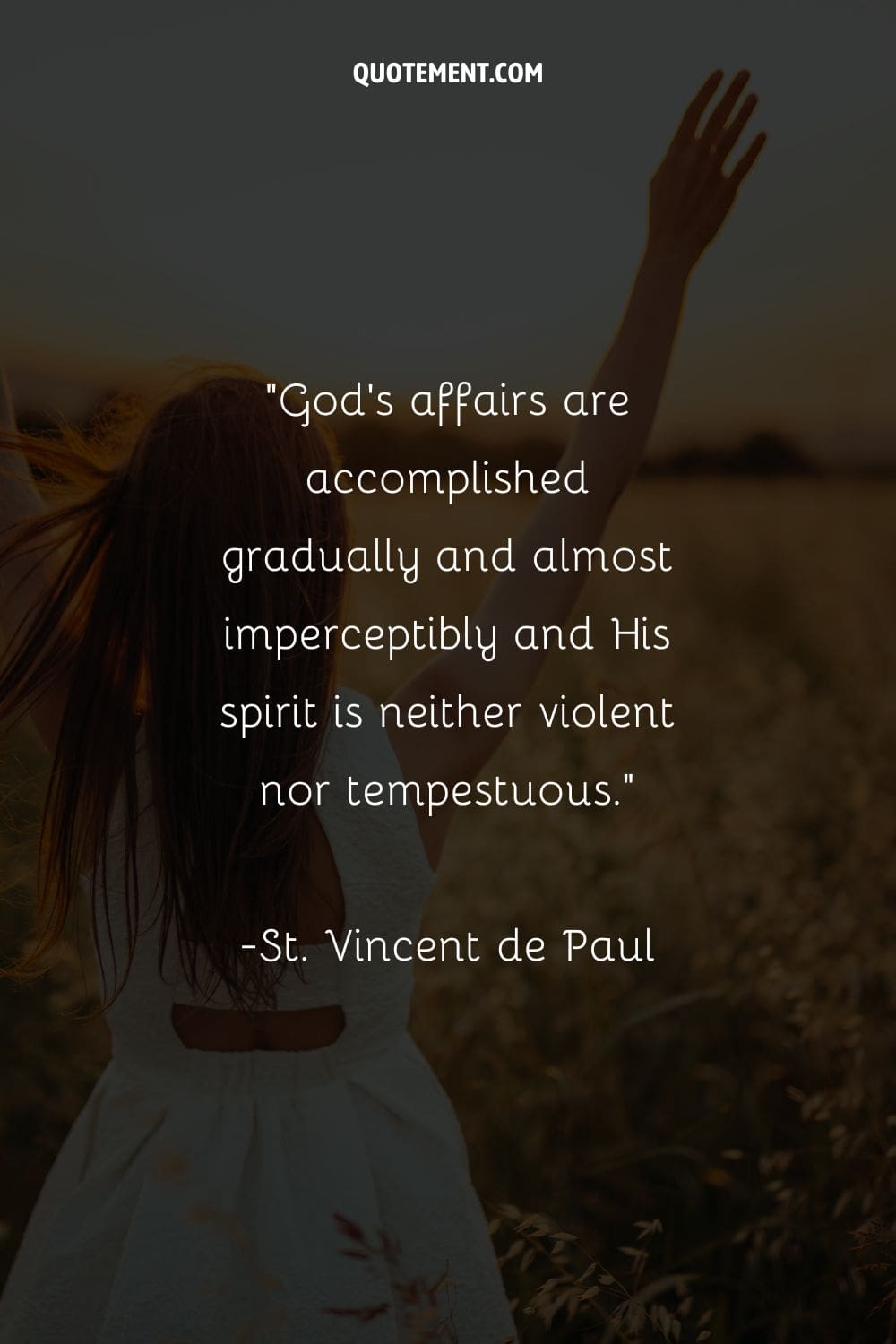 6. "God's timing is rarely our timing." — Kevin DeYoung
7. "God is intentional. If you feel as though He has somehow failed you or forgotten about you, trust and believe that His timing is perfect." — Germany Kent
8. "In His timing, God answered those prayers, and since then, prayer has been an essential part of my life." — Billy Graham
9. "I needed to do my current job well, keep preparing, and wait on God's timing. I needed to trust His leadership rather than try to force an outcome I wanted." — Tony Dungy
10. "When it's not in God's time, you can't force it. When it is God's time, you can't stop it." — Unknown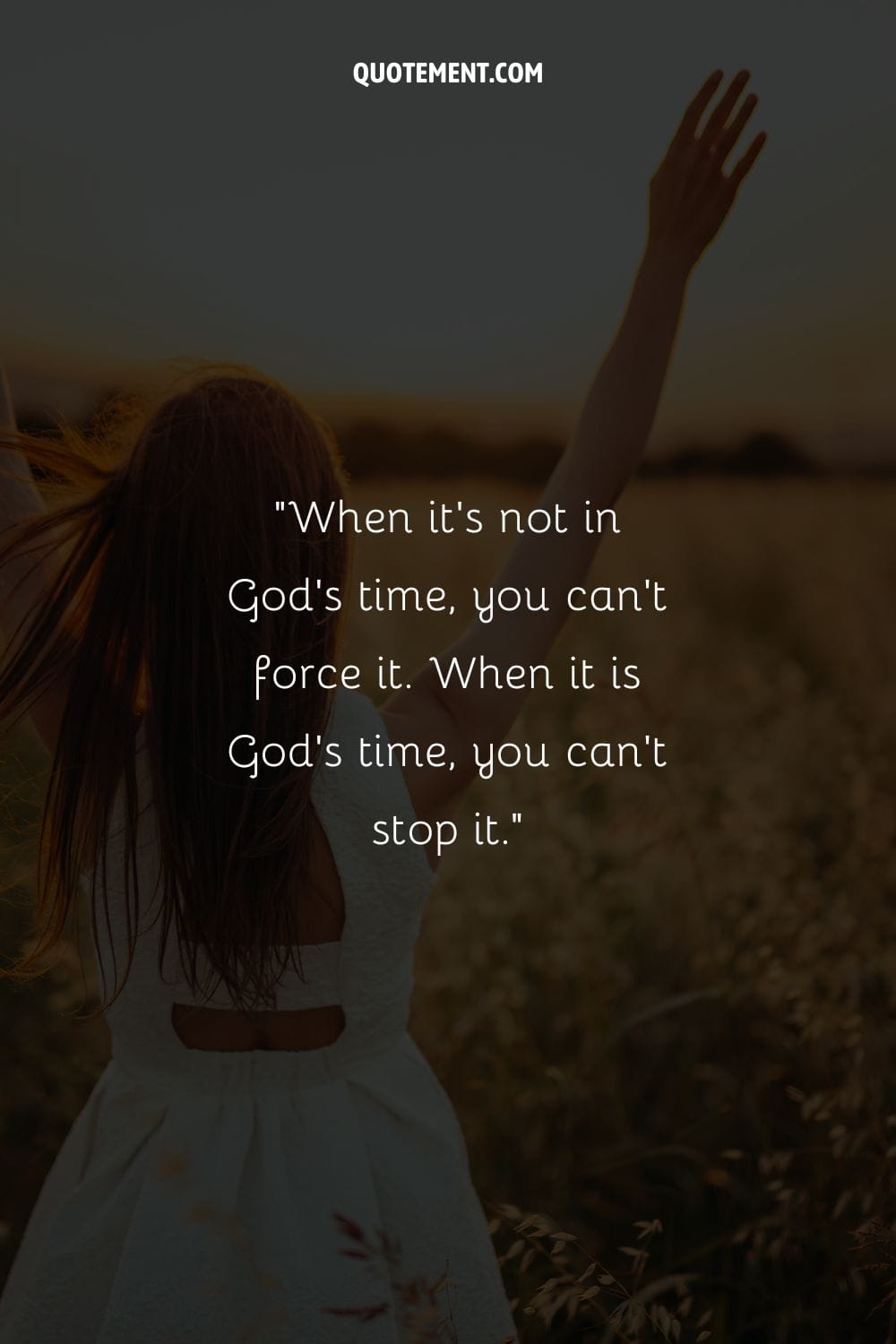 11. "To live your best life now, you must learn to trust God's timing; you may not think He's working, but you can be sure that right now, behind the scenes, God is arranging all the pieces to come together to work out His plan for your life." — Joel Osteen
12. "Waiting for God is not laziness. Waiting for God is not the abandonment of effort. Waiting for God means, first, activity under command; second, readiness for any new command that may come; third, the ability to do nothing until the command is given." — G. Campbell Morgan
13. "The absence of the understanding of God's time is the reason why our lives are unstable." — Sunday Adelaja
14. "God's timing is such that I did not fully realize the impact of His blessings until many years later when the full cause and effect of His promise on my life was fulfilled." — Adam Gellert
15. "Everything that does not fit into the timing of God does not have a chance to exist and it will be destroyed." — Sunday Adelaja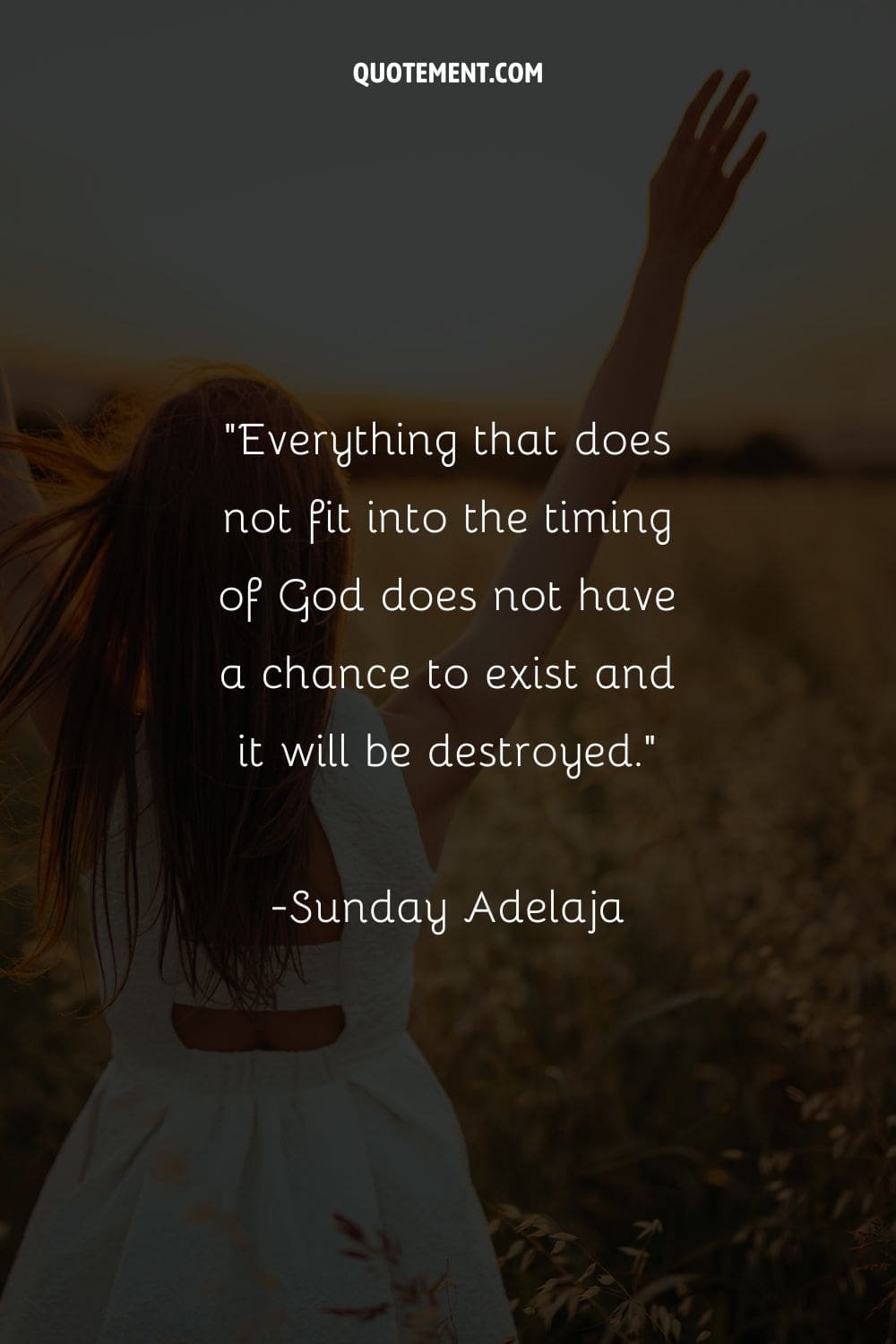 16. "The absolute gut level truth was that he had no desire for God to interrupt him in this way." — Elizabeth Musser
17. "Grass that is here today and gone tomorrow does not require much time to mature. A giant oak tree that lasts for generations requires much more time to grow strong." — Henry T. Blackaby
18. "Fighting and resisting the timing of God is equivalent to fighting and resisting His will for our lives. God is working, often in ways we cannot see, to bring His plans to pass in our lives in the best possible ways. We simply need to trust Him as we wait for the arrival of our dreams." — Joyce Meyer
19. "I think Christians fail so often to get answers to their prayers because they do not wait long enough on God. They just drop down and say a few words, and then jump up and forget it and expect God to answer them. Such praying always reminds me of the small boy ringing his neighbor's door-bell, and then running away as fast as he can go." — Edward McKendree Bounds
20. "One phrase that got me through many difficult times in my life was: God's delays are not God's denials." — AJ Winters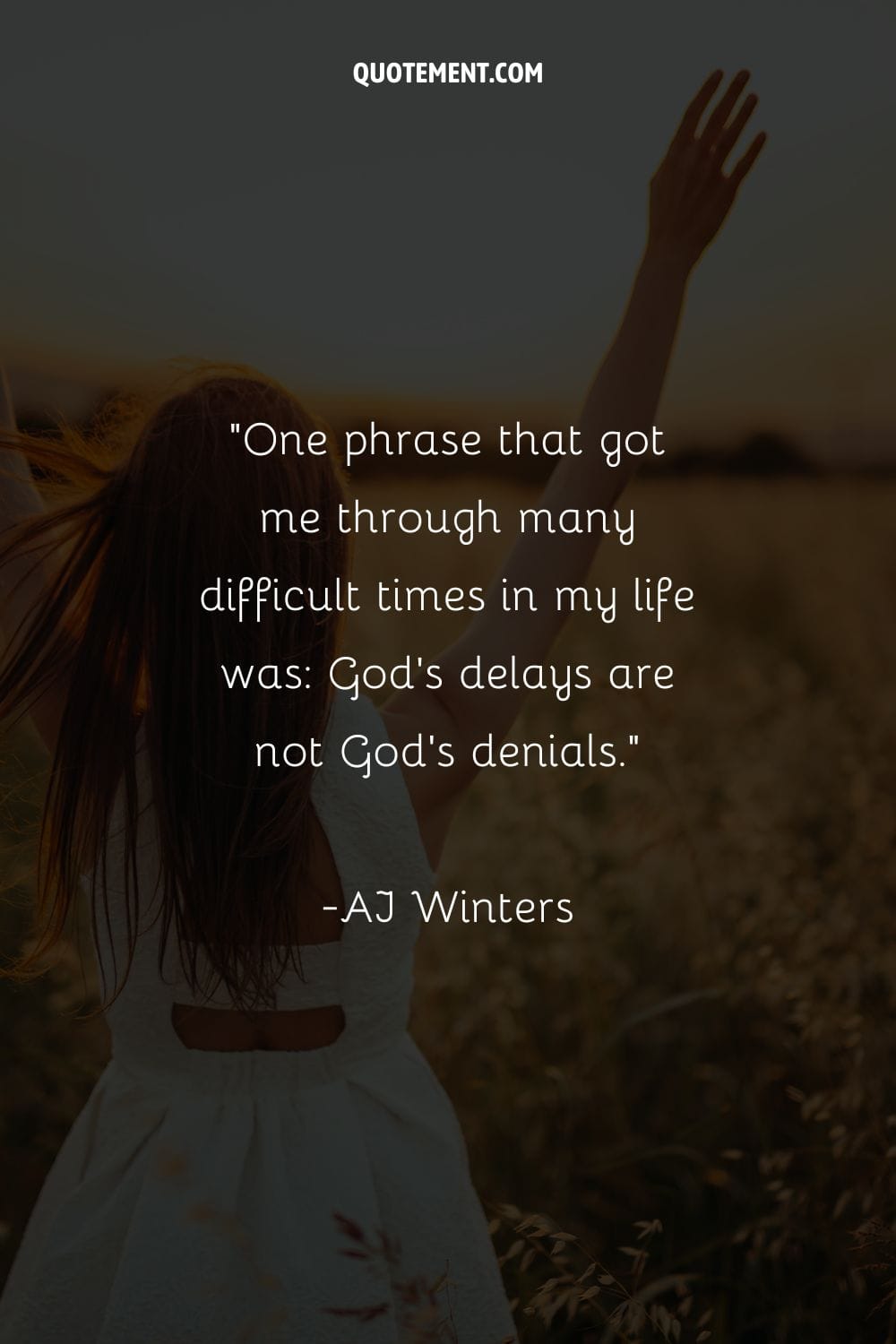 See also: 50 God Please Help Me Through This Difficult Time Prayers
21. "If you're waiting with God, waiting is okay. If you're always waiting on God, you'll be frustrated. God never seems to work at the speed that we want Him to." — Louie Giglio
22. "What God has for you is for you. Trust his timing. Trust his plan." — Unknown
23. "There is never a moment when God is not in control. Relax! He's got you covered." — Mandy Hale
24. "You are where God wants you to be at this very moment. Every experience is part of his divine plan." — Unkown
25. "God is waiting to satisfy us, yet His goodness will not satisfy us if we are already full of other things." ― John Bevere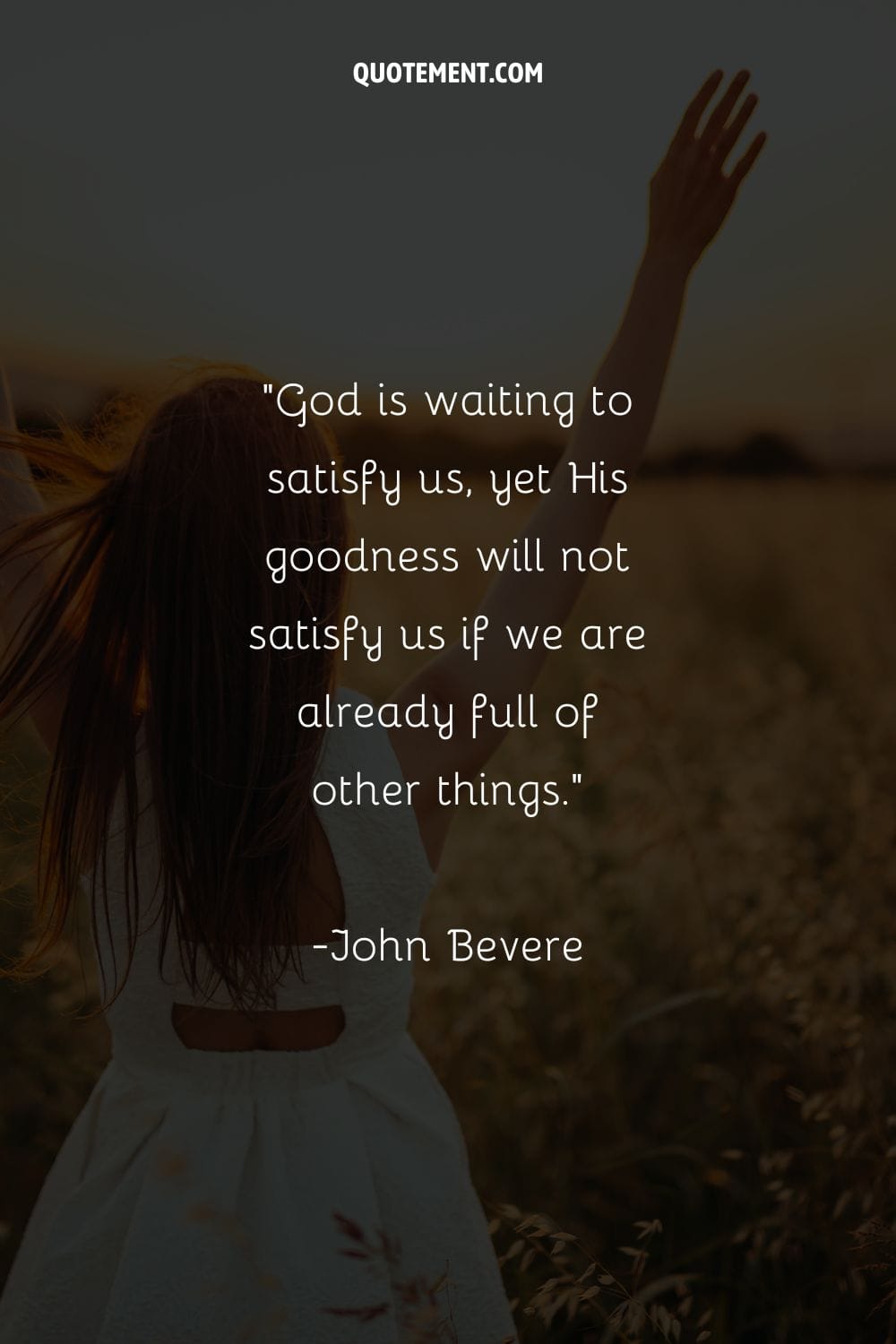 See also: 130 Quotes About God's Goodness To Strengthen Your Faith
God's Time Quotes To Give You Faith
1. "The great test of faith is to wait on God. . . not expecting to push a button and get whatever we want now." — Aiden Wilson Tozer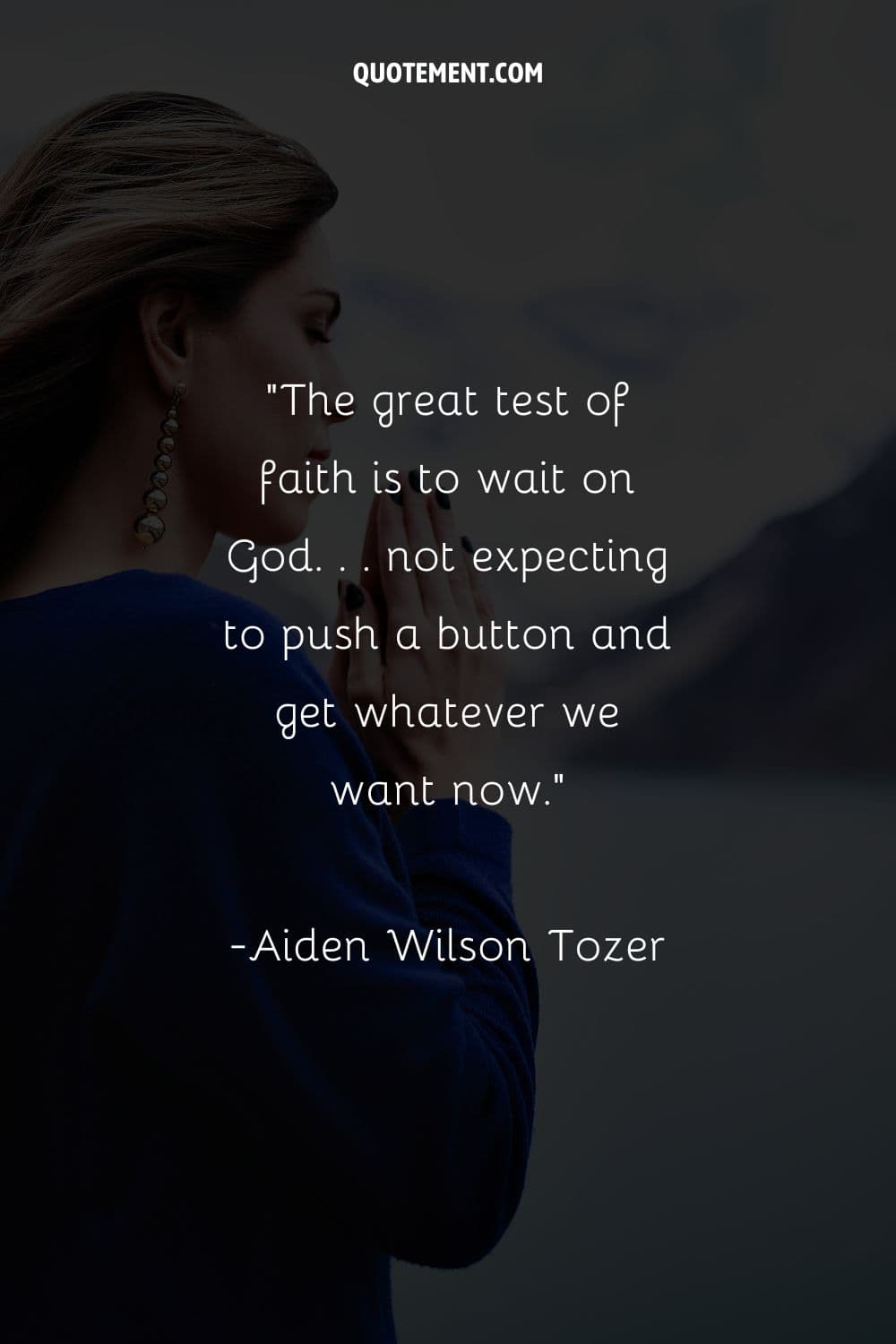 2. "You cannot rush God's timing. When the Lord speaks a word into your life, it is like a seed. Is your confidence in God's seed?" — T.D. Jakes
3. "You may not understand God's timing about something, but you have to trust that His timing is perfect. Trust Him and find rest." — Victoria Osteen
4. "Every talent you have is not wasted. It is there because of a reason and God will open that door when the right time comes along to use it." — Shannon L. Alder
5. "He that is impatient, and cannot wait on God for a mercy, will not easily submit to Him in a denial." — William Gurnall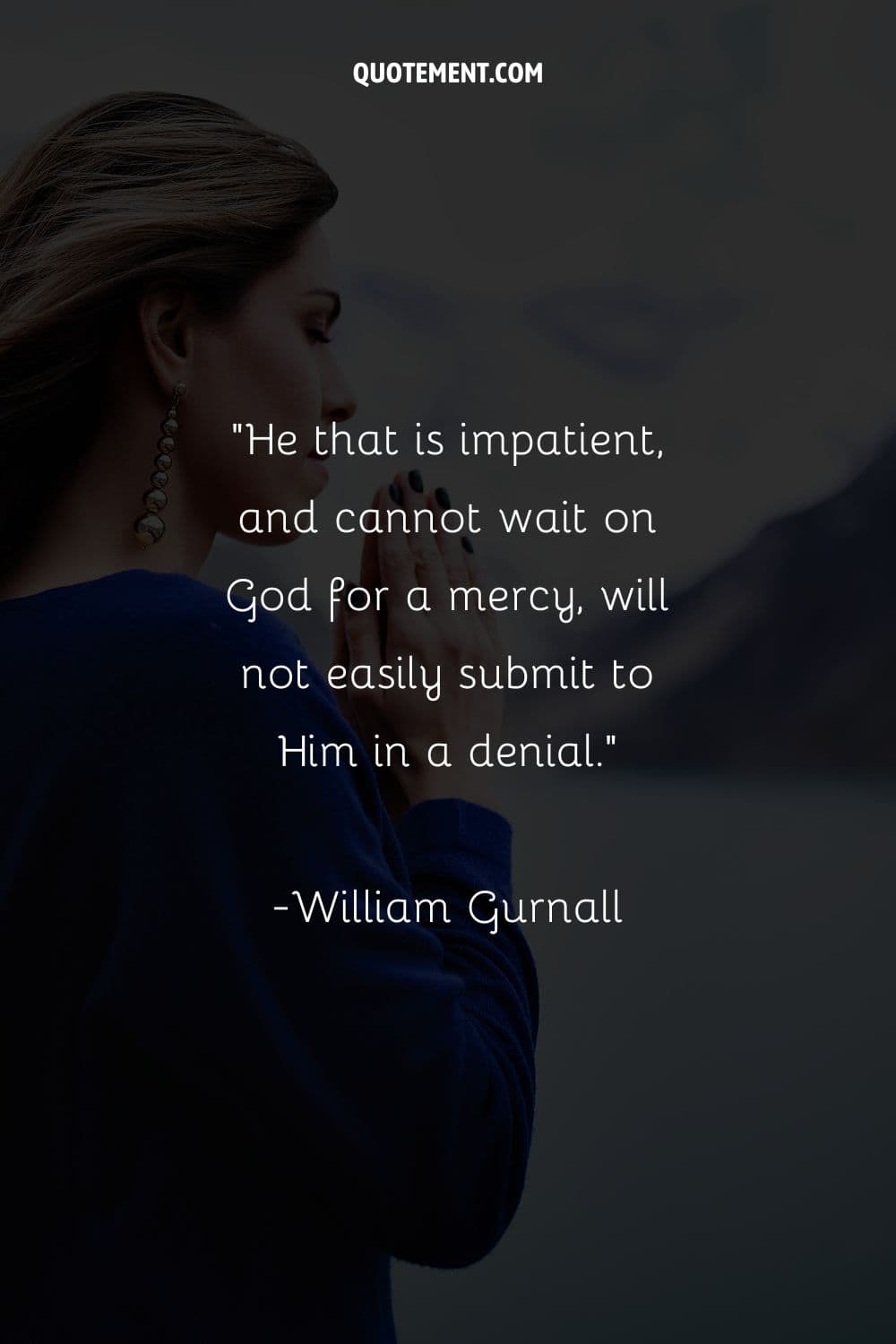 6. "You can be assured that God will give you favor with the right people at the right time to align the right opportunities for that what He has ordained for you." ― Germany Kent
7. "Waiting is an exercise of faith that demonstrates the condition of our hearts. Waiting on God is an act of faith. And faith is what separates the men from the boys." — Steve Farrar
8. "I believe that God will give us all the strength we need to help us to resist in all times of distress. But he never gives it in advance, lest we should rely on ourselves and not on him alone." — Dietrich Bonhoeffer
9. "Perhaps you will have to spend hours on your knees or upon your face before the throne. Never mind. Wait. God will do great things for you if you will wait for Him. Yield to Him. Cooperate with Him." — John Smith
10. "God has wonderful plans for you – if you let Him lead and comfort." — Colin McCartney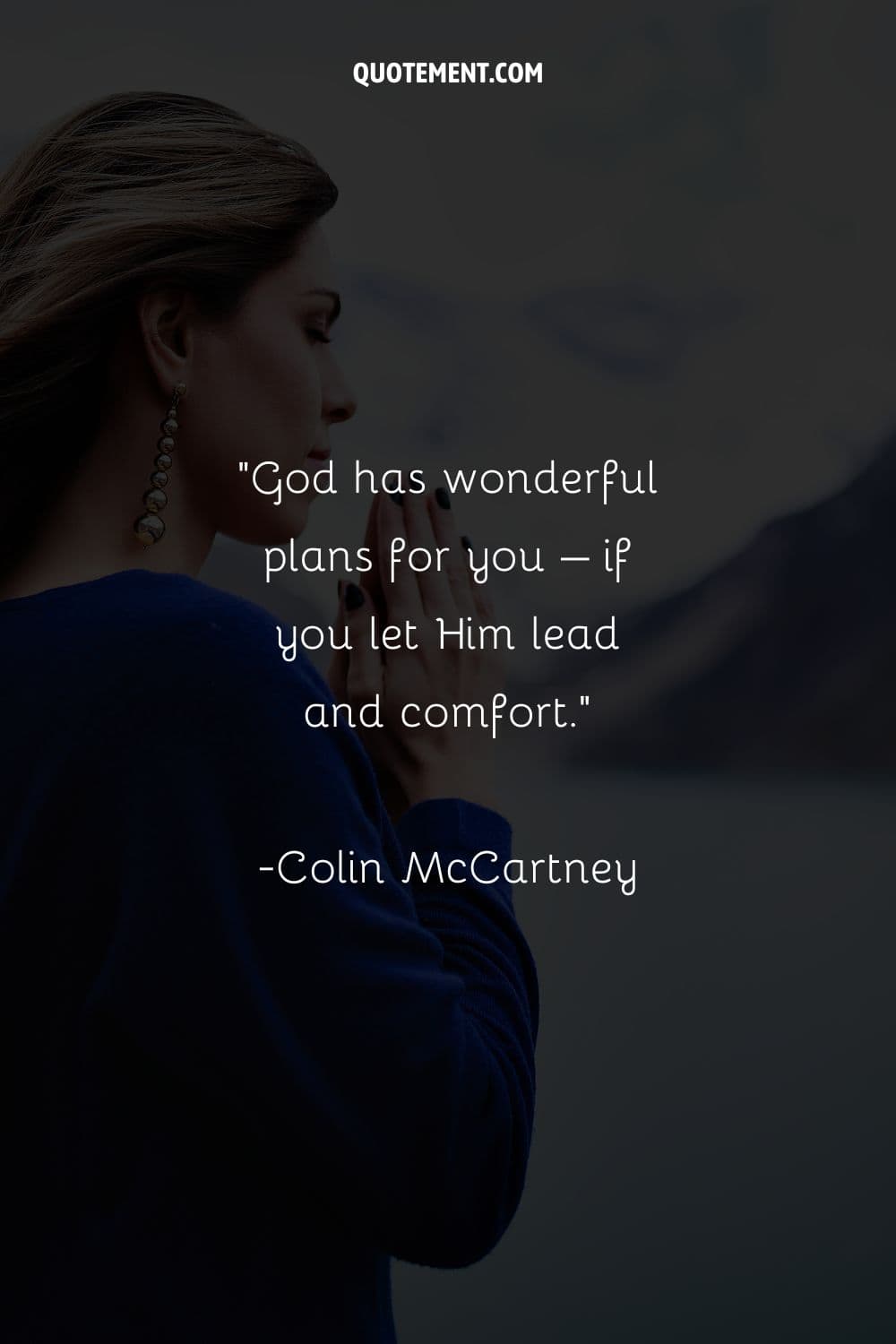 11. "Know when things get tough that all things work out for the best of them who know and love Him. Know that God is in charge." — Michael Caputo
12. "…I came to realize that God never shows us something we aren't ready to understand. Instead, He lets us see what we need to see, when we need to see it. He'll wait until our eyes and hearts are open to Him, and then when we're ready. He will plant our feet on the path that's best for us. . . but it's up to us to do the walking." — Immaculee Ilibagiza
13. "God is getting ready to move again and do something special, something new." — Russell M. Stendal
14. "God already has our life plan plotted out with exacting precision and perfect timing, and sometimes we have to be patient in order to see God's promises come to pass." — Adam Gellert
15. "I've learned over the years to appreciate God's timing, and you can't rush things; it's gonna happen exactly when it's supposed to." — Sevyn Streeter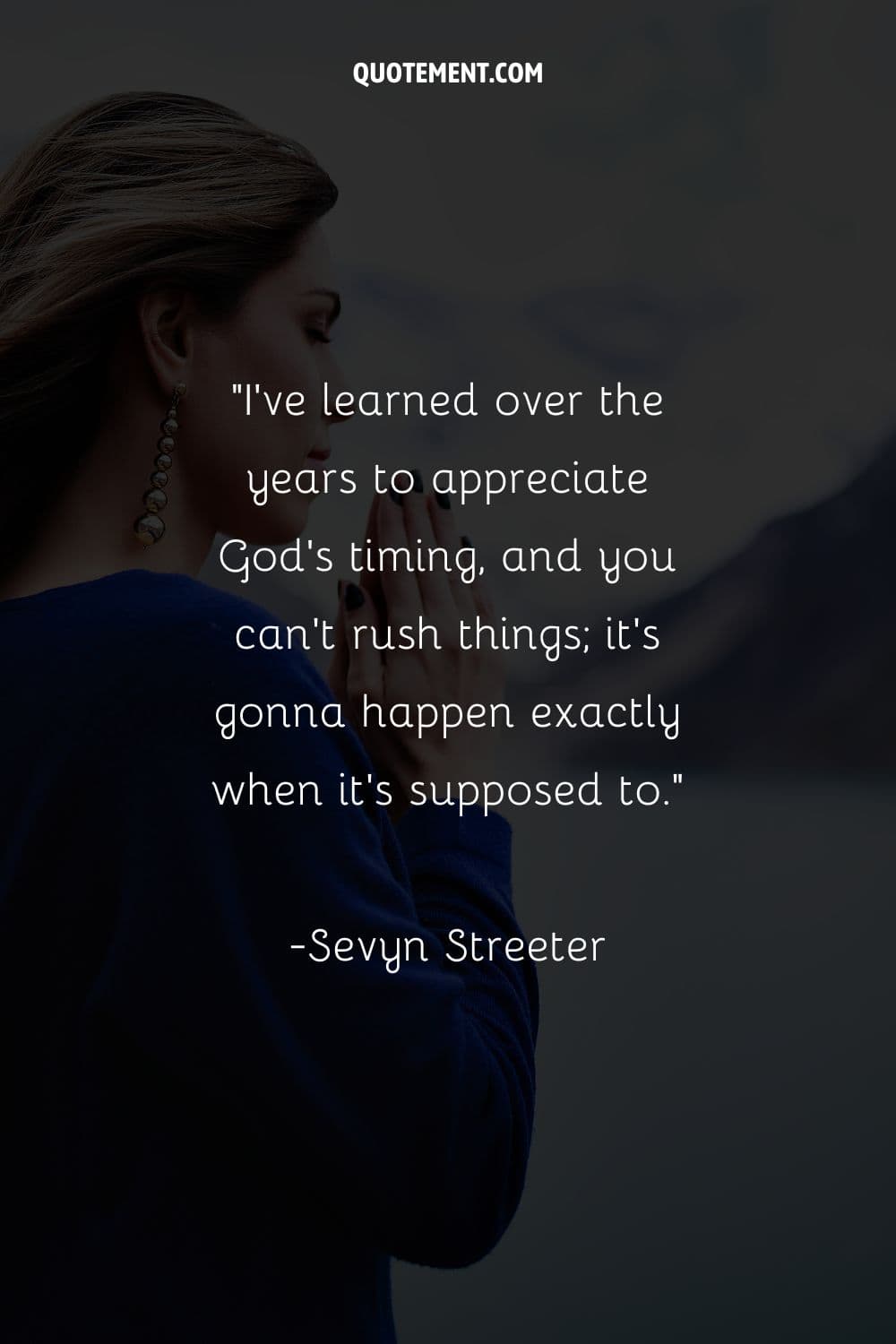 16. "As we journey through this life – through the easy times and the painful times – God is fashioning us into people who are like his Son, Jesus. That means God is in the process of changing what we desire far more than he is in the process of giving us what we desire." — Charles Stanley
17. "The timing of God often defies your thinking. It contradicts logic. You may have troubles, battles, or trials, but they do not negate God's love for you. There is a purpose behind your pain. Jesus said Lazarus' sickness was part of a Kingdom Agenda!" — Comfort Ocran
18. "To be sure, God shall call you, and us, only at the hour that God has chosen. Until that hour, which lies in God's hand alone, we shall all be protected even in greatest danger, and from our gratitude for such protection ever new readiness surely arises for the final call." — Dietrich Bonhoeffer
19. "Such individuals come to the realization that no matter how greater their own hopes and plans for their lives, God's hopes and plans are greater." — Amberly Ruck
20. "Faith in God includes faith in God's timing." — Neal A. Maxwell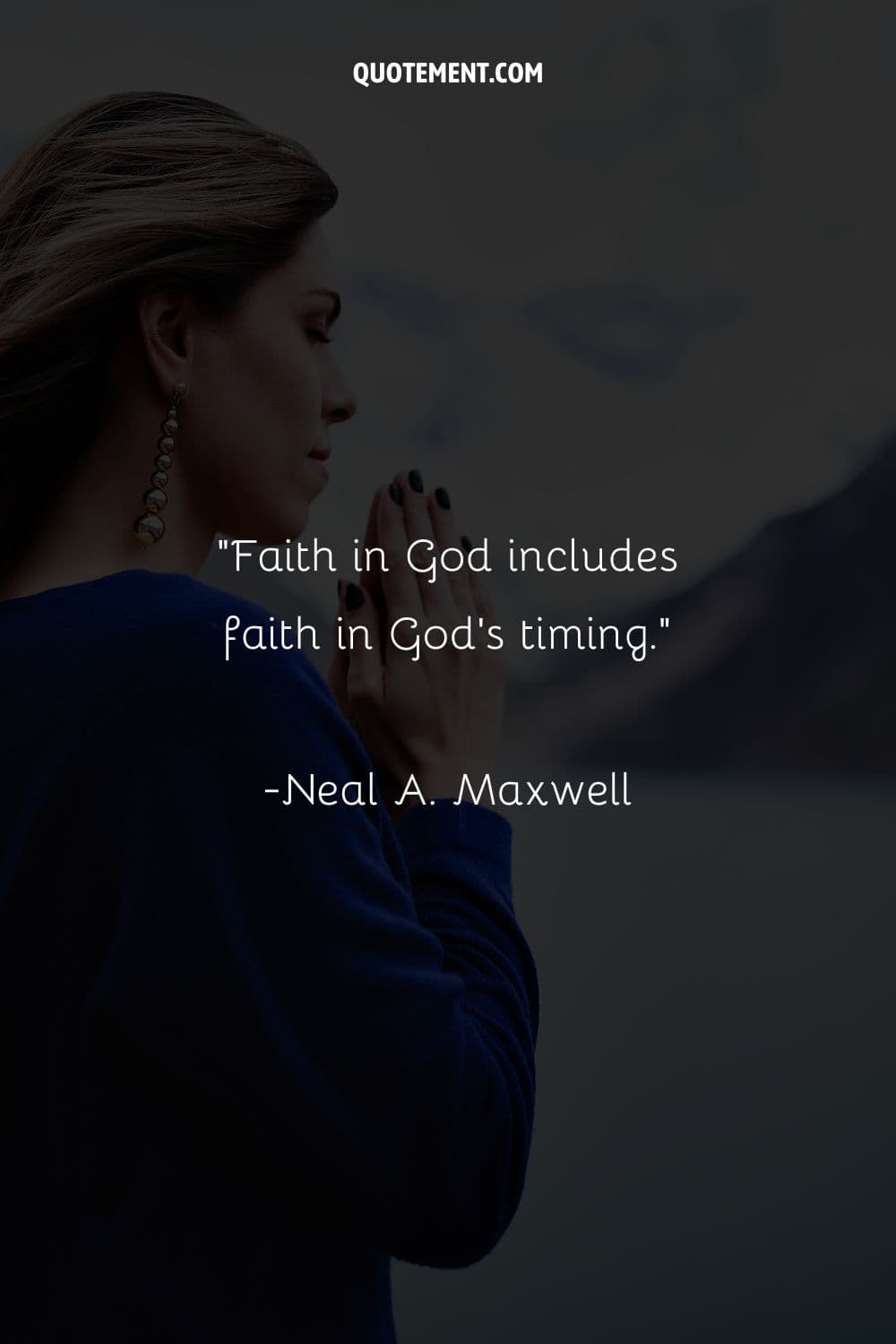 21. "God knows what we need, and if he wants us to wait, it's always for our good." — Unknown
22. "Biblically, waiting is not just something we have to do until we get what we want. Waiting is part of the process of becoming what God wants us to be." — John Ortberg
23. "Waiting on God's timing teaches us patience. Even though you get anxious, you just learn to wait. That's a good lesson for all of us." — Unknown
24. "The same God who led you to the waiting place will lead you from there – when the time is right, when you're ready. Trust Him always." — Unknown
25. "Stress makes you believe that everything has to happen right now. Faith reassures you that everything will happen in God's timing." — Marcus Lamb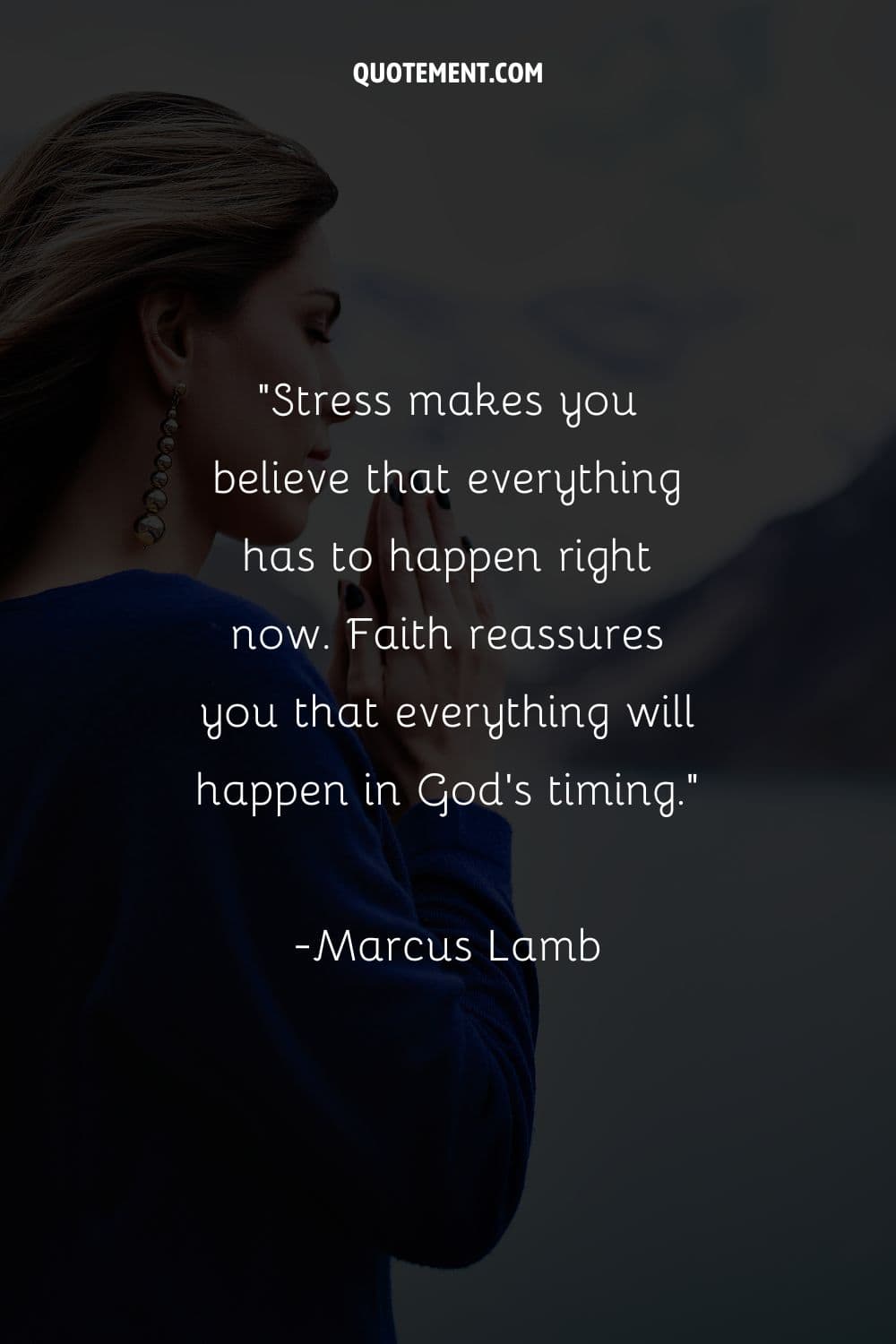 See also: 40 Inspiring Faith Over Fear Quotes To Make You Fearless
God's Time Quotes To Keep Your Hopes Up
1. "When God brings a time of waiting, and appears to be unresponsive, don't fill it with busyness, just wait." — Oswald Chambers
2. "He is not only a God of perfect time, but of perfect timing." — Beth Moore
3. "Just because something isn't happening for you right now doesn't mean it won't happen. God's timing is perfect." — Nicky Gumbel
4. "When God gives you a vision and darkness follows, wait. God will bring the vision He has given you to reality in your life if you will wait on His timing. Never try to help God fulfill His word." — Oswald Chambers
5. "We can't rush God's timing; what is meant for us will always be for us." — Amber J. Graham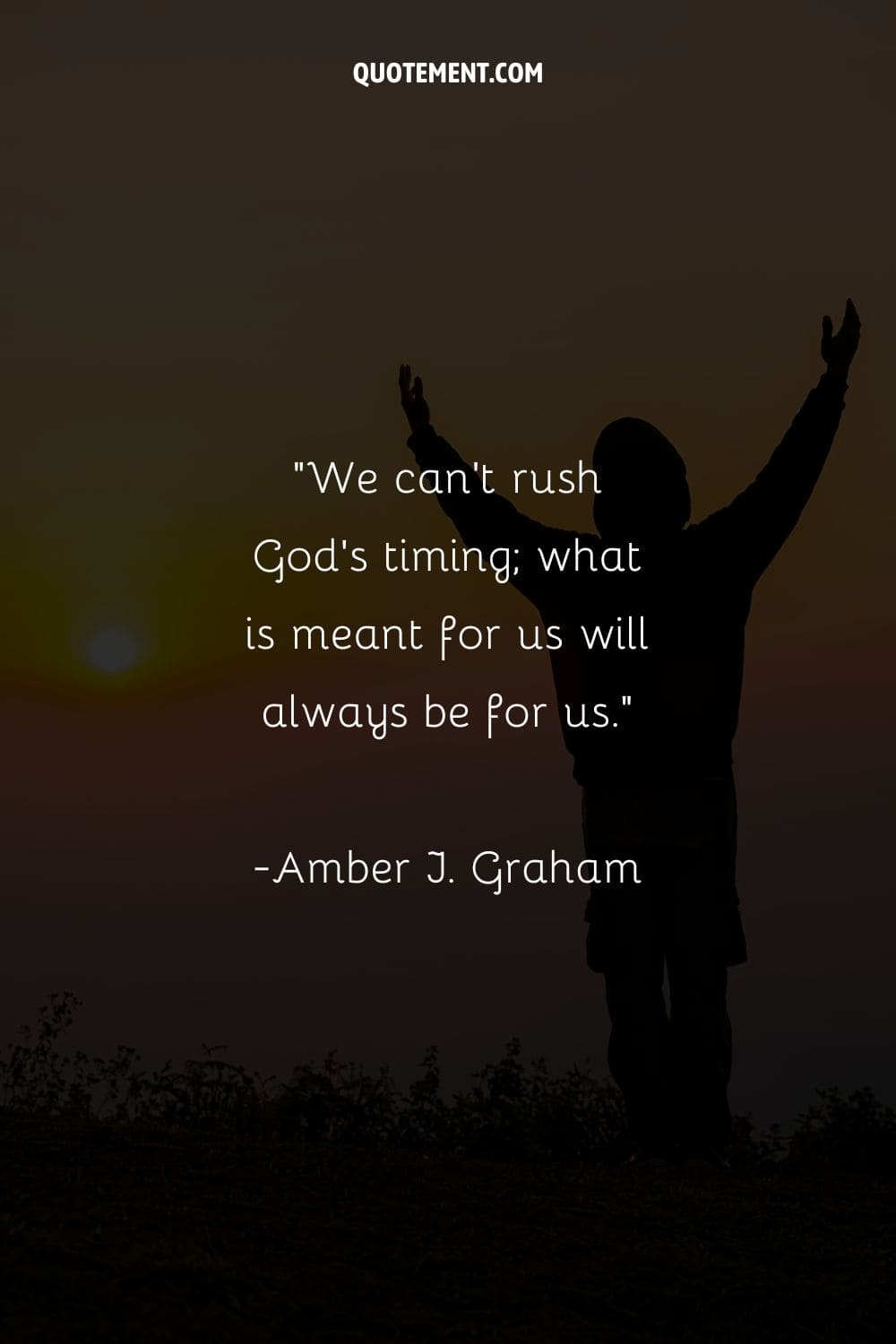 6. "God is patient and acts in His timing." — Lailah Gifty Akita
7. "Don't miss God's fingerprints all over the events, lining up people and circumstances in perfect timing to preserve His people and advance His agenda." — James MacDonald
8. "When faced with a decision, many people say they are waiting for God. But I understand, in most cases, God is waiting for me." — Andy Andrews
9. "Our opportunities are in God's hand…and therefore he knows how to choose the best and fittest time for our deliverance, and we must be willing to wait that time." — Matthew Henry Commentary
10. "God doesn't make mistakes and timing unfolds as it should." — Ashley Judd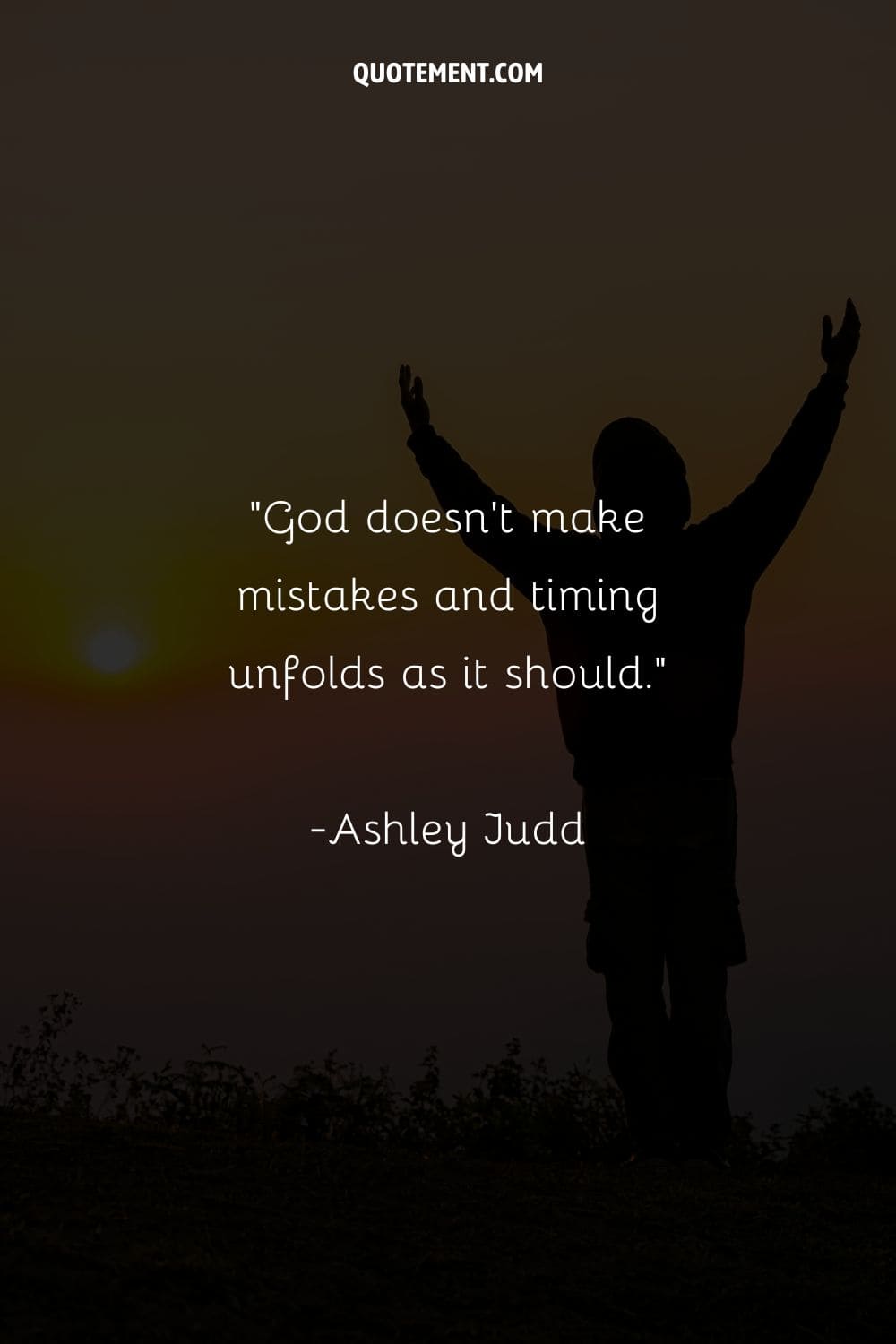 11. "Just because something isn't happening for you right now, doesn't mean it won't happen. God's timing is perfect." — Nicky Gumbel
12. "I just follow God's lead. One step, one day and one opportunity at a time. The hardest part is not becoming distracted." — Carlos Wallace
13. "God works things out on his timetable to bring the best results for us." — Alan Robertson
14. "When we are unduly impatient with an omniscient God's timing, we really are suggesting that we know what's best. Strange isn't it we who wear wrist watches seek to counsel Him who oversees cosmic clocks and calendars." — Neal A. Maxwell
15. "We're just humans and we can't see the bigger picture. Trust in God's timing, trust that things will work in your favor." — Scarlett Miles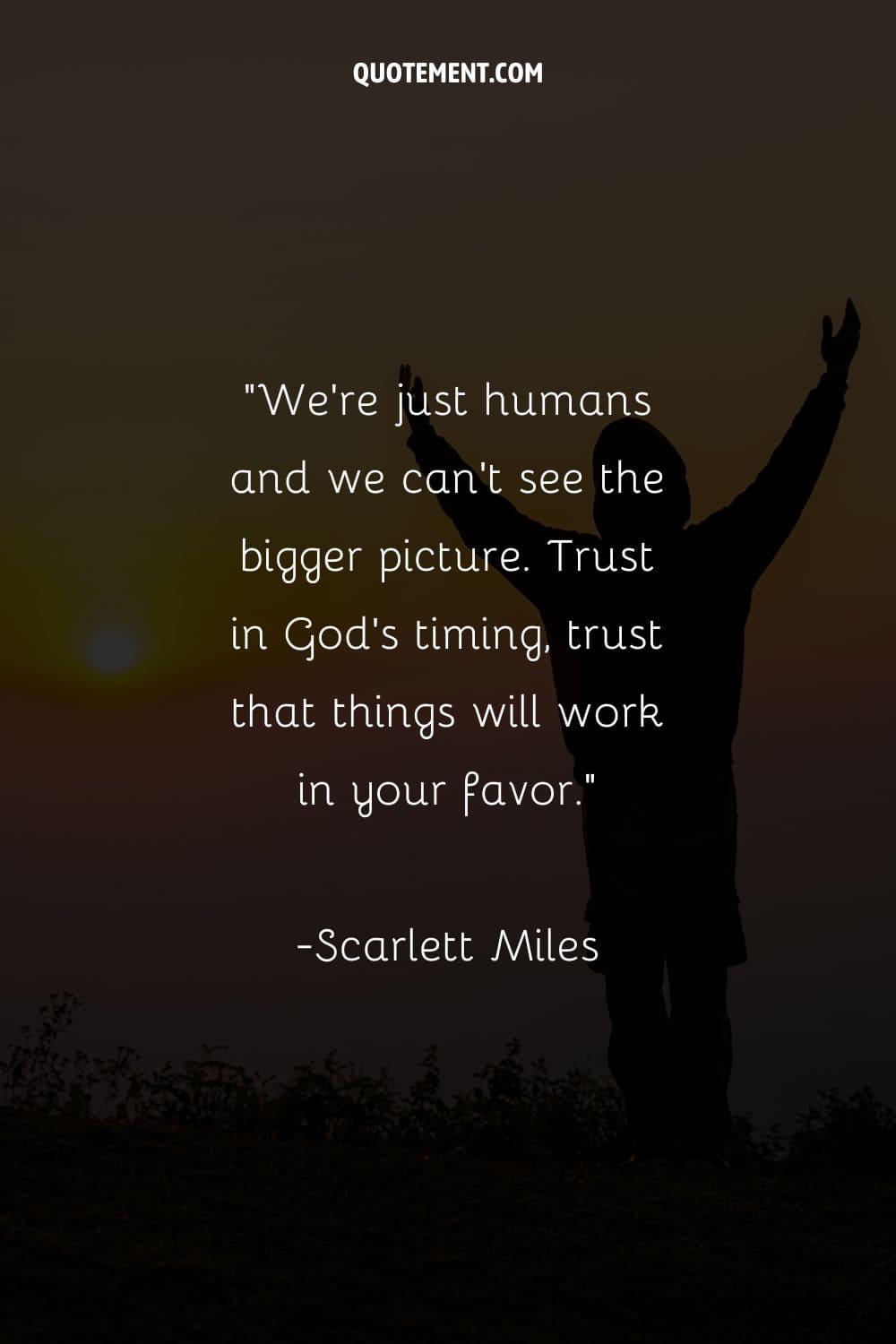 16. "There are no 'ifs' in God's kingdom. I could hear her soft voice saying it. His timing is perfect. His will is our hiding place. Lord Jesus, keep me in Your will! Don't let me go mad by poking about outside it." — Corrie ten Boom
17. "Everything we need to fulfill our true destiny always comes to us at the perfect time. But spiritual awareness is required to recognize those gifts and opportunities." ― Anthon St. Maarten
18. "Trust hangs somewhere between knowing what your heart longs for and trying to dictate the shape or timing or outcome of your heart's desire." — Paula Rinehart
19. "Sometimes God closes doors because it's time to move forward. He knows you won't move unless your circumstances force you. Trust the transition. God's got you!" — Unknown
20. "Trust God's timing even during the silence. Silence is His sign that good things are coming your way." — Scarlett Miles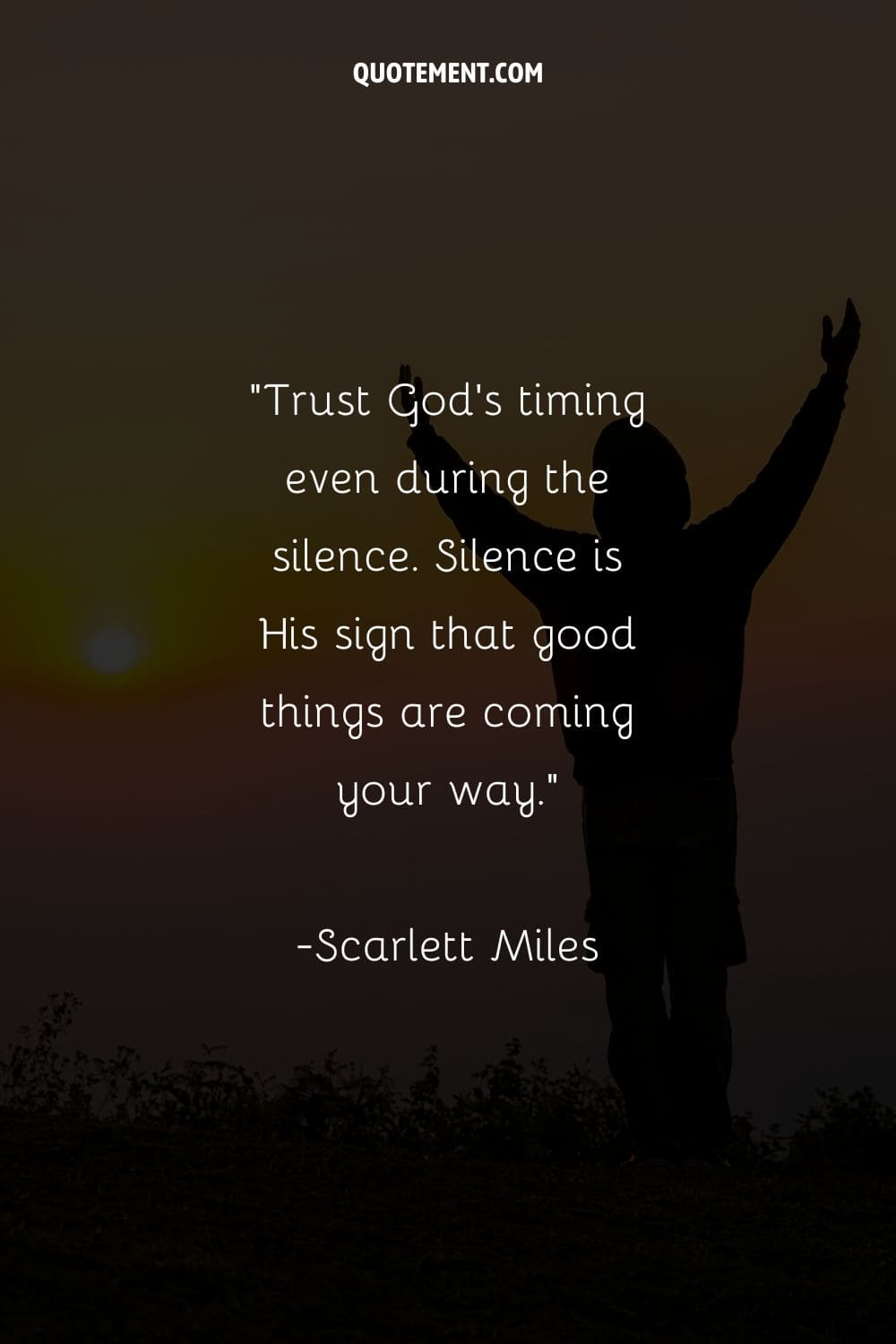 See also: 150 Silence Quotes When Silence Speaks Louder Than Words
God's Time Quotes To Soothe Your Heart
1. "You are exactly where you need to be for God to work a miracle in your life." ― Germany Kent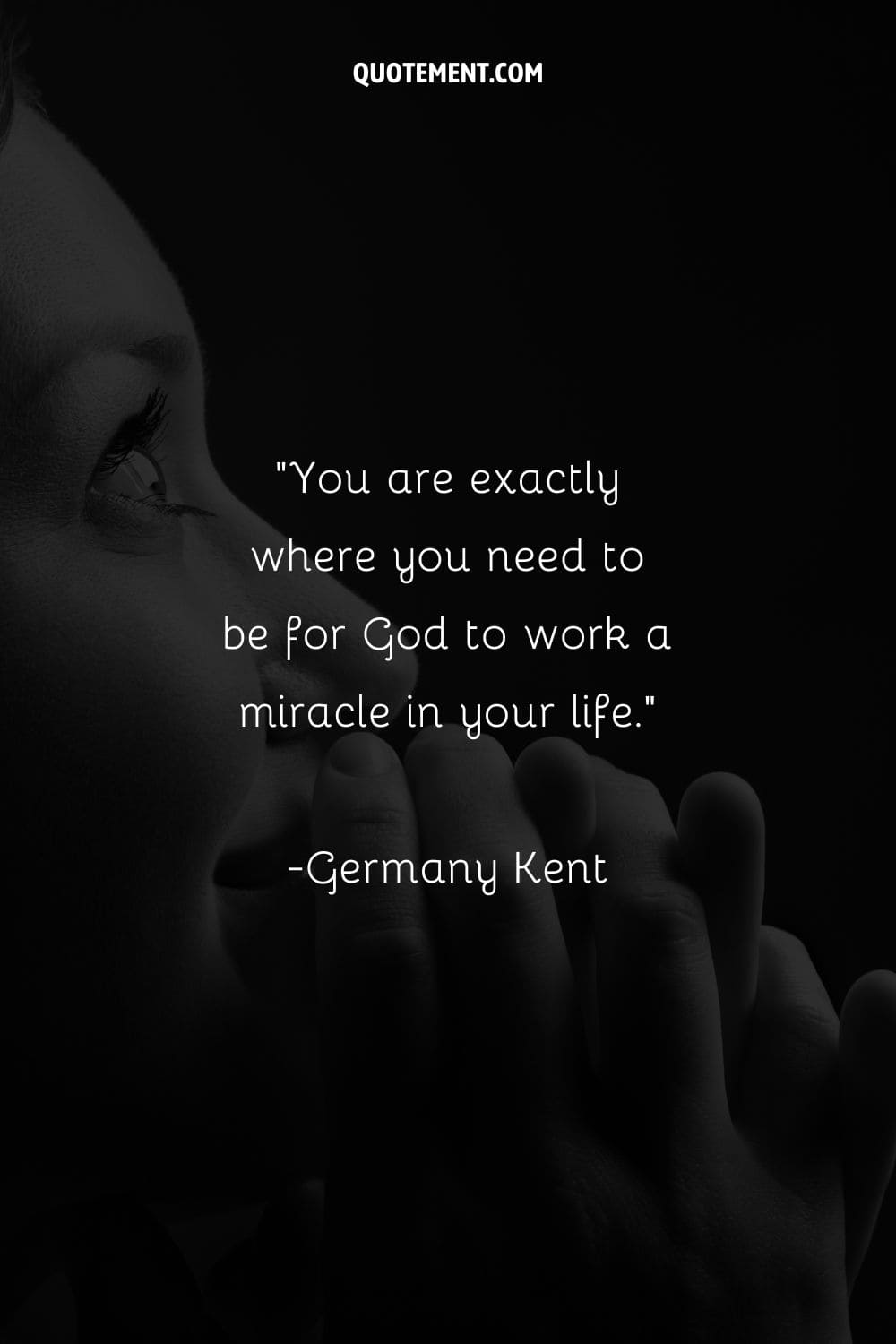 2. "No one can change the timing set by God." — Sunday Adelaja
3. "God's timing is perfect… we may not understand, we may not see, but we must trust, have faith, and believe." — Unknown
4. "God is always on time even when He seems late. This great truth of life is proven numerous times in the Bible in situations where God's timing proved to be the absolute right timing." ― Miriam Kinai
5. "Happy is the one who learns to wait as he prays and never loses his patience, for God's time is the best time." — Unknown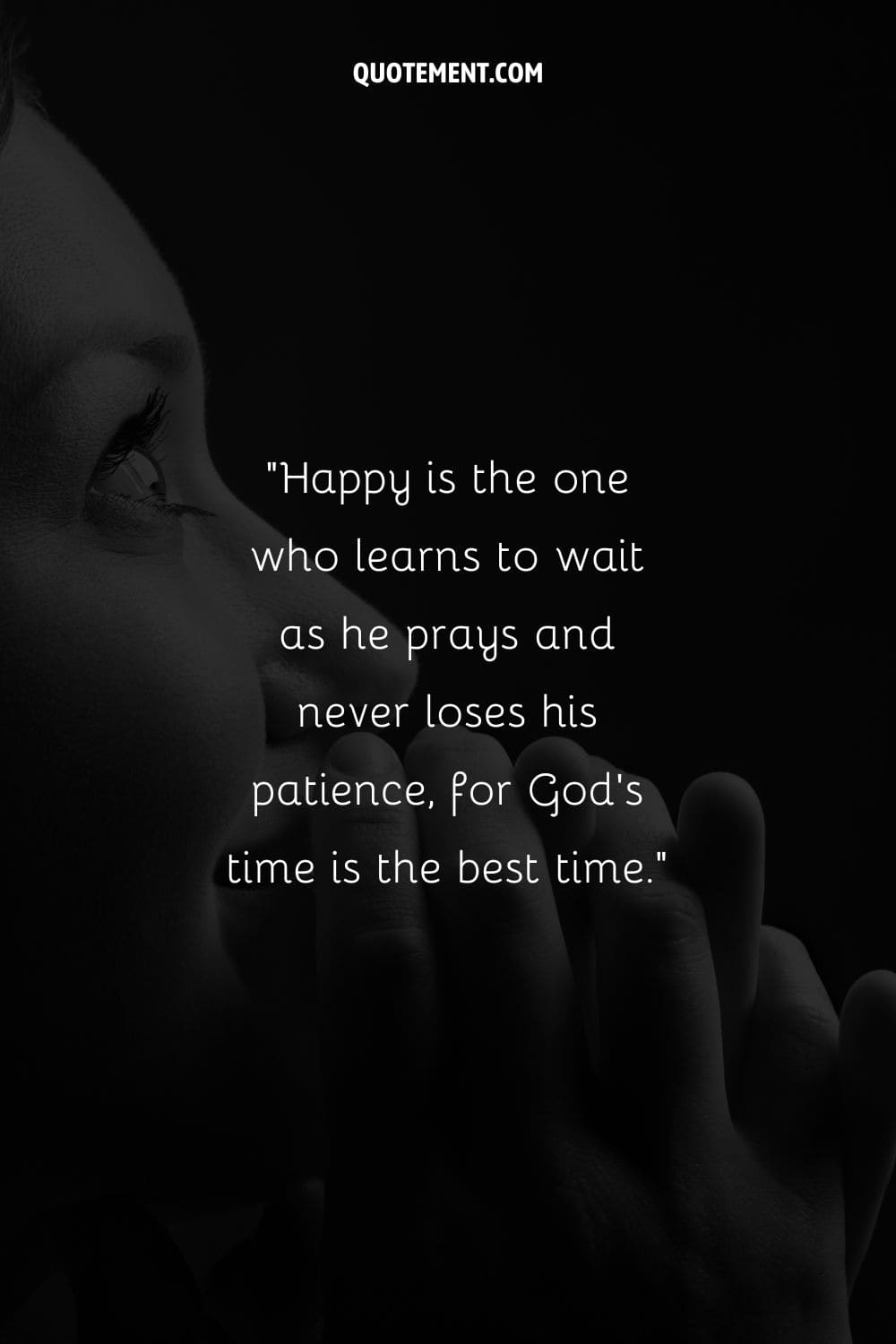 6. "When things aren't working out as you wish, be patient. Stop trying to move ahead of God. His timing is perfect. Trust Him." — Nicky Gumbel
7. "Whether we live for seconds or a hundred years, none of us goes before our time. We're all here to do something, and once we've done it, we go back from whence we came." — Stewart Stafford
8. "Though we plant the seeds when we like it, and have the freedom to choose the quality of seeds we plant, note that the harvest is brought about by the higher consciousness in its Divine Timing." ― Sanchita Pandey
9. "When we come to a place where we trust that God's timing is perfect, we can be content no matter where we are because we know that God will not leave us there forever. Maintaining a passion for the present means embracing the light we have where we are at this time and trusting that it is enough." — Stormie Omartian
10. "Patience means awaiting God's time and trusting God's love." — Unknown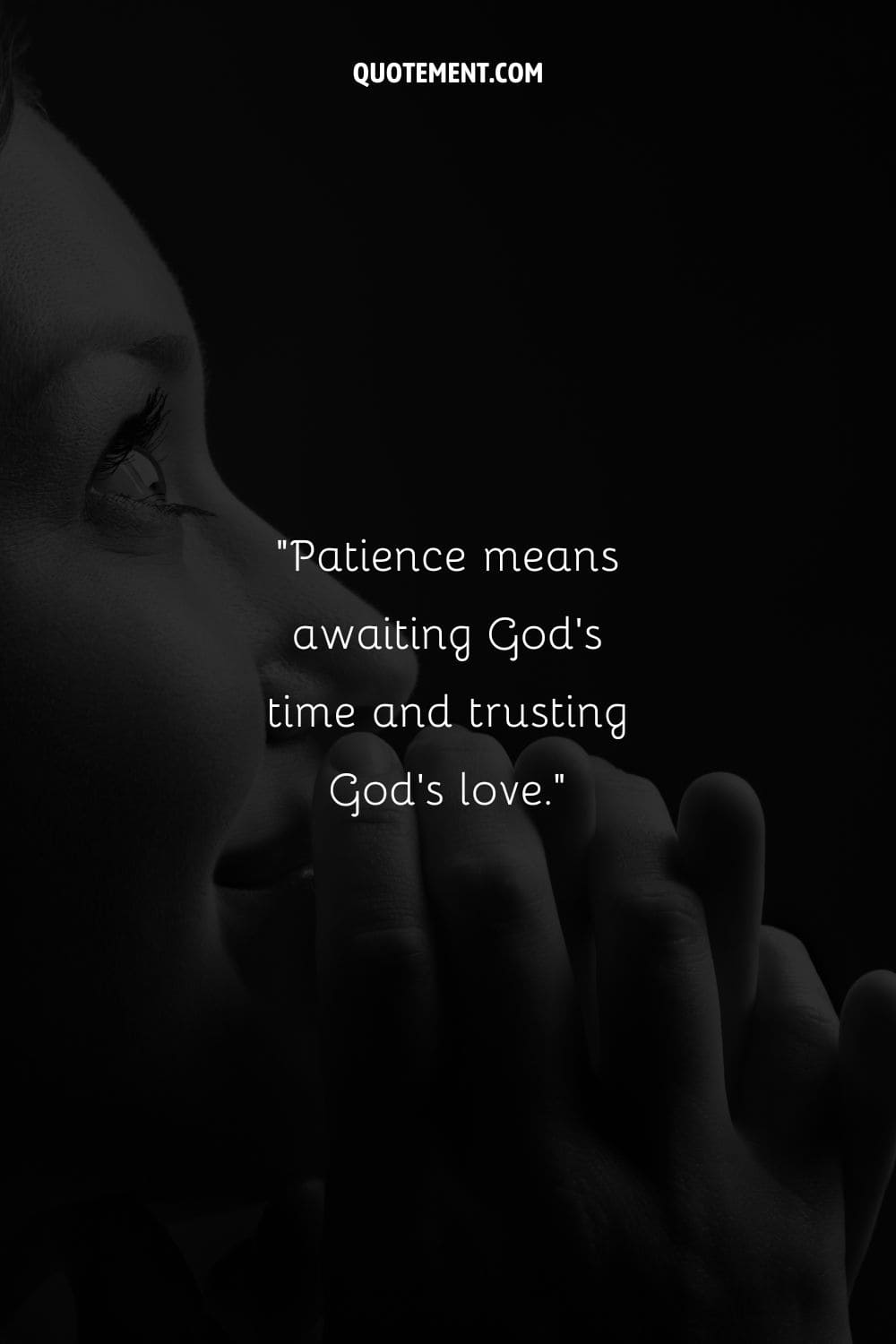 11. "God's time and our time have to coincide; otherwise, we will not be successful in life." — Sunday Adelaja
12. "Waiting on God requires the willingness to bear uncertainty, to carry within oneself the unanswered question, lifting the heart to God about it whenever it intrudes upon one's thoughts." — Elisabeth Elliot
13. "Today, I accept divine timing. I allow the pacing of the universe to be my own. I align myself with the tempo of my life precisely as it is unfolding." — Julia Cameron
14. "In truth, God is reachable. You can always count on Him in times when you feel that the world has forgotten and turned its back on you. He is never far; He is never absent." — Ben Lance
15. "God never hurries. There are no deadlines against which he must work. Only to know this is to quiet our spirits and relax our nerves." — A.W. Tozer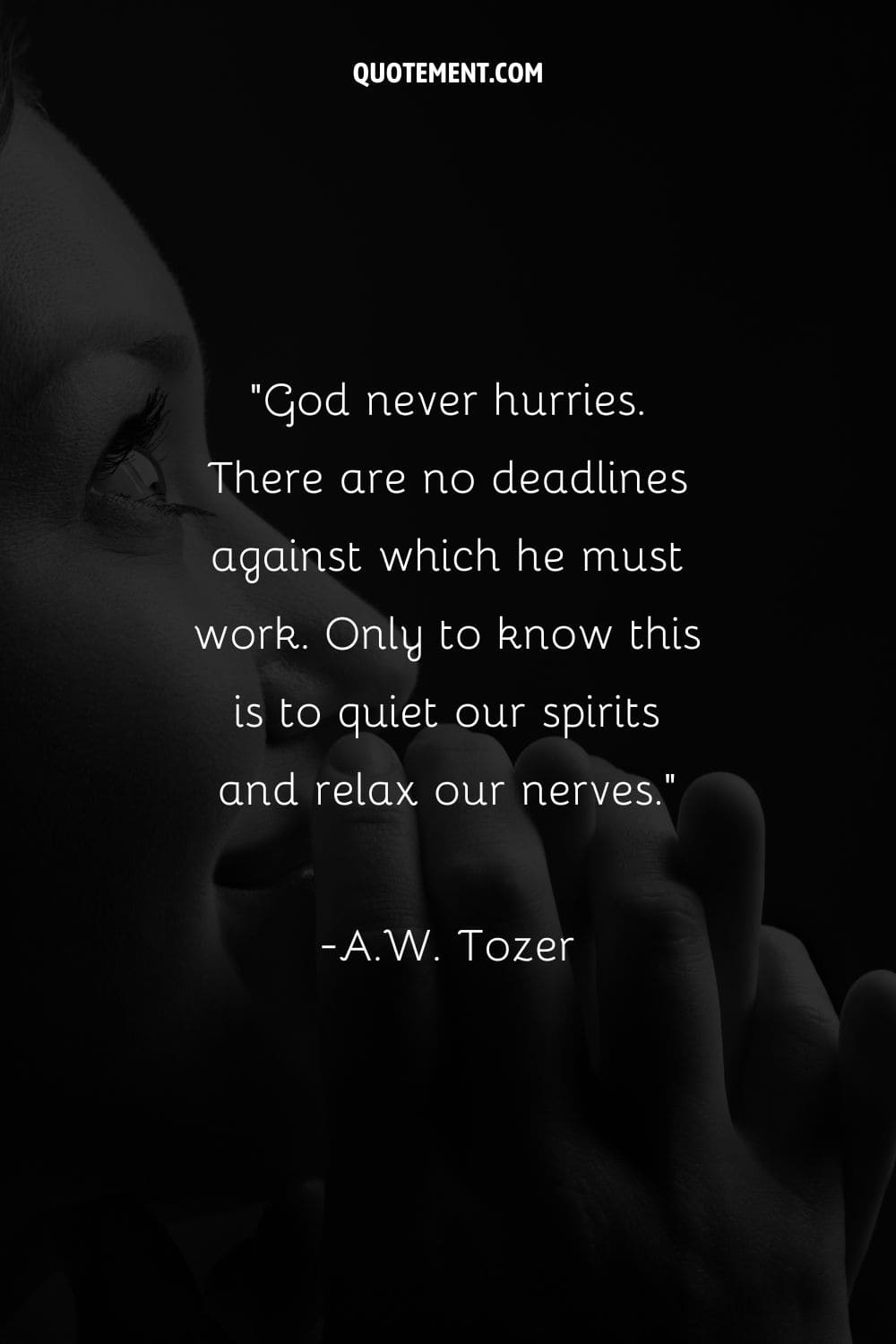 16. "Even though Moses was an exile in the desert, he was right on God's schedule, in the fullness of God's timing, in the middle of God's will for that moment." — Henry T. Blackaby
17. "God's timing is perfect. Waiting is hard, but it's worth it. Breathe and let go of the need to know how everything goes. God gets no glory from your need to control this. Give it to God and watch fresh winds blow." — Coach Livi
18. "God's timing is always precise, certain, and punctual, but the Lord doth not compute and reckon his seasons of working by our arithmetic." — John Flavel
19. "Time and place are our own limitations, Andy; we mustn't impose them upon God And yet, she said gently, God hasn't come to a standstill. Suddenly she laughed. I think you're like one of your own lumps of clay. God has a plan for you, and He's trying to get you into the center of it, and you keep dodging and slithering away. Maybe He wants to make you into something wonderful!" — Brother Andrew
20. "Everything happens in perfect timing. Be patient and trust the process while you work toward what you want." — Unknown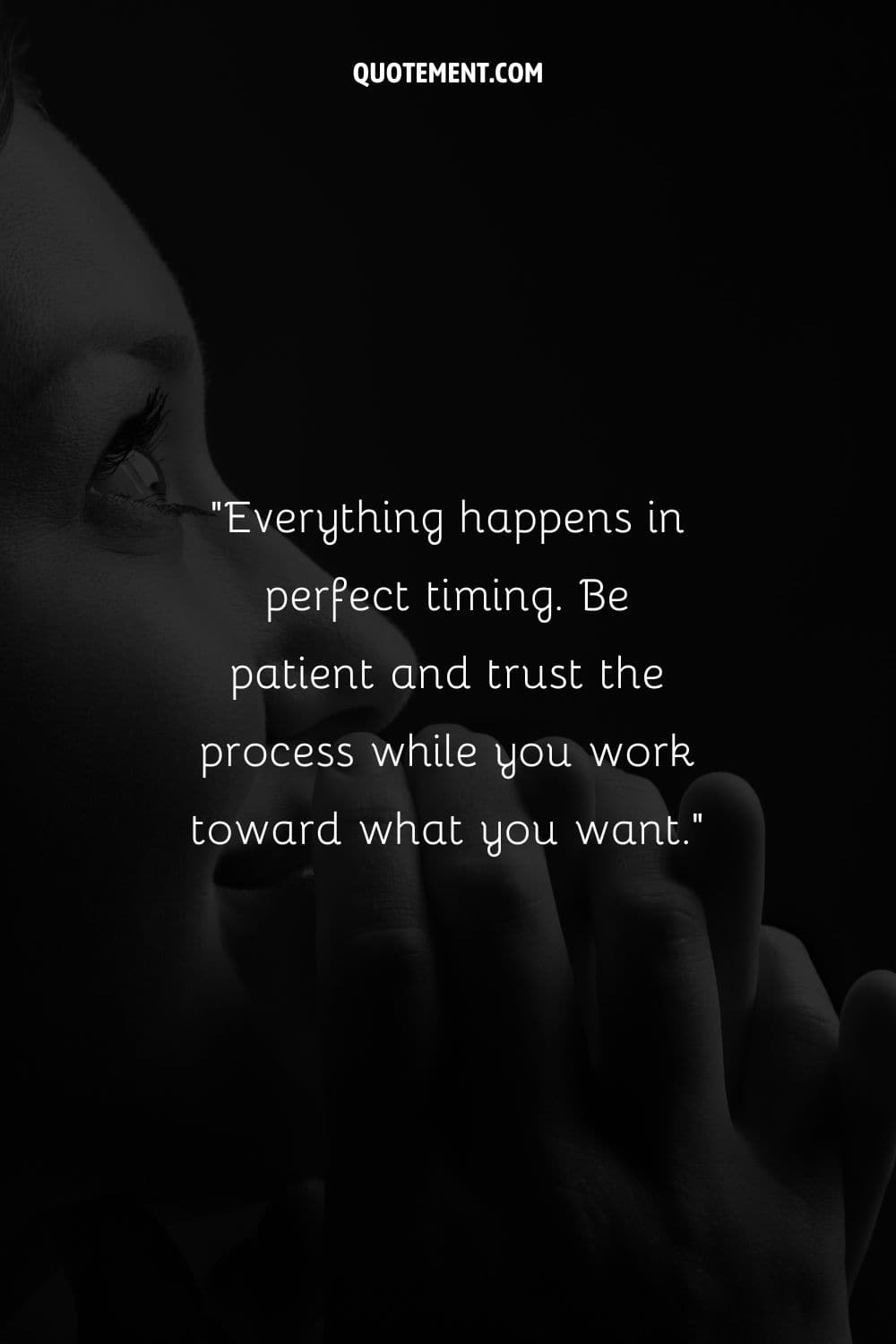 See also: 80 Trust The Process Quotes To Feed Your Mind With Wisdom
Bible Verses On God's Time
1. "Let us not become weary in doing good, for at the proper time we will reap a harvest if we do not give up." — Galatians 6:9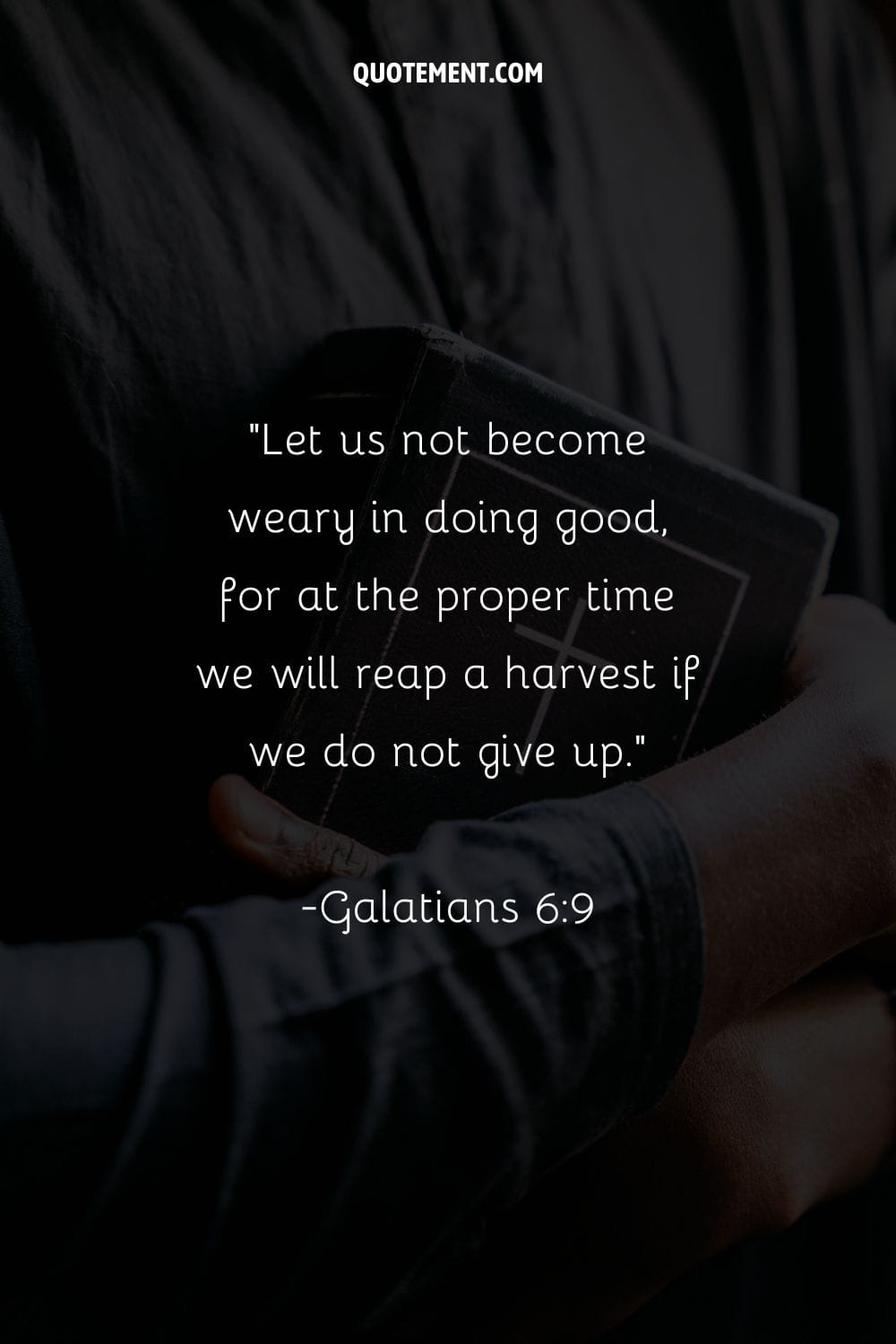 2. "There is a time for everything, and a season for every activity under the heavens." — Ecclesiastes 3:1
3. "Don't mistake God's patience for His absence. His timing is perfect and His presence is constant. He's always with you!" — Deuteronomy 31:6
4. "Therefore humble yourselves under the mighty hand of God, that He may exalt you at the proper time." — Peter 5:6
5. "As for God, his way is perfect: The Lord's word is flawless; he shields all who take refuge in him." — Psalm 18:30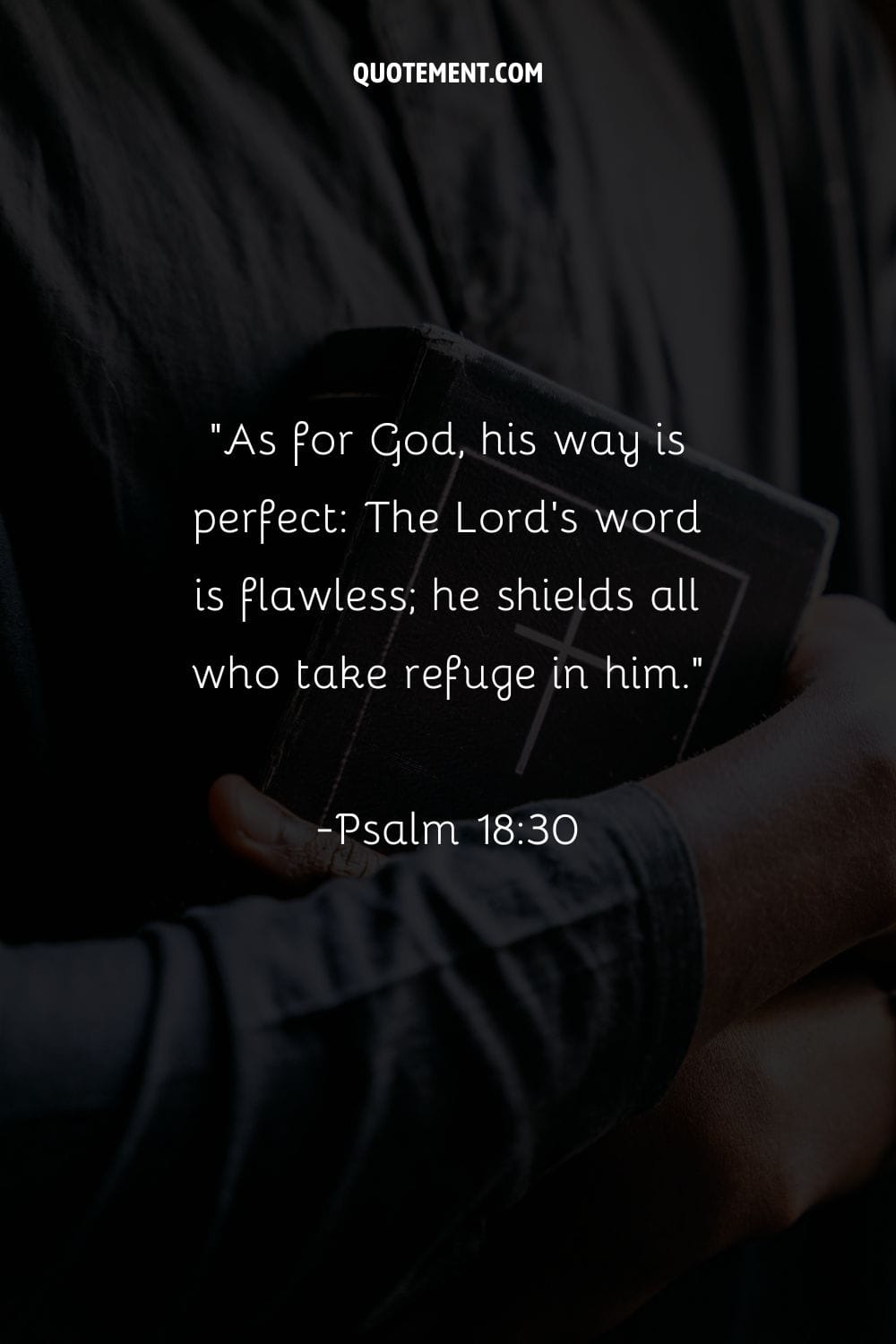 6. "He has made everything beautiful in its time. He has also set eternity in the human heart; yet no one can fathom what God has done from beginning to end." — Ecclesiastes 3:11
7. "Trust in the Lord with all your heart and lean not on your own understanding; in all your ways submit to him, and he will make your paths straight." — Proverbs 3:5-6
8. " Trust in the Lord with all your heart and lean not on your own understanding; in all your ways submit to him, and he will make your paths straight." — Proverbs 3:5-6
9. "But I trust in you, Lord; I say, 'You are my God.' My times are in your hands; deliver me from the hands of my enemies, from those who pursue me." — Psalm 31:14-15
10. "When the time is right, I, the Lord, will make it happen." — Isaiah 60:22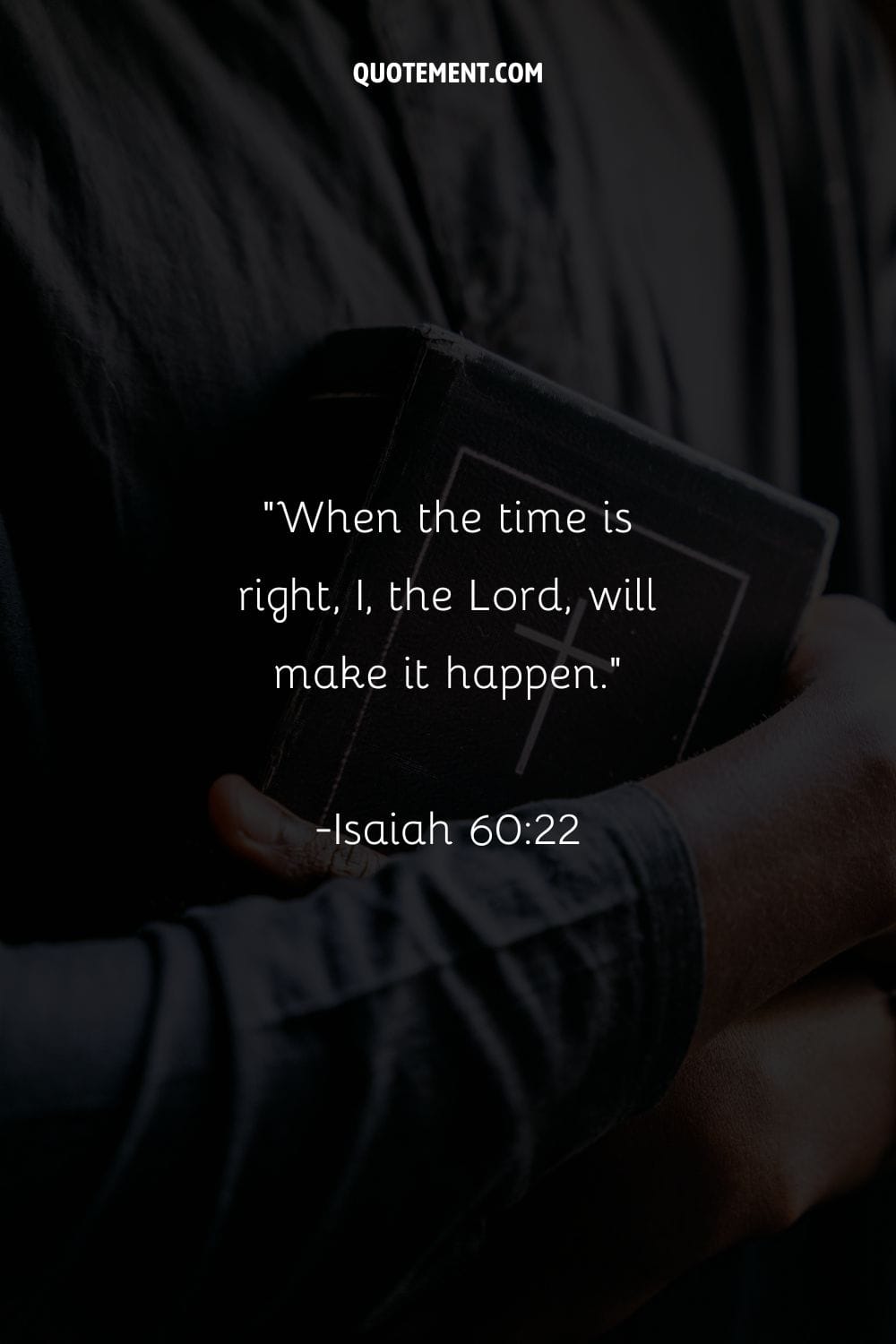 11. "For the revelation awaits an appointed time; it speaks of the end and will not prove false. Though it linger, wait for it; it will certainly come and will not delay." — Habakkuk 2:3
12. "For I know the plans I have for you," declares the Lord, "plans to prosper you and not to harm you, plans to give you hope and a future. Then you will call on me and come and pray to me, and I will listen to you." — Jeremiah 29:11-12
13. "There is a time for everything, and a season for every activity under the heavens." — Ecclesiastes 3:1
14. "But do not forget this one thing, dear friends: With the Lord a day is like a thousand years, and a thousand years are like a day. The Lord is not slow in keeping his promise, as some understand slowness. Instead, he is patient with you, not wanting anyone to perish, but everyone to come to repentance." — Peter 3:8-9
15. "In their hearts, humans plan their course, but the Lord establishes their steps." — Proverbs 16:9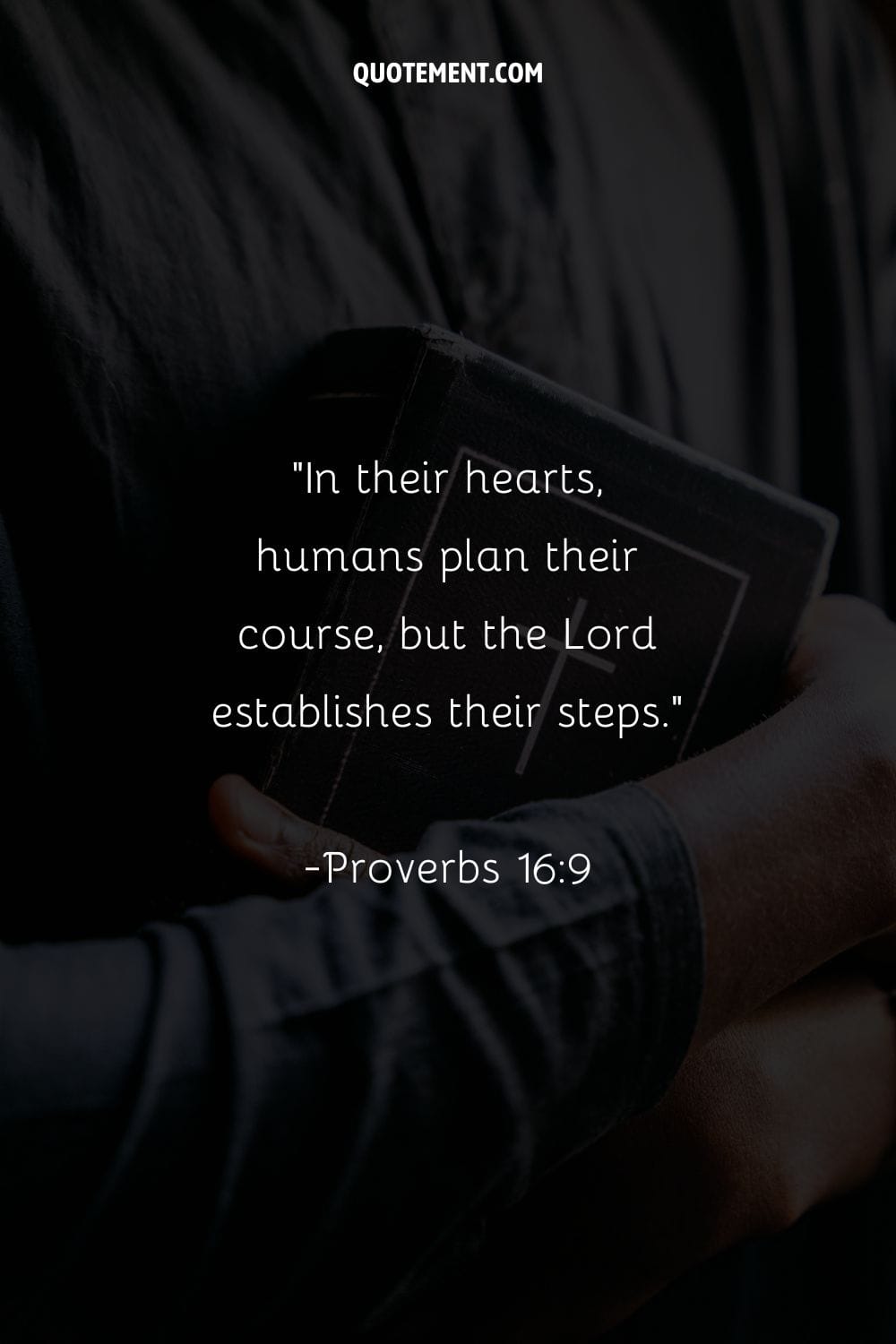 16. "Be still before the LORD and wait patiently for him; do not fret when people succeed in their ways, when they carry out their wicked schemes." — Psalms 37:7
17. "The Lord is good to those whose hope is in him, to the one who seeks him; it is good to wait quietly for the salvation of the Lord." — Lamentations 3:25-26
18. "You heard me say, 'I am going away and I am coming back to you.' If you loved me, you would be glad that I am going to the Father, for the Father is greater than I." — John 14:28
19. "But when he, the Spirit of truth, comes, he will guide you into all the truth. He will not speak on his own; he will speak only what he hears, and he will tell you what is yet to come." — John 16:13
20. "But of that day and hour, no one knows, not even the angels of heaven, nor the Son, but the Father alone." — Matthew 24:36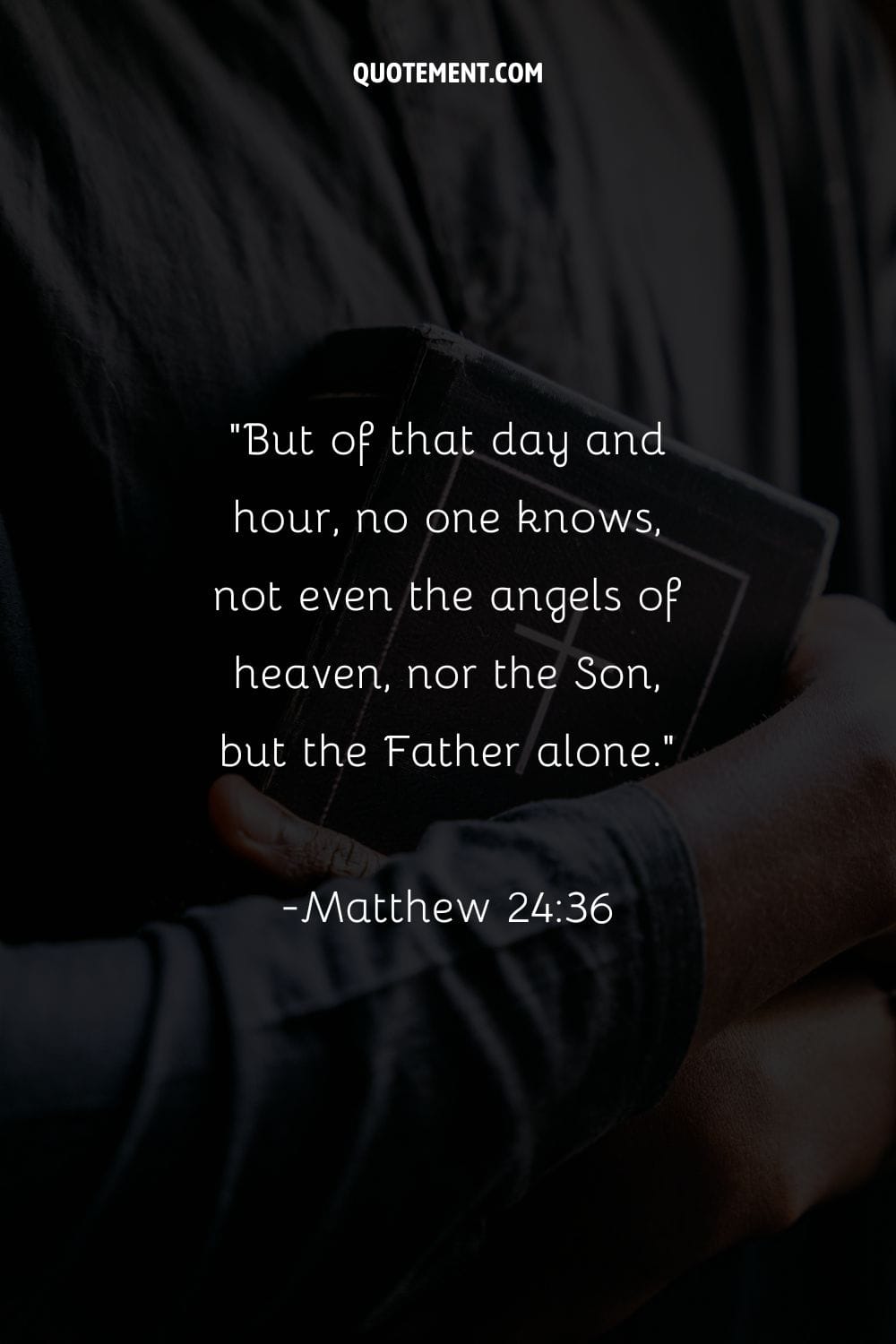 Final Words
I hope these God's time quotes have inspired you to be just a little bit more patient and trust in God. He's got you!