Are you looking for some fantastic work friends quotes?
Perhaps you'd like to show some appreciation for your work bestie or a colleague who has recently become a close friend?
Whatever it is, if your work fellows mean the world to you, you may be looking for a few inspirational quotes to make their day a little brighter.
I've prepared this fabulous collection of coworker friendship quotes to help you show some extra love and appreciation to your work besties!
You'll be amazed by this comprehensive collection of lovely, funny, and cute quotes!
Keep reading to find loads of perfect quotes that will make your beloved colleague's day.
Top 10 Work Friends Quotes
These are my top 10 quotes:
1. "Strangers turning to colleagues to eventually turn into a nest of friends is the best thing that could have happened to us." – Unknown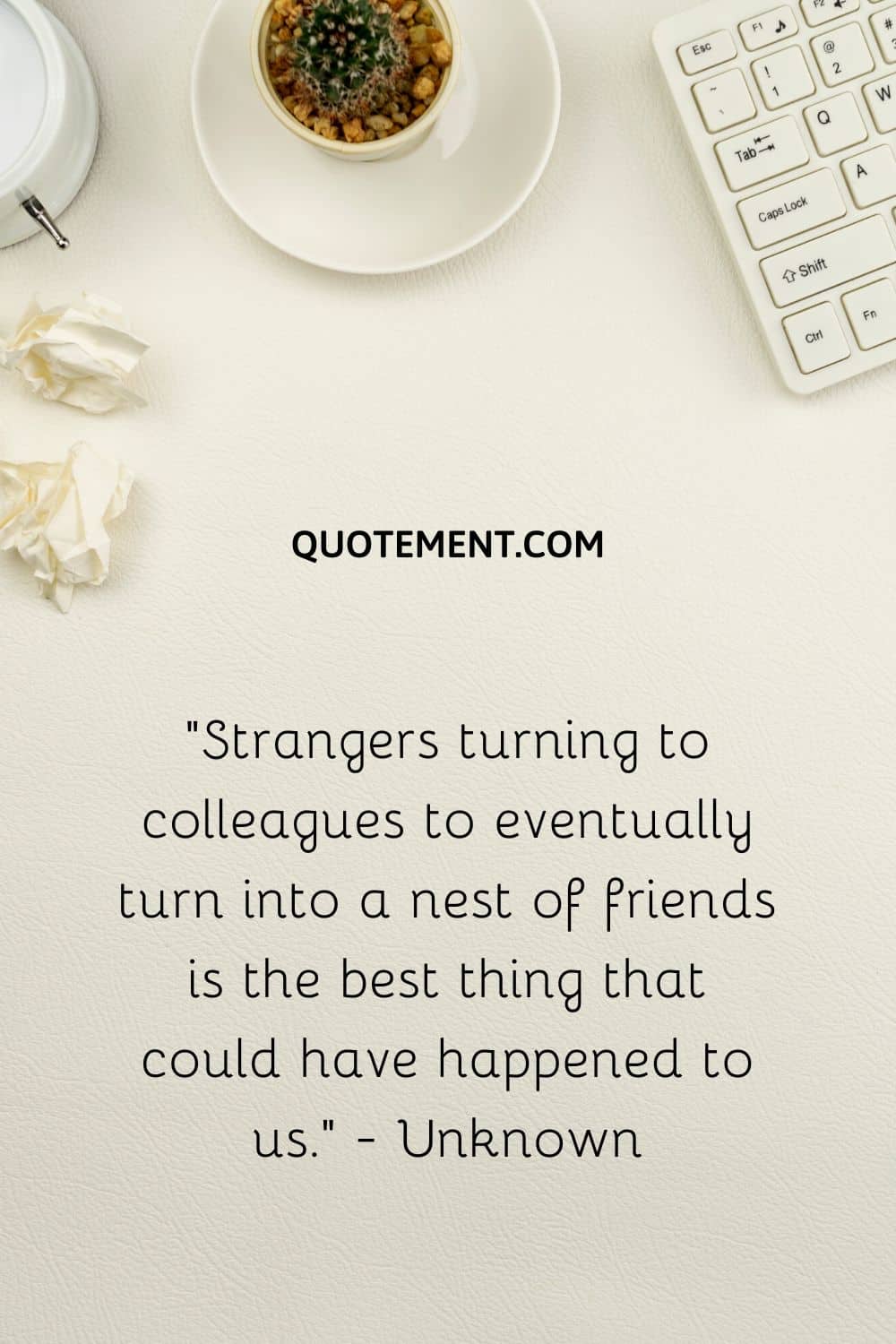 2. "A work friend may become a friend for life." – Unknown
3. "Do I have a special someone? Well, yeah, of course. A bunch of 'em. My employees." – Michael Scott (The Office)
4. "I don't see any of my colleagues as rivals. I don't think our generation needs to do that. We are a chilled out lot, and we should all be happy." – Shahid Kapoor
5. Motivation comes from working on things we care about. It also comes from working with people we care about." – Sheryl Sandberg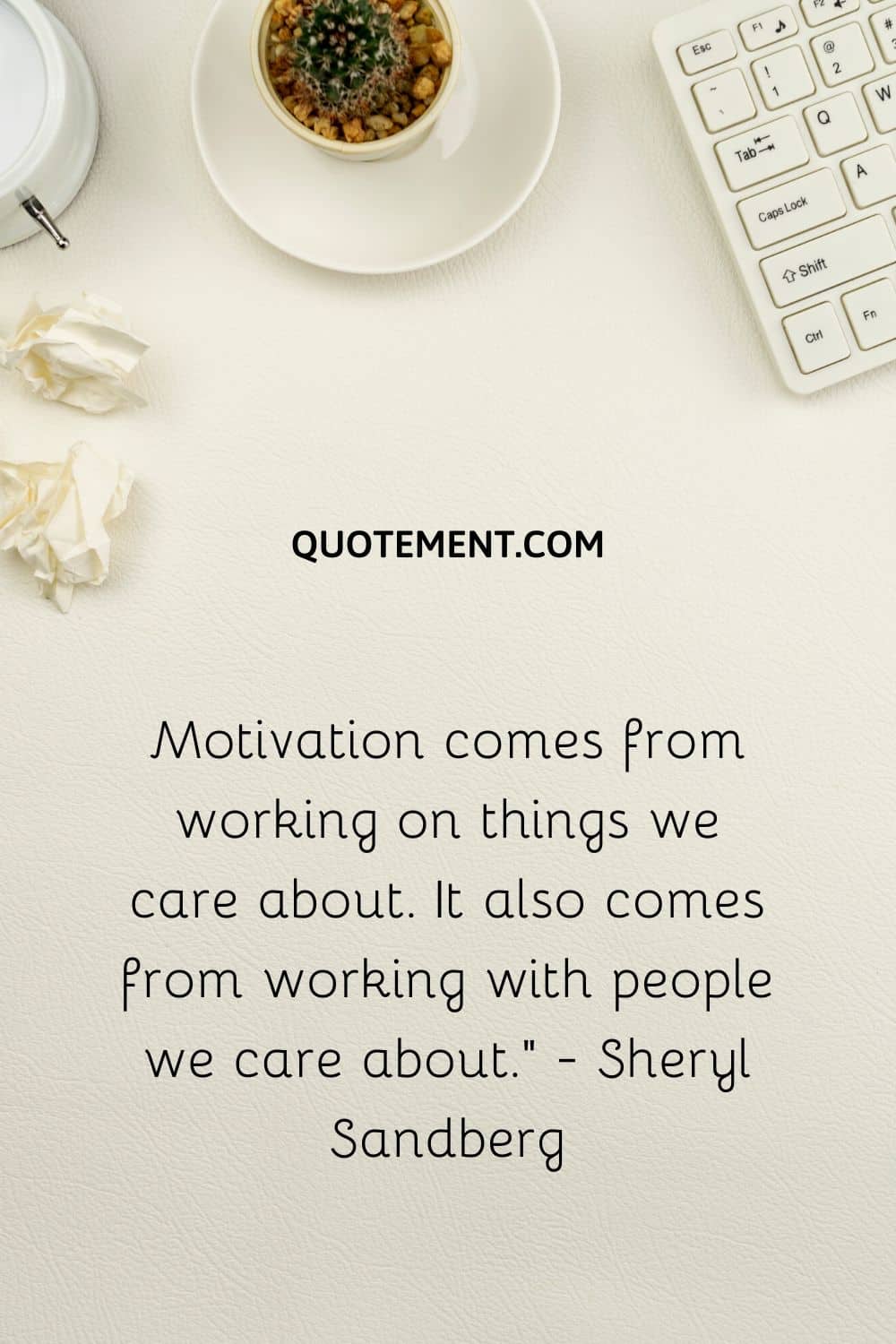 6. "People are more likely to remember the great social interaction they had with a colleague than the great meeting they both attended." – Ron Garan
7. "When I speak with people who love their jobs and have vital friendships at work, they always talk about how their workgroup is like a family." – Tom Rath
8. "Time for reflection with colleagues is for me a lifesaver; it's not just a nice thing to do if you have the time. It's the only way you can survive." – Margaret J. Wheatly
9. "The pleasure we found in working together made us exceptionally patient; it is much easier to strive for perfection when you are never bored." – Daniel Kahneman
10. "A truly great coworker is hard to find, difficult to part with, and impossible to forget!" – Unknown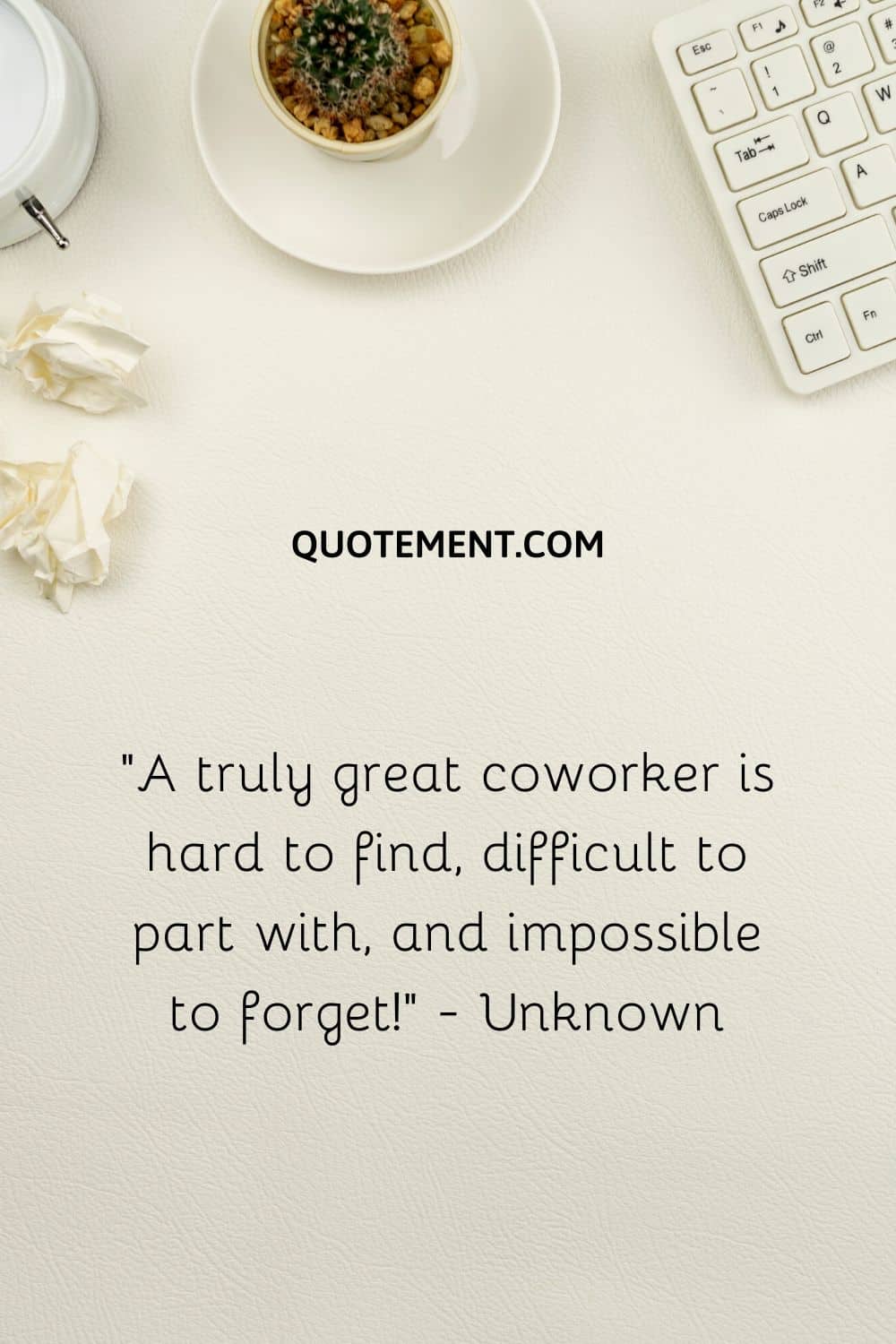 Lovely Work Friends Quotes
The following quotes are simply amazing! Share them with your work fellows – you definitely won't regret it!
1. "Coworker friendship is more precious than gold and silver. You will always enjoy every day at work."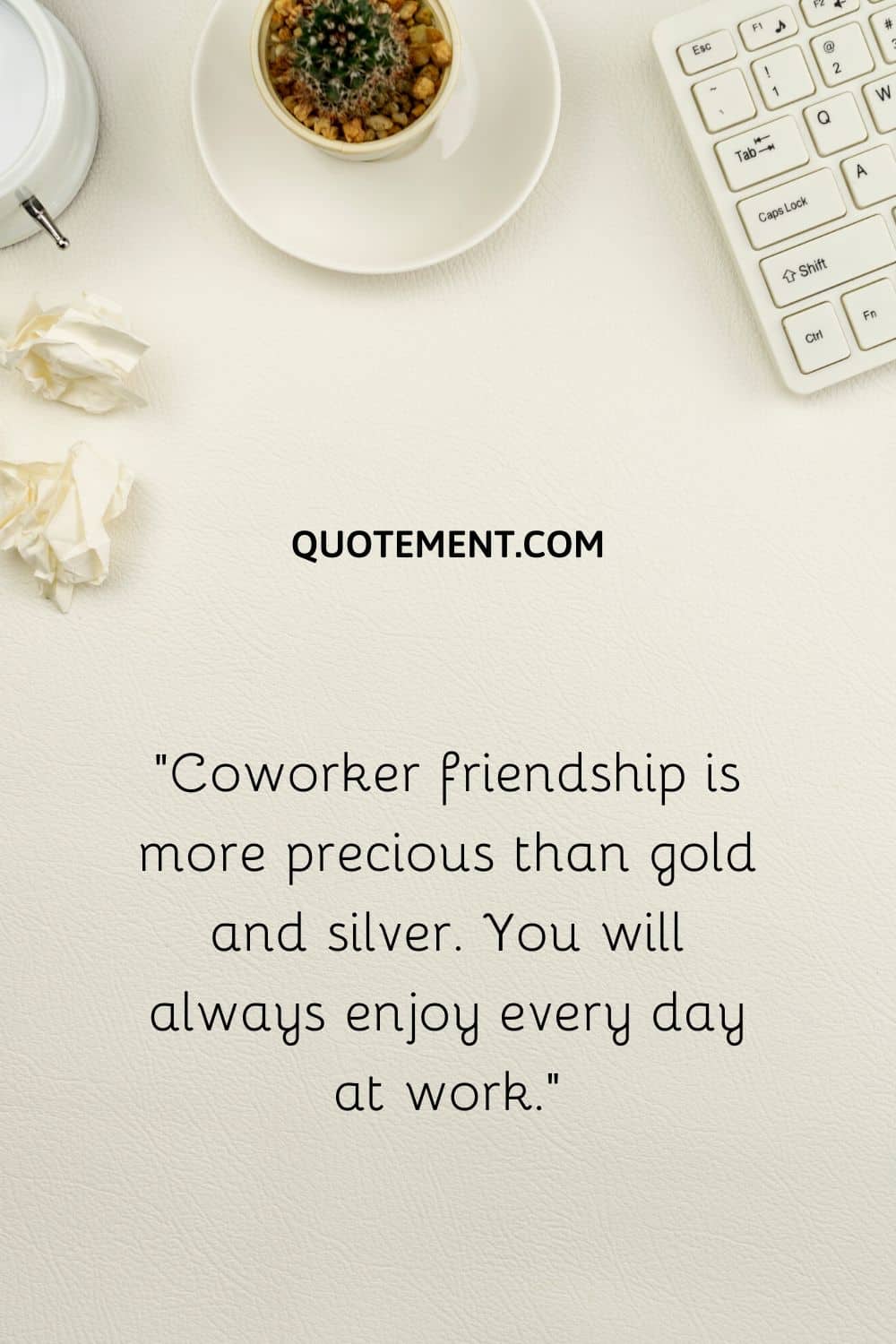 2. "Many people will walk in and out of your life, but only true friends leave footprints in your heart. I consider my office as a holy place as this is the place where I got to know you."
3. "Office best friends are very hard to find, but if you find them, then cling to them and never leave them."
4. "A real friend is one that walks in when the rest of the world walks out. I thank my stars for sending you as my friend in the attire of a colleague."
5. "Another name for home is found right here with friends."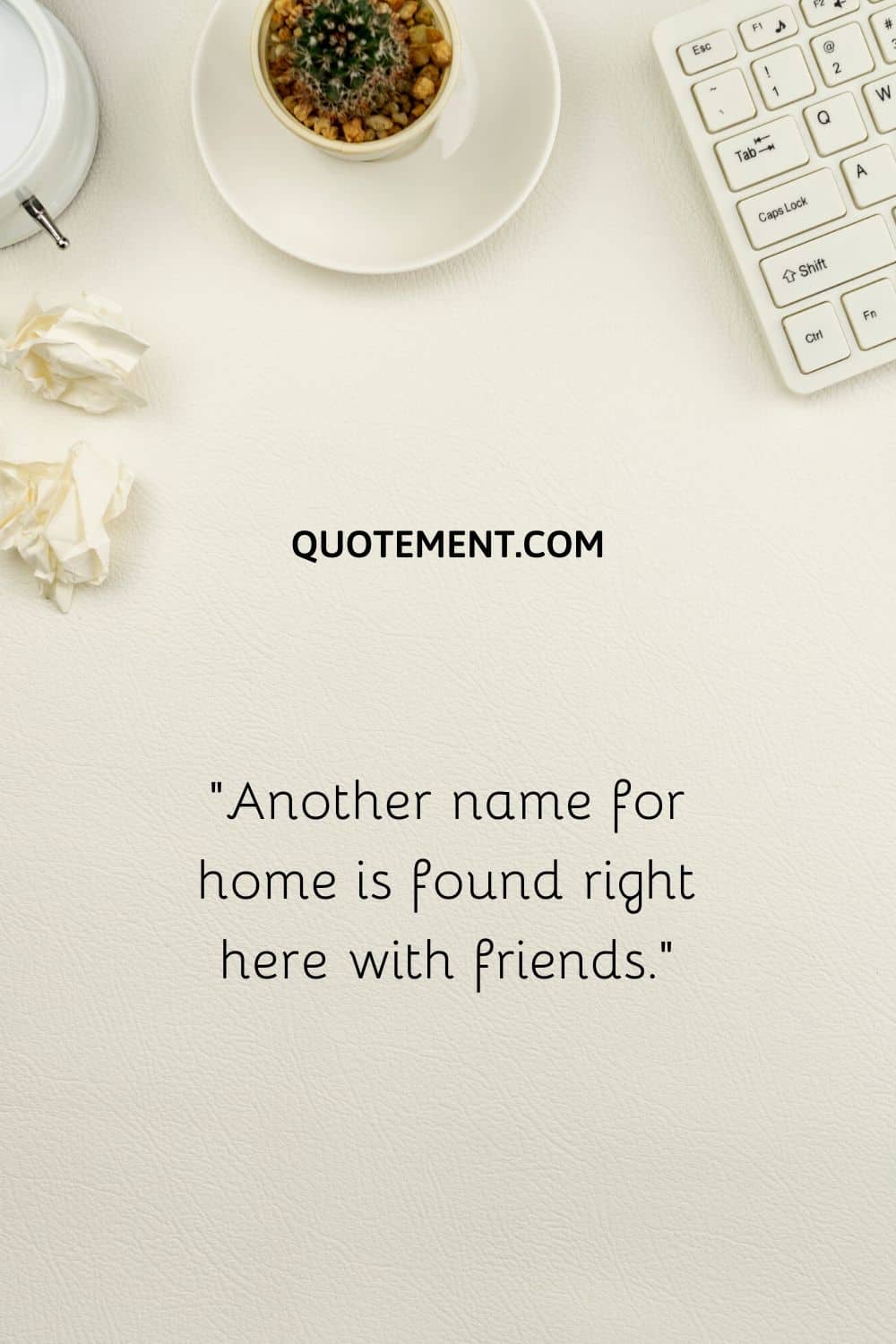 6. "A friend is someone who knows the song in your heart and can sing it back to you when you have forgotten the words. Lucky to have you as my friend. You are the best co-worker I have ever known."
7. "Happiness is having a coworker who becomes a friend.
8. "To find a true friend is not easy at all. A coworker that is truthful as a friend to you is a double honor from above."
9. "We need to remember what's important in life: friends, waffles, work. Or waffles, friends, work, it doesn't matter. But work is third." – Leslie Knope (Parks and Recreation)
10. "Coming together is beginning, staying together is progress, and working together is success." – Henry Ford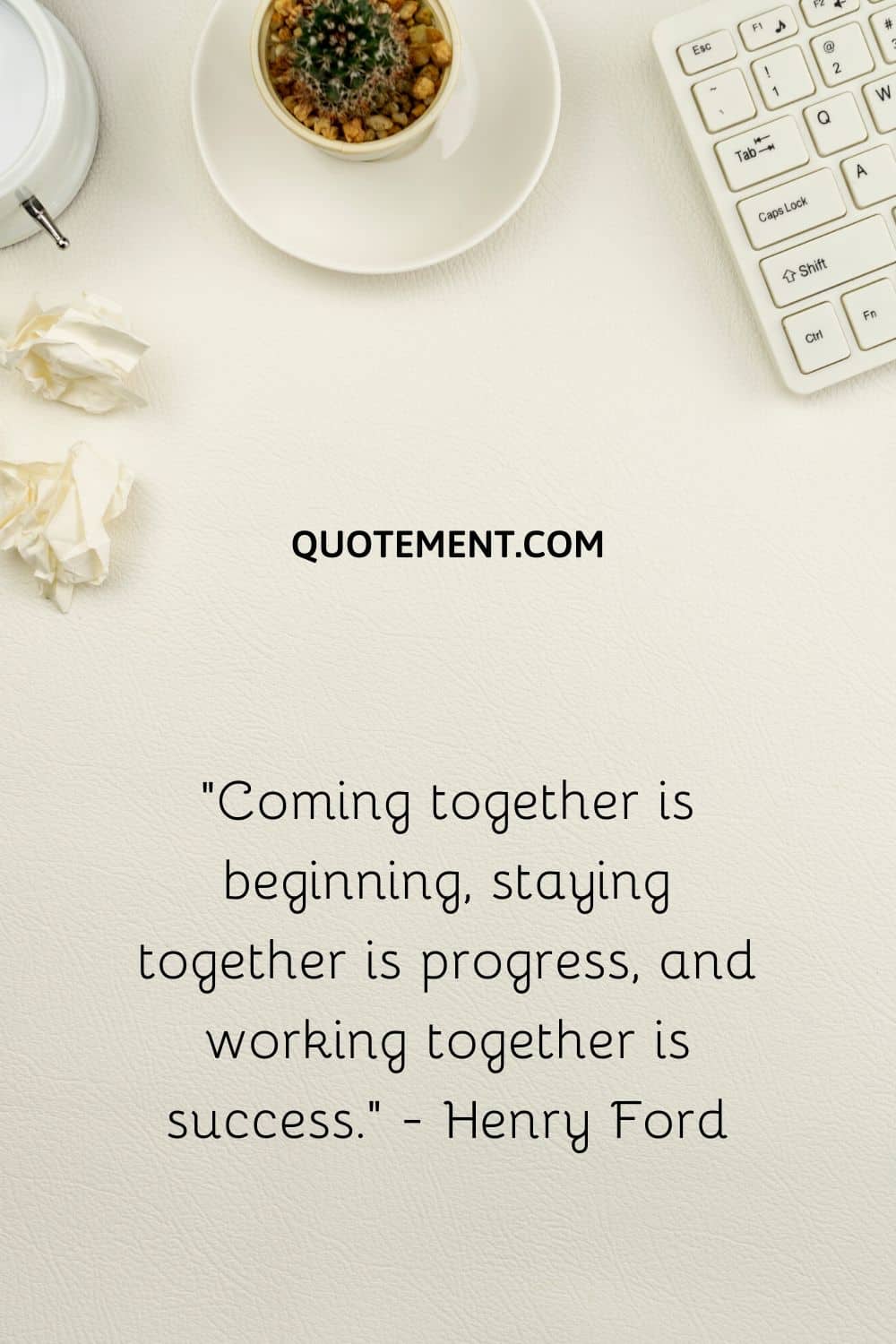 11. "Life can be uncertain, work can be unpredictable. But by having good friends around you, support is guaranteed." – Kishan S Chauhan
12. "My best friend is the one who brings out the best in me." – Henry Ford
13. "When work is a pleasure, life is a joy! When work is a duty, life is slavery." – Maxim Gorky
14. "Finding peace can be equated to good friendships in the office."
15. "Talent wins games, but teamwork and intelligence win championships." – Michael Jordan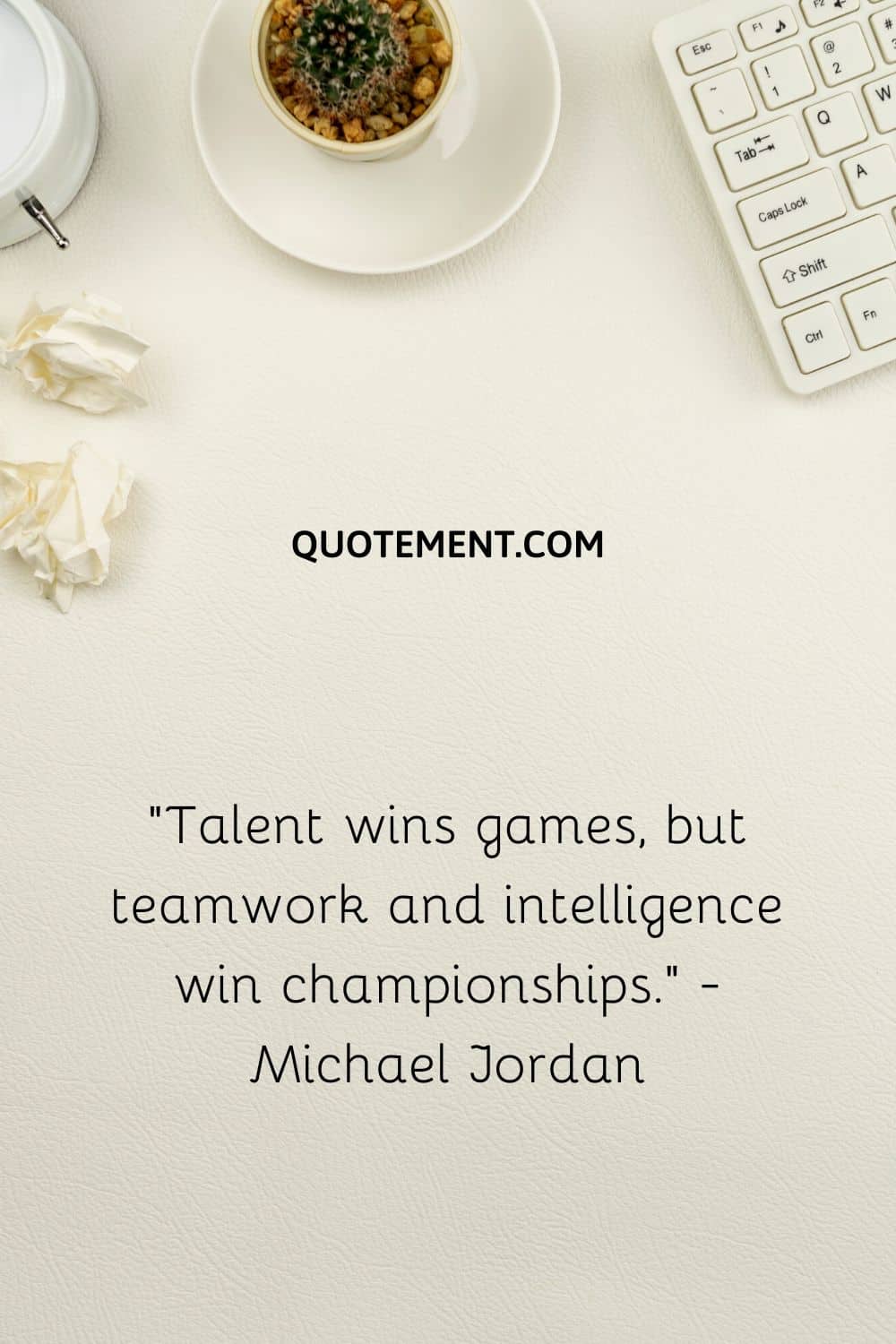 16. "Career along with the best of friends is the best combination anyone can have."
Funny Work Friends Quotes
Funny quotes are always a good idea, so check these hilarious ones out:
1. "When my friend doesn't show up for work: 5% I hope they're okay; 95% how dare you leave me alone?"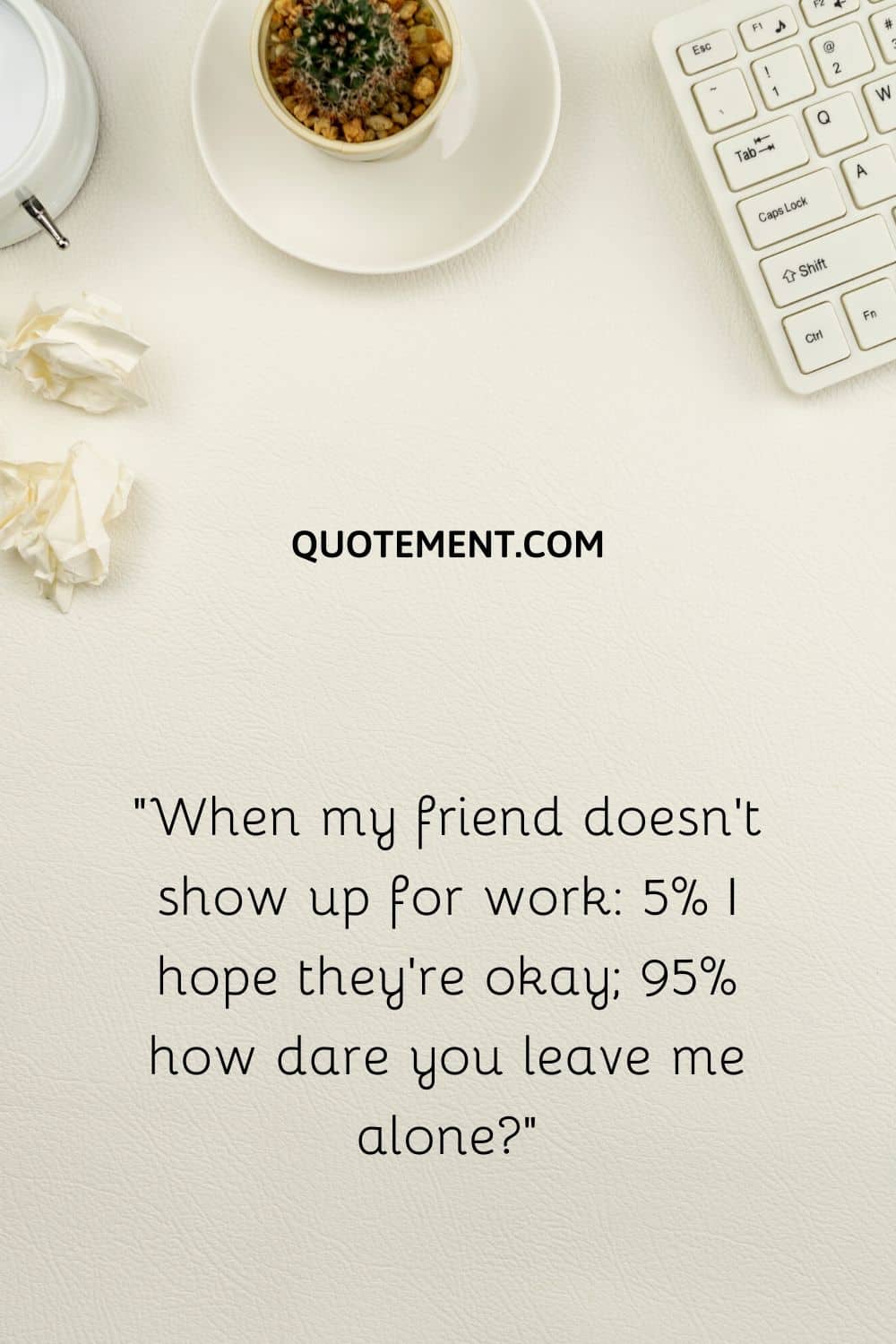 2. "Nothing is better than having a great friend to work with so you can vent to each other to make the day go faster."
3. "Chance made us colleagues. Our craziness made us friends."
4. "Having a friend at work will make you hate your job less."
5. "I'm so glad you work here, so I have someone to talk to every day about quitting."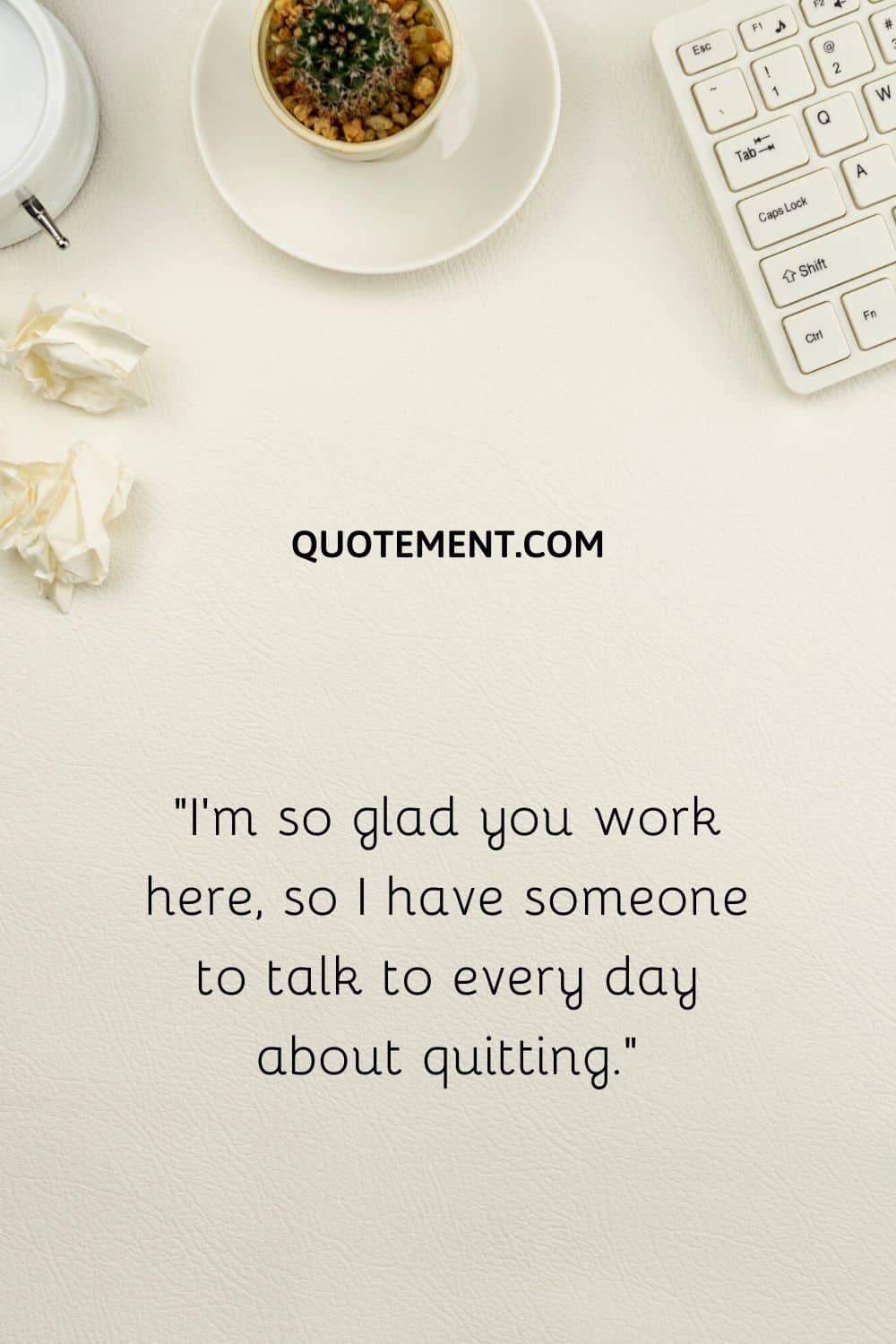 6. "You're the only coworker I don't complain about to my other coworkers."
7. "Work made us coworkers but our potty mouths and inappropriate conversations made us friends."
8. "Working under pressure becomes fun when you're working with friends."
9. "I'm friends with everybody in this office. We're all best friends. I love everybody here. But sometimes your best friends start coming into work late and start having dentist appointments that aren't dentist appointments, and that is when it's nice to let them know that you could beat them up." – Michael Scott (The Office)
10. "You're my favorite co-worker. (Don't tell anyone!)"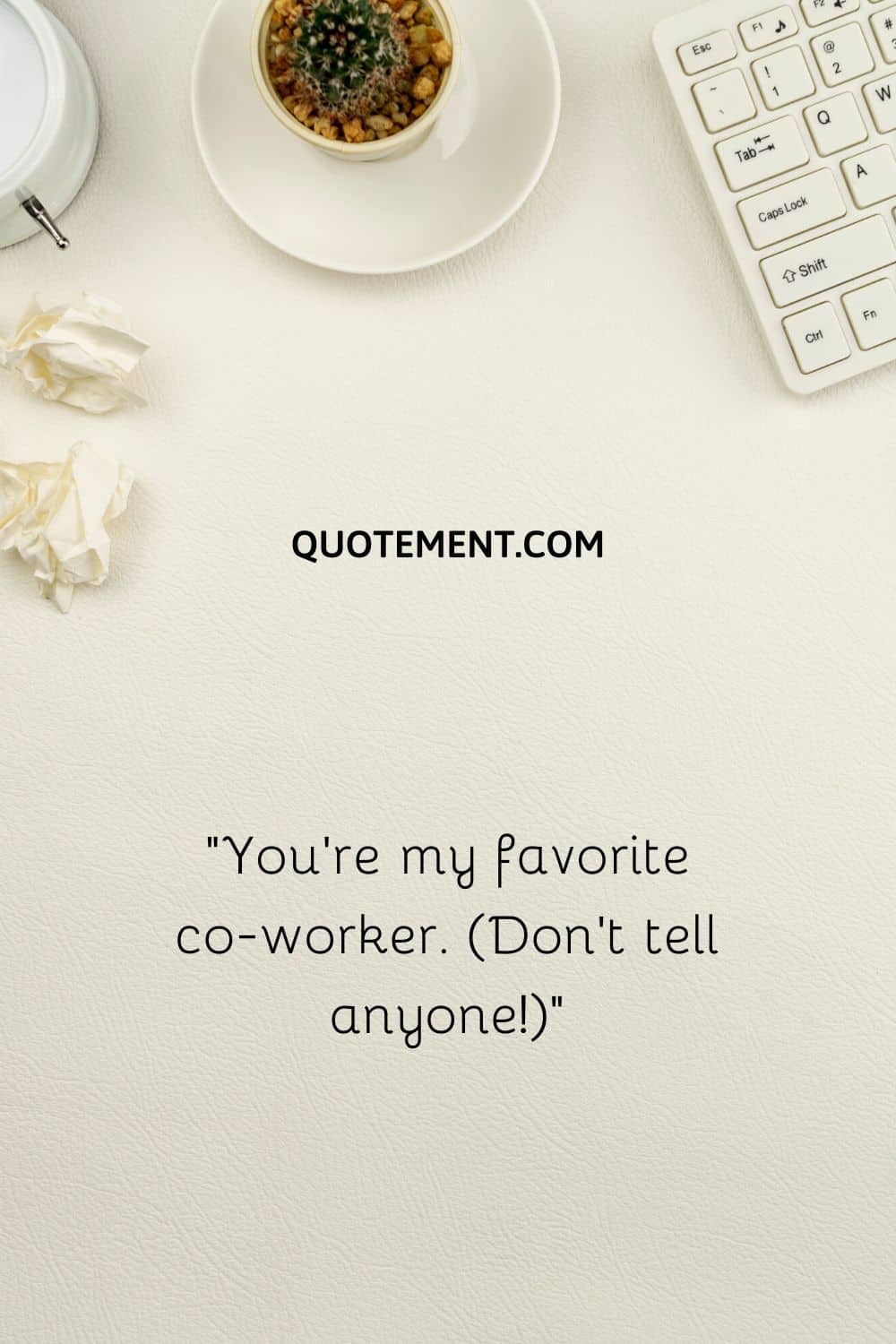 11. "I love how we can look at each other and, without saying anything, know we are making fun of the same person at work."
12. "Work friends are so funny. Do we see each other outside of work? Almost never. But do I know details about your sex life? Do I know your financial situation? Do I know your deepest, darkest secrets? Have I seen you in every mood imaginable? Hell yeah."
Cute Work Friends Quotes
Who doesn't like a cute quote that instantly puts a smile on their face? This fabulous collection will have you grinning in no time:
1. "Good offices do not necessarily provide good friendships, but mine are exceptional."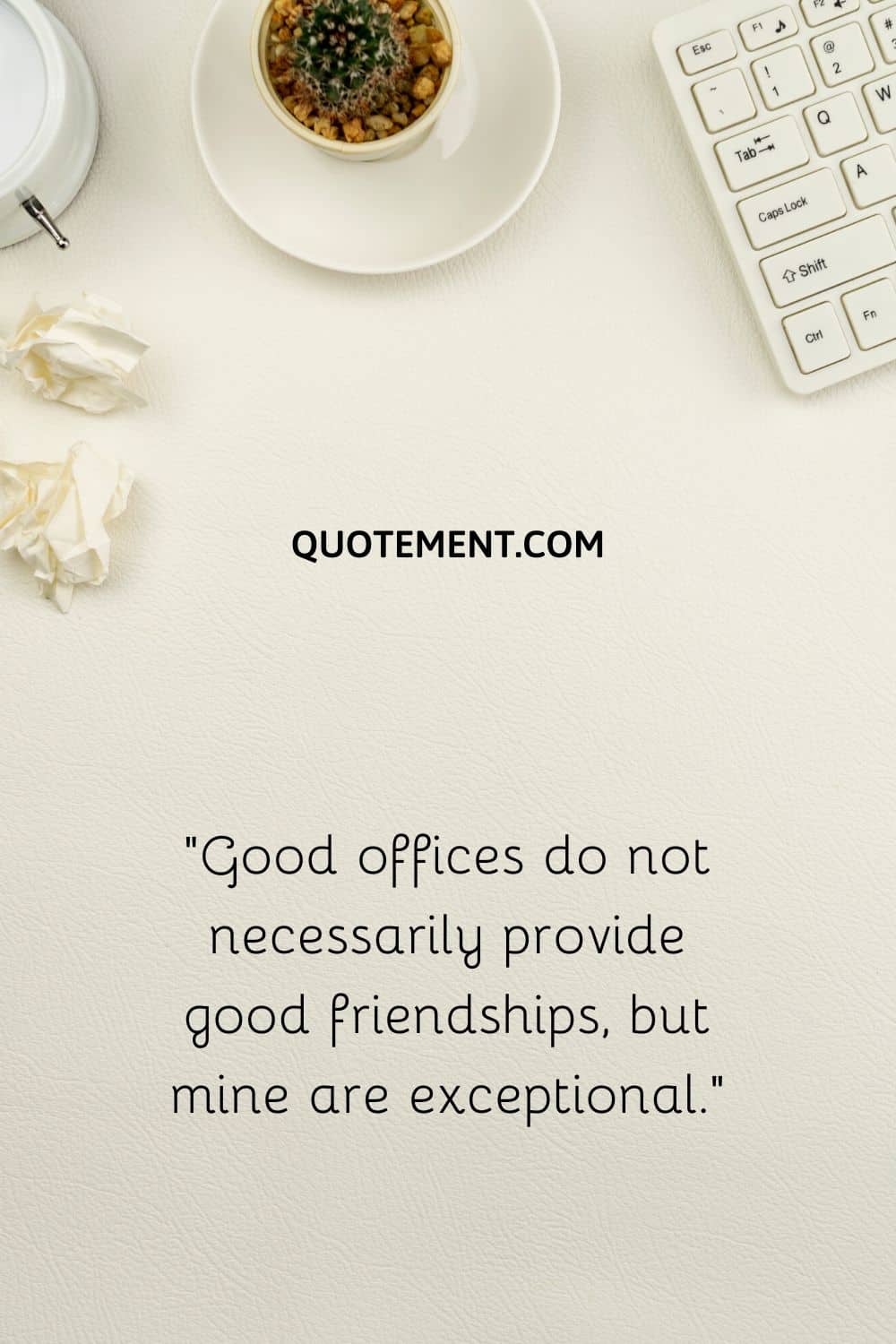 2. "What I love most about my job is my amazing coworkers."
3. "When you like the people you work with, you never want to miss a day of work."
4. "Having a friend in the workplace will make your day brighter."
5. "When you're working with your friends, it doesn't feel like it's work."– Ken Jeong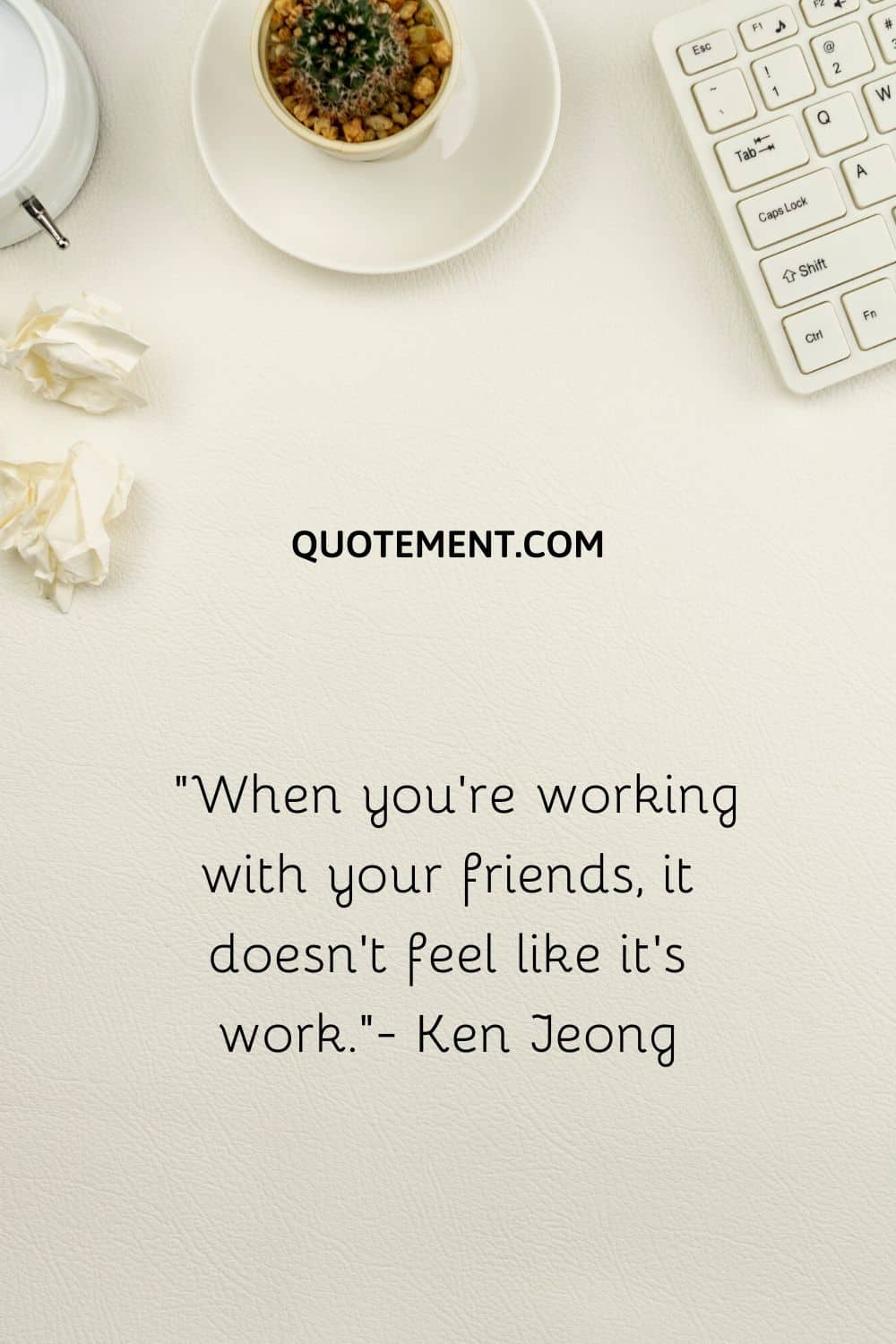 6. "Chance made us colleagues. But the fun and laughter made us friends."
7. "Awesome coworkers — they are the only reason you regret having to call in sick to work."
8. "There is nothing better than a friend at work unless it's a friend with chocolate."
9. "It's like a dream job to work with your friends."
10. "It's a very special thing when you go and get to work with your best friend every day." – Nick Frost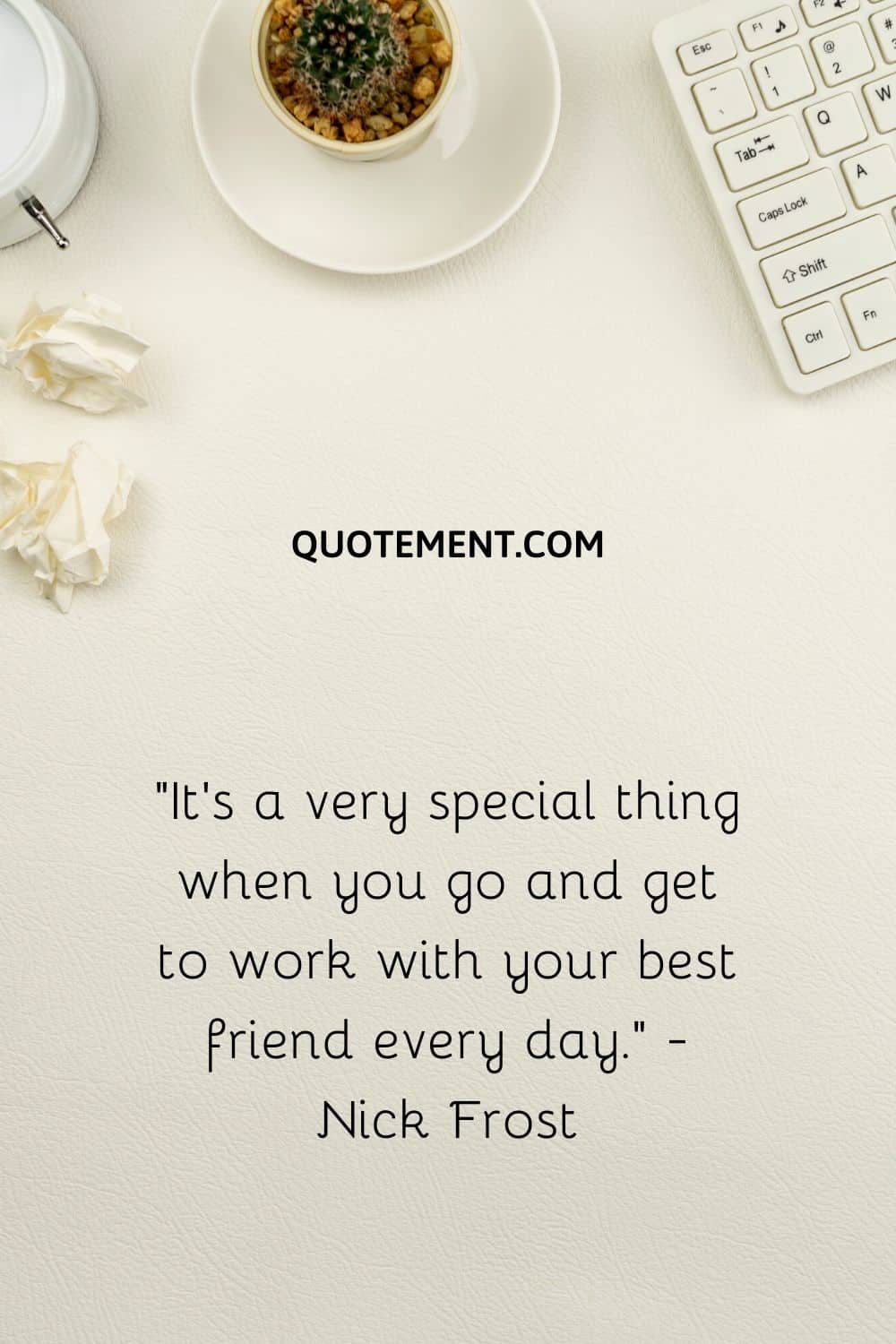 11. "I never face Monday morning blues because of fun colleagues like you. Thank you!"
12. "I always say I'm not going to work; I'm going to play with my friends." – Brian Tyree Henry
13. "Getting any work done is difficult when your coworkers are so friggin' awesome."
14. "Work BFF (noun): Someone you love dearly, and also happen to work with."
15. "When you have friends at work, you always have someone supporting you."
16. "The best kind of friendship always arises from coworkers being friends."
17. "There is nothing as sweet as having a precious coworker as your friend."
Work Friends Messages That Can Be Used As Quotes
I'm sure you'll love these sweet messages that can also be used as quotes:
1. "Dear friend, there is no me without you. Having you as my colleague and friend gives me more joy in my job."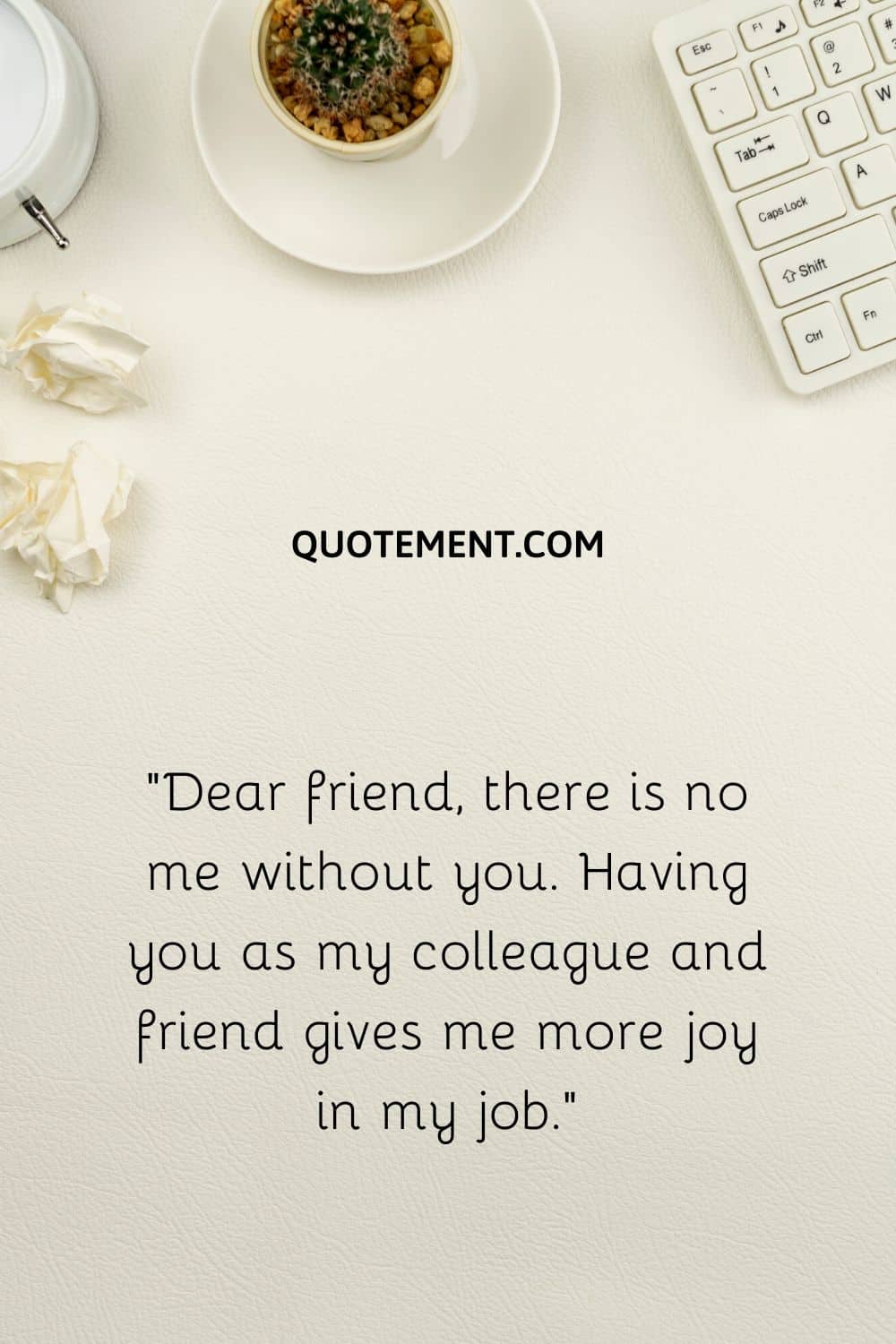 2. "If only friends like you could be found in every phase of life."
3. "How about a toast to the friends that we have grown into over the years?"
4. "Thanks for being not just a great colleague, but a better friend."
5. "The most valued time in this whole office is always with you."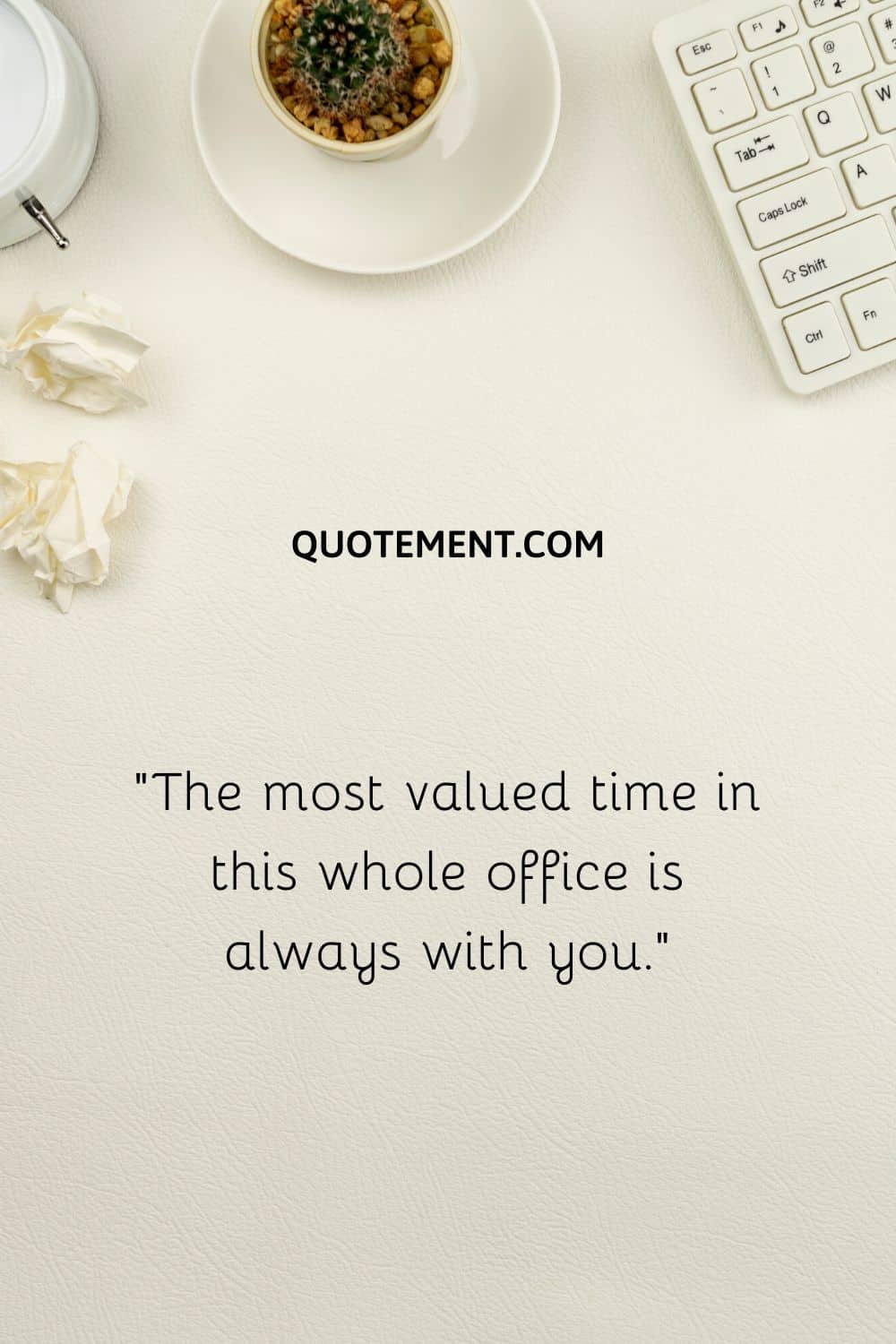 6. "The good thing about our association is that we are not only the best of colleagues, but also really good friends who are there for each other when the times are rough. To my best colleague, a very Happy Friendship Day."
7. "We only met as coworkers but now we are more like sisters. Your support, giggles, and laughter are my motivation every day in the office."
8. "You are truly a sister, friend, and co-worker to me because you have stood by me through each and every difficult time on the professional front like the strongest pillar…. Happy Friendship Day."
9. "Today we are more friends than co-workers. Thanks to our bosses for giving us challenges and giving us the opportunity to unite as a team and work with each other… Wishing you a very Happy Friendship Day."
10. "Working together makes us co-workers but spending so many hours together and sharing our good times and bad times with each other makes us friends, friends who stand by each other… Best wishes on Friendship Day to you."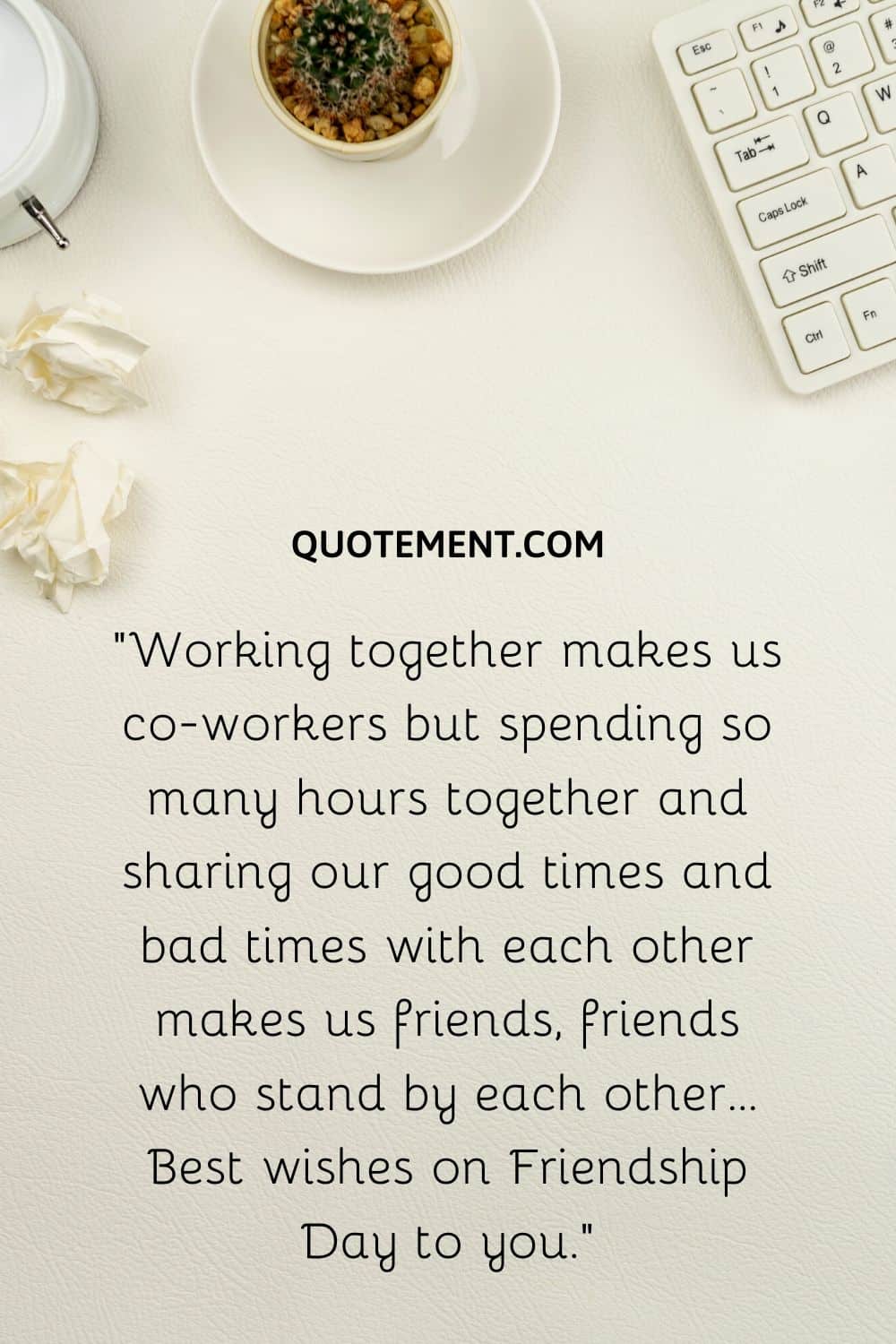 11. "Blessed are those who find a friend in their colleague… And I consider myself as the most fortunate one as I have a colleague who is my best friend… Cheers to our amazing association and equation… Warm wishes on Friendship Day to you."
12. "The only thing that has helped us manage through all the projects in the office is our friendship. Thank you for always being there for me, dear colleagues."
13. "Dear Colleague, I am glad that we are friends now. I hope our friendship bond gets stronger and better during our work tenure."
14. "I am very fortunate to have you as a colleague. I have found a good friend in you. Your companionship is most valued by me."
15. "A circle is round; it has no ends; that is how long I want to be your friend. I have found a true friend in you."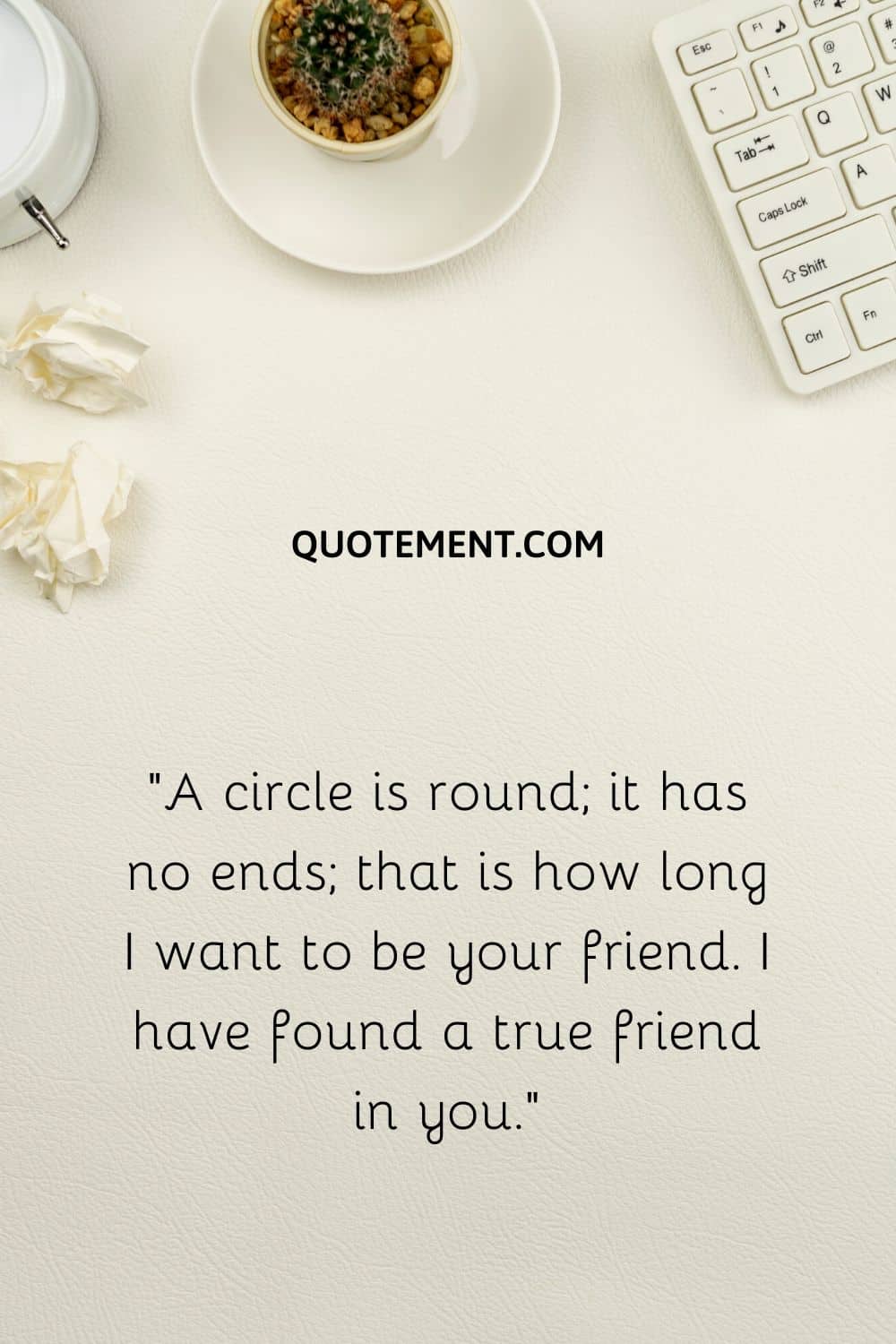 16. "I know even if things go bitter, you guys have got my back."
17. "Dear Colleague, our friendship is most valued for me. In a very short time we have become good friends. Hope our friendship remains the same forever."
18. "Friendship day is just another excuse to express how much you mean to me."
19. "Friends like you people make work easier and a lot more fun. Thank you for always being by my side."
20. "A good colleague makes the office environment better, and a great colleague makes your life better. I'm blessed to have one in you!"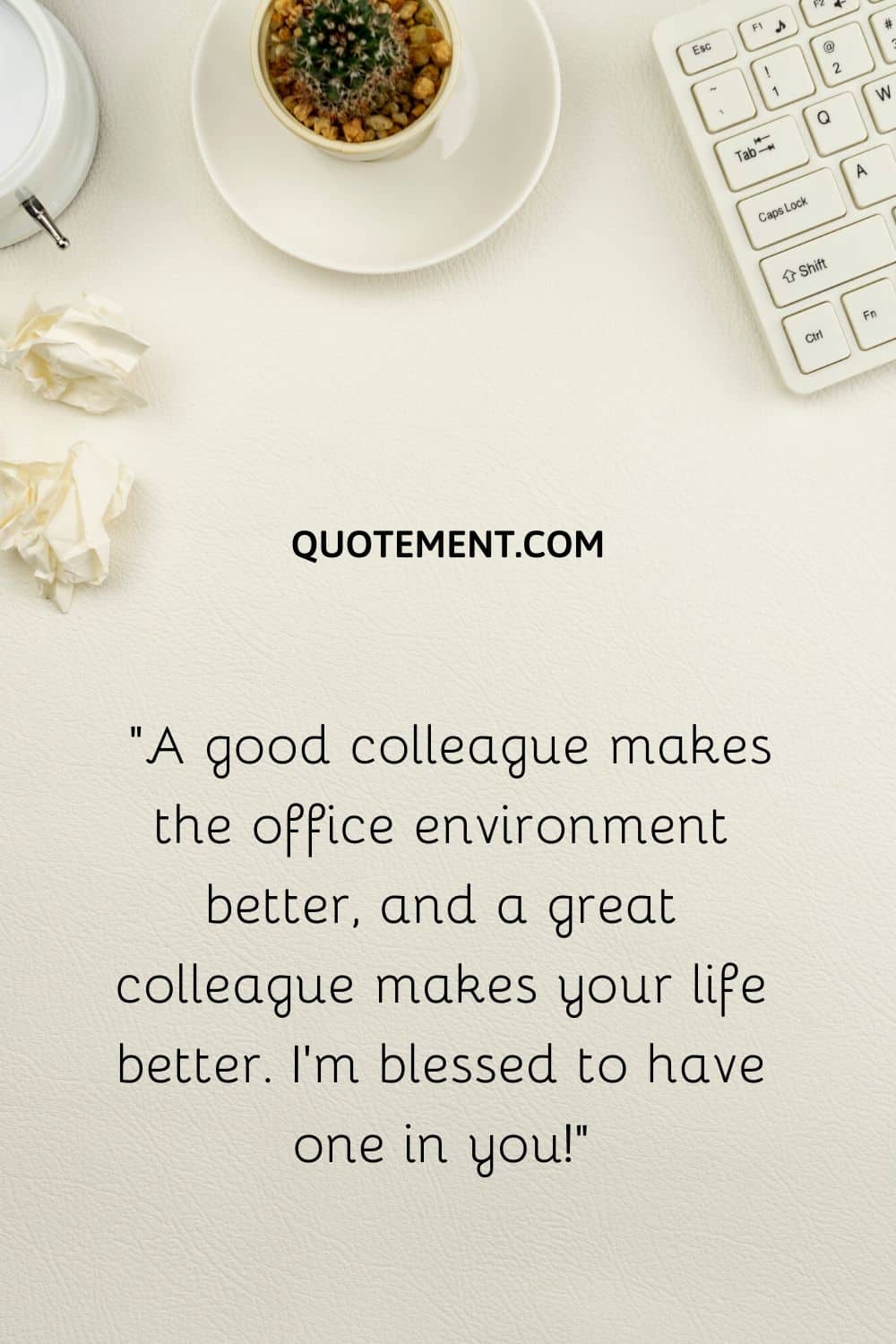 21. "I don't stress out like I used to just because I have got friends like you to support me till the end."
22. "Life in the office can become extremely stressful and hectic, but thanks to people like you, I'm able to take on every day and not get mentally exhausted."
23. "I pray foor you to achieve the heights of success and everything you have ever dreamt of, just because you are a wonderful soul and someone who has made it easier for me to cope with my professional life."
24. "Working together with you is the only happy part of the day."
25. "Unexpected friends always turn out to be the best."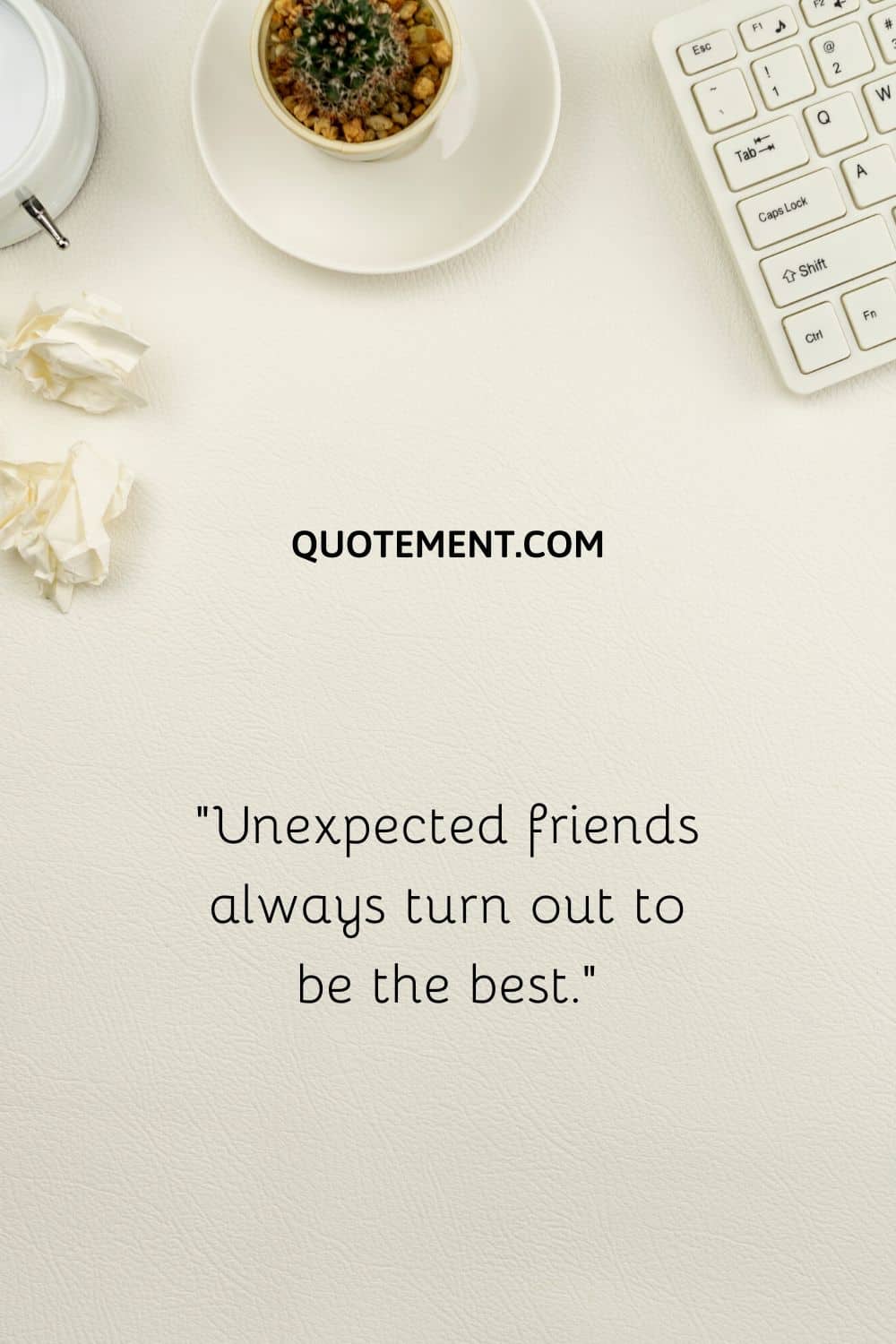 Final Thoughts
Fantastic work friends quotes can turn an ordinary day into one you'll remember for a lifetime.
Some days you just feel like it's time you showed your work soulmate how much they mean to you.
Of course, you also may want to remind them of their worth, the unconditional support they provide you, and any other positive they bring to your life.
You don't have to wait for their work anniversary to send them a happy work anniversary message to show them some love. You can do it any time you want!
With the help of others and hard work we can achieve all of our dreams.
That's why it's an excellent idea to share beautiful work family quotes from time to time. They'll definitely appreciate it!
P.S. Don't be shy to share a wonderful quote with your brilliant coworker – it's the small things that make our lives better! Let's spread love and good vibes! 🙂
Until next time!
Read next: 60 Bad Boss Quotes To Help You Deal With A Lousy Manager