How often do you treat yourself? Personally, I must admit that I've been trying to dedicate more attention to it lately.
Why? Well, more or less it appears to me that my own priorities aren't set right – I'm actually quite often the last on my list when it comes to self-care. And this is far from okay.
Now that I've become more aware of this issue, I've decided to share this list with you – 120 treat yourself quotes that have helped me embrace self-care, boost my confidence and get inspired to live the life I deserve. Nothing less than this.
I searched the web to collect the most powerful quotes on this matter, so you'll find many different perspectives by a variety of authors, each offering their own views and opinions.
Read on to discover the most inspirational and motivational quotes!
10 Best Treat Yourself Quotes
Are you ready for my 10 best treat yourself quotes? Let's read them first:
1. "So plant your own gardens and decorate your own soul, instead of waiting for someone to bring you flowers." – Jorge Luis Borges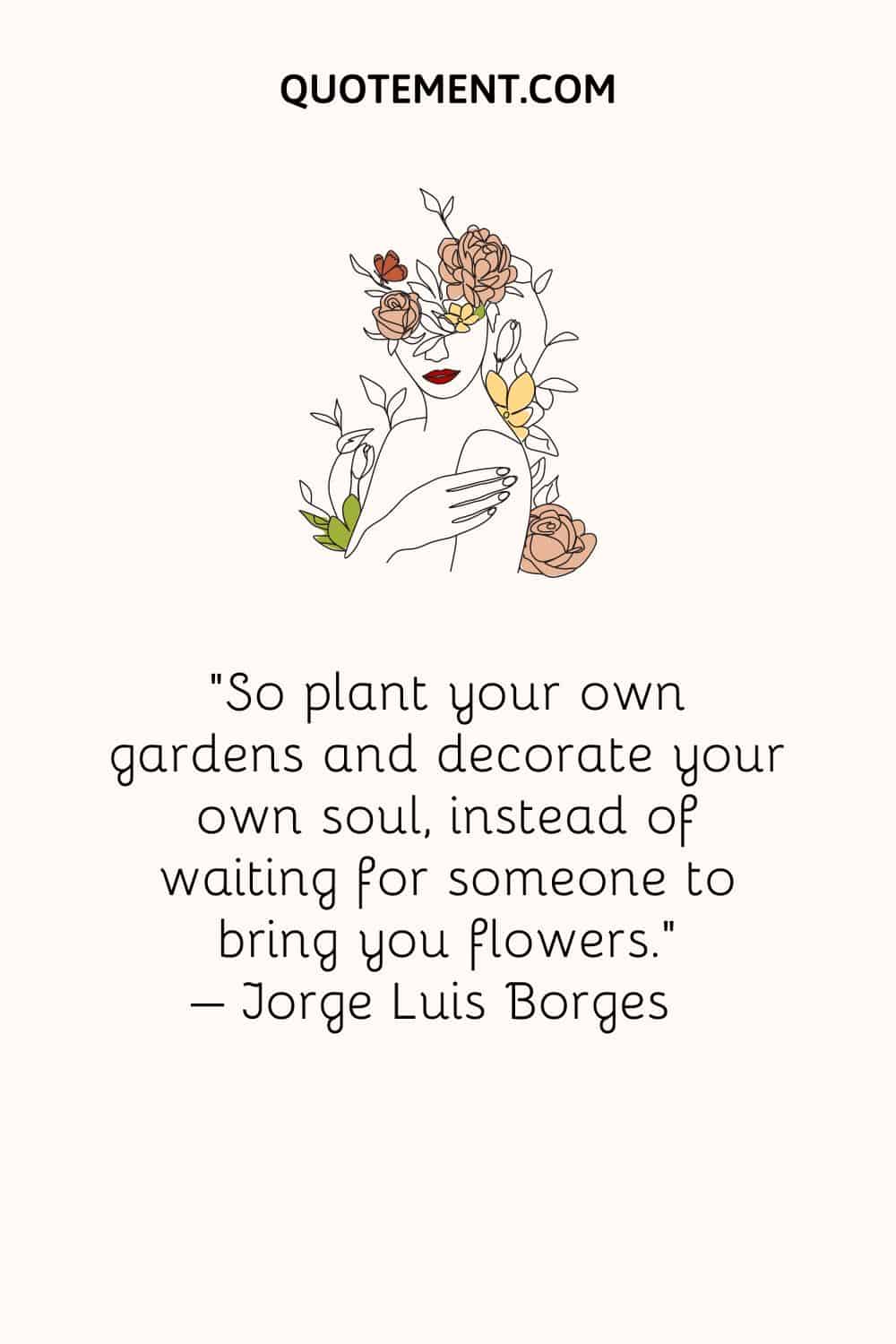 2. "Here's the question I would ask you to consider; do you treat yourself the way you want other people to treat you?" – James Arthur Ray
3. "Treat yourself with kindness." – Robyn Conley Downs
4. "One of the secrets of a happy life is continuous small treats." – Iris Murdoch
5. "You are not a mistake. You are not a problem to be solved. Treat yourself with outrageous kindness beginning today." – Geneen Roth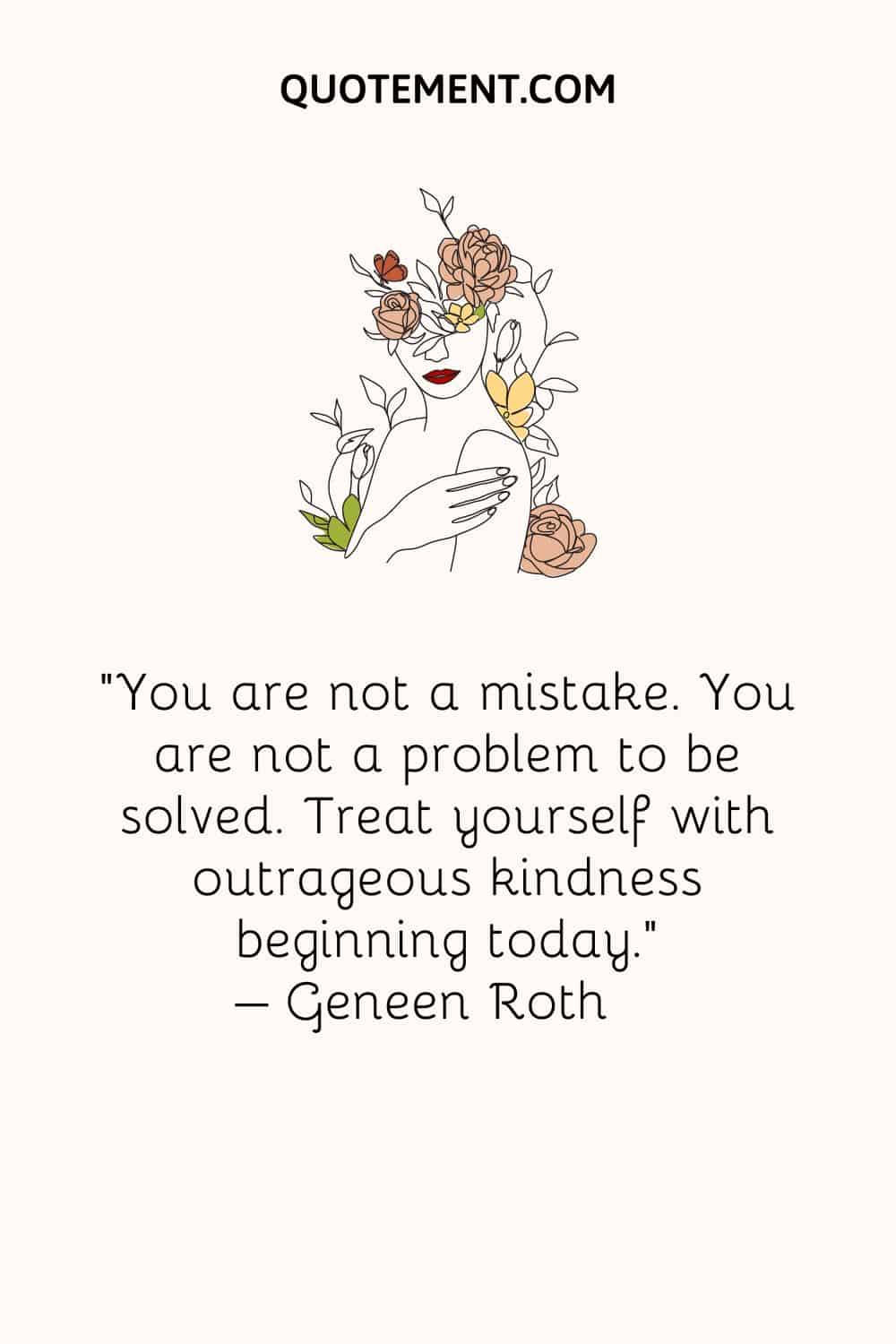 6. "Self-care has become a new priority — the revelation that it's perfectly permissible to listen to your body and do what it needs." – Frances Ryan
7. "The time to relax is when you don't have time for it." – Sydney J. Harris
8. "The love and attention you always thought you wanted from someone else, is the love and attention you first need to give to yourself." – Bryant McGill
9. "We need to replace your vicious stress cycle with a vicious cycle of self-care." – Dr. Sara Gottfried
10. "Treat yourself as if you were someone inexpressibly dear to you." – Agapi Stassinopoulos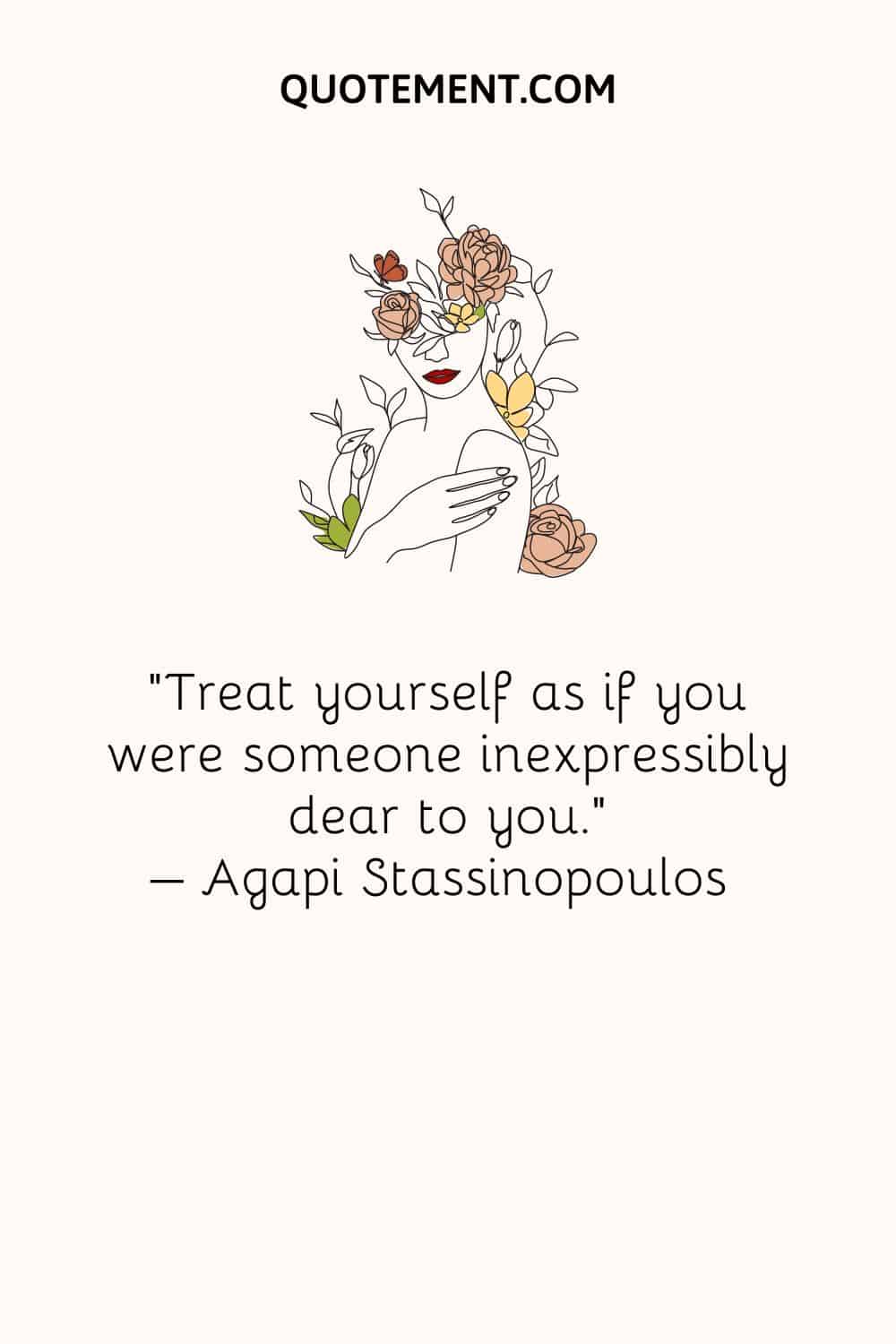 Amazing Self-Care Quotes
You are the most important person in your life, and you are amazing! Never forget that!
Keep scrolling to discover some amazing self-care quotes:
1. "Practice self-rescue first before you 'help' someone else." – Maureen Joyce Connolly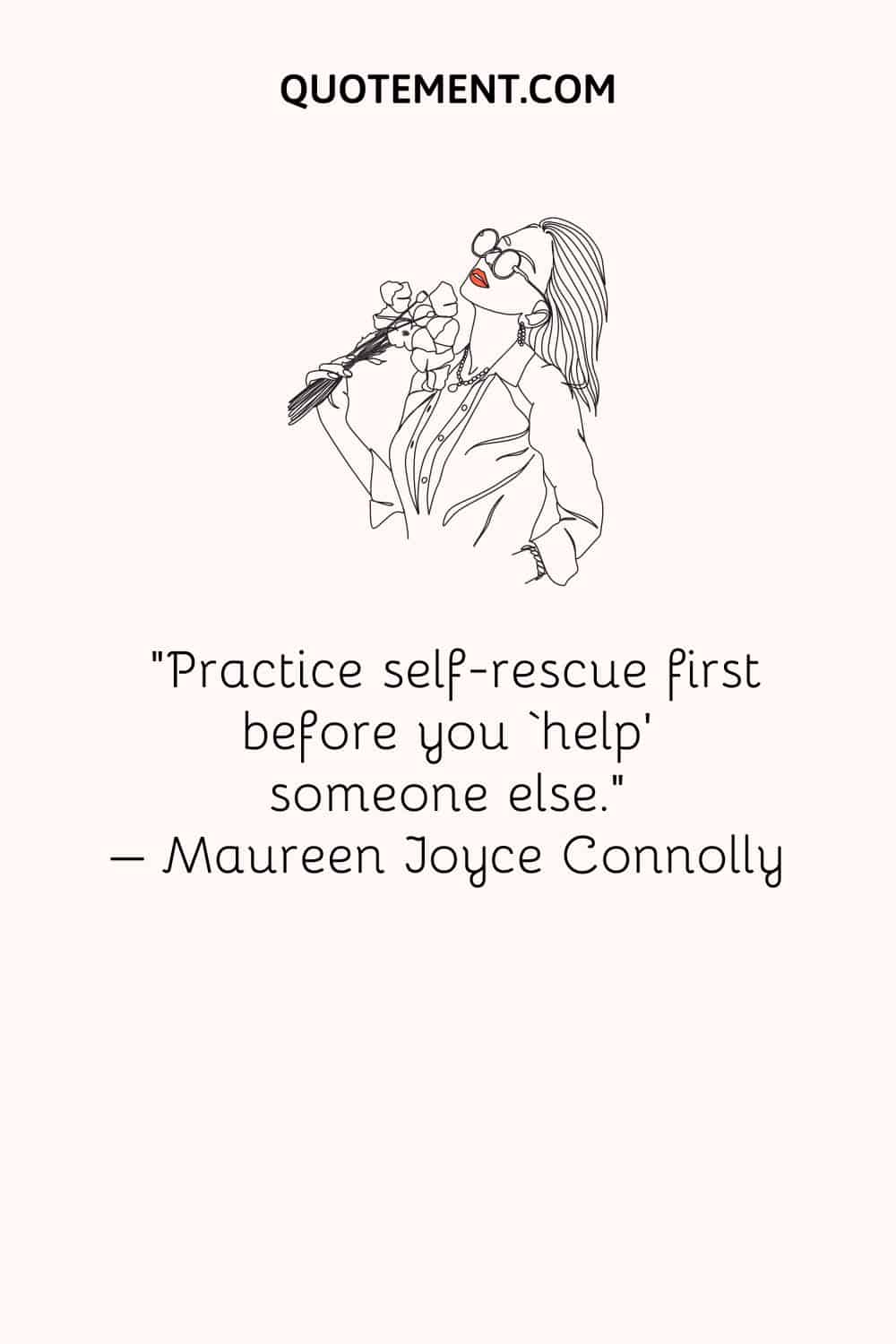 2. "Taking care of yourself doesn't mean me first; it means me, too." – L.R. Knost
3. "Pause and remember – stop mentally abusing yourself. Stop agonizing over your past mistakes and worrying about the future. Life is hard enough without the added fear, panic and anxiety. Your soul is crying out for love and encouragement. Take a moment to breathe deep, get present and find some compassion for yourself. Then, go out and treat yourself right; pamper yourself and take care of your needs. You are worth it!" – Jennifer Young
4. "Whatever you are doing, love yourself for doing it. Whatever you are feeling, love yourself for feeling it." – Thaddeus Golas
5. "There are days I drop words of comfort on myself like falling leaves and remember that it is enough to be taken care of by myself." – Brian Andreas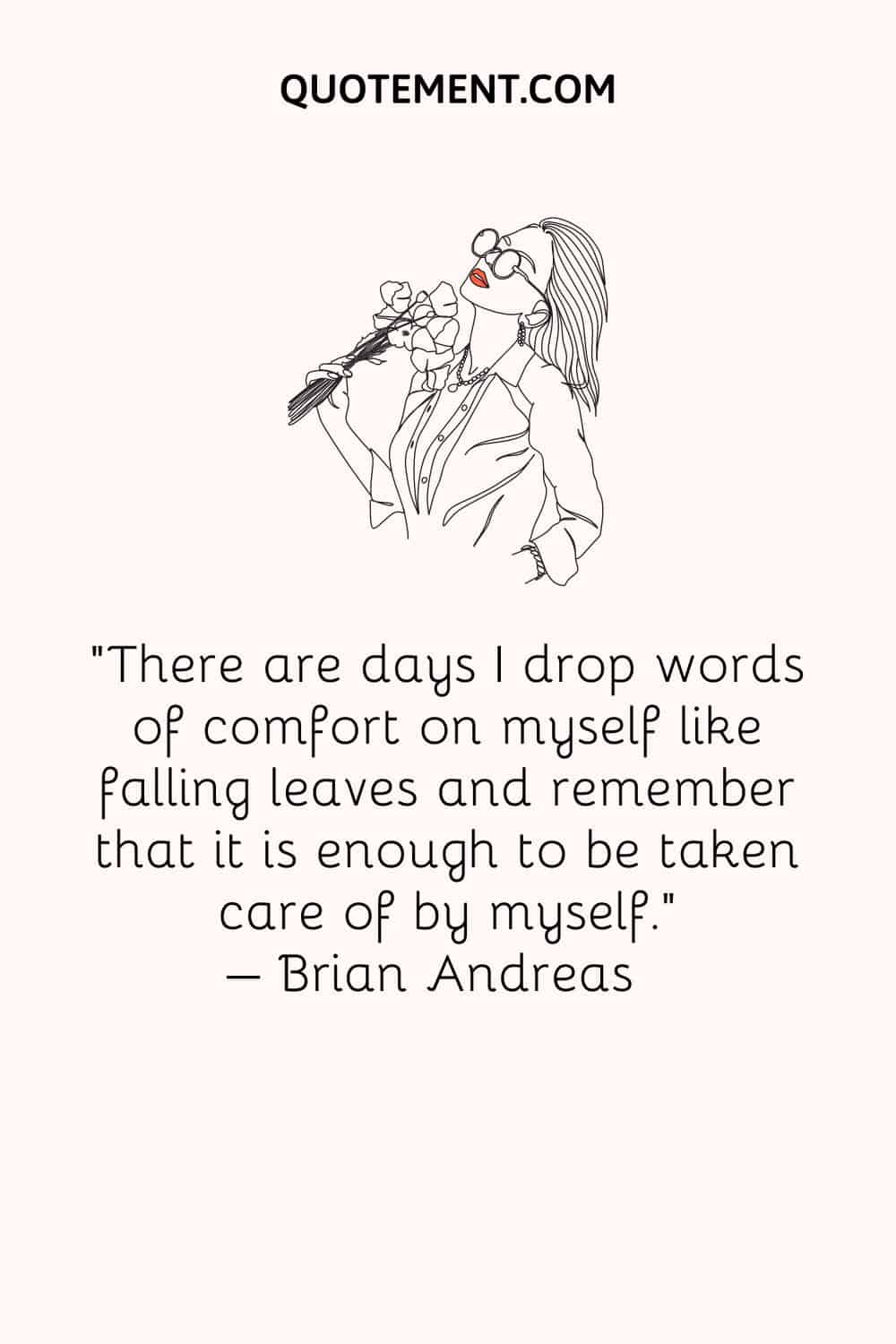 6. "When nobody celebrates you, learn to celebrate yourself. When nobody compliments you, then compliment yourself. It's not up to other people to keep you encouraged. It's up to you. Encouragement should come from the inside." – Joel Osteen
7. "Learning to love yourself is like learning to walk – essential, life-changing, and the only way to stand tall." – Vironika Tugaleva
8. "Be you, love you. All ways, always." – Alexandra Elle
9. "Self-care is not a waste of time. Self-care makes your use of time more sustainable." – Jackie Viramontez
10. "Treat yourself at least as well as you treat other people." – Theodore Isaac Rubin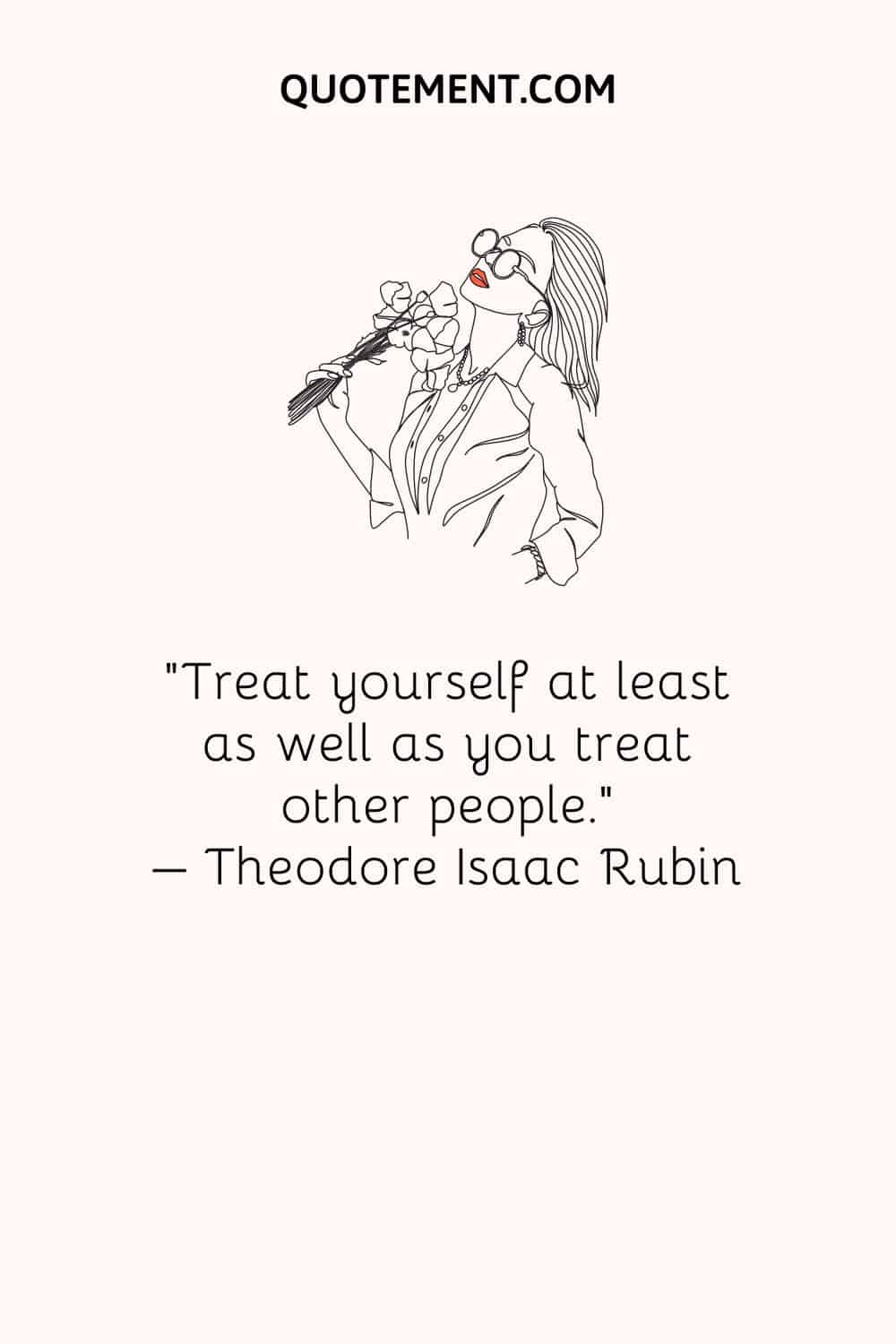 11. "To love oneself is the beginning of a lifelong romance." – Oscar Wilde
12. "You aren't doing 'nothing' when you choose to put your well-being first. In fact, this is the key to having everything." – Brittany Burgunder
13. "The most powerful relationship you will ever have is the relationship with yourself." – Steve Maraboli
14. "The greatest self is a peaceful smile, that always sees the world smiling back." – Bryant H. McGill
15. "When you can't find your purpose in a day, make it to look after yourself." – Dodie Clark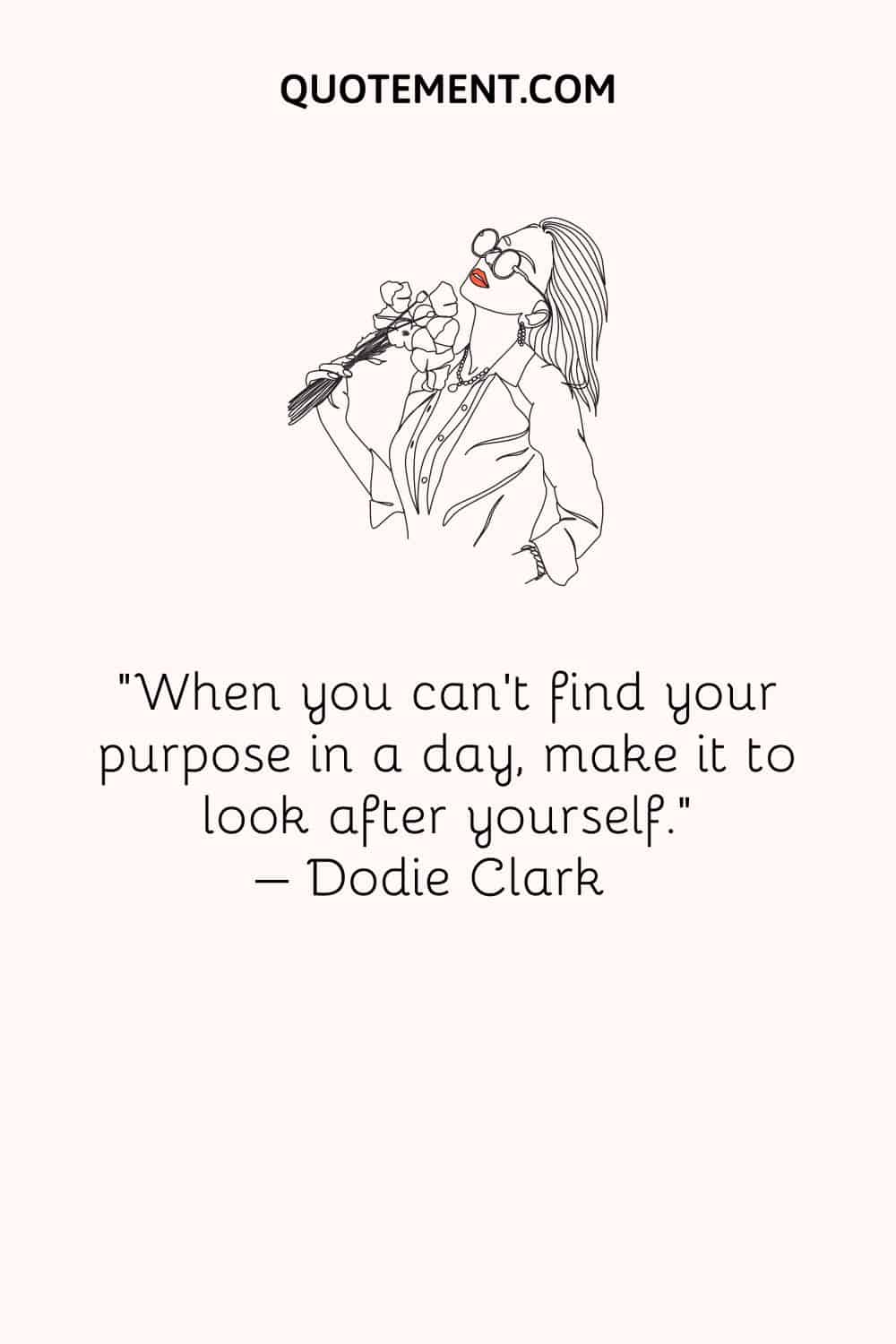 16. "When you recover or discover something that nourishes your soul and brings joy, care enough about yourself to make room for it in your life." – Jean Shinoda Bolen
17. "I love myself for I am a beloved child of the universe and the universe lovingly takes care of me now." – Louise Hay
See also: 120 Best Spiritual Universe Quotes To Contemplate Life
18. "Find the love you seek, by first finding the love within yourself. Learn to rest in that place within you that is your true home." – Sri Ravi Shankar
19. "It's surprising how many persons go through life without ever recognizing that their feelings toward other people are largely determined by their feelings toward themselves, and if you're not comfortable within yourself, you can't be comfortable with others." – Sidney J. Harris
20. "You have to treat yourself. Life is too short to deprive yourself of things." – Nathalie Emmanuel
21. "Self-respect, self-worth, and self-love, all start with self. Stop looking outside of yourself for your value." – Rob Liano
22. "Love yourself enough to set boundaries. Your time and energy are precious. You get to choose how you use it. You teach people how to treat you by deciding what you will and won't accept." – Anna Taylor
23. "You have to treat yourself every once in a while, get to the fun stuff!" – Heidi Klum
24. "Act as if everything you desire is already here… treat yourself as if you already are what you'd like to become." – Wayne Dyer
25. "Treat yourself with love and respect, and you will attract people who show you love and respect." – Rhonda Byrne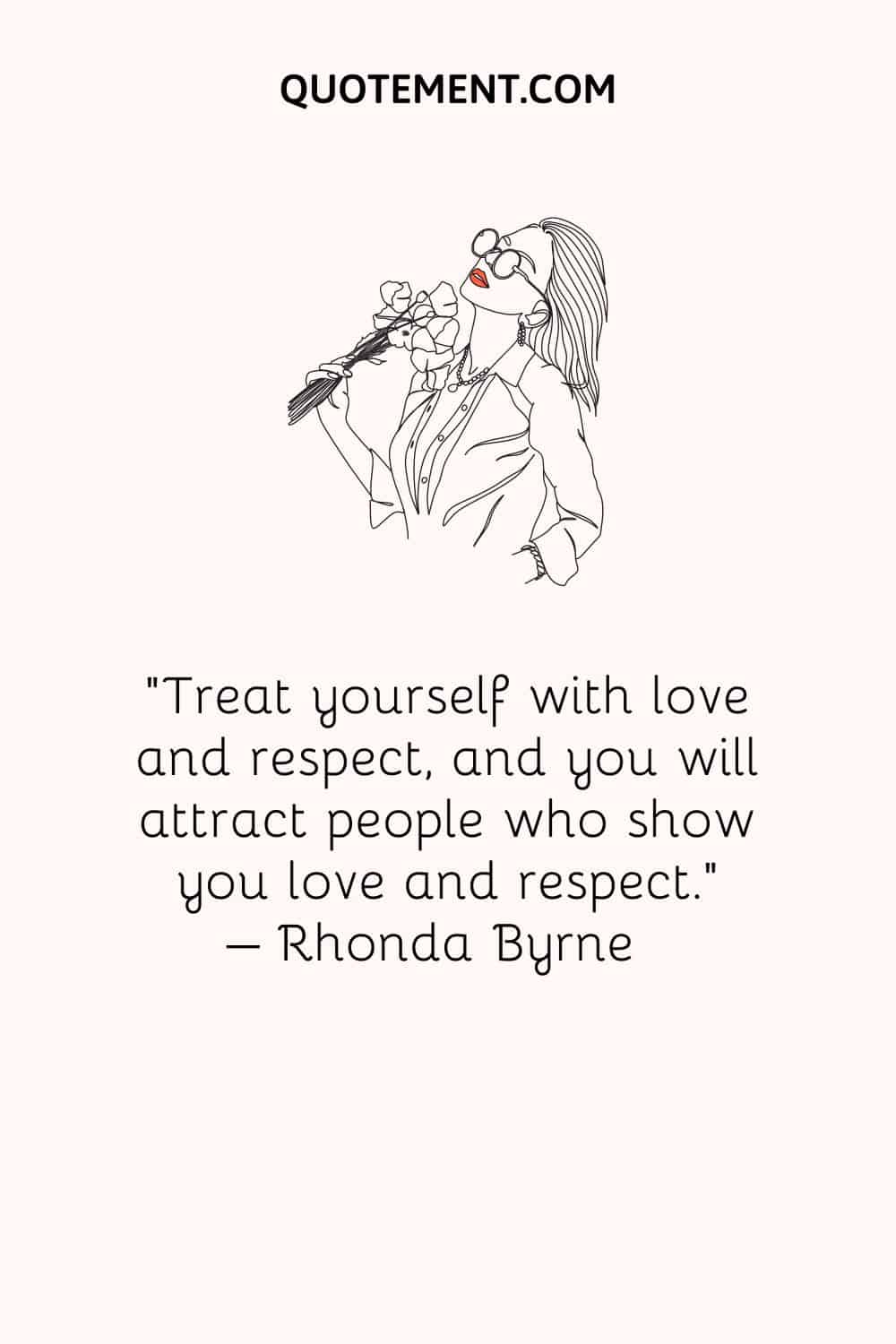 26. "Be kind to yourself this evening. Buy something for yourself. Treat yourself to a meal. Look in the mirror and give yourself a smile" – Yoko Ono
27. "The one thing that you have that nobody else has is you. Your voice, your mind, your story, your vision. So write and draw, and build and play, and dance and live as only you can." – Neil Gaiman
28. "Nourishing yourself in a way that helps you blossom in the direction you want to go is attainable, and you are worth the effort." – Deborah Day
29. "You set the standards for how you will be treated. People will treat you the exact way you treat yourself. So be good to you. Take time for yourself. Rest. Play. Shower yourself with affection, support, and gifts." – Iyanla Vanzant
30. "Be wise. Treat yourself, your mind, sympathetically, with loving kindness. If you are gentle with yourself, you will become gentle with others." – Thubten Yeshe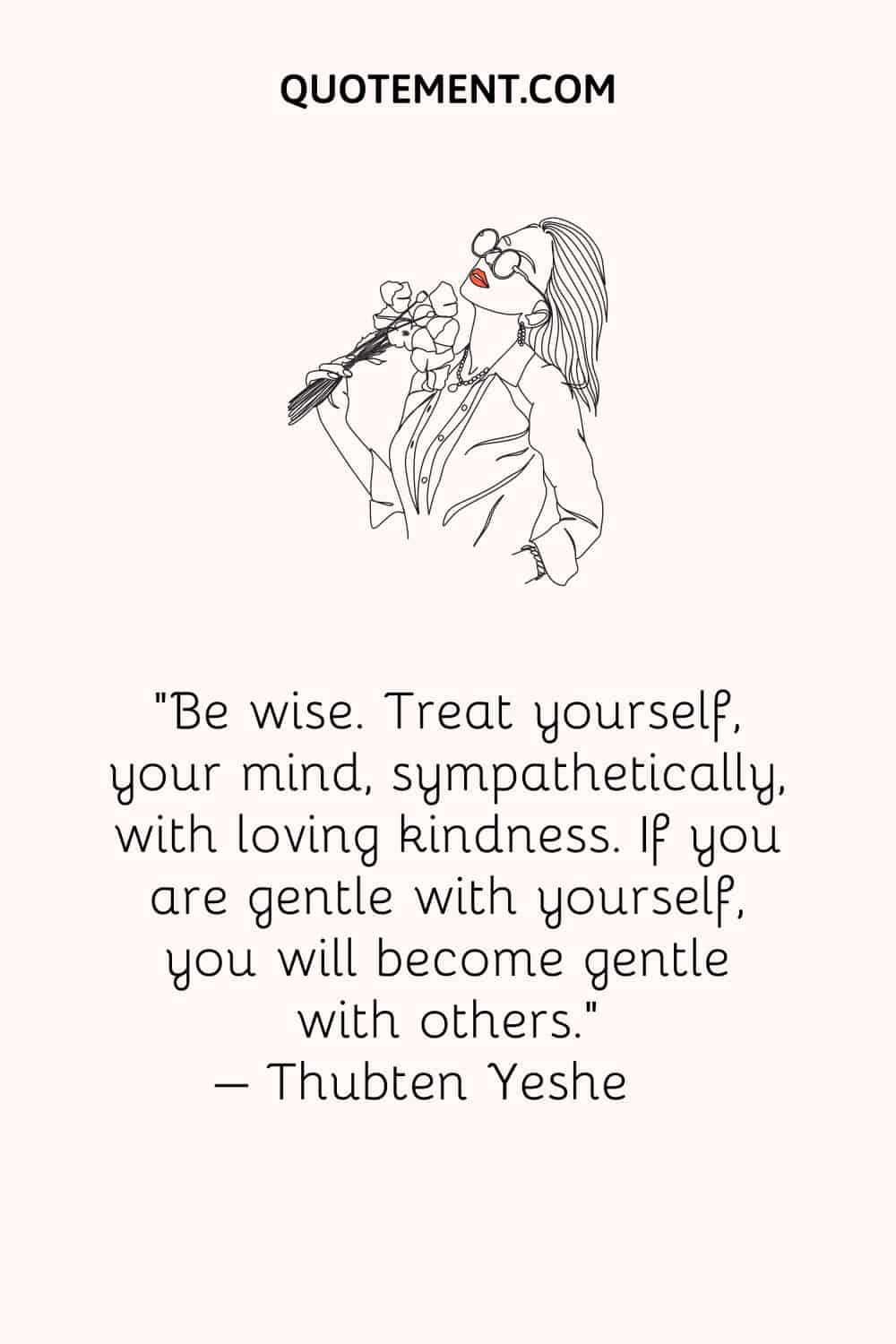 Inspirational Take Care Of Yourself Quotes
Daily inspiration to pamper yourself and slay is hard to maintain. If you're looking for inspirational take care of yourself quotes, these will surely boost your spirits:
1. "Treat yourself as if you already are enough. Walk as if you are enough. Eat as if you are enough. See, look, listen as if you are enough. Because it's true." – Geneen Roth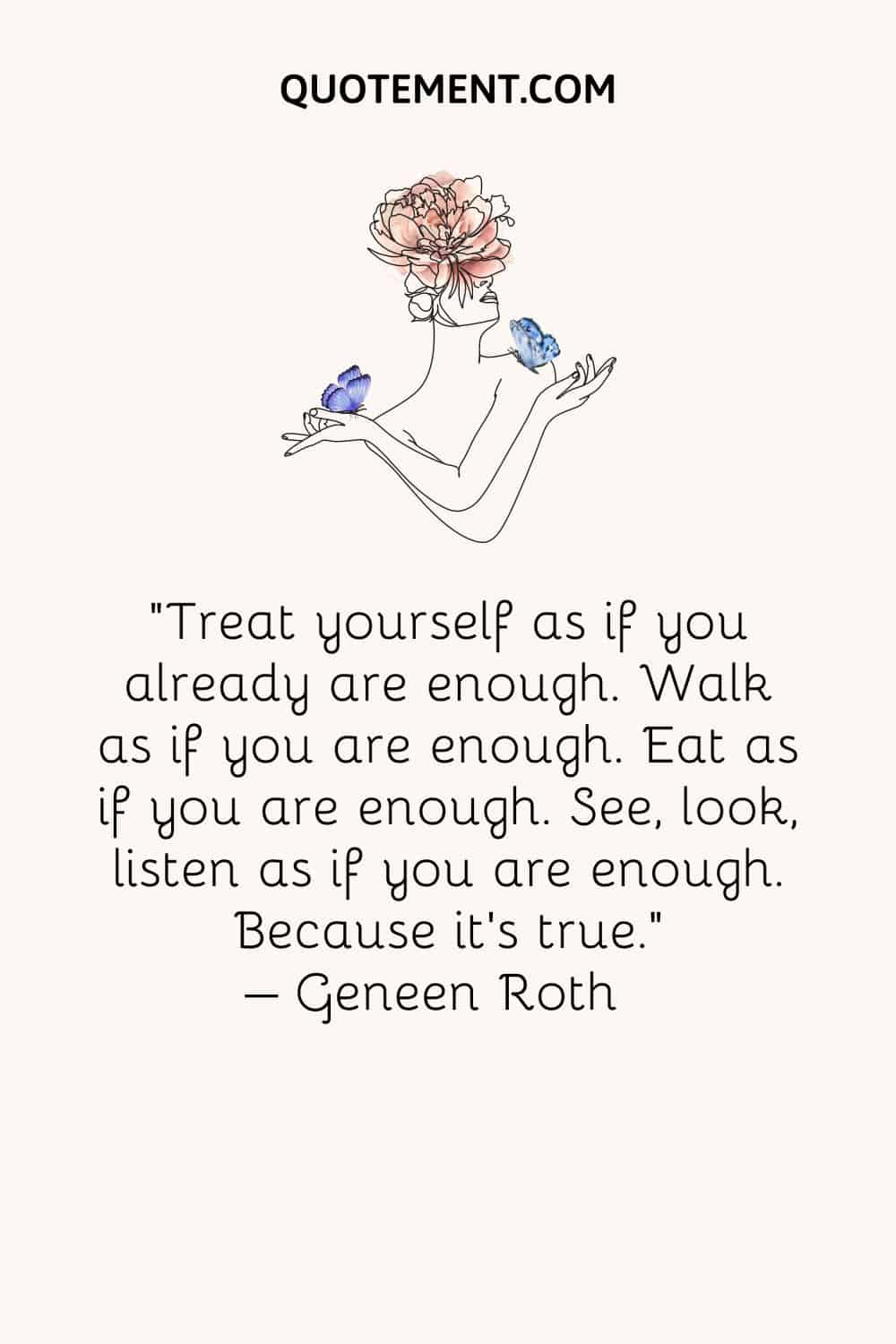 2. "When you focus on yourself and love yourself, some relationships have to go." – Adrian Michael
3. "Don't sacrifice yourself too much, because if you sacrifice too much there's nothing else you can give, and nobody will care for you." – Karl Lagerfeld
4. "Rest and self-care are so important. When you take time to replenish your spirit, it allows you to serve others from the overflow. You cannot serve from an empty vessel." – Eleanor Brown
5. "Be the love you always hoped for." – Juansen Dizon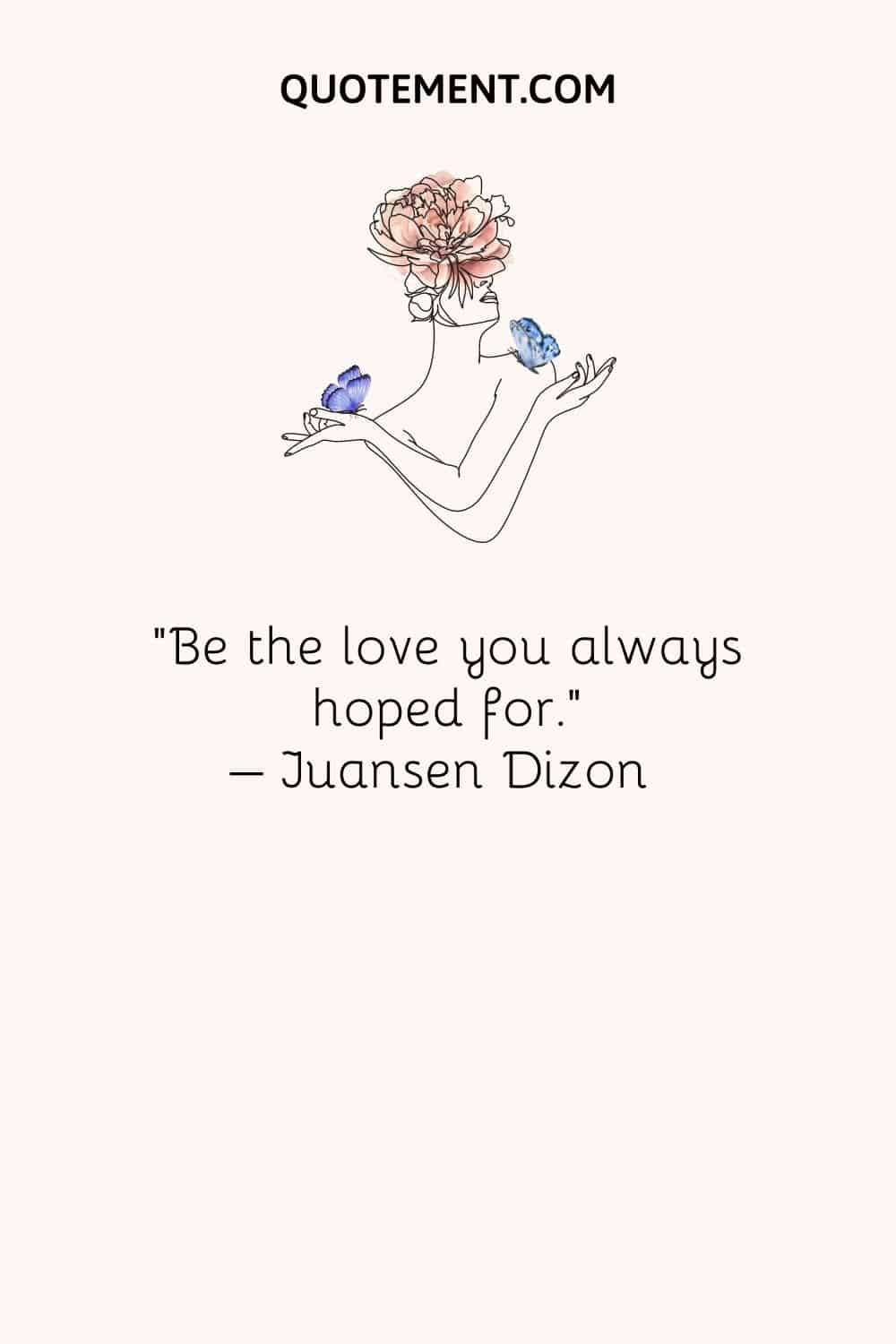 6. "Low self-esteem is like driving through life with your hand-break on." – Maxwell Maltz
7. "You're always with yourself, so you might as well enjoy the company." – Diane Von Furstenberg
8. "I've finally stopped running away from myself. Who else is there better to be?" – Golden Hawn
9. "When I loved myself enough, I began leaving whatever wasn't healthy. This meant people, jobs, my own beliefs, and habits – anything that kept me small. My judgment called it disloyal. Now I see it as self-loving." – Kim McMillen
10. "Talk to yourself like you would to someone you love." – Brené Brown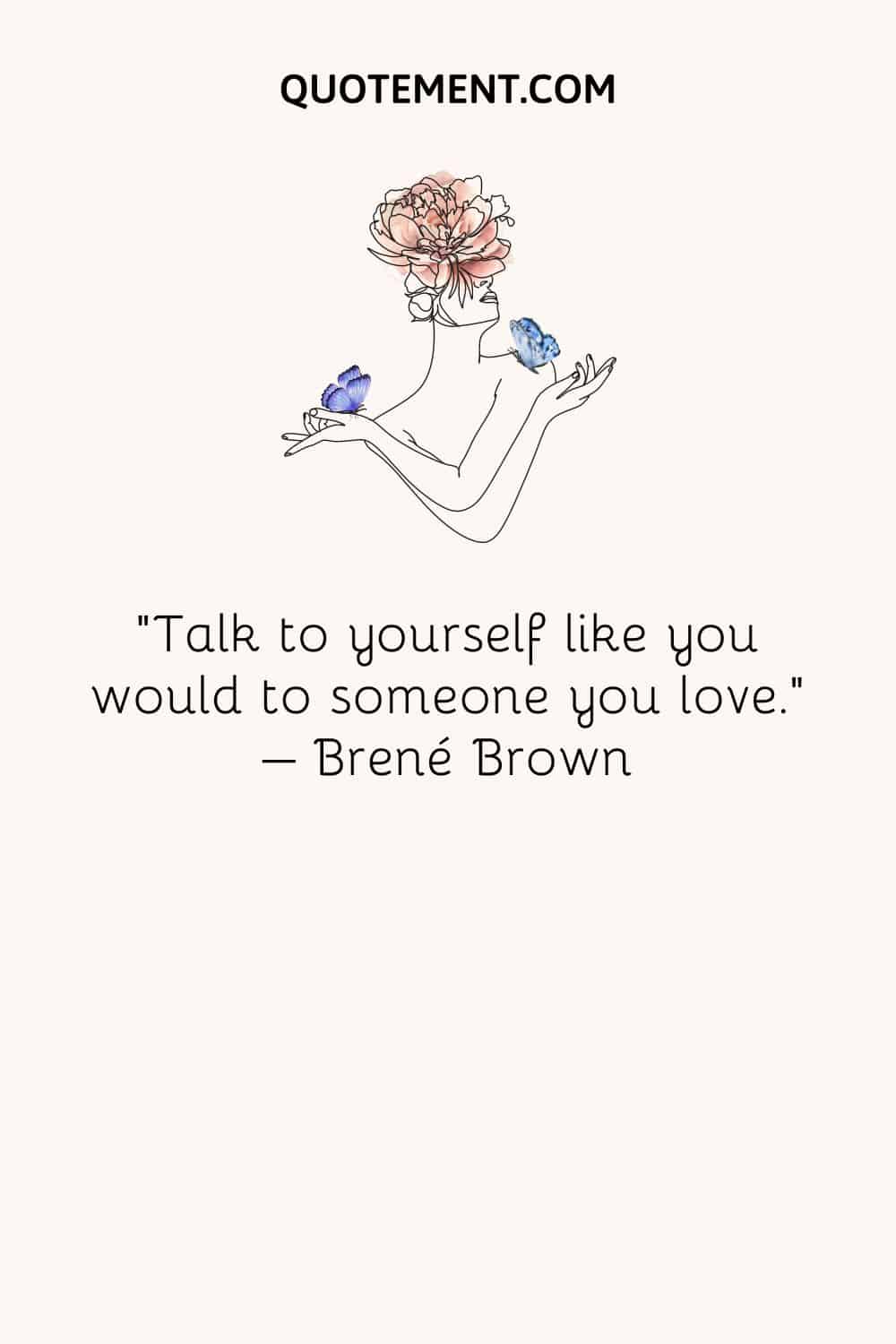 11. "Treat yourself at least as well as you treat other people." – Theodore Isaac Rubin
12. "Love yourself first and everything else falls into line. You really have to love yourself to get anything done in this world." – Lucille Ball
13. "The best day of your life is the one on which you decide your life is your own. No apologies or excuses. No one to lean on, rely on, or blame. The gift is yours – it is an amazing journey – and you alone are responsible for the quality of it. This is the day your life really begins." – Bob Moawad
14. "What you pay attention to grows. Pay attention to your loveliness, your magnificent self. Begin now." – Geneen Roth
15. "Take care of your body. It's the only place you have to live." – Jim Rohn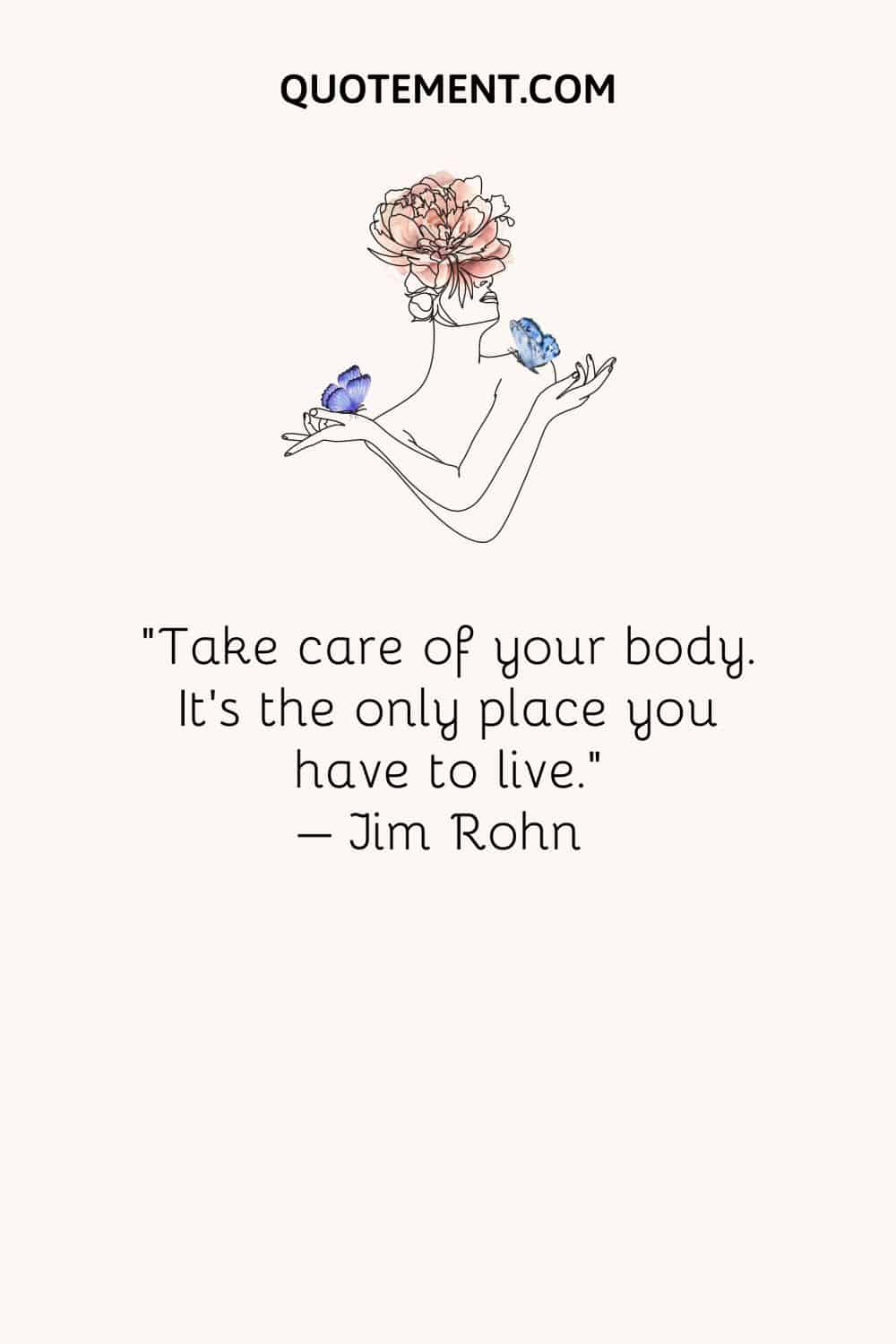 16. "Never dull your shine for somebody else." – Tyra Banks
17. "A healthy self-love means we have no compulsion to justify to ourselves or others why we take vacations, why we sleep late, why we buy new shoes, why we spoil ourselves from time to time. We feel comfortable doing things which add quality and beauty to life." – Andrew Matthew
18. "Acknowledge, accept, and honour that you deserve your own deepest compassion and love." – Nanette Mathews
19. "The more you treat yourself positively, the less you'll want or need to be negative." – Jane Fonda
See also: Top 90 Positive Vibes Quotes To Empower You Every Day
20. "When you say 'yes' to others, make sure you are not saying 'no' to yourself." – Paulo Coelho
Quotes About Pampering Yourself
Quotes about taking care of yourself and pampering your mind and body can encourage you to start living your dream life. Sounds good? Let's have a look!
1. "Keep good company, read good books, love good things and cultivate soul and body as faithfully as you can." – Louisa May Alcott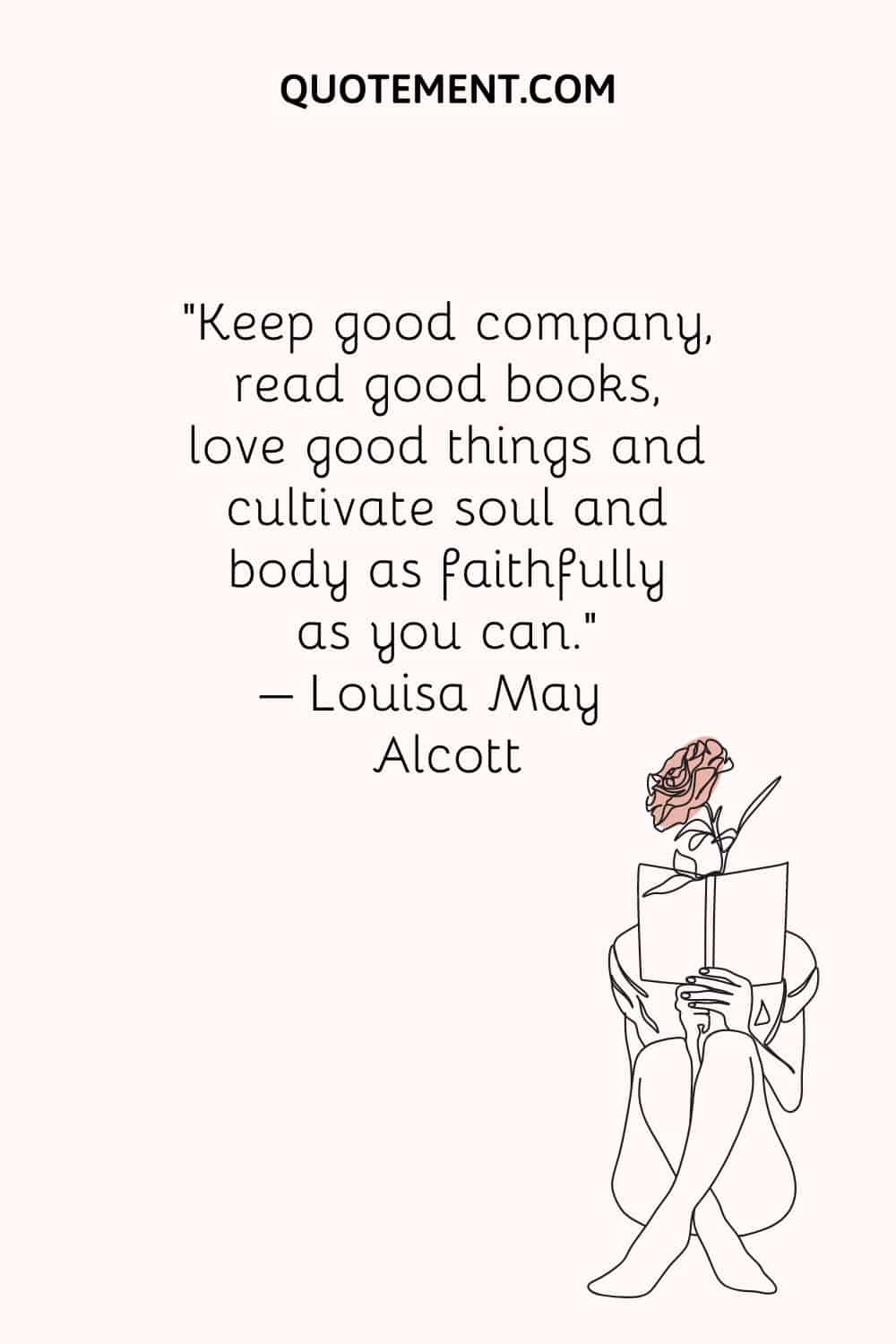 2. "There is overwhelming evidence that the higher the level of self-esteem, the more likely one will be to treat others with respect, kindness, and generosity." – Nathaniel Branden
3. "When you are compassionate with yourself, you trust in your soul, which you let guide your life. Your soul knows the geography of your destiny better than you do." – John O'Donohue
4. "Self-compassion is simply giving the same kindness to ourselves that we would give to others." – Christopher Germer
5. "Self-care is so much more than a beauty regimen or an external thing you do. It has to start within your heart to know what you need to navigate your life. A pedicure doesn't last, but meditating every day does." – Carrie-Anne Moss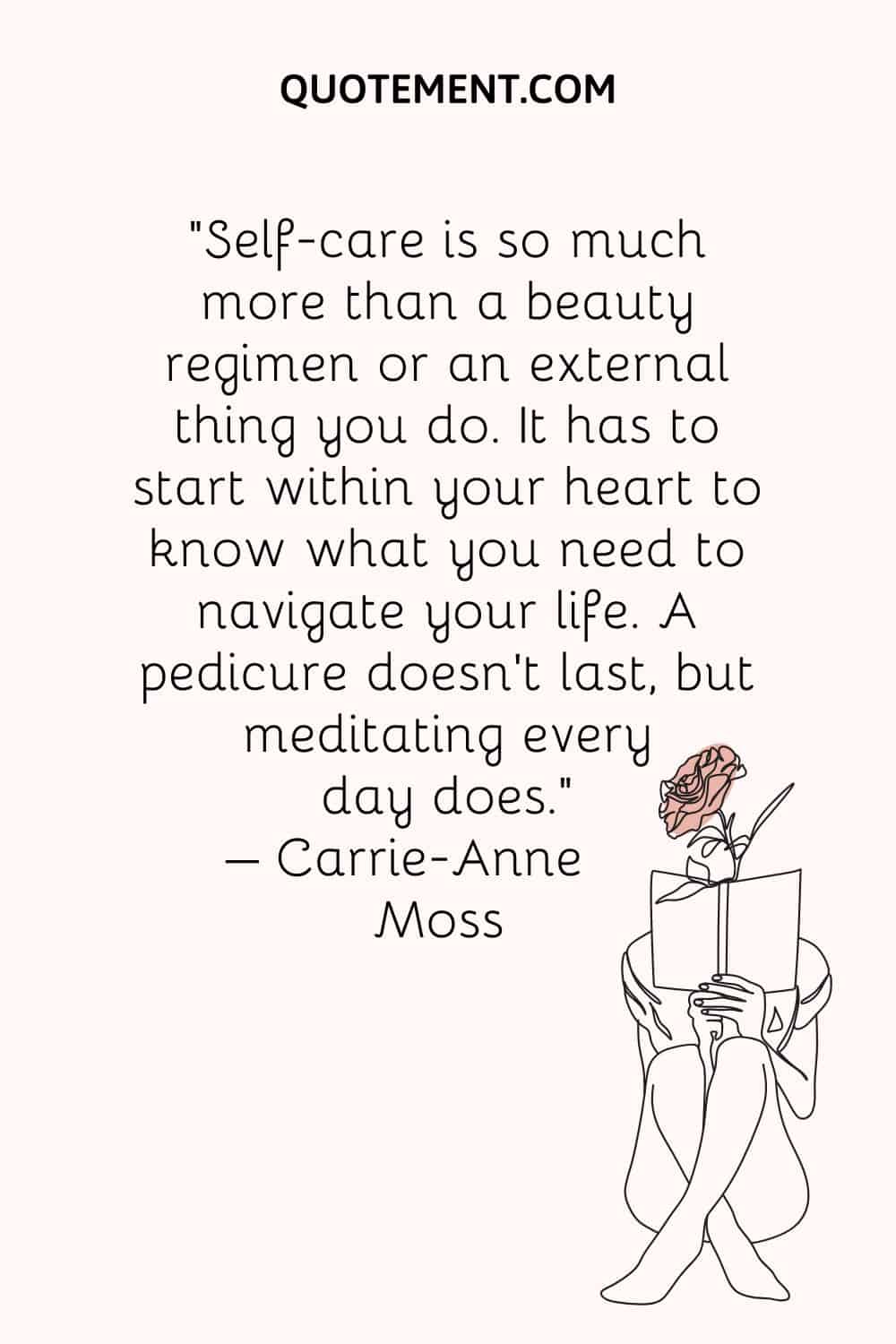 6. "If you want to change the way others treat you, you should first change the way you treat yourself. Unless you learn to love yourself, fully and sincerely, there is no way you can be loved. Once you achieve that stage, however, be thankful for every thorn that others might throw at you. It is a sign that you will soon be showered in roses." – Shams Tabrizi
7. "My advice to women in general: even if you're doing a nine-to-five job, treat yourself like a boss. Not arrogant, but be sure of what you want – and don't allow people to run anything for you without your knowledge." – Nicki Minaj
8. "The only person who can pull me down is myself, and I'm not going to let myself pull me down anymore." – C. JoyBell
9. "You can't always control what goes on outside. But you can always control what goes on inside." – Wayne Dyer
10. "Self-care is how you take your power back." – Lalah Delia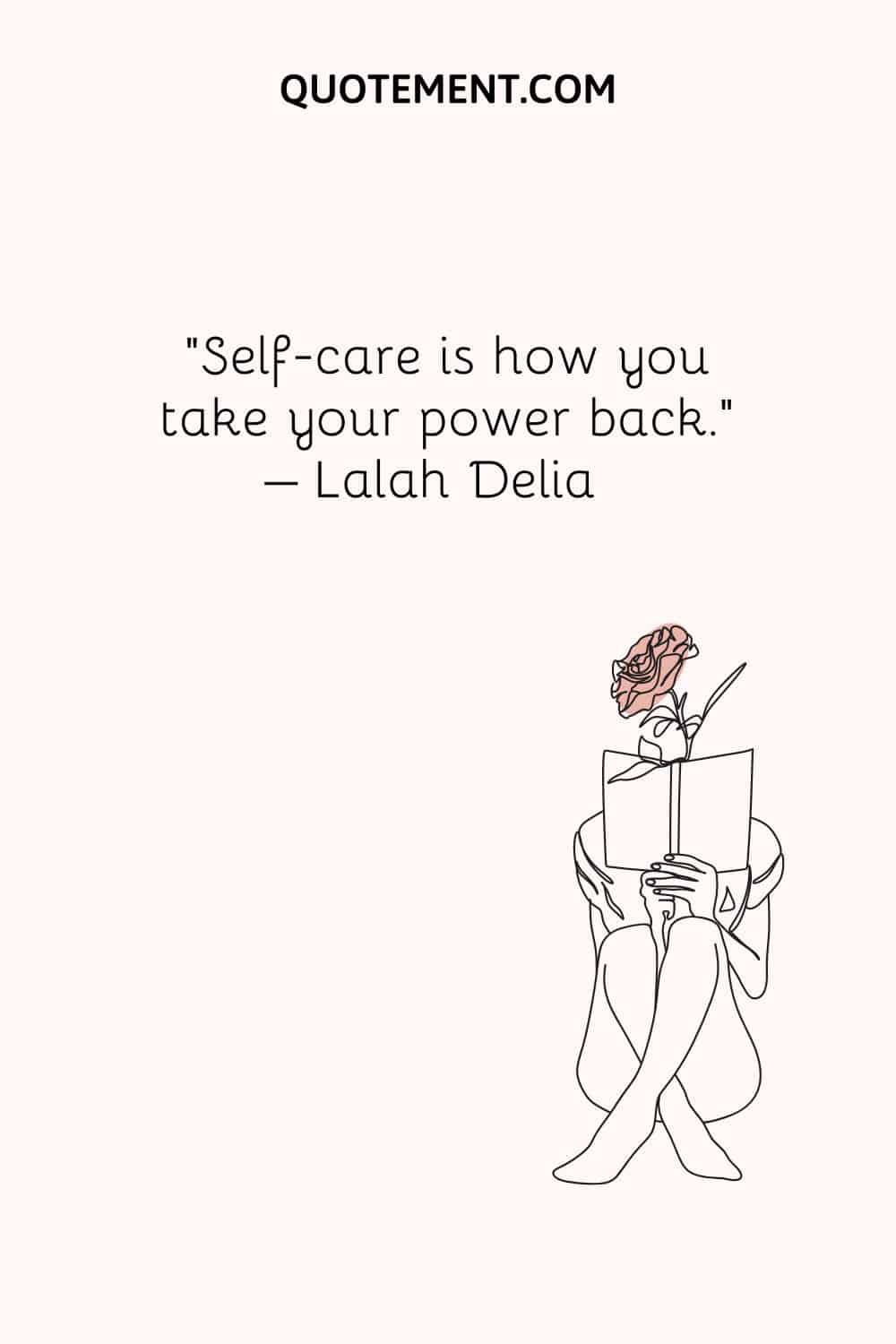 11. "Of all the judgments we pass in life, none is more important than the judgment we pass on ourselves." – Nathaniel Branden
12. "So it's not about what you do. It can't be, can it? It has to be about how you are, how you love, how you treat yourself and those around you, and that's where I get eaten up." – Nick Hornby
13. "Lighten up on yourself. No one is perfect. Gently accept your humanness." – Deborah Day
14. "One of the most common outcomes of a depressive illness is a mistreated body. Now is the time to treat your body well. The more you learn to treat yourself well now, the less treatment you'll need down the road." – Harold H. Bloomfield
15. "Self-care is one of the active ways that I love myself. When you can and as you can, in ways that feel loving, make time and space for yourself." – Tracee Ellis Ross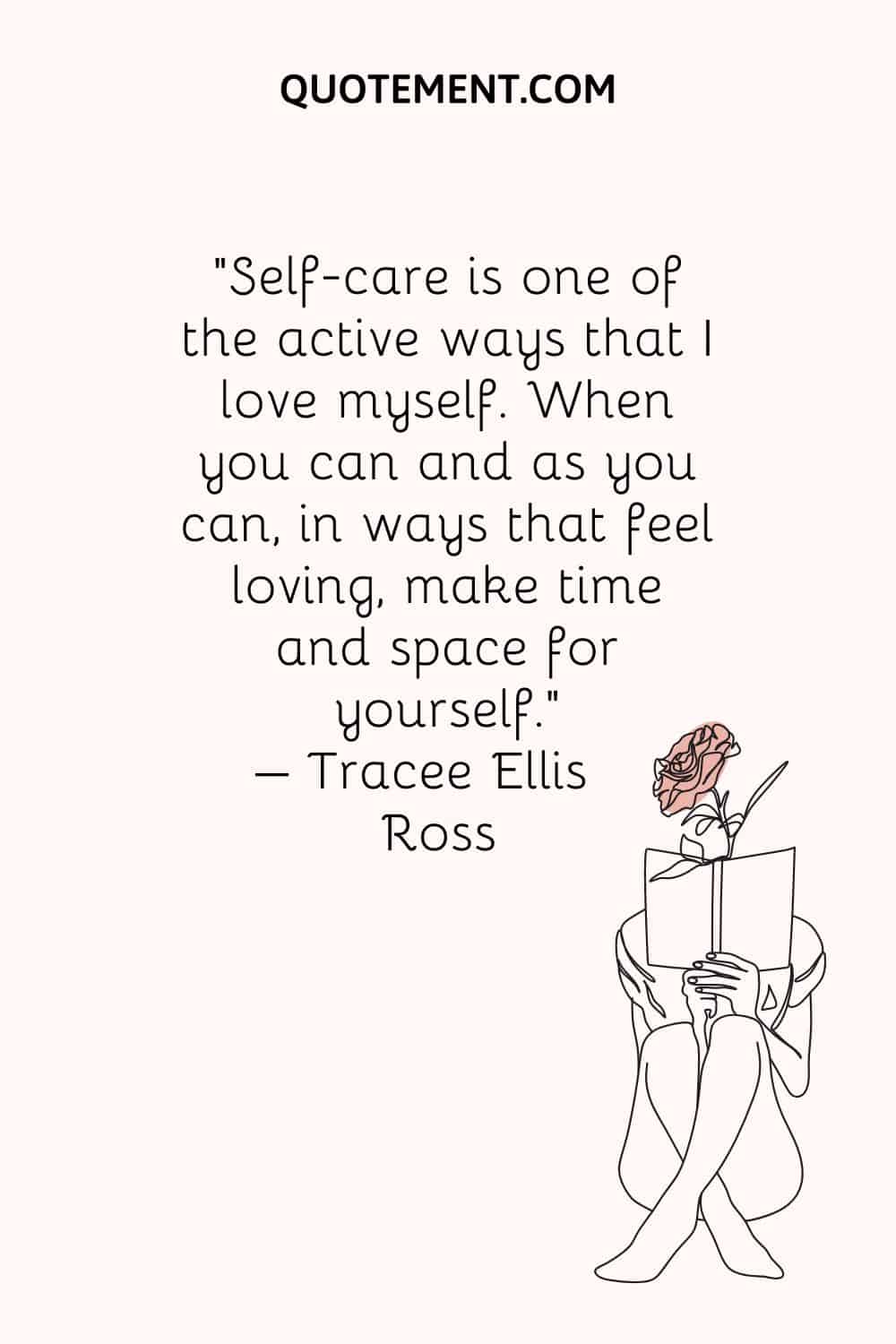 16. "Your life does matter. It always matters whether you reach out in friendship or lash out in anger. It always matters whether you live with compassion and awareness or whether you succumb to distractions and trivia. It always matters how you treat other people, how you treat animals, and how you treat yourself. It always matters what you do. It always matters what you say. And it always matters what you eat." – John Robbins
17. "This is America, and you have the right to remain sick. If you choose to treat yourself and your family, that is within your rights, and is necessarily your sole decision based on what you know to be best." – Andrew Saul
18. "When you meet anyone, remember it is a holy encounter. As you see him, you will see yourself. As you treat him, you will treat yourself. As you think of him, you will think of yourself. Never forget this, for in him you will find yourself or lose yourself." – Marianne Williamson
19. "If you aren't good at loving yourself, you will have a difficult time loving anyone, since you'll resent the time and energy you give another person that you aren't even giving to yourself." – Barbara De Angelis
20. "If your compassion does not include yourself, it is incomplete." – Jack Kornfield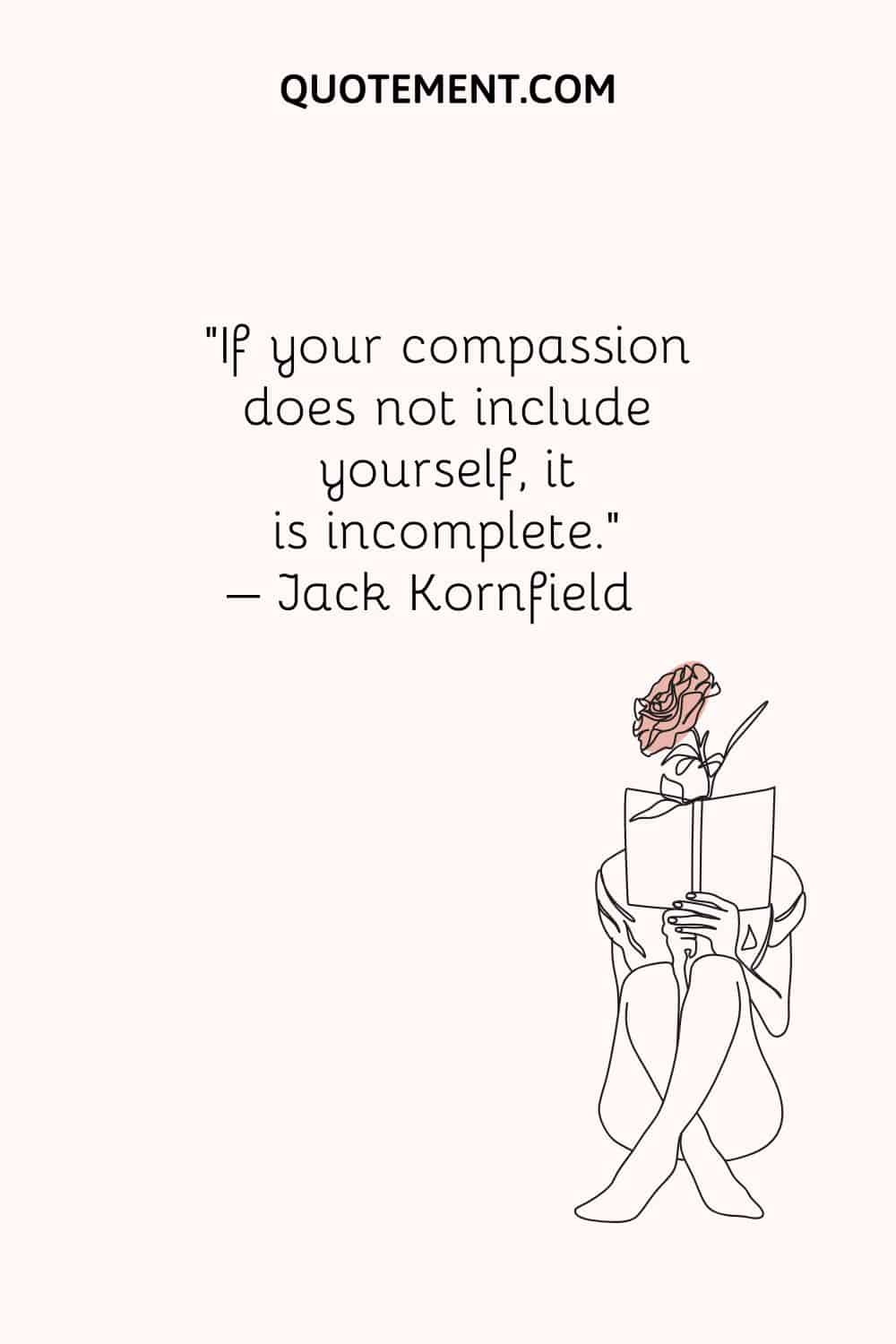 21. "Not caring how you look is but a brief step away from not caring what you do or how you treat people. And surely, if you treat yourself with contempt, you're going to have little thought, care or compassion for anyone else." – Lynda Lee-Potter
22. "Coming to appreciate your worth can, in some cases, dramatically improve your circumstances by changing the choices you make and the actions you take. And as you begin to treat yourself with more respect, other people begin to do the same, since we subconsciously "train" others how to treat us through messages we send through body language, tone of voice, and other subtle cues and behaviors. Discovering your innate worth and living from that place allows you to make more constructive choices – to choose the higher roads of life." – Dan Millman
23. "Have things to look forward to: plan a trip, treat yourself to the spa, make plans in the future so that you can focus on what you're looking forward to versus how unbearable your present is. Understand that your brain is detaching. It's the same part of the brain that is activated as a cocaine user feening for their next fix. You're literally in withdrawal. Understand that it takes time for your brain and neural pathways to detach. You're not going crazy – it's just a process, and that process takes time." – Amy Chan
24. "Can't you treat yourself with a bit more consideration?' 'Why should I?' Mordion said, hugging the duvet round himself. 'Because you're a person, of course!' Ann snapped at him. 'One person ought to treat another person properly even if the person's himself!" – Diana Wynne Jones
25. "Almost everything will work again if you unplug it for a few minutes, including you." – Anne Lamott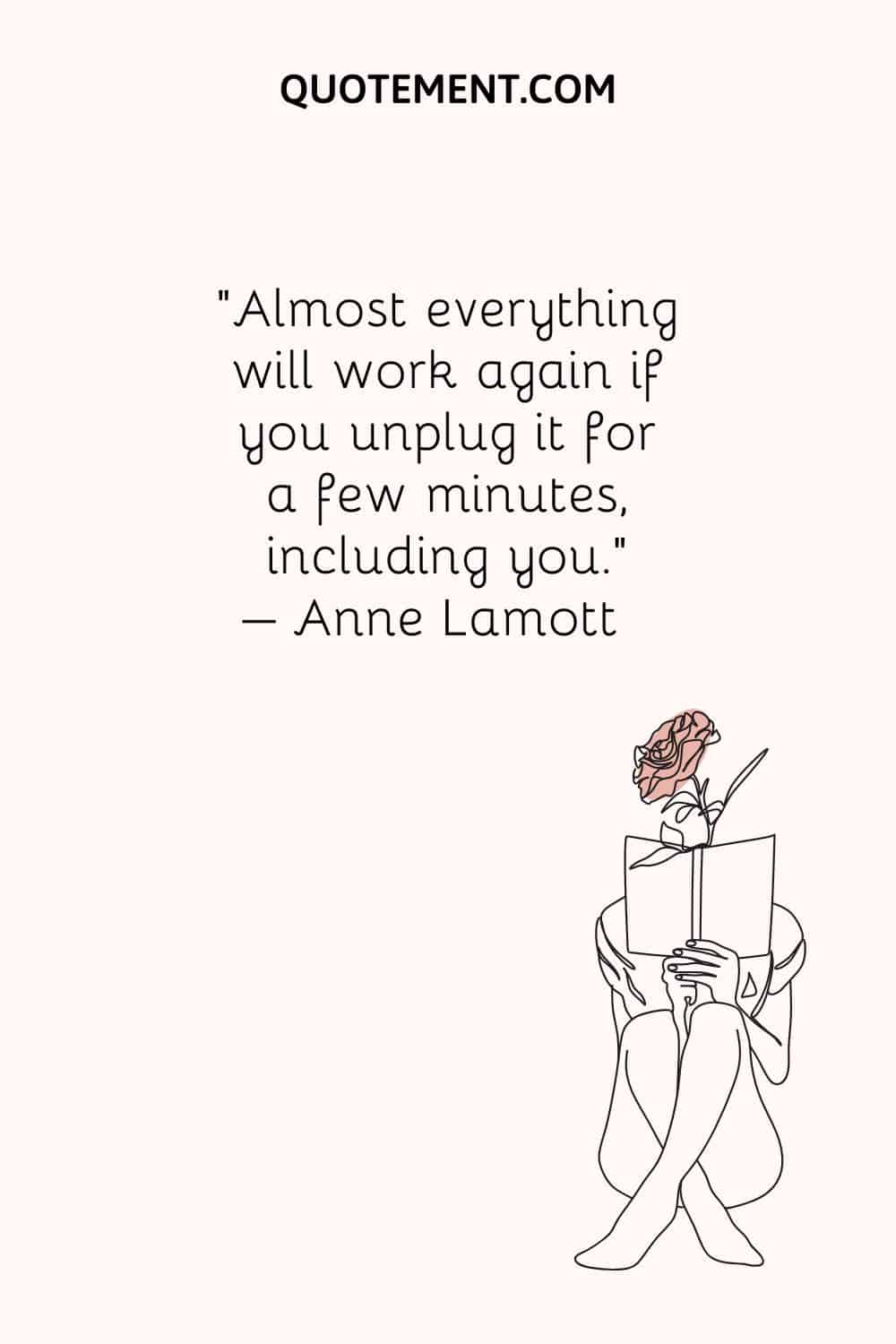 26. "If I was harsh with you, it was because I cannot bear to see you treat yourself as if you are worth nothing. Whatever part you might act to the contrary, I see you as you really are, my blood brother. Not just better than you pretend to be, but better than most people could hope to be." – Cassandra Clare
27. "Until you value yourself, you won't value your time. Until you value your time, you will not do anything with it." – M. Scott Peck
28. "I have come to believe that caring for myself is not self-indulgent. Caring for myself is an act of survival." – Audre Lorde
See also: 200 Me Myself And I Quotes To Make You Love Yourself More
29. "You have been criticizing yourself for years, and it hasn't worked. Try approving of yourself and see what happens." – Louise L. Hay
30. "To love yourself right now, just as you are, is to give yourself heaven. Don't wait until you die. If you wait, you die now. If you love, you live now." – Alan Cohen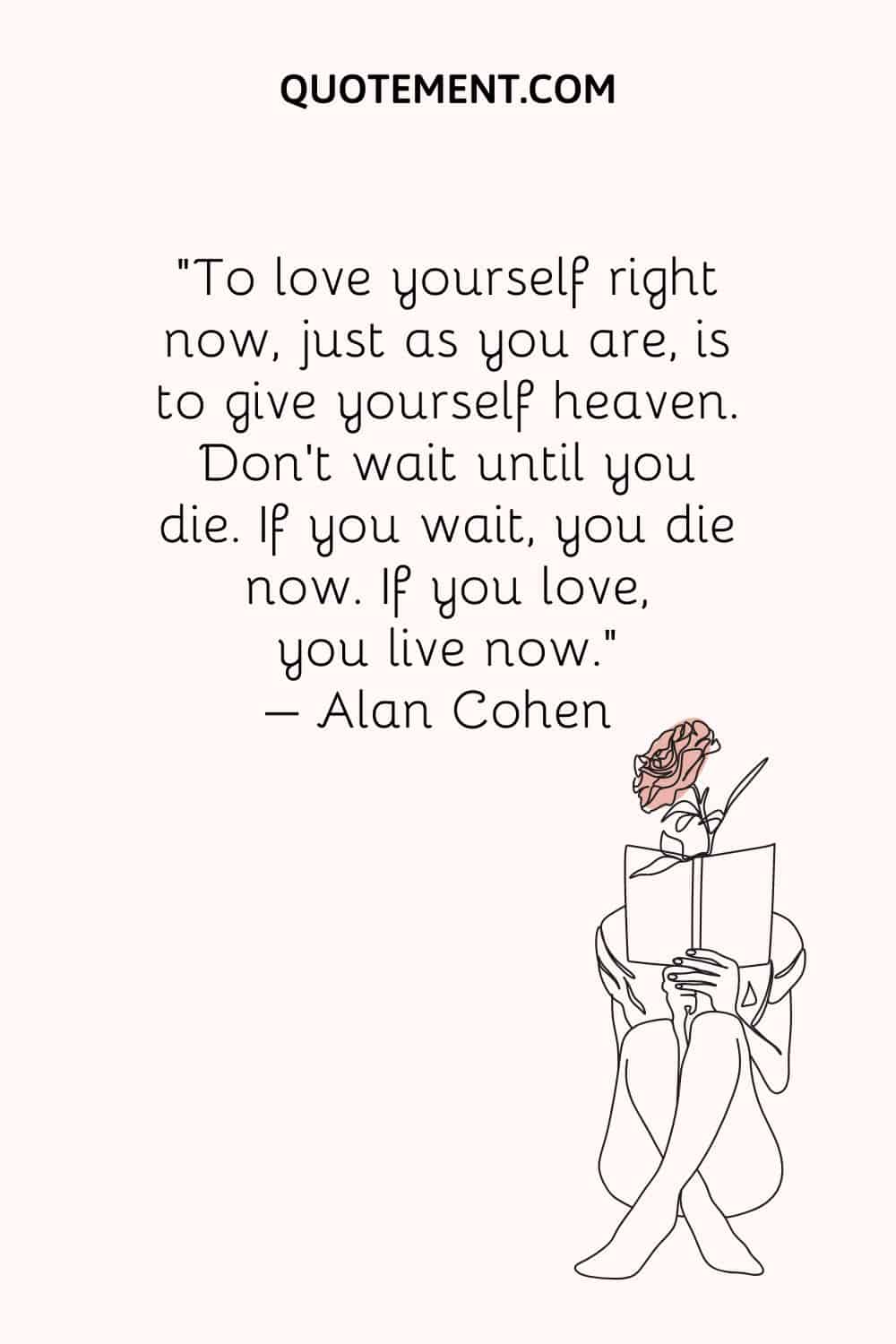 Brilliant Spoil Yourself Quotes
My collection of treat yourself quotes ends with more brilliant and wise words on spoiling yourself. Enjoy!
1. "Keep taking time for yourself until you are you again." – Lalah Delia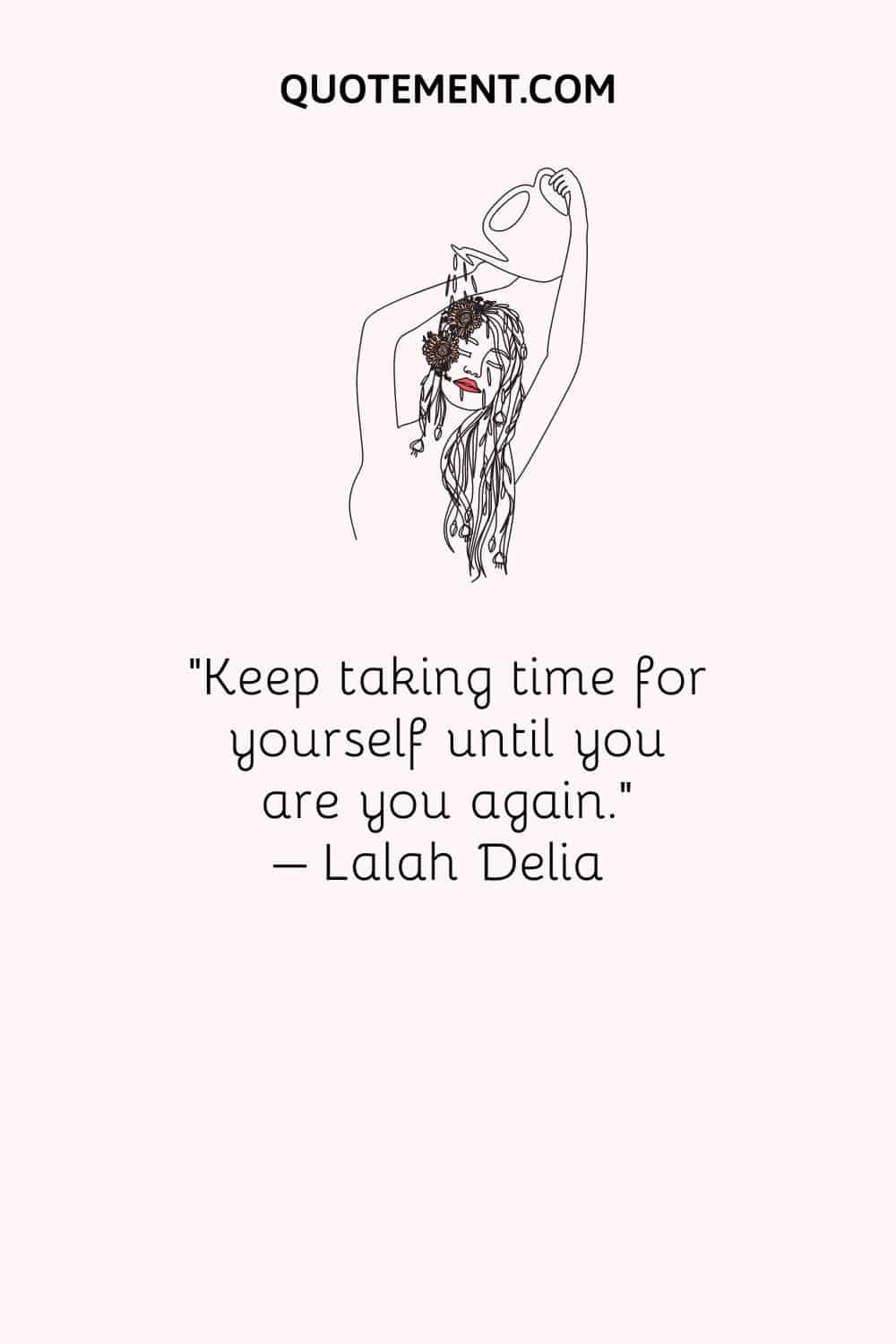 2. "It's important to have a balance in your life between work and play." – Bobby Flay
3. "People dwell so much on the little things, but why should they hold you back when you have the big things to look forward to? By exuding positive energy when dealing with your problems, you will exude it in your being in general. Treat yourself with love and you will exude love to others." – Hayley Hasselhoff
4. "Make time daily for your well-being." – Lailah Gifty Akita
5. "Treat yourself as your own beloved child." – Pema Chodron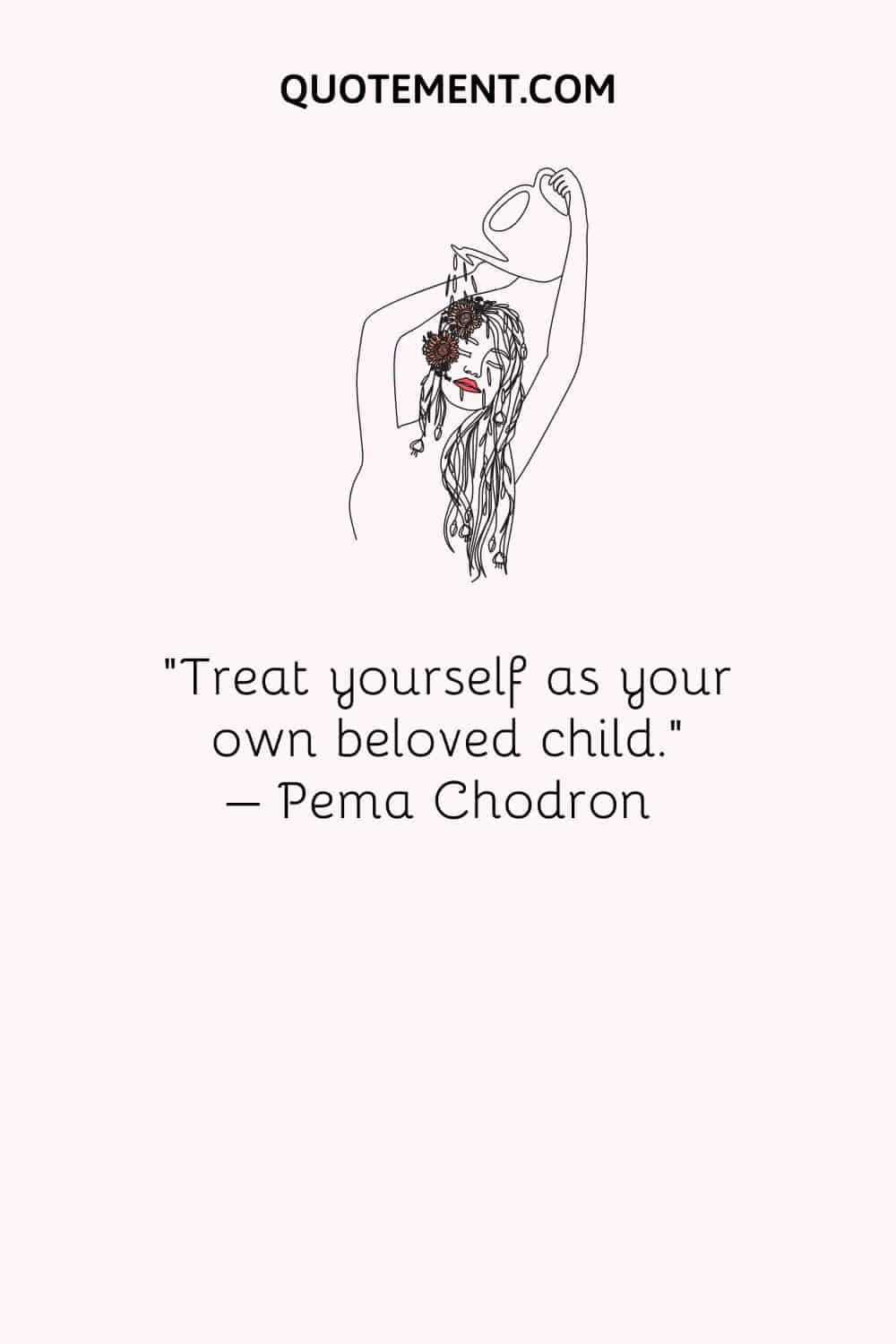 6. "One of the first pieces of advice I was ever given, on my first job was, you should always buy something to treat yourself to say well done for getting the job! However I've not followed on that through yet… I've always wanted a tattoo, something to mark my experience." – Sam Claflin
7. "Self-care is never a selfish act –– it is simply good stewardship of the only gift I have, the gift I was put on earth to offer to others." – Parker Palmer
8. "Spirituality is impacted not only by remembrance but by diet, stress, sleeping and eating habits among other things. Take care of yourself." – Nouman Ali Khan
9. "If you had a person in your life treating you the way you treat yourself, you would have gotten rid of them a long time ago." – Cheri Huber
10. "Your self-worth has nothing to do with your craft or calling, and everything to do with how you treat yourself." – Kris Carr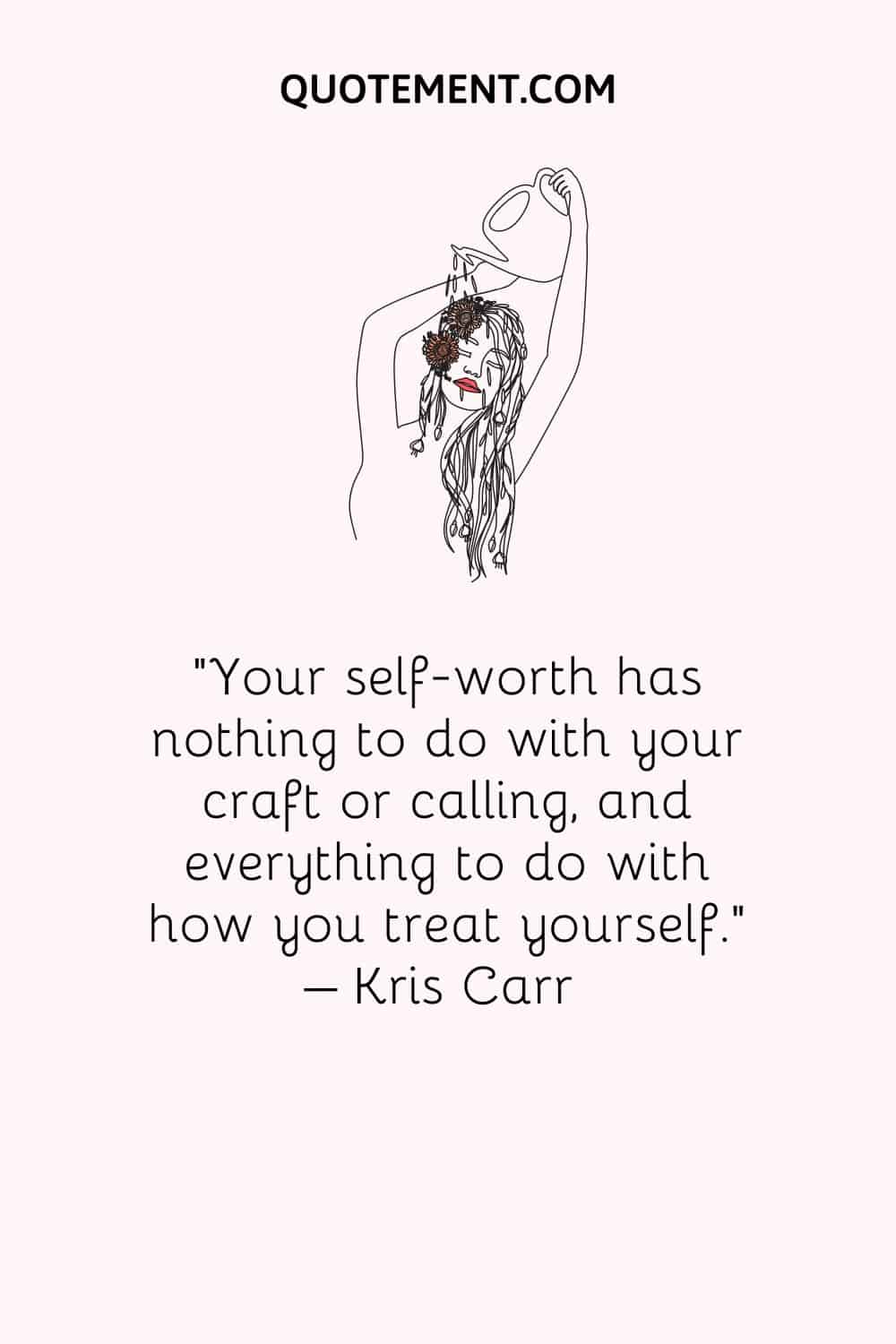 11. "Respect yourself and others will follow suit. Most people will not treat you any better than you treat yourself." – Leon Brown
12. "It matters whether you see yourself as someone who is capable of effecting change or whether you see yourself as someone whose voice does not count. It matters whether you treat yourself with reverence or with carelessness. Every bit of work you do on yourself matters. Every time you choose love, it matters." – Geneen Roth
13. "You've been provided with a perfect body to house your soul for a few brief moments in eternity. So regardless of its size, shape, color, or any imagined infirmities, you can honor the temple that houses you by eating healthfully, exercising, listening to your body's needs, and treating it with dignity and love." – Wayne Dyer
14. "Genuine relationships depend first on a healthy relationship with ourselves." – Sonia Choquette
15. "I think everybody can be beautiful. Anybody can have beauty. It's about how you look at the world, in a way, and how you treat yourself." – Elizabeth Peyton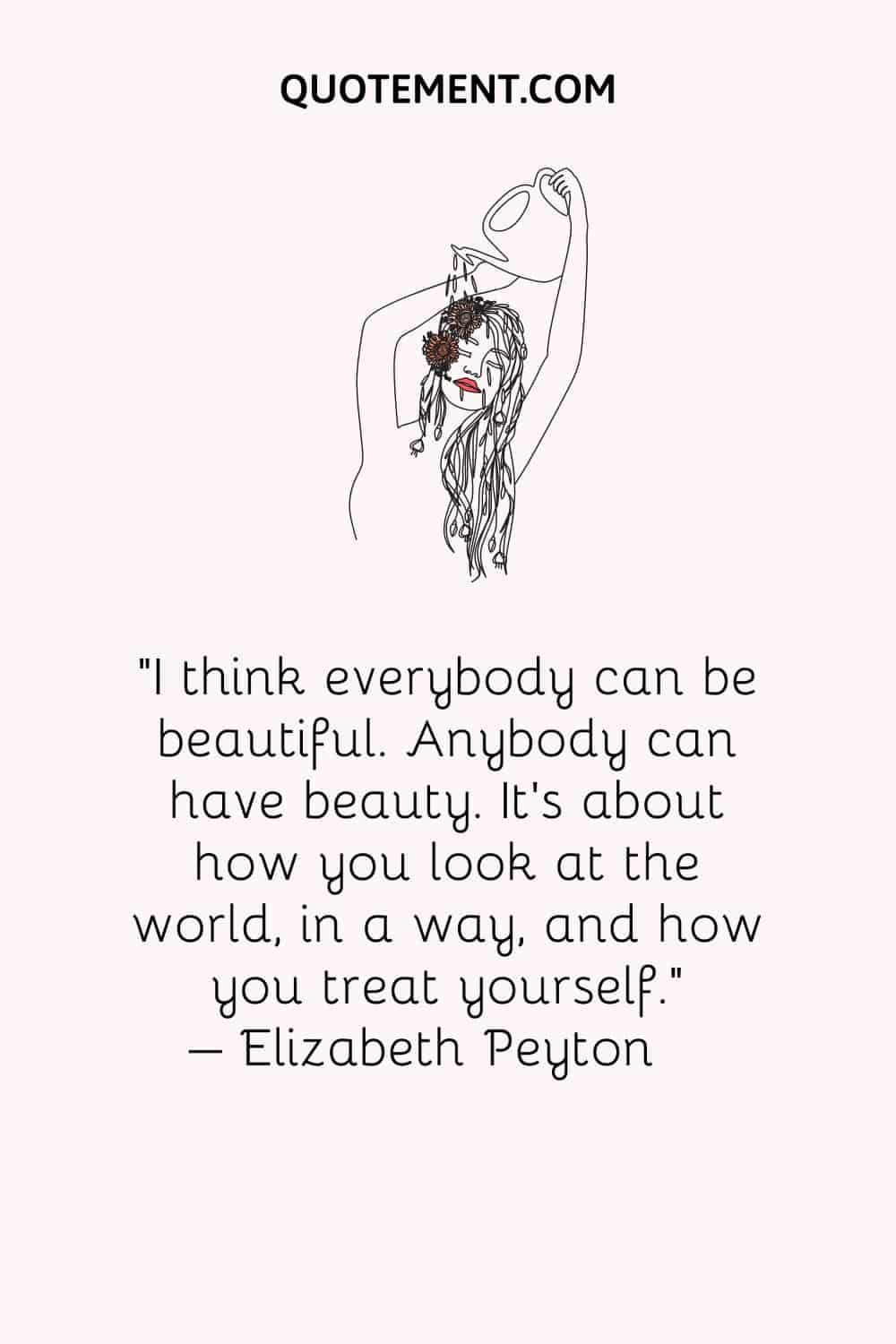 16. "Teach by example and treat yourself the way you would want your children to treat themselves." – Ingrid Weir
17. "As you move through the day, be aware of how you treat yourself. Be aware of what you do to and for yourself, because you set the standard for others. As you grow in your awareness of how you treat yourself, you will probably become aware of the example you have set for others. You may realize that the time has come to set a new example." – Iyanla Vanzant
18. "One of the things about equality is not just that you be treated equally to a man, but that you treat yourself equally to the way you treat a man." – Marlo Thomas
19. "If you want to know what you were conditioned to believe as a child, look at how you treat yourself now." – Cheri Huber
20. "When you feel yourself to be in critical condition, you must treat yourself as gently as you would a sick friend." – Julia Cameron
21. "I think the most difficult love begins with one's self. How you treat yourself is something you bring to your relationships." – Javier Bardem
22. "I come from a minimum wage working world, as we all did for at least some part of our lives, and that is never out of my rearview. I've never forgotten how much your feet hurt after you've stood on them for like 12 hours. And how the drudgery of a job you hate craps on your entire life; how you treat other people, how you treat yourself, and it really was getting to me." – Henry Rollins
23. "When you treat yourself right, you run better and more efficiently. Which means you don't have to go 100 miles an hour to get everything done." – Ann Curry
24. "Treat yourself and others with kindness when you eat, exercise, play, work, love, and everything else. When you think, feel, and act kindly, you hasten your ability to connect to the power of intention." – Wayne Dyer
25. "Treat yourself like an overweight, out of shape person and that's what you will be. Why not train and treat yourself like an athlete?" – Chalene Johnson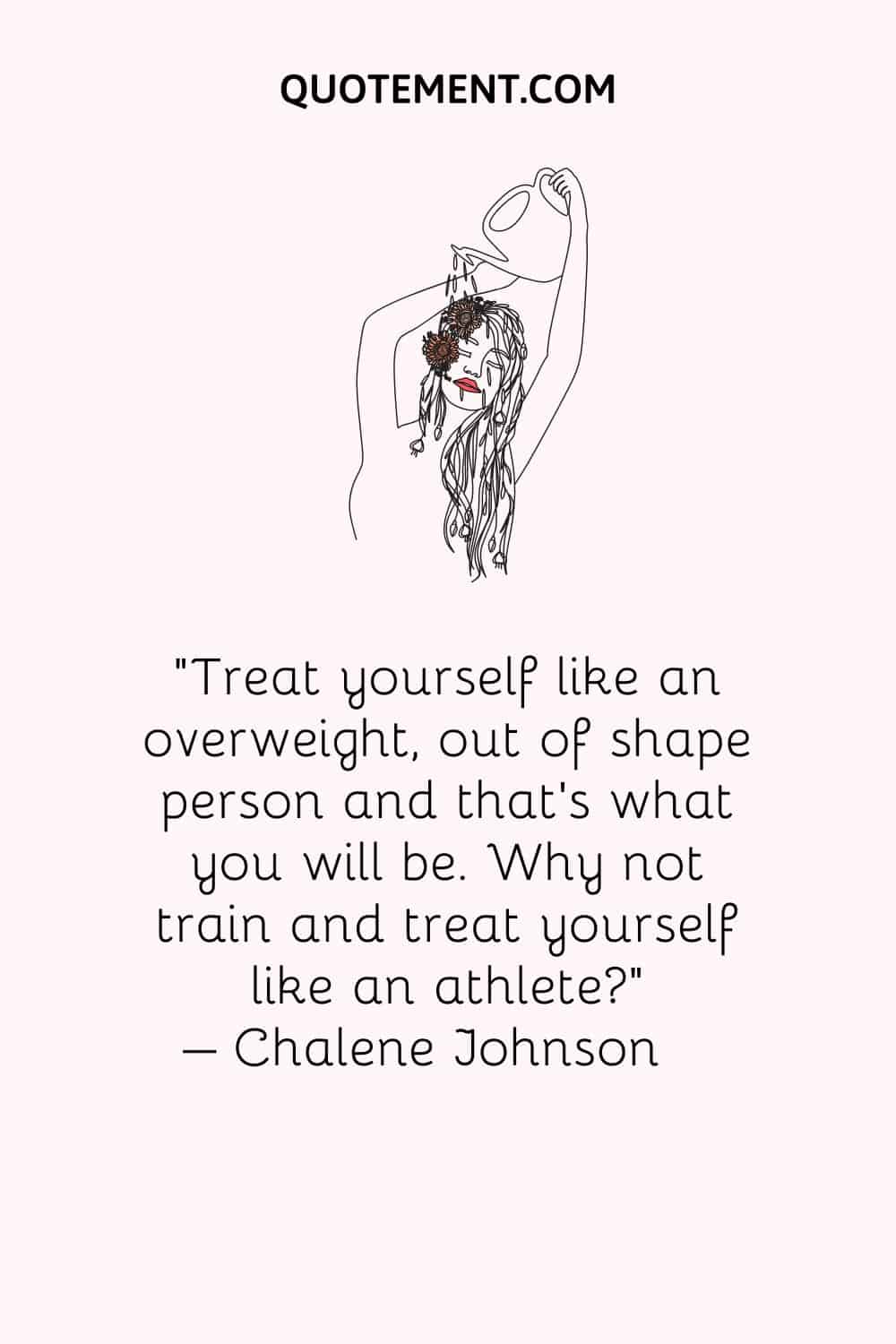 26. "When you do not treat yourself the way you want others to treat you, you can never change the way things are." – Rhonda Byrne
27. "Treat yourself the way you want to be treated by others… love yourself and you will be loved." – Rhonda Byrne
28. "The way you treat yourself sends a very clear message to others about how they should treat you." – Denise Linn
29. "I think it's really important to treat yourself with respect because sometimes people can get down on themselves." – David Archuleta
30. "The older you get, the more you realize that the way you look is a reflection of how you treat yourself." – Hope Davis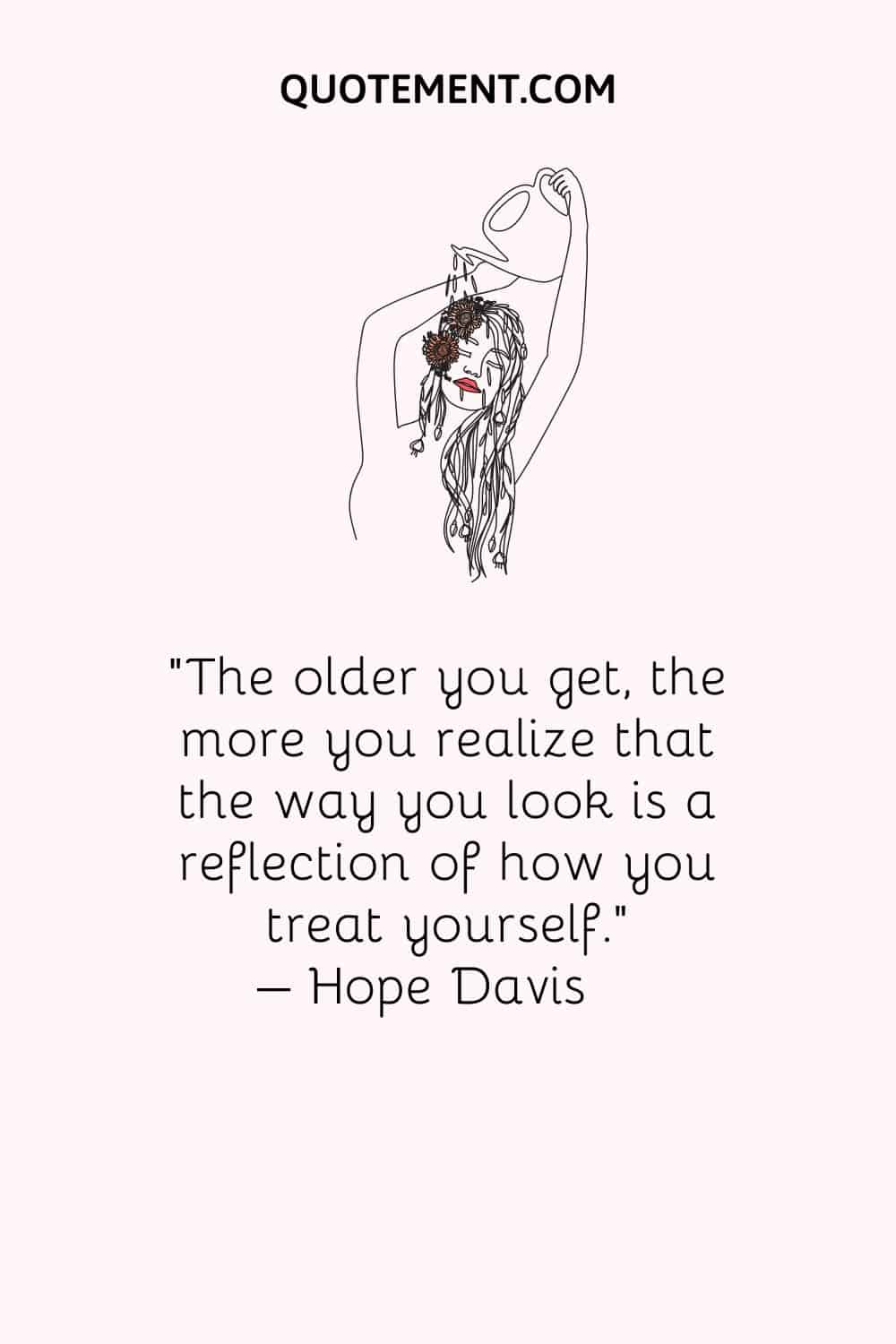 To Wrap It Up
Little by little, you've reached the end of my collection of 120 treat yourself quotes!
At the end of the day, we know we owe it to ourselves to be kind and loving to our mind and body.
I can't stress enough that it all starts with you – it's pointless to wait for other people to make us happy and feel good about ourselves. So, every once in a while make sure that you treat yourself!
You only live once, so why waste time? Be good to yourself and live your life to the fullest!
Finally, I hope you enjoyed reading this article! If you did, why not share it with your nearest and dearest? Sharing is caring. 🙂
Until next time!
Read next:
90 New Beginning Quotes To Embrace A New Day And New You
170 Self-Improvement Quotes To Make Your Life Better