For your favorite 10-year-old, nothing but the sweetest birthday greetings is allowed. Wonder where to find the best happy 10th birthday wishes? Well, right here in this article!
Entering the first double-digit age is a major milestone for kids.
That is why your birthday wishes for these celebrants should be nothing less than extraordinary.
Scroll down to read a list of such birthday wishes for a 10-year-old girl or boy!
Top 10 Happy 10th Birthday Wishes
1. "This is your first double-digit age. Everything you wish for shall come in double fold. You're totally going to rock this whole preteen stage. Happy bday, dear!"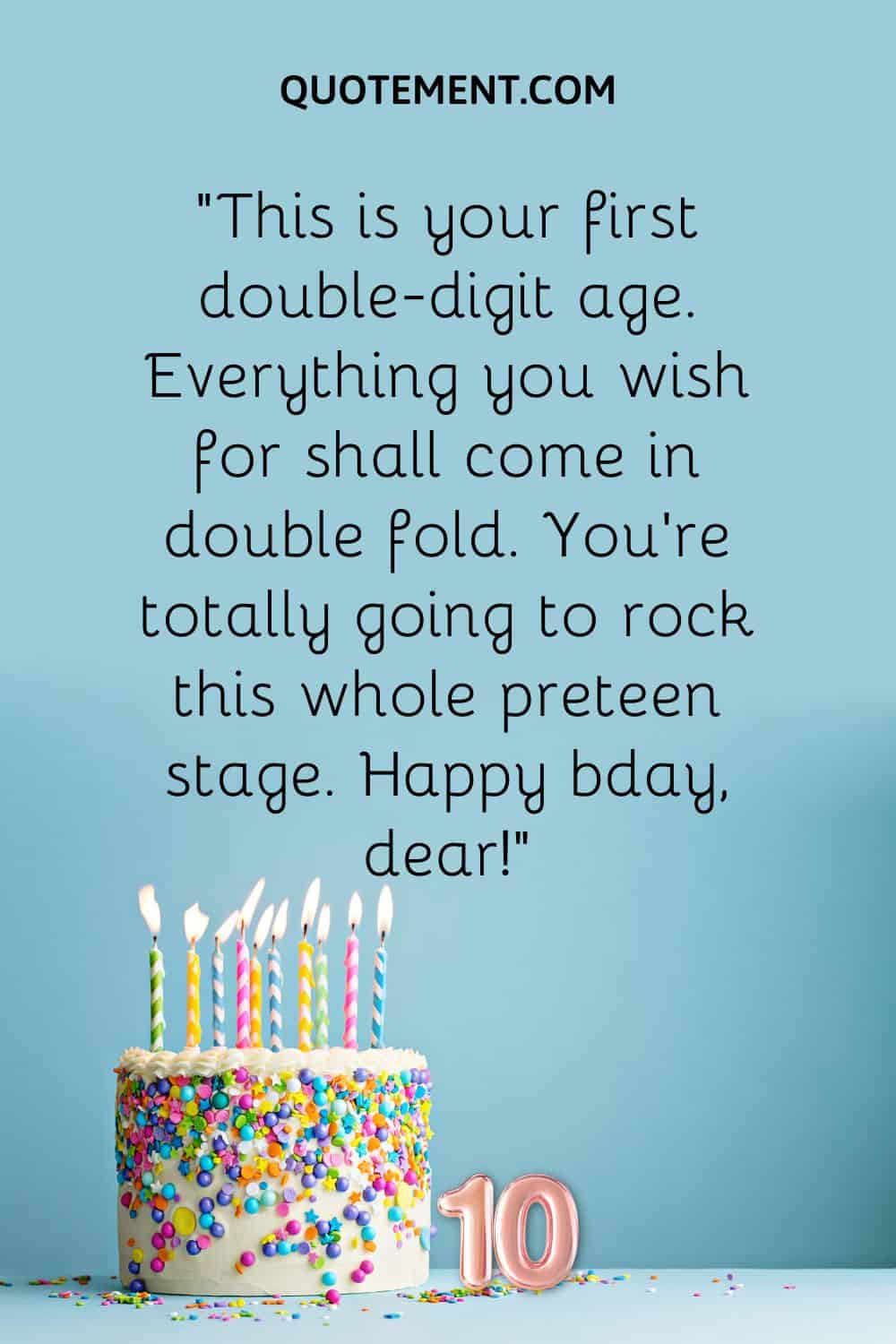 2. "It's your day to celebrate! It's your day to cheer! Now you can eat more birthday cake than you could hold last year! Now you can laugh louder and enjoy it even more 'cause this is a bigger birthday than you've ever had before!"
3. "Happy 10th birthday! You've just finished your very first decade. This calls for a BIG celebration — because you're officially a BIG kid now."
4. "Guess what? It's your birthday! Today we celebrate you and your awesomeness. There will be plenty of cake and ice cream, so you can invite your friends to come over. If you're lucky, you may even receive the best birthday present ever. Happy 10th birthday!"
5. "Happy birthday to a truly exceptional kid who just got even more exceptional today! May you enjoy your big day, and may some of your biggest wishes come true today!"
6. "We definitely cannot call you a "little kid" anymore. You are now in the double digits, so we should start calling call you a "teenager in training" today! Happy double-digit birthday!"
7. "Blow out the 10 candles on your birthday cake and make 10 birthday wishes. After all, you're 10 today! Happy 10th birthday!"
8. "WOW, you're 10. You're not a teenager yet, but I guess you can call yourself a ten-ager. Happy 10th birthday!"
9. "May this first day and all the days of your membership in the great Double-Digit Club be filled with happiness and lovely smiles. Happy 10th birthday!"
10. "Happy 10th birthday! Starting today, you shouldn't be treated like a kid anymore. You're too much of a tweener for that."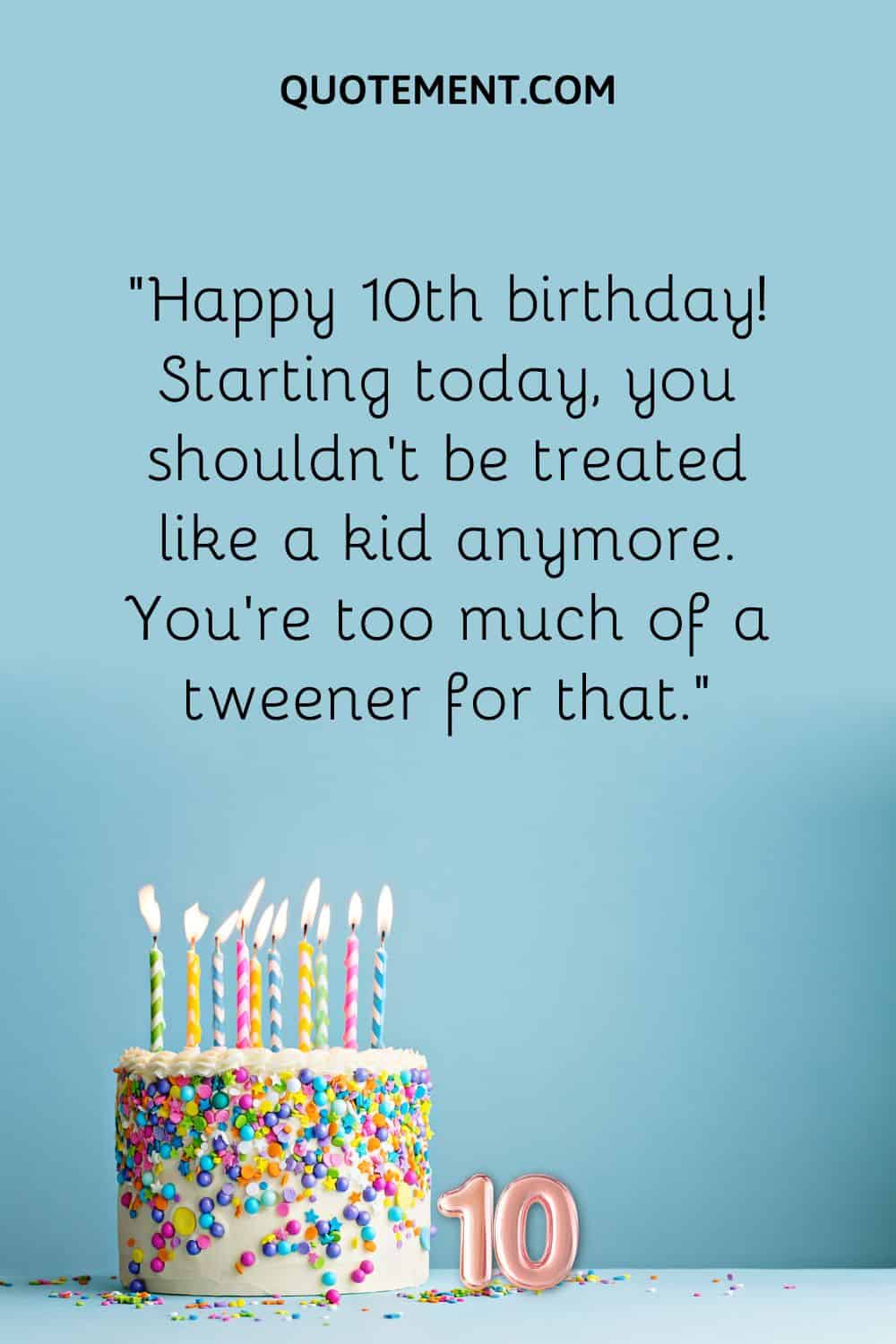 Sweet Birthday Wishes For 10-Year-Old
1. "This is, without a doubt, a very important day in your life, my dear, because it is the day you join the prestigious Double Digit Association. Happy 10th birthday!"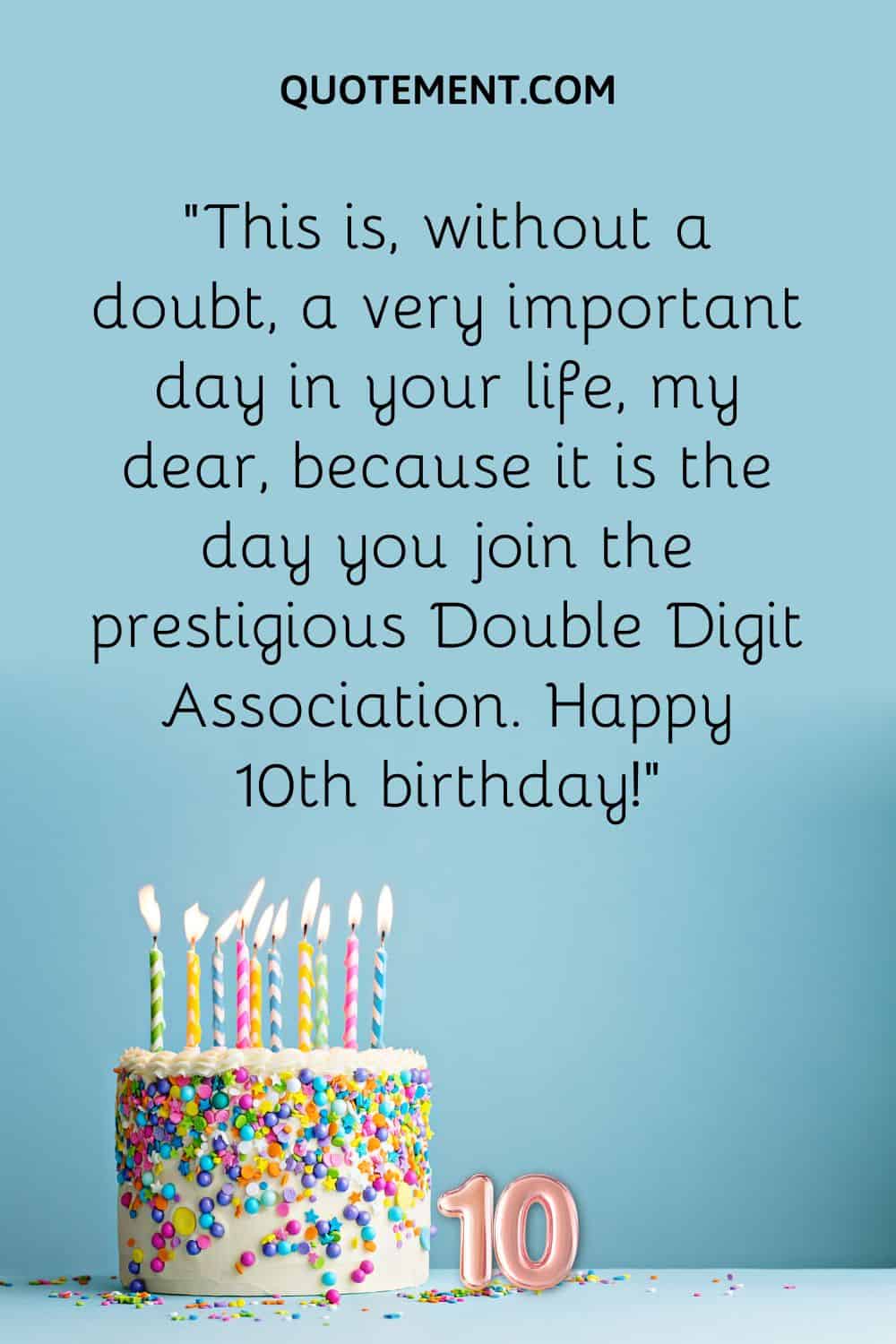 2. "Happy birthday to the coolest 10-year-old in town. Enjoy every second of this amazing day of yours!"
3. "I wish you nothing but good luck and happiness galore as you take your first steps into this truly amazing chapter of your life. Happy 10th birthday."
4. "Happy 10th birthday! I wish I was as good-looking and intelligent as you are when I turned 10. Enjoy every moment of being fabulous 10."
5. "Turning 10 is the definition of a real milestone! I hope this extraordinary time of your life brings you all the blessings in the world. Happy birthday to a very special kid."
6. "Enjoy your 10th birthday to the fullest. That means getting the fullest you've ever been with lots of birthday cake and ice cream."
7. "If anyone is destined to achieve greatness, it's you, my dearest child. My best wishes for your tenth birthday!"
8. "Just like the rivers always go to the sea, I will always be where you are to love, protect, support, and guide you. Happy 10th birthday!"
9. "Welcome to one of the most beautiful chapters of your life, my sweet child. May the first two-digit birthday celebration of your life be as wonderful as paradise. Happy 10th birthday to you!"
10. "As you blow out the 10 candles decorating your birthday cake, do know that you make me exceedingly happy. I will love you til the end of the universe. Happy birthday!"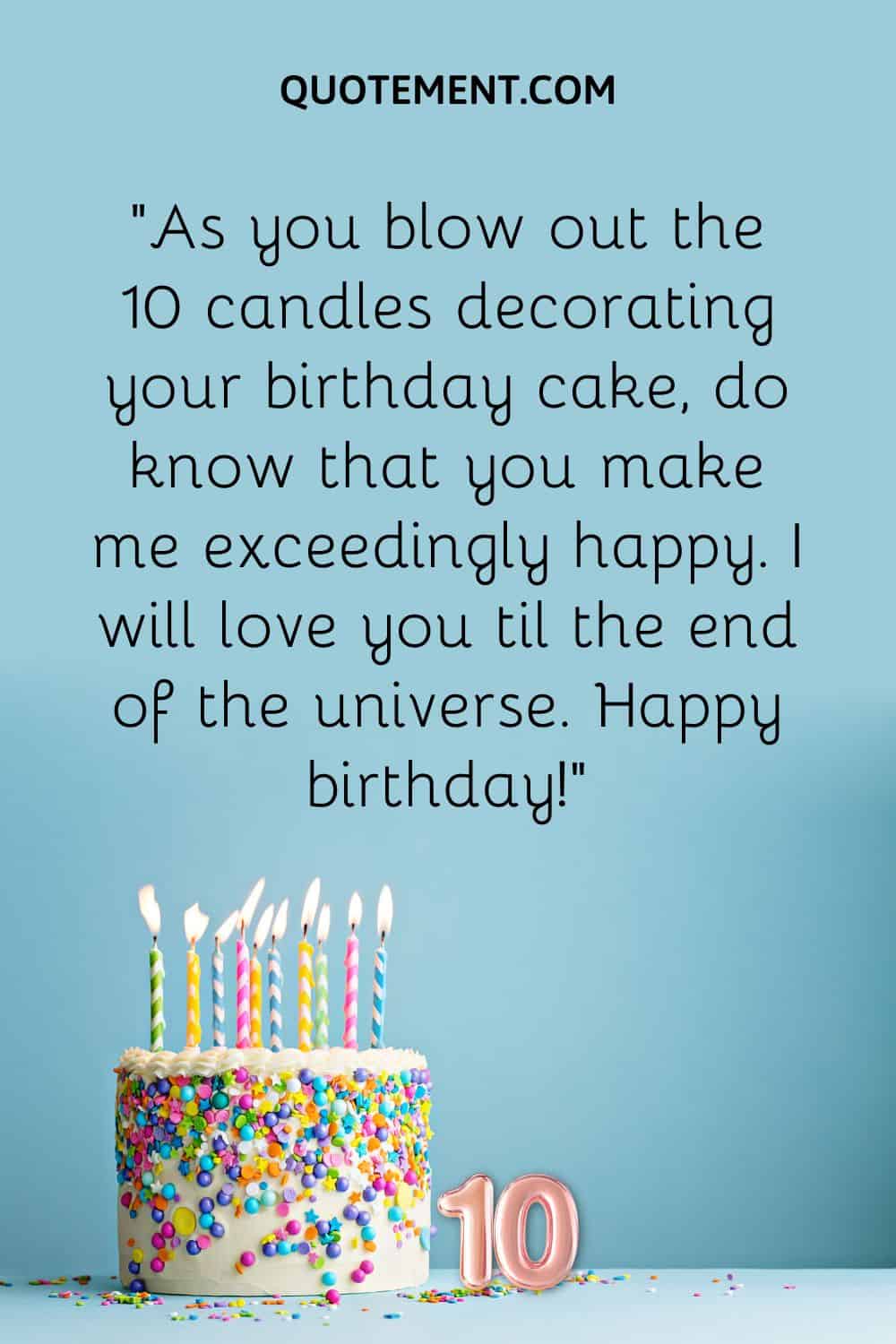 Happy 10th Birthday Boy
1. "Happy 10th birthday, boy. The most amazing part of your life has just begun. I hope you enjoy every blessed moment of this awesome chapter to the fullest."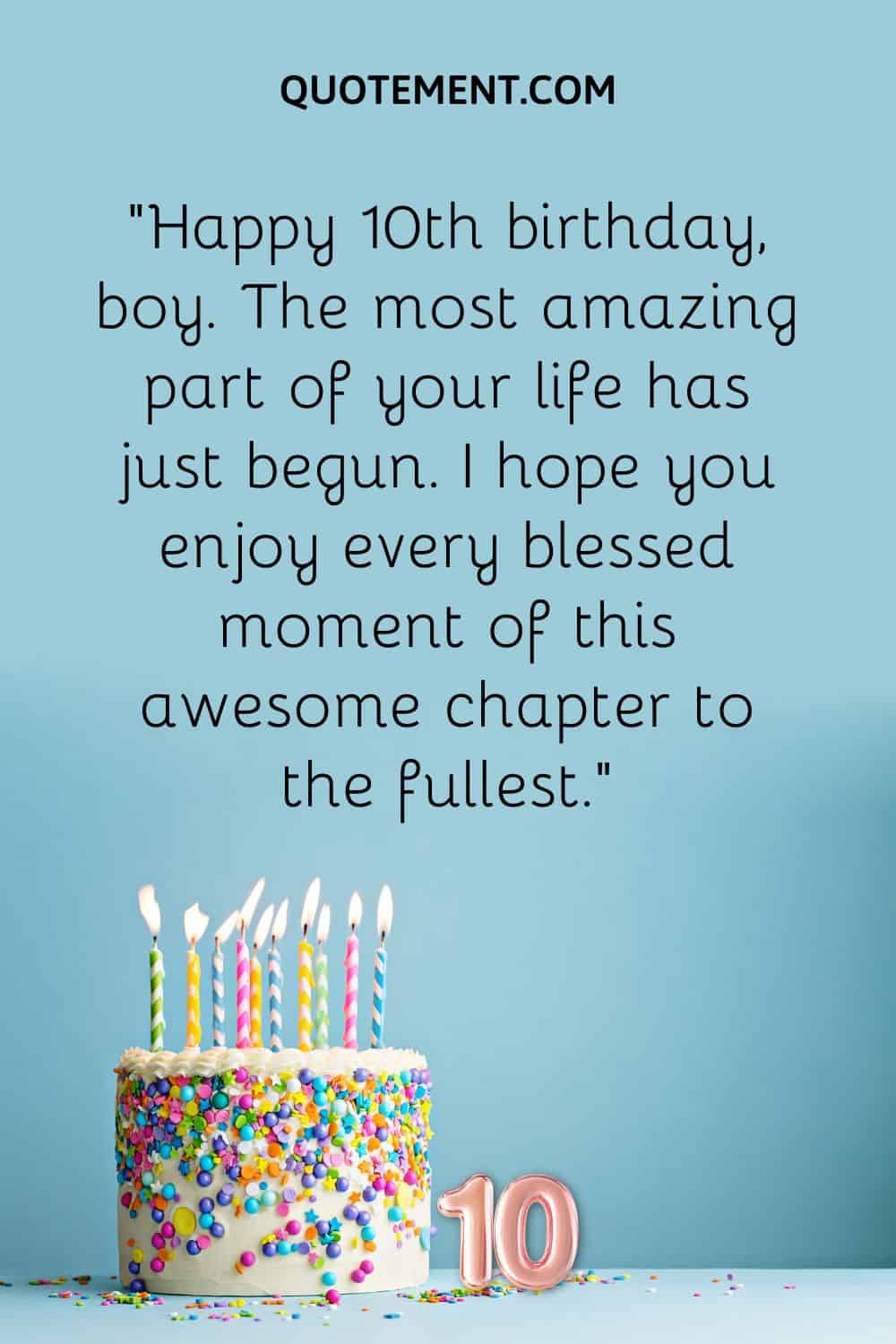 2. "Congratulations on turning into a fine young man. I can't believe how tall, strong and handsome you have become. Happy 10th birthday to the most phenomenal kid in the neighborhood!"
3. "My warmest wishes, birthday boy! May your life be full of happiness and lots of fun."
4. "You're officially in the dapper double-digit club! Congrats to the best 10-year-old ever. Hope your special day is befitting of such a prince."
5. "I hope you have an amazing day as you deserve and the absolute best birthday party this year, seeing as it is your very special 10th birthday! I love you!"
Happy 10th Birthday Girl
1. "Bravo, you are 10 and now a big girl! May you live long and be happy all the days of your life. Happy birthday to you, princess!"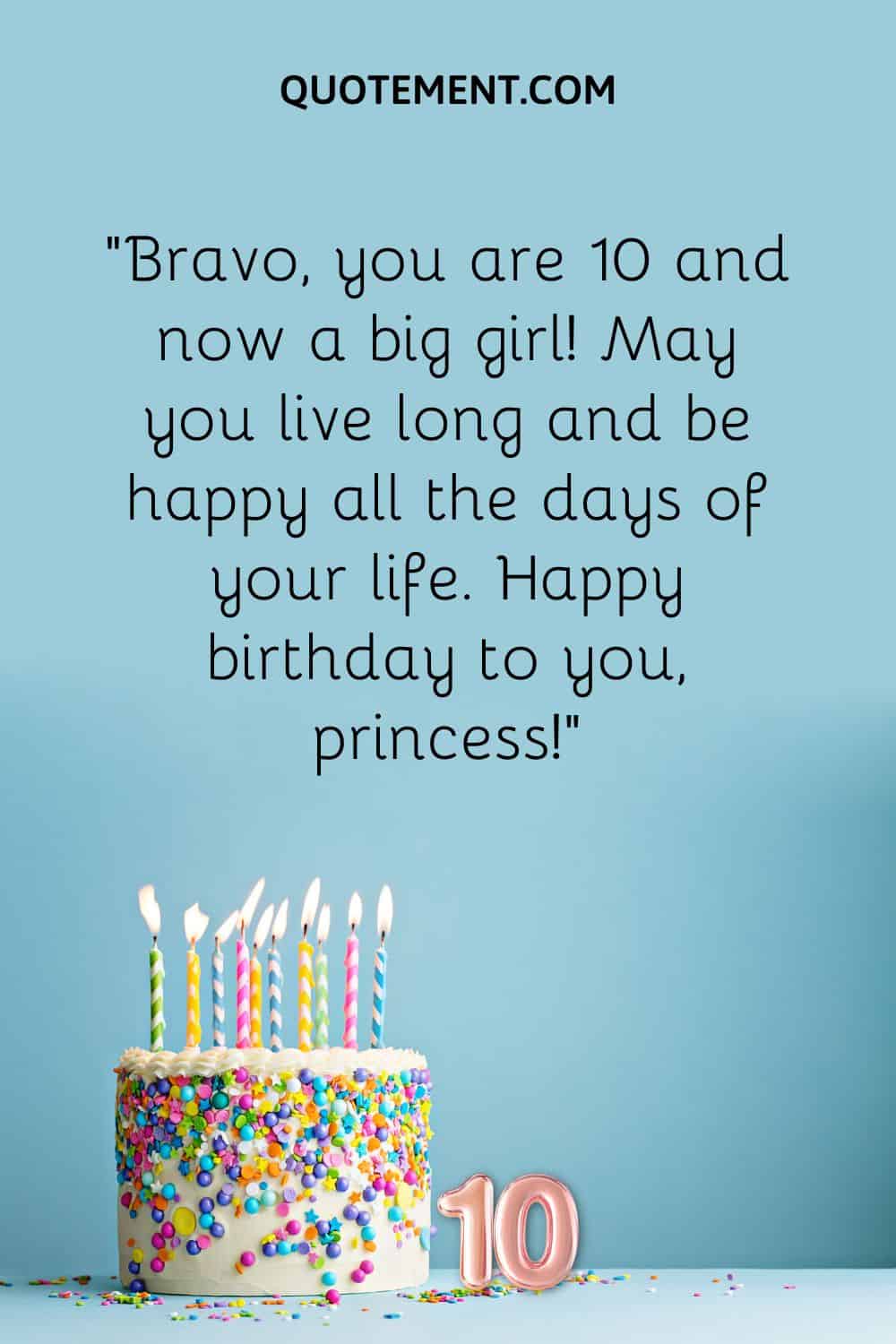 2. "Happy 10th birthday to a truly perfect young lady. May happiness be with you from dusk to dawn all the days of your life."
3. "Happy 10th birthday to the most beautiful 10-year-old girl in the whole wide world. Sweetheart, I hope you will enjoy this beautiful and very special occasion of your existence with great joy and happiness."
4. "Happy birthday to an extraordinarily pretty girl who is turning ten today. You are now officially no longer a baby, and I'm so happy to share this great day with you!"
5. "My best wishes to the most amazing girl in the world as she celebrates this super significant day of her life. Keep blooming with each passing day. Happy 10th birthday."
Happy 10th Birthday Wishes To Put In A Greeting Card
1. "This happy birthday card is my way of letting you know that you're one in a gazillion people, and that's really special. May your special day be filled with happiness and joy!"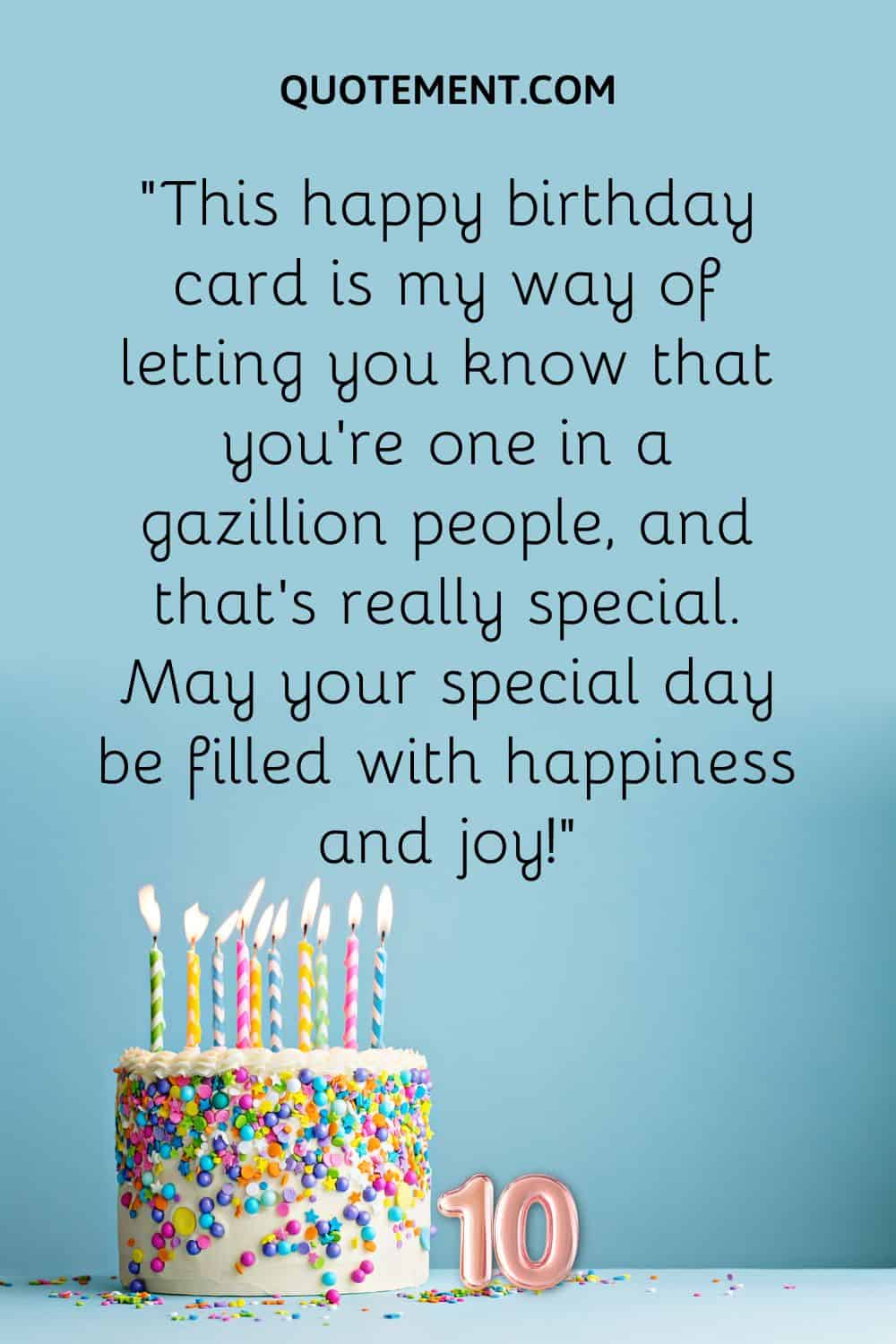 2. "I might not be able to celebrate your birthday with you, but this 10th birthday message wish in a greeting card comes from my heart. May God's blessings pour upon you from today onwards. Best birthday!"
3. "As you open your birthday gifts today, never forget that you are the gift that I open every single day. You are the biggest blessing from above, and I will take care of you and love you until the day I die. May this tenth birthday be another unforgettable one."
4. "How exciting that such an extraordinary kid is celebrating the first decade of life. Please accept my heartfelt wishes on this 10th birthday card for a day worthy of your kind and generous spirit."
5. "Happy 10th birthday, honey! May you get the best of everything today – from the best presents and best friends to the best hugs and kisses – enjoy your day, sweetie!"
6. "There's a new 10-year-old kid in town. You. Now that you're 10, you are a grownup in training. That means you deserve R-E-S-P-E-C-T sooner rather than later. You definitely have ours. Happy 10th birthday!"
7. "Happy 10th birthday! You deserve to be treated more like a grownup — because that's what you're beginning to look like to me."
8. "Happy 10th birthday! Bravo on turning one decade old! I realize it sounds old, but that only makes you 10 and means you have 10 birthday wishes to make. Hope each one comes true!"
9. "Happy 10th birthday. Just 10 years ago, you came into our lives and changed everything…for the better. Now, 10 years later, you're changing every day…making our lives better than ever."
10. "Turning 10 is a major milestone – not just because it's your first double-digit birthday, but also because it's the first year you can proudly call yourself a BIG KID."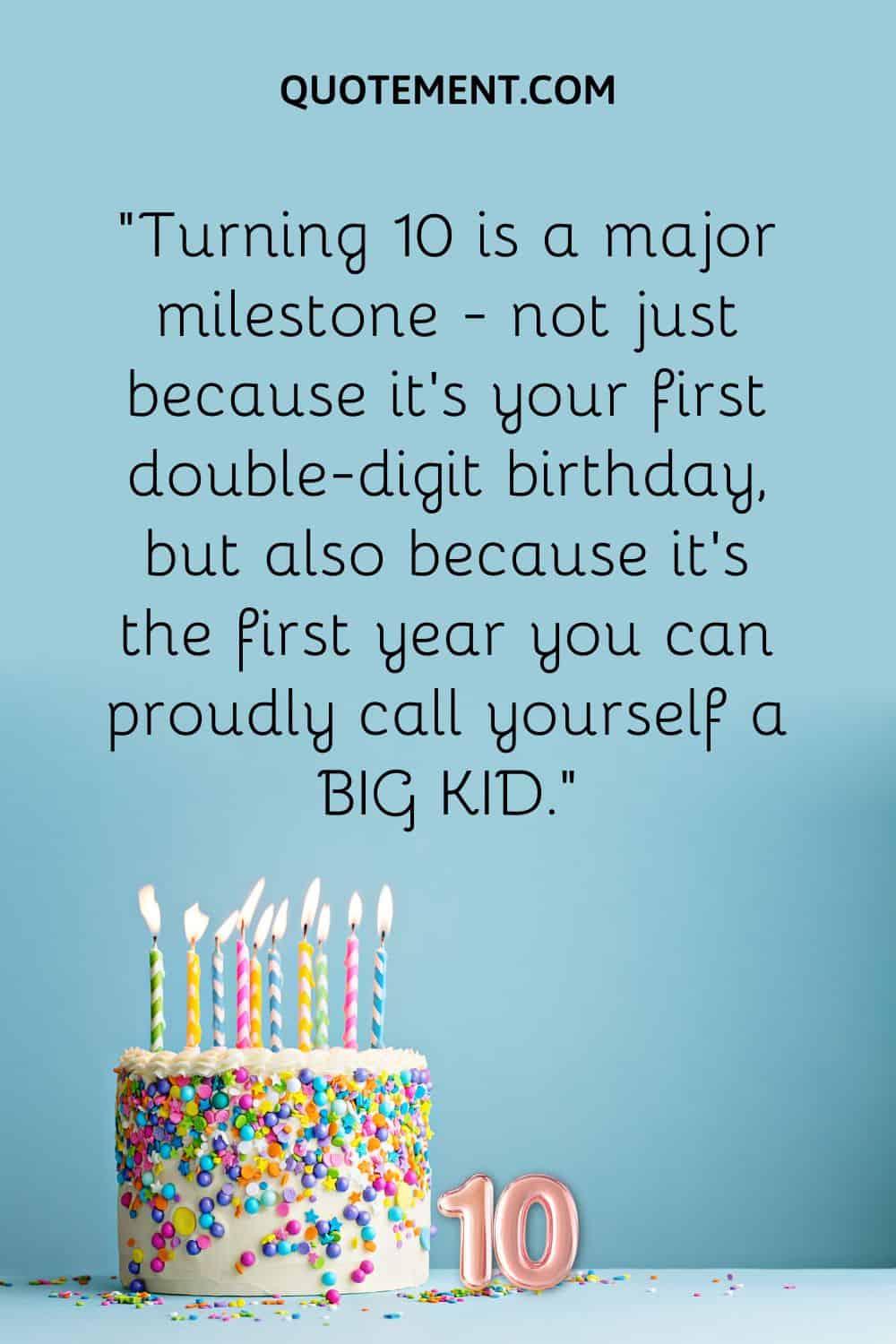 To Conclude
I hope this article enabled you to create the perfect happy 10th birthday wish for your dear 10-year-old marking the end of his/her childhood phase and the beginning of the exciting pre-teen phase.
Until next time!
Read next: 100 Adorable Happy 11th Birthday Wishes For Their Big Day