Dancing is a form of expressing your emotions and letting yourself move with the rhythm of your own body.
It is fundamental to being human, and is a millennia-old form of creativity that has transcended nations. Only dancers understand what it is like to devote their lives to their passion.
Fast, slow, passionate, professional or amateur, dancing is beautiful if it sparks inner joy in the individual who is dancing, or watching others dance.
Now, let's cut to the chase and read some of the best dance quotes that I could find online!
Best Dance Quotes
1. "And those who were seen dancing were thought to be insane by those who could not hear the music." ― Friedrich Nietzsche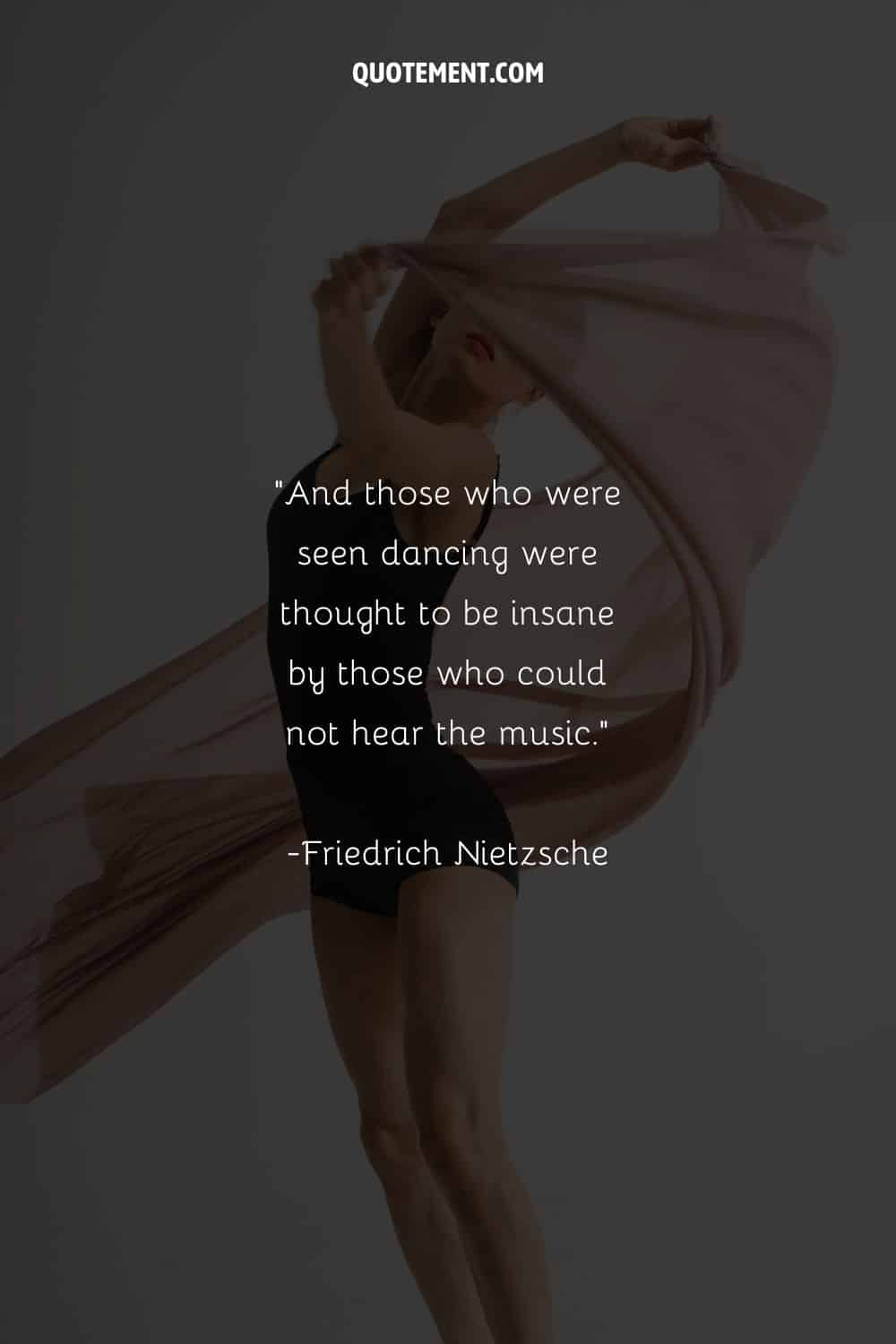 2. "You've gotta dance like there's nobody watching,
Love like you'll never be hurt,
Sing like there's nobody listening,
And live like it's heaven on earth." ― William W. Purkey
3. "Let us read, and let us dance; these two amusements will never do any harm to the world." ― Voltaire
4. "Dance, when you're broken open. Dance, if you've torn the bandage off. Dance in the middle of the fighting. Dance in your blood. Dance when you're perfectly free." ― Rumi
5. "Life isn't about waiting for the storm to pass…It's about learning to dance in the rain." ― Vivian Greene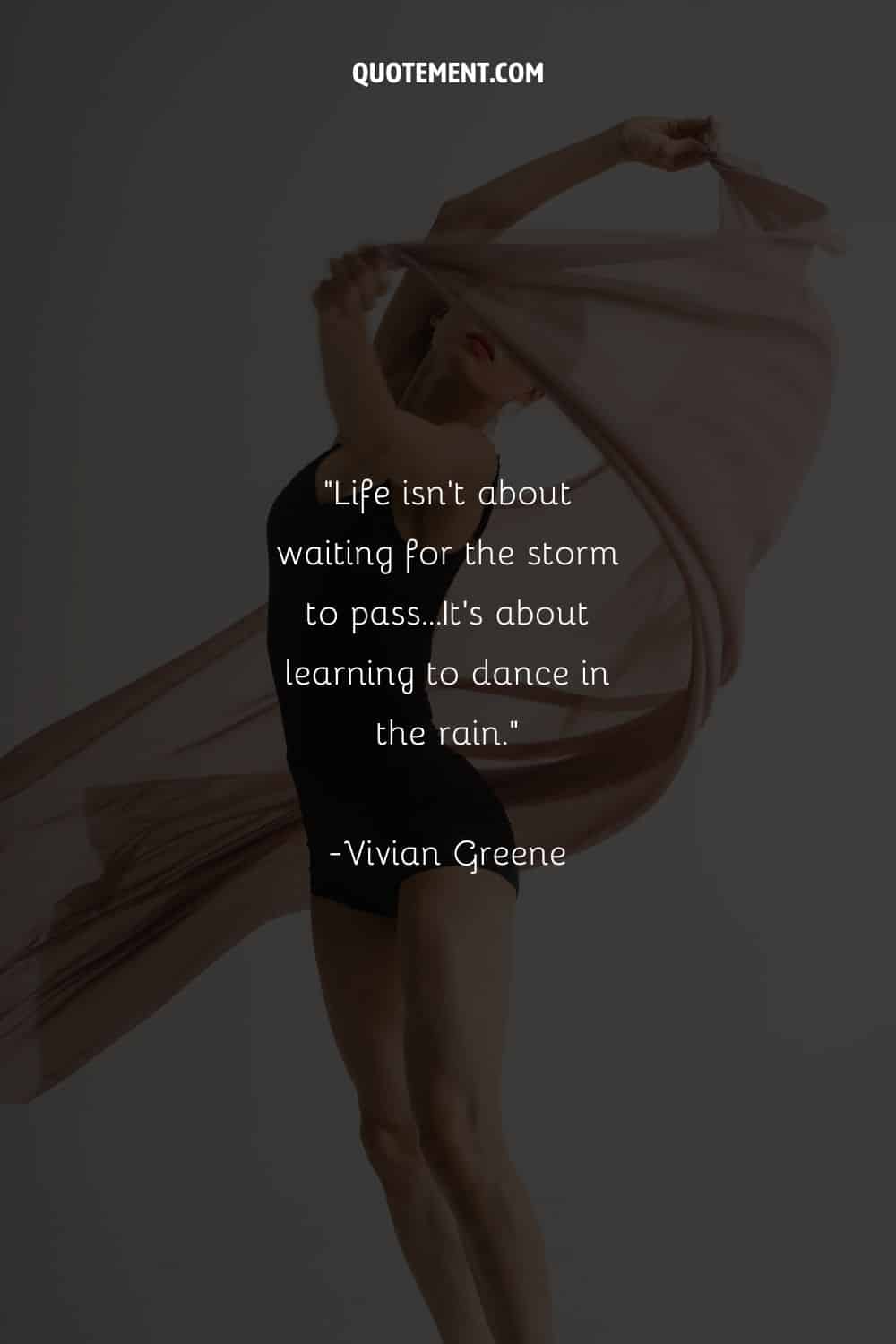 6. "We should consider every day lost on which we have not danced at least once." ― Friedrich Wilhelm Nietzsche
7. "To be creative means to be in love with life. You can be creative only if you love life enough that you want to enhance its beauty, you want to bring a little more music to it, a little more poetry to it, a little more dance to it." ― Osho
8. "Life is the dancer and you are the dance." ― Eckhart Tolle, A New Earth: Awakening to Your Life's Purpose
9. "If a man doesn't know how to dance he doesn't know how to make love, there I said it!" ― Craig Ferguson
10. "Dance is the hidden language of the soul." ― Martha Graham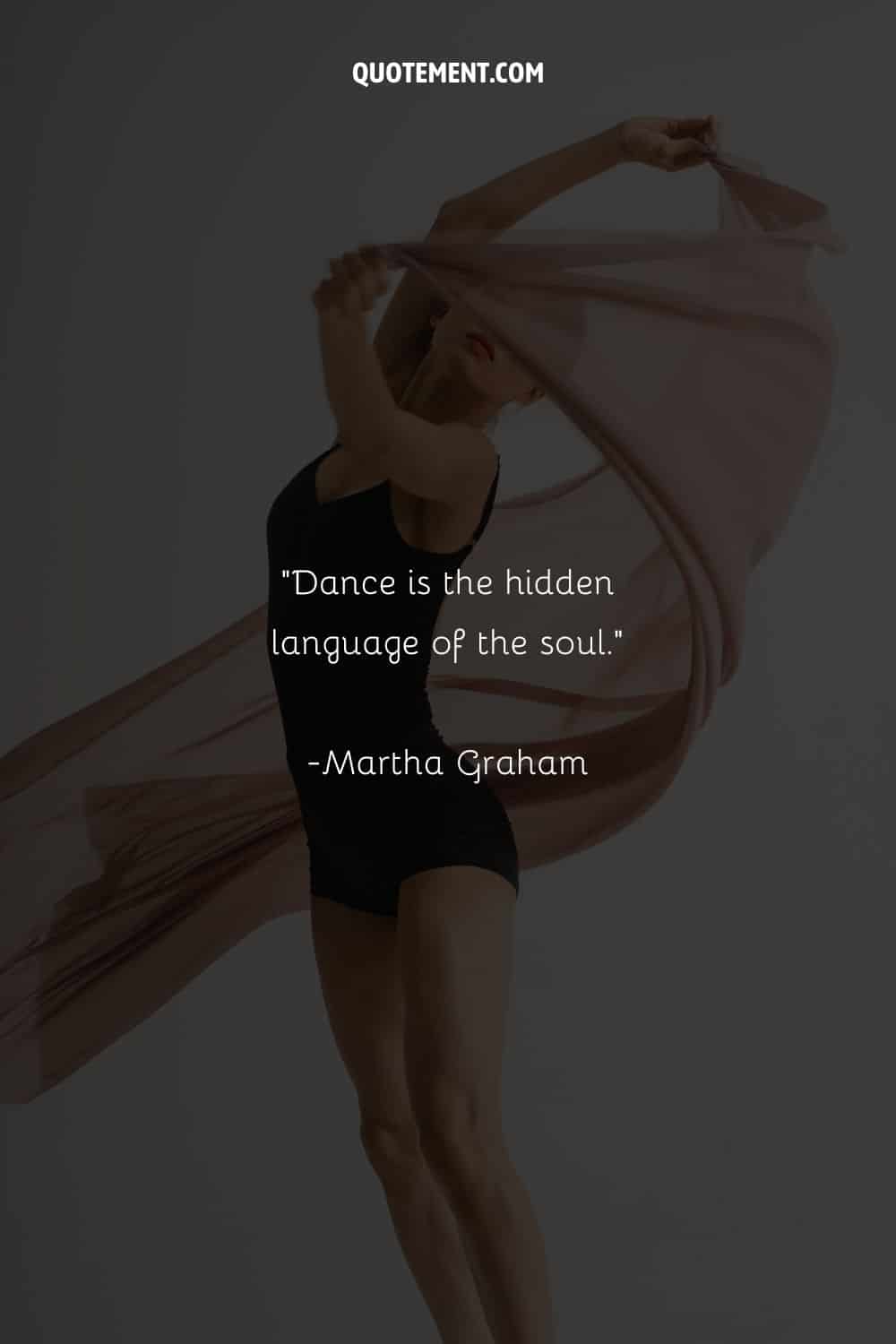 Famous Dance Quotes
1. "Let us dance in the sun, wearing wild flowers in our hair…" ― Susan Polis Schutz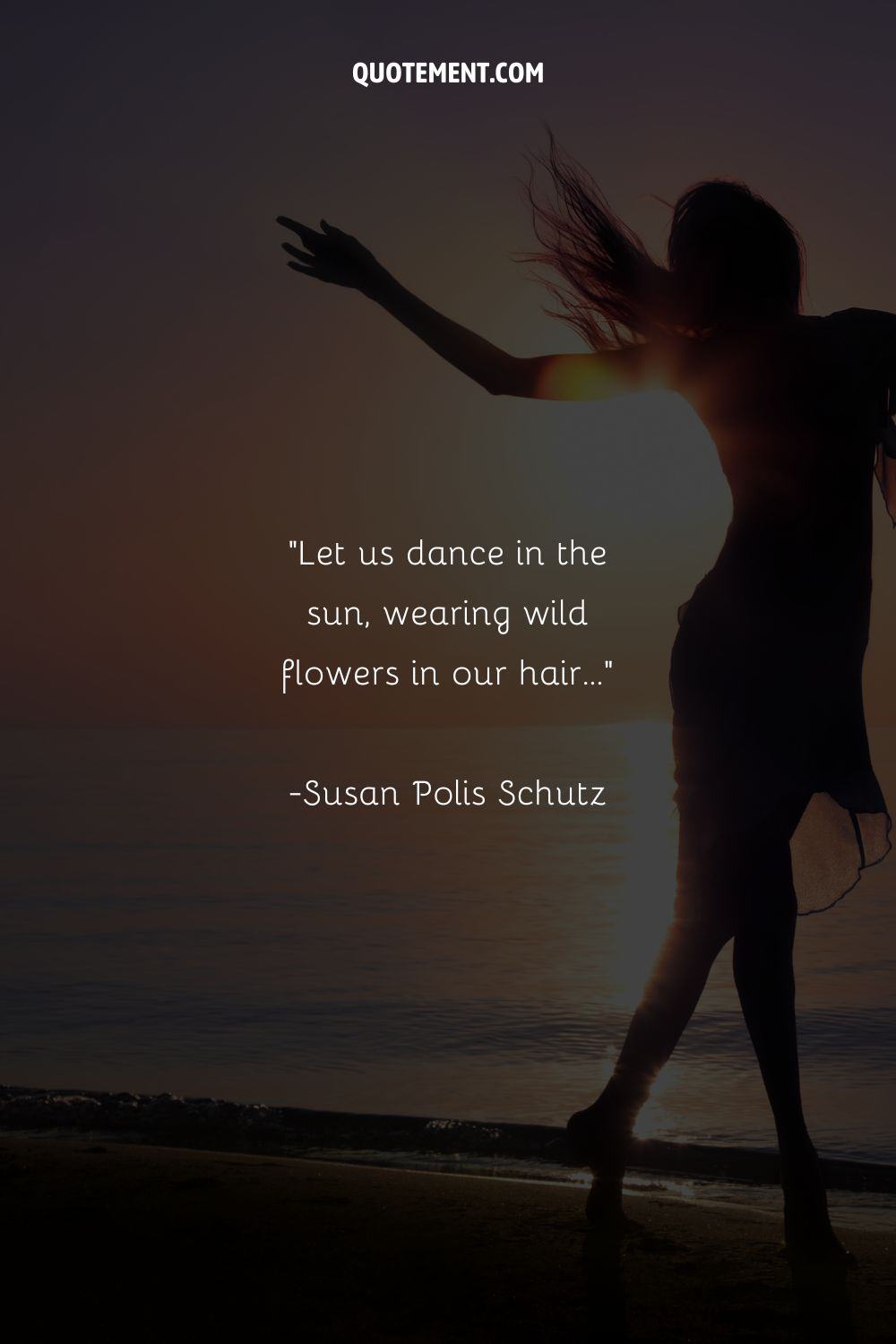 2. "After all, Ginger Rogers did everything that Fred Astaire did. She just did it backwards and in high heels." ― Ann Richards
3. "Do a loony-goony dance
'Cross the kitchen floor,
Put something silly in the world
That ain't been there before." ― Shel Silverstein, A Light in the Attic
4. "Faeries, come take me out of this dull world,
For I would ride with you upon the wind,
Run on the top of the dishevelled tide,
And dance upon the mountains like a flame." ― William Butler Yeats, The Land of Heart's Desire
5. "The only way to make sense out of change is to plunge into it, move with it, and join the dance."― Alan Wilson Watts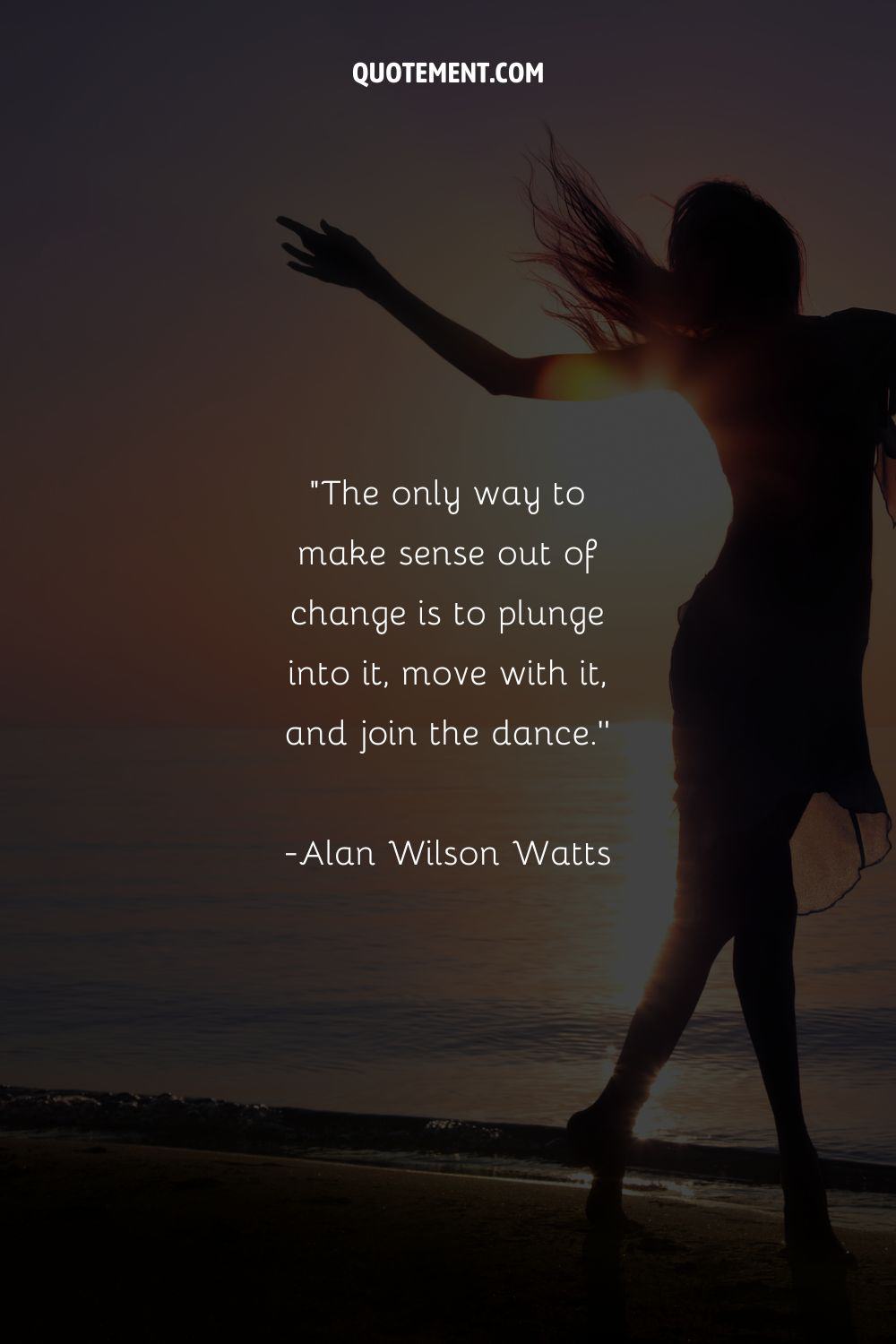 6. "Every day brings a chance for you to draw in a breath, kick off your shoes, and dance."
― Oprah Winfrey
7. "Nobody cares if you can't dance well. Just get up and dance. " ― Dave Barry
8. "I don't want people who want to dance, I want people who have to dance. " ― George Balanchine
9. "If you've got nothing to dance about, find a reason to sing." ― Melody Carstairs
10. "It's the heart afraid of breaking that never learns to dance." ― Xiaolu Guo, A Concise Chinese-English Dictionary for Lovers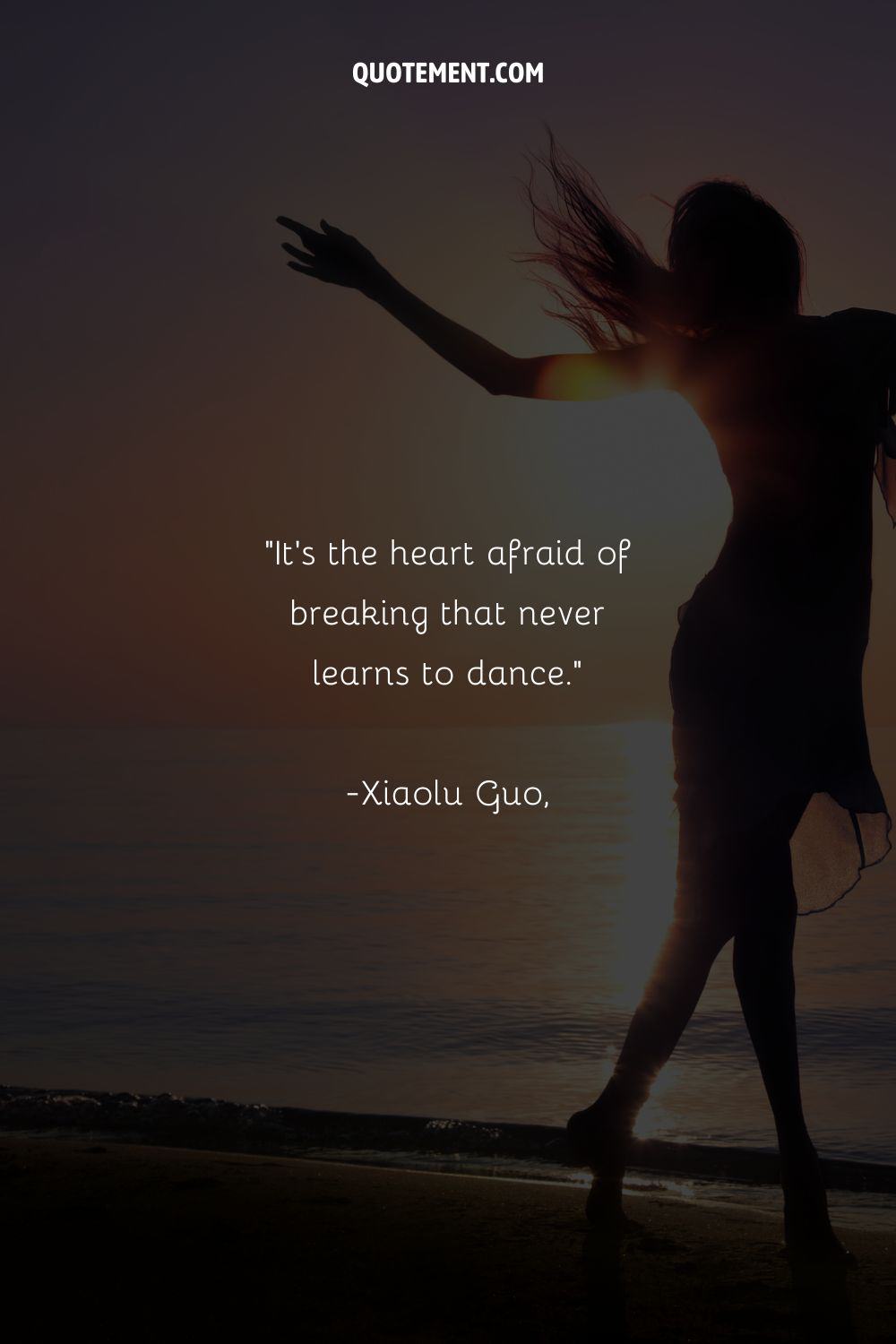 11. "Consciousness expresses itself through creation. This world we live in is the dance of the creator. Dancers come and go in the twinkling of an eye but the dance lives on. On many an occasion when I am dancing, I have felt touched by something sacred.In those moments, I felt my spirit soar and become one with everything that exists.
I become the stars and the moon. I become the lover and the beloved. I become thevictor and the vanquished. I become the master and the slave. I become the singer and the song. I become the knower and the known. I keep on dancing then it is the eternal
dance or creation. The creator and creation merge into one wholeness of joy. I keep on dancing…and dancing…and dancing. Until there is only…the dance." ― Michael Jackson
12. "To dance is to be out of yourself. Larger, more beautiful, more powerful.. This is power, it is glory on earth and it is yours for the taking" ― Agnes De Mille
13. "Life is a dance. Mindfulness is witnessing that dance." ― Amit Ray, Mindfulness Living in the Moment – Living in the Breath
14. "Work like you don't need the money. Dance like no one is watching. And love like you've never been hurt." ― Mark Twain
15. "Dancing is creating a sculpture that is visible only for a moment." ― Erol Ozan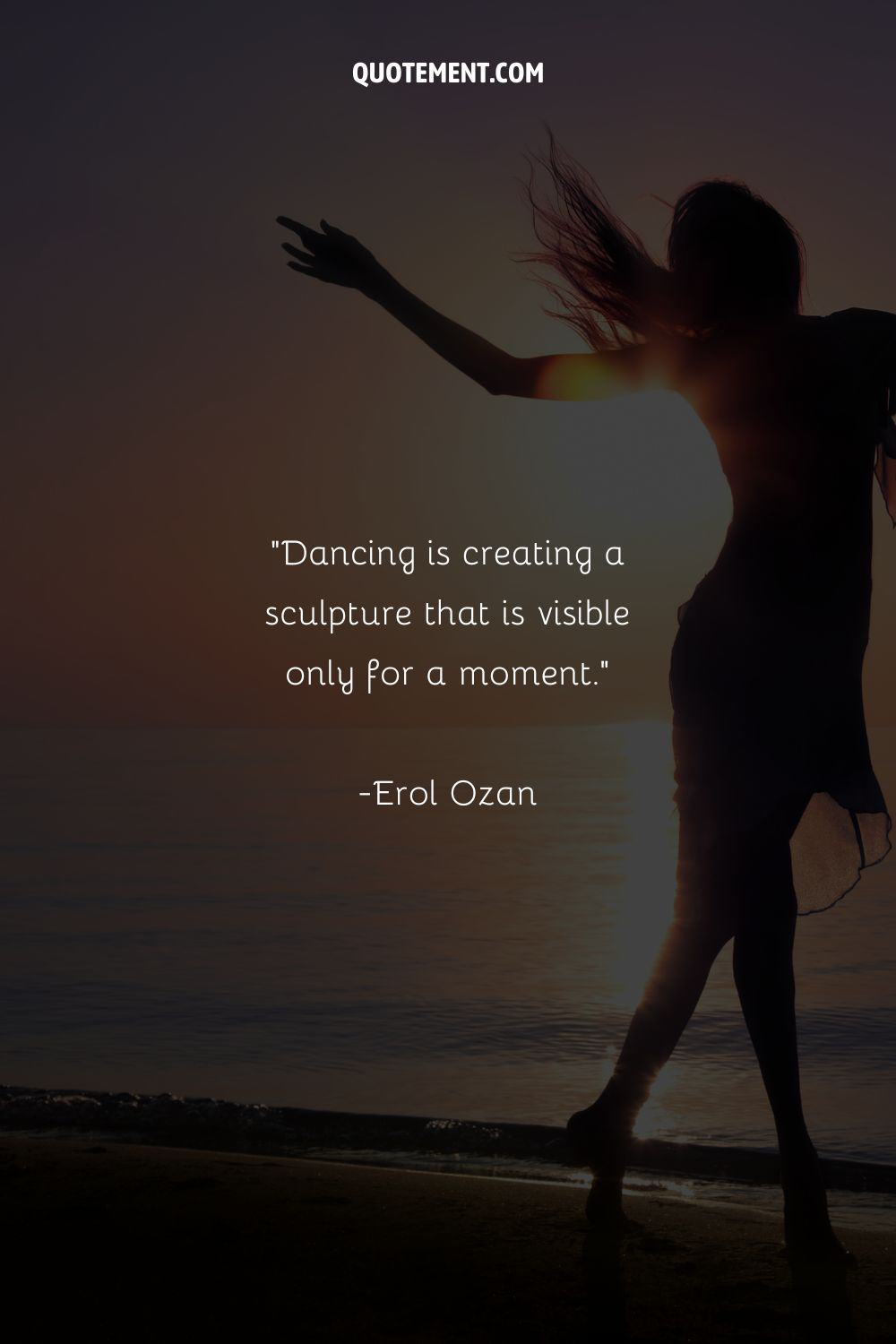 16. "Never had she danced so beautifully; the sharp knives cut her feet, but she did not feel it, for the pain in her heart was far greater." ― Hans Christian Andersen, The Little Mermaid
17. "People have asked me why I chose to be a dancer. I did not choose. I was chosen to be a dancer, and with that, you live all your life. " ― Martha Graham, Blood Memory
18. "Dance for yourself. If someone understands, good. If not, no matter. Go right on doing what interests you, and do it until it stops interesting you." ― Louis Horst
19. "Kids: they dance before they learn there is anything that isn't music" ― William Stafford
20. "The body says what words cannot." — Martha Graham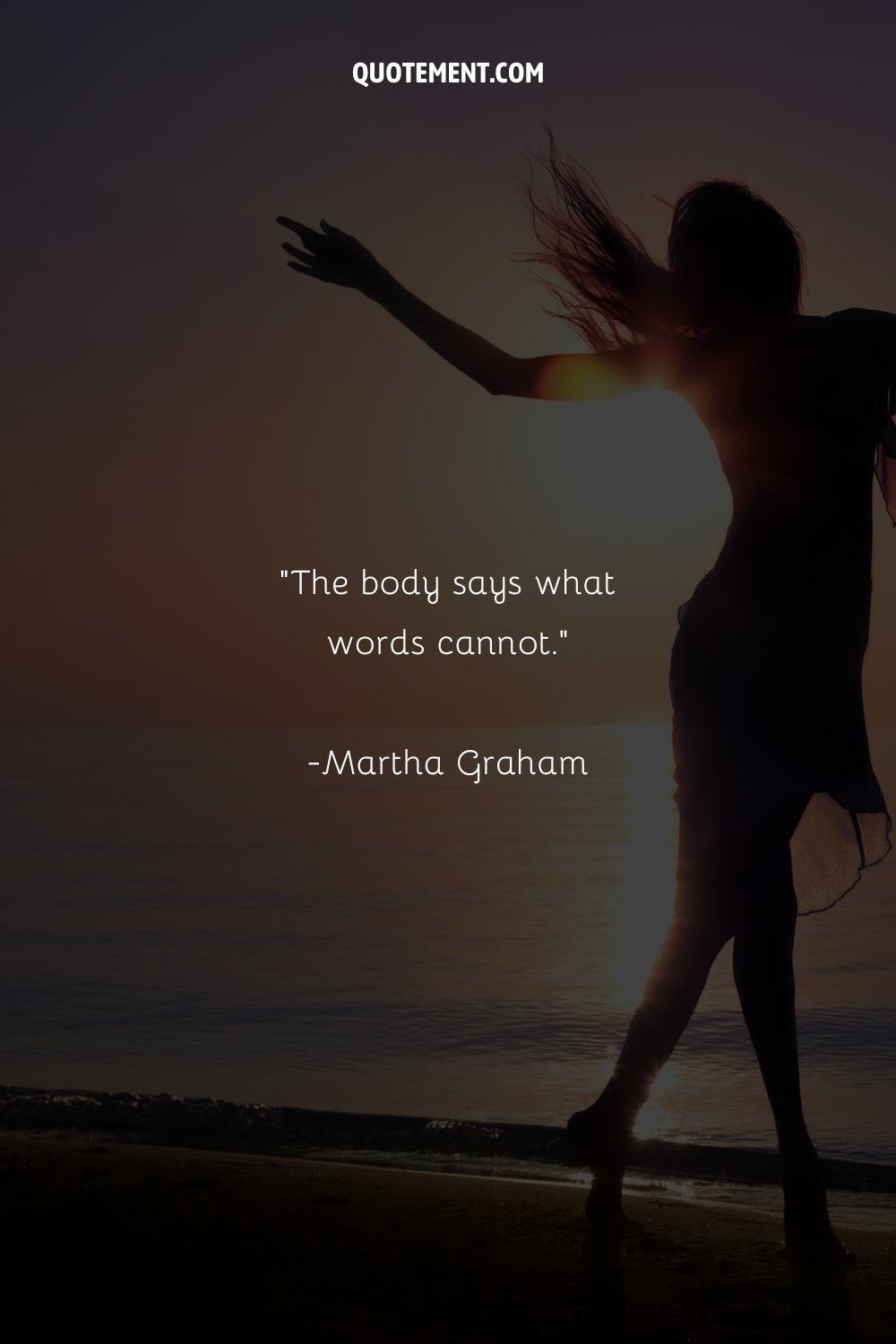 Inspirational And Motivational Dance Quotes
1. "She decided to free herself, dance into the wind, create a new language. And birds fluttered around her, writing "yes" in the sky." ― Monique Duval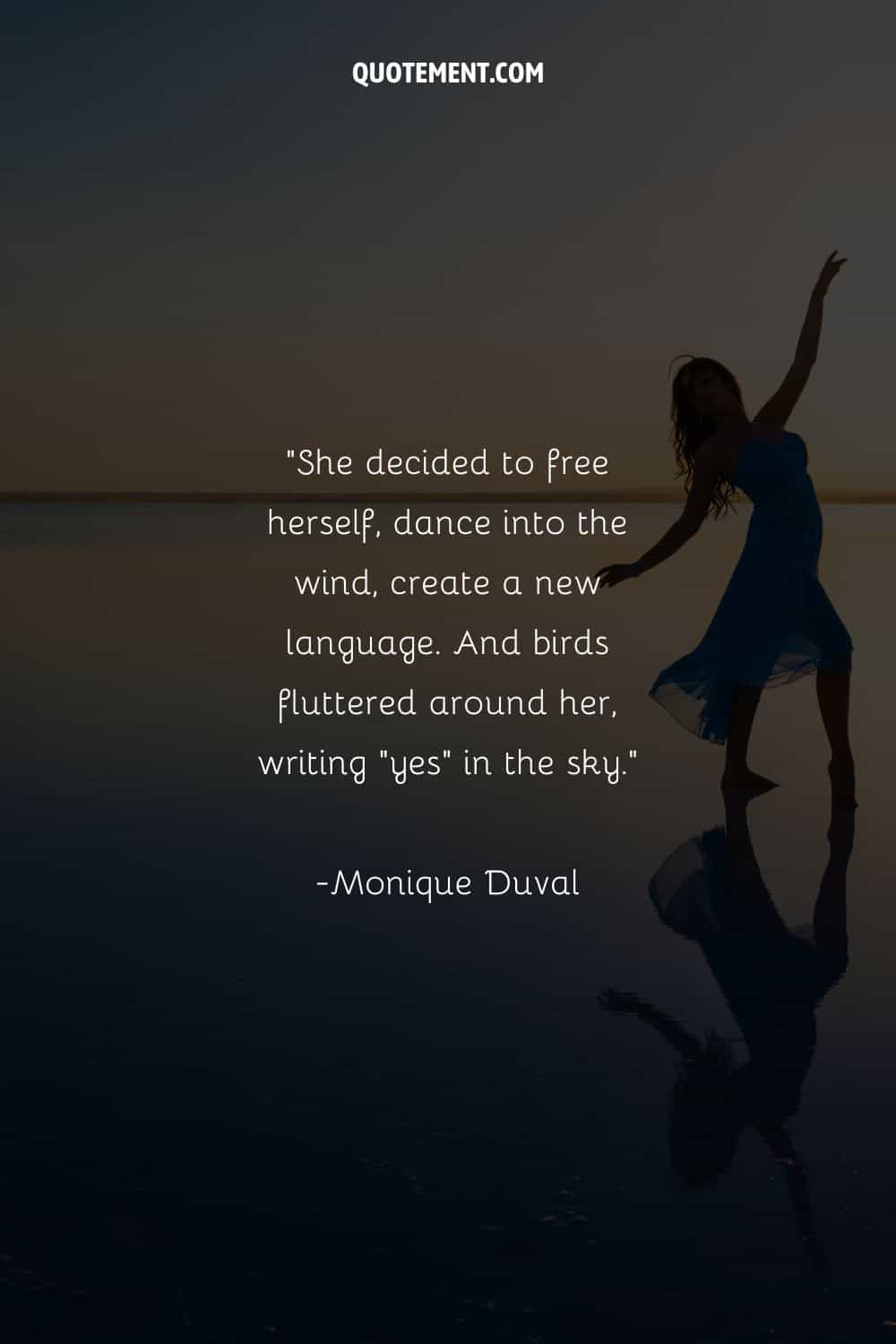 2. "You'll learn, as you get older, that rules are made to be broken. Be bold enough to live life on your terms, and never, ever apologize for it. Go against the grain, refuse to conform, take the road less traveled instead of the well-beaten path. Laugh in the face of adversity, and leap before you look. Dance as though EVERYBODY is watching. March to the beat of your own drummer. And stubbornly refuse to fit in." ― Mandy Hale, The Single Woman: Life, Love, and a Dash of Sass
3. "Live your truth. Express your love. Share your enthusiasm. Take action towards your dreams. Walk your talk. Dance and sing to your music. Embrace your blessings. Make today worth remembering." ― Steve Maraboli, Unapologetically You: Reflections on Life and the Human Experience
4. "I believe that we learn by practice. Whether it means to learn to dance by practicing dancing or to learn to live by practicing living, the principles are the same. In each, it is the performance of a dedicated precise set of acts, physical or intellectual, from which comes shape of achievement, a sense of one's being, a satisfaction of spirit. One becomes, in some area, an athlete of God. Practice means to perform, over and over again in the face of all obstacles, some act of vision, of faith, of desire. Practice is a means of inviting the perfection desired." ― Martha Graham
5. "Life is short and there will always be dirty dishes, so let's dance." ― James Howe, Totally Joe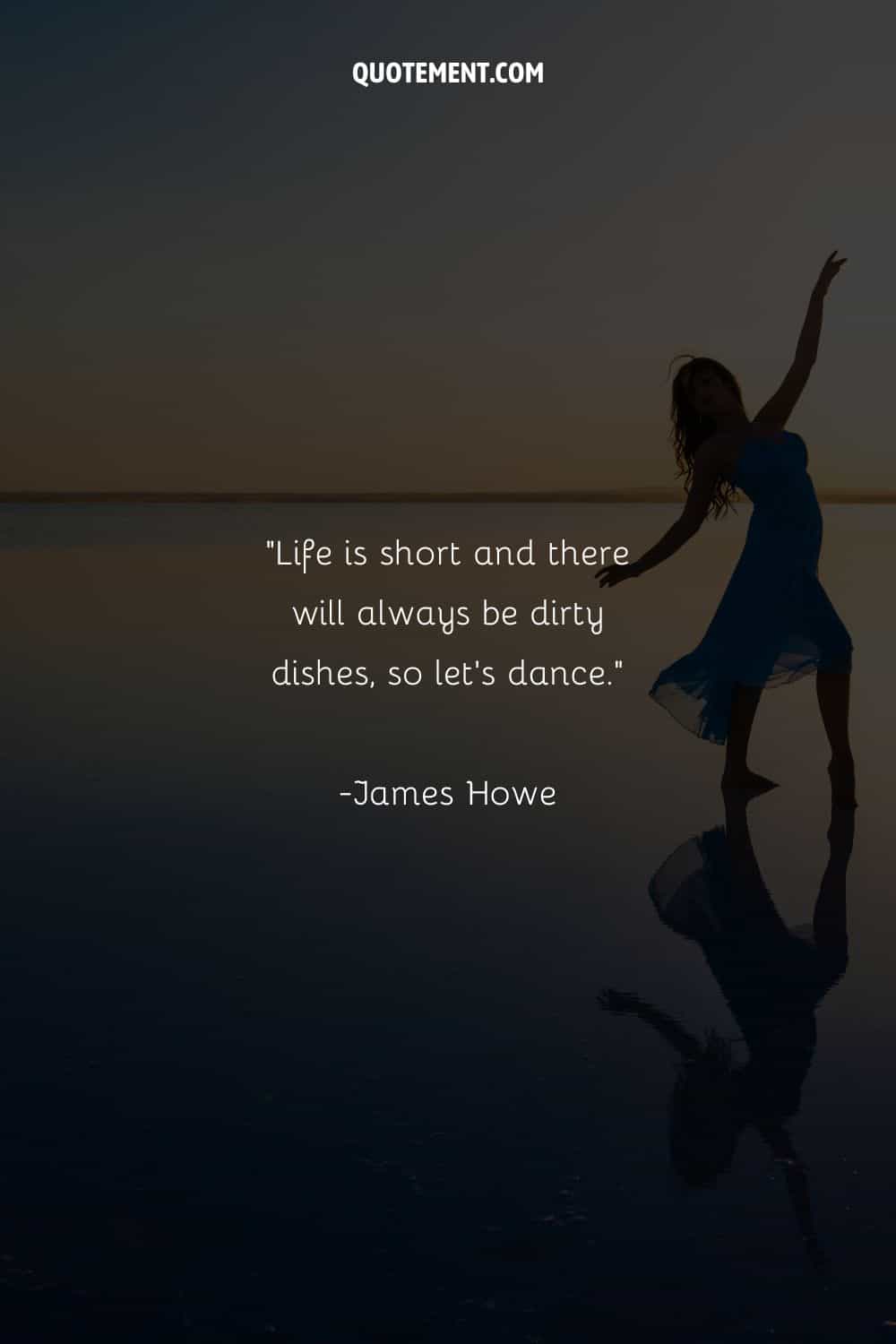 6. "You can dance in the storm. Don't wait for the rain to be over before because it might take too long. You can do it now. Wherever you are, right now, you can start, right now; this very moment." ― Israelmore Ayivor
7. "It has taken me years of struggle, hard work, and research to learn to make one simple gesture, and I know enough about the art of writing to realize that it would take as many years of concentrated effort to write one simple, beautiful sentence." ― Isadora Duncan
8. "Forget your voice, sing!
Forget your feet, dance!
Forget your life, live!
Forget yourself and be!" ― Kamand Kojouri
9. "A fine work of art – music, dance, painting, story – has the power to silence the chatter in the mind and lift us to another place." ― Robert McKee, Story: Substance, Structure, Style, and the Principles of Screenwriting
10. "Our biological rhythms are the symphony of the cosmos, music embedded deep within us to which we dance, even when we can't name the tune." ― Deepak Chopra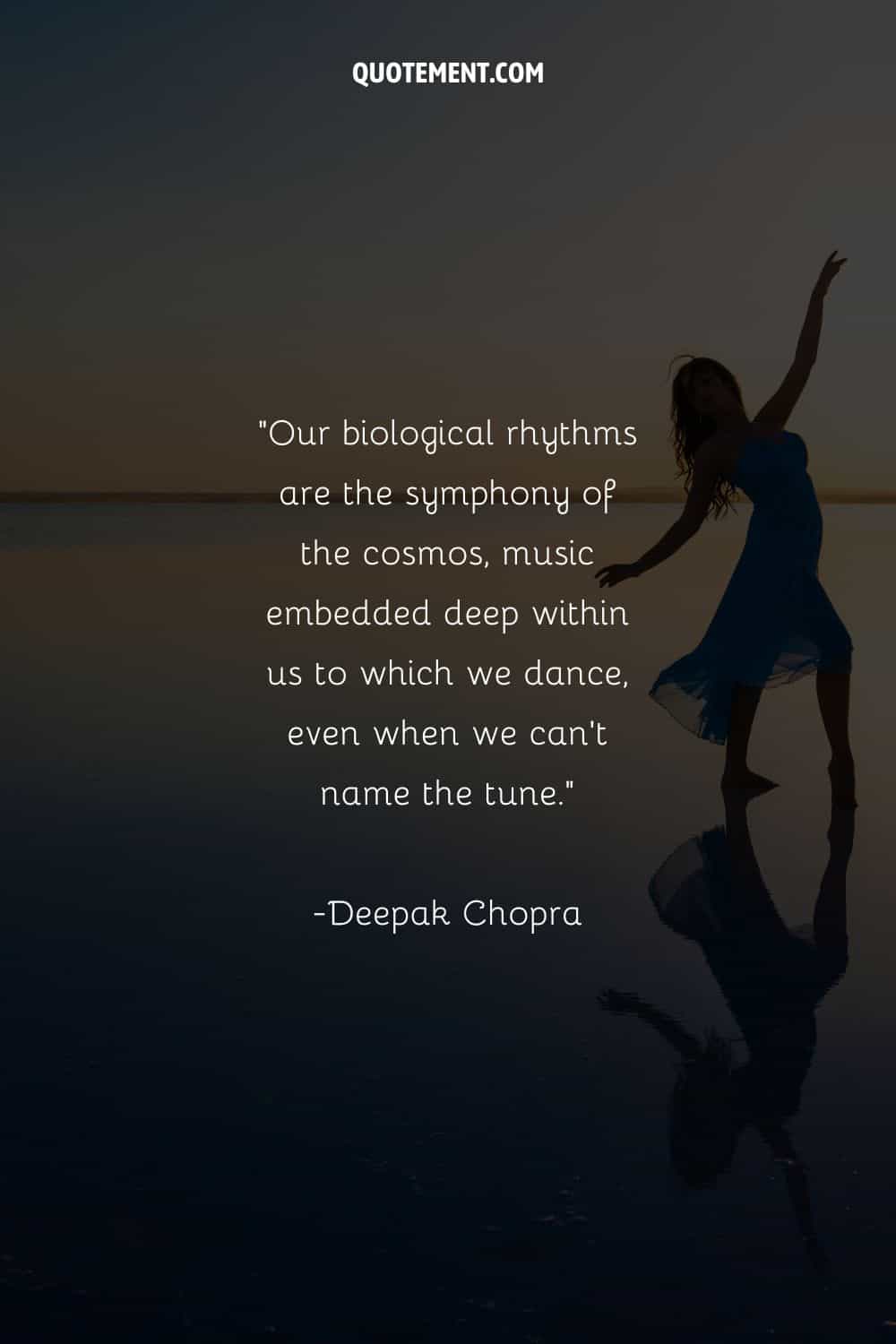 11. "I hope there are days when your coffee tastes like magic, your playlist makes you dance, strangers make you smile, and the night sky touches your soul. I hope there are days when you fall in love with being alive." ― Brooke Hampton
12. "Oh Woman, come before us, before our eyes longing for beauty, and tired of the ugliness of civilization, come in simple tunics, letting us see the line and harmony of the body beneath, and dance for us. Dance us the sweetness of life. Give us again the sweetness and the beauty of the true dance, give us again the joy of seeing the simple unconscious pure body of a woman. Like a great call it has come, and women must hear it and answer it." ― Isadora Duncan, The Art of the Dance
13. "Just imagine, life to be a dance with different kind of rhythms depending on what music is playing in the background. Sometimes we may dance alone and that's OK, as some songs are simply meant to be danced like that. Practice! Don't stop! It's your dance! " ― Nico J. Genes
14. "You dance love, and you dance joy, and you dance dreams. And I know if I can make you smile by jumping over a couple of couches or running through a rainstorm, then I'll be very glad to be a song and dance man." ― Gene Kelly
15. "Daily dance uplift the soul to spiritual realms." ― Lailah Gifty Akita, Pearls of Wisdom: Great mind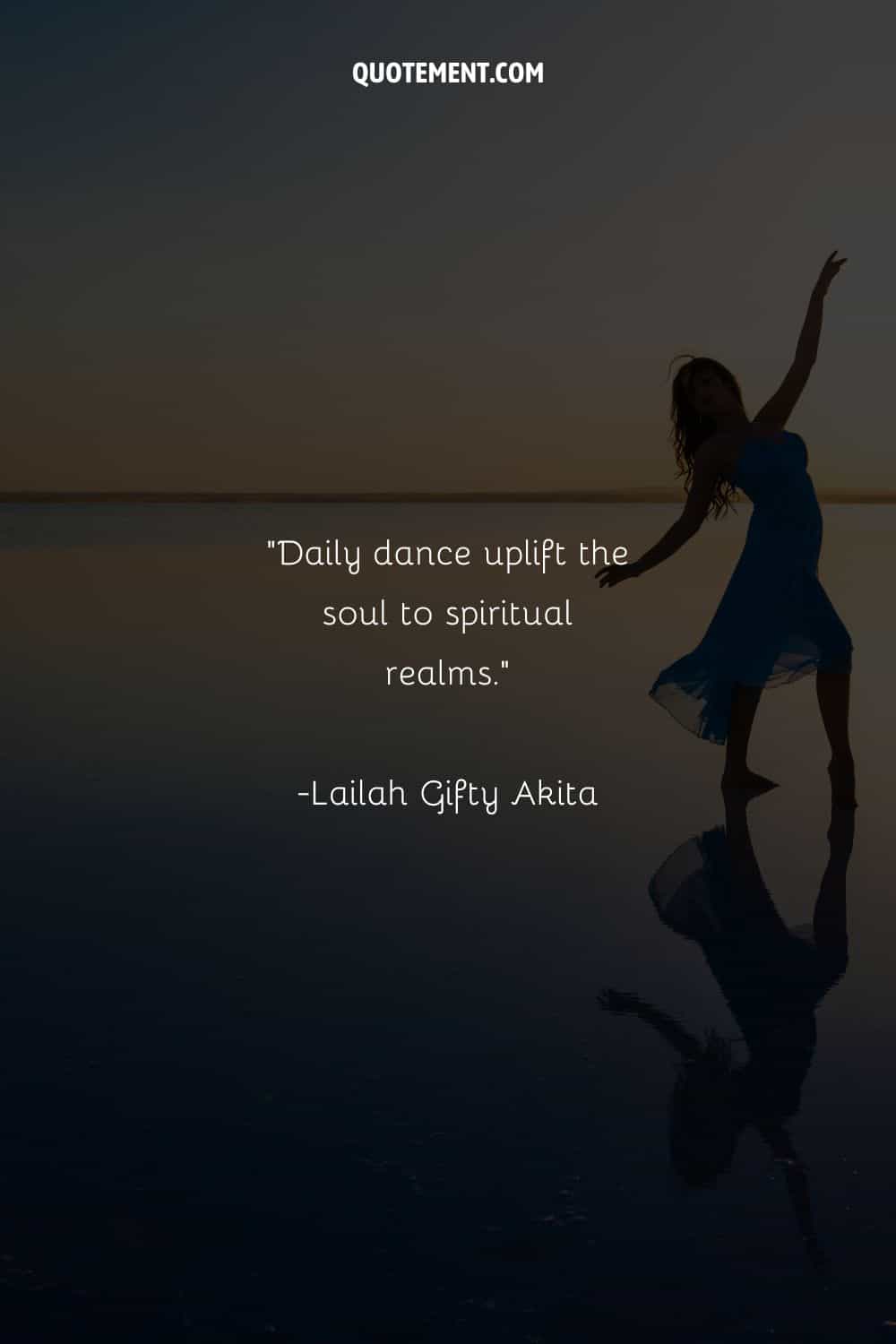 16. "There was still no likelihood that we could make a living from dance. We were doing it because we loved it… We realized how full we felt; we were surrounded by music and dancing and joy." ― Alvin Ailey, Revelations
17. "[… Dance] involves every possible feeling (as potential), because it is of the body, which is lived (inescapably) as a body of feeling. Some of these feelings we can name, and some we cannot, since we associate feelings with language only when we name them. The body lives sentience on a preverbal level. Dance exists first on this primordial level, not on an intellectual plane (even though it requires skill and intelligence). Its inmost substance cannot be reasoned, only experienced." ― Sondra Horton Fraleigh, Dance and the Lived Body: A Descriptive Aesthetics
18. "When the music changes, so must your dance. It was the most beautifully worded truth, a profound lesson reminding me to trust my instincts, to let life guide me, and to never stay anywhere doing the same thing longer than I was supposed to." ― Elaine Welteroth, More Than Enough: Claiming Space for Who You Are
19. "As the sun began to rise, the man reached out to the woman, and they clasped hands. He cradled her, and languidly they lifted themselves up to their feet, their bodies brushing, their eyes lost in each other's. Sensuously, deliberately, they danced, moving as though they were one, their body language smooth as their limbs carefully unfolded. They twirled and rocked, intertwined and separated, nearly leaning onto one another but barely touching, their movements sometimes tender, sometimes almost violent…Moments passed while the dancers held tight to each other, as though their bodies were melting together. The expression on their features as they lifted their faces to the sky was one of unimaginable joy." ― Hannah Fielding
20. "The dancer must be ready to dance." ― Lailah Gifty Akita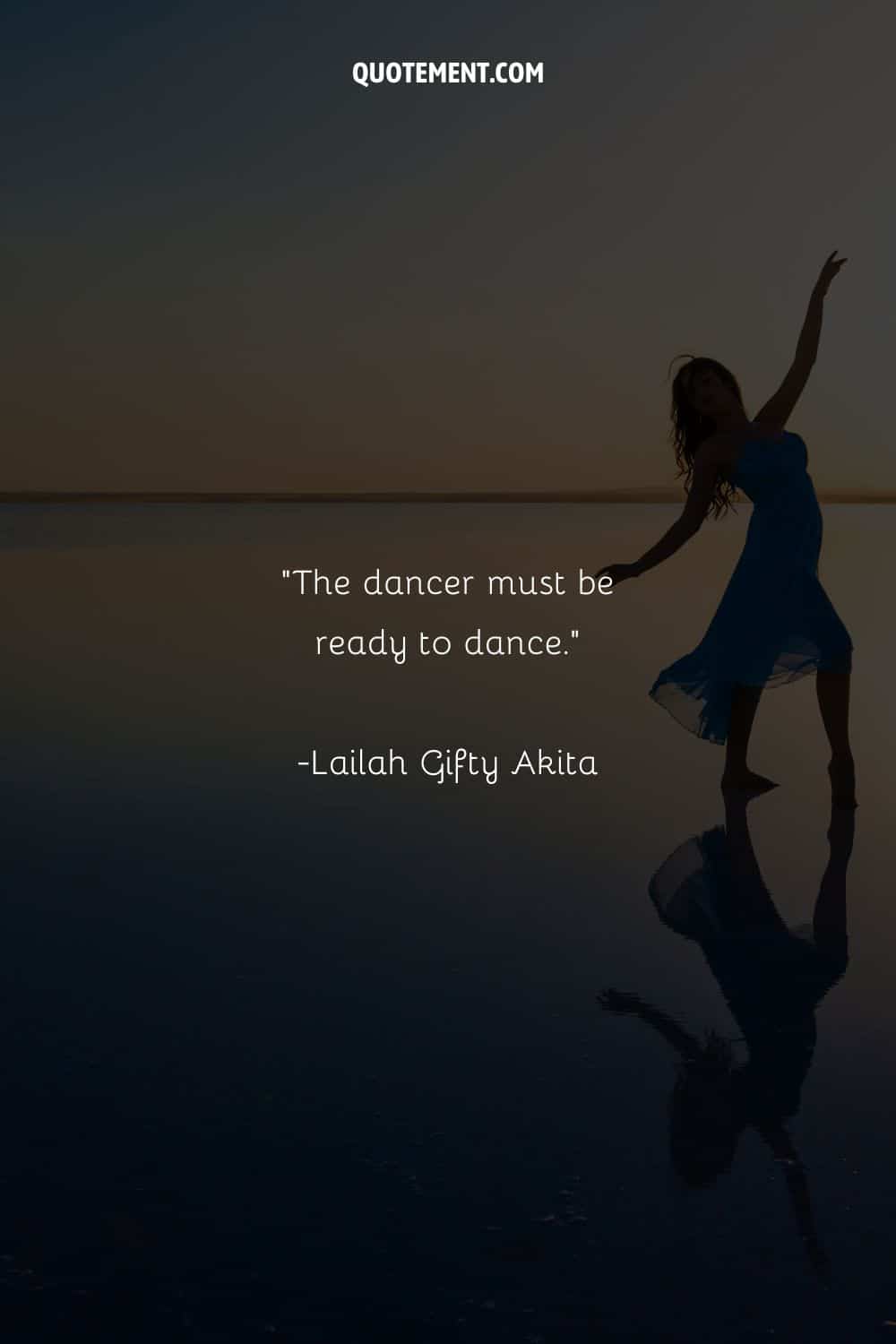 See also: 80 Inspiring Quotes On Joy To Turn Your Frown Upside Down
Funny Dance Quotes
1. "Somebody just gave me a shower radio. Thanks a lot. Do you really want music in the shower? I guess there's no better place to dance than a slick surface next to a glass door." ― Jerry Seinfeld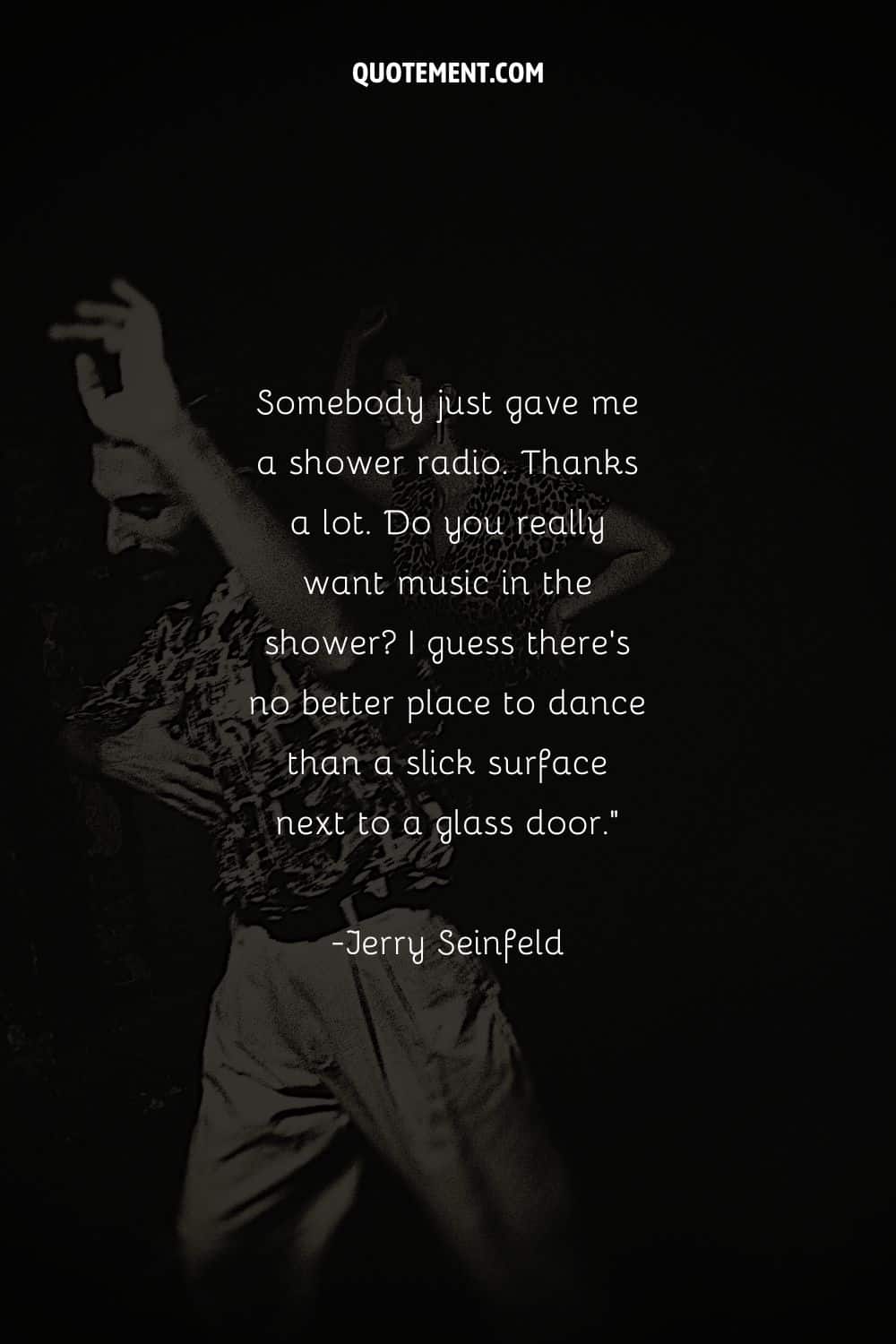 2. "Who're you going with, then?" said Ron.
"Angelina," said Fred promptly, without a trace of embarrassment.
"What?" said Ron, taken aback. "You've already asked her?"
"Good point," said Fred. He turned his head and called across the common room, "Oi! Angelina!"
Angelina, who had been chatting with Alicia Spinnet near the fire, looked over at him.
"What?" She called back.
"Want to come to the ball with me?"
Angelina gave Fred a sort of appraising look.
"All right, then," she said, and she turned back to Alicia and carried on chatting with a bit of a grin on her face.
"There you go," said Fred to Harry and Ron, "piece of cake." ― J.K. Rowling, Harry Potter and the Goblet of Fire
3. "Never dance in a puddle when there's a hole in your shoe (it's always best to take your shoes off first)." ― John D. Rhodes
4. "It is a truth universally acknowledged that there will always be a gentleman to dance with, except at just the moment when you require one most." ― Anna Godbersen, Envy
5. "If you're skating on thin ice, you might as well dance!" ― Laurie Strongin, Saving Henry: A Mother's Journey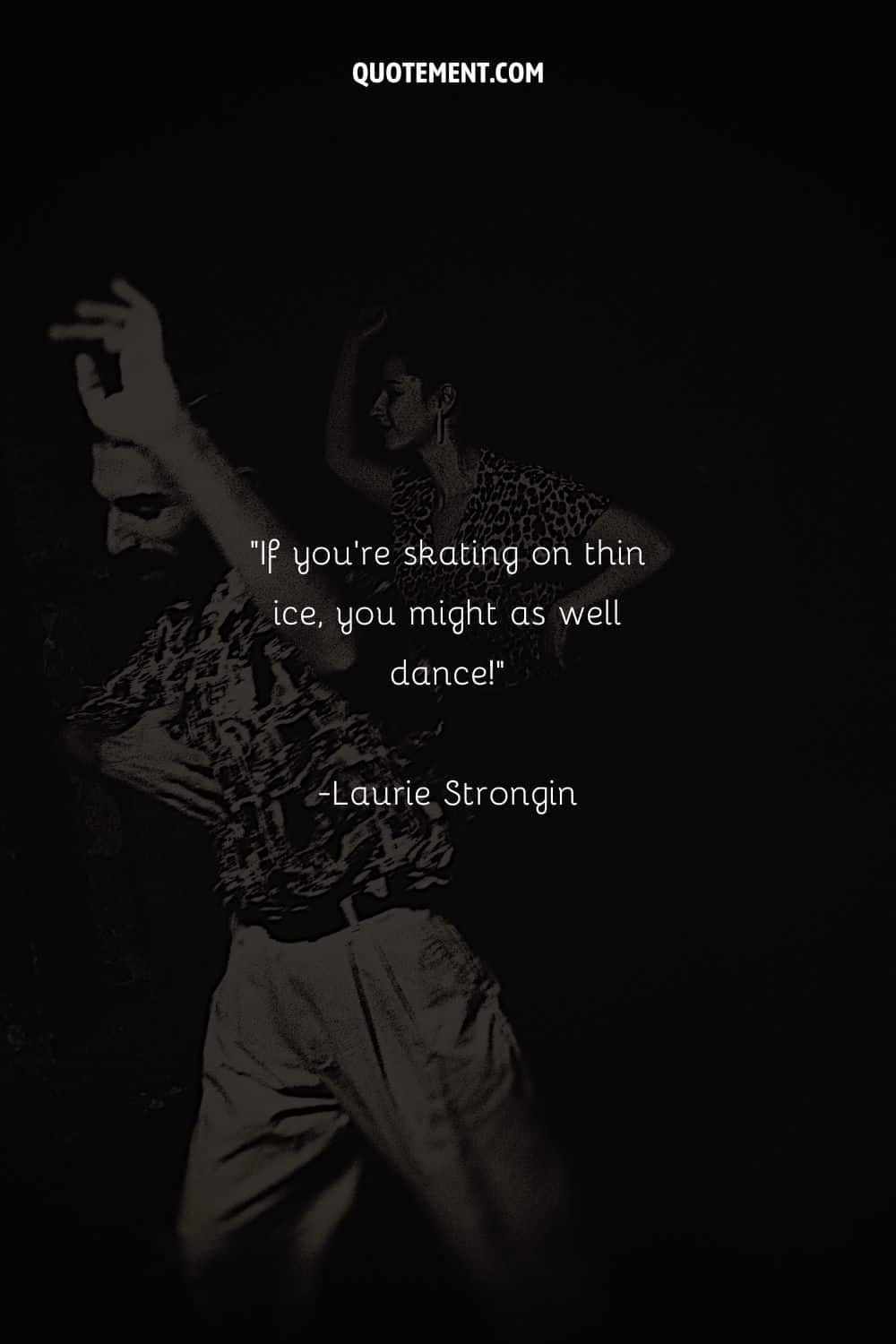 6. "You don't enter a dance studio and say "I can't do that." If you do, then why are you in the studio in the first place?" ― Judith Jamison, Dancing Spirit: An Autobiography
7. "Disco's are tricky. You look a total wally if you dance too early but after one crucial song tips the disco over, you look a sad saddo if you don't." ― David Mitchell, Black Swan Green
8. "He who cannot dance puts the blame on the floor." – Hindu Proverb
9. "Dance, even if you have nowhere to do it but your living room." – Kurt Vonnegut
10. "If you cannot get rid of the family skeleton, you may as well make it dance." – George Bernard Shaw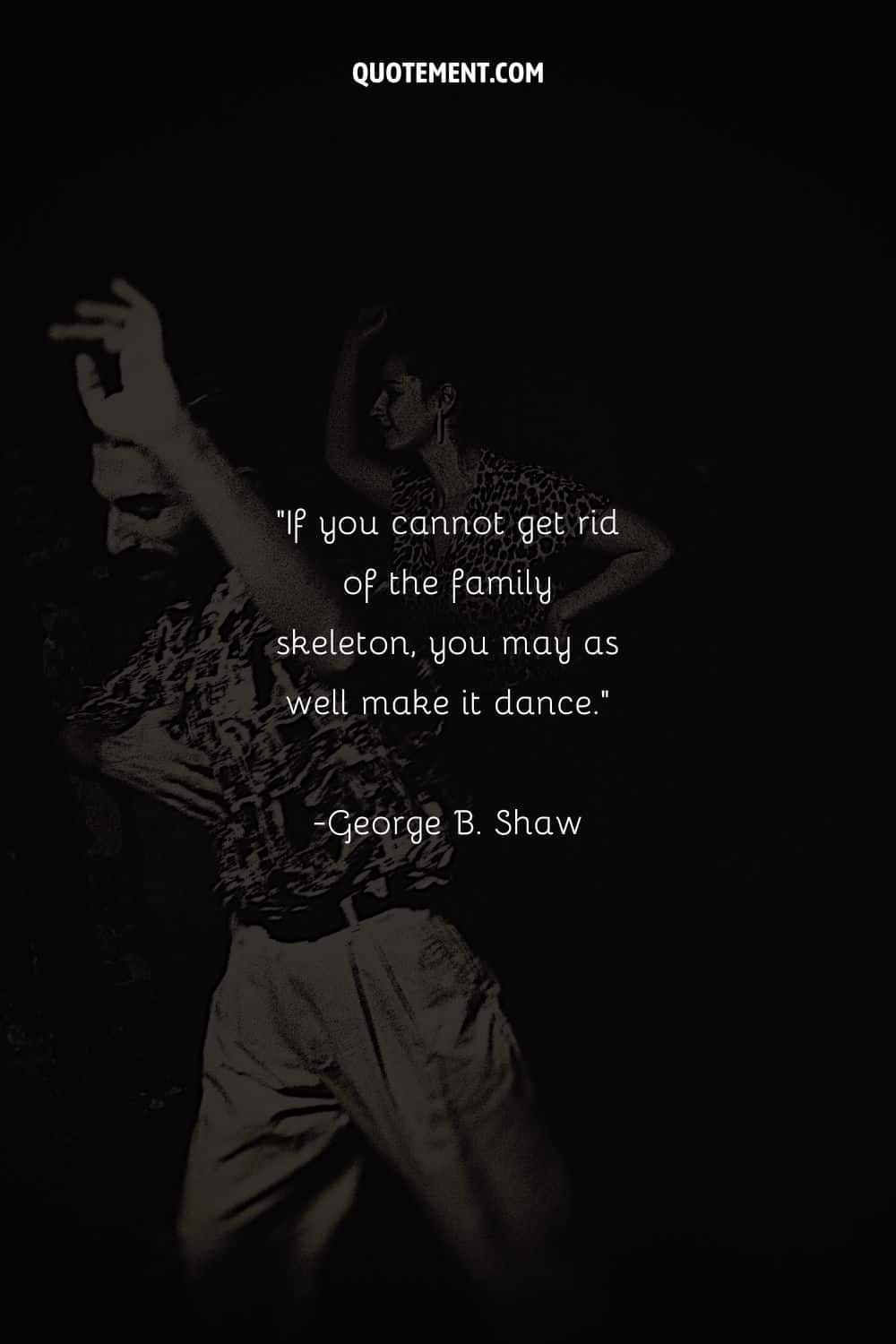 11. "From the beginning I thought about working with the body in movement, the space between the body and clothes. I wanted the clothes to move when people moved. The clothes are also for people to dance or laugh." – Issey Miyake
12. "I'd rather learn from one bird how to sing than teach 10,000 stars how not to dance." – E. E. Cummings
13. "It doesn't matter if I'm off the beat. It doesn't matter if I'm snapping to the rhythm. It doesn't matter if I look like a complete goon when I dance. It is my dance. It is my moment. It is mine. And dance I will. Try and stop me. You'll probably get kicked in the face." – Dan Pearce
14. "Not many skeletons left in my closet because I invite them to dance all over the front room." – John Schneider
15. "When a body moves, it's the most revealing thing. Dance for me a minute, and I'll tell you who you are." – Mikhail Baryshnikov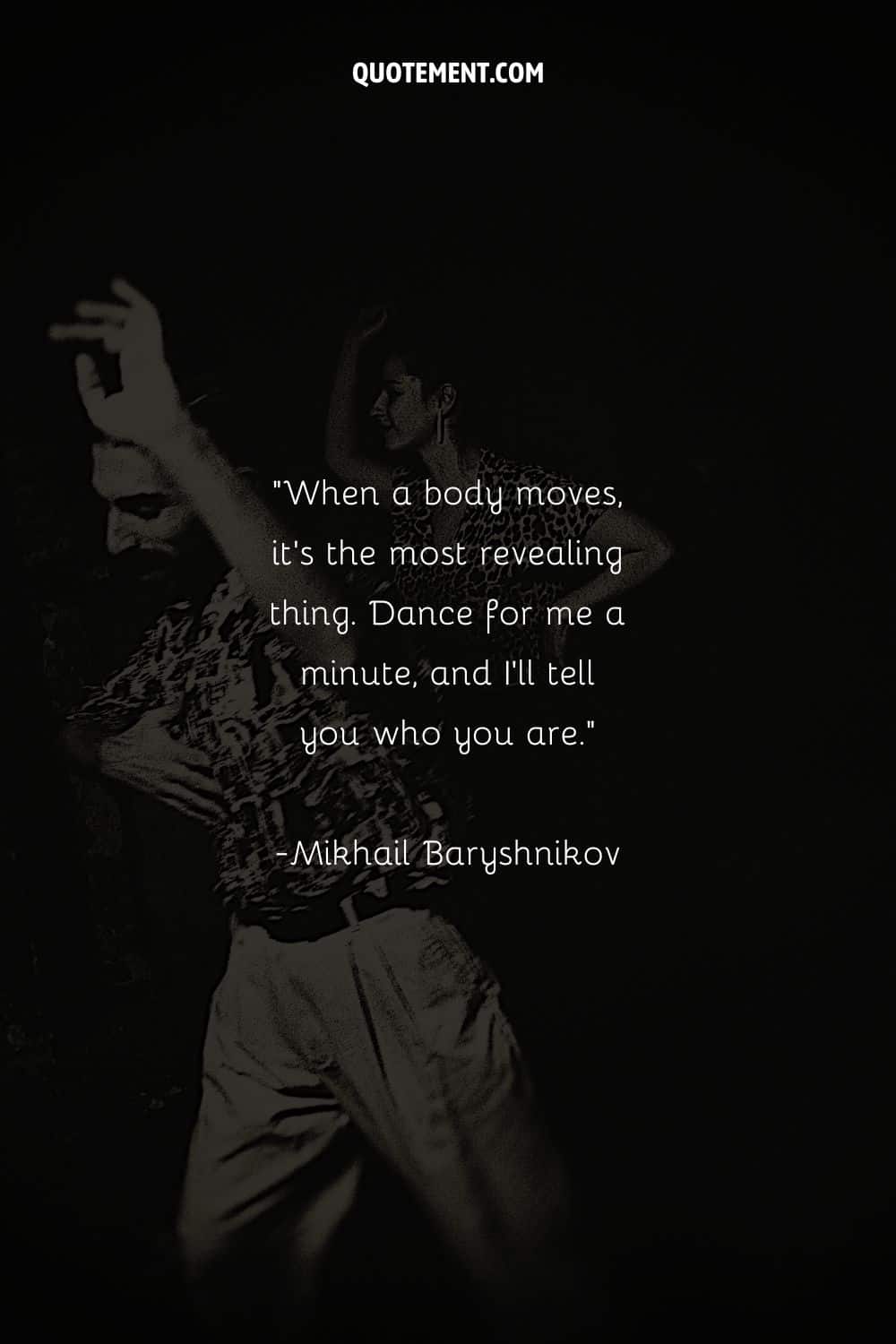 16. "When I have bad days, I just eat lots of chocolate ice cream and dance to the 'Lion King' soundtrack. It's really odd, but it's true." – Blake Lively
17. "Wives are people who feel they don't dance enough." – Groucho Marx
18. "The job of feets is walking, but their hobby is dancing." – Amit Kalantri
19. "Through dancing many maidens have been unmaidened, whereby I may say it is the storehouse and nursery of bastardy." – John Northbrooke
20. "Dance is cheaper than therapy."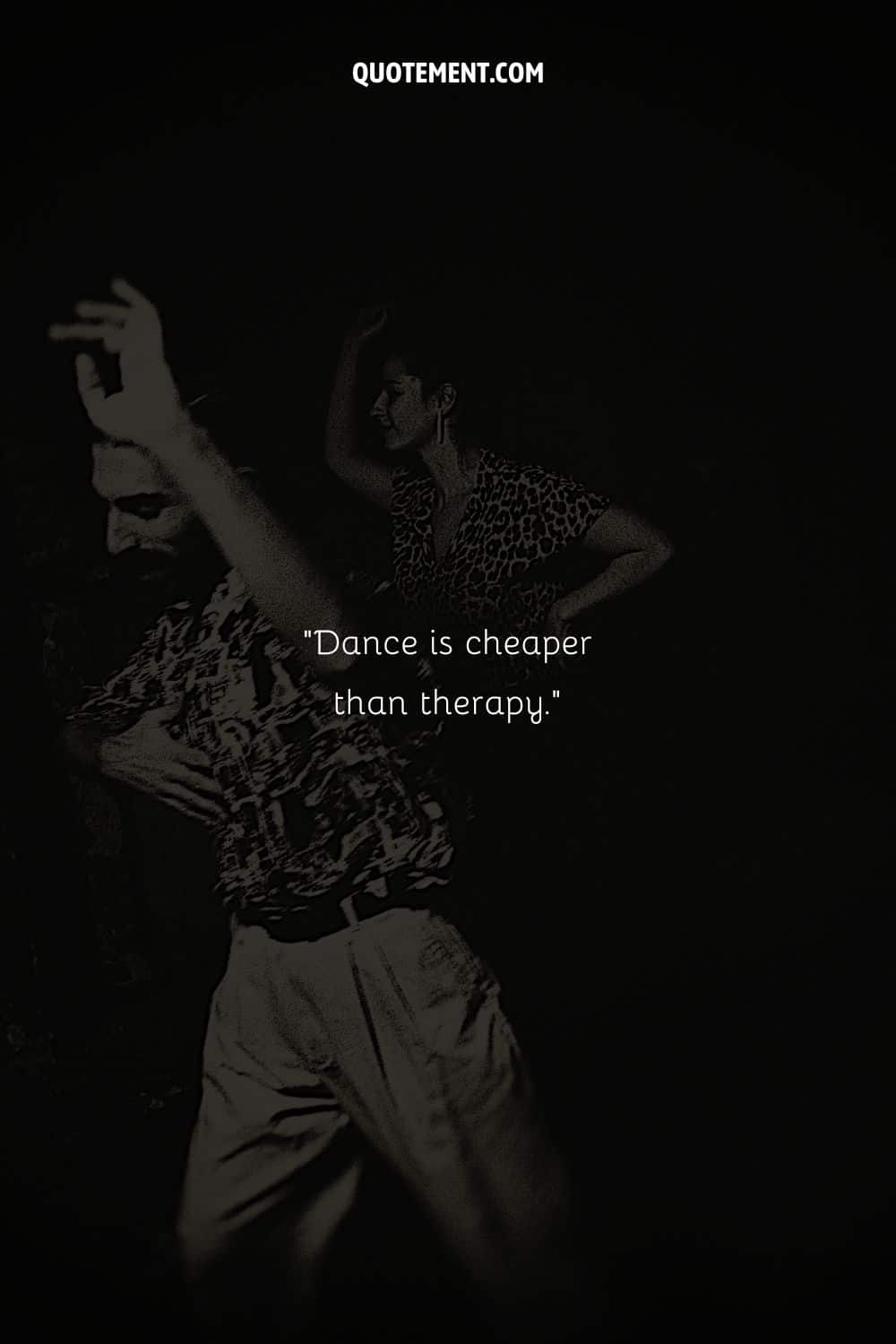 Dance Quotes For Those With A Passion For Dancing
1. "And hand in hand, on the edge of the sand,
They danced by the light of the moon." ― Edward Lear, The Owl and the Pussycat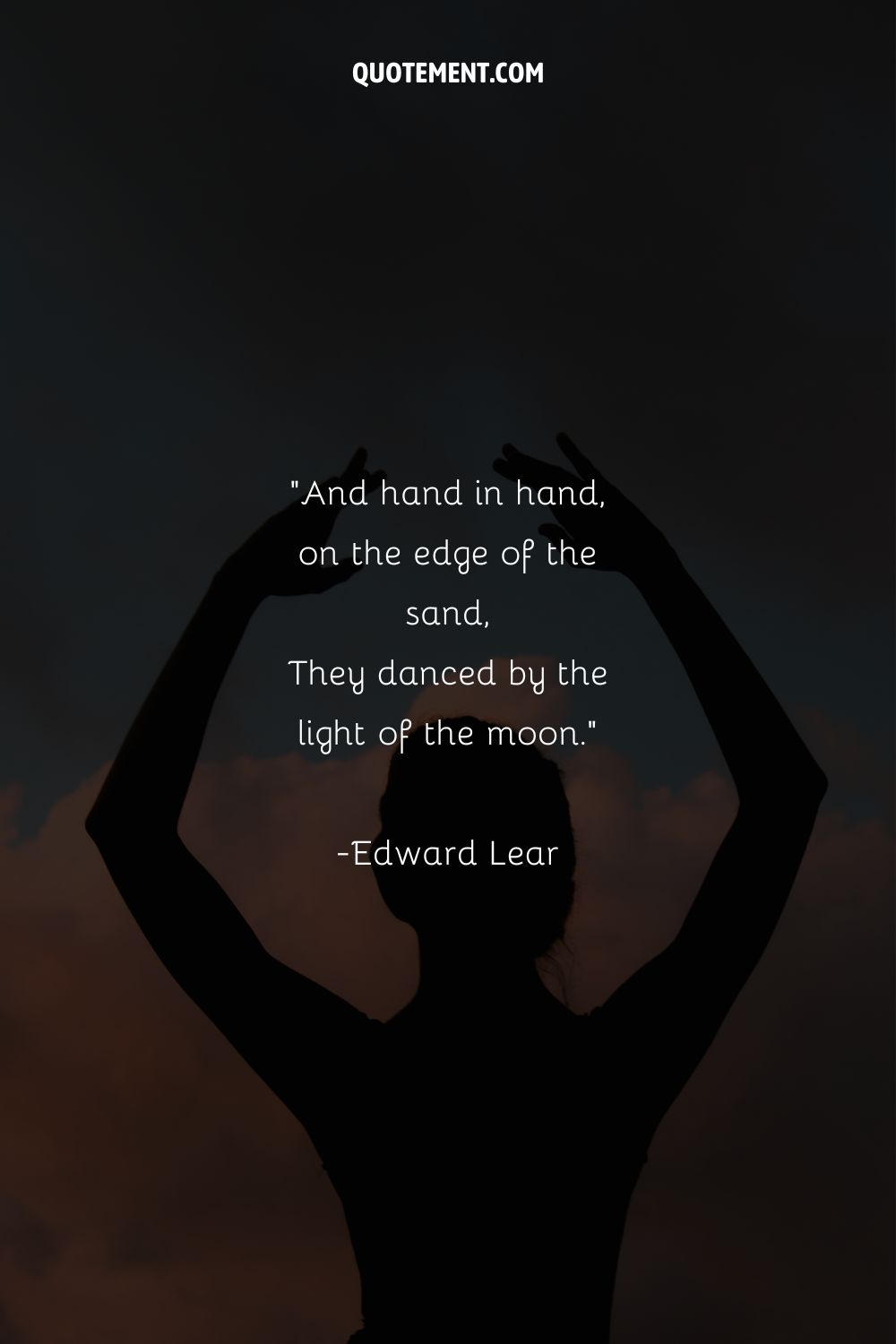 2. "She would be half a planet away, floating in a turquoise sea, dancing by moonlight to flamenco guitar." ― Janet Fitch, White Oleander
3. "What's your name?" he asked above the roar of the music.
She leaned close. "My name is Wind," she whispered. "And Rain. And Bone and Dust. My name is a snippet of a half-remembered song."
He chuckled a low, delightful sound. She was drunk and silly, and so full of the glory of being young and alive and in the capital of the world that she could hardly contain herself.
"I have no name," she purred. "I am whoever the keepers of my fate tell me to be."
He grasped her by her wrist, running a thumb along the sensitive skin underneath. "Then let me call you Mine for a dance or two." ― Sarah J. Maas, The Assassin and the Underworld
4. "Then, slowly, like the sunrise peeking over the horizon, she smiled.
She snapped the box closed.
She didn't scream. She didn't run. She didn't faint.
There might have been a little crying.
But mostly… she danced." ― Cora Carmack, Losing It
5. "Nobody cares if you can't dance well. Just get up and dance. Great dancers are great because of their passion." ― Martha Graham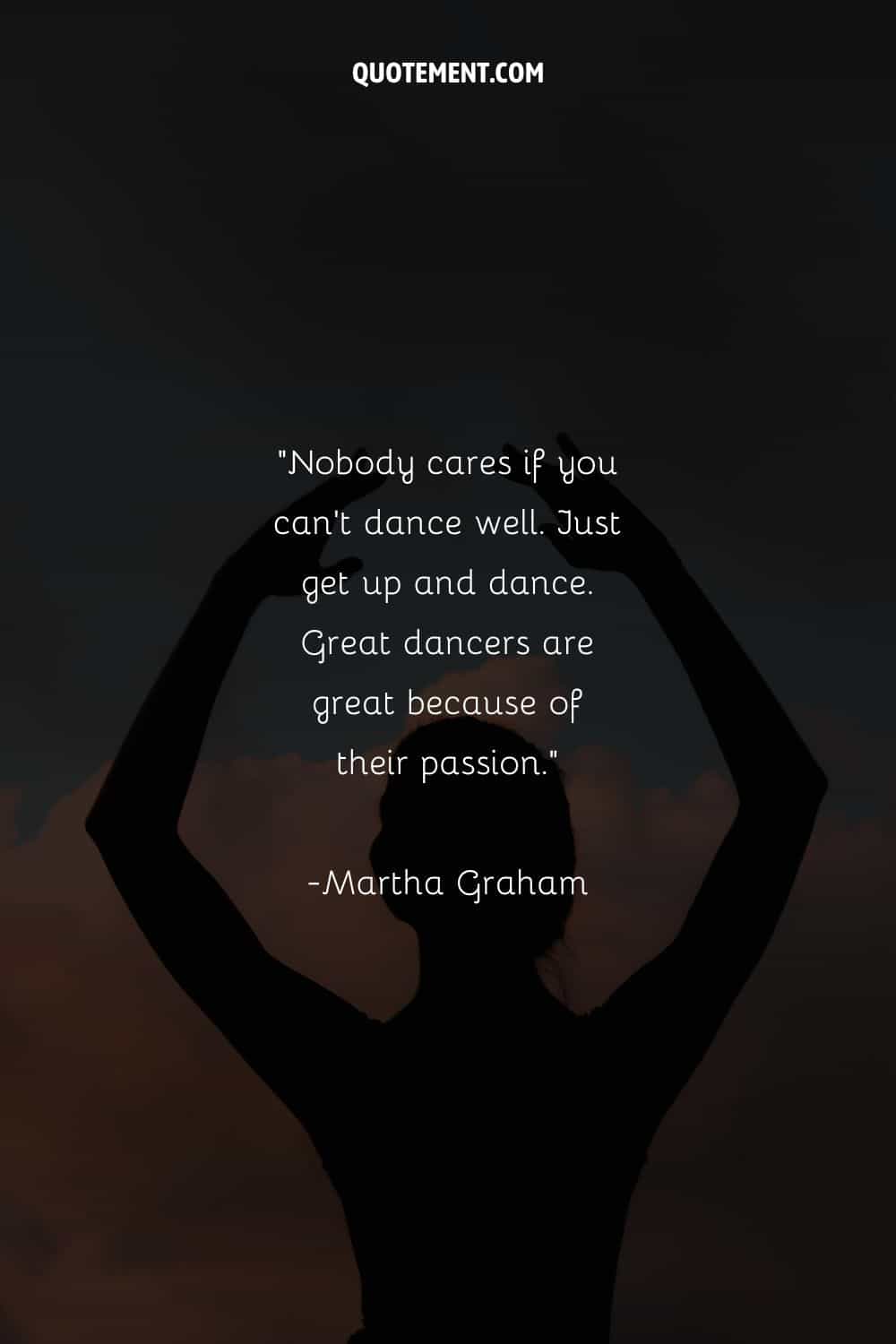 6. "Great dancers are not great because of their technique, they are great because of their passion. " ― Martha Graham
7. "Jumping from boulder to boulder and never falling, with a heavy pack, is easier than it sounds; you just can't fall when you get into the rhythm of the dance." ― Jack Kerouac, The Dharma Bums
8. "To understand what I am saying, you have to believe that dance is something other than technique. We forget where the movements come from. They are born from life. When you create a new work, the point of departure must be contemporary life — not existing forms of dance." ― Pina Bausch
9. "The desires of the heart are as crooked as corkscrews
Not to be born is the best for man
The second best is a formal order
The dance's pattern, dance while you can.
Dance, dance, for the figure is easy
The tune is catching and will not stop
Dance till the stars come down from the rafters
Dance, dance, dance till you drop." ― W.H. Auden
10. "A man whose eyes love opens risks his soul –
His dancing breaks beyond the mind's control." ― Attar of Nishapur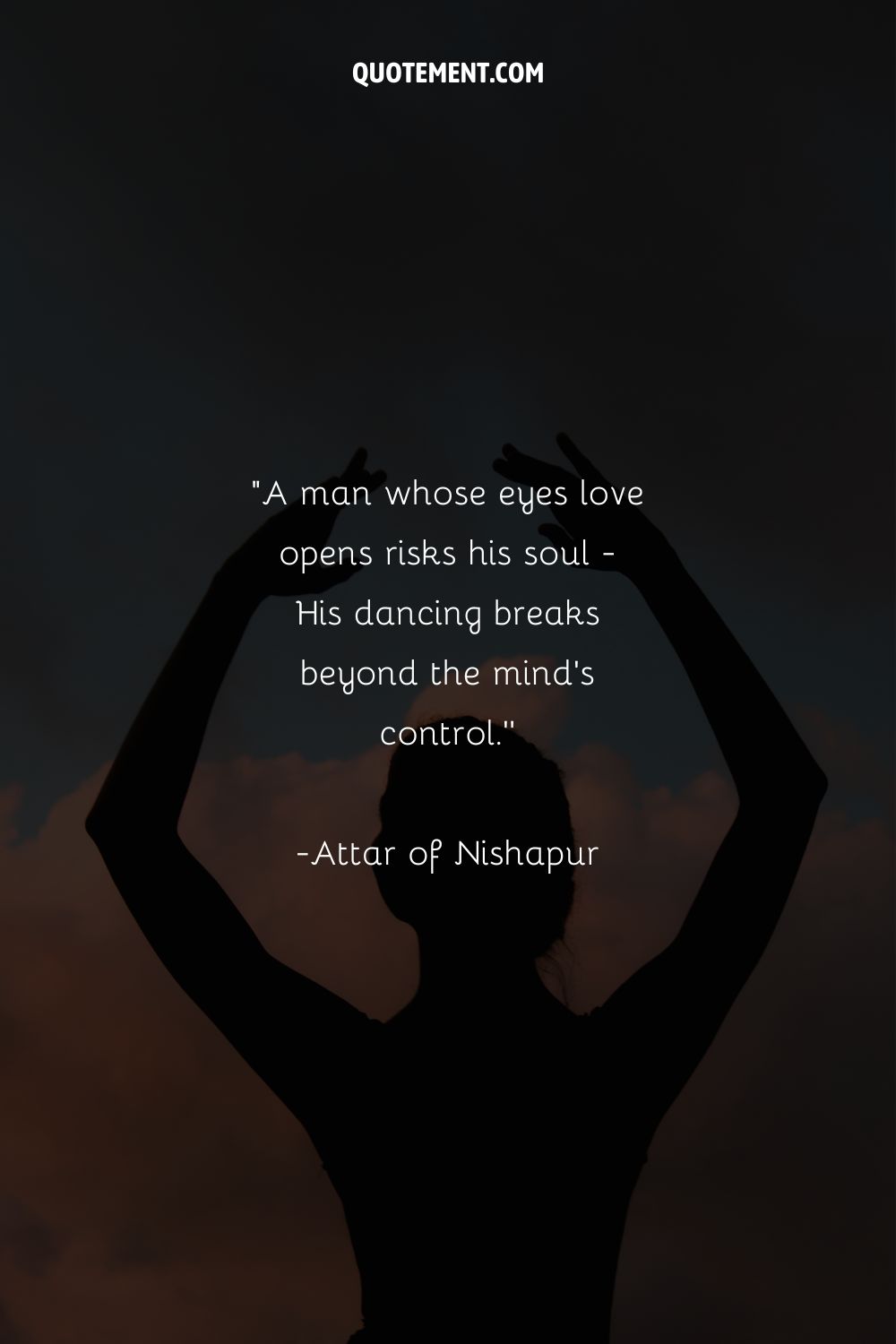 11. "She will blaze through you like a gypsy wildfire. Igniting you soul and dancing in its flames. And when she is gone, the smell of her smoke will be the only thing left to soothe you." ― Nicole Lyons
12. "We dance to seduce ourselves. To fall in love with ourselves. When we dance with another, we manifest the very thing we love about ourselves so that they may see it and love us too." ― Kamand Kojouri
13. "When you dance with the Africans, unless it is a ritual dance like a wedding or harvest or rain dance, there's no right or wrong way to dance. There's only movement. And the more you express your feelings as you move, the better you feel when you're done…When I dance the African Way, I show my feelings with my body instead of hiding them in my heart. When I dance, I know I'm alive here and now. My body and soul are in harmony."
― Maria Nhambu, Africa's Child
14. "Show me slowly what I only
know the limits of
Dance me to the end of love" ― Leonard Cohen, Leonard Cohen: Poems and Songs
15. "I don't want to hide. I want to slow dance with you again. I want to dance with you forever." ― Sarah Black, Border Roads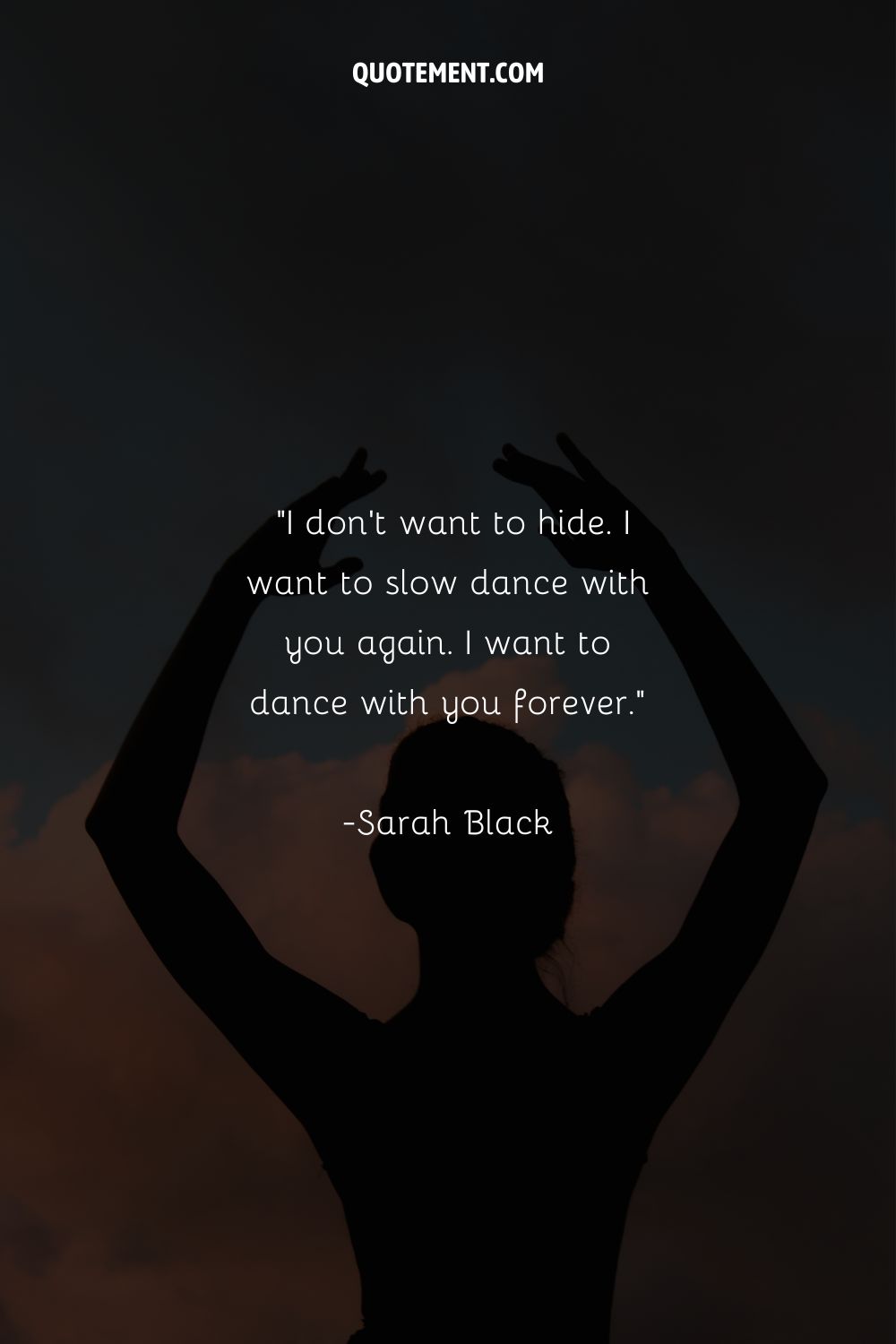 16. "Now I am going to reveal to you something which is very pure, a totally white thought. It is always in my heart; it blooms at each of my steps… The Dance is love, it is only love, it alone, and that is enough… I, then, it is amorously that I dance: to poems, to music but now I would like to no longer dance to anything but the rhythm of my soul."
― Isadora Duncan
17. "If you look at a dancer in silence, his or her body will be the music. If you turn the music on, that body will become an extension of what you're hearing."― Judith Jamison, Dancing Spirit: An Autobiography
18. "I feel that the essence of dance is the expression of man–the landscape of his soul. I hope that every dance I do reveals something of myself or some wonderful thing a human can be." ― Martha Graham, Blood Memory
19. "When you truly sing, you sing yourself free. When you truly dance, you dance yourself free. When you walk in the mountains or swim in the sea, again, you set yourself free."
― Jay Woodman
20. "I know nothing, except what everyone knows – if Grace dances, I should dance." ― W.H. Auden, Collected Poems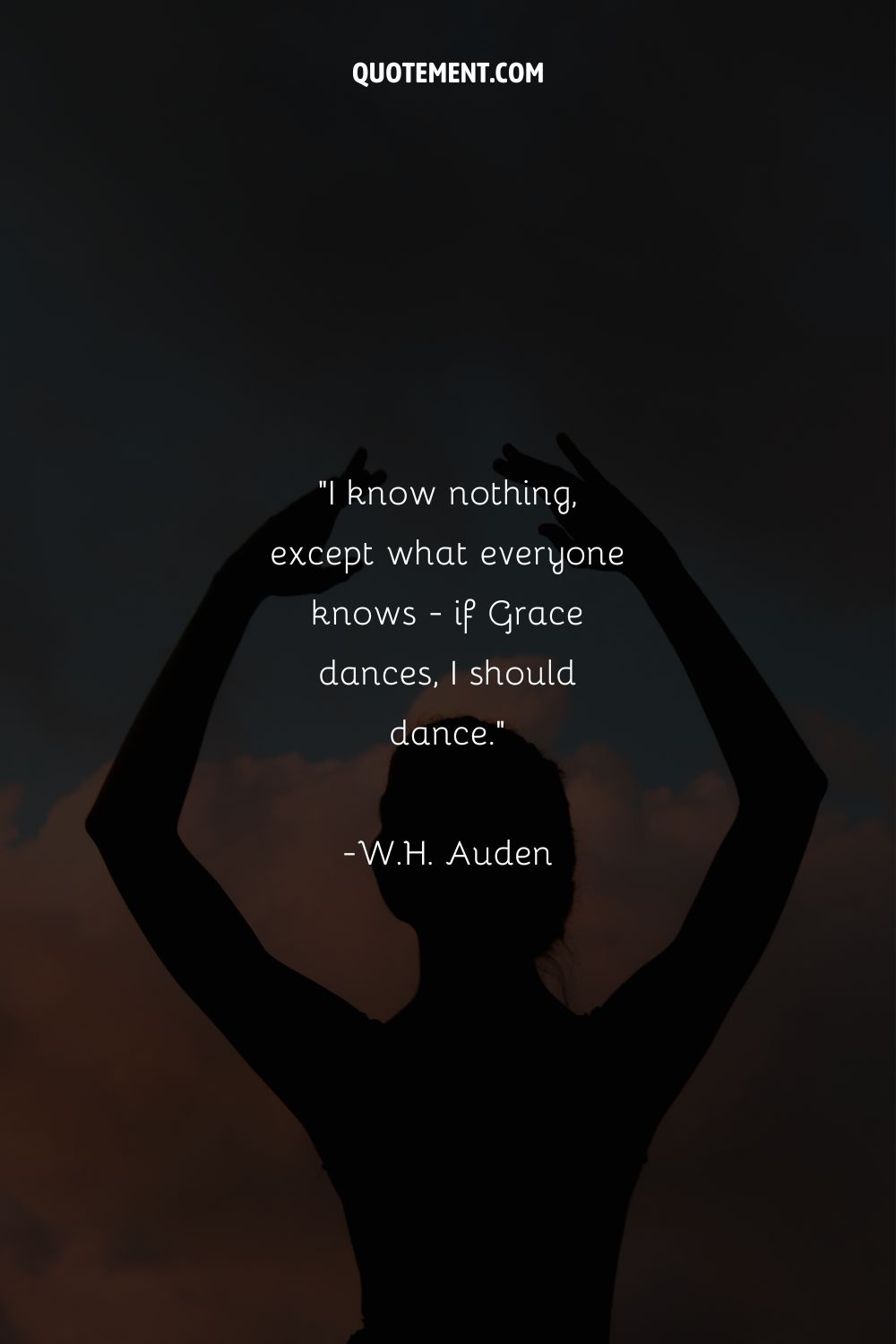 21. "He was shockingly easy to follow. The pressure of his hand, the step of his foot, the angle of his frame… it was like reading his mind. When he leaned right, they turned in perfect unison. He swept her across the gallery in a quick three, a dizzying pace. Gilded frames and glass cases and the window blurred in her vision, and Azalea spun out, her skirts pulling and poofing around her, before he caught her and brought her back into dance position. She could almost hear music playing, swelling inside of her.
Mother had once told her about this perfect twining into one. She called it interweave, and said it was hard to do, for it took the perfect matching of the partners' strengths to overshadow each other's weaknesses, meshing into one glorious dance. Azalea felt the giddiness of being locked in not a pairing, but a dance. So starkly different than dancing with Keeper. Never that horrid feeling that she owed him something; no holding her breath, wishing for the dance to end. Now, spinning from Mr. Bradford's hand, her eyes closed, spinning back and feeling him catch her, she felt the thrill of the dance, of being matched, flow through her.
"Heavens, you're good!" said Azalea, breathless.
"You're stupendous," said Mr. Bradford, just as breathless. "It's like dancing with a top!"
― Heather Dixon, Entwined
22. "I'm not ashamed of heroic ambitions. If man and woman can only dance upon this earth for a few countable turns of the sun… let each of us be an Artemis, Odysseus, or Zeus… Aphrodite to the extent of the will of each one." ― Roman Payne, Rooftop Soliloquy
23. "Through synergy of intellect, artistry and grace came into existence the blessing of a dancer." ― Shah Asad Rizvi
24. "I like Dancing of Indian girls more than my parents' prayers . Because they dance with love and passion . But my parents just say their prayers because they got used to it ."
― Ali Shariati
25. "Life is an affair of mystery; shared with companions of music, dance and poetry."
― Shah Asad Rizvi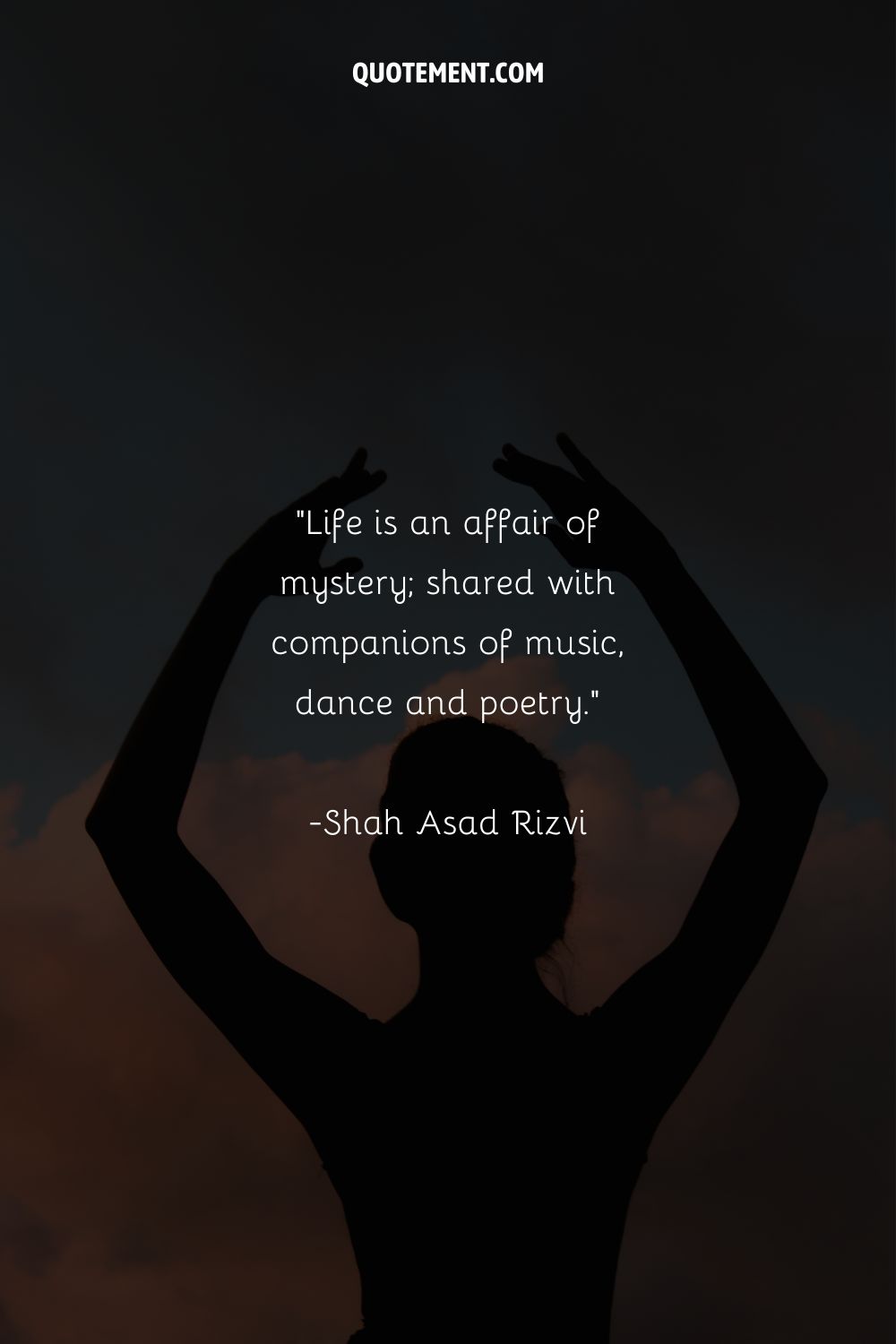 26. "The good news is that Christ frees us from the need to obnoxiously focus on our goodness, our commitment, and our correctness. Religious has made us obsessive almost beyond endurance. Jesus invited us to a dance…and we've turned in into a march of soldiers, always checking to see if we're doing it right and are in step and in line with the other soldiers. We know a dance would be more fun, but we believe we must go through hell to get to heaven, so we keep marching." ― Steve Brown, A Scandalous Freedom
27. "Most dancers I know, especially the talented and successful ones, seem to possess [my dog's] knack for living moment to moment. You see, their idea of time is related to those infinitely short moments when they are onstage being their superselves."
― Paul Taylor, Private Domain: An Autobiography
28. "It's like an emotional dance party: Some dances will be your favorites — others more awkward or difficult to learn. Some will be boring or make you mad. some you will wish you never needed to do again. But AHA! You think. I will dance all the dances I can."
― SARK, Glad No Matter What: Transforming Loss and Change into Gift and Opportunity
29. "Sometimes it's only in the ecstasy of unrepressed movement that we may enter the stillness of our authentic selves. In such sacred moments, the world seems to be in step. This is why the idea of finding love across the dance floor endure — symbolizing that, when we know the true rhythm of our heart, we know the other." ― Alexandra Katehakis, Mirror of Intimacy: Daily Reflections on Emotional and Erotic Intelligence
30. "Life is a dance between heaven and earth, the ebb and flow of life." ― Maurice Spees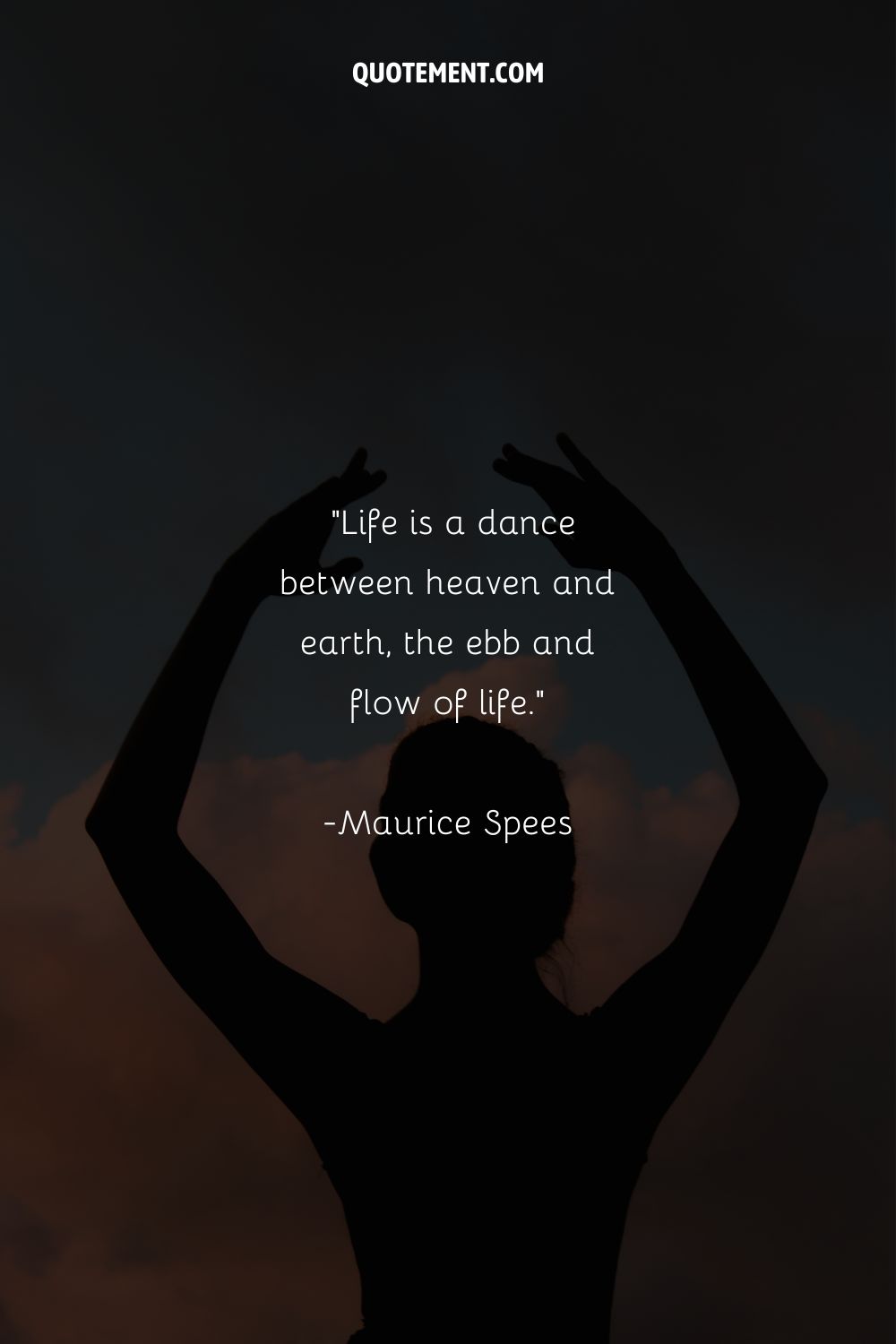 See also: 150 Empowering Badass Quotes To Take Life By The Horns
Dance Quotes For You To Think About
1. "Dancing is a perpendicular expression of a horizontal desire." ― George Bernard Shaw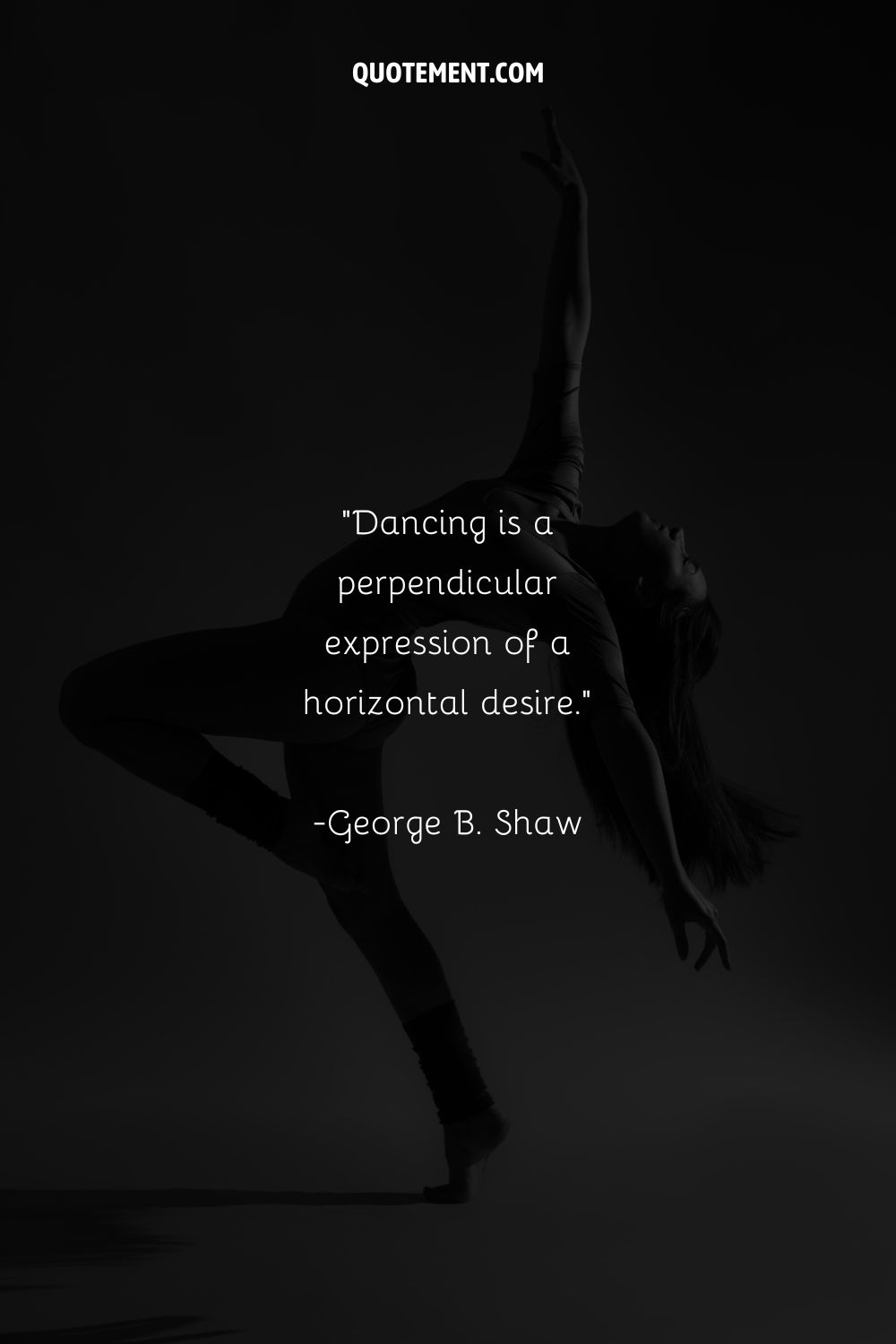 2. "There is a vitality, a life force, an energy, a quickening that is translated through you into action, and because there is only one of you in all time, this expression is unique. And if you block it, it will never exist through any other medium and will be lost." ― Martha Graham
3. "I do not try to dance better than anyone else. I only try to to dance better than myself."
― Mikhail Baryshnikov
4. "There is a vitality, a life force, an energy, a quickening that is translated through you into action, and because there is only one of you in all of time, this expression is unique. And if you block it, it will never exist through any other medium and it will be lost. The world will not have it. It is not your business to determine how good it is nor how valuable nor how it compares with other expressions. It is your business to keep it yours clearly and directly, to keep the channel open. You do not even have to believe in yourself or your work. You have to keep yourself open and aware to the urges that motivate you. Keep the channel open. … No artist is pleased. [There is] no satisfaction whatever at any time. There is only a queer divine dissatisfaction, a blessed unrest that keeps us marching and makes us more alive than the others" ― Martha Graham
5. "Art is the only way to run away without leaving home." ― Twyla Tharp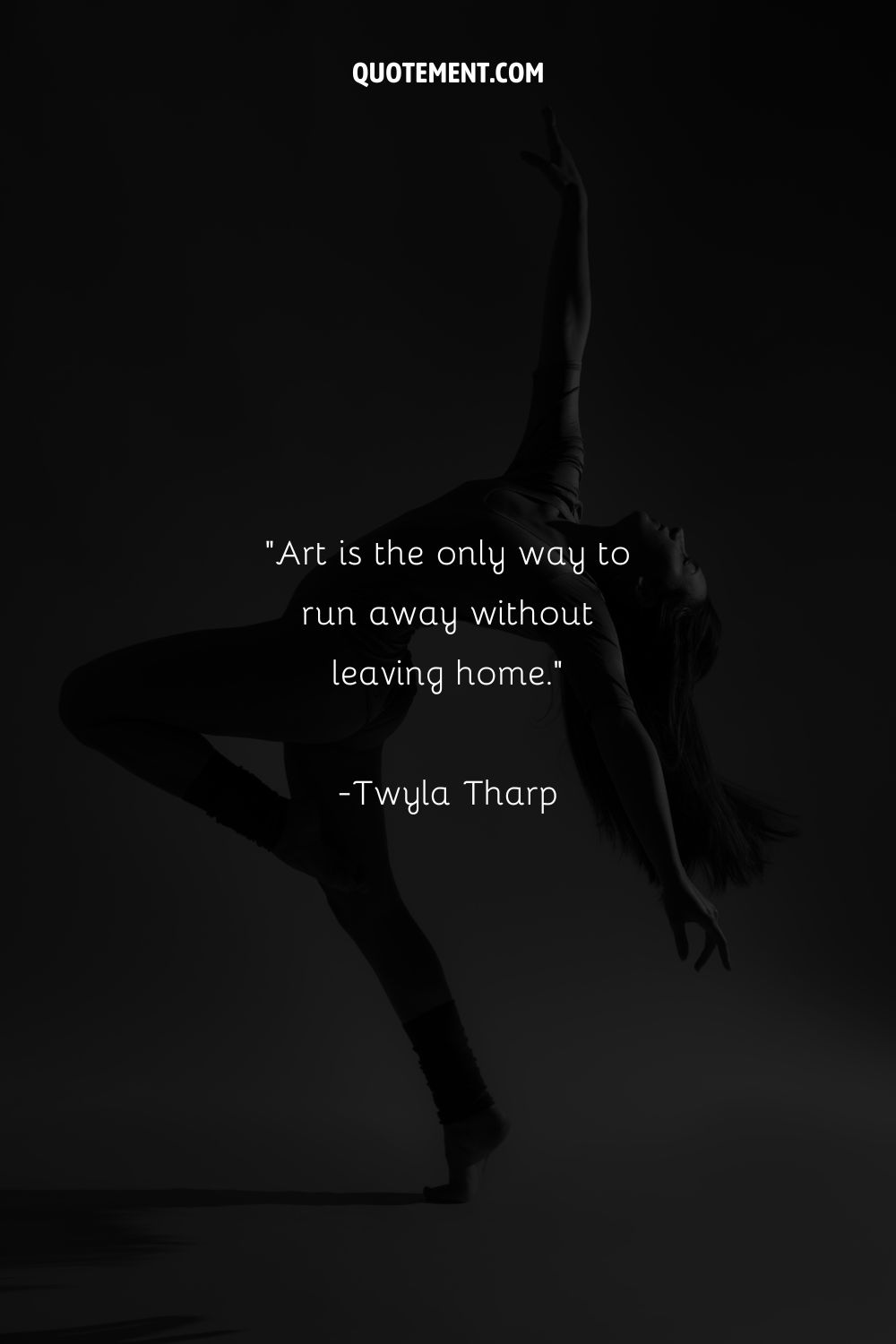 6. "I marveled at the beauty of all life and savored the power and possibilities of my imagination. In these rare moments, I prayed, I danced, and I analyzed. I saw that life was good and bad, beautiful and ugly. I understood that I had to dwell on the good and beautiful in order to keep my imagination, sensitivity, and gratitude intact. I knew it would not be easy to maintain this perspective. I knew I would often twist and turn, bend and crack a little, but I also knew that…I would never completely break." ― Maria Nhambu, Africa's Child
7. "Artists use frauds to make human beings seem more wonderful than they really are. Dancers show us human beings who move much more gracefully than human beings really move. Films and books and plays show us people talking much more entertainingly than people really talk, make paltry human enterprises seem important. Singers and musicians show us human beings making sounds far more lovely than human beings really make. Architects give us temples in which something marvelous is obviously going on. Actually, practically nothing is going on." ― Kurt Vonnegut, Wampeters, Foma and Granfalloons
8. "If theater is ritual, then dance is too… It's as if the threads connecting us to the rest of the world were washed clean of preconceptions and fears. When you dance, you can enjoy the luxury of being you." ― Paulo Coelho, The Witch of Portobello
9. "In a society that worships love, freedom and beauty, dance is sacred. It is a prayer for the future, a remembrance of the past and a joyful exclamation of thanks for the present." ― Amelia Atwater-Rhodes, The Shapeshifters: The Kiesha'ra of the Den of Shadows
10. "Life is sweet when you pay attention. When it doesn't seem sweet, put a sticker on your nose and do a funky dance." ― Whitney Scott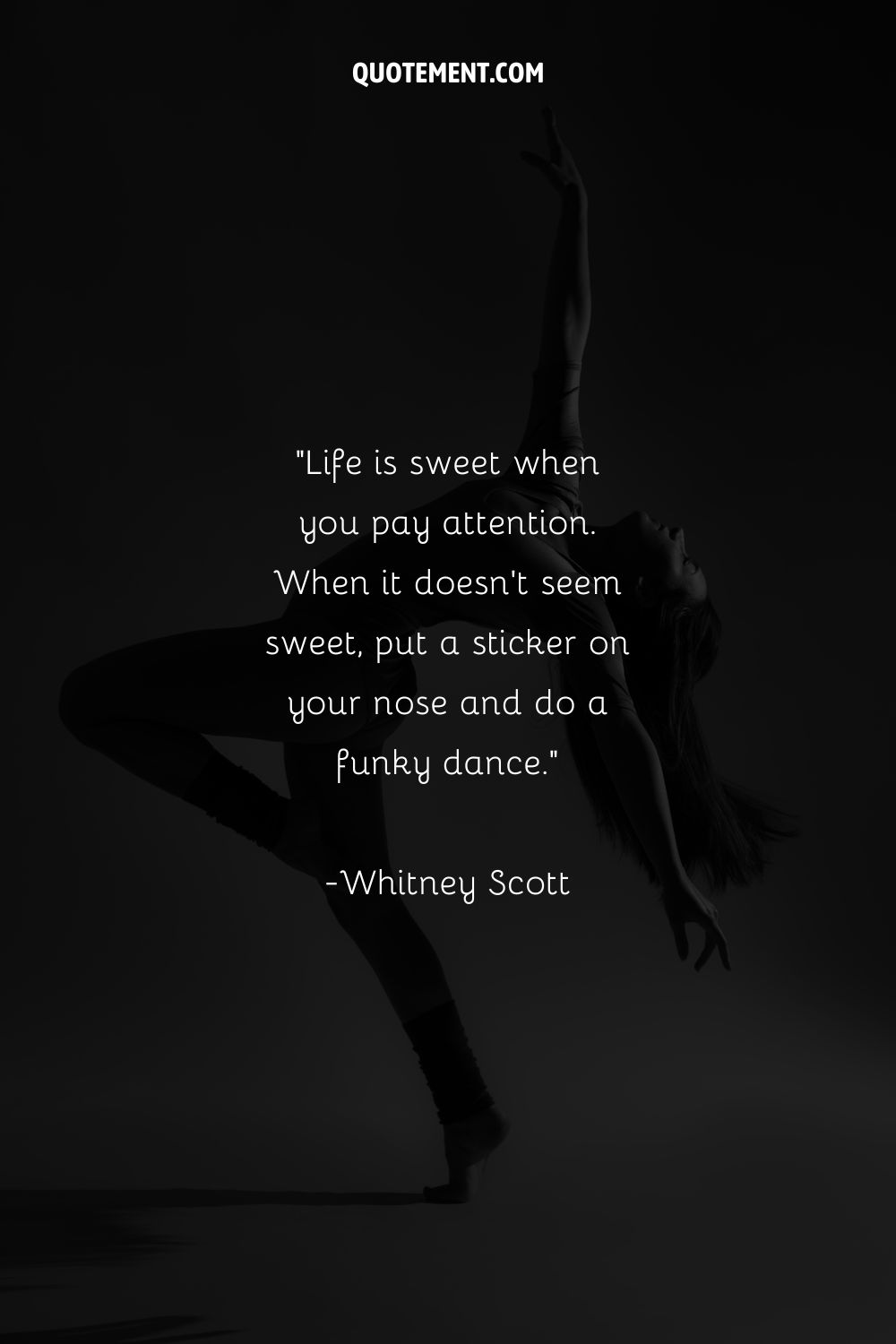 11. "When it's finals week and you've been studying for five hours straight, you need three things to get you through the nigh.The biggest Slurpee you can find,half cherry half Coke.Pajama pants, the kind that have been washed so many times they are tissue-paper thin. And finally,dance breaks. Lots of dance breaks." ― Jenny Han, We'll Always Have Summer
12. "It doesn't matter if I'm off the beat. It doesn't matter if I'm snapping to the rhythm. It doesn't matter if I look like a complete goon when I dance. It is my dance. It is my moment. It is mine. And dance I will. Try and stop me. You'll probably get kicked in the face." ― Dan Pearce, Single Dad Laughing
13. "One clear moment, one of trance
One missed step, one perfect dance
One missed shot, one and only chance
Life is all…but one fleeting glance." ― Sanober Khan
14. "Each woman has potential access to Rio Abajo Rio, this river beneath the river. She arrives there through deep meditation, dance, writing, painting, prayermaking, singing, drumming, active imagination, or any activity which requires an intense altered consciousness. A woman arrives in this world-between-worlds through yearning and by seeking something she can see just out of the corner of her eye. She arrives there by deeply creative acts, through intentional solitude, and by practice of any of the arts." ― Clarissa Pinkola Estés, Women Who Run With the Wolves
15. "We need to learn to dance more softly." ― Nikki Rosen, Dancing Softly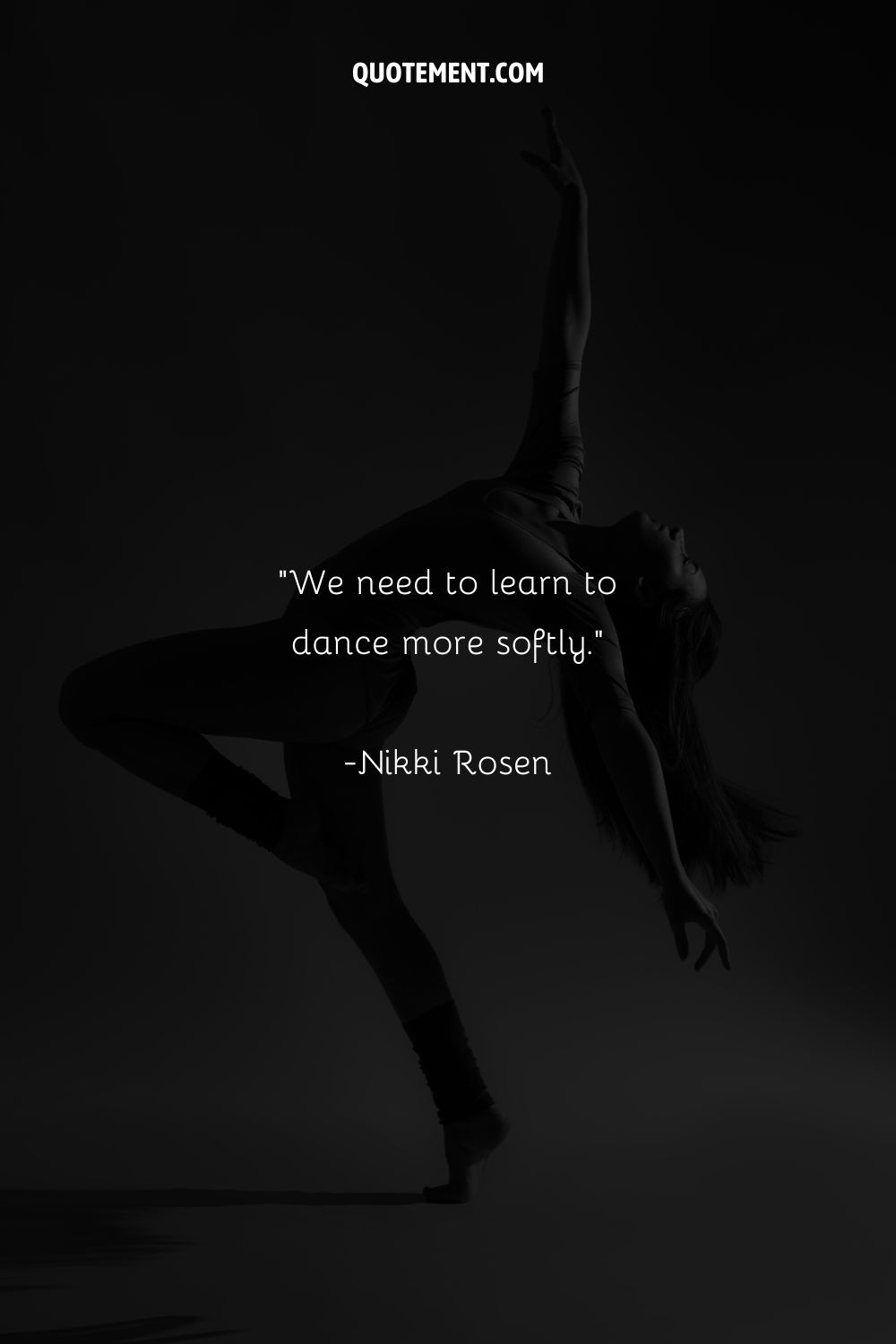 16. "Oceans are vast and almost bottomless. You dance in the rain Elizabeth. You drown in the sea." ― Jennifer Rush, Reborn
17. "You can be Eastern or Burmese or what have you, but the function of the body and the awareness of the body results in dance and you become a dancer, not just a human being. "
― Martha Graham, Blood Memory
18. "There are situations of course that leave you utterly speechless. All you can do is hint at things. Words, too, can't do more than just evoke things. That's where dance comes in again." ― Pina Bausch
19. "Sing and dance together and be joyous, but let each one of you be alone.
Even as the strings of a lute are alone though they quiver with the same music."
― Kahlil Gibran, The Prophet
20. "Marriage is not kick-boxing, it's salsa dancing." ― Amit Kalantri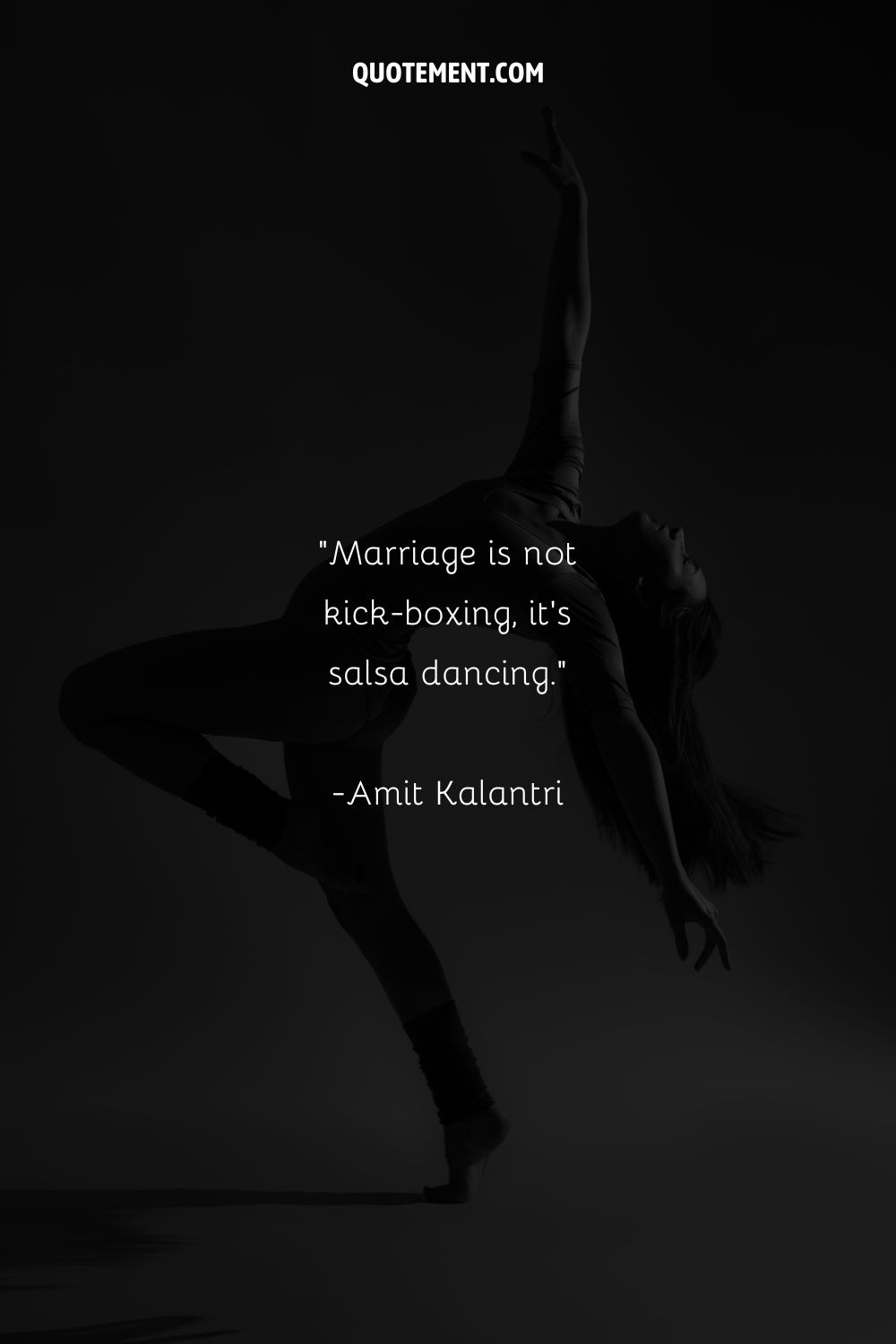 Final Word
I hope that I have sparked your interest in dancing by these dance quotes. And I hope that you will feel free to turn on some music and let your body enjoy the rhythm!
Read next: 70 Body Positivity Quotes Because You're Divine & Perfect