If you've been searching for the best cheating captions to express your thoughts on infidelity on social media, this article will offer you plenty of amazing cheating Instagram captions to choose from!
If you're going through a painful betrayal caused by your partner's hidden affair, I'm sorry. I know how utterly painful the experience is. Been there, felt that.
Being cheated on is one of the most painful experiences in life. But even though it's very traumatic, this experience doesn't have to shape us. Instead, we can use it to learn and evolve.
It's easier said than done, but I hope this collection of cheating captions will help you find hope and strength.
So, take a fire selfie, pair it with one of these cheating captions, and you'll have a killer Instagram post that will boost your self-esteem, which is well needed after such a devastating experience.
Top 20 Cheating Captions For Instagram
Here's my collection of 20 ultimate cheating captions that send a powerful message with just a couple of words.
1. Cheaters don't cheat by chance, they cheat by choice.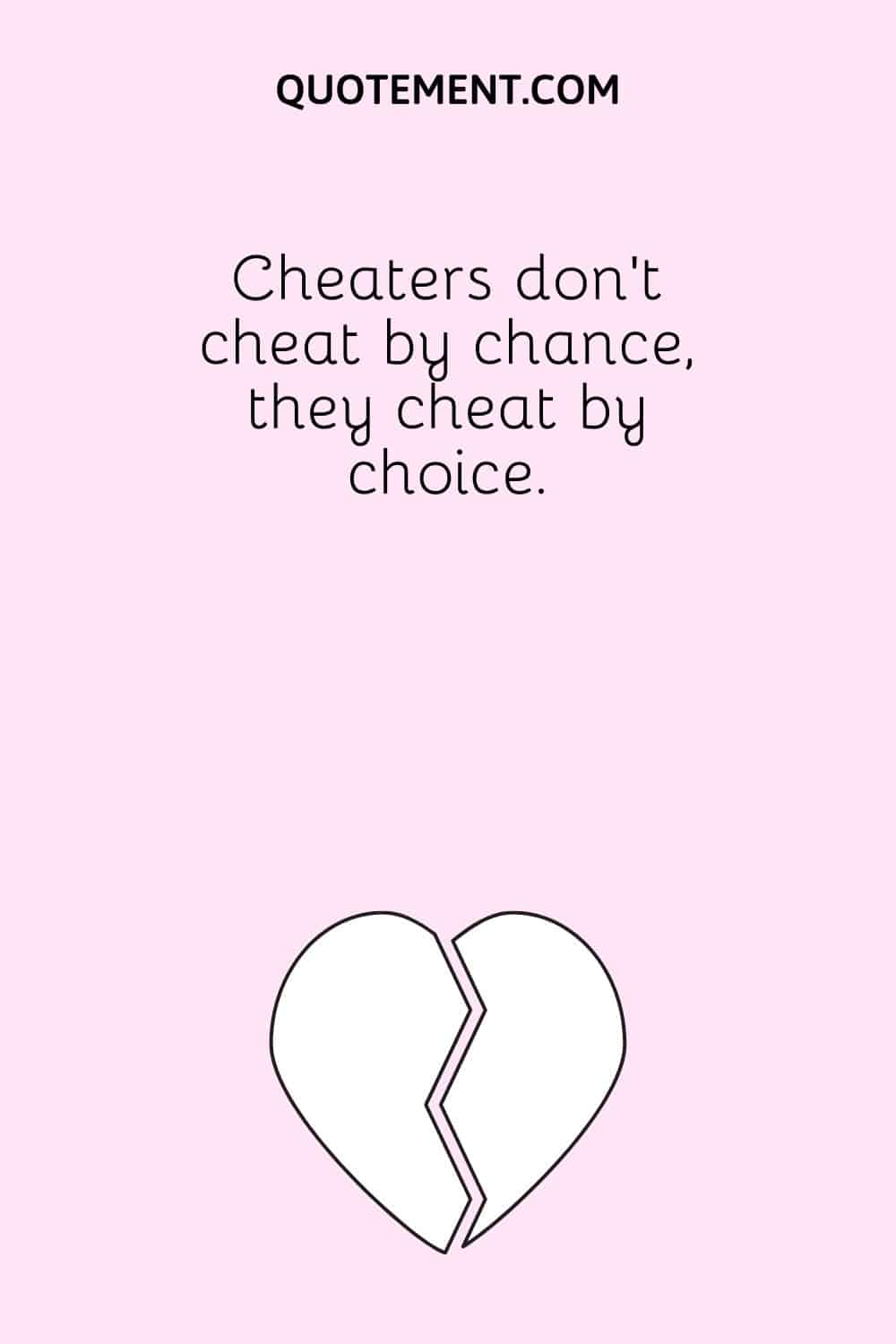 2. I tried to keep us together, but you were busy keeping secrets.
3. They weren't sorry when you didn't know, remember that.
4. There is no excuse for cheating in a relationship.
5. Never push a loyal person to the point where they no longer care.
6. "Once a cheater, always a repeater." — Melissa Edwards
7. Don't cheat. If the feeling isn't there, then you shouldn't be either.
8. Don't apologize, and then do it again.
9. A promise means everything, But once it is broken, sorry means nothing.
10. I'm not a second option. You either choose me or lose me.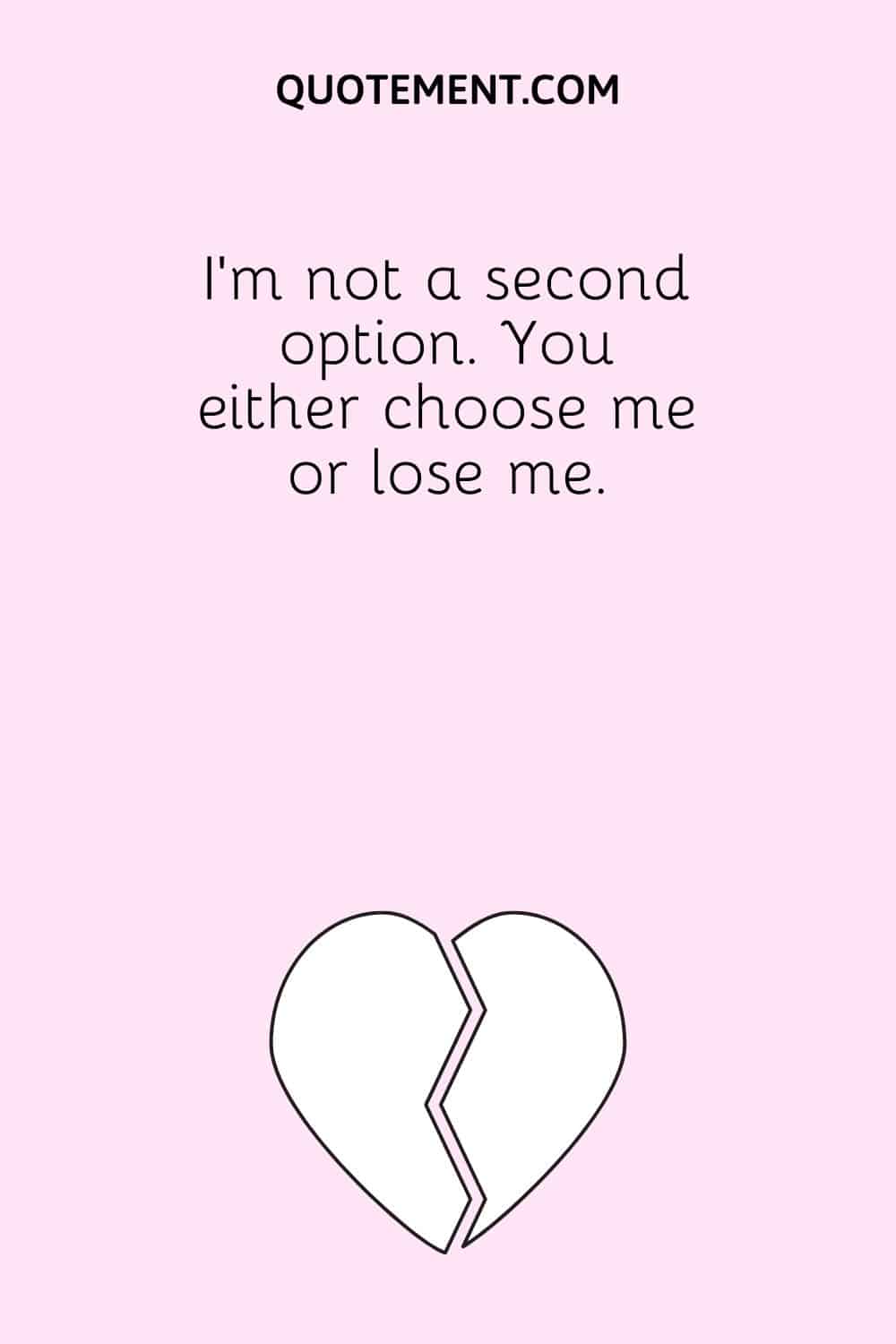 11. If you had enough time to cheat, you had enough time to think about it.
12. If someone cheats for you, they'll cheat ON you. This is science.
13. Don't lie, don't cheat, and don't make promises you can't keep.
14. Cheaters think everyone cheats. Liars think everyone lies. Keep this in mind.
15. Cheating is straightforward. Try something more like being faithful.
16. No matter how badly people treat you, never drop down to their level, just know you're better and walk away.
17. No more tears because I didn't lose you, you lost me.
18. Someone who loves you wouldn't put themselves in a position to lose you.
19. It isn't what we are saying or thinking that defines us, but what we do.
20. Sometimes, things break your heart but fix your vision.
See also: 150 Best Love Failure Quotes For Al The Heart-Broken Souls
Powerful Cheating Captions For Instagram
Are you ready for more awesome cheating captions for Instagram? They're coming your way!
1. Trust is like an eraser. It gets smaller and smaller after every mistake.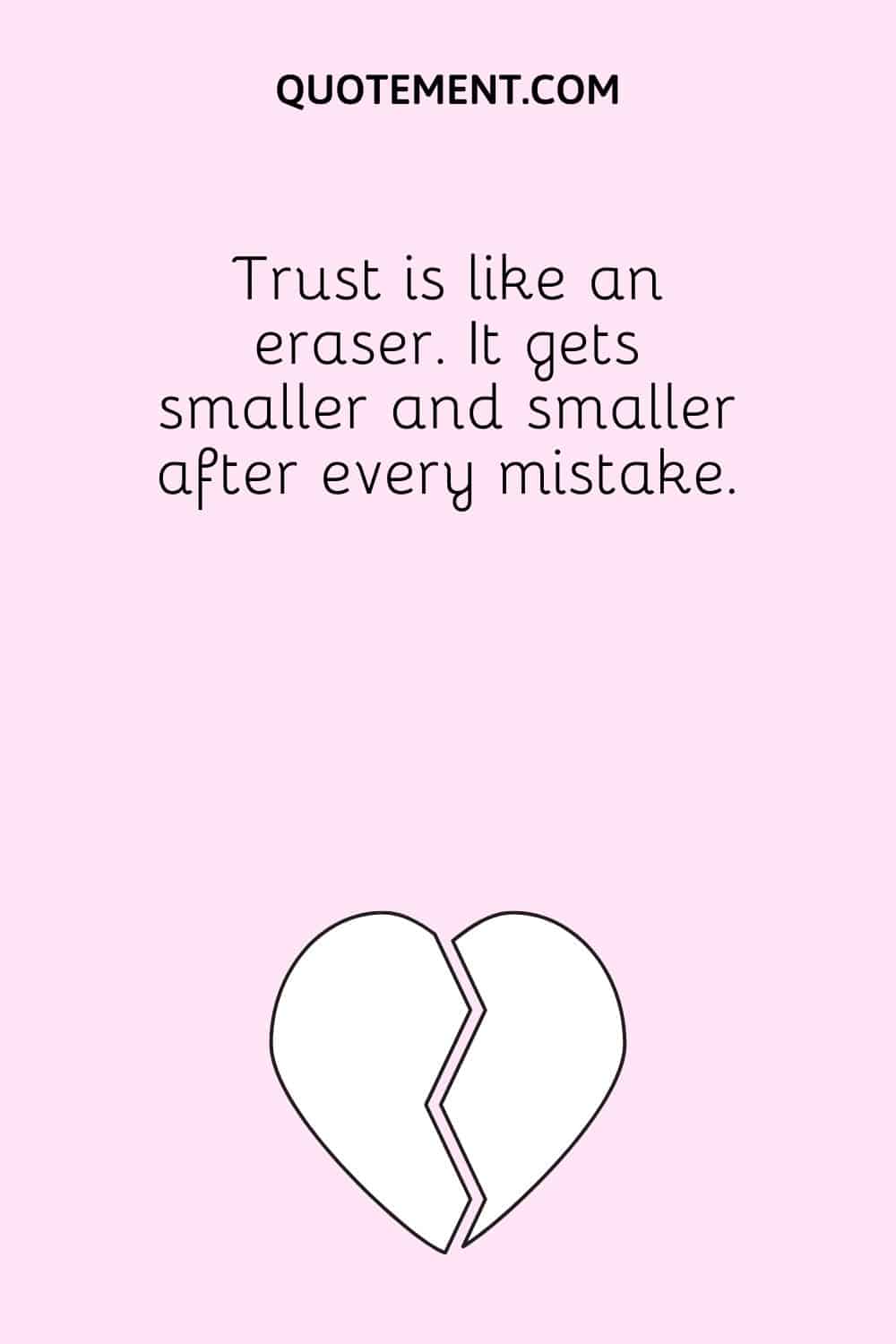 2. Being single is better than being lied to, cheated on, and disrespected.
3. The truly scary thing about undiscovered lies is that they need a greater capacity to diminish us than exposed ones. They erode our strength, our self-esteem, our very foundation.
4. You didn't just cheat me; you cheated on us. You didn't just break my heart; you broke our future.
5. Cheaters may feel good when they cheat. They may even gain from it. But that seems beside the point. Cheating is unfair to others. And many do not know how to make it stop.
6. Cheating is the most disrespectful thing one human being can do to another. If you aren't happy in a relationship, end it before starting another one.
7. Stop making excuses for him. You're a secret because the OTHER girl isn't. End of story.
8. Two seconds of cheating kills twenty years of marriage forever. Think before you cheat.
9. Cheating isn't always kissing, touching, or flirting. If you gotta delete text messages so your partner won't see them, you are already there.
10. Relationships sink when there are too many passengers.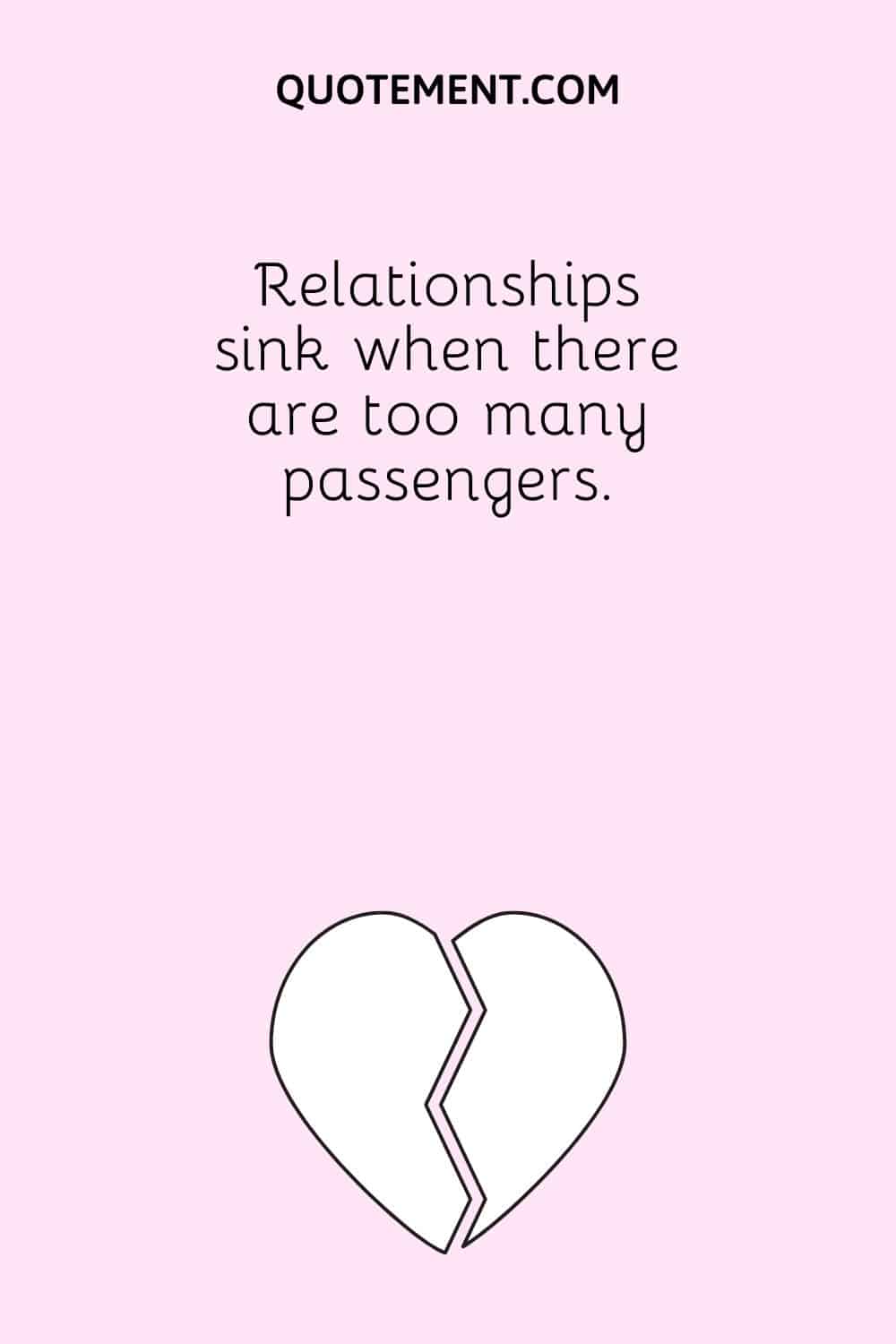 11. The animals are setting examples for faithfulness while humans are setting examples for betrayal.
12. Stop asking me to trust you while I'm still coughing up water from the last time you let me drown.
13. Cheating on a good woman is like failing an open-book test.
14. He says he loves her when really what's going on is him wanting to be loved.
15. Most people cheat because they're paying more attention to what they're missing rather than what they have.
16. You know you're doing something wrong when you have to double-check who you're sending that text to.
17. Trust is like paper. Once it crumples, it can't be perfect.
18. One cannot truly experience the beauty of love without enduring the pain that comes with it once it is lost.
19. The truly scary thing about undiscovered lies is that they have a greater capacity to diminish us than exposed ones. They erode our strength, our self-esteem, our very foundation.
20. Relationships are about trust. If you have to play detective, then it's time to move on.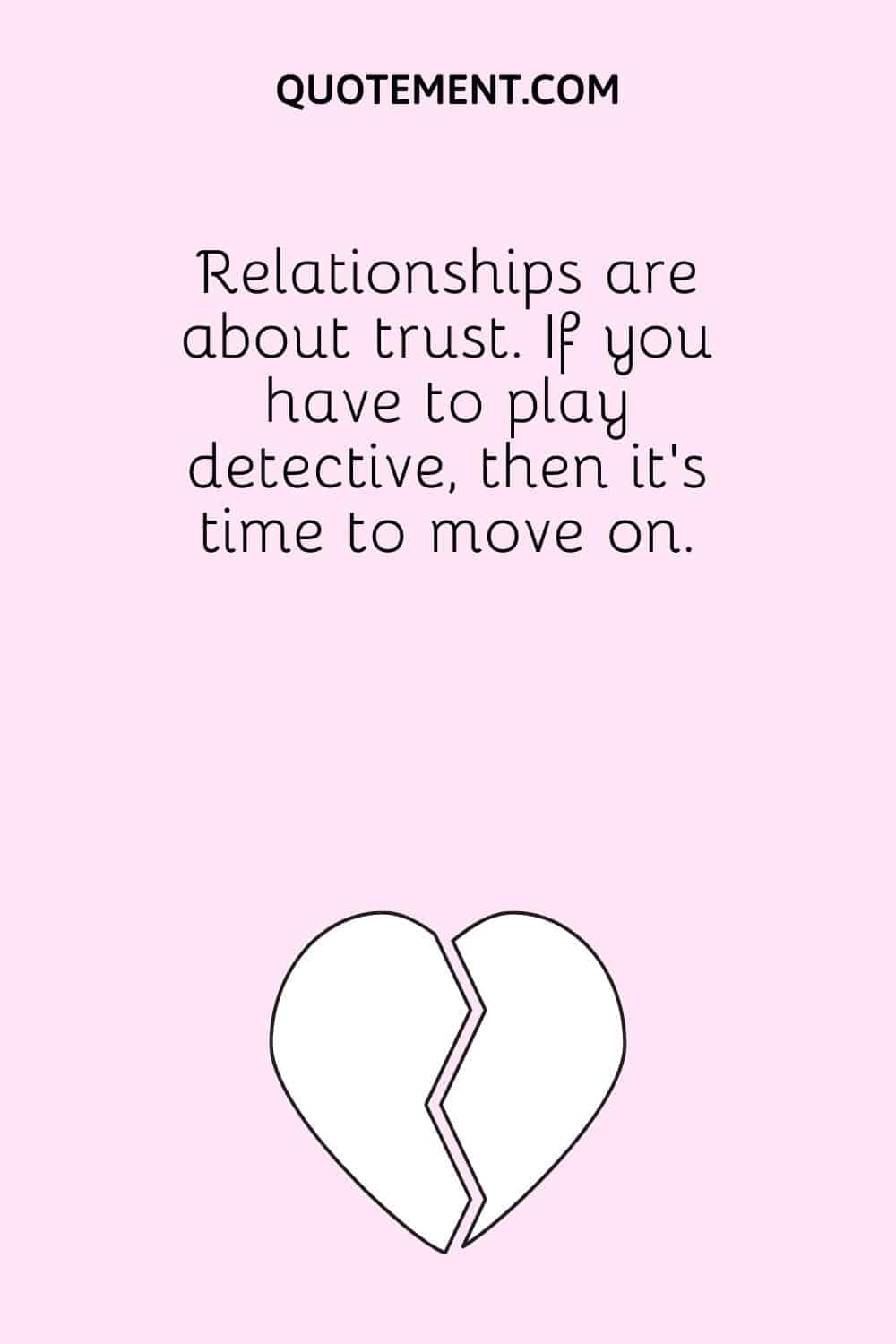 21. Some abuse isn't physical. Abuse doesn't need to be physical. There's emotional abuse, psychological abuse, and spiritual abuse.
22. If your boyfriend or girlfriend has no texts in their phone's history, chances are you're being cheated on.
23. The faithful speak the truth while sweet words and false promises are the tools of a cheater.
24. A cheater will cheat no matter how good you treat them. Cheating isn't always about being unhappy, sometimes it's about pleasure and greed.
25. If you truly love someone, being faithful is easy.
26. Betrayal doesn't only break your heart but also darkens your soul. You'll never forget the pain like a fog that forever lingers in the depths of your mind.
27. If you have to sneak to do it, lie to cover it up, or delete it to avoid it being seen, then you probably shouldn't be doing it.
28. It feels good knowing your own worth; don't let anyone else tell you otherwise.
See also: Top 90 Never Settle For Less Quotes To Encourage You
Funny Cheating Captions For Instagram
Humor can be an excellent coping mechanism. Here are some of the funniest cheating captions to keep you laughing even during the hardest times.
1. "Eighty percent of married men cheat in America. The rest cheat in Europe." — Jackie Mason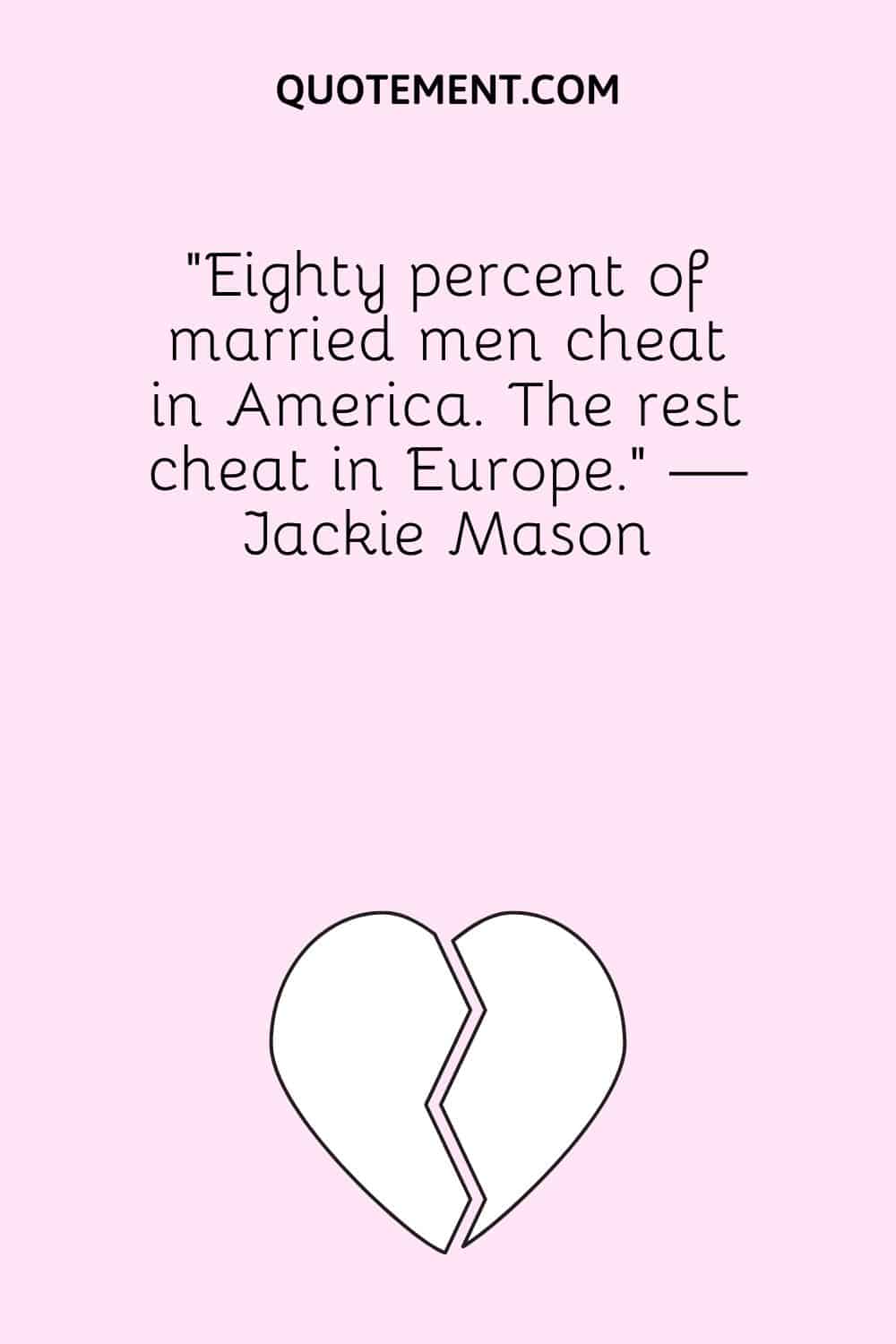 2. I just found out that you cheated on me. I suggest you go to a Dog Training School. Hope you learn the true value of faithfulness there!
3. Earthquakes just happen. Tornadoes just happen. Your tongue doesn't just happen to fall in another girl's mouth!
4. Even the terrorists are better than you. At least, they are faithful to their chosen group.
5. When people say love is blind, they always seem to forget about dating apps.
6. Facebook is like a relationship. Faithful on your wall, but cheating in their inbox.
7. She can't catch you cheating if you don't cheat.
8. When a man cheats, it is said it is because he is a dog. When a woman cheats, it is said it is because her man is a dog.
9. I would never cheat in a relationship because that would require two people to find me attractive.
10. She thought she had found her prince charming, but he turned out to be a frog.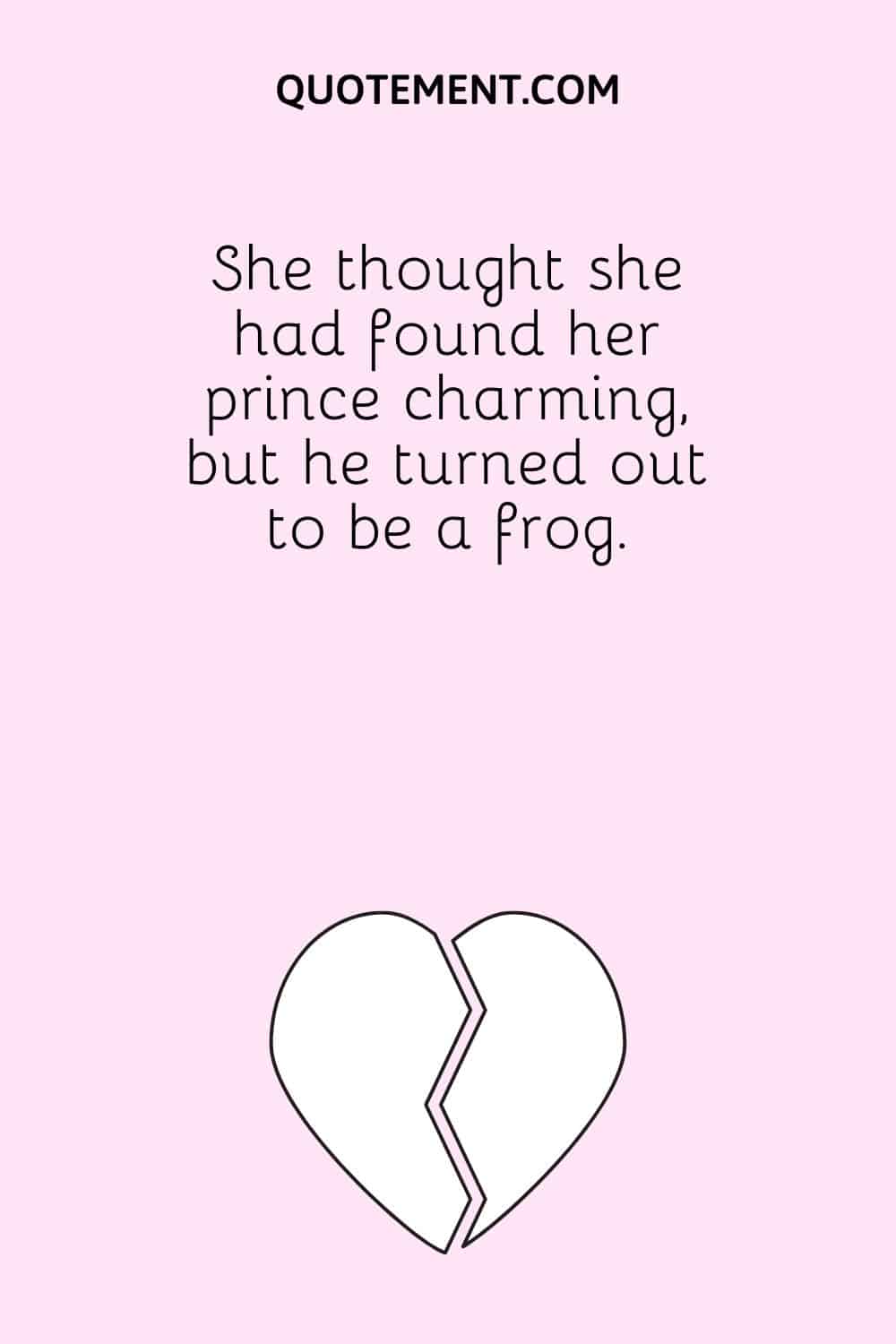 11. Guys are like bras, they hook up behind your back.
12. 'I Love My Wife' bumper stickers are strictly for men who were caught cheating.
13. "My boyfriend and I broke up. He wanted to get married, and I didn't want him to." — Rita Rudner
14. I am a good enough person to forgive you but not stupid enough to trust you again.
15. I thought I was promiscuous, but it turns out I was just thorough.
16. It might sound ordinary for a woman to find out her husband's hurting her by being unfaithful, but not if you're the woman and it's your husband.
17. I accidentally bumped into my ex today…With my car…at 60mph…on purpose.
18. Now I believe it when people say love is blind…'cause I must have been blind to love a person like you.
19. A man's favorite lie when he gets caught up in a lie: "not true, but whatever, believe what you want".
20. A relationship is only made for two. But some people don't know how to count.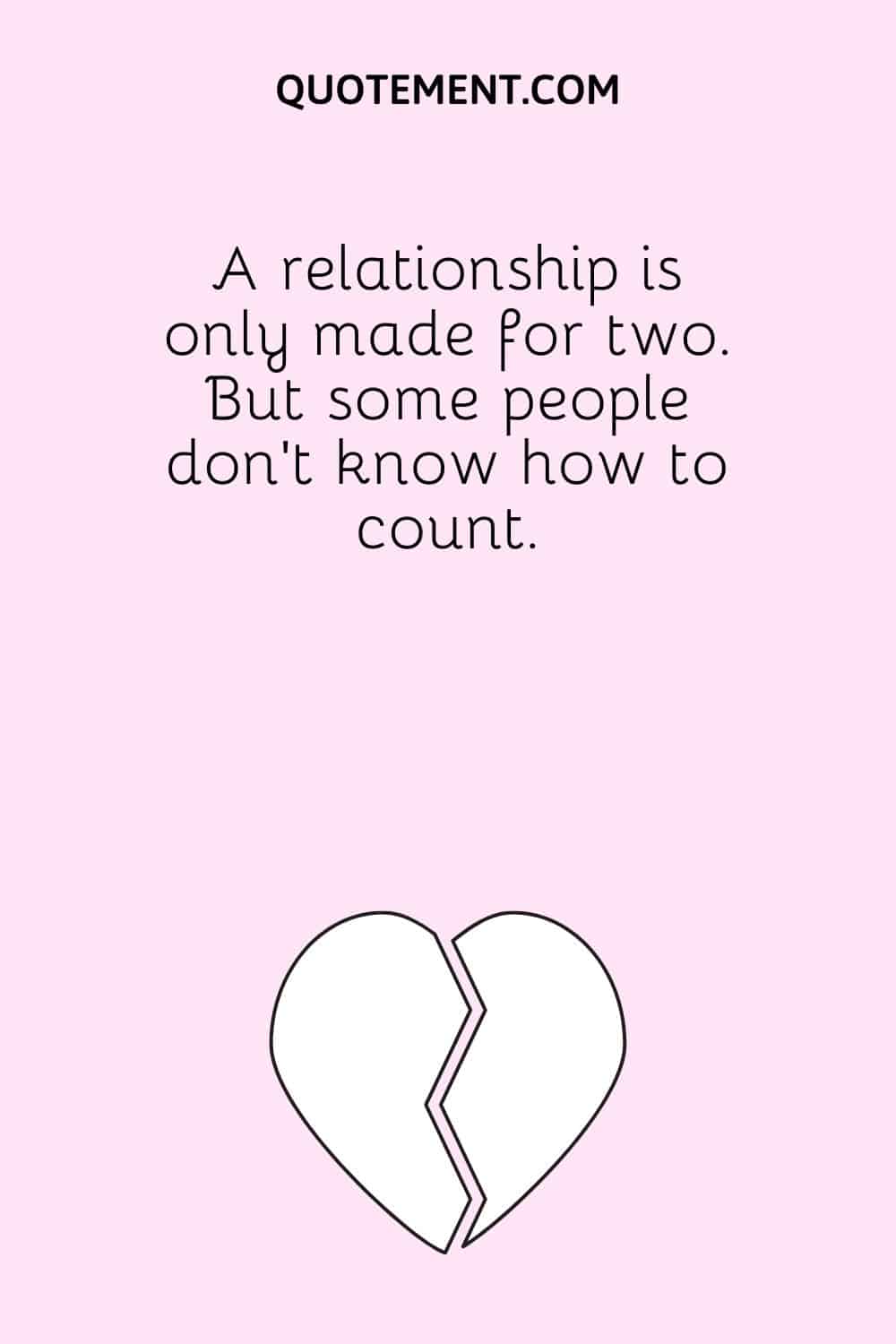 Innocent Cheating Captions For Instagram
1. Cheating on a good person is like throwing away a diamond and picking up a rock.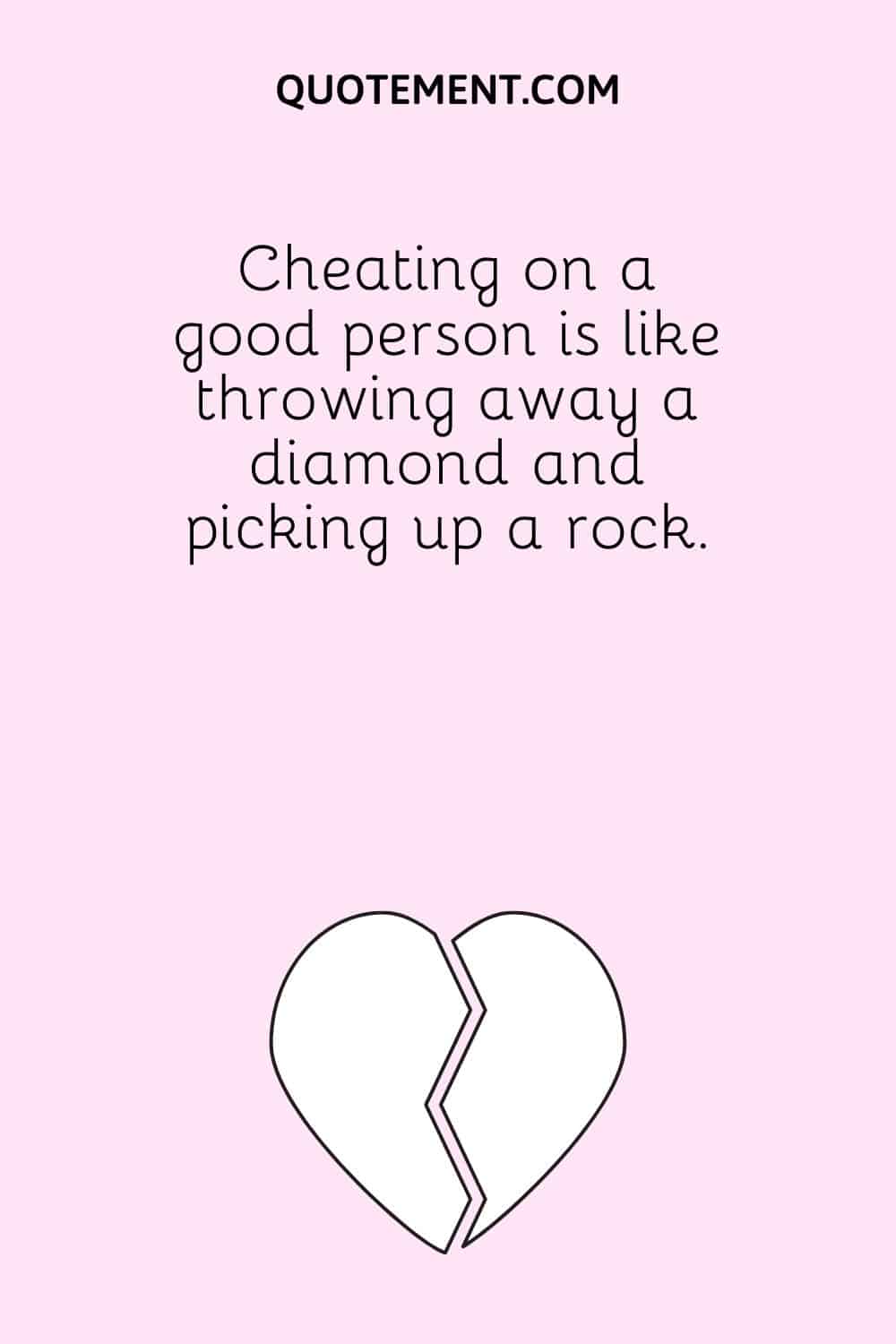 2. Some people treat relationships as video games, they play them, and when they get bored, they cheat.
3. I trusted you, but now your words mean nothing to me because your actions spoke the truth.
4. Next to hurting my family, cheating on me is the worst thing someone could do.
5. A relationship is not a test. So why cheat?
6. Affairs don't start in the bedroom. They start with conversations.
7. One of the hardest things to do in life is letting go of what you thought was real.
8. Cheating is the most selfish thing a person can do in a relationship!
9. It was beautiful and straightforward as all truly great swindles are.
10. When love is true, it doesn't lie, cheat, pretend, or keep secrets.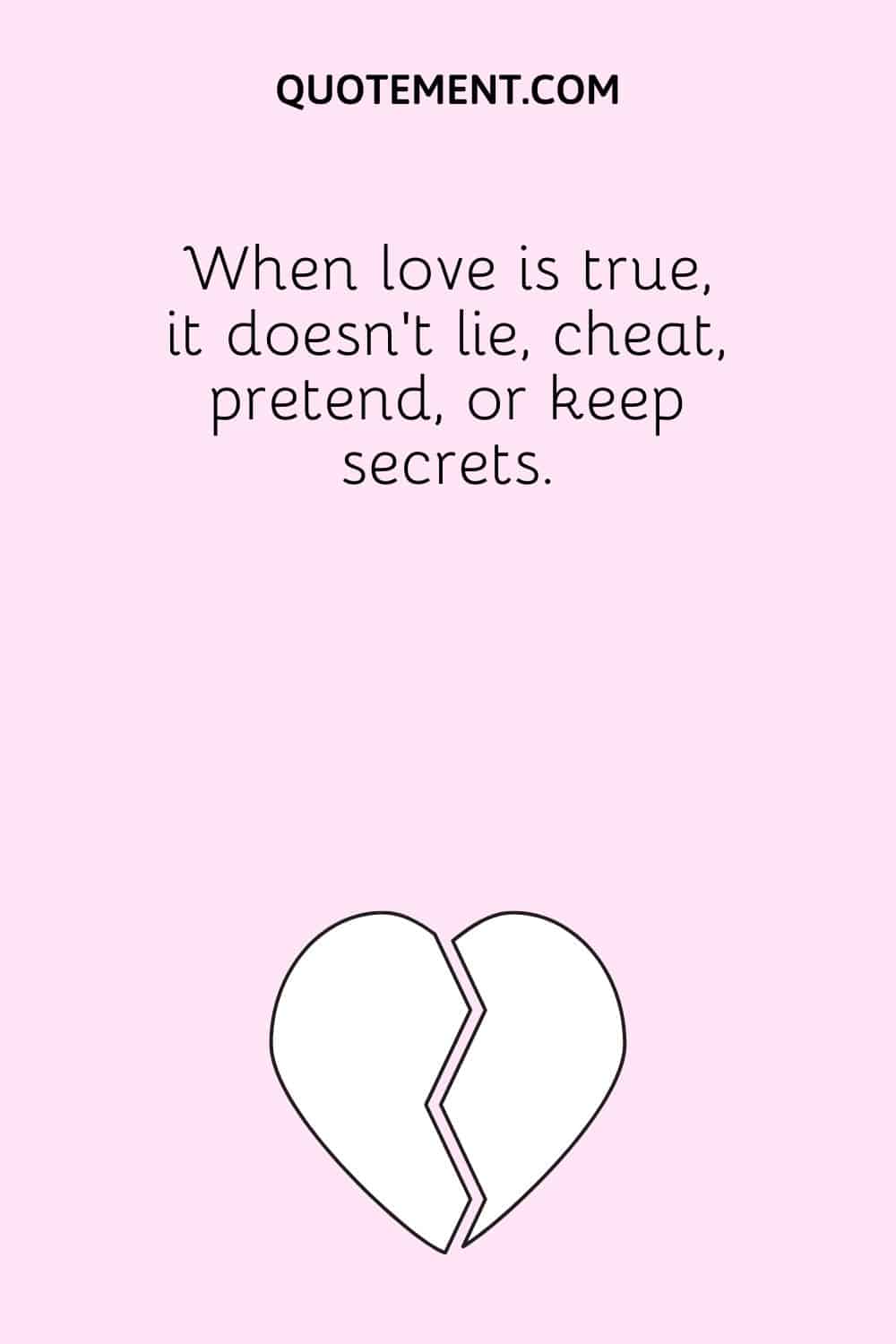 11. A lie that saves a family is not a lie. To turn a lie into truth, all you need is a good heart.
12. I just want an honest relationship. No lies and no mind games, and no cheating.
13. The flowers that I gave you, the nights that we spent. The rides that we took, the hugs that we exchanged, everything reminds me of your love. But then I realized they were all not true.
14. The worst kind of hurt is betrayal because it means someone was willing to hurt you just to make themselves feel better.
15. Moving on is simple, it's what you leave behind that makes it so difficult.
16. The truth will never hurt as much as the exposure of a lie.
17. Cheaters cheat for the same reason they have always cheated. They want to do better than they deserve to. Many try to avoid responsibility for cheating.
18. I refuse to be subjected to your mind games and lies, and I will not play a part in your constant drama. You will not manipulate me, nor will you control me.
19. All people have feelings, they are not there to be used. If you're no longer interested in someone, they have the right to be informed before you go and cheat or go looking elsewhere.
20. Sometimes, there are 100 lies behind a smile and not one truth behind a tear.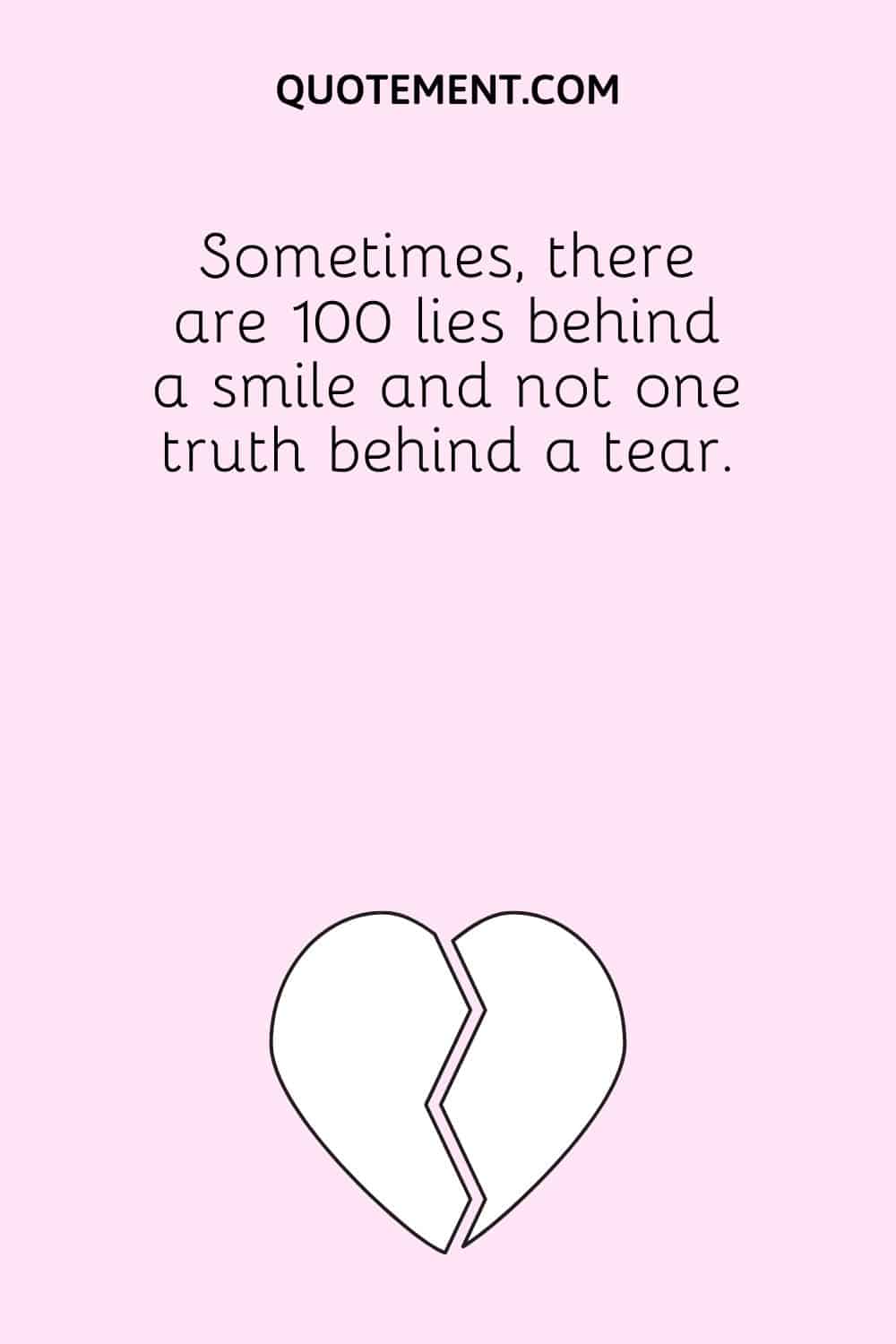 21. You promised we'd stay together through thick and thin, did you also mean through lies and betrayal?
22. Love has become a game of betrayal. The sooner you learn, the better it is for you.
23. I cried when you left me, but I laughed when I saw who you left me for.
24. I don't hate you. I'm just disappointed you turned into everything you said you'd never be.
25. If someone is texting your partner, it's because your partner is welcoming it. It's a reflection of how they are carrying on behind your back.
26. You knew exactly what you were doing. That's what hurts the most.
27. It's sad when you're loyal to somebody, and they're out there embarrassing you.
28. Those who cheat their partners who are loyal to them; don't deserve them. It's a trashy attitude to disrespect an individual who is loyal during a relationship by cheating on him or her.
29. I just want somebody who will never stop choosing me.
See also: 100 Heartwarming I Choose You Quotes For Your Special One
Cheating Captions For Her
1. I am not the other woman. I am the only woman. Got it? Good.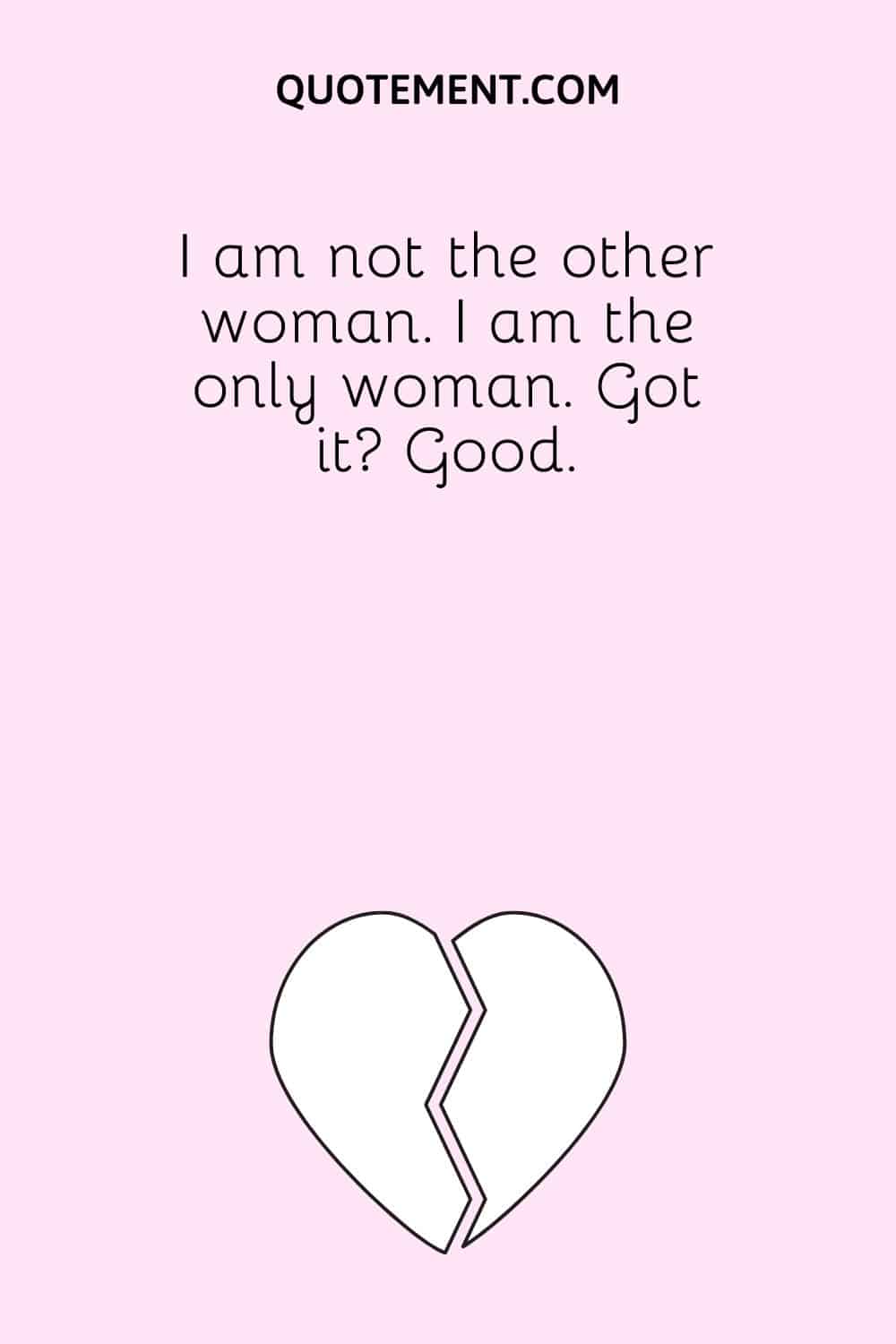 2. Some guys will cheat on their girlfriends and sleep like a baby at night but feel guilty when they go to another barber.
3. Don't date someone who seems more into their phone than they are into you.
4. Cheaters always want you to be loyal while they are being unfaithful.
5. Sleeping alone is better than sharing your bed with someone who shares a bed with someone else when you're not around.
6. No woman could love a cheater and not pay the price for it.
7. Betrayal was what I felt. My heart broke not just by a man I used to be crazy with but also by, as I once believed, a real friend.
8. I don't trust words, I trust actions.
9. The saddest thing about betrayal is that it never comes from your enemy.
10. If you're mine, you're mine. I'm not sharing you with anyone else.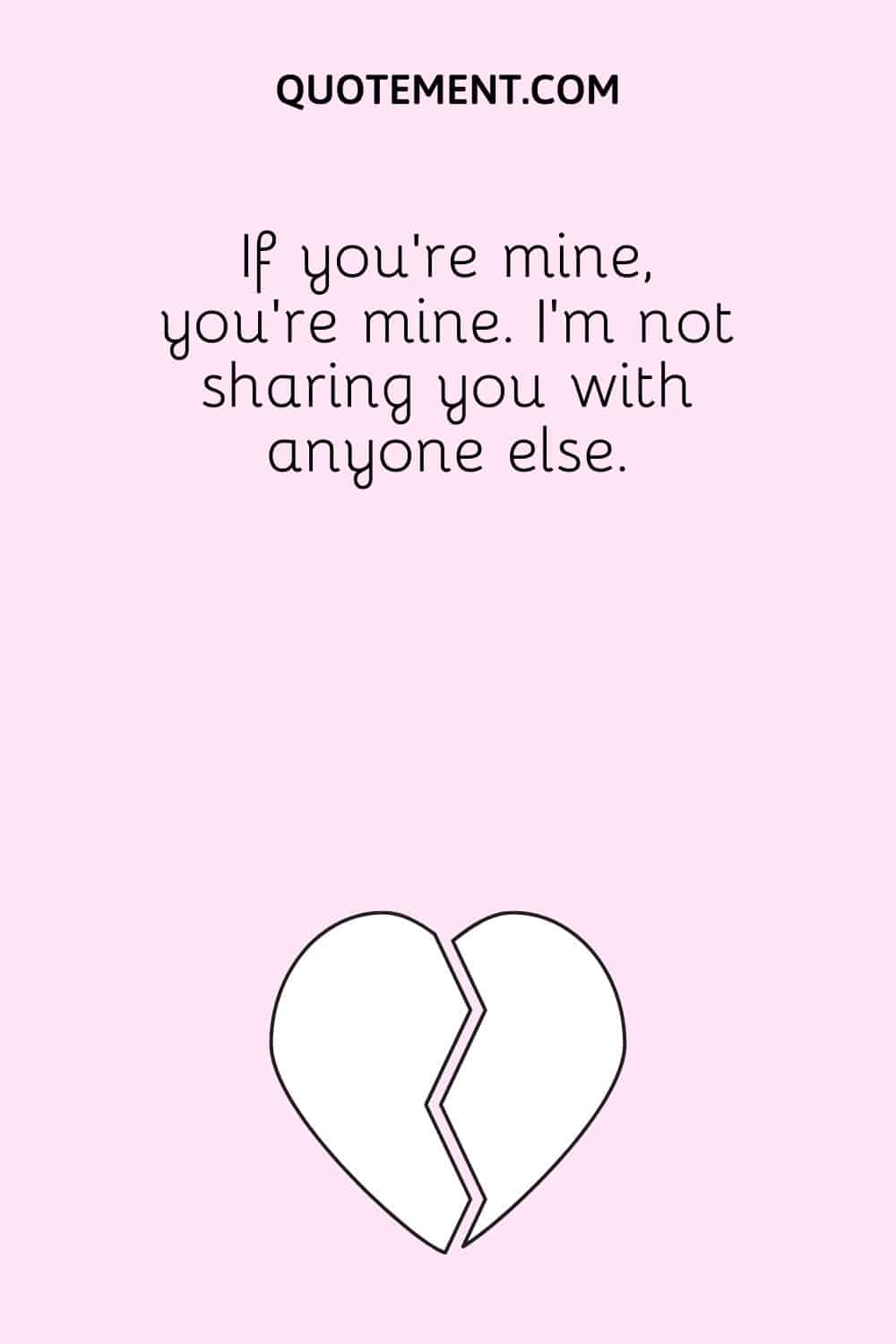 11. If you marry a person who cheats on his wife, you will be married to a person who cheats on his wife.
12. If another woman steals your man, there's no better revenge than letting her keep him. Real men can't be stolen.
13. I miss my baby so much that it's hard for me to breathe sometimes.
14. If a man cheats on his woman with you, what makes you think he won't cheat on you with another?
15. Every time you cheat on your wife, it destroys a part of her; soon, there will be nothing left.
16. When the storm has passed, put your energy into rebuilding your life, don't waste time looking back.
17. If a girl asks you a question, it's better to just give her the truth. Chances are she is asking you because she already knows the answer.
18. I don't miss him. I miss who I thought he was.
19. No guy is worth your tears, and when you find the one that is, he won't make you cry.
20. Before every untrusting girl is a boy who made her that way.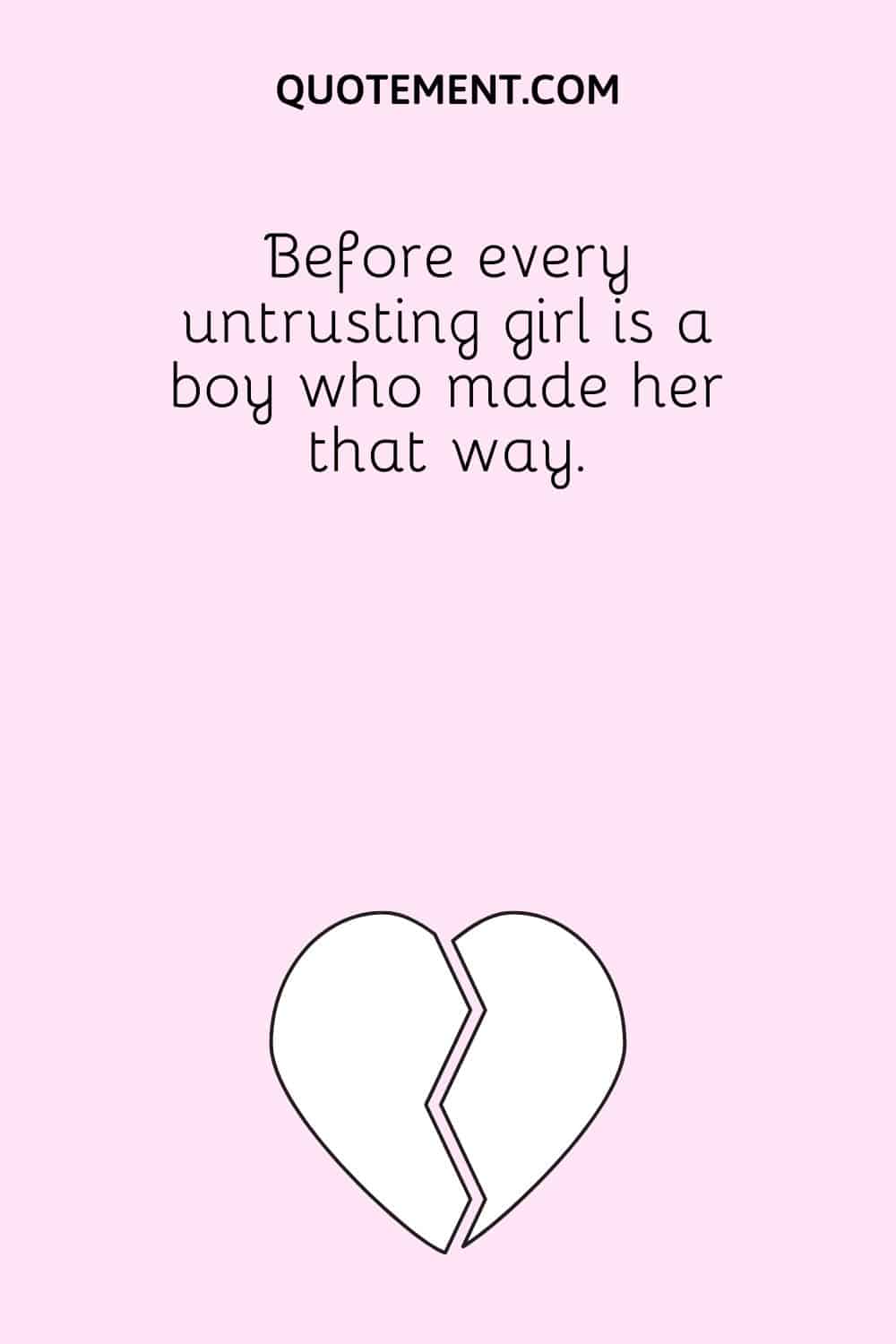 21. I gave my heart to a man who loved me, who wanted to be with me, Who ultimately was afraid of all I offered.
22. Girls cheat if there's something wrong with the relationship; guys cheat if there's an opportunity…
23. All women will always carry the scars and a deep sense of loss and grief from the betrayal. Whether a lady has stayed, left, or been left, it must be remembered that point is the salve on this journey towards forgiveness and healing because it's also a process of grieving.
24. It's not the lie that bothers me, it's the insult to my intelligence that I find offensive.
25. Get yourself a man who doesn't spend his free time on the toilet flirting with other women online.
26. Boys are supposed to love & protect their girlfriends, not hurt & betray them.
27. Saying "I'm sorry" won't erase what you've done. You weren't sorry when you were doing it, you are sorry that I found out.
See also: 120 Best Ways To Say I Am Sorry For Hurting You My Love
Cheating Captions For Him
1. A real man ends a relationship before he starts searching for another.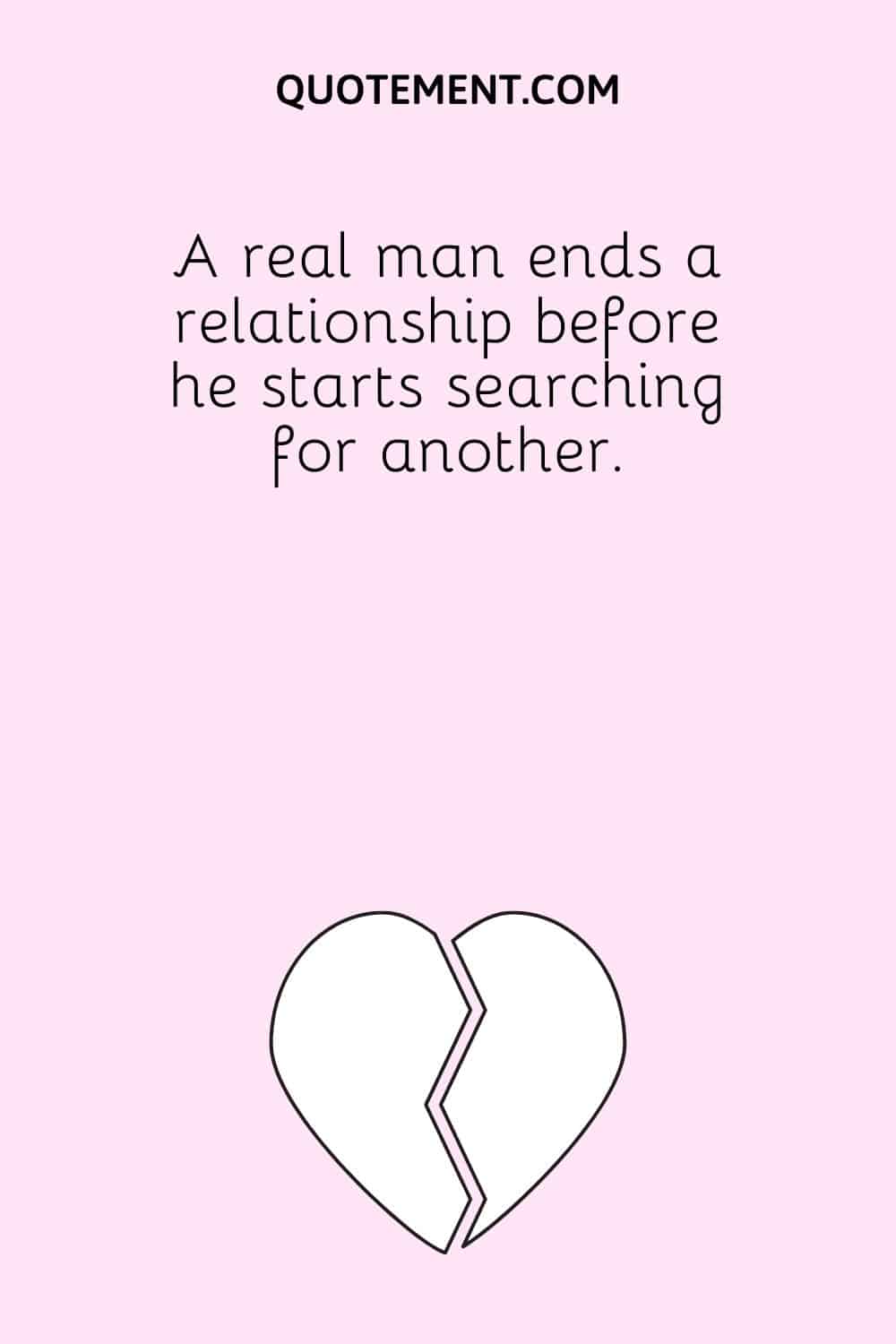 2. If you are unhappy with me? Just leave! But don't cheat me.
3. She told me she cheated on me, and I couldn't quite put it together, which hurt worse. The knife.
4. It is impossible for a man to be cheated by anyone but himself.
5. How can I trust you when all the evidence points in your direction?
6. I don't know what's worse, people who lie or people who think I am stupid enough to believe the lies when I already know the truth!
7. Real men stay faithful. They don't have time to look for another woman because they're too busy looking for new ways to love their own.
8. A real man will be honest no matter how painful the truth is. A coward hides behind lies and deceit.
9. You knew what you were doing, and you knew it would hurt me, but somehow that still didn't stop you.
10. My crime was to trust her. My punishment is her betrayal.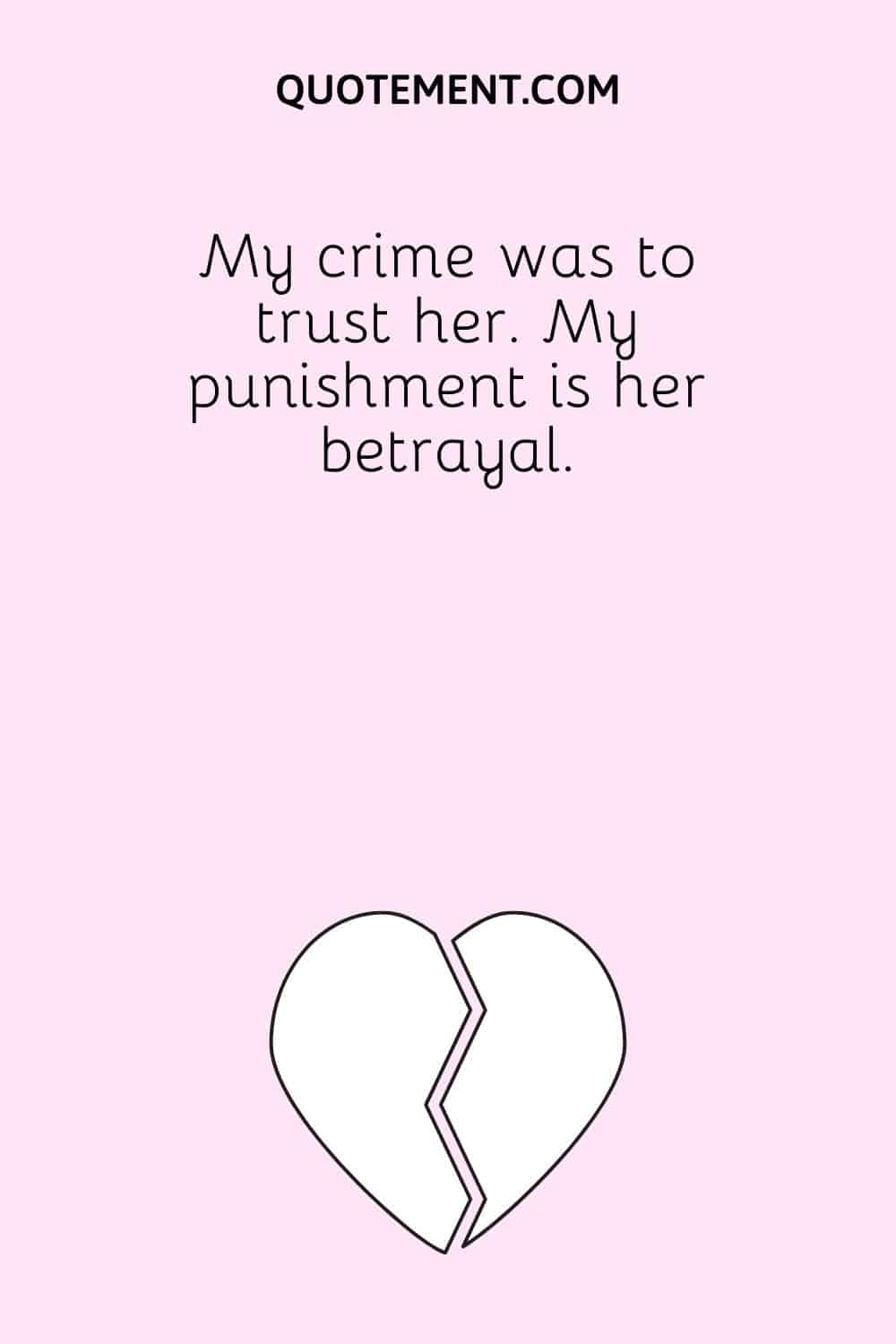 11. Secrets and lies kill relationships. No matter how careful you are, you will get caught.
12. Never date a woman that can't share her past with you.
13. The biggest problem is: I still care.
14. Should I hate you because you hurt me? Or should I love you because you made me feel special?
15. If you know someone is already taken, please respect their relationship. Don't be the reason they end up single.
16. I can lie to myself and convince myself that there's an excuse for what you did, but that doesn't change the truth.
17. Cheating on a guy is deeper than people realize. It destroys his outlook on love, his future relationships, and his peace within himself.
18. You do not love someone who you cheat on or plan to cheat on. Keep the "I Love You" out of your mouth and save it for that one person you would never risk losing for just one good night.
19. If a person doubts literally everything, it's not his fault. He might have been cheated by someone special.
20. Don't expect your girl to play her role when you have other girls auditioning for her part.
21. People cheat when they are afraid. When there is no cost to being wrong or confessing ignorance, there is no reason to cheat or fake comprehension.
22. If you're going to cheat, You probably shouldn't be in a relationship. Grow up and treat people like people instead of tools in your selfish ego workshop.
23. You have to be incredibly twisted to tell someone you love them when you don't even respect them enough to be faithful or honest.
24. When people show you who they are, believe them.
25. If I could go back to the day we met, I would turn around and walk away.
See also: 80 Today Is The Day We First Met Quotes For Your Love
Cheating Quotes That Can Be Used As Captions
Adultery has always been an interesting topic, and many people have tried to understand and explain the reasons it happens, as well as the effects it has on the people involved.
Here are some amazing quotes on cheating that can be used as cheating captions.
1. "Any affair, by its very nature, is quite dysfunctional." — Rebekah Brooks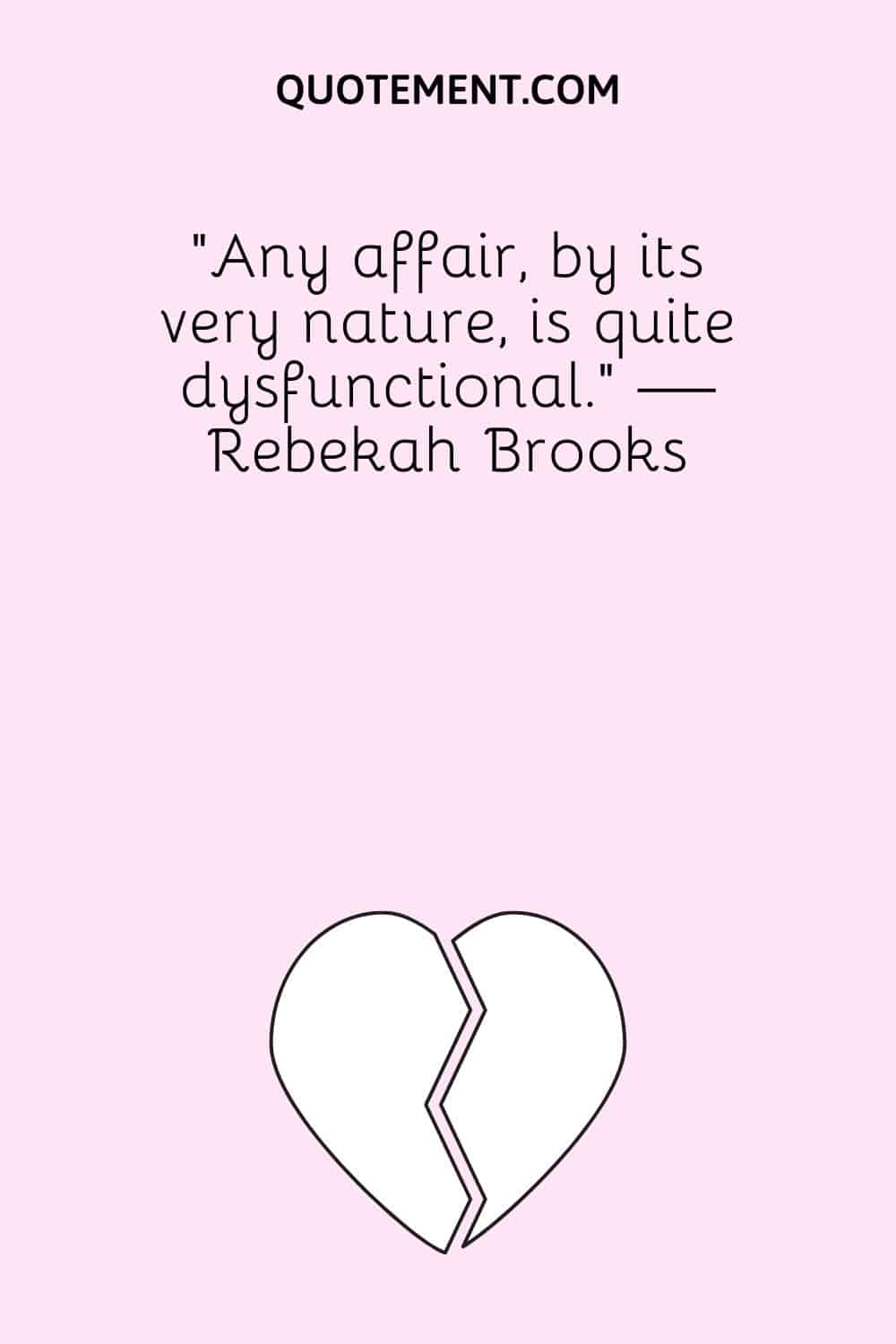 2. "Cheating only thrills those who cannot see the beauty in faithfulness." — Michael Bassey Johnson
3. "Never cheat on someone that is good to you. Karma is a bitch." — Surgeo Bell
4. "Anything worth having is a thing worth cheating for." — W. C. Fields
5. "Cheaters don't think cheating is wrong until they get cheated on." — Sonya Parker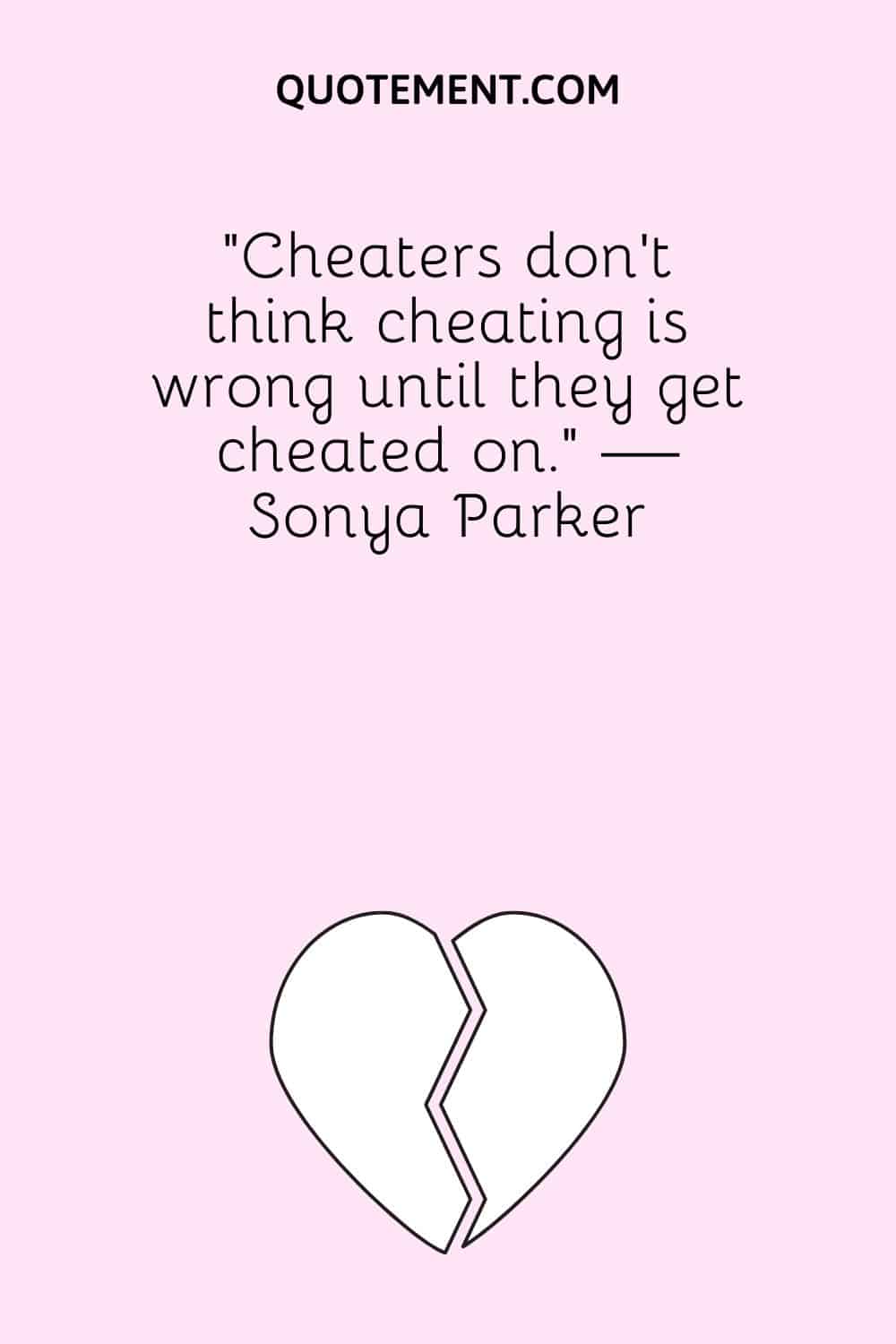 6. "One day you're going to remember me and how much I loved you … and then you're going to hate yourself for letting me go." — Drake
7. "A real man doesn't have time to cheat because that man is too busy providing all of which a good woman deserves." — Ritu Ghatourey
8. "No man is more cheated than the selfish man." — Henry Ward Beecher
9. "Being faithful to an unfaithful person is a waste of time." — Sonya Parker
10. "There is no such thing as an affair that doesn't mean anything." — Amanda Robson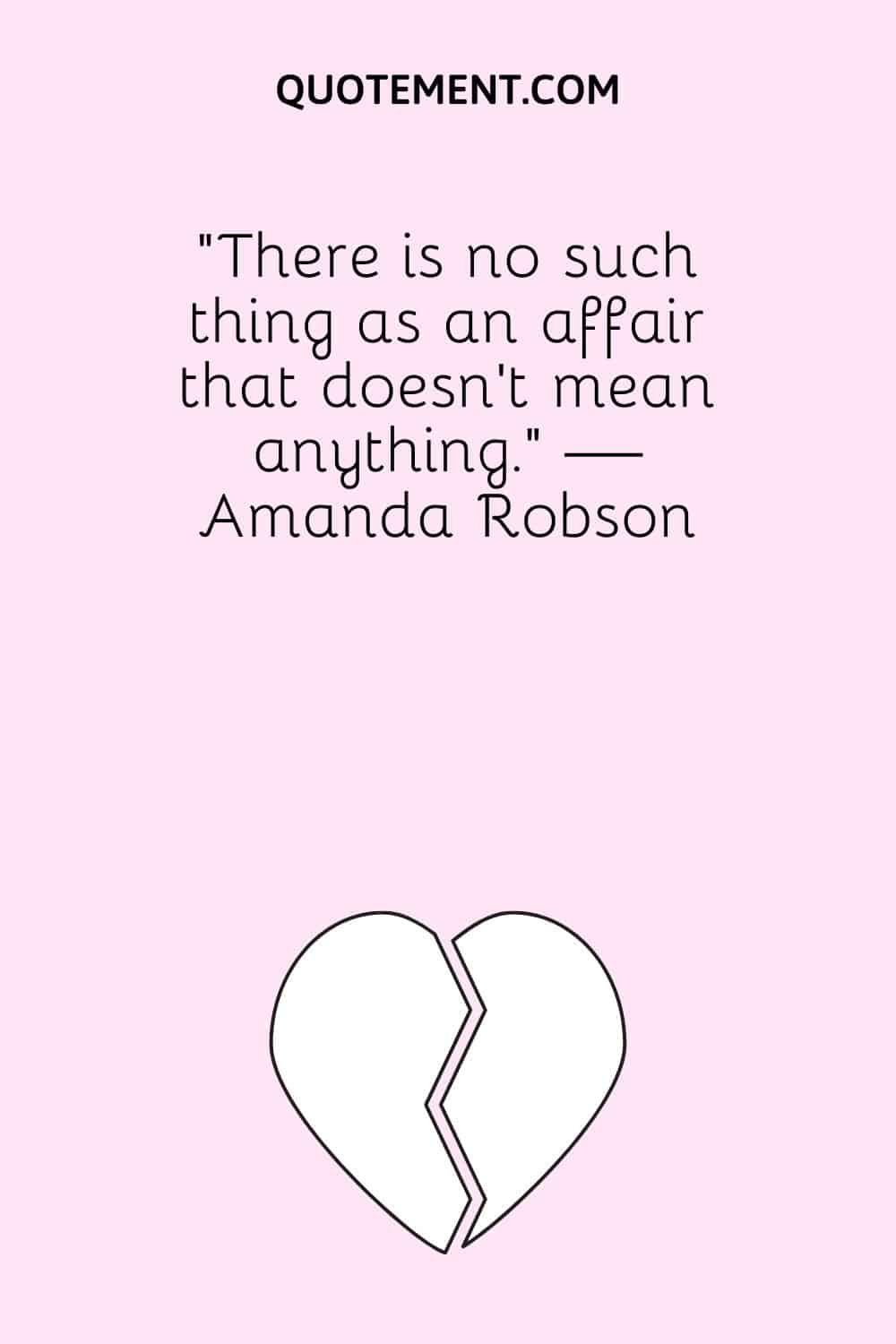 11. "If you love something, set it free, and If it comes back, it was, and always will be yours, and If it never returns, it was never yours to begin with." — Sherrilyn Kenyon
12. "Once someone cheats in the relationship, there's no reason to stay. If they truly loved you, they would've never cheated." — Anurag Prakash Ray
13. "If you're not cheating, you're not trying." — Eddie Guerrero
14. "A man can love you from the bottom of his heart, and still find room at the top for somebody he claimed was nobody." — Kiki Strack
15. "Cheating and lying aren't struggles, they're reasons to break up." — Patti Callahan Henry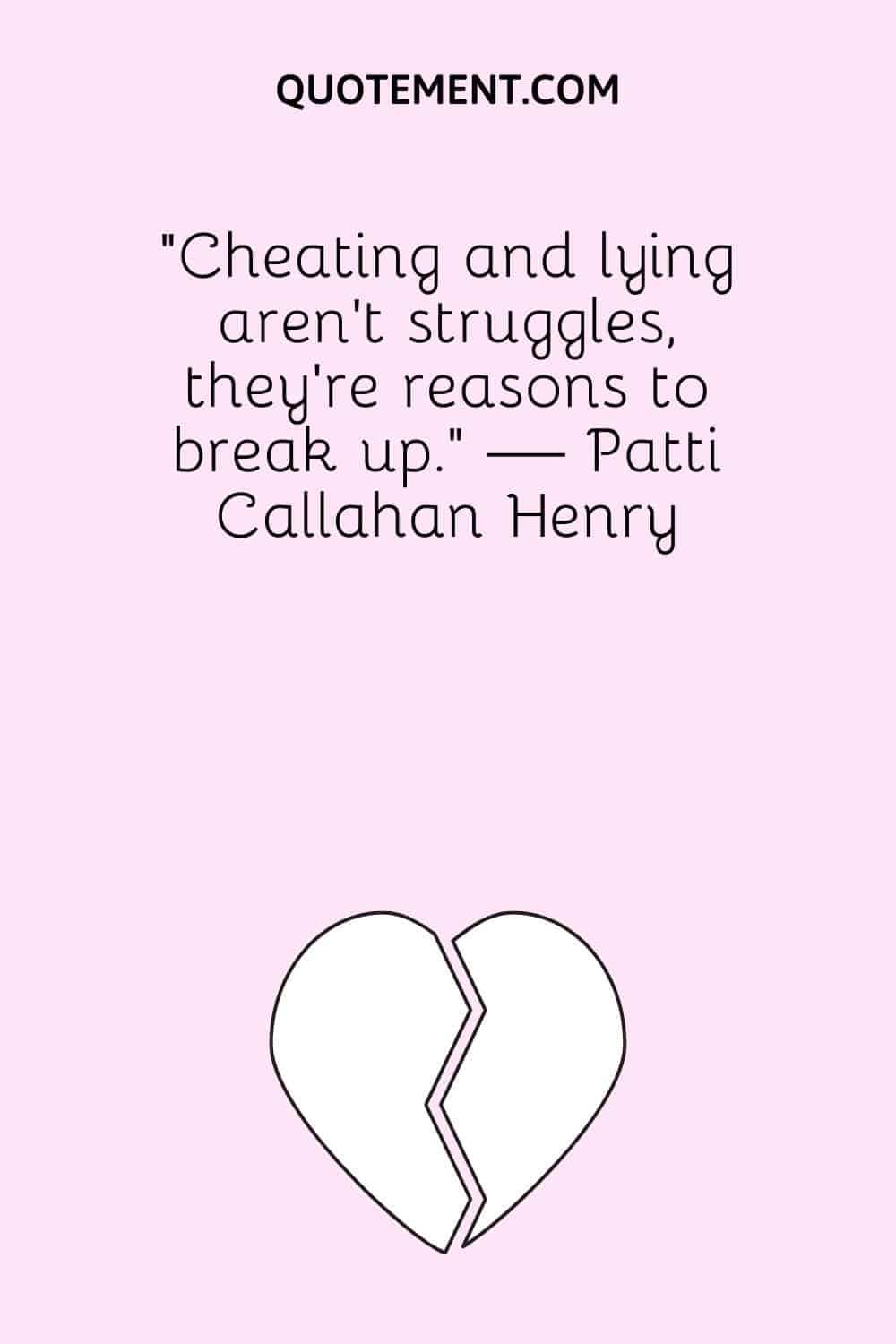 16. "They didn't cheat because of who you are. They chose to cheat because of who they are not." — Charles J. Orlando
17. "A liar deceives himself more than anyone, for he believes he can remain a person of good character when he cannot." — Richelle E. Goodrich
18. "Things come apart so easily when they have been held together by lies." — Dorothy Allison
19. "The shatterin of a heart when being broken is the loudest quiet ever." — Carrol Bryant
20. "Sometimes you get the best light from a burning bridge." — Don Henley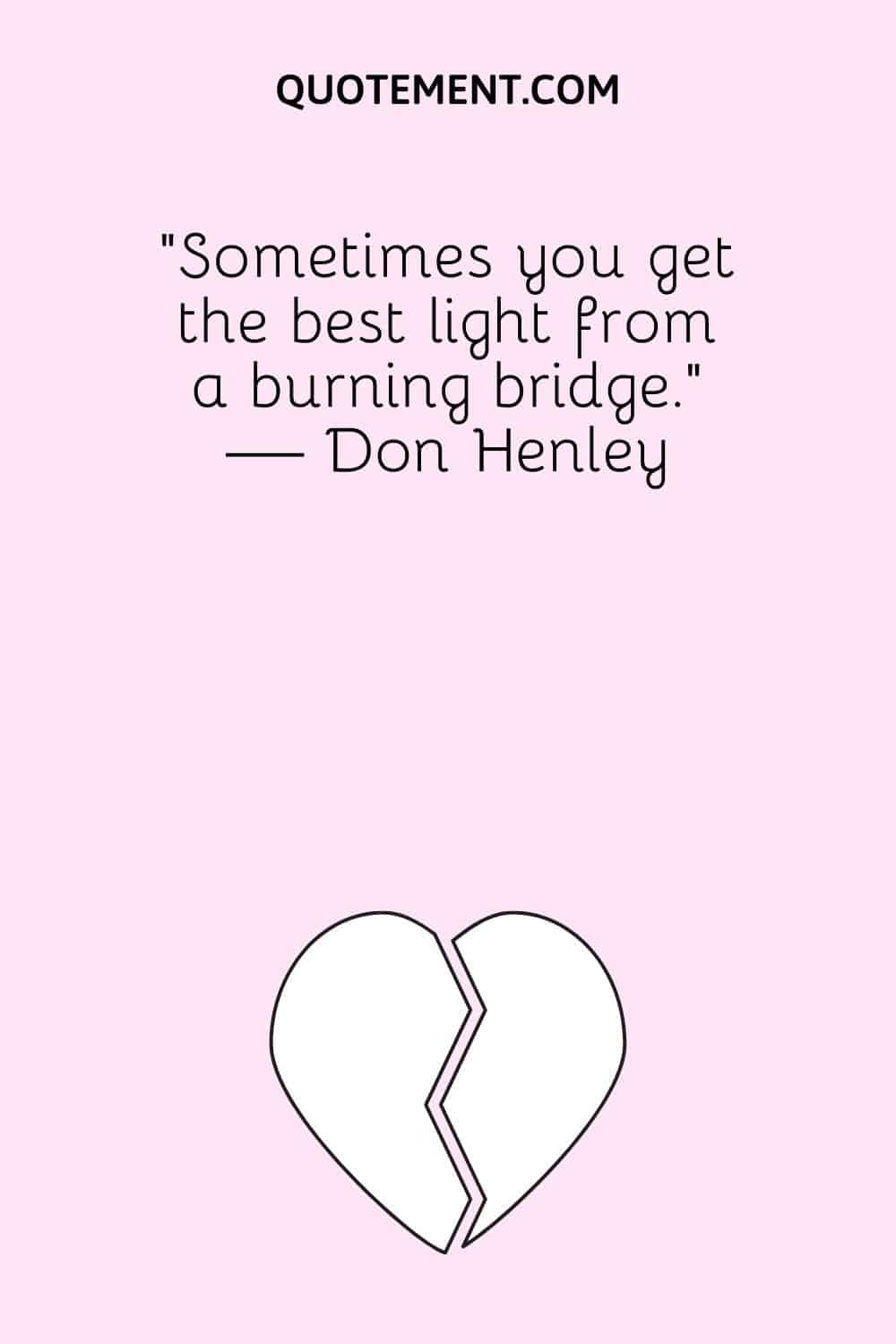 Final Thoughts
I hope you liked the collection of cheating captions I prepared for today's article and found it inspiring.
No matter what was done to you, never compromise the purity of your heart by doing the same thing just for the sake of revenge.
Your heart is pure and your intentions are honest, and that makes you beautiful.
Until next time!
Read next: Message To A Cheating Boyfriend: 110 Absolute Best Ideas